I love visiting wet markets when we travel. Which is a bit odd because you'd never catch me dead in one at home.
I guess markets just feel a little different when you're away. The produce is different, people are speaking in an unfamiliar tongue, transactions are made using a foreign currency; wet markets are pretty much the same in every city but it's these little differences that make them so interesting.
Most of the time, we visit wet markets during the day but thanks to A Chef's Tour, I got to experience one of Hanoi's biggest markets at the crack of dawn, just when it's at its liveliest. The difference in market activity between 5AM and 11AM is literally like night and day.
If you have a serious passion for food and/or street photography – enough to get you out of bed at 4AM even while on holiday – then this tour is definitely for you.
Save This on Pinterest!
No time to read this now? Click on the red save button and pin it for later!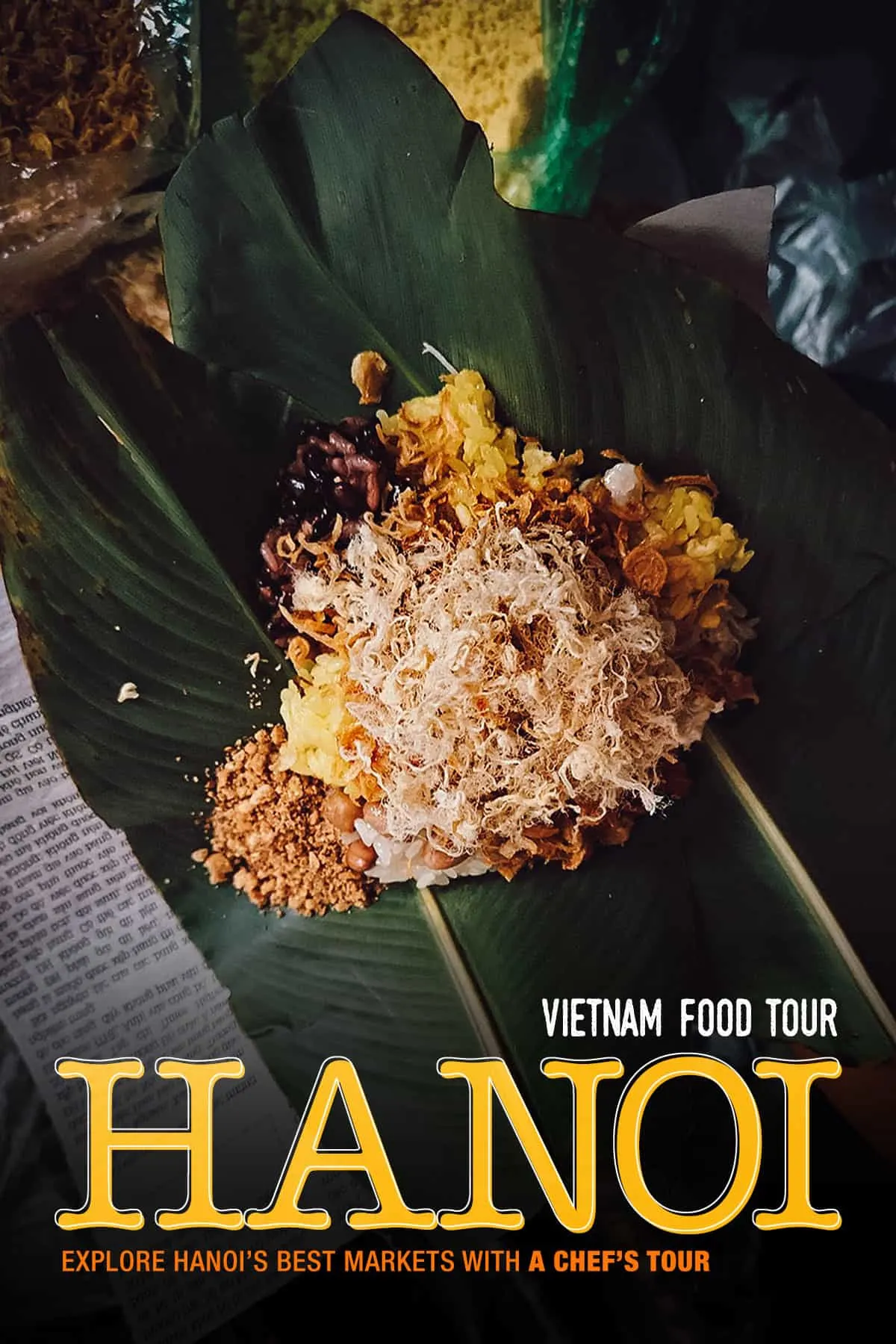 Hanoi Private Dawn Market Tasting Tour
A Chef's Tour is a tour provider that offers these fascinating food-focused tours in different cities around the world. They began their operations in Bangkok and Chiang Mai and have since expanded to other countries and continents around the world.
Other than Thailand, I've been on their tours in Singapore, Hong Kong, Myanmar, India, and Malaysia. They've recently launched a couple of tours in Latin America and will soon be expanding to other continents as well.
This Hanoi market and street food tour is one of their newest tours in Asia. As of this writing, it hasn't been launched yet but it should be available on their website soon. I don't have all the details yet but I'll be sure to update this post when I do.
The tour starts bright and early at 4AM. Chef Duyen will pick you up from your hotel and take you on a whirlwind tour of Hanoi's liveliest markets before taking you to stall after stall offering some of northern Vietnam's most beloved street food dishes.
Here's an unflattering picture of Chef Duyen at Long Biên Market (sorry Chef!). I think she was giving me the stink eye because I was taking too long taking pictures…ha!
Kidding aside, this woman really knows her stuff. When she isn't dragging people out of bed at 4AM to look at fish gills, she teaches Vietnamese cooking classes. She's enthusiastic and incredibly passionate about Vietnamese food (even at that hour), so it was a privilege experiencing and learning about it from her.
This tour costs USD 75 per person and includes all food, drink, and transportation during the tour. You can book it directly on A Chef's Tour.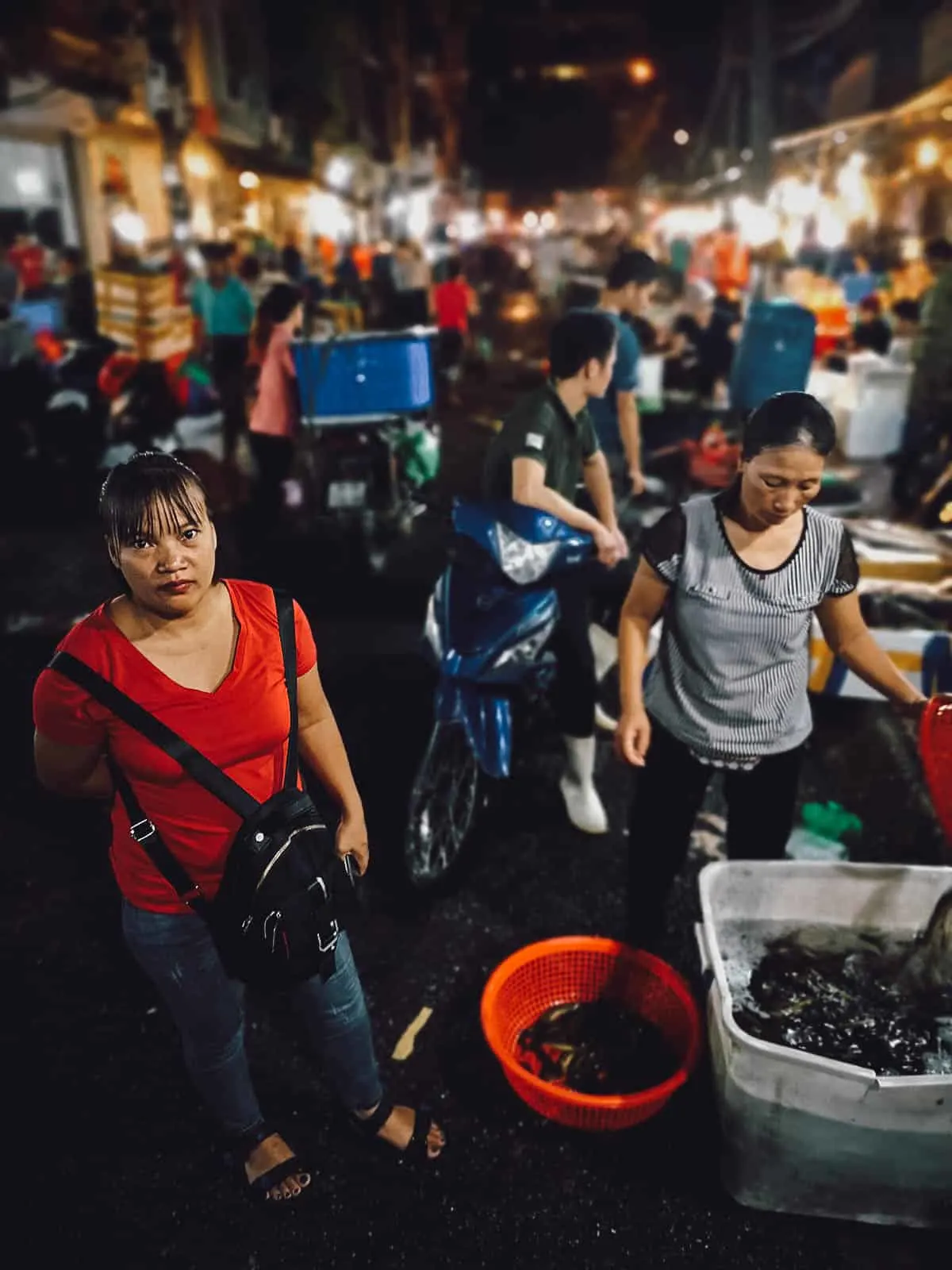 Hanoi Markets
Chef Duyen took me to three markets on the dry run of this Hanoi tour – Quảng Bá Flower Market, Long Biên Market, and Dong Xuan Market. Each offers something different, giving you a well-rounded Vietnamese market experience.
Quảng Bá Flower Market
After picking me up by taxi from my AirBnB at 4AM, Chef Duyen took me to Quảng Bá Market, a large wholesale flower market that does most of its transactions in the wee hours of the morning, around 2AM if I remember correctly. We got there at around 4:30AM when much of the action had already died down, but you could still get a sense of how busy this market must get at peak selling hours.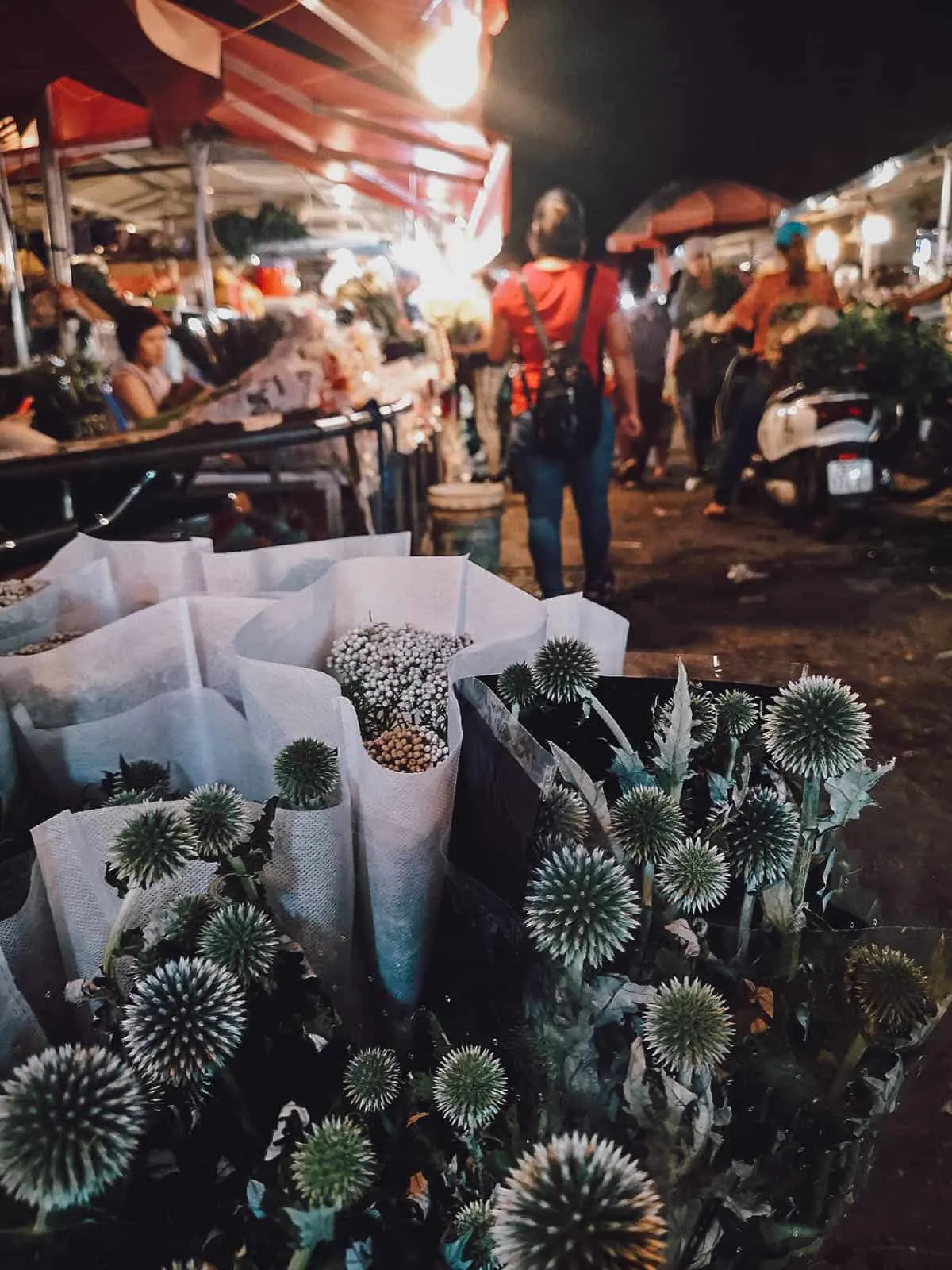 The flowers on sale here come from different regions in Vietnam, but if I remember Chef Duyen correctly, most are from the Mekong Delta and Da Lat. I'd visit Sa Dec in the Mekong Delta region a few weeks after this tour and I was amazed by the volume of flowers they grow there.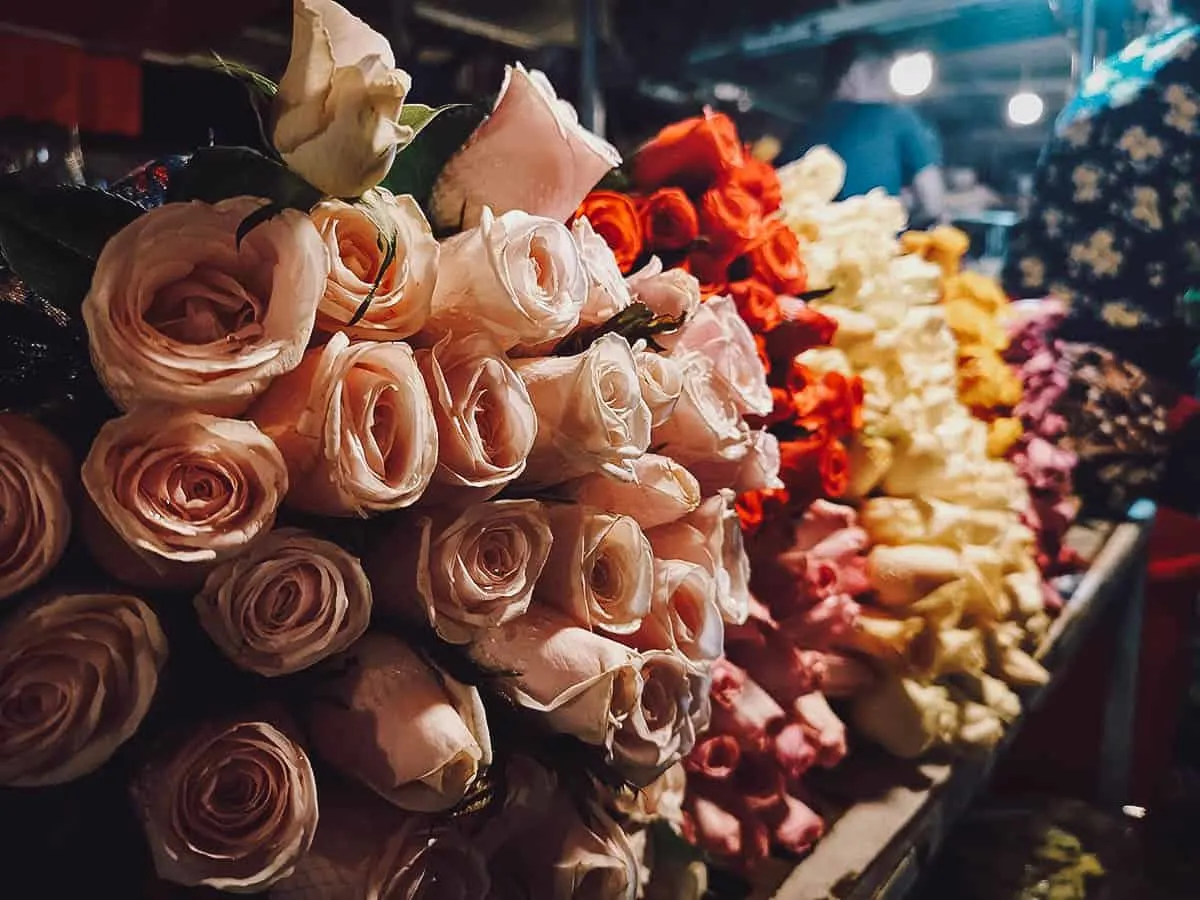 We stayed half an hour here before moving on to Long Biên Market, which is where you'll be spending the brunt of your time on this tour.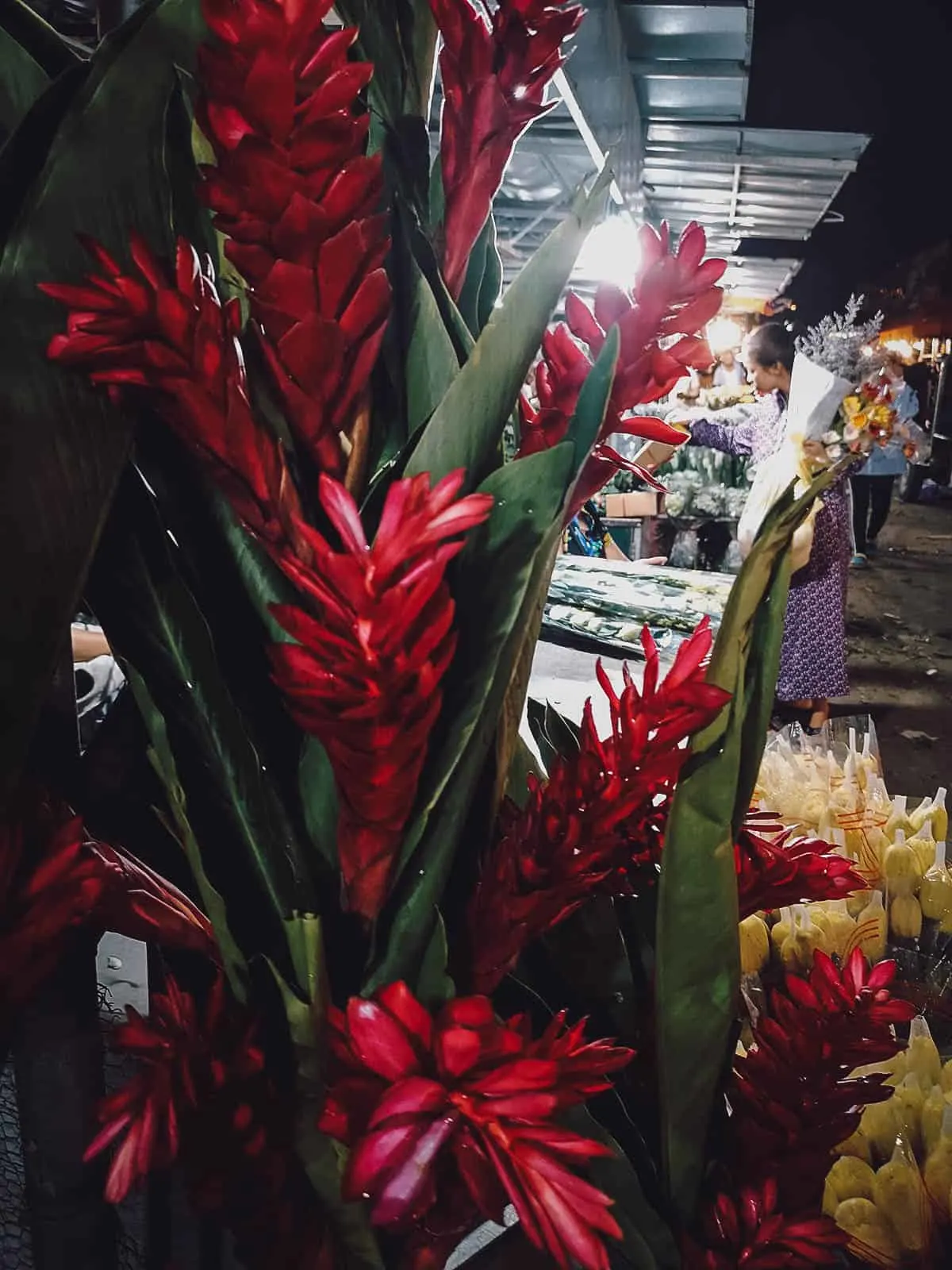 Long Biên Market
This large bustling market was the focus of our tour, and with good reason. Long Biên Market is one of the biggest and best markets in Hanoi. To fully appreciate it, you need to be here no later than around 5AM which is why this tour has to start so early. The earlier the better. Arrive late and you'll miss most of the action.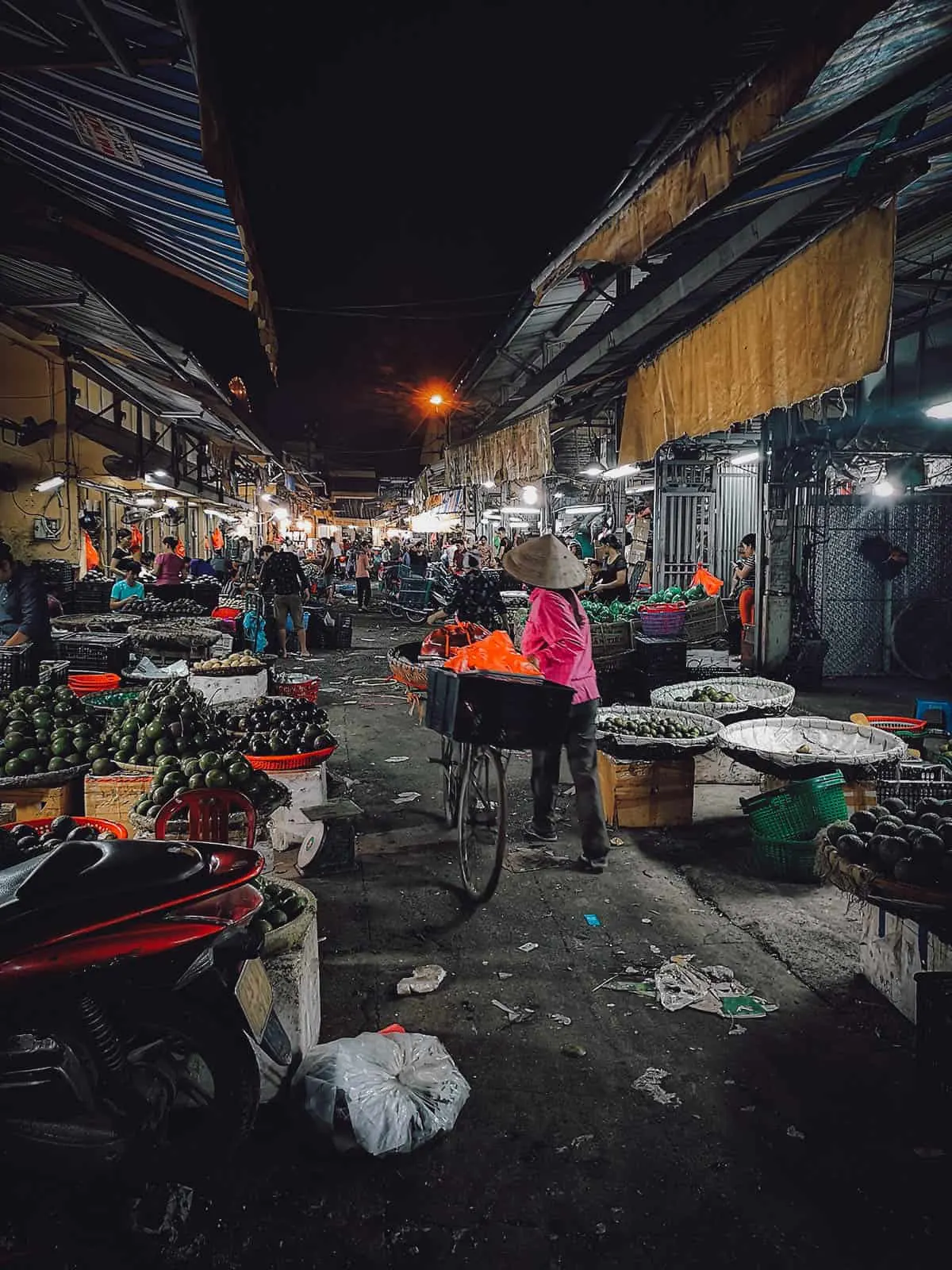 Most wet markets are liveliest at this hour. I usually visit markets during the daytime, after most of the stocks have already been sold, so rarely have I seen them operating at this capacity. The place was buzzing with activity!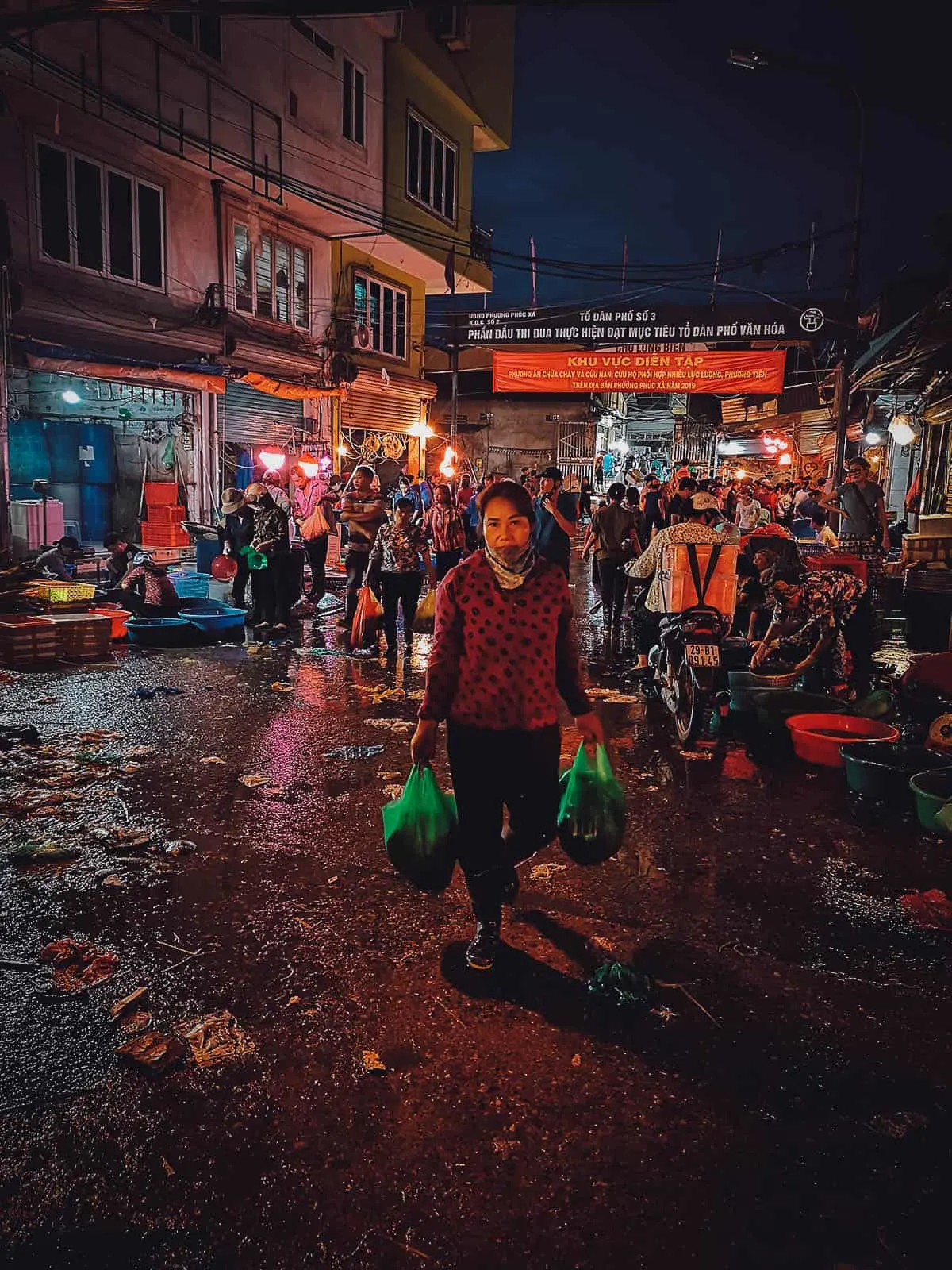 I've visited a few wet markets on our trips but this was one of the biggest I've been to thus far. Here's a vendor selling different types of fruit like mangoes, mangosteen, and longan.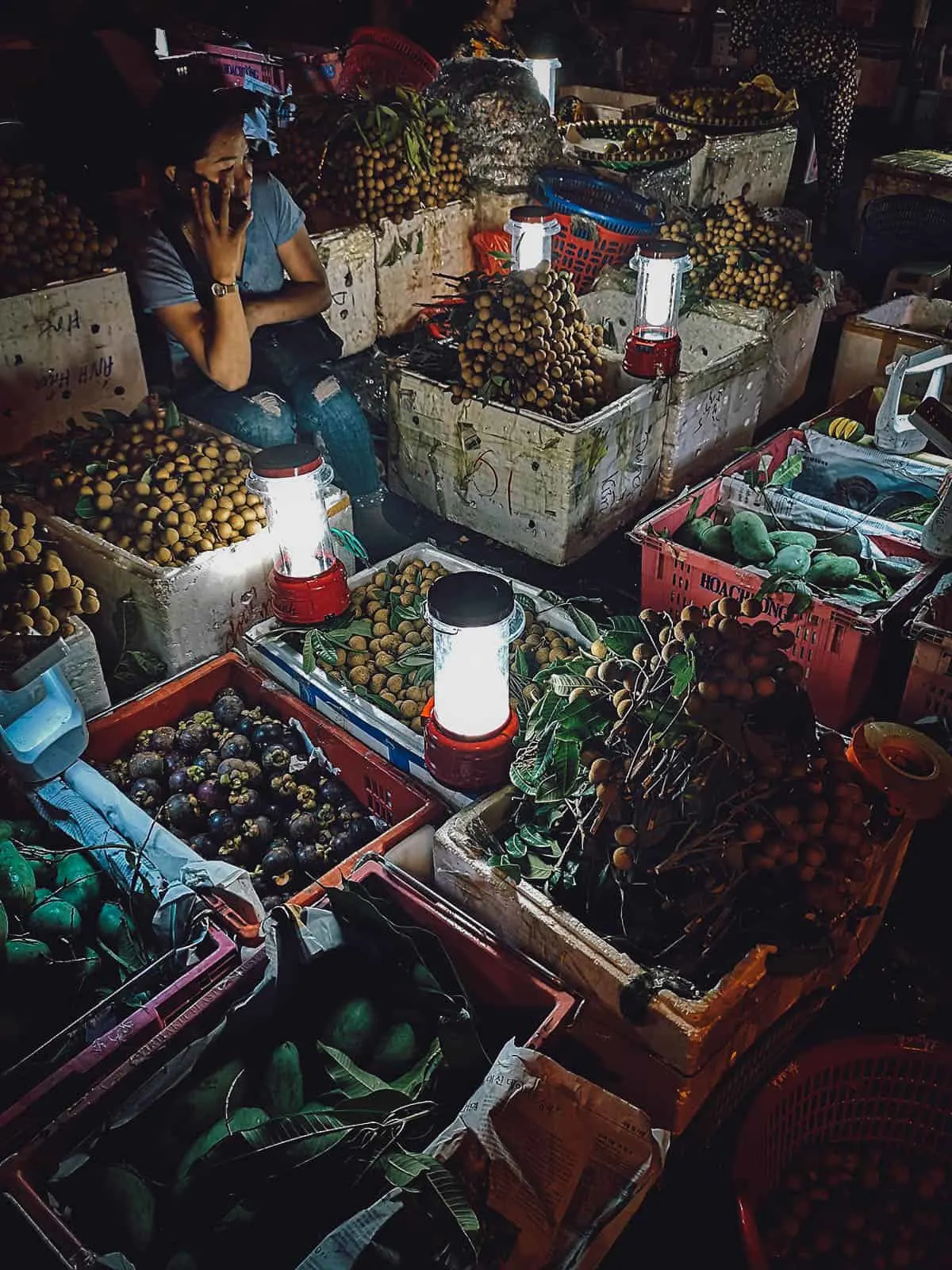 Baskets of red hot chili peppers and bell peppers.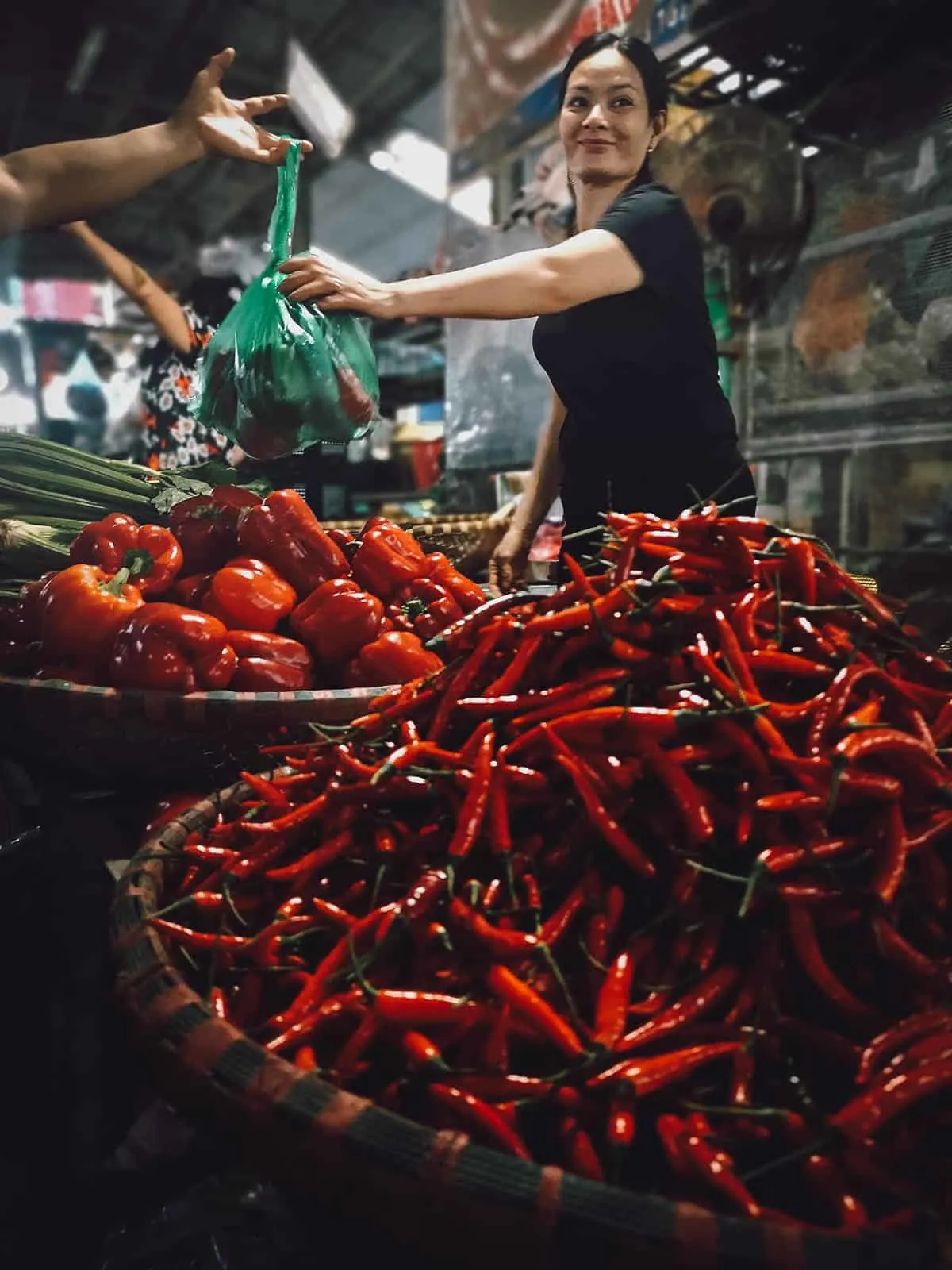 Bushels of bananas and greens that would no doubt go very well in my bowl of pho. I love how the Vietnamese incorporate so many different kinds of vegetables into many of their dishes.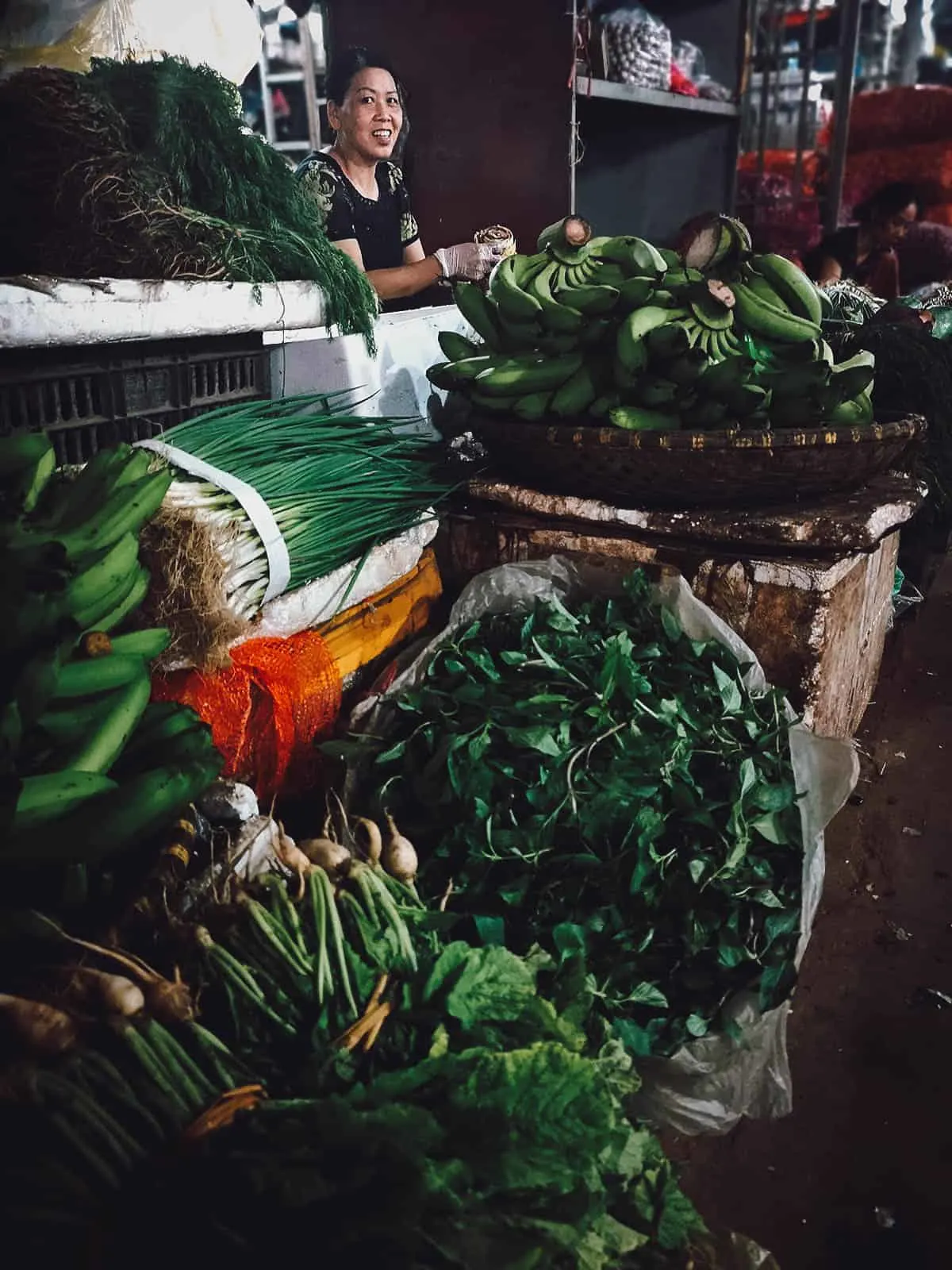 Celery and red bell peppers showcasing the colors and textures of Long Biên Market.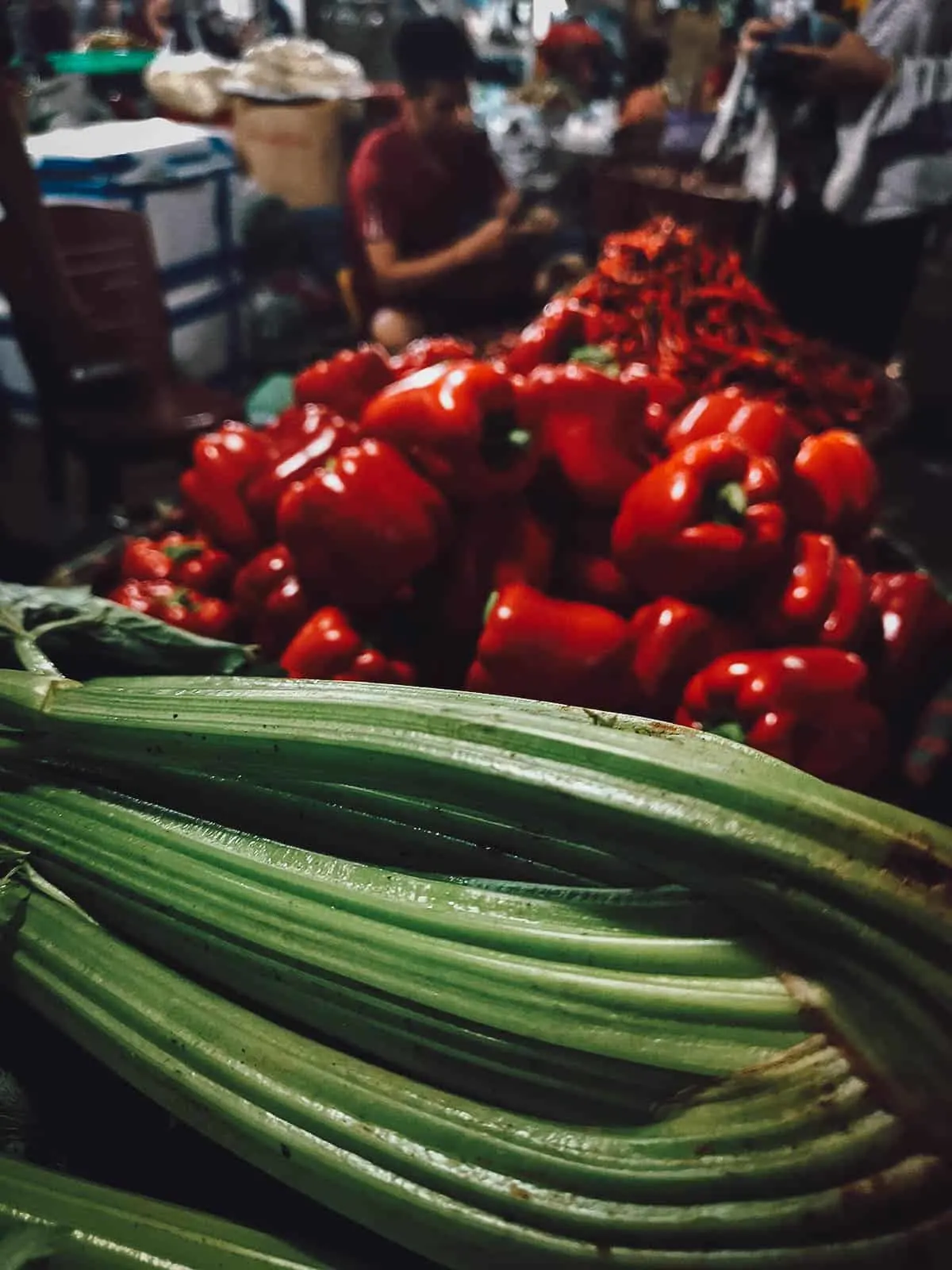 A pumpkin vendor taking a quick cigarette break between shavings. He was painstakingly scraping the skin off these pumpkins and gourds, perhaps to prepare for cooking.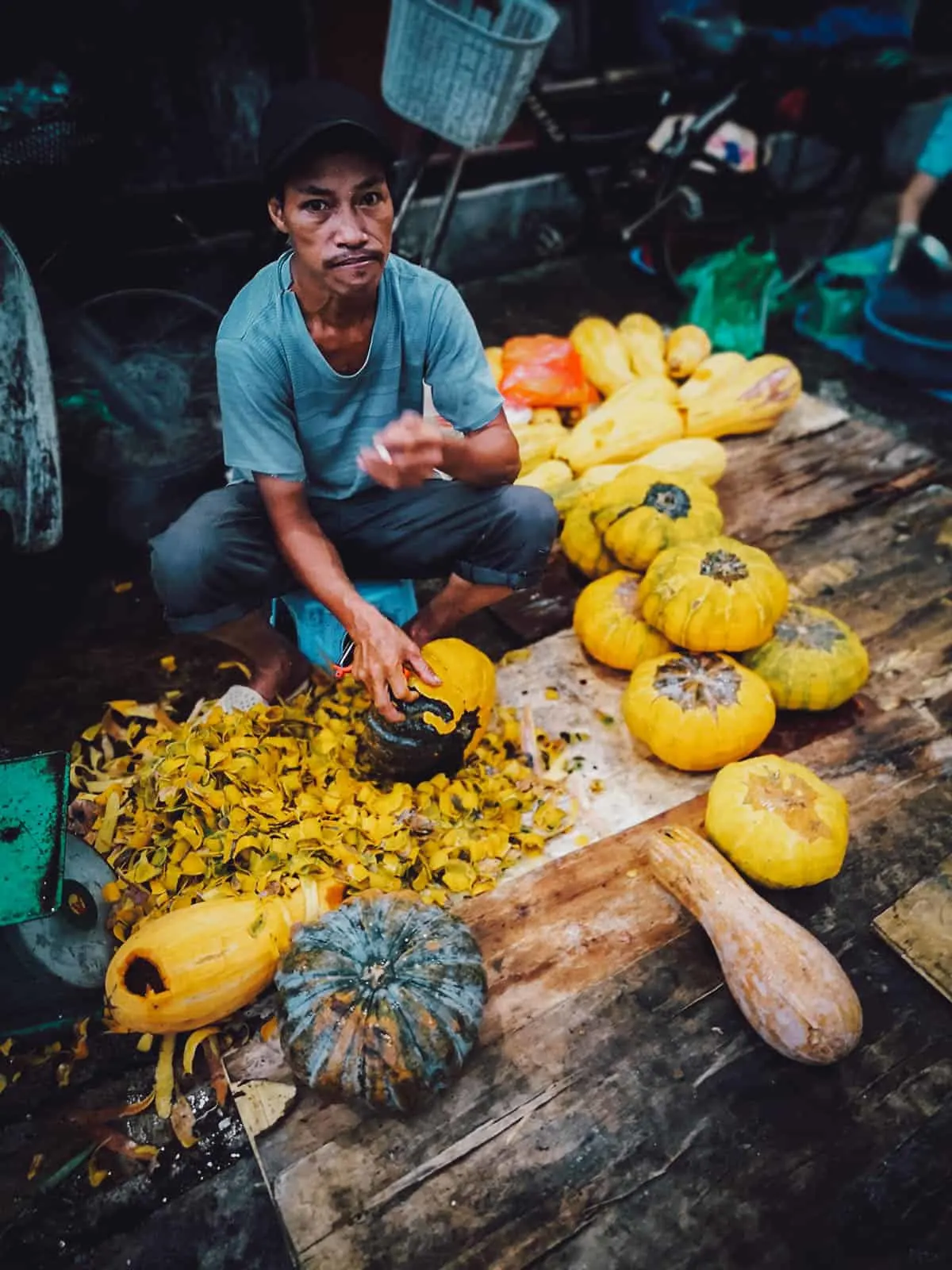 This vendor was giving me looks as fiery as her peppers, as if to say: "I know what you're doing. You're pretending to take pictures of my peppers but you're really taking a picture of me!" She was right.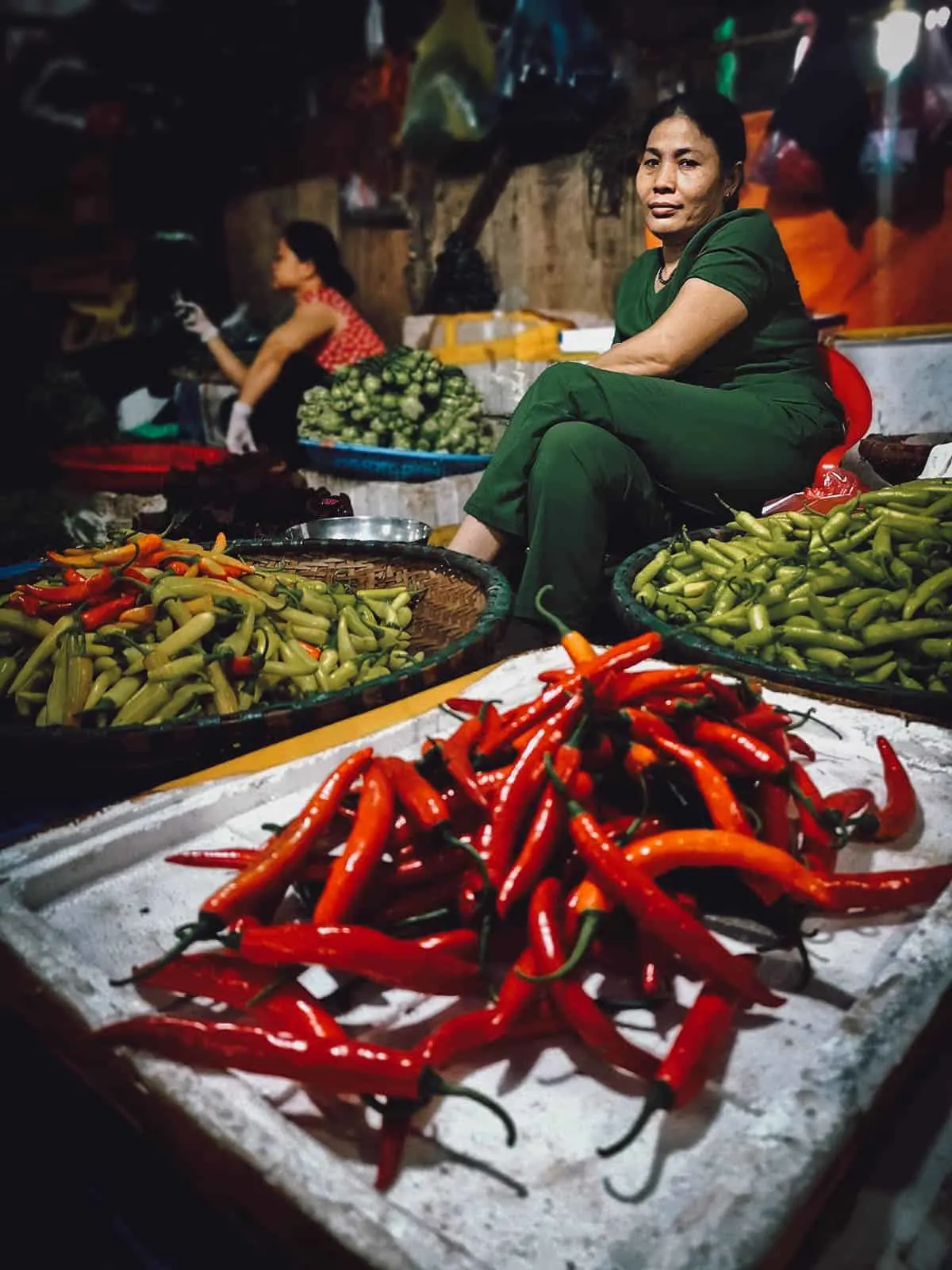 Galangal and crickets

Bags of grubs, which I believe were silk worms. Have you ever tried these? The ones I've had tasted like squishy peanuts. Chef Duyen told me she likes to use these in her cooking.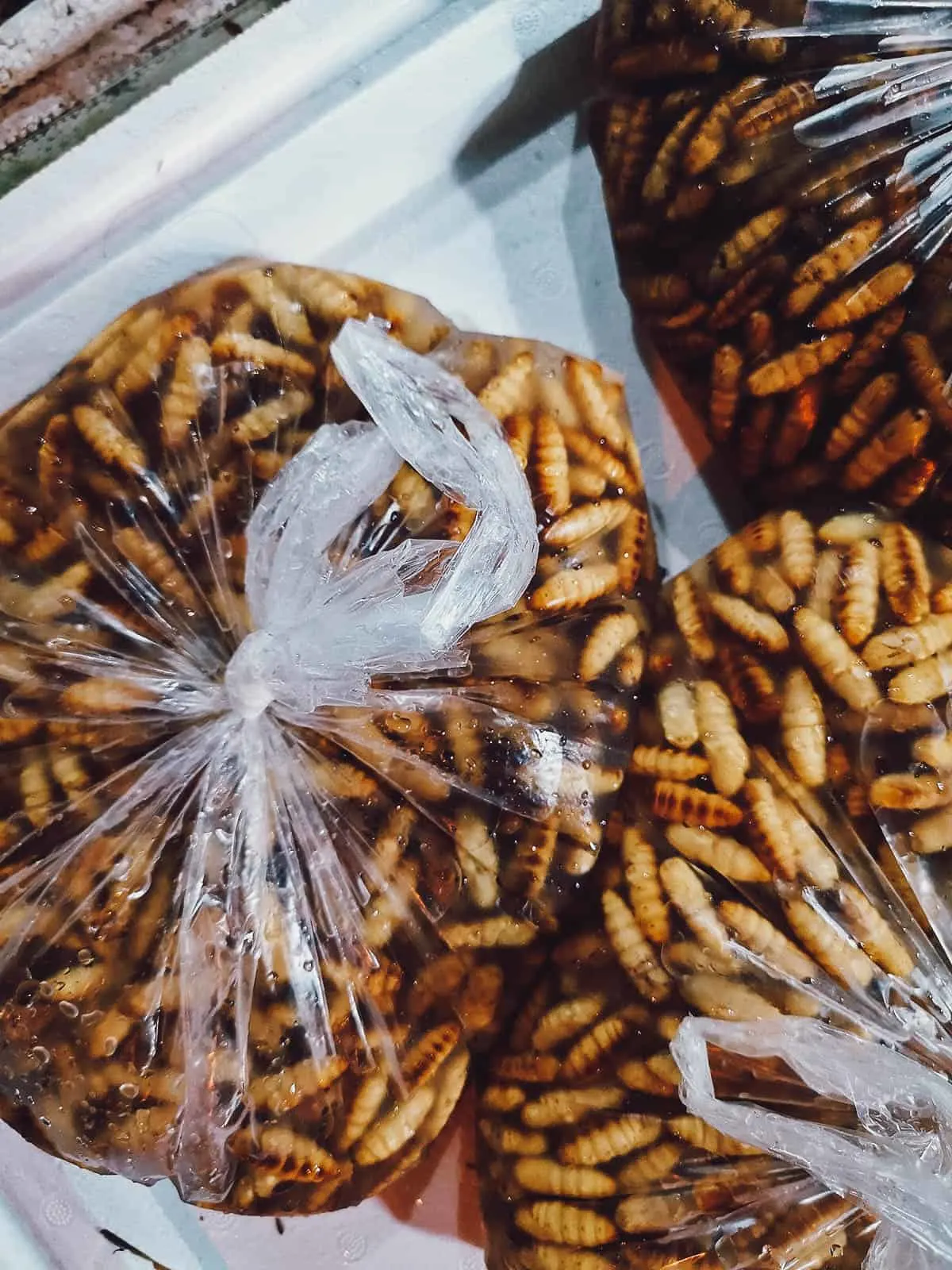 A vendor offering crates of oc or snails, which are among my favorite things to eat in Vietnam. I'm not sure if it's because of the French influence but Vietnam's snail game is strong. We found them to be especially popular in Saigon.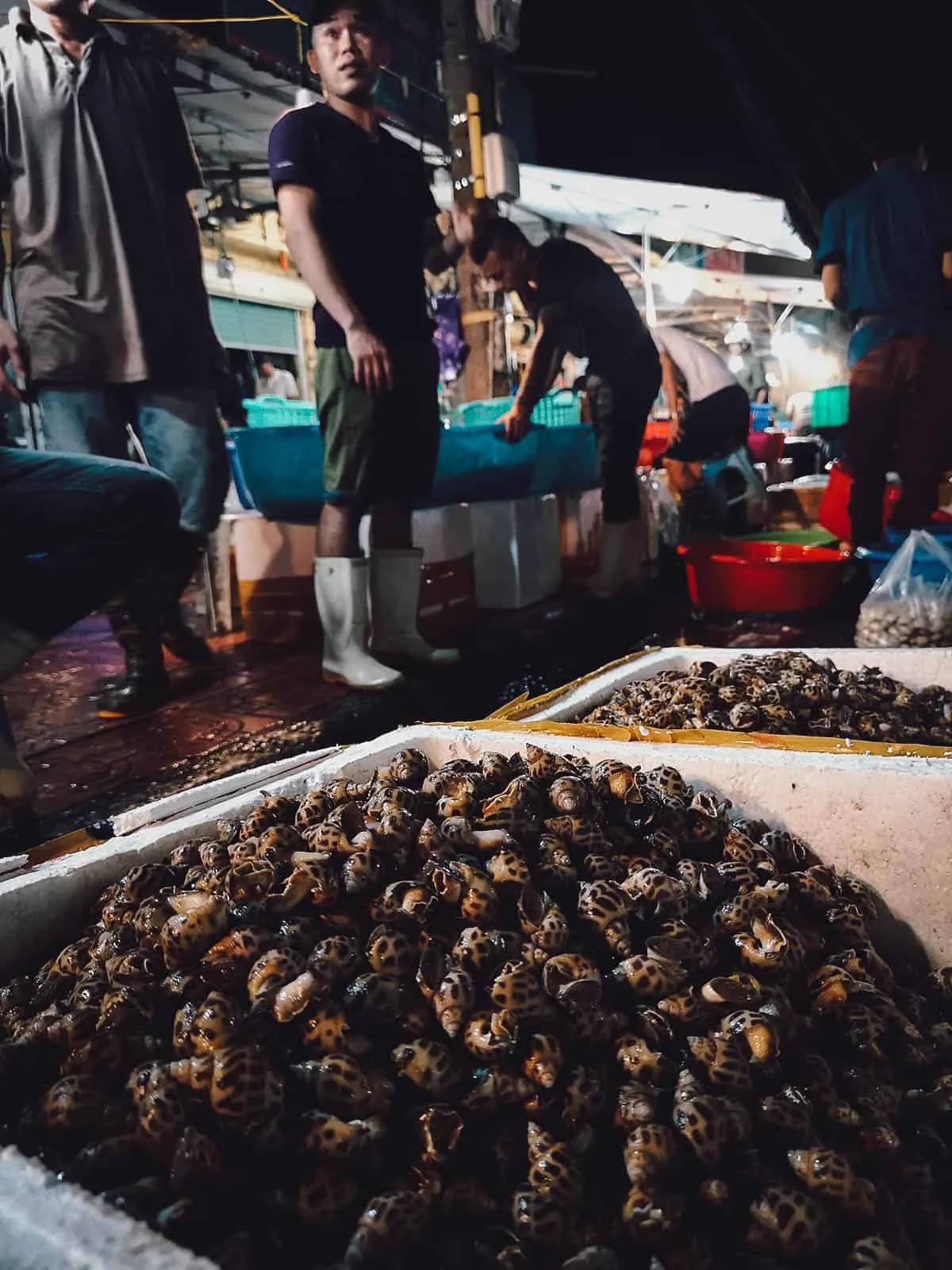 Mud creepers are among the most popular types of snail you can have in Vietnam. They're often cooked in coconut milk and sold at roadside street stalls.

Live crablets and eel. A lot of the seafood at Long Biên Market is alive and kept in oxygenated bins.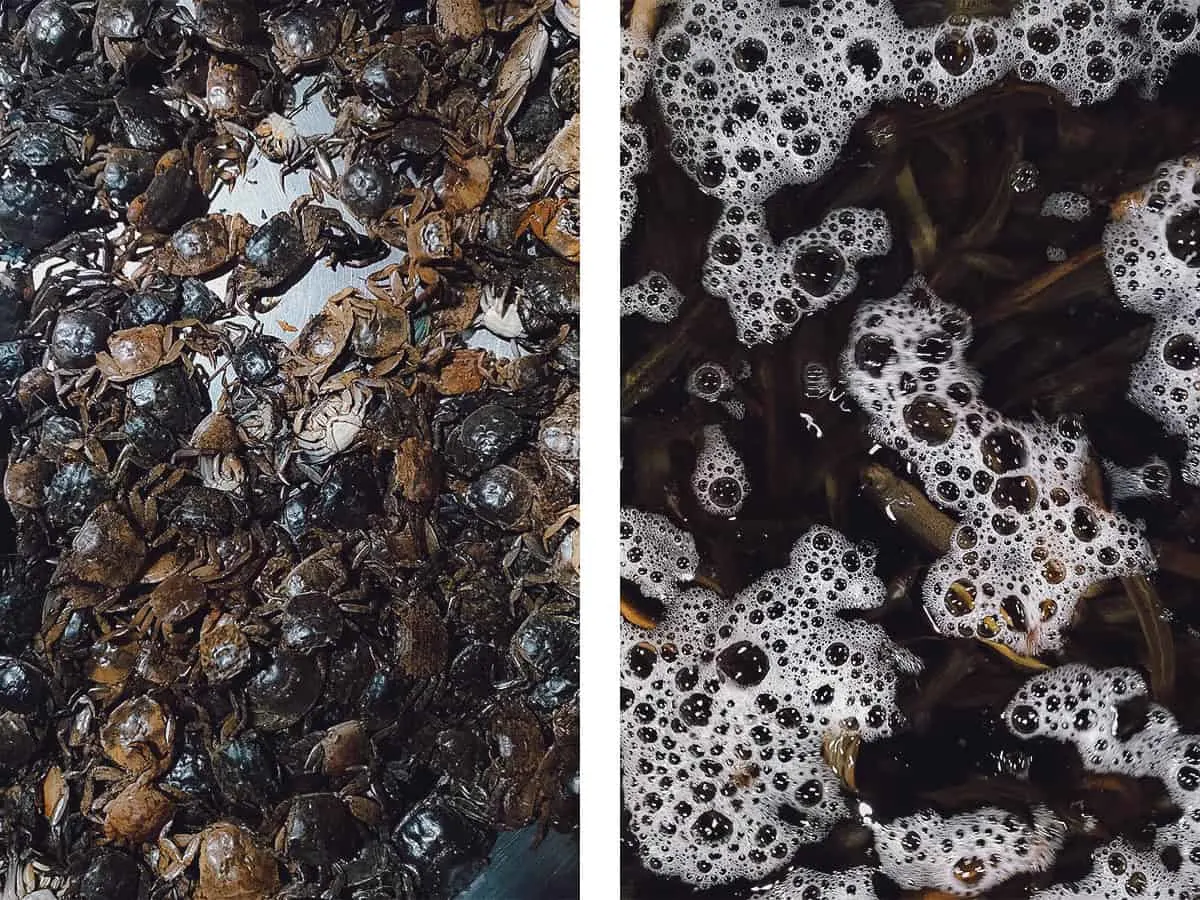 Bigger crabs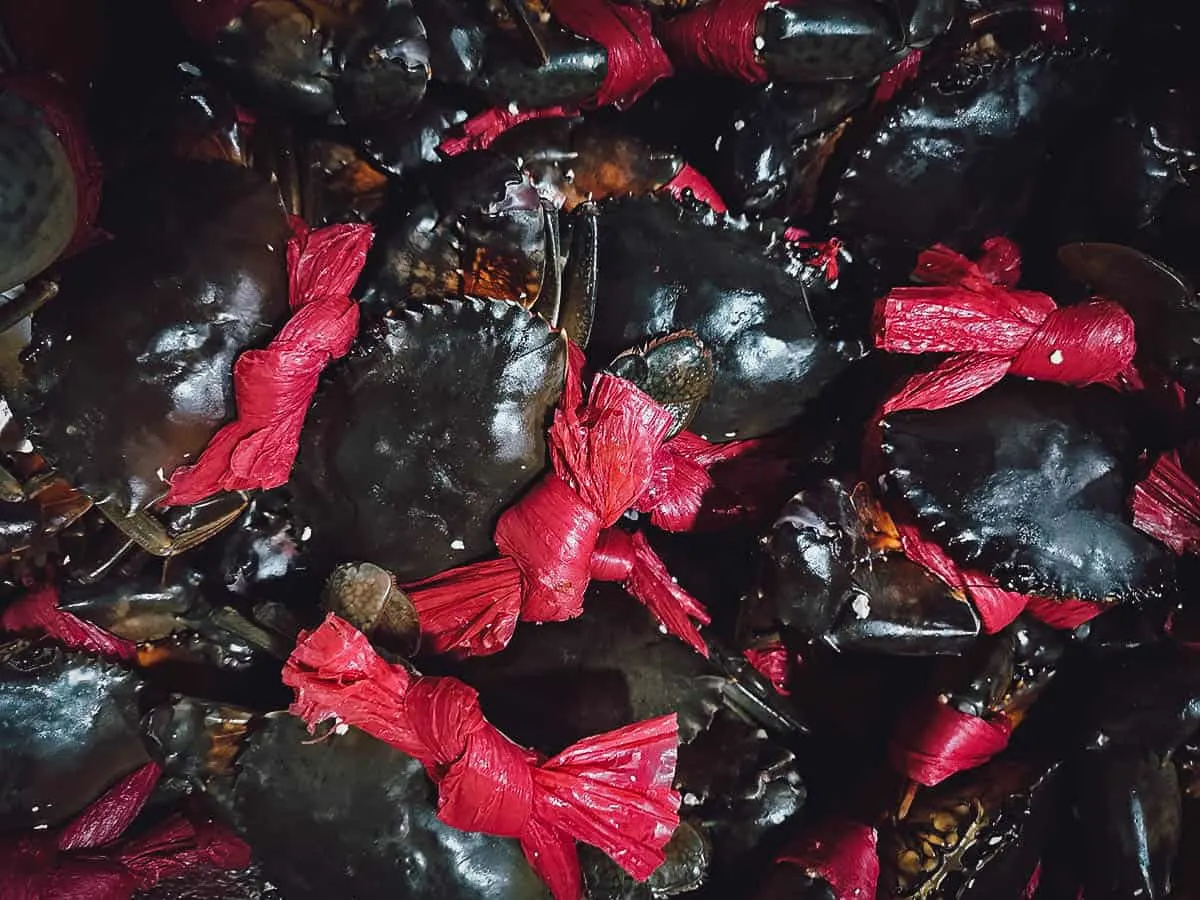 Juicy, plump-looking shrimp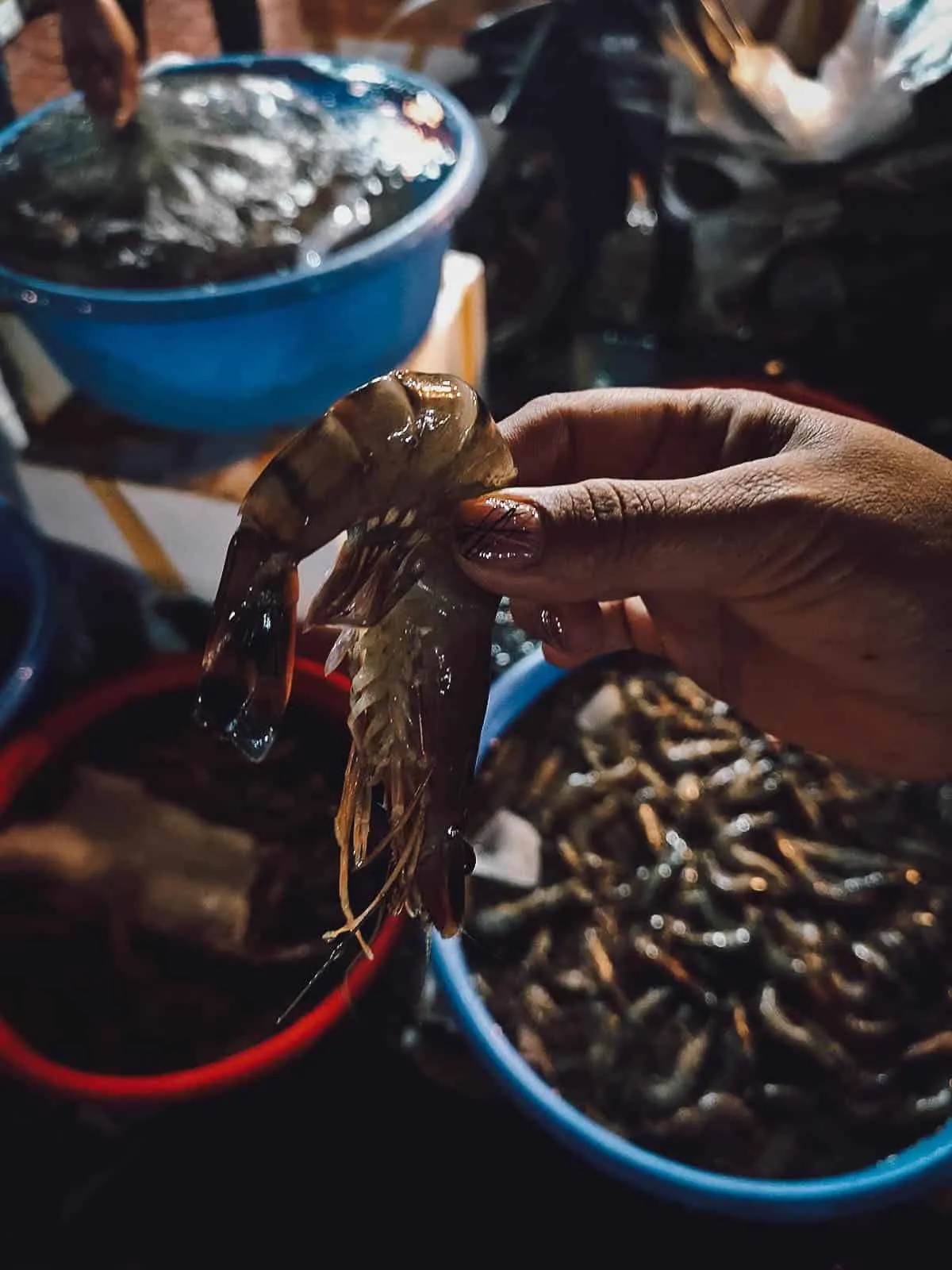 Chef Duyen demonstrated how to gauge the freshness of fish. You can tell how fresh a fish is by its eyes and gills. The clearer the eyes and the redder the gills, the fresher the fish. She explained that most buyers want live seafood so even newly dead fish and shrimp can be bought for half the price.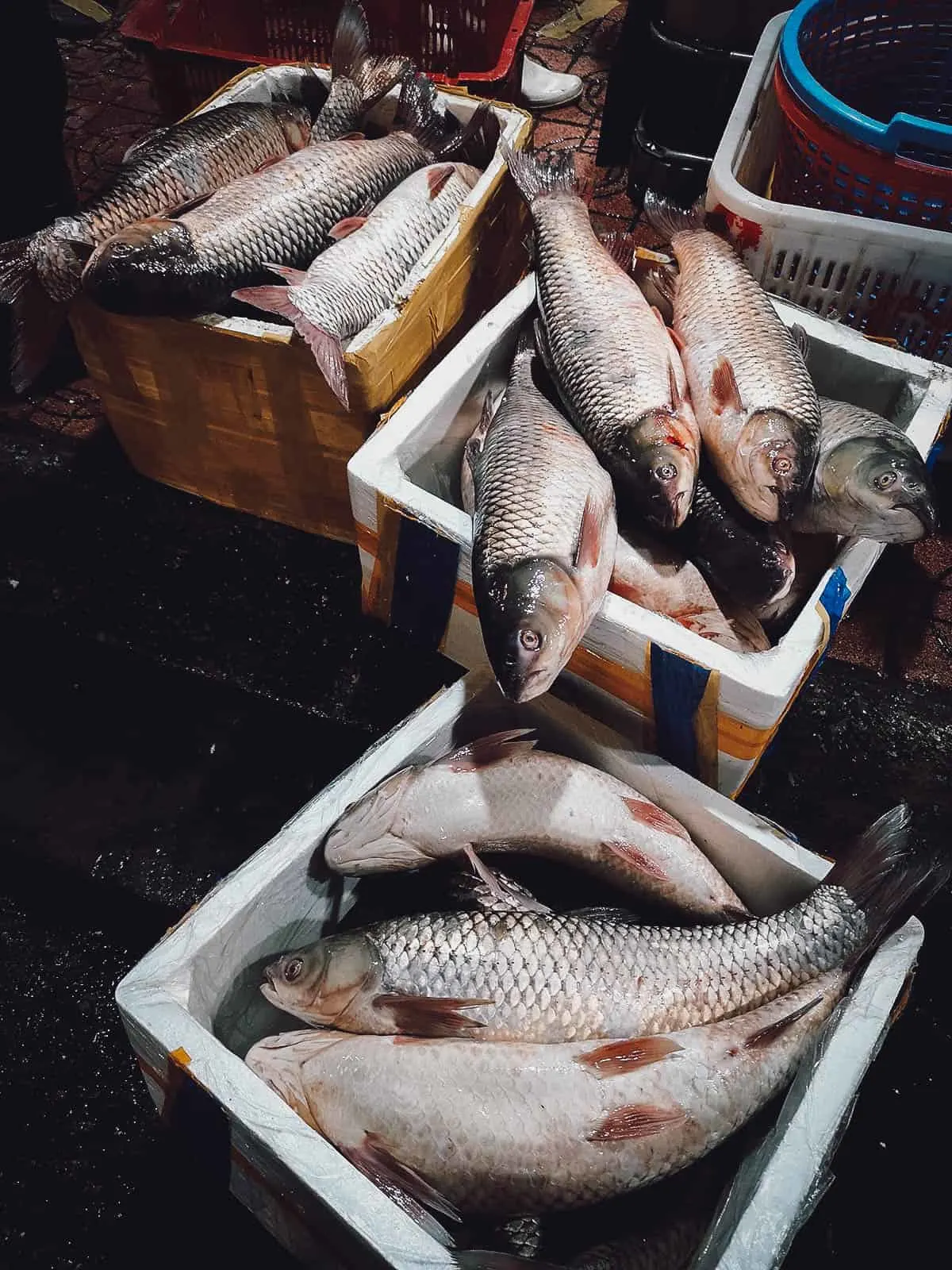 These look like a type of scabbard fish.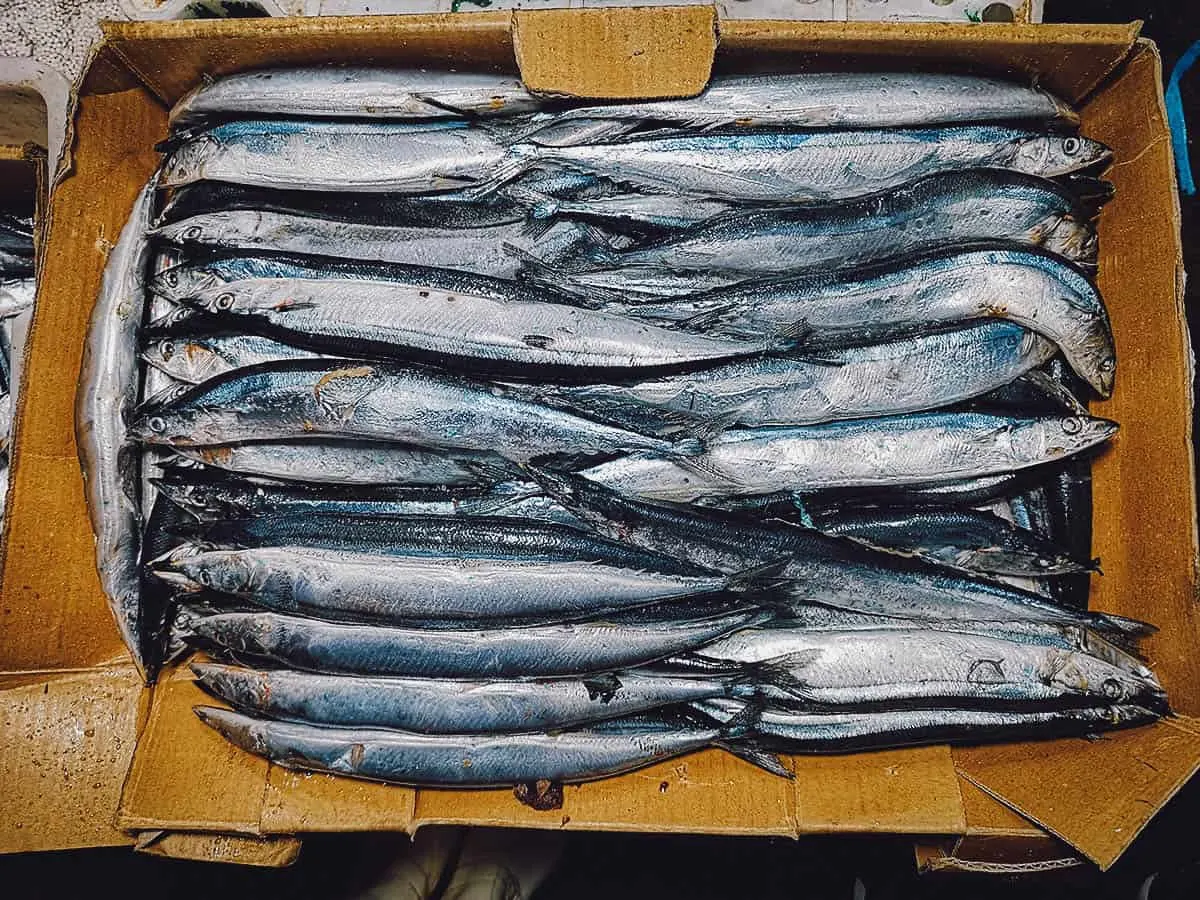 Scabbard fish being cleaned and beheaded and de-tailed, perhaps to prepare for cooking.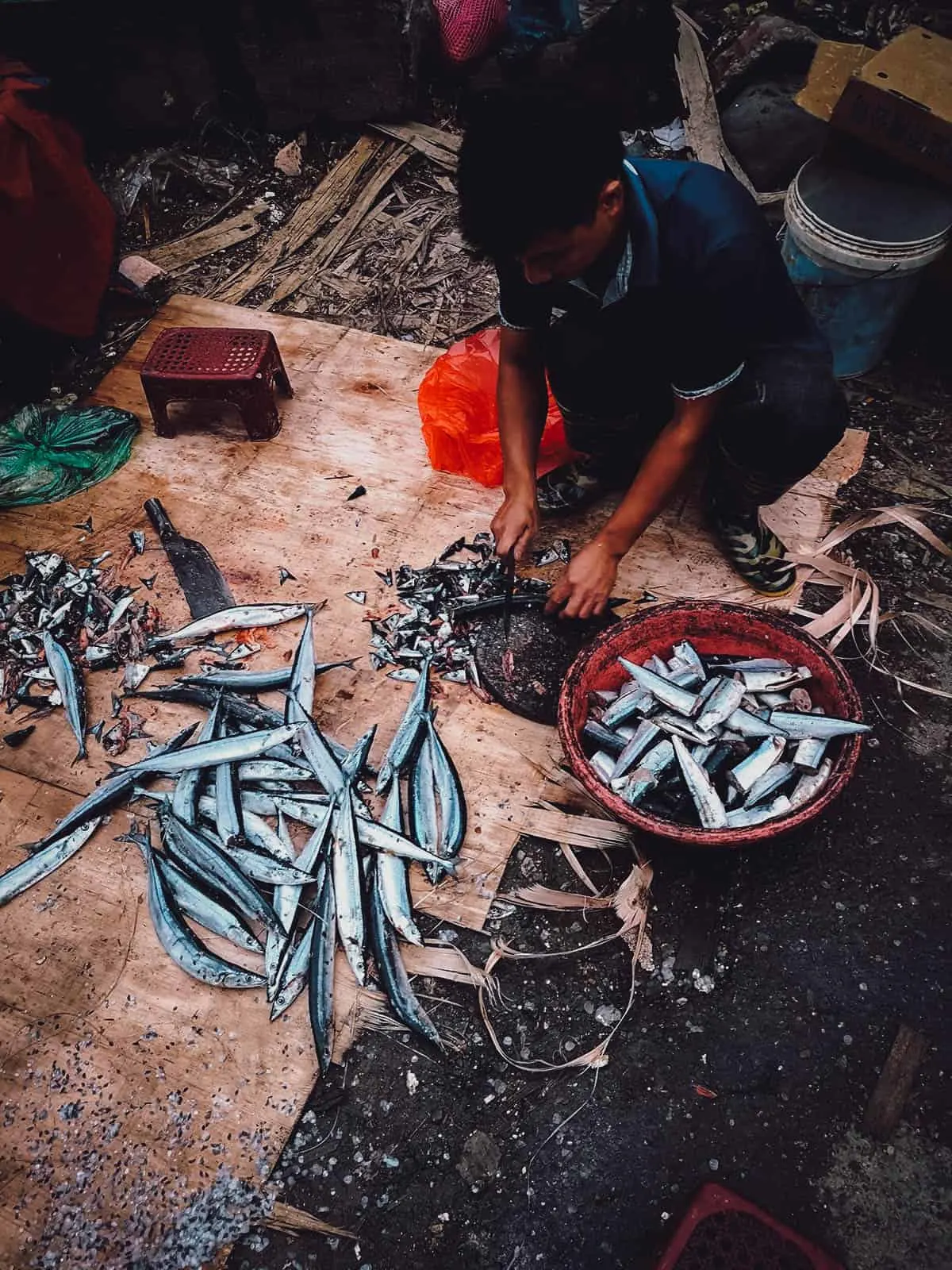 A woman sorting through live eels. According to Chef Duyen, she was picking out the best specimens. Note the oxygenated tub of water.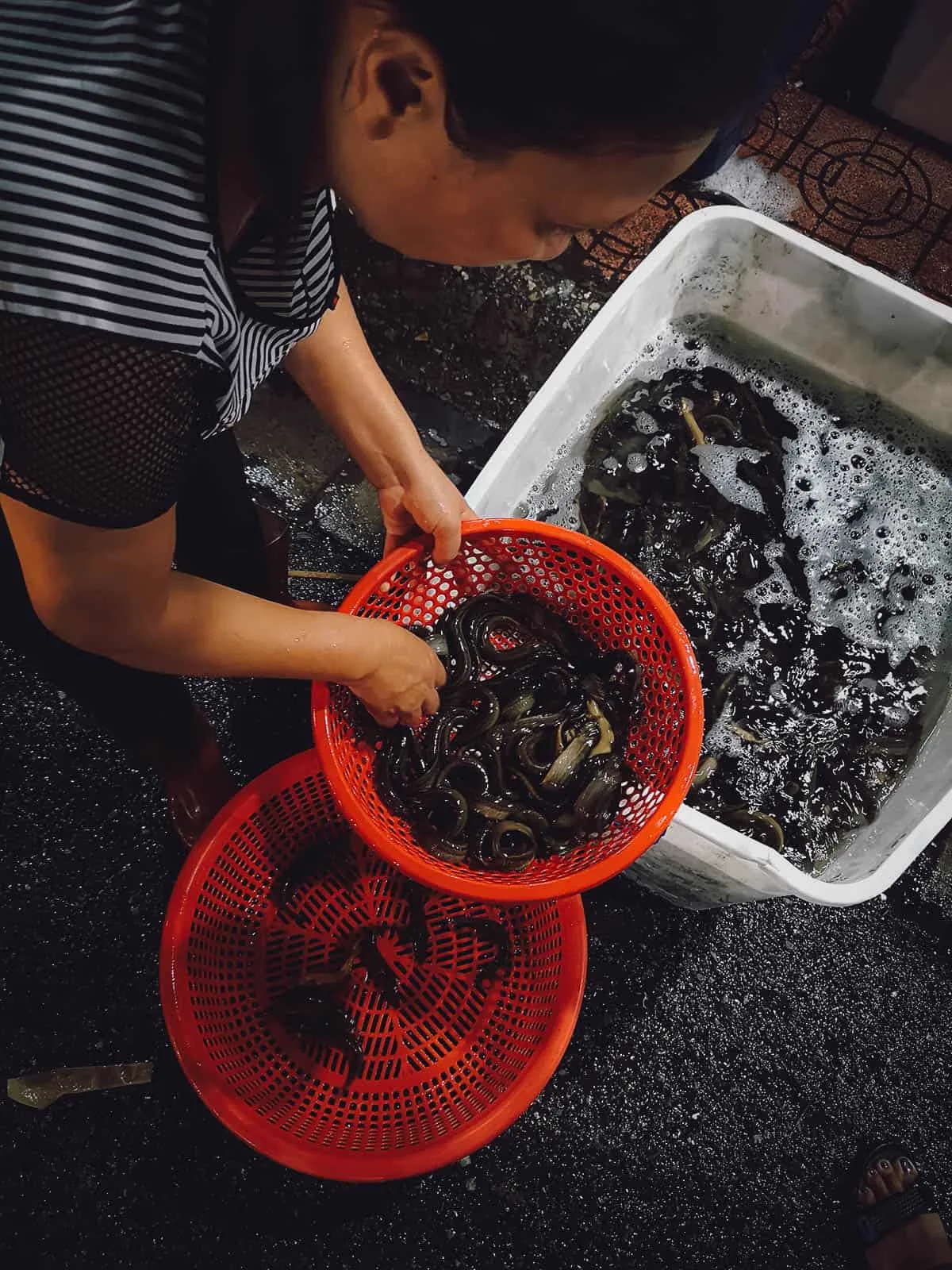 I love it when pictures tell stories. I couldn't understand what they were saying but you can tell from their eyes and body language that heated negotiations for squid and cuttlefish were taking place.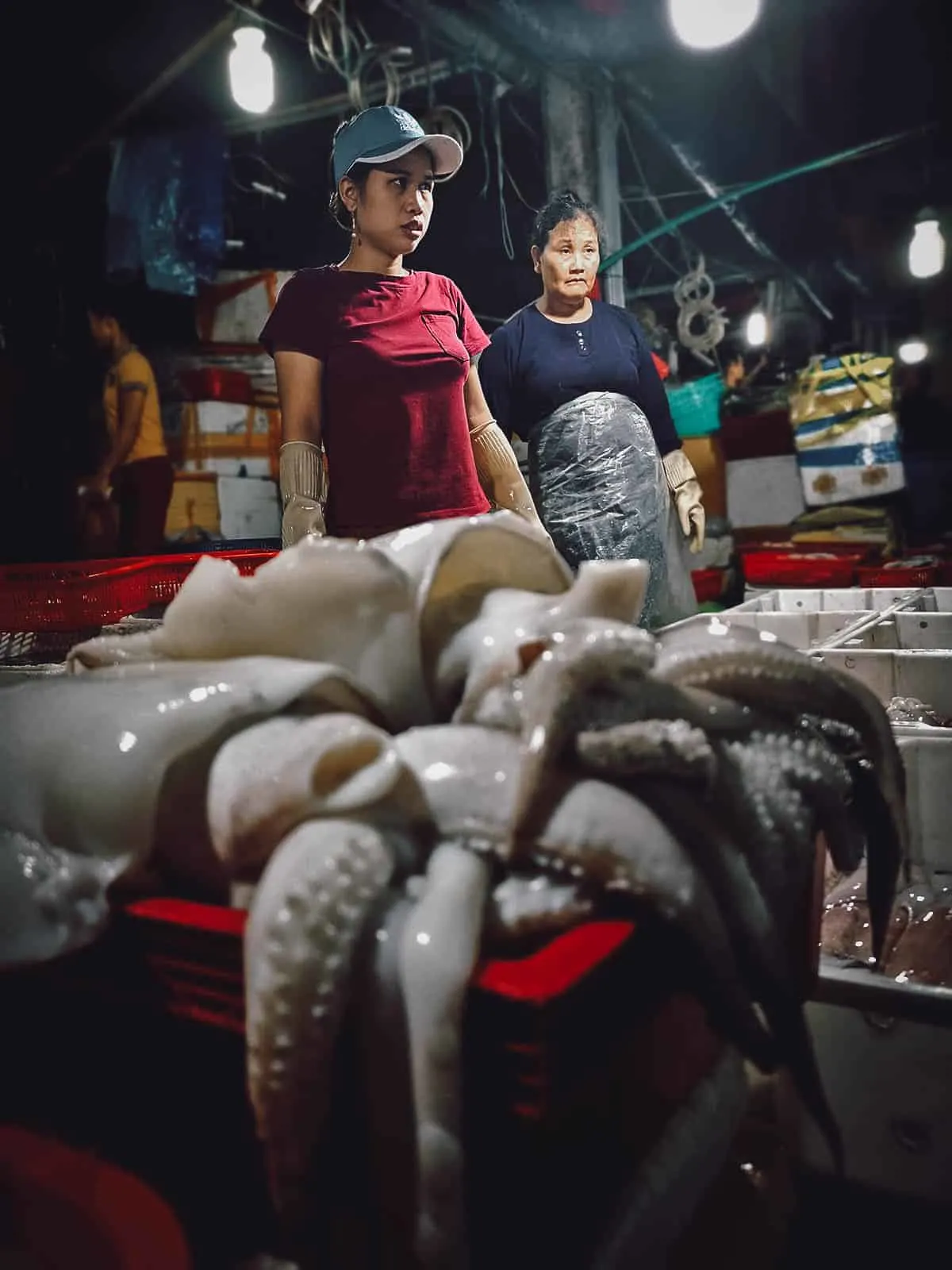 More cephalopods, this time my favorite octopus.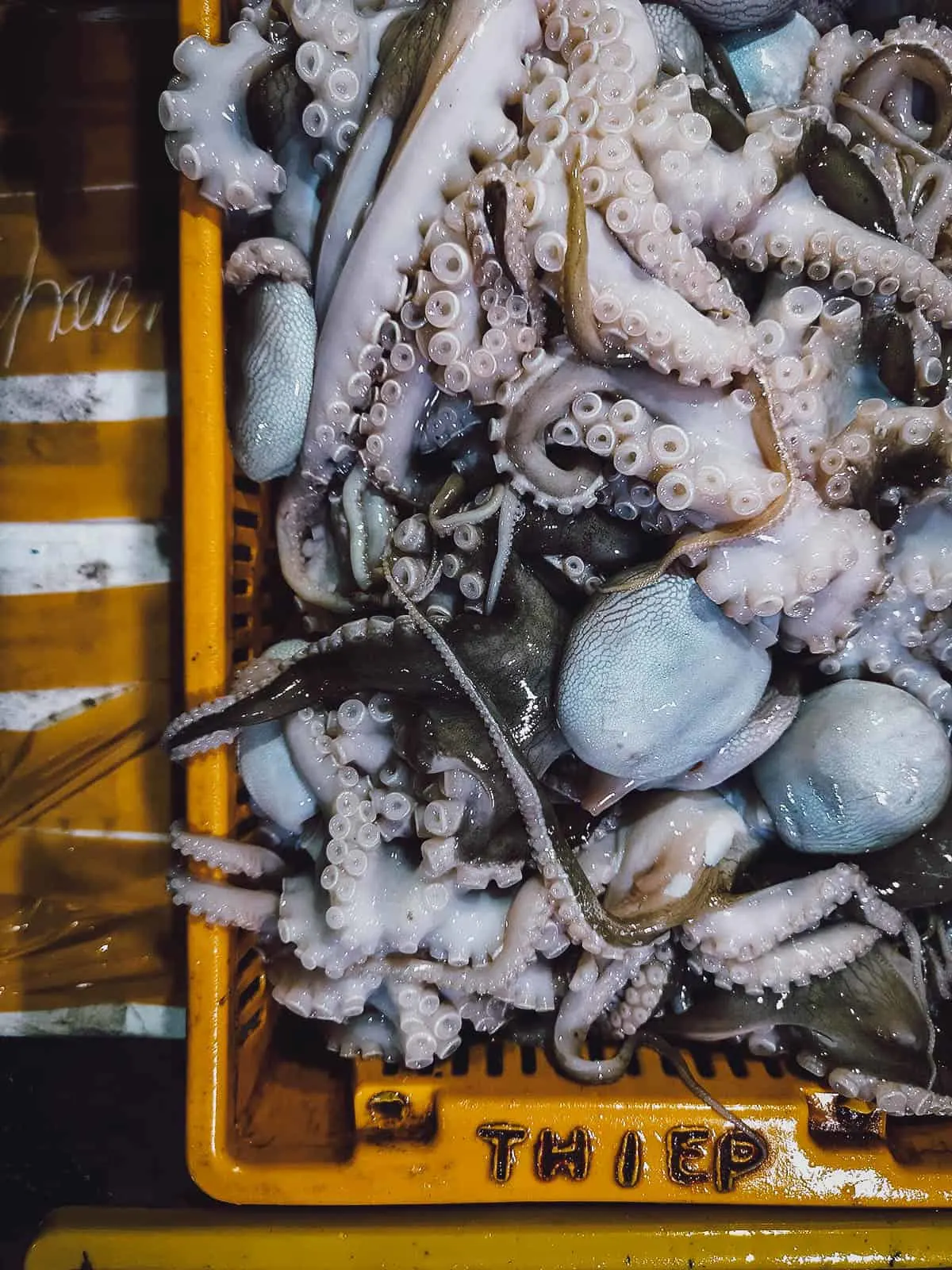 Take a good look at this picture. What animal parts is she working with? This woman was doing what looked like extremely laborious work of taking apart whole pig heads. Do you see the brains in the silver basin? She was coming down hard with the cleaver and using all her might to tear the meat and flesh from the skulls. This is a woman not to be messed with.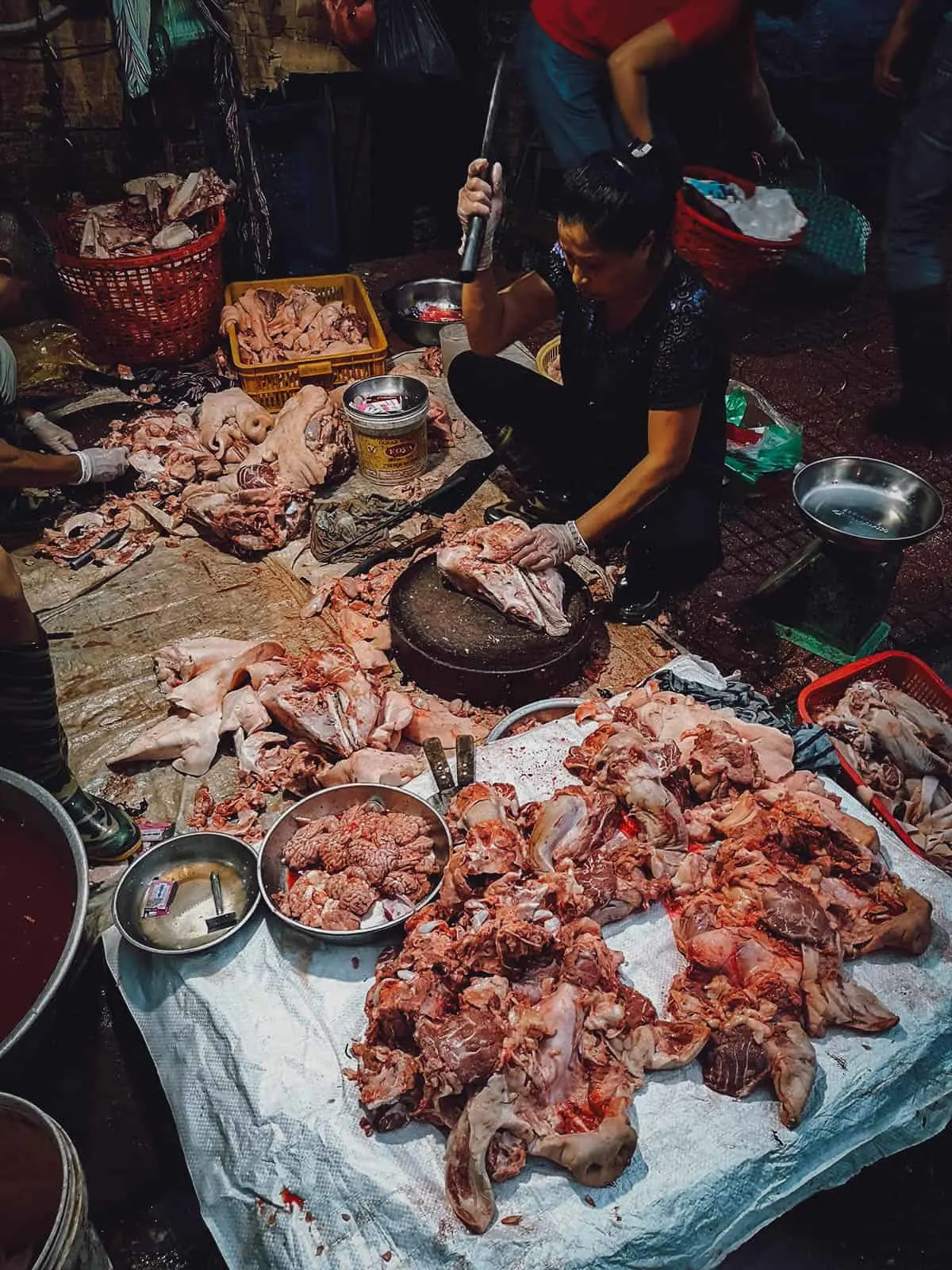 It was clear from watching her that this was difficult work. Her finger and grip strength must be insane!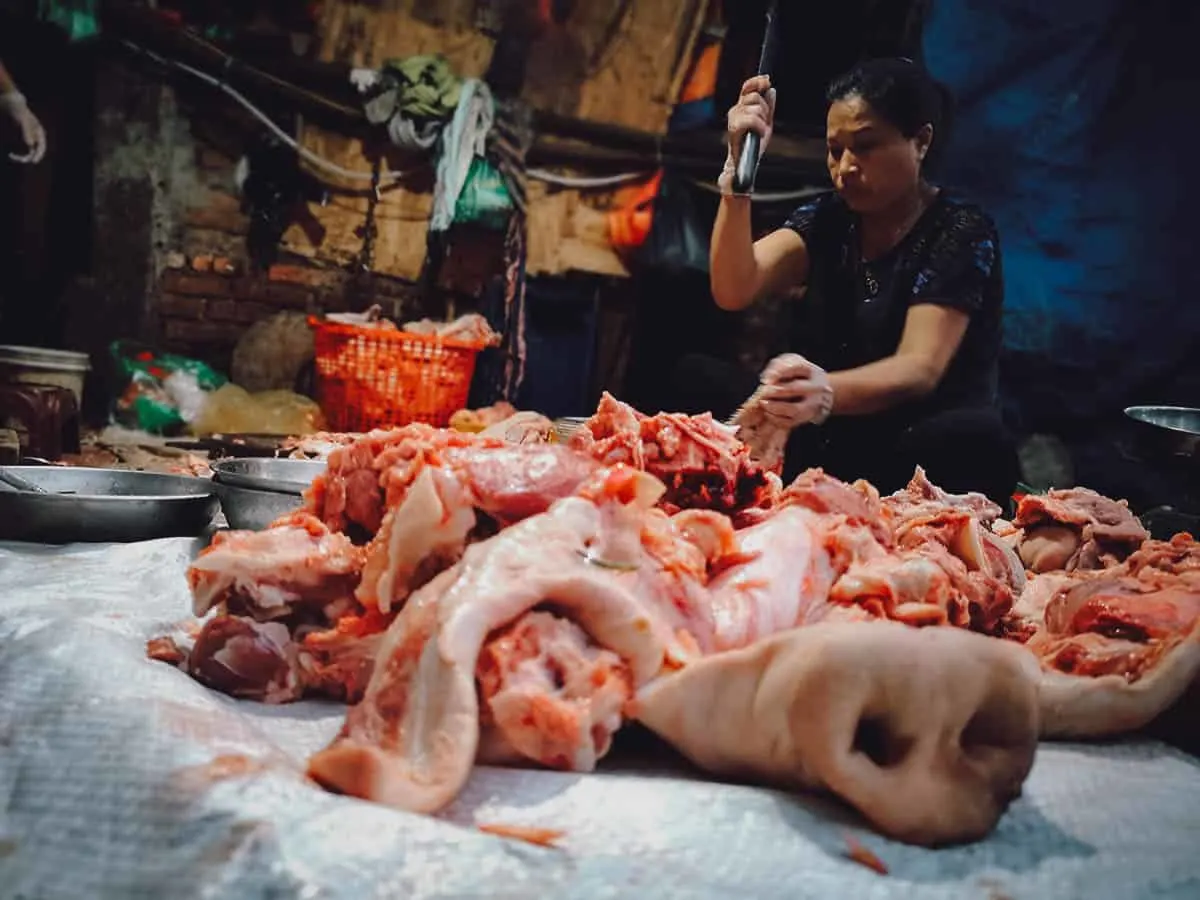 Long Biên Market is named after Long Biên Bridge, a bridge that connects Hanoi's Hoan Kiem and Long Bien districts. Long Biên Bridge is an historic bridge previously named after Paul Doumer – the former French president and governor general of French Indochina. At the time, it was the only bridge connecting Hanoi to the main port of Haiphong and was thus of strategic importance in securing control of northern Vietnam.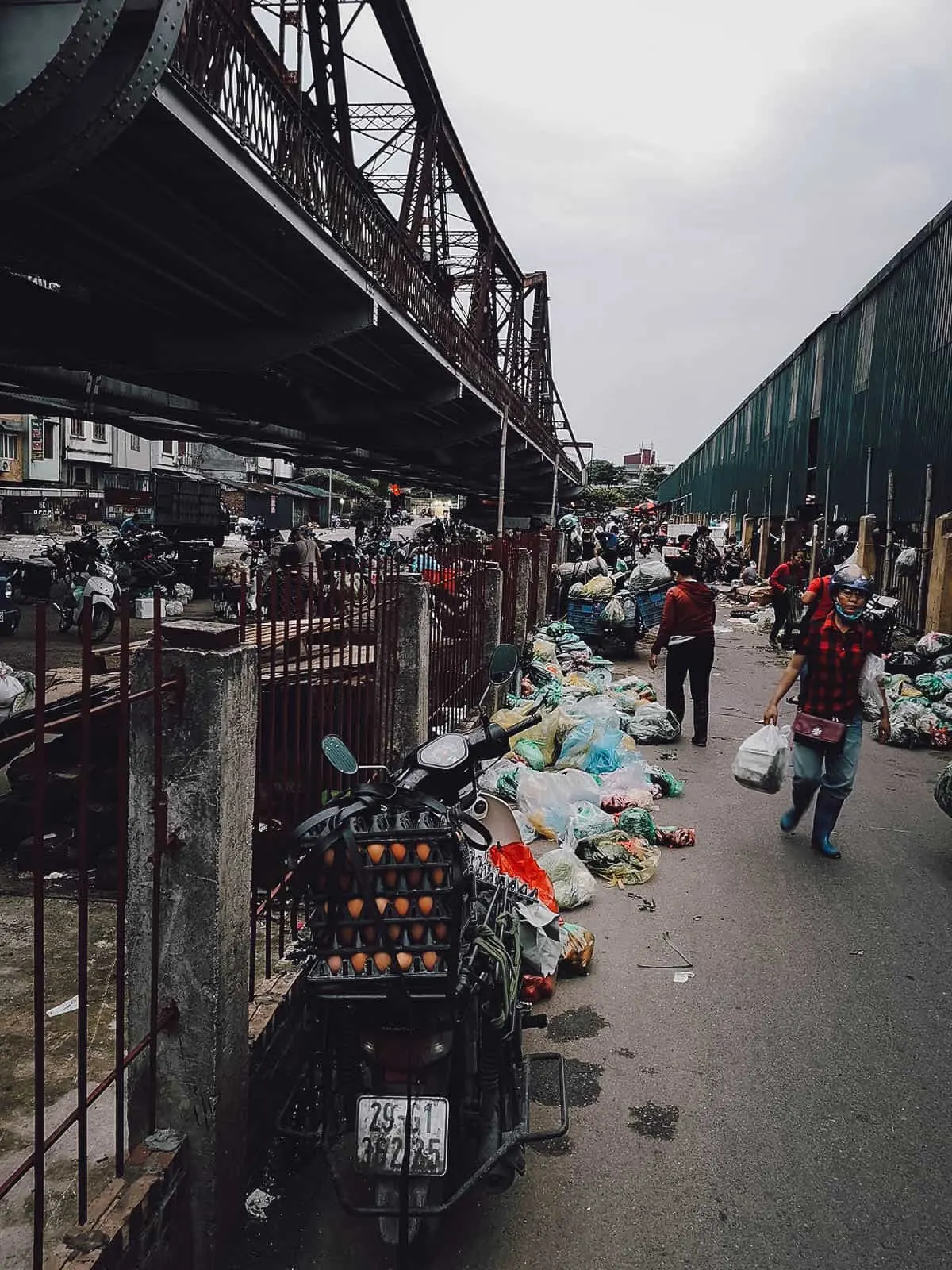 This was one of the last pictures I took at Long Biên Market. It was also the funniest. Chef Duyen told me that the wives do all the shopping while their husbands wait for them on their motorbikes, often falling asleep in seemingly impossible positions like this. I guess the stereotype of women dragging around their significant others while they shop is true in every culture.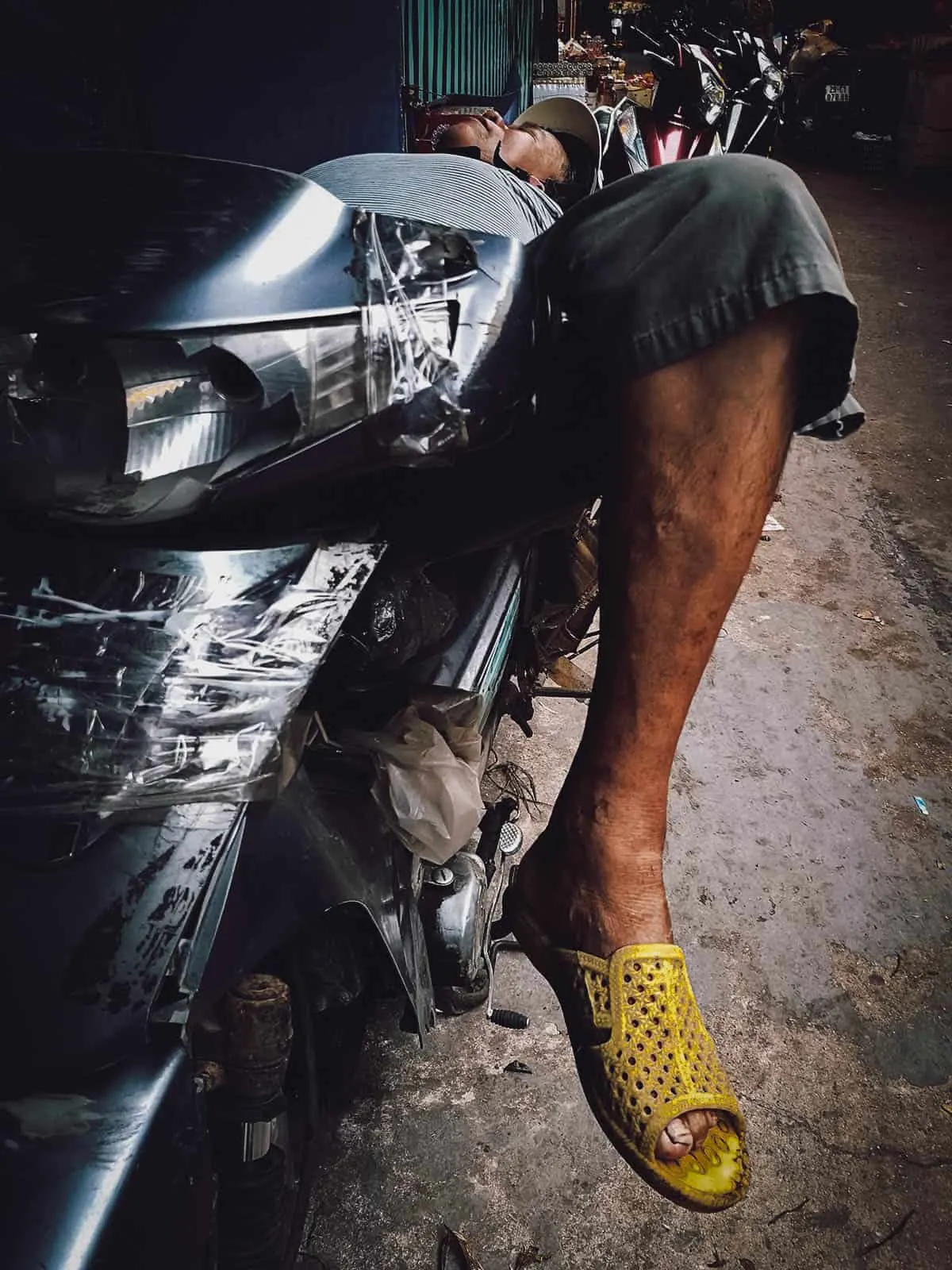 Dong Xuan Market
This would be the third and final market we'd visit on this tour. Dong Xuan Market is located in the Old Quarter, a few blocks north of Hoan Kiem Lake. While Quảng Bá Market features flowers and Long Biên is a classic wet market, Dong Xuan Market is known for its spices.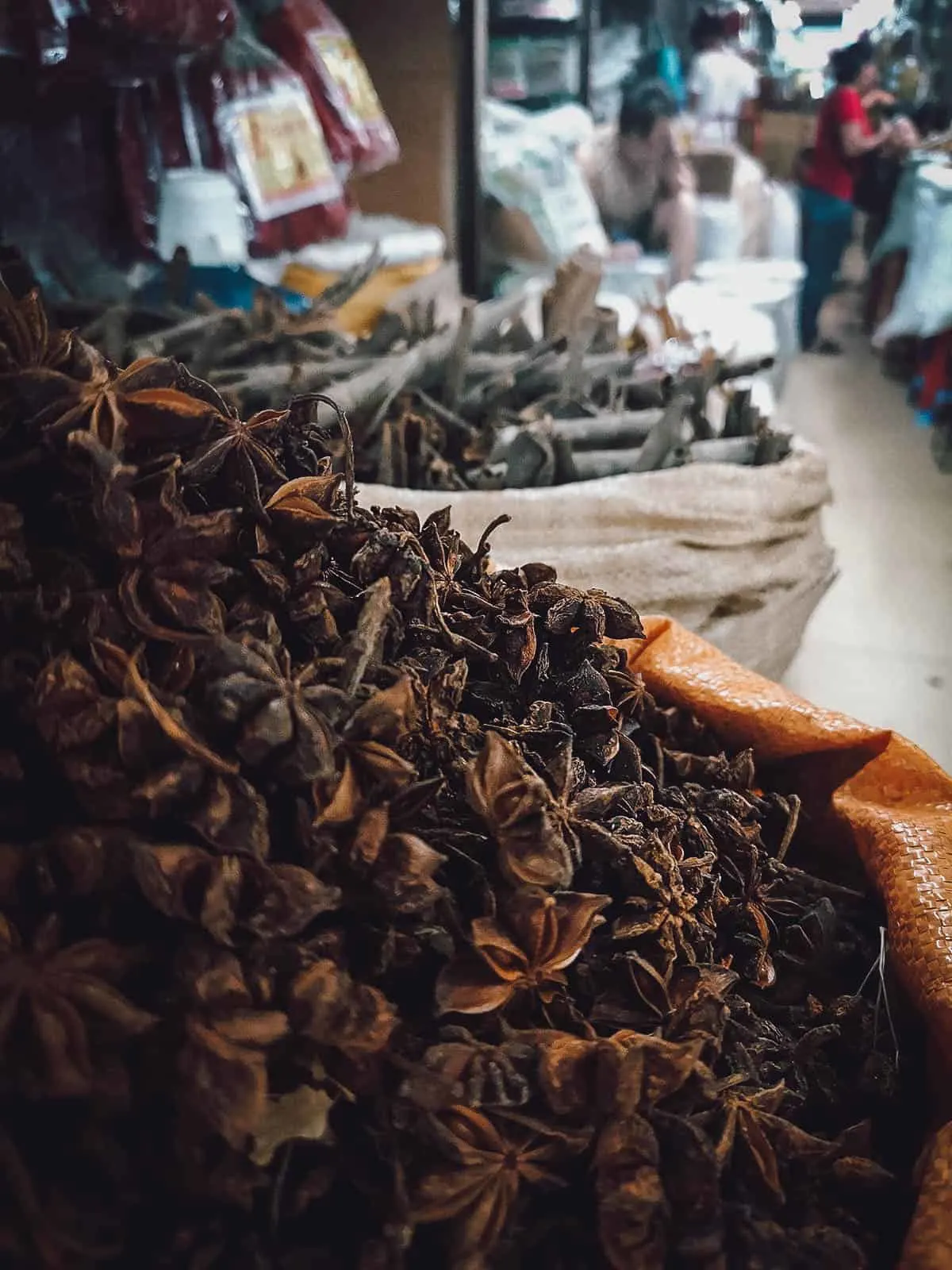 Sacks of spices and legumes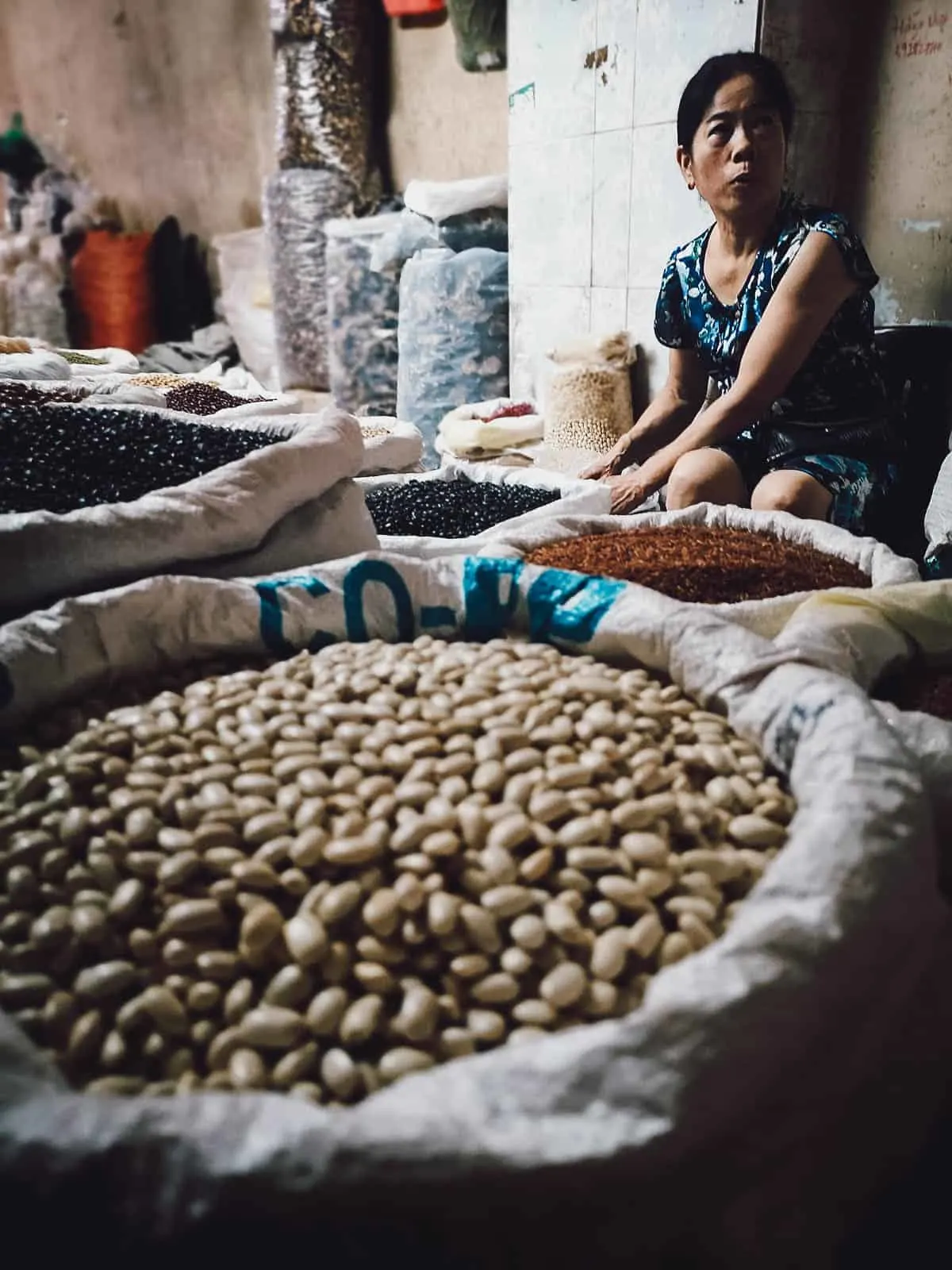 Cinnamon sticks and calculating the day's earnings. Of the three markets we visited today, Dong Xuan Market is the easiest to get to on your own because of its proximity to the city's main tourist areas. Plus, you don't have to come here as early to appreciate it.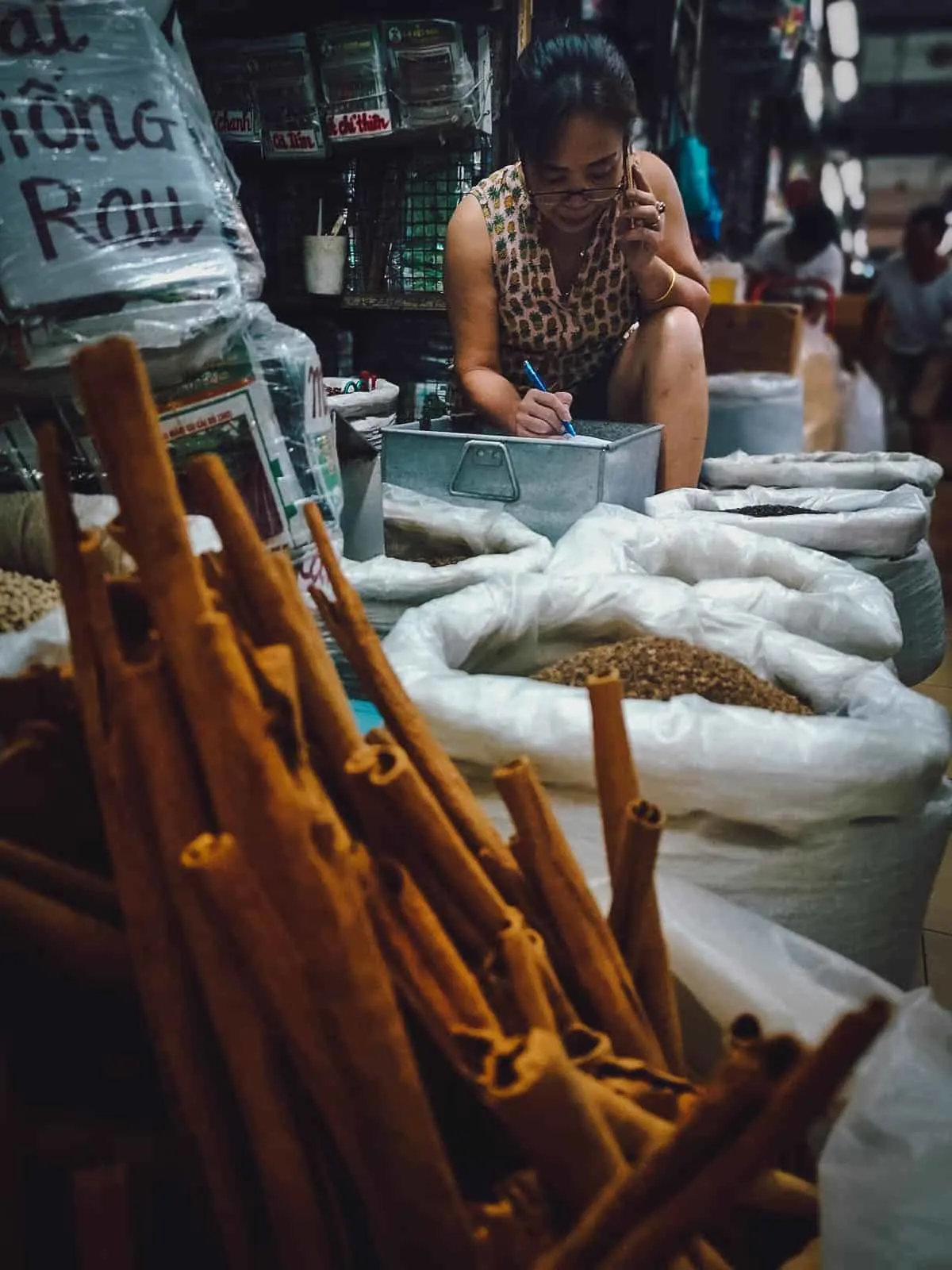 Vietnamese Street Food
No tour from A Chef's Tour can ever be called A Chef's Tour's tour without an abundance of delicious street food. Being a chef, Chef Duyen knew exactly where to take me to sample classic Vietnamese dishes like bun cha, sticky rice, and egg coffee. As fascinating as the markets were, these Hanoi food stalls were without a doubt my favorite stops on today's tour. Frequented only by locals, good luck finding stalls like these on your own.
Xoi
Xoi is sticky or glutinous rice. I'm not the biggest fan of sticky rice because I find it too filling, but this was the best xoi I've ever had in Vietnam. I'm not exaggerating. I usually temper my eating on their tours because I know how much food is coming, but I couldn't help but finish this entire banana leaf of xoi by myself. It was so good!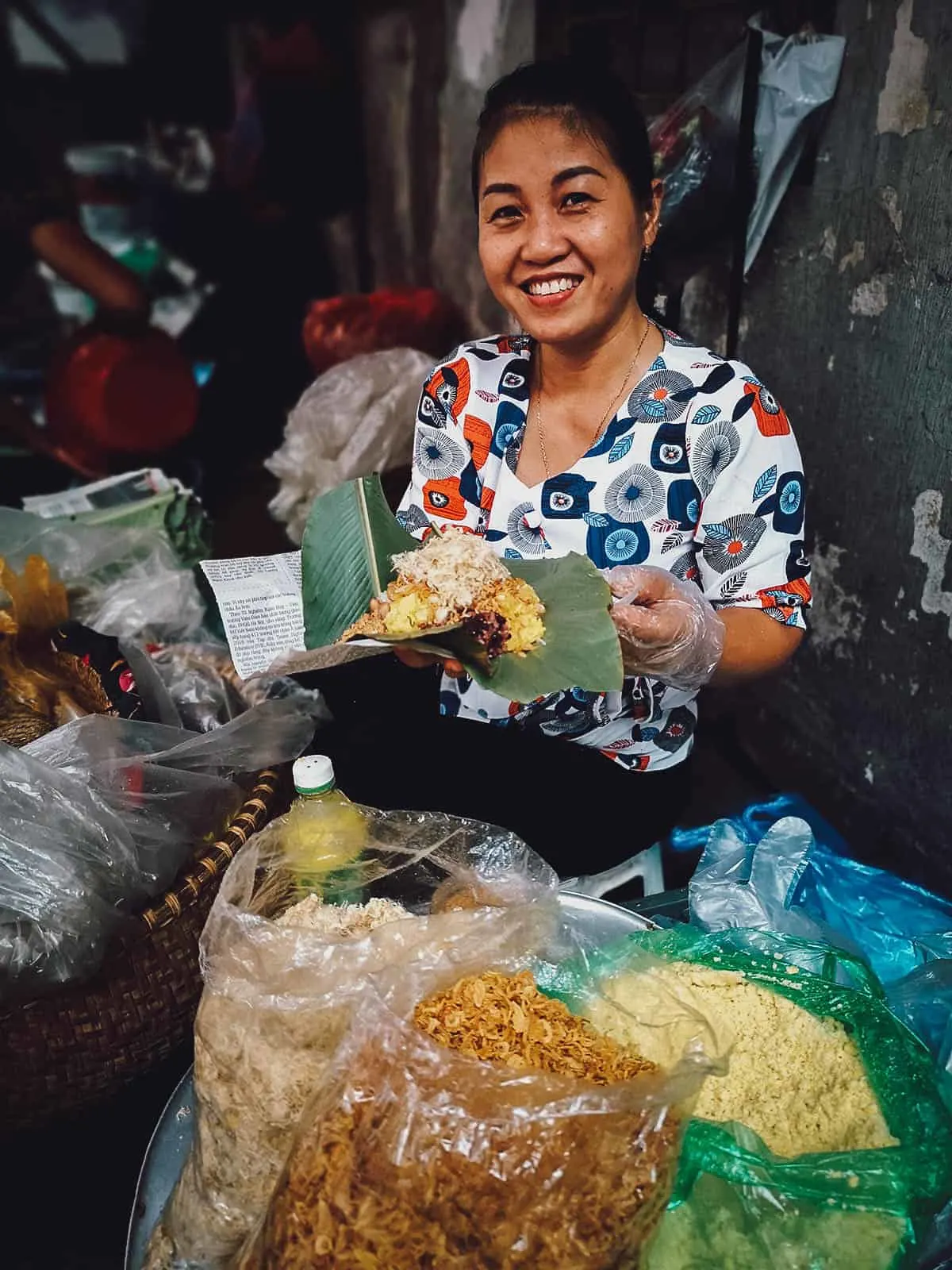 Chef Duyen got me the kitchen sink version of this lady's xoi which came with everything. I'm not sure what type of xoi this was but from the looks of it, it may be xoi bap on steroids.
Consisting of two types of sticky rice and loaded with things like corn, fried shallots, crushed peanuts, and pork floss, it had such an enjoyable combination of flavors and textures. It was chewy, sticky, sweet, savory, nutty, and crunchy, and surprisingly, not nearly as filling as I feared it would be. Seriously yum.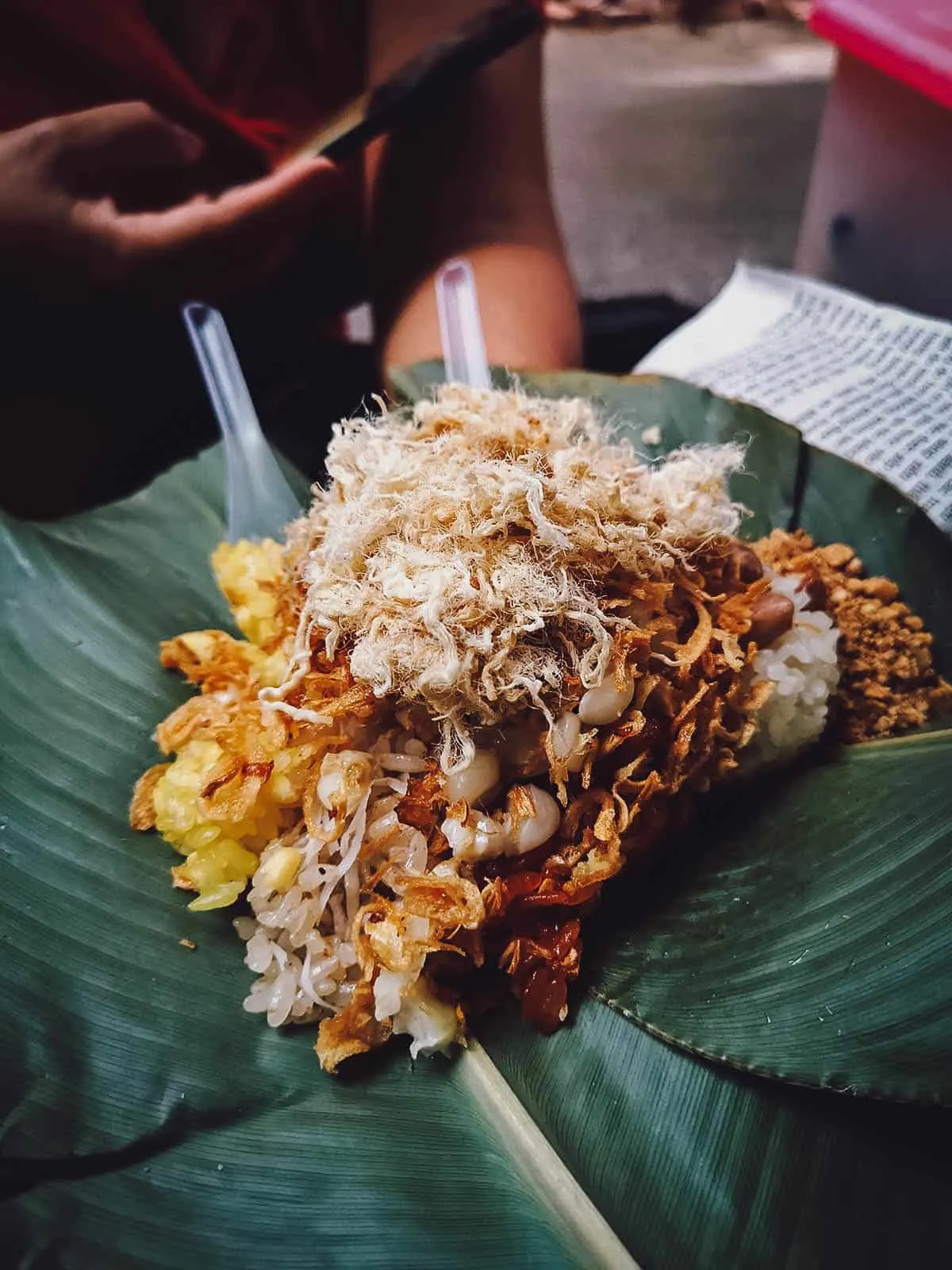 Bun Cha
Bun cha is one of my favorite northern Vietnamese dishes so I had already enjoyed it on multiple occasions before this tour. I didn't think this one would surprise me but it did. Like the xoi, it was absolutely delicious.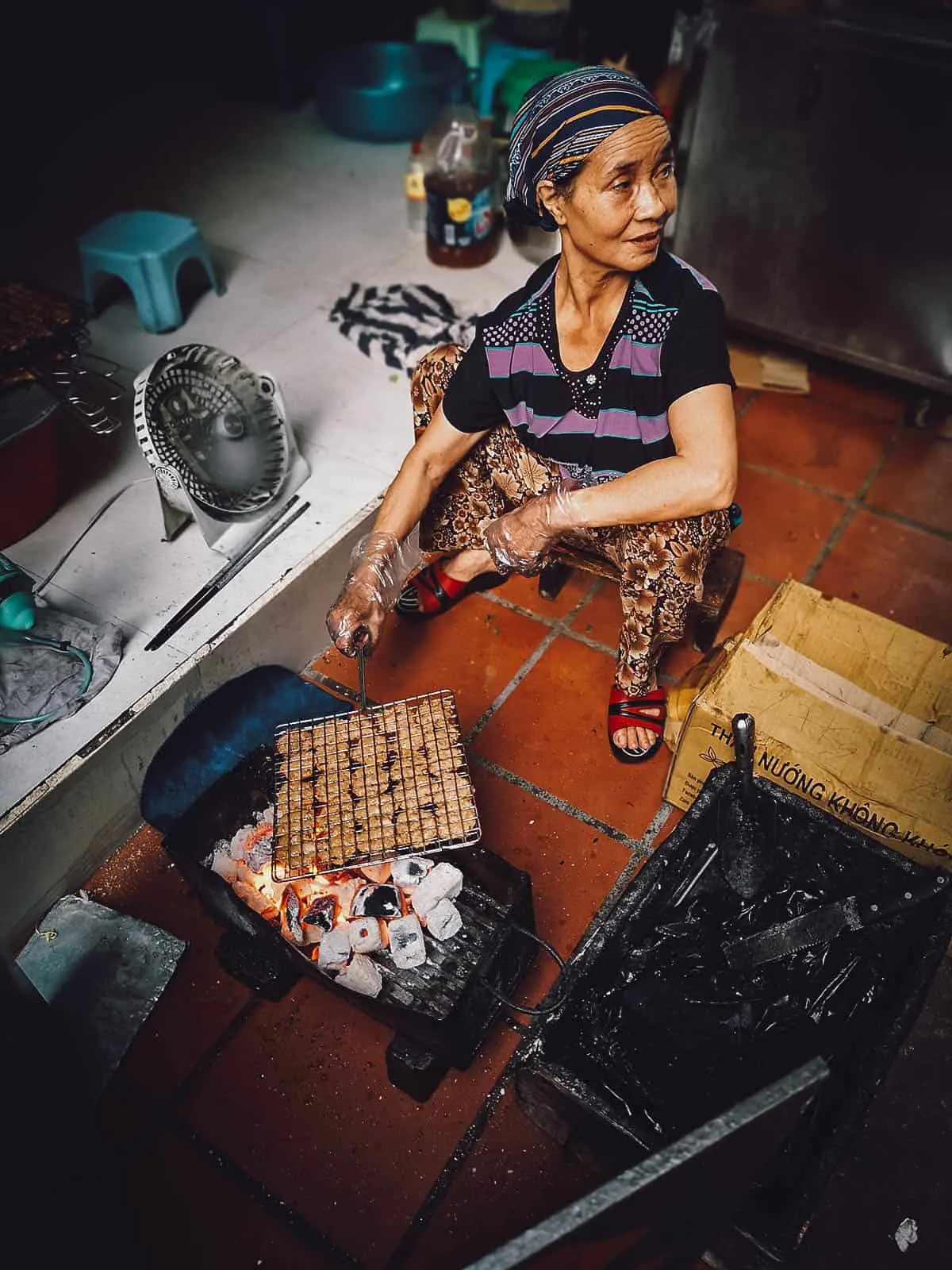 Bun cha is a tasty dish of charcoal-grilled pork and noodles served with a basket of fresh vegetables. It's believed to have its roots in Hanoi and is the exact dish former president Barack Obama and Anthony Bourdain had at Bun Cha Huong Lien on that famous episode of Parts Unknown.
Pictured below is a pork patty or meatball but every order of bun cha typically comes with two types of pork, the second being grilled pork belly. The meat is served in a bowl of diluted fish sauce mixed with sugar, lemon juice, vinegar, garlic, chili, and pickled vegetables. The combination of the smokey grilled pork with the sweet-savory fish sauce and the freshness of the crunchy raw vegetables is to die for. I could have this everyday in Hanoi.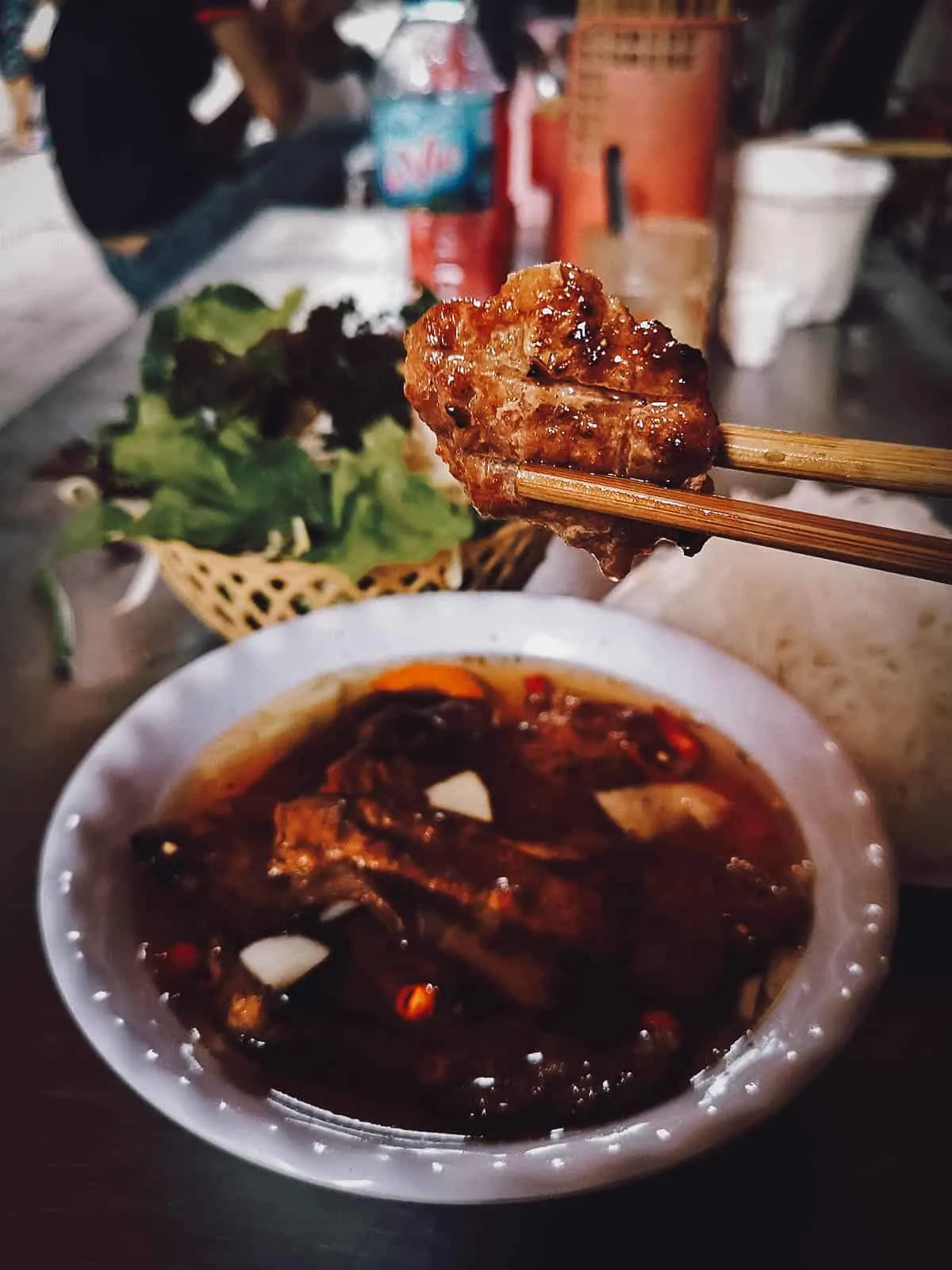 Bun Rieu Cua
Of all the tasty things I had on this tour, I could tell this bun rieu cua was the one dish Chef Duyen was most excited for me to try, and with good reason. It was incredibly tasty and overflowing with different ingredients.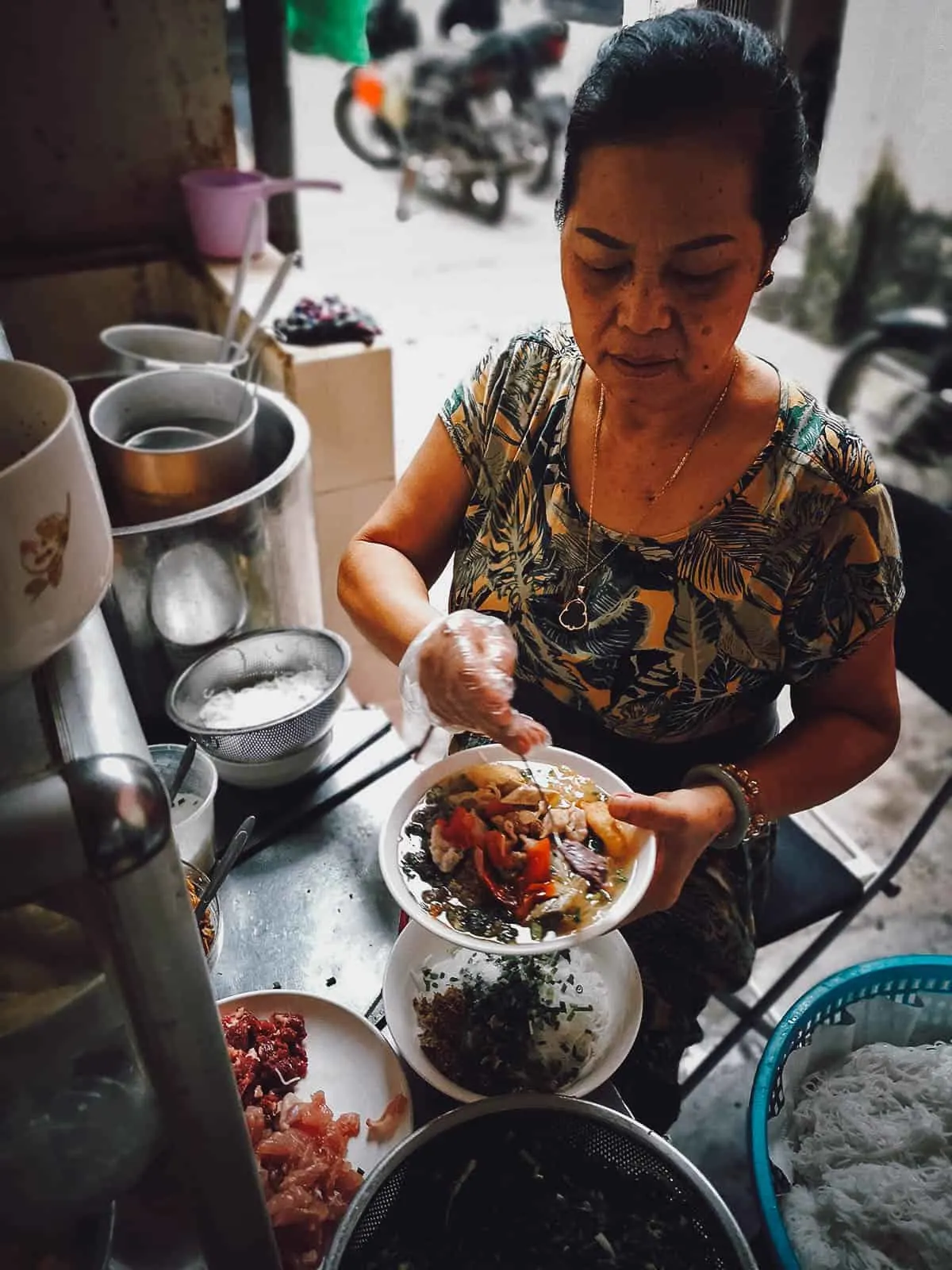 Bun rieu is a soup made with meat and vermicelli. Bun rieu cua is a type of bun rieu made with tomato broth and small freshwater paddy crabs. The crabs are pounded into a paste with their shells intact before being drained, the ensuing liquid used with tomato to form the base of the soup. The crab residue is then used to make crab cakes which are also served in the soup.
The ingredients used in bun rieu cua may vary from cook to cook but this one seemed to contain pork sausage (gio lua), baby clams, fried tofu, green onions, and perhaps a few other things. Tangy from the tomatoes, it's a tasty invigorating breakfast dish to perk you up in the morning.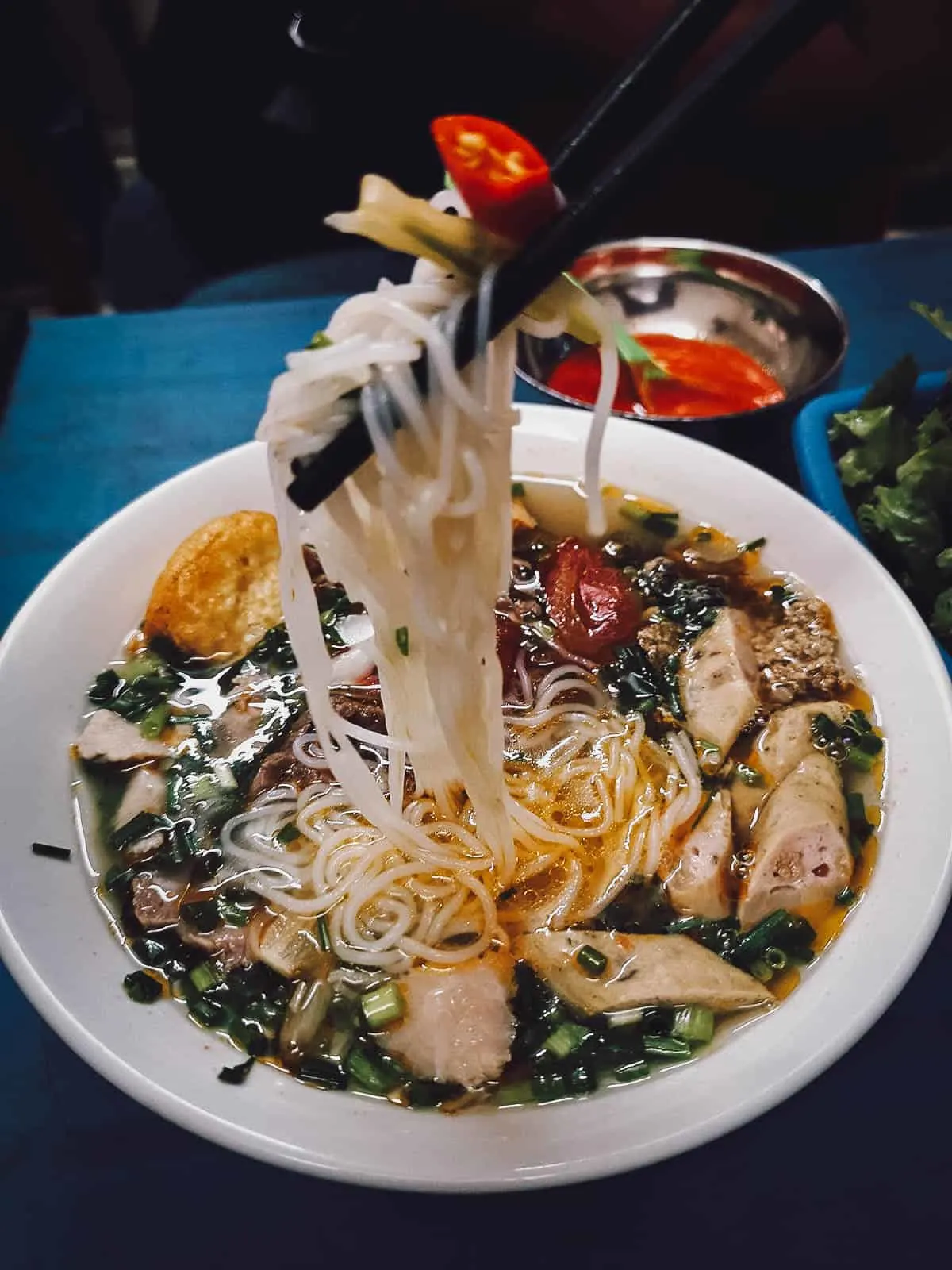 Egg Coffee
Vietnam is known for coffee. It's the second largest producer and exporter of coffee in the world, behind only Brazil. You can find great coffee anywhere in the country, though none more enjoyable perhaps than here in Hanoi. Hanoi is known for its coffee culture, at the heart of which is this homegrown favorite known as egg coffee or ca phe trung.
Chef Duyen took me to Cafe Giang, the very place that invented ca phe trung. They're still regarded by many as having the best egg coffee in the city.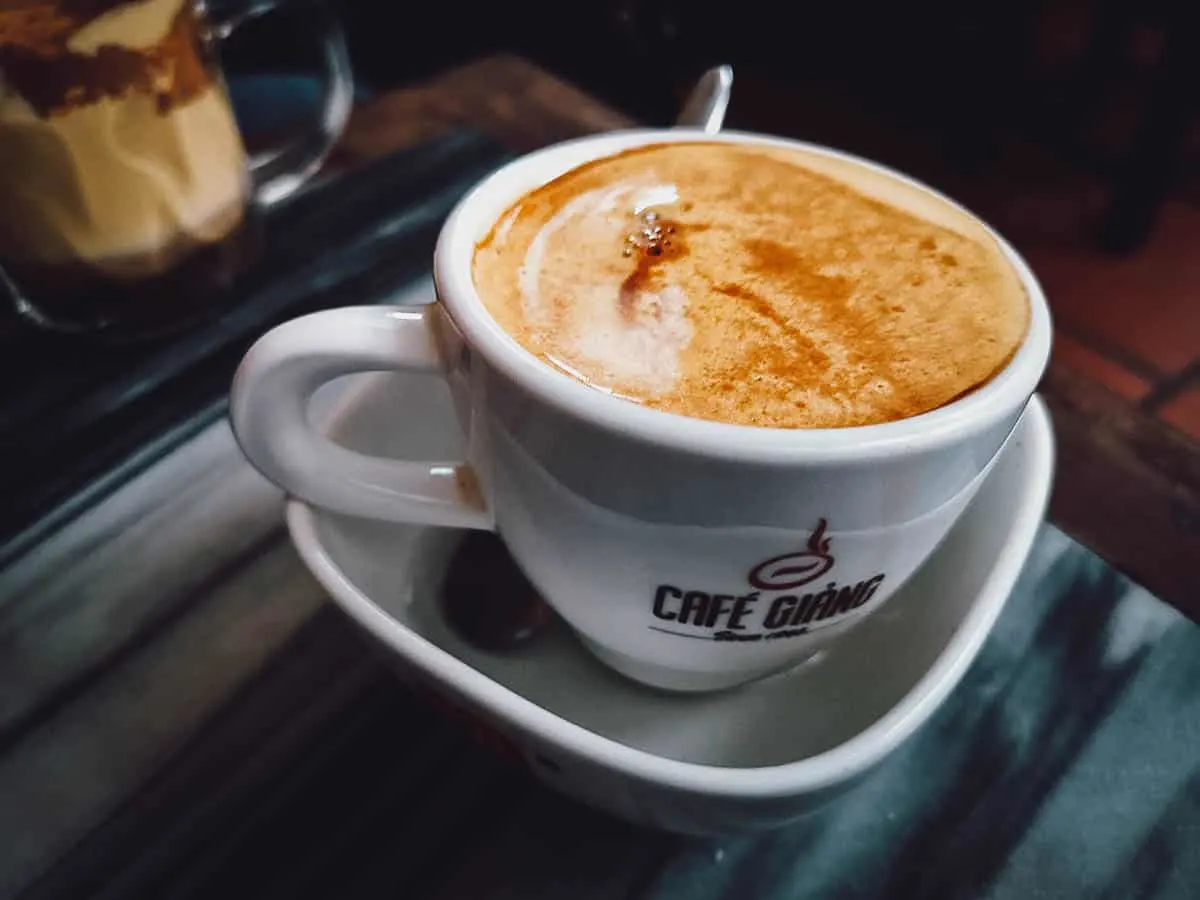 Ca phe trung is coffee made with heavily whisked egg yolks. Egg yolks are beaten with coffee and sugar then topped with egg cream, resulting in a rich, frothy, and eggy coffee drink that's as tasty as it is unconventional. I didn't like it when we first visited Hanoi two years ago but I've grown to love it ever since.
Legend has it that Chef Giang came up with the recipe for egg coffee in 1975 postwar Vietnam. Fresh and condensed milk were scarce at the time so he used whisked egg yolks as a replacement. The Cafe Giang recipe for ca phe trung is a heavily guarded family secret.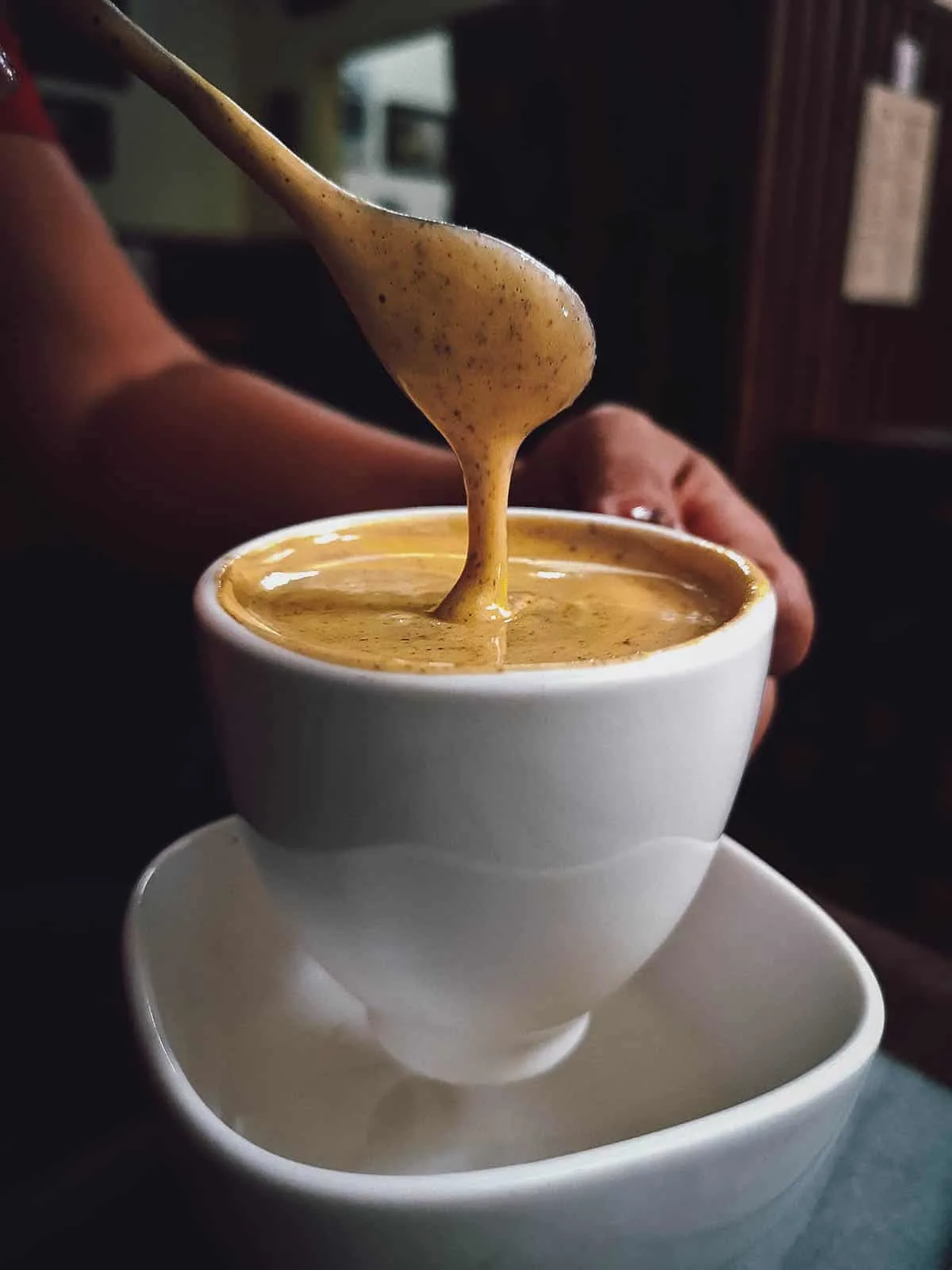 Bia Hoi
Ok, so this was a first for me. I had less than three hours sleep and was already running on fumes, so I wasn't sure I could handle this glass of bia hoi or Vietnamese draught beer. In the end, I said YOLO and relented, enjoying my first every glass of beer at seven-ish in the morning. How I could still stand after this glass I do not know!
Bia hoi is Vietnamese beer that's brewed daily. From what I understand, it's meant to be consumed on the same day as it's brewed because it doesn't keep for very long. It's cheap and light, with an alcohol content of about 3%. Just go easy on bia hoi as it doesn't have a reputation for being the most refined or healthiest beer.
Like a cup of egg coffee, no visit to Hanoi can be complete without a glass or two of bia hoi at the junction of Ta Hien and Luong Ngoc Quyen streets. Overflowing at night with tourists and locals on stools drinking beer and eating street food, it's one of my absolute favorite places in Hanoi. The atmosphere is always electric.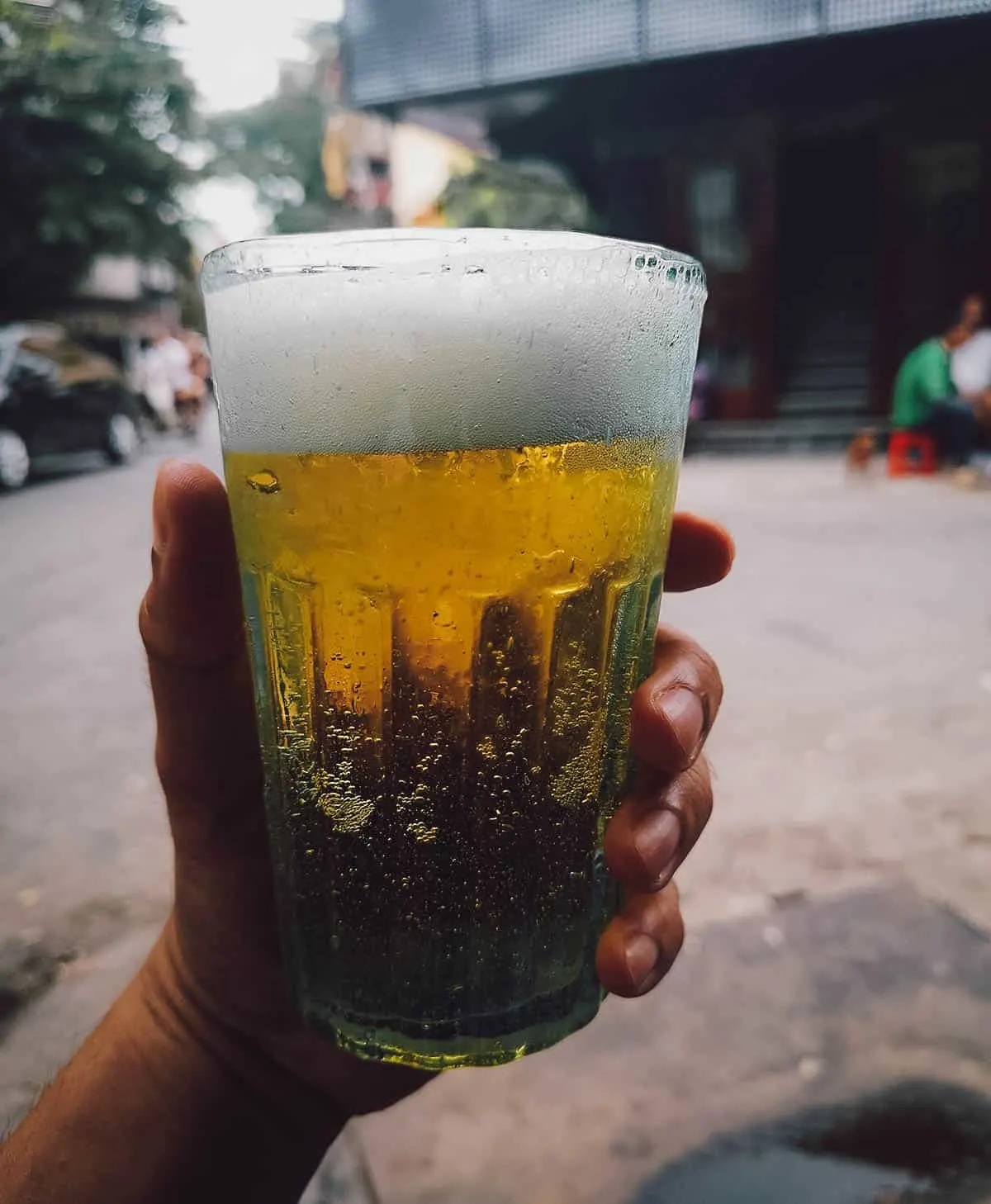 Che
Dazed and confused at this point and ready to hit the sack, Chef Duyen led me to the final stop on today's tour. Here we'd have che, which refers to a family of Vietnamese sweet soups or pudding. They're made with an endless combination of ingredients like beans, tapioca, fruit, seeds, taro, cassava, and pandan leaf.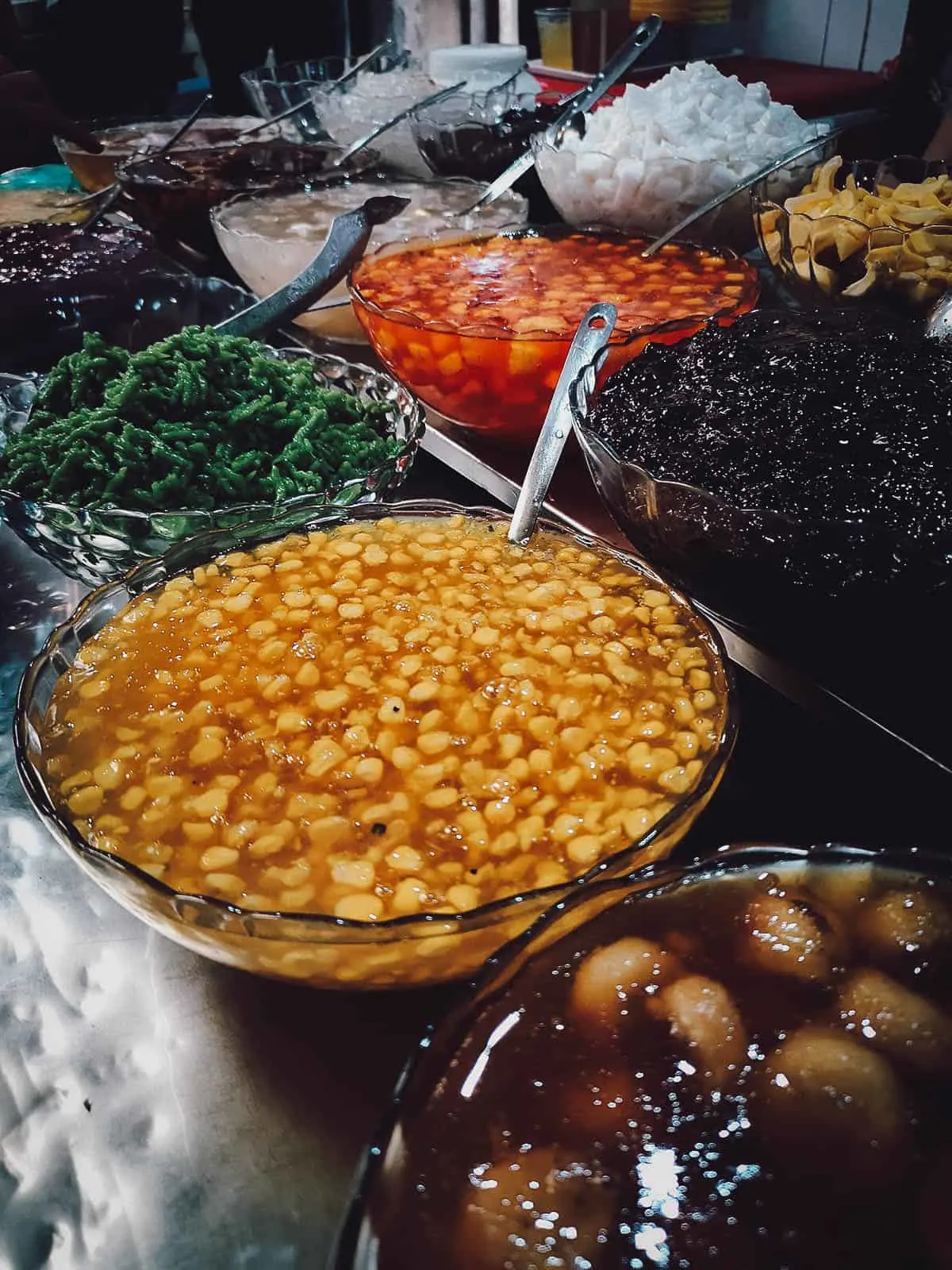 Like the xoi at the start of this Vietnamese street food feast, Chef Duyen ordered me the works. From the looks of it, my mug of che had everything in it like corn, banana, passionfruit, white jelly, black jelly, and coconut cream. I've always enjoyed che no matter what was in it because it reminded me of a similar Filipino dessert called halo-halo. This time was no different.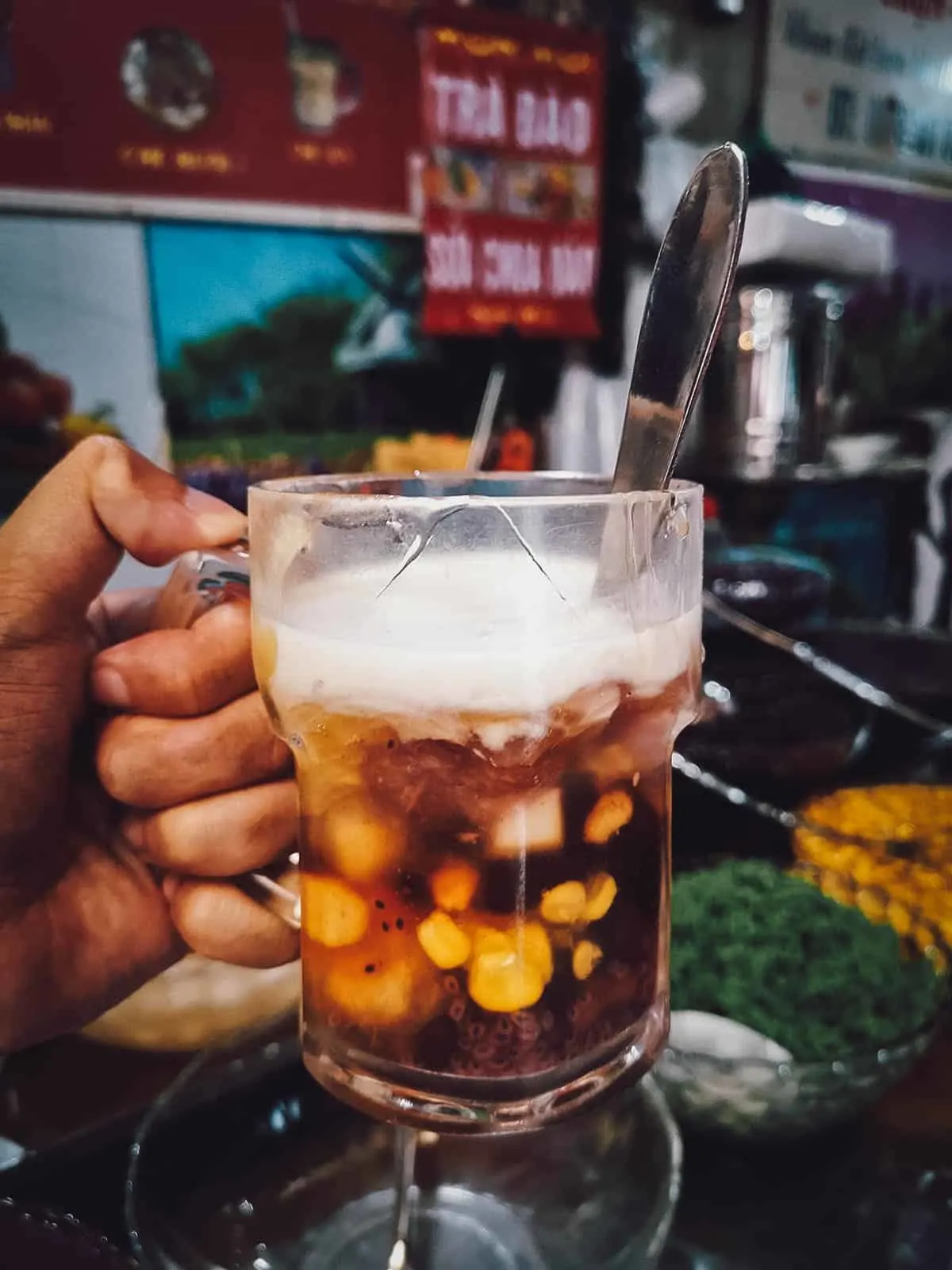 Final Thoughts
After scooping up my last bits of che and thanking Chef Duyen, I marched back to my AirBnB in a trance – dead tired but completely satisfied. I had a belly full of great Vietnamese food and a camera filled with interesting photos, the likes of which I had never before captured at any market. It was the exact environment I often see in travel food shows and one I've been wanting to experience myself.
If you're into street photography, then the opportunities presented by this tour won't be lost on you. This tour will practically sell itself. If you're a casual photographer or food lover on holiday in Vietnam, then I understand how hard it can be to push yourself out of bed at four in the morning. But trust me, it's worth it.
I've been on many tours with A Chef's Tour and this was one of my favorites so far. It was amazing to see a wet market buzzing with that much activity, even if it meant getting up earlier than what I'm used to. All the pictures I took and food I ate made it worth the effort.
If you'd like to book this tour, then you can do so directly on A Chef's Tour. It costs USD 75 per person and includes all food, drink, and transportation during the tour.
A Chef's Tour
Website: achefstour.com
Facebook: achefstour
Twitter: achefstour
Instagram: achefstour
Pinterest: achefstour
Email: [email protected]
Cost: USD 75 per person
Availability: Daily
Disclosure
A Chef's Tour gave me a complimentary food tour in exchange for an honest account of the experience. As always, all words, thoughts, and opinions expressed in this post are mine and mine alone.