I wasn't expecting to see her that morning.
I didn't know what the schedule was, so I hung around by the bridge taking pictures before retreating up the side of the hill. There was a cafe on the ridge offering a clear bird's eye view of the bridge. I stood there for a few moments admiring the view before turning and making my way to Little Adam's Peak.
But something made me go back.
I don't even remember what, perhaps an idea to take a picture of the bridge from another angle, but I got back to the ridge to find a streak of blue cutting through the haze of forest and fog. I didn't even hear her coming.
I snapped as many pictures as I could, still in disbelief of my good fortune. It was the moment I had been waiting for in Ella, the small mountain town that was far and away my favorite destination in Sri Lanka.
VISIT ELLA QUICK LINKS
This travel guide to Ella is long. For your convenience, I've compiled links to hotels, tours, and other services here.
TOP-RATED HOTELS
TOURS
OTHER SERVICES
Save This on Pinterest!
No time to read this Ella travel guide now? Click on the save button and pin it for later!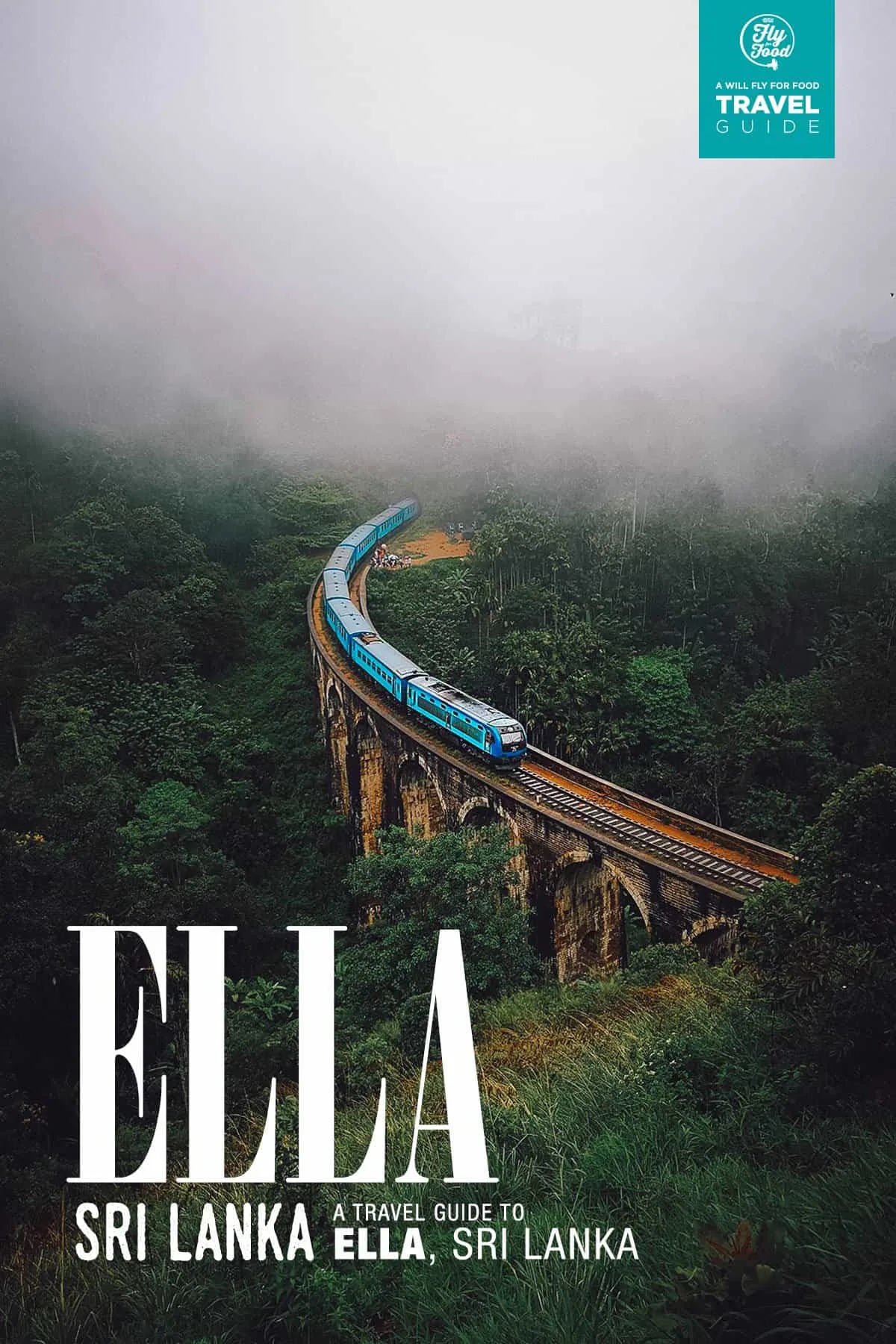 GUIDE TABLE OF CONTENTS
ELLA TRAVEL RESTRICTIONS
Because of the current global situation, Ella travel guidelines have been changing often. Our friends at Booking.com created a website that lists detailed information on travel restrictions around the globe.
Before planning a trip to Ella, be sure to check Booking.com for information on travel restrictions to Sri Lanka. If you do decide to visit Ella, then you may want to seriously consider getting travel insurance with COVID coverage.
HOW TO APPLY FOR AN ETA TO SRI LANKA
Applying for an ETA (Electronic Travel Authorization) to Sri Lanka was easy. The entire process is done through the Sri Lanka ETA website and it was emailed to me within minutes of submitting the application and making payment. You can refer to my post on applying for an ETA to Sri Lanka for a step-by-step process. You can also apply for an ETA through iVisa.com.
ELLA AT A GLANCE
Located about 200 km east of Colombo, Ella is a small mountain town in the central highlands of Sri Lanka. Due to its higher elevation, it's known for its cooler climate and landscape characterized by cloud-covered hills, waterfalls, and tea plantations.
Ella has long been one of the most popular destination in Sri Lanka, sought after for its laid-back atmosphere and picturesque hiking trails. It's also the starting or end point of the famed Kandy-Ella train route, which is often referred to as the most scenic train ride in the world.
BEST TIME TO VISIT ELLA
It's hard to peg down a "best time to visit" Ella because the information online varies greatly. In spite of the inconsistencies, what seems clear is that Ella is known to be warm and rainy throughout the year, with the rainiest months being around October and November.
I was there in early November and I experienced a LOT of rain. It would typically rain in short bursts then stop, allowing me to go out and do some hiking, but it did pour heavily non-stop for one or two days. It kept me in my room so be ready for days like that during the rainiest months. I don't remember experiencing any sunny days during my time there.
Trekking is the main draw in Ella so it's best to go when the weather is clear. Based on my experience and the information I've pieced together, that would be from around mid-January till March. This seems to consistently be the driest and warmest time in Ella.
When traveling in Sri Lanka, it's important to understand that the country experiences two annual monsoons – Yala and Maha. Yala monsoon season is typically from around May till August and affects the southwestern part of the country, while Maha goes from around October till January and affects the northeastern parts of Sri Lanka. Being in the central highlands, Ella will be affected to some degree by both but not as significantly as coastal cities.
JAN-APR: Weather-wise, this is the best time of the year to visit Ella. The weather is relatively dry, especially in February and March. You'll enjoy the most sunny days making it the ideal time to go hiking.
MAY-AUG: Weather information during these months is conflicting. Some reports say Ella receives little rain in summer while others say it can get fairly wet. Based on traveler experiences on TripAdvisor and Sri Lanka's monsoon seasons, I tend to believe the latter. Based on my time there, I think mornings are consistently clear and sunny with the rains coming in early- to mid-afternoon.
SEPT-DEC: This is the wettest time of the year in Ella. As described, I went in early November and experienced a lot of rain. It made for nice post-rain pictures but the downpour was often too heavy to do anything.
Climate: Annual Monthly Weather in Ella
For more on Ella's weather, check out these climate graphs from weather-and-climate.com. I've also created average temperature and annual rainfall graphs with the most ideal months to visit marked in orange.
Average Temperature

Annual Rainfall


TRAVELING TO ELLA
Ella is located in central Sri Lanka, in the southern hemisphere of the country. There are many ways to get there depending on where you are, but for the purpose of this guide, let's assume you're coming from either Kandy, Yala National Park, or Colombo.
It's common to visit Sri Lanka's most popular destinations in a loop, either going clockwise or counterclockwise starting from Colombo.
From Kandy
If it's your first time in Sri Lanka and coming from Colombo, then you'll probably be making a stop in Kandy first before continuing on to Ella. It's about a 2.5-3 hr train ride from Colombo to Kandy, then another 6-7 hrs to Ella.
6-7 hours sounds like a lot but don't worry, this is that much hyped scenic train ride so the time goes by quickly. As described, it's been called the most beautiful train ride in the world, taking you through a lush mountainous terrain with tea plantations as far as the eye can see.
This train ride is one of Sri Lanka's most sought after attractions so it's HIGHLY RECOMMENDED that you book your tickets early. Tickets sell out quickly, even during low season, so it's important to reserve your seat as early as possible.
I bought mine over thirty days in advance and I couldn't even get my first choice of train class. You can read about my experience booking train tickets in Sri Lanka in the ELLA TRAVEL TIPS section.
You can book train tickets from Kandy to Ella on Bookaway. There are two departures everyday, at 8:47AM and 11:10AM. If it's your first time experiencing this train ride, then it's best to take 2nd class.
You can get to Ella from Kandy by bus or private transfer as well, but it will probably be a lot less scenic.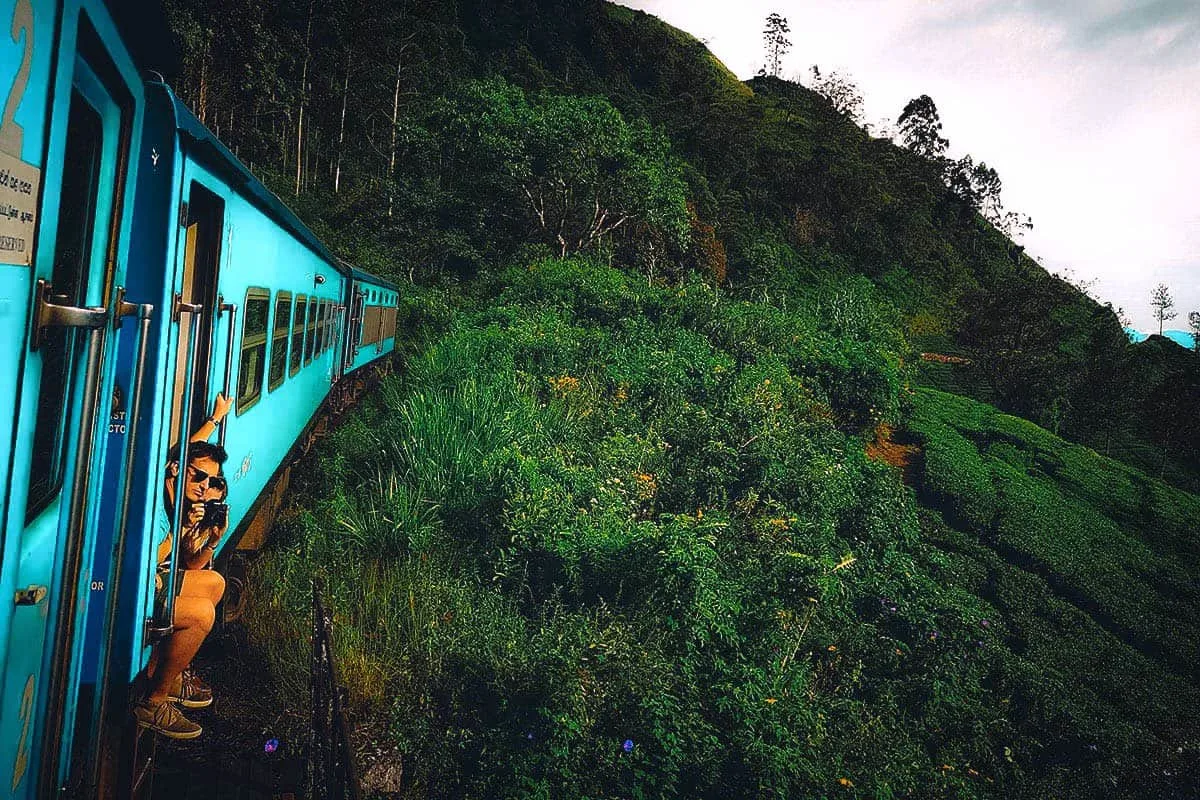 From Yala National Park
Unfortunately, there are no trains connecting Yala National Park to Ella so you'll need to go by bus or taxi. I haven't done this myself so I can't talk about it from experience, but based on what I've read, you'll need to go to Tissa first from Yala, then take a direct bus to Bandarawela and get off at Ella.
Please note that bus travel in Sri Lanka isn't the most comfortable. I rode buses going between Dambulla, Polonnaruwa, and Kandy and the rides were always bumpy and crowded. Plus, there's no luggage compartment on these public buses so you can't take large pieces of luggage with you.
If you'd rather not travel to Ella by bus, then you can go by taxi. The drive from Yala to Ella is about 2.5 hours. You can book a taxi in advance with Ella Budget Taxi which has a perfect 5-star rating on TripAdvisor. According to their website, the cost for a one-way trip will be LKR 13,500-17,500, depending on the size of the car.
From Colombo
As described, most first-time travelers coming from Colombo will probably make a stop in Kandy first. But if you'd like to proceed to Ella directly, then you can do so by train, bus, or private transfer.
If you opt to travel by train, then you'll be taking the same route that goes from Kandy-Ella. Those trains actually begin in Colombo so total travel time will be around 9-10 hours.
You can purchase tickets through Bookaway. You'll find bus and private transfer options in the click-through page as well.
From Other Cities
I focused on Kandy, Yala National Park, and Colombo because most travelers will probably be coming from those place to get to Ella. If you're coming from somewhere else, then you can check Bookaway for available transportation options. You can click on the link or use the widget below.
WHERE TO EXCHANGE CURRENCY
The unit of currency in Sri Lanka is the Sri Lankan Rupee (LKR). Ella won't be your port of entry into Sri Lanka so you'll probably already have LKR with you.
I've read that the best place to exchange currency is at Bandaranaike International Airport so that's what I did. I exchanged enough to last me my whole trip.
But if you need to exchange currency in Ella, then you can do so at a bank or a licensed currency exchange office. You can check Google Maps for a list of banks and licensed money changers in Ella.
Instead of exchanging currency, a better option may be to withdraw LKR from an ATM. I personally find myself doing this more and more these days. Rates are competitive, maybe even better.
Just make sure you tell your bank you'll be using your ATM card overseas so you don't run into any issues. In my experience, my card works in some machines but not in others.
NOTE: Some ATM machines may ask if you'd like to proceed "with or without conversion". Always proceed WITHOUT conversion. That way your local bank does the conversion and not the foreign bank operating the ATM. Proceeding "with conversion" usually leads to highly unfavorable rates, the difference often being as high as 10% according to this article on Medium.
BEST AREAS TO STAY IN ELLA
Ella is a small town so I don't think it matters as much where you stay. As long as you're close enough to the main road and its cluster of shops and restaurants, then you'll be fine.
I stayed in a slightly more remote location so I had to walk along the train tracks everyday to get in and out of town, but I didn't mind at all. I enjoyed it and walking along the tracks was my favorite thing to do in Ella.
But if you'd rather not do too much walking, then you may want to stay closer to the main street. It's the bigger road marked in yellow on Google Maps.
Dawn View Home Stay
This is where I stayed in Ella. As described, it's a bit farther away from the main road so I'd walk for about 10-15 minutes along the tracks to get into town.
It's in a secluded and heavily wooded area offering great views of the mountains. I had a huge room with a stage-sized bed along with a patio where I'd work and enjoy the delicious meals my host would prepare for me. It was a great setup – very relaxing.
You can book a room at Dawn View Home Stay on Booking.com or Agoda. I'm happy to recommend this place but if you'd rather stay closer to the main road, then you can check out Booking.com or Agoda for alternate listings. Check out some of the top-rated hotels in Ella:
You can also book hotels and home stays in Ella using the handy map below.
THINGS TO DO IN ELLA
1. Drink Tea
Badulla is tea country in Sri Lanka. It's one of the major tea cultivation areas in the country so you'll often find yourself surrounded by hill after hill of tea plantations. If you arrived in Ella by train, then you've already seen them.
You'll find tea brewing everywhere in Ella. My host would prepare pots for me everyday along with biscuits and crackers. It's one of the things I remember most from my trip, just sitting on my patio sipping tea while working on my laptop. It (almost) made me forget about the rain.
You can drink tea anywhere in Ella but if you'd like to visit a tea factory, then you may want to check out the Uva Halpewatte Tea Factory. They offer tasting tours that start at around USD 3 per person. It's about 4.5 km north of Ella town center so you can catch a tuk-tuk to go there.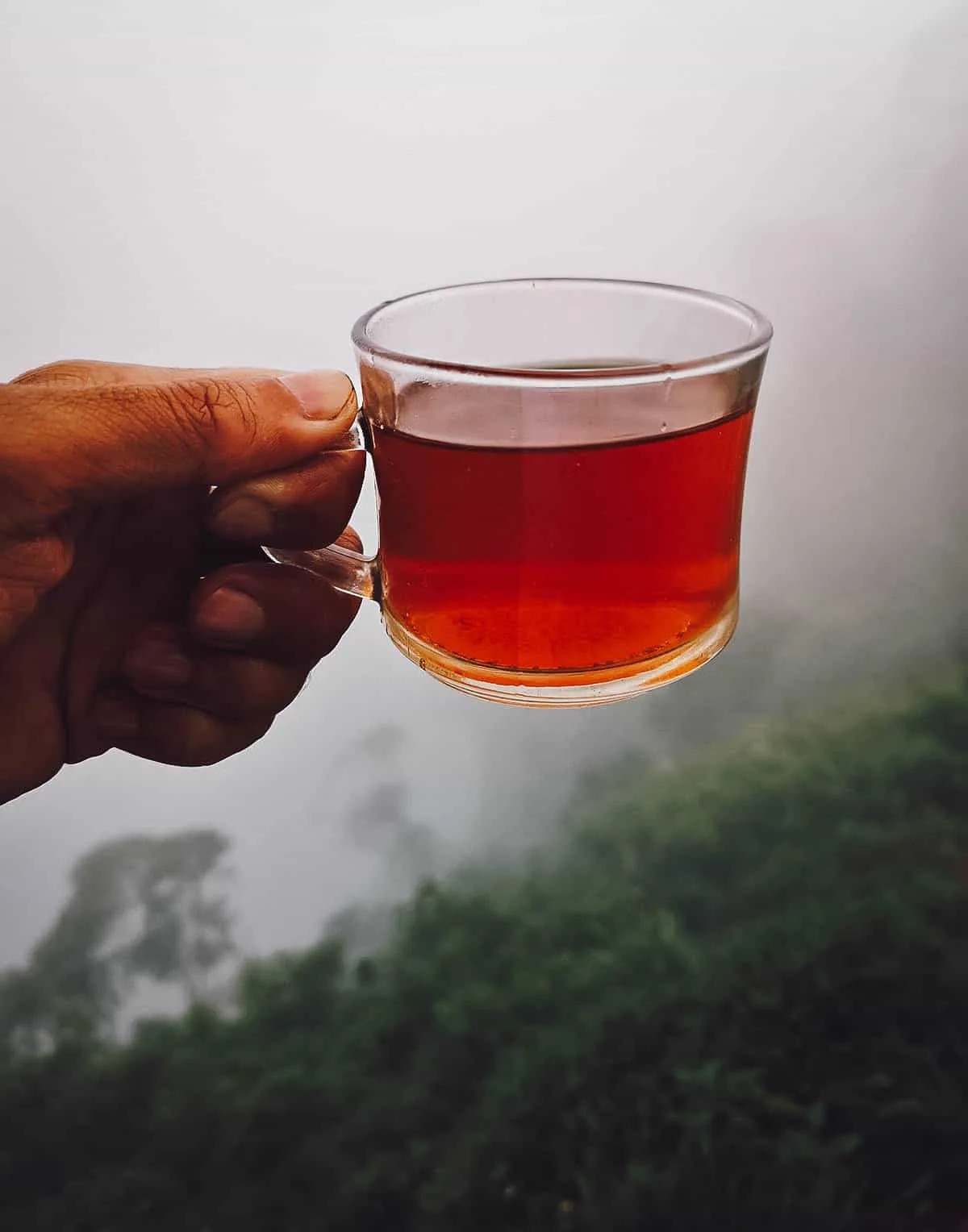 2. Walk Along the Tracks
As described, walking along the train tracks without really having anywhere to go was my favorite thing to do in Ella. The scenery is stunning and it made me feel like I were in my own version of Stand by Me.
Everyone does this in Ella in spite of signs warning you not to. These are very much active tracks so it isn't uncommon to encounter a train coming your way.
It happened to me once while walking on the tracks in the pitch black of night. I just stepped as far as I could into the weeds to let the train through. When walking at night, be sure to use a torch so you can see where you're stepping.
Needless to say, walking along train tracks can be very dangerous. If you choose to do this, then you need to do so at your own risk and take every precaution.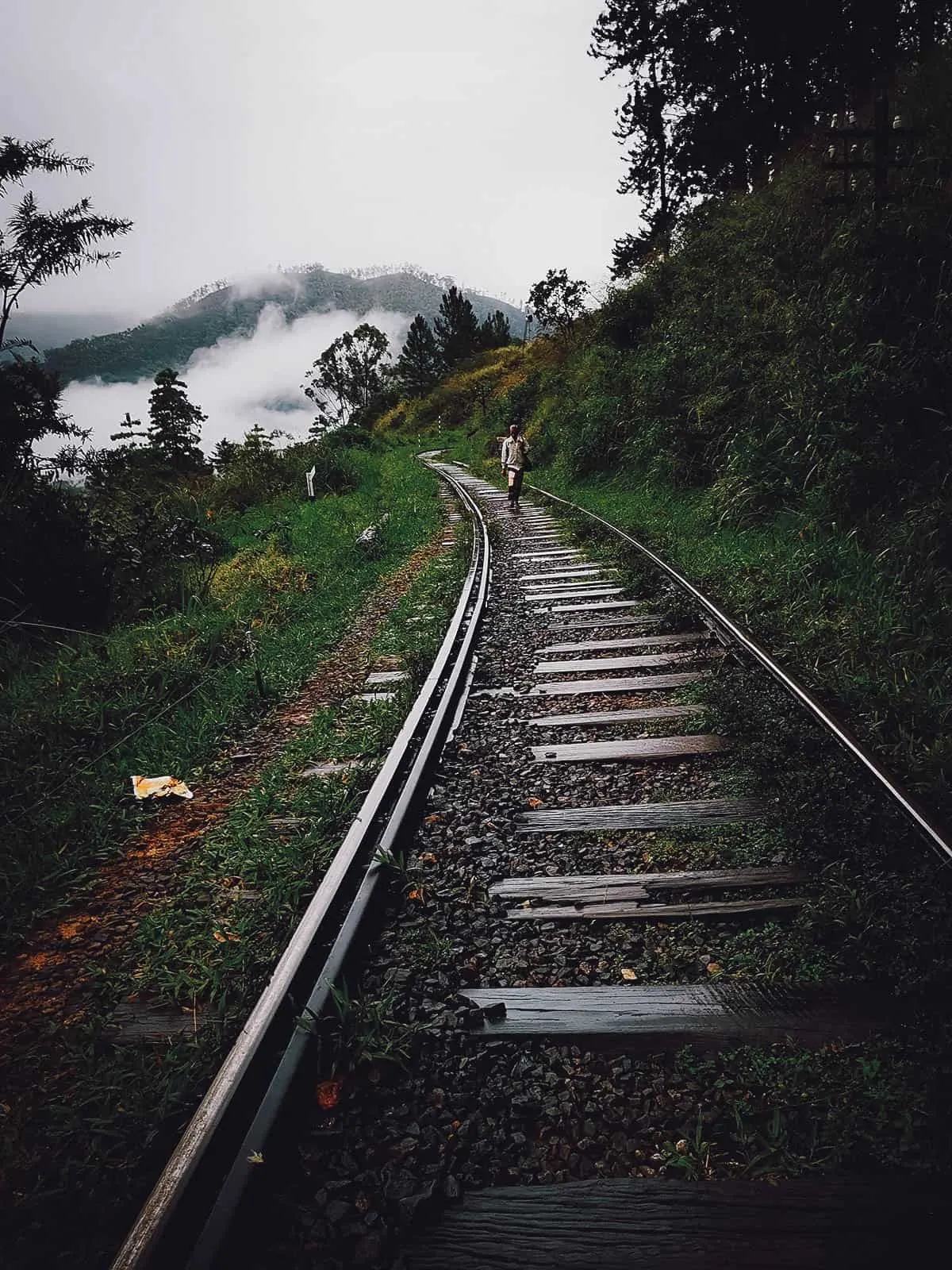 3. Wait for the Train at Nine Arches Bridge
Also known as the Bridge in the Sky, the Nine Arches Bridge is a viaduct bridge hailed for being "one of the best examples of colonial-era railway construction" in Sri Lanka. It's the bridge I was referring to at the start of this article.
Nine Arches Bridge is one of the most picturesque spots in Ella so you'll always find people taking selfies there, waiting for that money shot of the train passing through. I got there on my own by walking along the tracks but you can also visit on a guided hiking tour.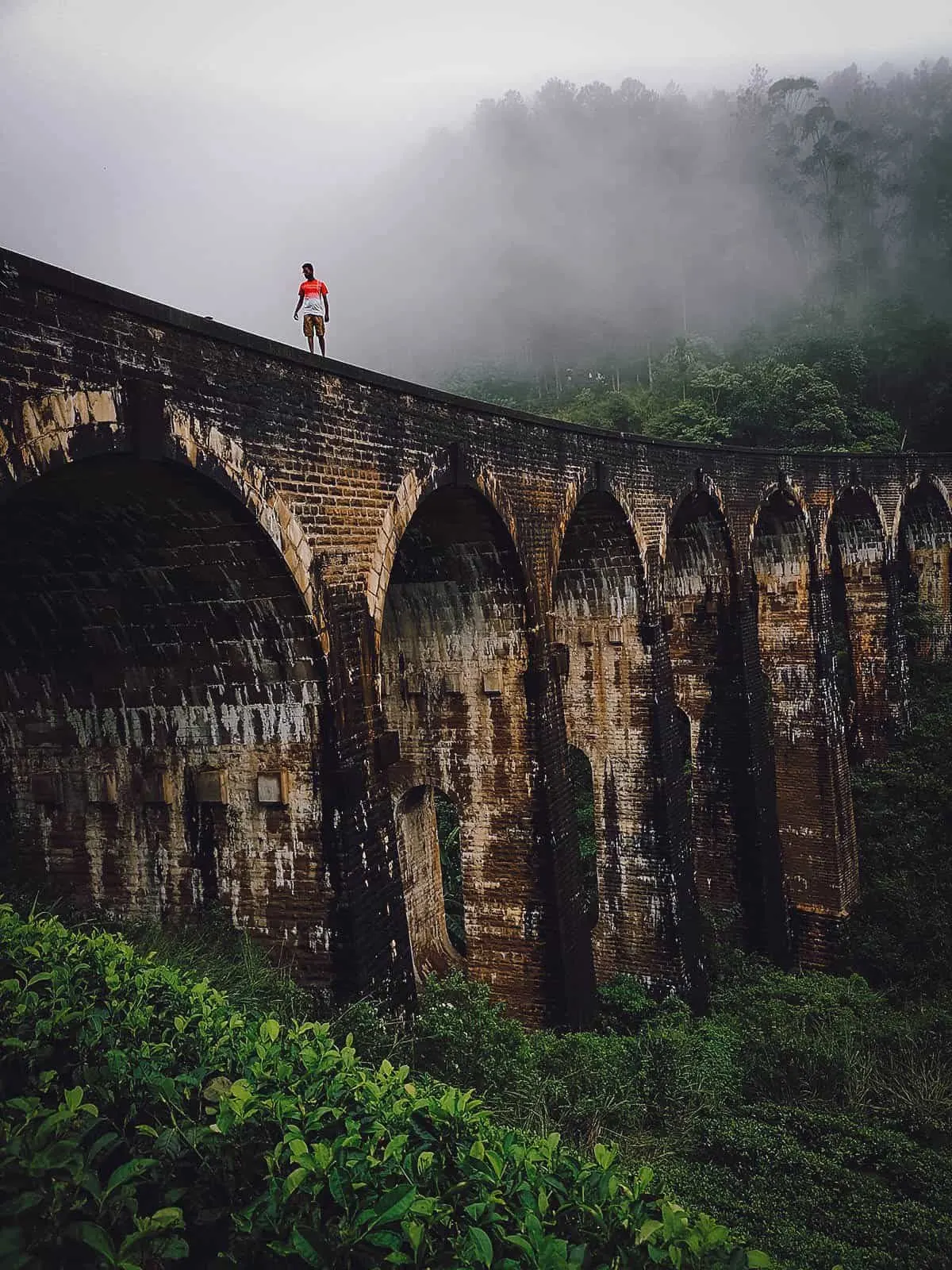 This is the hill I was describing at the top of this post. I checked out a couple of vantage points and this was the best one I found. As you can see, it gives you a clear view of the bridge.
Interestingly, that building on the right is actually a hotel with just two rooms. I didn't ask for its name but I believe it's called 9 Arch View Point.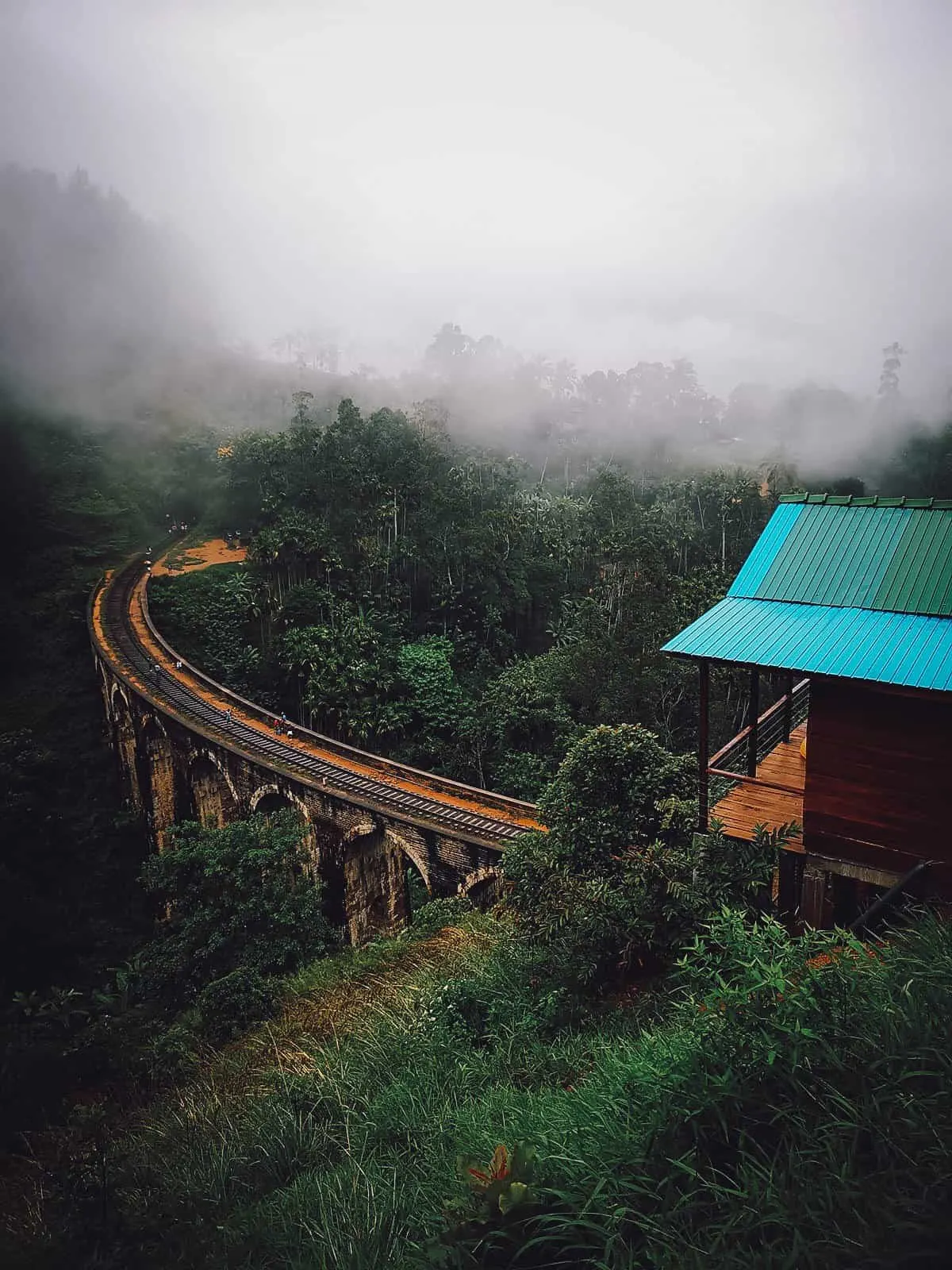 The money shot. I was so lucky to get this picture, especially since I wasn't expecting to catch the train coming through that morning. I had tried a couple of times to get this shot but failed.
By looking at the train arrival schedule, you can sort of predict when the trains will come through, but it isn't always reliable. Trains seem to be chronically late in Sri Lanka which makes it harder to be here at the right time. Luckily today, I was.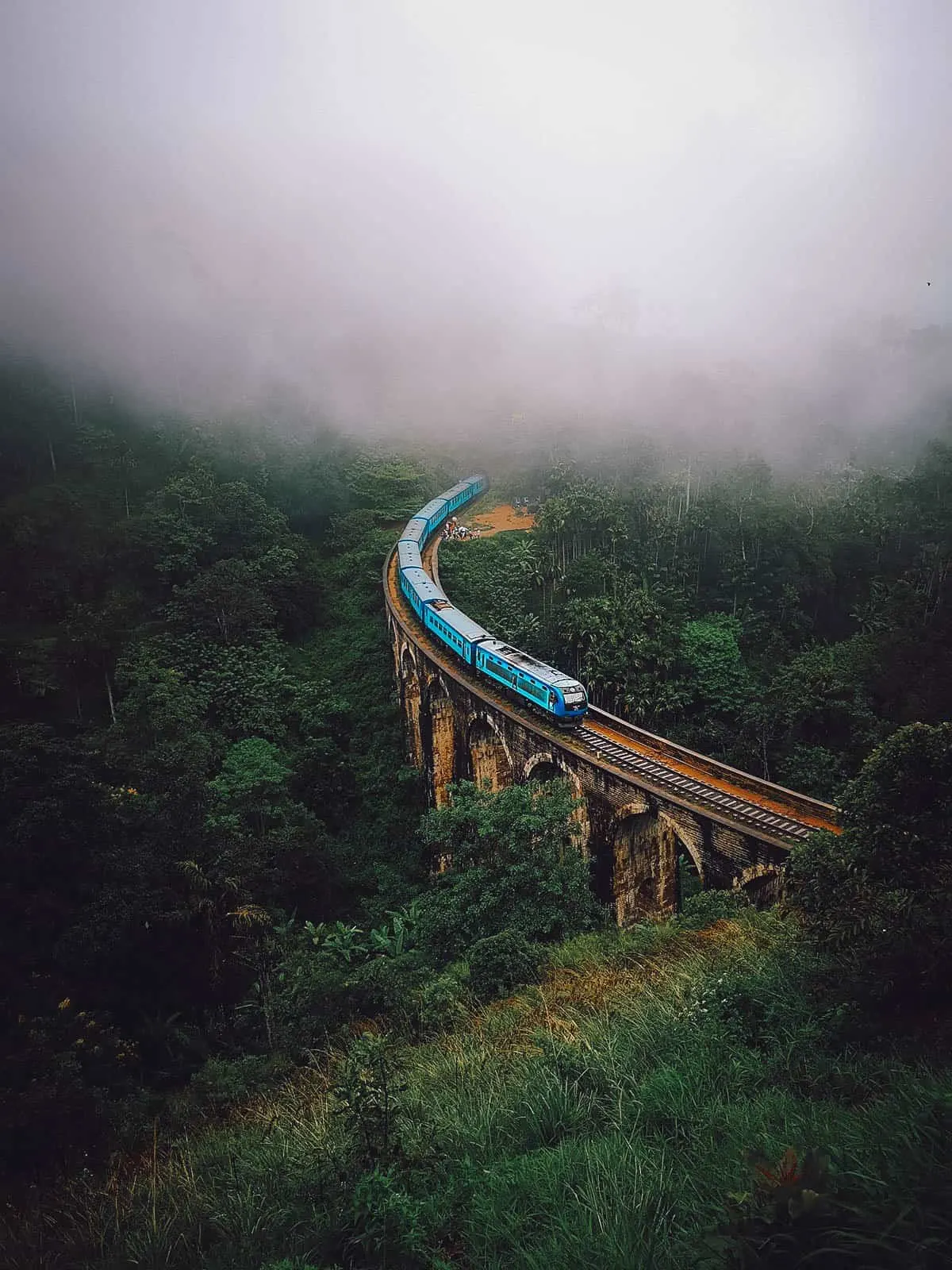 4. Hike to Little Adam's Peak
Ella has two popular treks, this hike to Little Adam's Peak being the easier one. This is the one I did. I'm not in the best shape but aside from a section with steps up a hill, I was able to manage it with little difficulty and without a guide.
As you can see from this picture, Ella can get foggy and rainy so it's best to do your hikes early in the morning before the fog rolls in. I couldn't see anything by the time I reached the peak, but I didn't mind so much because I enjoyed the hike. It tends to be drier in the mornings as well with the rains typically coming in the afternoon.
If you'd like to hike to Little Adam's Peak with a guide, then you can book a hiking tour on Get Your Guide.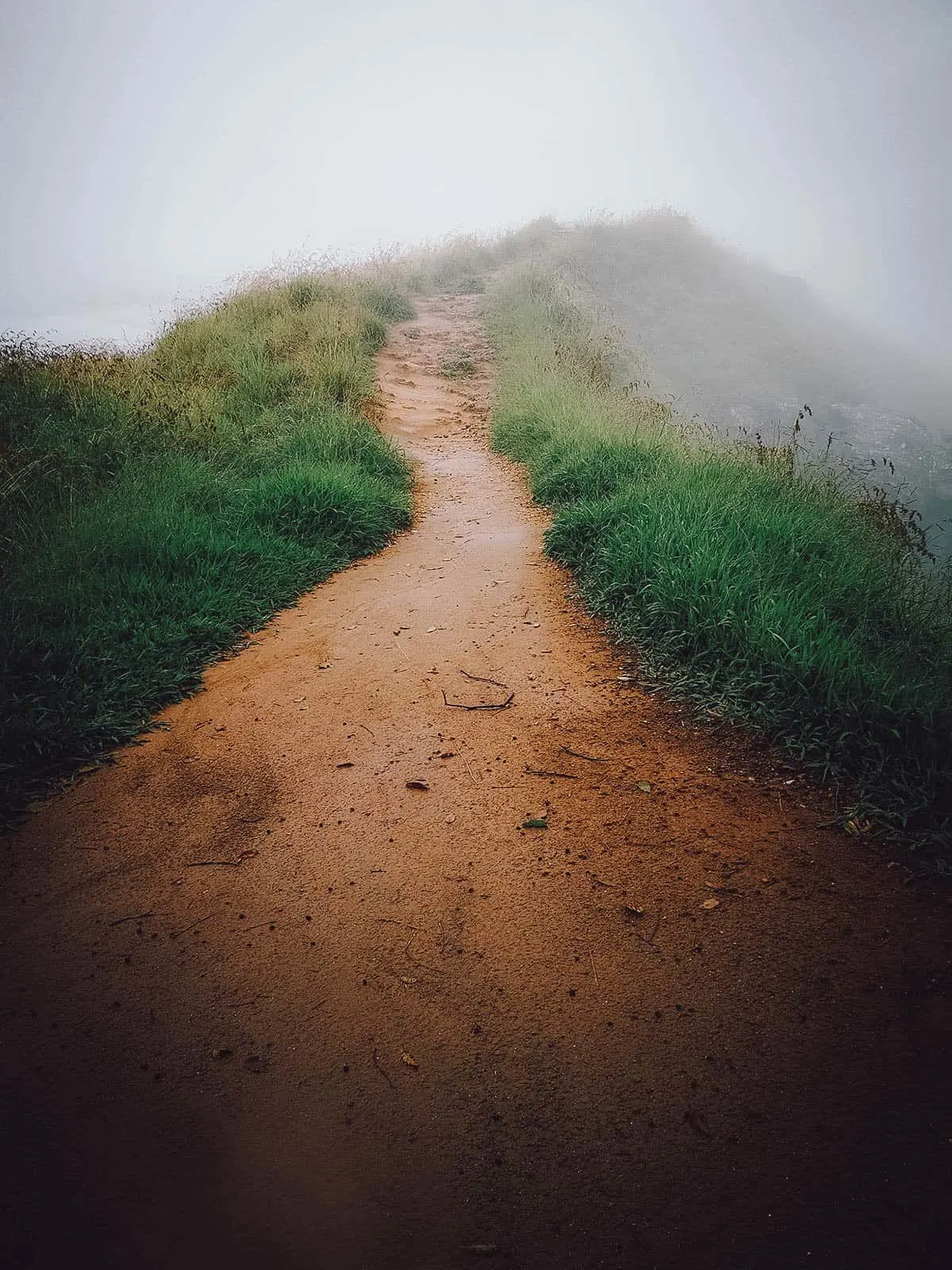 Trails leading up to Little Adam's Peak. My host drew me a map so I could easily do the hike myself. It's pretty easy and takes about 2-3 hours to complete, even while walking at a modest pace.
Estimated Time to Spend: About 2-3 hours
Fitness Level: Moderate
5. Climb Ella Rock
This is the second popular trek and from what I've read, the more difficult of the two. As described, I'm not the most fit person so I was apprehensive to do this one. It takes about four hours to get to the top of Ella Rock.
Aside from being more physically demanding, it's also more confusing. People online recommend getting a guide because you can get lost, though it is possible to do it yourself. You can refer to this excellent post on how to hike to Ella Rock on your own.
If you'd rather play it safe and go with a guide, then you can book a hiking tour through Get Your Guide (Option 1 | Option 2).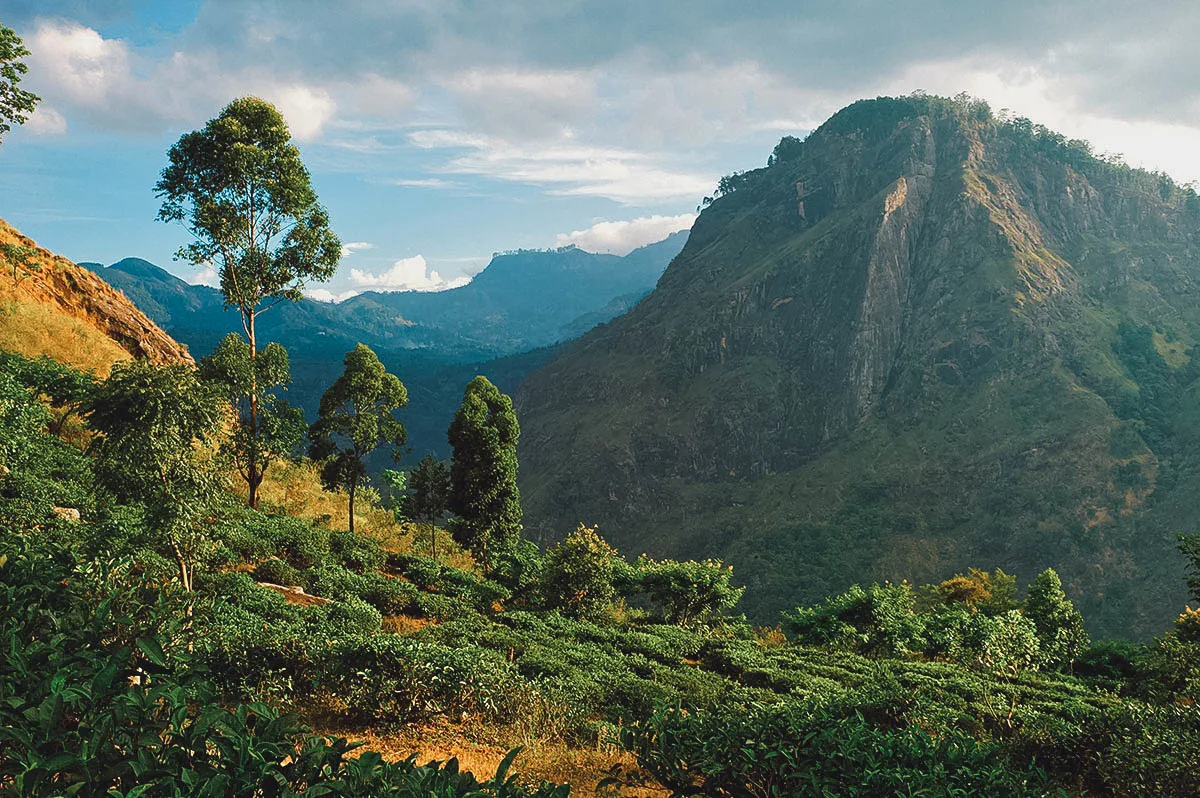 Photo by Knet2d via Deposit Photos
Estimated Time to Spend: About 4 hours
Fitness Level: High
6. Admire Ravana Falls
Ella is known for its picturesque waterfalls. Ravana Falls is one of the most popular because of its proximity to the town center. I made a stop here on my way back from a day trip to Lipton's Seat and Diyaluma Falls, but you can easily visit these falls on your own.
Ravana Falls is located about 6.5 km south of Ella town so you can hire a tuk-tuk to take you there. You can also go on this half-day tour that includes swimming in the pools of upper Ravana Falls.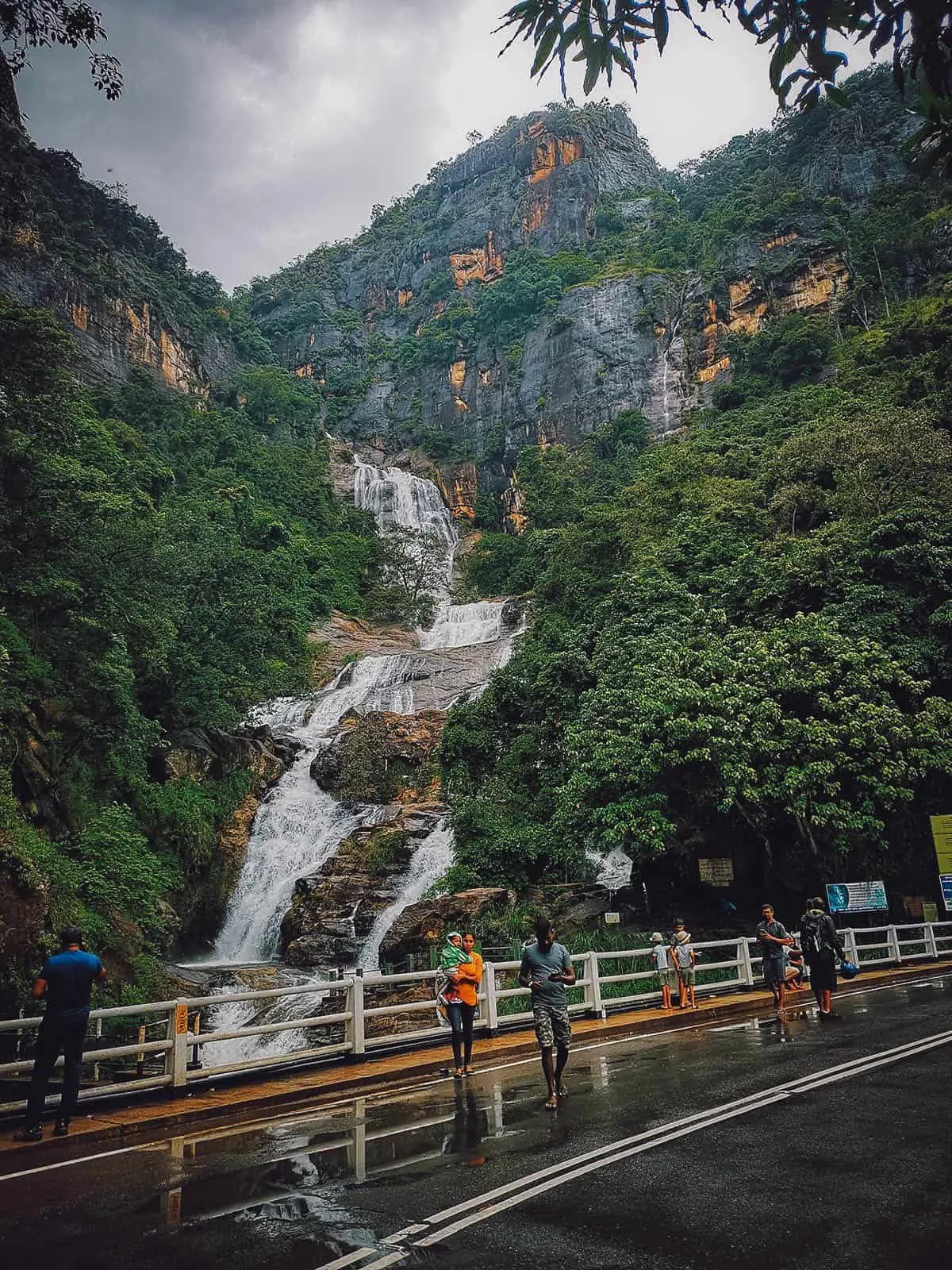 DAY TRIPS FROM ELLA
1. Lipton's Seat
Lipton's Seat is essentially a lookout point that gives you sweeping views of the countryside. It's where Sir Thomas Lipton of Lipton's Tea used to survey his tea plantations. It's considered one of the most epic views in Sri Lanka, if you can arrive early enough.
As you can see from the following pictures, the area is known to be foggy so arriving late usually means the views will be shrouded under a thick blanket of fog.
Lipton's Seat is located in Haputale, about 30 km south of Ella. You can get there by train, private car charter, or guided tour. More on that below.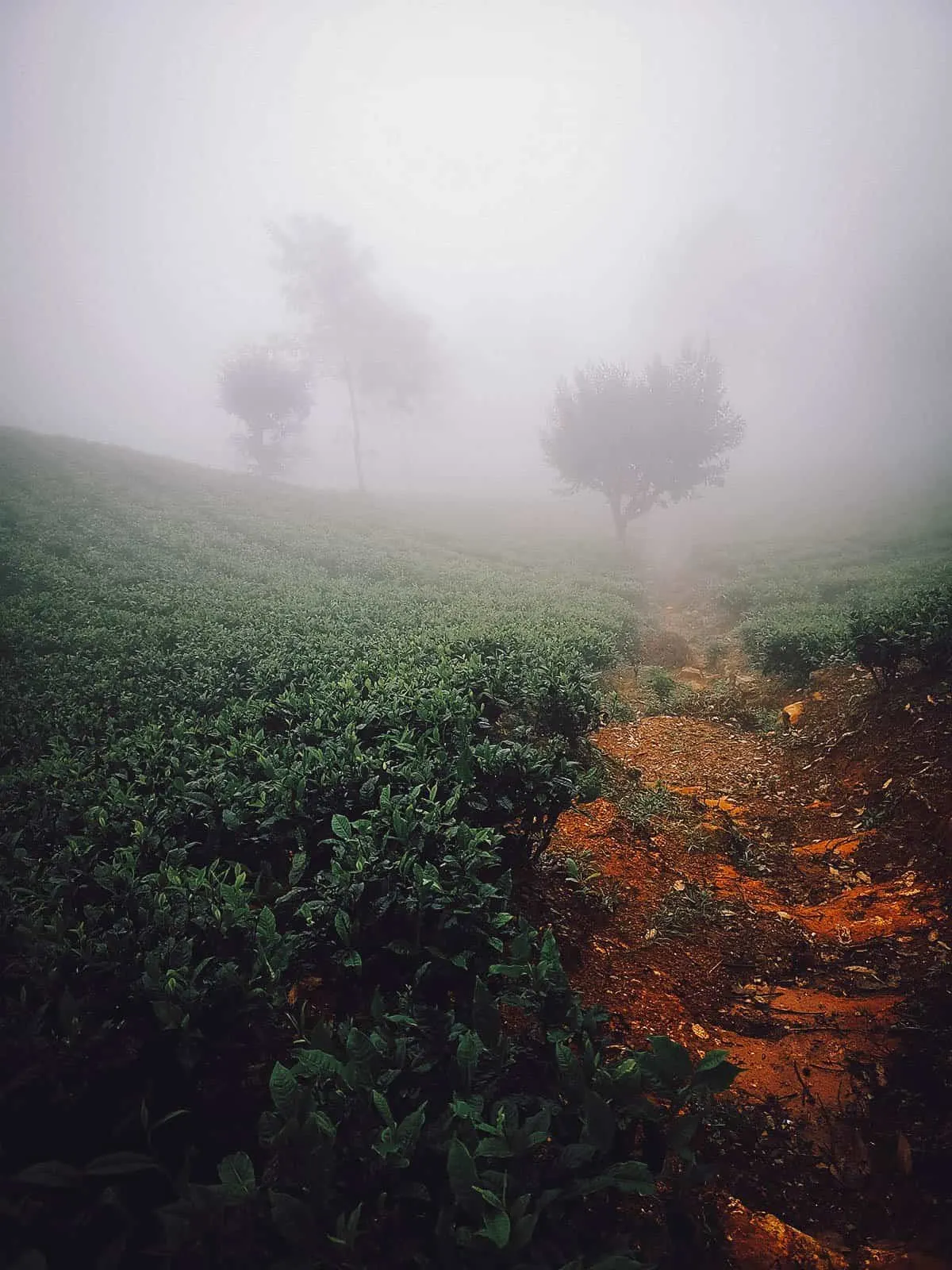 To be honest, I didn't mind the fog at all. On the contrary, I may have preferred it because it added a wonderful eerie mood to the place which I enjoyed. Aside from the incredible view, you can take a stroll through the tea plantations here.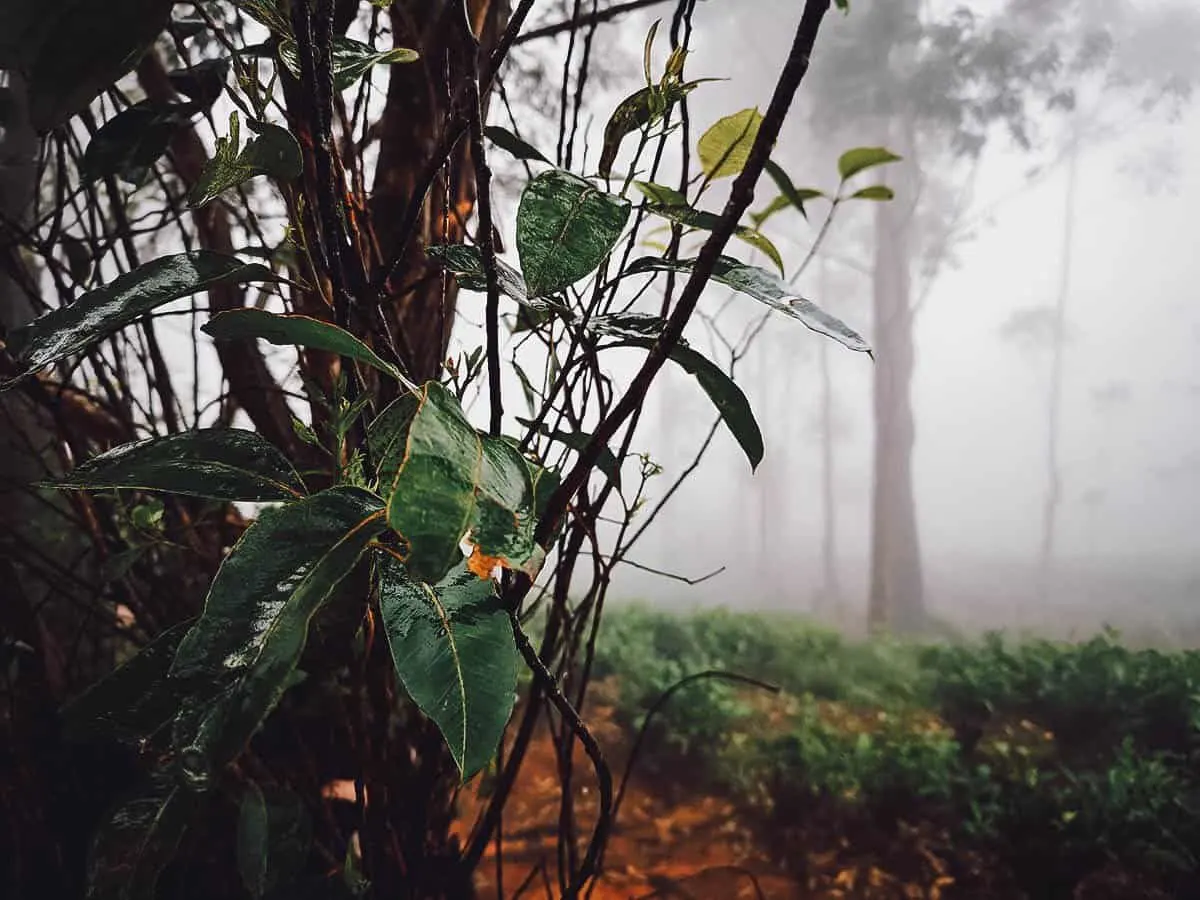 A travel blogger in the mist. Like I said, I loved how eerie and mysterious this place looked.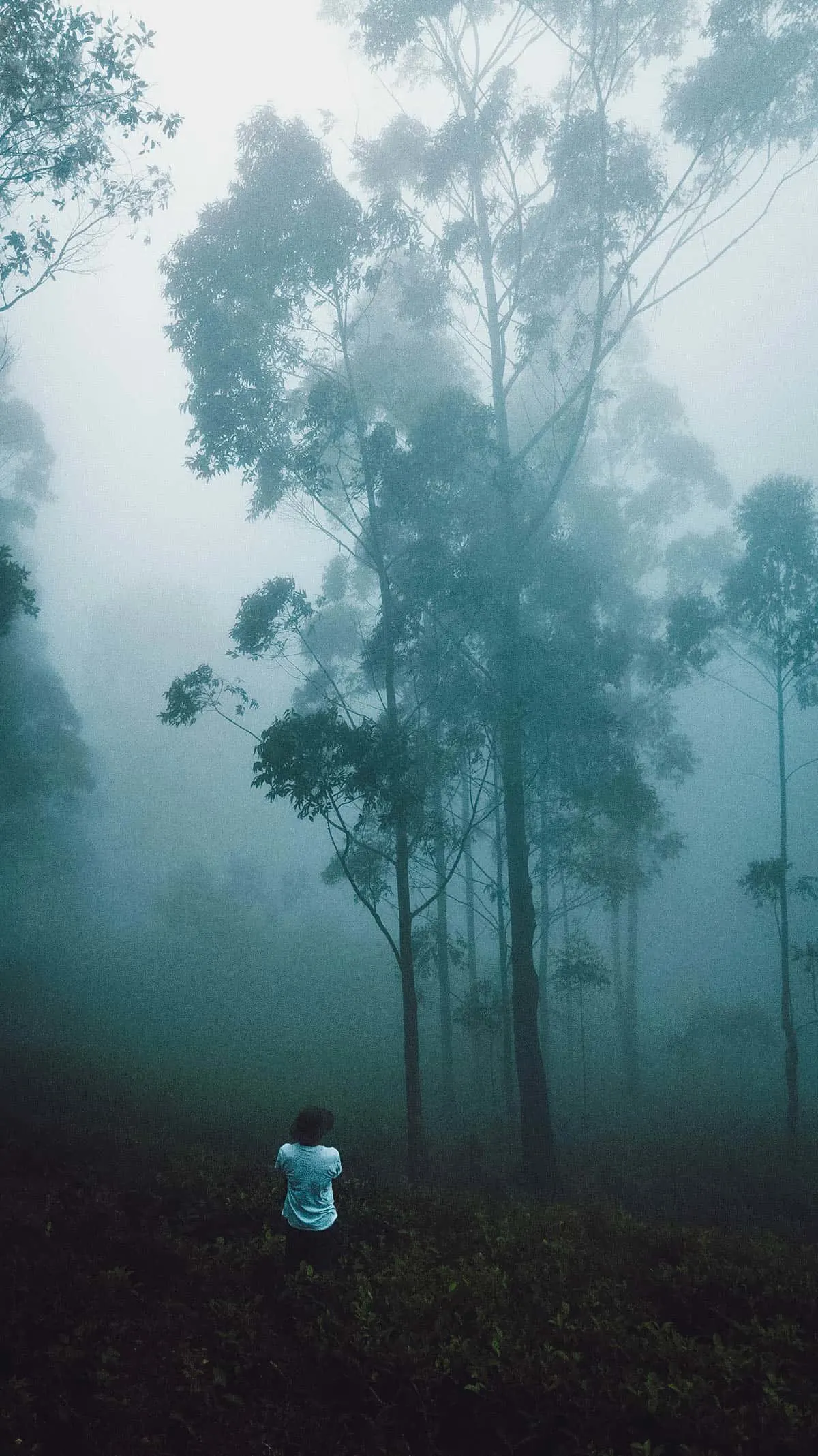 The fog cleared for a second to give me a glimpse of the spectacular view. This picture doesn't do it justice. There were tea plantation as far as the eye could see.
I read online that you need to be here no later than 7AM to get a clear view, so I hired a car and driver to pick me up from my homestay at 5AM. It takes about an hour and a half to get there so we must have arrived just before 7AM, but the fog had already rolled in. The weather is difficult to predict so keep that in mind when you visit.
I contacted a few tour operators and decided to hire Nawshad Tours Lanka based on the strength of their reviews. I paid LKR 9,000 for the car and driver. Aside from Lipton's Seat, we also visited Dambatenne Tea Factory, Diyaluma Falls, and Ravana Falls.
If you'd like a better chance of getting a clear view, then another option is to stay the night in Haputale. The train from Ella to Haputale takes about an hour.
This leg is part of that scenic train route so you'll need to book tickets in advance to get a reserved seat. Otherwise, you can try your luck purchasing unreserved tickets at the train station.
You can theoretically do a day trip but the first train to Haputale isn't until 6:40AM, so it won't get you to Lipton's Seat in time. It's best to arrive the day before and stay the night. That way you can hire a tuk-tuk to take you to Lipton's Seat while it's still dark.
If it isn't important for you to get there as early as possible, then the easiest way of visiting Lipton's Seat from Ella is by guided tour.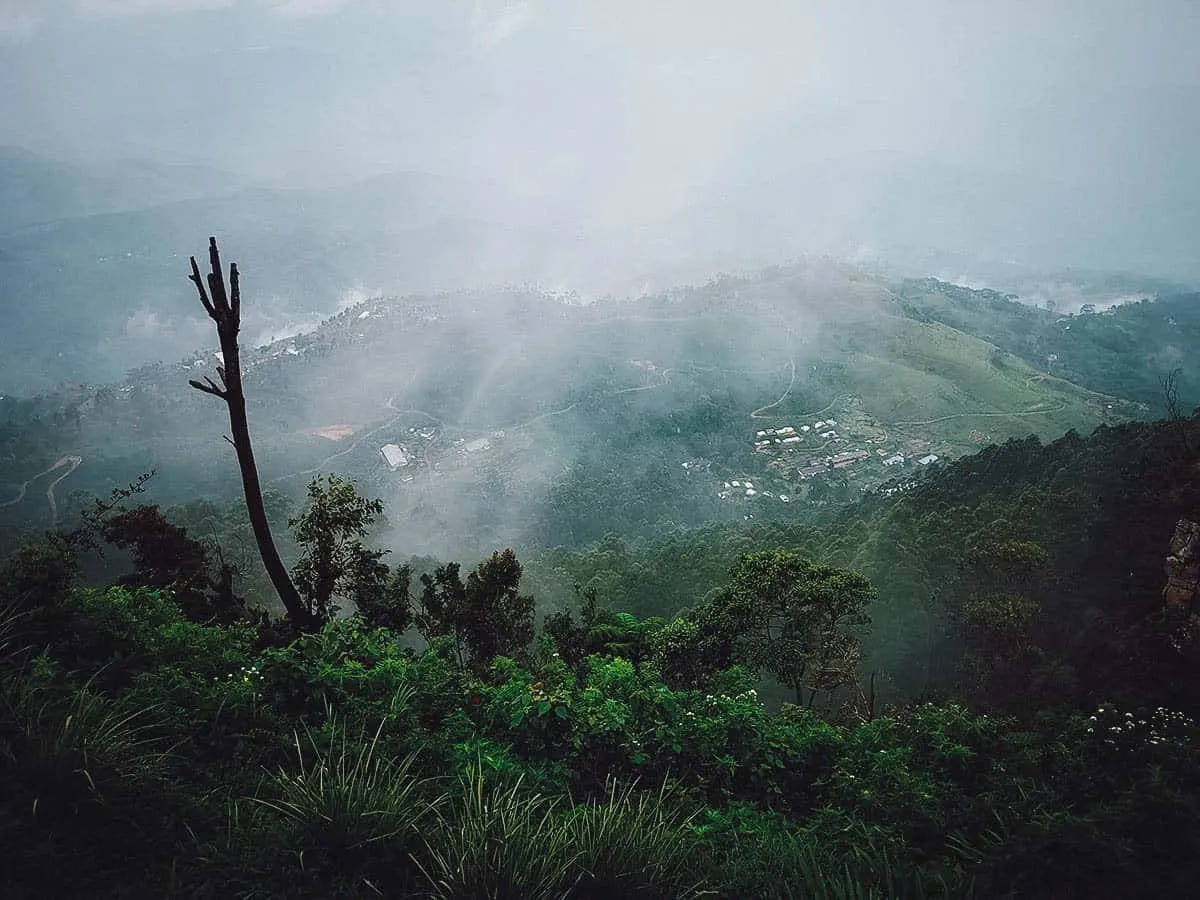 You can enjoy breakfast at Lipton's Seat while taking in the view (or fog). I paid LKR 700 for a pot of tea and roti with sambal.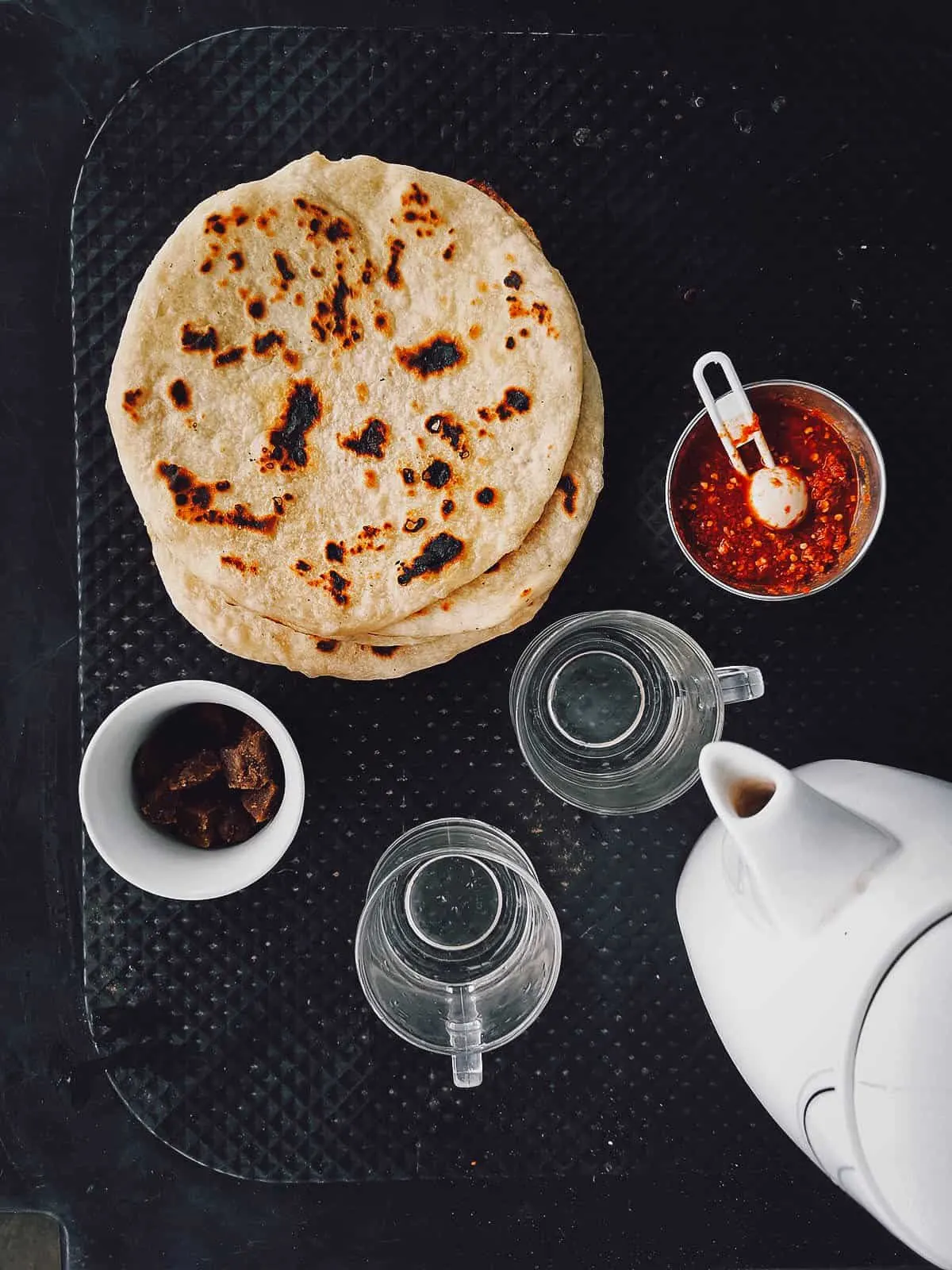 2. Dambatenne Tea Factory
Dambatenne Tea Factory is located at the base of the hill going up to Lipton's Seat. If it isn't raining, then I suggest having your driver drop you off at Lipton's Seat then wait for you here.
It's a beautiful 2-hour walk through tea plantations down to this factory. I wanted to do that but it was raining the day I went and I forgot to bring my coat. Bummer.
I read that Dambatenne Tea Factory offers tours for LKR 250, but the reviews aren't so great. People complain that the tour feels rushed and they don't give you any tea tastings. In any case, it's a quick stop on many guided tours to Lipton's Seat.
For a better tea factory visit, you may want to go to Uva Halpewatte Tea Factory instead.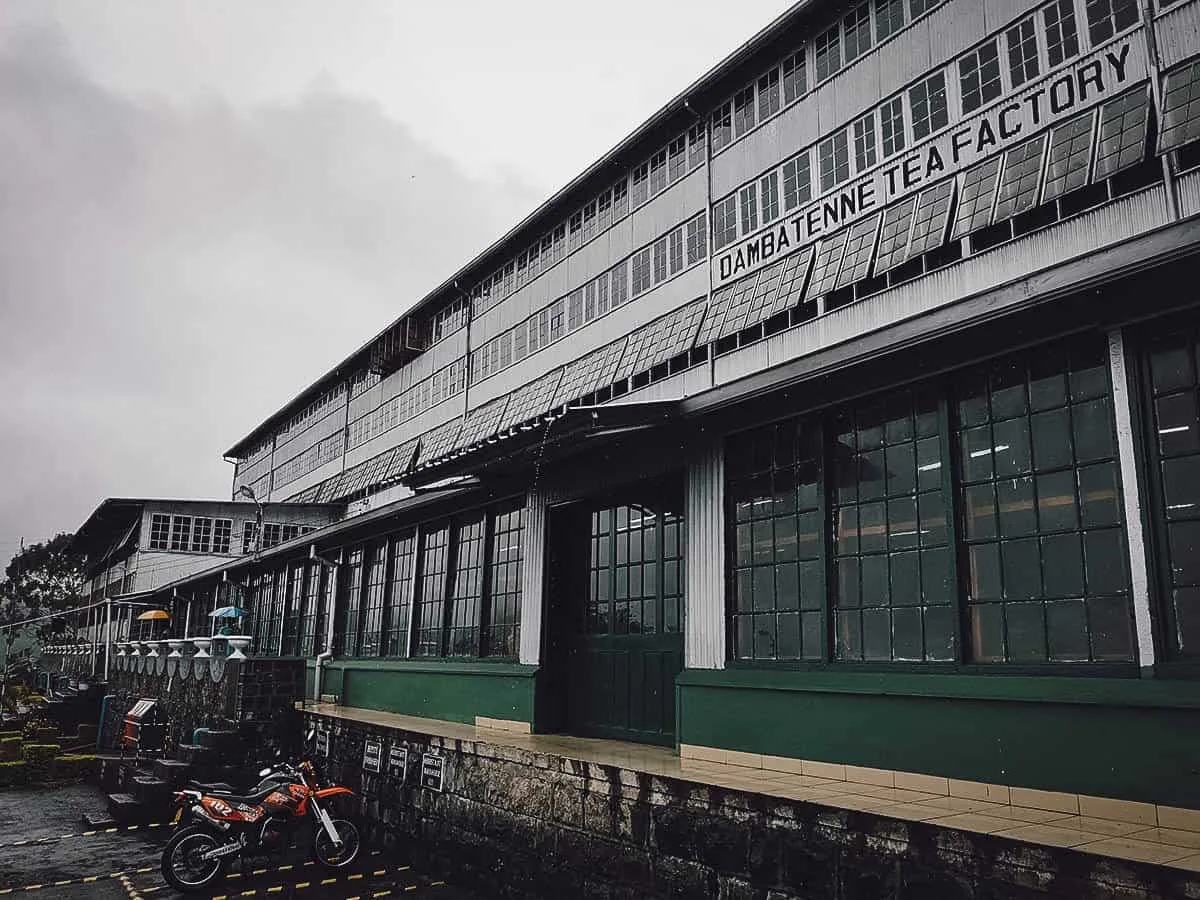 3. Diyaluma Falls
Diyaluma Falls is awesome. At 220 meters high (720 ft), it's the second highest waterfall in Sri Lanka and even more impressive than Ravana Falls. Can you see where I'm standing in the picture below?
Diyaluma Falls is located about 25 km south of Lipton's Seat so it'll take you another hour and a half to get there. It's definitely worth it. As described, I visited Diyaluma Falls as part of my private car charter with Nawshad Tours Lanka but you can also go there on a guided tour.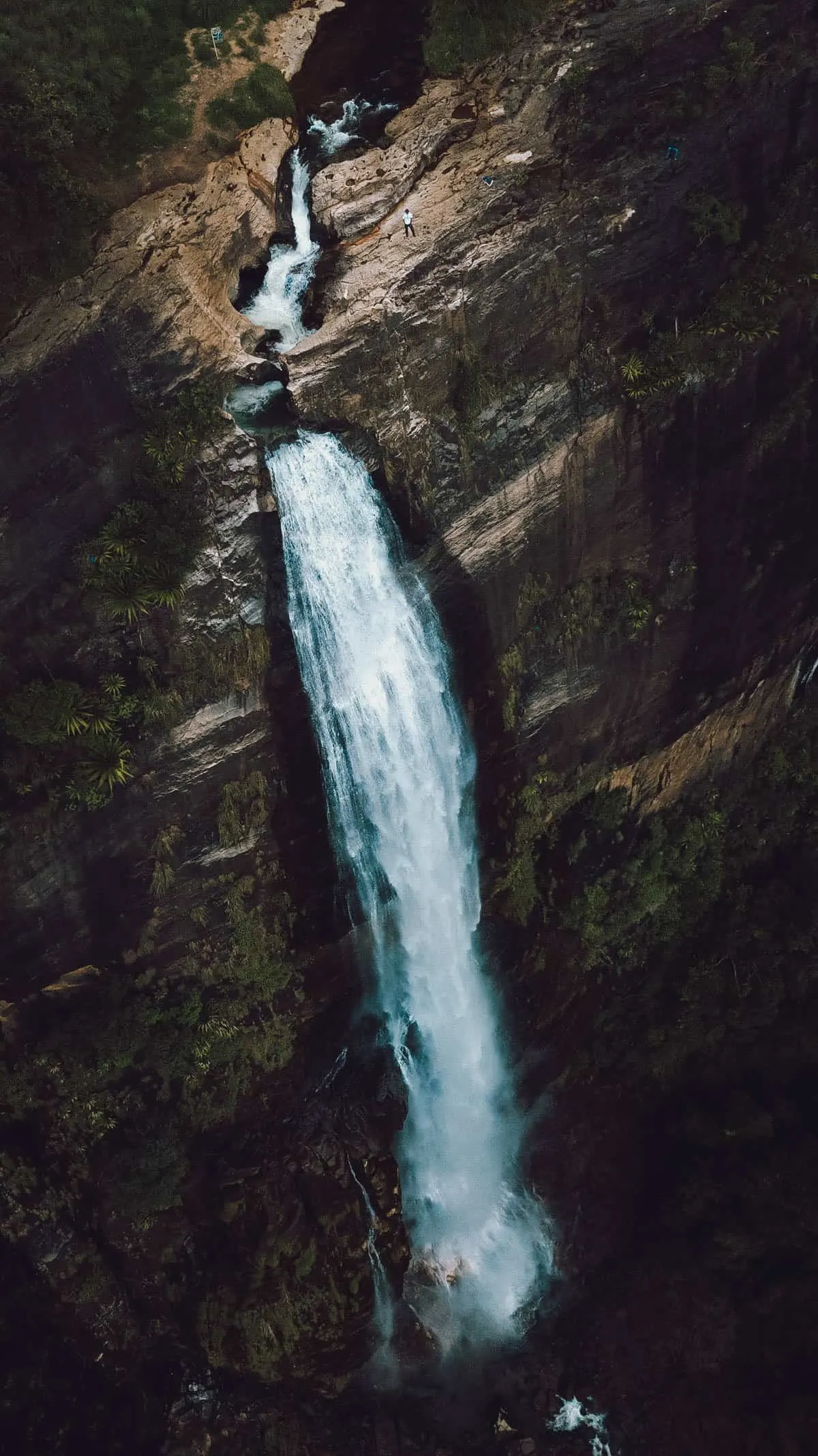 4. Nuwara Eliya
Nuwara Eliya is one of the towns along the Kandy-Ella train route. Many people get off at Nanuoya station and spend a few days in Nuwara Eliya before proceeding to Ella. It's referred to as "Little England" due to British settlers building their holiday bungalows there.
I didn't go but from the looks of it, it has a similar vibe as Ella, but with its own set of unique attractions like Gregory Lake, Victoria Park, and St. Clair's Falls. You can refer to this post from Culture Trip for more on what to see and do in Nuwara Eliya.
Nuwara Eliya is about 6 km from Nanuoya station which is along that famous train route, so you can easily visit on your own. But if you'd rather go on a guided day tour from Ella, then you can book it through Klook.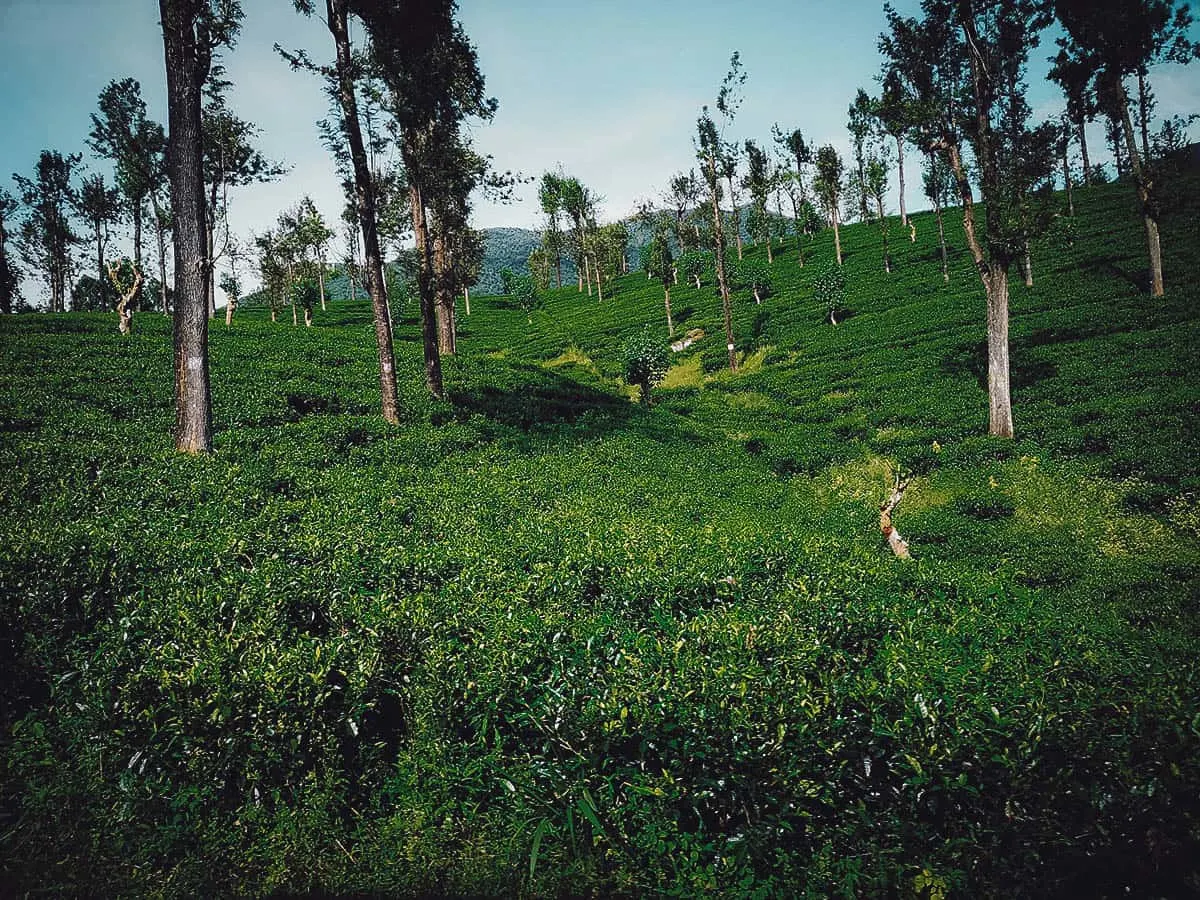 5. Yala National Park
As described earlier in this guide, many first-time travelers to Sri Lanka explore the country in a loop. Yala National Park is usually the stop right before or immediately after Ella.
Yala is the most visited and second largest protected park in Sri Lanka, home to mega fauna like elephants, wild buffalo, and sloth bears, not to mention one of the highest if not the highest concentration of leopards in the wild. If you'd like to go on safari in Sri Lanka, then this is the place to do it.
I visited Yala National Park as part of a press trip, but you can visit the reserve on your own. If you'd rather go on a day trip from Ella, then you can book a safari tour through Klook or Get Your Guide.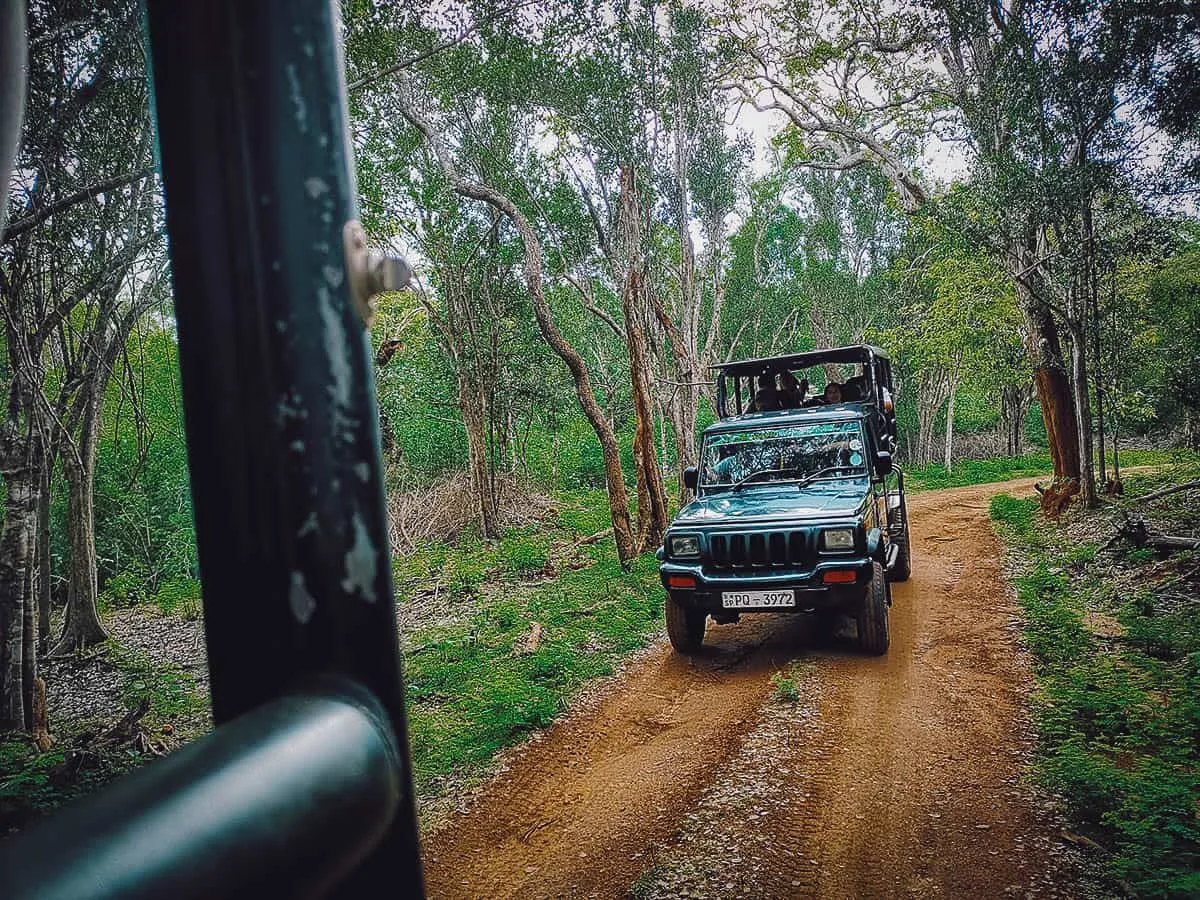 WHERE TO EAT IN ELLA
1. Matey Hut
I passed Matey Hut everyday on my way in and out of town. It's along the dirt path I'd take to get on and off the tracks.
Passing by, you wouldn't think anything of it based on its spartan facade. But underneath its simple exterior belies one of Ella's best and most popular restaurants.
Even with over 1,200 TripAdvisor reviews, Matey Hut manages to maintain its perfect 5-star rating by serving some of the best Sri Lankan food in town.
They serve simple Sri Lankan dishes like roti, parata, and curry rice. I had this steaming plate of chicken kottu, which is an interesting dish made from wheat flour roti, vegetables, egg, meat, and spices.
The ingredients are thrown onto a hot griddle lubricated with oil. While cooking, they're repeatedly pounded and chopped with spatula-like tools much in the same way you'd see a Japanese chef cooking fried rice on a teppanyaki table. I was sitting close to the griddle and enjoyed watching the chef make my kottu (almost) as much as I did eating it.
The type of roti they use is described as being very similar to roti canai. It has the same chewy texture so it feels as if you're eating a dish similar to fried rice, but made with roti. Absolutely delicious and something I'd love to have again.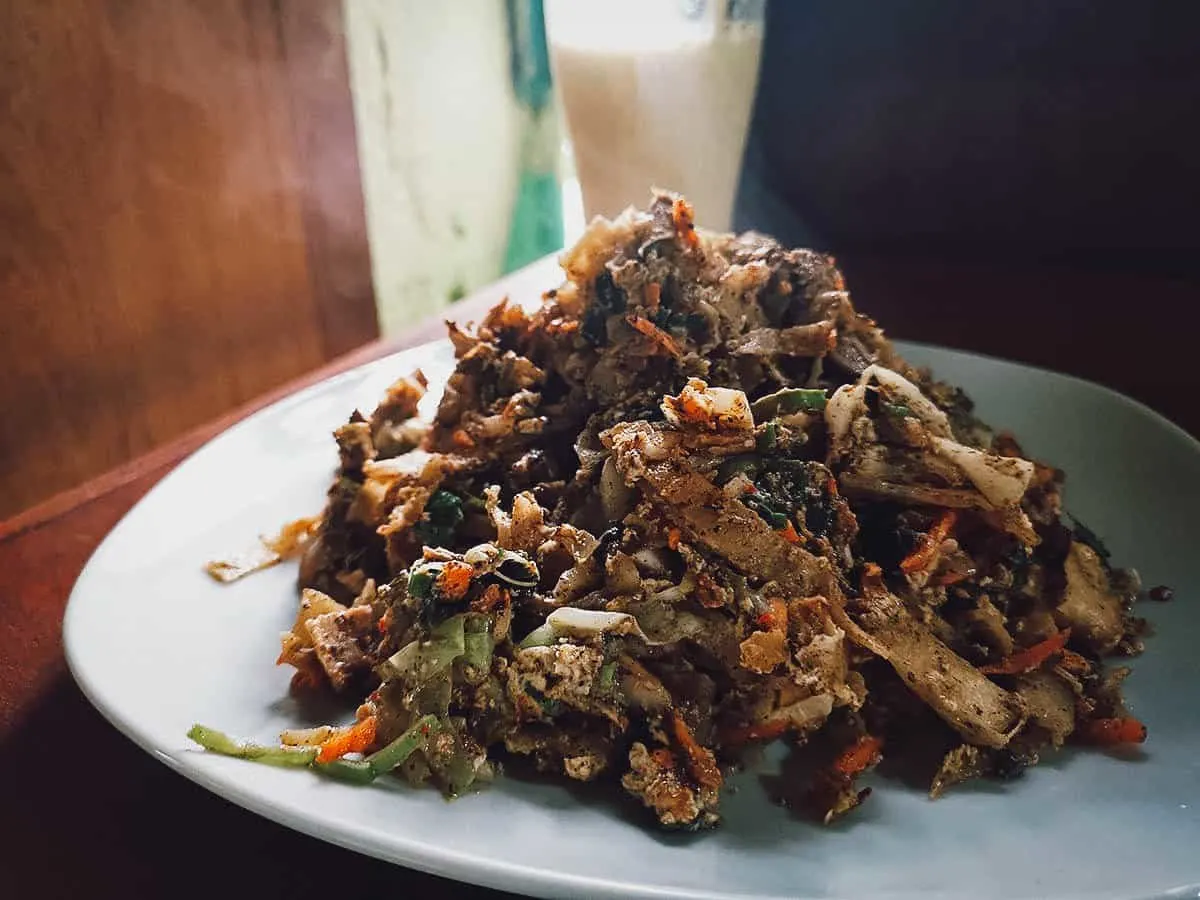 Don't let its humble exterior fool you. The food at Matey Hut is exceptional, and cheap too! I believe they conduct cooking classes here as well.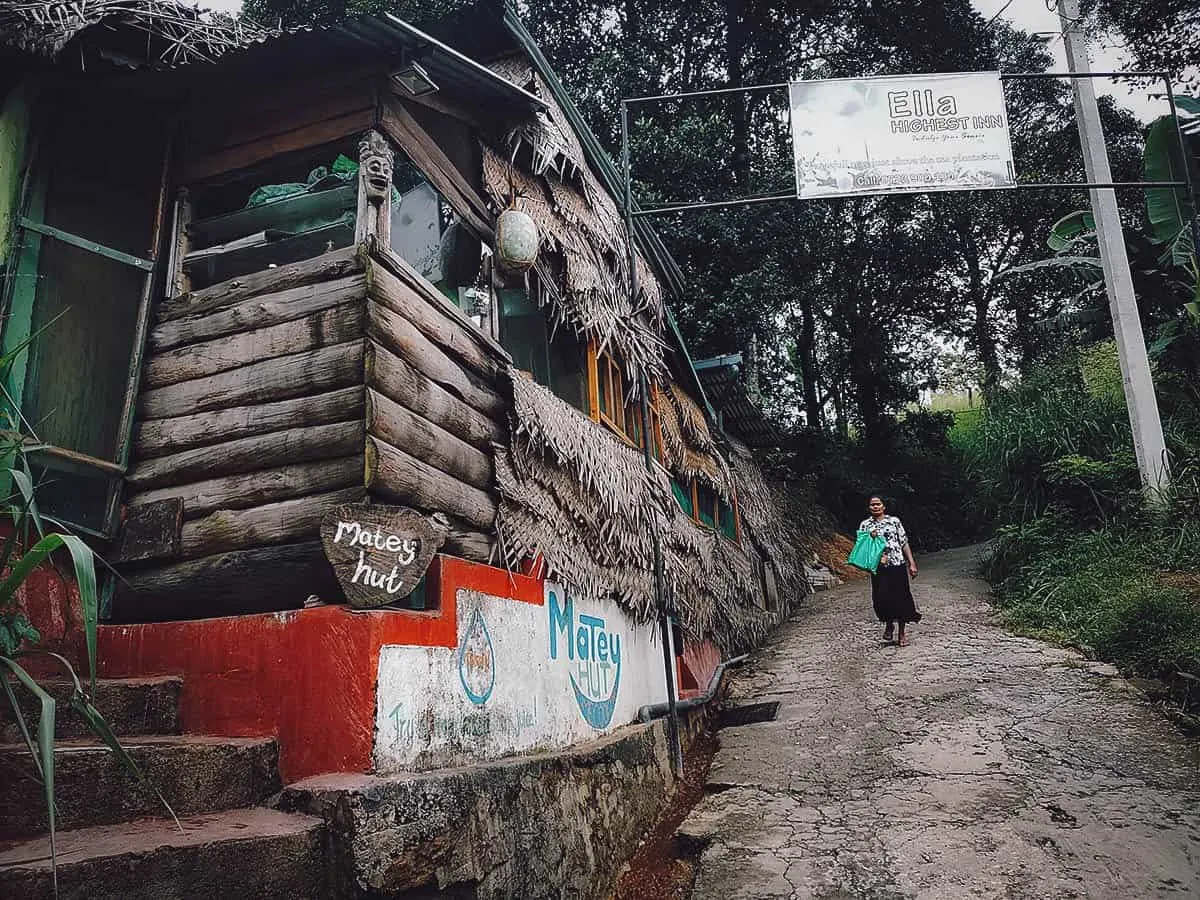 2. Ceylon Tea Factory
In terms of ambiance, Ceylon Tea Factory was the polar opposite of Matey Hut. Made to look like a tea factory, it was the biggest and fanciest restaurant I went to in Ella. But like Matey Hut, they're a TripAdvisor Certificate of Excellence awardee known for serving excellent Sri Lankan food.
I had read about their rice and curry so that's exactly what I came for. I asked my server for his recommendation and he advised me to get this delicious beef pepper curry served with papadum, tempered dhal, and pol sambol.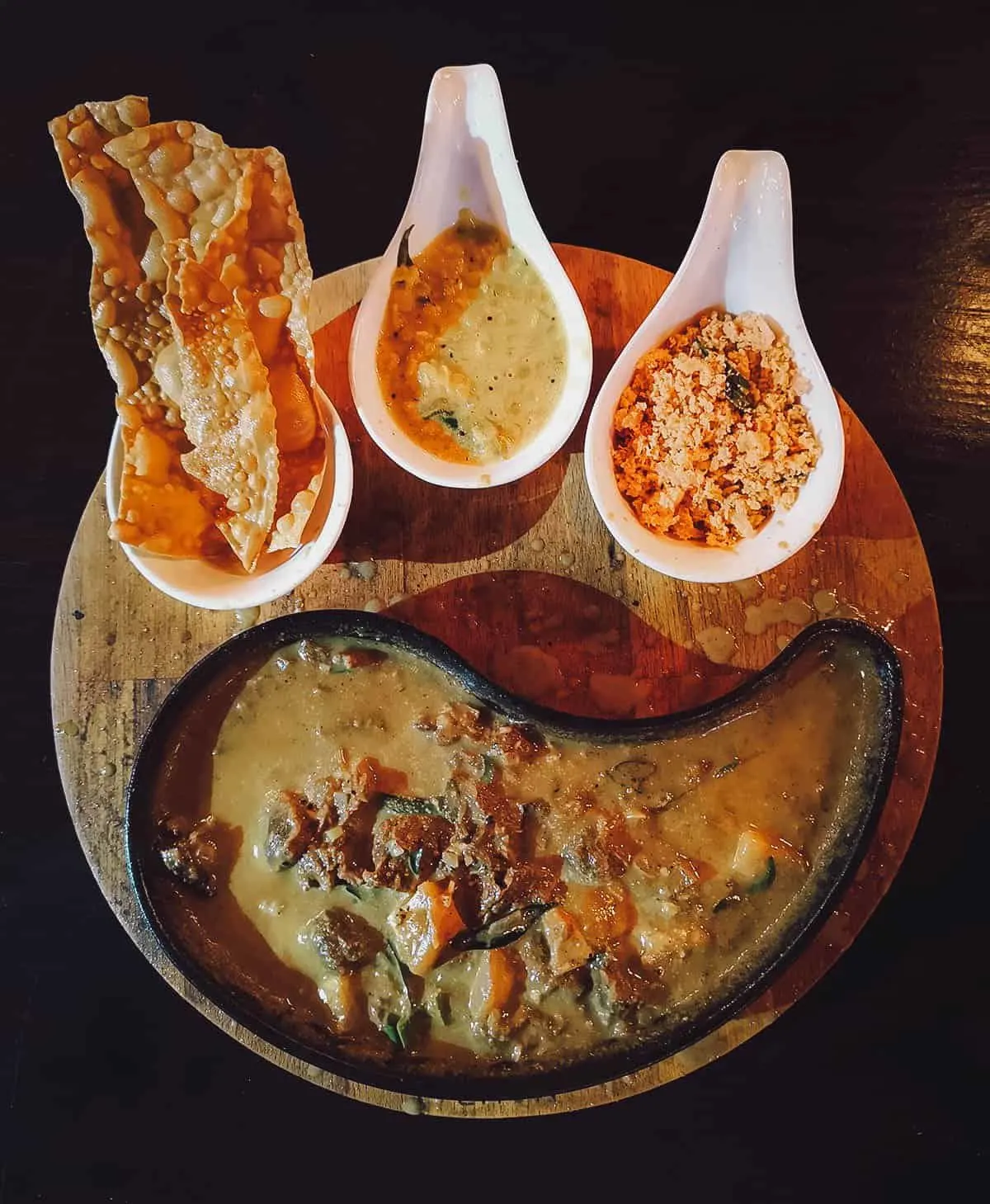 This was the best curry I ate in Sri Lanka. Sri Lankan curries are generally thinner than Indian curries, but this one was creamy and thick with tender chunks of beef.
I didn't know what "tempered" lentils meant so I googled it. Apparently, tempering is a South Asian cooking technique that involves dry-roasting or frying spices and other ingredients separately, before adding them to a dish at the end. This is said to enhance their flavor.
Dhal and pol sambol are often served as side dishes in Sri Lanka. Pol sambol looks like orange couscous but it's actually a coconut relish made with freshly grated coconut, red onion, chili, lime juice, salt, and cured tuna fish.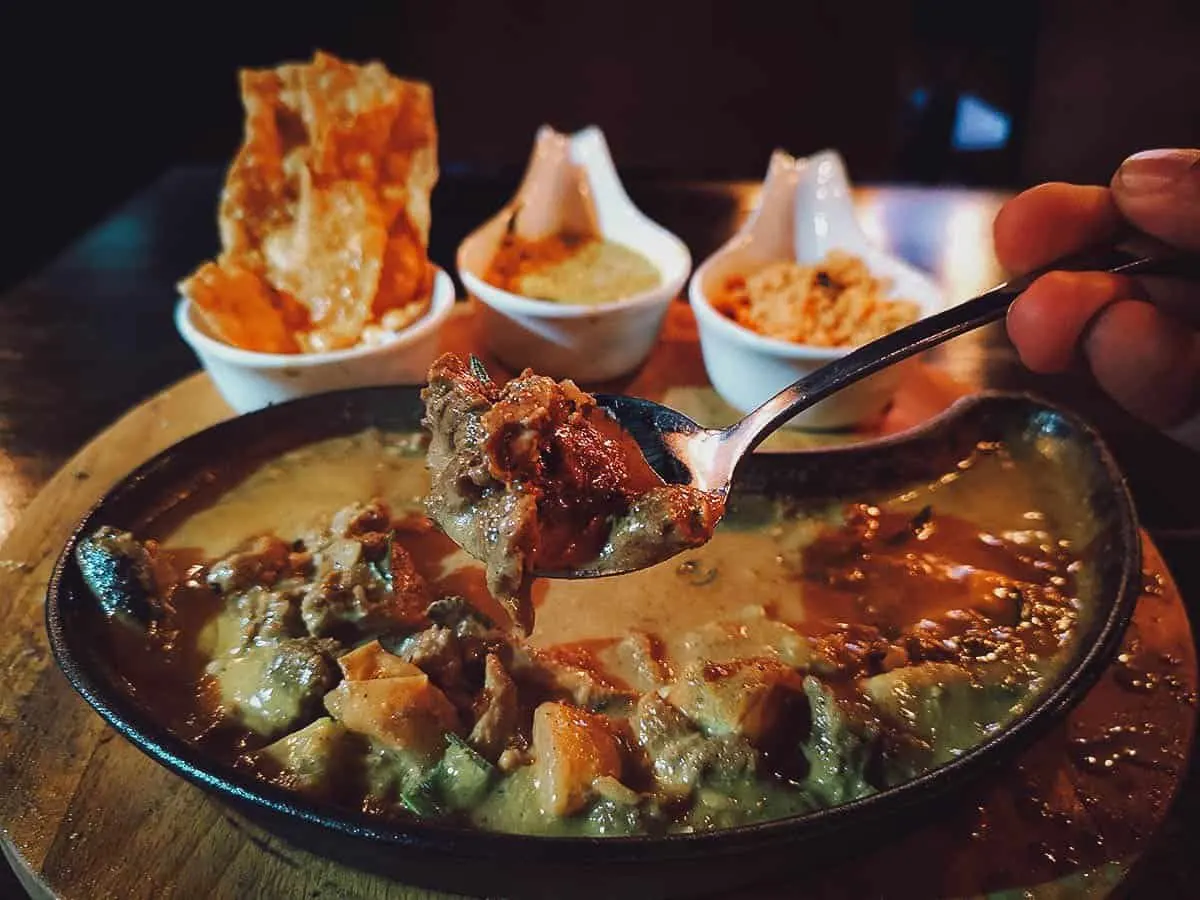 Like I said, Ceylon Tea Factory is a large and modern space. It's made to look like one, but it isn't nor has ever been an actual tea factory. I was here specifically for the Sri Lankan curries but I believe they offer many western dishes as well.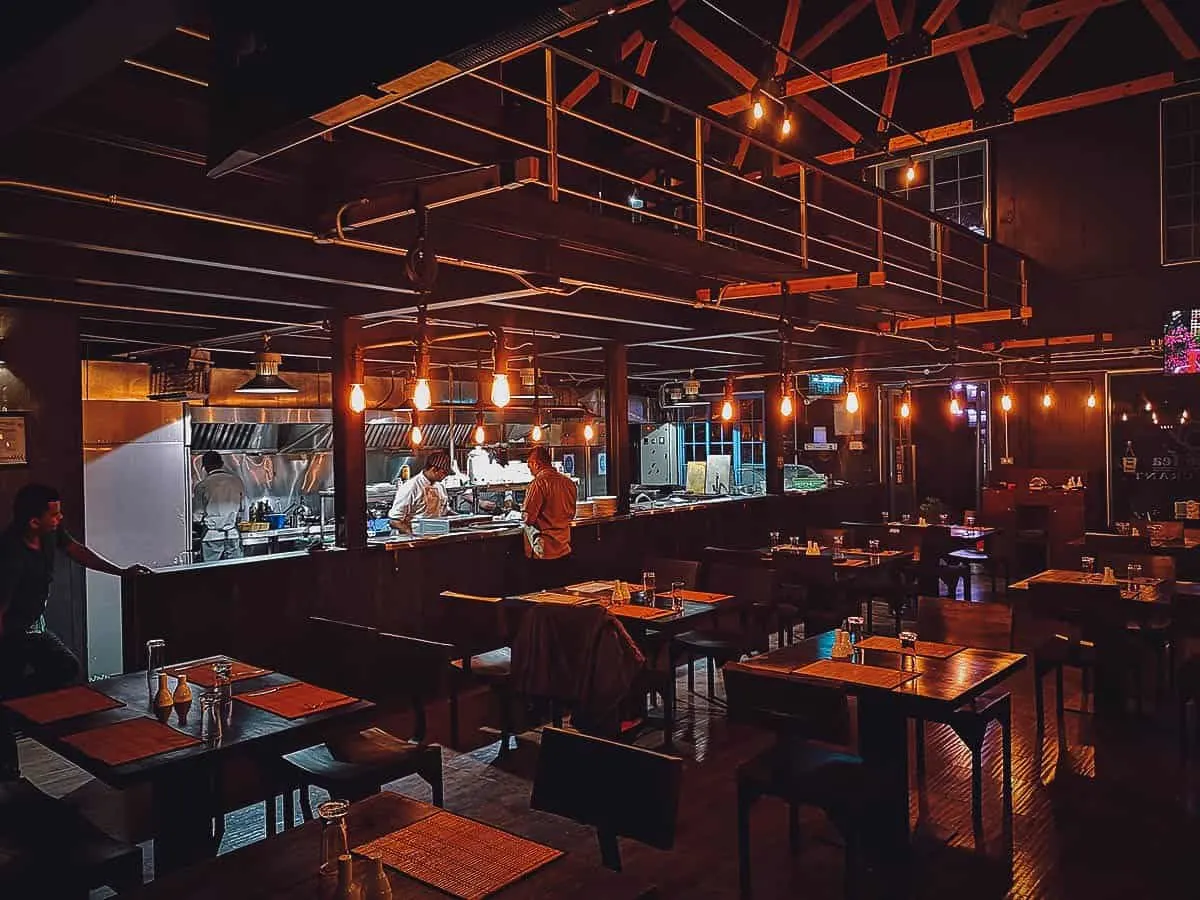 3. Adam's Breeze
I had a late breakfast here after my trek to Little Adam's Peak. I had this Sri Lankan breakfast of string hoppers with potato curry, onion sambol (relish), and a pot of tea. String hoppers are among the most memorable dishes I had in Sri Lanka.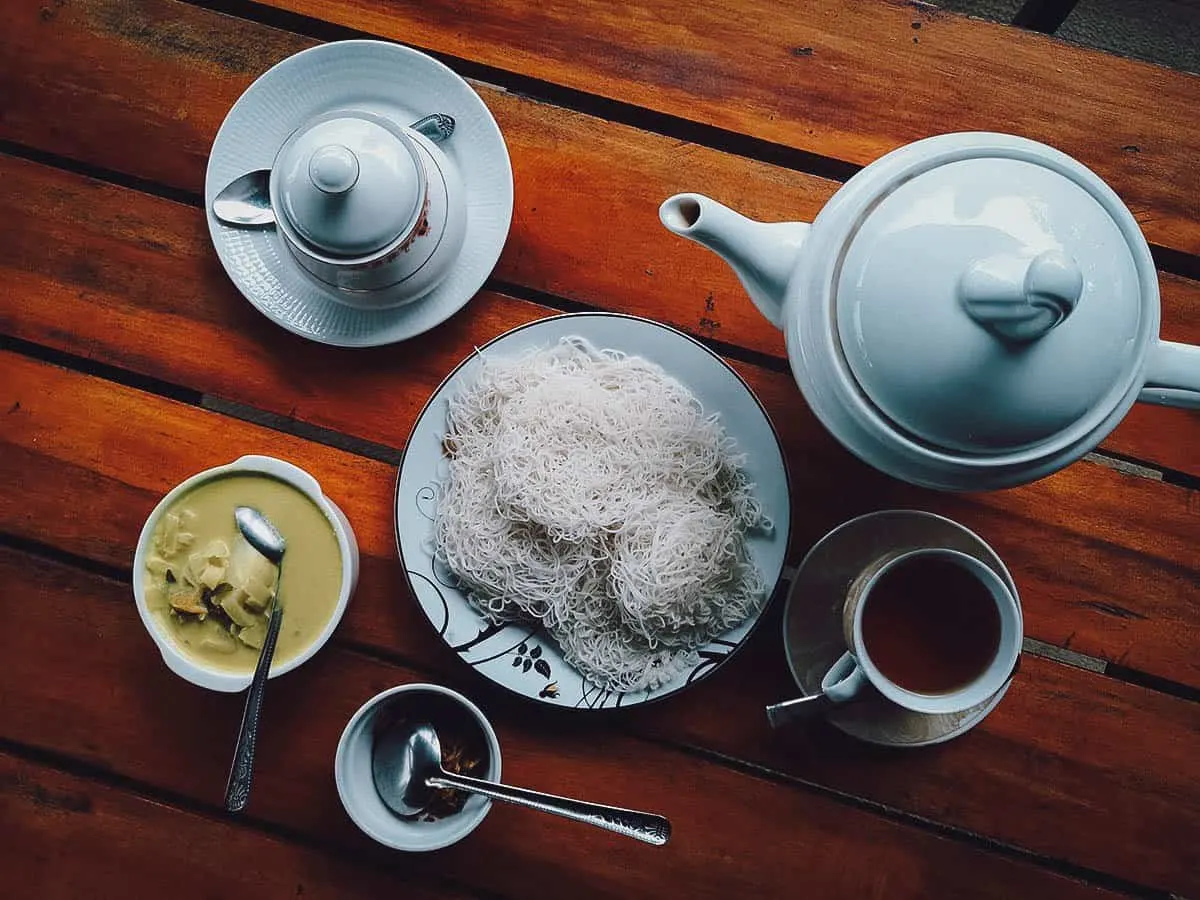 String Hoppers have a catchy name but they're basically rice flour pressed into noodle form then steamed. Also known as idiyappam, string hoppers are a staple dish in Sri Lanka and South India, and are typically served at breakfast or dinner with some type of curry. They have great texture and are quite addictive to eat.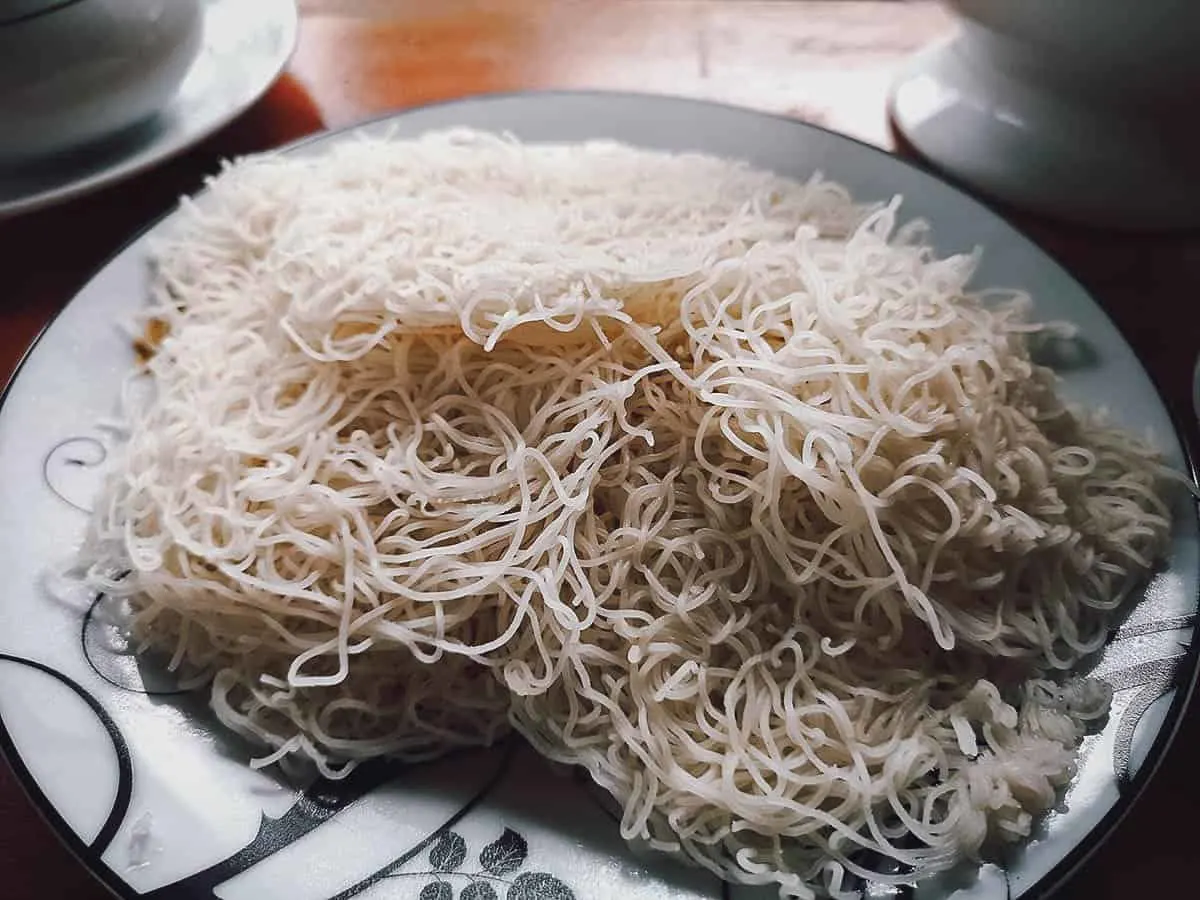 A nice potato curry to moisten and add flavor to my string hoppers. You can see in this picture what I was saying about Sri Lankan curries being thin and watery. They're more soup-like in consistency.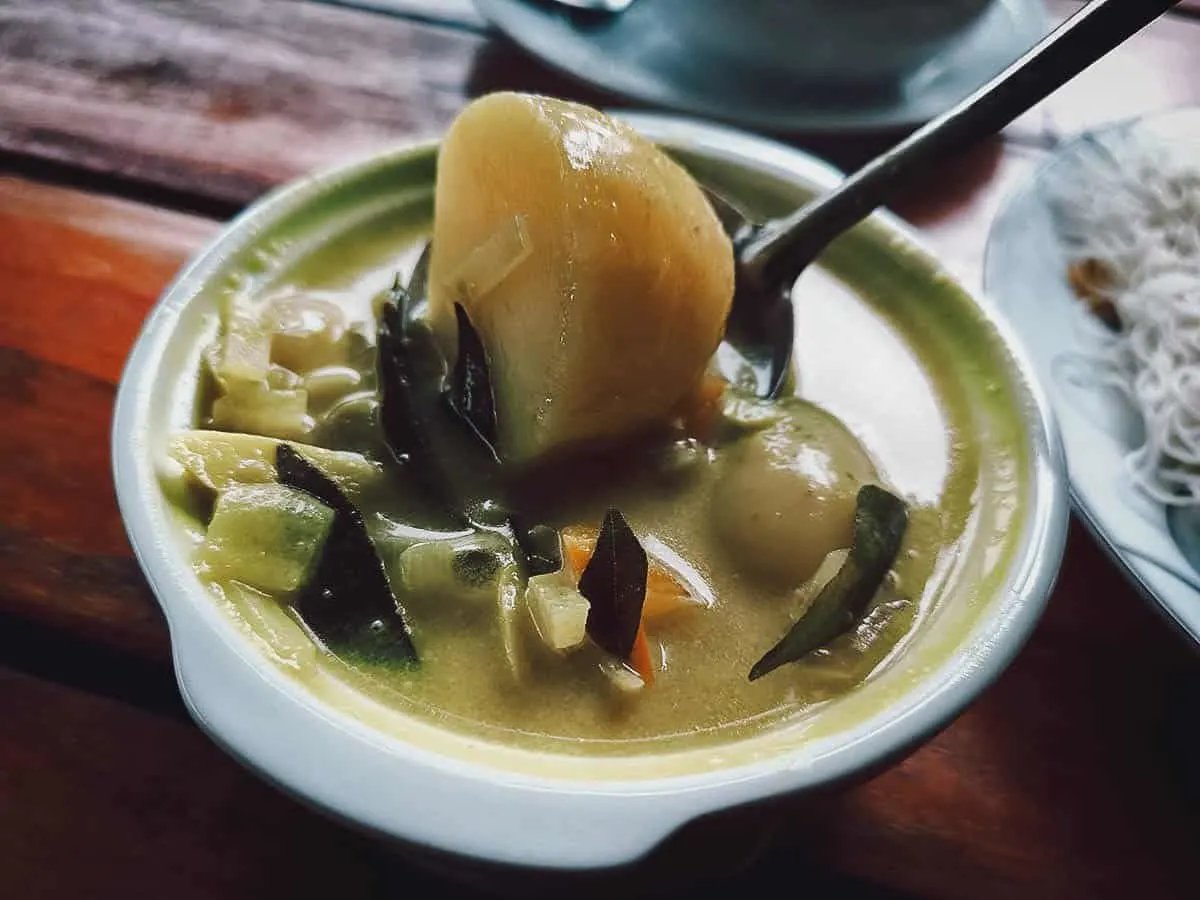 Like the previous two restaurants on this list, Adam's Breeze is a TripAdvisor Certificate of Excellence awardee with a near-perfect 4.5-star rating. They offer traditional Sri Lankan and dishes like kottu, biryani, and rice and curry.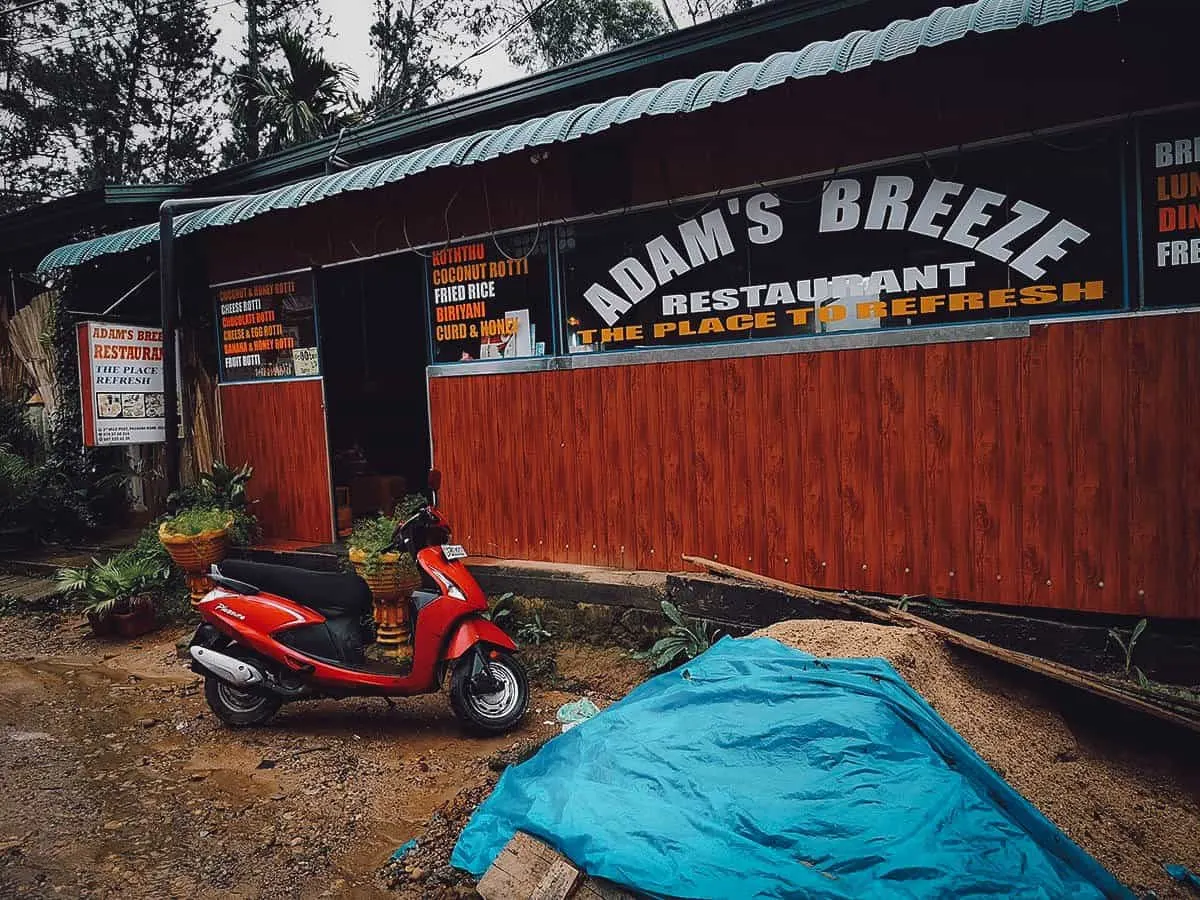 4. Cafe Chill
Cafe Chill is one of the most popular restaurants/bars in Ella. I had my first meal there and the place was packed with travelers having dinner or enjoying a few drinks. As its name suggests, the place has a relaxed island-y vibe and plays some pretty chill music at night.
I had the lamprais which is an interesting Sri Lankan dish made with two or more curries, rice fried with onions and spices, sambal, belacan (shrimp paste), meat, and a deep-fried hard-boiled egg. All the ingredients are wrapped in banana leaves then baked in an oven. The dish gets its name from the Dutch word lomprijst, meaning "lumpy rice" or "a packet of food".
According to their menu, Cafe Chill makes their lamprais with ten different types of curry. They use chicken for the meat and serve it with a side of papadum and two types of sambol.
Cafe Chill is a great place to hang out at night in Ella. It seems to be an institution in these parts, known for serving a range of Sri Lankan and western dishes.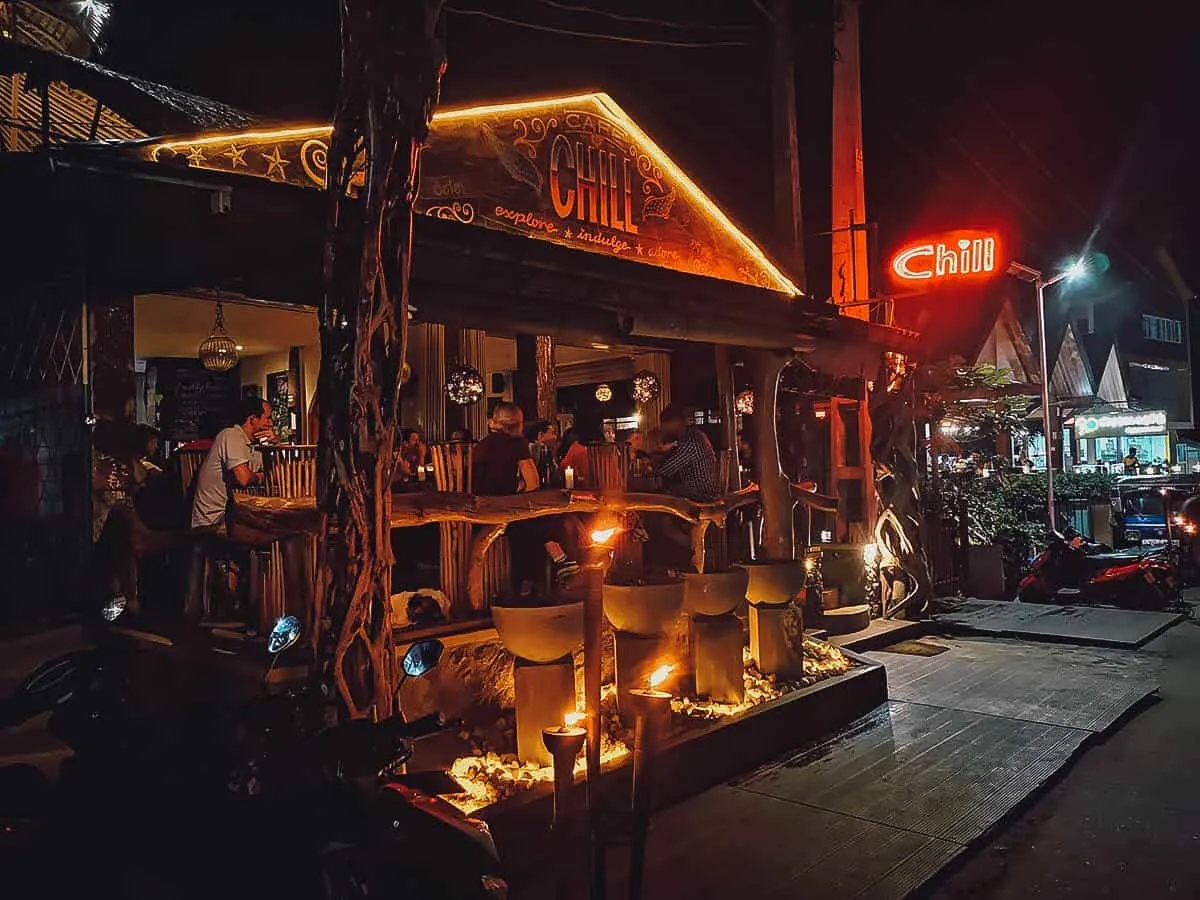 5. Remo's Restaurant
I was in the mood for something spicy so I decided to check out Remo's Restaurant after reading about their deviled chicken or fish with rice. With a name like that, I expected the sauce to be spicy but it was more like a sweet and sour sauce.
I had the chicken and the sauce was nice and flavorful, but the meat was a little tough. I probably should have gone with the fish instead.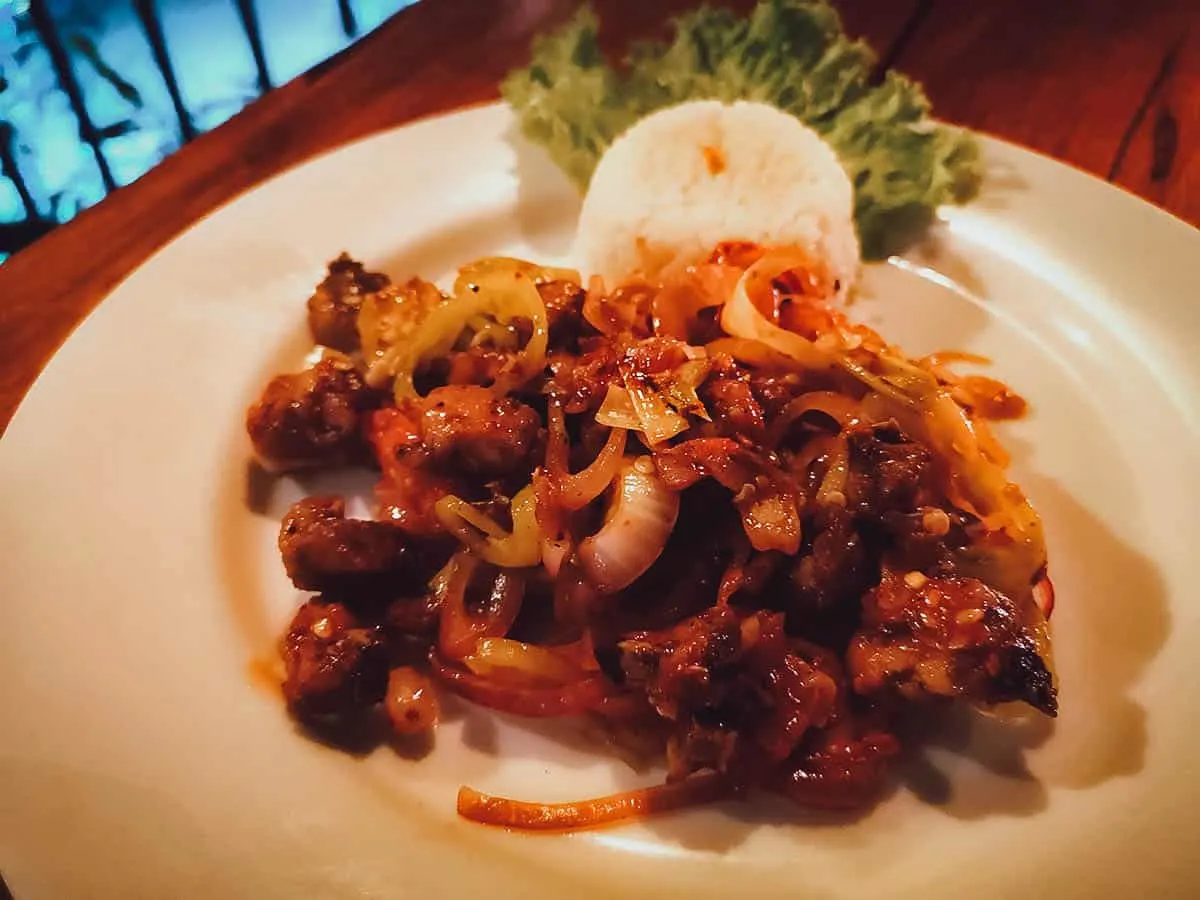 I ordered some papadum as well to enjoy with my beer. This was my last night and meal in Ella.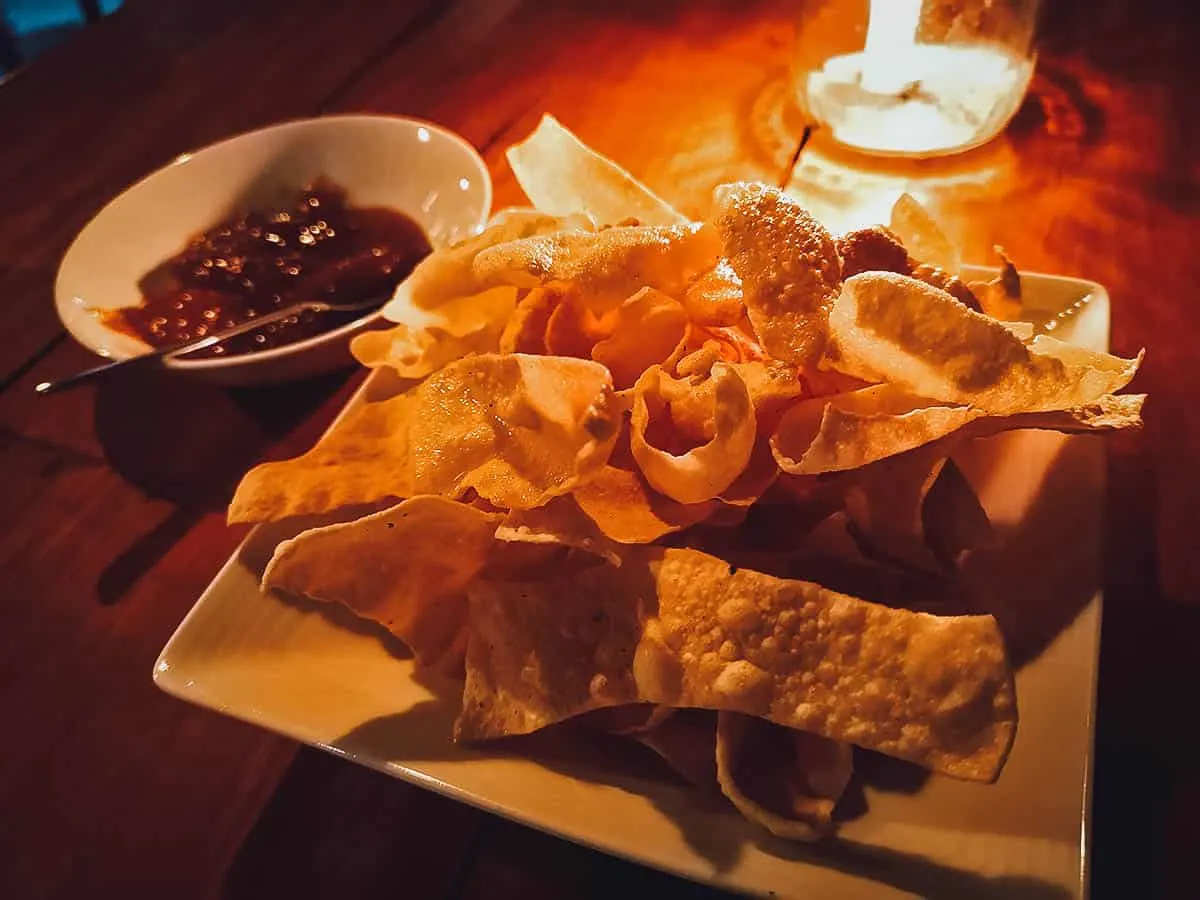 Remo's Restaurant is located on the second floor above this ayurvedic treatment center. They offer lamprais and vegan rice and curry as well.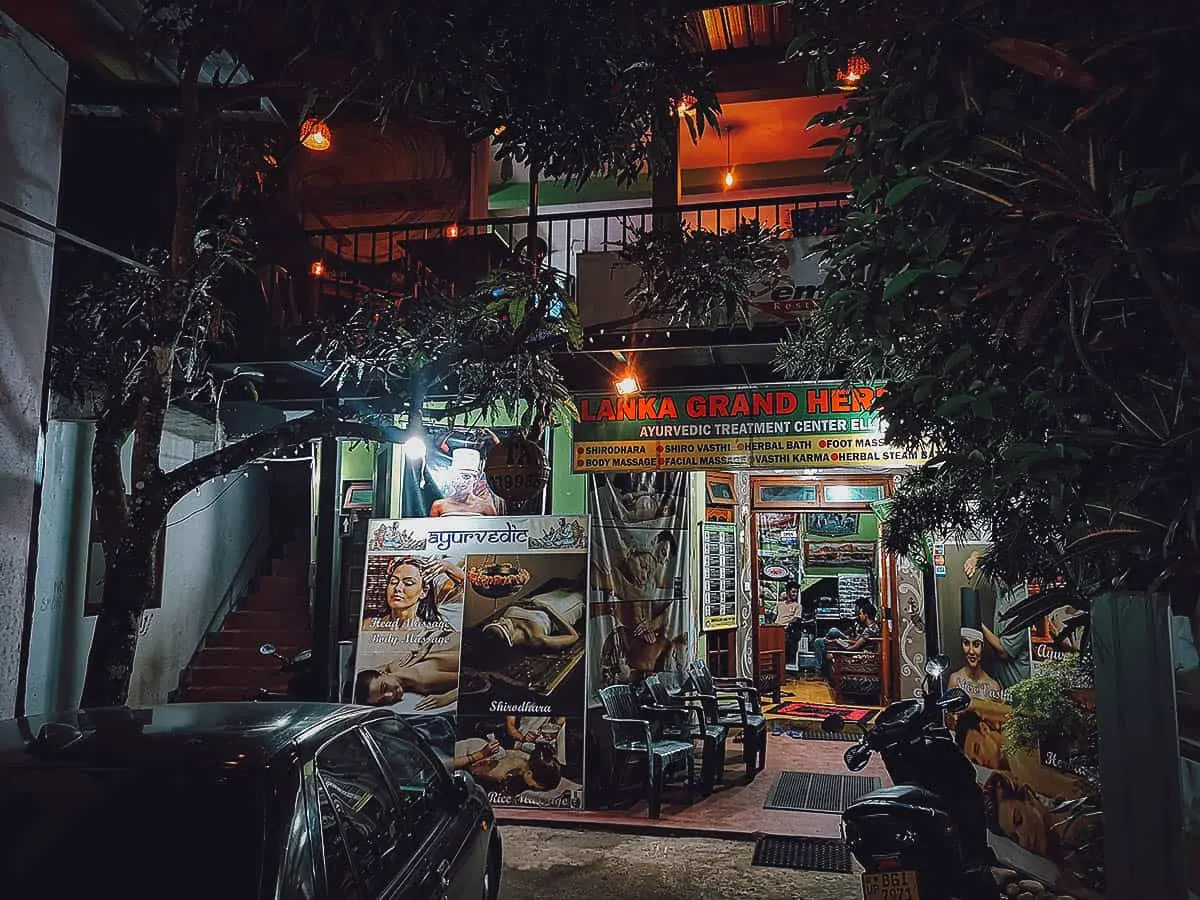 POINTS OF INTEREST IN ELLA
To help you visualize where everything is, I've pinned most of the places recommended in this guide on this map. Click on the link for a live version of the map.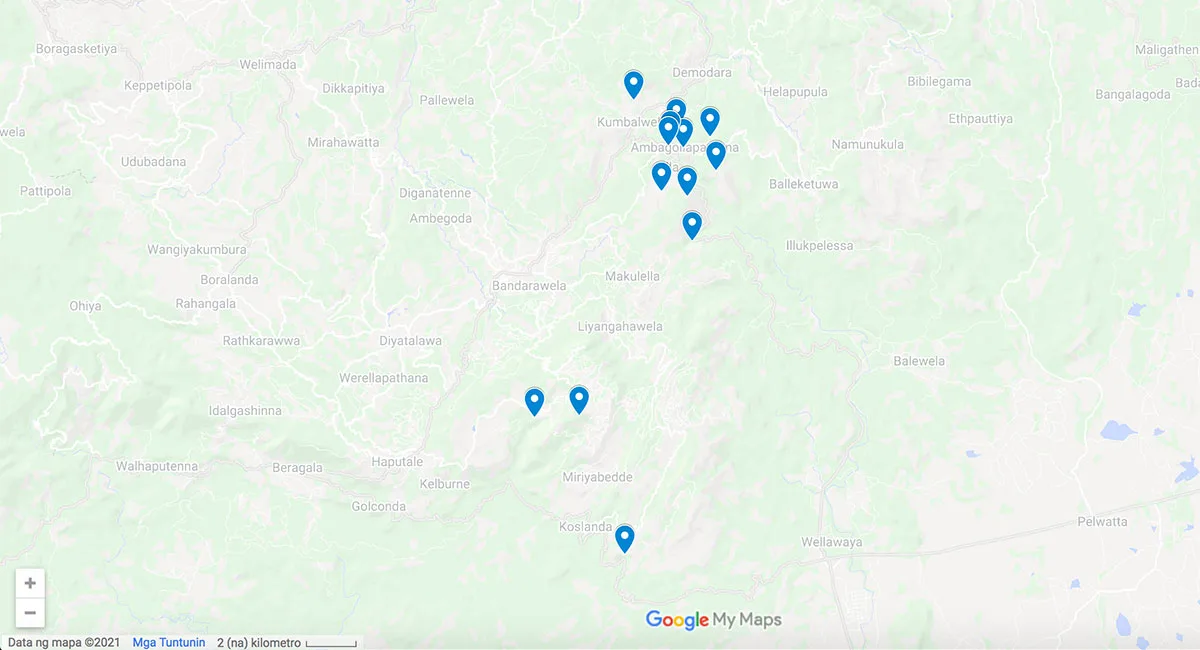 HOW TO GET AROUND IN ELLA
Ella is a small town known for its hiking trails so you'll be getting around mostly on foot. The only time I ever needed transportation was to visit out-of-town attractions like Lipton's Seat and Diyaluma Falls.
If you need to hire a tuk-tuk, then you can try this Sri Lankan transportation app called PickMe (iOS|Android). It's similar to Grab or Uber but I've read it works better in some cities than in others. I tried it in Ella but I couldn't secure a booking. I think it works better in bigger cities like Colombo or Kandy.
Either way, I suggest downloading the app anyway because it can tell you approximately how much a trip should cost. Knowing that will help you negotiate.
HOW MANY DAYS TO STAY / ELLA ITINERARY
Ella is one of those places that invites you to stay for as long as you like doing little more than soaking up the atmosphere. I stayed for just a few days but I could have stayed longer without getting bored.
It's a relaxing environment that's conducive to working. With my laptop and a fast internet connection, I could have stayed for weeks.
If you don't have a lot of time and just want to experience Ella's top attractions, then I think a stay of three full days is enough. It'll give you enough time to do everything in this guide without feeling rushed. Here's a 3D/4N Ella itinerary to help you plan your trip.
DAY ONE
• Nine Arches Bridge
• Little Adam's Peak
DAY TWO
• Ella Rock
• Uva Halpewatte Tea Factory
DAY THREE
• Lipton's Seat
• Diyaluma Falls
• Ravana Falls
ELLA TRAVEL TIPS
1. Plan your Trip with Sygic Travel
I've been using this free travel planning app for many years now to create all our itineraries. What it does is allow me to pin all points of interest on a map so I can see where everything is in relation to one another. That way I can easily group attractions by day to create as efficient an itinerary as possible. Check out my post on Sygic Travel for more information.
You can view my Ella itinerary on Sygic Travel or download it in Word format from our EAT-ineraries page. It covers Ella, Kandy, Dambulla, Sigiriya, and Polonnaruwa.
2. Stay Connected
A strong and steady internet connection is a must these days, especially when traveling. You'll need it to navigate, convert currencies, do research, and post your latest #ootd on social media.
You can get a constant wifi connection by either buying a sim card or renting a pocket wifi device. Personally, I find pocket wifi devices to be simpler and more reliable so I don't mind paying more for them.
I was initially in Sri Lanka for a press trip and they provided all media members with sim cards which I continued to use after the conference. The connection was steady and I could easily top it up when it ran low.
However, there was an issue with daytime and nighttime data usage that caused me to lose my connection a few times. It happened once at an inopportune time when I needed it badly to navigate. It's for this very reason why I prefer renting pocket wifi devices with unlimited data.
I didn't rent one in Sri Lanka but a quick Google search led me to go-lanka.com. I haven't used them so I can't personally voucher for them, so proceed at your own discretion. You may have other options available to you as well depending on where you're coming from.
If you'd rather buy a sim card, then you can get one in advance through Klook. You'll need to pick it up from Bandaranaike International Airport when you arrive.
3. Book Train Tickets Early
As described, it's extremely important to book your train tickets in advance no matter what time of the year you go. I went in early November, during the monsoon season, and I couldn't even get my first choice of ticket for the Kandy-Ella route in spite of me putting in the request thirty days ahead of time!
That's how popular some of these train routes are, especially that Kandy-Ella route (and vice-versa), so it's imperative that you book as early as possible. Forget trying to buy it on the spot because chances are, they'll be long gone by then.
My homestay host in Kandy was a former travel agent and he told me that companies snap up these tickets as soon as they become available and then resell them at a markup. The government has tried to limit the number of tickets people are allowed to buy but they always find a way around these restrictions.
If you're on a strict schedule and can't afford to miss the train you want, then I suggest putting in the booking request well in advance, maybe 45+ days before your intended date of departure.
Though tickets don't become available till about 30 days before, it's a good idea to make the request early so you're higher up on the list. As described, you can book Sri Lanka train tickets through Bookaway.
4. Choose the Right Train Class
Picking the right train class can be just as important as booking your tickets early, especially if it's your first time visiting Sri Lanka. Here's a quick breakdown on the different reserved train classes, which are the kinds you can book on Bookaway.
1st Class: 1st class cars are air-conditioned so you can't open the windows. This would be less of an issue anywhere else but in Sri Lanka, it's something to consider. The scenery is such an important part of the journey and riding in first class will force you to take pictures through windows that aren't just grimy, but much smaller than the windows in 2nd class. If it's your first time taking the Kandy-Ella route, then 1st class isn't ideal.
1st Class Observation Car: I took this from Colombo to Kandy. The observation car is the last car on the train. Passengers sit in reverse facing large rear windows that give them a clear view of the tracks. Observation class isn't offered on every train so you may want to experience it if it's available.
2nd Class: This is the best class to take for the famous Kandy-Ella route. Windows are large and can be opened so you can take unobstructed pictures of the view. You can even stick your head out if you want. 2nd class cars aren't air-conditioned but a good breeze flows through the trains so you don't feel hot. I'm not sure what it's like in summer but from what I've read, it isn't too bad either.
Please note that there are unreserved 2nd and 3rd class cars as well. These are much cheaper than reserved seats and don't sell out as quickly. If you can't secure reserved tickets in advance, then you can try buying unreserved 2nd or 3rd class tickets on the spot. Just be prepared to stand as you probably won't be able to find a seat.
Regardless of which class you choose, you'll be able to freely move through the train which is something you'll probably want to do, especially if you like taking pictures. Many train doors are left open during the journey so you'll often find passengers sitting by them for a good portion of the trip.
5. Check for Ella Travel Deals
There are many online tour providers but the ones I use and trust the most are Klook and Get Your Guide. The pickings are still slim compared to other destinations, but you may want to go through their list of Ella activities (Klook | Get Your Guide) to see if anything interests you. I often find activities I wouldn't normally think of myself so it's always worth a look.
6. Get Travel Insurance
Travel insurance isn't something we get before every trip. Whether we get it or not depends on where we're going, how long we'll be staying, and what we'll be doing. For this trip to Sri Lanka, I found it absolutely necessary with all the outdoor activities I had on my itinerary.
Whenever we do feel the need for insurance, we buy it from SafetyWing or Heymondo. They're both popular travel insurance companies used by many long-term travelers. Follow the links to get a free quote from SafetyWing or Heymondo. Get 5% off on Heymondo when using our link.
7. Bring the Right Power Adapter
Sri Lanka has Type D, Type G, or Type M electrical outlets so be sure to bring the right power adapters for your devices. Electrical voltage is 230V and the standard frequency is 50Hz.
8. Change Back Any Unused Sri Lankan Rupees
It's illegal to bring more than LKR 5,000 in or out of the country. If you have an excessive amount of LKR left over at the end of your trip, then you need to spend it or change it to a different currency before you leave. You can do that at the airport.
Have Fun!
By no means am I an expert on Ella but I do hope you found this guide helpful. I'm only sharing some of the things I learned from my trip. If you have any questions or comments, then please leave them in the comment section below. You're welcome to join our Facebook Travel Group as well. We'd love to hear from you.
Thanks for stopping by and have an awesome time trekking in Ella!
OUR GEAR
These are some of the things I brought with me to Sri Lanka. Have a look inside our backpack to see what other gear we use. (NOTE: The following links are Amazon affiliate links.)
Disclosure
Some of the links in this Ella travel guide are affiliate links, meaning we'll get a small commission if you make a purchase at no additional cost to you. We only recommend products and services that we use ourselves and firmly believe in. We really appreciate your support as it helps us make more of these free travel guides. Thank you!