Tourism is the primary industry in Santorini. This picture-perfect island in the Aegean Sea receives an estimated two million visitors annually. With so many tourists enjoying its caldera views year after year, hundreds of restaurants have sprung up across the island offering a wide variety of fare from seafood to Greek to Asian and Italian.
The sheer volume of choices can be daunting – especially in a destination as touristy and pricey as the Greek islands – so I've put together this list of nine great Santorini restaurants to check out on your next trip. It covers a good range of spots from inexpensive gyro shops to pricier seafood restaurants.
If you're familiar with our food guides, then you'll know that we focus mainly on restaurants offering the best examples of local food. Outside of two highly-regarded gelato bars, this Santorini food guide follows the same basic formula.
FOOD IN SANTORINI QUICK LINKS
To help you with your Santorini trip planning, we've put together links to popular hotels, tours, and other activities here.
HOTELS
Recommended hotels in Fira, one of the most popular places to stay in Santorini.
TOURS
OTHER SERVICES
SANTORINI TRAVEL GUIDE
If you're planning a trip to Santorini, then be sure to check out our detailed Santorini travel guide. It'll have all the information you need – like where to stay, when to go, how to get around, etc. – to help you plan your trip.
Save This on Pinterest!
No time to read this Santorini food guide now? Click on the save button and pin it for later!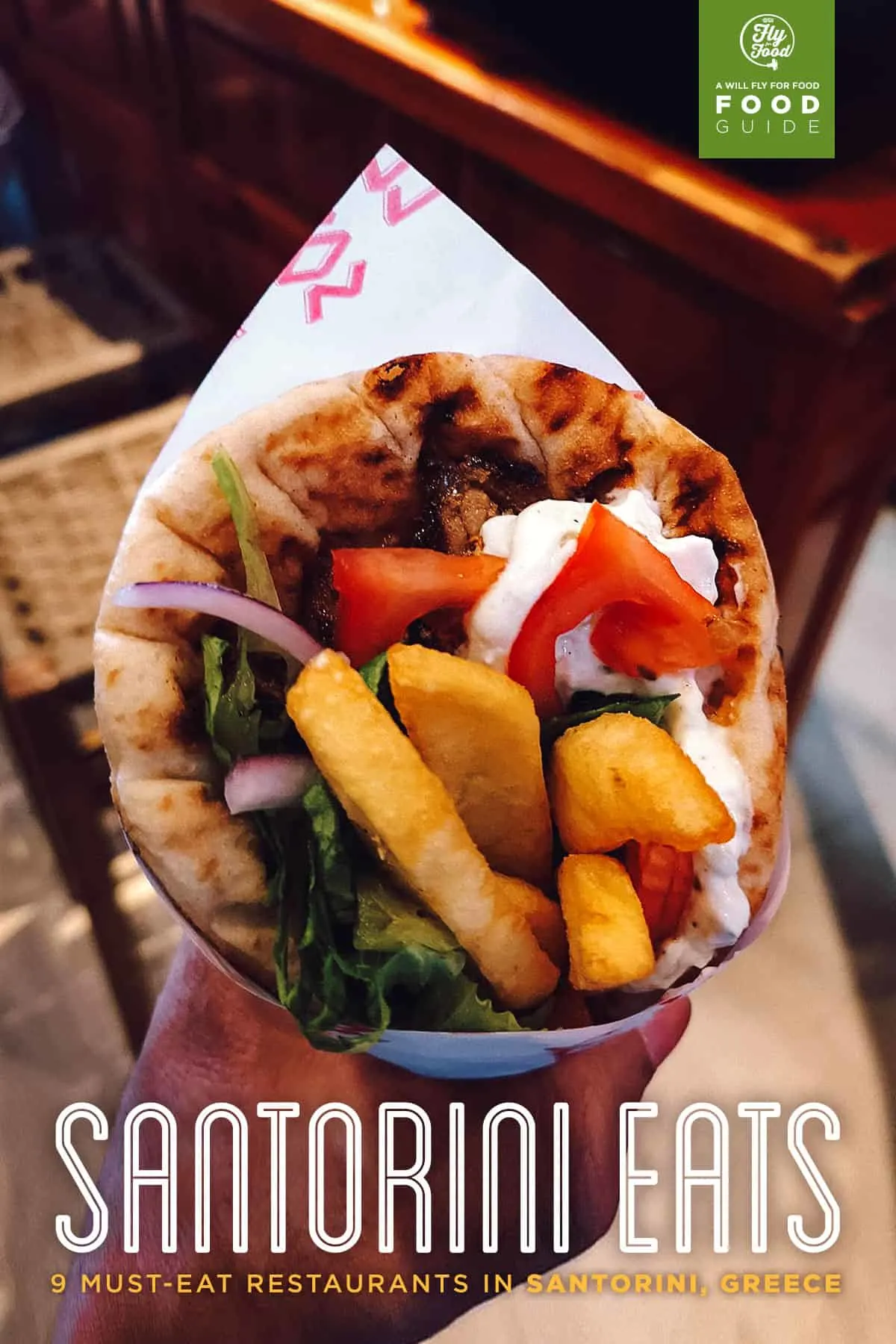 THE BEST RESTAURANTS IN SANTORINI
Unless you rent a car, then the majority of tourists will probably spend much of their time in the popular towns of Fira and Oia. We stayed in Megalochori, a smaller village in the southwestern part of the island. We rented a car for the duration of our stay so it was easier for us to explore restaurants in different towns across the island.
Every place on this list is a TripAdvisor Certificate of Excellence awardee with a near-perfect 4.5 star rating. For me, it's much more important to see how locals feel about a restaurant so I always filter reviews by language. If the reviews are still excellent, then I add it to our itinerary.
EXO GONIA
Exo Gonia is a small village in south central Santorini.
1. Metaxi Mas
This was easily my favorite Santorini restaurant. According to reviews and blog posts, it's a favorite for many locals as well. In fact, when I asked our hotel's concierge for help in making reservations, she said "oh, what a great choice!"
Metaxi Mas is a Cretan restaurant hailed by many as the best restaurant in Santorini. We would agree. This oven-baked asparagus (EUR 9.50) with graviera cheese and tarragon was phenomenal and one of the single best things I ate in Santorini.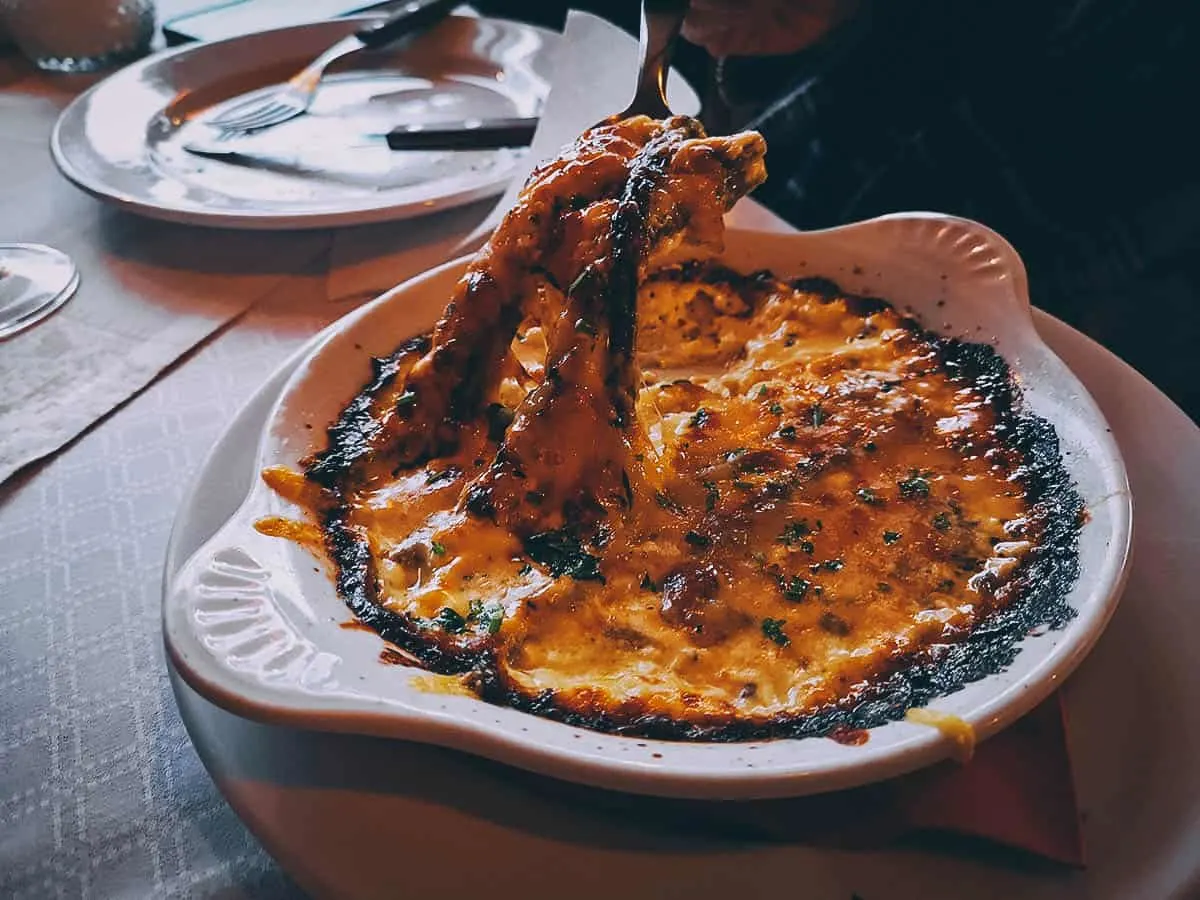 Greeks love octopus. It figures prominently in their cuisine so you may find a few specimens drying on lines throughout the island. The most common preparation is grilled octopus tentacle with herbs, olive oil, and fava which is a quintessential Santorinian dish of yellow split pea purée.
We had grilled octopus several times in Santorini and Metaxi Mas' version (EUR 14.50) was the best.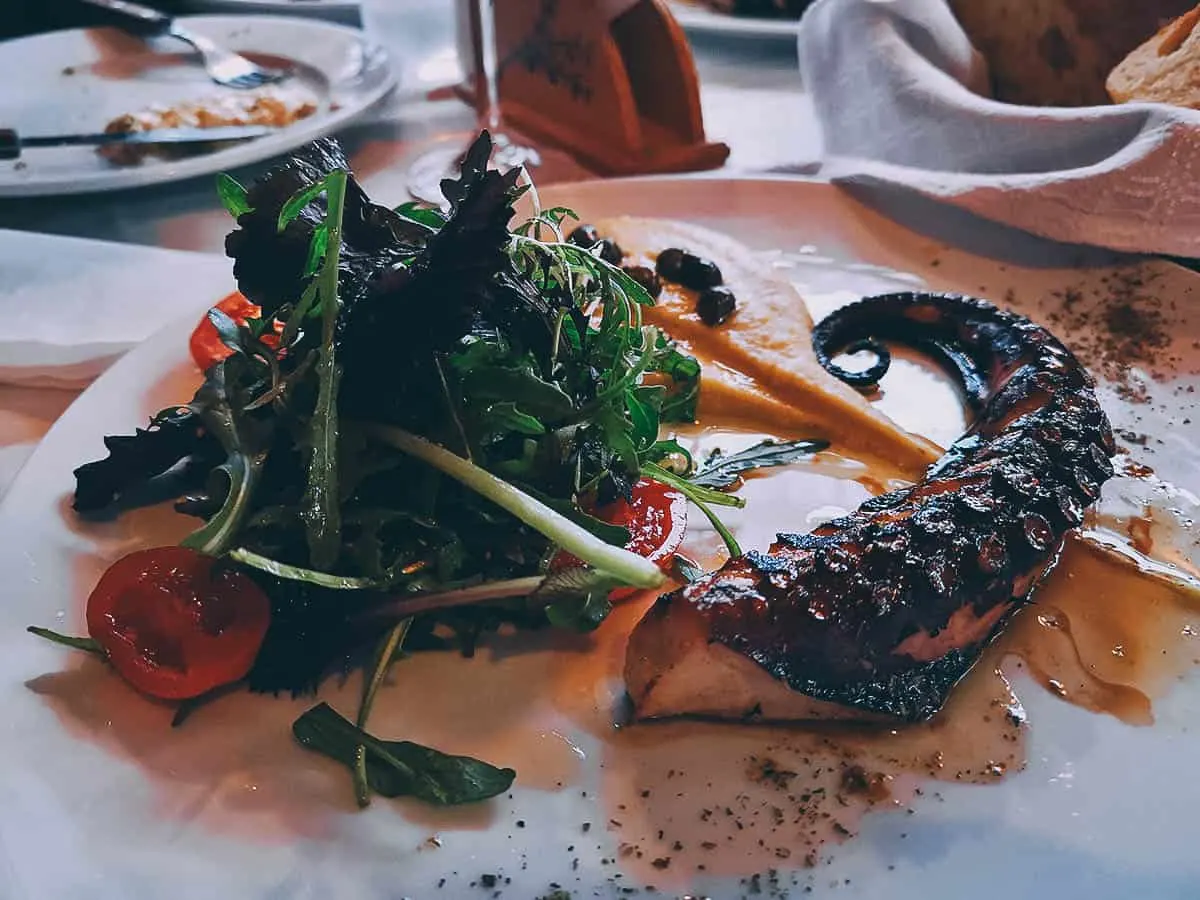 Far removed from the beautiful but touristy towns of Fira and Oia, Exo Gonia gives you a more intimate look at life in Santorini. Check out our post on Metaxi Mas for more pictures and information.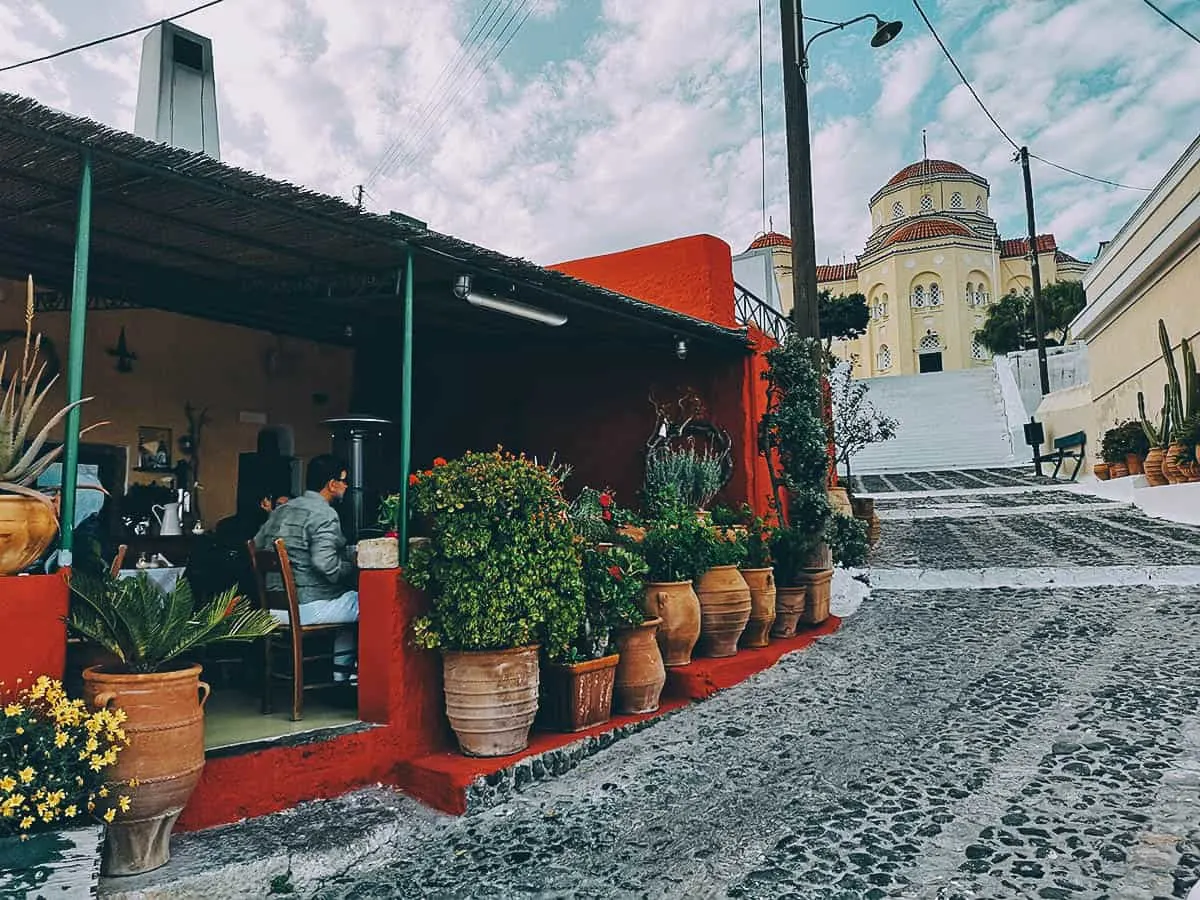 Metaxi Mas
Address: Exo Gonia, Έξω Γωνία, Santorini 847 00, Greece
Operating Hours: 2PM-12MN, daily
Expect to Pay: EUR 12-15 per entree
MEGALOCHORI
Megalochori is a charming village in the southwestern region of the island. I didn't know this until we arrived, but Santorini is an important winemaking region known for its heritage Assyrtiko grape. Megalochori sits at the heart of the island's wine making industry so you'll find plenty of vineyards and a few wineries in and around the village.
2. Tavern Tzanakis
This is about as un-touristy and local as it gets. Open for 26 years and counting, Tzanakis is a family-run Santorini restaurant serving classic island staples like fava, ntomatokeftedes (cherry tomato fritters), and grilled white eggplant.
Pictured below is a juicy platter of the aforementioned ntomatokeftedes (EUR 6). Ntomatokeftedes are fritters made from Santorini's famed cherry tomatoes. Like fava, it's a quintessential Santorinian dish.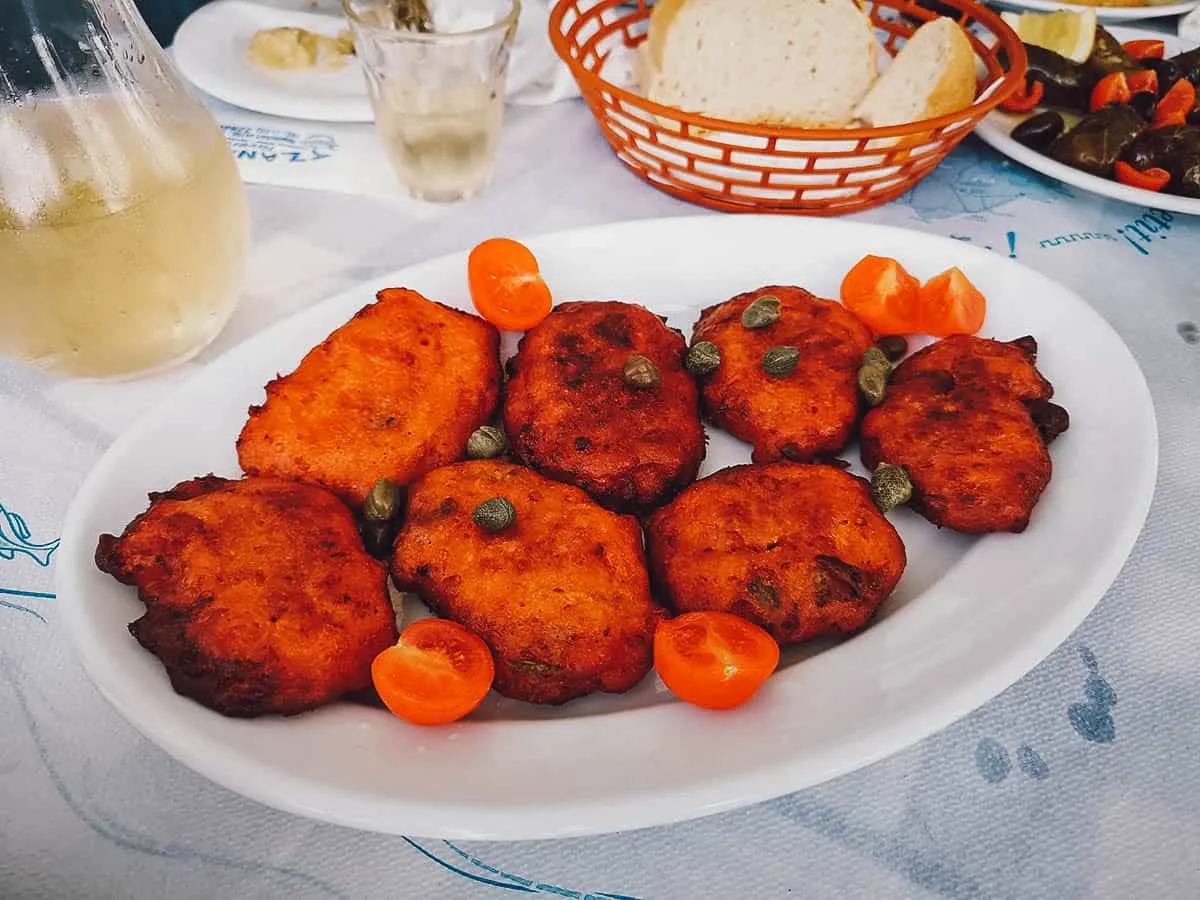 Another dish you'll find in many Greek restaurants is saganaki (EUR 5.50). It's a delicious starter of fried cheese made in a small frying pan.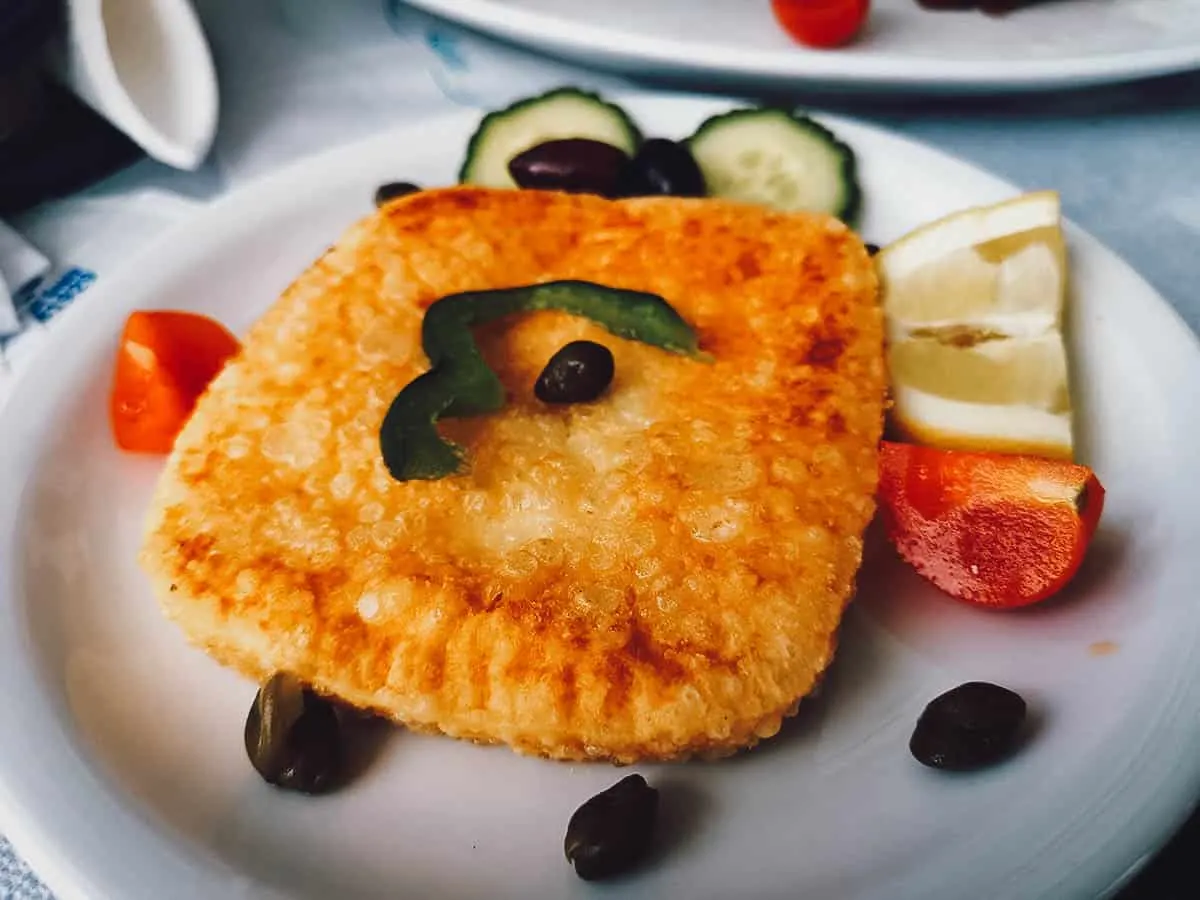 Tzanakis offers simple but delicious home-cooked Greek food. When you're here, it feels like you're sitting down with family. Check out our post on Tavern Tzanakis for more pictures and information.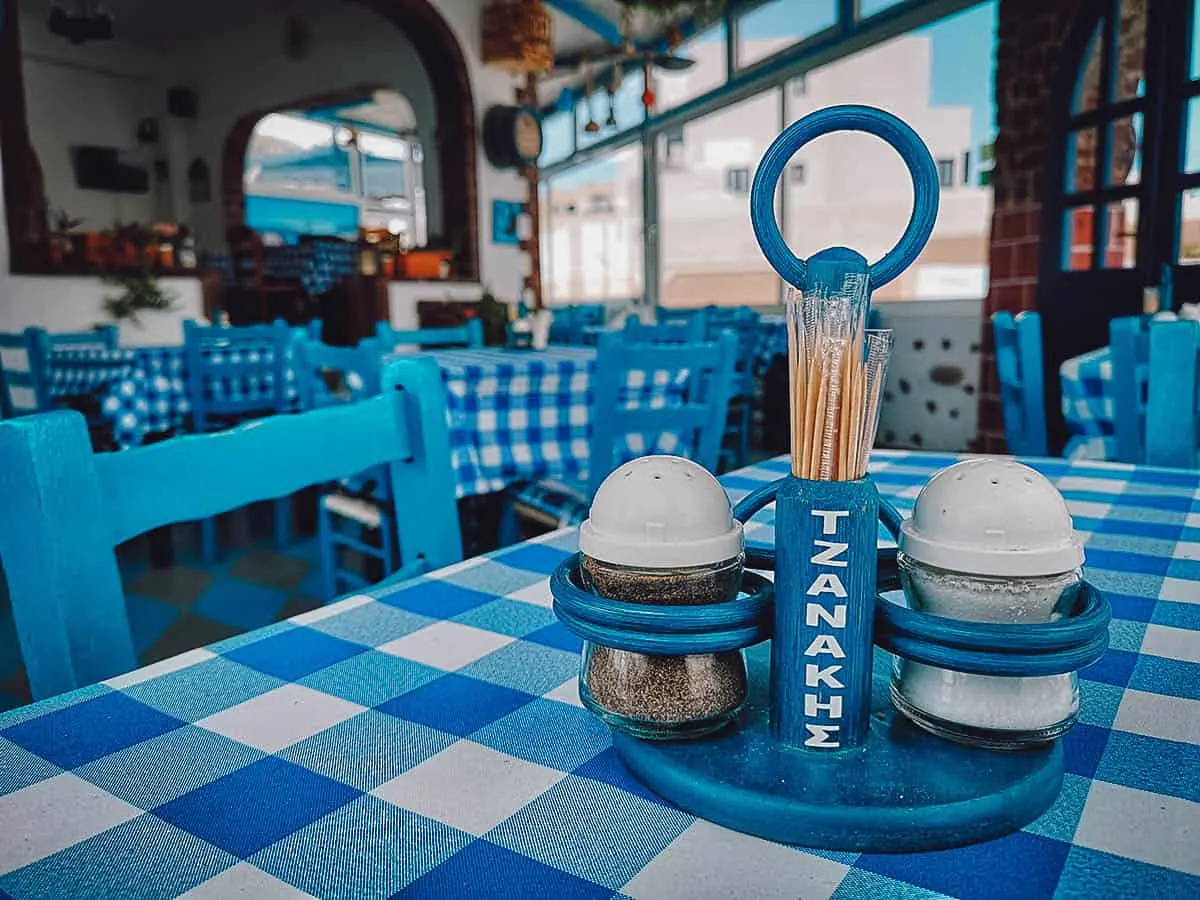 Tavern Tzanakis
Address: Megalochori, Thira 847 00, Greece
Operating Hours: 12NN-12MN, daily
Expect to Pay: About EUR 8-10 per entree
3. Geromanolis
Geromanolis is another traditional Santorini restaurant serving simple but delicious Greek food. Popular with locals, it's tucked away deep inside Megalochori and offers an extensive menu of seafood dishes like this beautiful platter of grilled sardines (EUR 8).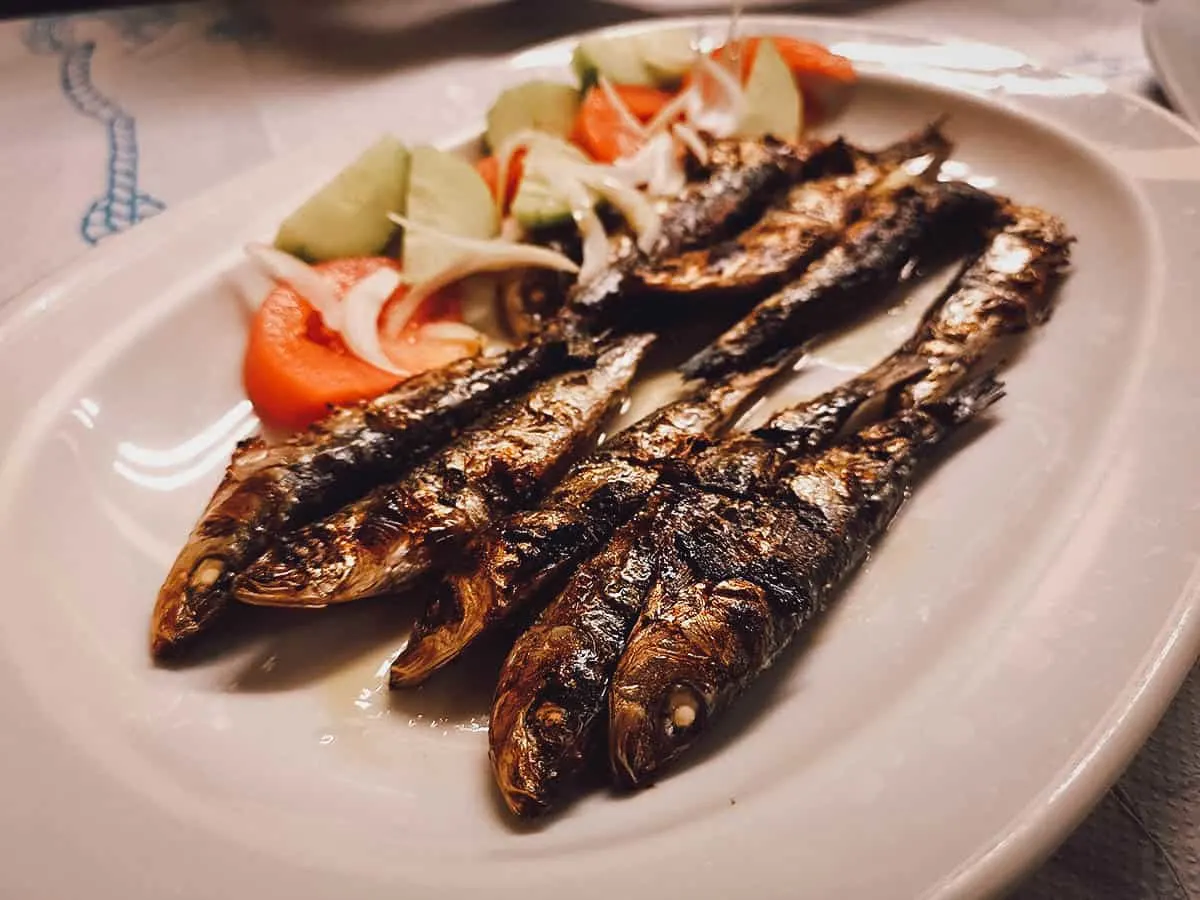 As described, grilled octopus (EUR 10) is one of the most popular seafood dishes on the island. Don't be surprised if you wind up ordering it at every meal.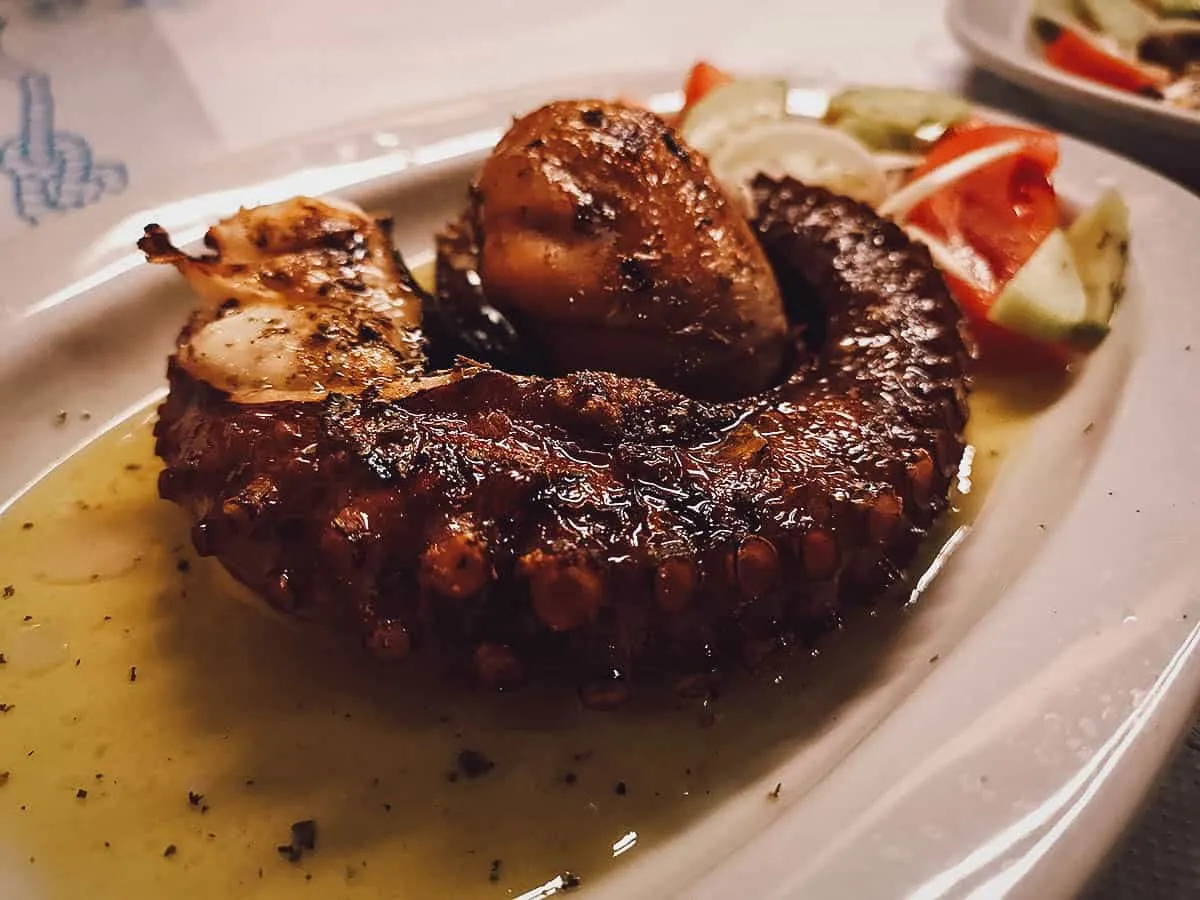 The grilled cuttlefish (EUR 8) was just as good. As you can probably tell from these pictures, many of their dishes are prepared in the same way – just grilled and drizzled with herbs and olive oil. When the seafood is this fresh, that's pretty much all you need.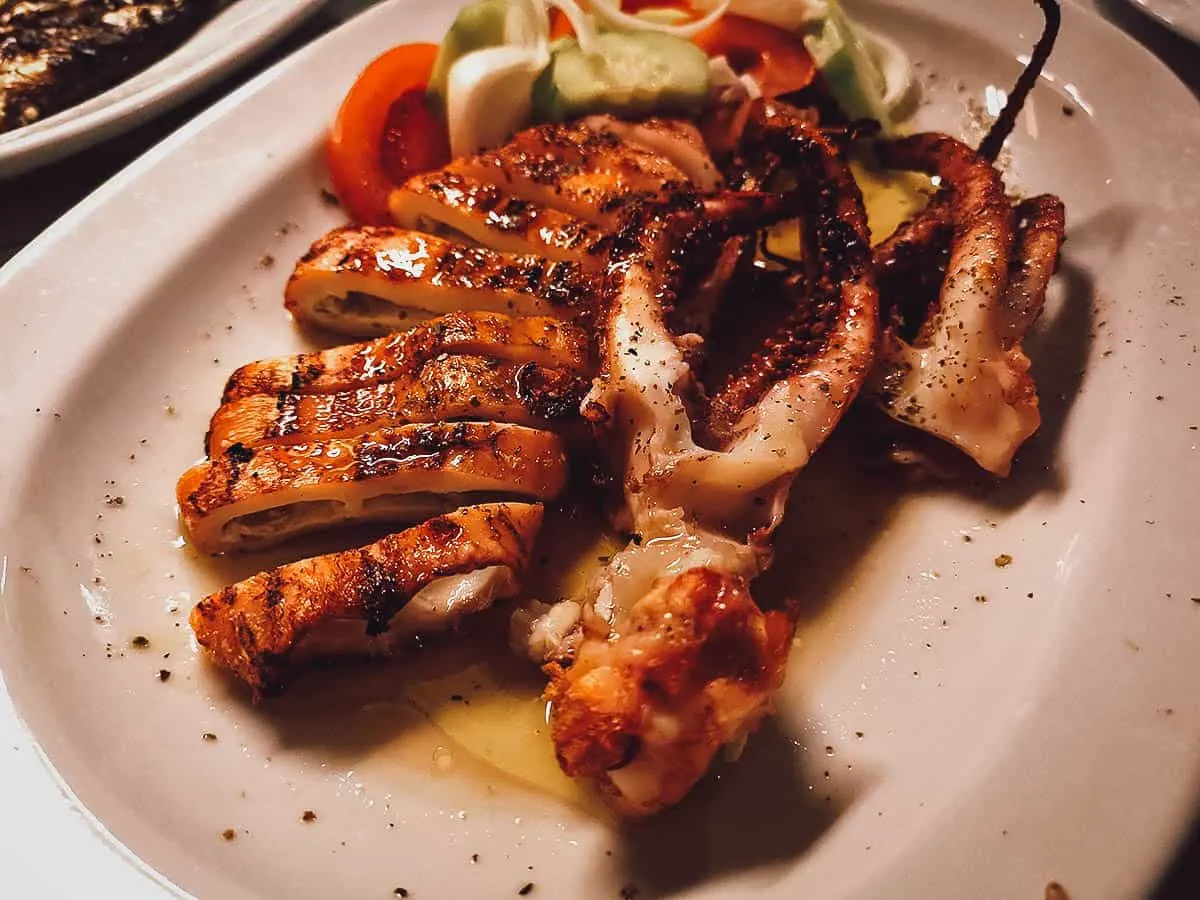 Geromanolis is harder to find so it's best visited if you have a car. We stayed in Megalochori and it was a little tough to get to, even for us. But if you want fresh seafood that isn't overpriced, then it's definitely worth it. Seafood can be expensive in Santorini, especially in the most touristy towns of Fira and Oia.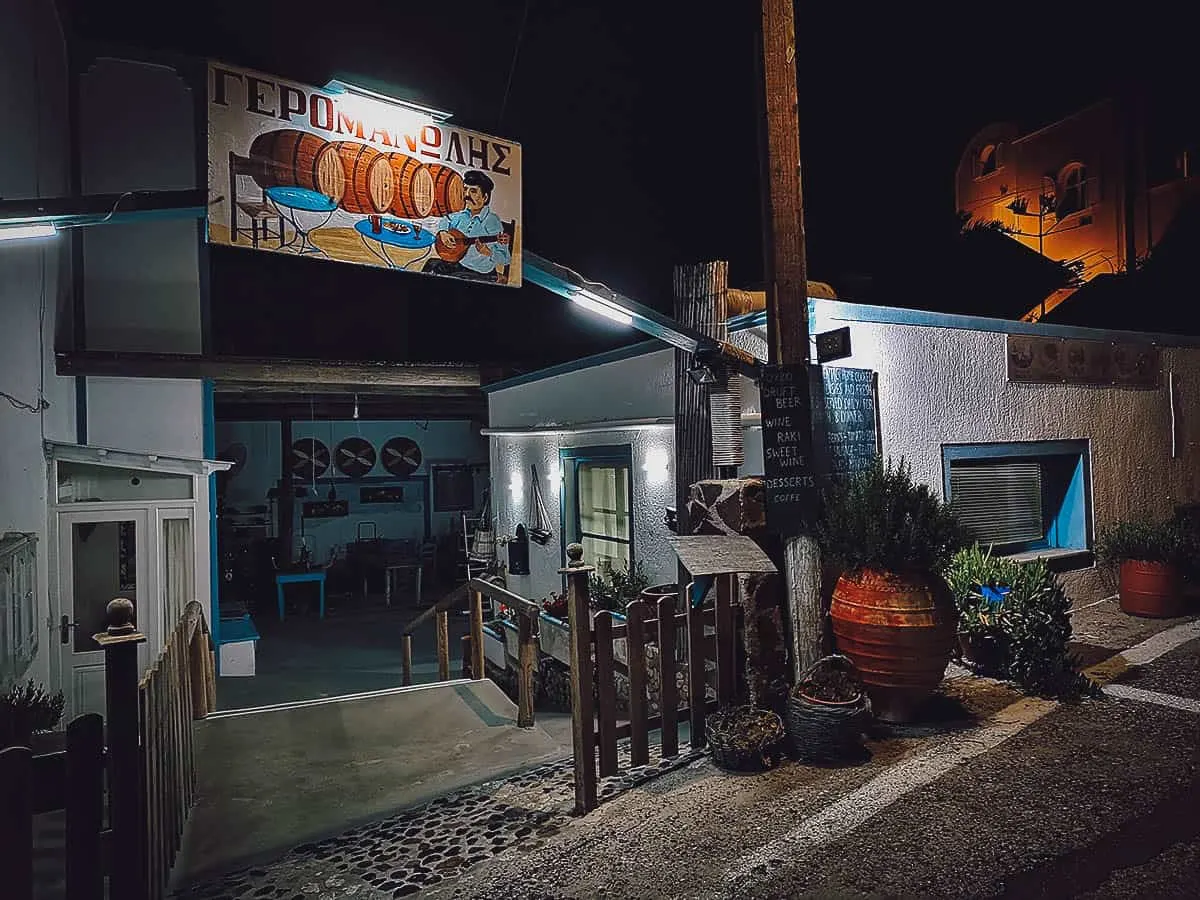 Geromanolis
Address: Epar.Od. Firon-Ormou Perissis, Megalochori 847 00, Greece
Operating Hours: 12NN-12MN, daily
Expect to Pay: About EUR 12-15 per person
4. The Family Bakery
I loved this family-run bakery. It's located on the corner of the main road and the smaller street leading into Megalochori. I would stop by this place every morning to get a pastry and coffee. Open 24 hours daily, they serve an extensive array of pastries, breads, cakes, and savory dishes. They even have gelato.
I'd sit outside every morning and watch locals park their cars in front and quickly run inside to grab coffee and some pastries. Many wouldn't even bother shutting off their engines. A lot of trucks would swing by with men wearing paint-stained overalls or jeans. I guess workers would stop at The Family Bakery to pick up breakfast on the way to work. It seems to be an institution in these parts.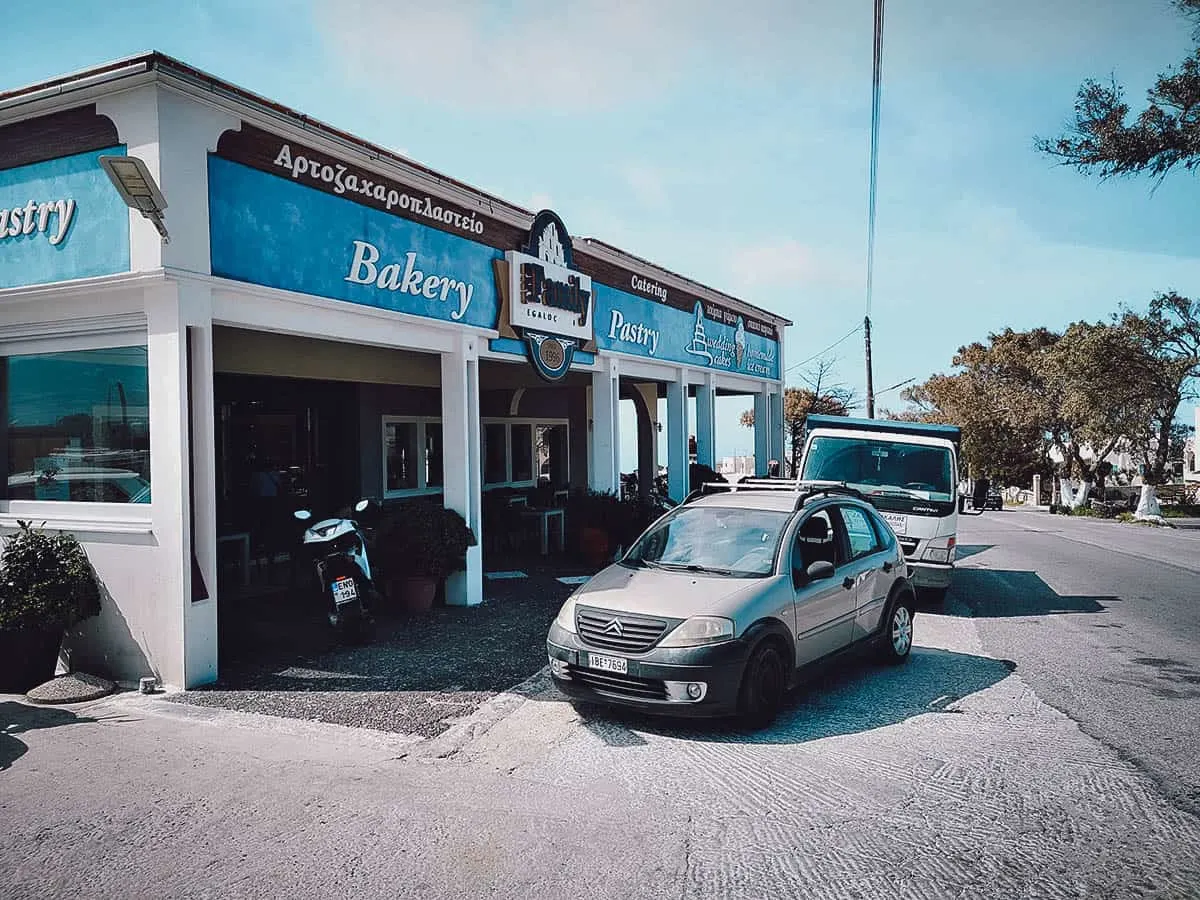 The sheer volume and variety of pastries here is overwhelming. They have a commercial espresso machine and chillers offering juices, yogurt, and other prepackaged food items. They run a wedding cake business as well.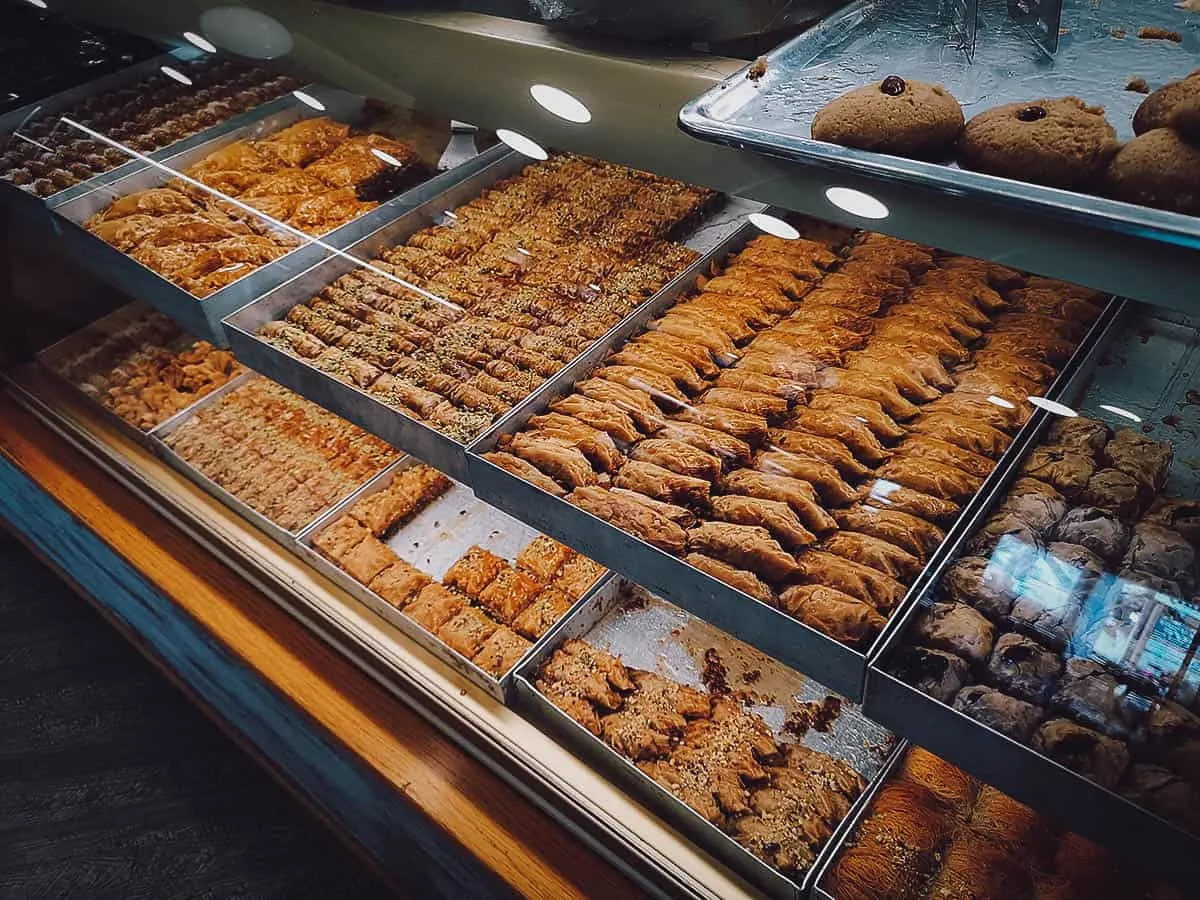 A vitrine of cream-filled goodies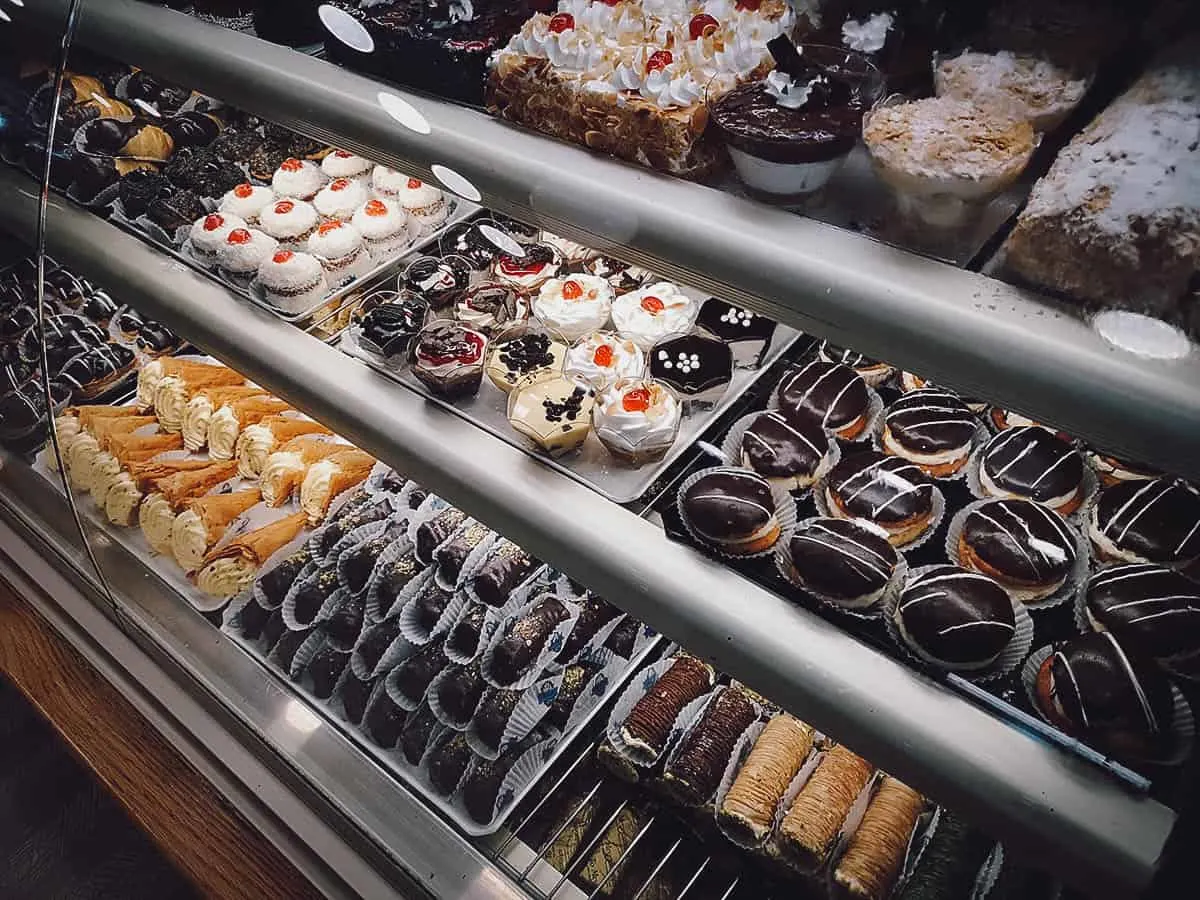 I don't know how good it is but they even have gelato. I'm not sure if they make the gelato themselves but I wouldn't be surprised if they do. I asked at what time they start making their breads and pastries and they said every morning at 2:30AM.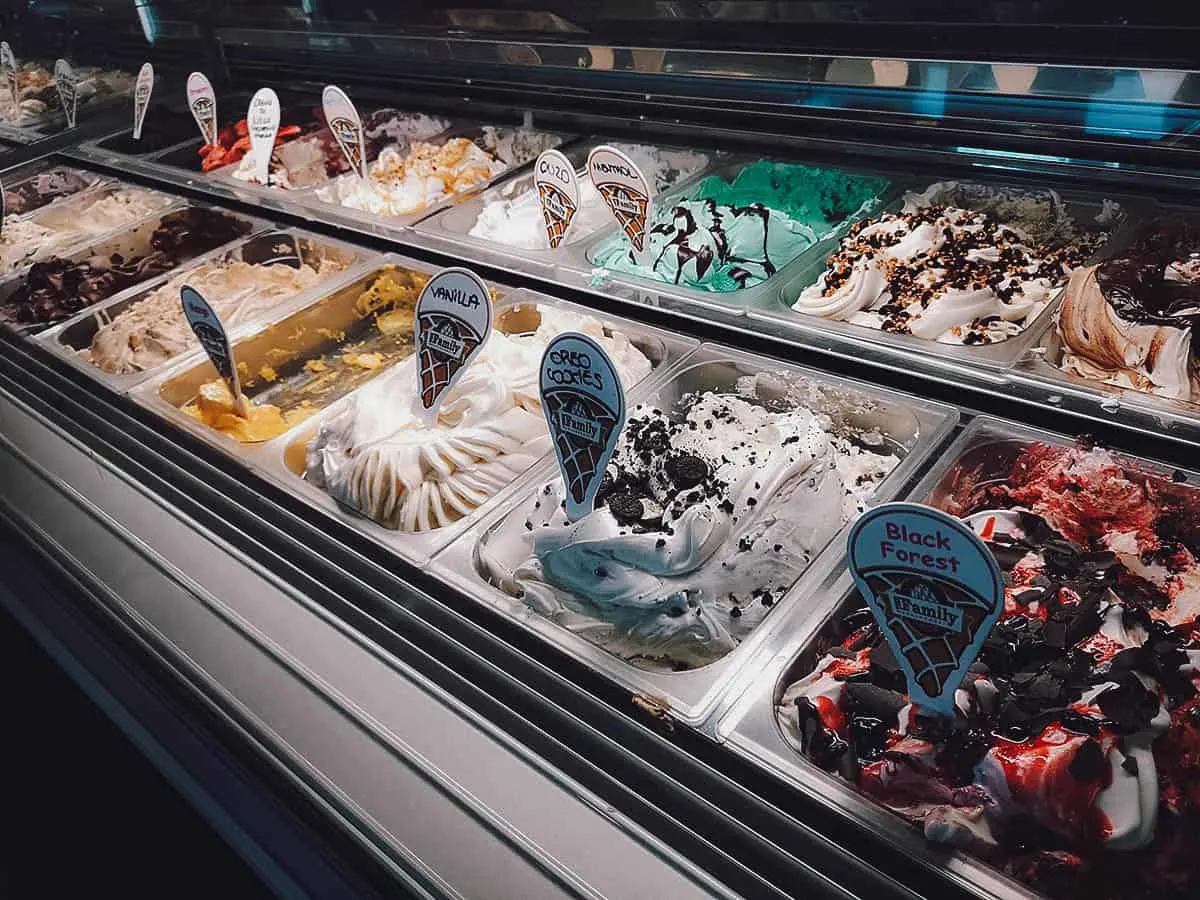 Pistachio baklava to start my day in Santorini. To be honest, I've had better pastries elsewhere but I enjoyed this place for the comfort and convenience. It's a lovely local bakery run by a hard-working family.
It's funny, they reminded me of the family in My Big Fat Greek Wedding. When I was asking one of the daughters for recommendations on what to get, I could see her father giving me dagger looks from the corner of my eye.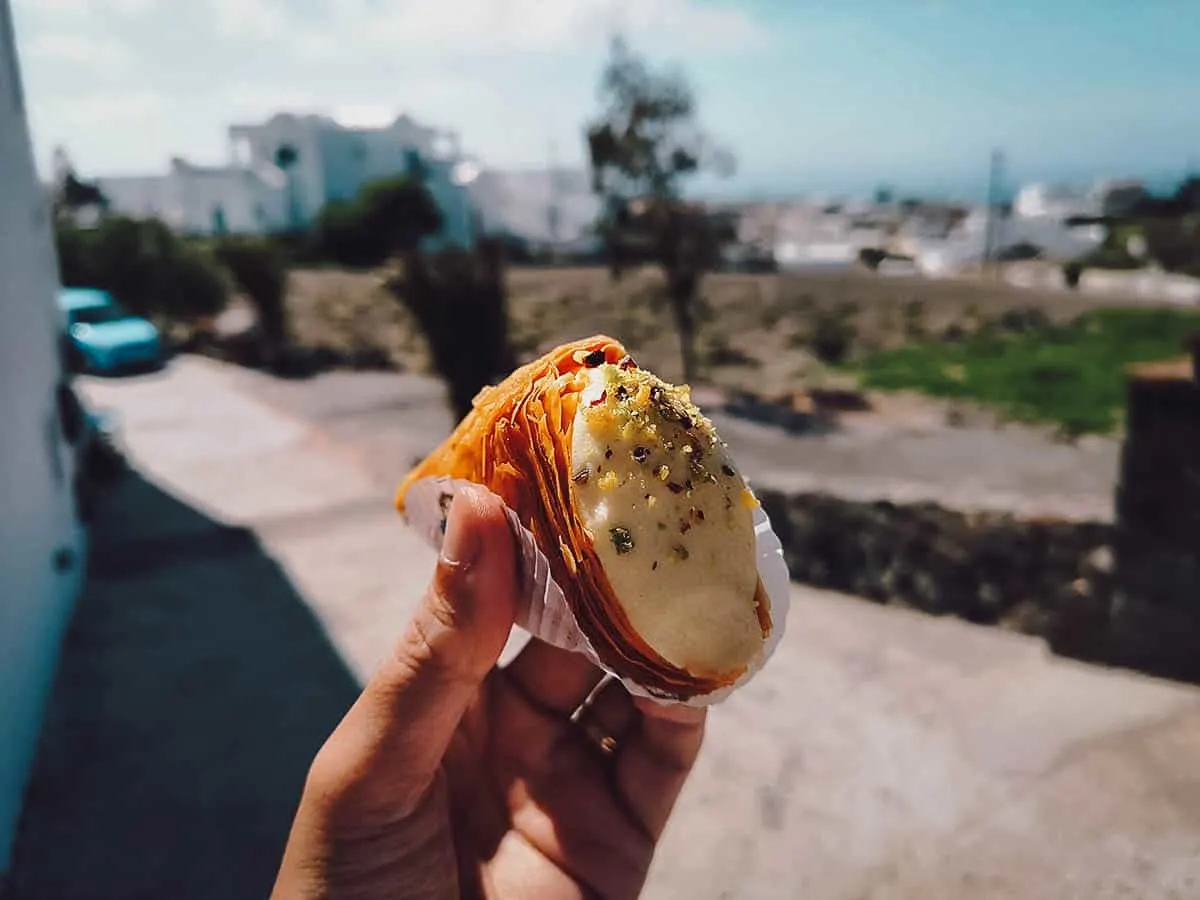 The Family Bakery
Address: Επαρχ. Οδ. Φηρων – Ορμου Περισσης, Μεγαλοχωρι, Σαντορινη 847 00, Greece
Operating Hours: Open 24 hours
Expect to Pay: About EUR 4 for coffee and a pastry
FIRA
Fira (or Thira) is the capital of Santorini and its busiest town. Here you'll probably find the most restaurants anywhere on the island. As beautiful as Fira is, I found it to be a bit too overcrowded and touristy so I didn't spend as much time here.
5. Lucky's Souvlakis
No self-respecting Santorini food guide can ever be complete without a mention of souvlaki. I Googled "best souvlaki fira" and Lucky's Souvlakis would often come up.
I needed fuel for the 10 km hike from Fira to Oia so I loaded up with this beautiful souvlaki pita wrap (EUR 2.30). Souvlaki is a popular Greek fast food made with small pieces of skewered grilled meat served with tomato, onion, fried potato, tzatziki (yogurt sauce), and pita bread.
Everything I read on the internet was true. This place makes some pretty awesome souvlakis. I found the warm pita to be especially delicious – pillowy soft and thick like a duvet. This is probably one of the best cheap meals you can have in Santorini.
When doing food research for this trip, I was confused by souvlakis and gyros. I thought a gyro was just a souvlaki wrapped in pita, like what we had here, but it isn't. So what's the difference?
Based on what I've read, the difference is in how the meat is prepared. A souvlaki refers to small cubic pieces of skewered meat, while a gyro consists of meat thinly sliced from a vertical rotisserie. Both can come in sandwich form or with all the ingredients served separately on a plate.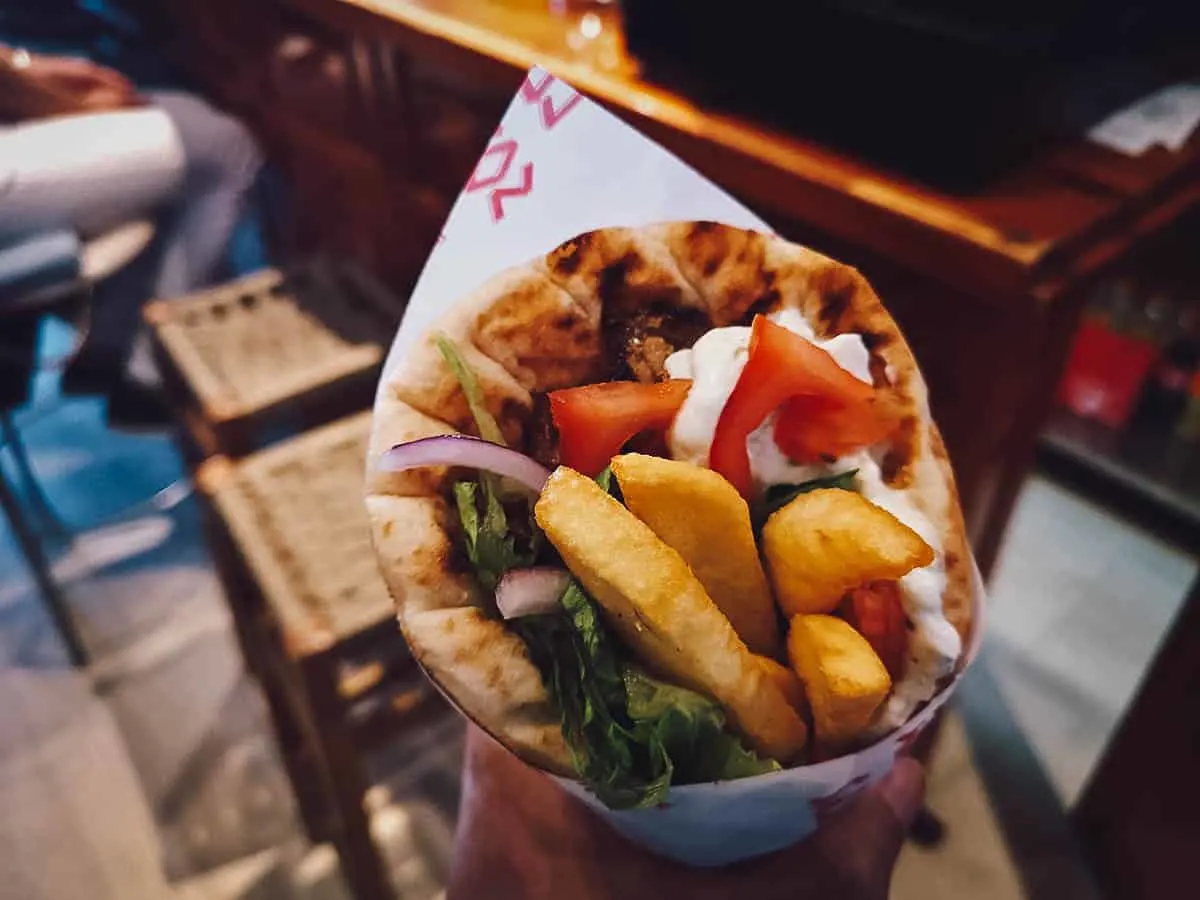 Lucky's makes the best tzatzki (EUR 3) I've ever tasted. It's thick and gooey, almost like peanut butter. It was so good with their pita.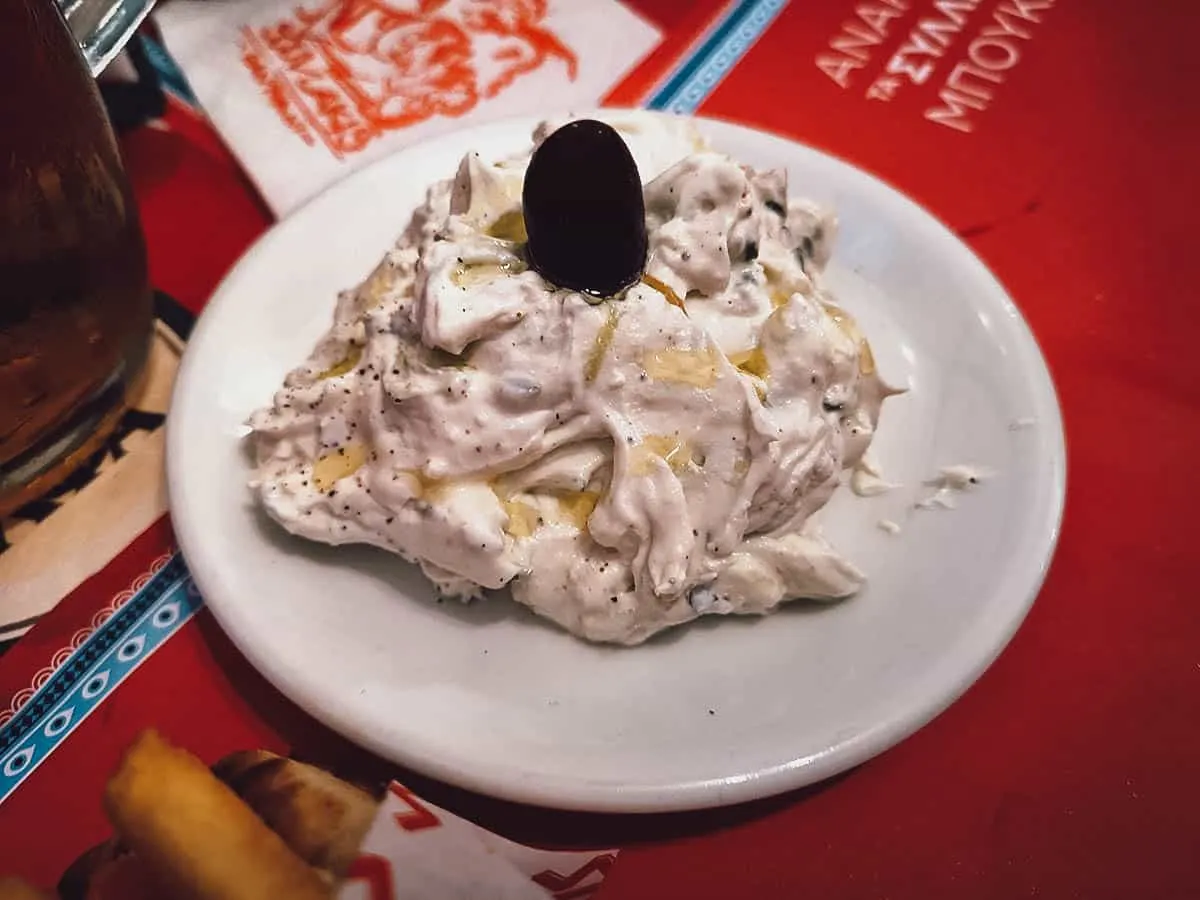 Located just off the main road in Fira, Lucky's Souvlakis is a popular place so be prepared to stand while eating. It isn't very big either, consisting of a bar and just a couple of tables. If you want a proper souvlaki or gyro, then you need to go to a place like this and not some sit-down restaurant.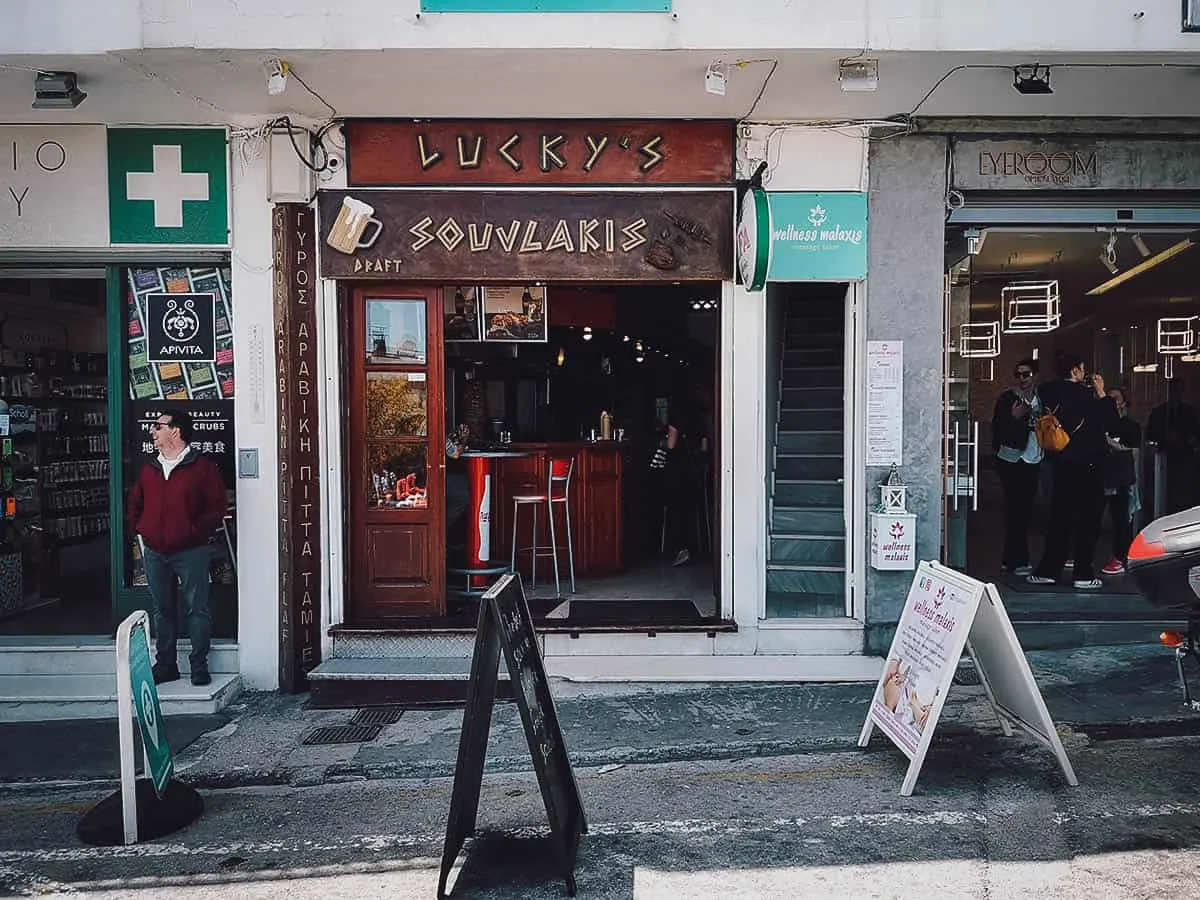 Lucky's Souvlakis
Address: Dekigala, Thira 847 00, Greece
Operating Hours: 11:30AM-11PM, daily
Expect to Pay: EUR 2.30 per souvlaki pita wrap
6. Solo Gelato
Solo Gelato is one of the two gelato shops I mentioned at the top of this post. We try to focus on local restaurants when we travel but this place received such high praise from Italian reviewers on TripAdvisor that we had to include it. Plus, a sunny island destination like Santorini seemed a perfect fit for a gelato shop.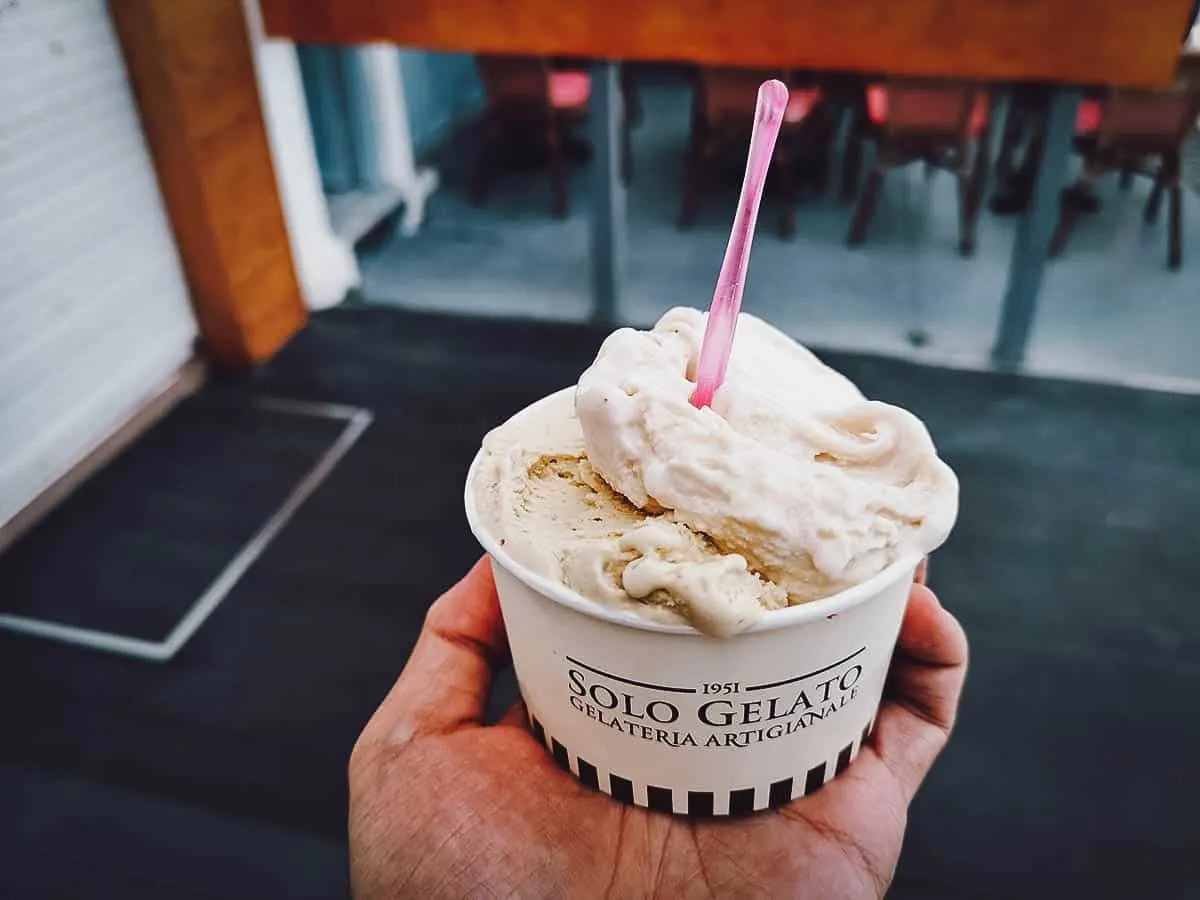 Solo Gelato is located just a short walk from Lucky's so you can stop here for a few scoops after wolfing down that delicious souvlaki.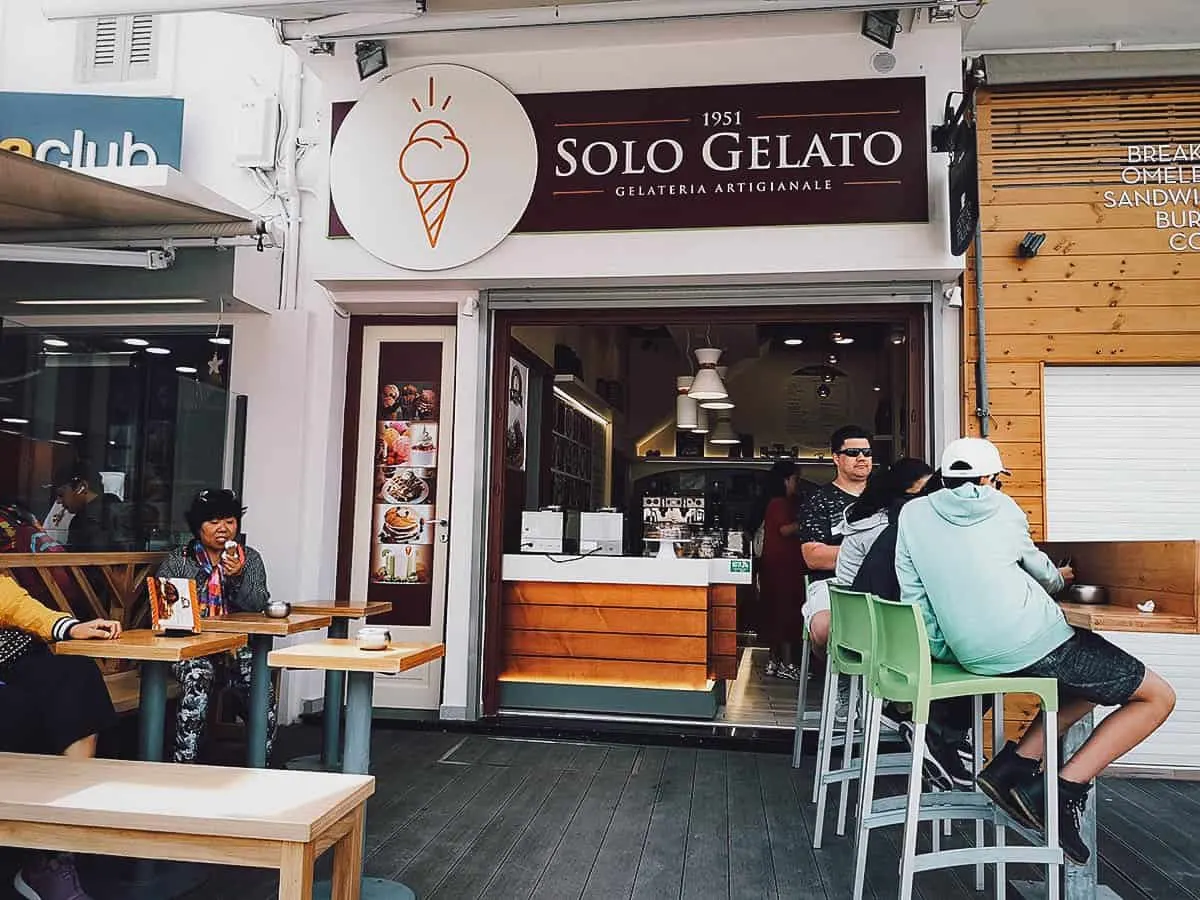 Solo Gelato
Address: Fira Square, Thira 847 00, Greece
Operating Hours: 8AM-2AM, Tue-Thurs / 8AM-12MN, Fri-Mon
Expect to Pay: About EUR 4 per cup
OIA
Like Fira, Oia is one of the most popular towns in Santorini. Located at the northwestern tip of the island, it offers even more spectacular views than Fira. This is the most coveted area in Santorini with the most expensive hotels not just in Santorini, but in all of Greece.
7. pitoGyros Traditional Grill House
I fueled up with a souvlaki pita from Lucky's before my 10 km Fira-Oia trek. When I finished, can you guess what I refueled with? A gyro pita wrap (EUR 4) from pitoGyros, one of the best gyro places in Oia. My life came full circle that day.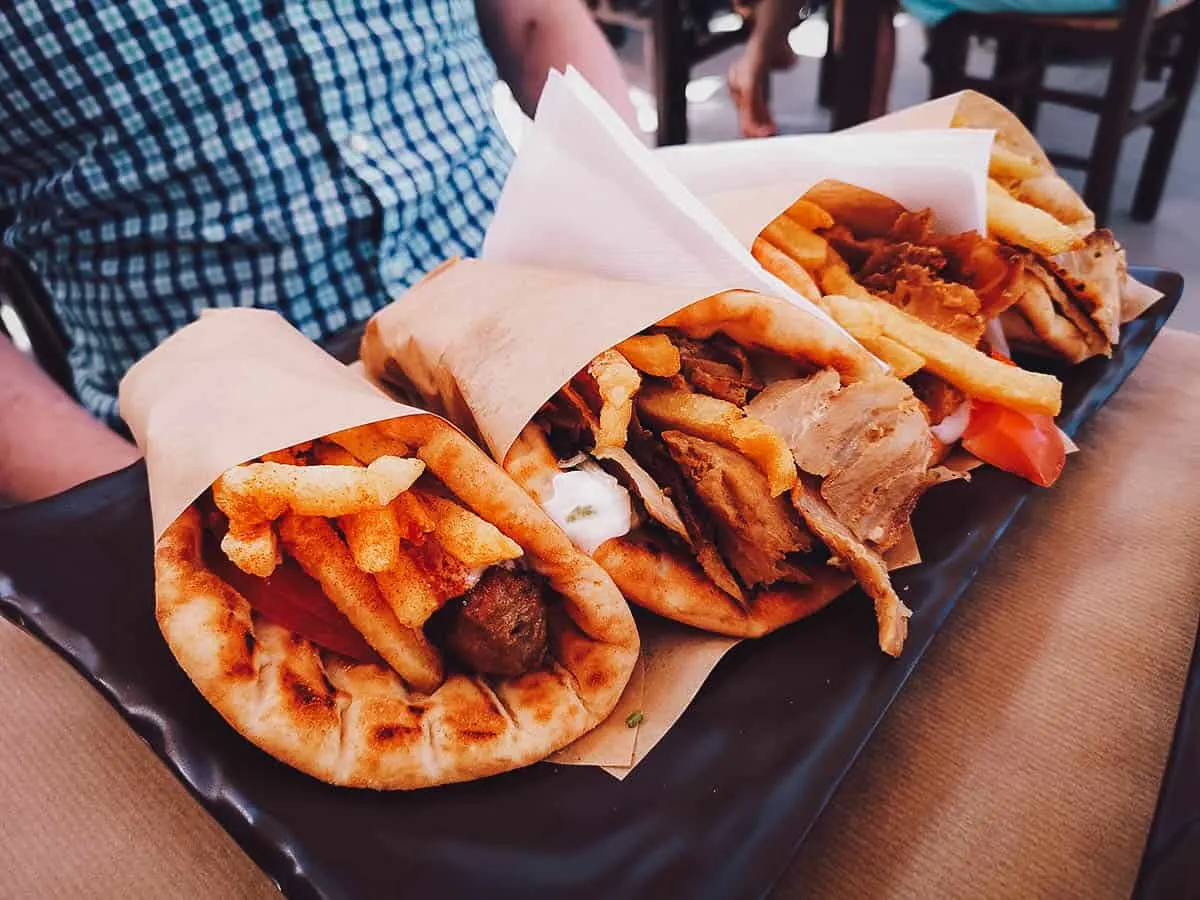 As described, a souvlaki refers to small cubes of skewered meat while a gyro is made with meat sliced from a rotisserie. In this gyro wrap, you can clearly see that it's made with shaved pieces of chicken meat. Like the souvlaki at Lucky's, this gyro was outstanding.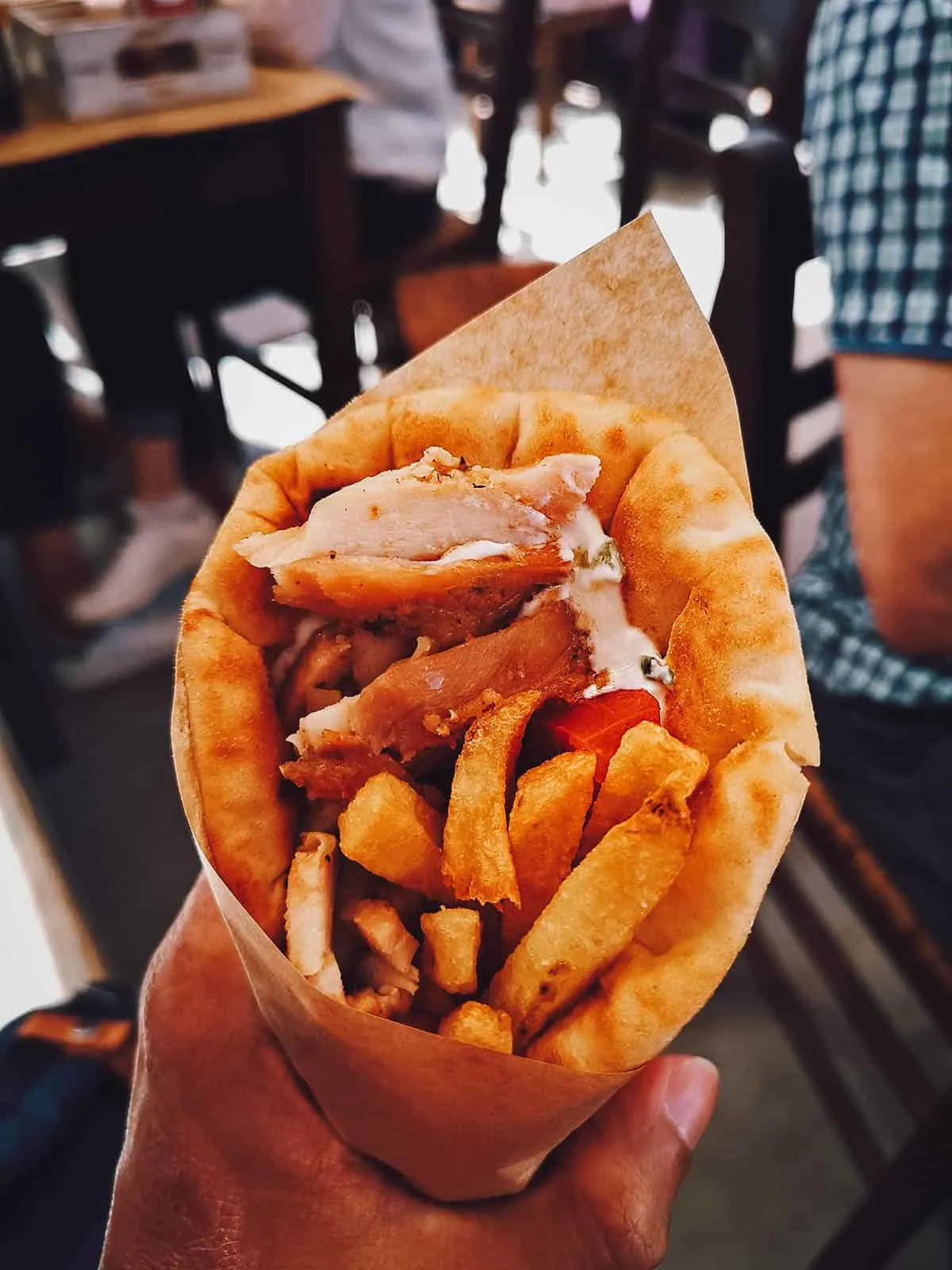 Santorini is known for its wineries but it has its own brewery as well – the Santorini Brewing Company. They're best known for their yellow and red lager ales. You can visit their brewery in Mesa Gonia.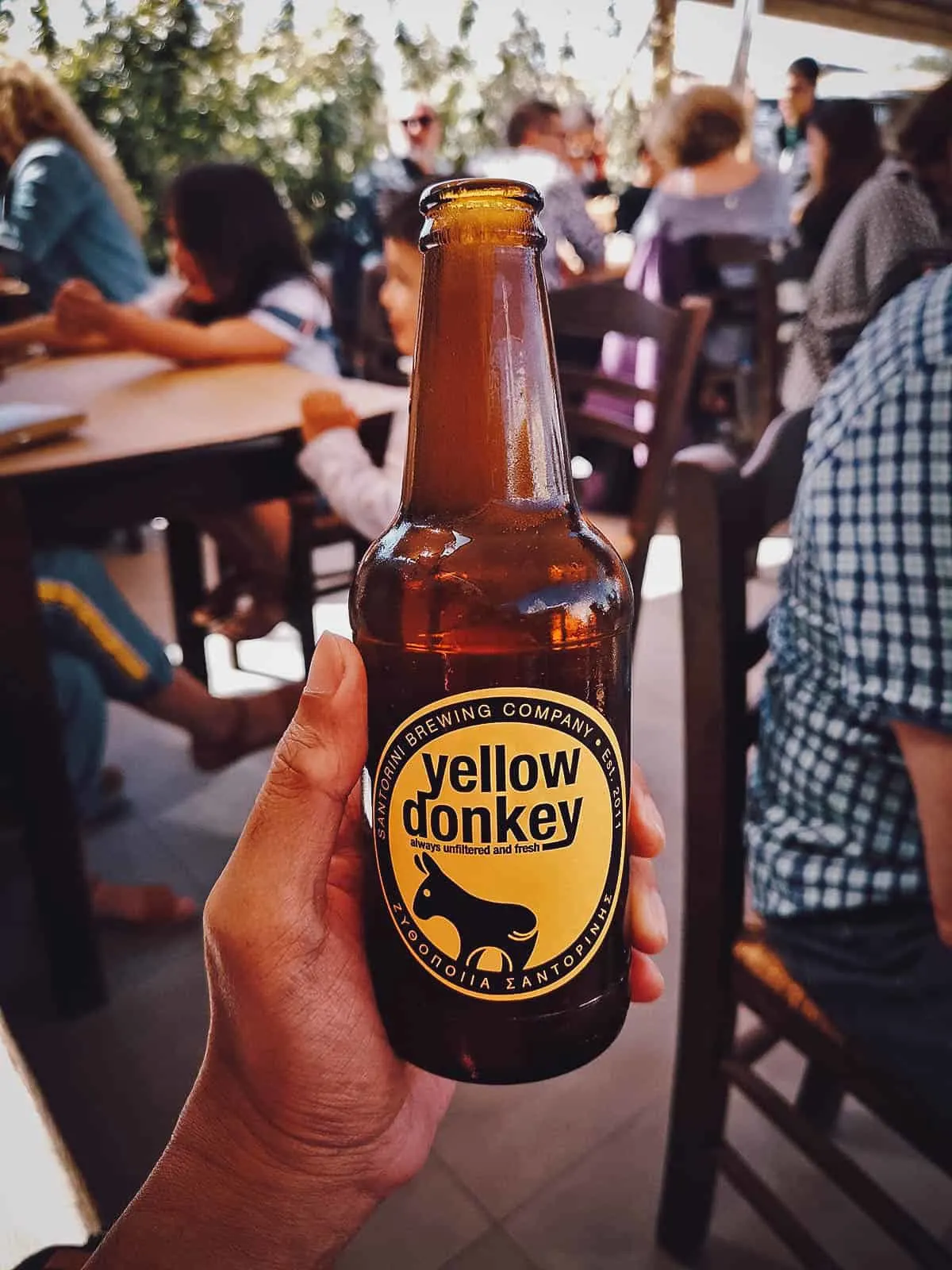 pitoGyros is popular and located in an area with much foot traffic in Oia. Expect a wait when you eat there at peak times.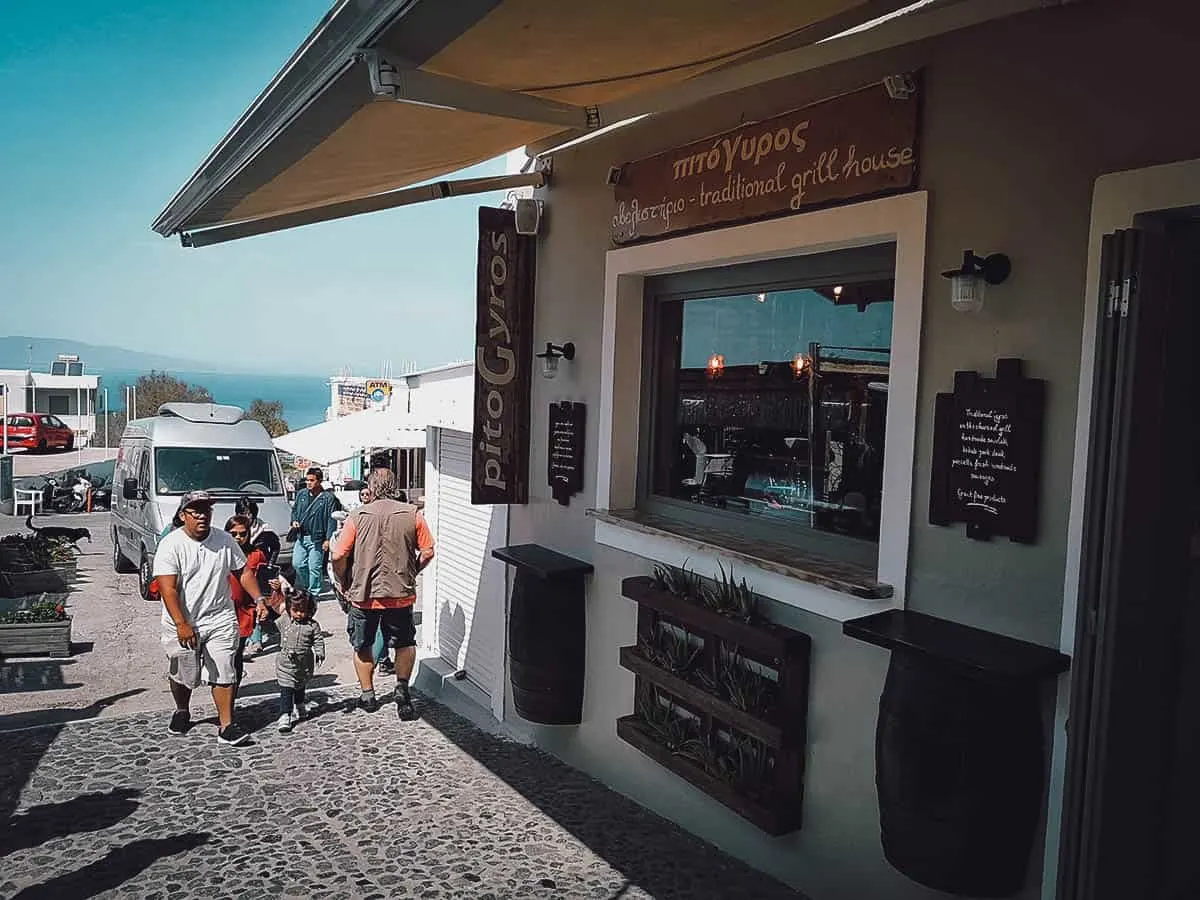 Pitogyros
Address: Oia 847 02, Greece
Operating Hours: 11AM-11PM, daily
Expect to Pay: EUR 4 per gyro
8. Lolita's Gelato
Just like the gelato I had at Solo Gelato after my souvlaki in Fira, I again had gelato after my gyro in Oia. I'm so predictable.
My Google search for the best gelato in Oia led me to Lolita's Gelato, which like Solo Gelato receives high praise from Italian reviewers. One reviewer went so far as to say: "We didn't think we would find a good ice cream in the fake Santorini. Instead from Lolita we have tried various tastes, all really very good." (translated by Google)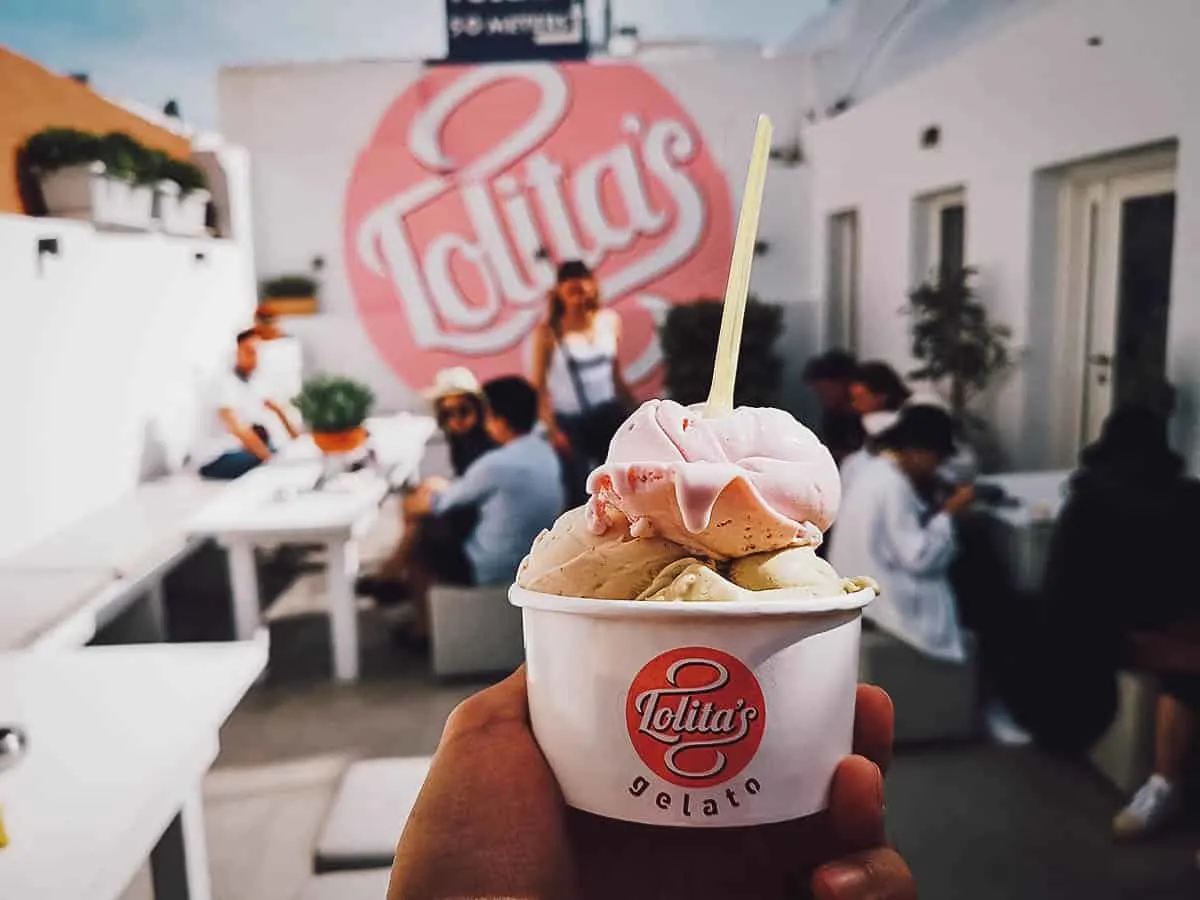 As much as people praise the gelato at Lolita's, they also comment about how expensive it is, about EUR 4 per cup. It's the same price at Solo Gelato. Santorini definitely isn't cheap.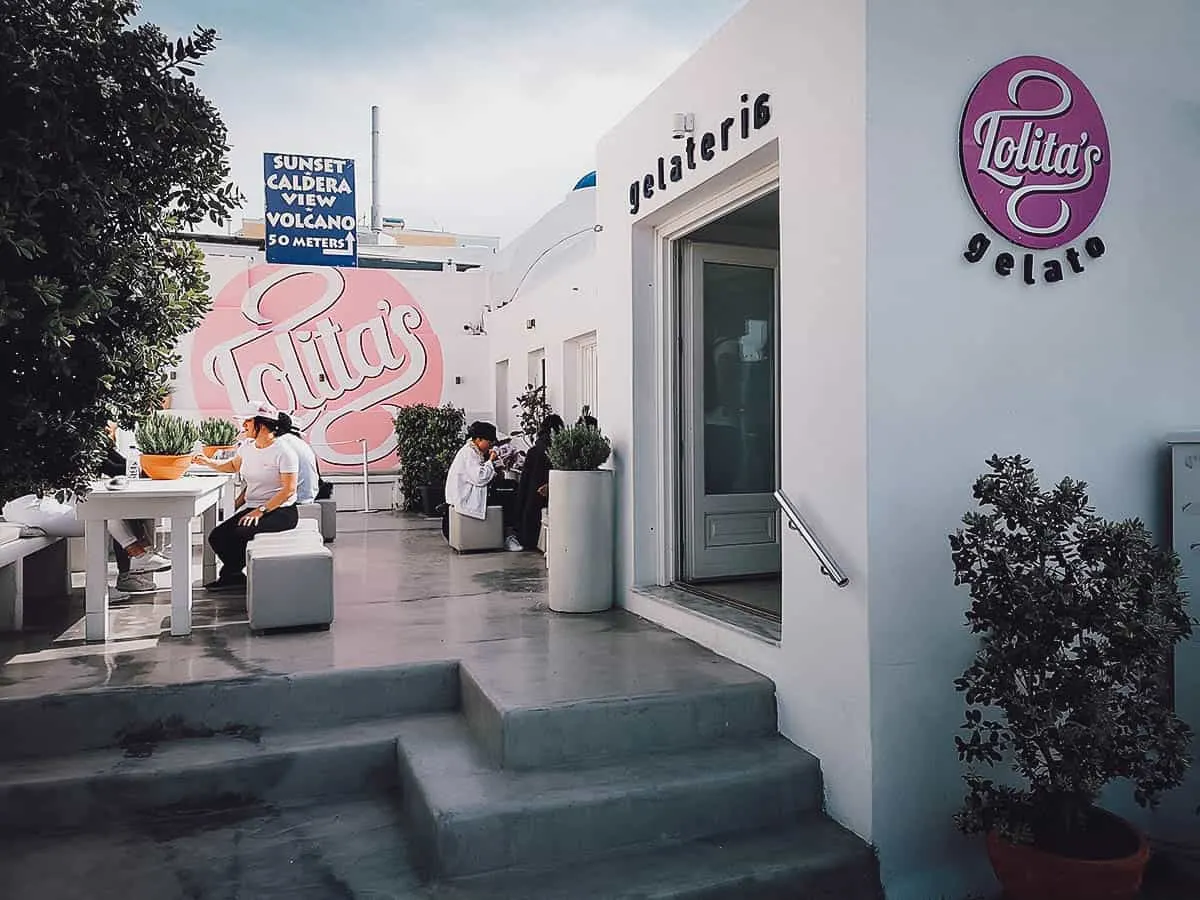 Lolita's Gelato
Address: Oia 847 02, Greece
Operating Hours: 10:30AM-10:30PM, Mon-Sat (closed Sun)
Expect to Pay: About EUR 4 per cup
AMOUDI BAY (OIA)
Amoudi Bay is a small port located about 300 steps below Oia. A Greek luxury travel blogger recommended we have dinner here to enjoy the sunset and some of the best seafood in Santorini, so we did. It was incredible.
9. Ammoudi Fish Tavern
There are few waterfront restaurants in Amoudi Bay. All have terrific reviews but we chose Ammoudi Fish Tavern because they seemed to edge everyone else by a slight margin.
This plate of sun-dried octopus (EUR 17.80) was just one of many delicious seafood dishes we had here. You can check out our post on Ammoudi Fish Tavern for more pictures and information.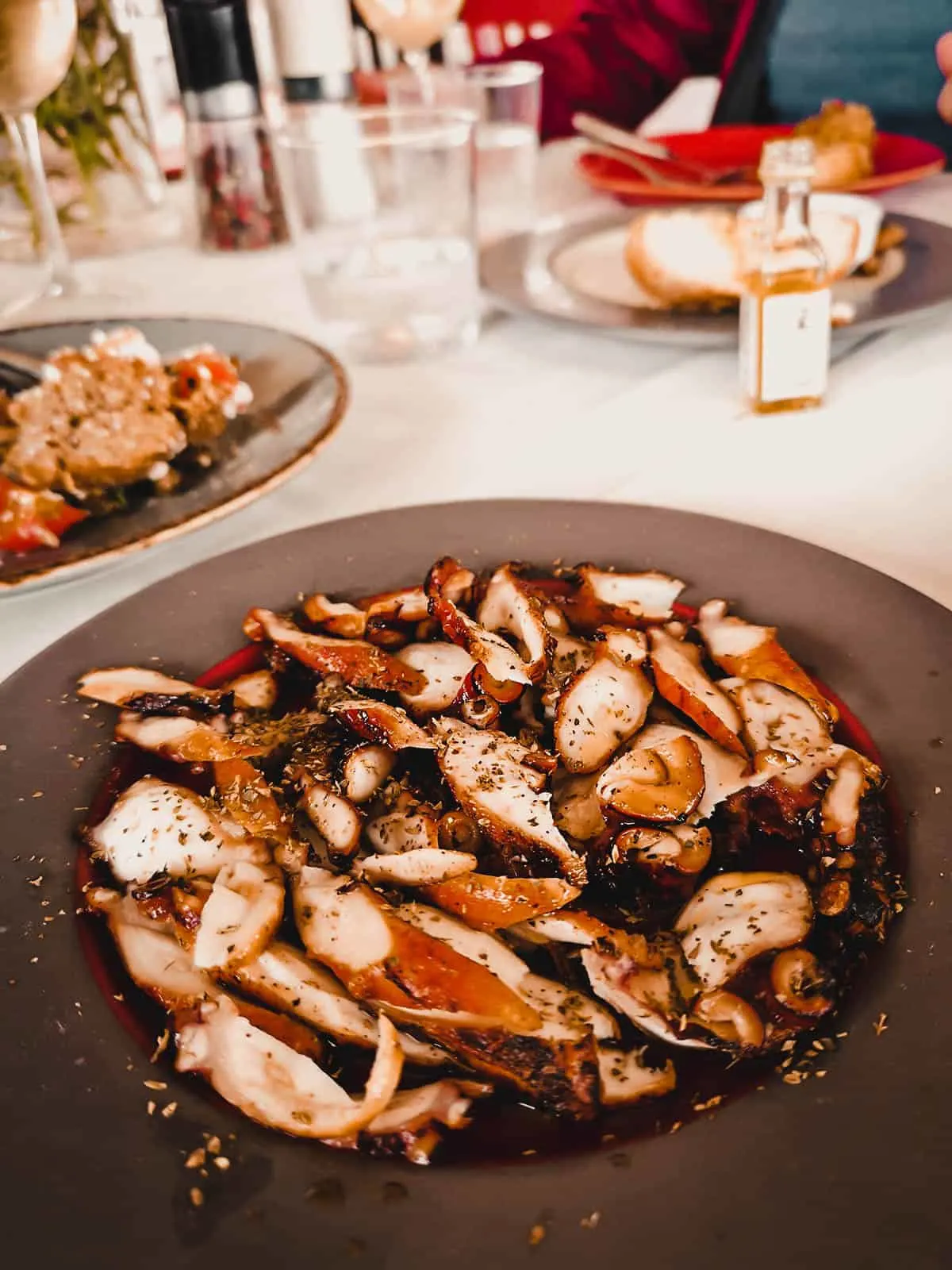 Their specialty is grilled whole fish. We had the red mullet (EUR 58 per kilo) served with potatoes and vegetables.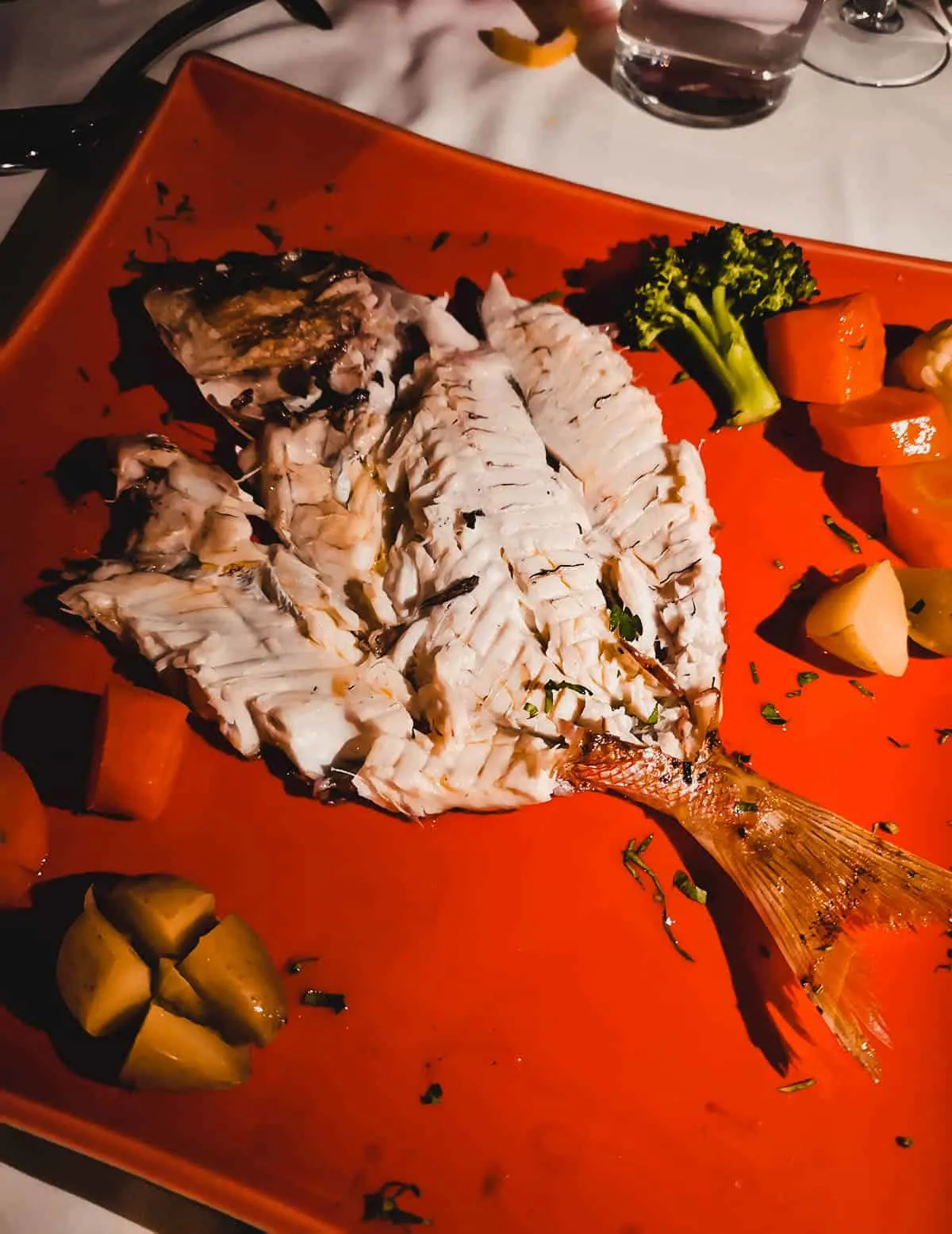 How spectacular is this view? It's a long way down to Amoudi Bay from Oia (and a long way up), but it's worth it. The sunsets truly are something else in Santorini.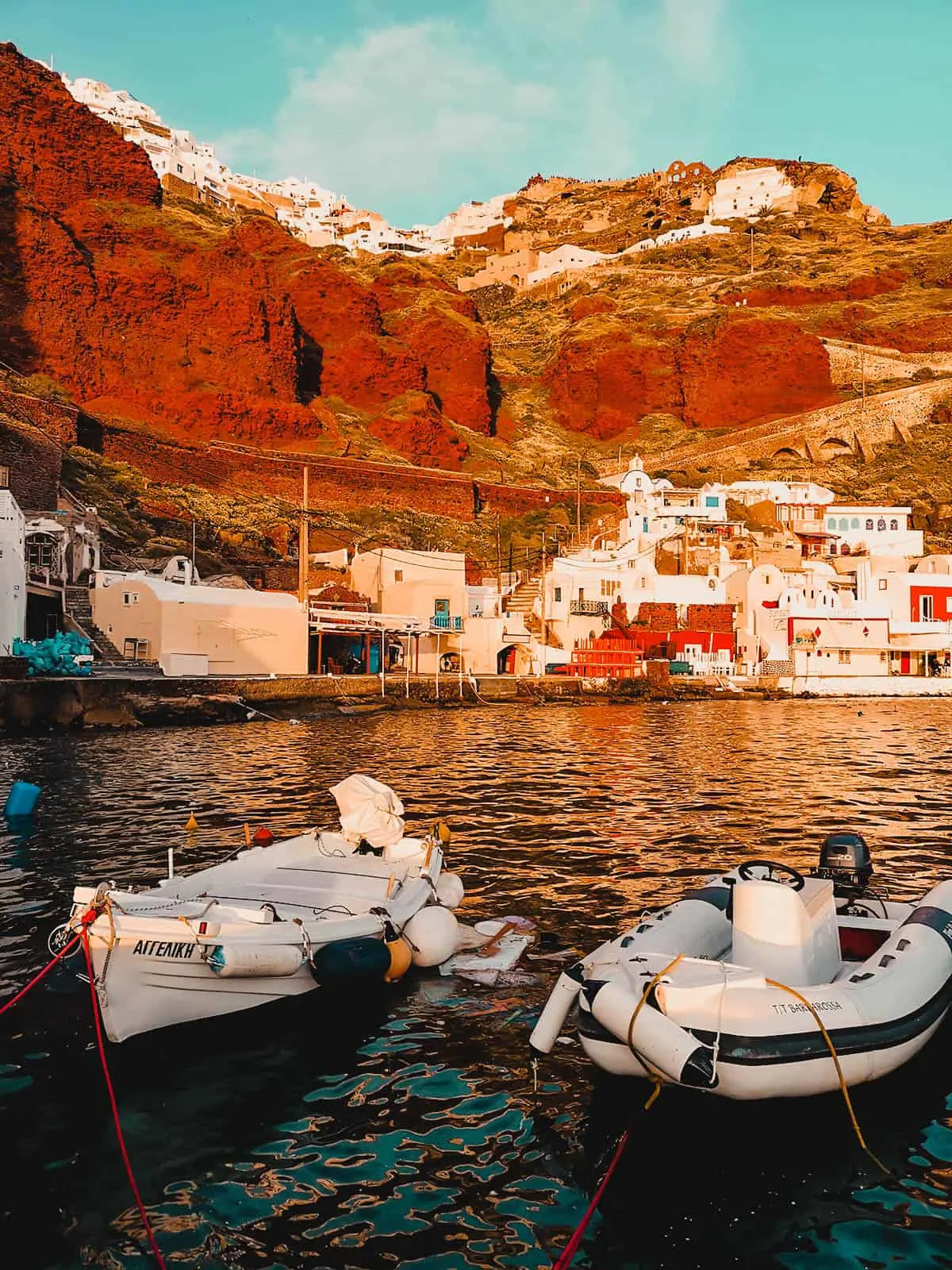 Ammoudi Fish Tavern
Address: Ammoudi Bay, Santorini, Oia, Ammoudi 847 02, Greece
Operating Hours: 10AM-12MN, daily
Expect to Pay: About EUR 40-50 per person
LOCATION MAP
Many streets on the island don't have names so I created this map to help you find all the Santorini restaurants recommended in this guide. It includes a few others that we wanted to check out but just couldn't find the time for. Click on the link to view an interactive version of the map.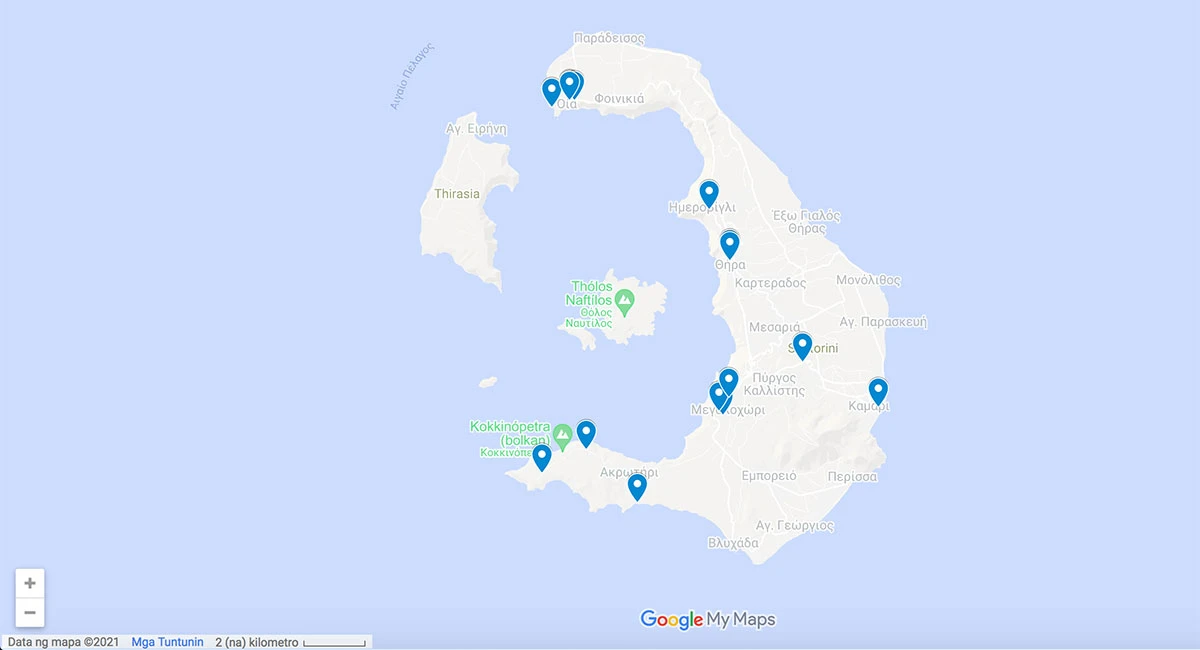 FINAL THOUGHTS ON THE FOOD IN SANTORINI
Santorini is one of the most beautiful places we've been to but unfortunately, it's also one of the most touristy. At times, it seriously felt like there were more tourists than locals! The entire island feels like it's driven by tourism these days.
Touristy areas equate to lots of tourist traps, but it's nice to see that there are still plenty of traditional Santorini restaurants serving great traditional Greek food. You just have to stray a little farther away from the busiest towns to find them.
Disclosure
Some of the links in this Santorini food guide are affiliate links, meaning we'll earn a small commission if you make a reservation at no added expense to you. We really appreciate your support as this helps us make more of these free travel and food guides. Thank you!