Is Santorini the most beautiful island in the world? Many people seem to think so.
The "most beautiful" of anything is impossible to quantify because everyone's tastes are different, but most people who've been there will agree. Santorini has to be one of the most visually striking islands in the world. If it isn't the most beautiful, then it's among the top. It's always in the conversation.
Ren's been to Santorini before and like everyone, she was mesmerized by this southern Aegean island known for its cycladic architecture and sweeping caldera views. She's been wanting to take me there for as long as we've been together, and in our 14th year, that dream finally came true.
Many hyped experiences don't often live up to expectations. Santorini exceeded them. This island is every bit the dreamscape I imagined it to be.
In this article are sixty of my favorite Santorini pictures, taken in different villages throughout the island.
Save This on Pinterest!
No time to read this now? Click on the red save button and pin it for later!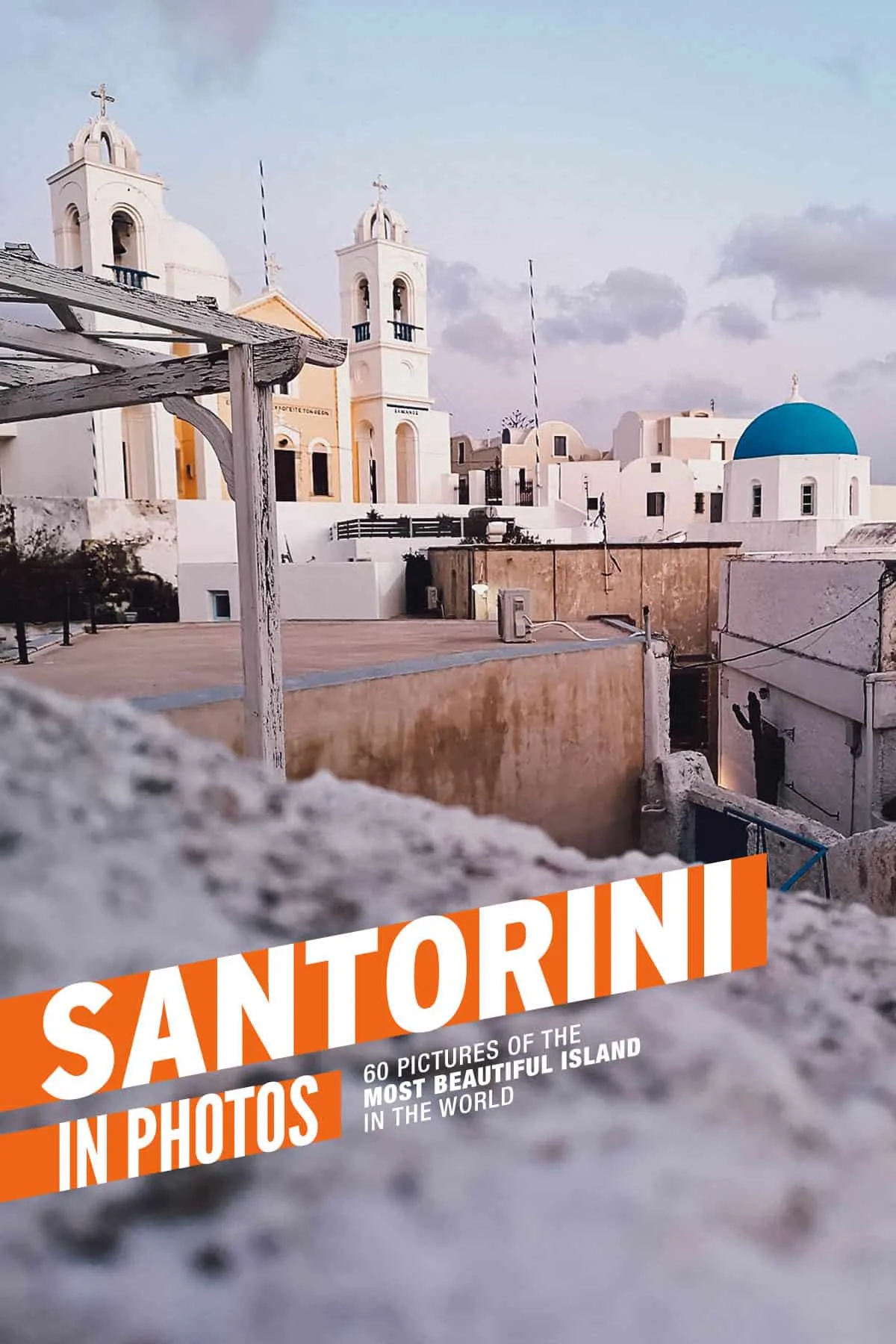 MEGALOCHORI
Most people visiting Santorini will probably want to stay in one of the island's cliffside villages, like Fira, Oia, or Imerovigli. Those towns offer the best views on the island but they're also the most touristy. They're crowded and expensive, especially during peak seasons.
We stayed instead in the much quieter village of Megalochori in the southwestern half of the island. It's a quaint enclave in Santorini's wine making region. It doesn't offer the same caldera views but it does give you a more authentic, much more local experience. I LOVED Megalochori.

Santorini is known for its white and cream cycladic houses with cerulean or cobalt blue accents.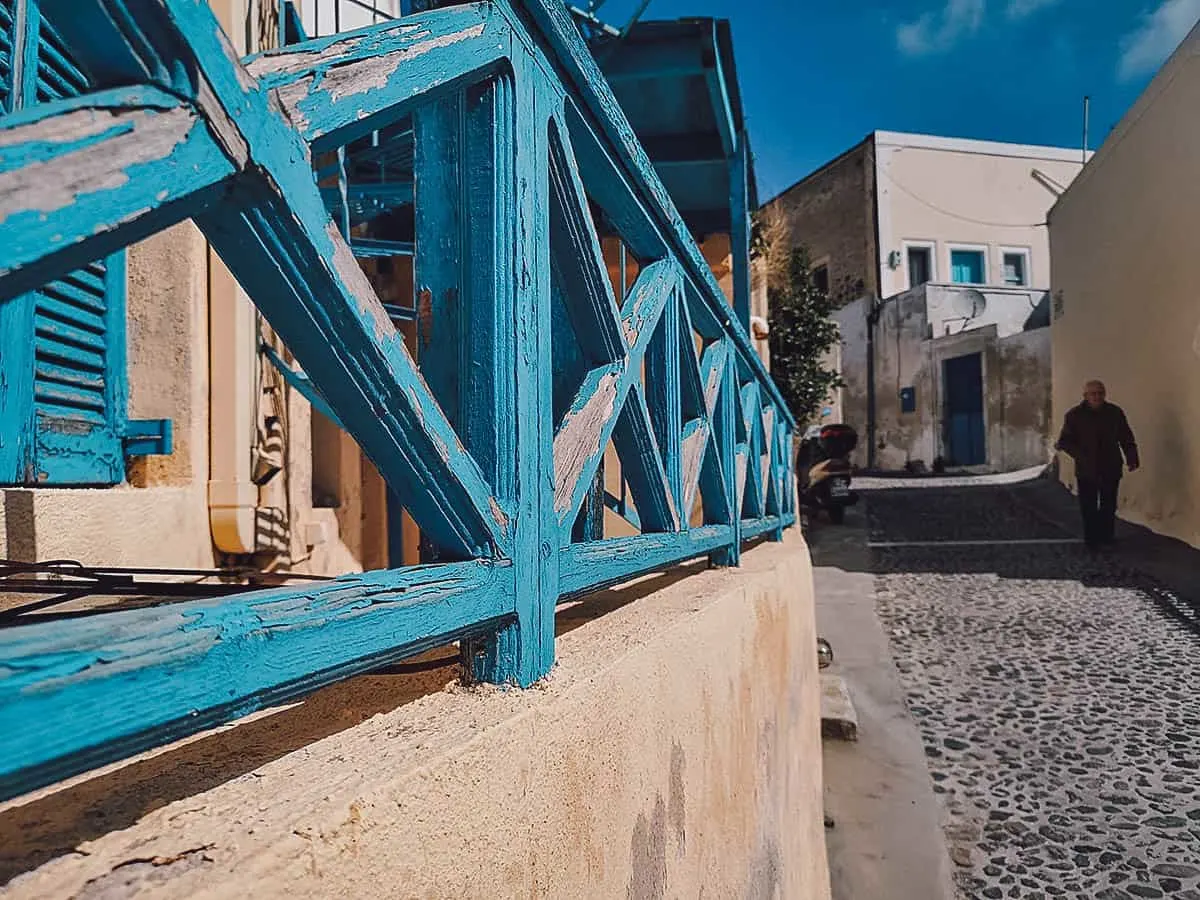 Cycladic architecture refers to the architectural style found in the islands of the Aegean Sea. They're characterized by white cubic houses, cobblestone streets, and blue-domed churches.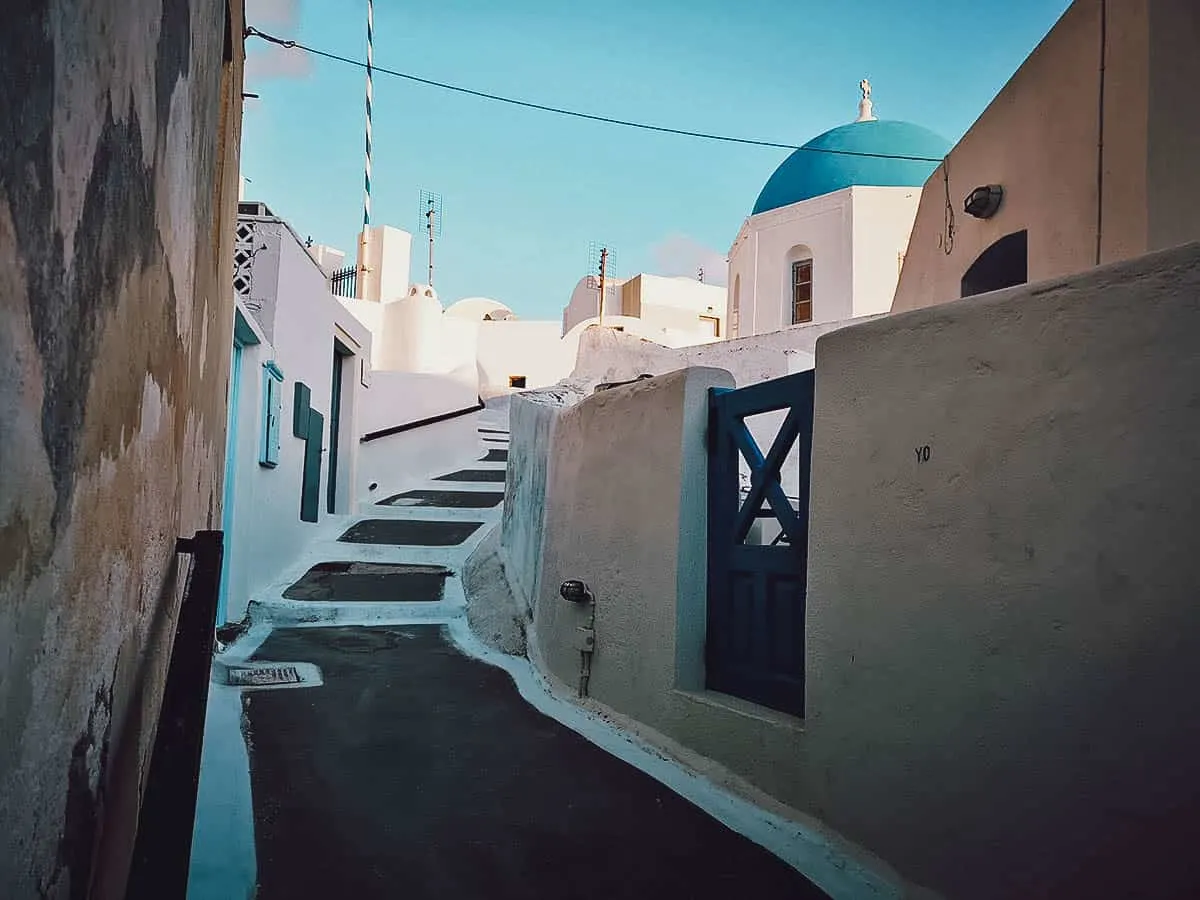 Santorini looks like someone dipped their brush in the sky and started painting doors, windows, fences, and church domes. The white and light cream with sky blue accents is stunning to look at. It's so crisp and clean to the eye.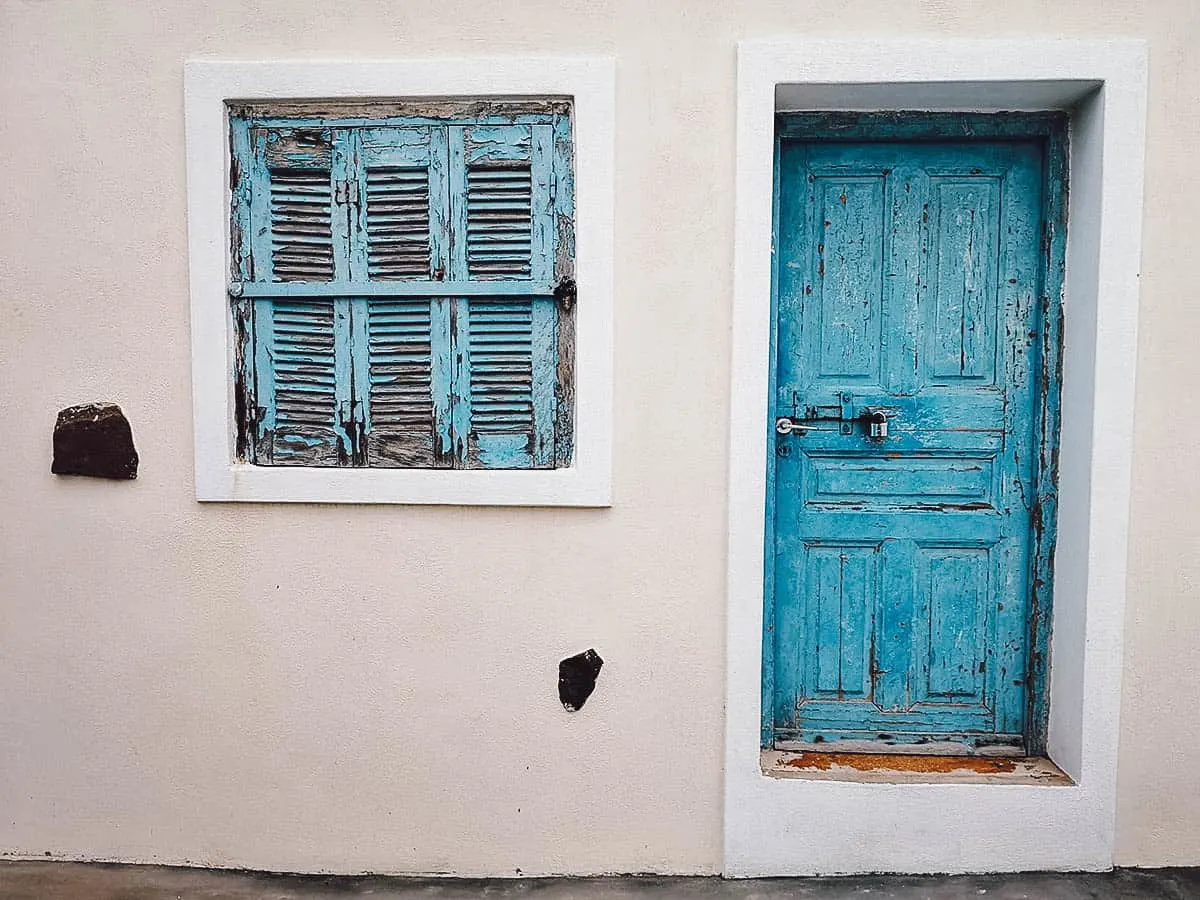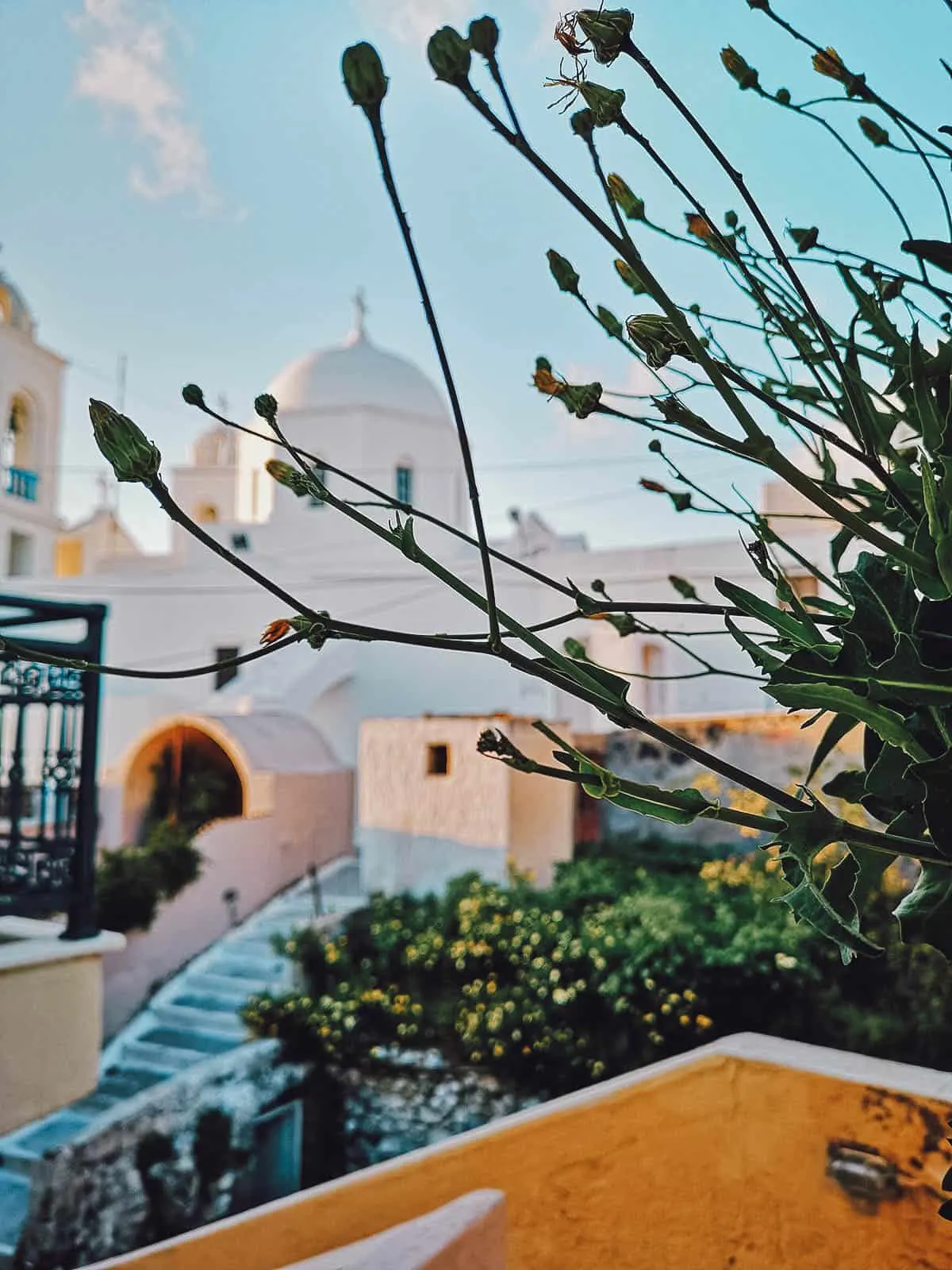 This bell tower is the first thing you'll notice when you walk into Megalochori. It is so incredibly photogenic no matter what time of day.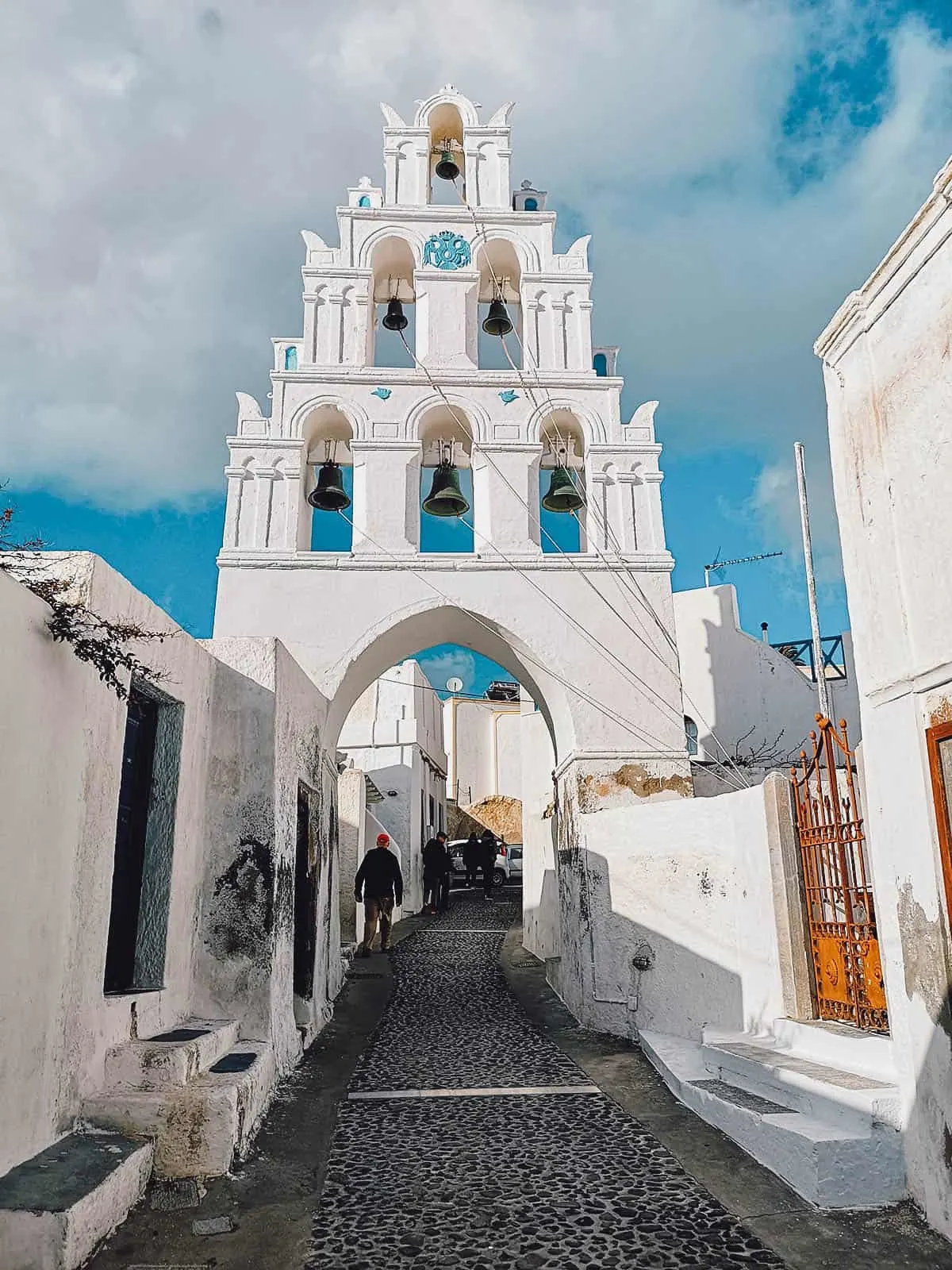 Unlike Fira and Oia, the streets in Megalochori feel deserted most of the time, which I preferred. If you're only visiting for a few days, then it would probably be best to stay in the more central towns of Fira or Oia. But for longer-term stays, I'd much rather be in a village like Megalochori.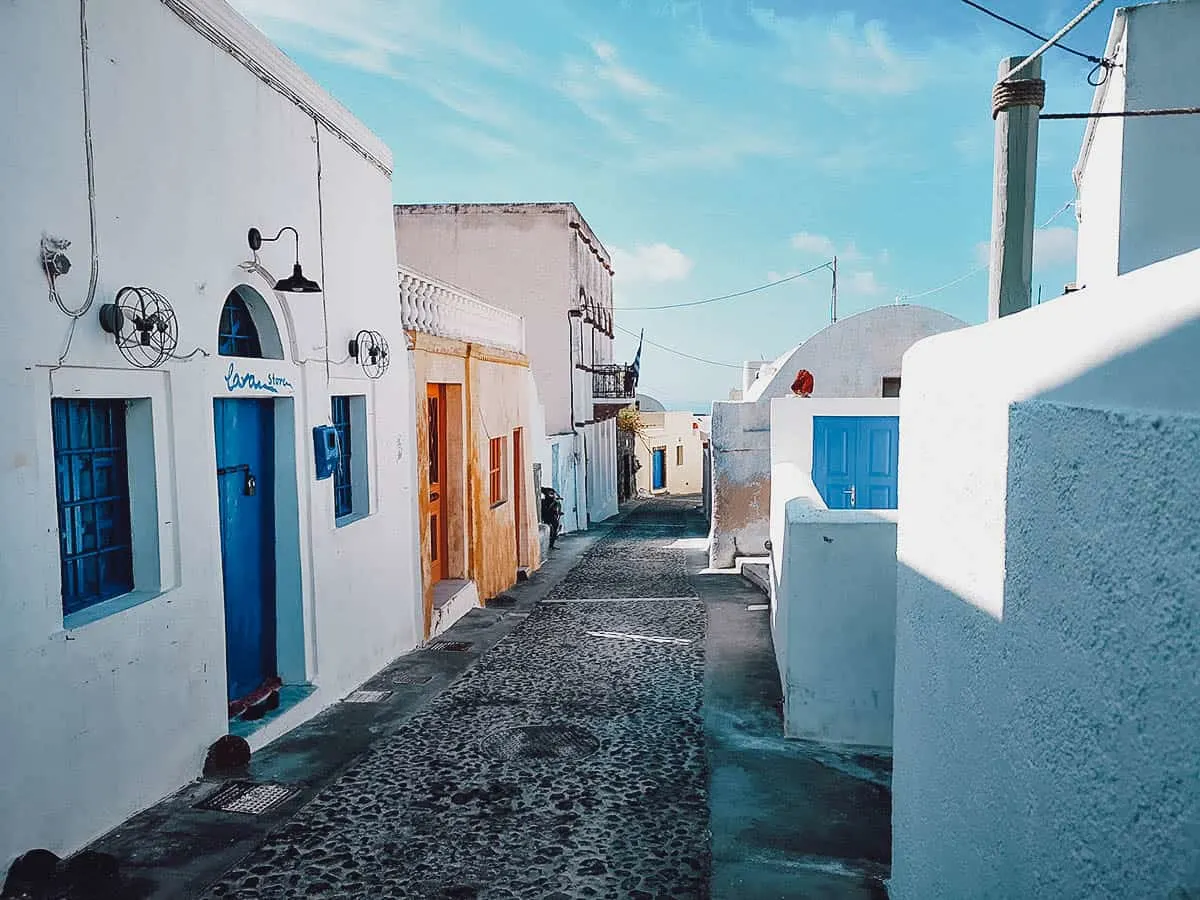 These intimate jacuzzi pools are a common sight throughout the island.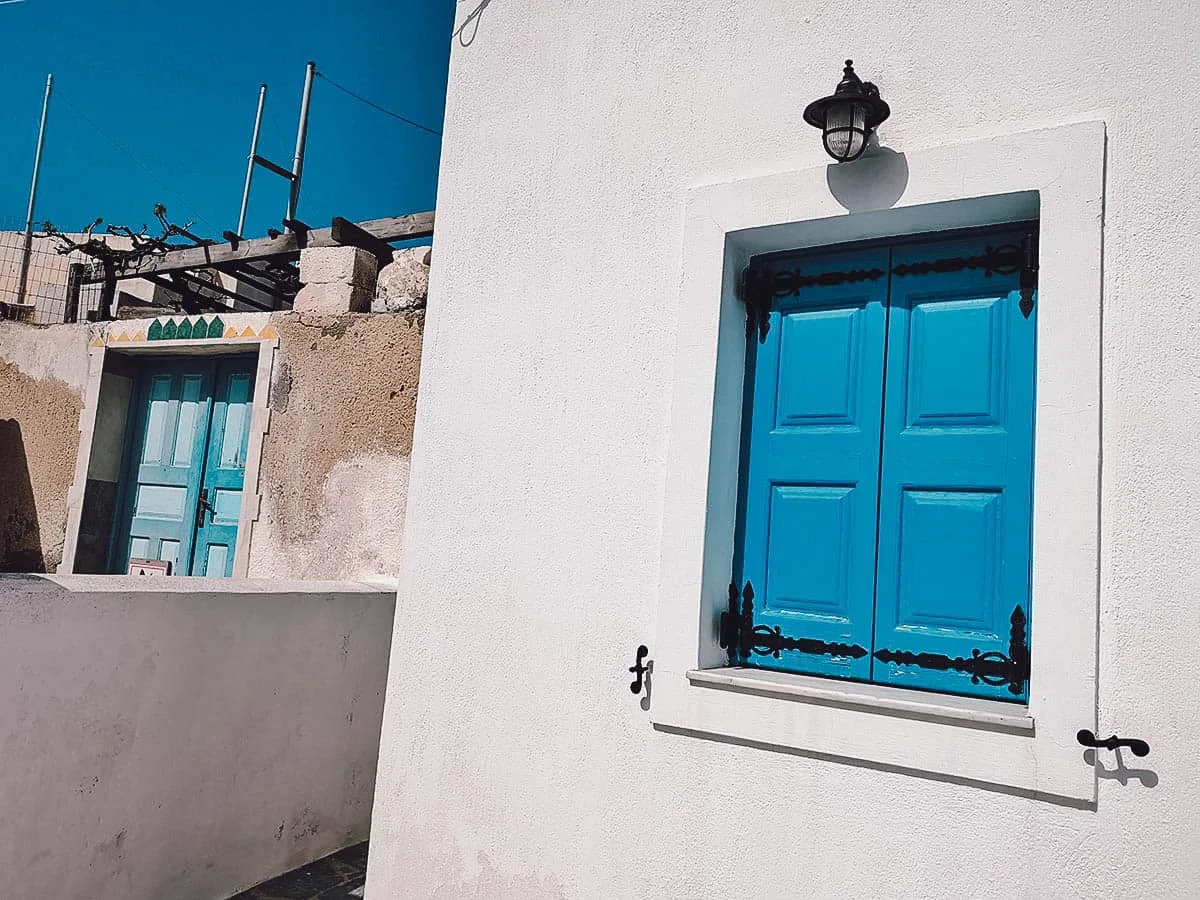 The white cycladic houses are pretty to look at but they also serve a function. Summers are hot in Santorini so houses are painted white to deflect the heat. Nowadays, it's probably done as much for tourism as it's become a trademark of the island. When we were there, there were always hotels being given a fresh coat of white paint to keep them looking clean and pristine.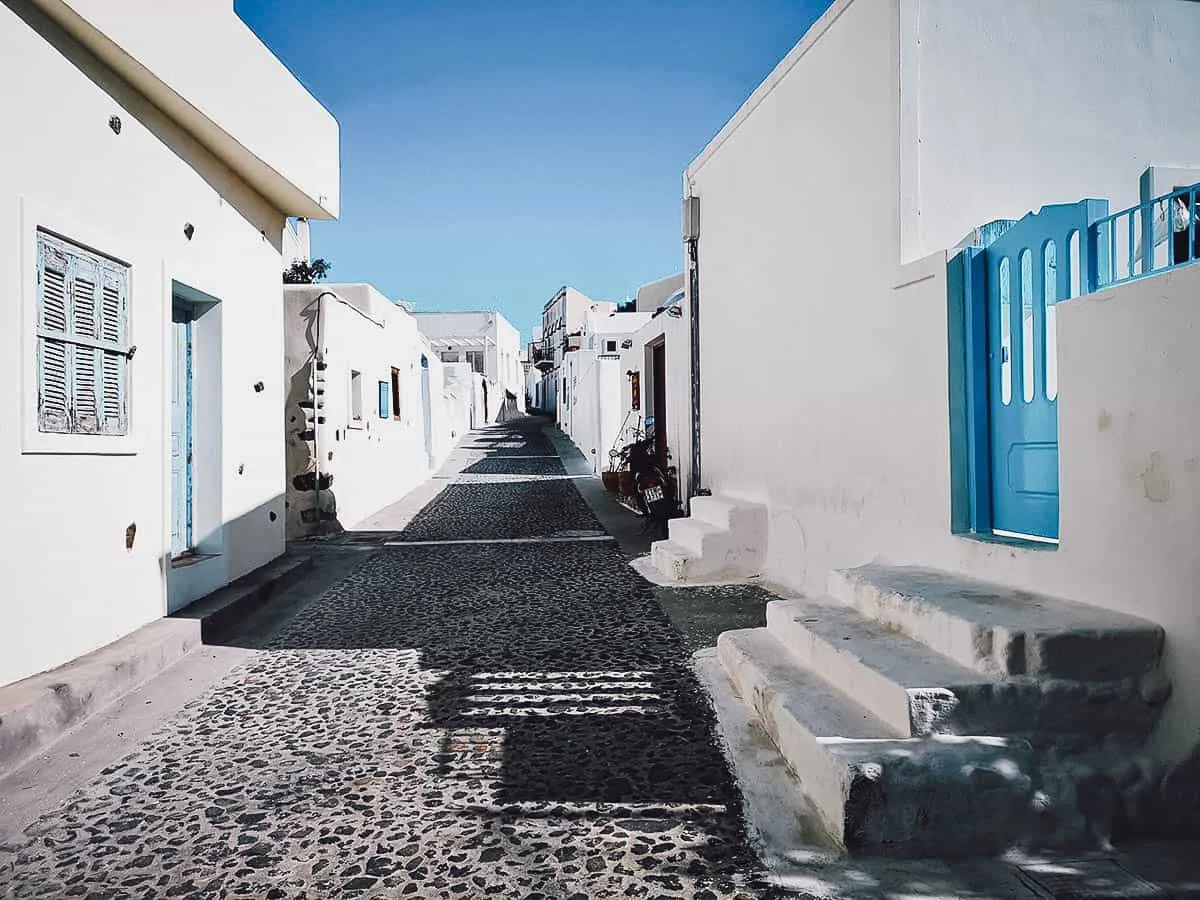 Megalochori is in a prolific wine making area so all around are fields with these circular vines. They're woven in a basket shape to protect the grapes from the island's harsh elements. Santorini is known for wines produced from their heritage Assyrtiko grape. We went on an interesting wine tasting tour that taught us all about Santorini's wine making industry.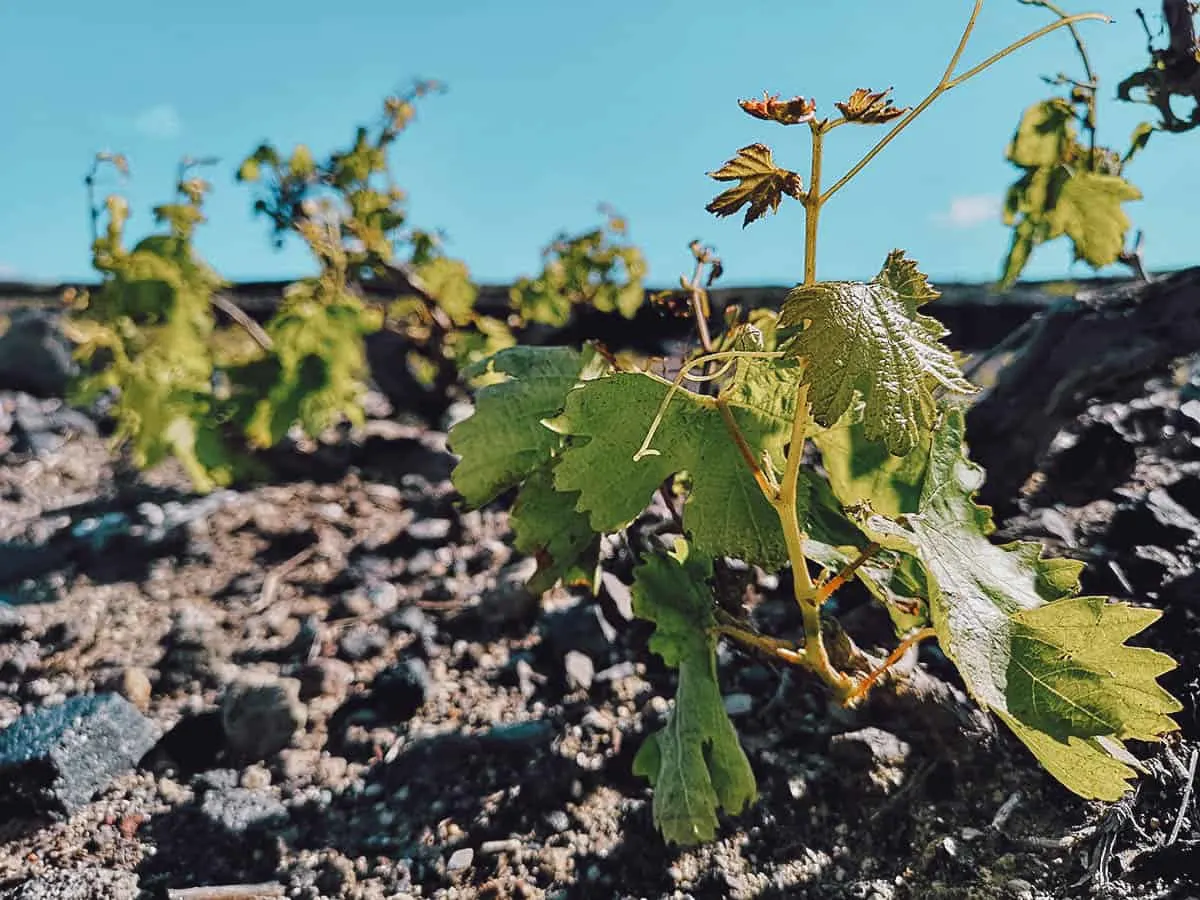 Santorini is beautiful any time of day, but it becomes especially striking at sunrise and sunset.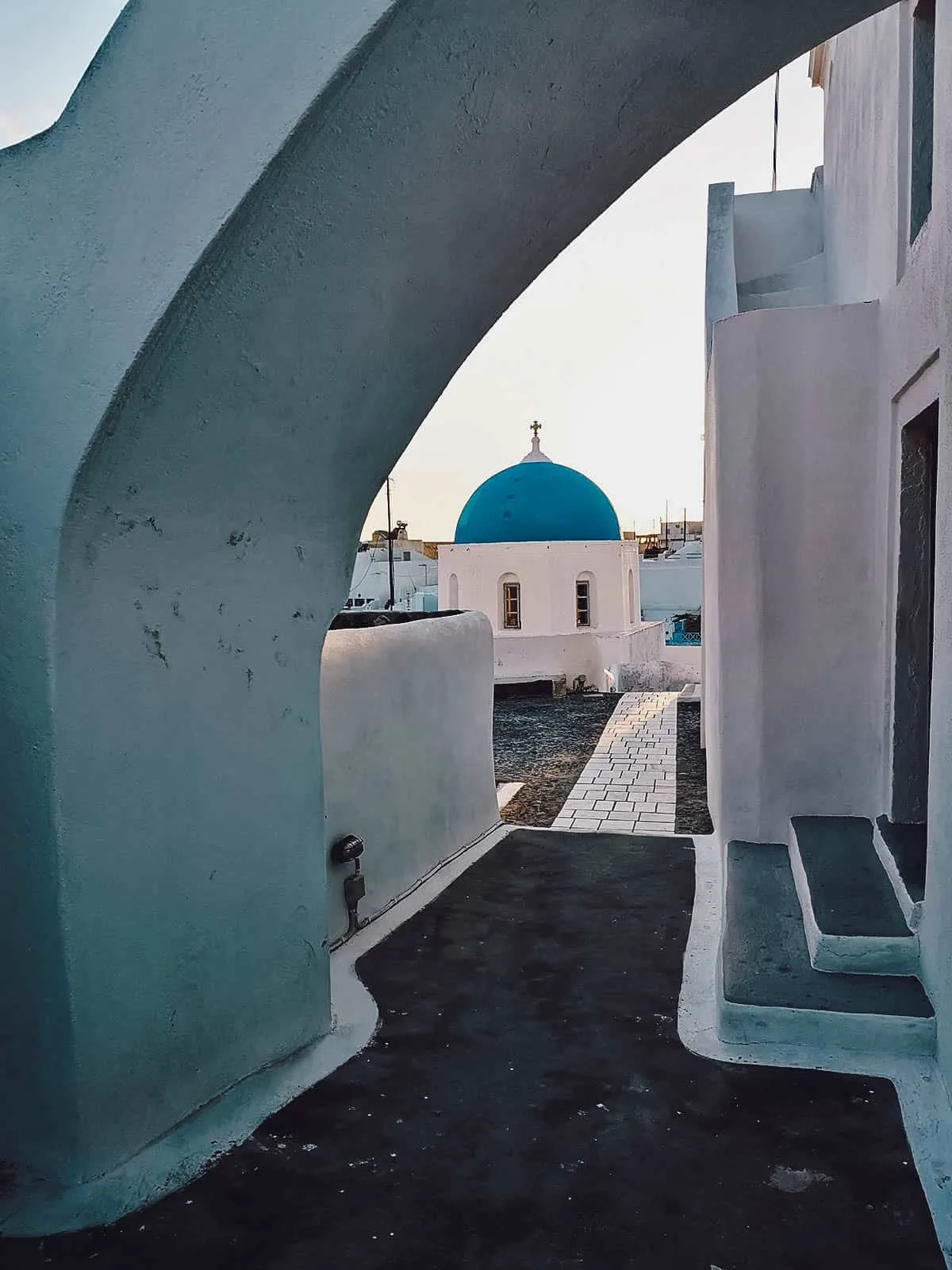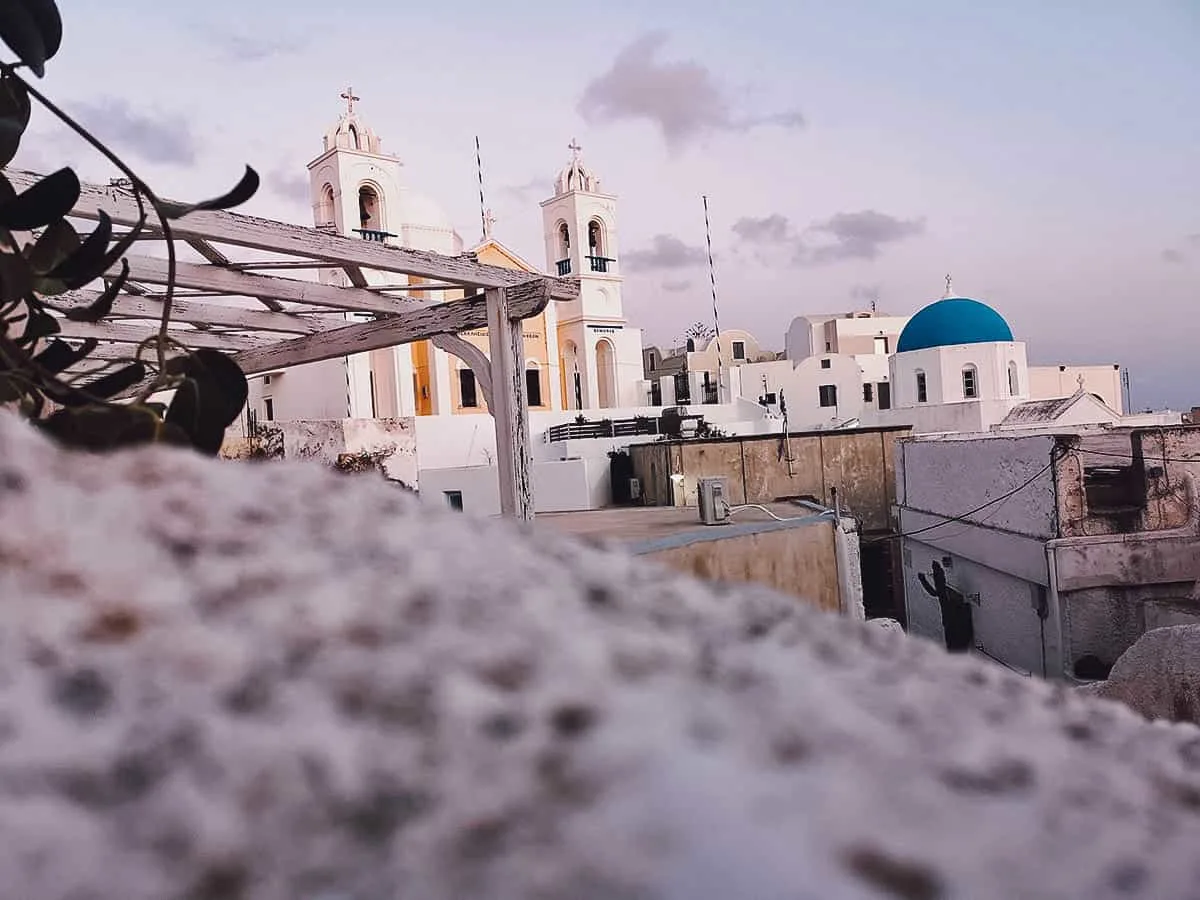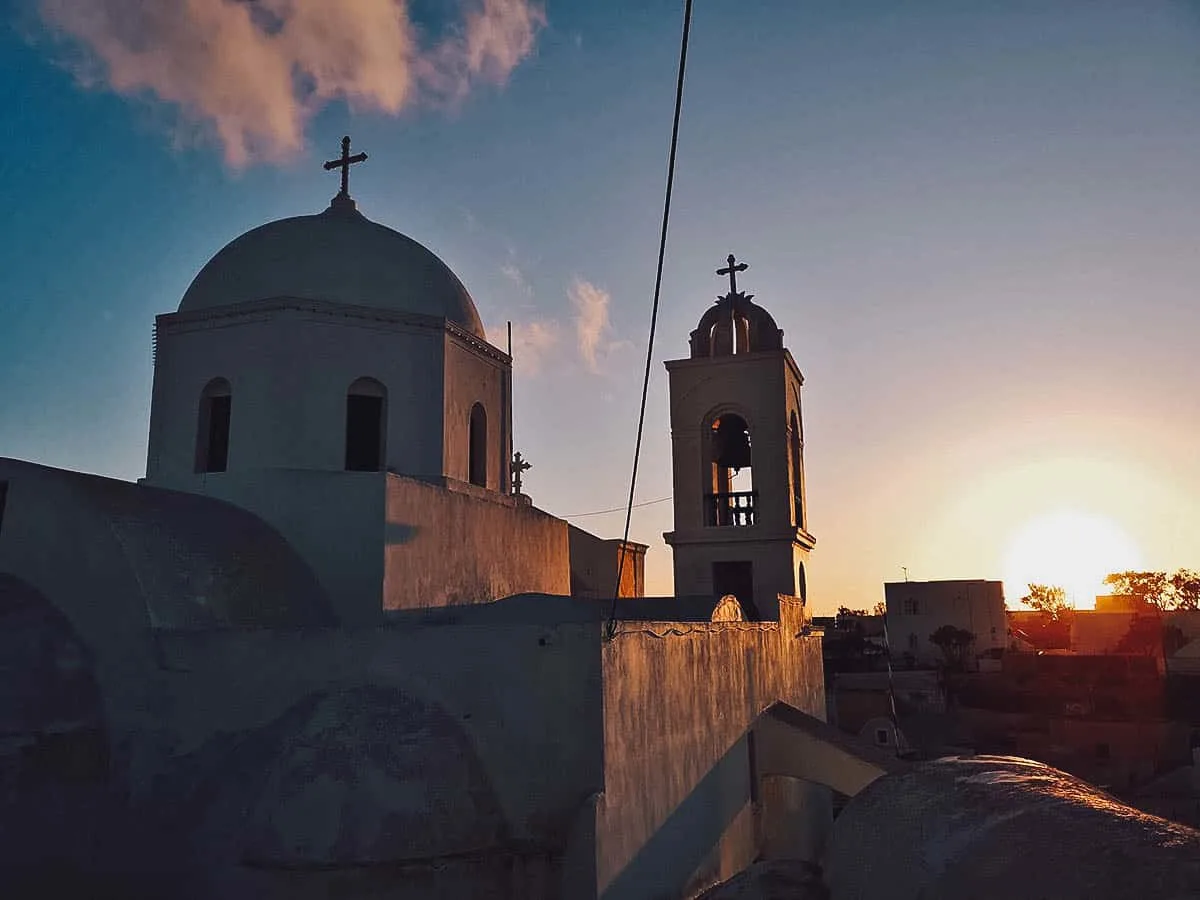 Megalochori's bell tower looking marvelous at night.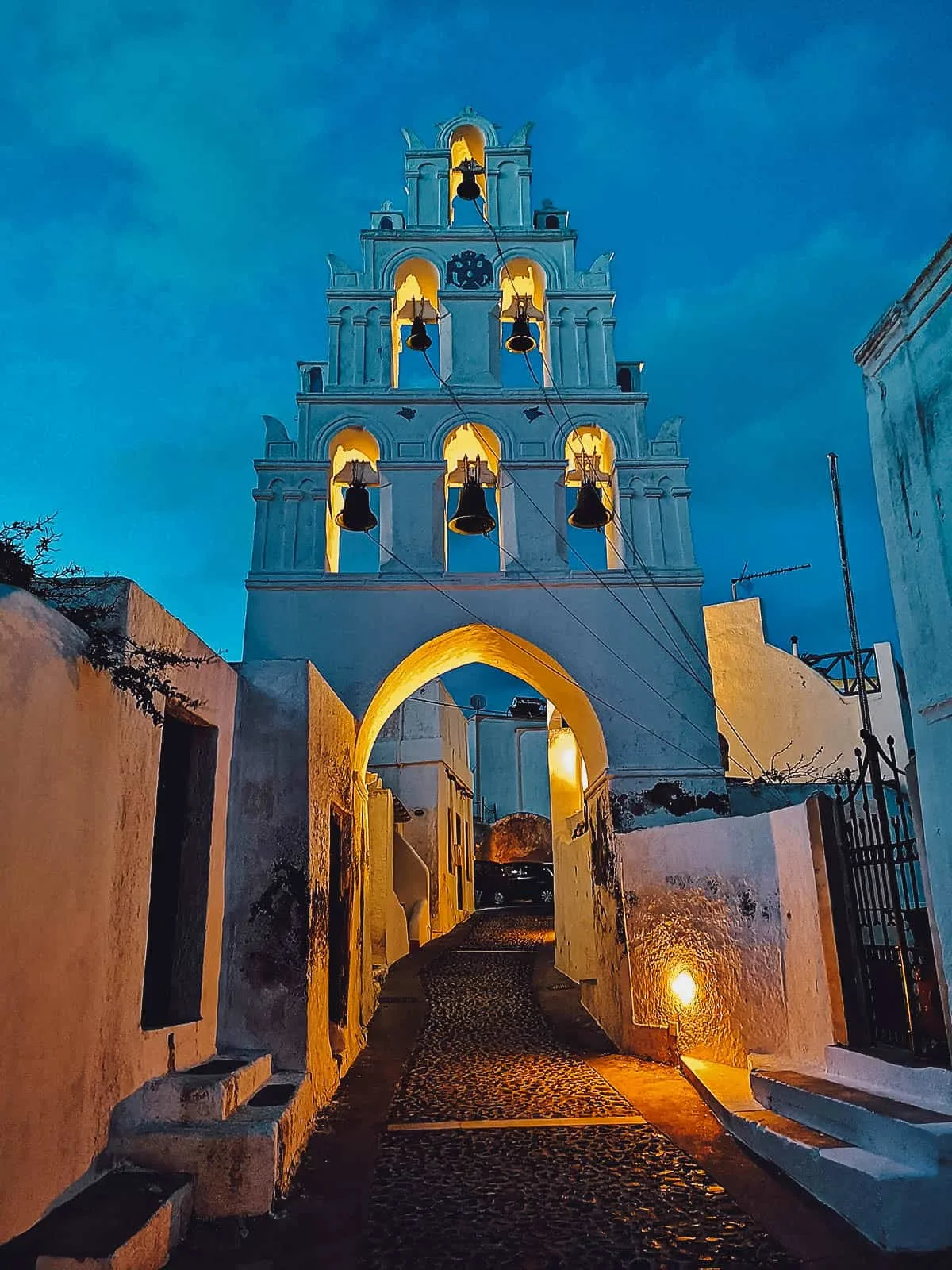 Magda's AirBnB
We rented this lovely 3-bedroom home on AirBnB. We were there in April and paid about USD 310 a night for the entire house.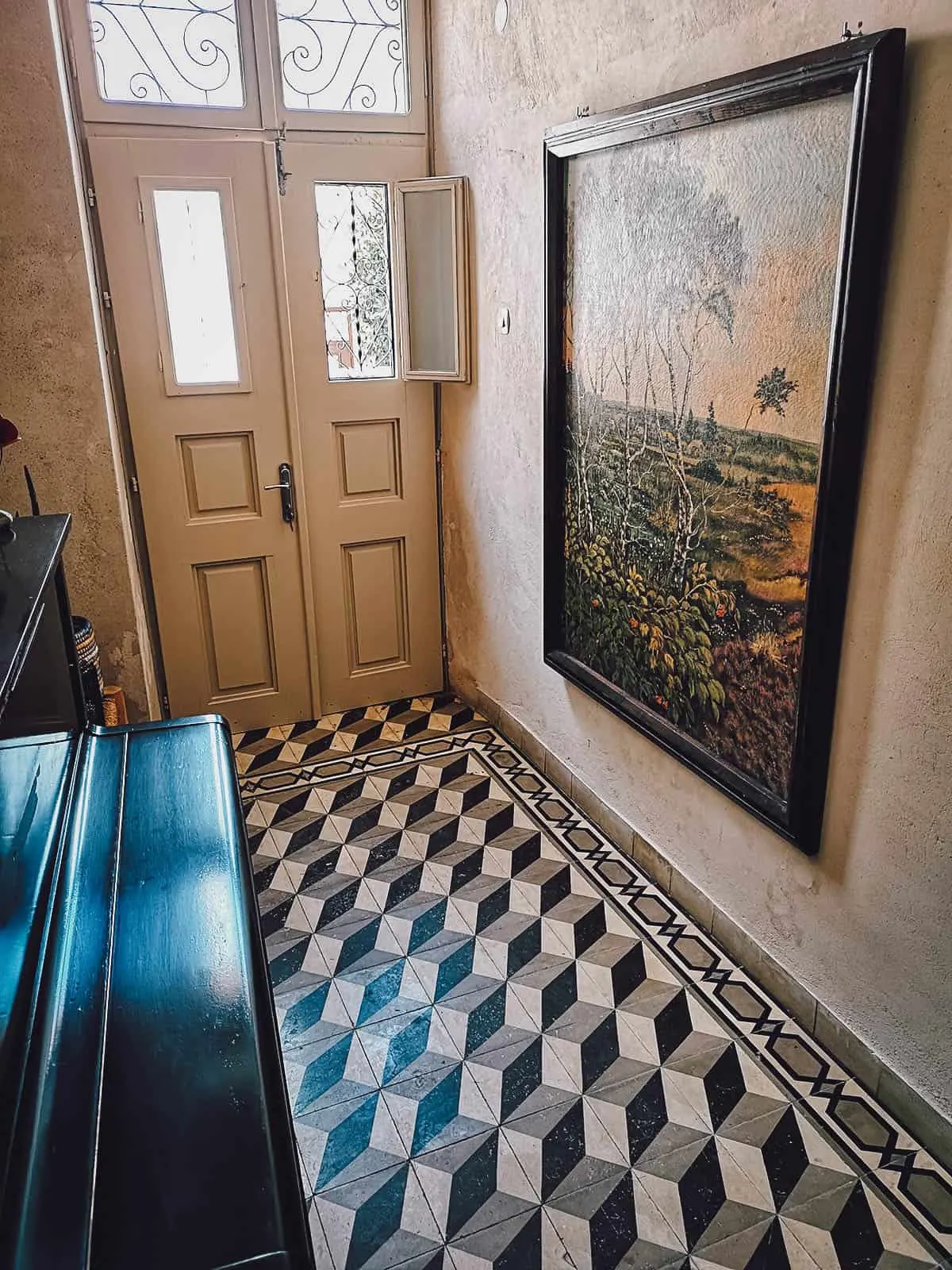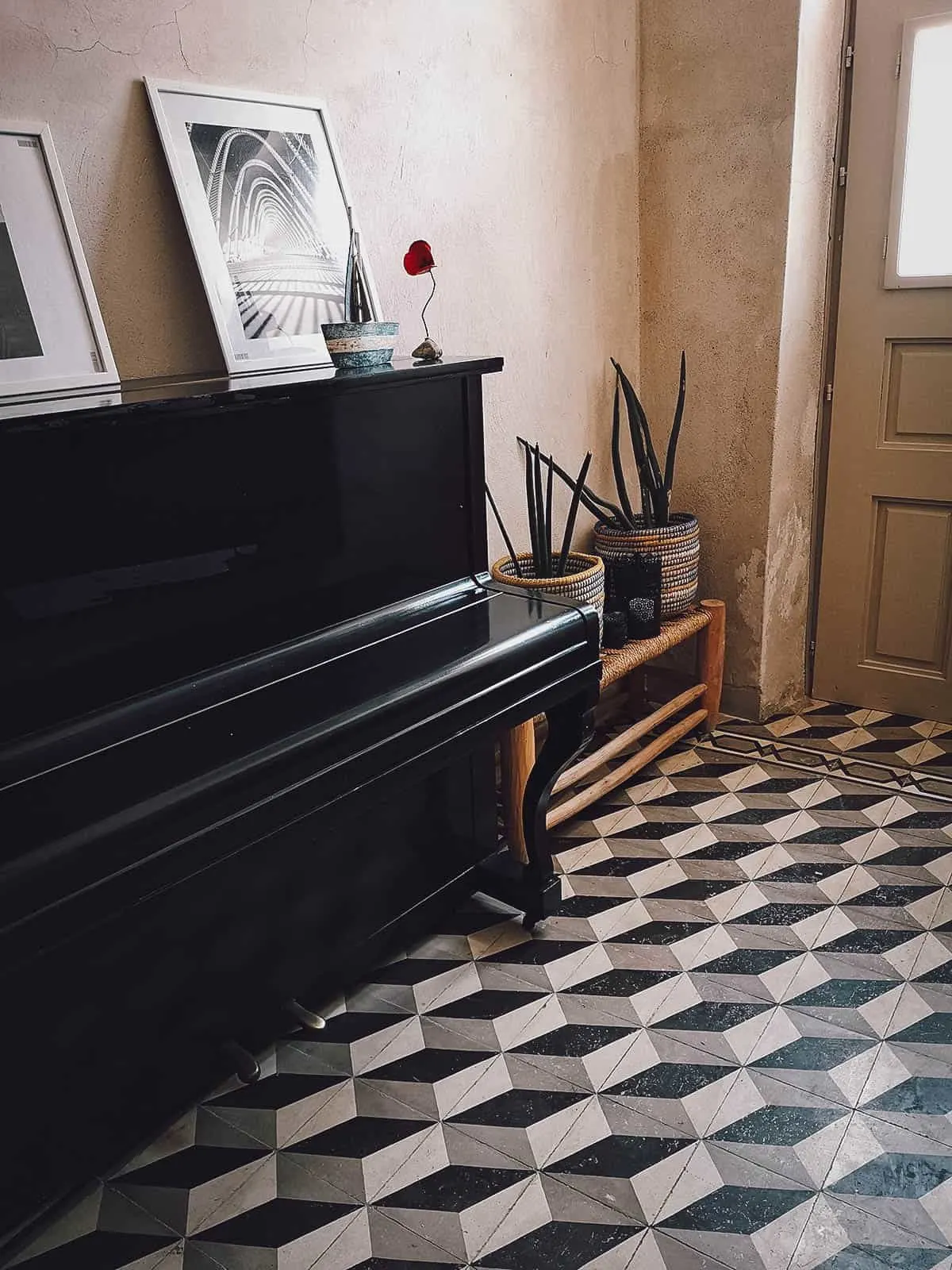 The living room was my favorite part of the house.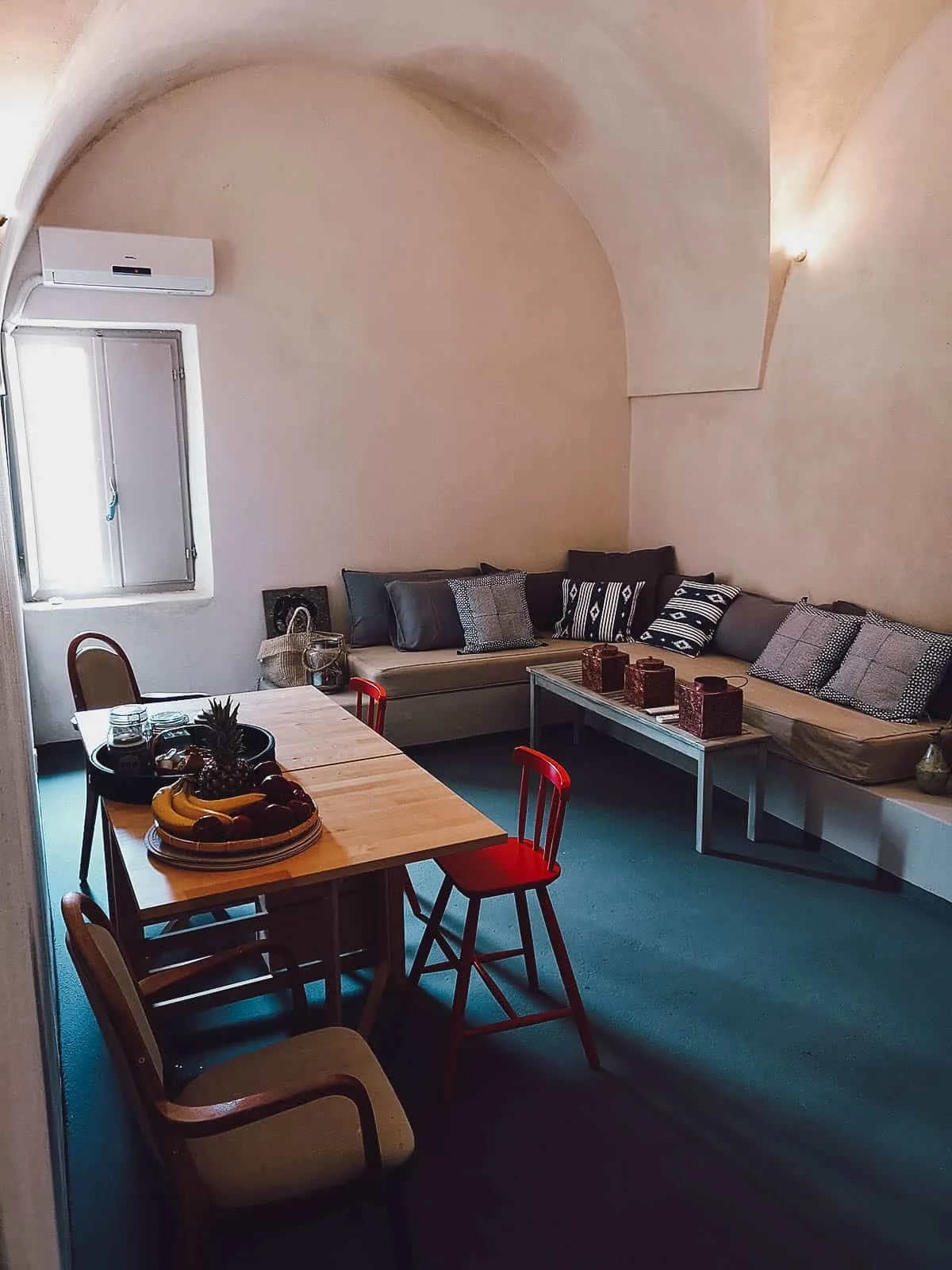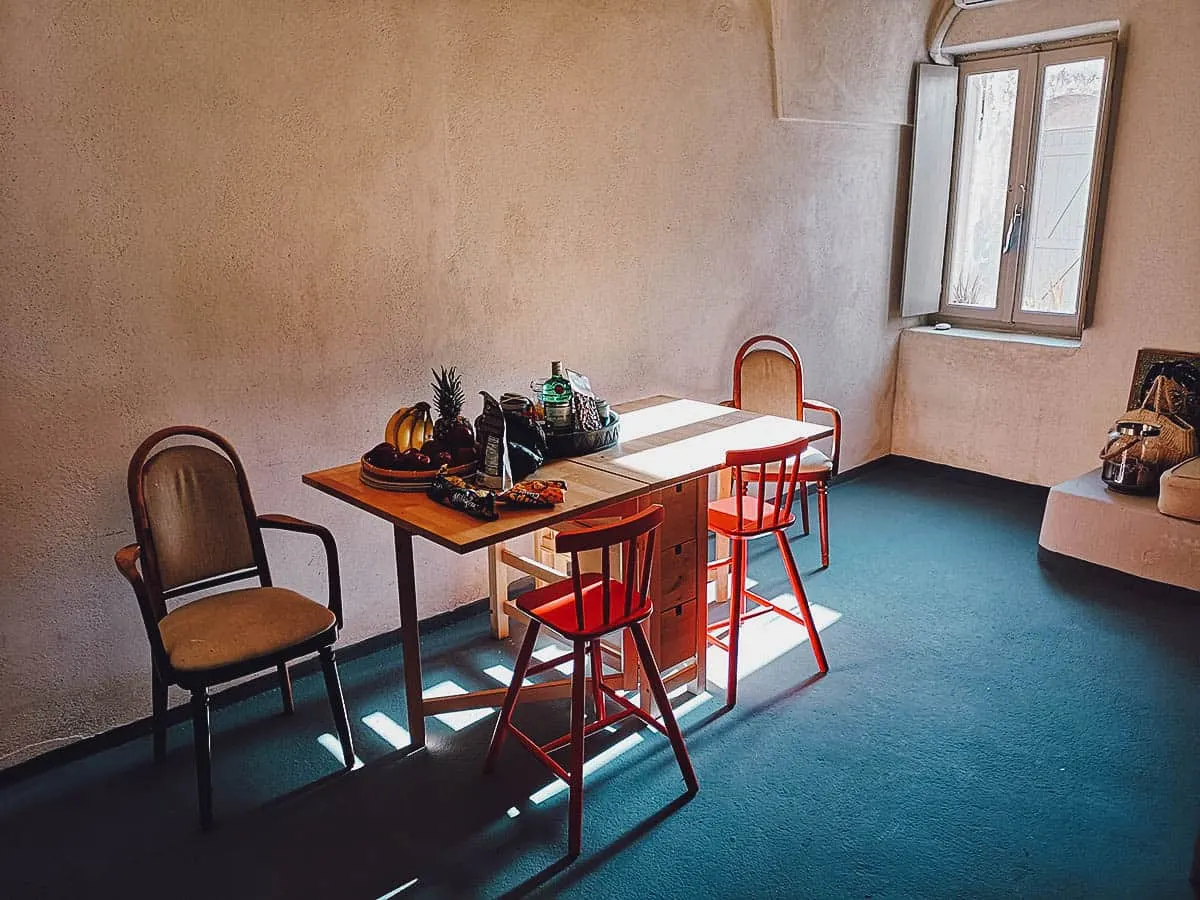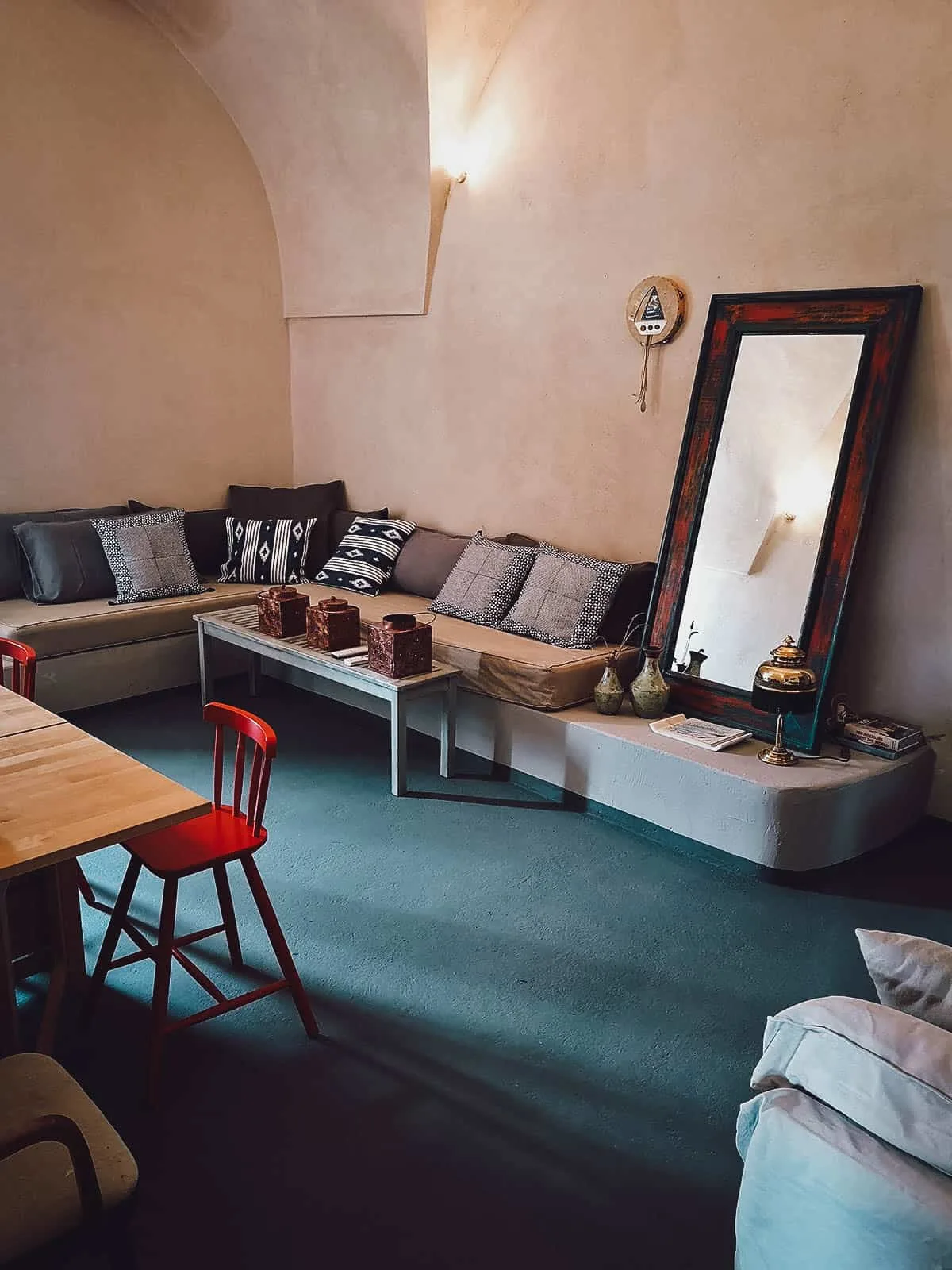 The house had an outdoor patio with a wooden banquet table and bench-type seating as well.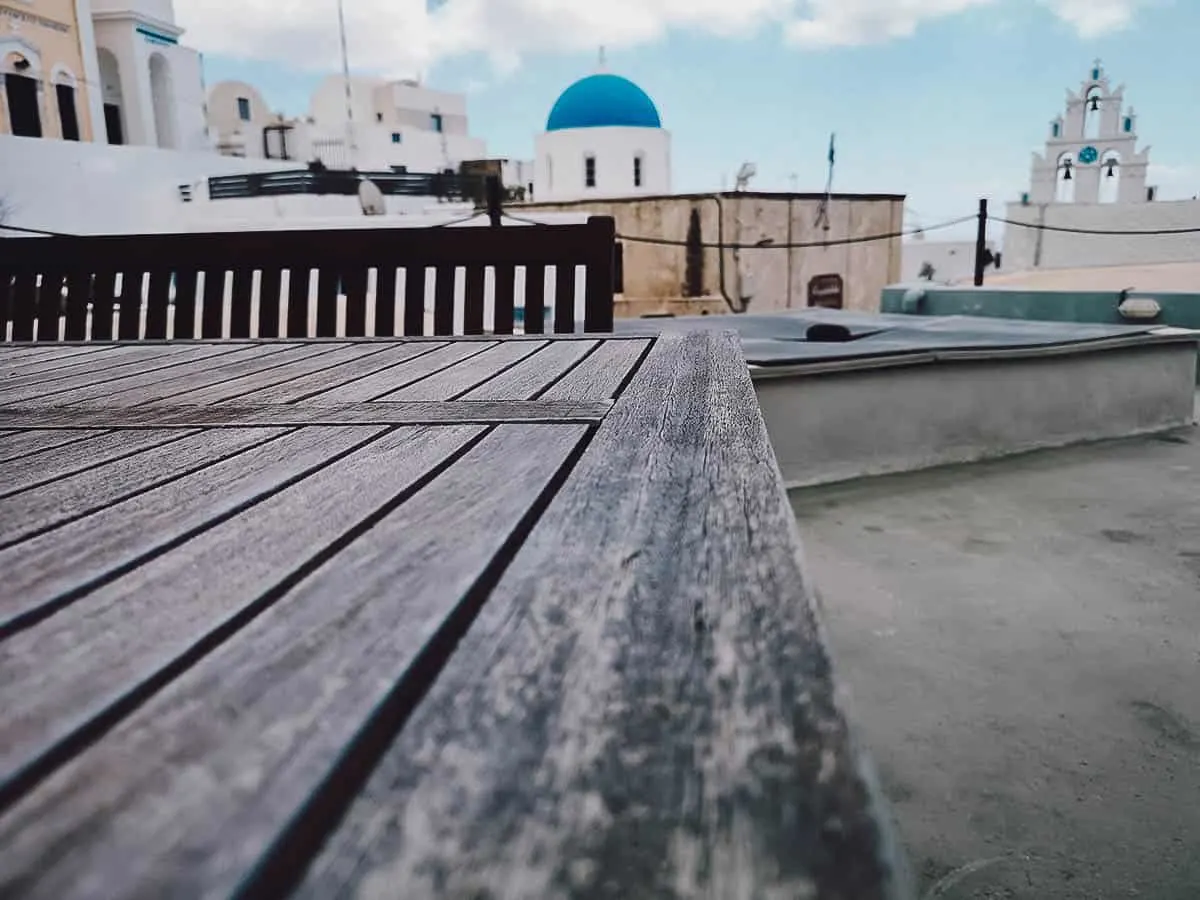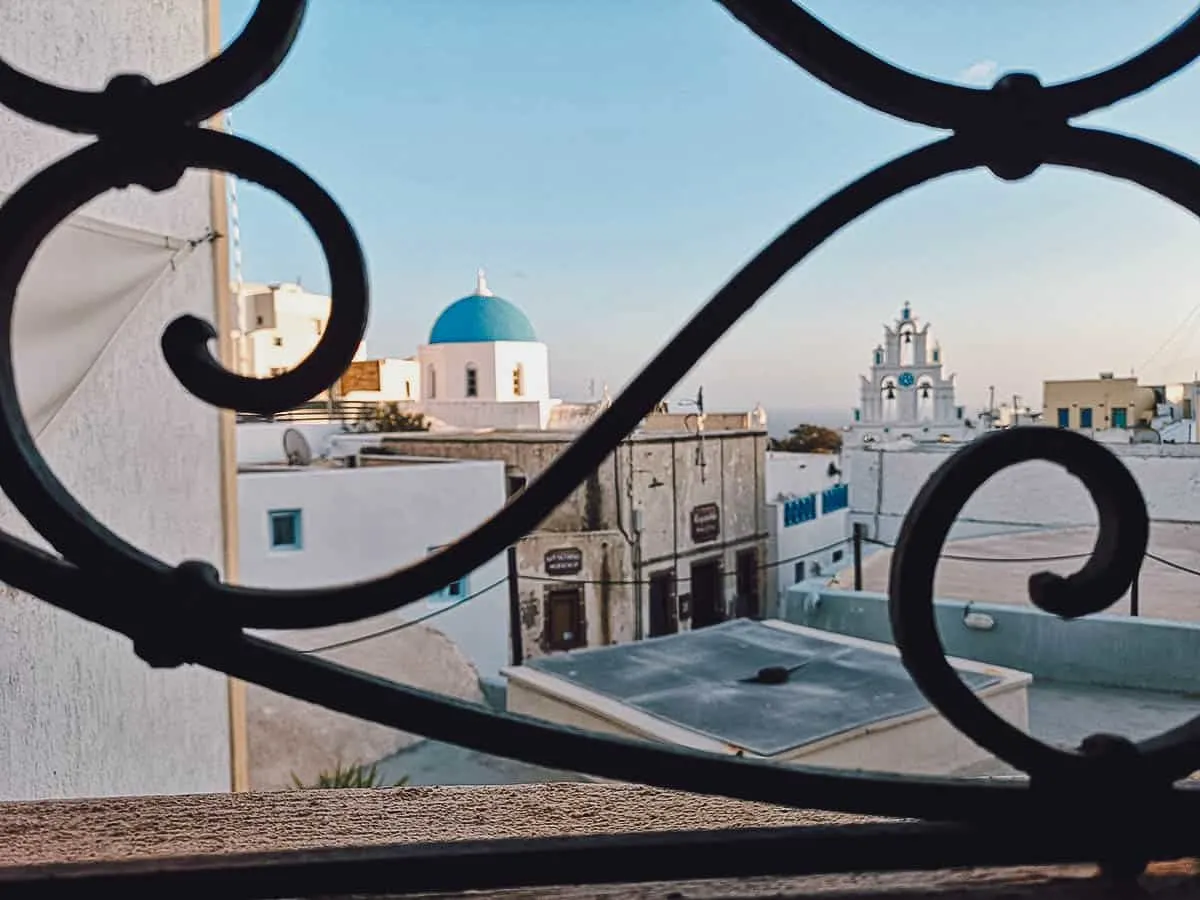 Forget what I said about the living room. The bathroom was my favorite part of the house. Isn't it beautiful?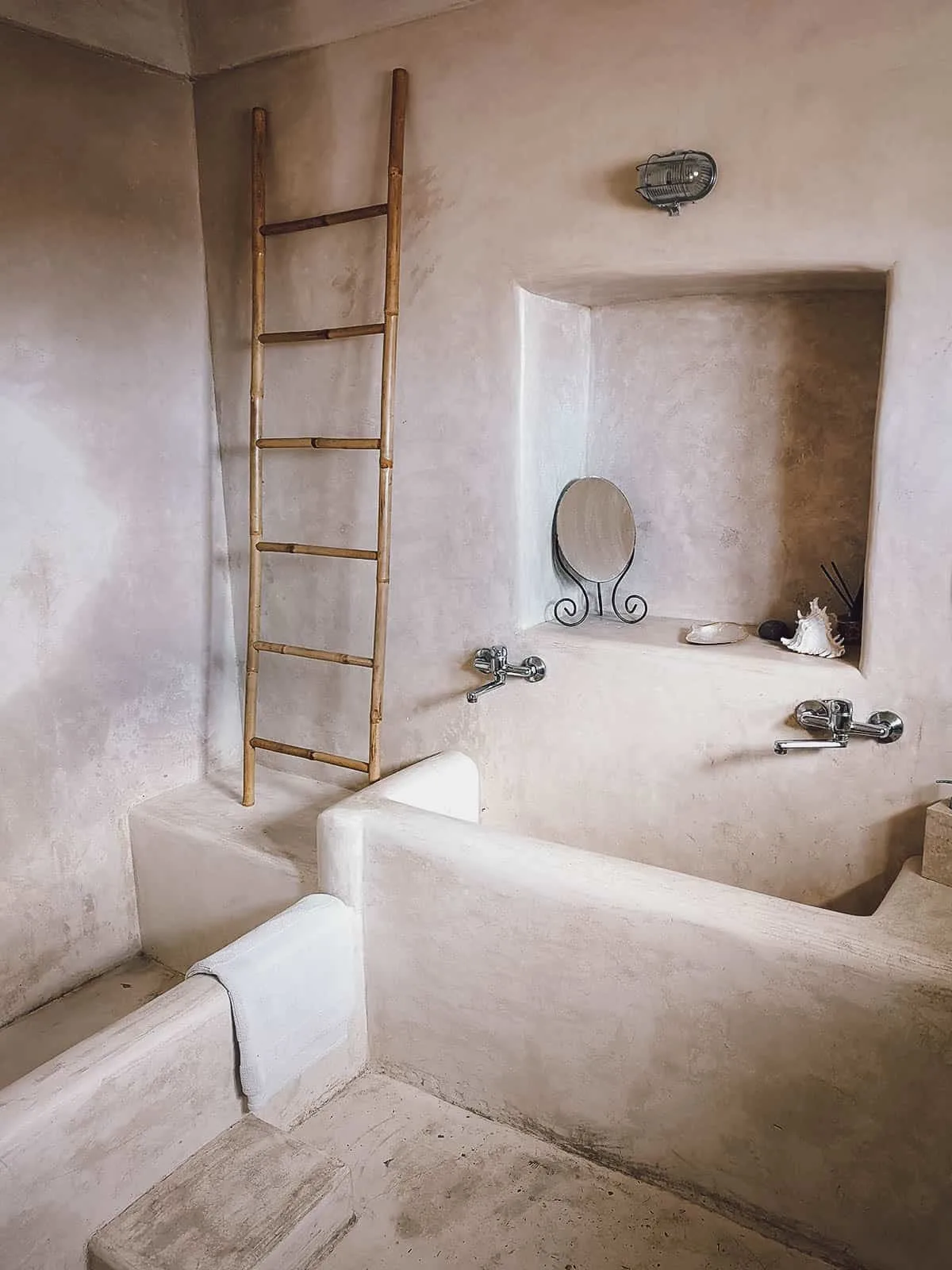 One of two large bedrooms. The third is basically just a bed in a corner of the house.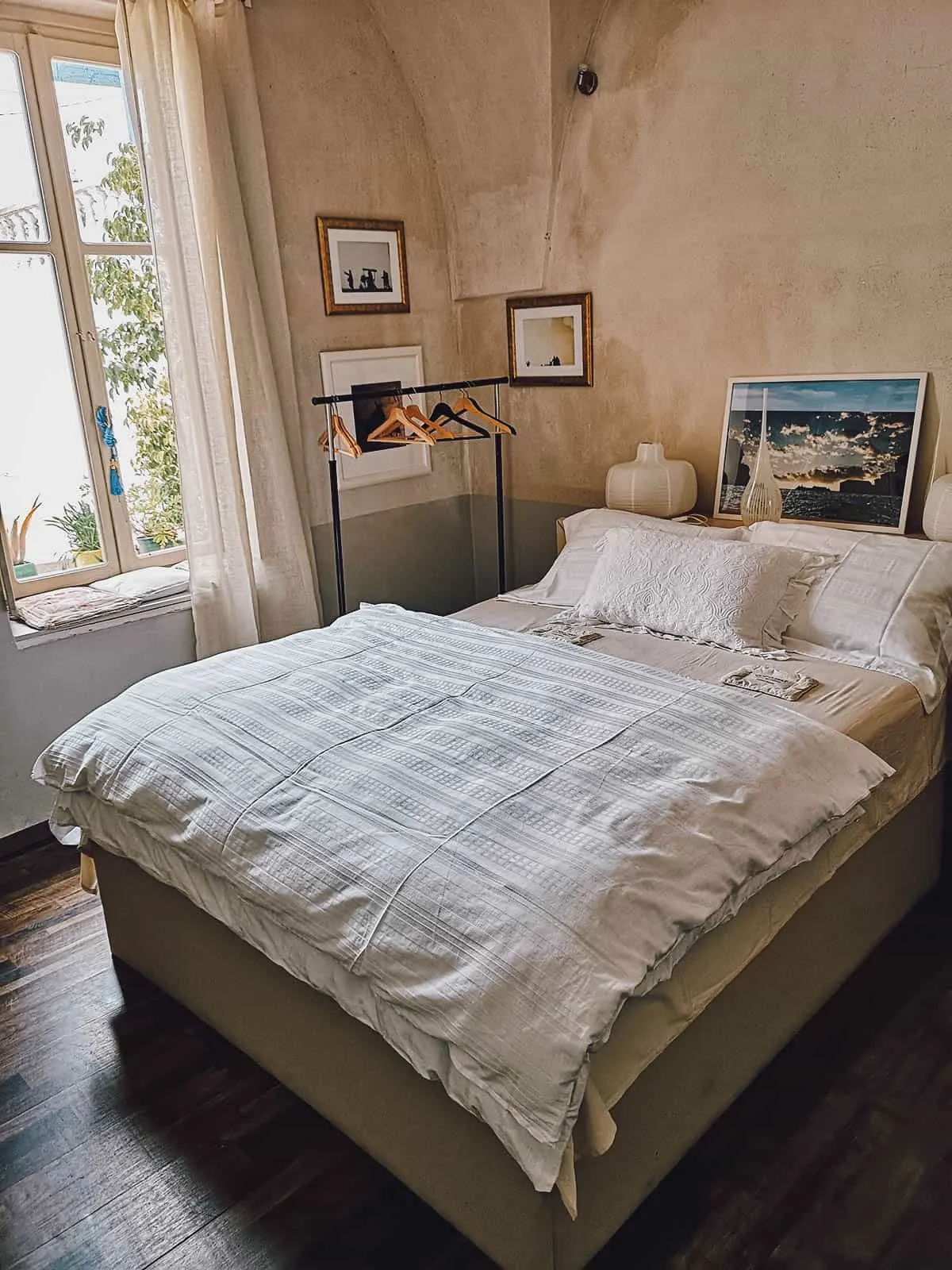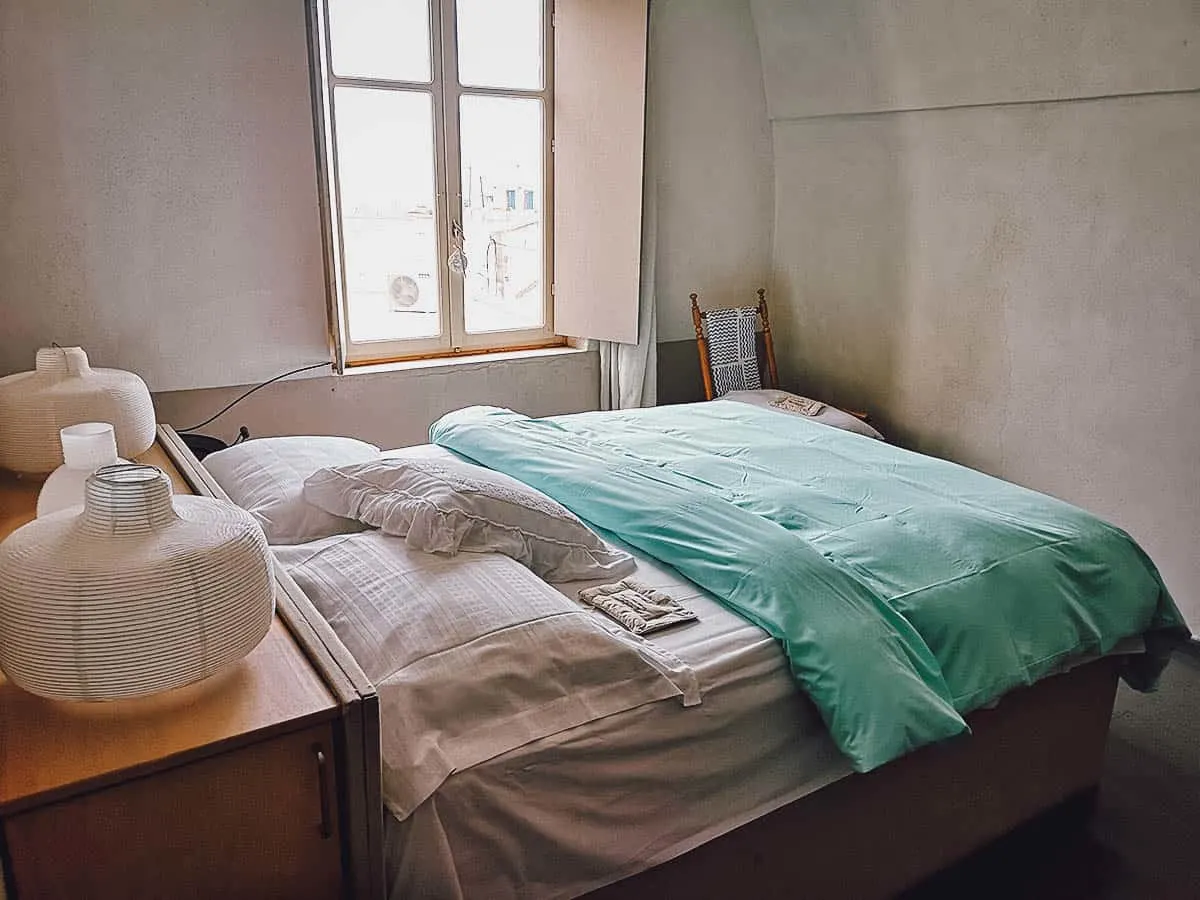 EMPORIO
Like Megalochori, the village of Emporio is off the tourist trail and gives visitors a fantastic glimpse into what real life is like on the island. Located in south central Santorini, there are even fewer tourists here than in Megalochori.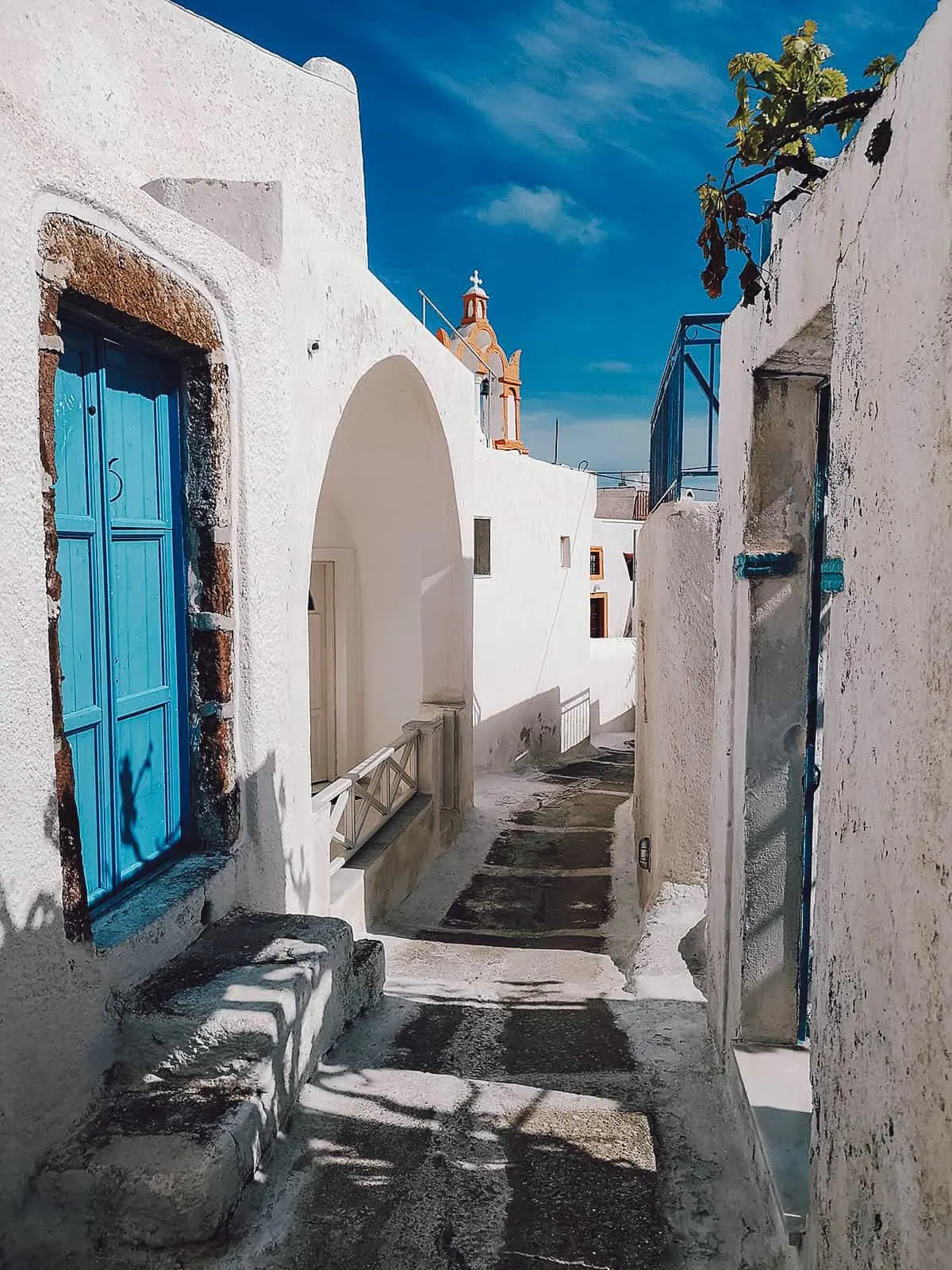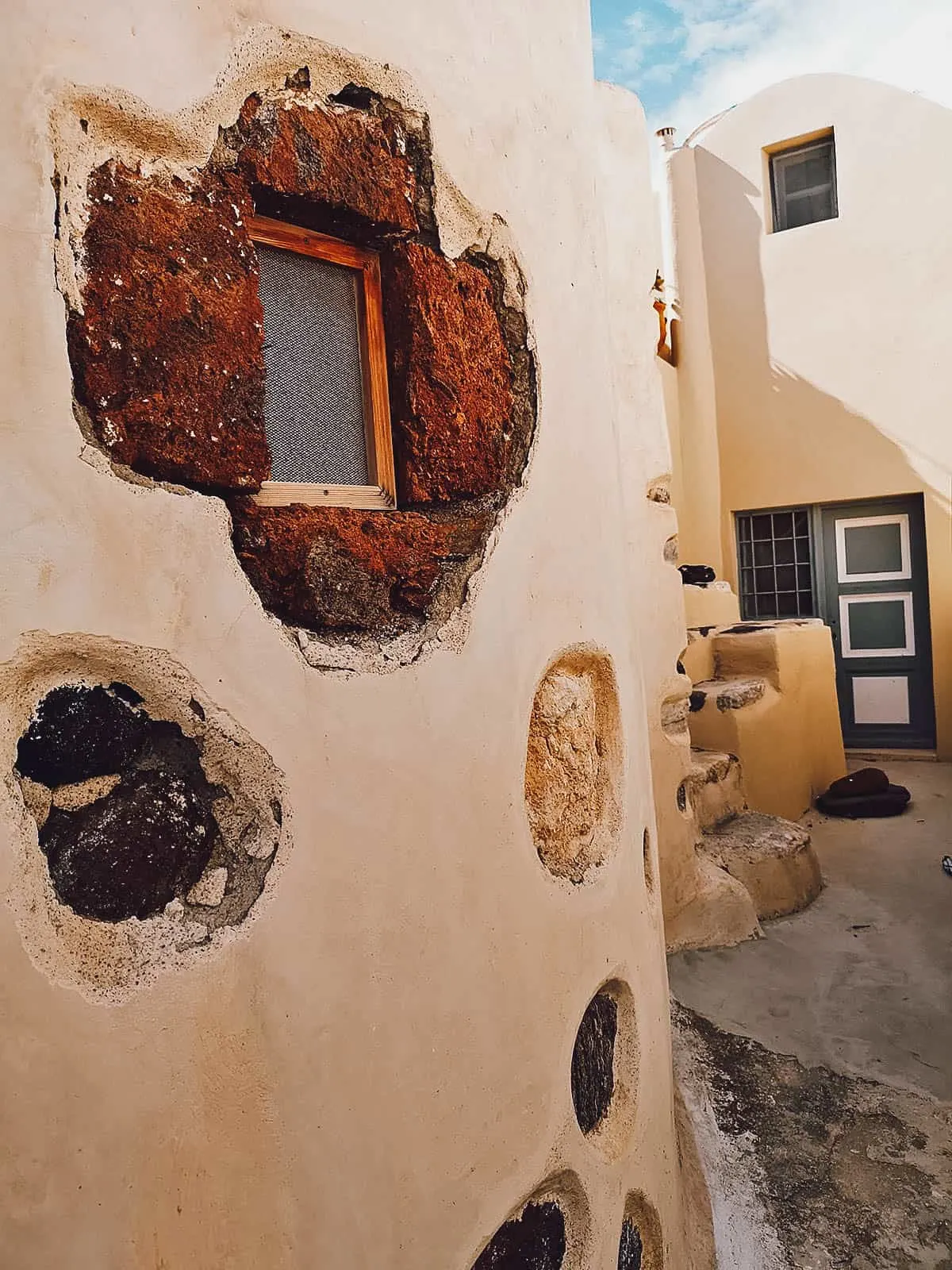 Emporio is a charming labyrinth of cycladic houses with narrow winding alleys. This was one of my favorite places on the island.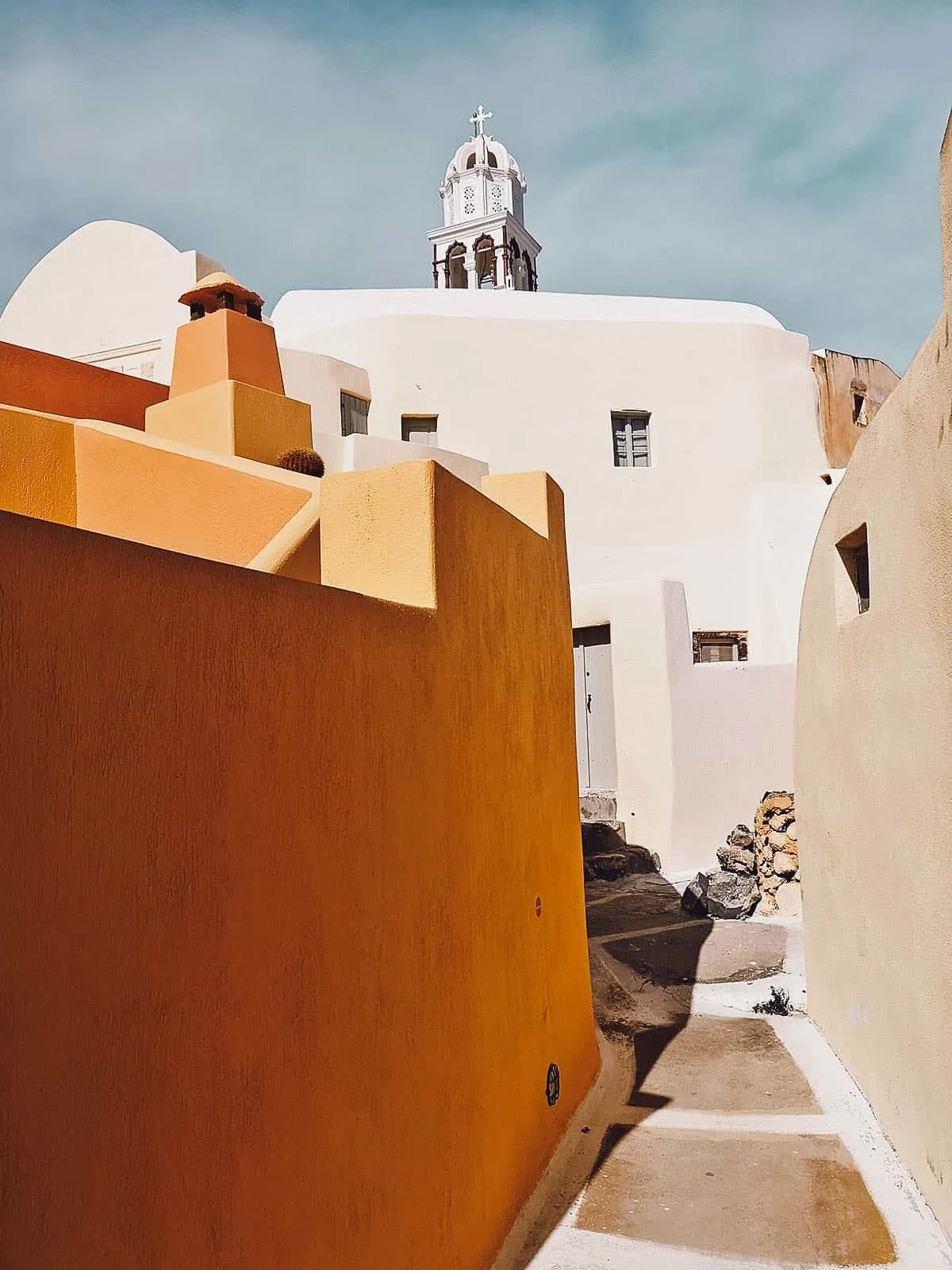 If I were to publish a coffee table picture book on Santorini, then one chapter would be dedicated entirely to doors.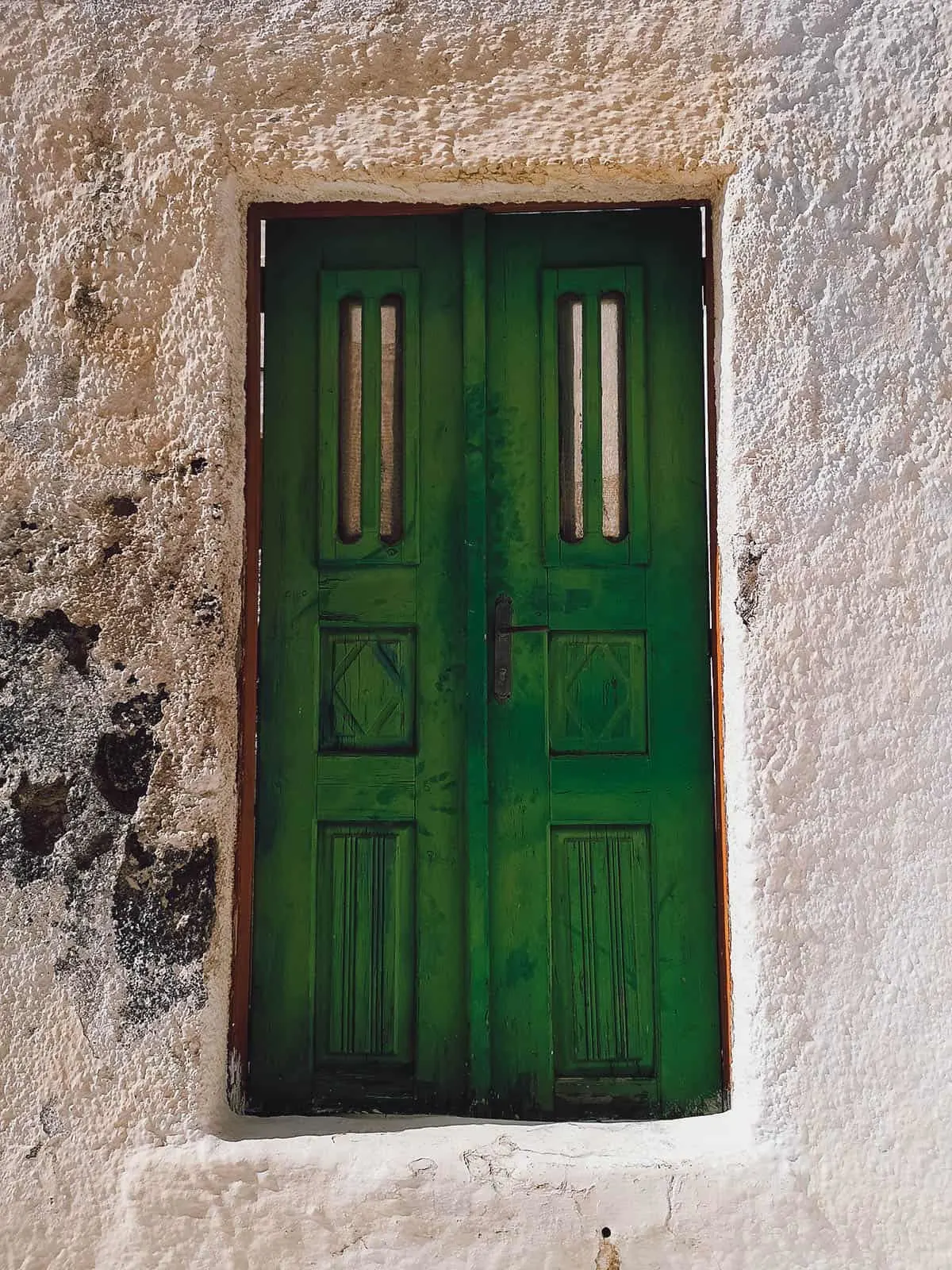 Unlike the more popular towns, there are fewer accommodations and restaurants in Emporio. I was exploring the town and got (gleefully) lost in its network of alleys when it suddenly opened up to this patio restaurant. What a lovely place for coffee or lunch!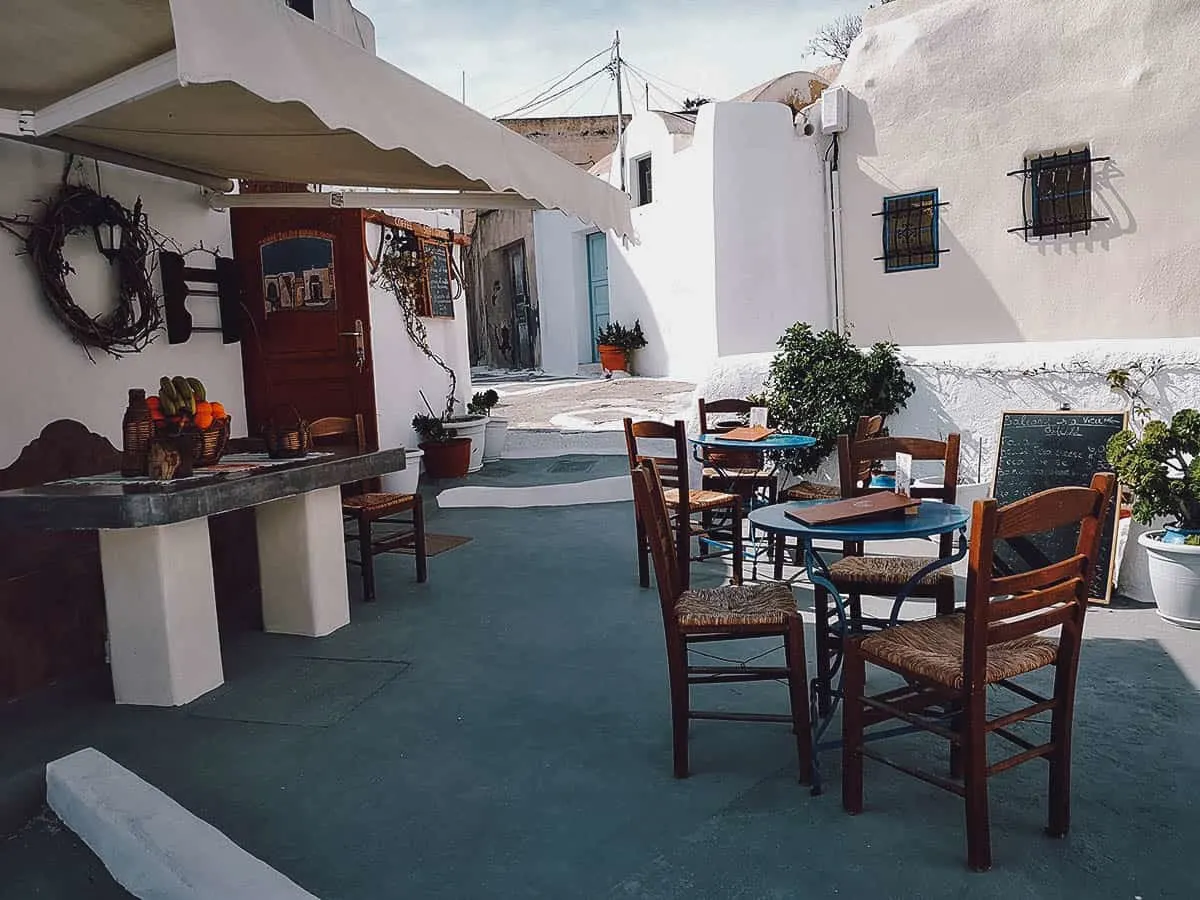 There's a cafe at the top of these stairs as well. With more time, I would have loved to stay a couple of nights in Emporio just to see what other secrets it holds.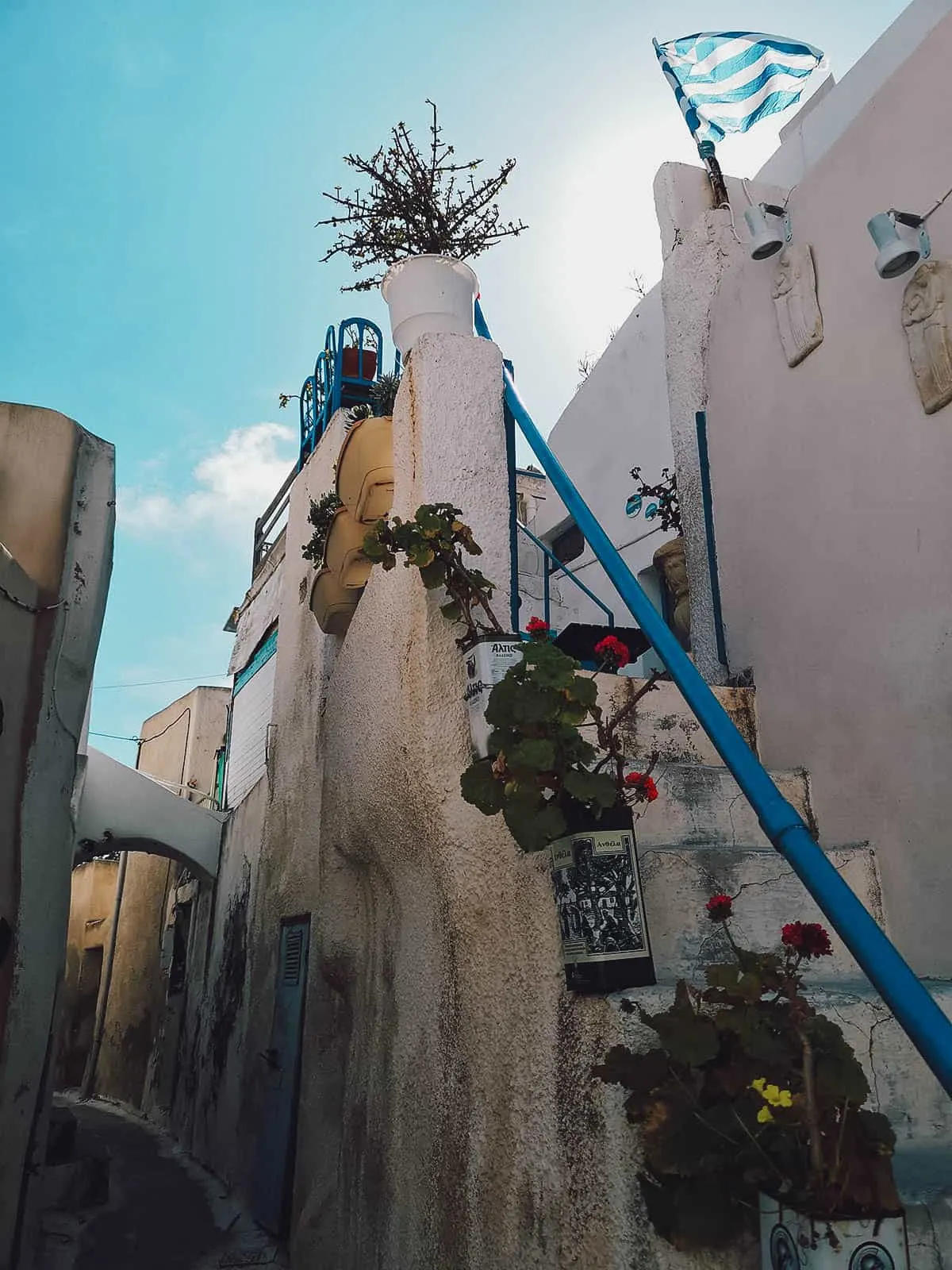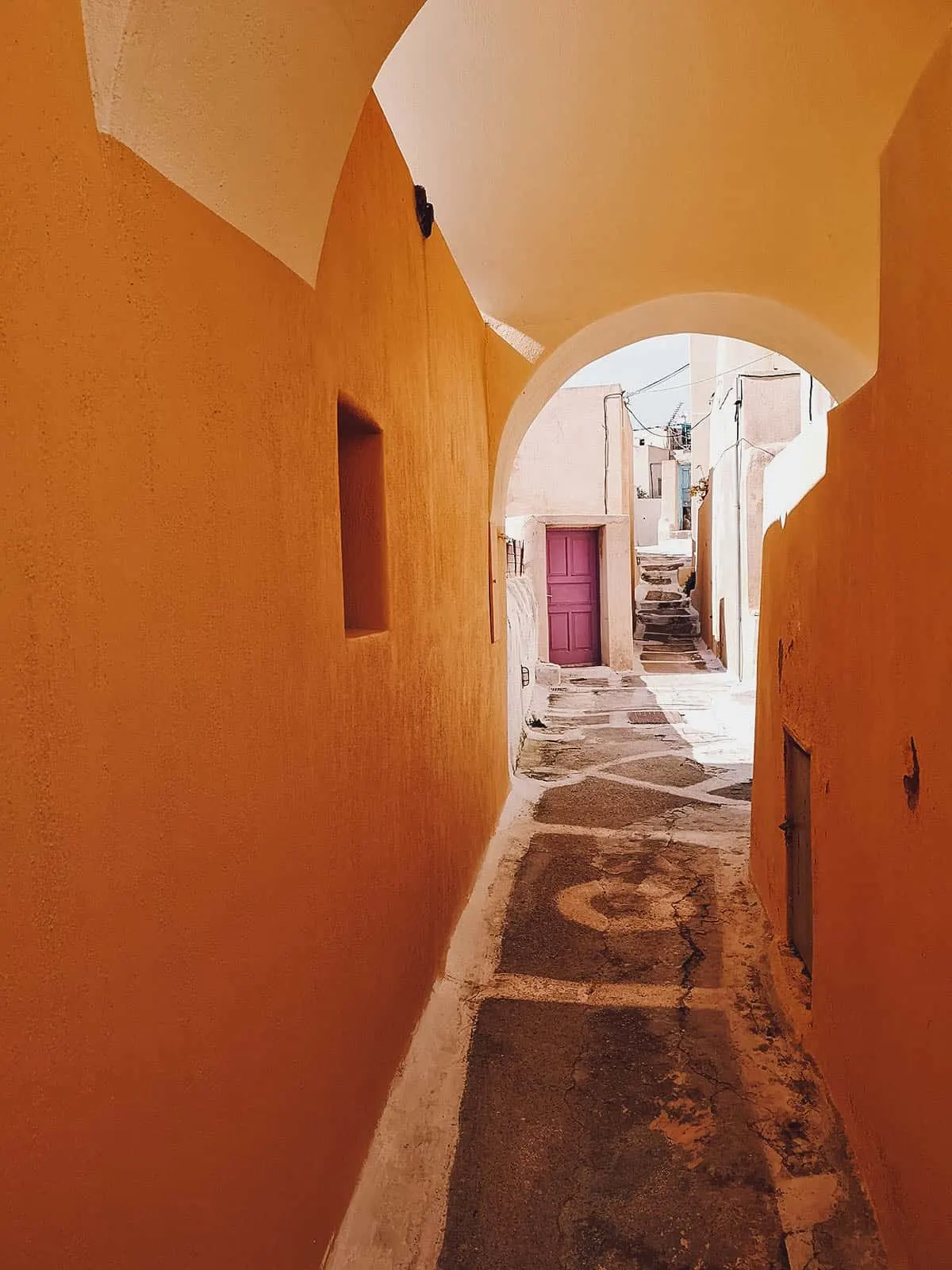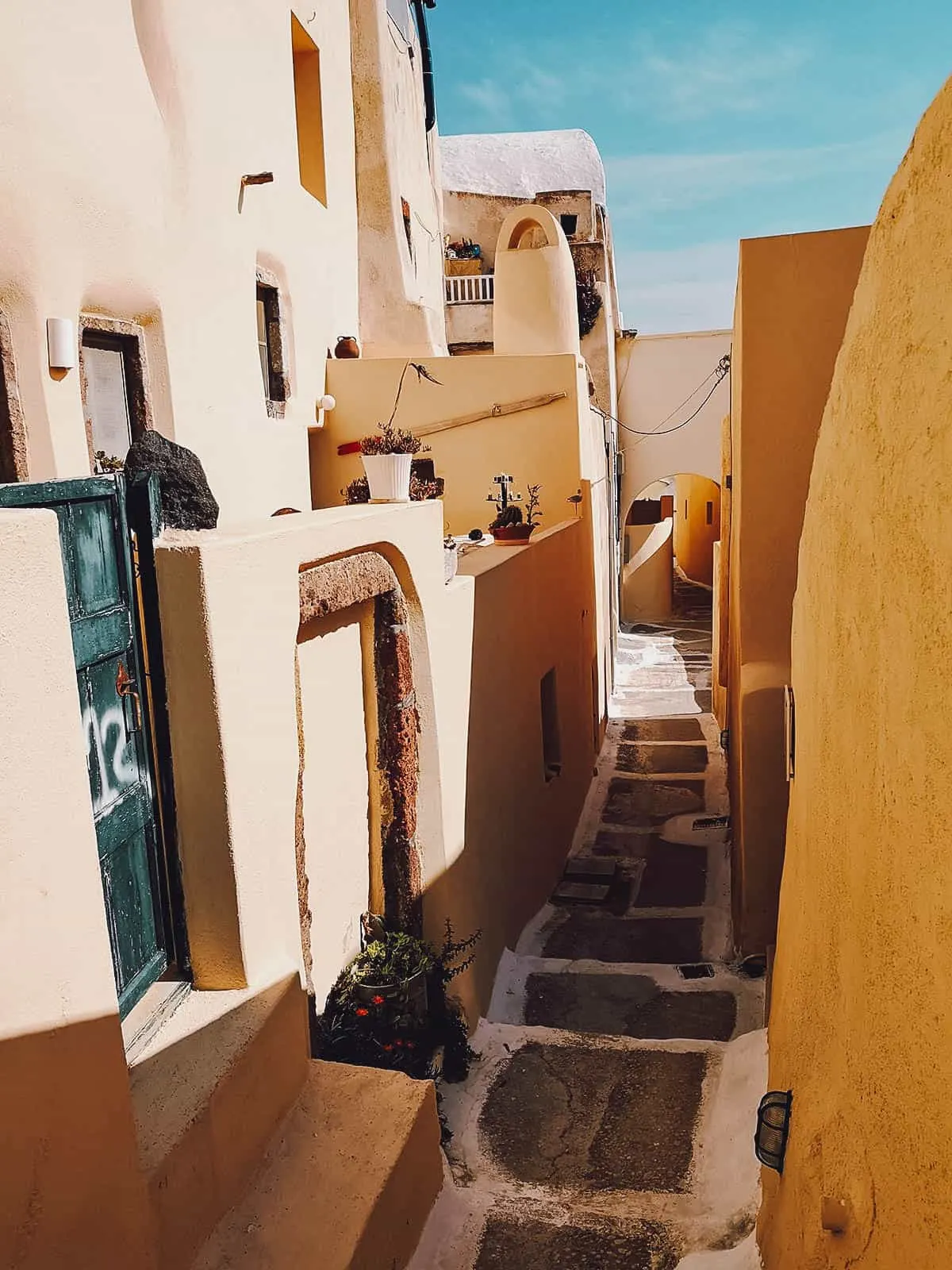 Santorini's blue-domed churches were beautiful but for me, these bell towers were the most photogenic. Calcium white with blue accents and multiple bells of different sizes, they looked so dramatic against the clear blue sky.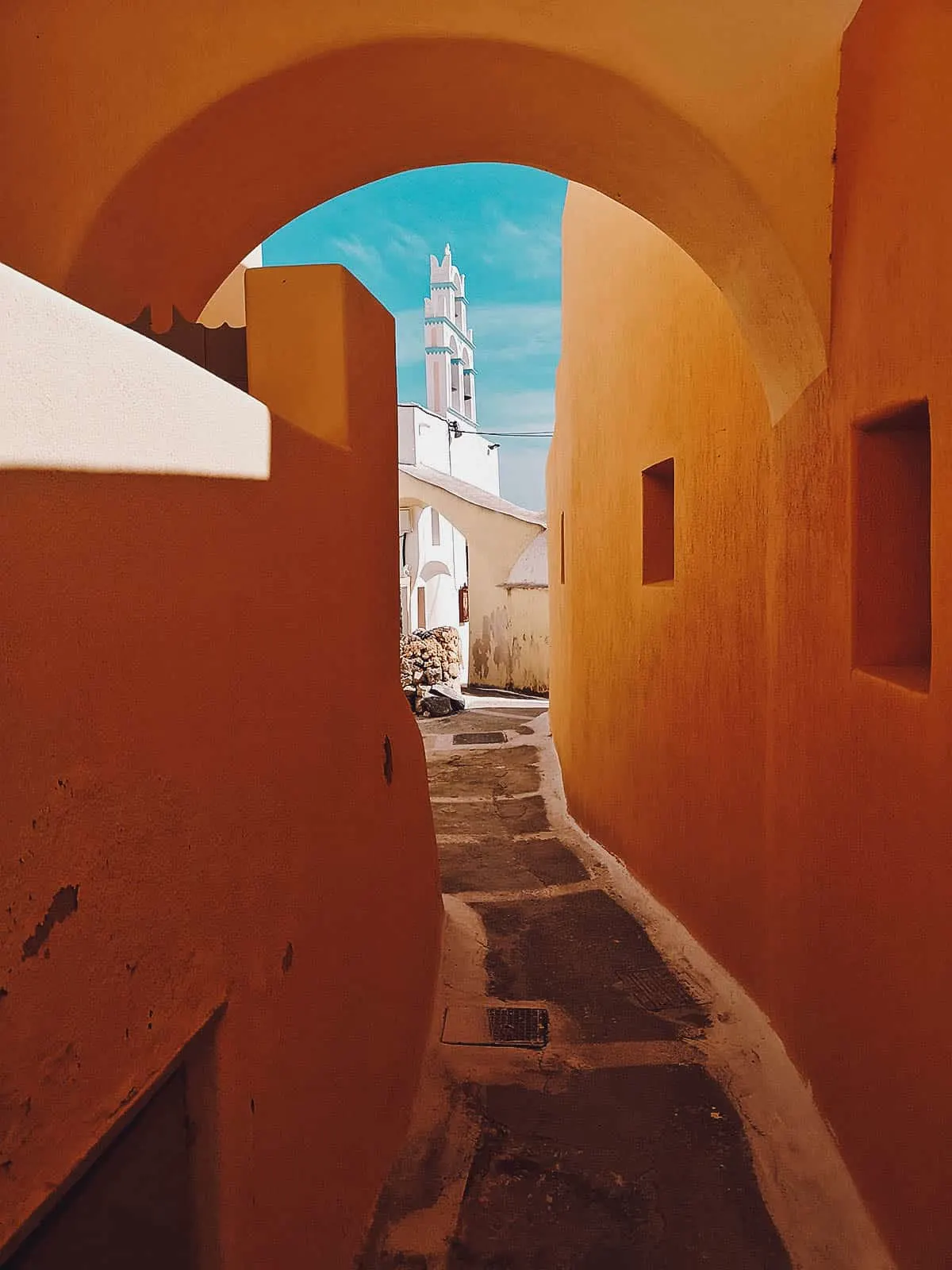 Fira-Oia Hike
If you like to walk, then one of the best ways to appreciate Santorini's beauty is to go on a 10+ km hike from Fira to Oia. It's a scenic 2-3 hr cliffside hike that takes you through some of the island's most beautiful caldera towns. This was probably the single best thing I experienced in Santorini.
FIRA
The walk starts in Fira (or Thera), the capital of Santorini. It's by far the busiest town on the island with the biggest number of hotels, shops, restaurants, and bars. There are a few nightclubs here as well so if you're looking to party it up in Santorini, then this is probably where you'll want to be.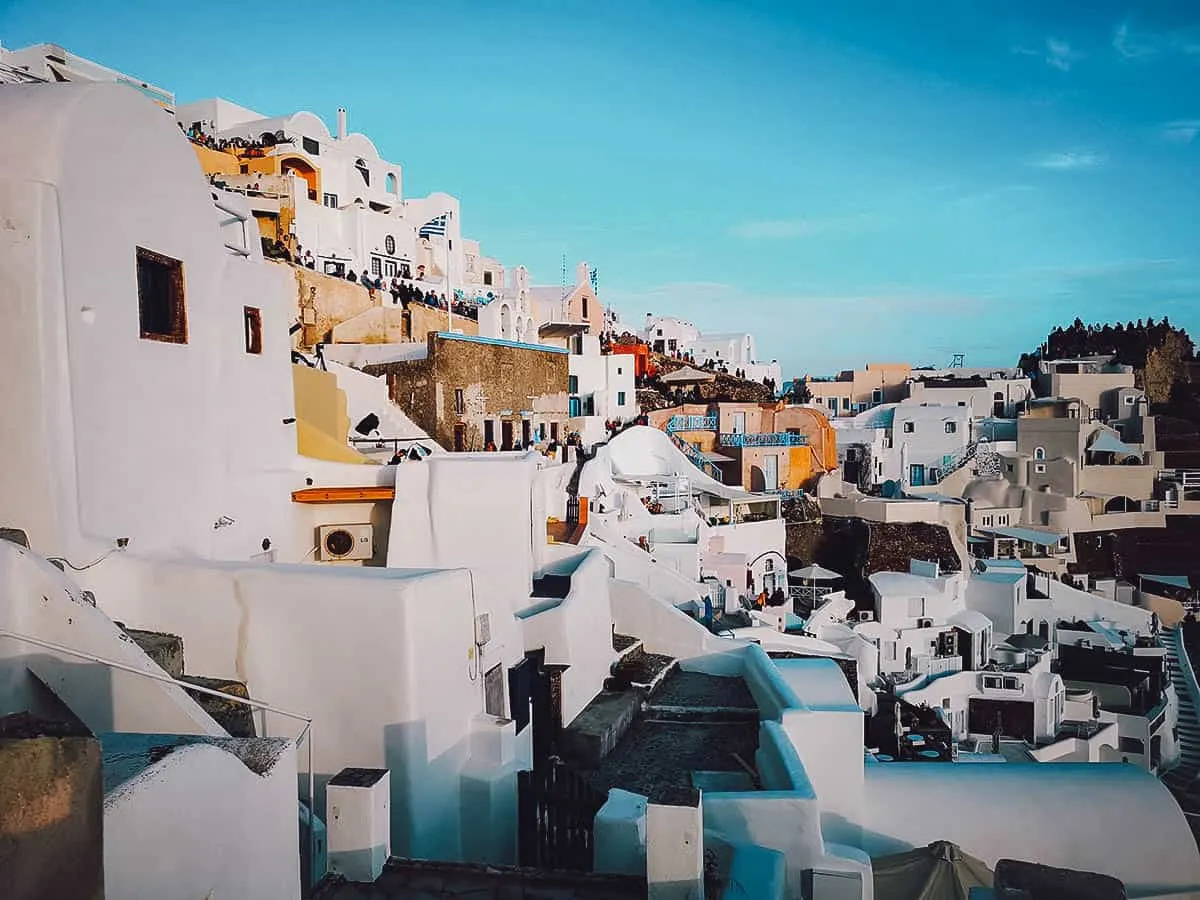 But even if you don't want to party, Fira is a great place to stay because it offers some of the most spectacular views of the caldera. Take a mental note of those zigzagging steps on the side of the cliff. I'll talk more about them later.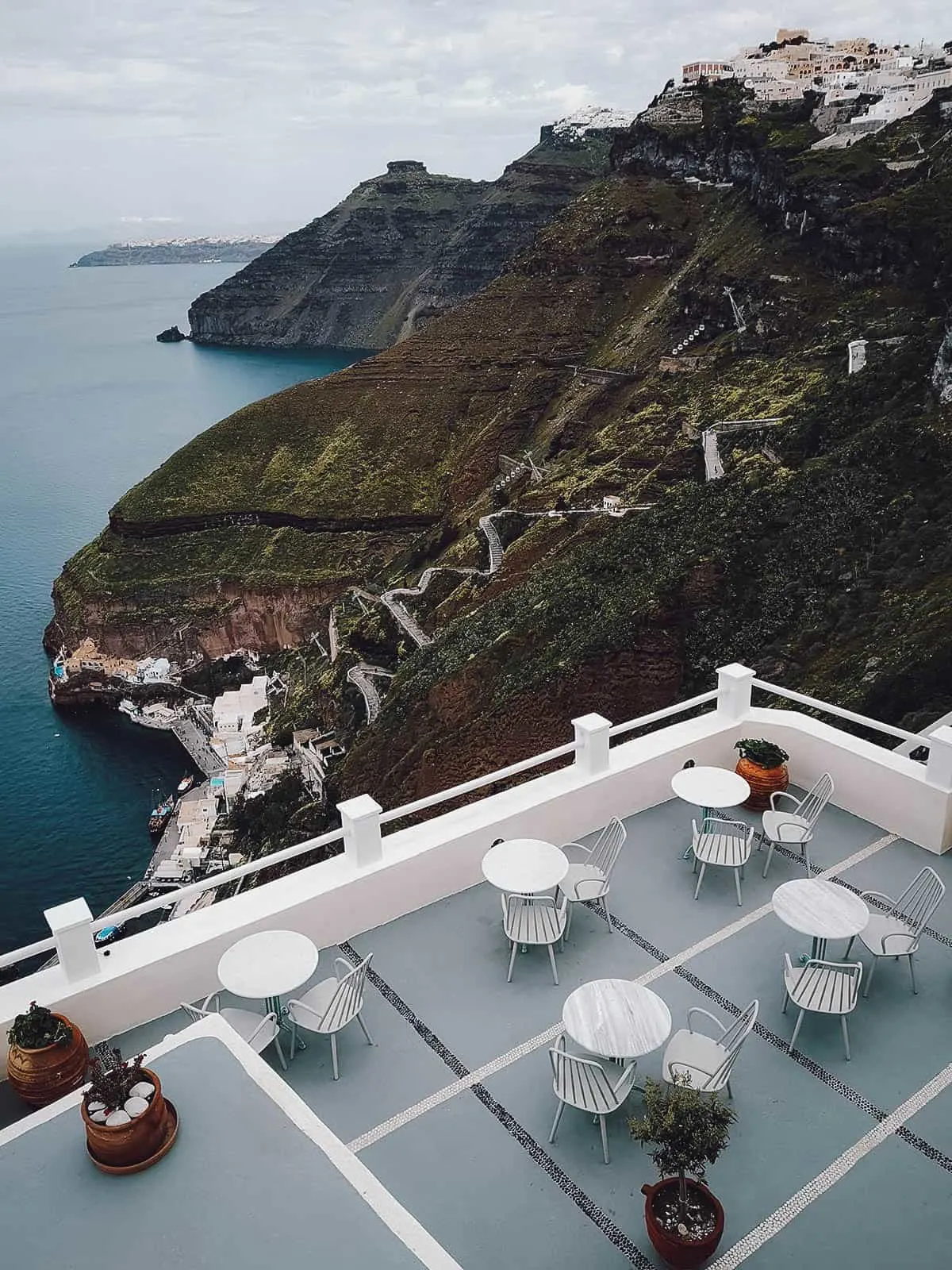 Imagine having breakfast on a patio like this every morning. Wow, seriously. That island on the left is Santorini Volcano which you can visit on a cruise from the main island.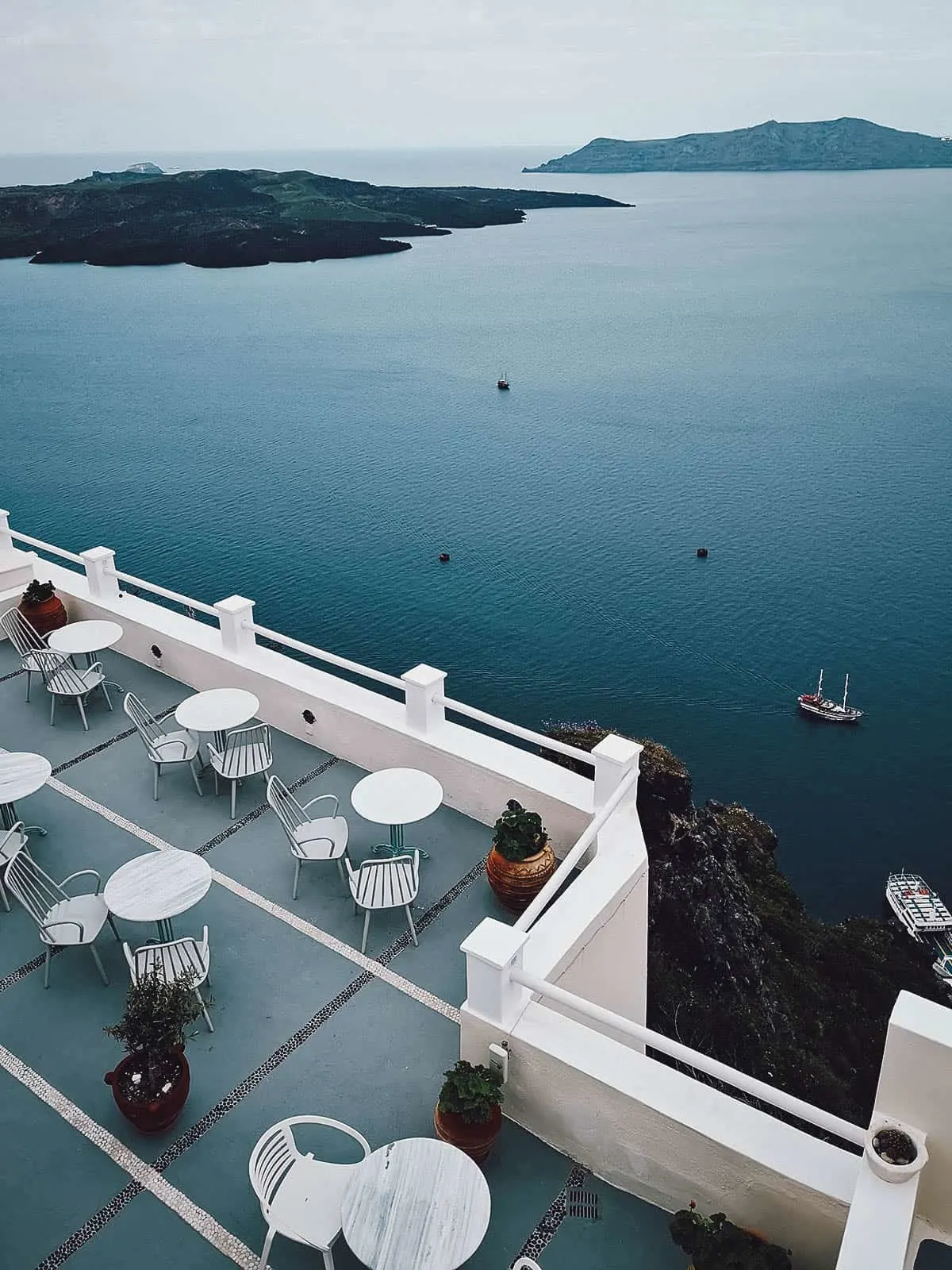 As described, Santorini's hotels always look so startlingly white. It's what many people come for so it's to their benefit to keep them that way.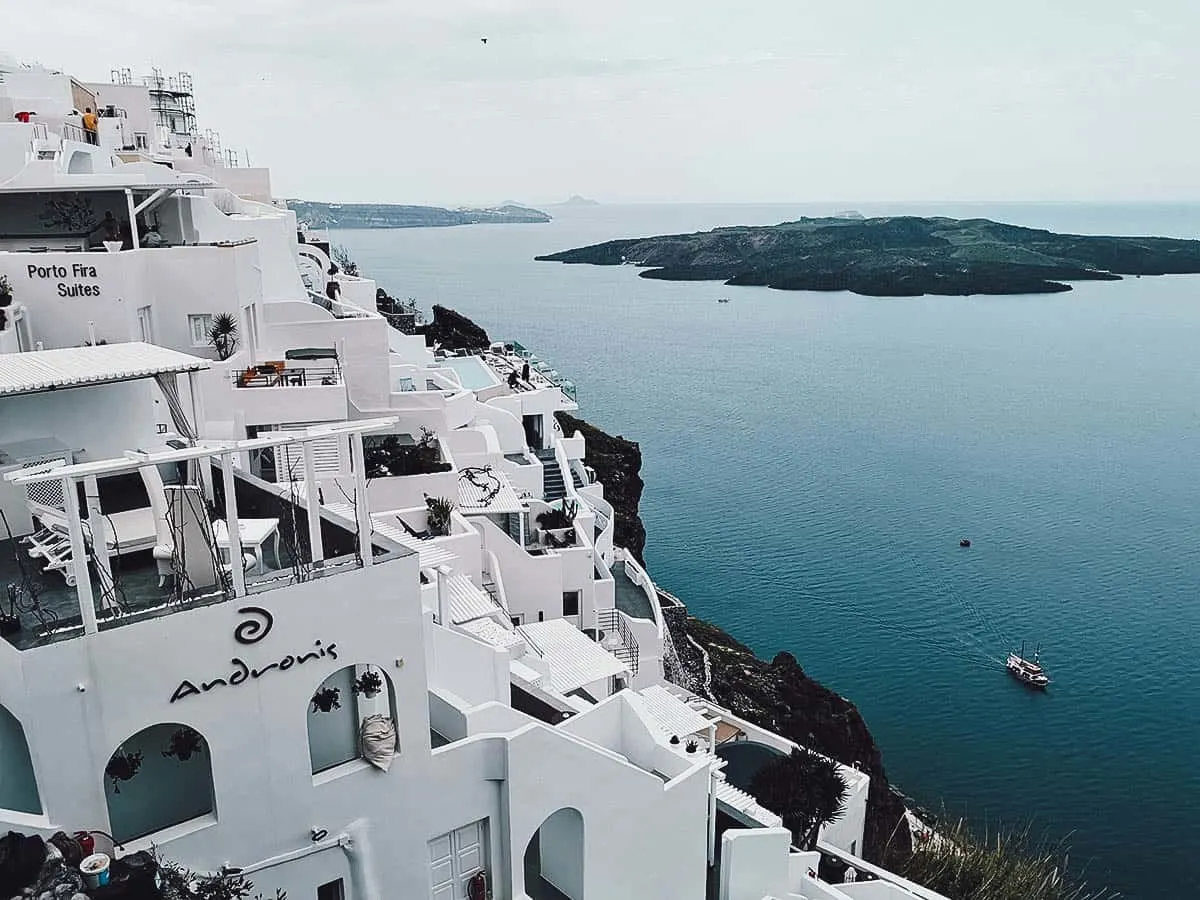 How cute is this guy? He's one of Santorini's famed donkeys, often used to carry tourists and their luggage from the port to Fira.
These poor donkeys have been used for many years to carry people up and down those nearly 600 zigzagging steps, causing them spinal injuries and saddle sores. Sad right? Thanks to pressure from social media, Greece has recently banned overweight tourists from riding Santorini's donkeys. I'm not sure how strictly it's enforced but it's a step in the right direction.
But regardless of your weight, I don't think people should be riding these animals at all when there's a perfectly good alternative. There's a cable car that can take you from the port to Fira and back for just EUR 5 each way. I believe a one-way donkey ride costs EUR 20.
I don't know if you can tell from this picture but these donkeys aren't that big. Give them a break and ride the cable car instead on your next trip to Santorini.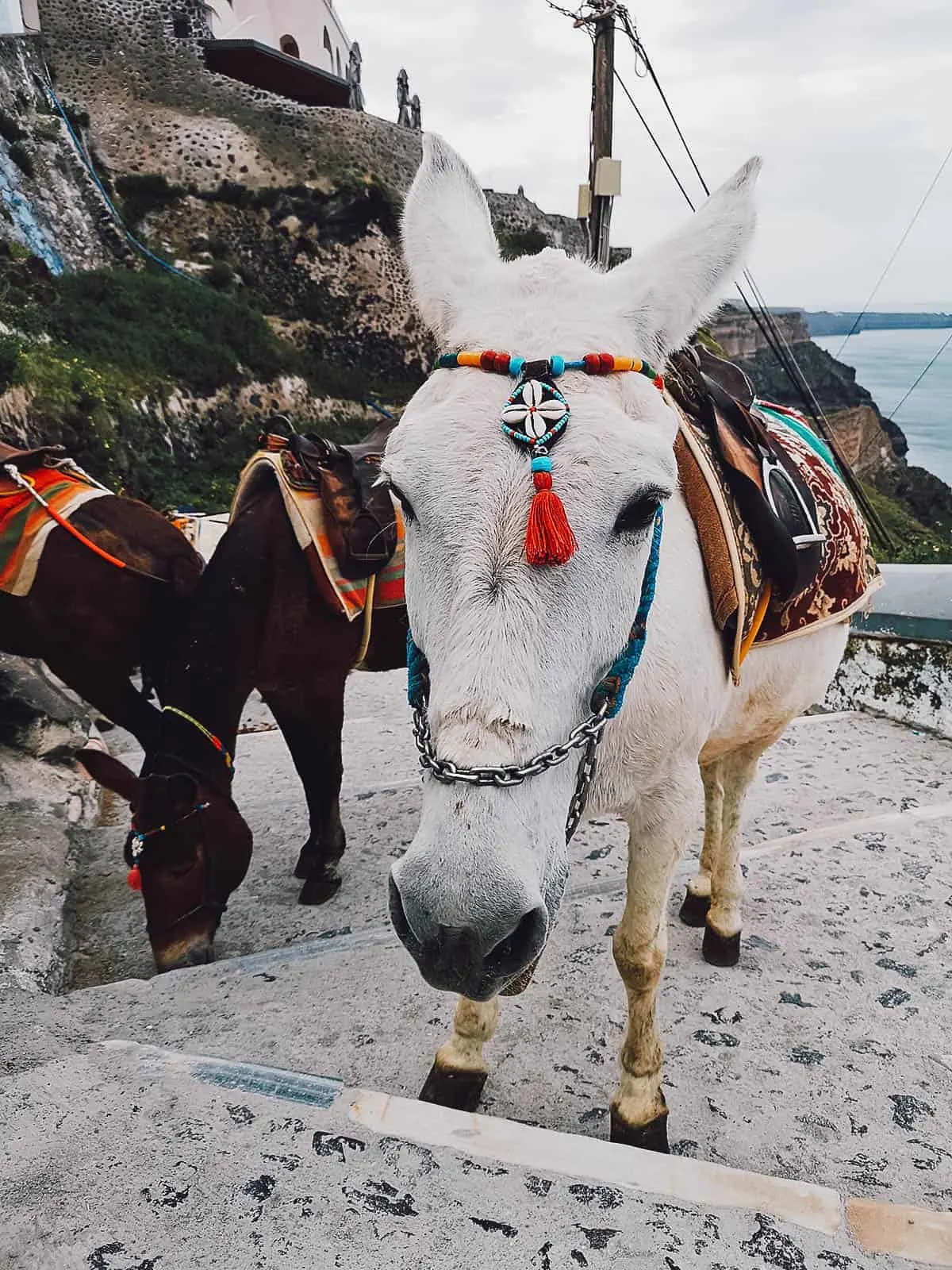 IMEROVIGLI
Imerovigli is considered by many to be the best place to stay on the island. It offers the same caldera views but it isn't as crowded as Fira or Oia. If you're in Santorini on your honeymoon, then this is a great place to stay.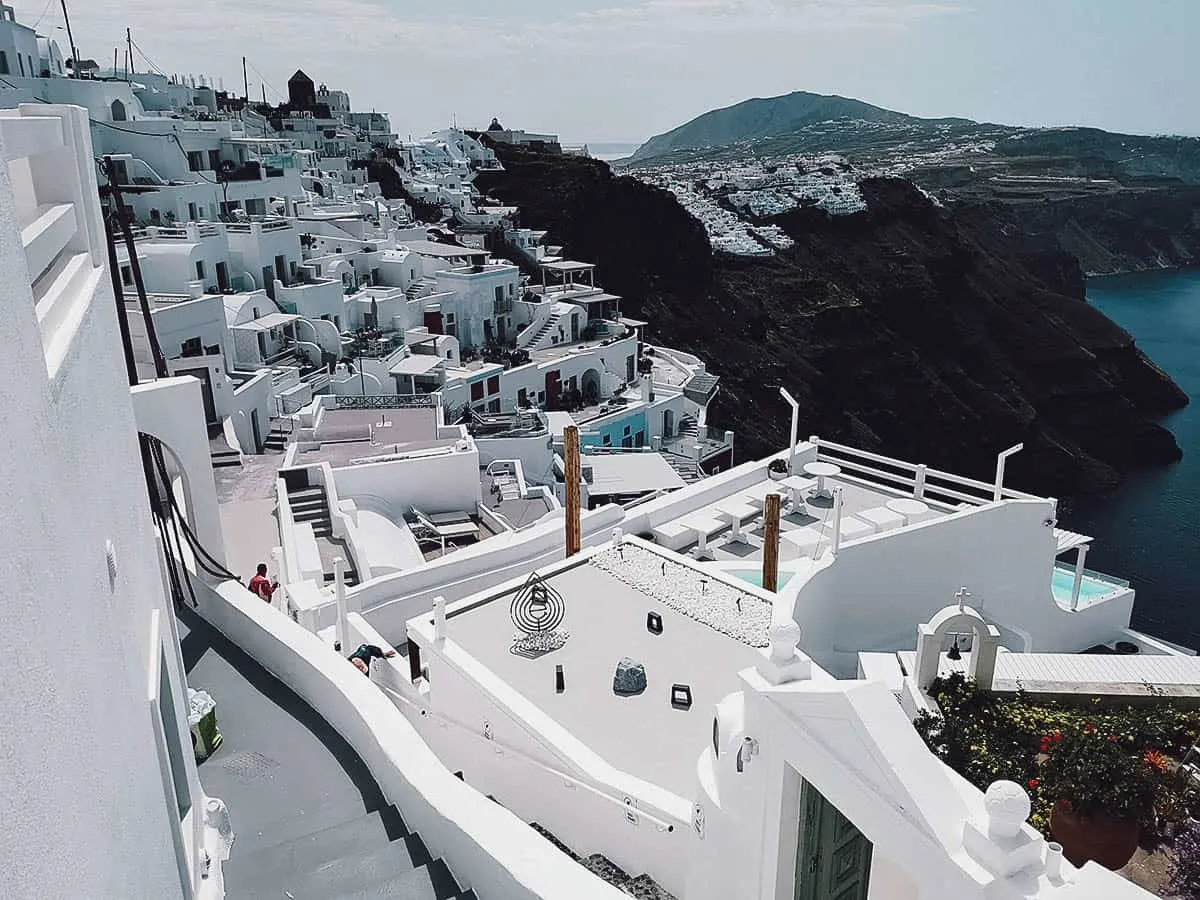 Pictured below is Skaros, a natural rock formation and collection of ruins that was once used for defensive fortifications. I didn't go but there's a path you can take to Skaros Rock from Imerovigli.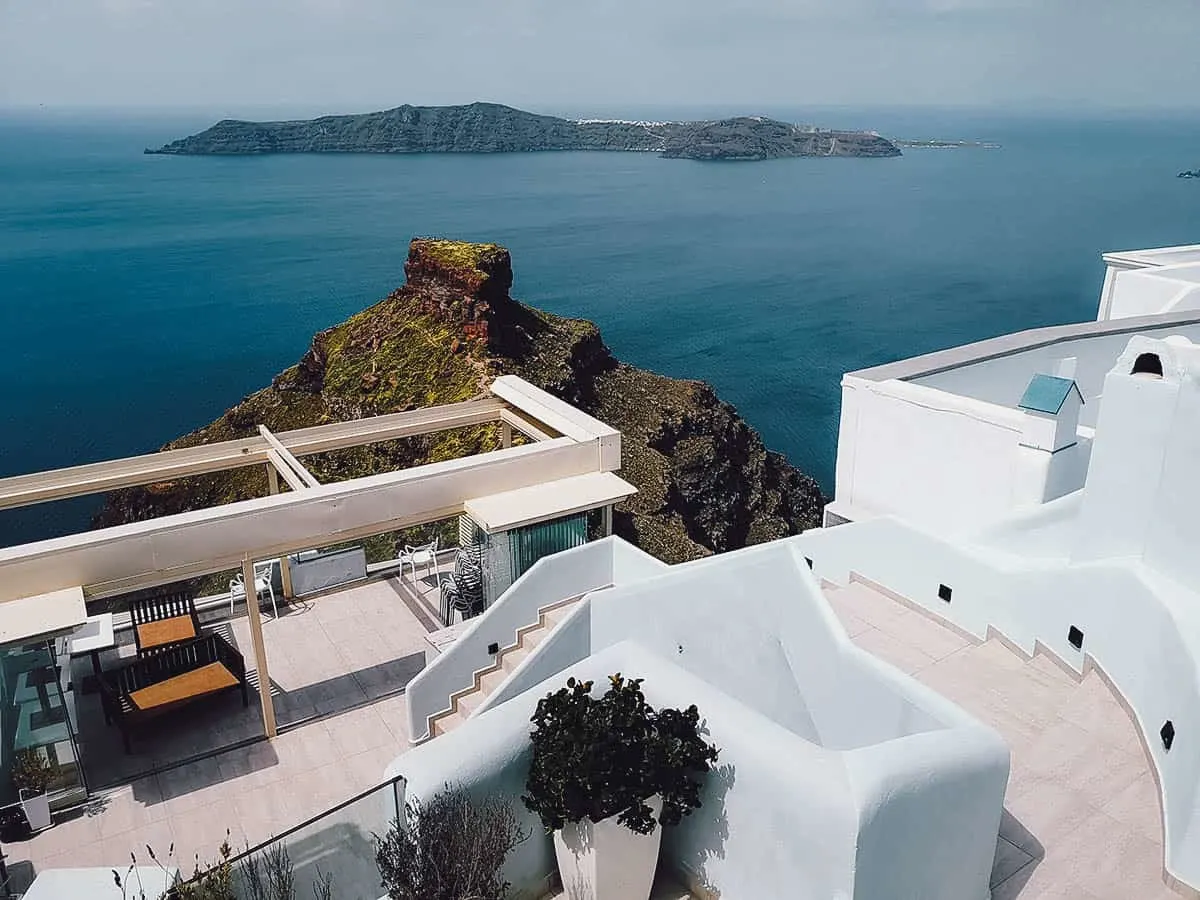 Caldera Views
When you start the hike from Fira, you'll pass through the towns of Firostefani and Imerovigli. After Imerovigli, you'll pass the lone resort here and there but it's pretty much all open space until Oia. There's no cover so it's best to do this hike with a hat and plenty of water.
See that cluster of white houses on the edge of the island? That's Oia. I've still got a long way to go!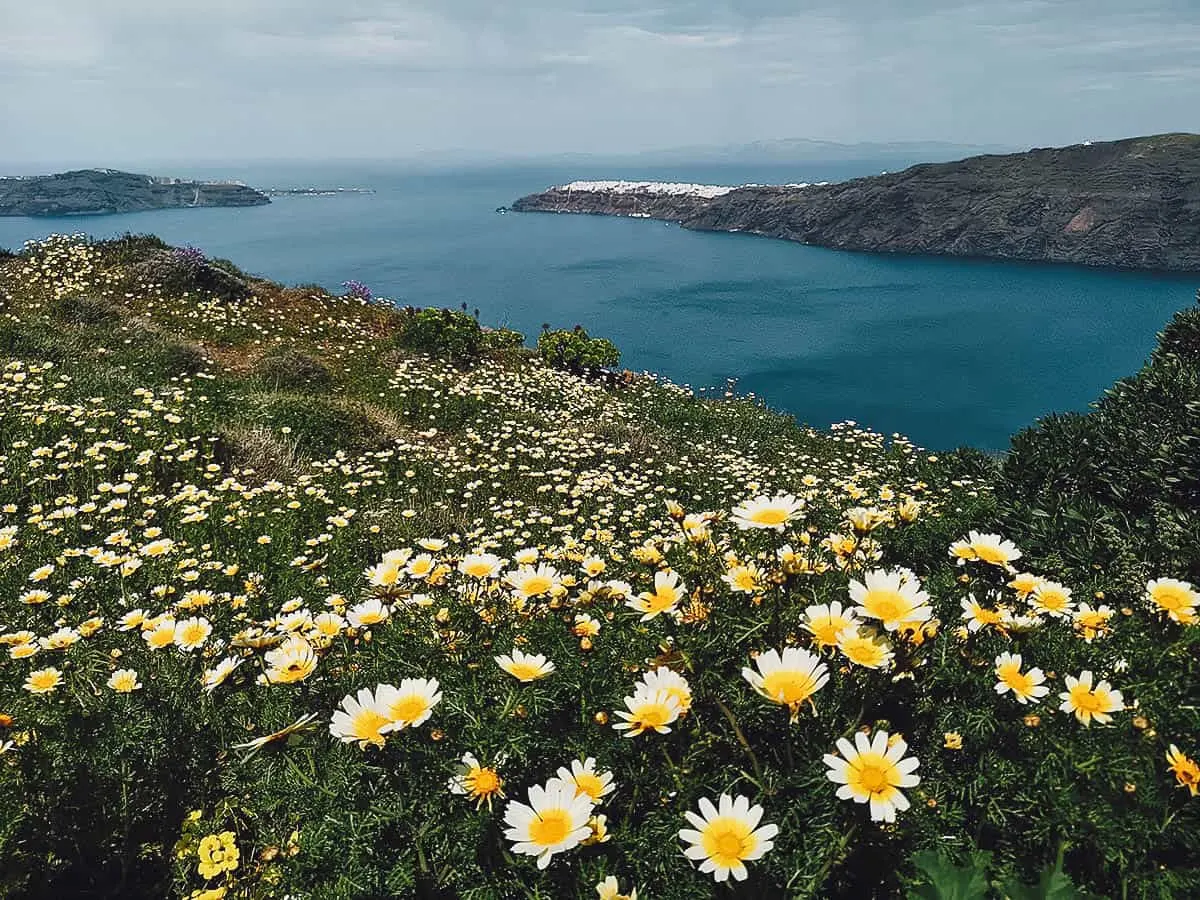 It was overcast for much of the morning but it was still hot. I didn't have any water so there were a couple of times when I felt a little lightheaded from the exposure. Again, it's wise to wear a hat and bring enough water when going on this hike.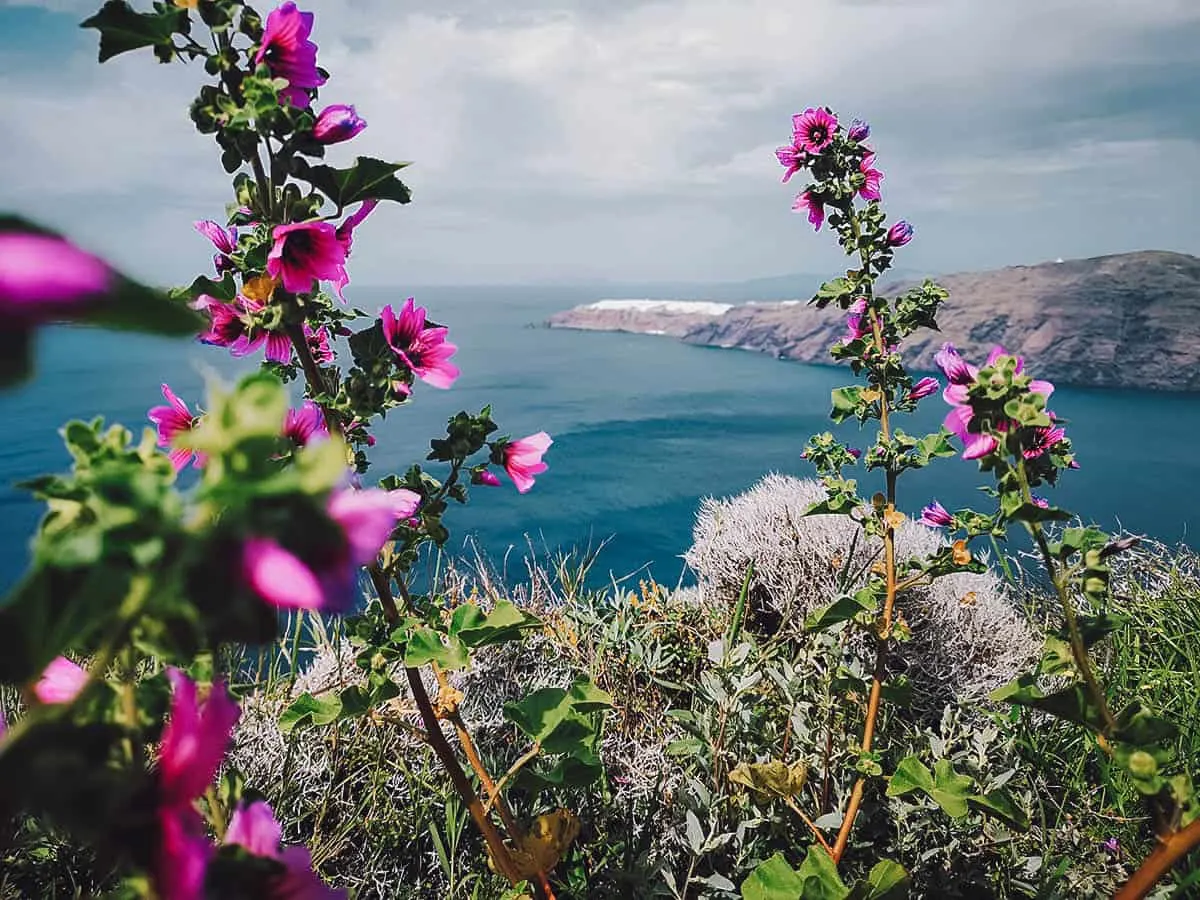 This way to Oia. Most of the walk is fairly even but there are some moderately hilly sections.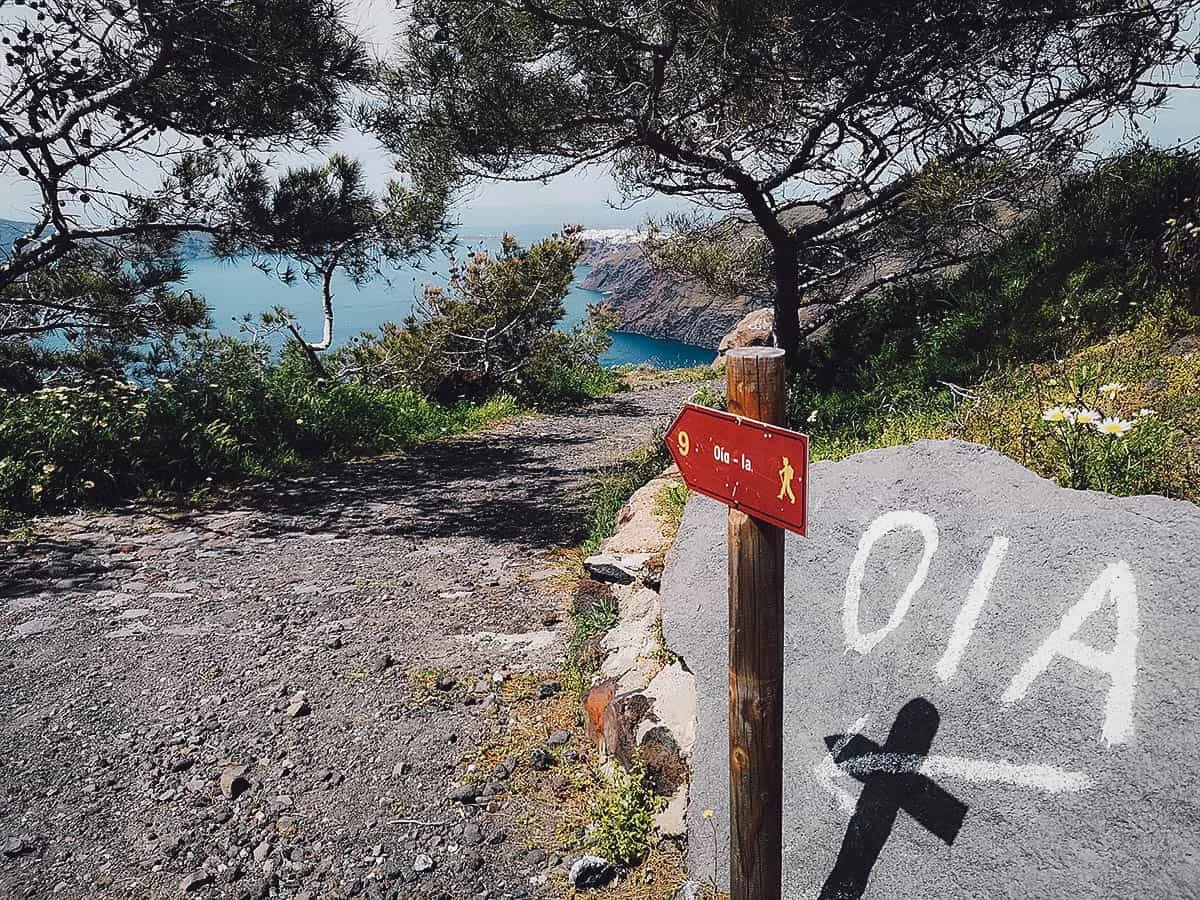 The views along this hike are spectacular. You're walking along the cliff's edge pretty much the entire way. There's no barrier in some parts and the sandy soil is often loose so don't walk too close to the edge.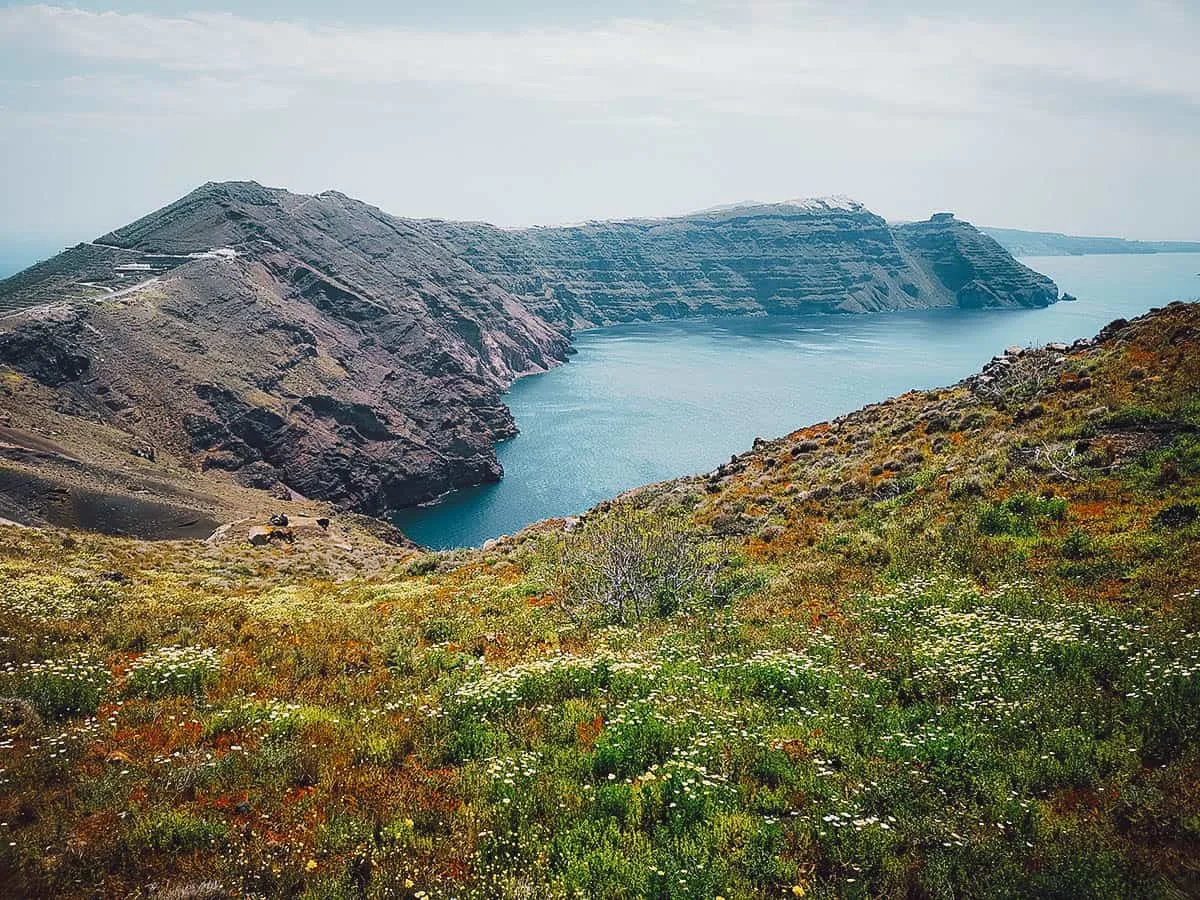 Even the lichen in Santorini is beautiful.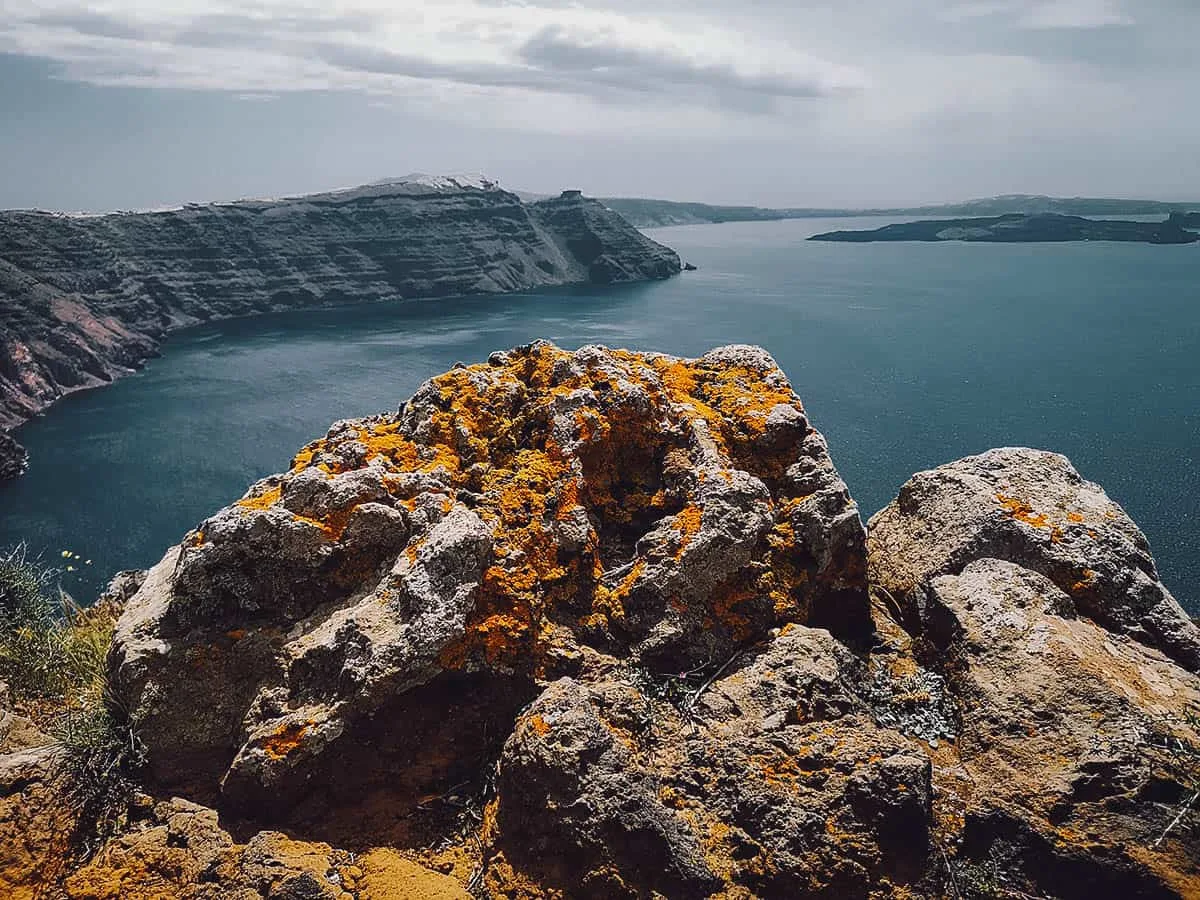 You'll know you're nearing Oia when this small white chapel comes into view.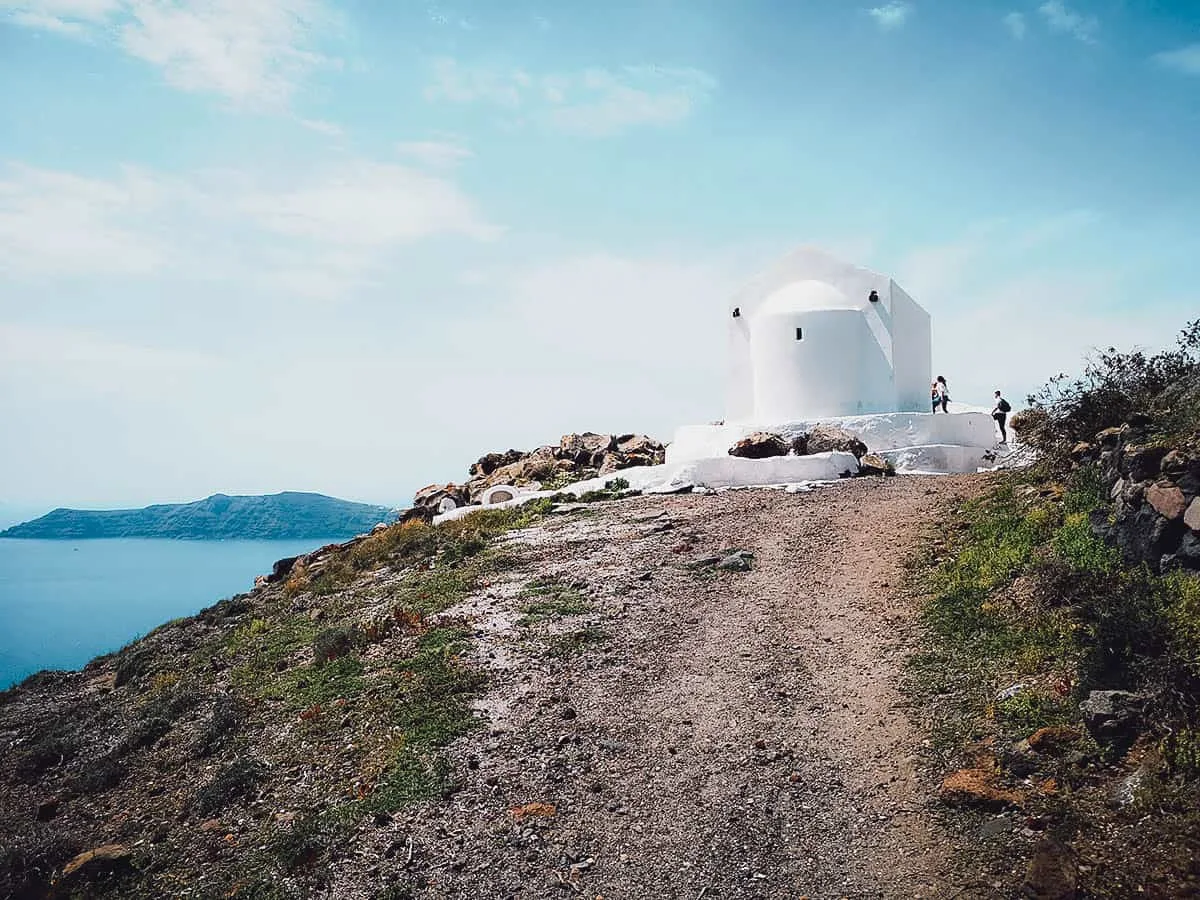 As you can probably tell from the dirt marks, this arch is a popular picture taking spot. From here it's just a hop, skip, and a chasse to Oia. I made it!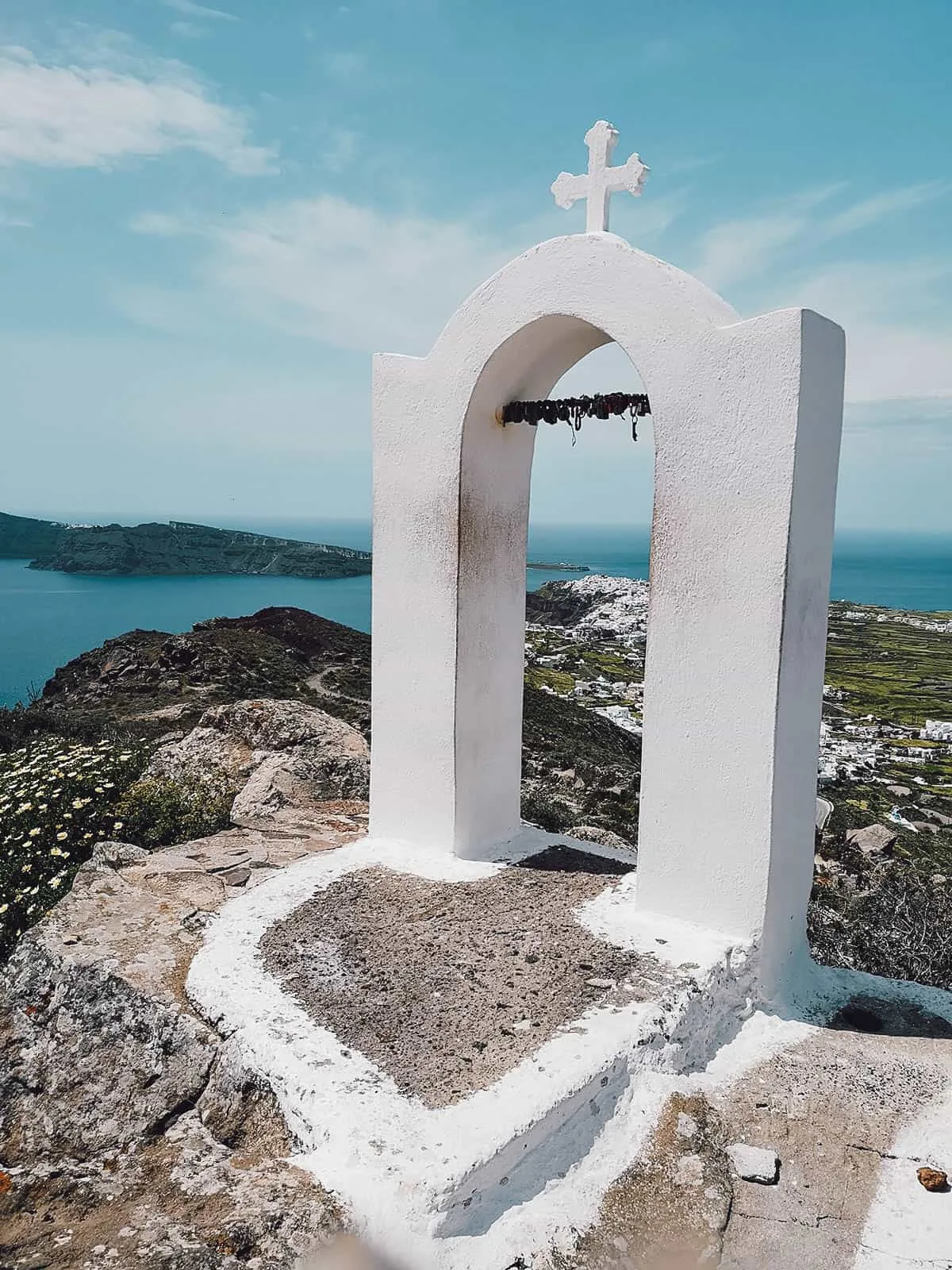 OIA
The best welcome to Oia I could possibly as for. Isn't he cute? This was probably my favorite picture from this trip.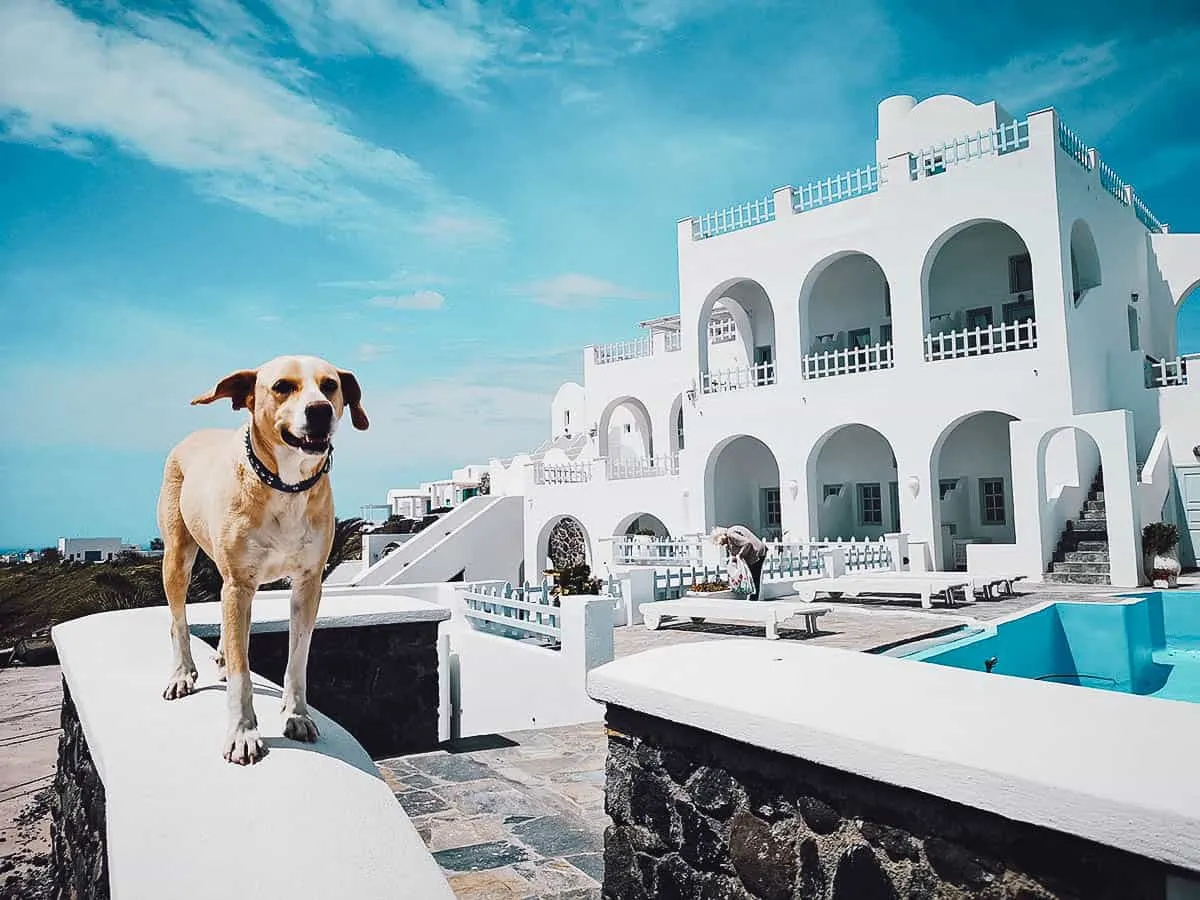 These caldera towns look fairly similar at first glance, but only when you look closer will you notice the differences. The other towns already look strikingly white, but Oia even more so. It looks like it's freshly painted everyday!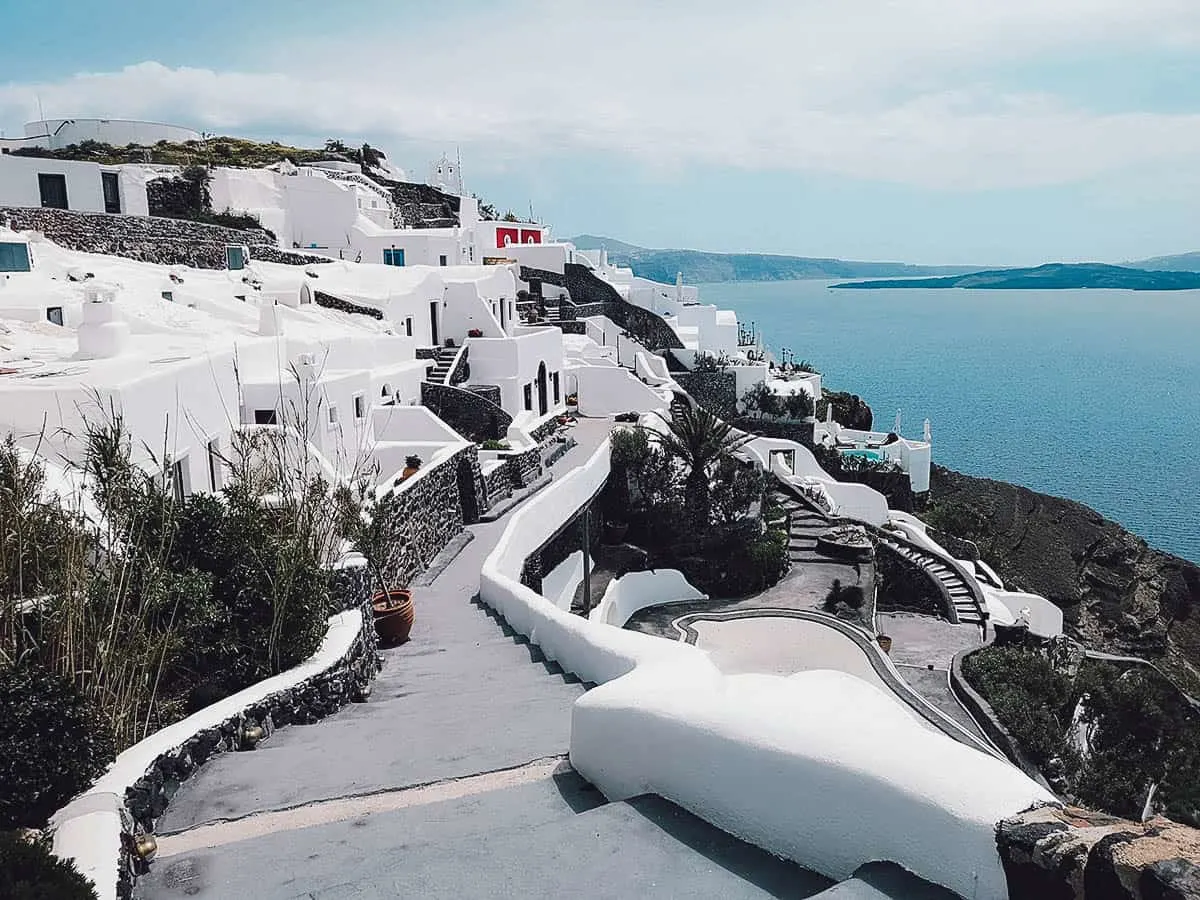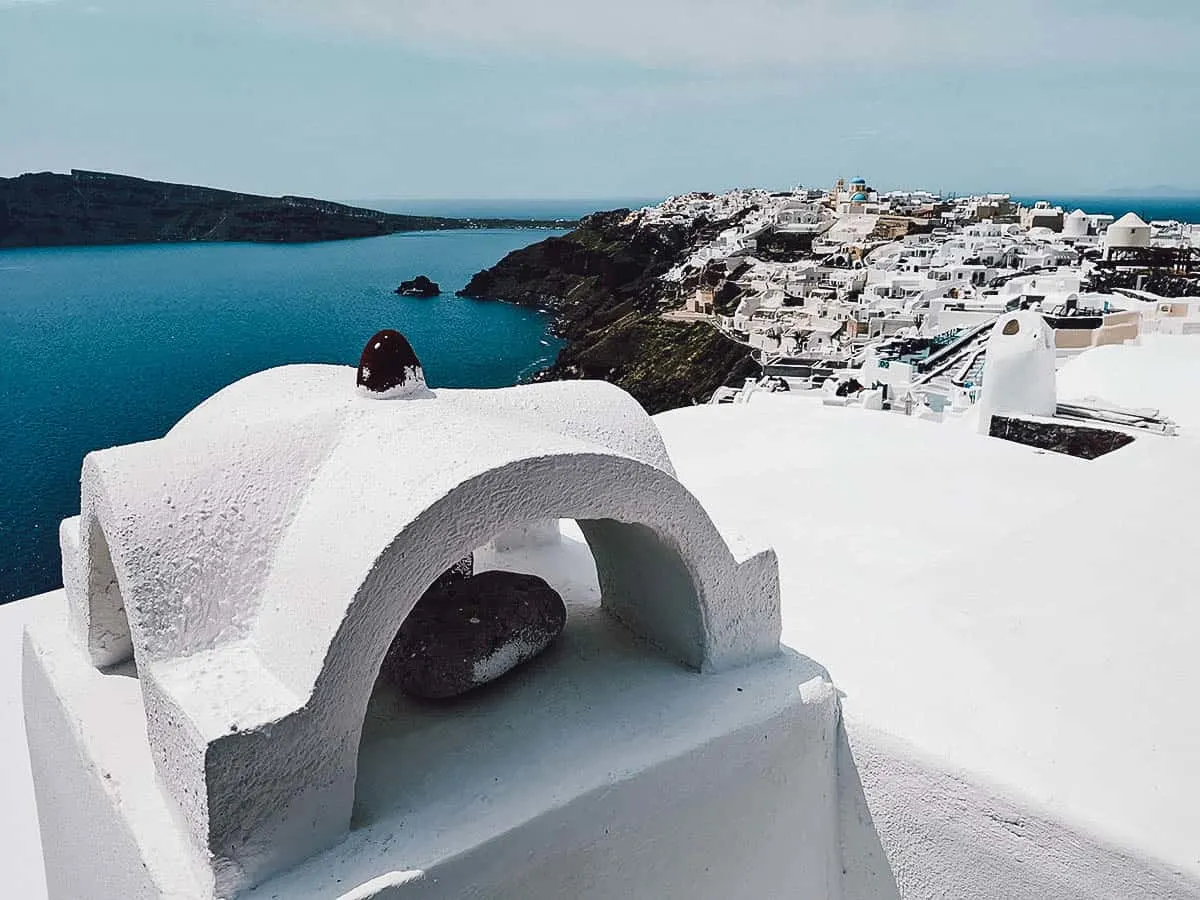 Our AirBnB in Megalochori had a pool as well but it was still too cold to use. It must be amazing soaking in these things with an ice cold beer in the summer.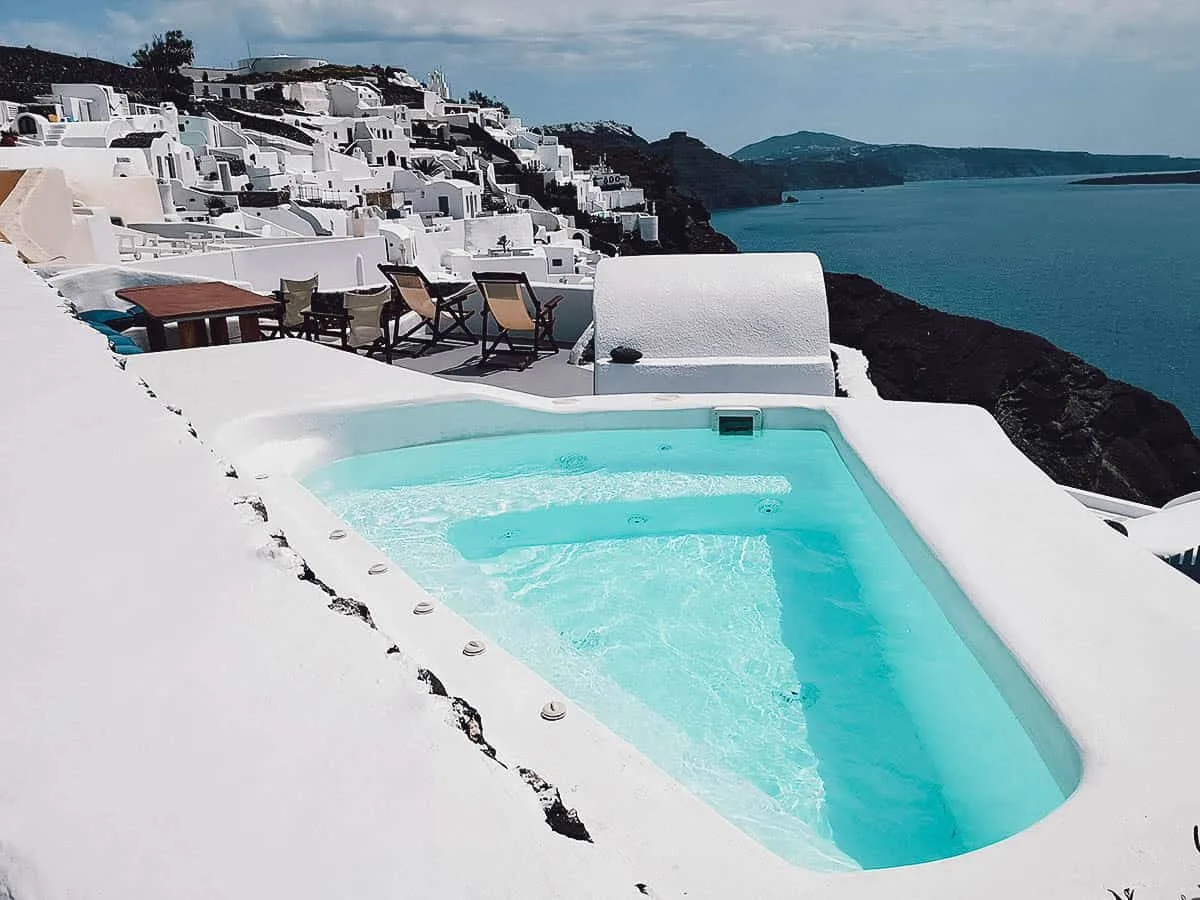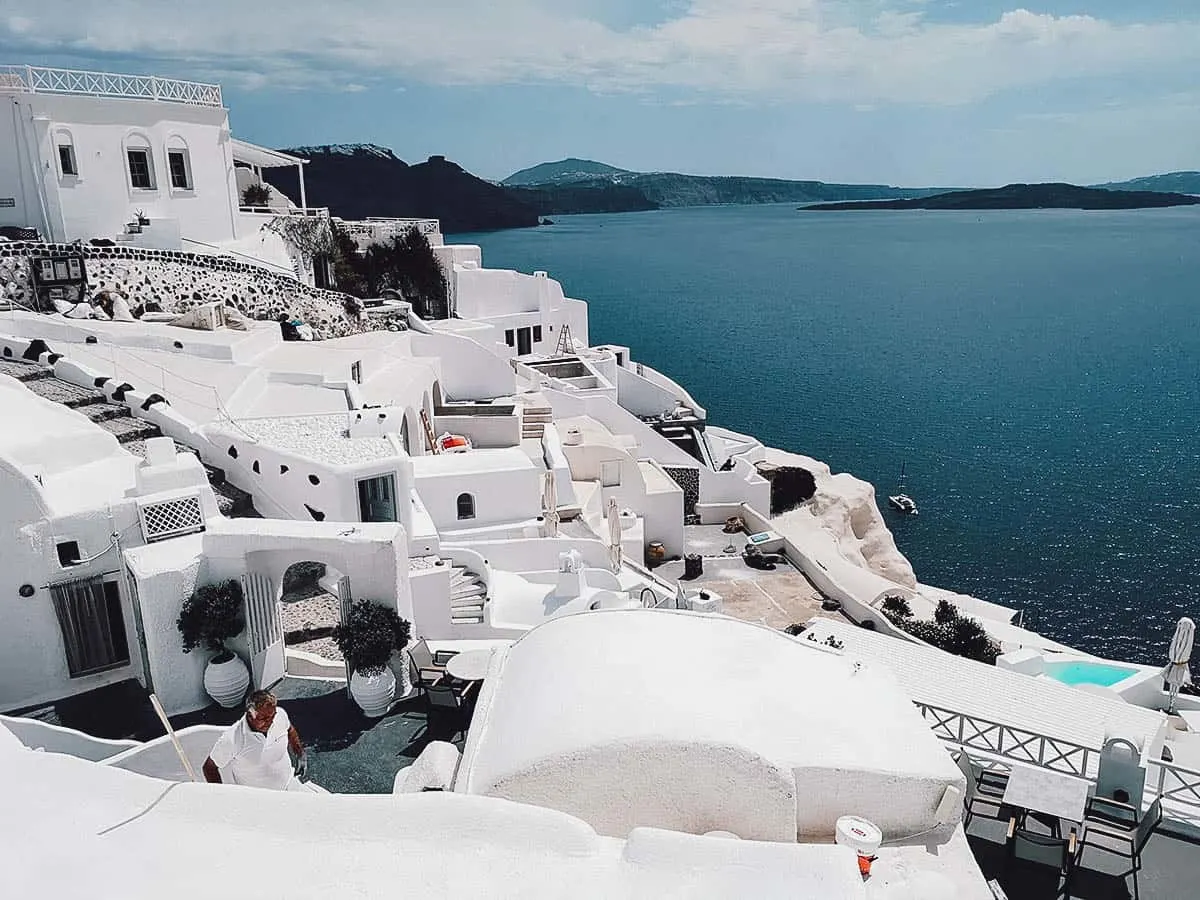 Oia felt a lot more exclusive as well. In Fira, I was free to walk around anywhere but in Oia, there were "guest only" signs everywhere. I read that Oia has the most expensive hotels not just in Santorini, but in all of Greece.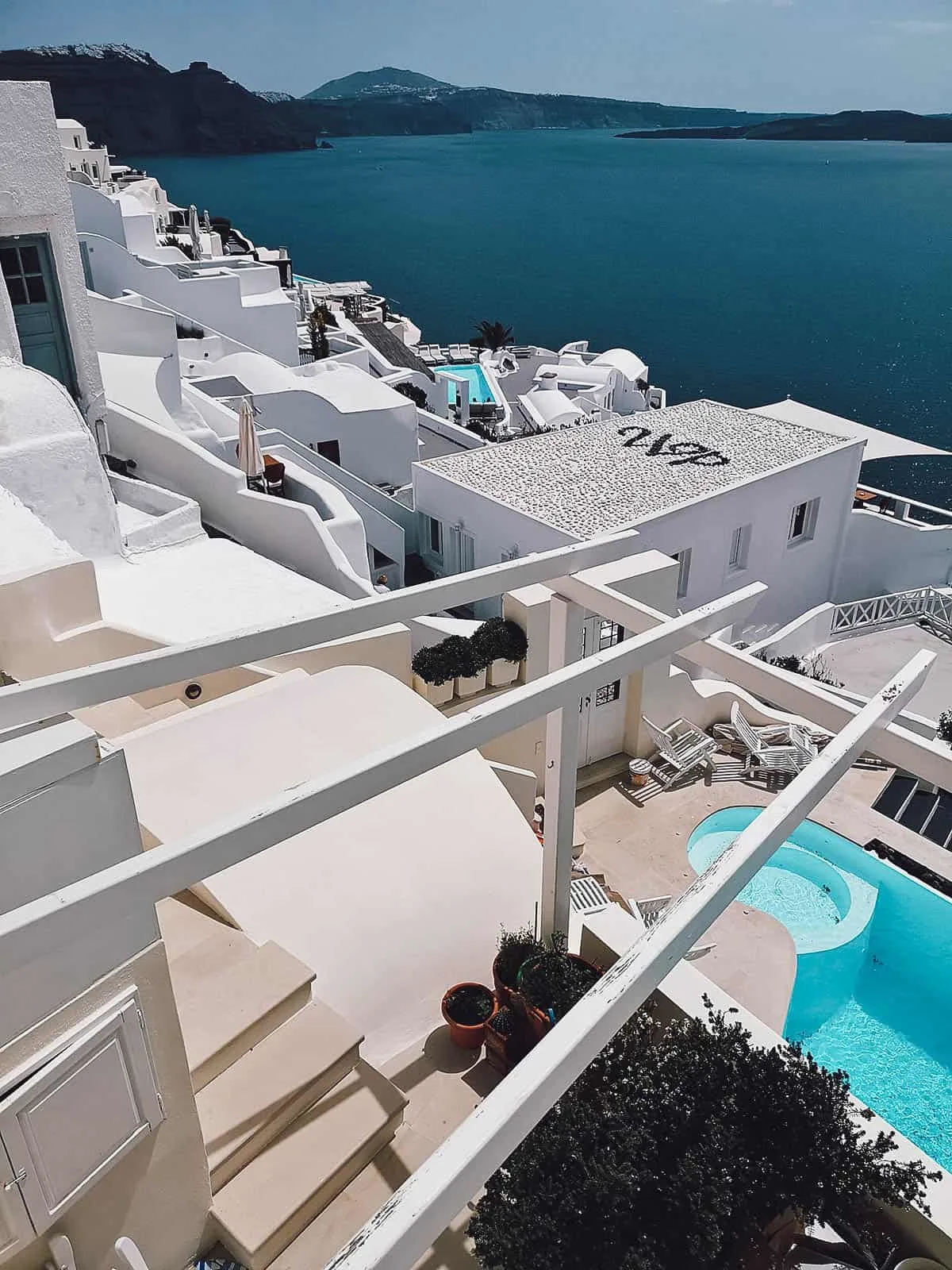 Oia is quieter than Fira but it gets mobbed everyday at sunset. Situated at the northwestern most tip of the Island, it offers the best sunset views on the island.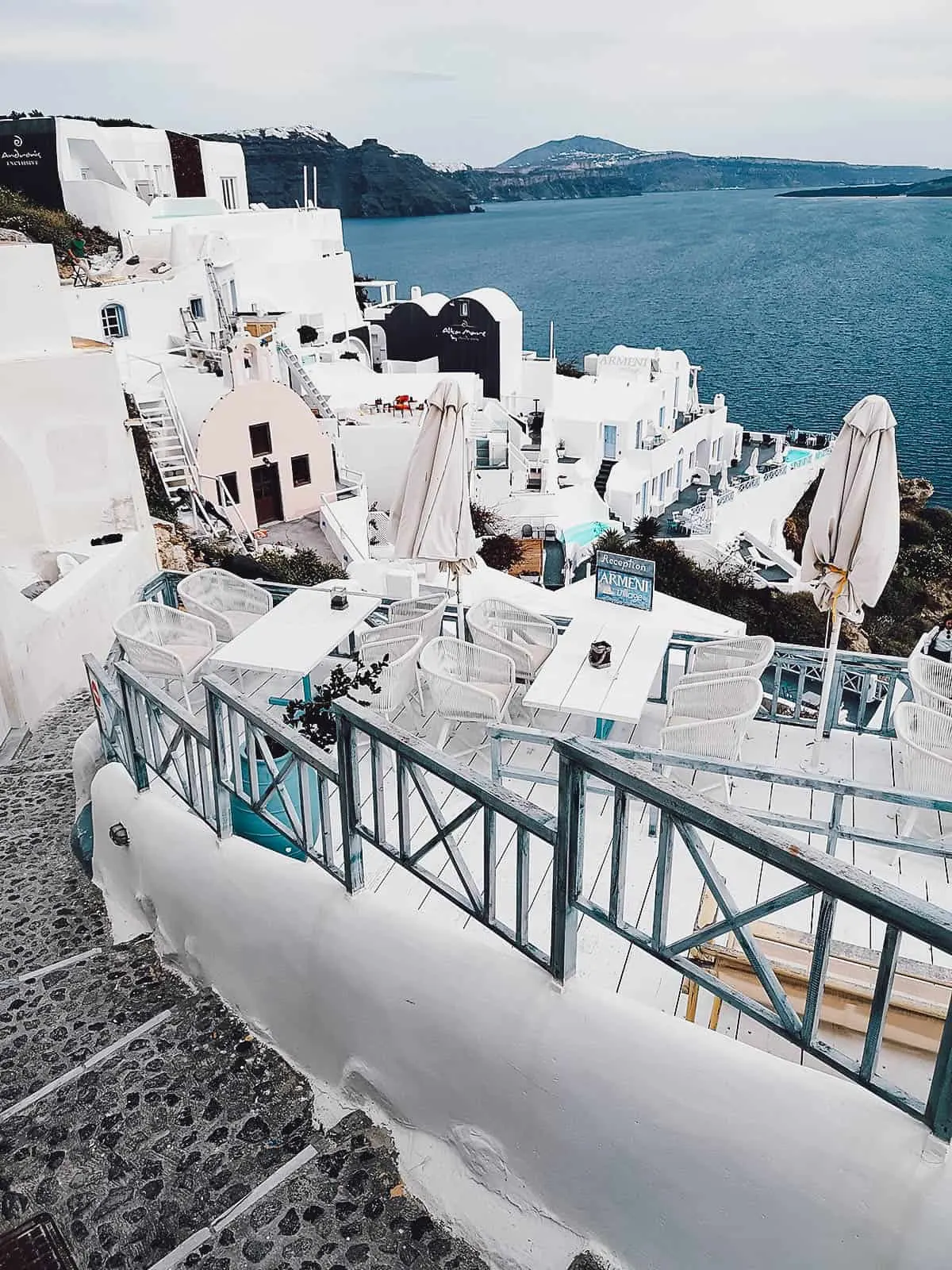 If you've got money to burn and want a truly exclusive stay in Santorini, then Oia is probably the perfect place for you.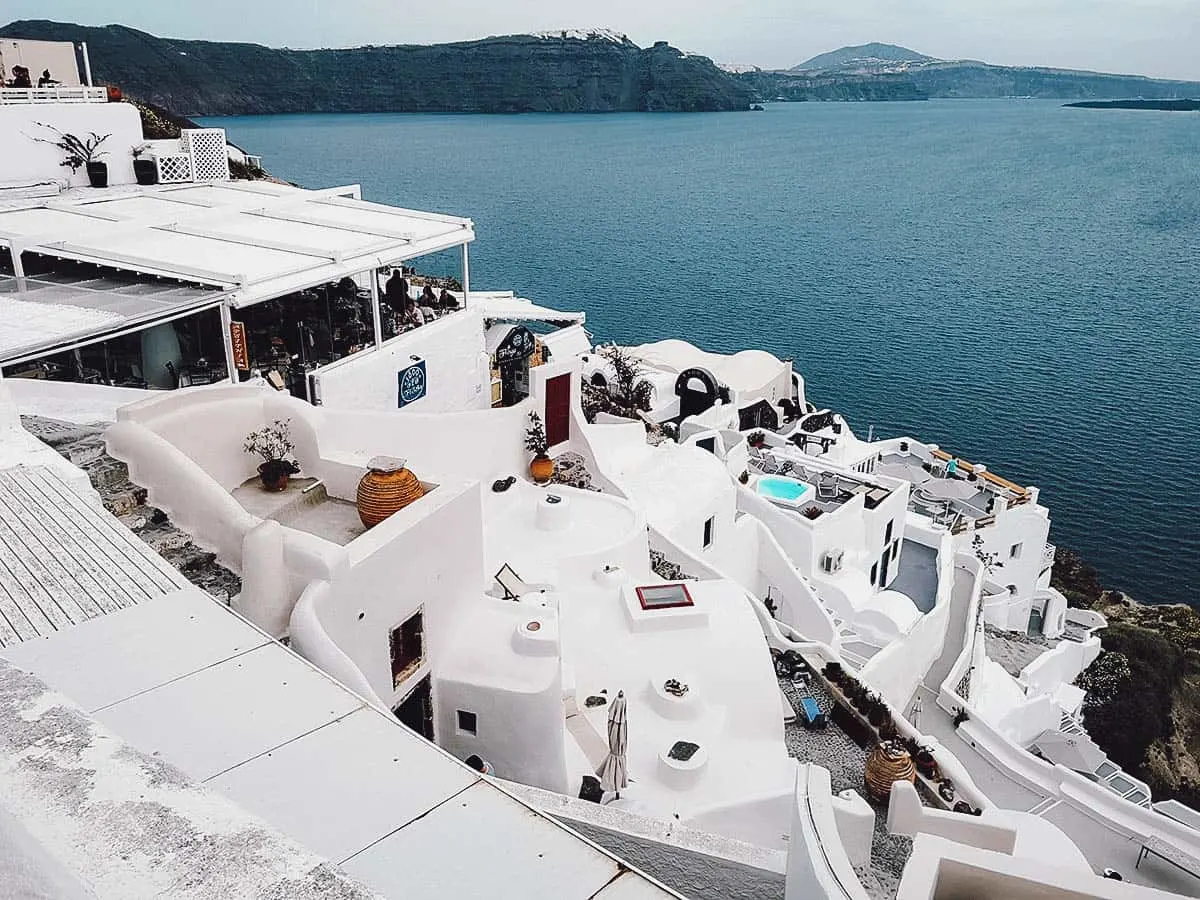 AMOUDI BAY
Located below Oia, Amoudi Bay is perhaps the best place on the island to watch the sunset over a fresh seafood dinner. But to get there, you'll need to walk down almost 300 steps.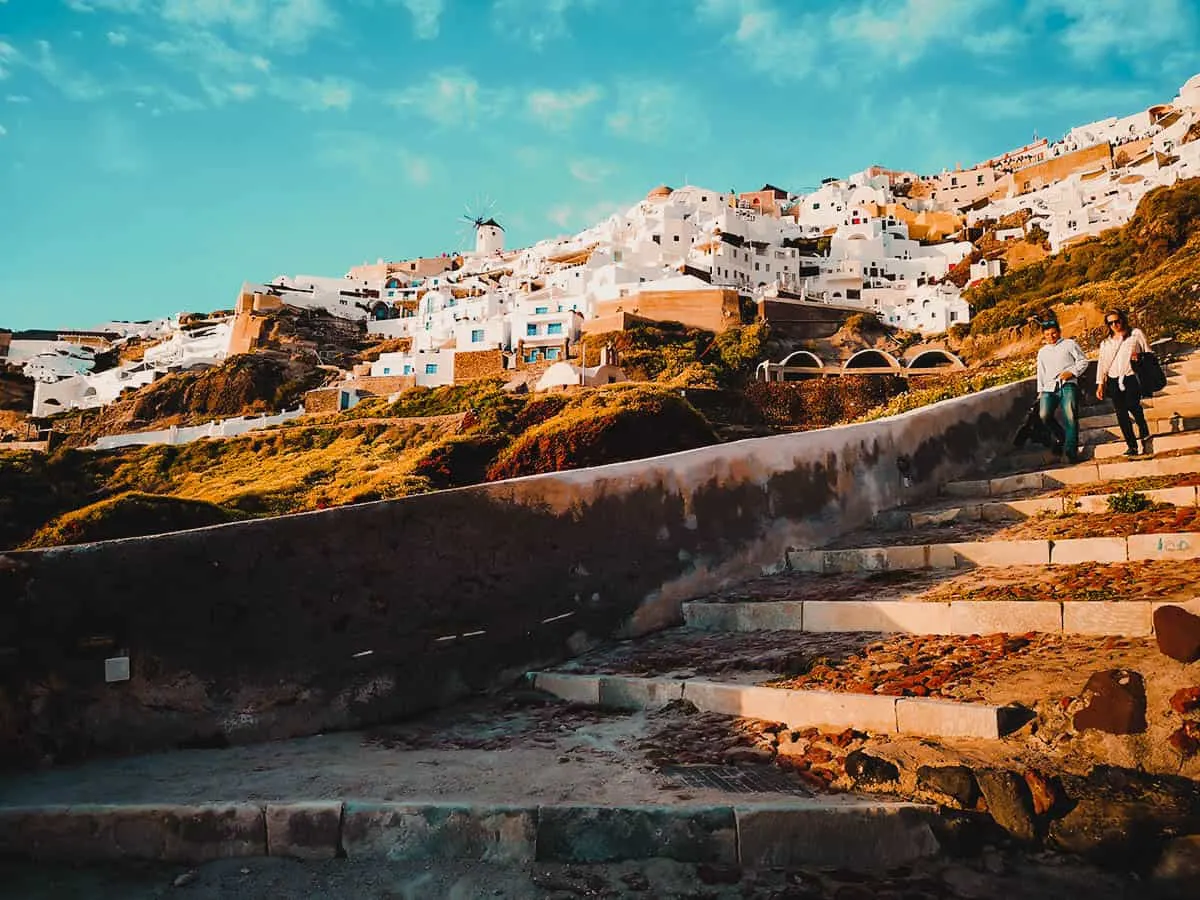 300 of these very wide steps sounds like a lot, but it really isn't when you have this to look at. Oia's bone white houses juxtaposed against these red volcanic rocks was an absolutely breathtaking sight.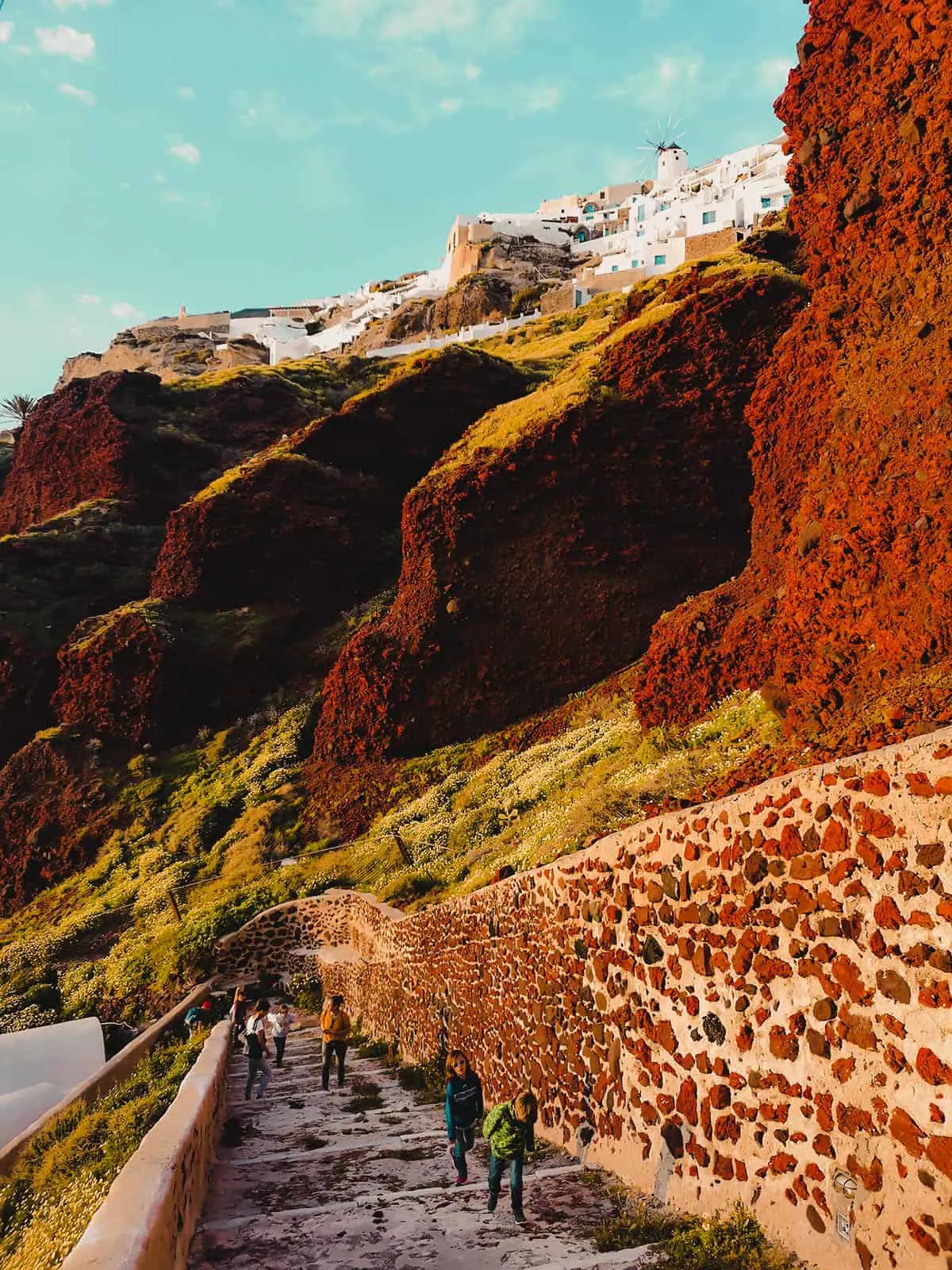 Amoudi Bay is a small port with about six or seven waterfront restaurants serving some of the best Greek food and seafood in Santorini. You'll be seated by the water's edge and have a clear view of the horizon, not to mention Oia bathed in the golden glow of sunset. We had one of our best meals in Santorini here, at Ammoudi Fish Tavern.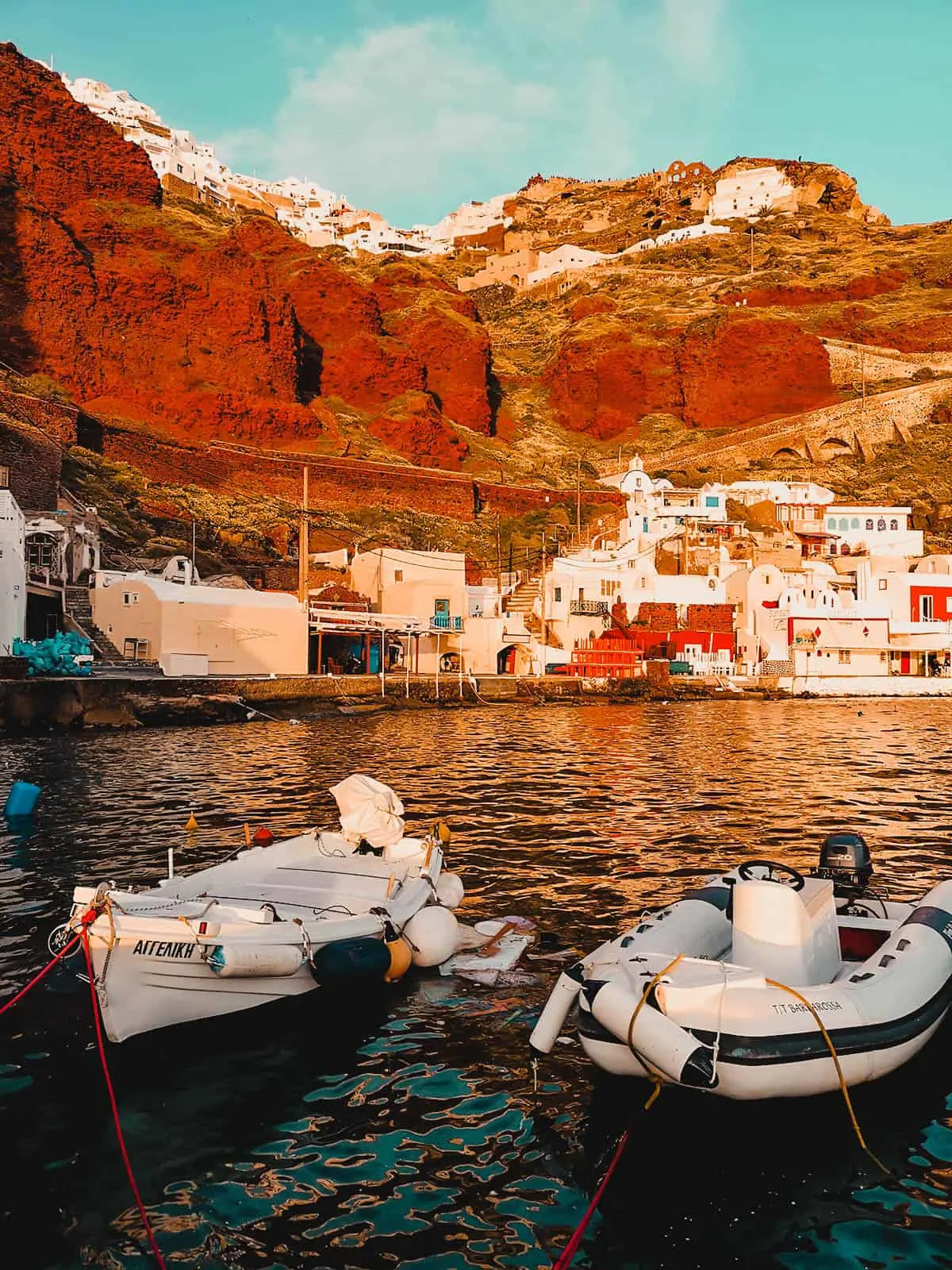 FINAL THOUGHTS
To be honest, I had lukewarm feelings about going to Santorini. We had hyped it up so much over the past decade that there was a good chance the actual trip would lead to disappointment. On top of that, I had often read how touristy the island had become, leading to worries that the Santorini of today was virtually unrecognizable from the Santorini Ren visited many years ago.
While it's true that Santorini is more touristy now than ever, that didn't detract from the island's impact on a first-time traveler like me. I was in awe the moment we drove into Megalochori and saw the cycladic houses for the first time. And those houses were in inland Megalochori that didn't even have caldera views.
The moment I discovered Fira and its view of the caldera and Aegean Sea, the debate was over. Santorini wasn't just one of the world's most beautiful islands. It was the most beautiful island in the world, for me. And that's coming from a Filipino who grew up around thousands of gorgeous islands himself!
I think what makes Santorini so uniquely beautiful is its combination of natural and manmade beauty. Every other island I had been to only had the former. Santorini has both. Its white cycladic houses and caldera views are truly a breathtaking sight and not something you can find just anywhere in the world.
I think this was one of the few places we've been to where all I had to do was press the camera's shutter to come up with a decent photo. Santorini is so incredibly photogenic. I hope you enjoyed looking at these pictures as much as I enjoyed taking them.
Disclosure
The AirBnB link in this post is a referral link, meaning we'll get a small amount of credit if you make a booking at no extra cost to you. We receive no monetary payments, just credit for use on our own bookings. Thank you!