Santorini is one of the world's most beautiful islands. Its whitewashed houses overlooking the caldera is a sight to behold, especially at sunset when the island is bathed in hues of orange and gold.
Being such a famous tourist destination, most of us have seen pictures of its cycladic houses and churches topped with cobalt blue domes. But what many of us may not know, is that Santorini is home to a thriving wine industry that's been producing some of the world's best wines since ancient times.
I'm not a big wine drinker myself but Ren and her family are, so we booked this fantastic tour that took us to three of the island's most celebrated wineries. This is what I learned.
Save This on Pinterest!
No time to read this now? Click on the red save button and pin it for later!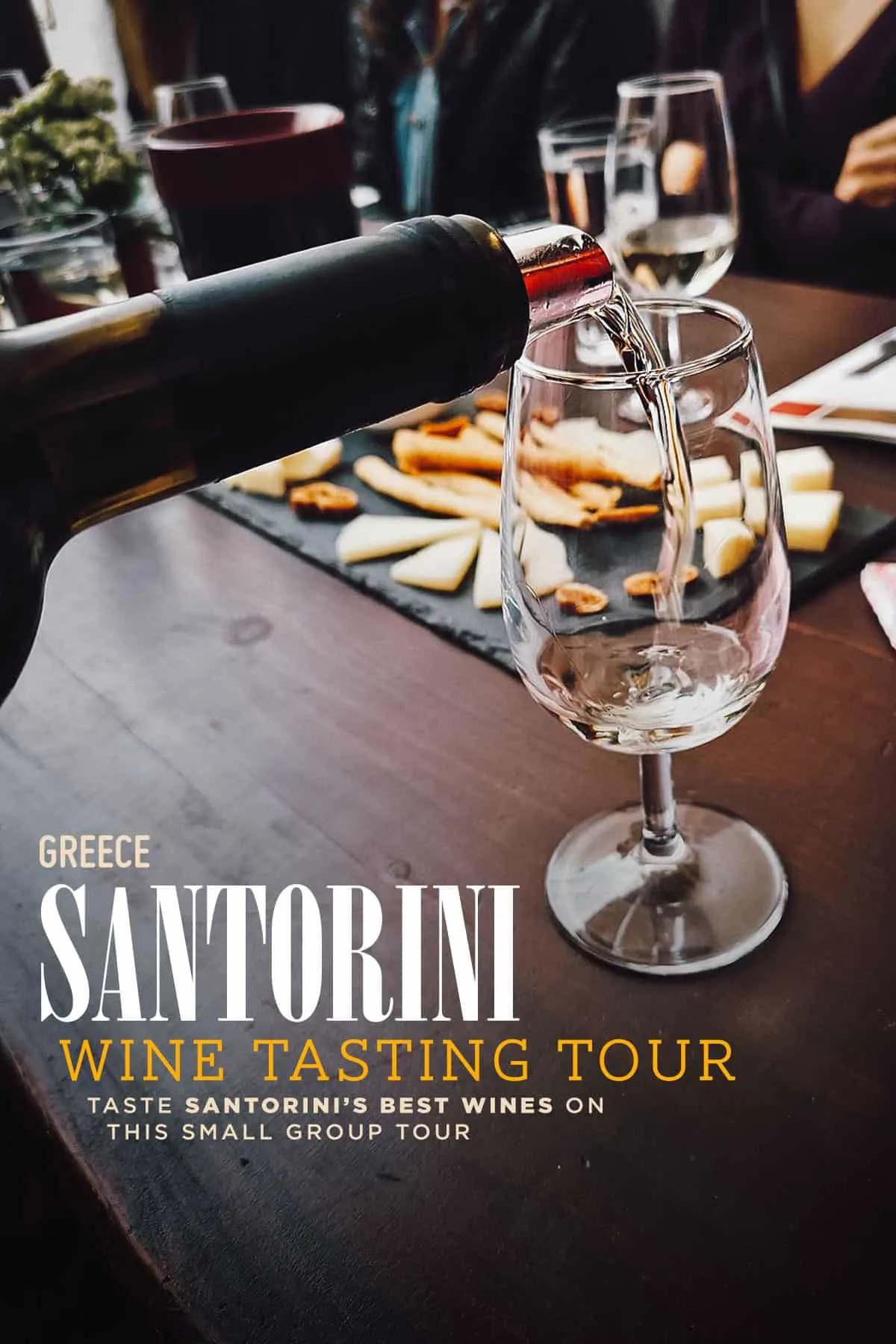 A BRIEF HISTORY OF WINEMAKING ON THE ISLAND
The vineyards of Santorini are the oldest in Greece and among the oldest in the world. They've been producing wine since ancient times – some estimates dating back to over 3,500 years – but it wasn't until the Venetians seized control of the island in the Middle Ages did its wine industry take off.
Thanks to their extensive trade network, the Venetians began exporting Santorini wine throughout the Mediterranean and Europe. It was prized for its ability to withstand long sea voyages due to its sweetness and high alcohol content.
Today, Santorini is recognized as one of the most important wine-making regions in the world, producing a variety of reds and whites none more prized perhaps than its Vinsanto wines.
WHAT MAKES SANTORINI WINES UNIQUE?
Explore Santorini's vineyards and the first thing you'll notice are its vines shaped like wreaths. They're grown in the "koulara" method, meaning they're woven into circles to form a basket with the grapes contained inside the ring. This is to protect them from the island's strong winds and harsh summer sun, without which typical vines would have no chance of survival.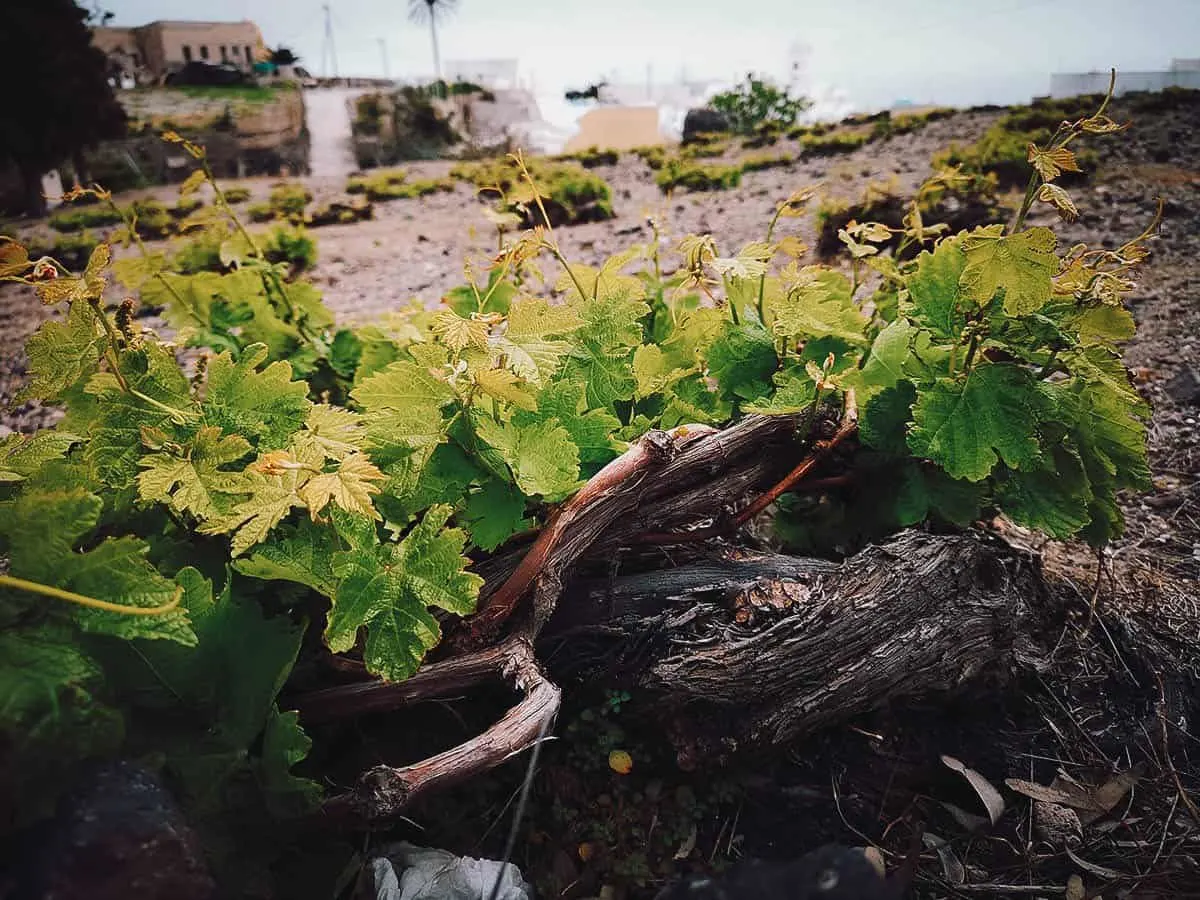 But as characteristic to Santorini as these vine baskets are, they tell only a small part of the story. It's the island's volcanic soil that's largely responsible for the unique character of its wines.
A volcanic eruption around 1600 BC left a mixture of volcanic ash, pumice stone, and pieces of solidified lava and sand which together make up Santorini's soil. It contains little organic matter but is rich in essential minerals, creating wines with a naturally low pH level and high acidity.
In addition, the soil's lack of clay makes the vines naturally immune to Phylloxera, an aphid-like insect that destroyed many of Europe's vineyards in the late 19th century. It lives and feeds on grapevines, damaging its roots which ultimately leads to the plant's death.
The island's lack of rain also contributes to the unique character of its wines. From what I understand, Santorini vineyards have no irrigation. The vines get moisture from rains that fall mostly in winter and seep through the porous soil deep into the earth. There the moisture stays till it's drawn out by the heat of summer to nourish the vines. Apart from these sporadic rains, the only other source of water comes in the form of salty sea fog that envelopes the island at night, boosting the grapes' minerality and adding a briny character to the wine.
The island's best wines are made with its flagship Assyrtiko grape, a highly acidic grape often referred to as a "white grape in red's clothing" due to its high alcohol content and propensity to produce full-bodied wines.
WHAT ARE SANTORINI'S BEST WINES?
Though we did try a couple of reds on this tour, it seems that Santorini's most prized wines are its Vinsantos and whites. Its whites are made mostly from Assyrtiko, Athiri, and Aidani white grape varieties, with the island's heritage Assyrtiko grape making up over 70% of Santorini's vineyards. Red grape varieties include the Mandilaria and Mavrotragano.
To be honest, I don't know much about wine so I was confused by the different varieties and classifications. It seems that wines are classified according to the type of grape(s) used and the method in which they're produced.
I'm not qualified to get into it in detail, but based on what we learned on this tour, among the island's most sought after wines are the Assyrtiko, Santorini, Nychteri, and Vinsanto varieties.
WINE TASTING TOUR
We went on a 4-hr small group tour that took us to three of the island's best wineries. I don't know what the maximum is but there were just eight people on our tour. It costs EUR 140 per person and can be booked through Get Your Guide.
Estate Argyros
After being picked up by van from our AirBnB in Megalochori, we proceeded to our first winery – Estate Arygros. Estate Arygros was established in 1903 and is now under its 4th generation of winemakers.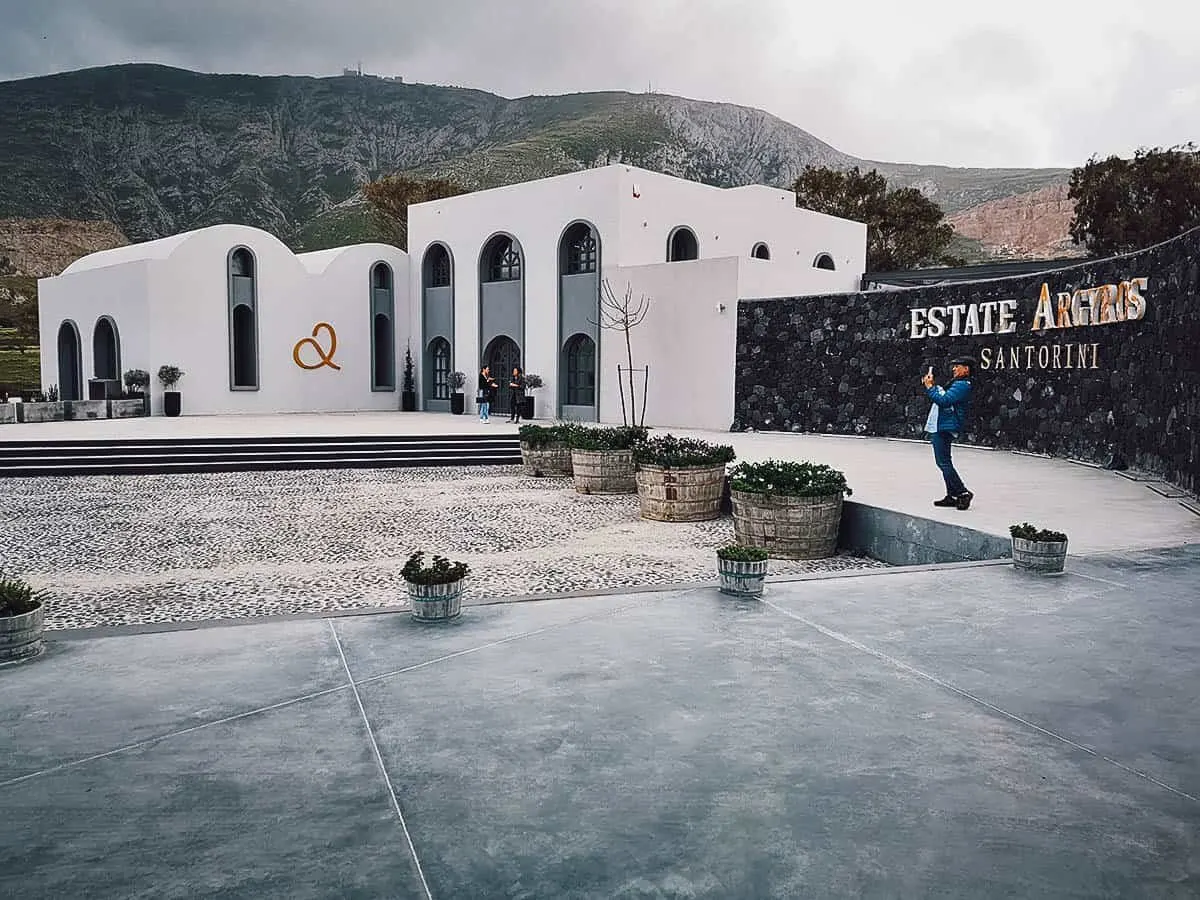 We were greeted by Estate Arygros' tour guide who gave us a brief description of Santorini's climate and volcanic soil conditions.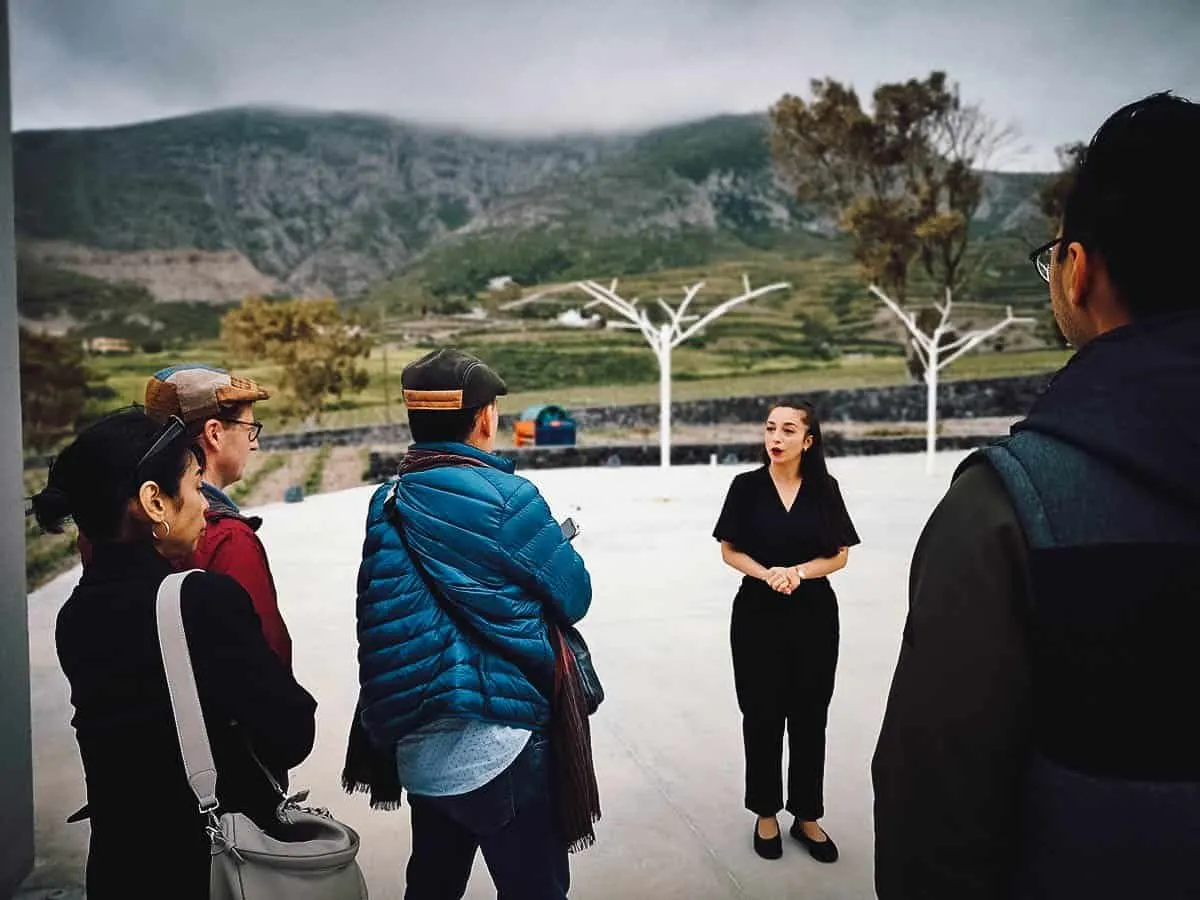 As previously described, vines on Santorini are grown in the koulara method. They're woven in continuous circles to form a basket or wreath to protect the grapes from the island's harsh sun and high winds.
After decades' of growth, nutrients have to pass through several meters of circuitous vine to reach the grapes, drastically reducing its yield. When the baskets are approaching 75 years of age, they're cut off completely at the root near the surface of the soil. This allows a new plant to sprout and a new basket to be formed, which will produce a harvest within 2-3 years.
It's believed that this procedure has been performed at least 4-5 times over the last few centuries, making some of the original rootstock hundreds of years old.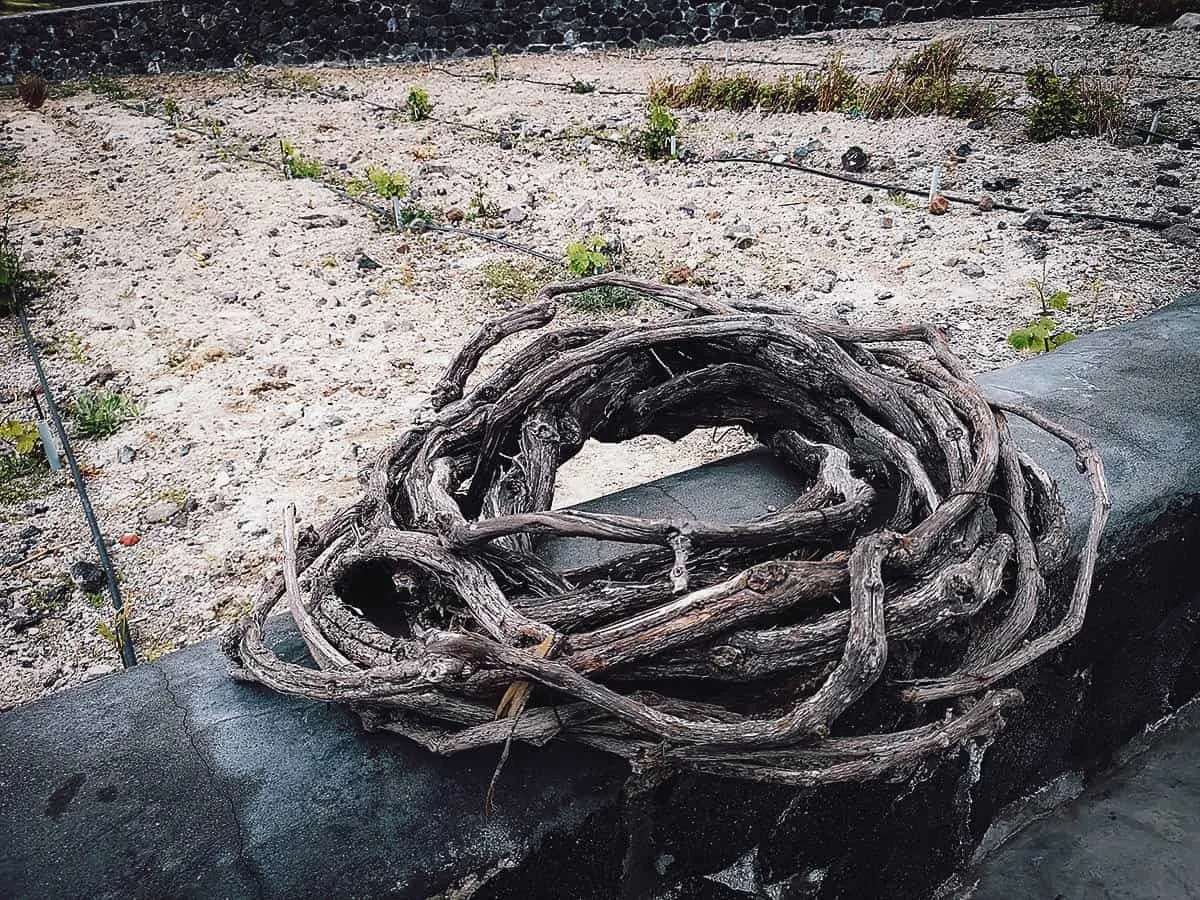 She then took us inside their facilities to show us some of the technology used to produce their wines.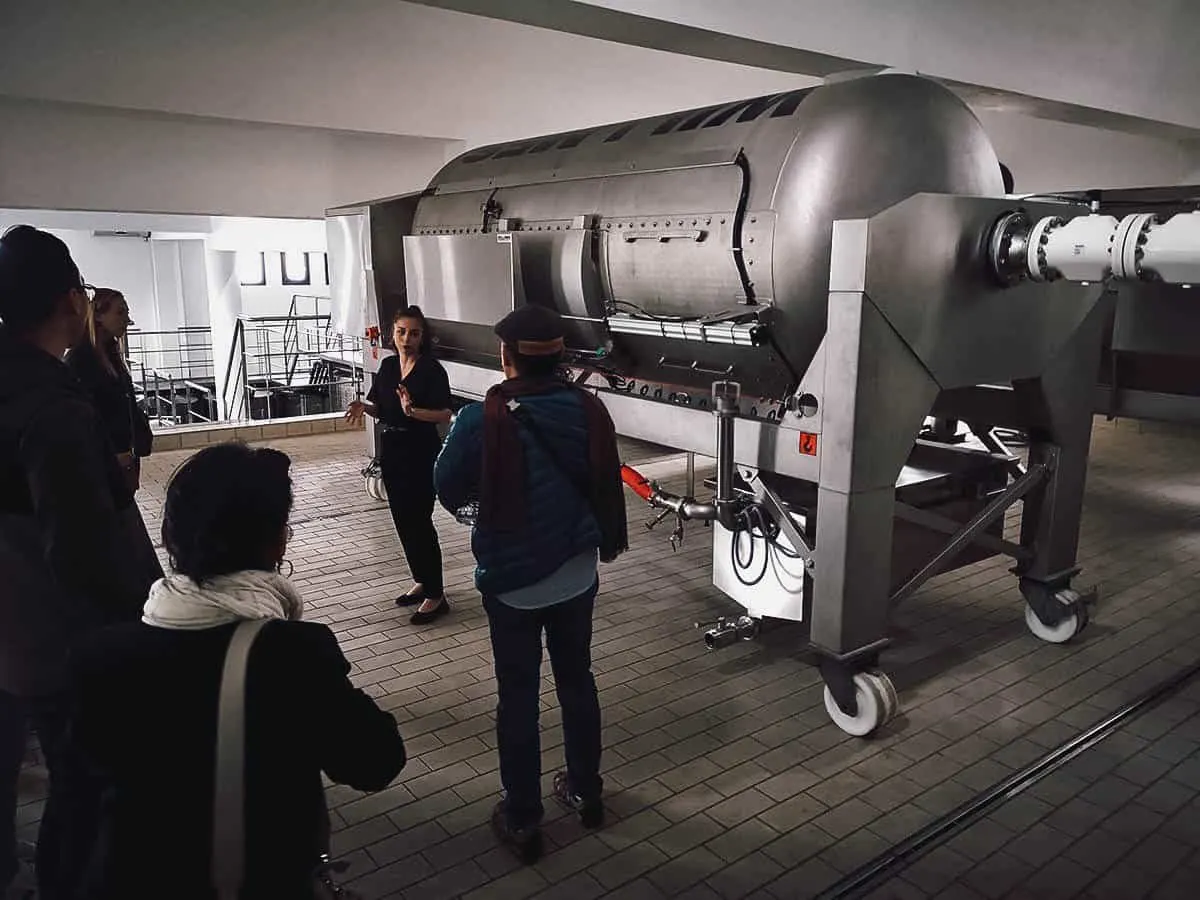 Producing great wine is as much about science as it is about grape quality and climate.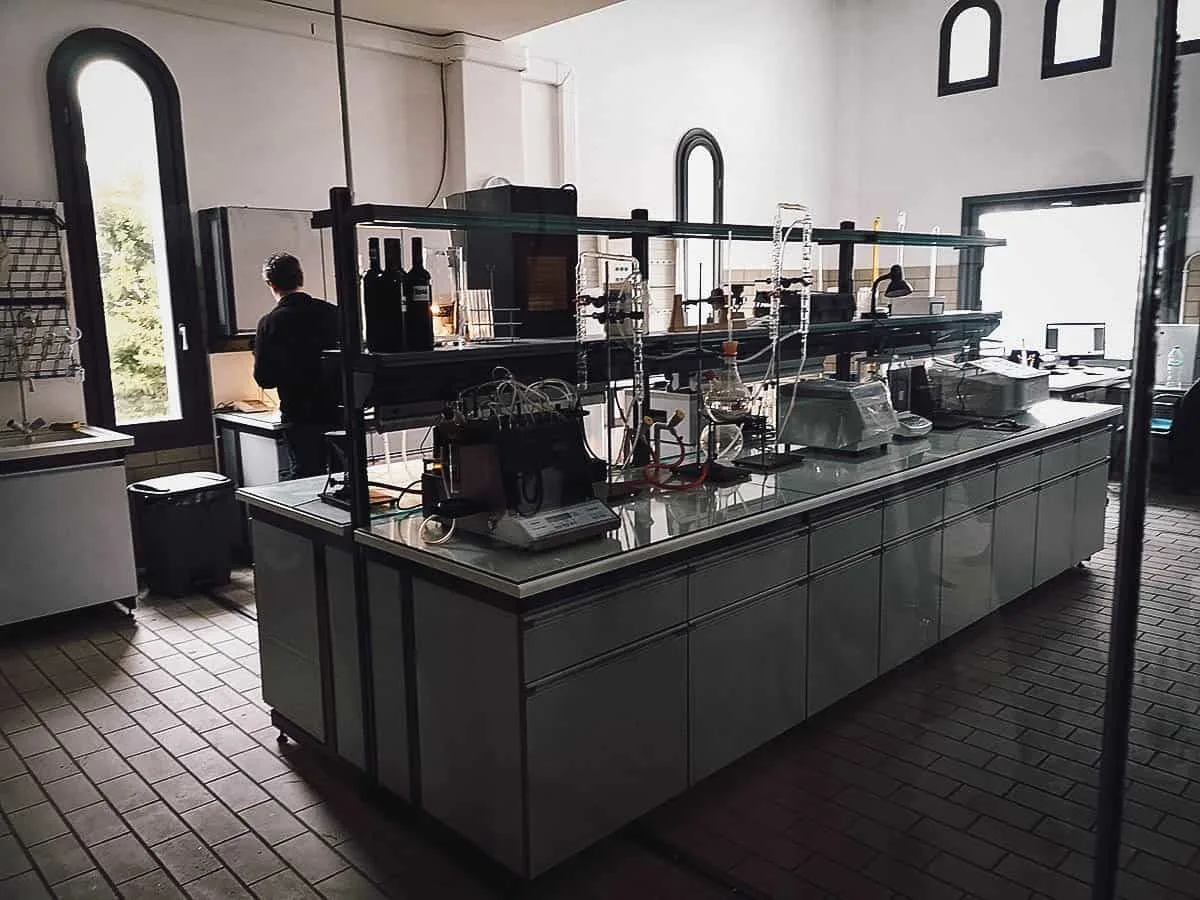 Steel vats for vinification. Estate Argyros produces Asyyrtiko wines that are fermented in steel vats or oak barrels. From what I understand, Assyrtikos vinified in steel vats are more acidic and citrusy, while those fermented in oak barrels tend to be nuttier with flavors of dried fruit and vanilla. Makes sense.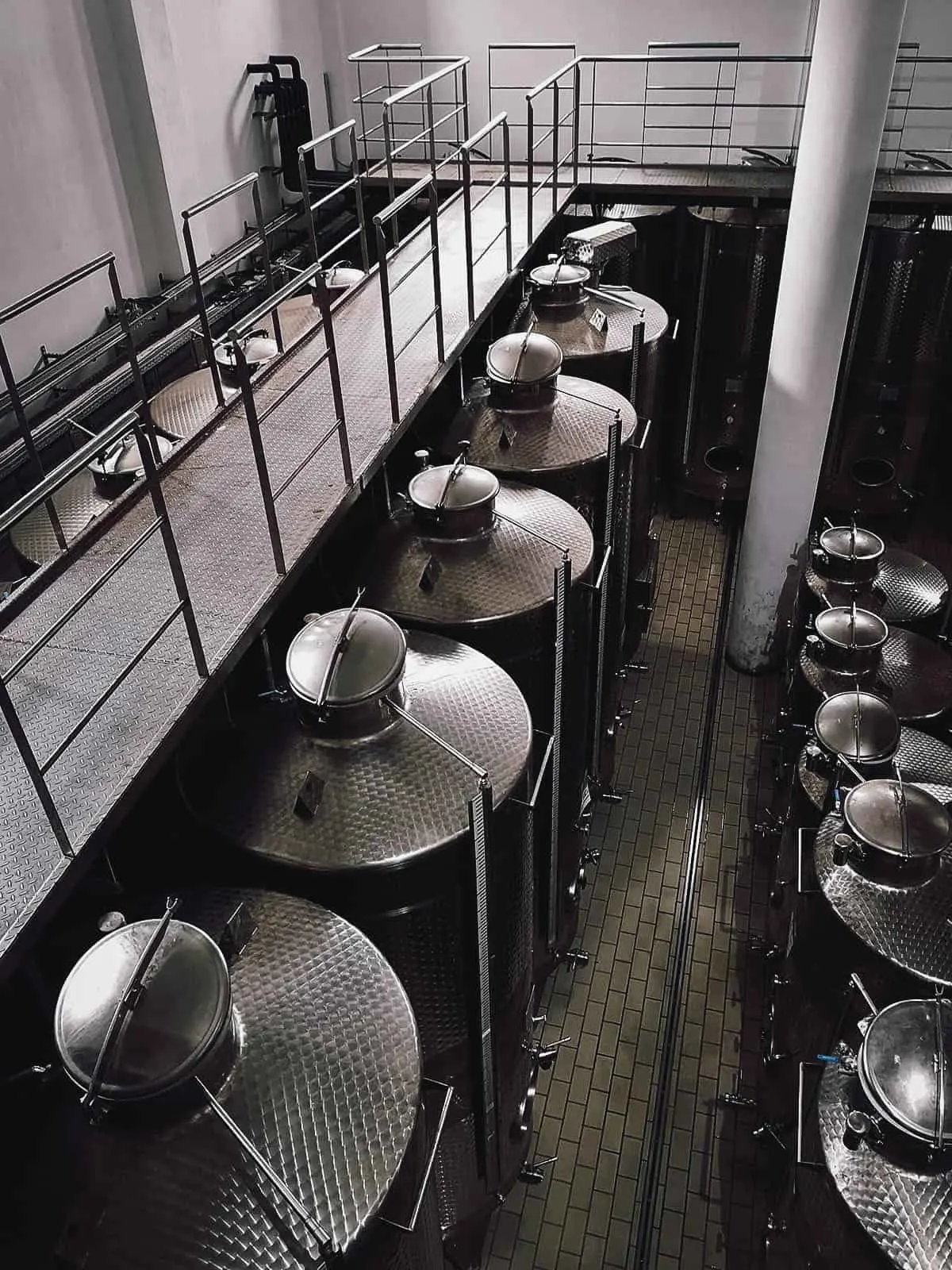 Now for our favorite part of the tour, the wine tasting. If I remember correctly, we tried four wines here today.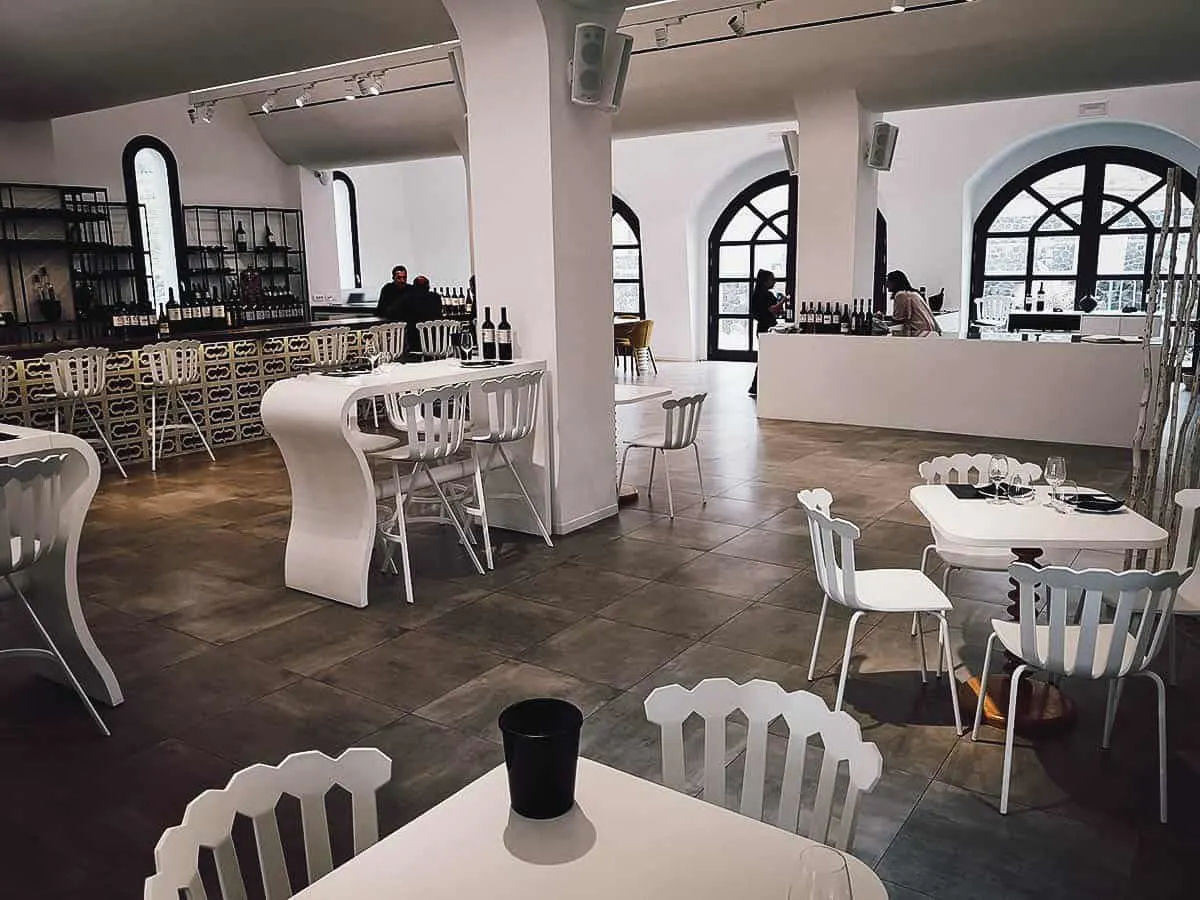 Our guide started us off with lighter white and rosé wines before getting into the sweeter Vinsantos. I don't think we were served a red at Estate Argyros.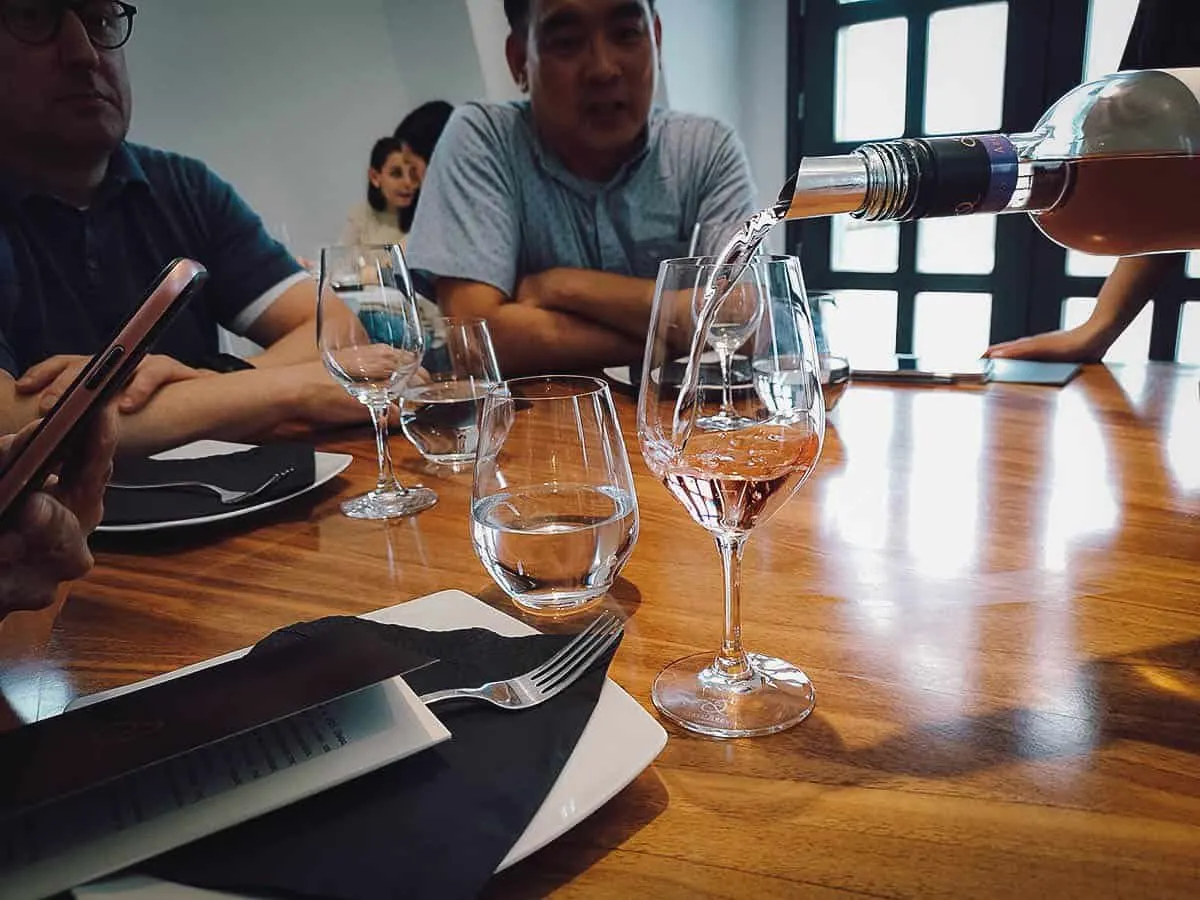 A platter of cheese, ham, bread, dried fruit, and olive oil to pair with our whites.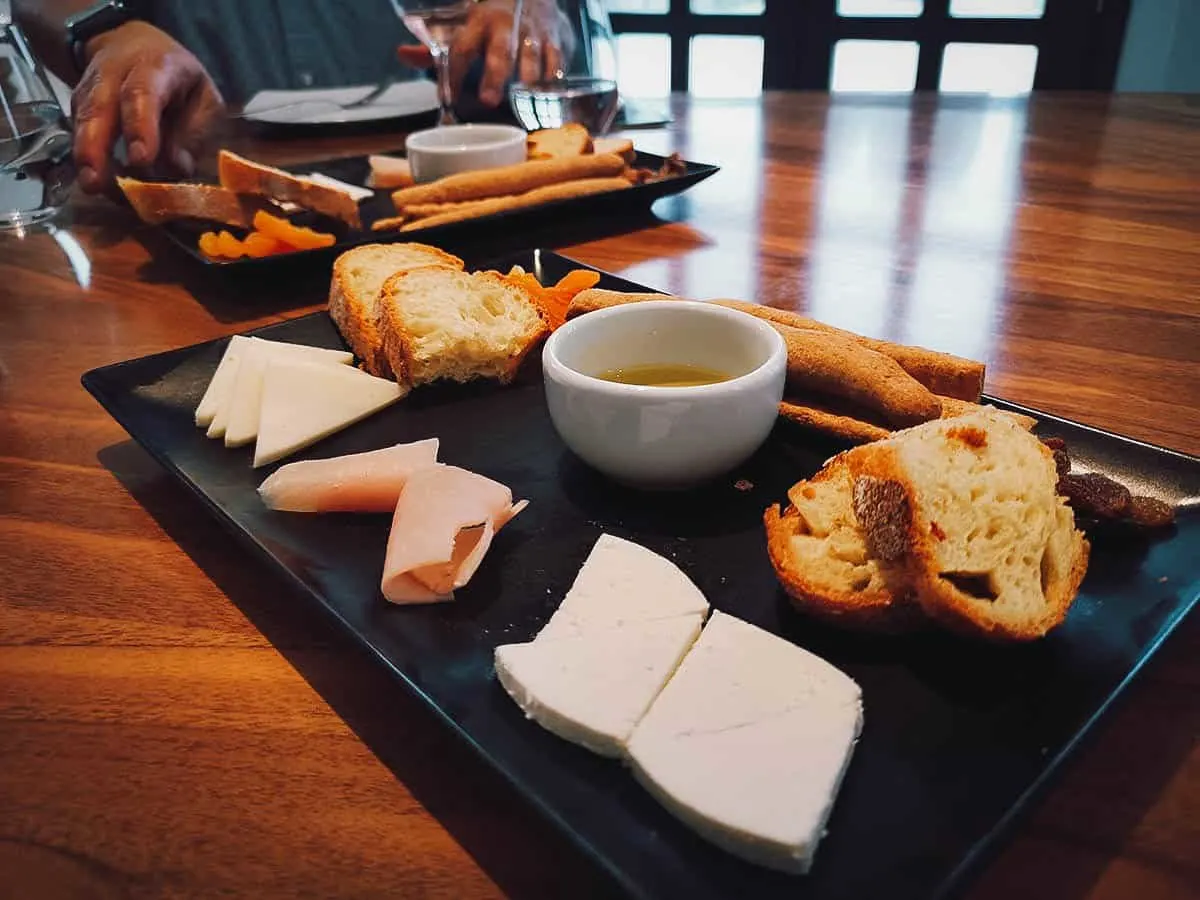 Renée: Oh my god! I so love the high acidic content of this Assyrtiko!
Eamonn: I know right? It's so light and refreshing!
Randy: *chugs wine*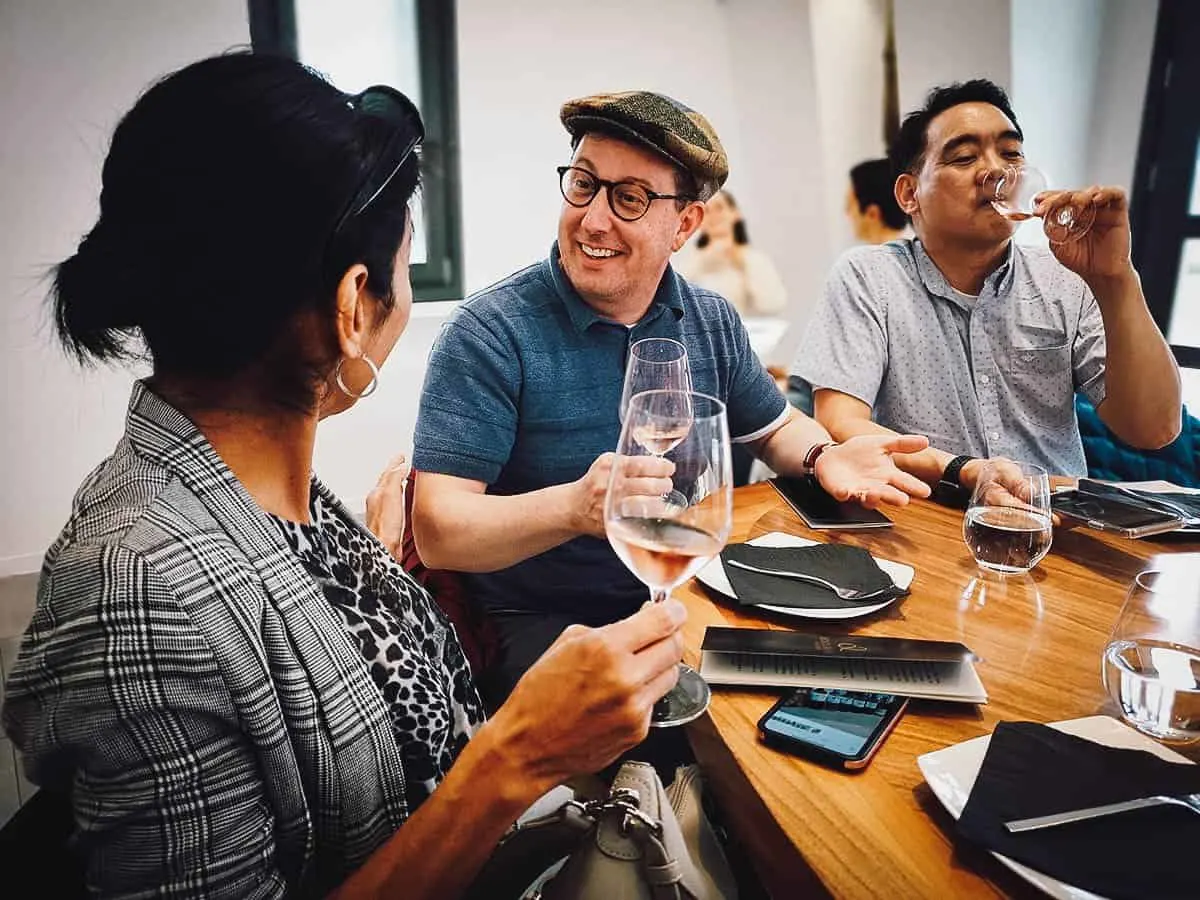 It's clear how proud Santorini winemakers are of their Assyrtiko grape. It's originally from Santorini though it's now grown in other parts of Greece as well.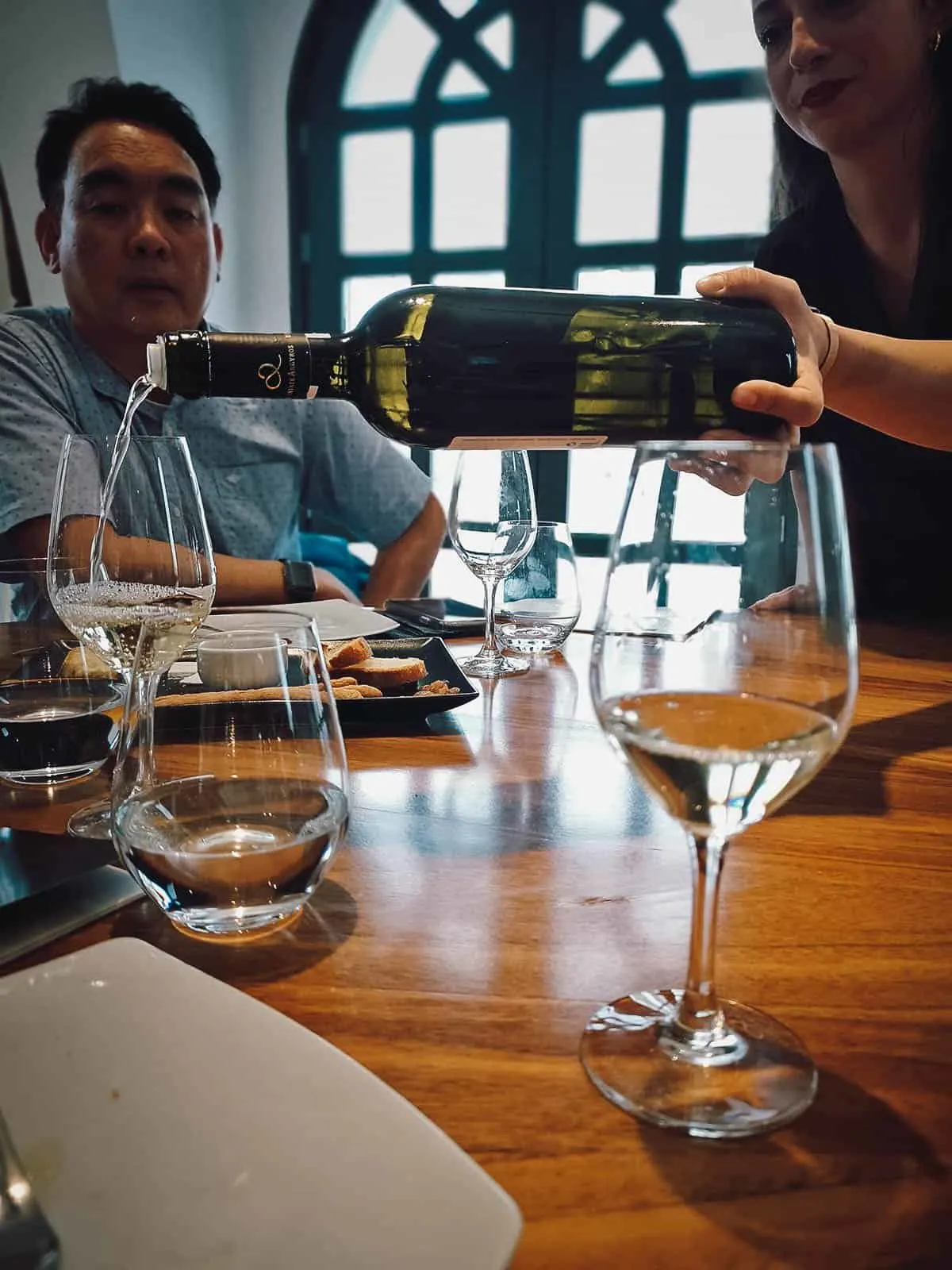 After the whites and rosés, we were served these chocolates so we knew what was coming next. It was time for the Vinsanto, Santorini's prized dessert wine.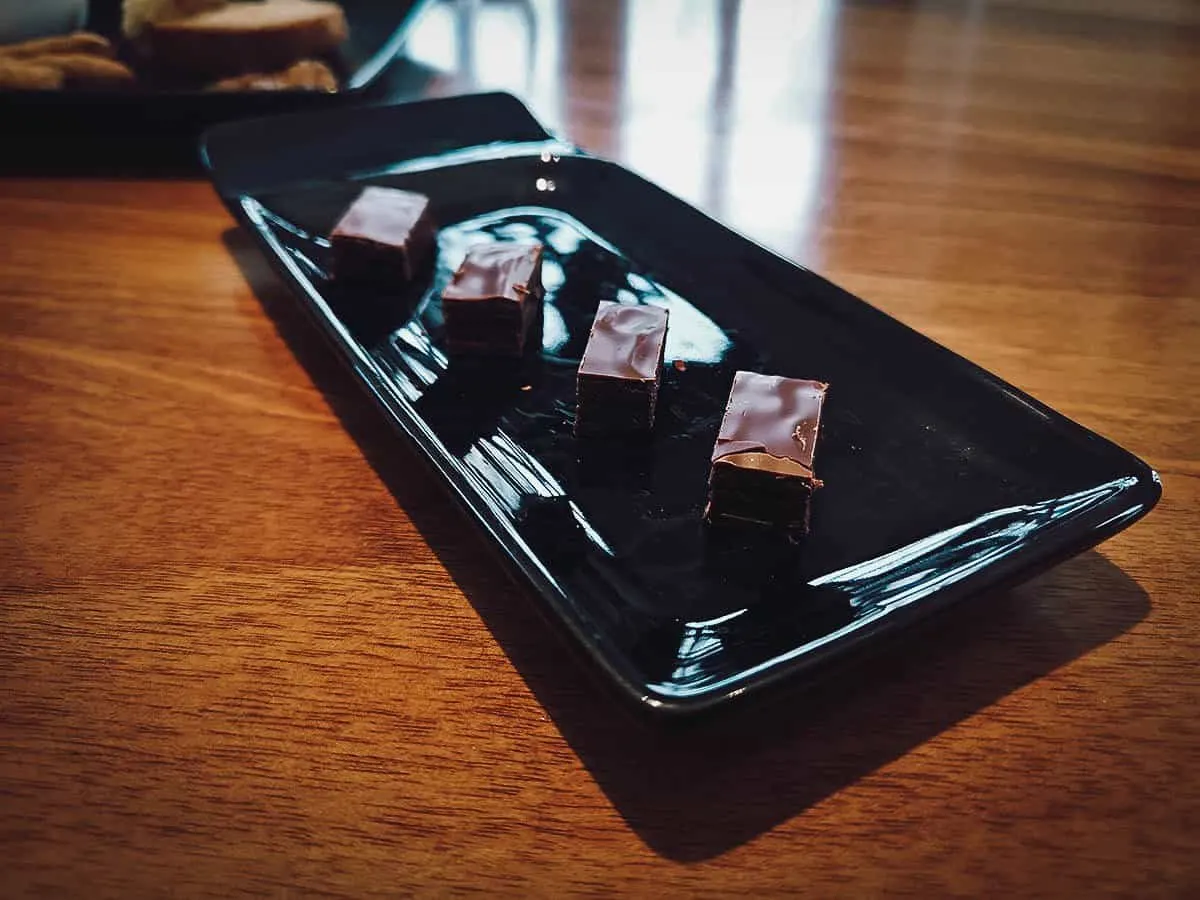 For a wine to be labeled Vinsanto in Santorini, it needs to be made with at least 51% Assyrtiko grape, with the remaining 49% (or less) made up of Athiri, Aidani, and small amounts of locally grown white varieties. The grapes are dried in the sun for 12–14 days before being crushed and fermented. They're then aged for a minimum of two years in oak barrels.
Estate Argyros' Vinsantos are made with 80% Assyrtiko, 10% Aidani, and 10% Athiri. Depending on how many years it's been barrel-aged before bottling, it has a further aging capacity of 30-100 years. If you were to bring home just one bottle of wine from your holiday in Santorini, then it should probably be a Vinsanto.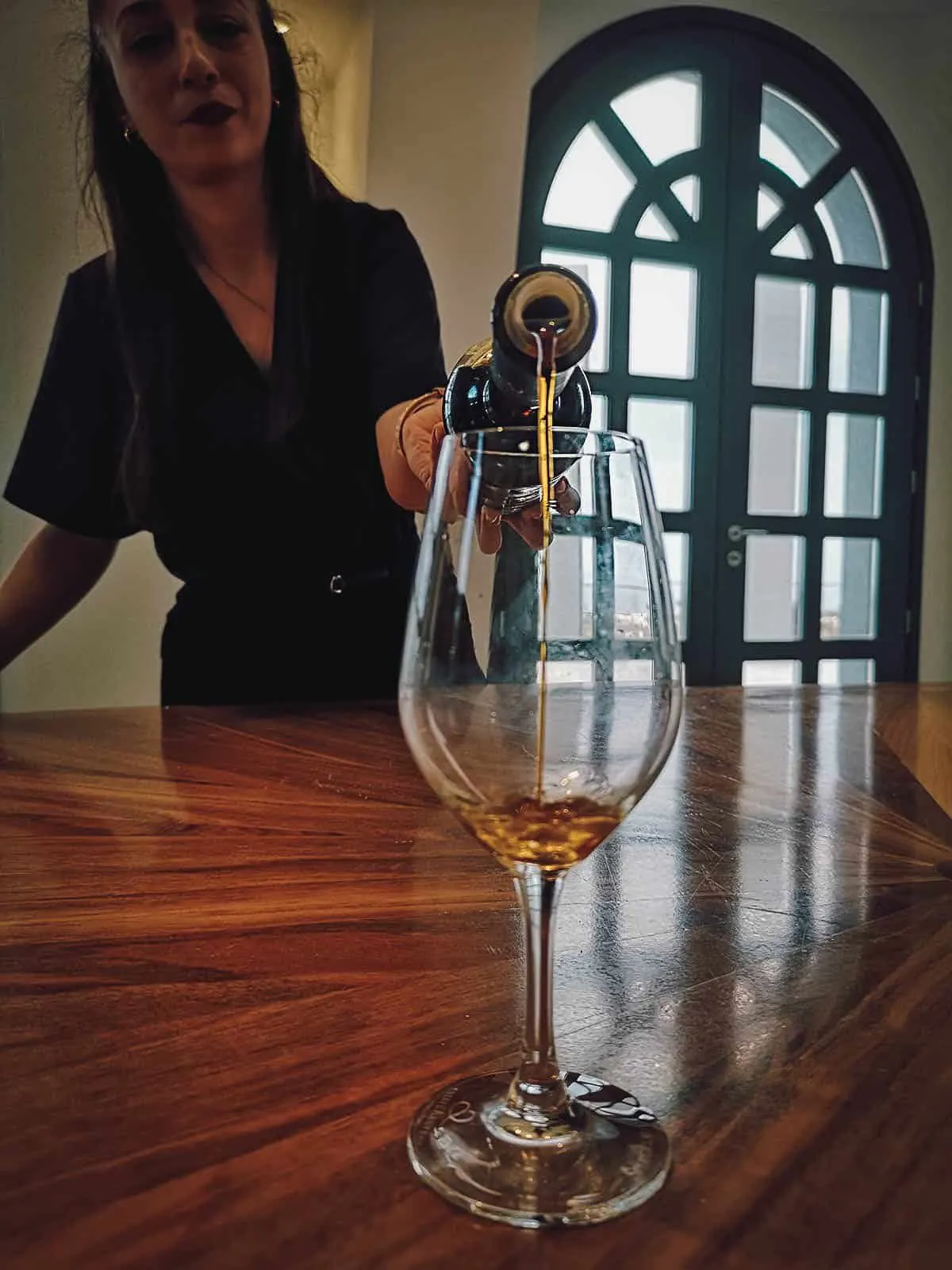 Gavalas Winery
The next winery we'd visit on the tour felt very different from Estate Argyros. Though both are family-run wineries, Gavalas Winery wasn't nearly as large or as industrialized and felt more like a boutique winery. It's located in Megalochori, the charming small town where we stayed in Santorini.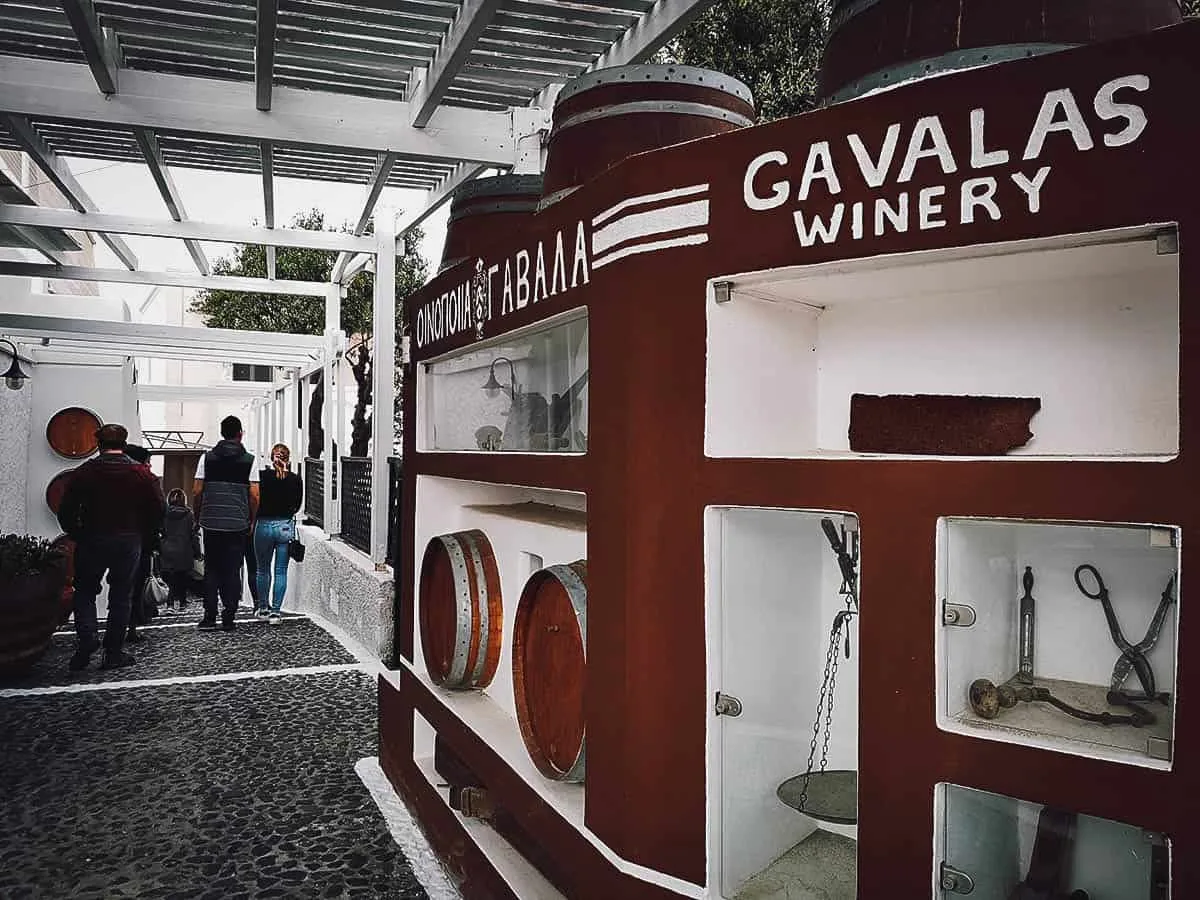 A platter of cheese, breadsticks, figs, and tomato tapenade to pair with our wines.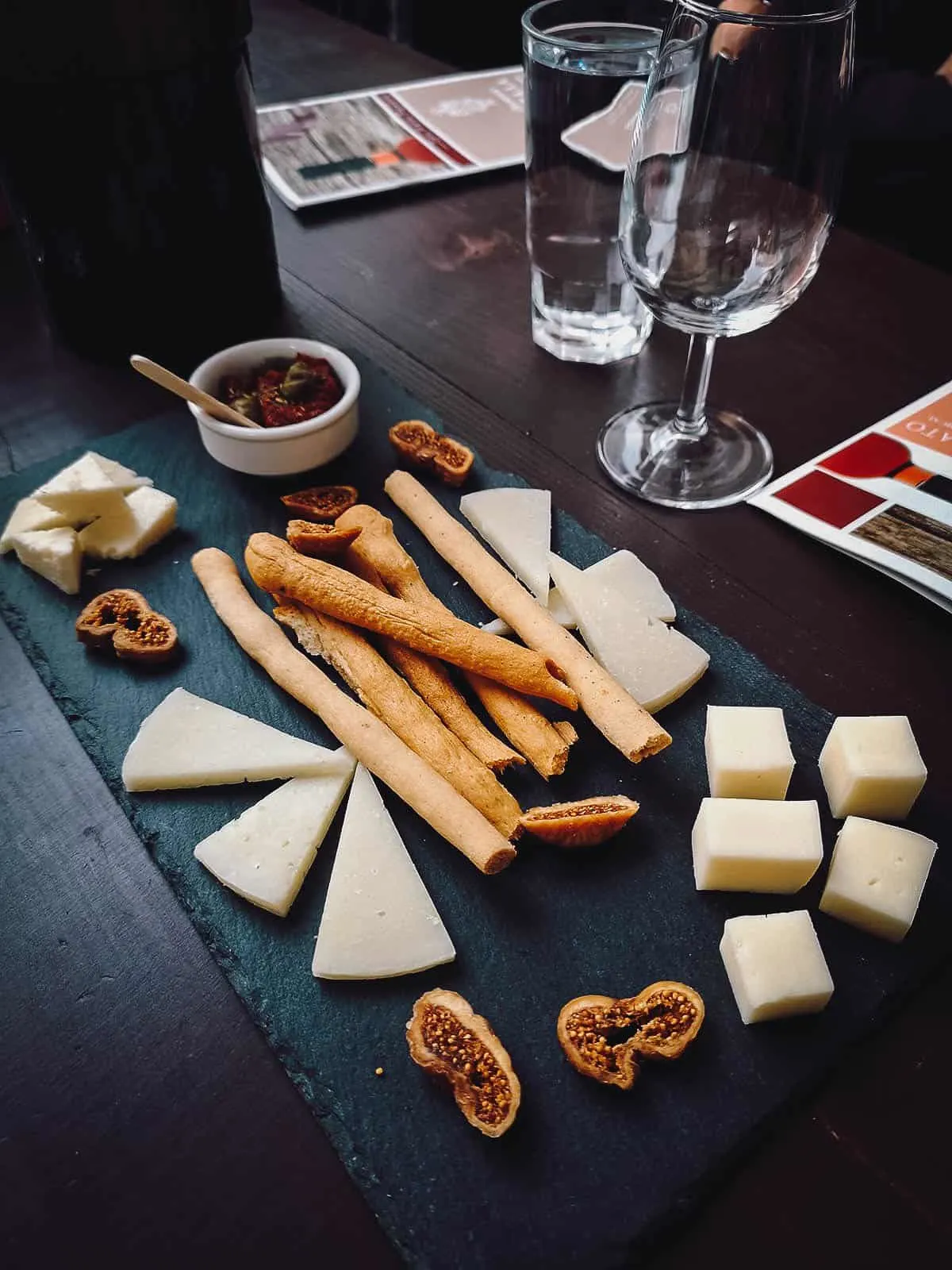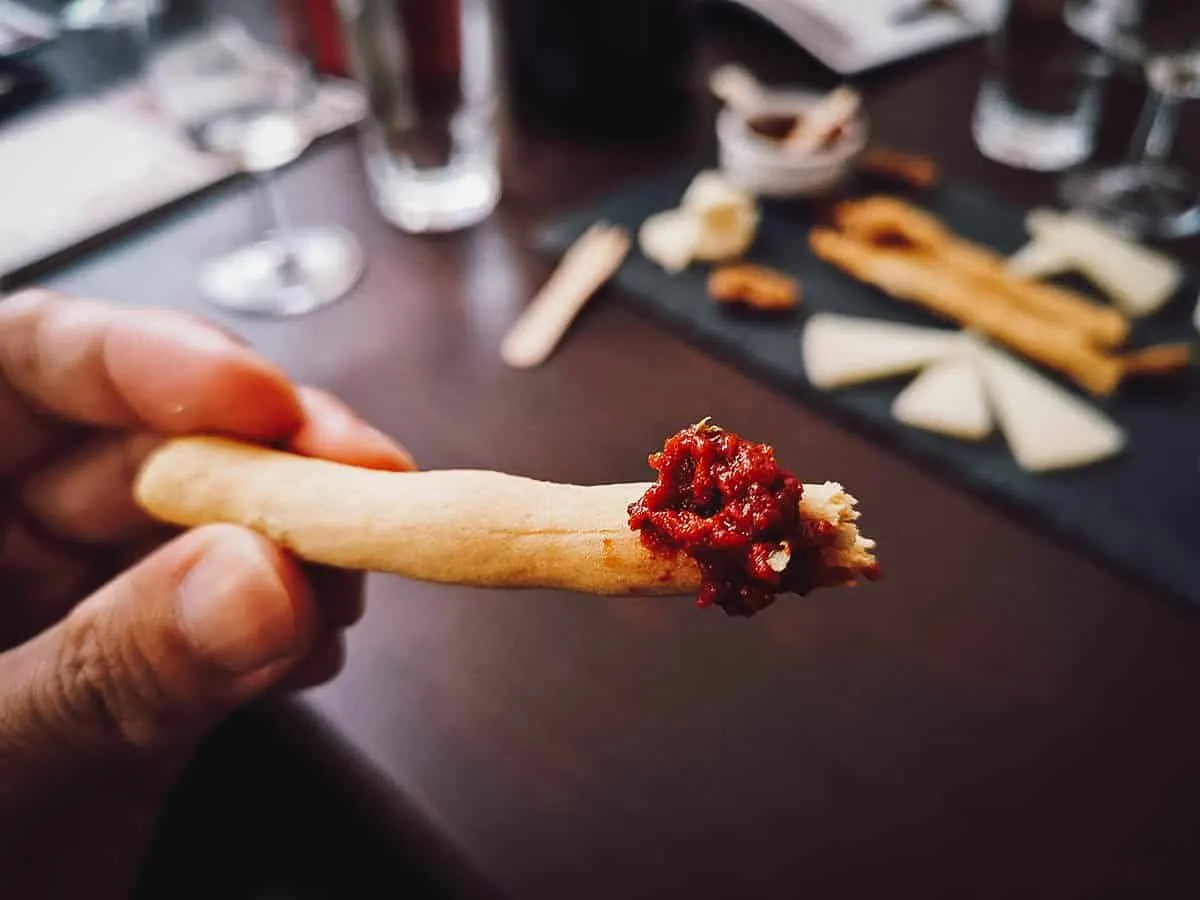 Like Estate Argyros, they'd serve us four wines at Gavalas – two whites (Aidani, Assyrtiko), a red (Xenoloo), and a Vinsanto.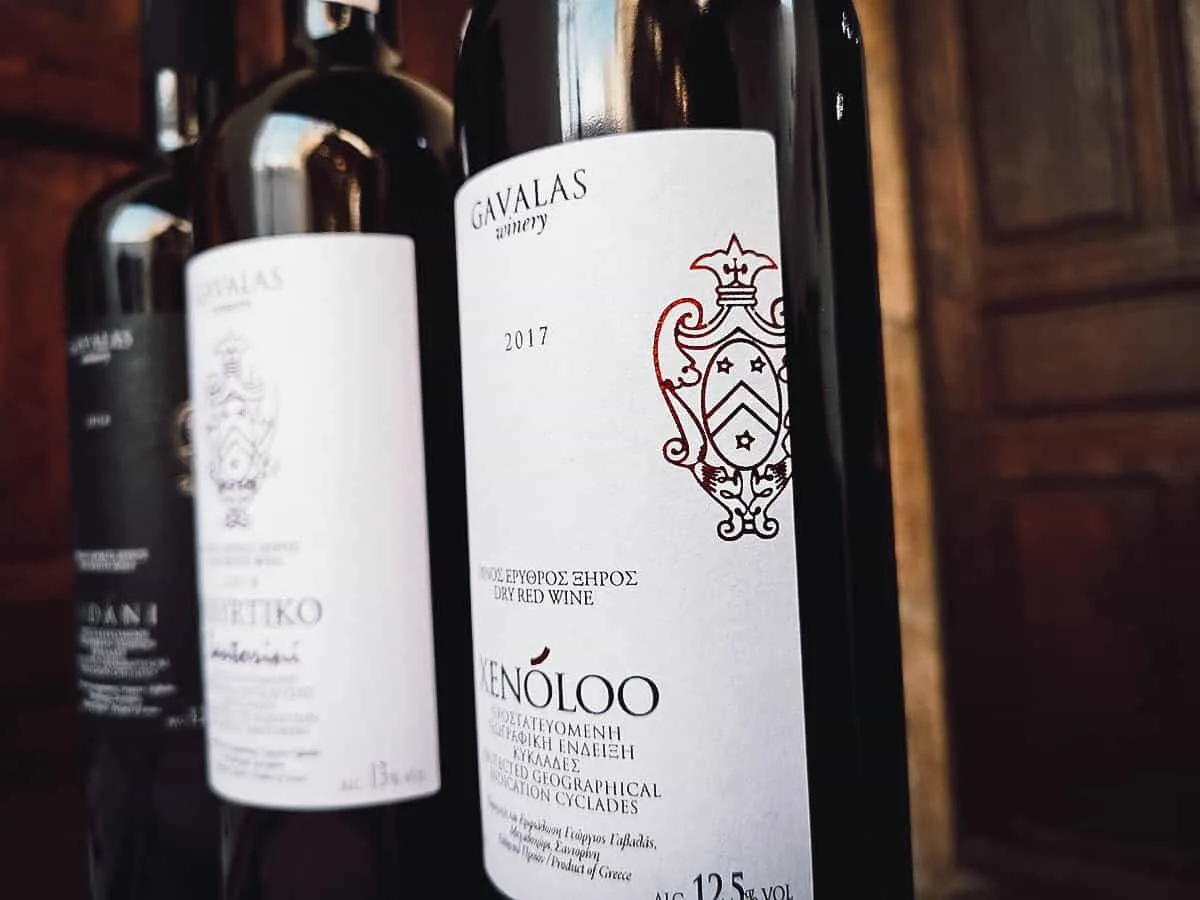 I believe this was the Aidani. Like Assyrtiko, it's one of the island's three main white varietals.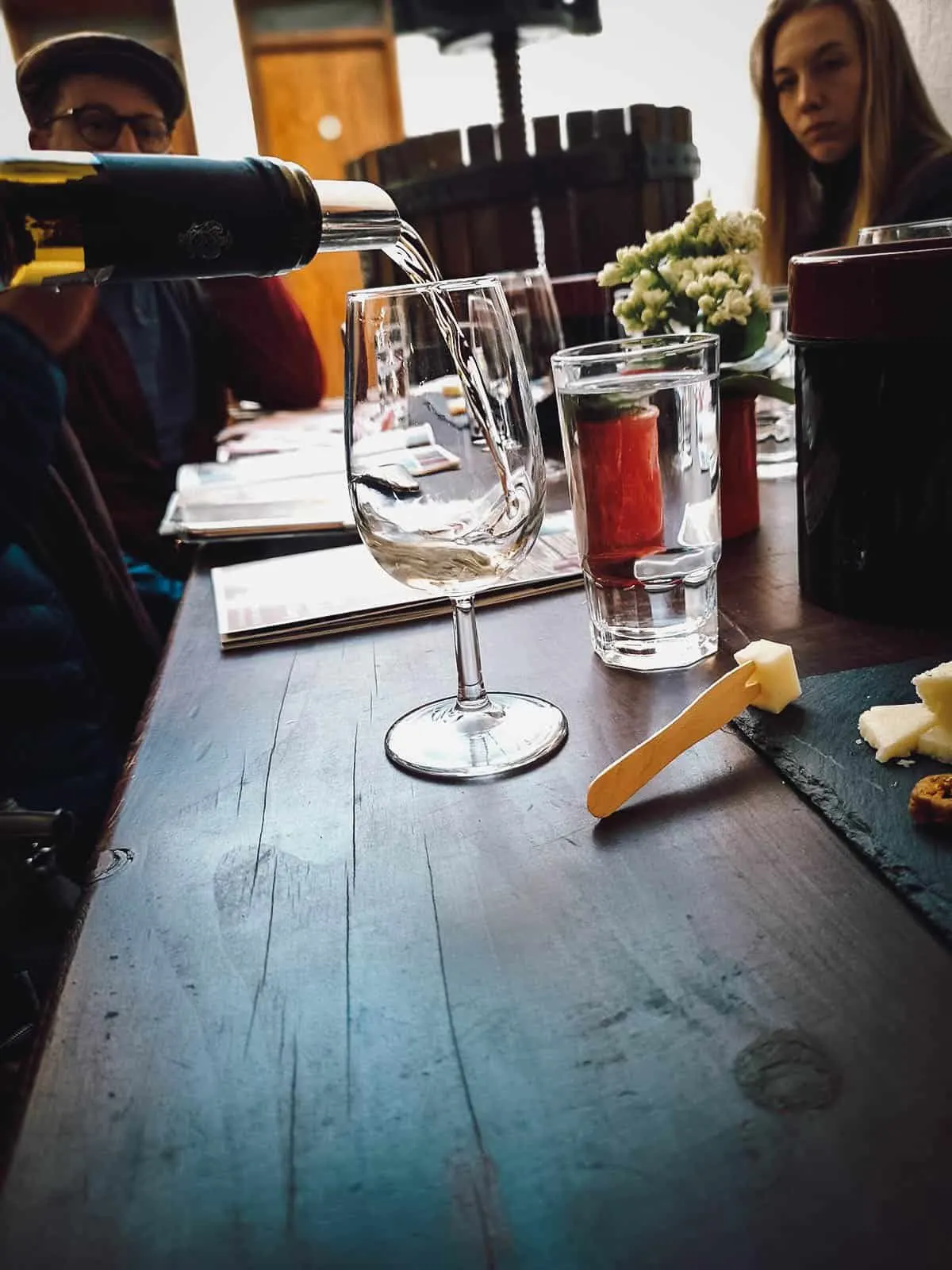 This was the Xenoloo which is made from Mavrotragano, Voudomato, and Athiri grapes.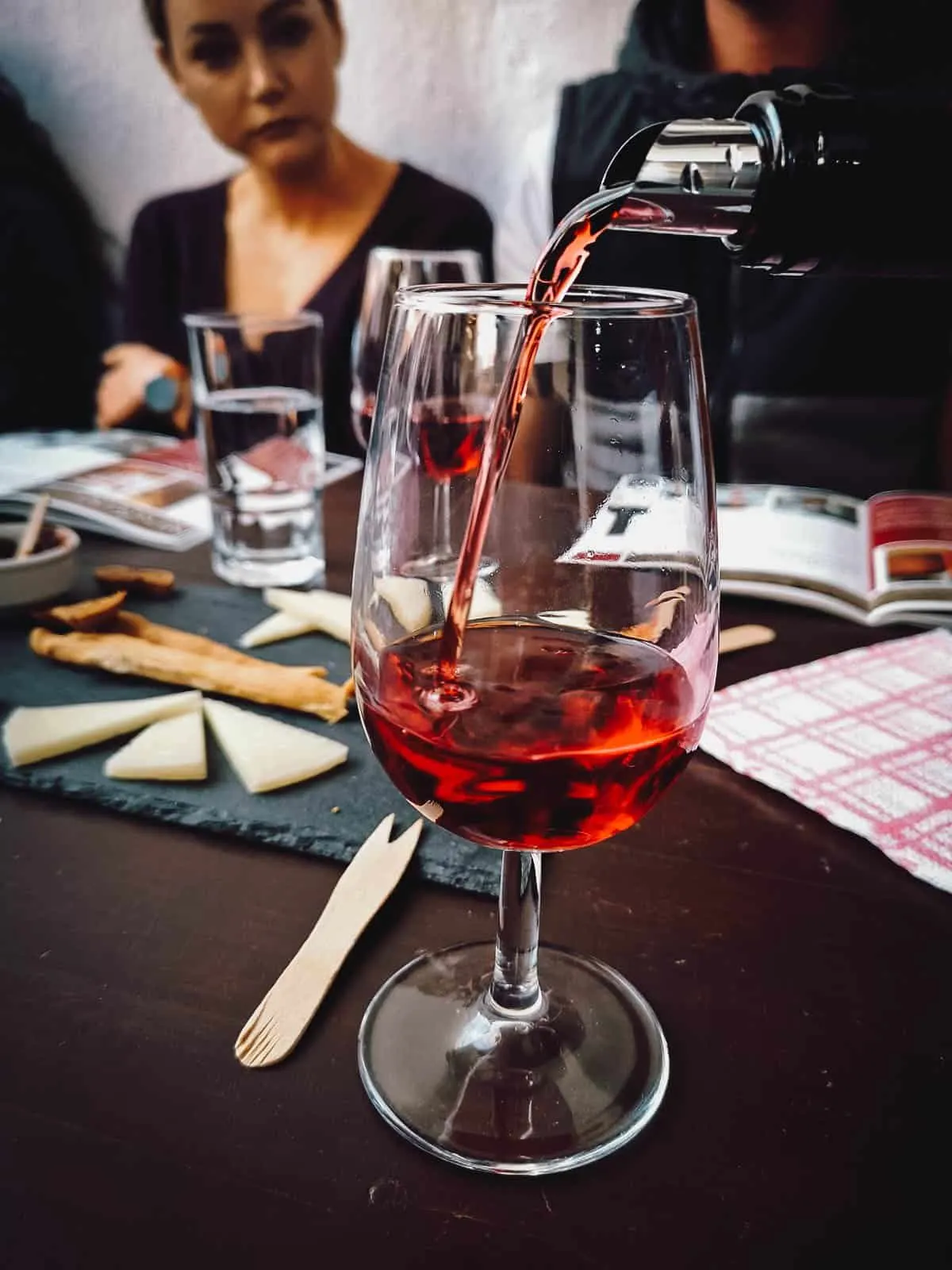 Because Gavalas Winery is smaller and less polished, the wine tasting experience felt much more intimate, like we were guests at a family's private winery.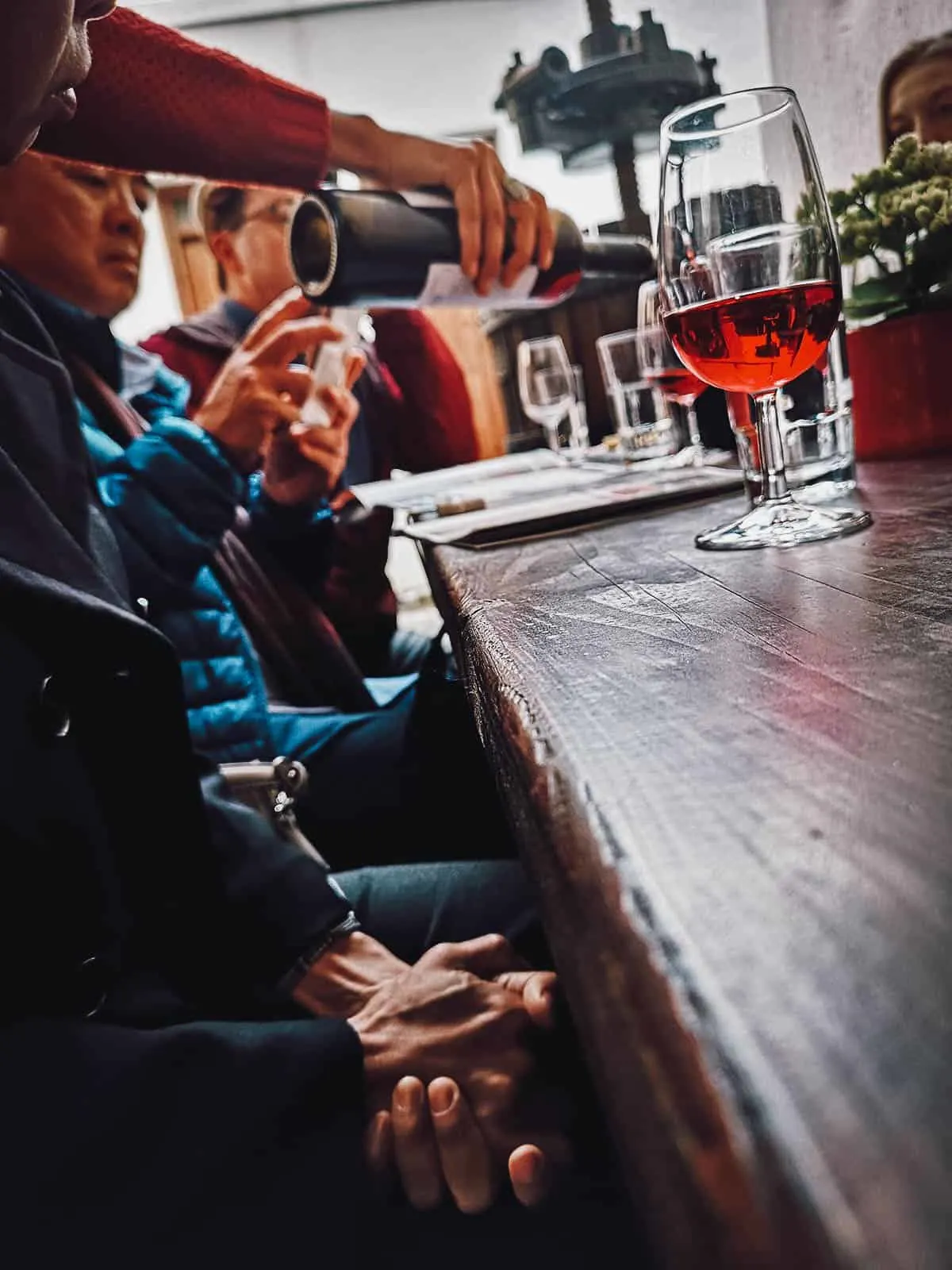 After our wine tasting, they took us to a room where they were fermenting wines in oak barrels.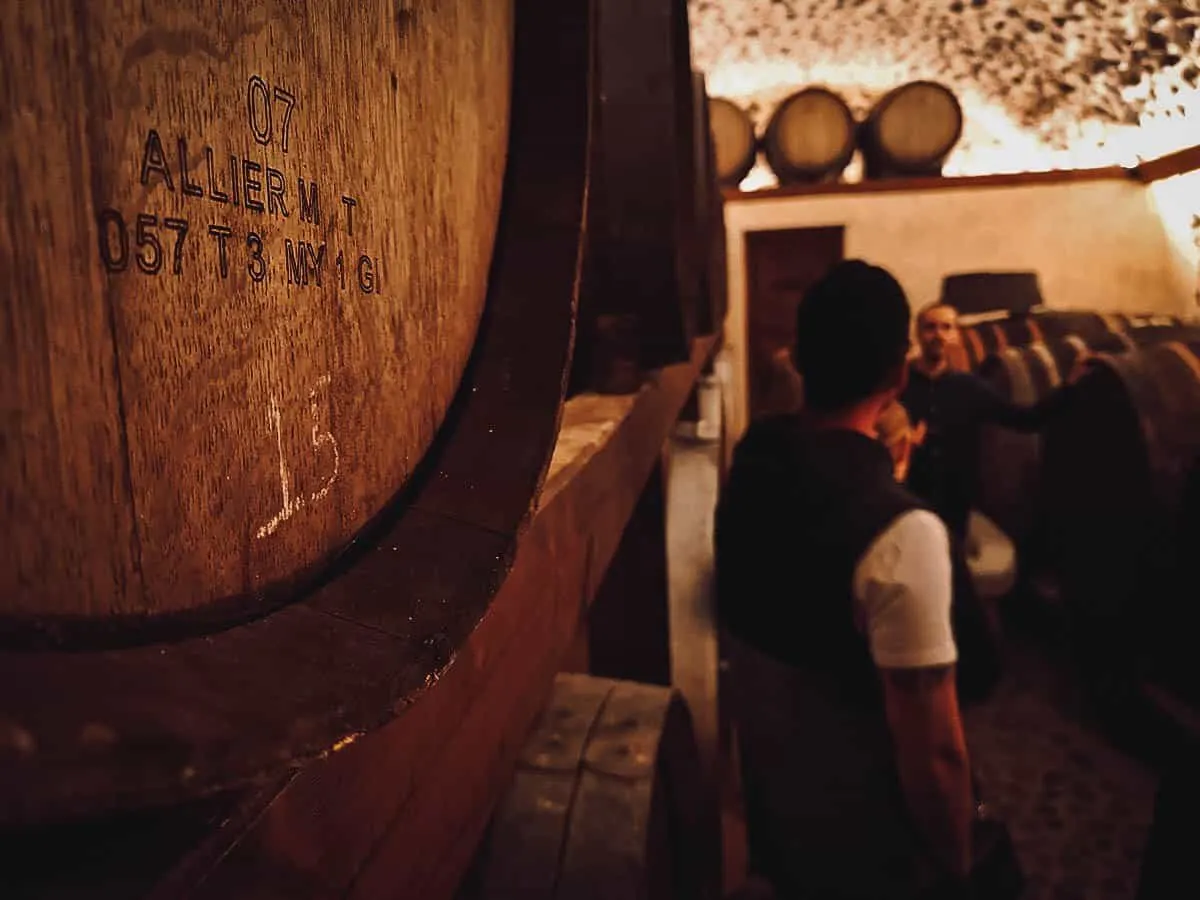 I don't remember exactly what this hole in the floor was for, but I believe it's an old way of producing and storing wine.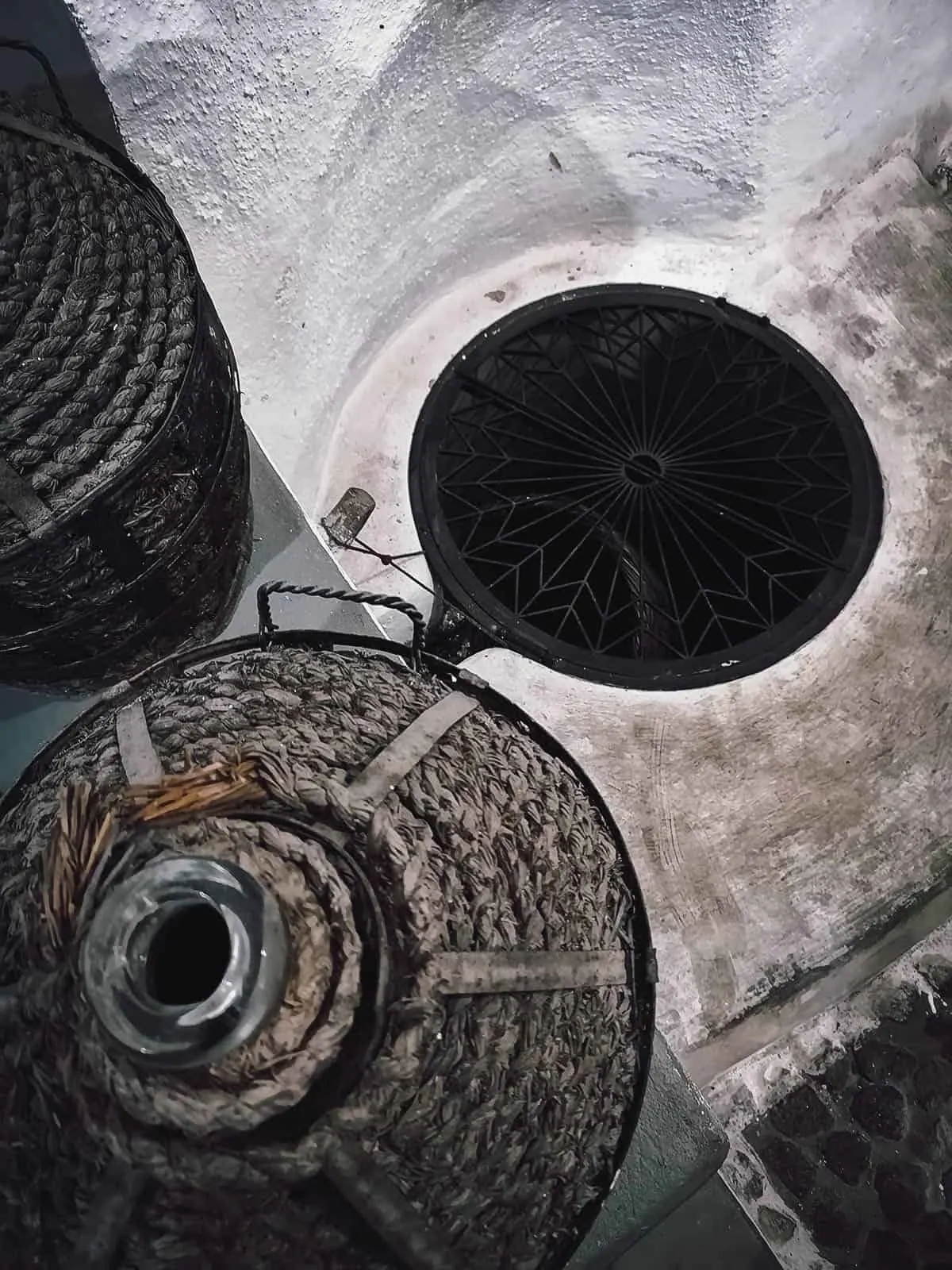 Venetsanos Winery
The last stop on today's tour would also be the most spectacular. Venetsanos Winery sits at the precipice of a cliff, giving wine tasters the most striking views of the Aegean Sea.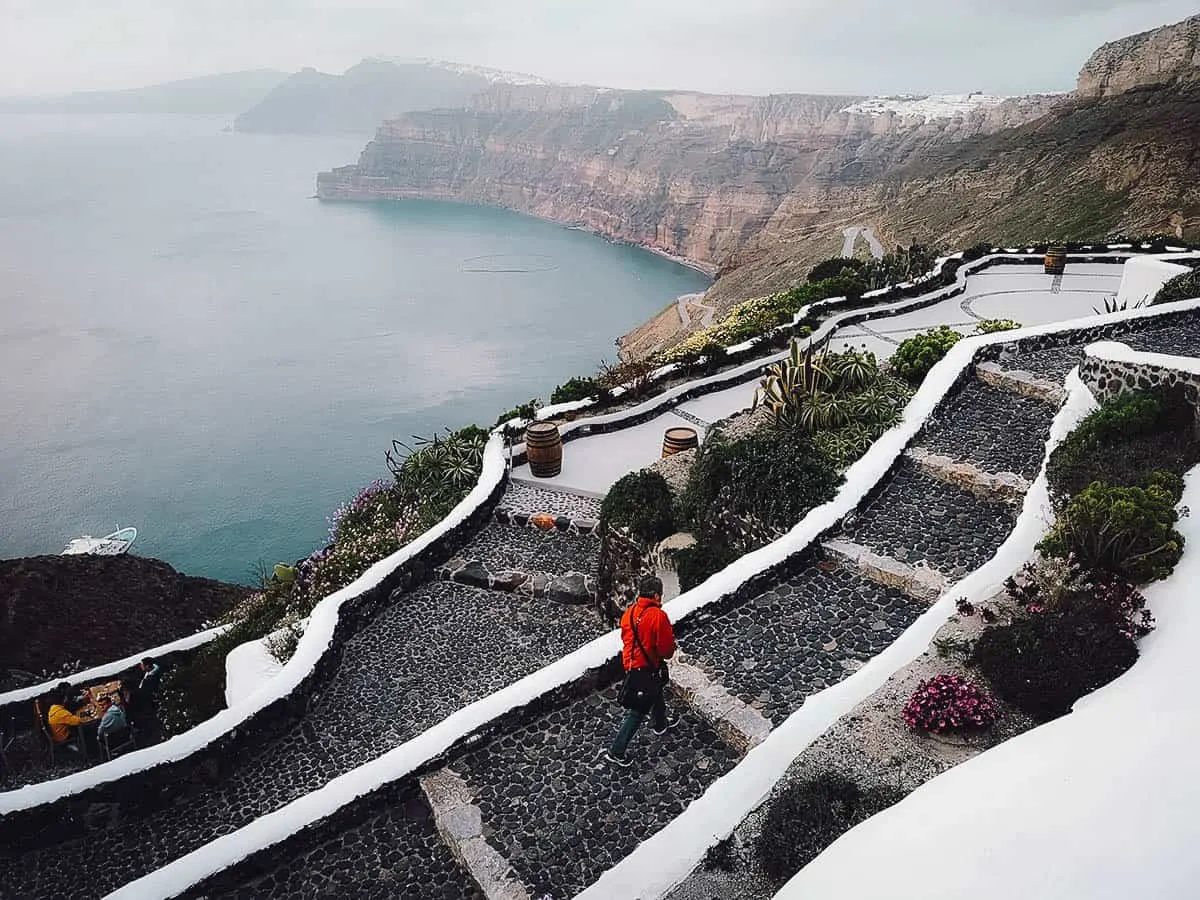 This was absolutely breathtaking. There are no words to describe how beautiful this view was. From here, you could see the towns of Fira and Oia in the distance.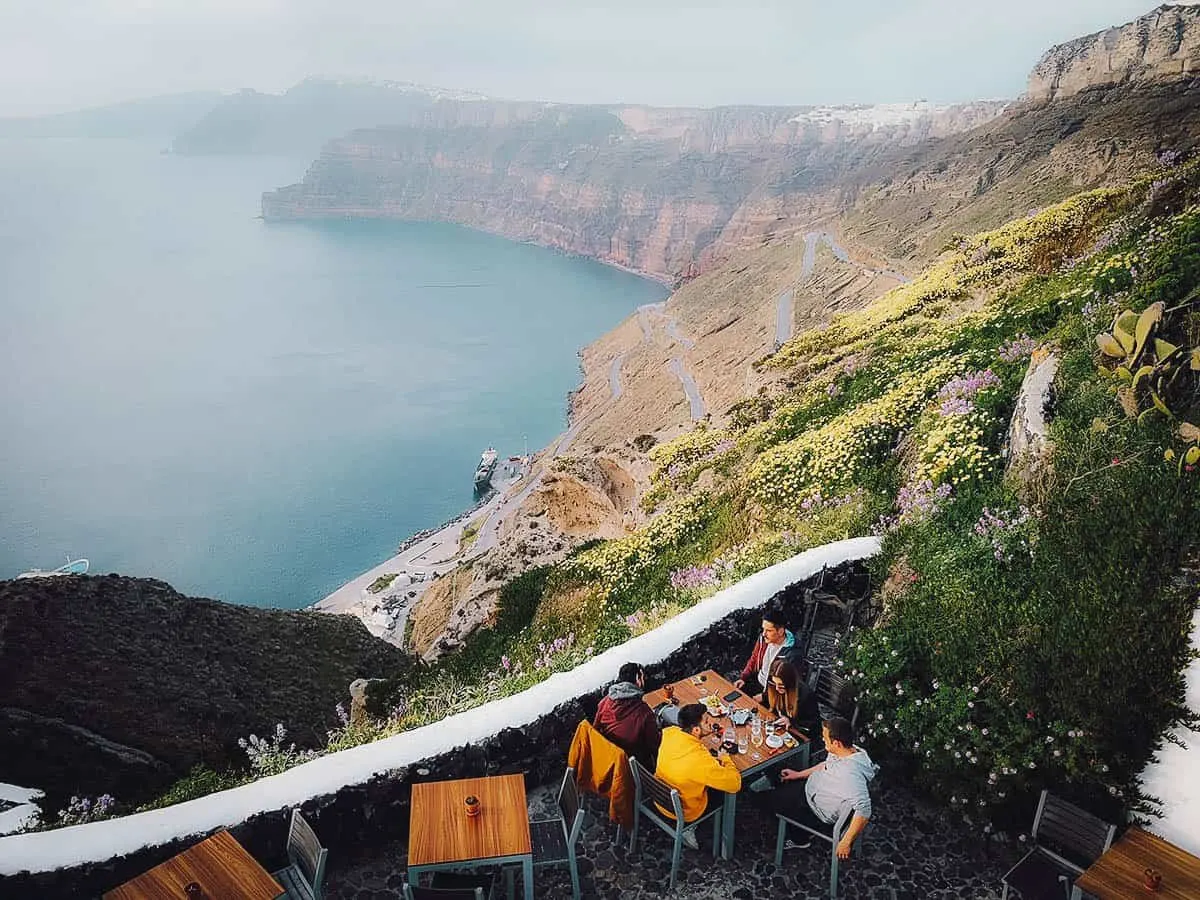 We were seated at the edge of the cliff, giving us unobstructed views of the caldera.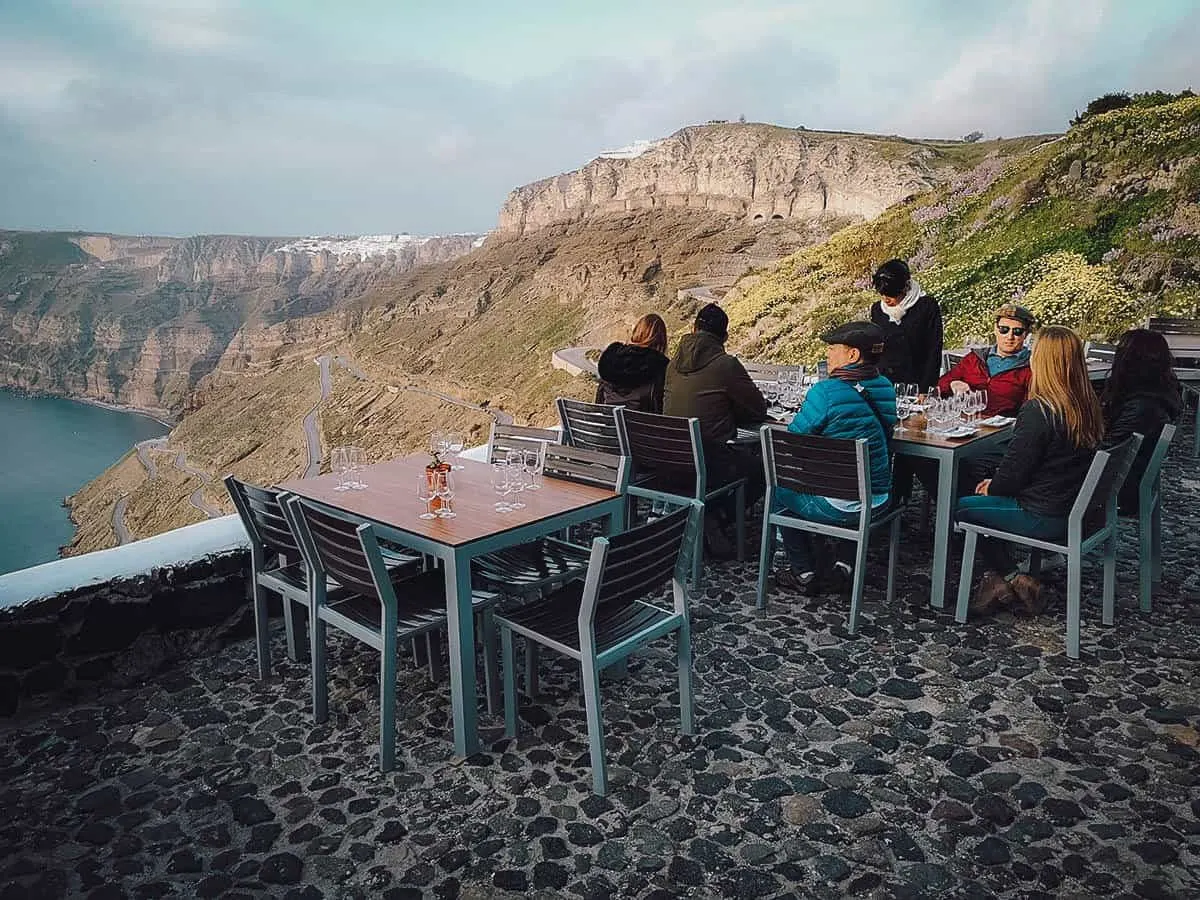 A gorgeous platter of Greek food consisting of cheese, tapenade, olives, pork, tomatoes, bread rings, and stuffed grape leaves. We were served platters of food at every winery but this was my favorite.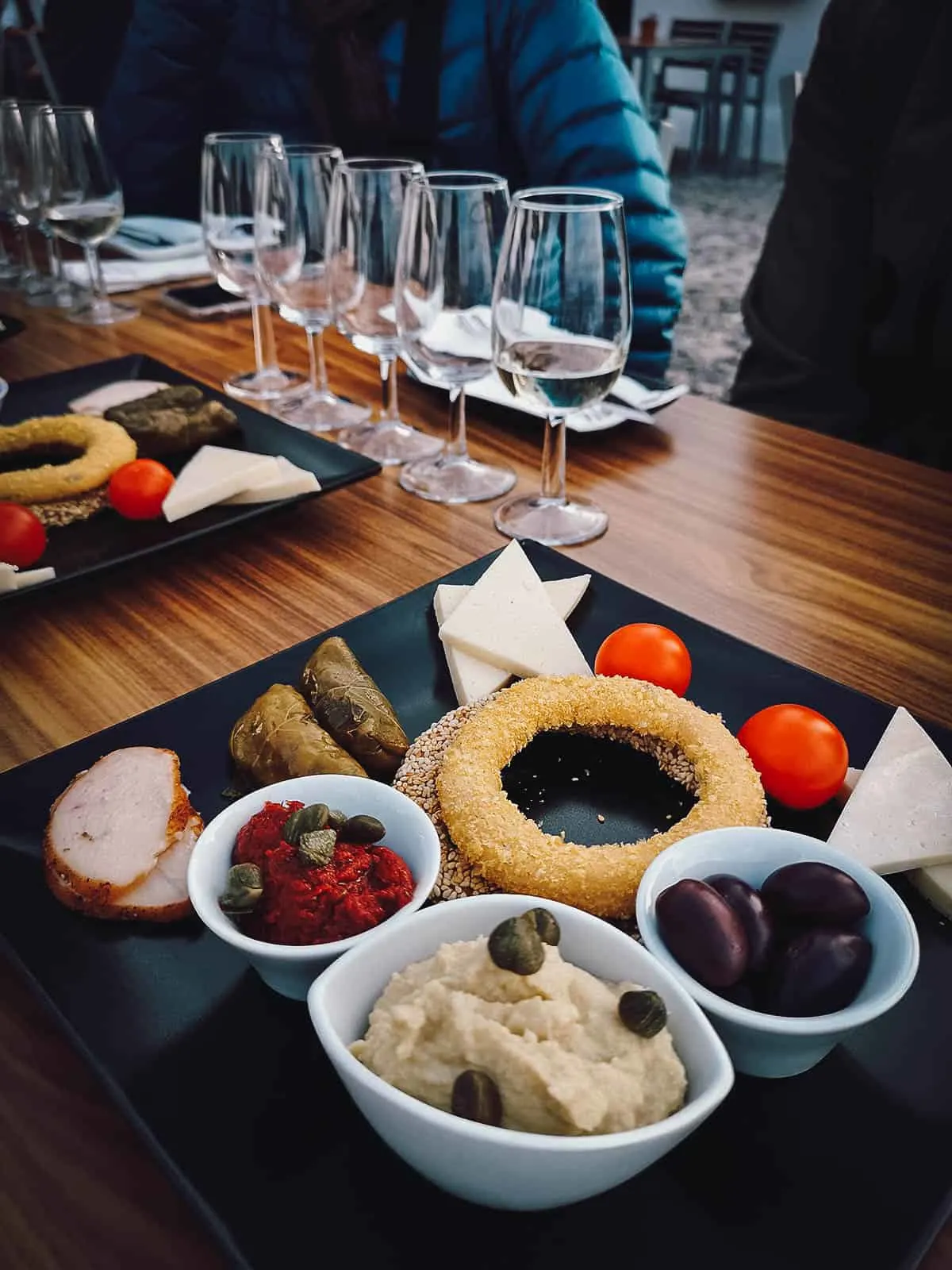 Here we'd be served five glasses of wine to taste instead of four. If I remember correctly, we were served two white, two reds, and a Vinsanto.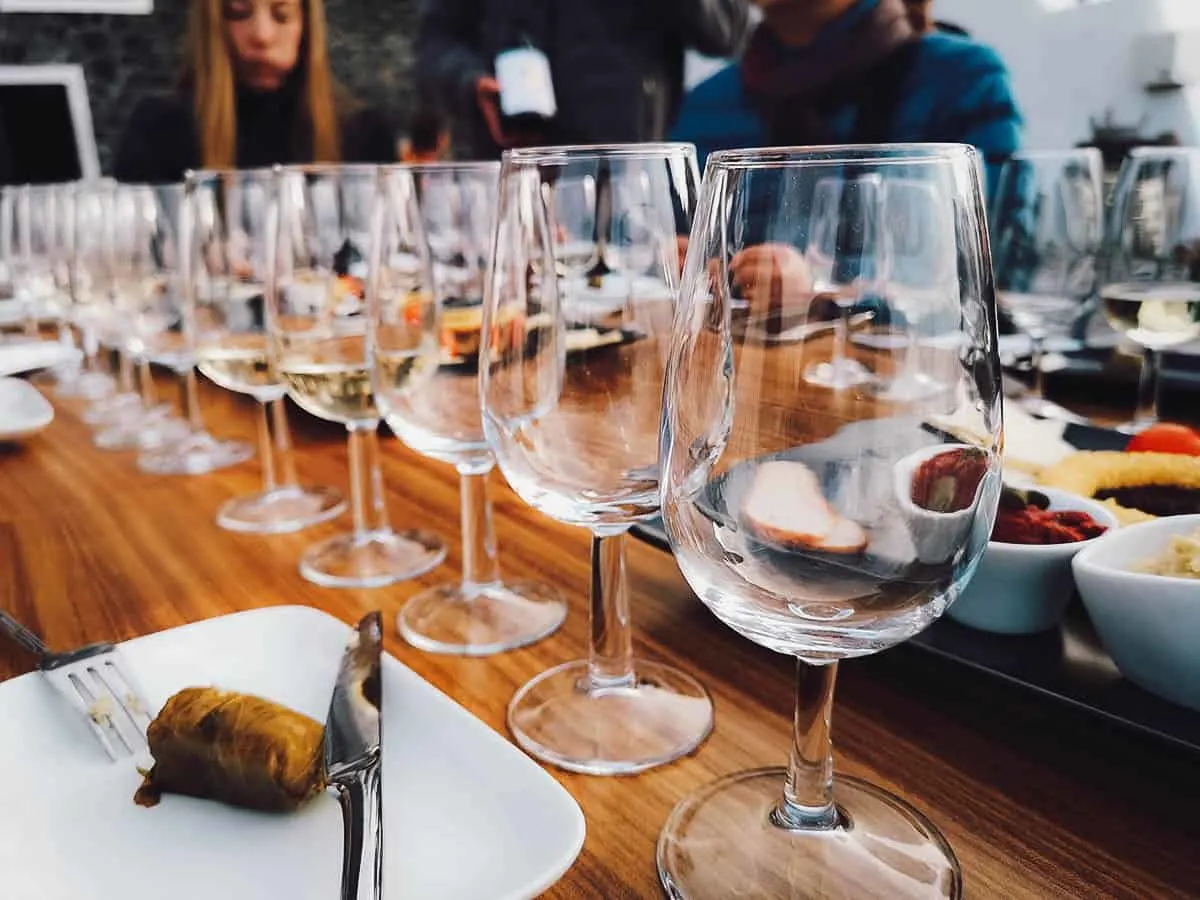 Everything was fantastic but unlike the previous two wineries, they didn't give us much explanation here nor did they show us around their facilities. We were pretty much just left to enjoy the food, the wine, and the view.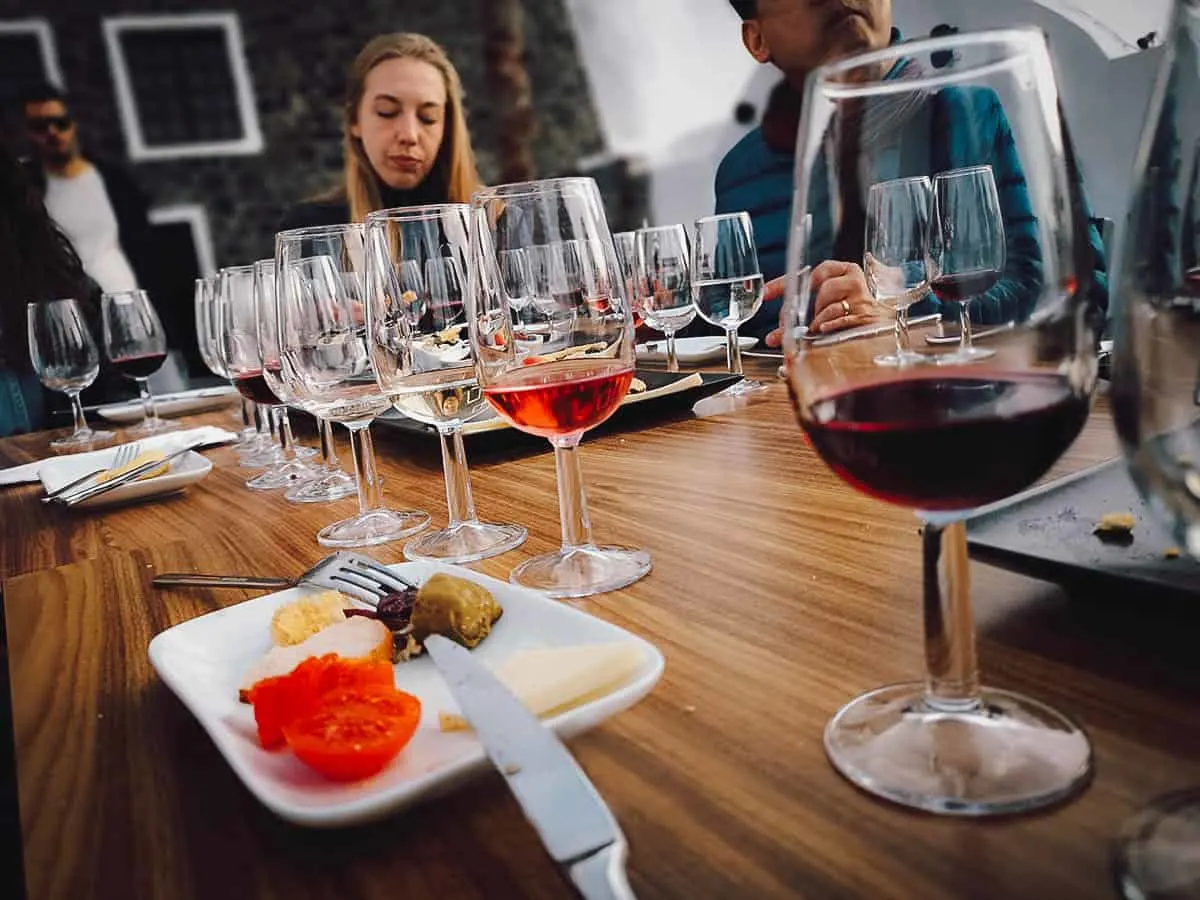 Here's a parting look at that magnificent view. They'd drop us off at our AirBnB in Megalochori after this.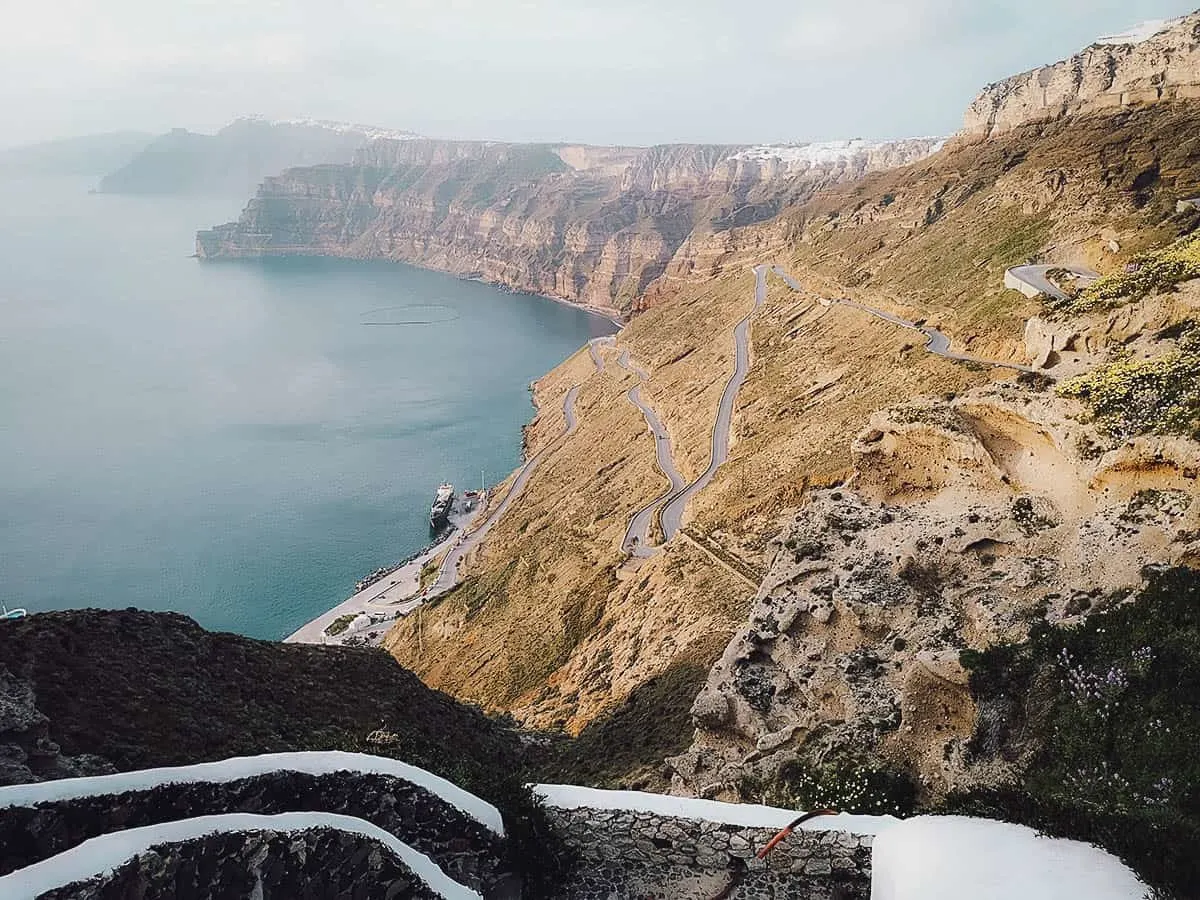 CONCLUSION
I don't know much about wine. I rarely drink it but I enjoyed this tour tremendously. In fact, it may have been the start of a budding love affair with wine as I found myself drinking less beer and more wine towards the end of our five weeks in Europe.
You don't have to be a wine connoisseur to enjoy this tour. It's informative and engaging and it'll teach you a lot about the unique wine making industry in Santorini. I did some research for this post and came across articles written by wine enthusiasts who enjoyed their time exploring the island's vineyards. From its circular vine baskets to its prized Assyrtiko grape, there is much to keep you interested here no matter your level of experience with wine.
If you're interested in booking this tour, then you can do so on Get Your Guide. It costs EUR 140 per person and lasts about four hours. There are plenty of wine tours you can do in Santorini but we chose this one because it's a small group tour with near perfect reviews.
Disclosure
Some of the links in this post are affiliate links, meaning we'll make a small commission if you make a booking at no additional cost to you. We really appreciate your support as this helps us keep this website going. Thank you!