EDITOR'S NOTE: Our visit to Metaxi Mas was in 2019 so menu prices have likely gone up since then.
As much as we'd love to find the "best restaurant" in every destination, it's an unrealistic task so we don't bother. What does "best" mean anyway? Is it the best because it's the most refined? The most authentic? The most innovative? The best value for money?
The criteria for "best restaurant" goes on and on, making it nearly impossible to quantify and measure – especially for something as subjective as taste!
But when I was doing food research for our trip to Santorini, I kept running into articles and reviews that consistently pointed to a "best restaurant" on the island. For the reasons listed above, I don't usually listen to those types of statements but the chatter in this case was too strong and too consistent to ignore.
From locals to bloggers to reviewers on TripAdvisor, all signs pointed to this place – Metaxi Mas – as being the best restaurant in Santorini.
Save This on Pinterest!
No time to read this now? Click on the red save button and pin it for later!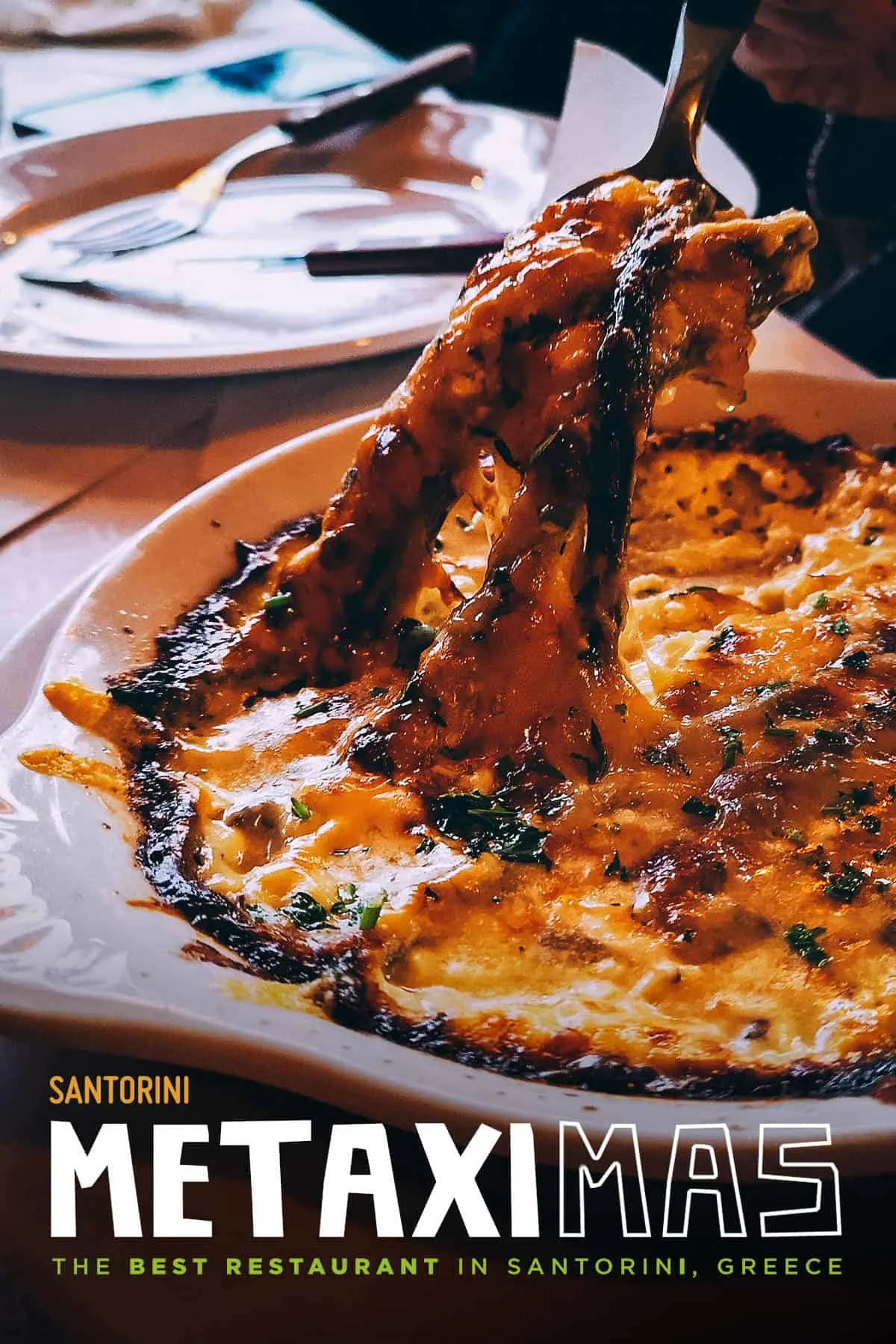 WHAT IS METAXI MAS?
Metaxi Mas is a Greek restaurant (Cretan and Santorinian) in Exo Gonia, a small village in south central Santorini. Unlike many villages on the island, Exo Gonia remains largely untouched by tourism. With fewer restaurants and limited accommodations, the village maintains its traditional feel, which is a refreshing change from the touristy and often overcrowded towns of Fira and Oia.
Metaxi Mas is located down the steps from the church of Agios Charalambos, a monastery built around 1705. Being in a more secluded village, you'll need a car or taxi to eat here. It's a little hard to find but its remote location adds to its appeal.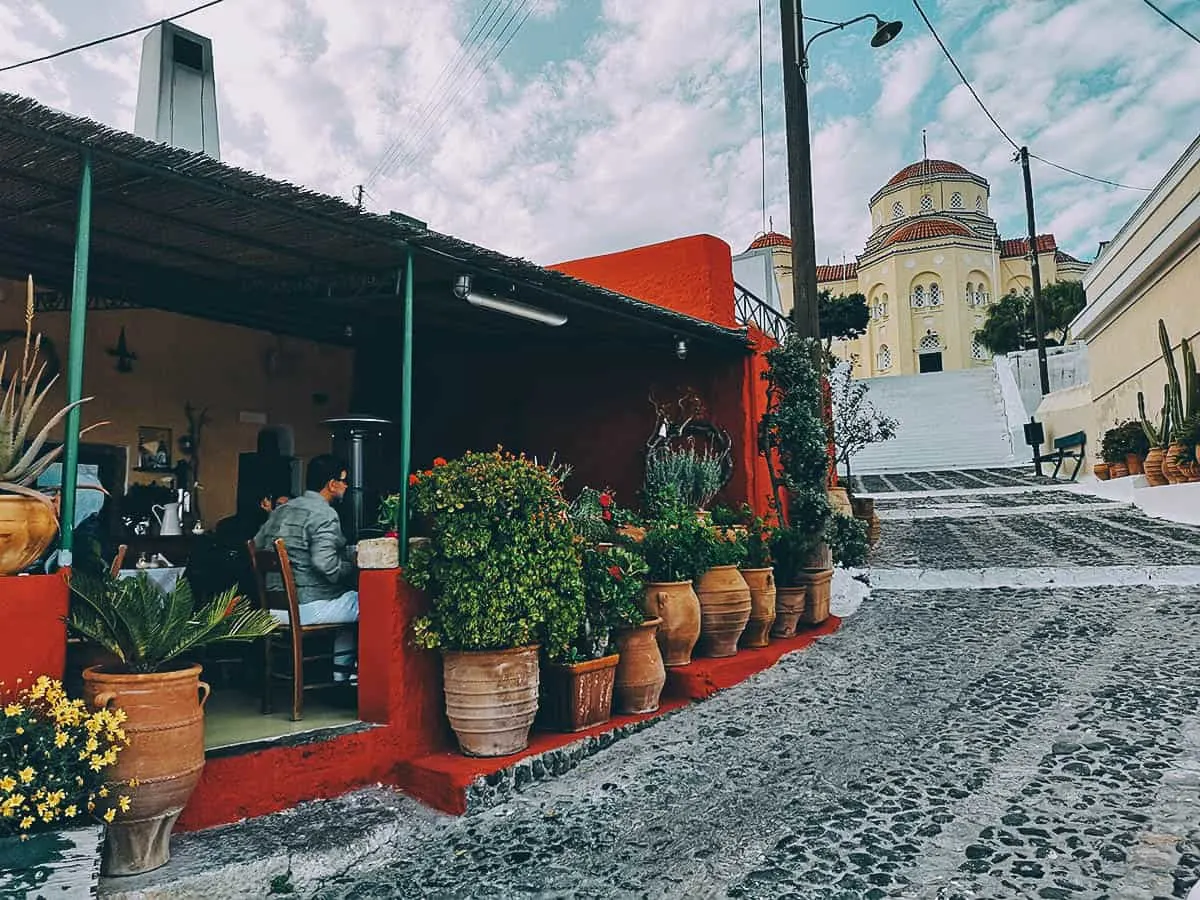 Metaxi Mas is situated on top of a hill giving you sweeping views of the island and the Aegean Sea.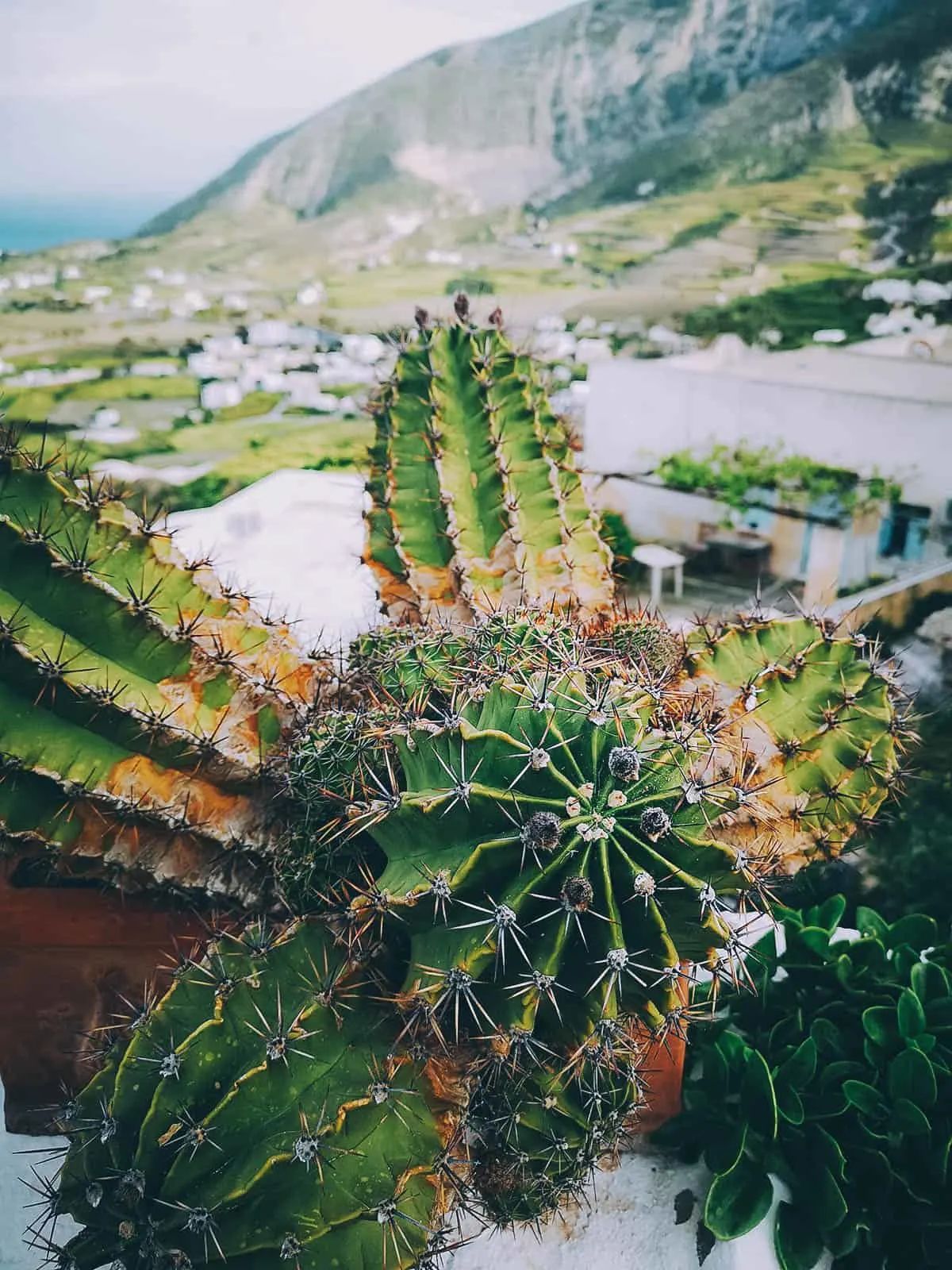 Metaxi Mas has a website and email address but they don't seem to take reservations too far in advance. When I emailed them to request dinner reservations, they asked me to call and make the reservation when we were on the island.
I asked our hotel for help and when the concierge realized we were making reservations at Metaxi Mas, she said "oh, what a great choice!" This restaurant's reputation really does precede itself.
We arrived early for our dinner reservations so we sat in the courtyard to enjoy the view.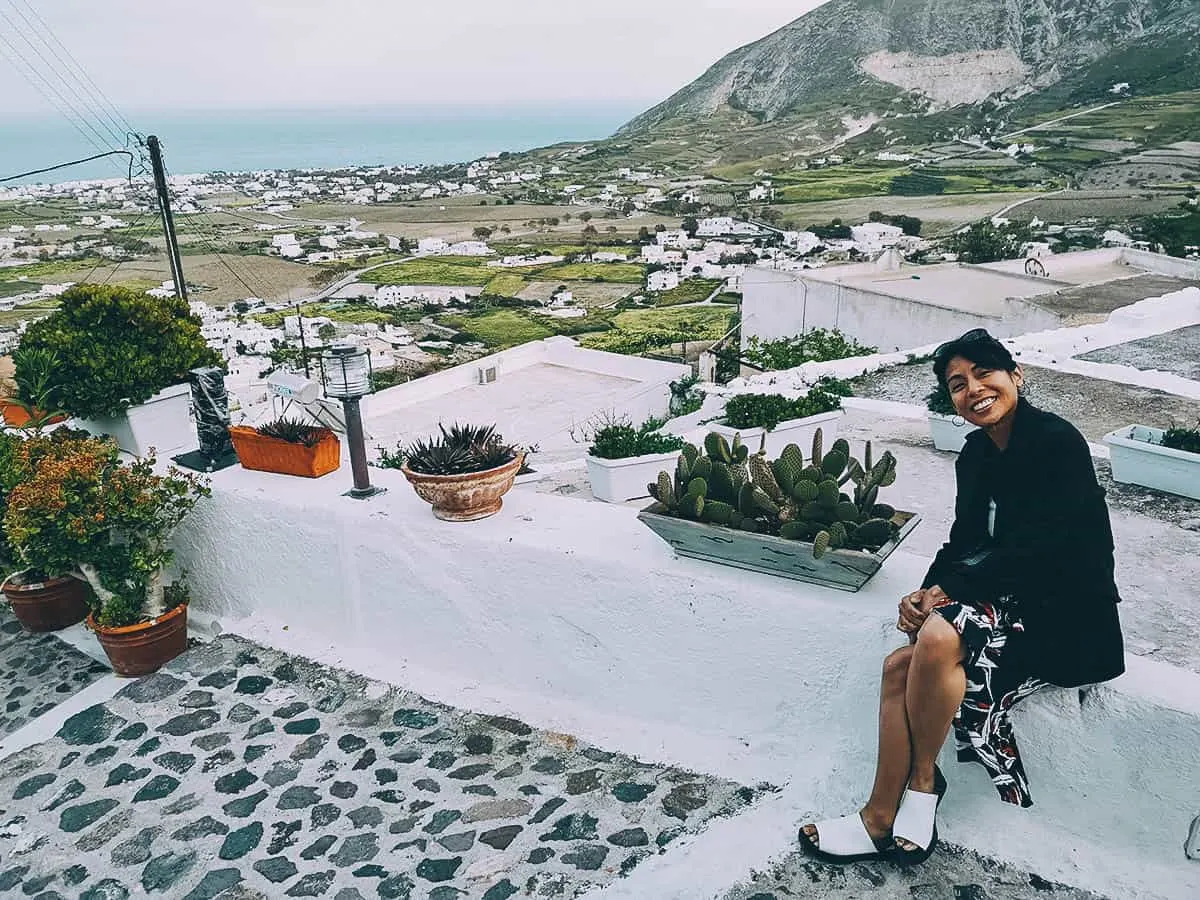 While waiting, they offered us this tray of meze with cheese, olives, bread, and raki. I'm liking this place already!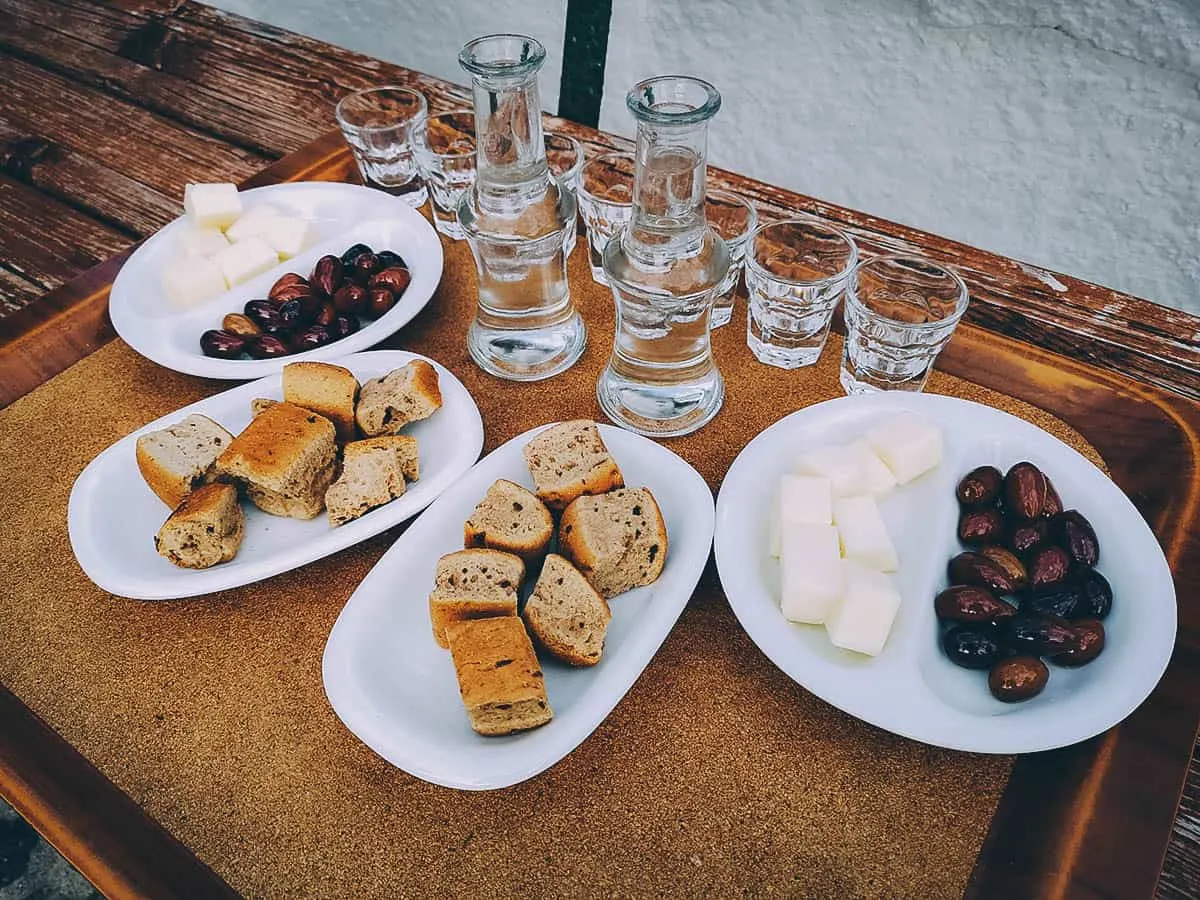 Raki is a sweetened anise-flavored alcoholic drink popular throughout the Greek islands. It's similar to ouzo and typically served as an aperitif with meze. If you're ever had anise, then that's exactly what raki tastes like.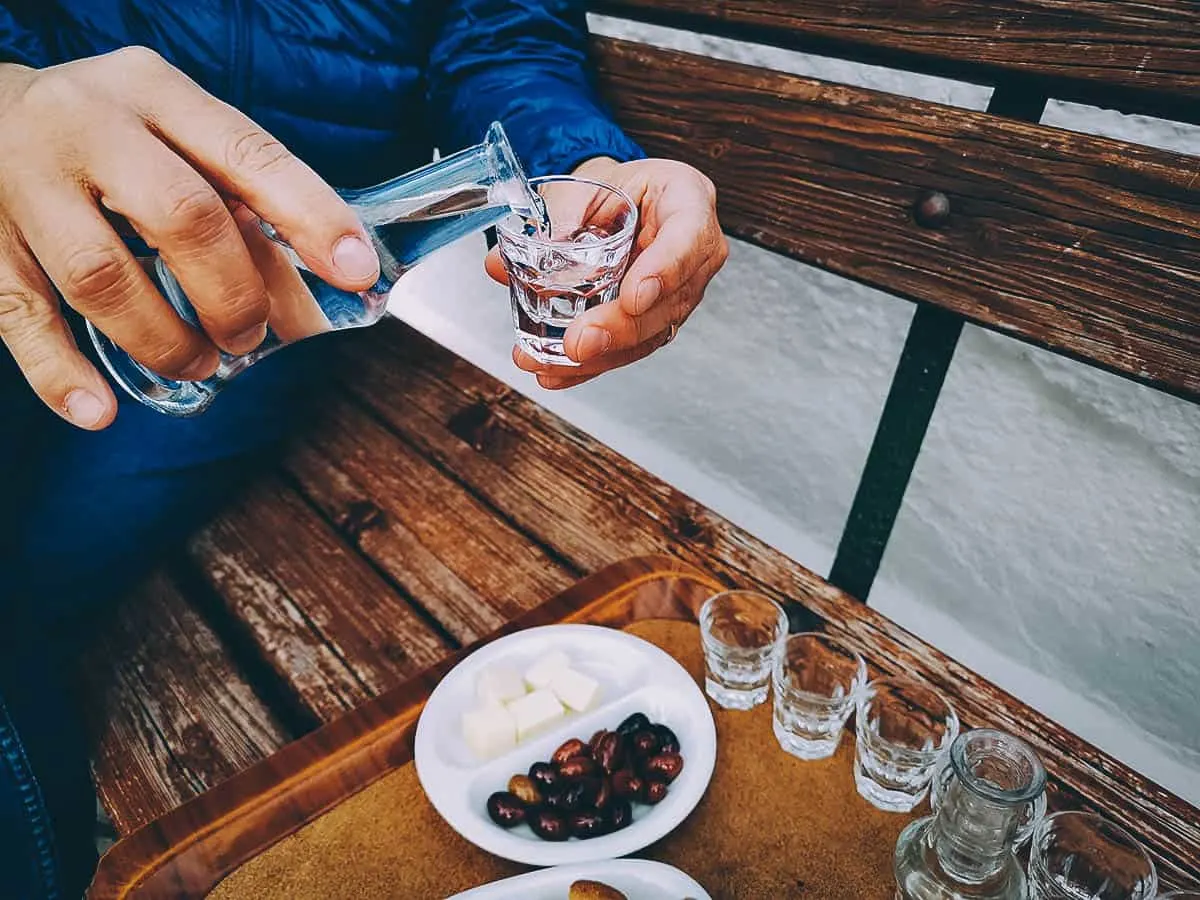 THE BEST RESTAURANT IN SANTORINI
In spite of its more remote location, Metaxi Mas is well-known so it's important to make reservations. The place was full during dinner with a constant stream of people coming in. The place is equally popular with both local Greeks and international tourists.
The restaurant offers a focused menu of Cretan and Santorinian dishes like fava, roasted white eggplant, and boneless pork chops. We ordered an amphora of Santorini's famous Assyrtiko wine to enjoy with our meal.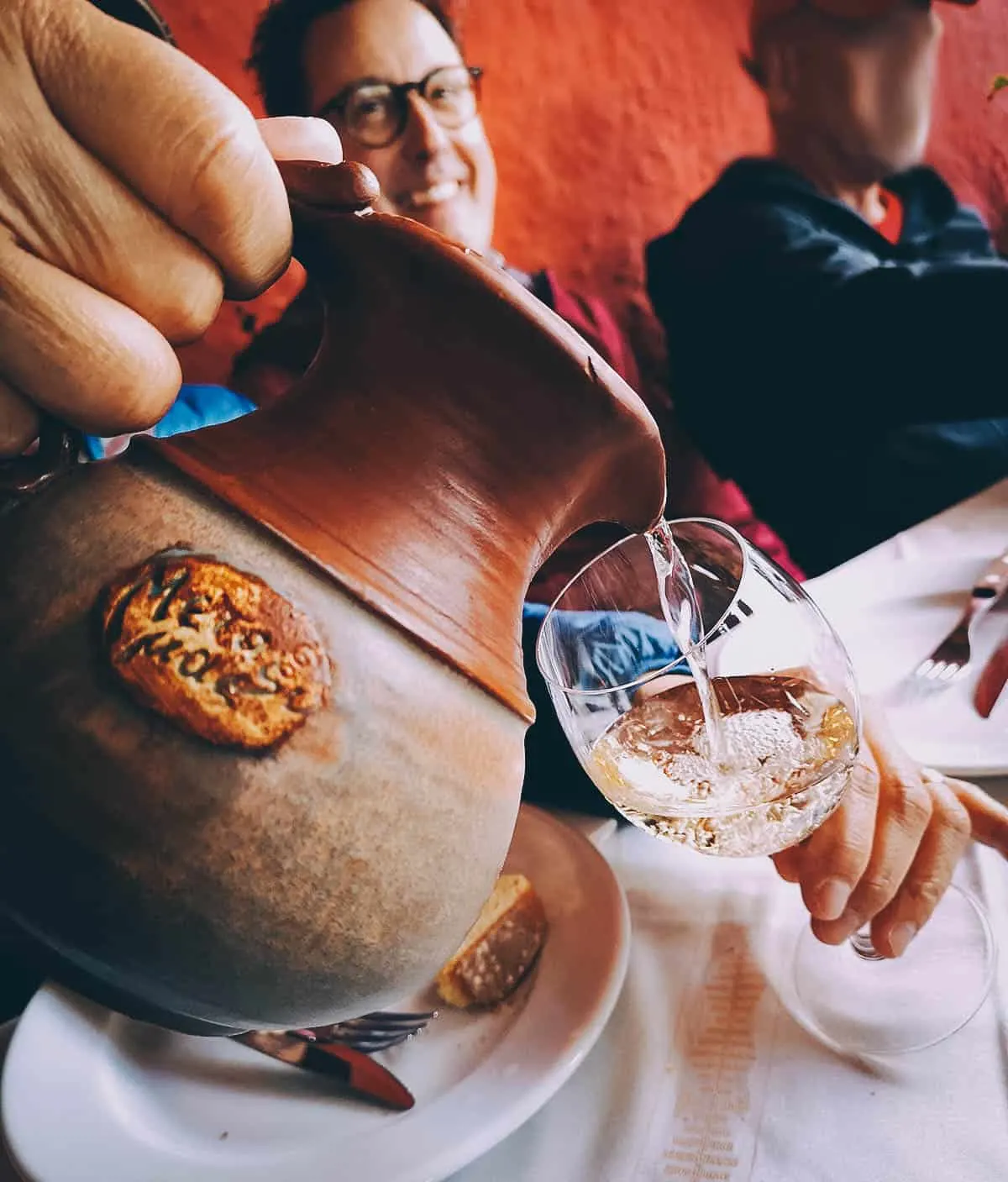 We started with a couple of salads including this beetroot salad (EUR 9.50) with rocket, Santorini tomato, feta cubes, walnuts, and a balsamic fig vinaigrette.
The first thing you'll notice is how fresh the ingredients are. Crunchy and packed with moisture, the greens and tomatoes tasted like they were just picked from the restaurant's garden! Santorini is famous for its cherry tomatoes that have been regularly cultivated on the island since 1875.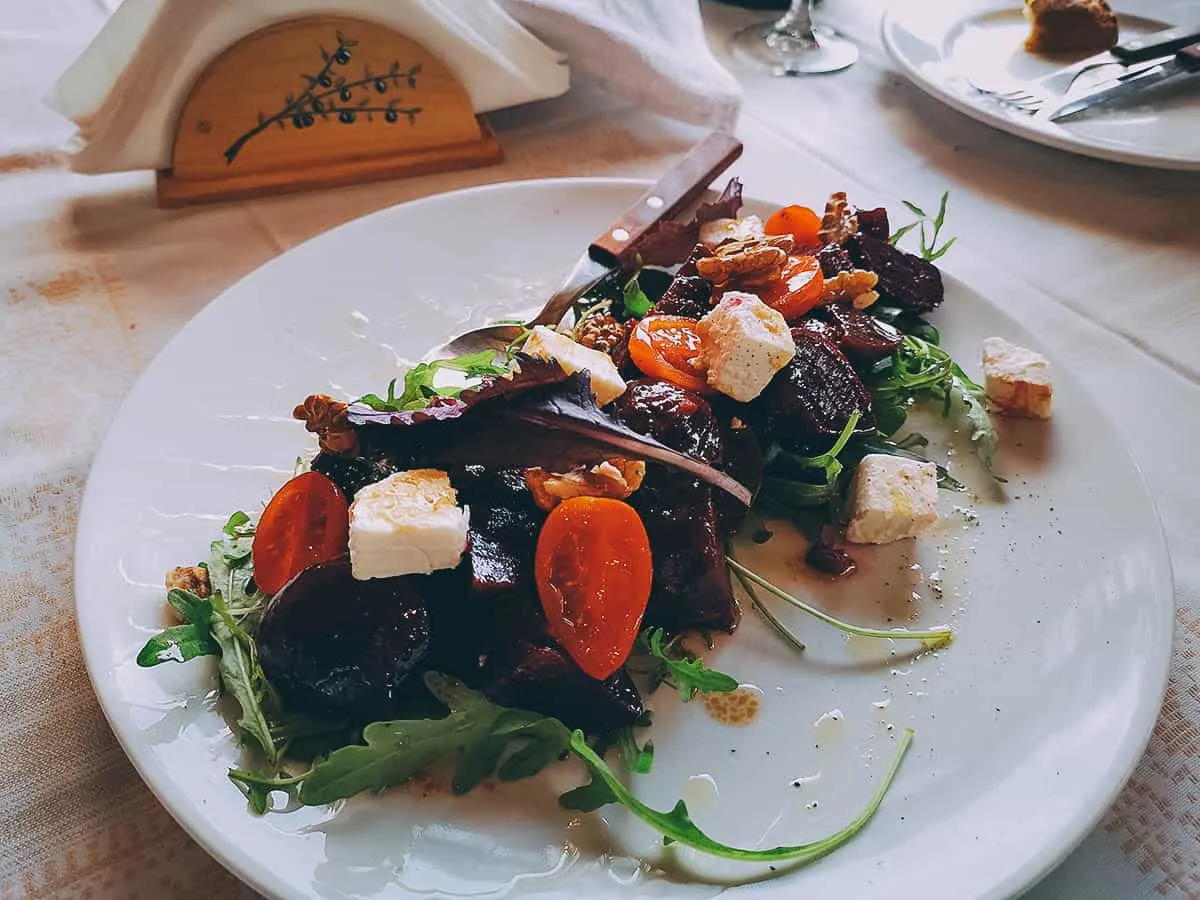 The second salad we ordered was this equally crisp and refreshing pomegranate salad (EUR 9.50) made with red and green leaf lettuce, spinach, spring onion, dill, orange, walnut, parmesan, and pomegranate. It was dressed with a balsamic honey vinaigrette.
I read that seasonal products like fruit, endemic wild herbs, locally grown vegetables, and aromatic plants figure prominently in Cretan cuisine.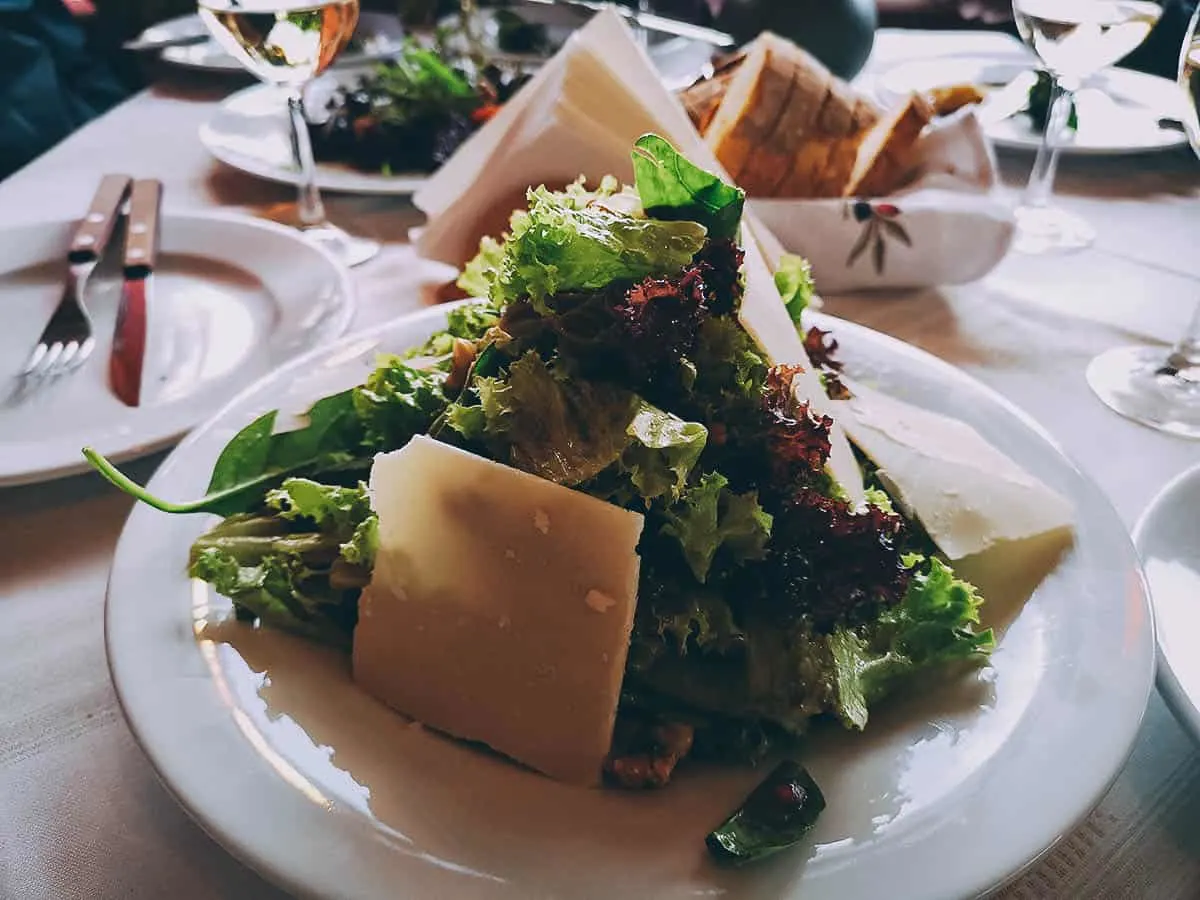 This appetizer sounded interesting so we ordered this Cretan apaki or smoked pork (EUR 7.50). Served on pita bread with Santorini tomatoes, it's smothered in graviera cheese, herbs, and olive oil.
Graviera is a characteristic Cretan sheep's milk cheese. It's the second most popular cheese in Greece, after feta.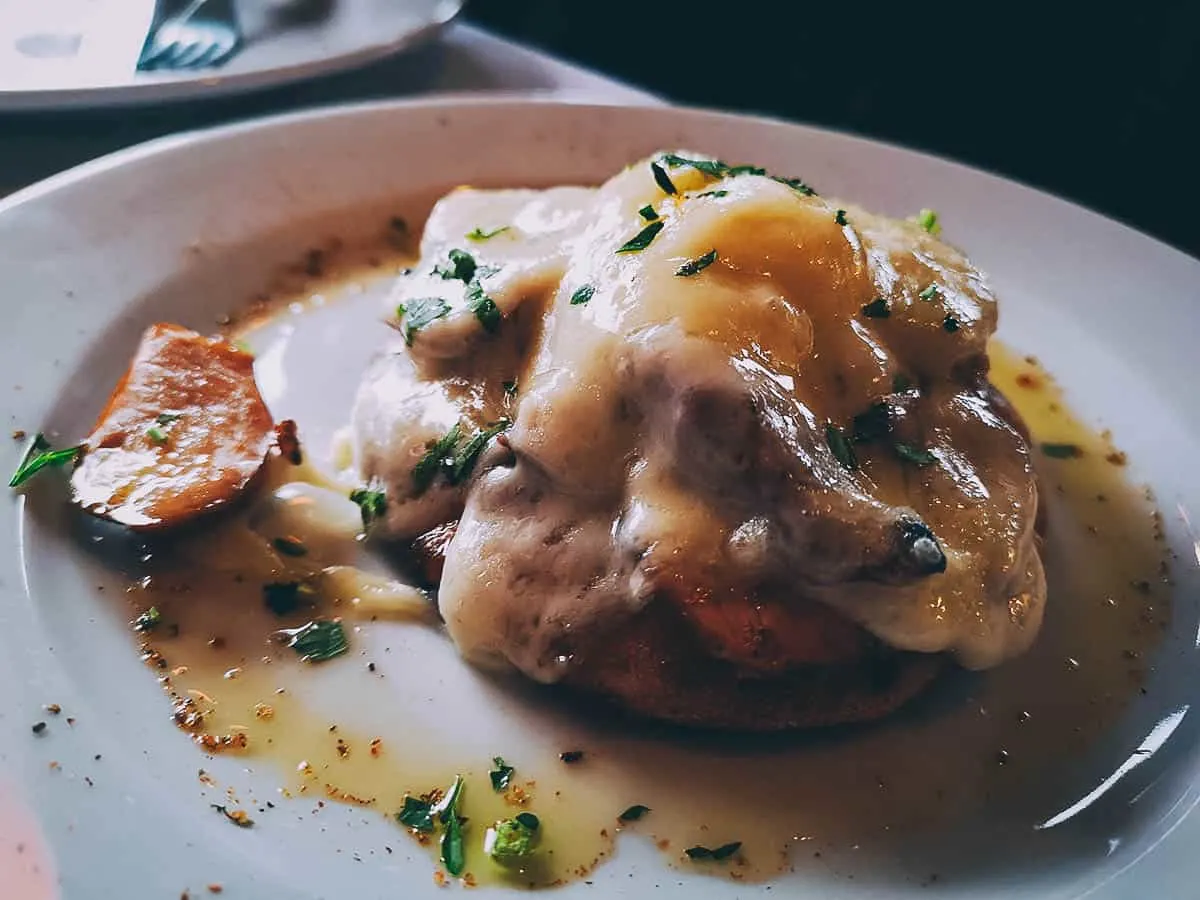 This oven-baked asparagus (EUR 9.50) was fantastic and my favorite dish from tonight's meal. It was recommended often in reviews but I didn't understand how a simple asparagus dish could be so memorable, until I tasted it.
Crunchy asparagus is baked in a bed of graviera cheese and tarragon then brought smoking hot to your table. It's rich, creamy, and deliciously sharp-tasting. I LOVED this dish and would probably order it on every return visit to Metaxi Mas.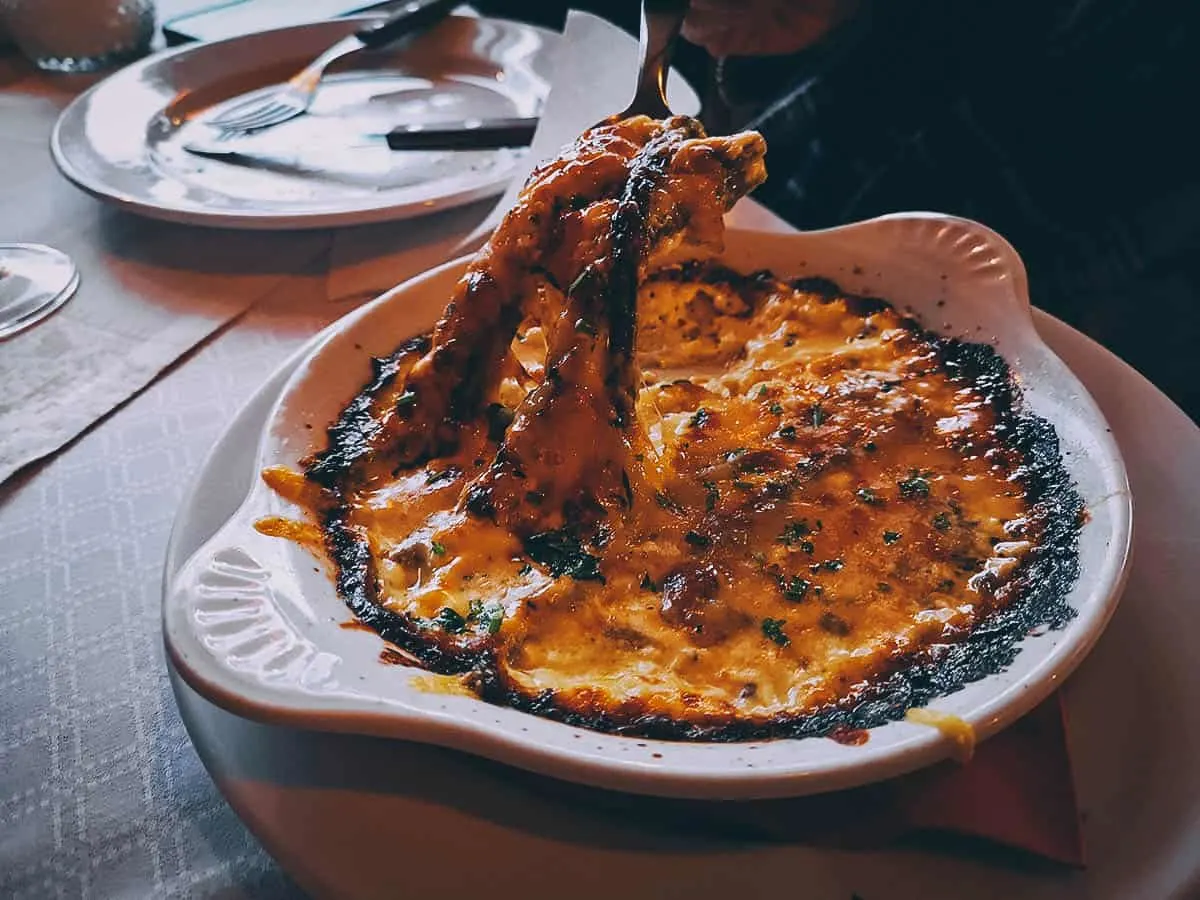 One of its staple foods, you can't visit Santorini without ordering octopus at least once. This grilled octopus (EUR 14.50) seasoned with fresh oregano and olive oil was fantastic. It was tender but still with bite, much like perfectly cooked al dente pasta. It was served with a fresh green salad with Santorini tomatoes and a balsamic vinaigrette, along with some fava (yellow split pea purée) and capers – both of which are also Santorini specialties.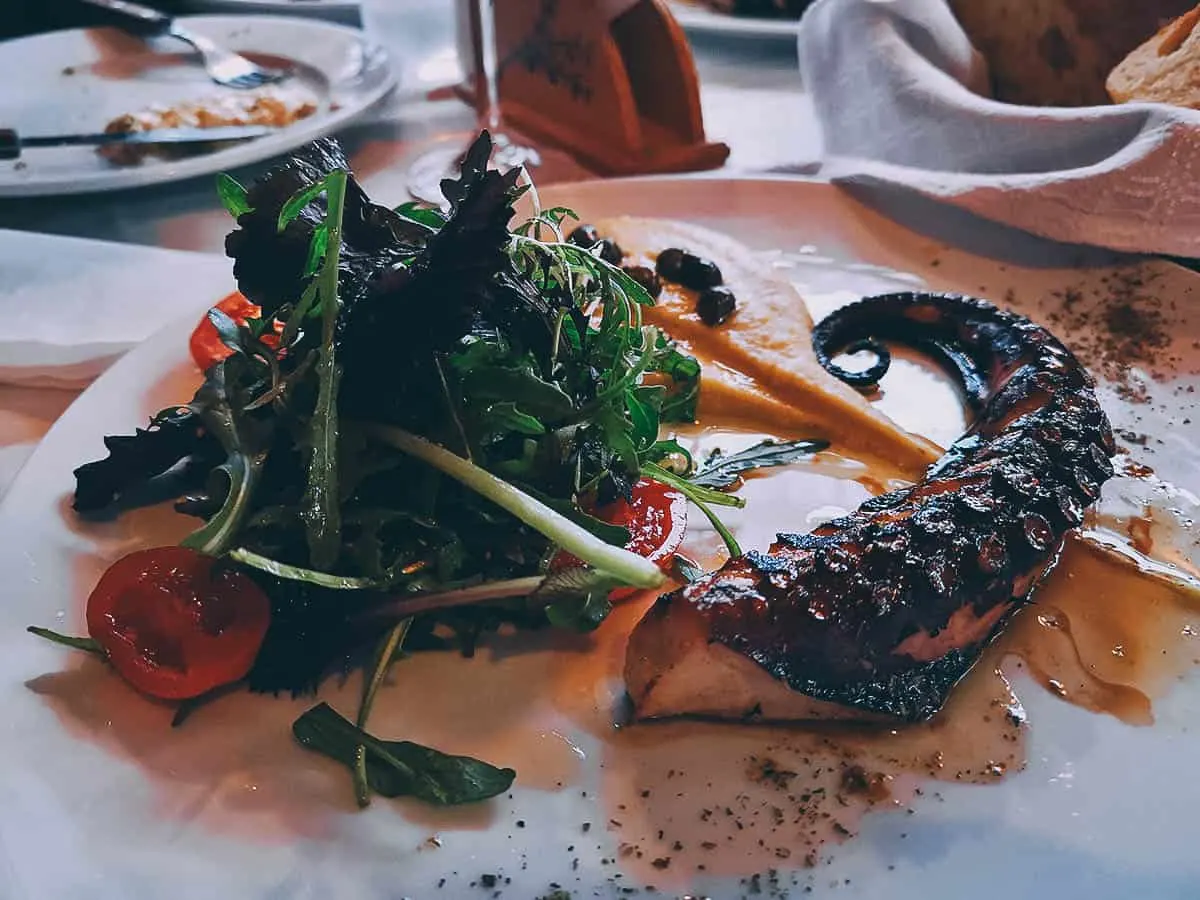 This grilled chicken fillet (EUR 12.50) was one of the best chicken dishes I've ever had. It's flavorful and juicy with the most delicious crisp chicken skin.
I've never had grilled chicken with such crisp skin before so I googled recipes to see how it's done. Based on this article, it looks like the skin is kept away from the marinade before being grilled skin-side down first to achieve that extra crispness. It's soooo good.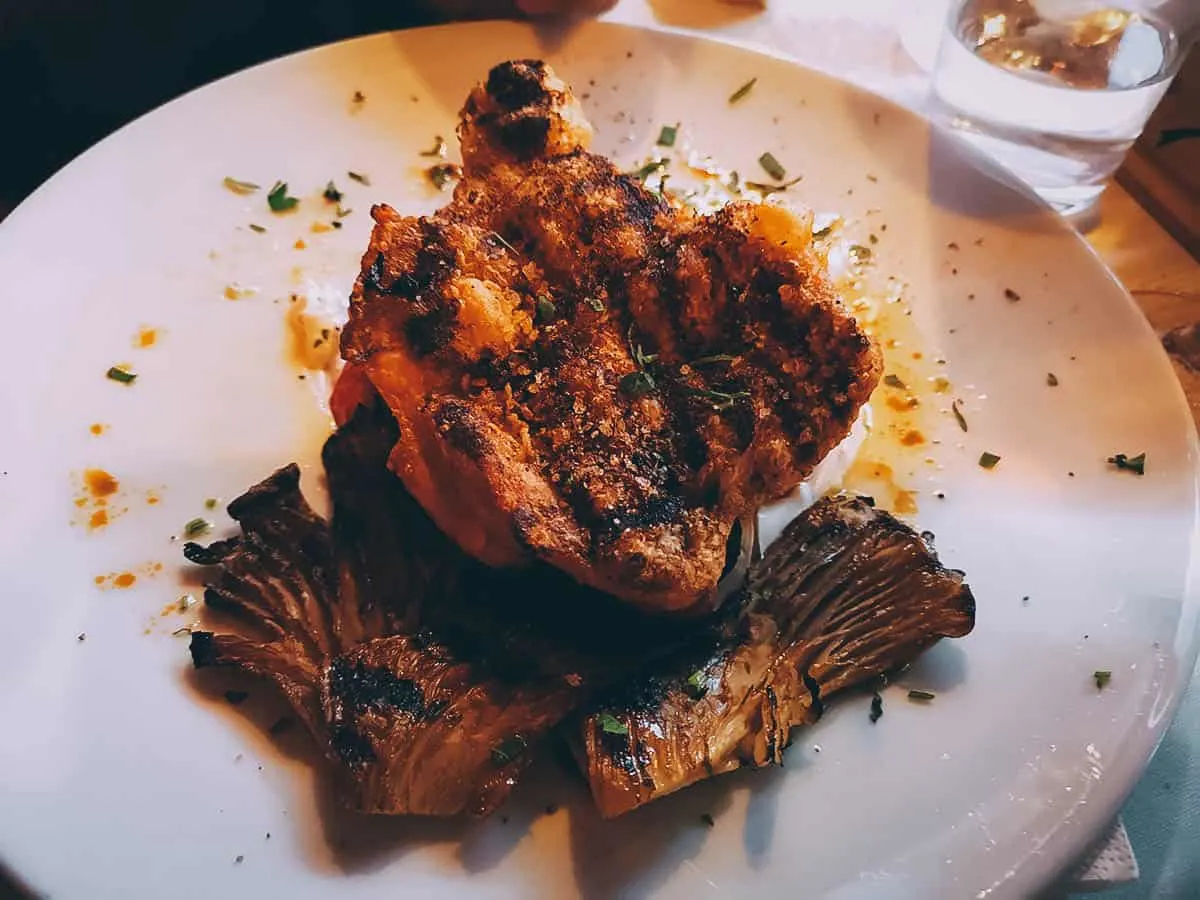 For my entree, I had this tasty seafood giouvetsi (EUR 12.50) made with orzo, shrimp, and mussels. The seafood was always so fresh and delicious in Santorini. Loved the orzo with saffron too.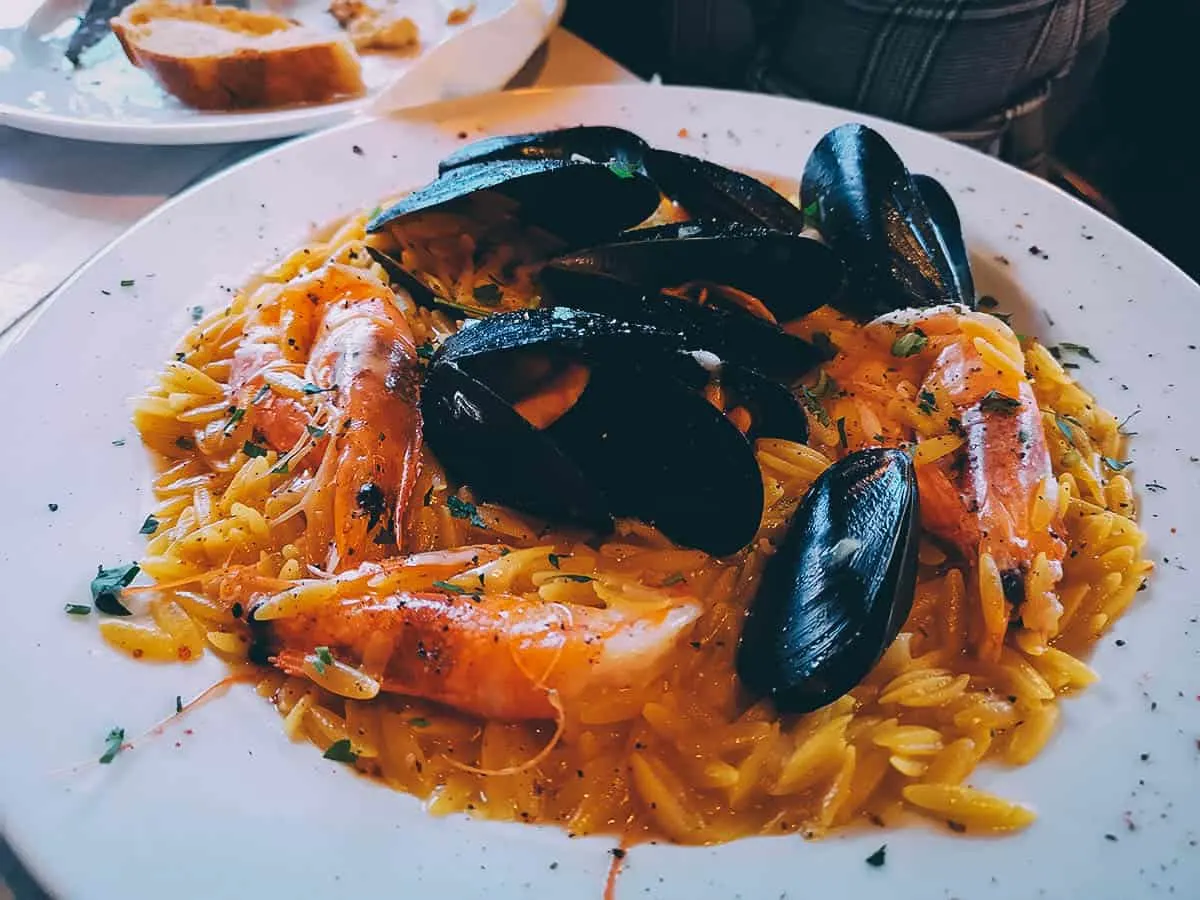 To conclude our meal, they served us this fantastic custard-y dessert. I believe it's called galaktoboureko which is a Greek dessert made with semolina custard and layers of crisp phyllo pastry. It's drizzled with melted butter and coated in a clear, sweet syrup. Delicious!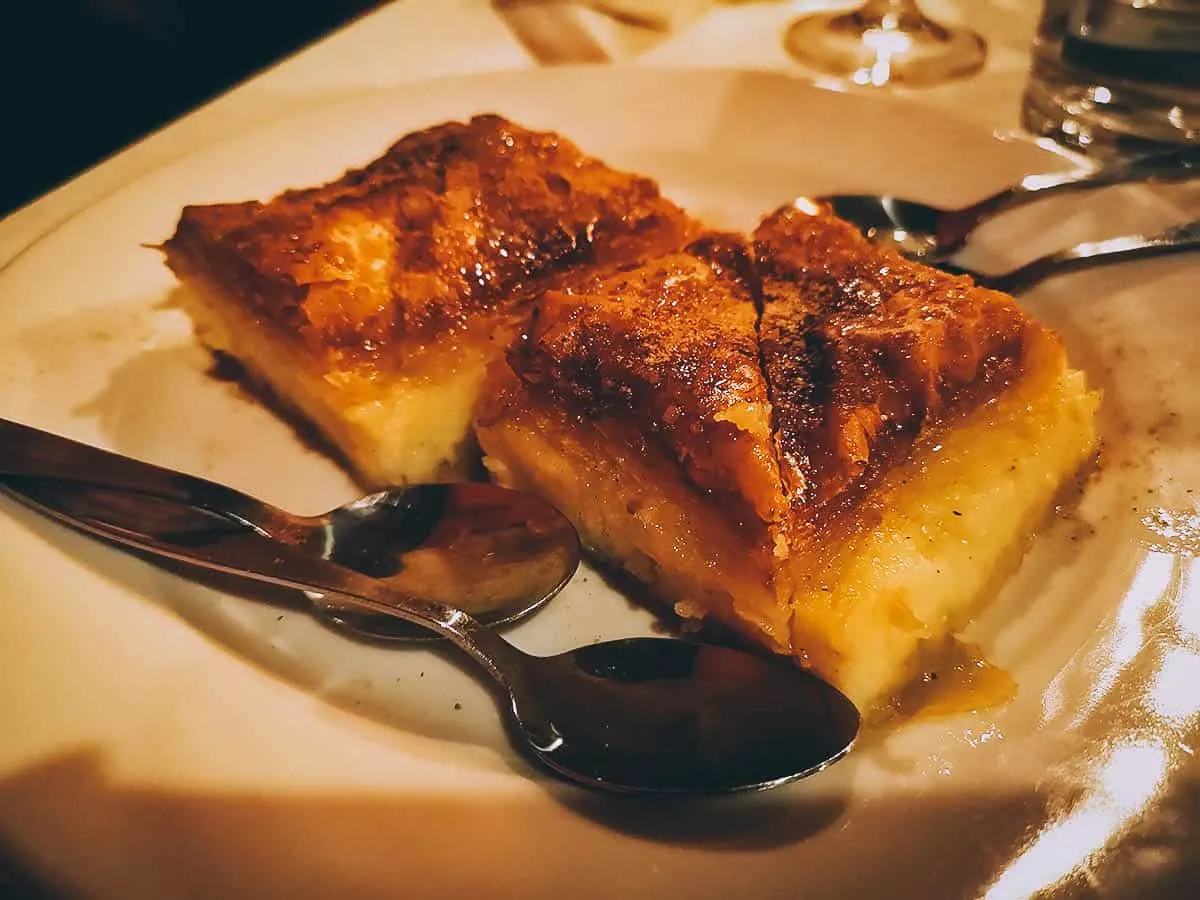 Ren was all smiles after that fantastic meal. Everyone was right. This was hands down the best meal we had during our entire stay in Santorini.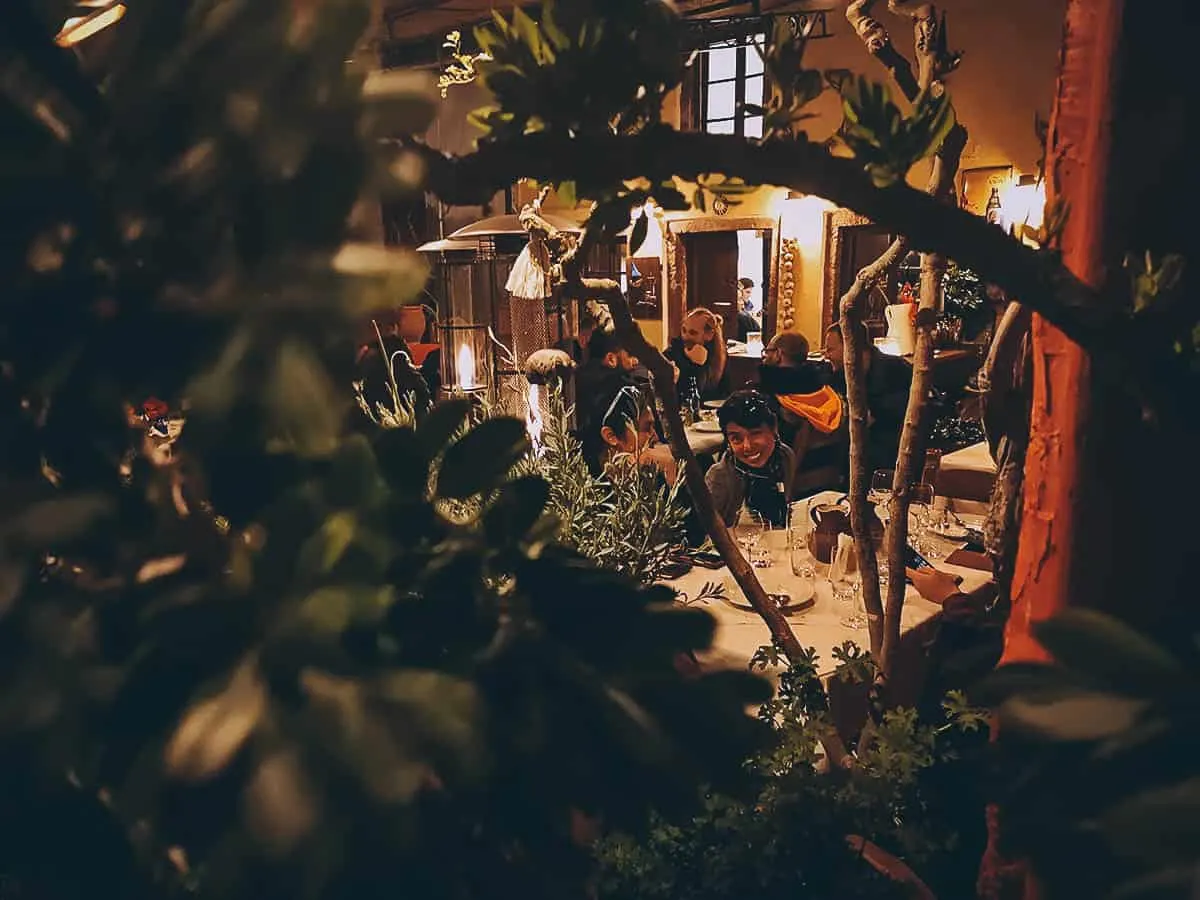 FINAL THOUGHTS
To be honest, whenever I go to one of these restaurants hailed as the best, I usually don't understand why. I always enjoy my meal – simply because it tasted good – but I often don't have enough experience with the cuisine to really understand why a particular restaurant has been called the best. At Metaxi Mas, I do.
We enjoyed many delicious meals during our stay in Santorini but this one was easily our favorite. It just stood out, even over restaurants that were twice as expensive.
Greek food is simple and comforting. It relies heavily on the freshness of its ingredients so many of the restaurants we went to offered simple but delicious meals, the kind I imagine you'd find in a typical Greek home.
Metaxi Mas serves comforting food as well, but perhaps more refined, like elevated comfort food. It isn't quite fine dining but it isn't rustic home cooking either. It falls somewhere inbetween, offering an interesting menu that's unique and big on flavor.
Considering the quality of the food, the restaurant isn't expensive either. We spent around EUR 25 each which is very reasonable for Santorini.
All things considered – location, uniqueness, value, quality of food – it's no wonder many people call Metaxi Mas the best restaurant in Santorini.
Metaxi Mas
Exo Gonia, Έξω Γωνία, Santorini 847 00, Greece
Tel: +30 22860 31323
Operating Hours: 2PM-12MN, daily
Website: santorini-metaximas.gr
Facebook: metaximasantorini
Email: [email protected]
Expect to Pay: EUR 12-15 per entree
HOW TO GET THERE: Metaxi Mas is located just a short walk from Agios Charalambos in Exo Gonia. If you're driving there, then it's best to plot your way using Google Maps or a similar navigation app. Taxi drivers will probably know it.
Disclosure
The TripAdvisor link in this post is an affiliate link, meaning we'll earn a small commission if you make a purchase or booking at no extra cost to you. We really appreciate your support as this helps us keep this website going. Thank you!