For the first time, Ren made one of her Reneelicious recipes on a Saturday so I was able to observe and photograph the entire process and not just the end product. This was fun, although Ren told me that this would be the only time I'd get to do this since I apparently got in her way. Ha ha! In any case, here's this simple but delectable dish from start to finish.
Mise en place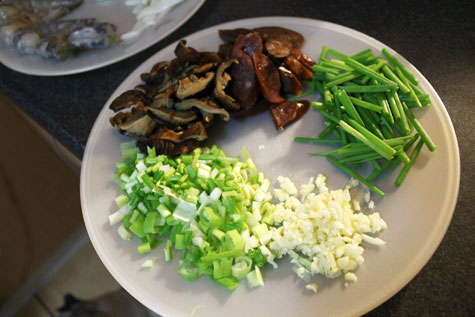 Seafood proteins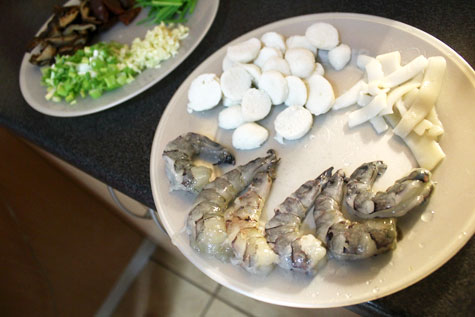 Liquid ingredients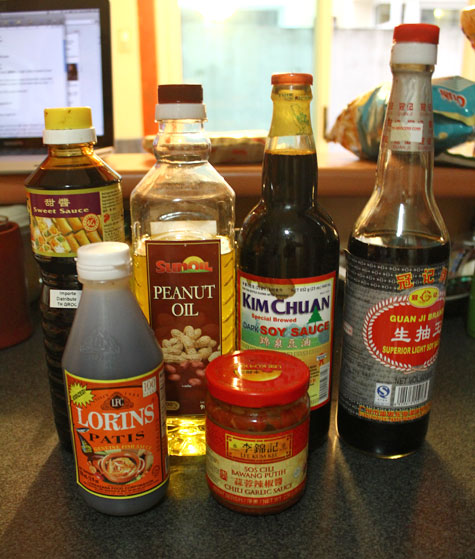 Noodles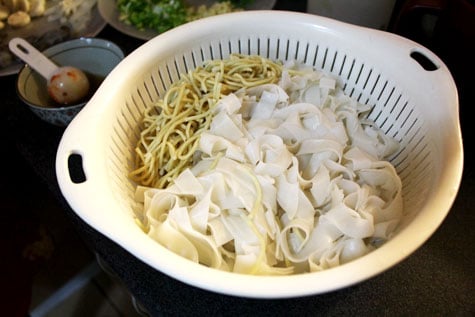 Ingredients (serves3-4)
250g flat rice noodles aka Kway Teow or hofan, softened according to package directions
250g round yellow noodles, cooked
250g medium-sized prawns, shelled and deveined
1 cup of fresh cockles, shelled*
1 Chinese sweet sausage, thinly sliced diagonally
1 large fish cake, cut into strips
Handful of bean sprout, trimmed
3 medium eggs
3 cloves of garlic, minced
2 Tbsps of Sambal chili paste
2 Tbsps of fish sauce
2 Tbsps of light soy sauce
2 Tbsps of dark soy sauce
2 Tbsps of black sweet sauce
1 Tbsp of tamarind juice (Juice from a lump of tamarind/assam seed paste mixed into 1-2 Tbsps of water. Discard seeds and use only 1-2 Tbsps of juice.)
Pinch of salt to taste (If more briny taste is preferred)
2-3 Tbsps of water
6 Tbsps of peanut/vegatable oil
Chives or spring onions, cut into 2 inch long pcs, lengthwise (optional)
*Cockles weren't available, so Ren used squid rings as a substitute instead.
Directions
Heat wok with 3 Tbsps of oil over high heat. Add garlic and stir fry until fragrant and golden brown. Add Chinese sausage and stir fry until fragrant and sausage appears glossy but not burnt. Add fish cake and prawns and stir fry until almost cooked. Reduce heat to medium, then move ingredients to one side of wok.
Add sambal chili paste into cleared space in wok and stir fry for 10 seconds. Add kway teow and yellow noodles into wok, followed by water. Stir fry noodles to combine well with chilli paste. Move ingredients back and combine with noodles. Scrape surface of wok often to minimize sticking.
Add fish sauce, light soy sauce and dark soy sauce. Stir vigorously to combine well.
Push noodles and other ingredients to outer portion of wok, leaving center empty, then add another 3 Tbsps of oil. When oil is heated, crack in eggs. Break up eggs with spatula, then return noodles and other ingredients to center of wok and coat well with eggs.
Add black sweet sauce (or sugar) and stir fry to combine. Add in tamarind juice in one circular motion and stir fry again to combine well. Taste and sprinkle with salt if needed. Stir to combine well.
Add bean sprouts (and chives, if using) and stir fry for 10 seconds. Add fresh cockles and stir fry for just a few seconds before turning heat off.
Just a little of that stir-fry action and…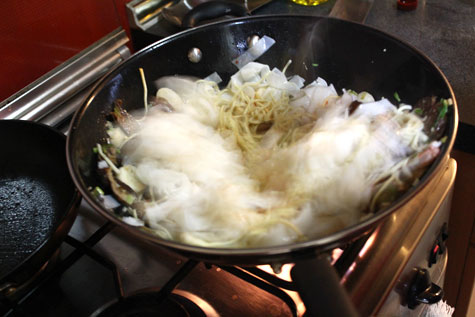 …voila! The delicious end product, perfect with our San Mig Lights on this wet, rainy Saturday evening.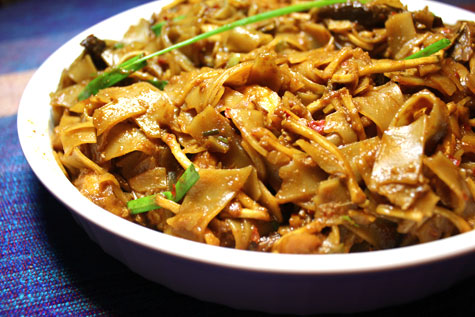 DID YOU KNOW?
That char kway teow was first invented mainly to serve laborers? Its high fat content and low cost made it attractive for them as it was a cheap source of energy and nutrients. In its early days, it was often sold by fishermen, farmers and cockle-gatherers who doubled as char kway teow hawkers in the evening to supplement their income.