I love kaiten-zushi restaurants. They're so much fun. I always have a blast sitting in front of those conveyor belts and catching sushi like Pokemon. "Oh my god! There's an unagimon! Catch it, catch it!" 😆
There are no conveyor belts at lok lok buffets but the concept is similar. A type of communal steamboat that's popular in Malaysia, diners sit around a table with a central pot of boiling water. A wide selection of food ranging from seafood to meats and vegetables is skewered on sticks and placed around the table. Diners grab whatever sticks they want and dunk them into the pot to cook. Like the plates at kaiten-zushi restaurants, each stick is colored differently to indicate price so you only pay for what you consume.
Delicious and cheap, we enjoyed many meals in Penang but this lok lok was by far the most fun.
Malaysian Lok Lok Hot Pot
Many places in Penang offer lok lok. We had it at the Gerai Gerai Padang Brown hawker centre thanks to a recommendation from popular Singapore food blog sethlui.com.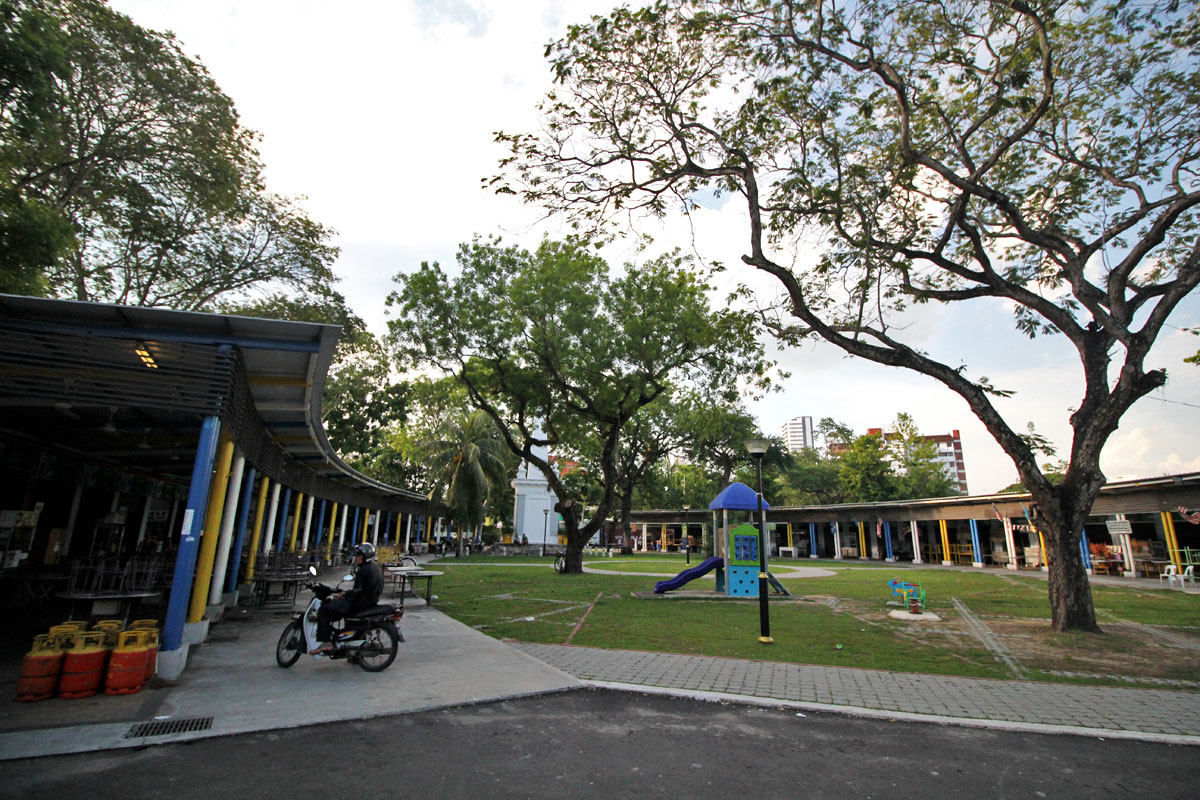 When we first sat down, there were just a few plates of food on the table. There were just two of us so were pretty happy with this amount, but they kept adding more and more plates until…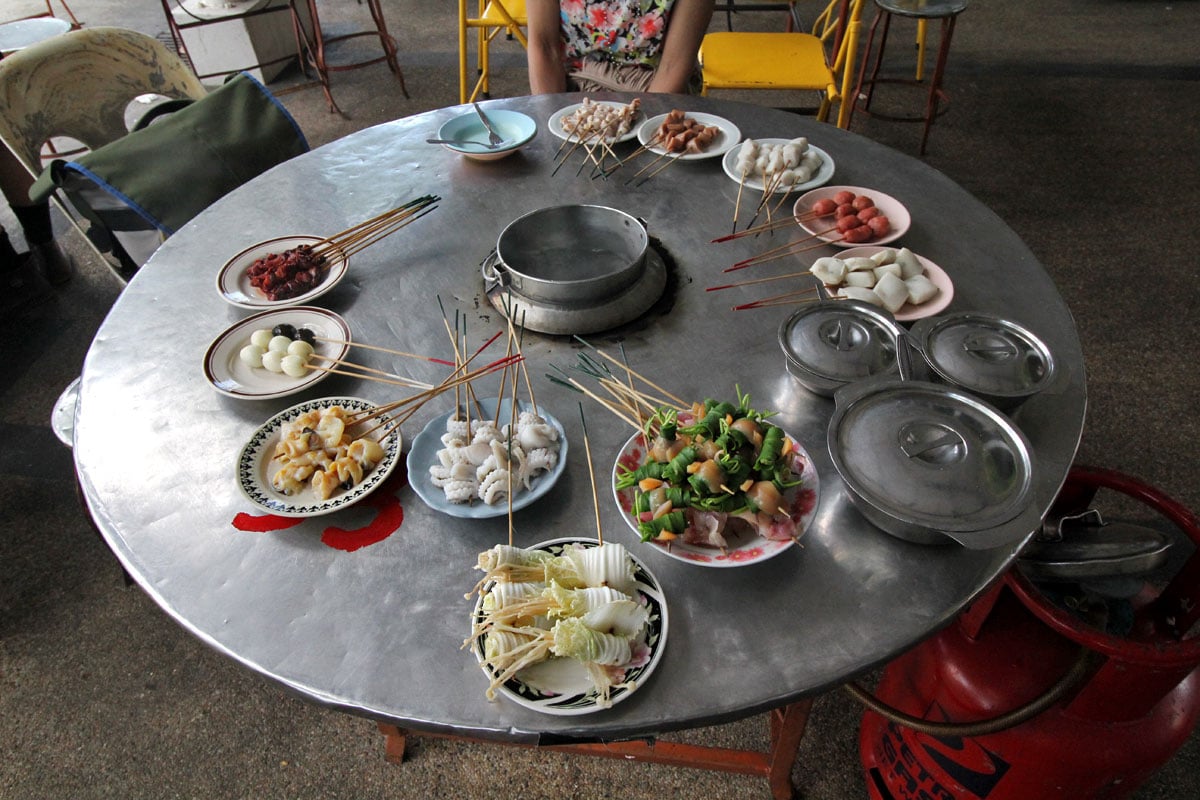 …BOOM! We had a table full of food all to ourselves. How beautiful does that spread look?!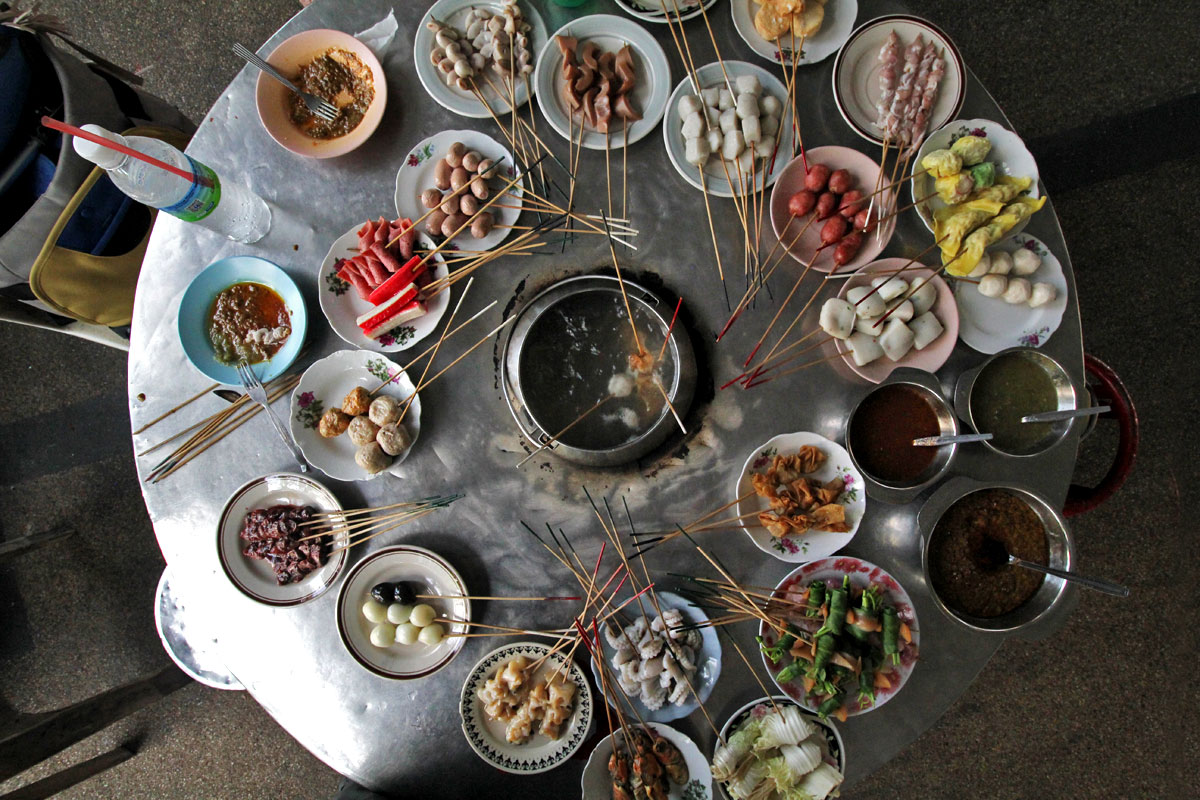 Lok lok is a communal meal so it's customary to share the same table with other diners. But since we arrived near closing time, we were the only ones here so we didn't have to share with anyone. 😈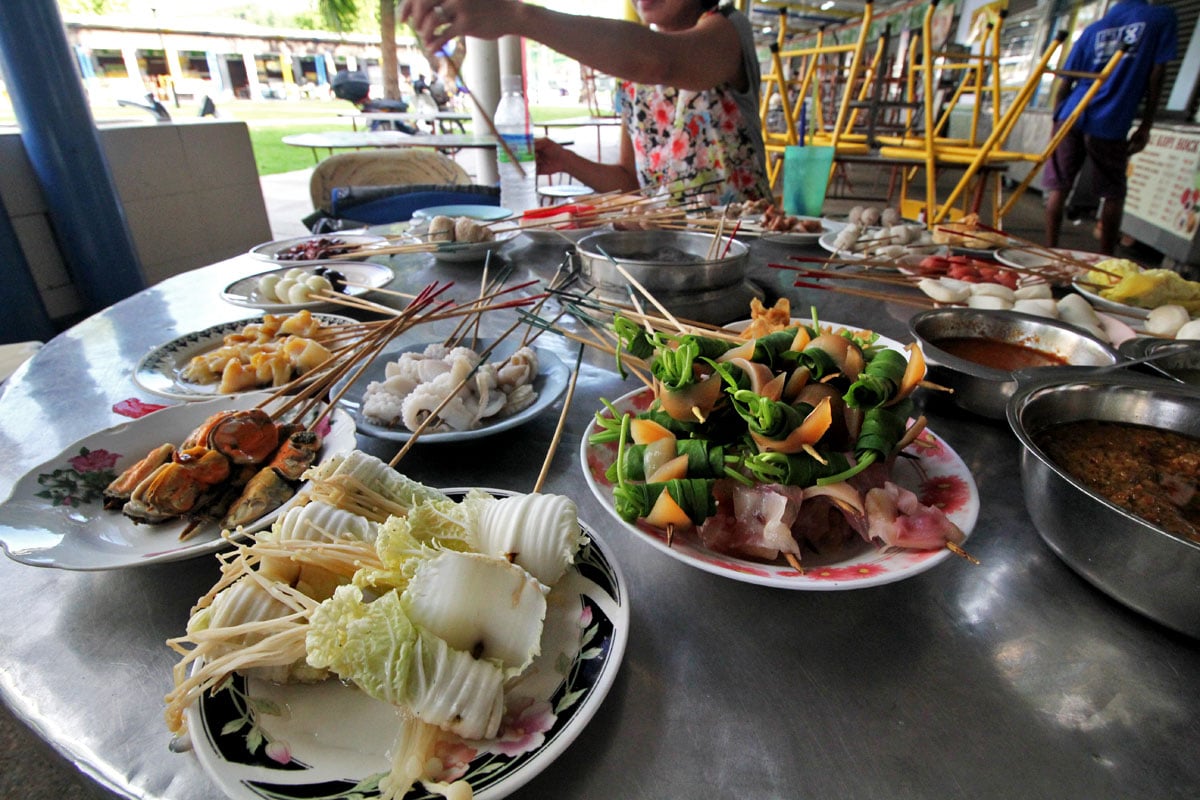 On the table are several dips like satay and chili sauces. You can mix them up to make your own blend. Here's a tasty dumpling that's about to go bye-bye.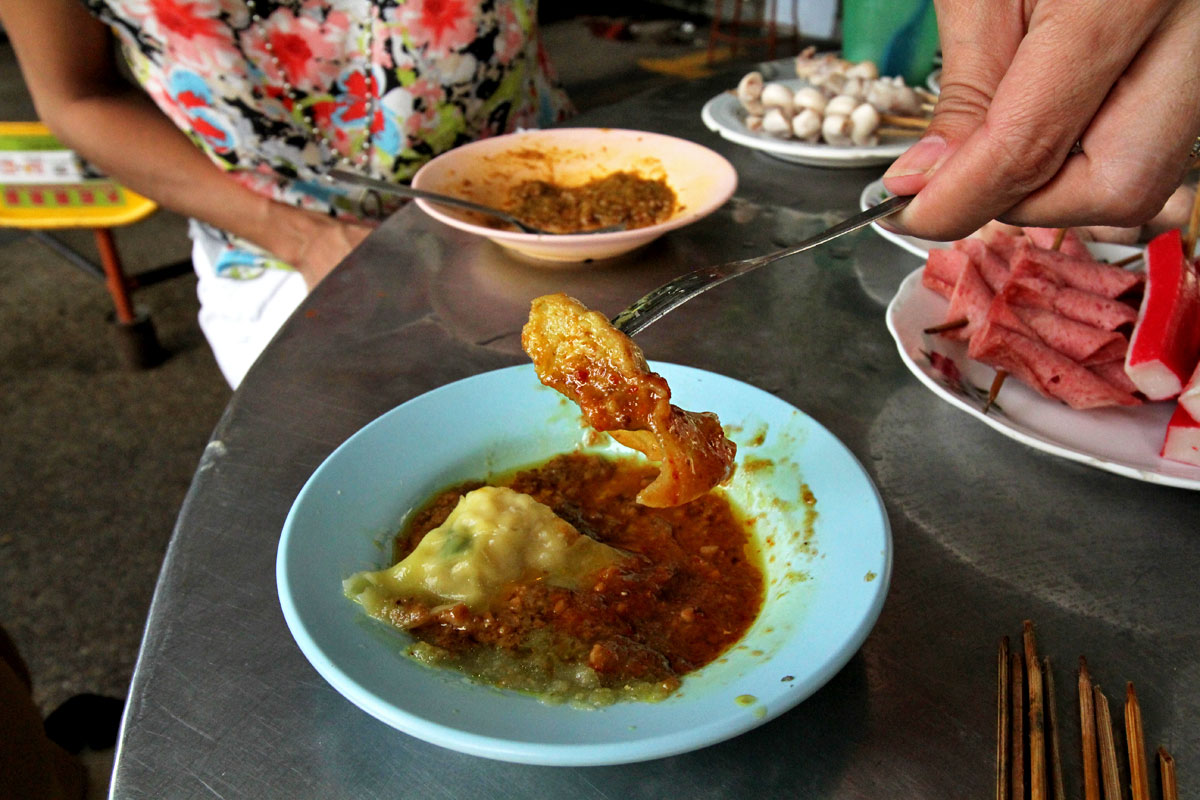 They had many kinds of fish/meatballs and fish cakes. There were a few types of fresh seafood as well like mussels, cuttlefish, and cockles.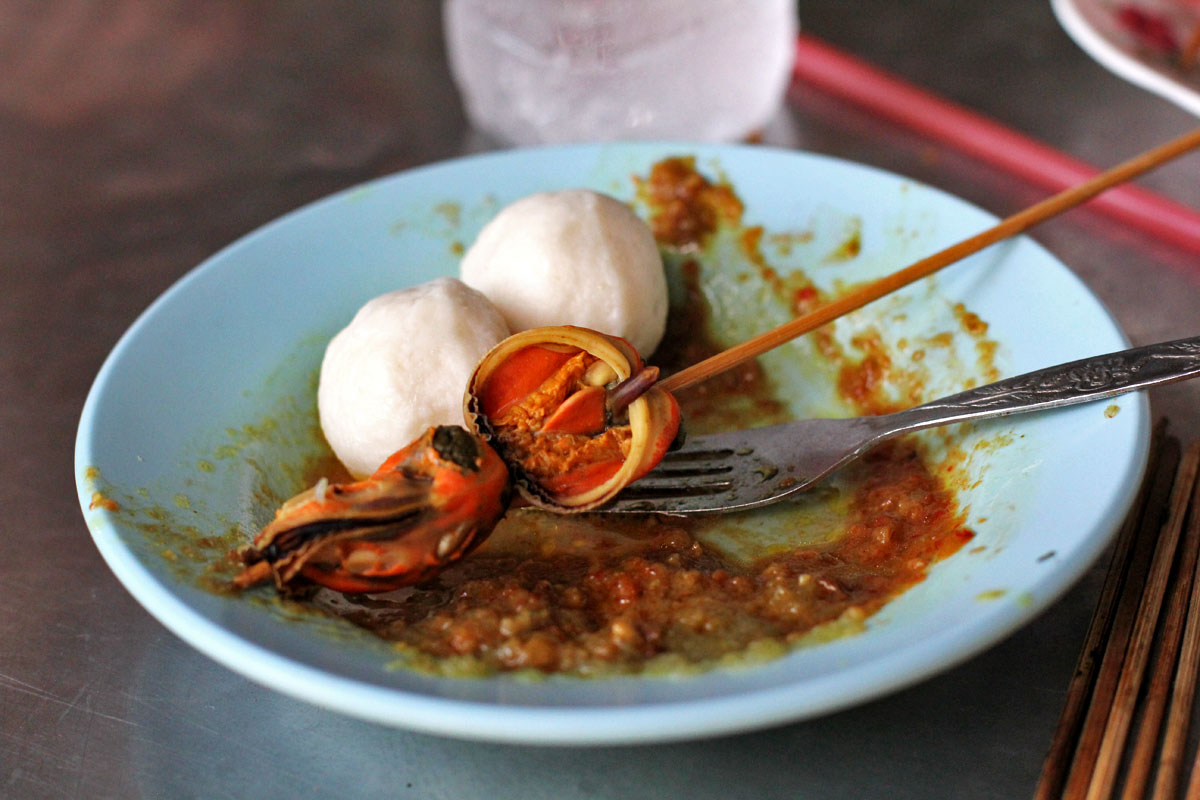 I think this was pig ear skewered with some type of green vegetable, maybe kangkong. They had plenty of tasty offal to choose from.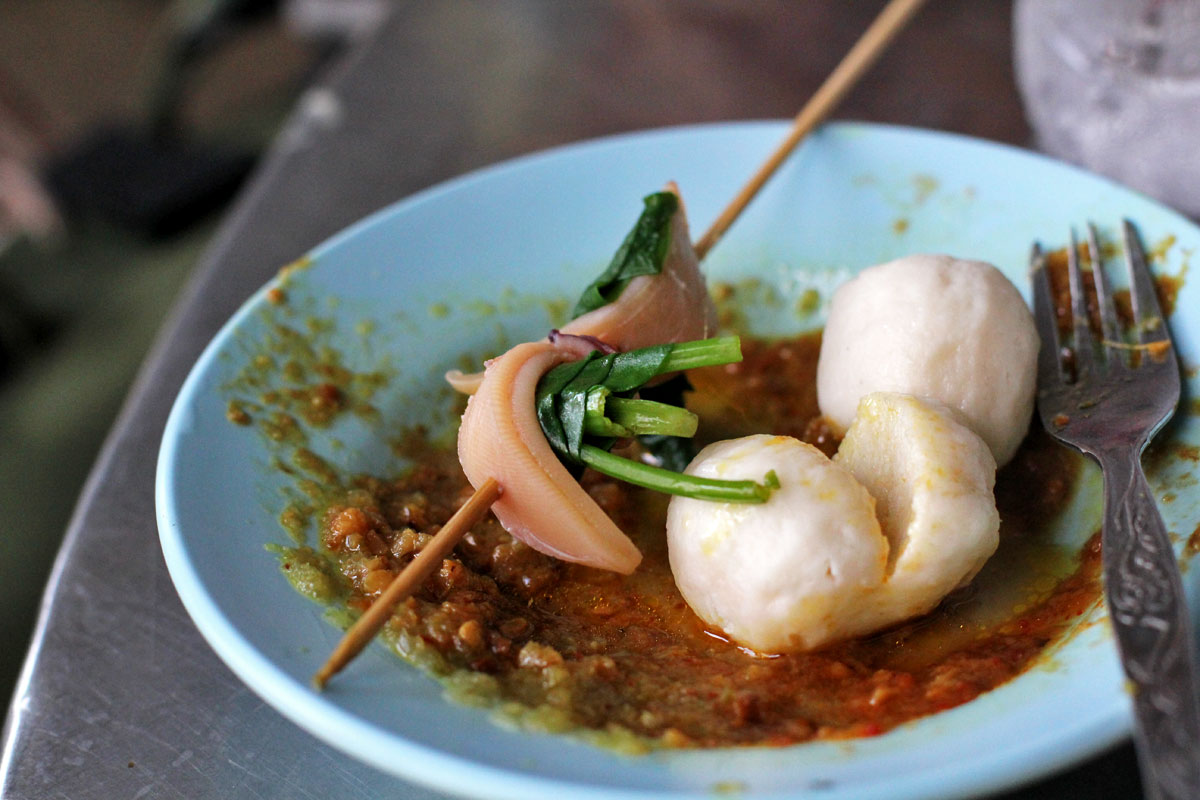 Price list according to colors. As you'd expect, sticks with seafood and meats are the most expensive.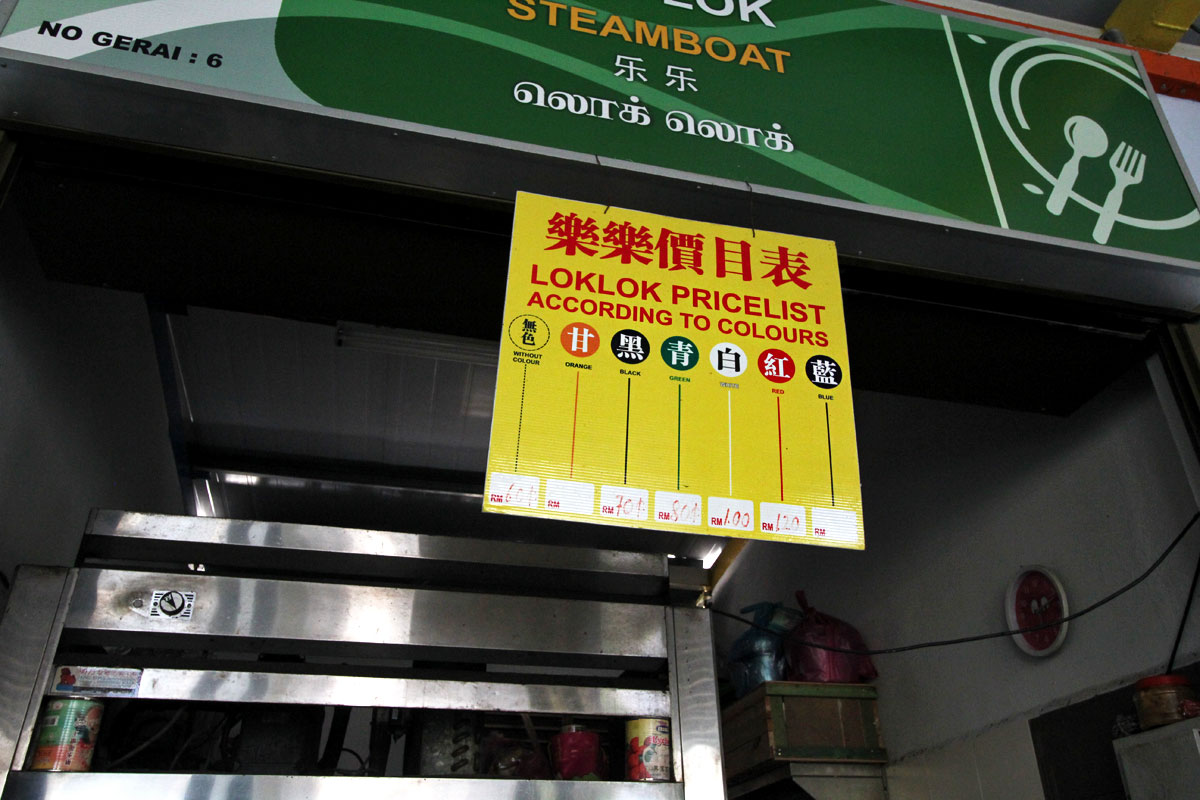 The damage. Despite eating mostly seafood and meats, our bill amounted to just RM 17.70 which is less than USD 4.50! Lok lok for the win! 😀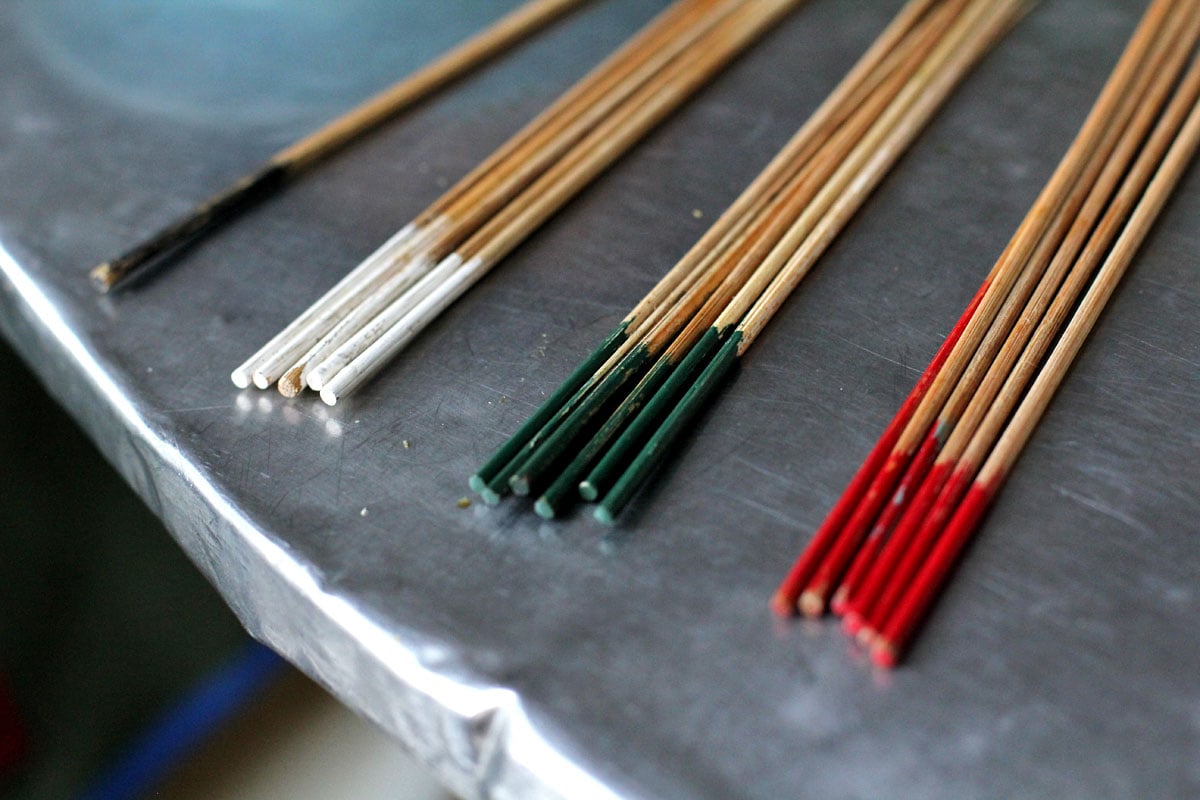 We had a great time at this lok lok. Some people have called Penang the street food capital of Asia and this is one of the reasons why. There's so much good food to be had here! If you enjoy eating local food when traveling, then check out our list of 15 delicious things to eat in Penang and where to try them. You may not have time for them all, but lok lok is one you shouldn't miss. It's cheap, tasty, and offers plenty of variety. It was one of our favorites.
And yes, lok lok can definitely be considered street food. I wasn't able to take a picture of it but we were walking around George Town one night and came across a bunch of people hovering around this one stall. We walked up to it to discover that it was a mobile version of this hot pot concept. All kinds of skewered food were laid out around a boiling pot of water built into the food cart. People would just grab sticks, dunk them into the pot, and eat! Lok lok on wheels! 😆
For more Penang travel tips, check out our First-Timer's Travel Guide to Penang, Malaysia