For me, two of the best cuisines in the world are Japanese and Indian. Ren prefers French and Italian. On a recent trip to Japan, I enjoyed tonkotsu ramen while she favored miso ramen. My hypothetical last meal would be sushi while hers would be lamb chops with foie gras. She's frequently the yin to my yang so it's no surprise that when it comes to laksa, she sits on team asam while I'm chilling on the other side with team curry.
Laksa is hugely popular in Malaysia, Singapore, Indonesia, and Southern Thailand. It's considered a national dish in Malaysia and I believe it could be a borderline national dish in Singapore as well. We're more familiar with curry laksa, hence the recipe below, but we got to try asam laksa for the first time in Penang last year. If you've tried both, then you'll understand how different they are. I love Indian food so I enjoy the creaminess of curry laksa. Ren on the other hand was taken by the depth and uniqueness in flavor of the asam laksa.
That's the great thing about food. Taste is subjective so there's never a wrong or a right. We're all different so it always boils down to personal preference. What about you? Which laksa do you prefer?
Save This on Pinterest!
No time to read this now? Click on the red save button and pin it for later!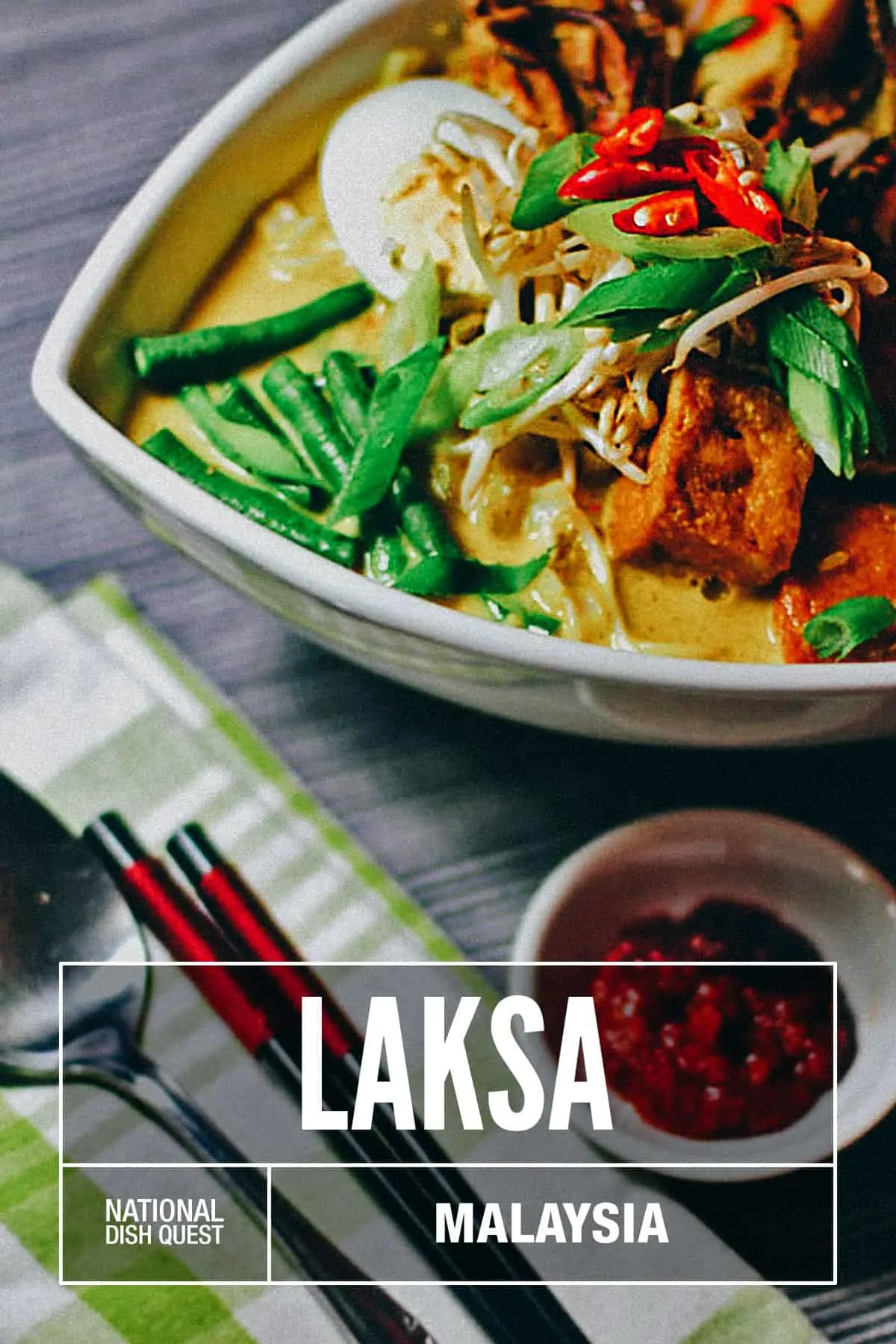 WHAT IS LAKSA?
Laksa is a spicy noodle soup popular in Peranakan cuisine. If you're unfamiliar with the term, the Peranakan Chinese are the descendants of Chinese migrants who settled in Penang, Malacca, Singapore, and Indonesia and inter-married with the local Malays. In doing so, they created a distinct, intensely flavorful cuisine that combines Chinese, Malay, and other influences.
If I understand correctly, every laksa can be categorized as one of three basic types, though the variations within each style are immense. This reminds me of ramen in Japan where there are just four basic types but countless regional variations. The three types of laksa are asam laksa, curry laksa, and a combination of the two. We've had asam and curry laksa in Malaysia and Singapore but we're yet to try any hybrids. Based on what I've read, Sarawak laksa appears to be one of the most notable of the combination laksas.
The bowl of asam laksa below was from the popular Air Itam hawker stall in Penang. Asam laksa is tamarind-based so it tastes more sour than coconut-based curry laksas. Apart from the noodles and tamarind used as a souring agent, the main ingredients in an asam laksa are mackerel, lemongrass, galangal (Siamese ginger), and chili. It can be garnished with a host of different ingredients.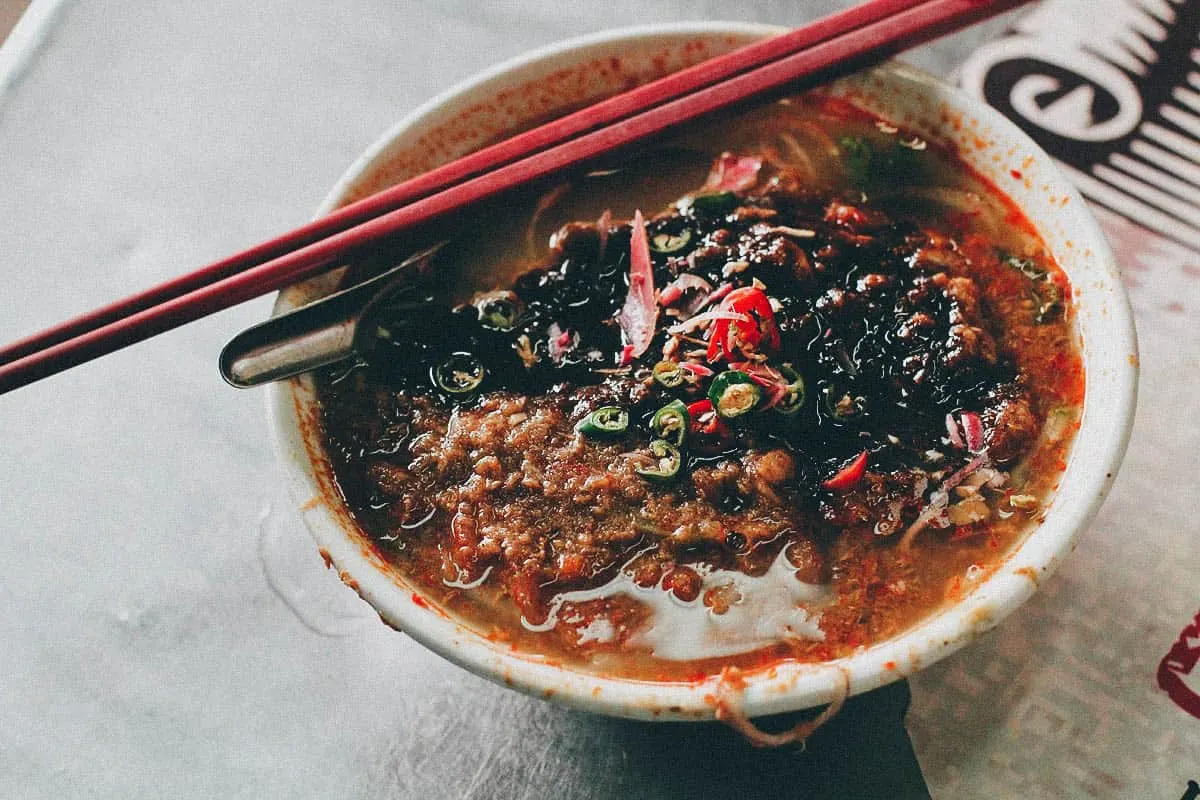 Anywhere else and these bowls of coconut-based soup would be known as curry laksa. But in Penang, they're referred to as curry mee so as not to confuse them with asam laksa. They're made with egg noodles in a coconut-based curry soup and typically filled with bean curd puffs, bean sprouts, pig's blood curd, cuttlefish, shrimp, and cockles. Basically a curry laksa!
We had these delicious bowls at one of Penang's most legendary hawker stalls – Sister Curry Mee. This humble roadside stall at the foothills of Kek Lok Si Temple is run by a pair of sisters who've been serving these same bowls of curry mee at the same spot since 1946. That's over 70 years yo! 😯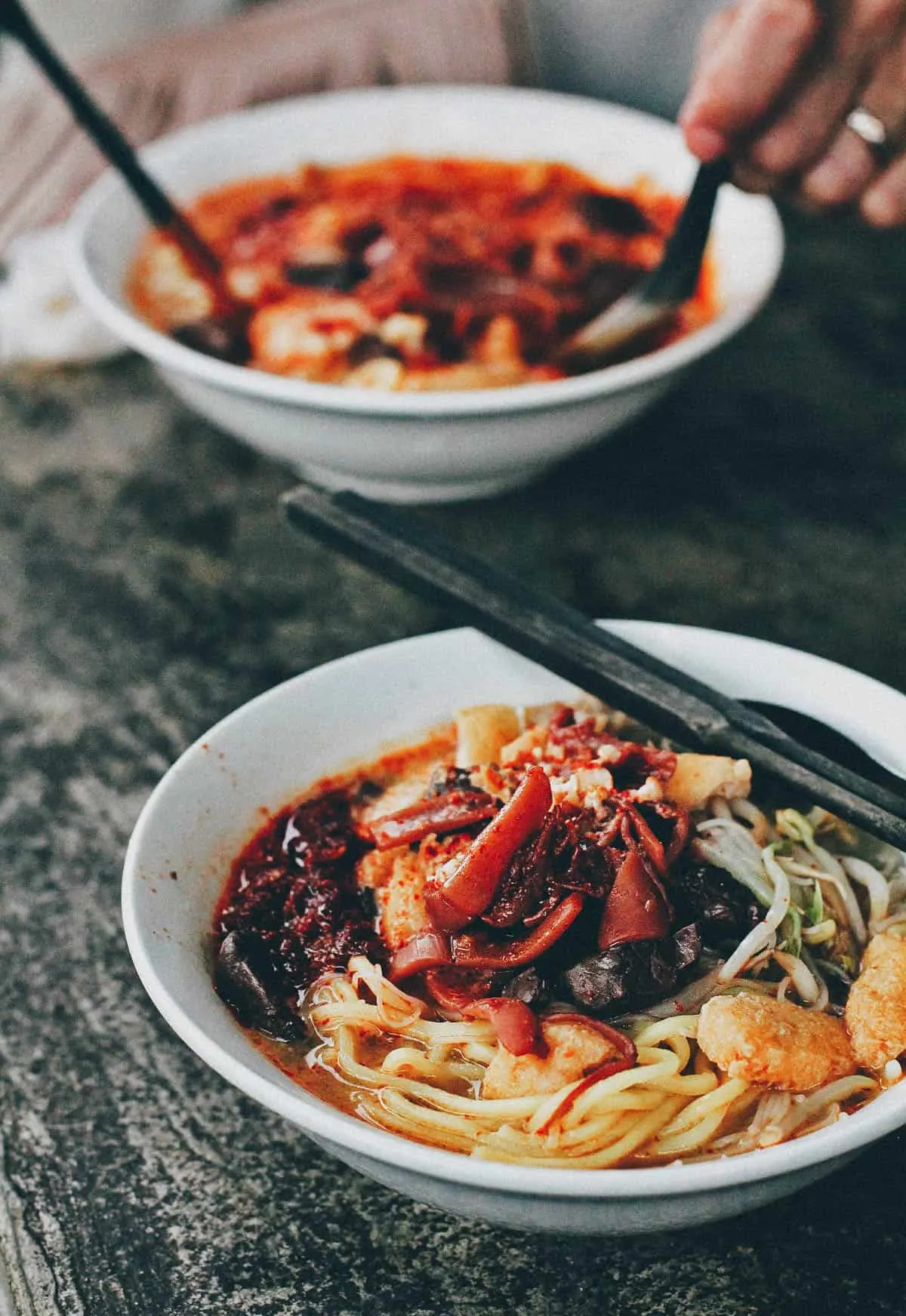 I don't think curry laksa is a consensus national dish in Singapore but it's massively popular there as well. Everyone seems to have their personal favorite but we had this bowl at popular heritage stall Sungei Road Laksa on Jalan Berseh. It's considered one of the best Singapore restaurants for laksa.
Made with the typical coconut-based curry soup, it was topped with slivers of fish cake, blood cockles, and Vietnamese coriander along with a dollop of some very spicy sambal.
There's an interesting backstory to this place. Legend has it that over 40 years ago, the owners were struggling with their food cart business when a mysterious customer showed up one night and gave them the secret recipe to this laksa. Business boomed shortly thereafter and the benevolent customer was never to be seen or heard from again. #twilightzone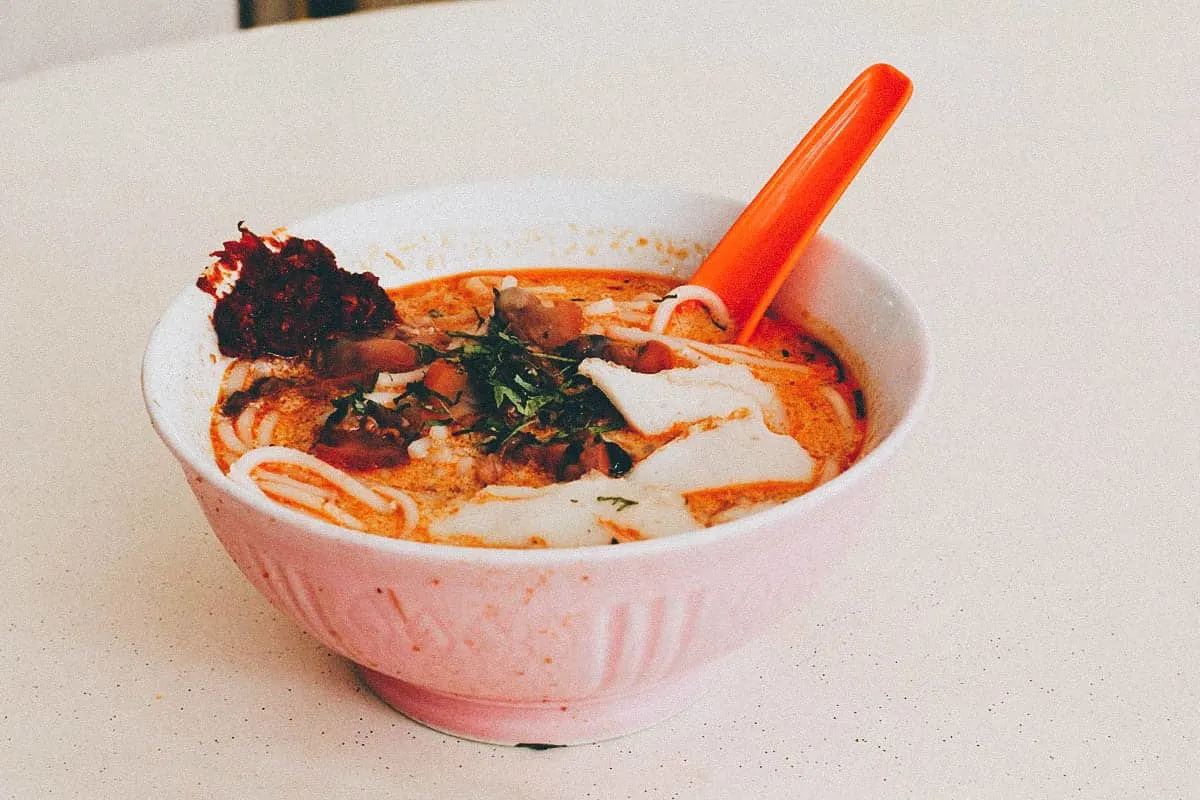 CURRY LAKSA RECIPE
INGREDIENTS
For Rempah Paste
1 white onion
5 garlic cloves
3 red chilies, or to taste
1 1/2 Tbsps dried shrimp
3 candlenuts or macadamia nuts (I used macadamia)
1 Tbsp curry powder
1/2 Tbsp ground coriander
1 Tbsp sugar
1 tsp sea salt
1 tsp turmeric
1 tsp chili powder, or to taste
1 thumb-sized ginger, peeled
1 tsp toasted shrimp paste (belacan)
For Soup
2 Tbsps vegetable oil
2 cups chicken or seafood stock
1 400ml can coconut milk
2 stalks lemongrass, white part only, bruised
250 g/half pound shrimp, peeled and deveined
100 g tofu squares, deep-fried
100 g pound fish cakes
250 g rice or egg noodles
For Garnishes
Bean sprouts
String beans, cut into 2-inch lengths
Hard-boiled eggs
Cilantro
Limes (I used calamansi/calamondin)
Chili sambal
DIRECTIONS
In food processor, grind all rempah paste ingredients until smooth. Adjust seasoning to taste with sugar and salt.
Bring large pot of water to a slow boil. Heat oil in another large pot over medium heat. Add rempah paste and cook for 3-4 minutes, or until dark and fragrant.
Stir in coconut milk, chicken/seafood stock, and lemongrass. Bring to a boil, then reduce heat to medium-low and simmer for 15 minutes. Remove and discard lemongrass.
Stir in tofu squares, shrimp, and fish cakes, then simmer slowly for another 10 minutes.
Meanwhile, cook noodles according to package directions. Drain and divide noodles evenly into serving bowls.
Adjust soup's seasoning with salt and sugar. Ladle portions of broth, tofu, shrimp, and fish cakes into bowls. Top with halves of hard-boiled egg, sprouts, string beans, and cilantro.
Serve with lime wedges (or calamansi/calamondin halves) and chili sambal on the side.
* * * * *
This was one of our earliest Reneelicious Recipes but it's still one of my favorites. If you like having a lot going on in your food, then you'll love this curry laksa. Sweet, spicy, creamy, crunchy, chewy – it's got a little bit of everything.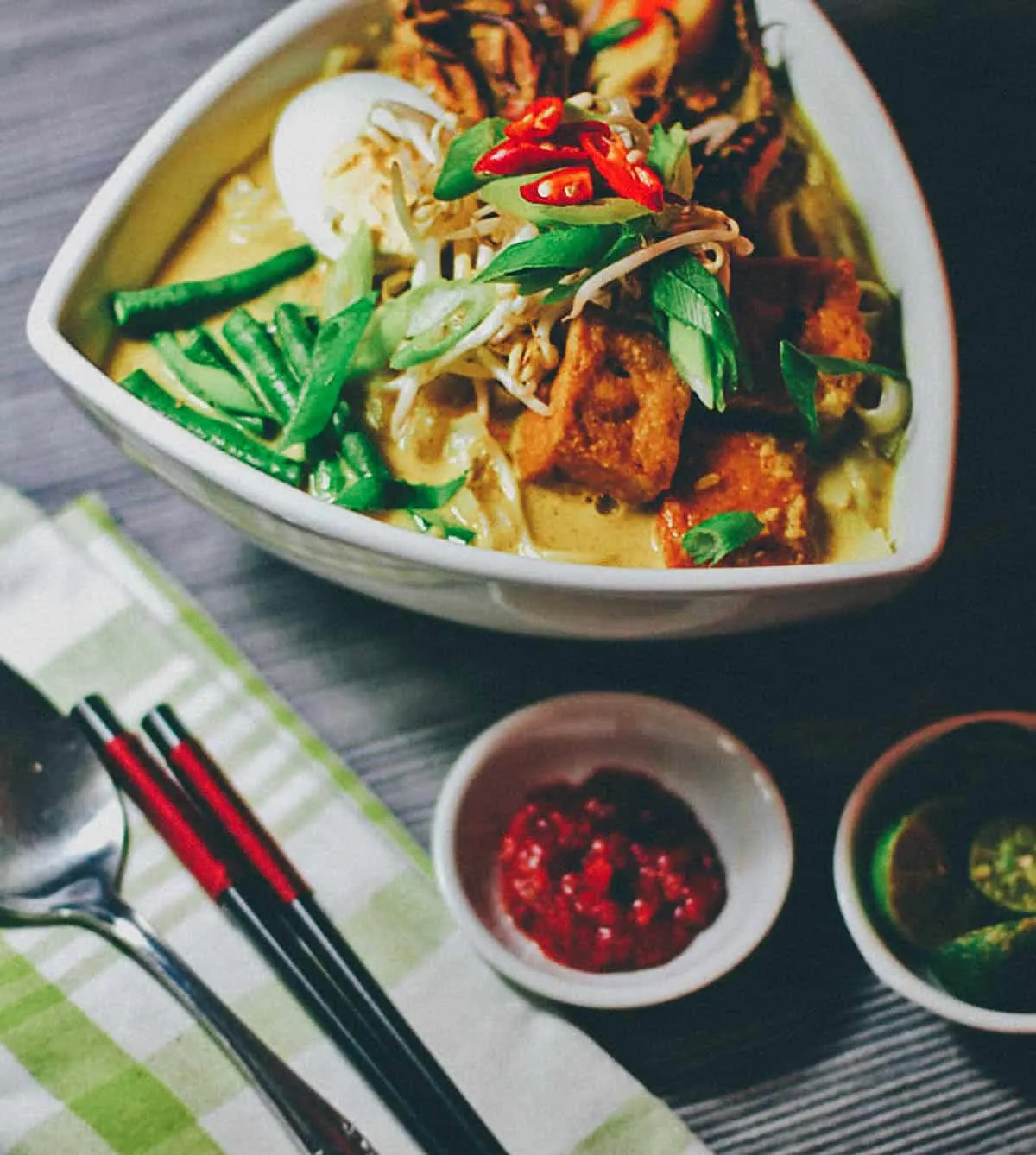 *Original recipe from whats4eats.com.