Ren had been wanting to make beef rendang for quite some time now, but for one reason or another – missing ingredient, no gas, hangnail – she hadn't until today. In typical Reneelicious fashion, she wasn't content in just following any recipe. Whether it be adding or removing ingredients, substituting spices, or simplifying the method, she always wants to put her own creative stamp on a dish and make it uniquely hers. Such again was the case here.
Stitching together three different recipes to create her own, I present to you this delicious bowl of Beef Rendangkenstein, or Beef Renéedang, or Beef Rendang for short. Caramelized and incredibly rich with aromatics and spices like ginger, fennel, turmeric, coriander, lemon grass, cloves, cinnamon, and many others, this is one dish that's very much ALIVE with flavor.
And oh yeah, expect a dhungar-smoked version soon too. 😆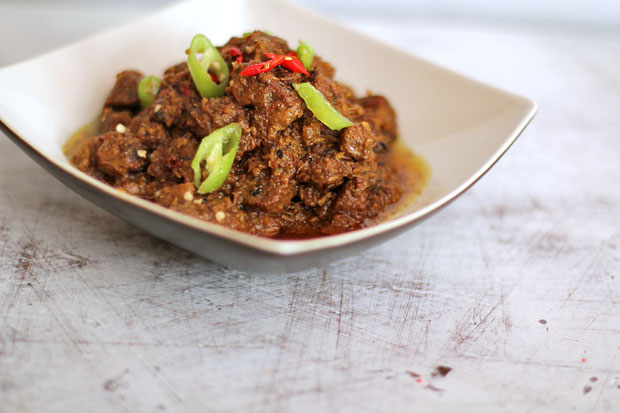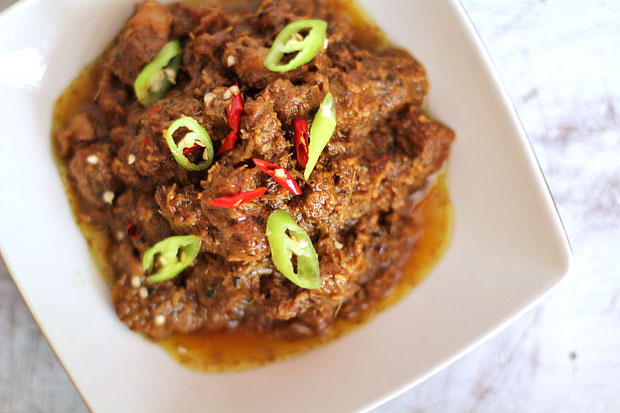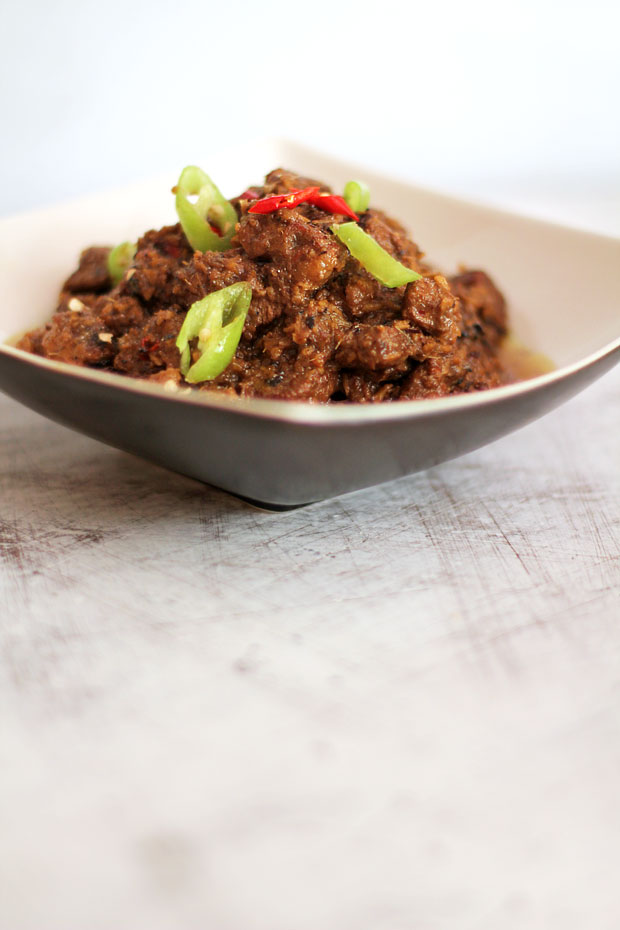 Ingredients
2 pounds or 1 kilo boneless beef short ribs (cut into cubes)
FOR MARINADE
2 tsp fennel seeds
2 tsp coriander seeds
2 tsp cumin seeds
1 tsp turmeric
1 lemongrass stalk, chopped
1 thumb-sized ginger, grated
2 Tbsps vegetable oil
FOR RENDANG PASTE
8 shallots
5 lemongrass stalks, chopped
5 cloves garlic
1 ginger, thumb-sized
10-12 dried chilies (soaked in warm water and seeded)
FOR BRAISE
6 Tbsps cooking oil
2 cinnamon sticks (about 2-inch long)
6 cloves
5 pcs star anise
400 ml coconut cream
1 cup water
4-6 Tbsps tamarind juice (soak tamarind pulp in about 1/2 cup of warm water and strain to get juice)
6 kaffir lime leaves (very finely sliced)
100g kerasik (ground, toasted coconut)
1-2 Tbsps sugar/palm sugar or to taste
Fish sauce, to taste
Directions
Toast fennel, cumin, and coriander seeds in pan for a few minutes then transfer to food processor. Add in rest of marinade ingredients and process until well blended. Place beef in large bowl and rub paste all over it. Cover with plastic and leave to marinate in refrigerator for at least 12 hours or overnight, but preferably for 48 hrs.
Prepare rendang paste by processing shallots, garlic, chilies, ginger, and lemongrass to a thick paste. Add enough water to make it a watery paste.
Heat oil in wok and sear beef for a few minutes over high heat. Remove and set aside.
Pour rendang paste into hot wok. Cook for 8-10 minutes or until reduced. Add in cinnamon sticks, cloves, and star anise, and stir-fry until aromatic.
Add beef back in, stir in coconut cream, water, and tamarind juice and simmer on medium heat, stirring frequently until meat is almost cooked and liquid has reduced.
Add kaffir lime leaves, kerisik (toasted coconut), and sugar/palm sugar, stirring to blend well with meat.
Lower heat to low, cover partially, and simmer for 1 – 1 1/2 hours or until meat is really tender and sauce has dried up.
Add fish sauce and sugar to taste.
Serve with steamed white rice.
DID YOU KNOW?
That rendang, which is popular in Malaysia, Singapore, Brunei, the southern Philippines and southern Thailand, originated from the Minangkabau ethnic group of Indonesia? One of the characteristic foods of Minangkabau culture, it is now commonly served across the country and is traditionally prepared by the Indonesian community during festive occasions.