"By the ingredients. And the stories behind them."
Paraphrasing his words, that's what Chef Bruce Ricketts said when Ren asked where he drew his inspiration from. It was one of two questions that she asked him after tonight's 10-course tasting menu.
"We're inspired by the diners…by the weather, the seasons. Maybe even by an event that happened that day. If someone screwed up a fish for example, a fish that someone, somewhere, went through a lot of trouble to get, then I'll make them call the supplier to apologize. Sometimes, a dish can be inspired by something like that."
Undeniably Manila's "It Chef" of 2014, to hear Chef Bruce articulate his creative process like that was fascinating. It gave us a glimpse into the mind of this brilliant young man hailed by many as a culinary genius. Unconfined by recipes, he creates dishes for his tasting menu based on what's readily available that day. A skill that's earned him a cult following since his time at Sensei Sushi.
"Sometimes, a spatter on a plate isn't just a spatter. It can have meaning."
Inspired by moments, it's apparent from his organic, almost narrative approach to cooking that Bruce Ricketts isn't just a chef, he's a storyteller too.
This was tonight's story.
Degustation at Mecha Uma
Minutes before game time. Like restaurants in Japan, the space is small. The chef's table seats ten, and there are just three or four tables for a la carte dining. If you've never experienced his food, then I strongly recommend you go with the tasting menu. It's available from Fridays to Mondays at 6:30 or 8:30PM. A la carte dining is available daily, except on Tuesdays when the restaurant is closed.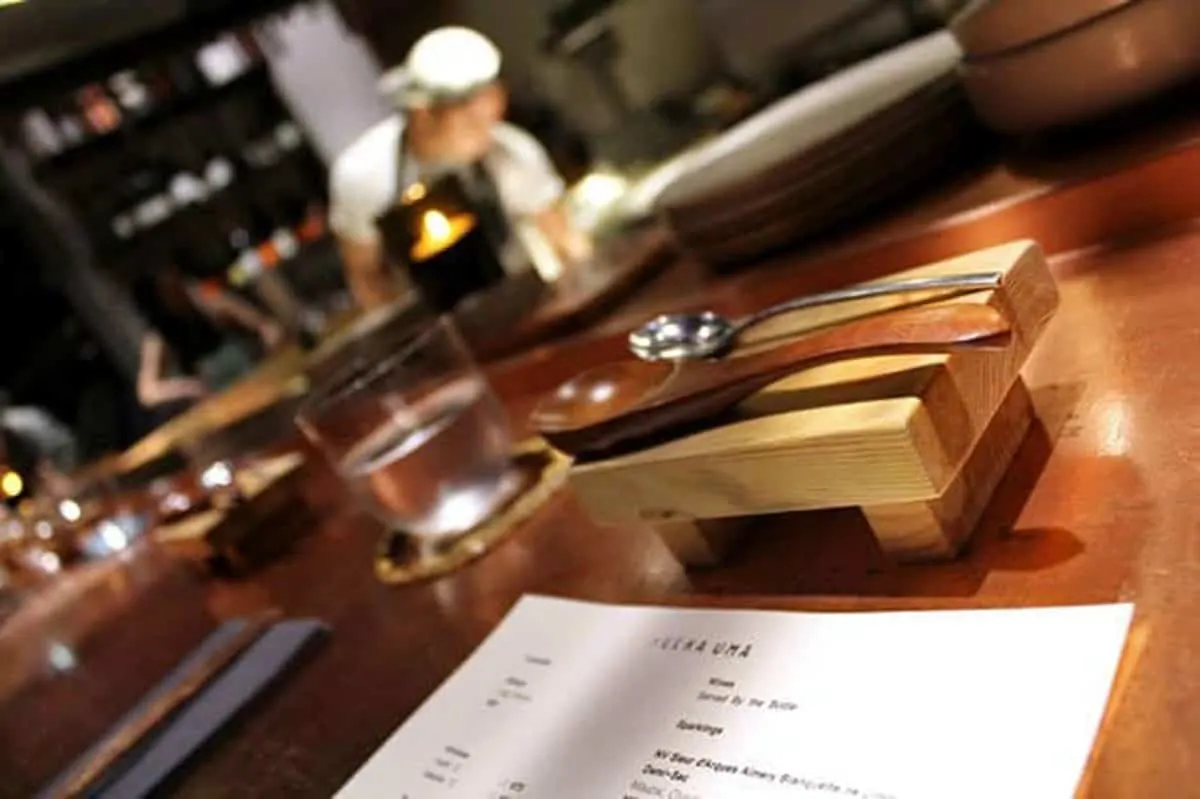 They have a few bottles of sake and wine on the menu. Since this was our anniversary dinner, we skipped the usual beer and went with this Cox Wines Pinot Noir instead. As expected, it paired well with everything.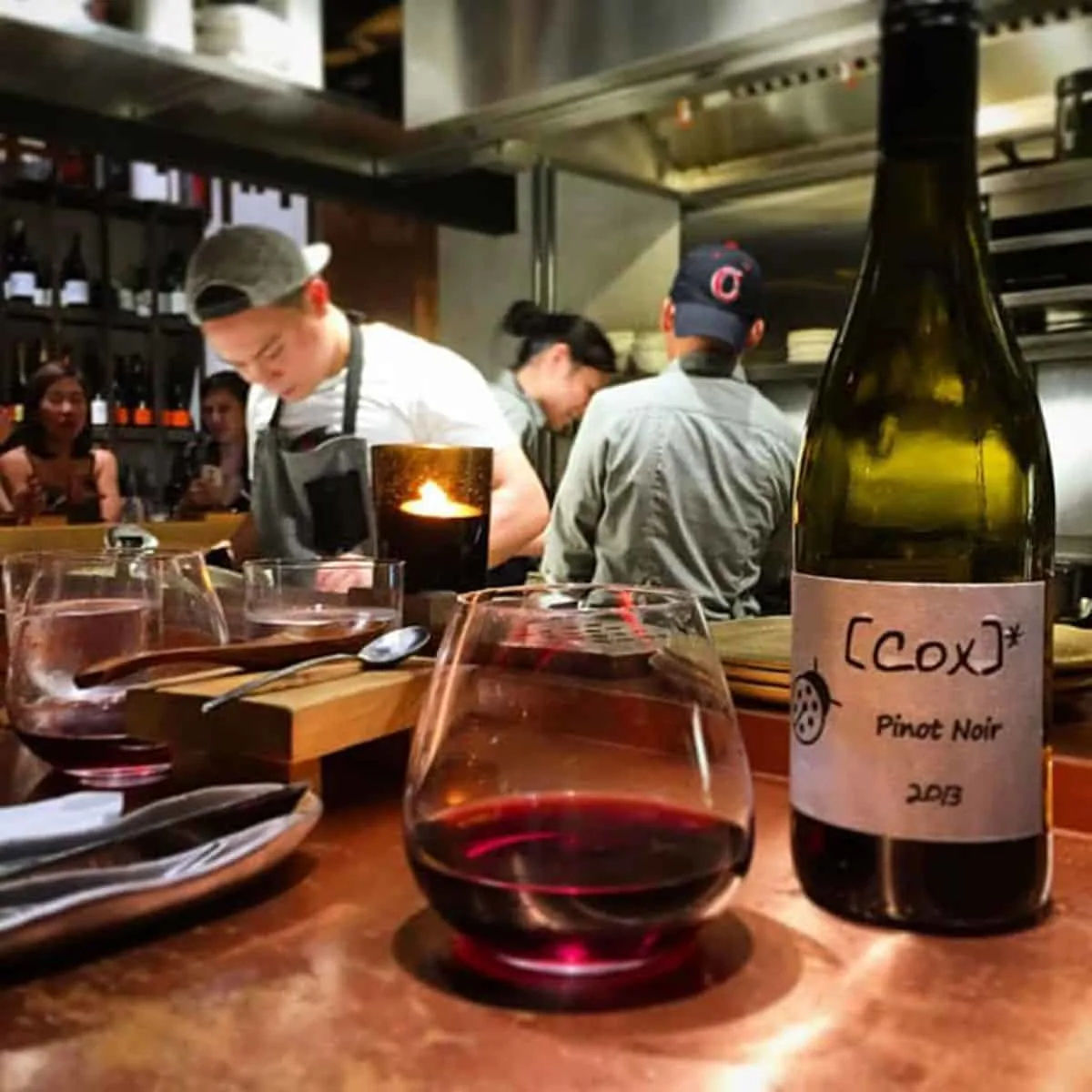 The Team
Talking to Chef Bruce made me realize how well-grounded he is. Despite all the accolades he's been receiving, he never once used the singular "I" when describing his food. It was always "we" — the dishes WE create, the food WE come up with, what inspires US. Quick to deflect any praise away from himself, he makes it clear that Mecha Uma is a group effort. It made us appreciate his talent all the more.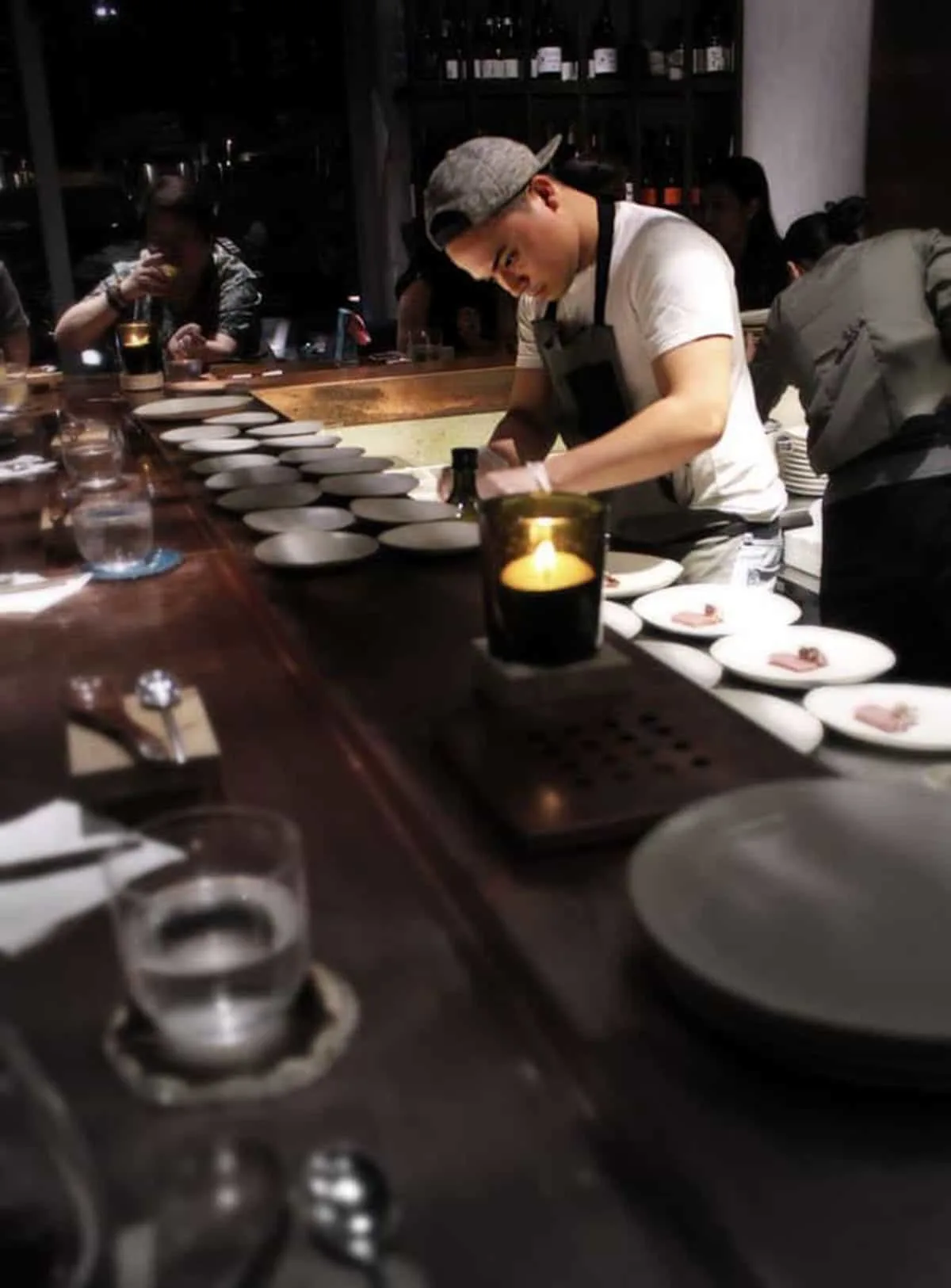 I don't remember their names, but Chef Bruce was proud to cite these two chefs as the lifeblood of the restaurant. In his words: "Without them, we may as well close." This wasn't just a display of humility. It was an expression of gratitude as well. Again, so grounded this young man.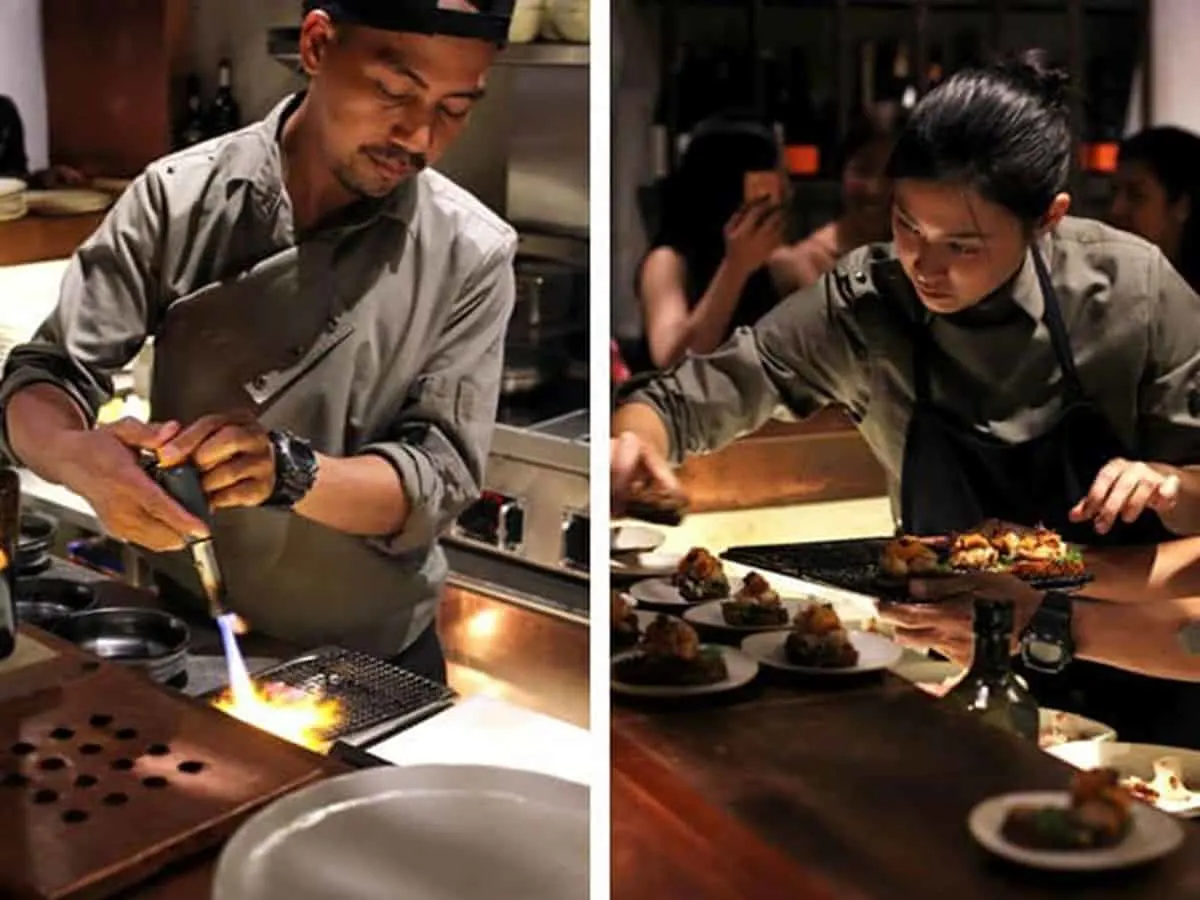 On his kitchen staff: "If I see a cook holding a carrot the way he would hold his girlfriend's hand, then I know I've got the right person." Love what you do, respect your ingredients, and the rest will follow.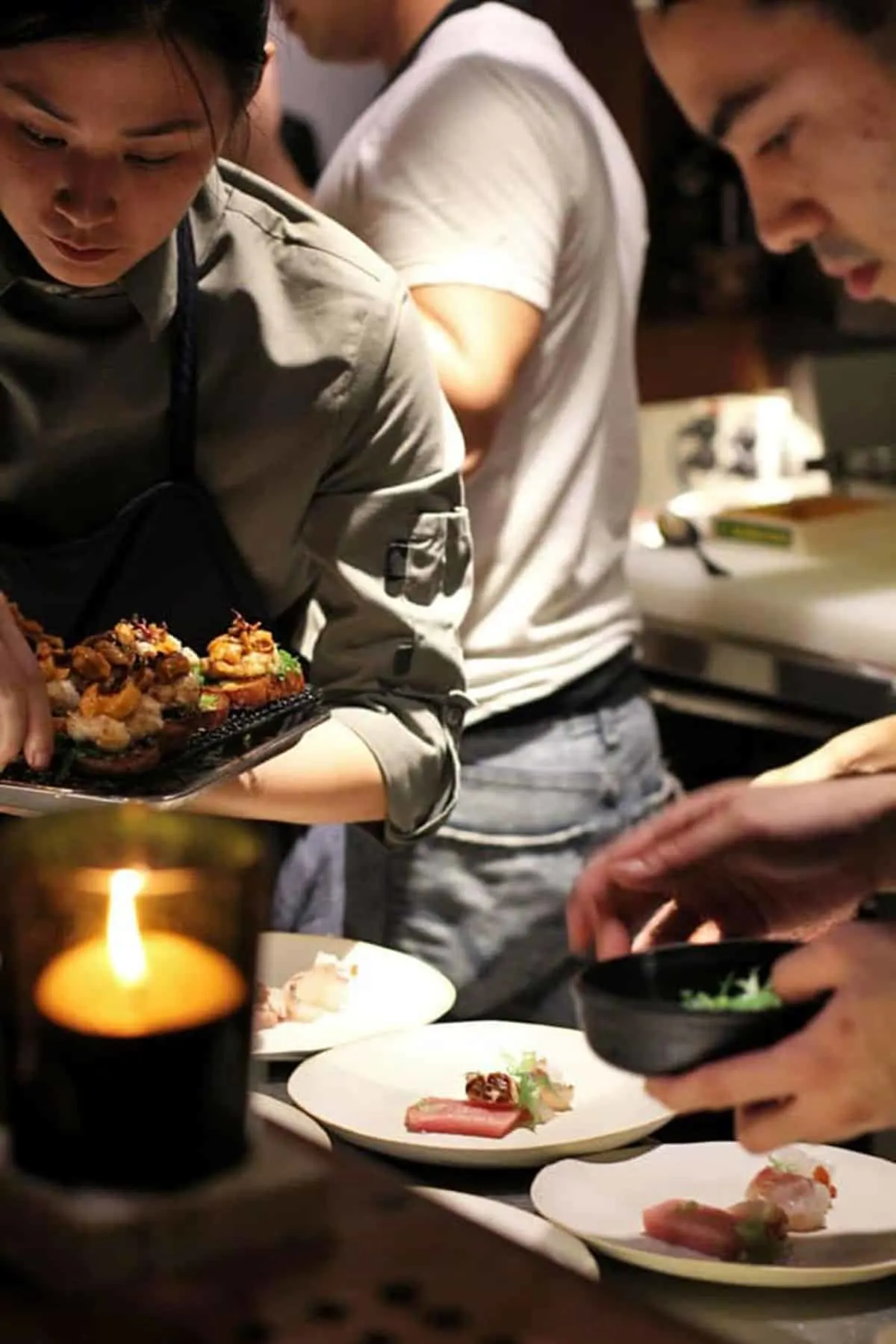 L: Plating the risotto
R: Different day, different spatter, different story to tell. Here you see Chef Bruce spattering sauce on his quail dish. He would later tell us: "How many people get to drain the blood from a quail, and serve it for dinner later that day?" Clearly, Chef Bruce loves what he does, paying homage to his ingredients in the best way he knows how — through excellent food and thoughtful plating.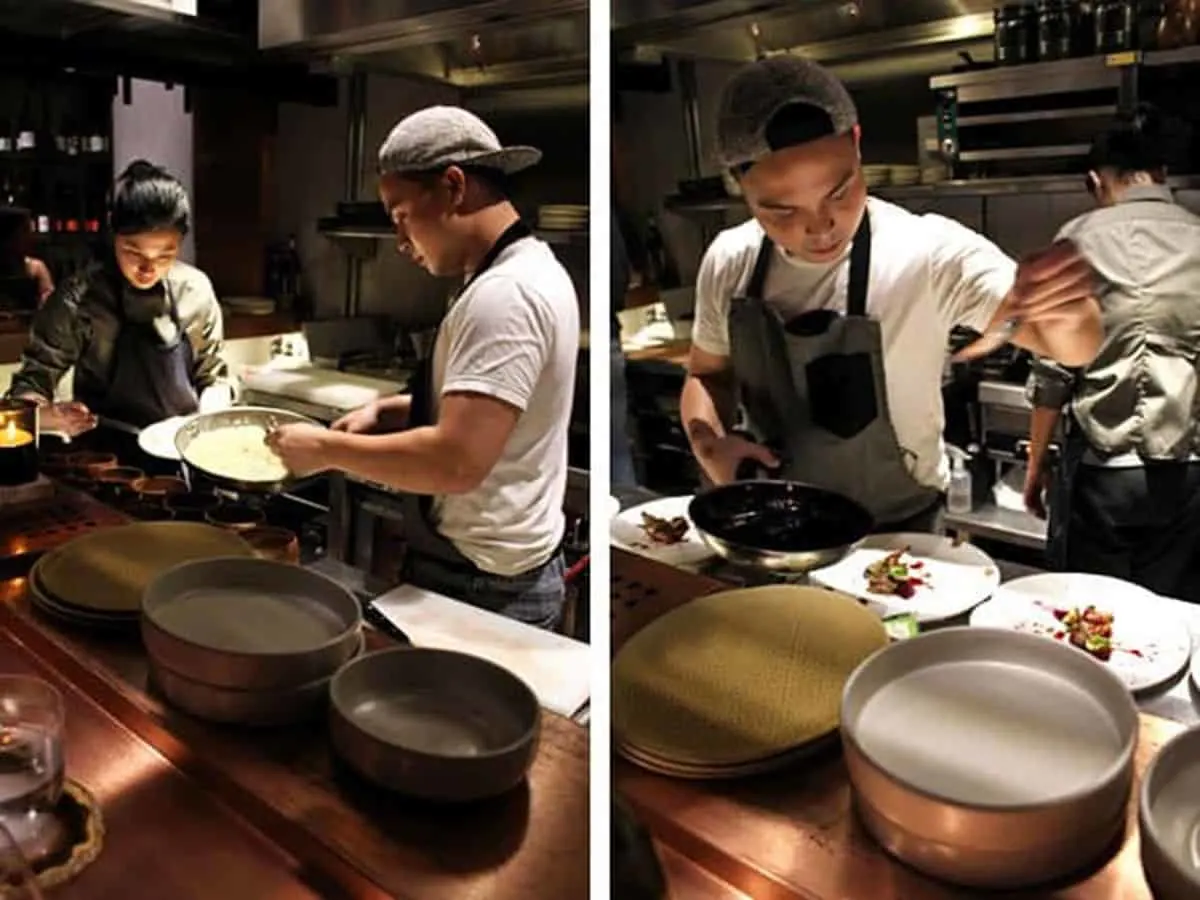 Seeing them work with such coordination and chemistry was impressive. It was like watching a dance.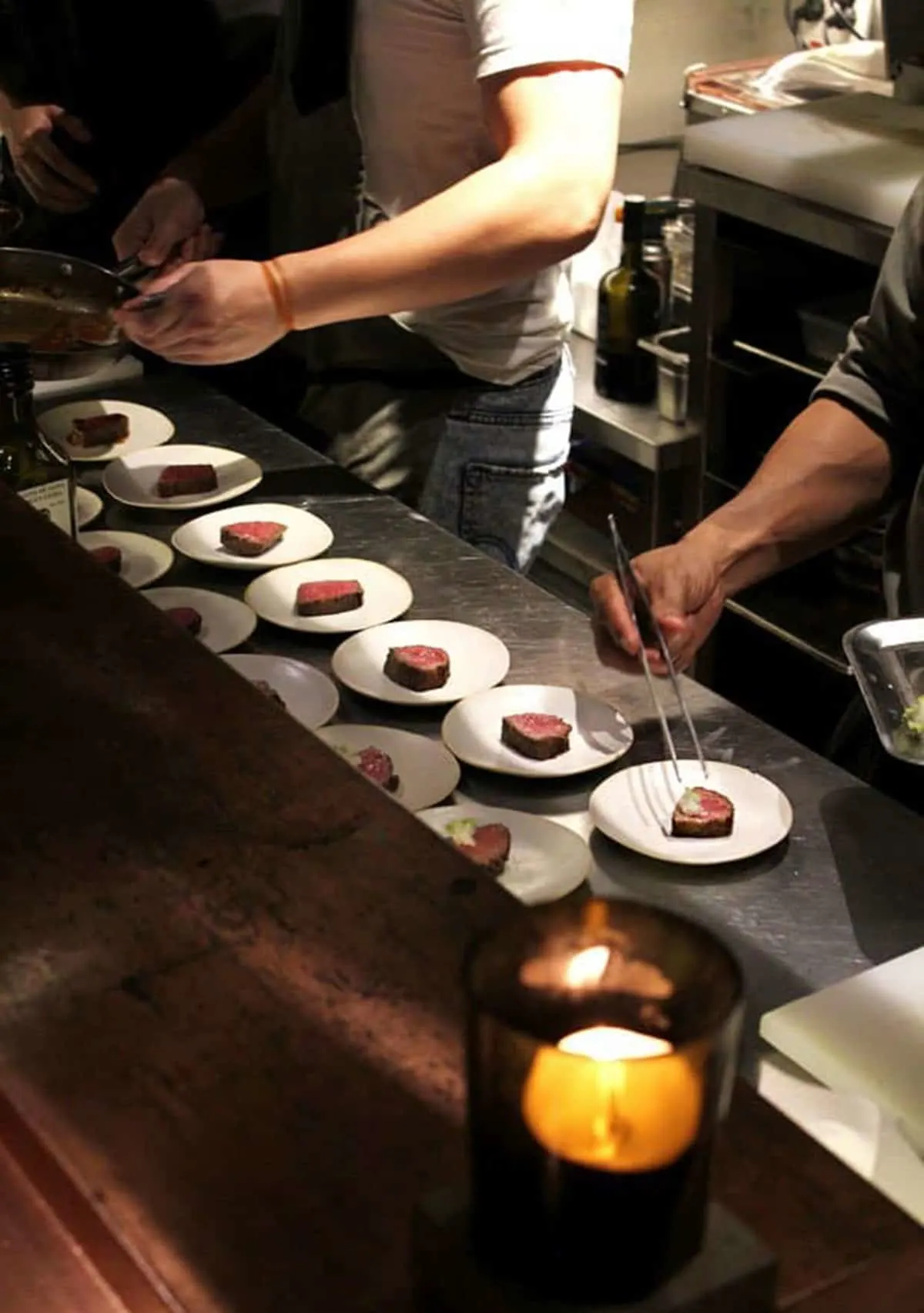 Ren transfixed, fascinated by the whole process.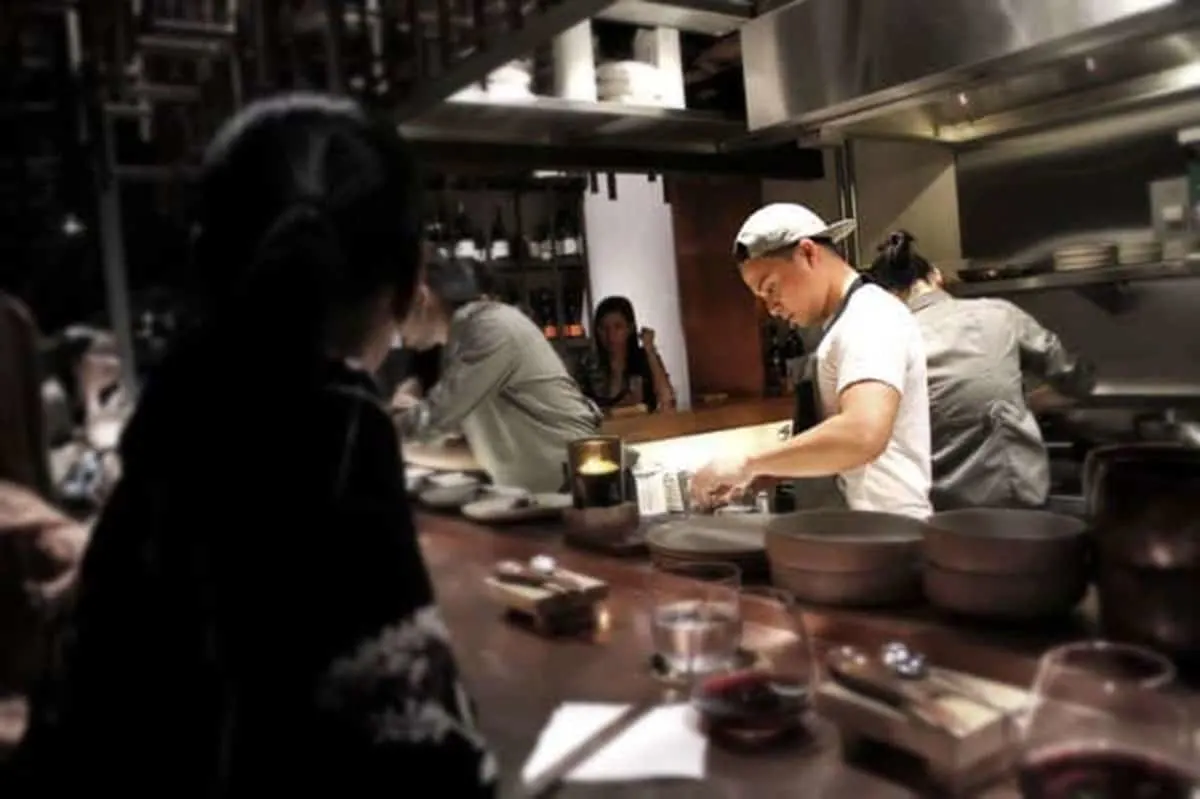 The Tasting Menu
I don't mean to brag, but Ren and I were fortunate enough to experience two Michelin-starred kaiseki meals in Osaka this year. This tasting menu was on par with those, maybe even more creative. Often unorthodox in his ingredient pairings, many of Chef Bruce's dishes are remarkable not just in flavor, but in concept. It makes you say: "How the hell did he come up with that?!"
What I appreciated about his cooking style is that there's no gimmickry. No noodles made out of red wine, no bubbles that taste like mussels. It's just confident, assertive cooking wrought from hundreds of hours of experimentation and a natural feel for the game. Talent like this, you can't teach.
There was no menu tonight so Chef Bruce would explain each dish upon serving. Some of them were lengthy so I couldn't remember every detail. My apologies for the clumsy (and perhaps not entirely accurate) descriptions.
FIRST COURSE: Oyster with pineapple, pear, tapioca, and some type of custard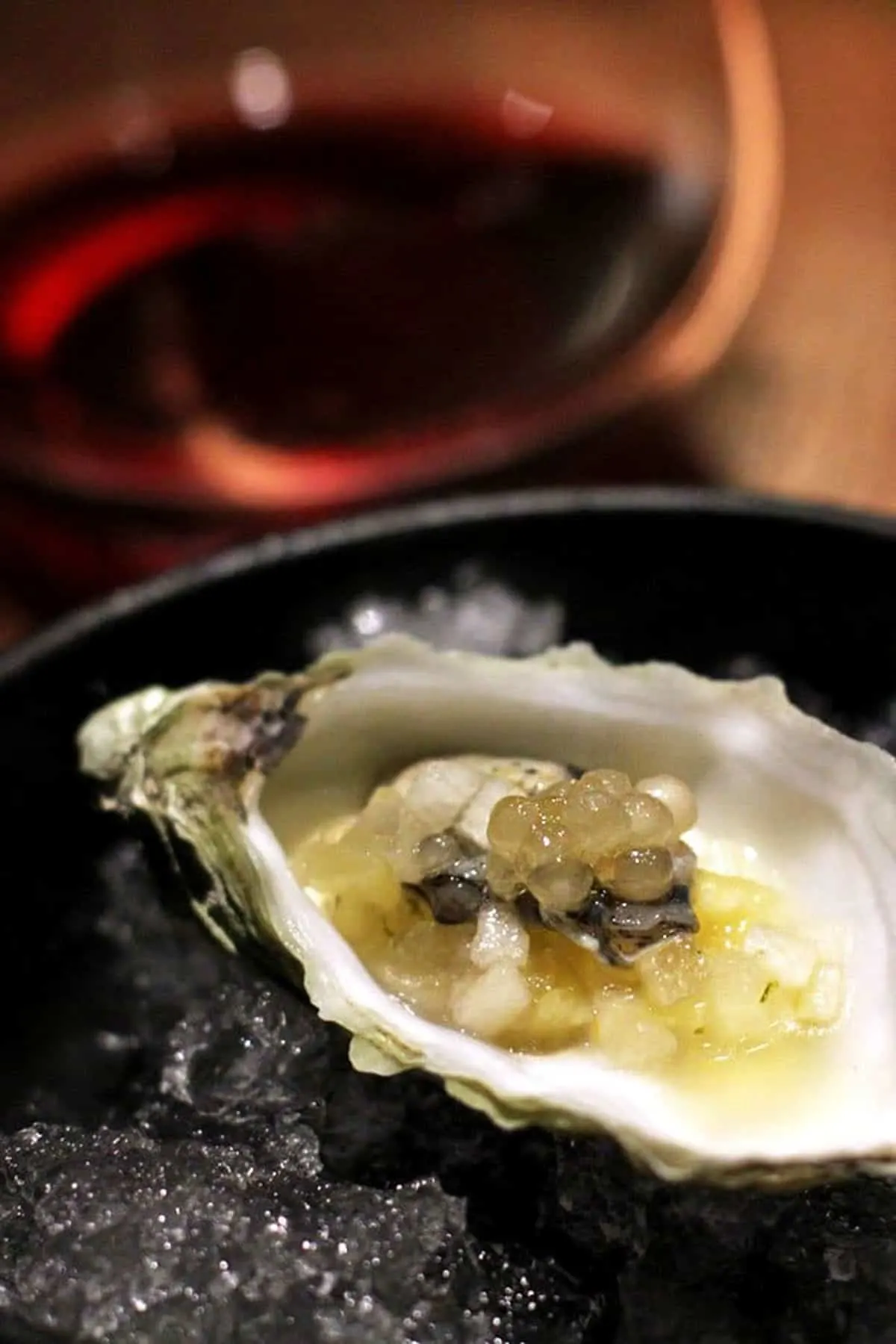 SECOND COURSE: Hokkaido uni, shirako (cod sperm), and shiso leaf on crunchy potato bread fried in clarified butter. This dish, was a showstopper. So EFFING good.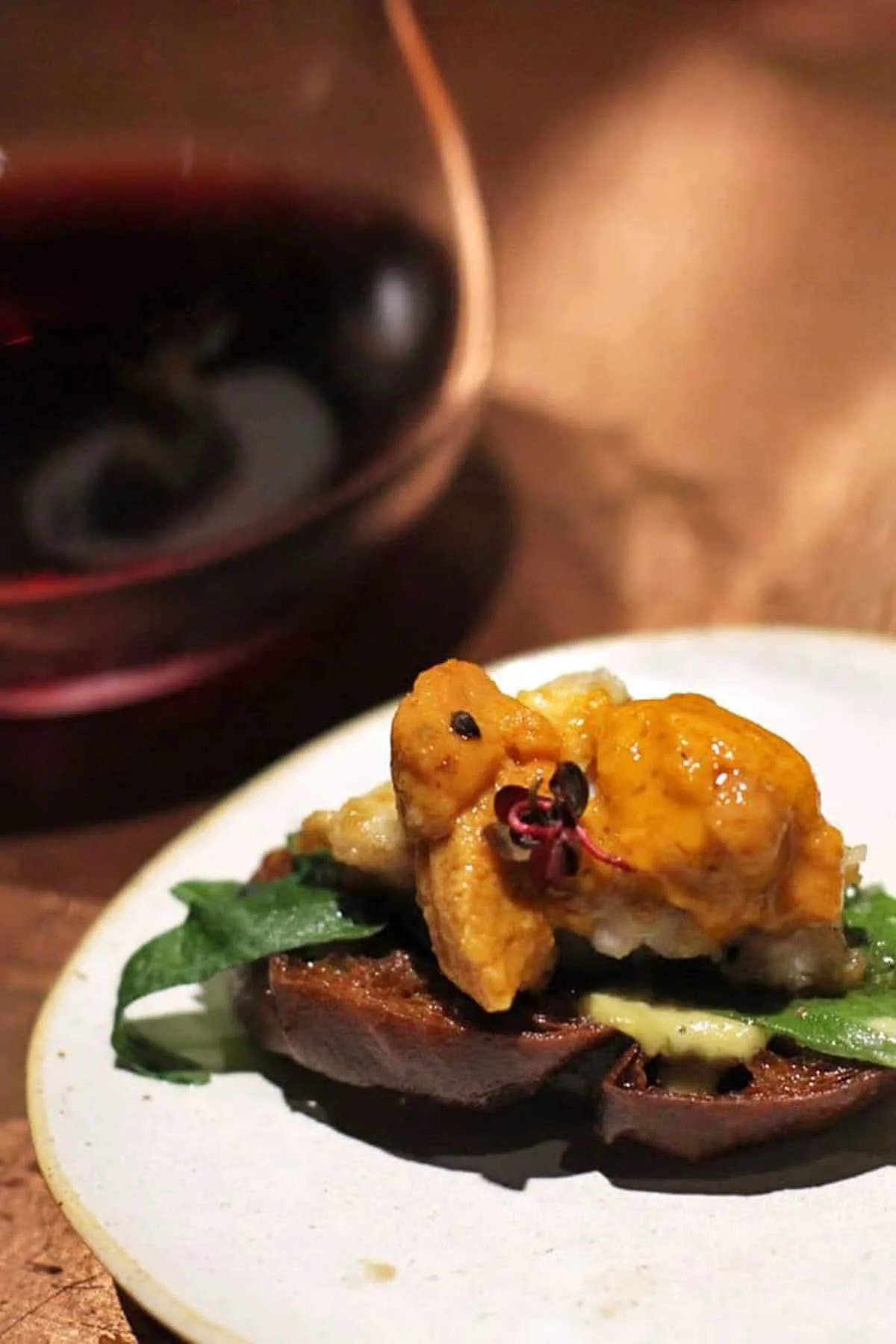 THIRD COURSE: Four types of sashimi — the last being a prime piece of otoro — in a wasabi emulsion. Chef Bruce was quick to point out that you have to eat this from front to back, from lightest to richest, to get the full experience. The otoro was out of this world, probably one of the most sensual things you can ever put in your mouth.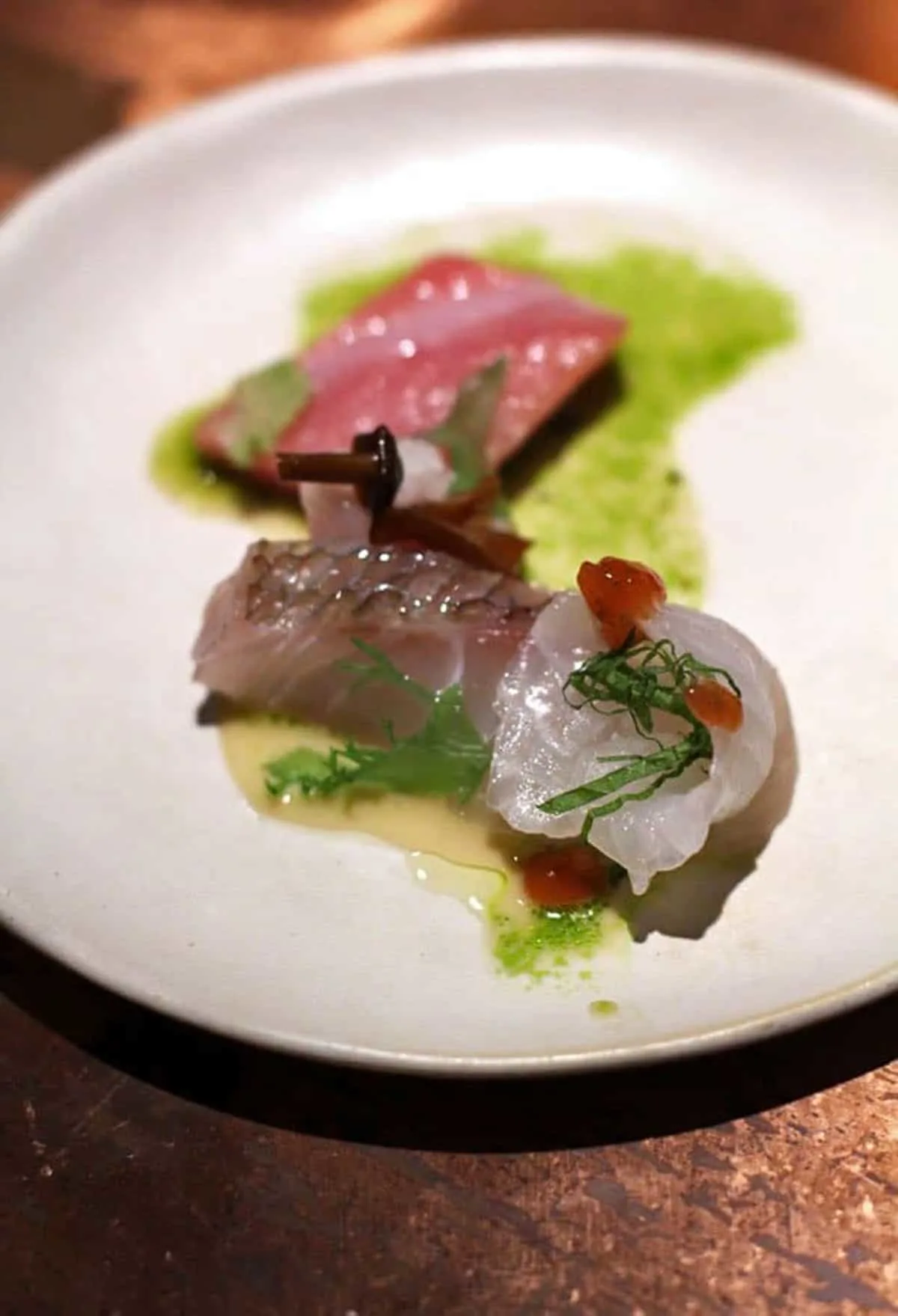 FOURTH COURSE: This was another of my favorites. Unfortunately, I don't remember the description much, apart from the fact that it was made with crab and spot prawns in an intensely flavorful crab emulsion with delicate, deep-fried spot prawn heads. Eaten whole like a potato chip, you hold the prawn head in one hand and spoon the rest with the other, creating a contrast in texture, flavor, and temperature that's beyond description. Amazingly good.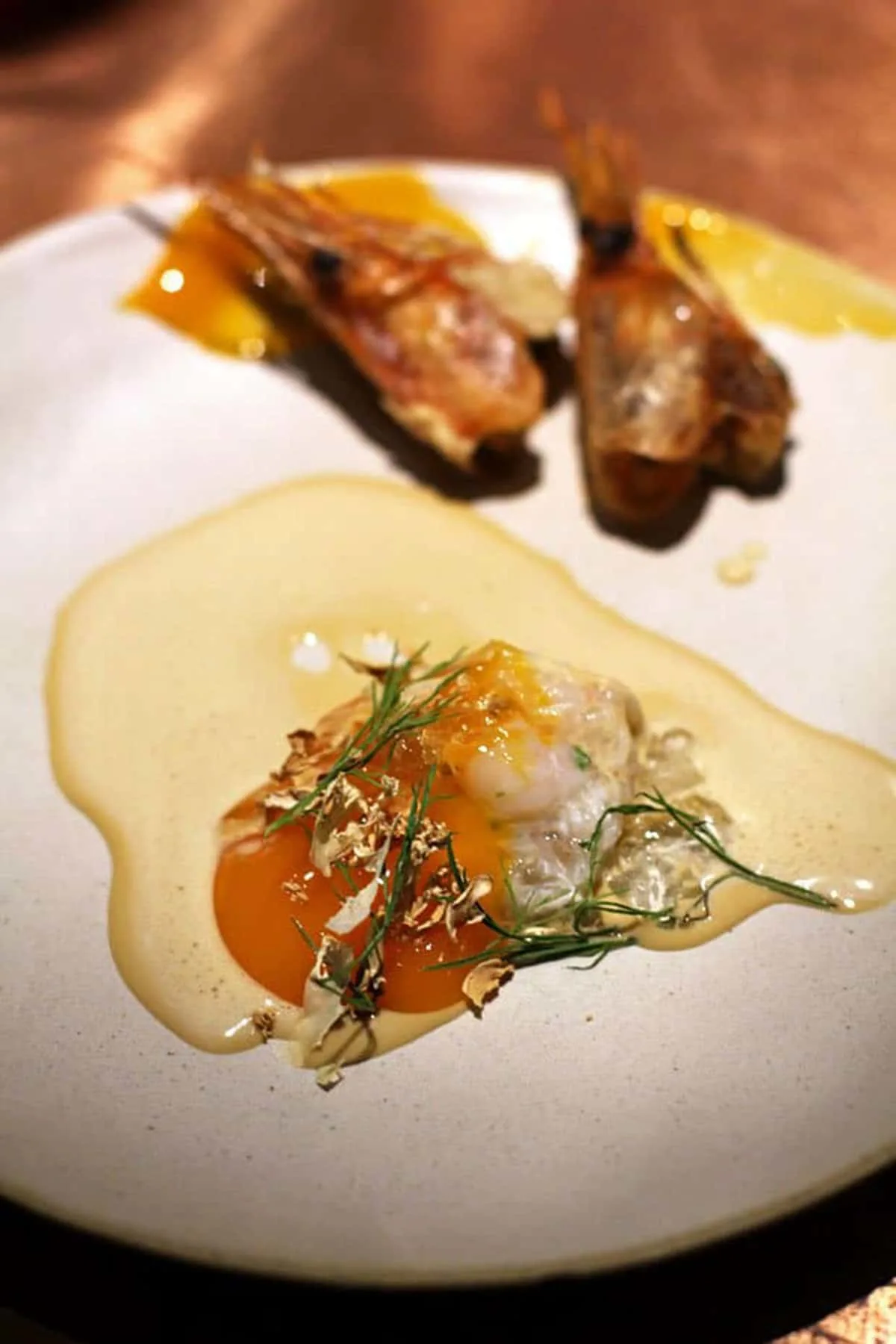 FIFTH COURSE: Amadai cooked by pouring hot oil over the fish until its scales are crisp, then blow-torched. Its then served on Japanese mushrooms and a light broth made from the fish's bones.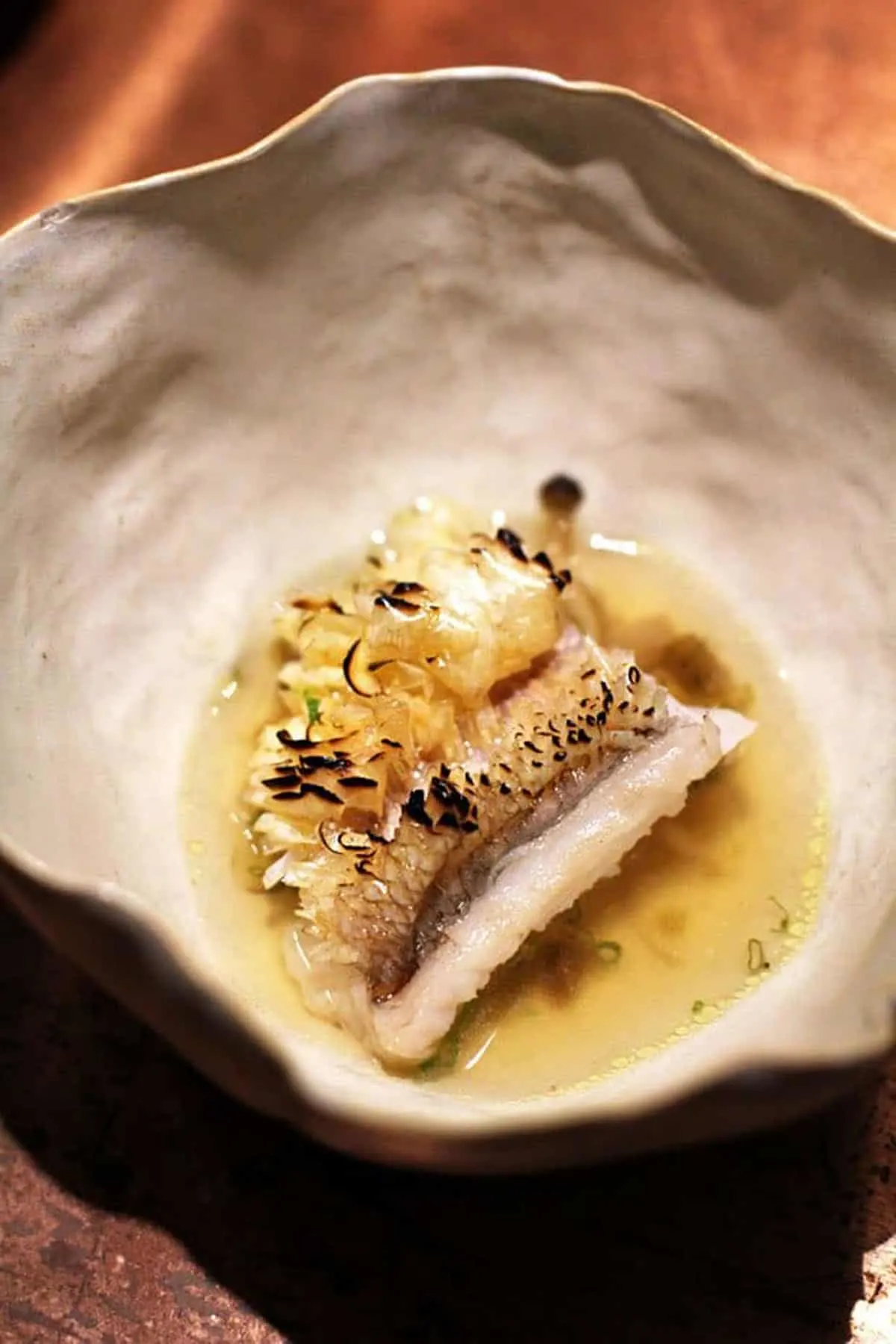 SIXTH COURSE: Bonito on monggo (mung beans) puree with Iberico pork cheeks and deep-fried monggo. One of the "meatier" dishes from tonight, this was really, really good too. Loved the contrast in textures.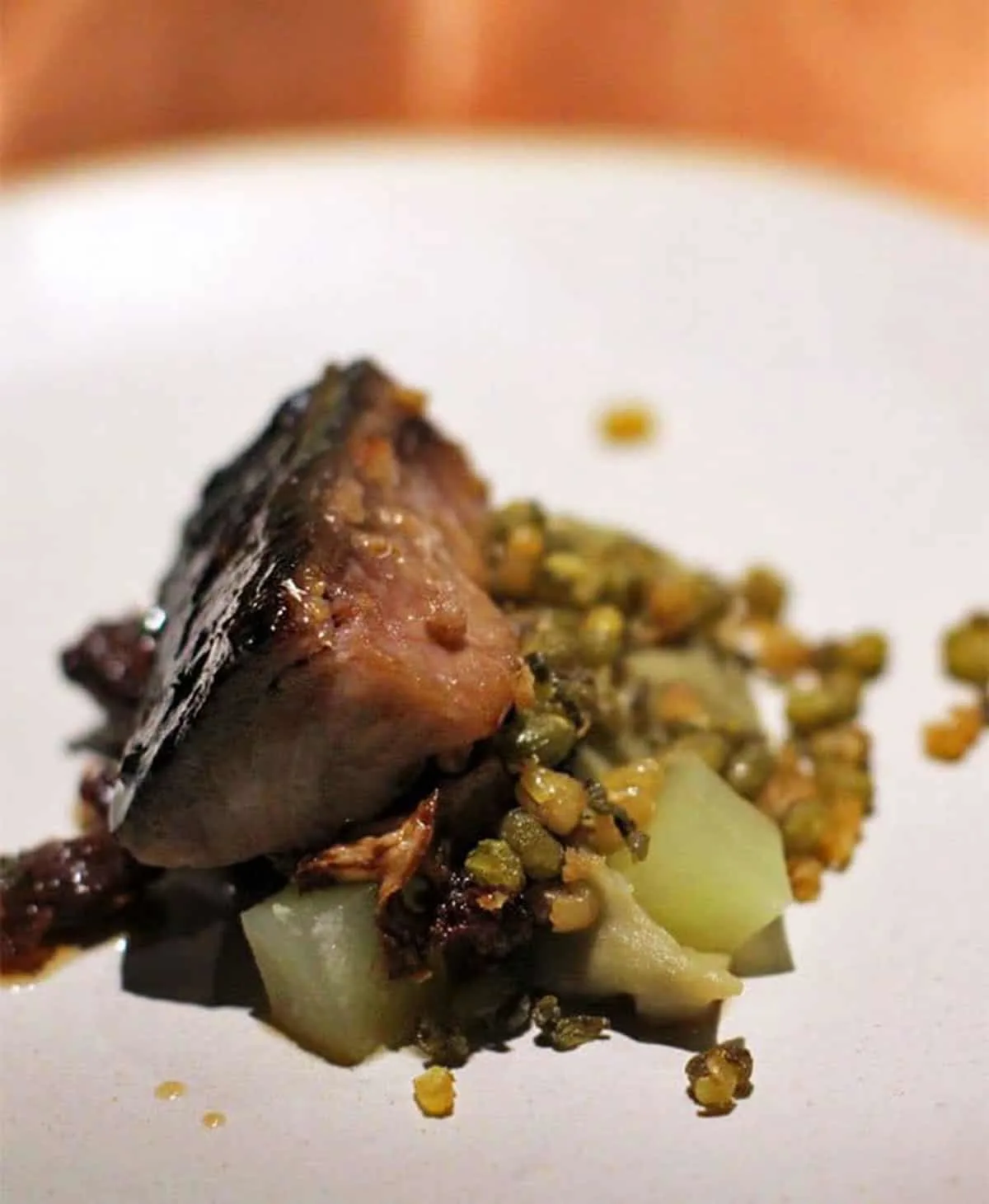 SEVENTH COURSE: Hokkaido uni and scallops in a Japanese rice risotto. ♥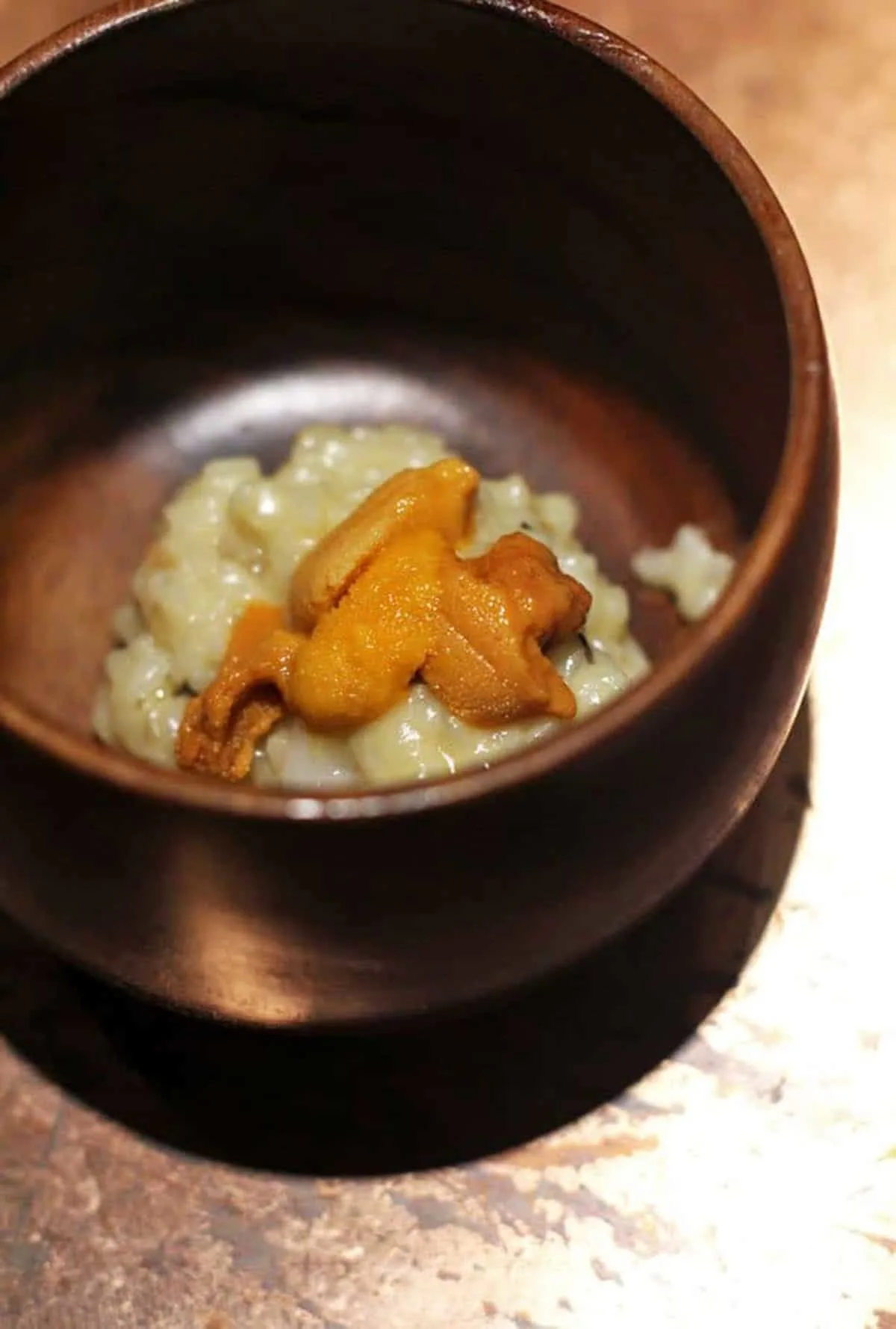 EIGTH COURSE: Without question, the most visually dramatic dish from tonight — quail stuffed with its innards and roasted chestnuts. The dark red blocks were supposed to mimic cranberry sauce, but they weren't made from cranberries. They were some type of vegetable marinated in beet juice. This was the dish that Chef Bruce was spattering with sauce earlier in this post. Clever and darkly humorous, he was sharing the quail's story with this dish. It was bloody good.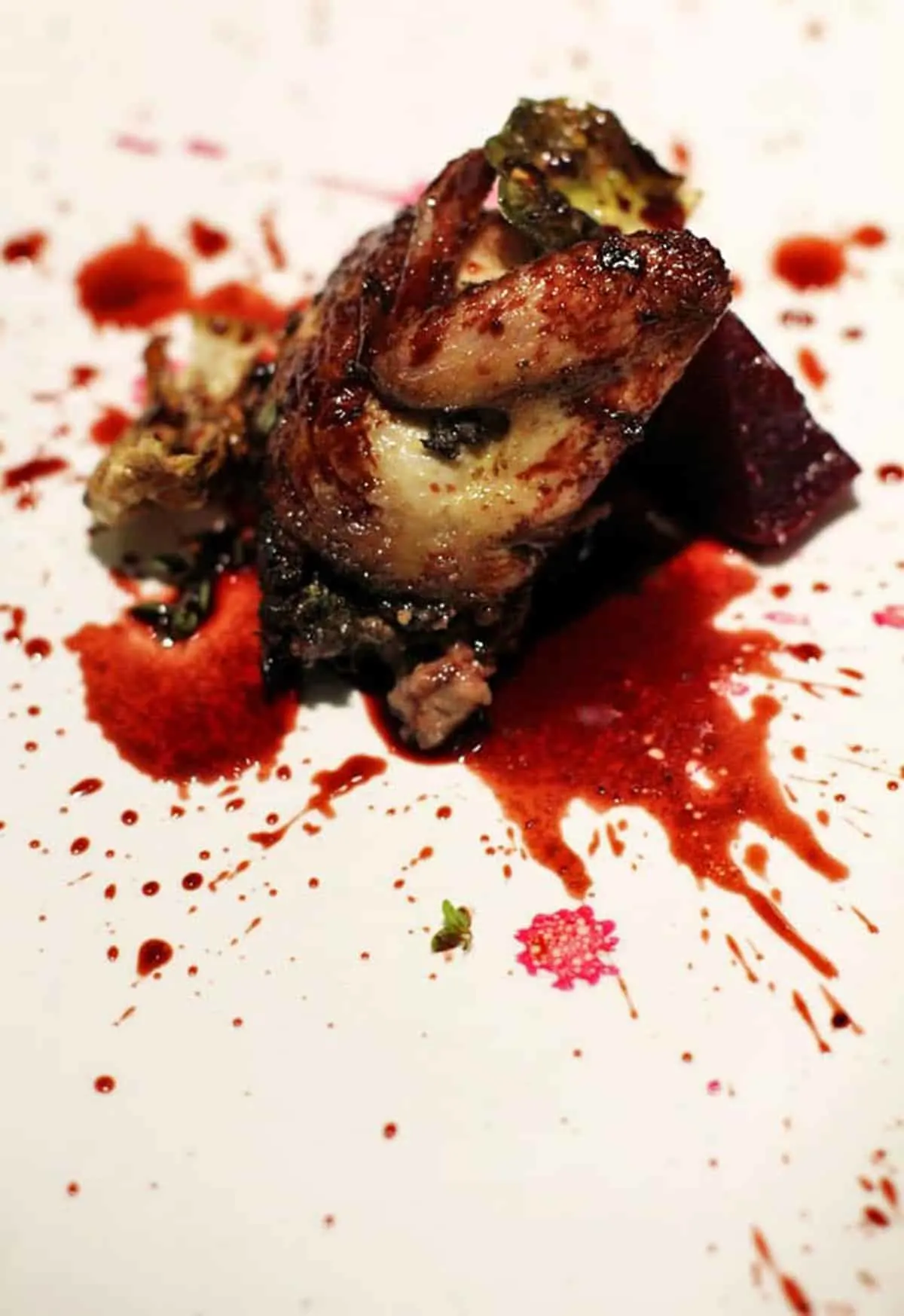 NINTH COURSE: Matsusaka wagyu beef with Cabrales cheese for umami. Together with Kobe and Saga, Matsusaka is one of the most prized beef brands in Japan. Absurdly delicious, especially with the sharp-tasting cheese.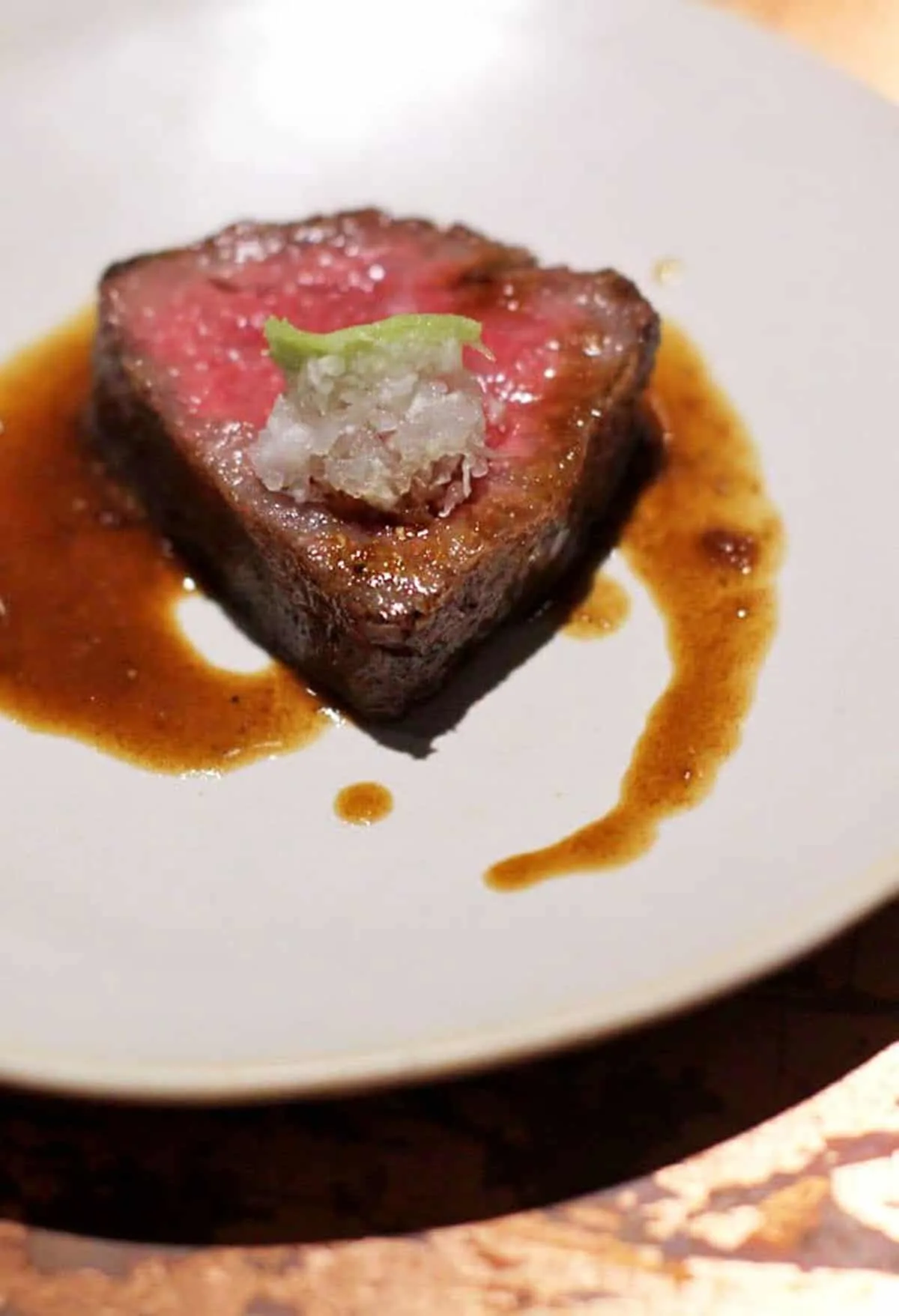 TENTH COURSE: A dessert consisting of kamote cake, tofu made from soy milk and white chocolate, ginger bits, glazed carrot, grape, and other good stuff. A mixed bag of flavors and textures, this made me feel like a kid playing with his new toys on Christmas day. What a festive end to one of the best meals we've ever had.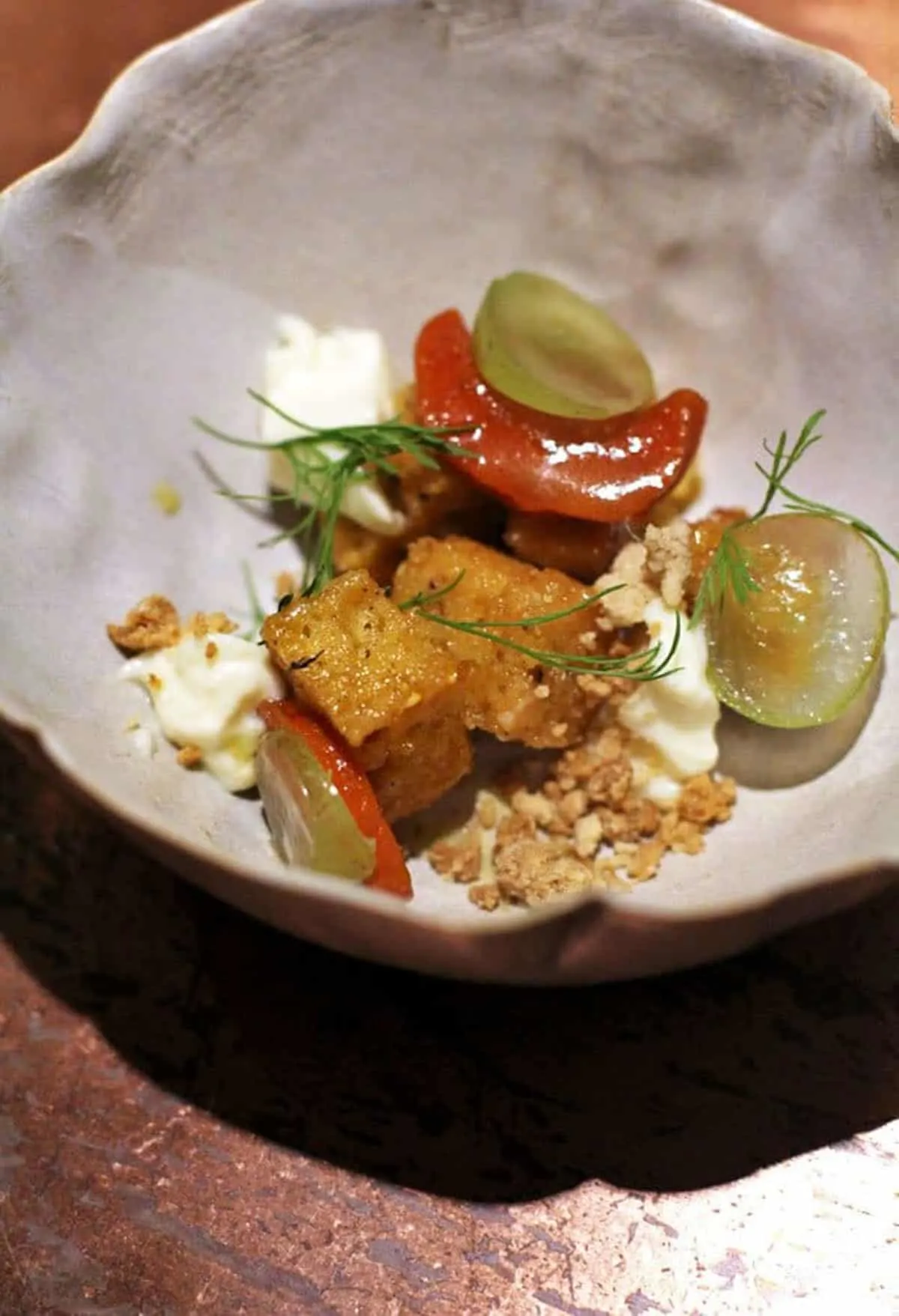 As mentioned at the top of this post, Ren asked Chef Bruce two questions at the end of our meal. The first was about inspiration, the second about last meals — "What would your hypothetical last meal be?"
Without giving it much thought, he said arroz caldo. More specifically, an arroz caldo made by someone else. Because apparently, he doesn't eat his own food.
Ren loves asking people this question and you'd think that many would choose exquisite and expensive dishes like foie gras or truffles, but they don't. Instead, most name something simple but comforting. Things that harken back to their childhood like sinigang or barbecue. Or arroz caldo.
As it turns out, luminaries are no exception.
I know we're not alone in expressing how excited we are for Chef Bruce and Mecha Uma. With so much passion, creativity, instinct, discipline, and humility at just 25 years of age, the sky truly is the limit for this young man.
Mecha Uma
G/F RCBC Savings Bank Corporate Center, 25th Street corner 6th and 7th Avenue, Bonifacio Global City, Taguig (beside Starbucks)
Tel: 801-2770 (1-5PM daily, except Tuesdays)
Instagram: mechauma
Operating Hours: Wed-Thurs, 6PM & 8PM seating (a la carte only) / Fri-Mon, 6:30PM & 8:30PM seating (tasting menu and a la carte) / Tue, Closed
Cost of Tasting Menu: PHP 3,500 (as of this writing)
Happy anniversary to us! So lucky to have a beautiful woman like this share my passion for food and travel. It makes everything taste better. Here's to the next hundred MBH. ♥