This place gave me potty mouth.
I try to be more civilized at my age, but sometimes, there's no better word to describe how good something is, than "fuck."
Ren and I had never even heard of 8 Cuts Burger Blends until we randomly walked in to their shop over the weekend. We were at U.P. Town Center for the first time, looking for a place to eat, when we saw this trendy-looking burger restaurant on the second floor. Not expecting much, we decided to have lunch here.
To our surprise, this wicked cool burger joint turned out some of the best fucking burgers we've had in a long time. So good, playful, and inventive were their burgers in fact, that Ren did something that was completely out of character for her – she agreed to split a third burger with me AFTER wolfing one down on her own! Being the terminal portion-controller that she is, that's saying a lot.
And mind you, she didn't break character because she was hungry. She wanted more simply because like me, she enjoyed that first burger so fucking much that she didn't want it to end. Seriously, that's how fucking good it was.
And if you think the burger above looks fucking delicious, just wait until you see the others below. 😉
The Gods of Burger
Whoever came up with the graphics for this place has a good eye for design (and social media). Love it!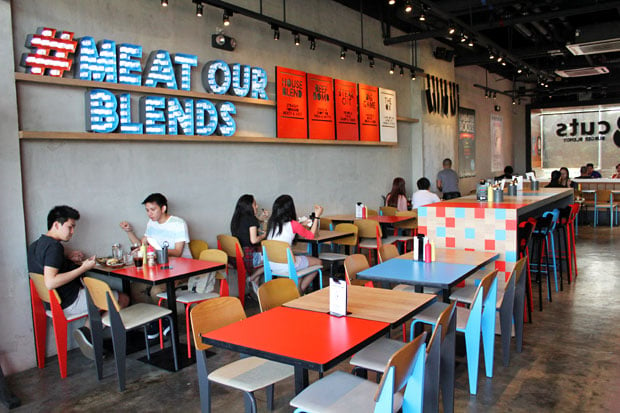 L: Wouldn't it be cool for those neon signs to light up and switch off everytime someone walked in and out of the bathroom? 😉
R: In magazine format, their ultra-cool menu was an innovative approach that I had never seen before. This page illustrates their five patty types, each formed from eight cuts of meat in various amounts and combinations (hence the name "8 Cuts Burger Blends"). For example, the "Steak Cut" is a blend of sirloin and chuck, while the "Ox Blend" is a mix of flank, oxtail, and ribeye. There's a brief flavor profile for each patty as well, to help you decide. So cool!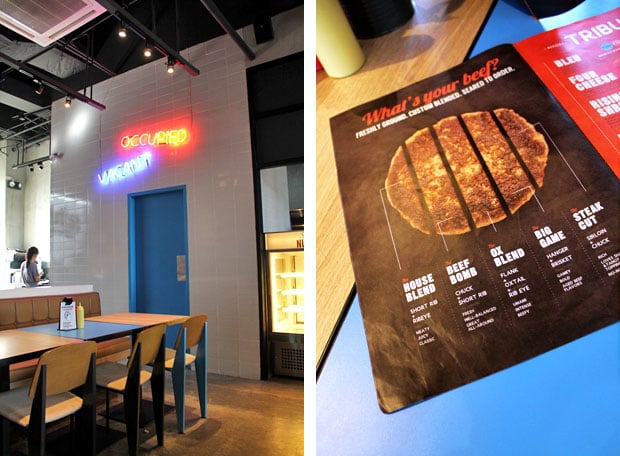 You can either craft your burger from scratch, or choose one of their pre-made creations. This spread guides you through the DIY process.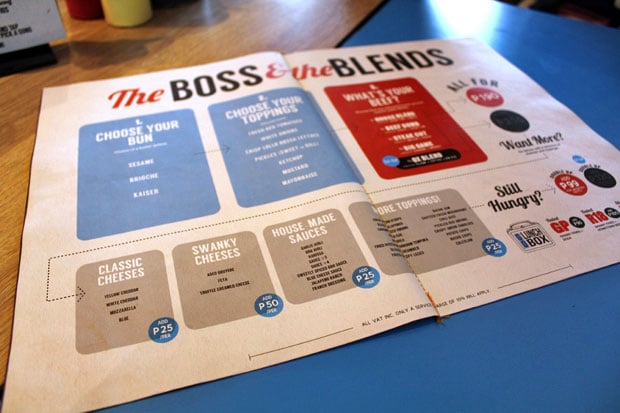 Ren and I couldn't be bothered to create ours from scratch, so we chose from their page of signature burgers instead. If you like, you can "go lunch box" as well, adding fries and a drink to your meal for a little extra. Being the lushes that we are, we both went with the R18 lunch box (+PHP 100) that included skinny fries and a local beer. 😉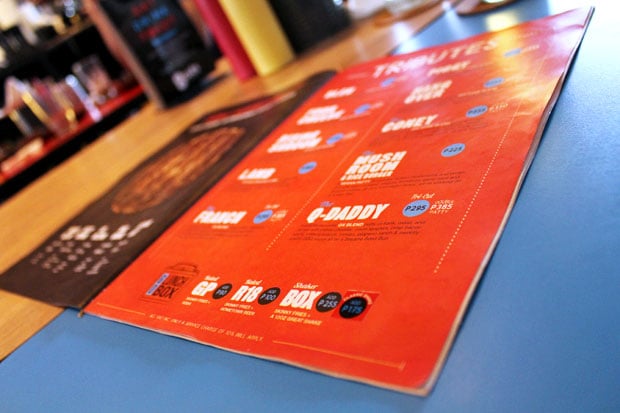 Rising Shroom – PHP 280 (single) / PHP 375 (double) – Mustard-fried quarter-pounder steak-cut blend patty of sirloin and chuck with fried oyster mushroom tempura, white truffle creamed cheese and sauteed mushrooms on a kaiser roll
Behold one of the most beautiful, best-tasting burgers that I've had in a long ass time. Goddamn motherfucker this shit was good.
Made with a juicy sirloin and chuck patty, it was topped with a mound of what I believed to be sauteed shiitake mushrooms and two pieces of oyster mushroom tempura. (Tempura on a burger, how cool is that?!) The combination of the slippery, spongy mushrooms with the crunchy tempura sent me up to texture heaven. And you could really taste the truffle in the creamed cheese as well.
If I were to have any compliants, it would be that I found the bread just a little too soft and the burger somewhat messy. But hey, it tasted so damn good that I didn't mind it in the end, which is saying a lot considering how much I dislike messy food.
I enjoyed this burger so much that from my first bite to the last, I was in pure, meaty, fungal nirvana. So envious was Ren, that she already vowed to order one for herself on our next visit. 😉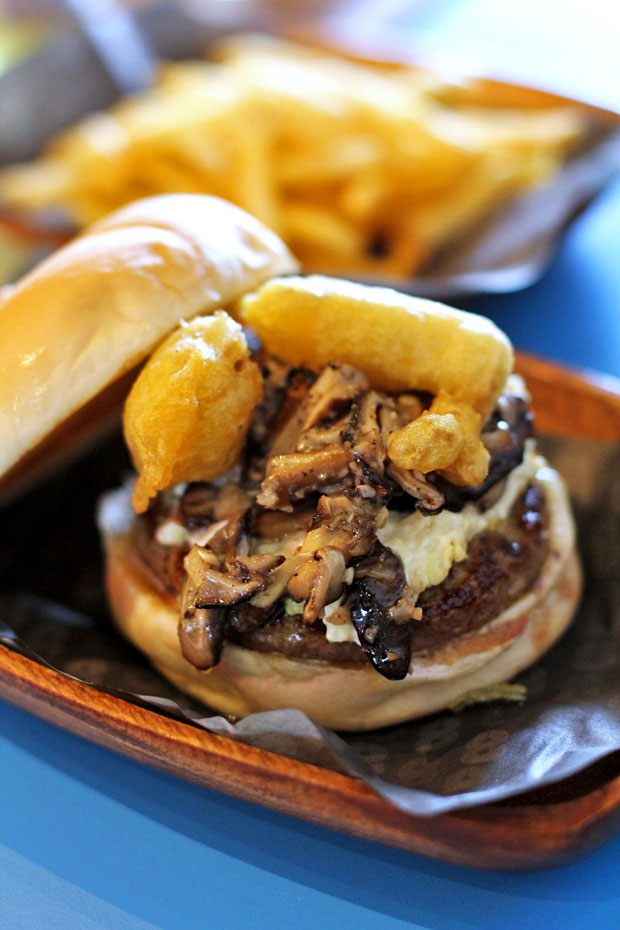 Bleu – PHP 245 (single) / PHP 345 (double) – An onion-griddled quarter-pounder steak cut blend patty of sirloin and chuck with blue cheese sauce, fried crispy leeks, blue cheese crumble, caramelized onions, and lollo rossa greens on a brioche bun
A fan of all things blue cheese, Ren will always order the blue cheese burger if it's on the menu. Personally, I'm not as big a fan of it, though I have to admit that this was one of the best-looking and better-tasting specimens that I've seen. Made with a sirloin and chuck patty topped with a mountain of fried leeks on a brioche bun, it was juicy, meaty, and crunchy, with a potent punch of that characteristically pungent blue cheese flavor.
Like mine, it was just a little messy and difficult to eat, but again, who gives a shit?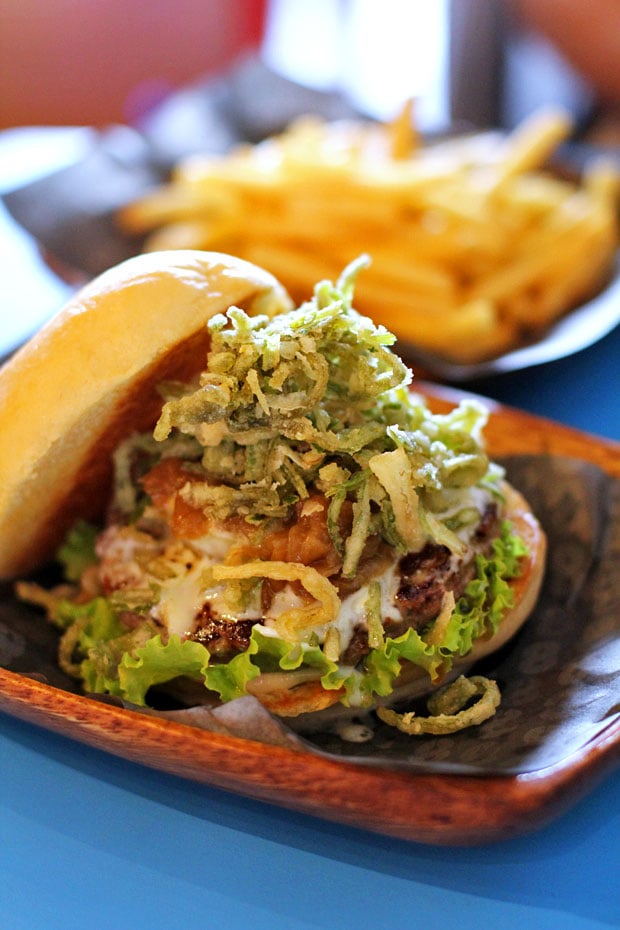 Piggy – PHP 245 (single) / PHP 345 (double) – A quarter-pounder beef bomb blend patty of chuck and short rib with mozzarella, fried bacon strips, house-made bacon jam, lollo rossa, tomatoes, and garlic aioli on a sesame seed bun
The aforementioned, unprecedented third burger that we just had to get after the stellar first two. The most conventional among the three, this one was made with a juicy chuck and short rib patty, and topped with crisp bacon strips, stringy mozzarella, and a sweet-savory bacon jam on a toasted sesame seed bun.
Full as we already were, we didn't regret ordering this one. Not one fucking bit. It was delicious, and shored up what we already knew after the first two – 8 Cuts Burger Blends is the fucking BOMB!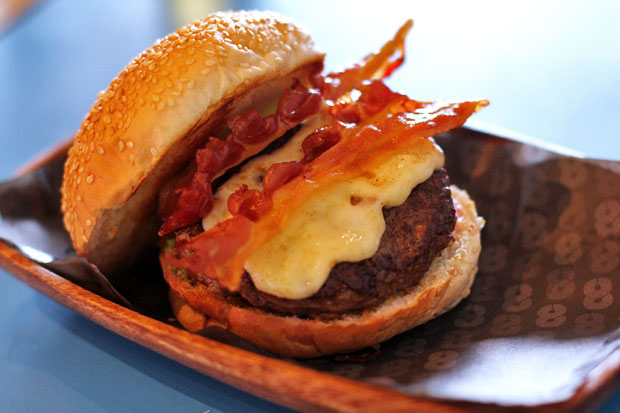 If you're one of the two or three masochists who routinely read this blog, then you'll know that Charlie's Grind & Grill tops our list of homegrown burger joints. After today, 8 Cuts Burger Blends is up there too. Honestly, despite its many mouthwatering choices, I don't think we can go to another restaurant at U.P. Town Center without being tempted to eat here instead.
If you like Charlie's, then I strongly suggest you try 8 Cuts as well. So fucking good, seriously. 🙂
8 Cuts Burger Blends
UP Town Center, Katipunan, Quezon City
Tel: 955-2264 | Mobile: 0917-818-2139
Operating Hours: Mon-Sun, 11AM-11PM