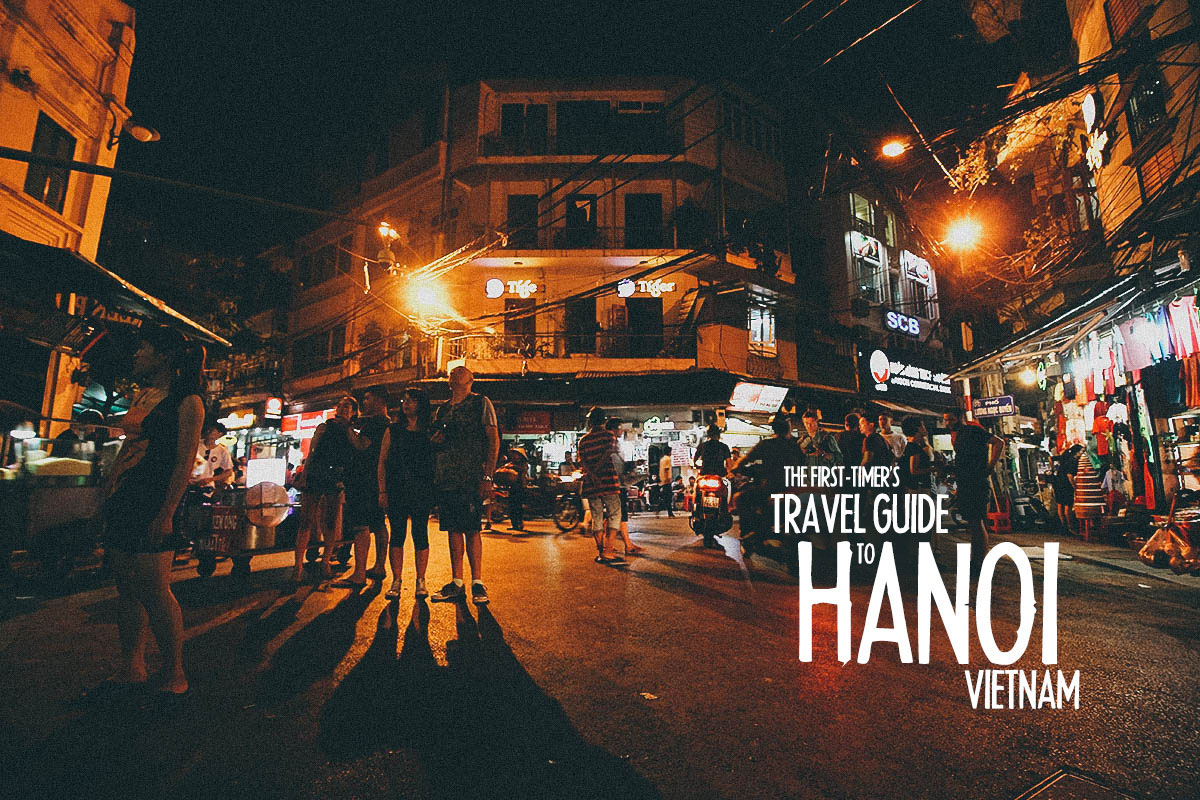 The First-Timer's Travel Guide to Hanoi, Vietnam
Hanoi was supposed to be a stopover, a base for more exotic destinations in Northern Vietnam like Sapa and Ha Long Bay. I googled "how many days in hanoi" and that's exactly what many people said.
Like any Southeast Asian metropolis, Hanoi is a big and chaotic city. It can be overwhelming for many so it's often treated as little more than a port of entry into Vietnam. Tourists arrive in Hanoi, staying a day or two to explore the Old Quarter, before moving on to less urban parts of the country. Had we not been on a quest to try as much Vietnamese street food as we could in Hanoi, then we probably would have done the same. But I'm glad we stayed.
Because as chaotic and busy as Hanoi can be, its also a city teeming with character. Walk around the Old Quarter for a day and you'll see what I mean. An eclectic mix of foreign influences, you get the sense that this city has seen a lot in its thousand year history. Stick around long enough, and you may just get to hear its stories.
Save This on Pinterest!
No time to read this now? Click on the red save button and pin it for later!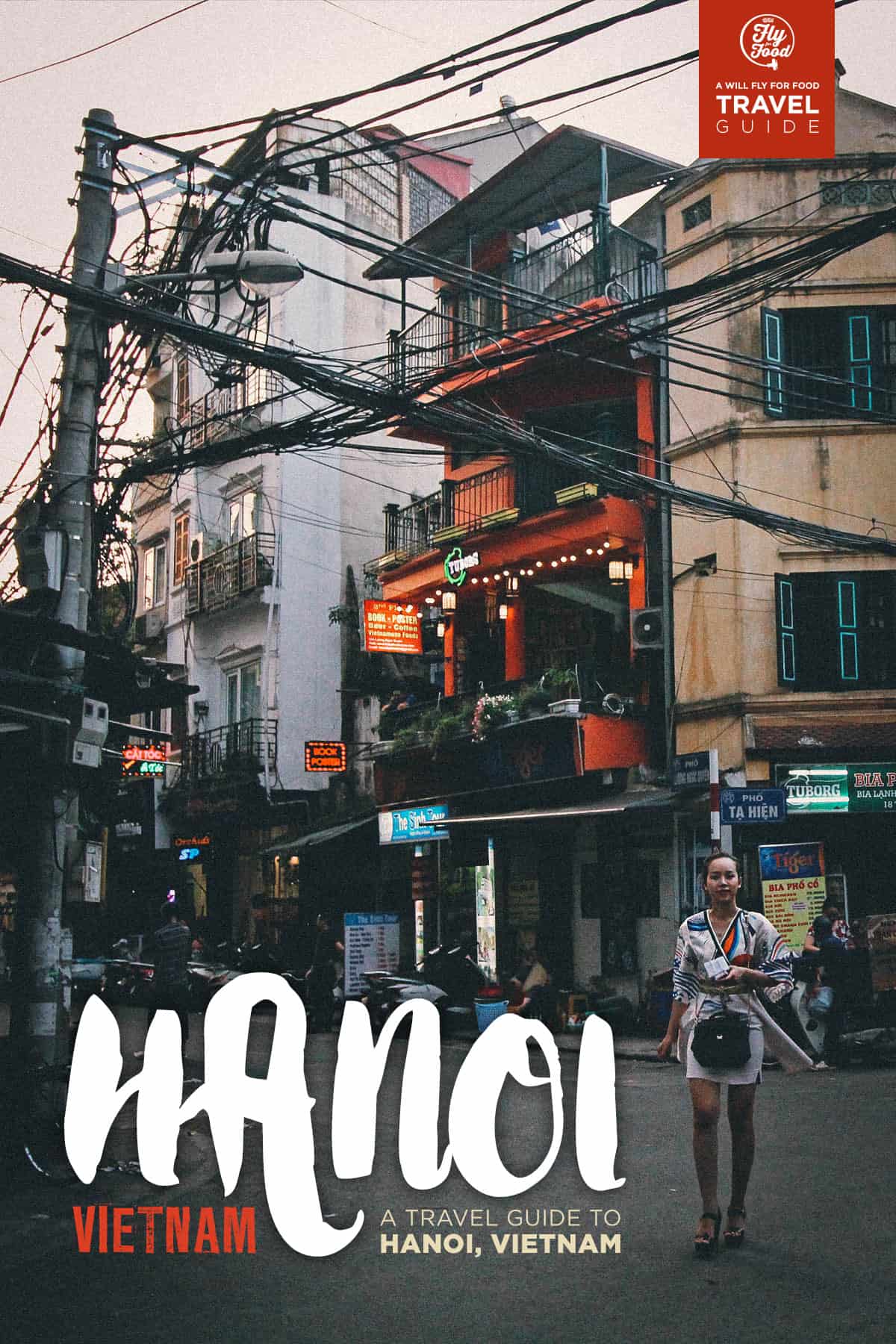 GUIDE TABLE OF CONTENTS
HANOI AT A GLANCE
Hanoi is Vietnam's capital city. Located by the banks of the Red River, it's a city in Northern Vietnam that's the second largest in the country by population. It served as the capital of French Indochina from 1902-1954, before becoming the capital of a reunified Vietnam after the North's victory in the Vietnam War.
Hanoi is an old city. It celebrated its millennial anniversary in 2010 though it's said to be much older than that, having been inhabited since at least 3,000 BC. Vestiges of Chinese and French colonial influence can still be seen throughout the city. Apart from being one of the most popular tourist destinations in Vietnam, it's often used as a base for other points of interest in the North like Ha Long Bay, Sapa, and Ninh Binh Province.
BEST TIME TO VISIT
Hanoi technically has two main seasons – rainy (May-Sept) and dry (Oct-Apr). However, it does experience variances in weather that can simulate the four seasons. Here's what it's like to visit Hanoi during the different seasons:
SPRING (Feb-Apr): Spring is one of the best times to visit Hanoi. Weather is still mild with temperatures ranging between 15-20°C (59-68°F). The skies are clear from February to March but it does start to drizzle more frequently come April. Please note that Spring may also coincide with Tet (late Jan or early Feb) which is the Vietnamese New Year. It's the most important celebration in Vietnamese culture so expect many establishments to be closed during that time.
SUMMER (May-Aug): Like the rest of Southeast Asia, summers in Hanoi are hot and humid. The average temperature is about 32°C (90°F). On top of that, it's officially the rainy season as well with August seeing the most rainfall. Unless you have a thing for that type of weather, then it's best to avoid Hanoi in summer.
FALL (Sept-Nov): Like Spring, Fall is an ideal time to visit Hanoi. The weather is mild with average temperatures hovering around 25°C (77°F). Skies become clearer in November and leaves turn golden-yellow, making it the perfect time to explore the tree-lined boulevards of the Old Quarter and Hoan Kiem Lake. Fall is considered the most beautiful time to visit Hanoi.
WINTER (Dec-Jan): For a Southeast Asian country, it's said that winters in Hanoi can be surprisingly cold. The average temperature is around 17°C (63°F), but it has been known to drop down below 10°C (50°F). High humidity, wind chill, and a lack of building insulation make it seem even colder. Be sure to dress appropriately should you decide to visit Hanoi in winter.
We visited Hanoi in mid-April and the weather was ideal. It didn't rain once and the weather was mild, though it did get hot walking around during the day. I don't remember it feeling very humid though, which was great. April is a wonderful time to visit Hanoi, but from the sound of it, November may even be better.
HOW TO GET THERE
We flew in to Hanoi but there are many ways to get to Vietnam's capital city depending on where you are. Assuming Hanoi is your port of entry into Vietnam, then you'll be arriving at Noi Bai International Airport which is about 45 minutes from the Old Quarter.
BY PRIVATE TRANSFER: Our flight arrived past midnight in Hanoi so we needed to make advanced arrangements for transportation. We booked a private transfer with our hotel for USD 18, which is USD 3 more than what we paid to go back to the airport a few days later. I think we were charged a little extra going in because we arrived during off hours. If you can, then I suggest making similar arrangements with your hotel. If not, then you can book a private transfer through Klook.
BY GRAB: We didn't use any ride-sharing apps in Hanoi but we did in Saigon and found them to be cheap and very convenient. Based on my research, a Grab ride from Noi Bai International Airport to the Old Quarter should run you around USD 13 each way.
BY TAXI: We didn't ride any taxis but I've read that taxi scammers are the one and only thing many travelers complain about in Hanoi. Based on my research, it should cost you around USD 16-18 to get to the Old Quarter from the airport, so don't fall for any scams telling you otherwise. Noi Bai has been called a hotbed for taxi scammers who either try to overcharge you or take you to the wrong hotel in the hopes of getting a commission. To avoid being victimized by scams, arrange for a private transfer or use a ride-sharing app instead.
BY PRIVATE BUS: Jetstar and Vietnam Airlines run private minibuses that shuttle people from the airport to designated stops in Hanoi for VND 30,000 (around USD 1.30). It may not take you exactly where you want to go but you'll be close enough to either walk to your hotel or hop into a Grab. Follow this link for more information on airport minibuses in Hanoi.
We flew to Hanoi but there are other ways to get there depending on where you are. I suggest checking 12Go Asia to find route options available to you. You can click on the link or use the widget below.
HOW LONG TO STAY
Many travelers will spend only a day or two in big cities like Hanoi and Saigon before moving on to less urban destinations in the country. We stayed 4 1/2 days in Hanoi which included an overnight cruise in Ha Long Bay and a day trip to Ninh Bình Province. That gave us about 2 full days in the city which was just right. If you don't want to spend too much time in a big city, then one full day should be enough to see the best of Hanoi. But if you want to take your time and explore the capital more thoroughly, then I'd say 2 days is perfect.
As described, Hanoi is often used as a base to other destinations like Ha Long Bay. If you're planning on going on a Ha Long Bay cruise or doing any day trip excursions, then be sure to add a few more days to your stay.
HOW MUCH MONEY TO BRING
The unit of currency in Vietnam is the Vietnamese Dong (VND). Vietnam is an inexpensive country even by Southeast Asian standards. It's about the same as Cambodia, perhaps even cheaper. Assuming you'll be sharing a hotel room with one other person and staying only in Hanoi for a couple of days, then a budget of around VND 650,000 per day should be plenty. This takes into account your hotel room, meals, museum entrance fees, transportation, pocket wifi rental, and some light shopping. If you plan on going on an overnight Ha Long Bay cruise or any day tours, then please take that into account when setting your budget.
Giving budget suggestions is always tricky since everyone's habits are different. Some people like to shop, others like to eat (like us). Some prefer dorms, others need to stay in private rooms (again, like us). With that said, VND 650,000 is a good baseline which takes into account the essentials. Please feel free to adjust based on your own personal travel habits.
WHERE TO EXCHANGE CURRENCY
The best places to exchange currency in Vietnam are at banks and gold/jewelry shops. We exchanged currency at a gold shop in Hanoi and at a bank in Saigon and rates from both were excellent. I've read that you can exchange currency at hotels and some restaurants too, but the rates generally aren't good or they charge you an additional fee for the service. Same goes for the airport. If you'll be arriving by plane and need to exchange currency, then change a small amount at the airport, just enough to get you to your hotel, and change the rest in the city.
When doing research for the best place to exchange currency in Hanoi, I saw many people on TripAdvisor, including locals, recommending the Vàng Bạc Kim Linh gold shop on 67 Hàng Bạc Street in the Old Quarter (pictured below). I don't recall the exact rate but I do remember being surprised by how good it was. I intended to change only a couple hundred US dollars at Vàng Bạc Kim Linh, so I could compare rates elsewhere, but I wound up up changing most of our money there. If you're staying in the Old Quarter, then I suggest seeking this place out. Their currency exchange office is on the second floor of the shop.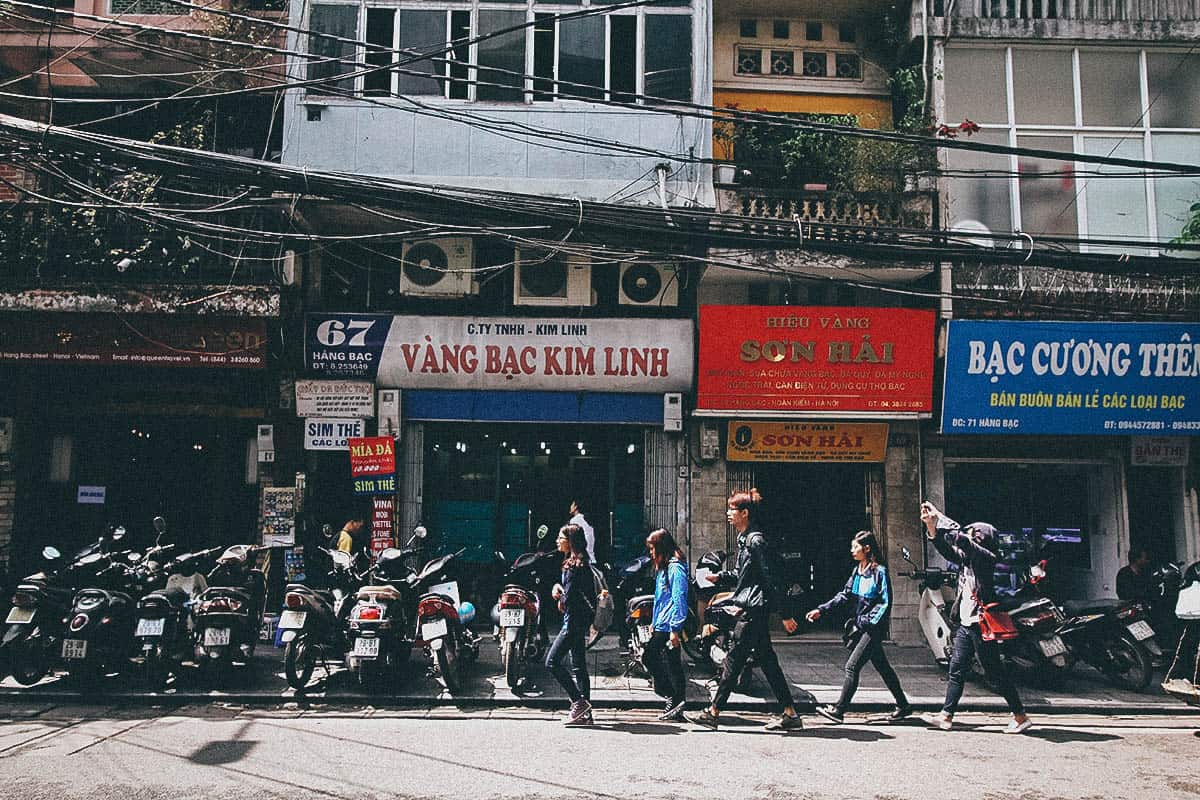 Another option is to withdraw VND from an ATM. Rates are good. Just be sure to let your local bank know that intend to use your ATM card overseas. That way you don't run into any issues. In my experience, my ATM card works in some machines but not in others.
WHERE TO STAY: Hanoi Little Town Hotel
For most travelers, the Old Quarter is the best place to stay in Hanoi. It's one of the city's major commercial districts with plenty of hotels, cafes, shops, and restaurants.
Hotel rooms in Vietnam are cheap. You can get a huge private room in Hanoi for around USD 20-25 a night with breakfast for two already included. Finding a good, inexpensive place to stay in the Old Quarter won't be difficult, but one place to consider is Hanoi Little Town Hotel. It's centrally located, rooms are big, the staff is courteous and cheery, and we always looked forward to their breakfast buffet in the morning. Check out my post on Hanoi Little Town Hotel for more pictures and information.
You can book a room at Hanoi Little Town Hotel through Booking.com or Agoda. Be sure to check both sites to find the best rate. You can browse through those links for other listings in Hanoi as well. You can also book a room here through AirBnB. If Hanoi Little Town Hotel isn't the ideal hotel for you, then you can search through their list of accommodations in Hanoi. If you're new to the site, then you can get up to USD 43 free travel credit via THIS LINK.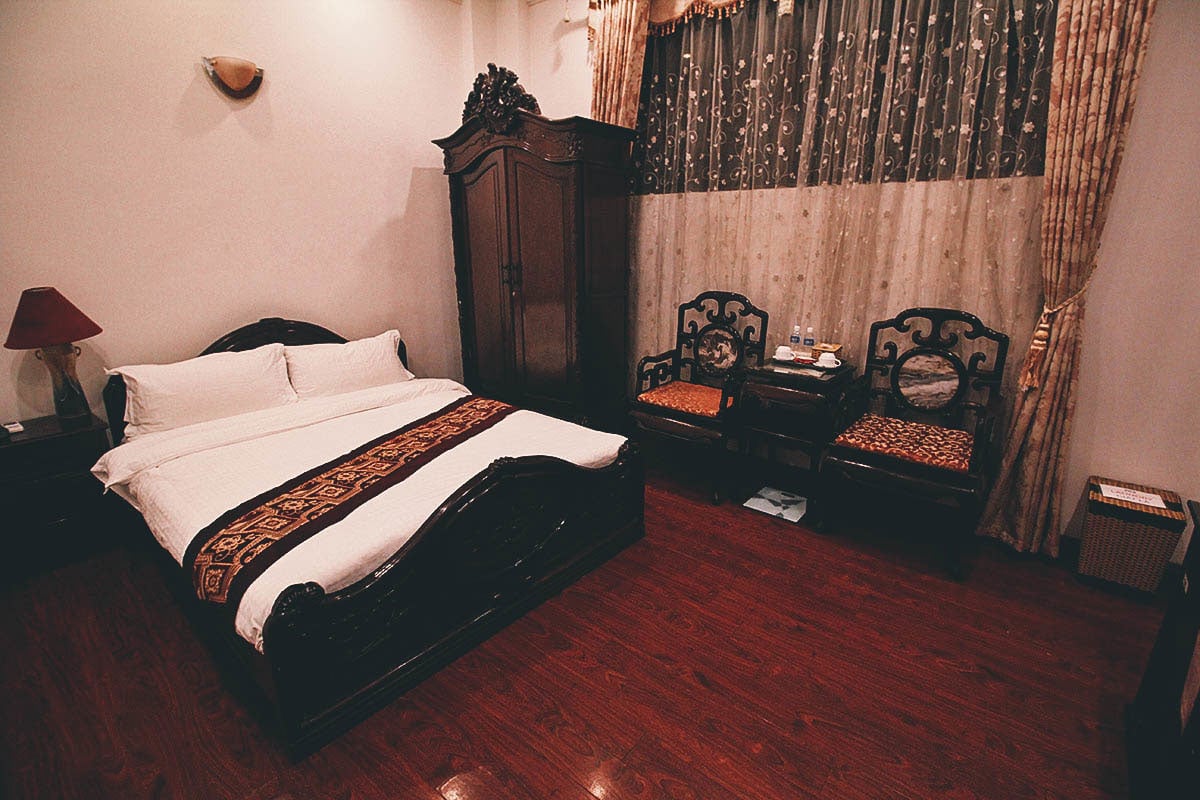 Approximate Room Rate: USD 25 per night (as of April 2017, with breakfast)
WHERE TO GO / WHAT TO DO
1. Take a Stroll in and around Hanoi's Old Quarter
Hanoi is an interesting city. It may be old and dilapidated in parts but it's a city full of character. As previously described, we stayed in the Old Quarter which is the ideal place to stay in the capital city. With its French colonial architecture and many tree-lined boulevards and alleyways, its a fun place to explore on foot. Start there and make your way to the city's most popular attractions like Hoan Kiem Lake, Hoa Lo Prison, and the Ho Chi Minh Mausoleum.
Check out my post on Hanoi's Old Quarter for more pictures and information. It's easy enough to explore on your own but if you'd like to go on a guided tour, then you may be interested in this Hanoi day tour.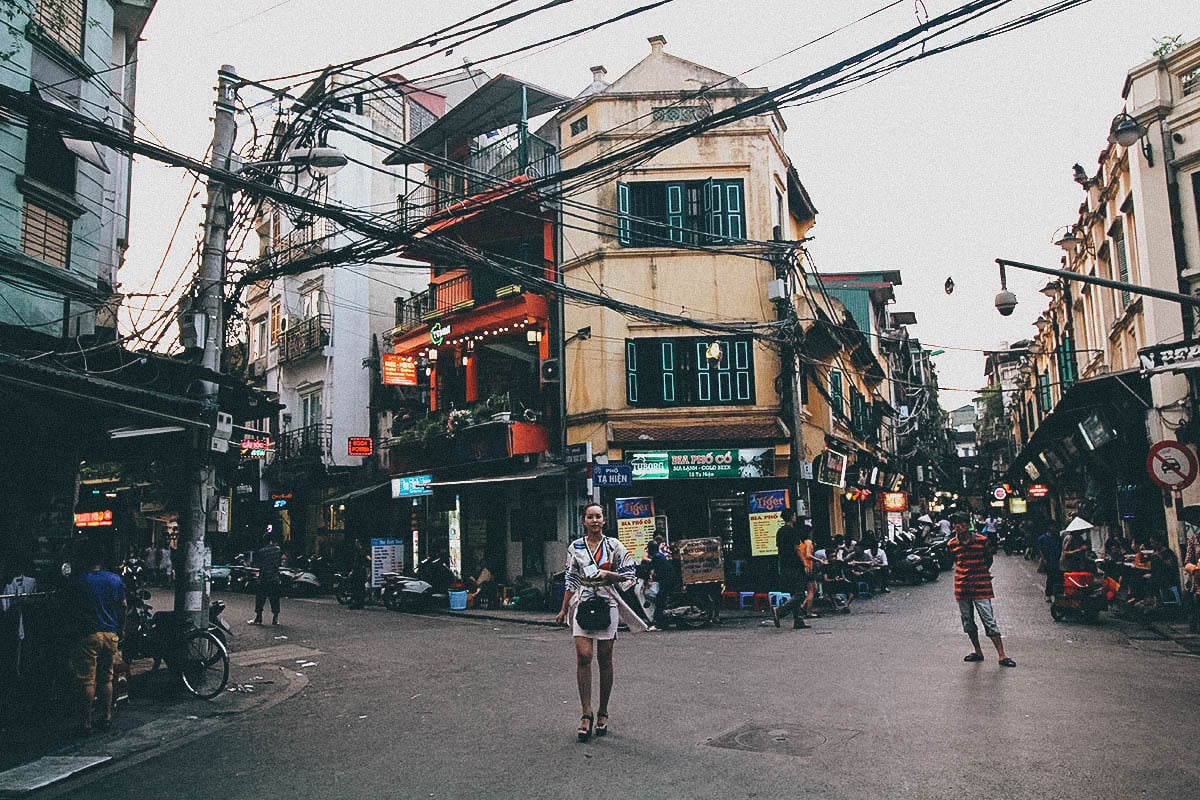 Length of Walking Tour: Full Day / Admission: Various (per attraction)
2. Go on an Overnight Ha Long Bay Cruise
About three hours east of Hanoi, Ha Long Bay is a UNESCO World Heritage Site and one of the most popular tourist destinations in Vietnam. It's home to jade green waters and some 2,000 islets, most of which are made from limestone. Day trips to Ha Long Bay are available, but in my opinion, it's best enjoyed on an overnight cruise. If you're spending enough time in Hanoi, then a cruise in Ha Long Bay is a must.
We booked ours through Klook and they have several Halong Bay cruises for you to choose from. Check out my post on the Ha Long Bay Cruise for more pictures and information.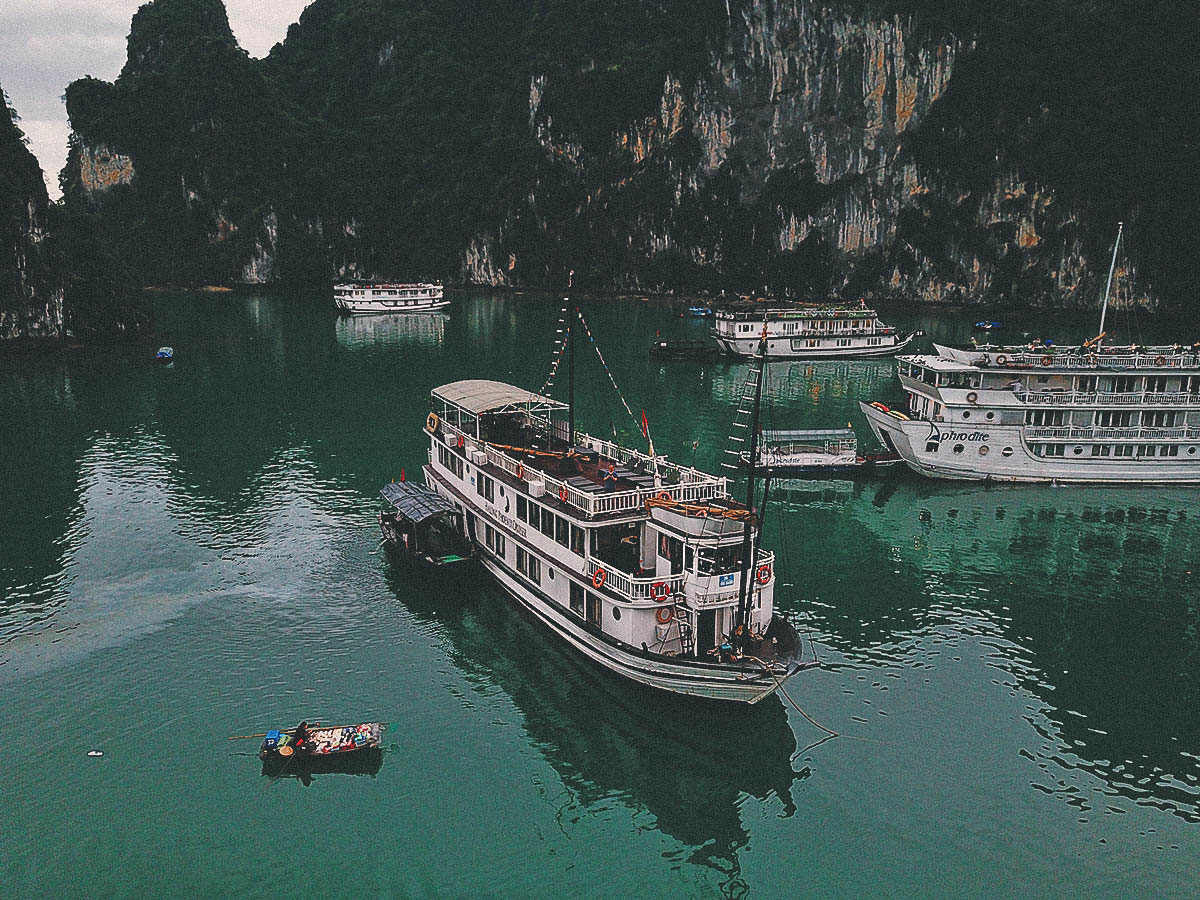 Length of Tour: 2D1N / Cost: Starts at USD 144 (single)
3. Take a Day Trip to Hoa Lư and Tam Cốc
Northern Vietnam is known for its impressive landscape of towering limestone karsts. With several days to fill in Hanoi, we decided to go on this day trip to Hoa Lư and Tam Cốc in Ninh Bình Province. About two hours south of Hanoi, highlights include a visit to King Dinh Temple and a boat ride along the Hoang Long River surrounded by rice paddy fields and limestone mountains on all sides.
We booked this Hoa Lư and Tam Cốc day tour through Klook. Check out my post on Hoa Lư and Tam Cốc for more pictures and information.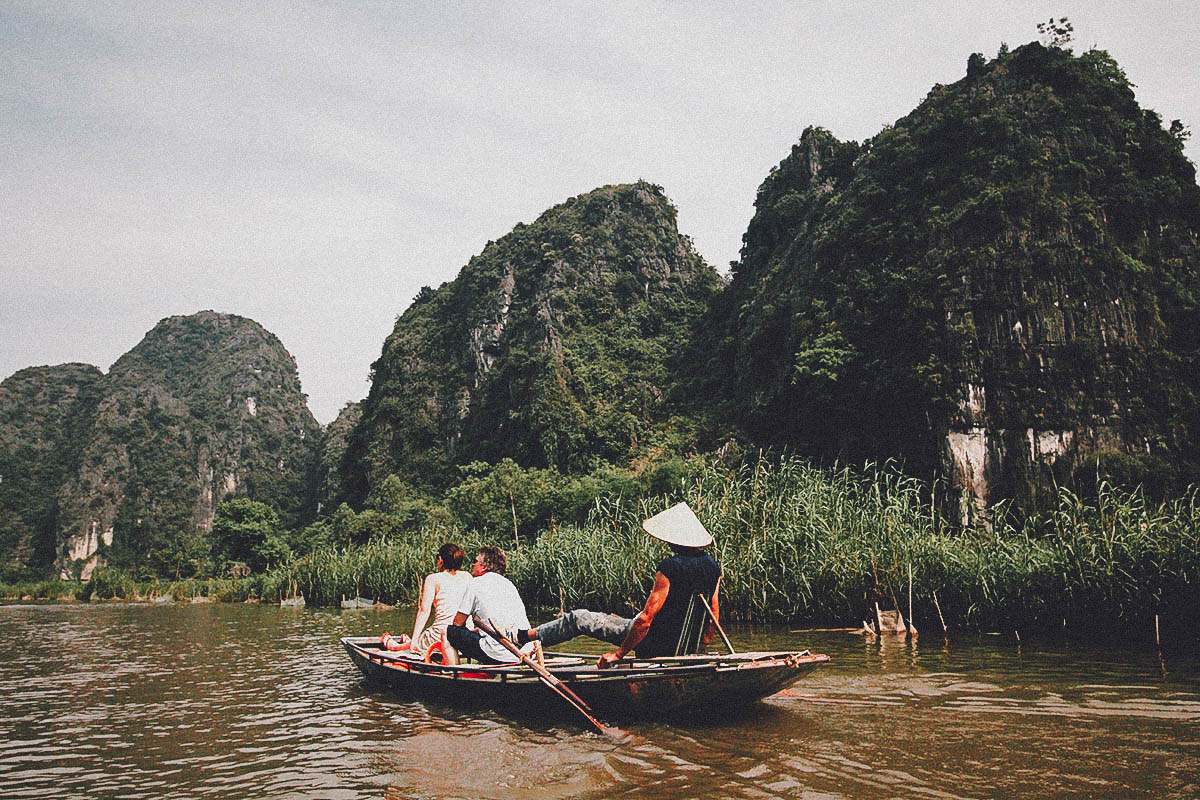 Length of Tour: Full Day / Cost: USD 36 per person
4. Watch a Water Puppet Show
If you're interested in a cultural show that's unique to Vietnam, then you may want to catch a water puppet show at Thang Long Water Puppet Theater in Hanoi. Located by Hoan Kiem Lake, you'll be treated to an hour-long performance of water puppets reenacting Vietnamese folktales and legends while accompanied by a live orchestra.
It's easy enough to buy tickets and watch this show on your own, which is what I did. I enjoyed it though I wasn't entirely sure what the story was about. If you'd like to see it within the context of a tour, and perhaps a guide explaining it to you, then you might be interested in this Hanoi city tour. It ends with tickets to this water puppet show.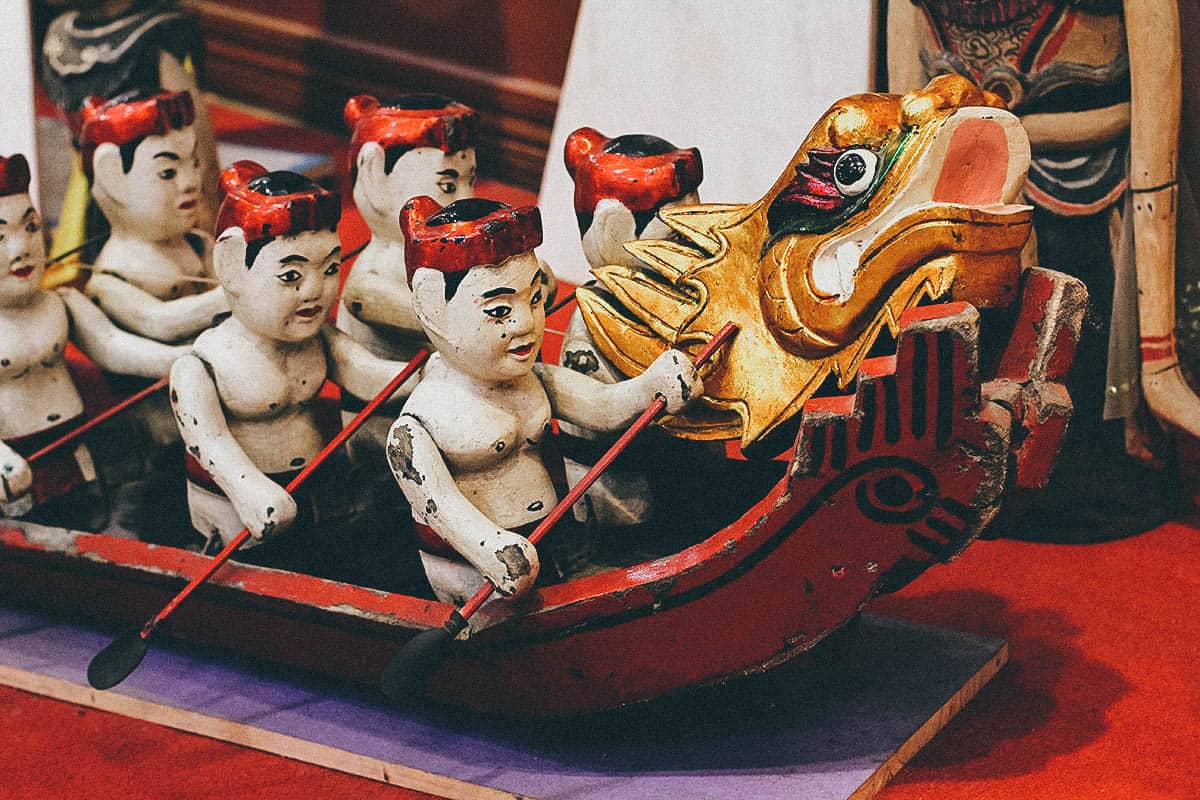 Length of Show: About 1 hr / Admission: VND 100,000
5. Take a Cooking Class
We had so much fun taking this cooking class in Hoi An that we now try to take one on every trip. As much as we love exploring restaurants and going on food tours, nothing teaches you more about the local cuisine than a cooking class. It's like looking under the hood.
Cookly is a booking platform that focuses on one-day cooking classes. They offer cooking classes in many cities around the world, including Hanoi. Because they focus only on cooking classes, I don't think there's a better place to find a cooking class when traveling than Cookly. Follow the link to check out their list of cooking classes in Hanoi.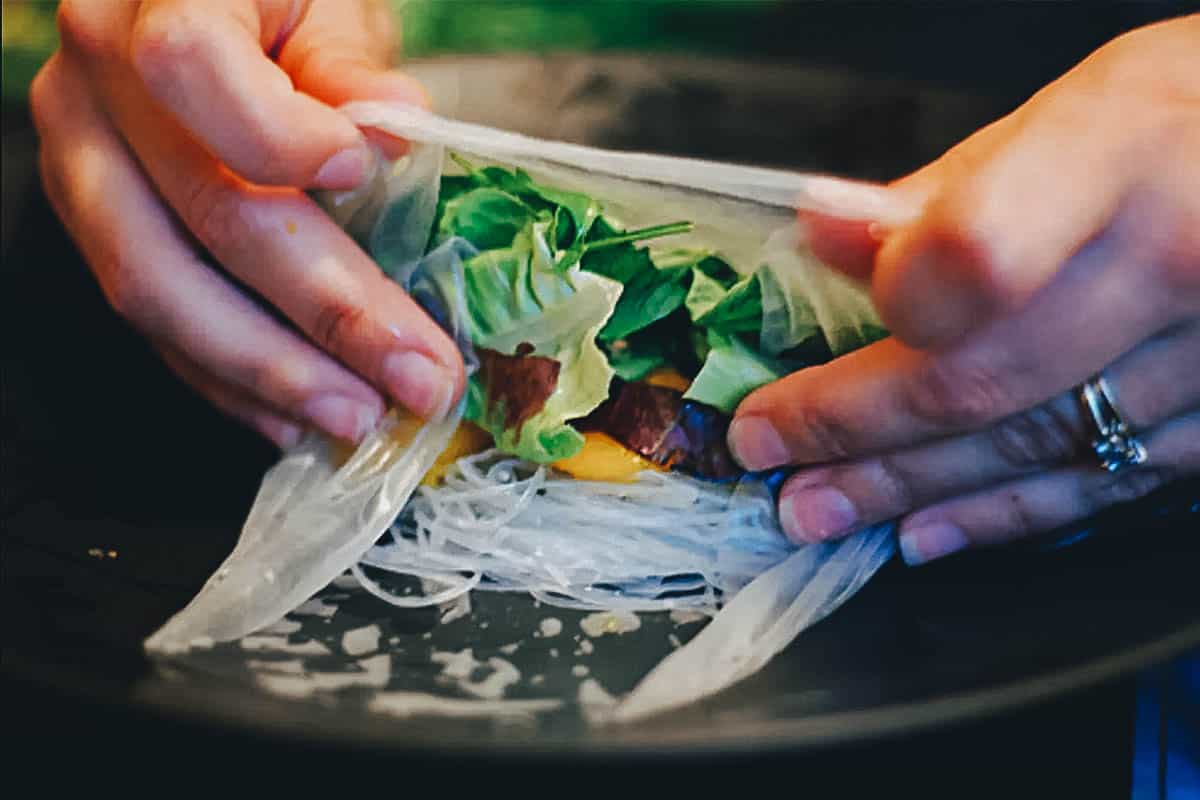 Picture borrowed from Cookly
6. Hire a Private Tour Guide
If you have something specific you'd like to do in Hanoi, then you may want to hire a private guide. We told Alex, the founder of Inspitrip, that we wanted to experience authentic street food in Saigon so that's exactly what we did. He took us to several street food stalls and restaurants frequented mostly by locals, many of which we never would have found on our own. Though based in Saigon, Inspitrip connects travelers with local insiders in Hanoi as well.
Check out my post on experiencing Saigon or Hanoi like a local with Inspitrip for more pictures and information.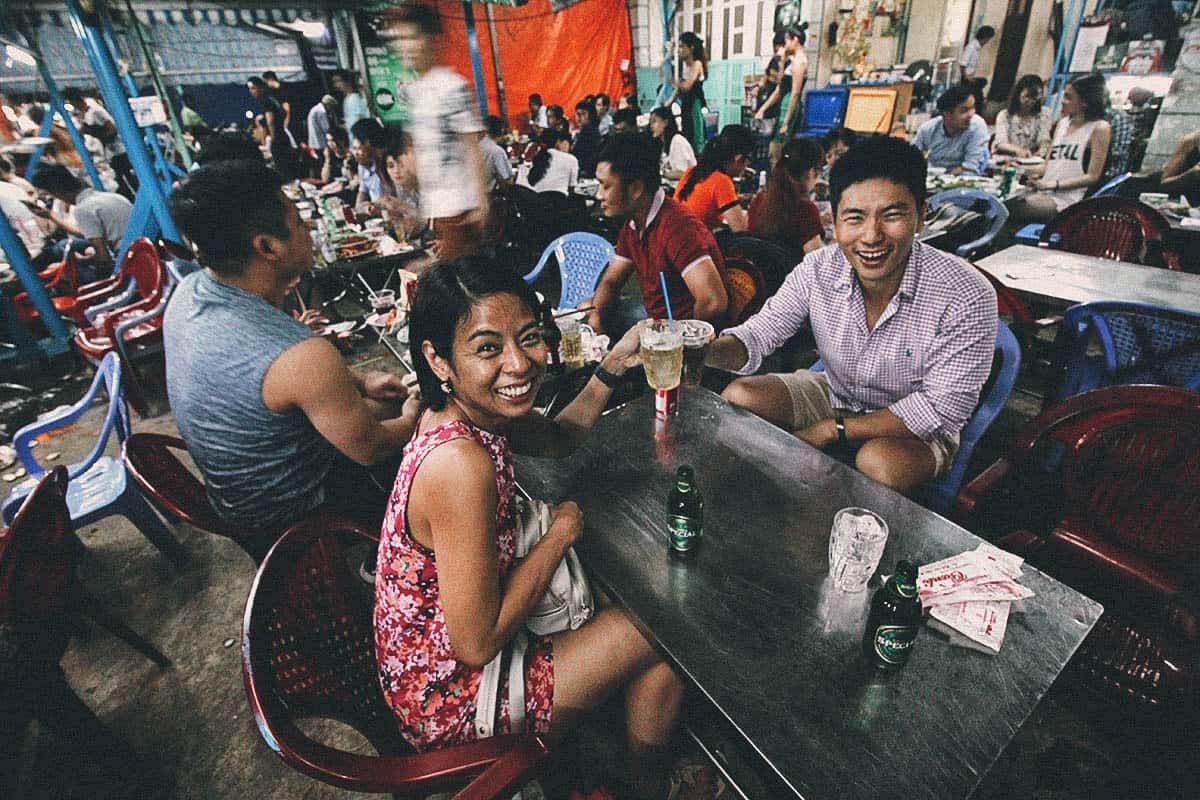 Length of Tour / Cost: Varies
7. Experience and Give Back with Backstreet Academy
Do you want to have an authentic local experience whilst giving back to the community? Booking a tour with Backstreet Academy can allow you to do just that. They're one on the pioneers of impact travel, a movement that aims to provide tourists with real experiences that benefit the local communities. Check out this video for more information on Backstreet Academy.
In Hanoi, you can learn how to make a knife from a real blacksmith, make pottery in a ceramic village, or go on a farm tour with local farmers with up to 80% of proceeds going back to the communities. Follow the link to check out Backstreet Academy activities in Hanoi.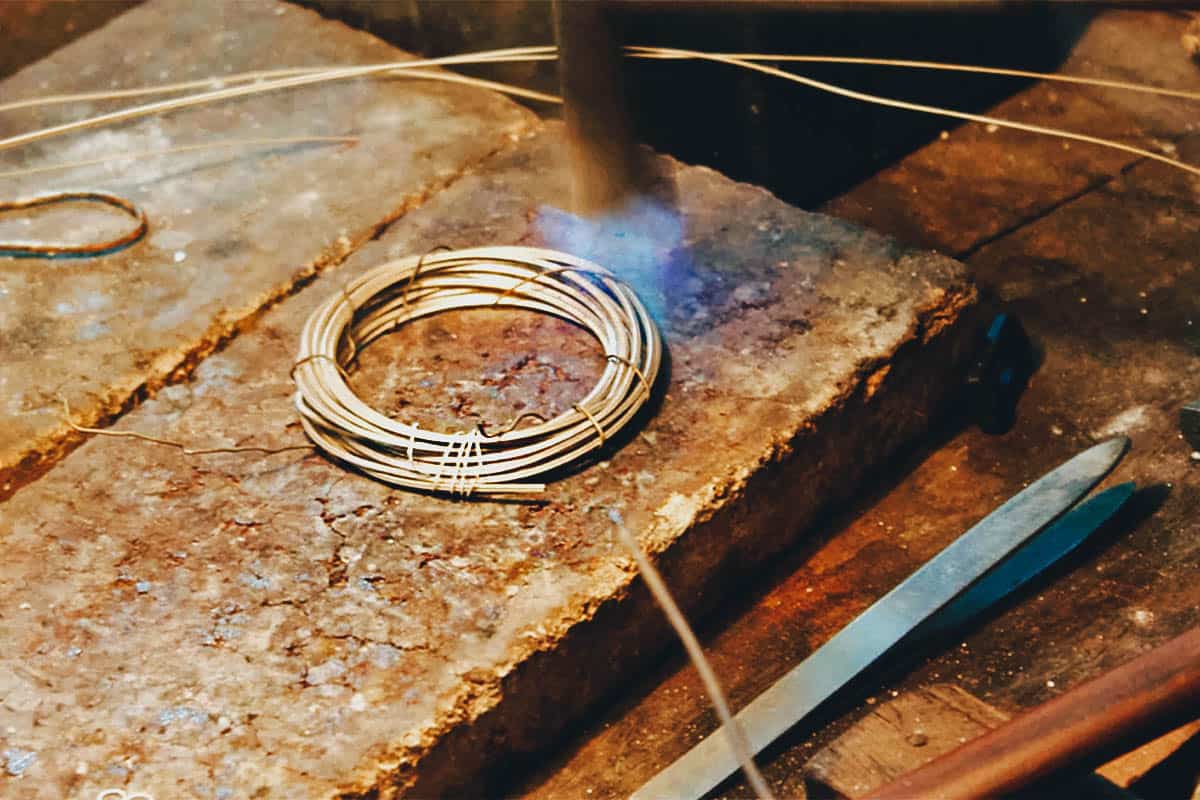 Picture borrowed from Backstreet Academy
THE ULTIMATE VIETNAMESE FOOD GUIDE
Vietnamese food won me over. I wasn't the biggest fan before our trip, but after spending two weeks exploring over fifty different dishes across the country, I left Vietnam with a newfound fascination and respect for the cuisine. If you're a fan of Vietnamese food, then you might want to check out our Vietnamese Food Guide. It covers a diverse array of dishes from north to south.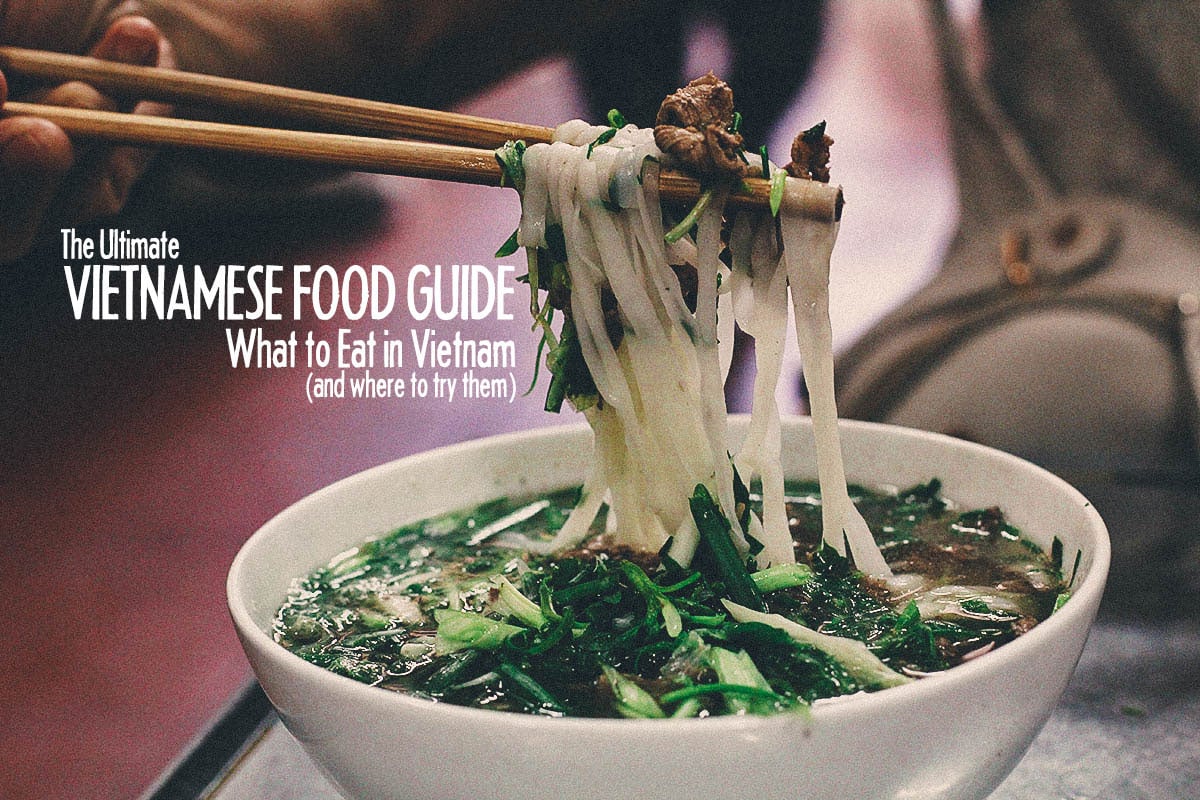 WHERE TO EAT IN HANOI
16 Must-Try Vietnamese Restaurants & Street Food Stalls
While the link above takes you to a general Vietnamese food guide, this one focuses on must-try Vietnamese restaurants and street food stalls in Hanoi. Ren consulted respected food blogs and crowd review websites to come up with a list of 16 must-eat places in Hanoi. From nationwide favorites like phở and bún riêu to northern specialties like bún chả, this list will show you where to find some of the best places to eat in the city.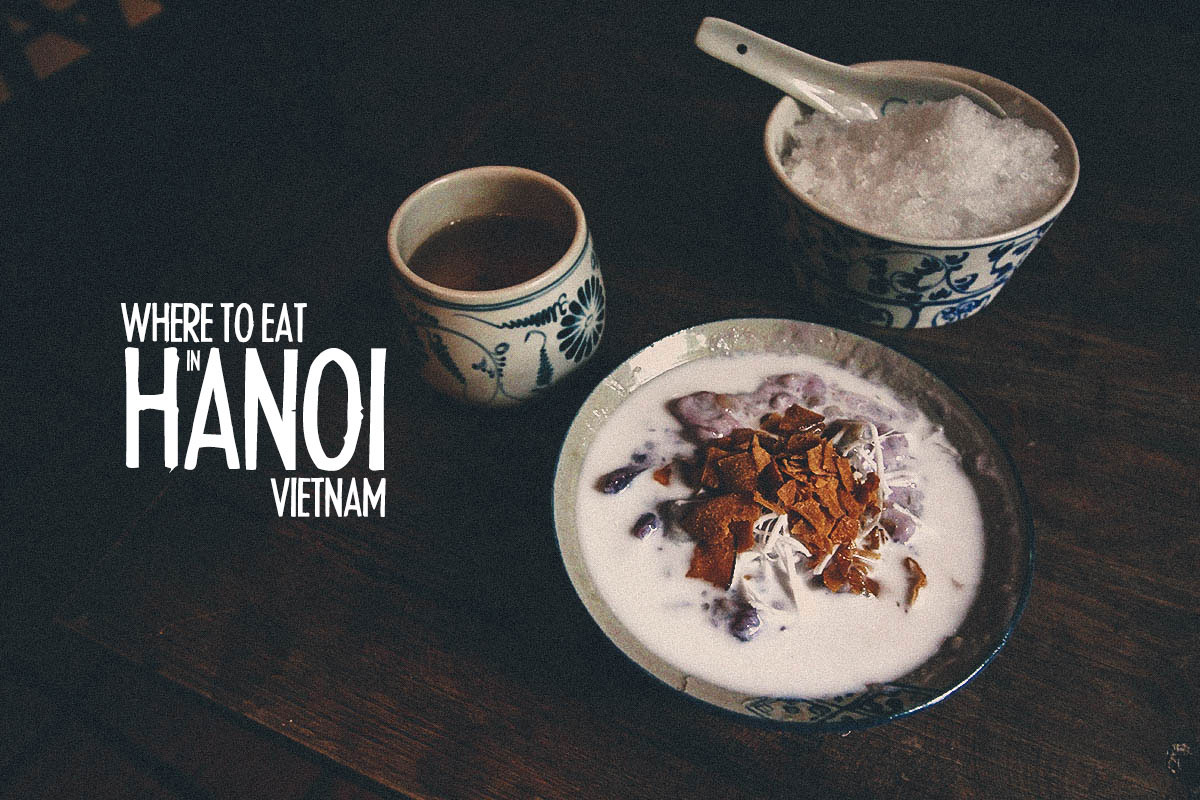 If you don't have time to visit all 16, then listed below are our top 5 favorites (in no particular order).
1. Bun Cha Nem Cua Be Dak Kim
It may not be a national dish, but bún chả is one of Hanoi's most popular and beloved dishes. It consists of grilled fatty pork (chả) served with white rice noodles (bún) and fresh greens like lettuce, perilla, coriander, and mint.
The pork comes in meatball patty form, along with some grilled pork belly, and served in a soupy bowl of pickled vegetables that impart acidity to the dish. It's so popular in Hanoi that it's the reason why a similar dish, called bún thịt nướng, is served everywhere in Vietnam except Hanoi. In this city, bún chả is king. You can find it in many restaurants but Bun Cha Nem Cua Be Dak Kim is said to serve some of the best in Hanoi.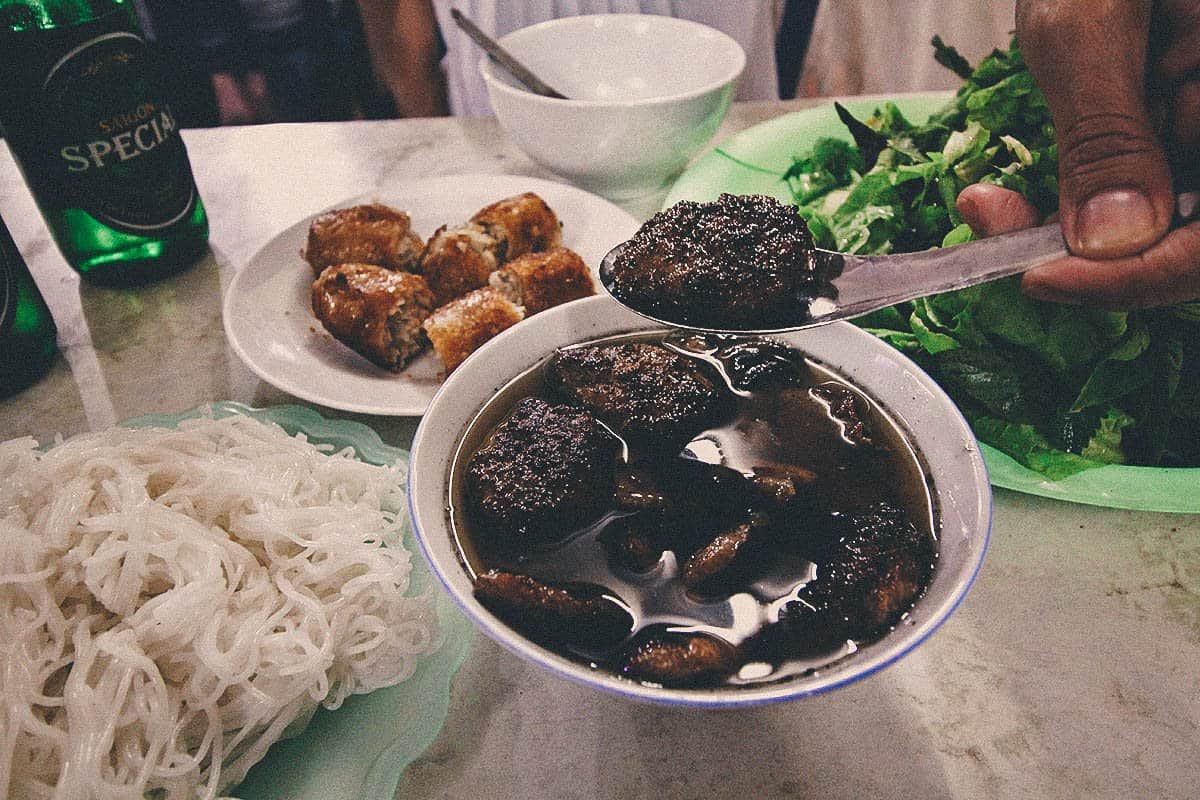 Expect to Pay: Around VND 90,000 per set meal
2. Pho Thin 13 Lo Duc
Phở may enjoy nationwide (and worldwide) prominence but it has its roots here in Hanoi and the north. This rice noodle soup dish can be found everywhere in Hanoi but some of the city's best phở is served at Pho Thin 13 Lo Duc.
Unlike classic pho bo (beef pho) where the beef is just boiled, the beef at Pho Thin is stir-fried with garlic first before being added to the soup. This minute innovation added new flavor components to the dish, turning a traditionally gentle stock into a more richly layered broth. Like typical northern phở, Pho Thin's beef pho is served with plenty of green onions.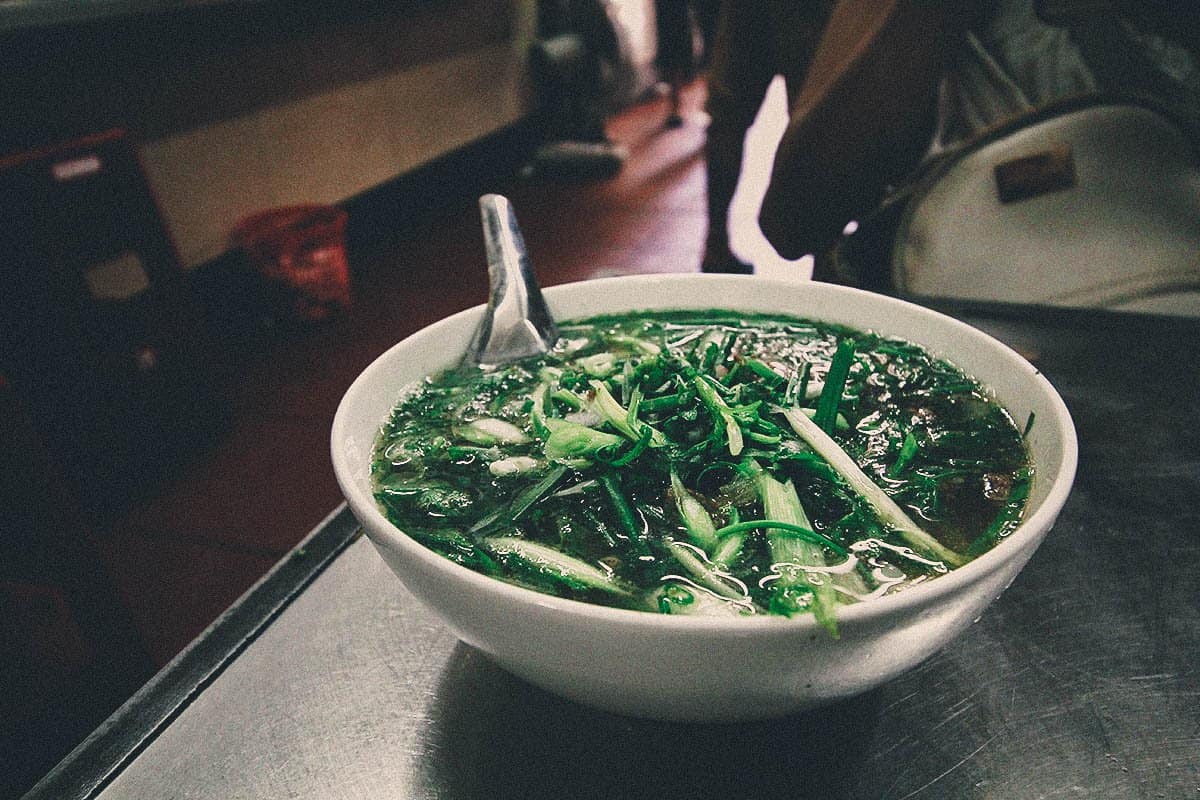 Expect to Pay: VND 50,000 per bowl of pho
3. Chả Cá Thăng Long
Oh my lord was this good. Another specialty of Hanoi, chả cá lã vọng refers to a dish of grilled catfish served with a mountain of fresh dill. The fish is cut into matchbox-sized nuggets and marinated in galangal, turmeric, and other spices. It's then grilled on charcoal before being brought out to pan fry on your table with a forest of dill and spring onions. Smokey with an herbal aroma, the fish is tender and flaky on the inside with a slightly charred, caramelized coating. DO NOT miss this dish when in Hanoi.
It's interesting to note that the dish is named after the restaurant which invented it. The Chả Cá Lã Vọng restaurant is still open today, but based on its TripAdvisor reviews, it's best days may be behind it. Go to Chả Cá Thăng Long instead.

Expect to Pay: VND 120,000 per person
4. Bánh Cuốn Gia Truyền Thanh Vân
Bánh cuốn is another Hanoi specialty that's enjoyed throughout Vietnam. It's made from a thin sheet of steamed fermented rice batter filled with seasoned ground pork and wood ear mushrooms. Think of them as Vietnamese versions of chee cheong fun served at Chinese dimsum restaurants. Soft, slippery, and a little gummy, they're topped with herbs and fried shallots and served with a bowl of nước chấm (fish sauce). One of the most popular places to have bánh cuốn in Hanoi is at Bánh Cuốn Gia Truyền Thanh Vân.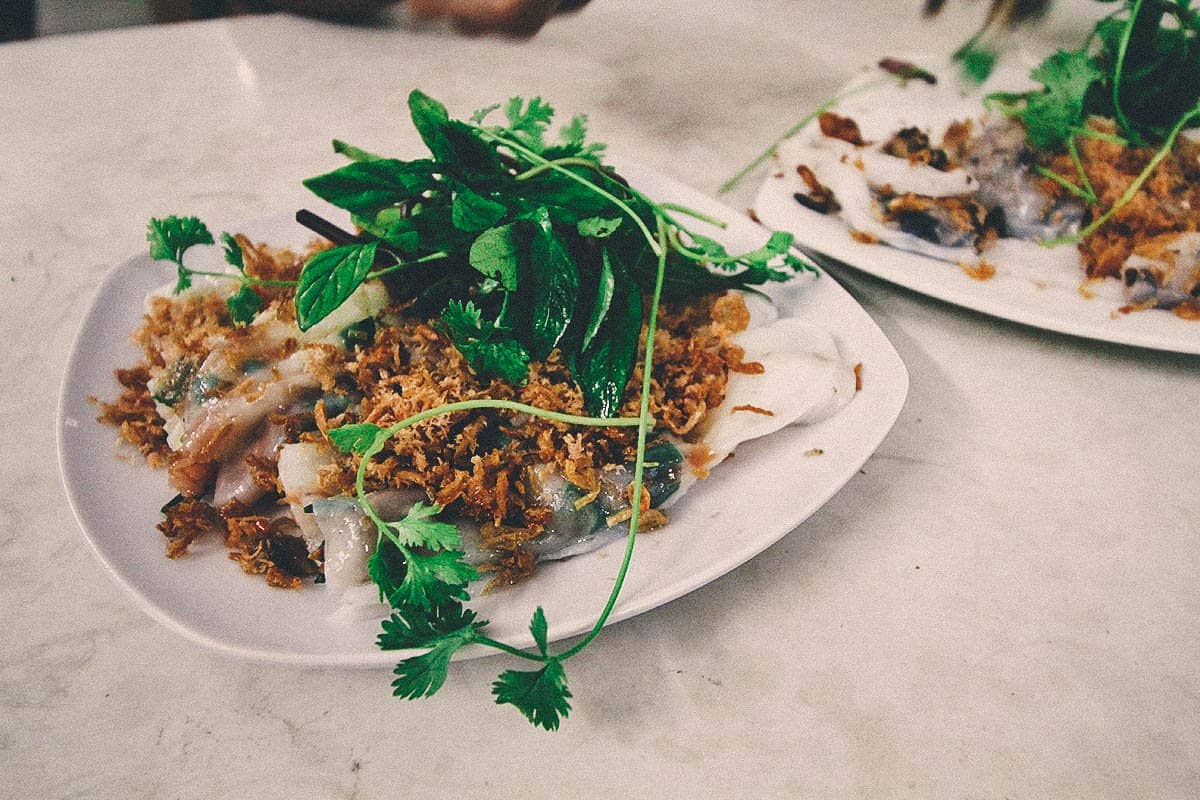 Expect to Pay: Around VND 45,000 per order of banh cuon
5. Bia Hoi Corner
This isn't a dish but it's so quintessentially Hanoi that you can't go to this city without visiting this place at least once. Bia hoi refers to a specific type of Vietnamese draft beer with a low alcohol content of about 3%. Often marketed as the world's cheapest beer, a glass of bia hoi costs anywhere between VND 3,000-7,000 (around USD 0.13-0.31). Brewed daily and without preservatives, freshly made batches are delivered in steel barrels during the day and typically consumed that same evening.
Many bars throughout the city serve bia hoi, but there's no better place to have it than at Bia Hoi Corner at the junction of Ta Hien and Luong Ngoc Quyen Streets. It looks like any other street corner during the day but at night, it transforms into a lively mix of locals and tourists sitting on low plastic stools and enjoying cheap beer. It's a fun atmosphere and a must-do in Hanoi.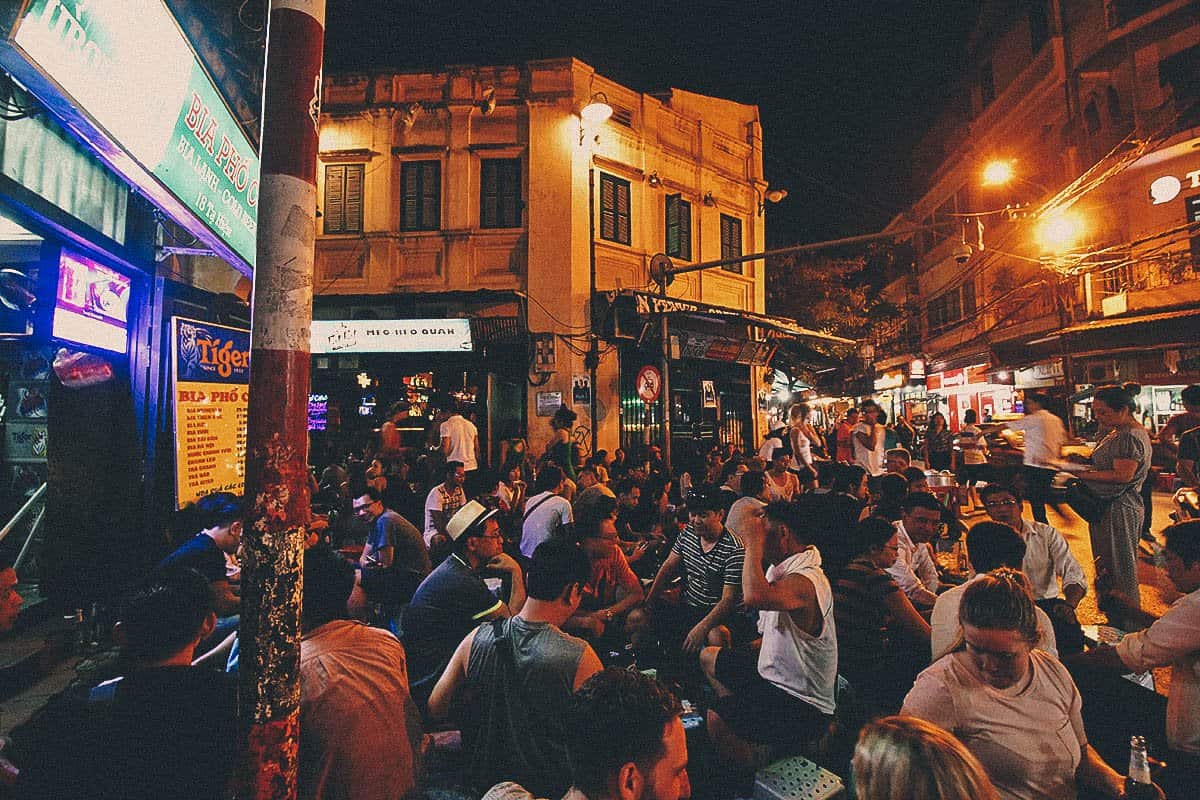 Expect to Pay: Around VND 3,000-7,000 per glass of bia hoi
TRAVEL TIPS
1. Rent a Pocket Wifi Device
A reliable wifi connection is a must these days. It's important enough in our daily lives but when traveling, it's a necessity. You'll need it to do research, book rides on Grab, and learn how to say "where's the best banh mi" in Vietnamese. Ren and I never ever go anywhere now without renting a pocket wifi device first.
We rented a 3G pocket wifi device through Klook. We prefer pocket wifi devices but if you'd rather buy a sim card, then you can get one through Klook as well. You can either pick it up at Noi Bai International Airport or have it delivered to your hotel.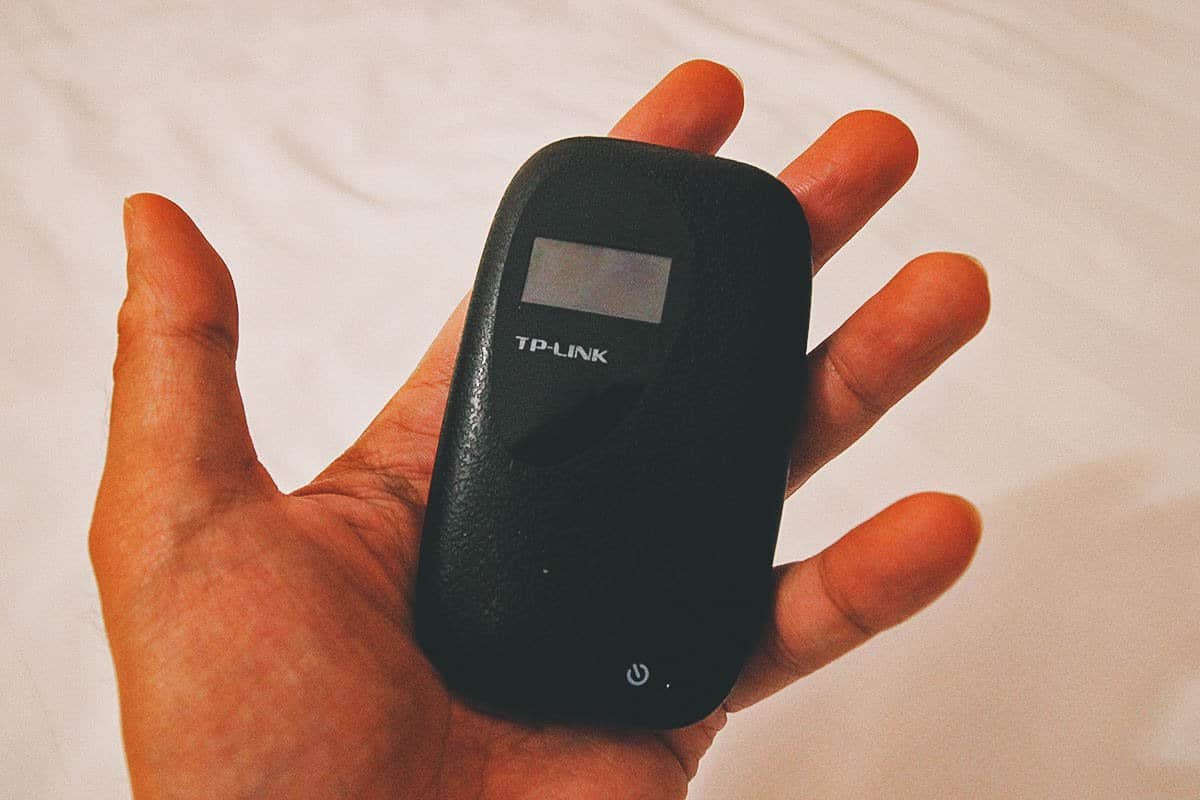 2. Plan your Trip with Sygic Travel
What's the hardest part about trip planning? For me, it's how to make an efficient itinerary. It's easy enough to learn where to go, but figuring out how to organize it all is the difficult part. Thankfully, there's Sygic Travel.
I've been using this free trip planning app for many years now. It allows me to plot points of interest on a map so I can easily see where everything is. Check out my post on the Sygic Travel app for more information.
Follow this link to check out our 4-day Hanoi itinerary on Sygic Travel. You can also download a copy of our 2-week Vietnam itinerary in editable Word format from our EAT-ineraries page. It goes north to south and covers Hanoi (including Ha Long Bay), Hoi An, and Saigon.
3. Check for Discount Tickets
There are many online tour providers, but for Asia, my favorites are Klook and KKday. They offer a wide selection at the best prices. On this trip, we bought three deals from Klook – a Hoa Lư and Tam Cốc day trip, an overnight luxury Ha Long Bay cruise, and pocket wifi rental. We were happy with all of them. Follow these links for a complete list of Hanoi and Ha Long Bay deals on Klook and Kkday.
4. Get Travel Insurance
Whether or not travel insurance is necessary is a point of contention. Some swear by it, others say you don't need it. In my opinion, it's a case to case basis. If you plan on doing any physical activities, then I think you should get it. But if all you'll be doing is shopping and eating for a few days, then you probably won't need it as much.
Personally, we don't buy insurance before every trip but when we do, we buy it from World Nomads or SafetyWing. They're both leading travel medical insurance providers used by many digital nomads. Check out my article on why we buy travel insurance for more information. You can follow the links to get a free quote from World Nomads or SafetyWing.
5. Let Motorbikes Avoid You
Motorbike traffic in big Vietnamese cities like Hanoi and Saigon is insane. It's literally a never-ending flow of two-wheeled vehicles flying down the roads. If you're tentative, then you'll never cross the street.
But as a local explained to us, the secret to crossing the road in Vietnam is surprisingly simple – let them avoid you. I know it sounds easier said than done but it actually works. Walk slowly and steadily, don't do anything unexpected, cross with confidence, and let the motorists avoid you. As Alex of Inspitrip explained, motorists in Vietnam have their eyes forward at all times. They never look to the left or right so they can quickly react to anything directly ahead of them, whether it be another motorbike, a stray dog, or you.
We tried it a couple of times and as nerve-wracking as it is, it really does work. The Vietnamese I think are trained from a young age to expertly navigate traffic and avoid pedestrians like this. By no means am I saying this is a foolproof method, but unless you grow a pair in Vietnam, then you'll forever be stuck on the curb. On some streets, the flow of traffic is literally non-stop. Just find the best place to cross, wait for the right time, and proceed with caution. As long as you don't do anything stupid or reckless, then you should get to the other side in one piece.
6. Pay Only in VND
I read how some establishments like hotels, restaurants, shops, and even night market stalls will accept payment in USD. Don't do it. You're losing money every time as the rates they give you are less favorable. As much as possible, pay only in VND. As described earlier in this guide, banks and gold/jewelry shops are the best places to exchange currency in Hanoi.
7. Don't Be Confused by the Currency
Vietnamese currency can be very confusing. The multiple zeros on banknotes are confusing enough, but some denominations look very similar to each other. VND 100,000 banknotes for example, have a similar greenish hue as VND 10,000 bills. I'm very careful with money but I often had to look really closely at the notes before handing them over to the vendor.
Tourists overpaying in Vietnam because of banknote confusion isn't uncommon. In fact, it happened to a woman who was on the Hoa Lư and Tam Cốc tour with us. If I heard correctly, she meant to give a VND 50,000 note to pay for a soda but mistakenly gave a similarly red VND 200,000 bill instead. Not realizing her mistake until it was too late, she called it the most expensive can of Coke she's ever paid for.
I don't mean to make generalizations but a Vietnamese-American tourist on the same tour said that Vietnamese vendors won't correct you should you make that mistake. So unless you want to overpay for a can of Coca-Cola, then be sure to check your money carefully before handing it over.
8. Bring the Right Power Adapter
Vietnam has Type A, Type C, or Type F electrical outlets so be sure to bring the right power adapters for your devices. Electrical voltage is 220V and the standard frequency is 50Hz.
HOW TO GET AROUND
At the moment, there's no metro rail system in Hanoi so you'll need to get around using other forms of transportation like buses or taxis. We didn't use it in Hanoi because we always went around on foot, but if you need to hail a taxi, then I suggest using Grab instead.
If I remember correctly, a 20 minute ride costs about VND 45,000. Even the locals recommend it over taxis. We didn't do it but our AirBnB host suggested Grab motorbikes as a great way of touring the city. If you're staying in the Old Quarter in Hanoi, then you probably won't need a taxi often but if you do need to go somewhere farther away, then Grab is a great alternative.
Have fun!
No way am I an expert on Hanoi but I do hope that you find this guide helpful. I'm only sharing the things I learned from our trip. If you have any questions or comments, then please feel free to leave them in the comment section below. You're welcome to join our Facebook Travel Group as well.
OUR GEAR
These are some of the things we brought with us to Hanoi. If you'd like to see all our gear, then you can check out our "What's in Our Backpack?" post. (NOTE: The following links are Amazon affiliate links.)
Disclosure
Some of the links in this guide are affiliate links, meaning we'll earn a small commission if we make a sale at no added cost to you. We only recommend products and services that we use ourselves and firmly believe in. We really appreciate your support as this helps us make more of these free travel guides. Thank you!
JB and Renée are the Traveleaters behind Will Fly for Food, a travel blog for the gastronomically inclined.  They enjoy experiencing food from different cultures so they've made it their mission to try every country's national dish.  Read more about them and their National Dish Quest here.