Back when I was a naive kid trying to impress people, one of my "things" was to watch foreign films at small independent film houses. I was in college at the time and my friends and I would go out, maybe once every two weeks or so, to catch the latest flick inspired by the French New Wave, or something like that. Basically, if it wasn't subtitled, then we weren't watching it. 😆 I enjoyed those films, though perhaps not as much as I made it seem then. Being into obscure foreign films just made you seem so much more sophisticated and interesting didn't it? (The things we used to do to look cool… #facepalm)
In any case, one of the films I remember most was this French movie with Catherine Deneuve called Indochine. Released in 1992, it was a legitimately good movie, winning Best Foreign Language Film at the 65th Academy Awards. Set in French Indochina from the 1930s to the 1950s, I don't recall what it was about but I do remember the scenes shot in Ha Long Bay. The official movie poster was particularly striking. A silhouette of black against an ocean of gold, Deneuve's character stood motionless on a balcony while watching a Chinese junk sail away in the distance. It was a gorgeous image, one that made me want to see Ha Long Bay with my very own eyes. I liked it so much I had a 6 ft poster of it hanging on my dorm room wall.
Fast forward 25 years and one UNESCO World Heritage Site designation later, and Ha Long Bay is now the most popular tourist destination in Vietnam, seeing around 6-7 million visitors annually. If you'll be spending any time in Hanoi and the northern part of the country, then an overnight cruise in Ha Long Bay is something you need to do.
Save This on Pinterest!
No time to read this now? Click on the red save button and pin it for later!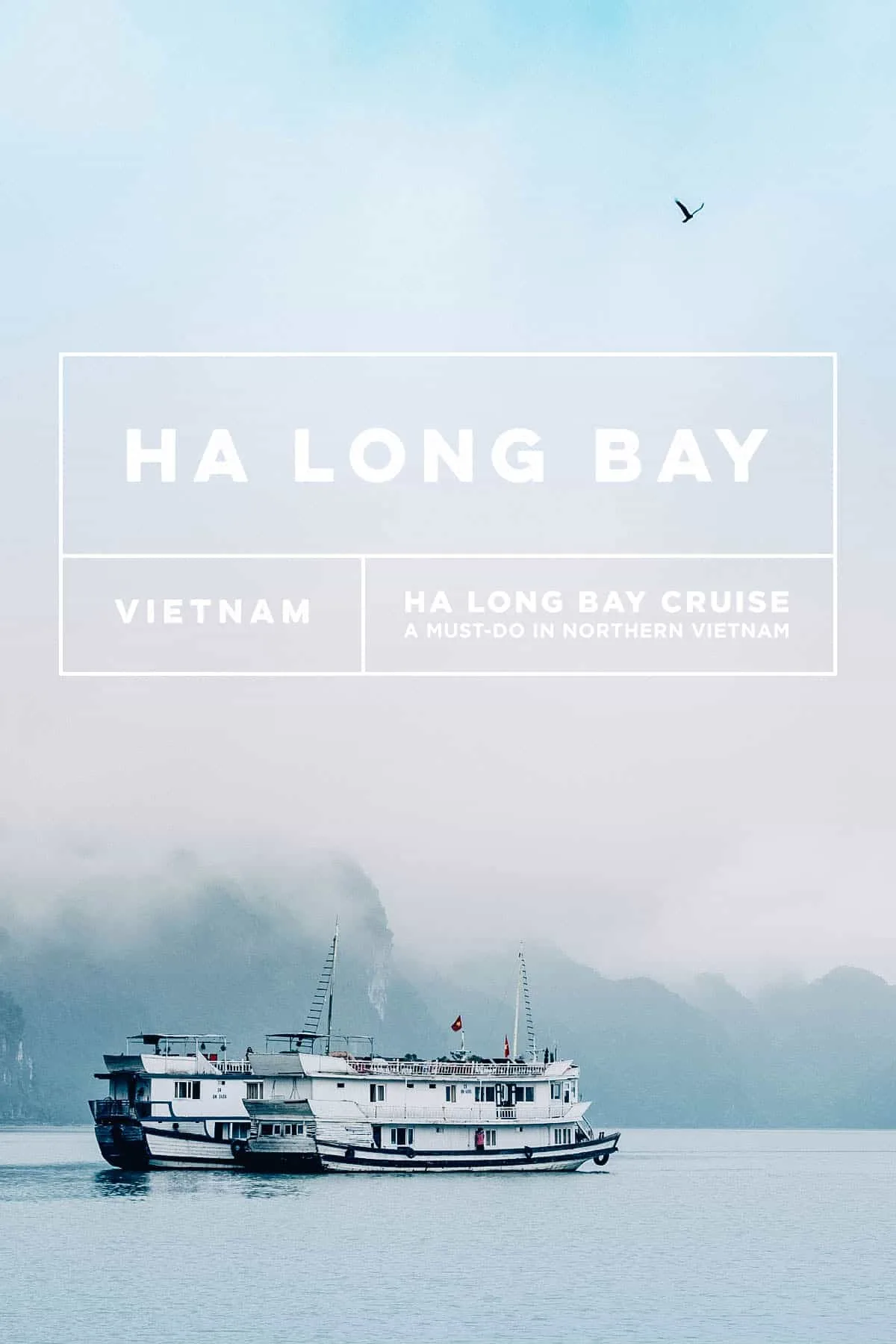 Photo by Kenznguyen via Pixabay
Tuan Chau Marina Pier
We booked an overnight cruise with Ha Long Phoenix Cruiser via Klook, which included 3.5 hr transfers to and from our hotel in Hanoi's Old Quarter. The moment you arrive at the pier, you'll see just how popular a Ha Long Bay cruise is. There were hundreds of tourists and dozens of cruise ships waiting to set sail that morning.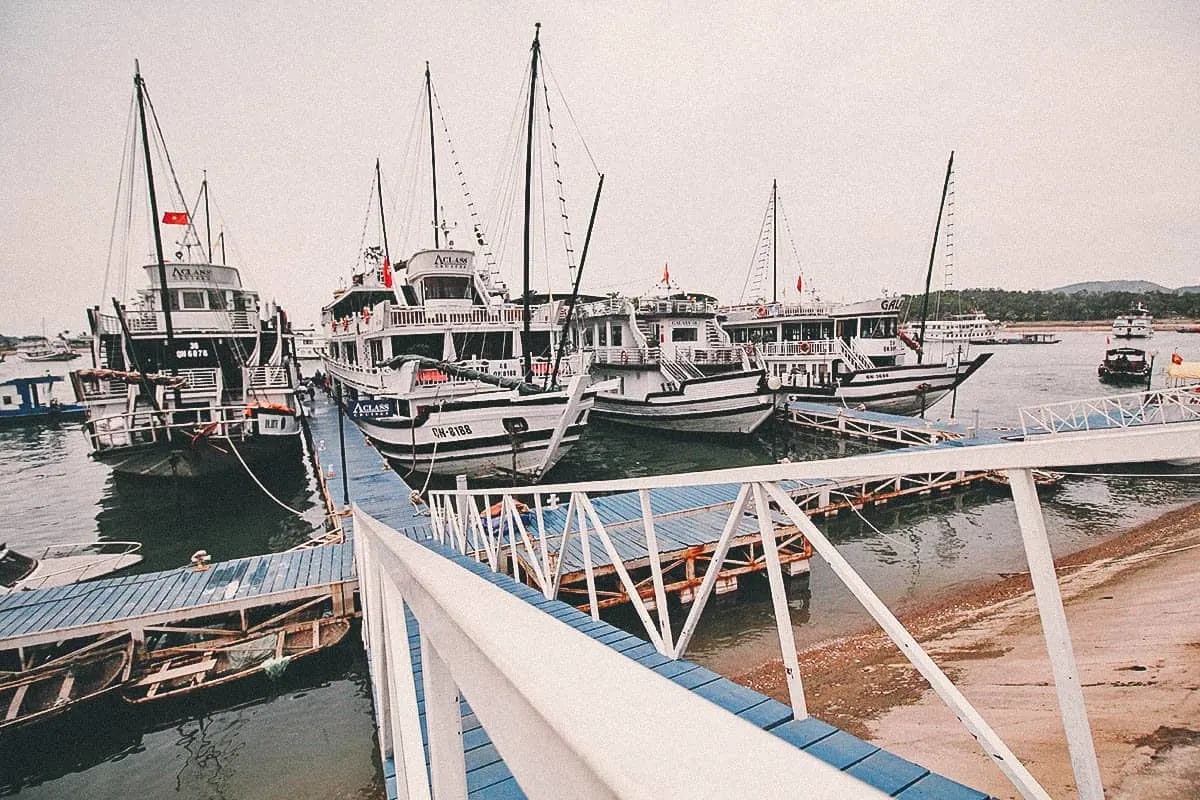 I didn't realize this at the time, but picking the right cruise provider can be tricky for many tourists. I'll get into that more detail at the bottom of this post.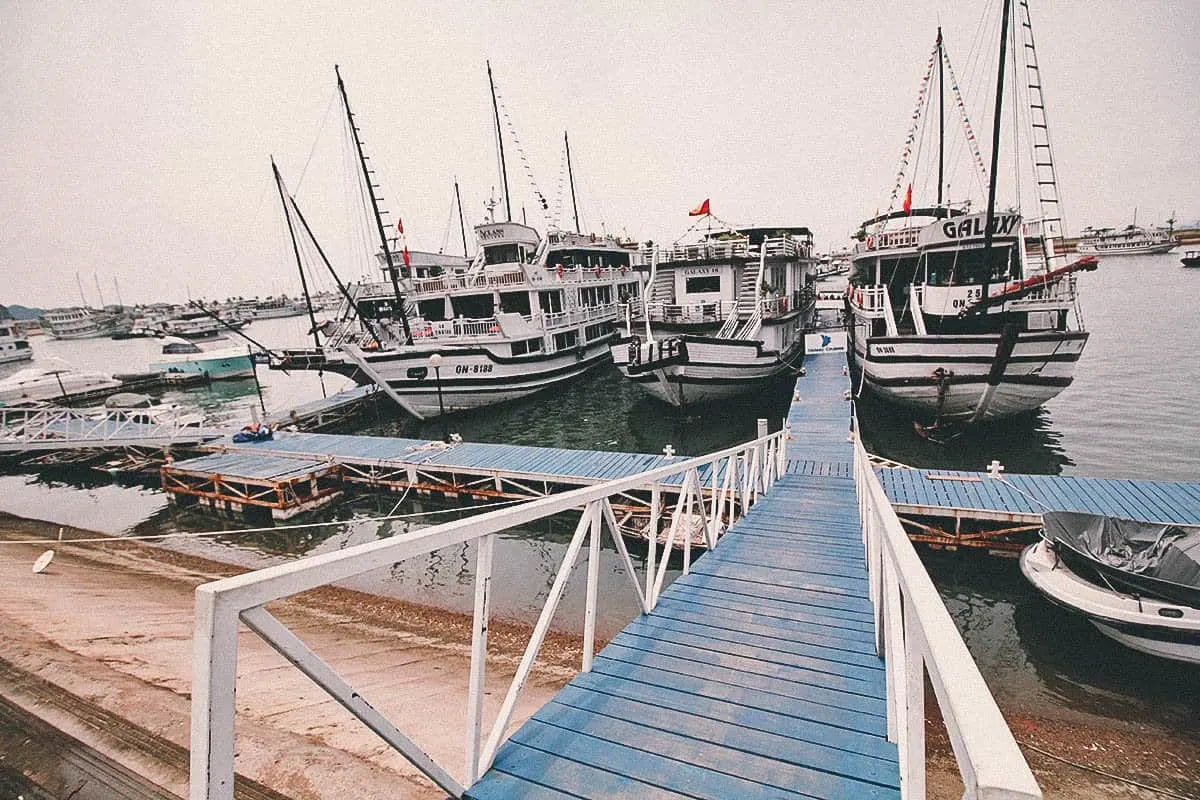 Ha Long Phoenix Cruiser
Klook offers three types of cruises on the Ha Long Phoenix Cruiser – day trip, 2D1N, and 3D2N cruises. Because we booked our cruise through Klook, we paid just USD 228 for what would normally have been USD 359. Pretty good right? You can check THIS LINK for more information, but as described, I'll discuss cruise options in more detail at the bottom of this post.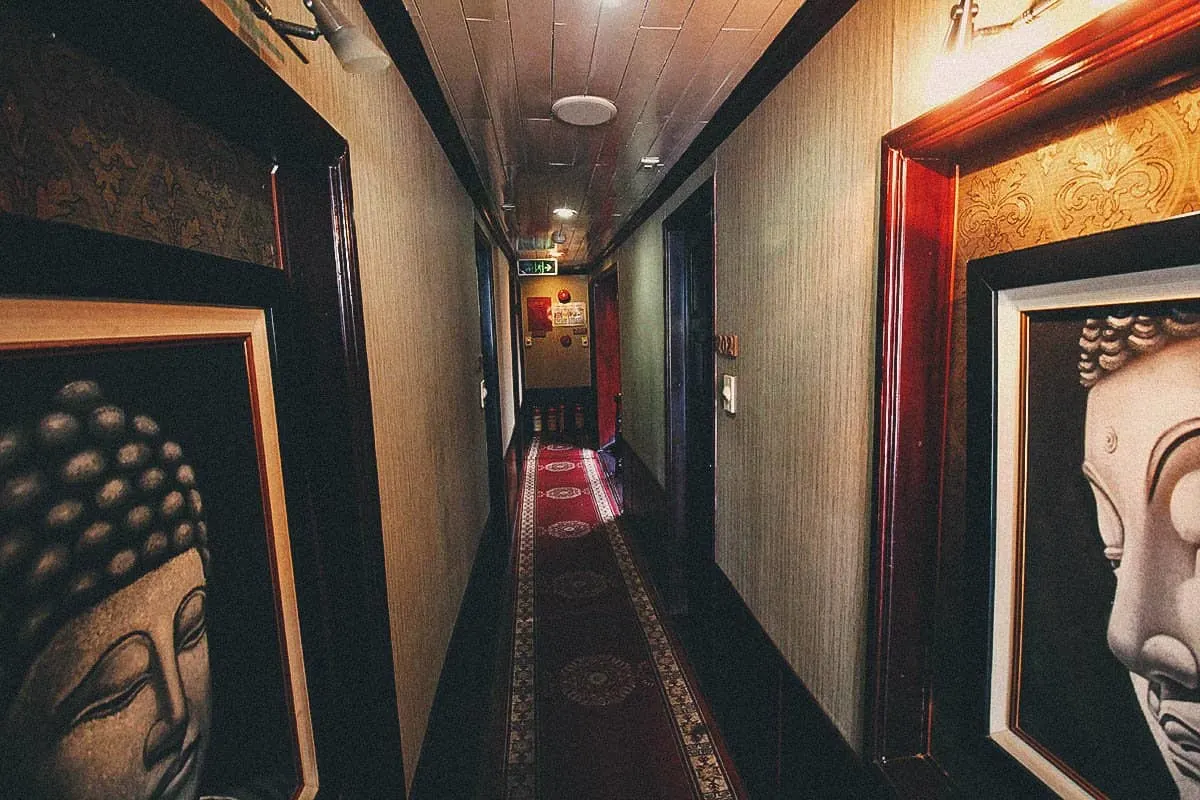 This was our room. Nice right? There are rooms on the first and second floor of the ship, all pretty much like this.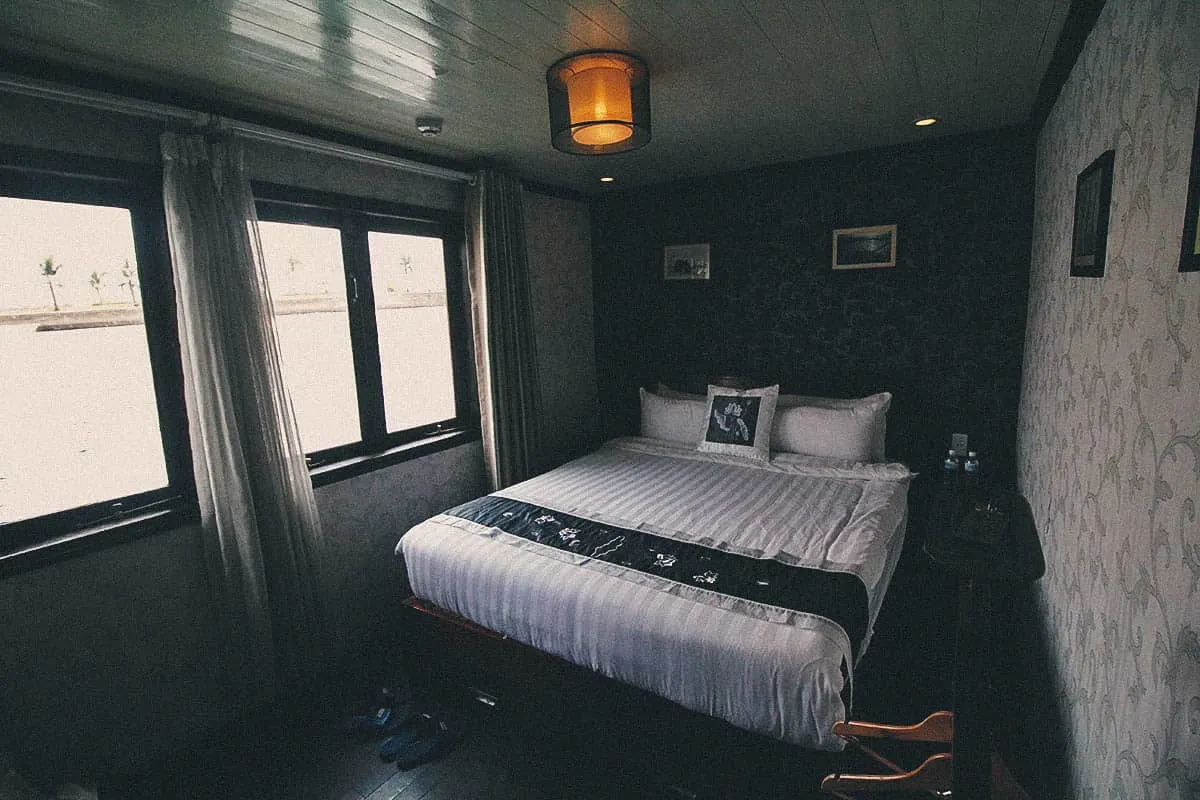 The room was about the size we expected but the bathroom was surprisingly big!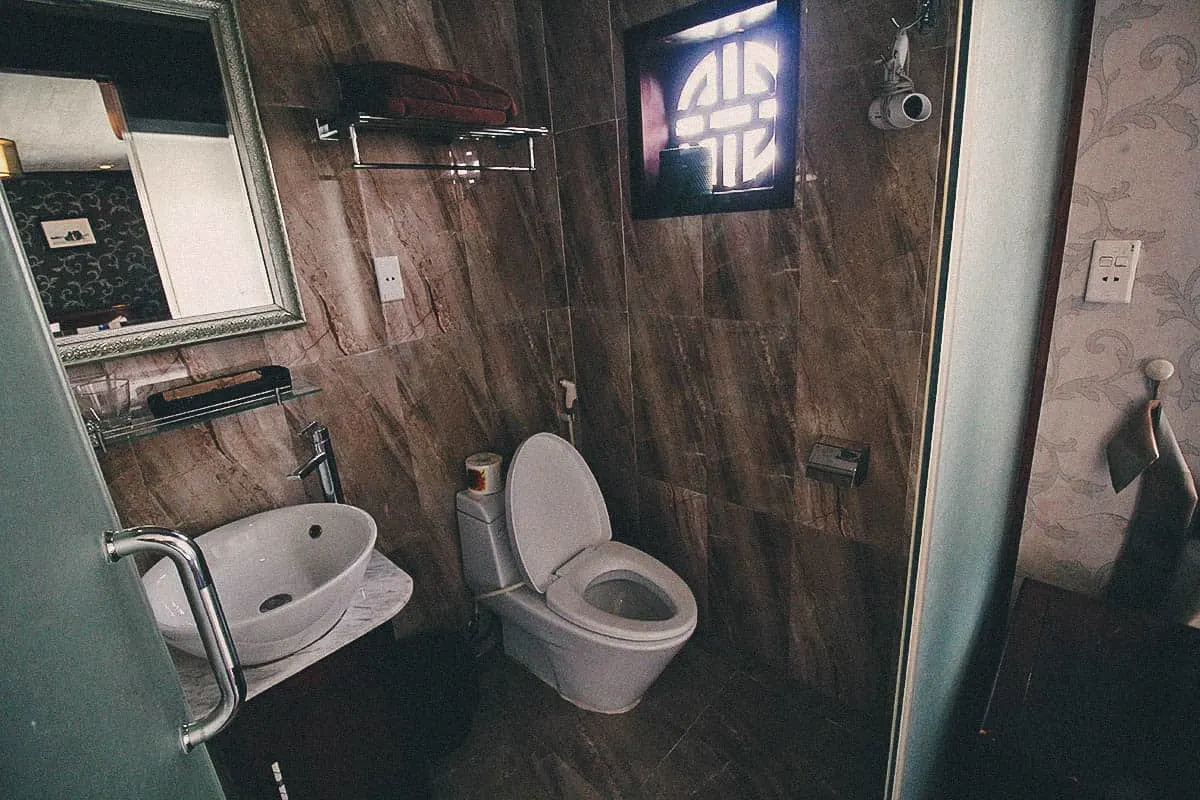 Shower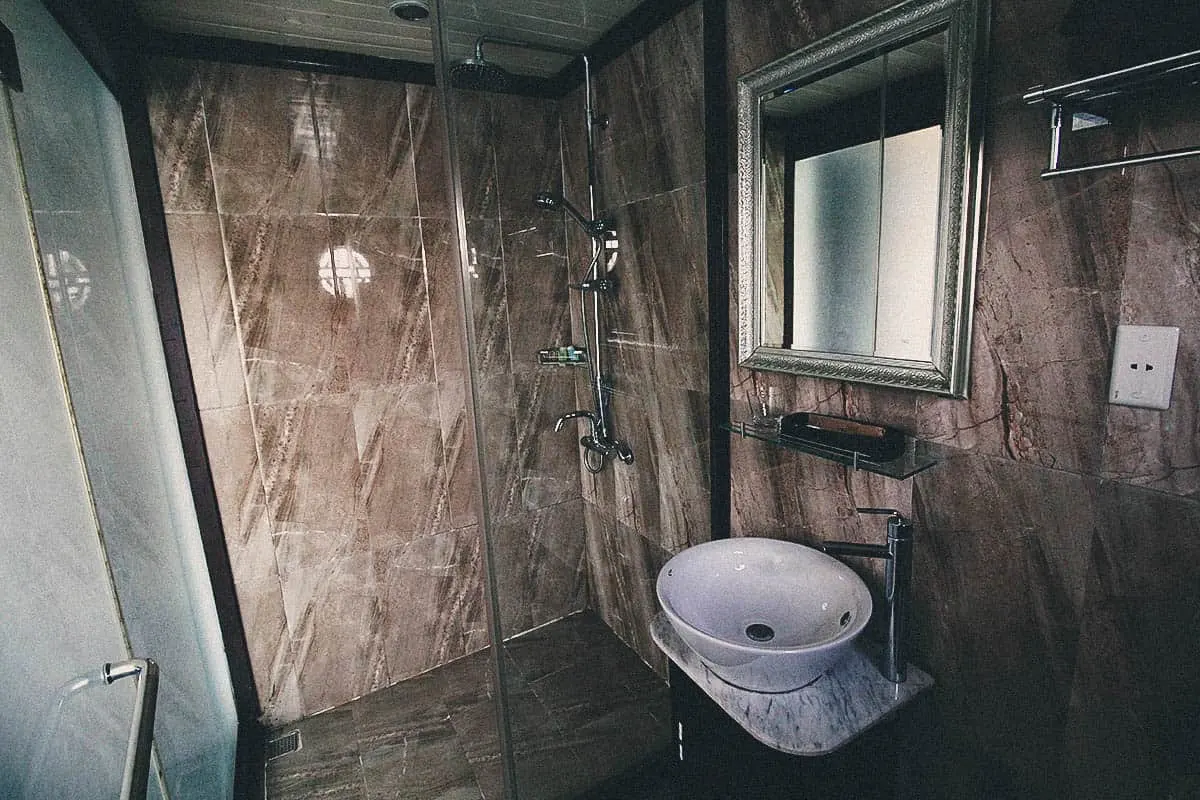 Our ship set sail shortly after we boarded. It took less than an hour for us to reach the area where we would dock for the night. Based on what I've read, the waters in Ha Long Bay are always calm so seasickness shouldn't be a problem.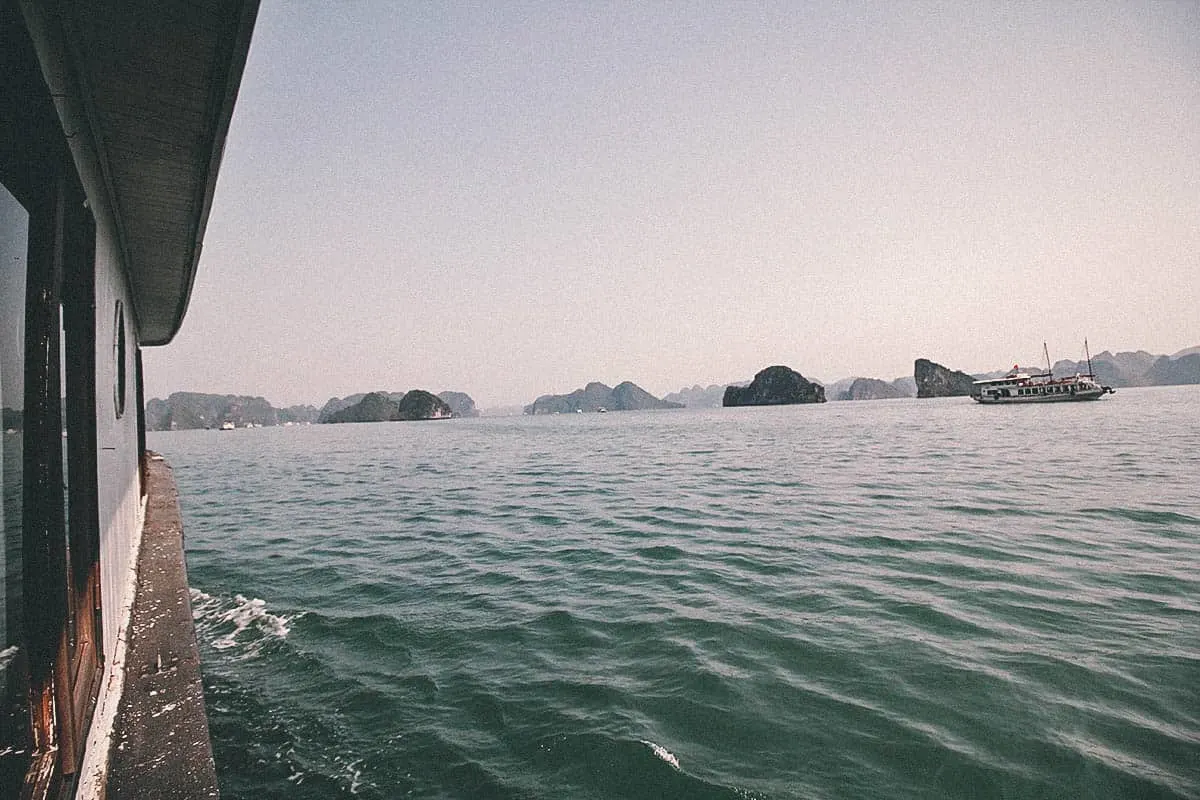 Dozens of these ships set sail in Ha Long Bay everyday. The name Ha Long means "descending dragon". According to legend, early Vietnam had to fight off invaders so the gods sent a family of dragons as protectors. These dragons spat out jewels and jade which turned into islets that linked together to form a great wall that destroyed the invaders' ships. After the battle was won, the dragons decided to live in this bay and the place where the mother dragon descended was thus named Ha Long.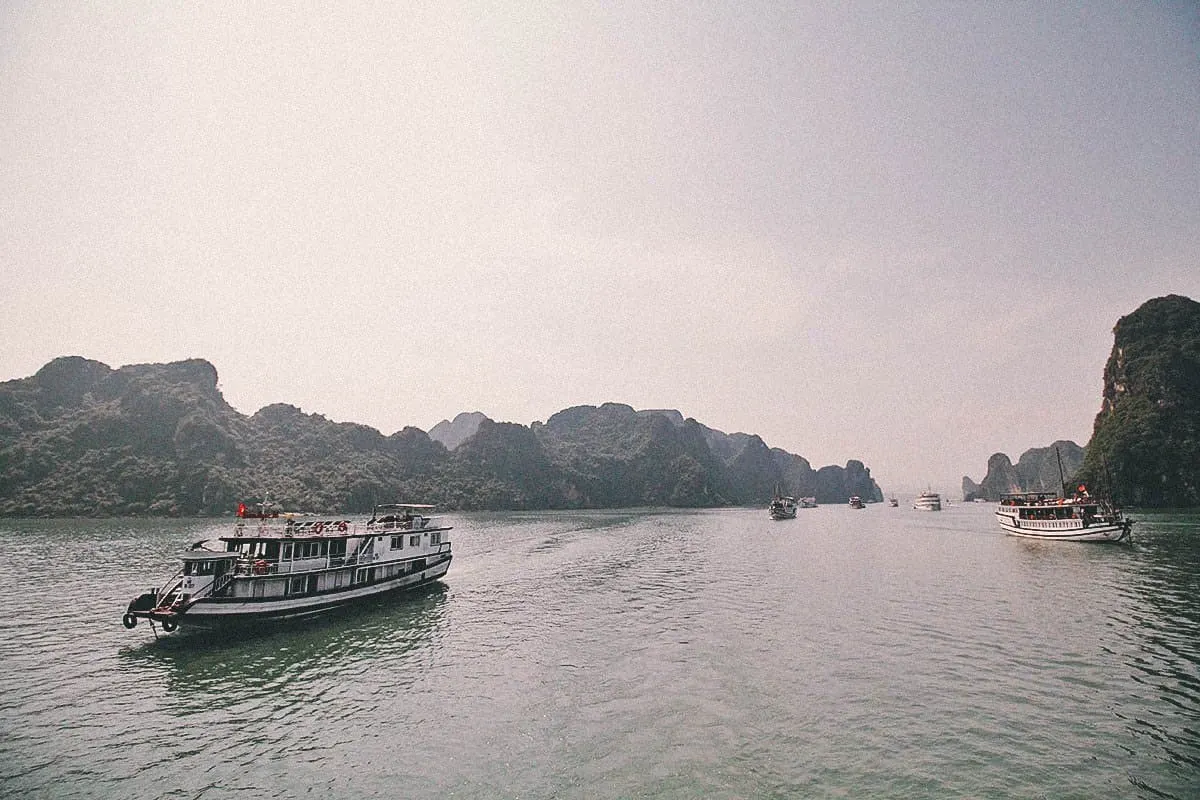 Folklore aside, Ha Long Bay covers an area of about 1,553 square kilometers and has anywhere between 1,960–2,000 islets, most of which are made of limestone.

Here's the open top deck of our ship, complete with reclining chairs and a small covered area with tables. Apart from Ren and myself, there were five other couples on this cruise. There were two couples from Australia, two from Iceland, and one from Italy.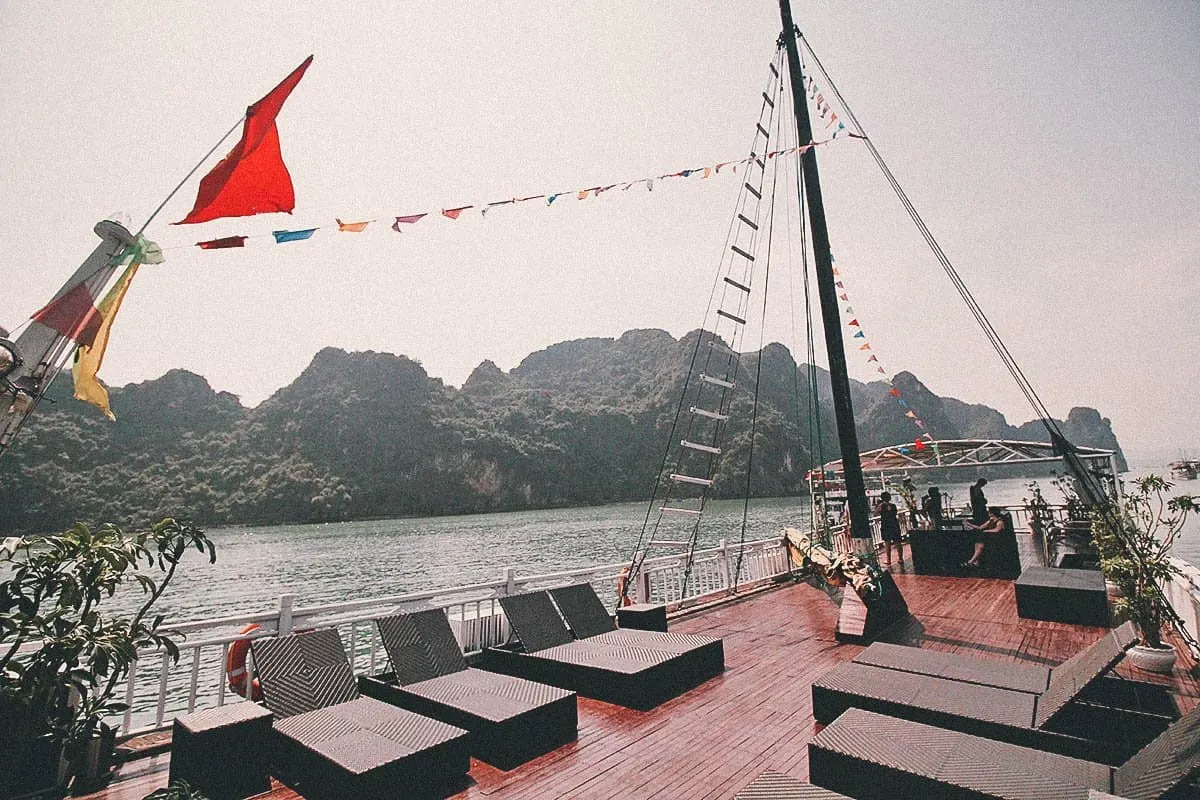 We had some free time so I went around to explore the ship.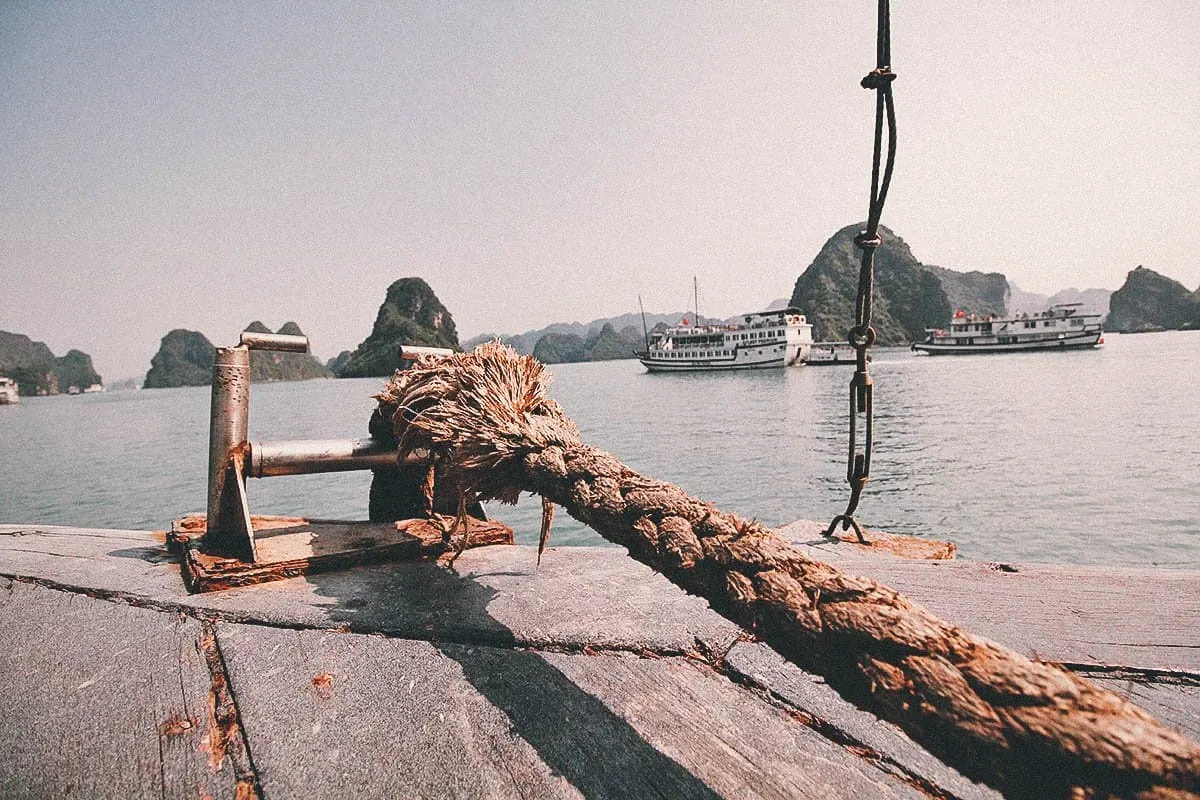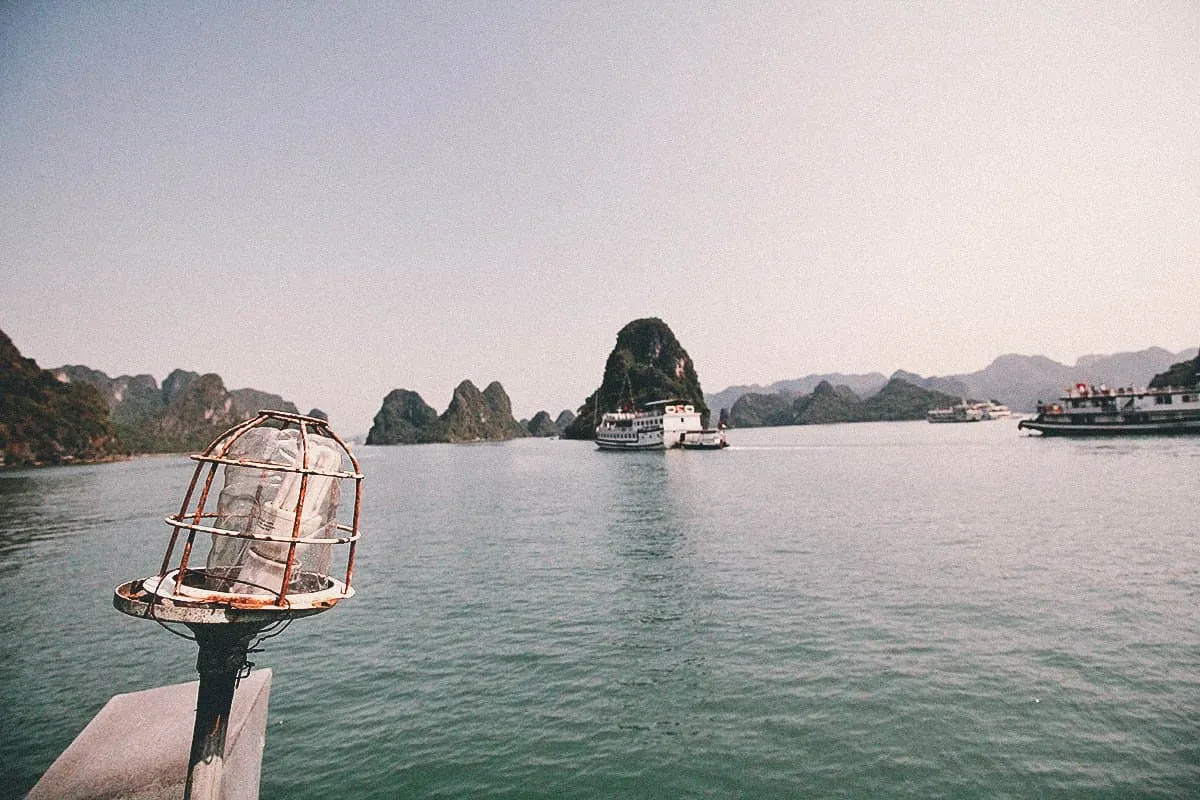 I wonder what's in here?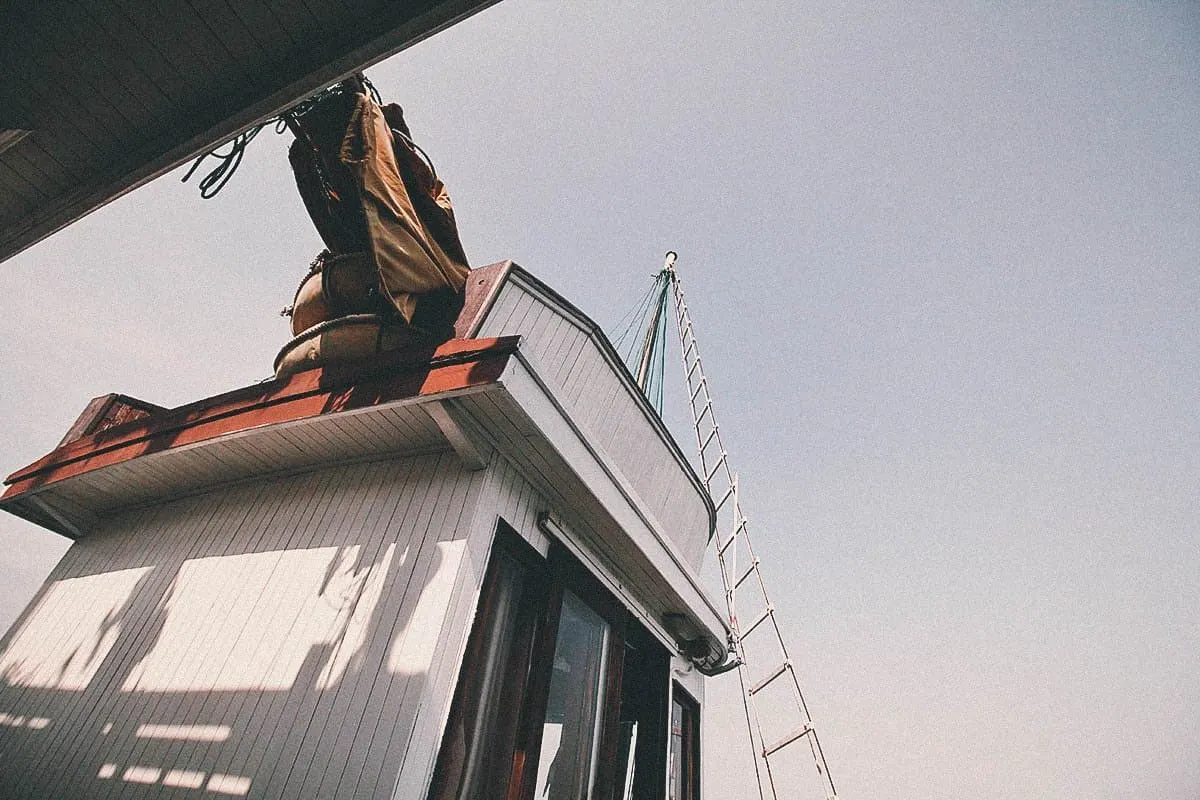 Oh it's the captain! I knew this ship wasn't steering itself. 😉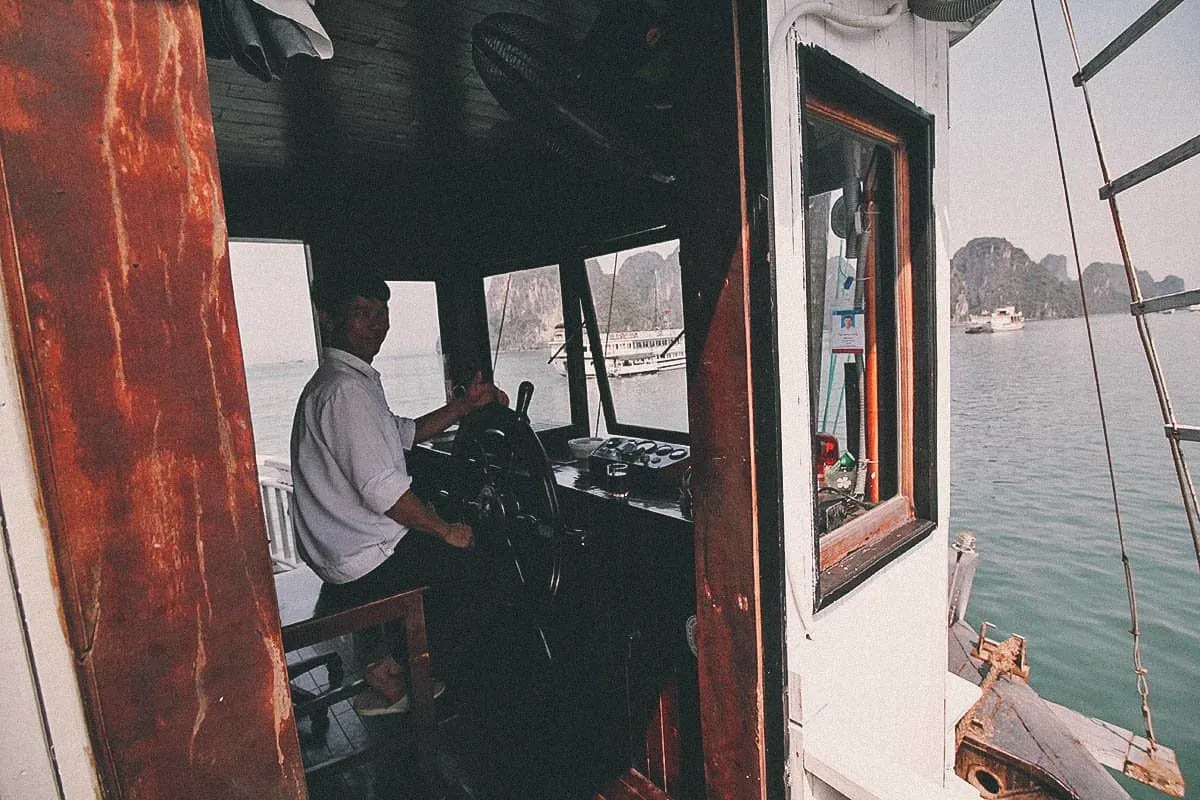 Luon Cave
Shortly after reaching our docking area, we all got into a smaller boat to visit Luon Cave, the first stop on our first day.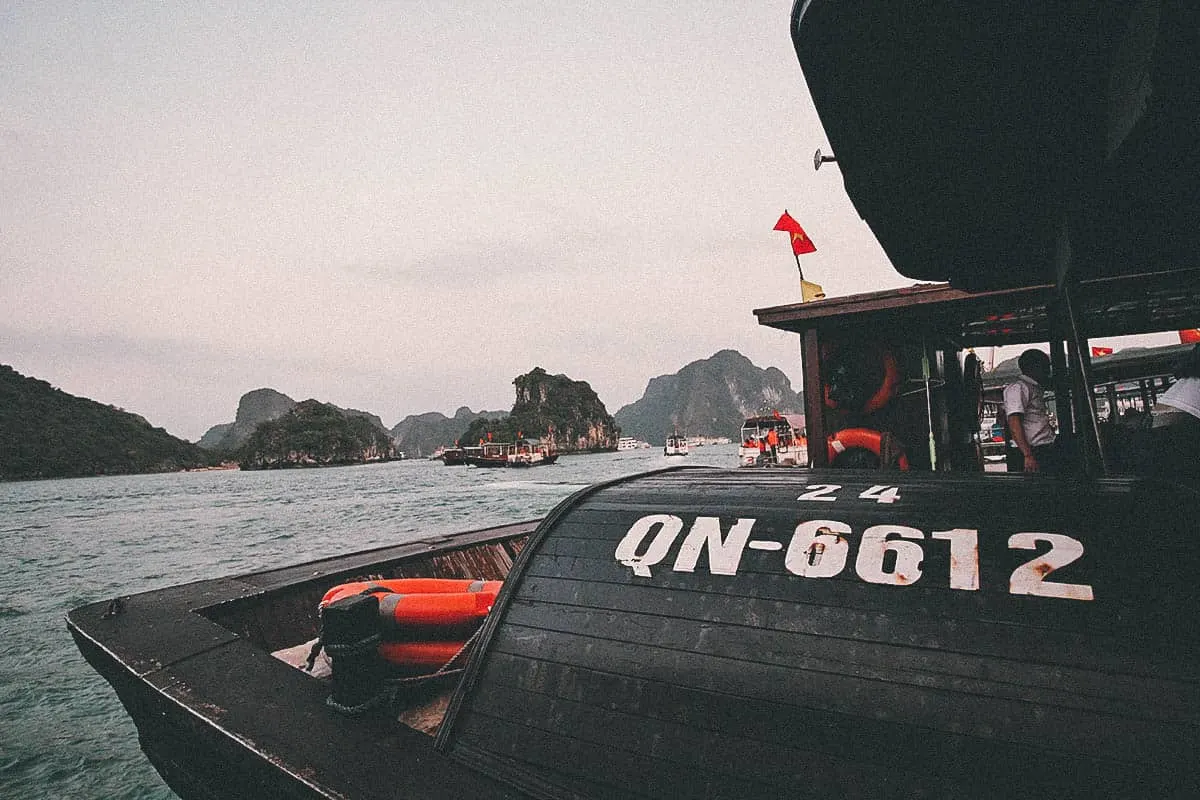 Our boat looked just like that. When we weren't using it, it would be attached to the side of our ship.

The only way to enter Luon Cave is by kayak or on one of these bamboo rowing boats. There weren't any at the time but Luon Cave is a popular place for kayaking.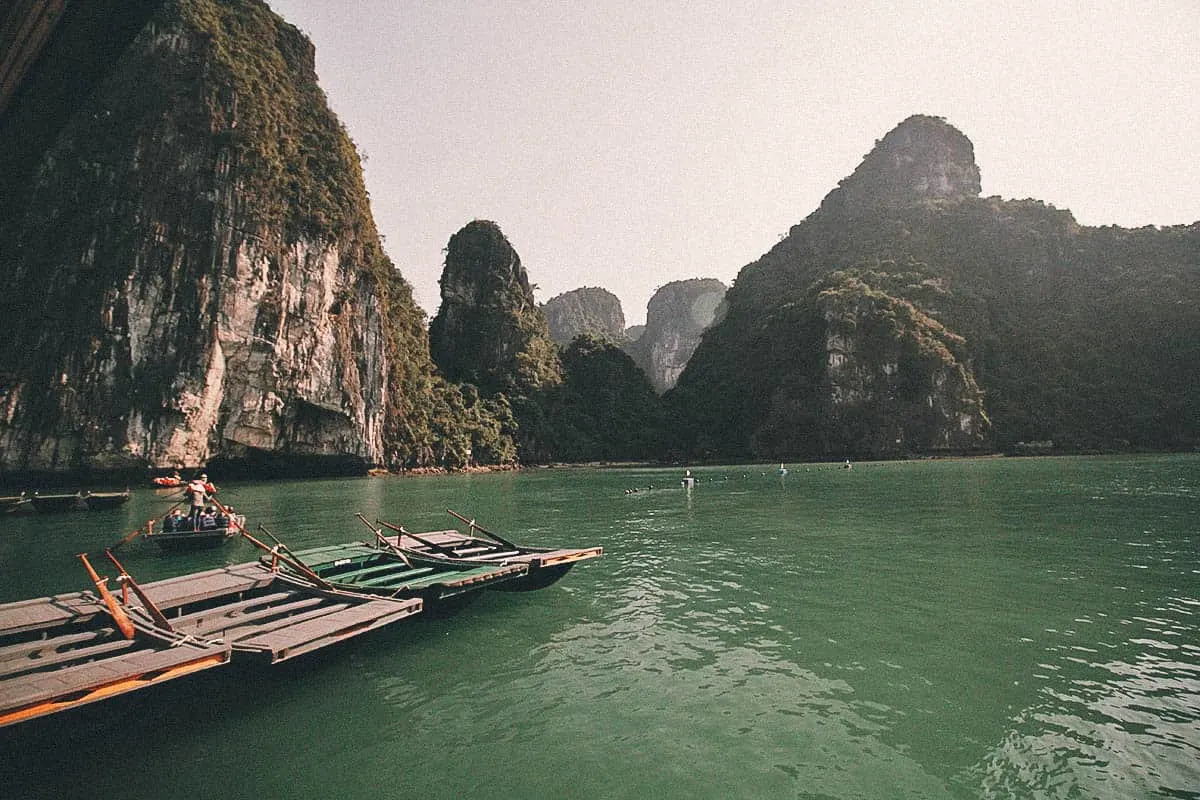 Hmmm, where's everyone going? Everyone seems to be disappearing into that rock.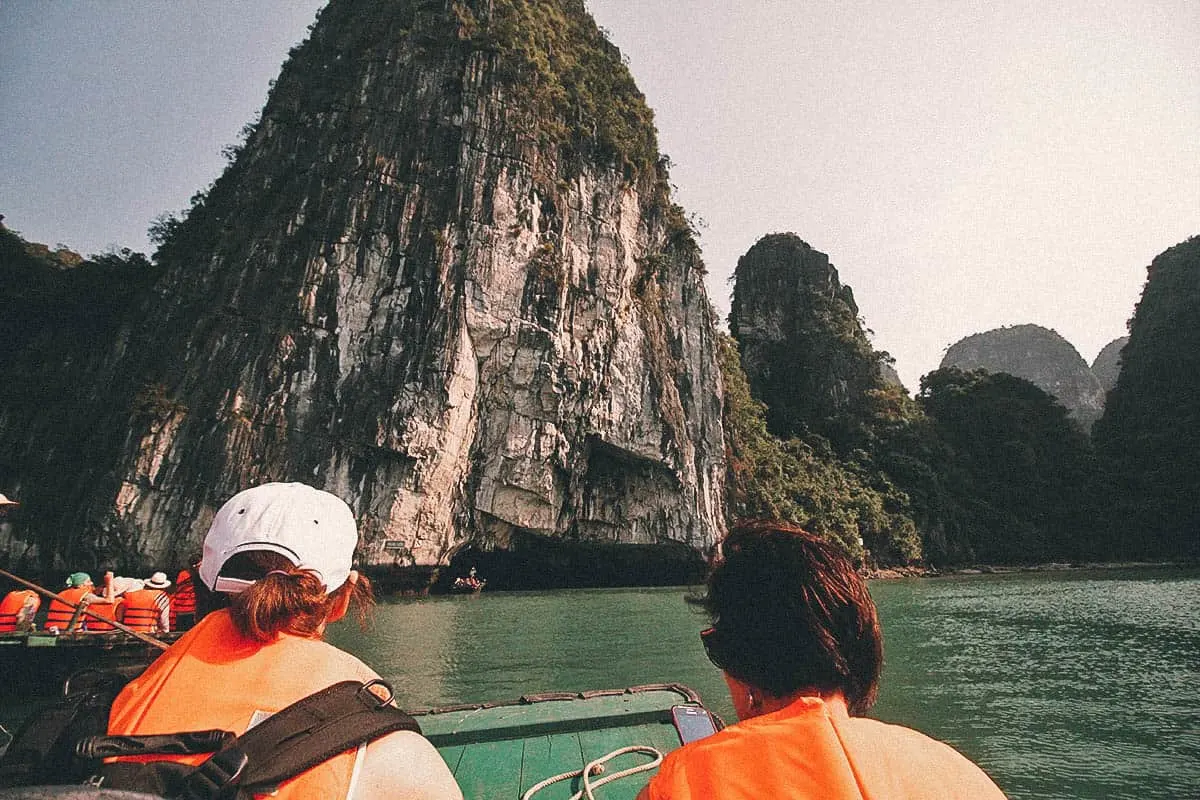 Oh that's why. Luon Cave refers specifically to this 100 meter long archway that opens up to a round lake. These archways seem to be a common natural formation in Northern Vietnam. We rowed through several like this along the Hoang Long River in Hoa Lu.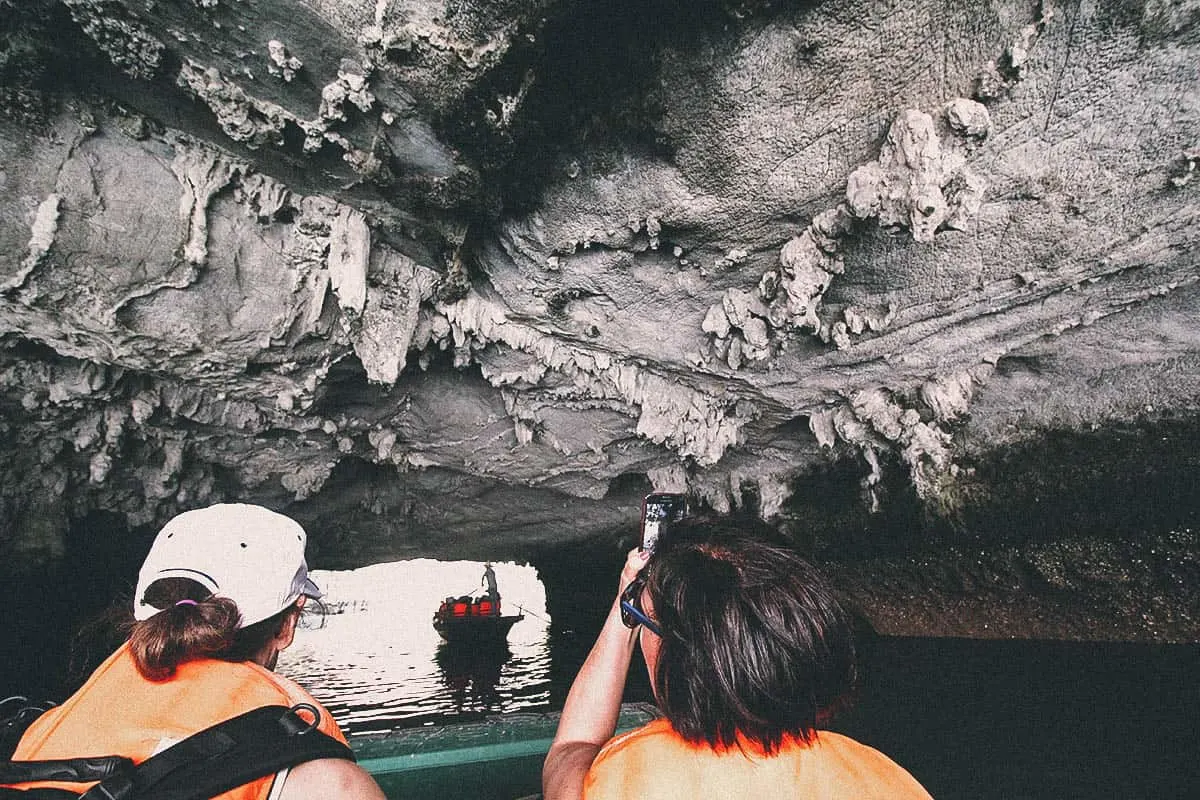 Once through, you'll find yourself on this enclosed brackish lake surrounded by limestone formations on all sides. Peaceful with perfectly still waters, I can see why this is such a popular spot for kayakers.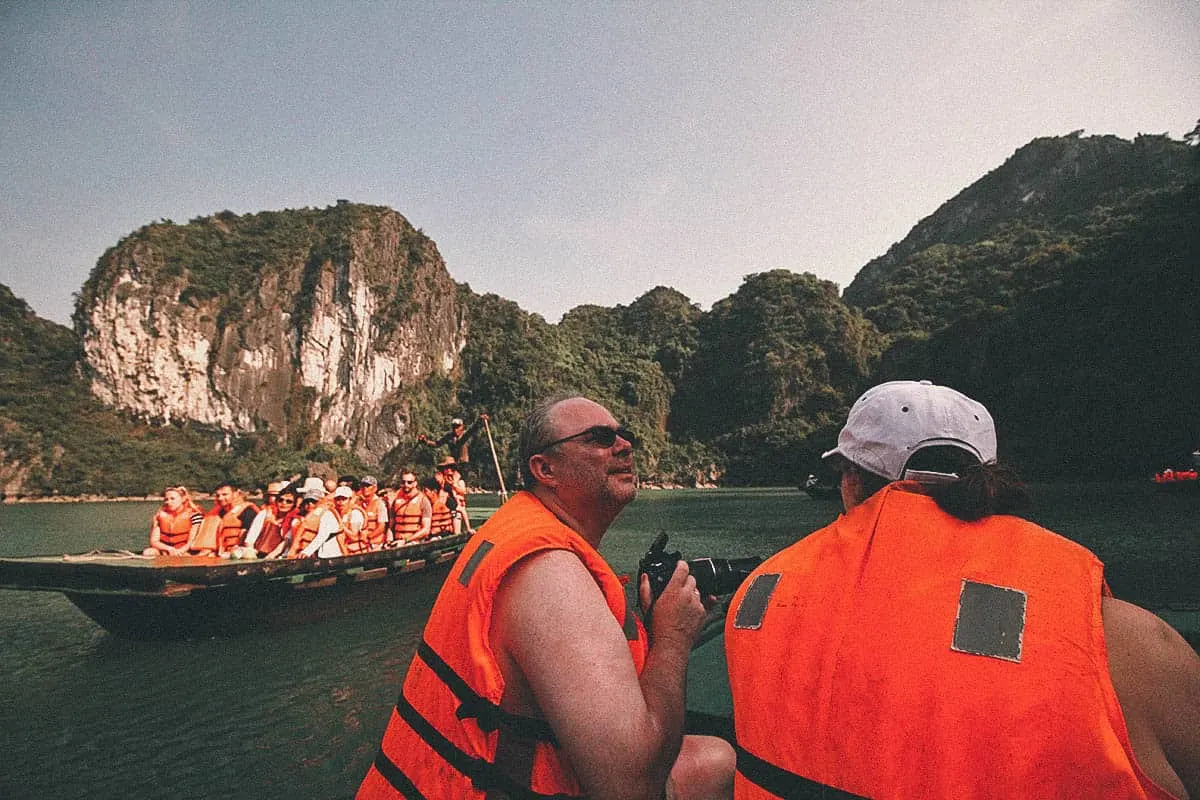 On the right is our guide Bien (?). He was with us the whole two days and did a fantastic job explaining the ins and outs of Ha Long Bay. You could tell from the way he spoke how much Ha Long Bay meant to him. According to Bien, Ha Long Bay is near and dear to the hearts of all Northern Vietnamese.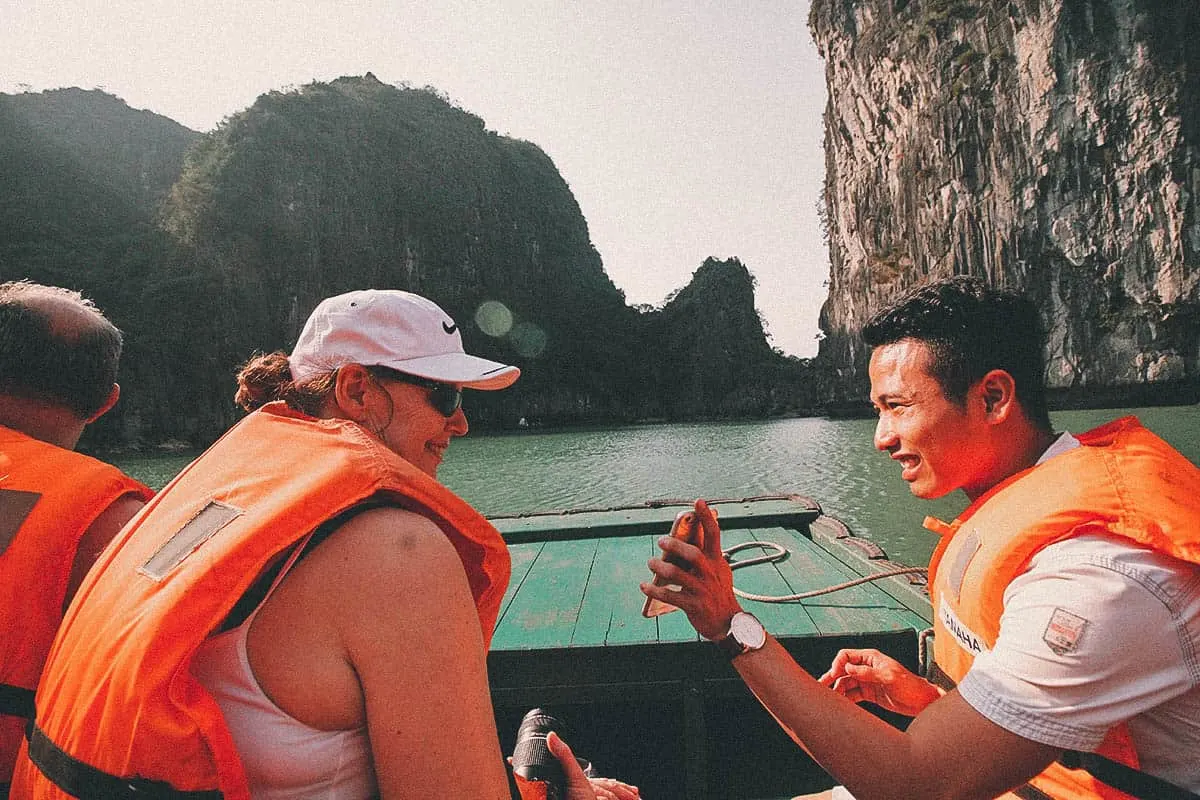 There's Luon Cave. As far as I know, it's the only way in and out of this lake. I read there are many of these enclosed lake formations in Ha Long Bay.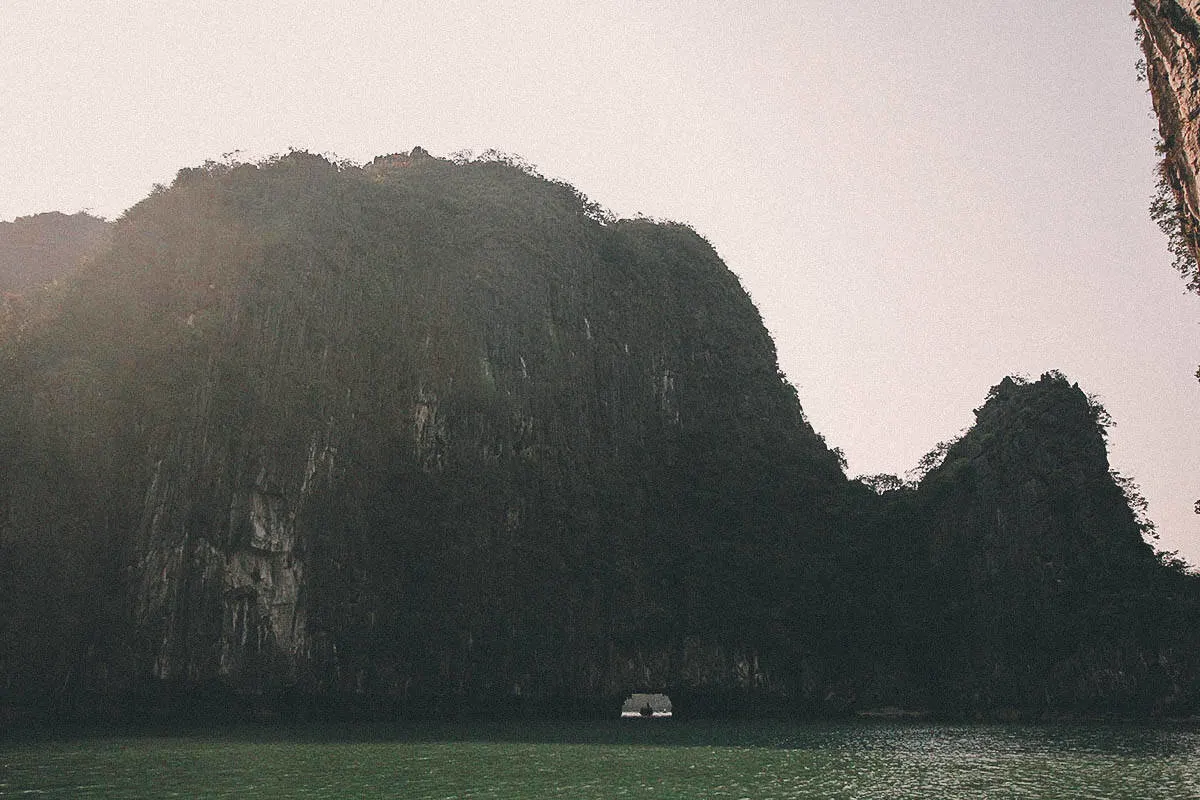 Bien was telling us that a family of golden monkeys can often be seen playing in those trees behind him, but not today. Soon as he said that, one monkey came out just to prove him wrong. 🙂 Ha Long Bay is said to be home to 14 endemic floral species and 60 endemic faunal species.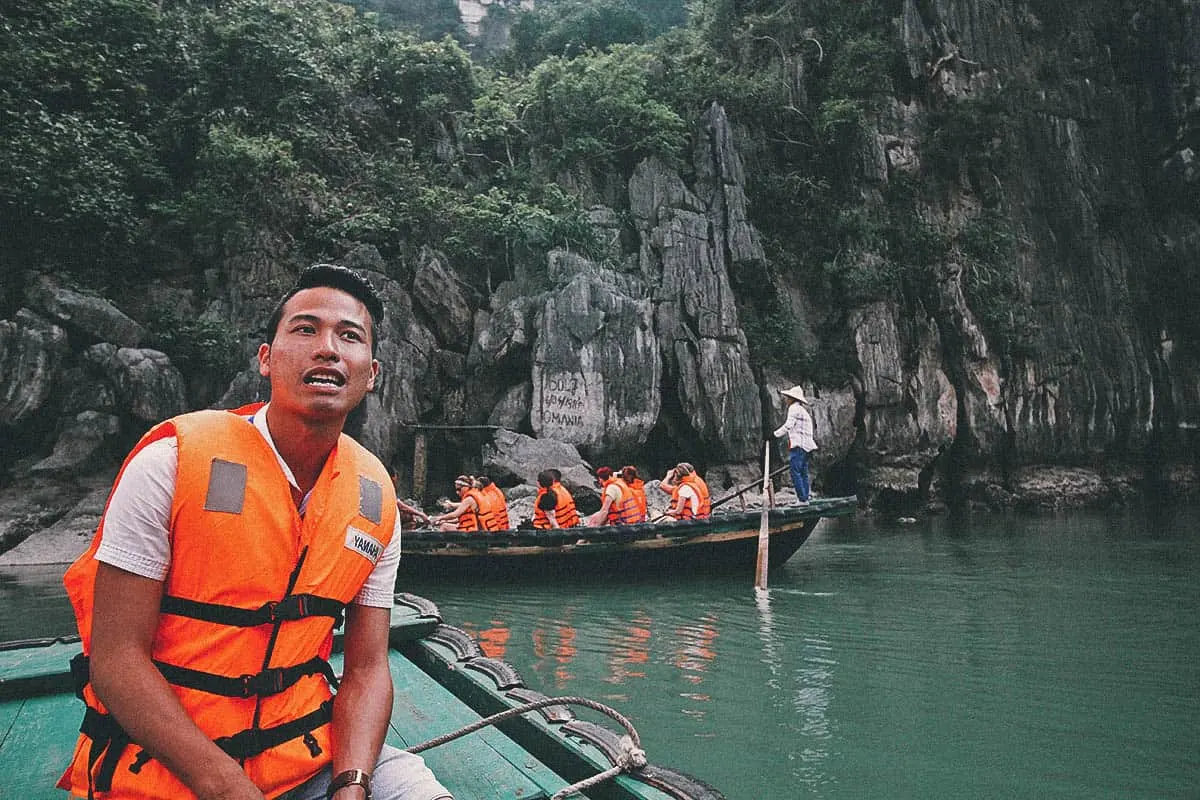 Ti Top Island
Before returning to our ship, we make our way to Ti Top Island which is known for its beach and stunning views of Ha Long Bay.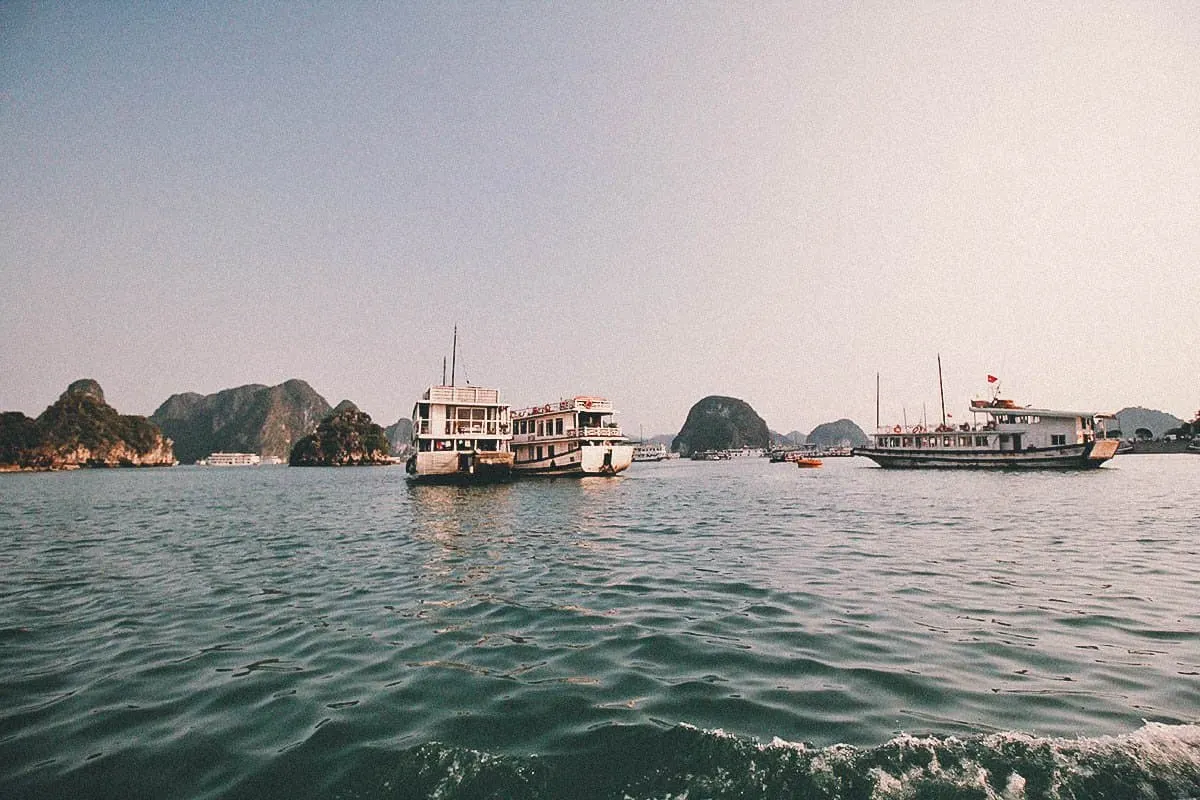 With this many ships on the water, do you think we'll have Ti Top all to ourselves?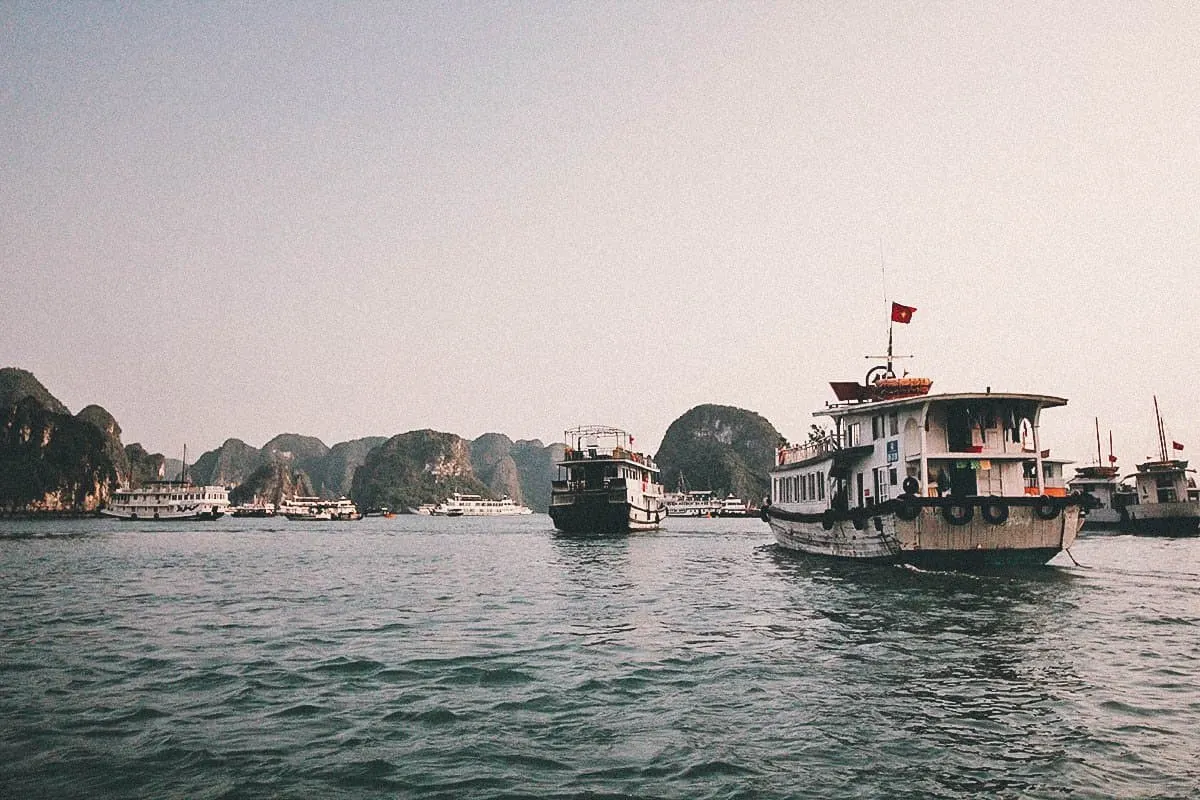 Absolutely not! 😛 Ti Top's beach isn't the biggest in Ha Long Bay but it's said to be one of the best, hence all the people.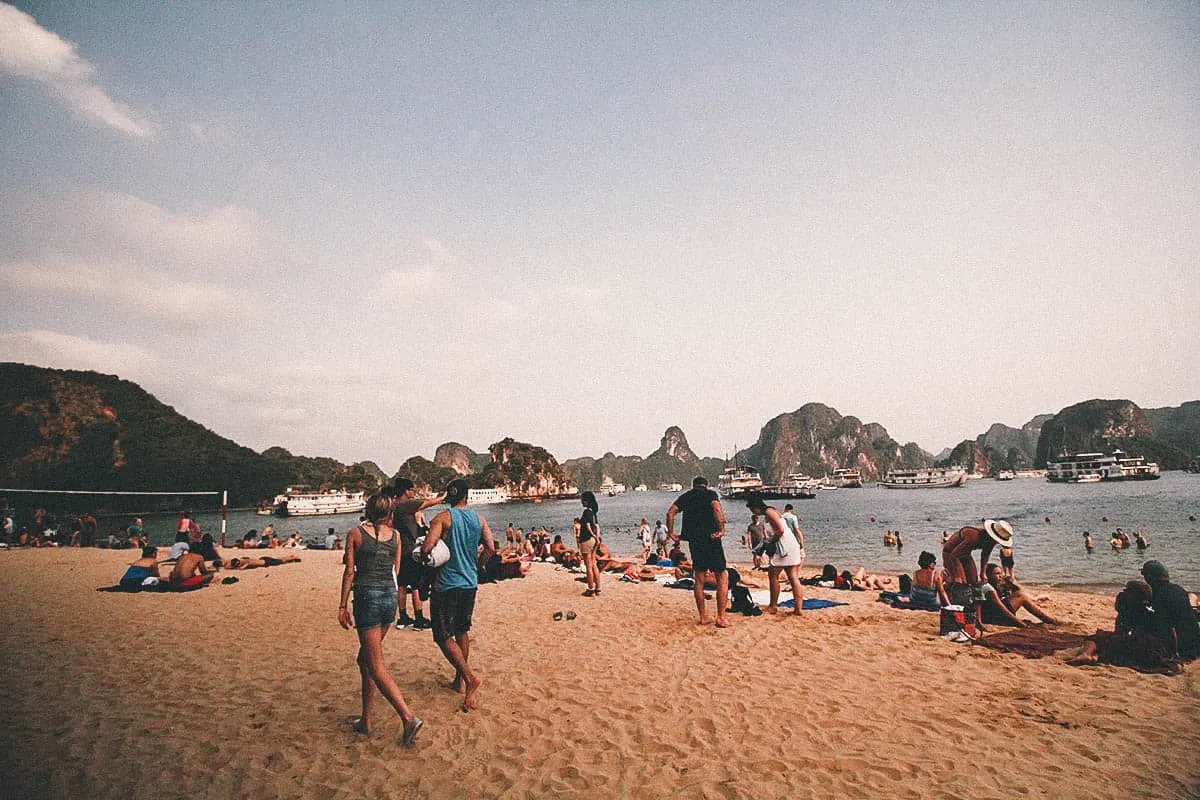 Ti Top Island is named after astronaut Ghermann Titov, a hero of the former Soviet Union who visited the island with President Ho Chi Minh in 1962. President Ho Chi Minh renamed the island after Titov to commemorate his visit. I didn't take a picture of it but there's a sizable bust of Titov on the island.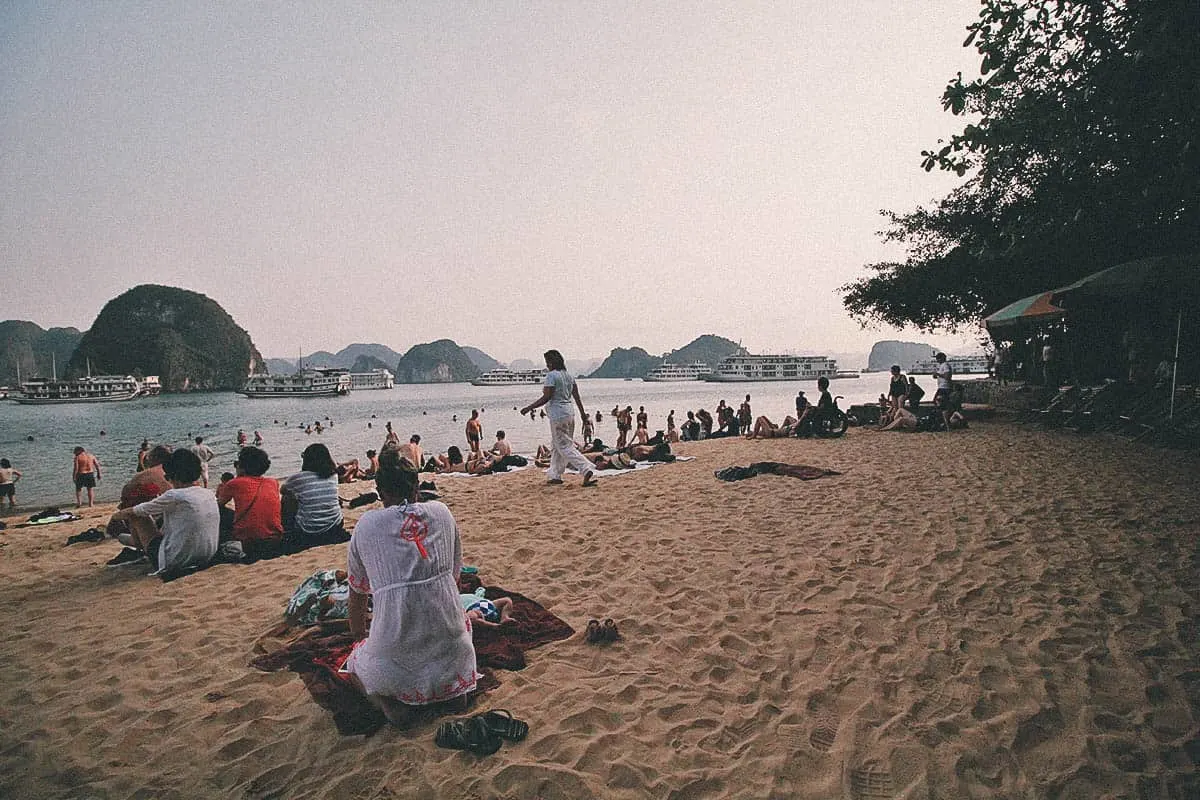 We didn't spend any time on the beach but we did make our way up to the deck to get this awesome view of Ha Long Bay.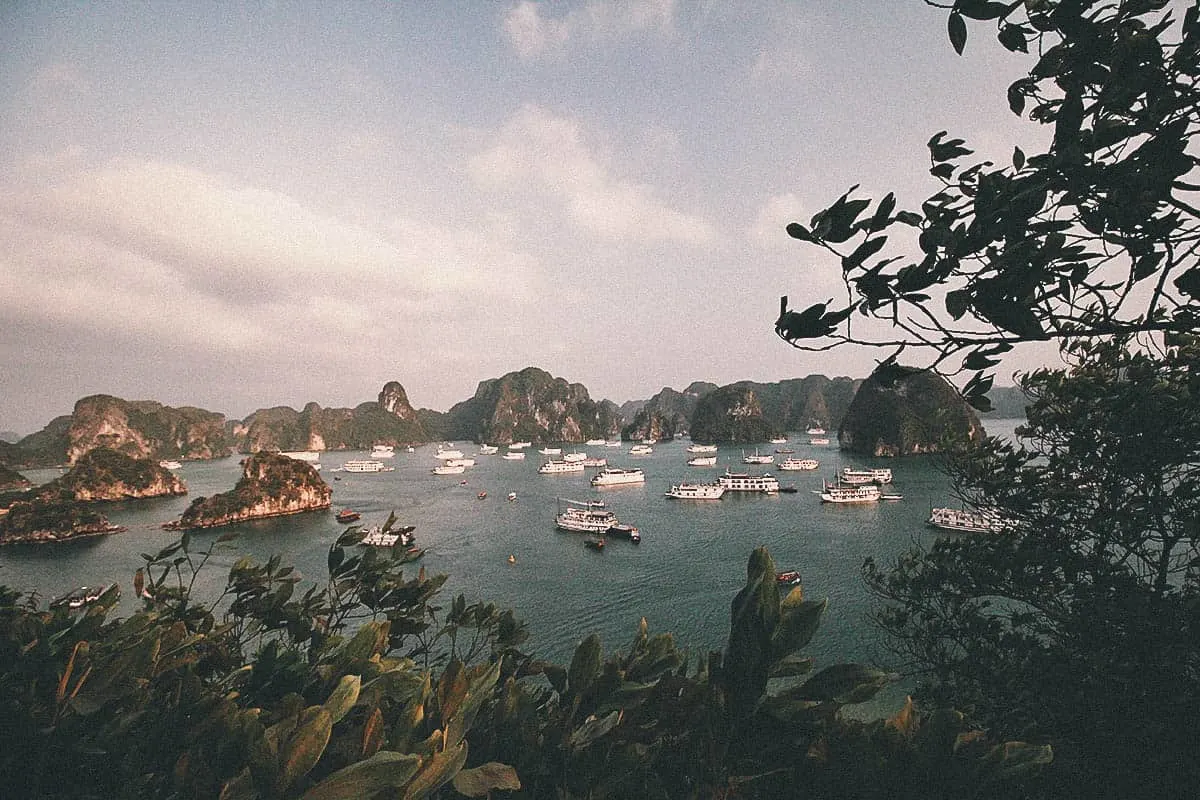 According to Bien, it's foggy in Ha Long Bay most of the year but it was crystal clear the two days we were there. For the greatest chance of clear days, it's best to visit Ha Long Bay from March to June.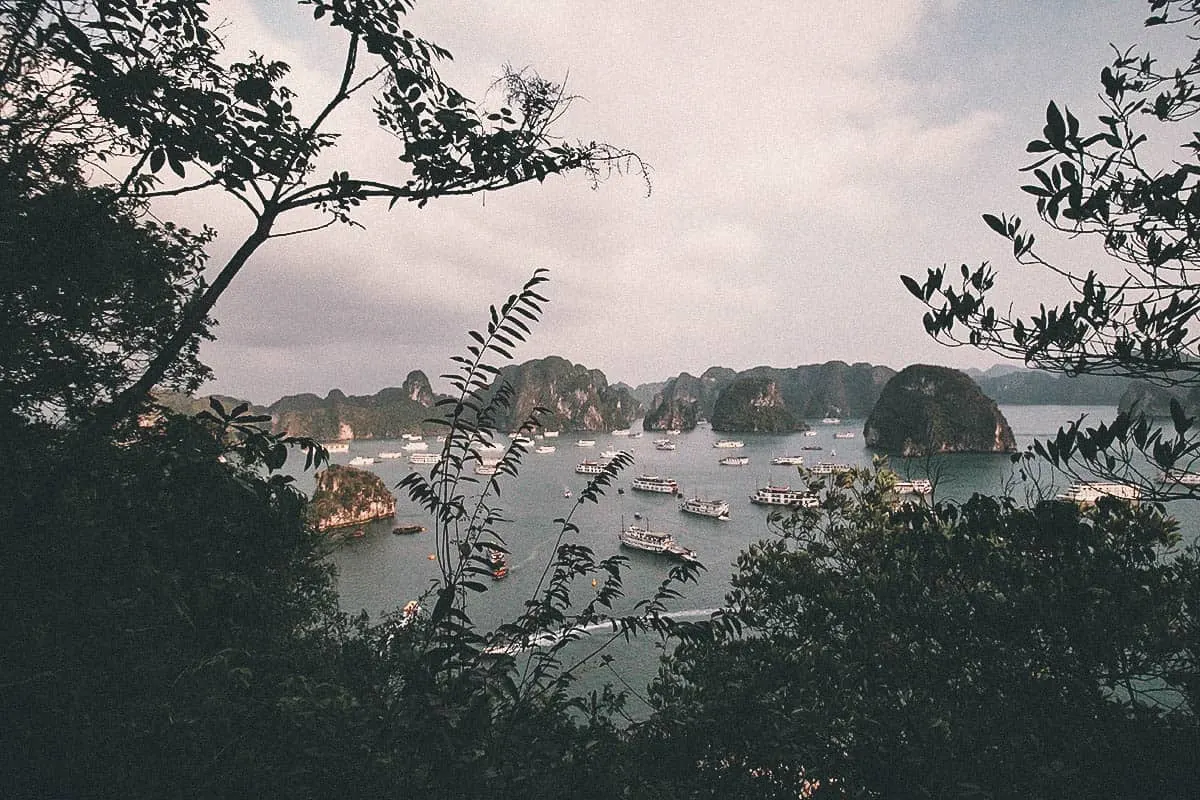 It was overcast at the time but the views were still spectacular.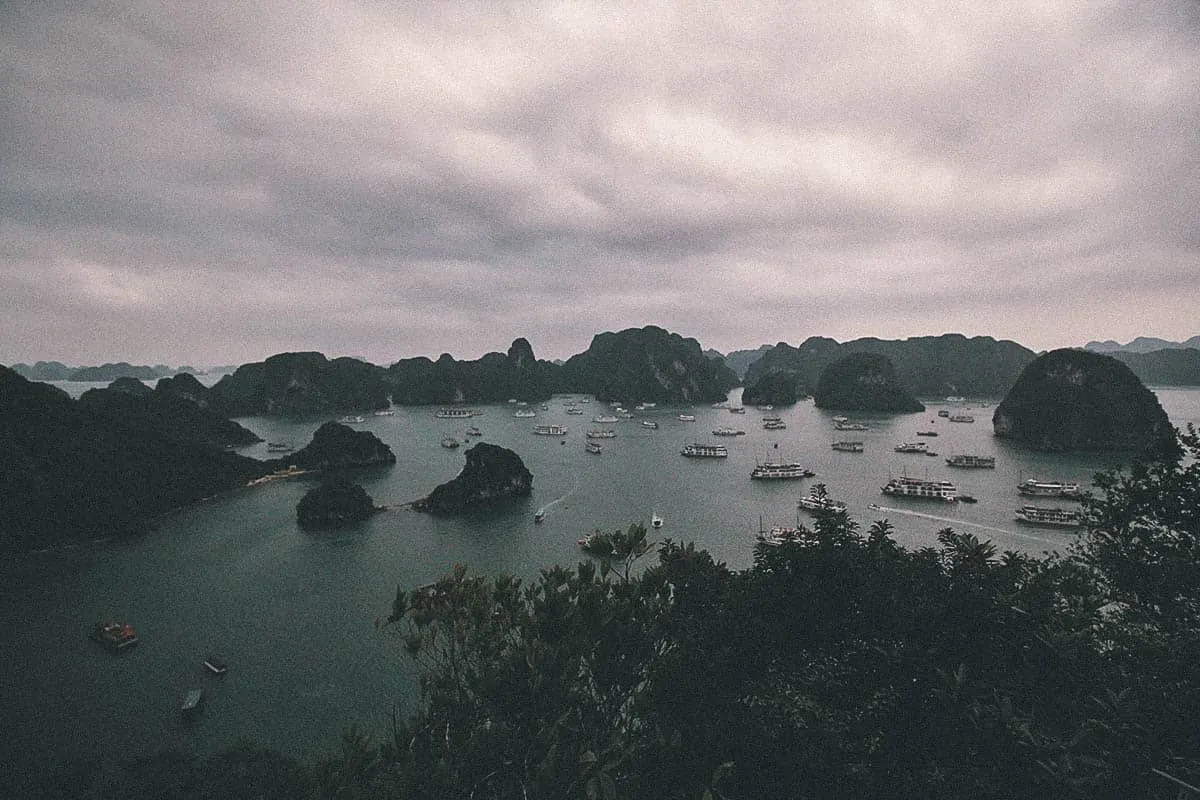 We stayed on Ti Top Island for over an hour or so before heading back to our ship.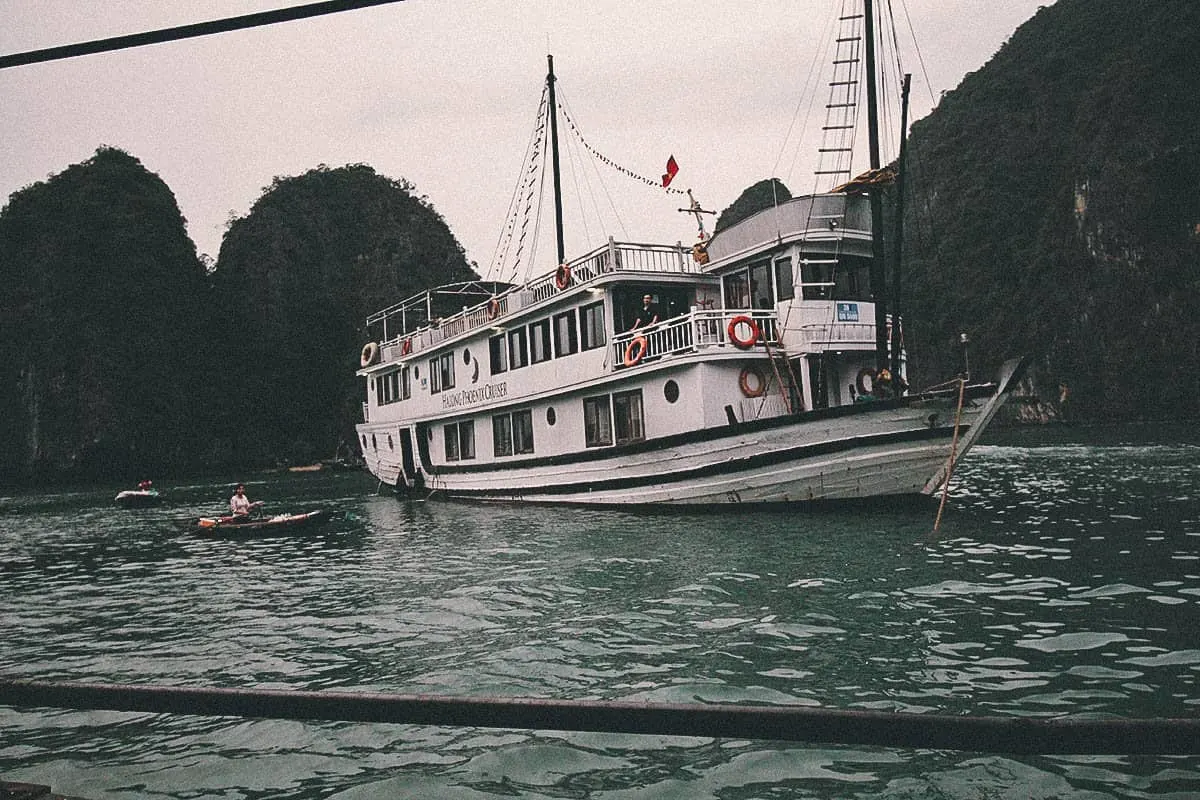 Going up to the top deck, we were greeted with some fruit and coffee before dinner.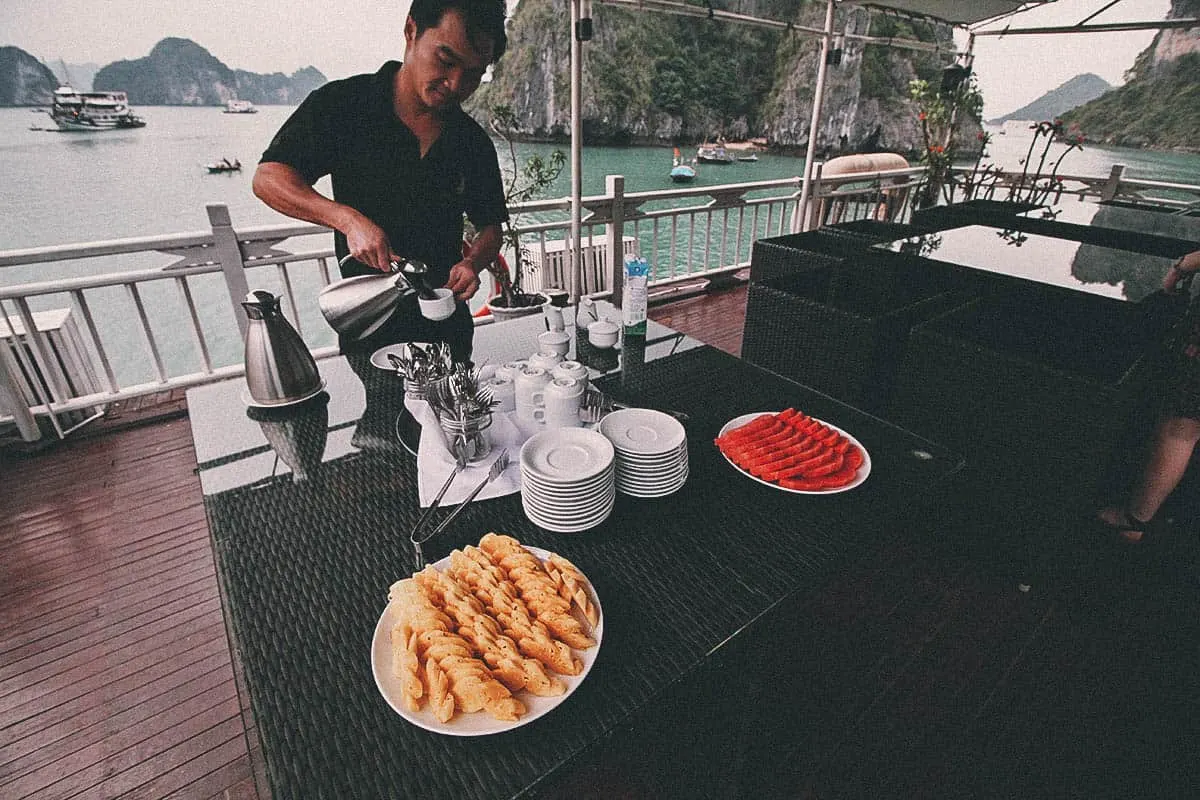 Now this was an unexpected sight. On these bamboo boats are vendors selling different types of snacks and drinks. According to Bien, up to 1,600 people lived at one point on Ha Long Bay in four fishing villages. They lived on floating houses and sustained themselves through fishing and marine aquaculture.
The problem was, they didn't have a proper means of disposal for their waste so they would throw them back into the environment. Much to their protest, the Vietnamese government relocated all these families to the mainland in 2014 to protect and preserve Ha Long Bay. Any locals still living here today come on a rotating basis as part of the tourism industry. They perform tourism-related jobs like paddling tourists in and out of Luon Cave, or selling them snacks on bamboo rafts.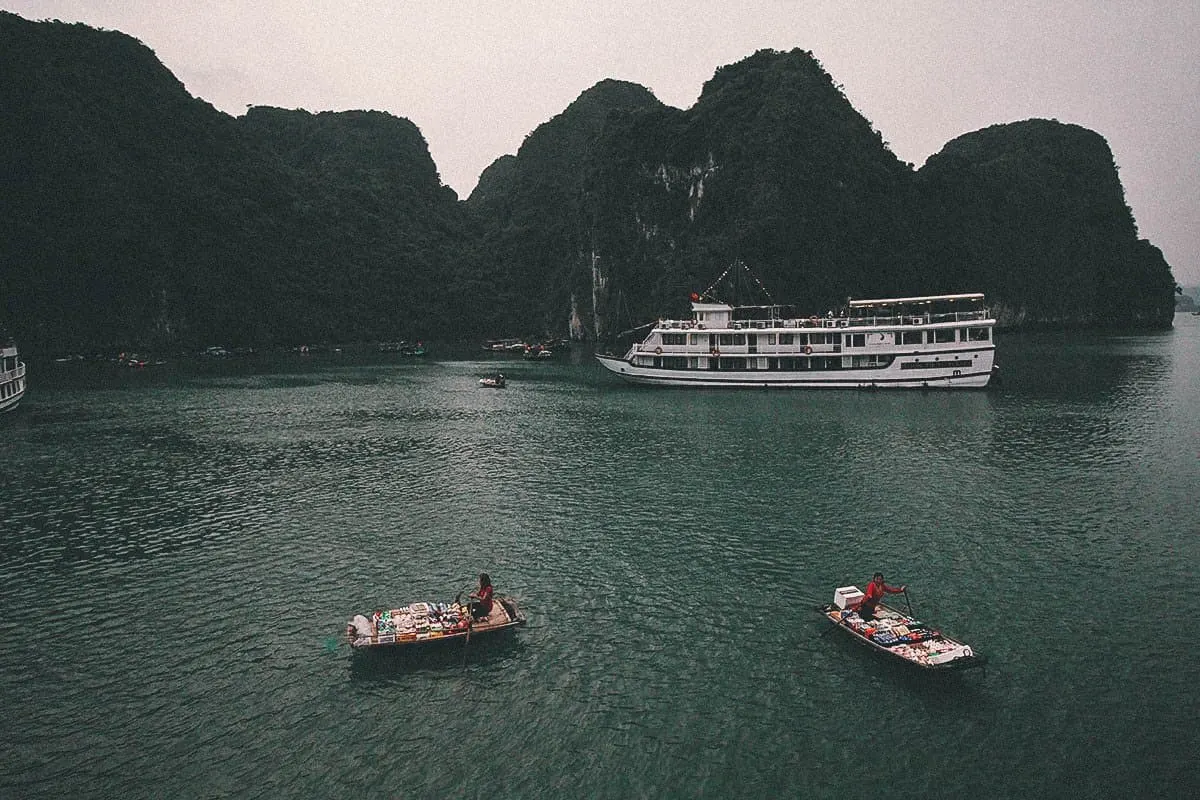 I don't know what this area was called but many ships were docked here for the night.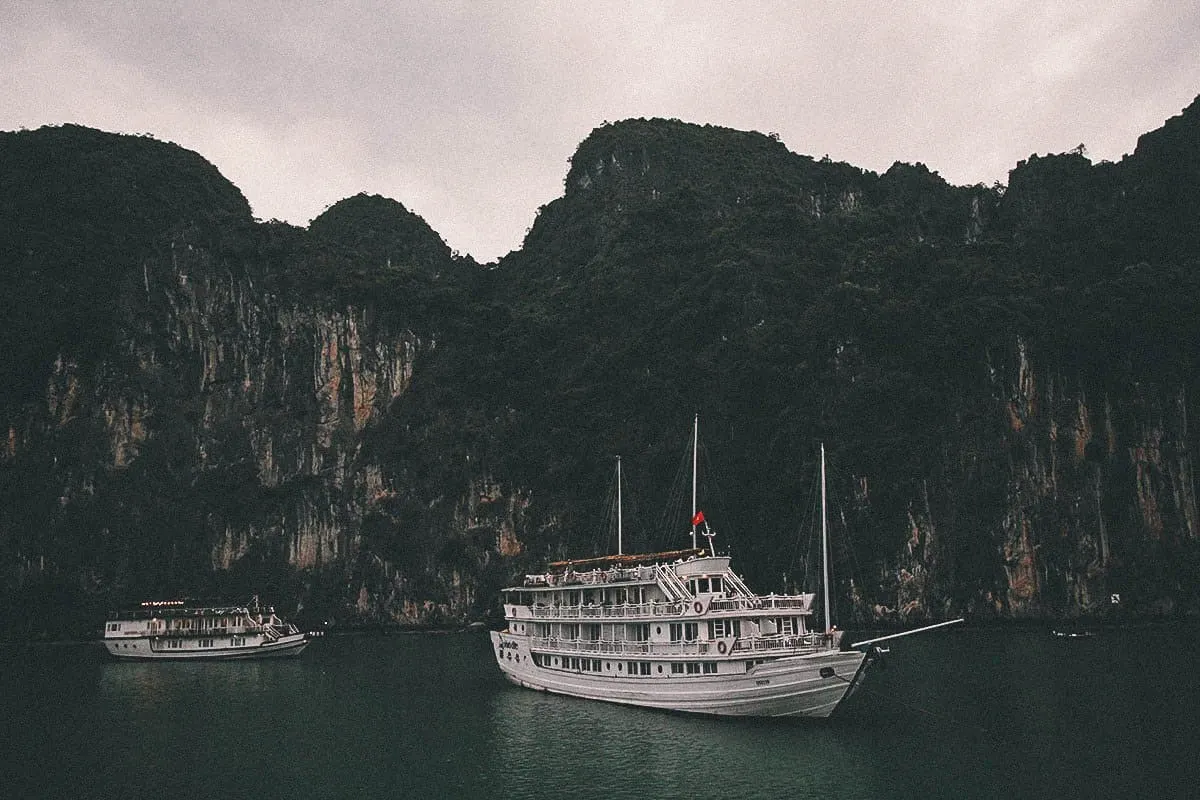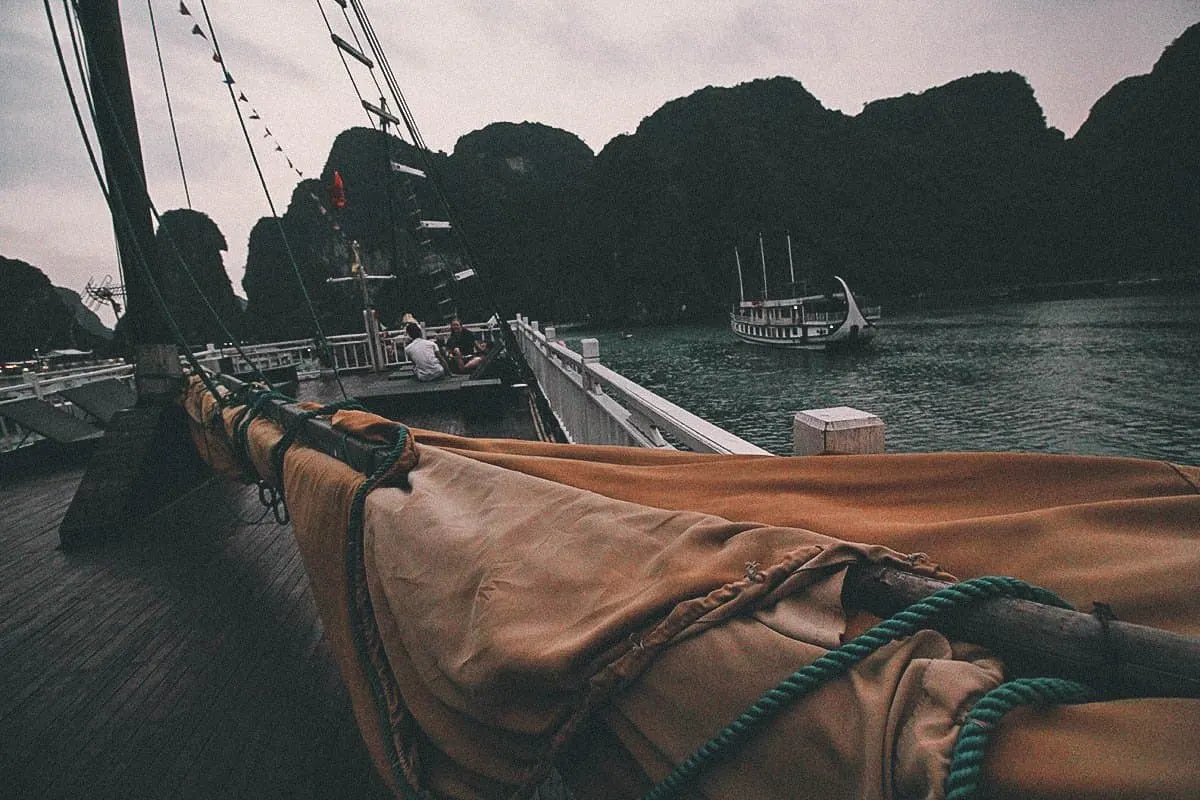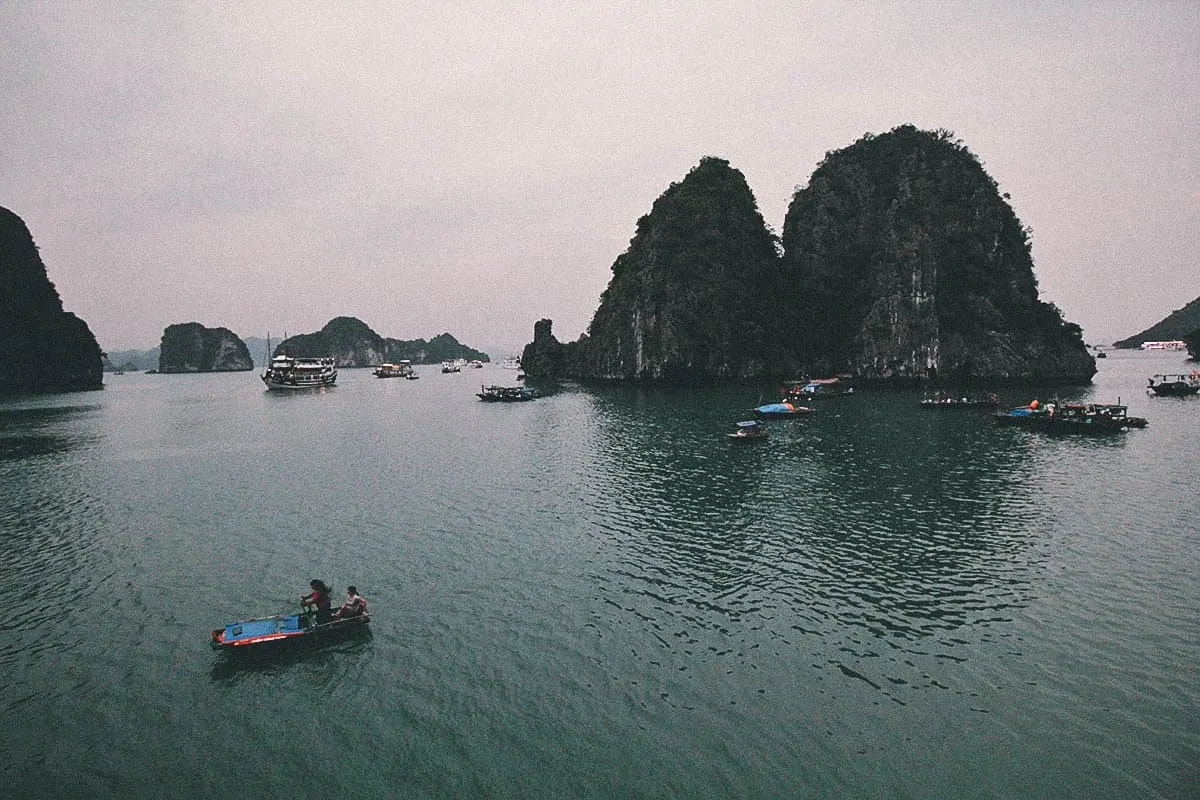 A closer look at the vendors. Got any Reese's Peanut Butter Cups? 😀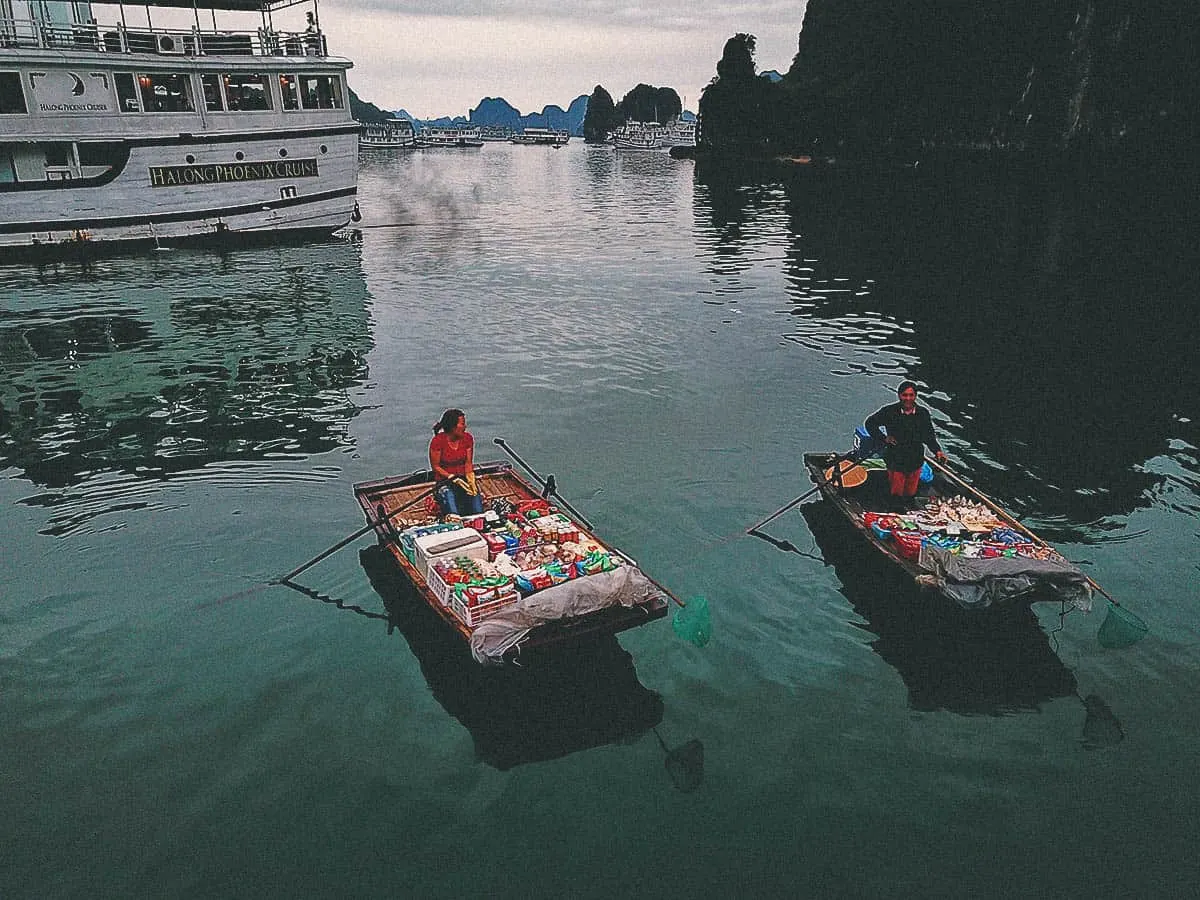 Amazing how eerily still the waters in Ha Long Bay are. Not once did we feel our ship rock from any waves.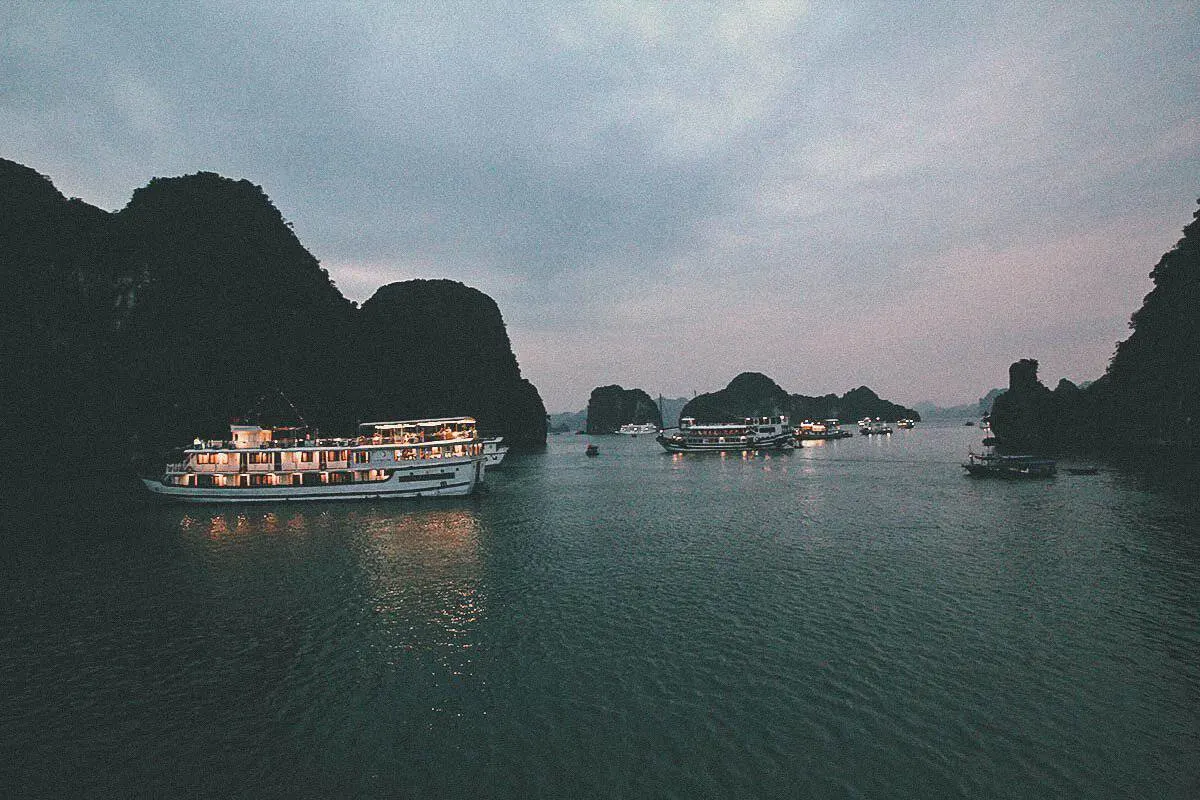 Squid Fishing
When night falls, you can try your hand at squid fishing. At the end of those rods is a nylon line with multiple hooks.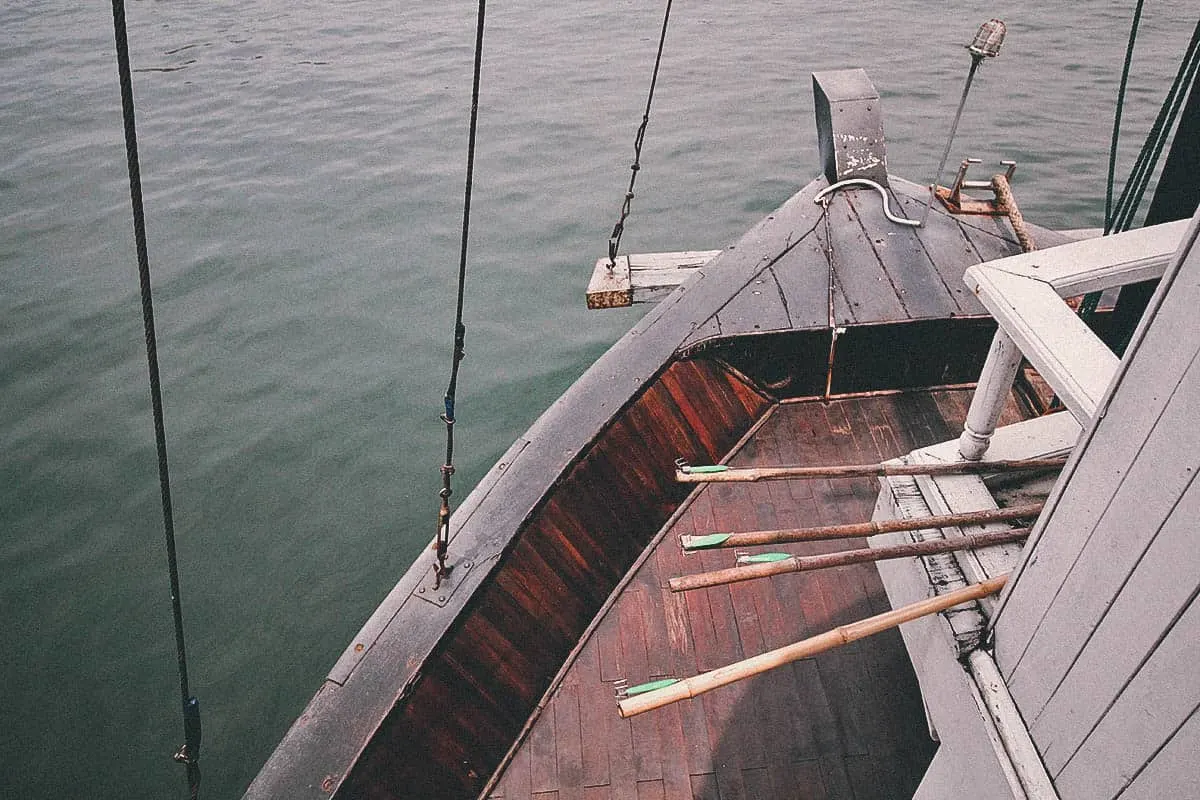 Squid fishing isn't anything like regular fishing. For one, you don't use any bait. A powerful light is flashed onto the water's surface and is reflected off a piece of foil wrapped around the base of your hooks. Bobbing the hooks up and down with the light reflecting off of it is said to attract squid. I've gone squid fishing twice in my life and both times I didn't catch anything. Thankfully, one person tonight did. Scott from Australia pulled in one small squid which won him a free beer from Bien. Bravo mate! 😆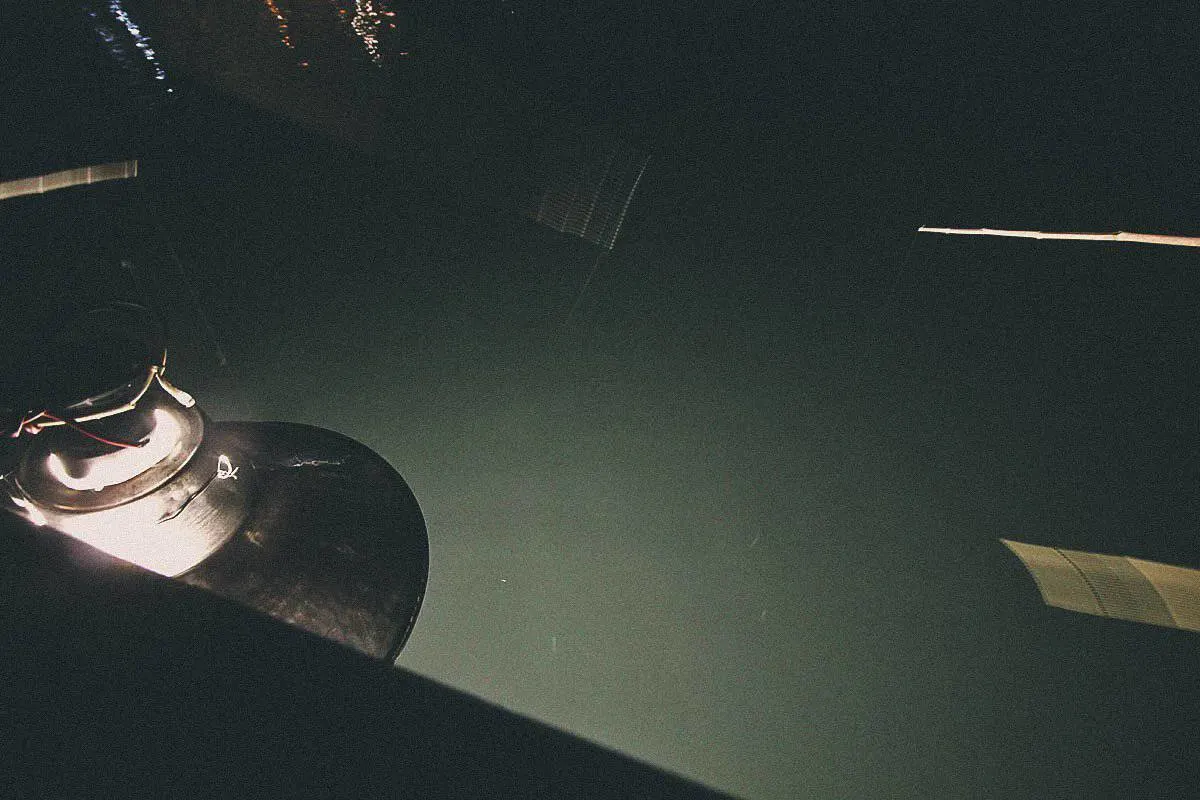 Dining
The ship's dining room is located on the second floor. Albeit weak most of the time, this was the only part of the ship where you could get a wifi signal.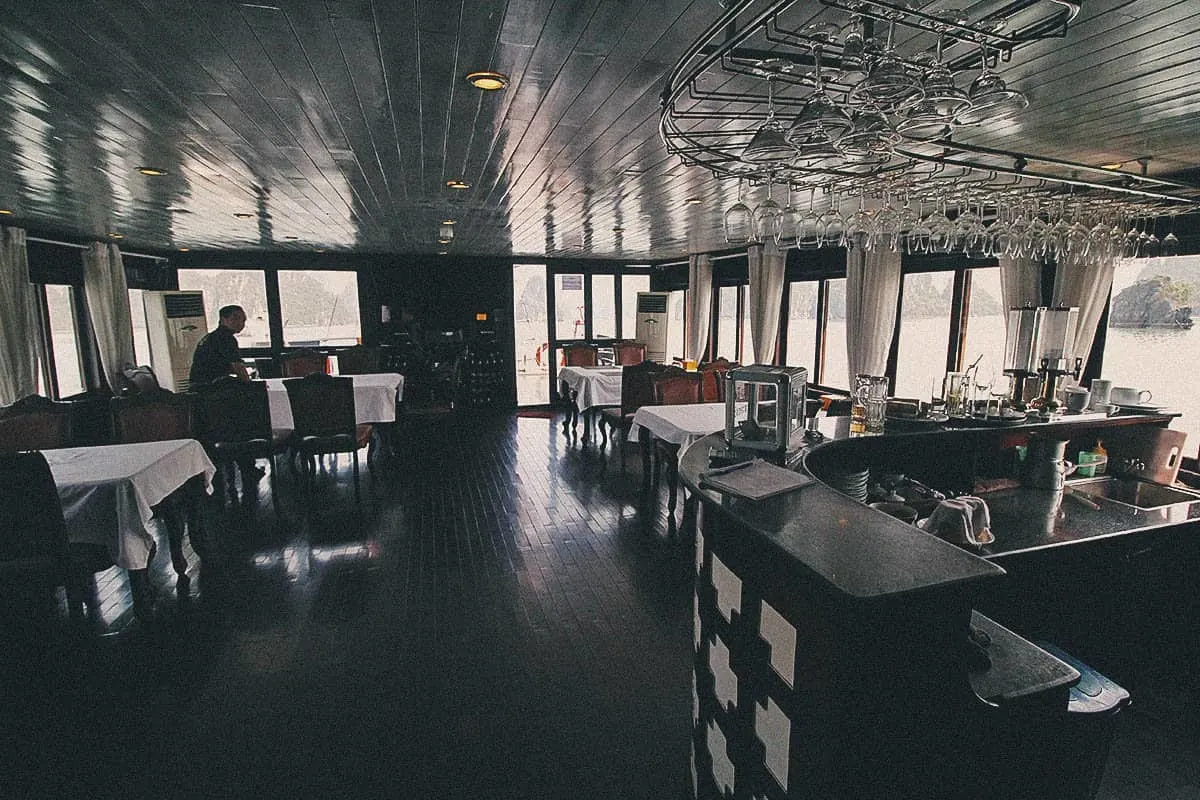 Apart from the breakfast buffet, every meal was a sit down meal with two to three couples sharing a table.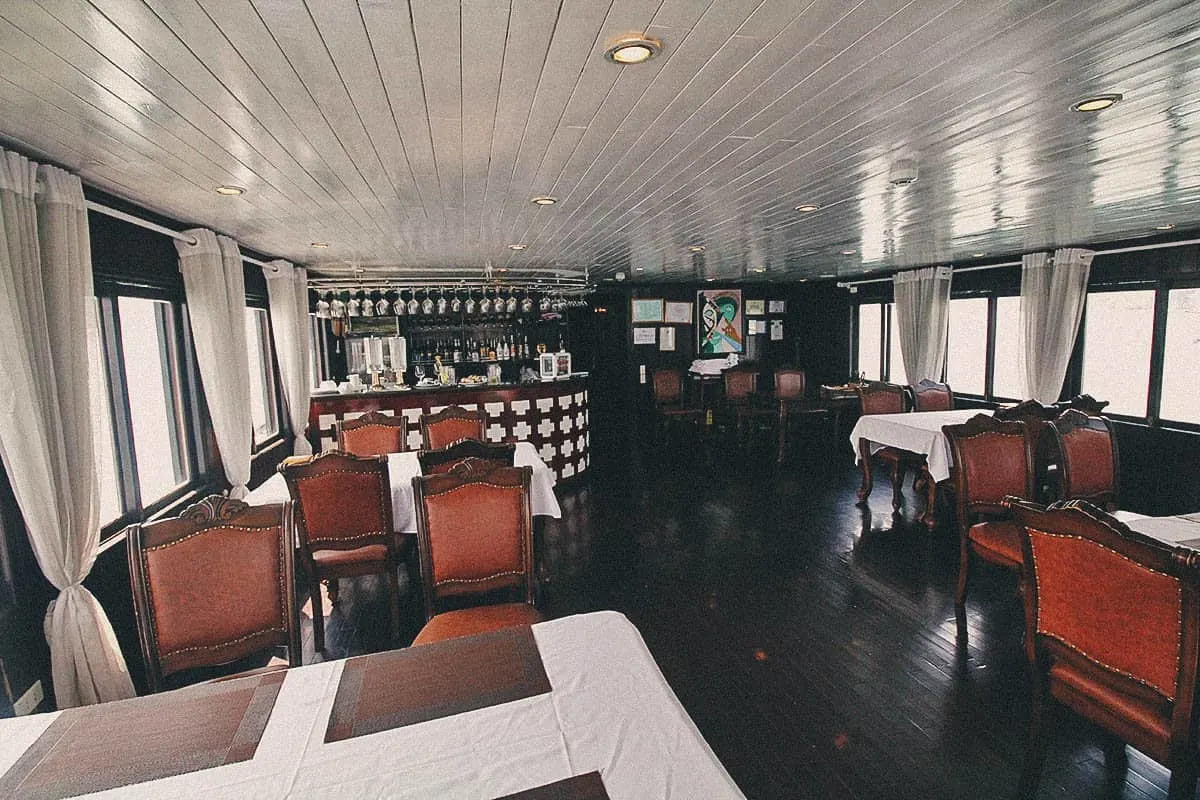 The meals were the biggest surprise for me. In my experience, food served on tours like this isn't the best so I wasn't expecting much, but they turned out to be really good. Every meal was delicious. On our 2D1N cruise, we enjoyed four meals in all – lunch and dinner on our first day, and breakfast and lunch on our second. This meal was from our lunch on the first day. If I remember correctly, they served clams, breaded pork chops, sea bass wrapped in pandan leaves, vegetables, and rice. Everything is already included in the cruise fee except for drinks.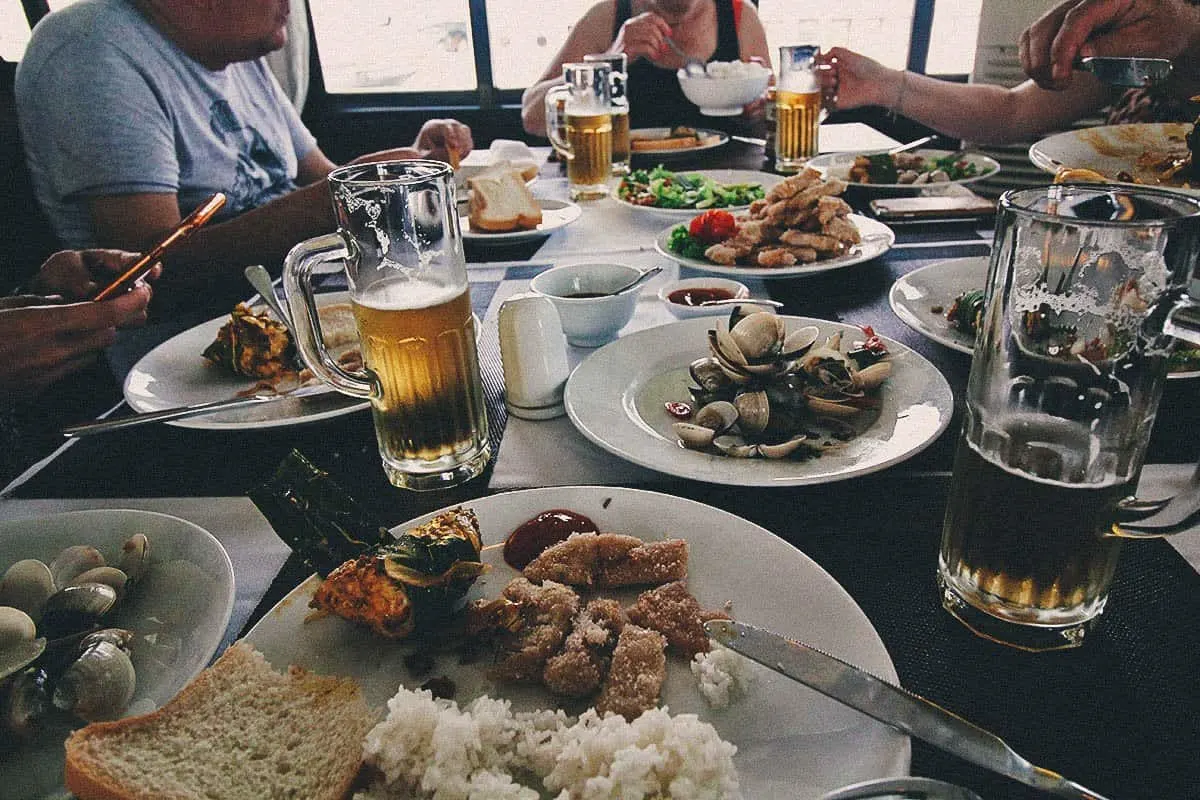 This was from dinner on the first night. There's Rinaldo and Olga from Sardinia, Italy. There's Libby taking a picture of the shrimp cocktail for her Instagram. Unfortunately, I didn't get a picture of Scott sitting next to her. They're from Adelaide, Australia. Lovely lovely people.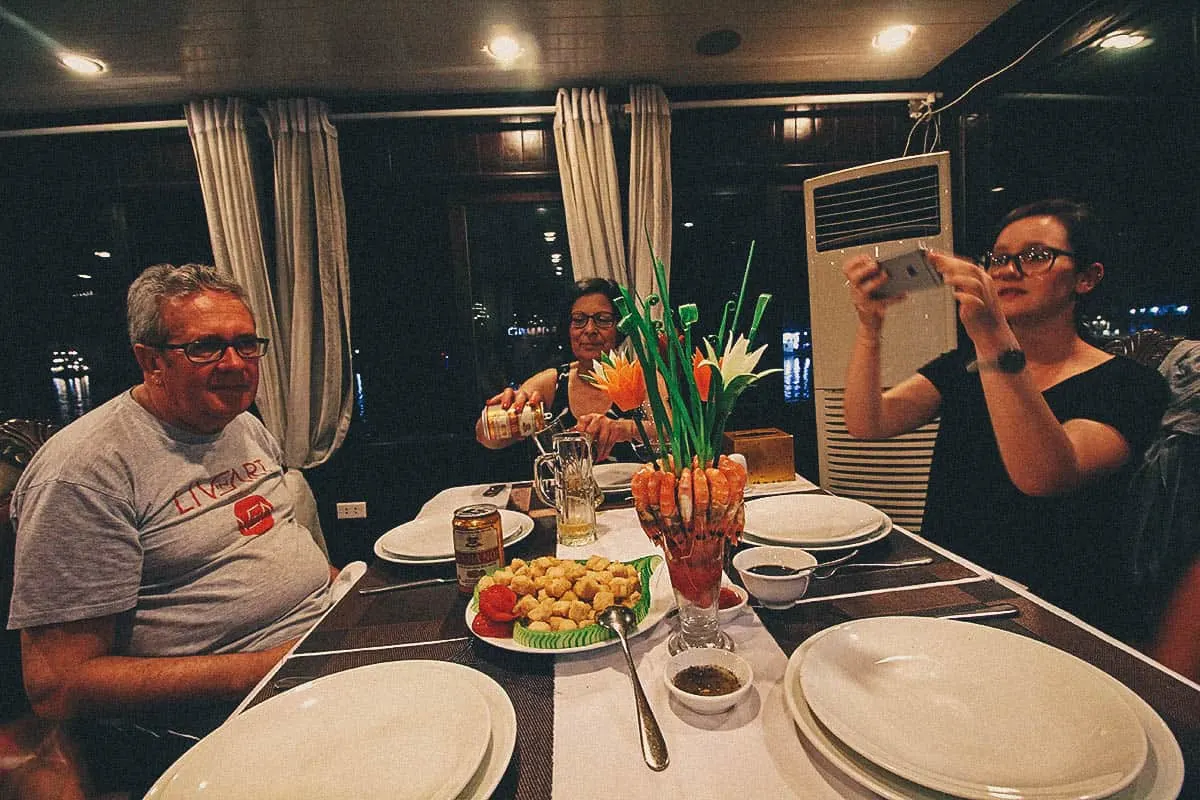 Tonight they served us shrimp cocktail, breaded fried tofu, and…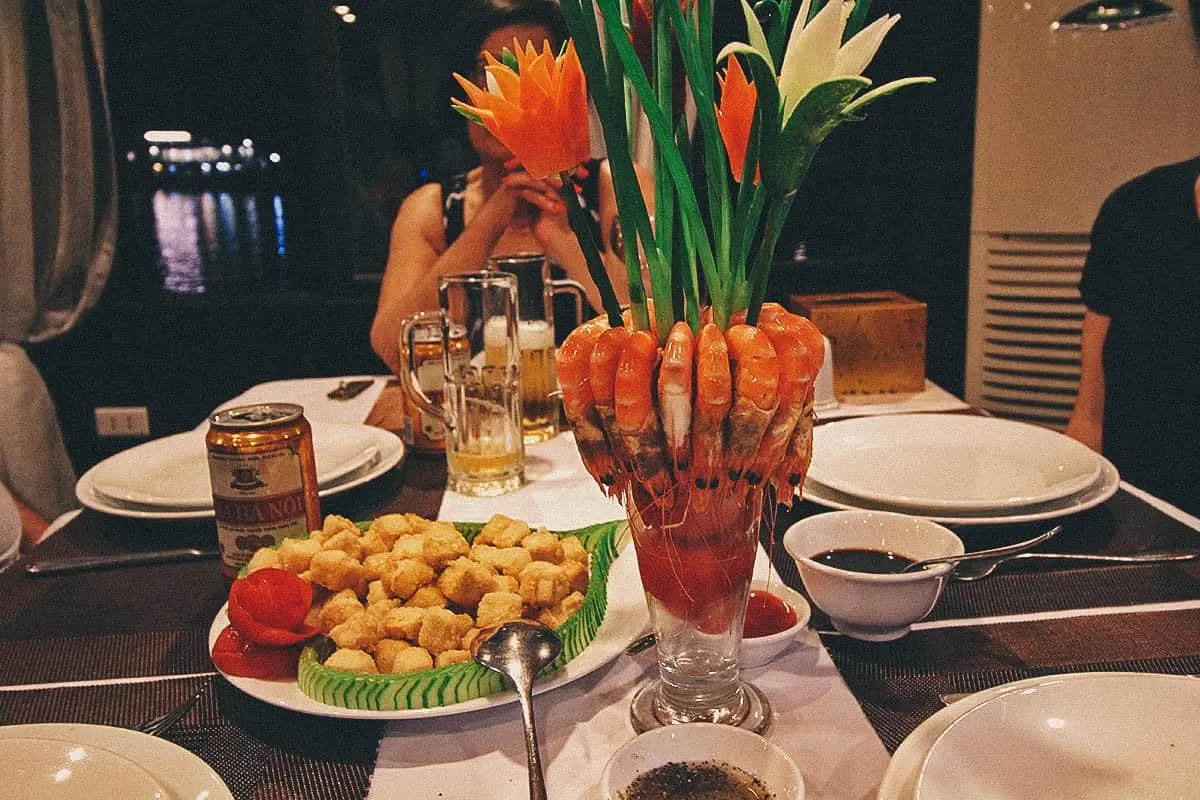 …my favorite of all, crab cakes fried in their own shells. I enjoyed this a lot at home growing up. They're laborious to make but really delicious.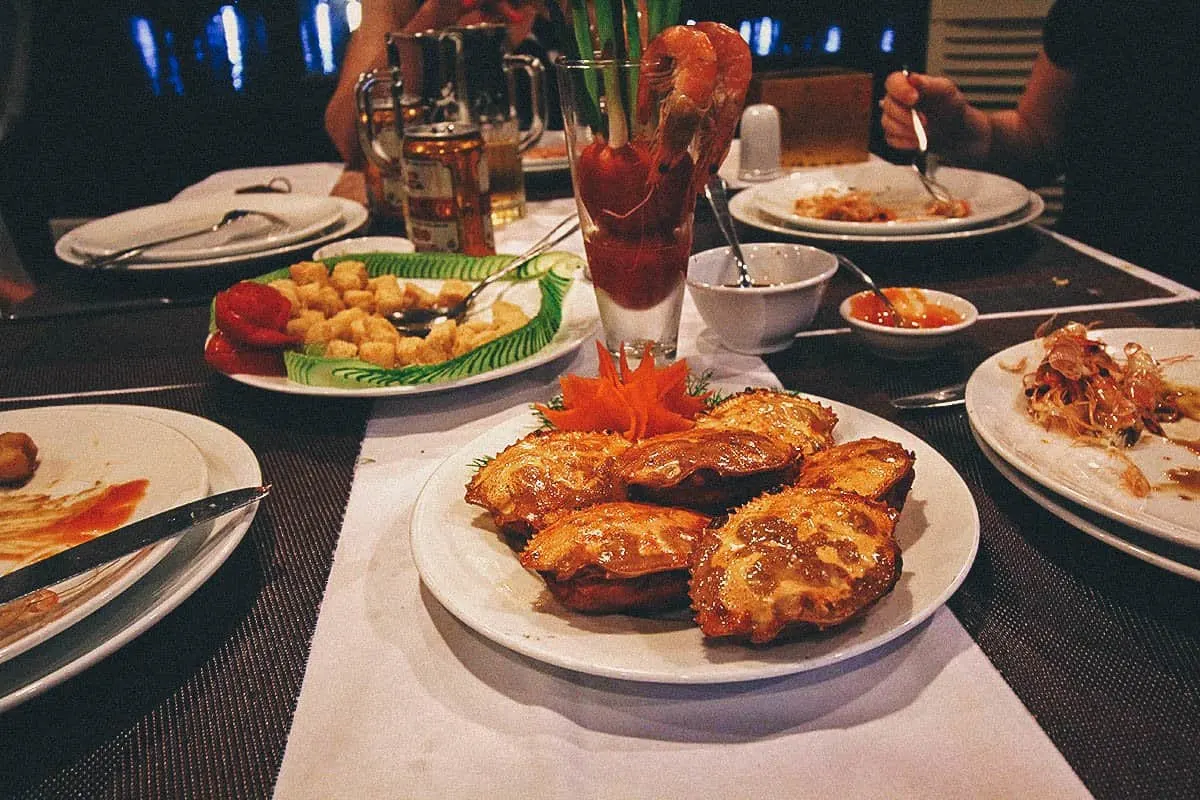 Here's the breakfast buffet the next morning.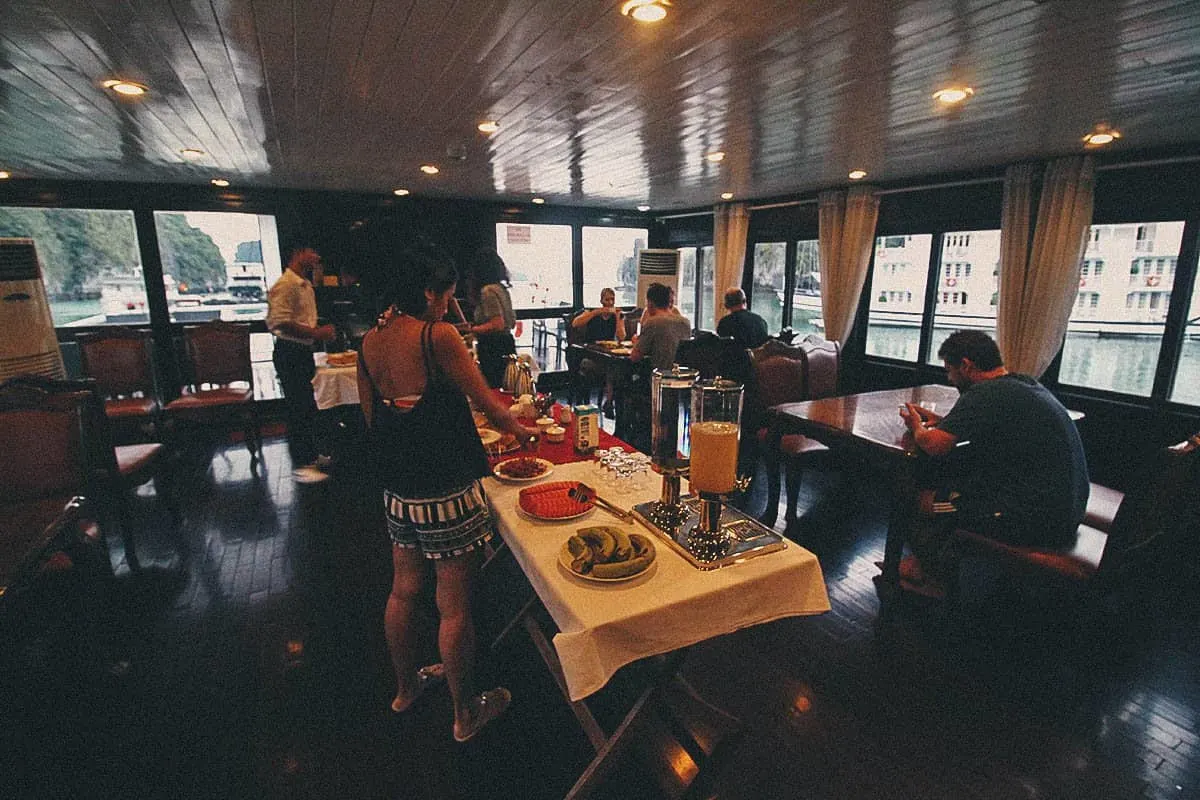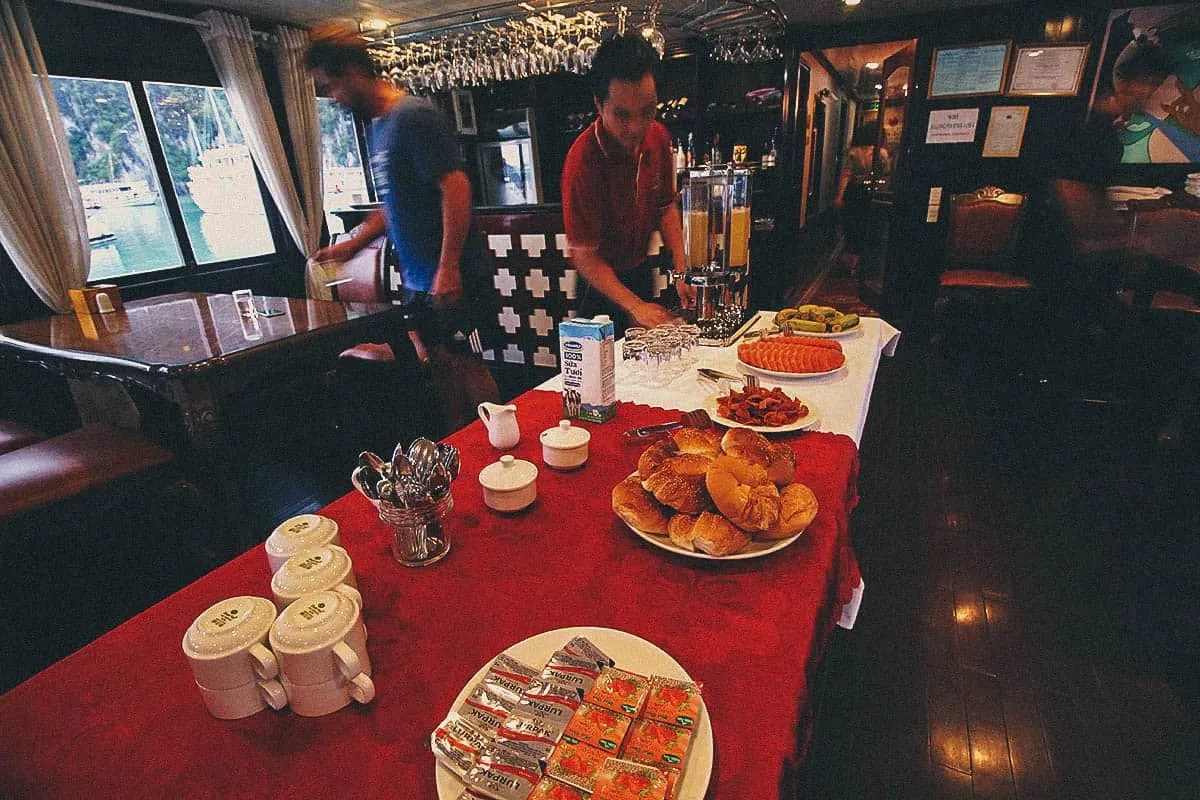 My favorite part of any breakfast buffet – the omelette station.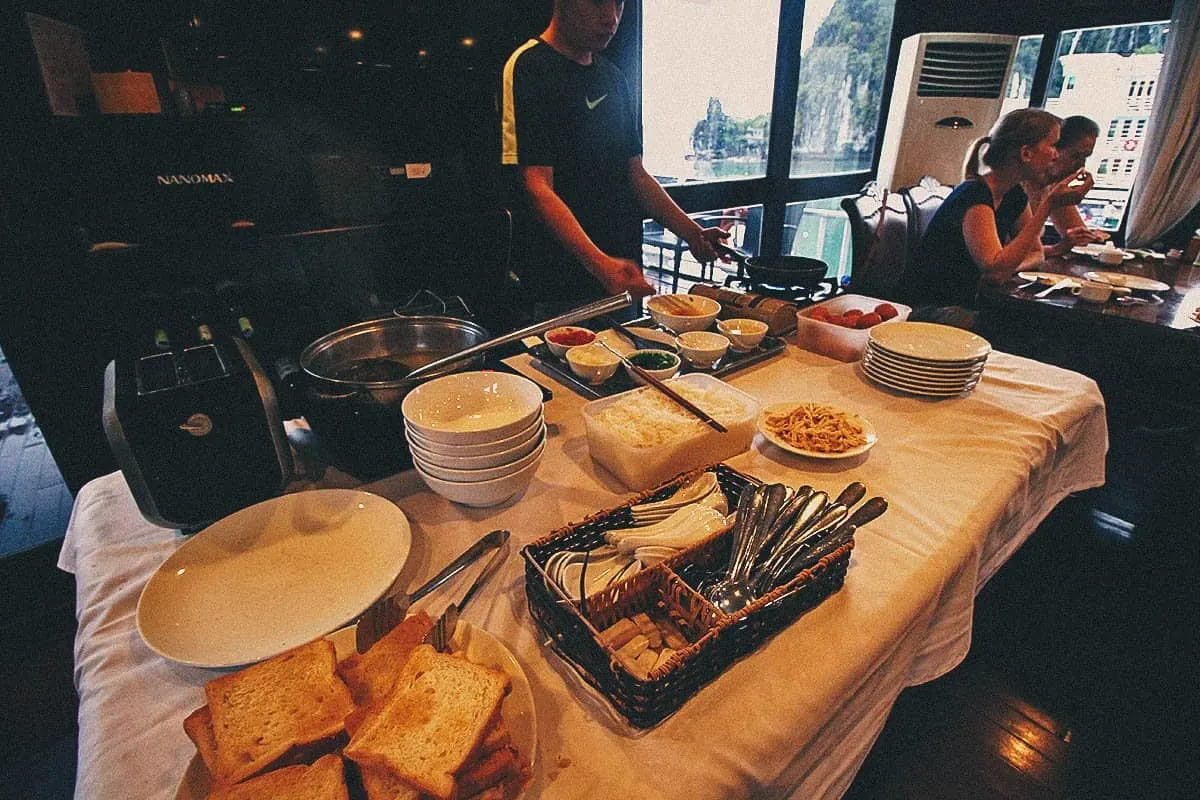 Sung Sot Cave
After breakfast, we took our boat to Bo Hon Island which is home to Sung Sot Cave. Aside from all the Vietnamese food, this magnificent cave was my favorite part of the trip. Wait until you see the pictures below.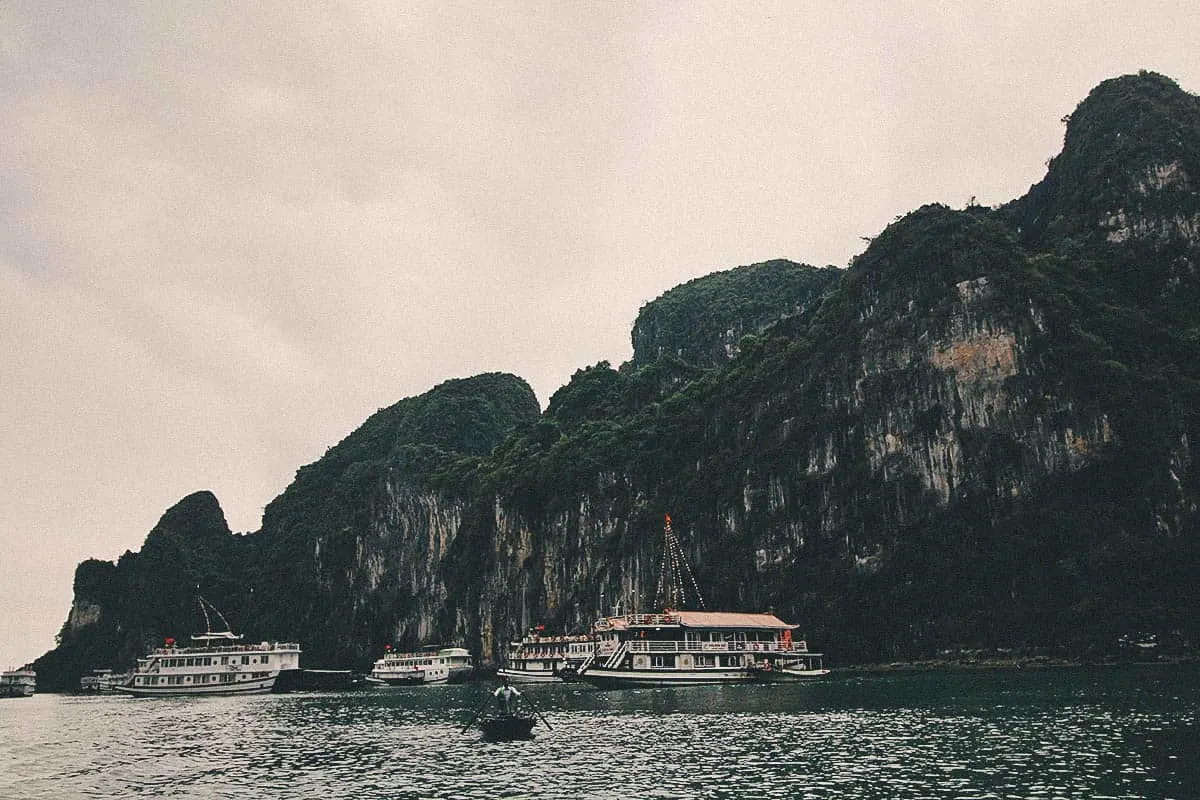 A good number of limestone karsts are hollow so you'll find many caves in Ha Long Bay, but Sung Sot is one of its largest and most beautiful. You have to climb up a short but steep set of stairs to enter the cave.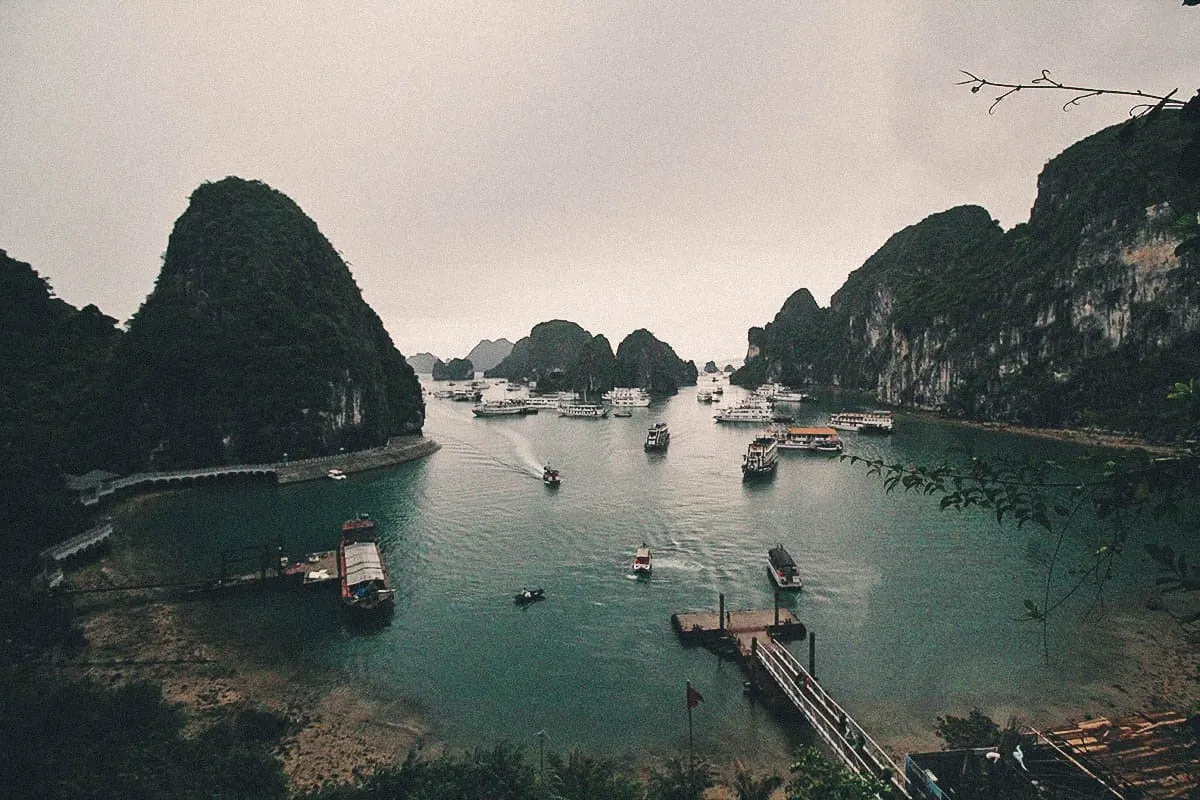 Sung Sot Cave means "Surprising or Amazing Cave" and it isn't hard to see how it got its name. Illuminated by different-colored artificial lights, the cave is stunning. I'm not usually a fan of caves but I was blown away by this one.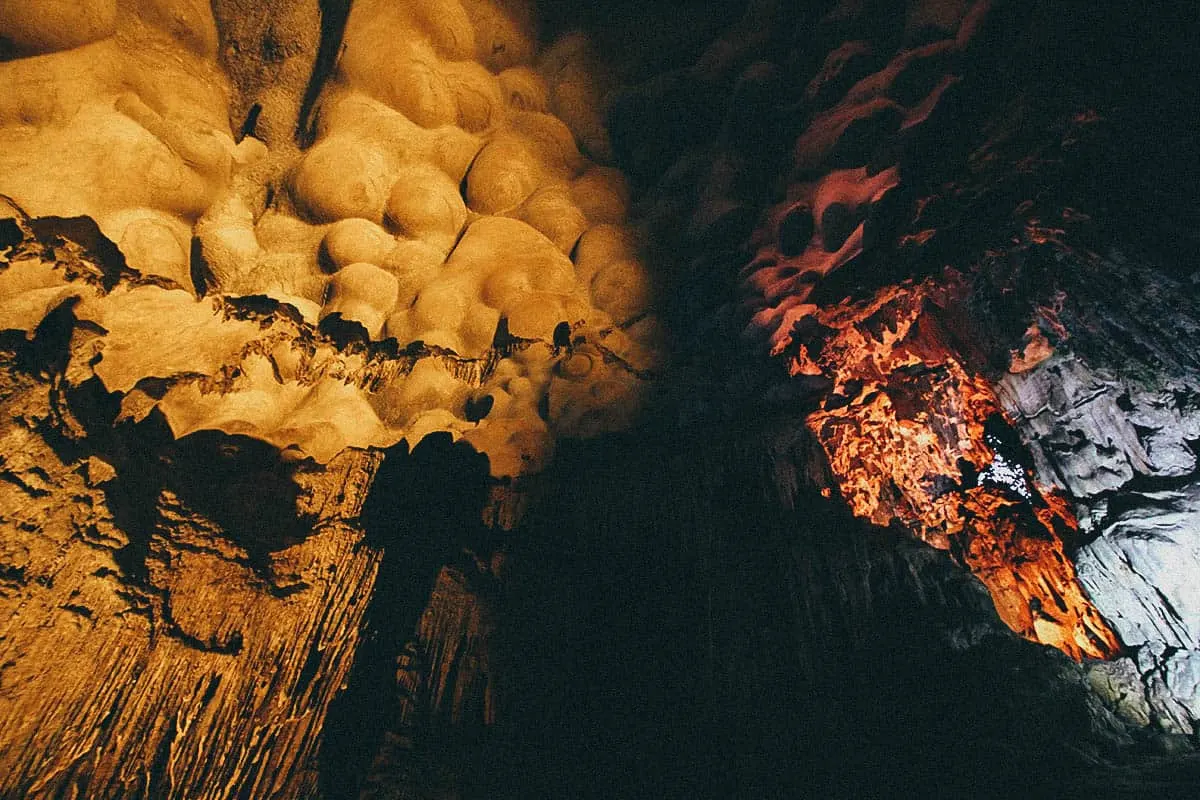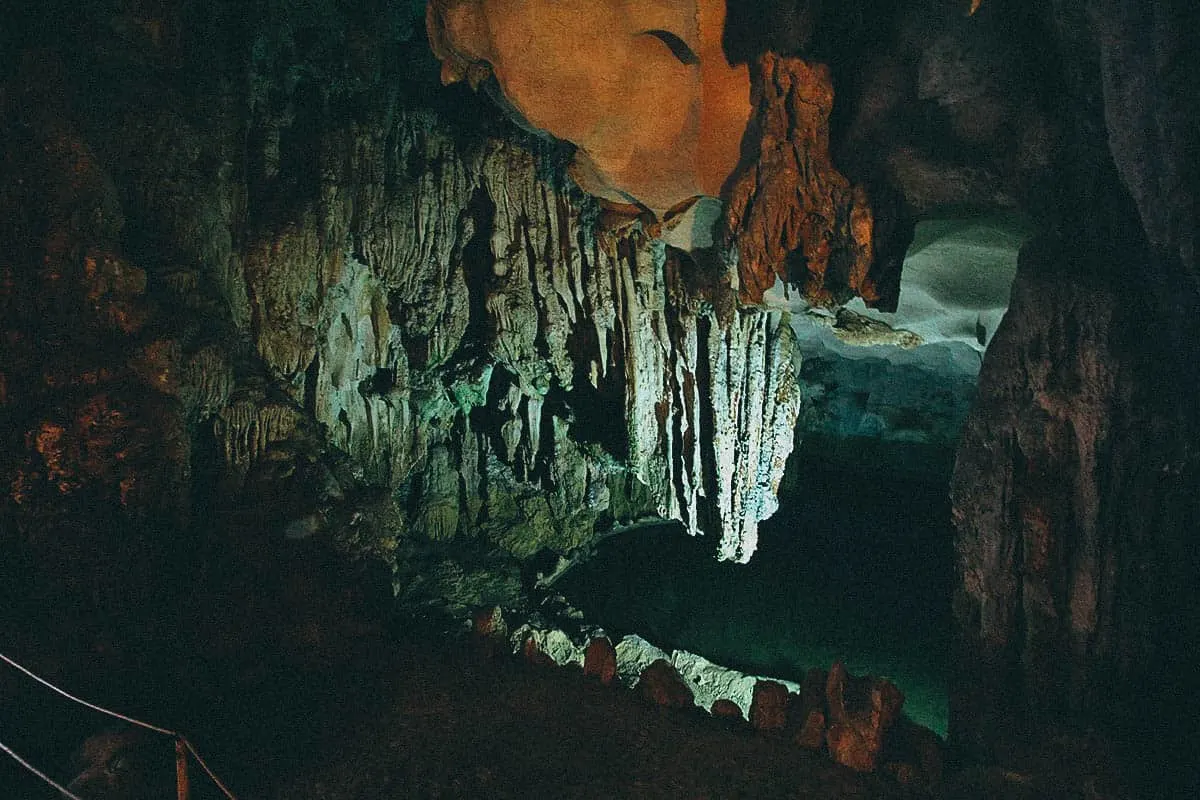 According to Bien, many tourists think that the smooth undulating surface of the cave's ceiling is manmade, like some type of cement was applied to protect it. Not true. Apart from the lights and cement walkway, all structures inside the cave are natural.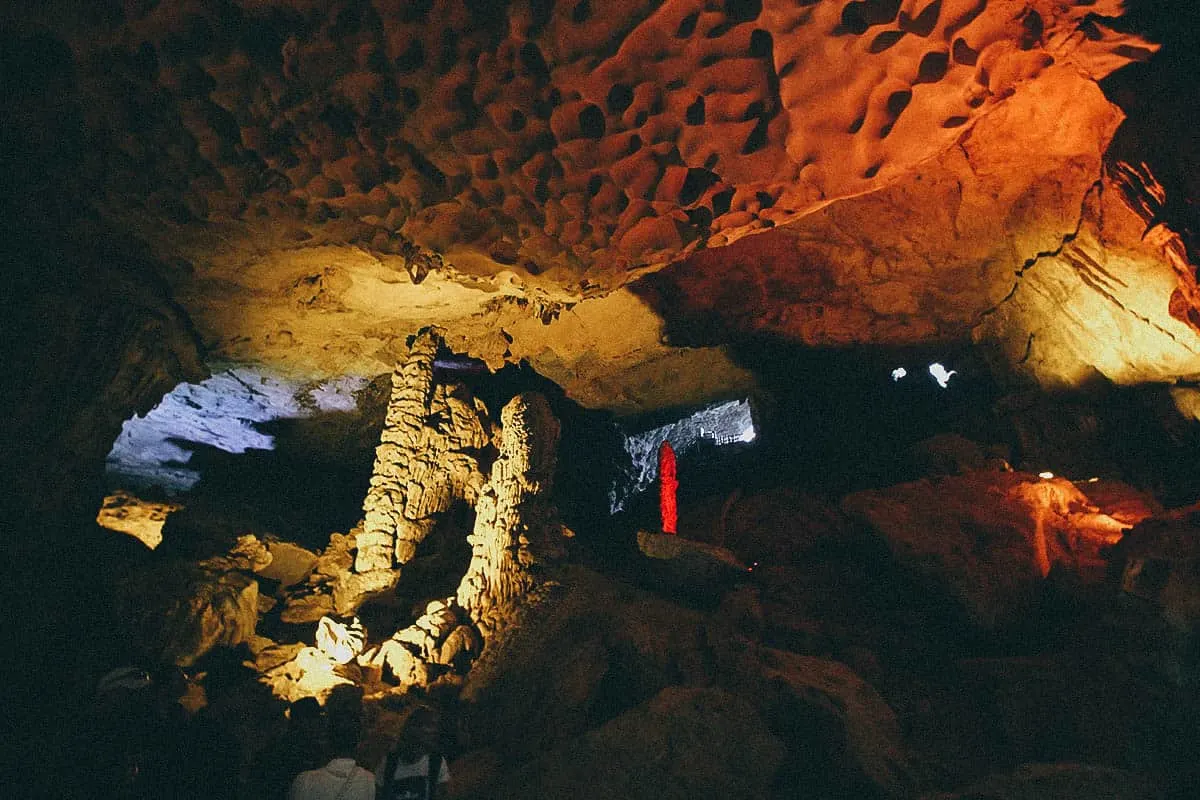 Like this phallic structure. Can you see it? Lit by a pinkish light, this penis-shaped rock is recognized as a fertility symbol by locals. 😆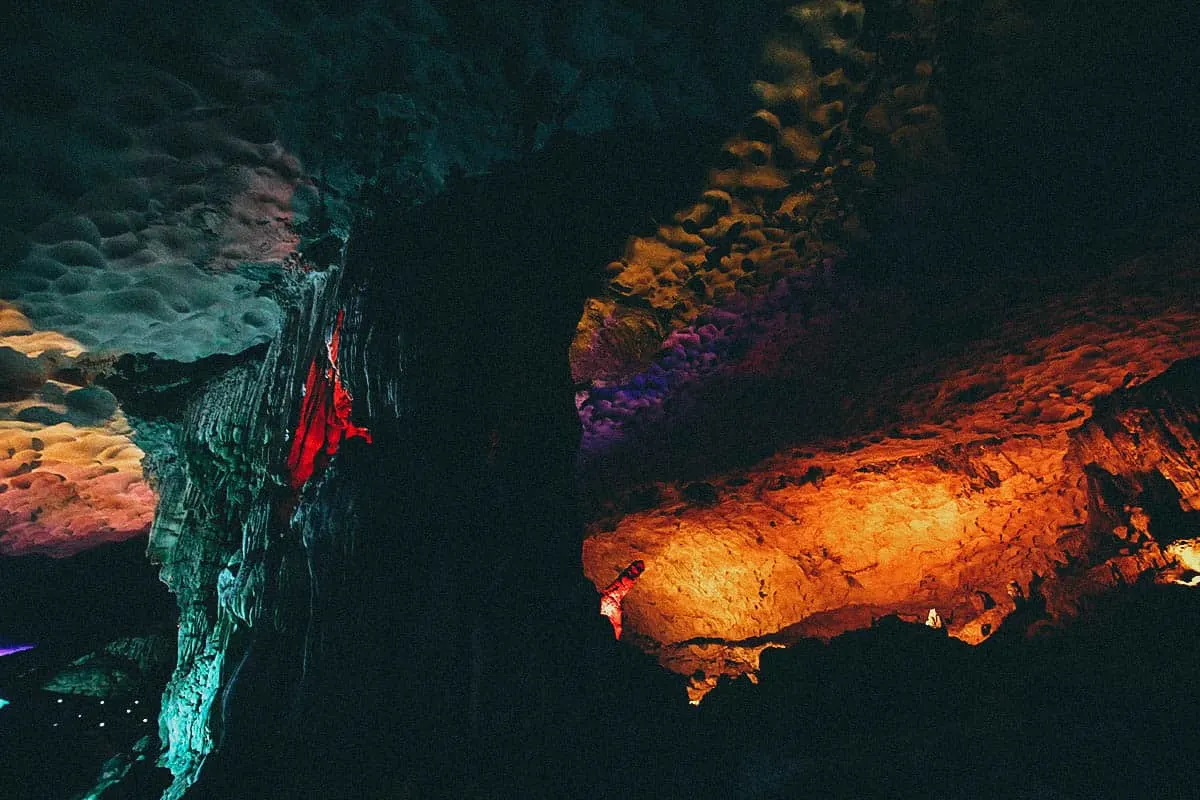 This cave is huge, its ceiling approximately 30 meters high.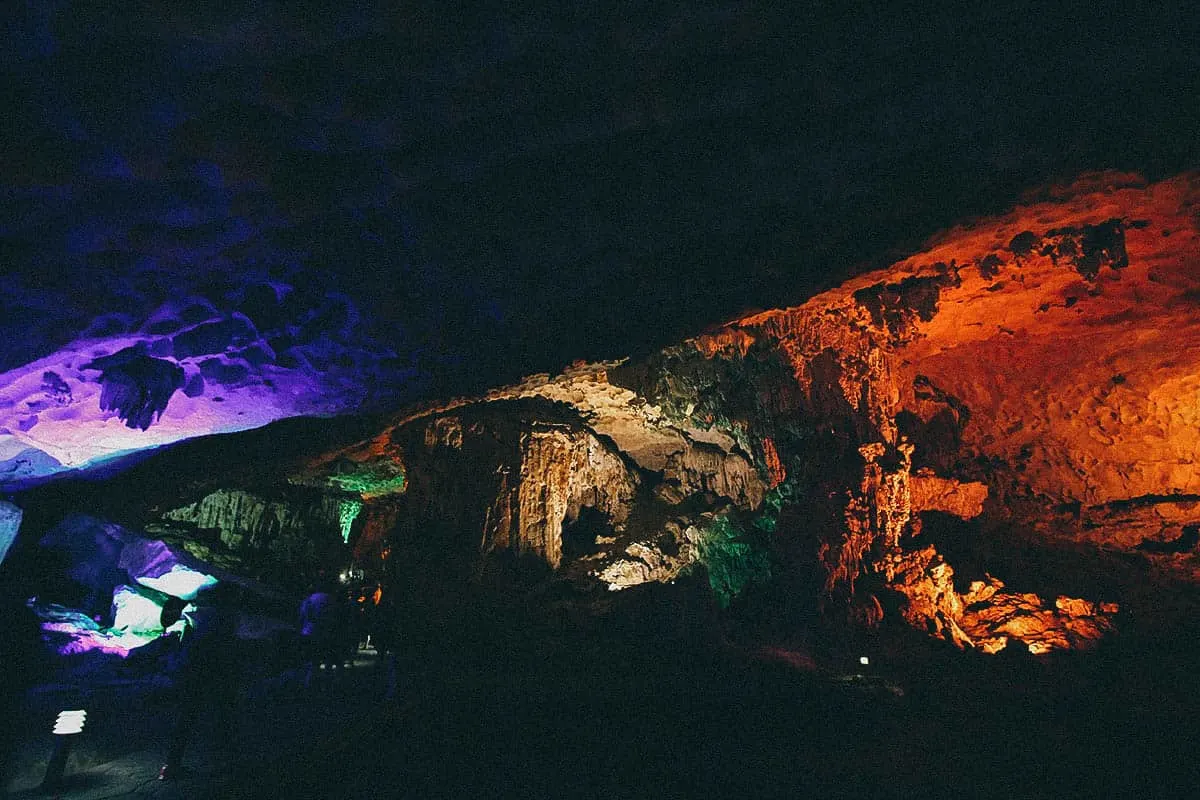 Like many caves, Sung Sot Cave's stalactites and stalagmites are said to resemble figures and animals in varying poses.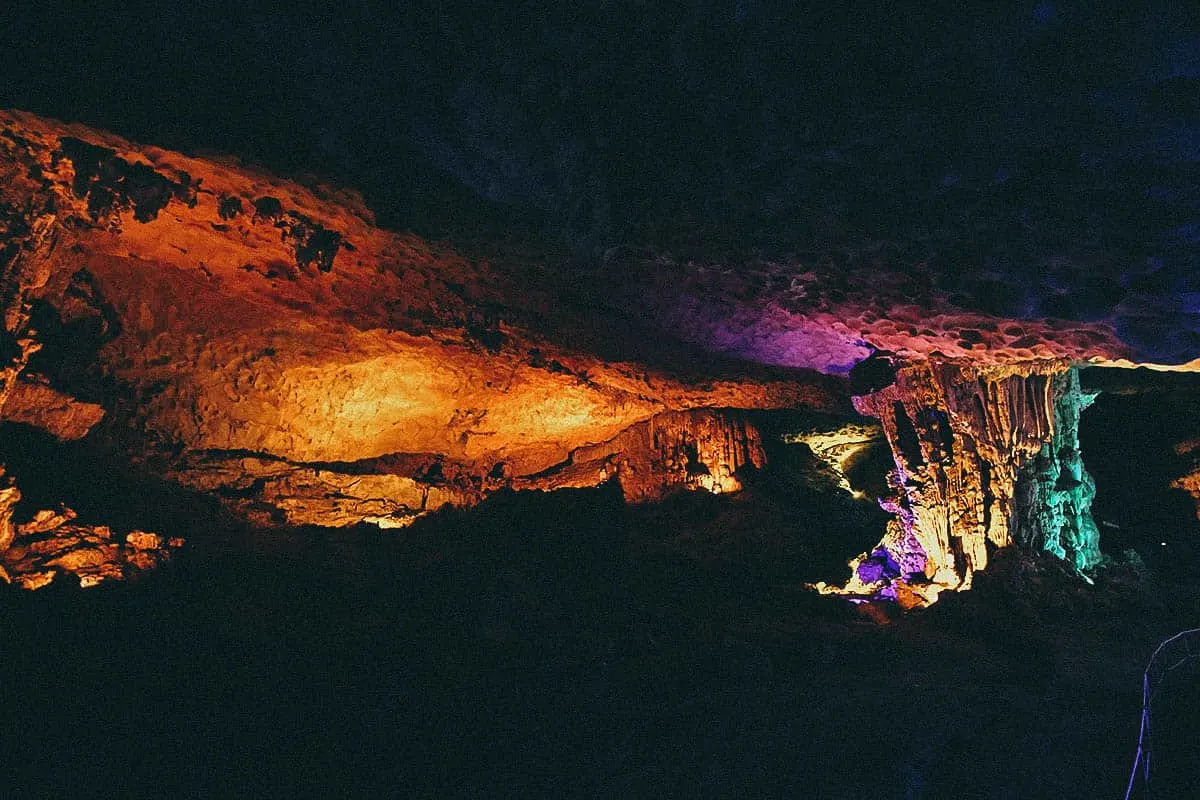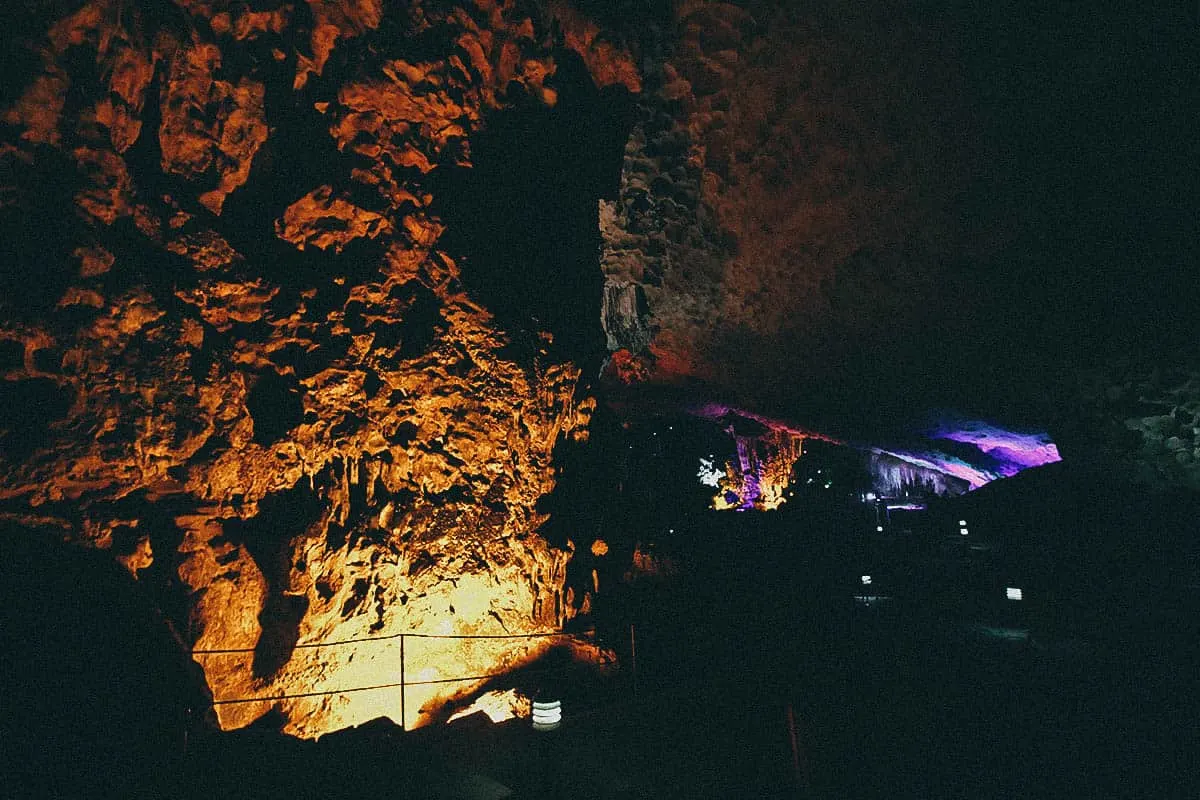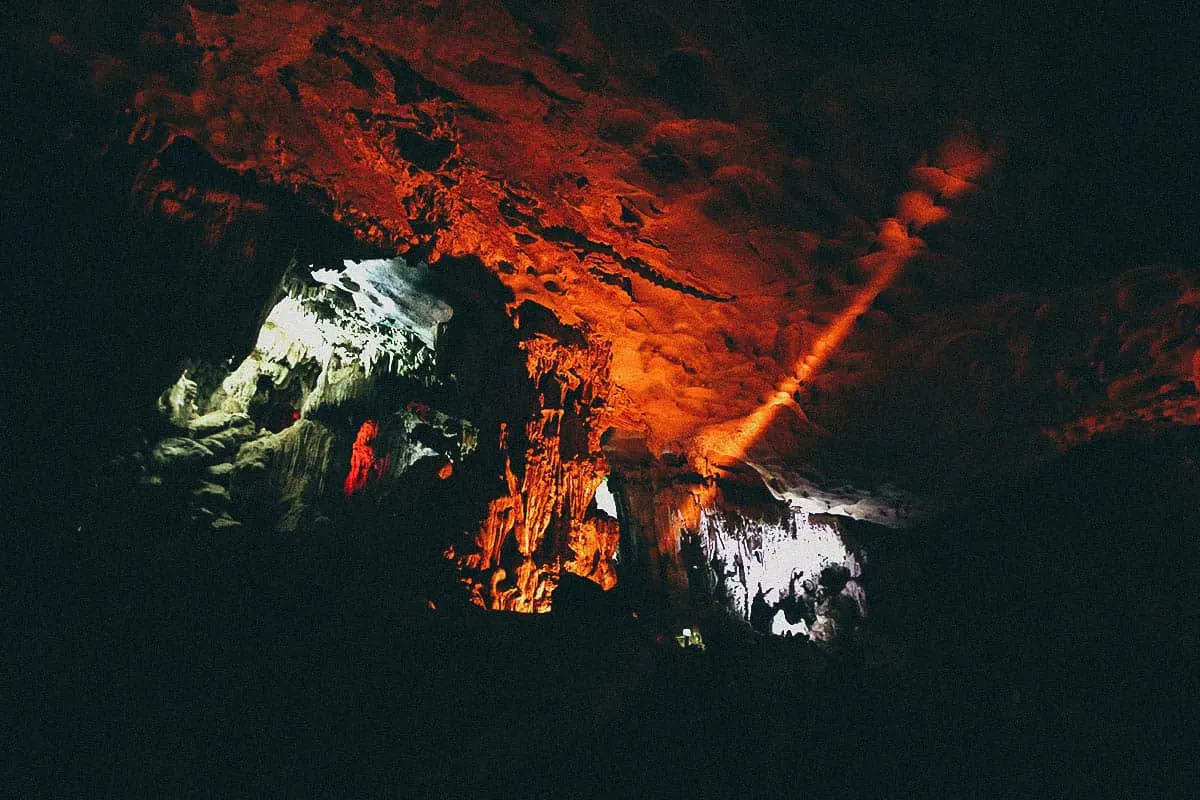 It's like a symphony of color and texture. Bo Hon is one of the largest island chains in Ha Long Bay and home to other cave systems like the aforementioned Luon Cave, Trinh Nu Cave (Virgin Cave), and Trong Cave.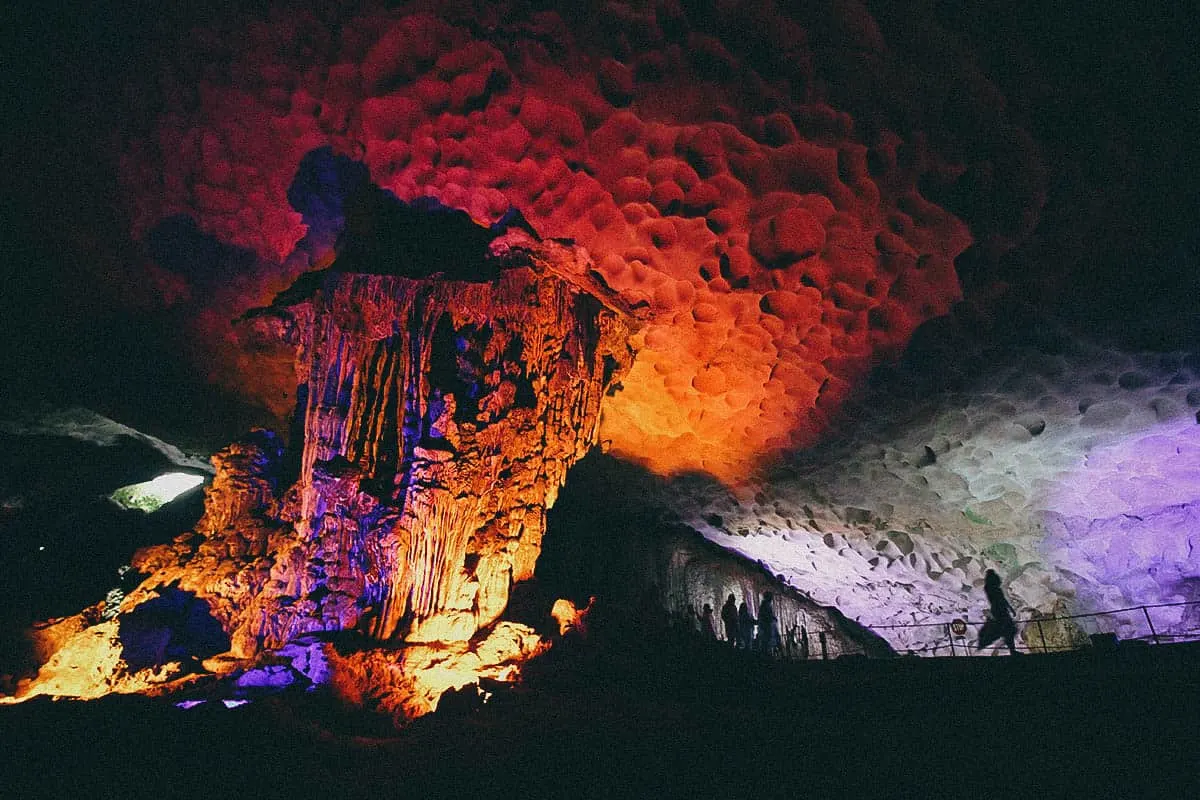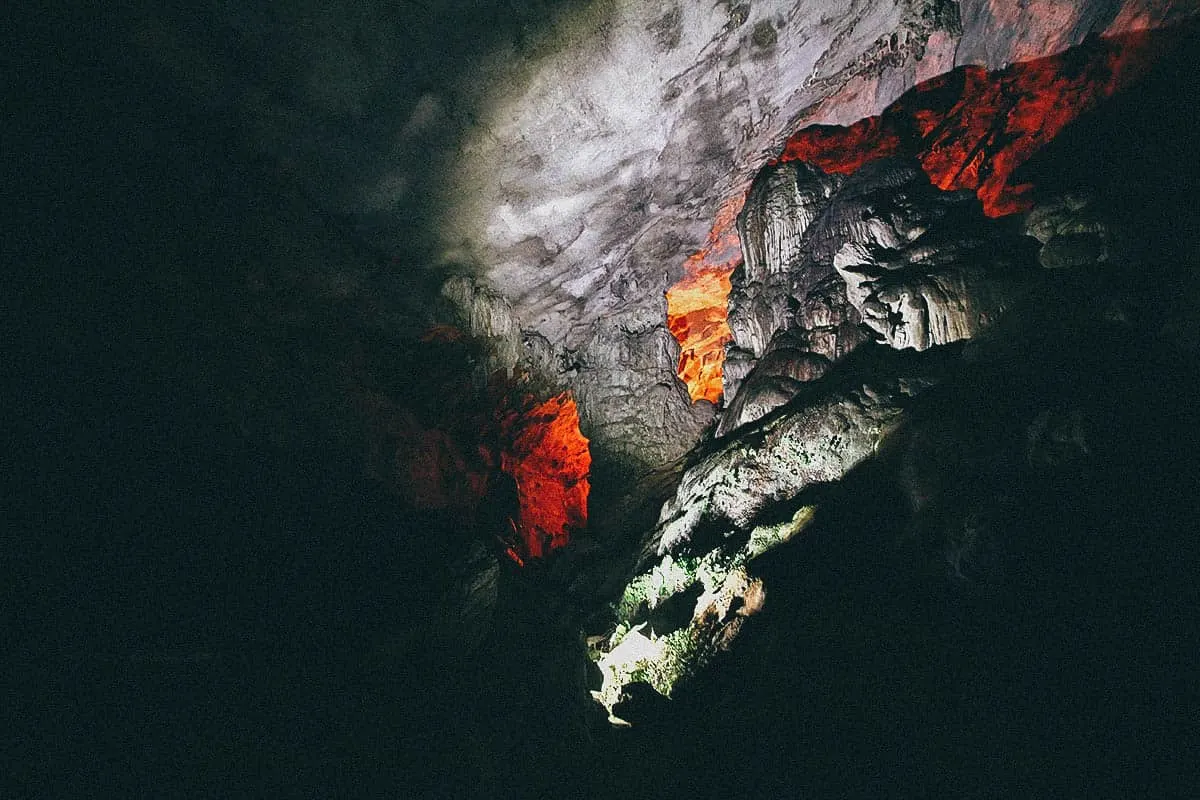 Cooking Class
After our visit to Sung Sot Cave, Bien gave us a demonstration on how to assemble nem rán (or chả giò) which are Vietnamese fried spring rolls.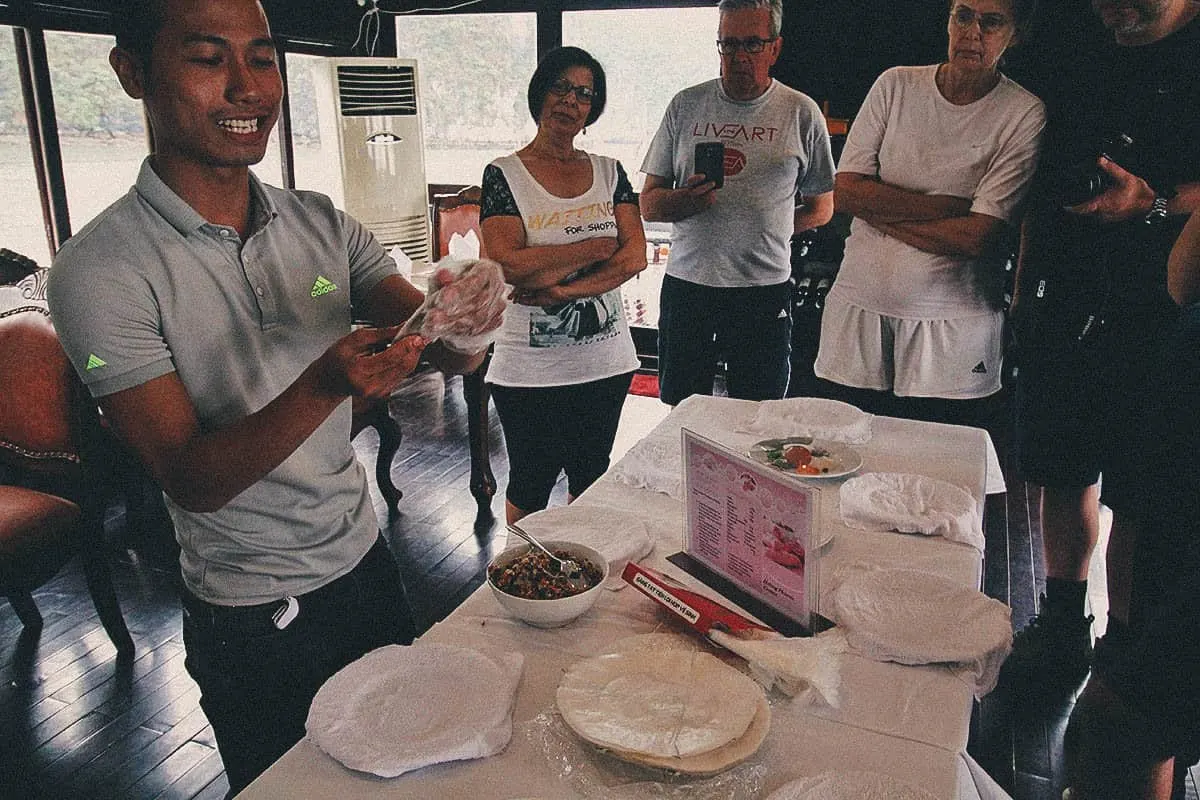 You take spoonfuls of minced pork and vegetables and roll them up in thin sheets of Vietnamese rice paper.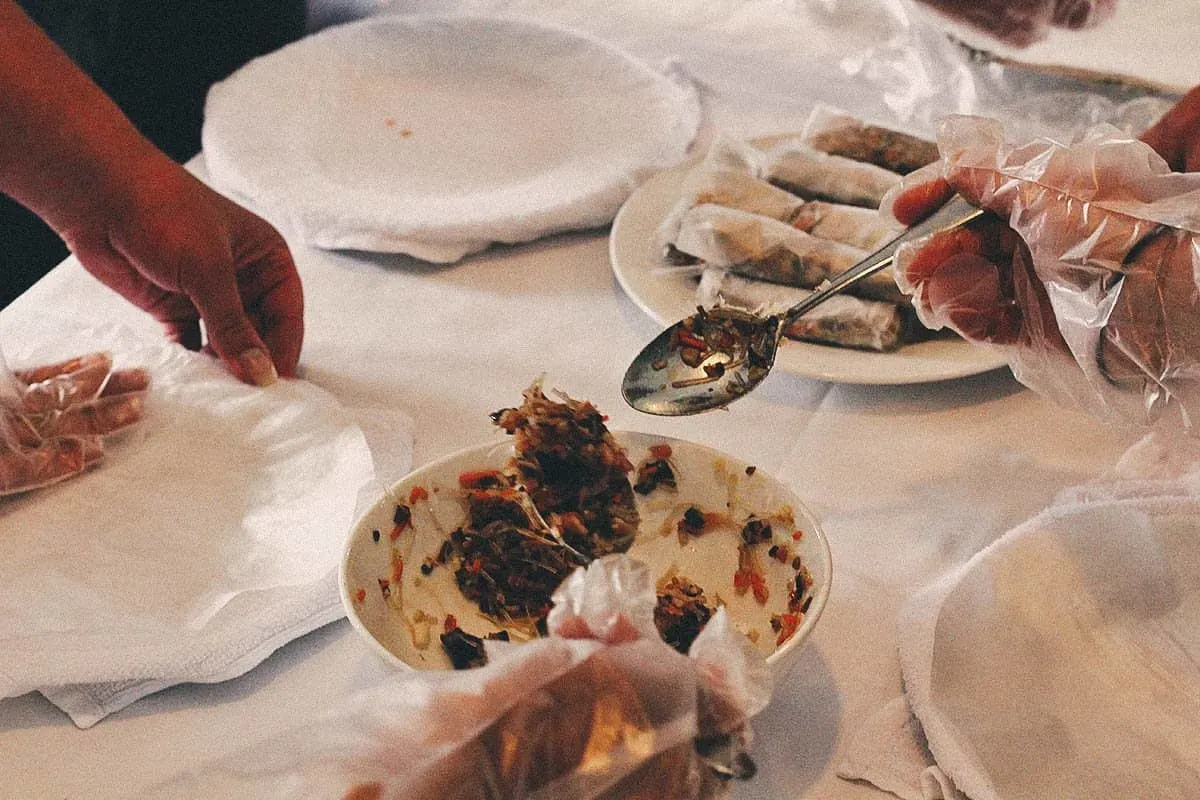 And voila! Ready for the deep fryer.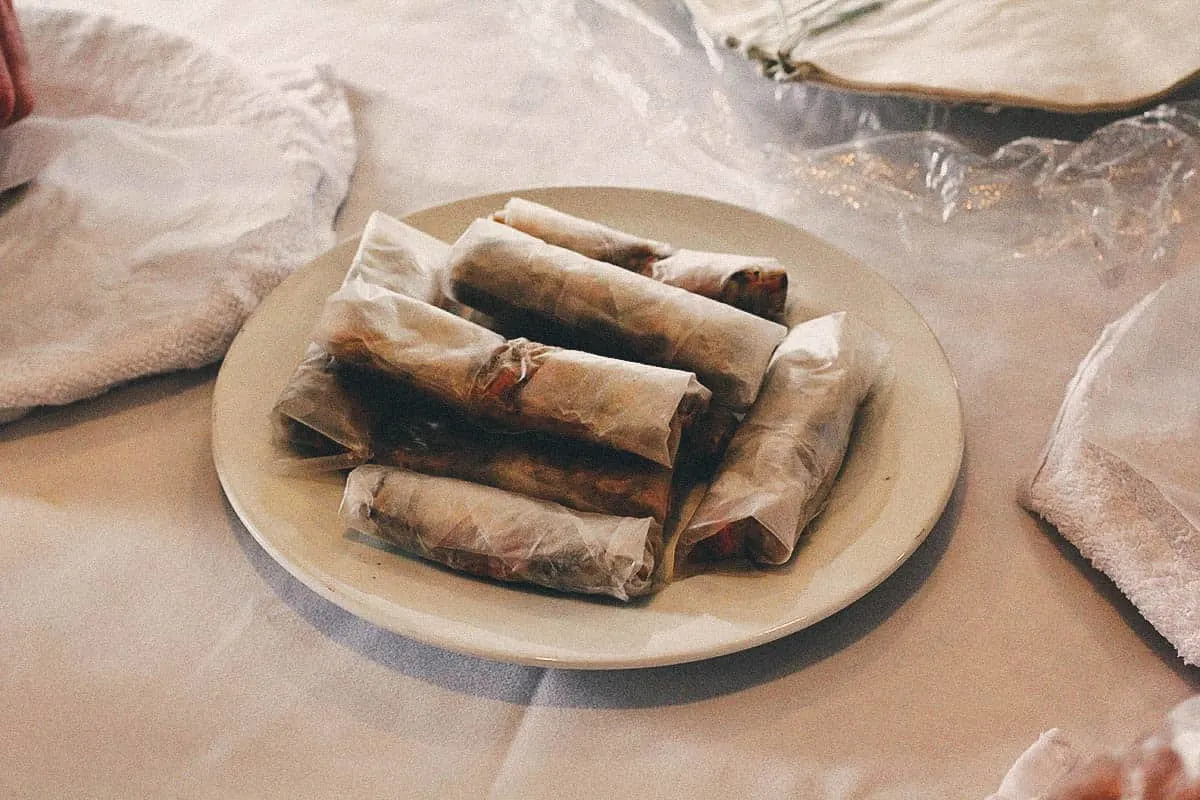 Our last meal was lunch while making our way back to Tuan Chau Marina Pier. It may have been the best. Aside from the nem rán which we helped make, we also had fried calamari, chicken curry, green papaya salad, and steamed carrots and chayote. Delicious! It was Ren's birthday today so we treated our new friends Olga and Rinaldo to a few beers. Salud!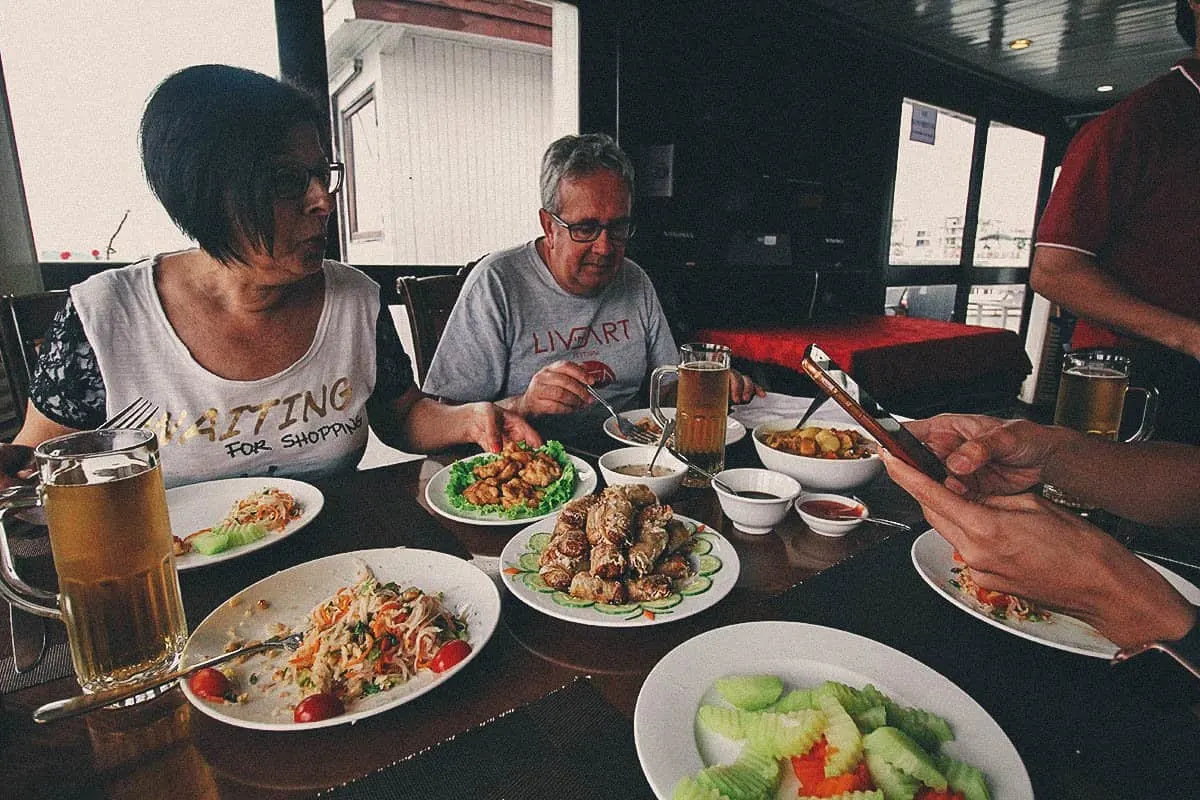 We had a wonderful time in Ha Long Bay. The ship was comfortable and our meals were delicious and abundant. Bien and the rest of the crew were courteous and engaging and they did everything they could to make our stay as enjoyable as possible. If you do go on a Ha Long Bay cruise, then be sure to leave the crew a good tip. It'll go a long way.
Best of all, we enjoyed the company. Everyone was lovely and we appreciated the time we got to spend with them. Unlike Ren who's gregarious and effusive, I tend to keep to myself most of the time but sharing meals with other travelers like this helped bring me out of my shell. It reminded me that travel is every bit as much about the people you meet as the places you see and the food you eat. On top of that, we were all dog people too so that was another thing that bonded us. Dog people are always the best people. 😀
As described at the top of this post, choosing the right tour provider can be a daunting task. Google "ha long bay cruise" and you'll see just how many there are to choose from. Aside from picking the right company, you'll need to decide how long you'd like your cruise to be. The most popular options seem to be a day trip, 2D1N, and 3D2N.
Thankfully, I didn't have to make much deliberation. I'm a fan of travel websites like Klook and I often buy discount passes from them. When I saw that they offer Ha Long Bay Cruise packages, I didn't need to look anywhere else. On Klook, at the time of this writing, a 2D1N Deluxe cruise package goes for just USD 144 for a single and USD 228 for a twin/double room, down from USD 179 and USD 359 respectively. That's a pretty sizable discount. I checked the Halong Phoenix Cruiser website to confirm regular prices and it's true. You can check that link to see for yourself.
I trust Klook and I couldn't pass up that big a discount so the decision was easy for me. I wound up paying a total of USD 228 (from USD 359) for the 2D1N Deluxe Cruise which included our room, all the meals above, all attraction entrance fees, and round trip transportation from Hanoi. Pretty good deal right? Aside from this Ha Long Bay Cruise, I purchased Klook vouchers for pocket wifi rental and a day trip to Hoa Lu and Tam Coc as well. We were happy with all of them.
As for the length of the cruise, I did some research and determined that 2D1N was the perfect length for us. It's 3.5 hours each way from Hanoi so the day trip was out of the question. It's too short and rushed and it won't give you a complete Ha Long Bay experience. Some people said that 3D2N felt a little long and redundant so we figured 2D1N was the perfect amount of time for us, and it was. It gave us a fulfilling Ha Long Bay experience and we never felt rushed or bored. If you have no particular interest in sailing or exploring as much of Ha Long Bay as you can, then 2D1N is the ideal amount of time in my opinion.
But as described at the top of this post, no matter which tour provider you go with or how long you stay, a trip to Ha Long Bay is a must if you'll be spending any time at all in Northern Vietnam. It's a special place. With its towering karsts and murky jade green water, it makes you feel like you're in a different world, or at least a different time. Mysterious and eerily beautiful, perhaps dragons really do live there.