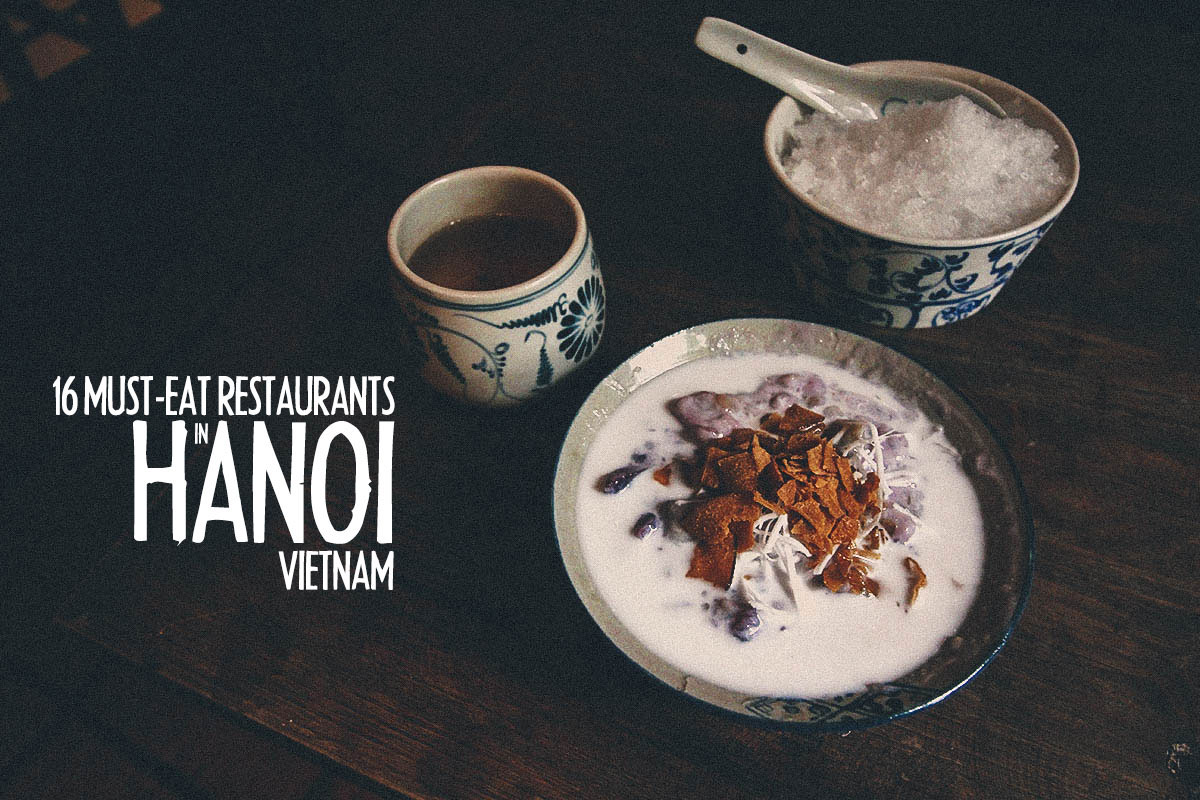 Hanoi Food Guide: 16 Must-Eat Restaurants & Street Food Stalls in Hanoi, Vietnam
Hanoi gave me my first real taste of Vietnamese food. Before we touched down in this city, I had little experience with the cuisine except for the most basic of dishes like pho and banh mi. I preferred rice over noodles and I hadn't tasted real banh mi so Vietnamese cuisine was never one of my favorites. But Hanoi changed all that.
I remember the exact moment when it happened. We were at Quán Gốc Đa, a street food stall in the Old Quarter known for their nem cua be, or deep-fried pork and crab spring rolls. As tasty as it was, there was nothing exotic or remarkable about the dish. It was just a simple fried spring roll, similar to the ones I grew up eating in my native Philippines. What was different about it though, was how you ate it.
Unlike the fried spring rolls back home which people typically ate with just ketchup or vinegar, the Vietnamese enjoy theirs with a dipping sauce made with water, cucumber slices, fish sauce, and other ingredients. They're served with a heaping bowl of fresh greens like lettuce, coriander, perilla, and mint, which you would dunk into the watery bowl with the nem cua be, then eat all together. I've eaten fried spring rolls all my life and I always found them to be greasy and unctuous. But these Vietnamese spring rolls, in spite of being deep-fried and oily, were surprisingly refreshing. And much of that had to do with the balance of ingredients. It was an eye-opening experience for me, one that taught me a lot about the Yin and Yang of Vietnamese food.
We ate at Quán Gốc Đa on our very first day in Hanoi and that experience made me eager to cross off all the dishes on our list. From the tastiest bún chả to the most succulent chả cá, we spent several days seeking out the best of Hanoi's street food. This list of 16 must-eat places is the culmination of our quest. Many of these eateries can be challenging to find so I've pinned them all on a map at the bottom of this post.
Save This on Pinterest!
No time to read this now? Click on the red save button and pin it for later!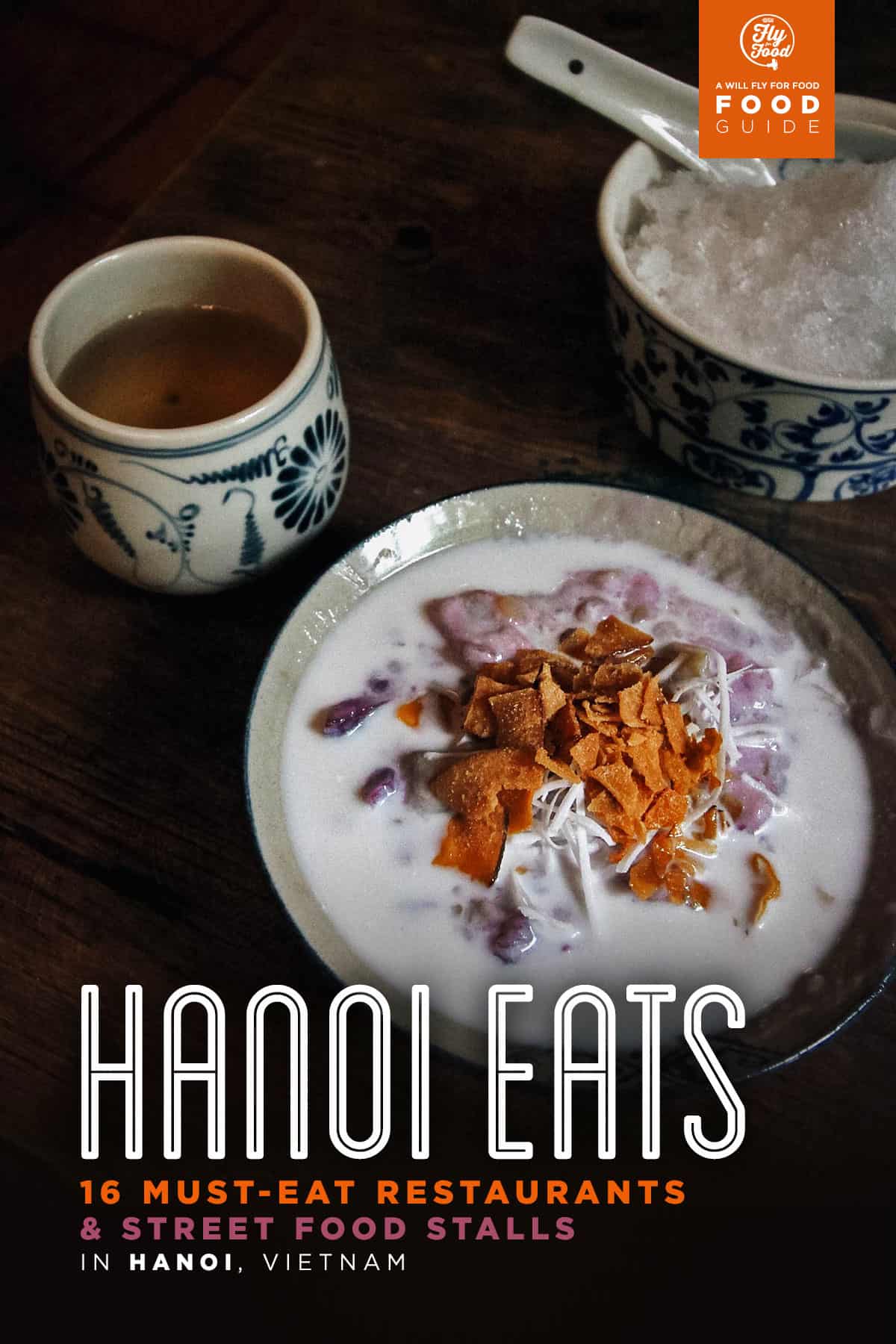 1. Bún Riêu – Hàng Bạc
Many blogs point to this humble stall at 11 Hàng Bạc Street as serving some of the best bún riêu cua in Hanoi. I had never heard of bún riêu before this trip to Vietnam. But as it turns out, it's one of the most popular and comforting dishes in Vietnamese cuisine. The way some people have described it, it sounds like the Vietnamese equivalent of chicken noodle soup for Americans.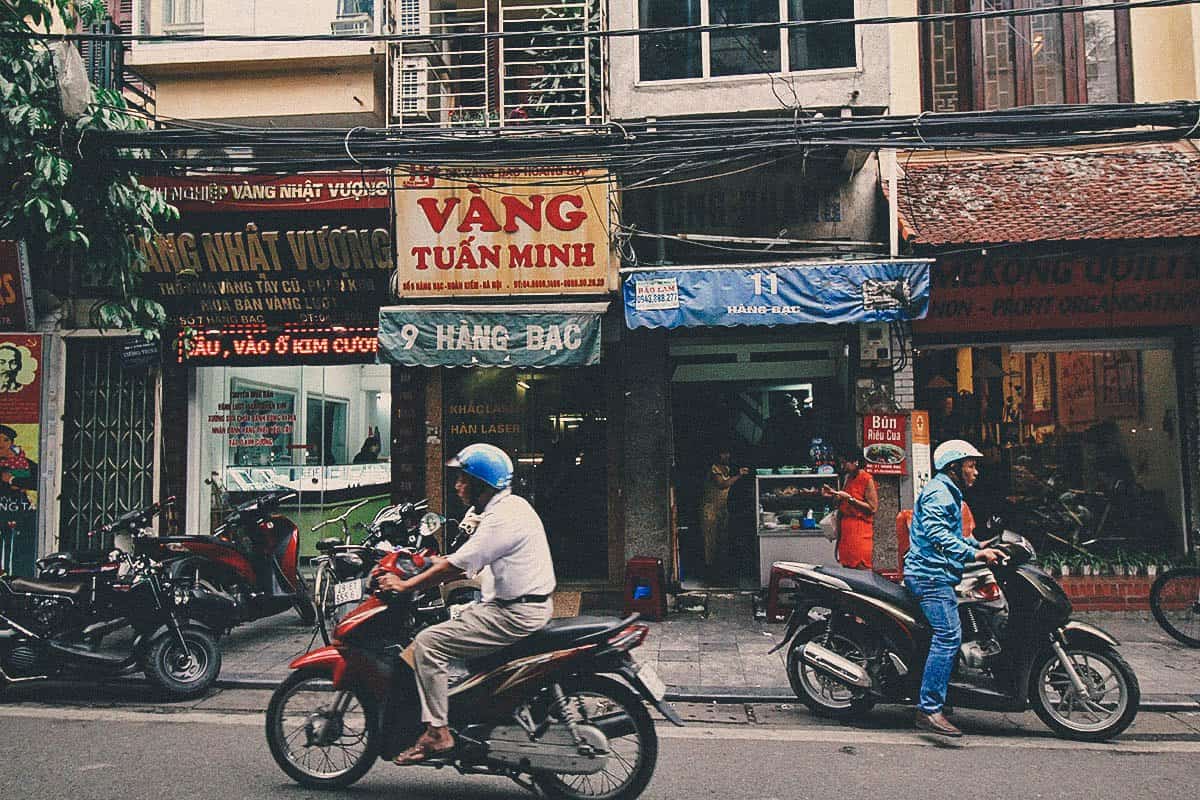 Bún Riêu is a traditional Vietnamese rice vermicelli soup. There are different types of bún riêu, but what we had here today was bún riêu cua, a popular version made with crab, tomatoes, pork, and tofu. Bún riêu cua is served with tomato broth and topped with freshwater crab, specifically rice paddy crabs, which are pounded with the shell into a fine paste before being strained. The crab liquid is then used as a base for the soup along with tomatoes, giving it a wonderful tangy flavor. I love crab and tomato-based dishes so this was one of my favorite noodle soups in Vietnam.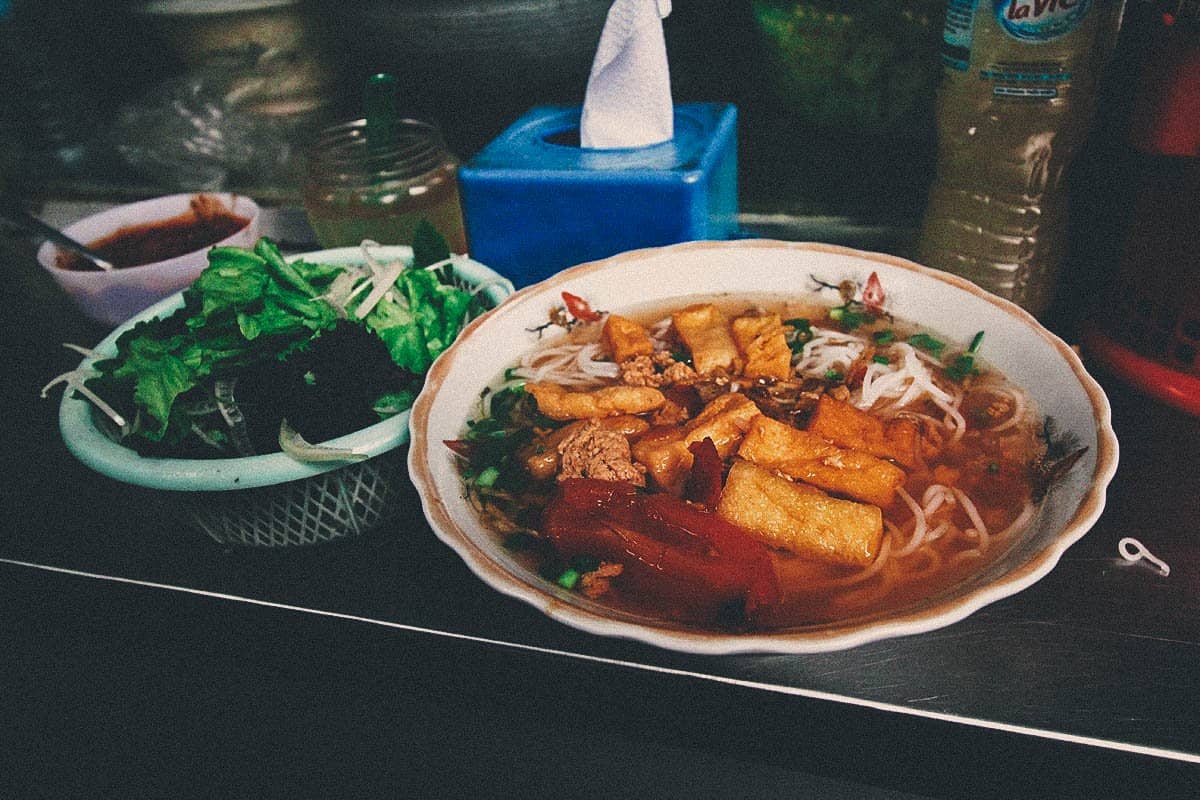 The rice vermicelli is shaped like spaghetti and firmer than pho noodles. The soup is flavorful enough as it is but you can spruce it up with a host of condiments like chilies, lime, shrimp paste, and a basket of fresh greens. Looking at this picture now while writing this post is making me hungry all over again. I loved the tartness from those stewed tomatoes!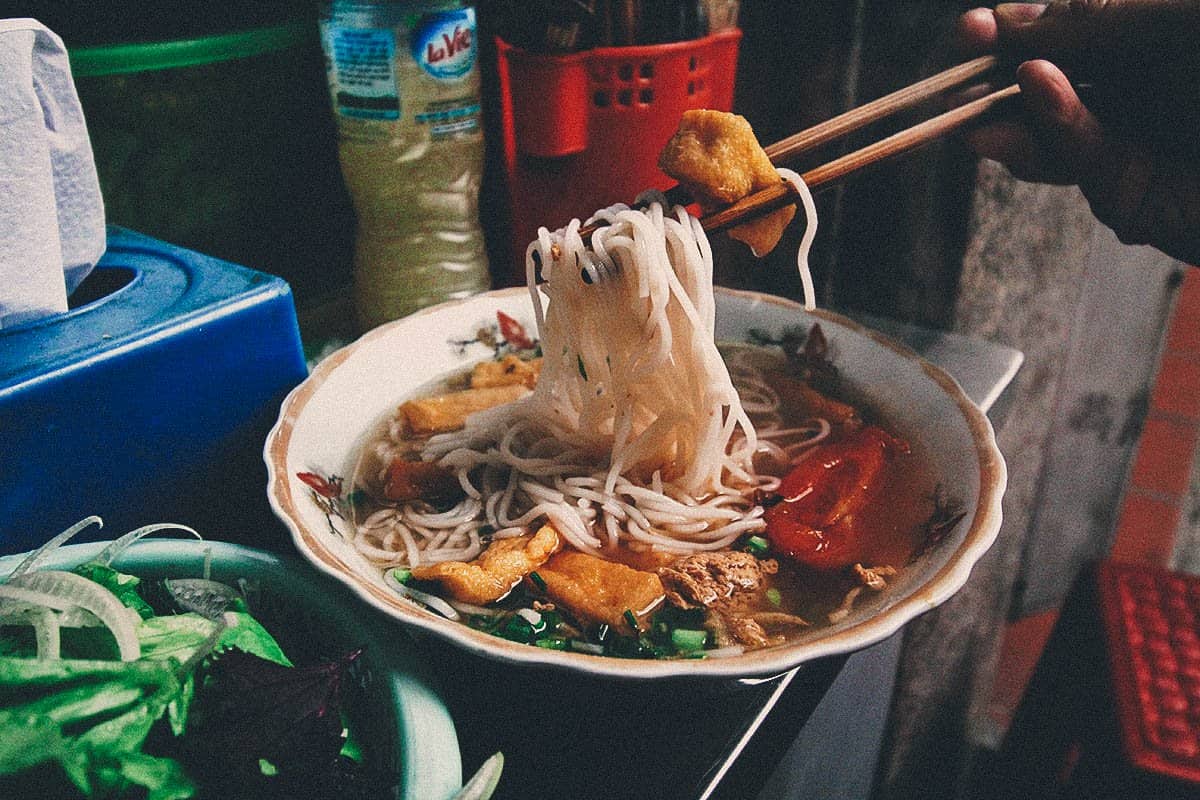 It's so easy to be healthy in Vietnam. One of the things I love most about their food is how they often serve it with so many fresh greens. You take these greens and dump them into your soup so you feel like you're eating soup and salad all at once! I'm not sure what all these vegetables are but they look like a mix of perilla, mint, lettuce, and water spinach. Does anyone know the name of those translucent sickle-shaped vegetables?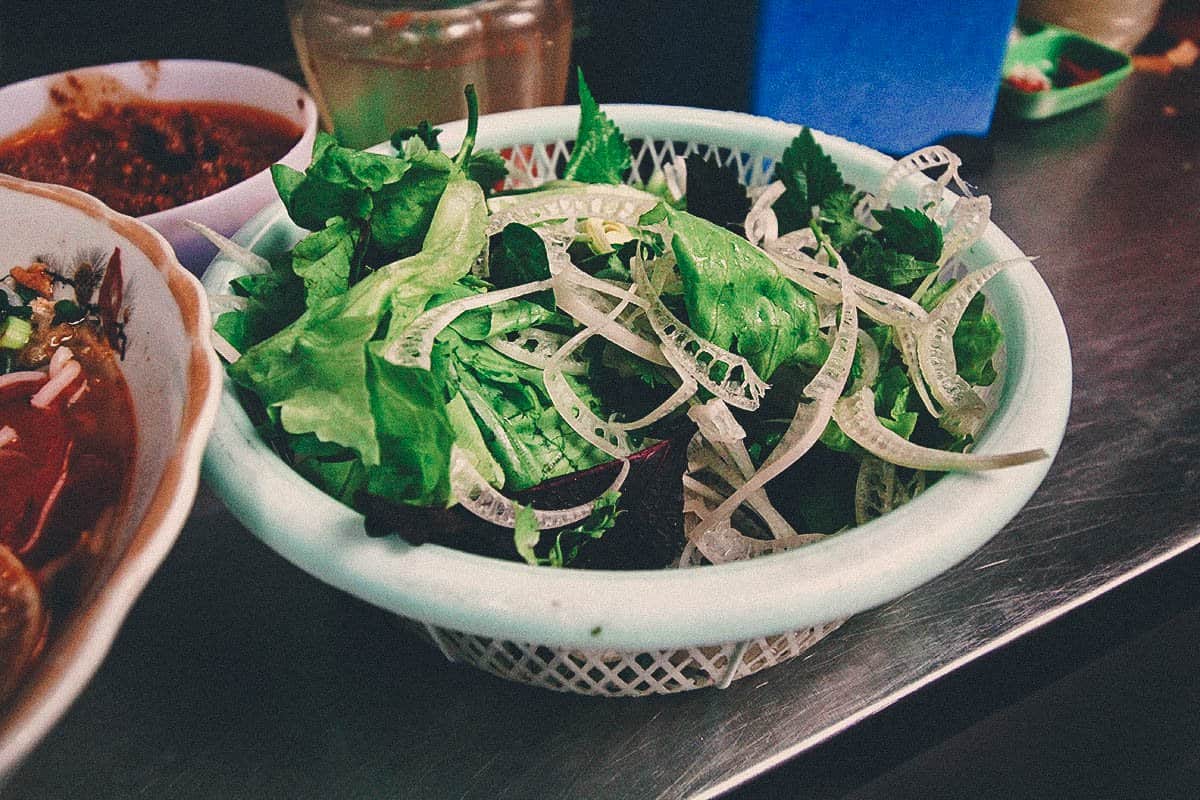 I just love eating authentic local dishes on the street. Noodle soup is a common breakfast item in Vietnam so we enjoyed this delicious bún riêu cua by the sidewalk on our last morning in Hanoi. We flew to Hoi An shortly after.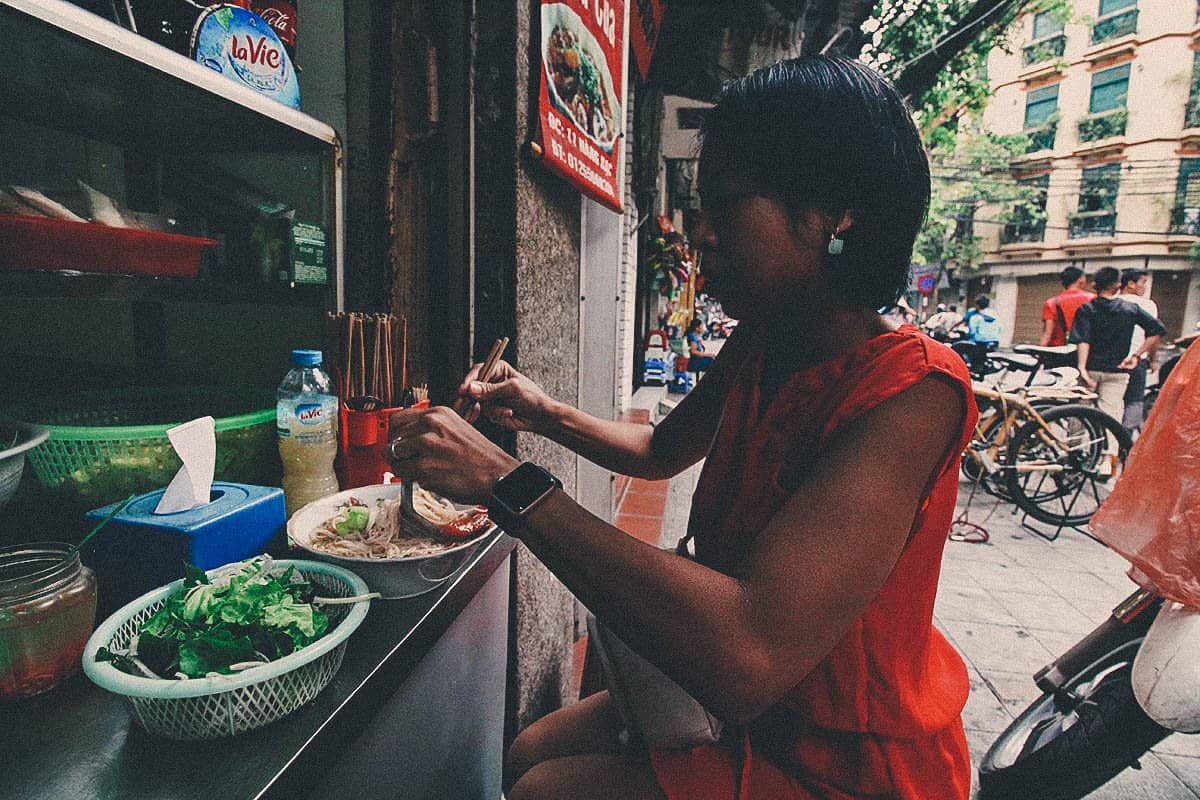 Address: 11 Hàng Bạc, Quận Hoàn Kiếm, Hà Nội
Operating Hours: 7AM-10:30PM, daily
Expect to Pay: VND 30,000 per order of bun rieu
2. Bánh Cuốn Gia Truyền Thanh Vân
This restaurant is known for a dish called bánh cuốn. When we were there, it was obvious how popular this place is by all the tourists looking for it. There were even a couple of tour groups that stopped here for a bite to eat.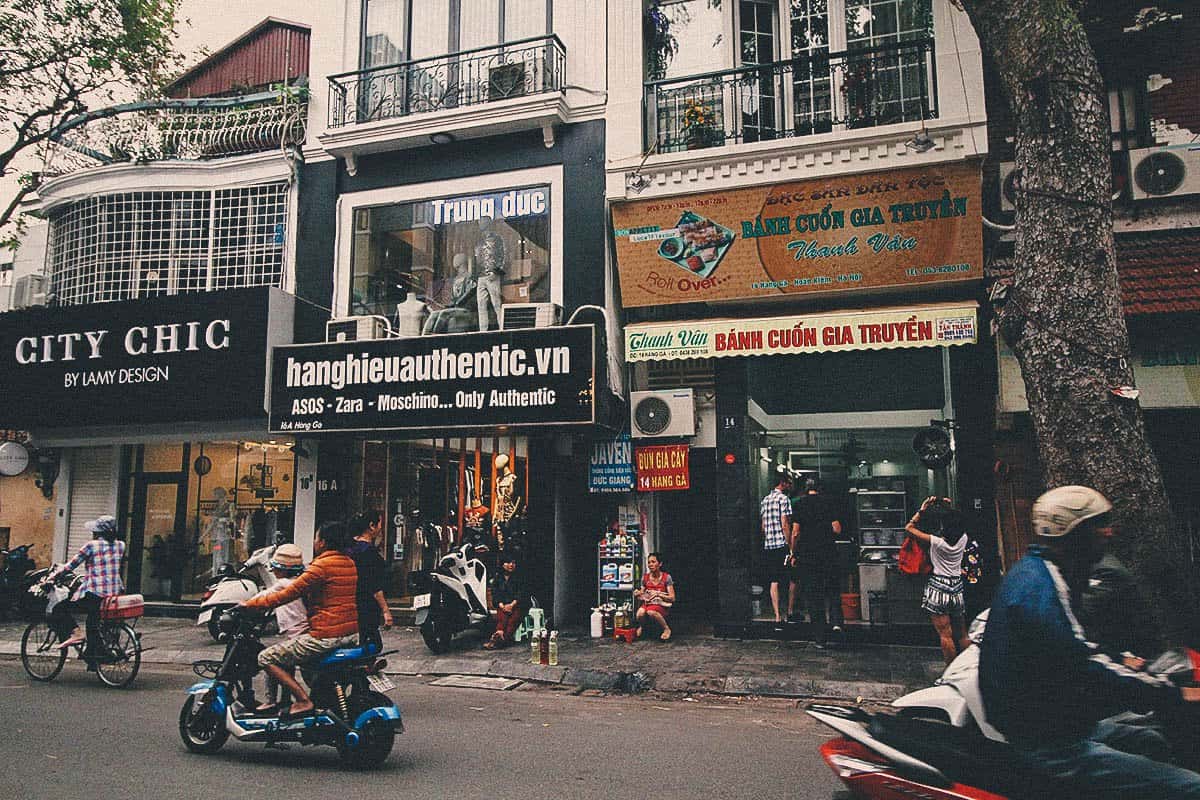 In front of the shop you can watch them make the bánh cuốn. Bánh cuốn is made from a thin sheet of steamed fermented rice batter filled with seasoned ground pork and wood ear mushrooms. Based on my research, bánh cuốn rice sheets are traditionally made by steaming rice batter on a cloth stretched over a pot of boiling water, but that didn't seem to be the case here. One woman would ladle a scoop of the batter onto this convex metal surface. It would quickly solidify into a thin delicate sheet that the other woman would then fill with ingredients and roll up before cutting with scissors into bite-sized pieces. You can tell they've been doing this for a long time by how quickly they were working. It was like one roll after the other non-stop!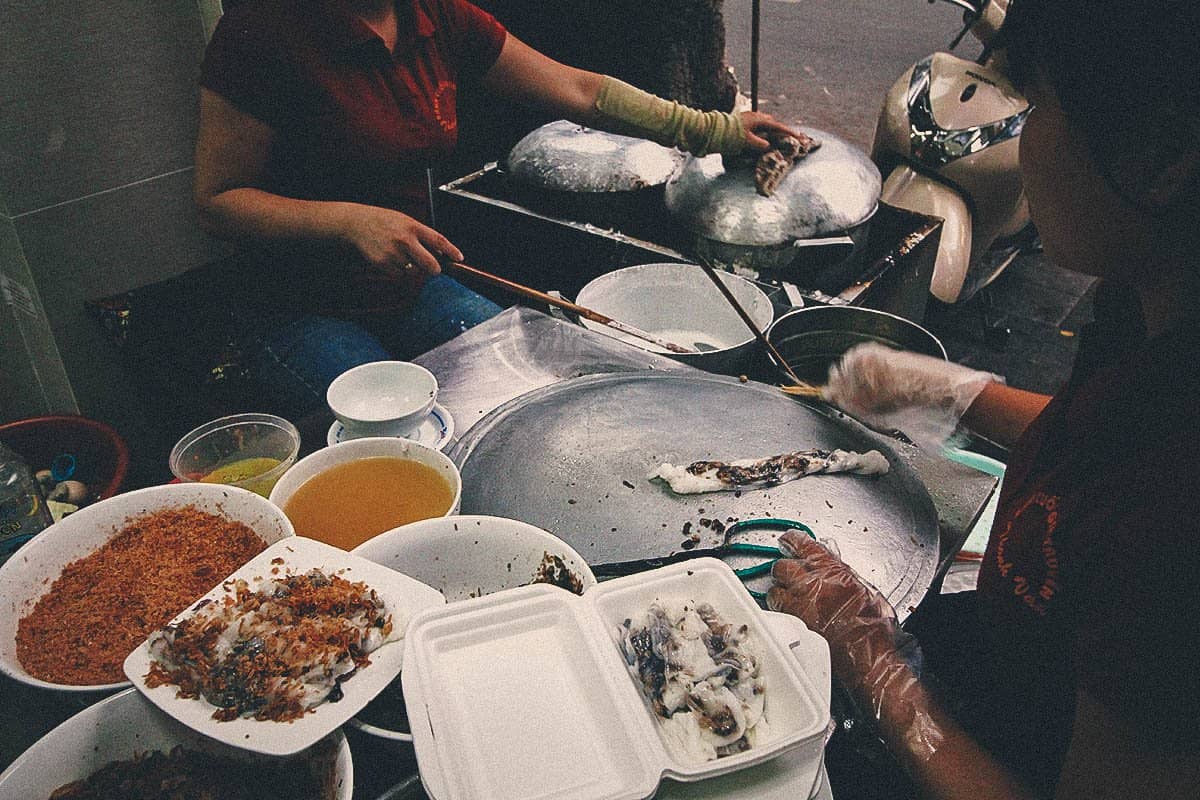 From what I understand, bánh cuốn is typically made with pork (bánh cuốn nhân thịt) but this restaurant offers other varieties as well, including rolls made with shrimp (bánh cuốn nhân tôm tươi). They're topped with herbs and fried shallots and served with a bowl of nước chấm (fish sauce). I read that they're customarily served with a side of giò lụa (Vietnamese pork sausage), sliced cucumber, and bean sprouts but we didn't get those here.
Both varieties of bánh cuốn were delicious. The rice sheets were soft, slippery, and a little gummy. They reminded me of those rice noodle rolls called chee cheong fun served at Chinese dimsum restaurants.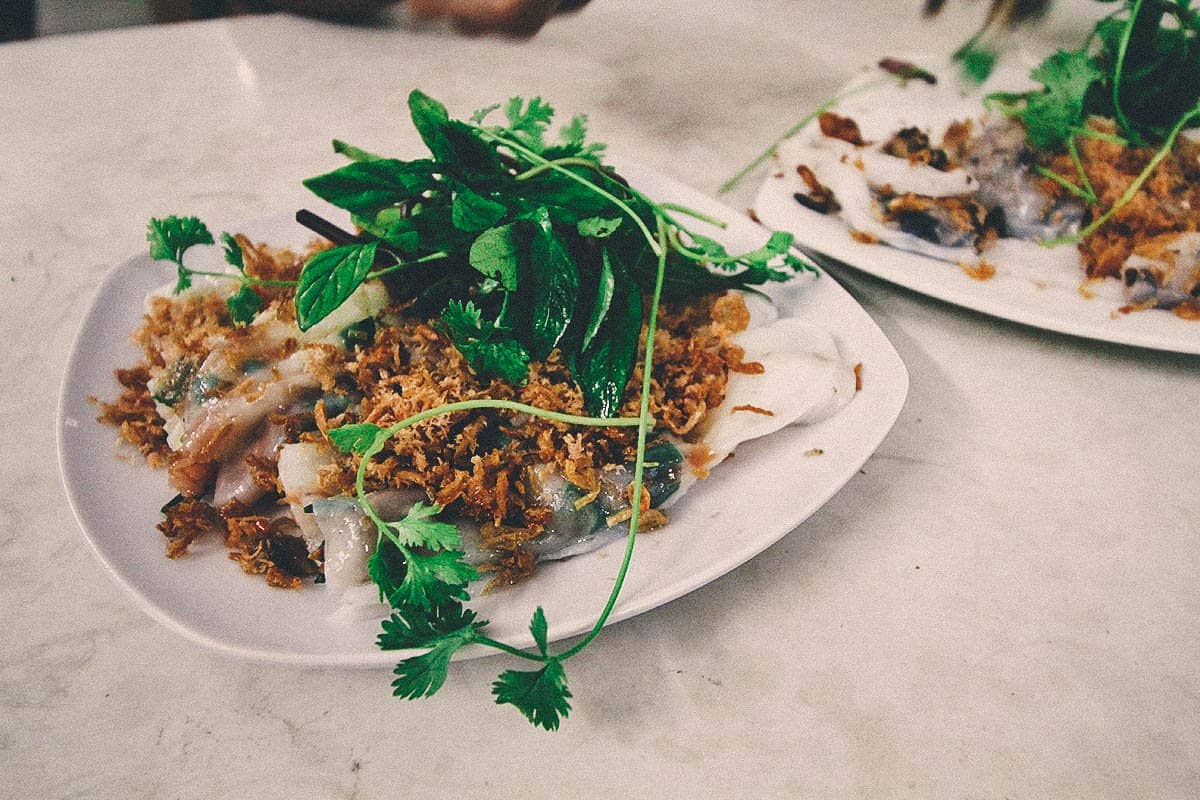 Address: 12 Hàng Gà, Hàng Bồ, Hoàn Kiếm, Hà Nội, Vietnam
Operating Hours: 7AM-1PM, 5-11PM daily
What We Paid: VND 85,000 for the pork and shrimp bahn cuon
3. Quán Gốc Đa
I don't know if there's a collective word for these types of dishes but Quán Gốc Đa is known for many varieties of deep-fried street food like nem cua be, bánh gối, and bánh tôm. This is the street food stall I described at the top of this post.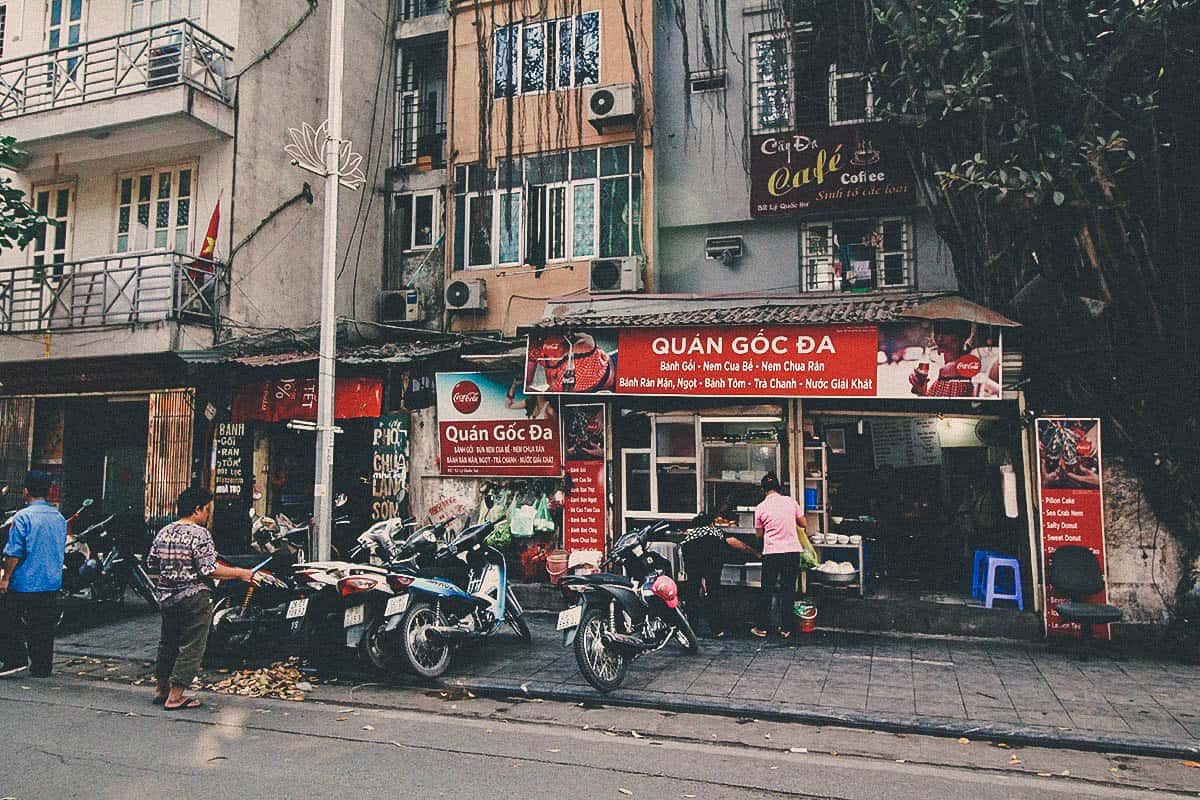 I'm not sure what all of these dishes are called but you'll find trays full of these deep-fried goodies. Since they've already been precooked and sitting out waiting to be refried, many people question the cleanliness of such dishes. We're Filipinos with iron stomachs so we didn't care. 😉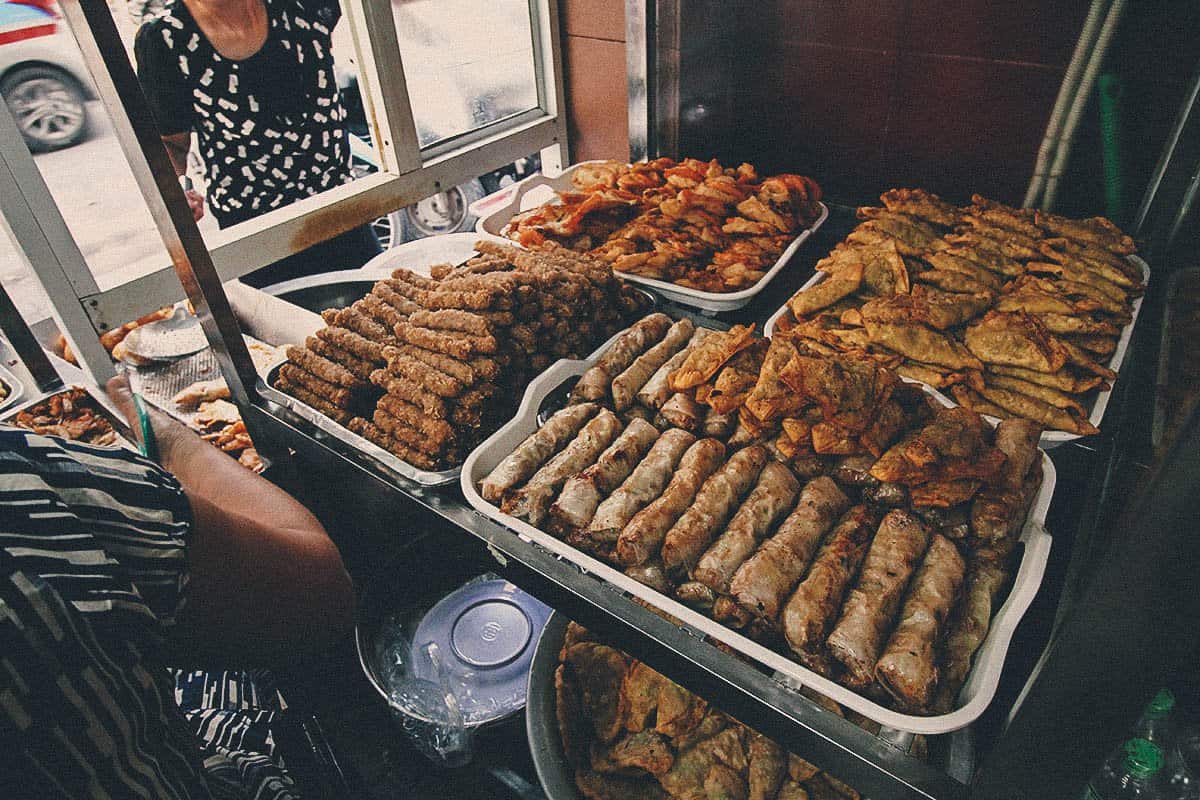 Because everything is already cooked, whatever dishes you order will just briefly go in the deep fryer to crisp up and reheat.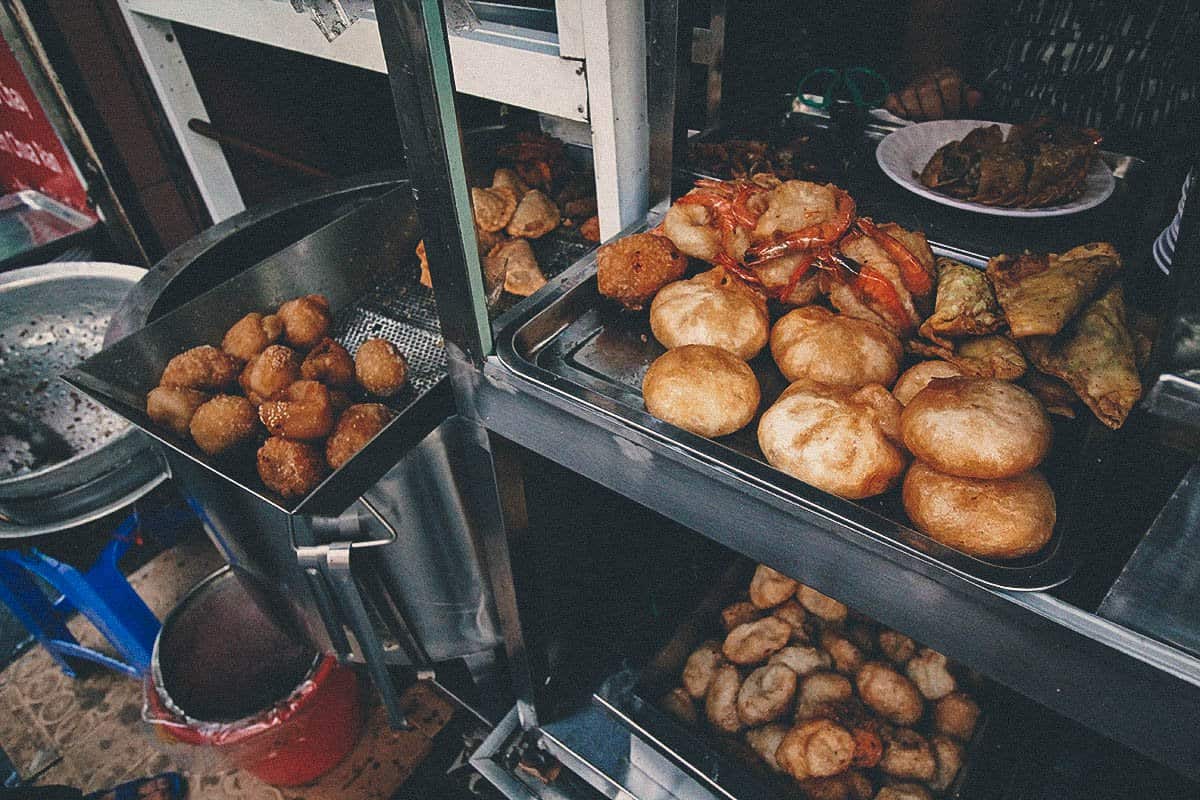 We read that the bánh gối here was good so we started off with that. Bánh gối is like a Vietnamese empanada filled with minced pork, mushrooms, glass noodles, and a quail egg. The filling is placed in the center of the pastry skin which is then folded and pinched closed in a half circle before being deep fried to a golden crisp. Bánh gối means "pillow cake" and it gets its name from its shape, which is said to resemble a pillow. Next to the bánh gối is another Hanoi specialty called bánh tôm, which is a sweet potato shrimp fritter.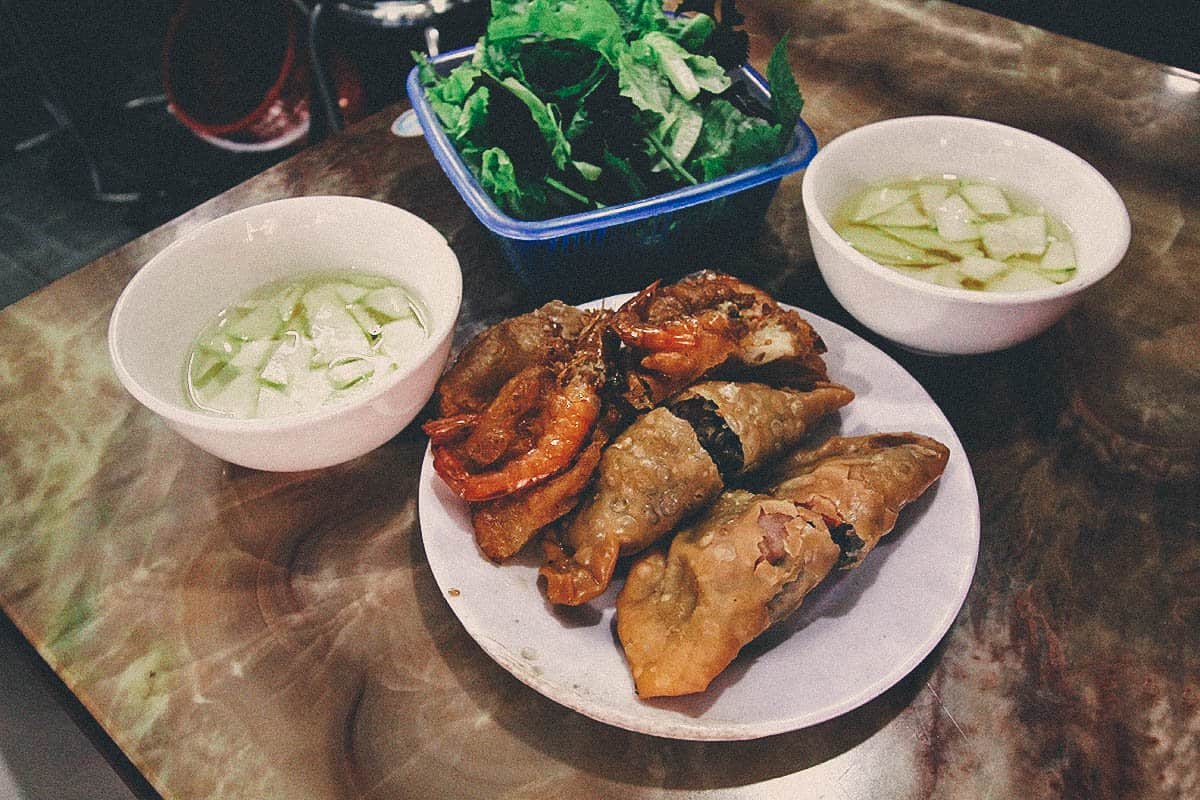 Quán Gốc Đa is also known for its nem cua be which are deep-fried crab and pork spring rolls. More than one blog has called their new cua be to be some of the best in Hanoi.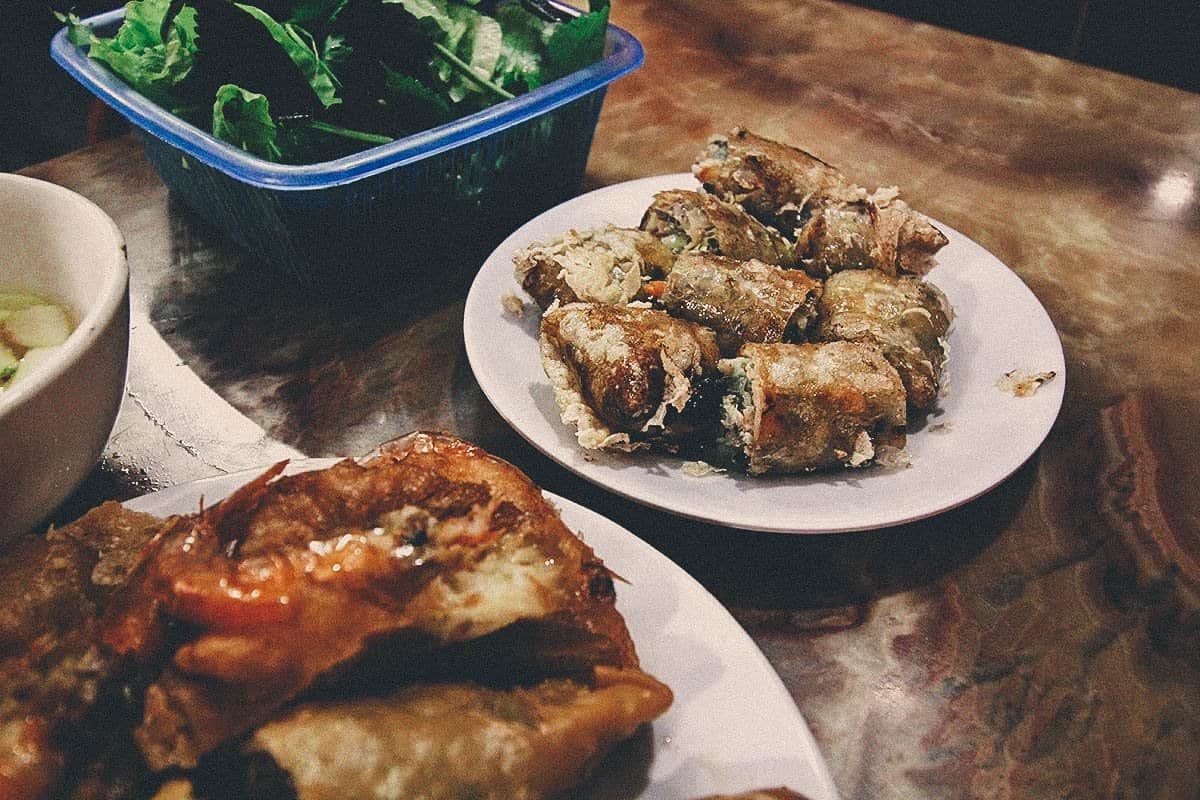 The fried goodies are served with fresh greens and a dipping sauce made with garlic, chili, sugar, lime juice, fish sauce, cucumber slices, and water. There are condiments on the table as well like vinegar and chili sauce that you can add to the dip. You dunk the fried cakes into the bowl along with some greens to temper the oiliness. Despite being deep-fried, it's actually quite refreshing to eat because of the greens and dipping sauce. This was one of the dishes I had the most fun eating in Vietnam.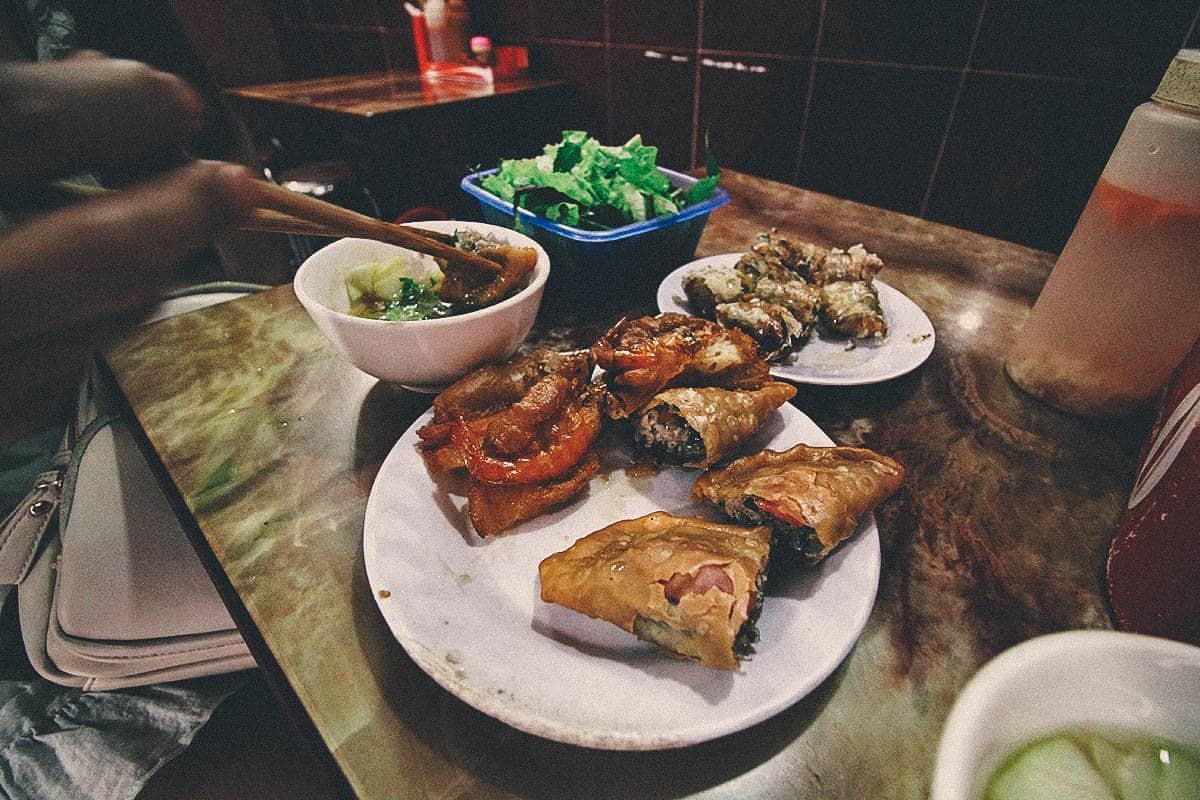 For dessert, we tried the bánh rán ngọt which is a sesame-covered glutinous rice ball filled with a sweetened mung bean paste. It's basically the same thing as buchi served at Chinese dimsum restaurants.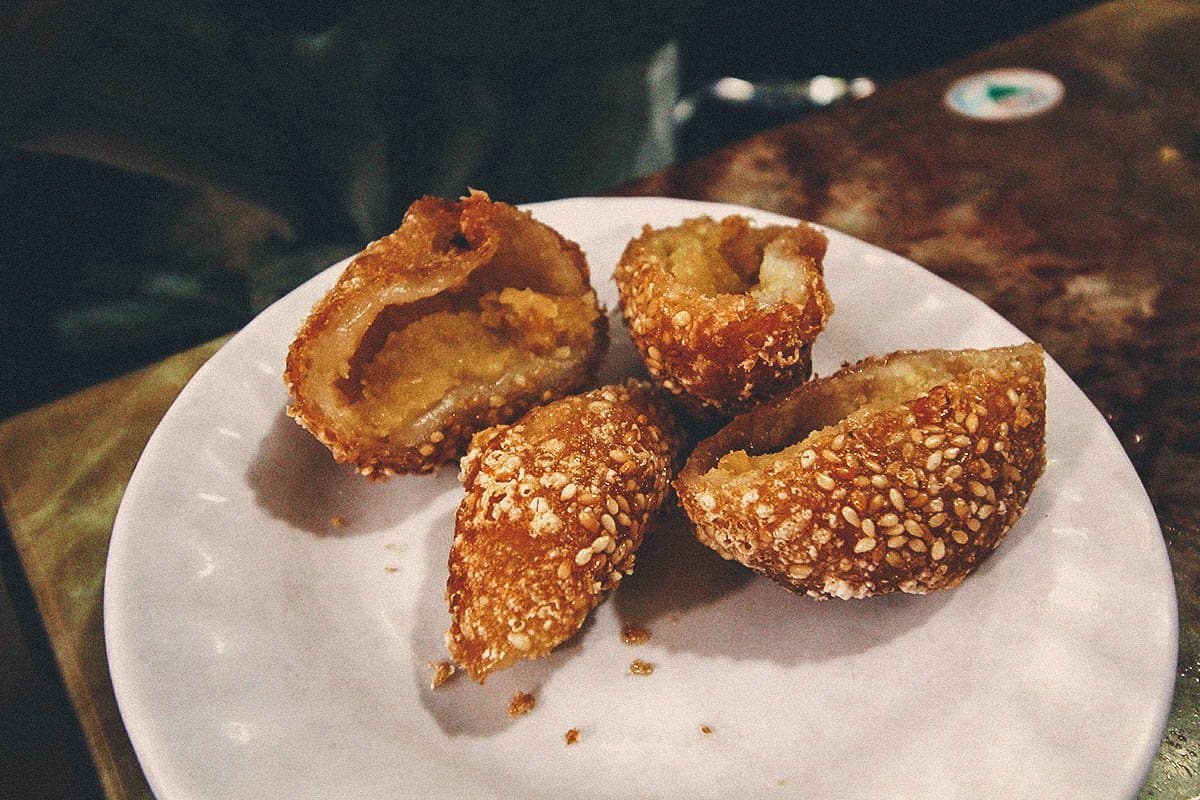 Address: 52 Lý Quốc Sư, Hàng Trống, Hoàn Kiếm, Hà Nội, Vietnam
Operating Hours: 10AM-10PM, daily
What We Paid: VND 33,500 for the dishes pictured above
4. Bun Cha Nem Cua Be Dak Kim
As its name suggests, Bun Cha Nem Cua Be Dak Kim is known for two dishes – bún chả and nem cua be.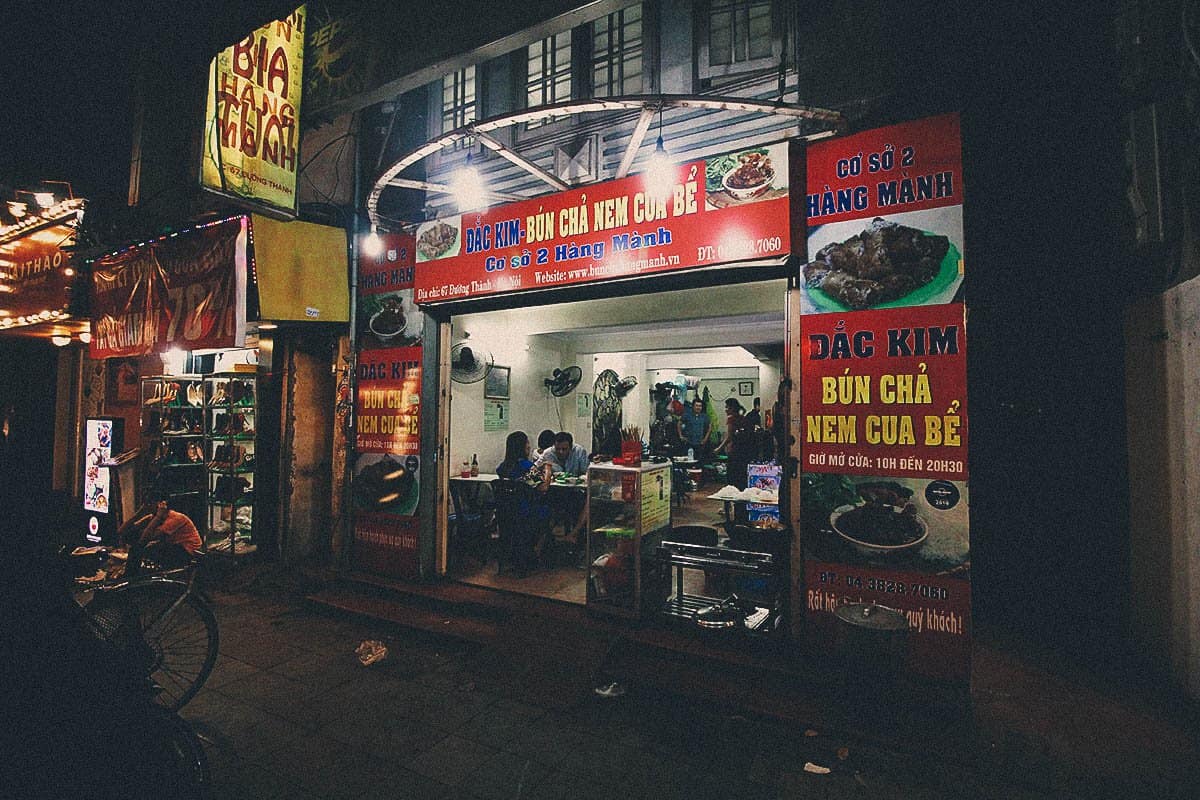 Bún chả is one of Hanoi's most popular dishes. In fact, it's the exact reason why a similar dish called bún thịt nướng can be found everywhere else in Vietnam except Hanoi, where bún chả is king. It's a dish consisting of grilled fatty pork (chả) served with white rice noodles (bún) and fresh greens like lettuce, perilla, coriander, and mint. The pork is served in a soupy bowl of pickled vegetables that impart acidity to the dish.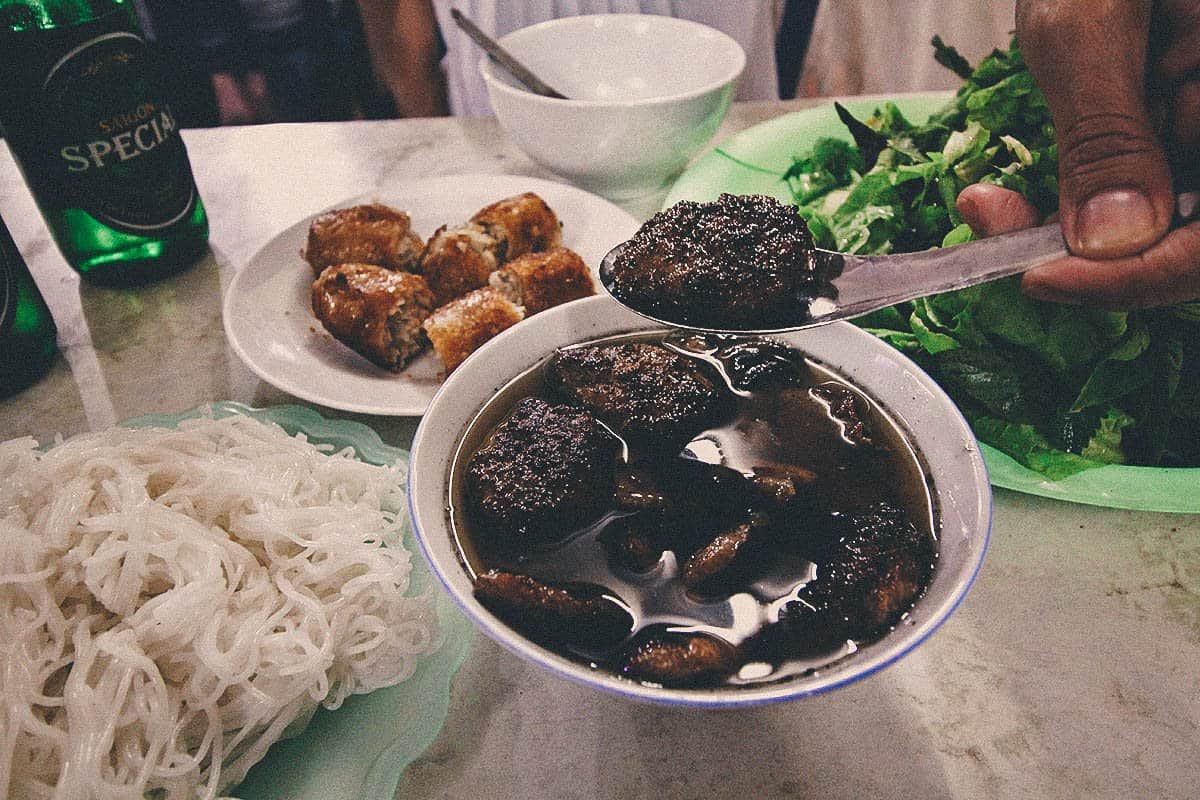 Quán Gốc Đa, Bun Cha Nem Cua Be Dak Kim is known for their nem cua be which are deep-fried crab and pork spring rolls. It seems customary to eat bún chả with a side of nem cua be.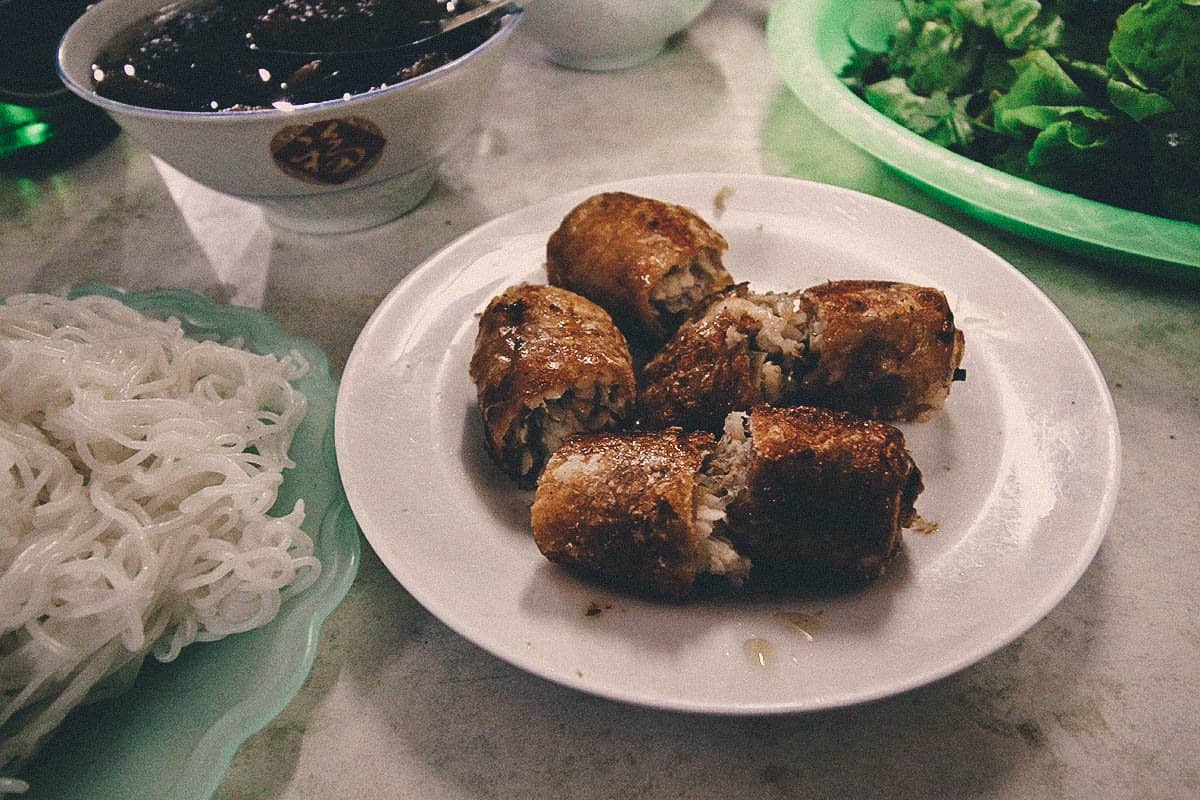 All together now. You heap a generous serving of the greens over the rice noodles along with a few nuggets of pork. Bún chả is plenty flavorful on its own but if you like, you can add chili and garlic to add even more flavor to the dish. The meat is smokey, savory, and a little sweet and goes wonderfully with the sticky noodles and fresh herbs. Portions are generous but the crisp nem cua be adds another layer of texture and flavor to the dish so I do suggest getting that on the side. Like pho, bún chả is one of Hanoi's core dishes so you can't visit this city without trying it at least once.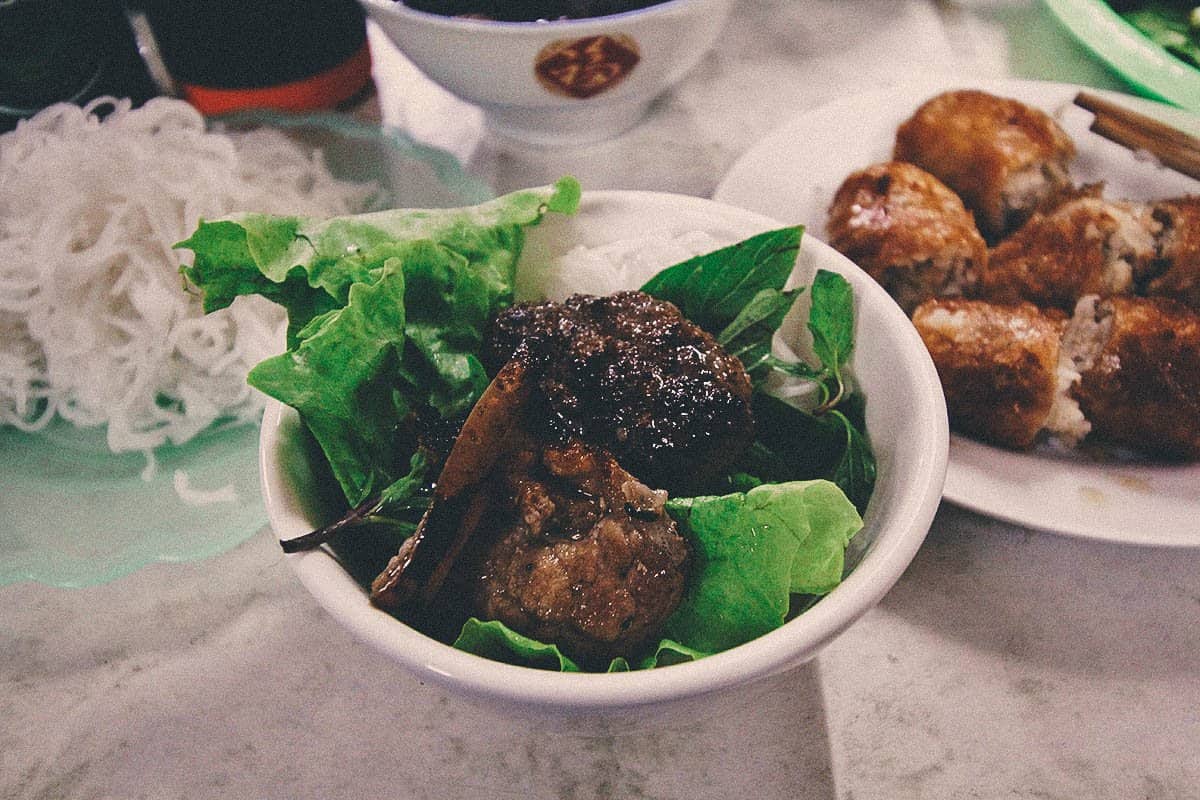 Address: SHàng Bông,, 67 Đường Thành, SHàng Bông, Hoàn Kiếm, Hà Nội, Vietnam
Operating Hours: 10AM-8:30PM, daily
What We Paid: VND 90,000 per Combo 1 (bun cha plus two pieces of spring rolls)
5. Miến Lươn Đông Thịnh
This restaurant is known for being one of the best places in Hanoi to have lươn or eel. Eel is one of my favorite foods in the world so this was one of the restaurants I was most looking forward to on this trip. Thankfully, it didn't disappoint.



If I remember correctly, they serve eel in six different ways here. We ordered two dishes, the first being this eel with vermicelli called miến lươn trộn.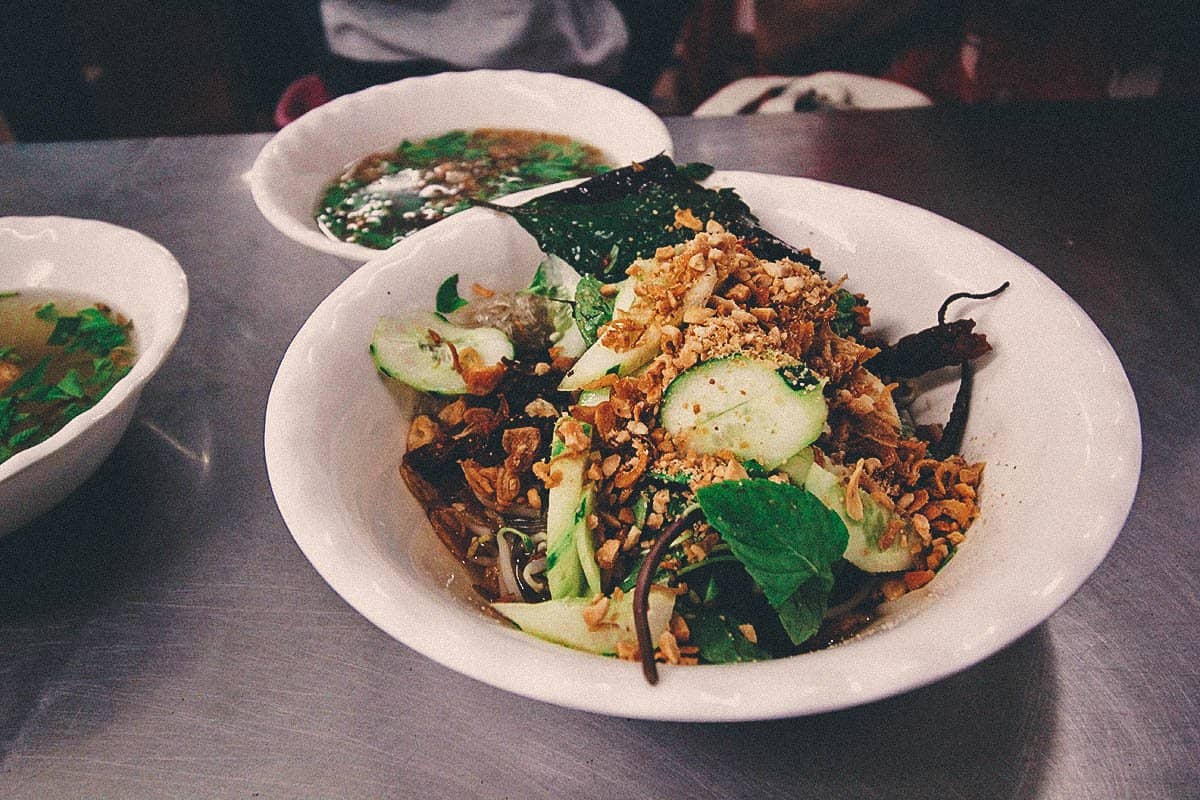 See the dark strips of eel there? Unlike Japanese unagi where the eel is grilled, most eel in Vietnam is dried then deep-fried so it's crispy like dried anchovies. I had never tried eel prepared this way before so it was an interesting experience. They were very crunchy but still had that signature sweetness that I love from eel. The lươn was served with glass noodles (mien), fried garlic and shallots, cucumber slices, chopped peanuts, and fresh herbs and greens with just a shallow layer of broth made from eel bones and ginger. Delicious!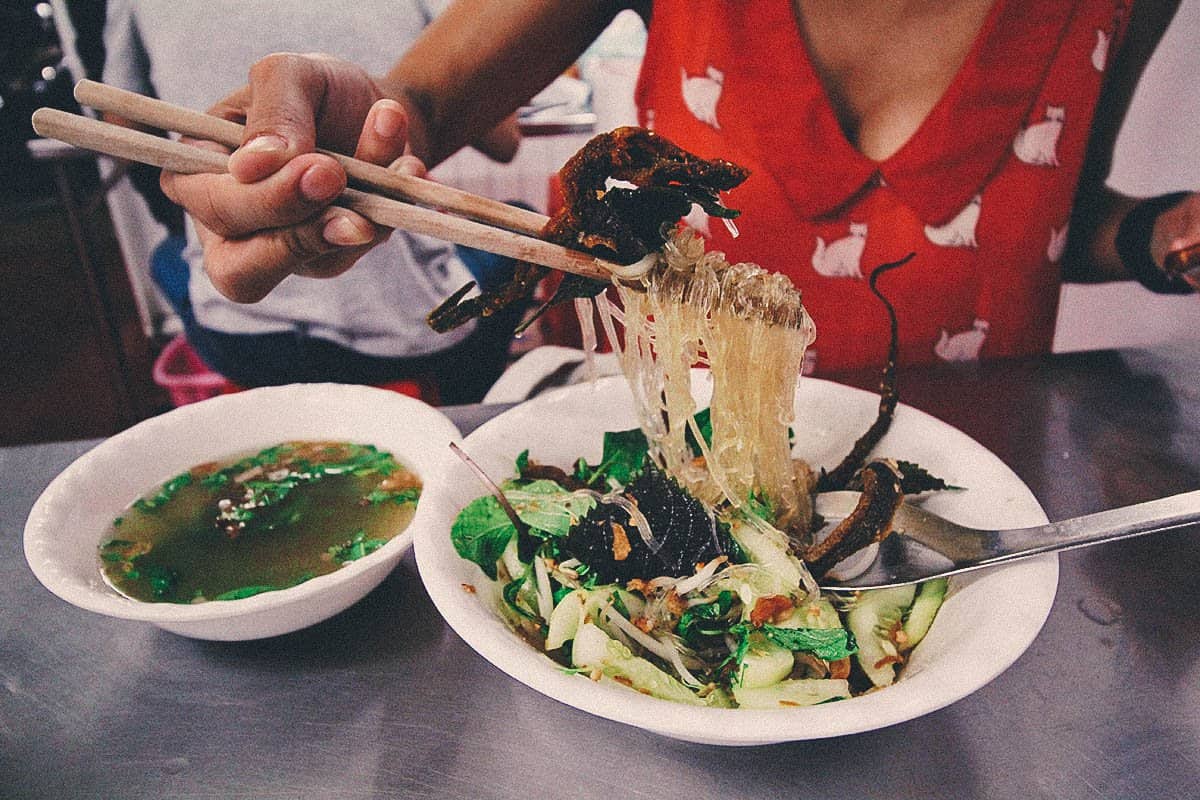 The second dish we ordered was this miến xiao lươn or eel with fried vermicelli. It's pretty much the same as the previous dish except the vermicelli is fried and served dry without any broth.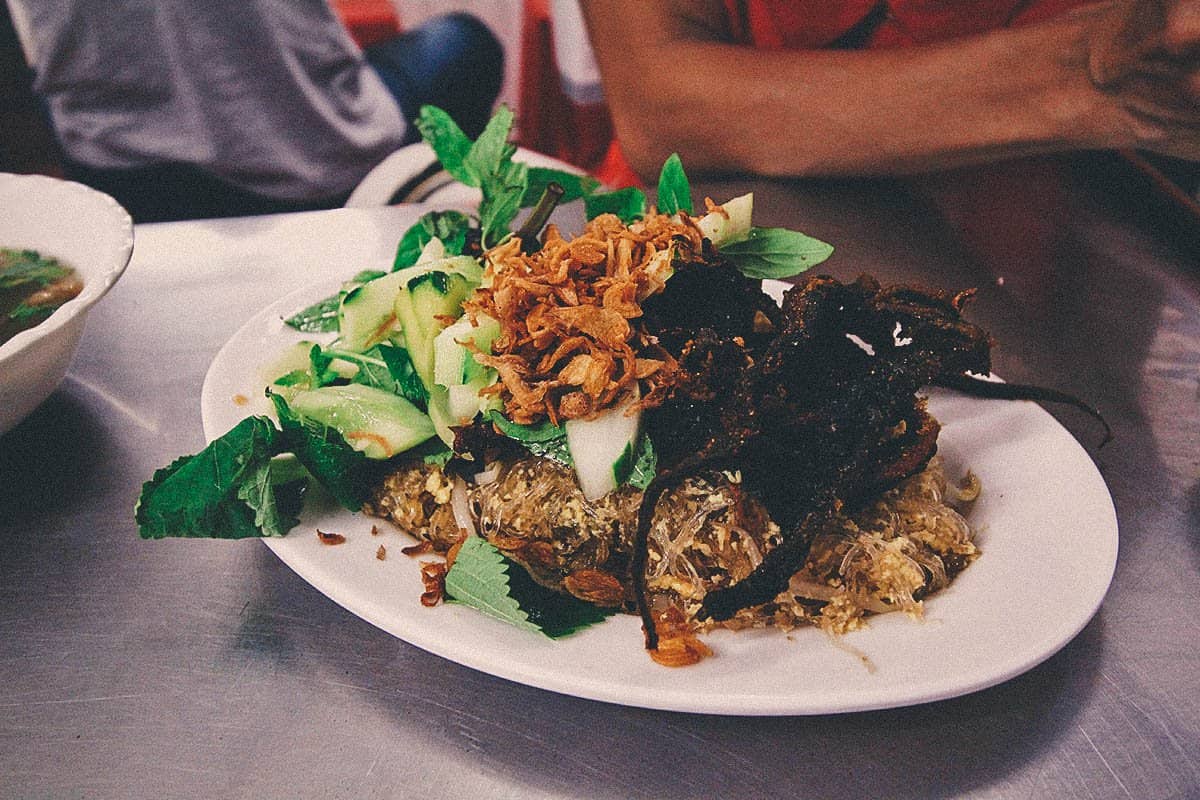 I couldn't decide which of these two dishes I liked better. Both were outstanding but the vermicelli in this one had a subtle smokiness that was lacking from the other. Either way, the deep-fried eel is fantastic. It starts off really crunchy then softens up after a bit of chewing. That's when you start to notice the natural sweetness of the eel. It's so good.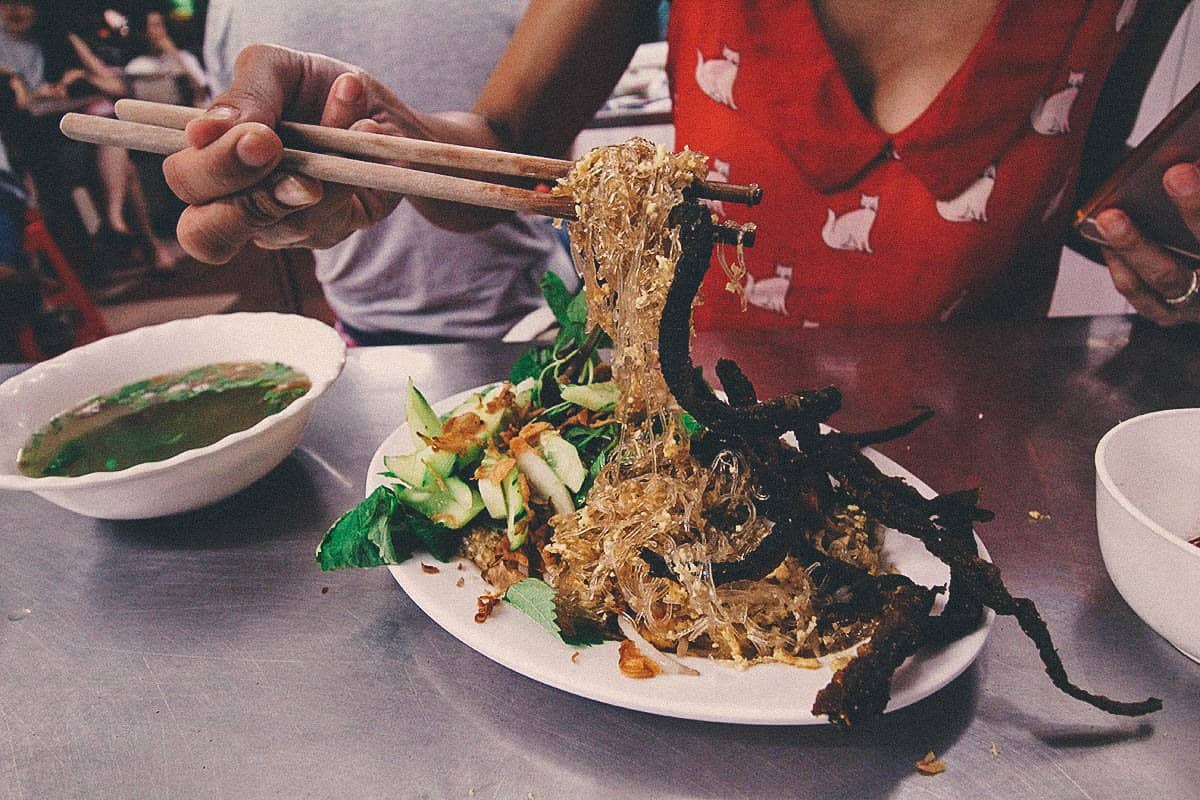 We were lucky to be joined at the table by this young man, Chef Manh Dinh who works as a chef at a nearby 5-star hotel. He was on a break and told us that he frequents this restaurant because he likes eel. That just goes to show you how good this place is. Everyone dining here tonight was a local. We really enjoyed chatting with Chef Dinh. He even pointed us to his favorite banh mi shop (which we unfortunately couldn't get to), and shared with us his personal recipe for Vietnamese chili sauce! I love meeting people like Chef Dinh on our travels. 😀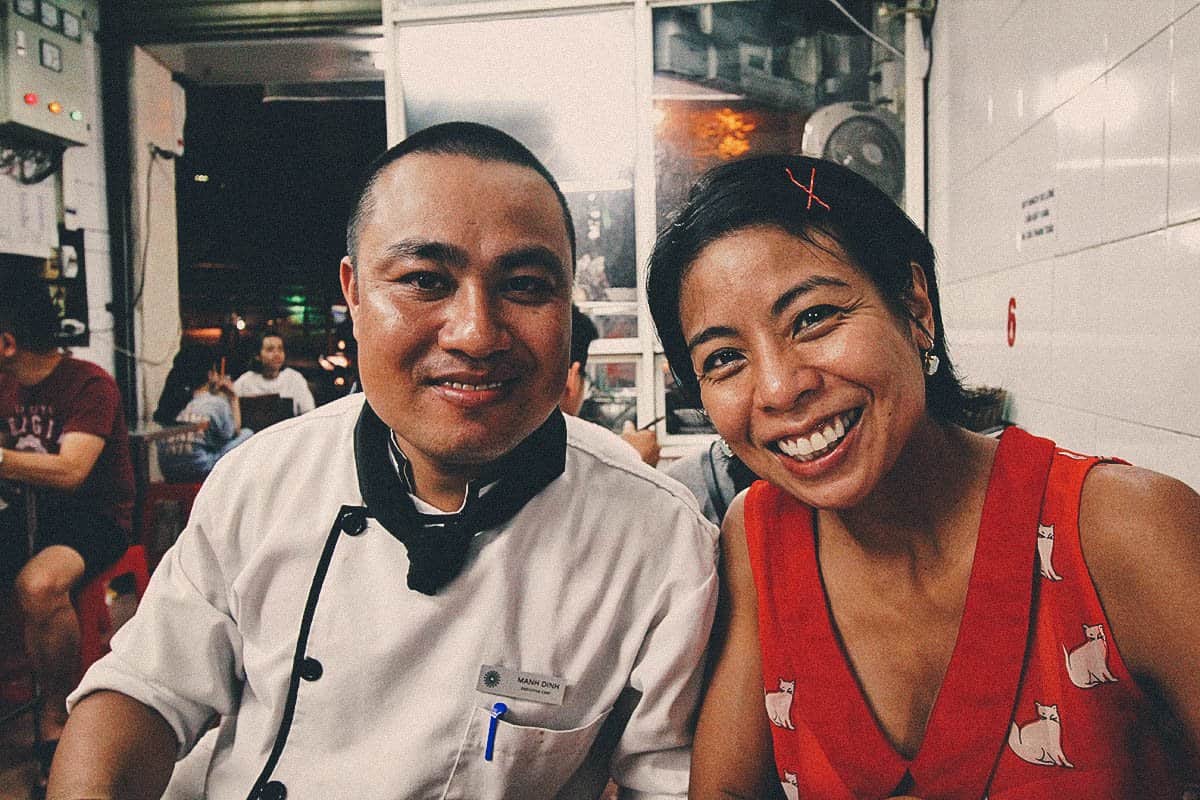 If you'd like to try something other than deep-fried eel, you can have this súp lươn which is soup made with fresh eel. If we didn't have a few more stops to make tonight, I would have ordered a bowl of this as well.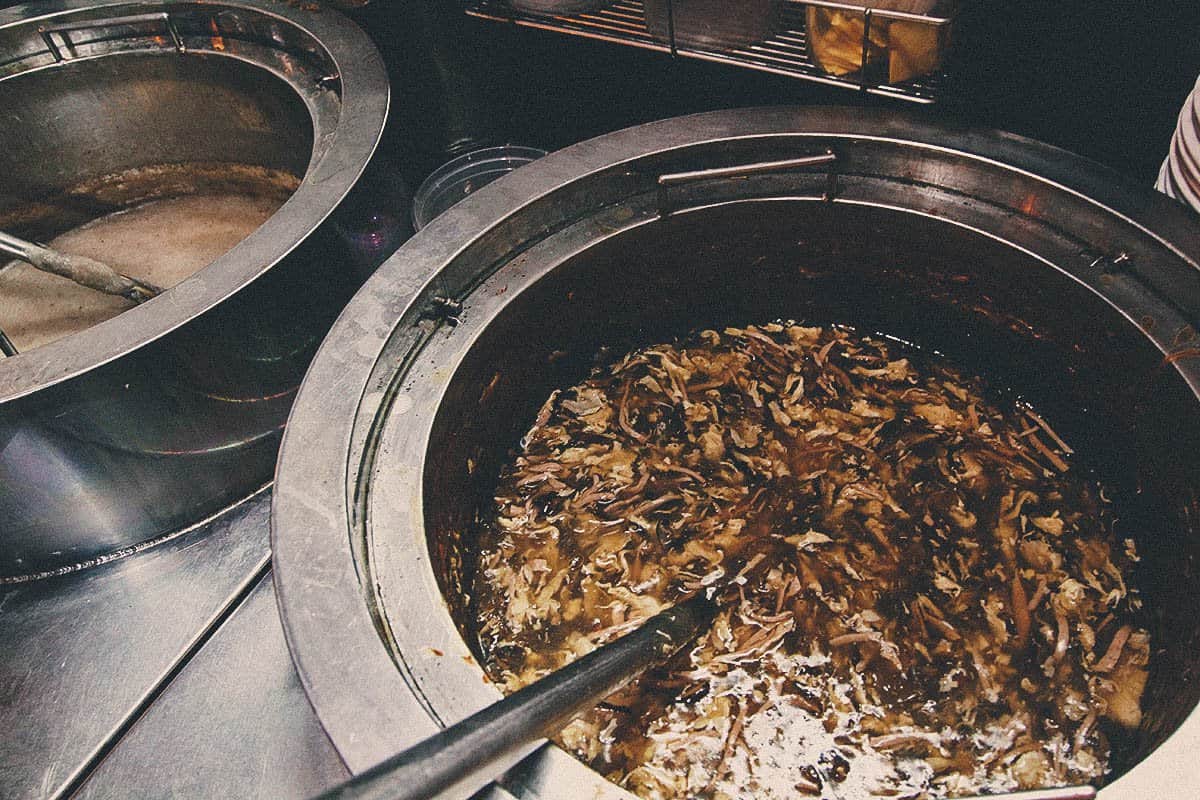 Address: 87 Hàng Điếu, Quận Hoàn Kiếm, Hà Nội, Vietnam
Operating Hours: 6:30AM-9:30PM, daily
What We Paid: VND 110,000 for the two dishes above
6. Quán Bún Thang Bà Đức
Before we get to the food, I want to give this place extra points for being so clandestine. We were looking for the Bún Thang Bà Đức restaurant on 48 Cầu Gỗ and our Sygic Travel map took us to this corner. As you can see from that sign on the wall, we were at the right place. We kept walking back and forth, even peeking into that jewelry shop on the left, but we couldn't find anything that resembled a restaurant. Only when they saw the puzzled looks on our faces did those two ladies point us in the right direction, through that dark alley. As it turns out, Bún Thang Bà Đức is somewhat of a speakeasy.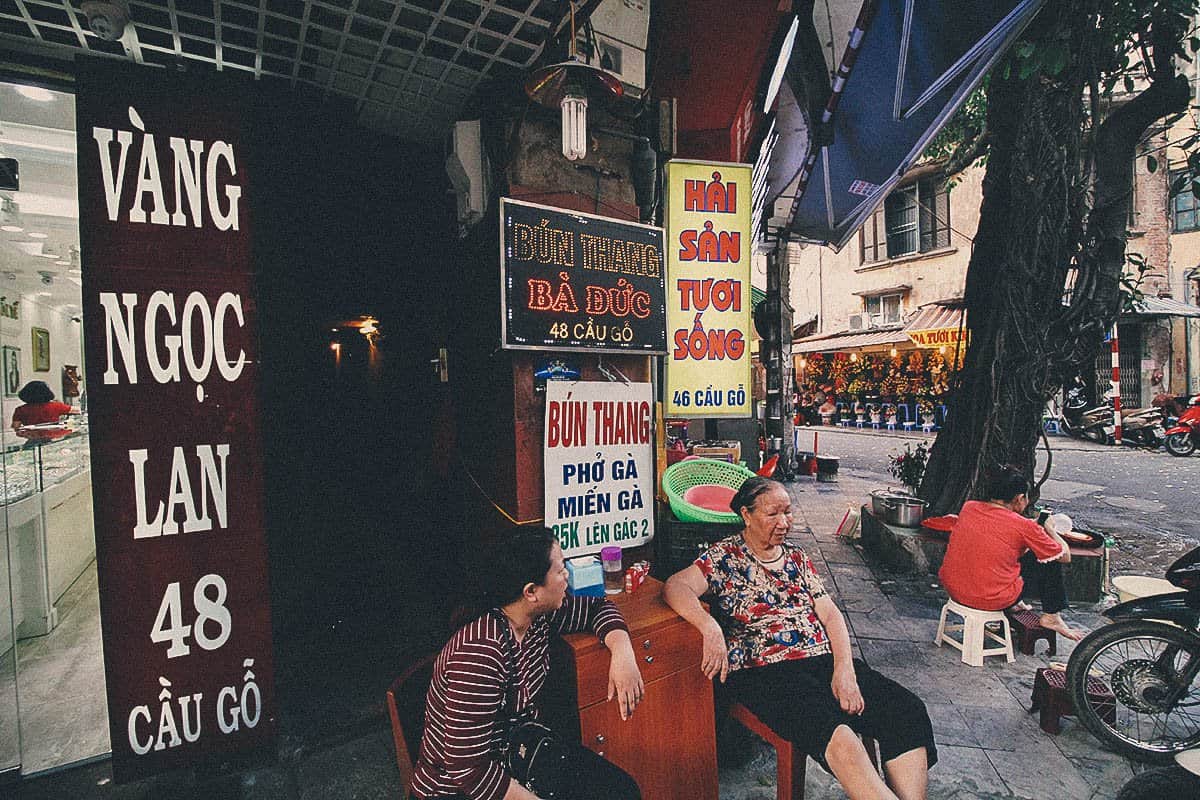 Into the rabbit hole we go. We were a little apprehensive at first since this looked like something we had seen on Crime Scene Asia, but the two ladies kept waving their hands, ushering us to continue walking down the narrow hallway. I think that light may have flickered once or twice for effect.



About 20-30 feet in, the hallway opens up to a junction with this stairway on the left and a sign pointing us up to the restaurant on the second floor. Nope, those wooden steps didn't look dangerous at all.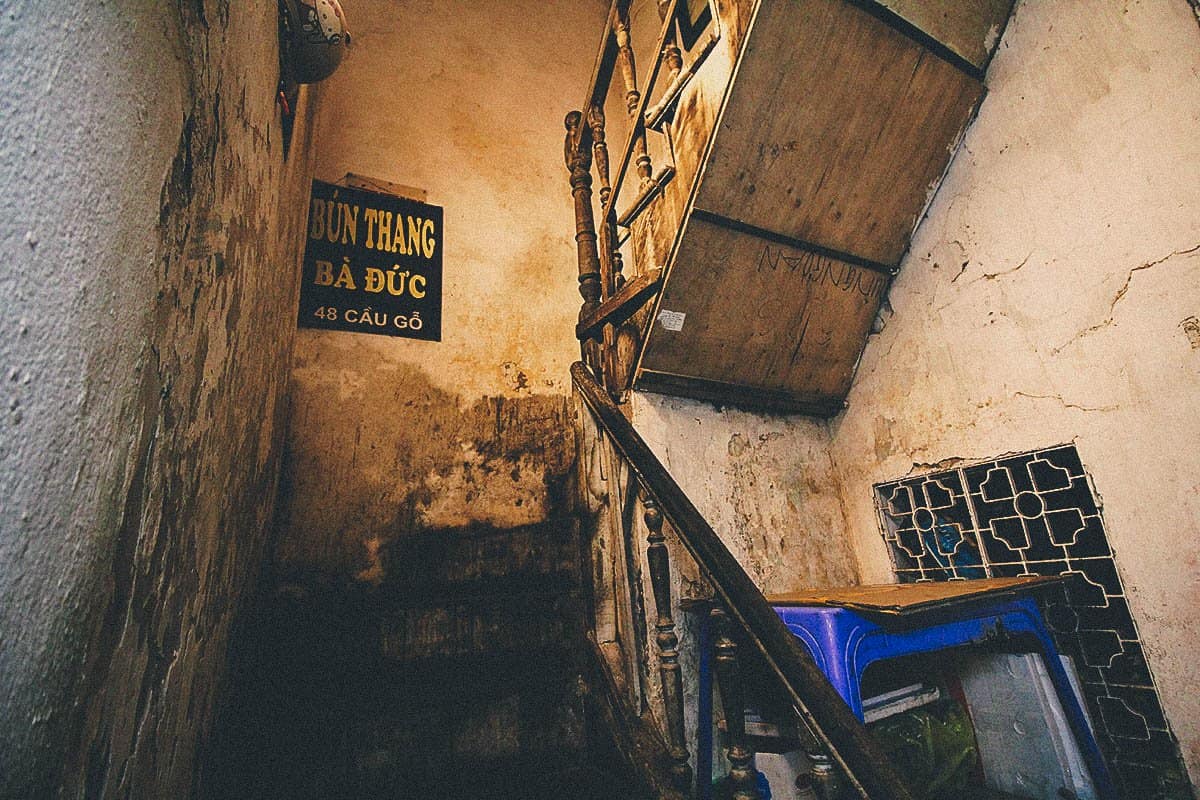 And like some Vietnamese street food speakeasy, there was the "stall" on the second floor complete with signature plastic stools. Cool right? It's funny, we tried to pay our server after our meal but he told us to pay downstairs. You know where? To those two ladies sitting out front. 😆



This place is known for bún thang, which is a type of rice noodle soup that originated in Hanoi. I didn't know this at the time but it's apparently a fussy dish to make that's typically reserved for special occasions. Authentic bún thang requires very specific ingredients like gà mái dầu, which refers to hens of a precise age, and cà cuống, which believe it or not is pheromone extracted from a male belostomatid beetle. Yes, actual beetle juice. More on that below.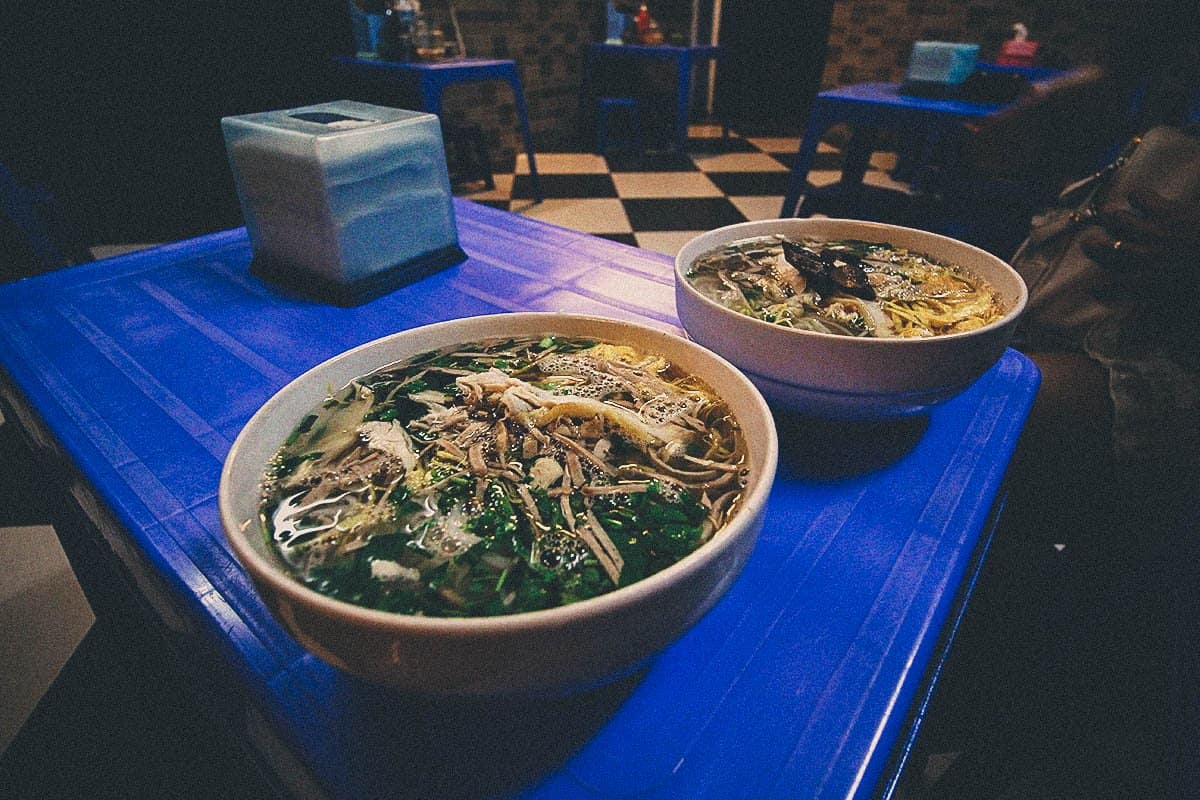 The ideal hens used to make bún thang must only be old enough to have laid eggs for about a week. Any older or younger and the chicken meat isn't ideal. As for the beetle extract, an infinitesimal amount is added via the tip of a toothpick to give the dish a unique fragrance. How exotic! Unfortunately, we weren't aware of this at the time, otherwise we would have paid extra attention to any unusual aromas.
Apart from those two unconventional ingredients, bún thang typically contains chicken, pork, and dried squid or shrimp, both in the broth and as toppings, in addition to thinly sliced egg shreds and giò lụa (Vietnamese pork sausage). Ours had fresh herbs and mushrooms as well. If you like, you can add chilies, shrimp paste, and lime for even more depth of flavor. Delicious! This was one of the dishes I remember most from our trip, due in part to the restaurant's unusual location.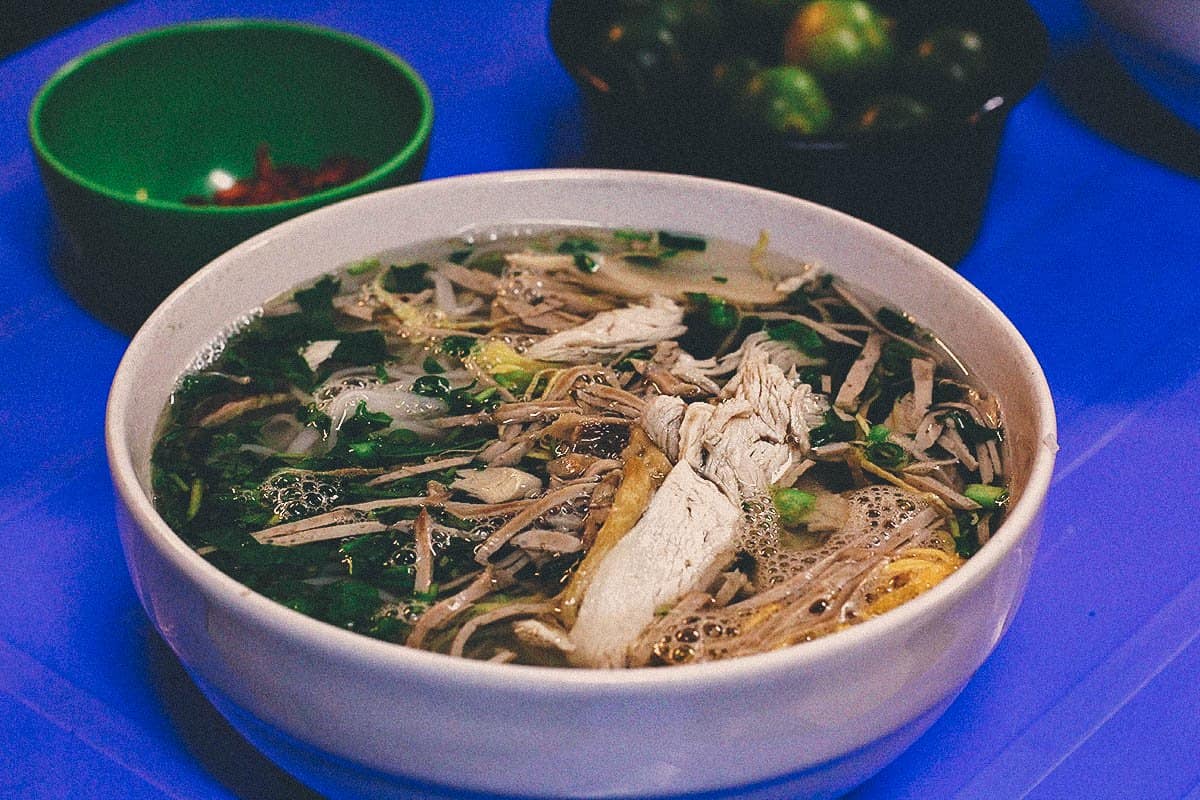 Address: 48 Cầu Gỗ, Hàng Bạc, Hoàn Kiếm, Hà Nội, Vietnam
Operating Hours: 7AM-11PM, daily
Expect to Pay: VND 35,000 per bowl of bun thang
7. Pho Thin 13 Lo Duc
Pho is arguably Vietnam's most iconic dish. It's a Vietnamese noodle soup made with four ingredients – clear stock, rice noodles (called bánh phở), meat (beef or chicken), and a few herbs. From humble sidewalk stalls to upscale restaurants, you can find it everywhere in Hanoi, though many people believe that the city's best pho is served here at Pho Thin.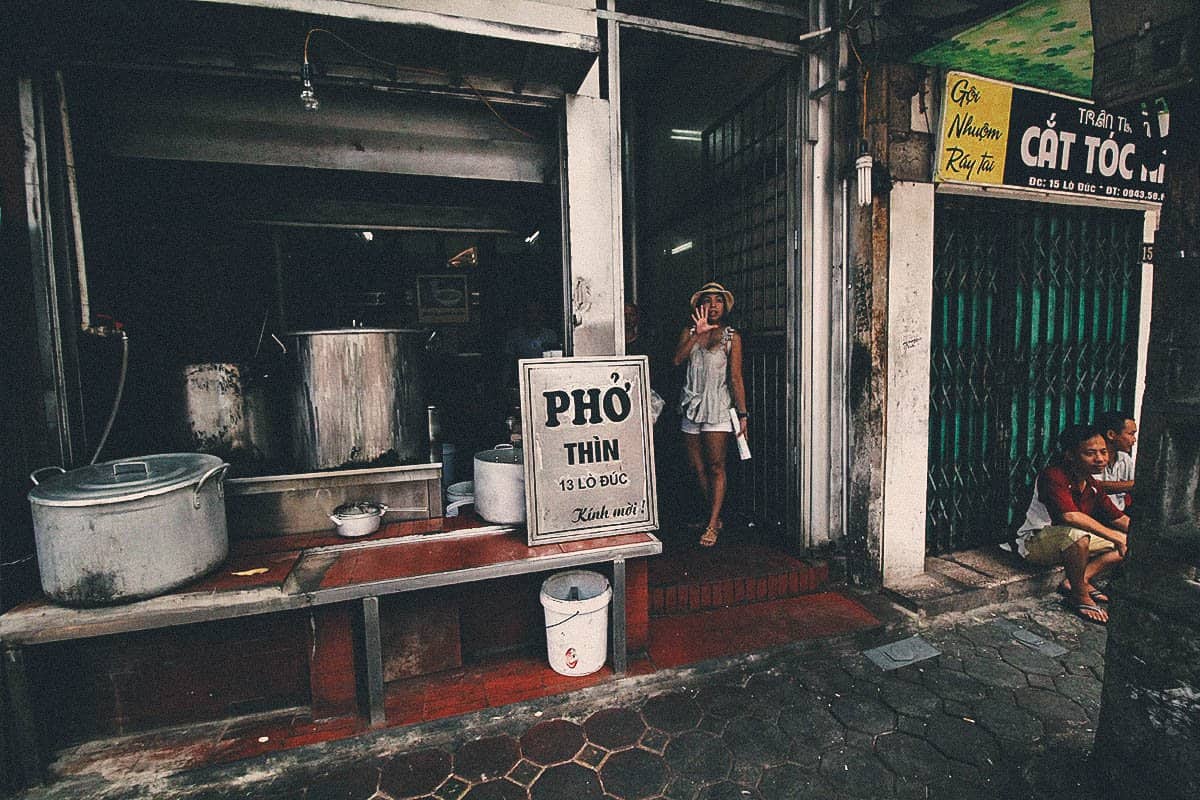 Opened in 1979, the restaurant's owner Nguyen Trong Thin found a novel way to add flavor to classic pho bo (beef pho). Instead of simply boiling the beef, he decided to stir-fry it with garlic before adding it to the soup. This minute innovation added new flavor components to the dish, turning a traditionally gentle stock into a more richly layered broth.
Here's our beautiful bowl of pho bo smothered in green onion. This is typical of northern pho. In the south, they use bean sprouts and a wider variety of fresh herbs. The broth in southern pho is typically sweeter and with narrower noodles as well. On our table at Pho Thin were a few bottled condiments like fish sauce and chili sauce that you can use to add more flavor to your pho.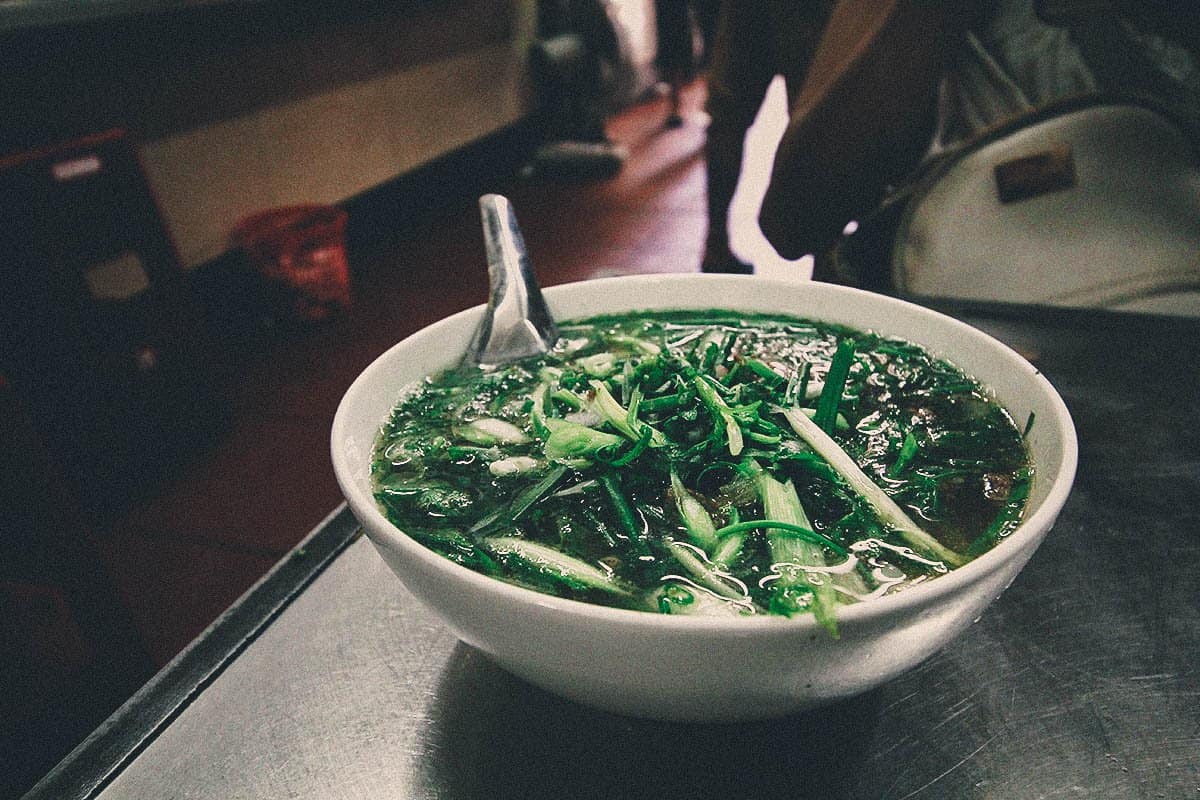 There's the beef! To be honest, I'm not the biggest fan of pho. I don't find it to be the most exciting dish around but this one was different. It was garlicky and smokey with hints of caramelization from the stir-frying process. I loved all the crunchy green onions as well. If you enjoy a good bowl of pho, then you need to seek this place out.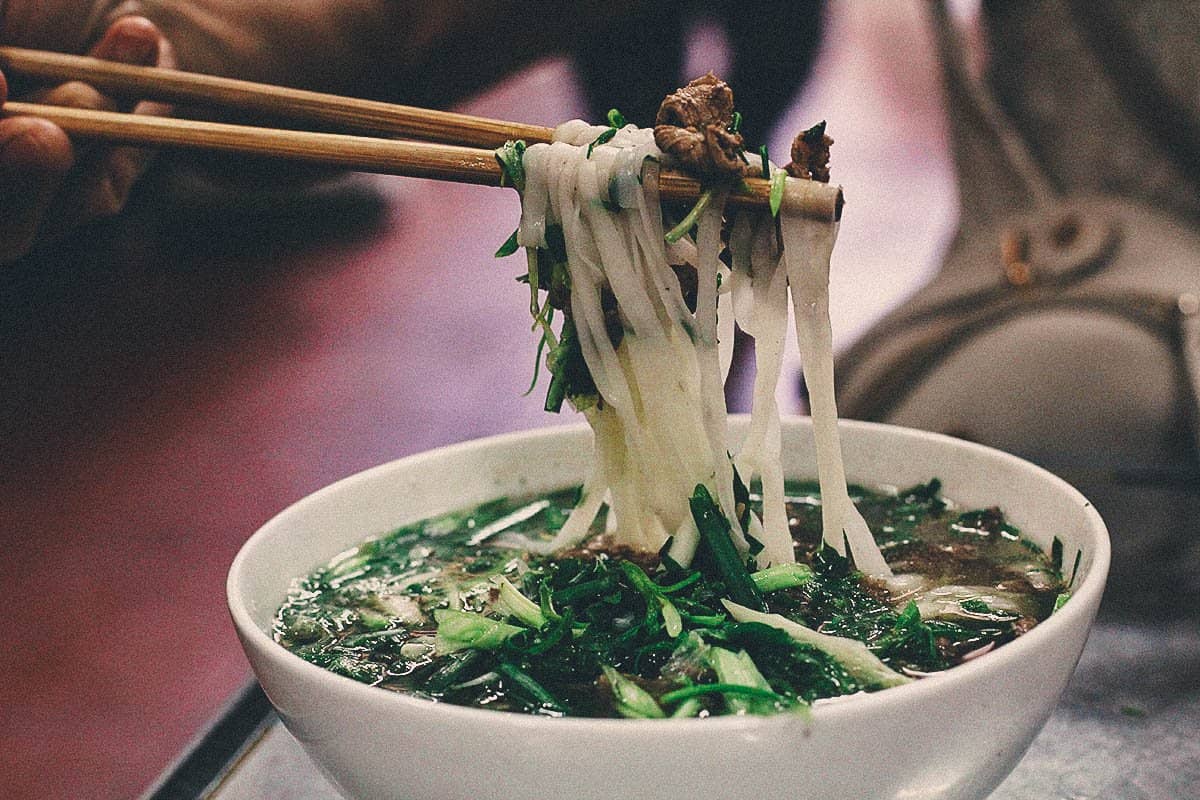 Address: 13 Lò Đúc, Ngô Thì Nhậm, Hai Bà Trưng, Hà Nội, Vietnam
Operating Hours: 6AM-8:30PM, daily
Expect to Pay: VND 50,000 per bowl of pho
8. Phở Xào – 32 Bát Đàn
We read on a food blog that there are two recommended pho stalls on the corner of Hàng Gà and Bát Đàn streets in Hang Bo Ward. One is open during the day and the other at night. We went straight here after getting back from our day trip to Hoa Lu and Tam Coc so we ate at the one open in the evenings, which we assumed was this place, Phở Xào. It was right at the corner and we could see the other place directly across the street, which was indeed closed.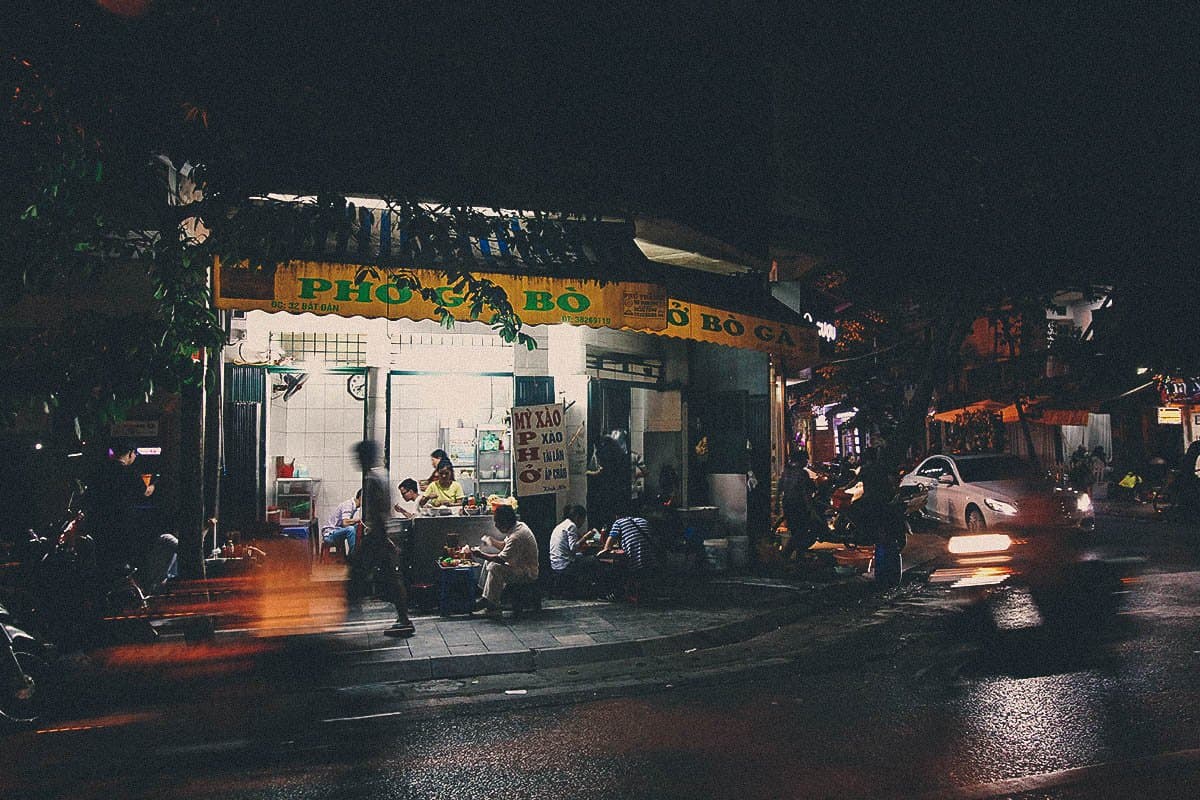 Nothing beats the experience of eating authentic street food while watching traffic whizz by. At Phở Xào, they offer pho bo (beef), pho ga (chicken), or a combination of both. We went with the chicken and beef combo.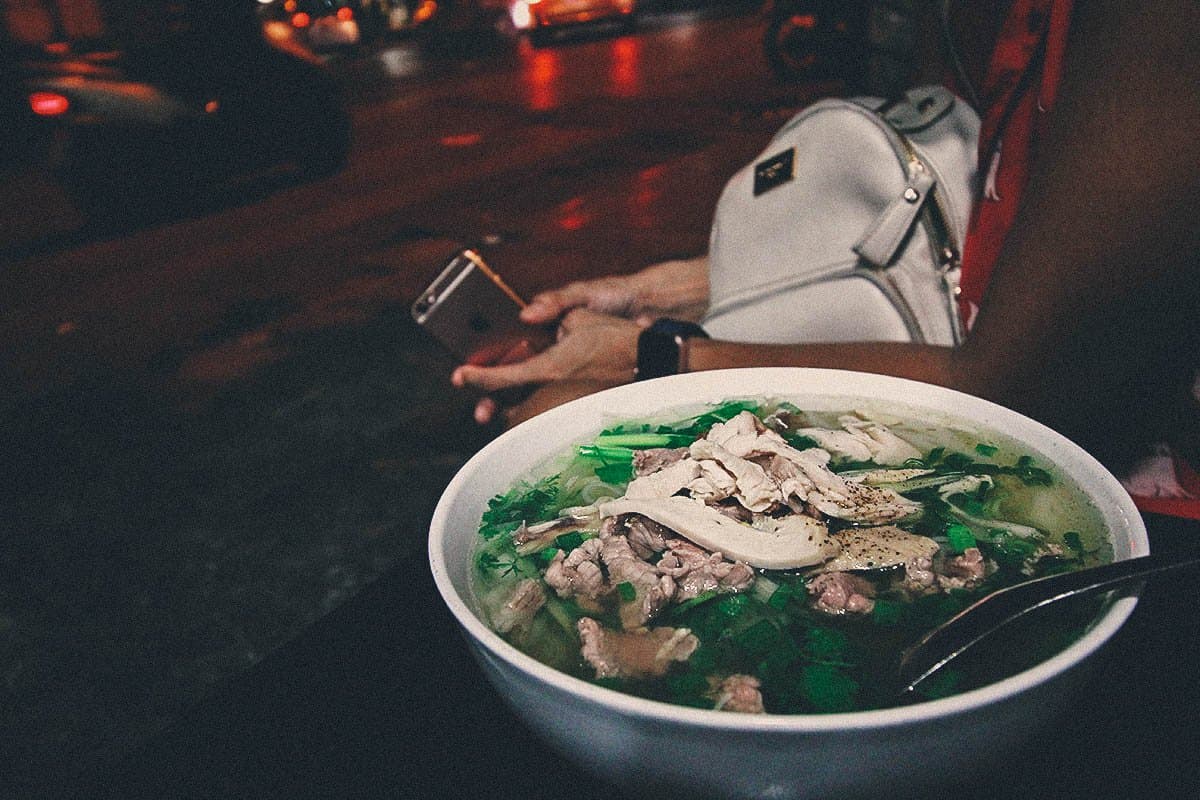 This one didn't have as many green onions as Pho Thin's version but it was really good too, fresh and clean-tasting. I'm not sure how common it is to find pho served with both beef and chicken so you may want to give this place a try.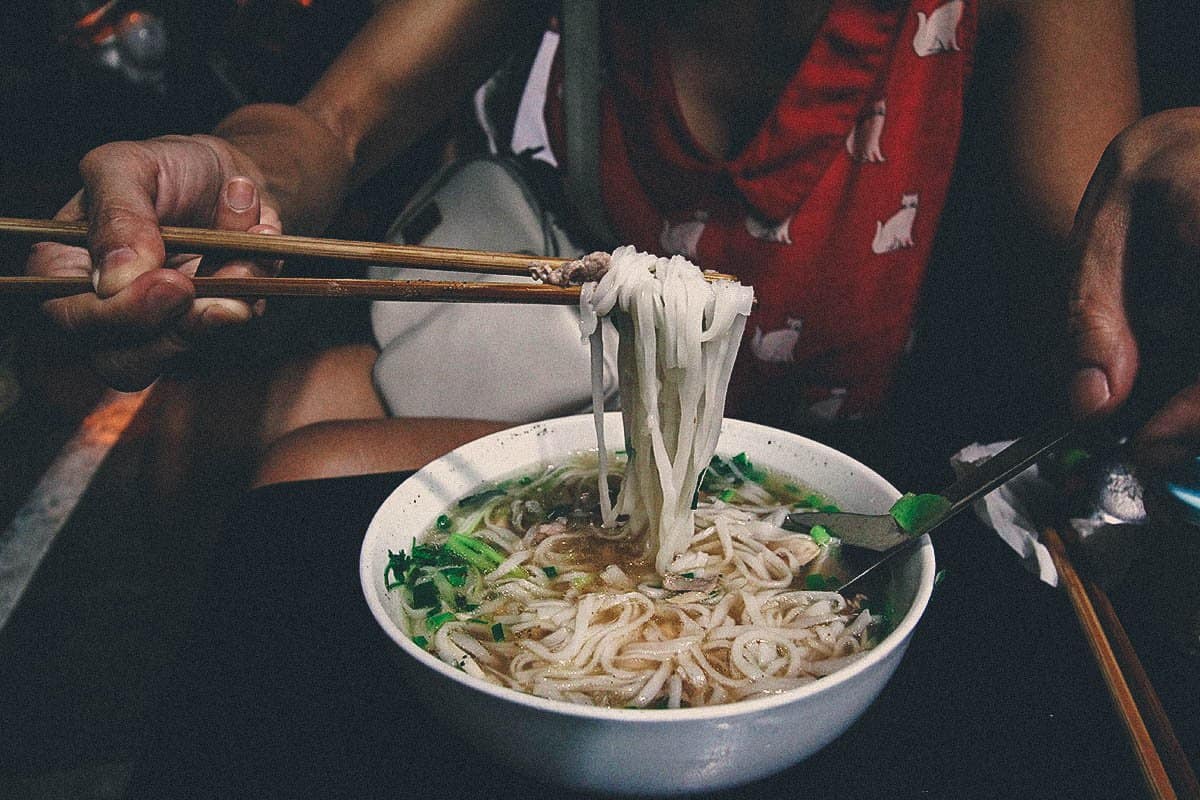 Address: 32 Bát Đàn, Quận Hoàn Kiếm, Hà Nội
Operating Hours: 9AM-10:30PM, daily
Expect to Pay: VND 50,000 per bowl of pho
9. Quán Bà Nga
Most foreign tourists are familiar with bánh mì sandwiches made with pate, cold cuts, and vegetables. But this place specializes in bánh mì thịt xiên nướng, which is a type of banh mi made with grilled pork skewers.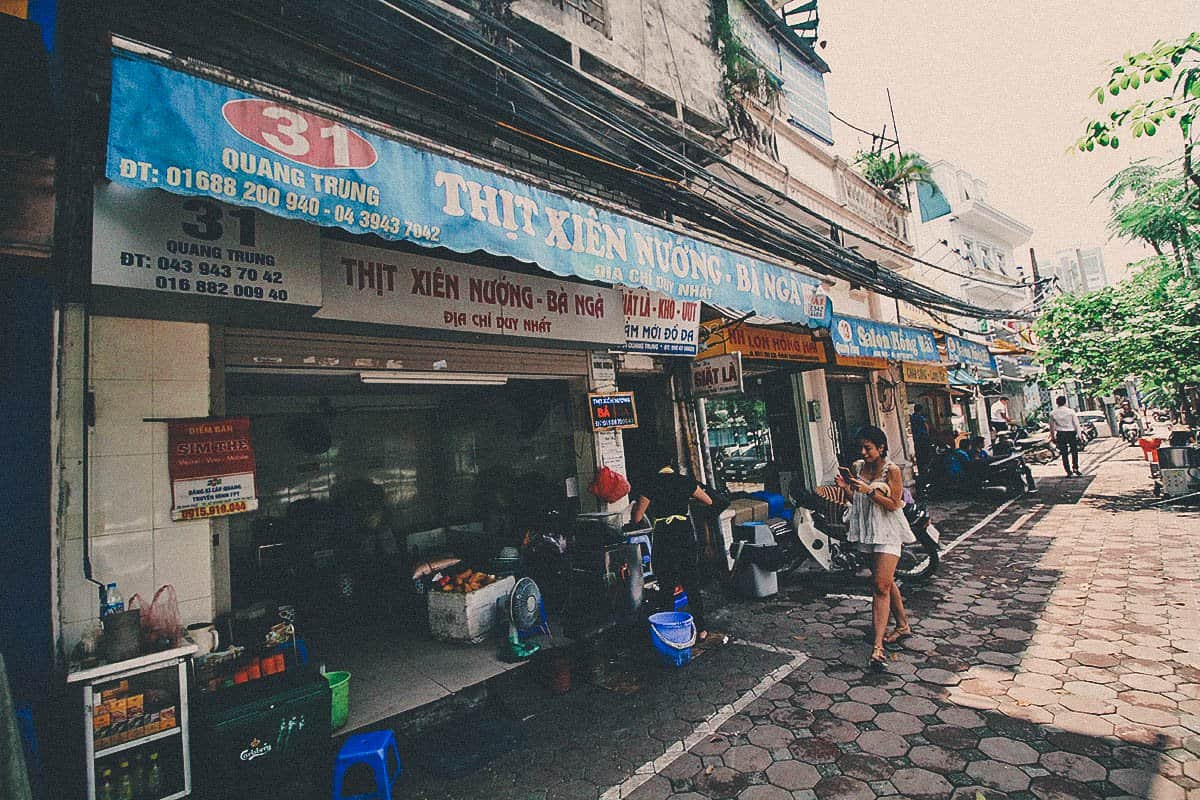 They don't put as much in the sandwich, just two sticks of skewered pork (we got double), cucumber slices, chili sauce, and some Vietnamese coriander if I remember correctly. Based on my research, thịt xiên nướng refers to grilled pork, but the meat in this one looked more like nem nướng which are grilled pork meatballs or sausages. In any case, it was good – savory, spicy, and a little sweet. From what I understand, the pork is marinated in a mixture with sugar, fish sauce, and caramel sauce, which probably explains the sweetness in the meat.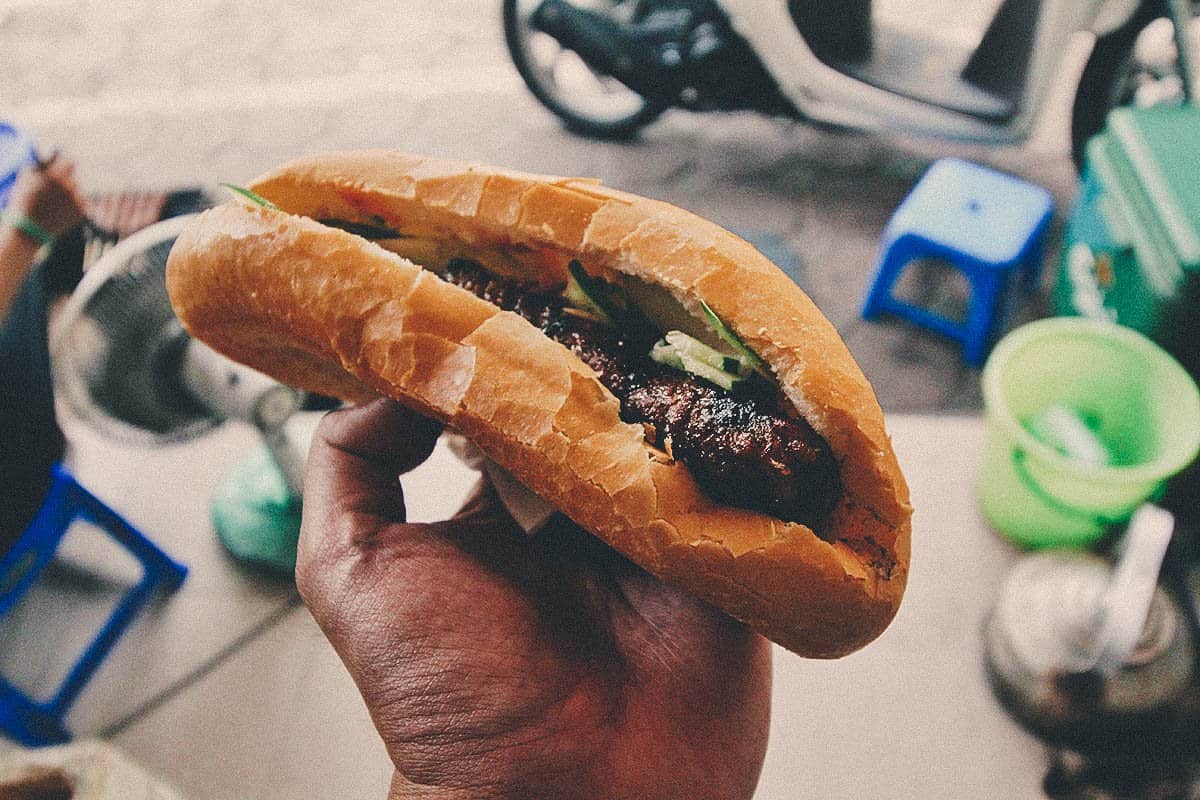 On a scale of 100 to 100, how gorgeous is my wife? There she is all excited to get her first bite of bánh mì thịt xiên nướng. ♥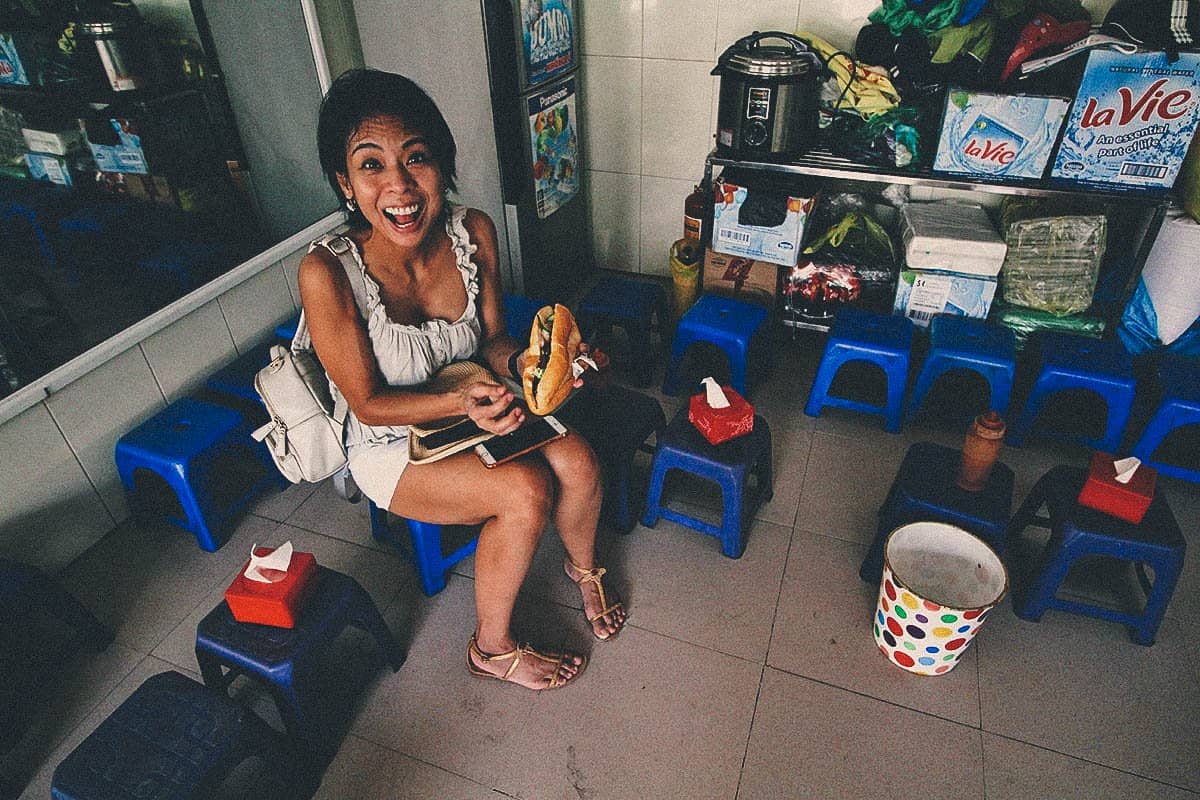 Address: 31 Quang Trung, Trần Hưng Đạo, Hoàn Kiếm, Hà Nội, Vietnam
Operating Hours: 2-8:30PM
Expect to Pay: VND 23,000 per bánh mì thịt xiên nướng
10. Bánh Mì Lãn Ông
Like pho, banh mi is ubiquitous in Vietnam. It's one of Vietnamese cuisine's most iconic dishes so everyone has their personal favorite. It's the one dish we had everywhere we went in Vietnam, from Hanoi to Hoi An to Ho Chi Minh City. We tried to look for the best in every city and our research in Hanoi took us to this place – Bánh Mì Lãn Ông.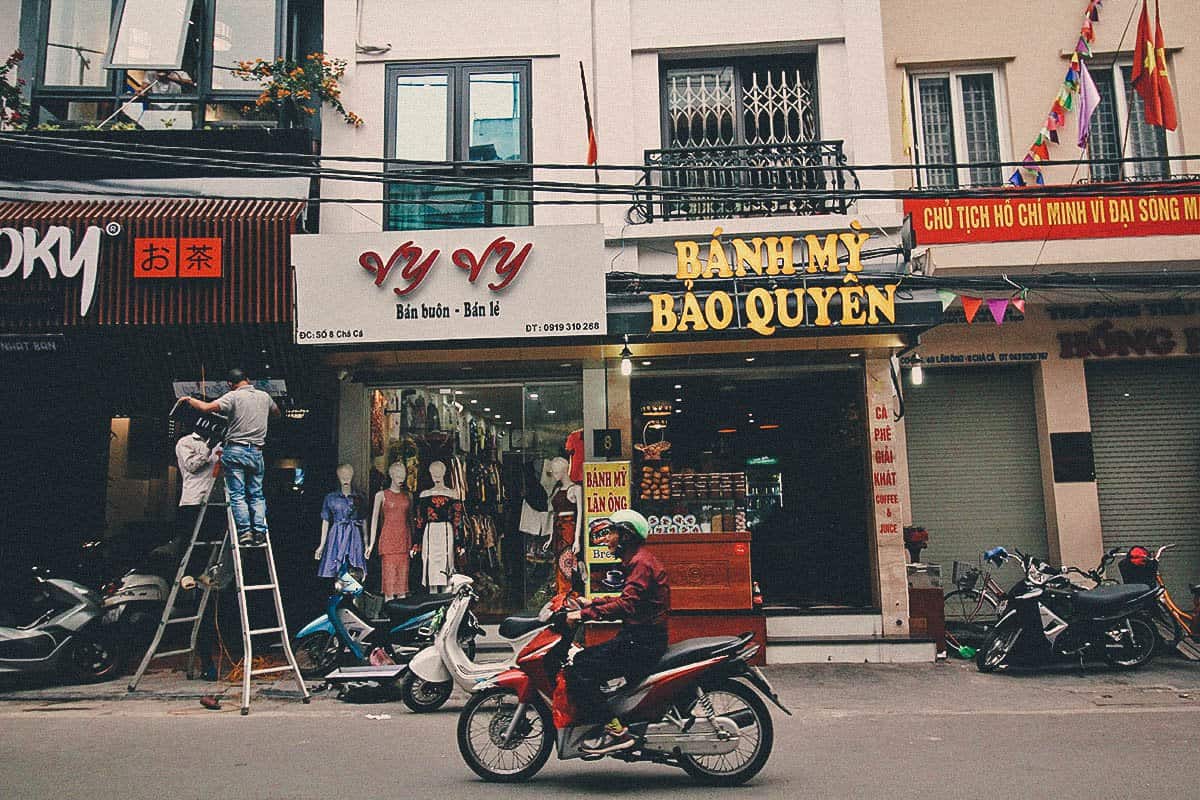 Strictly speaking, banh mi is the Vietnamese word for bread, or more specifically the personal-sized French baguette. But when most tourists say "banh mi", they're referring to this sandwich made with different types of meat, vegetables, and condiments. We ordered this bánh mì pa-tê which consisted of liver pate, Vietnamese cold cuts, cucumber, and coriander. Among all the banh mi we enjoyed on this trip, this one was the simplest with the fewest ingredients but it was still really good. The bread is the true star of this dish. It's incredibly crusty and crunchy on the outside but pillow-like on the inside. If I could get banh mi this good at home, I would eat this every single day.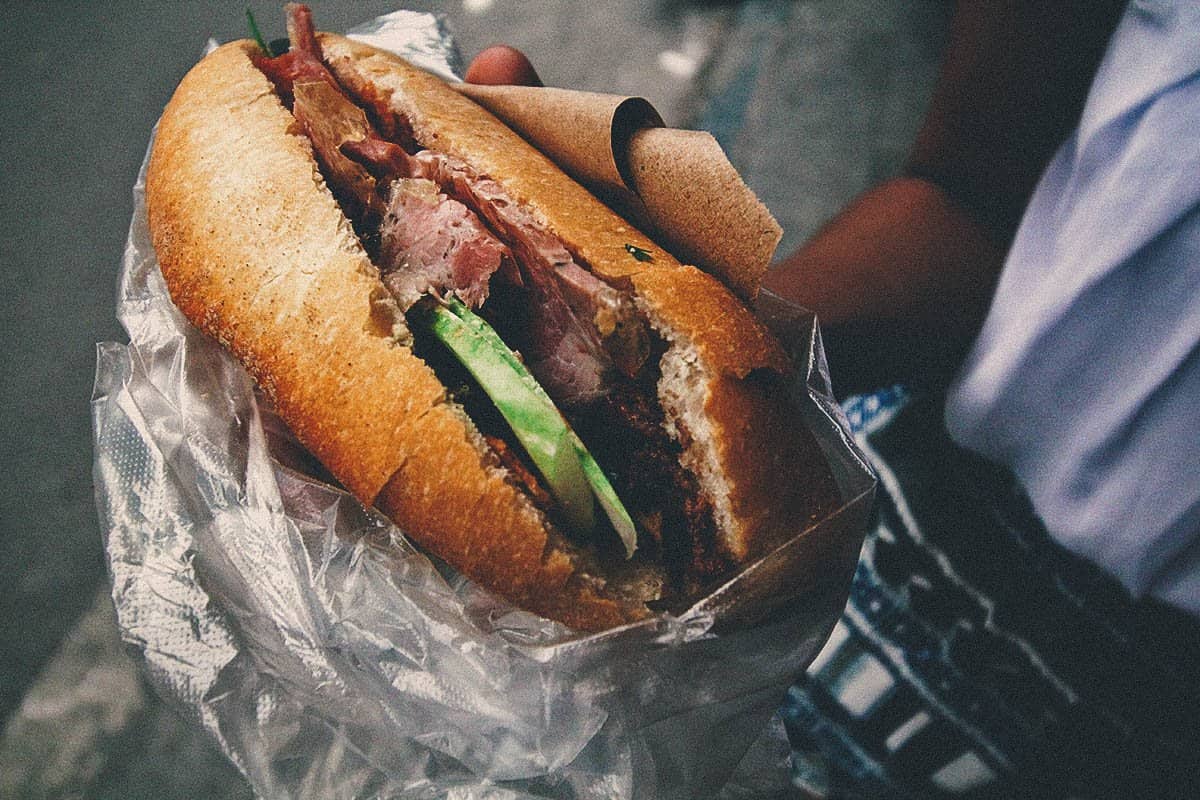 Address: 18 Chả Cá, Quận Hoàn Kiếm, Hà Nội
Operating Hours: 7AM-10PM
Expect to Pay: VND 25,000 per bánh mì pa-tê
11. Yogurt Bar
Every banh mi stall we visited on this trip was researched beforehand, except for this one. We were killing time before our afternoon flight to Da Nang when we came across this yogurt bar with a banh mi cart. We saw that they offered banh mi ngan, which is banh mi with roasted duck, so we sat down and gave it a try. It turned out to be Ren's favorite banh mi from the entire trip. That just goes to show you that no matter how much research you do, it's always good to leave room for spontaneity and a few surprises. 😉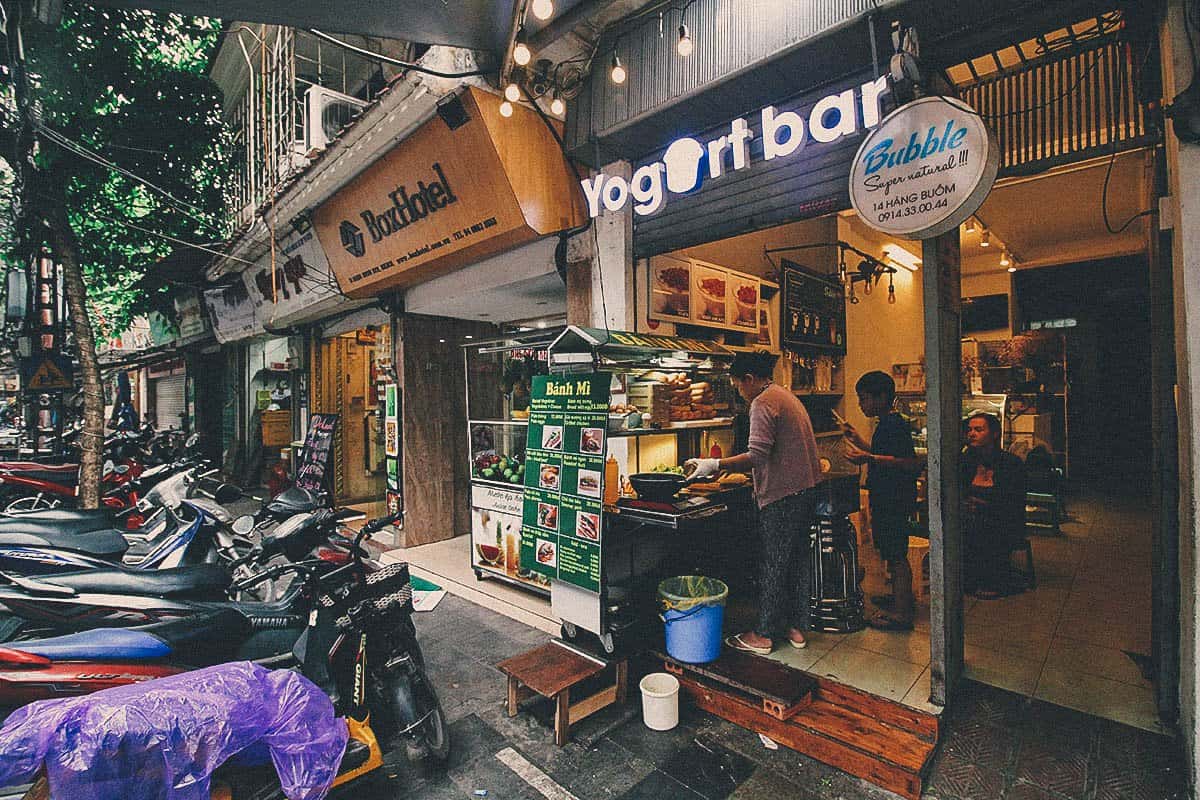 Here's the banh mi ngan, or duck banh mi, made with succulent pieces of roasted duck, lettuce, and some slaw. It was delicious, fatty and very flavorful. I didn't think the bread was as good as Bánh Mì Lãn Ông's – it seemed less crusty and airy – but the roasted duck more than made up for it.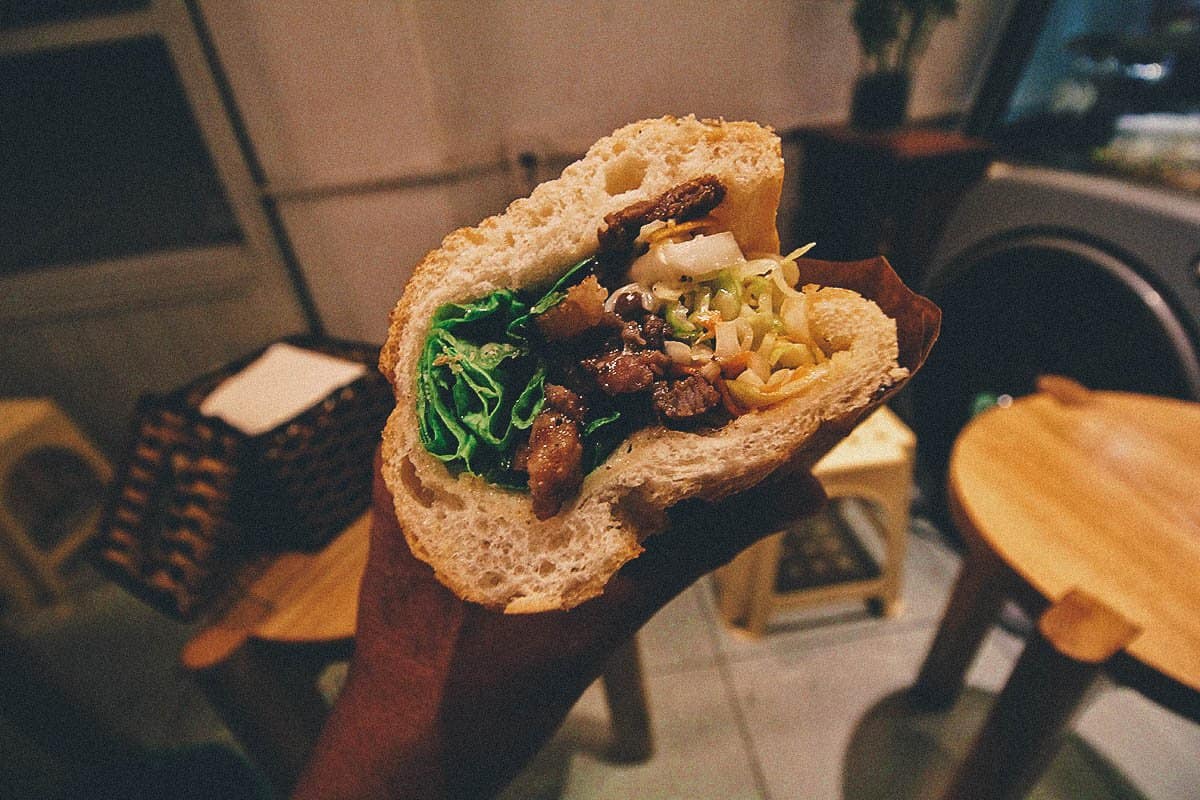 We enjoyed the duck so much that we decided to get this banh mi trứng as well. Banh mi trứng is made with a freshly fried omelette and other condiments, in this case lettuce and slaw like the banh mi ngan. It was really good too.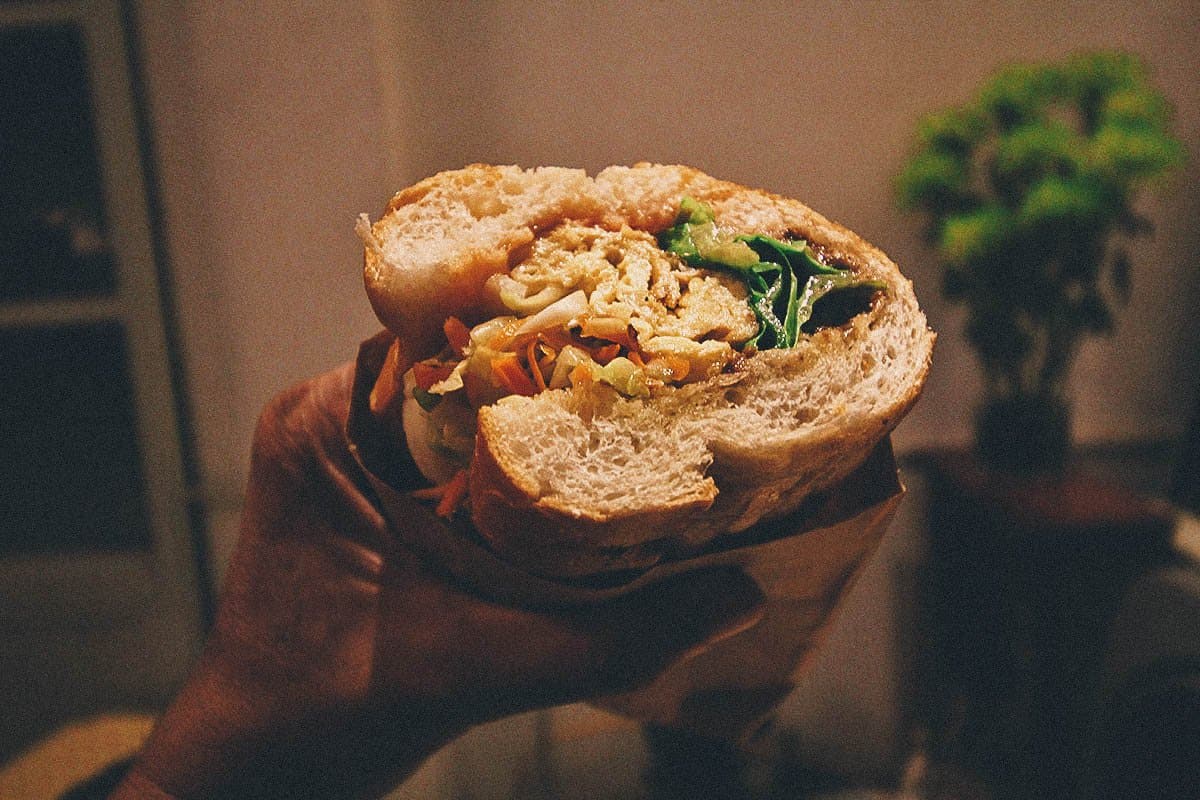 We fell in love with our hotel's homemade yogurt so we decided to give theirs a try. The place is called "Yogurt Bar" after all? 😆 As expected, it was delicious. It's thinner than Western commercial yogurt but still creamy without being overly sweet or tangy. Known locally as sữa chua, I read that yogurt is a vestige of the French colonial presence in Vietnam.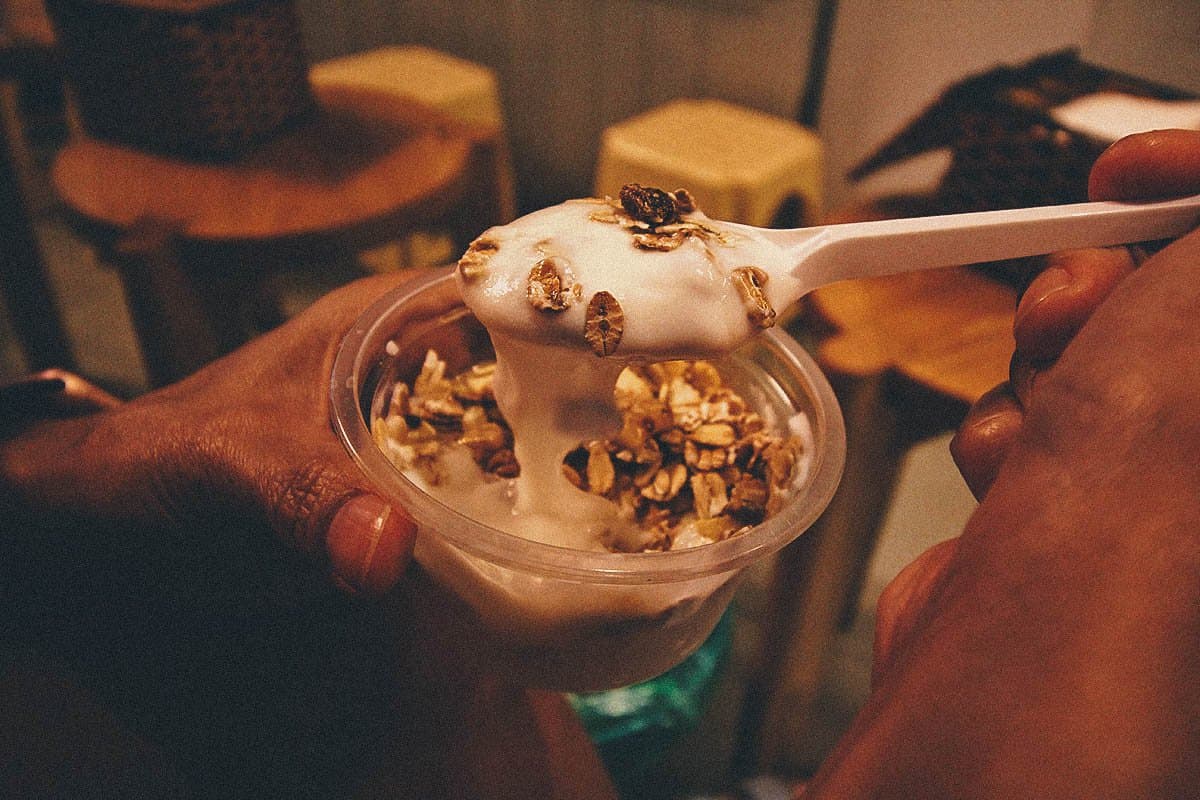 Address: 14 Hàng Buồm, Hoàn Kiếm, Hà Nội, Vietnam
What We Paid: VND 45,000 for the two banh mi sandwiches above
12. Xôi Yến
If you're ever really hungry and want the best value for your money, then you should eat here. They're known for a dish called xoi xeo, which is a dish of sticky rice with mung beans and fried shallots. Many blogs have proclaimed the xoi xeo at Xôi Yến to be the best in Hanoi. One expat who's lived in the country since the late 1990s even called it the best she's ever had in all of Vietnam.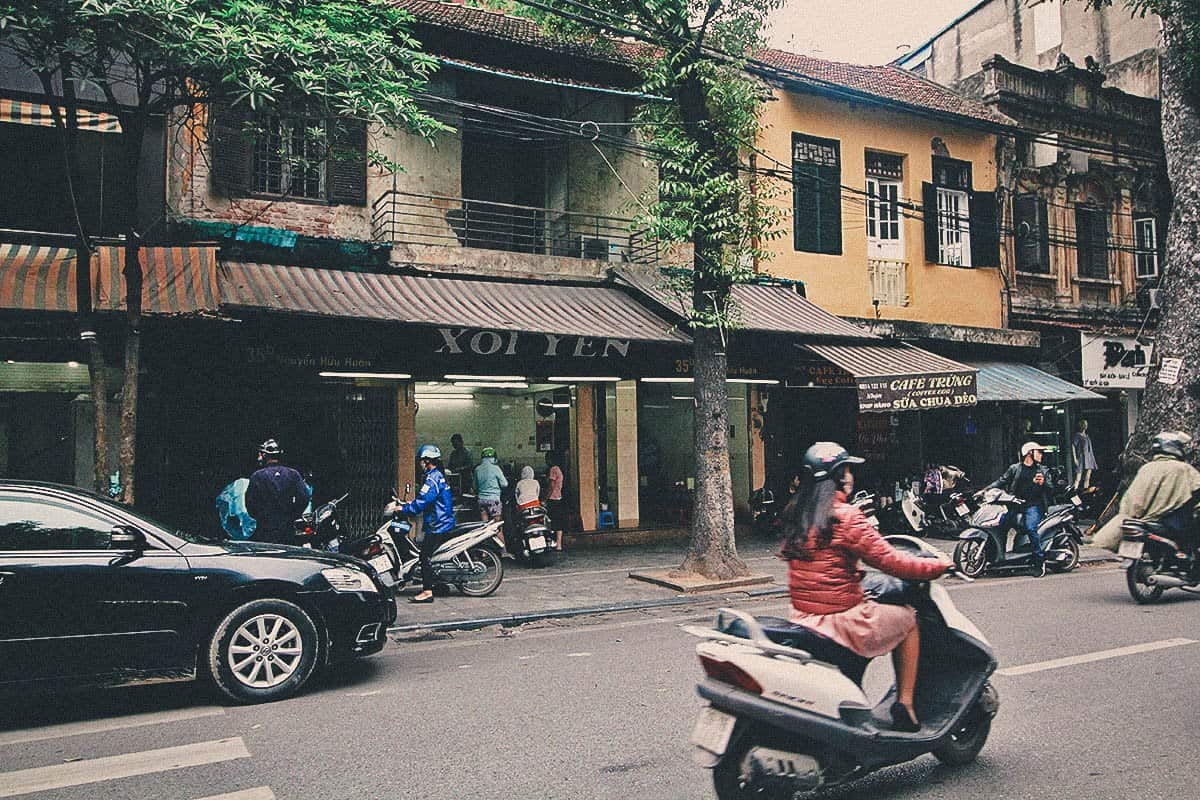 We ordered the "varied" xoi xeo which looks like it came with everything but the kitchen sink. For VND 50,000, this overflowing bowl will fill up all but the biggest eaters. Ren and I shared one bowl and we couldn't even get through the whole thing! Xoi or sticky rice is very heavy and makes for an exceedingly filling meal. Maybe not the smartest thing to eat when you're on a multi-stall food crawl! 😆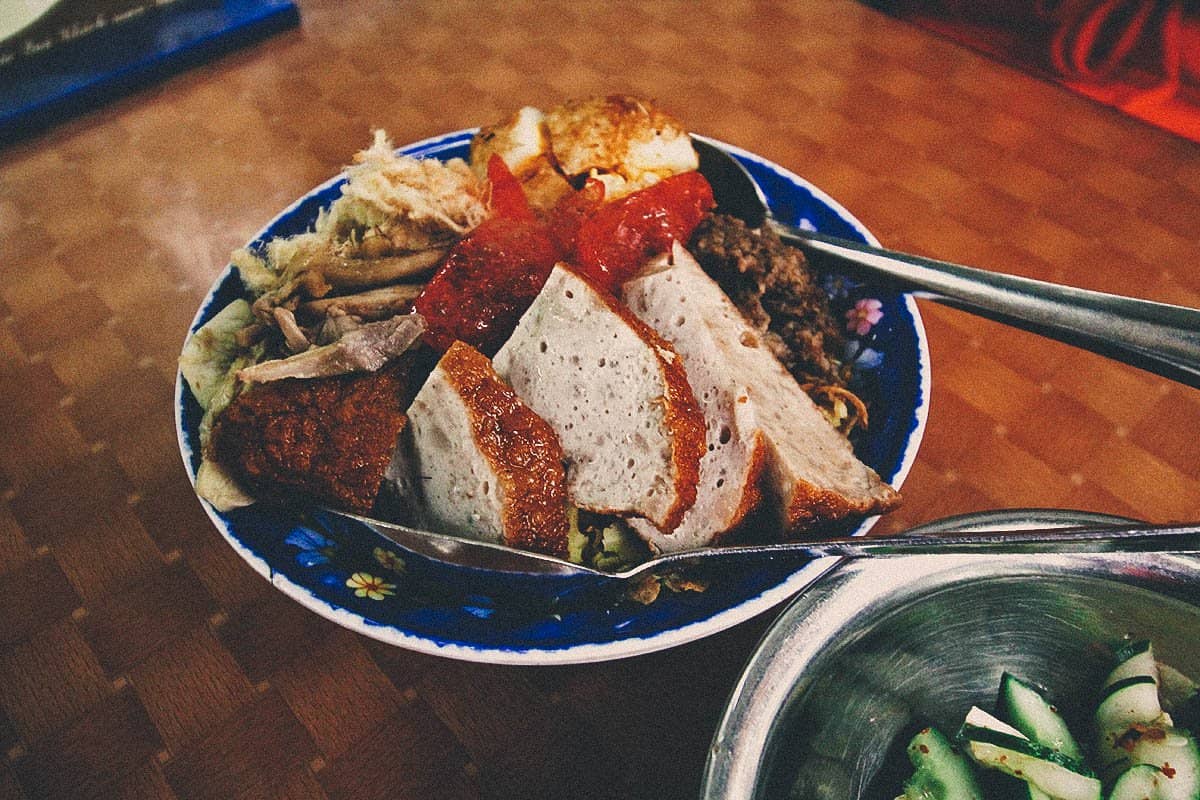 Underneath that blanket of toppings is the xoi. The rice's yellow tint comes from turmeric which is mixed with water and glutinous rice. Mung beans are then peeled, steamed, pummeled, and rolled into balls before being mixed into the rice and topped with fried shallots and a tablespoon of liquid fat. See what I mean about this dish being so filling? And we haven't even gotten to the toppings yet! I'm not sure exactly what the varied bowl comes with but it looks to have pork floss, giò lụa (Vietnamese pork sausage), Chinese sausage, egg, roasted pork, chicken, and maybe a few other ingredients. It's served with a side of Vietnamese cucumber salad.
If you're stumbling to your hotel from Bia Hoi corner and want something to soak up all that cheap beer, then you may want to stop at Xôi Yến and smash your face into one of these bowls of xoi xeo. 😉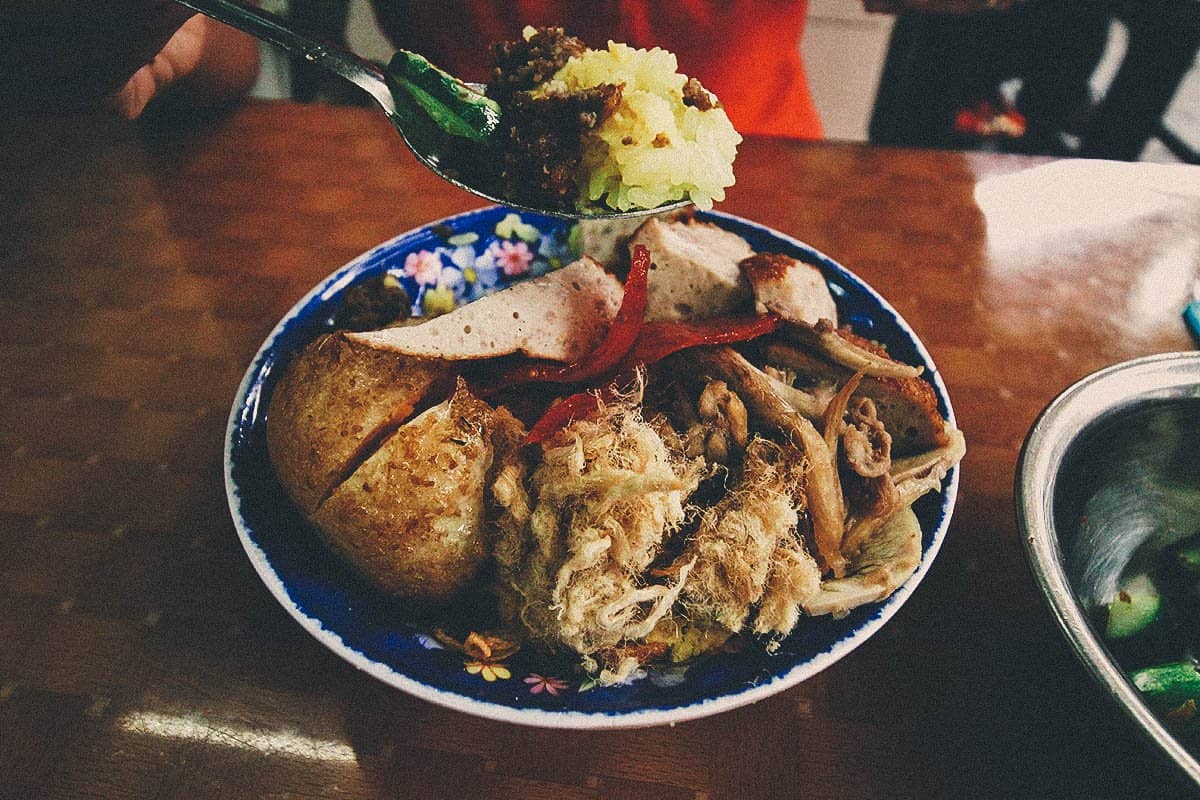 Address: 35B Nguyễn Hữu Huân, Lý Thái Tổ, Hoàn Kiếm, Hà Nội, Vietnam
Operating Hours: 5AM-1AM
What We Paid: VND 50,000 for the "varied" xoi xeo
13. Chả Cá Thăng Long
This was one of my favorite meals in our two weeks in Vietnam. This restaurant serves a classic Hanoi specialty of grilled turmeric-marinated catfish served with a mountain of fresh dill called Chả Cá Lã Vọng. It's named after the restaurant that popularized it over a hundred years ago. I don't know where it was originally published, but so good is this dish that it was once included in a list of 1,000 things you must eat before you die. If you enjoy fish, then you absolutely need to try this.
It's interesting to note that the original Chả Cá Lã Vọng restaurant is still open today, but based on its TripAdvisor reviews, its best days may be behind it. It has a poor average rating of 3.0, mainly due to poor service and higher than average prices. Thankfully, many restaurants in Hanoi now serve this dish so we decided to go to Chả Cá Thăng Long. It has a stellar 4.5 rating and is a TripAdvisor Certificate of Excellence awardee.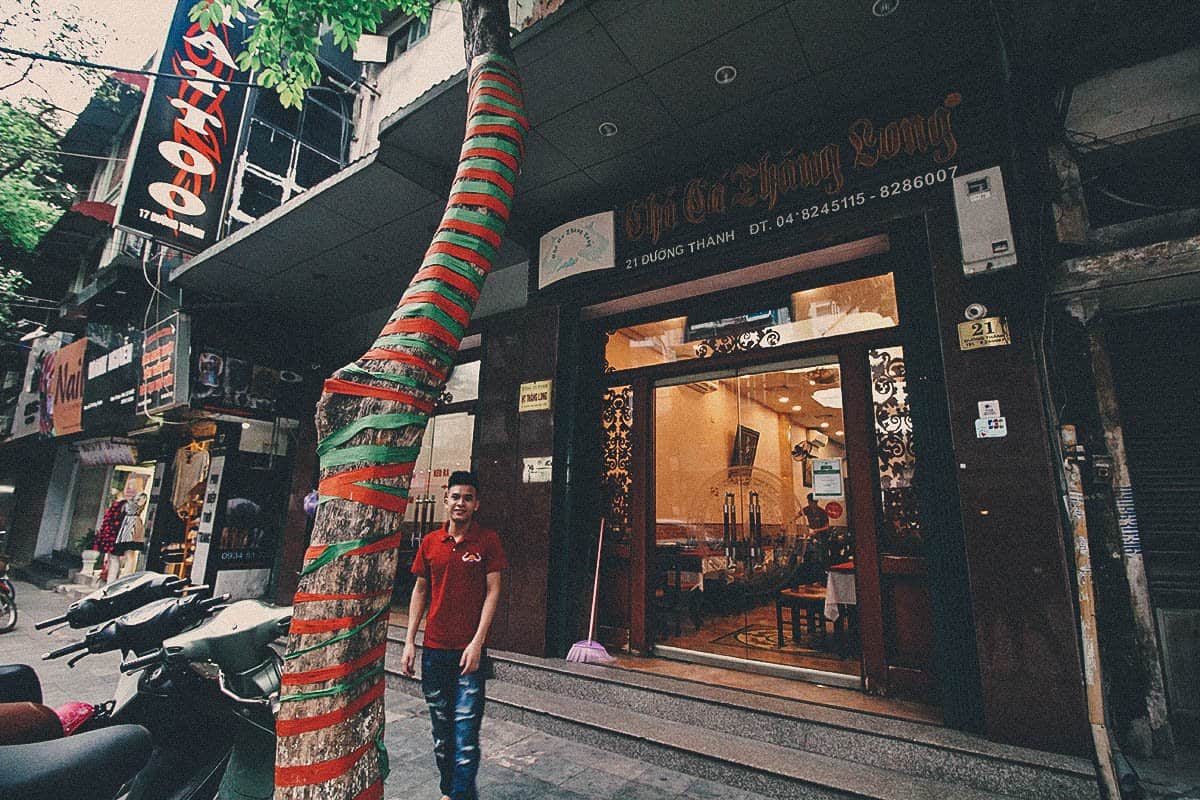 The fish typically used to make chả cá is the hemibagrus catfish, a genus of catfishes caught in the rivers of Northern Vietnam. It's cut into matchbox-sized nuggets and marinated in galangal, turmeric, and other spices. It's grilled on charcoal first before being brought out to pan fry on your table with a forest of dill and spring onions.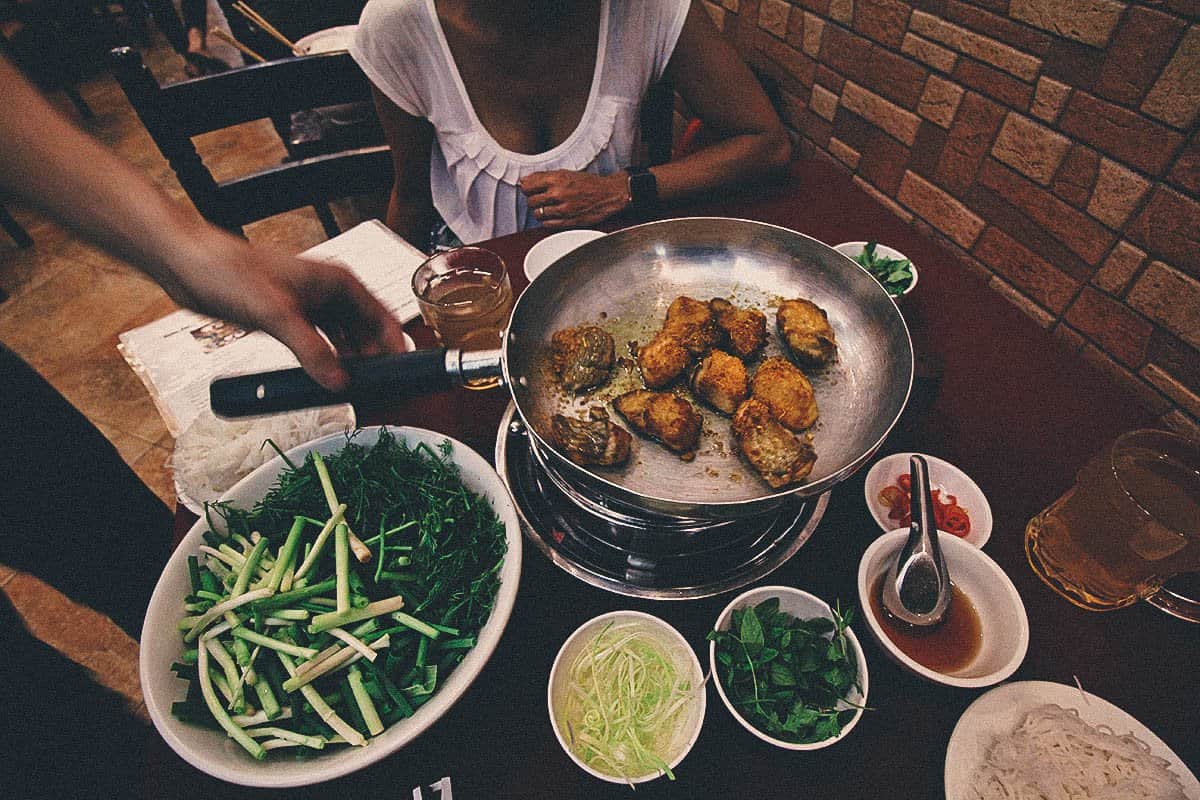 Now how good does that look? Trust me, it smells even better at this point. Once ready, the chả cá is served with rice vermicelli, roasted peanuts, and coriander, along with a dipping sauce made with nước chấm (fish sauce), vinegar, and garlic. If you like, you can also add a bit of Vietnamese shrimp paste (mắm tôm) mixed with lime juice. It has a strong pungent odor and flavor so it may not be for everyone. Filipinos will find it similar to bagoong. We love it.
The flavors and textures of the chả cá are wonderful so it's easy to see why this dish is so highly regarded. The fish is tender and flaky on the inside with a slightly charred, caramelized coating. That's probably why the fish is grilled first before being pan-fried, to give it smokiness and texture. There's a wonderful aroma to the dish from all the dill and the spring onions give it some freshness and crunch. It's so damn good and an absolute must-try in Hanoi.

Address: 19 – 21 – 31 Duong Thanh, Hoan Kiem, Cửa Đông, Hanoi, Hà Nội Hoàn Kiếm, Vietnam
Operating Hours: 8AM-10PM
Expect to Pay: VND 120,000 per person
14. Lutulata
We wanted to get away from the afternoon heat so we were looking for a place where we could sit inside and have dessert. I found a blog post listing the best desserts in Hanoi which led us to Lutulata Cafe. They serve an extensive variety of Chè, which are Vietnamese dessert soups made with coconut milk and an endless combination of ingredients like beans, tapioca, jelly, fruit, tubers, and glutinous rice. It's like a Vietnamese version of Filipino halo-halo.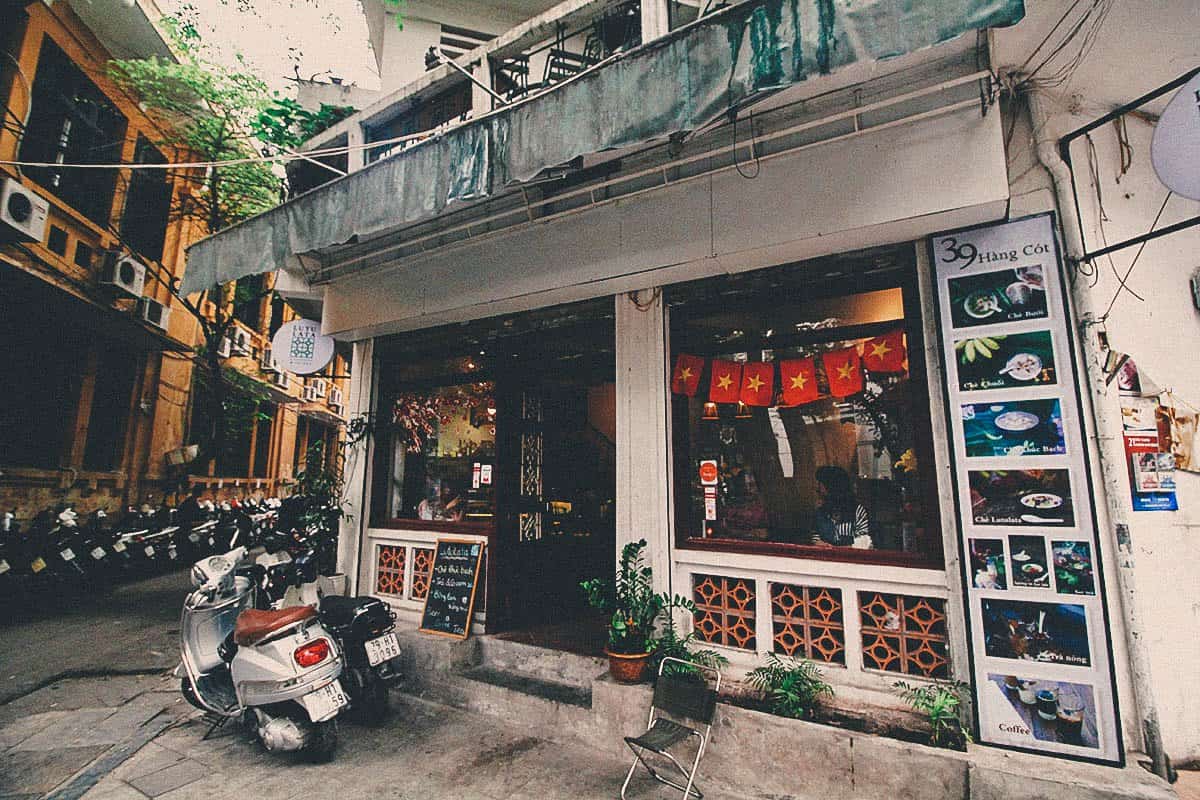 Lutulata is a cute three-story cafe with balcony seating. It's in a quieter part of the Old Quarter making it an ideal spot to while away the time and escape the sometimes overwhelming chaos of Hanoi.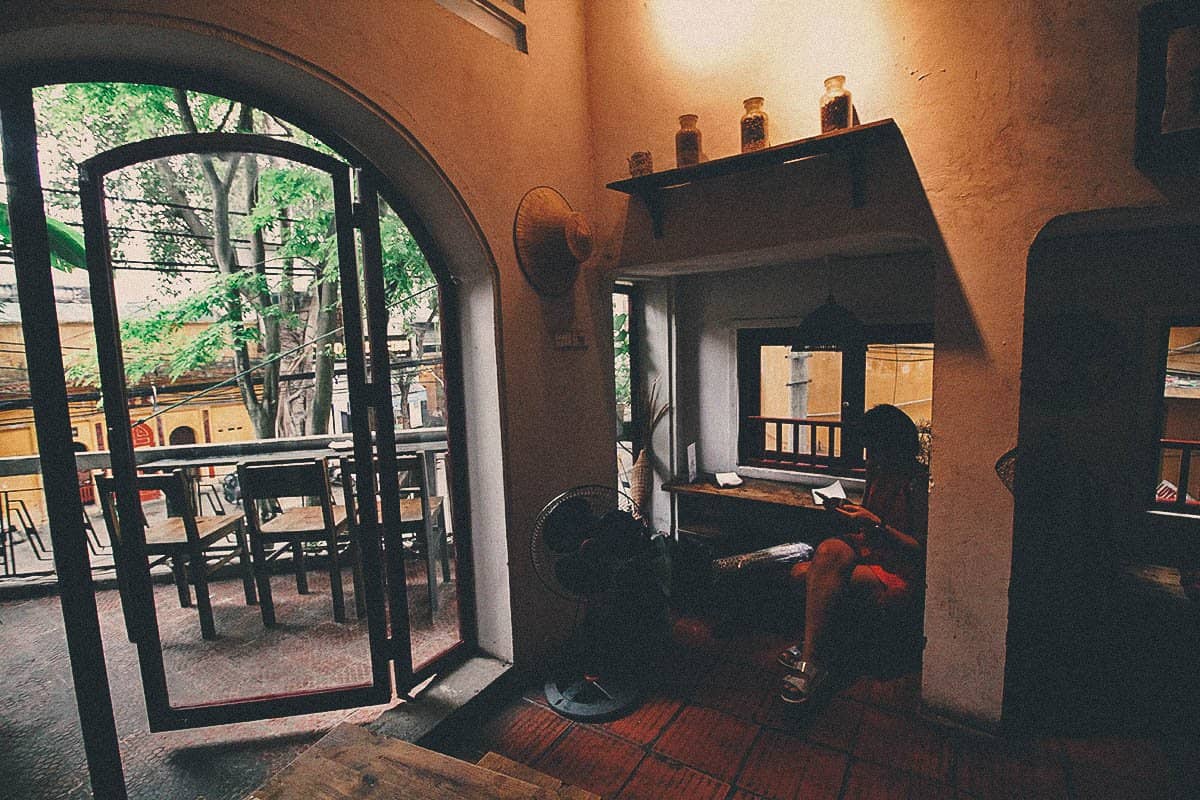 We didn't know what to order so our server recommended two of their most popular varieties – chè khúc bạch and chè Lutulata. The menu didn't indicate what was in them but they looked to have a combination of beans, fruit, tapioca pearls, and jelly. If I remember correctly, the one pictured below was the chè Lutulata. Sitting on top I think are dried jackfruit chips. Unlike Filipino halo-halo where all the components go in a tall glass, chè is served in a bowl with shaved ice on the side. You mix the ice into your chè as you eat. It's good and very refreshing.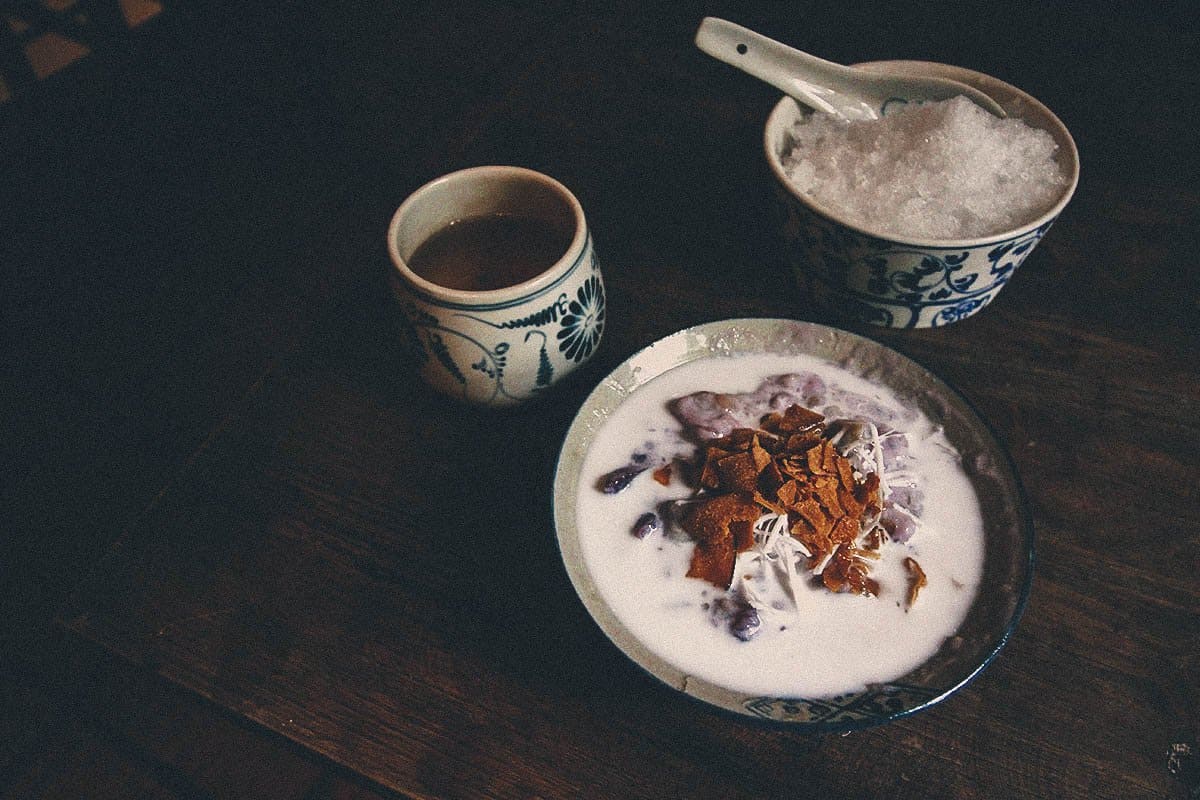 Address: 39 Hàng Cót, Hàng Mã, Hoàn Kiếm, Hà Nội, Vietnam
Operating Hours: 8AM-11PM
Expect to Pay: Around VND 30,000 per bowl of che
15. Cafe Phương Linh
The Vietnamese love coffee. Walk around Hanoi for a day and you'll see what I mean. From sidewalk setups to upscale cafes, there are coffee shops on nearly every block. It was that way in Saigon and Hoi An too. With Vietnam being the second largest exporter of coffee in the world, behind only Brazil, I imagine it's pretty much like that anywhere in the country. In Hanoi, there's one coffee specialty that you need to try. Popular with both locals and tourists alike, it's called cà phê trứng or egg coffee.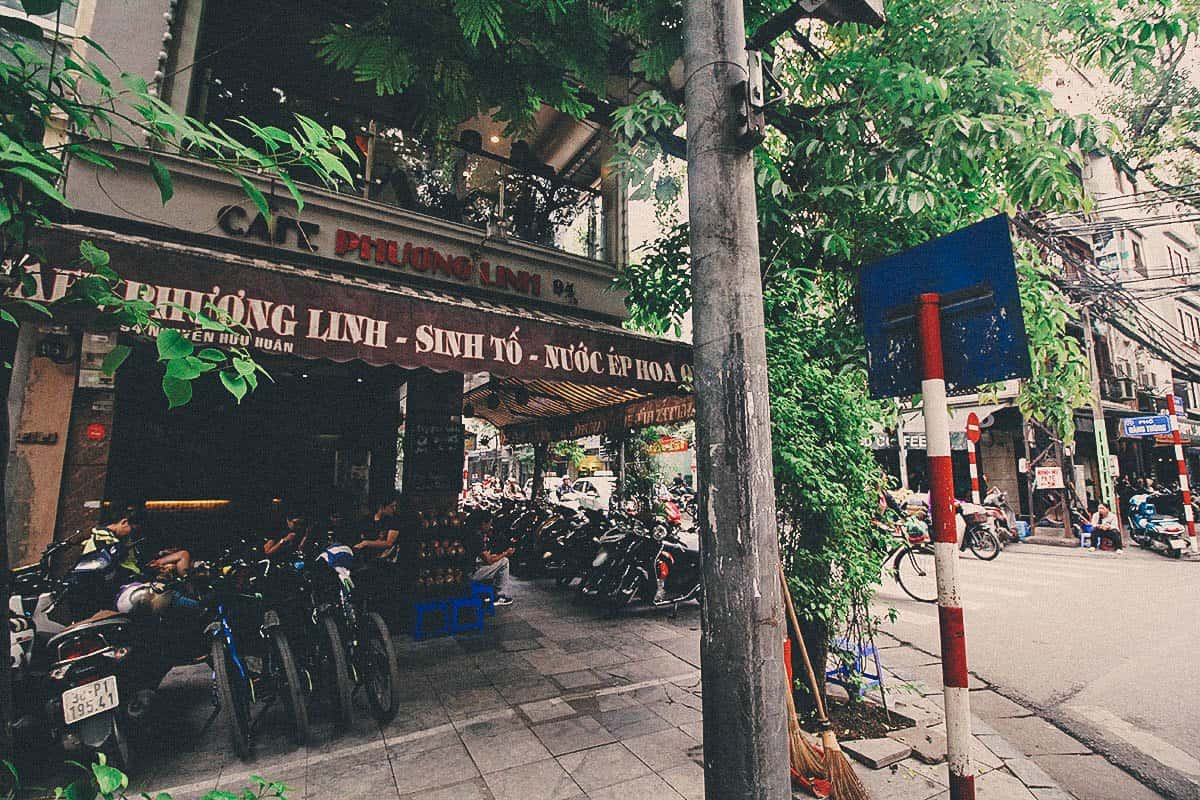 Cà phê trứng is a type of Vietnamese coffee made with egg yolks, sugar, and condensed milk. Invented in the 1940s due to a shortage in milk, it's prepared by vigorously beating egg yolks with condensed milk and coffee until frothy. A cup is half-filled with freshly brewed Vietnamese coffee then topped with this fluffy egg mixture. What you wind up with is a frothy cup of joe that's sweet, strong, eggy, and very rich.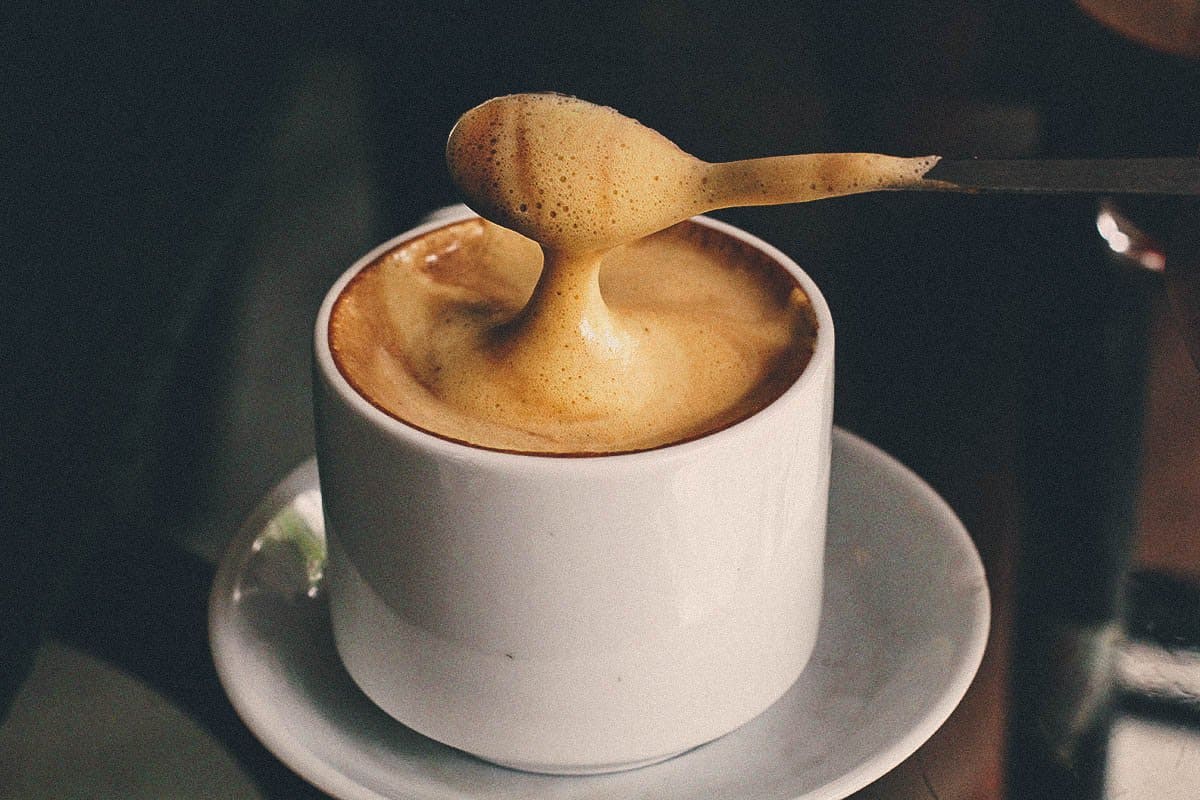 You can find cà phê trứng pretty much anywhere in Hanoi but we had it at Cafe Phương Linh in the Old Quarter. I'm not sure if it's as common but they serve another type of coffee here called coconut coffee. It isn't frothy like egg coffee but it's just as sweet and tastes, surprise surprise, like coconut.
No offense, but we weren't too fond of either. I take my coffee black with no sugar so I found cà phê trứng to be too rich and sweet. Many people love it though. It's an important part of the city's coffee culture so it's something you need to try when in Hanoi.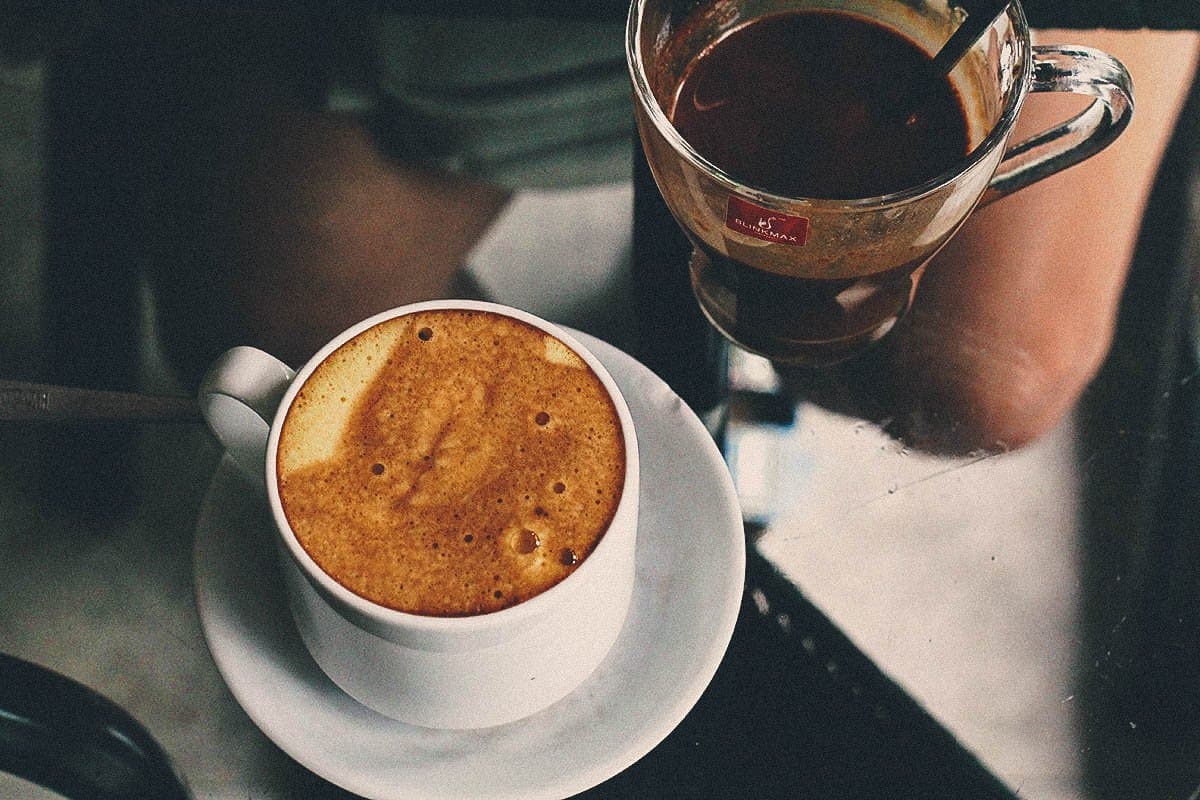 There's the birthday girl with her cup of coconut coffee. ♥ By the way, if you have a particular interest in egg coffee, then you may want to try it at Giảng Cafe, which is said to be the birthplace of cà phê trứng. It's located at 39 Nguyễn Hữu Huân, also in the Old Quarter.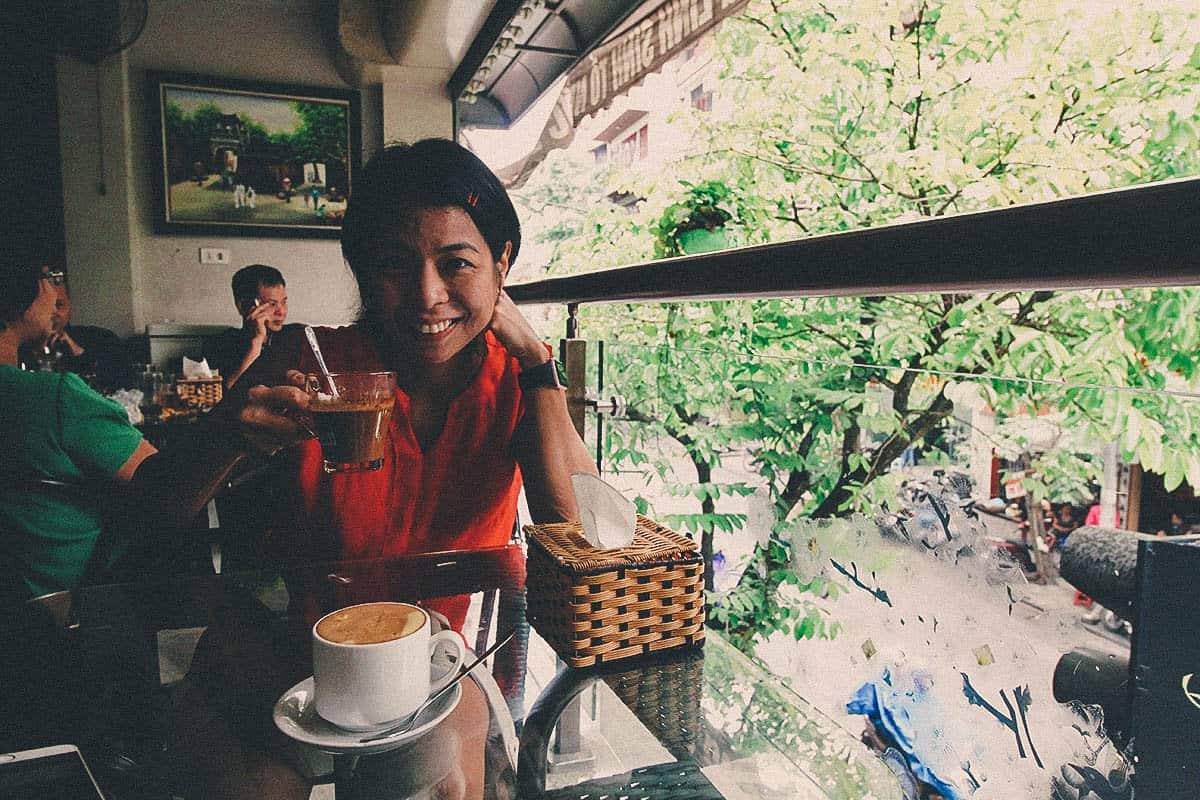 Address: 94 Nguyễn Hữu Huân, Hàng Bạc, Hoàn Kiếm, Hà Nội, Vietnam
Operating Hours: 6:30AM-11:30PM
What We Paid: VND 70,000 for one cup each of egg and coconut coffee
16. Bia Hoi Corner
If you like to drink, then you've probably heard of this vibrant corner in Hanoi's Old Quarter. It looks like any other street corner during the day but at night, it transforms into a lively mix of locals and tourists sitting on low plastic stools and enjoying cheap beer. The atmosphere here is electric.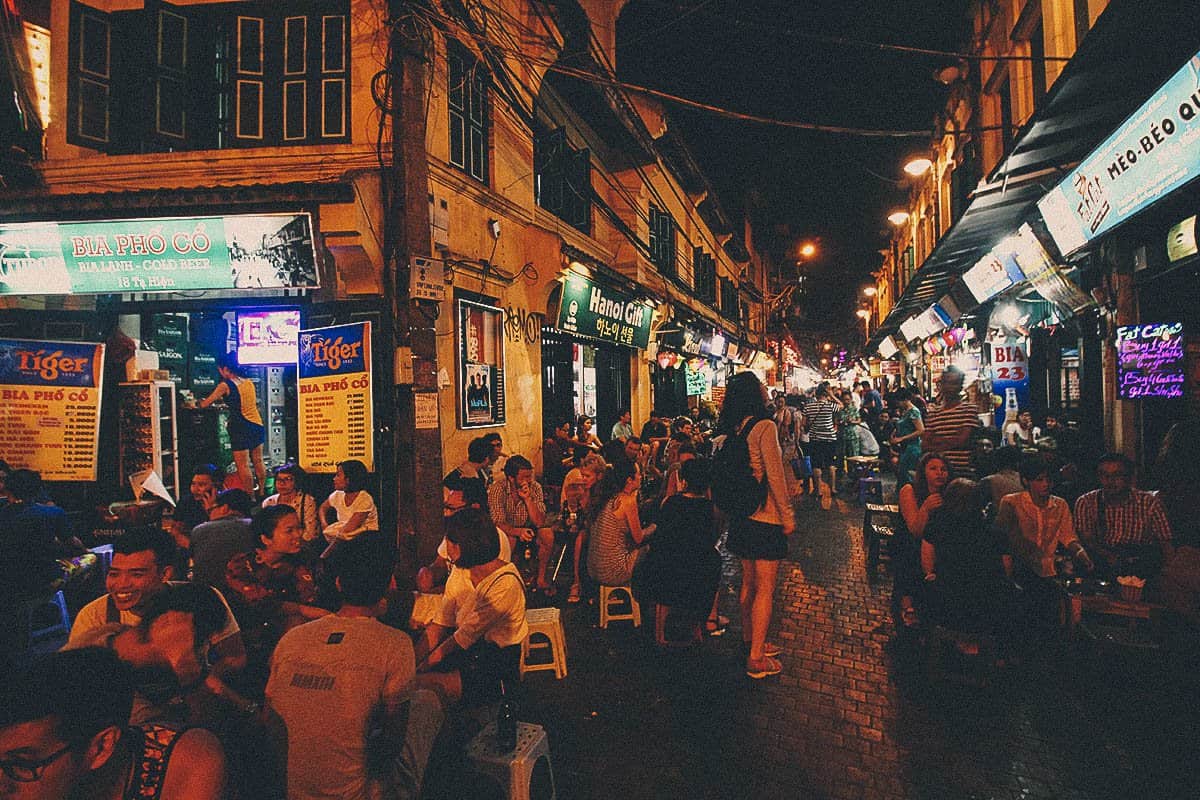 The term bia hoi refers to Vietnamese draft beer. It's a cheap type of draft beer that costs anywhere between VND 3,000-7,000 (around USD 0.13-0.31). Brewed daily and without preservatives, freshly made batches are delivered in steel barrels and typically consumed that same evening.
Bia hoi can be consumed in bars throughout Hanoi but it's best enjoyed at the corner of Ta Hien and Luong Ngoc Quyen Streets, aka Bi Hoi Corner. More a junction of several streets than a corner, there are many bars here serving bia hoi along with several brands of bottled beer.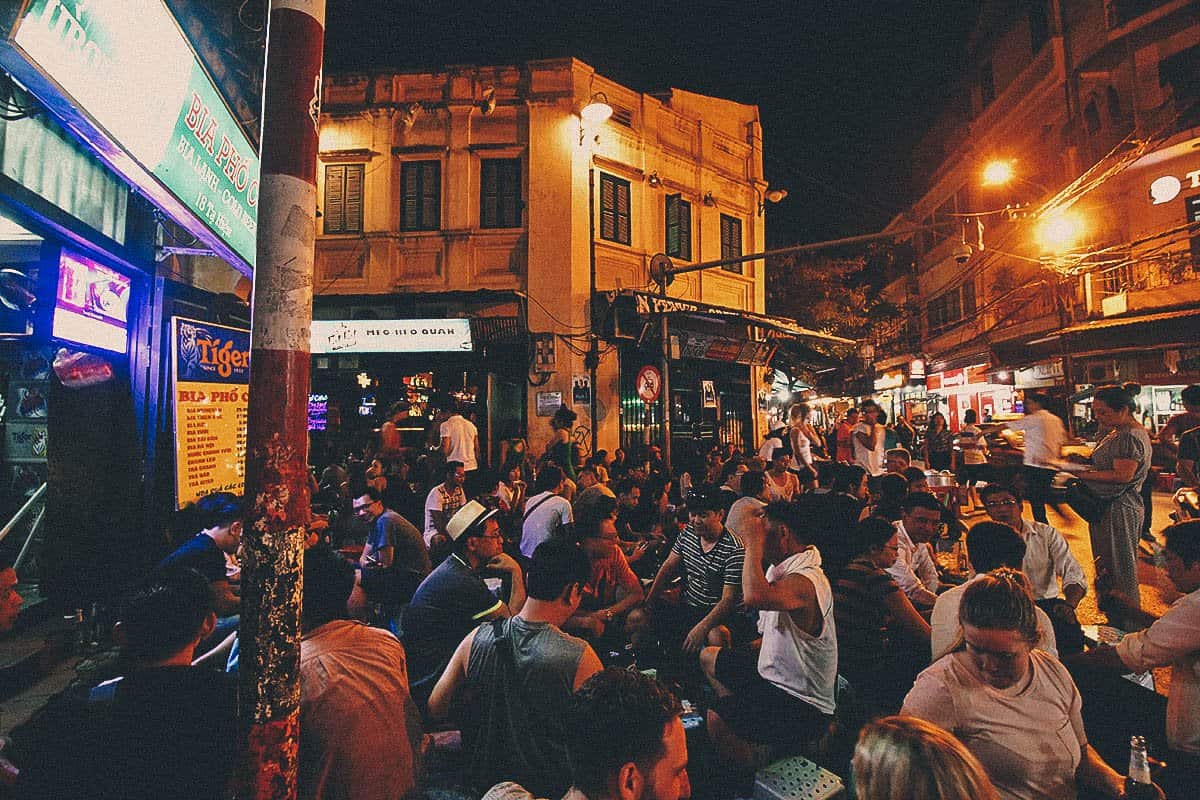 There's the mama-san or boss lady keeping everyone in check. It's funny, we were sitting on the curb drinking beers when she suddenly started yelling something in Vietnamese. Everyone went scrambling while her bar girls quickly hid our drinks and stacked away the plastic stools. We were left standing and wondering what the heck was going on. Should we run? None of the locals left so we didn't see any reason to. Even the customers who ordered food were left standing with plates in hand and still eating! Moments later, a patrol car came riding by. I'm not sure what the commotion was but I guess it's illegal for customers to be sitting too far out into the street? Whatever the reason, things quickly returned to normal and we were back on our stools drinking beers like nothing happened. Ahh, Bia Hoi Corner… 🙂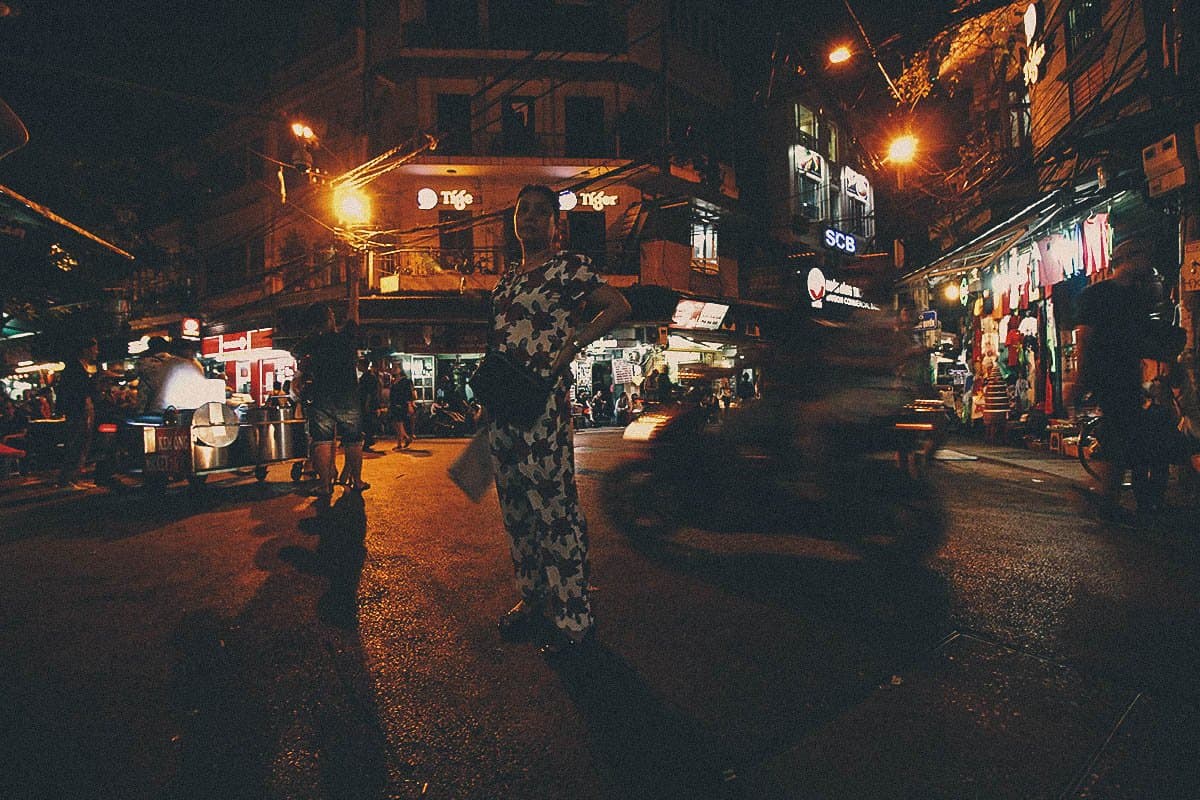 Here's a quick hyperlapse I made of Bia Hoi Corner. I tried one glass of draft beer but I didn't like it so I went with local bottled beer instead. If I remember correctly, this bottle of Saigon Special went for VND 20,000. Bia hoi has a low alcohol content, about 3%, and tasted a little sour to me. Not to be a buzzkill, but bia hoi's production isn't monitored by any health agency so you probably shouldn't be drinking the stuff too often.
Address: Corner of Ta Hien & Luong Ngoc Quyen Streets
Operating Hours: Mid-afternoon to late night
Expect to Pay: VND 3,000-7,000 (draft) / Around VND 20,000 (local)
* * * * *
As with all our food guides, this is by no means a definitive list but I hope it points you in the right direction. There is so much interesting food to be discovered in Northern Vietnam, particularly in the country's capital of Hanoi. You'll never run out of options!
Many of these eateries can be hard to find so I've pinned them all on the map below to make it easier for you. I've added a couple others as well that we wanted to visit but couldn't get to.
To help you with your travel planning, you can refer to our full 4-day Hanoi itinerary on Sygic Travel. It's a more complete version of the map above with restaurant, hotel, money changer, and attraction suggestions.
You can also download a copy of our entire 2-week Vietnam itinerary in editable Word format from our EAT-ineraries page. It goes north to south and covers Hanoi (including Ha Long Bay), Hoi An, and Saigon. Thanks for reading and we hope you enjoy these awesome restaurants and street food stalls in Hanoi!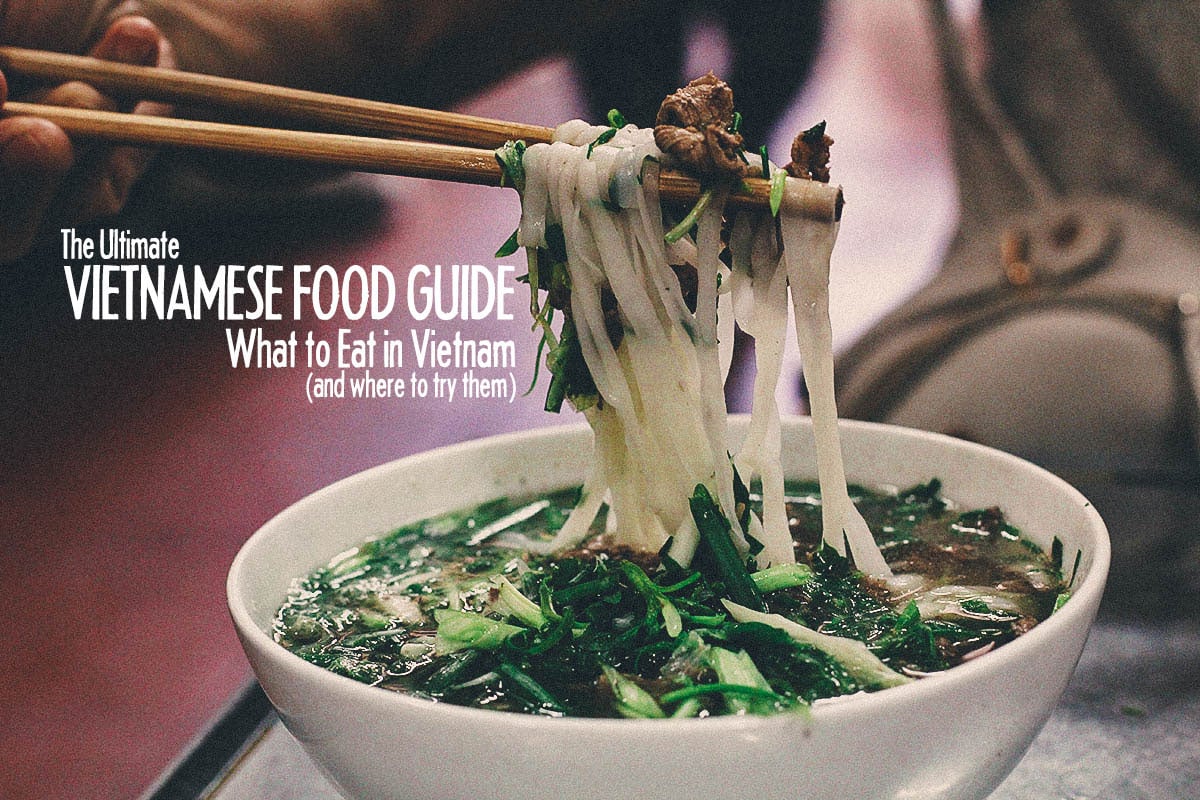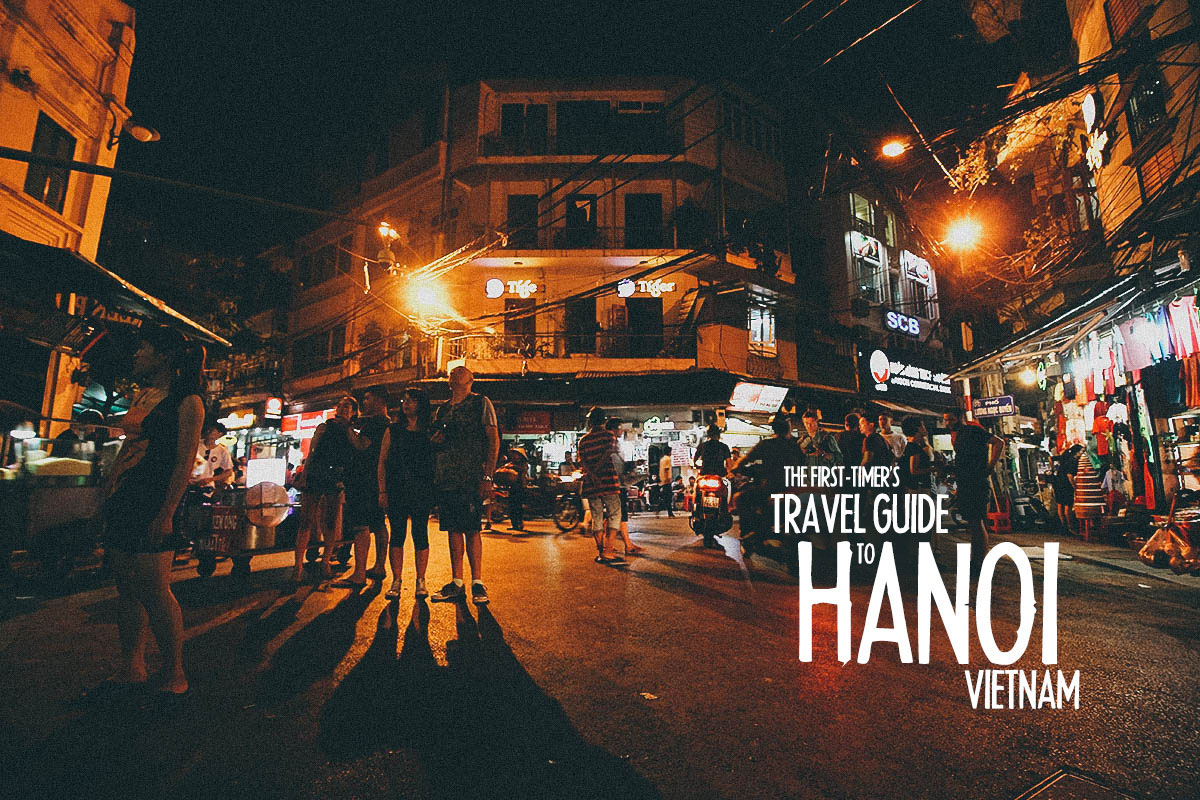 JB and Renée are the Traveleaters behind Will Fly for Food, a travel blog for the gastronomically inclined.  They enjoy experiencing food from different cultures so they've made it their mission to try every country's national dish.  Read more about them and their National Dish Quest here.