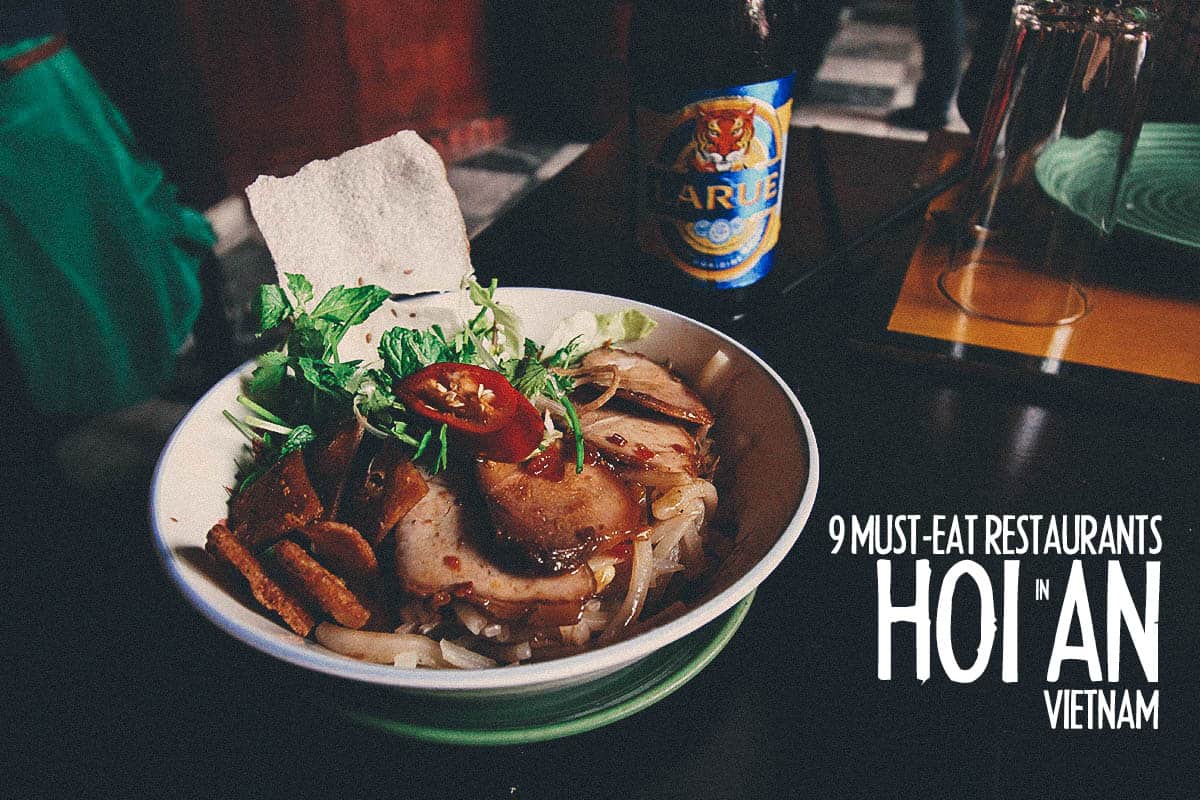 Hoi An Food Guide: 9 Must-Eat Restaurants & Street Food Stalls in Hoi An, Vietnam
NOTICE: Some of our articles contain affiliate links. The ones that do will have a disclosure statement at the bottom. You can refer to our privacy policy and terms of use for more information.
We ate our way through three cities in Vietnam and I found the food in Hoi An to be the most interesting. Many of the dishes we tried are local specialties, things like (authentic) cao lầu and banh bao banh vac can be found only in Hoi An and much of it has to do with the ingredients.
Locally sourced ingredients figure prominently in Hoi An cuisine. Seafood is fished from the Thu Bon river and flour is milled from rice grown in nearby fields. But the best example perhaps is the water. Recipes for noodles and dough call for alkaline water drawn from ancient local wells, which is a large reason why many of Hoi An's core dishes can't be replicated elsewhere.
We spent three full days in Hoi An finding the best examples of local cuisine as we could. In our opinion, these are nine restaurants and street food stalls that you absolutely cannot miss. For your convenience, I've pinned them all on a map at the bottom of this post.
Save This on Pinterest!
No time to read this now? Click on the red save button and pin it for later!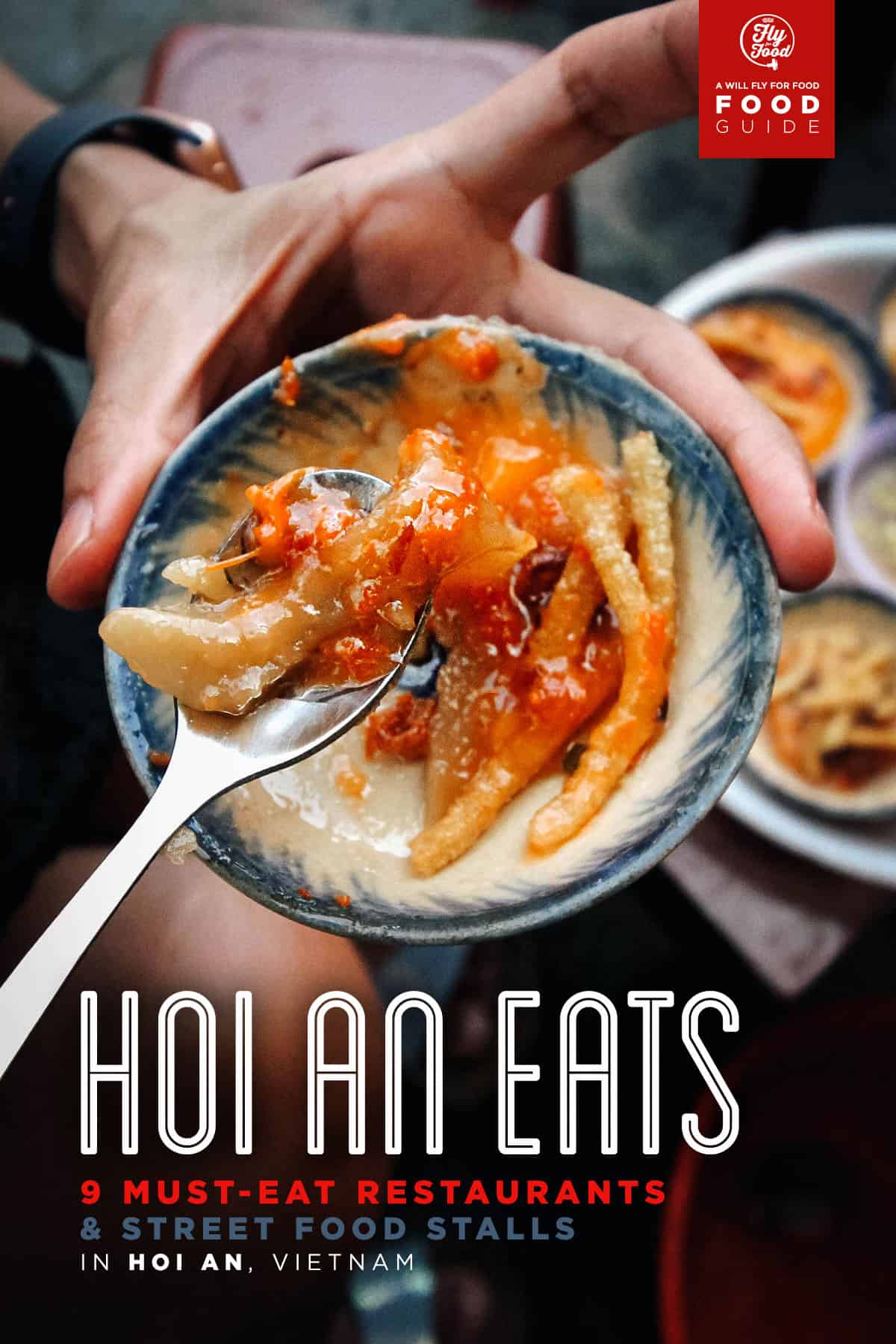 1. Morning Glory Restaurant
I was a little apprehensive when I first saw this place. It looked exactly like the kind of restaurant we try to avoid on our trips. It's in a big beautiful space right in the heart of a tourist hotspot. That usually meant two things: A) it's overpriced; and B) the restaurant caters to tourists so the food isn't authentic. Thankfully, neither was true.



When I was taking pictures of the restaurant's interior, I remember thinking that this central space looked like the venue for a cooking school. As it turns out, it was. Or it used to be. Relocating to nearby An Hoi islet in 2013, this space was once home to the Morning Glory Cooking School pioneered by the restaurant's owner Ms. Trinh Diem Vy. A celebrity chef, restaurateur, and cookbook author, Ms. Vy is credited for creating the cooking course that launched all Hoi An cooking schools. No wonder the food here was so good!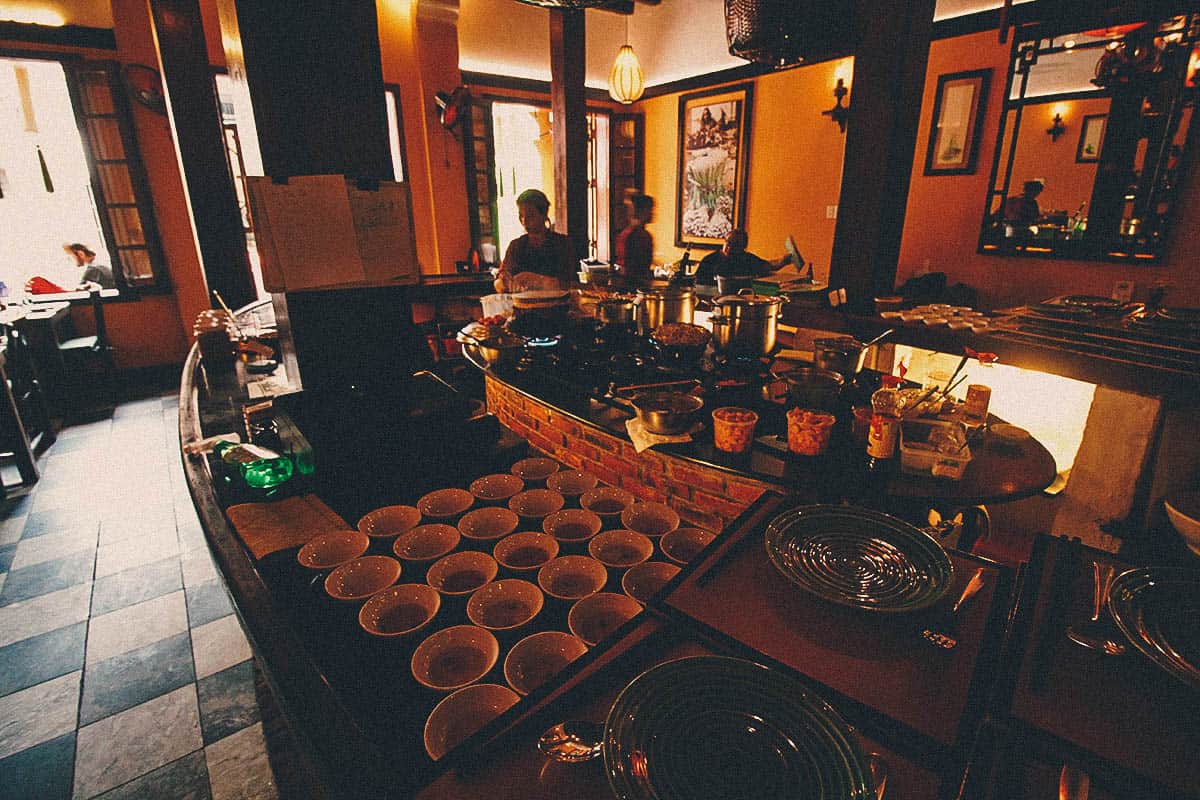 We ordered two dishes at Morning Glory, the first being this beautiful bowl of cao lầu. Made with rice flour noodles topped with cha siu pork, fresh greens, herbs, rice crackers, and fried pork rinds, cao lầu is the quintessential Hoi An dish. When you're in Hoi An, you absolutely need to have this dish because authentic traditional cao lầu can't be made anywhere else. I'll explain why below.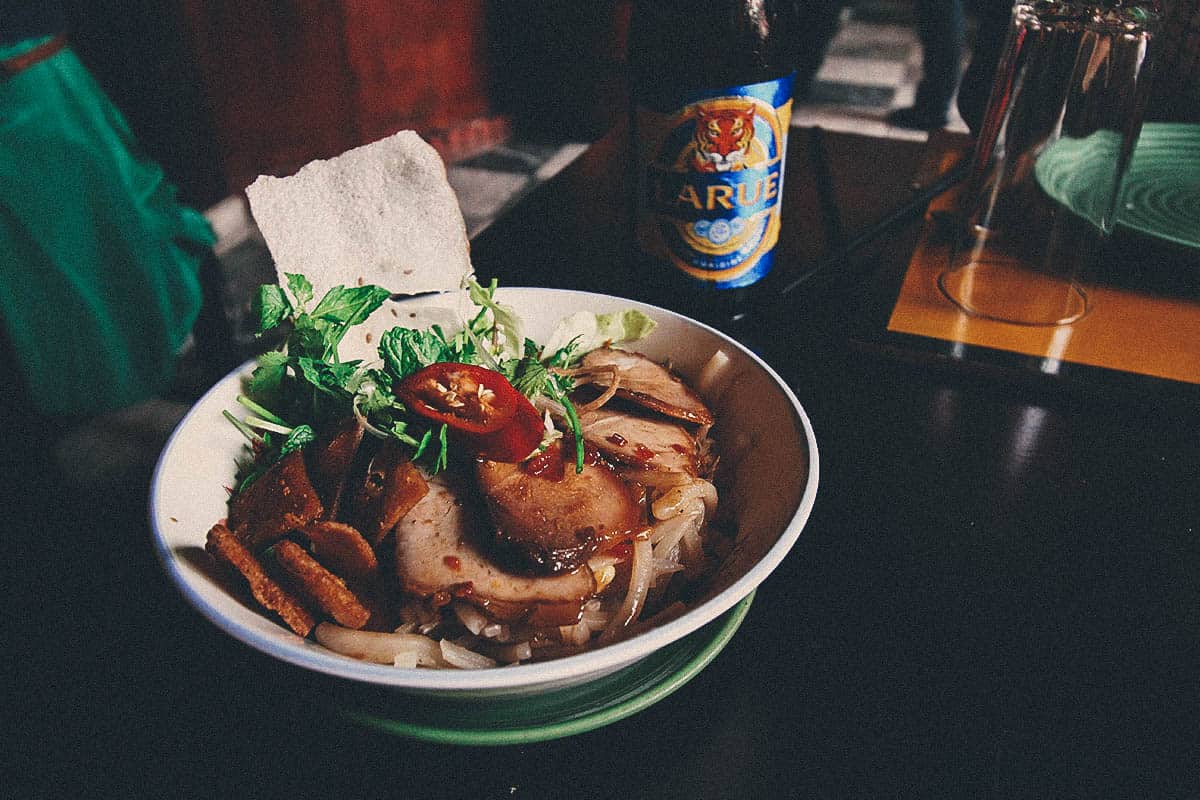 What makes cao lầu so interesting and special is that the water used to prepare the rice noodles must be drawn from an ancient Cham well called the Ba Le Well. Wood ash from trees that grow on Cham Island is mixed with the well's alkaline water to create a lye solution used to pre-soak the noodles. This is what gives cao lầu noodles its distinctive yellow tinge and chewier texture. After soaking in the lye solution, the noodles are then smoked over an ash-burning furnace to give them a smoky flavor.
That sounds like a lot of work to make noodles but you can't argue with the results. The cao lầu at Morning Glory was delicious. We had it two or three times during this trip and this one was the best.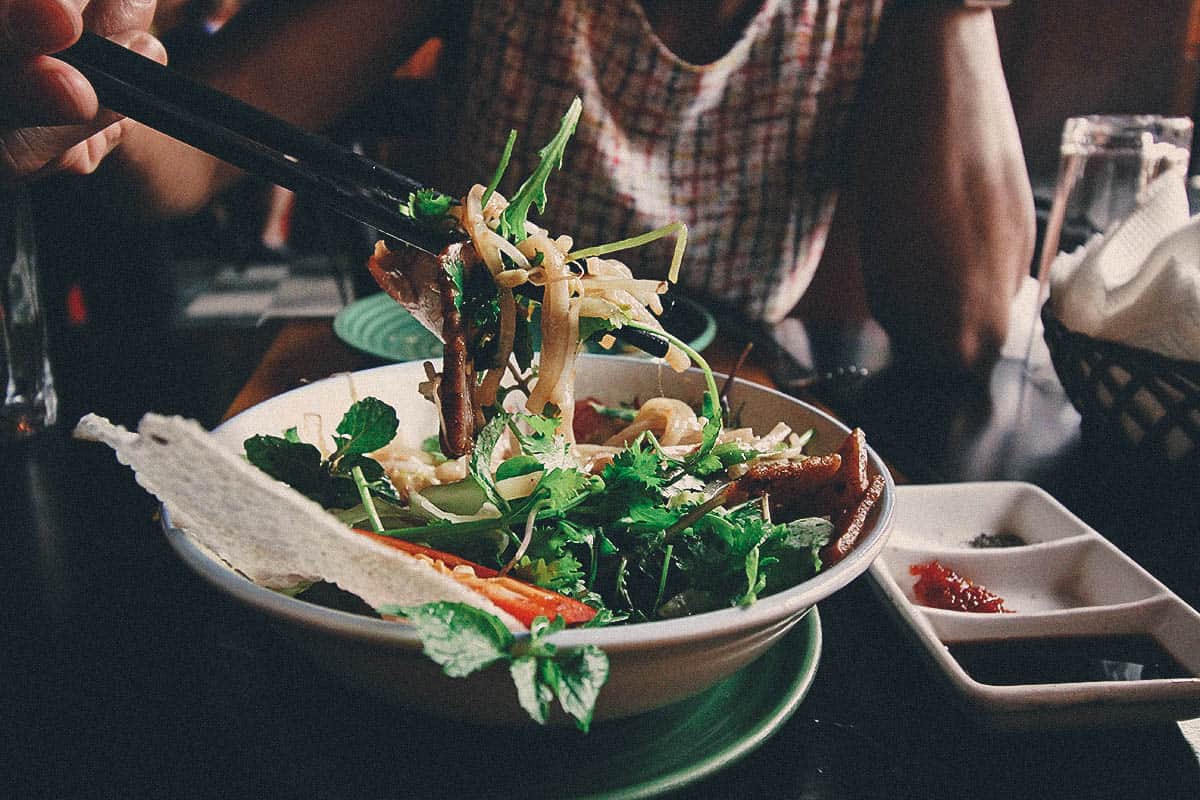 This was one of my favorite things to eat in Vietnam. Called bánh xèo, it's a crispy crepe made with fried rice flour batter filled with pork belly, shrimp, and bean sprouts. Its name literally means "sizzling cake" because of the sound it makes when the rice batter is poured into the hot skillet.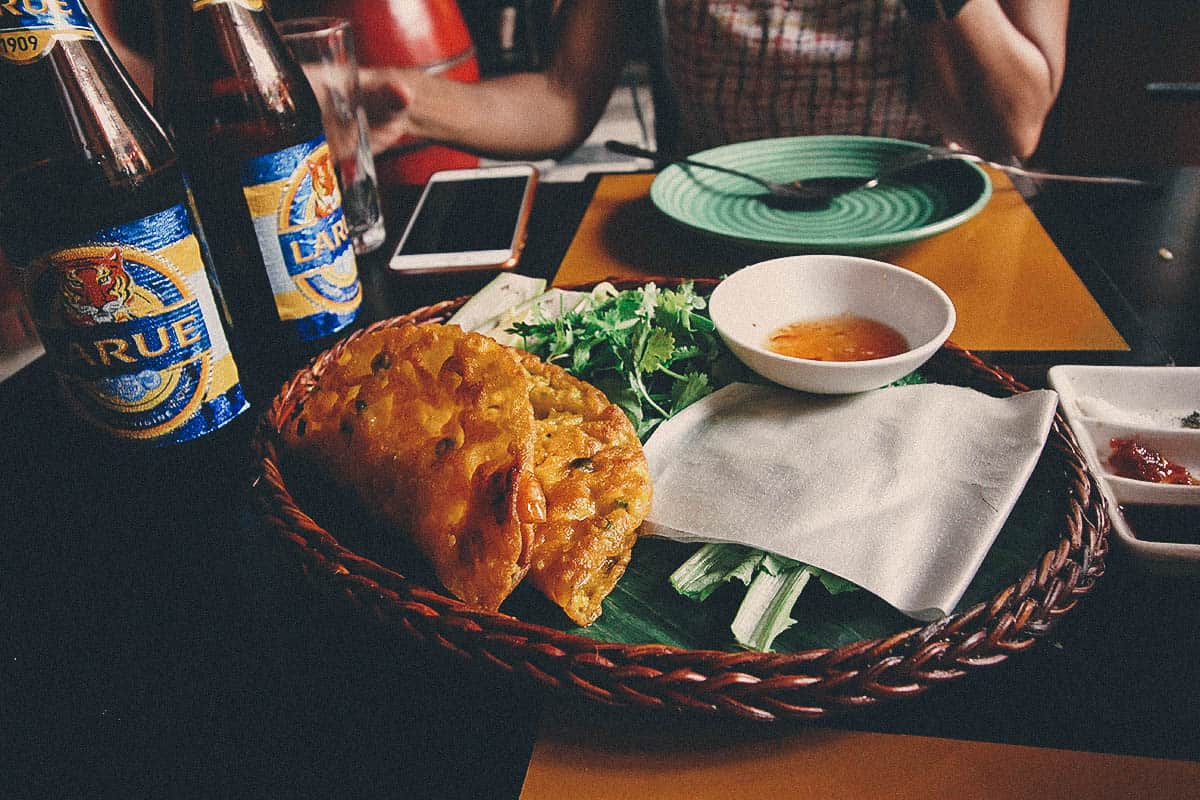 Like Vietnamese spring rolls (chả giò), you wrap pieces of bánh Xèo with fresh greens in rice paper before dipping into nước mắm pha – a fish-sauce-based dipping sauce.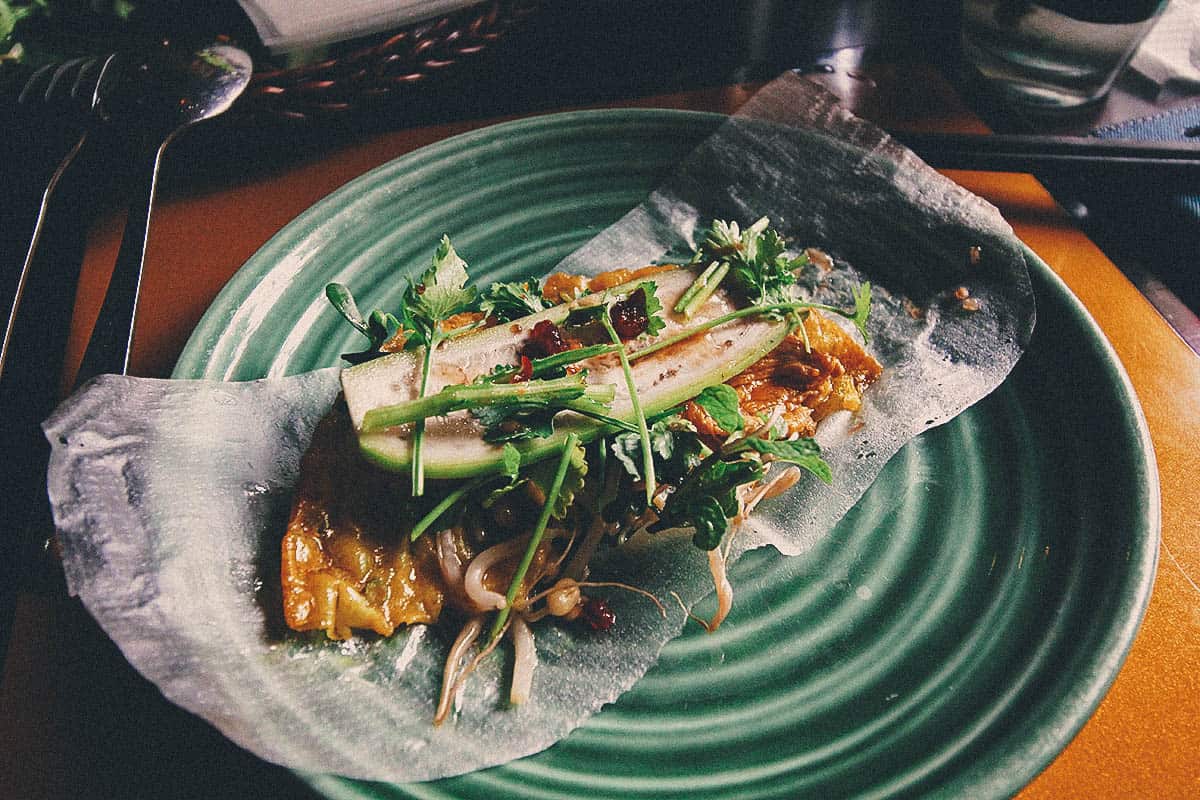 The bánh Xèo tastes savory-sweet, crisp, and fresh. It was one of the dishes we learned to make at Thuan Tinh Island Cooking School. Like the cao lầu, Morning Glory's bánh xèo was the best I had in Hoi An. Well, second best, after the one I made. 😆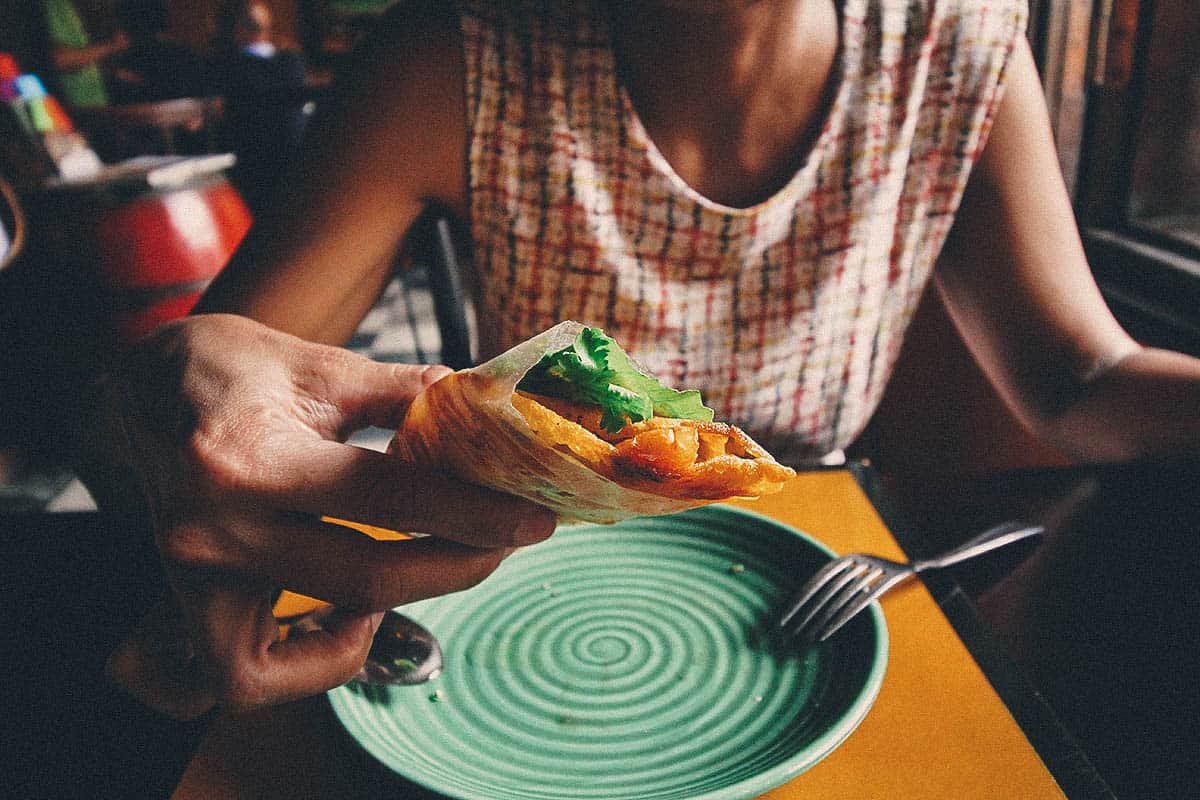 Address: 106 Nguyễn Thái Học, Minh An, Tp. Hội An, Quảng Nam, Vietnam
Operating Hours: 11AM-11PM, daily
What We Paid: VND 210,000 for the two dishes above plus drinks
2. Ong Hai (Mr. Hai Restaurant)
This is the type of place we like visiting on trips. Nothing fancy, just a simple hole-in-the-wall serving authentic food and frequented (mostly) by locals. Stop giving me the stink eye lady, I'm not taking a picture of you. 👿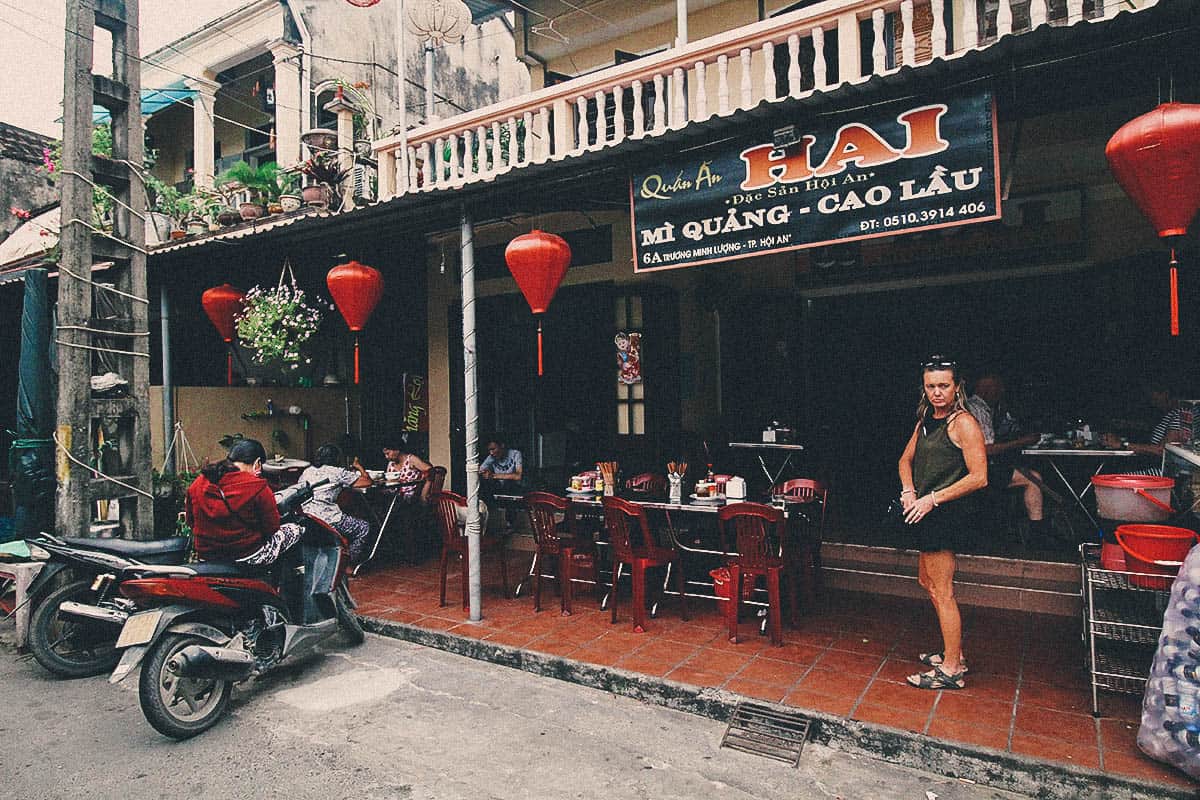 Ong Hai specializes in cao lầu and mì quảng, which is another noodle dish that Quảng Nam Province in Central Vietnam is known for. We had just eaten cao lầu at Morning Glory so we ordered only the mì quảng here.
Unlike cao lầu that's made with hardly any broth, mì quảng is a slightly soupier dish made with a wider type of rice noodle. Its broth is made by simmering meat (typically chicken or pork) in water or bone broth before seasoning with fish sauce, black pepper, shallots, and cu nen which is a pungent, garlic-type vegetable. This produces a concentrated broth that's more intense in flavor than a traditional noodle soup. The broth is then ladled about 1-2 cm deep into a bowl of noodles topped with pork, shrimp, or chicken.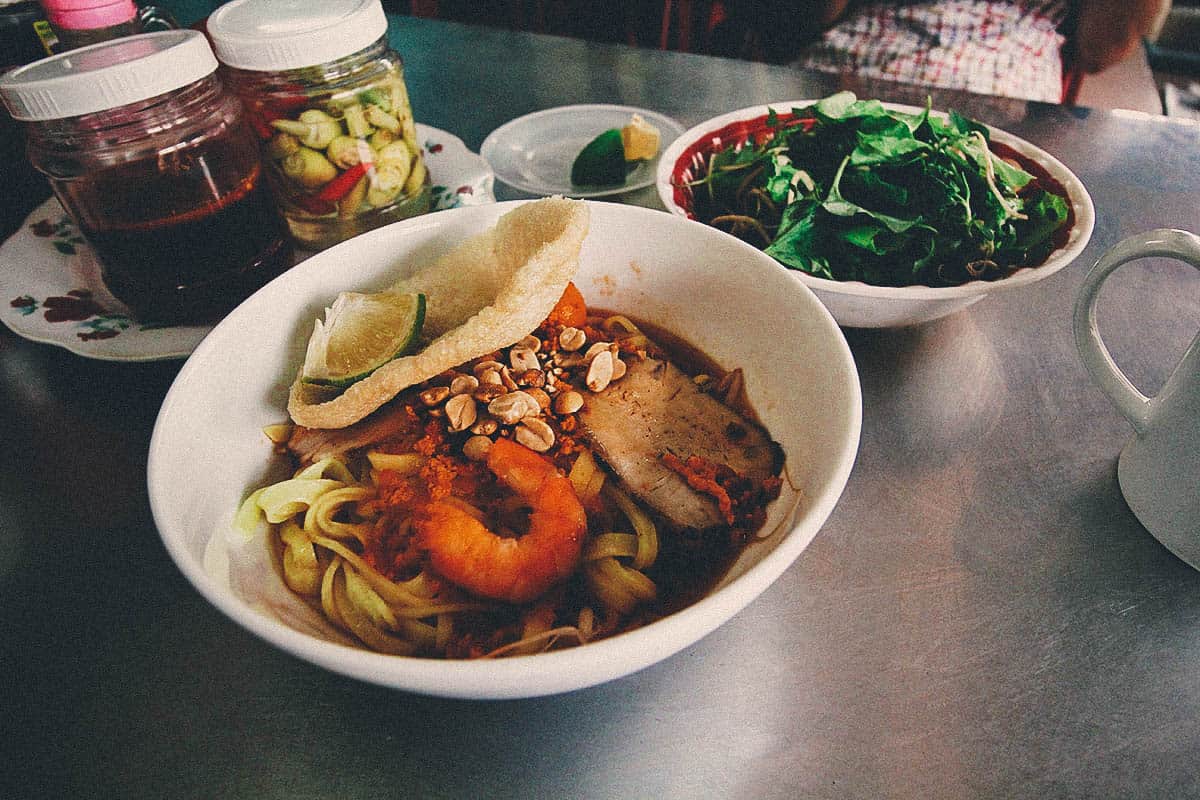 Aside from the proteins, mì quảng is also topped with a host of other ingredients like hard-boiled egg, peanuts, rice cracker, and fresh greens like mint, basil, and Vietnamese coriander. Toppings may vary but it's said that lemon/lime, green chili, peanuts, and rice cracker must be present to make the mì quảng authentic. I thought they were equally delicious but Ren actually preferred this mì quảng to the cao lầu.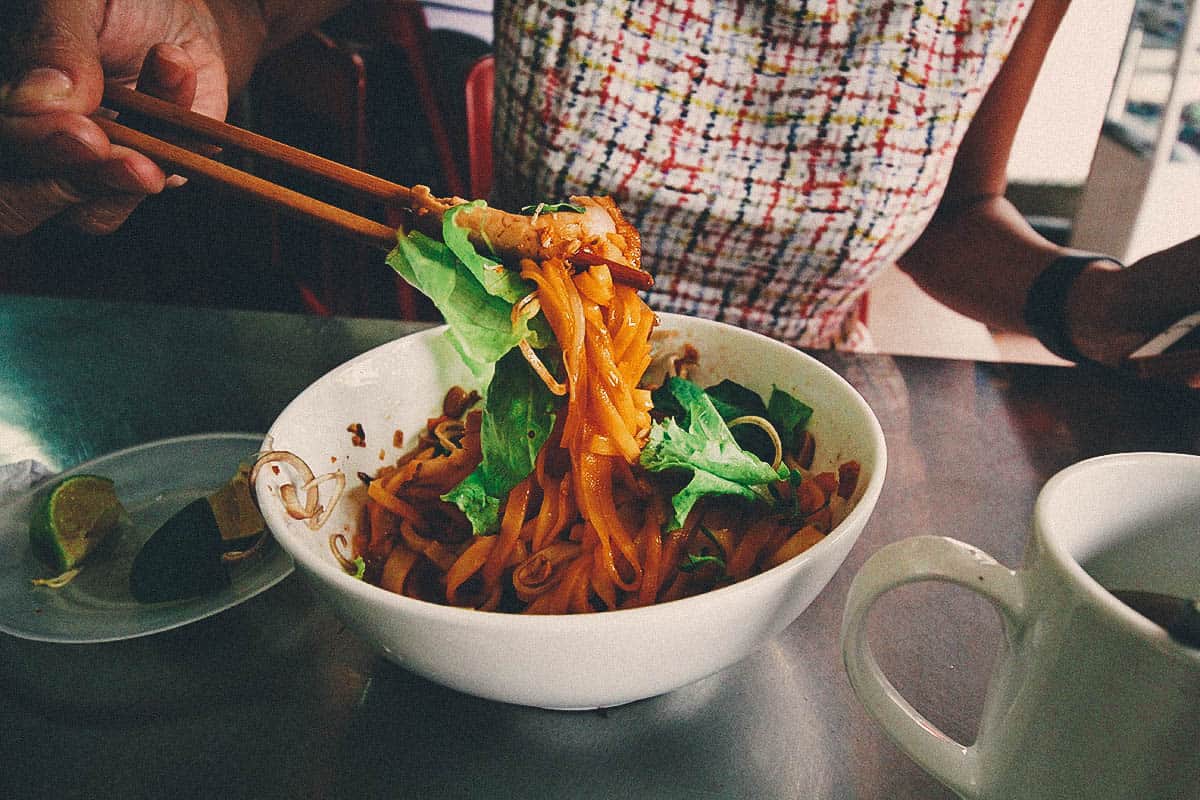 Address: 6A Truong Minh Luong Street, Hoi An, Vietnam
Operating Hours: 9AM-10PM, daily
What We Paid: VND 50,000 for one order of mi quang and drinks
3. Mì Quảng – Cao Lầu Bích
With cao lầu and mì quảng being core Hoi An dishes, we couldn't have them just once so we borrowed bikes from our BnB and rode them to this restaurant along the river. Like Ong Hai, Mì Quảng – Cao Lầu Bích is also known for both dishes. It's too far to walk from the center of Hoi An Ancient Town so unless you have a bicycle or moped, then you may want to skip this one. But if you're a true glutton and love food more than you love yourself, then you can hike your ass over here because it's really good. 😆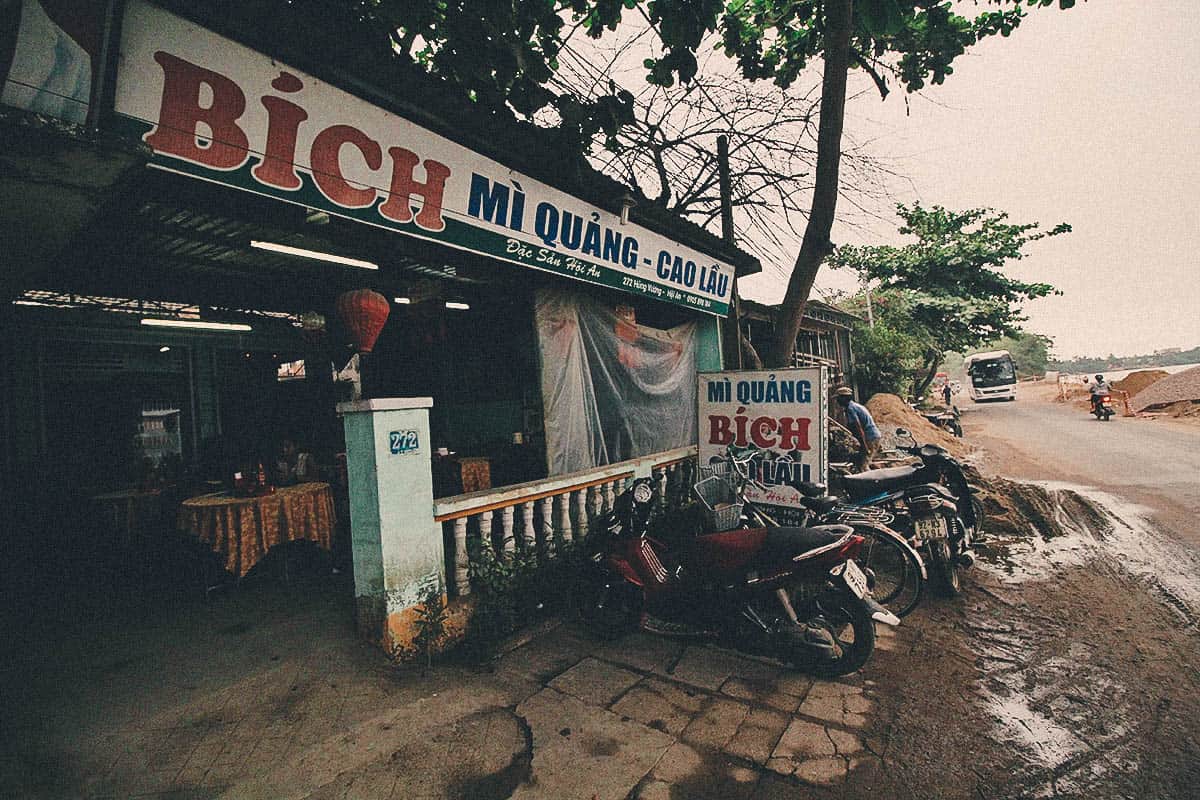 Here's a bowl of their mì quảng. Unlike Ong Hai's version that's topped with pork and shrimp, this one had pork and quail eggs. Notice the lime and green chili to the side there? A plate of fresh greens and a whole rice cracker was served with it too so you know this place is the real deal.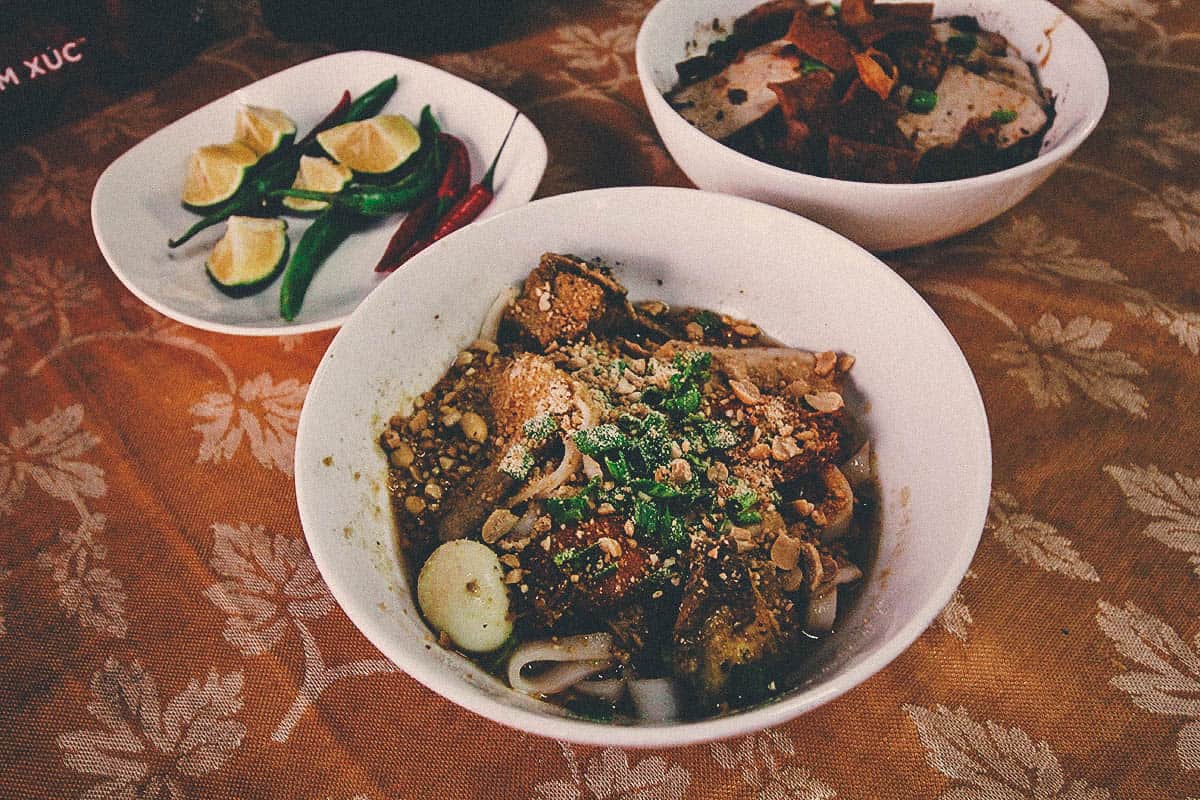 You'll notice that the noodles in this one weren't as yellow as the ones from Ong Hai's mì quảng. They were probably made with less turmeric but still really good. The noodles were nice and chewy. When eating mì quảng, it feels like you're having noodle soup and a salad all at once.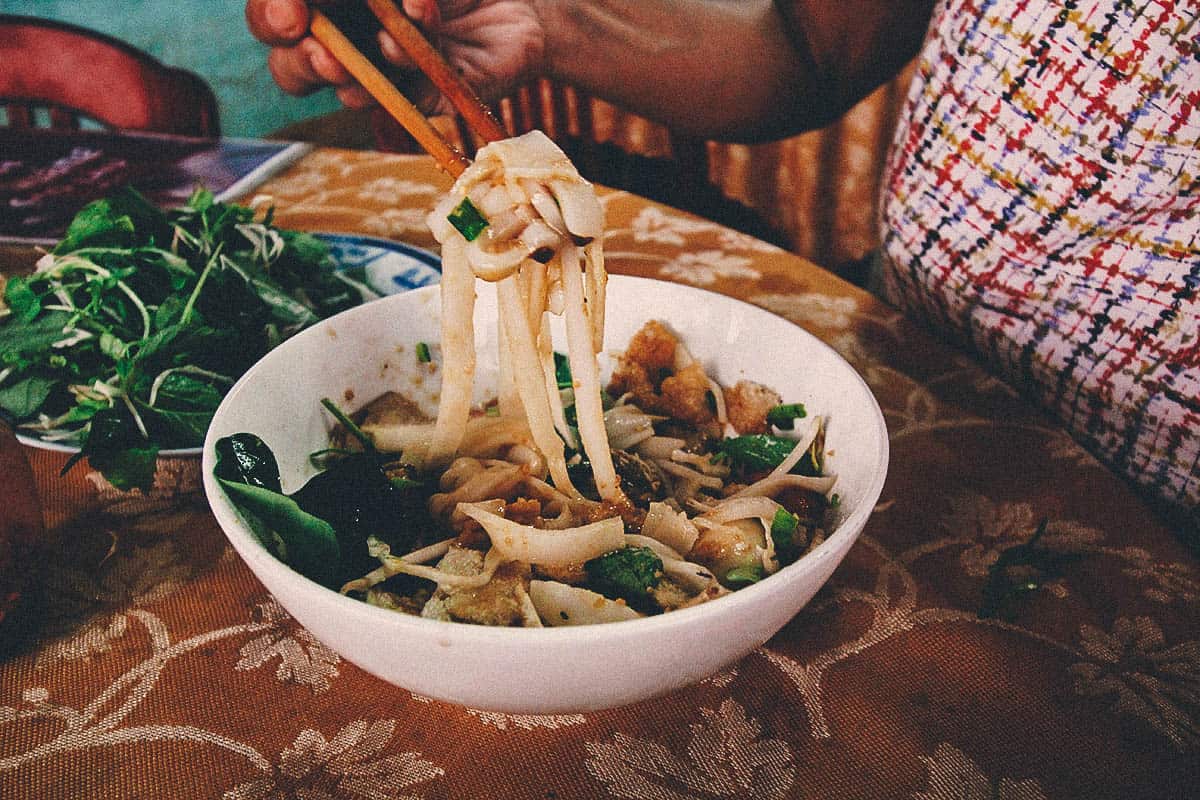 Here's their version of cao lầu. Those squares of fried pork skin are awesome.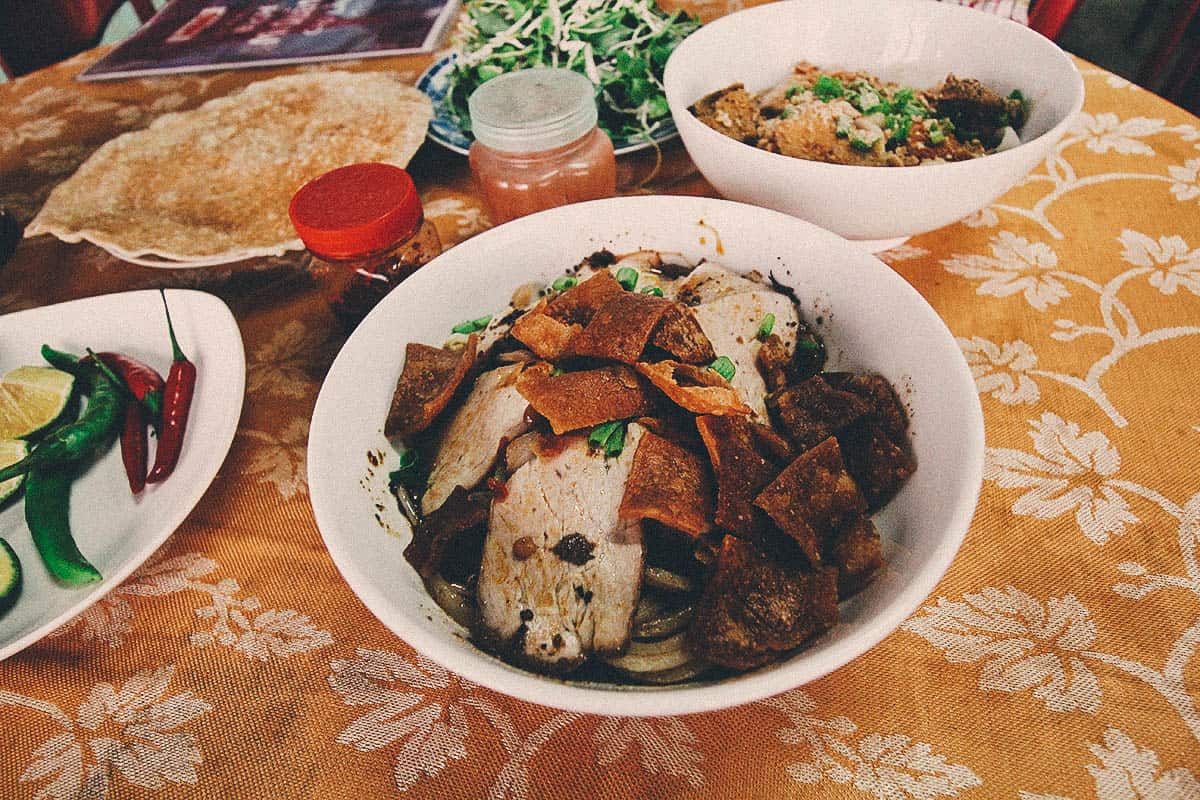 Vietnamese dishes like this are so refreshing. I love all those fresh greens! The owner of the restaurant seemed genuinely thrilled to have foreigners eating at his place. Because of its location, I don't imagine it getting a lot of foreign tourists. He couldn't speak any English so he took out his iPad to show us all the positive reviews he's received. We know! That's why we're here! 😆

Address: 272 Hùng Vương, Thanh Hà, Tp. Hội An, Quảng Nam, Vietnam
Operating Hours: 6:30AM-8:30PM, daily
What We Paid: VND 90,000 for the two dishes above plus bottled water
4. Bánh Canh Bà Quýt
This stall wasn't on our itinerary. It was recommended to us by Turtle, our My Son Sanctuary tour guide, after we started swapping stories about Vietnamese food. He became excited after hearing all the Vietnamese dishes we had already tried so he promised to take us to his favorite banh canh place right after our tour. Tucked away in a narrow alley with mostly a local clientele, it turned out to be my favorite bowl of noodle soup in our two weeks in Vietnam.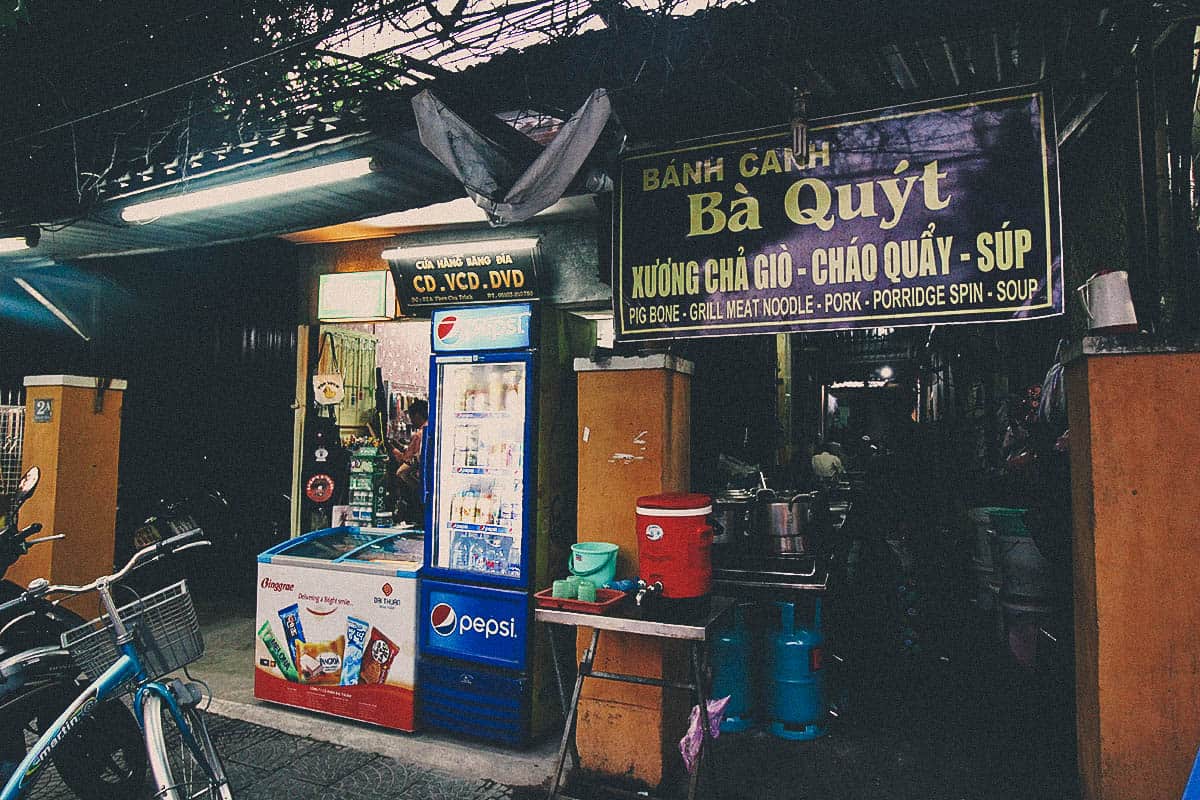 Meaning "soup cake", bánh canh is a thick Vietnamese noodle that can be made either from tapioca flour or a mixture of rice and tapioca flour. The "cake" refers to the thick sheet of uncooked dough from which the noodles are cut. Depending on its ingredients, there are many types of bánh canh, but I believe the one we had was bánh canh chả cá made with pork and fish cake.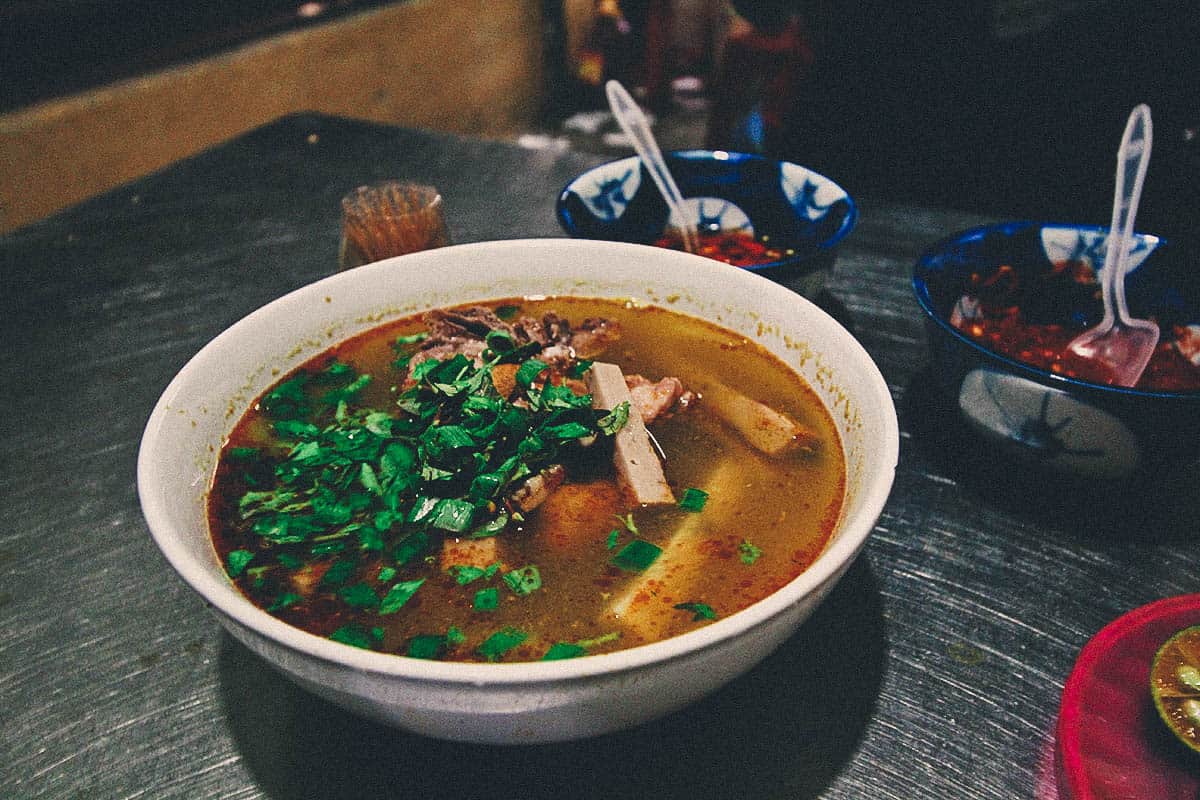 One of the reasons I enjoyed bánh canh so much is because I prefer thicker, chewier noodles. These noodles are very similar to Japanese udon. I liked the fish cakes too and the broth was so flavorful and delicious. I think this place includes slices of chả lụa or Vietnamese pork sausage as well, but I'm not sure. We were supposed to share just one bowl but after Ren took a bite and passed it on to me, she never got it back so she had to order another one. 😆 I literally smashed my face into this bowl of noodle soup. Thank you Turtle!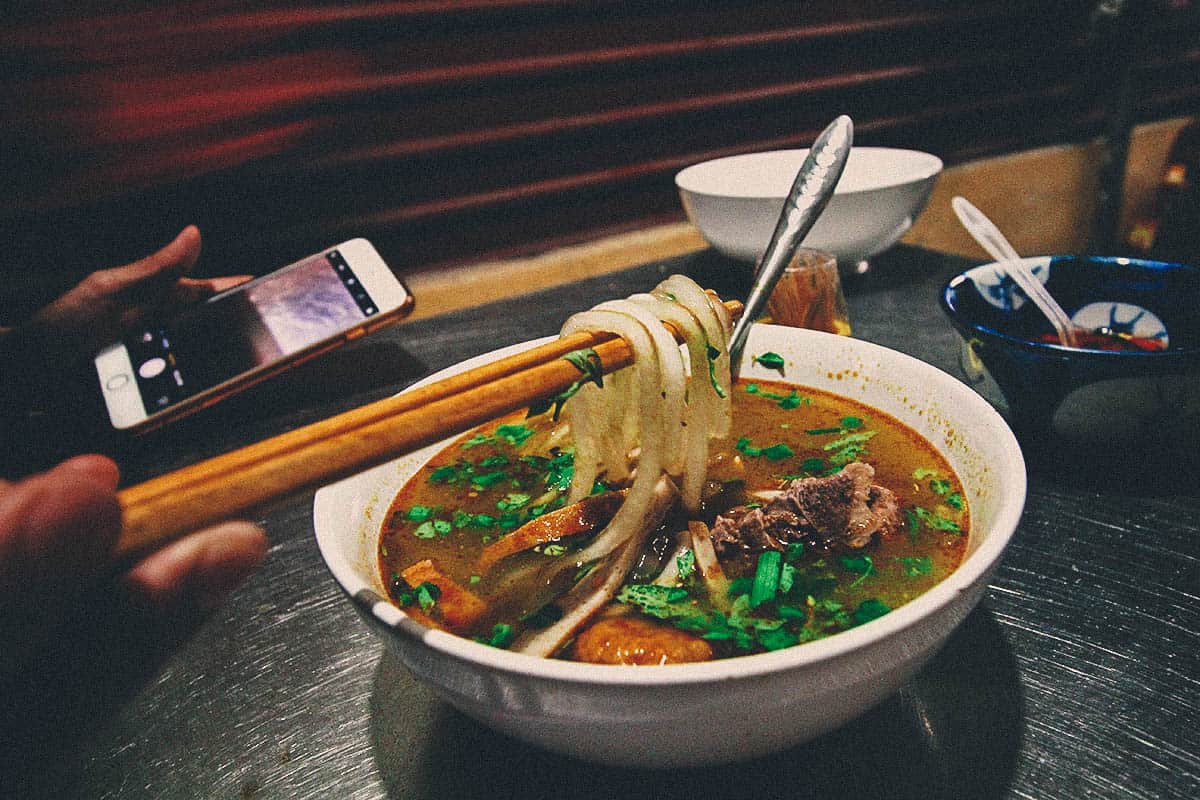 Address: 2 Phan Châu Trinh Minh An tp. Hội An Minh An tp. Hội An Quảng Nam, Vietnam
Operating Hours: 6AM-1AM, daily
Expect to Pay: Around VND 35,000 per bowl of banh canh
5. Bánh mì Phượng (Phuong's Breads)
If you're a fan of Anthony Bourdain and No Reservations, then this banh mi restaurant may be familiar to you. Featured in the show's Vietnam episode, Bourdain heard that Bánh mì Phượng had the "best banh mi town" so he ordered one with everything on it. That episode made this place internationally famous so you can never come here without finding a long queue of people waiting to have what Bourdain described as a "symphony of a sandwich". There's Anthony's picture hanging above the OPEN sign.
HUSBAND TO WIFE: "Hey, have I told you that this is the place Anth…"
WIFE TO HUSBAND: "Yes you have honey. Like a hundred times." 🙄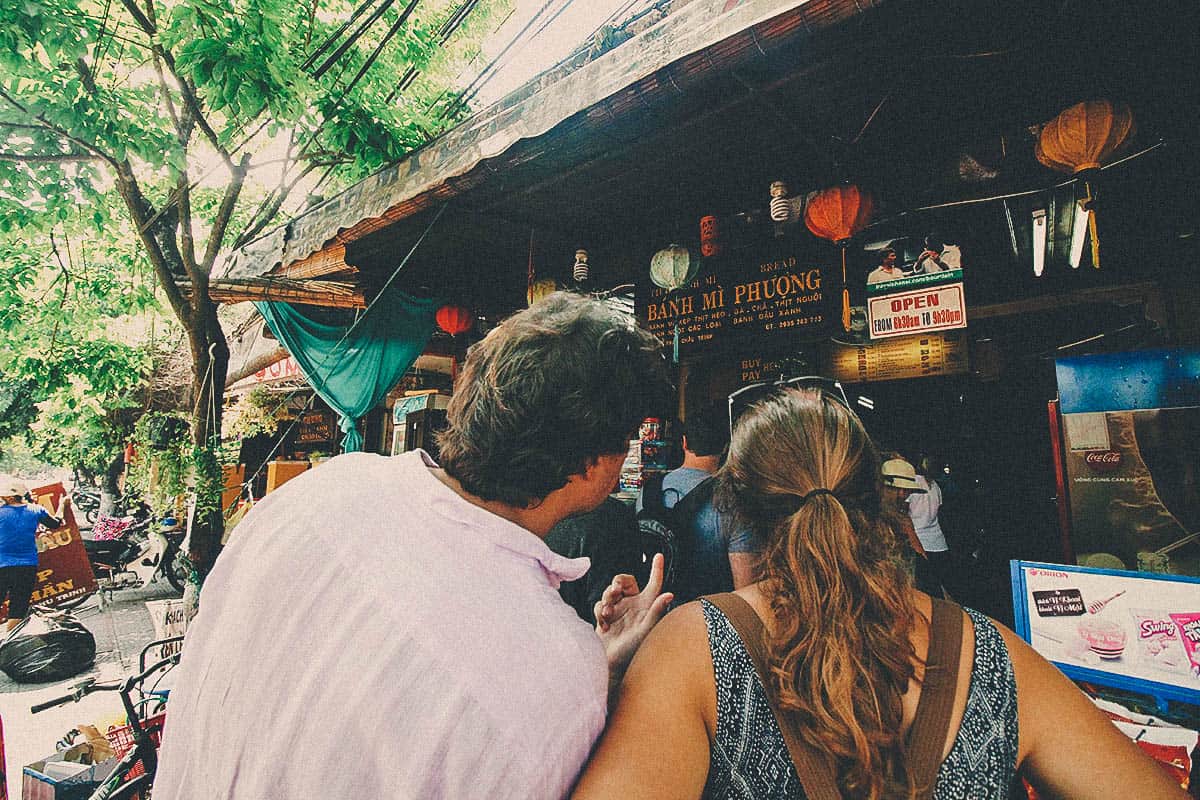 The anatomy of a banh mi. To meet demand, they work in an assembly line to put together everyone's banh mi. Bánh Mì Huỳnh Hoa, hailed as the best banh mi in Saigon, employed a similar system. This place gets a lot of customers but the line does move fairly quickly.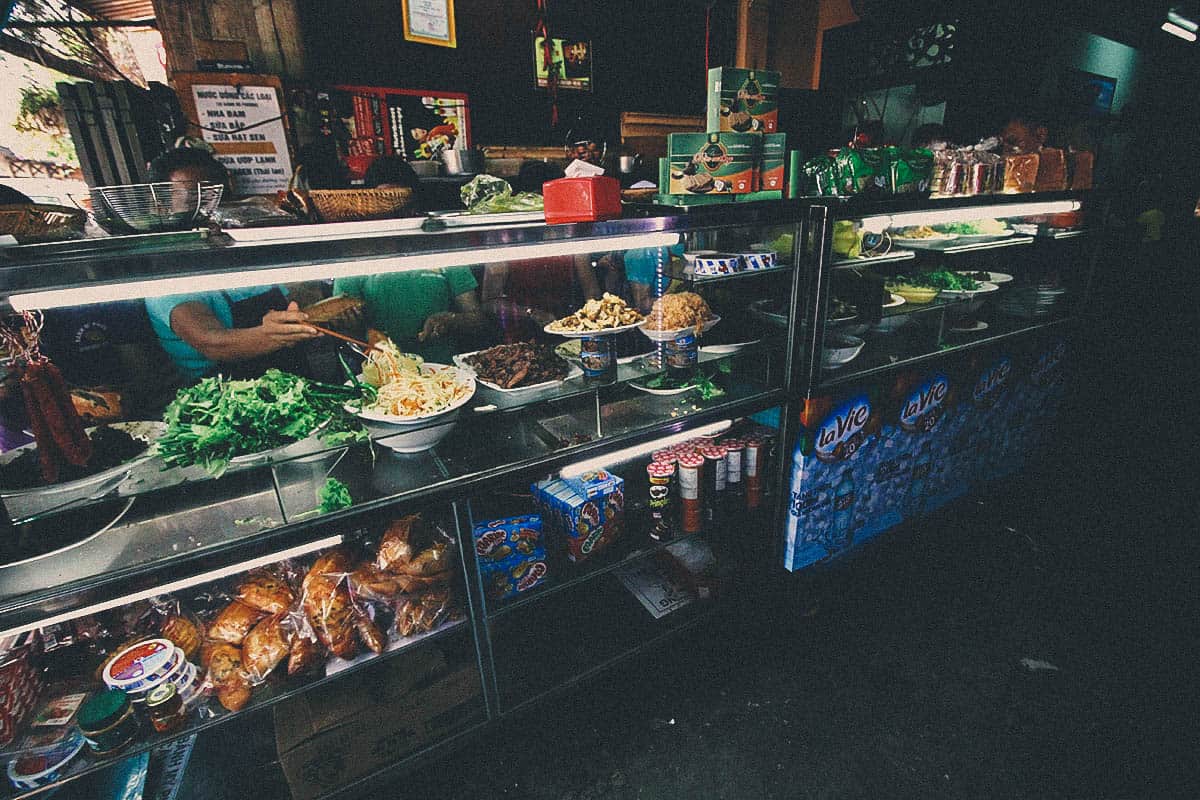 As described in our Saigon Food Guide, the term "banh mi" is the Vietnamese word for the French baguette. Though when most tourists say "banh mi", they're referring specifically to the sandwich. I've always believed that a sandwich can only be as good as the bread it's on, and Bánh mì Phượng's baguette is second to none.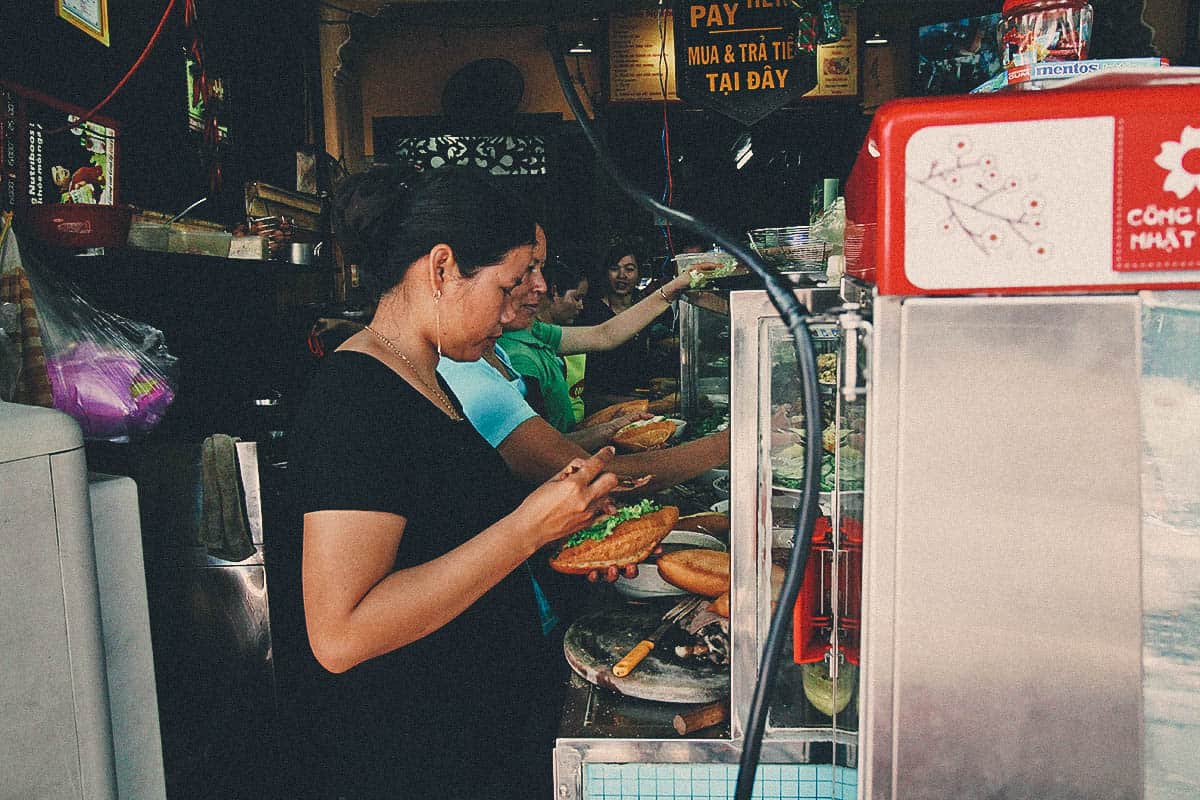 Our symphony of a sandwich. Bourdain wasn't kidding, this sandwich was effing phenomenal. The bread is so crusty and crunchy on the outside and cloud-like on the inside that it kind of crumbles in on itself whenever you take a bite. It's so damn good.
As much as we enjoyed this banh mi, I've always wondered if the places mentioned by these celebrity chefs are legit so I asked Turtle if Bánh mì Phượng really is the best and he concurred. According to him, It's recognized by the locals as being one of two places that serve the best banh mi in Hoi An. There you go.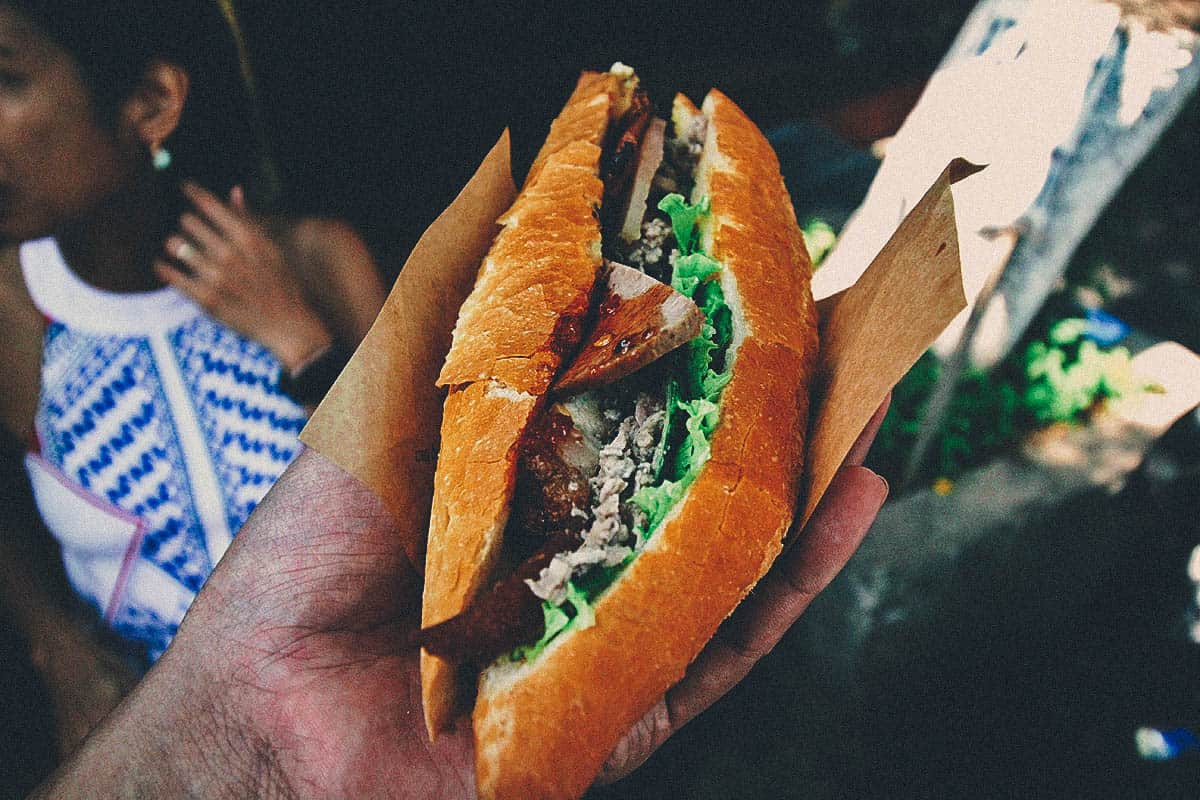 Address: 2B Phan Châu Trinh, Minh An, tp. Hội An, Quảng Nam, Vietnam
Operating Hours: 6:30AM-9:30PM, daily
Expect to Pay: VND 20,000 per banh mi
6. White Rose Restaurant
White Rose Restaurant is a Hoi An institution. They're known for a dish which they invented and popularized called white rose dumplings. Known locally as banh bao banh vac, white rose dumplings are made with translucent white dough filled with spiced minced shrimp or pork that's been bunched up to resemble flowers, hence its English name. They're topped with crispy fried shallots and served with a special dipping sauce made with shrimp broth, chilies, lemon, and sugar. Like cao lầu and mì quảng, white rose dumplings are unique to the region and a must-try in Hoi An.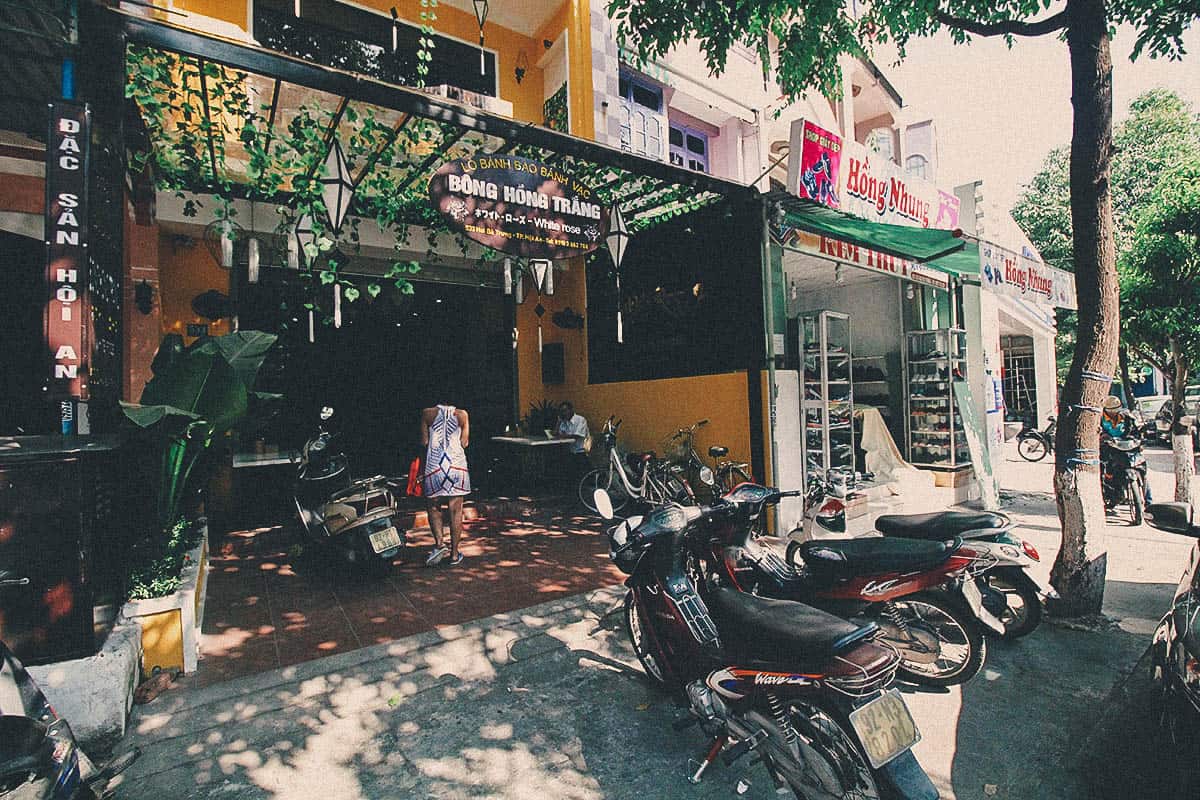 The house that white rose dumplings built. As big as this restaurant is, they only serve two dishes – white rose dumplings and crispy wontons. The restaurant is about a 15-20 minute walk from Hoi An Ancient Town so be prepared for a short trek if you want to try these dumplings.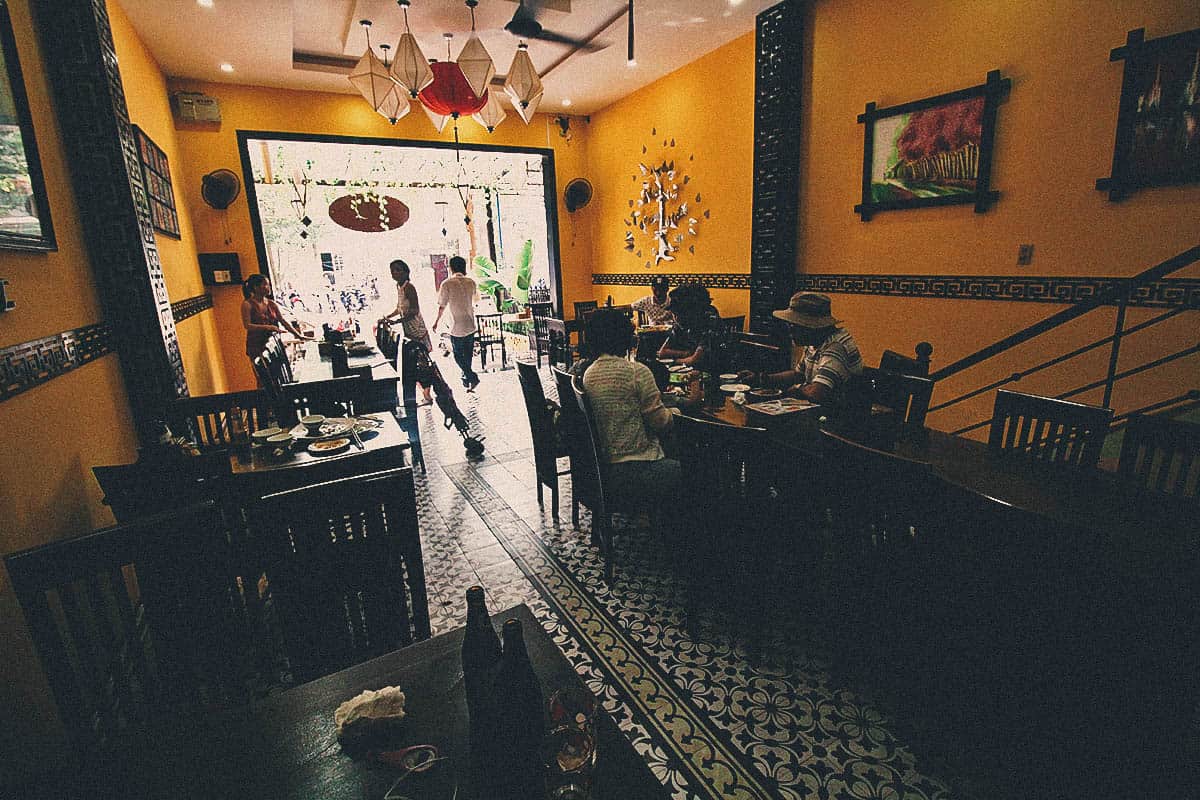 At the back of the restaurant was this group of women putting together the famed dumplings. Before we ate here, I saw a few places in town selling white rose dumplings. There were a few in the central market alone. I assumed they were knockoffs of the original but as it turns out, nearly all the white rose dumplings sold in Hoi An are supplied by this restaurant. It's a top secret family recipe created by the grandfather of the restaurant's present owner, Mr. Tran Tuan Ngai. It's been passed down for three generations so no one outside the family knows how to make them.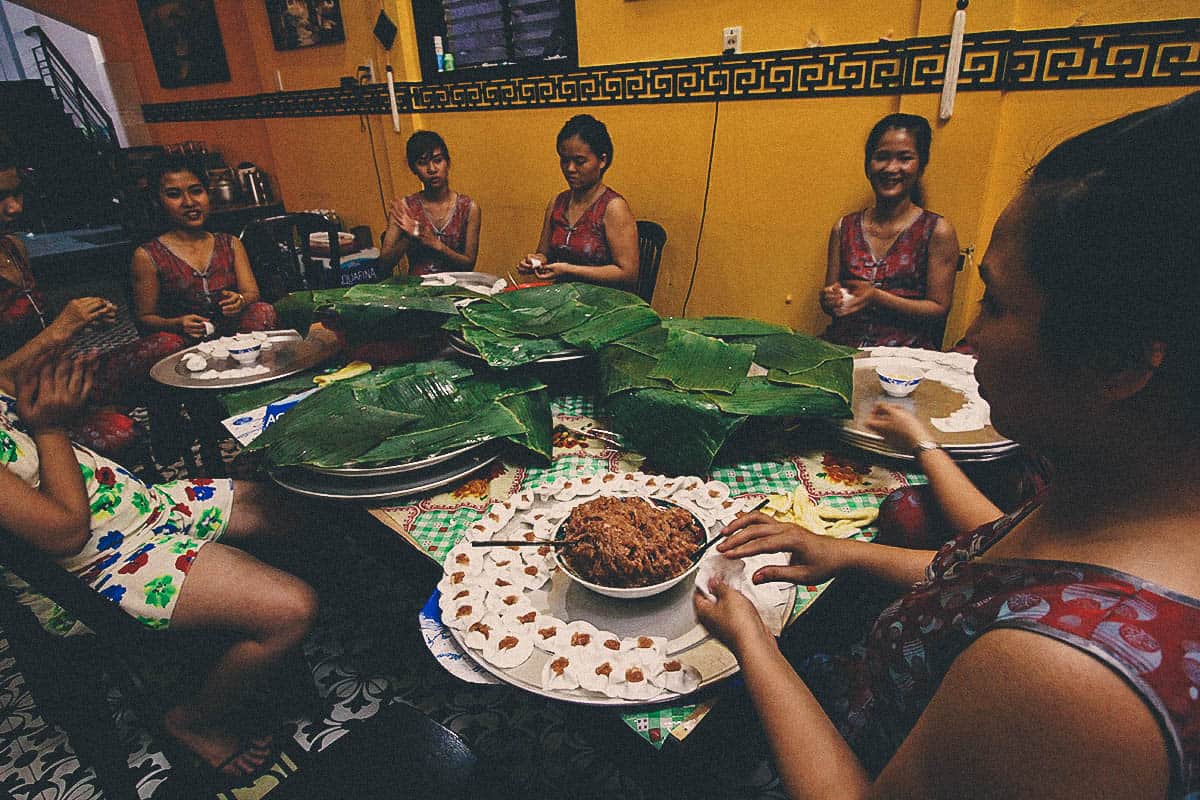 Our plate of white rose dumplings. Pretty right? They tasted really good too. The skin is firmer and chewier than traditional Chinese dumplings like har gow. I read that the dough is made with water drawn from the Ba Le well. It's the same alkaline water used to make cao lầu noodles so that may have something to do with its chewier texture. The water is filtered and purified 15-20 times before being mixed with the rice paste to form the airy dough.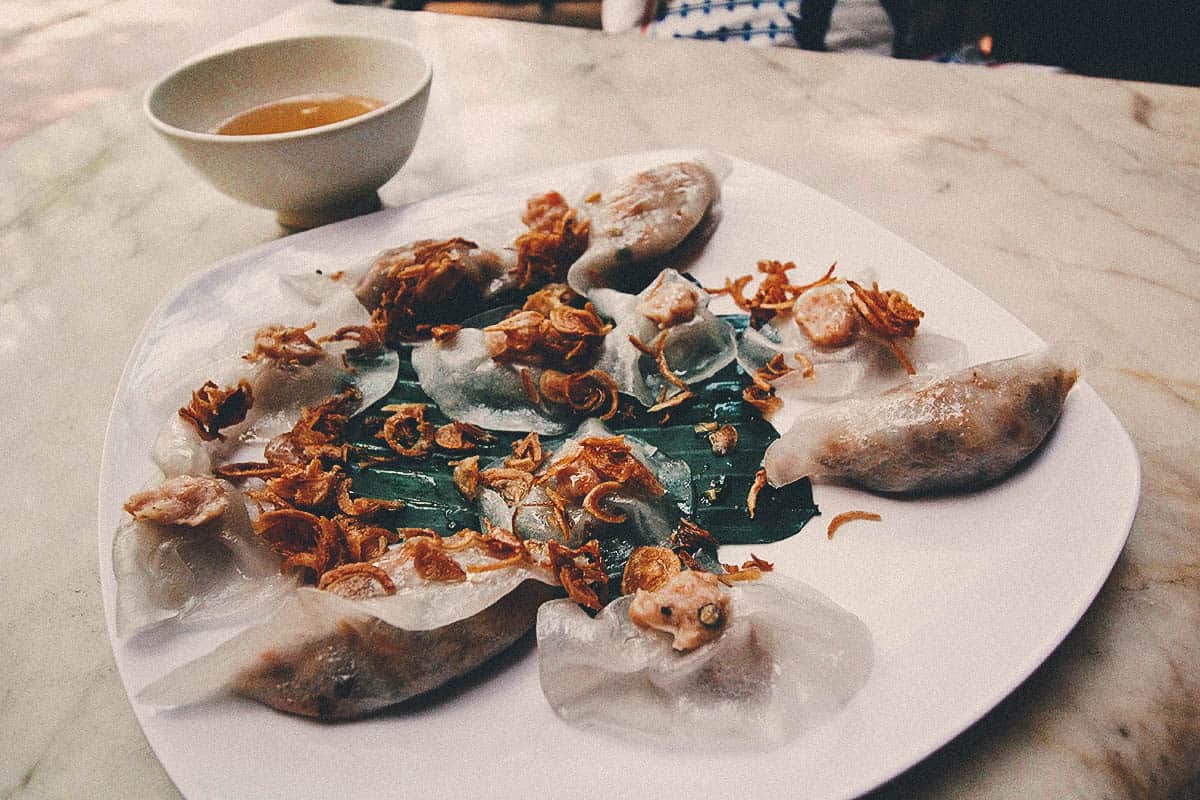 Address: 533 Hai Bà Trưng, Cẩm Châu, Tp. Hội An, Quảng Nam, Vietnam
Operating Hours: 7AM-9PM, daily
Expect to Pay: VND 70,000 per order of white rose dumplings
7. Aunt Bay's Banh Beo
This was one of the dishes I was most excited to try in Hoi An. Bánh bèo means "water fern cake" and refers to a variety of small steamed rice cakes popular in Central Vietnam, most notably Huế and Hoi An. They're white in color and topped with savory ingredients like dried or fresh shrimp, scallions, roasted peanuts, mung bean paste, fried shallots, and fish sauce. They sounded similar to Singaporean chwee kueh which is why I was so excited to try them.
There are several street food vendors in Hoi An known for their bánh bèo. We tried it at Aunt Bay's stall located at the corner of the old wall on Hoàng Văn Thụ. Here she is getting ready to make bánh bèo for the day's first customers – us. Like most vendors in Hoi An, Aunt Bay starts selling her bánh bèo at around 3PM. Just look for this nice lady and her sign against the orange wall that reads "Ba Bay, Banh Beo, Banh Nam".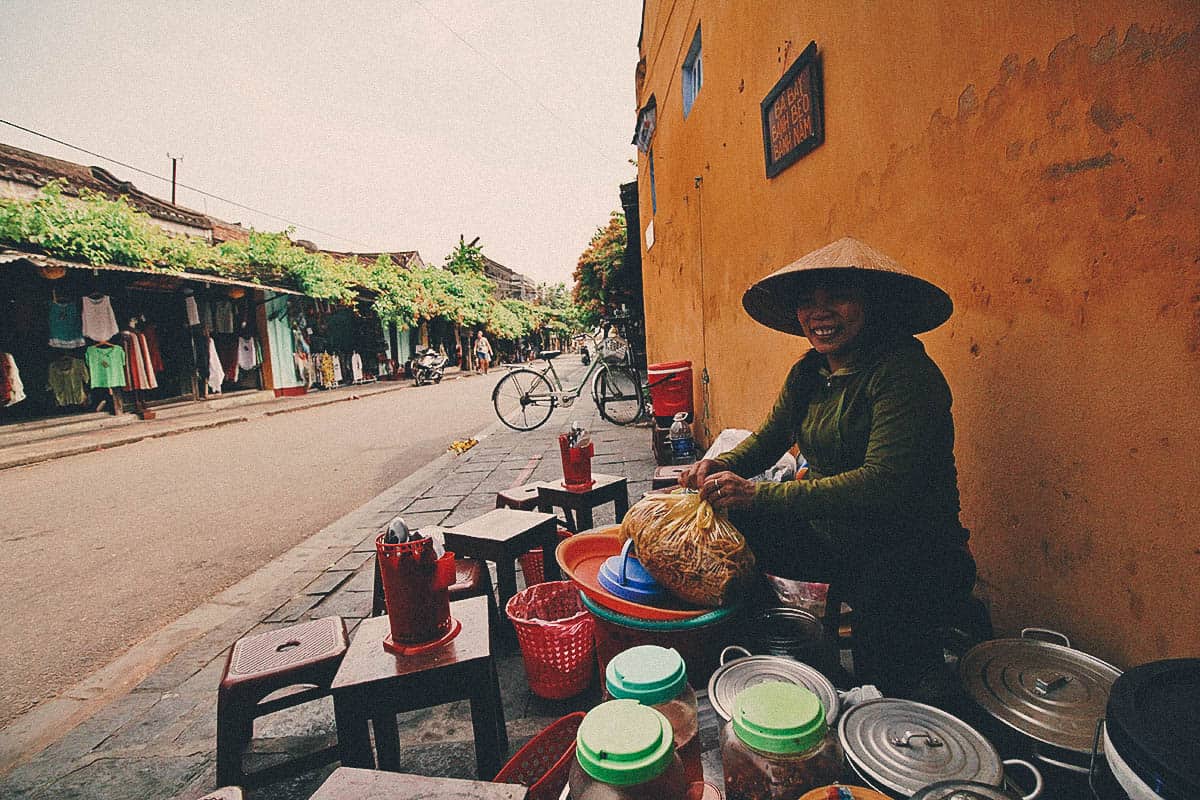 One order costs VND 15,000 and includes three rice cakes. Aunt Bay tops her bánh bèo with an orange shrimp-and-pork-based sauce containing bits of local river shrimp, fried shallots, chopped chilies, and deep-fried cao lầu noodles.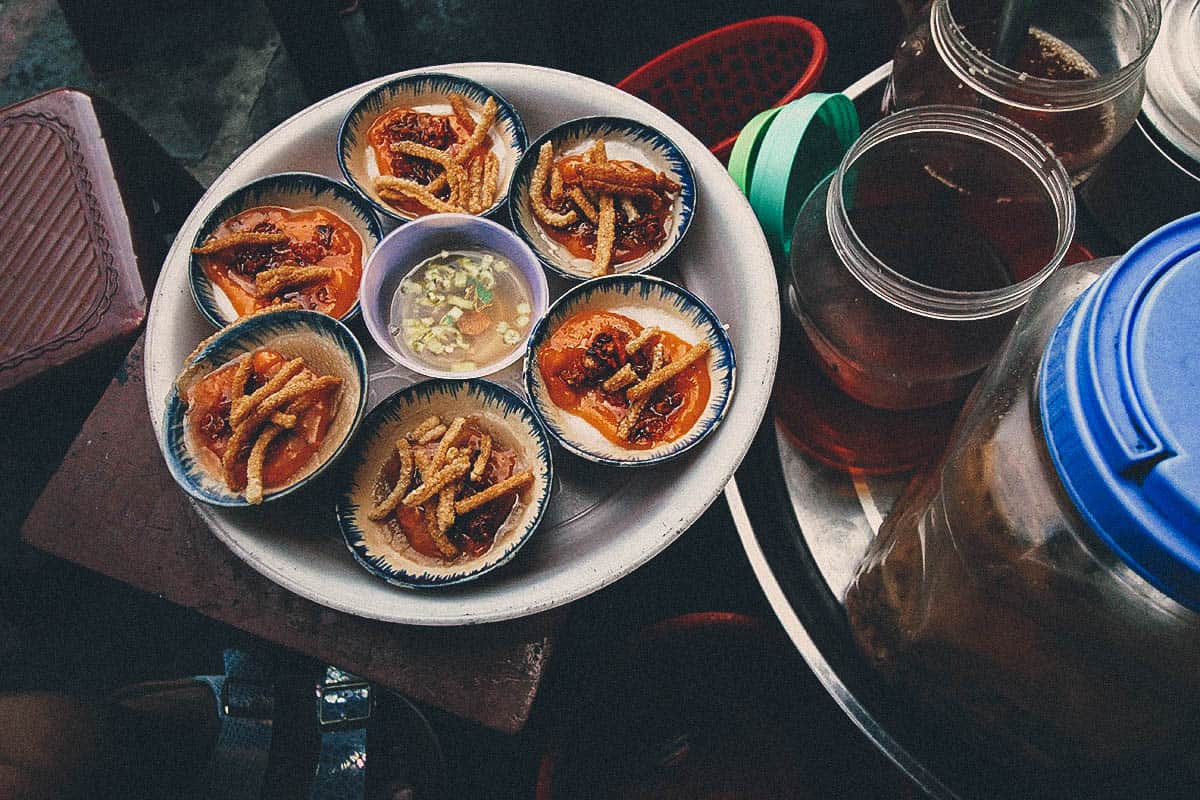 If we didn't have so many stops to make, I could have eaten a dozen of these. They're so good – soft and silky and loaded with umami. They are indeed similar to chwee kueh though not as intensely flavorful. Another must-try!

Address: Corner of the old wall on Hoàng Văn Thụ
Operating Hours: Starts at around 3PM
Expect to Pay: VND 15,000 per order of banh beo
8. Quán Ăn Bến Tre
This restaurant is located on Cẩm Nam Island. You can get there on foot or by bicycle via the Cẩm Nam bridge. We walked and it took us around half an hour to get there from the central market.
We were actually looking for a restaurant called Ba Gia but found out it had permanently closed. Luckily, in its place was Quán Ăn Bến Tre, a restaurant that offered the same dishes as Ba Gia, namely banh dap (smashing rice paper) and hen tron (minced clams). Both dishes are Hoi An specialties.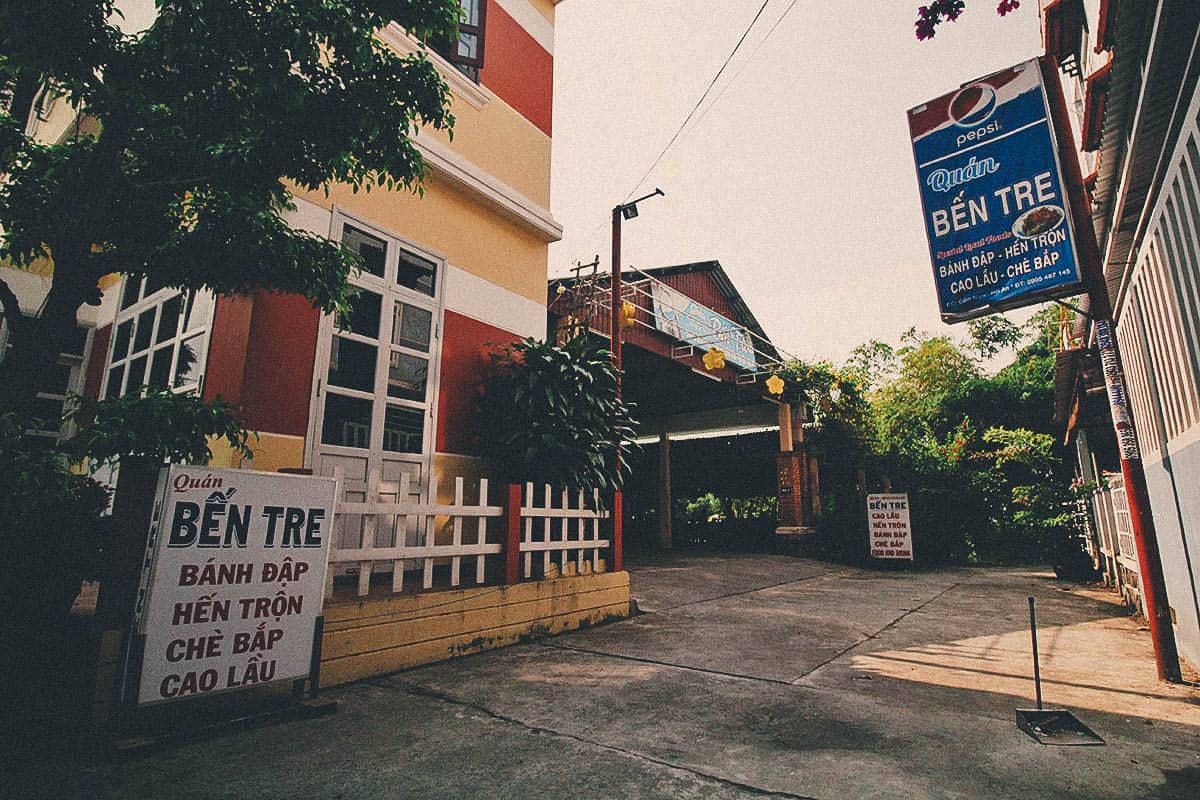 They started us off with a sheet of toasted rice cracker.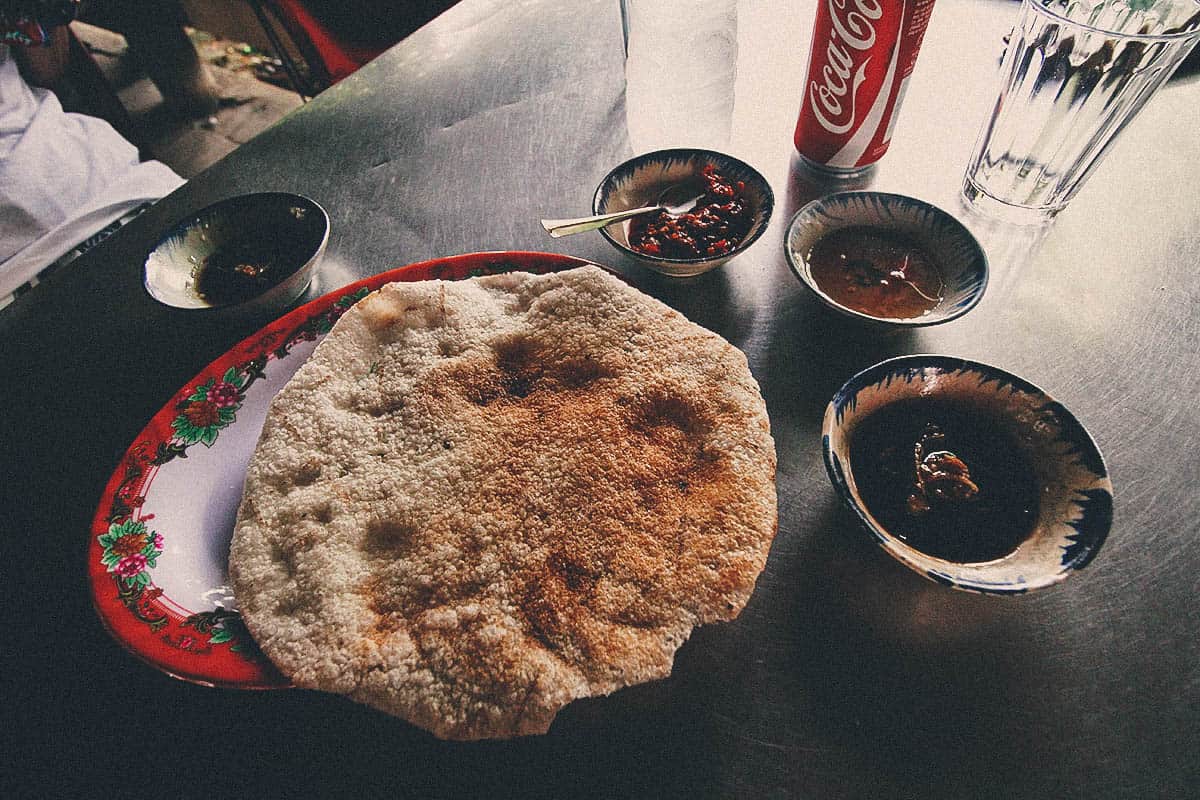 This is the hen tron or minced baby clam salad. Clams are boiled then fried with different vegetables and other ingredients like onion, spring onion, pepper, chili, ginger, and peanuts. They're typically served with rice crackers that are used to ladle the dish in bite-sized portions.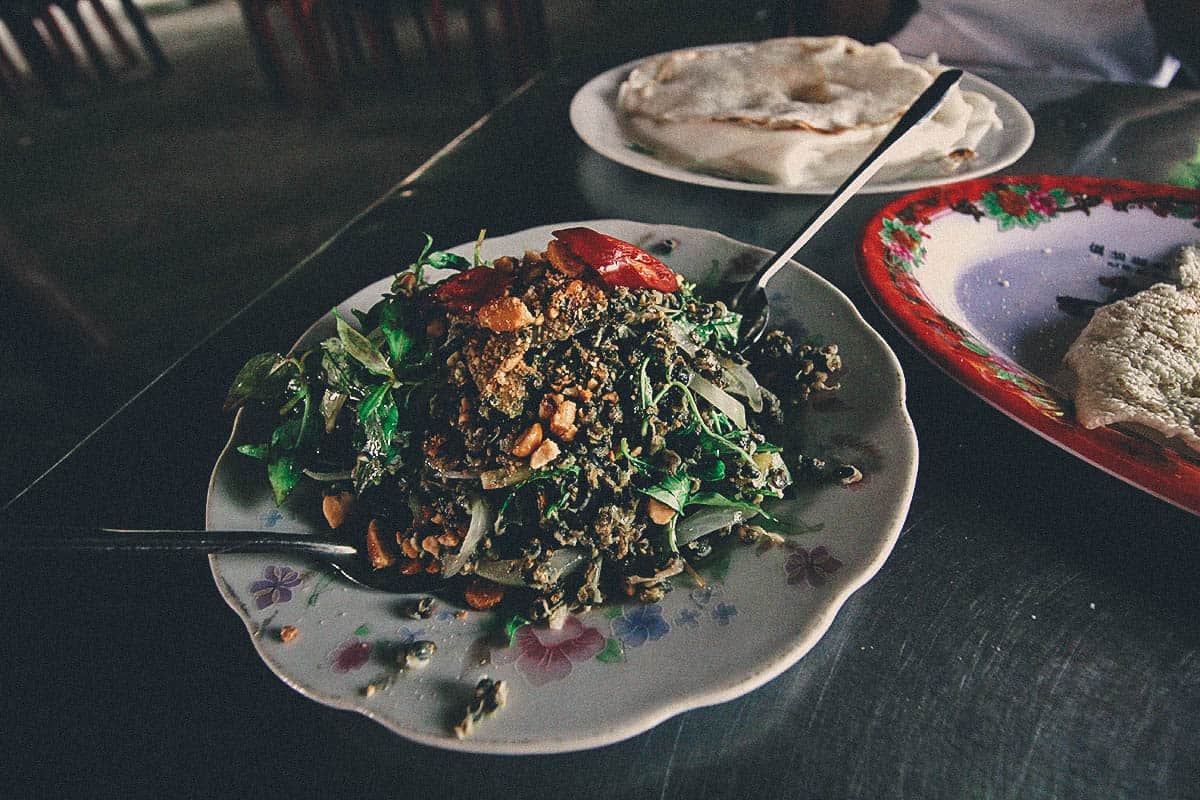 This is the banh dap or smashing rice paper. Our server set it down on our table and made it crack by pressing down on it with his open palm. I guess that's the "smashing" part of the dish? I really enjoyed the taste and texture of this cracker.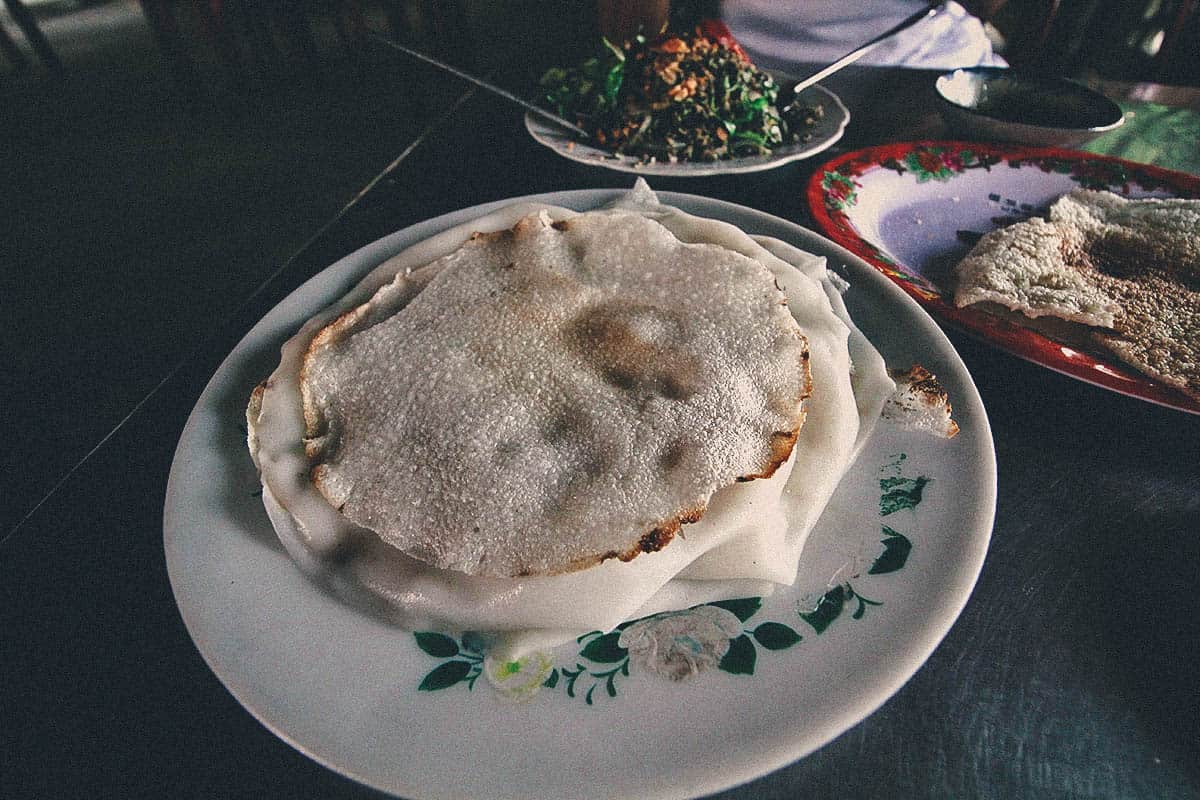 Sandwiched between two sheets of crisp rice cracker is a sticky, steamed rice pancake. The dish is called "smashing rice paper" because you need to press down on the layers to bind them together, which is what our server did. You then break pieces off like this to use as a scoop for the minced clams.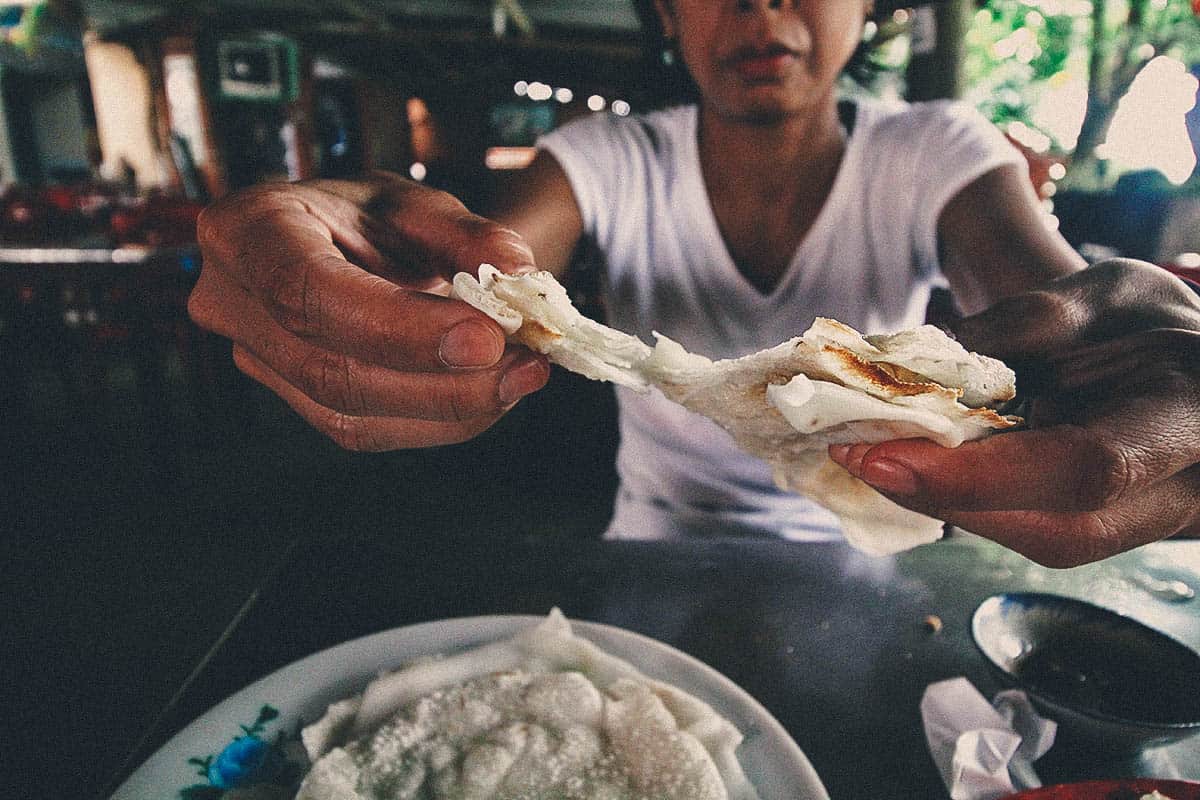 My bite-sized portion of hen tron with banh dap topped with some chili and fish sauce. This dish was really good. The clams were nice and briny and went very well with the sweet, gooey, crunchy rice cracker. If you like clams, then you need to try this. From what I understand, it's a specialty specific to Cẩm Nam and definitely worth visiting the island for.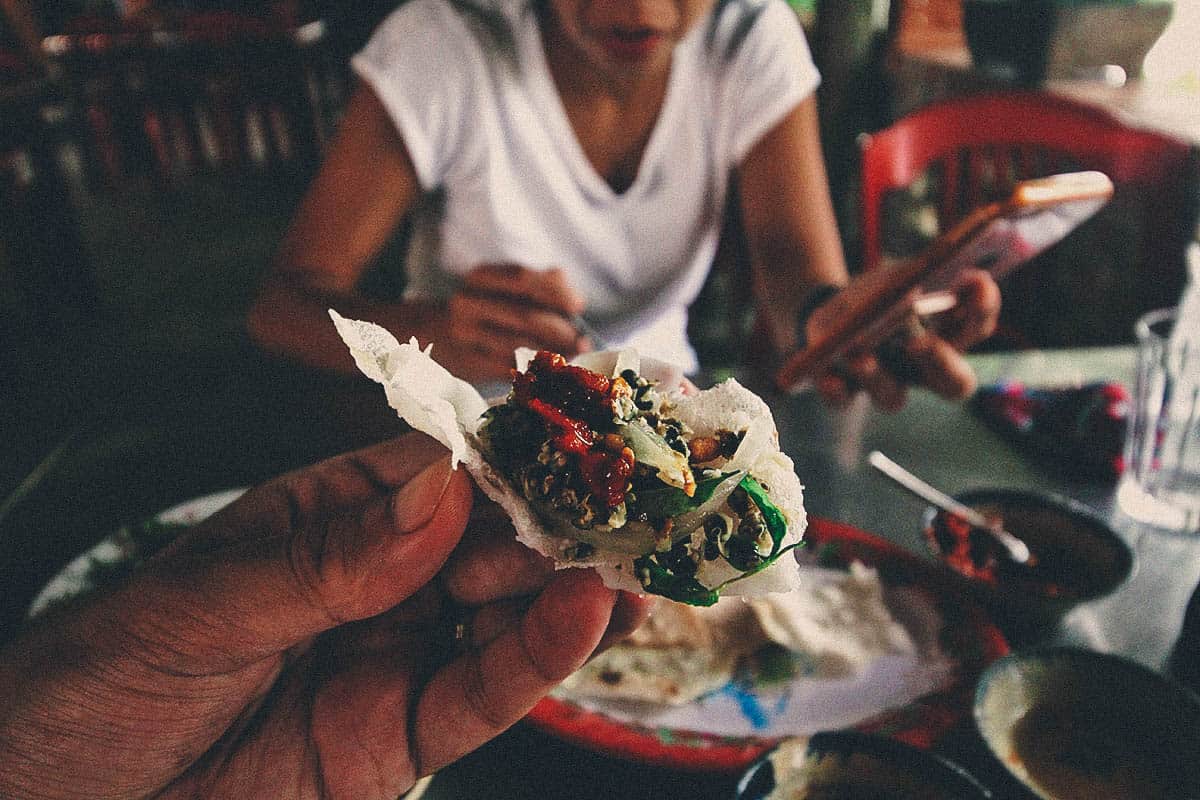 Address: Xuyên Trung, Cẩm Nam, Tp. Hội An, Quảng Nam, Vietnam
Operating Hours: 8AM-10PM, daily
What We Paid: VND 70,000 for the two dishes above
9. Bale Well Restaurant
Last on this list is one of Hoi An's most famous restaurants, Bale Well. We weren't sure what to make of this place at first because people seemed to either love it or hate it based on their reviews. After eating here, I finally understood why.
The restaurant is tucked away in an alley off Phan Châu Trinh so it can be hard to find. But if you're anywhere near this alley, then chances are you'll spot barkers trying to get people to eat at this restaurant. That aggression is largely what fuels the negative reviews.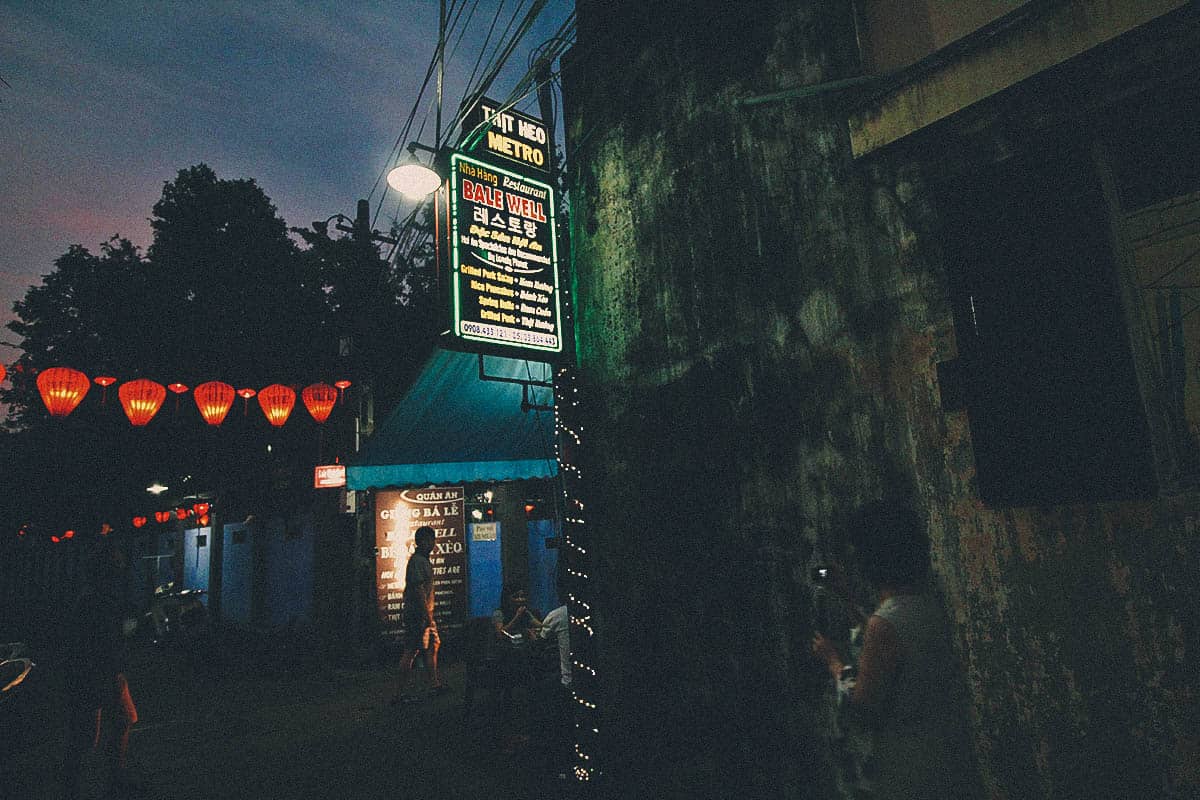 I kid you not, within minutes of sitting down, a deluge of food comes rushing to your table. There's no ala carte menu here. Everyone has the same thing which is an all-you-can-eat feast of skewered barbecued meat, chả giò (spring rolls), bánh xèo, and vegetables.
As mentioned above, some people didn't seem to mind the restaurant's aggressiveness but others hated it. I can't say I blame them. They were practically shoving food down your throat which led many people to feel trapped. It was almost like they wanted to get that first bite of food into your mouth so you didn't have time to change your mind and leave. It was a little off-putting, and had we not expected it, I probably would have been bothered by it too.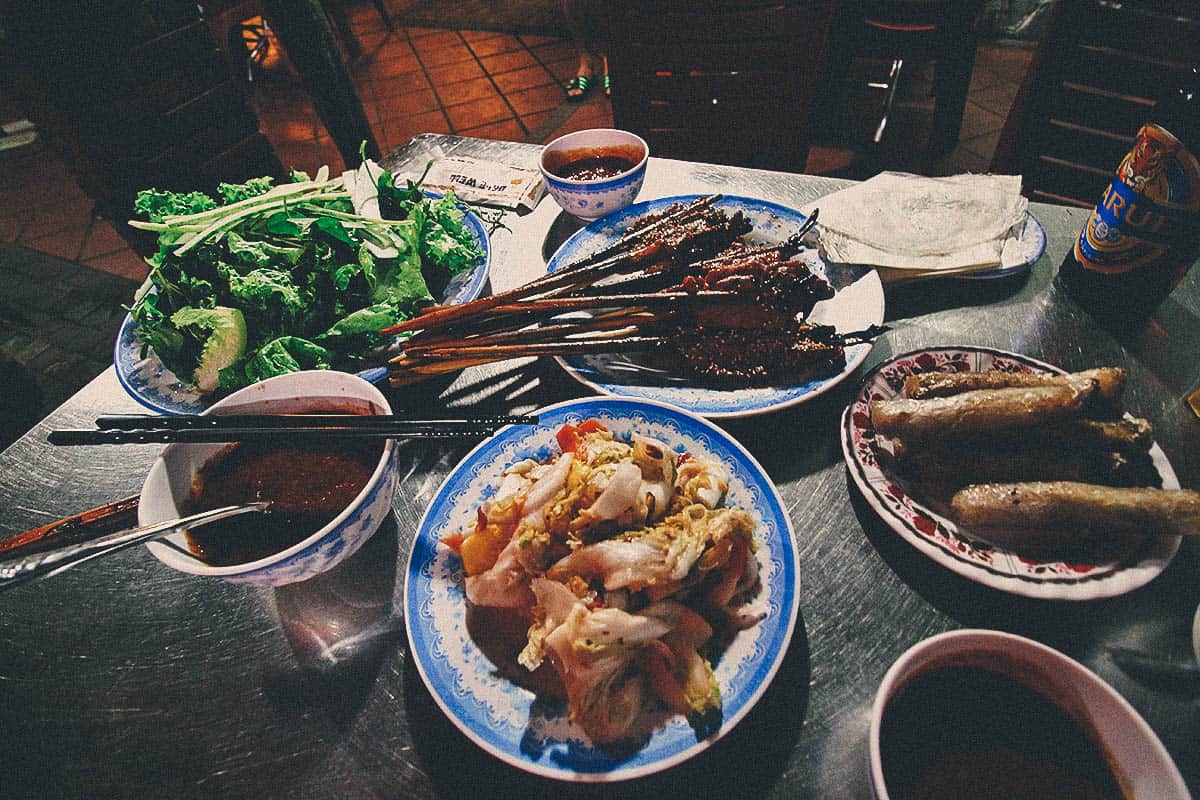 On the positive side, this place does serve you a LOT of food. Just look at that spread! They give you so much to begin with already but if for some reason this initial serving isn't enough, then you can still ask for more. Let the Joey Chestnuts of the world rejoice.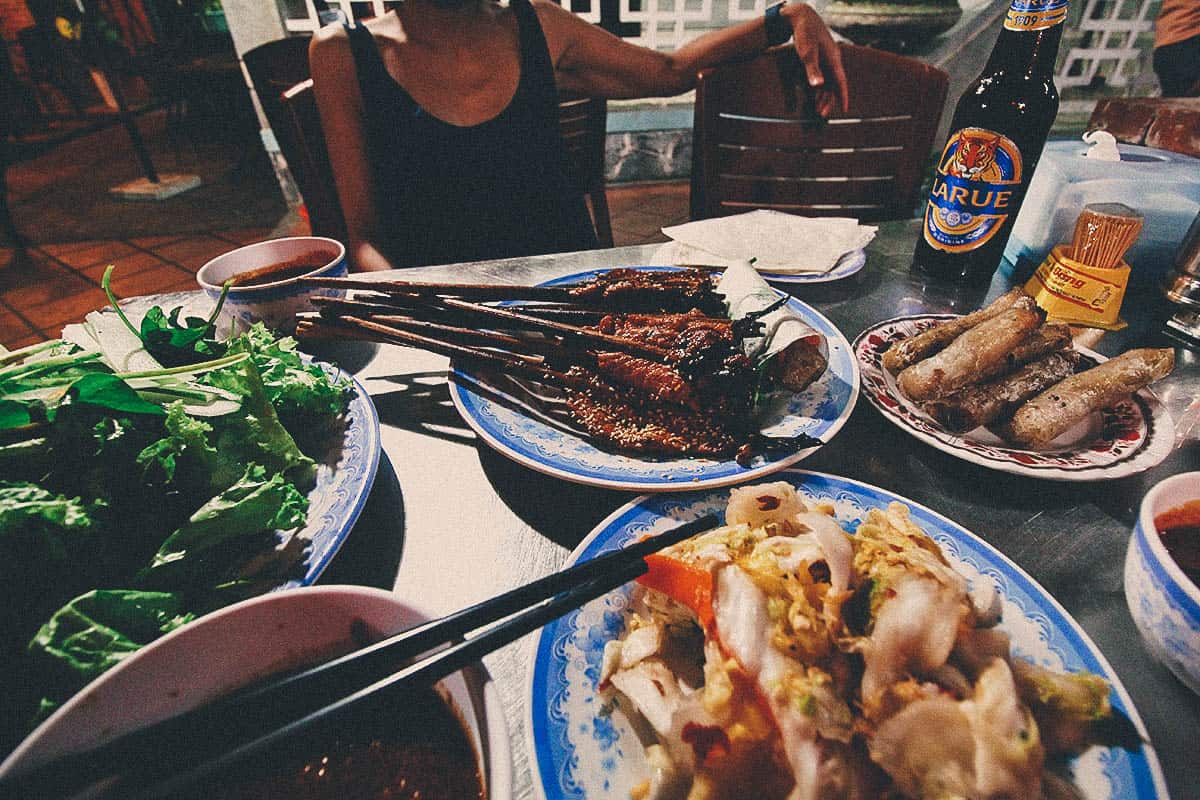 You'll get two types of skewered pork – nem nướng (grilled pork meatballs) and thịt nướng (grilled pork).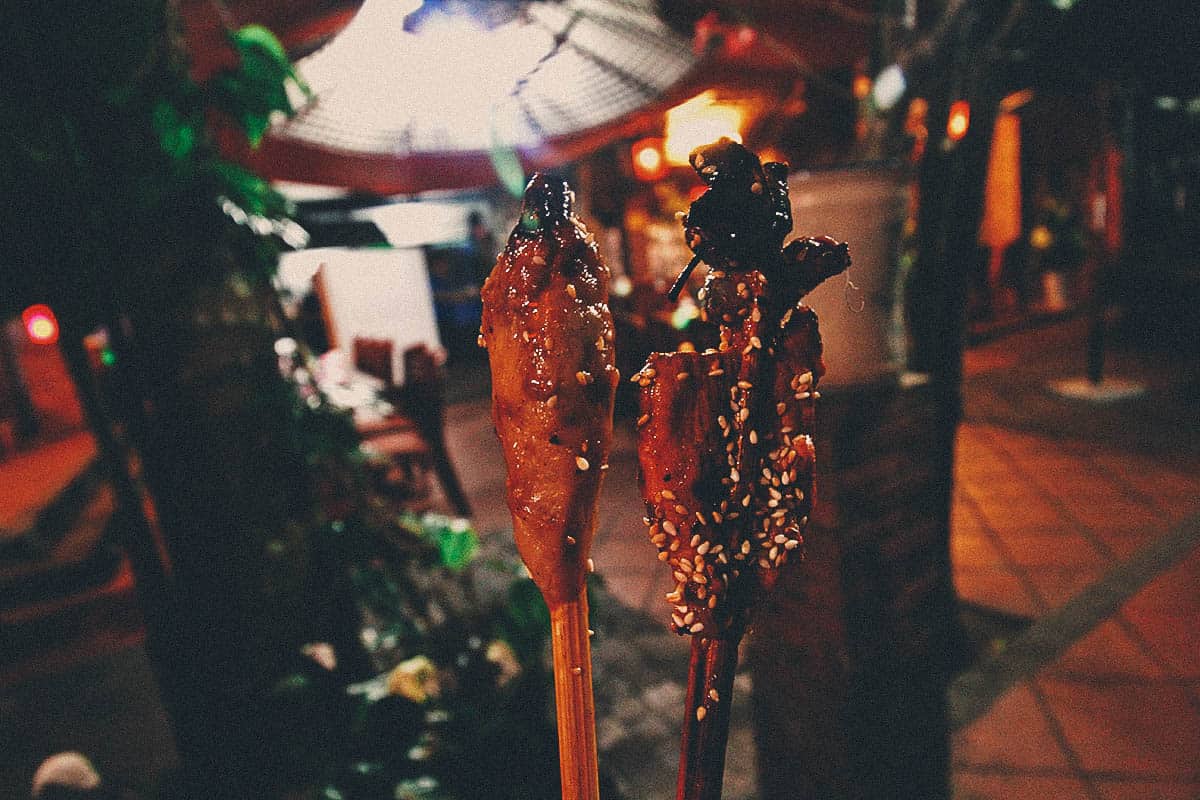 Soon as all the components have been laid out on your table, your server will start assembling one to show you how it's done. You take a stick of pork and spring roll and put it on a sheet of Vietnamese rice paper. You then top it with fresh greens and a few spoonfuls of sauce before rolling it up to eat.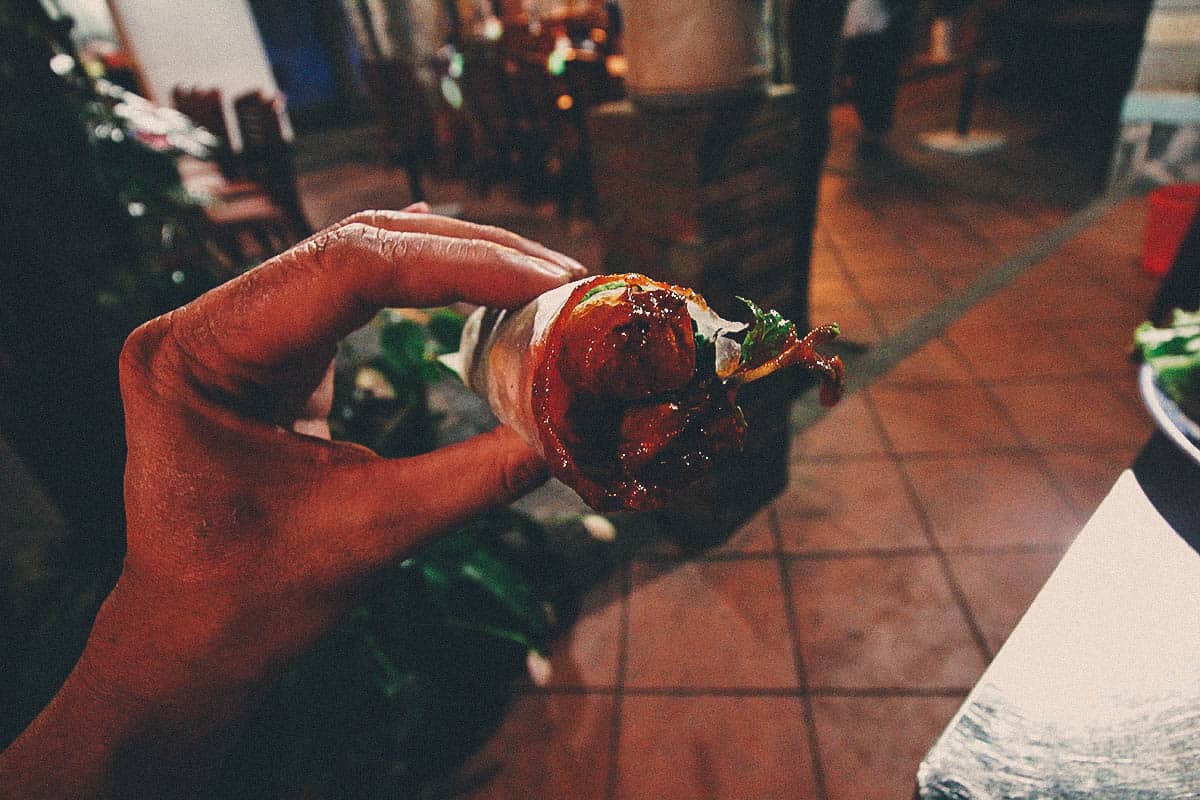 A stack of bánh xèo about four to six crepes high. We tried to eat as much as we could but there was no way we were coming close to finishing all this food.
To be honest, the food here isn't the best. Much of it actually seemed like it had been precooked and sitting out for some time waiting for customers. The quality of the food is average but they do give you great value for your money. If you're a big eater and aren't overly concerned about finding the best, then you're going to enjoy Bale Well restaurant.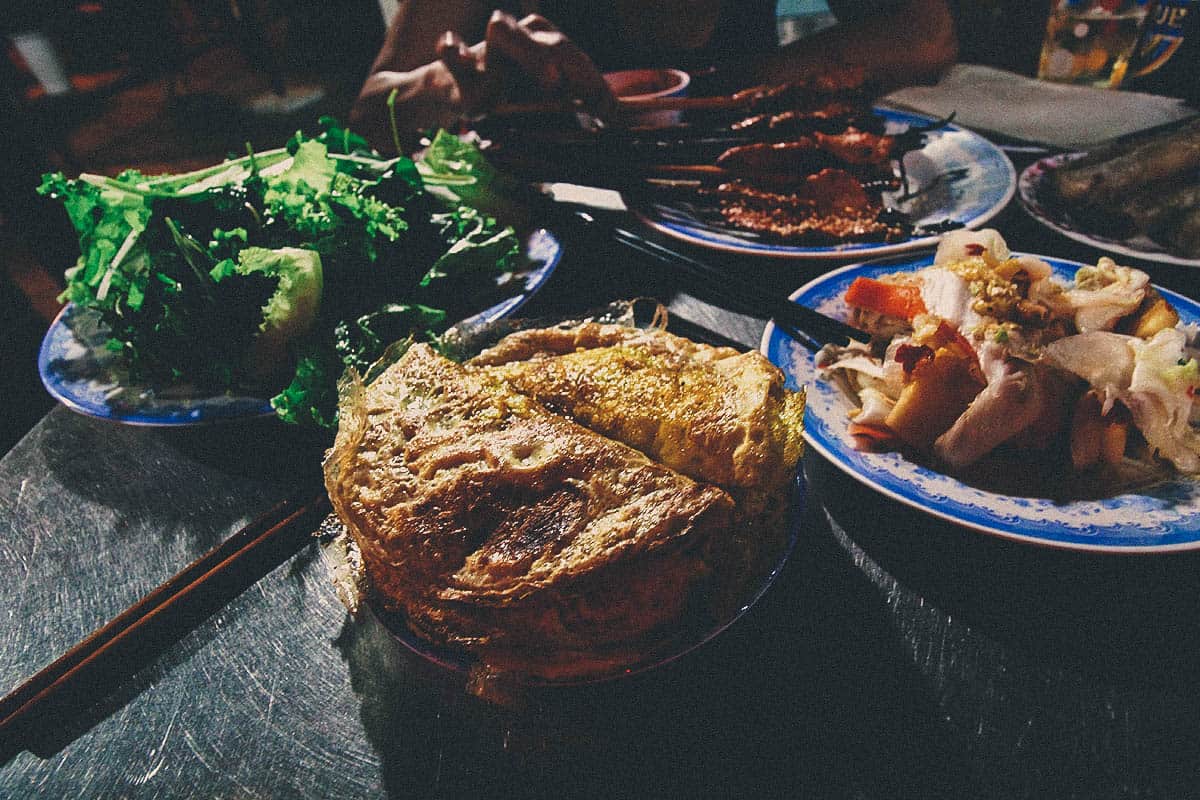 Address: 45/51 Trần Hưng Đạo, Minh An, Thành phố Hội An, Quảng Nam, Vietnam
Operating Hours: 3-10PM, daily
Expect to Pay: VND 120,000 per person
* * * * *
This is by no means a definitive guide to Hoi An cuisine but we hope it points you in the right direction. We tried many other dishes like fried green sentinel crab cakes, banh mi cha chien (pork toast), xi ma (black sesame pudding), and banh xoai (mango cake). As delicious as they were, we didn't include them in this list because we weren't sure if the ones we tried were the best examples of those dishes. There's a wealth of good food to be discovered in Hoi An so we hope this guide gives you a good start.
For your convenience, I've pinned them all on the map below to make it easier for you. I've added a few others as well that we wanted to visit but couldn't get to.
To help you with your travel planning, you can refer to our full 3-day Hoi An itinerary on Sygic Travel. It's a more complete version of the map above with restaurant, hotel, and attraction suggestions. Hoi An is a small town so you shouldn't have trouble finding anything.
You can also download a copy of our entire 2-week Vietnam itinerary in editable Word format from our EAT-ineraries page. It goes north to south and covers Hanoi (including Ha Long Bay), Hoi An, and Saigon. Thanks for reading and we hope you enjoy these awesome restaurants and street food stalls in Hoi An!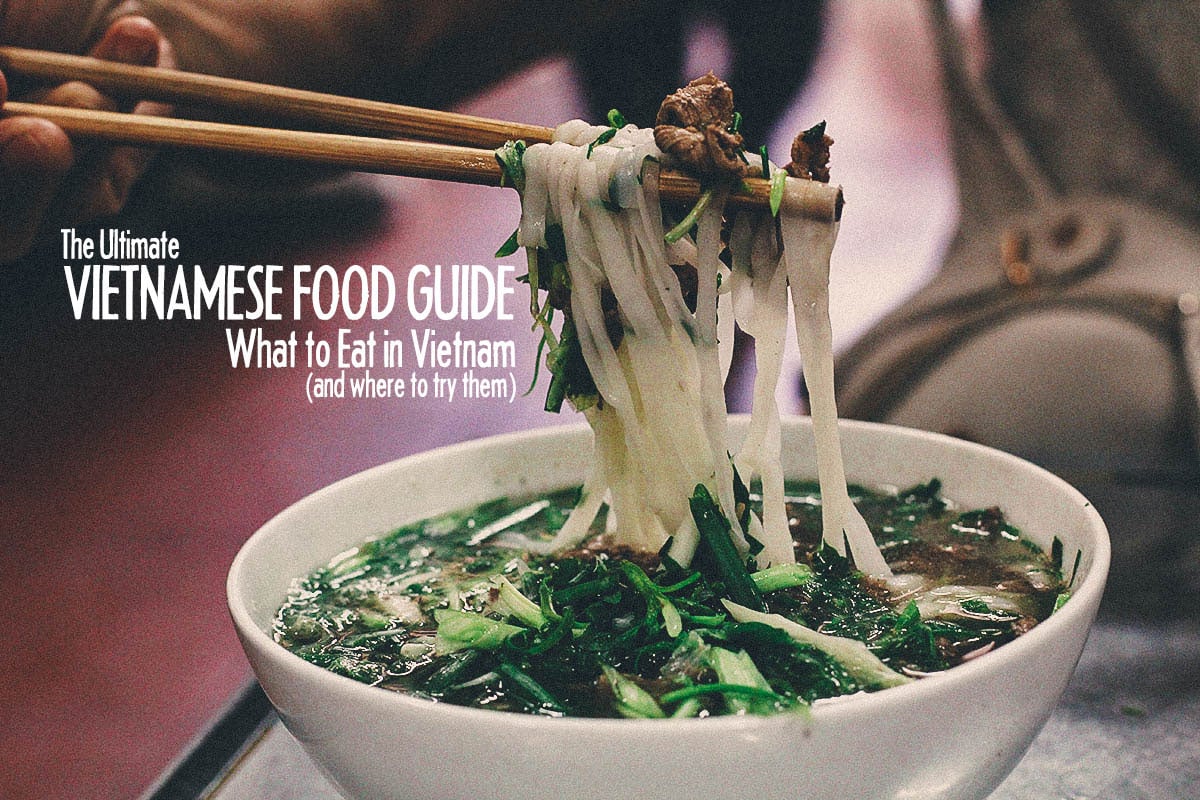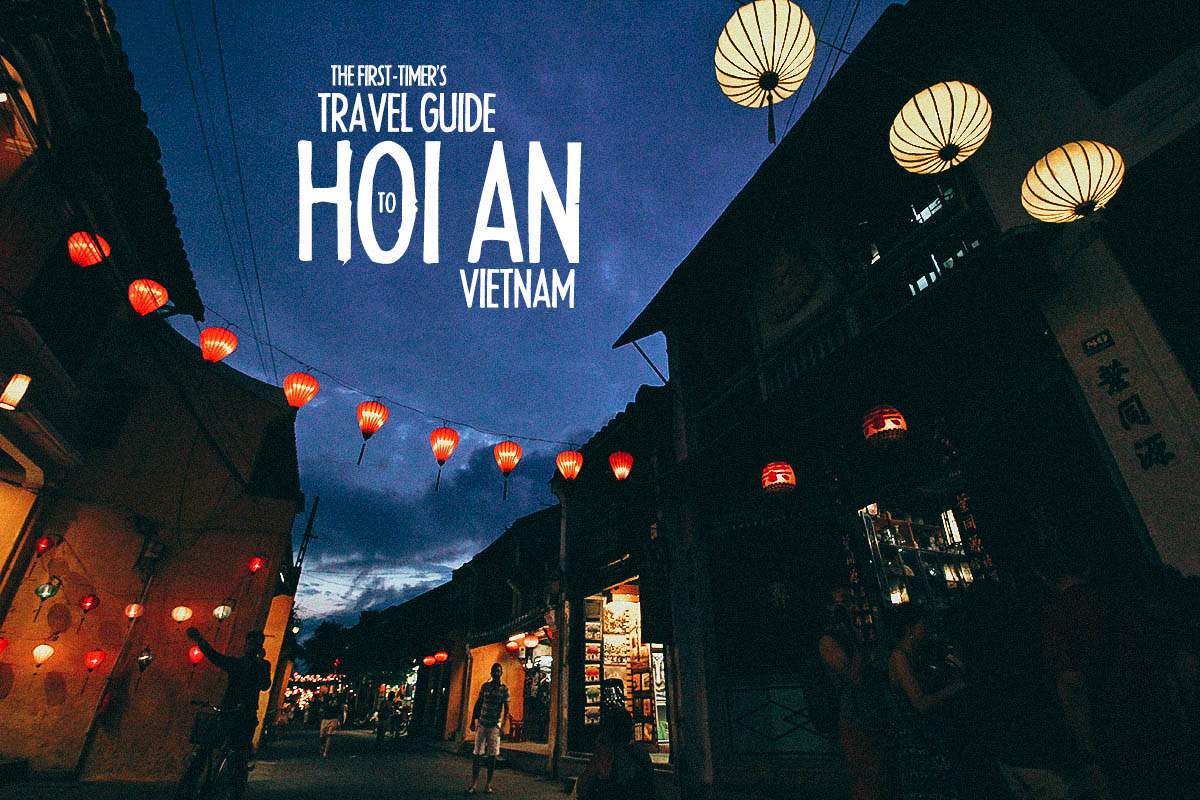 JB and Renée are the Traveleaters behind Will Fly for Food, a travel blog for the gastronomically inclined.  They enjoy experiencing food from different cultures so they've made it their mission to try every country's national dish.  Read more about them and their National Dish Quest here.