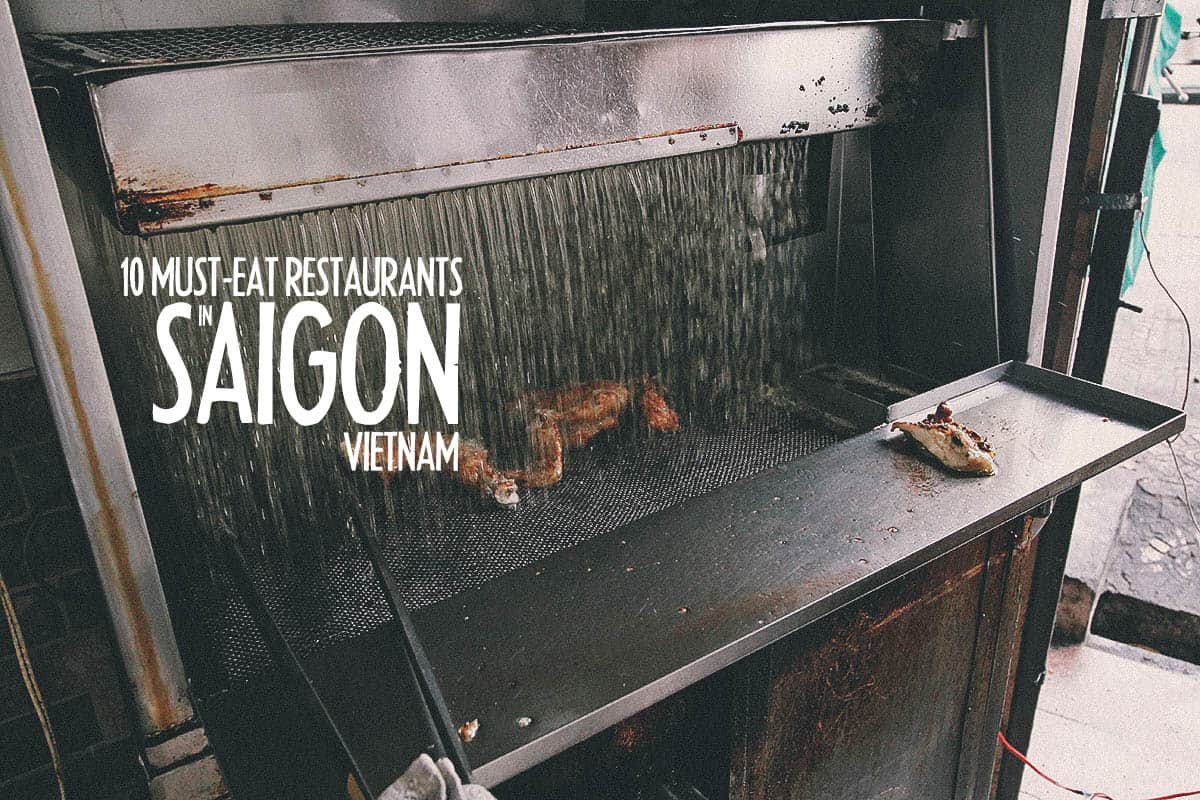 Saigon Food Guide: 10 Must-Eat Restaurants & Street Food Stalls in Ho Chi Minh City, Vietnam
NOTICE: Some of our articles contain affiliate links. The ones that do will have a disclosure statement at the bottom. You can refer to our privacy policy and terms of use for more information.
Saigon was the last stop on our recent two-week trip to Vietnam. It was also the shortest. With just two full days to spend in the city, we had to figure out a way to visit as many eateries as we could whilst squeezing in a few key attractions like the Cu Chi Tunnels and the War Remnants Museum.
Ren did all the food research for this trip and she came up with a mouthwatering list of 20 eateries in Saigon that included the city's best banh mi, its best pho, etc. But with just two days' worth of time and stomach space, hitting all 20 wasn't realistic so we had to do the always difficult task of trimming down our eat-inerary. These are the 10 we ended up with.
This list may not be as comprehensive as we would have liked but it's one we feel good and confident about. Many of these eateries can be challenging to find so I've pinned them all on a map at the bottom of this post. With the exception of one place, every eatery on this concise list was either recommended by a trusted food blogger, television chef, or local. If you'll be spending a few days in Saigon and need strong food recommendations, then this list is for you.
Save This on Pinterest!
No time to read this now? Click on the red save button and pin it for later!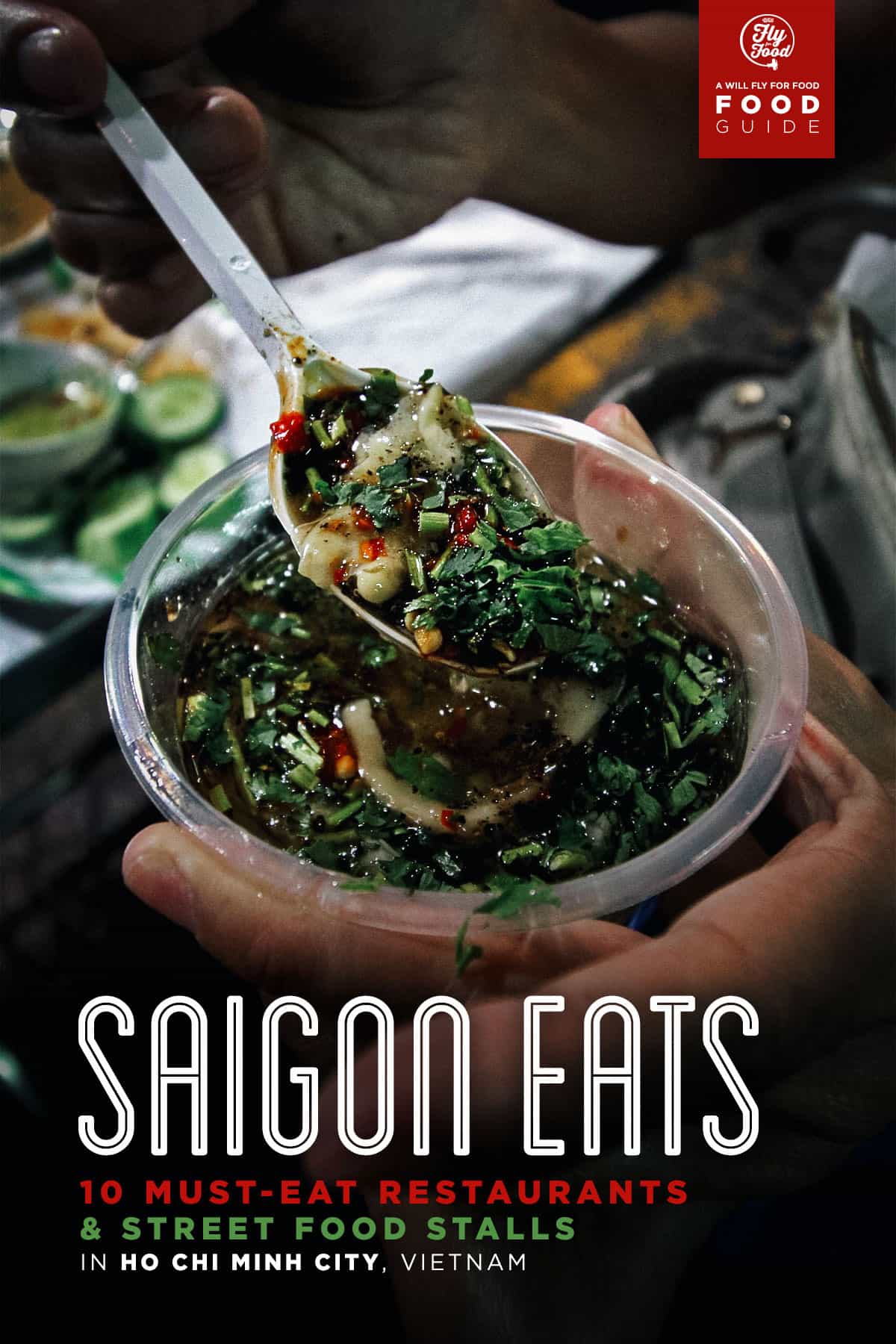 1. Bánh Mì Hòa Mã
I was busy crawling through Cu Chi Tunnels that morning so I missed this place. 🙁 They're known for their banh mi op la – a Vietnamese breakfast consisting of a baguette, sunny side up eggs, pate, and charcuterie.
Bánh Mì Hòa Mã is open only from 5-10AM, so you need to come early otherwise they may run out of food. As you can see below, there's no indoor seating. Located in an alleyway, customers sit outside on those short plastic stools by the side of a building. This is what Vietnamese street food is all about!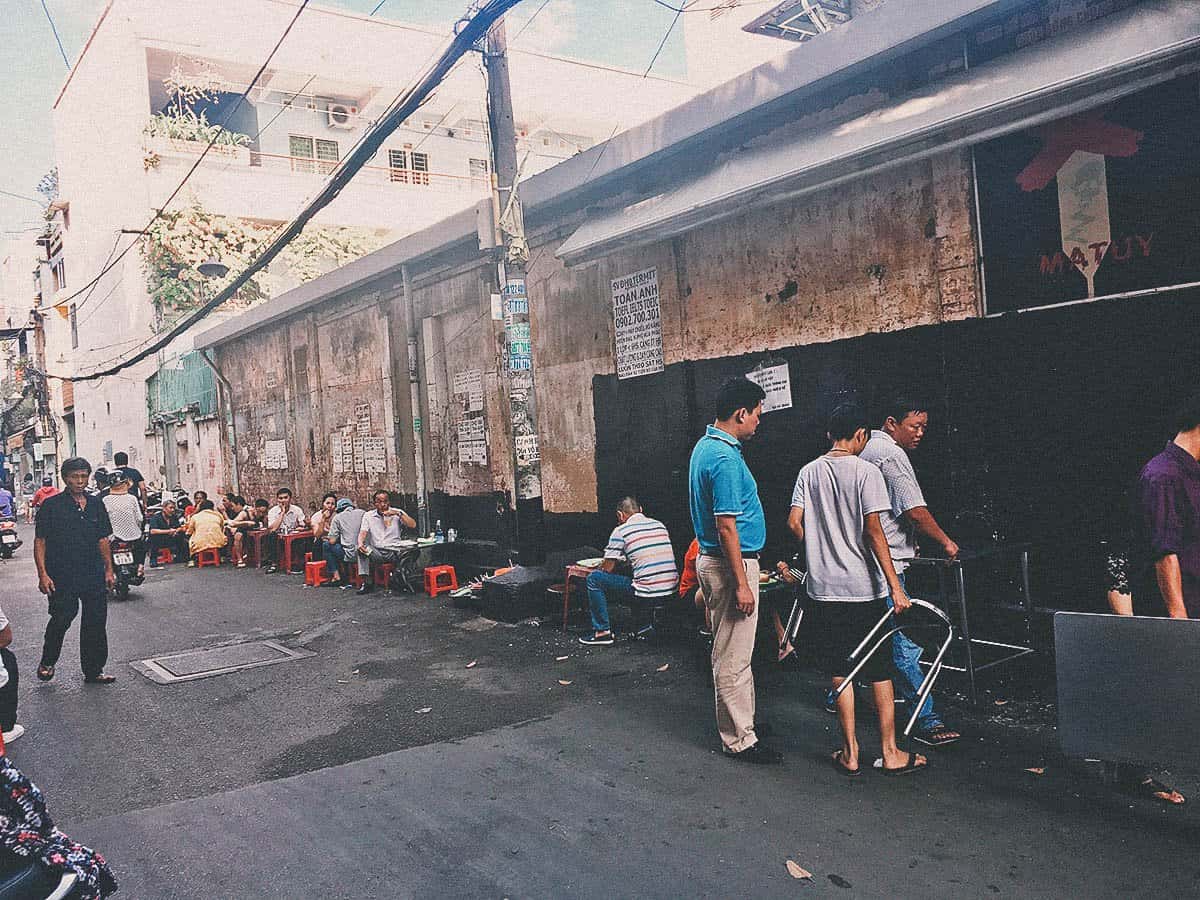 Ren's beautiful breakfast of sunny side up eggs, pate, onions, sausages, and pork terrine with a crisp toasted baguette and a side of pickled vegetables. They serve the eggs crisped around the edges with the yolk still runny. Vietnamese like to drizzle a few drops of liquid seasoning onto the eggs and dunk crusty pieces of banh mi (baguette) into the runny yolk. How good does that sound? I love breakfast food so there's no way I'm missing this again on our next trip to Saigon.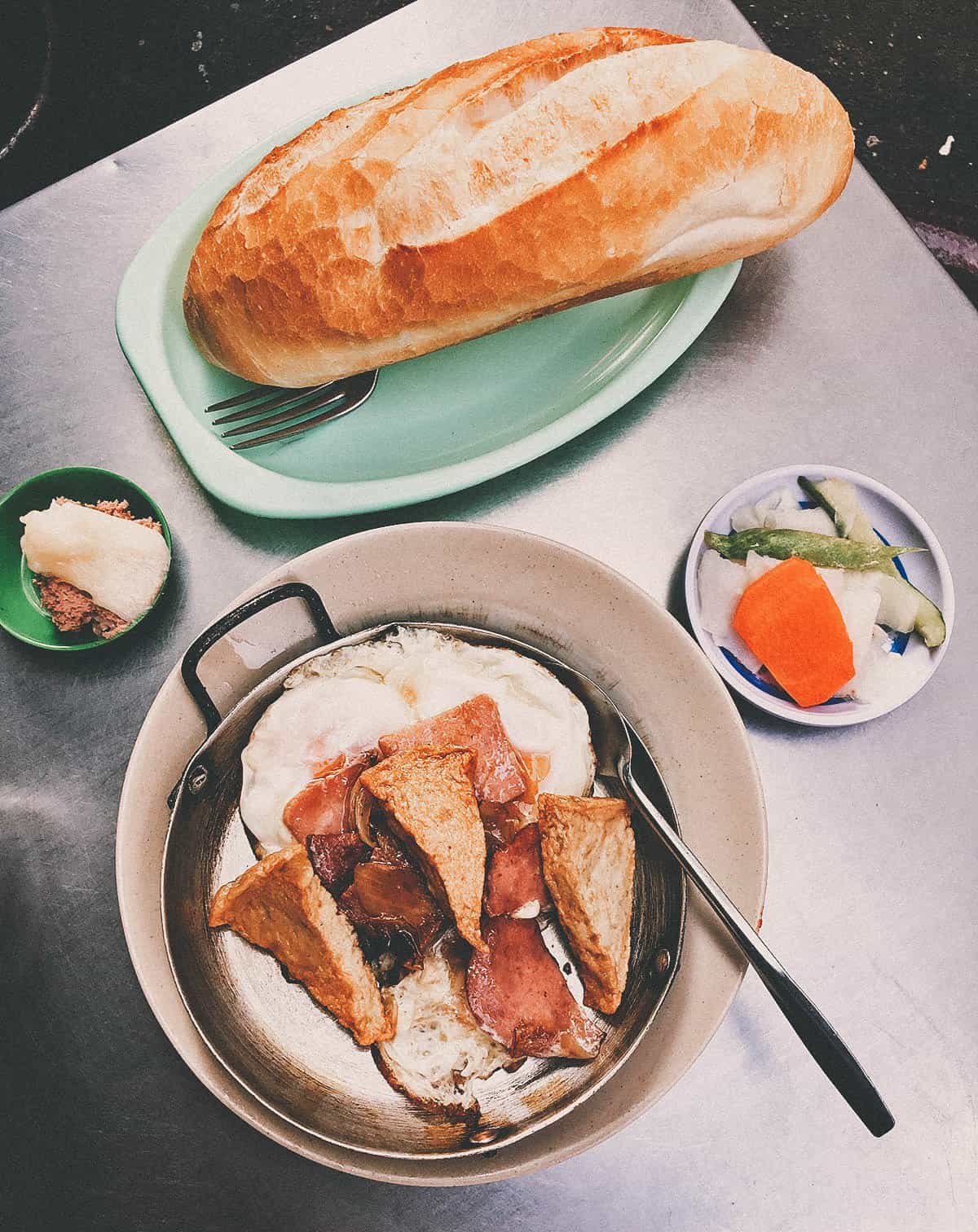 Address: 53 Đường Cao Thắng, phường 17, Quận 3, Hồ Chí Minh, Vietnam
Operating Hours: 5-10AM, daily
Expect to Pay: VND 50,000 per order of banh mi op la
2. Bột Chiên Đạt Thành
Alex of Inspitrip took us on a street food tour of Saigon and this was one of the places he showed us. Đạt Thành is a local favorite known for their bot chien, which is a crispy fried rice flour dish made with egg and green papaya.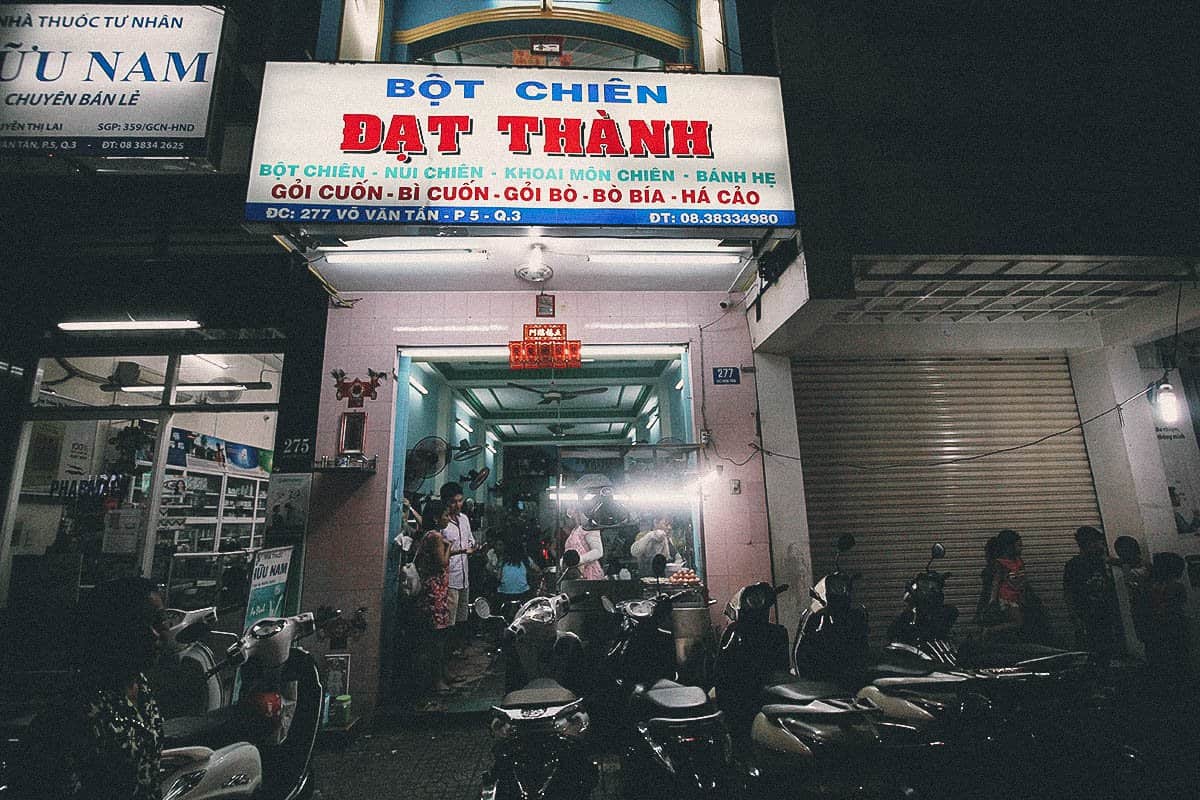 If you're fond of Malaysian or Singaporean food, then this dish may remind you of something. It's similar to char koay kak in Malaysia or chai tow kueh ("carrot cake") in Singapore. But unlike the Malaysian and Singaporean versions, bot chien doesn't contain daikon radish. It's made with cubed rice flour and tapioca starch that's fried in lard with egg, until golden brown and crisp. Served with a refreshing side of green papaya, it was noticeably crispier in texture than the char koay kak we had in Penang, which was more gummy.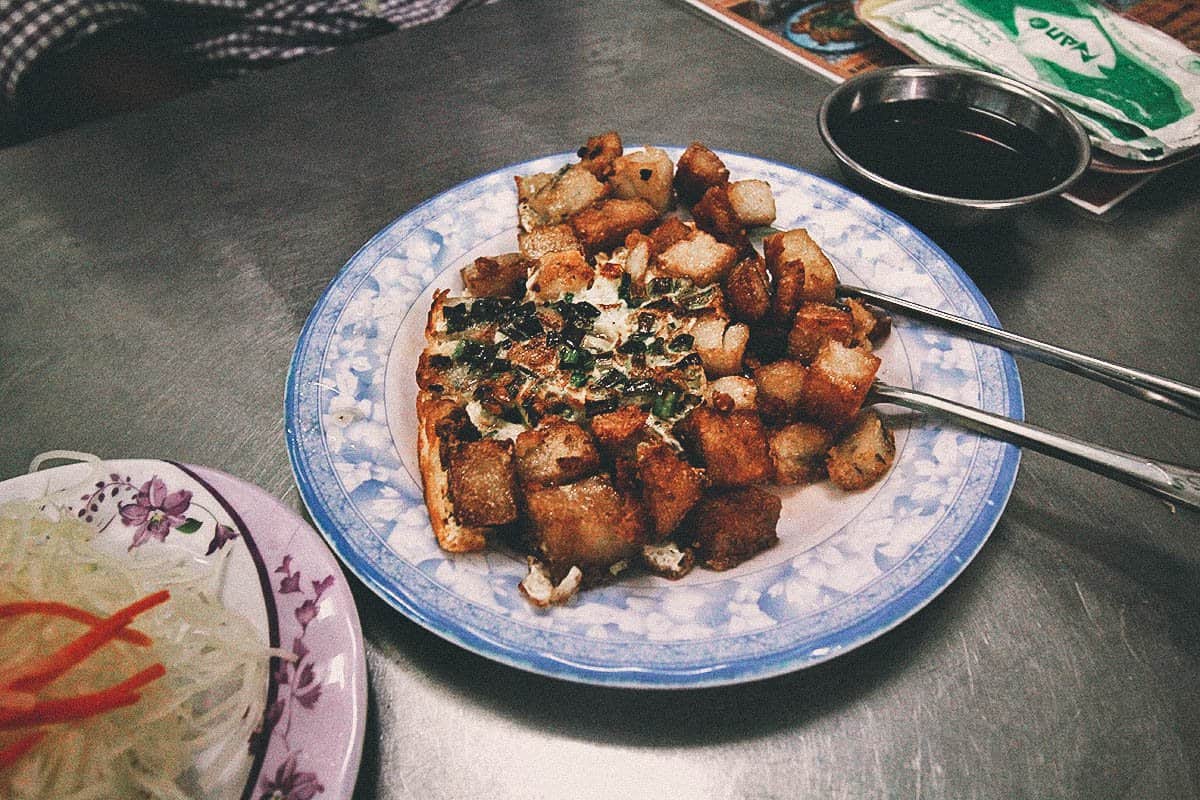 Address: 277 Võ Văn Tần, phường 5, Quận 3, Hồ Chí Minh, Vietnam
Operating Hours: 2-11PM, daily
Expect to Pay: VND 26,000 per order of bot chien
3. Bánh Mì Huỳnh Hoa
This banh mi stall was one of the places I was most excited to try in Saigon. Strictly speaking, banh mi is the Vietnamese word for the French baguette introduced during the colonial period. But when most people say "banh mi", they're specifically referring to the sandwich that's often hailed as being one of the best in the world.
We learned about Bánh Mì Huỳnh Hoa from the first episode of Luke Nguyen's Street Food Asia. Not only is it his favorite banh mi stall, but practically every food blogger and "top 10 list" cites it as being the best place to get banh mi in Saigon. So popular is this place that you're advised to arrive early to avoid the long queues. As you can see below, today was no exception.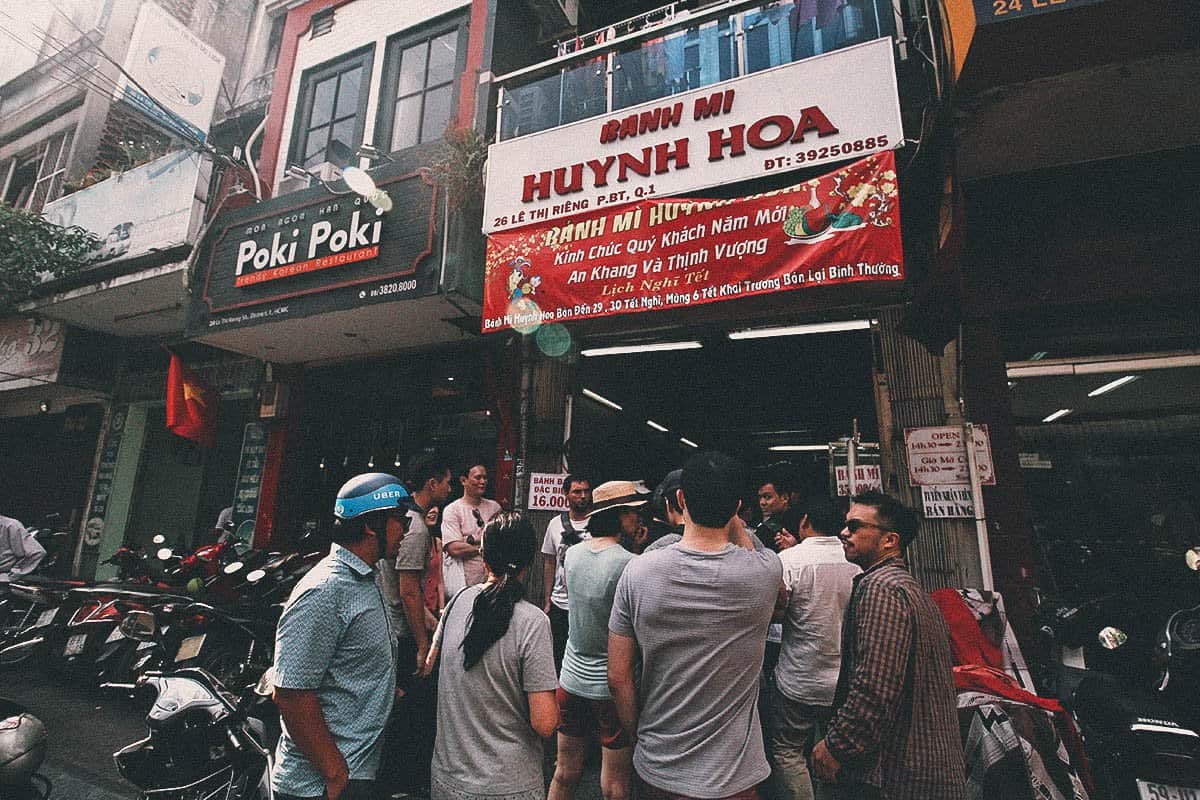 Interestingly, Bánh Mì Huỳnh Hoa is known by another name – Banh Mi O Moi – which basically translates to "lesbian banh mi". The reason for this is that the place is owned by a lesbian couple. They opened the stall over 30 years ago and originally staffed an all lesbian crew. Based on what I've read, people know it more as Banh Mi O Moi rather than its actual name, so if you're lost and can't find it, then just ask for "Banh Mi O Moi".
Lines may have been long but they did move fairly quickly. Notice the stacks of cold cuts?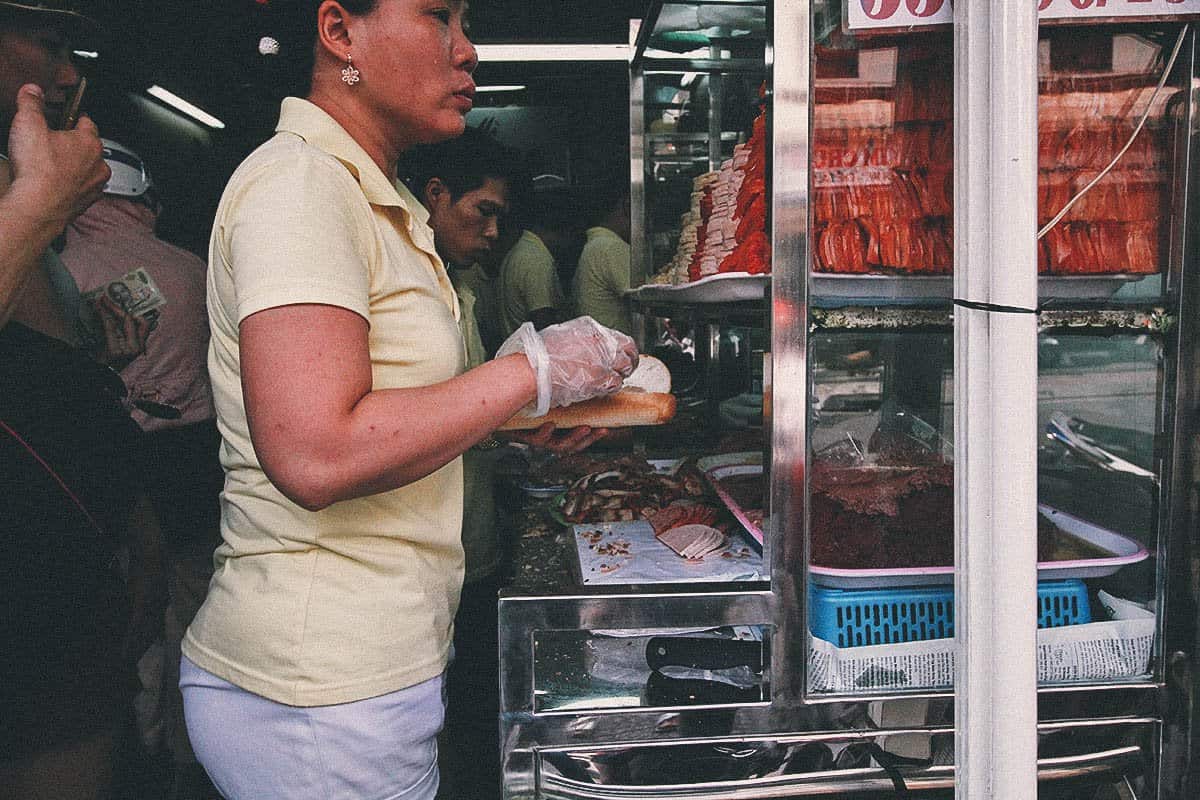 Our beautiful banh mi. Notice the strands of pork floss there?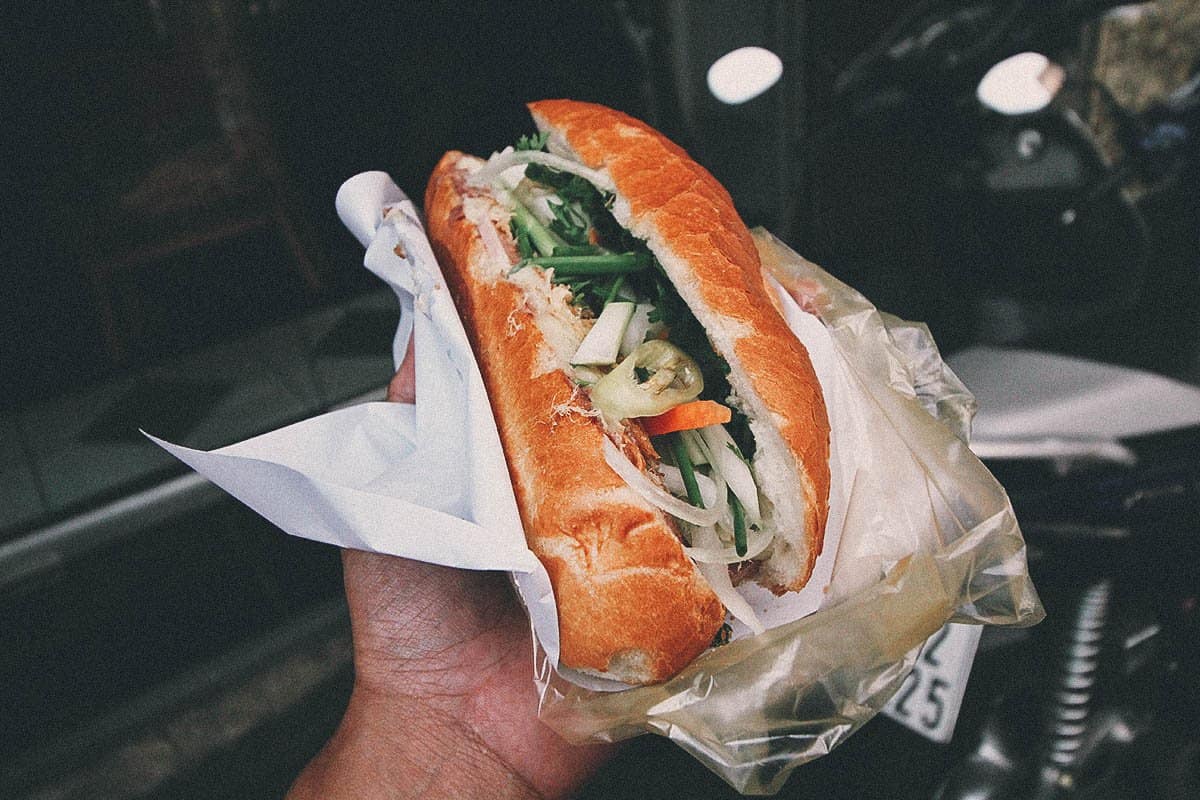 We enjoyed banh mi in every city we visited but the one here was by far the most loaded. Just look at that thing! It's practically overflowing with meat and veggies. No wonder this place is so popular. Their banh mi is delicious and extremely satisfying.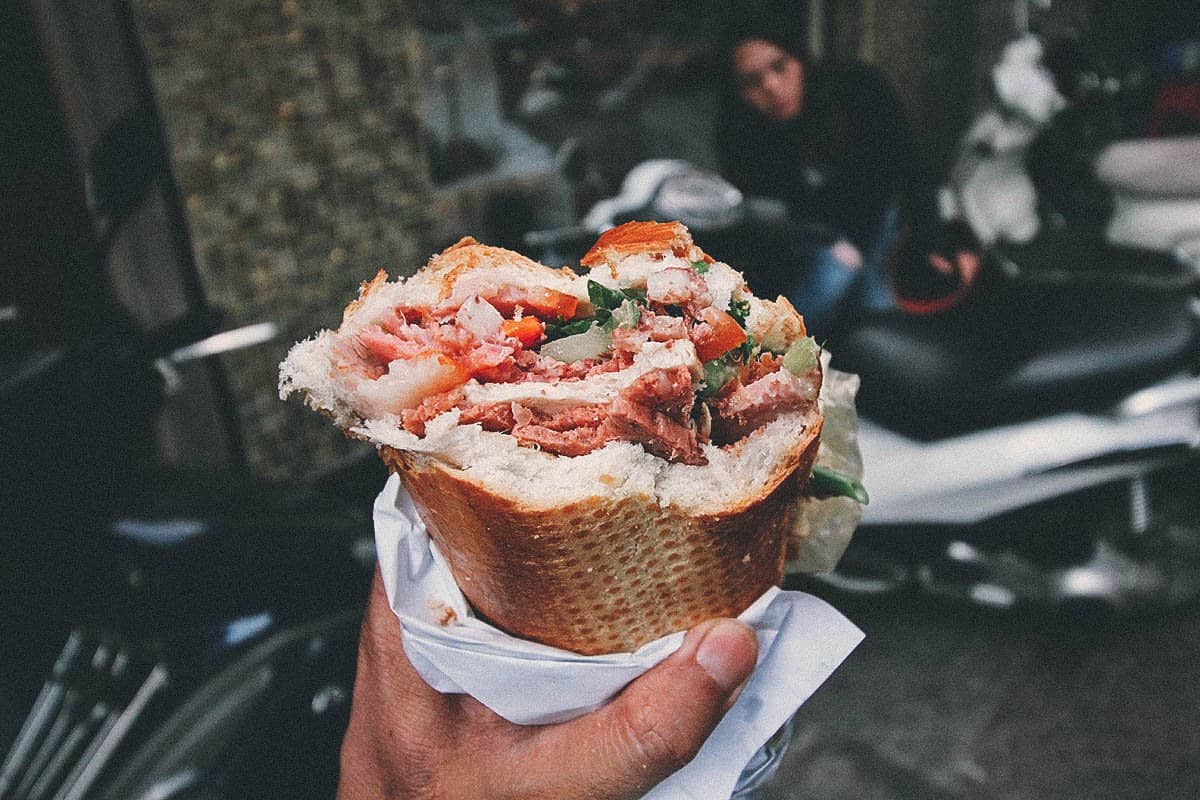 Address: 26 Lê Thị Riêng, Bến Thành, Quận 1, Hồ Chí Minh, Vietnam
Operating Hours: 2:30-11PM, daily
Expect to Pay: VND 35,000 per banh mi
4. Phở Lệ Nguyễn Trãi
You can't visit Vietnam without having pho. If you've never tried it before, it's a Vietnamese noodle soup made with pho or rice noodles, herbs, and either beef or chicken. This wasn't the pho place we had on our itinerary but after Alex of Inspitrip and the owner of our AirBnB rental both recommended it, we knew we had to change our plans. Two locals recommending the same place pretty much guaranteed that this pho would be awesome, and it was.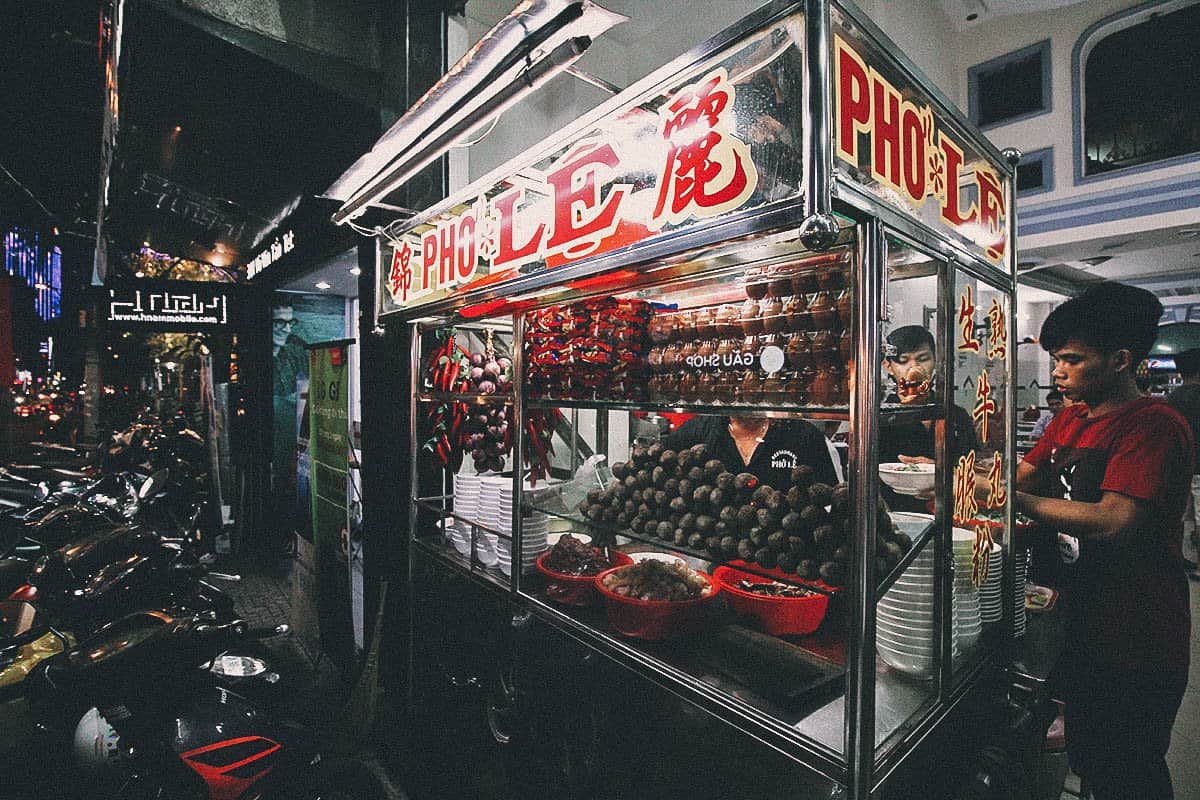 To be honest, pho isn't my favorite Vietnamese dish. I'm a rice man to begin with, and when it comes to noodles, I prefer them thicker and chewier like banh canh or Japanese udon. But this particular bowl of pho bo, served with beef tendon, was the best damn pho I've ever tasted. And that includes a couple of famous places we tried in Hanoi earlier on this trip. The broth was extremely flavorful and delicious. It's sweeter than northern pho and served with bean sprouts and a wider variety of fresh herbs. If you like pho, then you have to eat here. It's in the same area as Bột Chiên Đạt Thành (#2) and Cơm tấm Trần Quý Cáp (#5) so you can do a food crawl and visit all three places.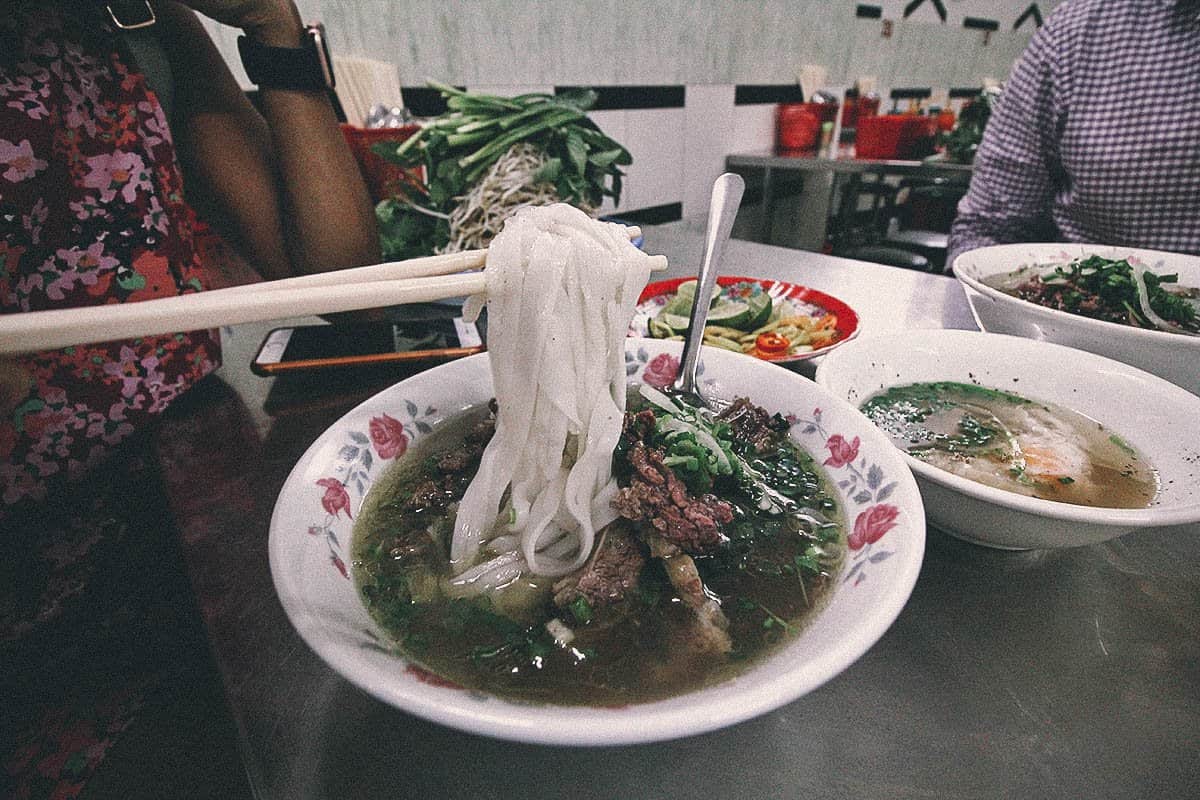 Address: 413-415 Nguyễn Trãi, Phường 7, Quận 5, Hồ Chí Minh, Vietnam
Operating Hours: 6AM-1AM, daily
Expect to Pay: Around VND 50,000 per bowl of pho
5. Cơm tấm Trần Quý Cáp
According to Alex, Cơm tấm Trần Quý Cáp is known for being one of the best places in Saigon to have cơm tấm or broken rice. It's been open for decades and was a favorite of both his father and grandfather. Three generations of Vietnamese can't be wrong!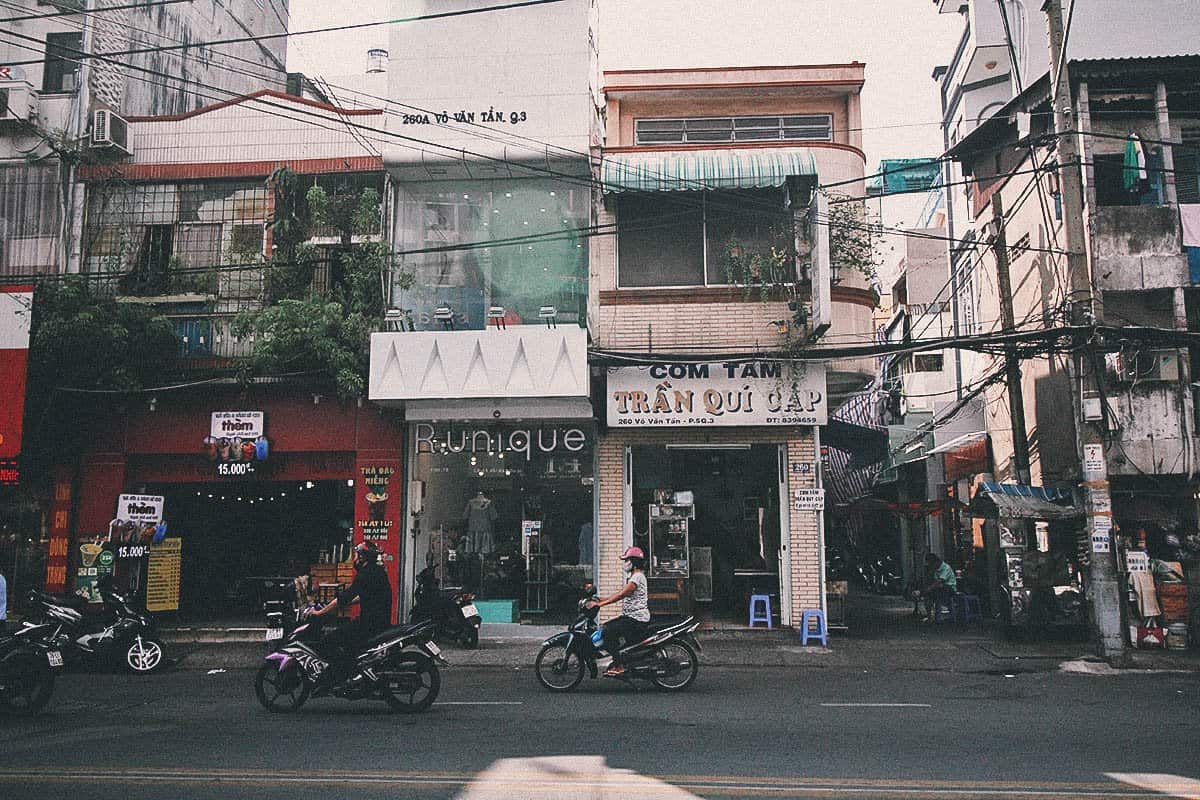 Alex recommended that we order the com tam suon nuong which is grilled pork chop with broken rice. It's referred to as "broken rice" because it's made with fragments of rice grains that were broken either in the field, during drying, during transport, or by milling. I haven't eaten it enough to really notice the difference, but people have described it as tasting nuttier than regular rice, almost like risotto. But to be honest, I think I was so blown away by the pork chop that it took my focus away from the broken rice. Alex was spot on. The pork chop was delicious – savory sweet and very tender. I really enjoyed it with the cơm tấm.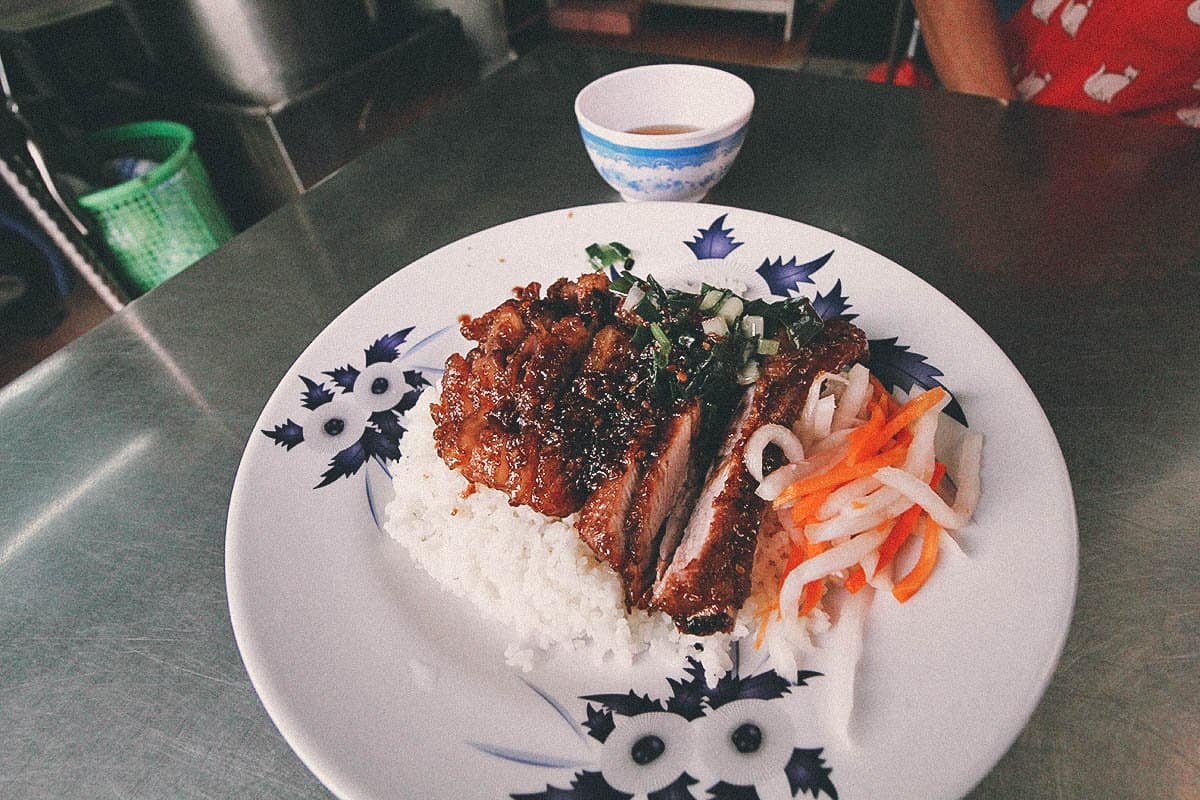 Address: 260 Võ Văn Tần, phường 5, Quận 3, Hồ Chí Minh, Vietnam
Operating Hours: 10AM-9PM, daily
Expect to Pay: VND 65,000 per order of com tam suon nuong
6. Cơm gà xối mỡ Su Su
This could very well have been the best fried chicken I have ever tasted in my life. This place specializes in cơm gà xối mỡ which is fried chicken and rice, but their version is referred to as "waterfall chicken" because of the way it's cooked. We learned about Cơm gà xối mỡ Su Su and the unique way they cook chicken from the second episode of Luke Nguyen's Street Food Asia.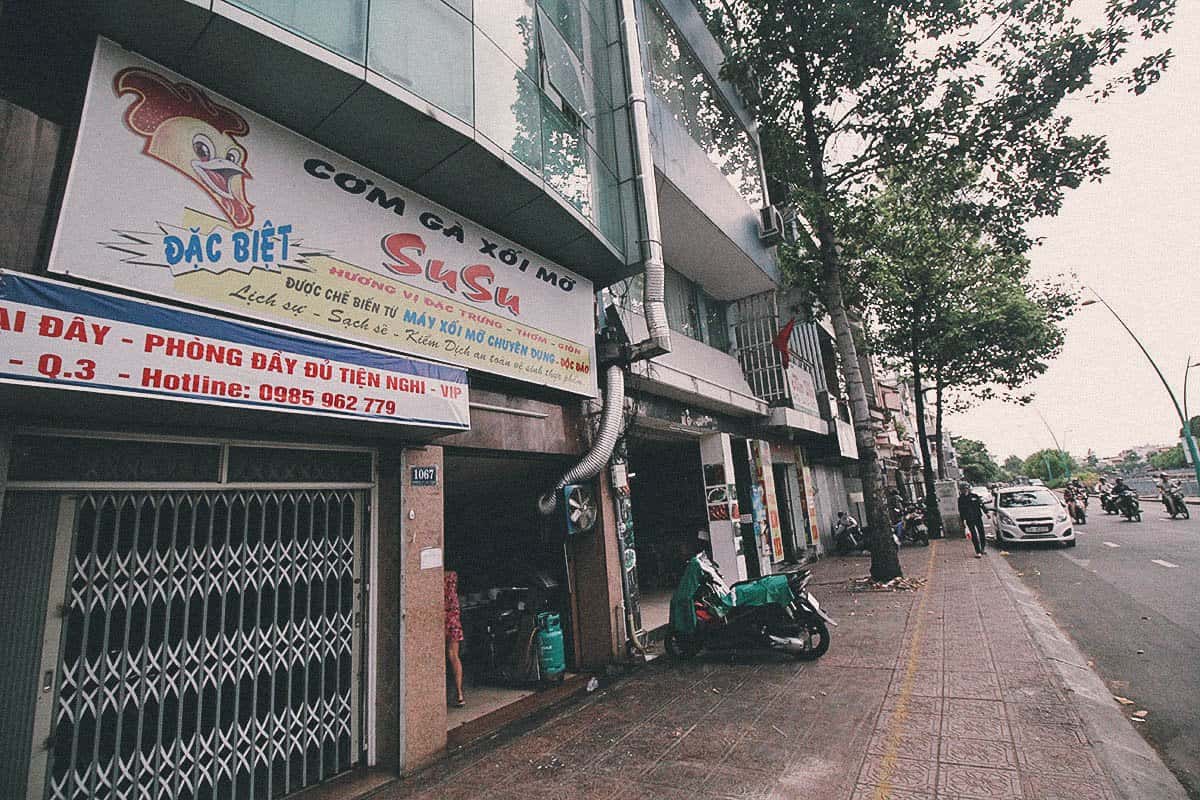 This is the red rice they serve with the fried chicken. The owner, pictured here, was showing me the machine he invented which automatically stirs the rice so it doesn't burn. It was pretty cool, though not as impressive as the machine he invented to fry the chicken.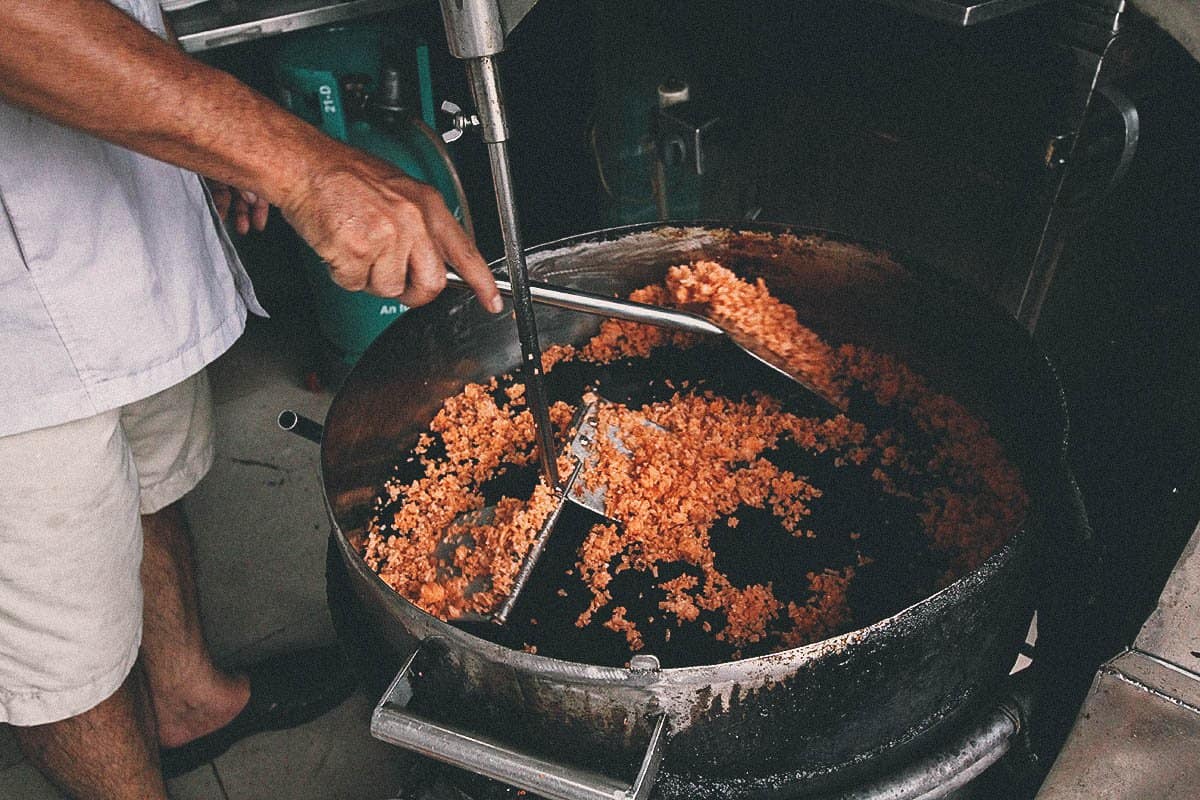 At the flip of a switch, hot oil (around 180°C) would shower down from the top of the machine onto poached chicken wings or thighs. The oil would go through the screen and back into the pool below before being sent back up again. He would leave the chicken under this waterfall of oil for a few minutes not necessarily to cook it, since it's already been poached in a master stock, but to supremely crisp up the skin. Genius!
There's no arguing with the results. You can tell just by looking at this picture how delicately crisp that chicken skin is. And because it wasn't deep-fried, it isn't oily. It was so frikking good, especially when dipped in that dark homemade sauce. We weren't sure exactly what's in it but it's savory sweet and very garlicky, kinda like soy sauce with teriyaki and oyster sauce, maybe some hoisin and other spices. This is the kind of dish I would definitely look for on every return visit to Saigon. ♥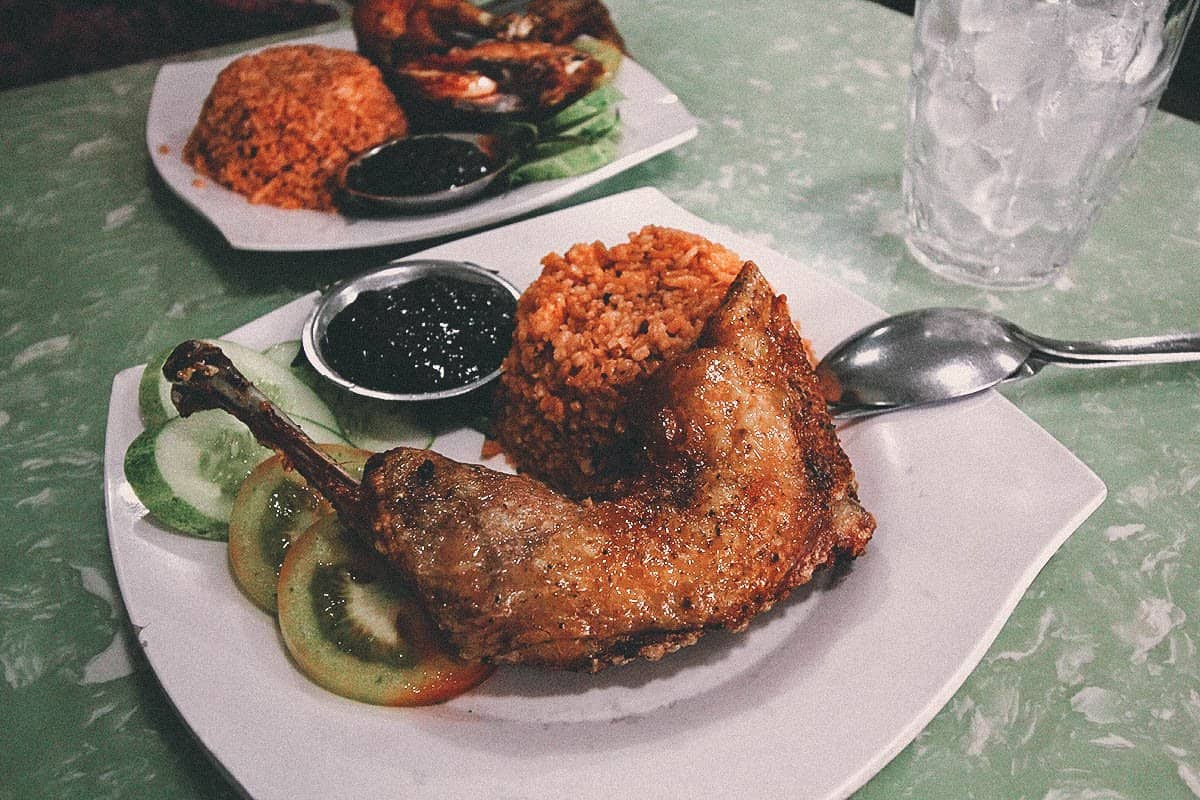 The genius behind Saigon's waterfall fried chicken. We didn't catch his name but he was clearly passionate about his food and his inventions. Cơm gà xối mỡ Su Su was awesome and in our opinion, a must-eat in Saigon. Many blog posts still list the old address so be sure to refer to the restaurant's new address just beneath this picture.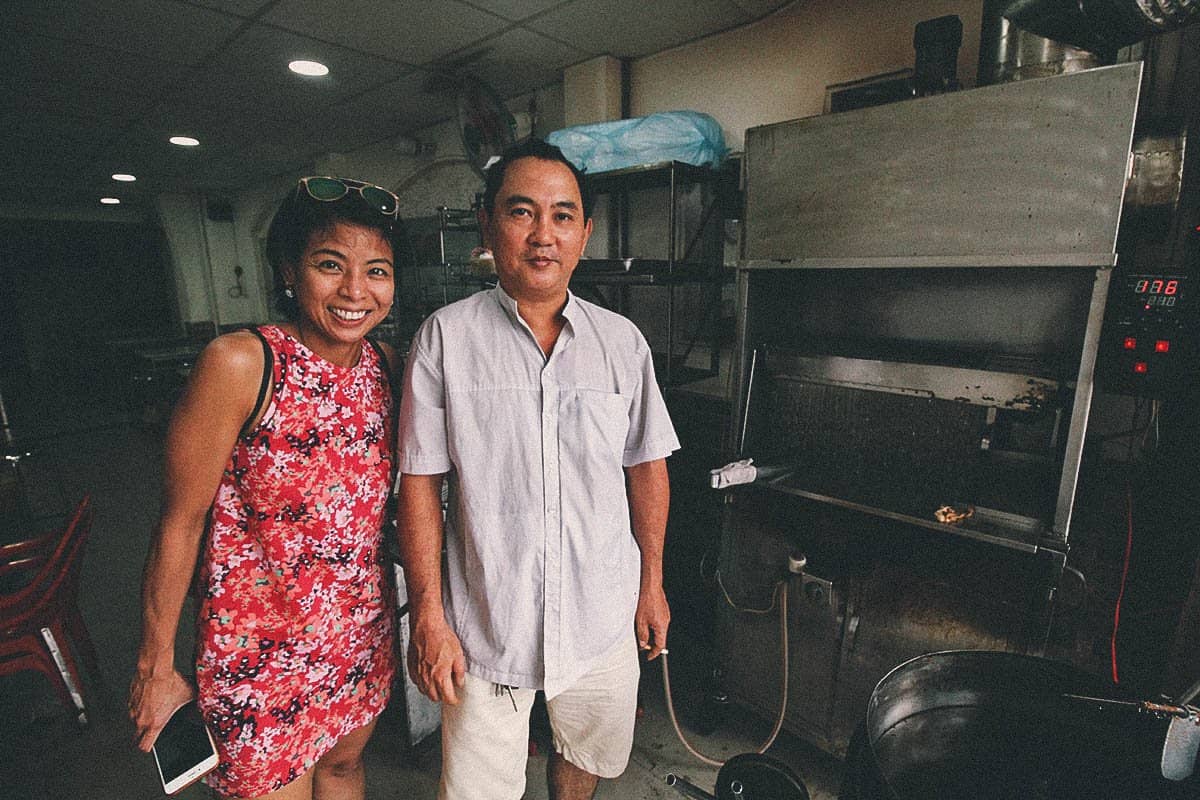 Address: 1067 Hoàng Sa, phường 11, Quận 3, Hồ Chí Minh, Vietnam
Operating Hours: 10:30AM-9:30PM, daily
Expect to Pay: VND 42,000 per order of chicken rice
7. Xôi Gà Number One / Xôi Gà Út Mập Number One
This was another stall that Ren tried while I was away at Cu Chi. Actually, there are two stalls here almost right next to each other, both with very similar names and both specializing in Xôi Gà or steamed chicken with glutinous rice. We learned about these stalls on the second episode of Luke Nguyen's Street Food Asia.
According to Luke, there was a street food vendor named BamMoy who would walk up and down this area selling Xôi Gà over 50 years ago. She became so popular that she eventually opened her own stall called Xôi Gà Number One. Fast forward many years later and BamMoy is now in her nineties and has since passed on the business to one of her daughters. However, the other daughter wasn't too happy about it so she opened her own stall a couple of doors down called Xôi Gà Út Mập Number One. 😆
Luke advised to go to the original, which is what Ren did, but for some reason they sat her down at the sister's stall whilst serving her Xôi Gà from the original. I guess relations between the sisters have warmed since then?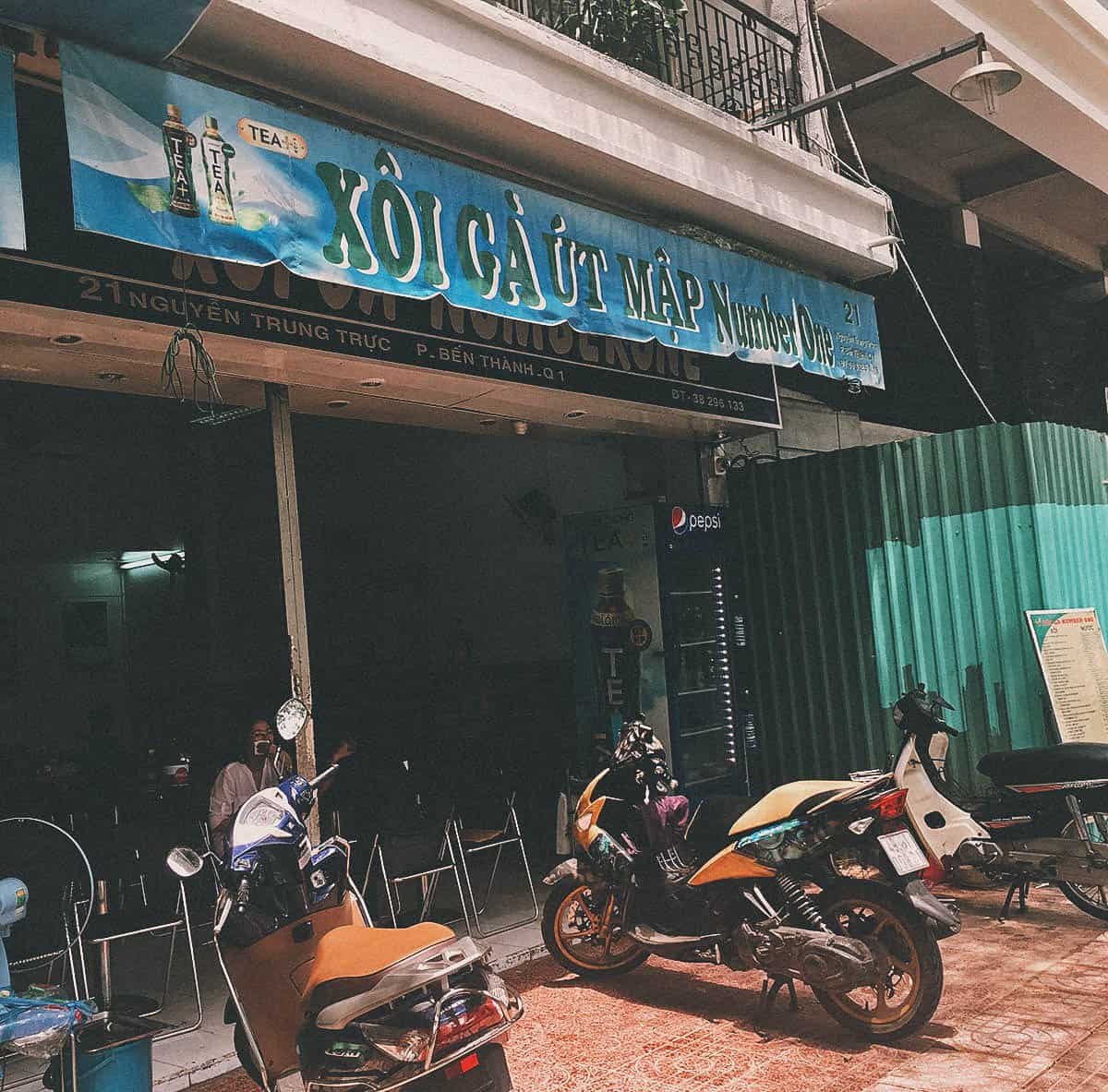 The dish was exactly as Ren expected, sticky rice topped with shredded steamed chicken. Too bad I wasn't with her this morning. I would have convinced her to try both stalls so we could compare.

Address: 21/19 Nguyễn Trung Trực, Bến Thành, Quận 1, Hồ Chí Minh, Vietnam
Operating Hours: 7AM-9PM, daily
Expect to Pay: VND 15,000 per order of xoi ga
8. Ốc Oanh
Ốc Oanh was one of my favorite places to eat in Saigon. Located along Vinh Khanh Street in District 4, this area is known for having some of the best street seafood in Ho Chi Minh City. Nicknamed "Seafood Street", there you'll find several blocks of sidewalk restaurants serving different types of seafood. Alex of Inspitrip took us to Ốc Oanh which is the most famous restaurant on this strip. Luke Nguyen featured this place as well on the second episode of Street Food Asia. We enjoyed this place so much that we ate here twice and it was packed on both nights.



One of the things that Vinh Khanh Street is known for are its snail dishes. According to Alex, sea snails are popular among the Vietnamese but they're difficult to prepare at home, which is why nearly every restaurant on this strip serves them. Ốc Oanh serves several varieties cooked in different ways. The ones pictured here were cooked in coconut milk and called ốc len xào dừa. They were so good we wound up ordering them again the next night.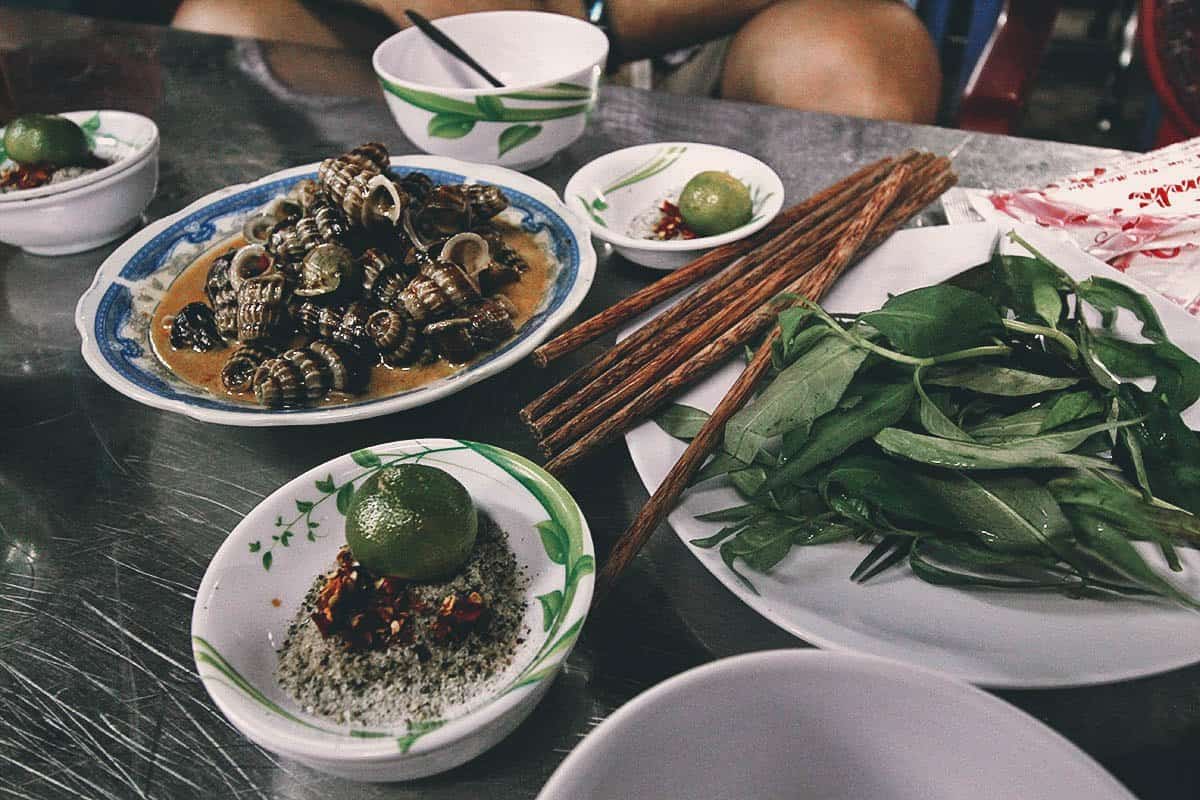 This had me salivating. Octopus and squid, especially the tentacles, are among my favorite foods so I had to get an order of this grilled octopus dish which I believe is called bạch tuộc nướng sa tế. Served with a green sauce, the octopus was spicy and delicious and surprisingly tender considering its hefty size.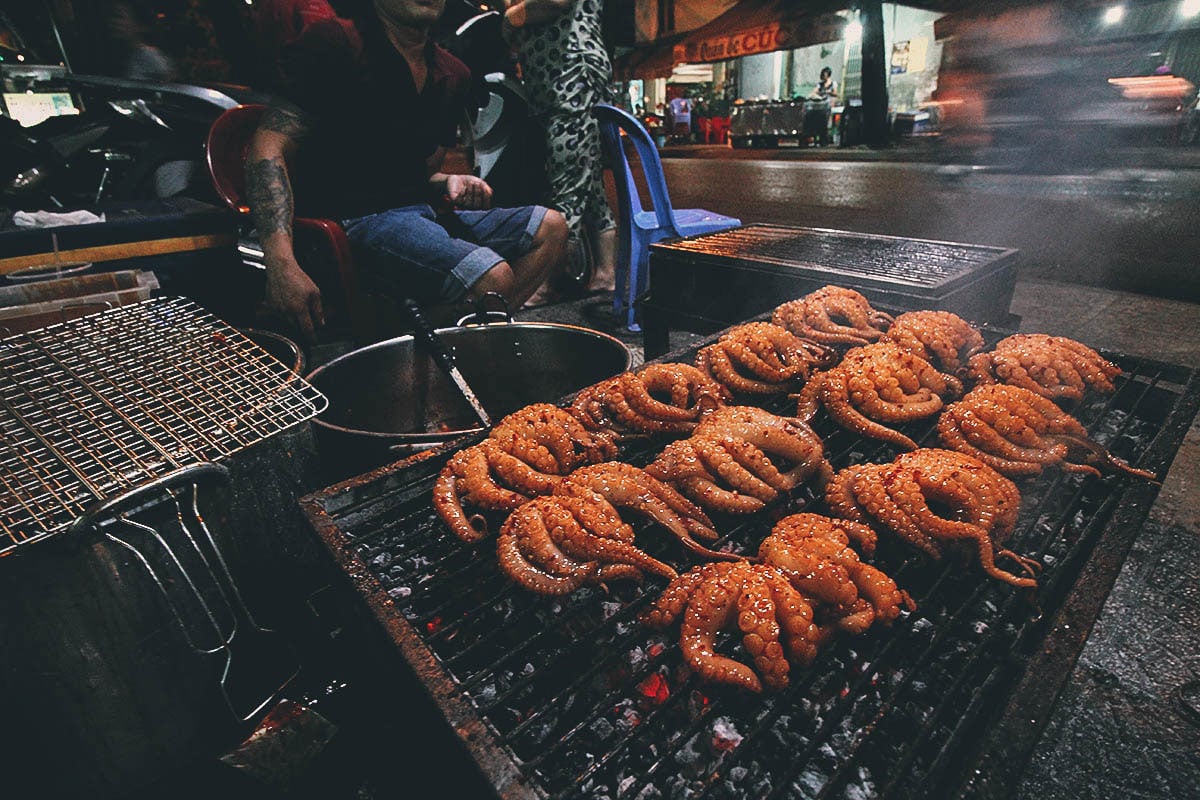 Here's a devilish-looking plate of crab claws with chili-salt (càng ghẹ rang muối). The guy preparing it was mixing them so vigorously it looked like he was literally smashing that chili into the crab. This looked to be a popular dish here as well. Many tables ordered it, including a version made with sea snails.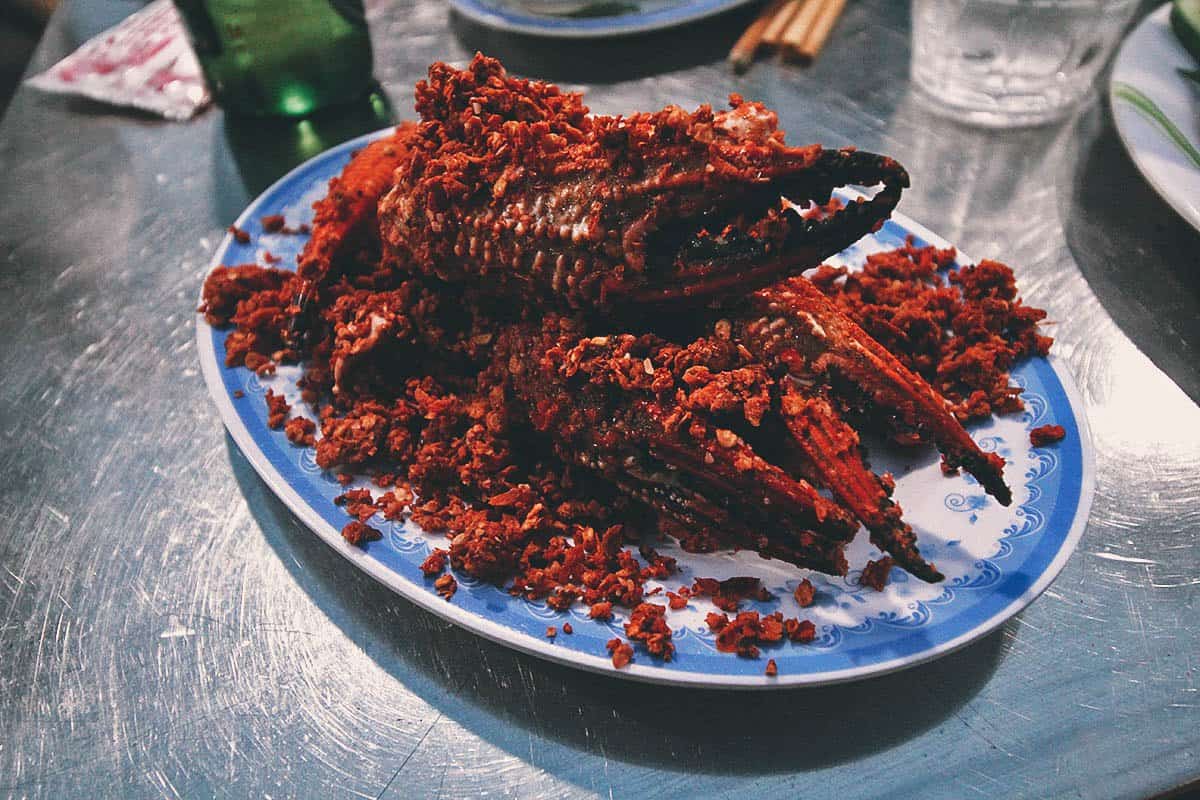 Aside from the food, what I loved most about Vinh Khanh Street was the atmosphere. You're literally stuffing your face with delicious seafood on a sidewalk buzzing with activity. If you like seafood, then you need to have a meal here. You can check my post on Vinh Khanh Street for more pictures and information.
Address: 534 Đường Vĩnh Khánh, phường 10, Quận 4, Hồ Chí Minh, Vietnam
Operating Hours: 1PM-12MN, daily
Expect to Pay: Varies
9. Ben Thanh Street Food Market
Ren and I love street food but we understand not everyone has the stomach for it. If authentic street food isn't really your thing, then you're going to enjoy Ben Thanh Street Food Market.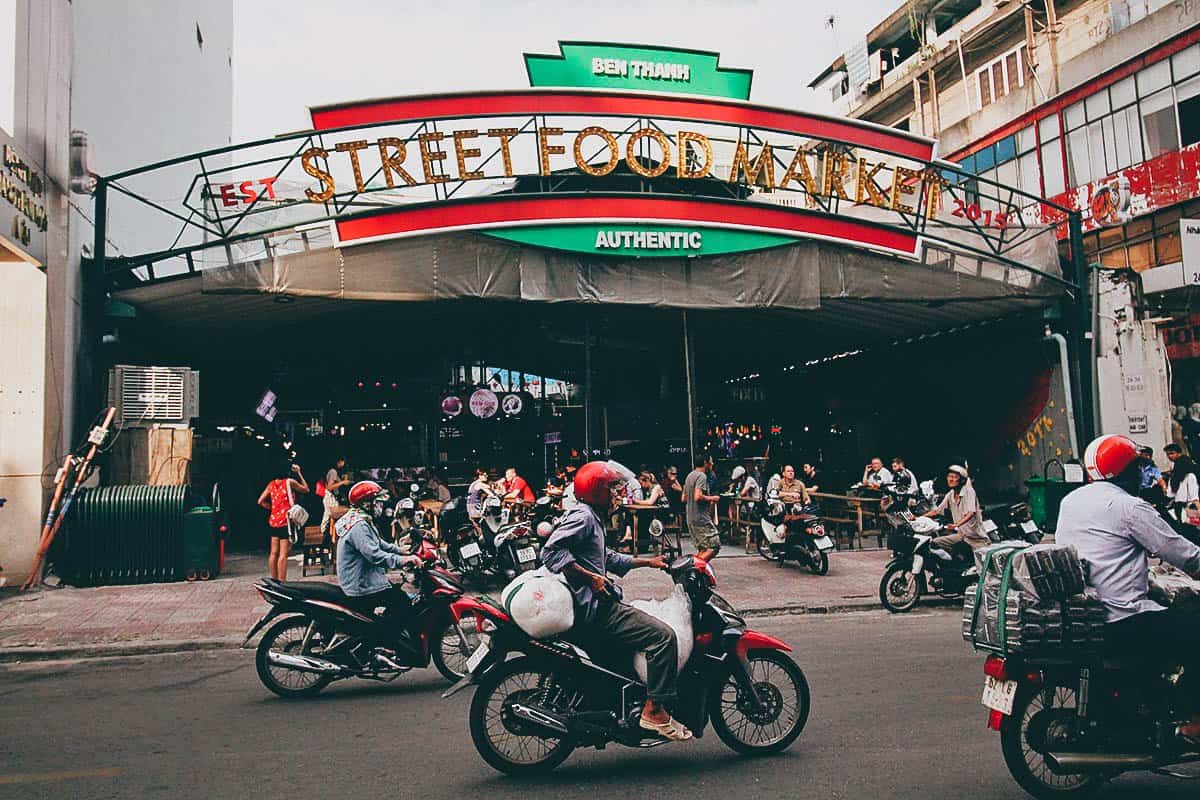 Located near Ben Thanh Market, this place is a trendy food park or food hall with several individual stalls selling different types of food. The venue is clean and the atmosphere pleasant. It basically caters to tourists who want the street food experience but in a less gritty and more polished setting. Although most offered Vietnamese food, there were a few stalls that sold other types of cuisine as well like hot dogs and Korean food.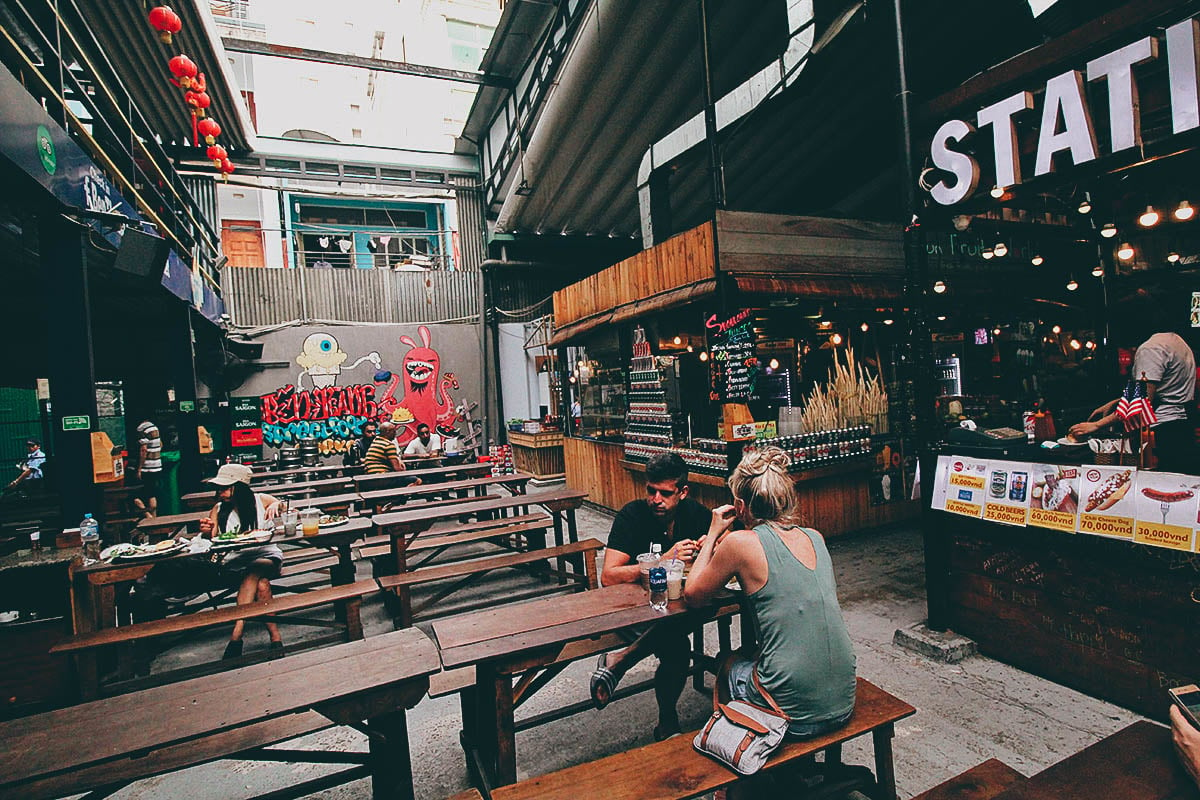 We tried bún thịt nướng – a cold rice-vermicelli noodle dish topped with grilled pork, fresh herbs, and vegetables – and this thịt bò nướng lá lốt, which is grilled beef wrapped in betel leaves. You can check out my post on Ben Thanh Street Food Market for more pictures and information.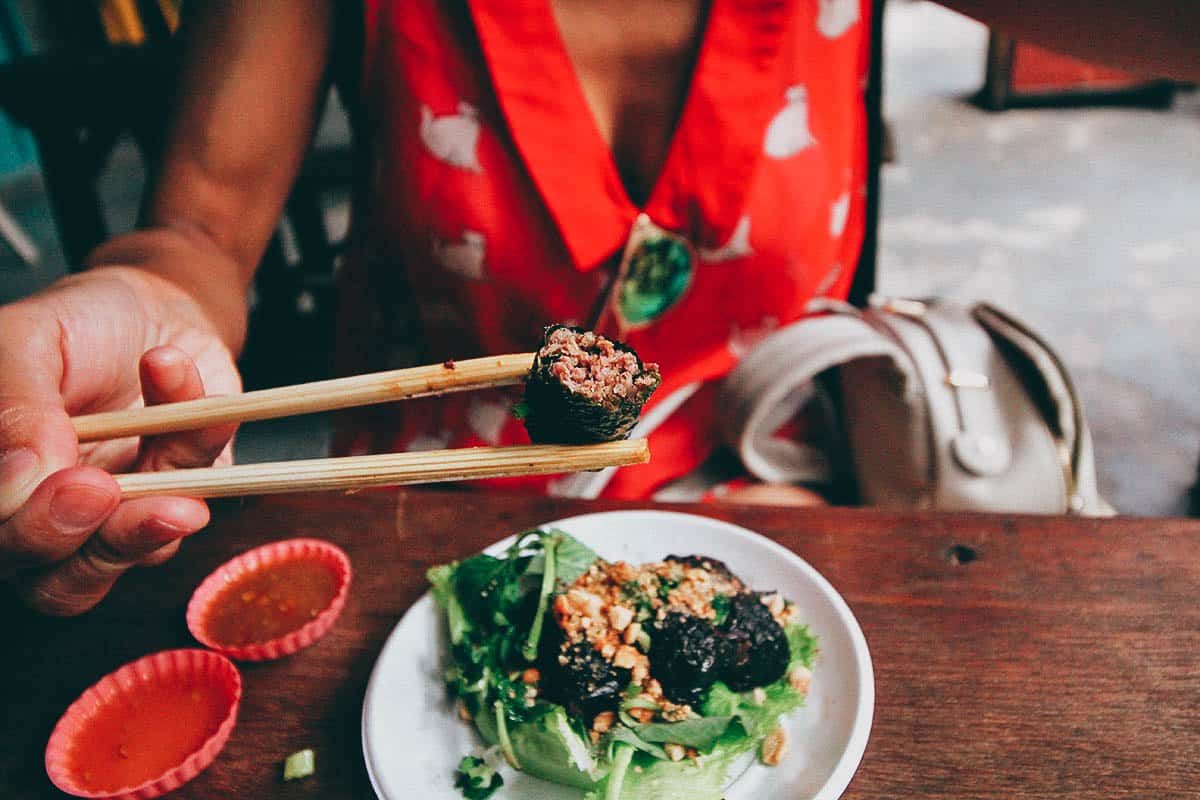 Address: 26-28-30 Thủ Khoa Huân, Hồ Chí Minh 700000, Vietnam
Operating Hours: 9AM-11PM, daily
Expect to Pay: Varies
10. Giò Chả Minh Châu
Giò Chả Minh Châu is a takeout stall selling different kinds of Vietnamese food products. We asked our AirBnB host what Vietnamese delicacies we could bring home and she suggested the chả lụa or Vietnamese pork sausage sold here. It turned out to be the perfect suggestion because I had fallen in love with what I thought was fish cake in a banh canh I ate in Hoi An. Looking back now, I'm almost sure it was chả lụa.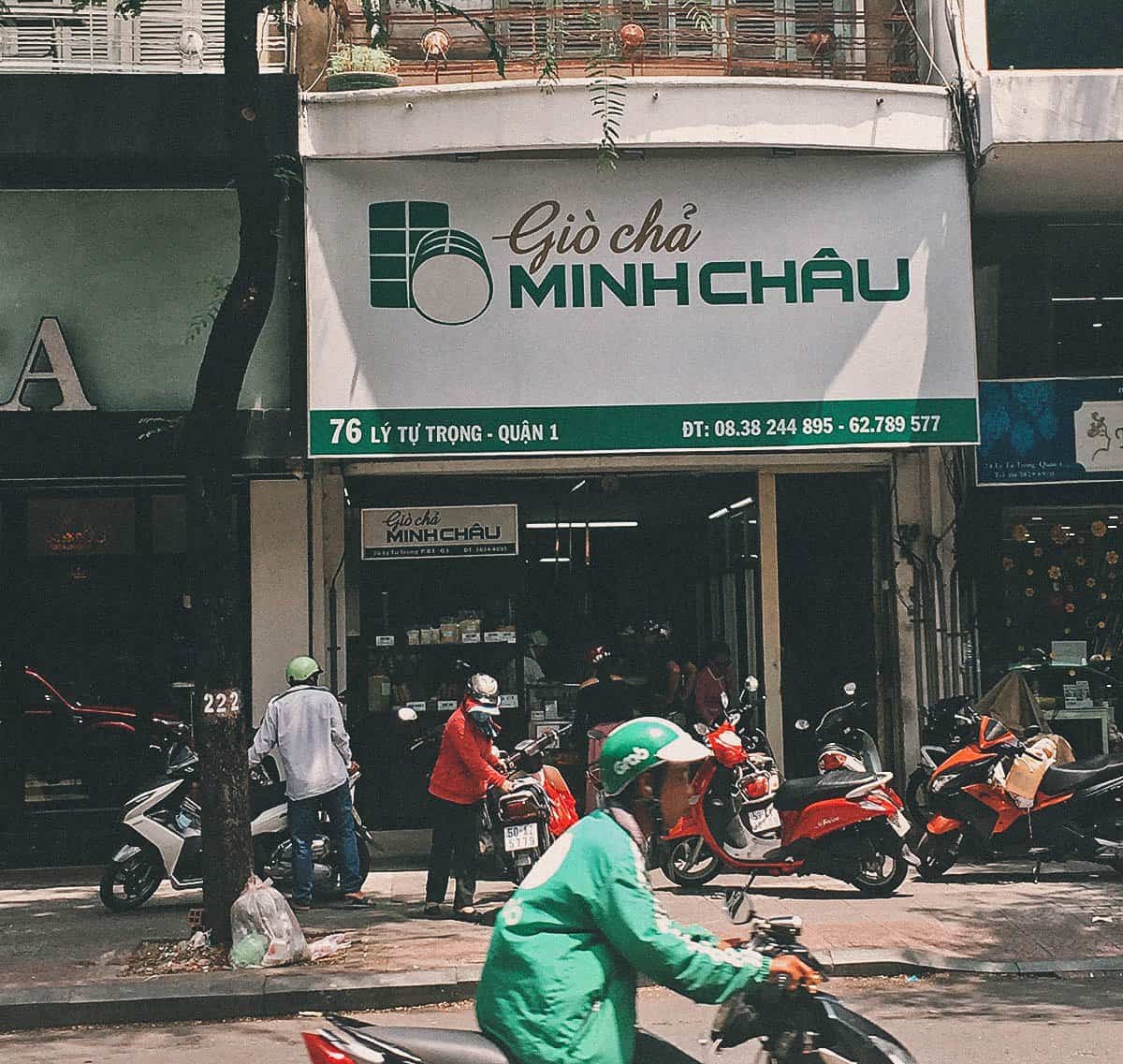 Chả lụa or giò lụa is made with lean pork, potato starch, garlic, ground black pepper, and nước mắm (fish sauce). The pork is pounded until it becomes pasty before being seasoned with spices and fish sauce. It can't be chopped or ground since that would leave the meat fibrous, dry, and crumbly. The texture of chả lụa is what I enjoyed most about the dish which is why the pounding process is important. The mixture – now known as giò sống or raw sausage – is then wrapped tightly in banana leaves into a cylindrical shape and boiled. What I'm holding here is a half kilo worth of chả lụa.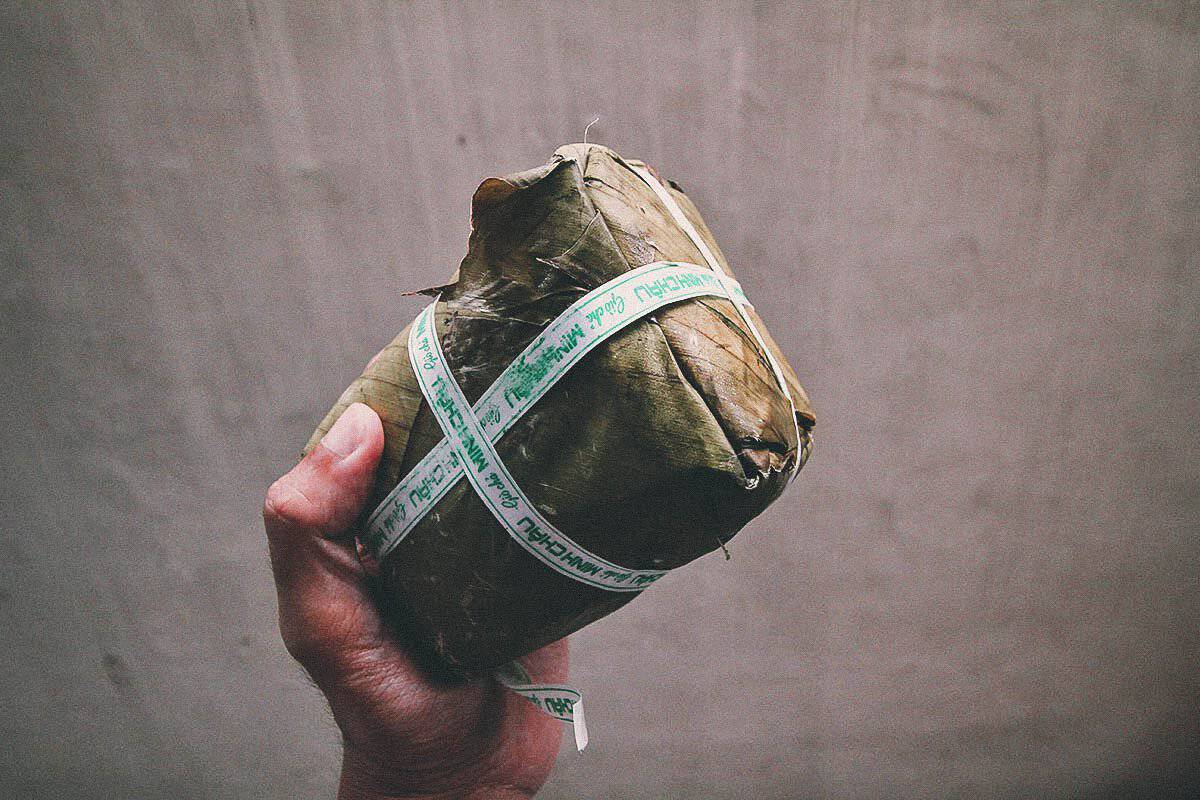 There's the chả lụa sitting on top. It's already cooked so you just need to quickly slice and pan fry it before eating. As described, the texture is a bit gummy and chewy and reminiscent of a firmer fish cake. I loved it and wished we had brought back more than just half a kilo. If you like SPAM or other processed meats, then you're going to love chả lụa.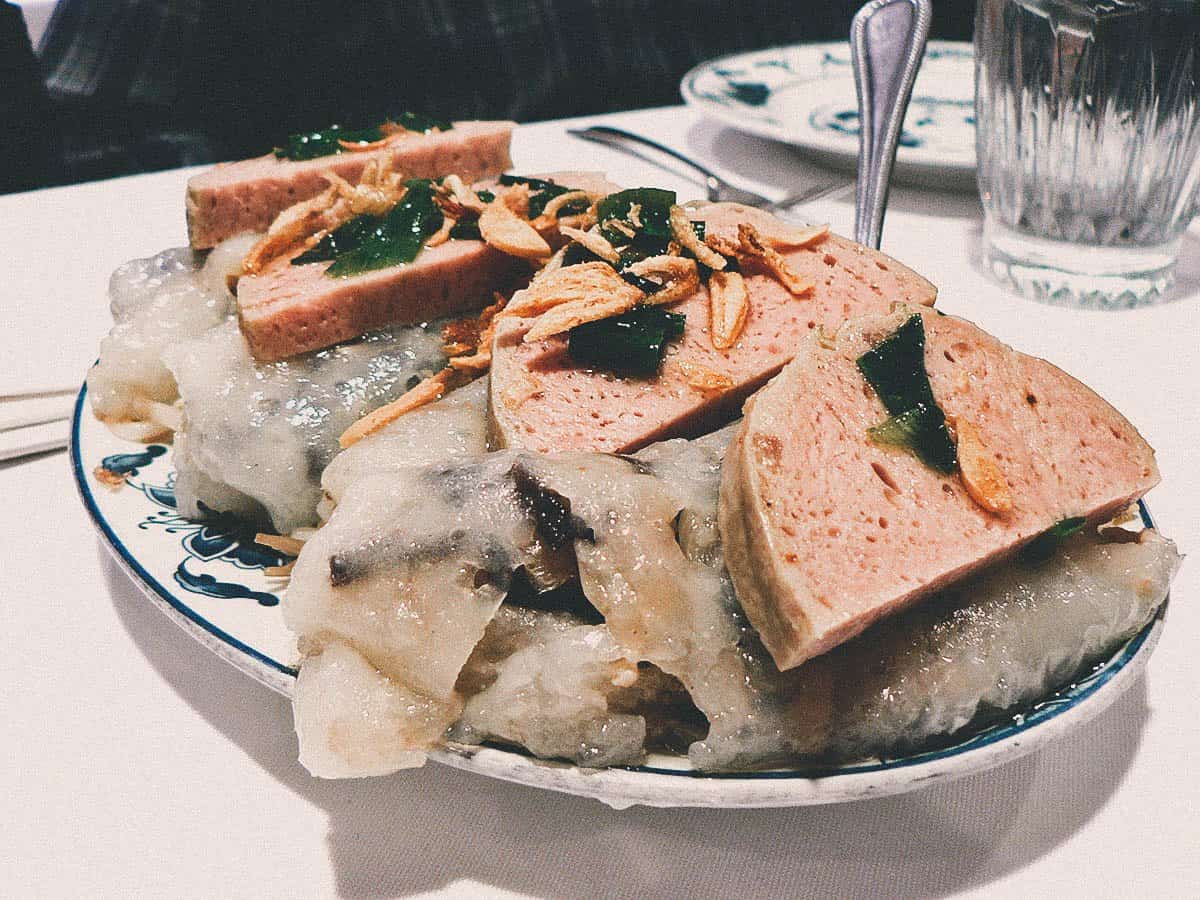 "cha lua banh cuon" by stu_spivack, used under CC BY-SA 2.0 / Processed in Photoshop and Lightroom
Address: 76 Lý Tự Trọng, Bến Thành, Quận 1, Hồ Chí Minh, Vietnam
Operating Hours: 6AM-6PM, daily
Expect to Pay: VND 110,000 per half kilo of giờ lụa
* * * * *
If you'd like to visit any of these street food stalls, then the best way to do so would be by ride sharing app. There's no subway system in Saigon so the easiest way to get to these places is by Uber or Grab. It's cheap and convenient in Vietnam so we used it often in Saigon. The good news is that some of these eateries are clumped together in the same general area so you can visit several at once.
Many of them can be hard to find so I've pinned them all on the map below to make it easier for you. I've added a few others as well that we wanted to visit but couldn't get to.
To help you with your travel planning, you can refer to our full 2-day Saigon itinerary on Sygic Travel. It's a more complete version of the map above with accommodations and attraction suggestions. Most of these eateries are accessible by foot from District 1 though there are a couple that you'll definitely need transportation for.
You can also download a copy of our entire 2-week Vietnam itinerary in editable Word format from our EAT-ineraries page. It goes north to south and covers Hanoi (including Ha Long Bay), Hoi An, and Saigon. Thanks for reading and we hope you enjoy these awesome street food stalls in Saigon!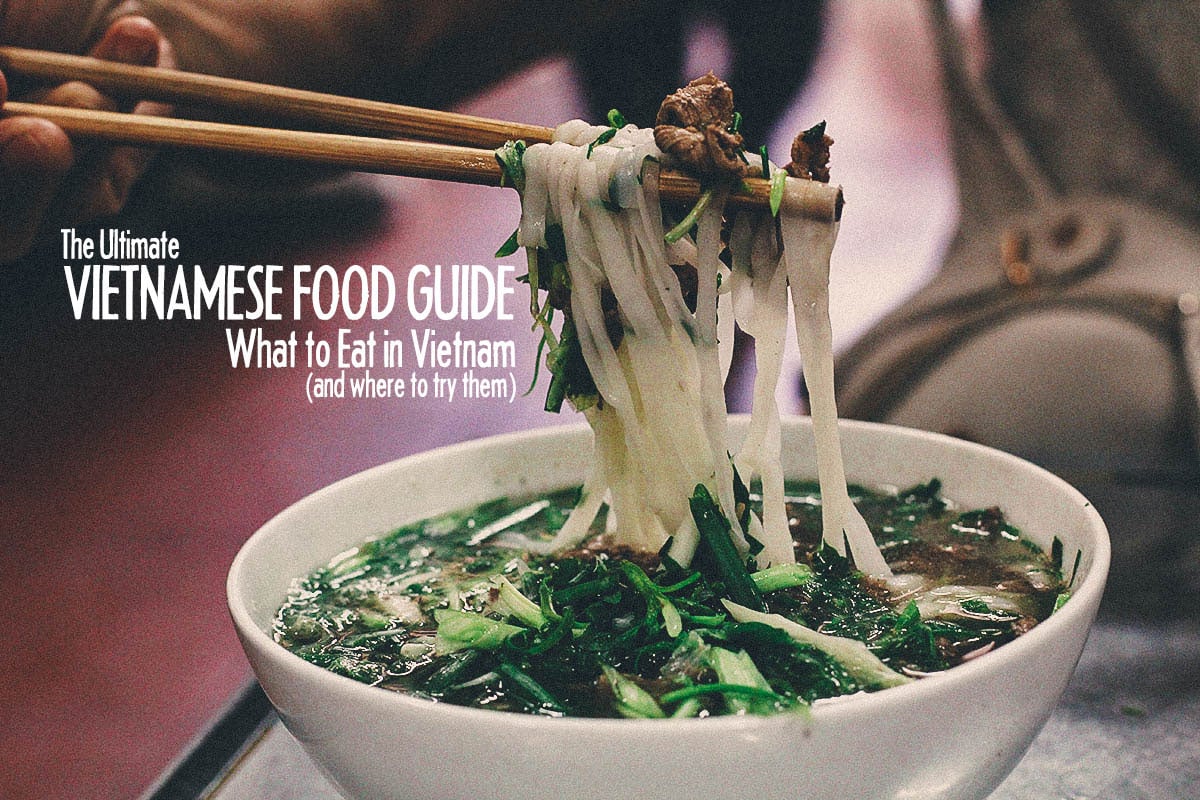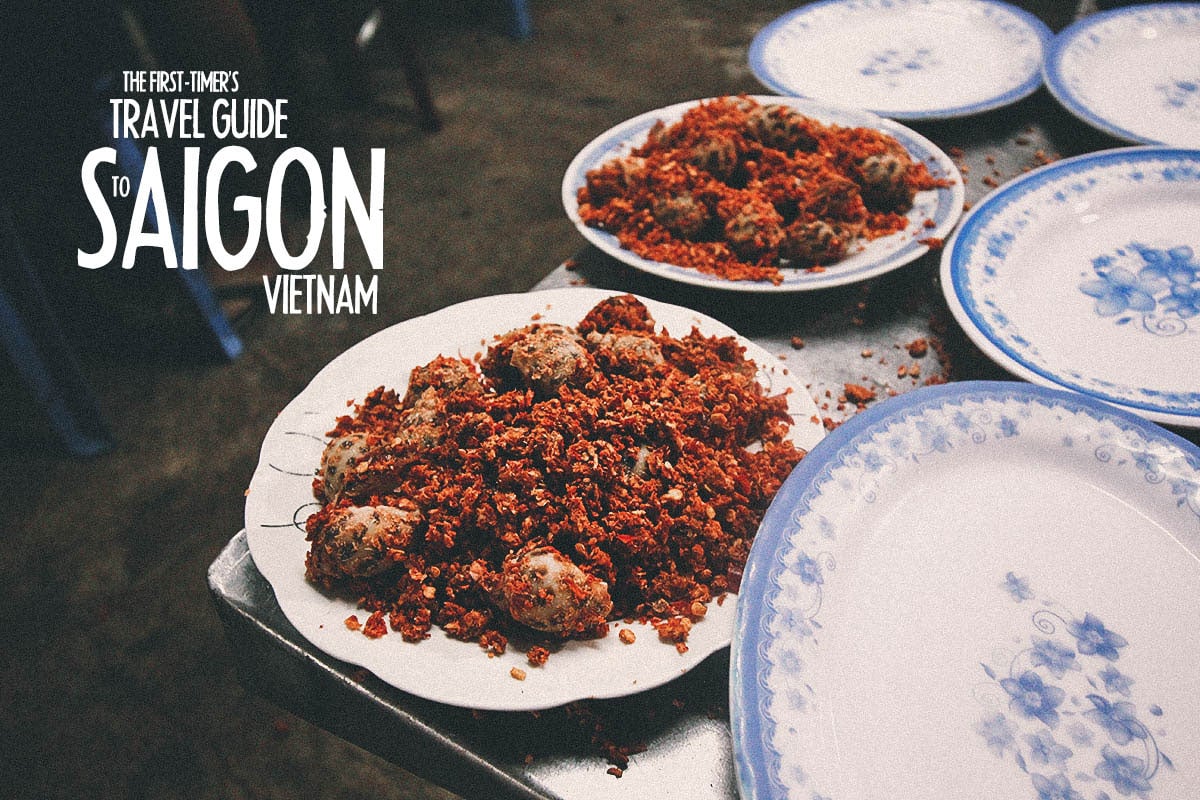 JB and Renée are the Traveleaters behind Will Fly for Food, a travel blog for the gastronomically inclined.  They enjoy experiencing food from different cultures so they've made it their mission to try every country's national dish.  Read more about them and their National Dish Quest here.