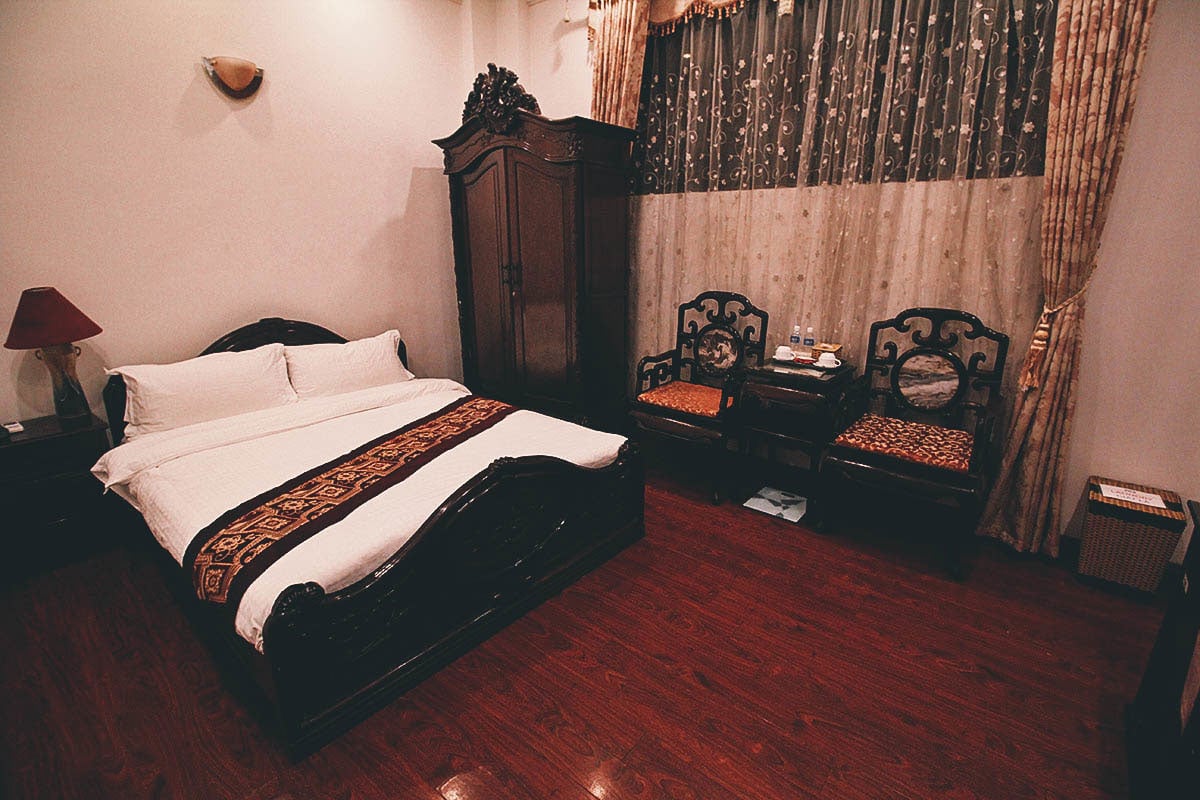 Where to Stay in Hanoi, Vietnam: Hanoi Little Town Hotel
NOTICE: Some of our articles contain affiliate links. The ones that do will have a disclosure statement at the bottom. You can refer to our privacy policy and terms of use for more information.
Let's be honest. You won't have a hard time finding good, inexpensive accommodations in Hanoi. Vietnam is cheap as a whole and there are plenty of hotels to choose from. We stayed in three hotels during our two-week trip and every room was huge. All came with breakfast and two out of three cost less than USD 30 a night.
In Hanoi, we stayed at this conveniently located boutique hotel called Hanoi Little Town for just USD 25 a night.
Hanoi Little Town Hotel
Hanoi Little Town Hotel is located in the Old Quarter so it's close to everything. The Old Quarter is one of Hanoi's major commercial districts and home to colonial architecture with row upon row of preserved shophouses. It's arguably the best place to stay in the city.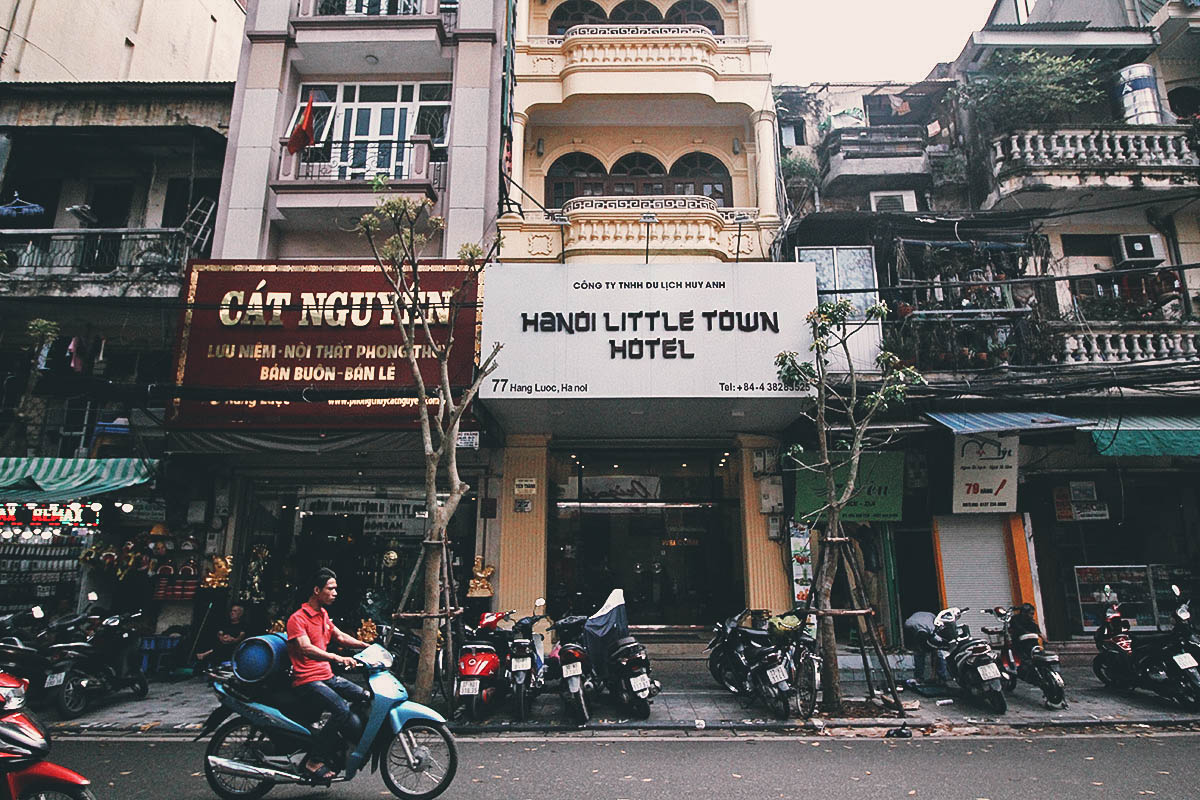 The Lobby
Everyone at Hanoi Little Town Hotel was super friendly and helpful. There's Mina posing for the camera. 😀 I booked our room through AirBnB and she was the one who helped us with everything, including our airport transfers. We paid USD 18 coming from the airport and USD 15 going back. The hotel has an in-house travel agency as well so they can help book tours for you.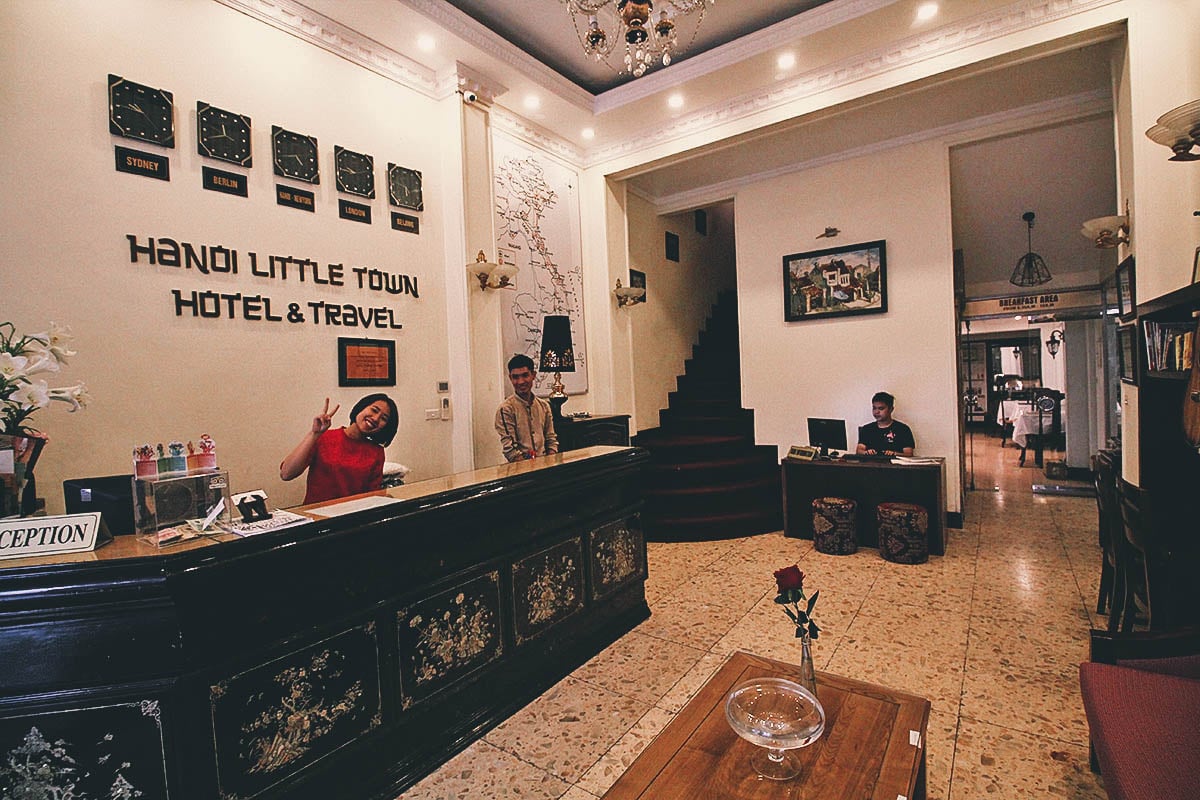 As you can see, the hotel building is narrow but long. Most of the buildings in Vietnam were built this way because property taxes used to be calculated based on a structure's width. Nicknamed "tube houses", you'll find many buildings like this in the Old Quarter.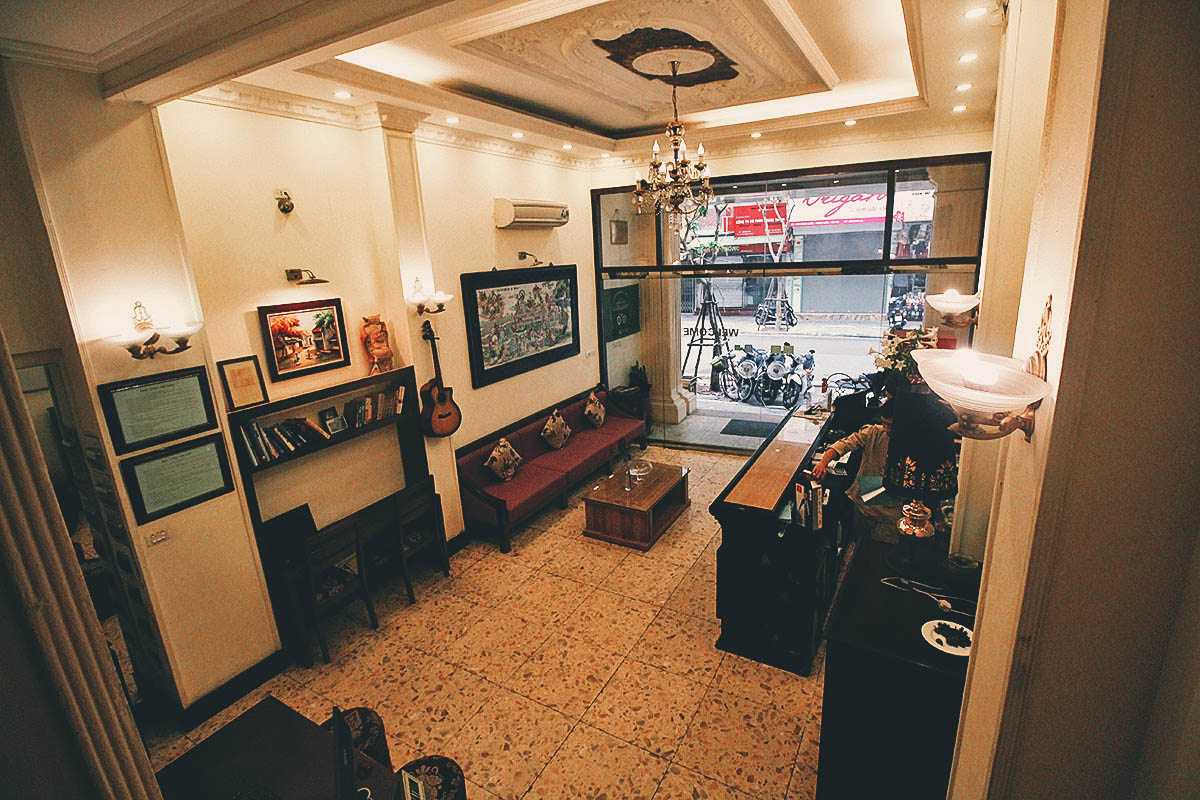 The Room
It's like a time capsule isn't it? The rooms are old-fashioned but huge. Can you believe this cost just USD 25 a night with breakfast for two already included?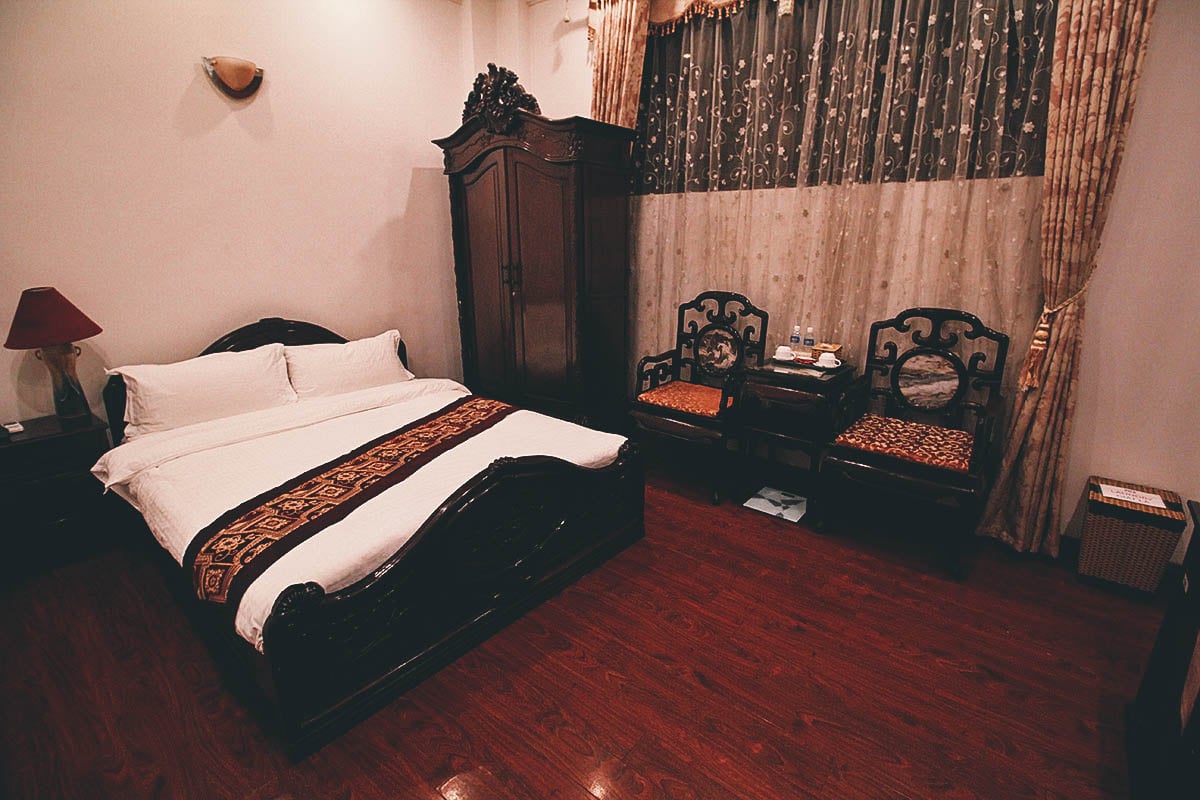 This bed was ridiculously comfortable.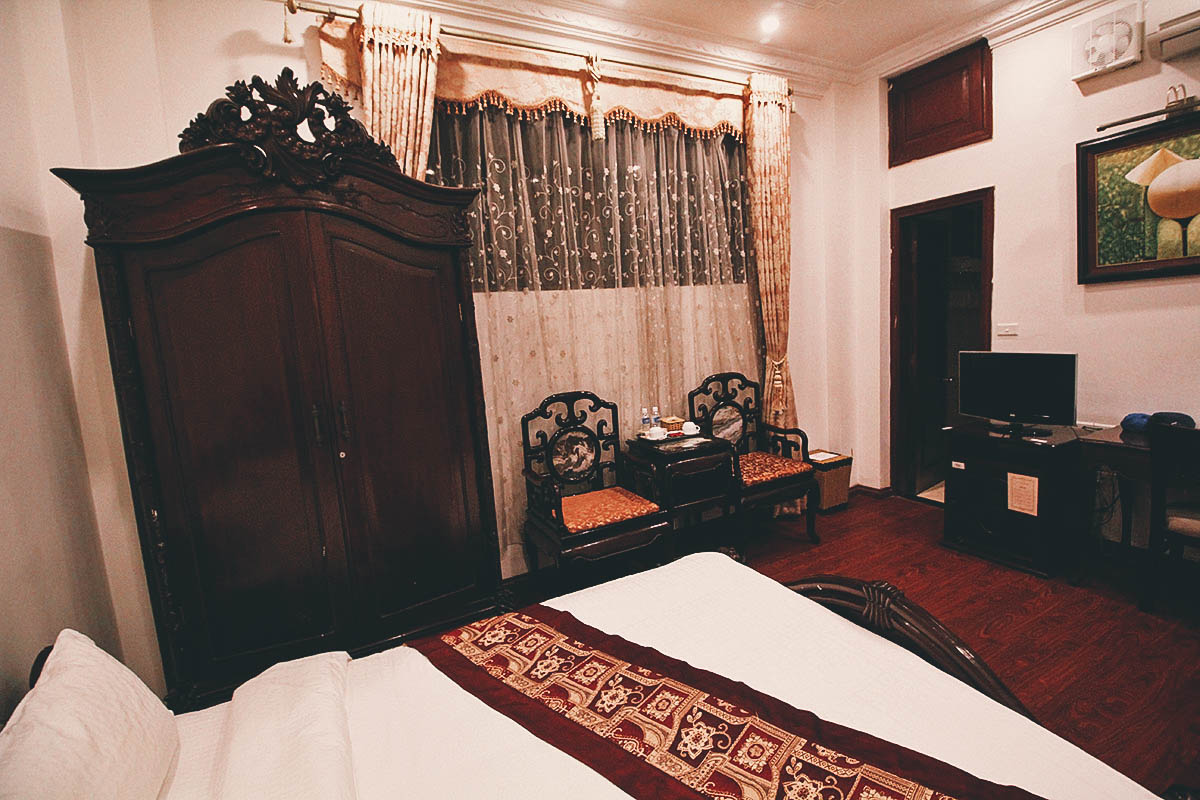 Complimentary bottled water and coffee



Our room had air-conditioning, a flat screen TV, and a small refrigerator.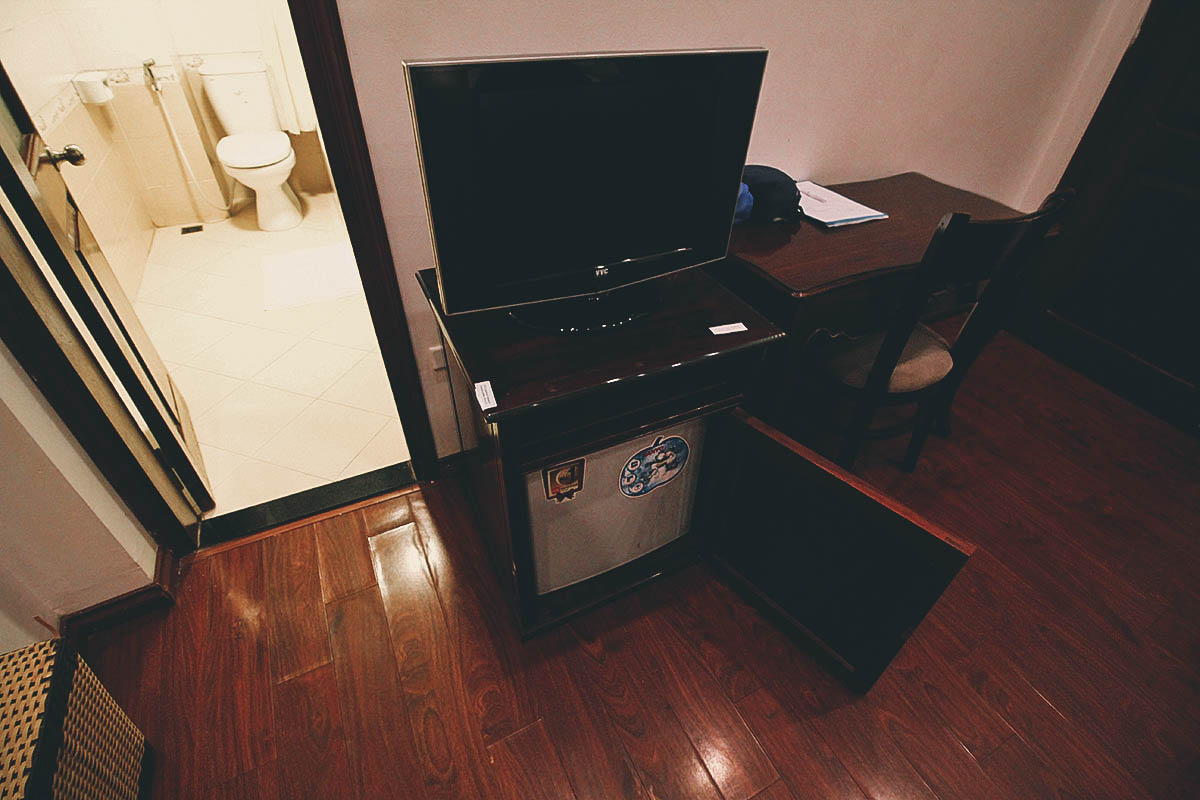 Big bathroom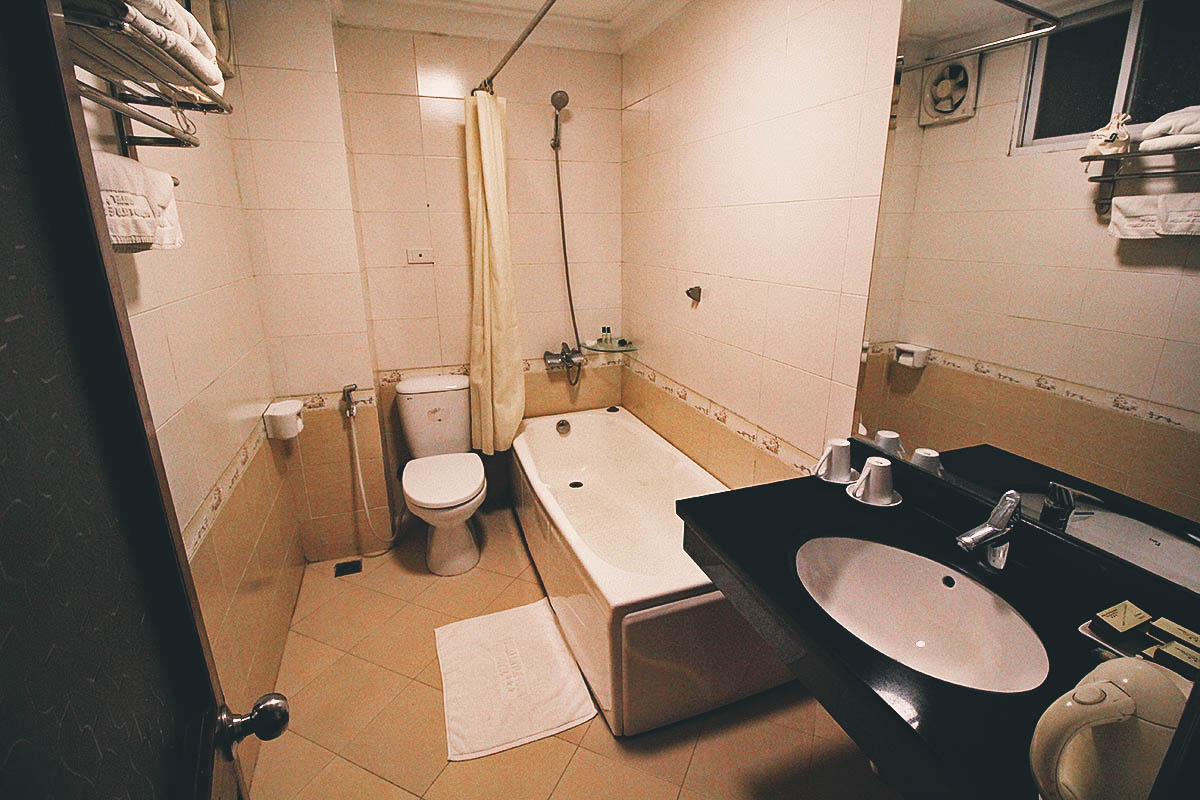 Breakfast
One of my favorite things about Hanoi Little Town was the awesome breakfast. If I remember correctly, breakfast was available from 6:30-10AM daily.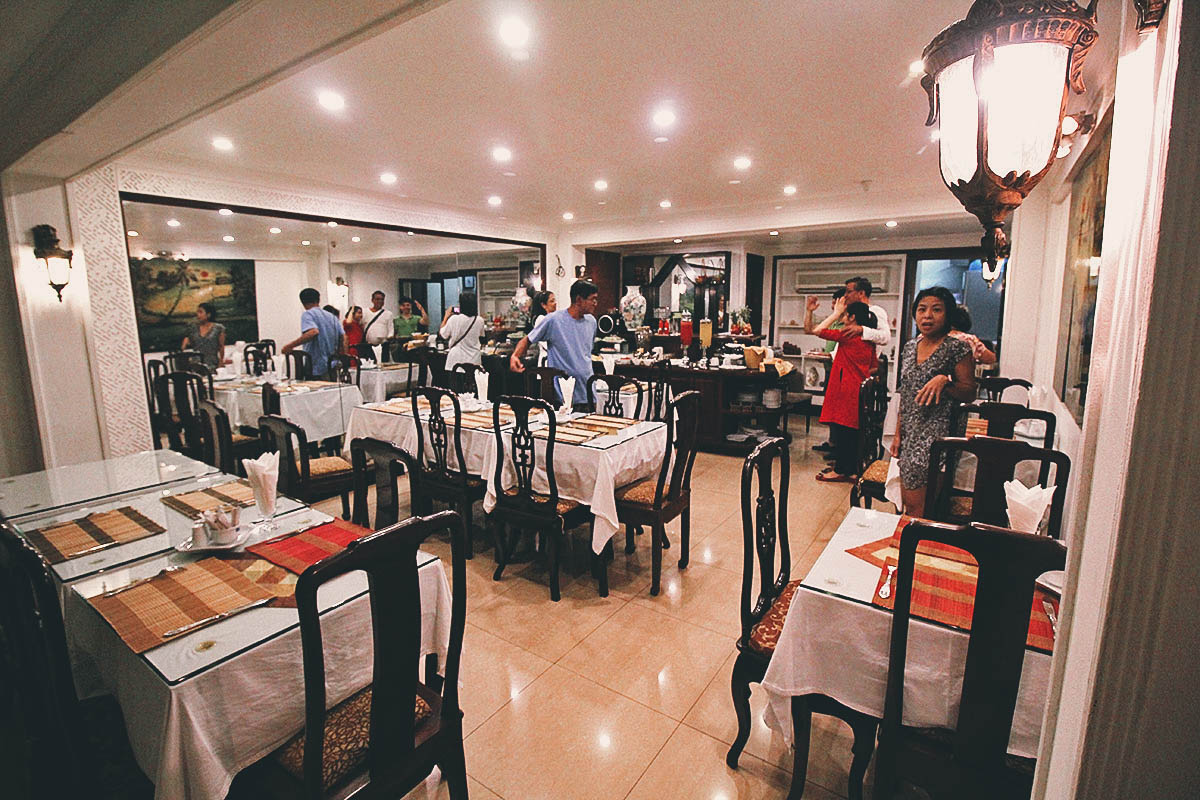 Everyday the breakfast was pretty much the same, but we didn't mind cause it was good!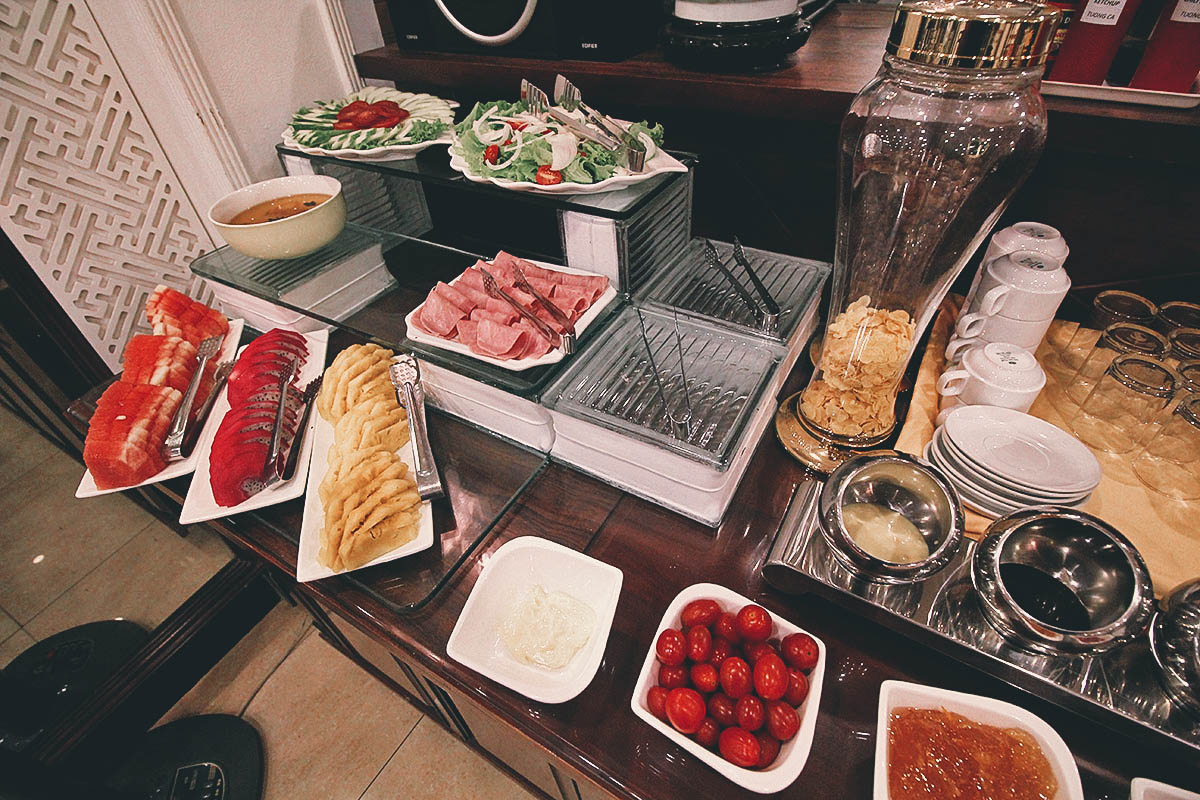 I don't remember her name but the waitress during breakfast was so warm and friendly. There she is replenishing some of the plates. She was like a ray of sunshine every morning!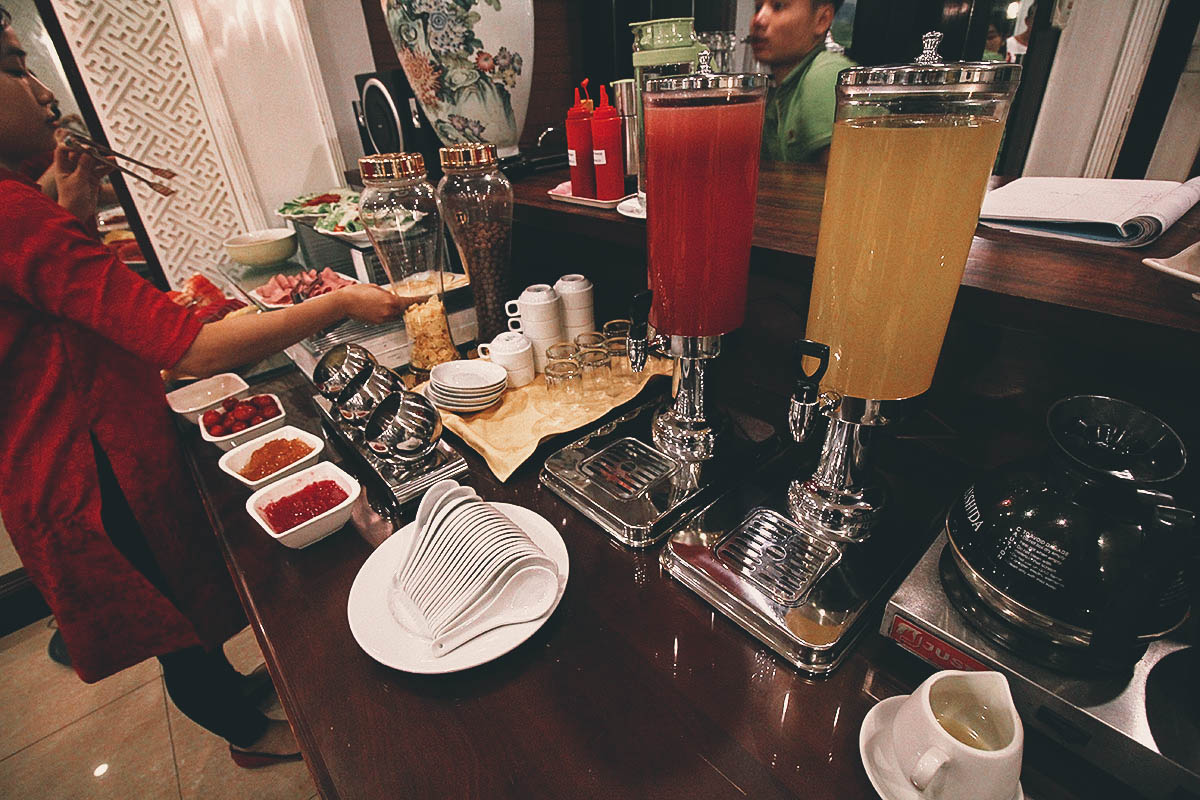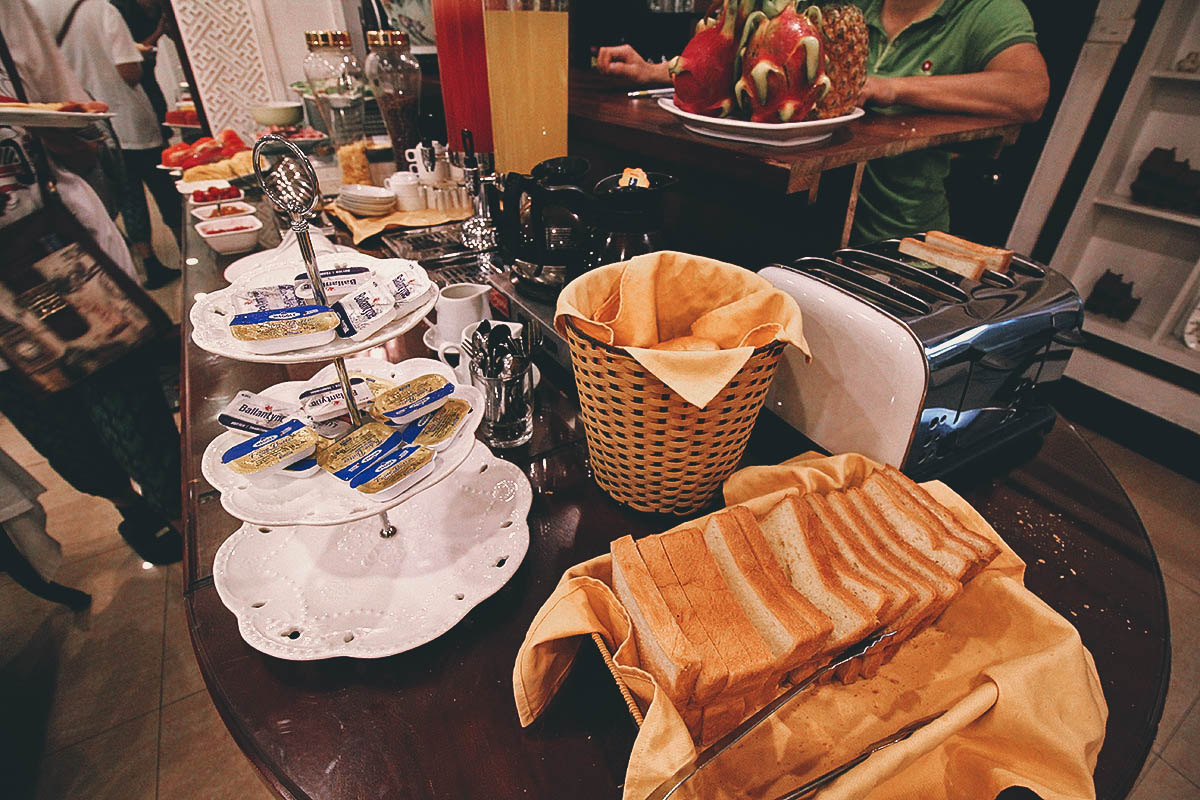 Sausages, bacon, fried rice, and potatoes. Sometimes they had noodles instead of rice.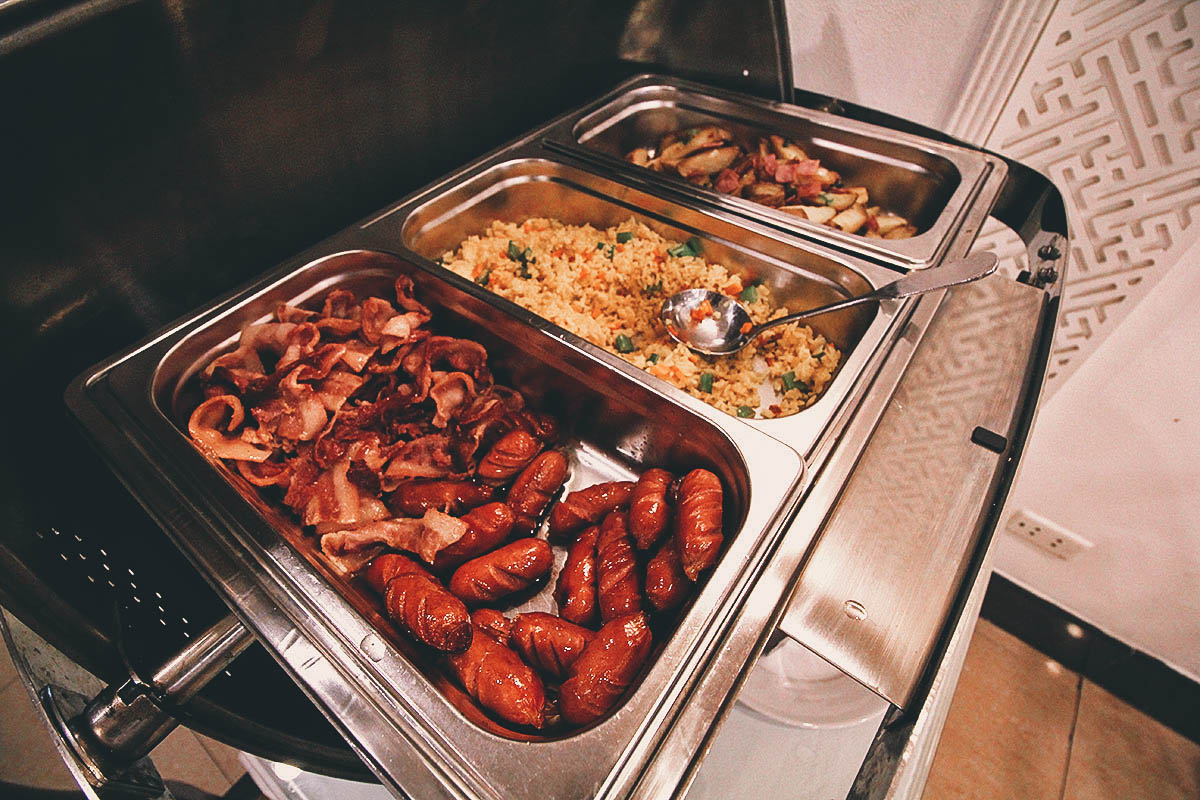 Apart from the buffet, you could choose one thing each morning from the a la carte menu as well. We would always get an omelette…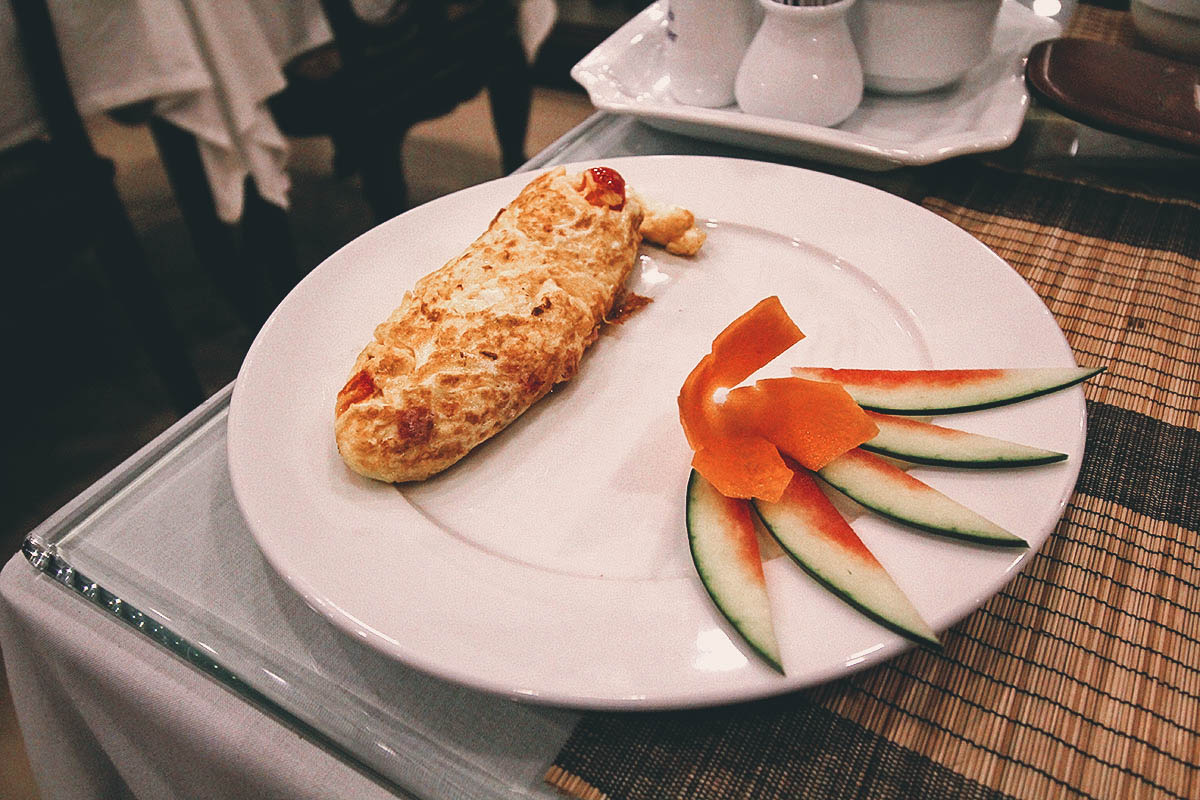 …or a poached egg. They have other things like pho too.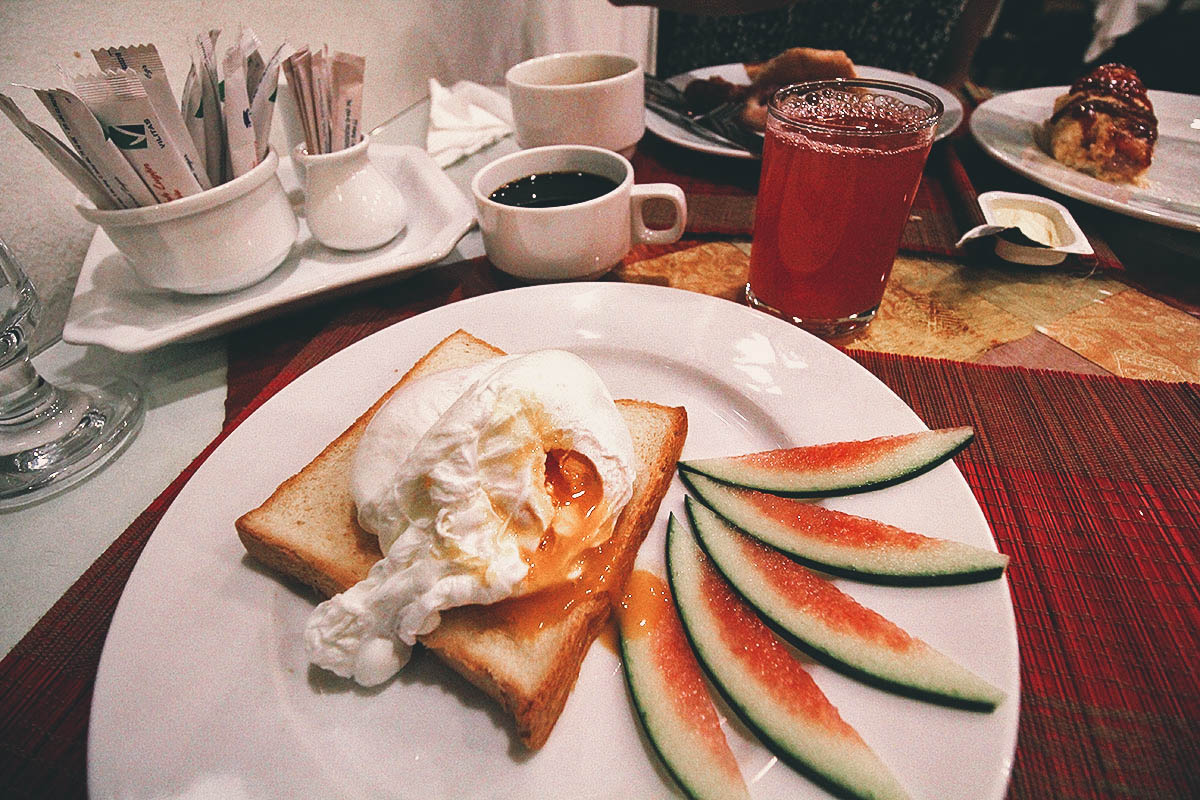 It was so nice to come down to this every morning. ♥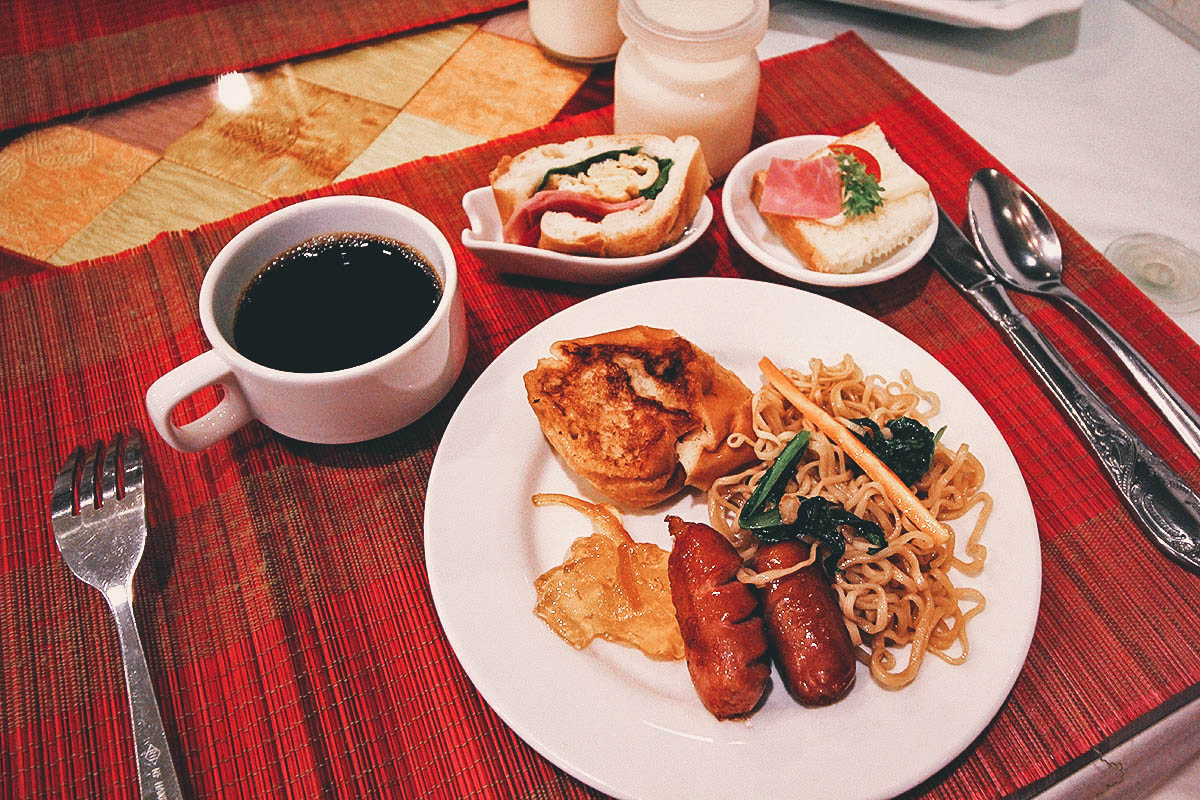 They make their own yoghurt here too and it's really good. We would always end our breakfast with a jar each. 🙂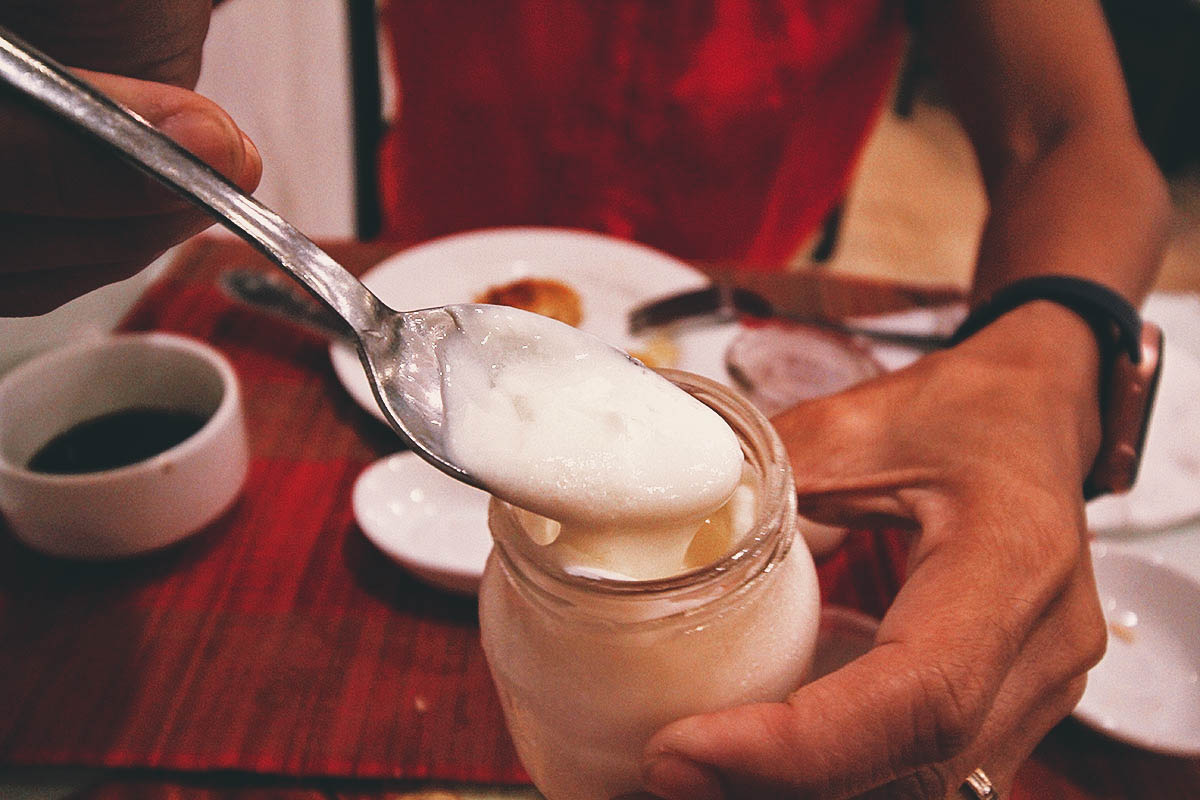 In many other countries, USD 25 a night for a room this big with breakfast included is an awesome deal. But in Vietnam, I think it's pretty much par for the course. You'll find many hotels of similar (or better) value as this one. With that said, we enjoyed our stay at Hanoi Little Town Hotel and would happily book here again. Apart from the huge room and good breakfast, the location is great and the staff is super friendly and accommodating.
As previously mentioned, we booked a room here through AirBnB but you can do so through Booking.com or Agoda as well. Prices often vary so be sure to check all three sites to find the best deal. If you're new to AirBnB, then you can get USD 31 free travel credit via THIS LINK.
If you don't think Hanoi Little Town Hotel is for you, then you can browse through those links for other listings in Hanoi as well. As advised, I suggest looking for a place in the Old Quarter as it really is one of the most convenient places to stay in the city.
Hanoi Little Town Hotel, Hanoi, Vietnam
77 Hang Luoc Street, Hoan Kiem District, Hanoi, Vietnam
Telefax: +84 4 3828 3525
Hotline: +84 9 4586 0863
Email: [email protected]
Approximate Room Rate: Around USD 25 per night (as of April 2017, with breakfast)
HOW TO GET THERE:
We got here from Noi Bai International Airport via private airport transfer arranged through Hanoi Little Town. If you'll be arriving at the airport, then I suggest you do the same, especially if there are several people in your group. We paid USD 18 coming from the airport and USD 15 going back. I think we paid more coming in because our flight arrived past midnight. If you'll be arriving during the day and want to save on transfers, then you can take an airport minibus to the city center and walk to the hotel.
MAKE A RESERVATION: Booking.com | Agoda | AirBnB
Disclosure
Some of the links in this post are affiliate links, meaning we'll get a small commission if you make a purchase at NO extra cost to you. We really appreciate your support as it helps us keep this website going. Thank you!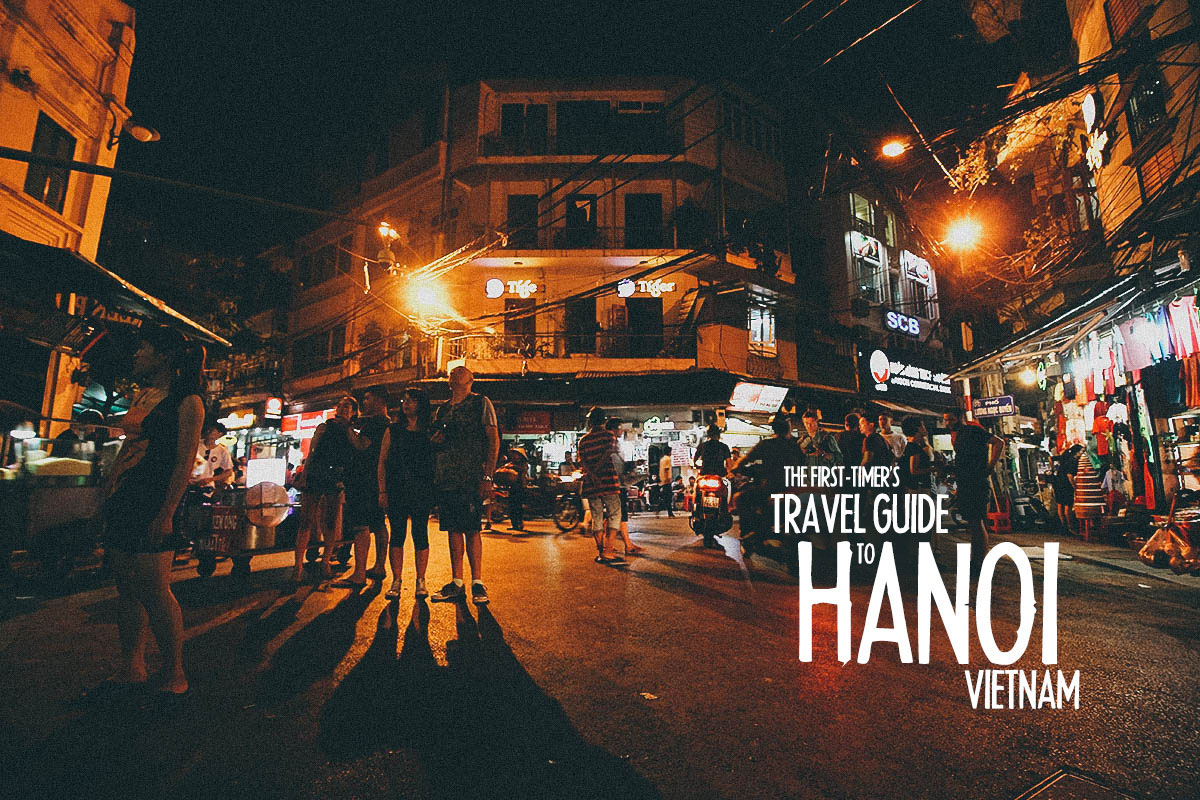 JB and Renée are the Traveleaters behind Will Fly for Food, a travel blog for the gastronomically inclined.  They enjoy experiencing food from different cultures so they've made it their mission to try every country's national dish.  Read more about them and their National Dish Quest here.