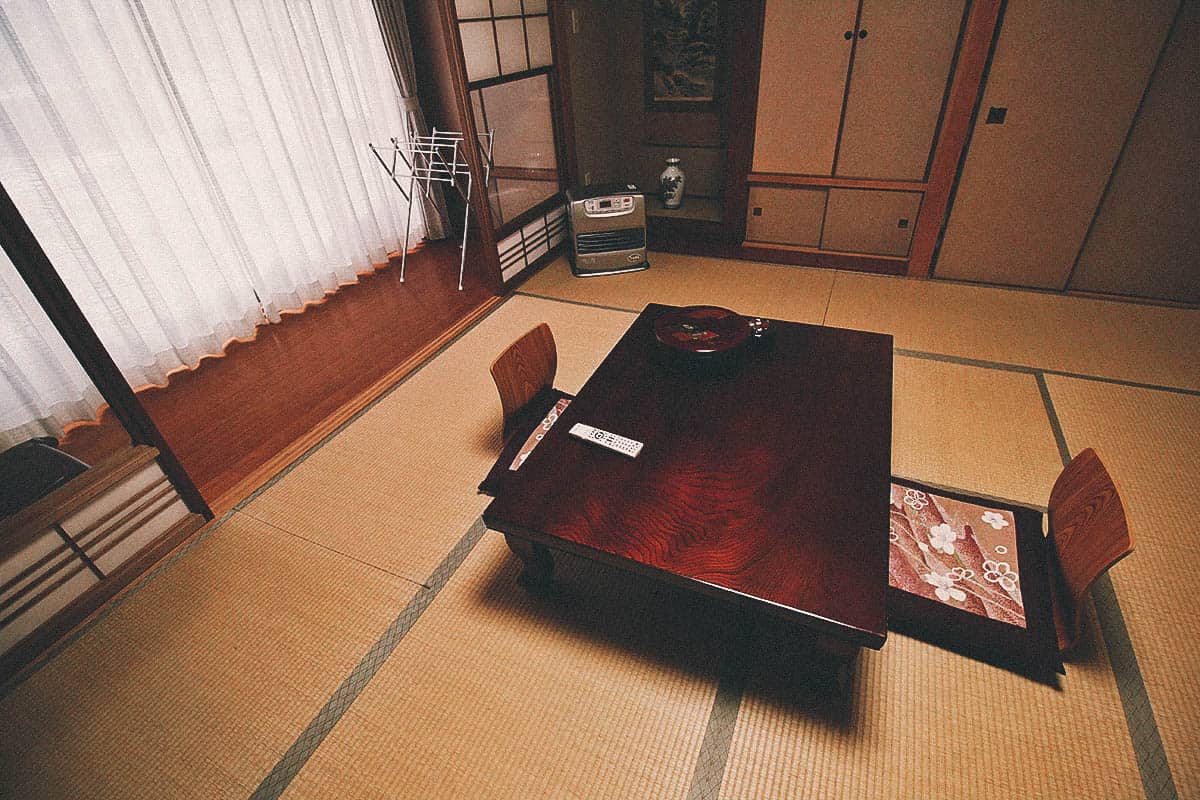 Attending the Sapporo Snow Festival? Save on Accommodations with this AirBnB.
NOTICE: Some of our articles contain affiliate links. The ones that do will have a disclosure statement at the bottom. You can refer to our privacy policy and terms of use for more information.
Sapporo is one of Japan's trendiest cities. On the first week of February, it holds the annual Sapporo Snow Festival. Tourists come from all over to attend the festival making it one of the city's busiest times of the year. With so much competition for accommodations, room rates go up so you need to book early to get a shot at a decently priced room. Wait too long and you may not find any room at all.
In our case, I started looking for a room soon as we booked our flights. That was way back in early September – a full five months before the festival. Even at that time, hotel room rates were already high. If I remember correctly, most private rooms were well over USD 100 a night for two people which is more than what I like to pay on trips. We didn't want to stay at a hostel with shared bathrooms so I looked to AirBnB instead.
Thankfully, this little gem was still available.
Traditional Japanese Room
The owner of the rental is a lovely Japanese woman named Yoshie. The room for rent is a self-contained mini apartment on the first floor of her house. It's a traditional Japanese room in the style of a ryokan or Japanese inn with a low lying table and tatami mats over the floor. Conveniently, Yoshie and her family live upstairs so you never have to go through their living space to get to the room.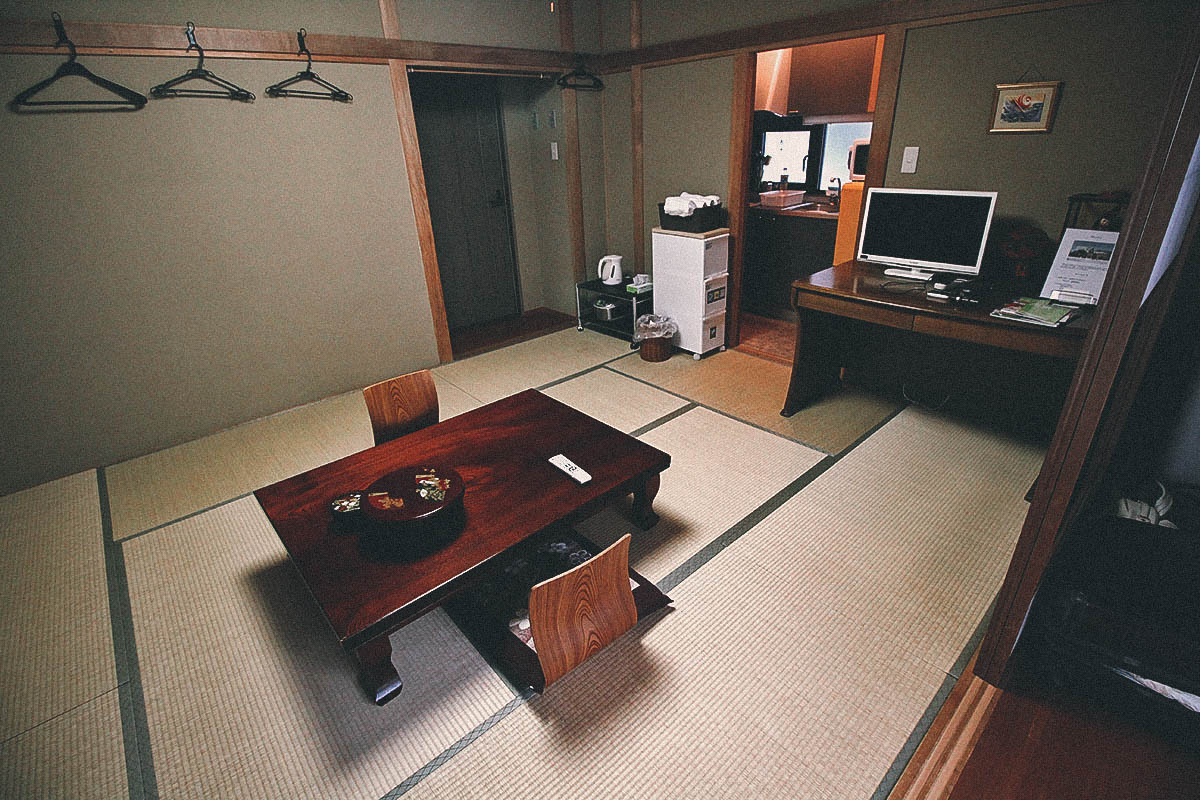 Through this doorway is the kitchen, toilet, and shower. The kitchen is small but it's fully equipped with a refrigerator, stove, and microwave so you can cook here if you like. Yoshie was kind enough to stock the pantry with instant noodles. (Thank you!) On the left are recycling bins. The Japanese are strict about recycling so Yoshie will explain what each bin is for when you check in. On the right is a TV which we turned on once and never again because all the programs were in Japanese. 😆 There's a pocket wifi device for you to use during your stay.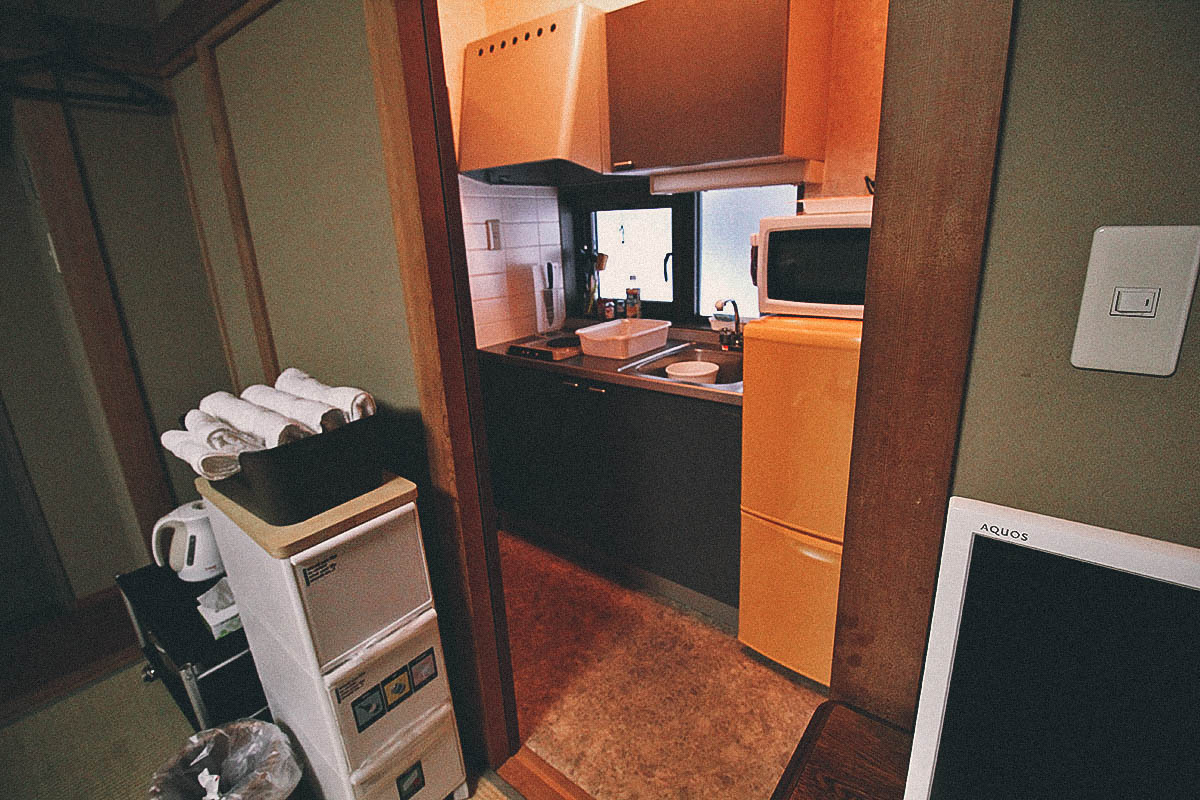 Sink, mirror, and shower with bathtub. There's a spinner in the room in case you need to hand wash your clothes.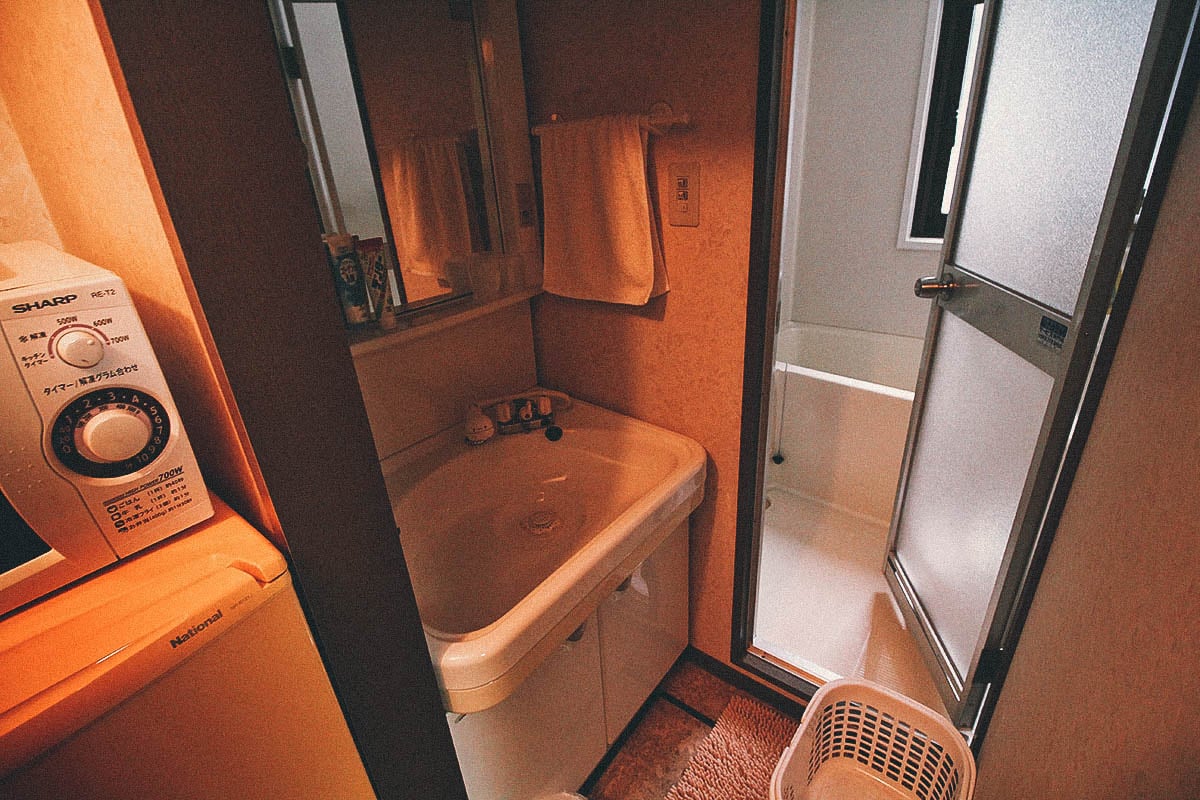 Bathroom floors in Japan never seem to be heated which is why you'll always find a pair of slippers there. And yes, her toilet is one of those awesome Japanese toilets with the heated seat and push button controls. I swear, this thing has more features than my smartphone! 😆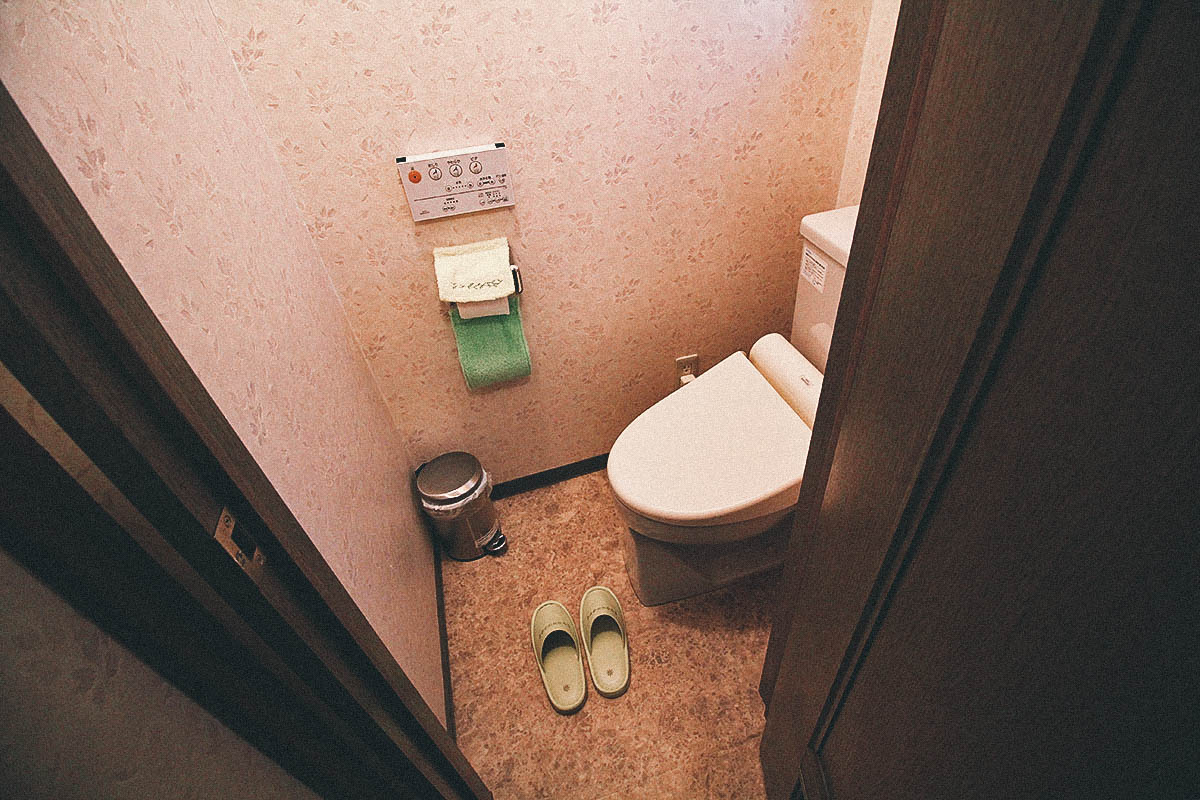 The room can accommodate up to three adults and two kids which seemed about right after you laid the mattresses on the floor. For your comfort, it's probably ideal for just two adults though.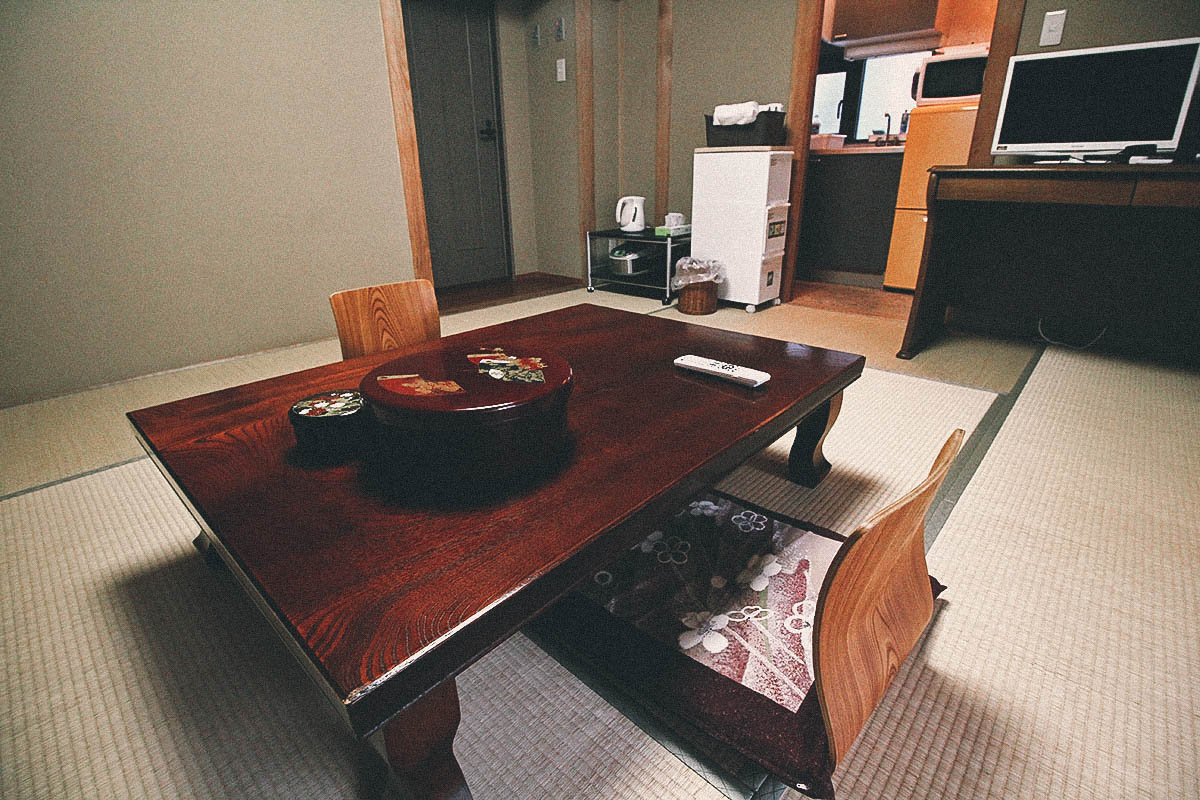 The mattresses, futons, and pillows are inside those cabinets. Check out how much snow there is outside!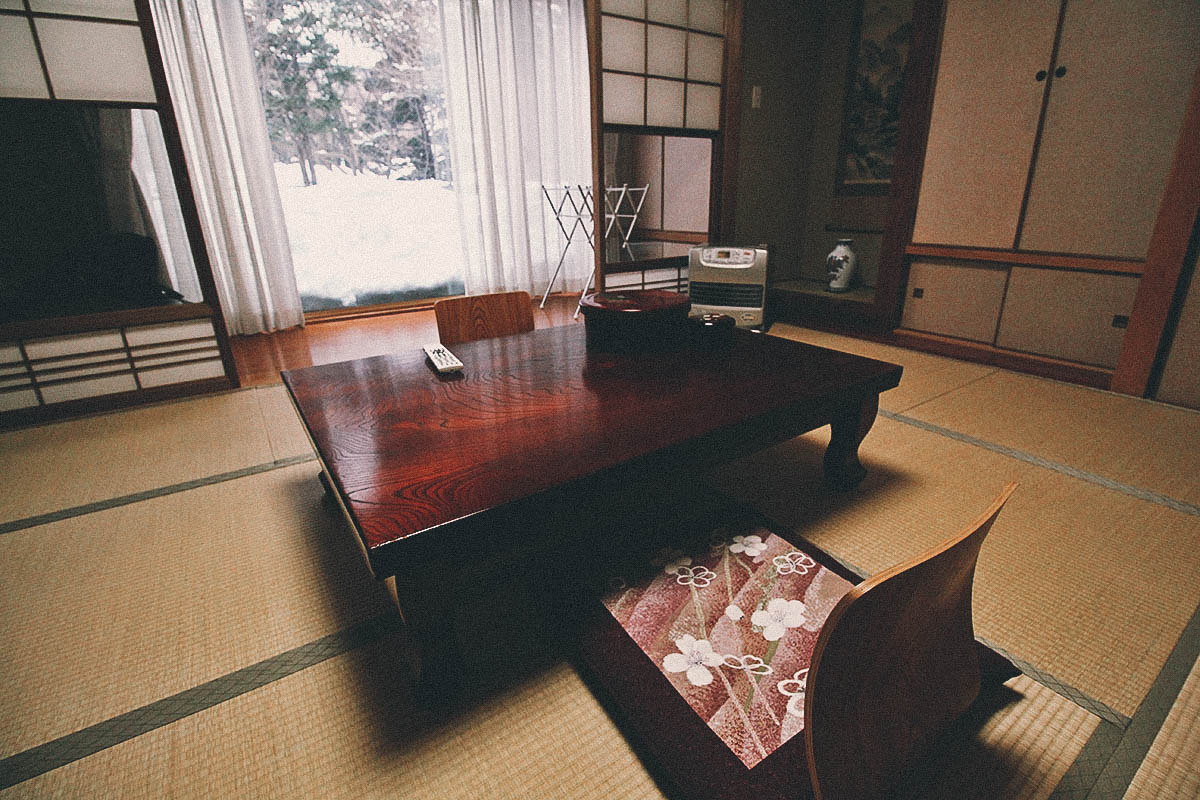 Our wintry view. Did you know that Sapporo is one of the snowiest cities in the world? It gets an average of 191″ of snowfall every year! 😯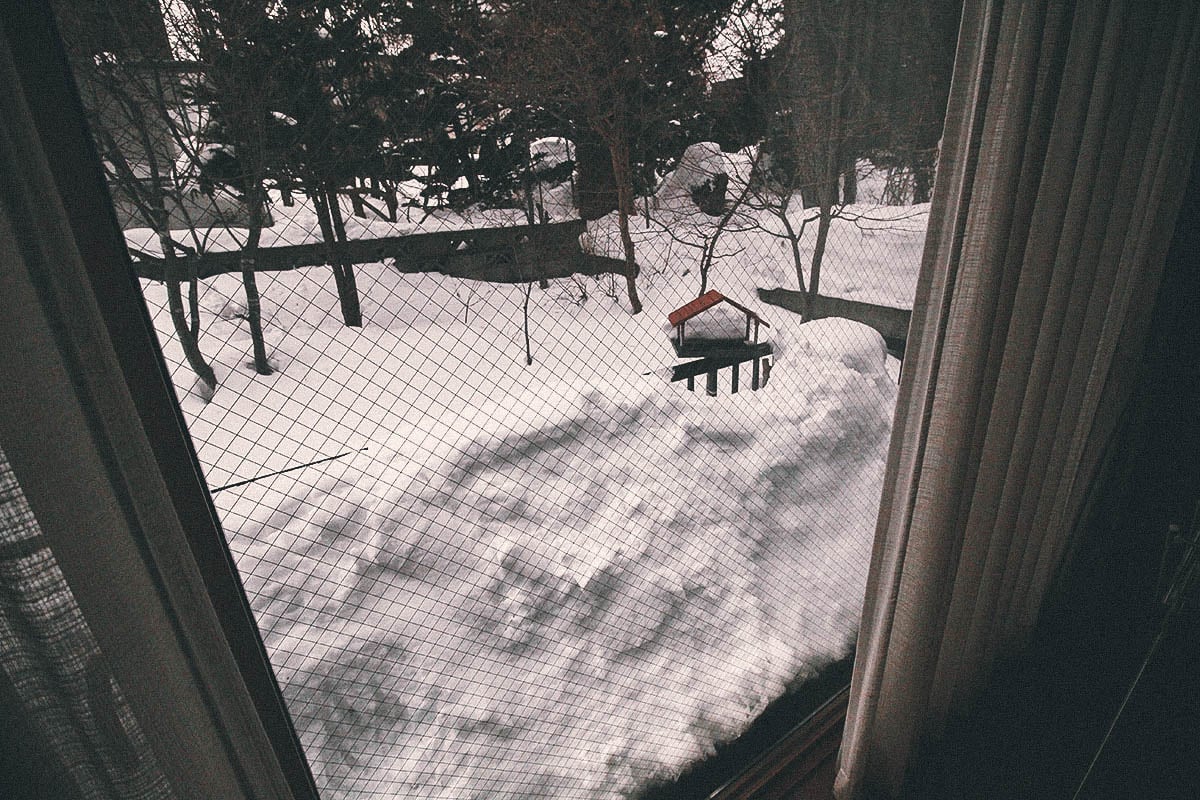 Reneelicious settling into our lovely AirBnB. ♥ As advised, Yoshie and her family live upstairs so be sure to keep your voices down at night. Try not to stay out too late either. For security reasons, she won't give you a key so she or one of her kids will have to come down to let you in.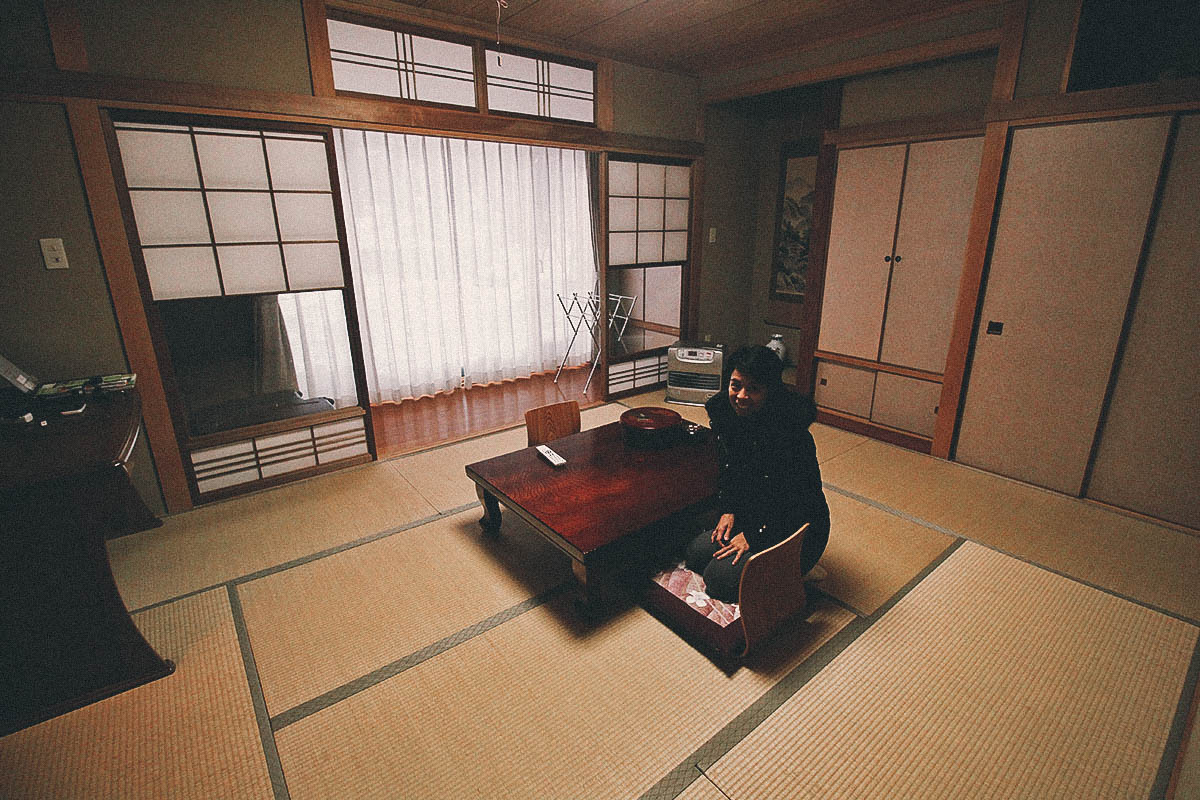 Yoshie's rental was the first of three Japanese-style rooms we stayed at on this two-week Japan trip and we loved every minute of it. This was obviously a homestay but the other two were at actual ryokans. The feeling was essentially the same.
At first, we wanted to stay at one of these traditional Japanese rooms for the experience. But as it turns out, sleeping on Japanese-style mattresses and tatami mats is extremely comfortable. I slept like a baby! And not just that, I often experience lower back pain after sleeping but I didn't get any of that here. I guess the firmer surface helps? Whatever the reason, we enjoyed our stay in these traditional rooms so much that we don't want to stay at Western-style hotels anymore. I loved how spacious these rooms feel as well without the clutter of furniture.
As described up top, the week of the Sapporo Snow Festival is one of the busiest times of the year so room rates are at their highest. Try booking a room at one of the hotels around Odori Park and see how much that runs you! We paid a modest USD 95 a night for three people here during the week of the festival. They charge by the number of people in Japan so you'll pay less traveling as a couple or solo. Not bad at all. Out of curiosity, I did a dummy booking just now and this listing costs around USD 72 for three people on slower months.
Yoshie's house is in a quiet residential neighborhood about a 5-10 minute walk from Hassamuminami Station on the local line, and around 15 minutes from the Hassamuchuo JR Station. The nearest convenience store is just two minutes away. As is our usual custom on trips, we would buy breakfast and beer there on our walk home every night. 😉
If you're interested in staying at Yoshie's house, then you can request a reservation on AirBnB. If you're new to AirBnB and want to receive USD 31 of free travel credit, then you can sign up via THIS LINK. But if you'd rather stay at a hotel around Odori Park or somewhere more centrally located, then you can try your luck on Booking.com or Agoda. If you book early enough, then you may get a good rate.
To help inspire you to visit Hokkaido, here's a short video I made of 6 fun things to do in Sapporo in winter.
Japanese-style Room in Sapporo
Sapporo, Nishi-ku, Hokkaido Prefecture, Japan
AirBnB Listing: Japanese-style Room in Sapporo
Approximate Rates: USD 95/night for 3 people (Week of Sapporo Snow Festival 2017)
HOW TO GET THERE:
Take the subway to Hassamuminami Station. Yoshie's house is about 10-15 minutes from there. She'll give you detailed directions and a map when you book so I'll leave it at that. For more details, you can request a reservation on AirBnB.
For more travel tips to Sapporo in winter, check out our Sapporo Winter Travel Guide.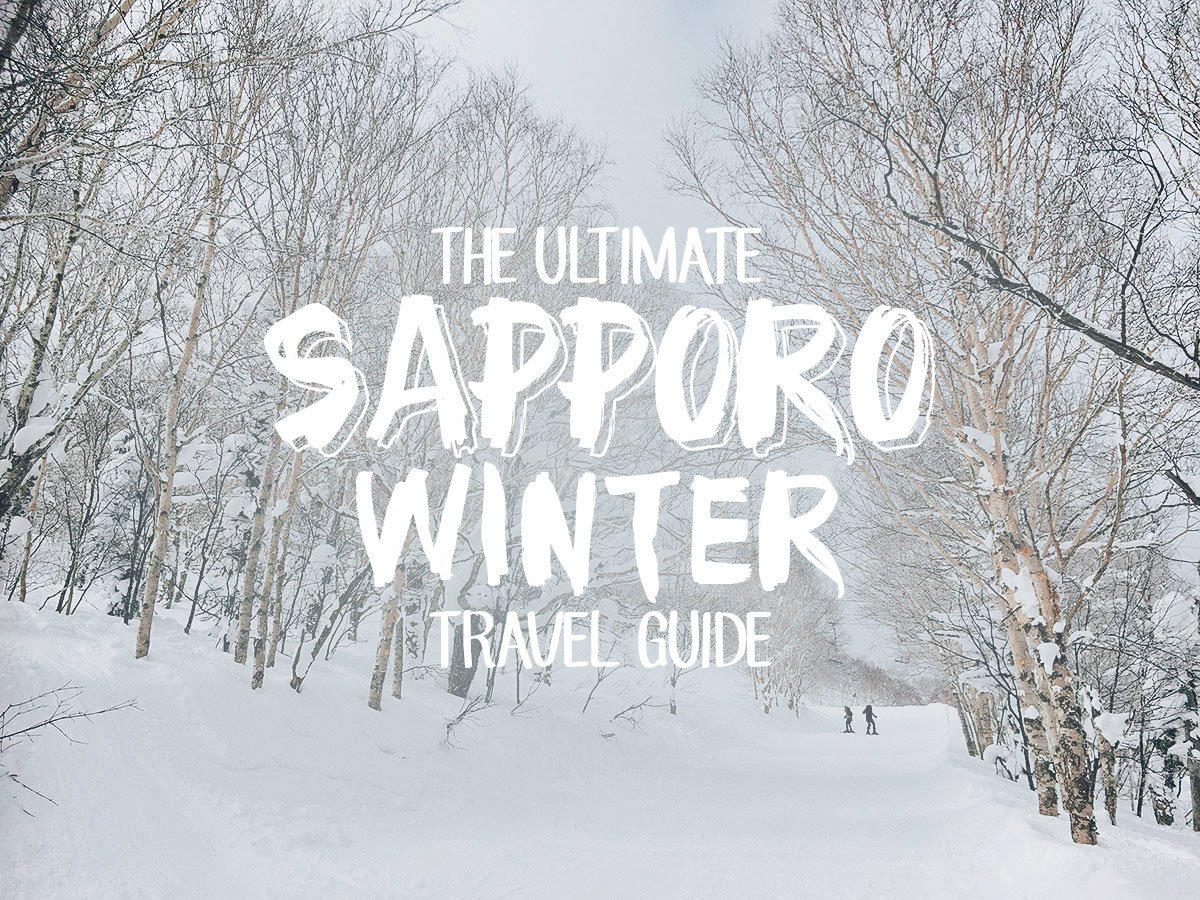 JB and Renée are the Traveleaters behind Will Fly for Food, a travel blog for the gastronomically inclined.  They enjoy experiencing food from different cultures so they've made it their mission to try every country's national dish.  Read more about them and their National Dish Quest here.