Do you like oysters? If you do, then you'll love Gotsubo. It's probably one of the best places to have oysters in Sapporo.
Hokkaido is known for its seafood, most notably crab. We were in town for the Sapporo Snow Festival so like most tourists, we wanted to try it. The thing is, with over two million visitors flocking to Sapporo for the festival, getting a table at the city's top crab restaurants can be tough. Twice we went to the ultra popular Kani Honke and twice we got denied because they were fully booked, for the ENTIRE day. Pretty shocking considering the restaurant is in its own building and has multiple floors. That's how popular crab is in winter.
Like getting stood up by your Tinder date, we were disappointed at first, but we got over it pretty quickly. Why? Because we had a backup. We had Gotsubo.
Huge Grilled Oysters at Gotsubo
Gotsubo is a tiny sidewalk restaurant on the same block as the Susukino branch of Kani Honke. They're known for serving grilled oysters and other shellfish like scallops and clams.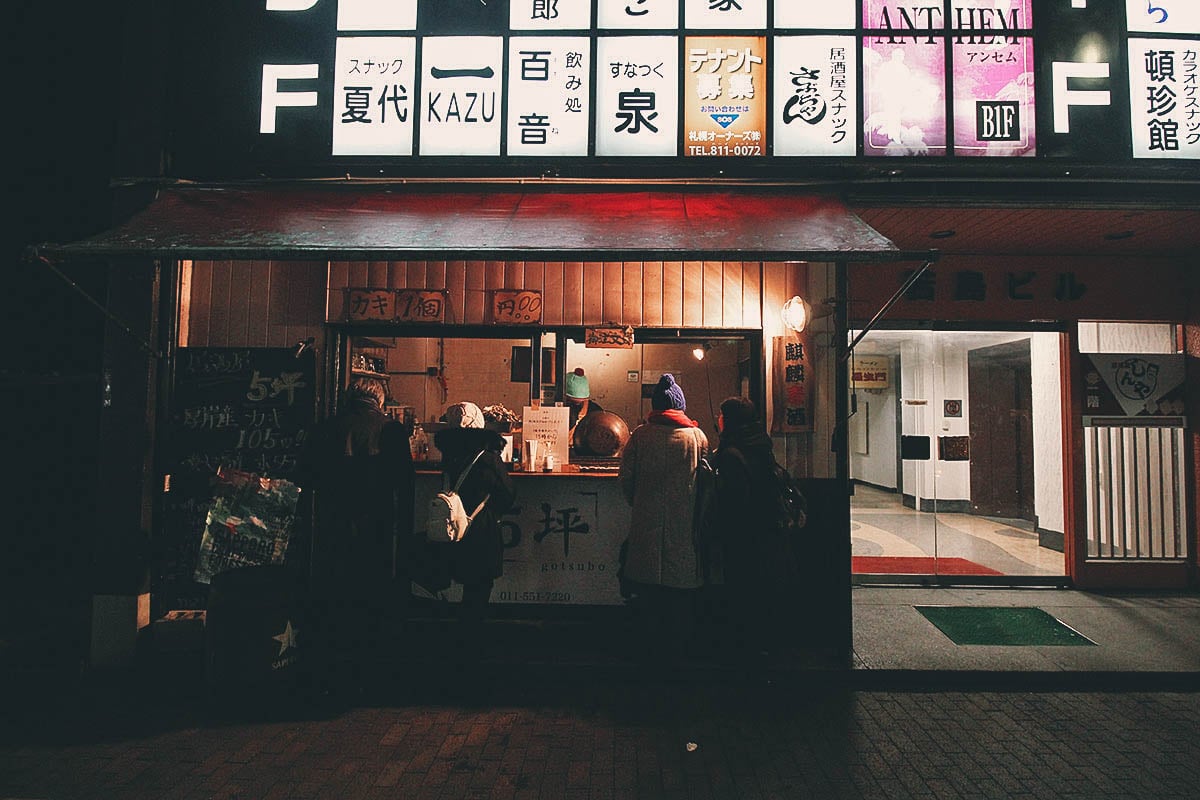 There are only about four or five countertop seats inside so most customers stand on the sidewalk to eat their oysters and drink their beers. We didn't mind at all since it made for a fun experience in spite of the cold. In fact, we enjoyed it so much we ate here twice!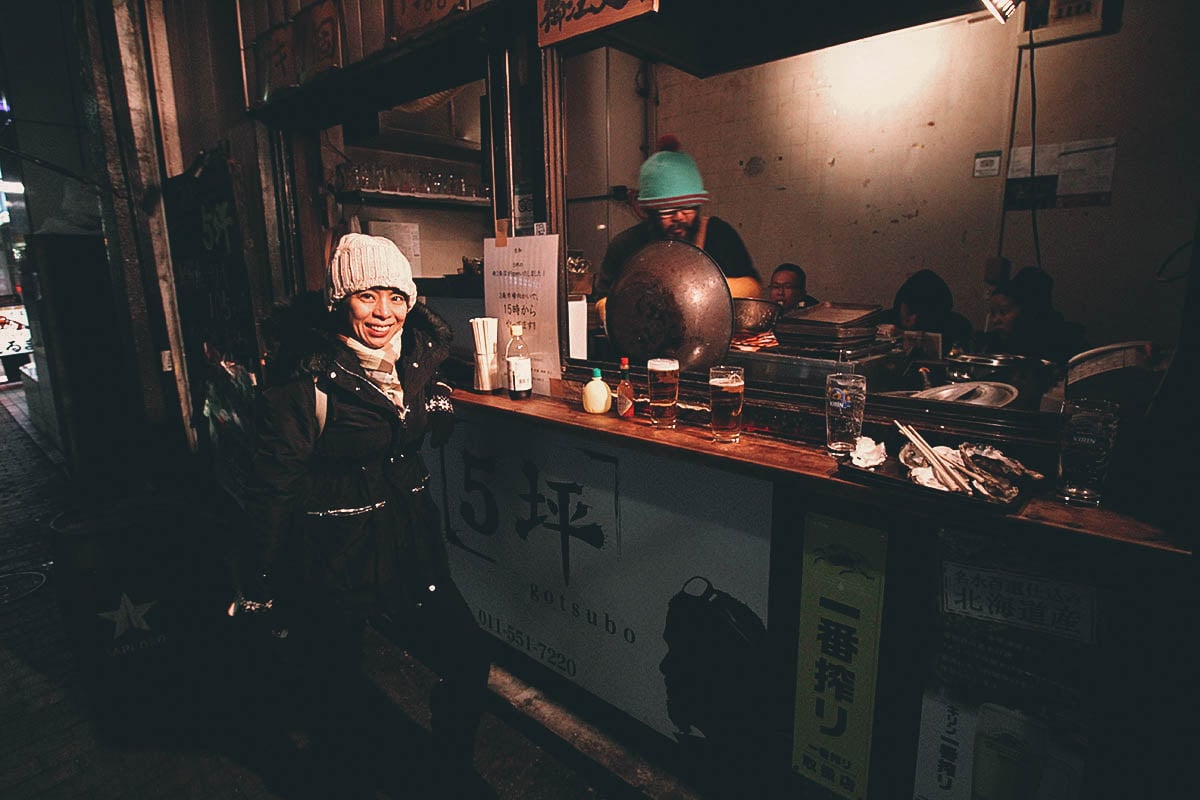 Plump, juicy oysters on the half shell. Don't they look delicious? We visited Nijo Market a few days before tonight and oysters there were priced at JPY 150-200 apiece. At Gotsubo, they're just JPY 105 each for a minimum order of five. If that isn't enticing enough, the owner throws in an extra oyster or two if he likes you. Just kidding. He does it for everyone. 😆 Here we got one extra after ordering a half dozen.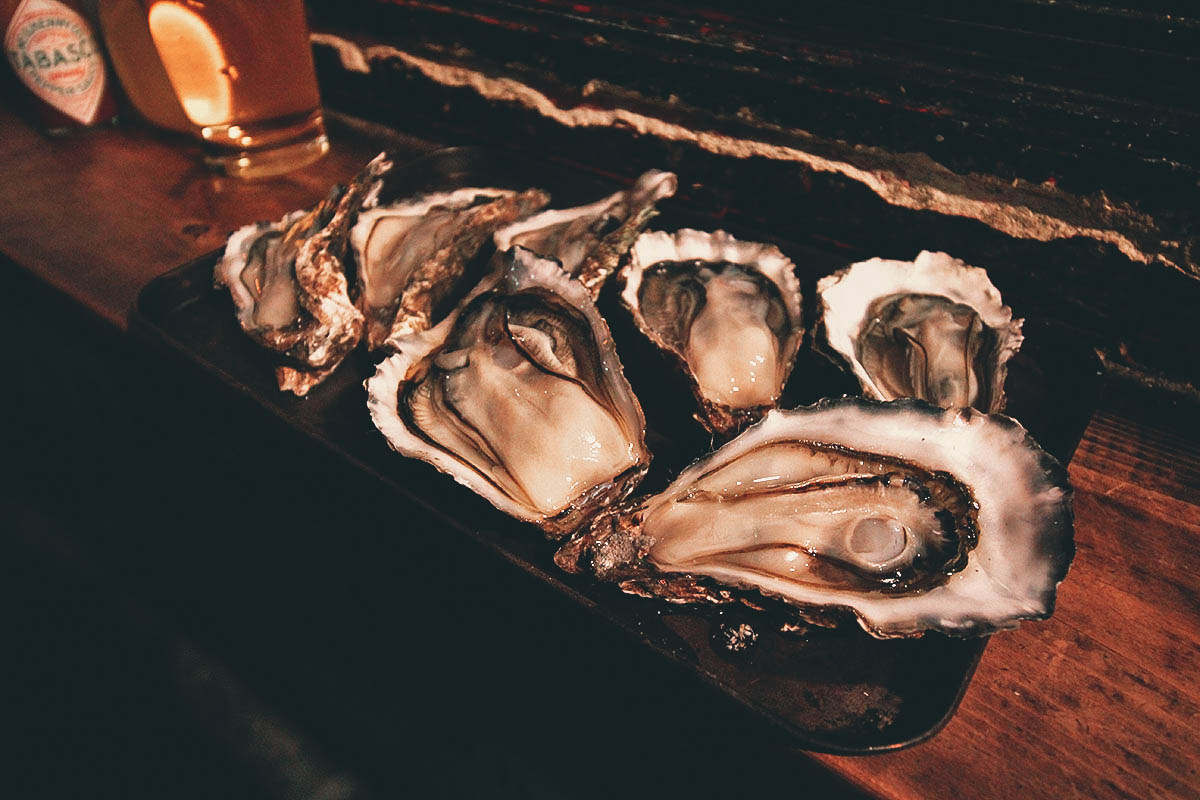 On our second visit, we ordered a full dozen and got fourteen. This place is awesome! I like mine with lots of Tabasco sauce and a good squeeze of lemon. They have another sauce as well which gives the oysters a sweet-ish, Japanese-y taste.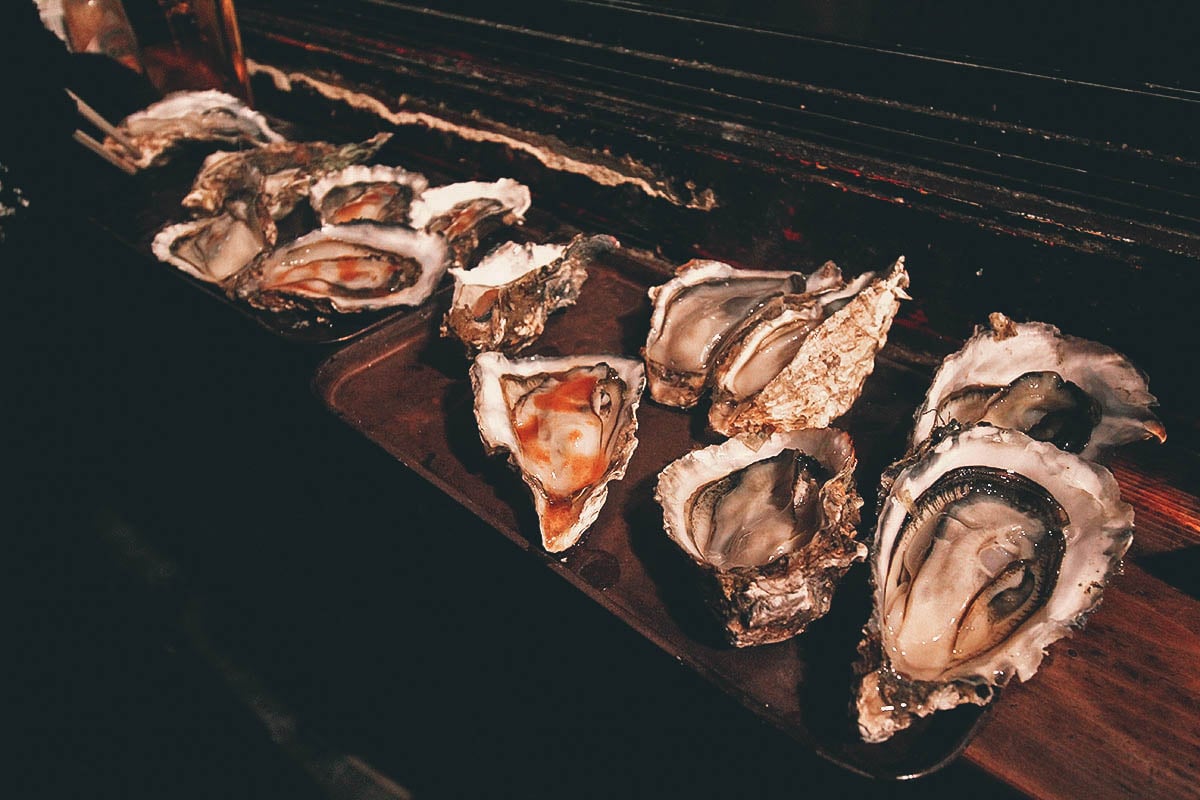 I've read that the scallops are good here too but they didn't have any both times we went. They did have these big old clams though but the group before us beat us to them. Oh well. We were happy with our oysters anyway. Just know that they do offer other things here so be sure to ask what else is available that day.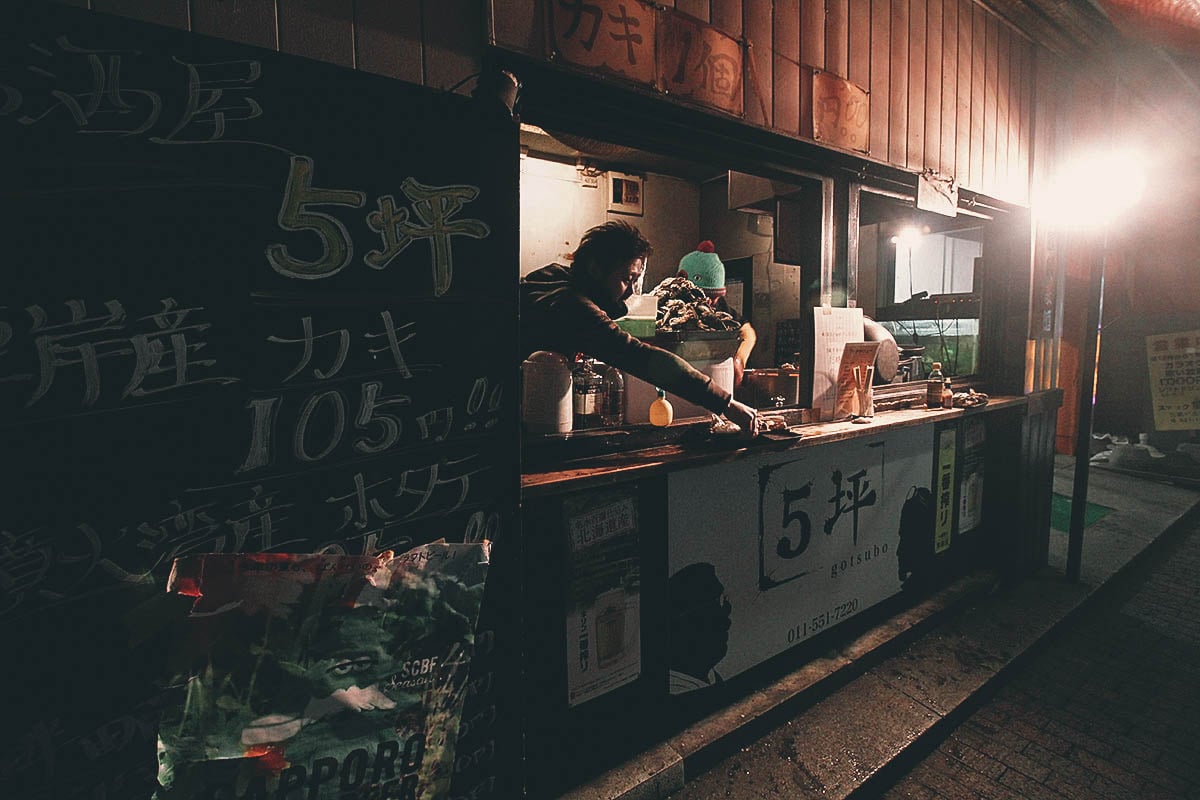 As much as I love oysters, they aren't a full meal so it's best to visit Gotsubo before dinner or later in the evening. They open at around 6PM and close at 2AM. As advised, Kani Honke is on the same block so if you're in the mood for a crab dinner, then Gotsubo's oysters would make a great appetizer.
Sadly, we never did get to eat at Kani Honke. We had dinner at another crab restaurant called Kani Syougun which is located just a few blocks from here. In fact, it's where we had dinner before going back to Gotsubo and ordering the dozen oysters pictured above.
Gotsubo, Sapporo, Japan
4 Minami 6-jo Nishi, Chuo-ku, Sapporo 064-0806, Hokkaido
Tel: +81 11-551-7220
Operating Hours: Mon-Sun, 6PM-2AM
What we paid: JPY 105 per oyster
HOW TO GET THERE:
Take the subway to Susukino station. From there, it's about a 5-minute walk to Gotsubo. CLICK HERE for a map and walking directions.
For more travel tips to Sapporo in winter, check out our Sapporo Winter Travel Guide.