It was either ice fishing or riding a snowmobile. We didn't have time for both so we had to make a choice.
We had five days to fill on a recent trip to Sapporo. In town for the Snow Festival, it was our first trip to Sapporo so much of that time was used for the usual first-timer things like exploring the city, a day trip to Otaru, skiing at Teine, and maybe an afternoon at an onsen.
But even with all that, we still had one day free so I wanted to use it for something less common and more off the beaten trail. I'm a fan of travel discount sites like Klook so I searched through their Hokkaido activities for interesting ideas and found two – ice fishing and snowmobile riding.
I had never done either so both activities sounded equally enticing to me. However, going ice fishing meant a 7AM meet up somewhere downtown in the midst of Sapporo's brutal winter. Upon hearing that, Ren pretty much made the choice for me: "So am I driving that snowmobile or are you?" 😆
Wonderland Sapporo
If you're staying at a hotel in downtown Sapporo, then you can arrange for pickup with Snowmobile Land. We were staying at an AirBnB in the suburbs though so we had to go there on our own.
To get to Snowmobile Land, take the No. 41 bus from Hassamuminami station to Fukui Entei Mae, which is the last stop. The bus ride from Hassamuminami takes about an hour.
From there, it's about a 5-10 minute walk to Snowmobile Land. Make sure you keep right when you see this fork in the road. Snowmobile Land is part of Wonderland Sapporo.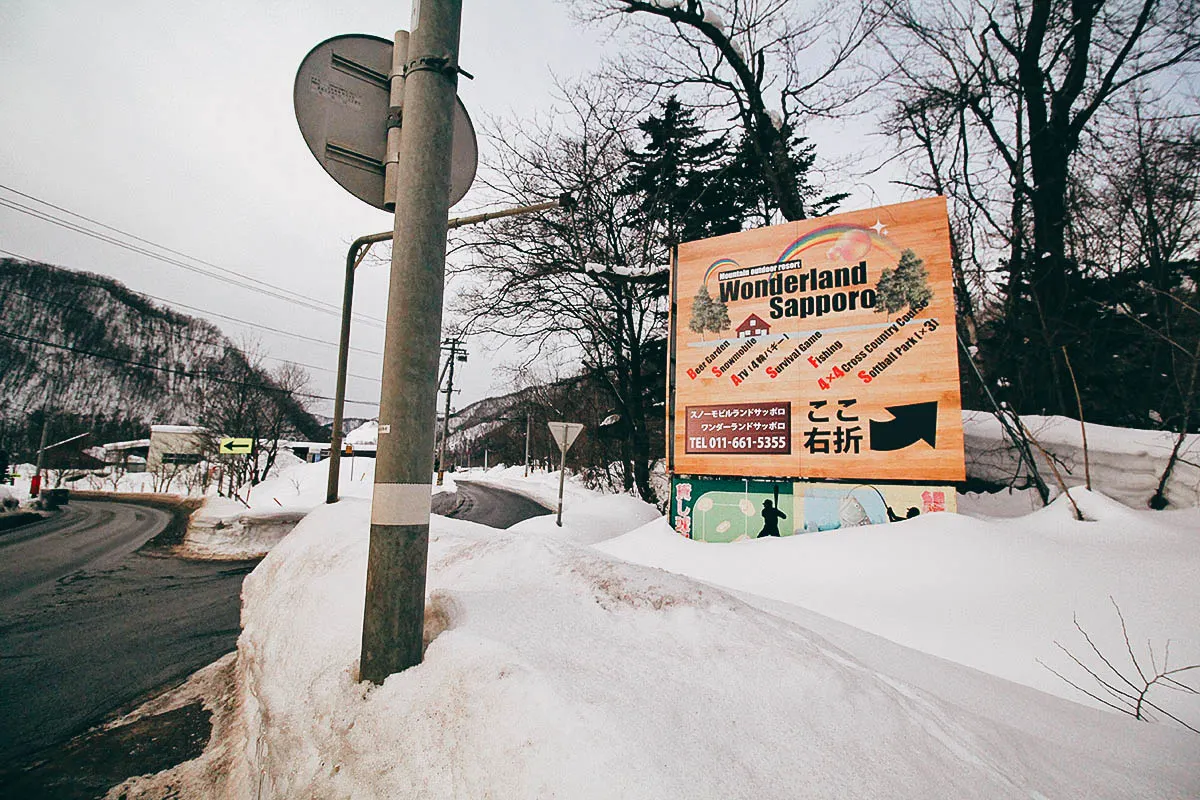 Walking up to the place and seeing all these snowmobiles was pretty exciting. They have two courses for you to choose from – Hot Pick and Cool Pick.
The Hot Pick course costs JPY 10,000 per person and takes you up 600 meters to the peak of a quarry. It's a 20-25 km ride and lasts about an hour. The Cool Pick course goes deeper into Sapporo's backcountry and costs JPY 13,500 for a 90-minute ride over a distance of 30-35 km.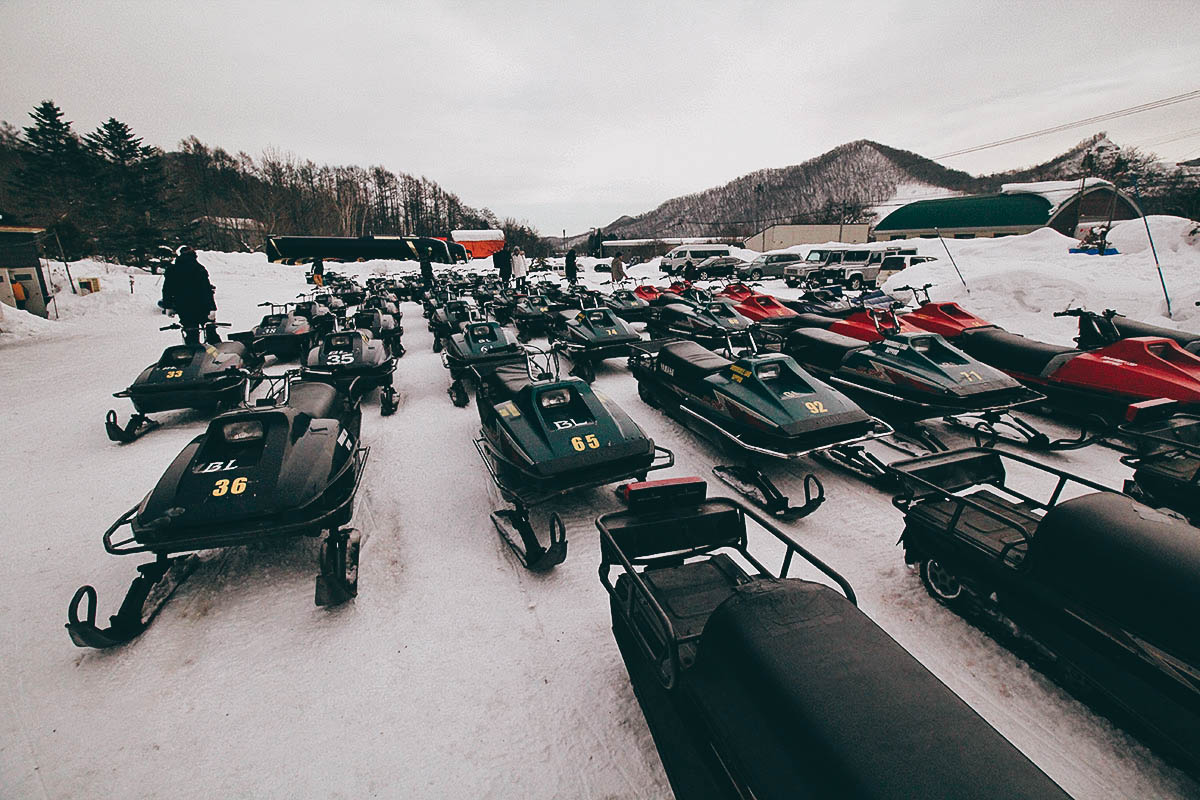 Vroom vroom! I read on TripAdvisor that the steering on these things is pretty stiff so I was a little nervous at first. I didn't want to drive us off the mountain! 😯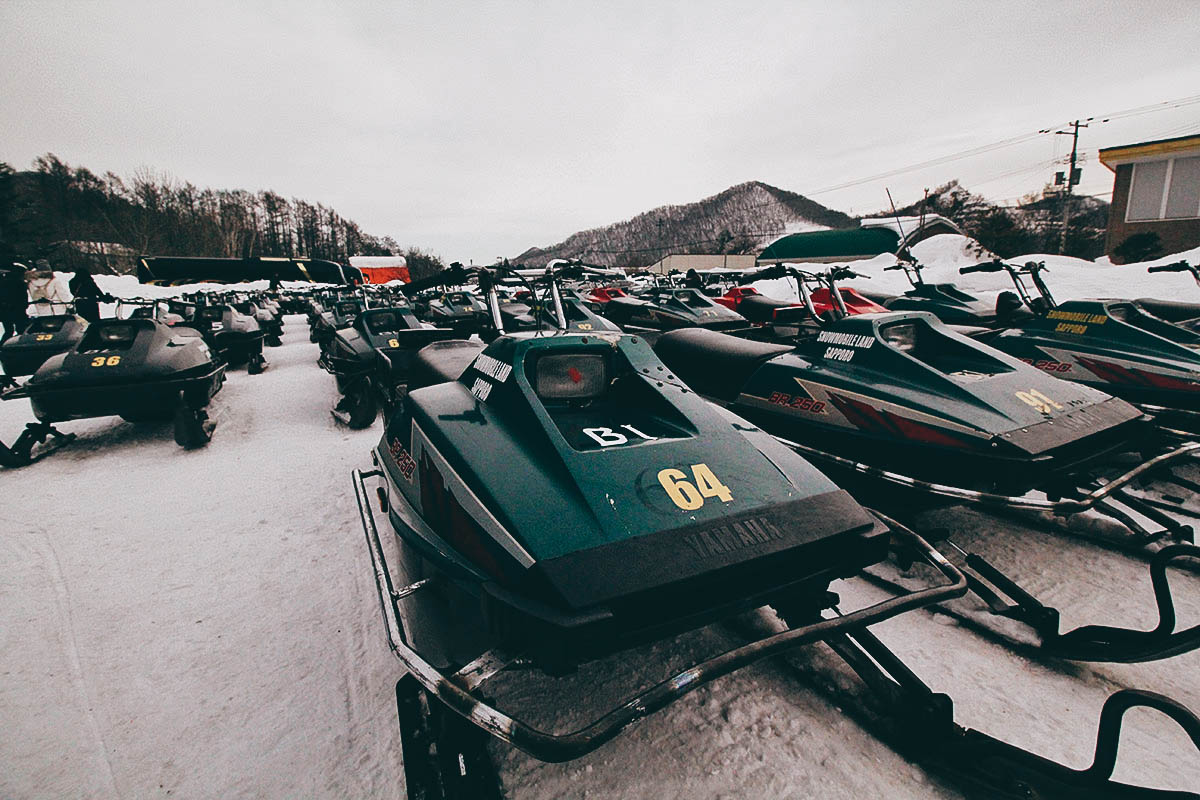 This is Snowmobile Land's reception area. Here you'll meet your guide and suit up for the ride. They'll provide you with boots, waterproof pants, a jacket, a helmet, and gloves. Your guide will brief you on snowmobile riding before heading out to the practice course. Conveniently, our guide Paul was a half-Filipino, half-Japanese dude from Hawaii!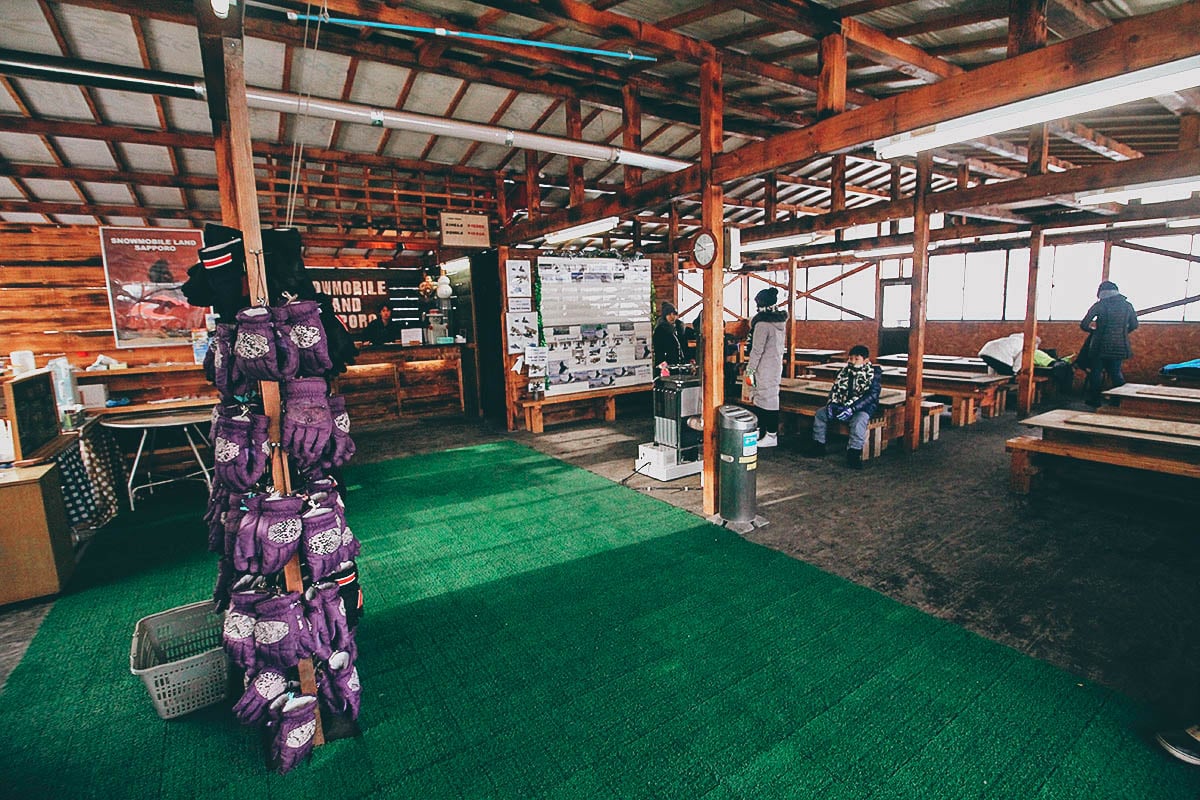 Here we are just before making a few laps around the practice course.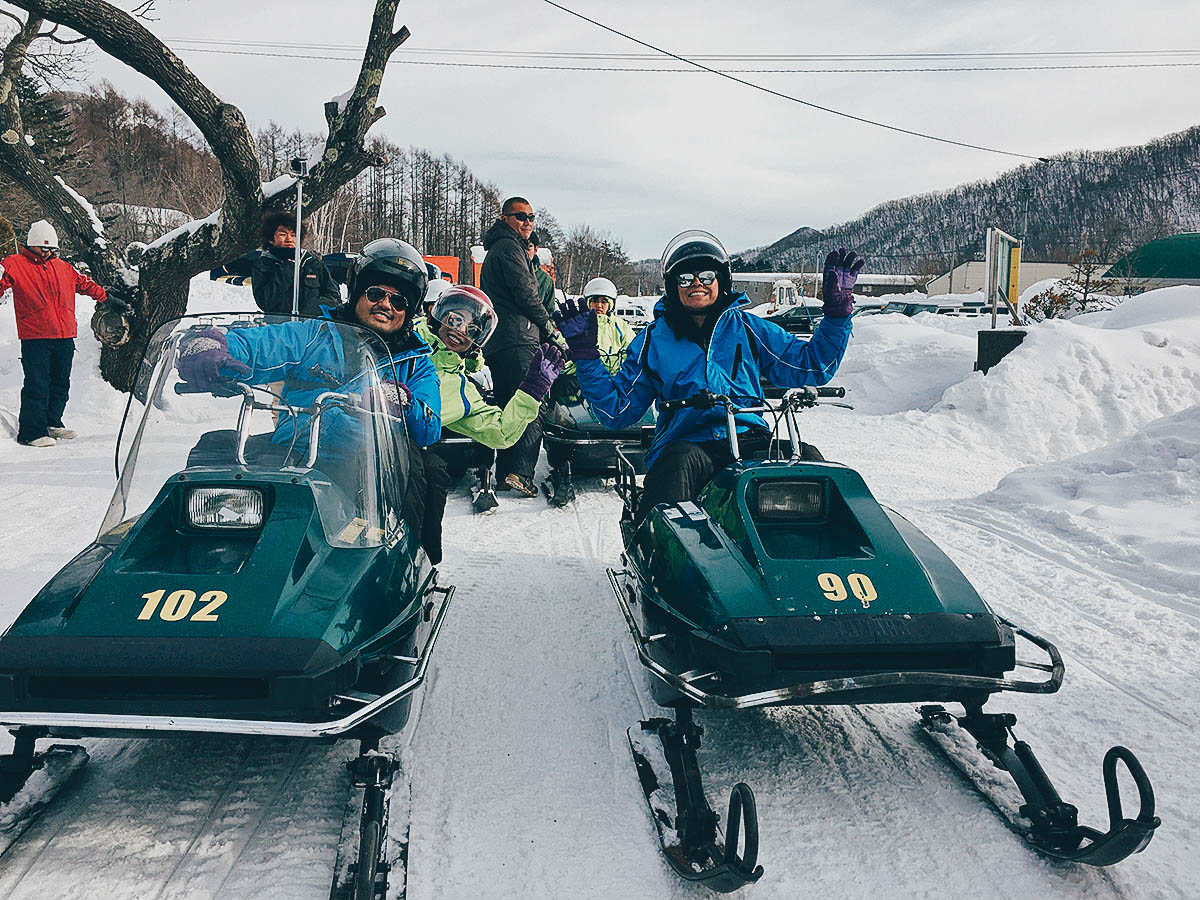 And away we go! This picture was taken by a staff member at the start of the trail. At the end of your ride, you can purchase two photos inserted in a cardboard frame for JPY 2,000. I know it's kinda lame to have just this one riding picture on this post, but we weren't allowed to stop and take photos while going through the course. Ren took some pretty awesome footage with my GoPro which you can watch in the video at the bottom of this post.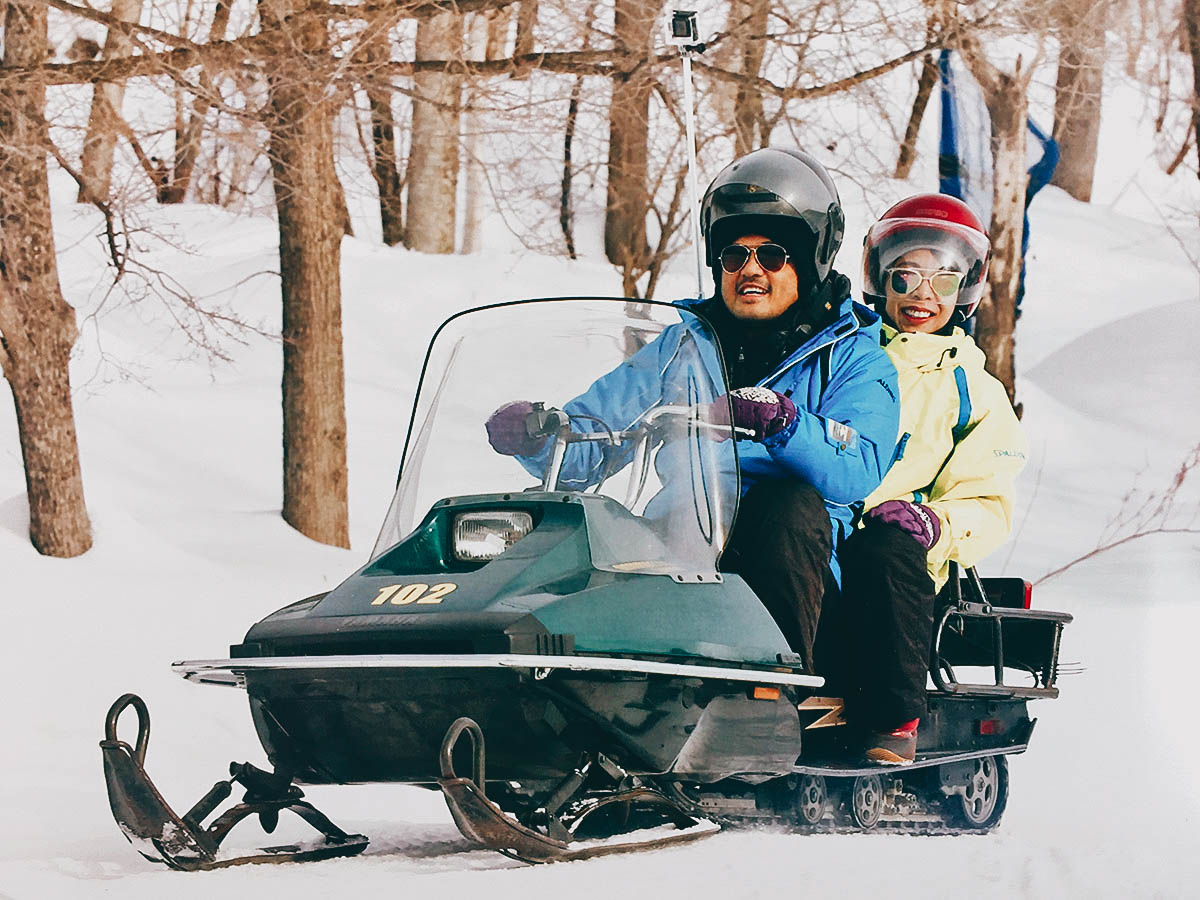 This was taken at the end of the trail before we got off to take a few pictures from the lookout point.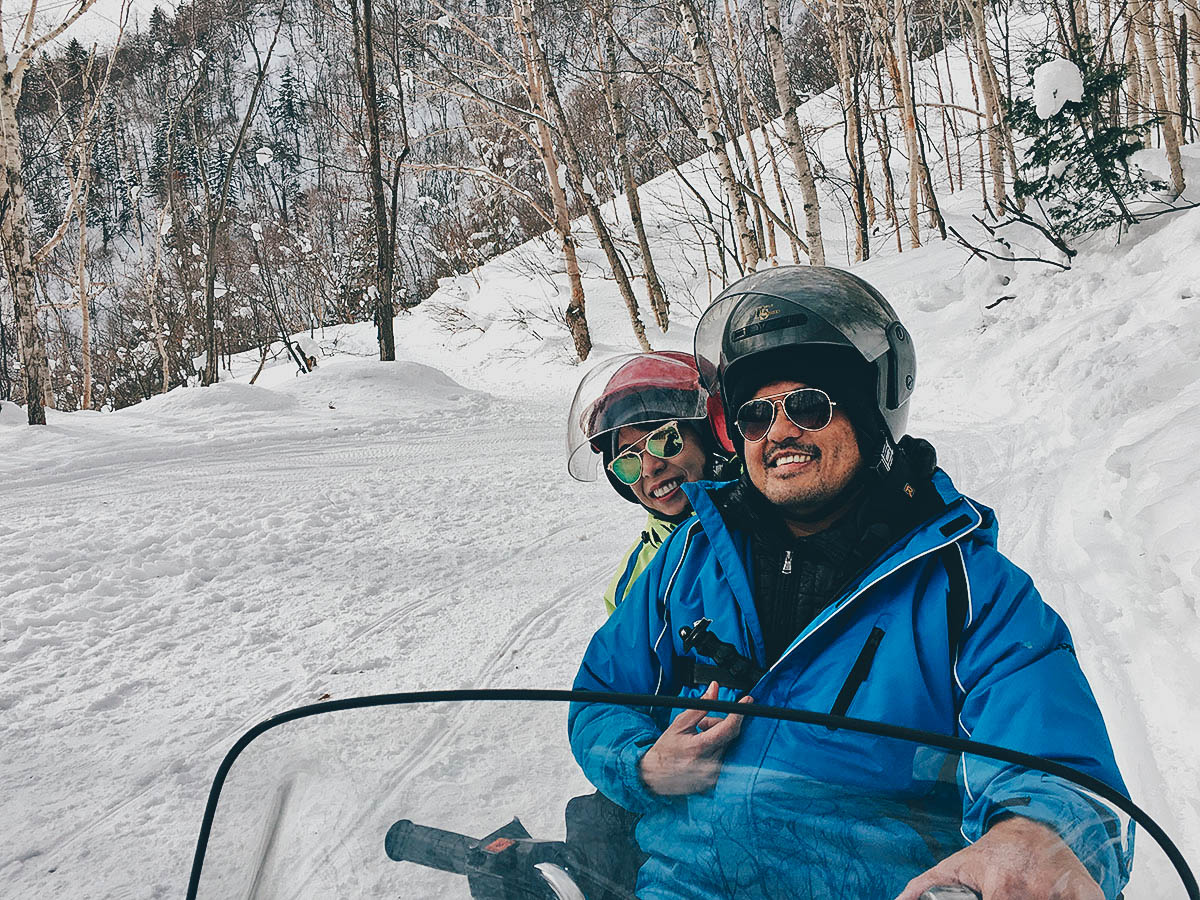 We were only allowed to take pictures here before turning around and heading back. As you can tell from the sign, this was taken from the 600 meter lookout point I was talking about earlier.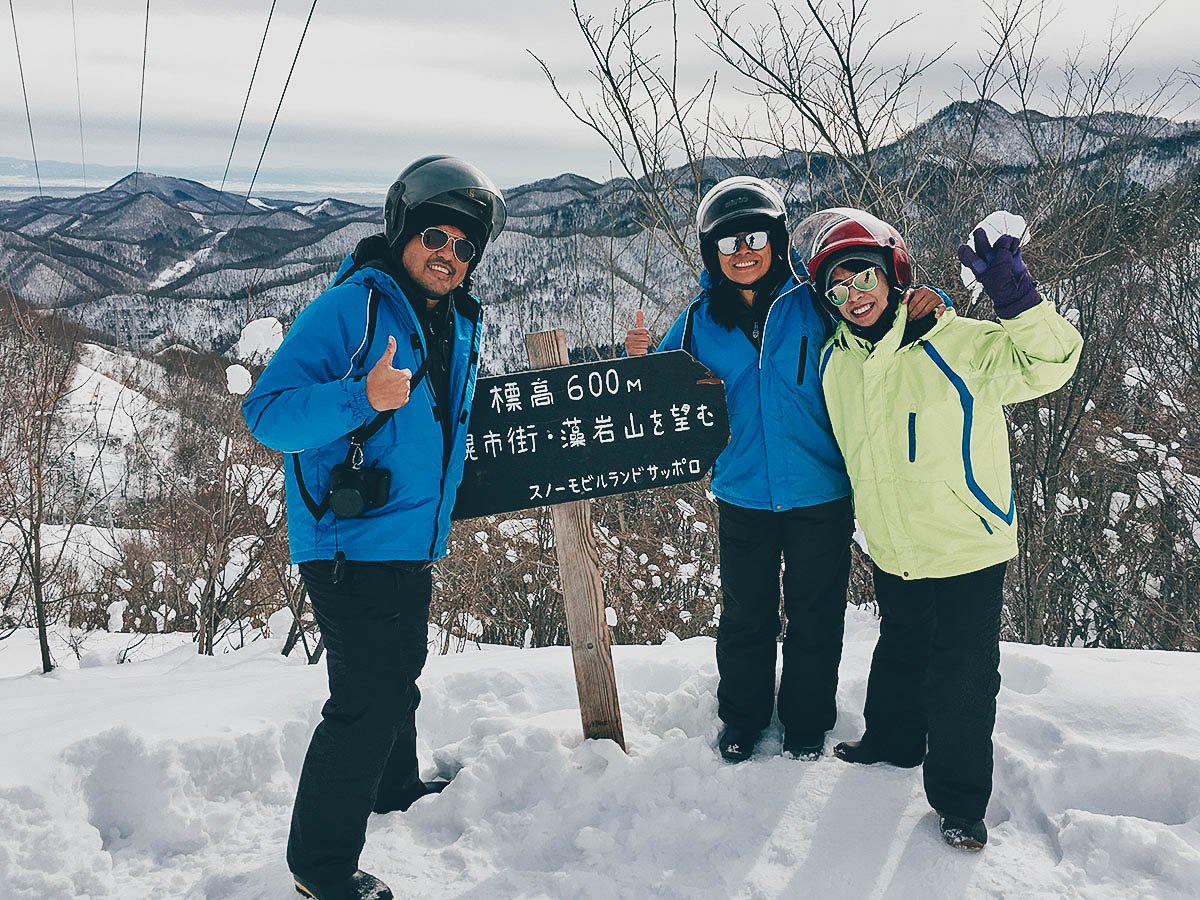 Beautiful huh? It was cool how there were blobs of snow hanging from all the trees.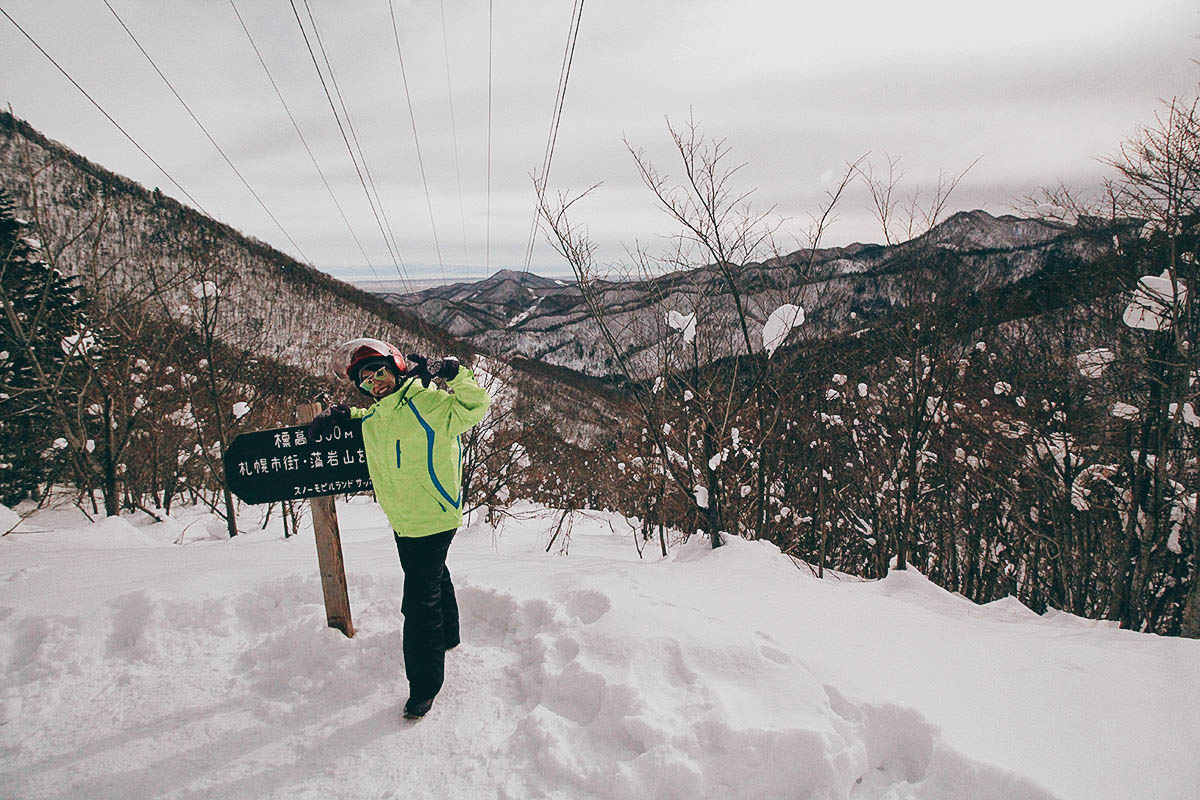 There's our guide Paul. Cool dude. 🙂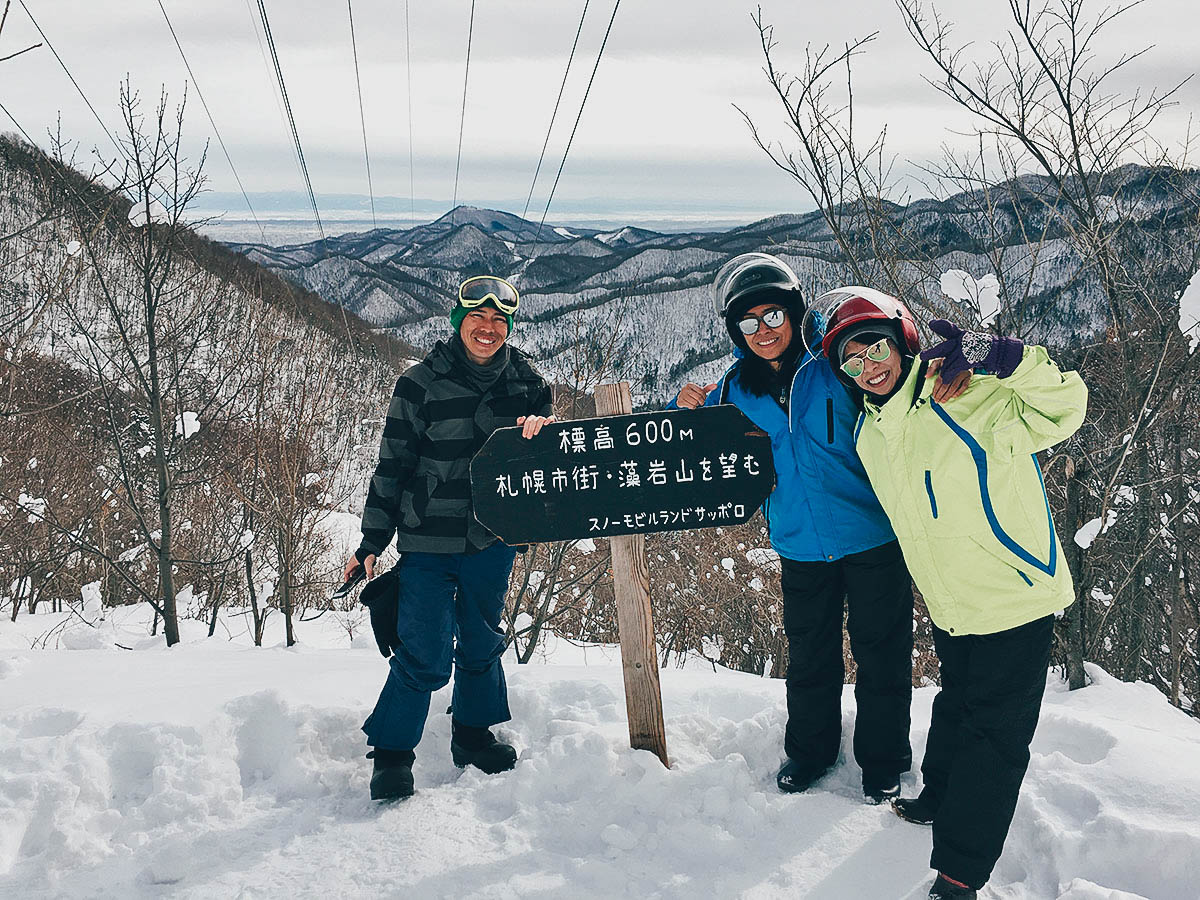 I buy tours on Klook whenever possible but their listing didn't include the option for passengers only so I booked directly at Snowmobile Land instead. Ren decided to just ride with me so we paid half price for her – JPY 5,000 for the Hot Pick course.
It's funny, Snowmobile Land gets a little sexist when it comes to riding in pairs. For safety, they don't allow women to ride together. In the event that a man and a woman share a snowmobile, only the man is allowed to drive. I know it's because the steering on snowmobiles is a little heavy, so they think women can't manage the weight of two people, but still. Try telling that to Xena.
We had fun riding the snowmobile and the scenery was breathtaking but in hindsight, I think I would have preferred to go ice fishing instead. I don't mean to diss the experience or anything. It was definitely fun and I was glad we did it. But even with just one hour of snowmobiling, I found myself asking: "Are we there yet?"
I didn't find the steering to be stiff like what many TripAdvisor users said. What I found difficult was pressing the accelerator button. It's hard to press and you have to push and hold it down with your right thumb to keep moving. Even after just one hour of riding, my right forearm was sore as heck for several hours. Pressing down on that accelerator button wasn't fun so it definitely detracted from the experience, at least for me.
Like I said, I'm happy we got to experience this but I probably wouldn't do it again. It isn't exactly cheap. If you have money to spare and like doing adventurous things, then I suggest giving it a try. But if I had to choose between riding a snowmobile or going skiing, then I'd choose skiing any day of the week. They cost about the same and skiing is a lot more fun.
Snowmobile Land, Sapporo, Japan
Fukui478, Nishi-ku, Sapporo 063-0012
Tel: +81 11-661-5355
Fax: +81 11-666-0877
Website: snowmobilelandsapporo.com
Email: [email protected]
Operating Hours: Mon-Sun, 9AM-5PM
RATES:
Hot Pick (20-25 km, 60 mins) – JPY 10,000
Cool Pick (30-35 km, 90 mins) – JPY 13,500
HOW TO GET THERE:
Take the subway to Hassamuminami station. Exit the station and take Bus No. 41 to Fukui Entei Mae. Get off at the last stop which is just off the main road. Walk back to the main road and continue walking until you see the Wonderland Sapporo sign pictured above. Keep right at the fork in the road and you'll see Snowmobile Land on your right.
Disclosure
The TripAdvisor links in this post are affiliate links, meaning we'll get a small commission if you make a purchase or reservation at NO extra cost to you. We really appreciate your support as this helps us keep this website going. Thank you!
For more travel tips to Sapporo in winter, check out our Sapporo Winter Travel Guide.