Crab is one of my favorite foods in the world. I love all things crab – from crab cakes to soft shell crab sandwiches to kani sushi, even when it isn't real. In fact, one of my single favorite restaurant dishes in the world is Thanh Long's roast crab in San Francisco. Anyone who's eaten at Thanh Long or Crustacean will understand. That roast Dungeness crab, when paired with their heavenly garlic noodles, is to die for.
Japan is one of the best places in the world to have crab and their love for it is apparent nearly everywhere you go. Typically eaten in winter, some of the country's finest crab can be found right here in Hokkaido. Boasting a diverse selection of snow crabs, king crabs, hairy crabs, and thorny crabs, the variety and freshness of crab on this island is second to none.
We were in town to attend the Sapporo Snow Festival so it was the perfect time for us to try what many believe to be the best crab in all of Japan.
Crab Hot Pot at Hokkaido Kani Syougun
To be honest, Kani Syougun wasn't our first choice. We wanted to go to the more popular Kani Honke but twice we tried and both times they were fully booked! That's two days they were completely booked, for the ENTIRE day. That's how popular crabs are in Sapporo, especially during peak seasons like the snow festival.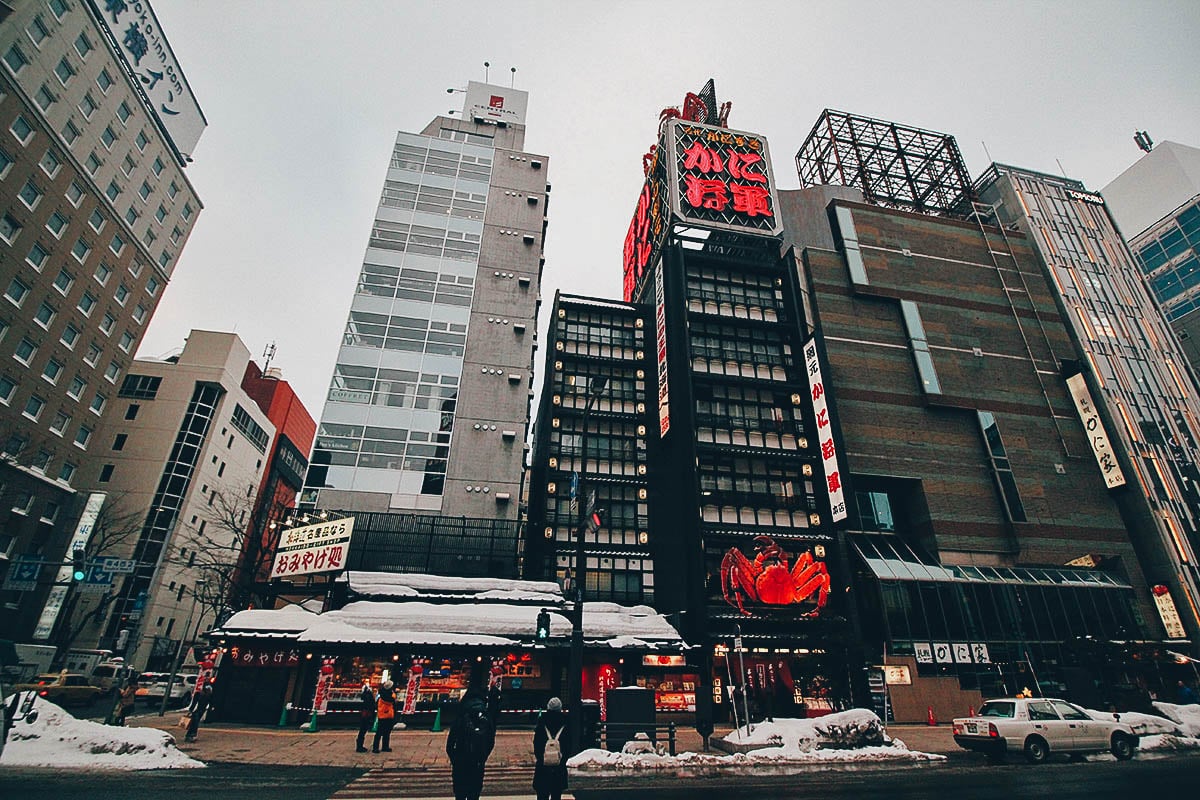 To be a serious player in Japan's crab business, it seems like you need to have one of these giant crabs on your store's facade. Kani Doraku in Osaka has one, as does Kani Honke. I saw a couple in Kinosaki Onsen in Hyogo as well.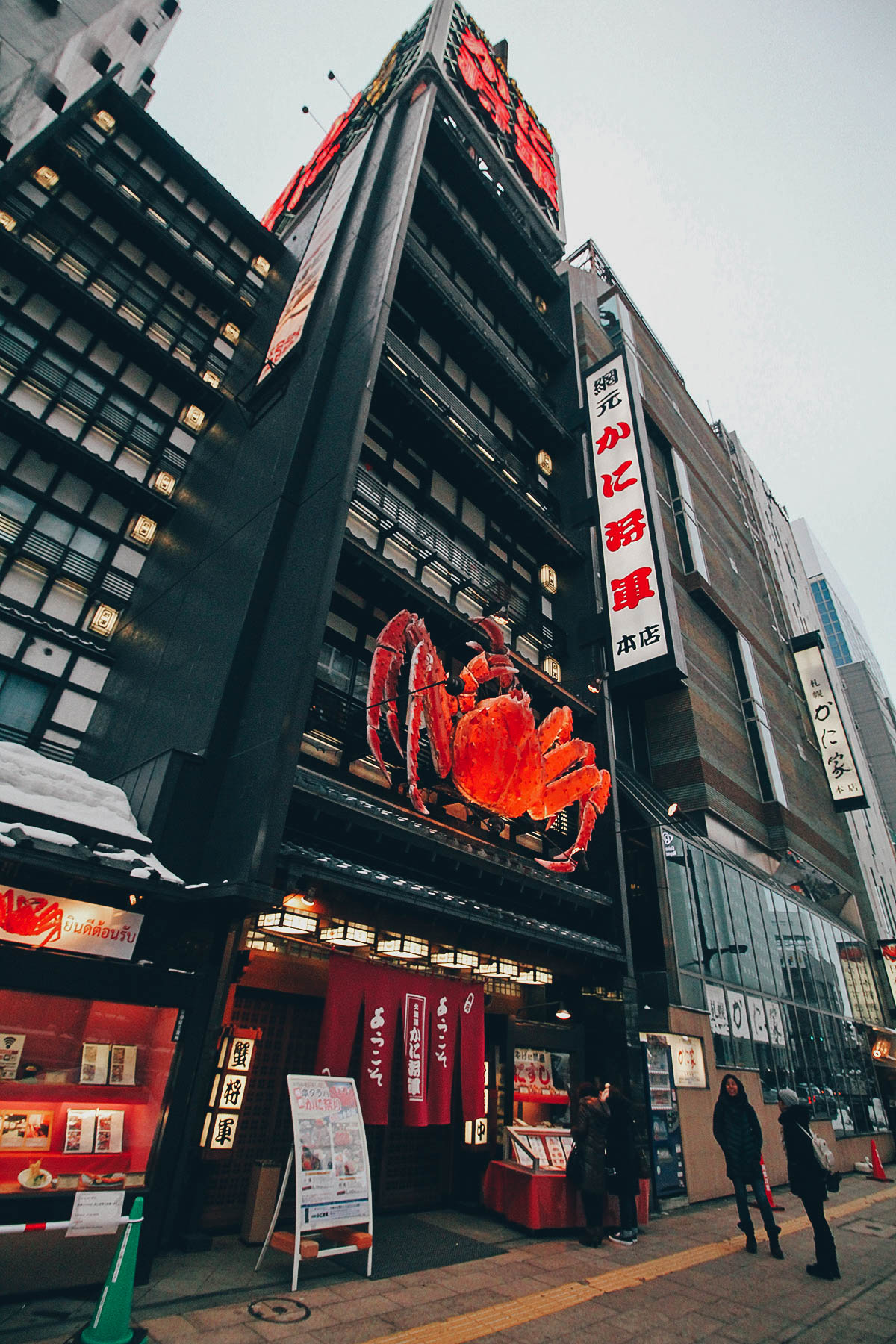 The restaurant is big with many levels but it still took over half an hour to get us seated. We got a table on the second floor.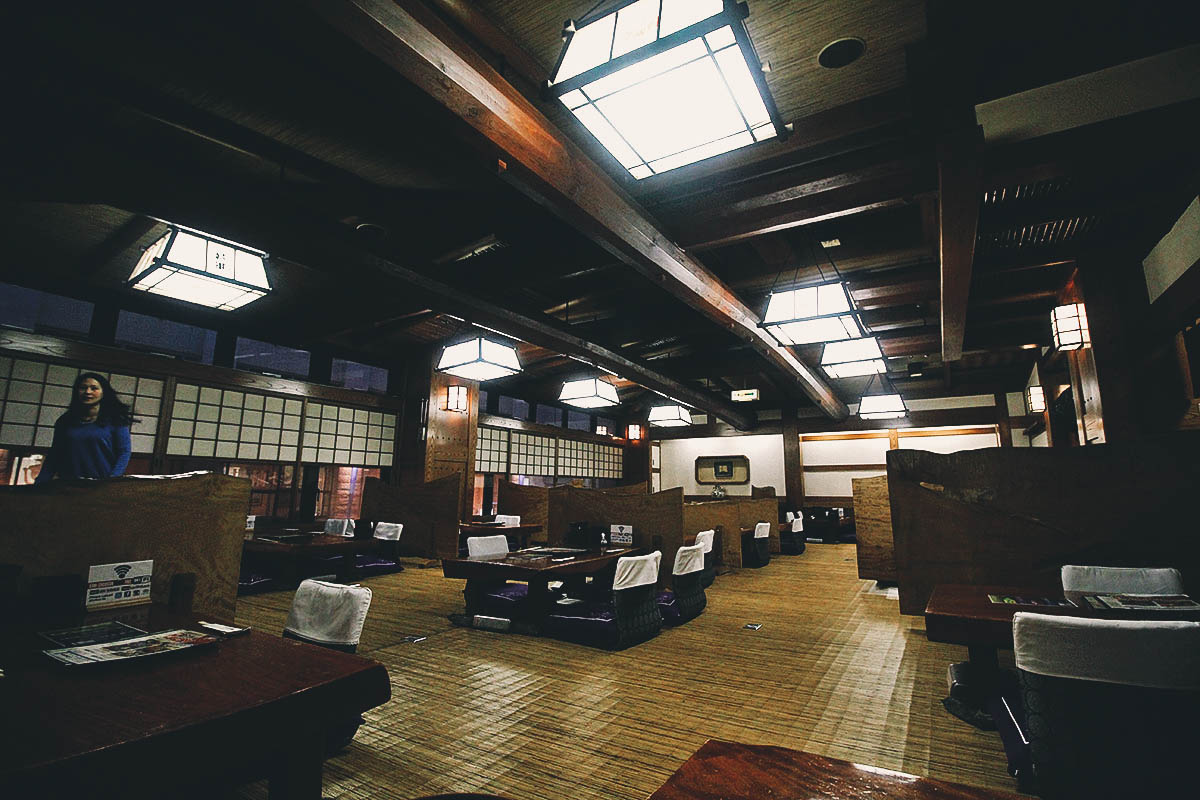 Notice the lanterns? They're shaped like crab pots.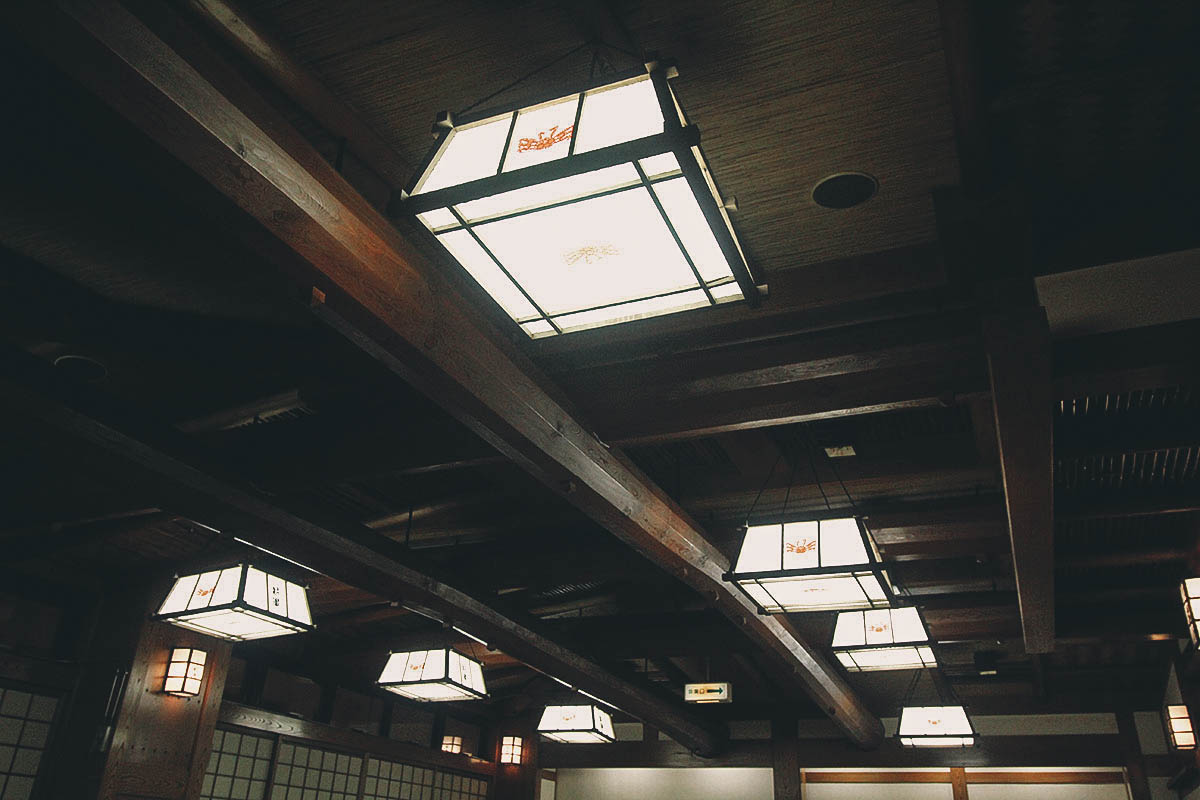 Each order of crab came with this dollop of olive green paste. Our server had limited English so she couldn't really explain it to us, but one taste and you'll know it's made with crab roe. The crab flavor is strong in this one!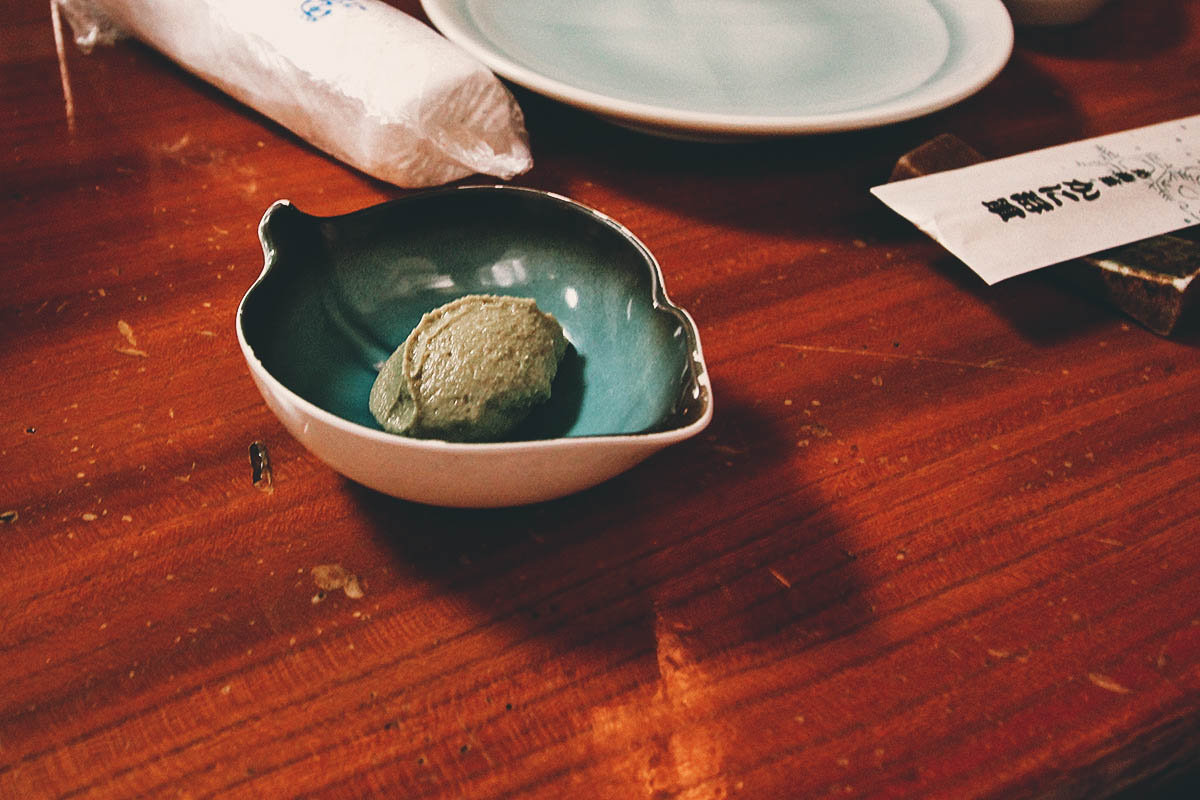 There are many ways to enjoy crab in Japan, but one of the best and most popular is to boil it in a hot pot. You can choose to have it either sukiyaki or hot pot style, the only difference being the broth in which it cooks in. The sukiyaki broth is sweeter. What you see here is an order of snow crab hot pot. Whether sukiyaki or hot pot, it costs the same at JPY 4,320 and each order is good for one person.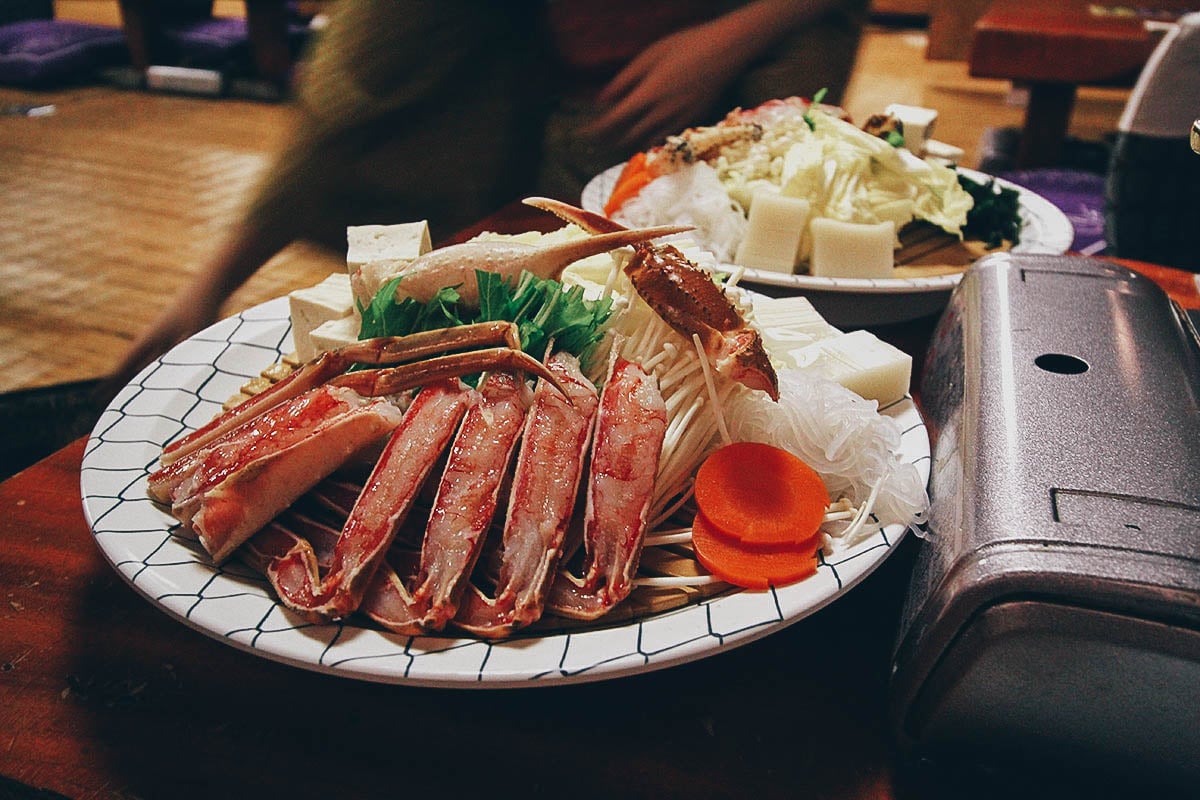 Here's an order of the king crab hot pot. Larger than the snow, it costs JPY 5,400 for either the sukiyaki or hot pot and each order is also good for one person.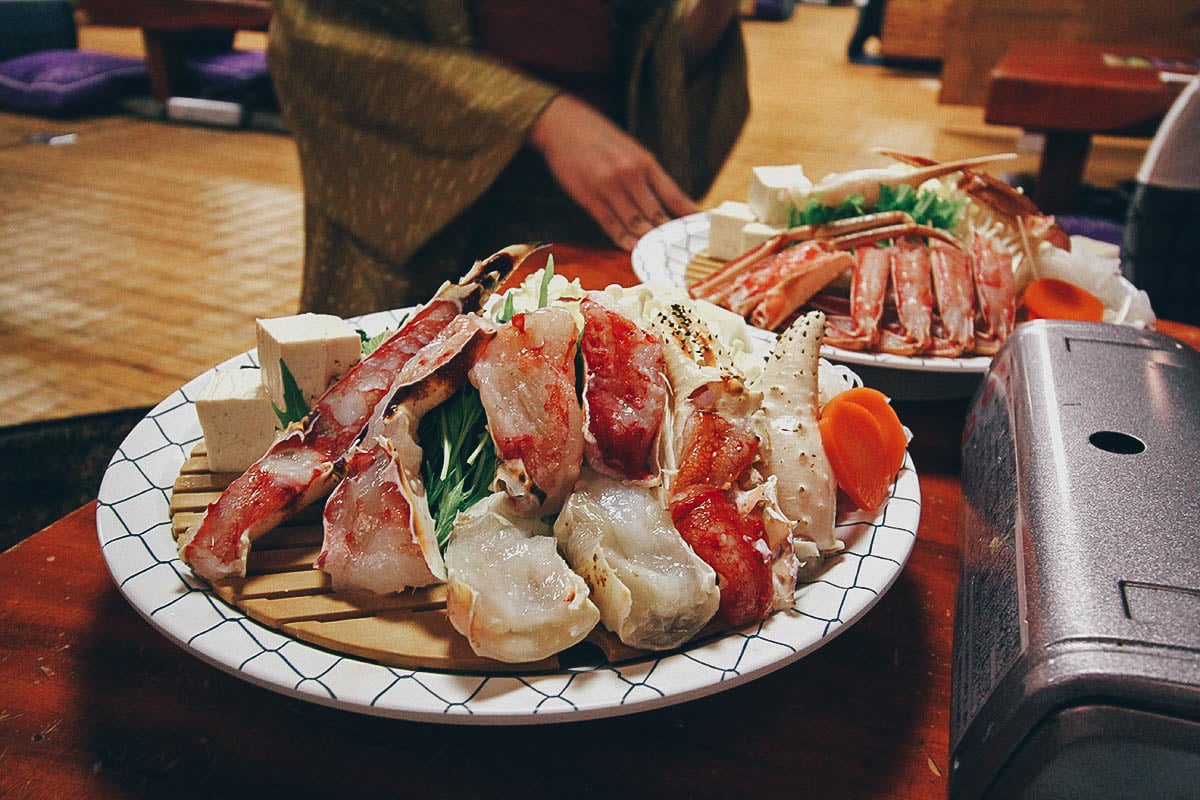 A closer look at the king crab. Doesn't that look amazing? Even in pictures it looks so fresh and sweet. Both crabs were delicious but we all thought the king crab was better. The meat was sweeter and more succulent than the snow.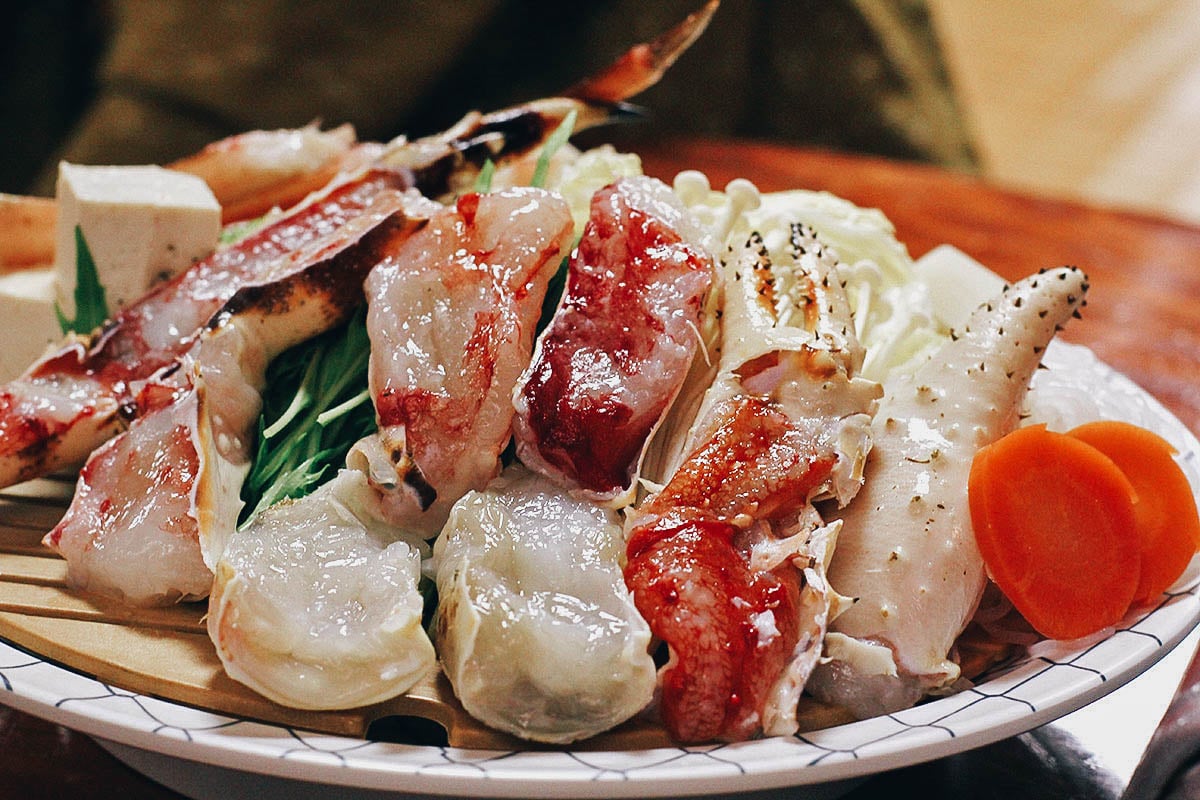 Our server pours in all the other ingredients like vegetables, mushroom, tofu, mochi, and noodles before adding the crab. You start and finish one type of crab first before moving on to the next. Pictured here is the snow crab. Unlike the king, you can also have the snow crab as shabu shabu. The fresh meat is removed from the shell makeing it easier to eat, plus it's cooked in a special broth and served with ponzu sauce. The snow crab shabu shabu costs a little more at JPY 5,000 per order.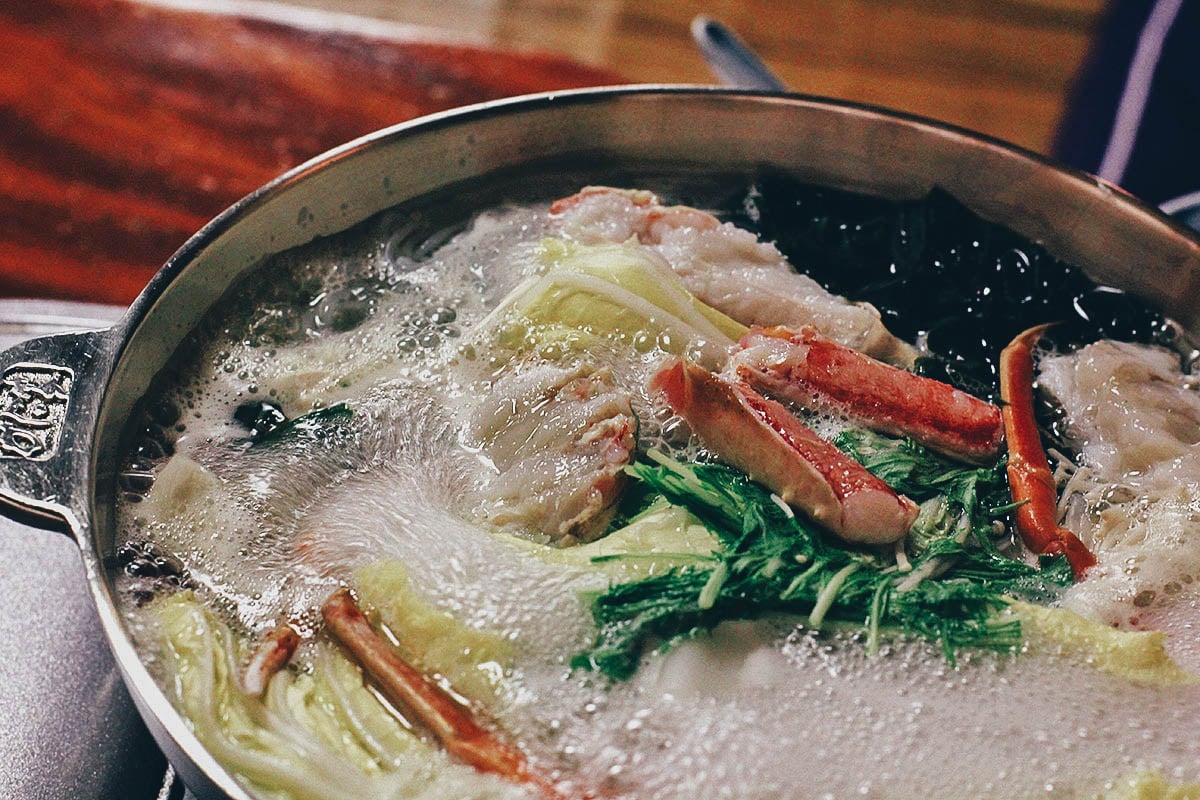 Ren digging into her snow crab leg. The first time I tried Japanese snow crab was in Toyooka in Hyogo. I was on a FAM trip and we were served Matsuba crab which is a term used to refer to male snow crabs fished from the Sea of Japan. Like Hokkaido crabs, they're considered some of the very best crabs in Japan. This snow crab was good but Matsuba crabs are better.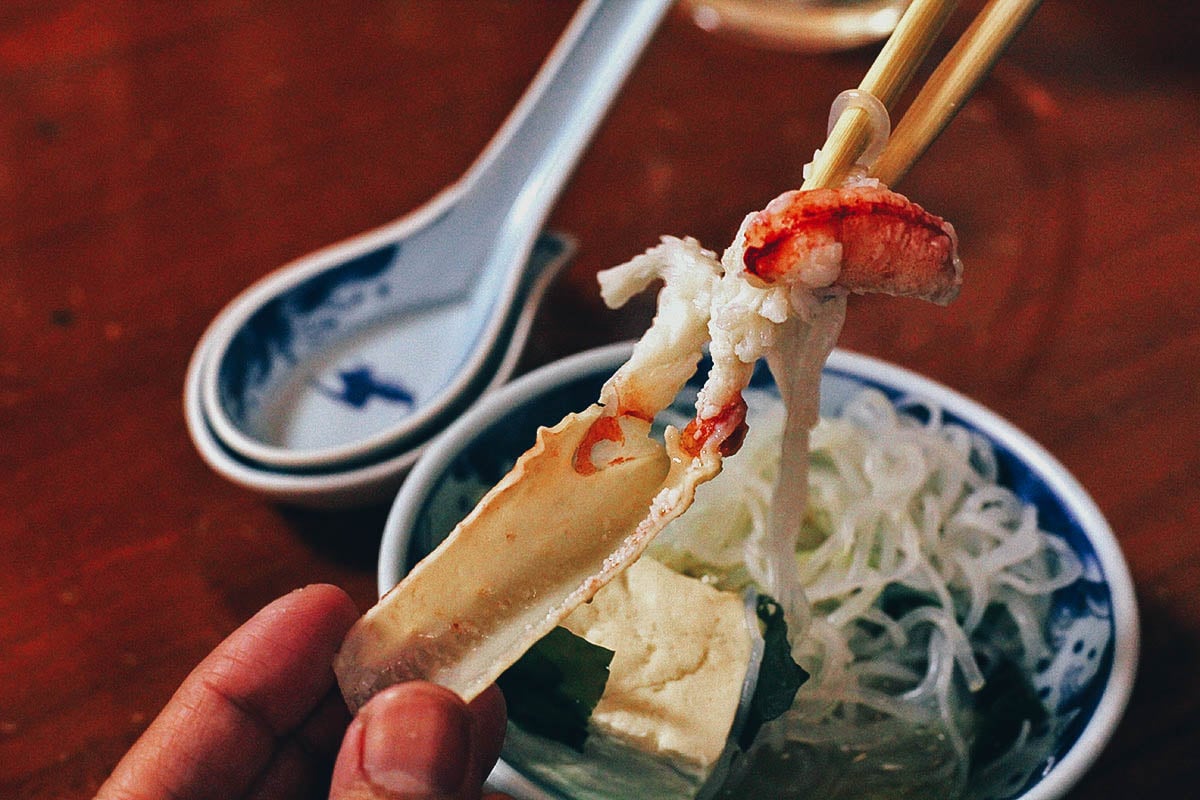 We didn't realize they'd give us a taste of this crab paste so we got an order of it in gunkan sushi form. Described on the menu as "crab innards", an order of this crab paste sushi goes for JPY 1,566. If you like crab fat or roe (aligue in the Philippines), then you're going to love this.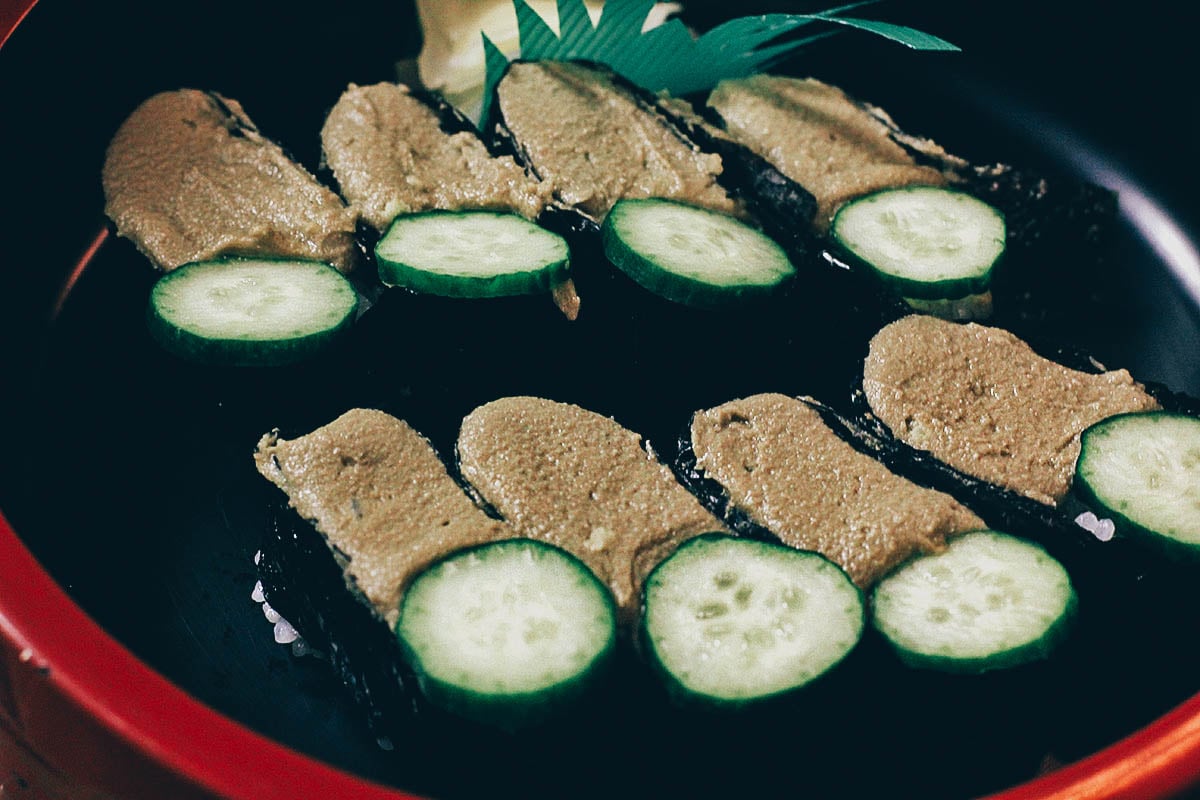 Here are some pickled vegetables and fruit and a bowl of rice porridge. To help fill us up, we got an order of zosui which is basically a thin rice porridge made from your leftover crab broth. One order goes for JPY 648 and it was enough for the three of us.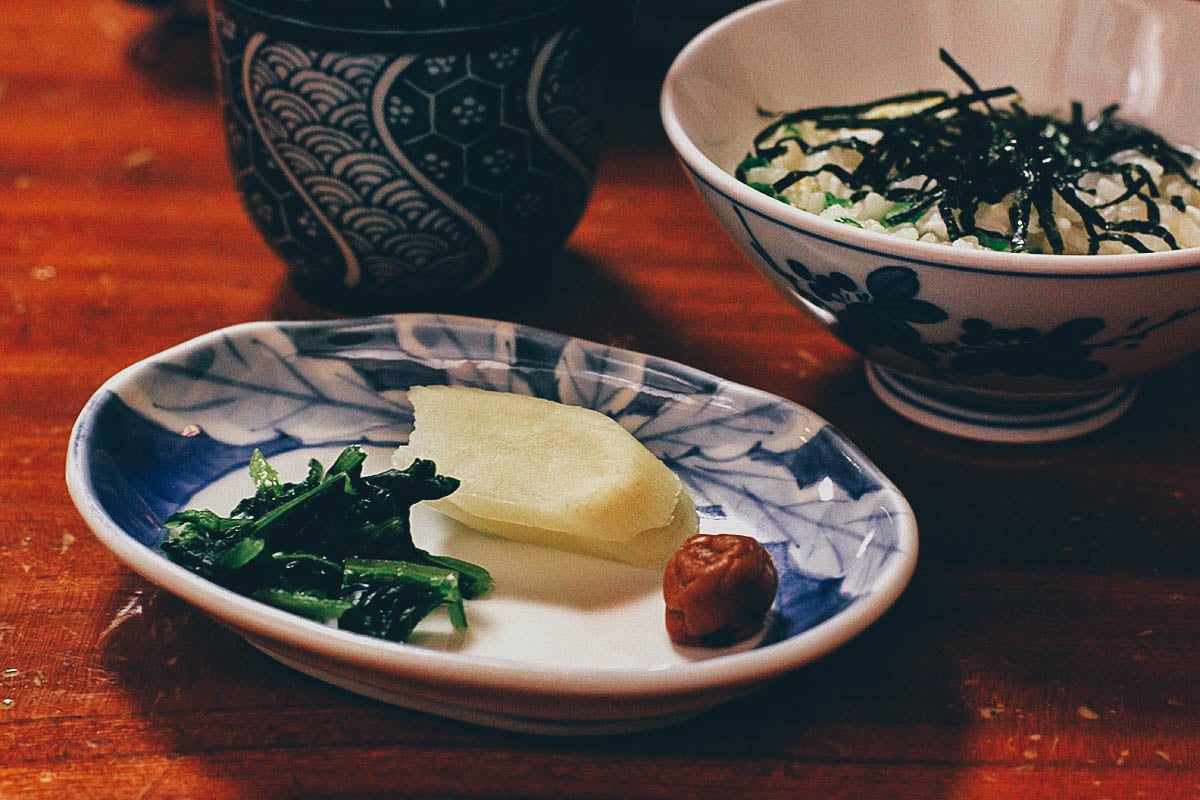 As described, Kani Honke was our first choice but they were fully booked the two days we tried to go. I can't confirm if they're better than Kani Syougun but their reviews are slightly higher at 3.32 versus 3.01 on Japanese review site tabelog.com, and 4.0 versus 3.5 on TripAdvisor.
I haven't eaten enough hot pot crab to really tell good from bad, but it seems that Japanese dishes like this one are reliant on the freshness of the crab more than anything. As long as its fresh, then the experience should be comparable no matter where you have it. I could be wrong but that's my novice opinion.
What I can tell you for sure is that the crab we were served at Kani Syougun was definitely fresh. Ren gets an allergic reaction whenever she eats shellfish that isn't fresh but she didn't get any kind of reaction here.
With that said, there's a reason why Kani Honke is rated higher than Kani Syougun (like a tastier broth base perhaps?) so I suggest getting a table there first if you can. If you can't, then Kani Syougun is a solid alternative.
And like I said, crab is expensive everywhere in Japan so be ready to pay a hefty price for it no matter where you go. For what we ordered above and three whisky highballs, we paid around JPY 13,500. It's on the expensive side for sure, but it's worth trying at least once if you're a crab lover. Hokkaido is known for their crab and it isn't every year you get to spend winter in Sapporo. 🙂
Hokkaido Kani Syougun, Sapporo, Japan
2-14-6, Minami-yojou-nishi, Chuou-ku, Sapporo-shi, Hokaido, 064-0804, Japan
Tel: +81 11-222-2588
Fax: +81 11-280-2527
Website: kani-syougun.com
Email: [email protected]
Operating Hours: Mon-Sun, 11AM-10:30PM
What we paid: Around JPY 13,500 for three people with drinks
HOW TO GET THERE:
Kani Syougun is about a minute's walk from either Susukino or Hosuisusukino station. CLICK HERE to see exactly where it is in relation to these two stations.
For more travel tips to Sapporo in winter, check out our Sapporo Winter Travel Guide.