Did you ever watch The Village? It's that movie from director M. Night Shyalaman about a small isolated village in 19th century Pennsylvania. The villagers, especially the children, live in fear of nameless creatures living in the woods that surround their village.
The Historical Village of Hokkaido has nothing to do with the film but that's exactly what it felt like walking around this place. An open-air museum on the outskirts of Sapporo, it features about 60 period structures spread out over an area of 54 hectares.
All the buildings here are from the Meiji and Taisho eras (mid-19th to early 20th century) and were recreated to reflect what pioneer life in Hokkaido was like. The attention to detail is remarkable. Inside you'll find fully furnished rooms with tools, books, pieces of equipment, even articles of clothing consistent with the era. One storehouse had fishing vessels. Others had dioramas reconstructing daily life.
So convincing was this place that it looked and felt like a living, breathing village recently abandoned. Kettles were left to boil, fish were still grilling on sticks, it was like everyone just got up and left.
The Village
To get to the Historical Village of Hokkaido, you'll need to take a JR train to Shinrinkoen station. From there, it's a 5-10 minute bus ride to the village. I've included detailed directions at the bottom of this post.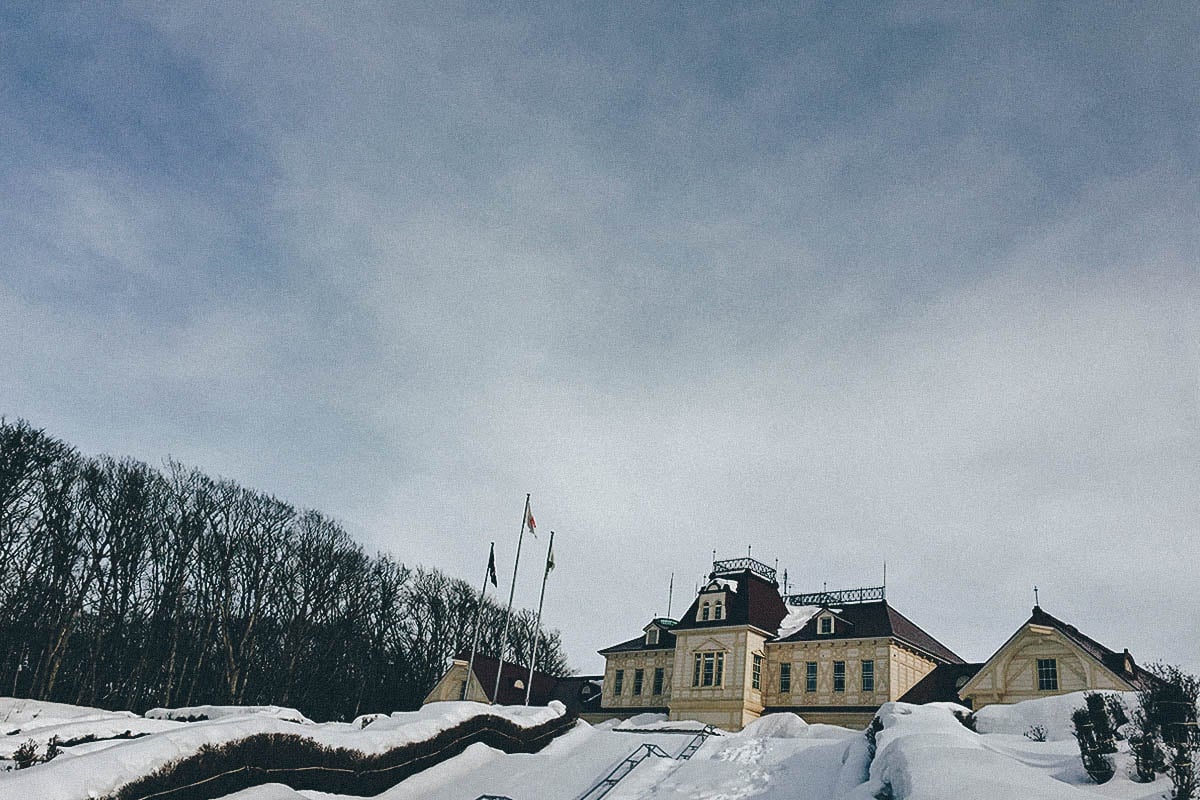 The village is through the Old Sapporo Railway Station (Sapporo c. 1908). Walk through those doors and you'll find yourself in 19th century Japan. This station was in use from 1908-1952 and now serves as the museum's management office building.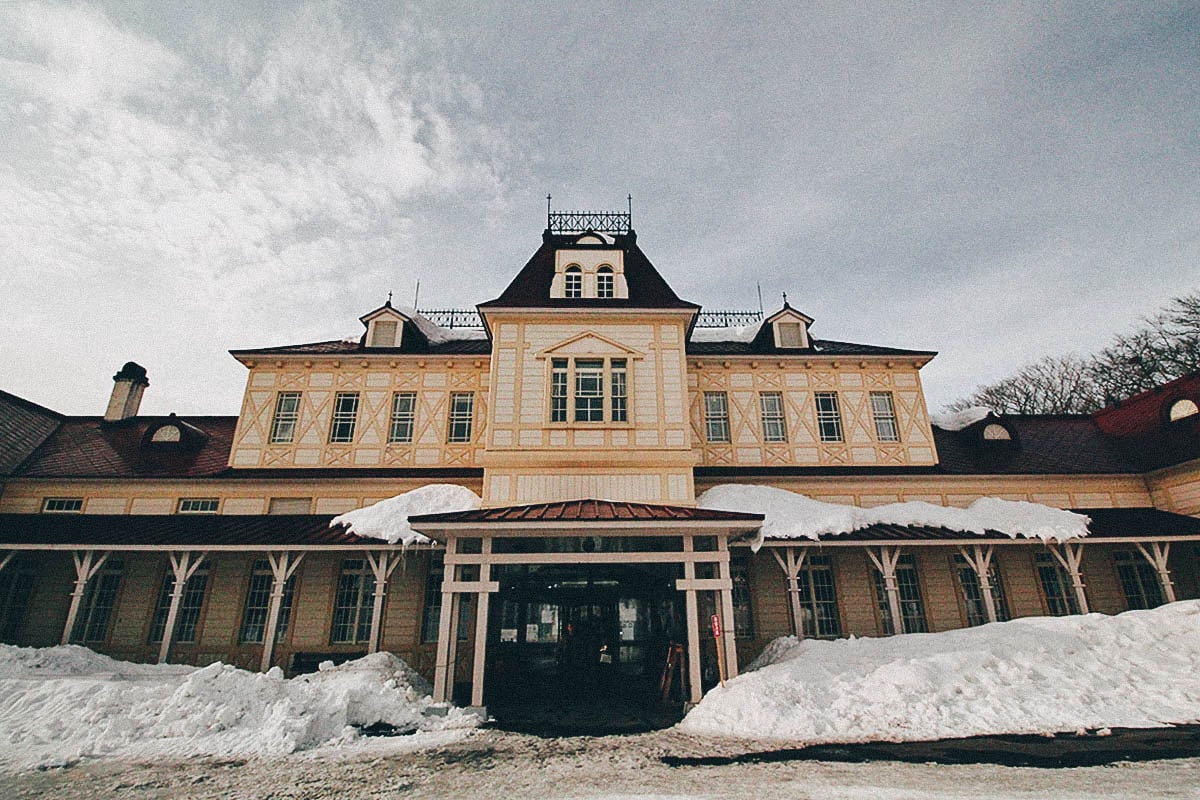 The Historical Village of Hokkaido (Kaitaku-no Mura) is divided into four sections – the Town, the Mountain Village, the Farm Village, and the Fishing Village. Over the weekends, on national holidays, and during the Sapporo Snow Festival, the museum offers horse-drawn carriage rides to take tourists around the village (a sleigh in winter and a trolley in summer). It costs JPY 250 for adults and JPY 100 for kids aged 3-14. As idyllic as a horse-drawn carriage looks, I felt bad for this guy having to pull all those tourists around. 🙁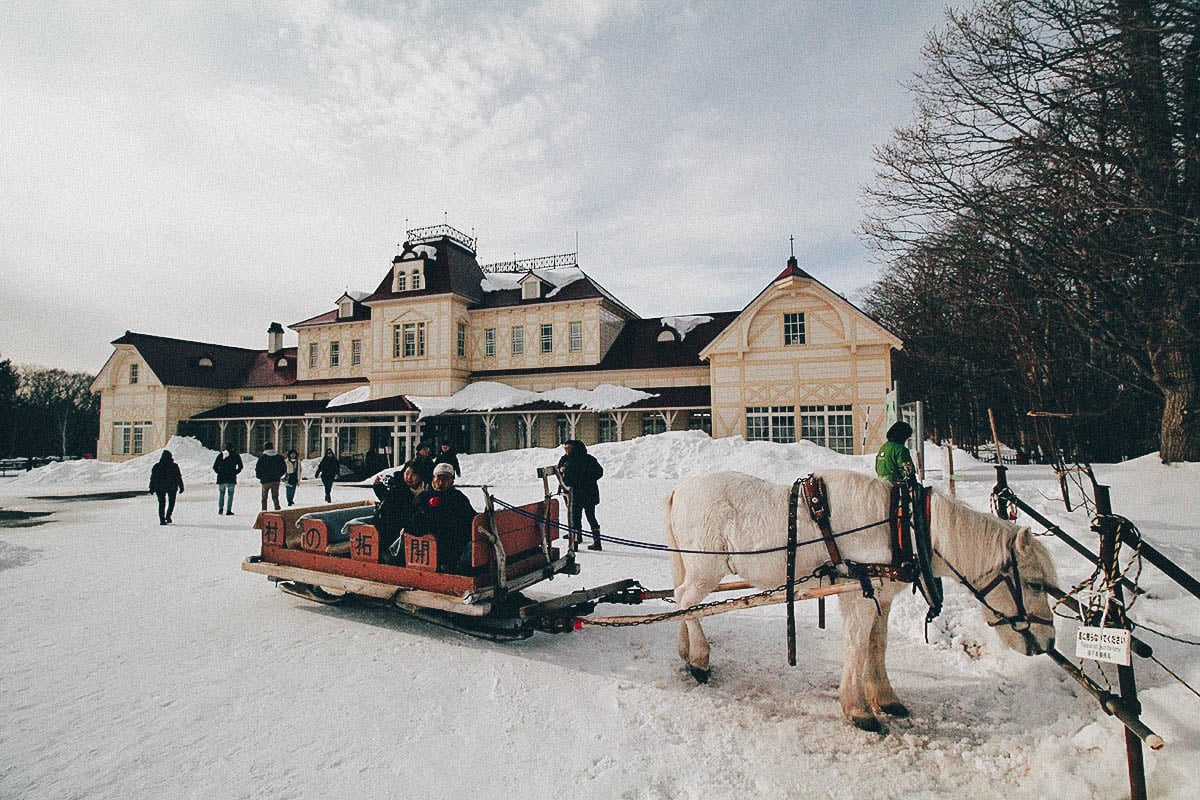 Town
That lovely old rose colored structure is the Urakawa Subprefectural Government Building (Urakawa c. 1919).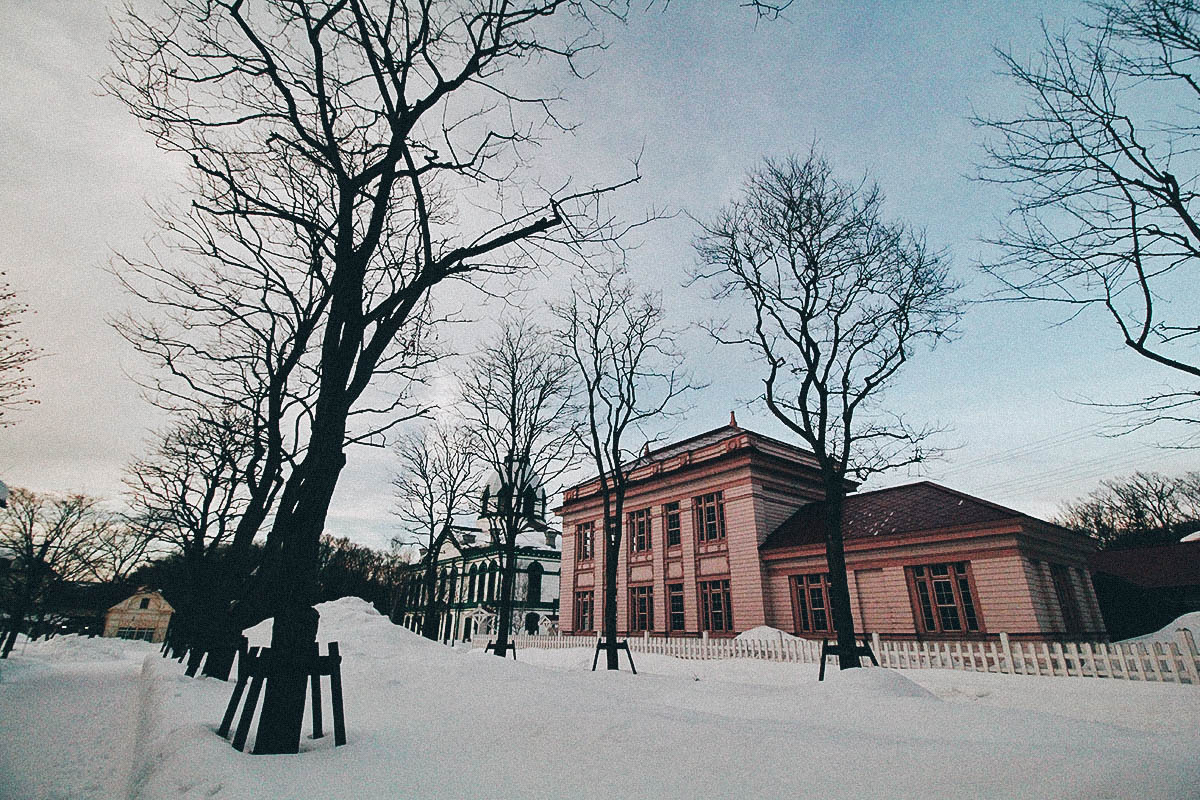 This stone block behemoth is the Otaru Shimbun (Newspaper) Building (Otaru c. 1909). It was built with Sapporo soft stones and houses printing press machines and other equipment from the Meiji period.

Doesn't this antique printing press look cool? It reminded of those vintage Singer sewing machines.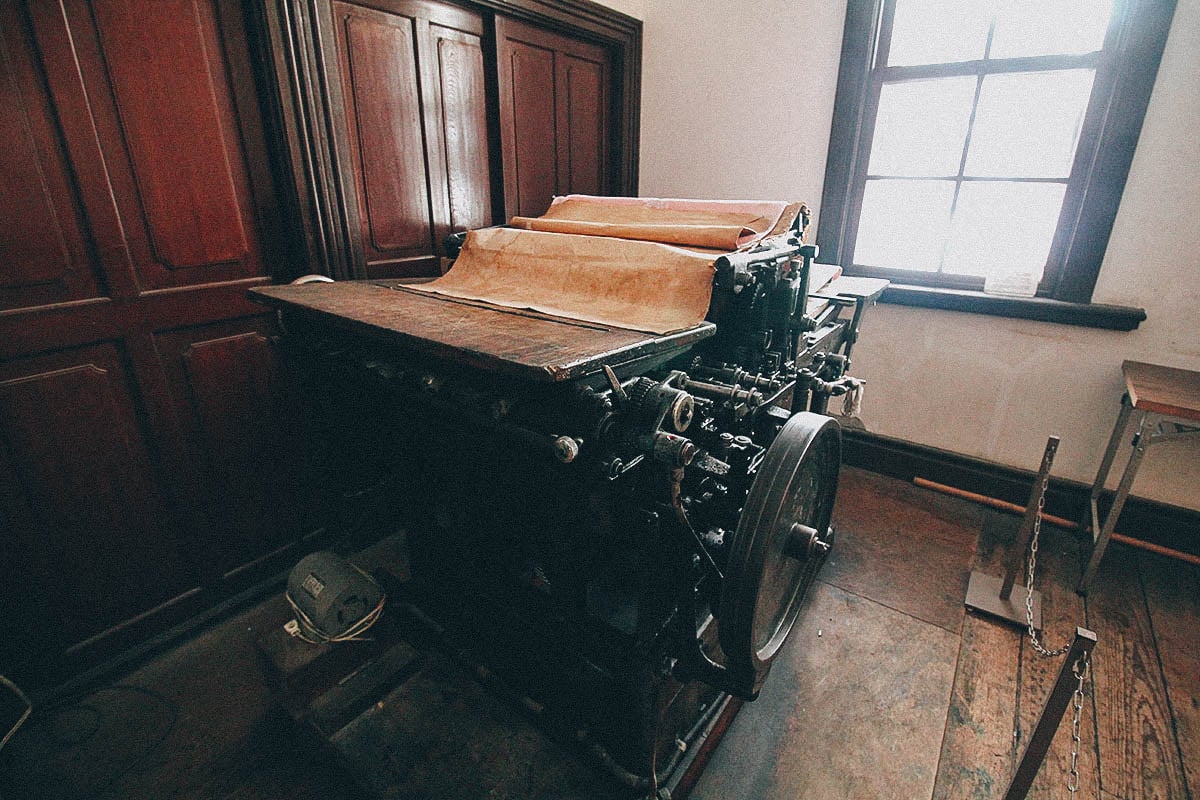 Deja vu. These Japanese printing press characters look like the green rain from the Matrix.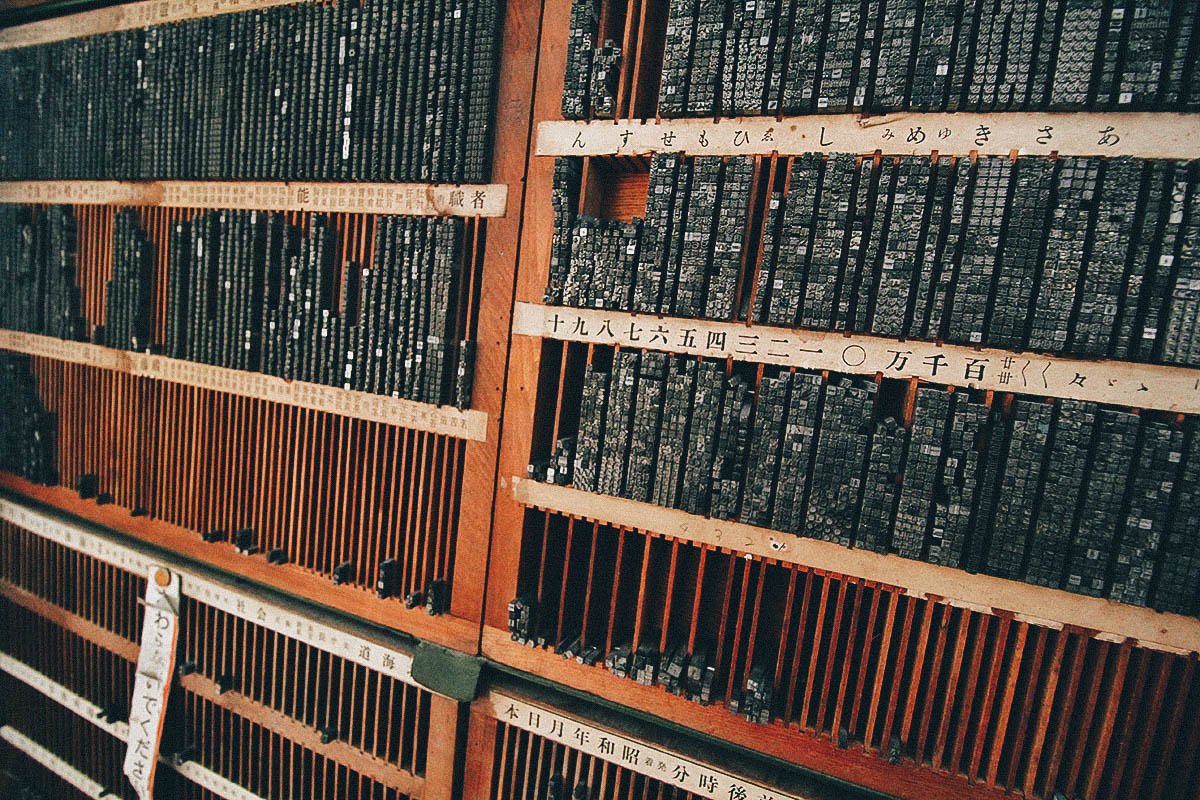 An old cabinet. I didn't take a peek so I'm not sure what they stored in these.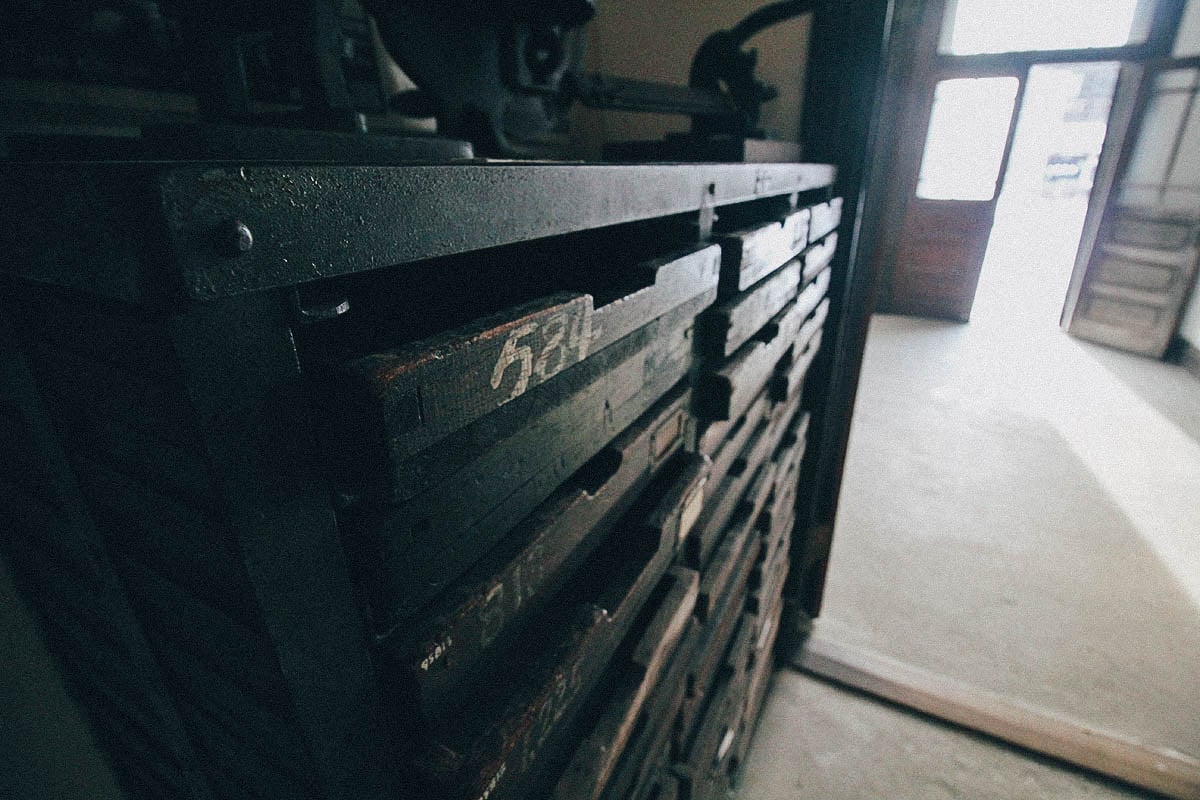 This handsome structure is a replica of the Kaitakushi Sapporo Colonization Headquarters (Sapporo c. 1873) which burned down in 1879. This replica serves as the museum's visitor center.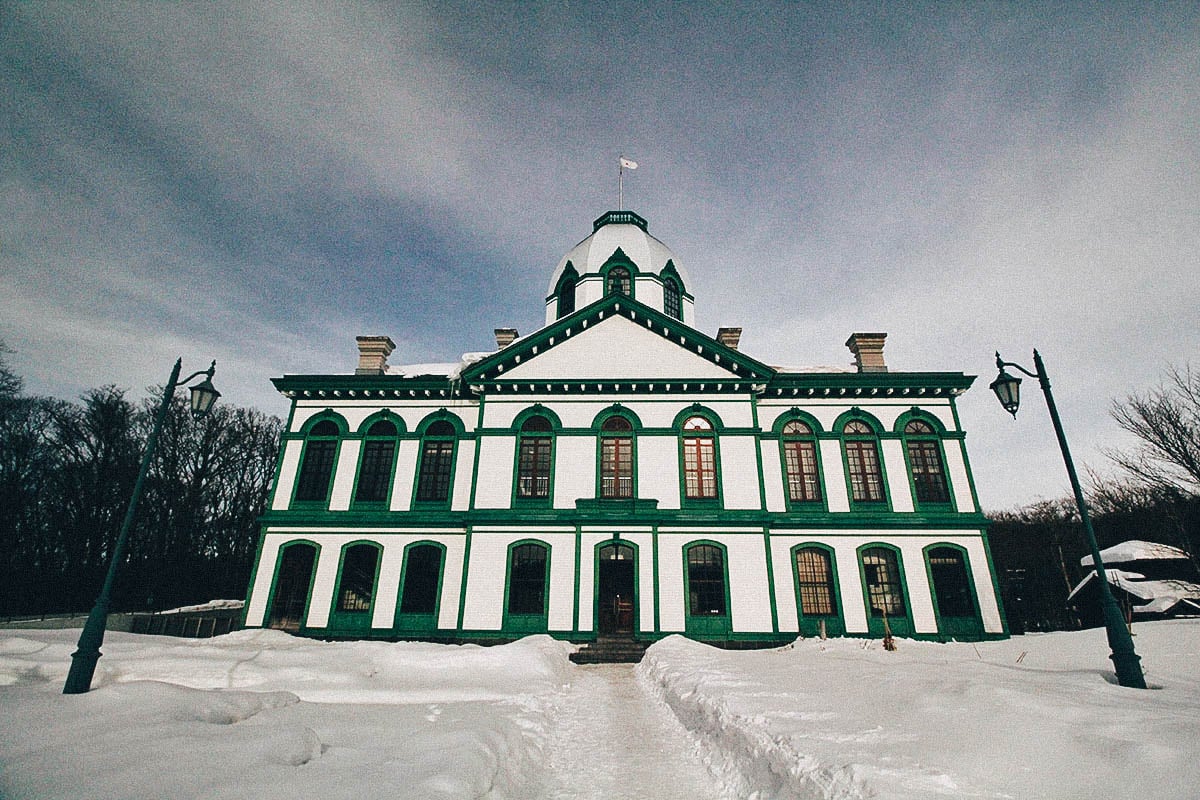 The Kaitakushi Industrial Office (Sapporo c. 1877) is the oldest structure in the village and features an American architectural design. It was used as a center for the construction and manufacturing industries where young Japanese professionals would learn new technologies under the guidance of Americans.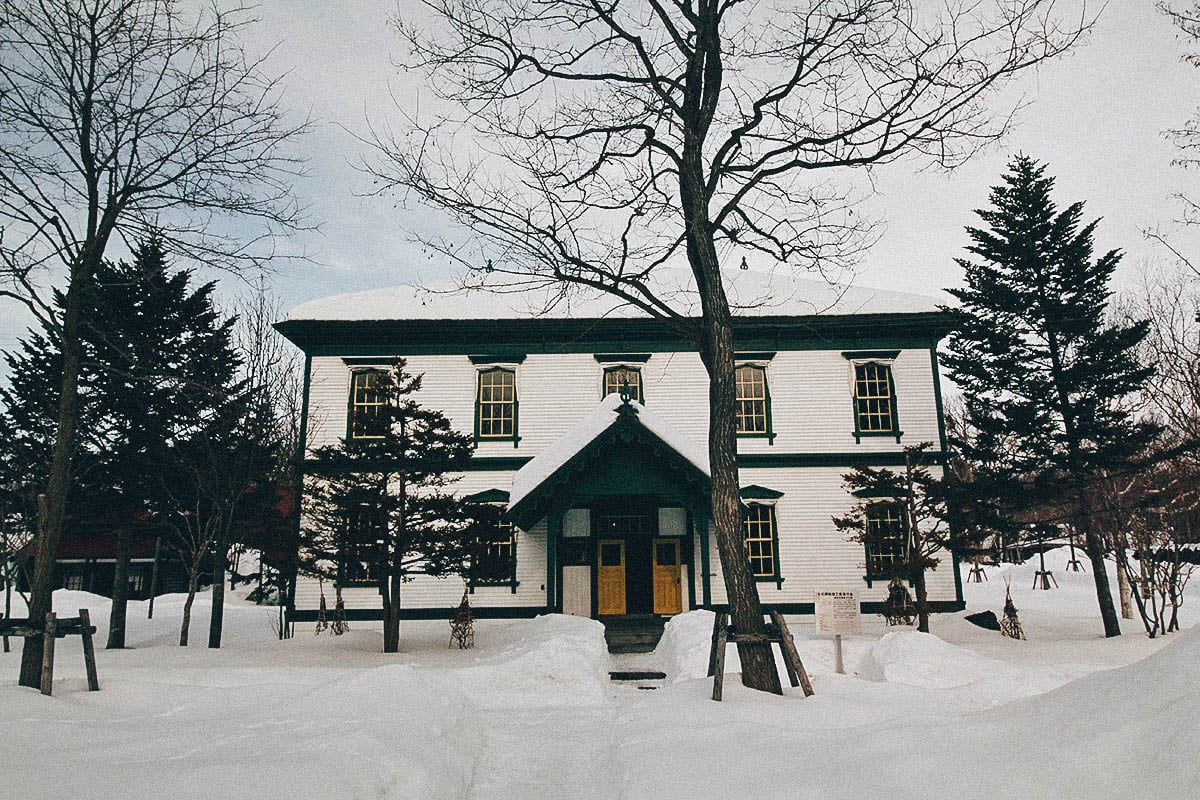 You could enter most of the buildings and explore the different rooms they had set up inside. I can't remember what this room was. An apothecary maybe?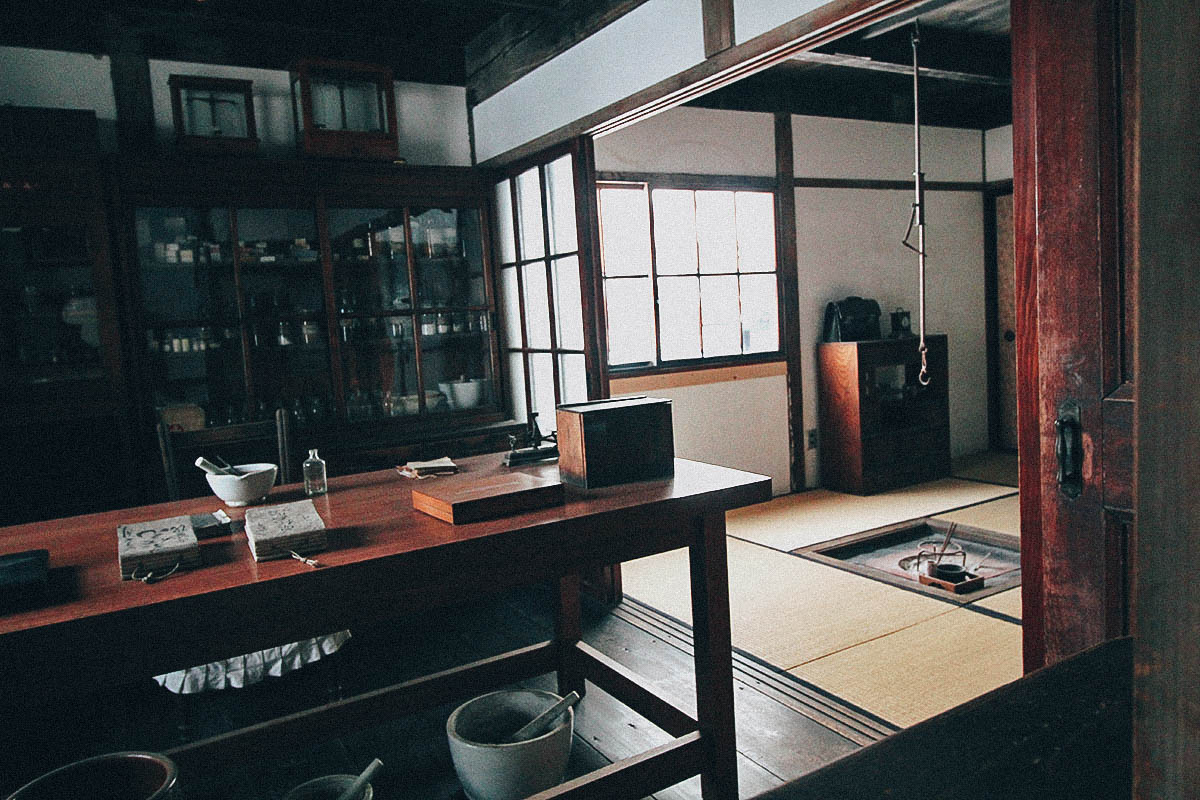 This handsome jet black building is the Hirose Photo Studio (Iwamizawa c. 1924).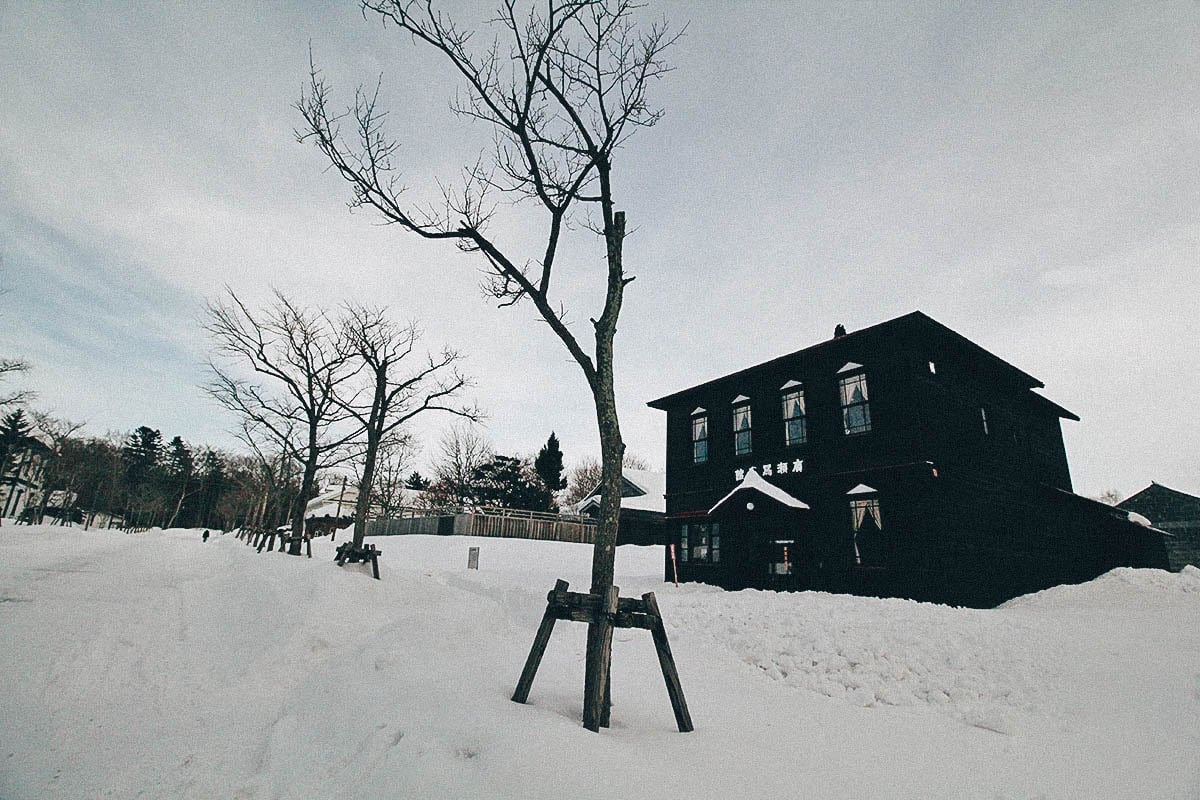 As described, you could enter most of the buildings but you'd need to remove your shoes and put on a pair of those slippers to go beyond the entryway. I didn't feel like taking my shoes on and off so I just took pictures from the entryways.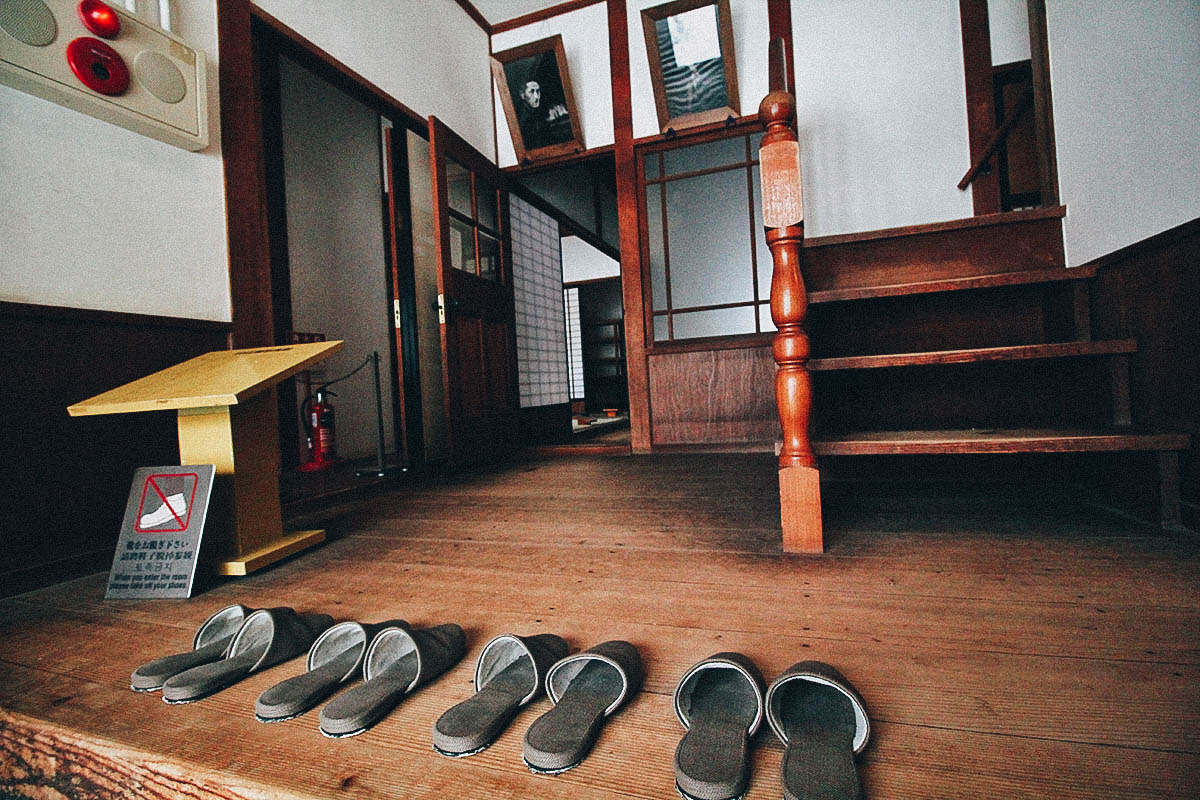 Ryuunji Temple (Sapporo c. 1893). In spite of their poverty, settlers would contribute large sums of money to build these temples because they looked to them for spiritual support.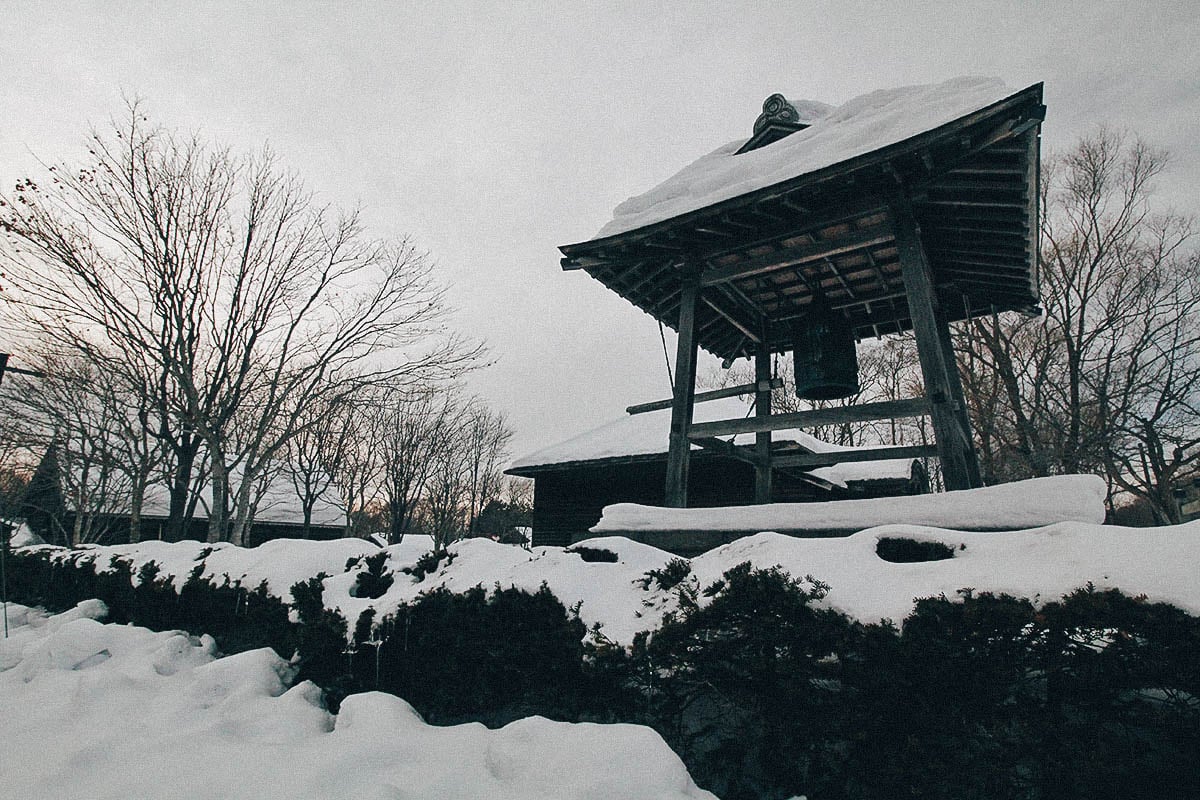 Urakawa Church (Urakawa c. 1894). This church was built by Puritan Christians in Kobe. Apart from being a place of worship, it was also used as a meeting hall and a school.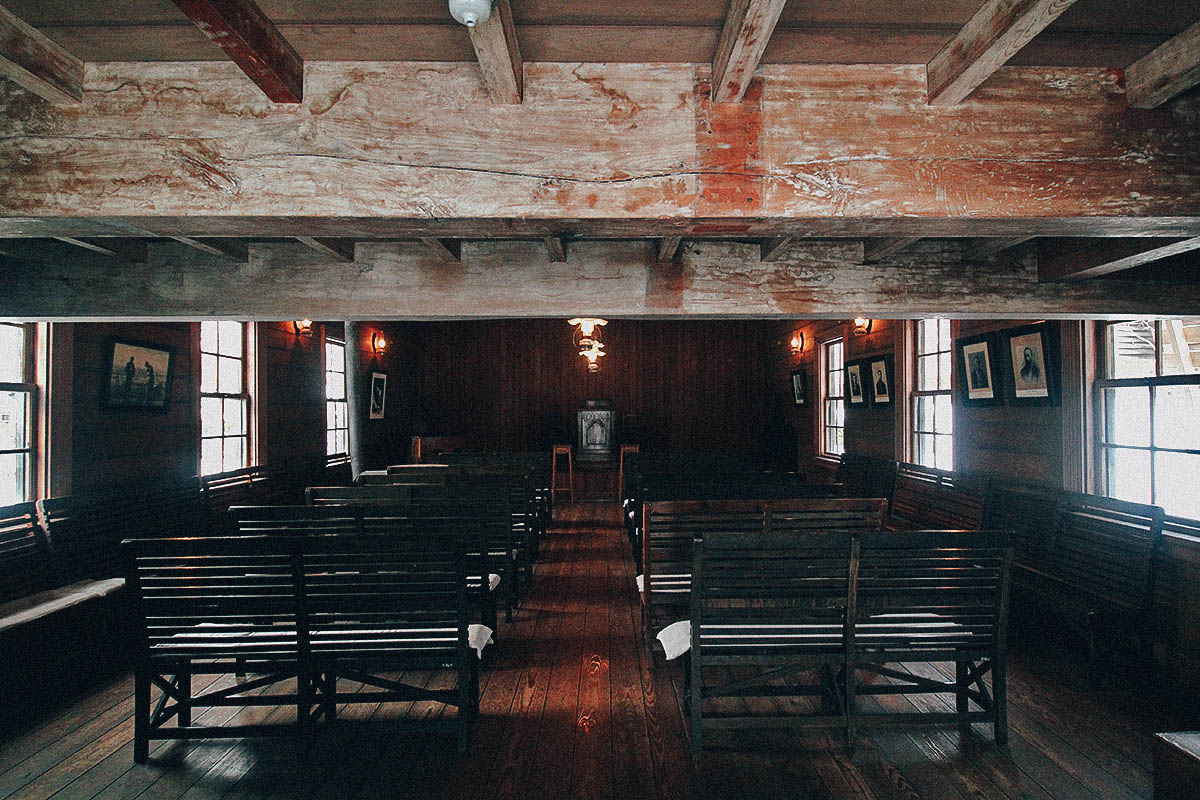 The Hokkai Middle School (Sapporo c. 1909) was the first private junior high school in Hokkaido.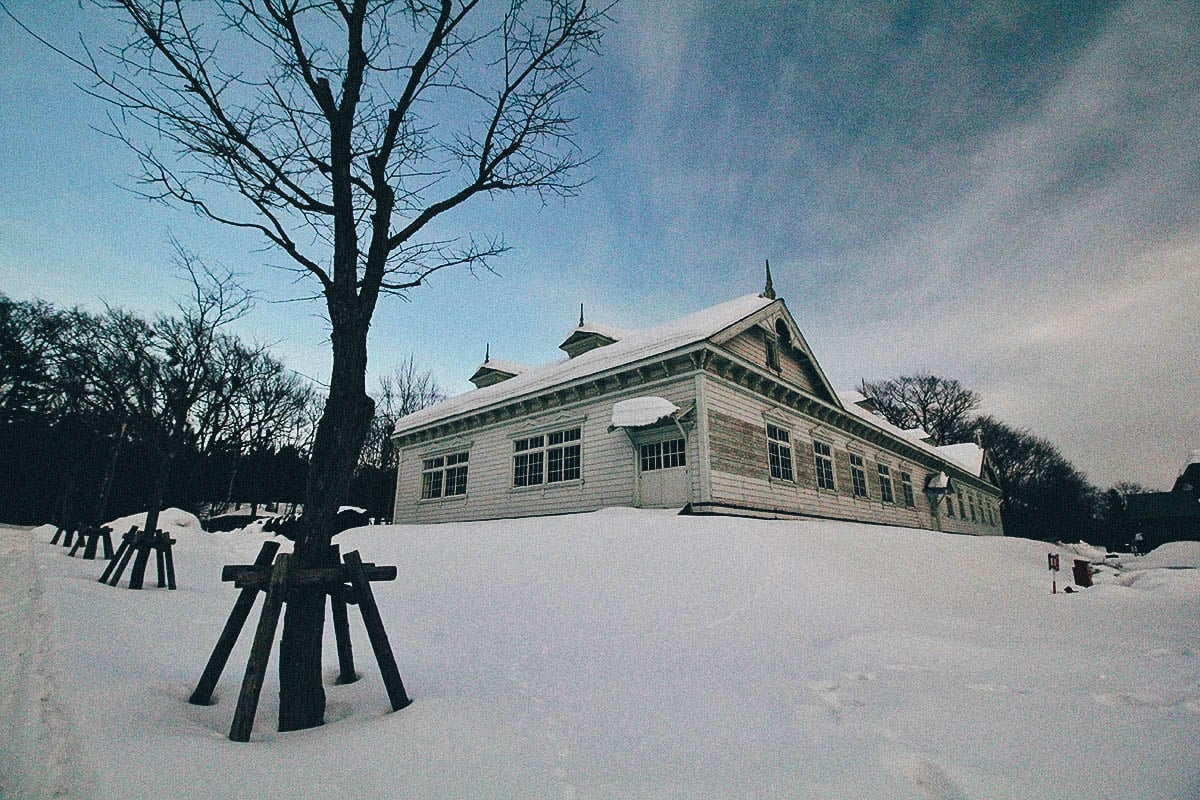 Mountain Village
Logging Railway Locomotive Shed (Oketo c. late Taisho era). There were probably no more than twenty tourists here at the time so the entire village was dead silent. It felt a little spooky to be honest, like the nameless creatures were watching my every move.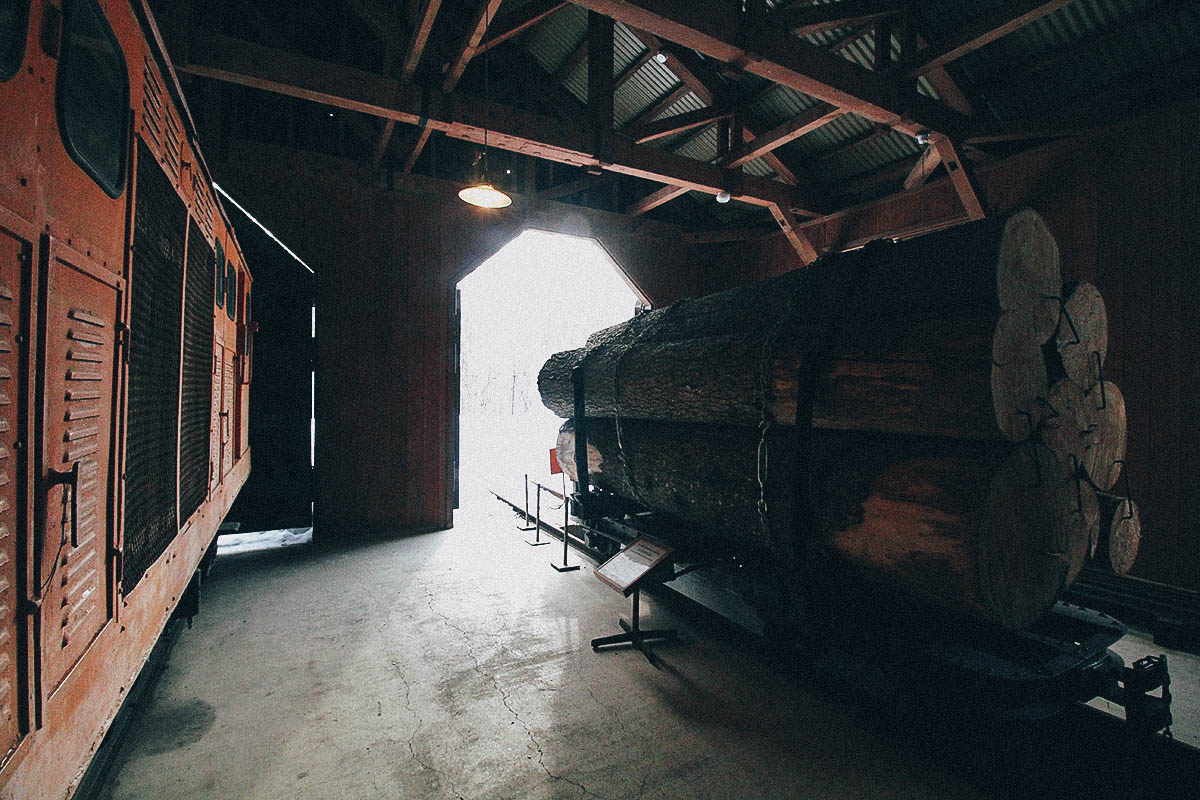 Woodcutter's Shanty (Shimokawa c. late Taisho era).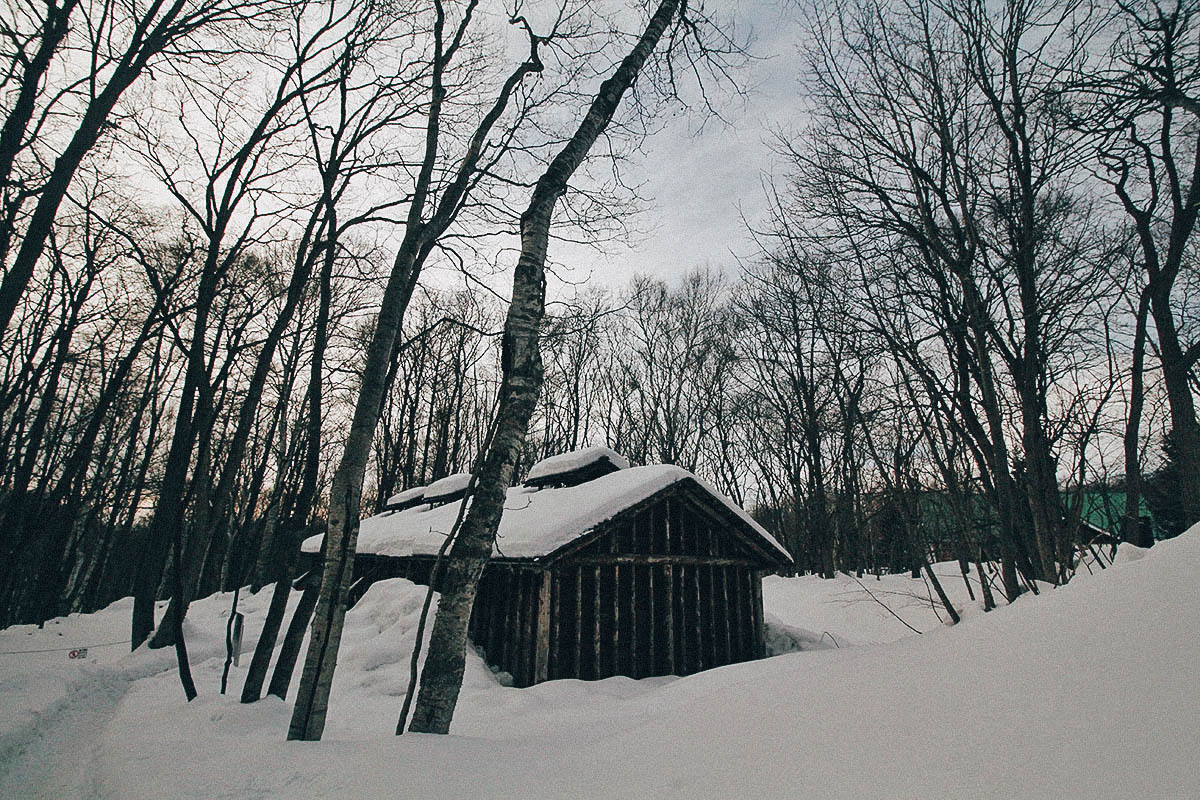 Inside the woodcutter's shanty. These shanties were temporary mountain accommodations for workers involved in tree felling, logging, yarding, or horse driving.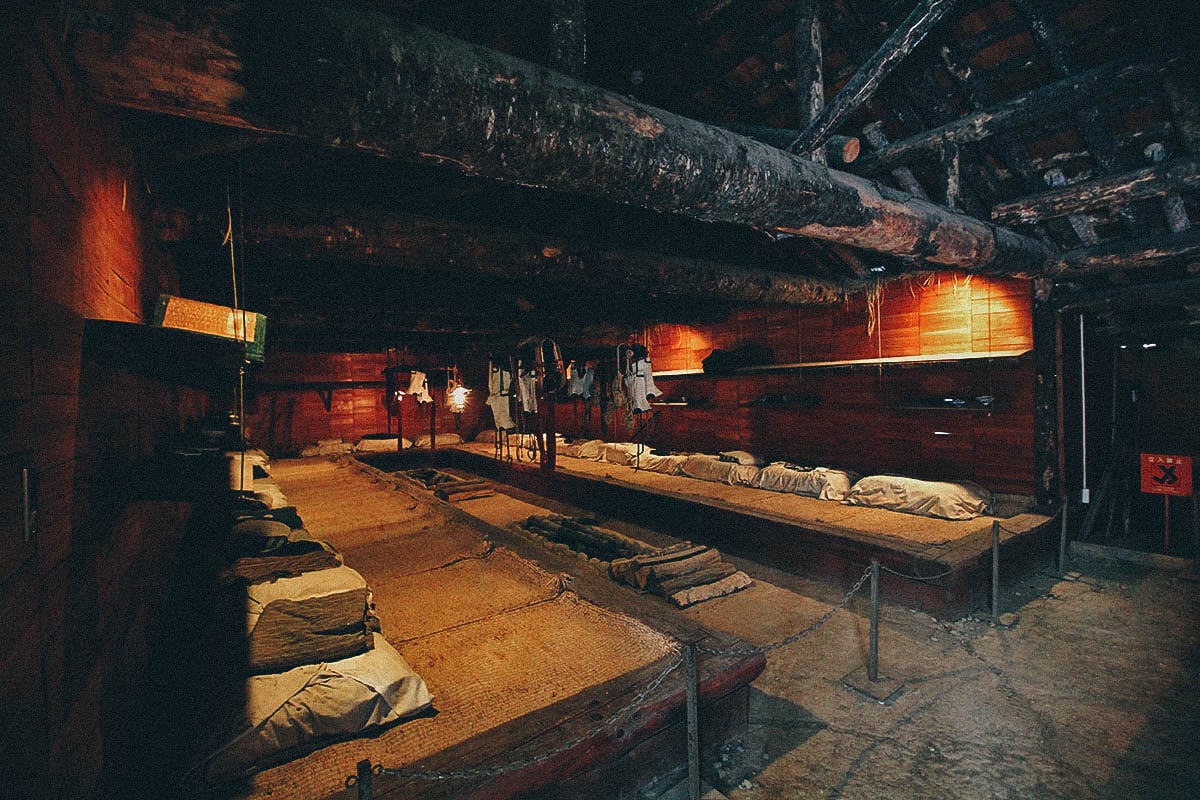 Farm Village
As if the period architecture and eerie stillness didn't make you feel displaced enough, they seem to have actors in costumes here as well. That man in the distance was wearing what looked like a steam locomotive driver's uniform. I'm sure the snow and absence of people had something to do with it, but walking around this village made me feel detached from reality.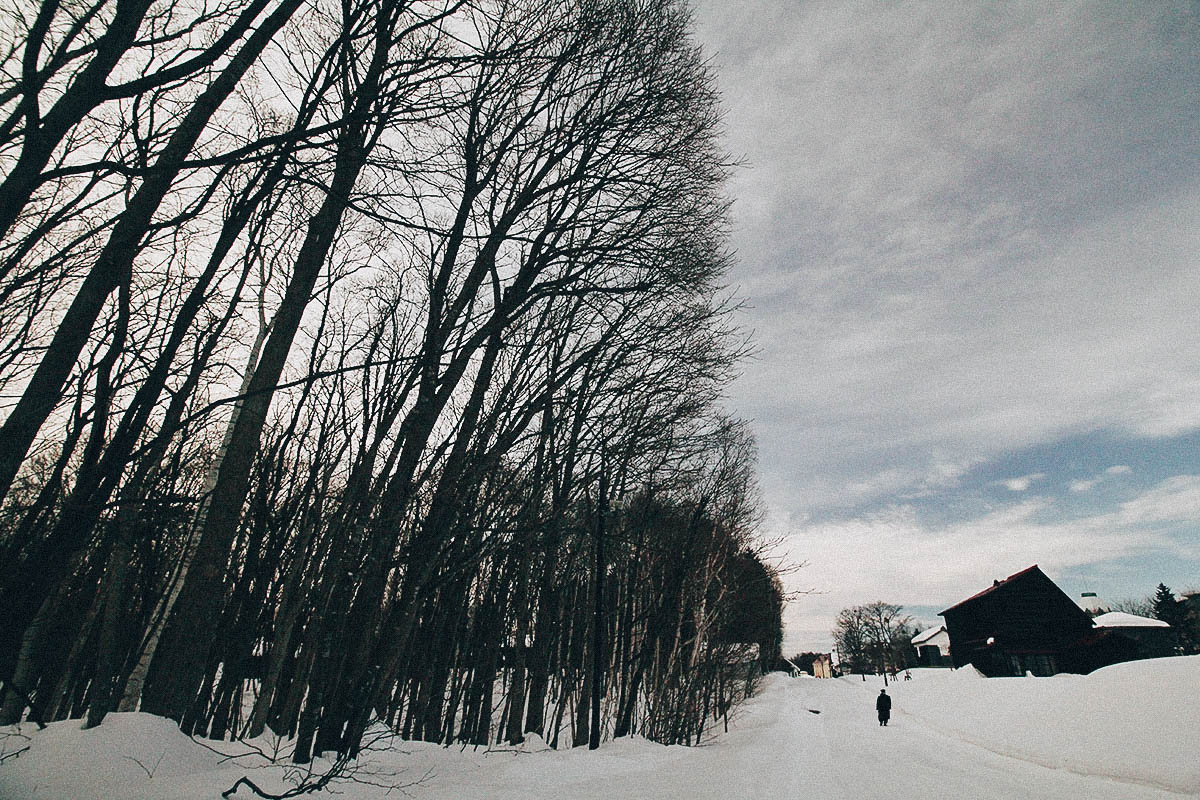 Making my way to the Farm Village. It was so silent here that the only sound I could hear was the crunch of my footsteps against the freshly fallen snow.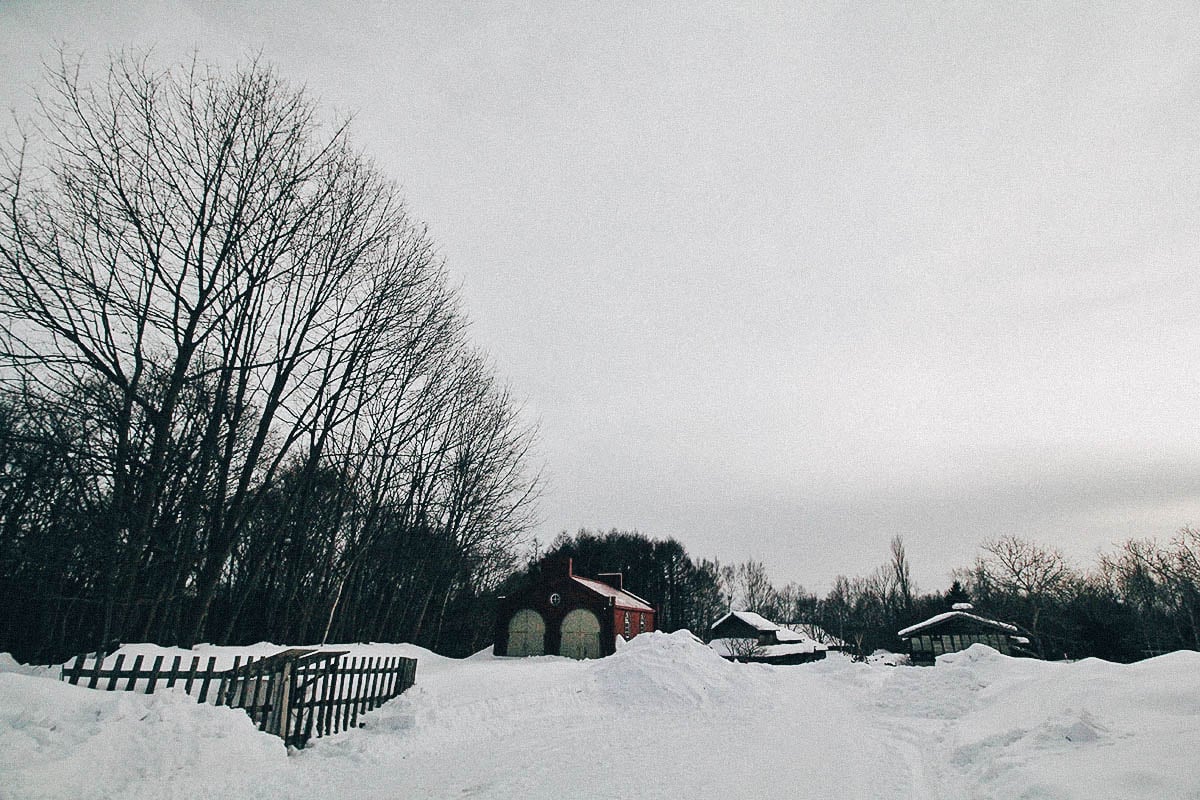 I was already a little jittery so walking into this building and seeing those two figures gave me a jolt! What made it even more startling was that one of the few tourists at the village today was in that far room. Seeing sudden movement like that, I thought I saw a ghost! 😆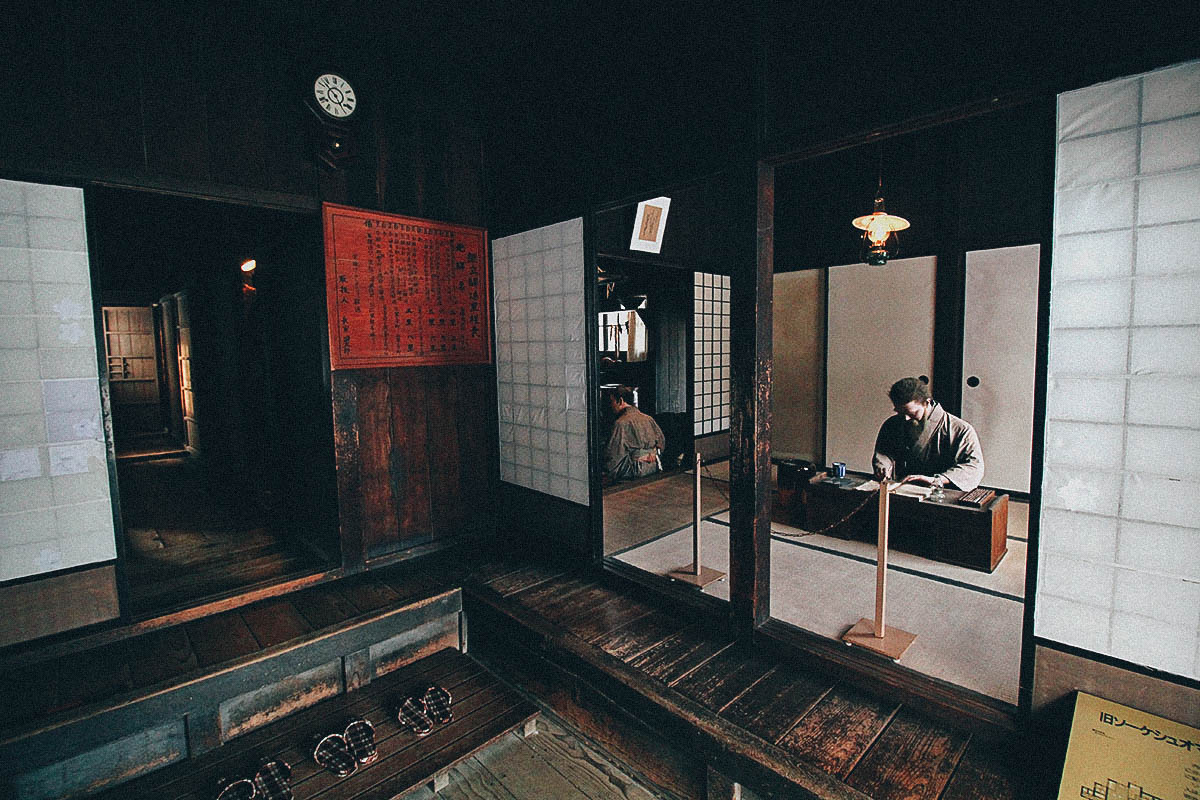 Hokuseikan Silkworm House (Urausu c. 1905). Silk was Japan's key export in the Meiji era. Silkworm houses like these produced seeds which were then shipped to sericulture farms. That red mailbox (?) looks striking against the black and white of the landscape.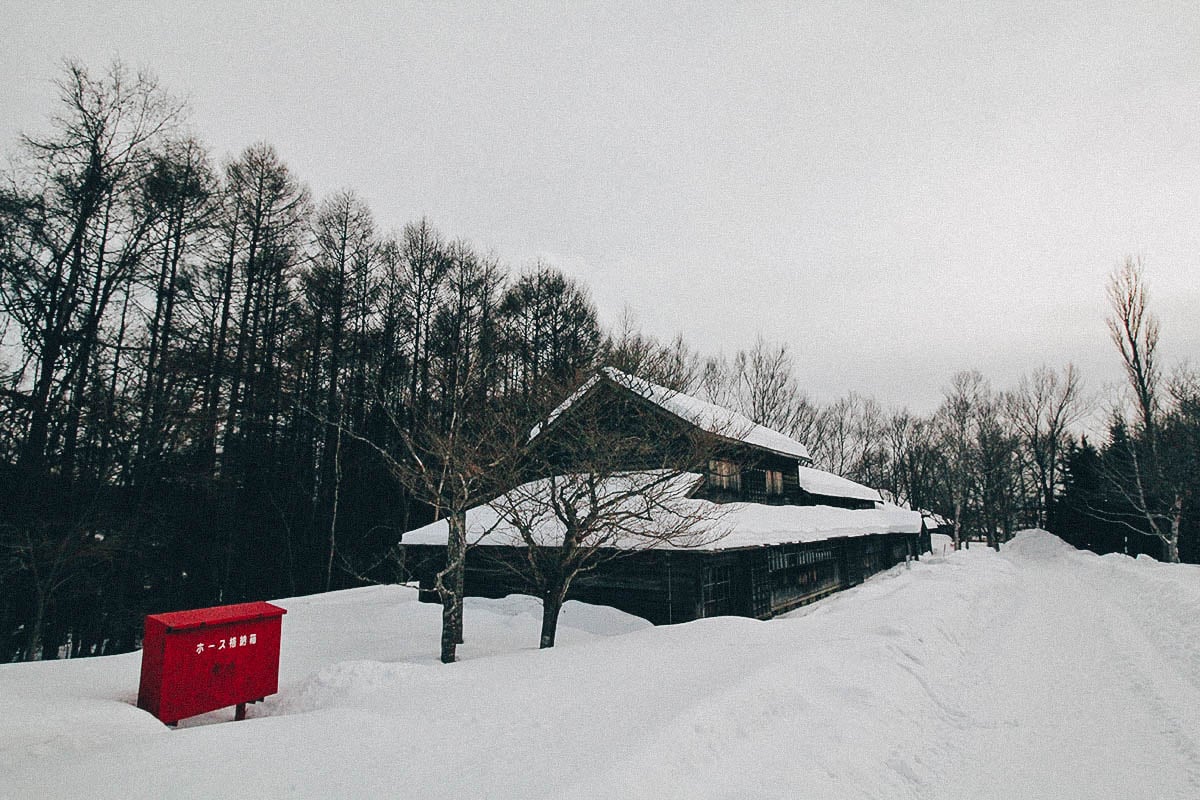 Another figure that made me feel uneasy. I was waiting for her head to turn and look at me.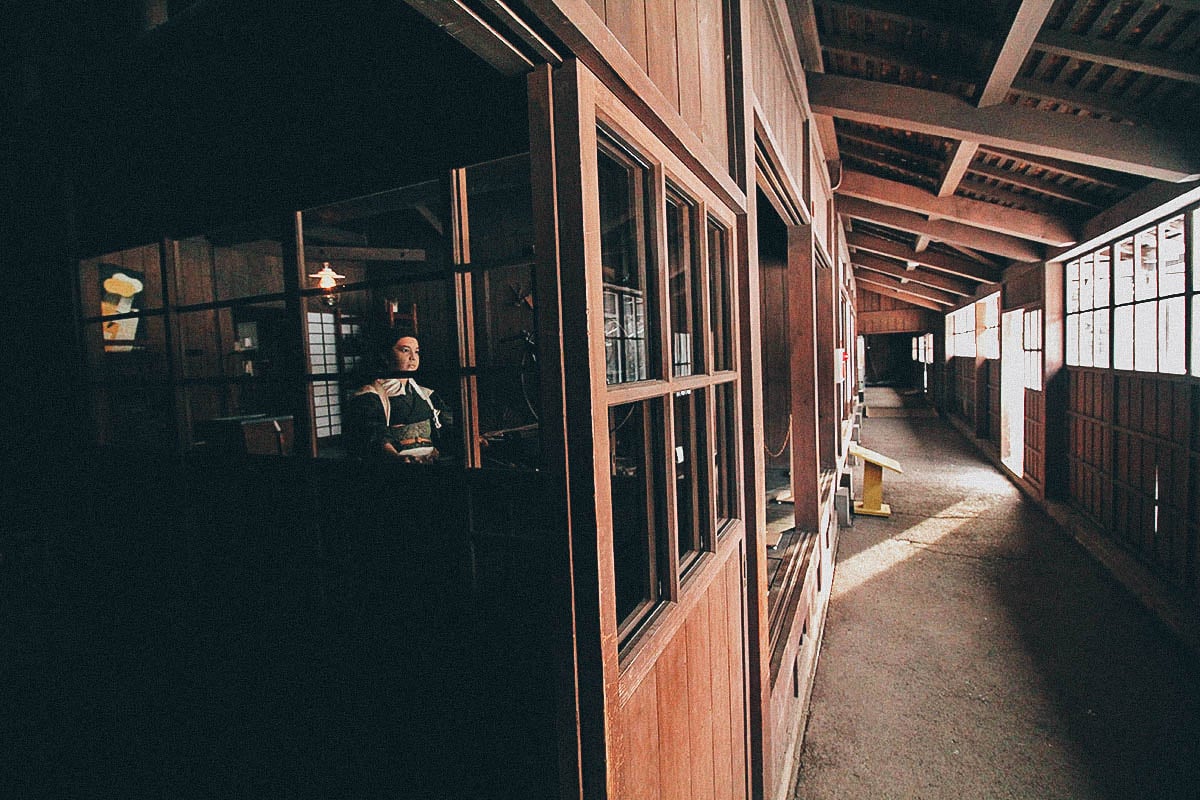 Not sure what these were. Something to do with agriculture maybe? If I remember correctly, I took this picture in the farm machinery shed.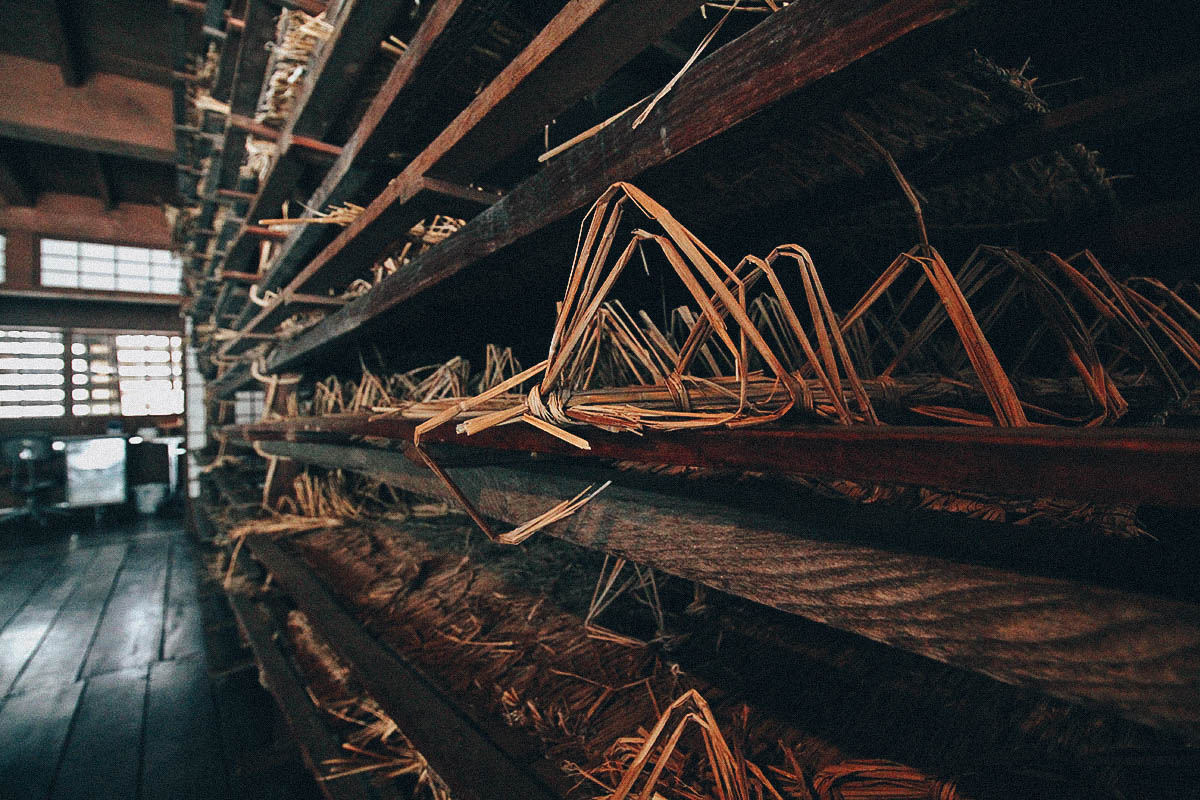 I don't know what these are either. They look like giant leche flan llaneras and a vintage takoyaki maker. 😆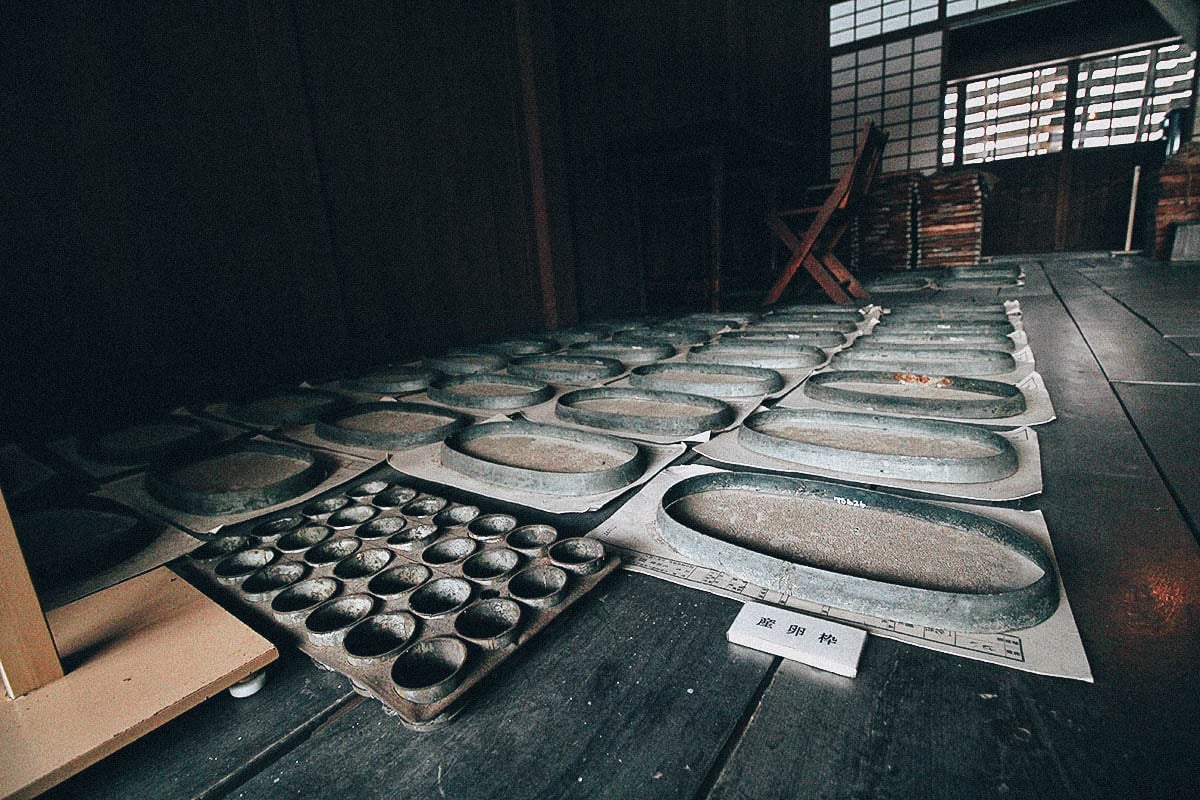 The Ogawa Family Dairy Barn (Sapporo c. late Taisho era) is one of the most striking structures at the village. Too bad you couldn't go inside.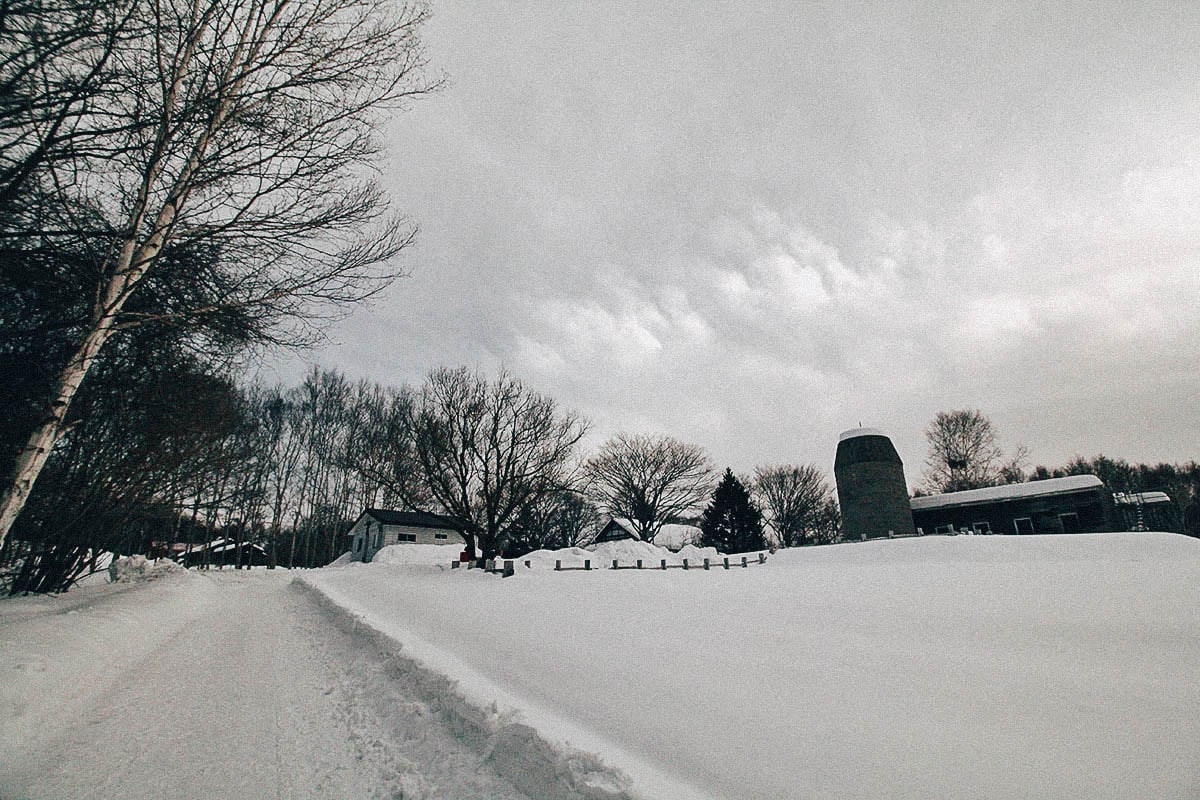 Shinano Shinto Shrine (Sapporo c. 1897)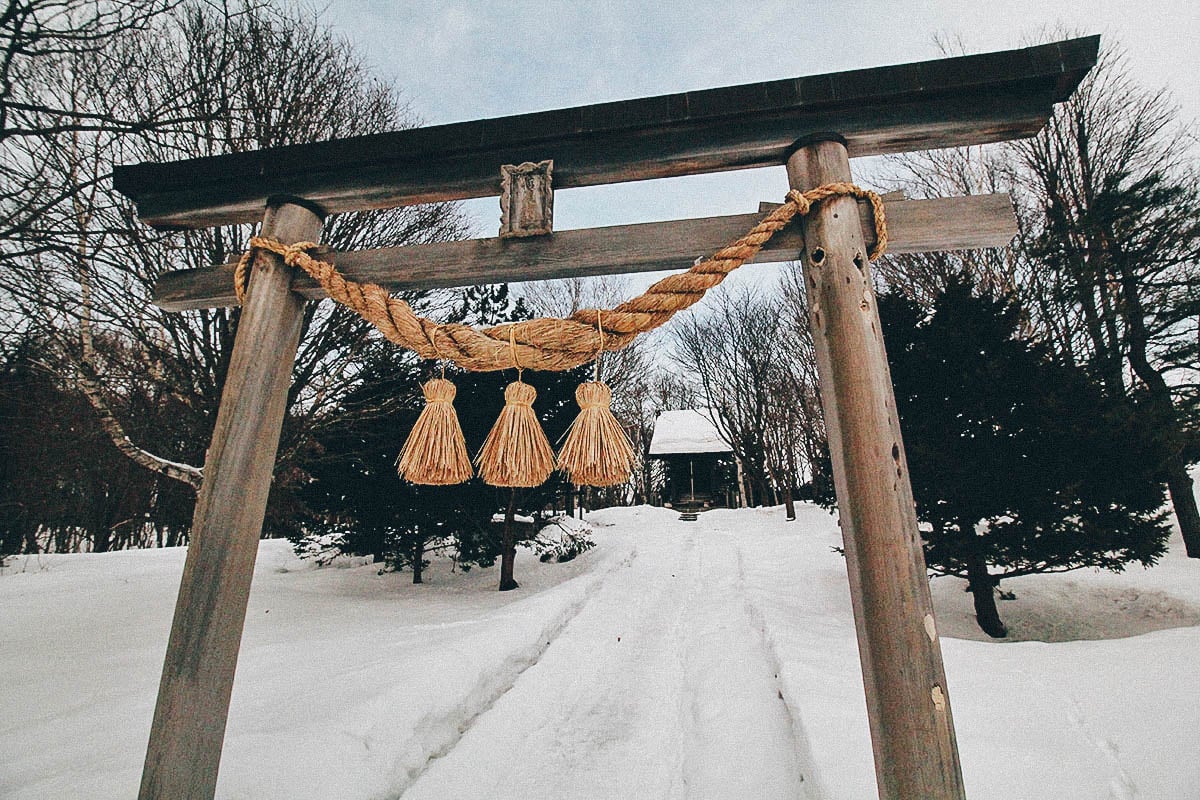 Fishing Village
Tsuchiya's Storehouse (Kumaishi c. 1887) and the Akiyama Family House (Haboro c. 1919) in the distance. This storehouse was built on the Sea of Japan's coastline. Standing against a mountain, half of the structure is on stilts and over water so boats could go under the storehouse to load and unload cargo through its floor.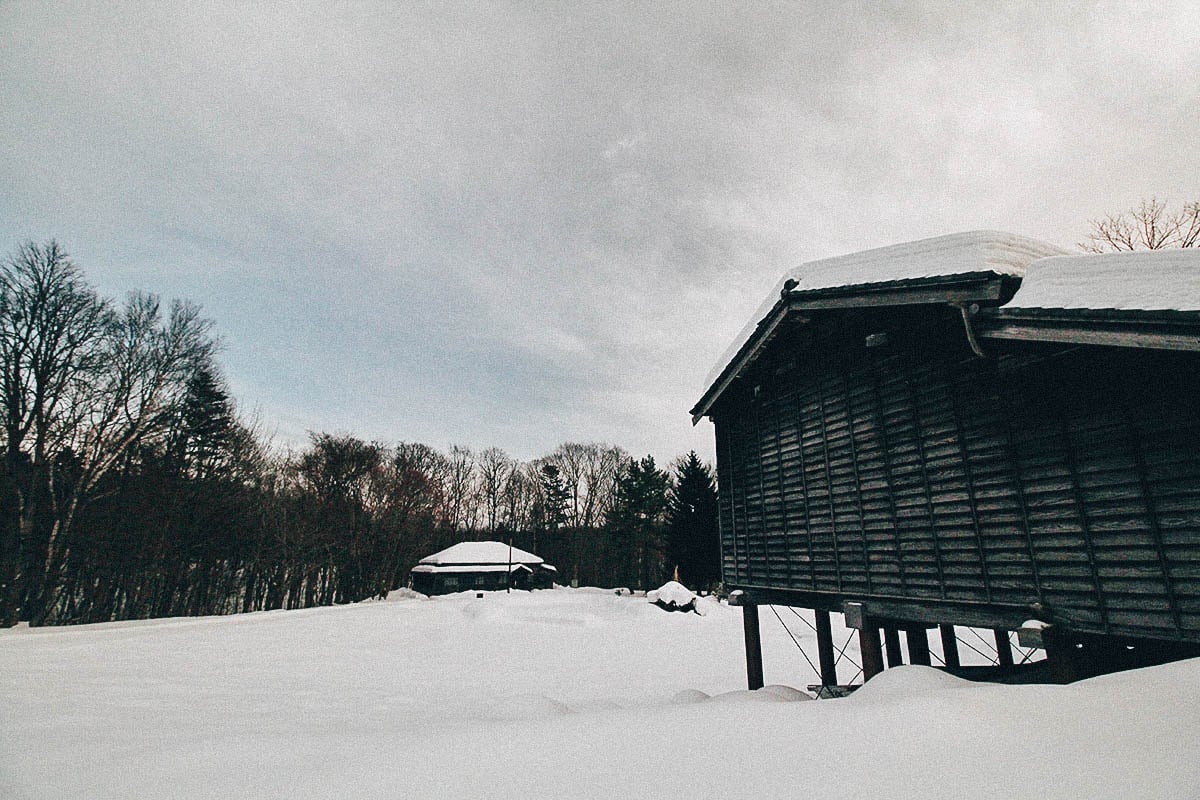 Steps leading up to the Herring Storage House (Shakotan Peninsula c. Meiji-Taisho period). This was used as a temporary storage house for herring and large fishing gear during the off-season.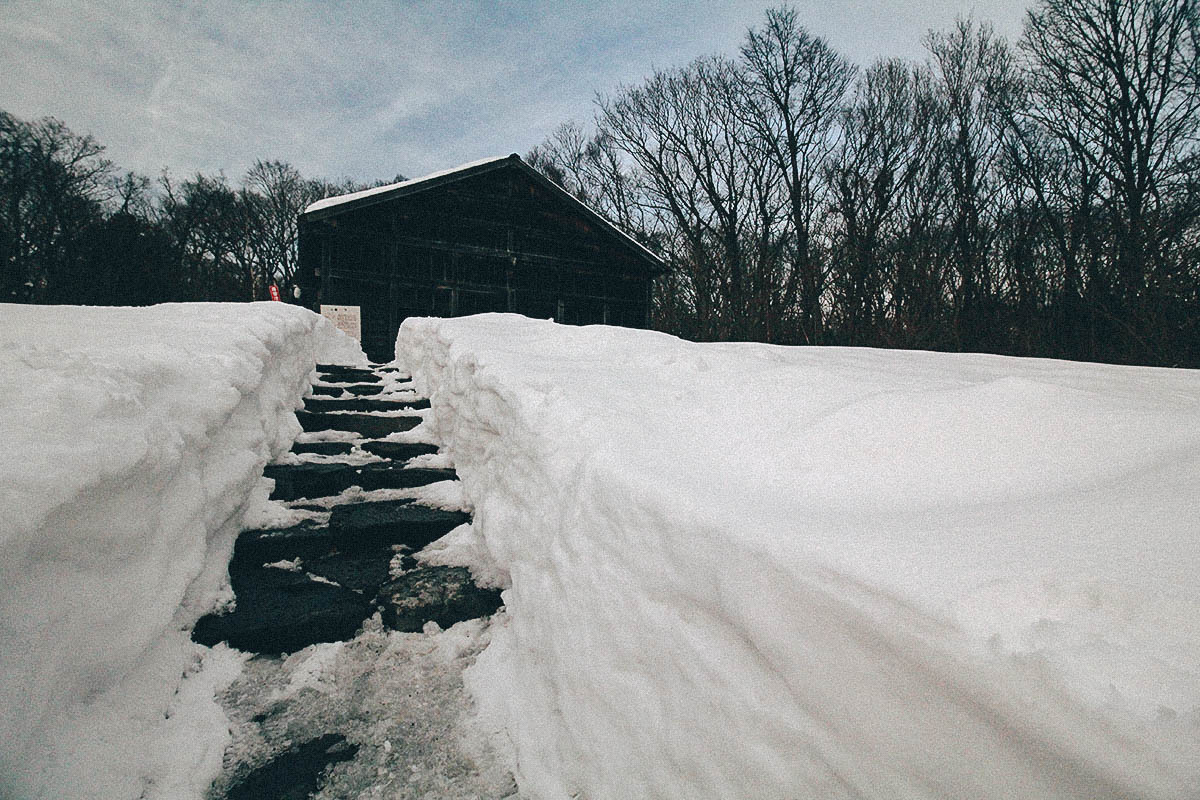 This structure was one of the biggest at the village. It's the Aoyama Family Herring Fishing Facility (Otaru c. 1919) which featured the family residence, fishermen housing, and other auxiliary structures like storehouses for rice and fishing equipment. The Aoyamas were a prominent fishing family from Otaru.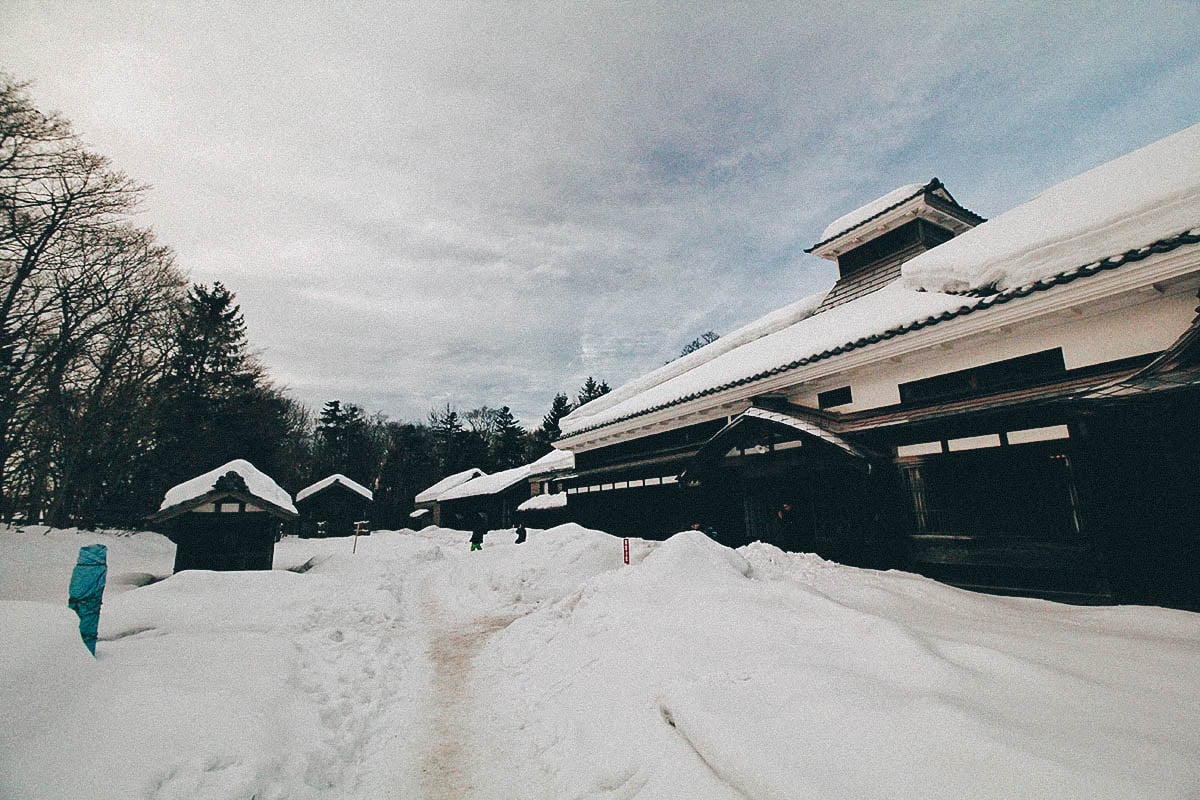 This looks to have been the Aoyama family residence.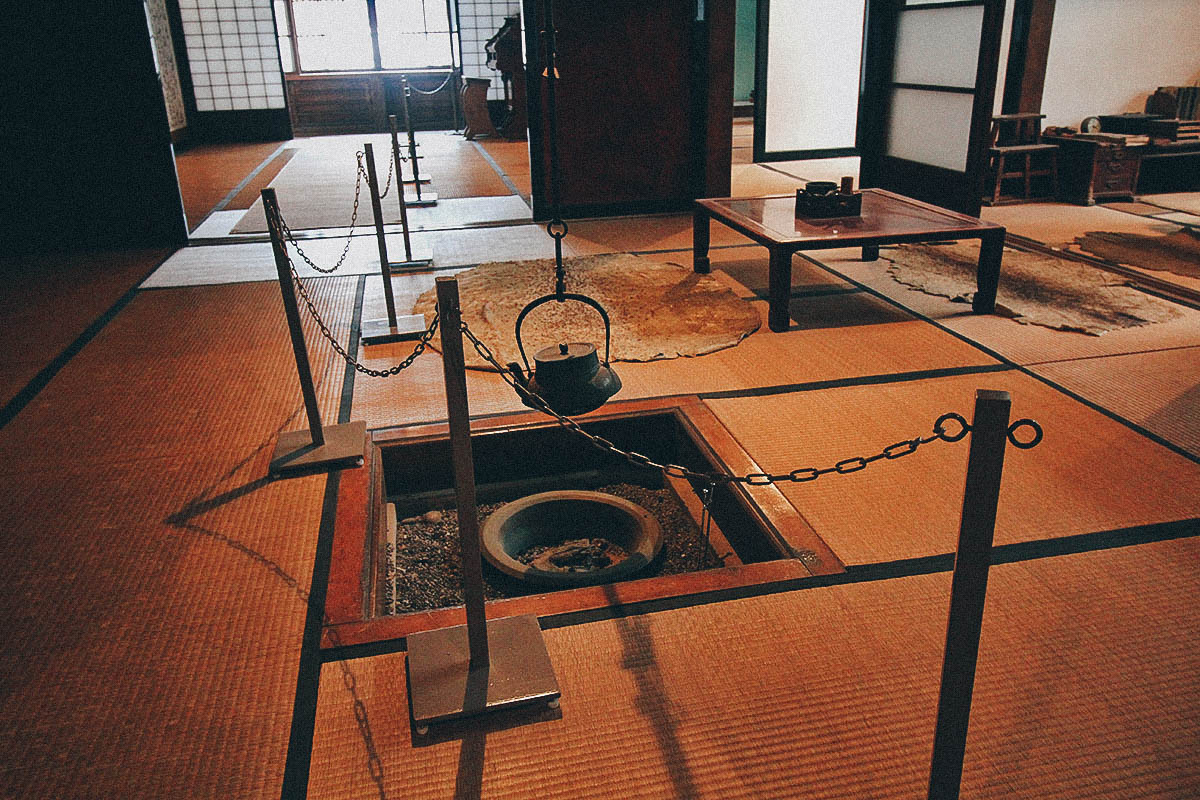 This was probably the fishermen's housing. Note the diorama of fish on sticks grilling over coals.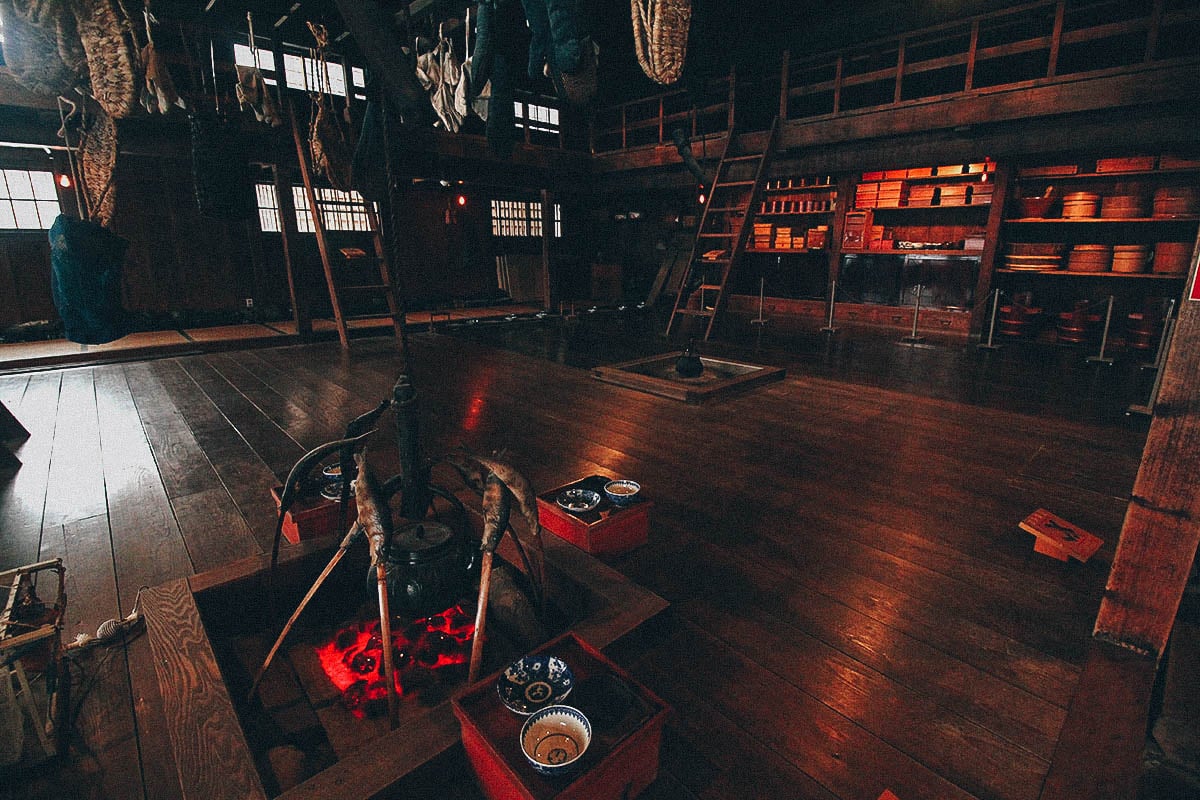 The facility had multiple storage rooms. Not to self: Kanji on distressed boxes make for interesting conversation pieces.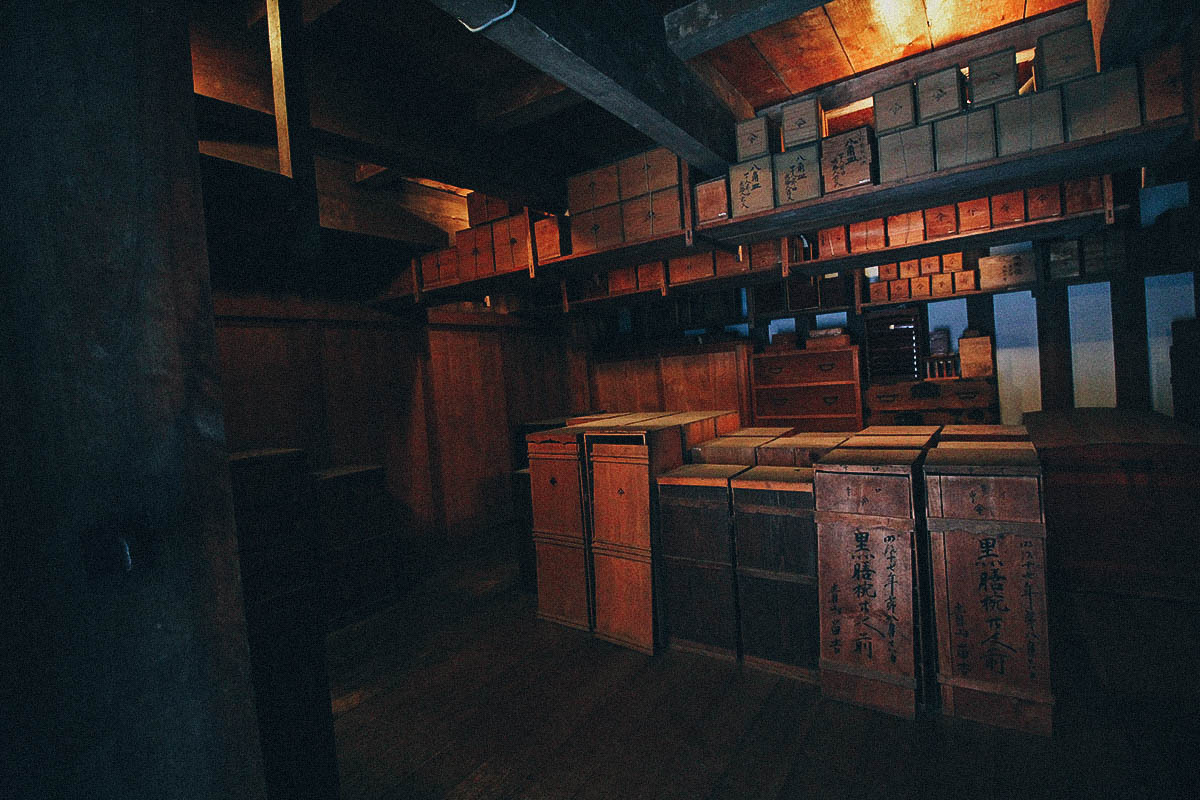 I have no idea what any of these things were but they were likely used for fishing, maybe even agriculture.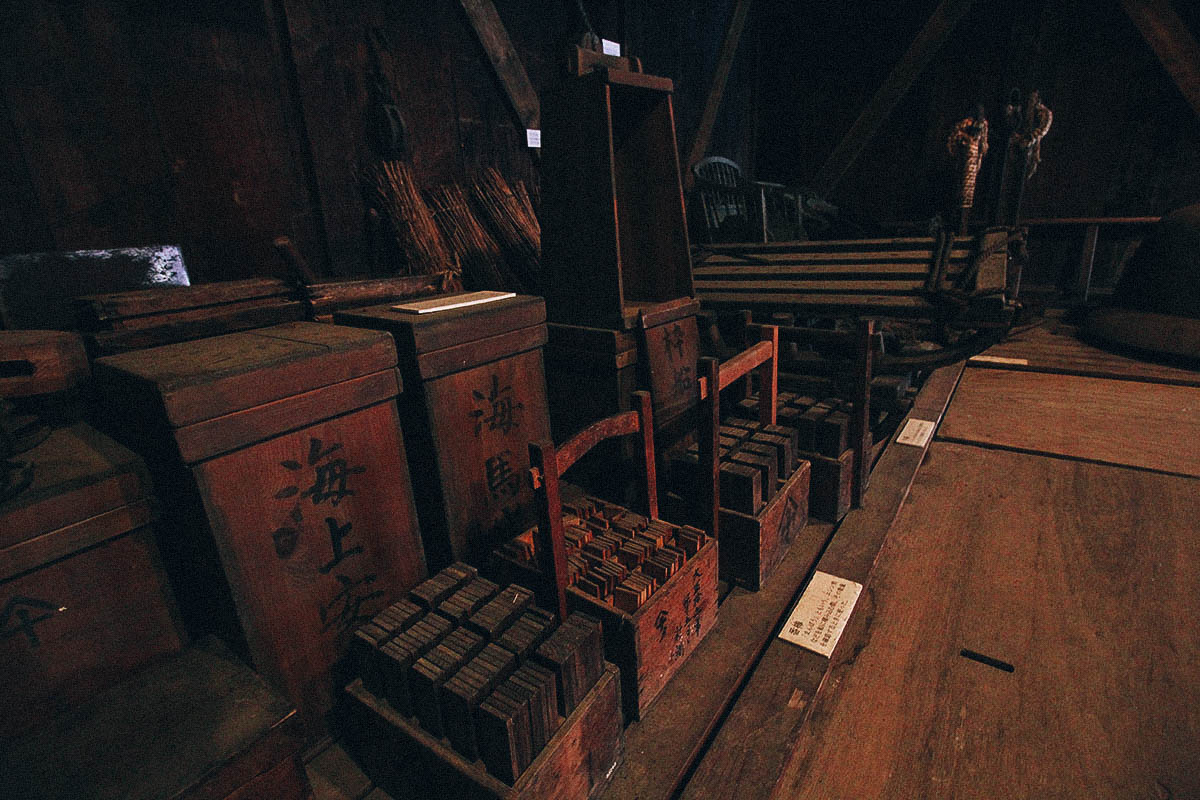 These look like anchors.

What are these things? They were big, about the size of an adult in fetal position, and took up the entire corner of this barn.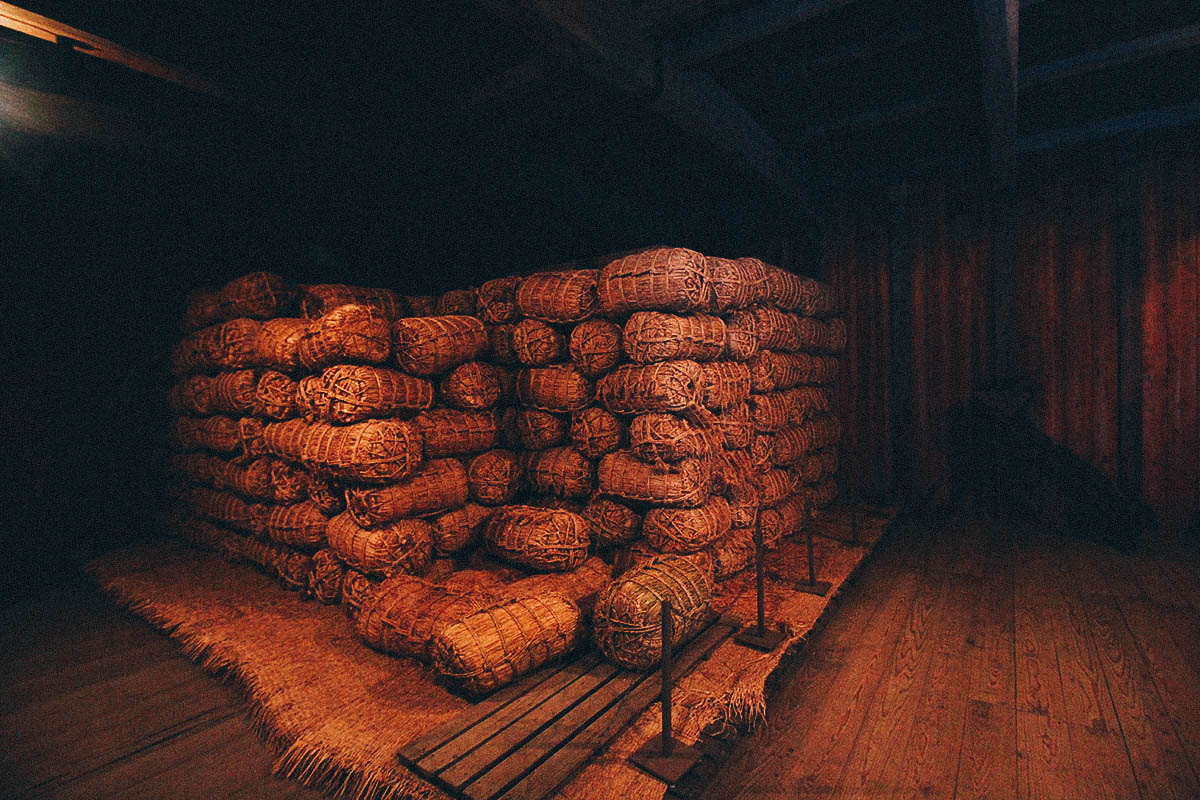 These look like antique glass buoys. Neat right?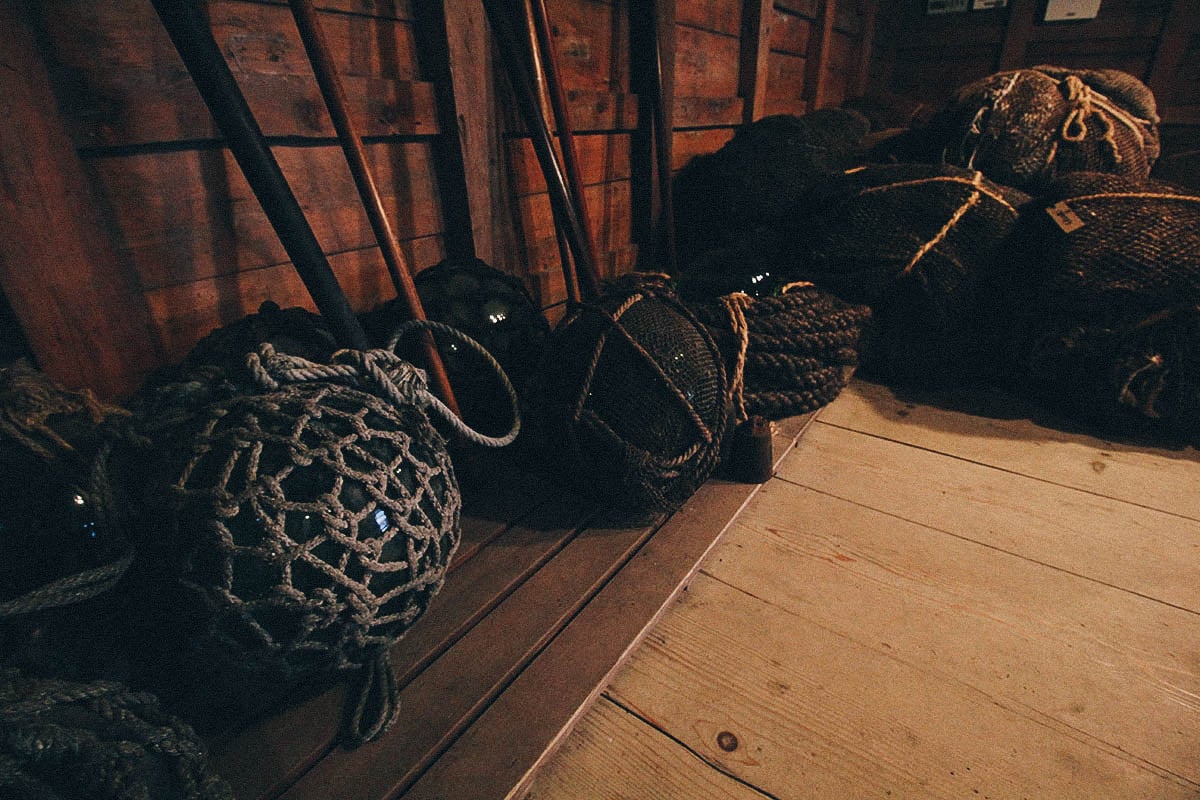 Nets. These are definitely fishing nets. 😉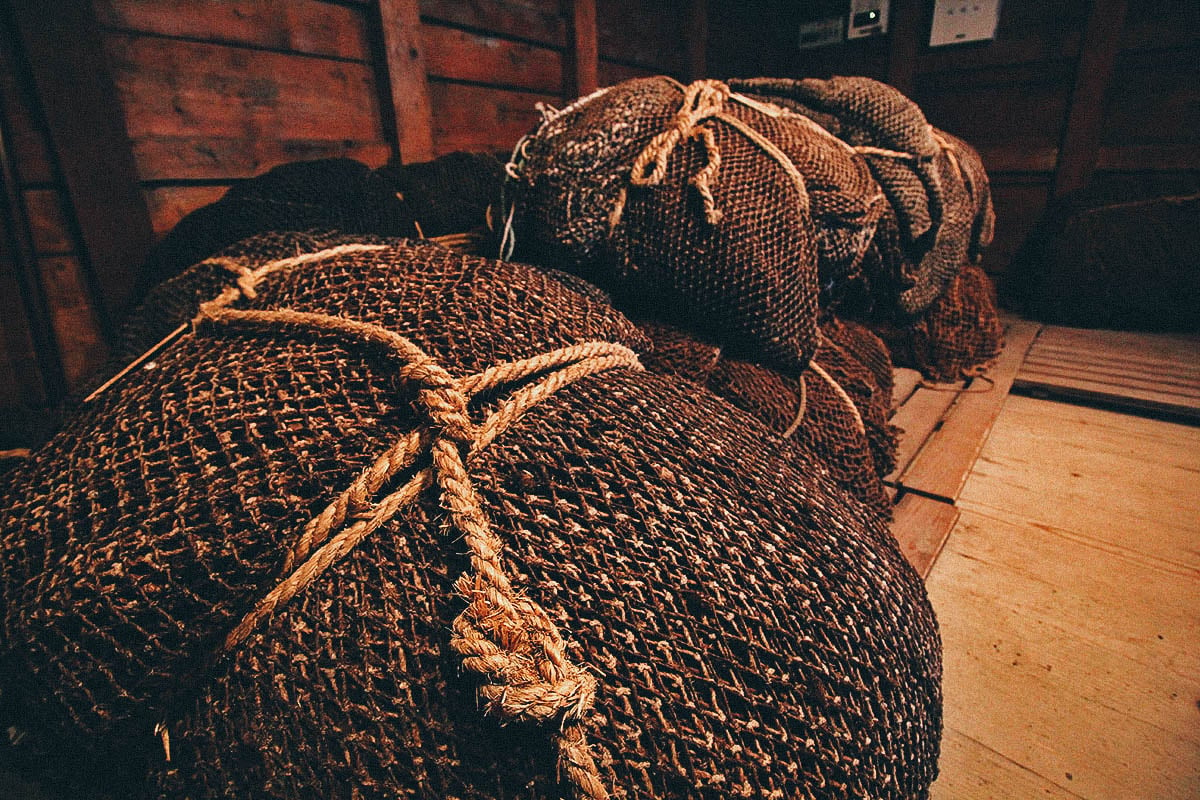 The other end of the Aoyama facility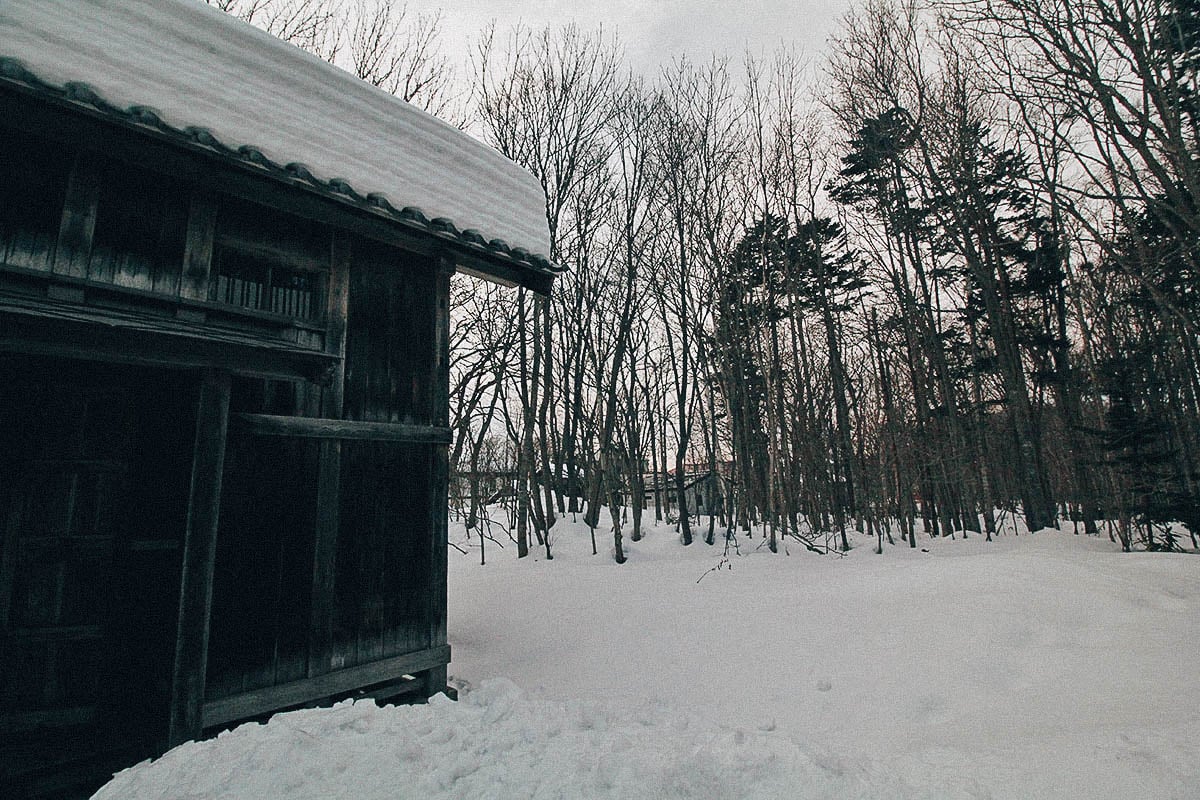 This was still part of the Aoyama facility. A stable for horses maybe?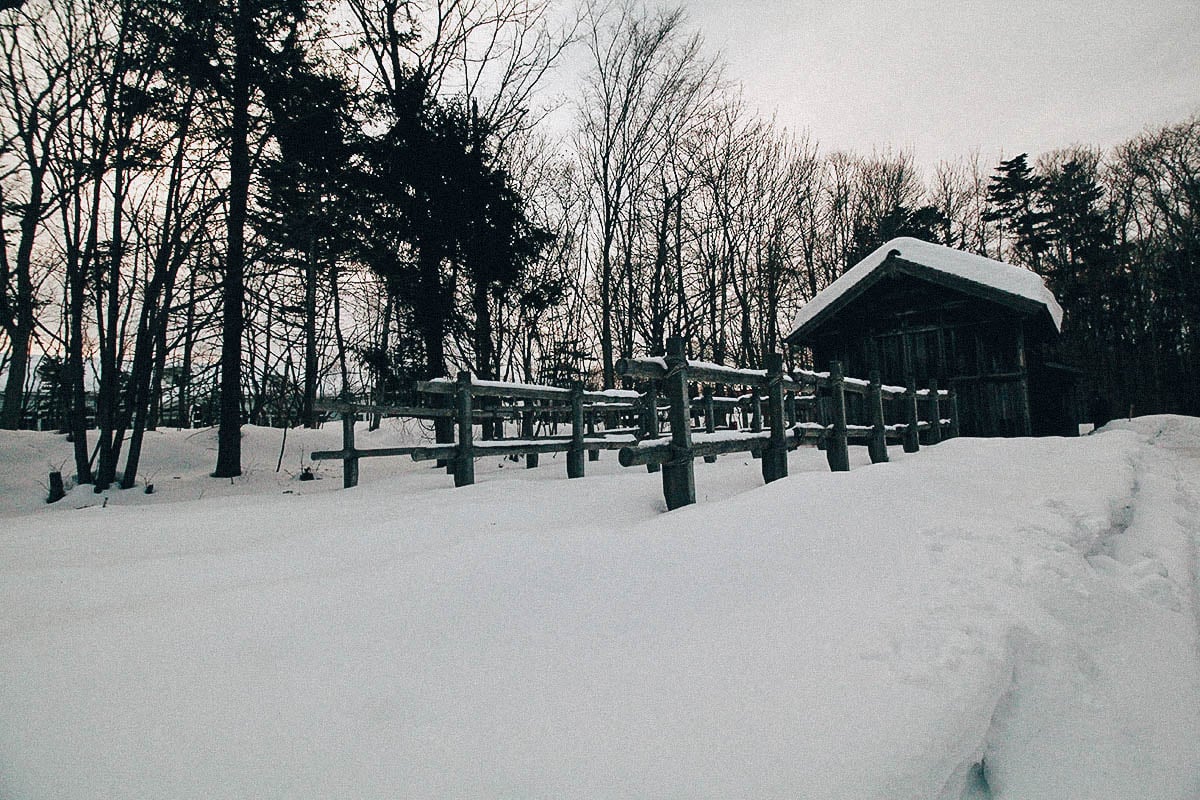 Aren't these cool? I would have loved to take home a set of these wooden skis and bamboo poles as a souvenir.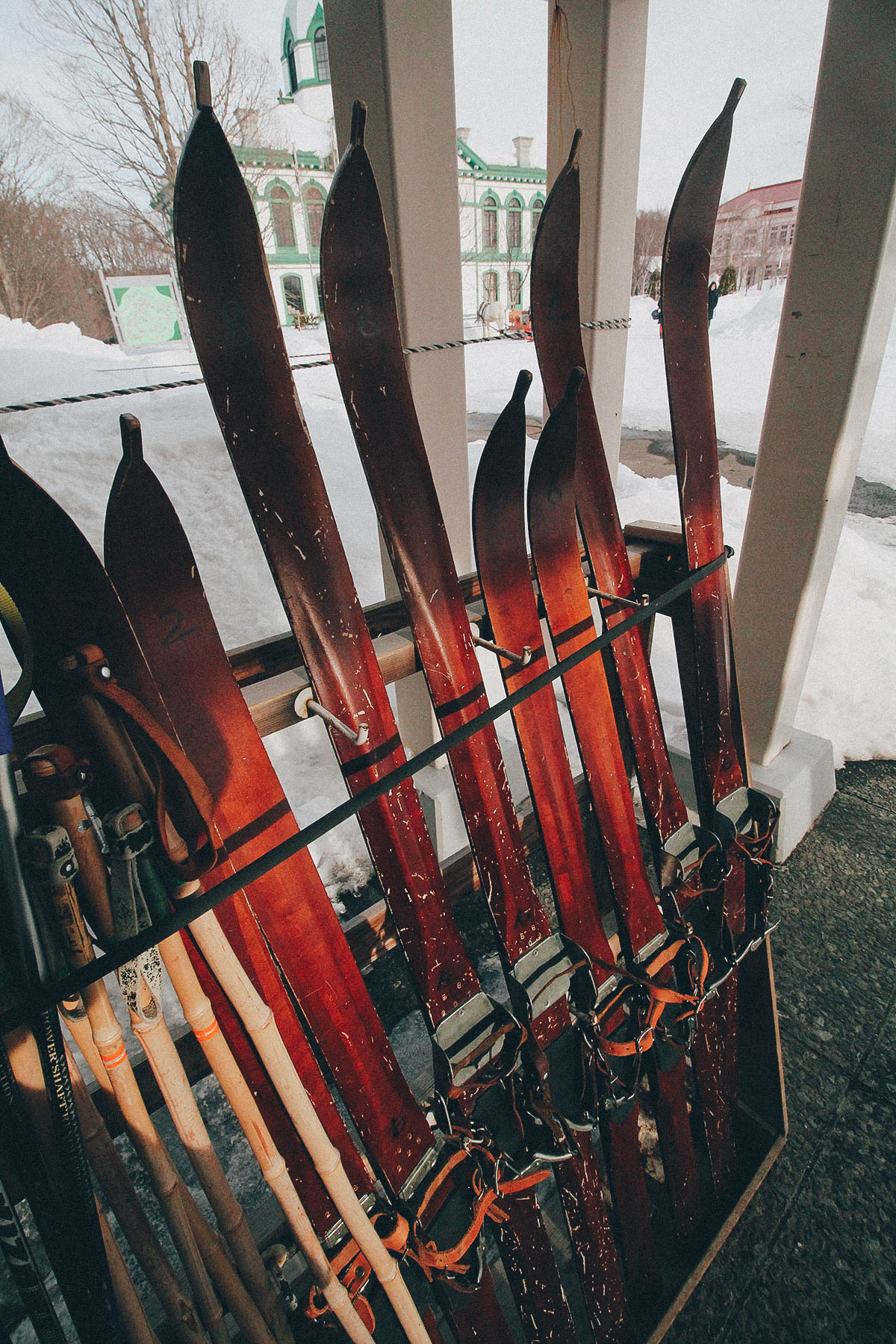 Like that jeep in the last scene of The Village, I walked out of the Old Sapporo Railway Station to find my bus waiting for me. It was time to go back to the 21st century.

The Historical Village is an interesting experience and a nice change of pace from the adrenaline-filled activities we had been doing in previous days (skiing, snowmobiling). With this being the week of the Snow Festival, the crowds in downtown Sapporo can be overwhelming at times so it felt great to have a place like this all to myself. It was just me, my camera, and 54 hectares of curiosities to explore. And no, there are no nameless creatures here. At least not that I saw. 😛

I arrived mid-afternoon so I probably spent a little over two hours at the village. It was enough time to see everything, though another hour would have been nice. My visit did feel a little rushed. If you enjoy museums and would like to make a whole day of it, then you'll be pleased to know that the Historical Museum of Hokkaido isn't far from here. It's one bus stop before the village. Admission to the village and museum is JPY 800 and 600 respectively, 1,200 if you get a combo ticket.

Ironically, I almost didn't visit this place because it was winter. I thought the buildings would be better appreciated when they weren't obscured by snow. But as it turns out, winter imparts a unique magic to the village that can't be replicated by other seasons. With several feet of snow on the ground and barely any people in sight, it really does feel like you're in a different world.
Historical Village of Hokkaido, Sapporo, Japan
Historical Village of Hokkaido Foundation, Konopporo 50-1, Atsubetsu-cyo, Atsubetsu-ku, Sapporo, Hokkaido, Japan 004-0006
Tel: +81 11-898-2692
Email: [email protected]
Admission: JPY 800
OPERATING HOURS:
Mon-Sun, 9AM-5PM (until 4:30PM from October to April)
Admission ends 30 mins before closing
Closed Mondays from October to April
HOW TO GET THERE:
Take the JR train to Shinrinkoen station. Once you go through the turnstiles, don't exit the station through the doors in front of you. Instead, turn right and make your way to another exit at the back of the station. The bus stop to the Historical Village of Hokaido is there. Buses run between 8:31AM only until 2:08PM and there are about 1-2 buses every hour. The village is the last stop, about 5-10 minutes away, and the fare each way is JPY 210.
For more travel tips to Sapporo in winter, check out our Sapporo Winter Travel Guide.