Ryokan Muntri: A Charming Boutique Hostel in George Town, Penang, Malaysia
George Town is picturesque. It's got the largest collection of pre-war buildings in Southeast Asia so it's teeming with character and charm. Many of the buildings have been restored and converted to guesthouses and this little gem on Muntri Street is one of them.
To be honest, it isn't hard to find a good place to stay in George Town. The city is inexpensive as a whole. Walking around town, you'll find plenty of charming boutique hostels like this one. But if you want a good, inexpensive place that's well-located with stellar reviews on TripAdvisor, then Ryokan Muntri merits serious consideration.
Ryokan Muntri Boutique Hostel
Ryokan Muntri is a TripAdvisor Certificate of Excellence awardee. It's located on Muntri Street which is said to have some of the best preserved examples of "Straits eclectic-style architecture" in George Town. I don't know anything about architecture but the Straits eclectic-style is described as a fusion of Eastern and Western styles that was popular during a period of affluence in Penang. You'll see more examples of it on an upcoming post about George Town's heritage houses.
As you probably already know, George Town is known for its street art, some of which you can see by the hostel entrance below. One of its most famous murals — "Little Girl in Blue" aka "Kung Fu Girl" — can be found just a few houses down from here.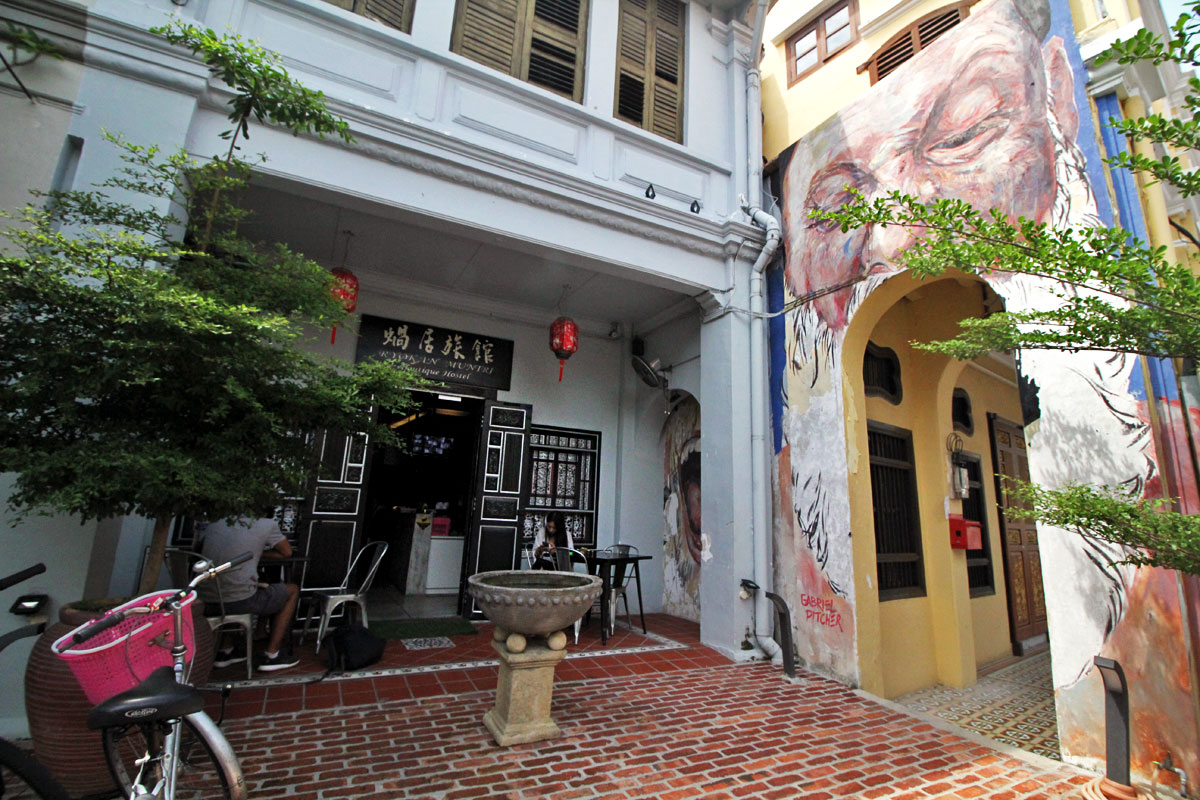 Lobby
Hostel lobby and breakfast area. When we stayed in June of 2016, we paid RM 158 per night for a private room which included breakfast for two. Not bad!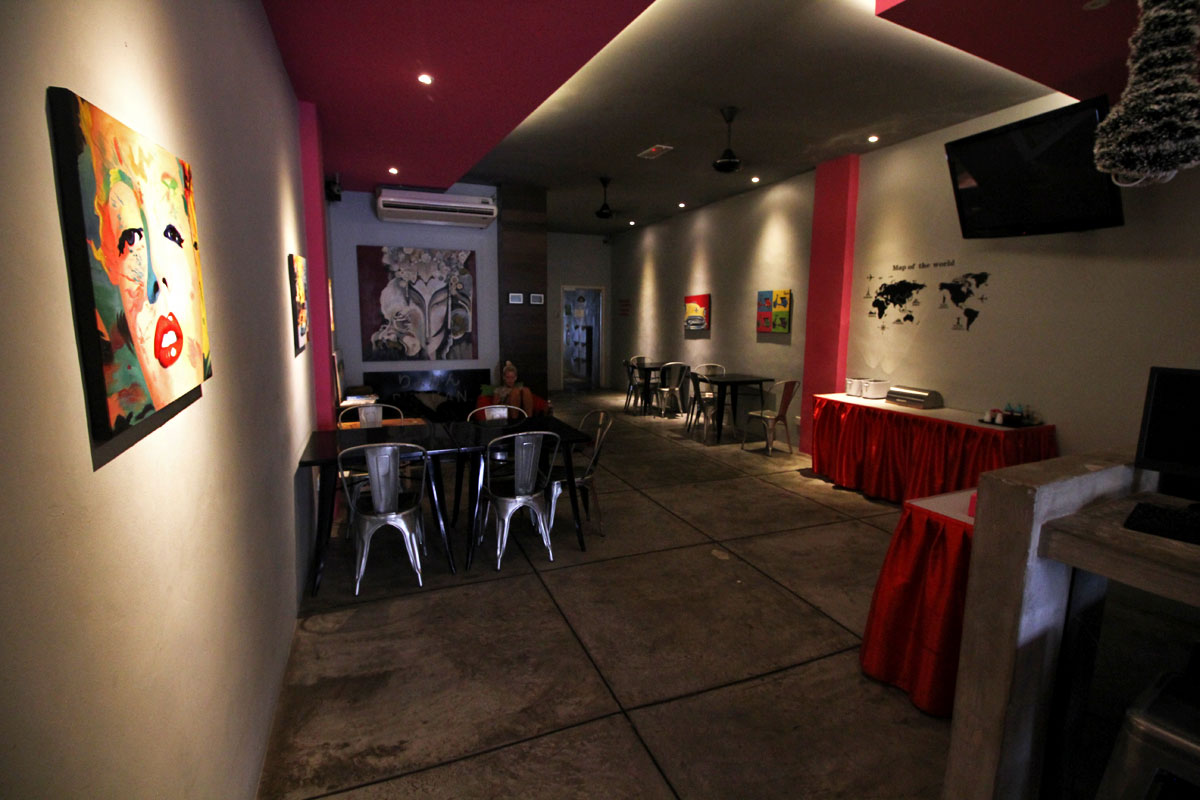 Breakfast counter top and beanie bags for lounging. Ryokan Muntri seems to be popular with long-term travelers. These areas almost always had guests either working or watching movies from their laptops. They'd frequently hang out at the two tables outside as well, either reading books or drinking beer, even playing guitar. 🙂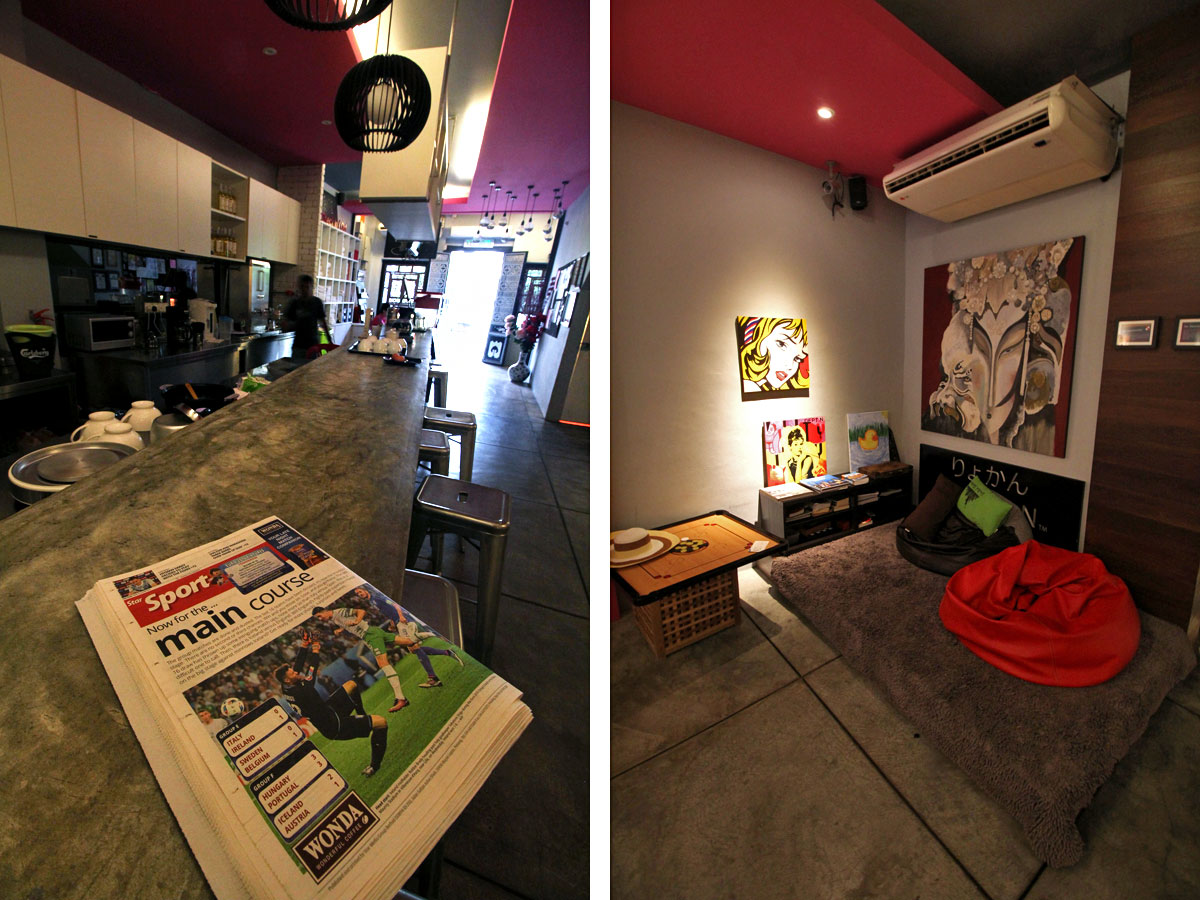 Our room was on the first floor. I couldn't go upstairs but I believe all the dorm-style rooms were on the second floor. For security reasons, you could only access this hallway (or the second floor) via a scanner attached to your room key. That's probably why they ask for a RM 50 deposit upon check-in. You'll get it back upon check-out so be sure to keep the receipt (and don't lose the key!).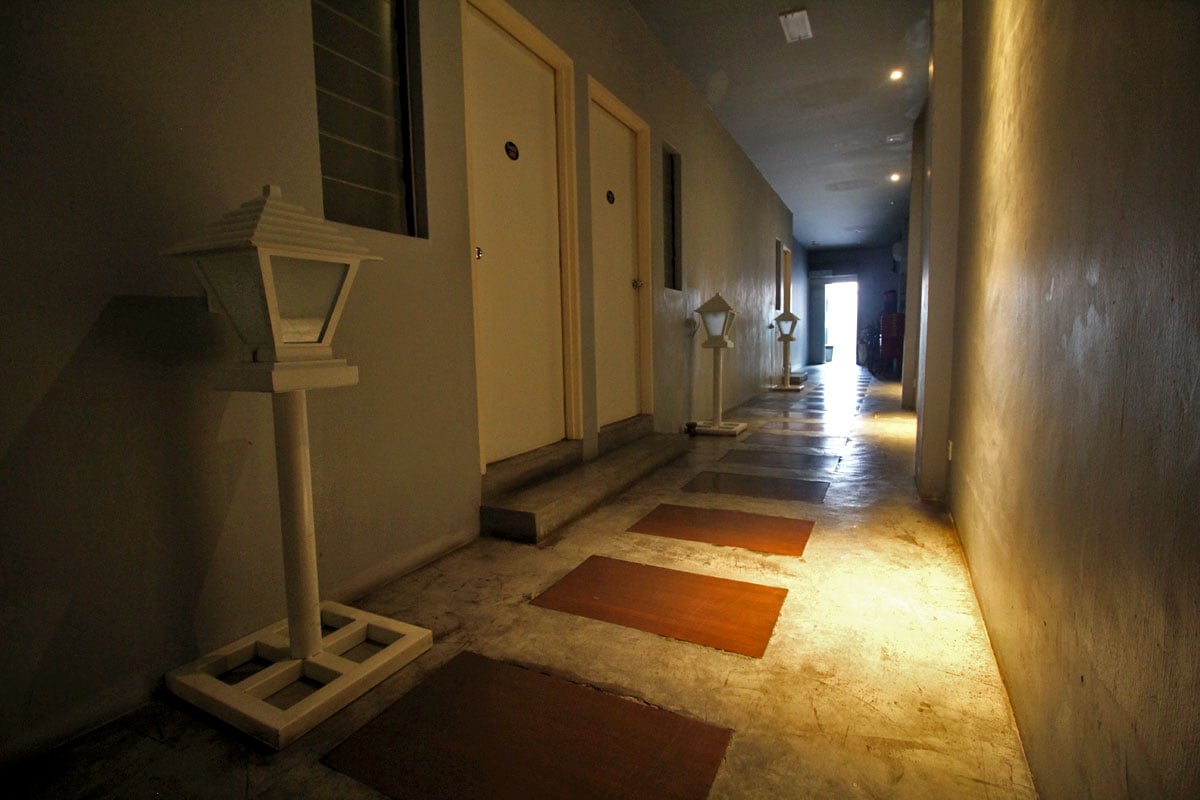 The Room
Cute right? We loved our room. It was clean and comfortable with good wifi and cable tv, though most of the channels showed only Malaysian programs. Housekeeping provided fresh towels and two complimentary bottles of water everyday.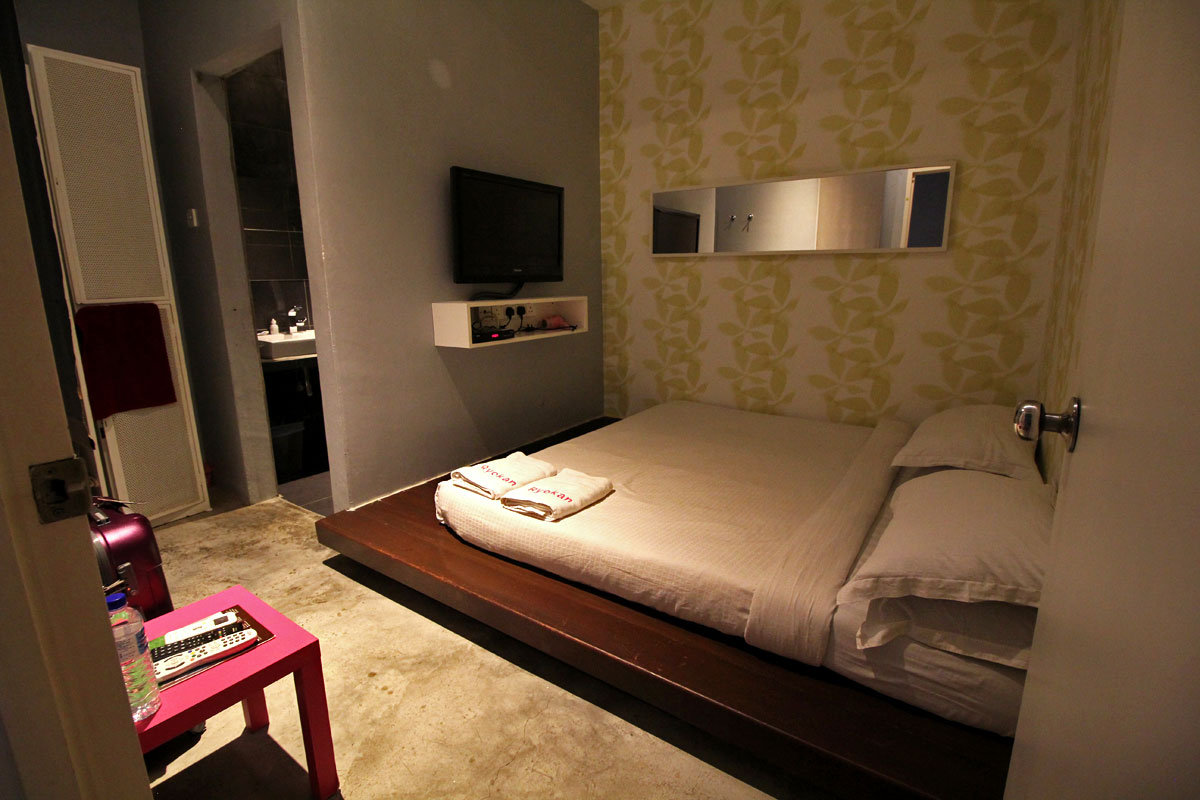 Big comfy bed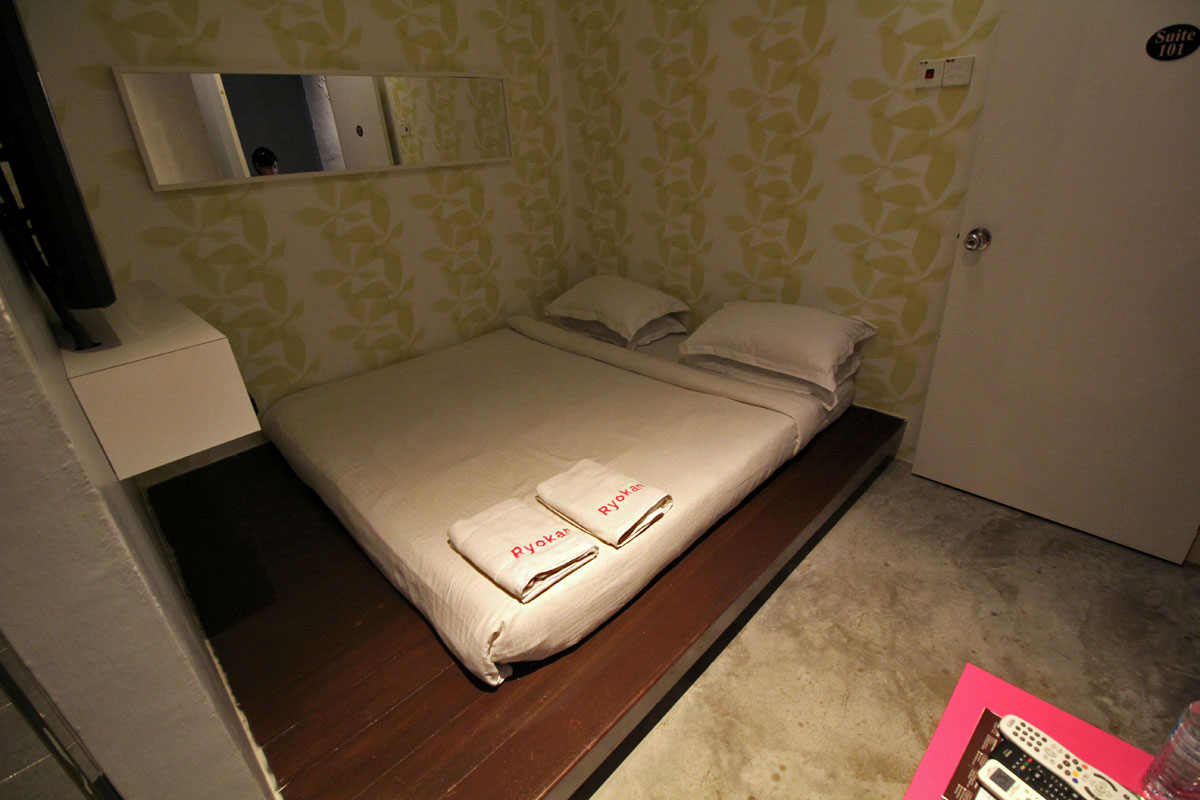 Ample closet space and a spacious clean bathroom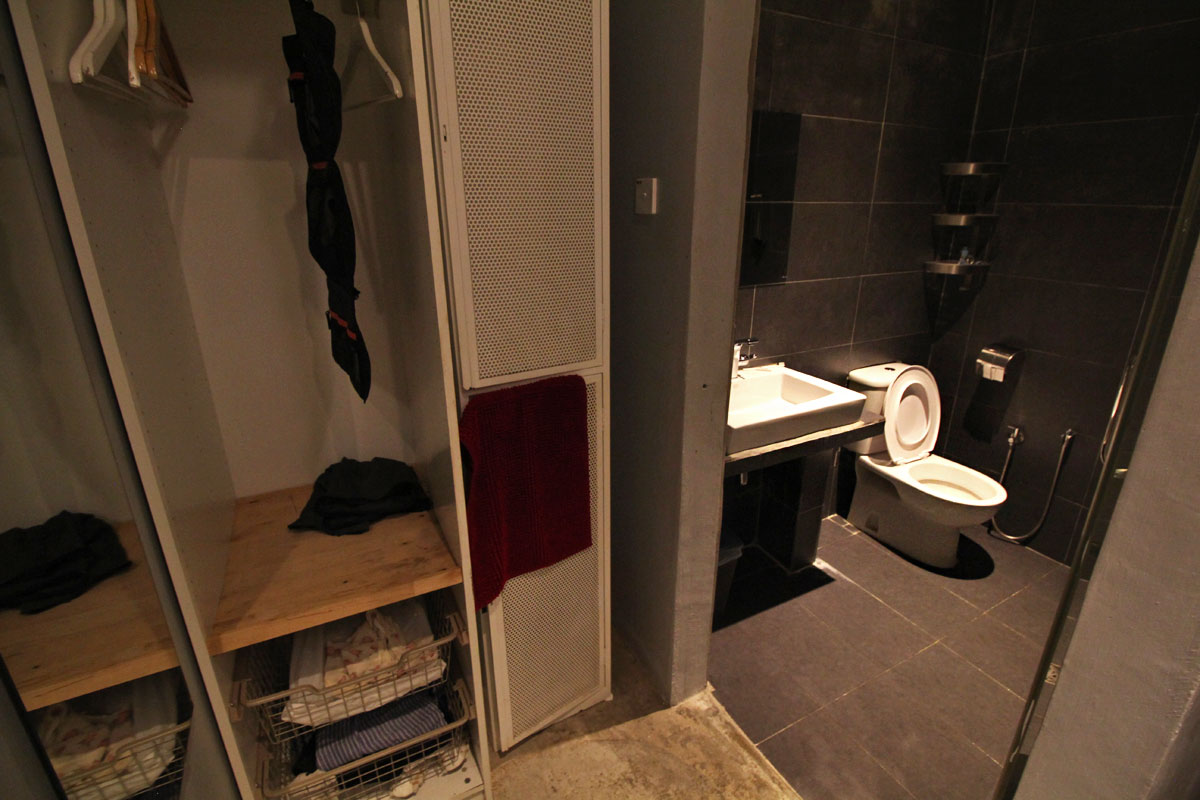 Breakfast
As described, buffet breakfast for two was already included in our room rate. If I remember correctly, they serve it from 7:30-10AM daily.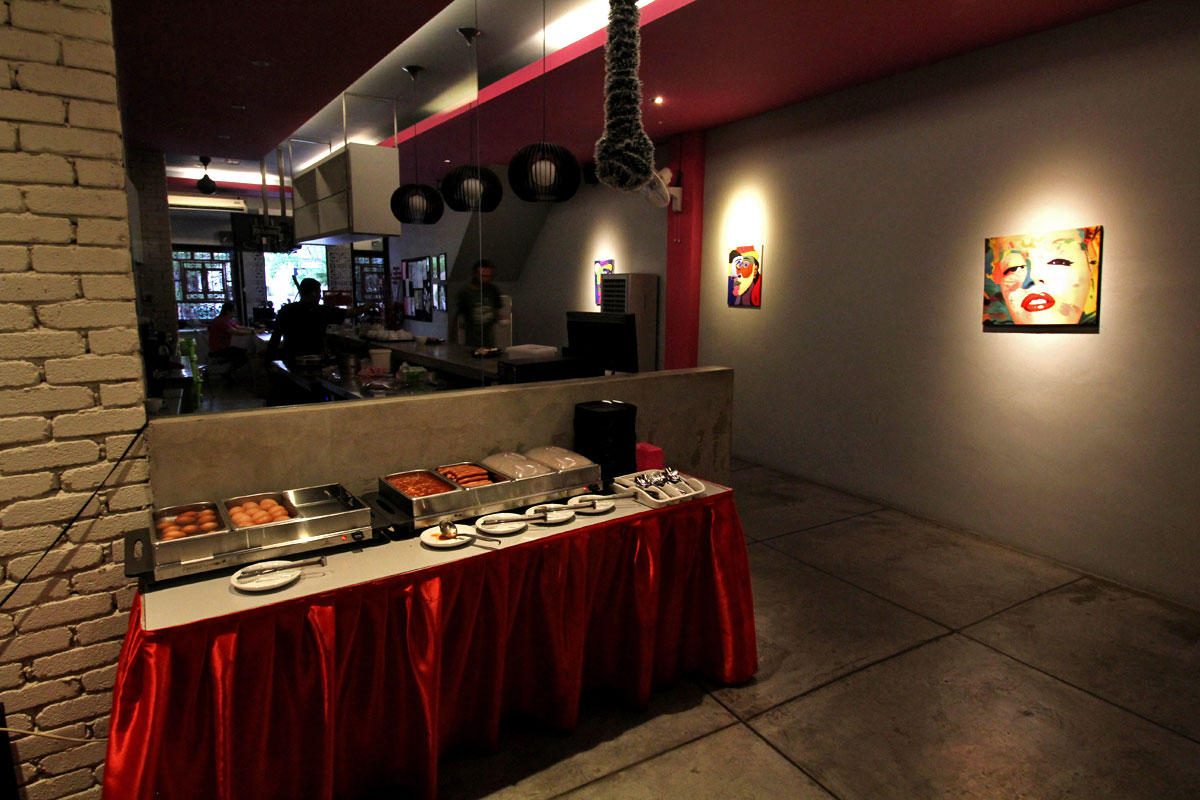 During our 4-night stay, we had two sets of buffet breakfast which they served on alternating days. This one consisted of fried noodles, hot dogs, and beans while the other one had roti canai, curry, and mashed potatoes. Hard-boiled eggs, toast with jam, and coffee were available everyday.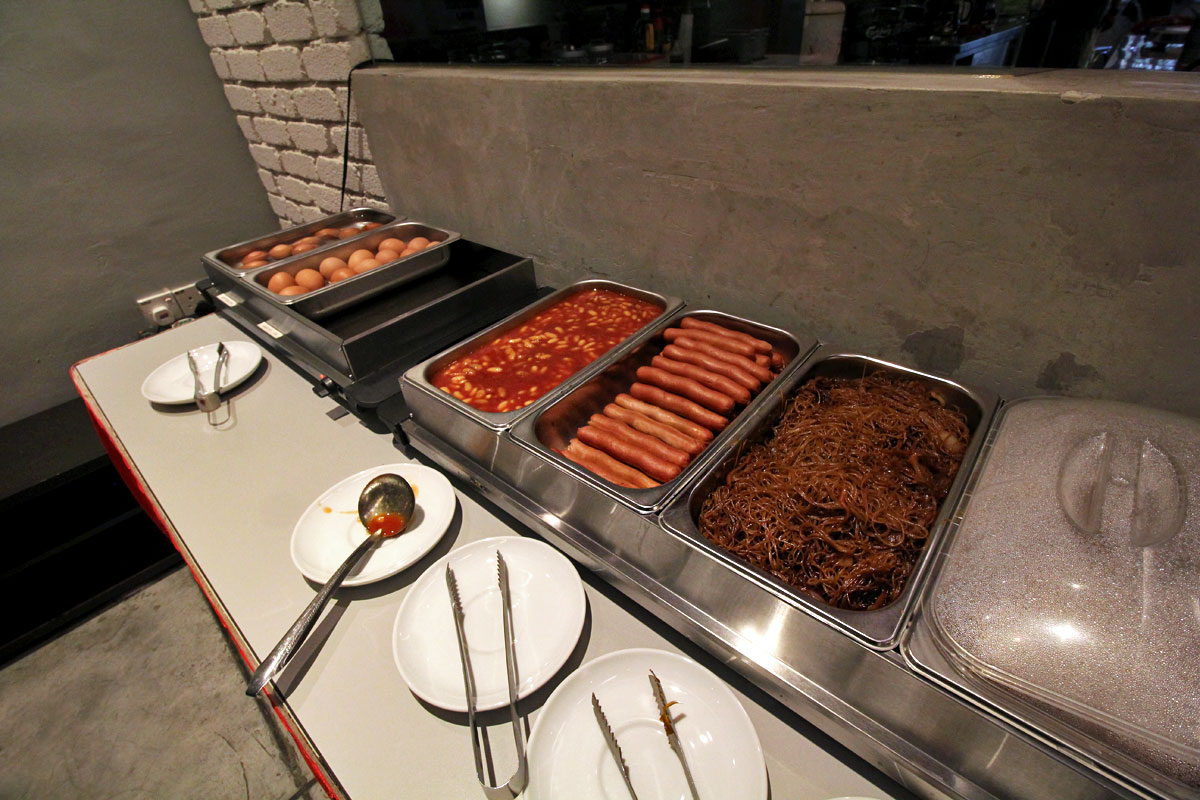 There's Ren instagramming her breakfast. 😆 Breakfast was pretty good here and it made a terrific room rate even better.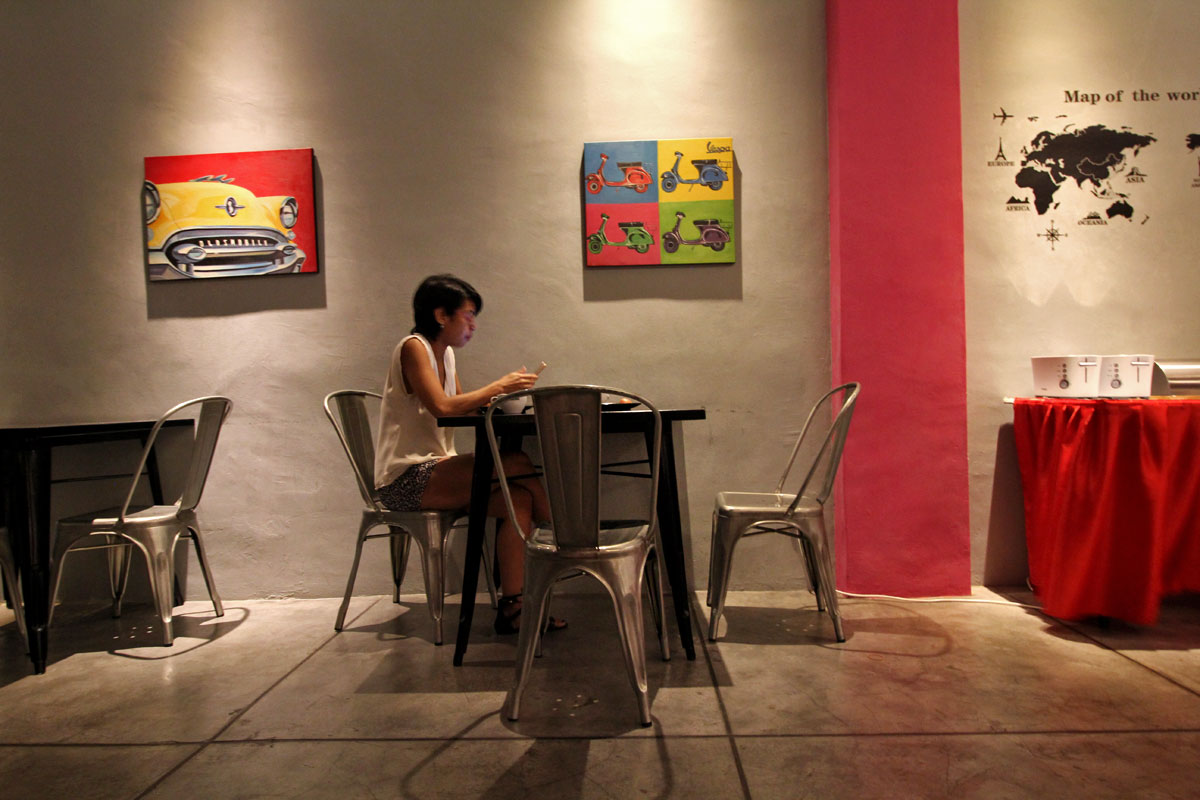 We were pleased with our stay at Ryokan Muntri and would happily book here again. It's cheap, they have private rooms with bathroom, the staff is courteous, breakfast is already included, and it's conveniently located. The hostel is just a short walk from the corner of Love Lane and Chulia Street which is a major tourist intersection in George Town. It's home to many bars and restaurants as well as a nightly hawker market and a 7-Eleven.
The only thing I can think of that would make Ryokan Muntri even better are mini-refs in the rooms. We like to buy beer from convenience stores to drink at night so mini-refs are always a welcome sight. That was the only thing missing but other than that, it's perfect for us. Highly recommended.
You can make a reservation through Booking.com or Agoda. Be sure to check both sites to find the best deal.
Ryokan Muntri, George Town, Penang, Malaysia
62 Muntri St, George Town, Penang, Malaysia
Tel: +604 250 0287
Fax: +604 250 0288
Website: ryokanmuntri.com
Email: enquiries@ryokanmuntri.com
Approximate Room Rate: RM 158 per night (as of June 2016)
HOW TO GET THERE:
If you're arriving in George Town via bus, start walking northwest on Tek Soon Street from KOMTAR Bus Terminal. Make a right on Penang Road and cross the 4-way intersection. Continue walking on Penang Road until you reach Muntri Street. Make a right on Muntri Street and the hostel will be on your left. If you have a lot of luggage, then it's best to take a taxi or use Grab from the bus terminal or airport. We paid RM 26 for a Grab Car from the airport.
MAKE A RESERVATION: Booking.com | Agoda
Disclosure
The hotel links in this post are affiliate links. If you make a reservation, then we'll get a small commission at NO extra cost to you. We really appreciate your support as this helps us keep this website going. Thank you!