We ate many delicious things in Penang, but this bowl of duck koay chap from Restoran Kimberly was one of the most inspiring. It's astonishing how much work goes into it.
Even the cart itself was impressive. No larger than a standard street food cart, it was literally packed to the brim with duck parts. Gizzards, eggs, necks, wings, intestines, you name it! Every cabinet, every inch of counter space, every nook and cranny was filled with components that go into a bowl of their famous duck koay chap, components which the Por family has been lovingly preparing by hand, from scratch, for over 30 years.
With dedication like that, it's no no wonder they're the best.
Restoran Kimberly
Restoran Kimberly only opens at night starting at around 6:30PM. You order your duck koay chap from this cart then sit down in the restaurant space behind it. From what I understand, there's always a queue. Thankfully, we came early so we didn't have to wait too long.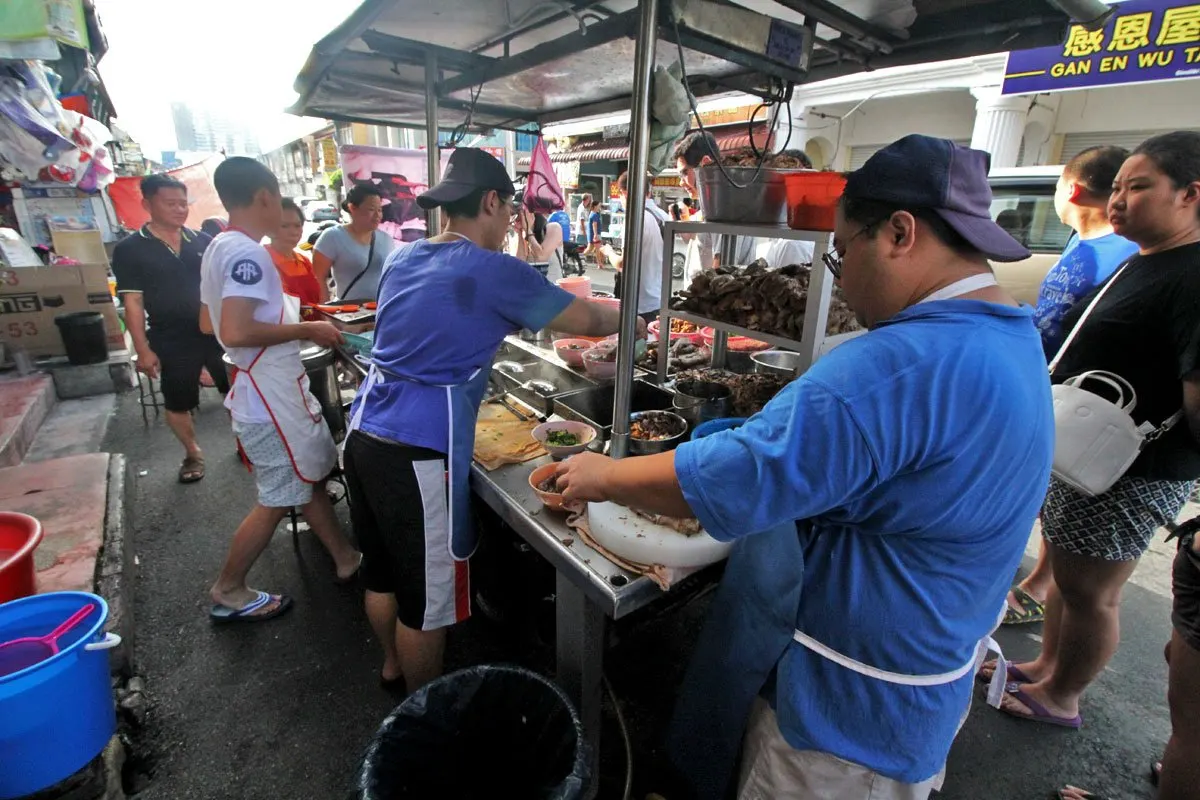 It takes a small army to prepare these bowls of duck koay chap. If you've never had it, it's a Teochew noodle soup made with flat wide rice noodle rolls served in a dark soy sauce broth. It's filled with a variety of ingredients like braised pork, duck, offal, fishcakes, vegetables, and hard-boiled egg.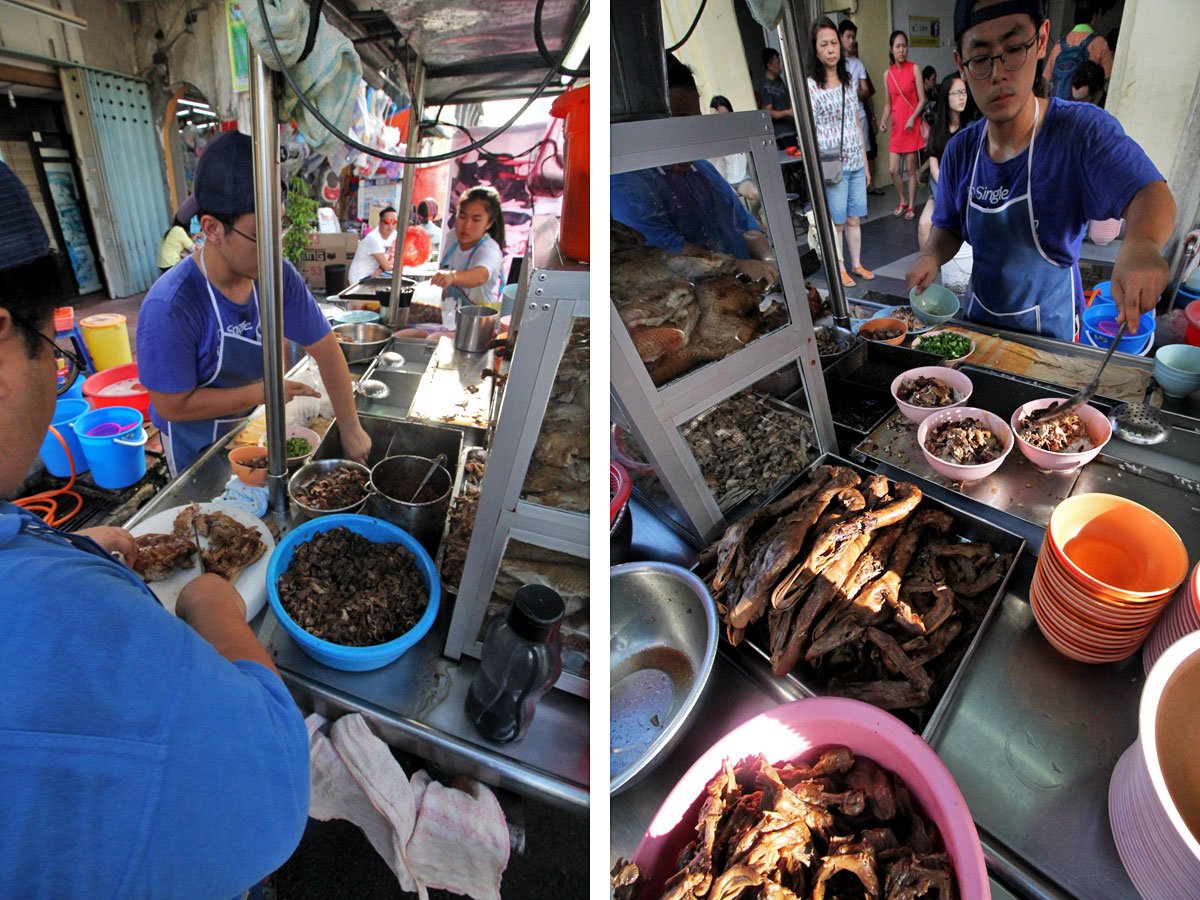 Here's the vendor putting the finishing touches on these bowls of duck koay chap. Beautiful right? At Restoran Kimberly, they give you the option of having it with either noodles or porridge, but of course we chose the noodles. You can check out this Penang food blog to see how tedious it is to make these noodles from scratch. As described, they've been doing it that way for over 30 years.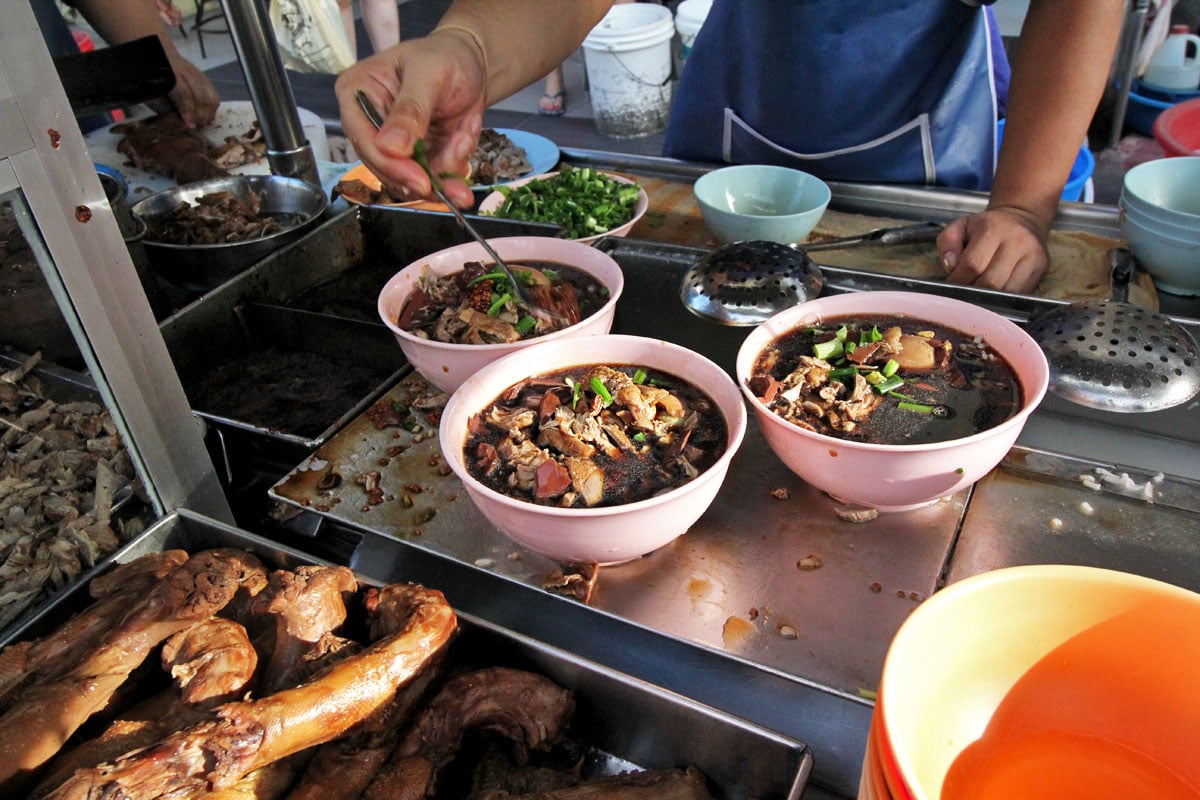 Like a Swiss army knife but with duck parts. Did I lie when I said every nook and cranny was packed with koay chap components? 😆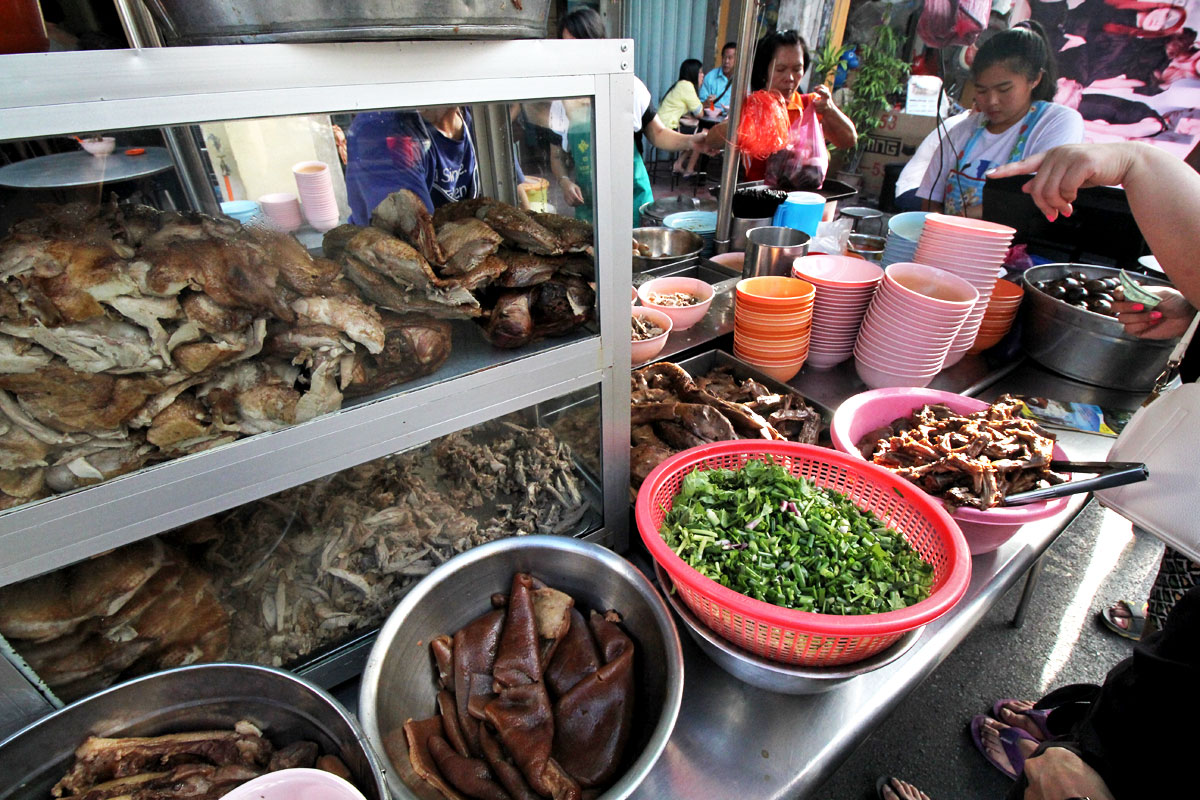 Buckets and basins full of animal parts like offal, necks, wings, and eggs. Check out those intestines! From what I could tell, they use two different types of hard boiled eggs in their duck koay chap.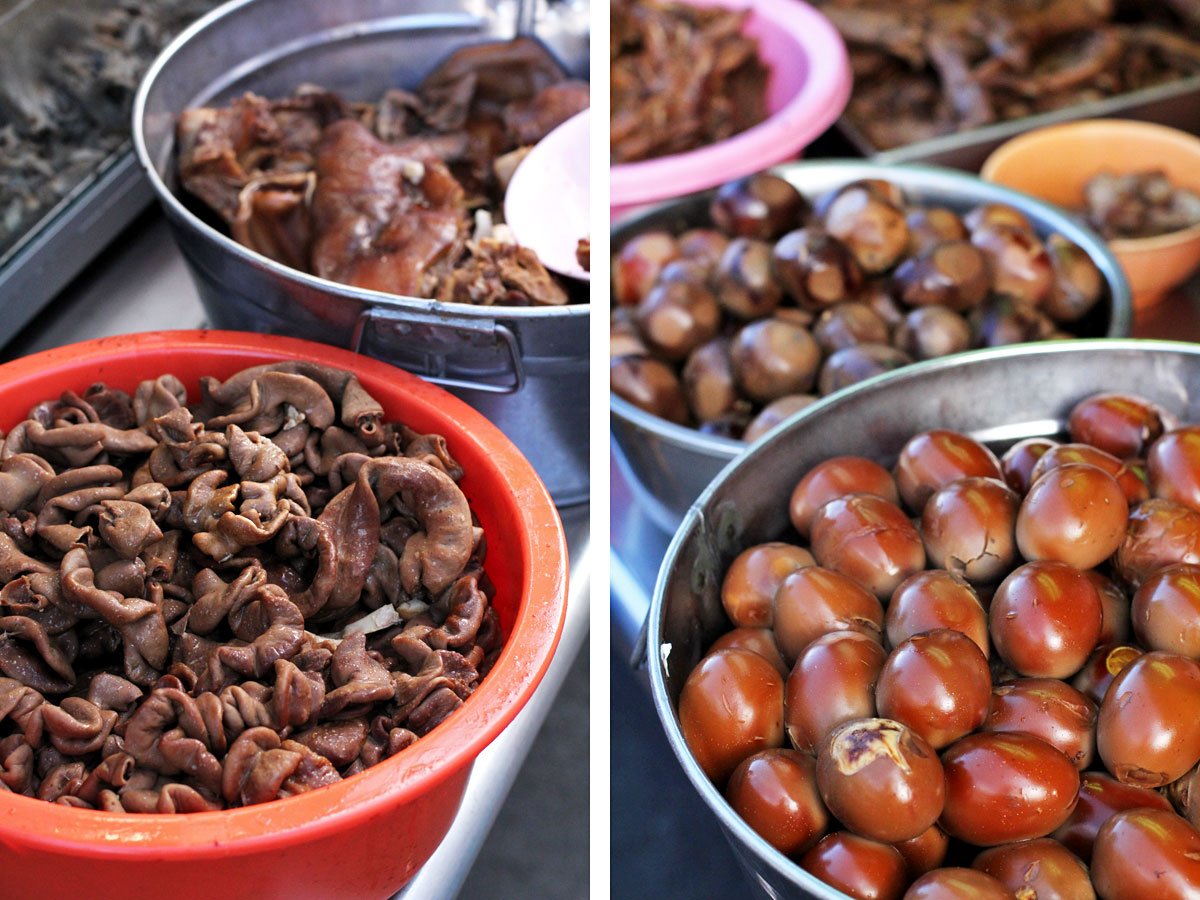 To prepare the broth, star anise, cinnamon, ginger, and other spices are stewed with various duck parts like gizzards, necks, and wings. Pig's intestines and ears are also used. Stirring constantly to prevent burning, the pot is stewed for several hours until the animal parts are tender and the flavor permeates the meat.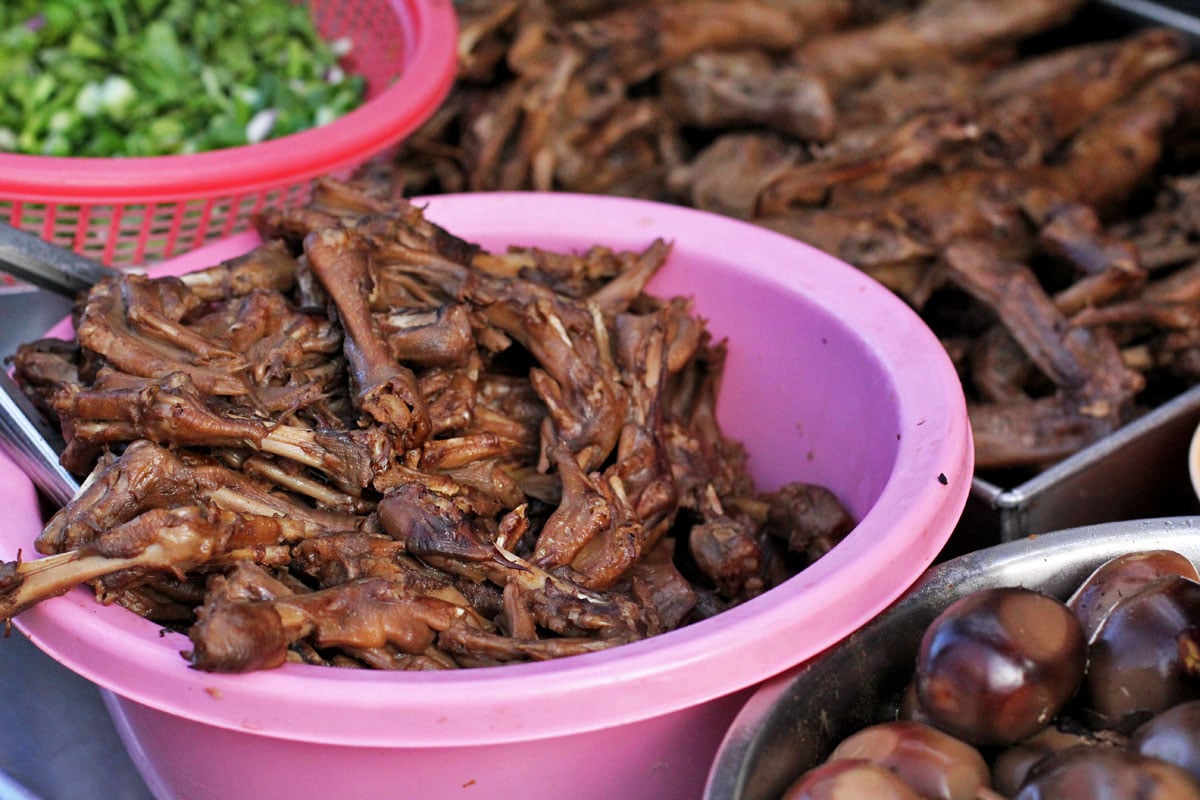 Yes, it's a lot of work but you can't argue with the results. Served with a side of chili sauce, Restoran Kimberly's duck koay chap is delicious. The dark broth is deeply flavorful and the medley of textures from the different components is wonderful. See those reddish-brown chunks? Those are cubes of congealed blood!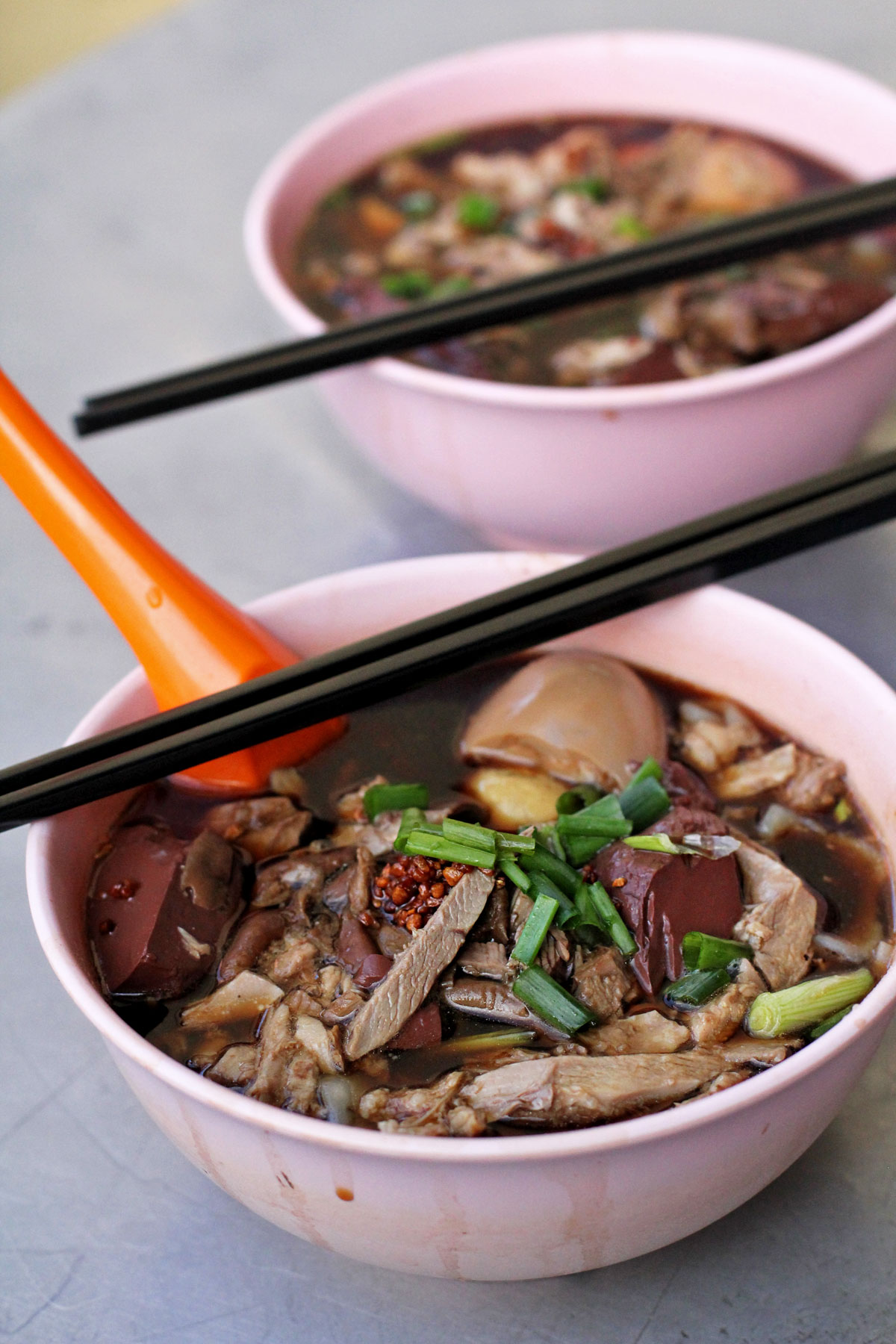 When you continue putting this much time and effort into something, even after 30 years, it can only mean that you love what you do. That's what I meant at the top of this post when I described these bowls of duck koay chap as "inspiring". It's inspiring to see the Por family work this hard for so long. They've certainly inspired me to continue working hard on this blog. Without question, the Por family LOVES making duck koay chap, and you can taste it in every spoonful. ♥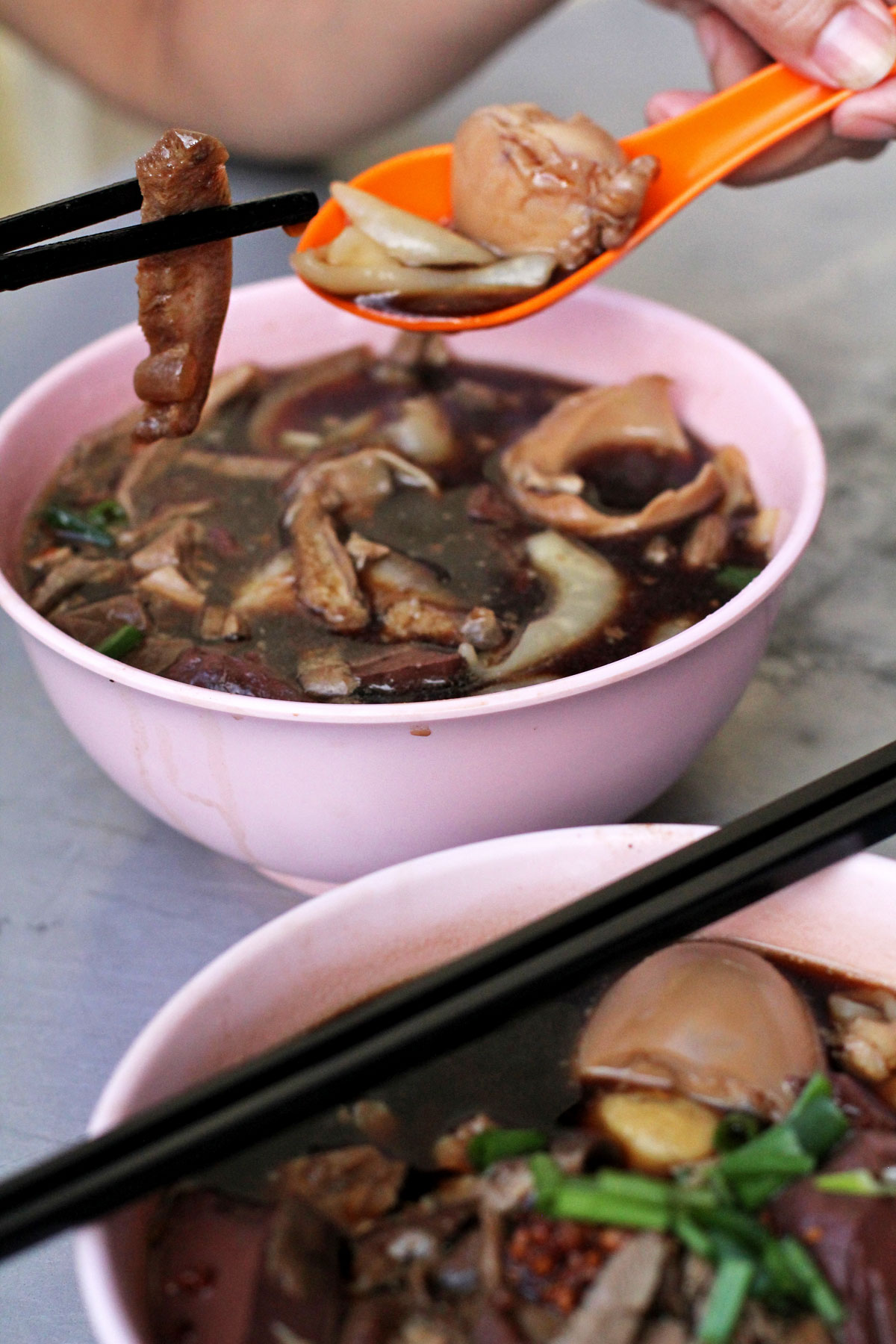 Places like Restoran Kimberly are what we look for when we travel. A beloved stall like this that's been serving the same dish for decades is just as important to us as the heritage houses in Penang. Thinking back on the trip, I remember how excited we were looking for the place and how happy it made us to find it. We ate at many legendary food stalls in Penang and Restoran Kimberly was one of the most popular. Don't miss it!
For more food finds, be sure to check out our list of 15 delicious things to eat in Penang and where to try them. Like Restoran Kimberly, most of the establishments listed there have been serving the same iconic dish for decades.
Restoran Kimberly, Penang, Malaysia
137, Lebuh Kimberley, George Town, Penang, Malaysia
Operating Hours: Fri-Wed, 6:30-11:30PM
Expect to spend: RM 8 per bowl of duck koay chap
HOW TO GET THERE:
From the corner of Penang Road and Chulia Street, walk southwest on Penang Road. Make a left on Kimberly Street. Walk straight and you'll see Restoran Kimberly on your left close to the corner of Cintra Street.
For more Penang travel tips, check out our First-Timer's Travel Guide to Penang, Malaysia