No, that isn't a Nazi swastika on the pink Buddha's chest. It's the symbol for "wan" which represents auspiciousness, purity, and perfect accomplishment.
I know little about Buddhism so I was taken aback to find this symbol on the chest of Buddha statues at Kek Lok Si Temple. We ignoramuses know only about the Nazi swastika so to see it emblazoned on the chest of a Buddha statue was a bit surprising. There was a disconnect there. I once heard about the Nazi swastika being a perversion of some ancient symbol but I didn't know from where or what its original meaning was meant to be. Thanks to today's visit and an information card inside one of the temples, I had my answer.
To be honest, we didn't take a bus to the foothills of Air Itam to visit Kek Lok Si Temple. We went to seek out two of Penang's most legendary hawker stalls. Ren and I aren't the most avid temple-goers but I'm grateful to have visited this one. I left a teeny weeny bit more informed than when I came, plus it gave me the perfect opportunity to do something I try to remind myself of on every trip — to give thanks.
Kek Lok Si Temple
To get to Kek Lok Si Temple from George Town, take the 203 or 204 bus from KOMTAR bus terminal. The fare is RM 2 each way and takes about 30 minutes. It's the last stop on the line so the driver will advise you to get off at the end of Jalan Pasar. From there, it's a short walk uphill to the temple.
If you'd rather go to Kek Lok Si on a guided tour, then you can book one through Klook. Follow the link for more information and to book a Kek Lok Si Temple tour with Klook.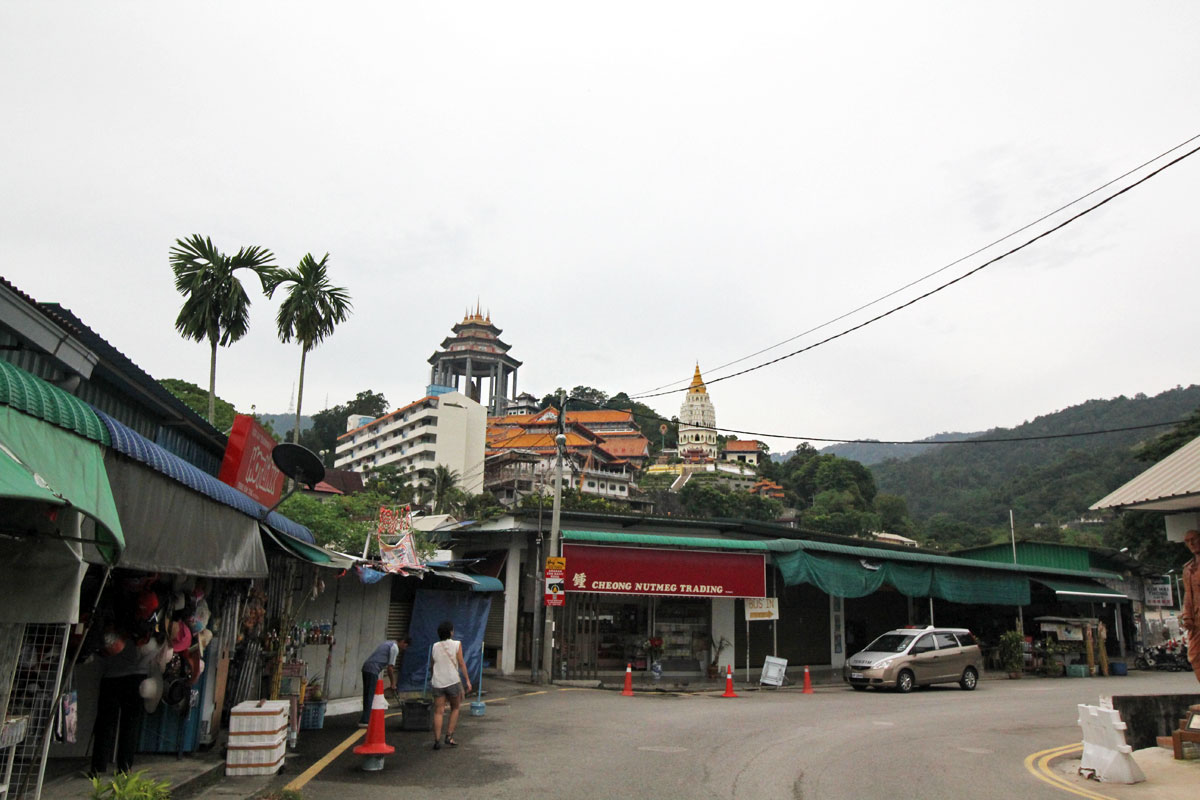 Here's the first courtyard with fountain. You'll need to pass rows of souvenir shops and a vegetarian restaurant to get here.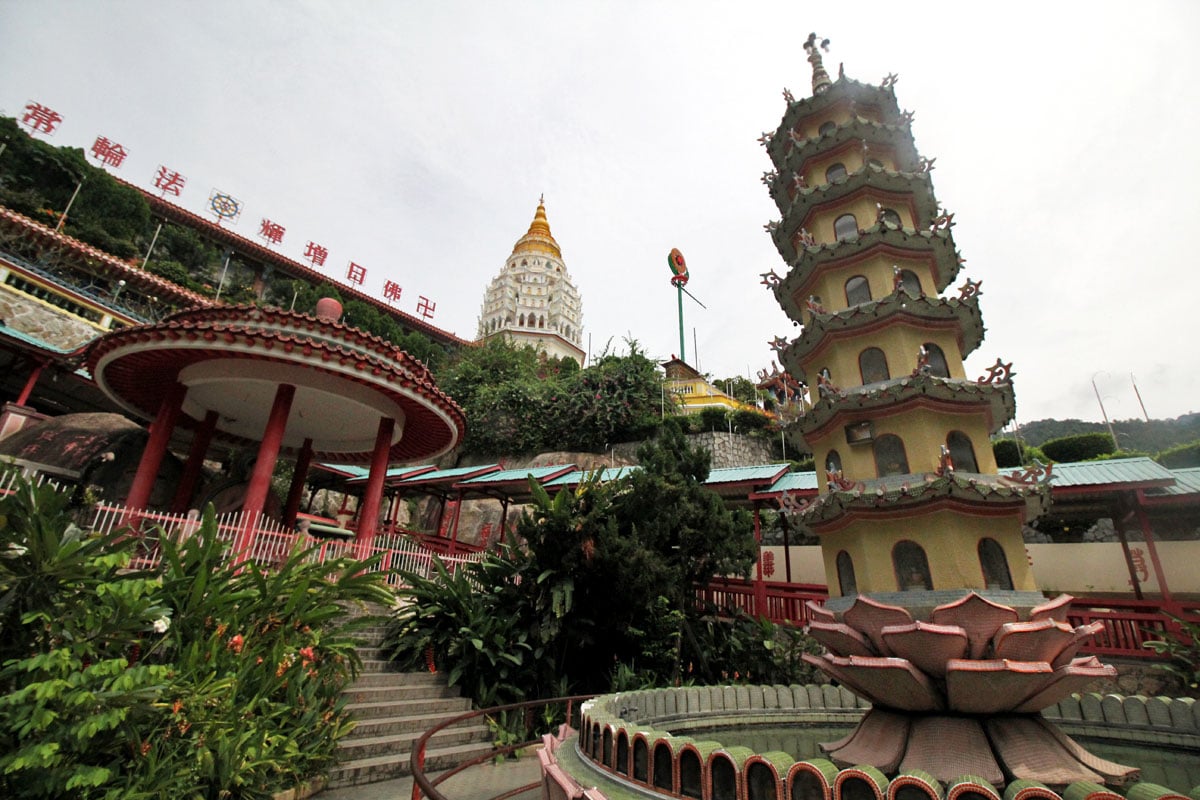 The Kek Lok Si pagoda in the distance. Entrance to the temple grounds is free but you'll be charged an additional RM 2 to enter the 7-story pagoda. I didn't go but it's said to offer great views from the top.

A view of the courtyard from higher up. Kek Lok Si is known to be one of the biggest and most important Buddhist temples in Southeast Asia.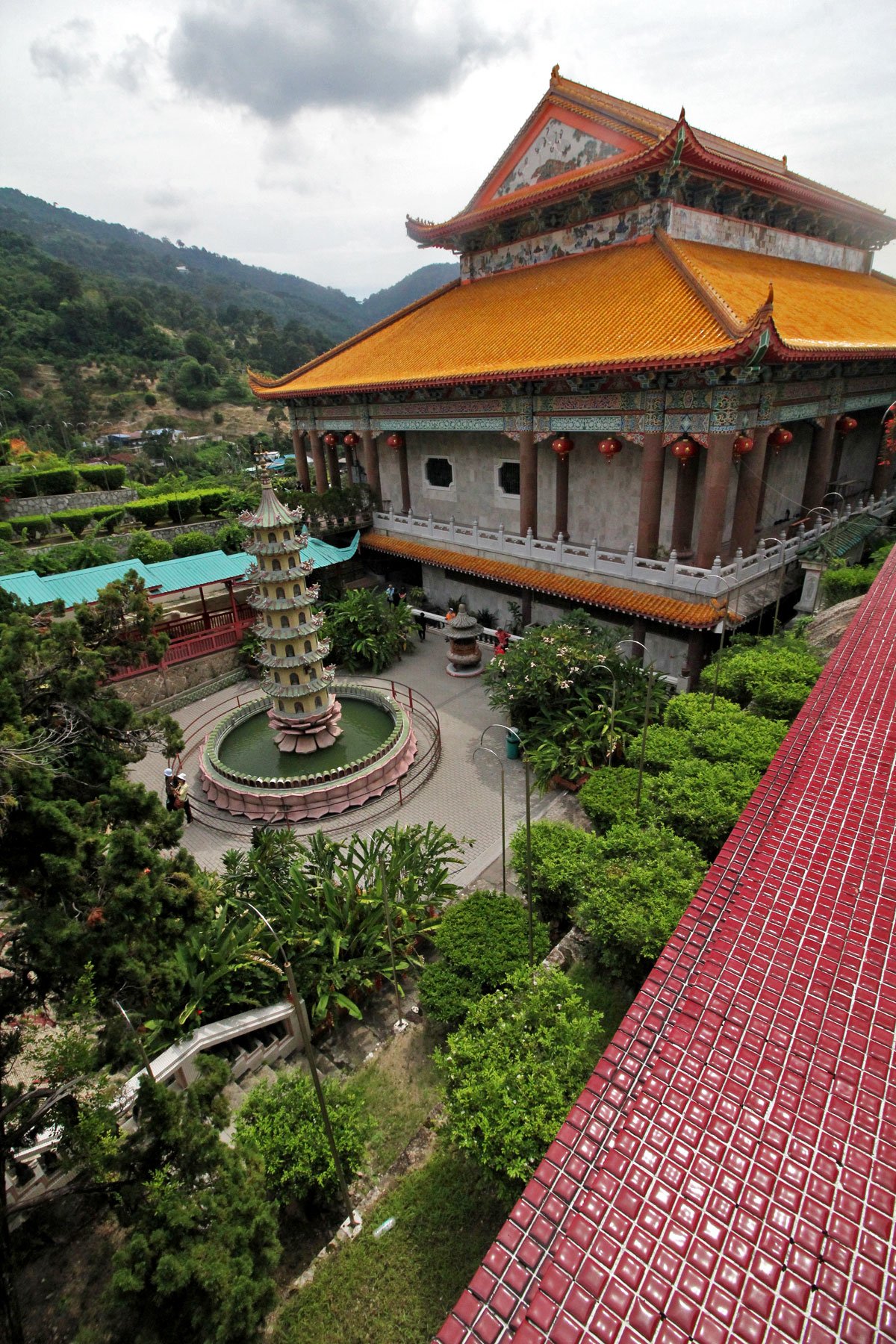 Colorful painted relief entryway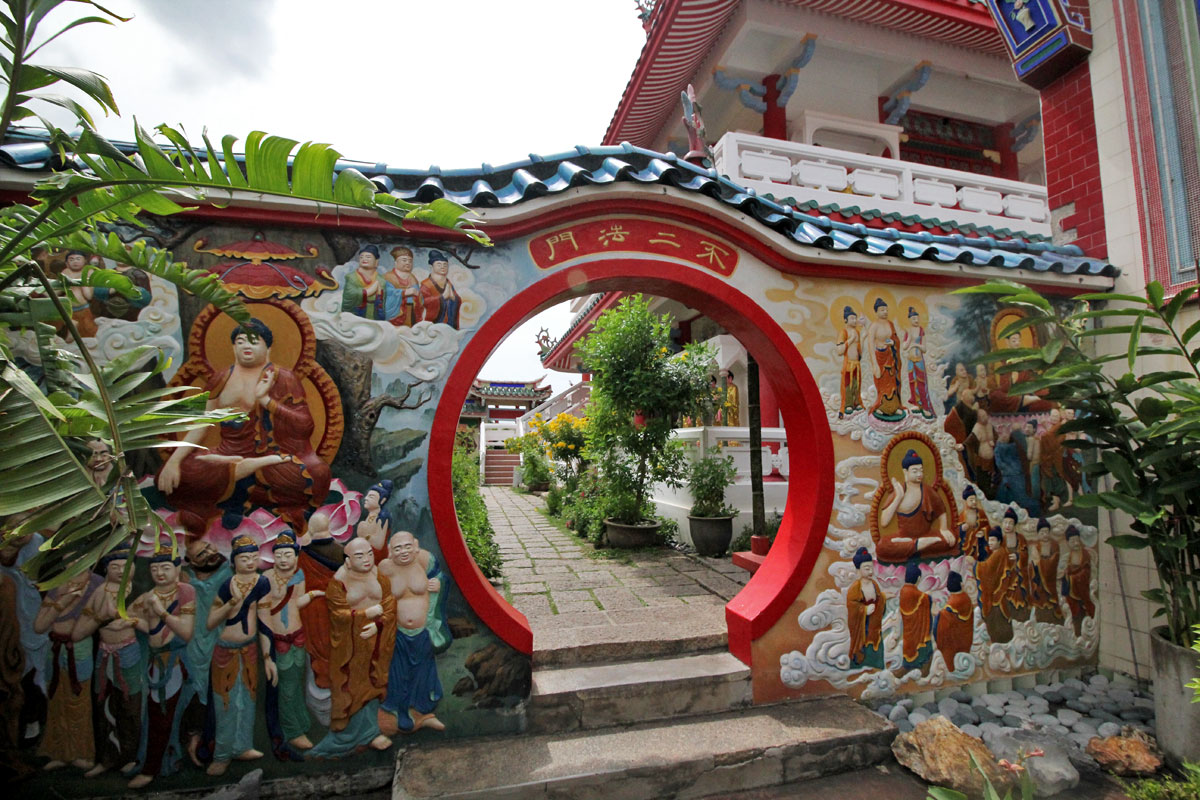 The aforementioned pink Buddhas with swastikas on their chest. I guess many non-worshipers are curious so there's an information card inside the temple to explain it's relevance. In Buddhism, it symbolizes "the accumulation of auspiciousness and abundant virtues" and typically appears on the hands, chest, feet, and waist of Buddhas and Bodhisattvas.
I never really noticed but the symbol is apparently written in different ways, the direction in which its written indicating where it's from. In ancient India, it was written turning to the right. In Tibet, Japan, Korea, and later in India, it's written turning to the left. In Nazi Germany, which is probably the most (in)famous way its represented, the symbol is slanted to one side. I'm not sure if the direction in which its written has any special meaning, but at least now I know how to distinguish auspicious from anti-Semitic swastikas.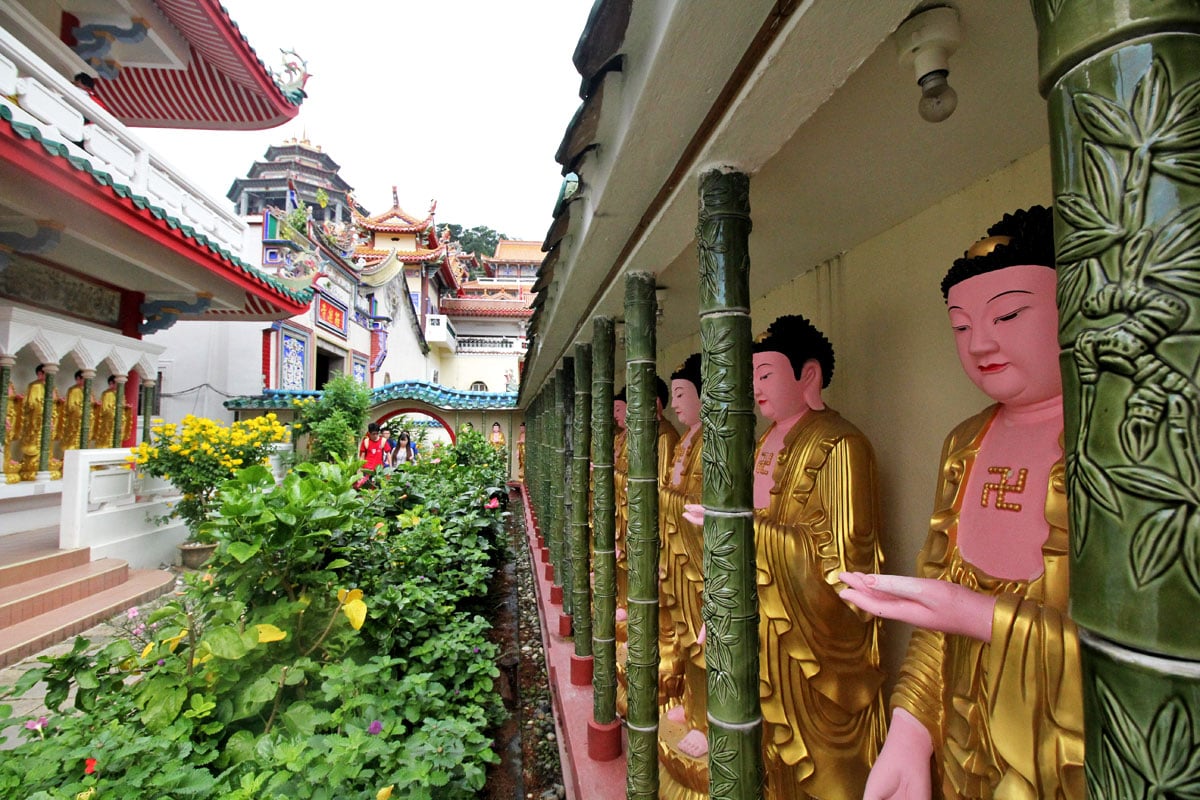 Kek Lok Si Temple is situated on top of a hill so you can enjoy some pretty nice views from up here.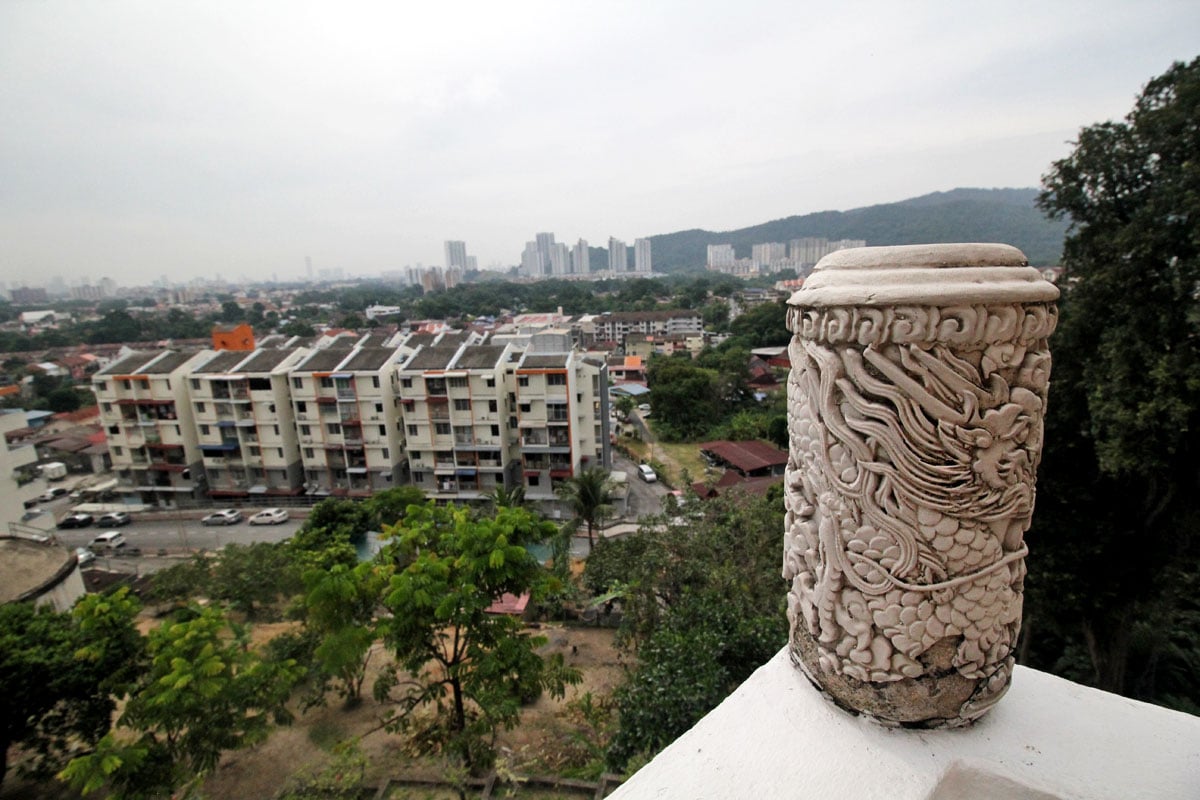 More Buddhas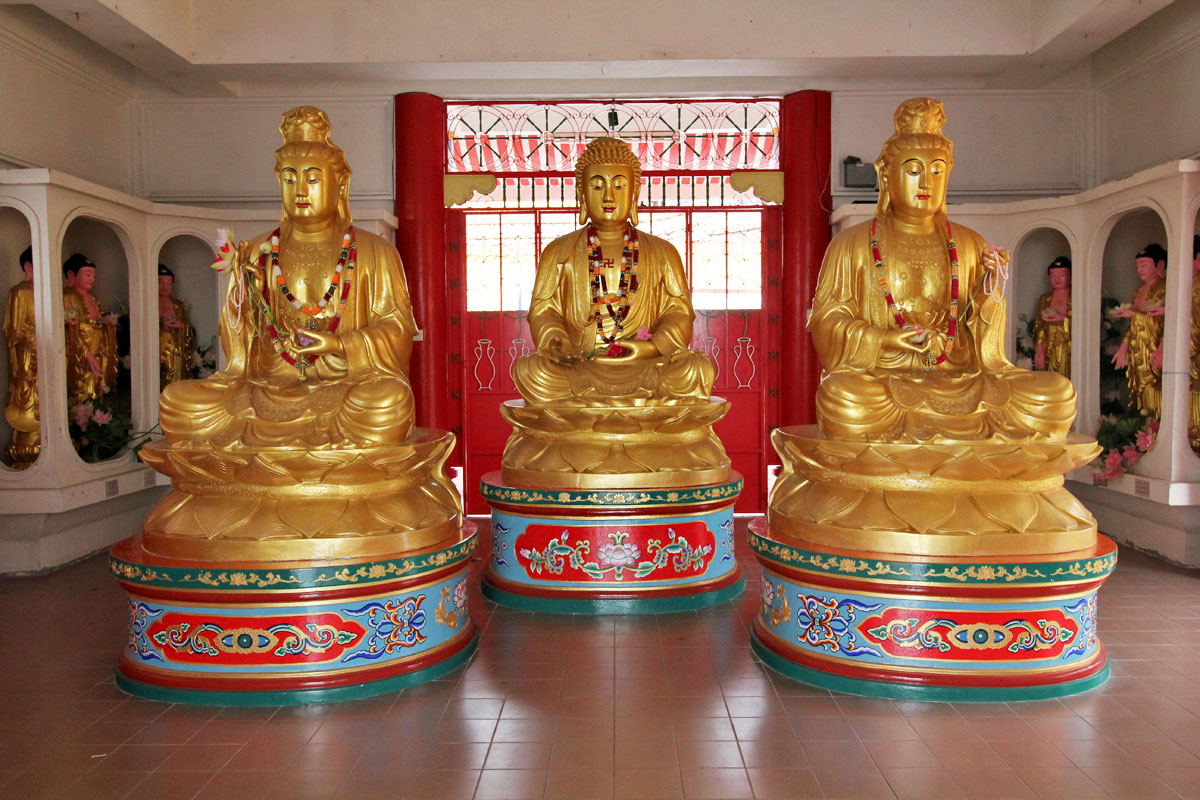 I didn't understand the significance of this room but it seemed particularly important. Many of the visitors/pilgrims would say a short prayer in front of the statues. As mentioned earlier, I try to remind myself to give thanks on every trip — for the blessings, for keeping us safe, and for the privilege of visiting a new destination — and this room seemed the perfect place to do it.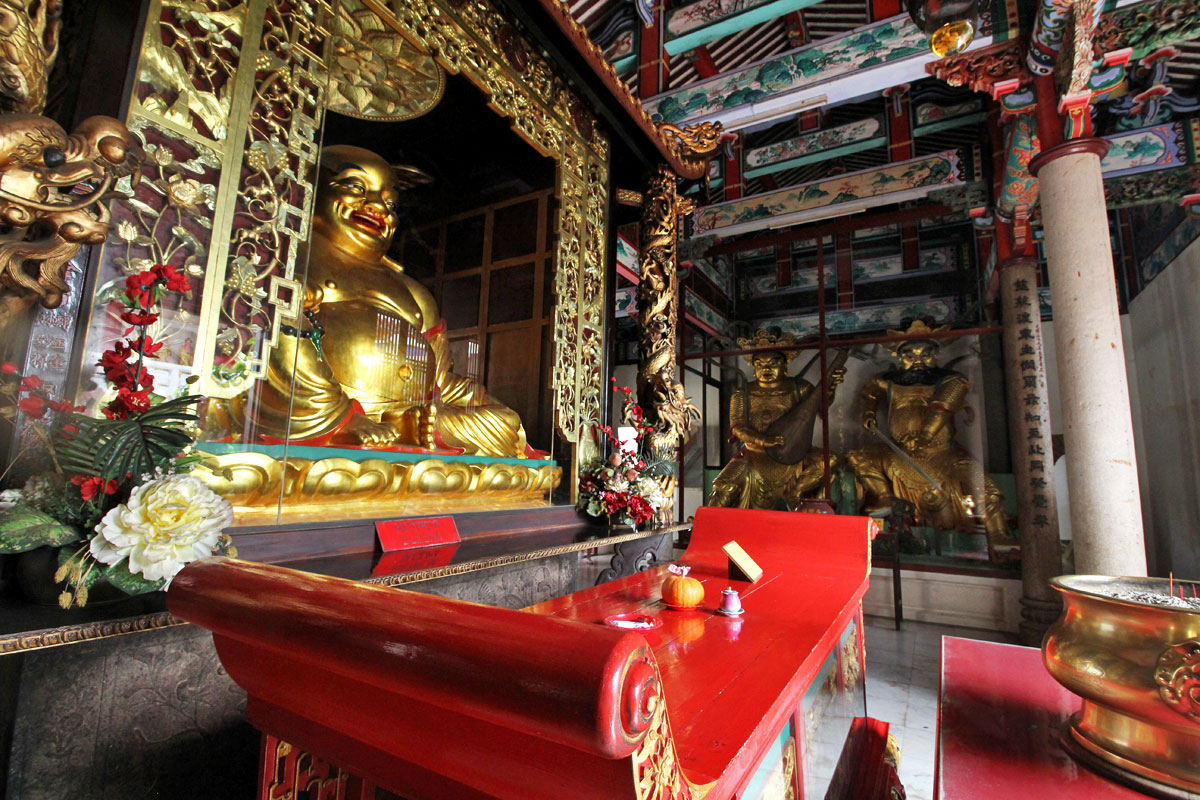 Here pilgrims could offer prayers by making a small donation and lighting incense or candles.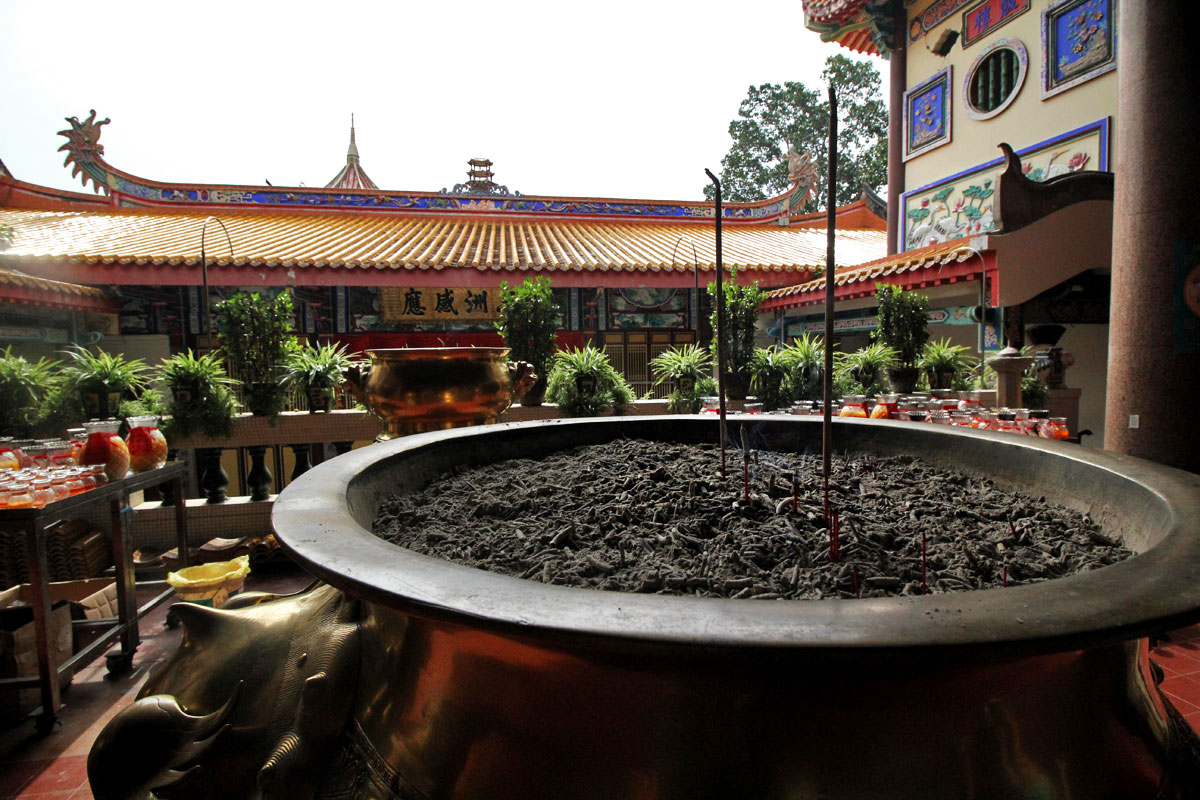 I went for one of these wishing ribbons. For RM 1, you can choose a ribbon pertaining to a specific wish and hang it on a wishing tree. If you don't have any particular wish in mind, then you can go for the yellow Swiss army knife of ribbons which asks for "success in everything". That what's I did.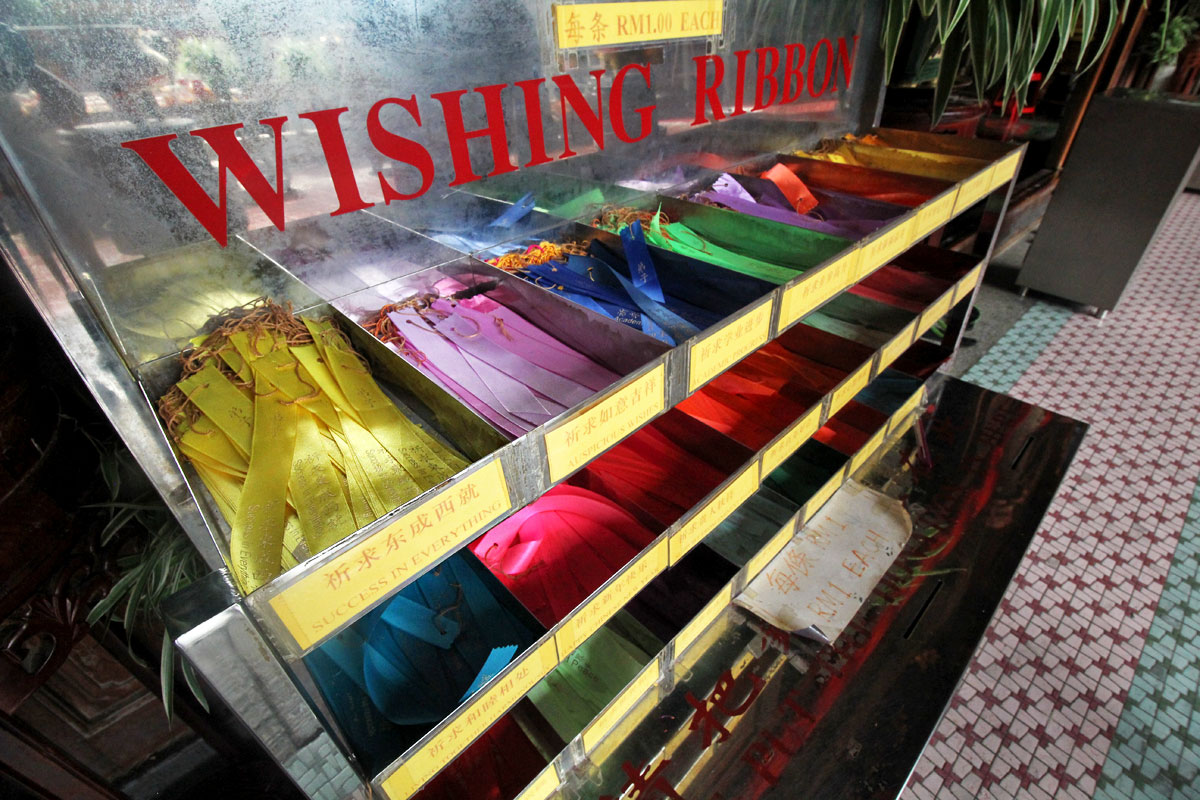 There's my yellow ribbon hanging from the upper left branch. 😉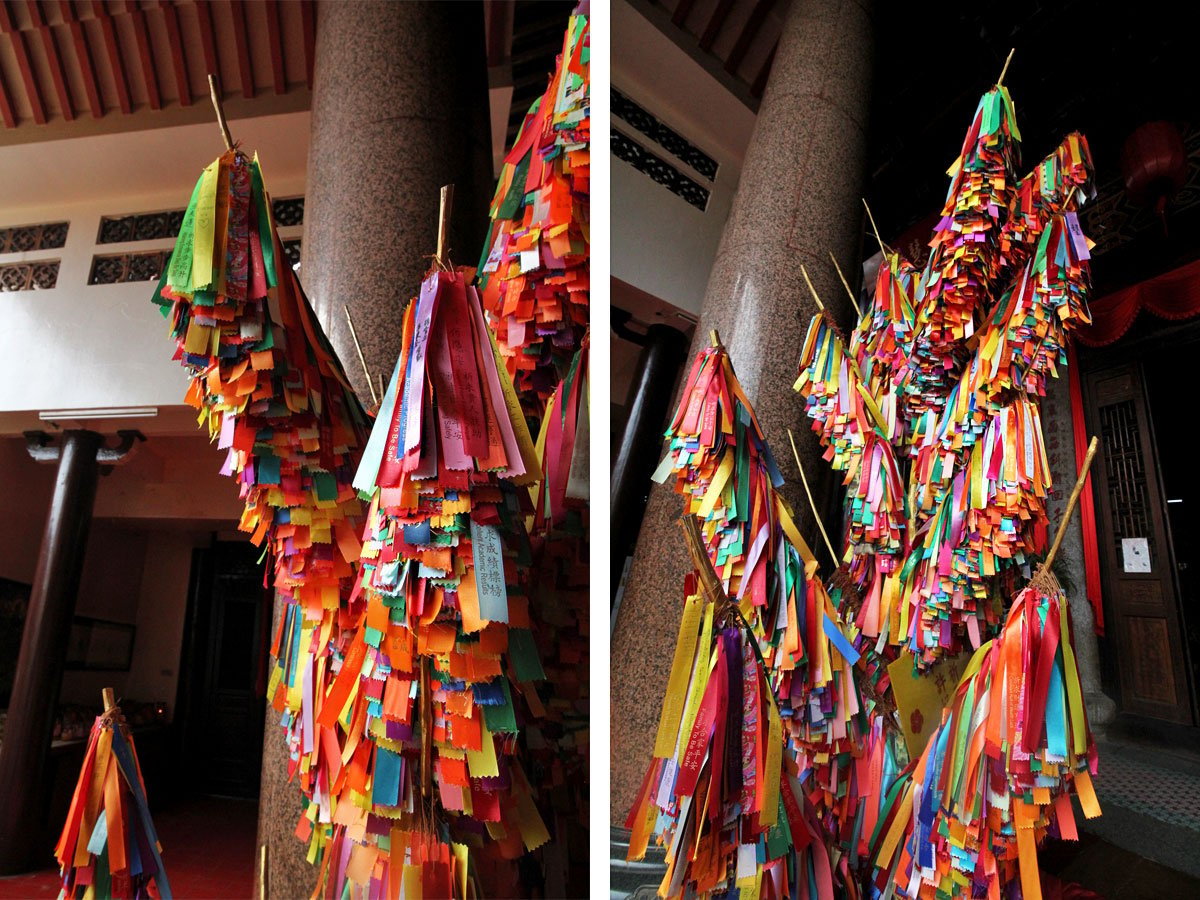 The most impressive feature of Kek Lok Si Temple, which is probably why many non-pilgrims visit, is this giant bronze statue. It's almost 100 feet tall and depicts Guanyin, the Goddess of Mercy. To get to this esplanade with the statue, you'll need to take an inclined lift or funicular which costs RM 3 each way.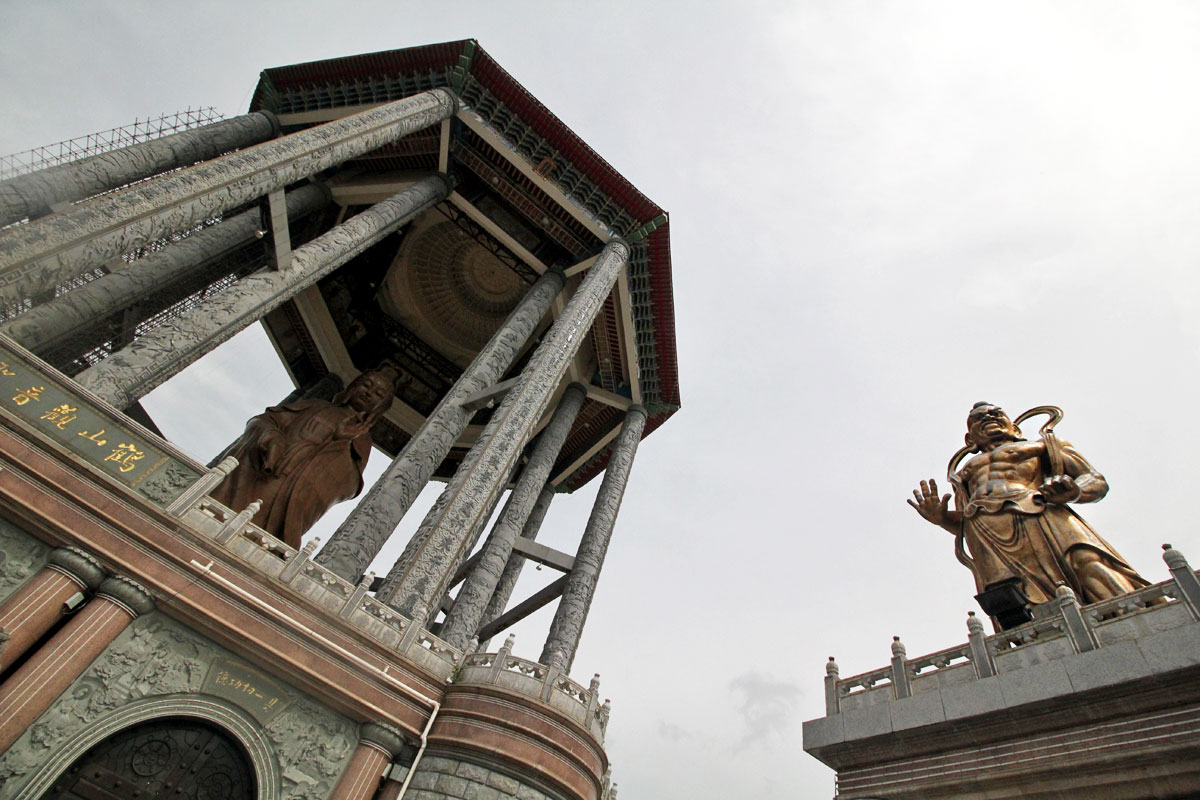 Here's a picture to give you a better idea of the statue's massive size. It's said to be the largest statue of Guanyin in the world. For scale, note the dude in the blue shirt. This is the highest part of Kek Lok Si Temple so you can start making your way down and out after this.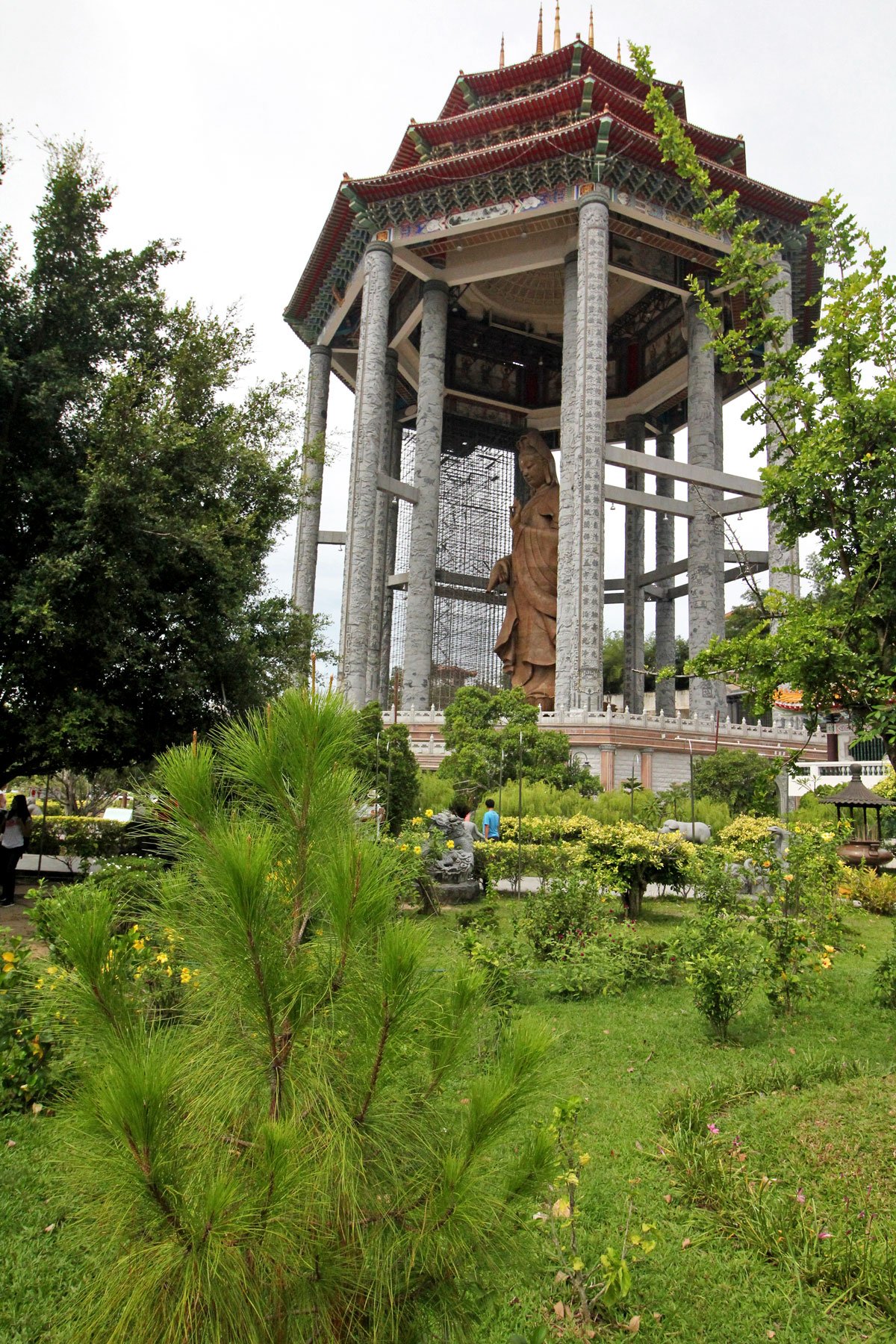 Kek Lok Si Temple
Address: Kek Lok Si Temple, Air Itam, Penang, Malaysia
Tel: +604 828 3317
Website: kekloksitemple.com
Email: [email protected]
Operating Hours: 7AM-9PM daily
Admission: FREE for most of the temple / RM 3 each way for the inclined lift / RM 2 for the pagoda
HOW TO GET THERE: From Komtar Bus Terminal, take bus 203 or 204 to Air Itam (RM 2 each way). After the bus drops you off at the last stop, follow the road and walk up the hill to the temple.
As mentioned at the top of this post, Kek Lok Si Temple was more of a side trip. We went to Air Itam primarily to eat at the following two hawker stalls which have been serving the same signature dishes for decades. One serves asam laksa while the other is known for its curry mee. Both are legendary.
Air Itam Asam Laksa
This stall by Air Itam market has been serving some of Penang's best asam laksa for over 30 years. Asam laksa is one of Penang's most iconic dishes. It's a tamarind-based version of laksa which is more sour compared to the coconut-based curry laksas popular in Singapore.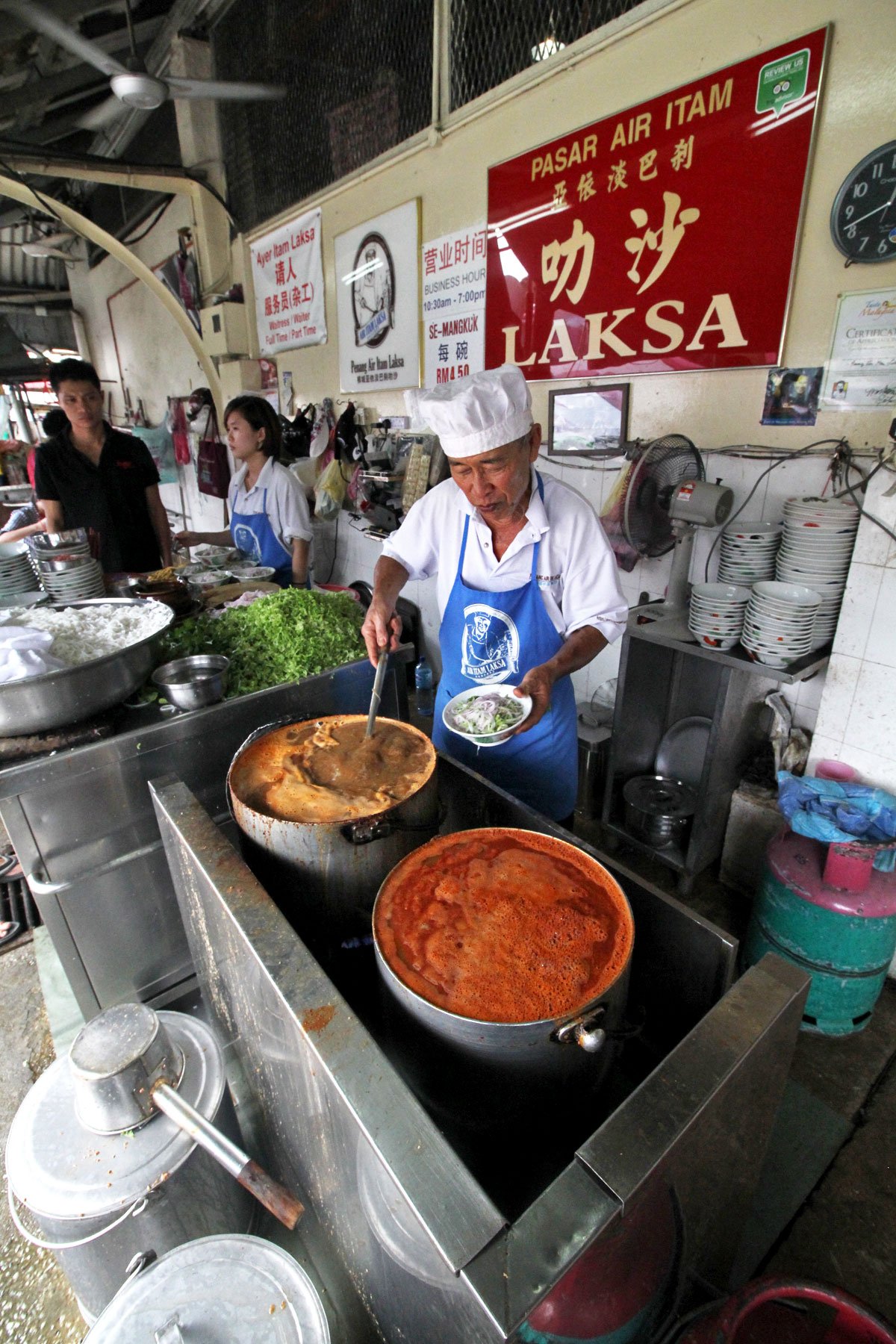 Ren loves curry laksa but this was her first time to try asam laksa. Apart from the noodles and tamarind used as a souring agent, its main ingredients are mackerel, lemongrass, galangal, and chili. It's then garnished with mint, pineapple, onion, a sweet prawn paste, and torched ginger flower. Deeply flavorful and delicious, this bowl of asam lasksa was one of Ren's favorite dishes in Penang. It was really good.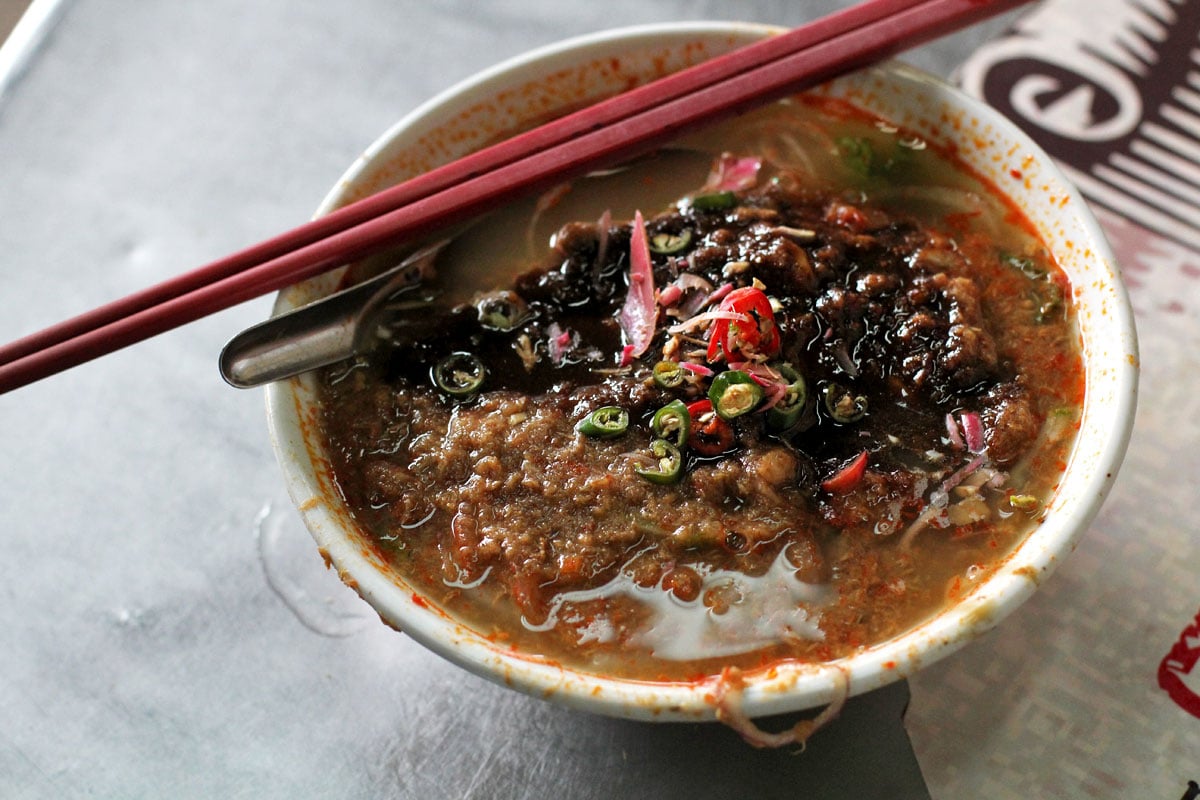 Air Itam Asam Laksa
Address: Ayer Itam, Jalan Pasar (corner of Jalan Pasar and Jalan Paya Terubong, beside Air Itam Market)
Operating Hours: 10:30AM-7PM daily
What We Paid: RM 9 (for two)
How to Get There: Air Itam Asam Laksa is located on the corner of Jalan Pasar and the main road of Jalan Paya Terubong.
Sister Curry Mee
A short walk from Air Itam Asam Laksa is this humble stall run by two sisters. Sister Curry Mee has been serving some of the tastiest bowls of curry mee in Penang since 1946. Yes, 1946. That's 70 years!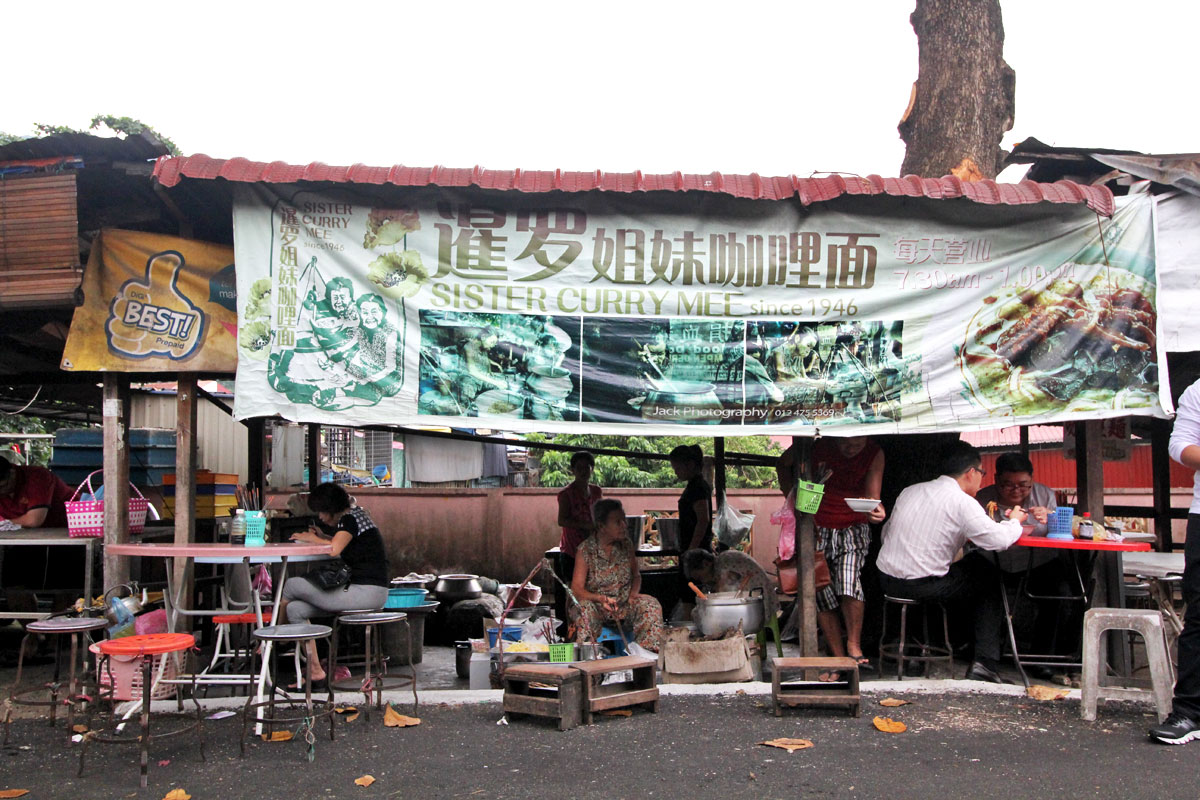 Here's a closer look at the sisters. Aren't they cute? 70 years of selling curry mee and still no sings of slowing down. Amazing.

There are many delicious things to eat in Penang, but this bowl of curry mee was one of my favorites. It's made with egg noodles in a coconut-based curry soup filled with bean curd puffs, bean sprouts, pig's blood curd, cuttlefish, and cockles. It's interesting to note that this curry mee is what they'd call curry laksa in Singapore. It's referred to as curry mee in Penang because the word "laksa" is typically associated with asam laksa.
Doesn't this look tasty? This curry mee was every bit as delicious as it looks. It was rich, creamy, savory, a little sweet, and devilishly spicy with lots of different textures going on. The sambal was redolent with flavor and the cuttlefish and pig's blood curd were delicious. So damn good and well worth the visit to Air Itam!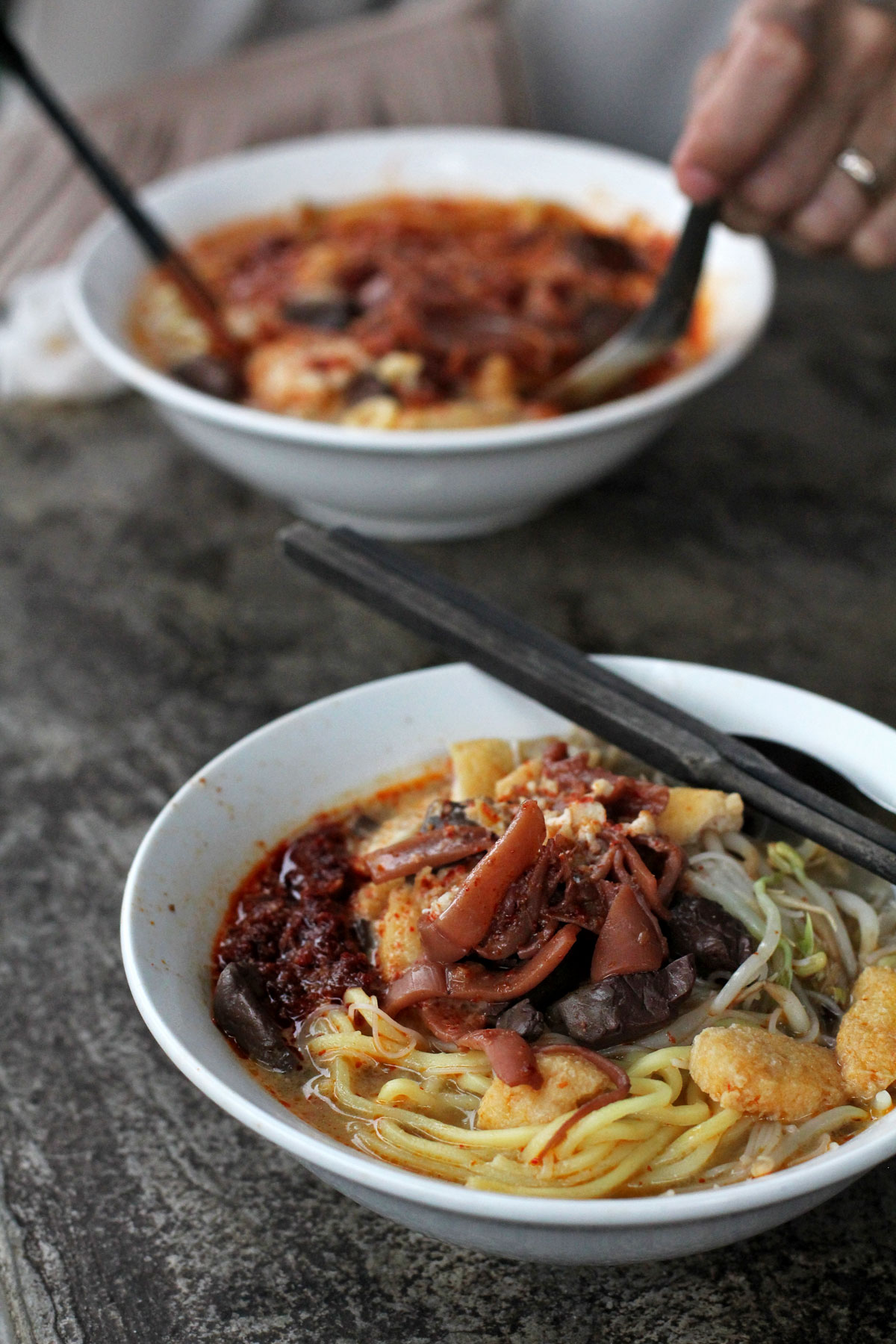 Sister Curry Mee
Address: Jalan Air Hitam, Pekan Ayer Itam
Operating Hours: 7:30AM-1PM daily
What We Paid: RM 10 (for two)
How to Get There: Sister Curry Mee is located on a side street just off the main road of Jalan Paya Terubong. If you can't find it, then just ask anyone and they'll point you to it.
* * * * *
If you like visiting temples, then Kek Lok Si should be on your Penang itinerary. As described, it's one of the biggest and most important Buddhist temples in Southeast Asia. It's a peaceful place with milder weather so taking a trip here will give you some respite from the hustle and bustle of George Town.
If you fly for food like we do and are visiting Penang largely for its hawker fare, then a trip to Air Itam is a must. The two hawker stalls mentioned above are known to serve some of the best examples of asam laksa and curry mee in Penang. The markets where they're located do get fairly chaotic but it's all part of the street food experience. Slurping down my bowl of curry mee, I remember having to shimmy my stool a bit so I wouldn't get swiped by cars trying to pass along the narrow dirt roads. 😆
For more Penang travel tips, check out our First-Timer's Travel Guide to Penang, Malaysia