Ren and I fly for food so eating is always a priority when we travel. This was particularly evident in a place like Penang, which has been dubbed by some as the "street food capital of Asia". We stayed there for three days mainly to seek out hawker stalls that have been serving the same iconic dishes for decades. And what a delicious three days it turned out to be!
Though we spent much of our time in Penang eating (and chasing after street art), we did learn a little about George Town's rich history by visiting some of its most notable museums and cultural attractions. There we learned about the Peranakans and clan jetties, and the importance of the family unit in Penang culture. Hey, we may be gluttons but we do enjoy feeding our brains from time to time.
Here are four notable attractions that you can visit between meals in George Town.
Sun Yat-sen Museum
Located along a picturesque curve of Armenian Street, Sun Yat-sen Museum is the smallest of the four attractions listed here. I remember learning about Sun Yat-sen in school so I decided to pay this museum a quick visit. Entrance is a nominal RM 5.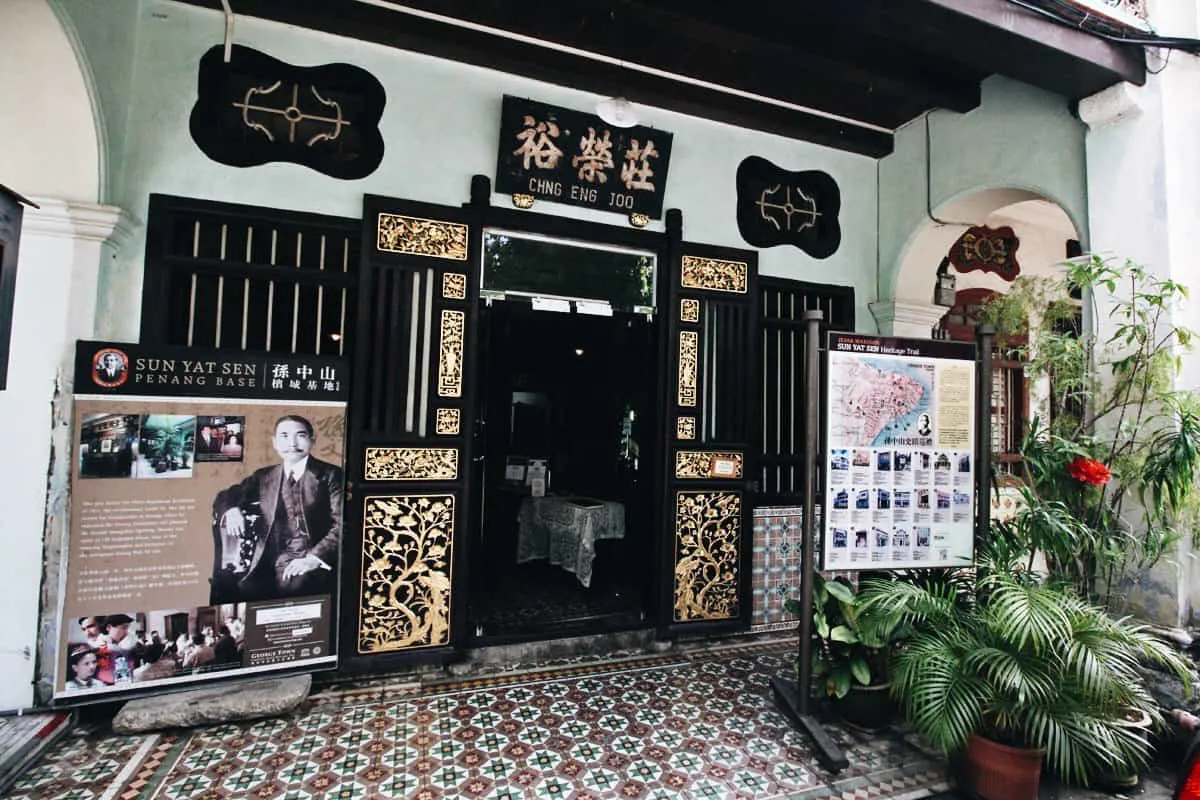 This museum was once the home of Dr. Sun Yat-sen who was the first president and founding father of the Republic of China. It's the first stop on the Sun Yat-sen Heritage Trail which links more than a dozen heritage sites associated with Sun Yat-sen and his supporters.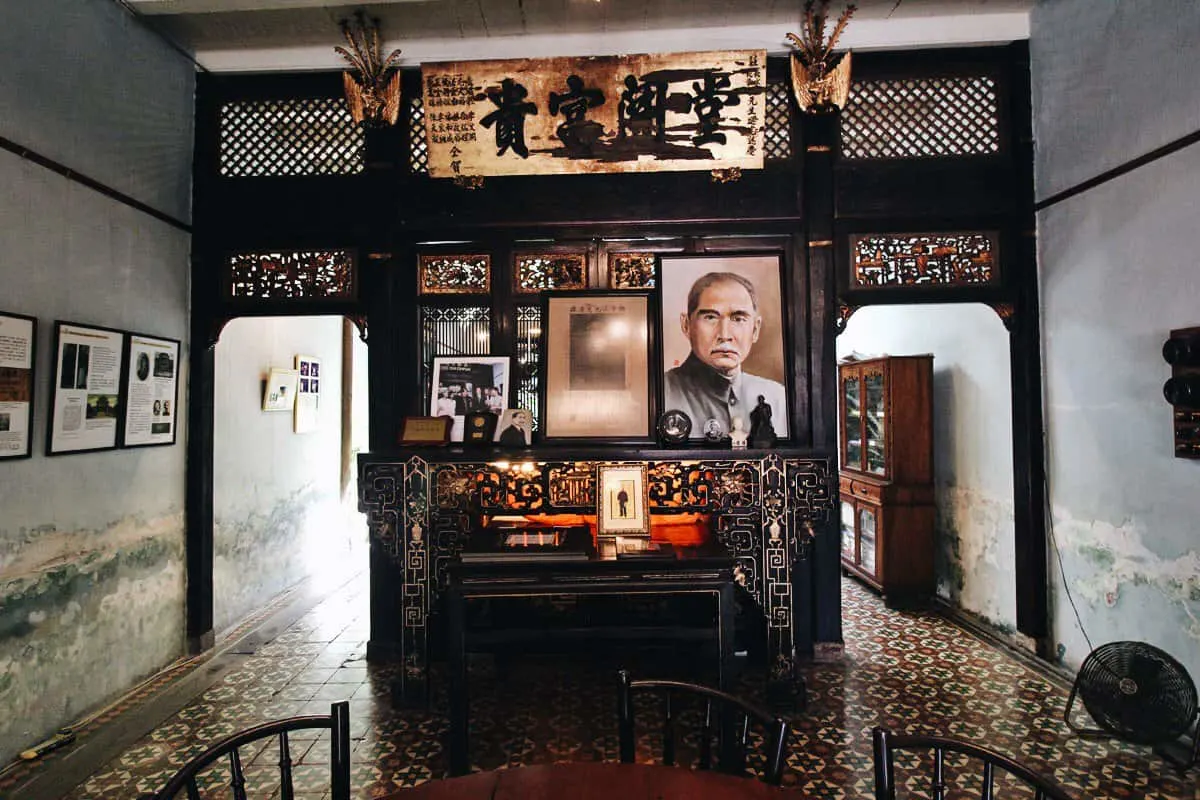 It's a relatively small house so I wasn't expecting to find one of these open courtyards. The Pinang Peranakan Mansion at the bottom of this post has an awesome one. They make the place feel so airy and seem to be a common element among heritage houses in Penang.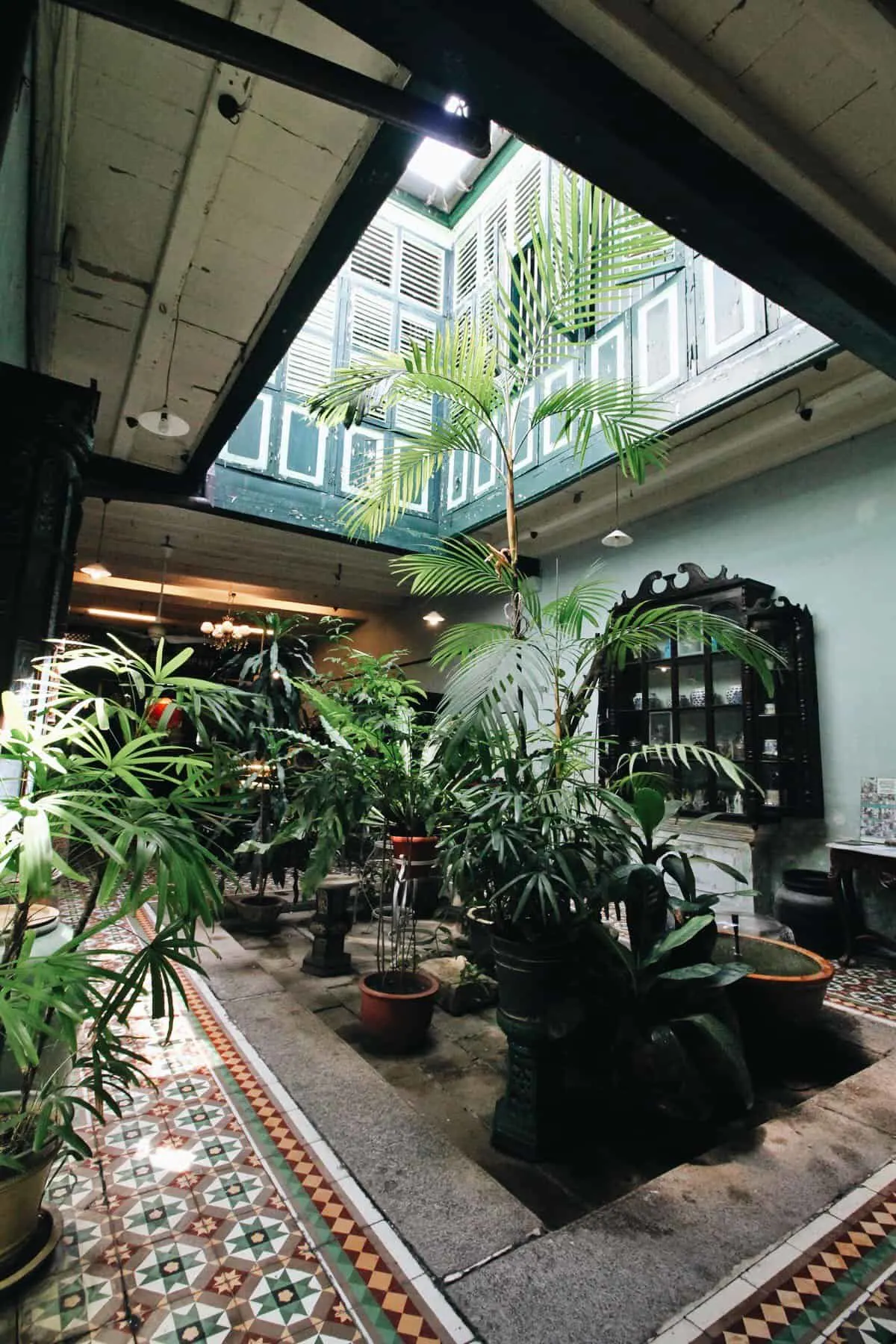 L: Timber staircase with a small collection of vintage electric fans. Too bad the second floor wasn't open to the public.
R: Kitchen with the original firewood stove and utensils. As described, the museum is pretty small so unless you have a particular interest in Dr. Sun Yat-sen, you can breeze through it in 15 minutes or so.

Sun Yat-sen Museum, George Town, Penang, Malaysia
120 Armenian Street, George Town, Penang, Malaysia
Tel: +60 (0)4 262 0123 / 261 0307
Website: sunyatsenpenang.com
Facebook: sunyatsenmuseum
Email: [email protected]
Operating Hours: Mon-Sun, 9:30AM-5PM
Admission: RM 5
HOW TO GET THERE:
From the corner of Penang Road and Chulia Street, start walking southwest on Chulia Street. Make a right on Pitt Street. Pitt Street will become Cannon Street. Turn right into Armenian Street and Sun Yat-sen Museum will be on your right.
Khoo Kongsi
Majestic, isn't it? This is one of George Town's most visited attractions. A kongsi is a clan house so Khoo Kongsi refers to the clan house of the Khoo family. It's said to be the grandest clan temple in Penang.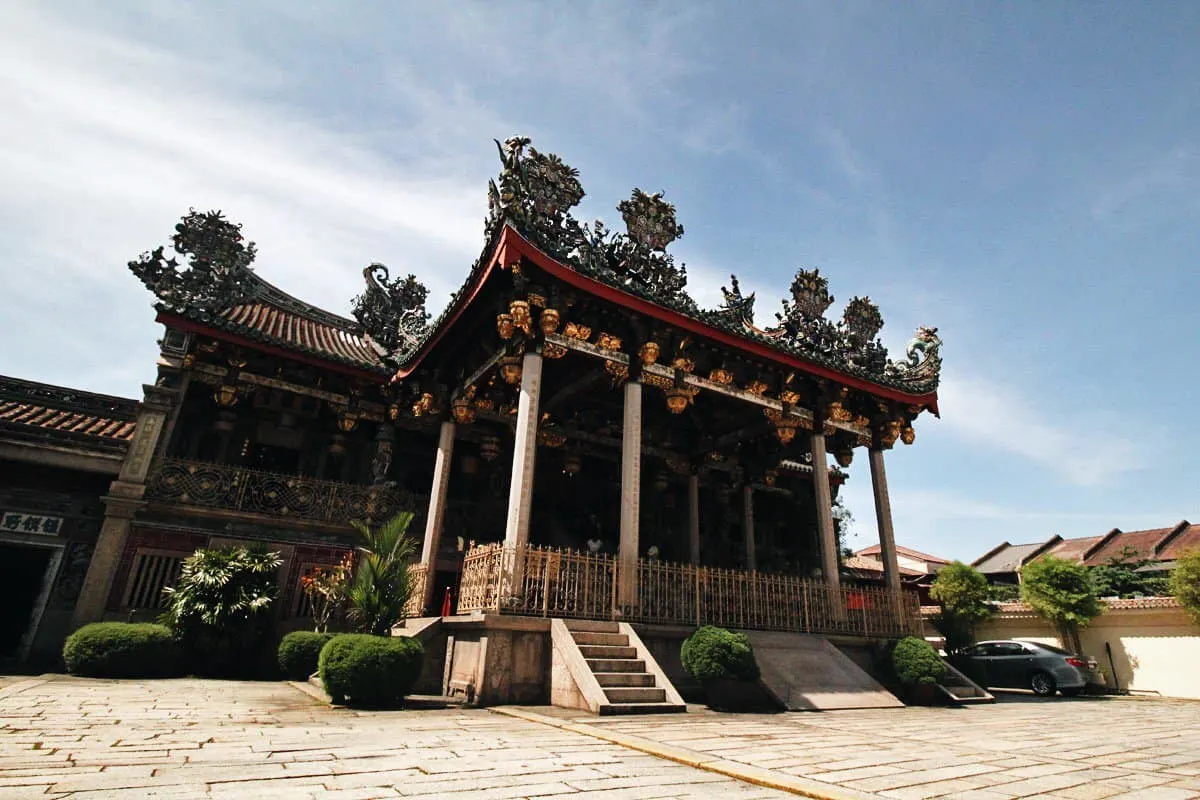 Impressive, but lacks detail don't you think? 😆 This is the main hall of the temple. The Khoos were among the wealthiest Chinese traders in Penang at the time. They built this temple in 1906 at the height of their wealth and eminence.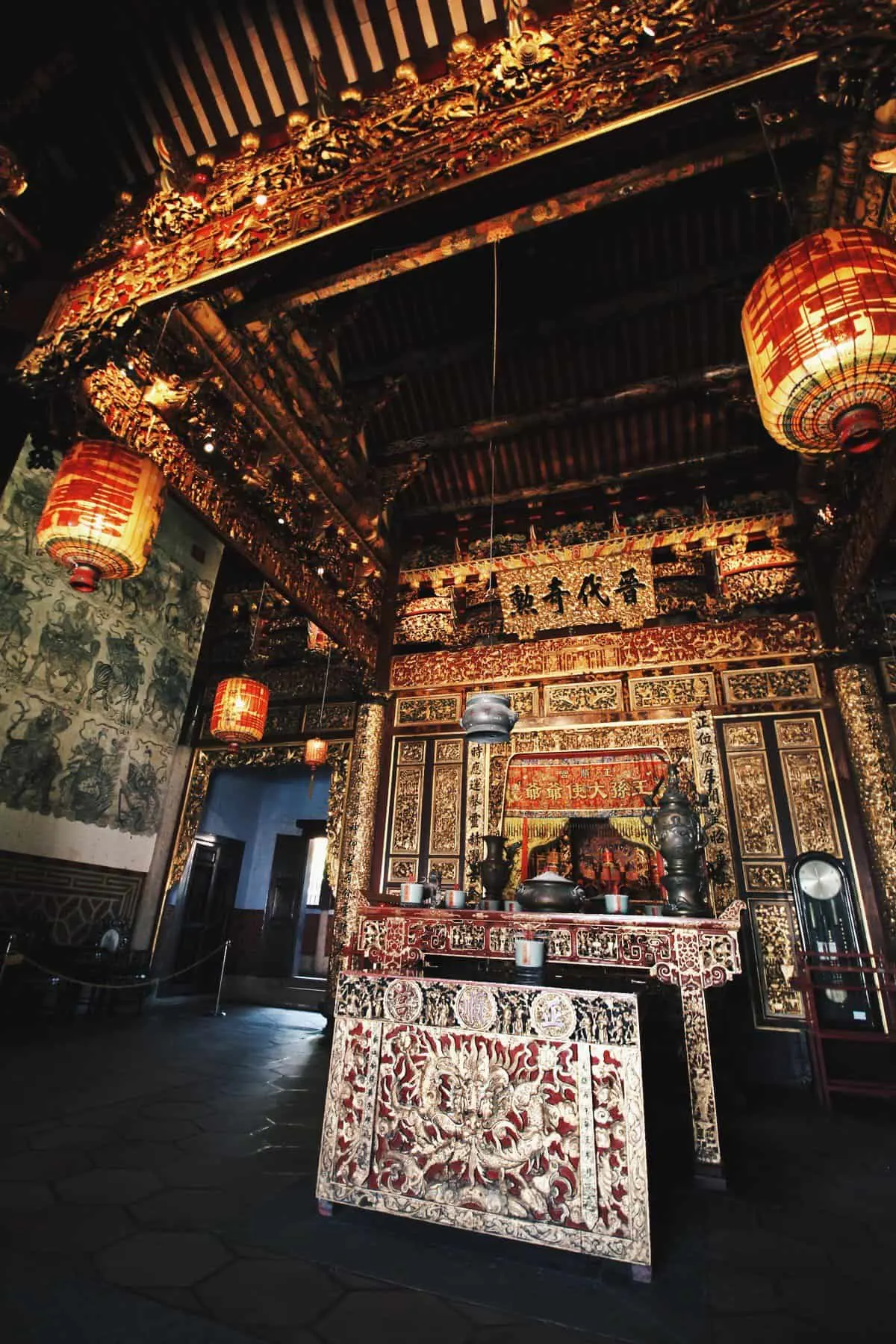 Highly ornamented and incredibly detailed.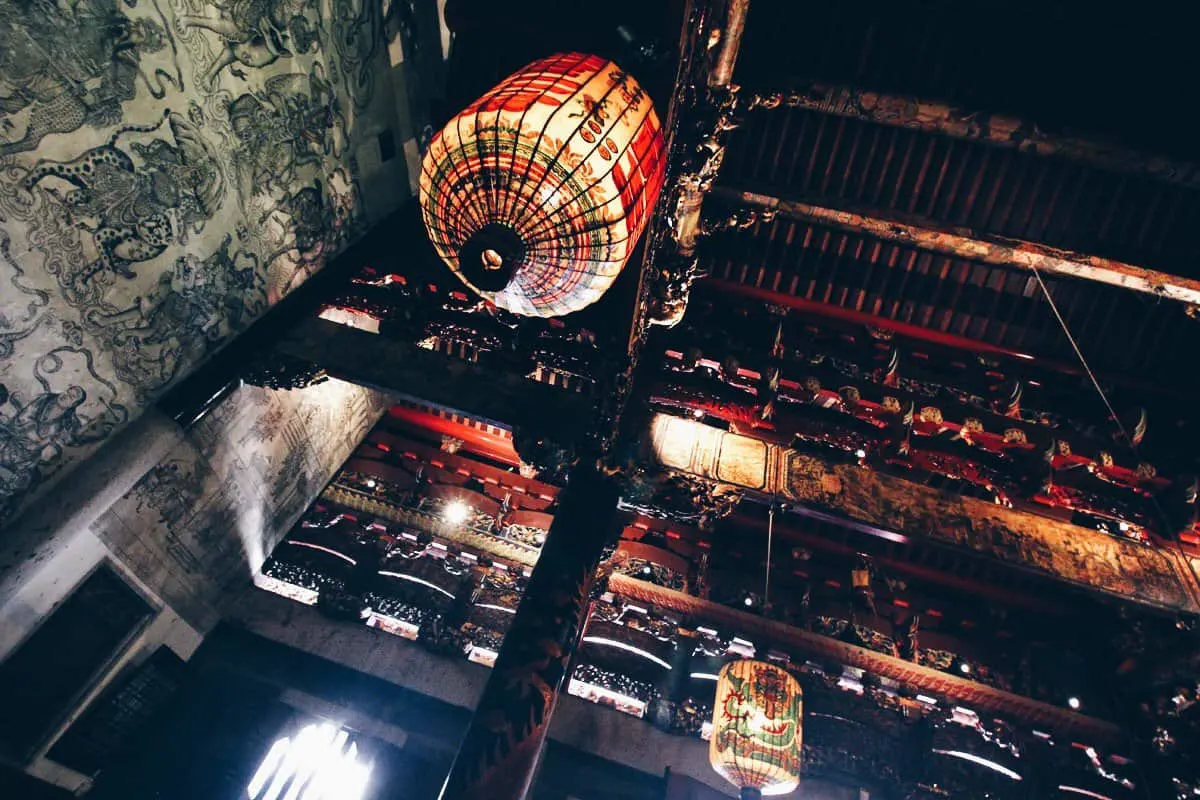 Check out the carvings on that beam. Crazy!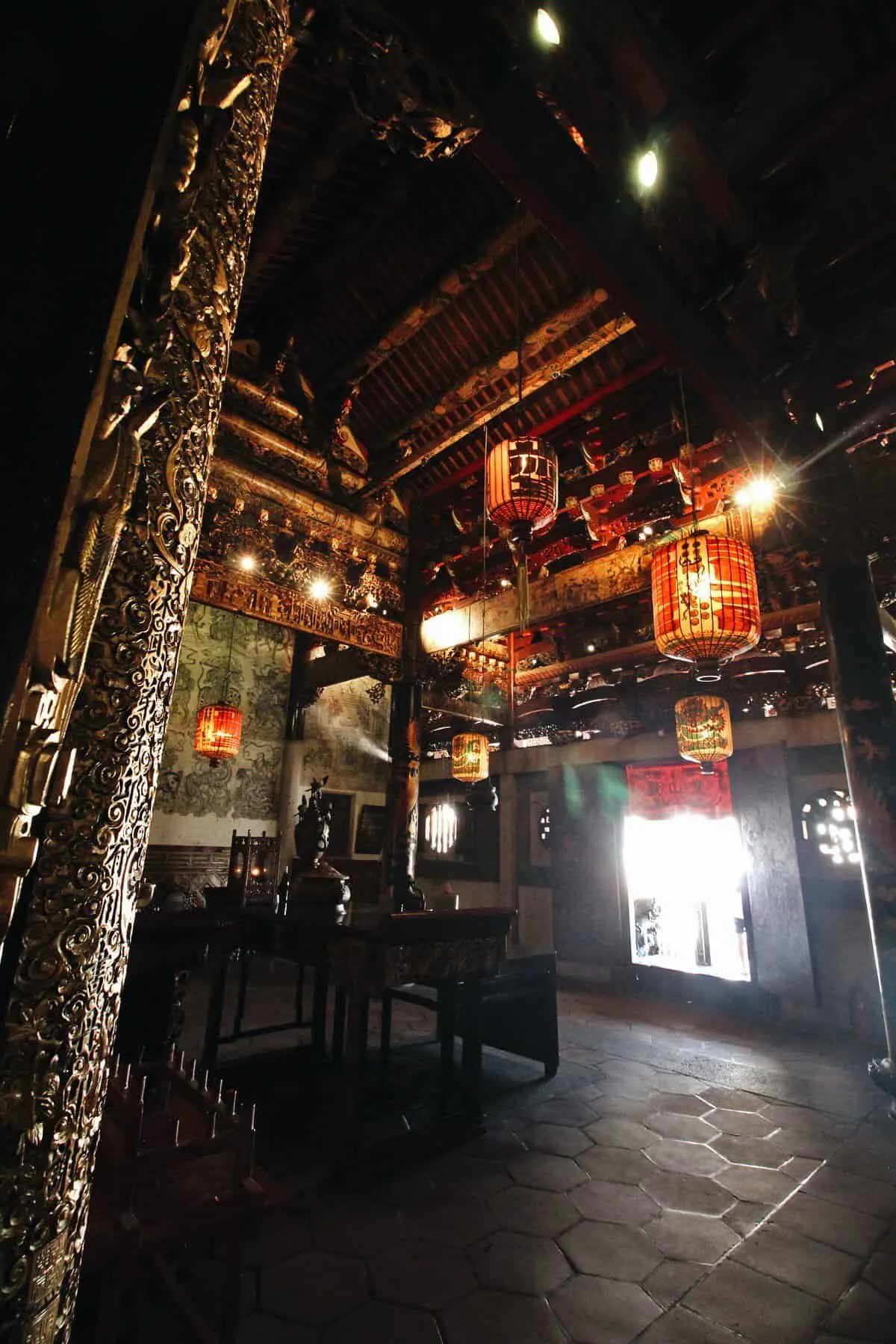 I don't know what they're for but this was one of two smaller rooms on either side of the main hall. I'm guessing the names engraved on plaques was a list of prominent clan members or officers?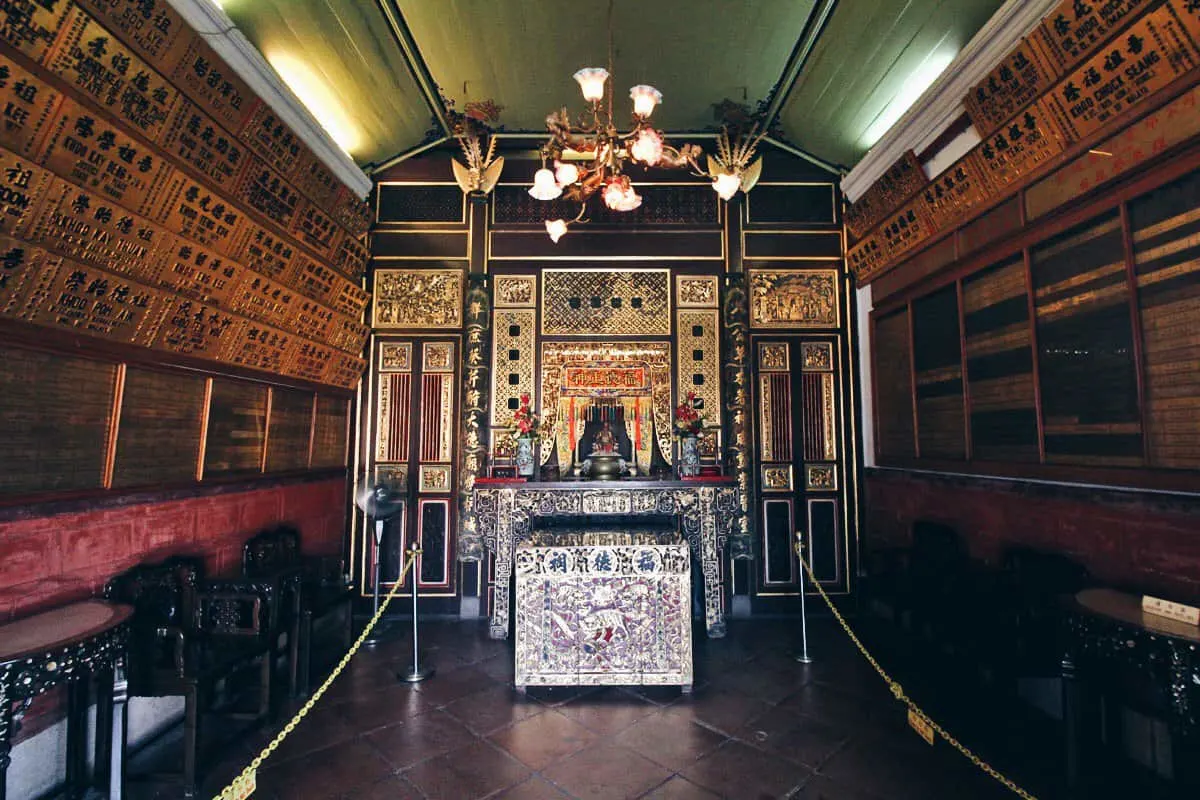 There was nothing else on the second floor apart from the main hall and two adjoining rooms. On the first floor was a small museum with displays and videos about Khoo Khongsi. I didn't stick around to watch the videos but on your way out you'll find this kitchen area with diorama.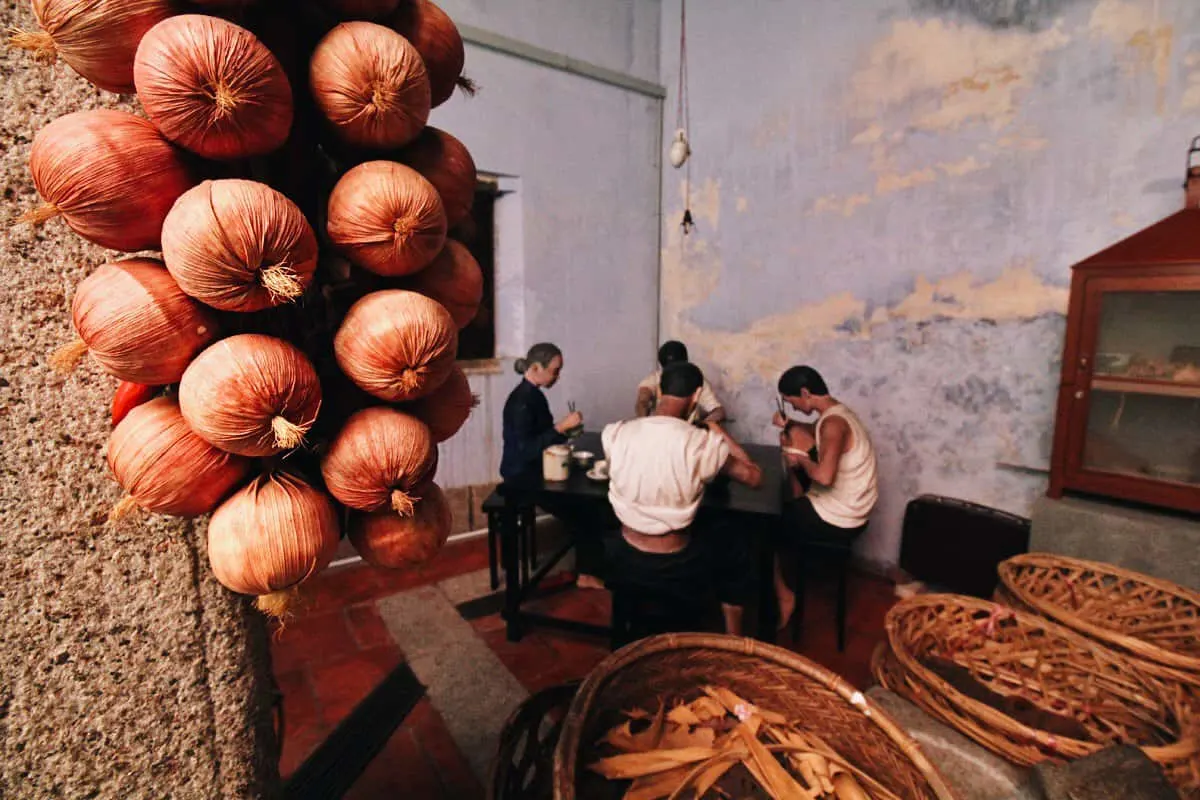 A wider view of the kitchen. Exiting through a door to the left will take you back out to the courtyard. Khoo Kongsi is actually a compound containing several buildings clustered around a granite-paved square. The temple is the most interesting part and the only one that seems to accept tourists. Entrance to the Khoo Kongsi compound is RM 10.
Khoo Kongsi is easy enough to visit on your own but if you'd like to learn more about its history, then you may want to go on a guided tour. Klook's George Town heritage tour will take you to several historical sights in George Town, including Khoo Kongsi. It's also one of the stops on these trishaw tours from Klook. Riding around in a trishaw may be one of the most fun ways of seeing George Town's top historical attractions.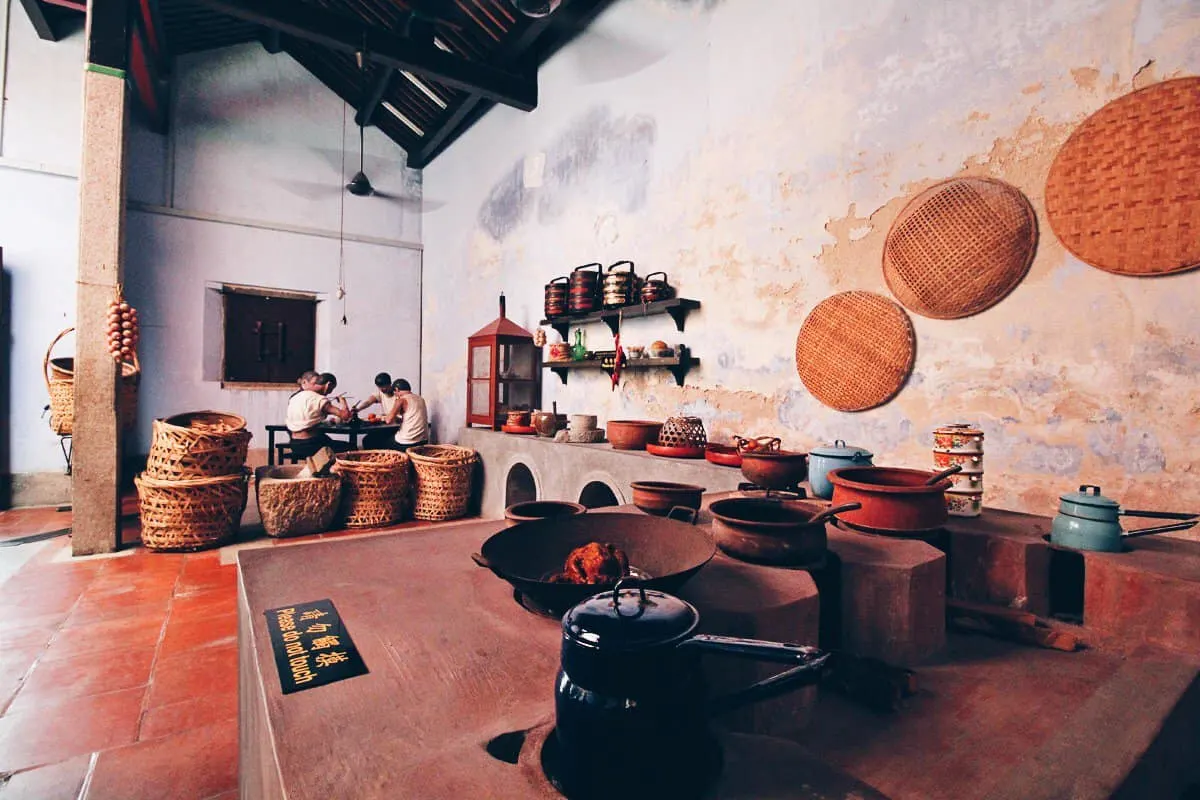 Khoo Kongsi, George Town, Penang, Malaysia
18 Cannon Square, George Town, Penang, Malaysia
Tel: +604-261 4609
Fax: +604-262 2591
Website: khookongsi.com.my
Facebook: KhooKongsi
Email: [email protected]
Operating Hours: Mon-Sun, 9AM-5PM
Admission: RM 10
HOW TO GET THERE:
From the corner of Penang Road and Chulia Street, start walking southwest on Chulia Street. Make a right on Pitt Street. Pitt Street will become Cannon Street. You'll see the entrance to the Khoo Kongsi compound on your left.
Chew Jetty
Of the four attractions listed in this post, this was the most interesting. It's the most interesting because it isn't every day that you see something like this! Clan jetties are Chinese waterfront settlements comprised of wooden houses built on stilts. They were built more than a century ago by poor Chinese immigrants who moved to Penang from Fujian province and worked near the port.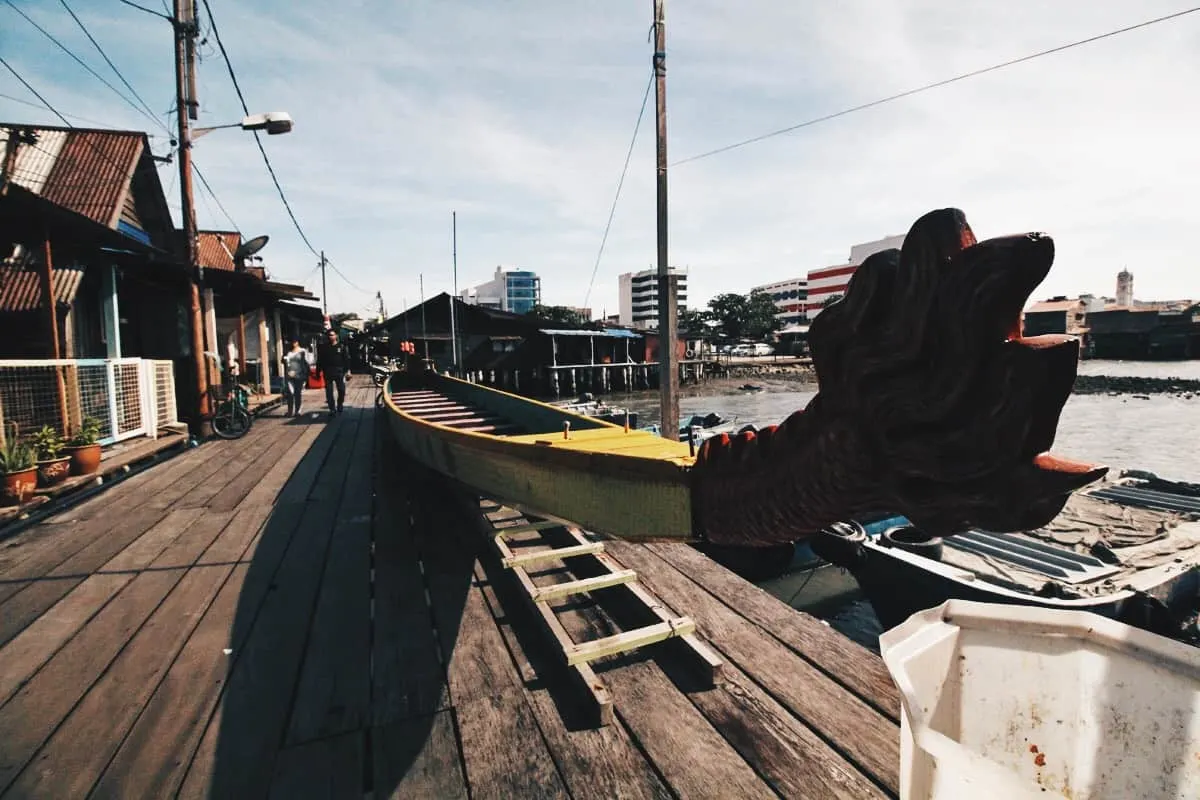 Unlike the other attractions on this post, clan jetties aren't museums. They're actual communities still inhabited by families. Over time, the settlements grew when Chinese immigrants brought their families over to make these waterfront communities their home. Chew Jetty, which is inhabited by members of the Chew clan, is the largest of six surviving clan jetties in Penang today. See what I mean about the importance of the family unit in Penang?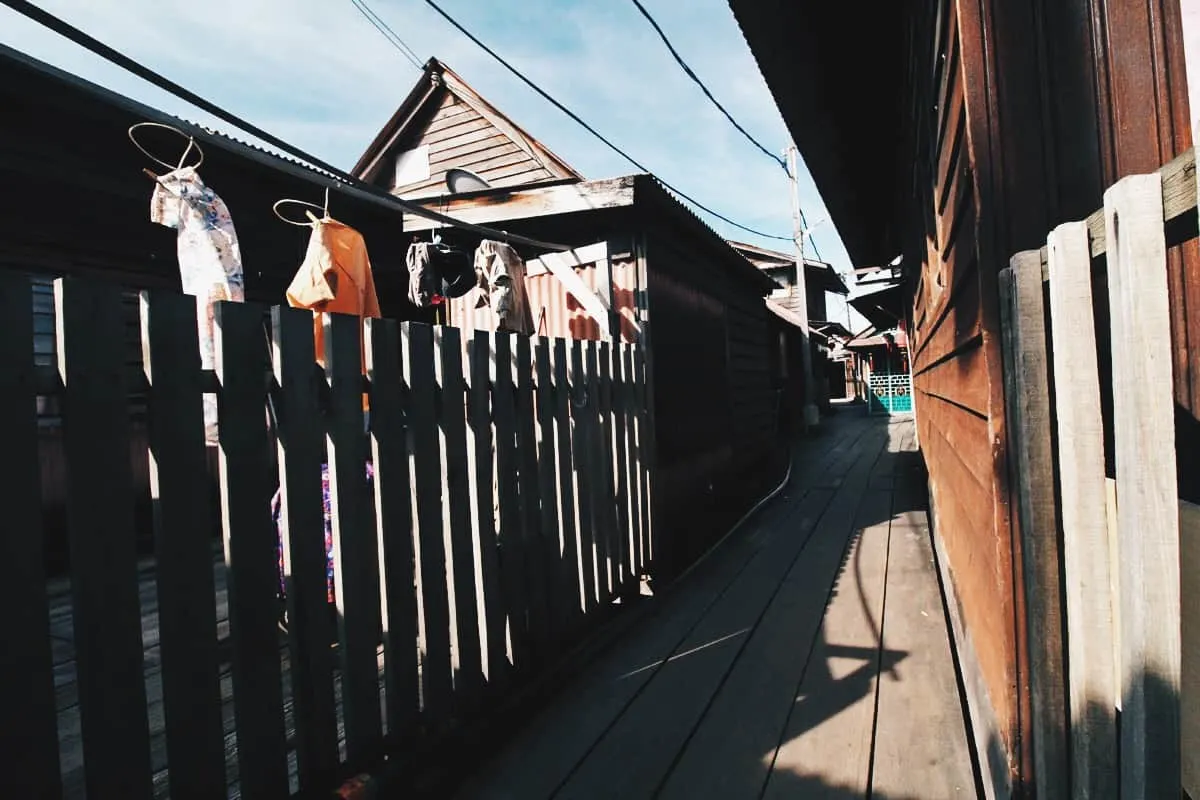 Apart from being the largest, it's also the most touristy. Chew Jetty may still be an active community but it's become one of Penang's most popular tourist attractions. On its main stretch are rows of souvenir shops on either side.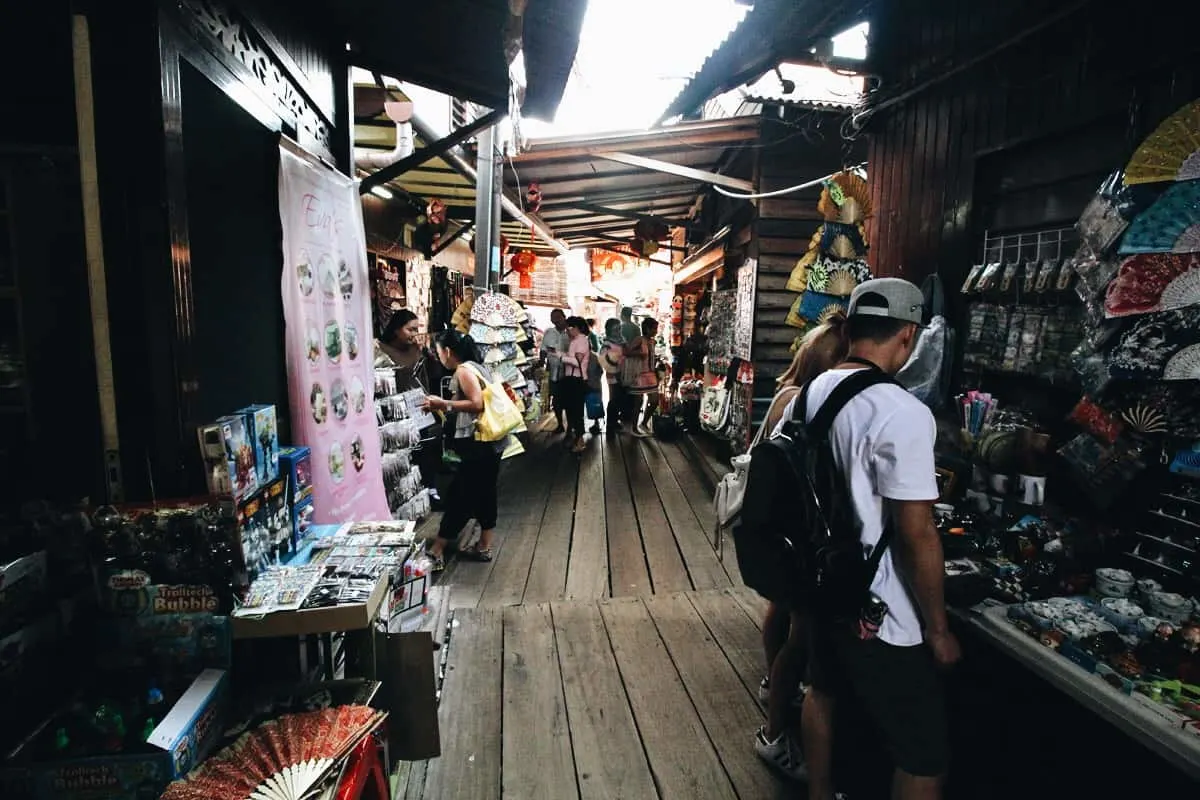 I'm not sure how you can reserve a room but I read that tourists can have a homestay here! Some enterprising residents have opened up their homes to tourists. Sounds like a fun experience and a great way to immerse yourself in this waterfront community.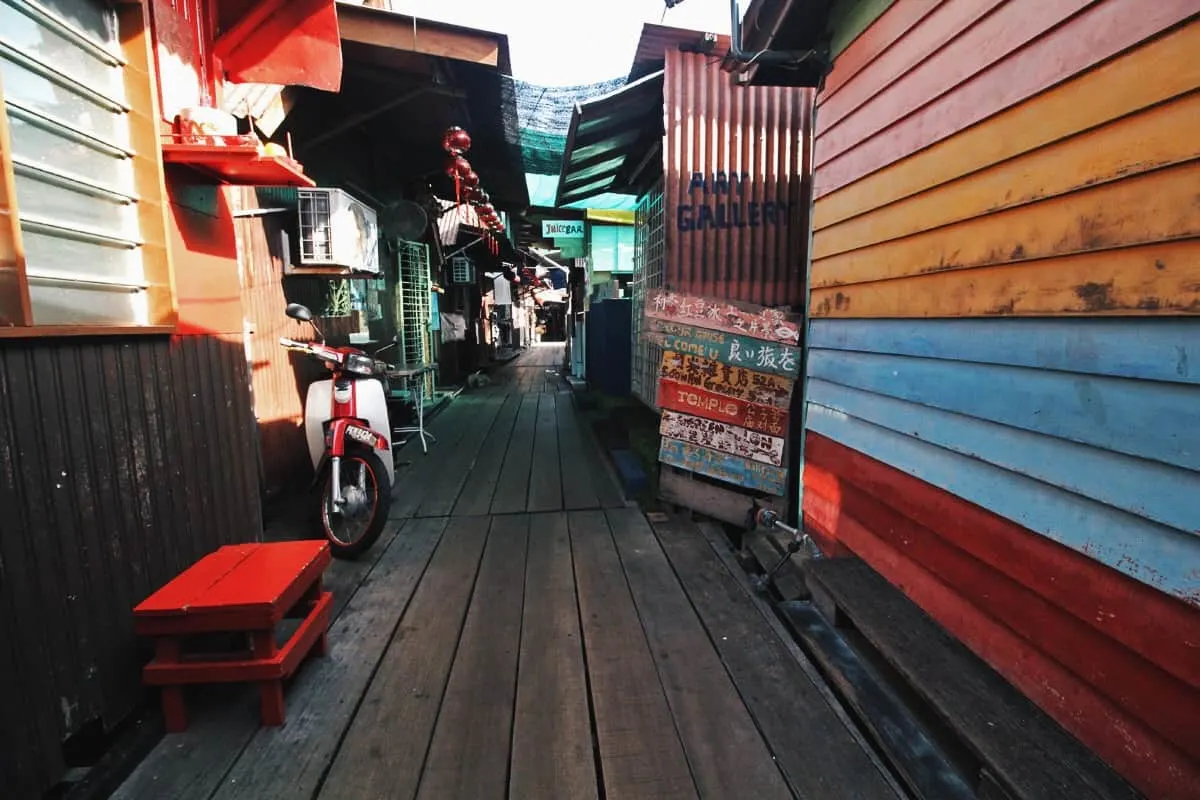 Cylinder fishing nets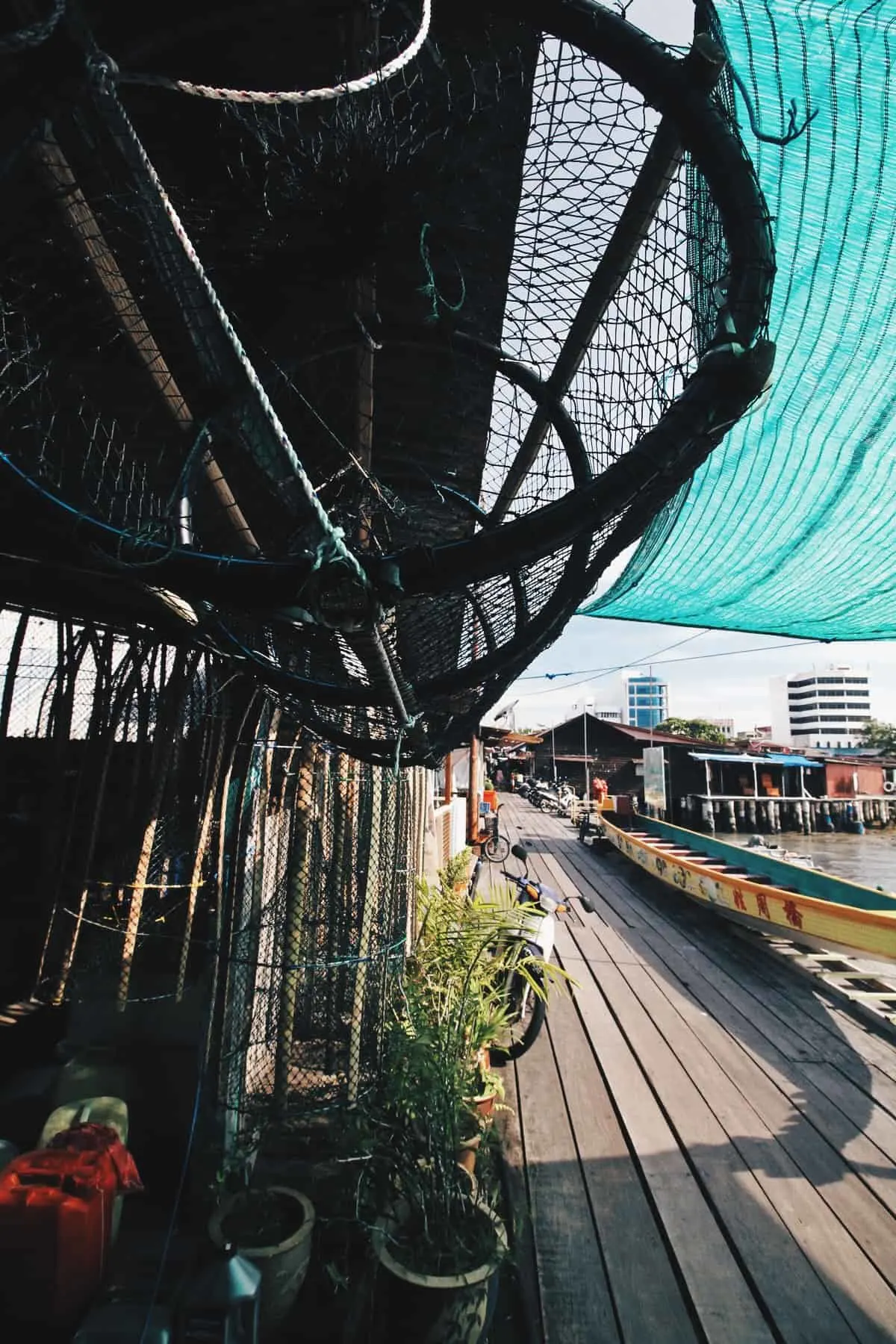 Not sure if this dragon boat was used for any festivals but Chew Jetty holds annual religious and cultural activities which tourists can take part of. Their biggest is the worship of the Jade Emperor (Sky God) on the eight day of the Chinese New Year.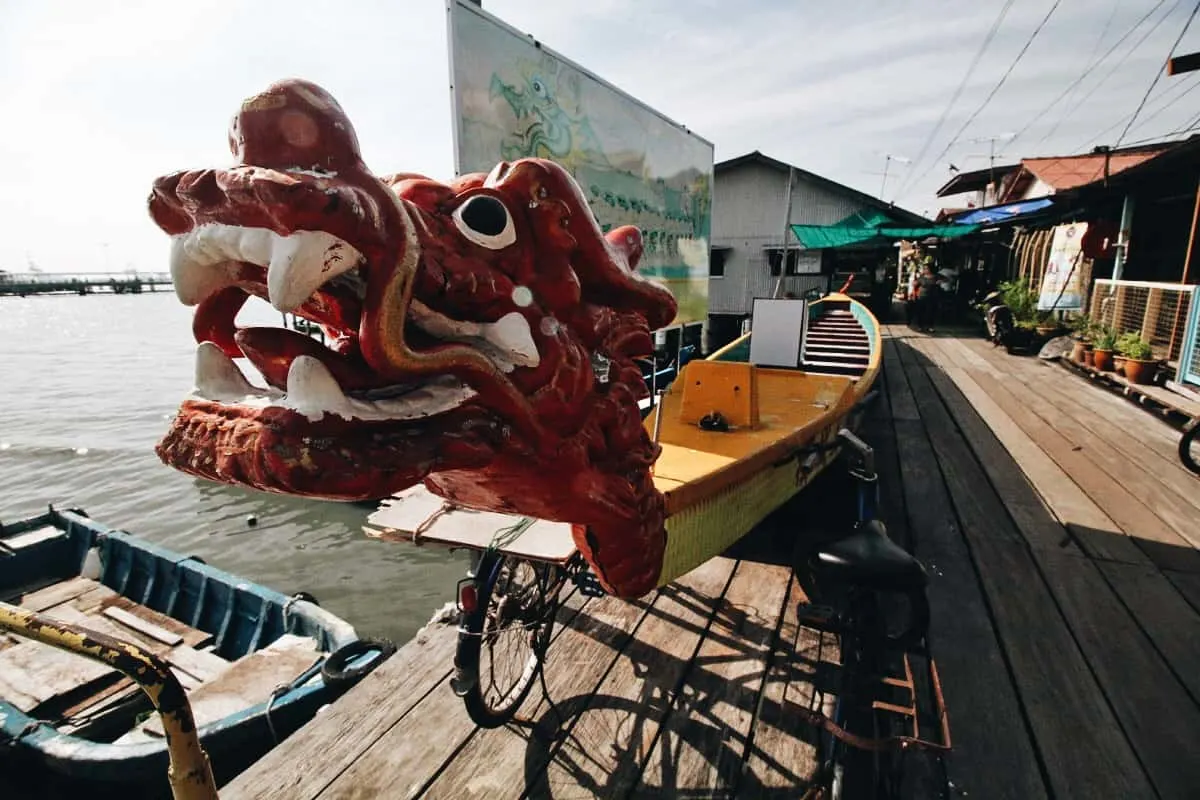 This alley was cordoned off to tourists. Chew Jetty may be a popular tourist attraction but families still live here so be sure to keep your voices down and don't leave a mess. Be mindful of what and who you take of pictures of as well. The people here aren't attractions at a zoo. 😆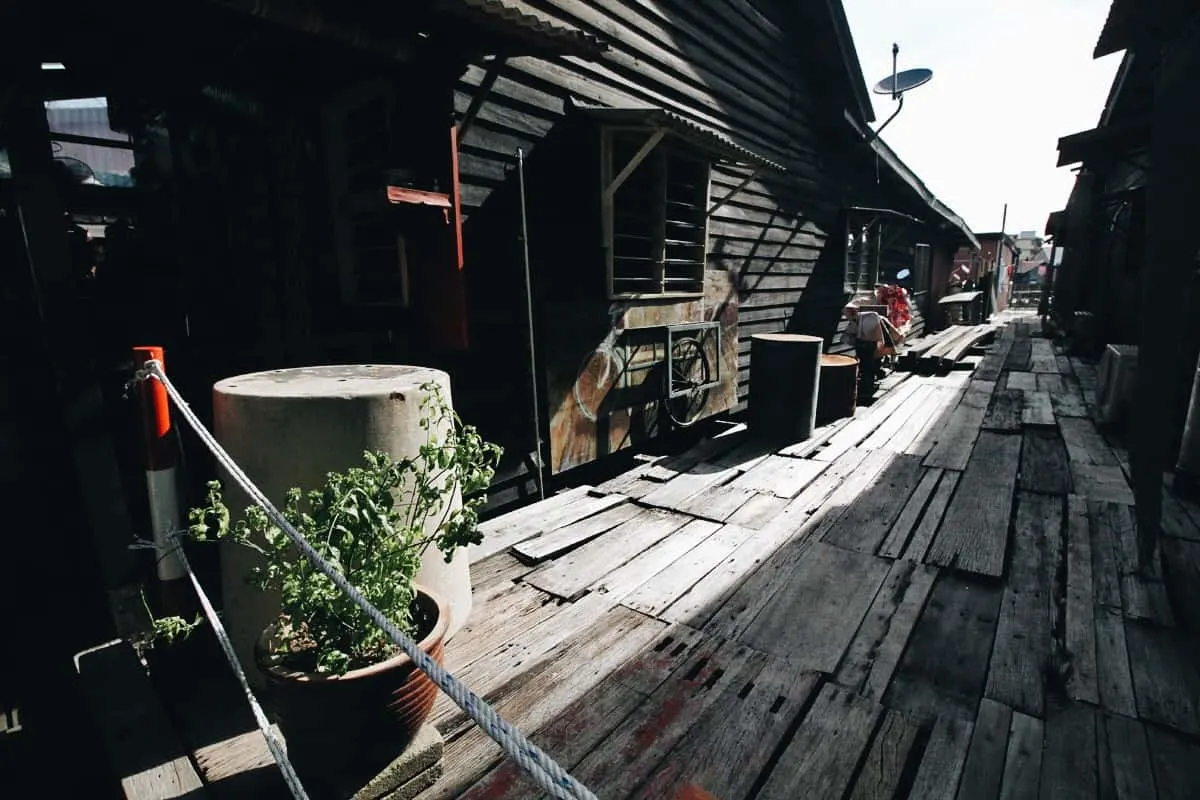 A narrow corridor leading to a less visited section of Chew Jetty. The houses look old but the area is clean and well kept.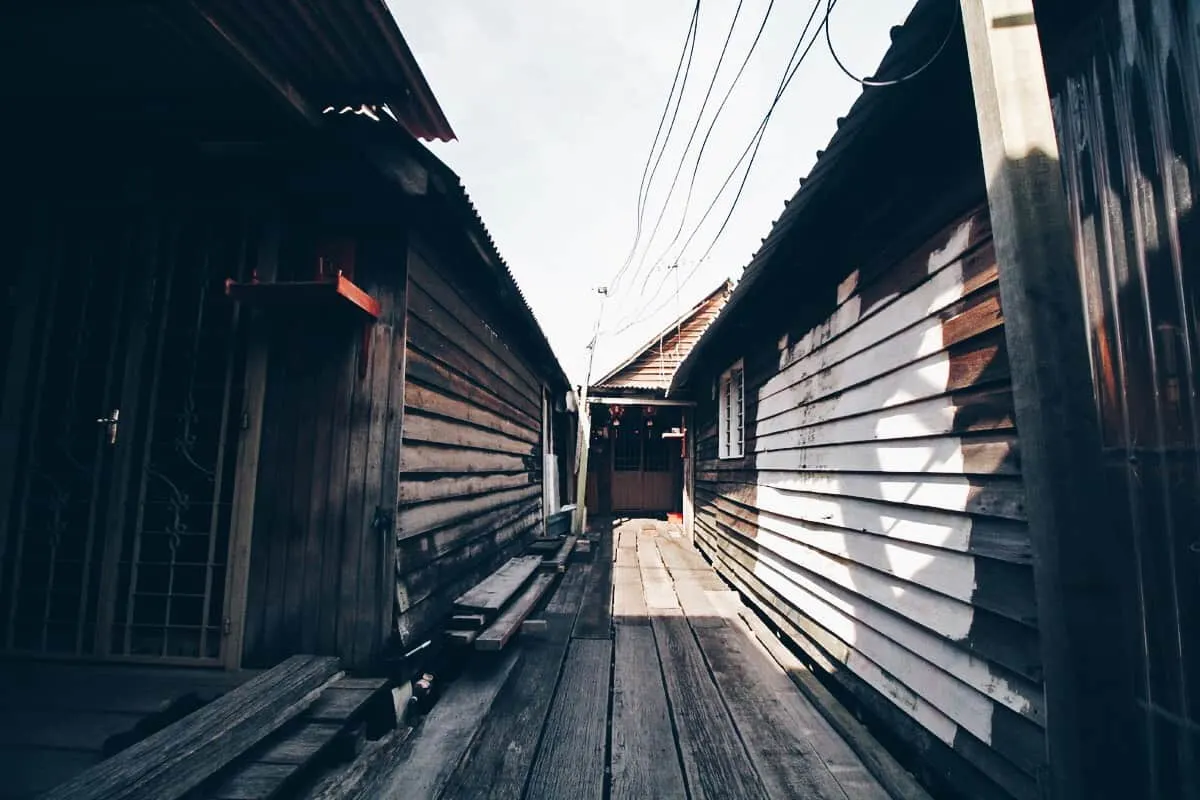 I read that water and electricity was installed for the clan jetty communities in 1954. Peering into the houses, many of them have modern conveniences like air-conditioners, TVs, and refrigerators.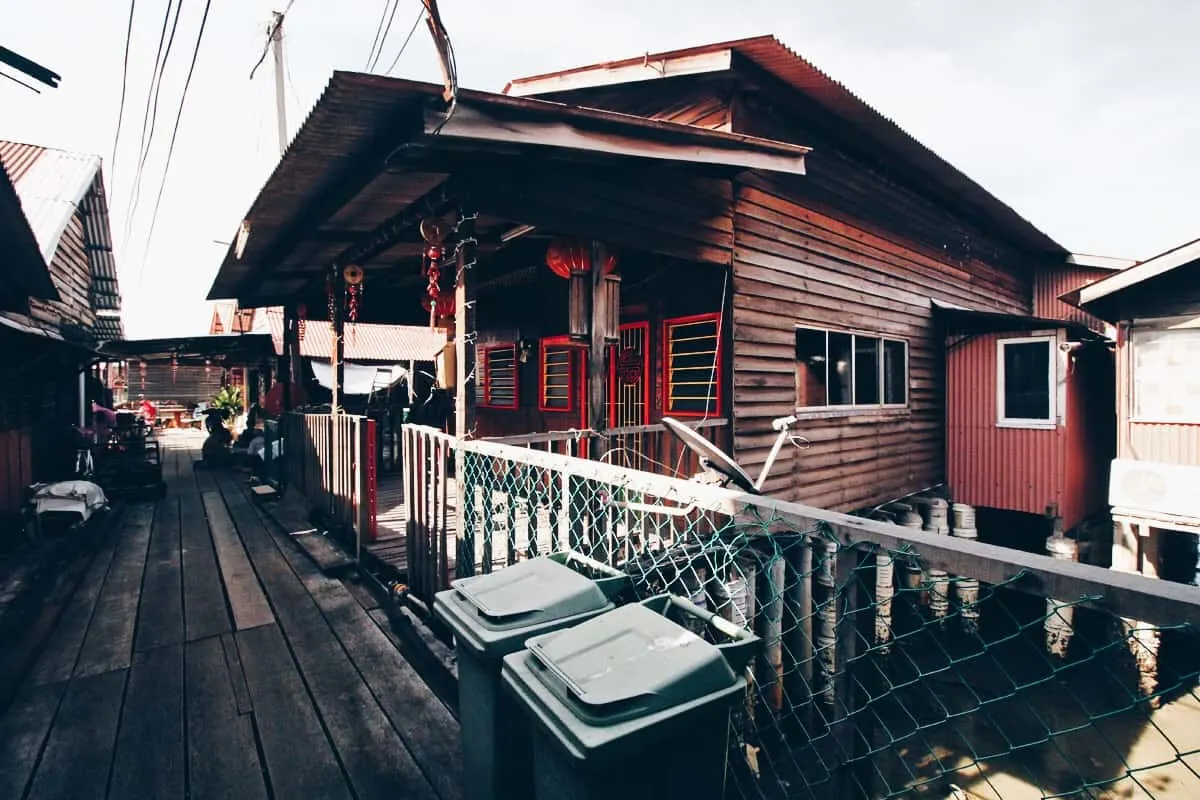 Again, be respectful when you're here and don't go knocking on anyone's door asking if you could take a selfie. 😆 Entrance to Chew Jetty is free. It's an interesting area to explore so you can probably spend about an hour here.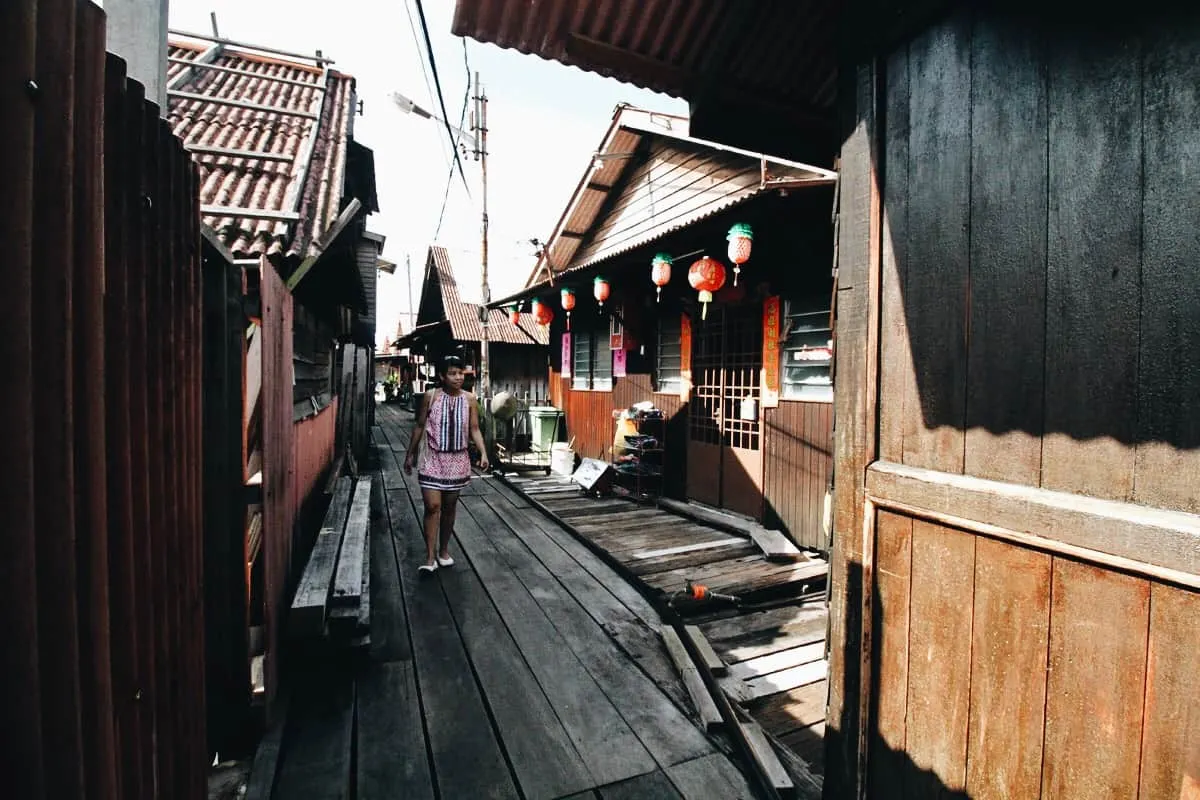 Chew Jetty, George Town, Penang, Malaysia
59A, Chew Jetty, Weld Quay, George Town, Penang, Malaysia
Mobile: +6013-438 1217 / +6016-402 0411 / +6016-456 1884
Website: discoverpenang.evomediatech.com
Email: [email protected]
Operating Hours: Mon-Sun, 8AM-11PM
Admission: FREE
HOW TO GET THERE:
From the corner of Penang Road and Chulia Street, start walking southwest on Chulia Street. Walk all the way down then make a right on Weld Quay. Turn left into a small road to enter Chew Jetty. It's poorly marked but there are usually other tourists coming and going so it isn't too hard to find.
Pinang Piranakan Mansion
This mint green mansion on Church Street is one of the best-preserved examples of affluent Peranakan living in Penang. It was once the home of Chung Keng Kwee, a self-made tin mining magnate who became the richest man in Penang in the late 19th century.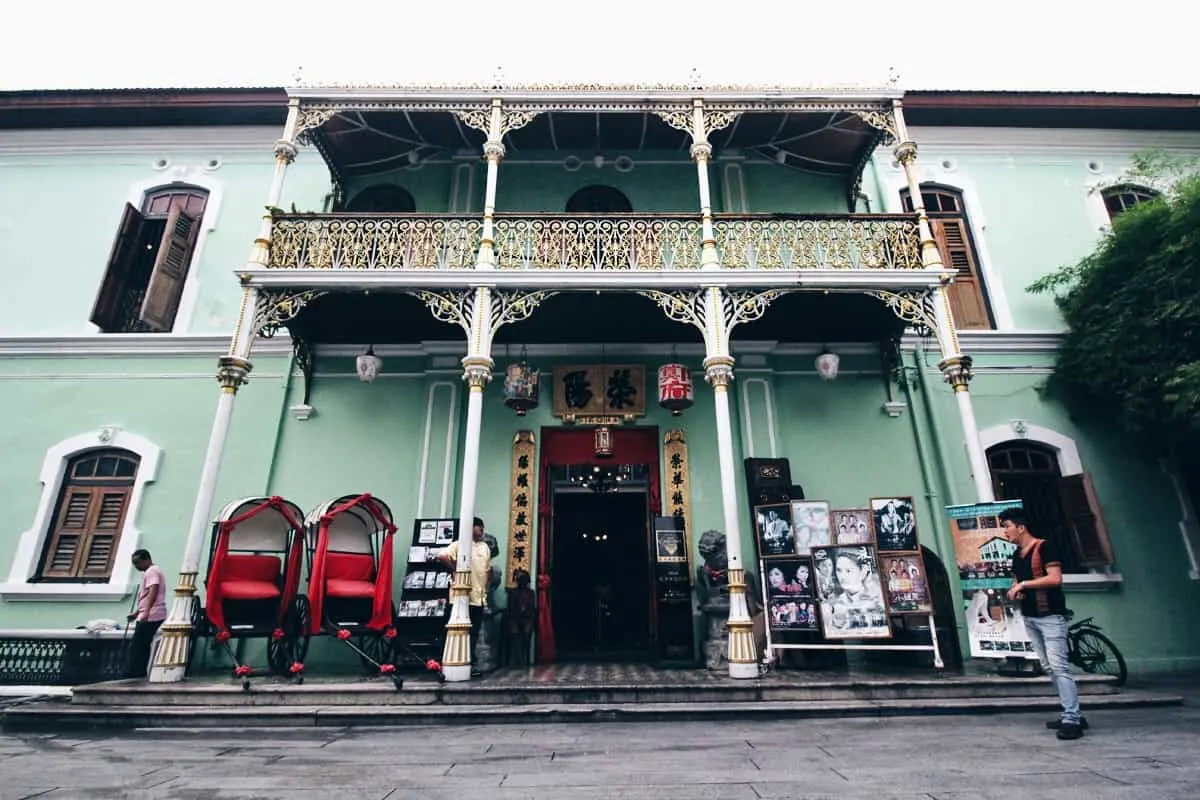 Entrance to the museum is a little steep at RM 25, but worth it. The house and its thousands of antiques are very well preserved. I LOVE this courtyard.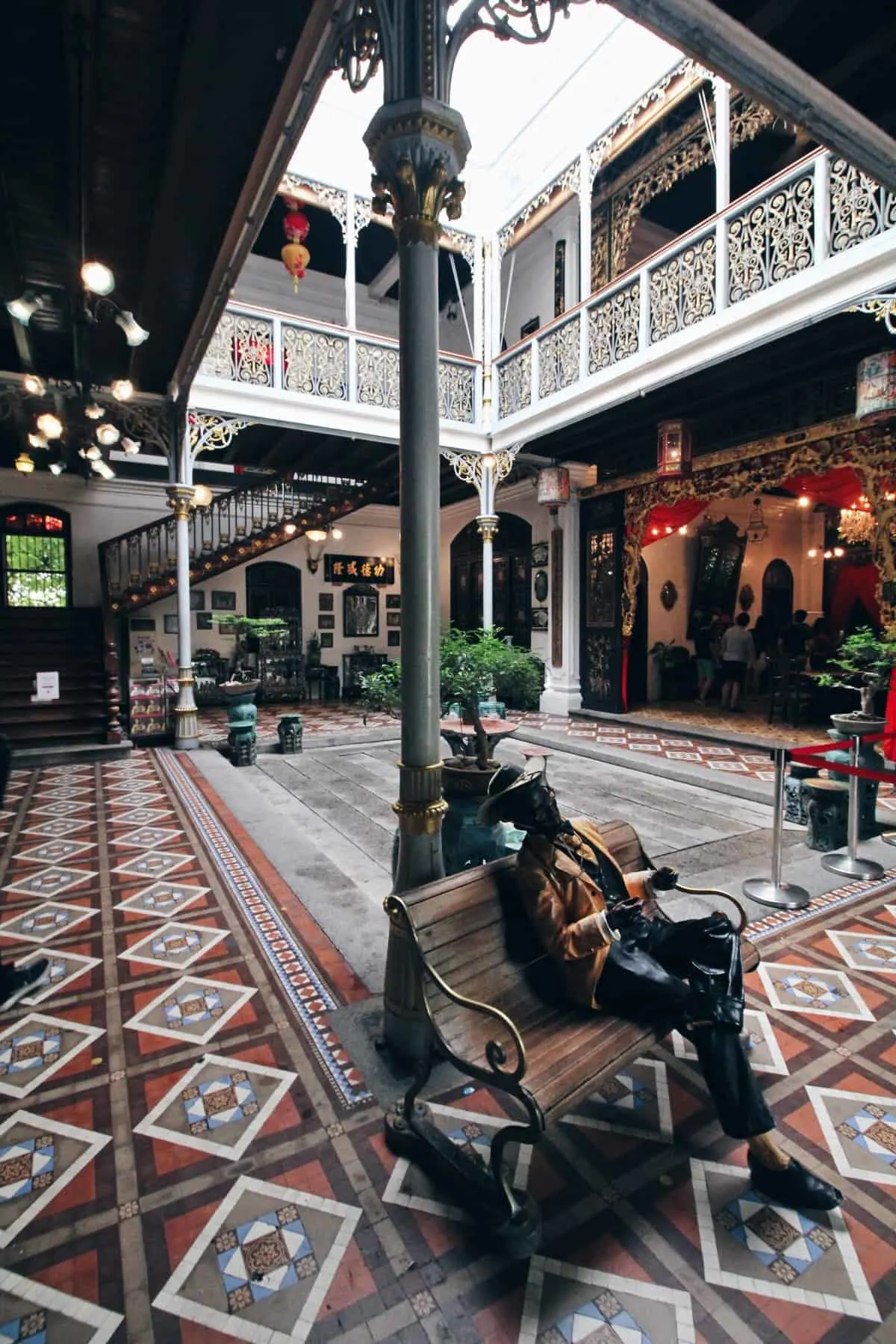 Here's the dining room. As with all shows of affluence in Penang, almost every square inch of this mansion is lavish and elaborately decorated. At the time of his death in 1898, Chung Keng Kwee was said to have left behind a personal fortune worth USD 10 million with properties in George Town, Perak, and Hong Kong. USD 10 million in 1898?! Whoah. 😯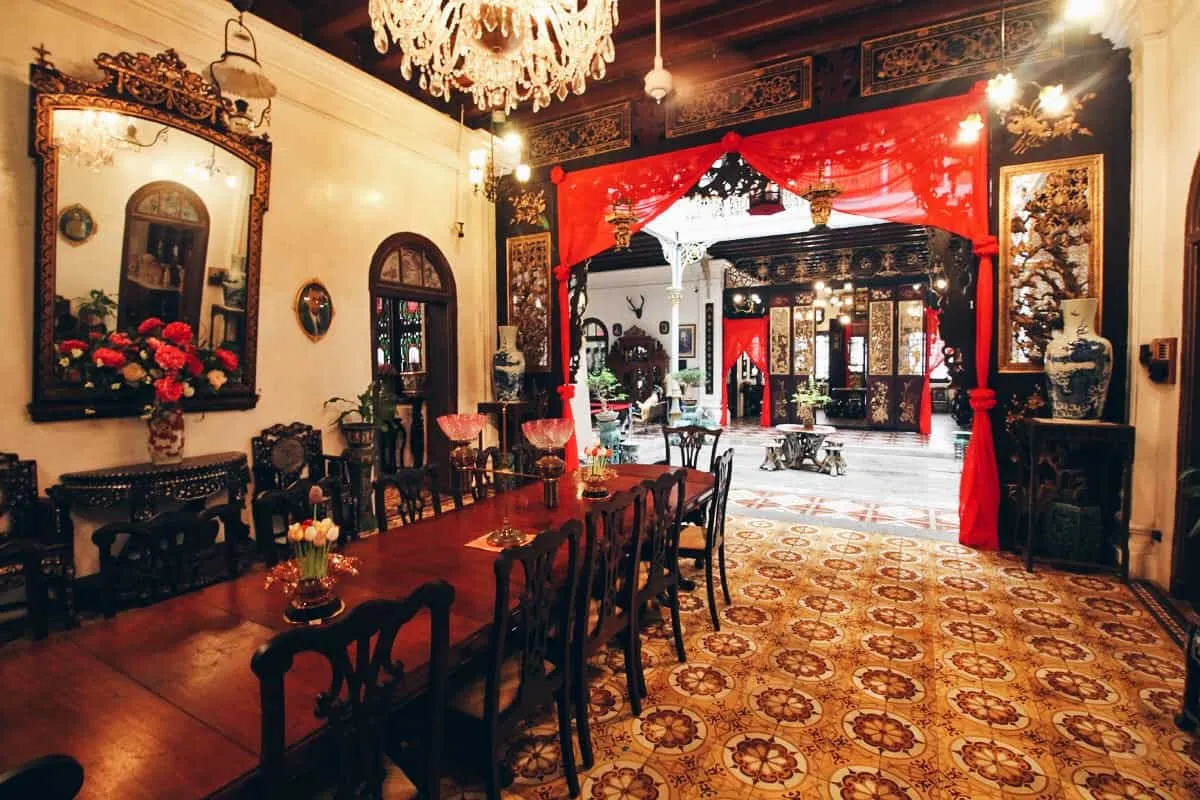 Mahjong or game room?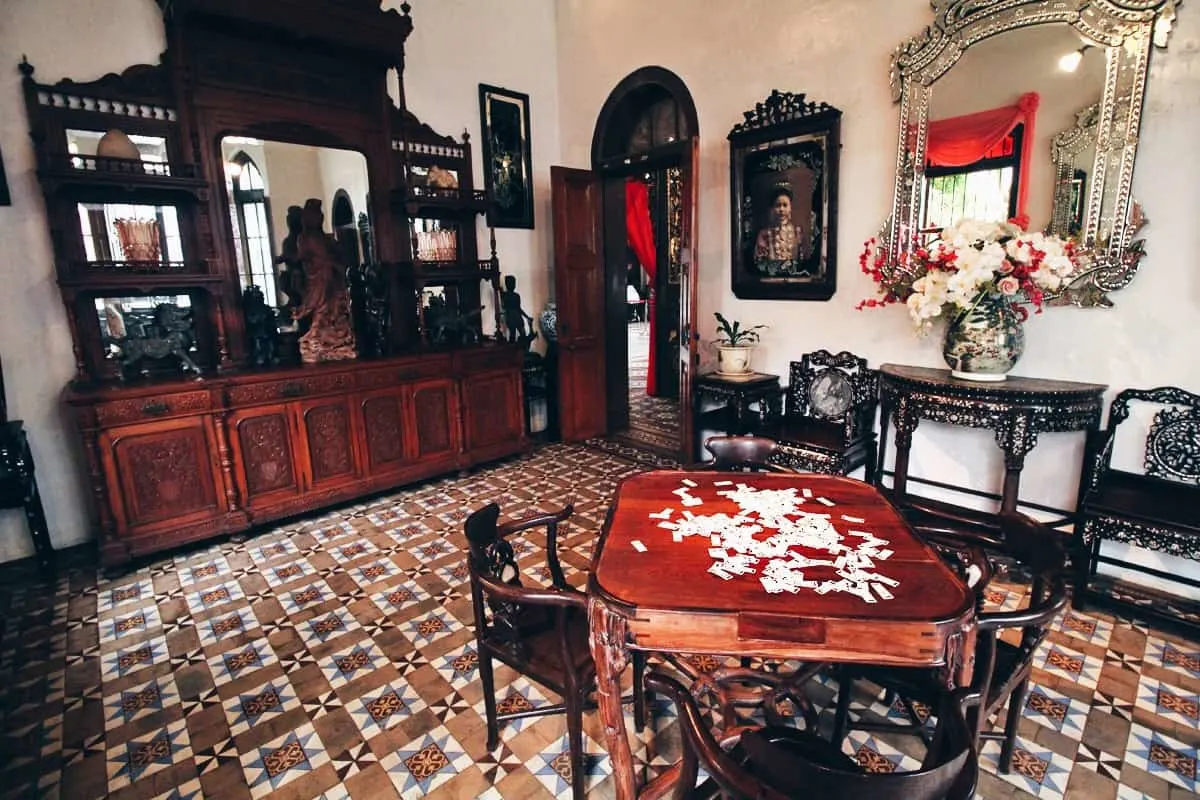 Wouldn't this be an awesome place to have breakfast? As described earlier in this post, these open courtyards appear to be a common feature among Penang mansions. I googled it and they're apparently known as Chinese courtyard houses. We didn't go but another popular attraction — the Cheong Fatt Tze mansion — is a stately courtyard house as well. Both are beautiful examples of Peranakan architecture. We didn't have time to visit both so we chose this one based on its stronger TripAdvisor reviews.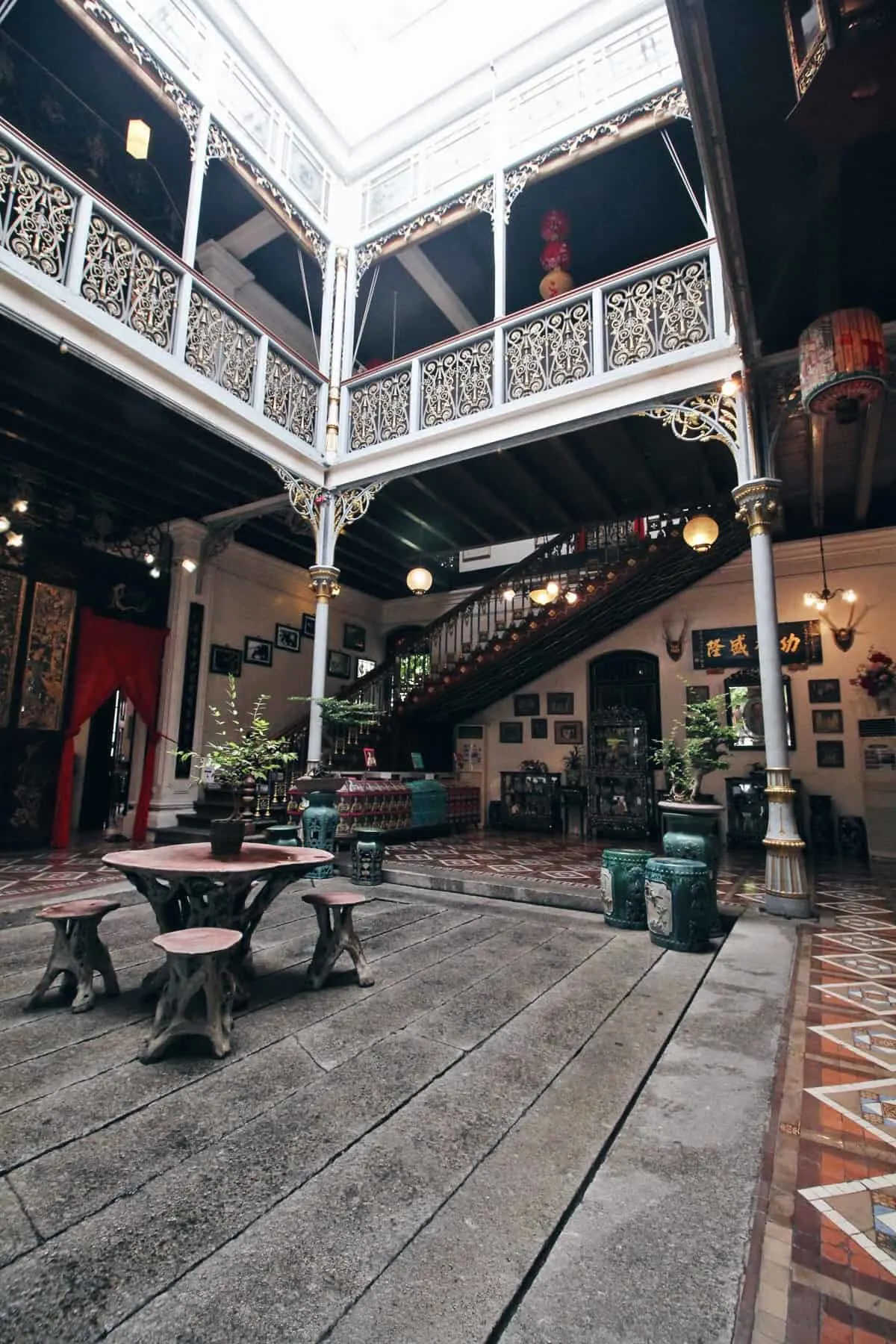 Based on the bed alone, this looks to have been the master bedroom.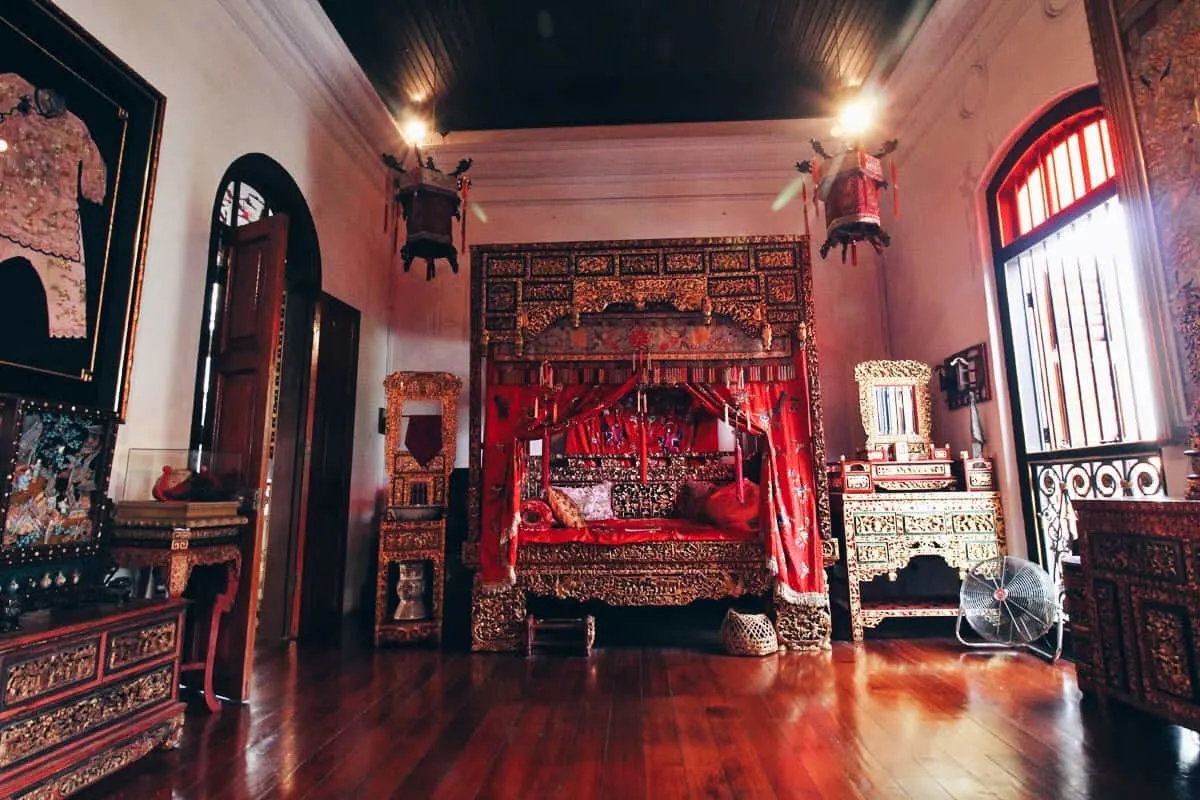 Judging by the less impressive furnishings, this looks to have been a guest room.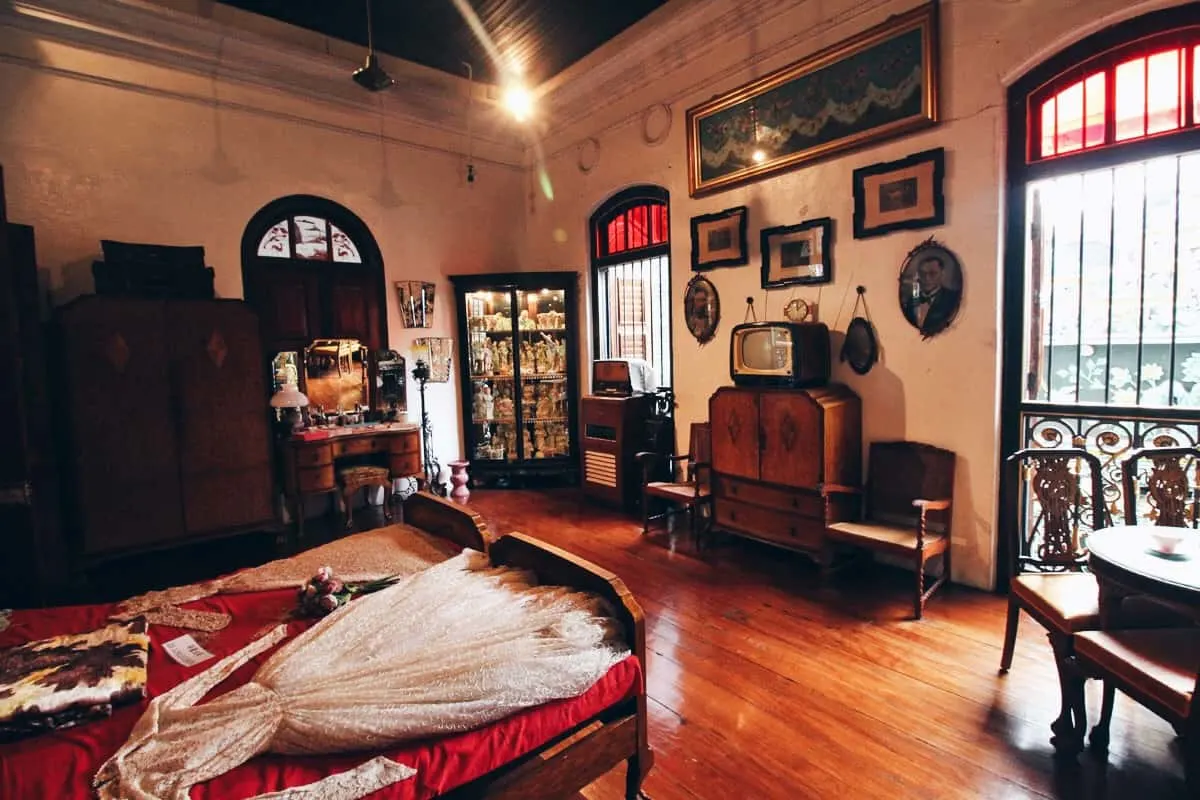 Digging this antique TV. Chung Keng Kwee passed away in 1898 so I doubt this was his. 😆 The mansion was neglected for decades before its new owner restored and turned it into the museum that it is today.
I wonder how Chung Keng Kwee feels about it though. It's rumored that his spirit still haunts this mansion, with a number of sightings and unexplained noises being reported to this day. 😯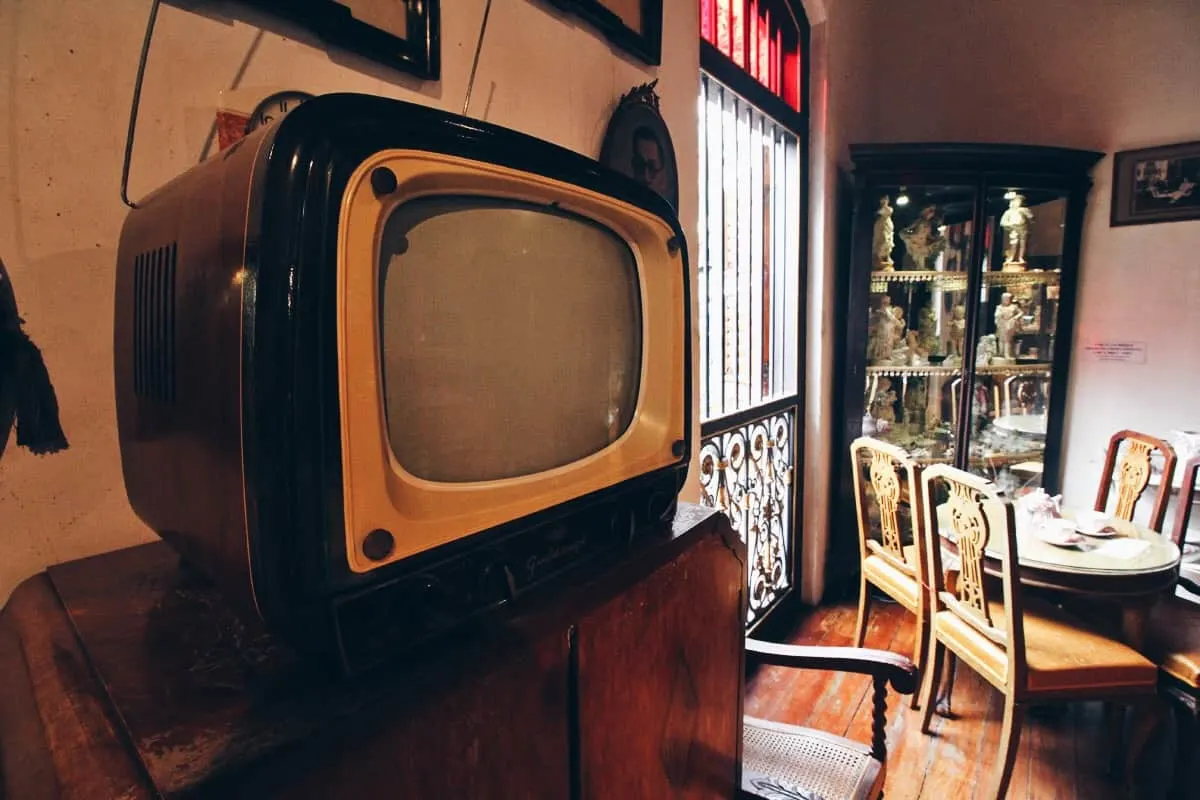 Like the TV, I wonder how historically accurate some of these props are…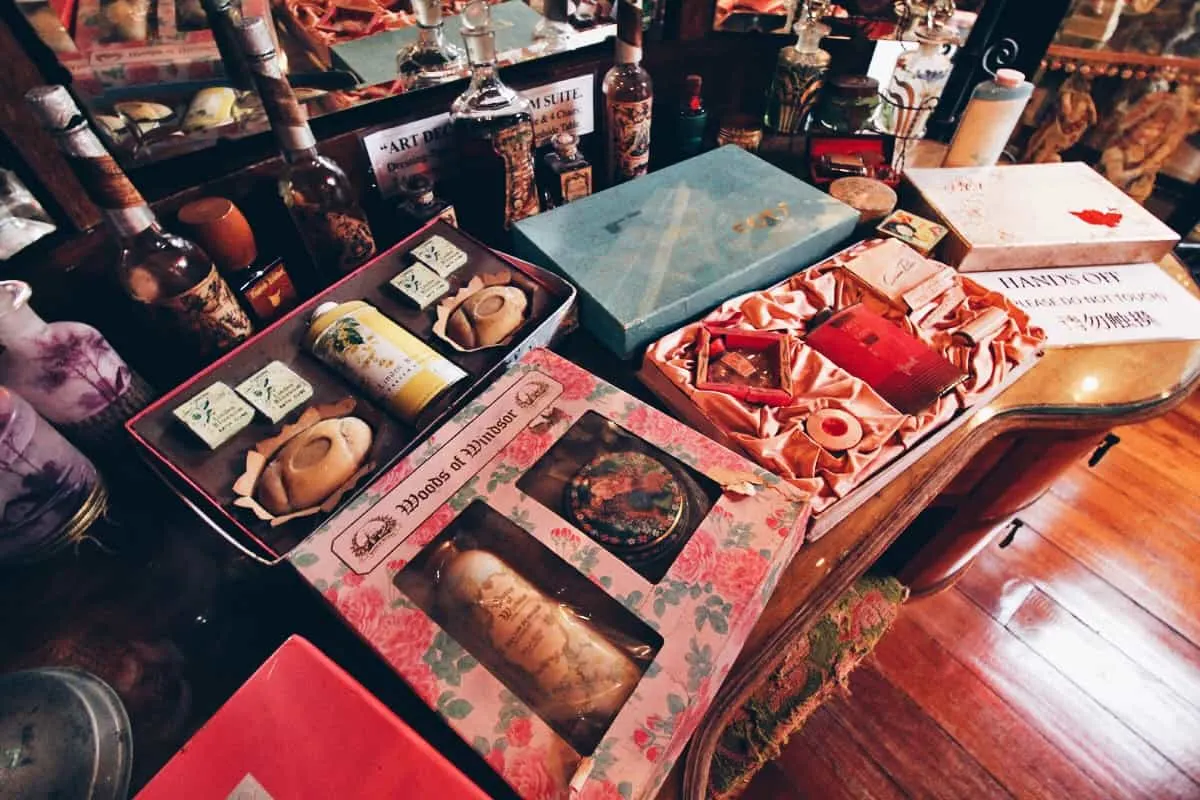 I don't know much about architecture but the interior of the mansion is said to feature a hybrid of Chinese and European design. It has an eclectic mix of English-made tiles, Scottish iron works, and numerous other European furnishings. I guess those railings are an example of Scottish iron work?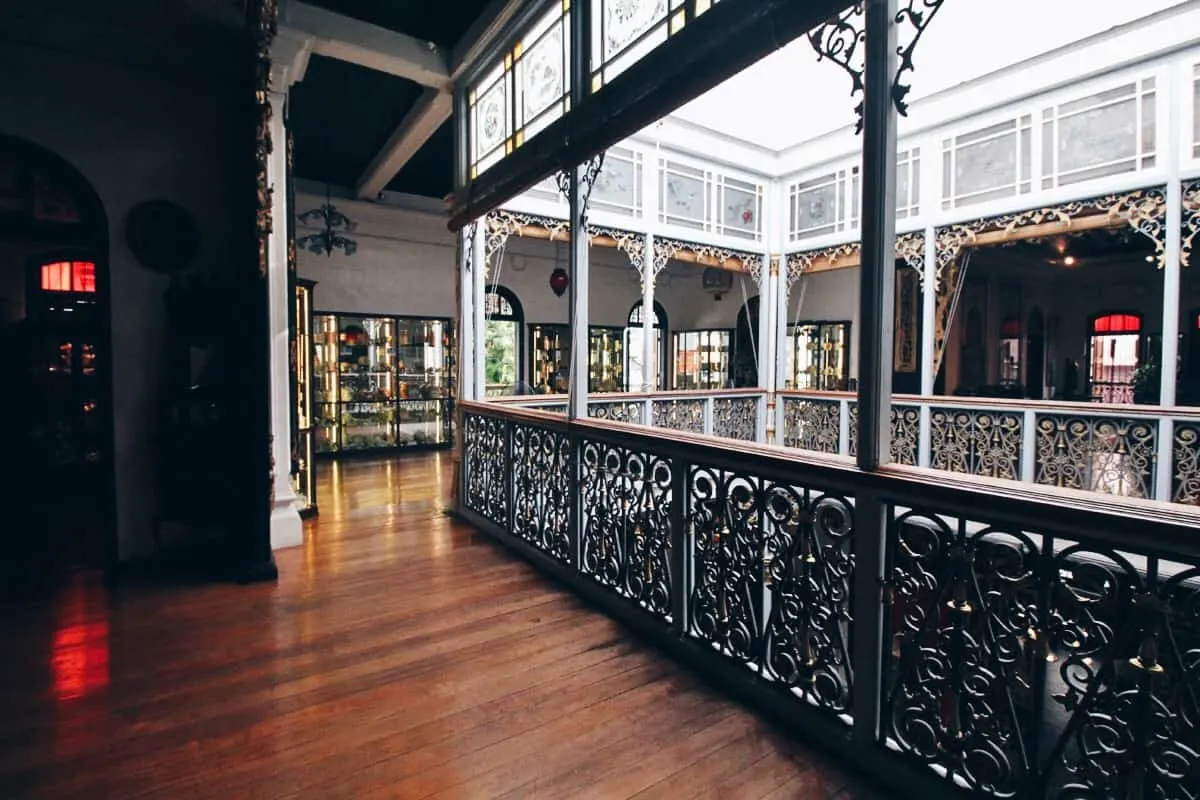 This chair, which forces two people to sit side by side and facing one another, was one of my favorite pieces of furniture in the mansion. Cool huh? Makes for a great conversation piece. 😉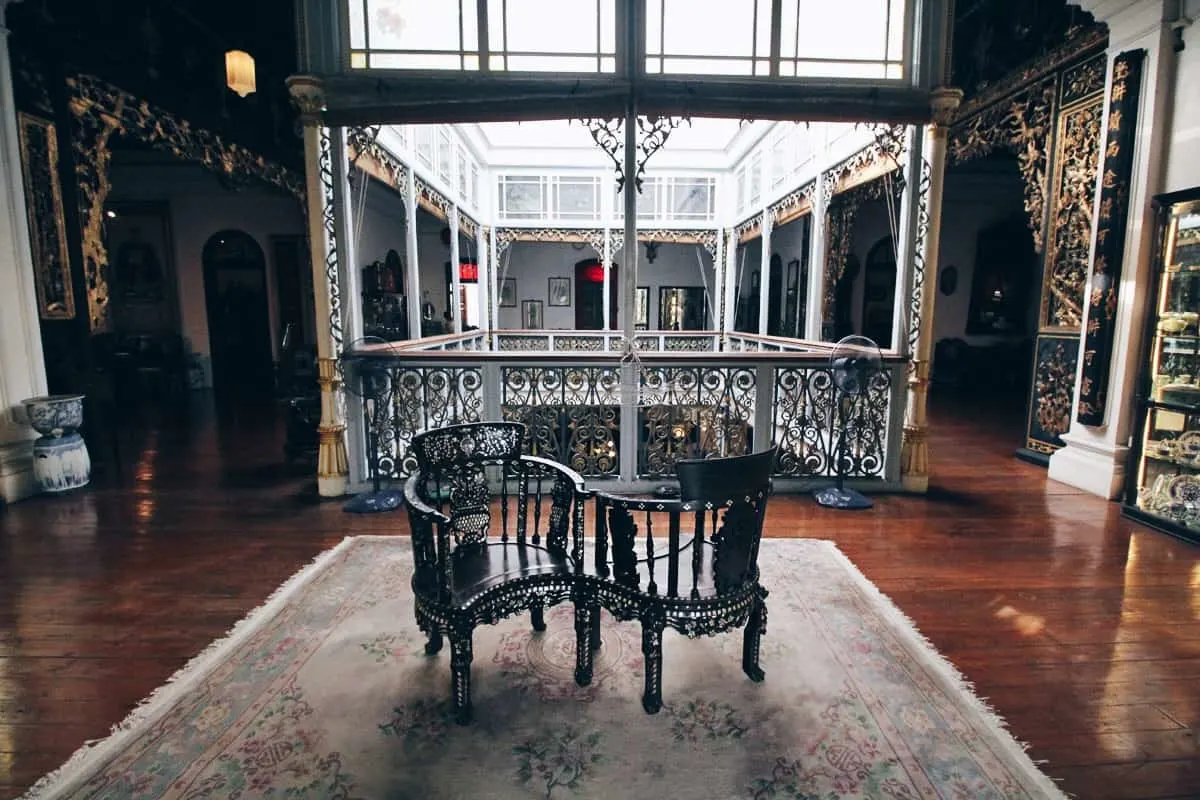 More well-preserved antiques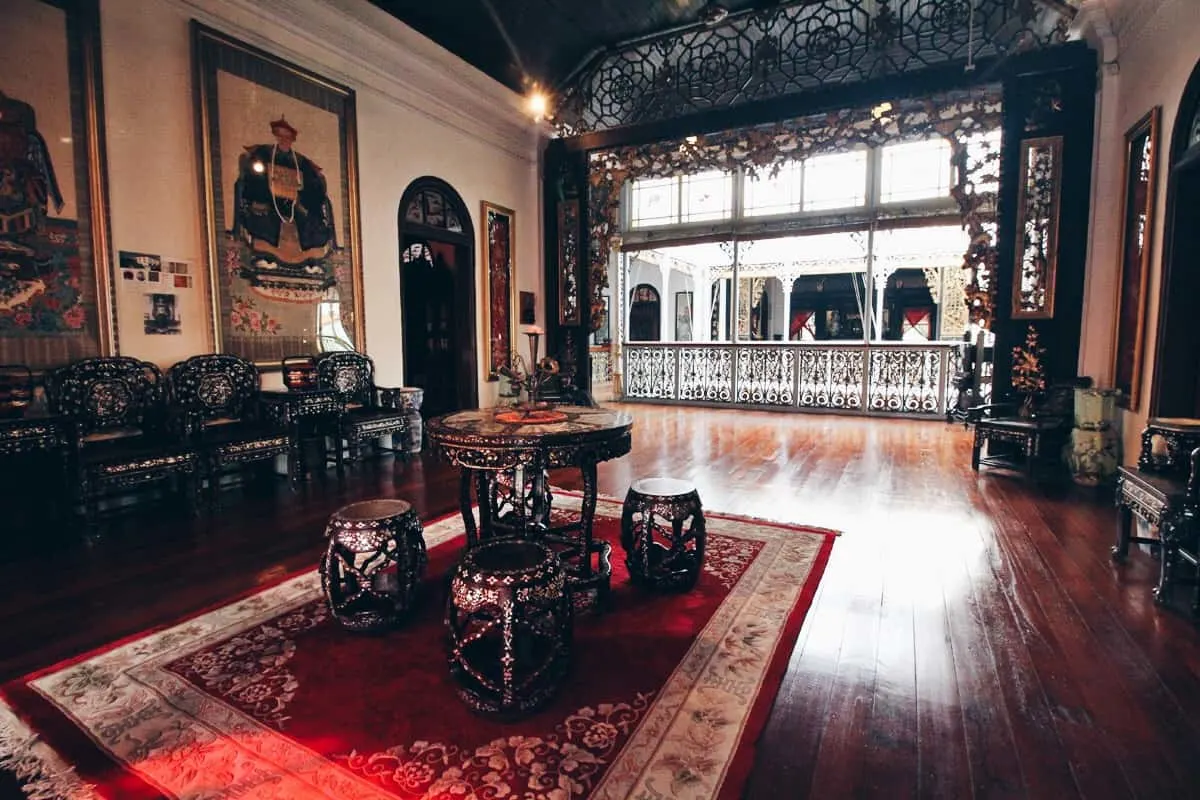 A third bedroom. This one was dark and gloomy.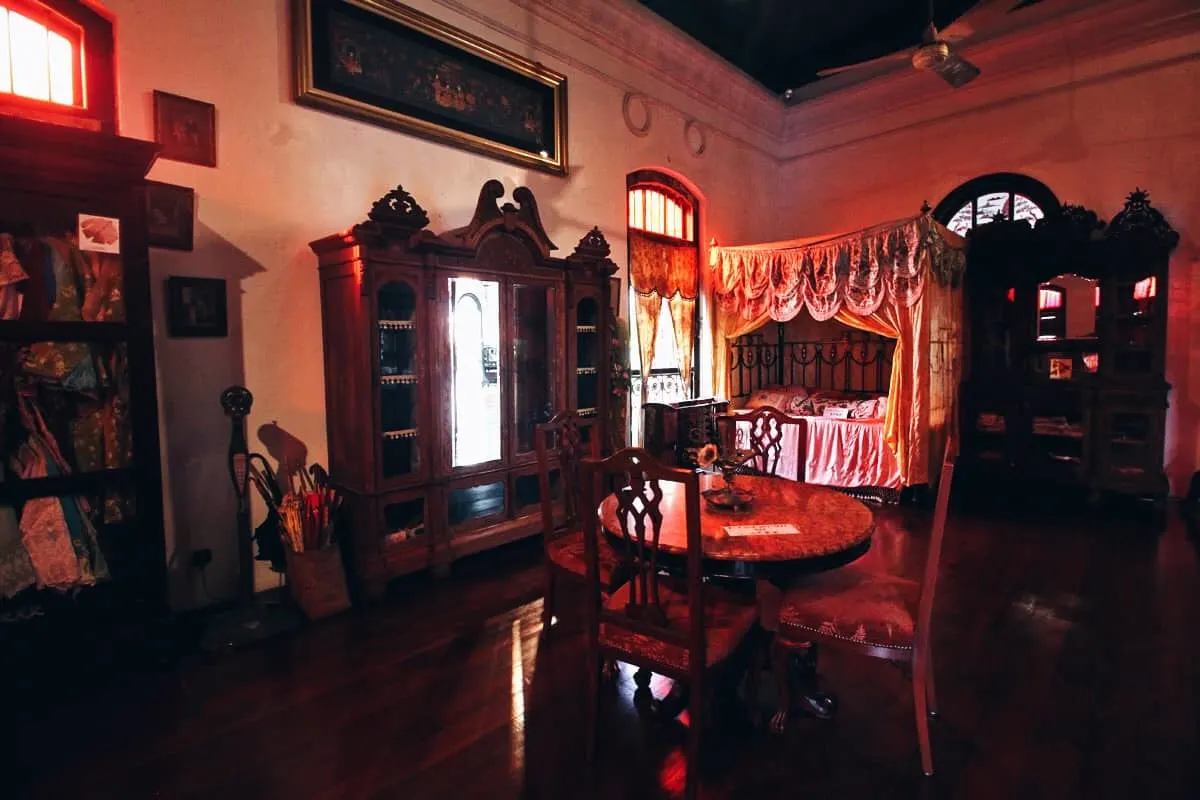 In terms of general structure and layout, the heritage houses in Penang remind me of our own ancestral houses in the Philippines.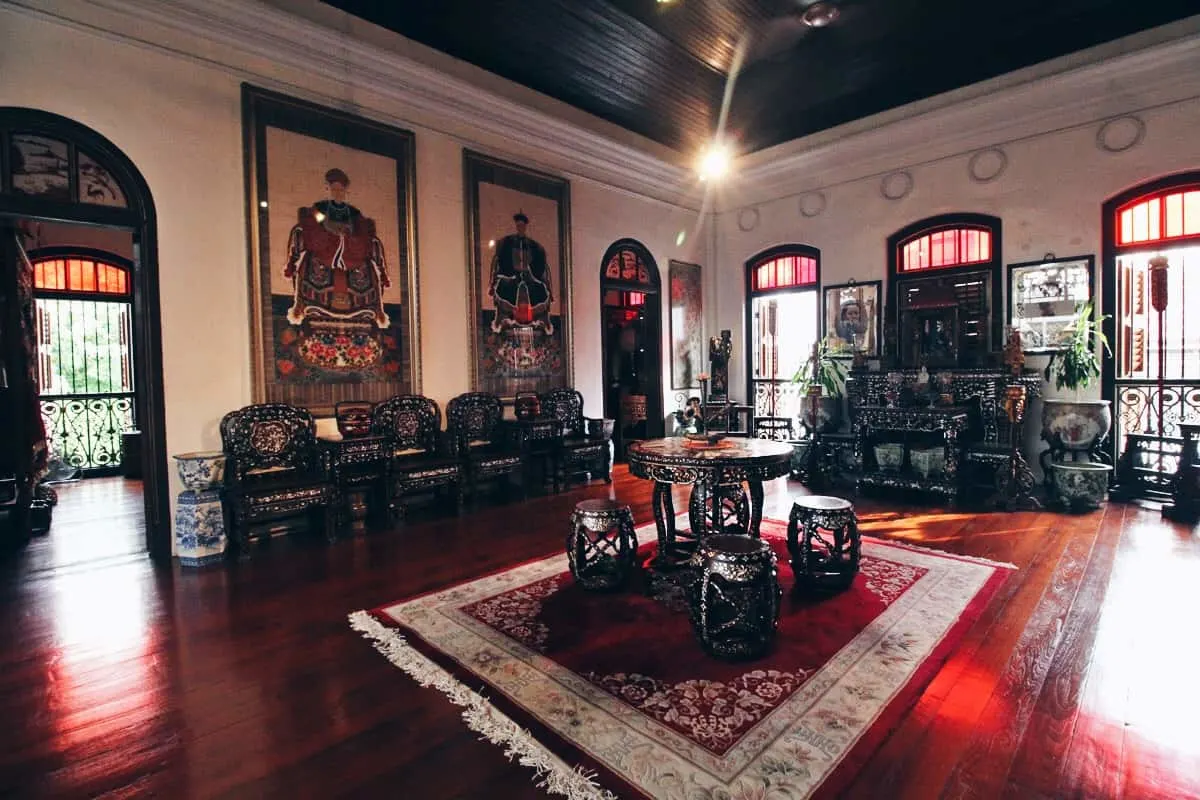 We don't have these cool ass open courtyards though. The gap in the roof at this mansion was now covered with glass, but I'm assuming it used to be open in the time of Chung Keng Kwee?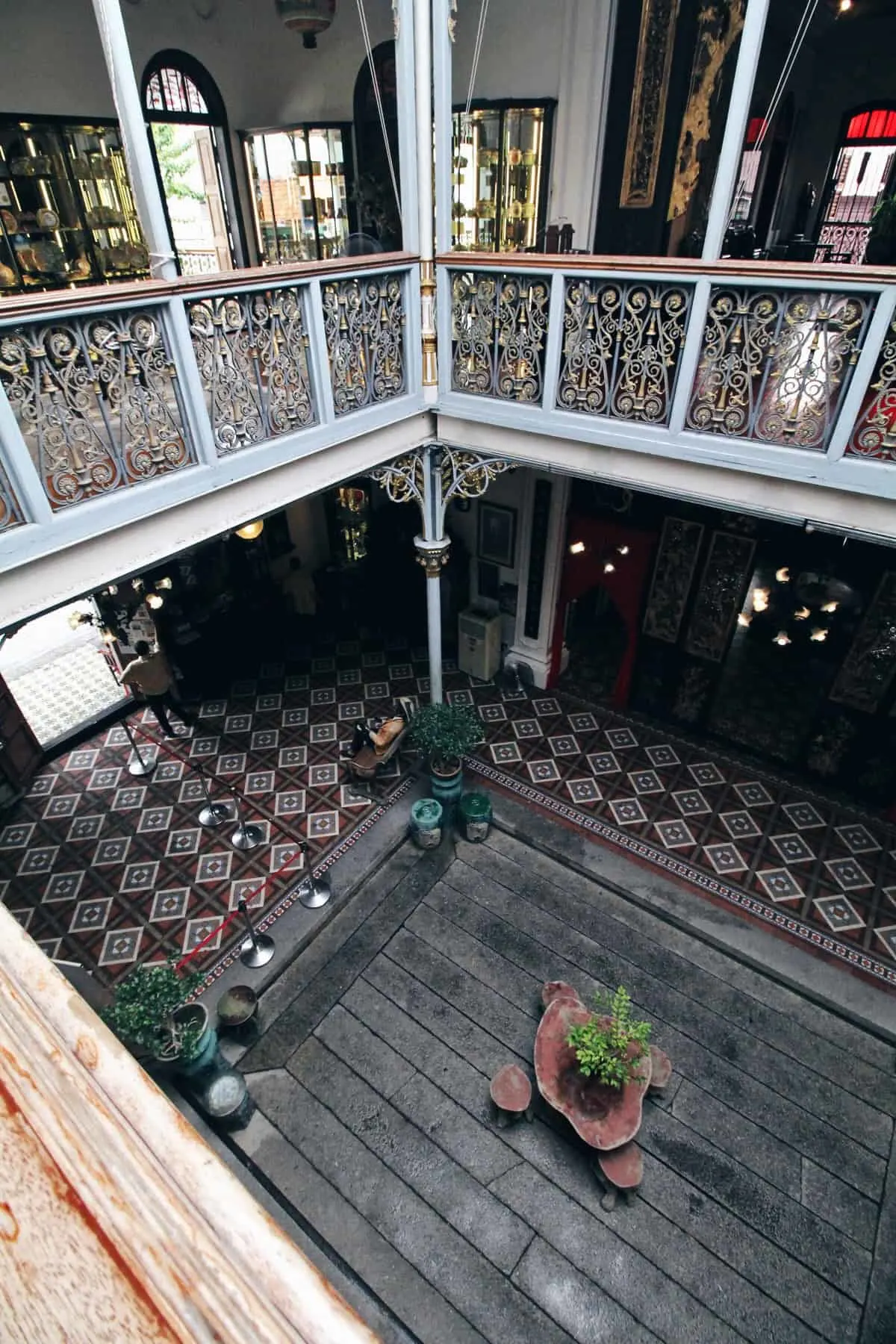 A closer look at the iron work.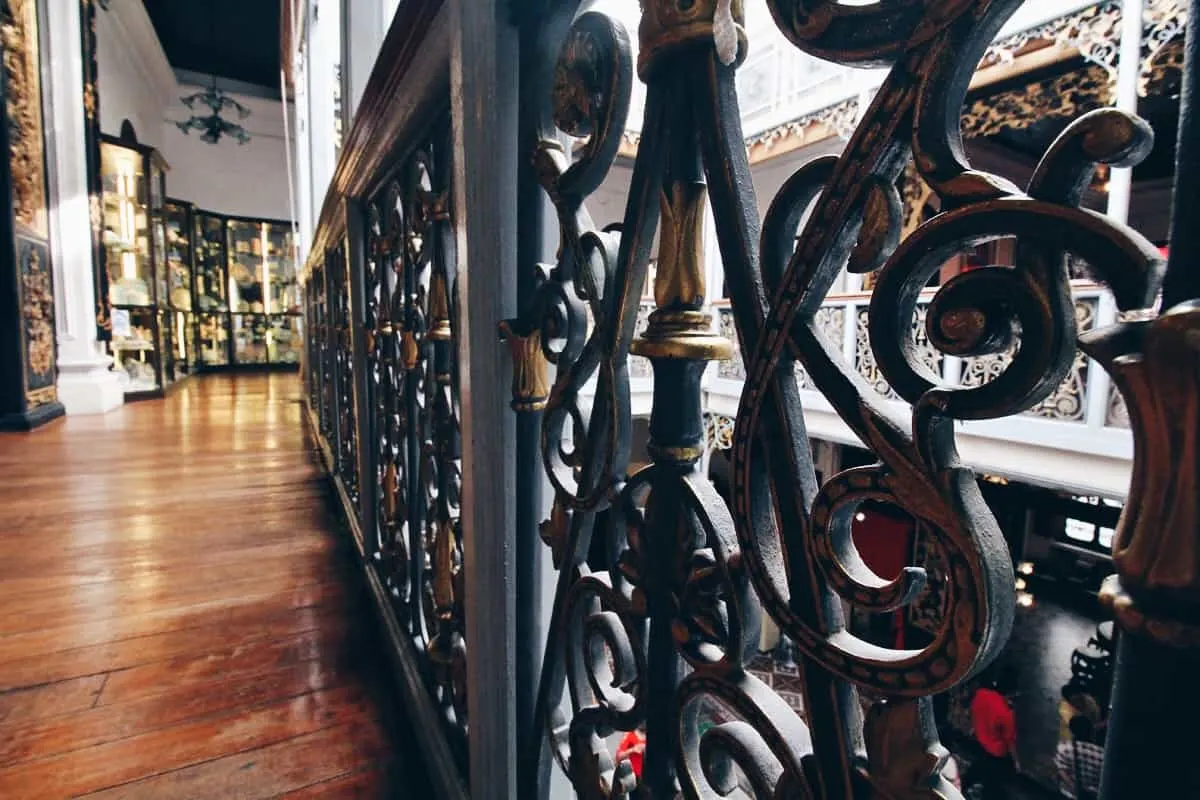 Rich or kitsch? These are called Vaseline glass epergnes. Popular in England from the 1890s-1930s, they're table centerpieces used to display flowers and fruits. They're meant to be shows of wealth so it wasn't surprising to find an entire room here dedicated to them.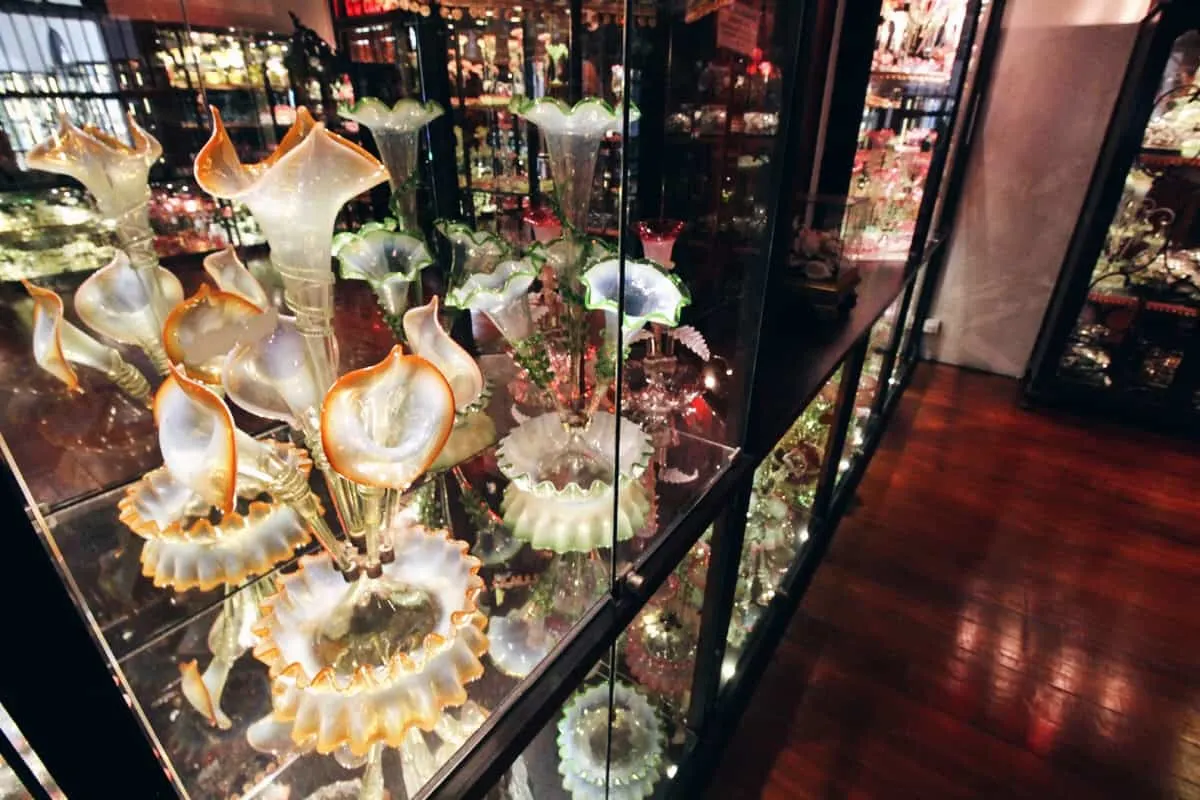 There's my Reneelicious Instagramming patiently while I finish taking photos upstairs. The mansion isn't that big but it has several rooms with countless antiques to pore over so you can probably spend a good hour here. The intricacy alone was interesting.
Like Khoo Kongsi, Pinang Piranakan Mansion is one of the stops on the George Town heritage tour from Klook. You may want to go on a guided tour if you'd like to get a more in-depth understanding of the place.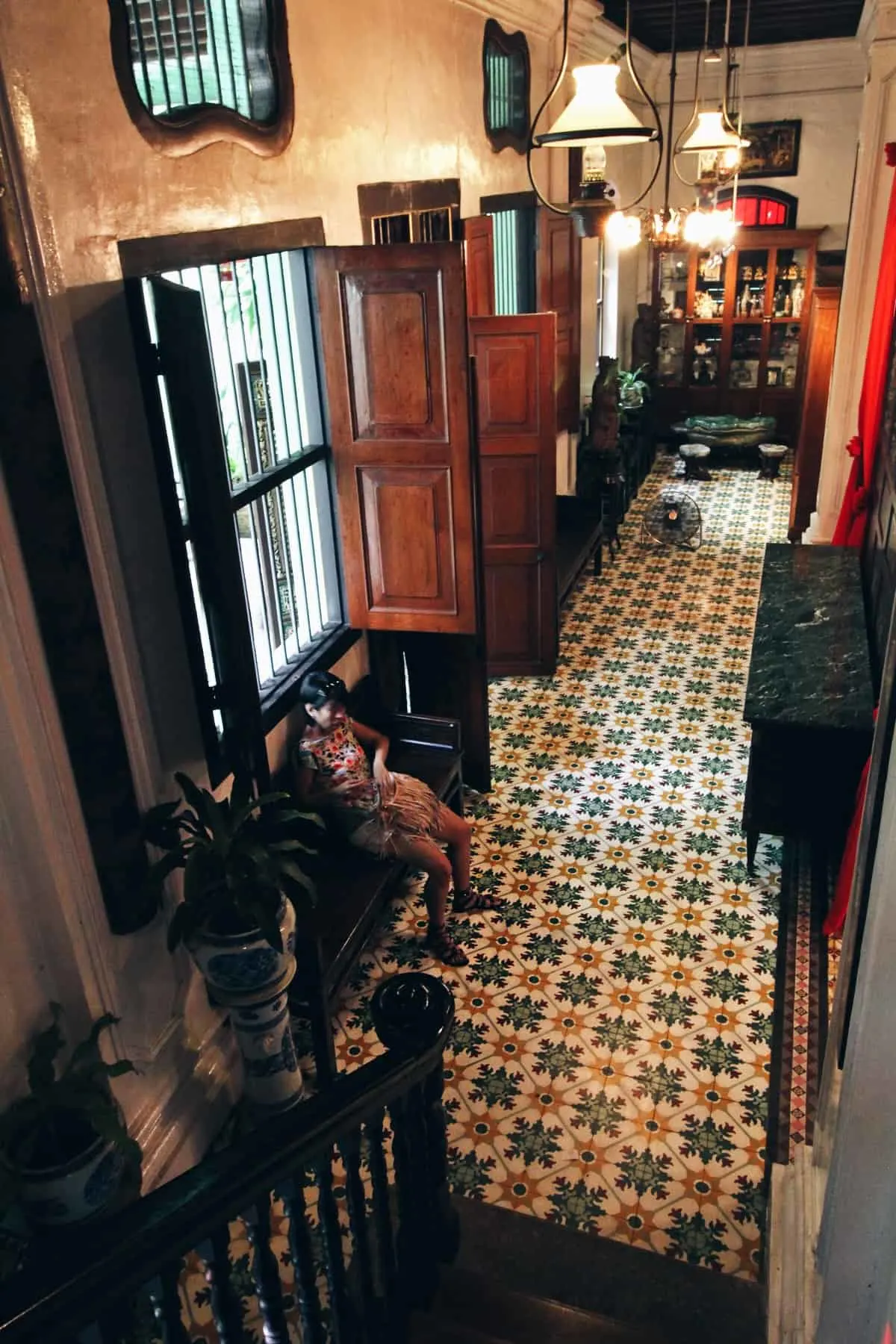 Pinang Peranakan Mansion, George Town, Penang, Malaysia
29, Church Street, George Town, Penang, Malaysia
Tel: +604-264 2929
Fax: +604-264 1929
Website: pinangperanakanmansion.com.my
Facebook: Pinang-Peranakan-Mansion
Email: [email protected] / [email protected]
Operating Hours: Mon-Sun, 9:30AM-5PM
Admission: RM 25
HOW TO GET THERE:
From the corner of Penang Road and Chulia Street, start walking southwest on Chulia Street. Make a left on King Street. Turn right on Church Street. Pinang Peranakan Mansion will be on your right.
FINAL THOUGHTS
We spent so much time chasing after hawker stalls and street art that we couldn't squeeze in more of these museums and mansions. But if you do have the time and are interested in learning more about Penang's history, then there are a few other places you can visit, most notably the aforementioned Cheong Fatt Tze mansion. Known as the Blue Mansion because of its striking blue exterior, it rivals Pinang Peranakan mansion as being one of the best and most opulent examples of Straits Eclectic-style architecture in George Town.
To help you plan your trip, you can get a copy of our 3-day Penang itinerary in editable Word format from our EAT-ineraries page.
Thanks for reading and have an awesome time eating your way through Penang!
For more Penang travel tips, check out our First-Timer's Travel Guide to Penang, Malaysia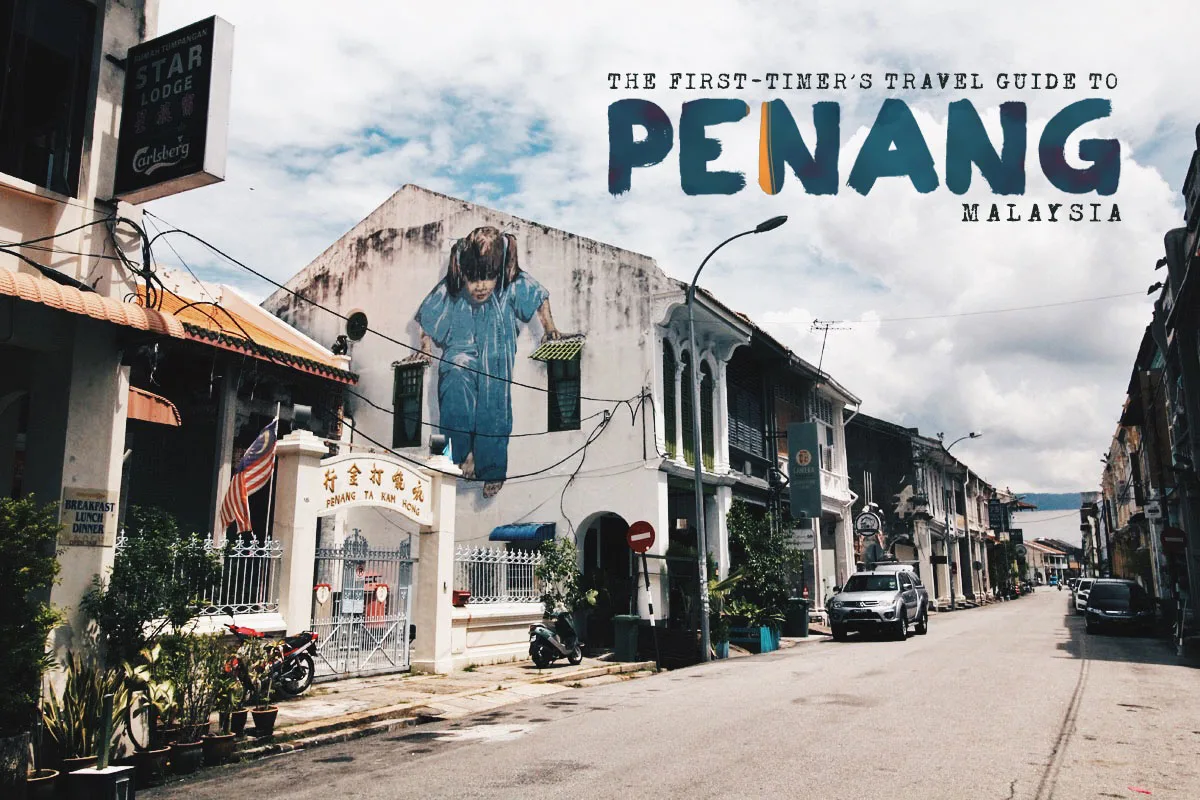 Disclosure
Some of the links in this post are affiliate links, meaning we'll get a small commission if you make a purchase or reservation at NO extra cost to you. We really appreciate your support as this helps us keep this website going. Thank you!