George Town's murals are fun and features some of the best street art in Asia. It's fun because it takes you on a treasure hunt through the city's streets.
Unlike singular attractions like Kek Lok Si Temple or Chew Jetty, you can't go to just one location to appreciate them. They're scattered throughout the city — some in plain view, others hidden in small alleys — so finding them takes time and effort. It's pretty much impossible to find all of them so everyone's experience will be different. From what I've read, it's an ever evolving attraction too. Old paintings fade and fresh ones are made so you're always bound to find something new.
If you enjoy catching Pokemon monsters, then you'll have a blast trying to find all of George Town's street art. I don't play Pokemon Go but if I did, then I imagine it to be something like this. Here's what we caught.
The Street Art of Penang
NOTE: I was tempted to include the exact location of each of these artworks but I decided against it. Seeking them out was half the fun so I'll leave you to find as many as you can on your own. 😉
We stayed at Ryokan Muntri and this impressive mural was one of the first ones we saw. I remember being wowed by how big it was. It looked great against the weather worn wall of the heritage building.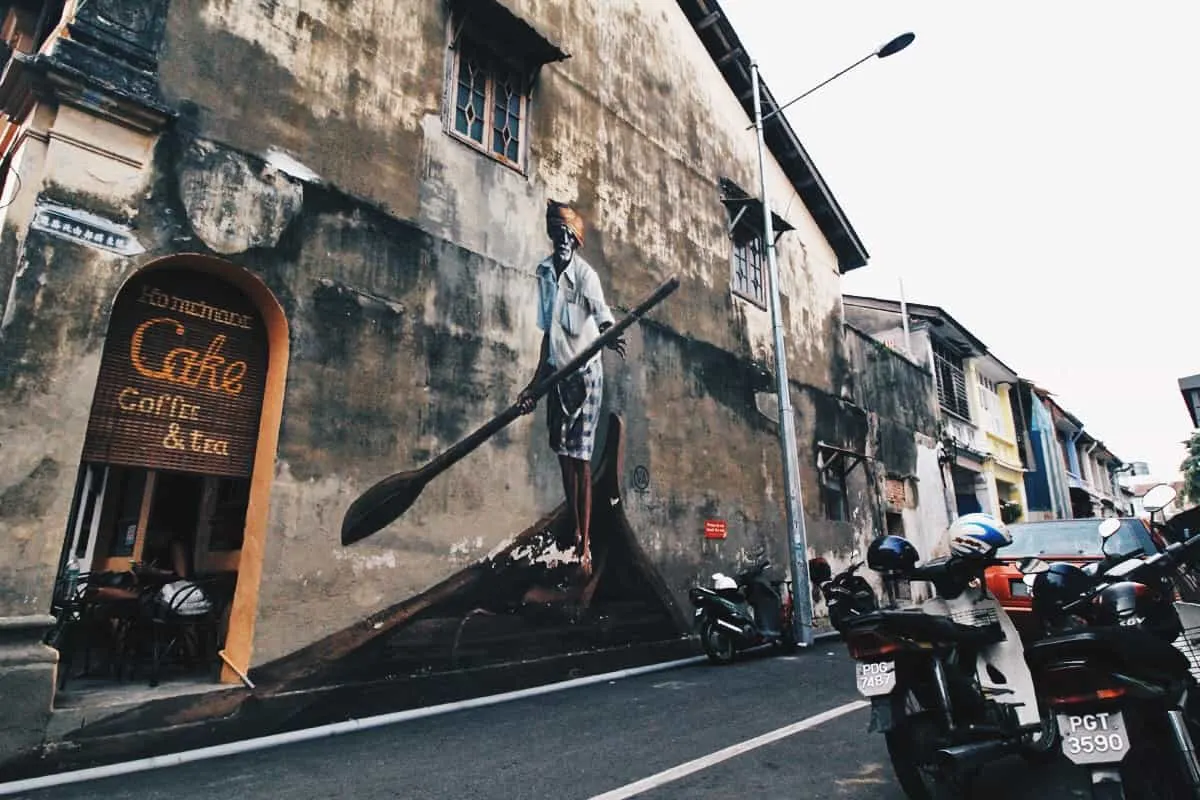 These steel rod caricatures are the most common type of street art you'll find in George Town. There are 52 of them in all. They were created by cartoonist Tang Mun Kian for the "Marking George Town" project to celebrate the history and heritage of the city.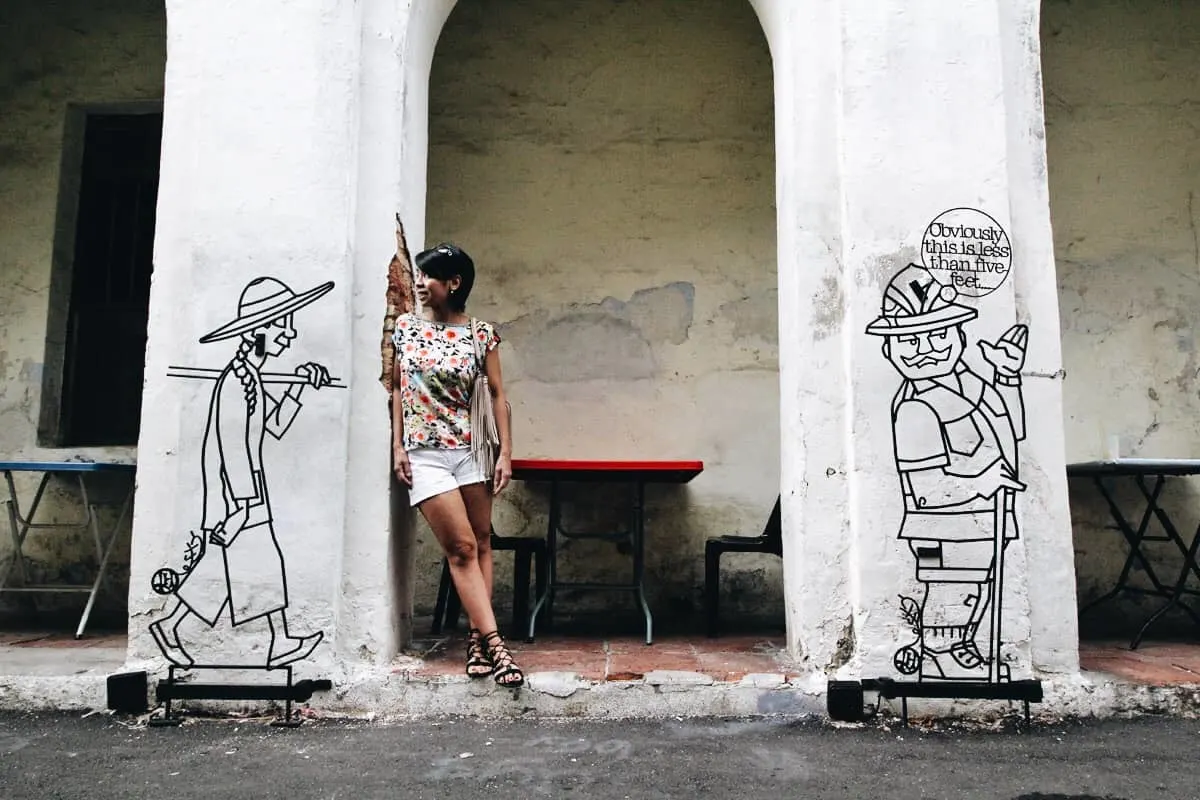 Many of the steel rod caricatures were installed at specific locations. It's interesting to read the text because they tell you a story about that particular place.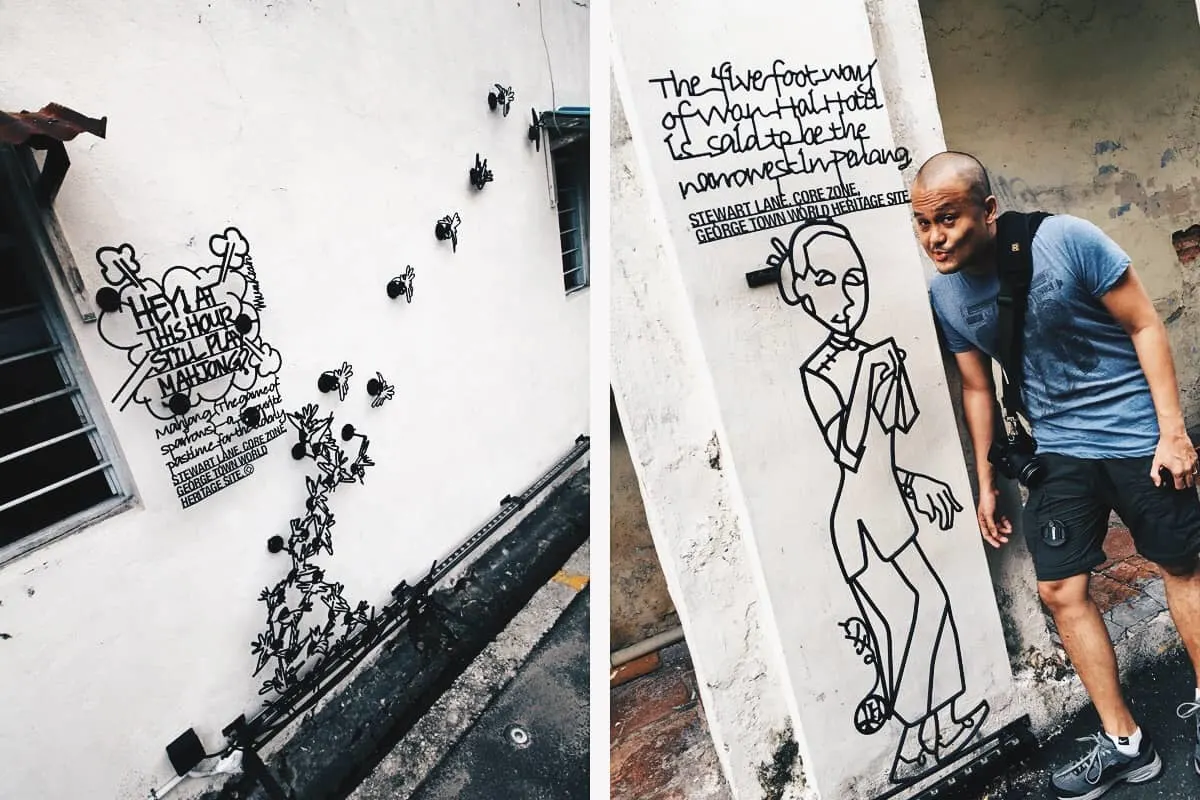 Tang Mun Kian's work is so much fun. It's like reading a comic strip about Penang.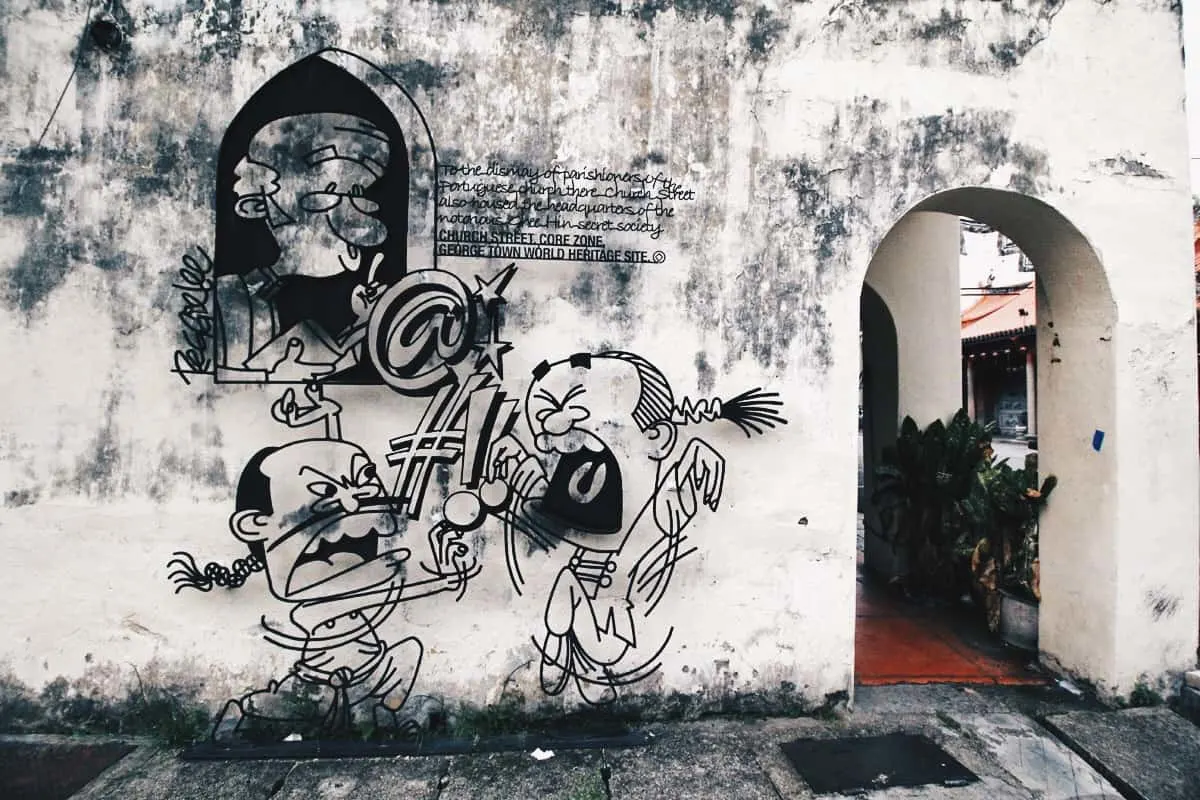 Each wire sculpture is supported by a metal base and attached a few inches off the wall.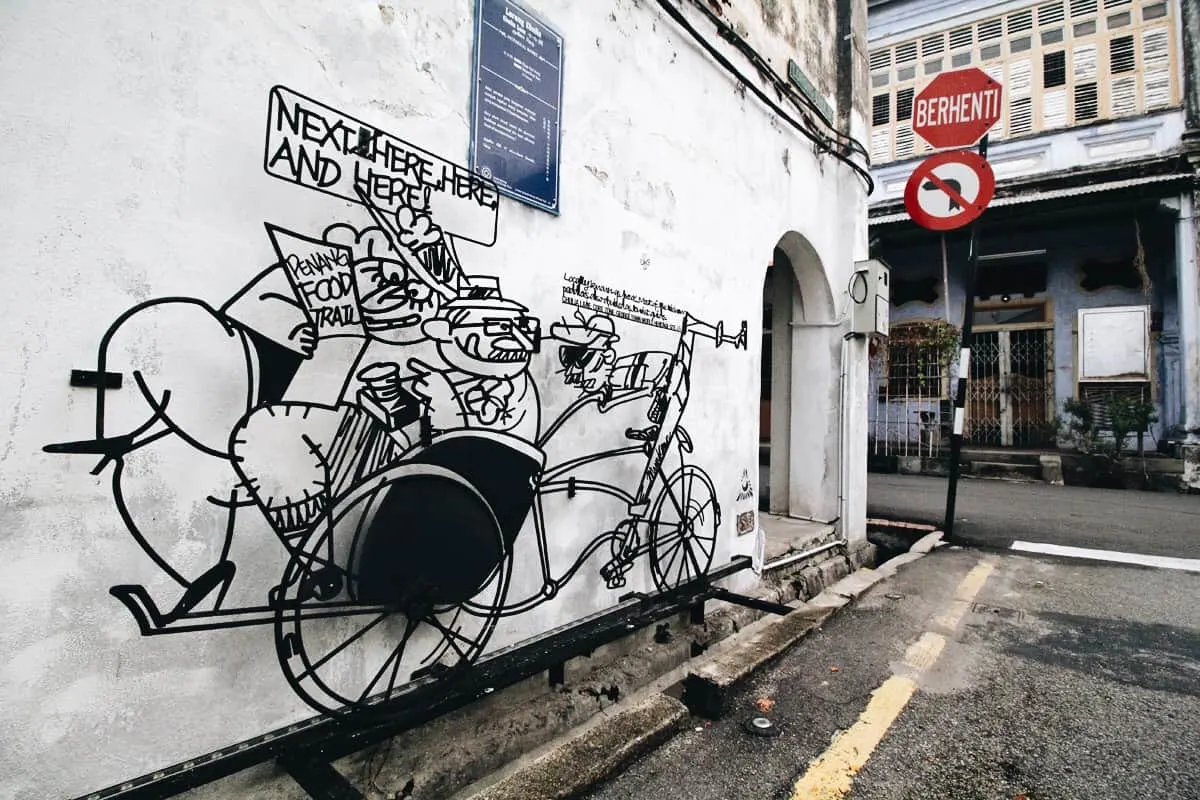 Many of the artworks encourage interaction so they make for great Instagram posts. Check out this dork trying to steal some bao. 😉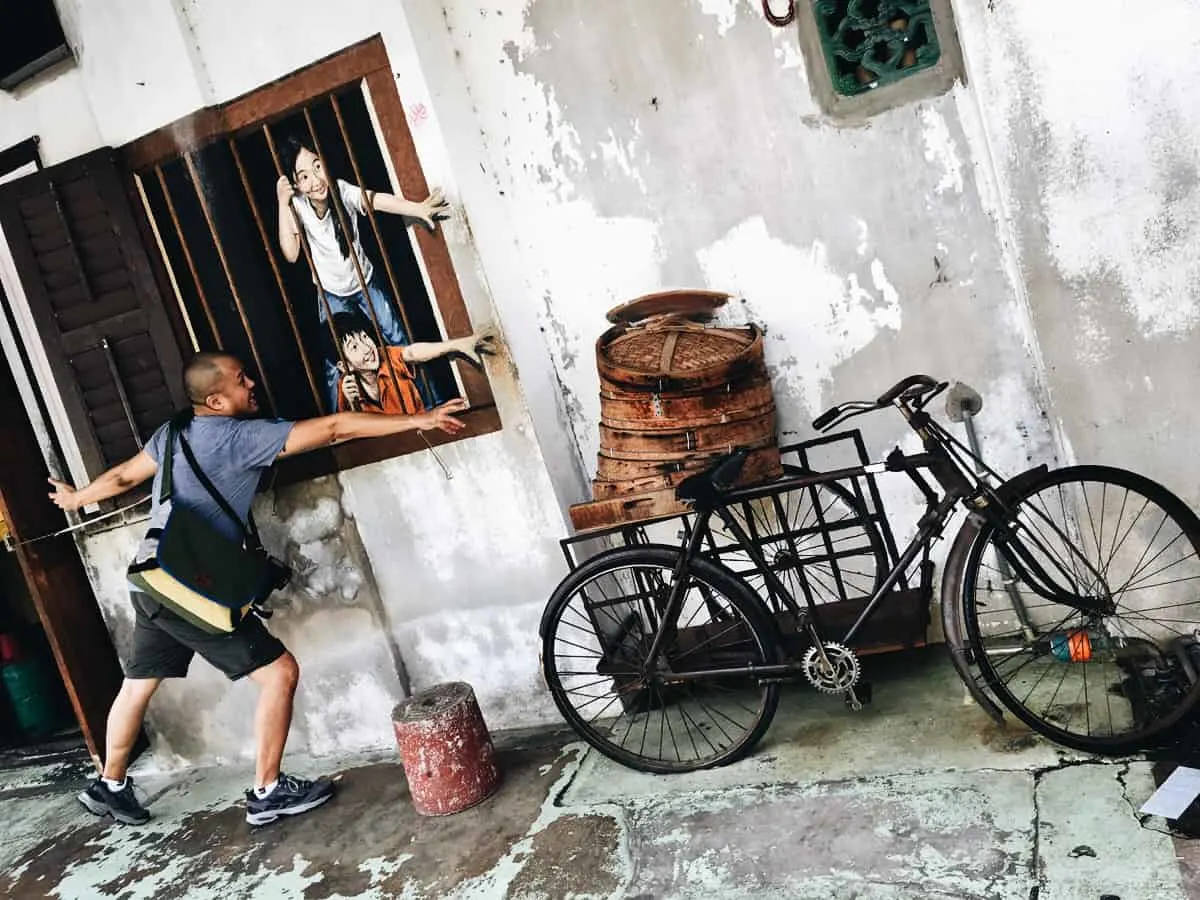 The origins of nasi kandar explained. Try to read all the text because they tell you a lot about life in Penang.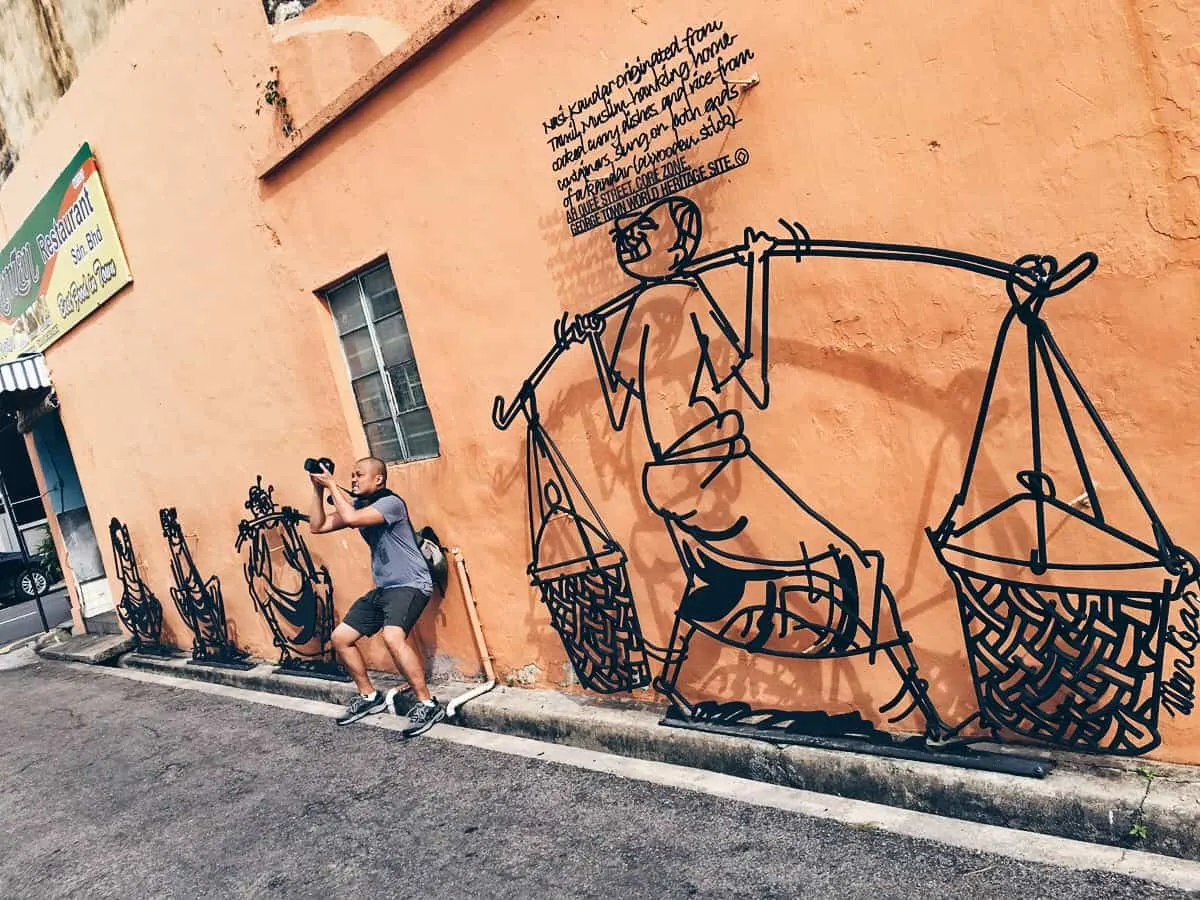 This one is arguably the most famous and iconic of all the street art. It was one of six murals created by Penang-based Lithuanian artist Ernest Zacharevic for the George Town Culture Festival in 2012. It was a huge hit and served as a catalyst for the street art craze in Penang.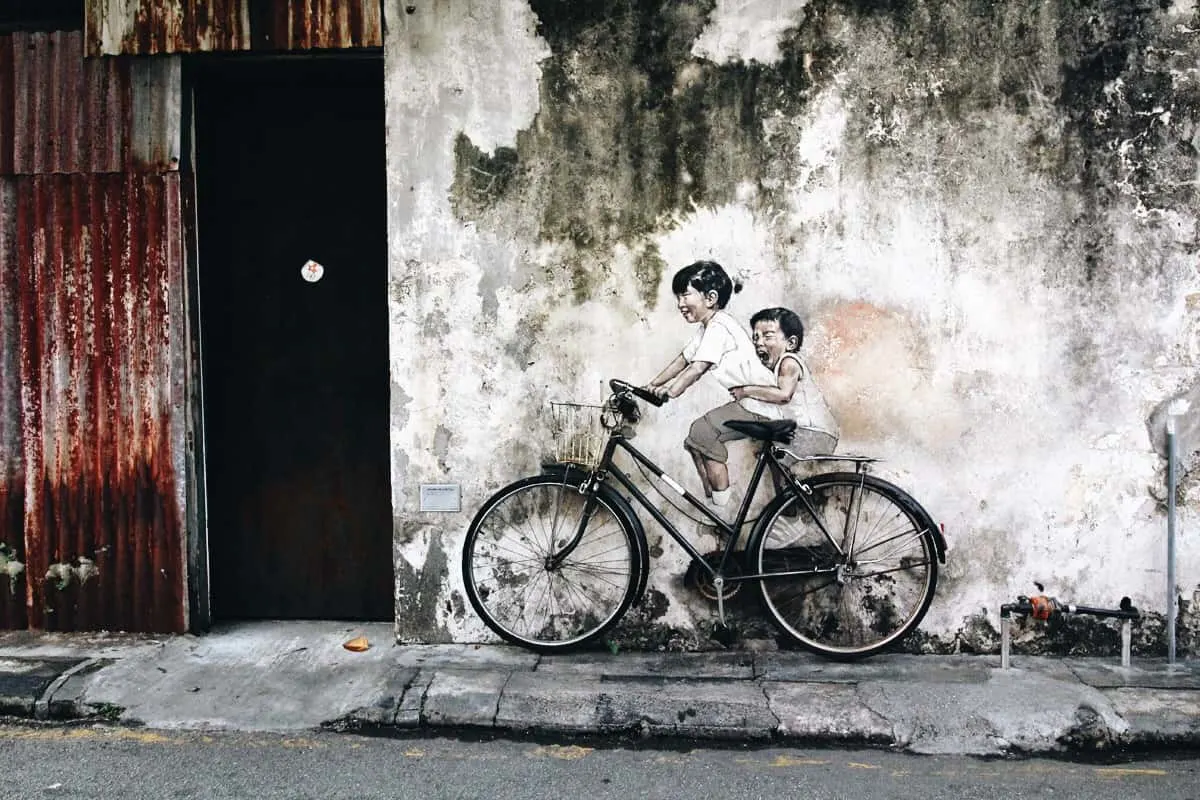 Marge Simpson and pink tank crawling with pets. The latter was used as a fundraising prop for Lassie, a charitable animal shelter for homeless dogs and cats in Langkawi.

This is one of 12 cat-related street artworks for a project called 101 Lost Kittens. Painted by Thai artist Natthapon Muangkliang and Malaysian artists Louise Low and Tang Yeok Khang, the project aimed to create awareness for the plight of stray animals.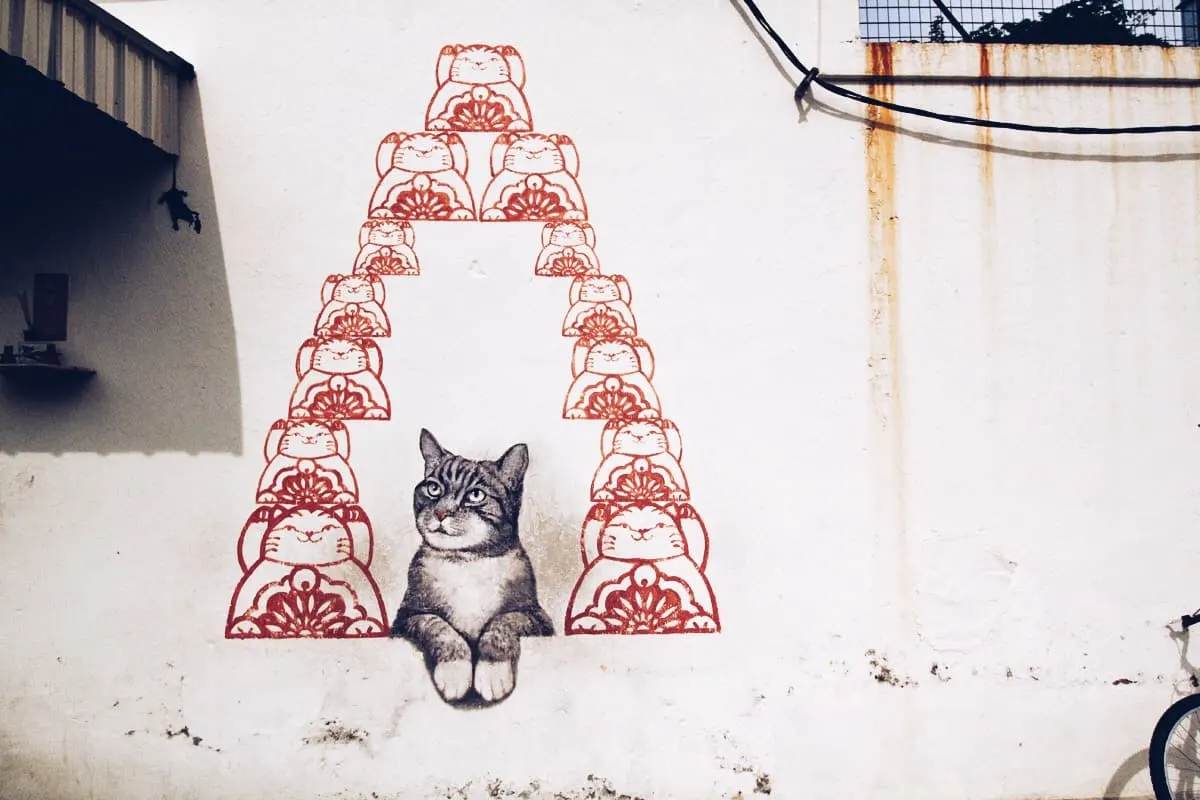 Another piece by Ernest Zacharevic.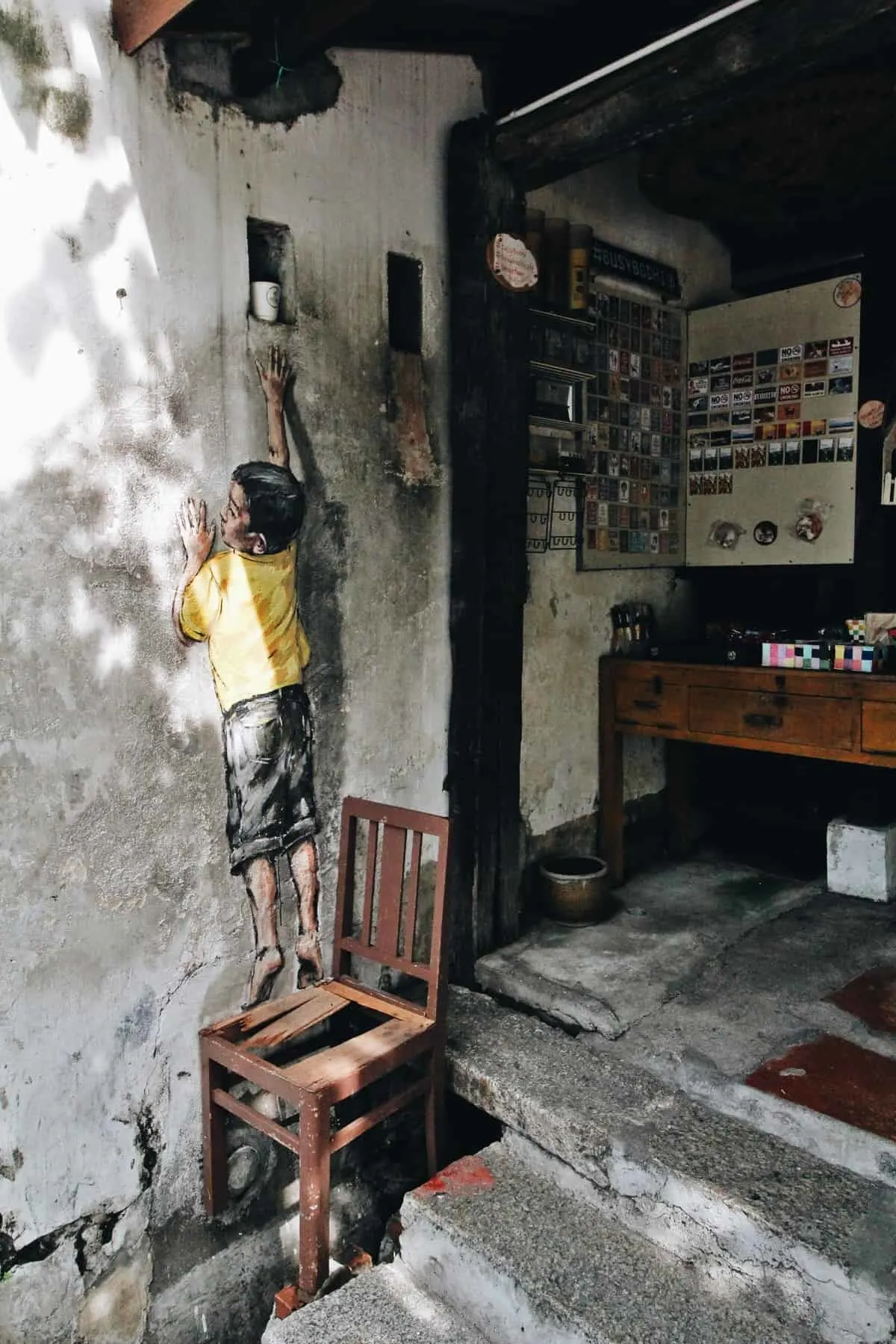 This steel rod sculpture explains how Cannon Street got its name.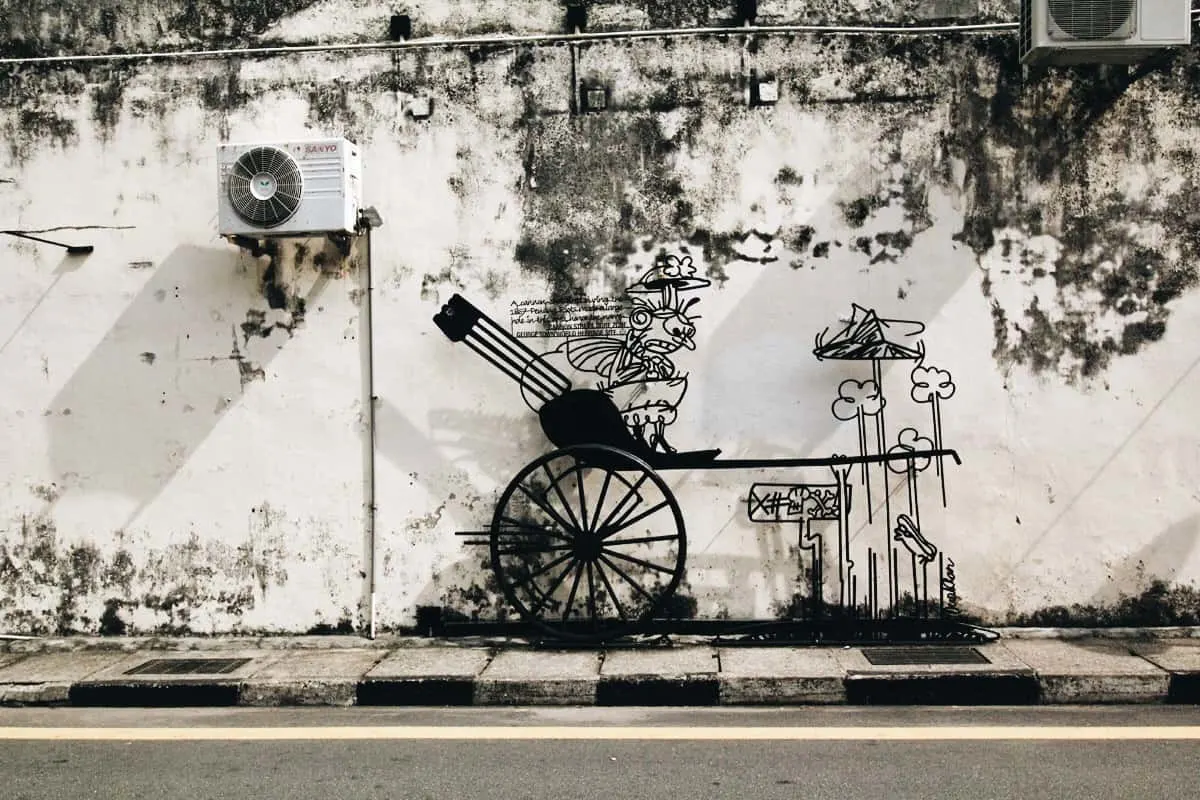 This picture was taken when the sun was at its highest. You can see the shadows cast onto the wall by the wire sculpture.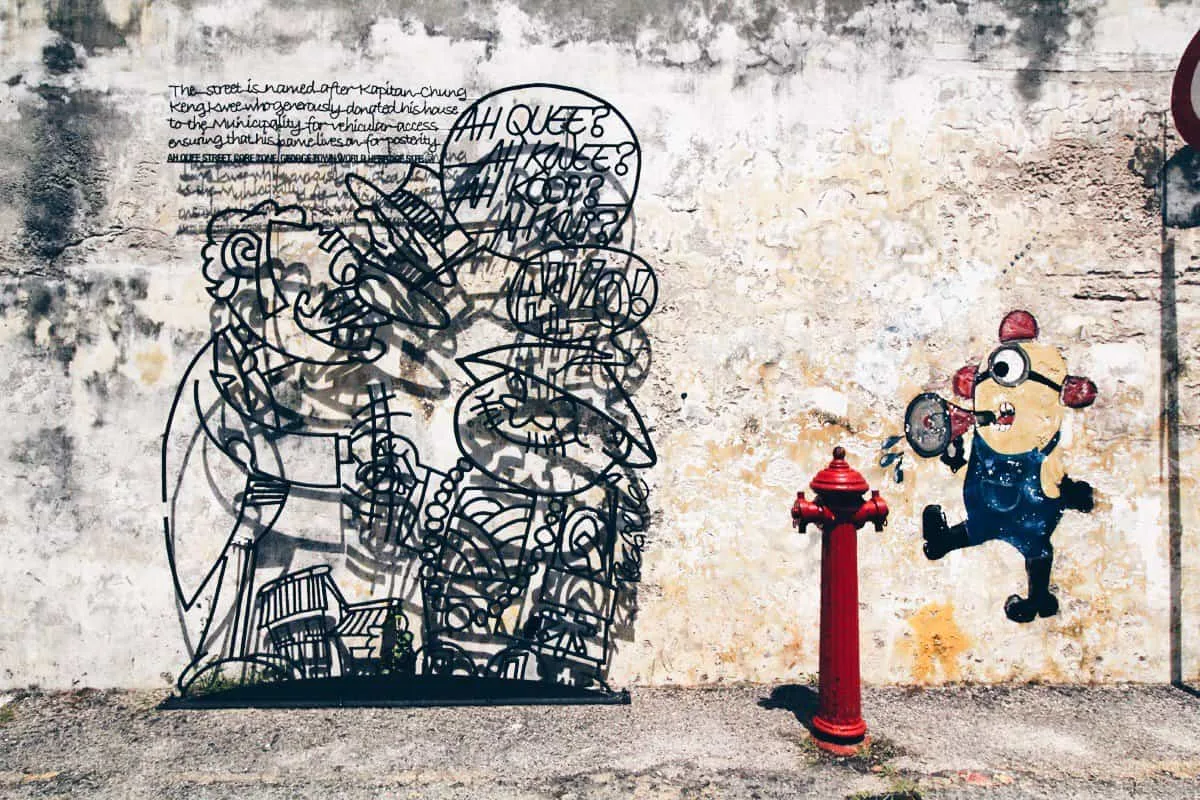 Not sure who these were by or what story they tell.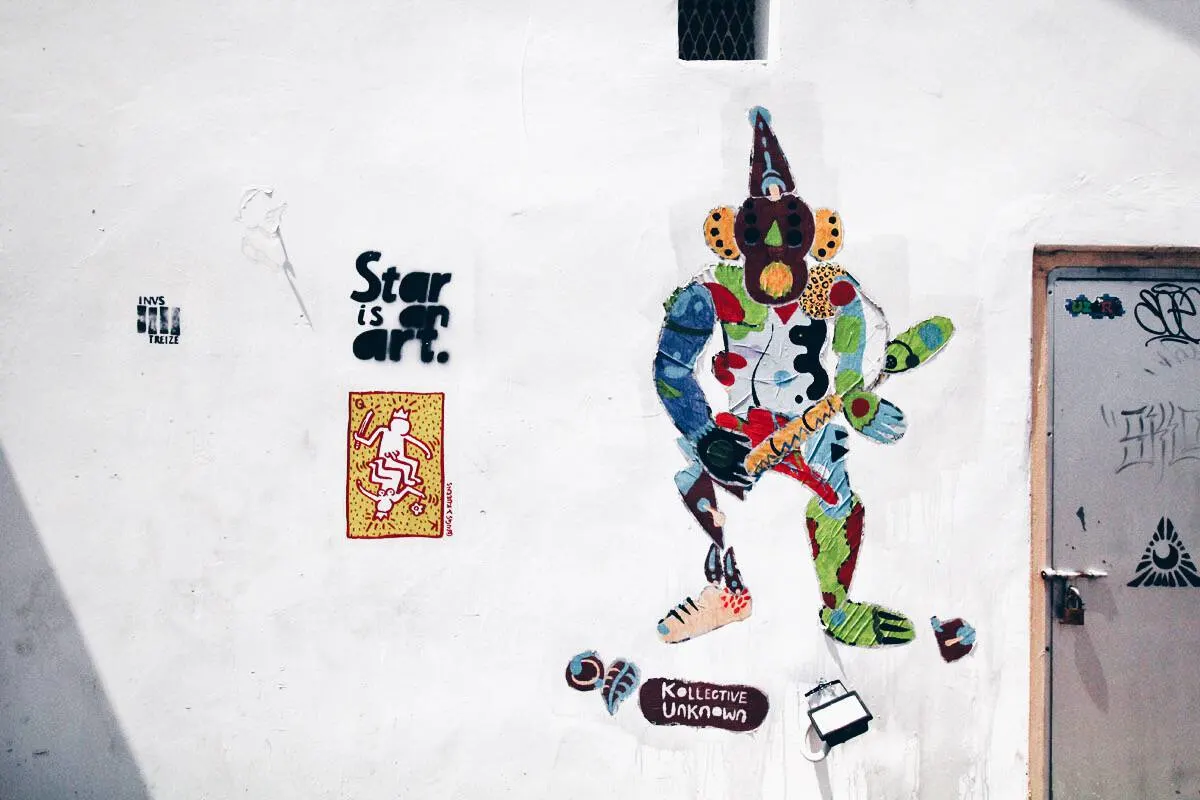 This large mural was behind a building so it's a little harder to find. It depicts Bruce Lee having a battle to the death with…Garfield?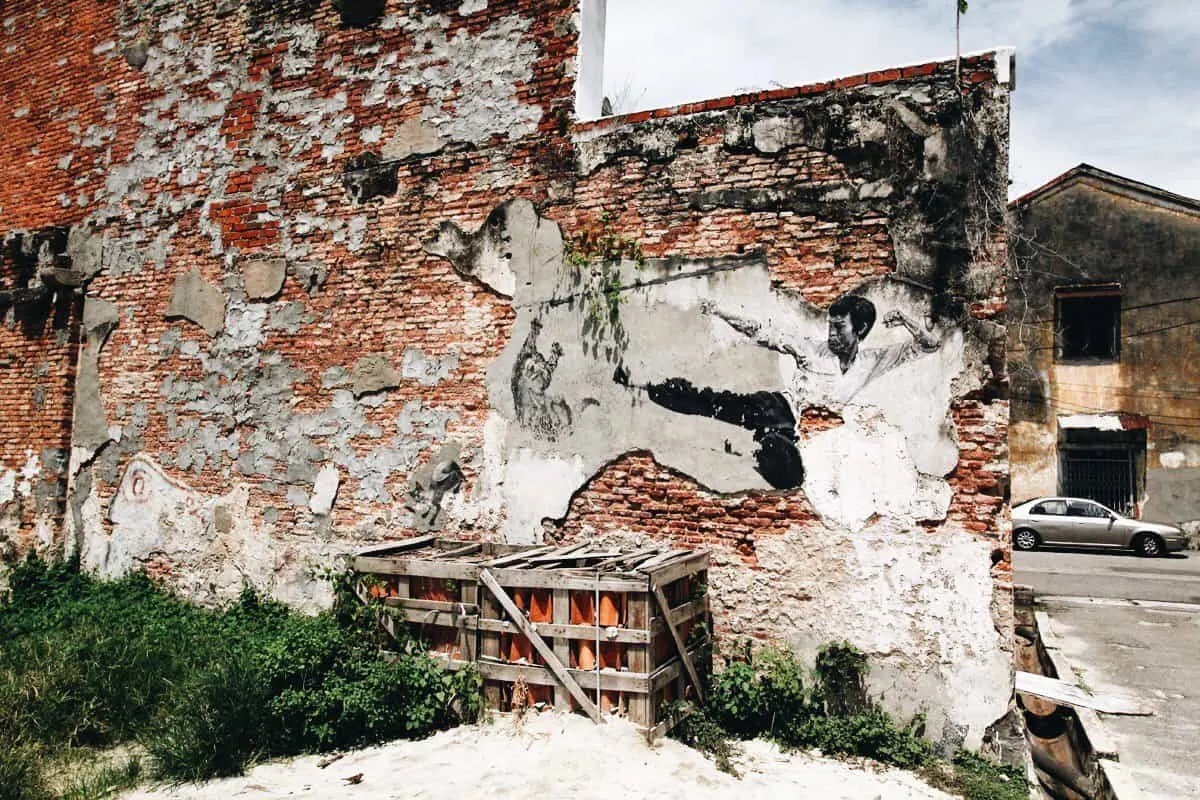 Another one by Ernest Zacharevic. It shows a boy restraining his pet dinosaur so it doesn't eat…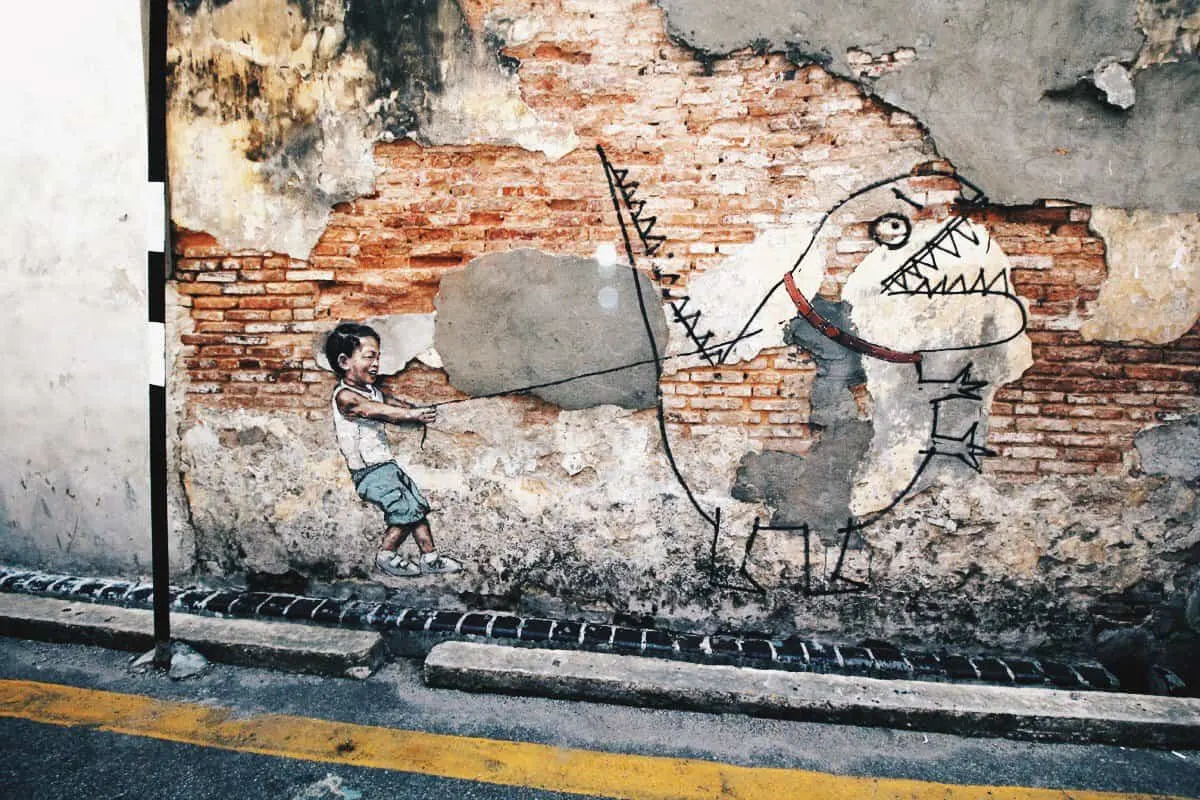 …a dirty old man flirting with a painting. "So, you come here often?" This handsome boy on a motorcycle is also one of Zacharevic's most famous murals.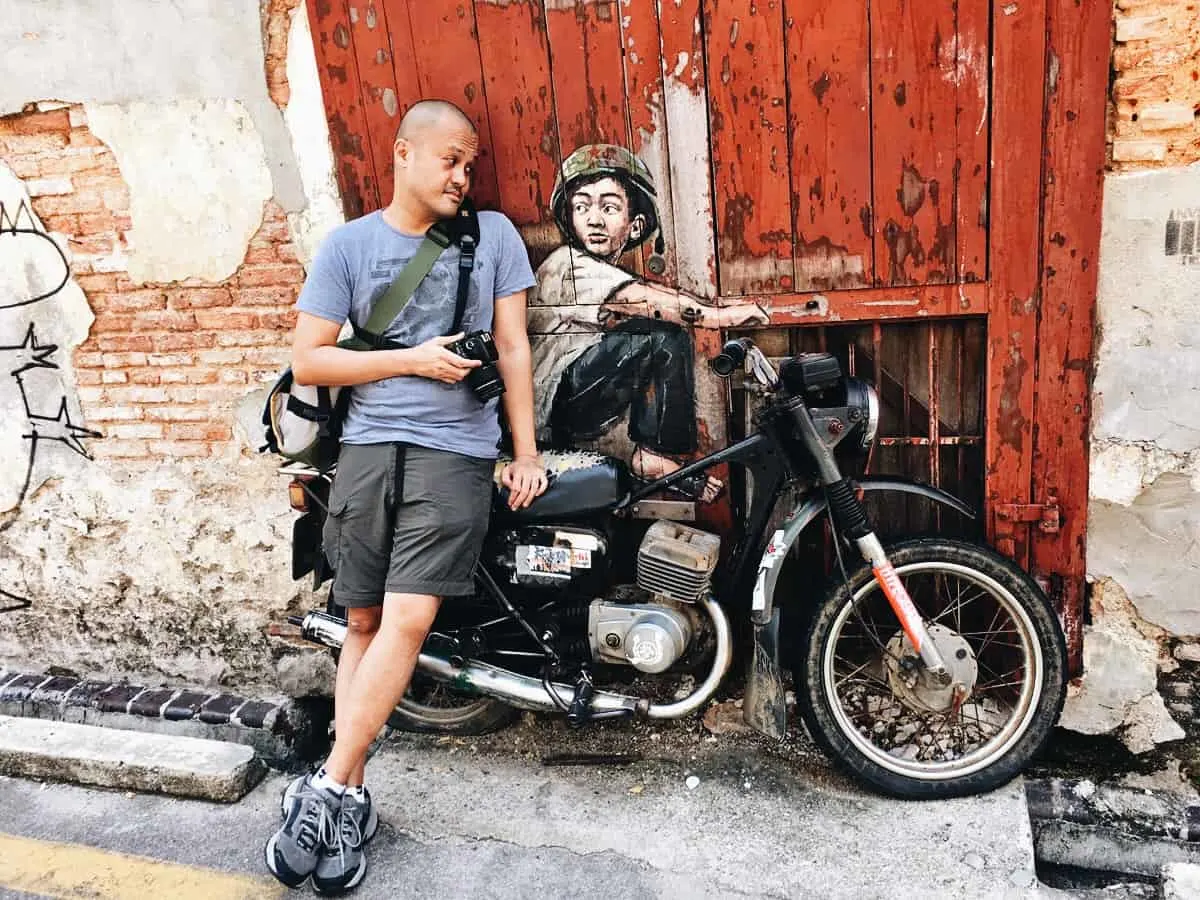 "Little Girl in Blue" aka "Kung Fu Girl" is one of Zacharevic's bigger murals. It was located close to our hostel Ryokan Muntri.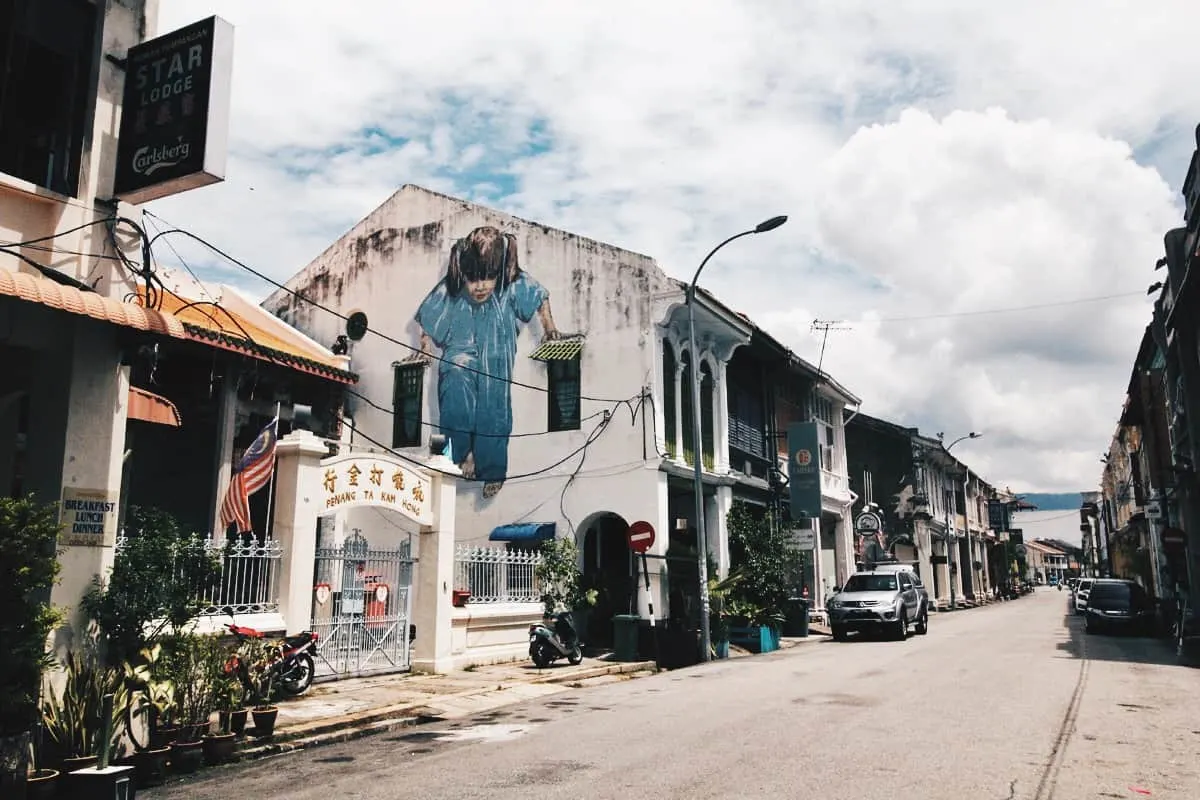 L: Large mural on a purple wall by Malaysian artists Jim Oo Chun Hee and John Cheng next to one of Tang Mun Kian's wire frame caricatures.
R: Mural next to the entrance of Ryokan Muntri.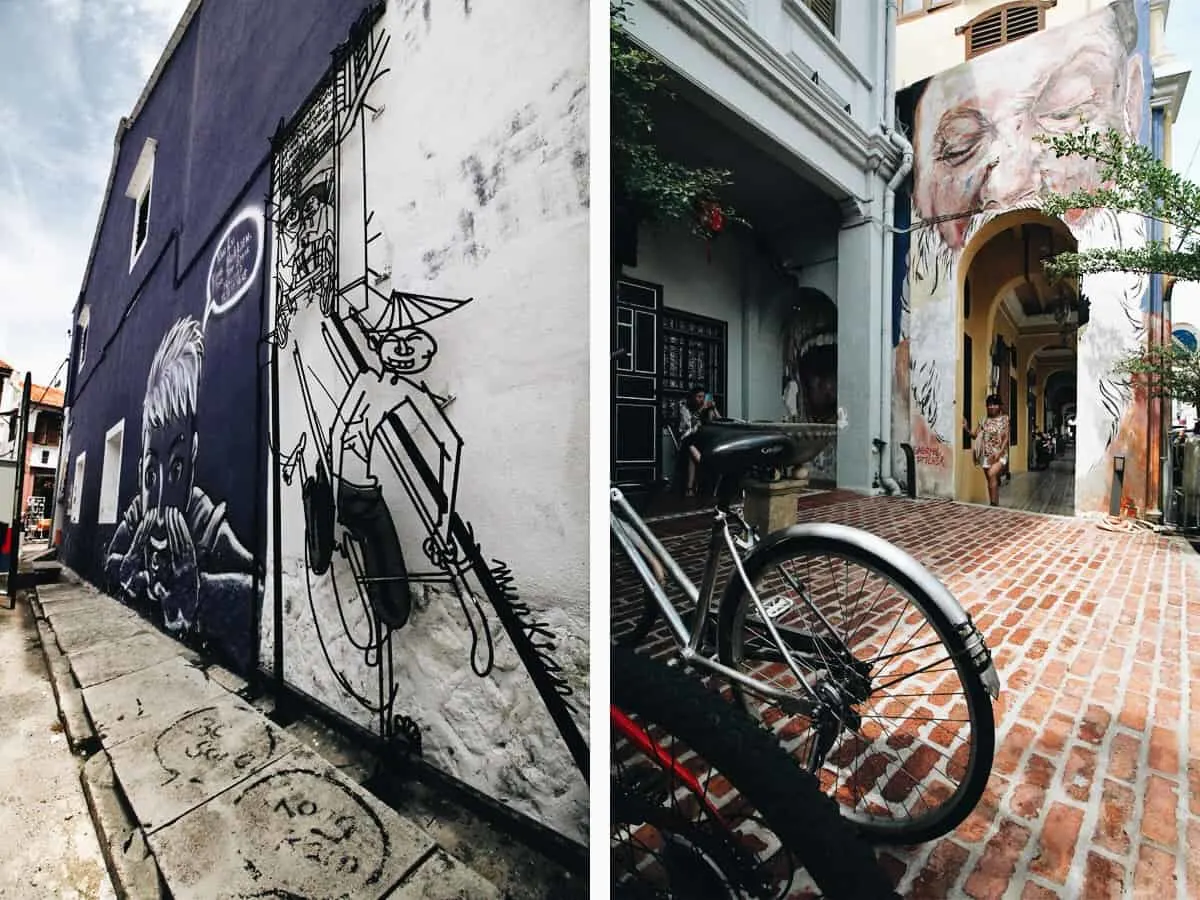 Another iconic mural. I assumed it was Zacharevic's because of the style and interactivity but it isn't. It was done by Penang-born artist Louis Gan.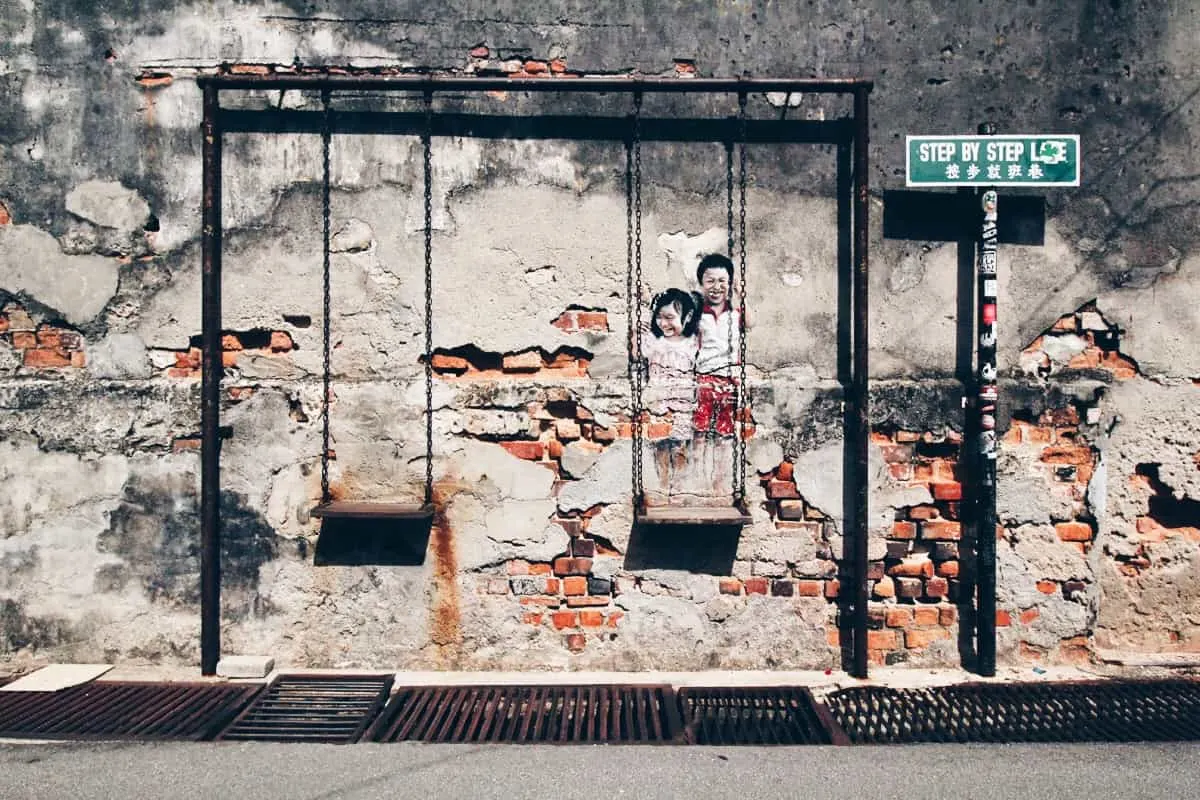 Wire sculpture poking fun at today's hipster coffee culture.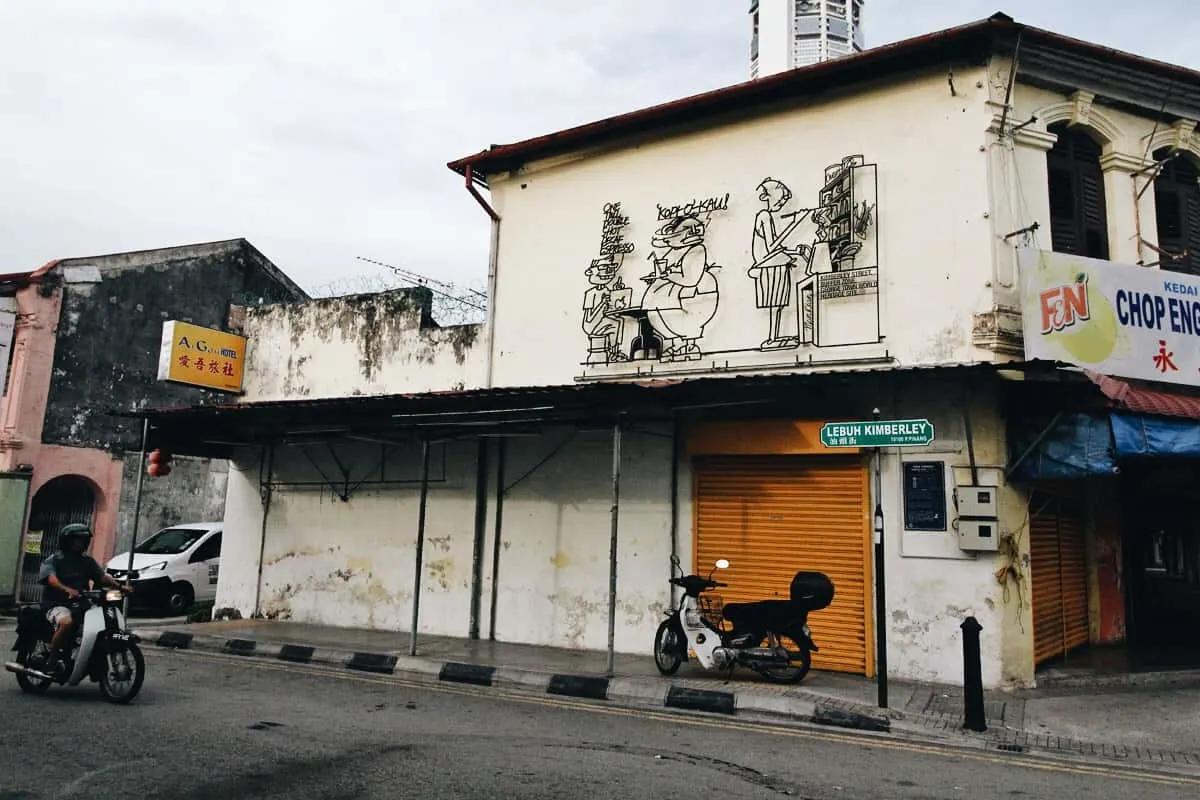 This mural of kids playing basketball was also done by Louis Gan.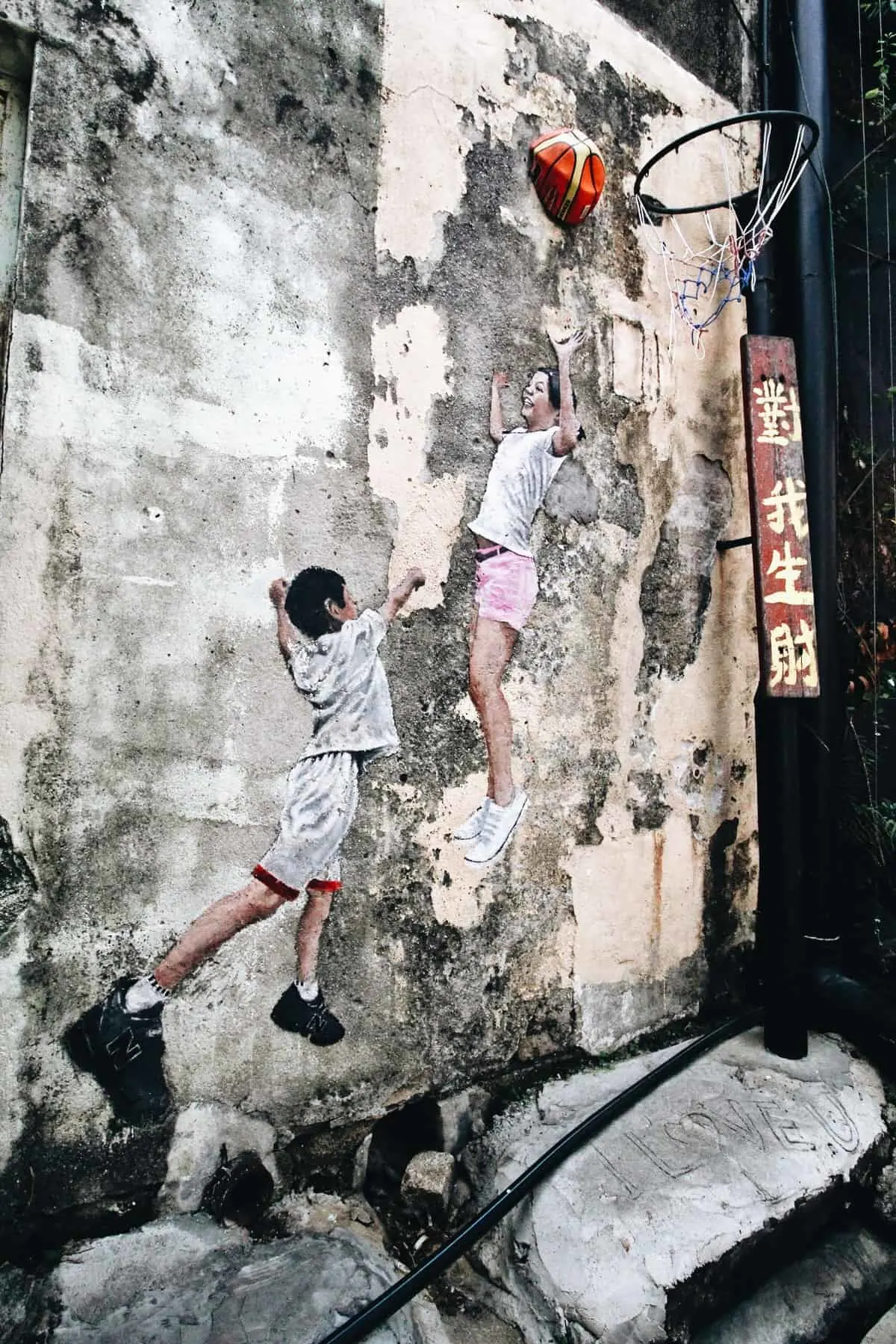 This one explains why Campbell Street is known as the Fifth Avenue of Penang.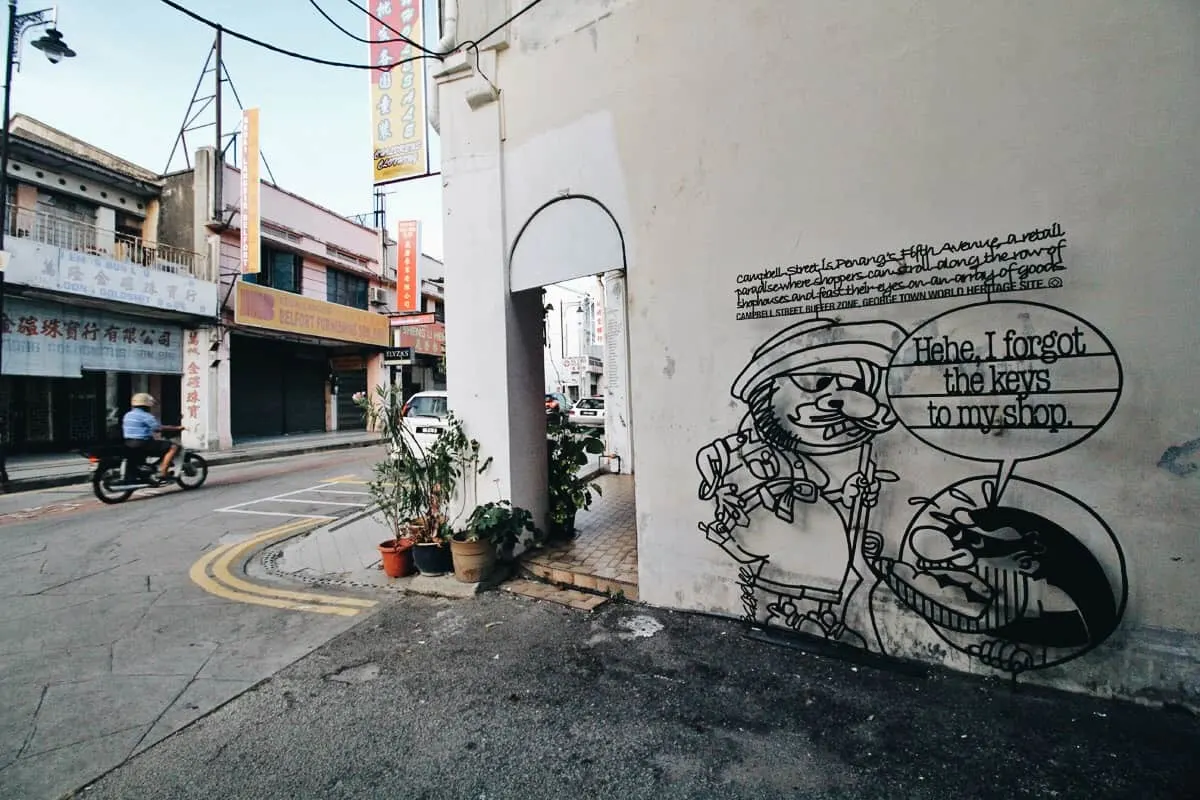 Spy vs. Spy! The story behind this one has nothing to do with the popular MAD Magazine comic strip but it appears to have been inspired by it.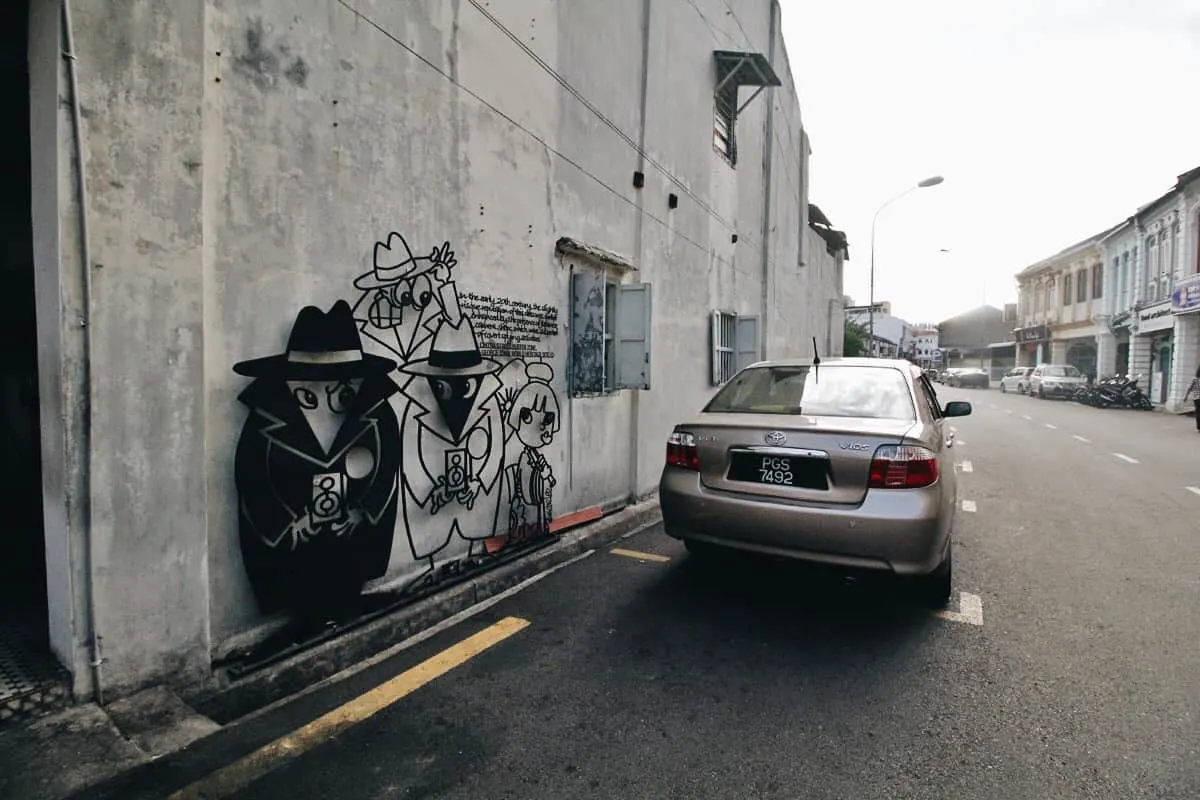 Here's a humorous sculpture of a man scaling a wall to enter a house on Love Lane. As it turns out, the street where our hostel was located — Muntri Street — was once home to rich Chinese tradesmen. They would keep their mistresses on this cross street, which is how it came to be known as Love Lane.
As Tang Mun Kian explains when describing the inspiration for his work, "The streets of George Town were named after the trades, people and events, which means every street has its own unique story. With the rising rental, many of the original inhabitants moved out and with them, the stories as well. So, the idea is to put the stories back into the city". And that's why you have this half-naked dirty old man scaling this wall for a late night booty call. 😆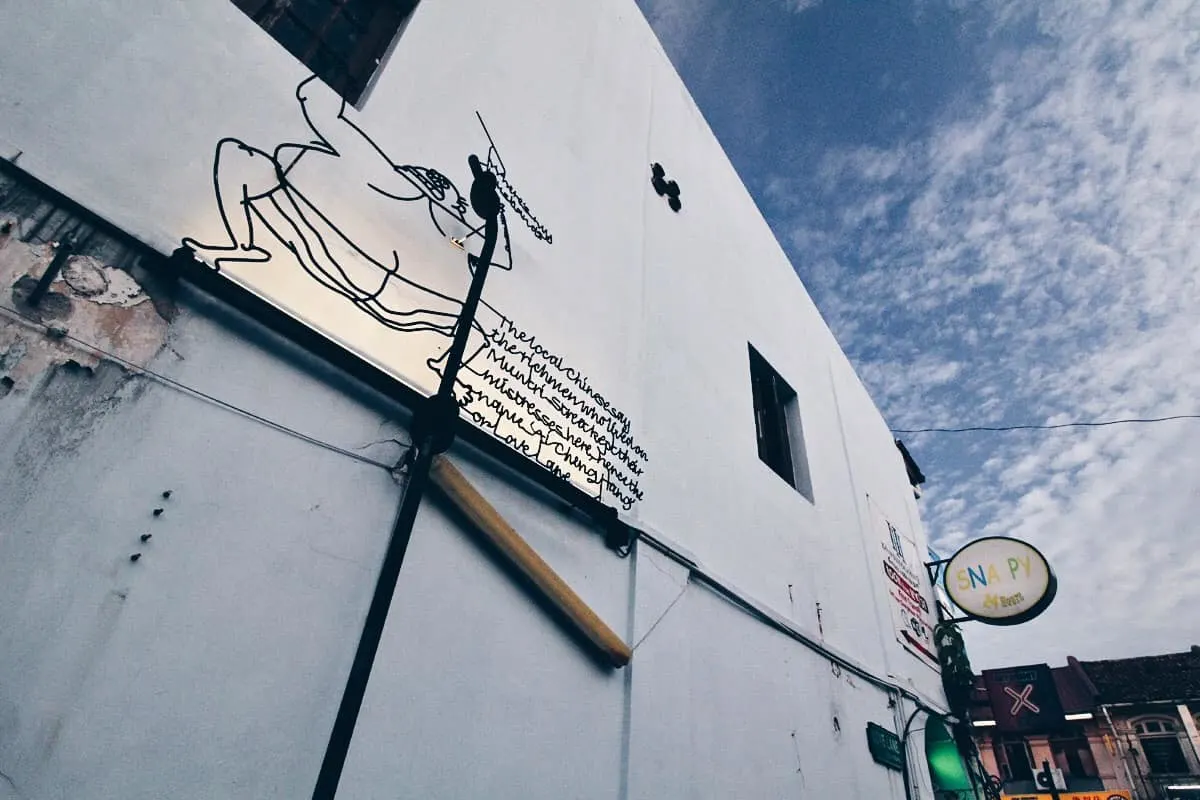 On our way to the airport, our Grab driver asked us if we saw the wire frame caricature of Jimmy Choo. I didn't know how to react at first because I wasn't sure if I heard him right. Jimmy Choo? The world famous shoe designer? As it turns out, Jimmy Choo is a true-blooded Penangite! Ren loves fashion but even she had no idea he was from here. He's arguably the most famous living Penangite so it was only fitting that a sculpture be made in his honor. It's located outside the workshop where he began his first apprenticeship in shoe making.
We were bummed not to see it but it just goes to show you how many of these artworks are lurking and waiting to be discovered throughout George Town. What's pictured above is just a fraction of what you can find there so keep your eyes peeled and have fun trying to catch 'em all. 😀
For more Penang travel tips, check out our First-Timer's Travel Guide to Penang, Malaysia