The First-Timer's Travel Guide to Seoul, South Korea
Did you know that Seoul has a population of over 25.4 million people? It's the third largest metropolitan area in the world, behind only Tokyo and Jakarta. It's absolutely ginormous.
I remember telling Ren during our trip how much Seoul reminded me of New York. A massive, living, breathing crush of humanity and technology, it felt like no matter where you went, no matter what subway stop you got out of, there would always be something exciting going on. Like Manhattan, it always felt alive.
Recognized as the world's most wired city, here's a first-timer's travel guide to this mega metropolis known as Seoul.
GUIDE TABLE OF CONTENTS
WHEN TO GO
Like Japan, South Korea has four distinct seasons — Spring, Summer, Fall, and Winter. The most popular times to visit Seoul are during the Spring (March-May) and Fall (Mid-September-Early November) months when the weather is ideal and the landscape is at its most striking. Both seasons are characterized by a dramatic change in color – Spring for its cherry blossom pinks and whites, and Autumn for its fiery reds, oranges, and yellows. Either season would be the perfect time to visit.
If you want to catch the cherry blossoms, then you should plan on being in Seoul around the second week of April (around April 9-10). That would be safest. However, please be advised that the cherry blossoms are largely dependent on the weather so it's no guarantee that they'll be blooming then. If it gets warmer earlier, then they'll bloom earlier. If the weather stays cool, then they'll bloom later. Such is the difficulty of planning your trip around the cherry blossoms. Be sure to bookmark the Visit Korea website for updates on the festival.
We were there a little too early in late March when the trees were still bare, so we decided to spend a day in the southern town of Jinhae, home of South Korea's biggest cherry blossom festival. Check out my post for a guide on how to take a day trip to Jinhae from Seoul.
HOW TO GET THERE
Almost all international flights land at Incheon International Airport. There are several ways to get to the city from Incheon.
BY AREX: The best and most economical way to get to the city from Incheon is by the Incheon Airport Railroad Express (AREX) All-stop train. It costs 4,250 KRW and will get you to Seoul station in approximately 53 minutes. There's also an Express train but it isn't worth it in my opinion. It costs 14,800 KRW and will get you to Seoul station just 10 minutes faster. From Seoul station, you can take the subway or a taxi to your hotel. Please be advised that the last AREX All-stop train leaves Incheon at 11:42 PM.
BY BUS: Buses are more expensive (9,000 KRW) and take longer than the subway (around 80 minutes), so I suggest taking it only if you're arriving at Incheon after 11:42 PM. Late night airport buses to Seoul Station run from 12:15-4:40AM, while buses to Gangnam Express Bus Terminal operate from 11:50PM-4:10AM. Detailed inquiries on bus routes and bus stops can be made at the Airport Information Desk on the 1st floor. You can also check this link for more information on late night airport buses.
BY TAXI: Taxi is the most convenient way but it's also the most expensive. A taxi will get you into the city in about an hour and cost you around 35,000-50,000 KRW.
BY PRIVATE TRANSFER: Discount travel websites like Klook and Kkday offer several transfer options from the airport as well, including private transfers. Follow these links to check out airport transfer options in Seoul on Klook or Kkday.
You can also check out this link for more information on how to get to Seoul from Incheon.
HOW LONG TO STAY
Seoul is a massive city with much to see. Ren and I don't like to rush so we stayed seven nights to afford us a nice, leisurely pace. We had to set aside an entire day for our Jinhae trip as well. Seven nights might be too long for more hyperactive travelers so I'm guessing that 4-5 nights will be enough. That should give you enough time to visit all the major sights without having to rush too much.
HOW MUCH MONEY TO BRING
Seoul surprised me. I thought that it'd be more expensive but it wasn't. It turned out to be surprisingly affordable. If you stay at an inexpensive guesthouse, travel by subway, eat modestly, and keep your shopping to a minimum, then you should be fine with a starting budget of around 69,500 KRW a day.
We hardly did any shopping so you can increase your daily allowance based on how much shopping you want to do. Our guesthouse, which we booked through AirBnB, cost just USD 33 a night. The subway is inexpensive, starting at 1,350 KRW a ride. Entrance fees to many tourist attractions are cheap as well, around 3,500 KRW each. And you don't have to spend a lot on food (unless you want to). Ren and I enjoy eating so we spend more on restaurants than shopping, but even then, we spent maybe an average of 13,900 KRW each per meal with beers. I budgeted around 17,400 KRW per meal to provide wiggle room for bigger eaters. It won't be hard to lower this if you want to eat more frugally. The street food in Seoul is cheap, delicious, and substantial.
Unfortunately for carnivores though, meat is generally more expensive in Seoul. We walked into a couple of BBQ places and meat dishes typically cost around 35,000 KRW per order at a decent restaurant. With that said, these do come with several plates of banchan, rice, and soup, so the amount of food that you get will fill you up.
WHERE TO EXCHANGE CURRENCY
Myeongdong is the best place to change your money. There are plenty of money changers there and they're known to give the best rates in the city. With that said, I didn't think that the difference in rates was all that significant. At the time, the rate at the airport was 1,070 KRW to the dollar (USD). At a money changer in Myeongdong, it was only a little better at 1,080. Banks do give the highest rates but you need to present your passport. I was able to get 1,089 at a bank near Nandaemun Market.
I suggest changing a small amount at the airport, maybe around USD 100, just to get you in to the city. You can then change the rest in Myeongdong.
WHERE TO STAY: iHouse
iHouse is a 13-room guesthouse conveniently located in the quiet neighborhood of Hoehyeondong. It's a 3-minute walk to Namsan Cable Car (which takes you up to N Seoul Tower), and just 10 minutes away from the hyper shopping district that is Myeongdong. At just USD 33 a night through AirBnB, it's a great value as well.
But that walk though. 😆 Check out my post on iHouse in Seoul to find out more.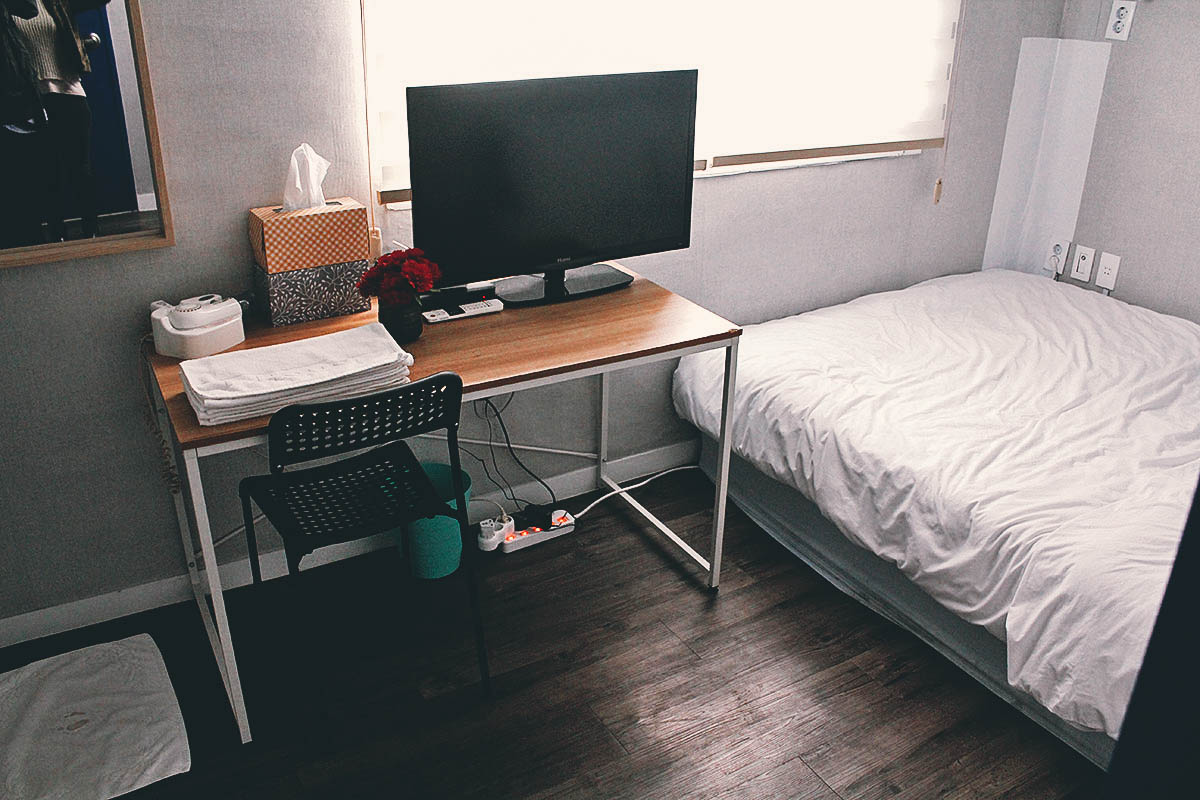 Approximate Room Rate: USD 33 per night (as of Mar 2015)
WHERE TO GO / WHAT TO DO
1. Watch the Changing of the Guard at Changdeokgung and Gyeongbokgung Palaces
Seoul has five Joseon royal palaces and these two are the ones that you can't miss. Each arguably the most beautiful, Gyeongbokgung is the primary palace while Chandeokgung is a UNESCO Heritage Site and home to Huwon or the "Secret Garden". If you come at the right time, you can watch the changing of the guard as well.
Check out my post on Changdeokgung and Gyeongbokgung Palaces in Seoul for more pictures and information.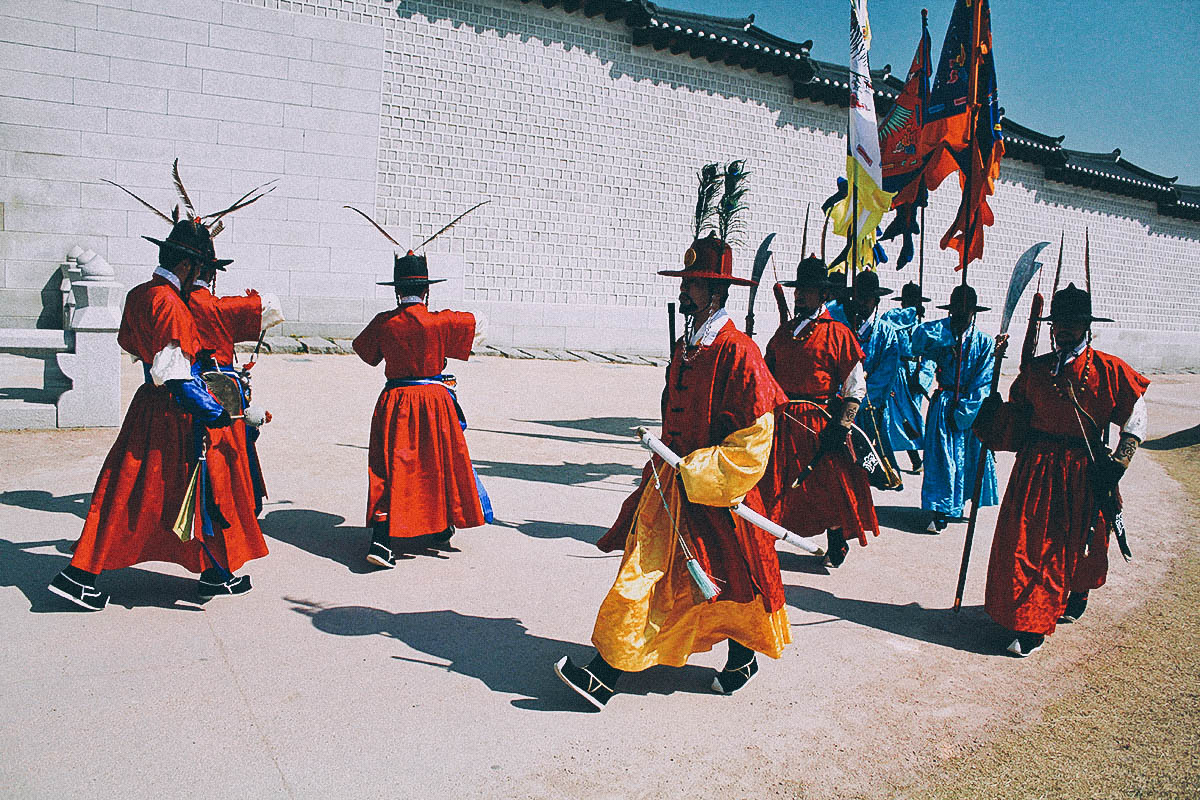 Suggested Length of Visit: 1-3 hrs / Admission: 3,000 KRW per adult (each palace)
2. Get Lost in a Maze of Traditional Houses at Bukchon Hanok Village
As ultramodern as Seoul can be, it was nice to find a place like this right in the heart of the city. A maze of narrow alleyways and traditional Korean houses called hanoks, Bukchon Hanok Village will take you back in time and introduce you to a 600-yr old Seoul.
Check out my post on Bukchon Hanok Village in Seoul for more pictures and information.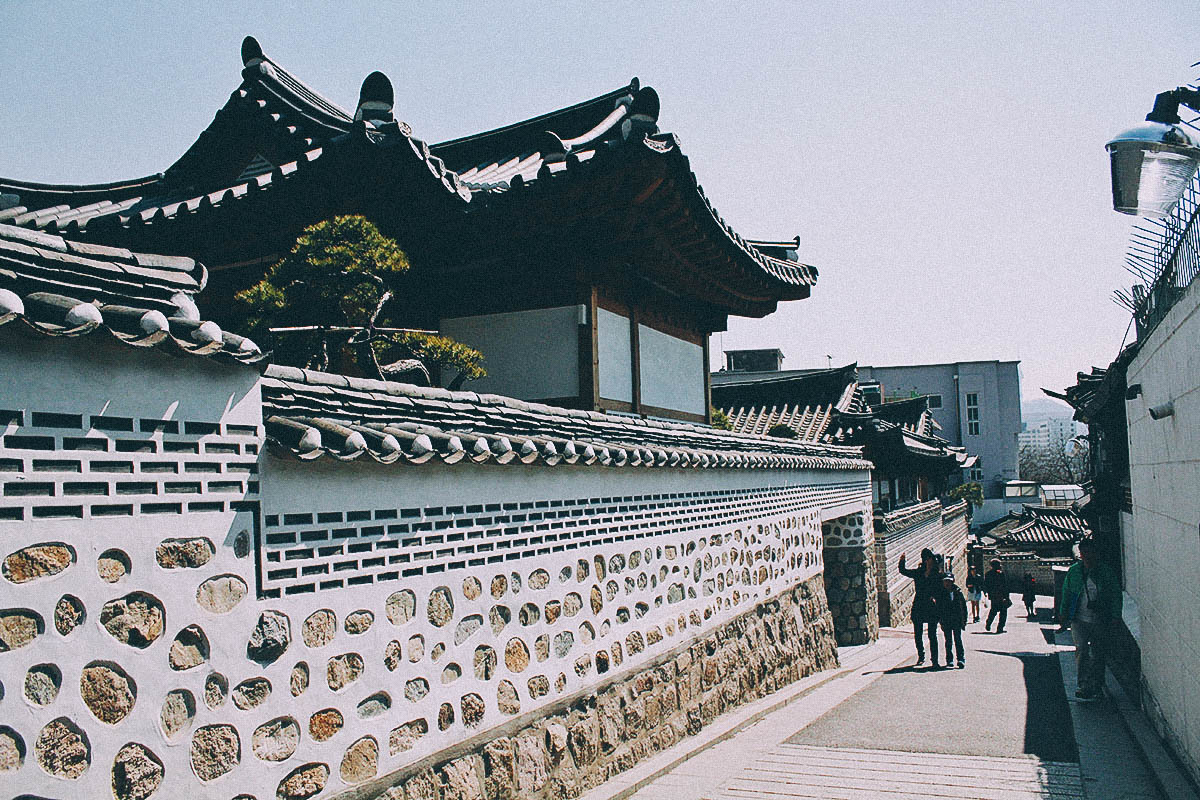 Suggested Length of Visit: 1-2 hrs / Admission: FREE
3. Lock your Love and Climb to the Top of N Seoul Tower
When it comes to great views, this place towers over the competition. Standing 480 meters above sea level, N Seoul Tower is the best place to get bird's eye views of the city. It's also the only place where you can "lock your love" for all eternity. 😉
Check out my post on N Seoul Tower in Seoul for more pictures and information.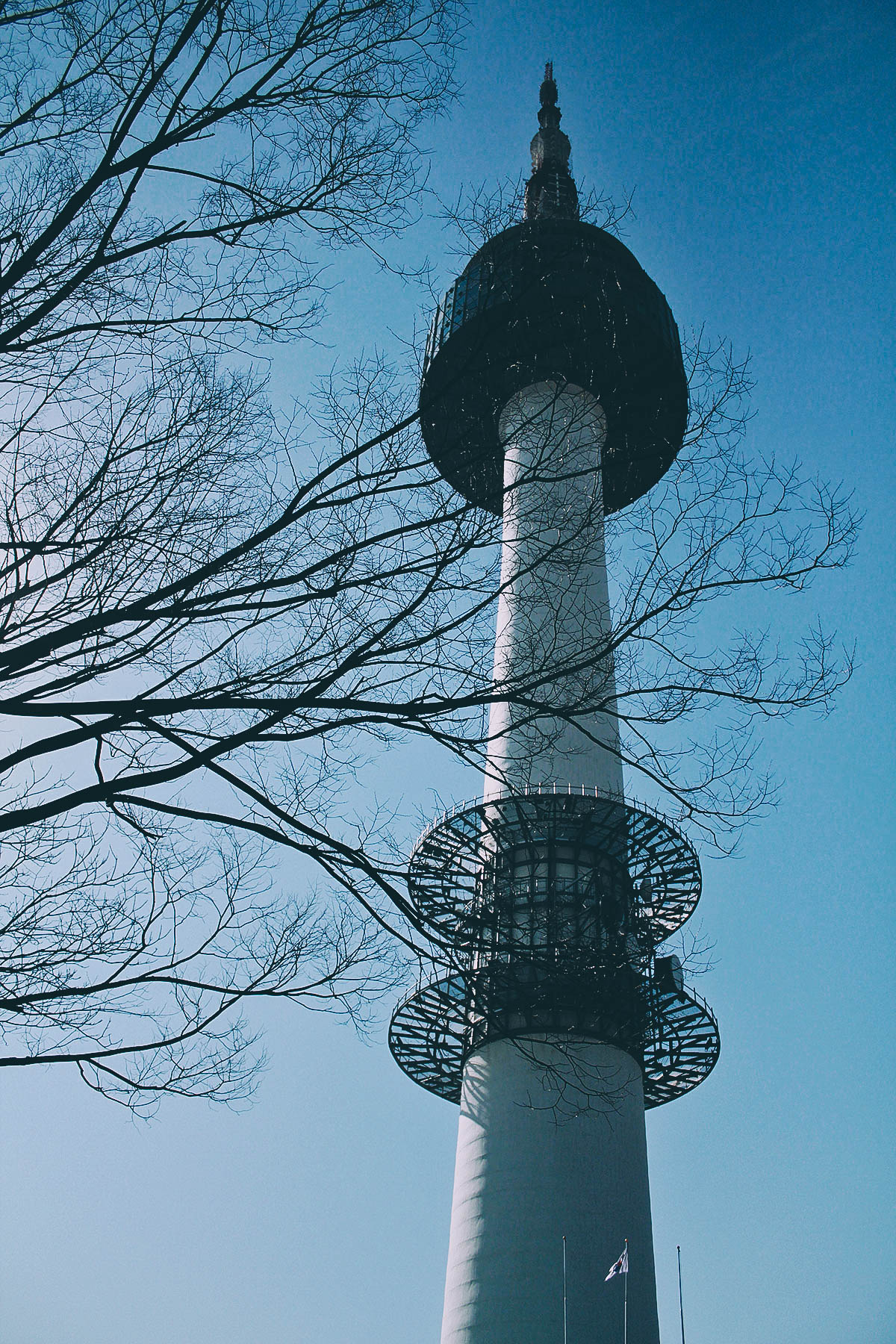 Suggested Length of Visit: 1-1.5 hrs / Cost: 18,500 KRW per adult including round trip cable car tickets
4. See the Future of Design at Dongdaemun Design Plaza (DDP)
This place is awesome. If you like design, any kind of design, then you need to put DDP in your itinerary. It's like a museum, design supermarket, and space ship all rolled into one. I suggest devoting several hours there if you can, and be sure to come back at night when the building really comes to life.
Check out my post on Dongdaemun Design Plaza (DDP) in Seoul for more pictures and information.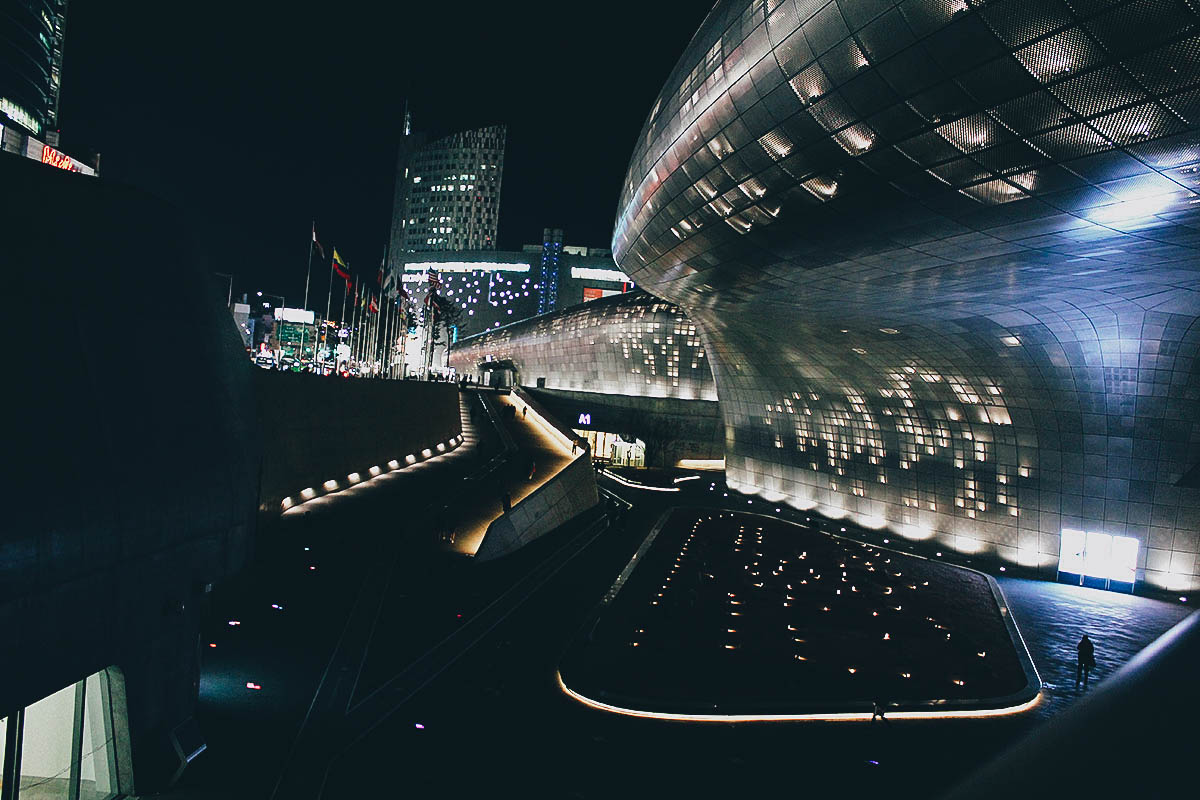 Suggested Length of Visit: 2-3 hrs / Admission: FREE but some exhibits may have an entrance fee
5. Shop and Eat like there's No Tomorrow in Insadong, Myeongdong, and Hongdae
Seoul is a shopaholic's paradise. There are many shopping districts in the city but Insadong, Myeongdong, and Hongdae are three that you can't miss. They each have their own unique personality. Insadong is known for its artsy-craftsy items, Myeongdong for its brand names and cosmetics, and Hongdae for its hip, college town vibe. All have great street food.
Check out my post on Insadong, Myeongdong, and Hongdae in Seoul for more pictures and information.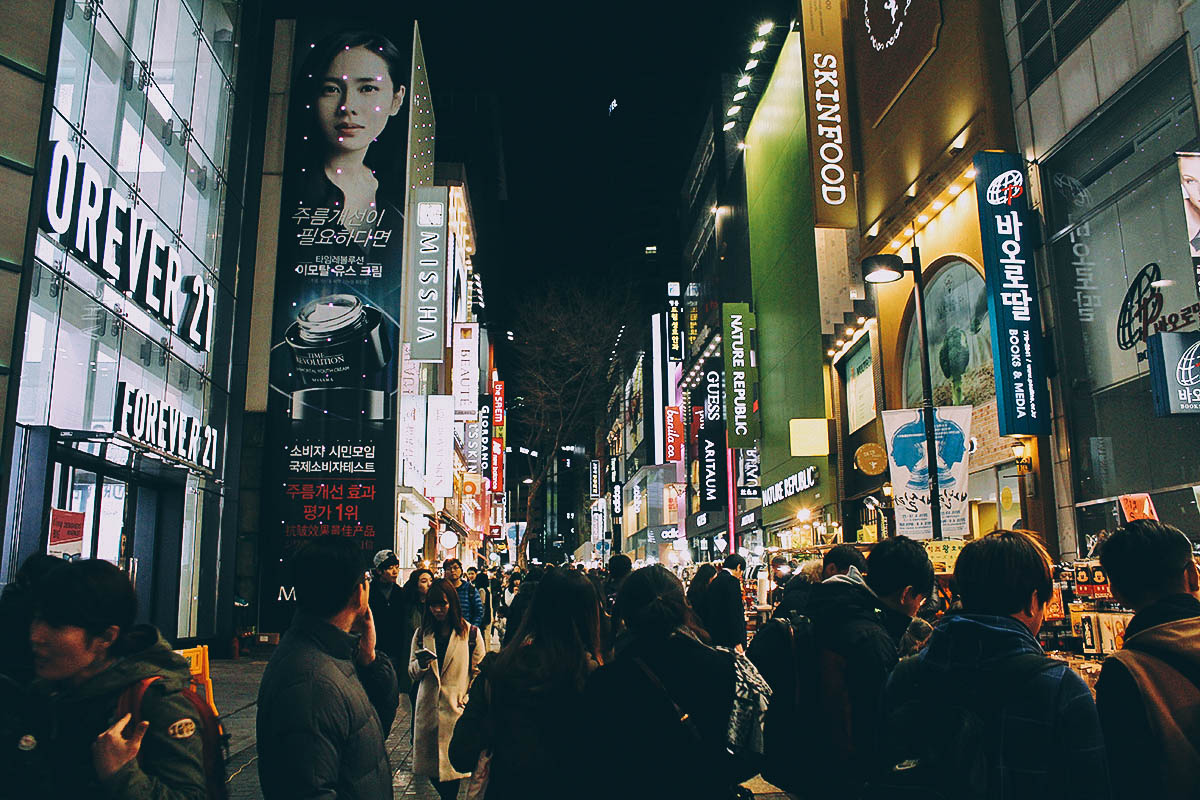 The madness and magic that is Myeongdong
6. Laugh at a Cookin' Nanta Show
If you're looking to add a cultural show to your itinerary, then this is one to consider. Entertaining and raucously funny in parts, think of it as a slapstick Korean Stomp with food. There's a Nanta theater in Myeongdong so you can pair it with an afternoon of shopping and dinner at the famed Myeongdong Kyoja (see below, Where to Eat).
It's a good idea to purchase your tickets from the Cookin' Nanta Show website in advance. Click on the "discounts" button to check if they're offering any promos. I got a 25% discount simply by posting a message on their Facebook page and showing them the screenshot. You can also get discounts if you purchase your tickets from Klook or Kkday. Follow these links to purchase Cookin' Nanta Show tickets from Klook or Kkday.
Normal ticket prices start at 40,000 KRW. This was good enough and gave us great views of the show, though more expensive tickets bring you closer to the stage and make you available for some fun audience participation.
Tickets: At least 40,000 KRW per person
7. Climb Hwaseong Fortress Wall in Suwon
Located about an hour south of Seoul, Hwaseong Fortress is a UNESCO World Heritage Site and a great day trip if you have the time. A good place to do some light hiking, the fortress has a pretty interesting background story too.
Check out my post on Hwaseong Fortress in Suwon for more pictures and information.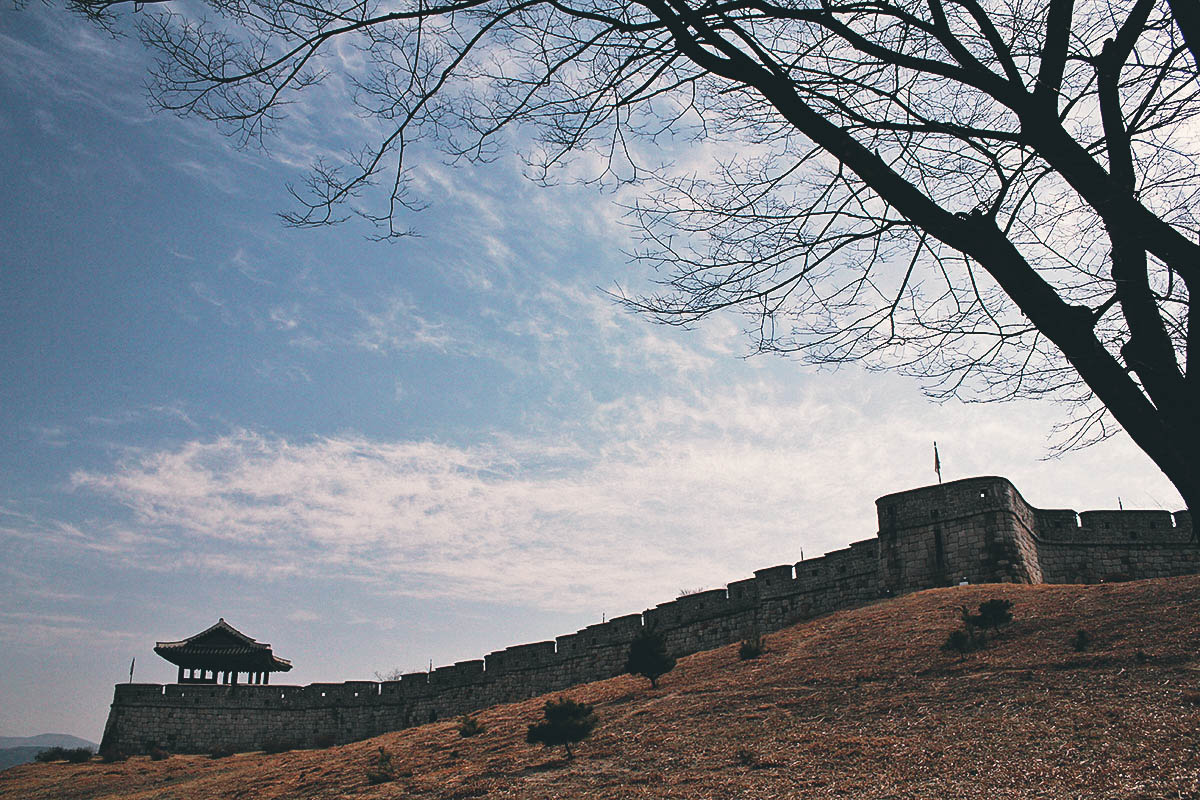 Suggested Length of Visit: 4-5 hrs / Admission: 1,000 KRW per adult
8. Spend a Day at Everland or Lotte World
We didn't go but families with young children may want to visit Everland or Lotte World theme parks. They're large amusement parks that are basically Korea's answer to Disneyland. Discount passes to both parks are available to non-Korean visitors on Klook or Kkday. Make sure to check both sites to find the best deal:
Klook: Everland | Lotte World
Kkday: Everland | Lotte World
Picture by Roller Coaster Philosophy, Jeremy Thompson [CC BY 2.0 (http://creativecommons.org/licenses/by/2.0)], via Wikimedia Commons
Many of the places listed above are featured in this awesome hyperlapse video of Seoul by Scott Herder. If this video doesn't inspire you to visit Seoul, then nothing will. 😉 .
20 THINGS TO EAT
There is so much good food to be had in Seoul. From conch skewers to poop cakes to "live" octopus to cane ice cream, Seoul is a food lover's Shangri-La. Check out my post for a list of 20 delicious things to eat in Seoul (not named bulgogi).

Grilled conch and octopus skewers
WHERE TO EAT
1. Myeongdong Kyoja
Myeongdong Kyoja is home to some of the best kalguksu in the city. Kalguksu is a noodle dish consisting of handmade, knife-cut wheat flour noodles served in a large bowl with broth and other ingredients. It's delicious and inexpensive, just 8,000 KRW per bowl. Myeongdong Kyoja only serves kalguksu, mandu (Korean-style dumplings) and a couple of other noodle dishes so you know their food is going to be good.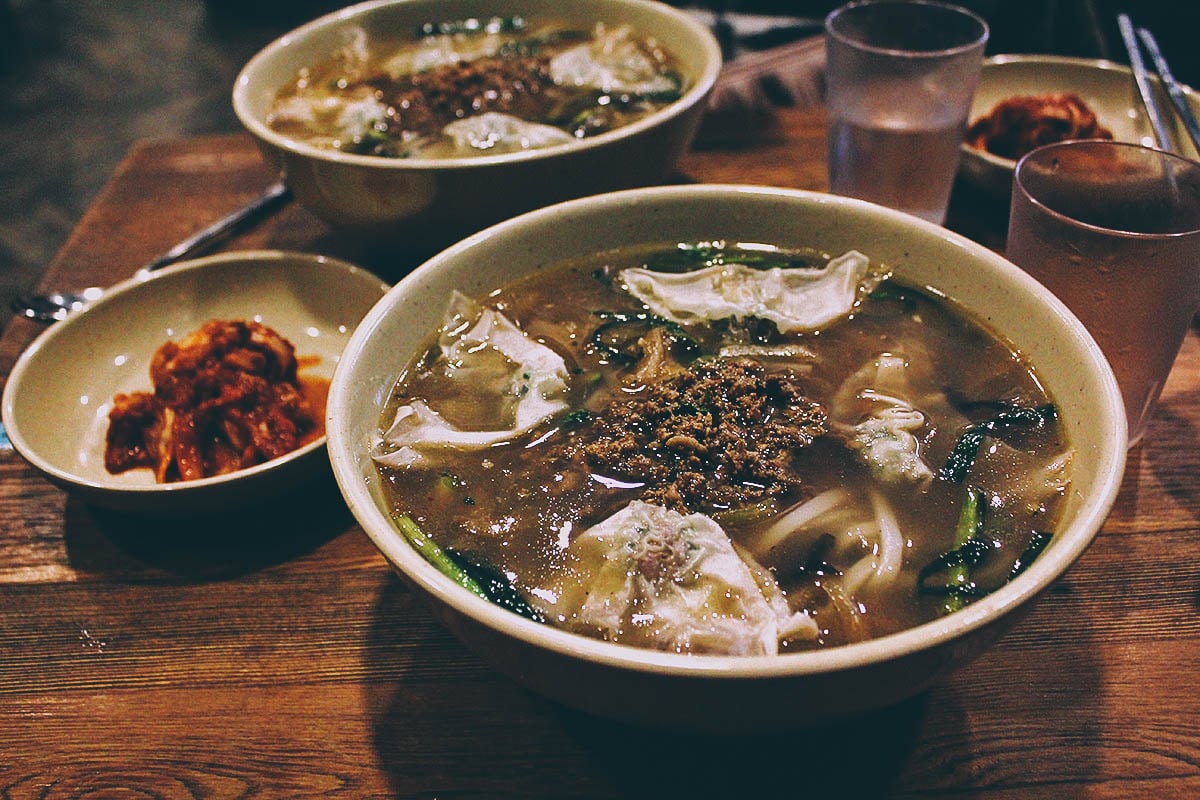 Expect to Spend: 8,000 KRW per person
To get to the restaurant by subway, get off at Myeong-dong station (line 4), exit 8. Soon as you exit the station, make an immediate left into the first alley that you see. Walk straight for about 5 minutes and you'll see the restaurant pictured below on your right. It's popular so don't hesitate to ask anyone if you can't find it. Here's the restaurant's name and address in Hangul: 명동교자. 서울특별시 중구 명동10길 29 (명동2가).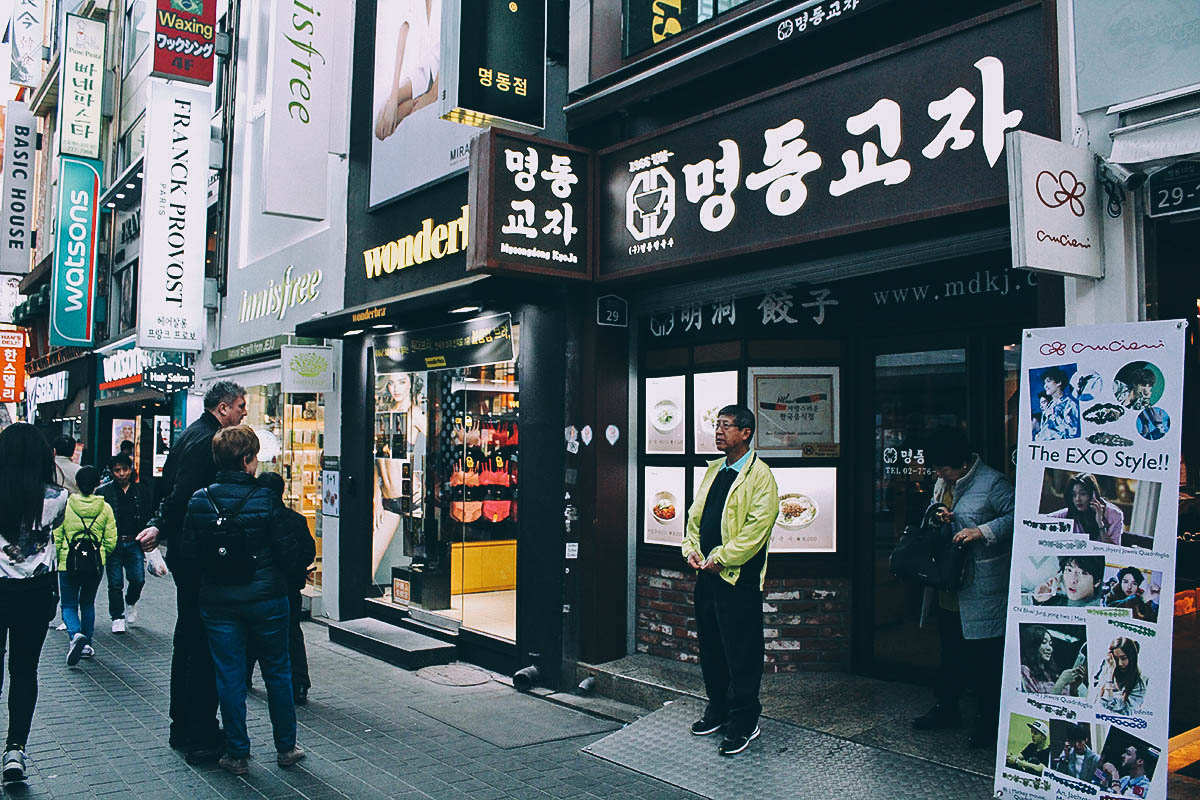 2. Tosokchon
If samgyetang is your thing, then Tosokchon is the place to be. Samgyetang is a hot and nutritious soup made from a whole young chicken stuffed with glutinous rice, then boiled in a broth of Korean ginseng, jujube fruits, garlic, ginger, and various herbs and condiments. A popular summer dish, Tosokchon's samgyetang is so good that late president Roh Moo-hyun was a frequent patron. The restaurant is just a 10-minute walk from Gyeongbokgung so I suggest enjoying a meal here before or after visiting the palace.
Check out my post on Tosokchon in Seoul for more pictures and information.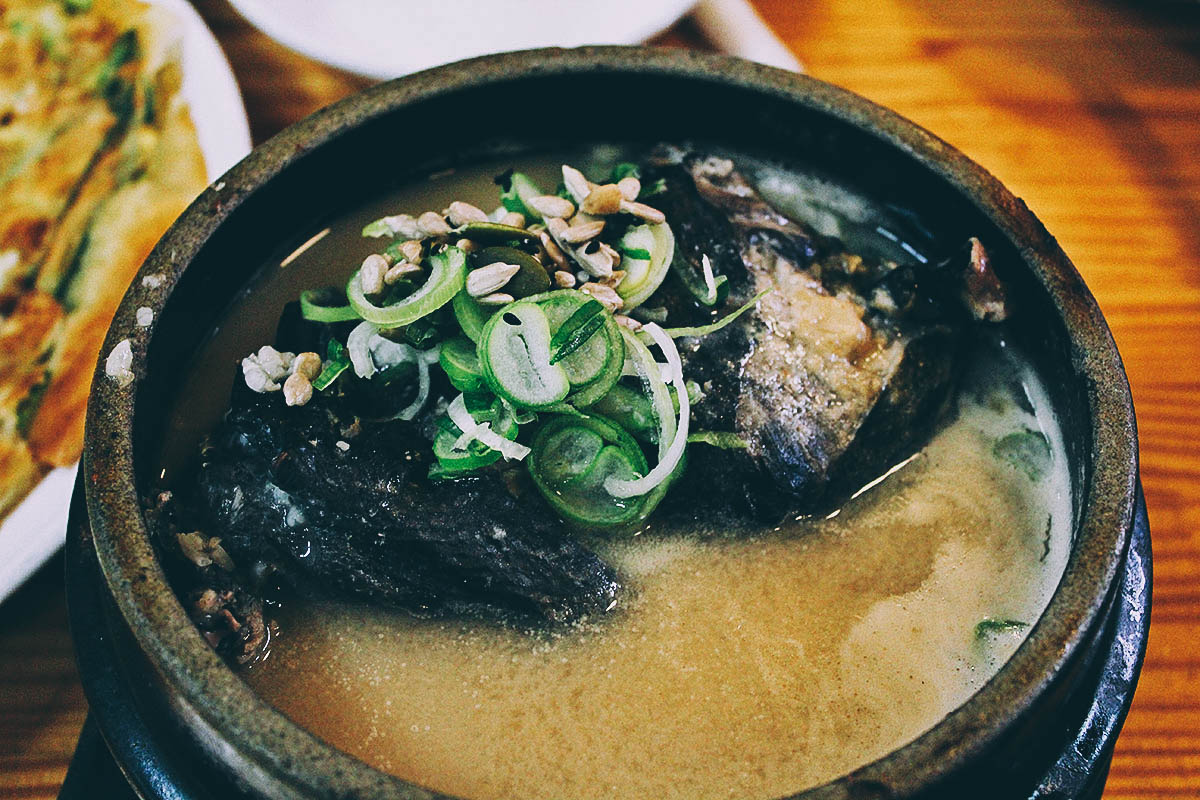 Expect to Spend: Around 16,000 KRW per person with drinks
3. Sigol Bapsang
Fans of those delicious Korean side dishes called banchan will surely love Sigol Bapsang. For just 8,000 KRW, you can have a feast of at least twenty different types of banchan to go with some rice and a steaming bowl of fermented soybean paste stew (jjigae). Really good and fun to eat.
Check out my post on Sigol Bapsang in Seoul for more pictures and information.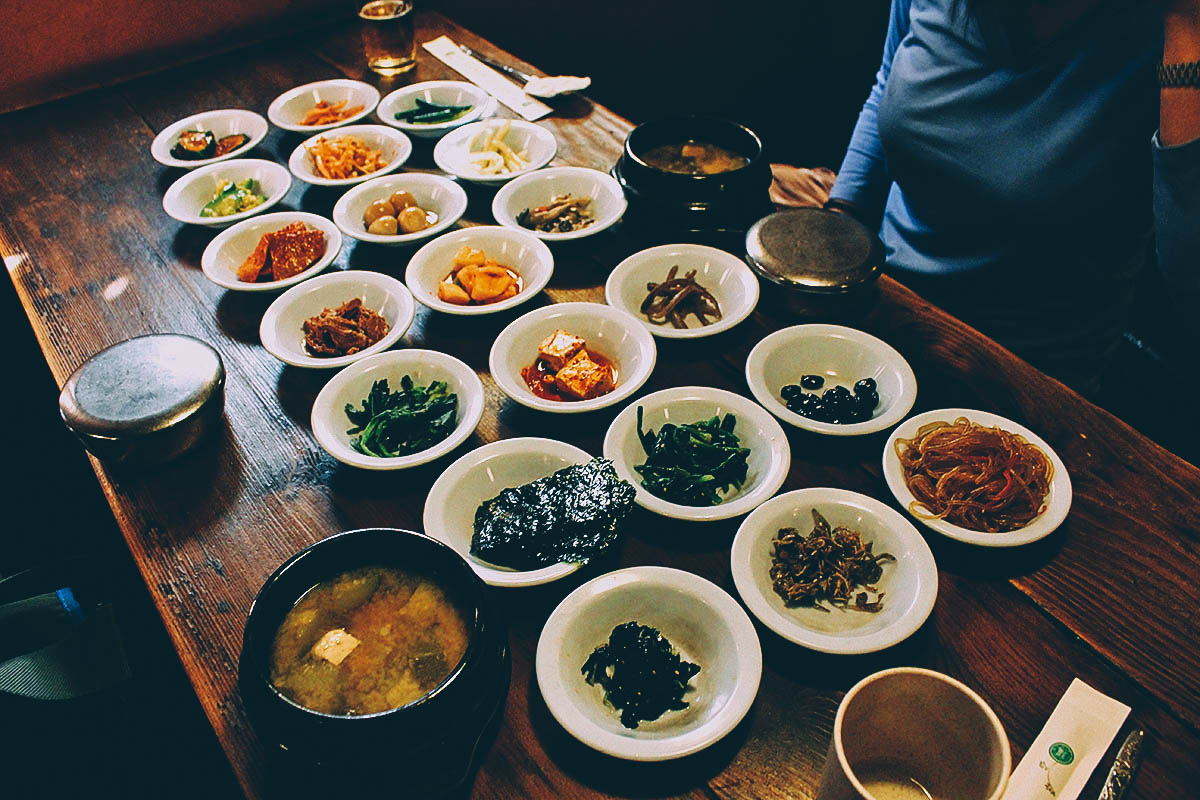 Expect to Spend: Around 12,000 KRW per person with drinks
4. Han Chu Korean Fried Chicken & Beer
Fried chicken and beer restaurants are ubiquitous in Seoul, but Han Chu is said to serve some of the best. Korean fried chicken is double-fried, resulting in crunchier and less greasy skin. As you can see from the picture below, they give you a lot so one order is enough for two. Their fried green peppers stuffed with pork are said to be very good as well.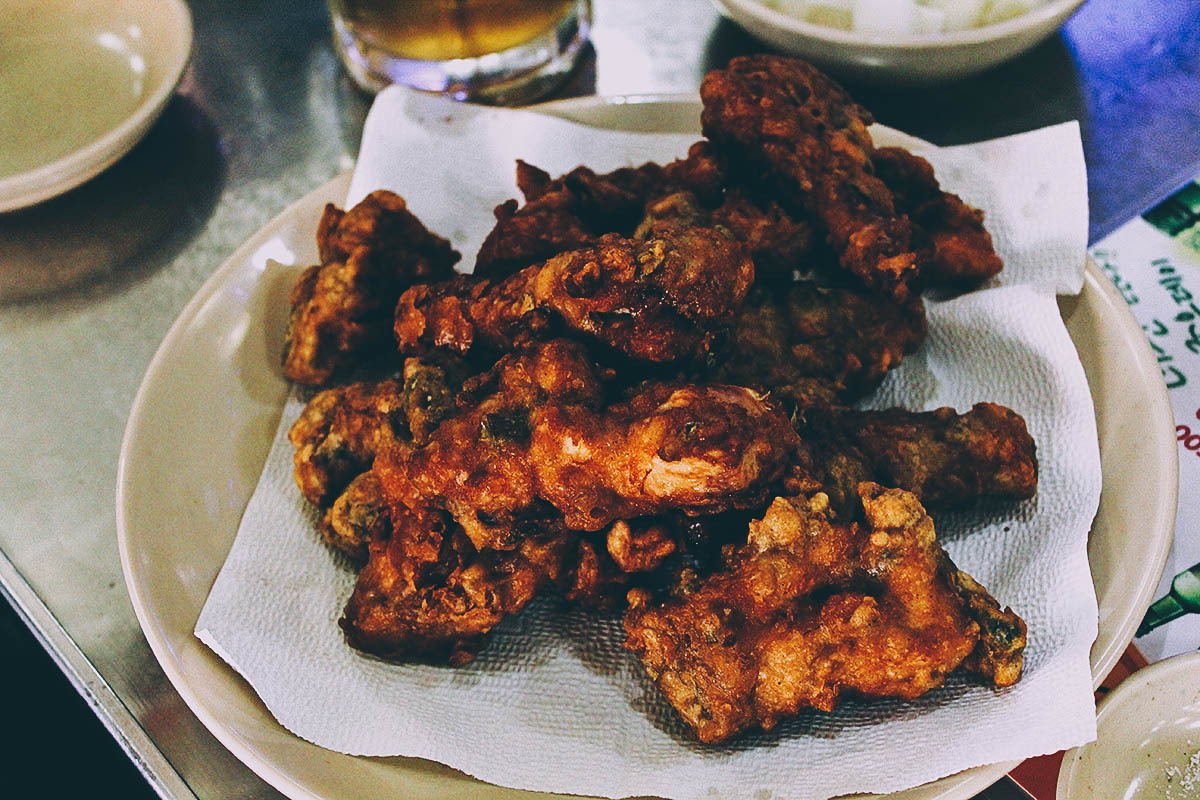 Expect to Spend: Around 13,500 KRW per person with drinks
To get to the restaurant by subway, get off at Sinsa station (line 3), exit 8. Walk straight until you see a Missha cosmetics store. Make a left into Garusogil Street. Walk straight and make a right into a small street after the Forever 21 building. Han Chu will be on your left. There's no English name so be sure to look for the orange restaurant pictured below. Here's the restaurant's name in Hangul: 한추.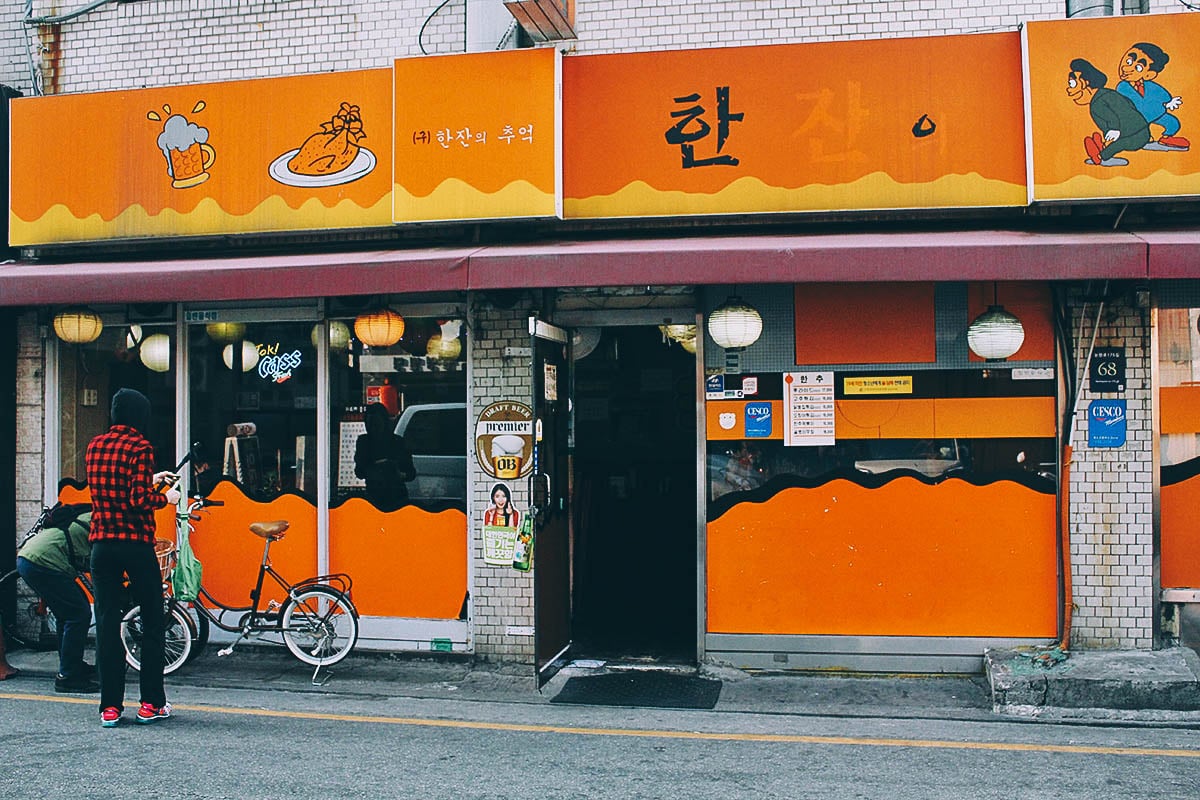 5. Jjukumi Alley
If you like octopus and spicy food, then jjukumi is for you. Jjukumi is a notoriously spicy dish of baby octopuses marinated in a red chili gochugaru sauce, then stir-fried. I thought I had a high tolerance for spicy food until I tried this. Huwaw that was hot!
The best place to try jjukumi is in Jjukumi Alley, a small network of streets filled with restaurants specializing in this dish. To get there by subway, get off at Jegi-dong station (line 1), exit 6. Walk straight for about 5 minutes until you see a bronze octopus statue. Turn left into Jjukumi Alley. Here's "Jjukumi Alley" in Hangul: 용두동 주꾸미.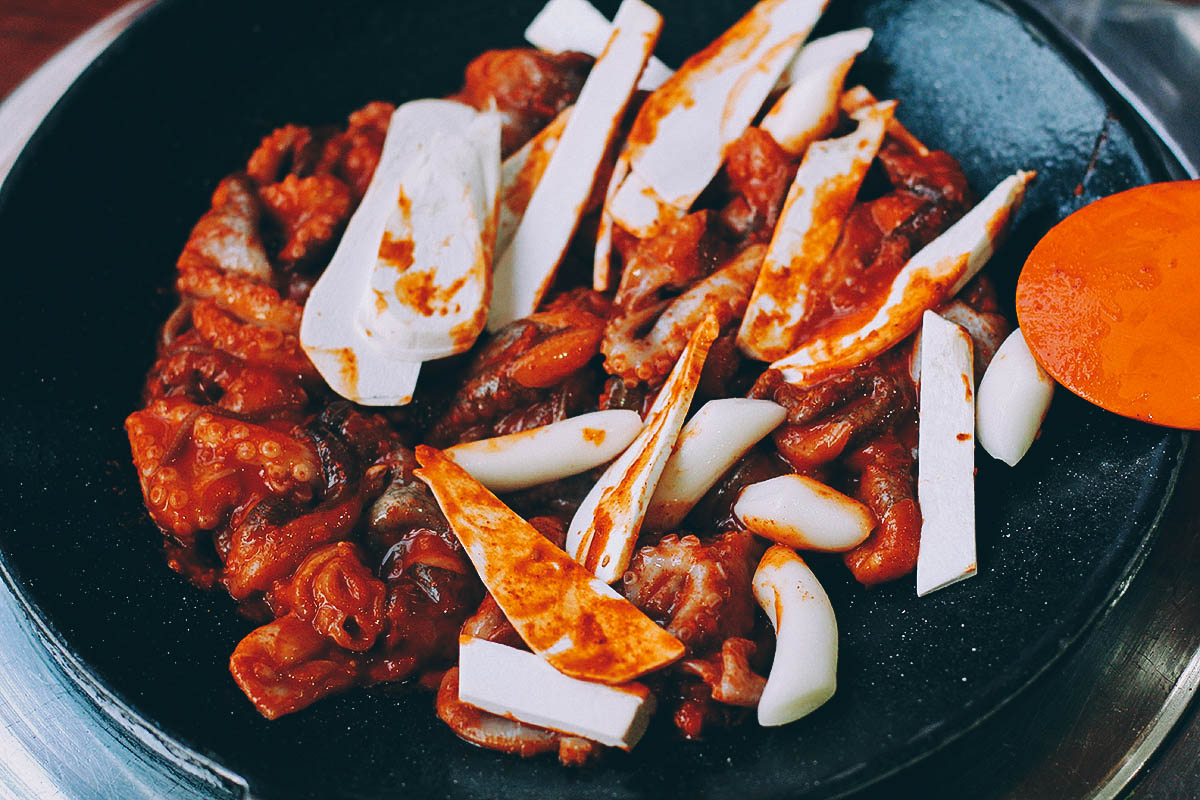 Expect to Spend: Around 13,000 KRW per person with drinks
6. Noryangjin Fish Market
If you like seafood, then a meal at Noryangjin Fish Market is a must. The seafood here is unbelievably fresh. You buy your seafood from the market downstairs and have any of the restaurants upstairs cook it for you. Be sure to bargain the prices down for both the seafood and the preparation. I've read that they tend to jack up the prices here for foreigners. I think it's true.
Noryangjin is the best place to try sannakji, that infamous dish of octopus sashimi. One of my favorite things to eat on this trip, it's absolutely delicious if you can get past all the squirming tentacles.
Check out my post on Noryangjin Fish Market in Seoul for more pictures and information.
Expect to Spend: Around 10,000 KRW per octopus (with preparation)
7. Si.Wha.Dam
An exceptionally artistic meal, I'm guessing that you've never had Korean food quite like this. With their stunningly beautiful tasting menus, Si.Wha.Dam is one of a handful of restaurants leading the way for modern Korean cuisine.
Check out my post on Si.Wha.Dam in Seoul for more pictures and information.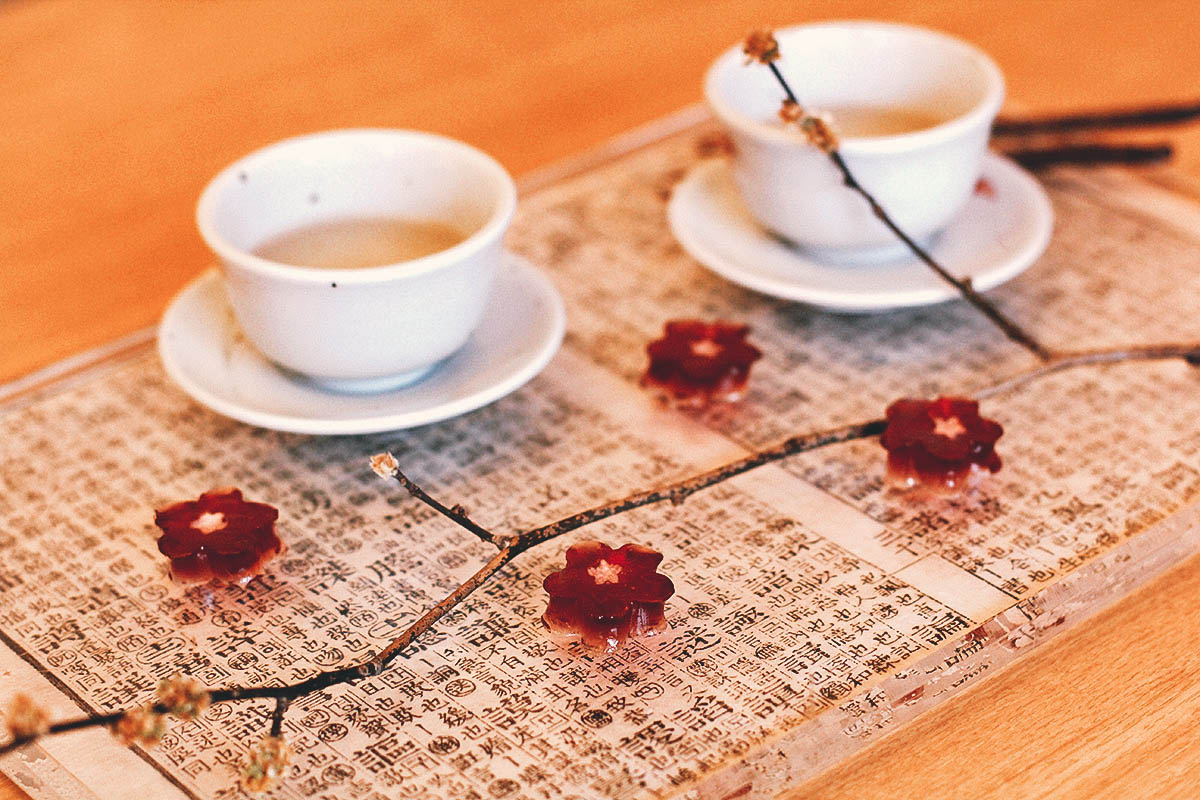 Expect to Spend: At least 28,000 KRW per person
INTERACTIVE MAP
To help you get your bearings, I've created this interactive map so you get a better sense of where everything is. All the places recommended in this guide are pinned on this map. (Tap on the thumbnail below to open up in full screen mode on mobile.)
TRAVEL TIPS
1. Plan your Trip with Sygic Travel (formerly Tripomatic)
I love this app. It makes travel planning so much easier. Sygic Travel allows you to plot points of interest on a map, including your hotel, so you can see exactly how far you need to travel between points. It shows you where each attraction is on a map so you can visit them in the right order and save travel time. With pocket wifi, it turns your mobile phone into a GPS tracking device so people with a poor sense of direction (like moi) never get lost again. Pretty sweet right? Check out my post on the Sygic Travel app for more information.
We didn't follow this to a T, but you can check out our entire Seoul itinerary on Sygic Travel.
2. Rent a Pocket Wifi Device
Wi-Fi is freely available in many places but not all. For just USD 3.99 a day, you can have uninterrupted 4G LTE access at all times, even in the subway. It's great to have if you suddenly need to check a map or post on social media. I ordered my pocket wifi device from wifi-korea.com and had it shipped to our guesthouse on the day we arrived. Sent with a self-addressed stamped envelope, you can either leave the device with your hotel at the end of your trip or drop it off at a designated point at the airport. Convenient right?
Between the two devices they offer, I went with the Everywhere Speed Pack (ESP). It costs just a dollar more per day. At 100 mbps, it's 10 times faster than the Urban Data Pack (UDP) and its connection is more reliable as well. I read that the UDP's connection can get cut off in the subway or in elevators.
I was initially worried about the ESP's 700 MB daily data limit, but that amount is more than what most people will need. Unless you're watching videos all day, then you'll be using no more than 150-200 MB each day. The most I used was about 350 MB when I passed 30 photos from Ren's phone to mine. To make sure that you don't go over, Wifi-Korea will ask you to download an app that monitors your data usage.
Follow the link to rent a pocket wifi device from Wifi-Korea. I suggest reserving it at least a week before your trip. Be sure to select Will Fly for Food from the "Referred by" dropdown to get a 10% discount on the device. Alternatively, you can rent a pocket wifi device from Klook or Kkday as well.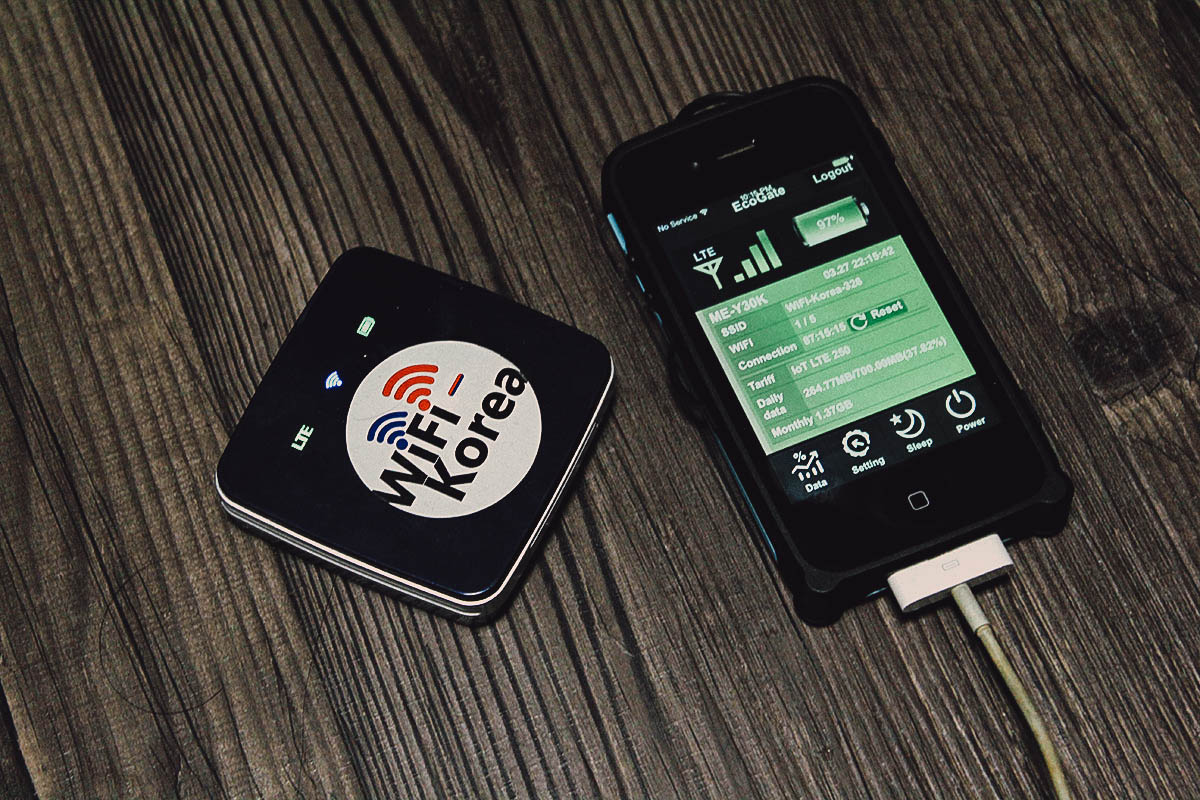 3. Take Note of Korean Names and Addresses, Subway Stops and Line Numbers
We got lost a couple of times in Seoul. Many Koreans were willing to help us but only a few could speak English. To get past this language barrier, I suggest printing out the Korean names and addresses of all the places on your itinerary. If you have a smart phone and pocket wifi, then you can just show them from your phone. Most can't speak English but you'll be surprised at how much you can communicate with simple hand gestures. 😆
It's a good idea to print out each attraction's subway stop and line number as well. You sometimes have to walk far to transfer between lines so it's important to know both the name of the stop and the line number that it's on. At the bottom of each click-through post, you'll find the Korean names and addresses of all places recommended on this guide. You'll also find detailed directions on how to get there, complete with subway stops and line numbers.
4. Invest in a T-money Card
This was a time and money saver. If you'll be riding the subway or bus a lot, which you probably will, then a T-money card will be a good investment. The card itself costs 2,500 KRW and can be purchased at most convenience stores and subway stations. You can then load it up with any amount you want at recharge stations found at every subway stop.
Not only does it eliminate the hassle of buying single journey tokens, public transportation is always 100 won cheaper with a T-money card. And unlike cash fares, a T-money card can be used when transferring between subway lines, buses, or from subway to bus and vice versa (within a transfer time limit) at no extra charge. You can even use it to pay for taxi fares and make purchases at participating convenience stores. If there's any amount left over at the end of your trip, then you can have it refunded at a convenience store or refund station. (minus a 500 won service charge)
It works on the AREX (airport railroad) as well so we used it all the way to Incheon and had the remaining balance refunded at a CU convenience store. Very convenient indeed.


5. Get an Integrated Palace Ticket
If palaces are your thing, then you should get an integrated palace ticket. Entrance to all four major palaces — Changdeokgung (including Huwon), Changgyeonggung, Deoksugung, Gyeongbokgung Palace — and Jongmyo Shrine will cost you a total of 14,000 KRW for adults and 7,000 KRW for kids. With the integrated palace ticket, you'll have access to all five for just 10,000 KRW and 5,000 KRW respectively.
6. Check for Discount Passes
There are many websites that offer discount passes to tours and services. The websites I've used the most are Klook and Kkday. They offer deals in many cities around the world, including Seoul. If you're looking for deals on tours, shows, theme parks, airport transfers, etc, then you may want to search through these lists of Seoul attractions on Klook and Kkday. As previously described, they offer deals to popular theme parks Everland and Lotte World. They even offer discounts on Panmunjom and DMZ tours. You'll often find interesting activities that you wouldn't normally think of yourself so it's definitely worth a look.
Another good website to look through is Viator. I haven't used it as much (probably because of the less pleasing interface) but they're actually one of the leading online providers of tours and activities. They're owned by TripAdvisor so you know they're solid. You can follow this link to search through tours and activities in Seoul on Viator.
7. Get Travel Insurance
To be honest, it was only recently when we started buying travel insurance. Back when we traveled just once or twice a year, travel insurance felt like an added expense, one we didn't need. But now that we travel more, I understand how important it is to have it. Fact is, you never know what can happen. It's one of those things that you hope you never have to use, but if you do wind up needing it, then you'll be thanking the gods that you had it. Or cursing them if you didn't.
Though I do find it more necessary now, it's still up to you if you think you need it. A 3-day trip to Osaka just shopping and eating may not really call for insurance but if you plan on doing more active things like bungee jumping, kayaking, or even going on a city bike tour, then I'd say travel insurance is a must.
We buy travel insurance from World Nomads because every long-term traveler I know recommends it. From the sound of it, they're the best in the industry by a mile. Not only do they provide a high coverage limit for medical expenses (up to USD 5 million with the Standard package), they also cover things like trip delays, missed flight connections, theft/loss of passport and luggage, etc. Follow this link to learn more and get a free travel insurance quote from World Nomads. It's super quick and easy.
8. Bring the Right Power Adapter
Electrical outlets in South Korea are round so plugs are typically Type C or Type F. Be sure to bring the right power adapters for your devices. Electrical voltage is 220/230V.
9. Wear Comfortable Shoes
You'l be doing a lot of walking in Seoul so be sure to wear comfortable shoes. You'll probably be taking them off a lot too at temples and restaurants, so try to wear shoes that are comfortable but easy enough to slip on and off.
HOW TO GET AROUND
Seoul's subway system is very efficient, so much so that you probably won't need any other form of transportation while you're there. We never took a taxi and the only times we ever got on a bus was to go to places outside of Seoul like Paju, Suwon, and Jinhae.
It can be a little confusing at first, but as long as you remember your destination's subway stop and the line number that it's on, then you shouldn't have any problems. As descibed in the previous section, you sometimes have to walk far to transfer between lines so it's important to know the line number of your stop. Otherwise, you won't know which way to go to transfer lines.
Most trips within the metropolitan Seoul area will cost 1,350 KRW for single-journey tickets, and 1,250 if you have a T-money card.
For Filipinos
HOW TO APPLY FOR A VISA
If you're a Philippine passport holder, then you'll need to secure a tourist visa to South Korea. Provided that all your documents are in order, then you shouldn't have any problems. Check out my post on how to apply for a South Korea visa for a step-by-step process.
HOW TO GET CHEAP AIRLINE TICKETS
Ever since I scored my first piso fare from Cebu Pacific, I've been hopelessly addicted to cheap airline tickets. Our tickets to Incheon with a shared 20 kg baggage allowance came out to just under PHP 7,250 each roundtrip. How awesome is that?
These piso fare tickets are limited and sell fast, so you have to be quick. To give yourself an advantage, I suggest liking their Facebook page and following them on Twitter to quickly find out about these seat sales. If you check off "Get notifications" on Facebook, then you'll receive instant alerts every time they post something new.
Other airlines that have direct flights from Manila to Incheon are Asiana Airlines, Korean Airlines, Philippine Airlines, AirAsia, and Jeju Air.
Have fun!
I'm not an expert on Seoul but I do hope that you find this post useful. I'm only sharing some of the things that I learned from our trip. If you have any suggestions or simply want to share your own experiences, then please feel free to do so in the comments section below. You're welcome to join our Facebook Travel Group as well. We'd love to hear from you.
Thanks for stopping by and have fun in the land of K-pop and kimchi!
OUR GEAR
These are some of the things we brought with us to Seoul. As you can tell, I document a lot of content for this blog so most of the things I bring are photo and video equipment. 😆 If you'd like to see what other gear we use, then you can check out our "What's in Our Backpack?" post. (NOTE: The following links are Amazon affiliate links.)
Disclosure
Some of the links in this guide are affiliate links, meaning we'll get a small commission if you make a purchase at NO extra cost to you. We only recommend products and services that we use ourselves and firmly believe in. We really appreciate your support as this helps us make more of these free travel guides. Thank you!
JB is one half of Will Fly for Food and its chief itinerary maker.  He's the one to blame for all the crappy photos and verbal diarrhea on this blog.  Don't listen to him.
Latest posts by JB Macatulad (see all)