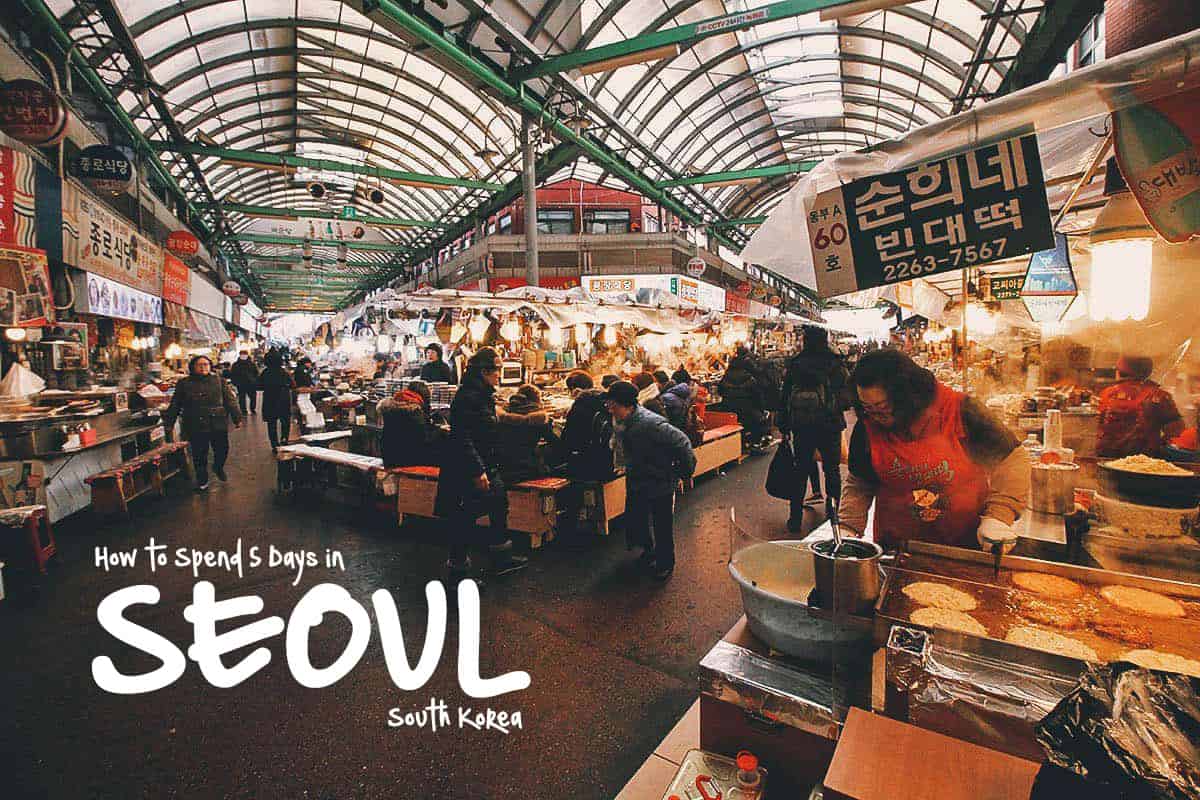 Seoul is a massive city. It has one of the most populated metropolitan areas in the world. There's a lot to see and do in Seoul but thankfully, the city has an efficient and extensive metro system that makes sightseeing a breeze.
Like Tokyo, first-time visitors will have their hands full navigating the city's myriad attractions so I've come up with this 5-day Seoul itinerary to help you maximize your stay.
Like any trip, it's always better to stay longer but five days will give you enough time to explore the city's top tourist attractions at a moderate, enjoyable pace.
WHAT TO DO IN SEOUL IN 5 DAYS
Listed below are Seoul's top tourist attractions along with a few recommended restaurants. You can jump to the location map to see exactly where they are in the city.
NOTE: We usually use Google Maps to navigate but it doesn't work as well in Korea. In Seoul, it's best to navigate using the NAVER Map, Navigation app (iOS | Android).
QUICK GLANCE
DAY ONE
• Gyeongbokgung Palace / Gwanghwamun Gate
• Tosokchon (lunch)
• Bukchon Hanok Village
• Changdeokgung Palace / Huwon
• Changgyeonggung Palace
• Jongmyo Shrine
• Ikseondong Hanok Village
• Insadong
• Jogyesa Temple
• Imun Seolleongtang (dinner)
DAY TWO
• Gyeonghuigung Palace
• Deoksugung Palace
• Jeonju Yuhalmeoni Bibimbap (lunch)
• Namdaemun Market
• N Seoul Tower
• Myeongdong
• Myeongdong Kyoja (dinner)
DAY THREE
• Noryangjin Fish Market
• Hongdae
• BBQ Olive Chicken Cafe (lunch)
• Bongeunsa Temple
• COEX Mall
• Starfield Library
• Gangnam Shopping Street
• Wonjo Masan Halmae Agujjim (dinner)
DAY FOUR
• Cheonggyecheon Stream
• Gwangjang Market
• Woo Lae Oak (lunch)
• Ihwa Mural Village
• Dongdaemun Design Plaza
• Itaewon
• Sigol Bapsang (appetizer)
• Woosung Galbi (dinner)
DAY FIVE
• Day Trip
DAY 1
Gyeongbokgung Palace
Gyeongbokgung is the oldest and largest among Seoul's Five Grand Palaces. Built in 1395, it served as the main palace of the Joseon Dynasty and currently houses the National Palace Museum of Korea and the National Folk Museum of Korea.
Gyeongbokgung is the biggest palace and considered by many to be the most beautiful so it makes sense to go there first. Pictured below is Gwanghwamun Gate. It's the main gate to the palace and where you can watch the changing of the Royal Guard.
Entrance to Gyeongbokgung is KRW 3,000 but you can get an integrated palace ticket for KRW 10,000 that gives you access to Gyeongbokgung, Changdeokgung (including Huwon), Changgyeonggung, Deoksugung, and Jongmyo Shrine.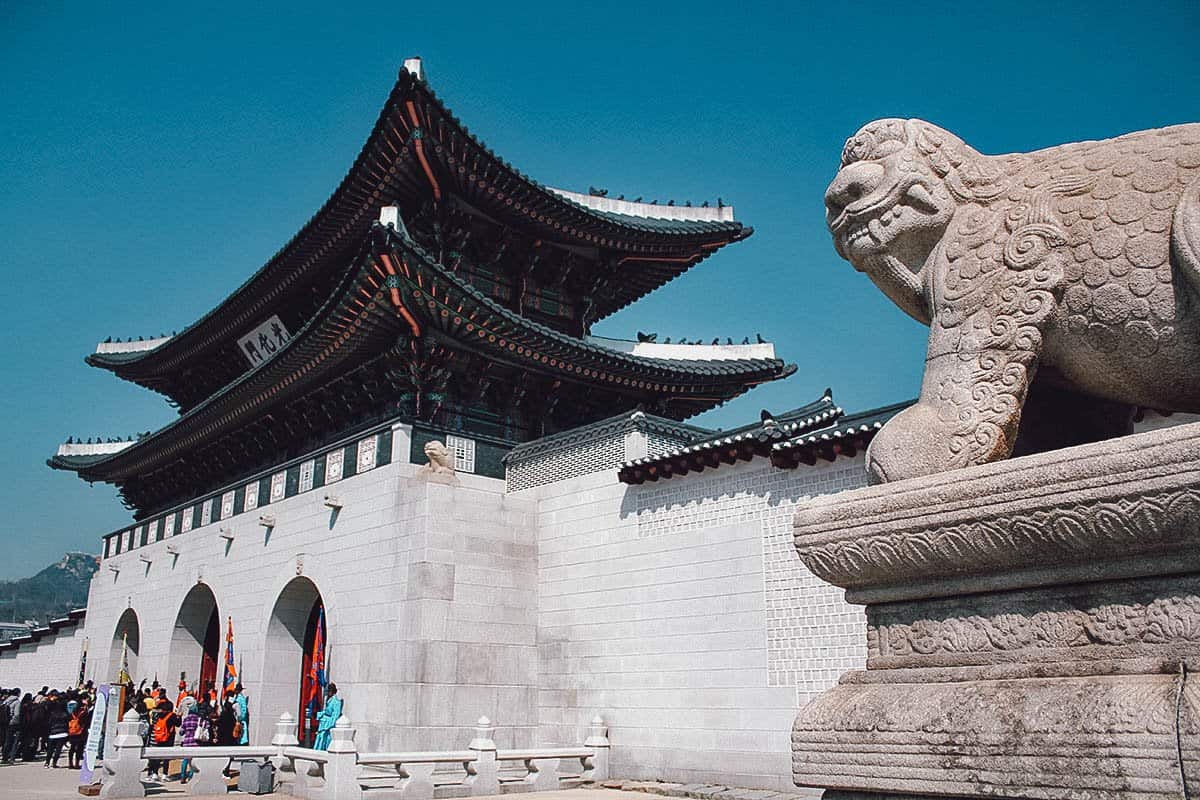 You can witness the ceremonial changing of the Royal Guard at Gwanghwamun Gate at 10AM and 2PM everyday except Tuesday. It's one of the most interesting times to visit Gyeongbokgung so it's best to arrive before 10AM. Other than Gyeongbokgung, the only other palace where you can watch the changing of the guard is at Deoksugung.
Tosokchon
After exploring Gyeongbokgung, head over to Tosokchon for lunch. It's about a 5-minute walk west of the palace. Tosokchon has been open for over 30 years and is known for serving some of the best samgyetang in Seoul.
Samgyetang is a hearty Korean soup dish made from a whole young chicken stuffed with glutinous rice and boiled in a broth of Korean ginseng, jujube fruits, garlic, ginger, and other ingredients. It's believed to have a cooling effect on the body and is thus especially popular in summer.
Bukchon Hanok Village
Bukchon Hanok Village is an atmospheric residential/commercial neighborhood located between Gyeongbokgung and Changdeokgung palaces. After lunch at Tosokchon, make your way there before proceeding to Changdeokgung.
Bukchon Hanok Village is home to hundreds of hanoks or traditional Korean houses that date back to the Joseon Dynasty. It's one of the most popular places in Seoul to rent a hanbok for pictures.
While many of the hanoks have been converted into cultural centers and teahouses, the majority are still residences so it's important to be respectful and keep your voices down when you visit.
Changdeokgung Palace
From Bukchon Hanok Village, it's about a 10-15 minute walk east to Changdeokgung Palace. It's the second of the Five Grand Palaces you'll be visiting on this itinerary.
Changdeokgung was the second royal villa built in Seoul, after Gyeongbokgung. It's perhaps the most well-preserved of the five palaces and one of the most visited. If you were to visit just two palaces, then it should probably be Gyeongbokgung and Changdeokgung.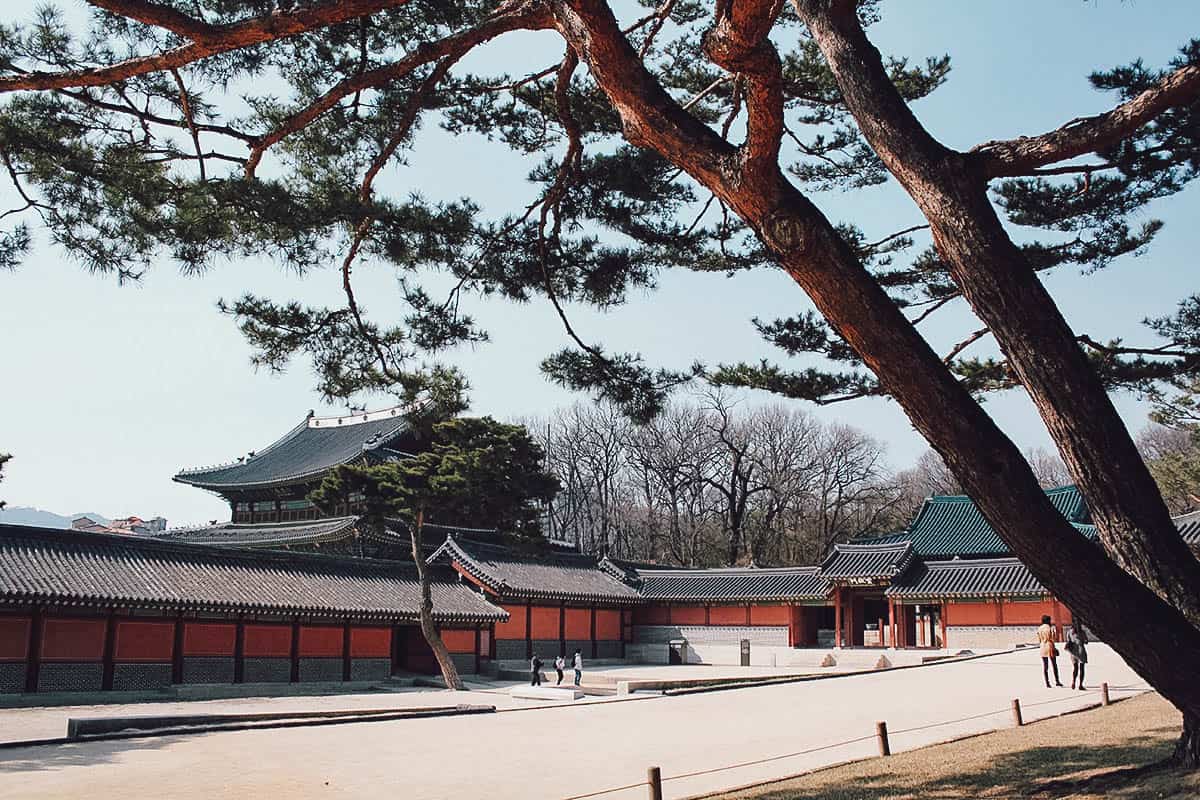 One of Changdeokgung's most notable features is the rear secret garden or Huwon. It was used as a resting place by the Joseon kings and considered one of the best examples of Korean garden design. It features a small pond, a pavilion, and a large tree that's over 300 years old.
Changgyeonggung Palace
Connected to Changdeokgung is Changgyeonggung, the next of the Five Grand Palaces. It was built in 1483 for the wives of the Joseon kings.
Changgyeonggung Palace is smaller and less impressive than the previous two but its proximity to Changdeokgung makes it a worthwhile stop on this itinerary. Plus, you'll have free access with the integrated palace ticket.
Jongmyo Shrine
Located directly south of Changdeokgung and Changgyeonggung palaces is Jongmyo, a royal shrine where the ancestral rites for deceased Joseon kings and queens are performed.
Jongmyo Shrine is where you'll find the royal spirit tablets. These are the placards used to designate the seat of a deity or past ancestor. It's a sacred place that's more solemn in atmosphere than the royal palaces so it's important to be respectful when you visit. It's the only non-palace included in the integrated palace ticket.
Ikseondong Hanok Village
Directly to the west of Jongmyo Shrine is Ikseondong Hanok Village, perhaps one of Seoul's best kept secrets. A labyrinth of hanoks that have been converted into cute cafes and boutiques, it's like a trendier version of Bukchon Hanok Village.
Insadong
Make your way to Insadong, this first of five popular Seoul neighborhoods you'll be exploring on this itinerary. It's comprised of a main street – Insadong-gil – connected to a network of smaller alleyways filled with art galleries, traditional craft shops, restaurants, cafes, and street food stalls.
At one point, Insadong was home to the largest market of antiques and artwork in Korea. If you're looking to purchase more traditional items in Seoul, then Insadong is the place to go.
Imun Seolleongtang
A short walk from Jogyesa Temple is Imun Seolleongtang, the oldest restaurant in Seoul. They've been serving seolnongtang or ox bone soup for close to 120 years.
My sister-in-law is Korean and a former chef and one of her favorite dishes is seolnongtang. It's a hearty soup dish made by boiling beef shank bones for several hours to extract the flavor from the bones.
As you can see below, the process turns the broth cloudy and milky white. Brisket and other cuts of beef are added to the broth along with rice and soft wheat noodles.
DAY 2
Gyeonghuigung Palace
If you haven't had your fill of palaces yet, then start your second day in Seoul with a visit to Gyeonghuigung Palace, the fourth of the Five Grand Palaces.
During the latter half of the Joseon period, Gyeonghuigung served as the king's secondary palace. It was where he retreated to in times of emergency. At its peak, it was comprised of about 100 buildings but most were destroyed during the Japanese occupation.
Deoksugung Palace
Deoksugung is the last of Seoul's Five Grand Palaces. It became the primary royal palace after Gyeongbokgung was burned down during the Japanese invasion of Korea. It's for this reason why it's the only other palace in Seoul where you can witness the changing of the Royal Guard.
Deoksugung's changing of the guard happens three times a day – at 11AM, 2PM, and 3:30PM. It takes place in front of Daehanmun which is the palace's main gate. Admission to Deoksugung is included in the integrated palace ticket.
Jeonju Yuhalmeoni Bibimbap
After exploring Deoksugung, walk over to Jeonju Yuhalmeoni Bibimbap for lunch. Owned and operated by Grandma Yu, this humble restaurant has been serving Jeonju-style bibimbap for over 40 years.
Namdaemun Market
After lunch, continue south to Namdeamun Market. It's Korea's largest traditional market with over 10,000 shops selling a variety of goods like clothes, houseware, toys, accessories, and food.
Spend as much time as you want exploring the market before proceeding to the next stop on this itinerary. Markets are one of the best places to sample any destination's street food.
N Seoul Tower
From Namdaemun Market, continue south to N Seoul Tower. It's a little under 2 km (1.2 miles) away, part of which is uphill, so you may want to take the metro to Myeongdong station then walk the rest of the way.
Standing at almost 480 meters (1,575 ft) above sea level, N Seoul Tower is one of the tallest towers in Asia. It towers over Namsan Mountain and boasts an observation deck offering sweeping 360° views of the city.
The observation deck is the main draw but there are other attractions within and around the tower as well like the Locks of Love, a game plaza, a VR entertainment center, and over a dozen restaurants and cafes.
Myeongdong
From N Seoul Tower, take the cable car back down then walk to Myeongdong, one of Seoul's most popular neighborhoods and shopping districts. It boasts a neon-lit labyrinth of department stores and boutiques selling a variety of goods like designer apparel, cosmetics, bags, luggage, and mobile accessories.
If you're visiting Seoul primarily to shop, then this is probably where you'll be spending most of your time.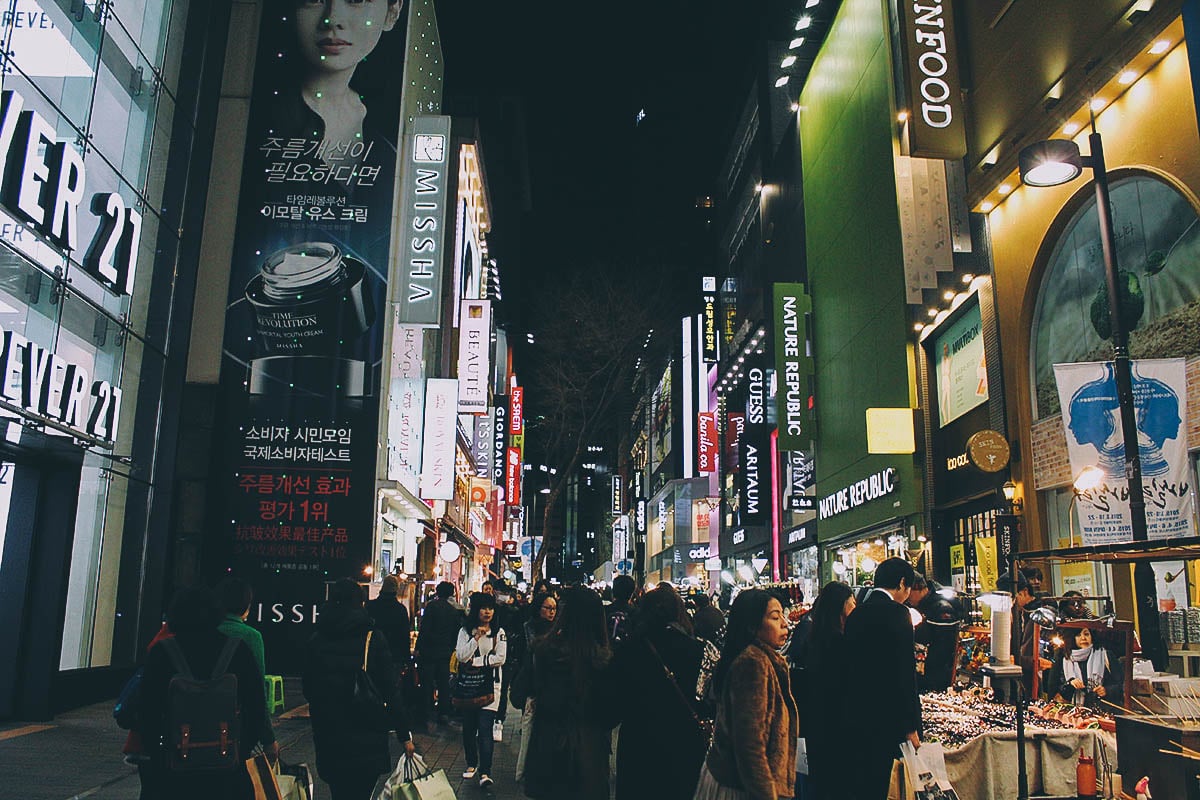 Aside from designer boutiques, Myeongdong is home to a wealth of restaurants and cafes. It's one of the most popular areas in Seoul to have street food.
Myeongdong Kyoja
There are many restaurants to choose from in Myeongdong but a popular choice is Myeongdong Kyoja. They've been around for over 50 years and are known for serving some of the best kalguksu or knife-cut noodles in Seoul.
Kalguksu consists of handmade, knife-cut wheat flour noodles served in a bowl with broth and other ingredients. At Myeondong Kyoja, it's typically enjoyed with a side of steamed mandu or Korean-style dumplings.
DAY 3
Noryangjin Fisheries Wholesale Market
Noryangjin Market is one of the biggest and most well-known seafood markets in Seoul. We visited Noryangjin on our very first trip to Seoul to try sannakji, Korea's infamous dish of "live" octopus sashimi.
Parts of Noryangjin stay open for 24 hours but one of the most interesting times to visit is at 3AM during the live fish auction. Up to 300 tons of marine products are traded at the market everyday.
Hongdae
After your seafood feast, hop back into the metro and head over to Hongdae, one of our favorite neighborhoods in Seoul.
Hongdae refers to the area around Hongik University. It's a lively and youthful neighborhood with plenty of cute cafes, restaurants, boutiques, and street performers.
BBQ Olive Chicken Cafe
If you're a fan of Korean television dramas, then you may recognize this place. It was featured prominently in the hugely successful Goblin series.
BBQ Olive Chicken Cafe is a chimaek restaurant chain with multiple outlets throughout the city. Chimaek refers to the popular combination of Korean fried chicken and beer, one of the best duos you can have in Korea!
Bongeunsa Temple
After lunch, take the metro to Bongeunsa Temple, a Buddhist temple located directly north of COEX Mall. It's a good place to make a quick stop before visiting the mall's Instagram-famous Starfield Library.
Gangnam Shopping Street
The Gangnam district is one of the most affluent neighborhoods in Seoul. It's drawn comparisons to Beverly Hills, CA and features some of the most expensive real estate in the city. The district gained global popularity thanks to Korean singer Psy's smash hit "Gangnam Style".
If you'd like to explore the Gangnam District, then a good area to start is Gangnam-daero or Gangnam Shopping Street. Located between Gangnam and Sinnonhyeon stations, this stretch of road is the most popular shopping and dining area in Gangnam.
Wonjo Masan Halmae Agujjim
If you walk north on Gangnam-daero, then you'll eventually find yourself at a cluster of restaurants specializing in ganjang gejang. It's a dish of raw crab marinated in soy sauce.
To prepare, fresh raw crabs are cleaned then put in an earthenware crock where they're salted for about six hours. A mixture of soy sauce and other ingredients is boiled briefly then poured over the salted crabs.
After an hour, the sauce is removed and reboiled before again being poured over the crabs. This process is repeated several times before the dish is chilled and consumed.
I love crabs but I've never had it prepared in this way. It's absolutely delicious and one of my favorite things to eat in Korea. If you enjoy exploring the world through food, then you need to try ganjang gejang.
DAY 4
Cheonggyecheon Stream
Start your fourth day in Seoul at Cheonggyecheon, an 11 km long urban stream that runs through the heart of central Seoul. It starts at Cheonggye Plaza and passes under 22 bridges before flowing out into the Han River.
Cheonggyecheon Stream is a favorite photo backdrop for both locals and tourists. During the hotter months, you'll often find people sitting on the stream's edge with their feet submerged in the water.
Gwangjang Market
Walk east along the stream to Gwangjang Market, one of Seoul's oldest and most well-known traditional markets. Open since 1905, it's famous for its vintage clothing arcade and its abundance of street food.
Woo Lae Oak
A short walk from Gwangjang Market is Woo Lae Oak, one of Seoul's oldest restaurants. They're known for their bulgogi and other barbecue dishes but they're also famous for their naengmyeon.
Naengmyeon is a dish of chilled buckwheat noodles typically served in an iced broth made from beef, chicken, or dongchimi (watery brine made from kimchi). It's originally a North Korean dish that became popular throughout the peninsula after the Korean War.
Ihwa Mural Village
From Woo Lae Oak, make your way north to Ihwa Mural Village. We haven't been there but it's a popular destination for people wanting to take pictures for their Instagram.
Ihwa Mural Village was once a decaying residential neighborhood set for demolition over a decade ago. To save the neighborhood, local artists were commissioned to create murals and sculptures and turn the area into an artistic landmark. The initiative worked, with Ihwa Mural Village becoming a popular tourist attraction in Seoul.
Like Bukchon Hanok Village, Ihwa Mural Village is a residential neighborhood so you're reminded to keep your voices down when you visit.
Dongdaemun Design Plaza
Dongdaemun Design Plaza (DDP) is one of the most striking buildings in Seoul. It was designed by world-renowned architect Zaha Hadid and functions as the primary venue for important design-related shows, events, and conferences in Seoul.
Itaewon
Among Seoul's most popular neighborhoods, Itaewon is the one we're least familiar with. It's known for being one of the most culturally diverse neighborhoods in Seoul.
Itaewon refers to a lively commercial area in Yongsan-gu, close to where American soldiers stayed after the Korean War. Over the years, it's developed into an international destination with numerous bars, clubs, and restaurants offering a wide range of international cuisines.
Itaewon is a favorite hangout for expats and tourists. If you like to party, then you may be interested in this pub crawl (Klook | Get Your Guide) that takes you to some of the best bars in Itaewon or Hongdae.
Sigol Bapsang
We've only been to Itaewon once, ironically, to have dinner at this tiny old-fashioned Korean restaurant known for serving over 20 different types of banchan.
Banchan refers to those little plates of food served at the start of a Korean meal. They're normally treated as just side dishes but at Sigol Bapsang, they're the star.
Woosung Galbi
If you're still hungry after Sigol Bapsang and don't want to hang out in Itaewon, then you may be interested in having a Korean barbecue dinner at Woosung Galbi. It's just a few stops away by metro at Yaksu Market.
Meat is expensive in Korea. You often have to shell out quite a bit of money to enjoy Korean barbecue. Thankfully, we found Woosung Galbi. It's a no frills barbecue restaurant that offers just two things on their menu – pork galbi and pork rinds.
DAY 5
Your first four days in Seoul will take you to the city's top cultural attractions and its most popular neighborhoods. On your fifth and final day, I recommending exploring beyond the city and going on a day trip.
Nami Island (pictured below), the DMZ, and the Everland theme park are among the most popular destinations, but for more suggestions, then check out our article on some of the best day trips you can make from Seoul.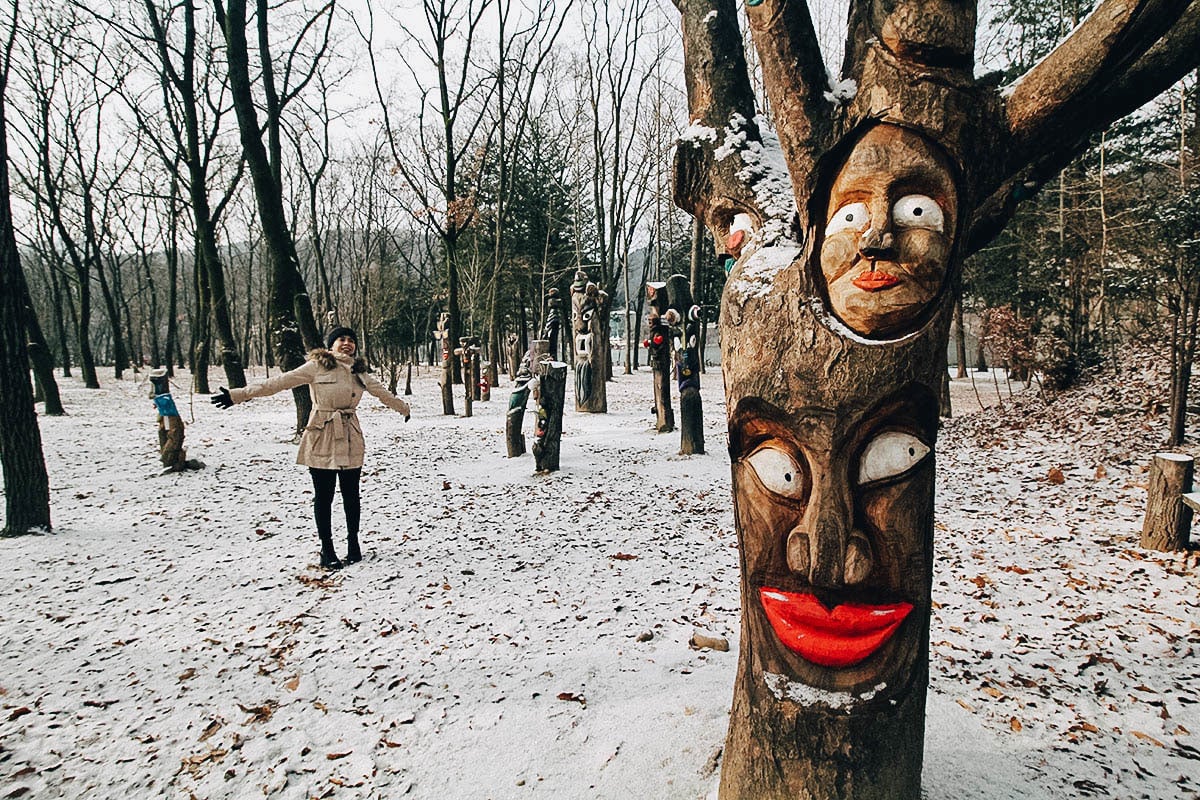 LOCATION MAP
To help you understand where these attractions are in relation to one another, I've pinned them all on a map. Click on the link to open the interactive map in a new window.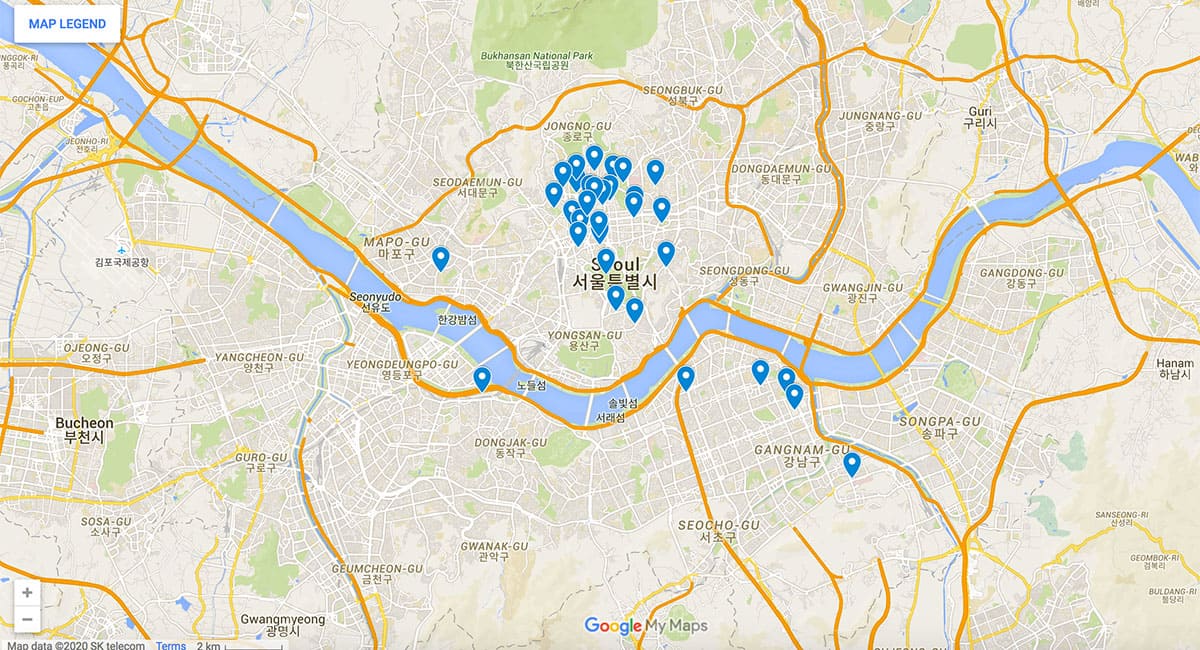 Disclosure
Some of the links in this guide are affiliate links, meaning we'll get a small commission if you make a purchase at NO extra cost to you. We only recommend products and services that we use ourselves and firmly believe in. We really appreciate your support as this helps us make more of these free travel guides. Thank you!