EDITOR'S NOTE: Please be advised that as of 24 July 2023, the US Department of State is advising against all travel to Myanmar due to "civil unrest and armed conflict." Please visit travel.state.gov for more information.
This was my first trip ever to Myanmar. It was my third new country in 2018 but unlike the previous two, I had little time to do research. I've become an overplanner in my middle age and can't remember the last time I went into a new country or city knowing so little about it. It was a little frightening but exciting at the same time. I'm sure you know the feeling.
Knowing so little about Yangon and Burmese culture, I didn't know what to expect when it came to the food. The only experience I had with Burmese cuisine was in Chiang Mai in Novemeber of 2017. The two countries share a border so Burmese food is quite common in Northern Thailand. Ren and I went on a Chiang Mai food tour with A Chef's Tour and our guide Moui took us to this great little restaurant serving what she described as authentic Burmese Shan cuisine. We had a pair of leaf salads and a chili dip served with crunchy fresh vegetables. It was all very good, and interesting too.
That promising experience in Chiang Mai piqued my curiosity and sent me to Yangon eager to learn more about Burmese cuisine, and culture.
Save This on Pinterest!
No time to read this now? Click on the red save button and pin it for later!
A Burmese Tale
A Chef's Tour is a tour provider that offers these fascinating food-focused tours in Asia and Latin America. I've been on several of their tours in Thailand and India as well as their most recent offerings in Singapore and Kuala Lumpur. Not only will they treat you to some of the best examples of each destination's cuisine, but you'll get a taste of the lifestyle and culture as well as seen through the eyes of a local.
This Yangon food tour costs USD 45 per person and starts at 4PM at Shwedagon Pagoda, where you'll meet your guide Chit. He's a confident and well-spoken young man with big dreams and a lot to say about Burmese culture. He's been working as a tour guide for several years now but he confessed to me his plans of perhaps running for office in the future, a career path which I think would suit someone with his stately and diplomatic nature. I learned a lot from him in the four hours we spent touring his city and tasting some of its best food.
Just a quick word on Shwedaon Pagoda – Chit will whisk you away to your next stop soon as you meet up so you won't actually be spending any time there. If you haven't seen it already, then I suggest arriving an hour or two early to give yourself time to explore it on your own. It's a stunning complex of buildings and a must-see in Yangon.
NOTE: It looks like this Yangon food tour may have changed a bit since I went on this dry run. Chit doesn't look to be its guide anymore and many of the dishes offered are different. Nonetheless, it's still being run by A Chef's Tour so I have full confidence in this tour. You can book it directly through A Chef's Tour or on Get Your Guide. Be sure to check both sites to find the better deal.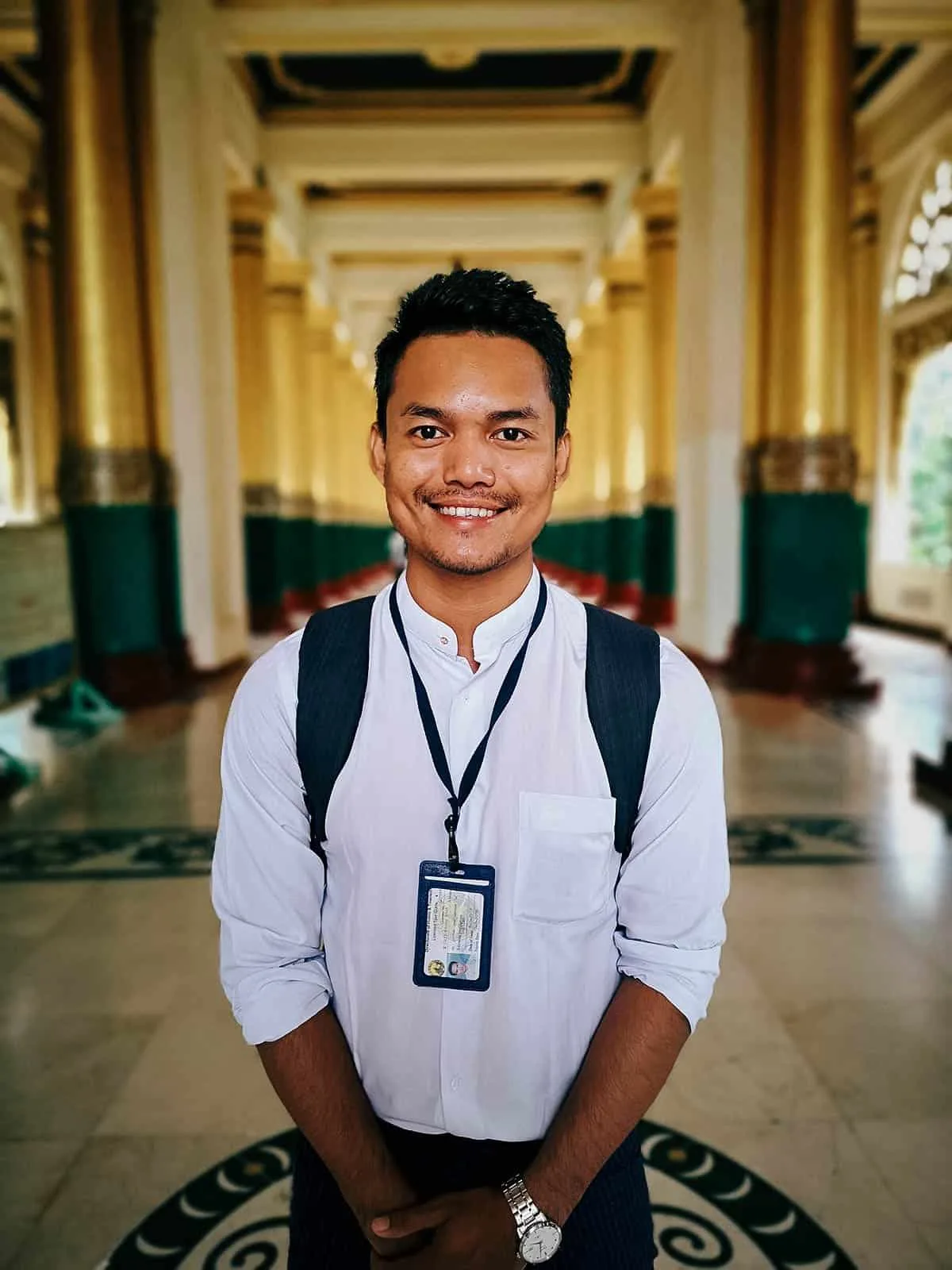 Burmese Pork Two Ways and a Side of Vegetables
For our first stop, Chit took me to this popular local restaurant serving pot after pot of prepared Burmese food. In the Philippines, we call these types of restaurants turo-turo meaning "to point", because you literally point at whichever dishes you want. You may have encountered similar concepts in other Asian countries as well like Malaysia, Indonesia, or Singapore.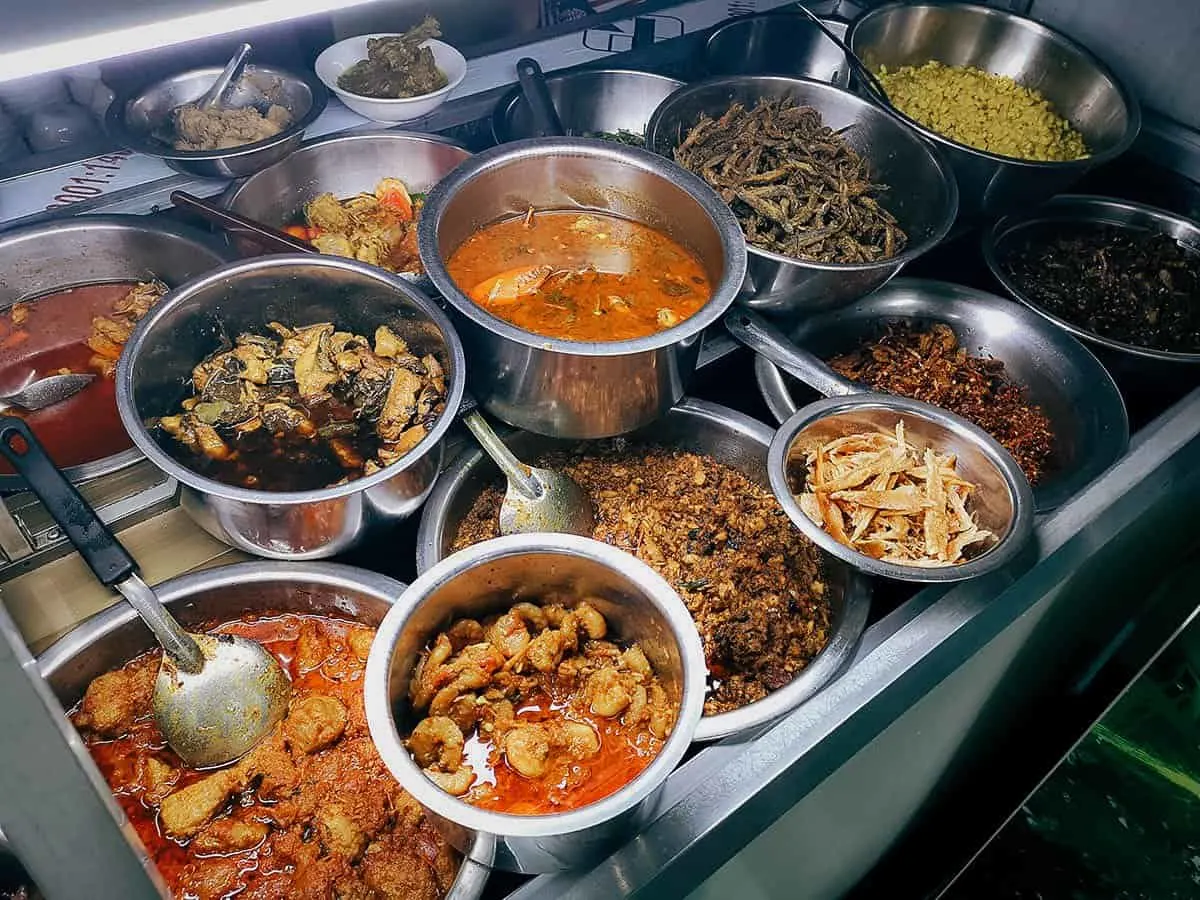 Like all of these tours from A Chef's Tour, Chit went all out with the food. On this table are two types of pork, a pair of vegetable dishes, soup, and rice. This is just the first of many mini-feasts you'll be having tonight, so if you go on this tour, then I suggest having a light lunch or skipping it altogether. You'll need the stomach space.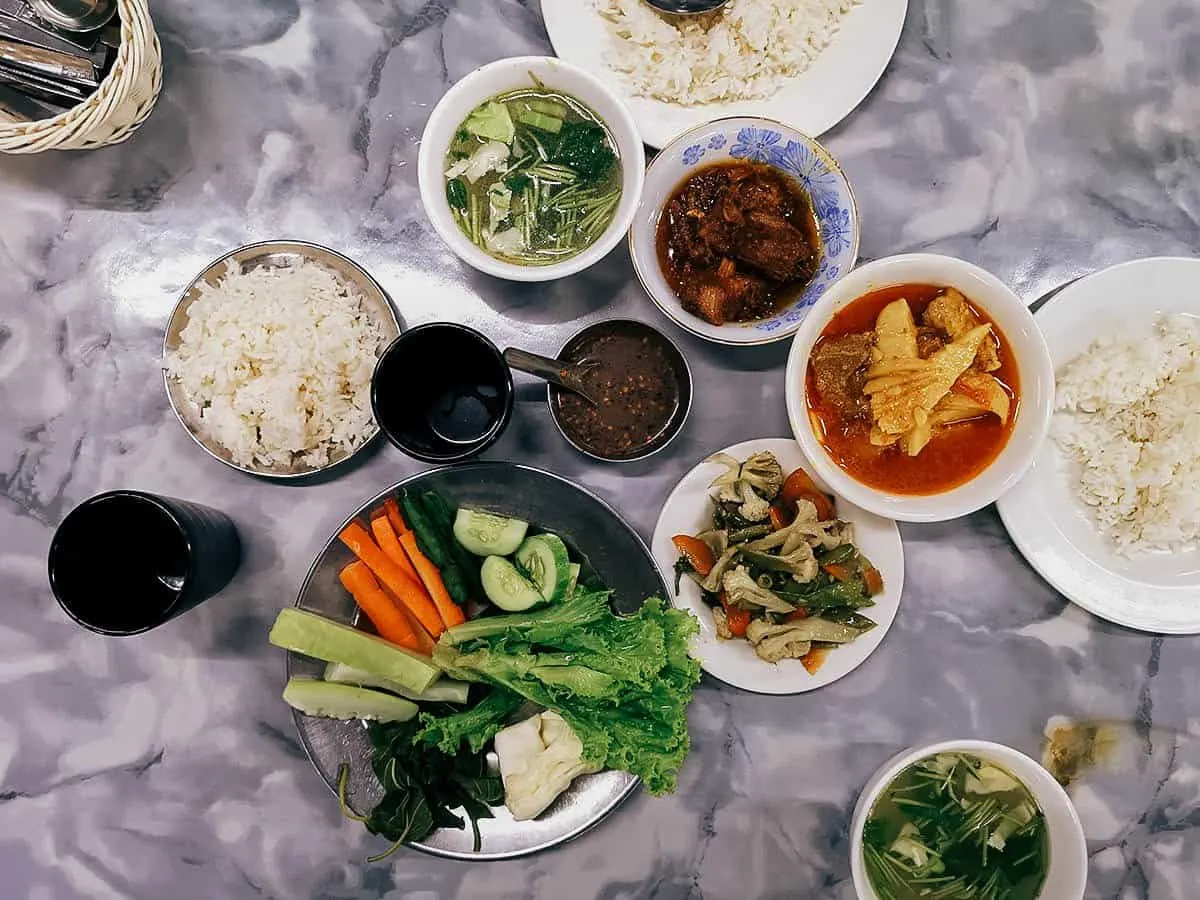 This first pork dish was absolutely delicious. I didn't catch its local name but it's a type of sweet pork curry. Made with braised pork shoulder and belly, it's rich, sweet, and spicy, and goes exceptionally well with white rice. It reminded me of Filipino pork adobo.
I try to restrain myself on these food tours knowing full well how many dishes await, but I couldn't help myself with this one. I had to finish the entire bowl and my plate of rice too. It was so good!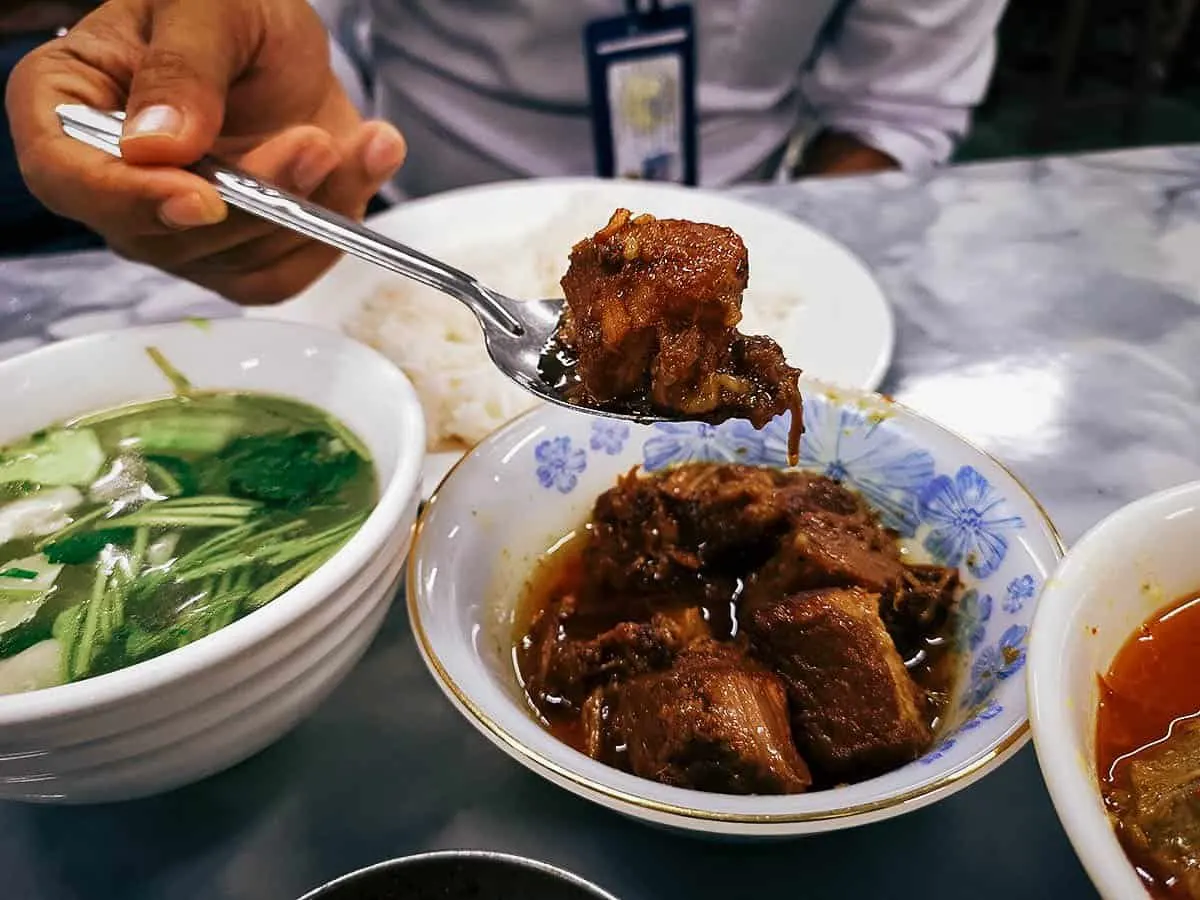 This pork and bamboo shoot curry was delicious as well. I loved the texture of the bamboo shoots. I had curry a few times in Myanmar and they seem to be thinner and more watery in general compared to curry from other countries like India, Thailand, or Japan. As you can see below, it's more like a soup than a thick, hearty curry.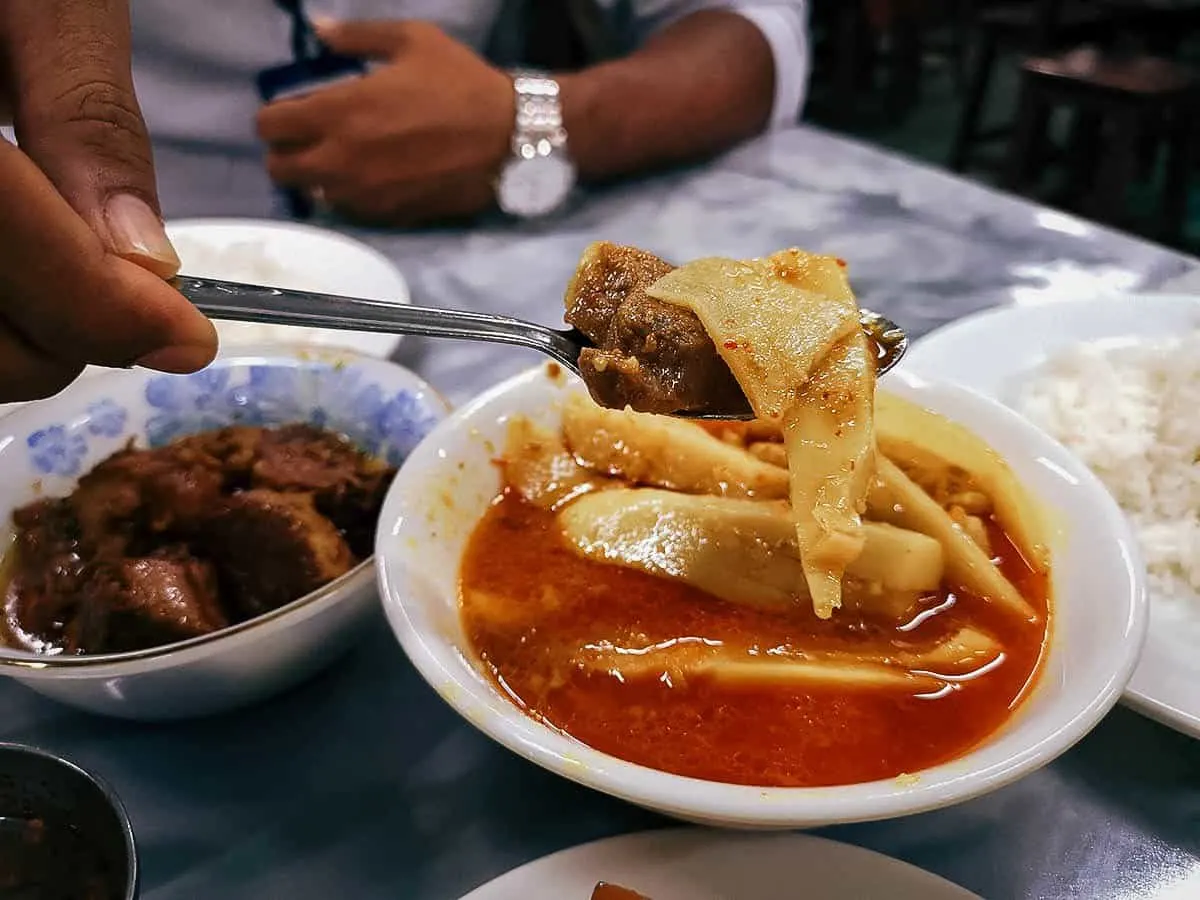 A plate of dietary fiber to help wash down all that delicious pork.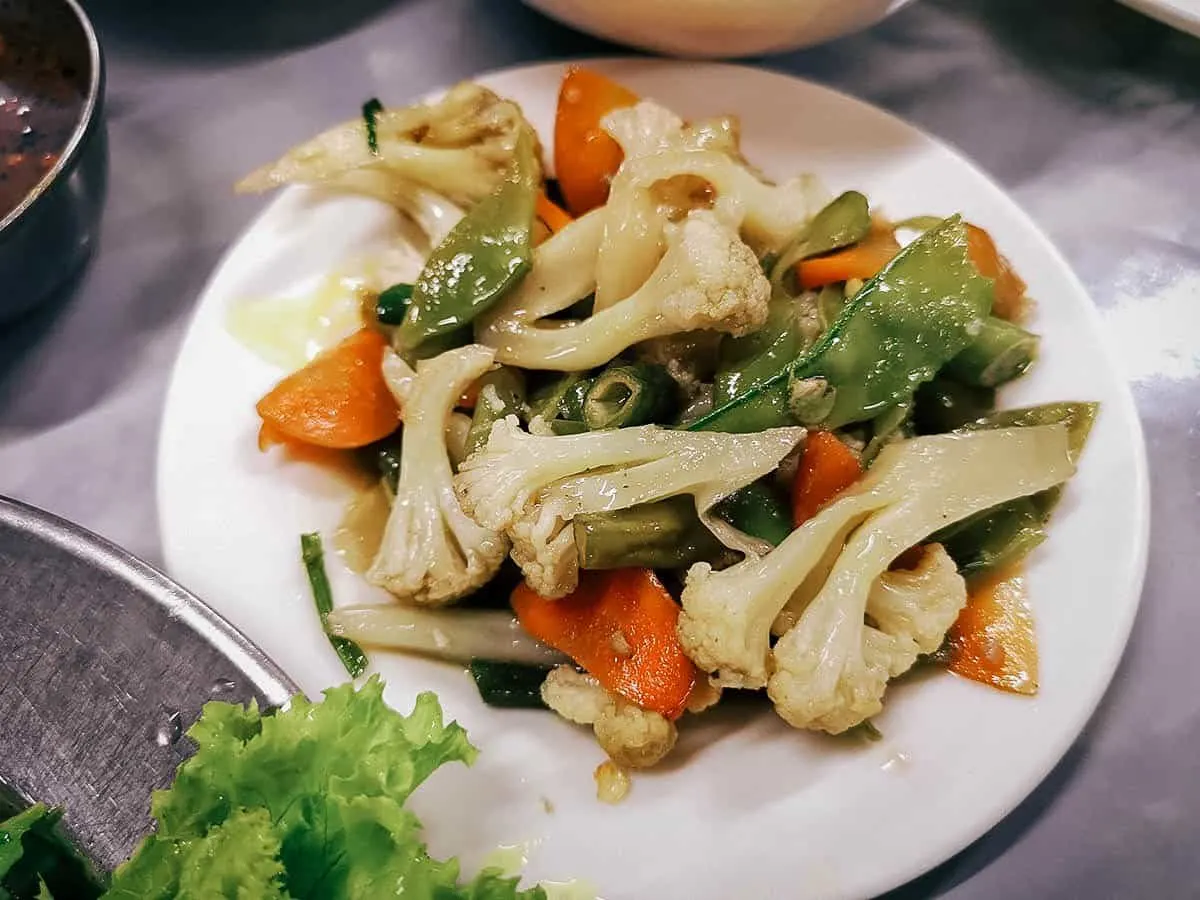 A platter of raw vegetables to dip into what I believe is called ngapi yay. You can see it in that small silver bowl behind the vegetables. A staple in Burmese cuisine, ngapi yay is made with a pungent fish or shrimp paste boiled with onions, tomato, garlic, pepper, and other spices. It's used as a dip and served with raw vegetables like cabbage, carrot, cucumber, and pennywort. From what I understand, it's a dish that Burmese people eat quite often.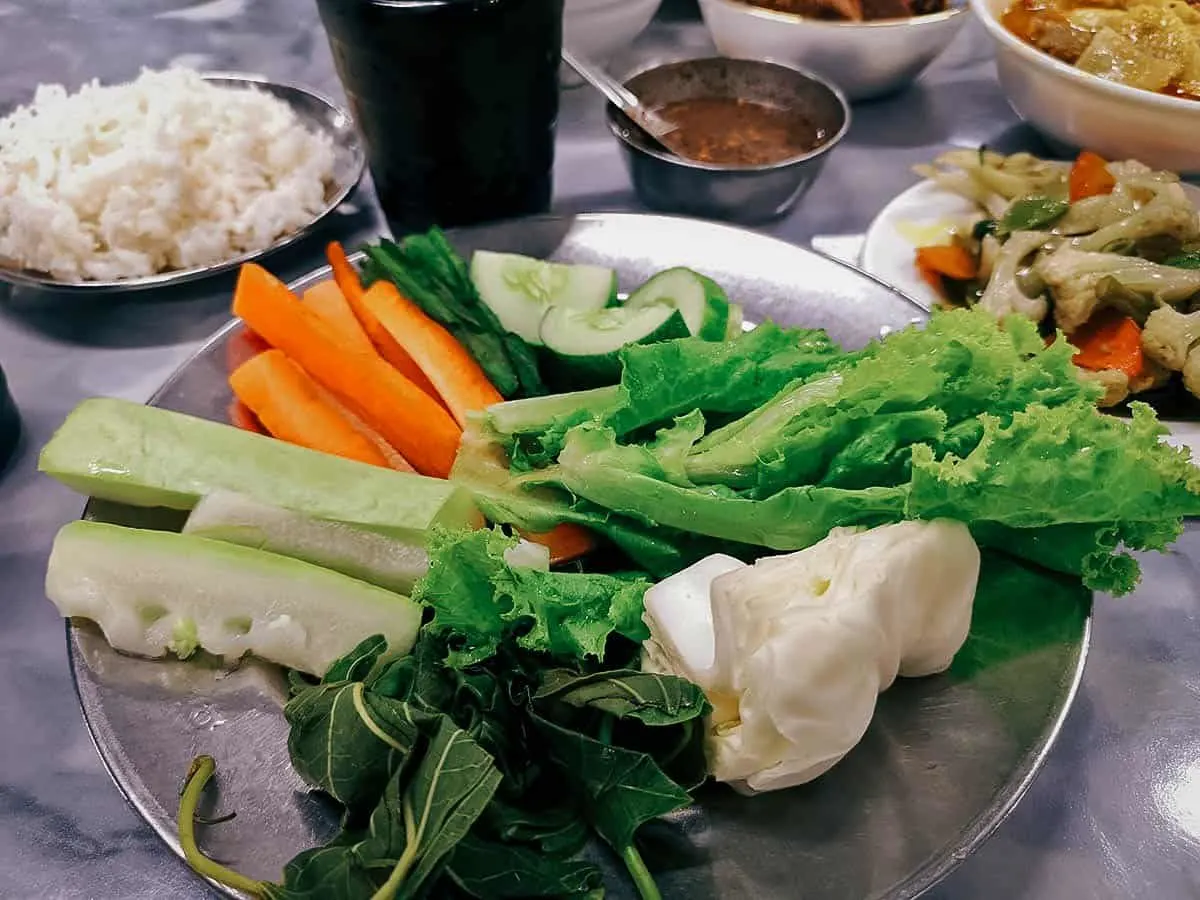 Famous Shan Noodle Soup
Next up was a bowl of noodle soup from this famous chain of restaurants specializing in Shan noodles. The term Shan refers to Burmese people living in Shan state, in Northeastern Myanmar. It borders Northern Thailand which explains why Burmese Shan cuisine is popular in Chiang Mai.
This restaurant chain is well-known so I had actually eaten at a different branch on my own a few days before tonight's tour. Chit had me try one of the restaurant's specialties – a bowl of Shan noodle soup which is a simple but comforting dish of thin rice noodles in chicken broth served with a side of pickled vegetables. Like old-fashioned chicken noodle soup, this is the kind of dish you'll look for when you're feeling under the weather.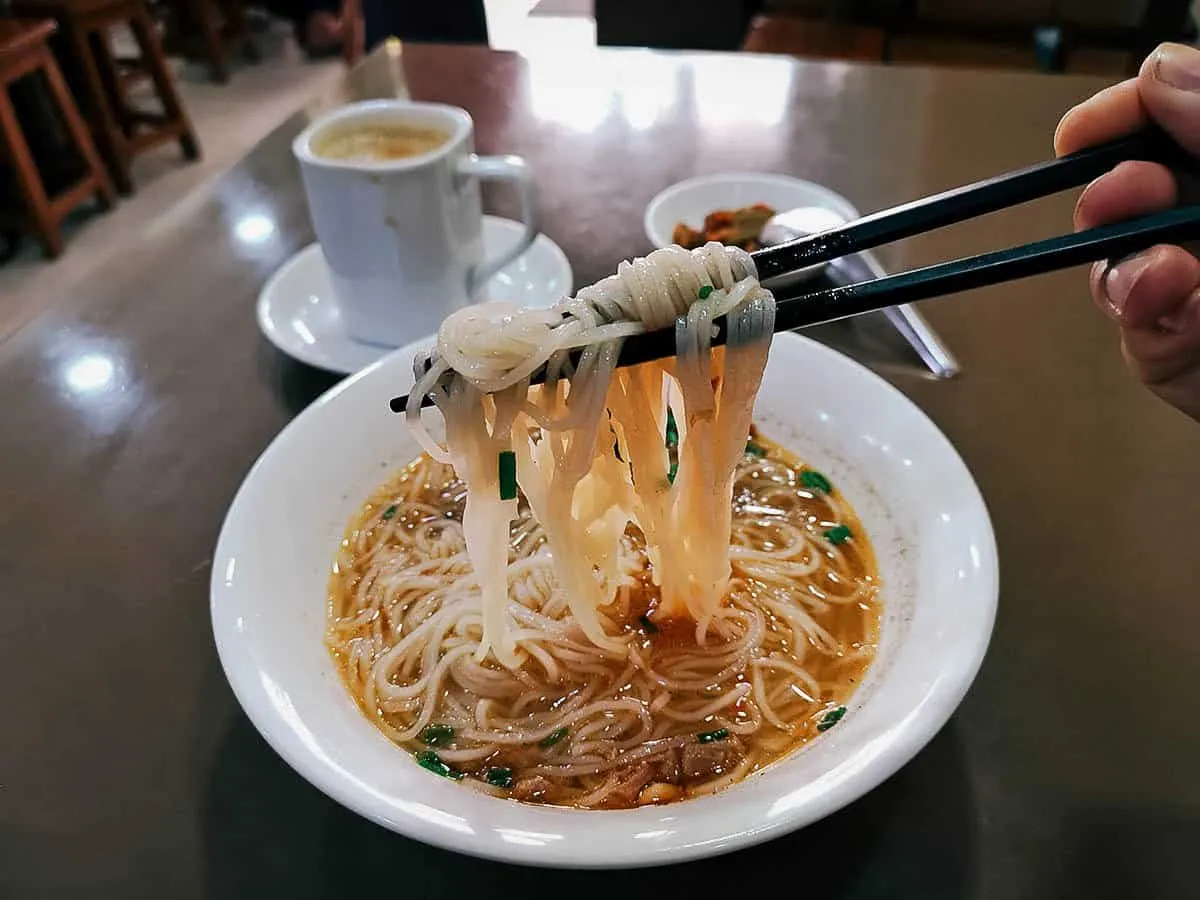 A Taste of Yangon's Best Seafood
I love seafood so this was easily my favorite part of the tour. This restaurant is arguably the best place to have seafood in Yangon. It's so well-regarded that it was featured by the late great Anthony Bourdain in the very first episode of Parts Unknown. I was actually planning on having my last meal in Yangon here, so I was ecstatic to find that it was part of tonight's tour! Awesome!
The seafood they serve here is always fresh, so you'll find tanks filled with different types of live seafood like these long arm prawns.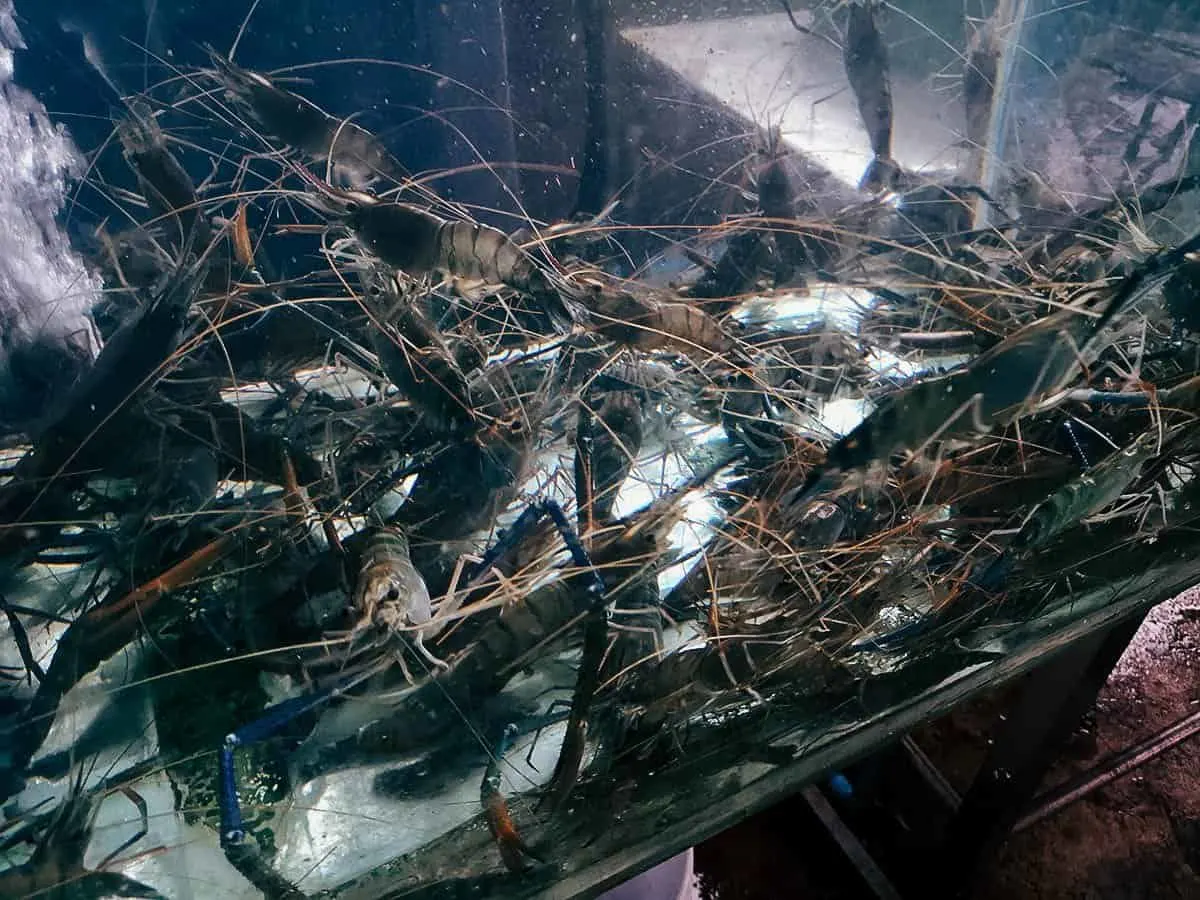 Have you ever seen such alien-looking creatures? This tank is filled with mantis shrimp, the Mike Tyson of the crustacean world. Not only can they deliver knockout blows with their raptorial appendages, but they also have the most developed eyesight in the animal kingdom. Read more about these fascinating (and delicious) creatures on The Oatmeal.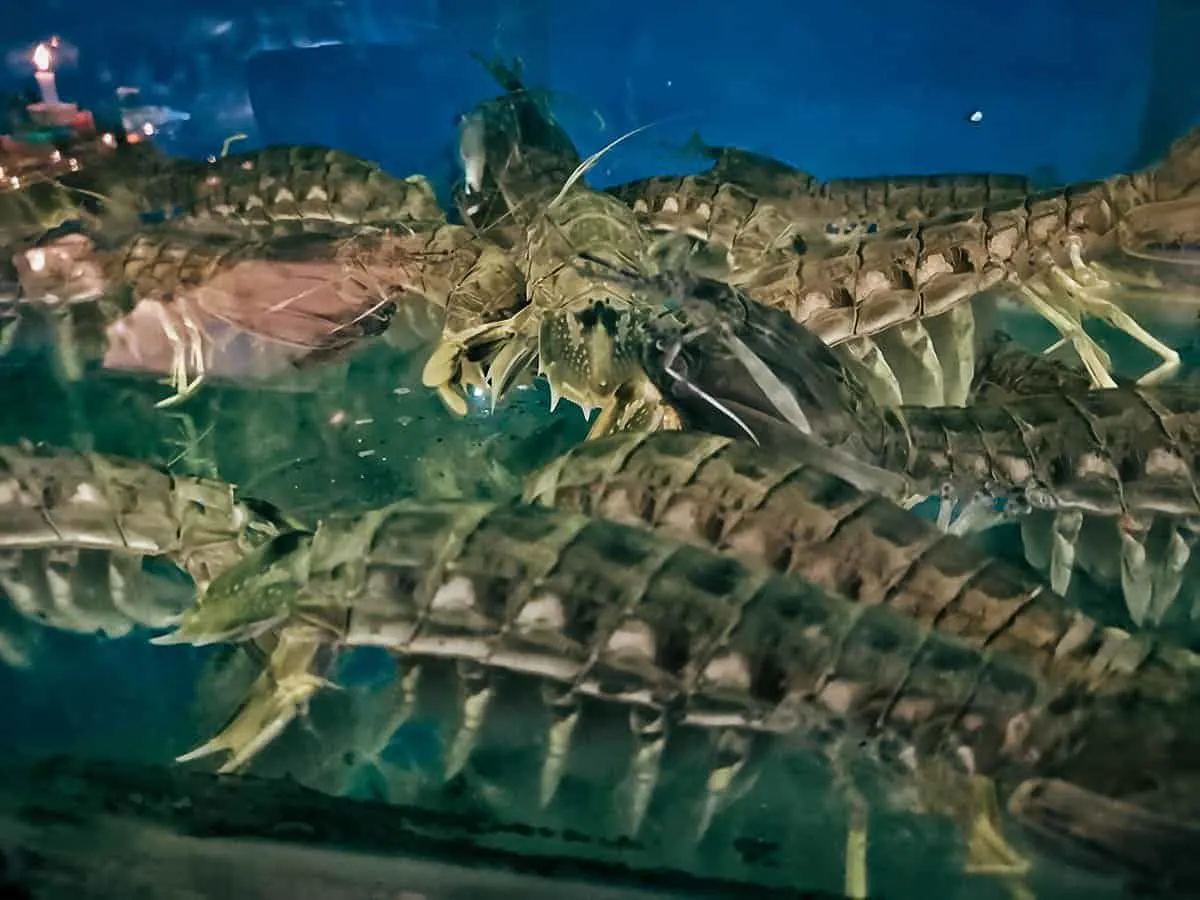 Live lobster, which I didn't get to try tonight. Boo!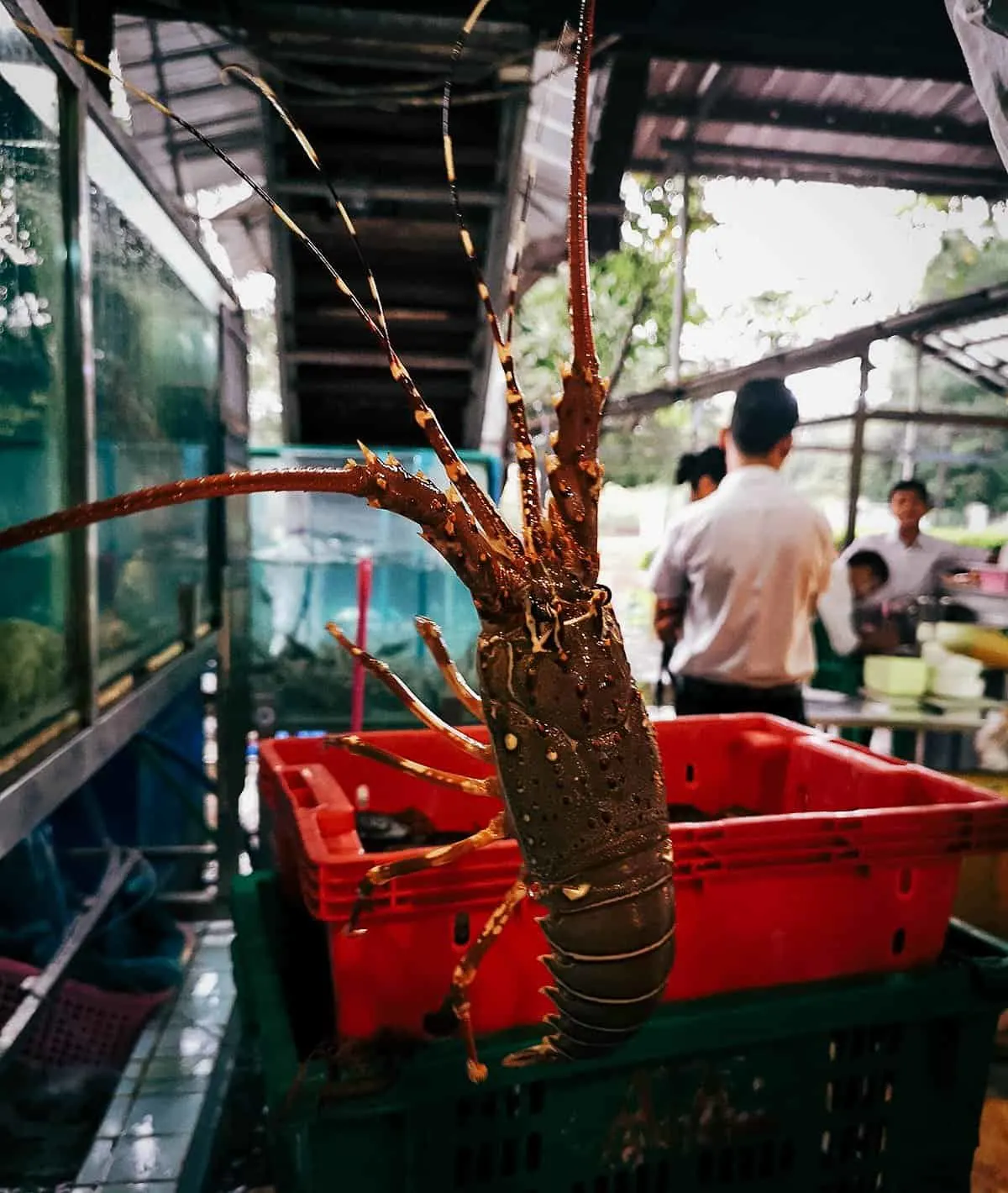 A crate full of live soft shell crabs, which I DID get to try tonight. Woohoo!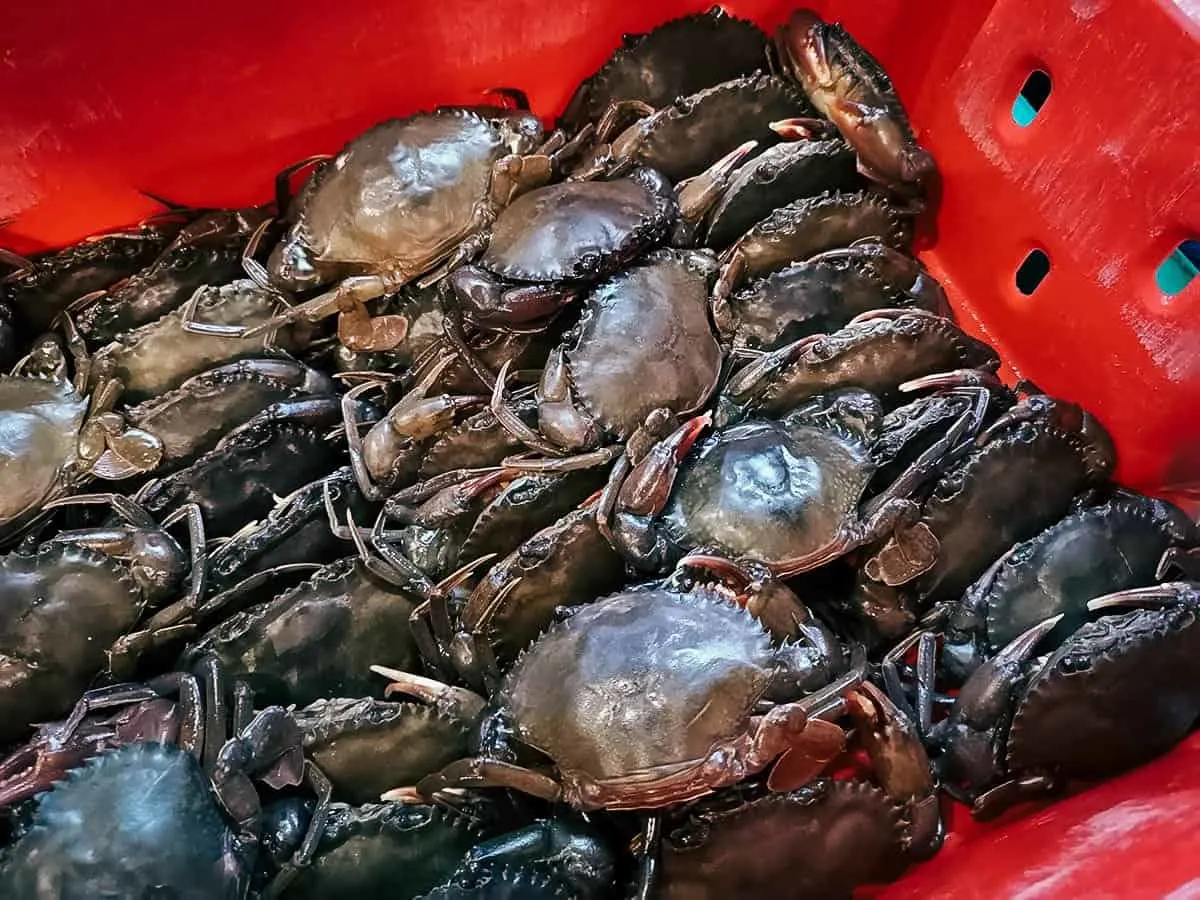 Chit ordered three dishes, the first being this plate of squid covered in a mountain of fried garlic. I love squid and garlic so I attacked this dish with a vengeance. It was absolutely delicious – tender with heaps of crunchy, garlicky goodness. This would have gone exceptionally well with beer.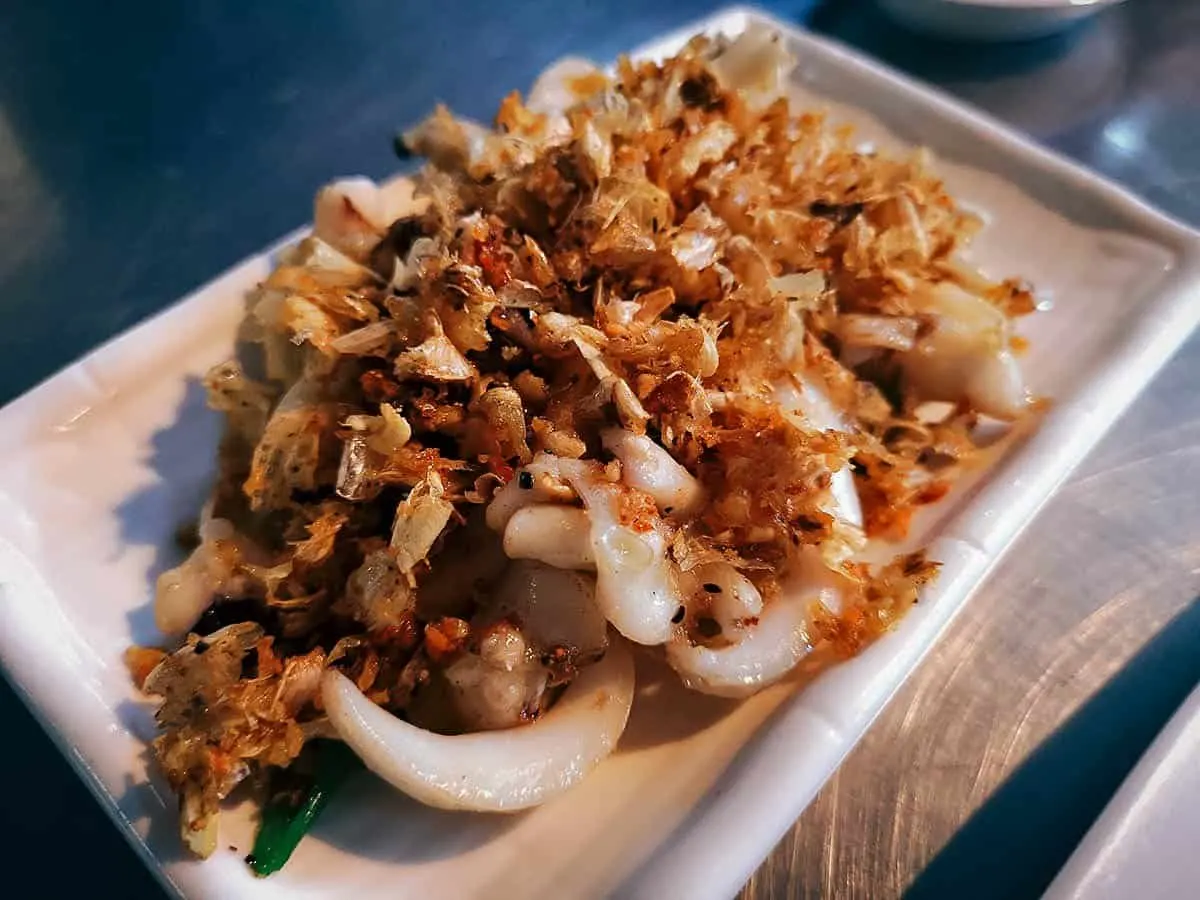 The second dish was this plate of Shan noodles. It's similar to the pervious bowl of Shan noodle soup but this version was served dry and topped with several sprigs of cilantro. The noodles are made fresh at the restaurant daily so they have a wonderful bouncy texture. You can watch them make it from behind a glass window.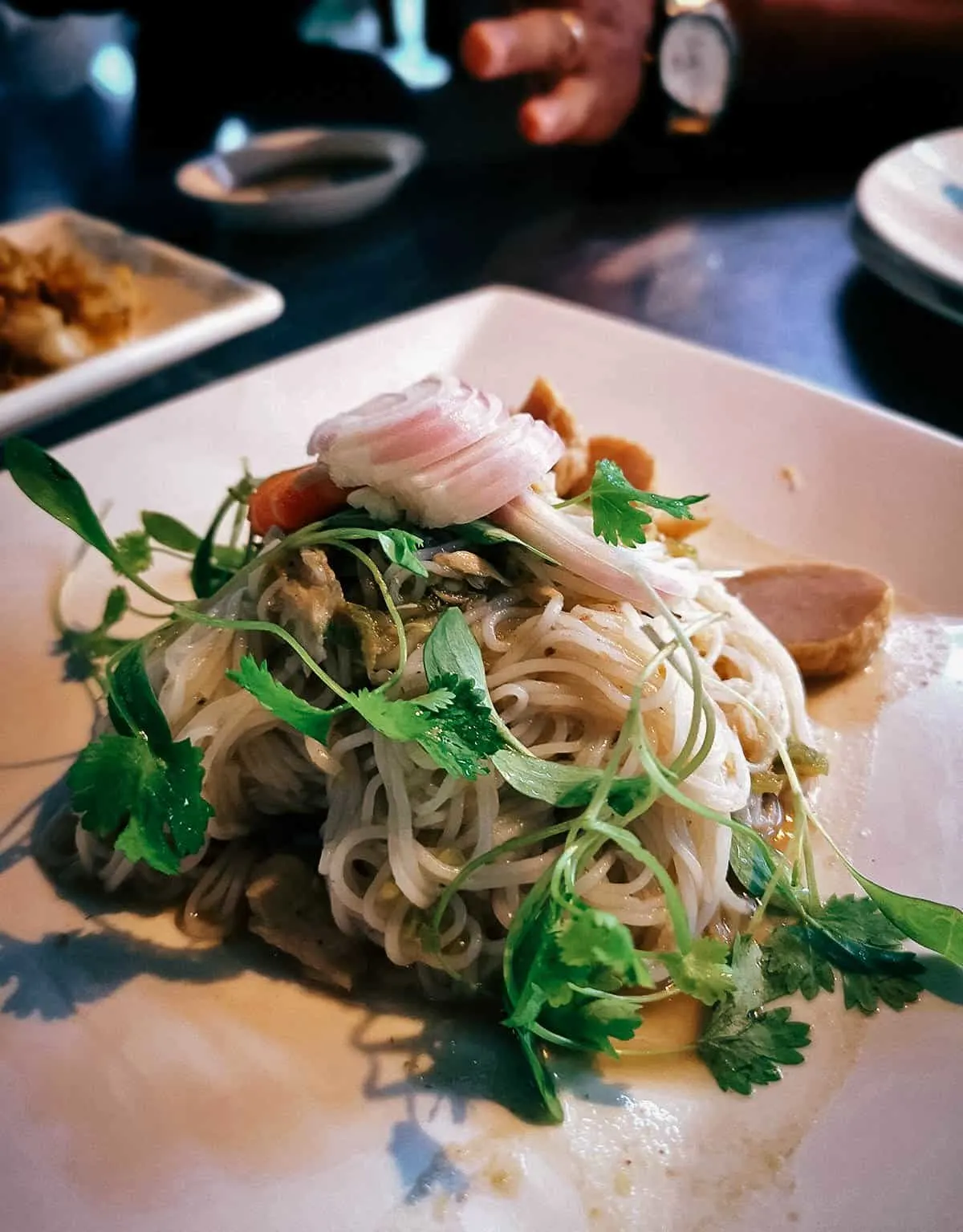 And the third and most impressive dish from tonight was this ravishingly beautiful platter of soft shell crab curry. Can you make out the shape of the crab there? They gave us three whole soft shell crabs smothered in a heap of vegetables and curry. Like squid, crab is one of my favorite foods but I've never had it served in curry like this before. The crabs were juicy and the curry sauce had a good punch of chili and cumin. So so good. Give me some rice please!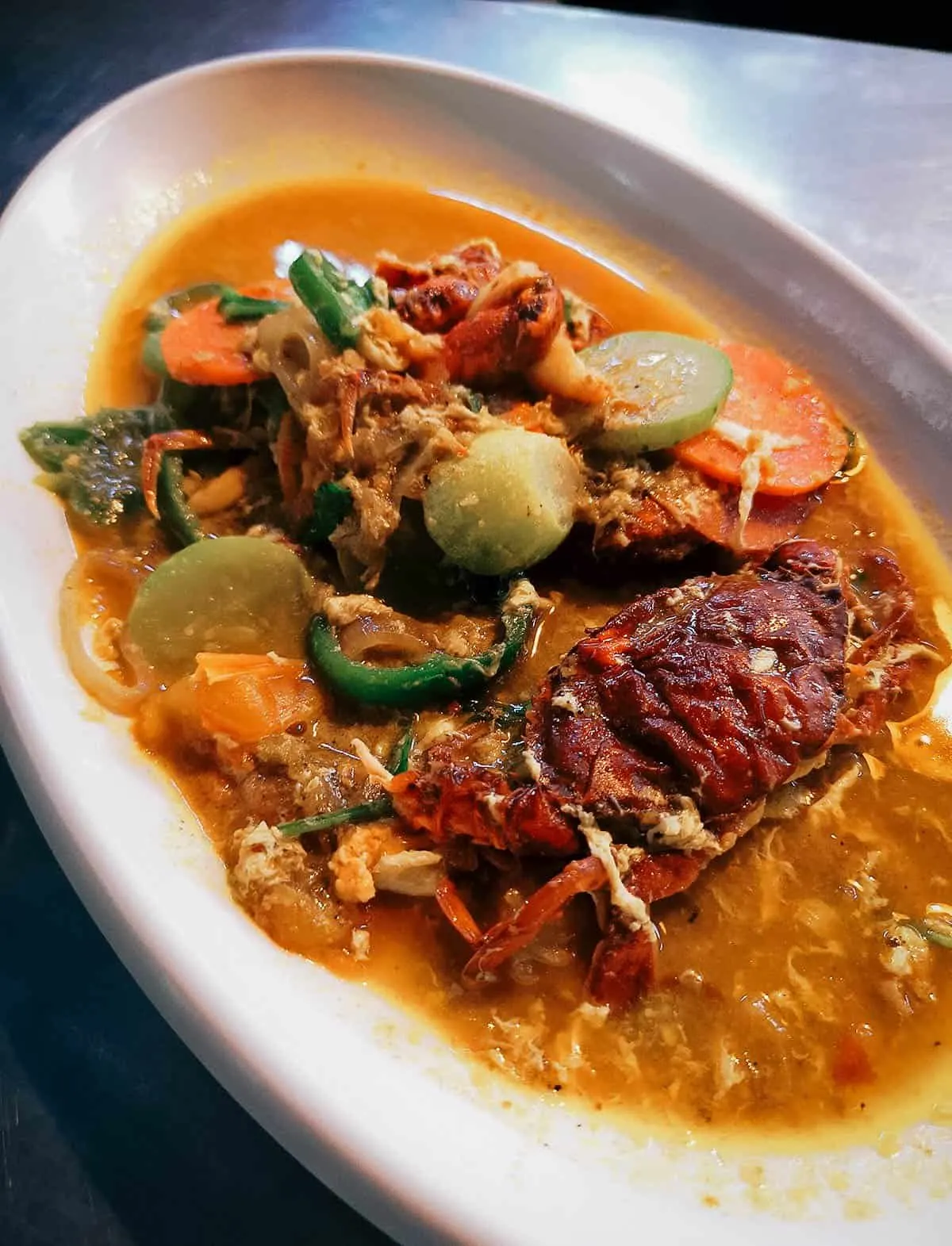 San Pya Wholesale Fish Market
This was one of my favorite stops from tonight's tour. San Pya Fish Market is a wholesale fish market situated on the banks of the Rangoon River. Open 24 hours a day, it's a never-ending whirlwind of buying, selling, and trading with about 200 shops and over 400 sellers dealing 4,000-5,000 tonnes of fish every week. We were here at about 6PM and the place was already bustling with activity, but according to Chit, it's liveliest in the wee hours of the morning from around 2-8AM.

The Burmese Adonis filling his truck with neatly packed stacks of fish and ice. Can you believe this man is 60 years old? We were trying to get him to flex but he wouldn't do it.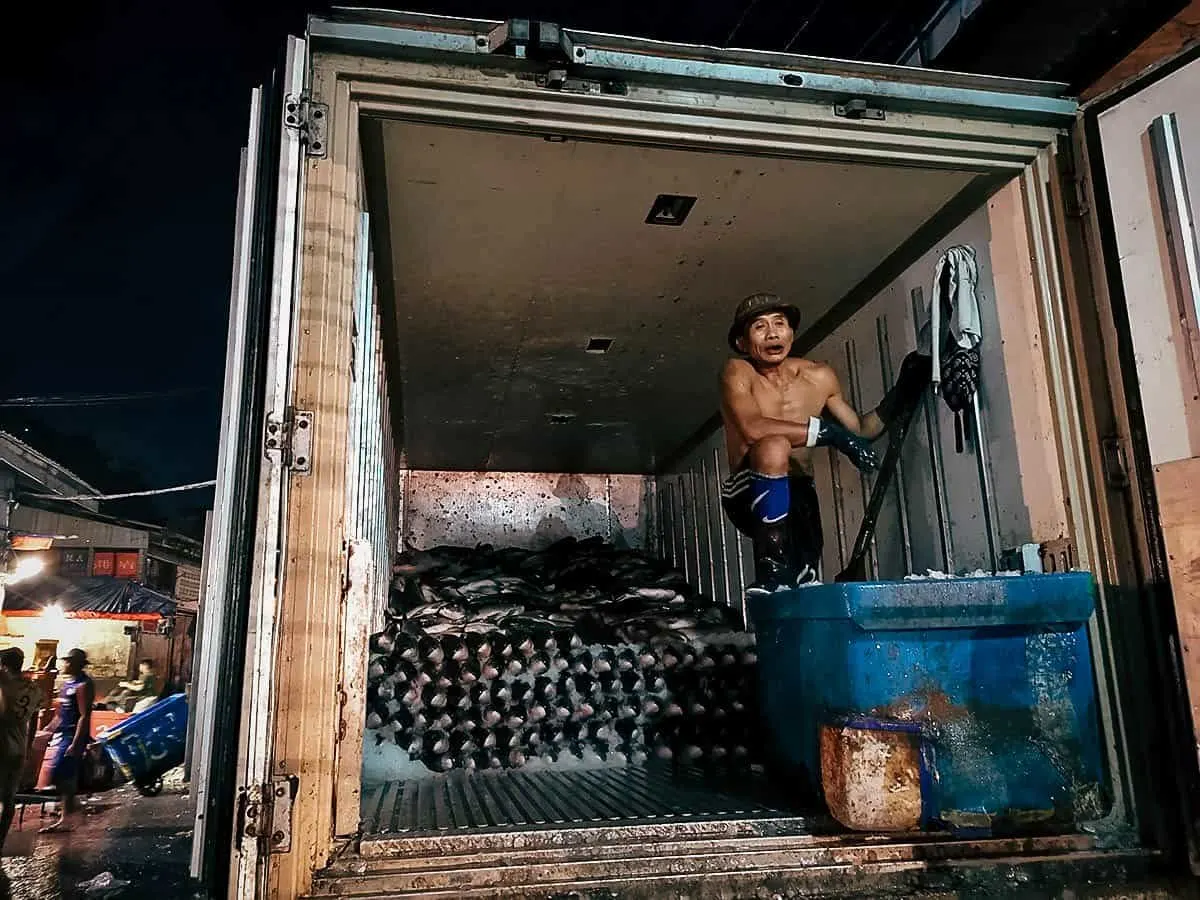 San Pya Fish Market is the main landing and trading point for Yangon's fish industry, so many of the city's markets, hotels, and restaurants buy their fish here. Much of it is goes to smaller rural towns outside the city as well.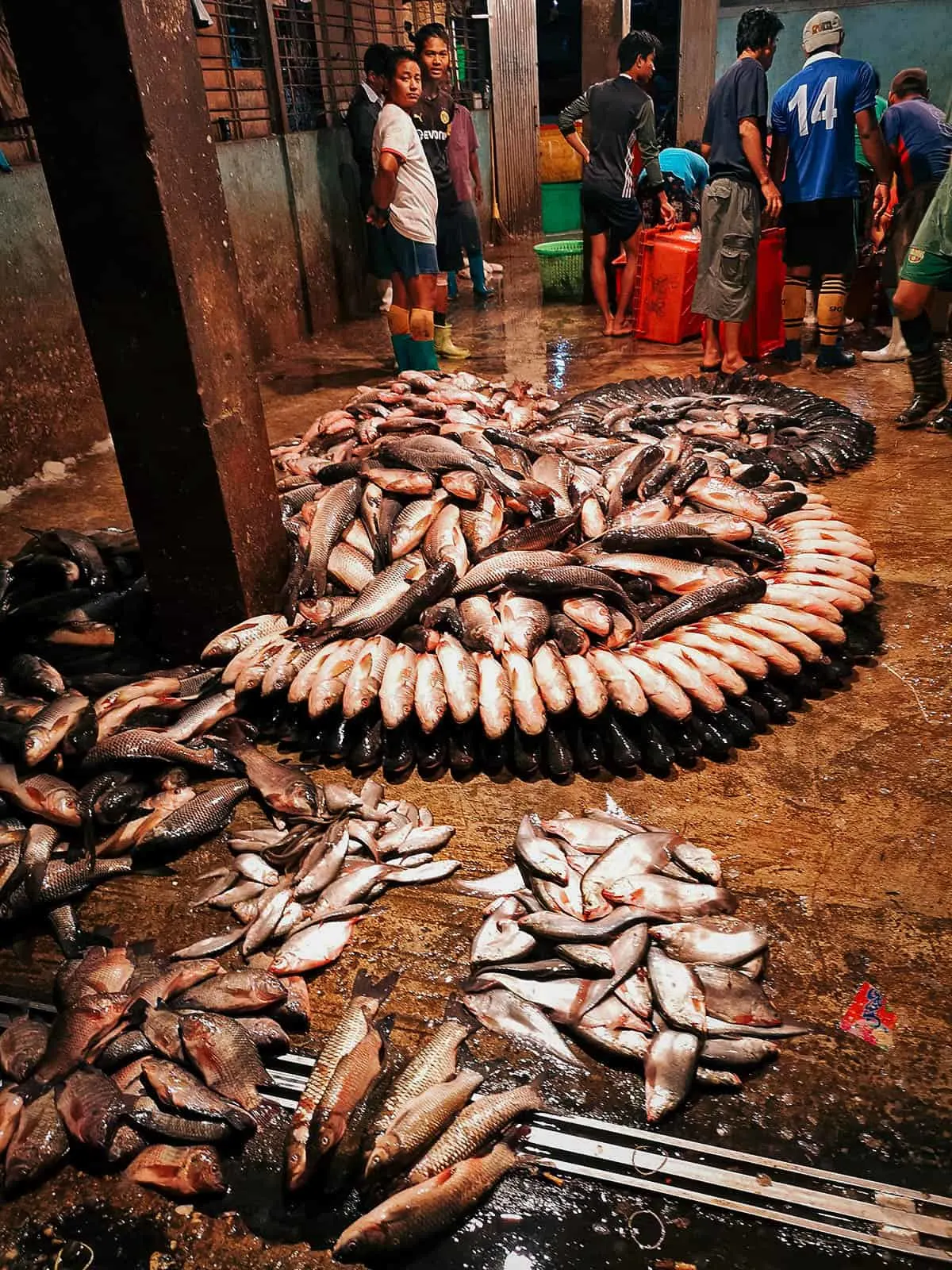 This place is a street photographer's wet dream. There are so many interesting moments to capture here, plus it isn't an area frequented by tourists so the experience feels gritty and authentic. I would have been happy to spend the entire evening here just taking photographs. People didn't seem to mind either.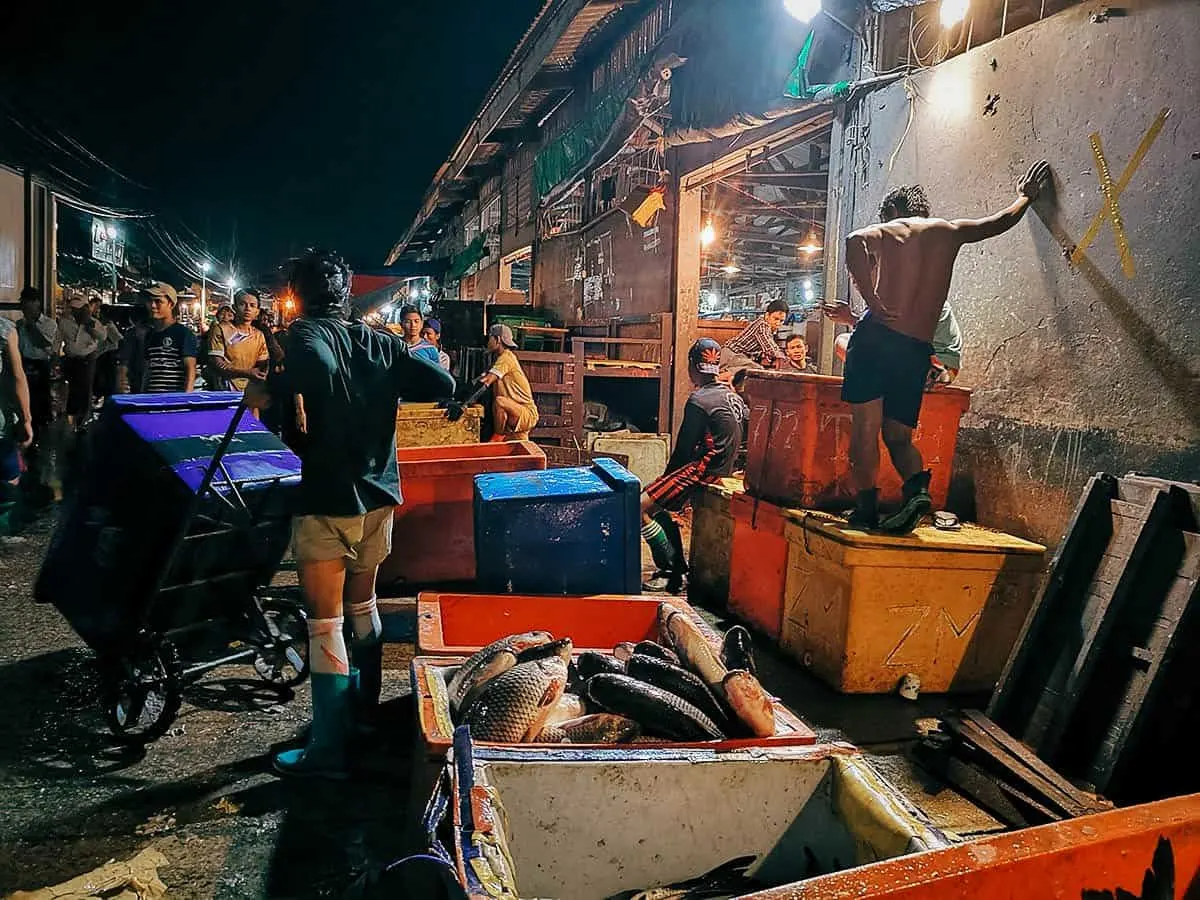 We were lucky to witness a fresh catch being unloaded from a boat. Do you see the crane below? It was hauling tonnes of fish off the boat and dropping them onto the dock for the laborers to sort out and organize.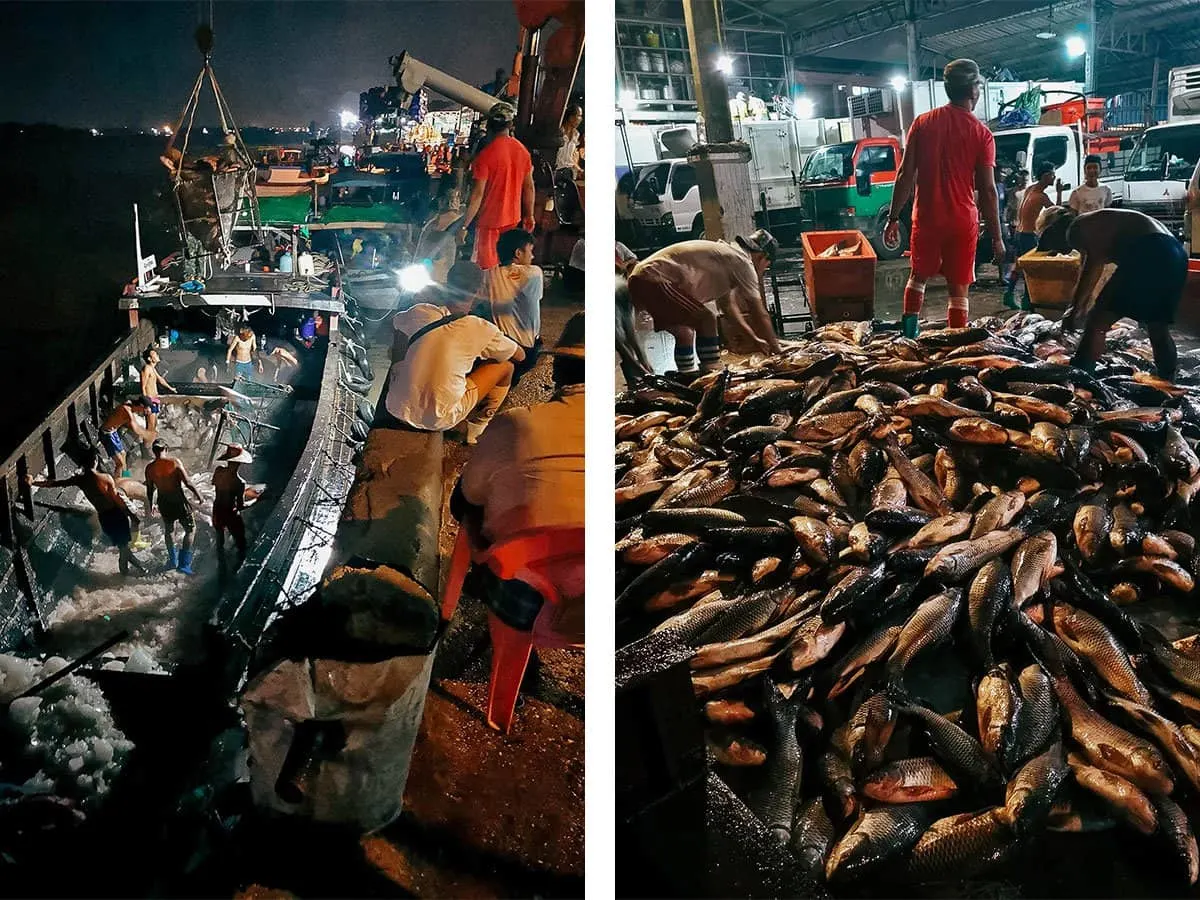 This was interesting. These women were continuously scraping the meat off rohu fish to later make into fish balls. Chit told me that rohu is one of the fishes commonly used to make fish balls in Myanmar.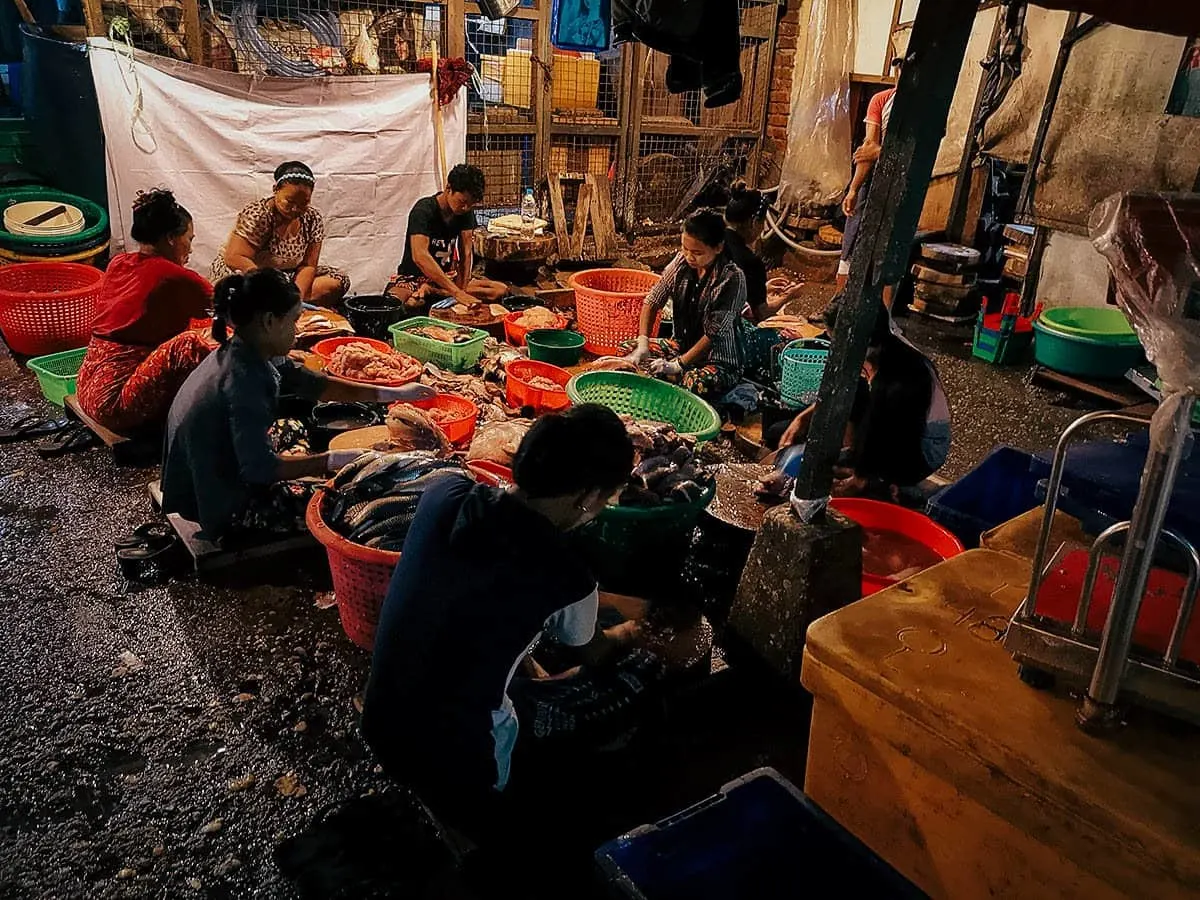 Yangon Circular Railway
After the fish market, we proceeded to one of the stations on the Yangon Circular Train, a local commuter railway that services the Yangon metropolitan area. It's a 39-station loop network that connects satellite towns and suburban areas to the city. The trains are empty now but it gets packed with locals during the day.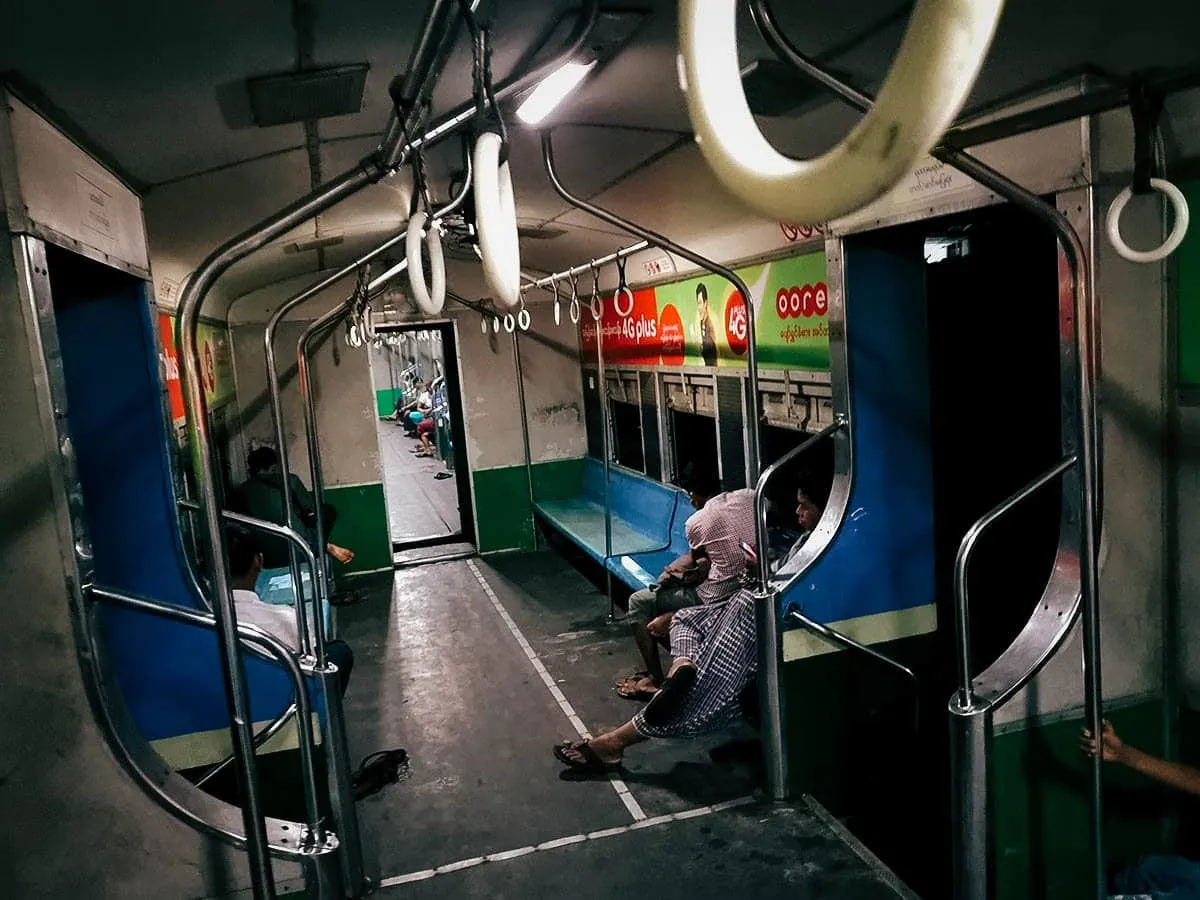 We rode the train for just a few stops to Yangon Central Station, but I actually did the full loop on the morning of this food tour. If you have the time, it's a great and inexpensive way to experience local life in Yangon. It was interesting to see vendors from satellite towns hop on the trains with bushels of produce, presumably to sell at the city's markets. A ticket costs just MMK 200 and one loop takes around three hours to complete.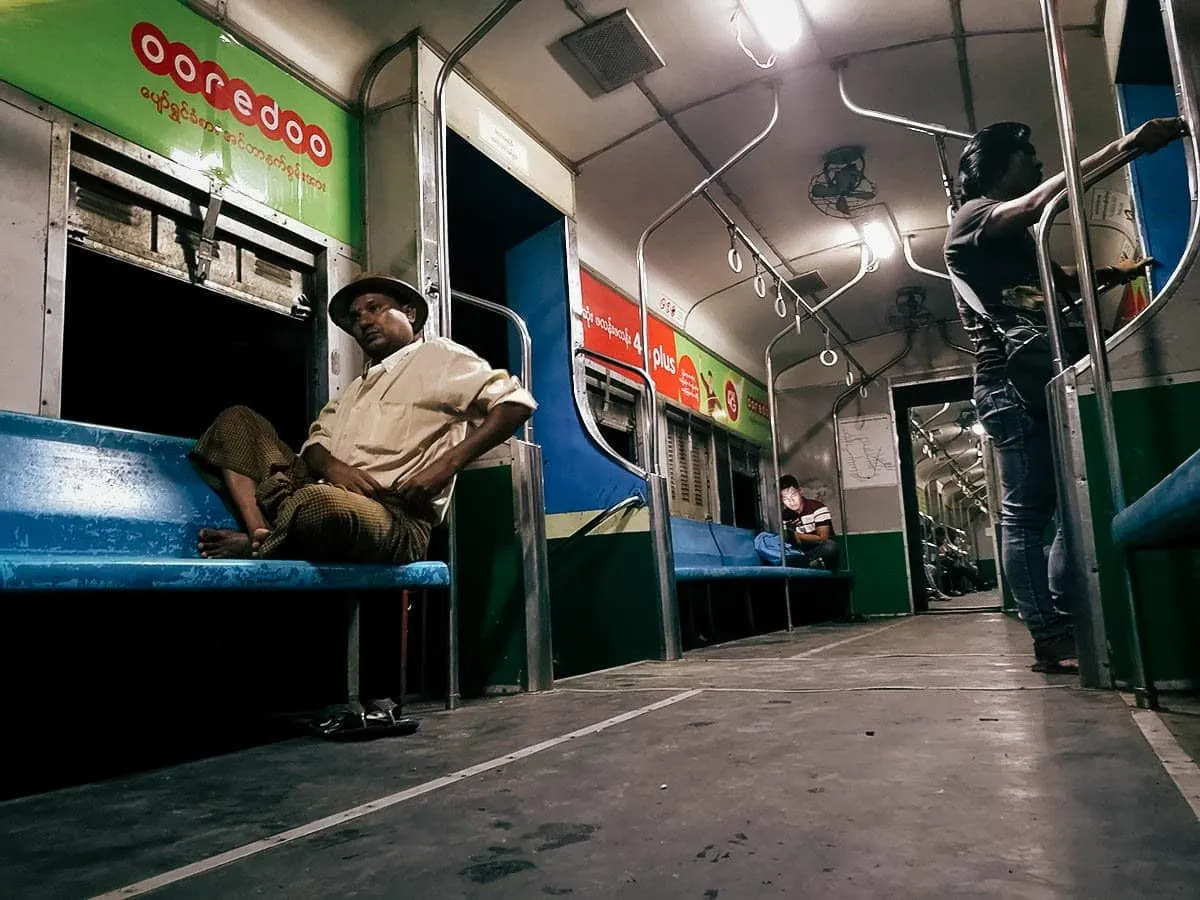 Street Eats Around Sule Pagoda
After getting off the train at Yangon Central Station, we explored the area around Sule Pagoda and enjoyed samosas from this street food vendor. Burmese samosas are noticeably smaller than their Indian counterparts. They're baked or fried and typically filled with ingredients like spiced potatoes, onions, peas, and lentils. They're delicious and a popular snack throughout Myanmar.

Here you can see samosas and other goodies frying up in a wok beneath the vendor's tray.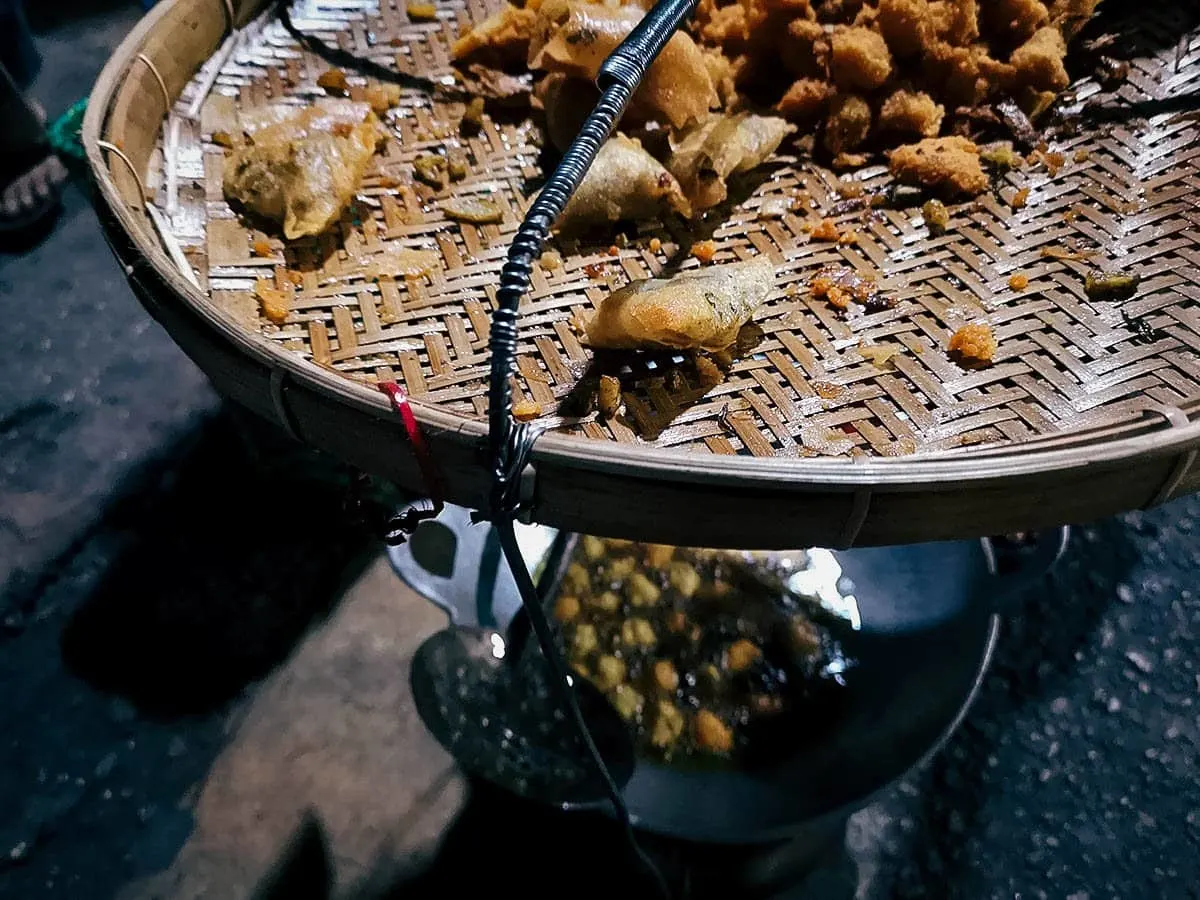 Myanmar is a tea-drinking culture and is said to cultivate some of the finest tea in the world. Everywhere in Yangon you'll find shops selling Burmese milk tea. Like samosas, it's a product of Indian influence, similar in taste to chai tea but noticeably richer and sweeter because it's made with both condensed and evaporated milk.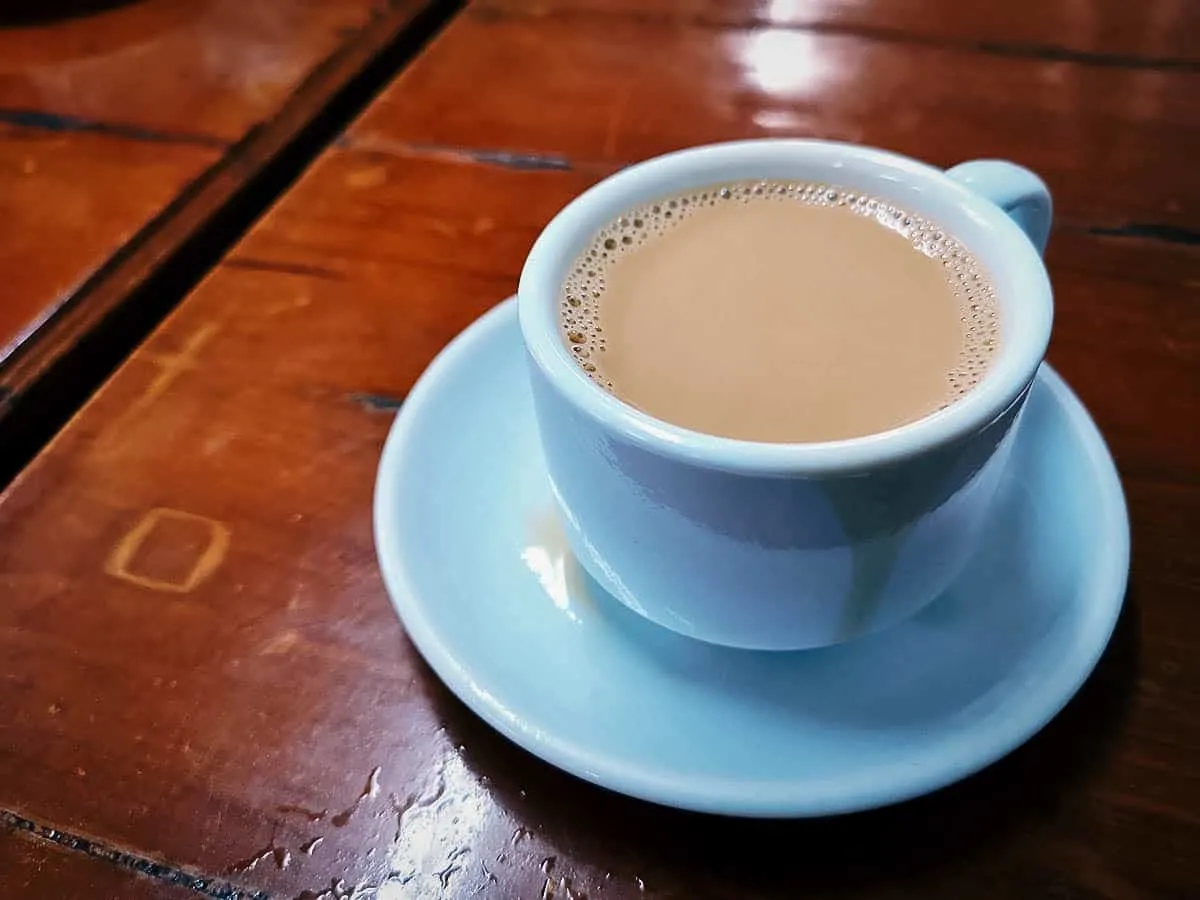 Sule Night Market
After getting a sugar rush from the milk tea, we walked to this night market to have one of Burmese cuisine's most important dishes – lahpet thoke or Burmese tea leaf salad. This dish exemplifies how important tea is to Burmese culture.

It's so important to Burmese culture that Myanmar is one of the few countries in the world where tea isn't just enjoyed as a drink, but also as food. Pickled tea salad is regarded as a national delicacy and was once used as an ancient symbolic peace offering between warring kingdoms. There's even a saying that goes like this: "A thee ma, thayet; a thar ma, wet; a ywet ma, lahpet." Translated, it means "Of all the fruit, the mango's the best; of all the meat, the pork's the best; and of all the leaves, lahpet's the best."
Here you can see this pretty young lady proudly preparing my best plate of lahpet thoke. The dark ingredient on the left is the pickled tea mixed with sesame oil. It's combined with a variety of ingredients like chickpeas, butterfly peas, toasted sesame and peanuts, crushed dried shrimp, fresh tomatoes, garlic, green chilli, and shredded cabbage. It's then dressed with fish sauce, sesame or peanut oil, and a squeeze of lime before serving.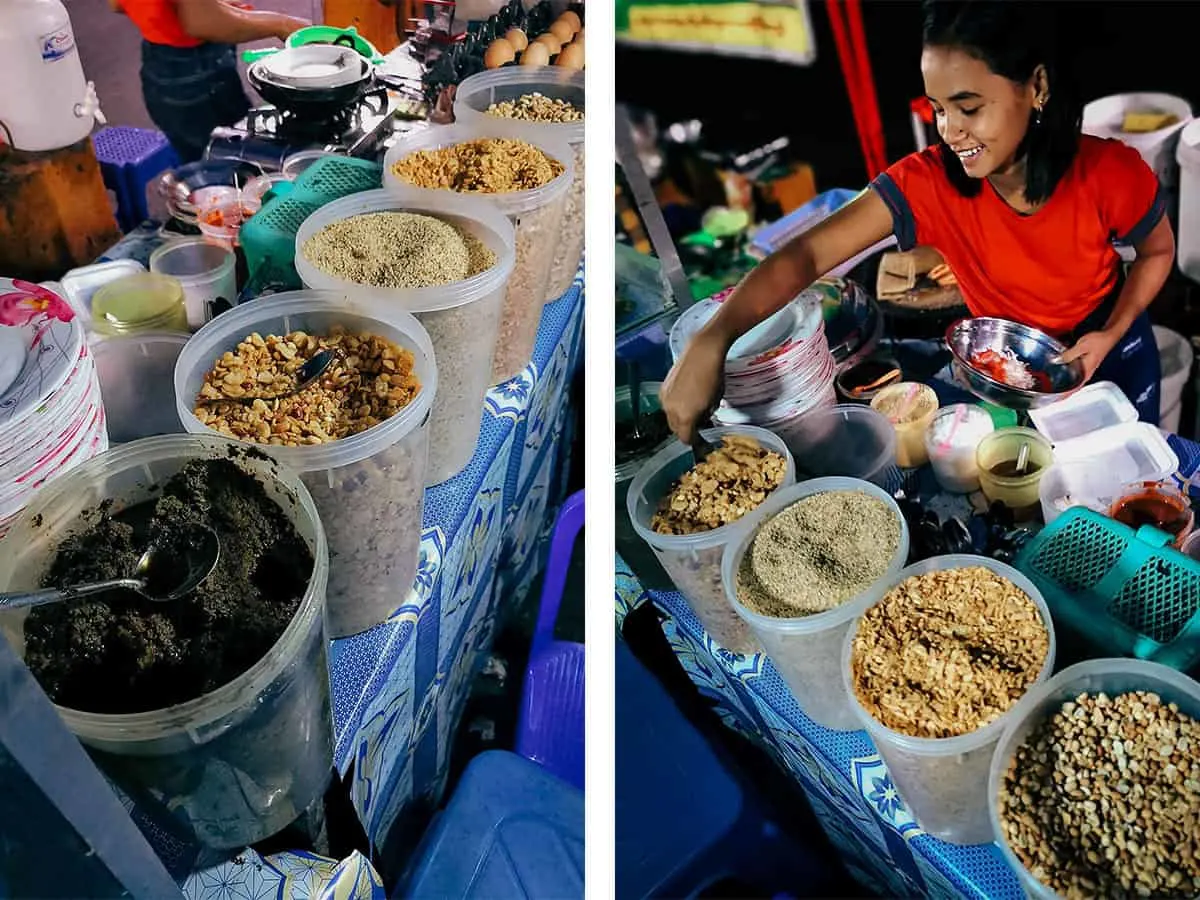 And there she is, one of Burmese cuisine's crowning jewels – lahpet thoke or pickled tea leaf salad. If you were to eat just one dish in Myanmar, then this could be it. It's an interesting and tasty blend of savory, nutty, crunchy, earthy, tangy, and bitter. Served with a side of fresh chili and raw garlic for even more flavor, it's a delicious concoction that's a definite must-try in Myanmar.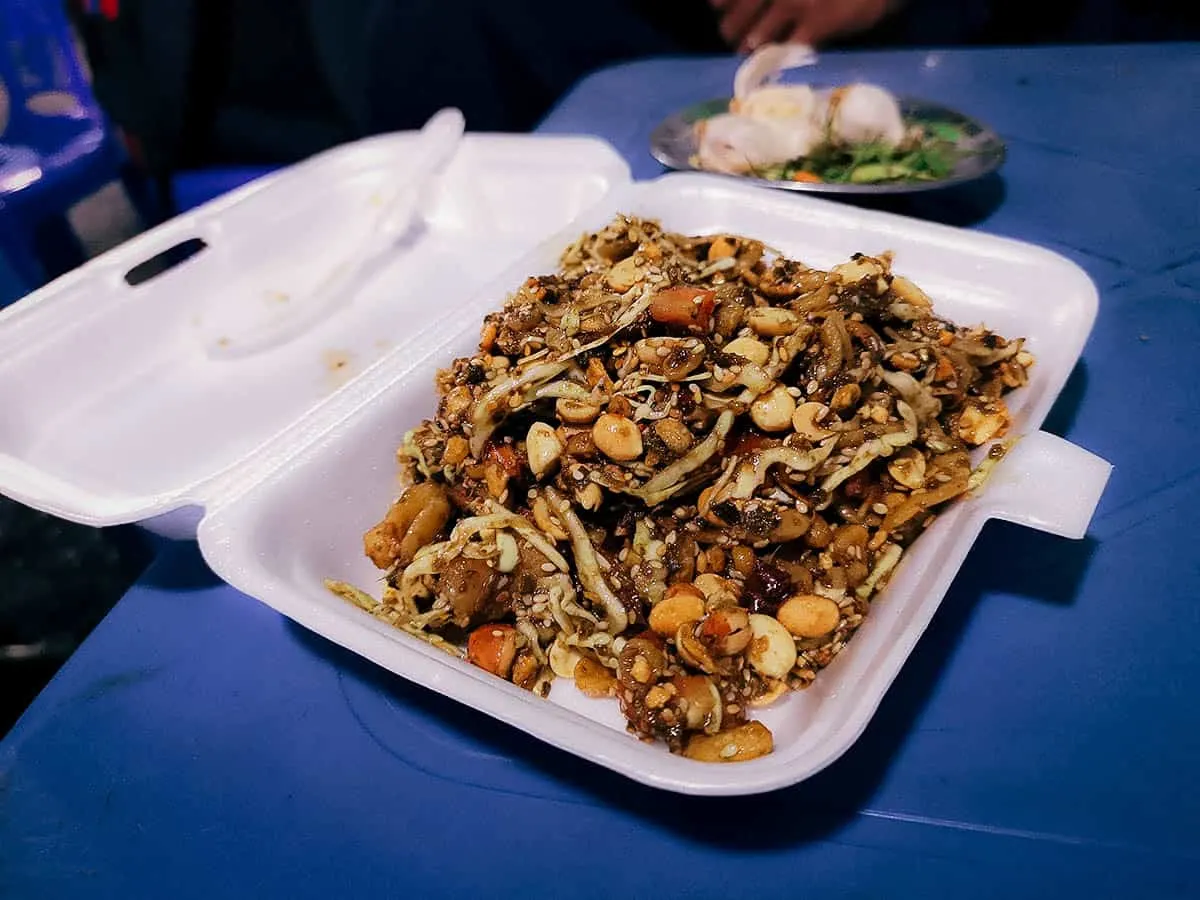 Burmese Dessert
Chit called this colorless stack of blobs his favorite dessert in the world and I can understand why. It may not be much to look at, but it's an absolutely delicious dessert of bananas and sago in coconut milk. They're made with cinnamon and pandan leaves so they're sweet, coconut-y, and fragrant. Serious yum!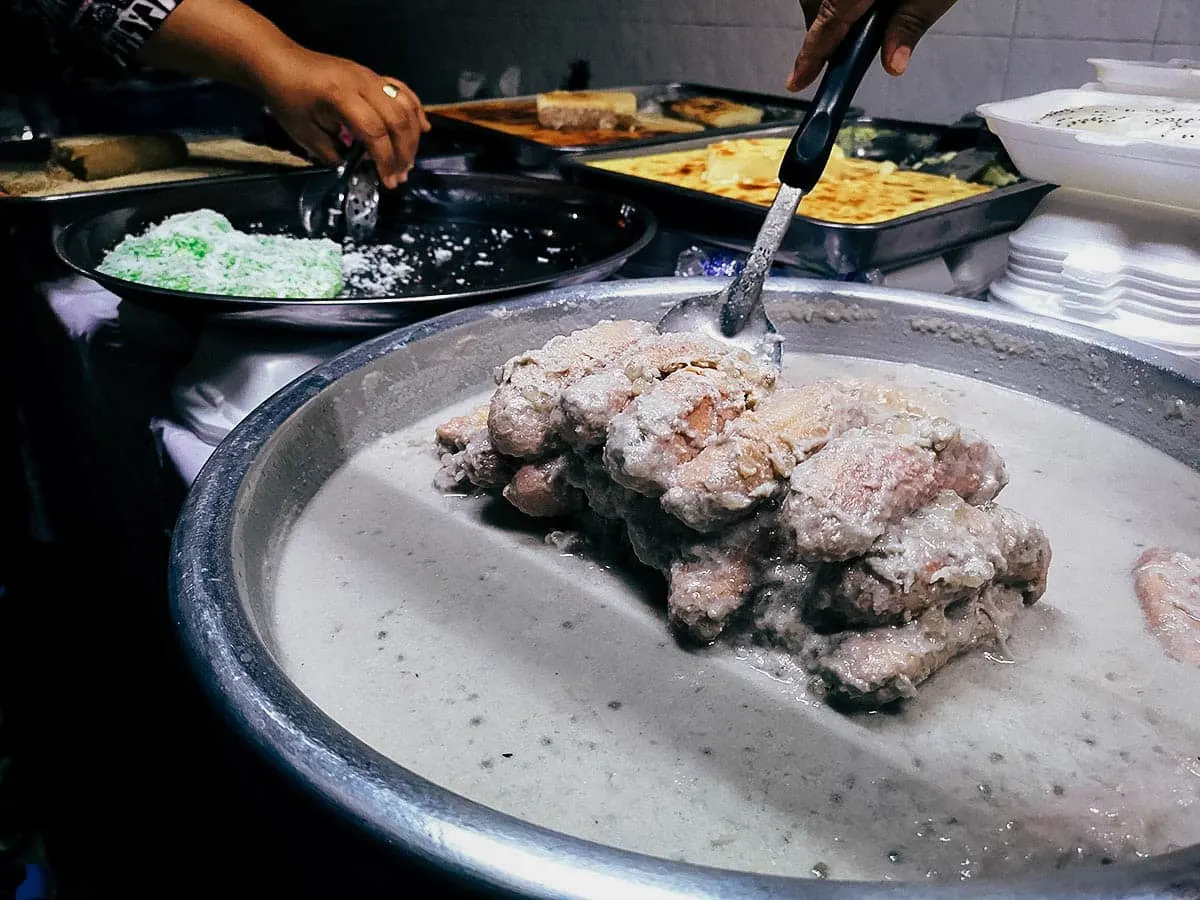 The same vendor was also selling these Burmese cakes. I found its color odd so I remember the purplish one to be banana cake. Known locally as nget pyaw thii shwe gye, it gets its unique color not from the red bananas used to make it – which are yellow when peeled – but from the steaming or baking process. The one behind it is made with potato and is known as arloo sa nwin ma kin. They were both very good – moist, dense, and not too sweet – and topped with what looked to be white poppy seeds for texture and crunch.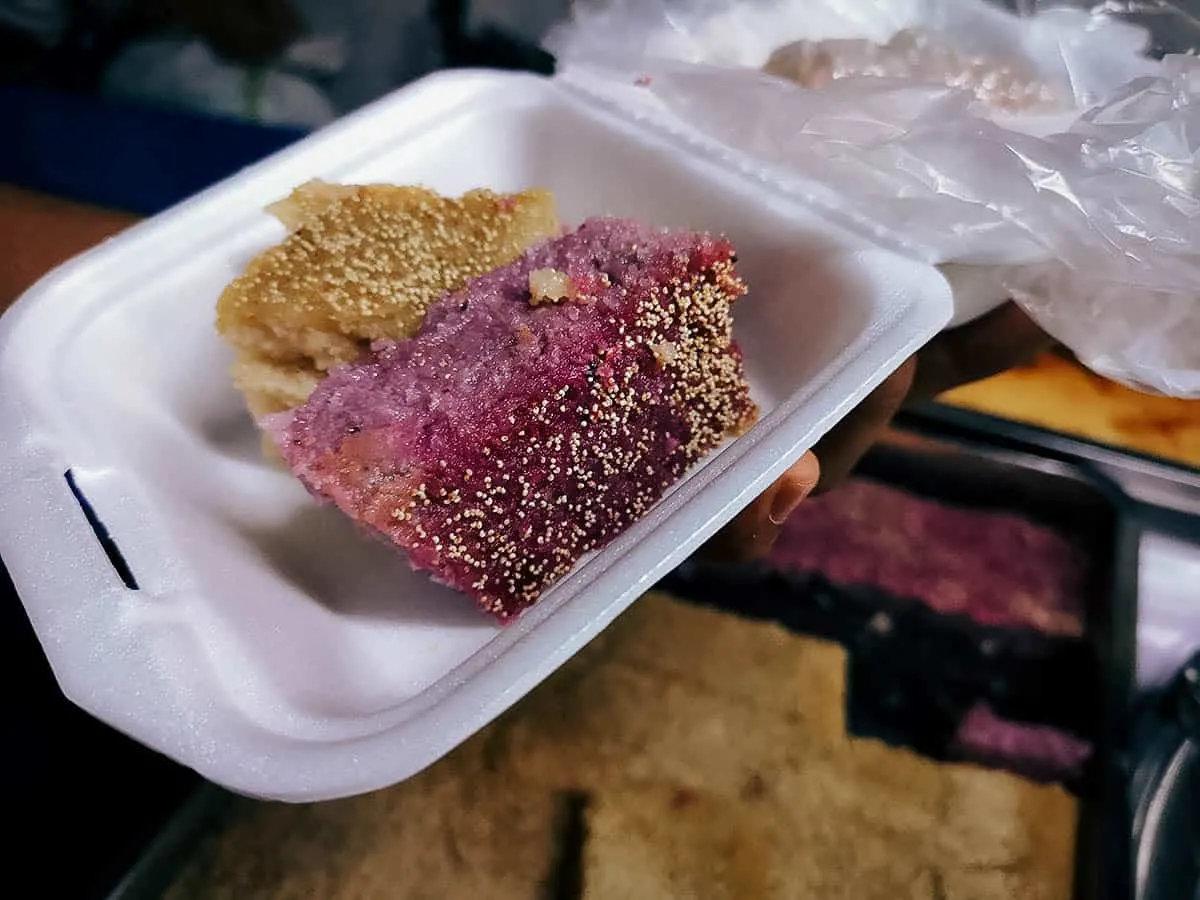 19th Street in Chinatown
This lively side street was the last stop on tonight's tour. It's a place you'll probably want to revisit on your own if you like to drink. Similar in feel to Jalan Alor in Kuala Lumpur or Vinh Khanh Street in District 4 Saigon, 19th Street in Chinatown is one of the best places to enjoy good street food and beer in Yangon. The atmosphere here is electric.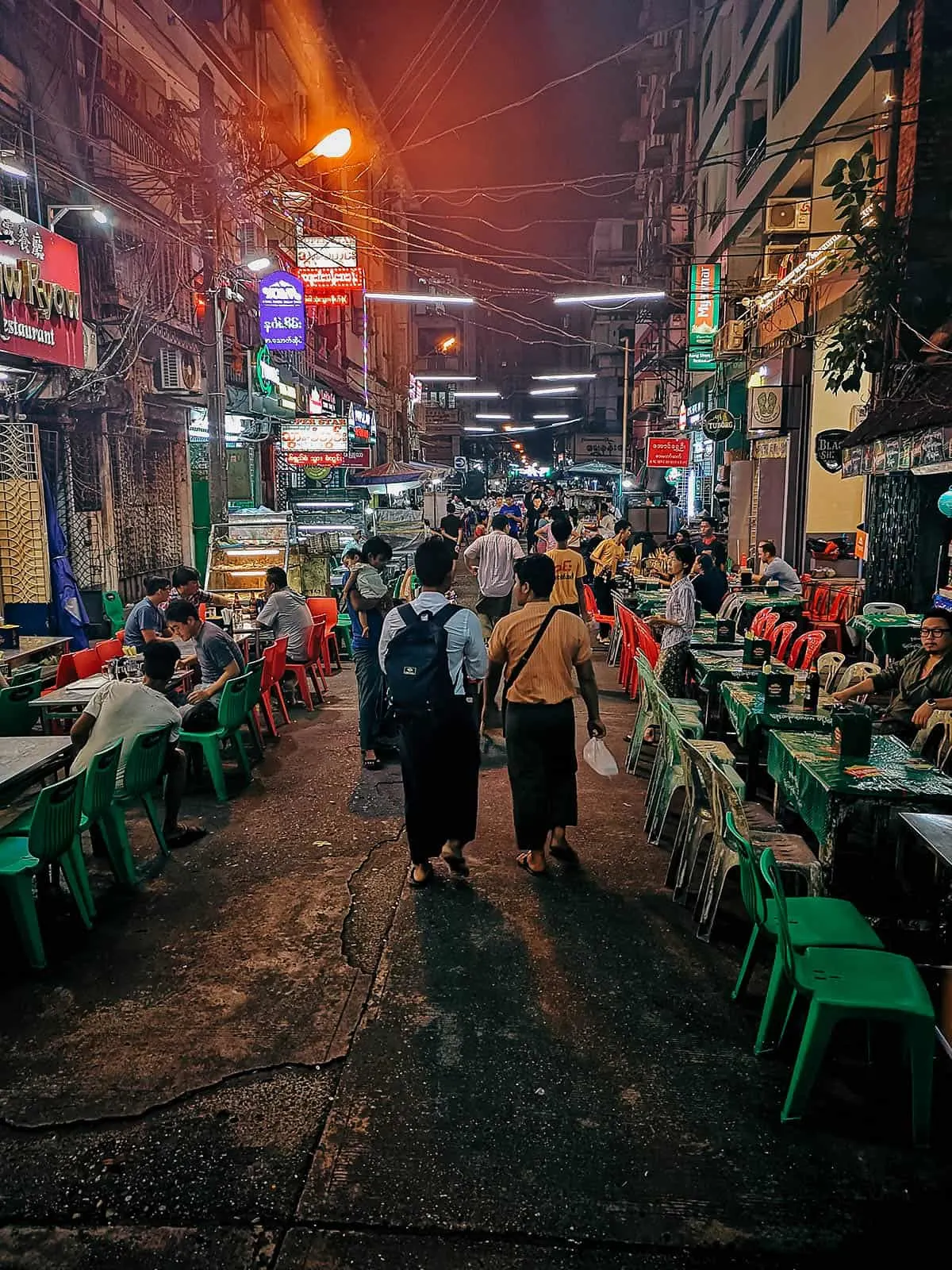 Also known as "Beer Street", I had lunch here the day before but it looked and felt much different than it does now. During the day, it looks like any other street in Yangon but at night, it becomes abuzz with activity. Every restaurant sets up metal tables and plastic chairs on either side of the street. Servers are friendly and the ambiance is gritty, with revelers both local and foreign sitting outside and rubbing elbows over cold beers and good Chinese food. It's a fun atmosphere and one I'd definitely look for on every return visit to Yangon.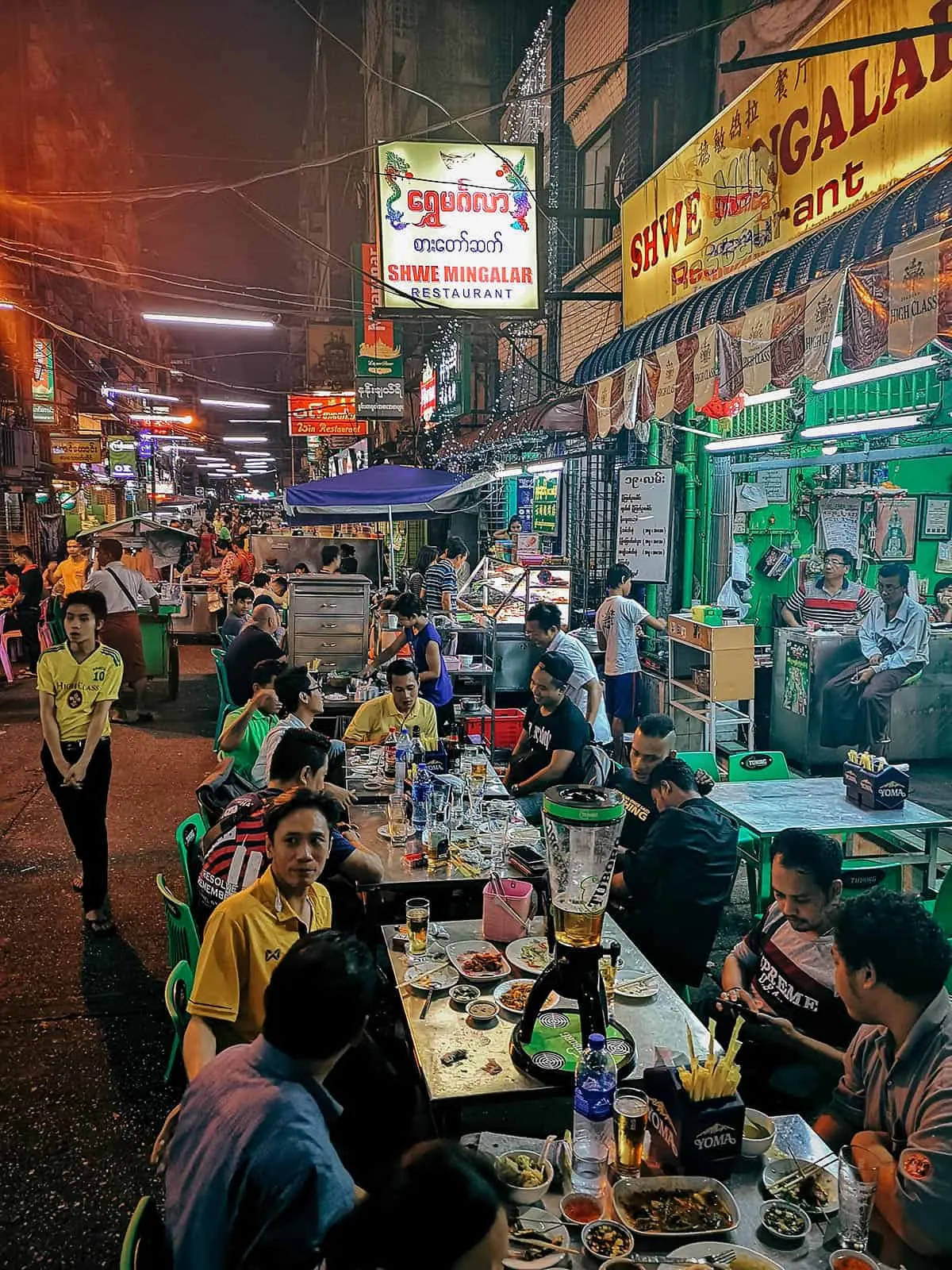 With so many vendors and customers on the road, you'd think 19th Street would be closed off to vehicular traffic but it isn't. Like vendors on the Maeklong Railway in Bangkok, a car had to pass so everyone got up and moved to the side to let it through before going back to their business. Funny how normal and routine it all was.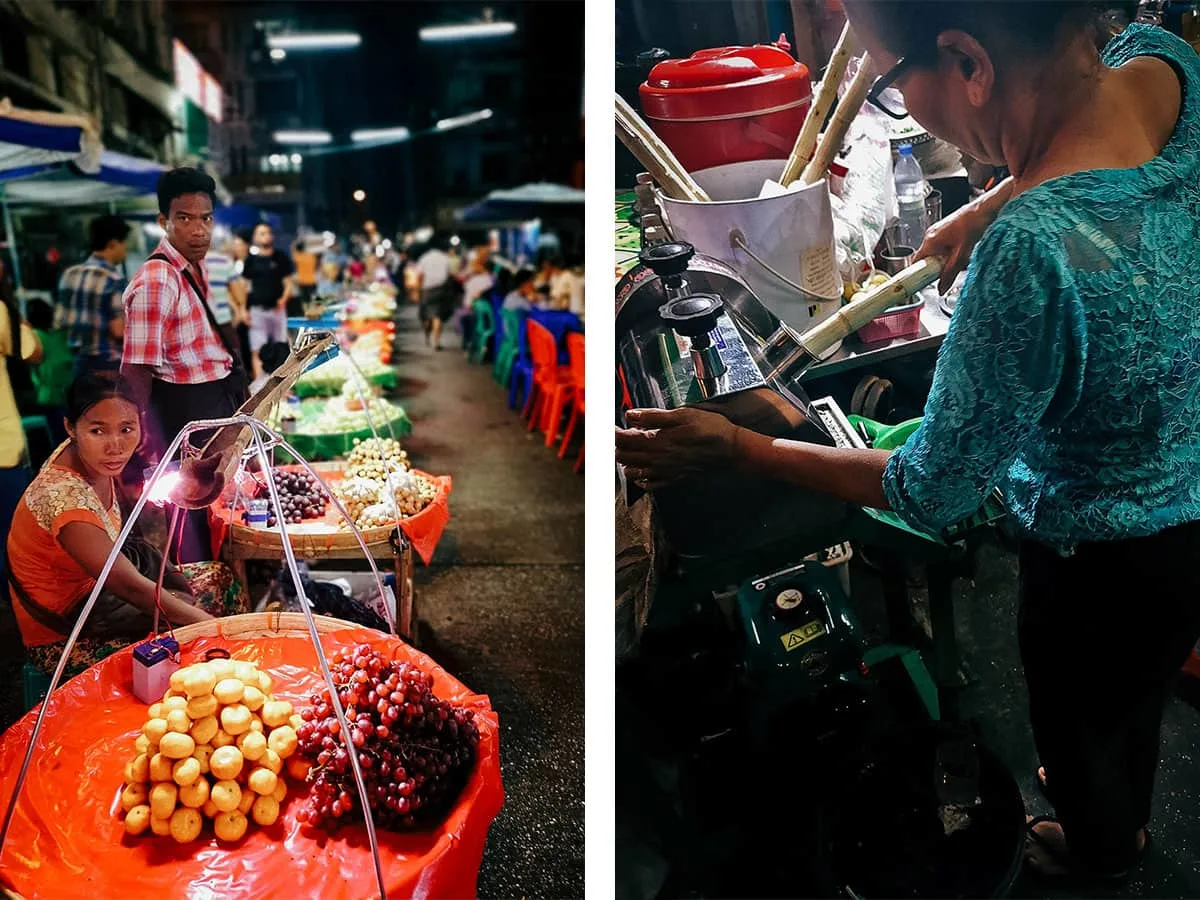 19th Street is known for its Chinese food so we didn't have anything here except for this cup of freshly pressed sugarcane juice, which was the last thing we'd have on this tour. Mildly sweet and somewhat leafy in taste, it was a refreshing end to a fantastic food tour.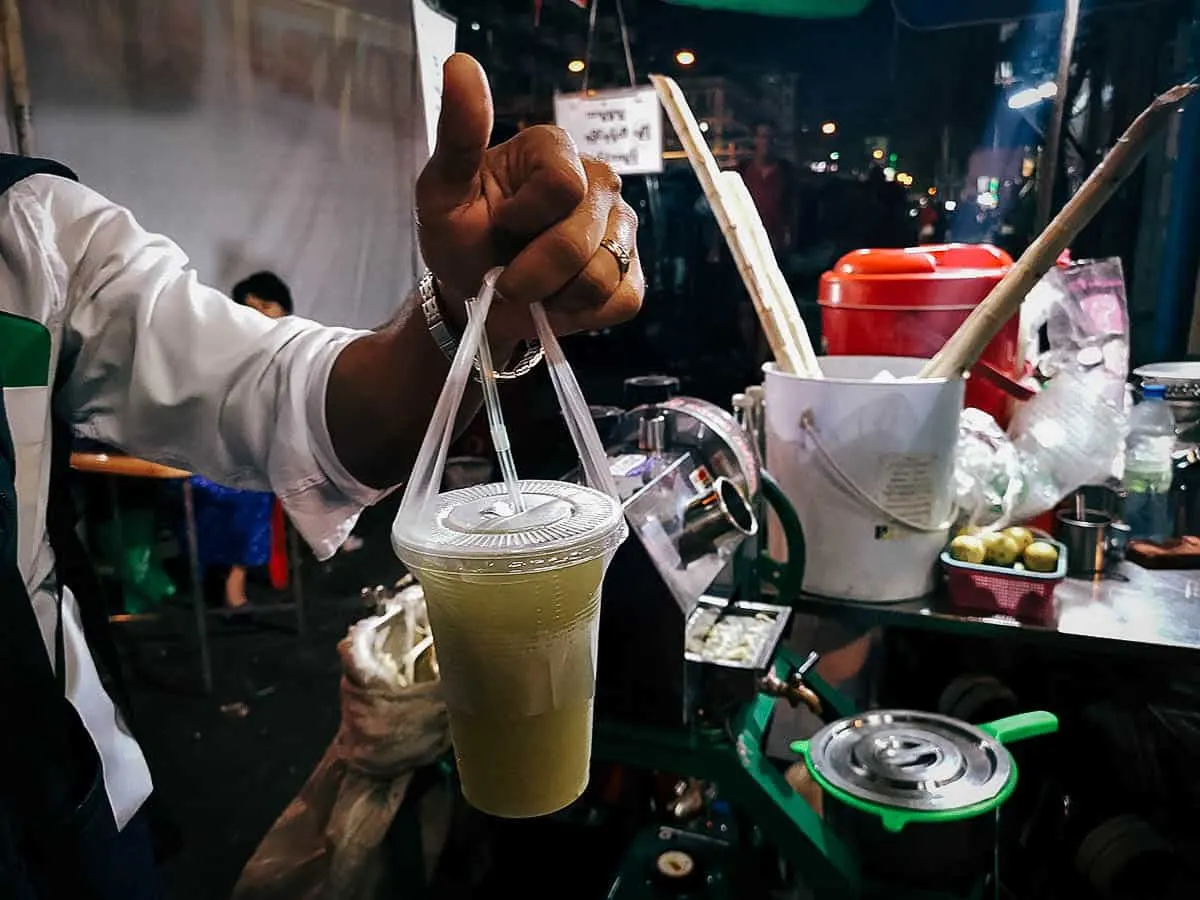 Here's Chit and my scruffy self taking a selfie before parting ways. Aside from eating all that delicious food, we talked about many things tonight, from the significance of thanaka paste to hypothetical last meals to his aspiration in politics. We even connected on our love for combat sports, expressing our admiration for the likes of Manny Pacquiao and the Burmese Python, Aung La Nsang. It was a fun four plus hours that flew by quickly, filled with lessons in Myanmar culture and a now mutual fondness for Burmese food.
Thanks so much for the fun and insightful tour Chit! You've piqued my curiosity about Burmese food even more, and I'll definitely be back.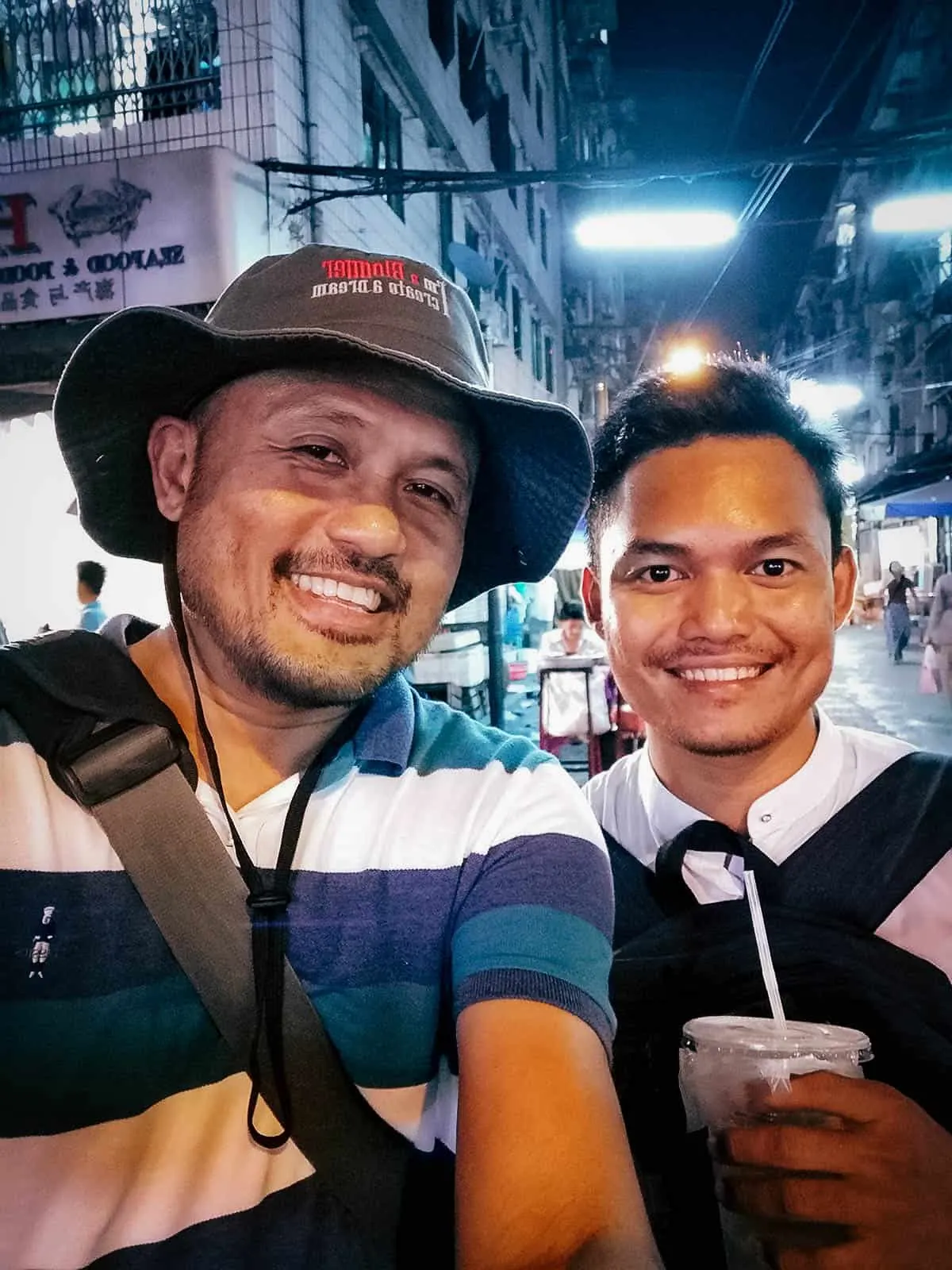 Burmese National Dish
Speaking of hypothetical last meals, there was one dish we didn't get to try tonight – mohinga, Myanmar's national dish. I spent so much time taking pictures and video that the shops we went to had run out by the time we got there. Thankfully, I had already eaten it twice on my own before tonight's tour.
Like lahpet thoke, mohinga is one of Burmese cuisine's most important dishes. It consists of thin rice noodles in a fish-based broth thickened with toasted chickpea and rice flour, then topped with a host of ingredients like hard-boiled eggs, fish cake, and crispy fried fritters. Like Shan noodle soup, it's a simple but comforting dish, something I could see myself having everyday. You can expect to have it as well when you go on this tour.
Like a true statesman, I asked Chit what his hypothetical last meal would be, and he answered without a pause: "It has to be Mohinga, it's our national dish." A future in politics indeed!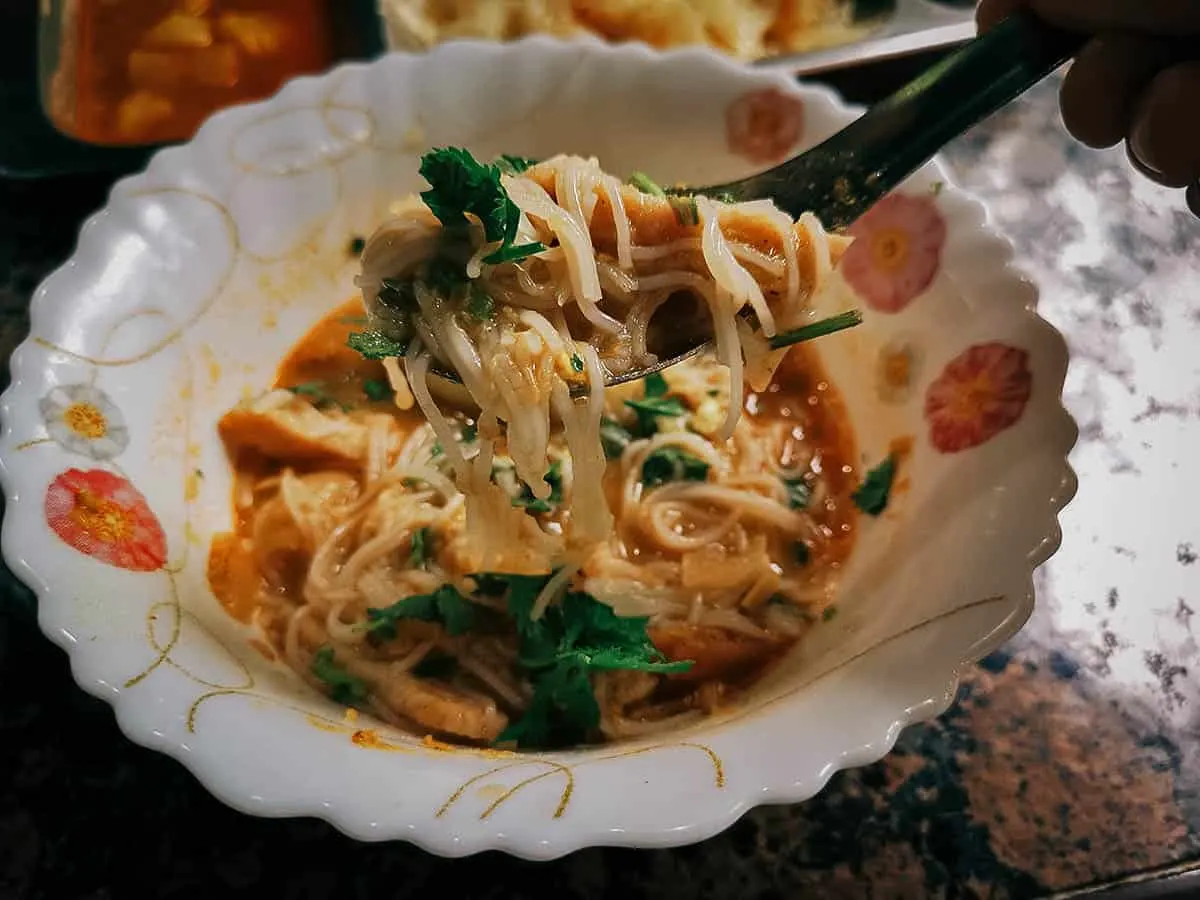 Conclusion
In spite of Chit's informative tour, I feel there's still much to learn and experience when it comes to Burmese food. I have so little experience with it that I've only just begun to scratch the surface.
Like many of its neighboring countries, there's a clear Indian and Chinese influence to Burmese cuisine. There seem to be strong regional identities as well. Wikipedia's list of Burmese dishes points to several dishes that are Shan-, Kachin-, or Rakhine-influenced, all of which are administrative regions within Myanmar. I visited Bagan before Yangon and had a really interesting pork curry dish made with black beans. It was one of the best things I ate in Myanmar and according to my server, it was a dish unique to Bagan.
I was also surprised to find vegetable tempura dishes at several Burmese restaurants in both Yangon and Bagan. This intrigued me so I did some digging and found claims that Japanese tempura, curry, and even some desserts were inspired by traditional Burmese dishes after Japan invaded Burma in the 1940s. It's all very fascinating stuff that makes me want to go back to Myanmar and experience more of its food!
Though many of my questions were answered by this food tour, I left Myanmar with even more questions than when I first arrived. I've only tasted a small part of the country – just Yangon and Bagan – so I'm curious to know what food from the other regions is like. Ren wasn't able to join me on this trip either so it's pretty much a guarantee that we'll be back.
If you're visiting Yangon and are curious to learn about Burmese food, then I highly recommend going on this tour with Chit. It costs USD 45 per person, inclusive of all food, drink, and transportation. You can book it through A Chef's Tour or Get Your Guide.
A Chef's Tour
Website: achefstour.com
Facebook: achefstour
Twitter: achefstour
Instagram: achefstour
Pinterest: achefstour
Email: [email protected]
Cost: USD 45 per person (inclusive of food and transportation during the tour)
For travel tips to Yangon, check out our First-Timer's Travel Guide to Yangon, Myanmar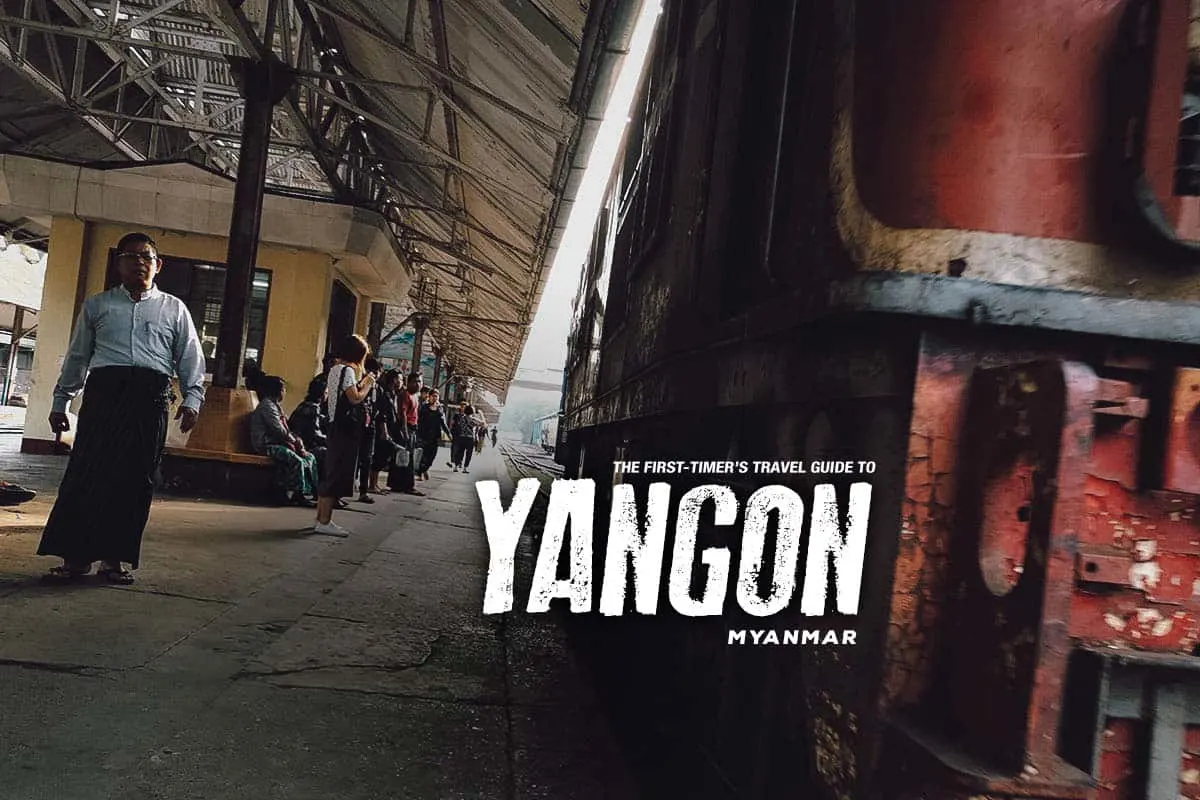 Disclosure
A Chef's Tour gave me a complimentary tour in exchange for an honest account of the experience. As always, all words, thoughts, and opinions expressed in this post are mine and mine alone.
Some of the links in this guide are affiliate links, meaning we'll get a small commission if you make a purchase at NO extra cost to you. We only recommend products and services that we use ourselves and firmly believe in. We really appreciate your support as this helps us make more of these free travel guides. Thank you!