There are five Joseon royal palaces in Seoul — Gyeongbokgung, Changdeokgung, Changgyeonggung, Gyeonghuigung, and Deoksugung. If you can't visit them all, then these two are the ones that you shouldn't miss. Gyeongbokgung is the main palace and the biggest of all five, while Changdeokgung is a UNESCO World Heritage Site and home to the Secret Garden (Huwon).
Both are widely seen as the most beautiful.
Changdeokgung Palace
A UNESCO World Heritage Site since 1997, Changdeokgung Palace is one of the "Five Grand Palaces" built by the kings of the Joseon Dynasty from 1392–1897. It was the favorite palace of many Joseon princes because it retained elements dating back to the Three Kingdoms of Korea period. The same elements were not incorporated into the more contemporary Gyeongbokgung.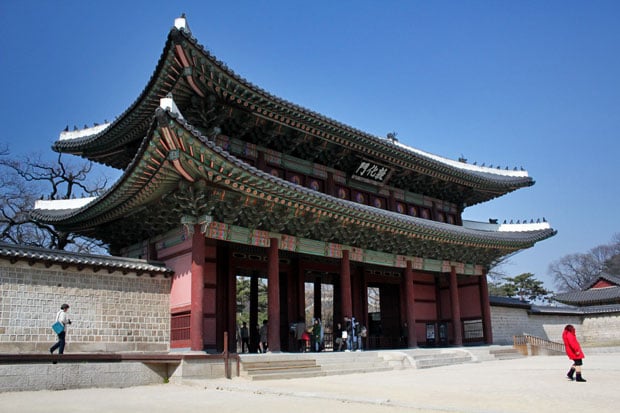 Making our way into the heart of the palace. Entrance to Changdeokgung is KRW 3,000.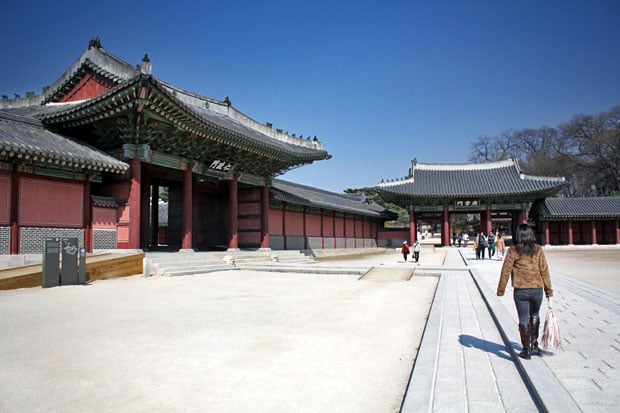 Cited as an "outstanding example of Far Eastern palace architecture and garden design", one of the reasons why Changdeokgung is revered is because its buildings blend in with the natural topography of the site, instead of imposing themselves upon it. This is an approach to building design that dates back to the Three Kingdoms of Korea period.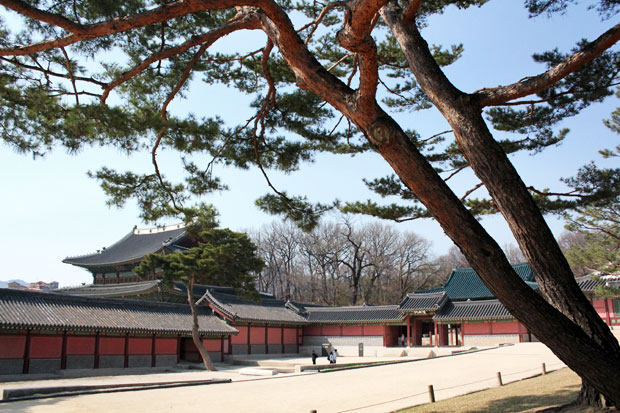 Known as the second palace after Gyeongbokgung, Changdeokgung is comprised of 13 buildings and 28 garden pavilions spread out over an area of 110 acres (45 hectares).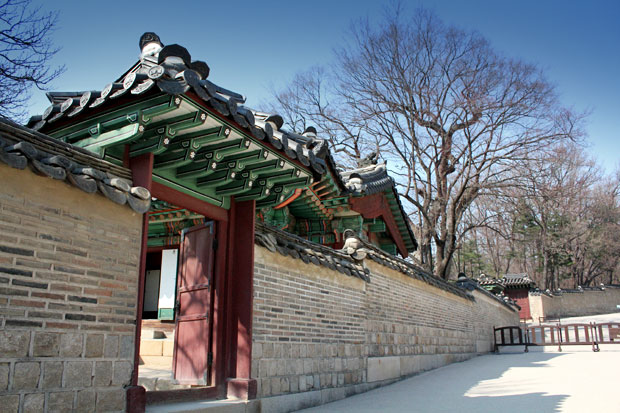 Signs of Spring. It was late March so the cherry blossoms were still about a couple of weeks away from blooming. They're beautiful even at this early stage no?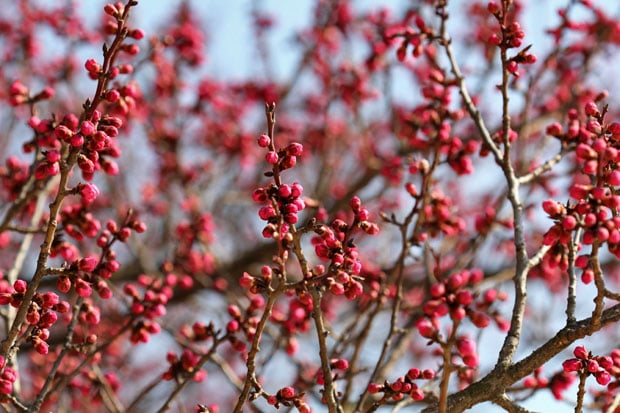 Making our way to Huwon or the Secret Garden. It was the tail end of Winter so most of the trees were still bare. It's said that the most beautiful time to see the garden is during the fall when the autumn foliage is at its peak and the leaves have just started to fall.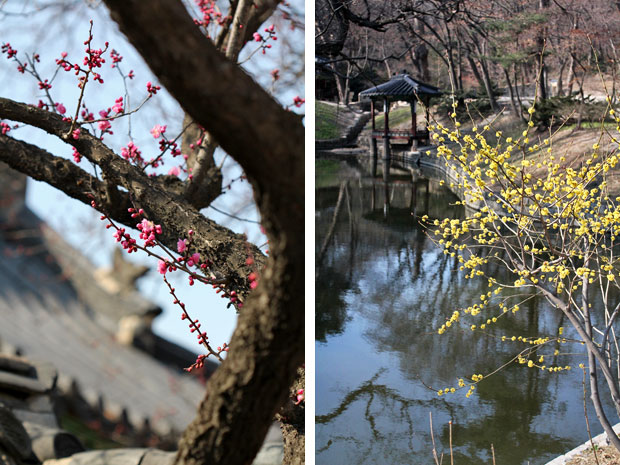 Huwon (Secret Garden)
Behind the palace is Huwon or Secret Garden — a 78-acre (32 hectares) garden that was originally constructed for the royal family and palace women. Unlike the rest of Changdeokgung, you can only enter the Secret Garden on guided tours for KRW 8,000 each.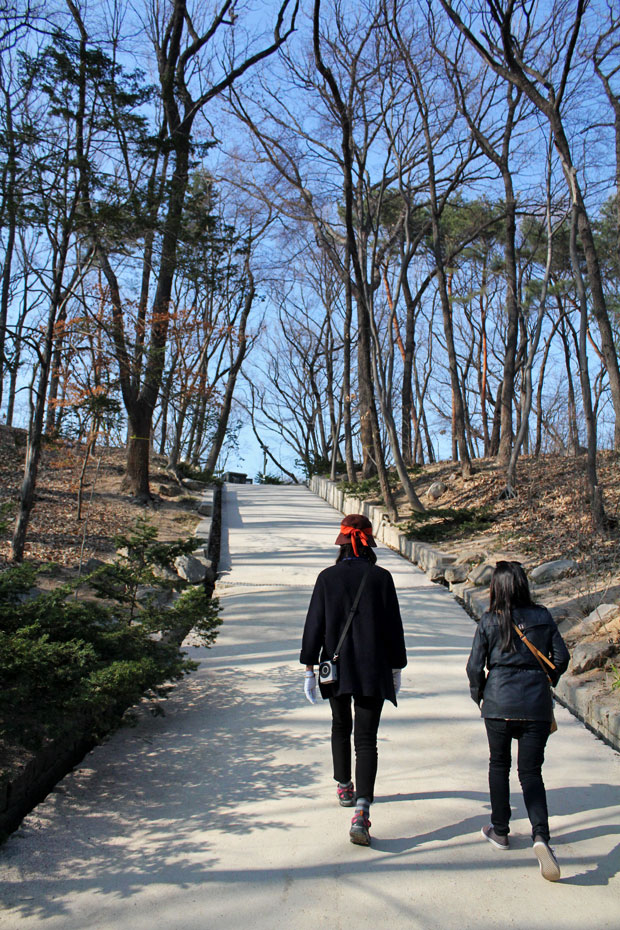 One of 28 pavilions. There are over 26,000 trees here, some of which are over 300 years old.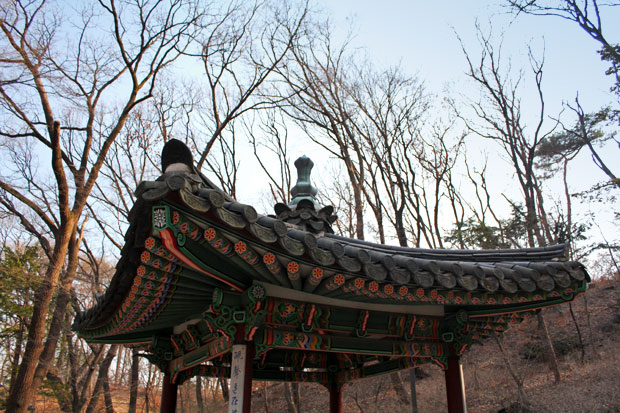 The guided walking tour lasts about 90 minutes and takes you through several pavilions, ponds, and old living quarters.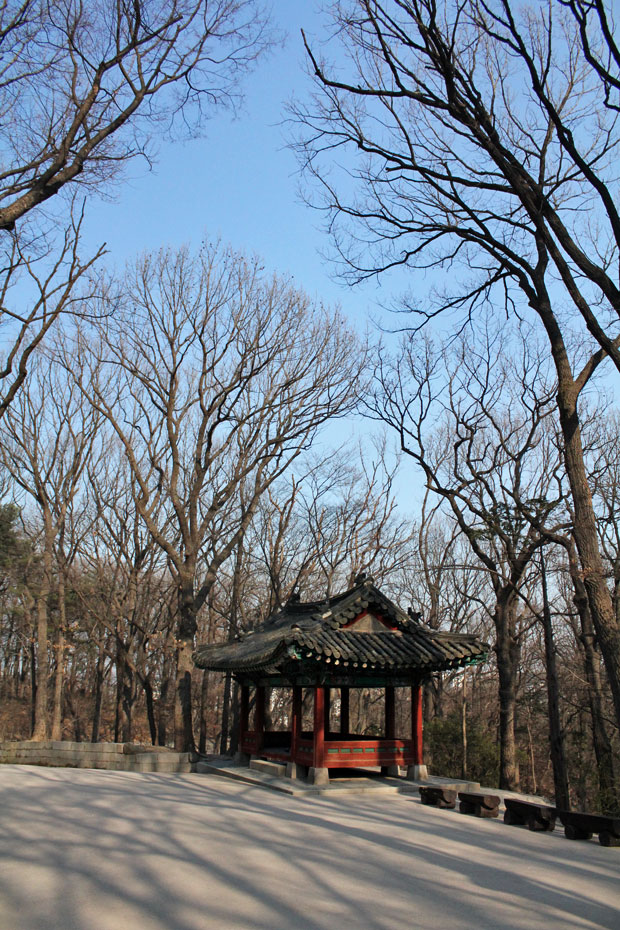 Our guide in front of the traditional living quarters. This was my favorite part of the tour.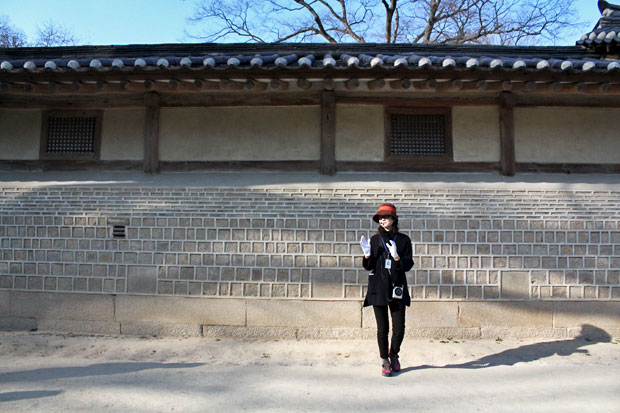 I love these traditional Korean doorways and roofs.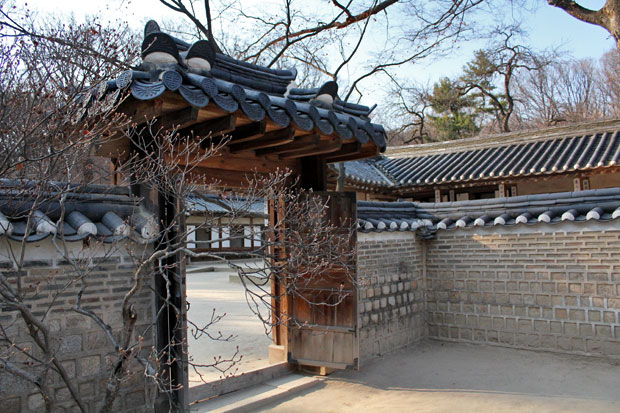 Breathe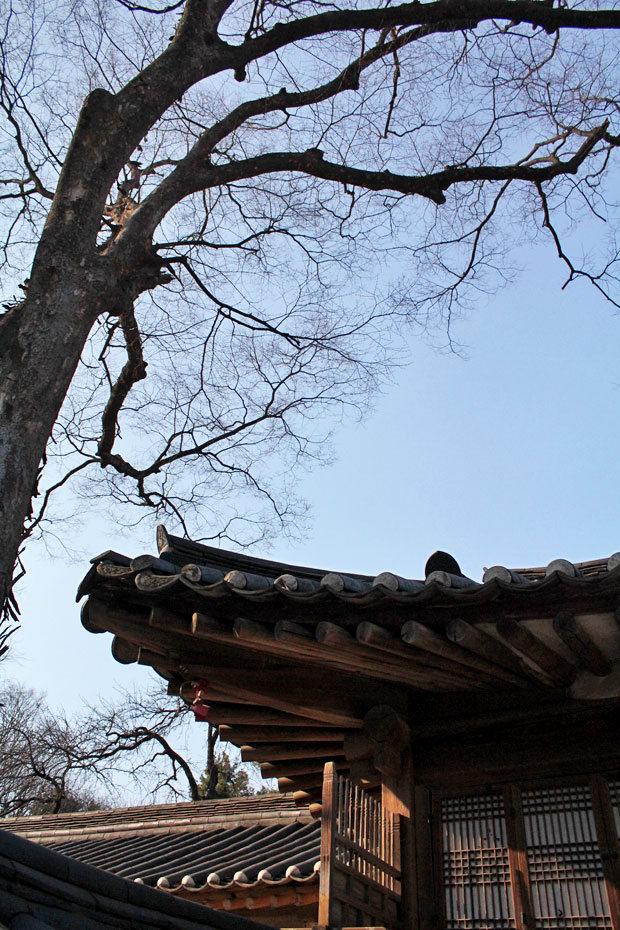 Admiring the details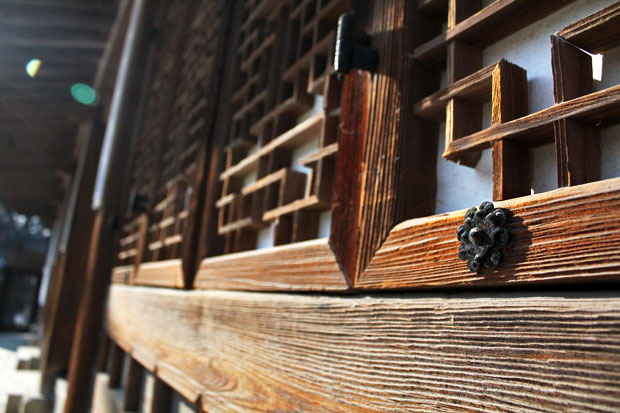 I learned on this tour why Koreans like to sit on the floor — to stay warm. Houses in winter were traditionally warmed by an ondol, or underfloor heating, which transferred heat from an underground stove using horizontal smoke passages under the floor. As a result, the floor would always be the warmest part of the house. Good to know where that practice came from. Now what about all the shoe removing? 🙂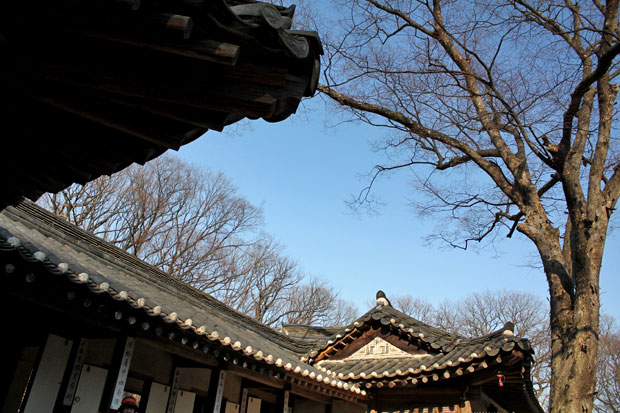 At the tail end of our tour, making our way towards the entrance. This place must be beautiful in the Fall.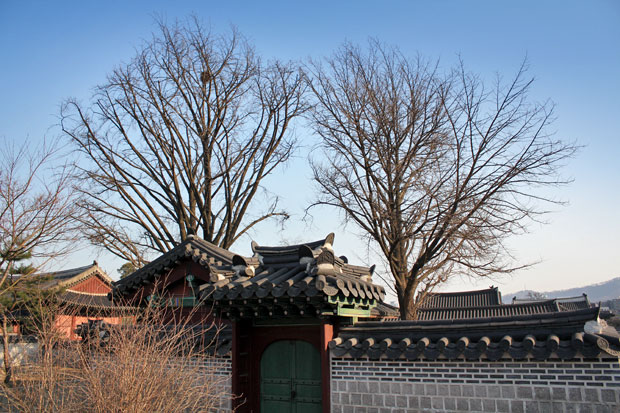 I was a little disappointed by the lack of foliage but I enjoyed the Secret Garden tour anyway. It was cool seeing the traditional living quarters. Plus, KRW 8,000 isn't much. You can skip Huwon if you don't have enough time, though I think the experience will be more enjoyable and a must-do in the Fall.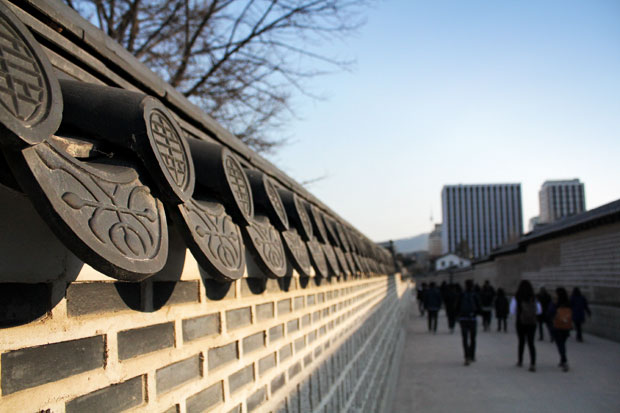 Changdeokgung Palace, Seoul, South Korea
창덕궁과 후원
99, Yulgok-ro, Jongno-gu, Seoul, South Korea
서울특별시 종로구 율곡로 99 (권농동)
Tel: +82 2 762 8261 / 9513
Fax: +82 2 762 2070
Website: eng.cdg.go.kr
Email: [email protected]
Hours of Operation: Tue-Sun, 9AM-6:30PM (Operating hours vary per season)
Suggested Length of Visit: 2-3 hrs
ADMISSION:
Adults (ages 25-65): Changdeokgung Palace: KRW 3,000 / Huwon: KRW 8,000
Young Adults (ages 19-24): Huwon: KRW 5,000
Children and Teenagers (ages 7-18): Huwon: KRW 2,500
HOW TO GET THERE:
By subway, get off at Anguk station (line 3), exit 3. Walk straight for about 5 mins and you'll see the palace on your left.
Gyeongbokgung Palace
Built in 1935 and the largest of the Five Grand Palaces, Gyeongbokgung was the main royal palace of the Joseon dynasty. Aside from being its most important, it's also considered by many to be the grandest and most beautiful of them all. Those photos of guard changings that you see on the internet were probably taken here.
Pictured below is a statue of Sejong, the fourth king of the Joseon Dynasty who's credited for developing today's Korean writing system of Hangul. In the distance is Gwanghwamun Gate, the main entrance to the palace.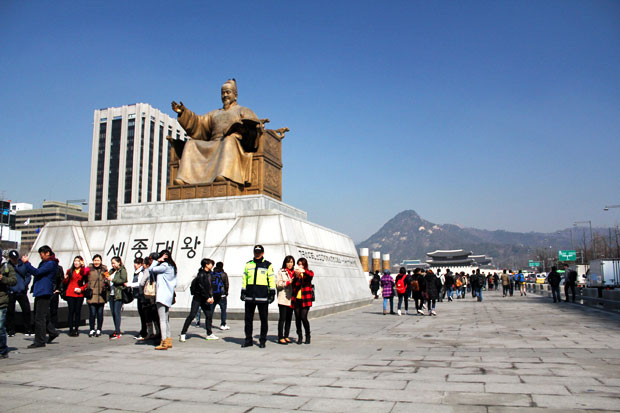 Pretty imposing eh? It reminded me of the Gate of Integrity in Taipei.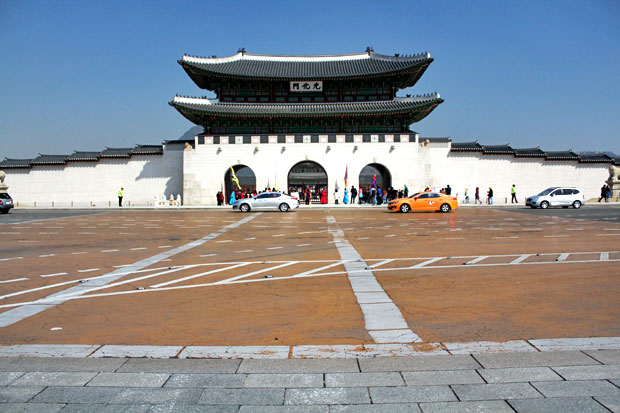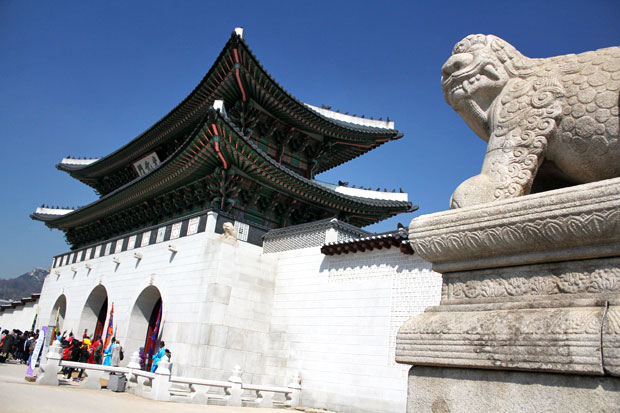 This guard was relieved of his post shortly after this picture was taken. I think Reneelicious got a little too touchy-feely.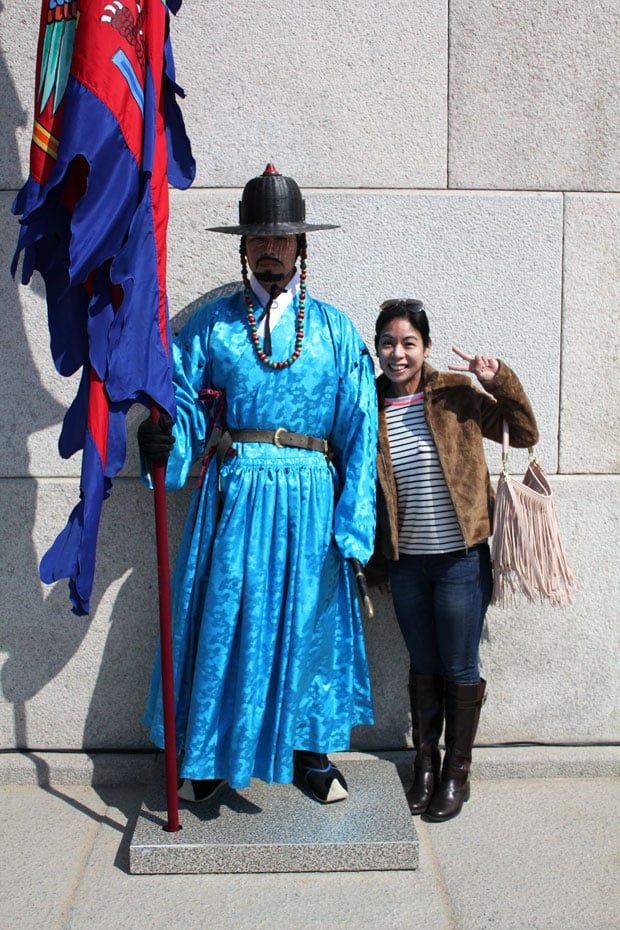 Just kidding. It was time to change the guards at Gwanghwamun Gate.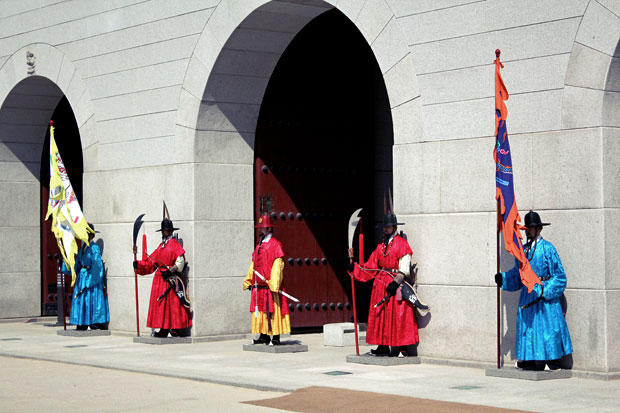 The changing of the guard at Gwanghwamun Gate happens 3 times daily, at 11AM, 2PM, and 4PM. We didn't catch it but the changing of the Royal Guard, inside the actual palace, happens 3 times daily as well, at 10AM, 1PM, and 3PM.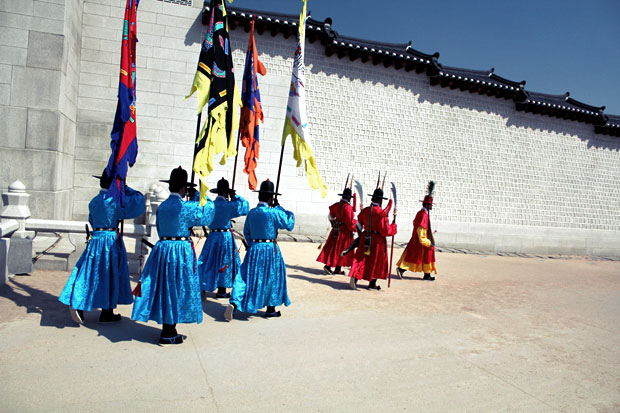 If you can, try sticking around for either one of these guard changing ceremonies. They're pretty cool. This one at the gate lasts for about 10 minutes while the royal guard changing can take up to 20 minutes.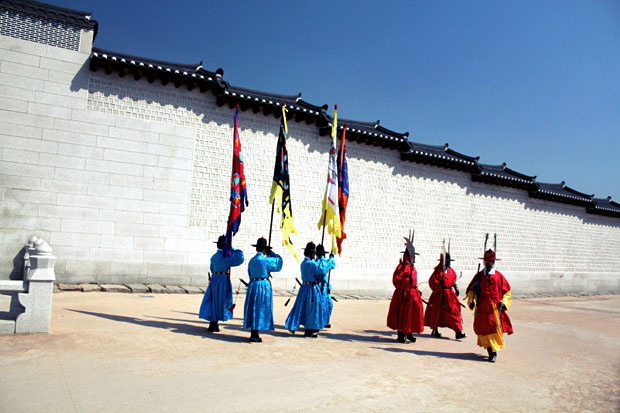 left…left…left right left…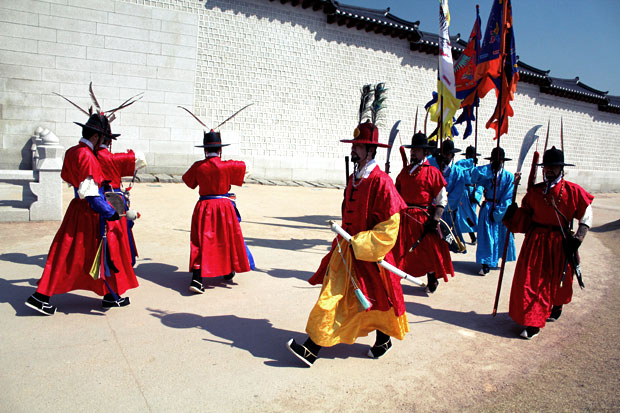 Ba-dum ba-dum ba-dum…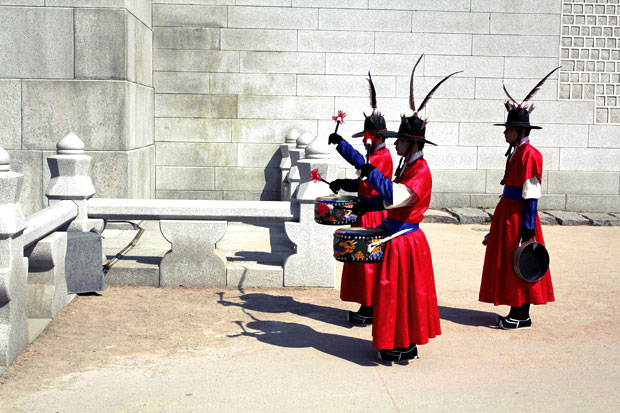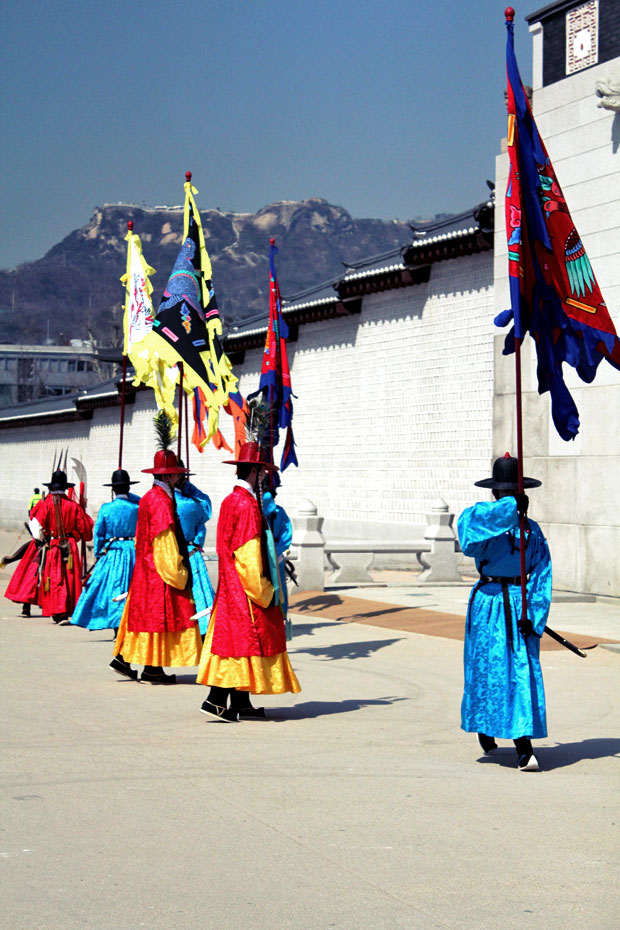 …aaand we're done. Time to go inside.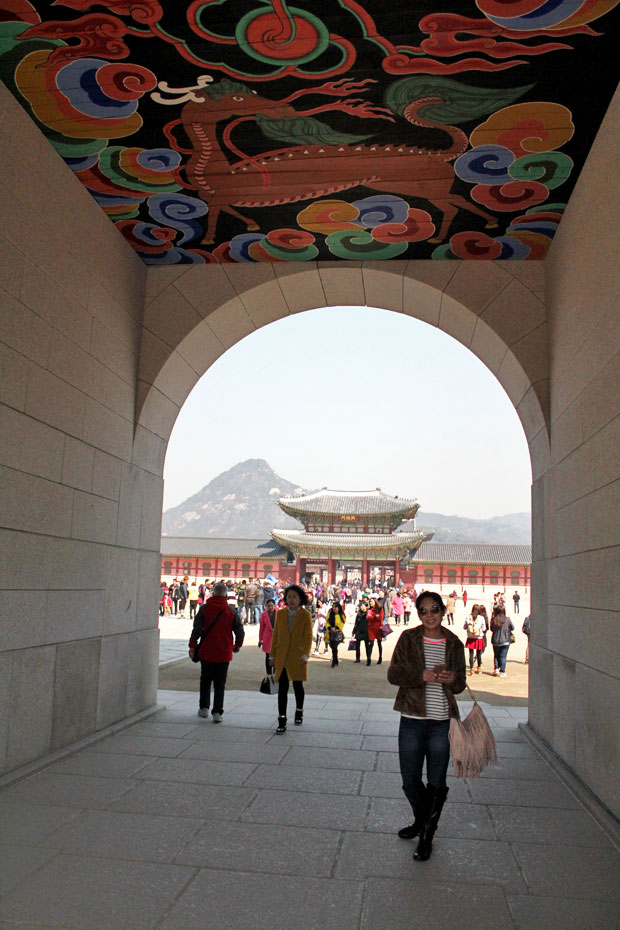 Not sure if it was just the time of day, but there were a lot more people here at Gyeongbokgung than Changdeokgung.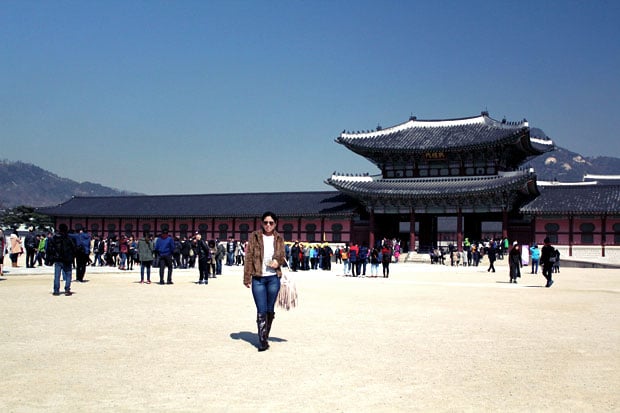 Old and new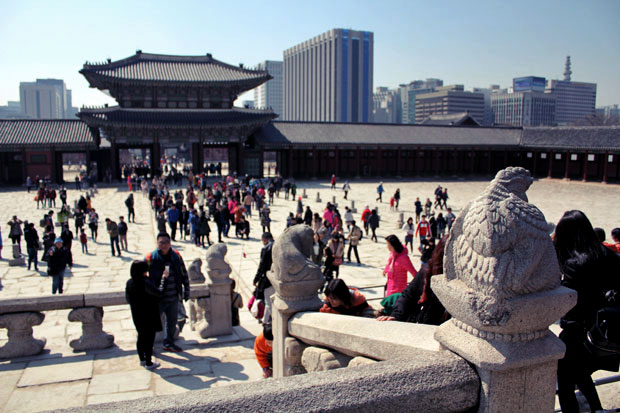 Geunjeongjeon Hall. This is where the Joseon king would give declarations of national importance. It was also where he would grant formal audiences to his officials and foreign envoys. Not sure what that blue thing was though.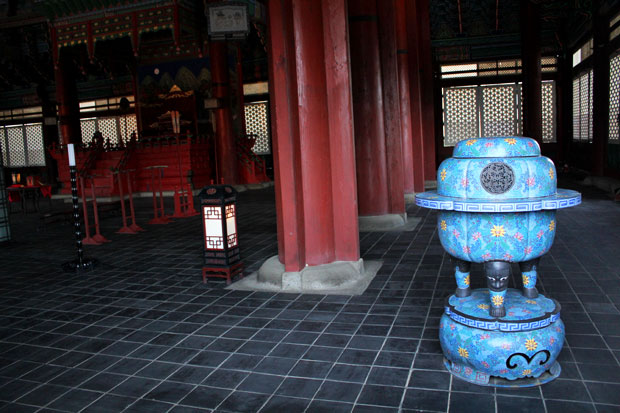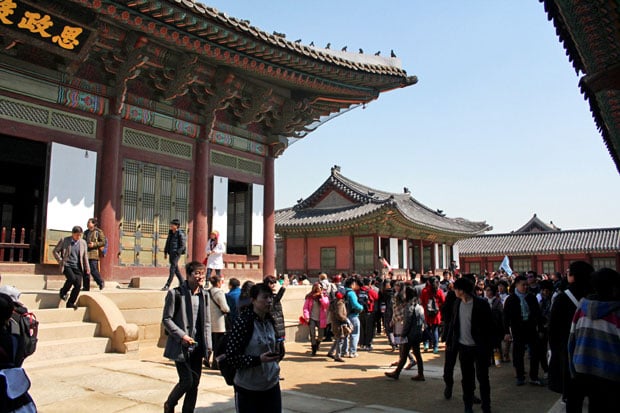 This would have made the best souvenir. See that lady in a hanbok (Korean traditional dress)? She appeared to be a local but tourists can rent hanboks here for souvenir picture taking. Rental is free but you'll have to register and wait in line.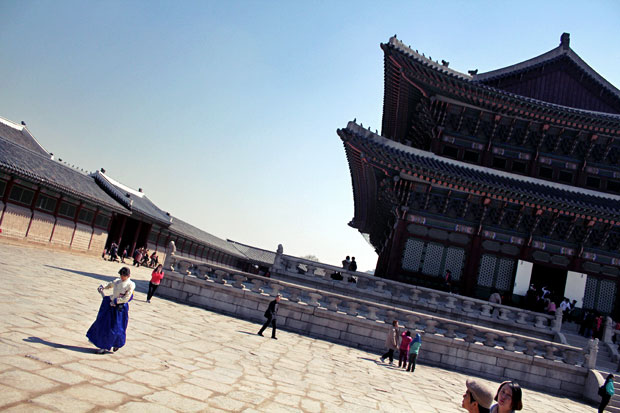 I suggest timing your visit to Gyeongbokgung Palace around lunch or dinner time. The palace is about a 10-minute walk from Tosokchon, which is widely considered to serve the best samgyetang (chicken ginseng soup) in the city.
Gyeongbokgung Palace, Seoul, South Korea
경복궁
161, Sajik-ro, Jongno-gu, Seoul, South Korea
서울특별시 종로구 사직로 161 (세종로)
Tel: +82 2 3700 3900
Fax: +82 2 3700 3909
Hours of Operation: Mon, Wed-Sun, 9AM-6PM (Operating hours vary per season)
Suggested Length of Visit: 1-2 hrs
ADMISSION:
Adult (ages 19-64): KRW 3,000
Children (ages 7-18): KRW 1,500
HOW TO GET THERE:
By subway, get off at Gwanghwamun station (line 5), exit 2. Walk straight for about 5 mins. The palace will be at the end of the road.
For travel tips to Seoul, check out our First-Timer's Travel Guide to Seoul, South Korea