Ren and I have gone on many adventures together, but one thing we've never done is ride a rollercoaster.
We've ridden rollercoasters before on our own but never as a couple. I know it doesn't sound like a big deal, but it's something we've been wanting to do for a long time now. I guess we just want to know who'll scream louder, me or her.
I always say it's her but deep down inside, I have a feeling it'll be me. I've seen enough of those viral theme park videos to know that it's always the guy who passes out from screaming like a little girl.
In any case, that's what we hoped to find out today at Everland. It's Korea's biggest theme park and home to one of the steepest and fastest wooden rollercoasters in the world. Let's do this!
VISIT EVERLAND KOREA QUICK LINKS
To help you plan your trip to Everland Theme Park and Seoul, we've compiled links to recommended hotels, tours, and other travel-related services here.
SEOUL HOTELS
Recommended hotels in Myeongdong, one of the best areas to stay for first-time travelers to Seoul.
EVERLAND TOURS
OTHER SERVICES
SEOUL TRAVEL GUIDE
If you're planning a trip to Seoul, then be sure to check out our detailed Seoul travel guide. It'll tell you everything you need to know – like where to stay, which attractions to visit, what and where to eat, etc. – to help you plan your trip.
Save This on Pinterest!
No time to read this article on Everland Theme Park? Click on the save button and pin it for later!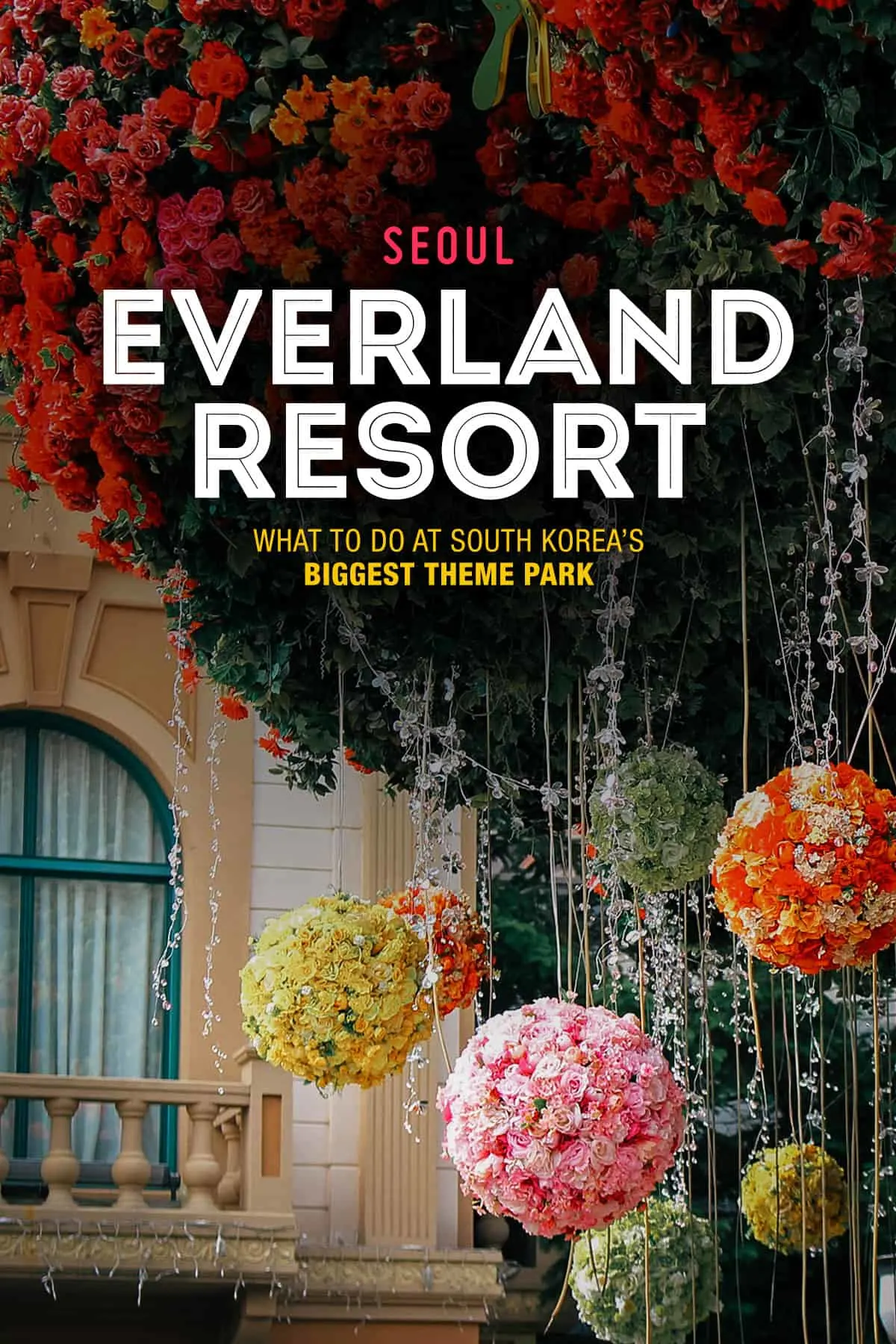 Photo by yoonsukchanag via Pixabay
GUIDE TABLE OF CONTENTS
WHAT IS EVERLAND RESORT?
Everland Resort is a Korean theme park located about 36 km from Seoul in Yongin City. It's South Korea's biggest theme park, receiving around 6 million visitors annually. It's owned and operated by the Samsung Group of companies and is made up of five themed zones – Global Fair, Zootopia, European Adventure, Magic Land, and American Adventure.
Everland Theme Park is home to many rides and wildlife attractions suitable for the entire family. Among the most popular attractions at Everland are T Express, one of the world's fastest wooden rollercoasters, and Panda World, which is home to a pair of giant pandas gifted to South Korea by Chinese president Xi Jinping as a sign of friendship.
A one-day adult pass to Everland normally costs KRW 58,000, but you may get a discount if you purchase it in advance through Klook.
HOW TO GET TO EVERLAND RESORT
There are several ways to get to Everland Resort from Seoul.
BY SUBWAY: Everland Resort is the very last stop on the Everline Line. It tales a little over 2 hours each way to get there. From Seoul Station, go to Suwon Station. Transfer to the Bundang Line and go to Giheung Station. Transfer to the Everline Line and go to Jeondae Everland Station. From Jeondae Station, you can take a free shuttle bus to Everland.
BY BUS: You can take Bus No. 5002 from Exit 5 of Gangnam Station. It takes about 50 mins and costs around KRW 2,600 each way. Alternatively, you can take Bus No. 5700 from Exit 6 of Jamsil Station. The cost is the same but this route takes a little longer, around 60-80 mins each way.
BY SHUTTLE: There's an Everland shuttle bus that takes you from designated pickup points in Seoul to the resort. Depending on where your pickup point is, it can get you there in about 40-50 mins and normally costs KRW 12,000 roundtrip, but you may get a discount if you purchase an Everland shuttle bus ticket through Klook.
BY EVERLAND FULL DAY TRIP: This is what we did. I think this will be the most convenient and economical option for most people. It bundles a one-day pass to Everland with roundtrip shuttle transfers from three central locations in Seoul – Hongdae, Myeongdong, or Dongdaemun. You can book it in advance through Klook.
BY PRIVATE CAR CHARTER: If there are enough people in your group, then you may want to consider booking a private car charter. You can book a private car charter with admission tickets through Klook.
THE FIVE ZONES OF EVERLAND
Like most theme parks, Everland Korea consists of multiple themed zones. Here are the five zones you can visit at Everland Theme Park.
1. GLOBAL FAIR
HIGHLIGHTS: Grand Emporium, Live Hologram Theater, Magic Tree
You'll be entering the park through the Global Fair zone. Unlike the other zones, there are hardly any attractions at Global Fair. Instead, you'll find plenty of shops here along with restaurants and service providers like locker and stroller rental. The biggest store at Everland – Grand Emporium – is here as well. We didn't go but the Live Hologram Theater is a popular attraction here. Fans get to watch holograms of their favorite K-pop stars twerking on stage.
This giant artificial tree is known as the Magic Tree and is a popular spot for pictures. I think they dress it up to match the season.
It's easy to see why this zone is named Global Fair. The buildings are patterned after famous world landmarks like St. Mark's Plaza in Venice…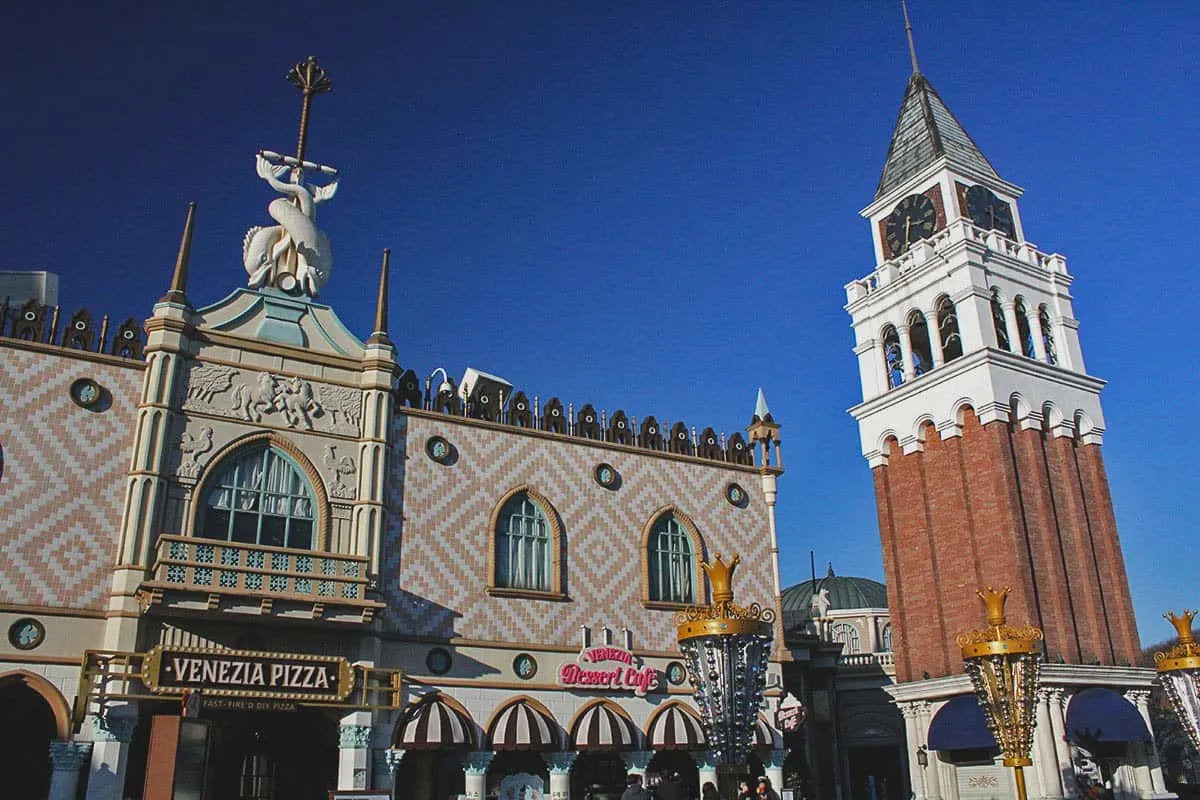 …Saint Basil's Cathedral in Moscow…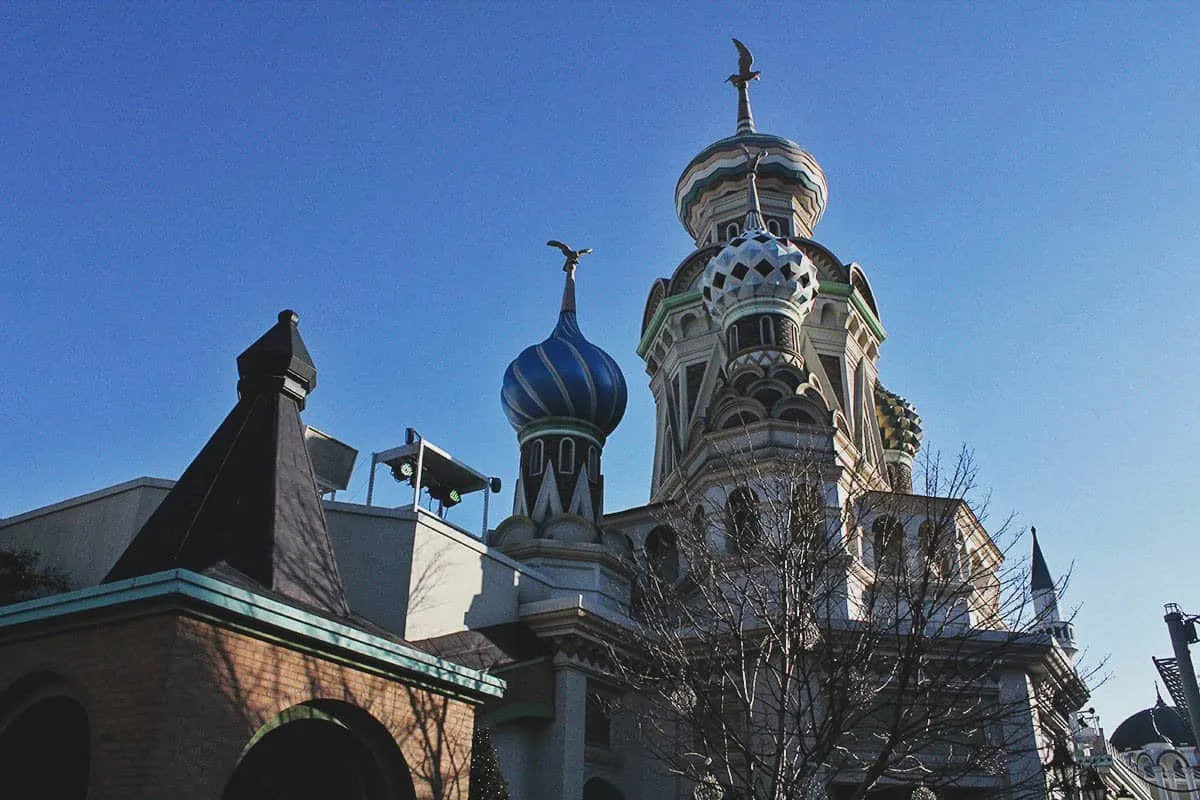 …and the Leaning Tower of Pisa. I'm not sure what that building on the right is but I'm sure it's famous too.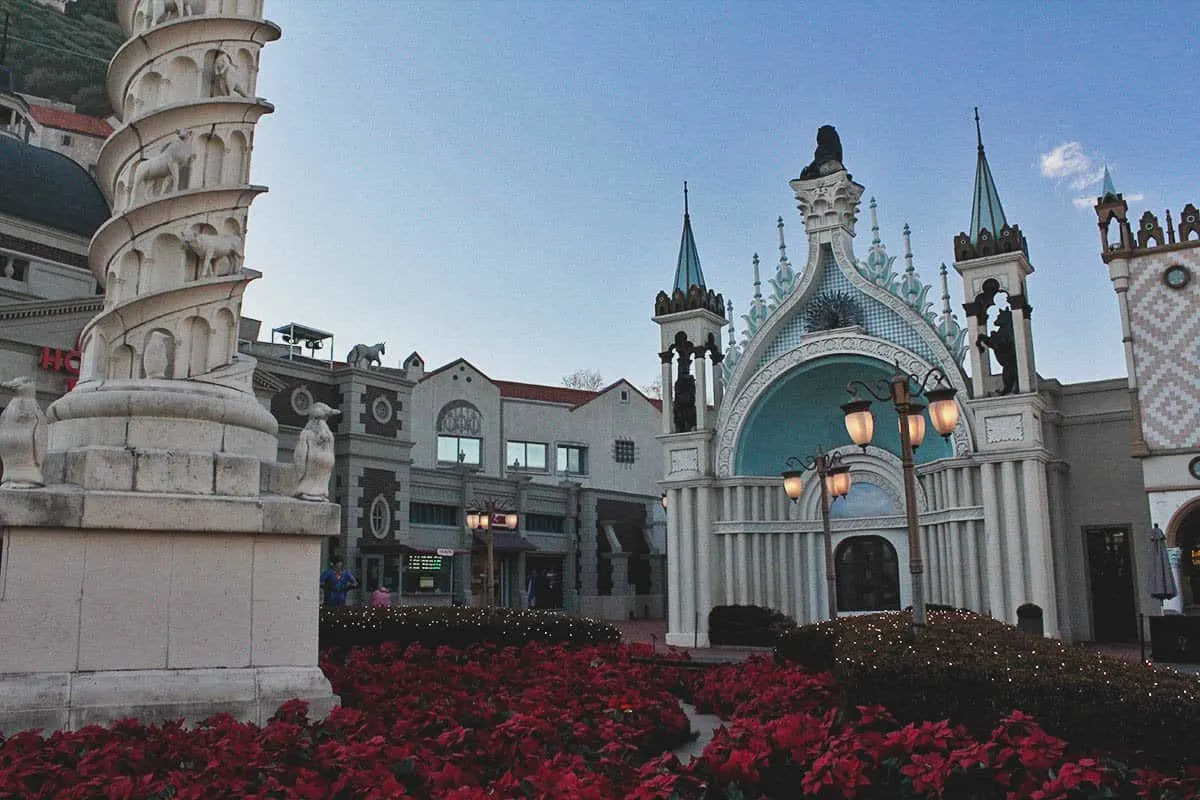 2. ZOOTOPIA
HIGHLIGHTS: Panda World, Lost Valley, Safari World, Amazon Express
As its name suggests, Zootopia is an animal-themed zone. Its most popular wildlife attractions include the aforementioned Panda World, as well as ride-based animal exhibits like Safari World and Lost Valley.
It's also home to a raft ride called Amazon Express and a petting zoo with farm animals like sheep and goats. Kids can get pony and camel rides here as well.
Panda World
Neither Ren nor I had ever seen pandas before so this was the first attraction we visited. Inside the room before the actual panda enclosure are a bunch of interactive exhibits for kids, including these cute panda statues. Aren't they adorable?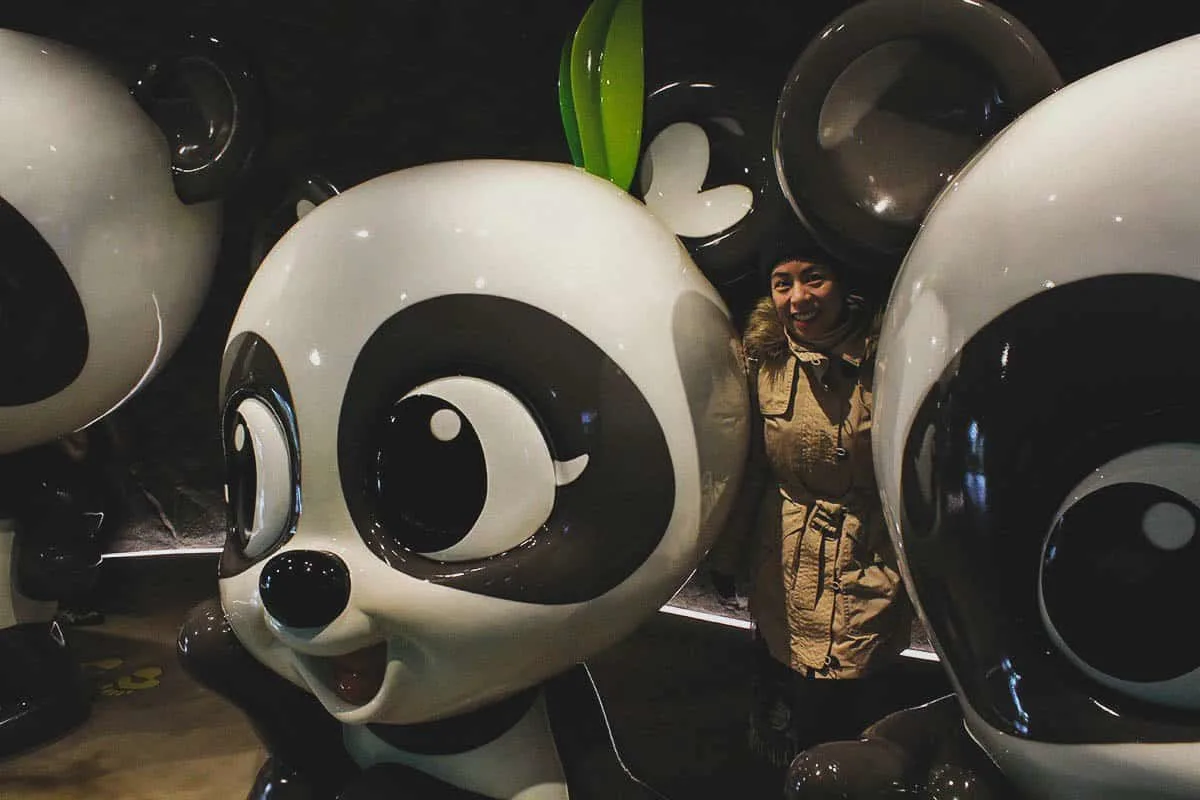 The star of the exhibit, Ailuropoda melanoleuca or dà xióng māo in Chinese, which literally means "big bear cat". Isn't he cute? Pandas are endemic to China and were once considered an endangered species due to deforestation.
Recent reports however, show that wild panda numbers are rising, from an estimated 1,590 in 2014 to 1,864 in 2015, prompting an upgrade of their status from "endangered" to "vulnerable". Woohoo! Unfair as it is, it pays to be cute and charismatic in the animal kingdom.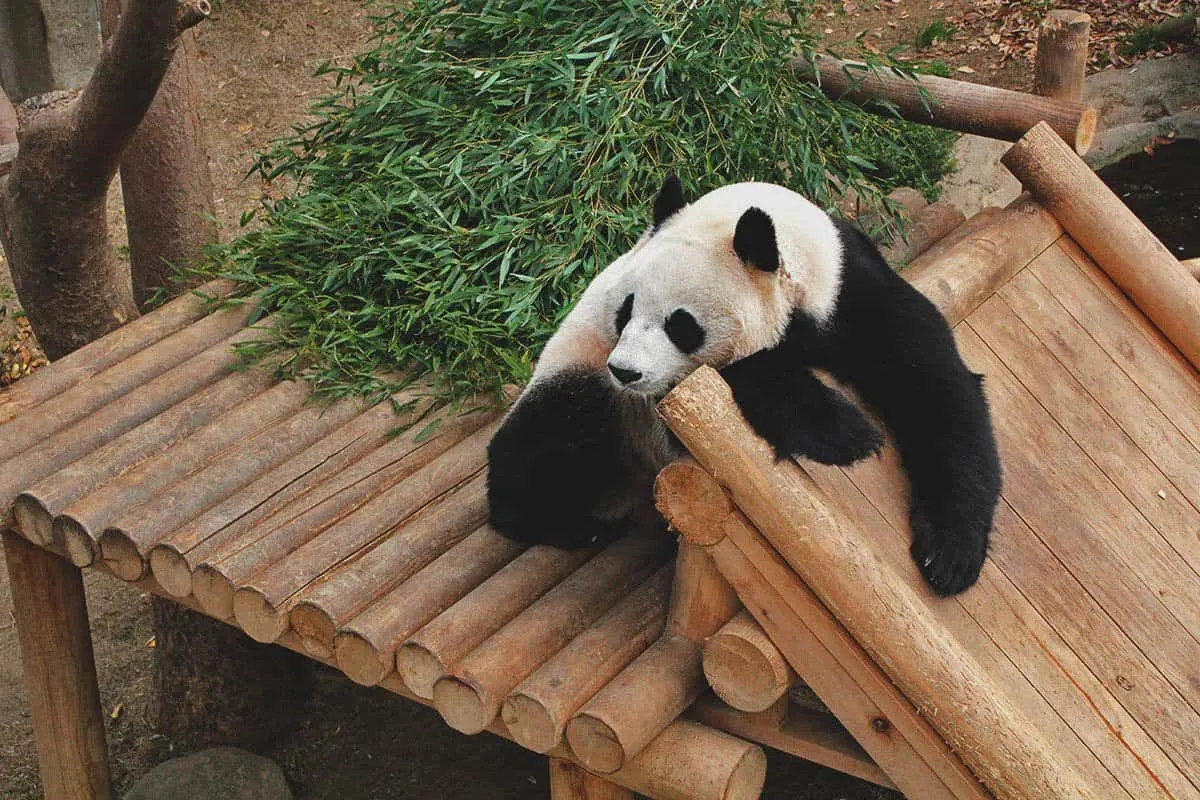 The pandas at Everland are two of only a handful living in captivity outside China. Pandas are highly specialized eaters whose diet consists almost exclusively of bamboo.
The problem is, they derive little energy from it so an average adult panda needs to eat as much as 9-14 kg (20-30 lbs) of bamboo shoots a day to sustain itself. I shot footage of these guys eating which I'll include in a video I'll be making about Seoul soon.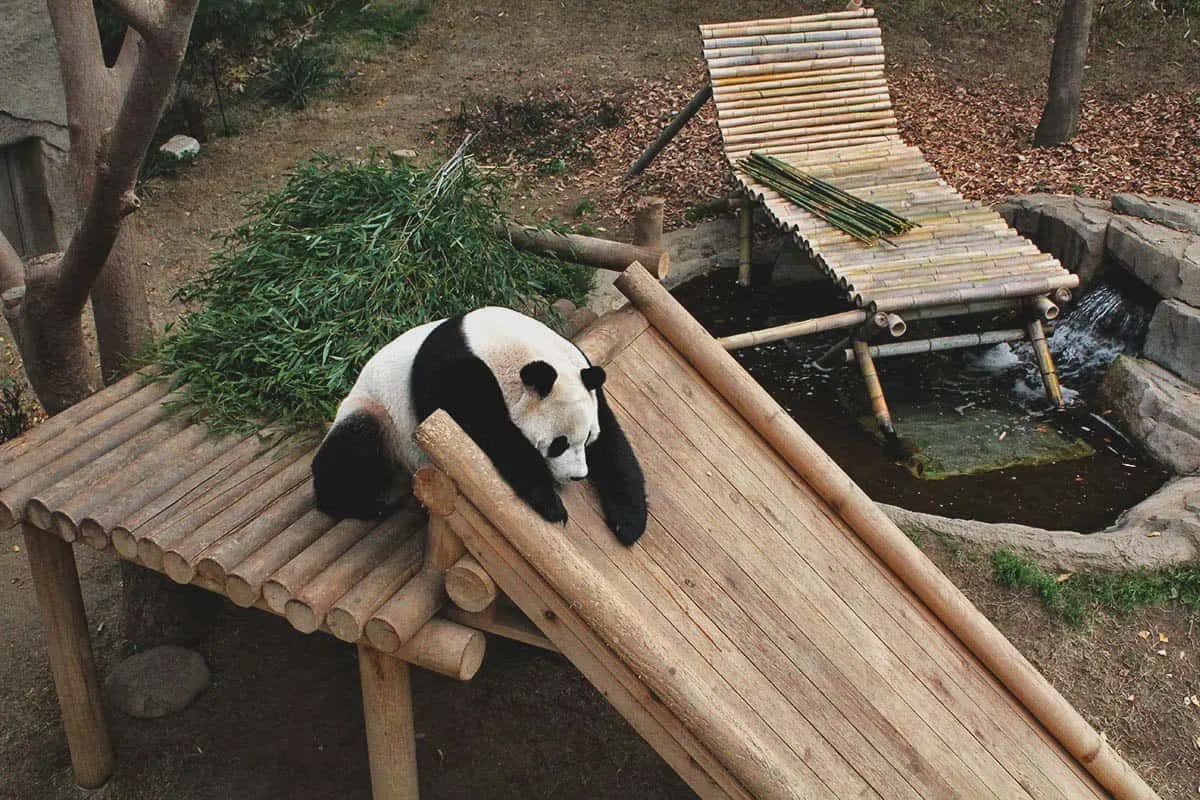 Friendly Monkey Valley
Near the panda enclosures are a few exhibits with marmosets and these golden monkeys.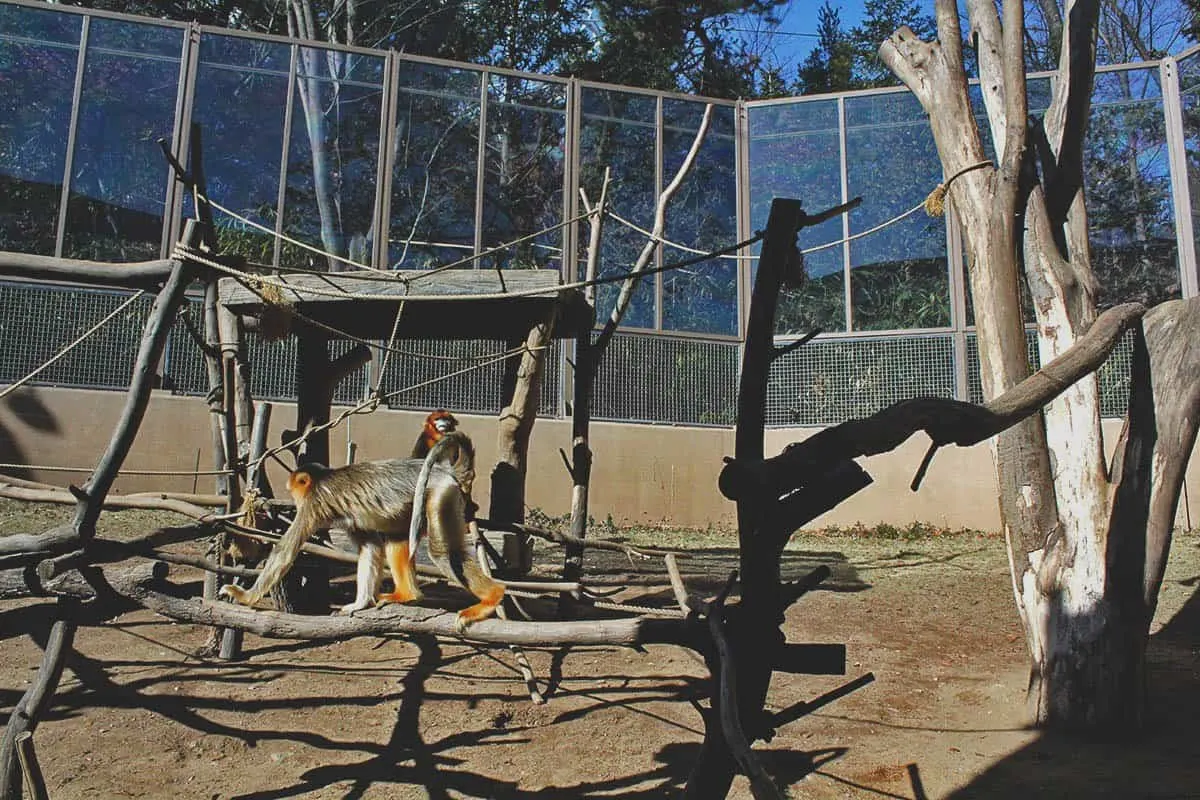 Check out the little baby!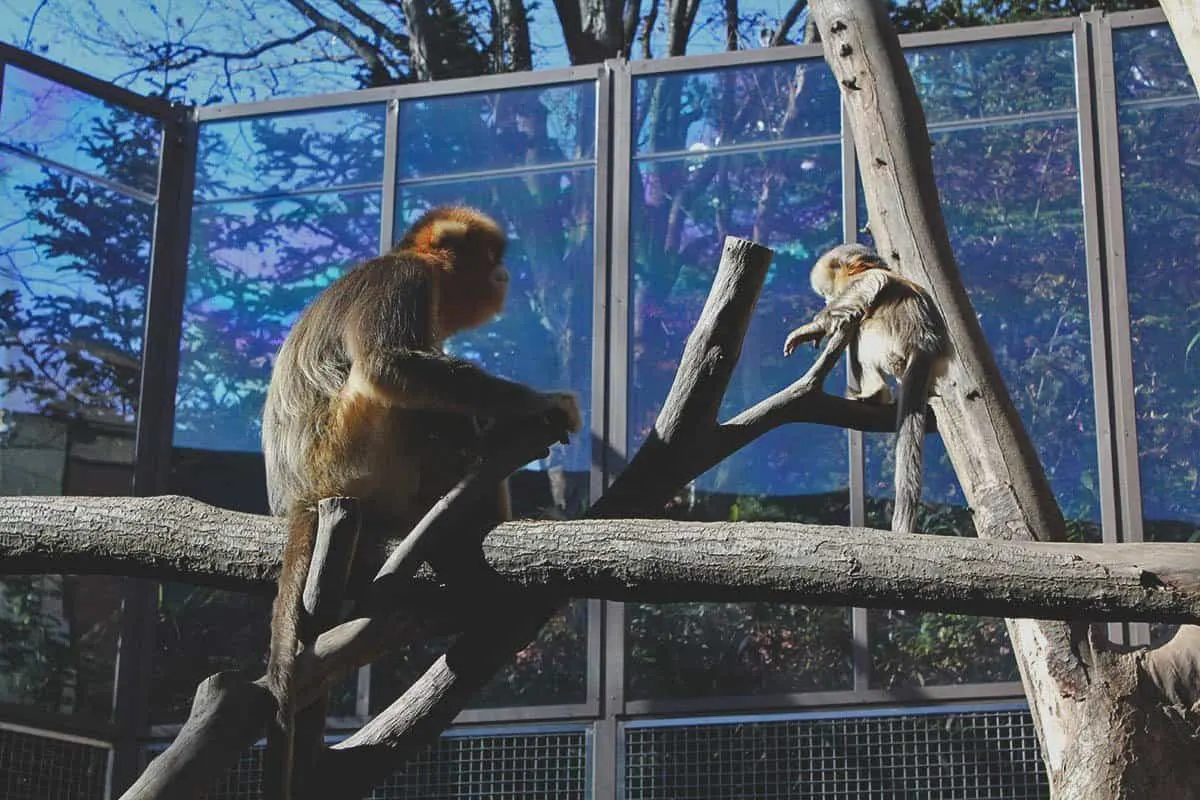 Lost Valley
After Panda World, we went to Lost Valley which is a tram ride through a series of landscaped enclosures. They're home to many large animals like elephants, giraffes, camels, and rhinos. I didn't take pictures because I was shooting video the whole time. I'll include snippets of it in the video I'll be making.
At one point, the trail becomes a small manmade river. Your tram will enter the water and be carried downstream by an artificial current to the other side. I thought that was pretty cool. Close to the end of the ride, your tram will stop so the Korean guide onboard can handfeed a family of waiting giraffes. The giraffes we encountered that morning wanted none of it.
I didn't really like this ride to be honest. I thought the enclosures weren't big enough to house the number of animals they had. I can imagine the animals getting stressed by the number of trams and noisy tourists going through these trails everyday, especially during peak seasons like summer.
For some reason, I expected it to be similar to Singapore Zoo but it's exactly what it's supposed to be – a theme park ride with animals. Duh. We were planning on checking out Safari World too but we decided to skip it after this.
It's important to note that many attractions throughout the park are closed in winter. At Zootopia, Amazon Express, Parrot Garden, and Bird Paradise were all closed. The good news is that whatever attractions are open have virtually no lines whatsoever. We breezed through everything like we were the only guests at the park. Awesome!
3. EUROPEAN ADVENTURE
HIGHLIGHTS: T Express, Carnival Square, Rotating House
This next zone is called European Adventure because many of the buildings were designed to look European. Some of the restaurants serve European food as well. This zone is home to T Express which is South Korea's highest, fastest, and steepest roller coaster. Without question, it's Everland's most popular attraction so be prepared for a long wait.
T Express
Opened in 2008, T Express is a wooden roller coaster with an incline of 77° and a top speed of 104 km/h (64.6 mph). As described at the top of this post, Ren and I have been wanting to ride a rollercoaster together so this ride was the number one reason why we were here today. Unfortunately, it wasn't open due to inclement weather. Waaaaahh!
We kept coming back to check on it but it never opened, so I guess Ren and I will be crossing that off our bucket list somewhere else. In hindsight, it was probably a good thing it wasn't operational. It was butt ass freezing today so I can only imagine how cold it would have been going 104 km/h in an open carriage!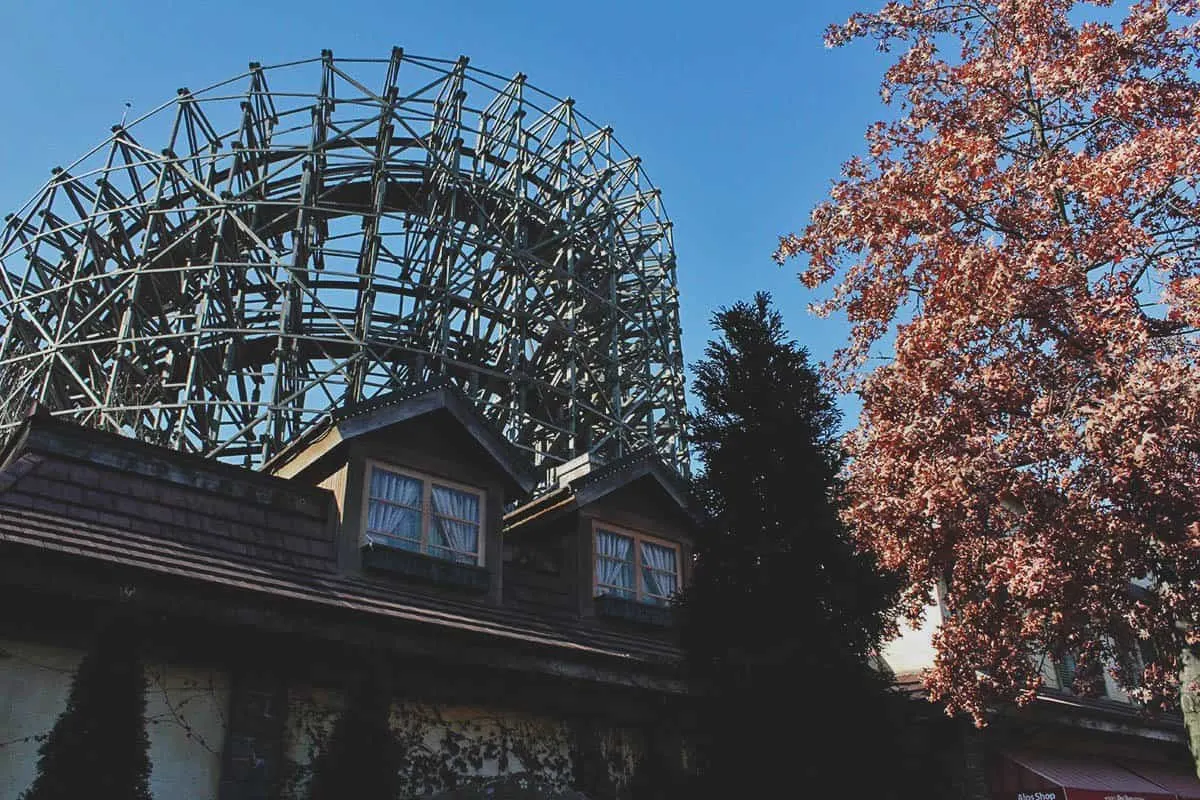 There's T Express in all its wooden glory. It would have been cool but it wasn't meant to be, at least not today.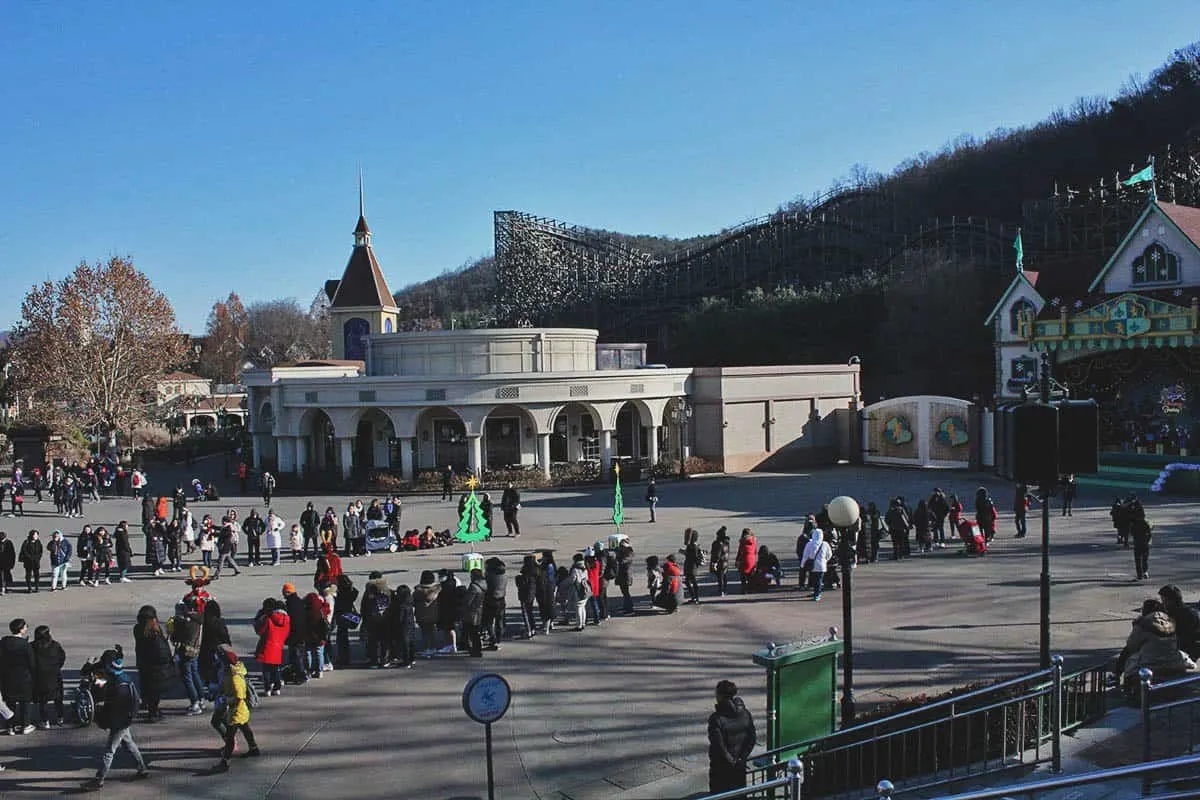 VR Adventure
While waiting for T Express to open, we went on VR Adventure which is one of a few VR attractions at Everland. I was expecting an actual ride where we'd be wearing a VR headset like the Evangelion XR Ride at Universal Studios Japan, but it wasn't.
Instead, you're strapped to a chair that looks like a La-Z-Boy. It rocks forward and back but that's about it. I got dizzy from the VR headset so I closed my eyes after the first couple of minutes. Total waste of time.
I think Everland has better VR rides than this one, like Gyro VR at the American Adventure Zone. That looks to be an actual VR simulator and not just a glorified massage chair.
Mystery Mansion
This was supposedly another popular ride at Everland but like VR Adventure, it wasn't at all what we expected. Up to four people can sit in a round carriage with each person facing outwards and equipped with a Laser-Tag-type gun.
The ride takes you through this haunted-house-like environment where you have targets like ghosts, skeletons, ghouls, and creepy cobwebby furniture to shoot at. Anything that can be shot has a small green light over it.
The moment someone shoots it, the green light turns red and a point is scored for that person. Whoever has the most points, as displayed on a screen at the end of the ride, wins.
It sounds more fun than it actually is. Pretty much everything you pass is a target and none of them move, so you just wind up shooting at anything and everything you pass. On top of that, the carriage doesn't spin so whoever's sitting at the front has a huge advantage over the others. Boo! We got bored after the first minute.
Snack Buster
My favorite part about today's trip to Everland? The delicious Korean food. We had lunch at Snack Buster, one of the many many eateries at the park, where I had this tasty bowl of fish cakes…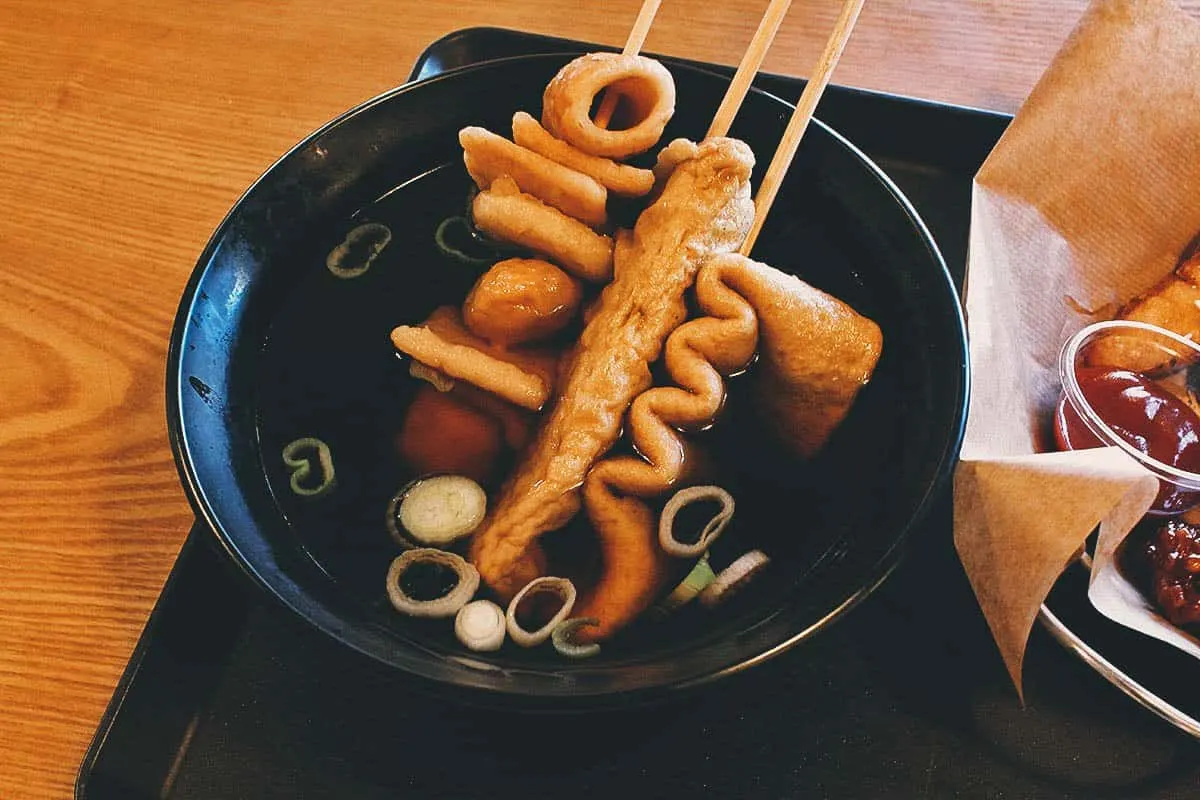 …while Ren got the Korean fried chicken with French fries and tteokbokki. Yummers. They weren't as expensive as I thought they would be either.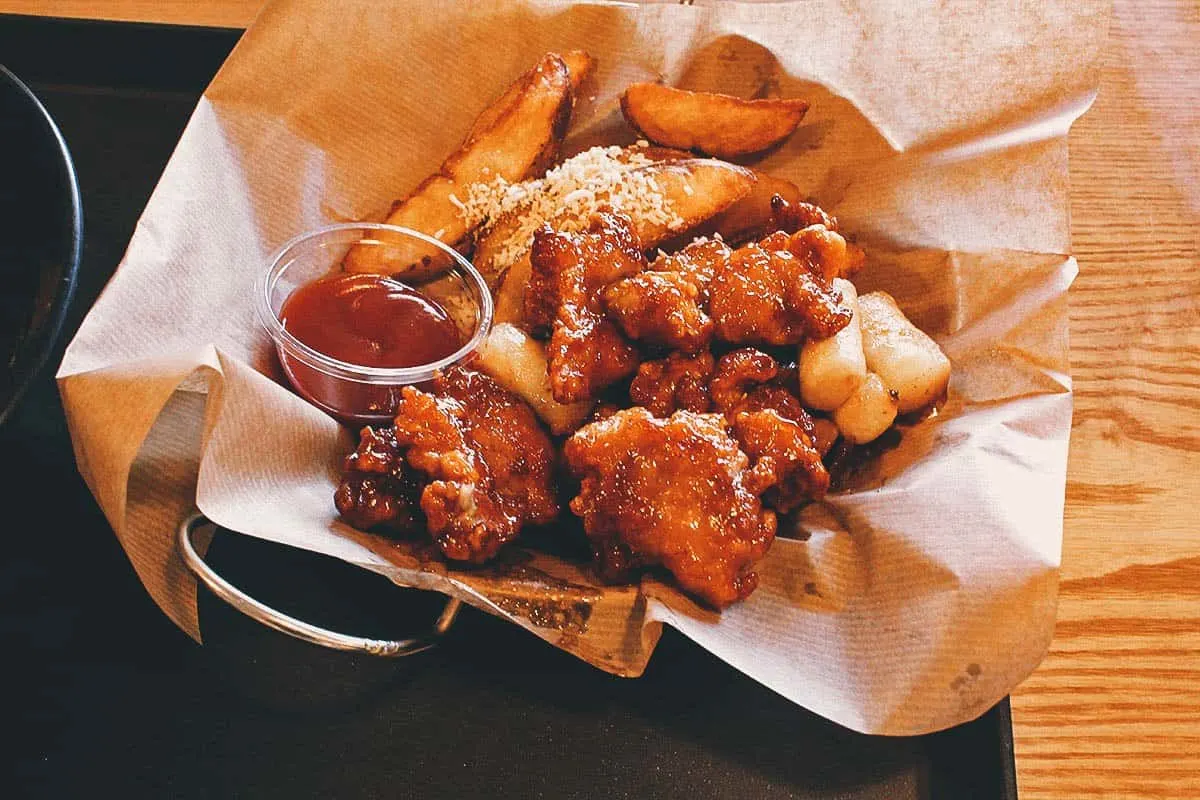 Christmas Parade at Carnival Square
Depending on what time of the year you'll be visiting Everland Theme Park, you'll find different themed festivals like the Halloween Festival, Tulip Festival, Rose Festival, Summer Splash, and more.
But regardless of the season, I believe there are two parades (2:30PM & 8:30PM) and a fireworks display (9:30PM) everyday at Everland. We were lucky to catch this Christmas parade while enjoying a cup of hot chocolate at a restaurant near Carnival Square.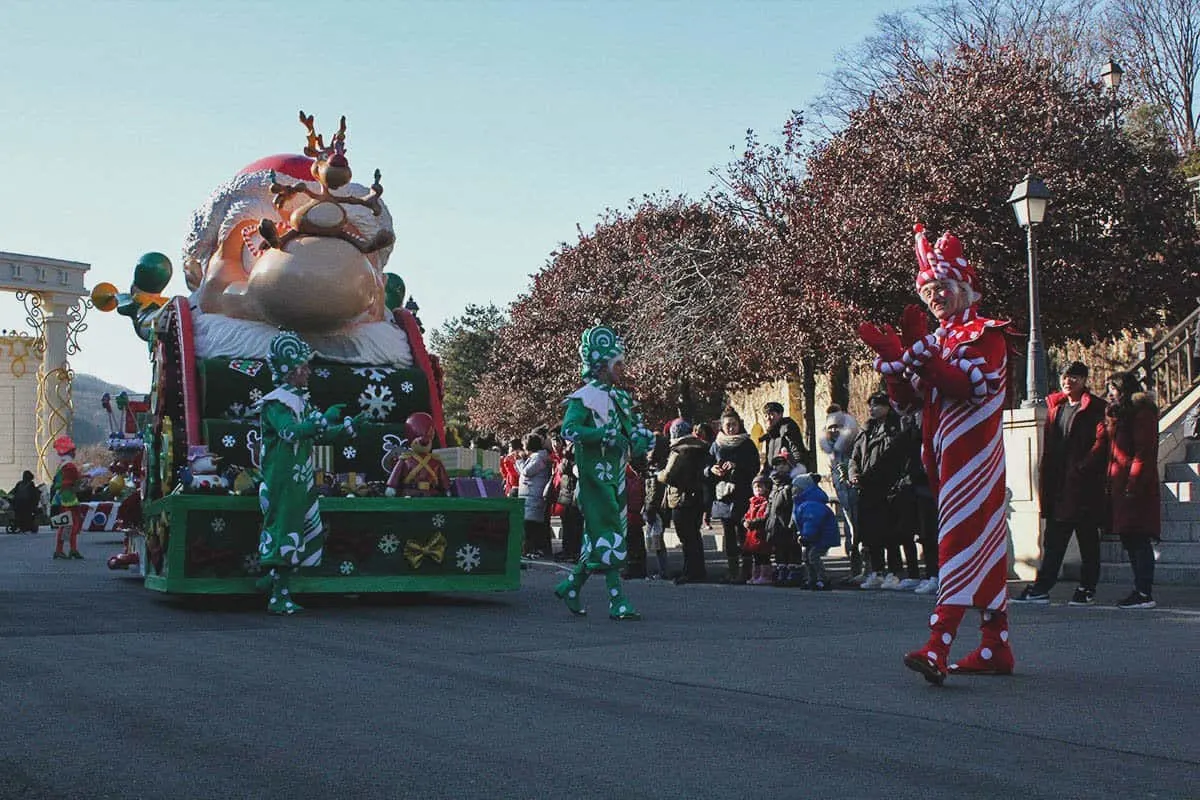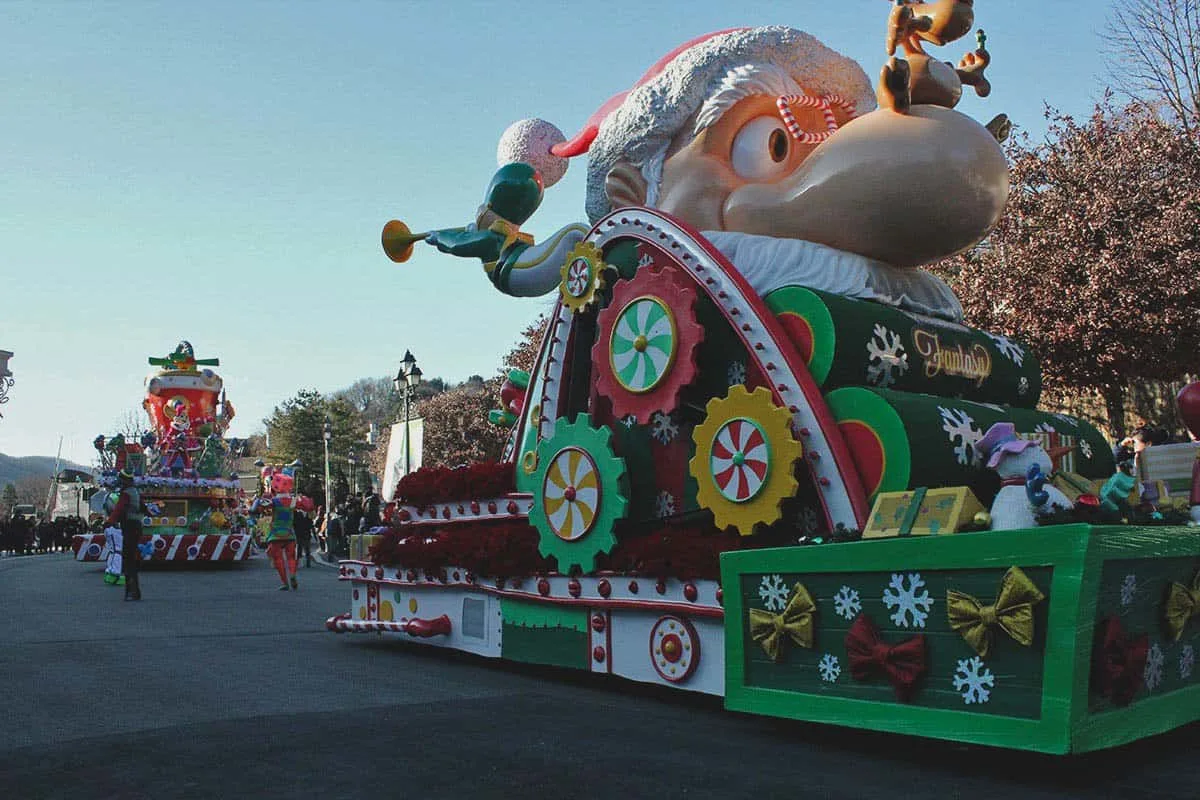 The parade was more fun than I thought it would be. It lasted a good thirty minutes or so.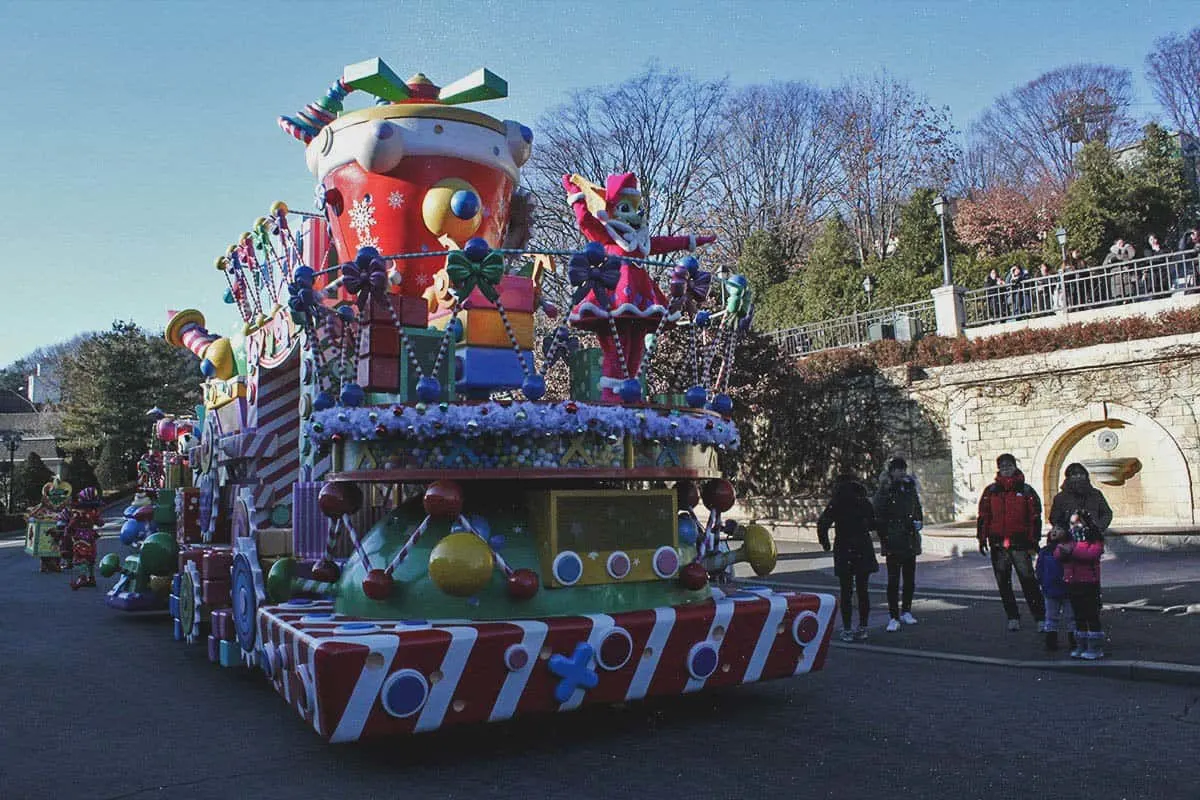 4. MAGIC LAND
HIGHLIGHTS: Aesop's House and Fable Garden, Thunder Falls
We walked through Magic Land but we didn't go on any of the rides in this zone. Looking at the guide map, this zone appears to be geared towards younger children. They have more kid-friendly rides like flying elephants and robot cars.
Many of the attractions appear to be inspired by popular children's stories like Peter Pan and the Magic Cookie House. There's a show called Aesop's House and Fable Garden as well which features characters from Aesop's Fables. If you have young kids in tow, then this zone is probably where you want to go.
It was closed for winter but they have a newly opened water ride here called Thunder Falls. It looks similar to those log rides you see in American theme parks.
5. AMERICAN ADVENTURE
HIGHLIGHTS: Rolling X-Train, Columbus Adventure, Hurricane, Let's Twist, Double Rock Spin, Robot VR, Gyro VR
Like the European Adventure zone, the American Adventure zone features more thrilling rides. It's home to the Rolling X-Train rollercoaster which features two 360° rotations as well as corkscrew and boomerang courses. As if the universe was determined NOT to let us cross the rollercoaster off our bucket list, this one was closed today too, for maintenance reasons.
American Adventure zone has plenty of other thrilling rides designed to make you vomit like Columbus Adventure, Hurricane, and Let's Twist. Sounds like fun but no thanks, no thanks, and no thanks. I like my lunch where it is, in my stomach. If you like being in a blender, then this zone is definitely for you.
TIPS BEFORE VISITING EVERLAND RESORT
With basically just half a trip under my belt, I'm hardly an expert on Everland but these are just some of the things I learned from our trip.
1. Buy Your Tickets in Advance
Avoid the queue and buy your tickets in advance. A one-day adult pass to Everland costs KRW 58,000 but you may get a discount if you purchase it in advance through Klook. I suggest getting admission with transfer between Everland and Seoul. It's the most convenient option since you don't have to worry about transportation.
2. Plan Your Route and Do the Most Popular Rides First
Everland is huge so it's important to plan your day's route, especially during peak season. Start with the most popular rides. Arrive as early as you can and make a beeline for that attraction. Get it out of the way while there's still relatively few people at the park.
3. Know Your Zone
If you're an adrenaline junkie, then you'll want to spend most of your time in the European Adventure and American Adventure zones. These are home to the most thrilling attractions like the big rollercoasters and VR rides. If you're visiting as a family with young kids, then Magic Land and ZooTopia are for you. If you're just here to buy souvenirs, then there's no need to venture farther than Global Fair.
4. Any Weekday in Winter is Good
If you hate long lines and don't mind the cold, then any weekday in winter may be a good time to visit Everland (except Christmas and New Year). We went in early December and the place was practically empty. It was butt cold but there were no lines at all, not even at the most popular attractions like Lost Valley and Panda World.
The drawback is that several rides are closed and some like T Express may be too cold to ride. Be sure to check the guide map to see which attractions are closed in winter.
5. Early Spring or Fall is Better
I've read that early spring or fall are the best times to go to Everland. It won't be as empty as in winter, but lines are relatively short and the weather is more pleasant.
6. Not All Rides are Free
Your day pass will entitle you to most rides at the park, but some require additional payment like Animal Riding, Gyro VR, and Robot VR.
7. Ride the Chair Lifts
Many people on TripAdvisor complained about Everland being very hilly. It's true. We walked uphill from European Adventure to the entrance and I was sucking wind mightily by the time we got to the Magic Tree. If you have mobility issues, then it's best you ride the ski lift back up.
IS EVERLAND THEME PARK WORTH IT?
In a word, yes. If you like theme parks, then you definitely should go, especially if you're traveling with children. There's a lot to see and do here so it makes for a fun day trip from Seoul.
With that said, I was a little disappointed with the park. I was expecting to find an amusement park as polished as a Disneyland or Universal Studios, but it isn't. Far from it to be honest. Before our trip, I had read several people on TripAdvisor give it lukewarm ratings because they said it was a far cry from Disneyland. I thought they were just bragging then, but I understand now what they meant.
If you go to Everland expecting to find a Disneyland, then you'll be disappointed. It feels closer in quality to a regional amusement park than an international brand like Disneyland or Universal Studios. The attractions aren't as high-tech and the place just doesn't feel as polished.
But if you go with tempered expectations, then you'll have a wonderful time. If you're Filipino, think of it as a much bigger and better Enchanted Kingdom. It feels closer to that than to Disneyland. Comparing it to Disneyland or Universal Studios isn't fair.
As previously described, I didn't like Lost Valley and many of the animal enclosures at ZooTopia. I felt they weren't big enough and put undue stress on the animals. I felt sorry for the seals in that tiny ass bathtub of a pool. From the ones we saw, I think only the pandas had an enclosure that was sufficient in size.
I've adopted an almost militant view of animal welfare in recent years so my standards have gotten pretty high. If you're the type who doesn't feel that animals should be placed in captivity for our entertainment, then you should probably skip ZooTopia. This is a theme park after all, not an animal conservation center.
EVERLAND KOREA VS LOTTE WORLD: WHICH THEME PARK SHOULD I VISIT?
This is the million dollar question for people who want to include a theme park in their Seoul itinerary. It was something I was wondering myself. Should we visit Everland or Lotte World? Which one is better? It's a fair question since most people probably won't want to visit more than one theme park on the same trip.
My answer to that is, I have no frikking idea. We haven't been to Lotte World yet so I can't tell you from personal experience which theme park is better. But we chose Everland mainly because of T Express. We wanted a badass rollercoaster we could ride together and T Express was the baddest of them all.
Based on what I've read, the biggest advantage Lotte World has over Everland is its proximity. Unlike Everland that's about an hour away, Lotte World is in Seoul. Just take the subway to Jamsil Station, Exit 4, and you're there.
The thing is, that convenience may be a double-edged sword. The easier it is to access, then the more people you're likely to find there. A big portion of Lotte World is indoors as well, so it isn't as affected by weather extremes the way Everland is. It's for these reasons why I think Lotte World receives more visitors than Everland (almost 1 million more in 2016).
As far as ticket prices go, they're pretty even but you can get bigger discounts to Lotte World if you purchase them through Klook. A one-day pass to Lotte World normally costs KRW 59,000 but you may get a discount if you buy it through Klook.
At the end of the day, it's up to you. The experience is subjective so I don't think you can really say that one is better than the other. It all depends on what you're looking for. To help you decide, you can check out this Everland and Lotte World comparison post from Klook. It breaks it down in easy-to-understand variables like location, cost, and ride waiting times.
Everland Resort
199 Everland-ro, Pogog-eup, Cheoin-gu, Yongin-si, Gyeonggi-do, South Korea
Website: everland.com
Operating Hours: CLICK HERE for park operating hours
ADMISSION
One-Day Ticket – KRW 58,000-64,000 (adults) / KRW 46,000-51,000 (children)
Disclosure
Klook sponsored our trip to Everland in exchange for an honest account of the experience. They didn't ask us to do this. I went through their site and chose this one on my own volition. As always, all words and opinions expressed in this post are mine and mine alone.
Some of the links in this article on Everland Korea are affiliate links, meaning we'll get a small commission if you make a purchase at NO extra cost to you. We really appreciate your support as it helps us keep this website going. Thank you!