UPDATE: (12 January 2019) The JSA tour doesn't seem to be available anymore, perhaps due to the cooling relations between north and south, but you can still book the DMZ tour through Klook.
For months before our trip to Seoul, I often saw news on my Facebook feed about North Korea and its nuclear testing. There were barbs back and forth between Kim Jong-un and Donald Trump and it seemed at times that the two nations were at the brink of war.
Some people we know were too scared to visit Seoul at this time, let alone the DMZ and JSA. Was I an idiot for wanting to go on this tour during this period of tenuous relations? For weeks leading up to our trip, I would go on TripAdvisor and Klook and read recent reviews about this tour. My checks became more frequent in the days before our trip, but I never saw anything that convinced me I would be in any real danger. I understood we'd be entering a sensitive area, but under the watchful eye of our tour guides, surely nothing can happen to us? After all, they wouldn't conduct these tours if they posed any real threat, would they?
Sitting on that bus full of tourists, on our way to the DMZ, the Korean soldier who would be our guide announced that only three of us had signed up to continue on to the JSA, an area often called "the most dangerous place in Korea". Surely, nothing can happen to us, right? Right?
Save This on Pinterest!
No time to read this now? Click on the red save button and pin it for later!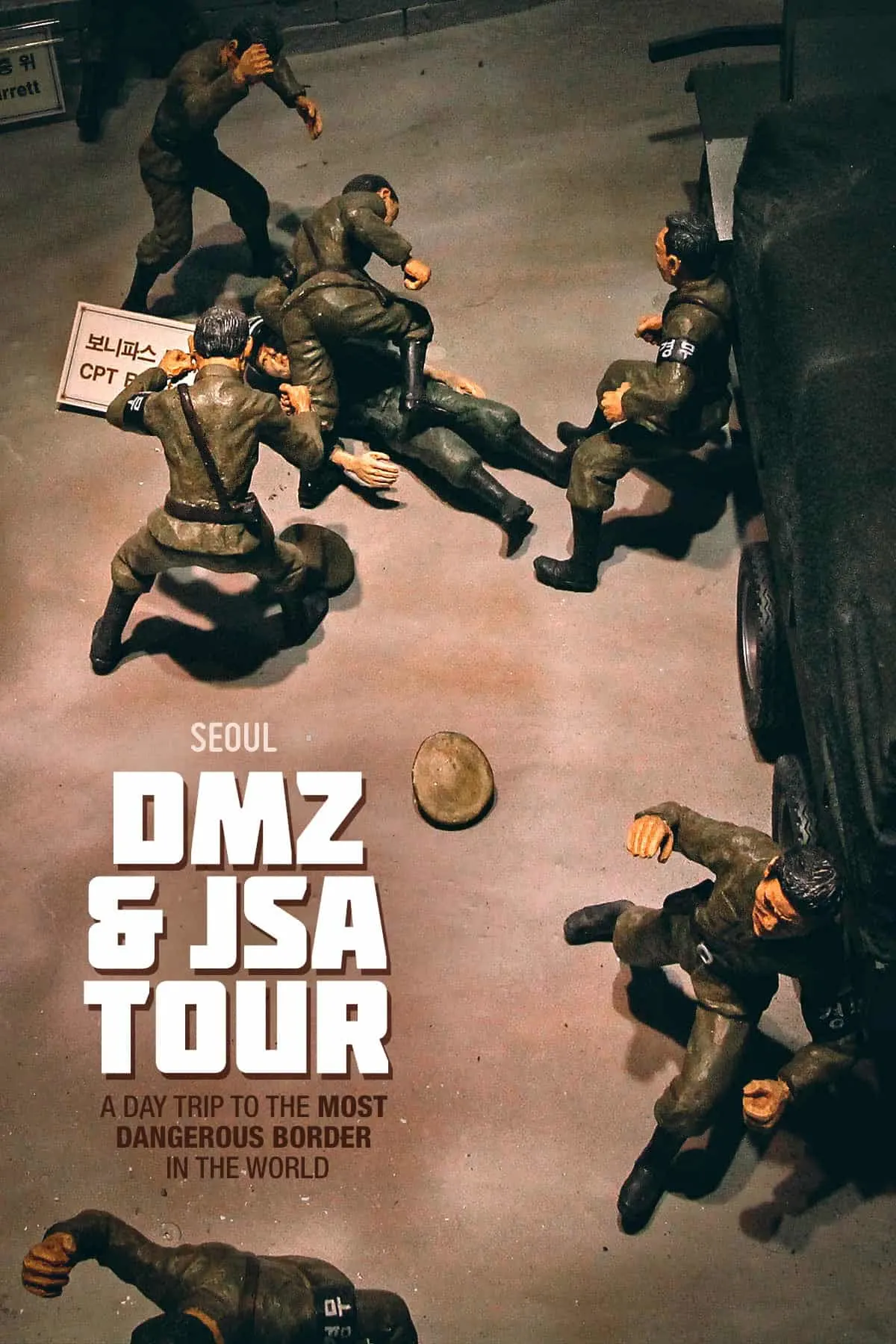 A Brief History of the Korean War
I'm not an expert on the Korean War. I'm hardly qualified to even talk about it, but I feel it's important to get a brief background on its history to better understand why there's a DMZ separating North and South Korea. This is what I know based on what I've read online.
Korea was under Japan's colonial rule from 1910 until 1945 when the Japanese Empire surrendered to the Allies at the end of World War II. Left without any leadership, Korea was in a state of turmoil. The country was divided along the 38th Parallel into two, the north being occupied by the Soviet Union and the south by the United States. The Soviet Union and the United States couldn't come to an agreement on a unified Korea, so two separate governments were established in 1948 – the Republic of Korea in the south, and the Democratic People's Republic of Korea in the north. Both claimed to be the legitimate government for the whole of Korea.
Kim Il-Sung rose to power as the Soviet-designated premier of North Korea. Calling himself the "Great Leader", he invaded the South in 1950 in his bid to become the leader of a unified Korea. This invasion was backed by the Soviet Union and China in the form of weapons, military guidance, and support. Stalin didn't believe the US would intervene, but they did. The war would last for three years, until 1953, and resulted in the death of nearly 5 million people, most of which were civilians.
Interestingly, the Korean War ended without the signing of a peace treaty. Because there was no treaty, the Korean War is technically not over. The Korean Armistice Agreement was signed in 1953 that outlined the creation of a demilitarized zone (DMZ) and called for the withdrawal of foreign forces from Korea. However, a peaceful settlement has not been made between the two Koreas, and American troops still reside in South Korea to this day.
What is the DMZ and the JSA?
The DMZ or demilitarized zone is a strip of land that runs along the border or MDL (Military Demarcation Line). Each side was asked to move their troops back 2 km from the 38th Parallel, thereby creating a 4 km wide buffer zone. This 4 km wide and 250 km long buffer zone is the DMZ.
Inside the DMZ, near the western coast of the peninsula, is the former village of Panmunjom which is now home to a small area known as the JSA or Joint Security Area. The JSA is the only portion of the DMZ where North and South Korean soldiers stand face-to-face. It's comprised of several buildings on the North and South side of the MDL, along with a row of five houses that were built directly on top of it. After the Armistice Agreement was signed in 1953, both sides agreed to continue negotiations in an effort to create a formal peace agreement that would officially end the war. When relations are warm and both sides aren't engaged in a cold war, in these blue conference rooms are where those negotiations take place.
Here's a map of the JSA by Rishabh Tatiraju, CC BY-SA 3.0, via Wikimedia Commons.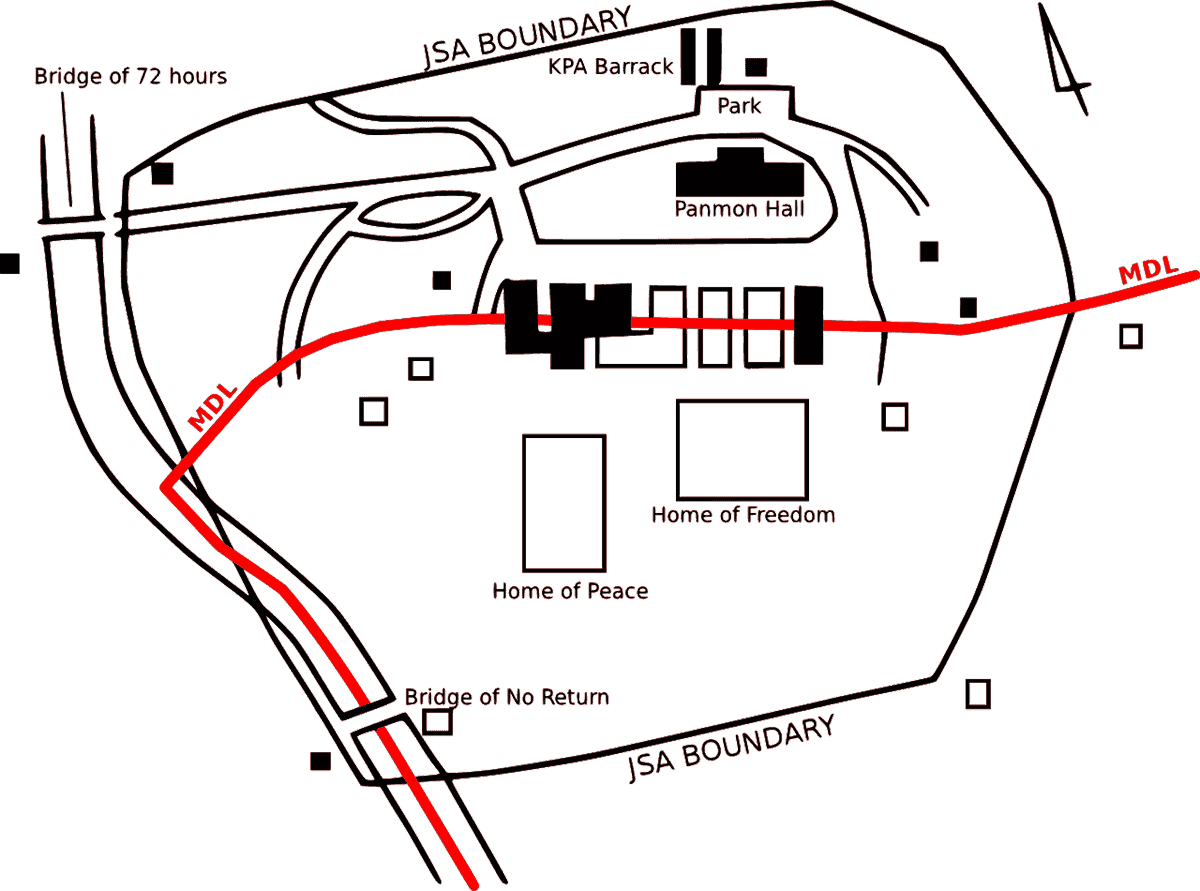 Why is the JSA Dangerous?
Since the DMZ's creation in 1953, confrontations and skirmishes have taken place within the JSA, most notorious of which was the Axe Murder Incident of 1976. American soldiers wanted to trim a poplar tree that was obstructing their view of the North. The North Koreans protested, claiming that the tree was personally planted by Kim Il-Sung. When their protests were ignored, they attacked and killed two American soldiers – Captain Arthur Bonifas and First Lieutenant Mark Barrett – and wounded several others. As the incident's name suggests, the Americans were killed with the axes used for tree-trimming.
In another incident in 1984, a Soviet tourist named Vasily Matuzok was part of an official trip to the JSA hosted by North Korea. He ran across the MDL shouting that he wanted to defect. North Korean troops chased after him and opened fire. This led to a gunfight between both sides which resulted in the deaths of one South Korean and three North Korean soldiers. Matuzok escaped to the South uninjured.
This history of conflict coupled with deteriorating relations between North and South give you the feeling that anything can happen at the JSA. The atmosphere here is palpably tense. Before we visited the JSA, we were asked to sign a waiver that included this line:
"…the United Nations Command, the United States of America, and the Republic of Korea cannot guarantee the safety of visitors and may not be held accountable in the event of a hostile enemy act."
It's this aura of unpredictability that's earned the JSA a reputation for being the most dangerous place on the Korean peninsula.
DMZ TOUR
You can do a DMZ tour, a JSA tour (also referred to as a Panmunjom tour), or a DMZ and JSA tour. I wanted the full experience so I did the joint DMZ and JSA tour, which you can book through Klook for KRW 130,000. If you're interested in the DMZ tour only, then it'll take you to the following four stops: Imjingak Park, the 3rd Infiltration Tunnel, Dora Observatory, and Dorasan Station.
I was picked up from our AirBnB rental in Hongdae at precisely 8:30AM. I boarded the bus and was greeted by a Korean soldier wearing an all black uniform covered in patches and medals. I was taken aback because I was expecting a tour guide, not a soldier! Not only was he an active member of the South Korean military, but he was an elite soldier (hence the black uniform) who's been on over 300 missions, including stints in Afghanistan.
Because he was an active soldier, we weren't allowed to take his picture. He explained that he does one or two of these tours a month as part of his government service. Having an elite Korean soldier guide us at the DMZ really set the tone for the day's events. This wasn't just any old day tour from Seoul, it was serious business. I was pumped and a little nervous.
Imjingak Park and Freedom Bridge
Our first stop was Imjingak Park where we were allowed to wander on our own for 20 minutes. Imjingak is the last village before the DMZ and the only stop on this tour that doesn't require you to go through a military checkpoint. You can actually reach this place on your own via subway. The visitor center pictured below is home to a couple of restaurants (including Popeye's!), shops, and an observation deck on the roof. This is where we would have lunch later in the day.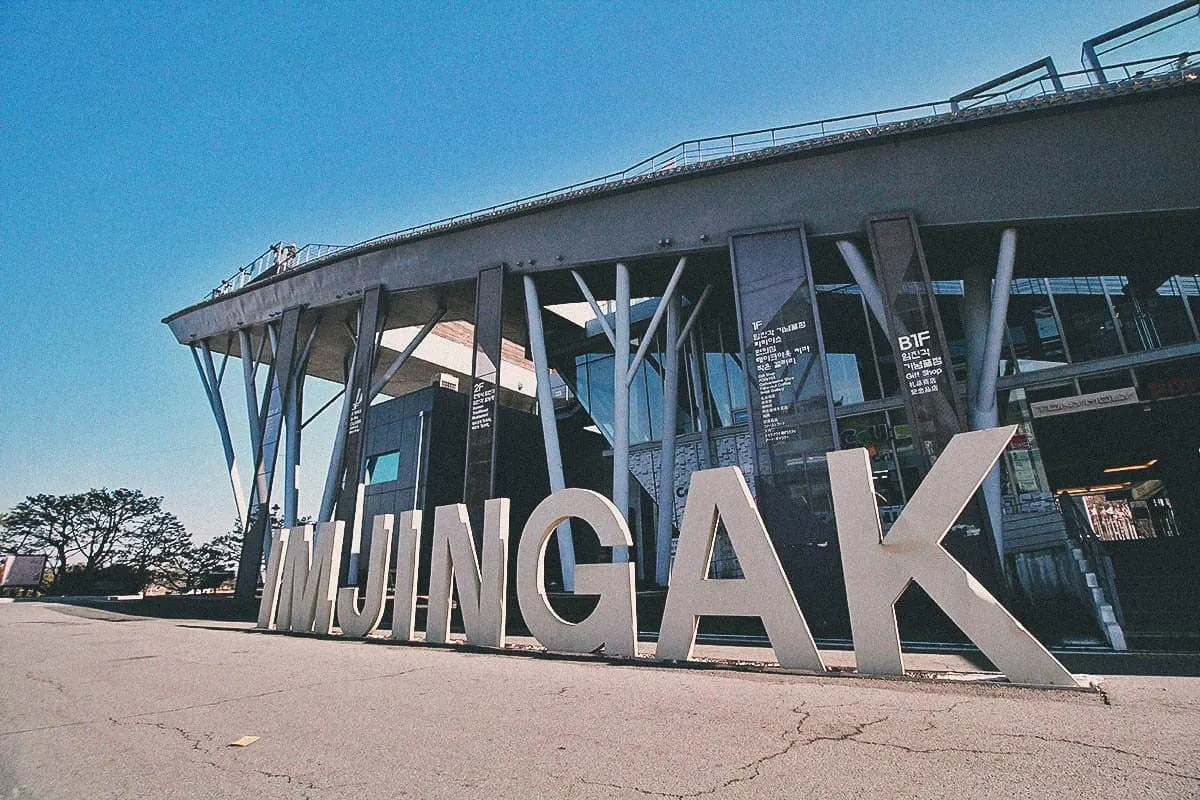 This memorial altar is known as Mangbaeddan. It was erected to allow people whose hometowns are located in North Korea to pay respect to their families during cultural events like New Year's and Chuseok (Korean Mid Autumn Festival).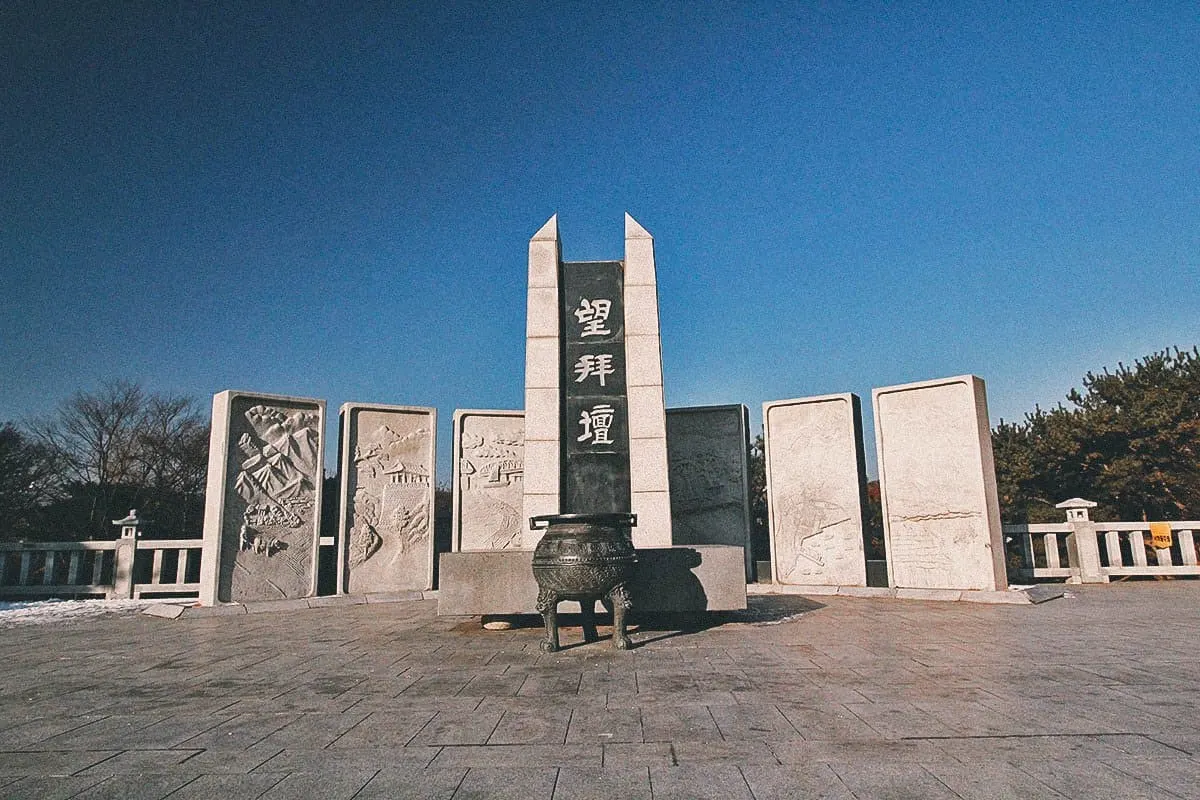 I'm not sure what these ribbons were for, but they may have been prayers or wishes left by Koreans for their relatives in the North.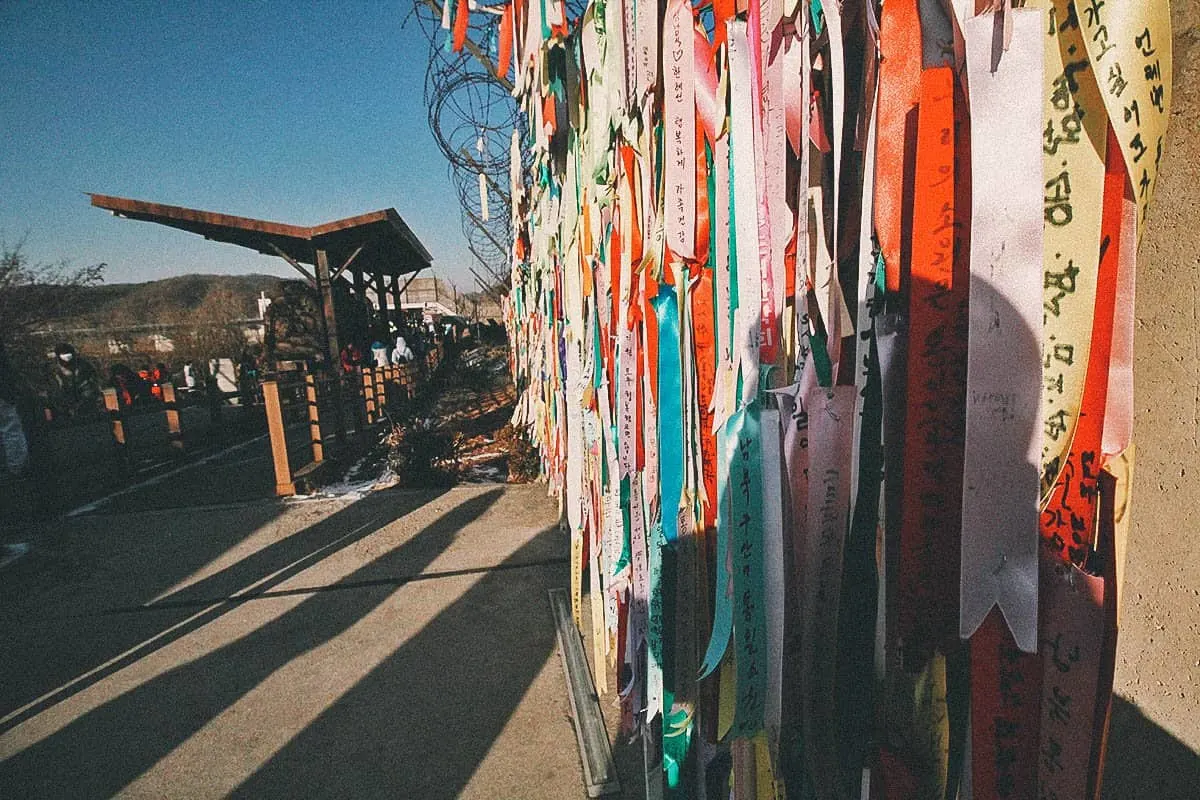 On display here is an old locomotive that's a remnant of the Korean War. Can you make out that bridge in the distance behind the trees? That's the Bridge of Freedom. It's a former railroad bridge that was used by repatriated prisoners of war to return to South Korea after the signing of the Armistice Agreement.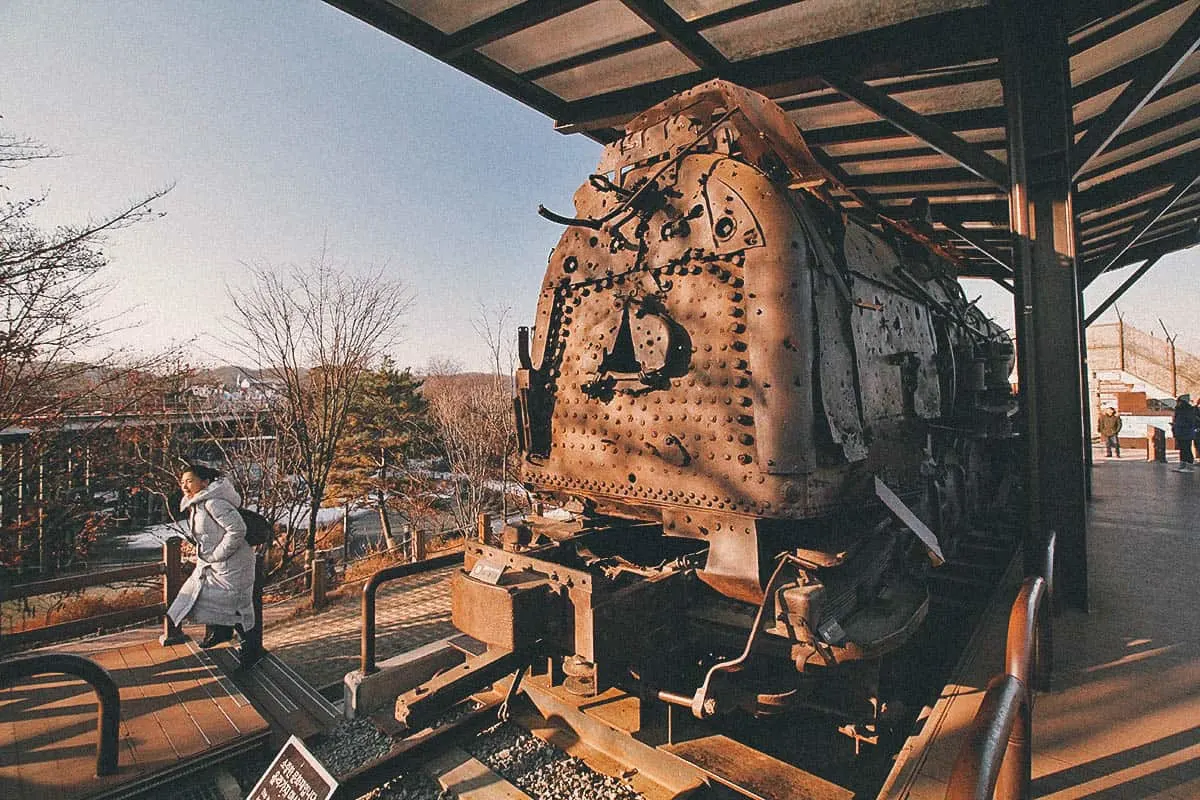 On a side note, it's very important for you to listen to your guide and stay on schedule while on this tour. He told us to be back inside the bus by a certain time but one person was late. The soldier searched for him and angrily accosted him when he finally made it back onto the bus. Because he was late, our guide cut ten minutes from our next stop. This is a highly sensitive area. These soldiers DO NOT play around. If you go on this tour, then be sure you fall in line and follow the rules.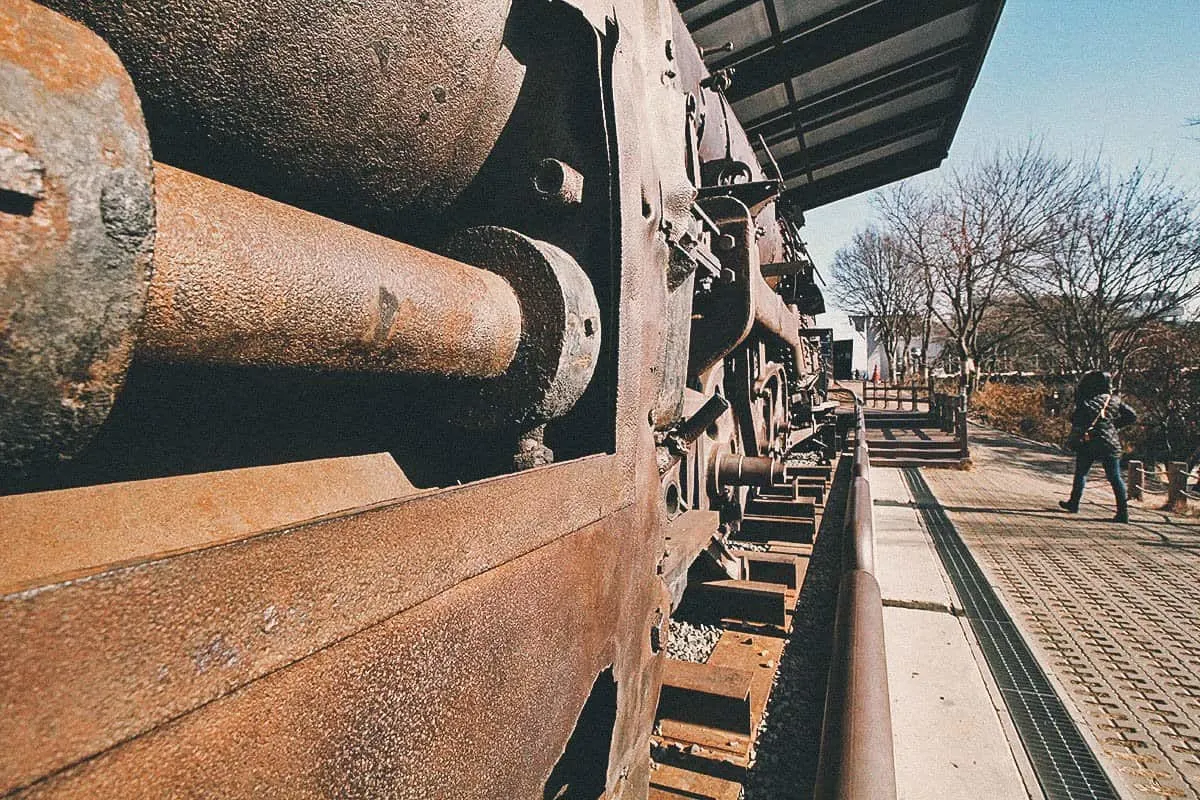 DMZ Theater & the 3rd Infiltration Tunnel
Every other stop after Imjingak Park is located within the DMZ and requires you to pass through military checkpoints. A Korean soldier will enter your bus and check everyone's passport so be sure to bring it with you, otherwise they won't let you through. Next up was a descent down into the 3rd infiltration tunnel.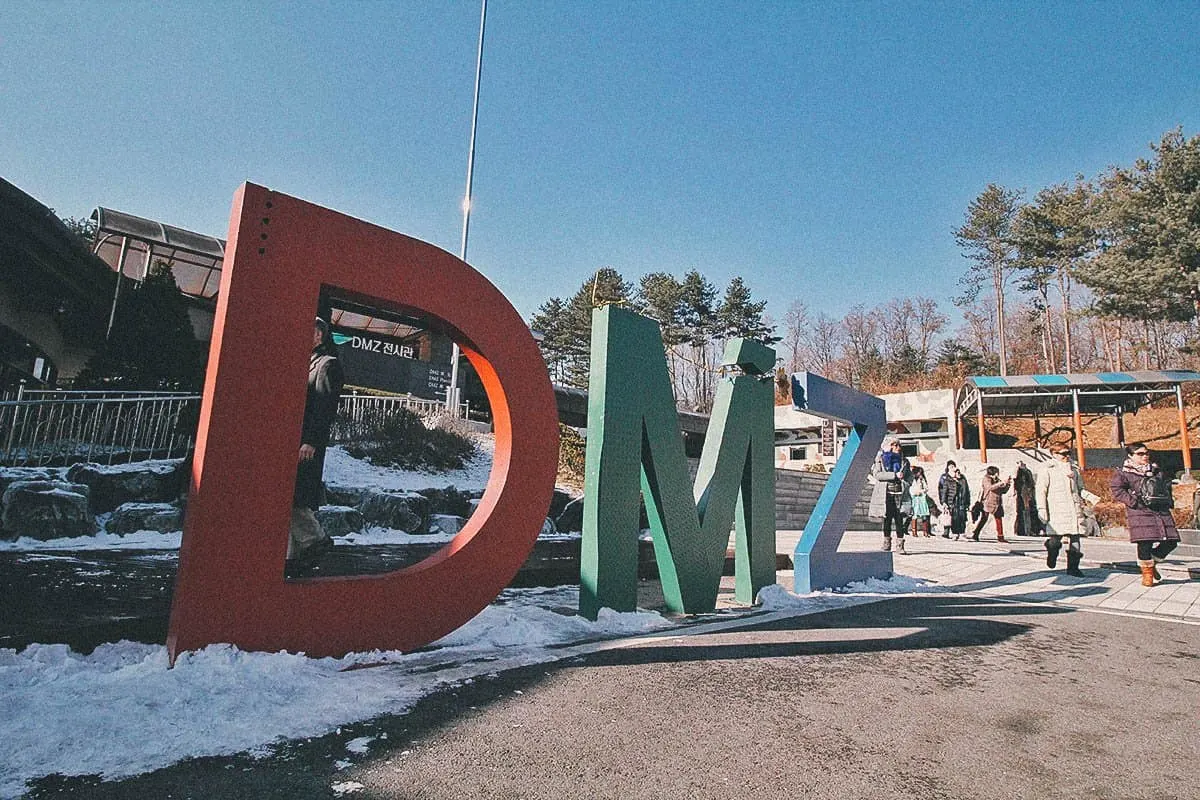 Soon as we arrived, we were led into a theater to watch a short documentary about the Korean War. We learned that North Korea had been secretly digging tunnels in an attempt to launch new attacks on South Korea. If I remember correctly, four tunnels have been found and blocked so far, but dozens more are suspected. Naughty naughty North Korea!
After watching the video, you're allowed to enter the 3rd infiltration tunnel if you like. It's 358 meters down and 265 meters across until you reach one of three cement blockades. If you're claustrophobic or have any health issues, then you may want to skip this. We weren't allowed to take photos inside the tunnel so I just took a picture of this diagram.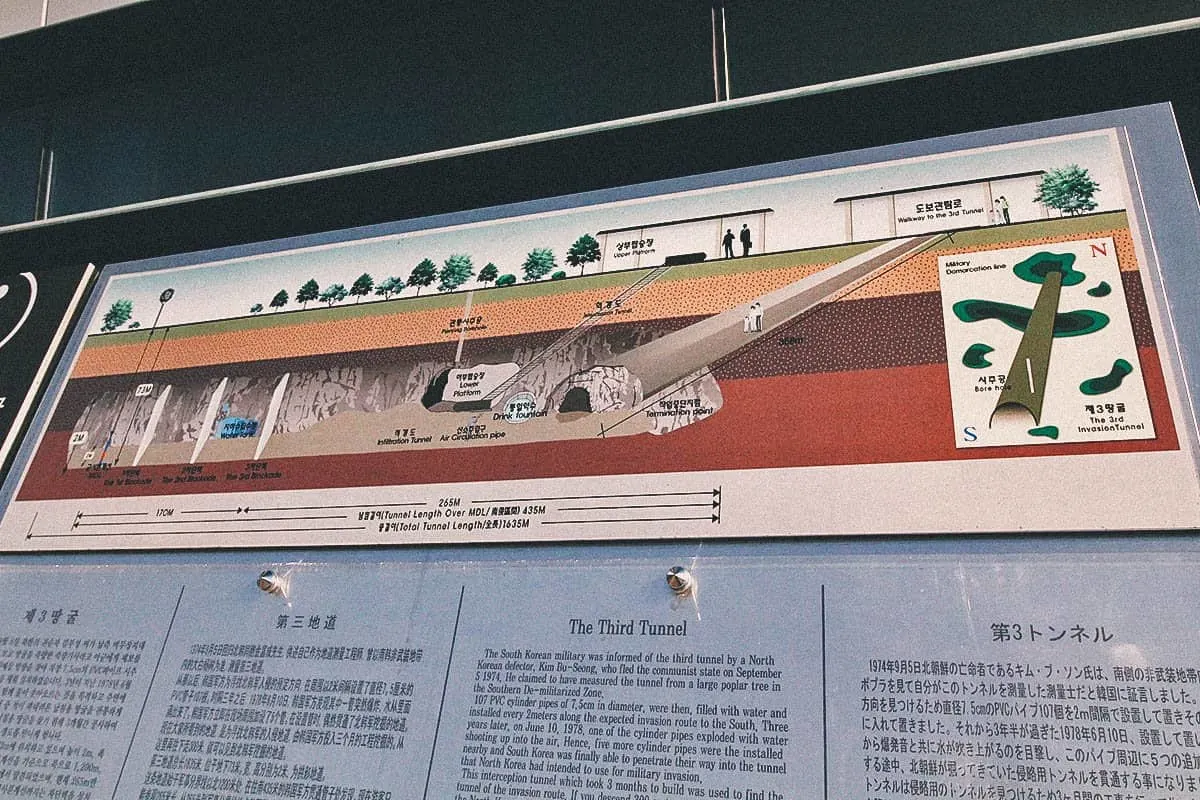 Here's a replica of the tunnel and the third blockade. The ceiling gets fairly low in parts which is why they require everyone to wear helmets. I banged my head down there a couple of times!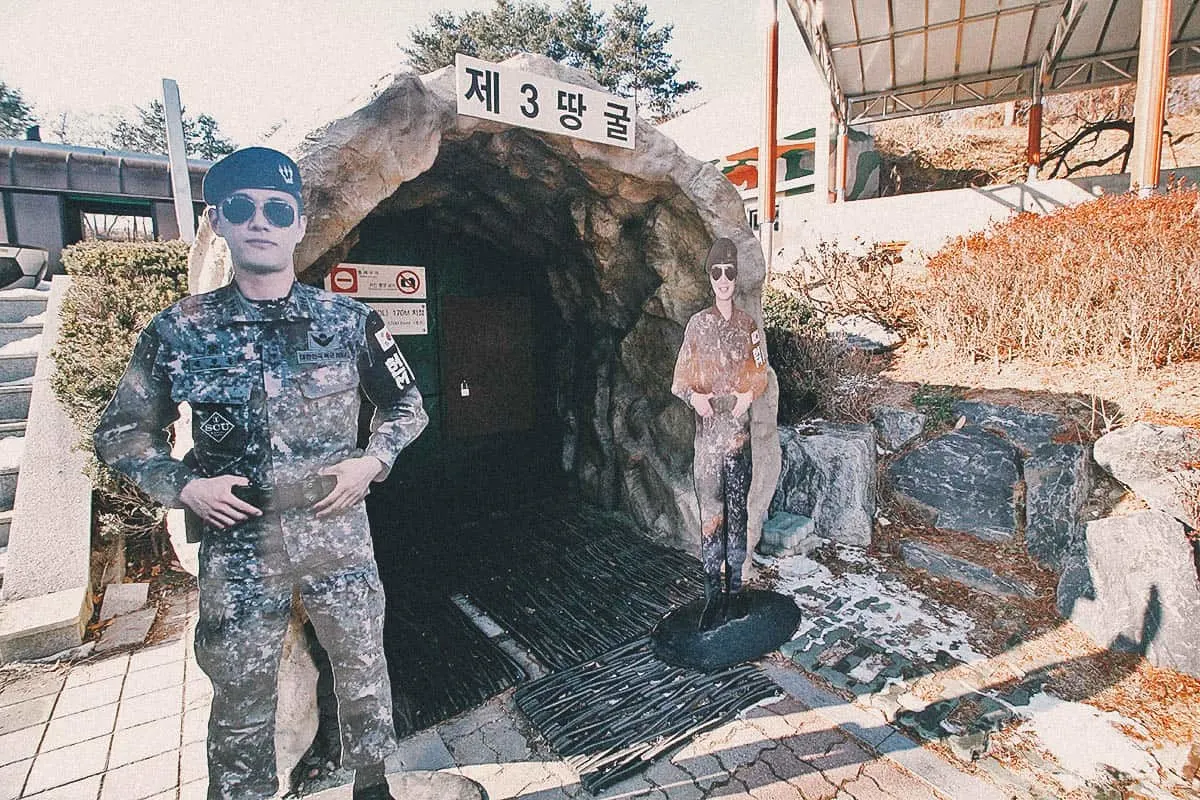 This sculpture represents the division of the two Koreas and the people's desire for reunification. Communication between the two Koreas has been strictly forbidden by the North. It's been over 60 years since the Armistice Agreement, so South Koreans have no idea if their relatives are still alive in the North.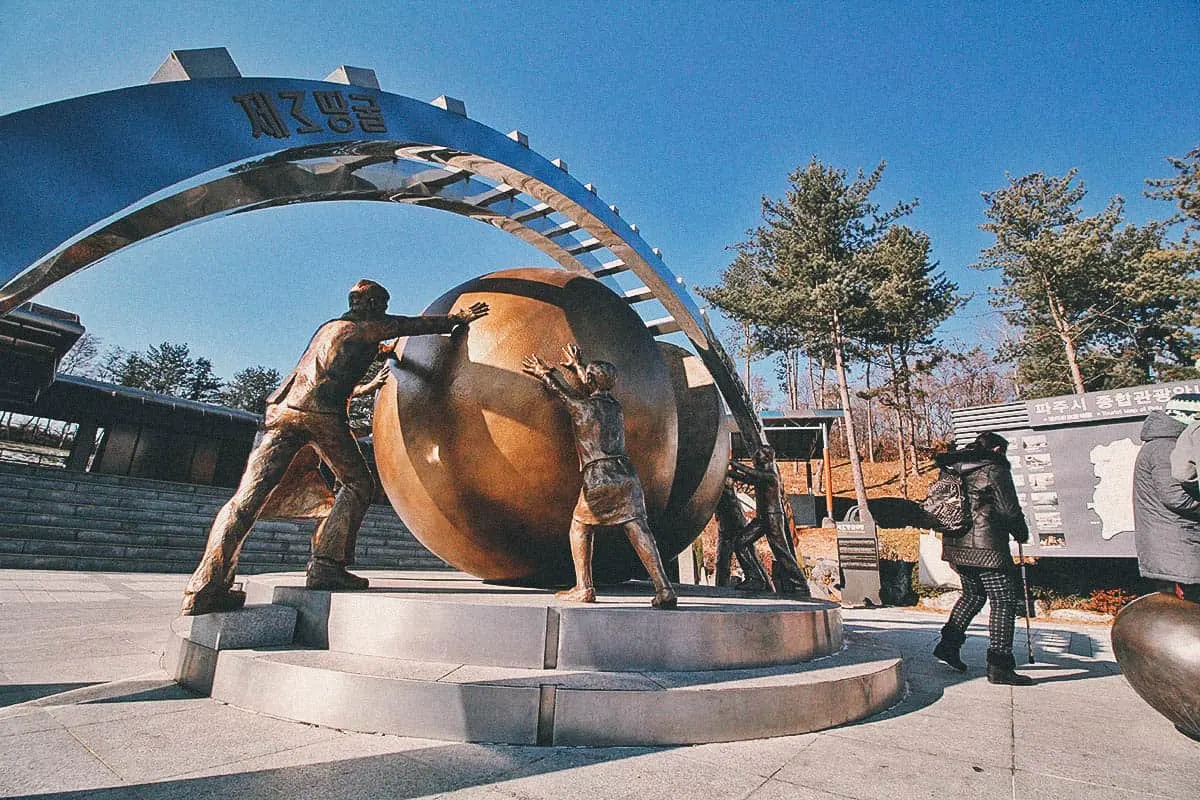 Dora Observatory
Our next stop was the Dora Observatory where we got our first glimpse into North Korea. In the distance there is Kaesong, the southernmost city of the Hermit Kingdom. You can get a closer look if you peer into the viewing binoculars. Kinda eerie isn't it? It feels like you're taking a peek into the crazy neighbor's backyard.
I'm not sure where the MDL actually is but the area immediately beyond the observatory is still on the South Korean side. According to our guide, the only people living within the DMZ are farmers who owned land there prior to the division of the two Koreas. Women can marry into these farming families but men cannot, which is unfortunate because the men who live there are exempt from mandatory military service and don't have to pay taxes to the government. The perks I guess of living in such a volatile environment.
The people who live here enjoy other benefits as well like government subsidies and larger arable land. This yields them a higher than average annual income, around USD 100,000 per farming family. They can't use any pesticides or chemicals on their crops so their produce is 100% organic and much sought after by South Korean consumers. Interesting right? It was fascinating to learn about life in the DMZ.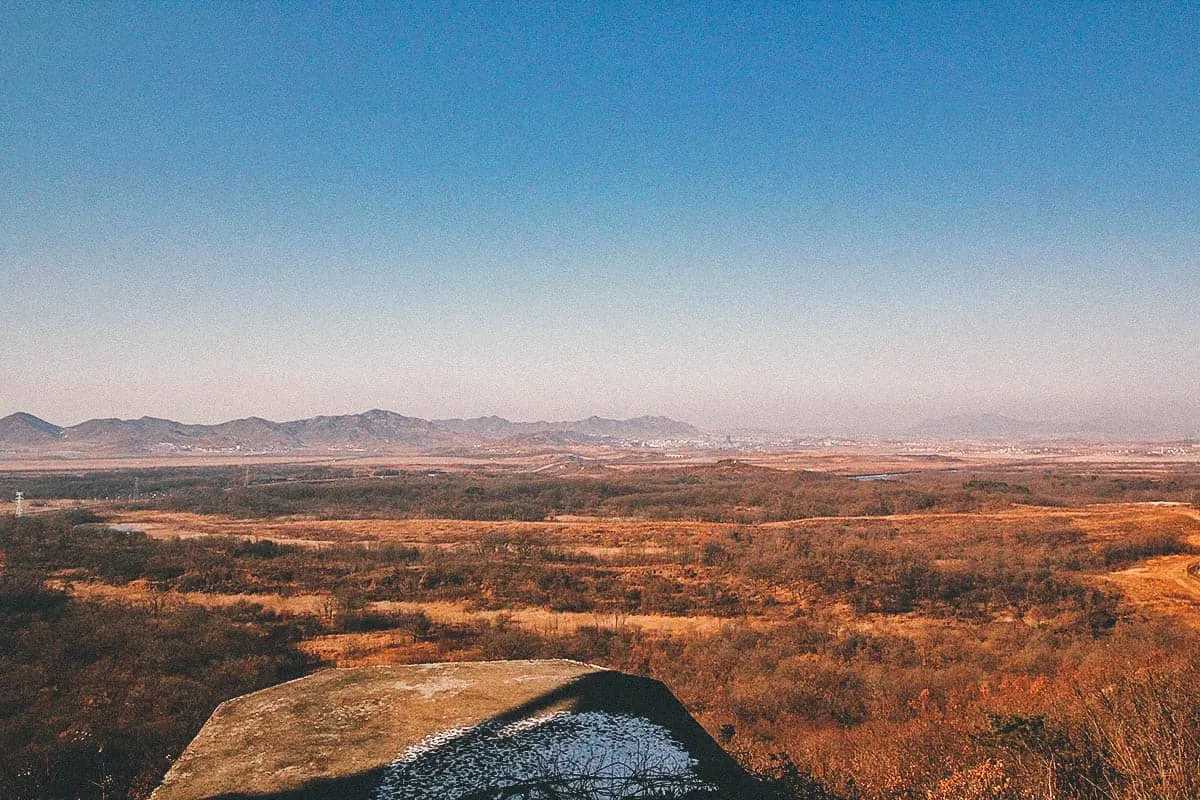 Dorasan Station
Our last stop on the DMZ part of the tour was Dorasan Station. It's the northernmost stop on South Korea's railway line.

Dorasan Station is on the Gyeongui Line, which used to extend all the way to Pyongyang and Sinŭiju in North Korea. Since the division of the two Koreas, trains have stopped operating between North and South but efforts have been made to reconnect this line. Should North Korea ever allow it, people will be able to take trains all the way to Europe through China via this line. A sign in the station's lobby says it all: "Not the last station from the South, But the first station toward the North."
Because the Gyeongui Line hasn't been restored, I assumed Dorasan Station was non-operational. But according to Wikipedia, it's currently served by four daily trains from Seoul, used mostly by tourists. I guess these are tourists visiting Dorasan as part of a DMZ tour.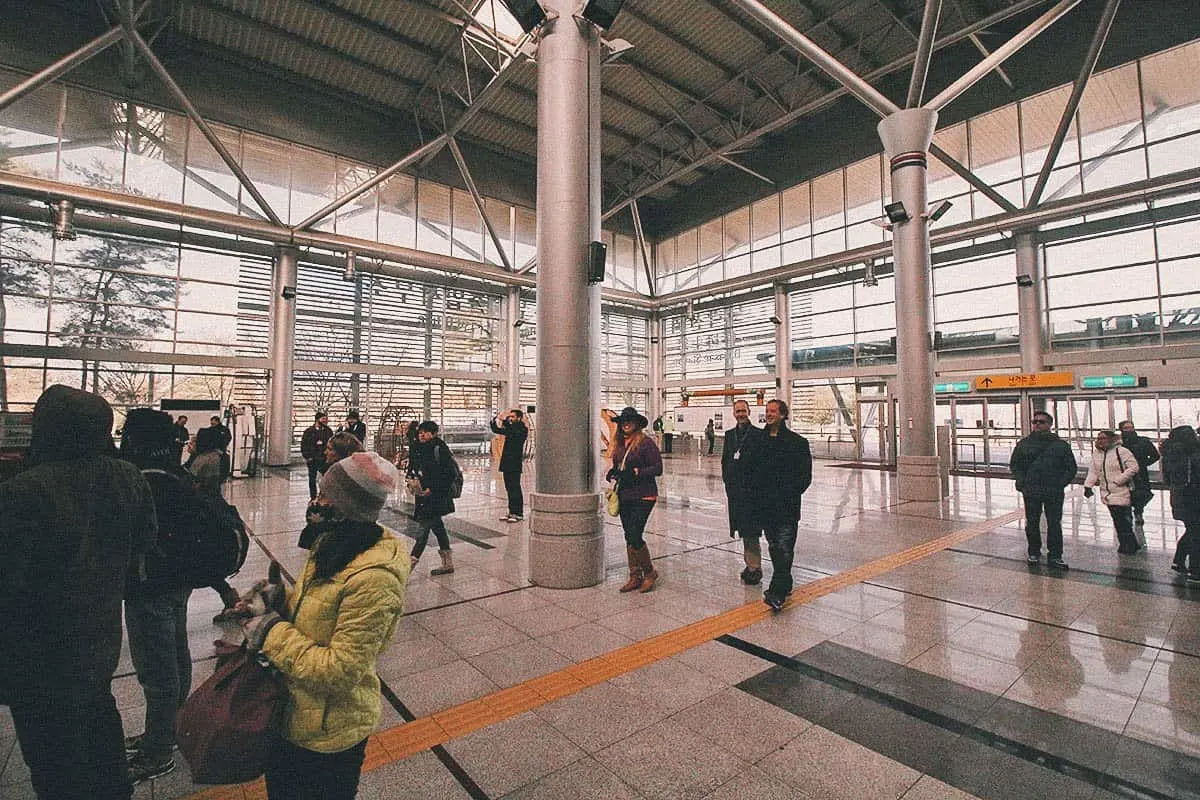 On display at the station are components to the very first hyperloop. Just kidding. I have no idea what these are.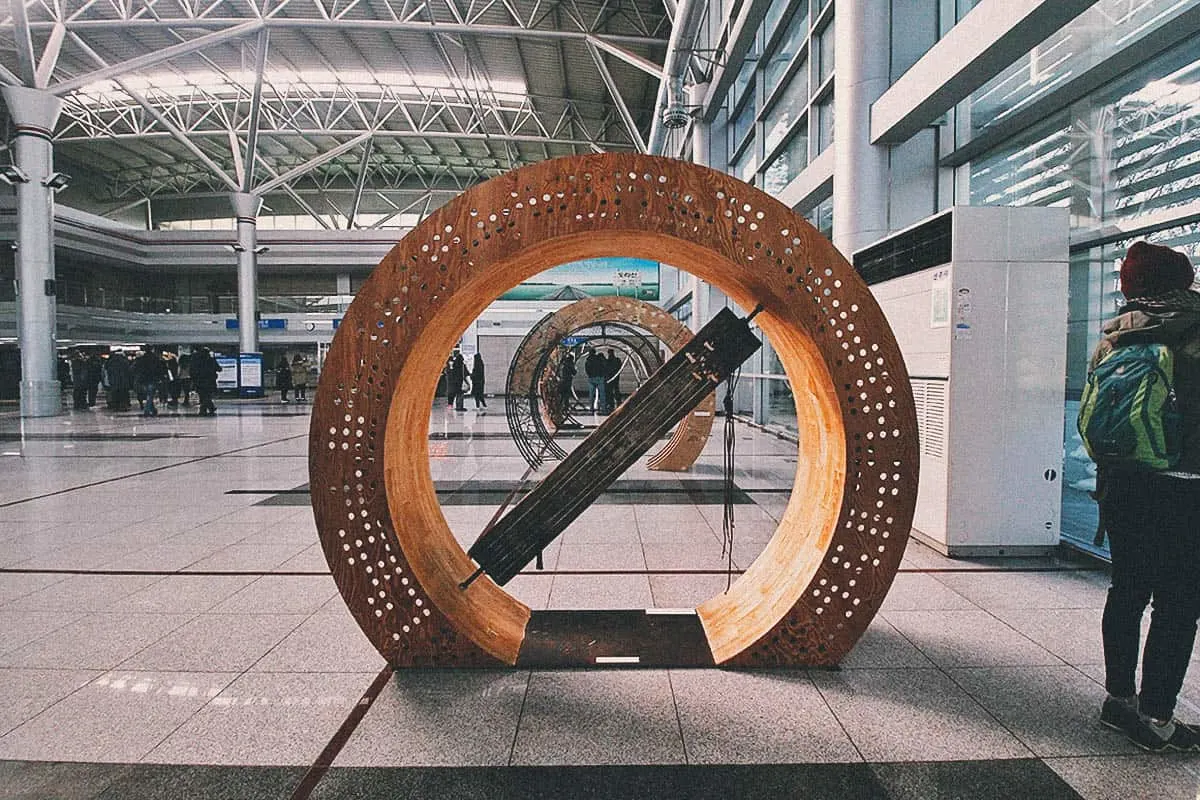 Lunch
After Dorasan Station, our bus dropped me off along with two other people to have lunch at Imjingak Park. As described, we were told that only three of us would be moving on to the JSA out of an entire busload of tourists. As if I weren't apprehensive enough, that announcement sent me into a near panic. Was I crazy for wanting to go to the JSA? Especially now with relations at a low and the threat of a nuclear attack looming from the North?!
Thankfully, we three weren't the only loonies visiting the JSA today. Shortly after we arrived at Imjingak Park, we were joined by another tour group at the restaurant. We would all be going to the JSA together. Whew! Now I can swallow my lunch.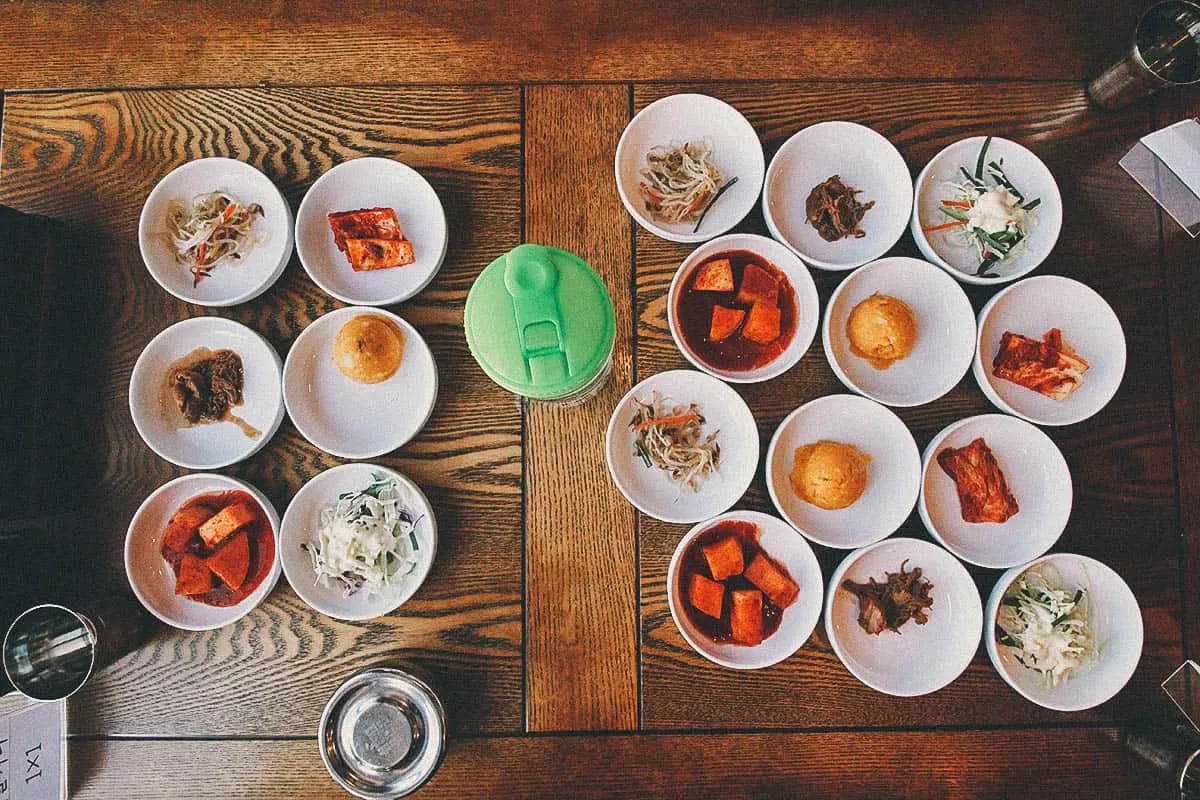 Lunch was included in the package and consisted of a beef soup dish with six different types of banchan. I love Korean food.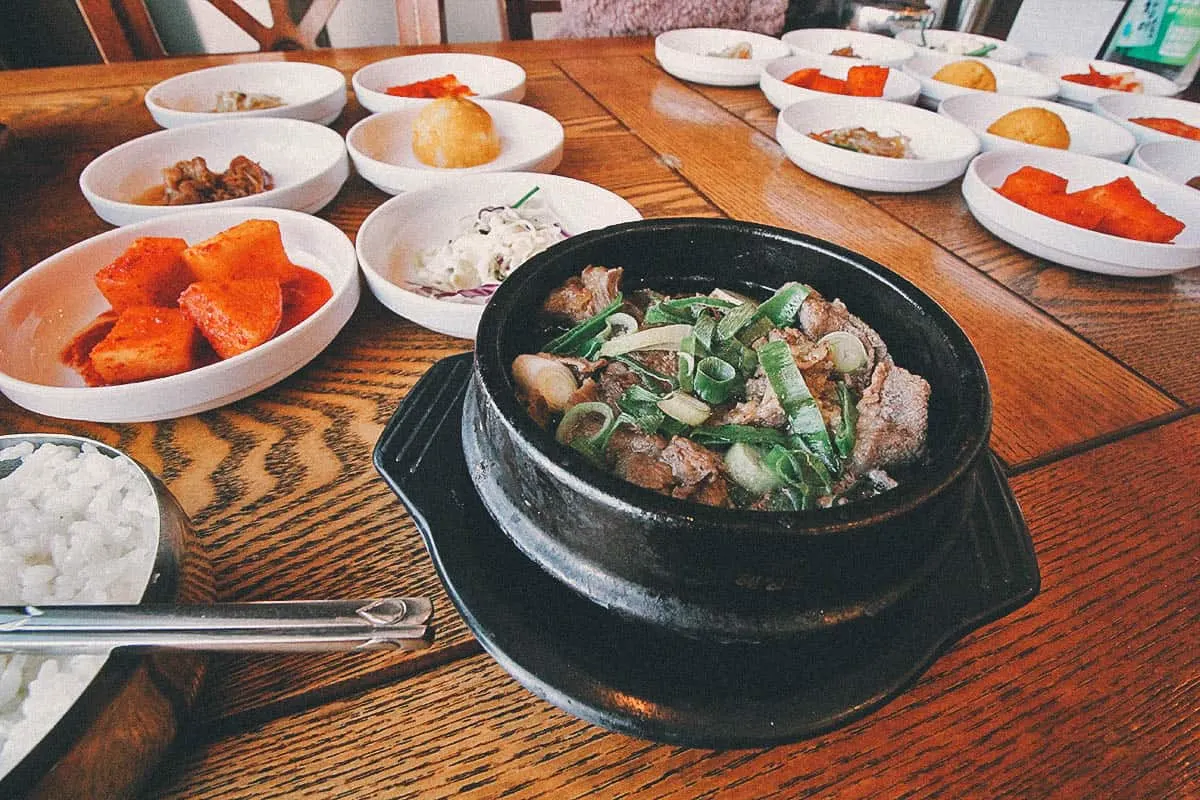 JSA (PANMUNJOM) TOUR
This is where the day starts to get really interesting. I read a reviewer say that the DMZ tour is boring in comparison to the JSA tour, and he's right. The DMZ tour has its moments but you still feel detached from the situation, like you're watching it from the safety of your bedroom. At the JSA, you're at the front line. You get a real sense of the tension between North and South Korea and there's no blanket here to protect you. It's exhilarating and terrifying at the same time.
Because this is such a sensitive area, the rules for the JSA tour are even more strict. There are more military checkpoints with Korean soldiers vetting your passports more thoroughly. There's a dress code and pictures aren't allowed anywhere except for three designated spots. You can't even take pictures from inside the bus. Commercial transportation isn't allowed after a certain point so we transferred to military-owned buses that took us to the JSA.
We transferred buses at Camp Bonifas, which is a UN Command military post that's home to the southern half of the JSA. If the camp's name sounds familiar, it was named after Captain Arthur Bonifas, one of the American soldiers killed during the Axe Murder Incident of 1976. We watched a short documentary at the JSA Visitor Center and signed a waiver absolving the UN Command, the USA, and South Korea of liability should any incidents arise. This place is no joke.
After we had signed away our right to sue, we boarded the military bus and proceeded to the JSA.
Conference Room
The bus dropped us off at the Freedom House where we were asked to form two lines behind our guide, a handsome Korean soldier in the second year of his mandatory military service. Speaking in fluent English, he explained how he was a student at Columbia University and was on hiatus to fulfill his military service. Believe it or not, that actually made me feel safer. Surely, the North Koreans wouldn't attack us under the watch of someone as dreamy as this?! 😆
Unlike the DMZ tour, you can't wander freely at the JSA. With our soldier leading the way, we marched like obedient schoolchildren into the central blue house which is the Military Armistice Conference Room. Everyone walked quietly and no one dared fall out of line.
I was all tingles at this point. We were standing in the exact conference room where negotiations between North and South take place. Do you see those microphones perfectly dividing that central table in half? That's the Military Demarcation Line. That's the actual border between North and South! This row of five houses was built directly over the MDL and I'm presently standing on the North Korean side. I'm actually in North Korea! 😯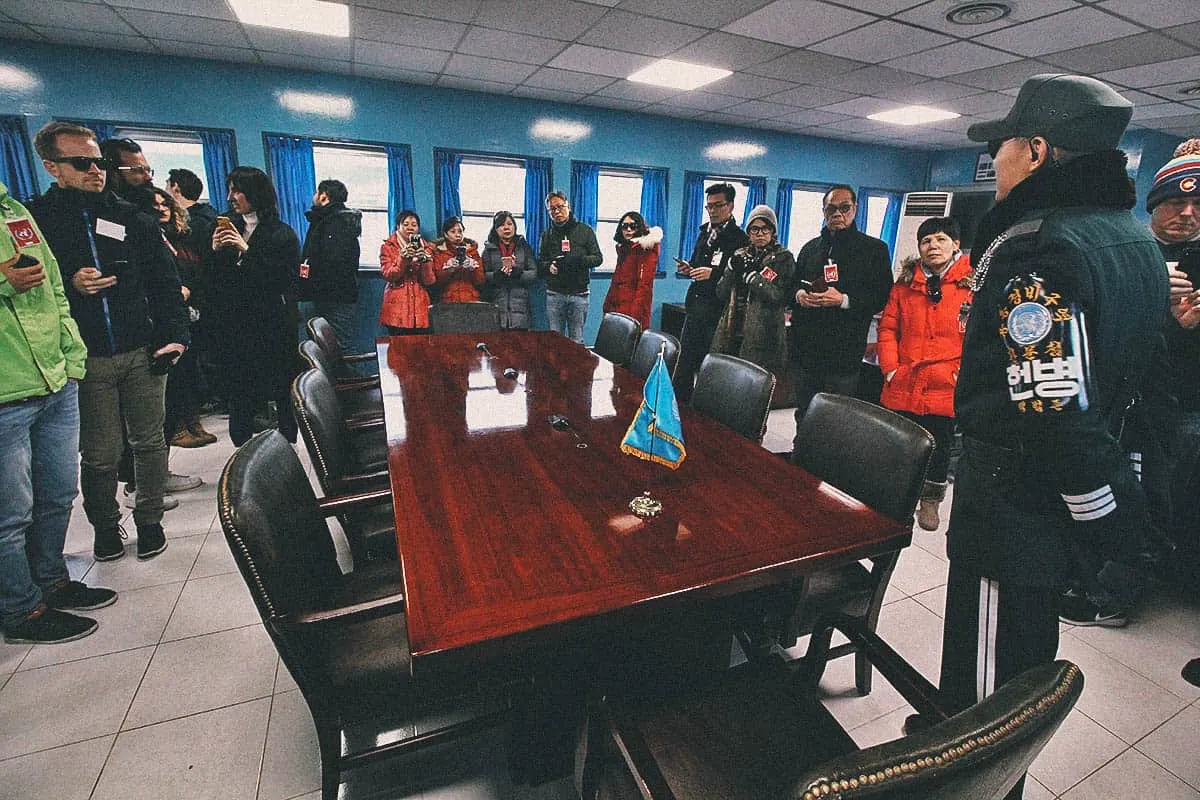 After a brief explanation from our guide, he lets us wander briefly in this room to take pictures. We were allowed just four minutes here so I stood on the North Korean side for as long as I could. I didn't know when I could get an opportunity like this again!
You see that soldier by the open door on the South Korean side? I didn't take a picture of him, but there's another South Korean soldier behind me standing a few feet from the door to the North Korean side. We were warned not to step past him because doing so would have put us beyond the protection of the UN and South Korea. Anyone want to contest that? I didn't think so.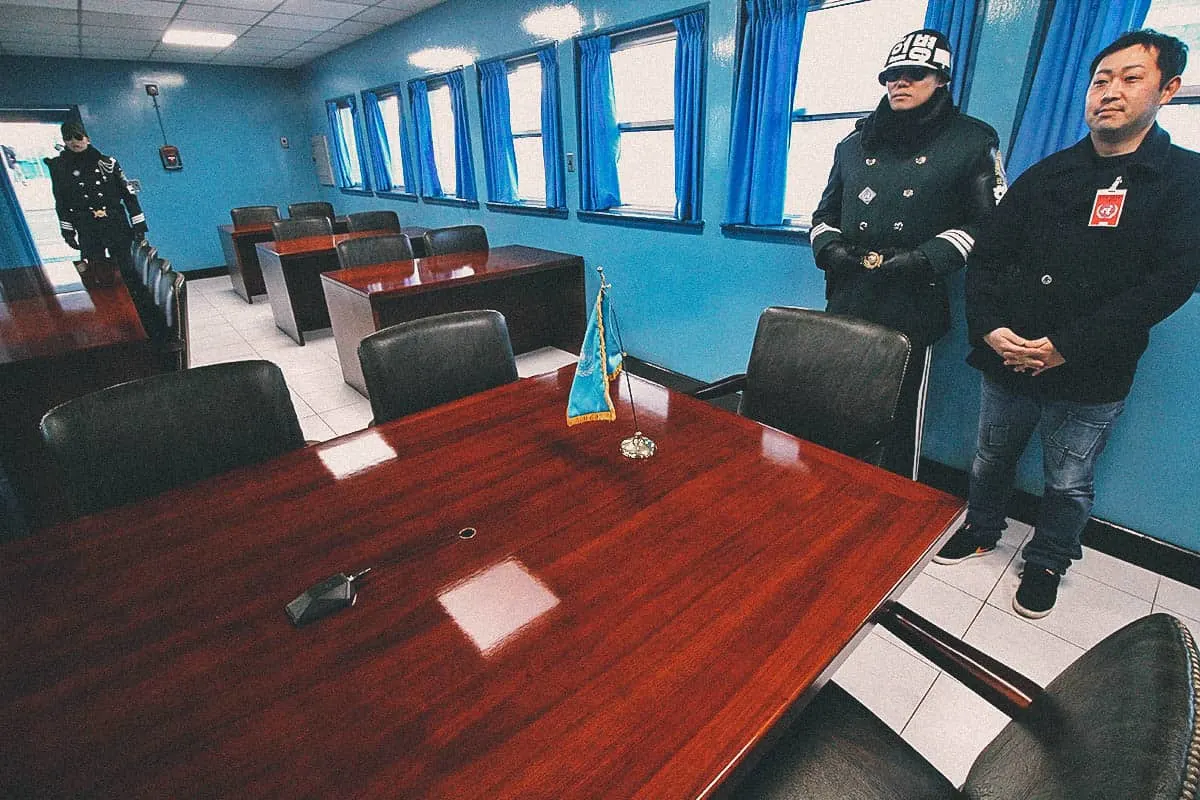 Our guide told us that the North Korean side conducts their own tours of the JSA and this blue conference room as well. I read that the North Korean tours are carefully arranged so as not to encounter any tour groups visiting from the South. When visitors enter the room, North Korean soldiers will stand in front of the door to the South so no one has a chance of getting through. Try anything funny, and there's a high likelihood that you will get shot. Suffice to say, they do not want another Vasily Matuzok!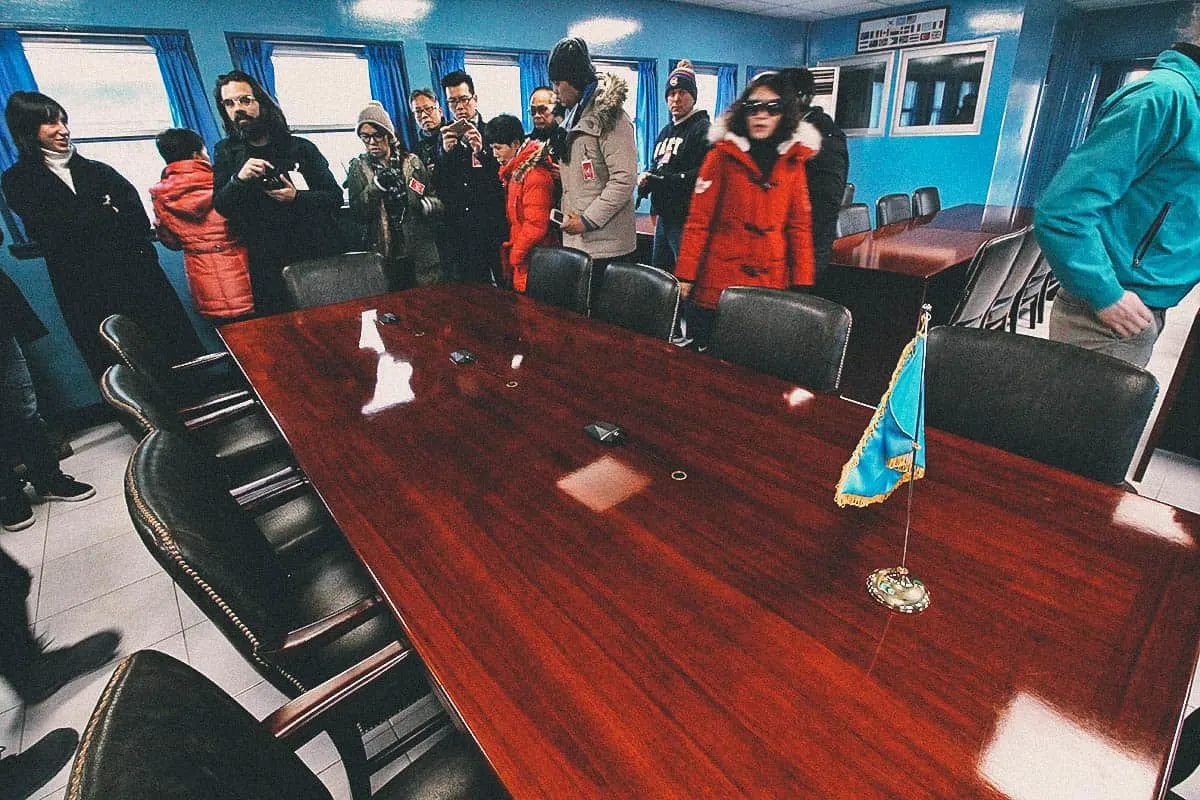 Joint Security Area
After our four minutes were up, we were ordered to stop taking pictures and again form two lines behind our guide. We followed him out to the front steps of the Freedom House where we were allowed to take pictures for another four minutes.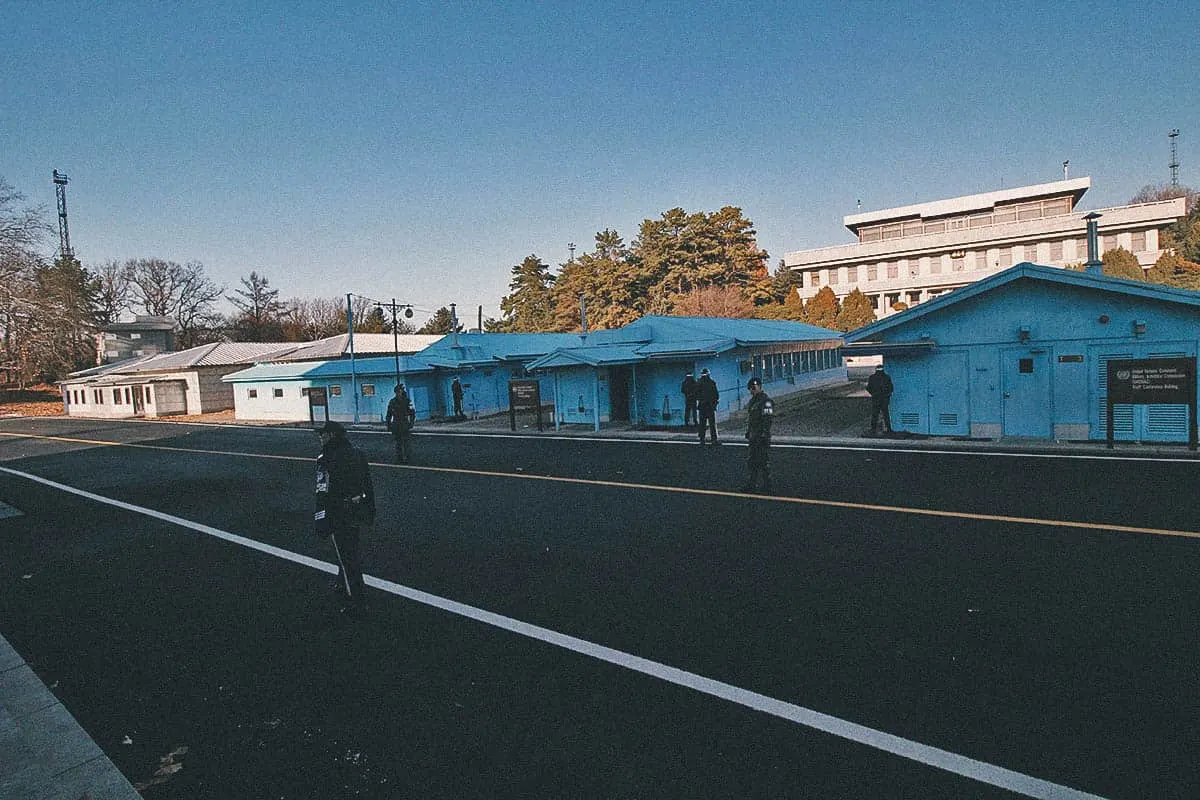 Our guide explained that three blue houses in the middle are controlled by the UN, while the two silver houses on either side are under the control of North Korea. If I understand correctly, only the middle room, the one we were just in, is where negotiations between both sides are held. I don't know what the other four are used for.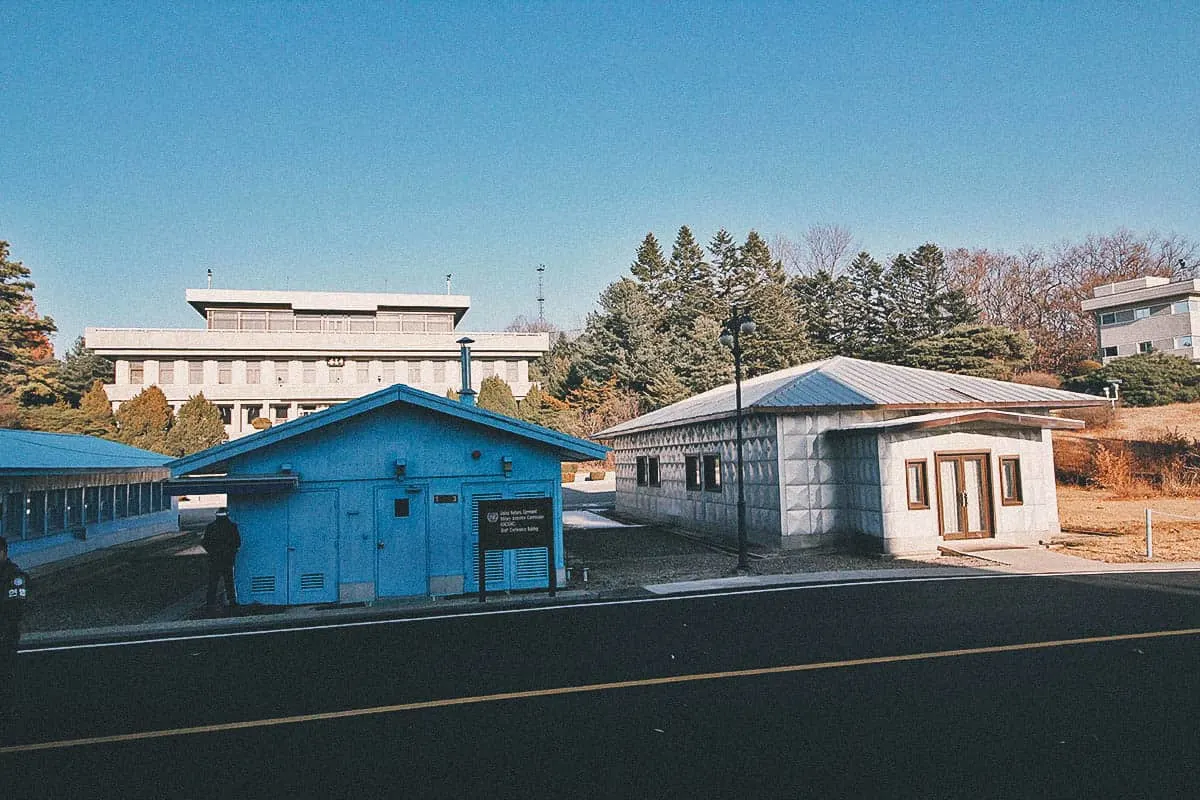 You see that building in the back? That's Panmom Hall, the North Korean equivalent of Freedom House. You can't see him in this picture, but there's always at least one North Korean soldier standing there facing the South. We were instructed not to make any type of gesture towards the North Korean soldiers. Anything inflammatory could be used and held against the South Korean government, so definitely no dancing "Oppa Gangnam Style" here!

JSA Visitor Center
After our visit to the blue conference rooms, our bus took us back to the JSA Visitor Center where we could exhale and take pictures. There's a souvenir shop here and a small museum on the second floor.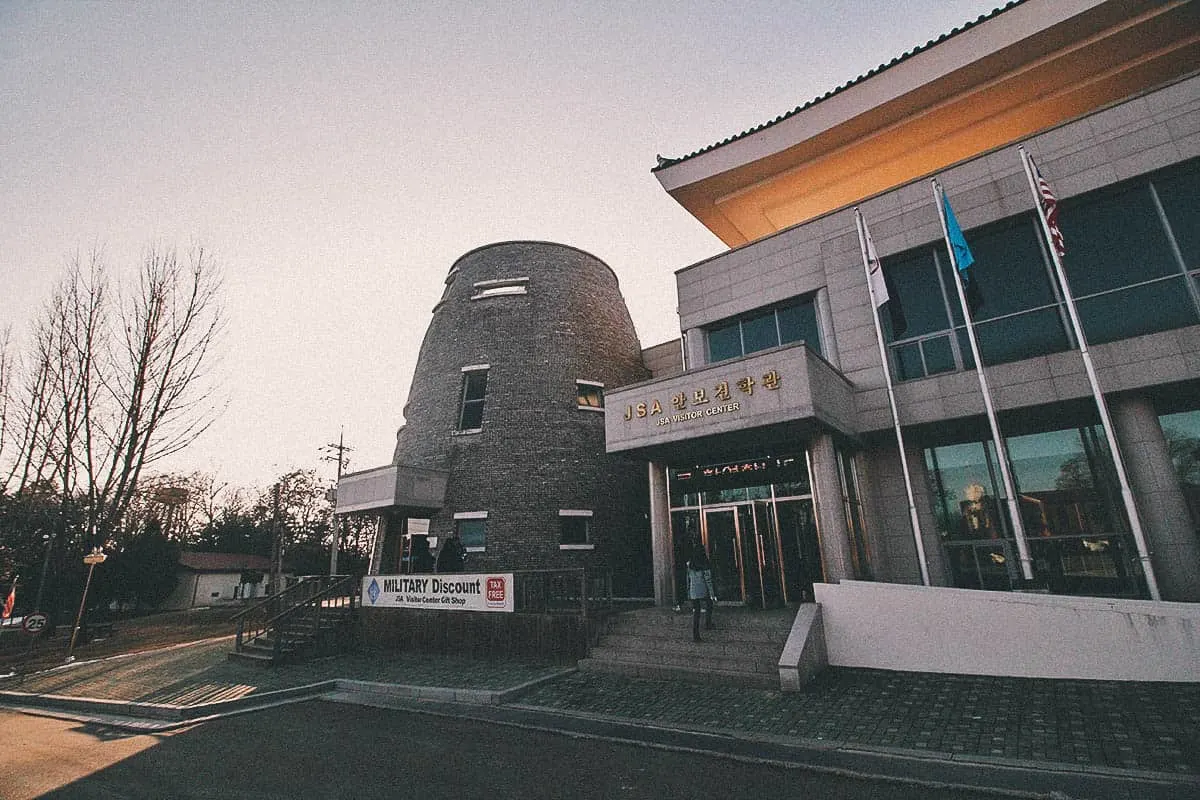 This is the museum. It's basically just two rooms with a few exhibits.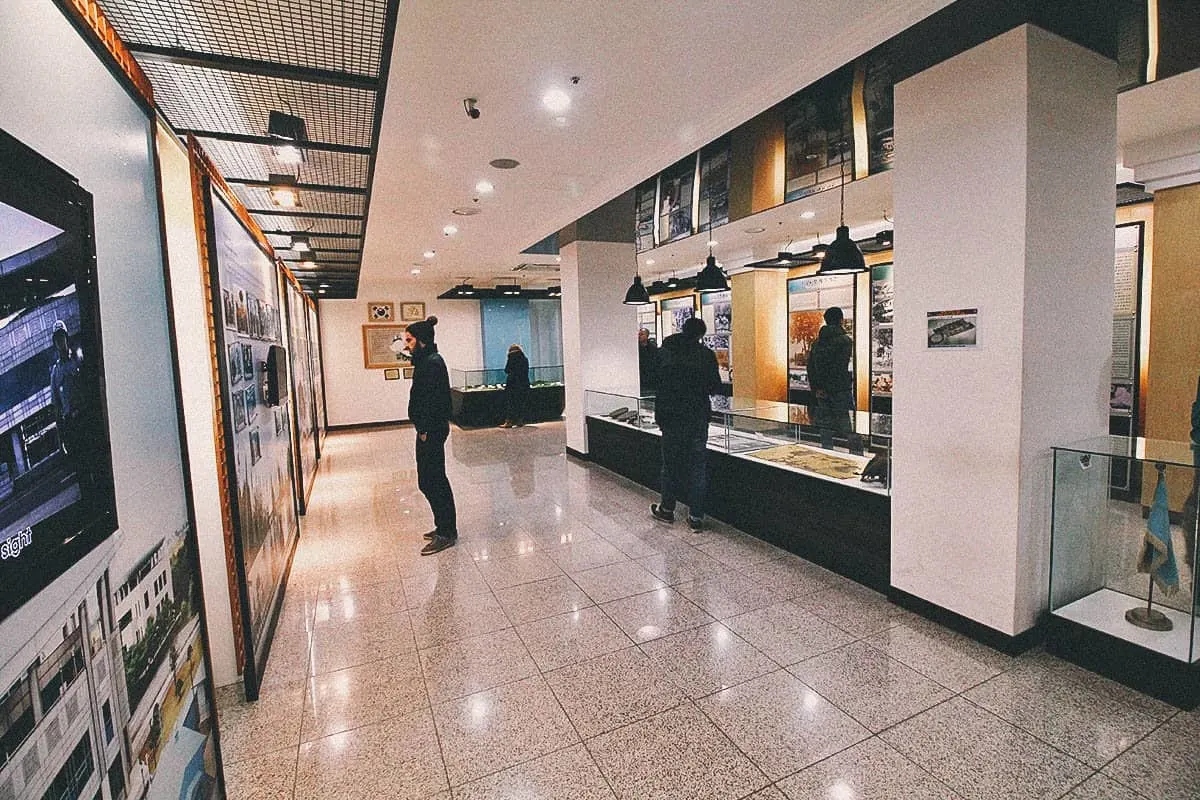 Here's a diorama of that infamous Axe Murder Incident…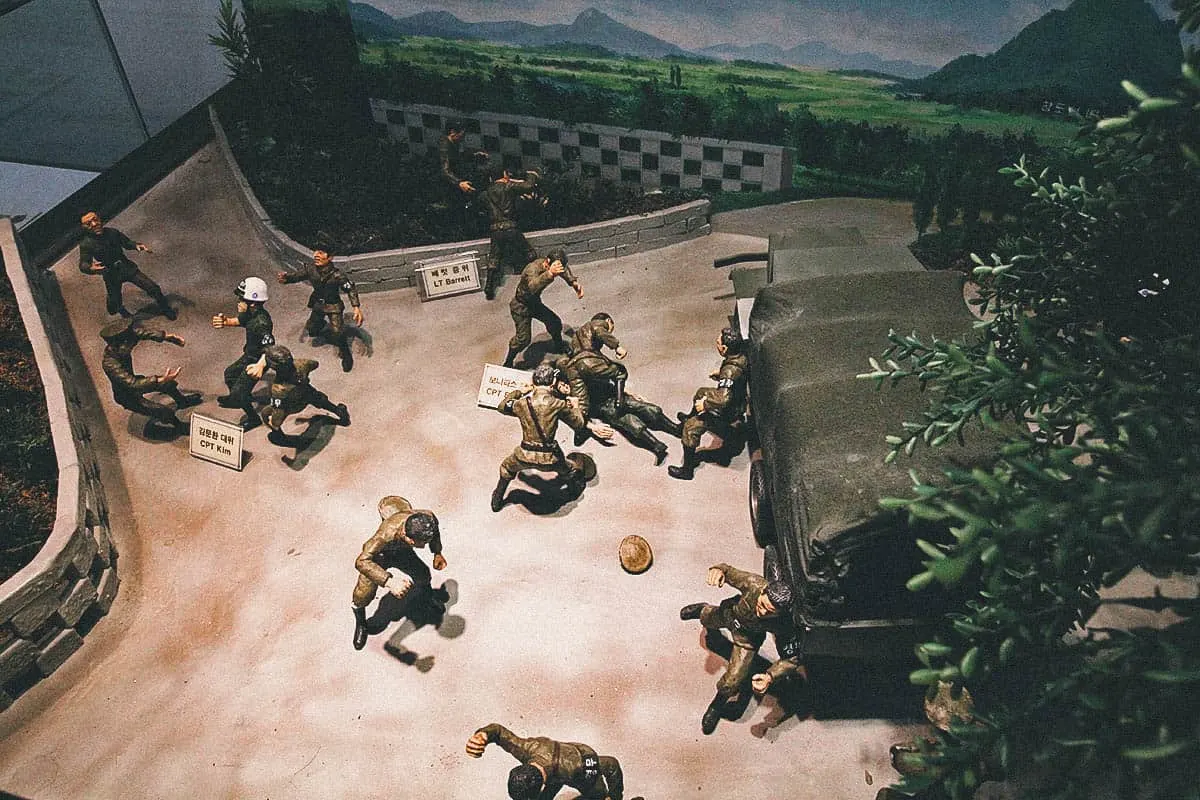 …and a stump from the actual poplar tree that started it all. It's crazy to think how this tree almost reignited the Korean War.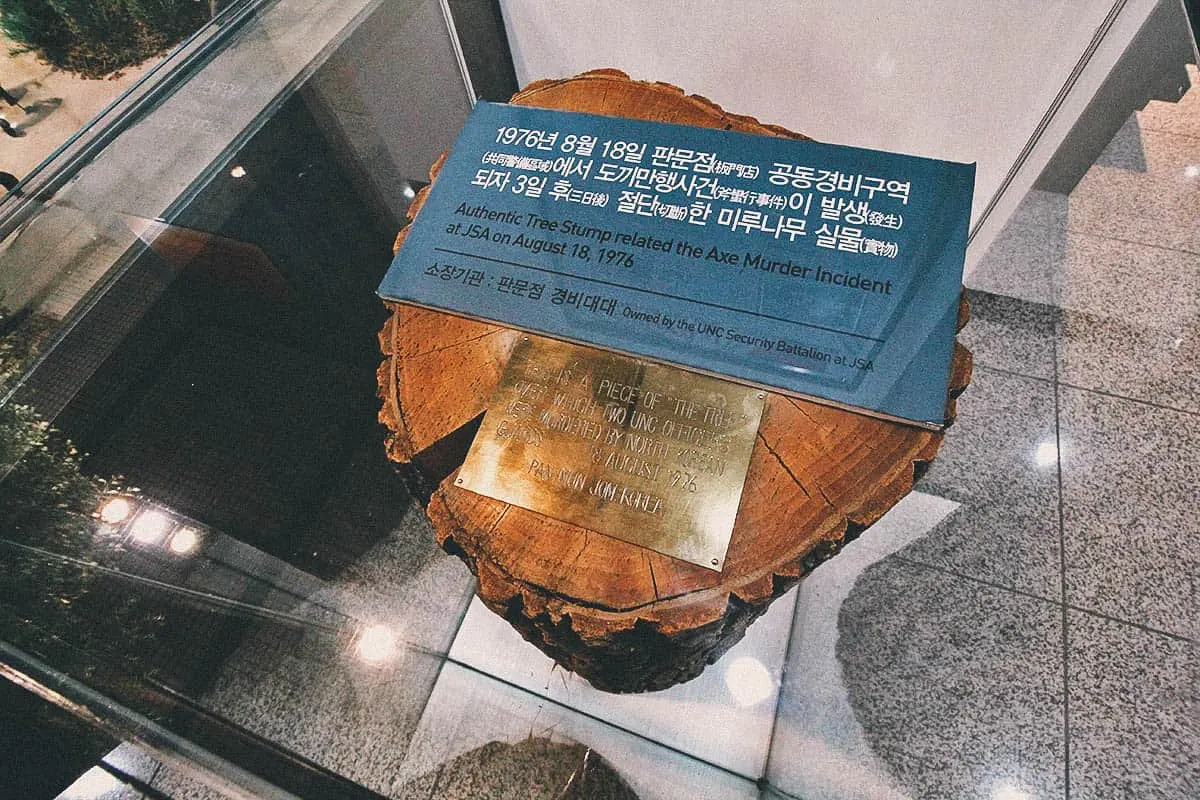 I'm not exactly sure what these plaques represented but I was happy to find one for my native Philippines. From the inscription, it looks like we had provided assistance to South Korea in the form of troops. Good on us. We boarded our bus shortly after this and drove back to Seoul.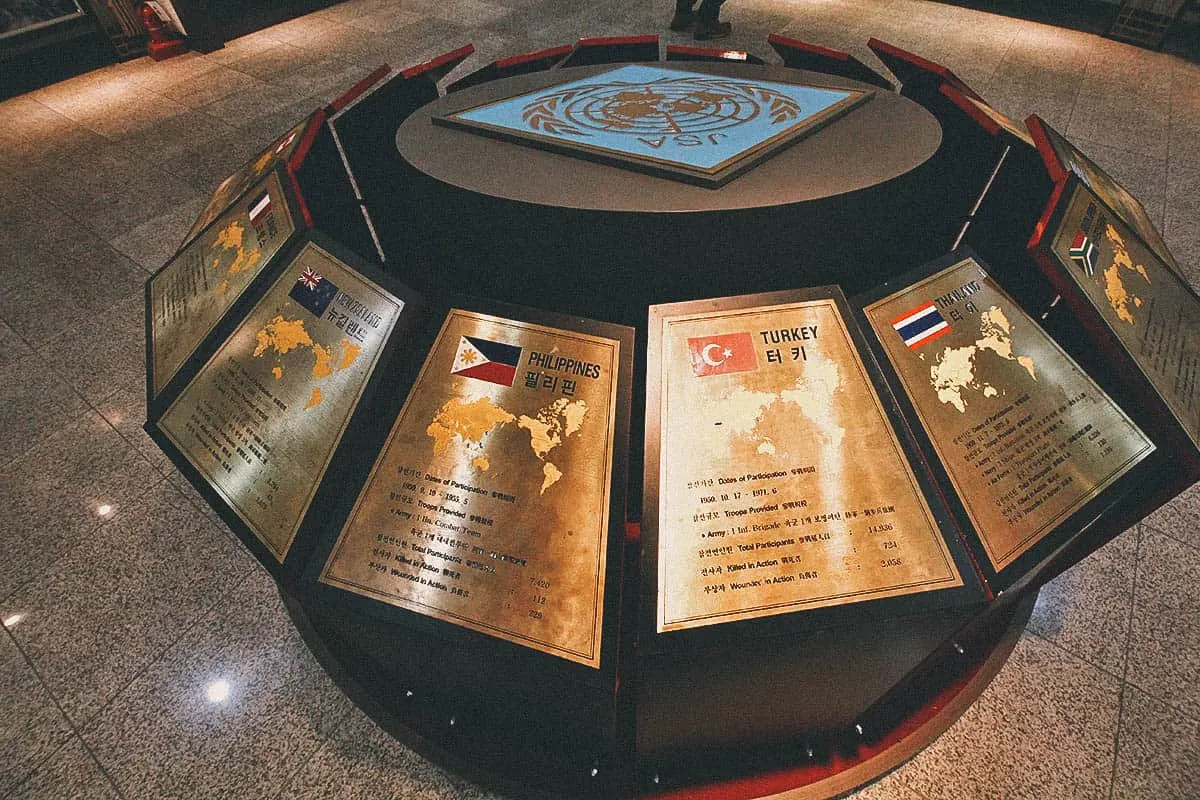 This was probably my favorite thing to do in our two trips to Seoul. We've been to Everland, Nami Island, and Heyri Art Valley; we've gone skiing, done the Rail Bike, and seen most if not all of the popular tourist attractions in Seoul, but this trip to the JSA will be the most memorable for me. It's a unique place that has an important place in Korean (and world) history.
Like the Berlin Wall and other historical symbols of division, the DMZ and JSA probably won't be around forever. I know little about Korean politics, but I did get an overwhelming feeling after visiting the DMZ that most South Koreans want nothing more than to reunify with the North. I hope it happens.
I strongly recommend you do this tour if you have the opportunity. As described, the DMZ tour is interesting but it lacks the intensity of the JSA tour, so do both if you can. I booked the combined Panmumjom and DMZ Tour on Klook, which costs KRW 130,000 per person and includes lunch, admission fees, and roundtrip transportation from Seoul.
Important Information about the JSA Tour
Children under the age of 11 are not allowed to join the tour.
When you arrive at the Military Armistice Conference Room, do not touch any equipment like the microphones or flags.
Do not talk to, make any gestures towards, approach, or respond to personnel from the North Korean side.
Casual clothing like ripped jeans, sleeveless t-shirts, mini-skirts, shorts, military clothing, exercise clothing, round neck t-shirts, and sandals/slippers/flip-flops are not permitted in the tour area.
Shaggy or unkempt hair is not allowed.
Cameras with over 90 mm zoom lenses are not allowed.
Tour timings and locations are subject to official and military considerations and changes. No refunds will be given in the event of unforeseen cancellations.
This tour is not available to South Korean citizens. Only foreign passport holders are allowed to join the tour.
Disclosure
Klook sponsored my Panmumjom and DMZ Tour in exchange for an honest account of the experience. They didn't ask me to do this. I went through their site and chose this one on my own volition. As always, all words and opinions expressed in this post are mine and mine alone.
The Klook and TripAdvisor links in this post are affiliate links, meaning we'll get a small commission if you make a purchase at NO extra cost to you. We really appreciate your support as it helps us keep this website going. Thank you!