When doing research for these posts on cultural landmarks, the facts behind them tend to be fairly uneventful. Most of the time, it's just your typical "this was built in that year by this king following the architectural style of that period" kind of stuff. It usually isn't very intersting. But not Hwaseong.
Spending a morning here while Ren went souvenir shopping in Myeongdong, I went to Hwaseong Fortress in Suwon primarily because it's a UNESCO World Heritage Site. Expecting this to be one of those textbook posts sporting a few dry facts, little did I know that this entire structure was built to honor the remains of a Joseon prince who was sentenced to die in a locked rice chest, by his own father.
I think this post just got a lot more interesting.
Suwon Hwaseong Fortress
Hwaseong Fortress is in the city of Suwon, which is around 30 km (19 miles) south of Seoul. It takes about an hour to get here by subway and bus. Detailed directions at the bottom of this post.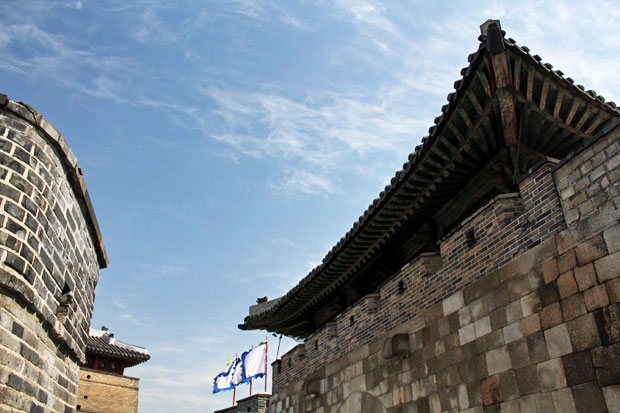 Designated a UNESCO World Heritage Site in 1997, the name Hwaseong means "Brilliant Castle". It was built from 1794 to 1796 by King Jeongjo of the Joseon Dynasty to house and honor the remains of his father Prince Sado.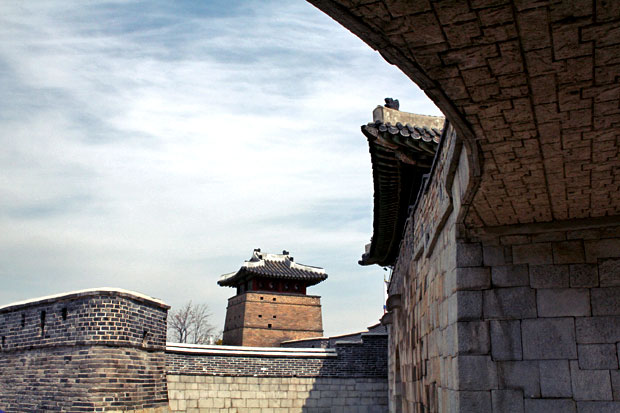 Once heir to the Joseon throne, Prince Sado was never given the opportunity to rule. He was said to suffer from a mental illness and was accused of randomly killing people in the palace. He was also believed to be a serial rapist. Not exactly kingly traits eh?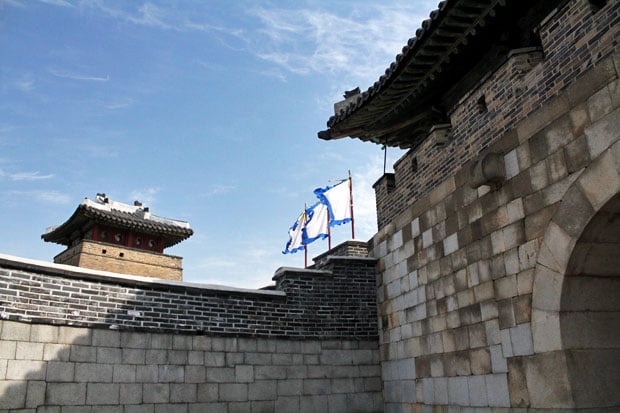 By court rule, Sado's father King Yeongjo couldn't execute his son by his own hand, so he issued a decree that ordered Sado to climb into and be sealed within a large wooden rice chest in 1762. He died from suffocation eight days later.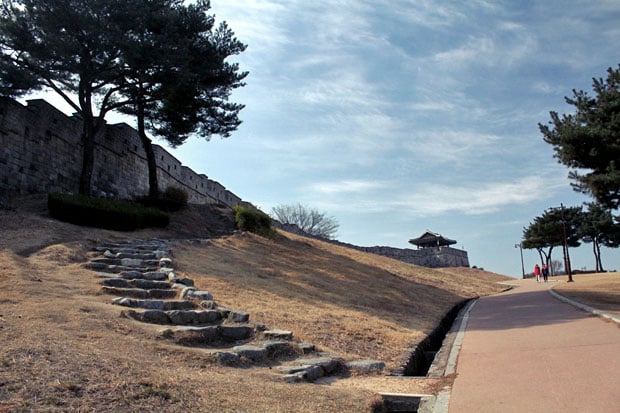 During the 19th century, there were rumors that Prince Sado had not been mentally ill, that he had been framed. However, these rumors were contradicted by his wife Lady Hyegyeong in her memoir. Today, Sado's death remains an issue of debate as to whether his death was a retribution for his actual misconduct, or if he were the victim of a conspiracy by his political opponents. Regardless of the truth, Hwaseong Fortress was built by Sado's son King Jeongjo to memorialize and honor his father's tomb.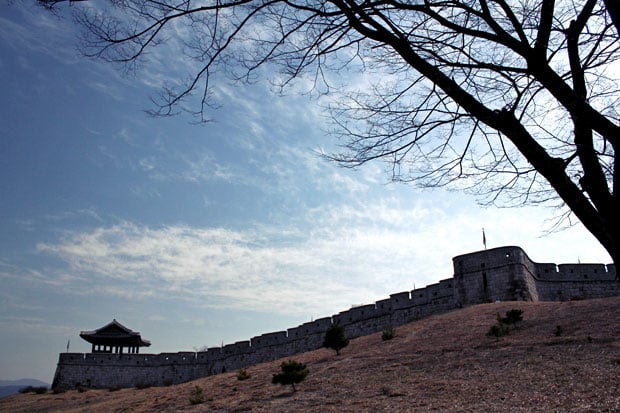 Measuring 5.7 km long and varying between 4-6 meters in height, you can climb along the fortress wall for 1,000 KRW. It's a little steep in parts so be ready for a mild workout.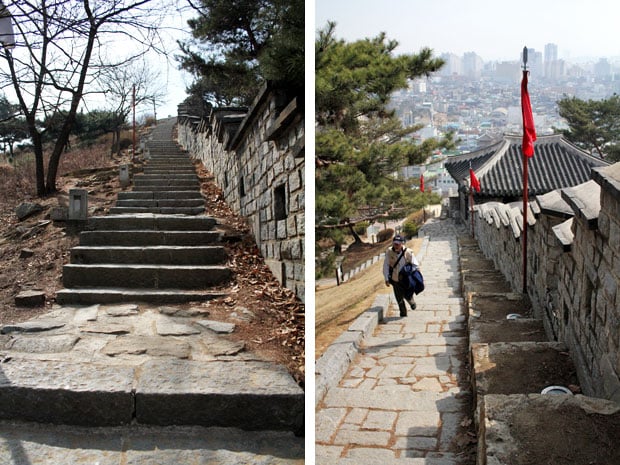 See that trail to the left of the steps? There's a whole network of trails here so it's no surprise that the area is popular among hikers. In fact, all around Hwaseong are shops selling hiking gear.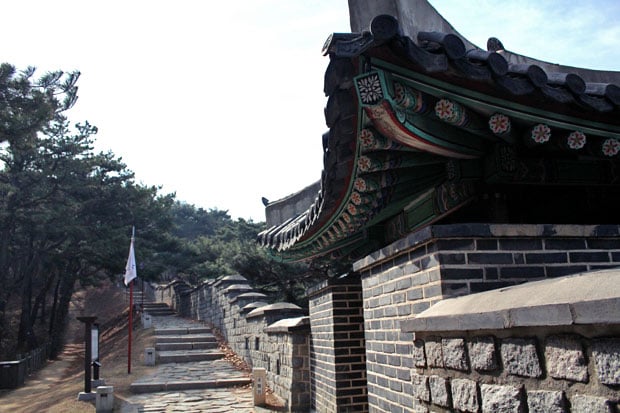 It was nice to walk along the wall on a sunny day.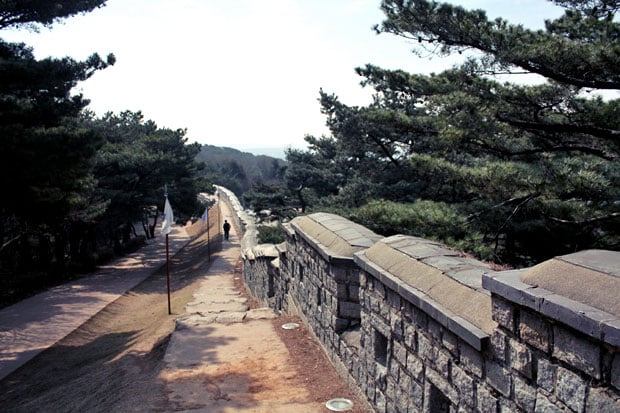 I believe this structure is called a jangdae, or "command post".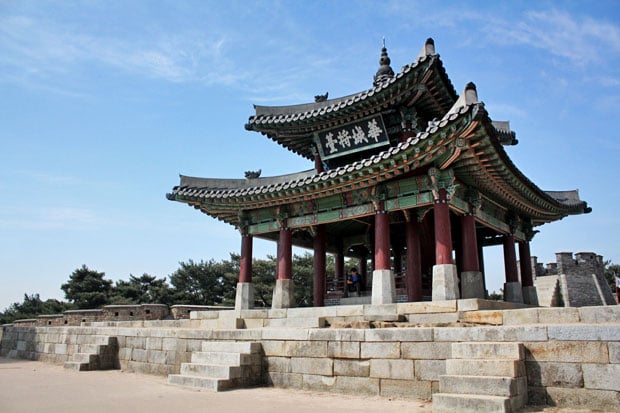 Located at the summit of Paldal Mountain, you can get great views of Suwon from here.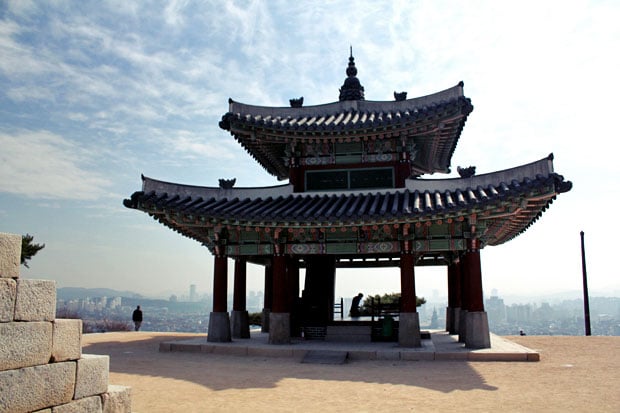 A fantastic view of Suwon. This was even better than the views from N Seoul Tower!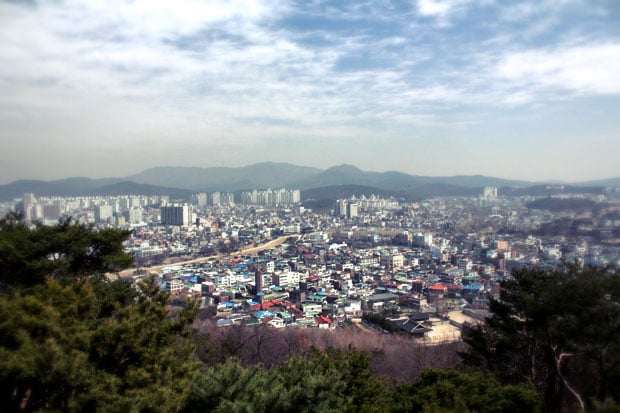 Steps leading down to a network of hiking trails around the fortress grounds.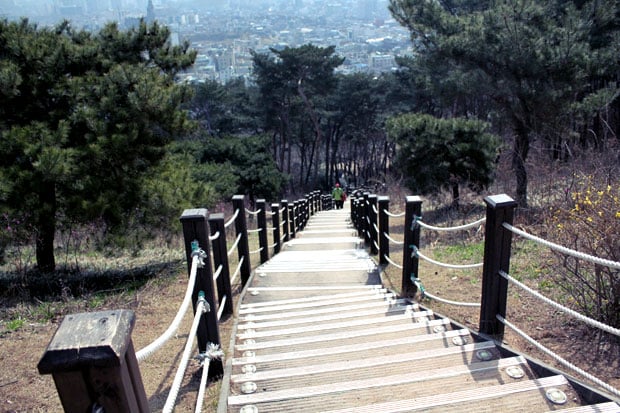 This is called an ammun or "secret gate". Typically set up in deep spots, ammuns are constructed to provide war supplies to the fortress without alerting their enemies. In the event of an emergency, an ammun may be closed by filling it up with stones and laying earth to block the gate.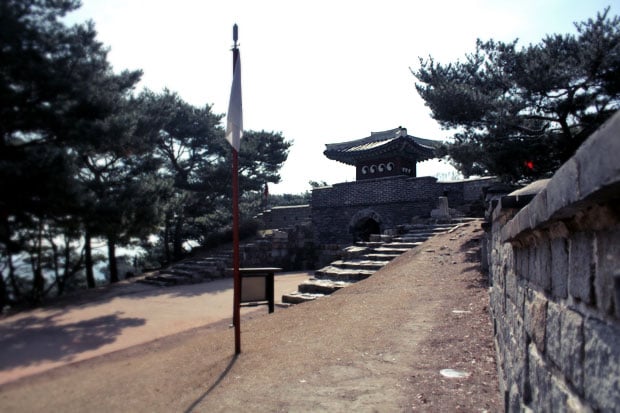 A gangnu or "pavilion", typically used for rest.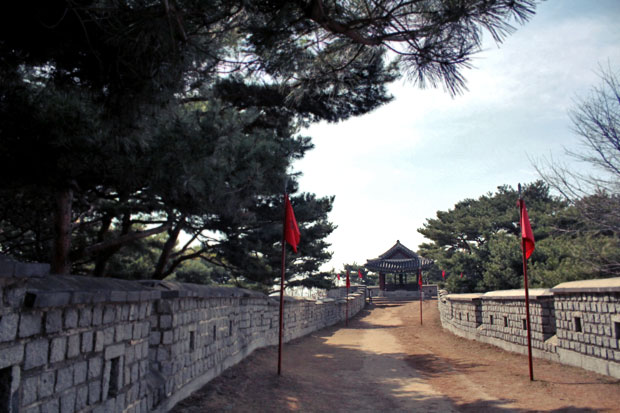 SeonamAmmun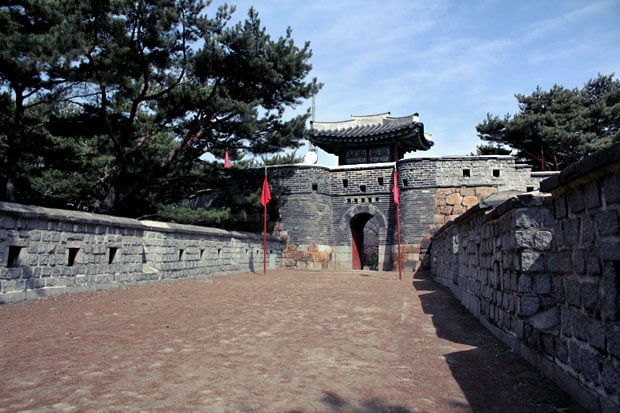 Nearing the end of the fortress wall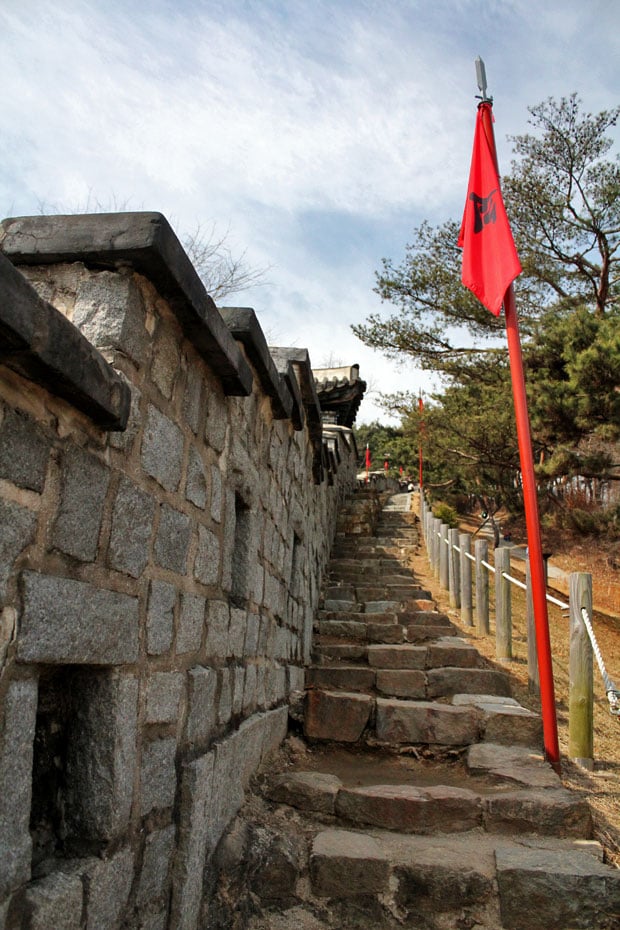 Towards the center of the fortress is this giant bronze statue of King Jeongjo.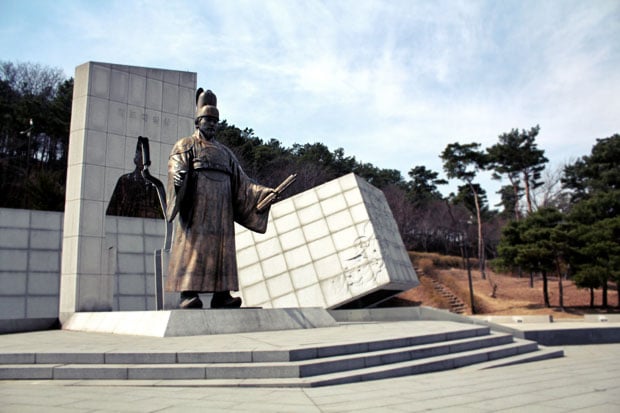 As previously mentioned, there are many hiking trails here. I also came across a couple of these parks that I initially thought were playgrounds for children.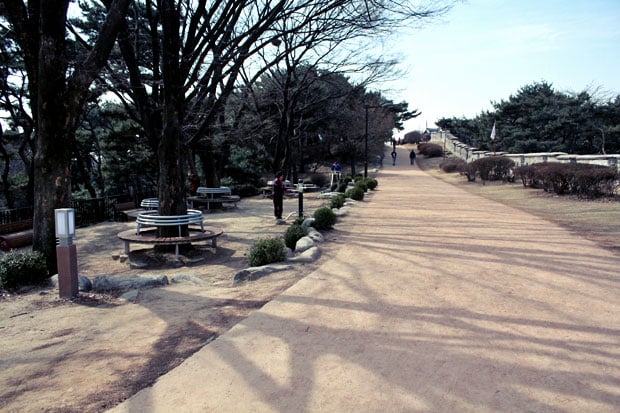 Upon closer inspection, these weren't playgrounds at all but public exercise machines! Many senior citizens were using them at the time. Hiking is a popular pastime in South Korea and it's evident from parks like this that good health is of the utmost importance to Koreans.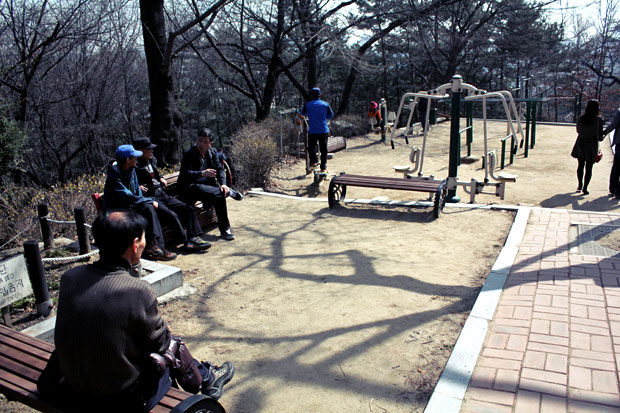 Other Points of Interest
Hwaseong Haenggung — I didn't have time to check it out but within the fortress walls is King Jeongjo's palace called Haenggung. Comprised of 22 buildings, entrance to Haenggung is 1,500 KRW per adult.
Hwaseong Trolley — For 1,500 KRW for adults and 700 KRW for kids, you can go on a 30-minute trolley ride to various key points around the fortress. There is much ground to cover here so this may be a good way of seeing Hwaseong without tiring yourself out. It's a great way of keeping the kids entertained too.
Korean Archery — I would have loved to do this if I had more time. For 2,000 KRW, you can channel your inner Legolas and experience the art of traditional Korean archery. How fun!
* * * * *
I wasn't expecting to do any hiking today but I'm glad that I did. Hwaseong Fortress and the surrounding areas are beautiful. As described above, there are many trails here and the views of Suwon are fantastic. Considering that it takes over an hour to get here from Seoul, half a day wasn't enough to see everything so I suggest allocating an entire day if you can. Suwon is a big city so it may be worth exploring as well.
Please be advised that climbing the fortress wall will require some measure of physical fitness. If you're allergic to exercise or have mobility issues, then I suggest skipping Hwaseong altogether. Otherwise, it makes a great day trip from Seoul.
Hwaseong Fortress, Suwon, South Korea
수원 화성
11, Haenggung-ro, Paldal-gu, Suwon-si, Gyeonggi-do, South Korea
경기도 수원시 팔달구 행궁로 11 , 장안구, 권선구 일원
Tel: +82 31 251 4435 / 4437
Email: [email protected]
Hours of Operation: Mon-Sun: 9AM-6PM (summer), 9AM-5PM (winter)
Suggested Length of Visit: 4-5 hrs
ADMISSION:
Suwon Hwaseong Fortress: 1,000 KRW per adult
Hwaseong Haenggung: 1,500 KRW per adult
Hwaseong Trolley: 1,500 KRW per adult
Traditional Korean Archery: 2,000 KRW per game (10 arrows)
HOW TO GET THERE:
By subway, get off at Suwon station (line 1). Exit the station and cross the street to get to the bus stop. It's a big open-air bus stop so you can't miss it. Take buses 5 or 7 and get off at Jangan Park stop which is about a 10-15 minute ride away. You'll see Hwaseong on your right.
To get back to Suwon station, cross the street and take any bus that stops at Suwon. I took the number 7 but many buses will stop there because it's a major station. You'll see the route for each bus at the bus stop.
For travel tips to Seoul, check out our First-Timer's Travel Guide to Seoul, South Korea