Seoul is a huge metropolis. Like Tokyo, there's so much to see and do that you'll need about five days to cover the city's top tourist attractions.
If you're visiting Seoul for the first time, then I suggest staying for a week, maybe even longer if you're a big fan of K-pop or Korean dramas. A week will give you enough time to visit the city's most popular attractions and take one or two day trips.
A lot of people know about Nami Island and the DMZ but there are many other day trip destinations in South Korea that aren't as well known. If you need help putting together your Seoul itinerary, then listed below are eighteen of the best day trips you can make from the city.
BEST DAY TRIPS FROM SEOUL
1. Nami Island
Nami Island is one of the most popular day trips people make from Seoul. It's a tiny half-moon-shaped island in the middle of the Han River. By tiny, I really do mean tiny, because the entire island has a circumference of just 5 km (3.1 miles)! You can easily explore the whole island in less than half a day.
Despite its small size, Nami Island is one of the most interesting places you can visit from Seoul. It's recognized as a micronation with its own flag, currency, passport, and national anthem. You even need an "entry visa" to step foot on the island!
Nami Island owes much of its popularity to the Winter Sonata Korean drama series that was filmed in part on the island. It's known for its lovely walking paths lined with towering pine, gingko, maple, and metasequoia trees. They're beautiful at any time of the year but especially in autumn when the leaves explode with color.
2. The DMZ
DMZ stands for Demilitarized Zone. It refers to a 4 km wide strip of land that stretches for 250 km along the border or Military Demarcation Line (MDL). It serves as a buffer zone between North and South Korea. Like Nami Island, a tour of the DMZ is one of the most popular day trips you can make from Seoul.
When I visited the DMZ, I went on a joint JSA and DMZ tour. JSA stands for Joint Security Area and refers to the only portion of the DMZ where soldiers from the north and south can stand face-to-face. I'm not familiar with the situation but tours to the JSA have been halted for now.
3. Everland
If you'd like to spend the day at an amusement park in Seoul, then two places come foremost to mind – Everland and Lotte World. Lotte World is located in central Seoul while Everland is located about an hour away in Yongin.
Everland is South Korea's biggest theme park and receives about 6 million visitors annually. It's owned by the Samsung group of companies and features a variety of rollercoasters and theme park rides in five themed zones. You can check out our guide to Everland for more information.
4. Hwaseong Fortress
Hwaseong Fortress is a UNESCO World Heritage Site in Suwon, about an hour south of Seoul. It was built in 1796 to honor the remains of a Joseon prince who was sentenced to die in a locked rice chest by his own father.
In spite of its chilling backstory, Hwaseong Fortress is a popular day trip destination for people looking to do some light hiking from Seoul. Stretching for over 5.5 km (3.4 miles), you can walk along the fortress walls for a scenic workout and terrific views of Suwon City. There's a palace and a couple of museums you can visit as well.
5. Yangpyeong Dumulmeori
Dumulmeori refers to an area where the Bukhangang and Namhangang rivers meet in Yangpyeong County. Surrounded by water, it's a scenic spot that's often used as a filming location for Korean movies and television dramas, most notably She Was Pretty.
Dumulmeori's peaceful setting and proximity to Seoul make it a popular day trip destination for locals. It's a great place to go for a stroll or a leisurely bike ride. Other attractions include the lotus flowers of Semiwon Garden and the area's many farms where you can go strawberry picking.
You can easily go to Dumulmeori on your own using the metro. If you'd like to go on a guided tour, then you may be interested in this sightseeing tour from Klook.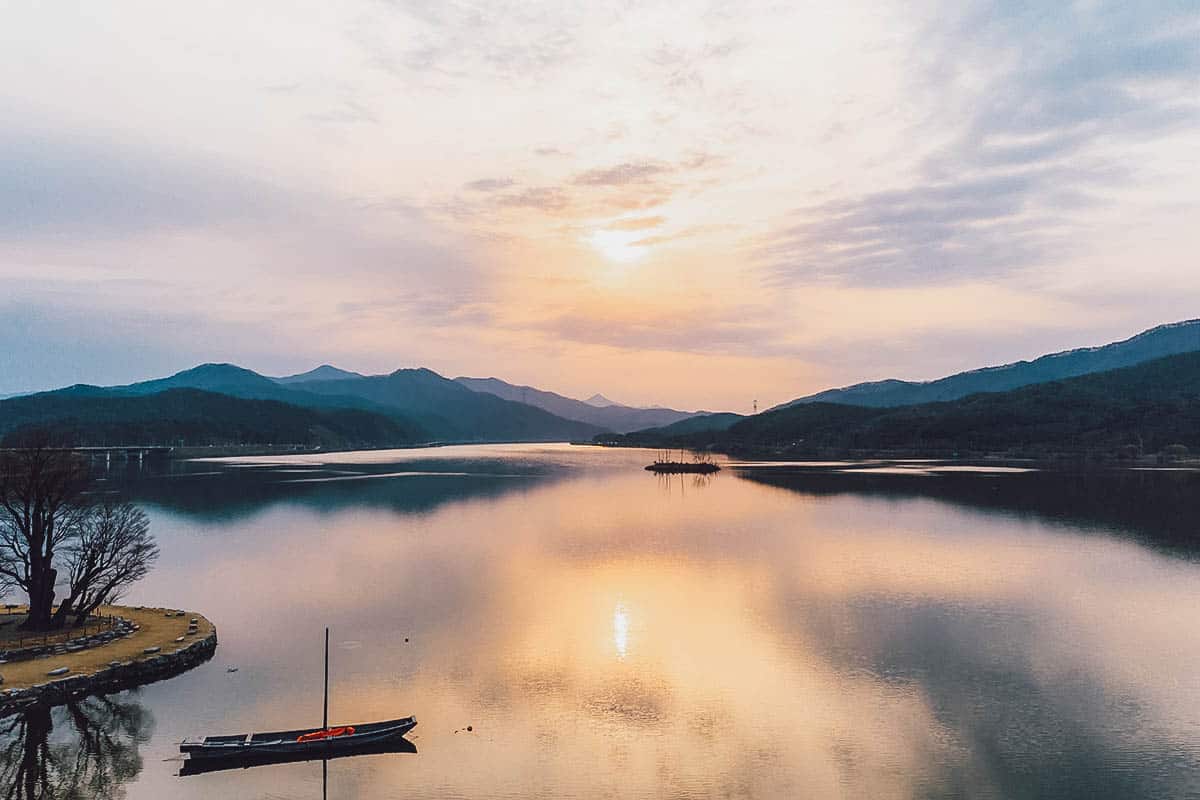 Photo by Stock for you
How to Get There: Take the metro to Yangsu station. From there, it's a short taxi ride or a 20-30 minute walk to Dumulmeori.
6. Bhukansan National Park
Bhukansan is the only national park in the Seoul metropolitan area. Located just north of the city center, its proximity and accessibility make it one of the most popular hiking destinations from Seoul.
The park has three main peaks and a variety of hiking trails that offer different levels of difficulty. Proceed to one of the park's information centers to get a trail map and find a hike best suited for you.

Photo by munduuk
How to Get There: CLICK HERE for directions to the park's information centers.
7. Incheon
Many people only know Incheon for its airport, but there's enough to do in this port city that make it an interesting day trip destination.
For one, there's Incheon Chinatown and its plethora of restaurants serving Korean-Chinese cuisine. It's said to be the birthplace of jajangmyeon which is one of our favorite Korean dishes. Had we known that before our trips, then we would have spent the day there! Next time for sure.
Other points of interest include Wolmido Island, Songdo Central Park (pictured below), and Songwol-dong Fairy Tale Village. You can check Klook for tours and travel deals in Incheon.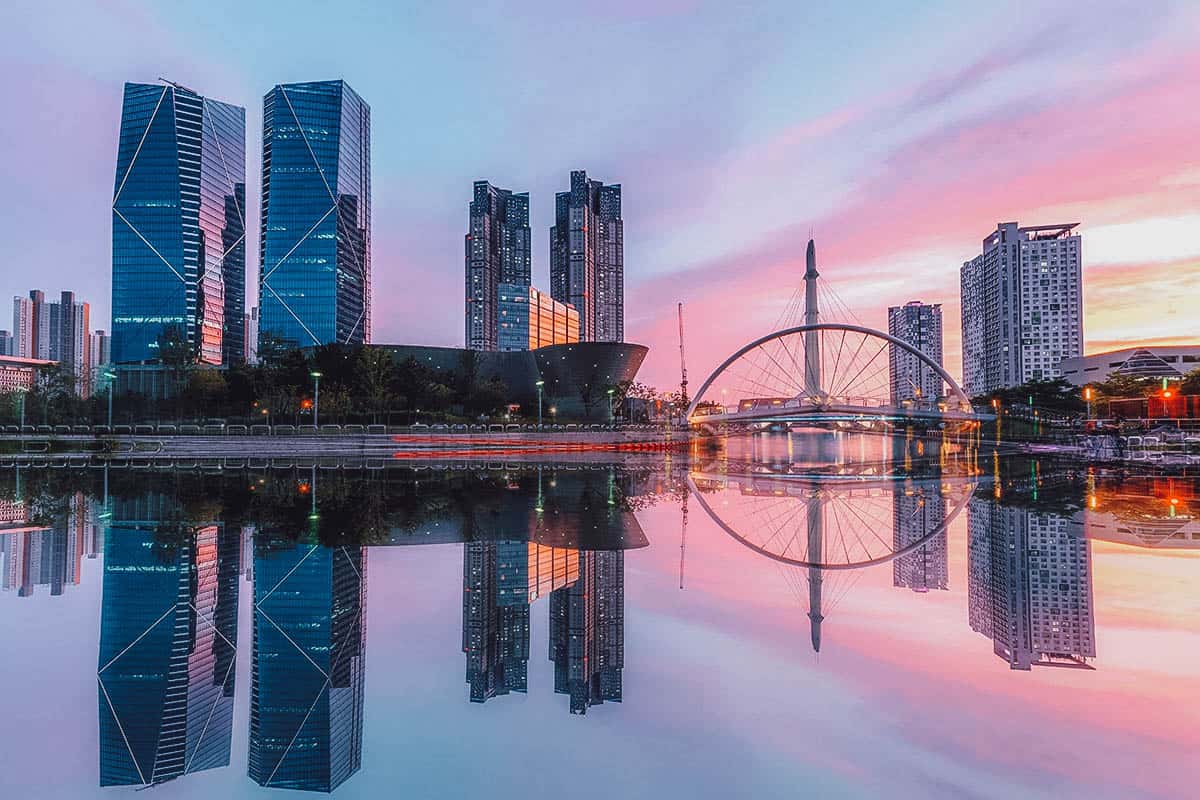 Photo by Noomna nakhonphanom
How to Get There: Take the metro to Incheon station.
8. Heyri Art Valley
Heyri Art Valley is an art community in Paju, just a few kilometers south of the DMZ. Built by creatives, it's a curious mix of galleries, exhibit halls, cafes, shops, and living spaces for artists.
If you like the arts and offbeat destinations, then you'll probably enjoy Heyri Art Valley. It felt a bit like a giant cabinet of curiosities or a social experiment in creative living. The fact that it's located seemingly in the middle of nowhere, close to the North Korean border, definitely adds to its intrigue.
9. Alpaca World
As its name suggests, Alpaca World is a farm / petting zoo with alpacas and other farm animals like rabbits, deer, horses, and ostriches. The alpacas are tame so guests are free to pet, feed, and interact with them. For an extra fee, you can even go on leashed walks with the alpacas.
Alpaca World is located in a sprawling forested area with breathtaking views of the surrounding mountains. If you're traveling with kids or like farm animals, then it makes for a pleasant escape from the urban confines of Seoul.
It's a bit difficult to get to Alpaca World using public transportation, especially on a day trip, so it's best to go on a guided tour.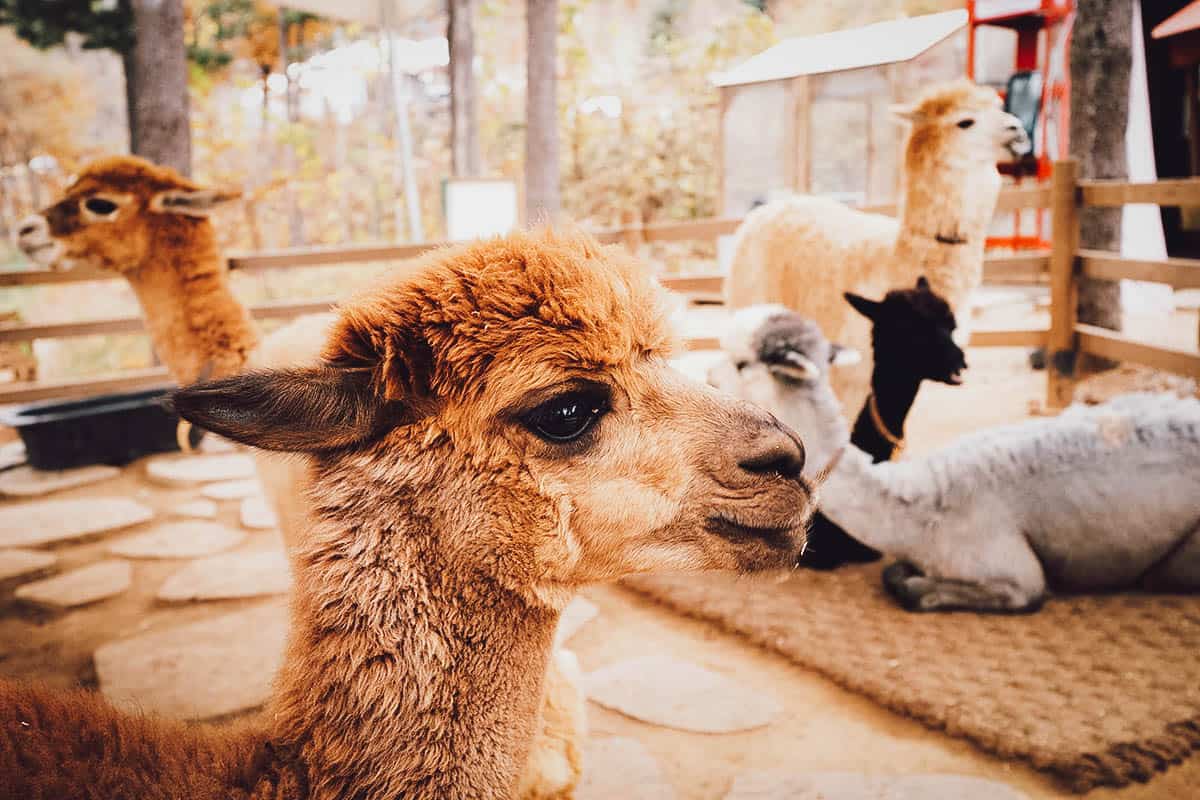 Photo by cherrydonut
Admission: KRW 15,000
10. Gwangmyeong Cave
Gwangmyeong Cave is an abandoned mine that's been repurposed into a subterranean theme park. It features light tunnels, aquariums, exhibit spaces, and a VR center. On occasion, it holds historical exhibits as well.
Perhaps most interesting of all is a 194-meter long wine cave offering about 170 varieties of South Korean wine. I guess you'll know where to find us on your next visit to Korea.
You can go to Gwangmyeong Cave on your own or join this guided tour. It'll take you to the Korean Folk Village as well.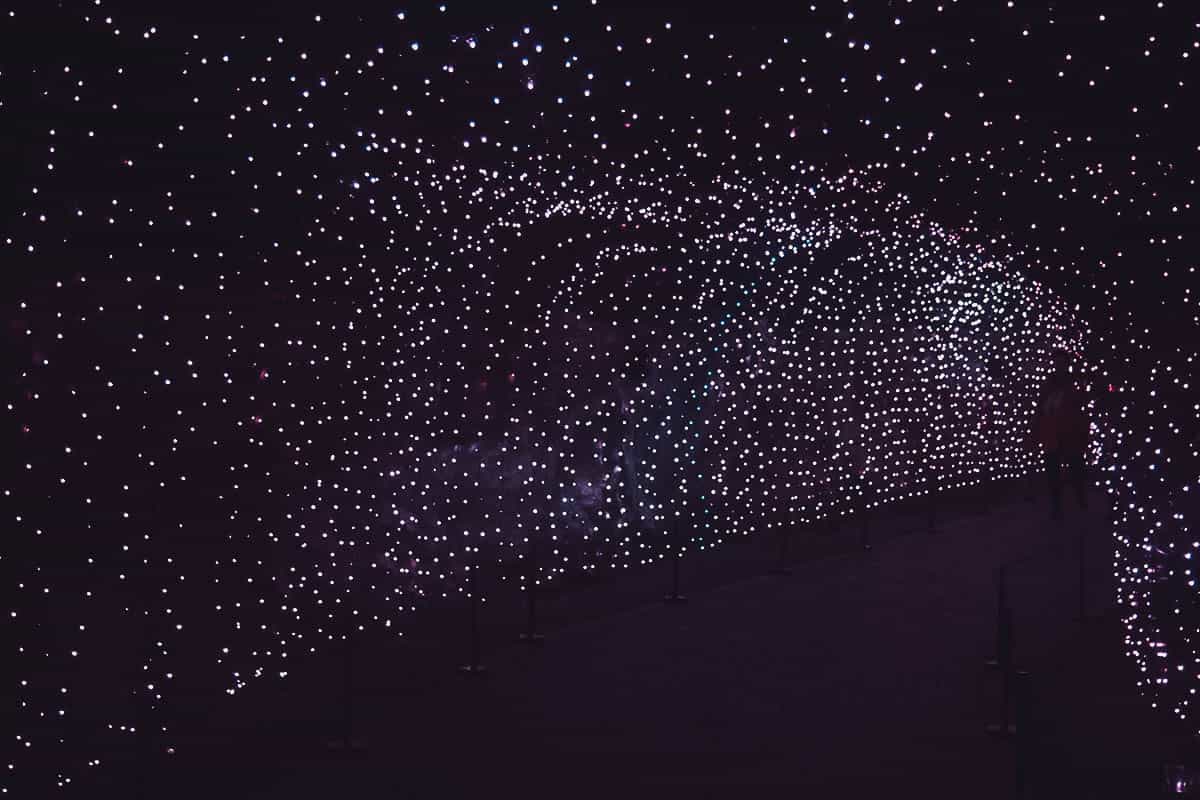 Photo by oshdr
Admission: KRW 6,000
How to Get There: The fastest way to Gwangmyeong station is by KTX high-speed train. Find exit 8 then take Bus 17 to Gwangmyeongdonggul bus stop (35 mins). From there, it's about a 10-minute walk to Gwangmyeong Cave.
11. Korean Folk Village
The Korean Folk Village is a living museum in Yongin, near Everland. It occupies about 245 acres of land and features 260 traditional houses from the late Joseon dynasty.
To create the museum, real houses were transported from different parts of Korea and restored onsite to recreate a traditional Joseon period village. Daily performances by actors in period costumes help recreate the illusion.
I enjoy going to these living museums on trips because it's always interesting to see history recreated in such painstaking detail. The Korean Folk Village is so convincing that it's been used as a backdrop for many Korean movies and dramas, most notably Jewel in the Palace and My Love from the Star.
You can visit the Korean Folk Village on your own or go on a guided tour. A few tours combine it with other destination on this list like Everland and Hwaseong Fortress.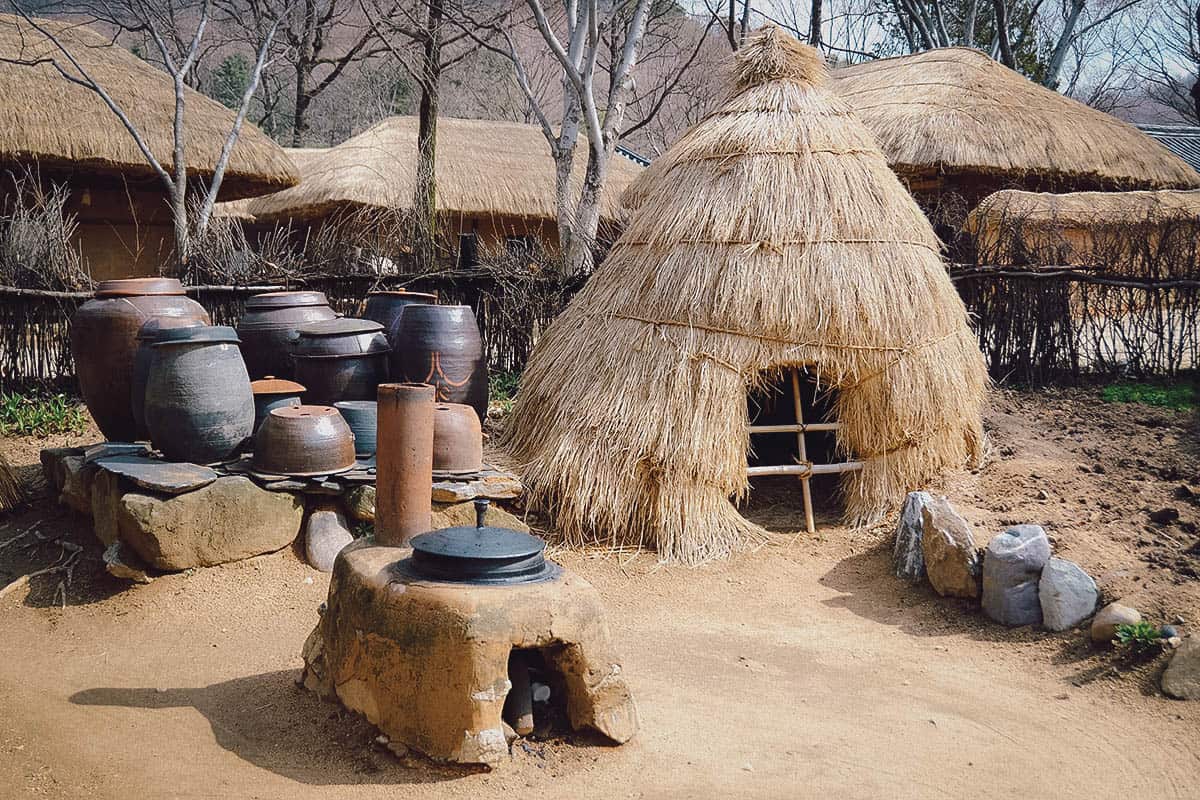 Photo by meunierd
Admission: KRW 22,000
How to Get There: From Gangnam station (Exit 10), take Bus 5001-1 to the Korean Folk Village bus stop (1 hr).
12. Namhansanseong Fortress
Namhansanseong is a mountain fortress and UNESCO World Heritage Site about 25 km (15.5 miles) southeast of Seoul. Built on top of Namhan Mountain, it stretches for about 12 km (7.5 miles) and was used as an emergency capital during the Joseon Dynasty.
Namhansanseong has a similar appeal to Hwaseong Fortress. It's a great day trip destination for people looking to do some hiking while exploring an historical attraction.
You can hike along the fortress walls or the many trails that take your through the forest. Along the way are temples, shrines, command posts, and fortress gates, not to mention spectacular views of the mountains and city.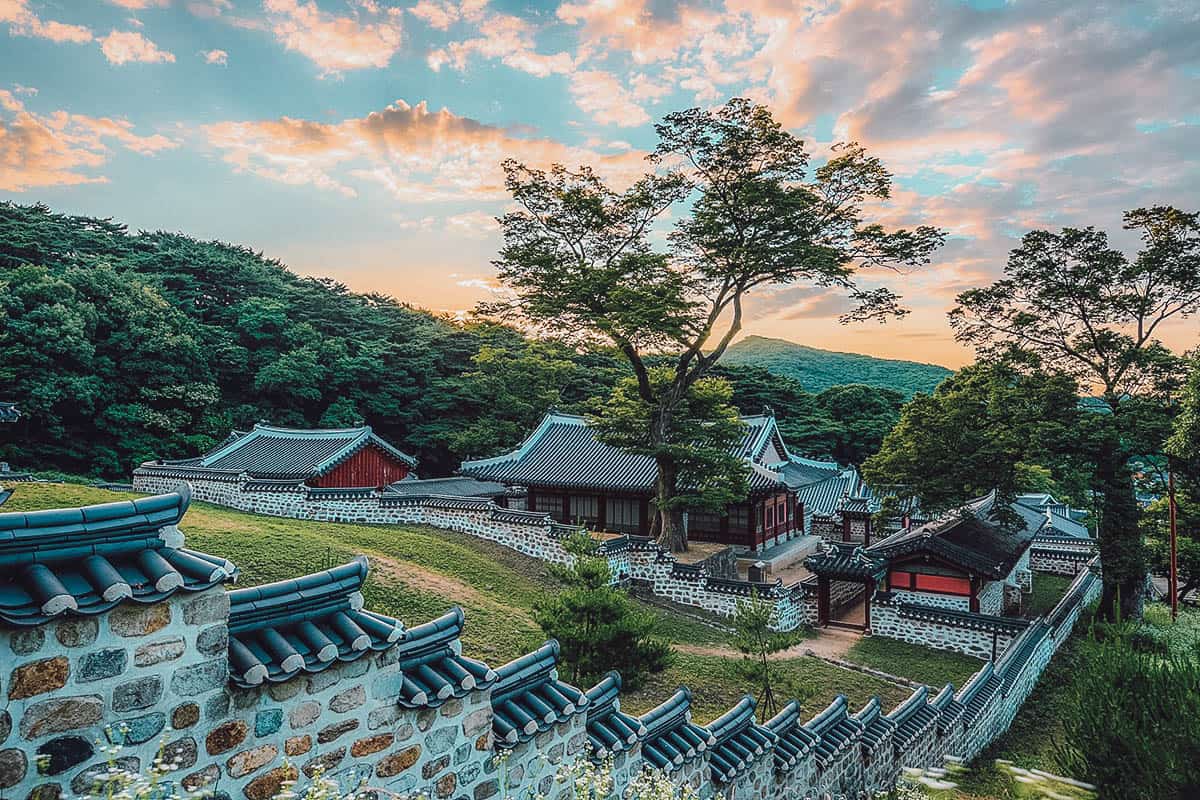 Photo by nop popeye77
Admission: KRW 2,000 (Emergency Palace)
How to Get There: From Sanseong station (Exit 2), take Bus 9, 9-1, or 52 to Namhansanseong bus stop (15 mins).
13. Jeonju Hanok Village
When I asked a Korean friend of mine for day trip destinations from Seoul, the first place he mentioned was Jeonju. It's home to a village with over 700 hanoks or traditional Korean houses.
Most first-time visitors will probably visit Bukchon Hanok Village in central Seoul. But if you're looking to visit a hanok village outside of the city, then Jeonju is a good place to go for a day trip. It's become more popular in recent years and is now one of the most visited cities in South Korea.
Jeonju is almost 200 km south of Seoul. You can get there in under 2 hours by high-speed train, but for a day trip, it may be easier to book a guided tour through Klook.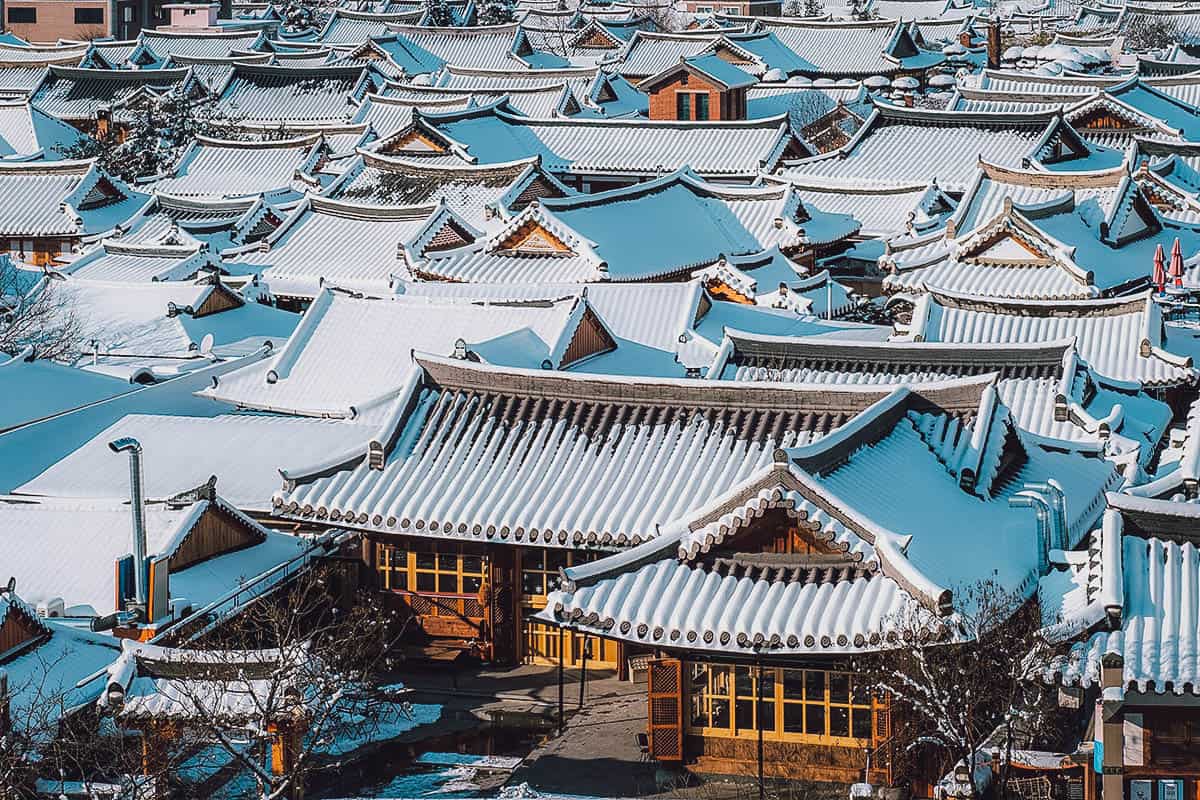 Photo by Guitar photographer
How to Get There: The fastest way to Jeonju station is by KTX high-speed train. From there, you can catch one of many buses (12, 60 ,79, 109, 119, 142, 508, 513, 536, or 542) to Jeondong Cathedral (Hanok Village) bus stop (30 mins).
14. Gangneung
We're familiar with Gangneung because of the hugely popular Korean television series Goblin. It's home to Jumunjin Breakwater where one of the show's most memorable scenes was filmed. The city also became known for hosting the ice events in the 2018 Winter Olympics.
Gangneung is located on the eastern coast of South Korea so much of its appeal is intertwined with the sea and the outdoors. Some of its most popular sites include Youngjin Beach, Gyeongpo Lake, Soldaram Bridge, and Sodol Adeulbawi Park.
Gangneung is over 220 km east of Seoul but you can get there in 2 hours by high-speed train. For a day trip, it may be easiest to go on a guided tour.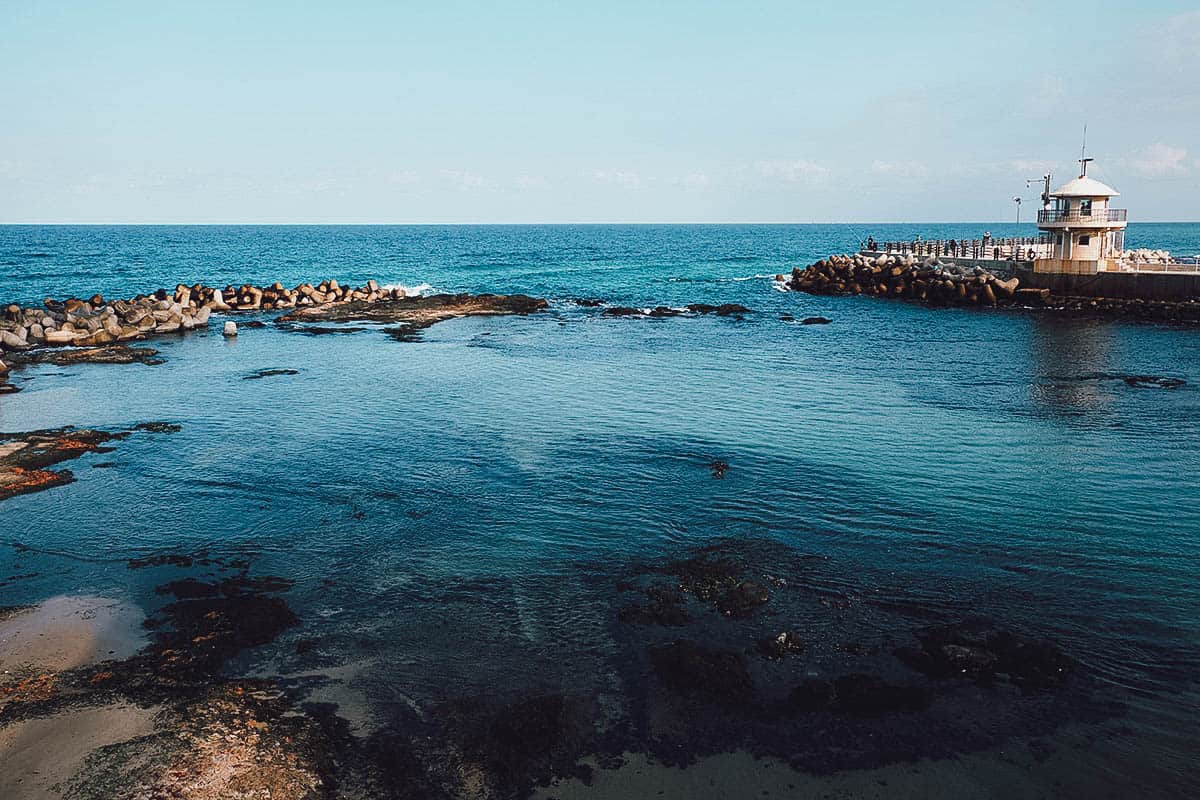 Photo by photo_jeongh
How to Get There: The fastest way to Gangneung station is by KTX high-speed train.
15. Sokcho / Seoraksan National Park
Sokcho is a sleepy fishing town along South Korea's east coast, less than 60 km (37.3 miles) north of Gangneung. It has a few popular beaches and hot springs but it's best known as a gateway to Seoraksan National Park.
One of its most notable attractions, at least for Korean drama fanatics, is the red lighthouse at Daepo Port. A scene from the popular Strong Woman Do Bong Soon television series was shot there.
Other points of interest within Sokcho itself are Sokcho Beach and Abai Shikdang, a waterfront village made famous by another television series – Autumn in My Heart.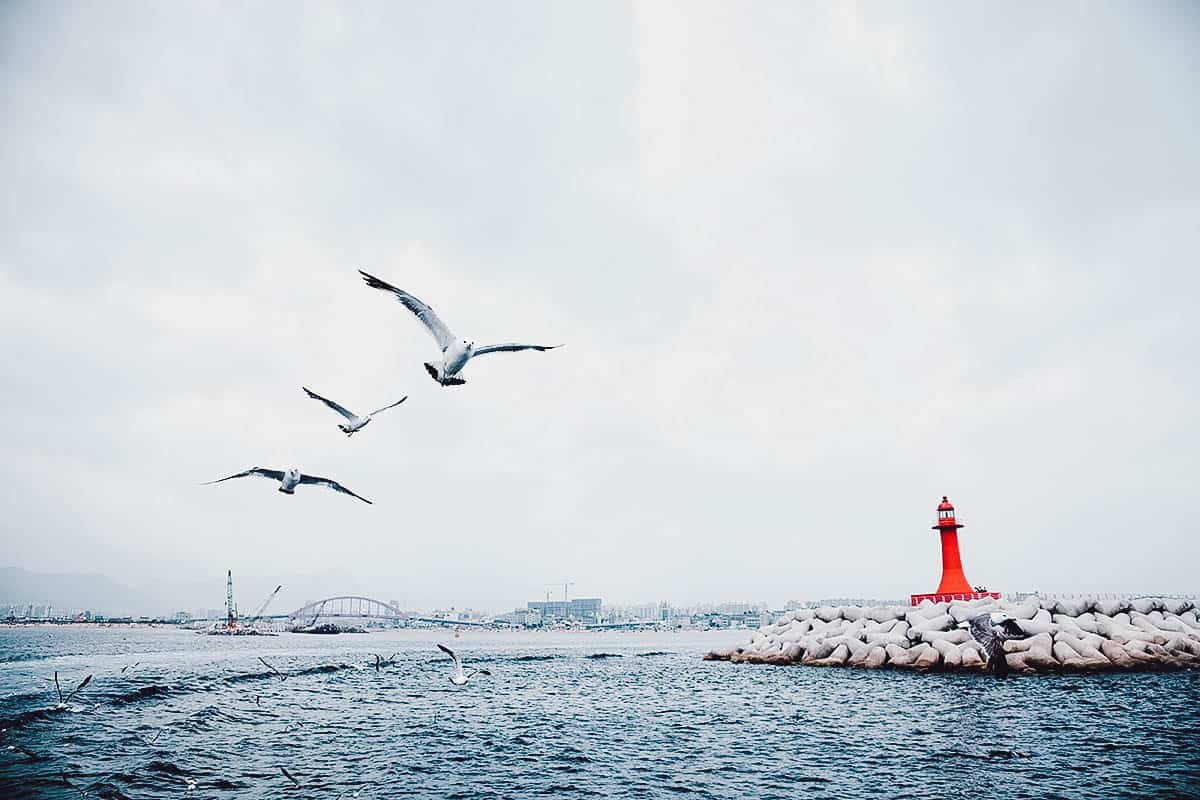 Photo by photo_jeongh
As described, most people travel to Sokcho to visit Seoraksan. It's a UNESCO Biosphere Reserve and considered by many to be the most beautiful mountain in South Korea. In fact, so beloved is Seoraksan that it's often described as the "backbone of the Korean peninsula".
The park features hiking trails that take you through a forested landscape with temples, valleys, waterfalls, and interesting rock formations. It's beautiful at any time of the year but especially in autumn when the mountains explode with color.
You can reach Sokcho by intercity bus from Seoul but it takes about two and a half hours each way. For a day trip, it may be best to book a guided tour through Klook or Get Your Guide.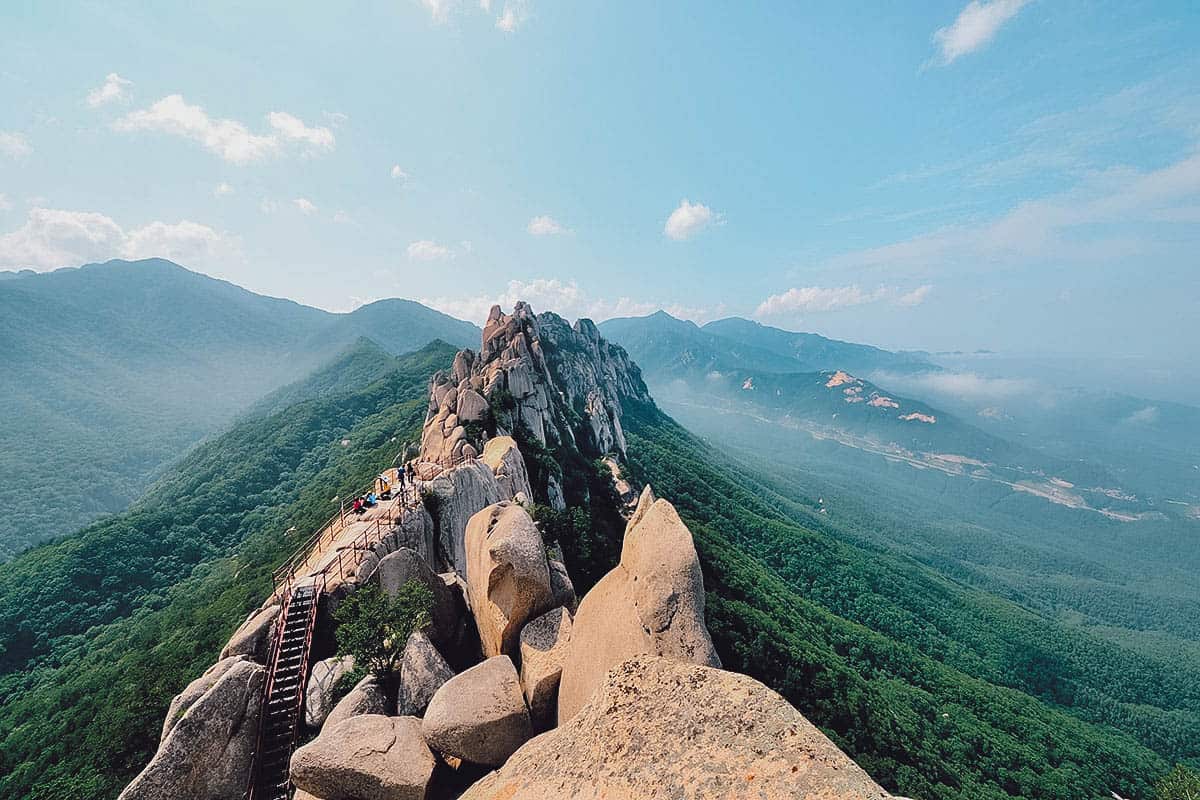 Photo by dah_ken
Admission: KRW 3,500 (Seoraksan National Park)
How to Get There: Take an intercity bus from Seoul Express Bus Terminal (Seoul Gyeongbu) to Sokcho Bus Terminal. To get to Seoraksan National Park, take Bus 7 or 7-1 from across the terminal to Soraksan Sogongwon bus stop (1 hr).
16. Naejangsan National Park
Speaking of mountains and fall colors, another great place to visit in autumn is Naejangsan National Park. It's considered one of the best places in South Korea to view the leaves turning color. Like Seoraksan, people visit Naejangsan to enjoy its nature views and many hiking trails.
You can get to Naejangsan National Park from Seoul by bus, but the fastest way is to go by KTX high-speed train. It'll get you there in about an hour and thirty minutes. If you plan on visiting Naejangsan for the day, then traveling by KTX train is the most feasible option.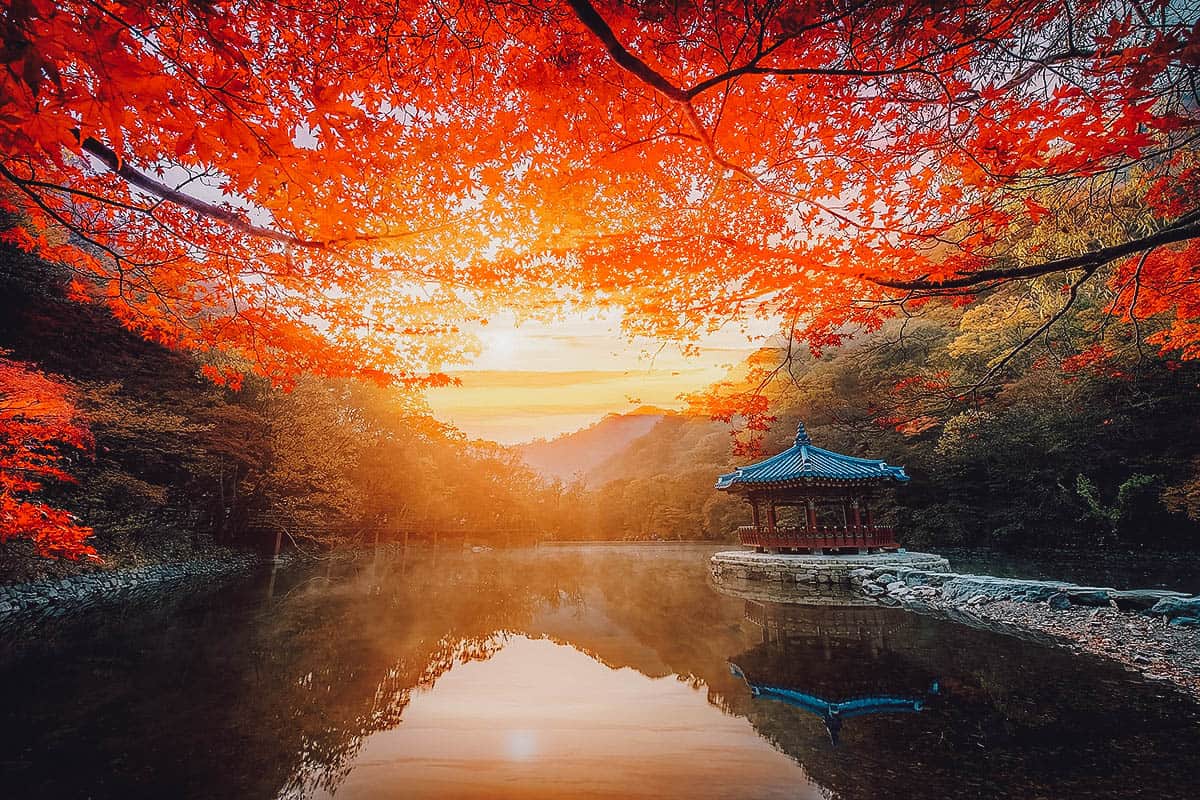 Photo by Noomna nakhonphanom
How to Get There: Take a KTX train from Yongsan station to Jeongeup station. Exit the station and turn right to find the bus stop. Take Bus 171 to Naejangsan bus stop (45 mins).
17. Oak Valley Snow Park
If you're visiting Seoul in winter, then you may want to spend a day skiing or snowboarding. There are a few ski resorts near Seoul like Jisan Forest Resort, Daemyung Vivaldi Park, and Oak Valley Snow Park.
You can book skiing or snowboarding trips on Klook or Get Your Guide. These are obviously seasonal activities so be sure to check back around wintertime for more options.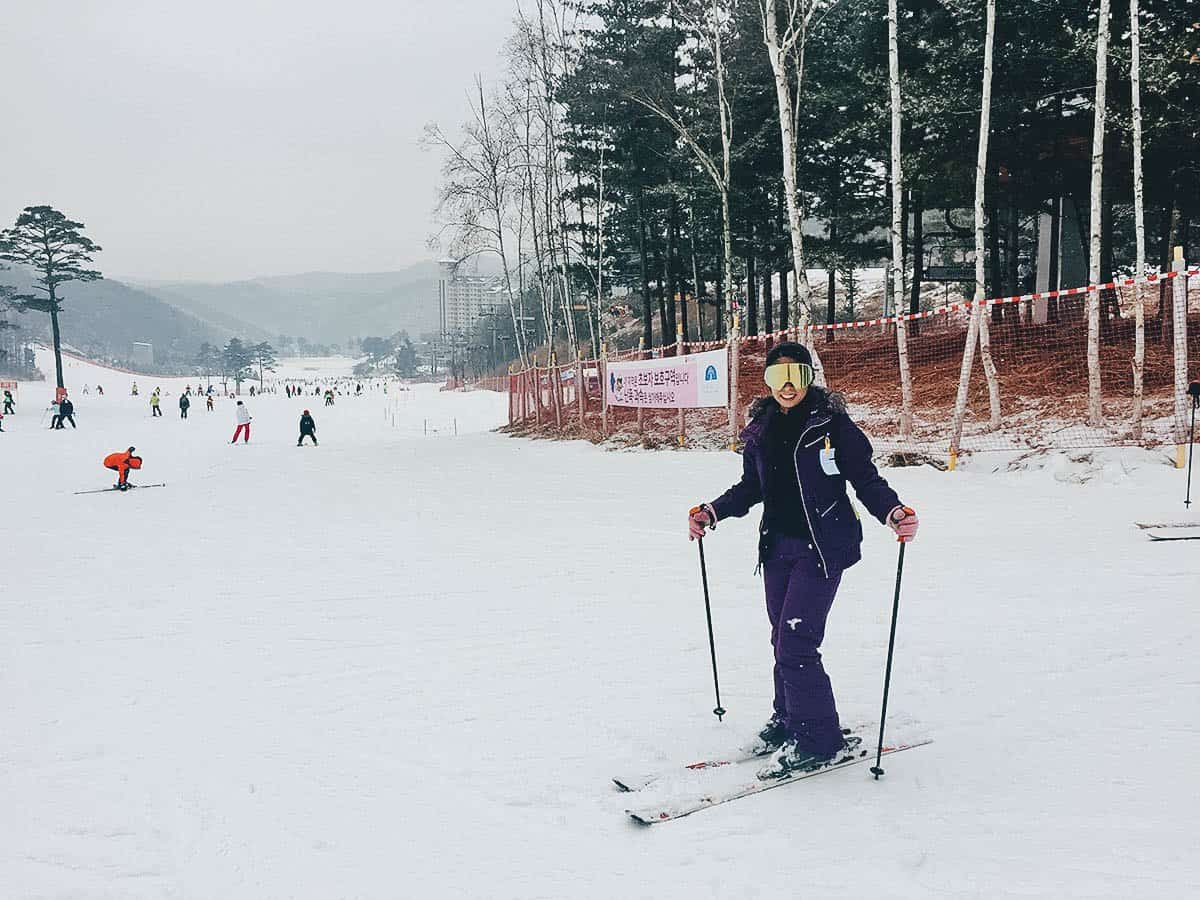 18. Jinhae
Catching the cherry blossoms in spring isn't as easy as it sounds. They typically bloom around the first week of April in Seoul but that can change from year to year. If you aren't staying long enough, then you can miss them. That happened to us on our very first trip to Korea.
If you arrive too early in Seoul, then one thing you can do is to spend the day in Jinhae. It's a district in Changwon that's home to the biggest cherry blossom festival in South Korea. The climate is warmer there so the cherry trees bloom earlier.
The cherry blossoms in Jinhae are stunning, but here's the catch – Jinhae is over 300 km southeast of Seoul so it'll take you about 4 hours and 30 minutes to get there by bus. If you're willing to spend 9 hours in an intercity bus, then you'll be rewarded with some of the most beautiful cherry blossoms in South Korea.
Disclosure
Some of the links in this guide are affiliate links, meaning we'll get a small commission if you make a purchase at NO extra cost to you. We only recommend products and services that we use ourselves and firmly believe in. We really appreciate your support as this helps us make more of these free travel guides. Thank you!
Stock photos via Shutterstock