We skipped out on Nami Island on our first trip to Seoul, mainly because we weren't into Korean dramas at the time. I was under the impression that Nami Island was only interesting for fans of k-dramas like Winter Sonata. As it turns out, its appeal is more far-reaching than that.
Simply put, Nami Island is a must-visit for anyone traveling to Seoul. Aside from being storybook beautiful, it's a curious place that's unlike anything we've ever visited. There's a child-like quality to the island reminiscent of faeries, elves, and other playful spirits. We relegate them to fantasy as adults but here, they may very well exist. At least that's the feeling you get when you're here.
And if that weren't interesting enough, Nami Island is officially known as Naminara Republic, a tiny micronation with its own passport and flag. I've heard of micronations before but I've never actually been to one. I'm drawn to odd places and Nami Island is about as curious as it gets.
You can easily visit Nami Island on your own, and I'll explain how below, or you go on a package day tour which is what we did. We were picked up from a designated point in Seoul and taken to Nami Island, Gangchon Rail Park, and Petite France, all in one day. This is what you can expect from that tour.
VISIT NAMI ISLAND QUICK LINKS
To help you plan your trip to Nami Island and Seoul, we've compiled links to recommended hotels, tours, and other travel-related services here.
SEOUL HOTELS
Recommended hotels in Myeongdong, one of the best areas to stay for first-time travelers to Seoul.
NAMI ISLAND TOURS
OTHER SERVICES
SEOUL TRAVEL GUIDE
If you're visiting Seoul for the first time, then be sure to check out our detailed Seoul travel guide. It'll tell you everything you need to know – like when to go, where to stay, where to eat, etc. – to help you plan your trip.
Save This on Pinterest!
No time to read this Nami Island guide now? Click on the save button and pin it for later!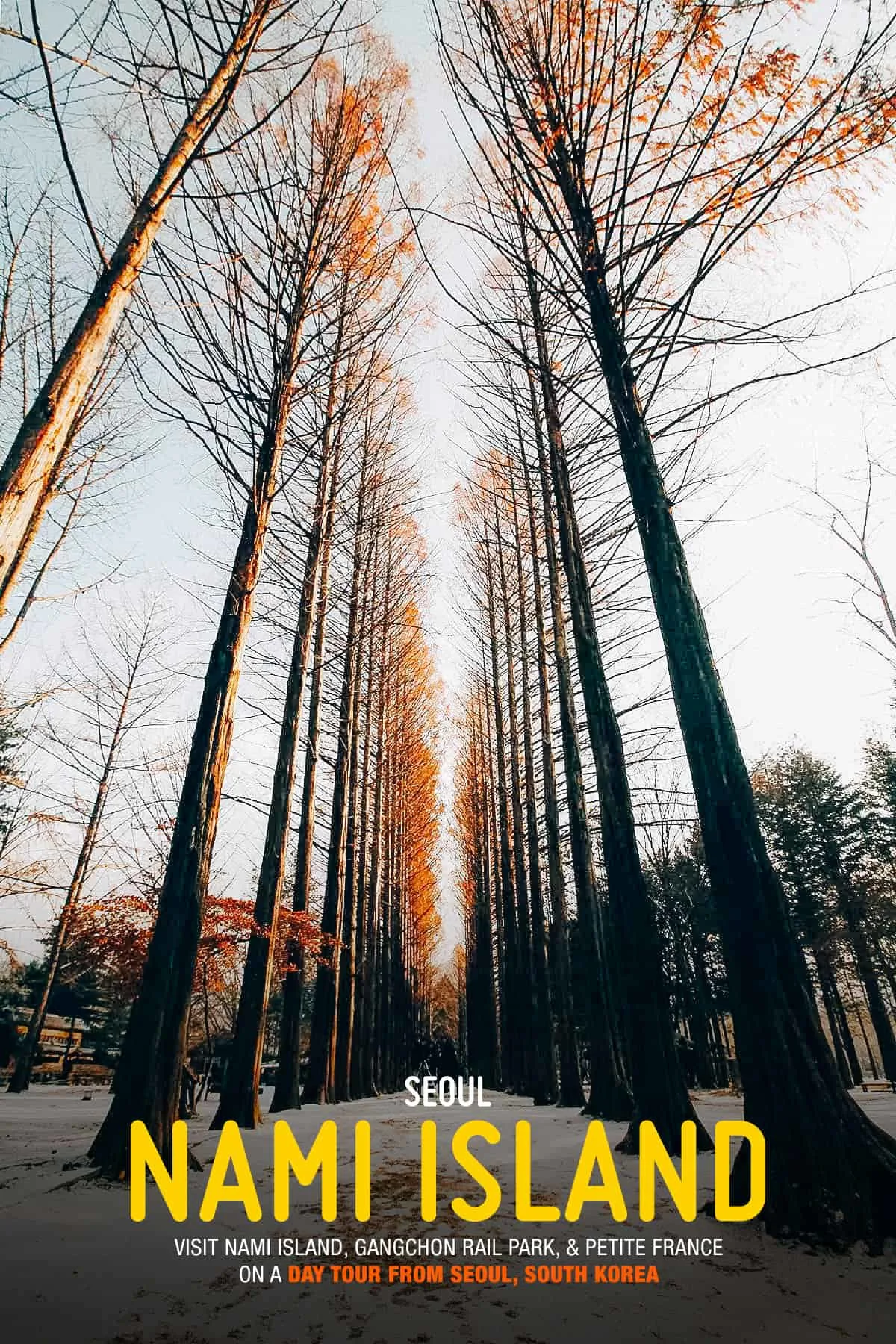 GUIDE TABLE OF CONTENTS
NAMI ISLAND (NAMISEOM)
Nami Island is a tiny half-moon-shaped island about 63 km from Seoul. When I say it's tiny, I really do mean tiny. It has a circumference of just 5 km so you can explore the whole island in less than a day. Situated in the middle of the Han River, the island used to be formed by seasonal rain but the construction of the Cheongpyeong Dam in 1944 has turned it into a permanent island.
Today, Nami Island is a famous tourist attraction and one of the most popular day trip destinations from Seoul, receiving millions of visitors annually. Much of its popularity has to do with the success of the Korean drama series Winter Sonata which was filmed in part on the island.
Interestingly, Nami Island declared its cultural independence from South Korea in 2006 and is now recognized as a micronation with its own flag, currency, passport, and national anthem. You actually need an "entry visa" to go there! More on that below.
Naminara Republic
Declaring its independence from the Republic of Korea in 2006, Nami Island is a micronation that's officially known as Naminara Republic.
According to Wikipedia, a micronation is an entity that claims to be an independent nation or state, but isn't recognized by world governments or major international organizations. I didn't know Nami Island was a micronation so that got me even more excited. I had seen documentaries about oddballs forming their own micronations but I had never actually visited one.
Before you can board a ferry onto the island, you'll need to purchase an "entry visa" first. It costs KRW 16,000 and includes roundtrip ferry fare. You can even get a passport for KRW 58,000 which entitles you to unlimited access to Naminara Republic for one year! And don't worry, though Naminara Republic has its own currency, Korean Won is accepted on the island.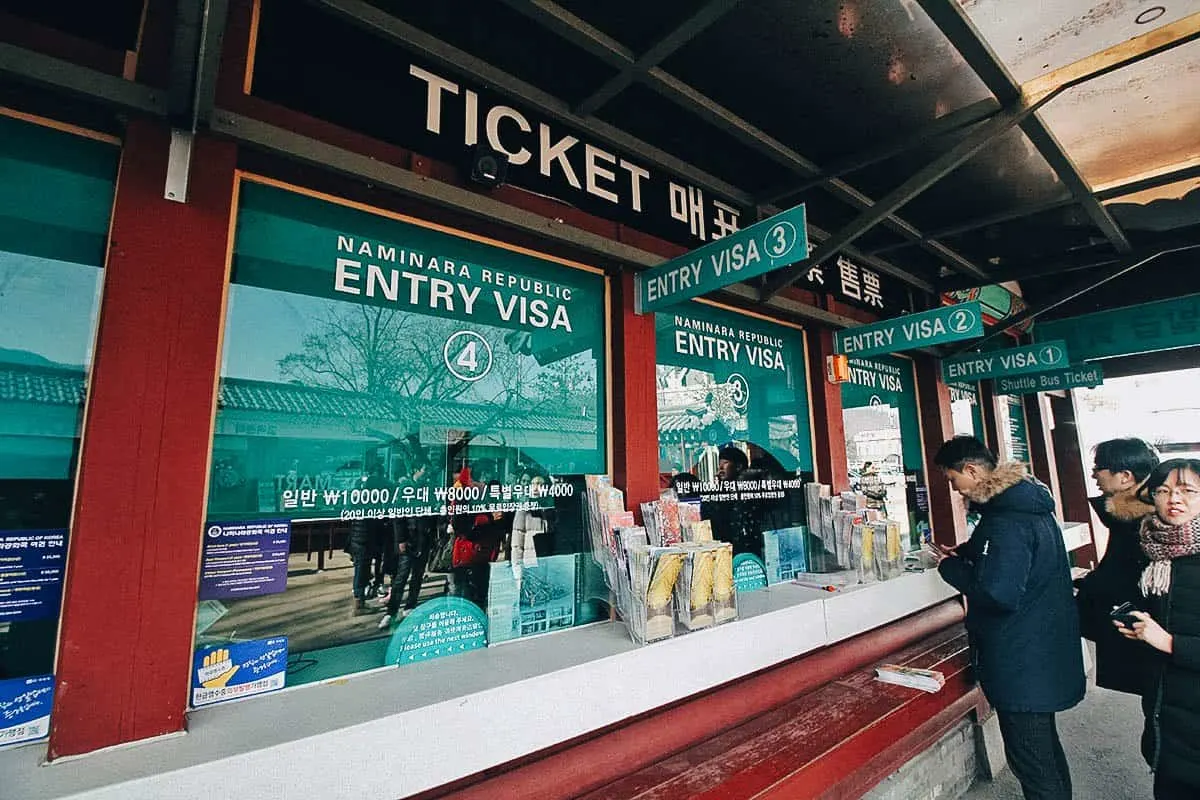 You'll be greeted by this seal (or is it a manhole?) upon landing at Naminara Republic.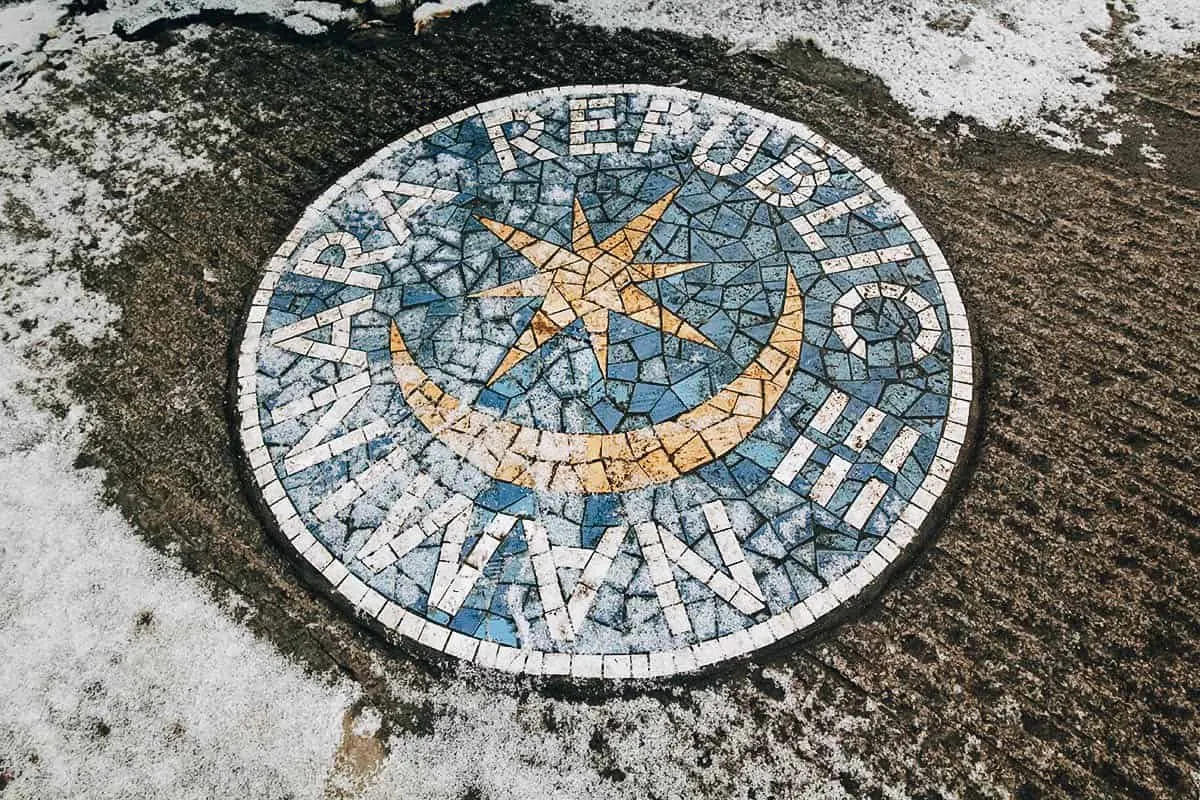 Getting to Nami Island
If you aren't driving, then there are four ways to get to the Nami Island ferry dock from Seoul.
BY SHUTTLE: This is the easiest and most convenient way to get to Nami Island from Seoul. You can book a roundtrip shuttle bus through Klook.
BY SUBWAY: Take the subway to Gapyeong Station from wherever you are in Seoul. From Seoul Station for example, the trip takes about 1 hour and 40 minutes and costs about KRW 2,450 each way (with a T-money card). You can check the Seoul Metro website to plan your route. From Gapyeong Station, it's about a 5 minute taxi ride (around KRW 5,000) or a 20 minute walk to the ferry dock.
BY ITX HIGH-SPEED TRAIN: Take the subway to Yongsan Station. From Yongsan Station, take the ITX-Cheongchun train to Gapyeong Station. The ticket costs about KRW 5,900 for economy class and KRW 5,600 for a standing/non-reserved seat. It'll take a little less than an hour to get to Gapyeong Station from Yongsan Station. It's advisable to purchase your tickets in advance and you can do so via the Korail website. Input the following details: Travel Type – Normal Type, Travel Path – Direct, Departure/Arrival – Yongsan/Gapyeong, Type of Train – ITX-Cheongchun. Print out the confirmation and present it along with each passenger's passport to claim your tickets at the Yongsan station Korail counter. From Gapyeong Station, it's about a 5 minute taxi ride (around KRW 5,000) or a 20 minute walk to the ferry dock.
BY GROUP TOUR: This is what we did. We went on the Nami Island/Rail Park/Petite France tour which gave us about 3 hrs on Nami Island. Unless you're a Winter Sonata superfan and want to stay as long as you can on the island, then 3 hrs should be enough. You can get the Nami Island/Rail Park/Petite France tour tickets through Klook.
Once you've arrived at the ferry dock and bought your entry visa, you can enter the island in one of two ways. The first option is to go by ferry. It leaves every 30 minutes from 7:30-9AM, every 10-20 minutes from 9AM-6PM, and again every 30 minutes from 6PM till the last ferry at 9:40PM. The cost of the ferry ride is already included in your entry visa.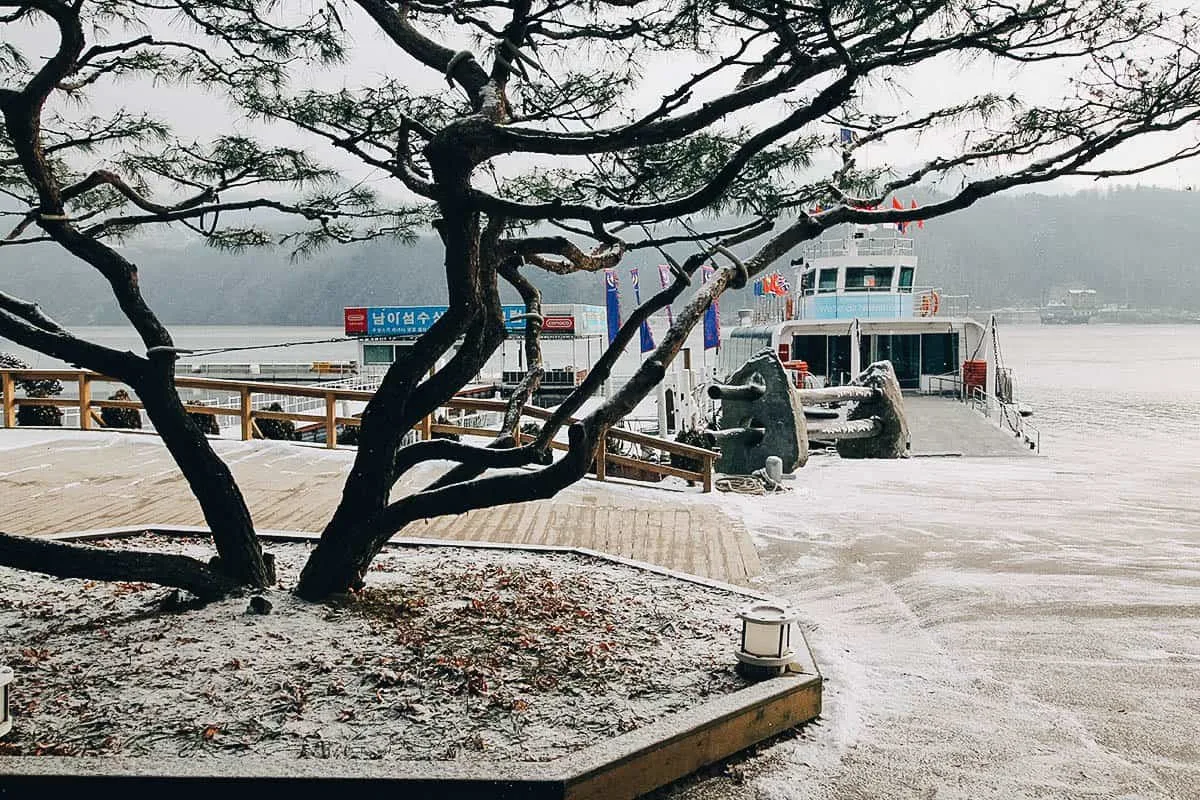 I didn't believe our tour guide at first when he said you can ride a zipline into Nami Island, but it turns out you can. For KRW 49,000 (entry visa included), you can do an Ethan Hunt and fly into Naminara Republic via zipline. It's open year-round, though I'm sure it's more popular when it isn't butt ass freezing outside.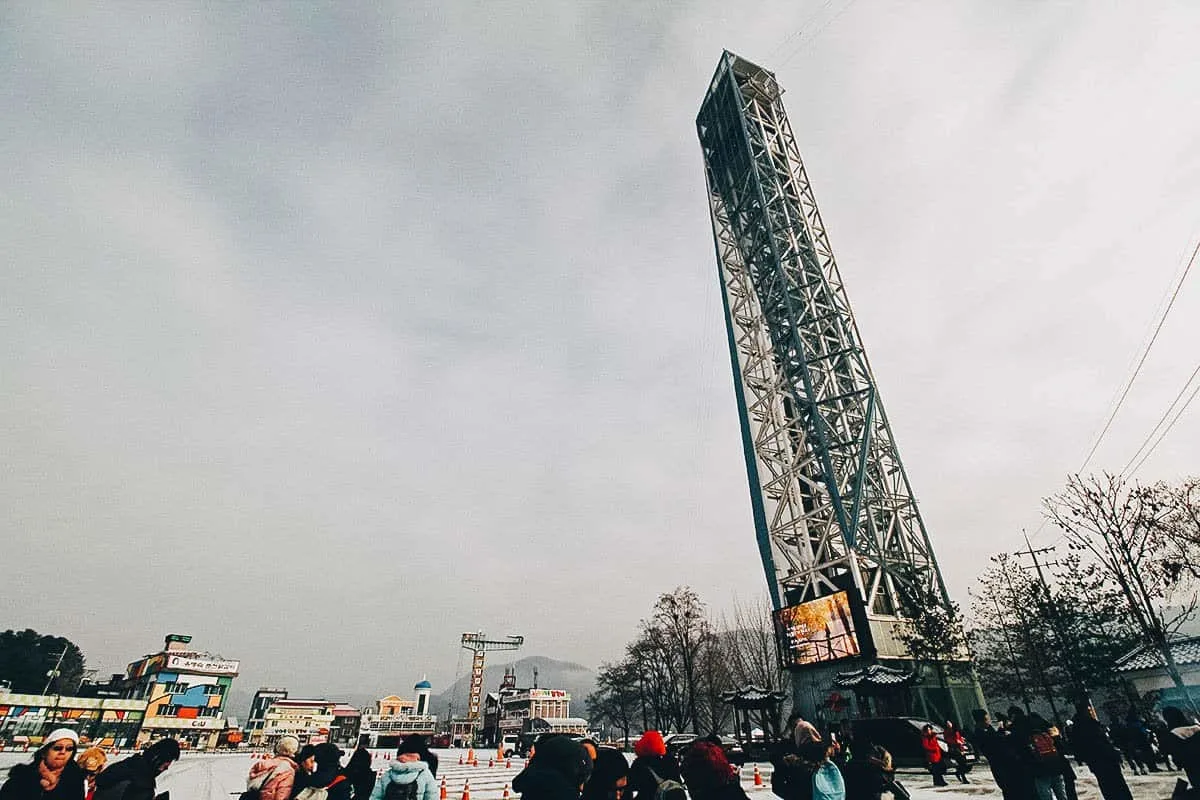 Nami Island
We're here! It takes just 5-6 minutes to get to the island by ferry.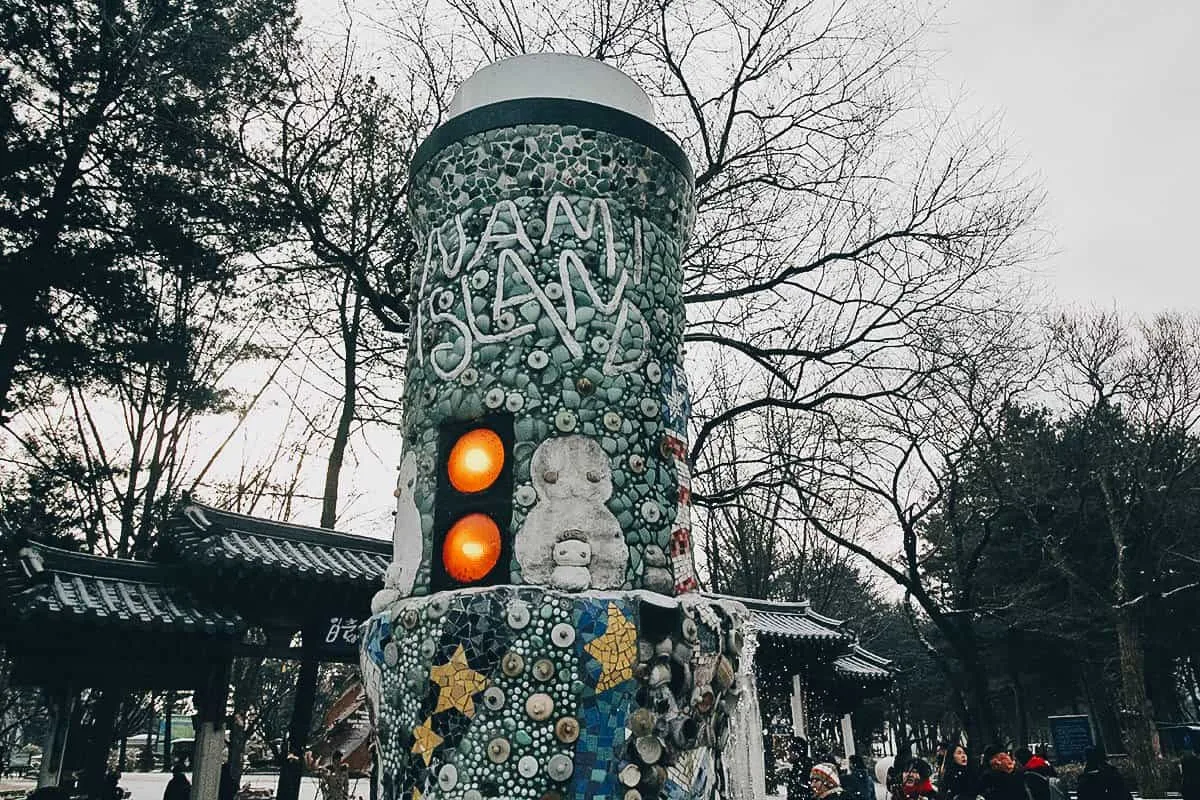 I don't know what this frozen thing is, but it looked cool, like something from Final Fantasy.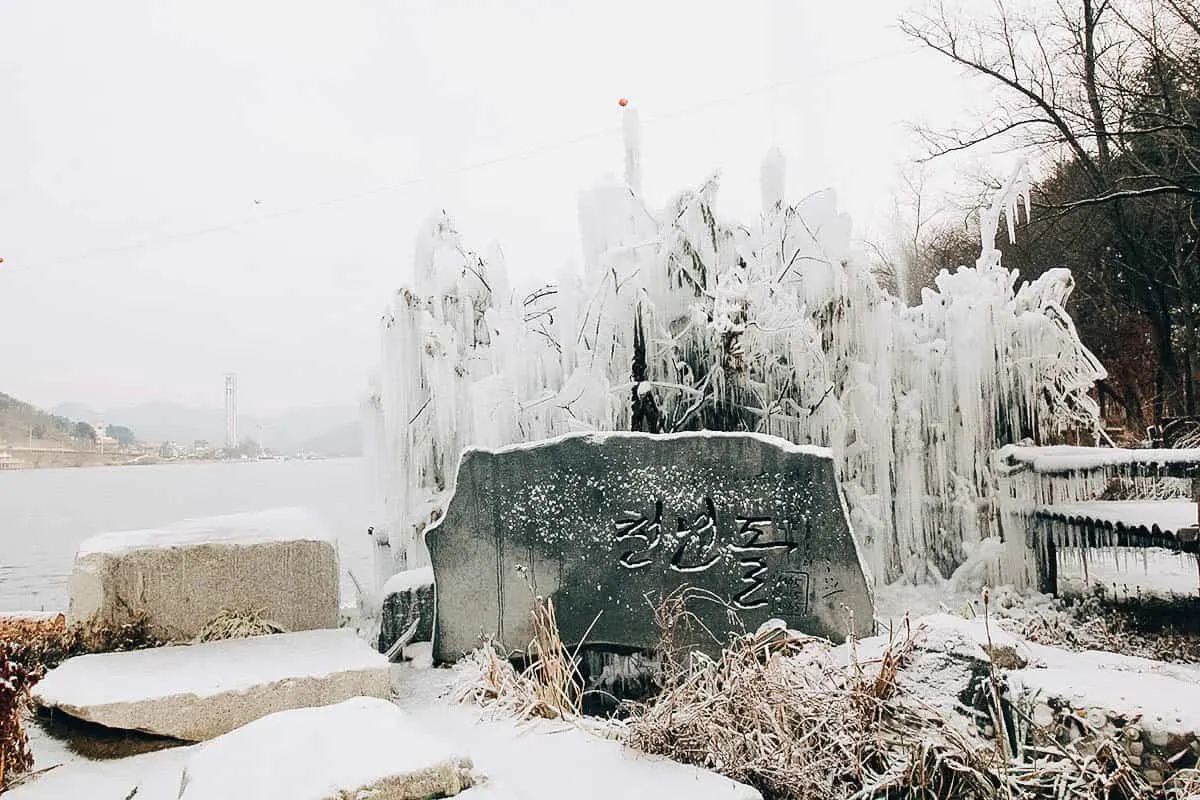 Neither Ren nor I have seen Winter Sonata so we couldn't appreciate that aspect of Nami Island. What I could appreciate though, apart from its storybook tree-lined pathways, were all its sculptures and art pieces. The entire island felt like an art installation, like some children's fairy tale come to life.
As it turns out, Namisum Inc's CEO Kang Woo-hyon is a former illustrator, fairy tale writer, and graphic designer who hoped to turn Nami Island into a place where "nature is in harmony with art and culture". That's exactly what it feels like when you're there.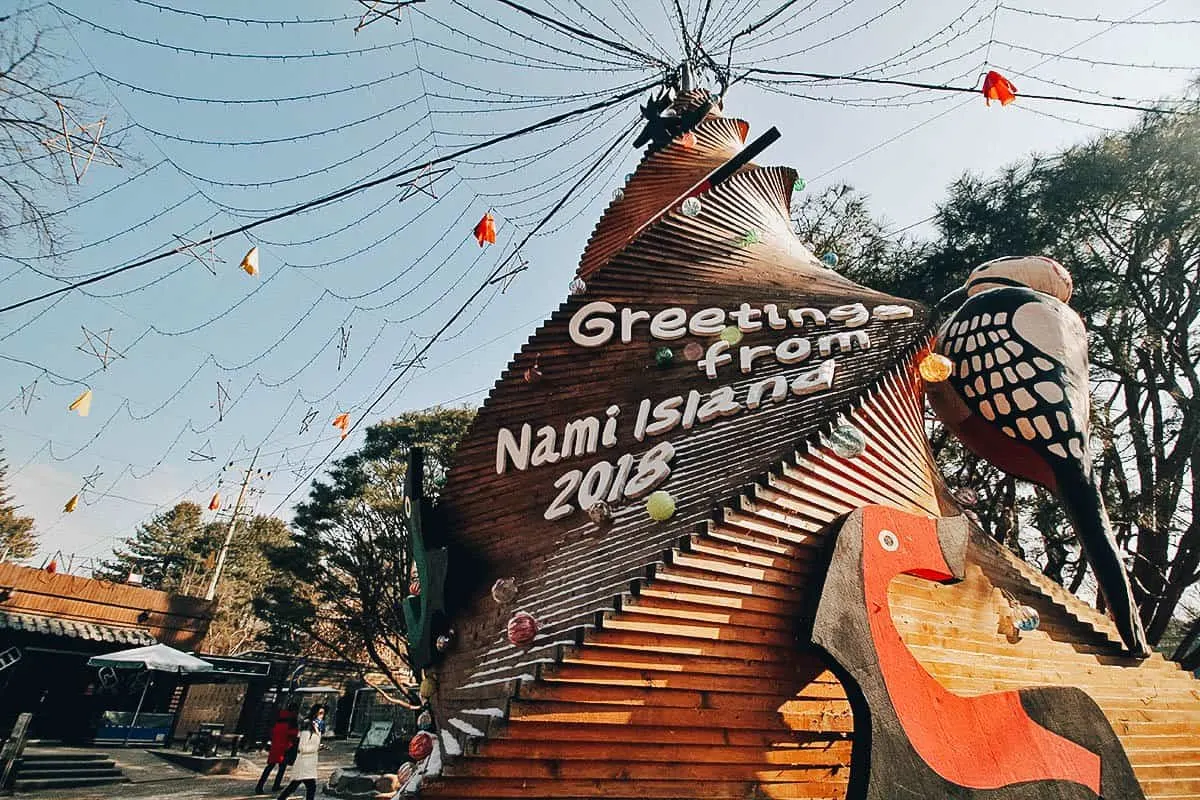 As described, Nami Island is famous for its tree-lined pathways. Almost every selfie posted on social media is taken along these paths. When we were there, it had snowed the night before so the entire island was covered in a thin blanket of fresh powder. It was beautiful!
This one was taken along the Riverside Walking Course, which is just one of several on the island. Each path is lined on either side with different sets of trees like Korean pine, gingko, maple, and metasequoia.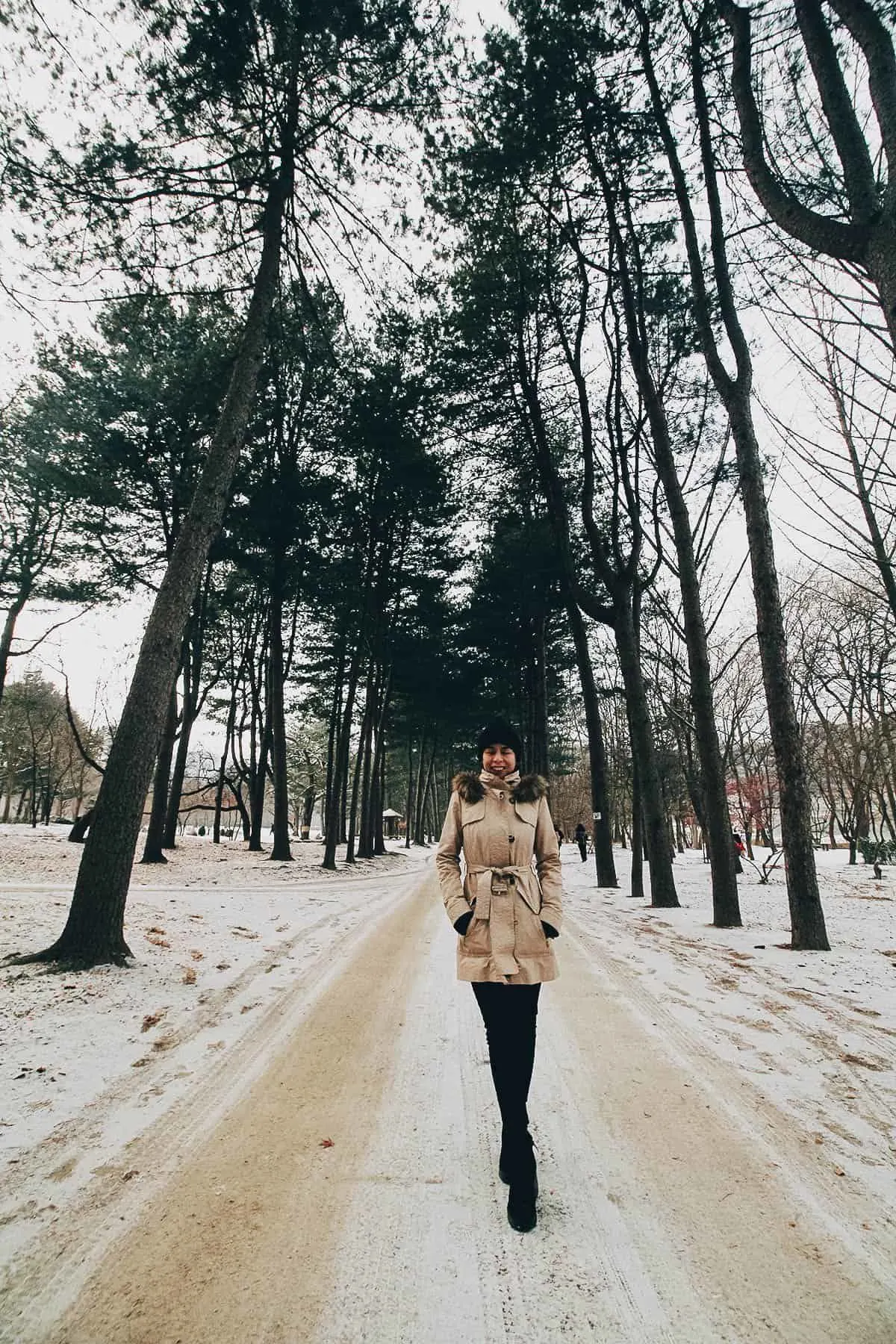 A small frozen pond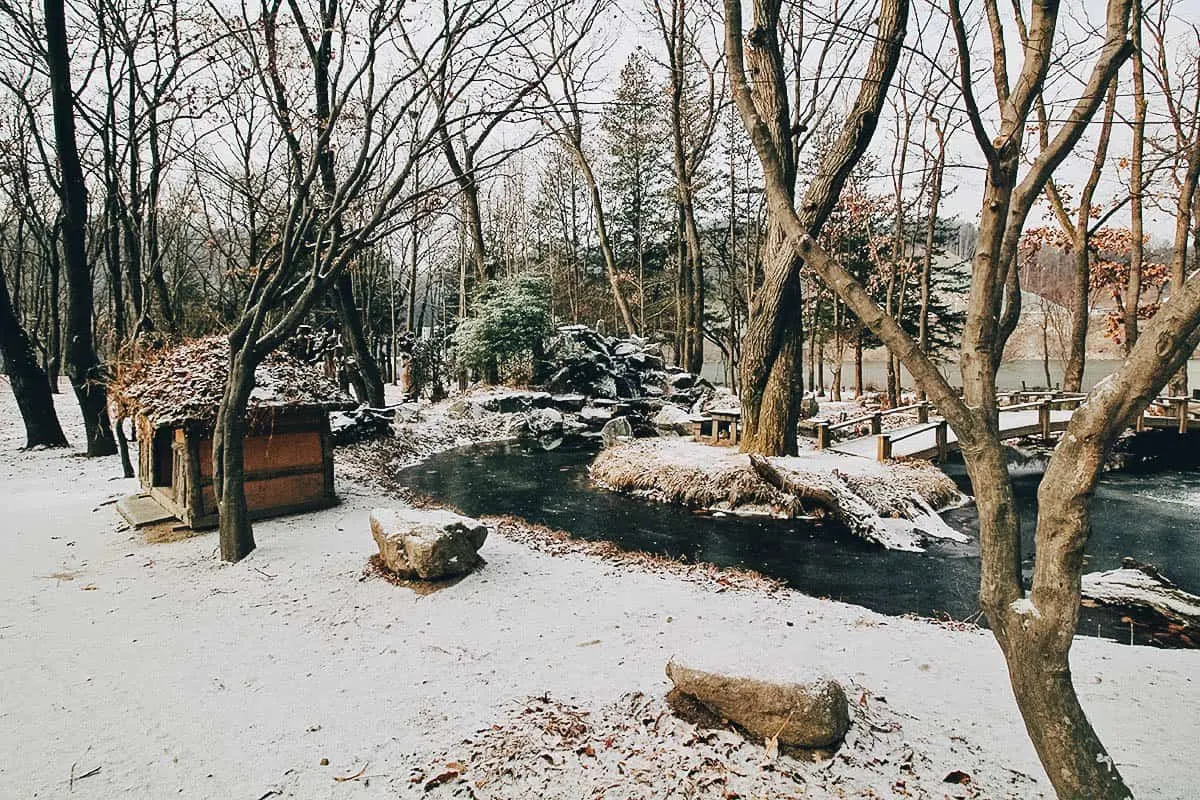 Where's Ren? Like the header picture up top, this was taken at the Forest of the Elves which is an enclave of whimsical wood carvings. See what I mean about Nami Island feeling like some children's story come to life? This place is all about play and youthfulness of spirit.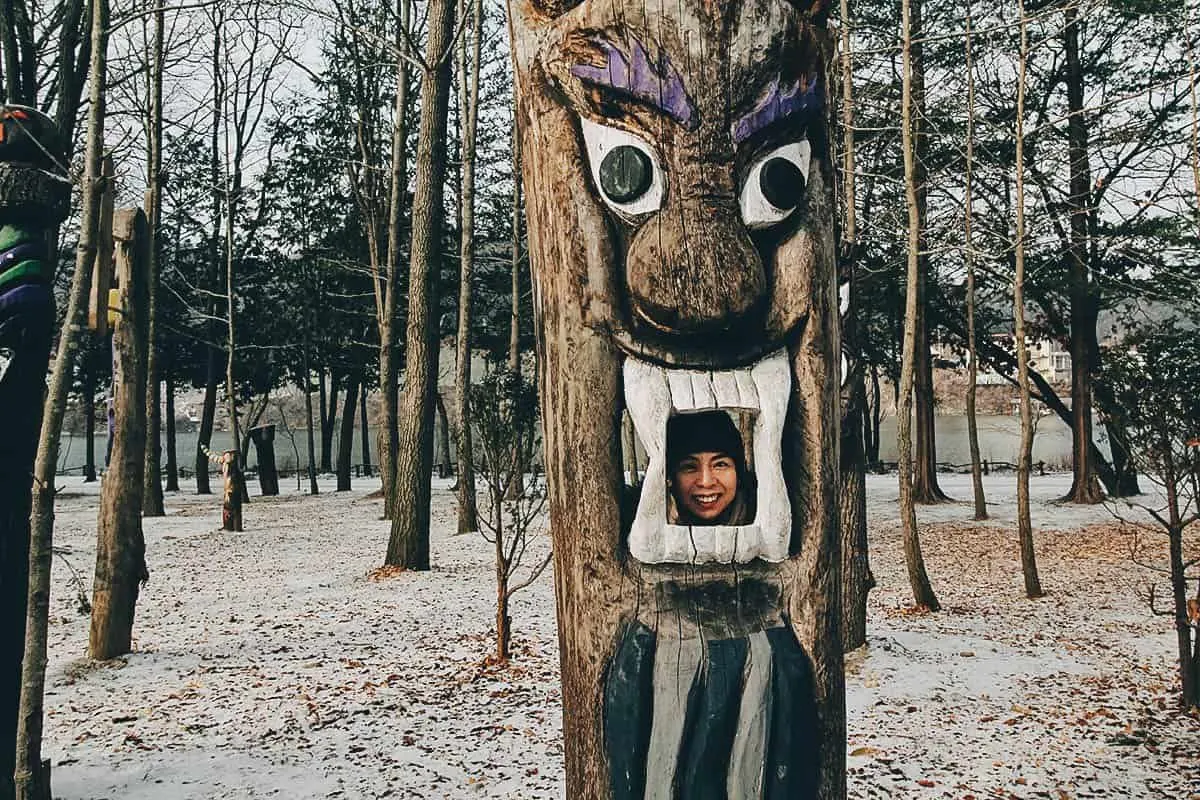 Breathtaking isn't it? This is Metasequoia Lane, perhaps the most famous pathway on Nami Island. This is where some of the most iconic scenes in Winter Sonata were shot. It's no wonder it's such a popular spot for pictures!
If you're a fan of the series, then be sure to take pictures with the Winter Sonata statue as well.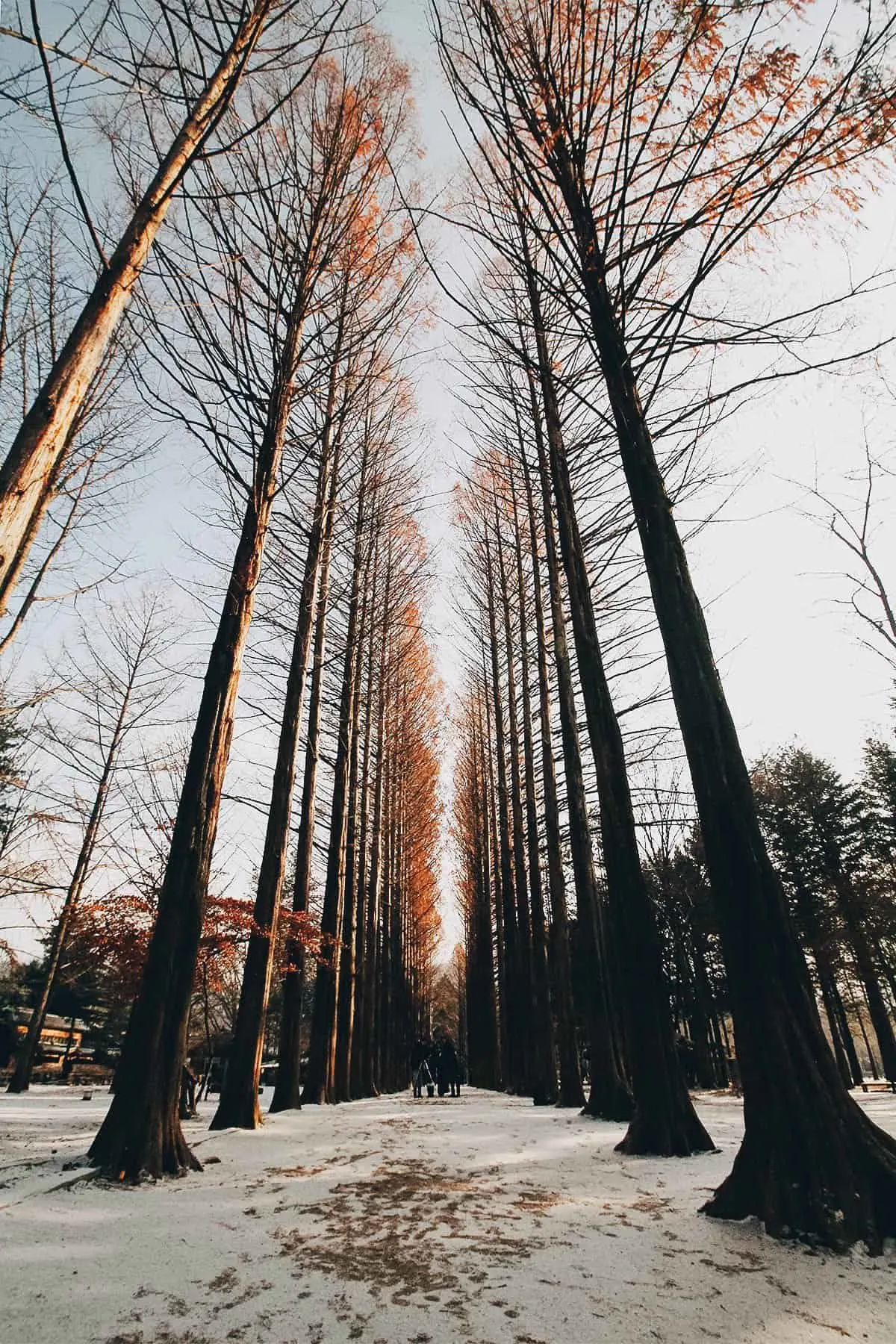 Of course, we needed to take one of our own. Check out all those footprints in the snow.
This is one of those places where it's impossible to take a bad picture. Nami Island is unbelievably picturesque.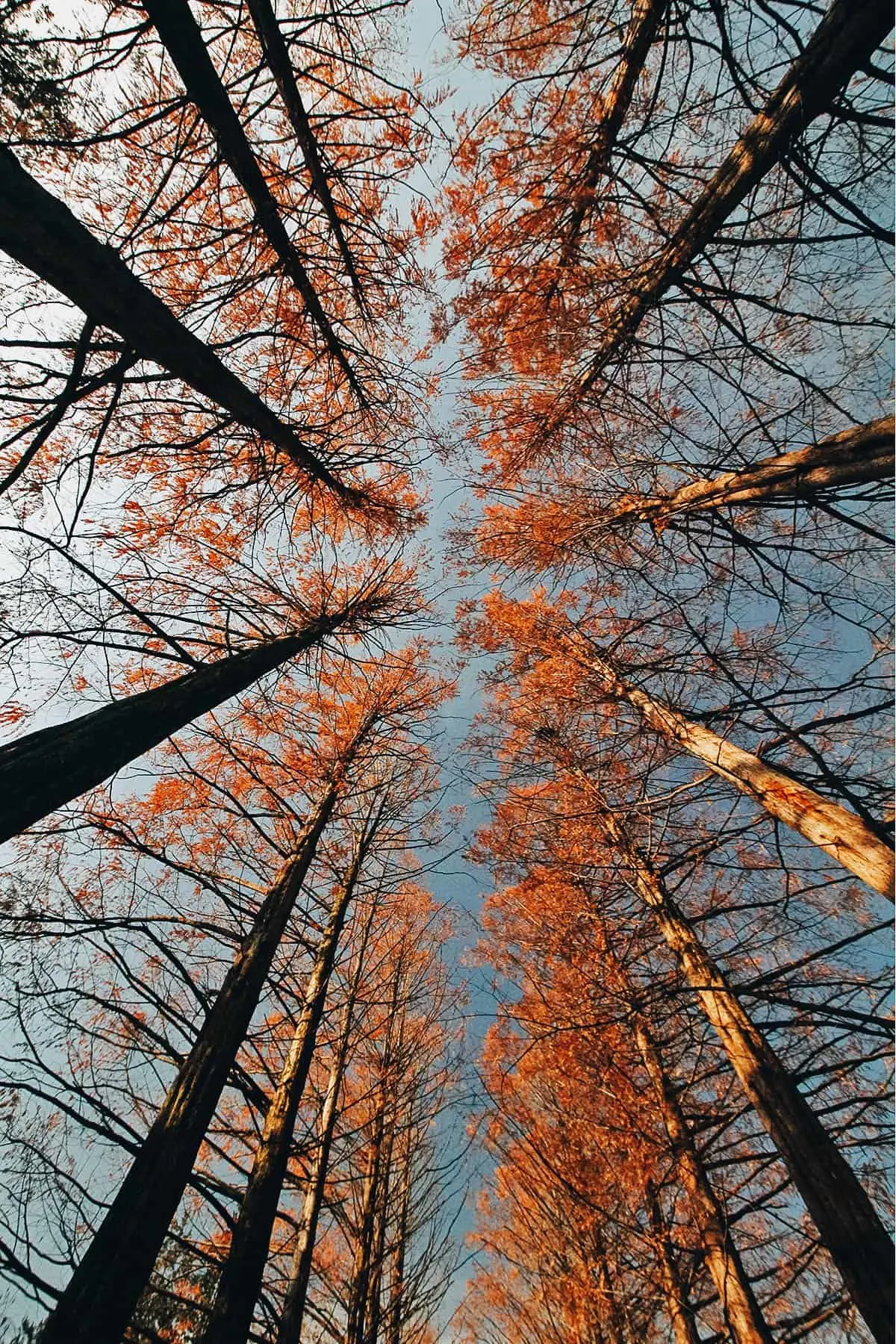 Here's a giant sculpture of a mother breastfeeding her children. You can't see it from this angle but her left breast is slung over her shoulder and being suckled on by a second child standing on her butt.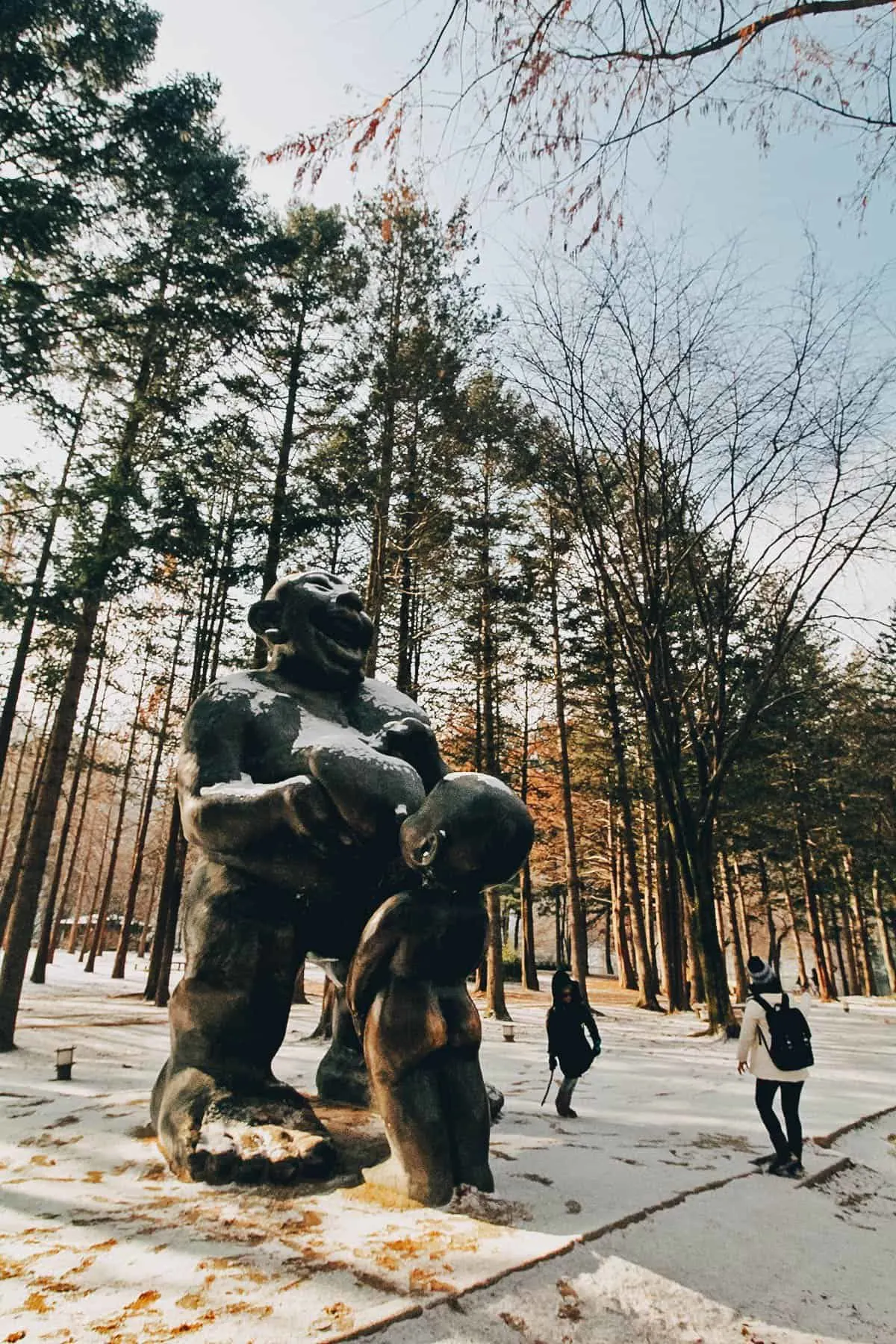 It was time for lunch so Ren and I stopped at Nanmoon, a restaurant serving tasty Korean food. I believe there are six restaurants and six cafes in all on the island. There's a hotel here too!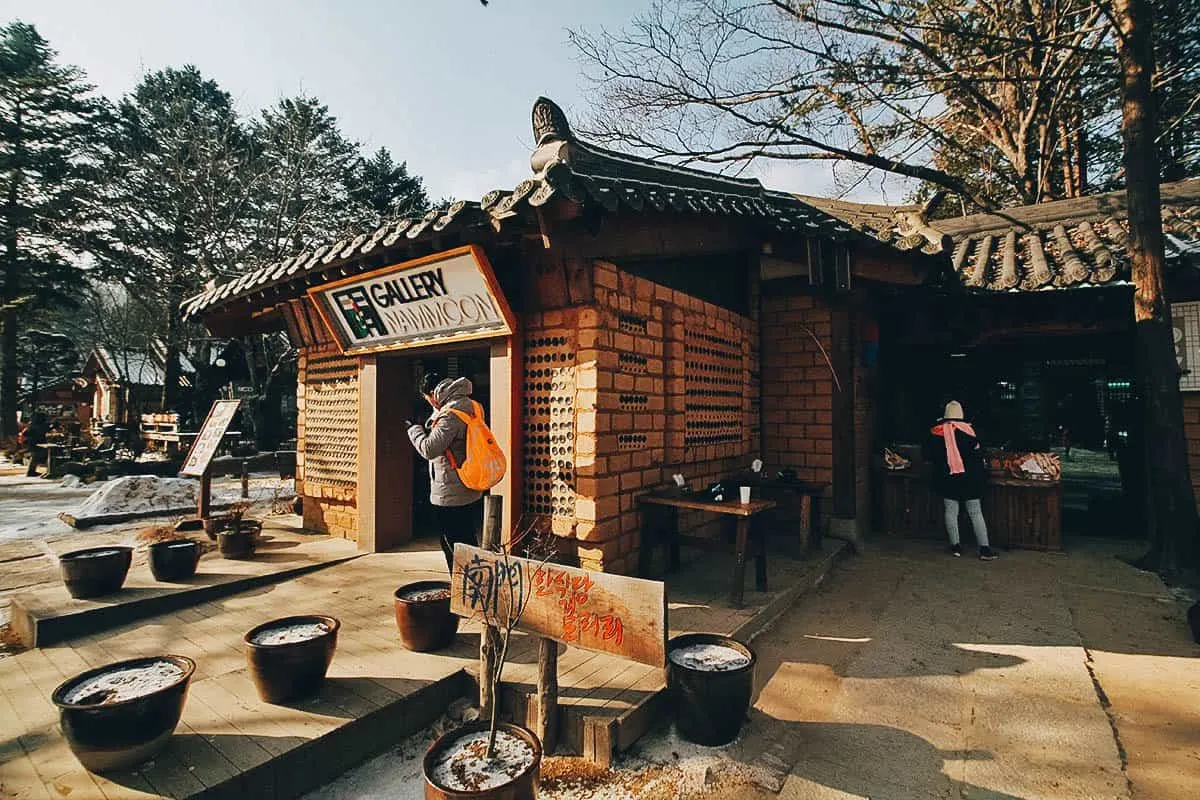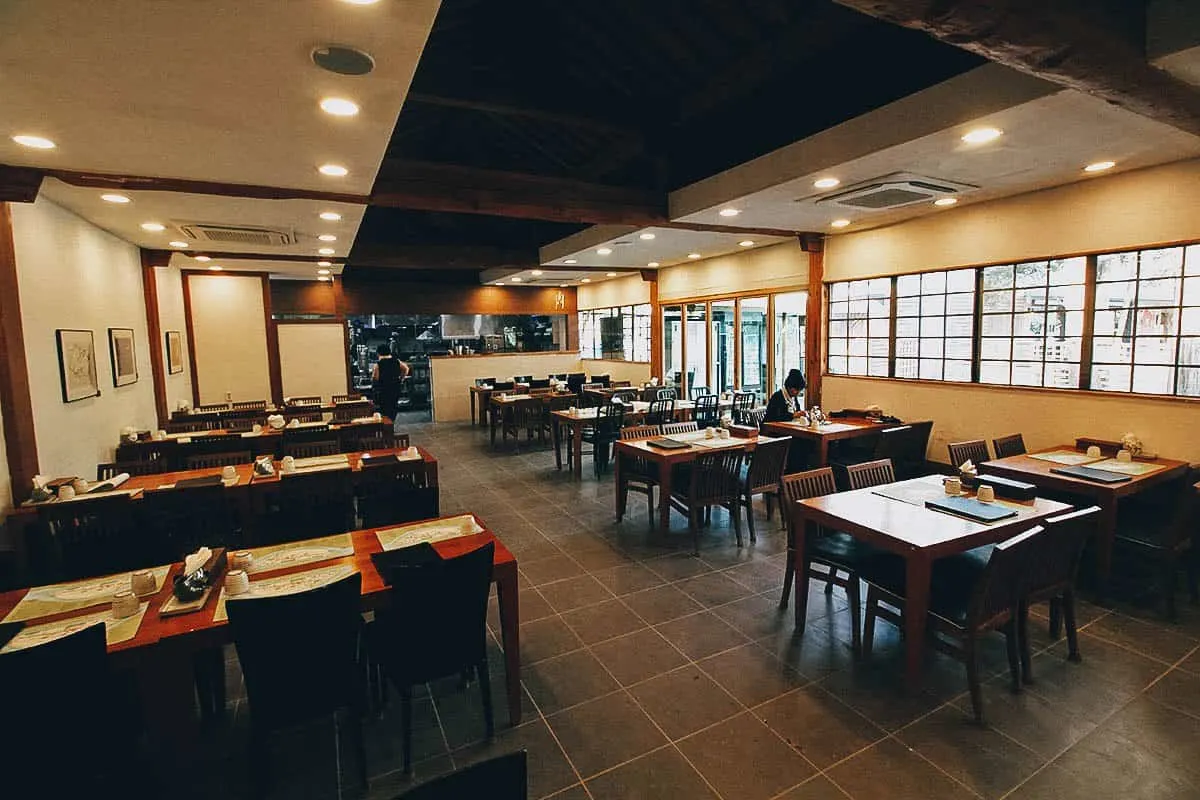 Whoa! All this is for me? I often forget that Korean portions are huge and often meant for more than one person. I love octopus and spicy food so I went with this fiery platter of jukumi bokeum or spicy stir-fried octopus.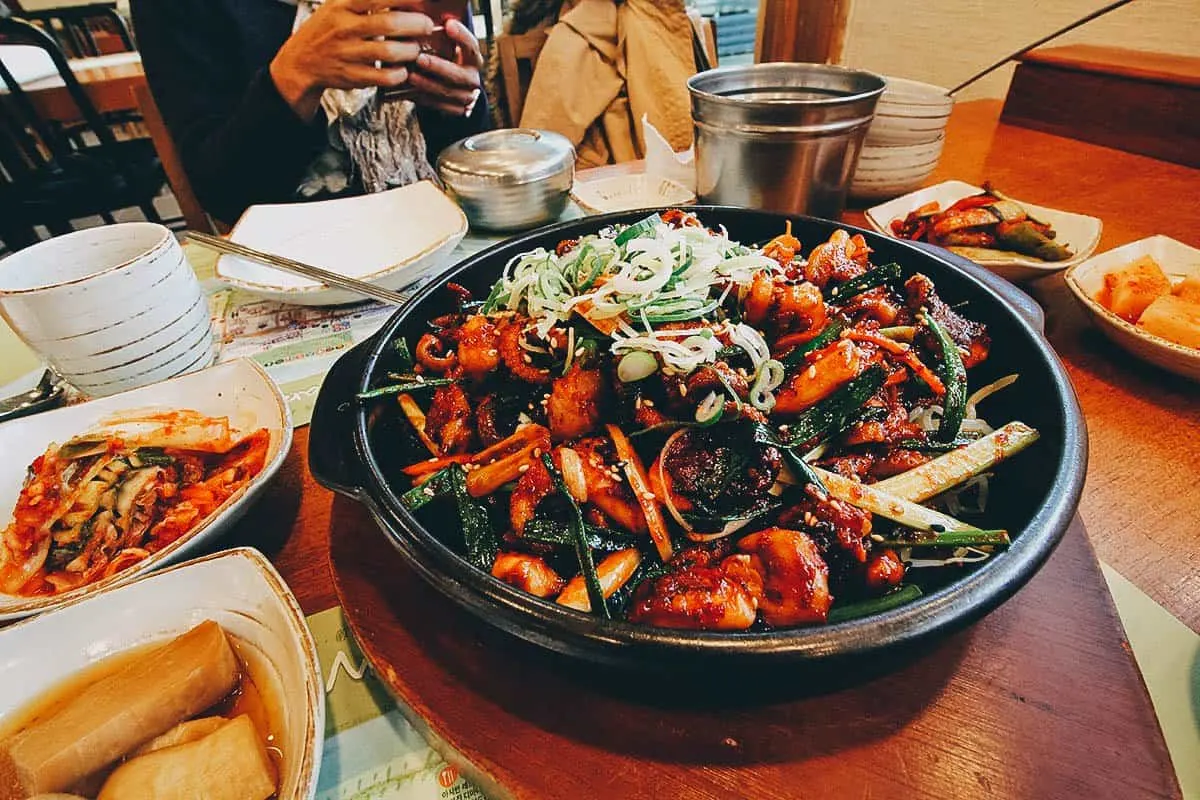 Ren ordered this steamy bowl of samgyetang or ginseng chicken soup. Yummers!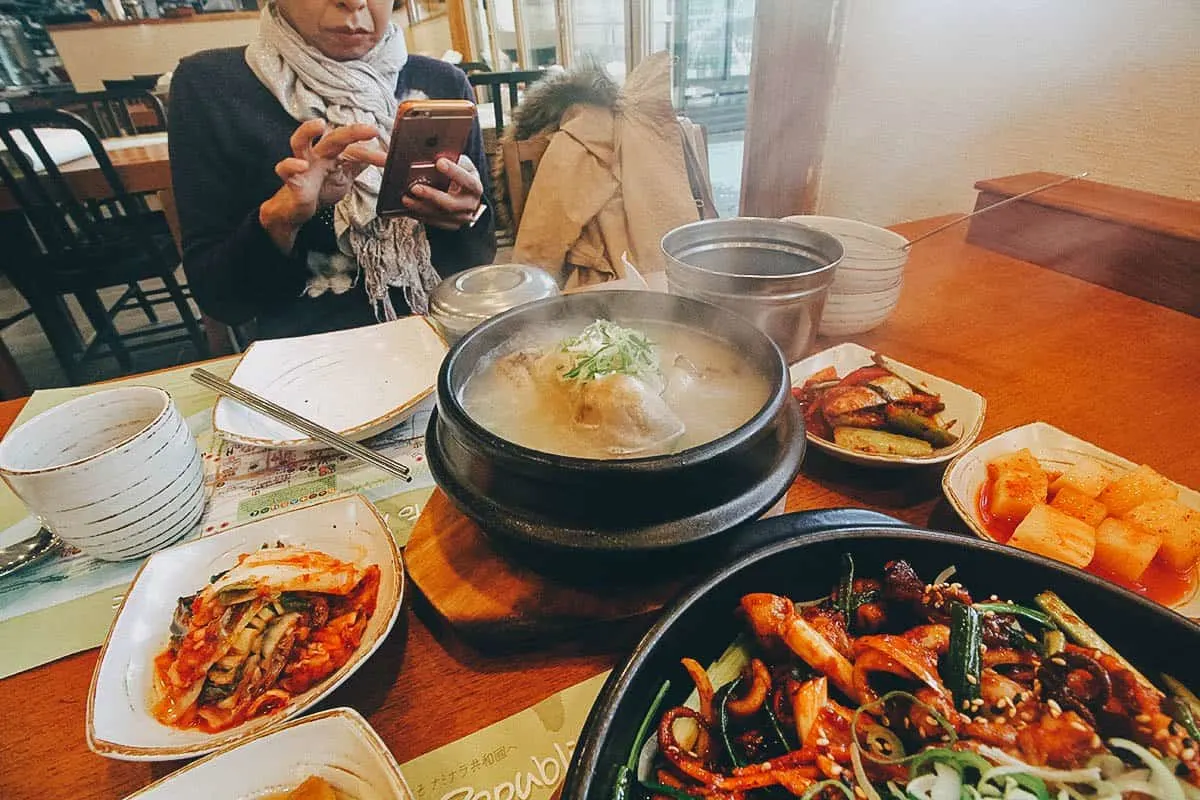 More art installations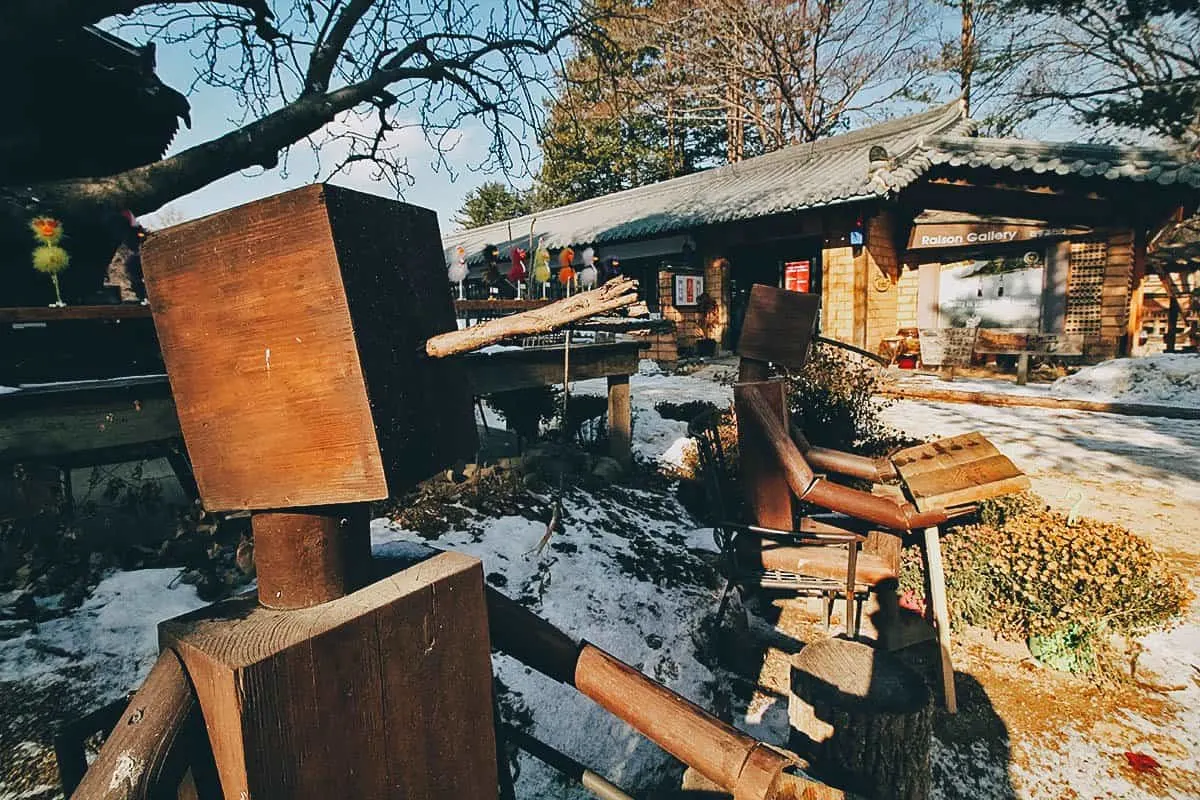 This children's playground was bizarre. The cow sculpture looked like it was being lifted off the platform, like it was being abducted by aliens or something.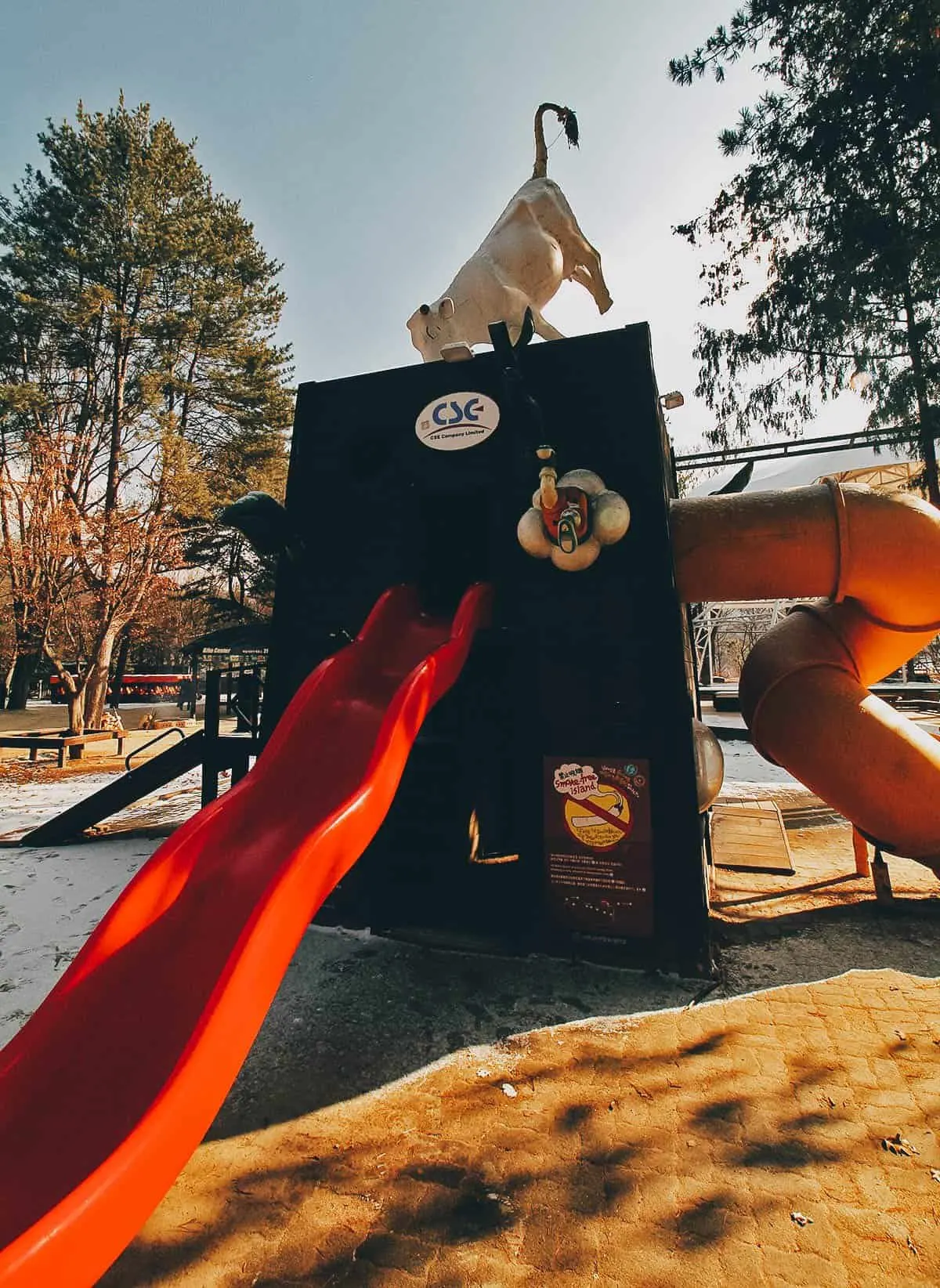 Don't worry little buddy, the aliens aren't coming for ya.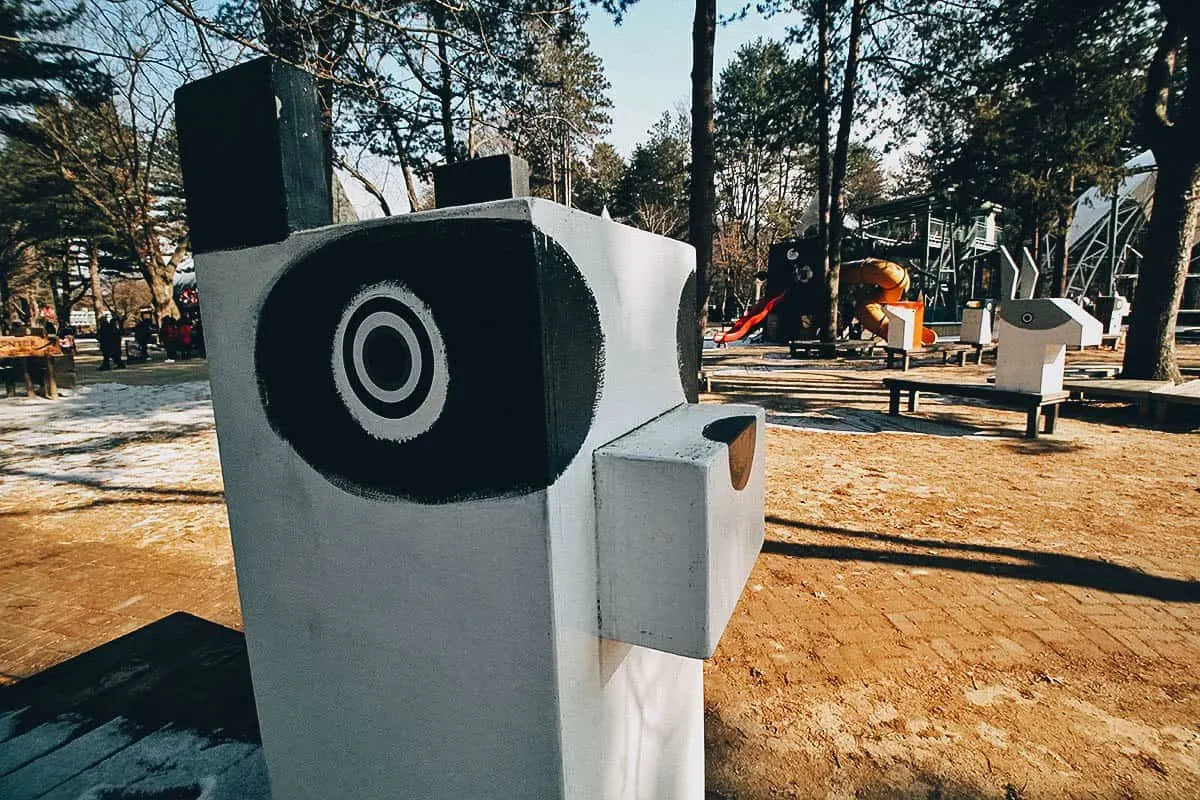 It was really cold today so they had these bonfires set up all around the island. There's Ren confiding in the snowman. "He never listens to me. And he always leaves the toilet seat up!"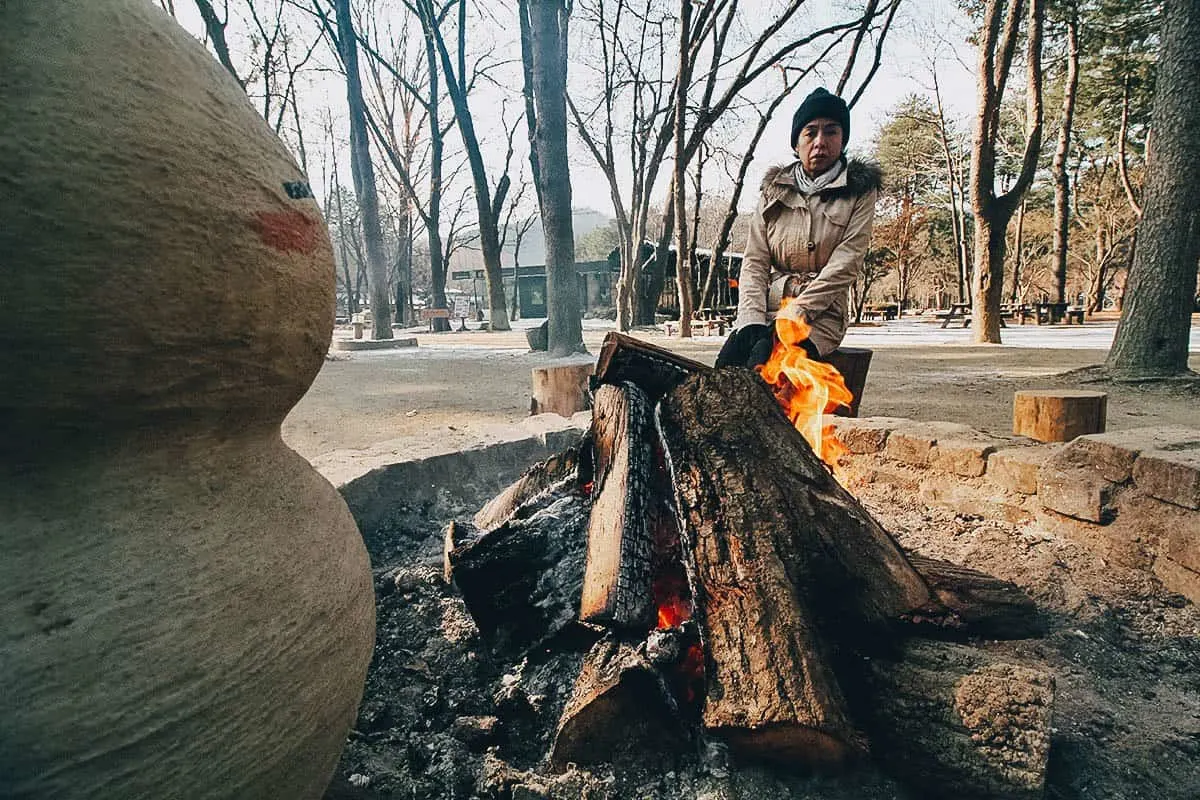 Like I said, we haven't seen the show so the significance of spots like this one was lost on us. This was the filming location for the "first kiss" in Winter Sonata.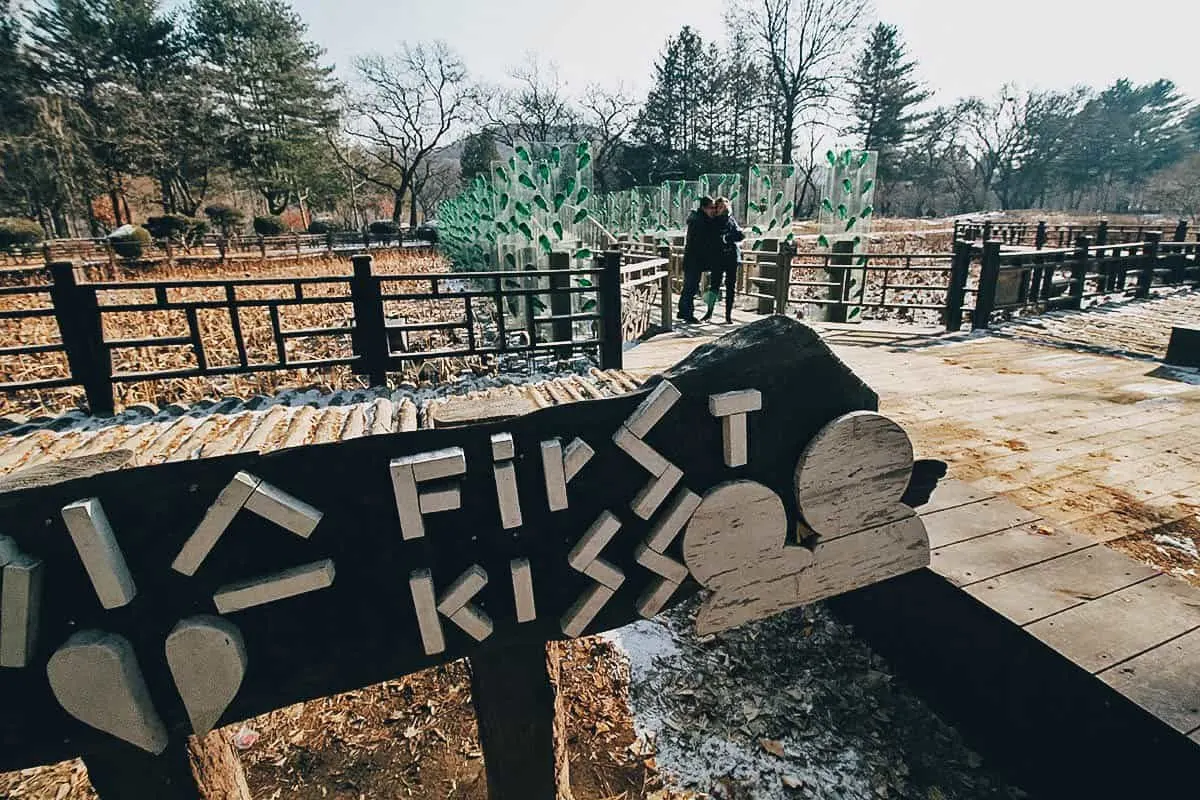 This is the Central Korean Pine Tree Lane. It must be beautiful at night with all those balloon-shaped lights lit up. Be sure to check this out if you're staying on the island overnight.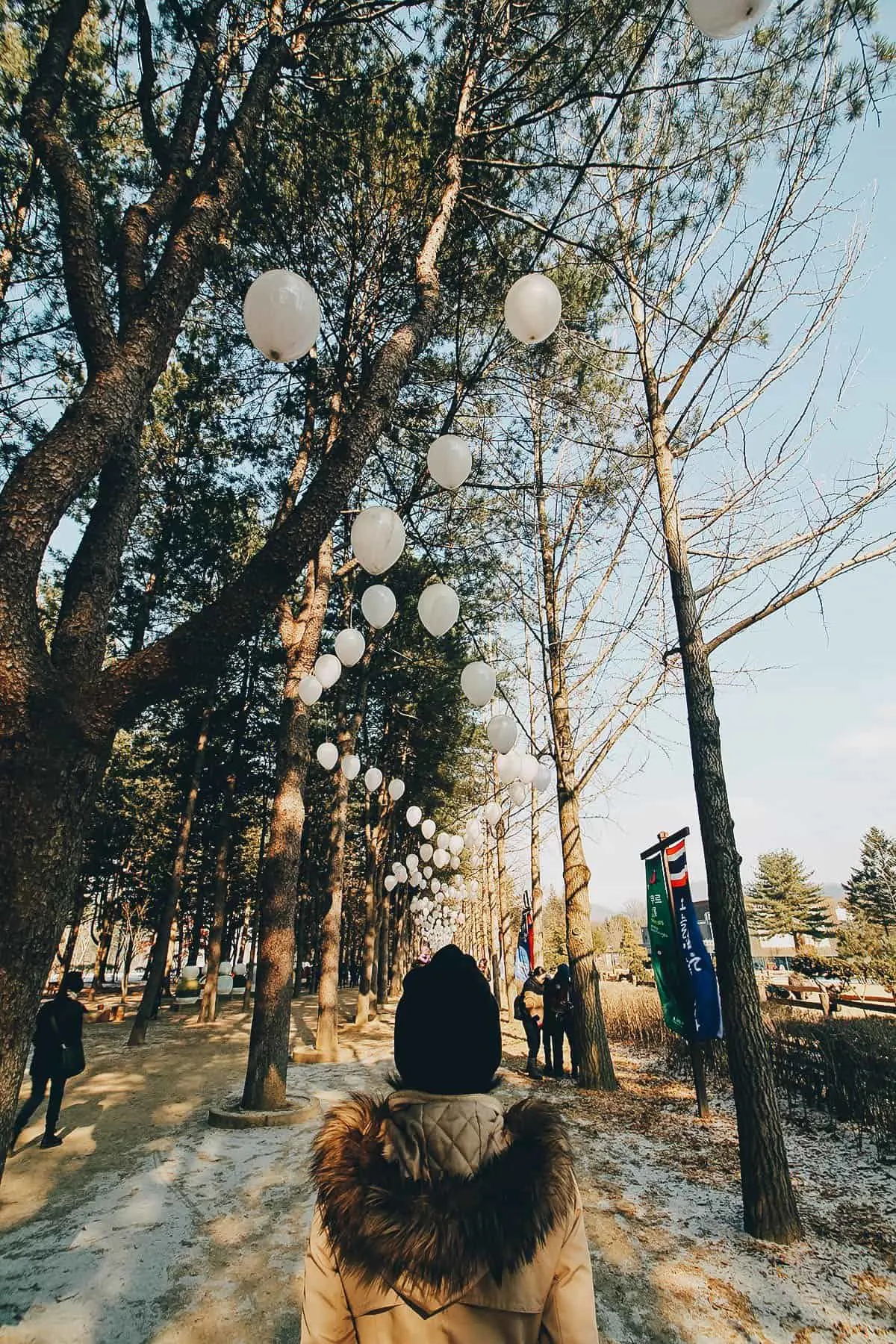 Nami Island is named after General Nami, who was executed after being falsely accused of treason during the reign of King Sejo, the seventh king of the Joseon Dynasty. His grave can be found here on the island.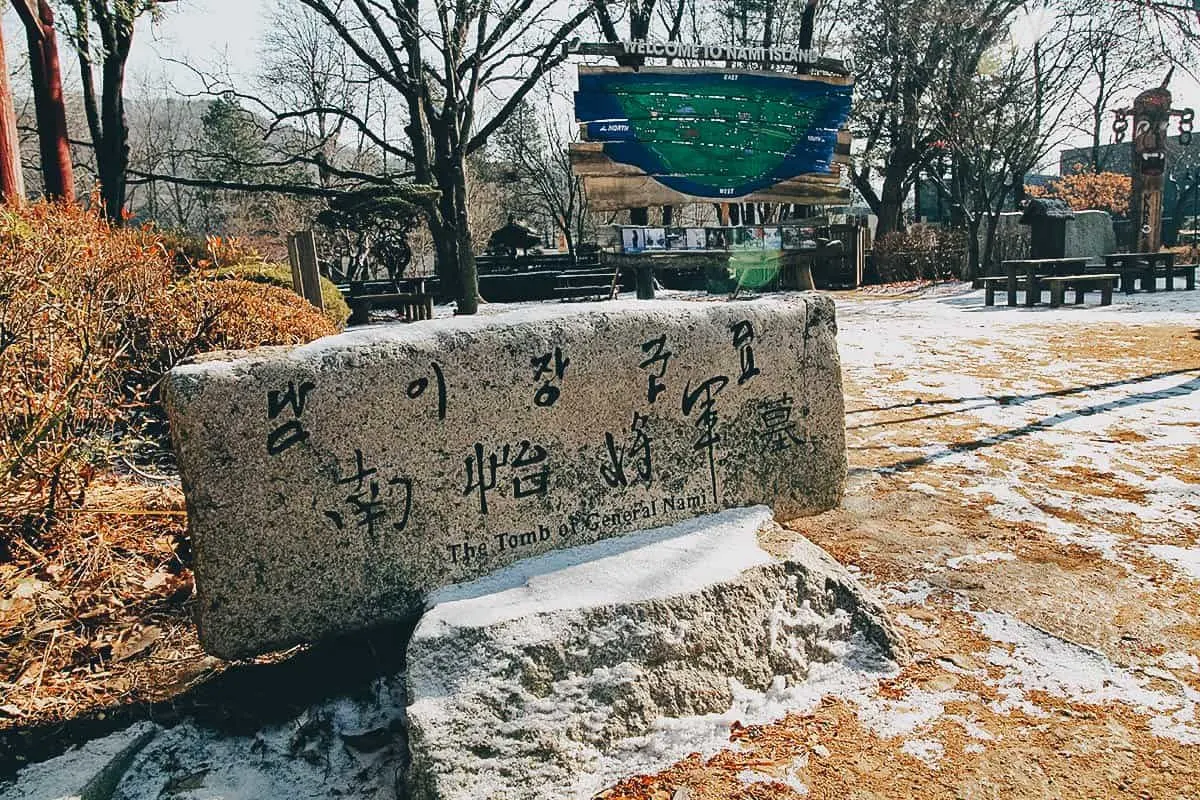 Because we hadn't seen Winter Sonata, we went to Nami Island with little expectation but we left as fans. This tiny micronation of an island is quirky, unique, and achingly beautiful. My niece visited the island in autumn and it looked stunning, even more so than it did during the winter season (see next picture).
Three hours was a good amount of time to spend on the island but it left me wanting more. On our next trip to Seoul, I'd like to spend a night here if we can. The thought of strolling around the island unrushed or exploring it on bicycles is very appealing to me.
Whether or not you're a fan of Winter Sonata, visiting Nami Island is one of the best things you can do from Seoul.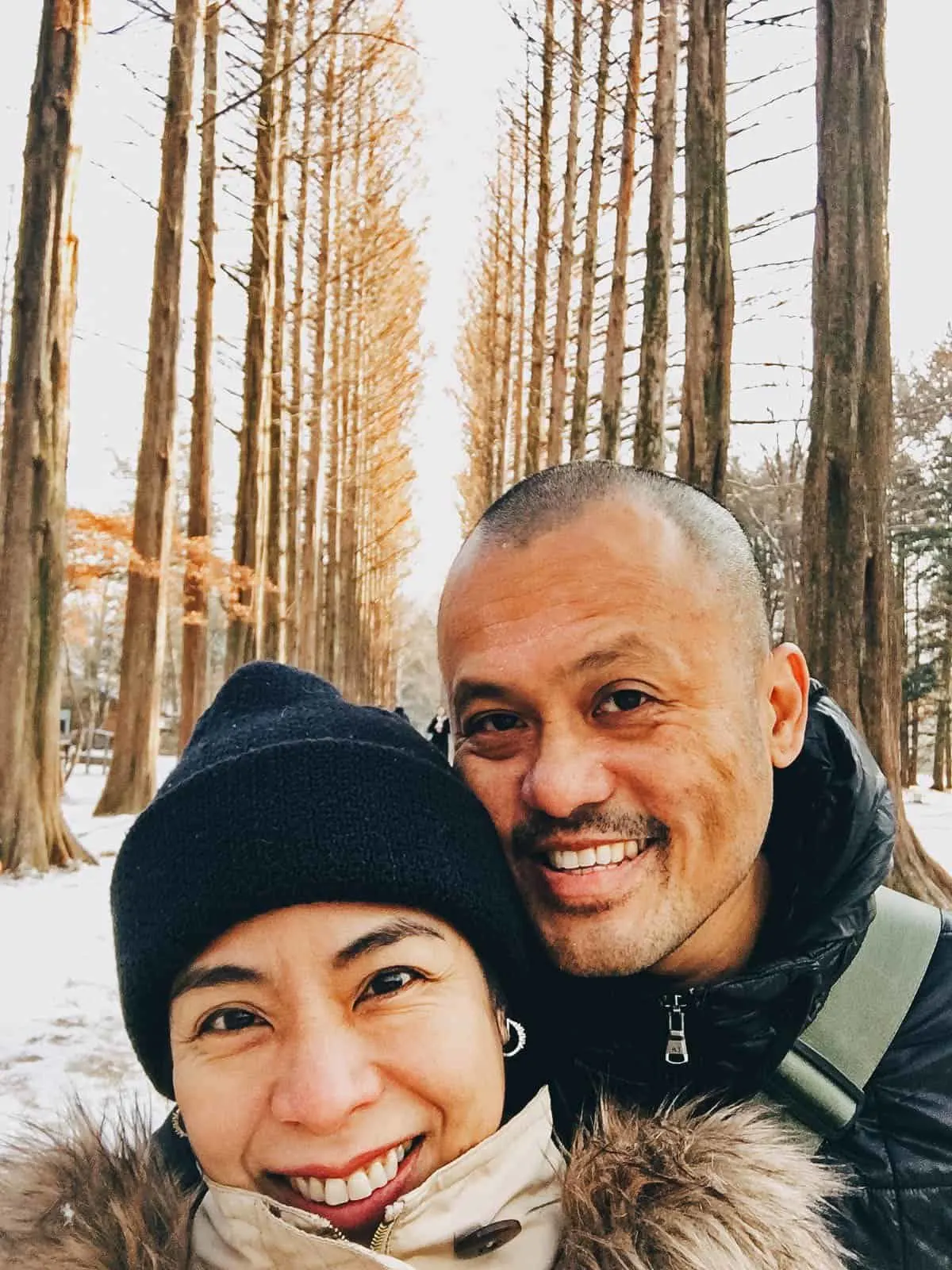 Here's my niece Gabby on Gingko Tree Lane in early November. Breathtaking isn't it?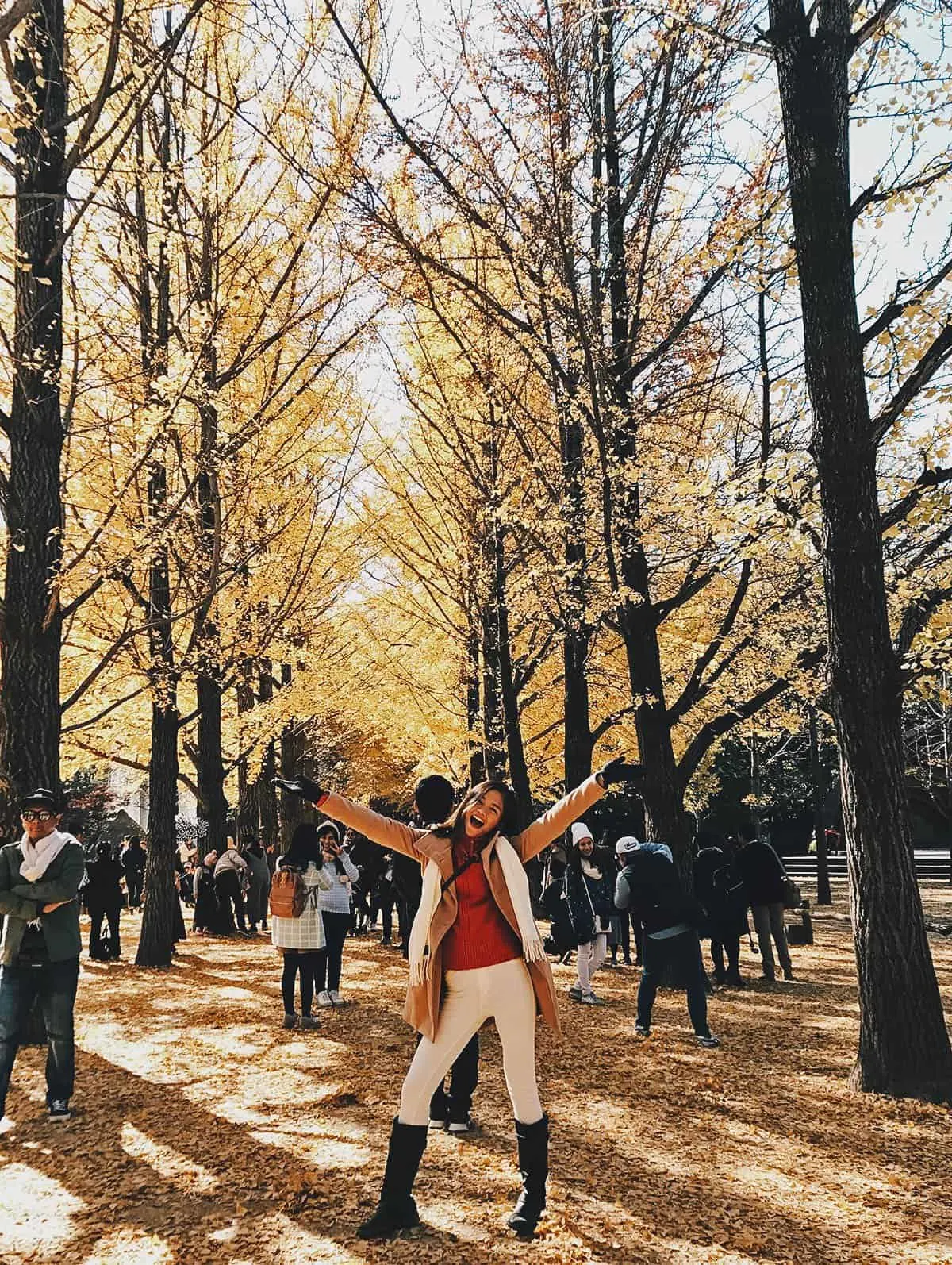 Nami Island
ADMISSION
By Ferry: KRW 16,000
By Zipwire: KRW 49,000
FERRY SCHEDULE
7:30-9AM – Every 30 minutes
9AM-6PM – Every 10- 20 minutes
6-9:30PM – Every 30 minutes (last ferry at 9:30PM)
HOW TO GET THERE
Take the subway or ITX-Cheongchun train to Gapyeong Station. From there, it's about a 5 minute taxi ride or a 20 minute walk to Gapyeong Wharf (1.9 km).
GANGCHON RAIL PARK
Not far from Nami Island is Gangchon Rail Park, our next stop on today's three-park tour. It makes use of the tracks used by the old Mugunghwa train that traveled along this route for over 70 years.
When the Gyeongchun Line connecting Seoul and Chuncheon opened in 2010, this train line was discontinued and converted into a rail park where visitors can pedal along the track whilst taking in the Bukhangang River scenery.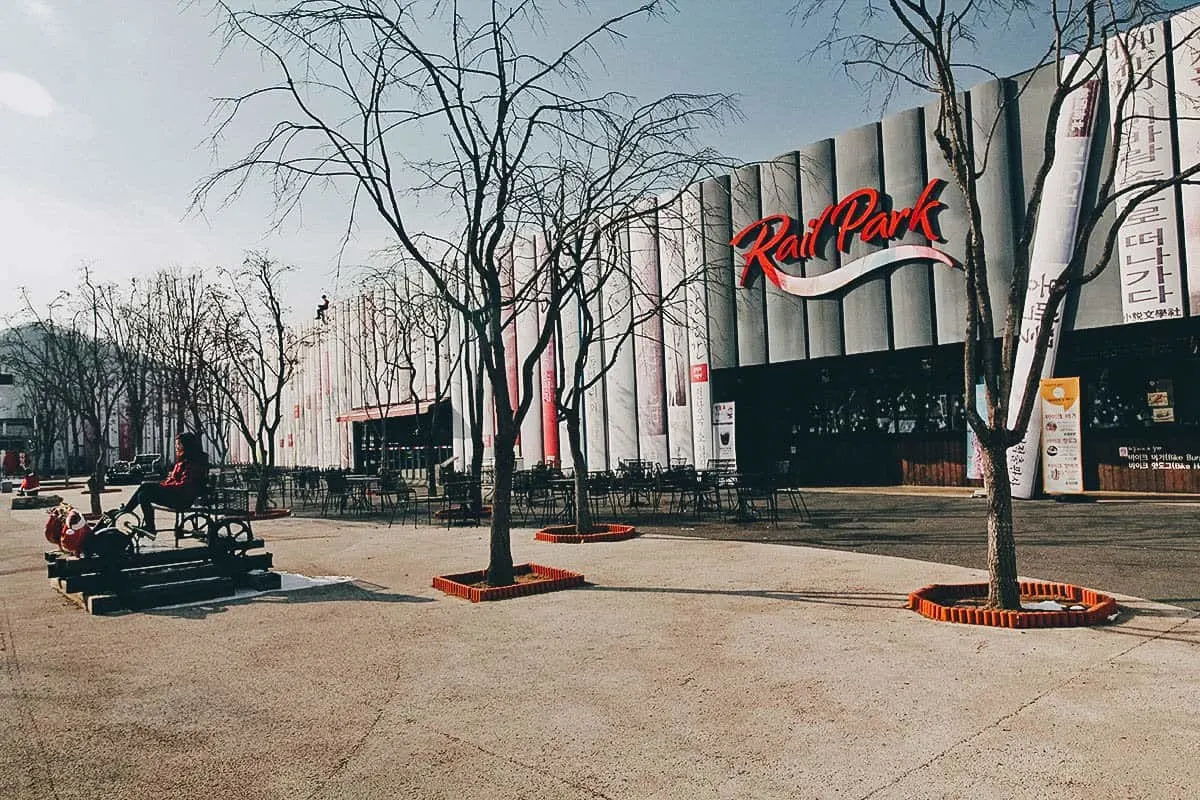 Our visit to the Rail Park was included in our tour, but it normally costs KRW 35,000 for a two-seater rail bike and KRW 48,000 for a four-seater. You can easily visit this place on your own via subway. Just take the Seoul Metro to Gimyujeong Station, Exit 1, and it's about a 4 minute walk to the Rail Park from there.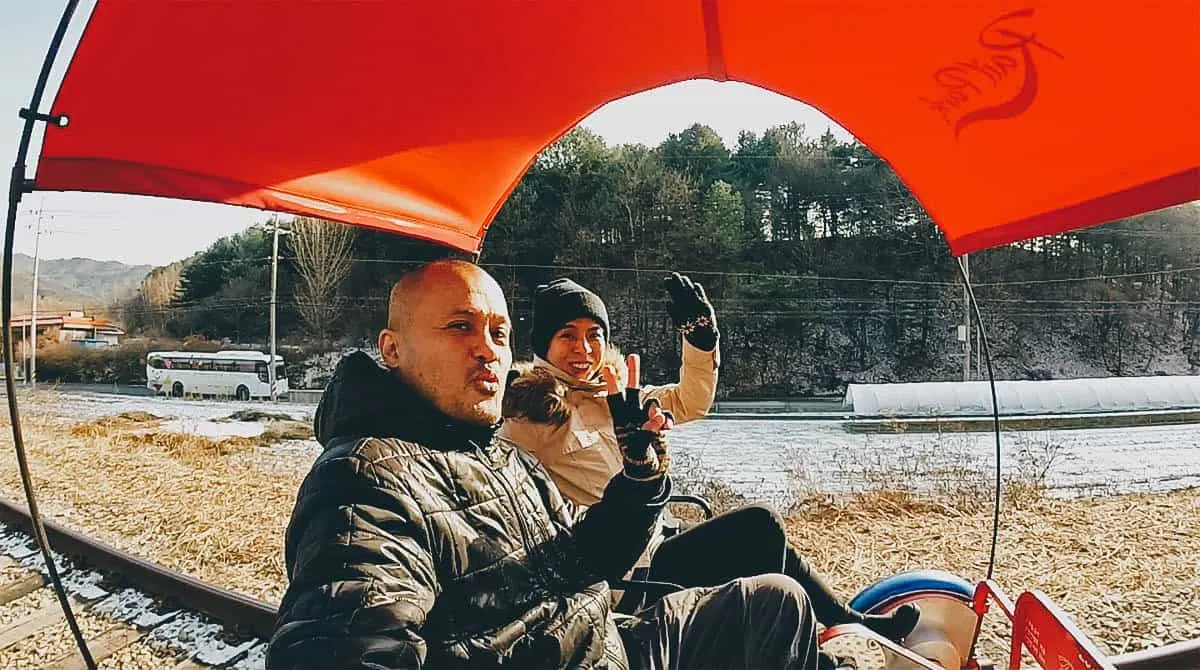 Don't worry if you feel you aren't fit enough to do this. You don't have to be. The rail bikes trudge along the tracks assisted for much of the course. I don't remember how long the track is but we got through it in about 30 minutes or so.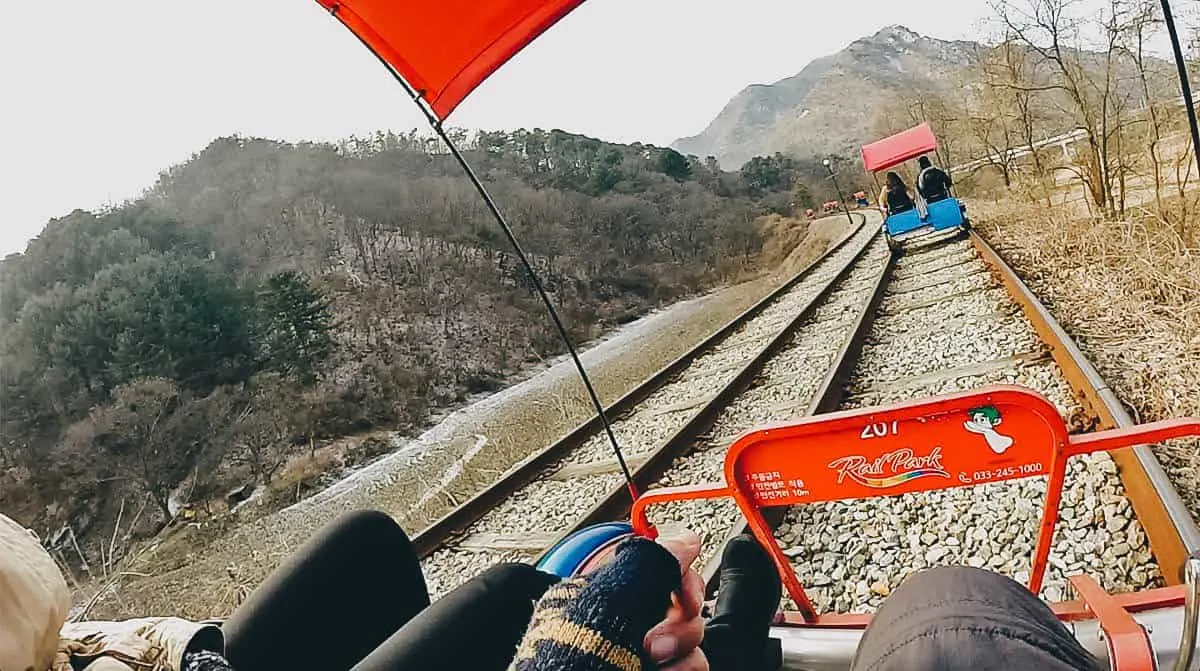 We were too close here but you're supposed to keep a safe distance of about 10 meters from the bike in front of you. If you hit them, then you have to pay for the damages so keep your distance!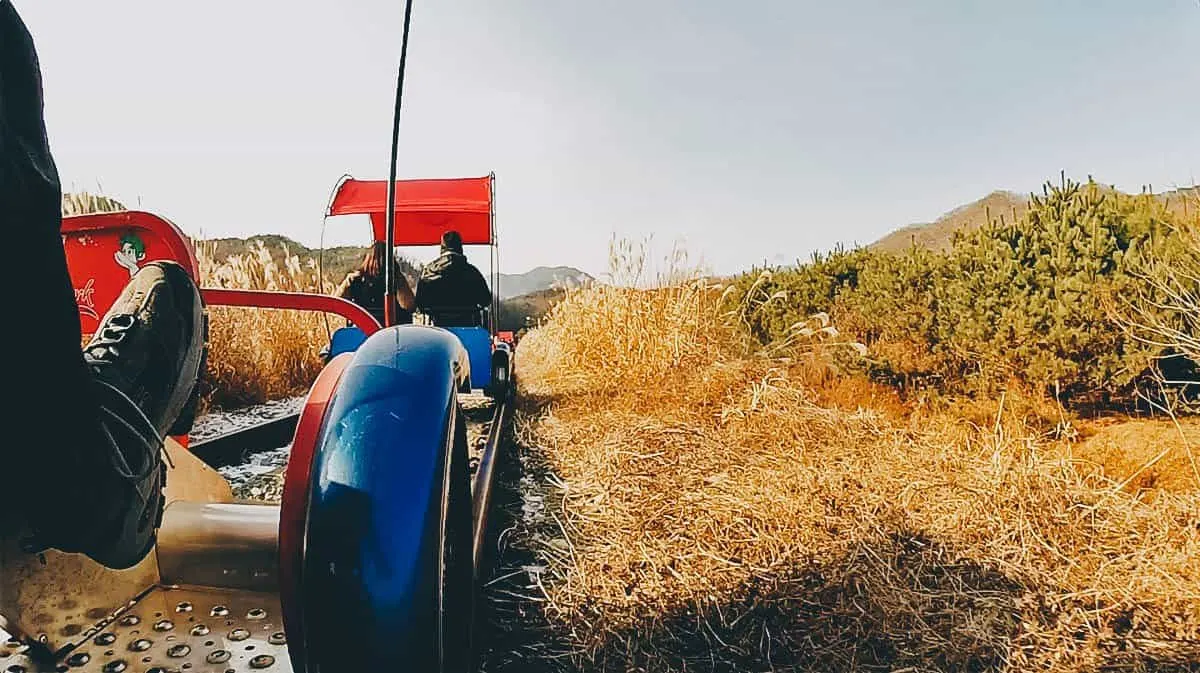 Isn't it beautiful? Many parts of the track were covered in snow. Like Nami Island, I wasn't expecting much from the Rail Park but I wound up having an awesome time.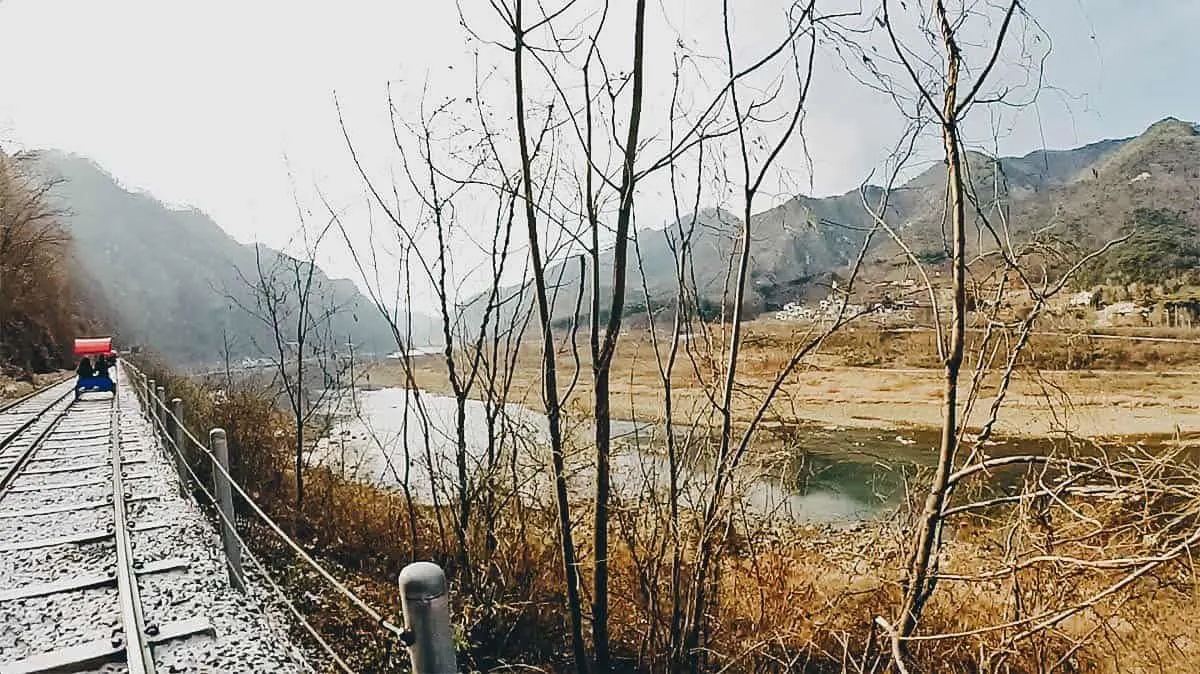 You go through several tunnels where you're treated to light shows with music and pyrotechnics. It was pretty cool! I'll post footage from it in a video I'll be making soon about today's tour.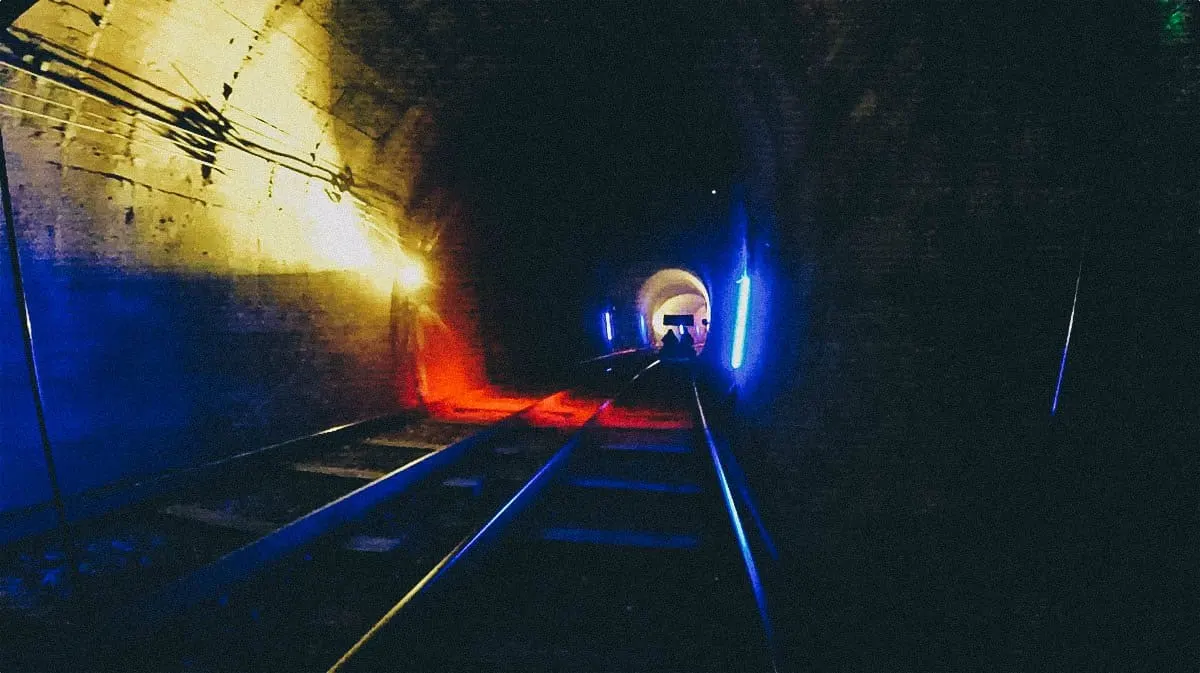 Gangchon Rail Park
Operating Hours: 9AM-6PM
Cost: KRW 35,000 (two-seater) / KRW 48,000 (four-seater)
HOW TO GET THERE
Take the subway to Gimyujeong Station, Exit 1. From there, it's about a 4-minute walk to the Rail Park.
PETITE FRANCE
Our final stop on today's tour was Petite France, a cluster of pastel-colored buildings built into the side of a hill. It's meant to be a recreation of a French rural village as inspired by the novella The Little Prince by Antoine de Saint-Exupéry.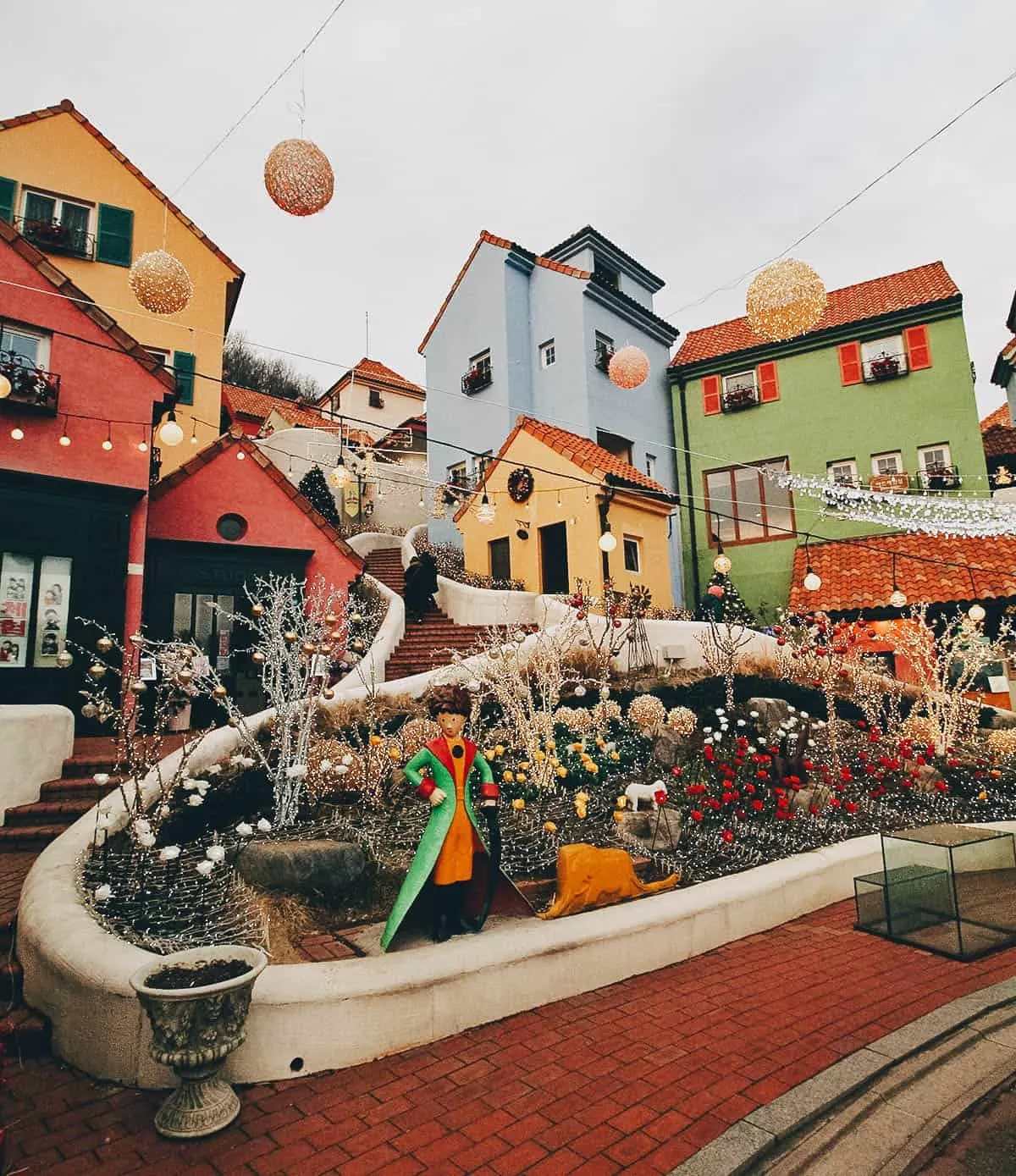 To be honest, it was a little odd visiting a place like this in Korea. I read and enjoyed The Little Prince very much, but I guess not as much as the person who built this place!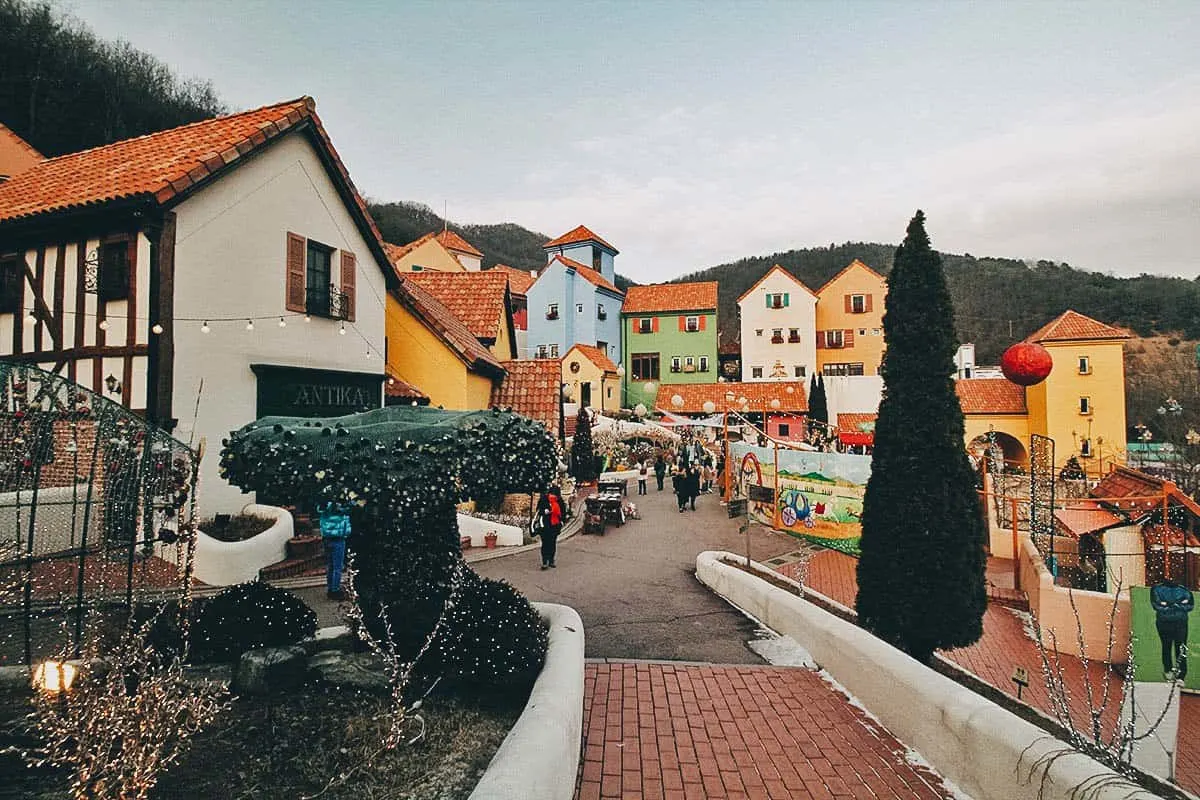 If you're going to Nami Island on your own via subway or ITX train, then you can easily visit this place on the same trip. You can catch the Gapyeong Tour Bus from either Nami Island Station or Gapyeong Station to Petite France. The bus fare costs KRW 8,000 and allows you unlimited rides for one day.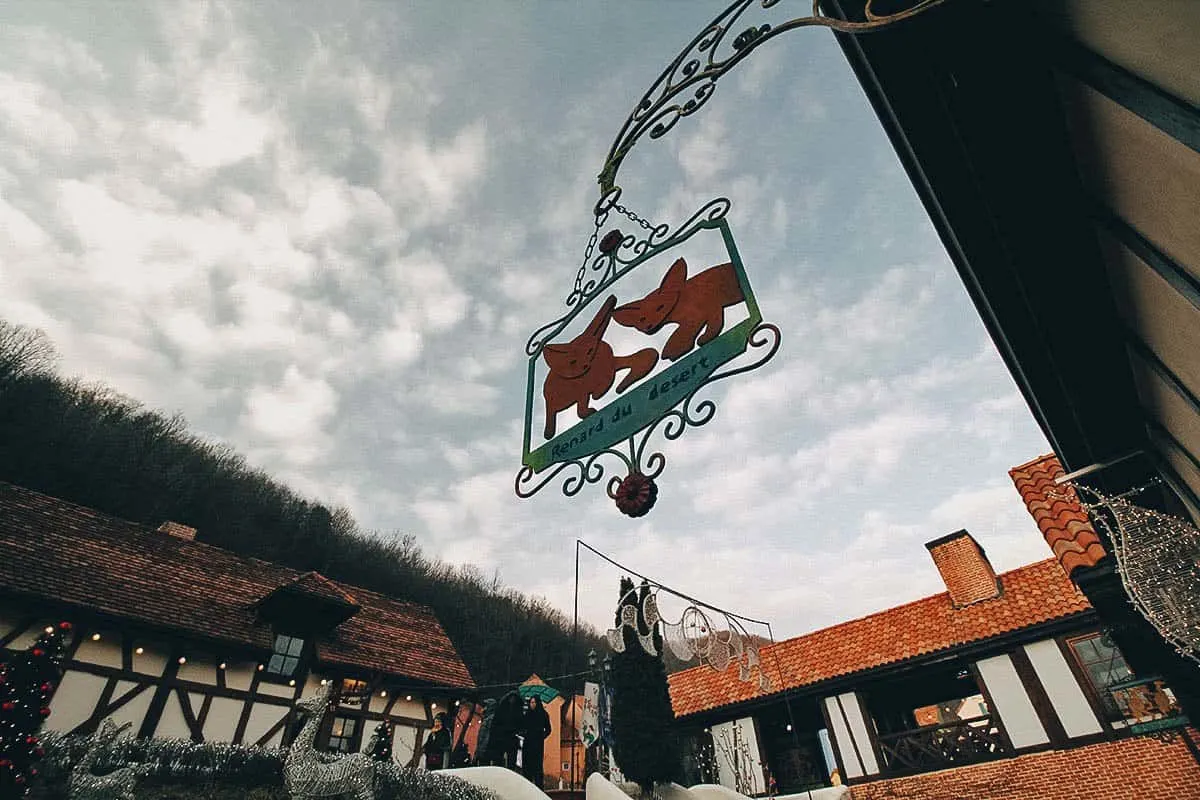 It's been a while since I last read The Little Prince so I don't remember the characters. Throughout Petite France you'll find little statues like this representing key characters and moments from the book.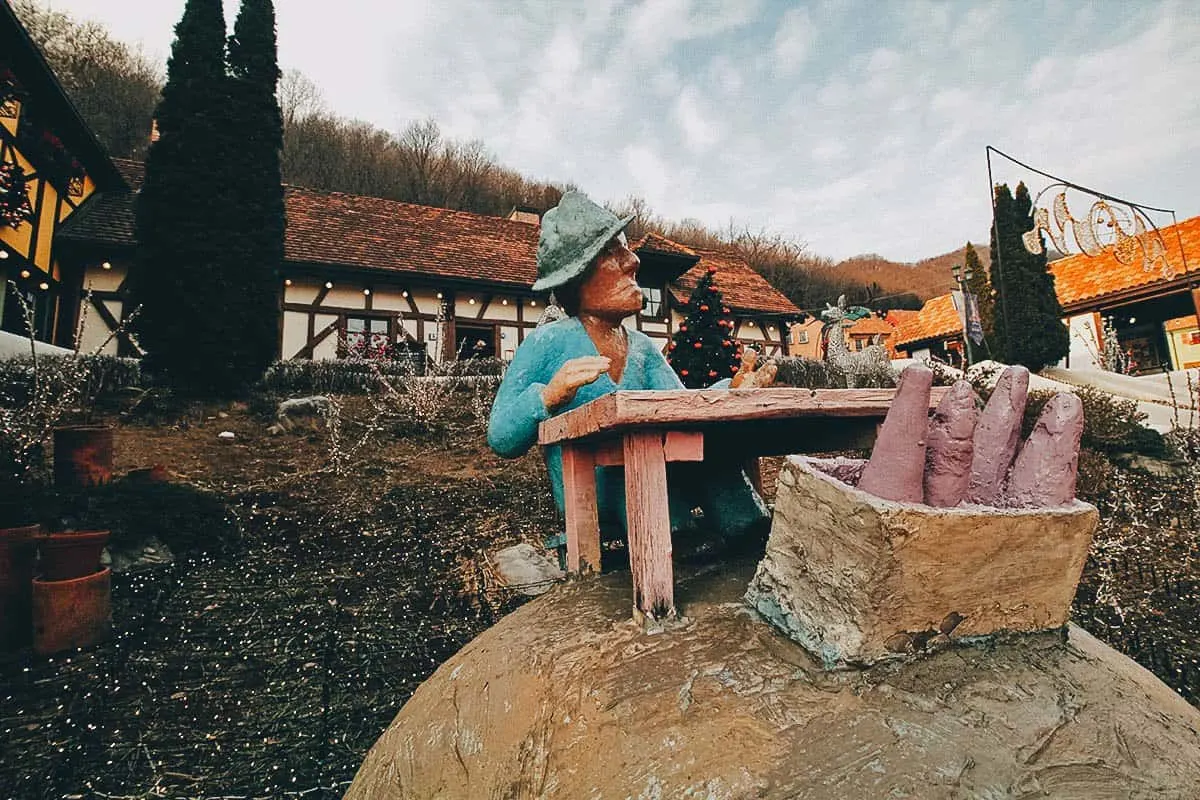 We haven't seen any of them but I read that the Korean dramas Beethoven Virus, Secret Garden, and My Love from the Star were filmed in part here.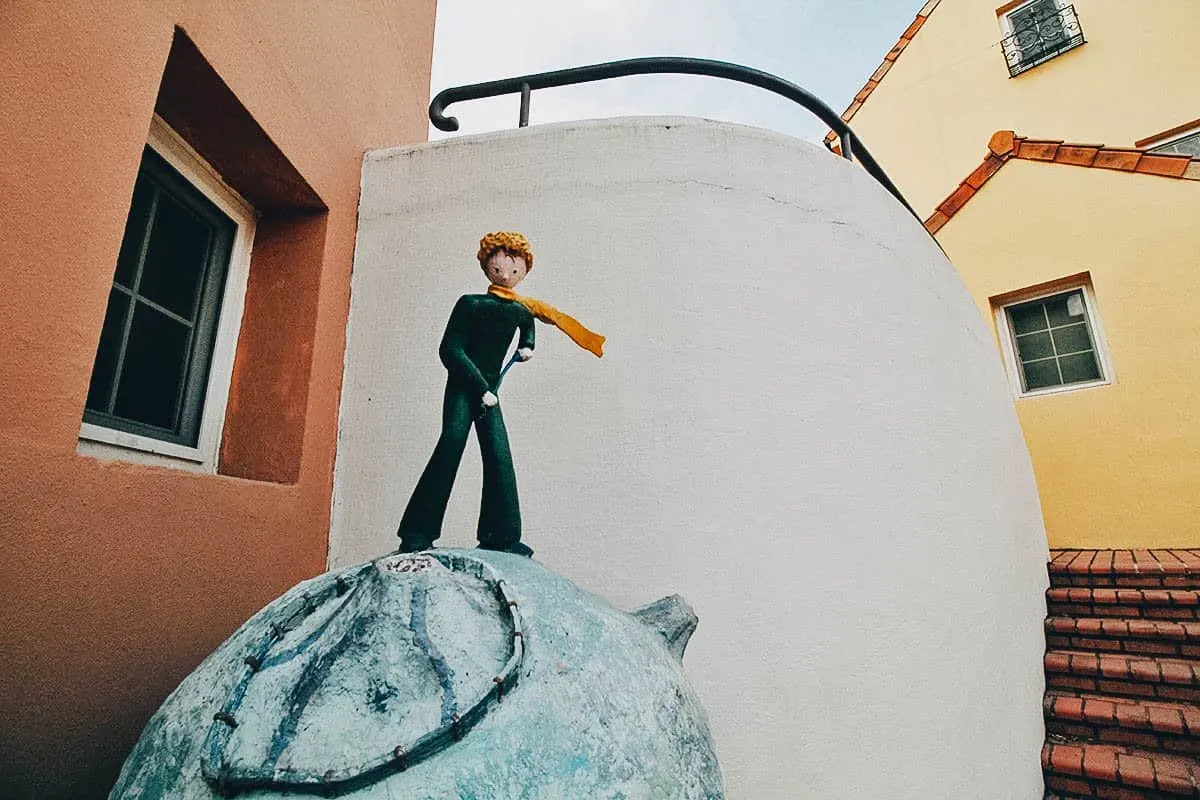 I hate to say it, but this was my least favorite stop on today's tour. It just wasn't my cup of tea.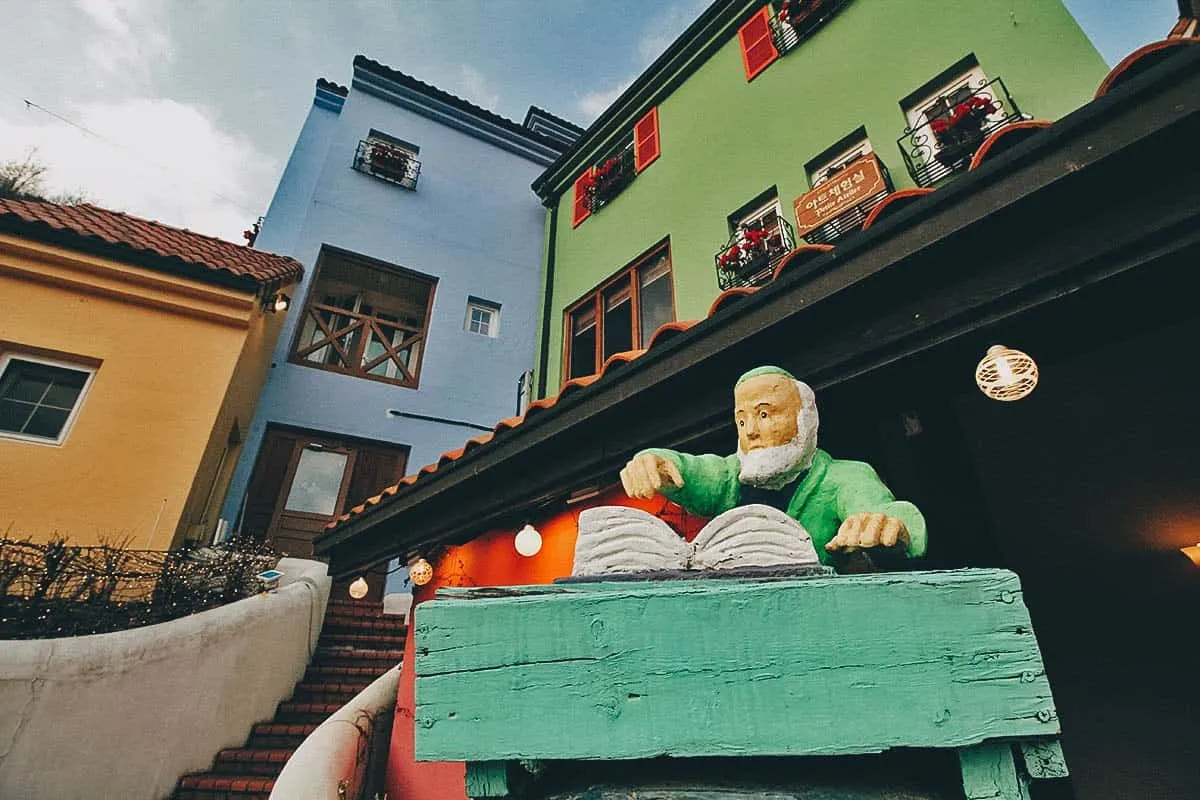 "And now here is my secret, a very simple secret: It is only with the heart that one can see rightly; what is essential is invisible to the eye." ― Antoine de Saint-Exupéry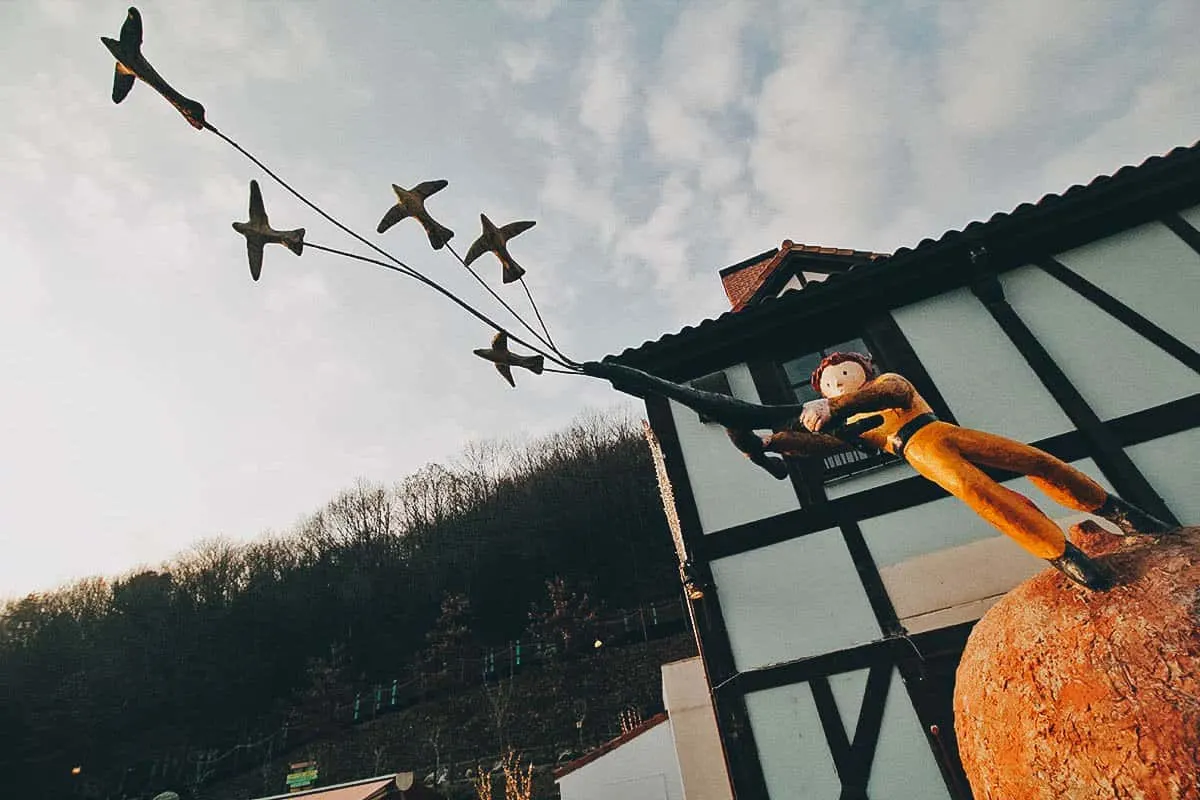 Ok, enough of this. It was freezing the whole day today so it was time to head back to Seoul and warm our bodies with some nice galbi! Who's with us??
Petite France
Operating Hours: 9AM-6PM, daily
Admission: KRW 10,000
HOW TO GET THERE
Take the subway or ITX-Cheongchun train to Gapyeong Station. From there, you can catch the Gapyeong Tour Bus to Petite France.
HASSLE-FREE PACKAGE DAY TOURS
You can visit any or all three of these places on your own, but if you don't want to deal with the hassle of figuring out transportation, then it's easiest to go on a package tour. As described, you can book a Nami Island tour on Klook.
If you add up all the entrance fees and transportation costs, then you'll see that the package tour doesn't cost much more. I'd say it's definitely worth it for the convenience.
Being the most popular tourist attraction, Nami Island is usually the headliner but tours vary. In addition to Nami Island, the one we did took us to Gangchon Rail Park and Petite France, but different tours may take you to other nearby attractions like the picturesque Garden of Morning Calm, Alpaca World, and Seoraksan National Park. You can go through Klook to find the Nami Island tour that best suits you.
With that said, I would have loved to stay longer on Nami Island, perhaps even overnight. Now that I know what to expect, exploring the island slowly and having a more immersive Nami Island adventure is next on our agenda.
Disclosure
This article on Nami Island, Gangchon Rail Park, and Petite France contains affiliate links. What that means is we'll earn a small commission if you make a booking at no extra cost to you. We only recommend products and services that we use ourselves and firmly believe in. We really appreciate your support as this helps us make more of these free travel guides. Thank you!