UPDATE: (3 April 2022) The Insadong branch of Si.Wha.Dam appears to be closed.
The food at this modern Korean restaurant is so beautiful that it felt almost sinful to touch it. I've had artistically presented food before but nothing quite like this. At times, the dishes at Si.Wha.Dam felt more like high art than actual food.
An innovative fine dining restaurant set in the heart of Insadong, a meal here is every bit a visual feast as it is a nutritious one. Pumpkin flowers, wood-grown ginseng, Korean angelica leaves, buckwheat blossoms, and wild violets are just some of the seasonal ingredients that figure prominently in their food. A self-proclaimed museum of Korean cuisine, they meticulously prepare each dish to stimulate not just your taste buds, but all of your senses.
Ren and I love the comforting, rustic nature of Korean food so it was exciting to try something that felt completely different and new.
Save This on Pinterest!
No time to read this now? Click on the red save button and pin it for later!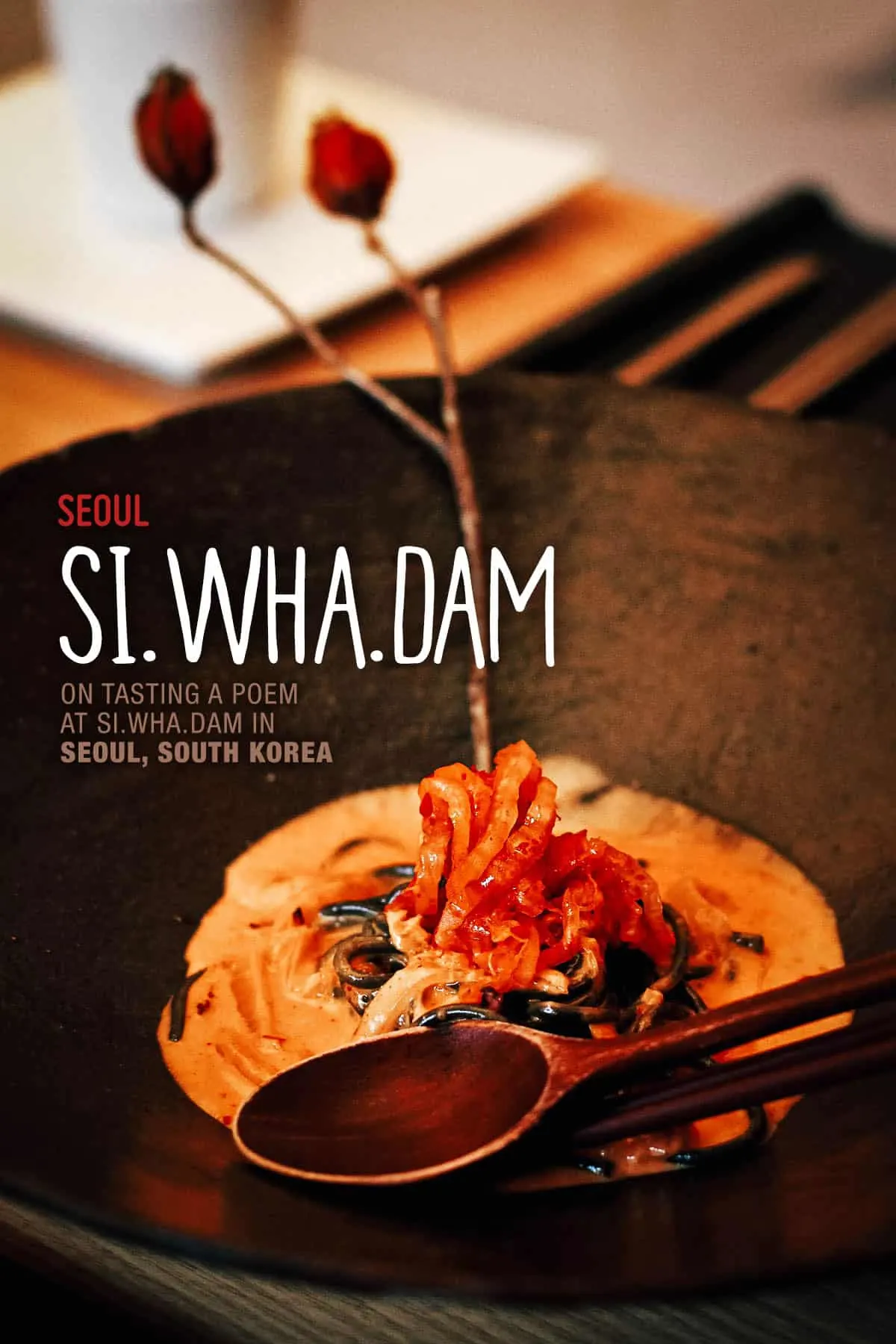 Si.Wha.Dam Insadong
Si.Wha.Dam has two branches — one in Insadong and another in Itaewon. We went to the Insadong branch (pictured below) because their tasting menus are considerably cheaper. (by "considerably", I mean like a quarter of the price) The map on their website is hard to follow so I've written my own directions at the bottom of this post.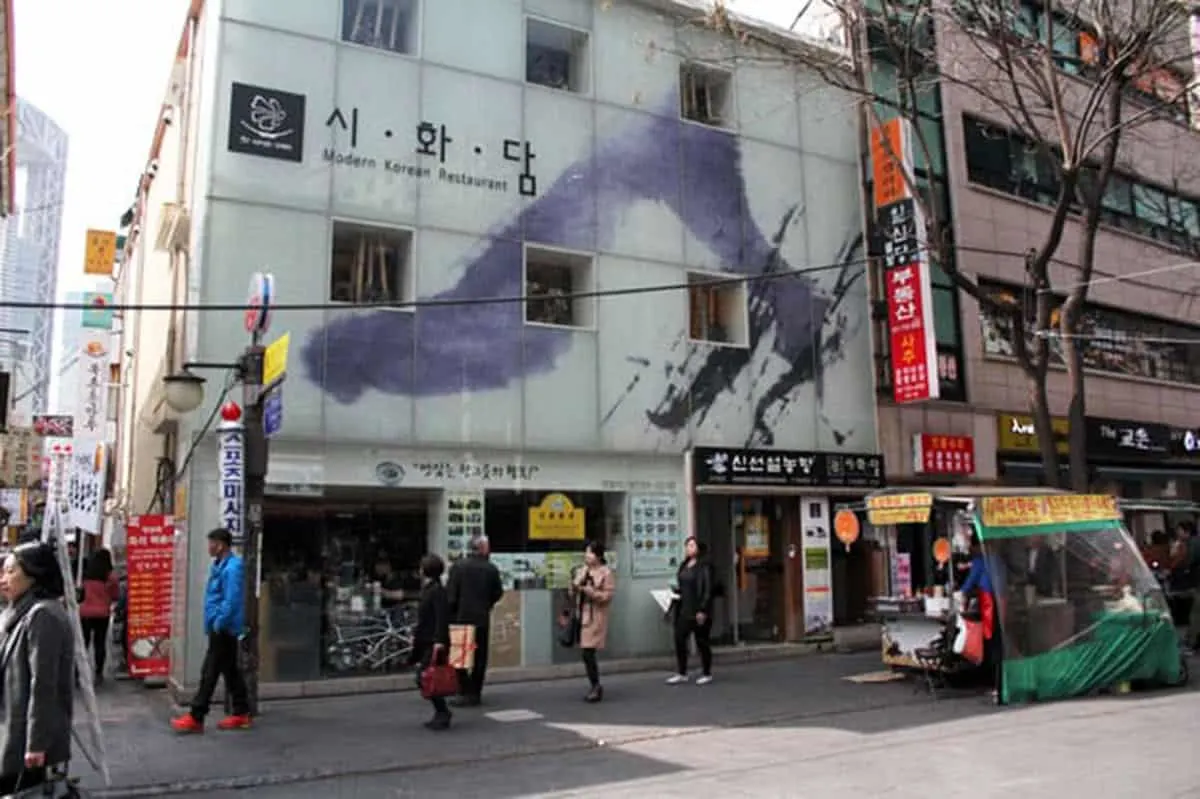 Located on the second and third floors, every table is sectioned off for privacy. There's a small stage in the middle of the room where performers play live traditional Korean music from 7:30-8:30PM nightly.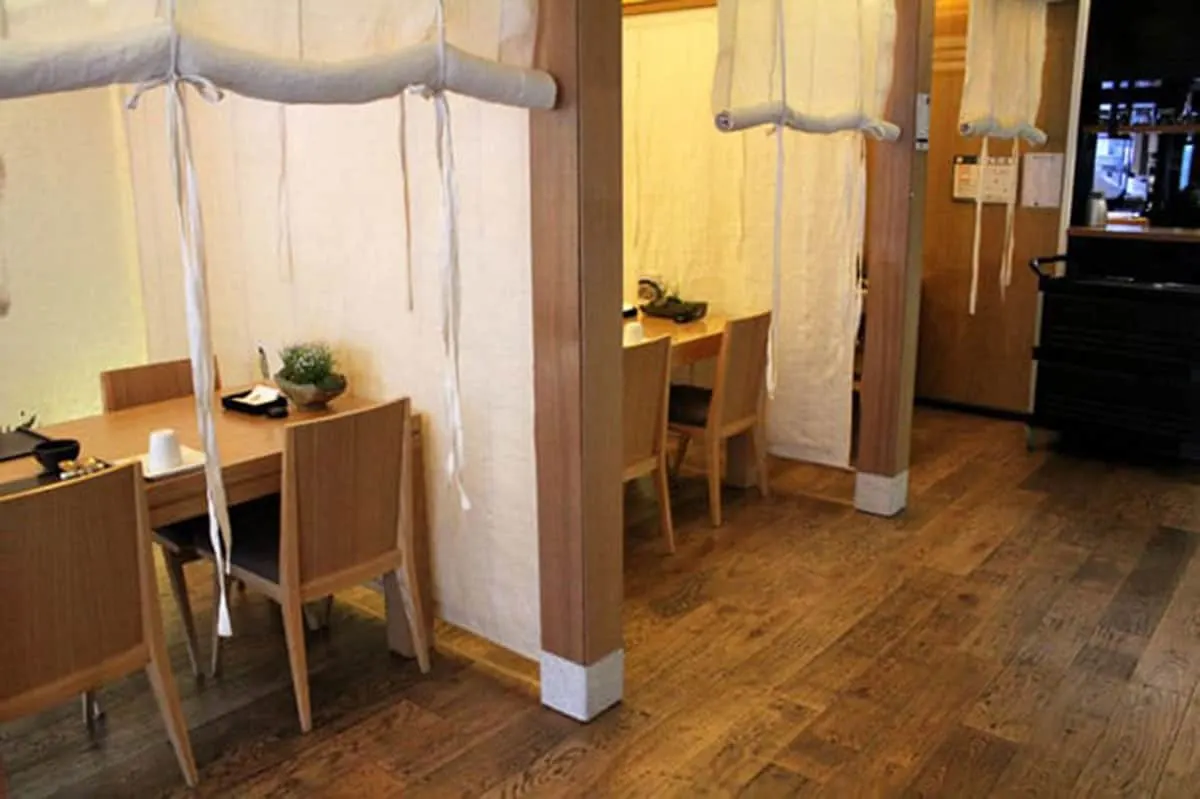 Cabinet of curiosities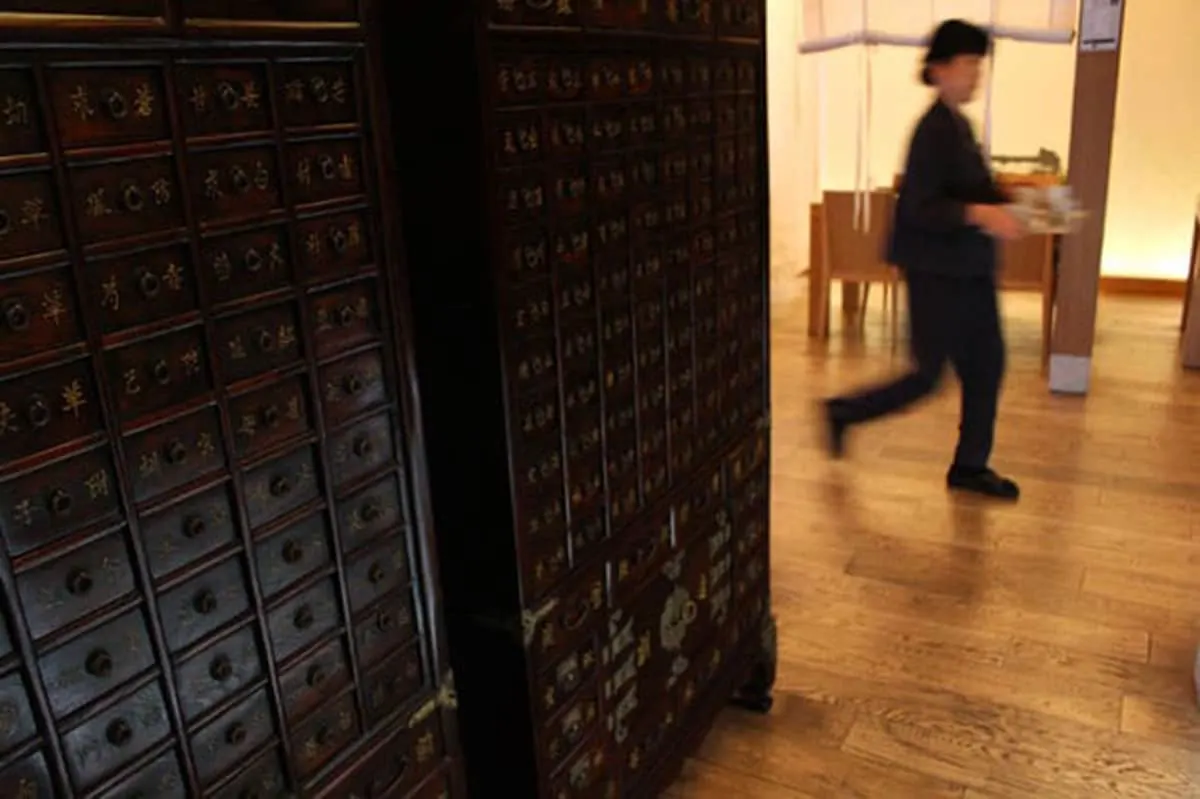 A few tables were in private rooms with sliding doors. We were seated here. I liked how clean everything looked, like the restaurant itself was a blank sheet of paper or canvas. Unsurprising since the name Si Wha Dam means "poem, painting, and story".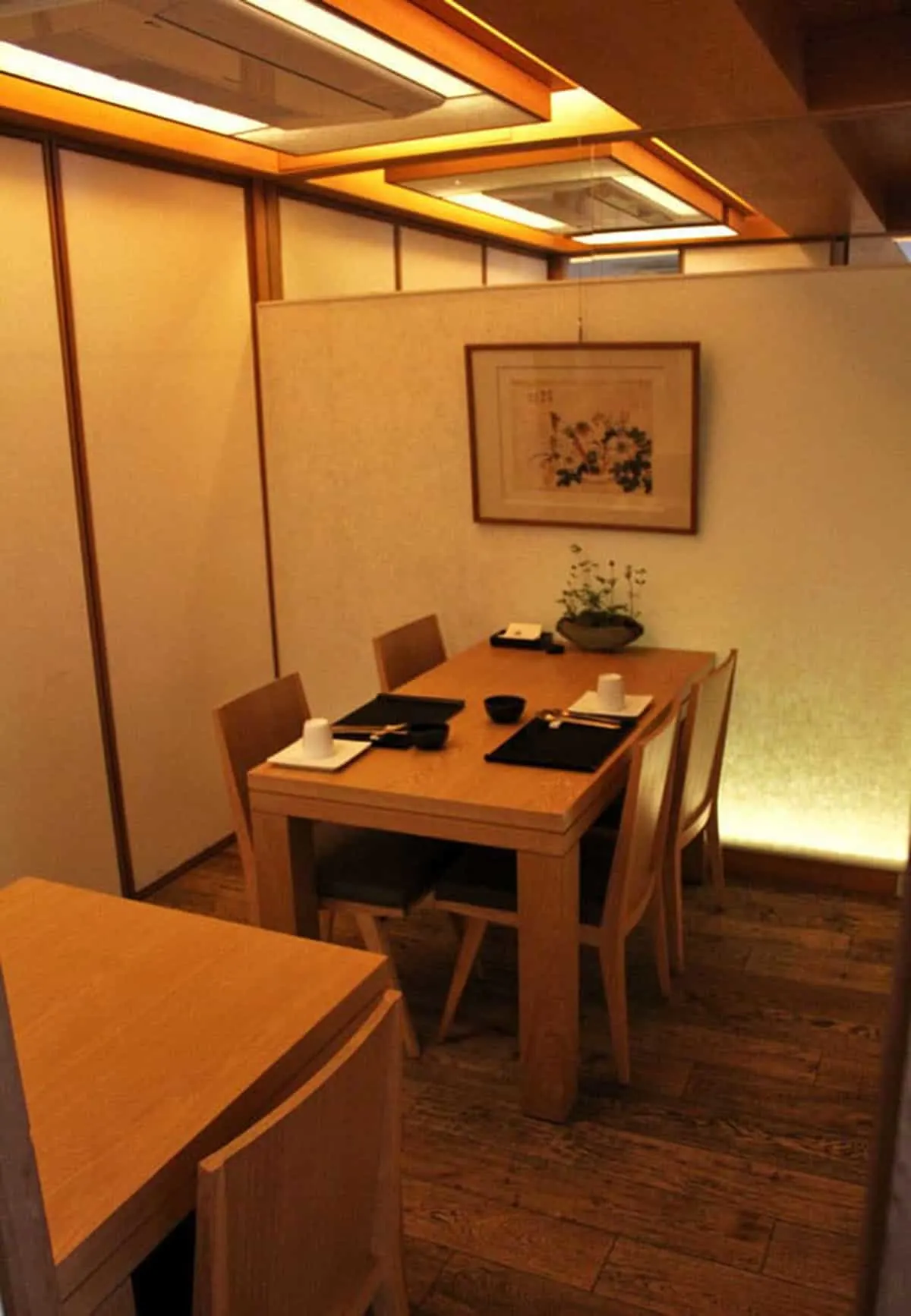 A Line of Poem
Available for lunch on weekdays for 28,000 KRW, Ren went with their most basic tasting menu called A Line of Poem — a simple but stunning 7-course meal consisting primarily of vegetables. Let the show begin.
FIRST COURSE: Wild Greens Salad with Tofu and Wild Potatoes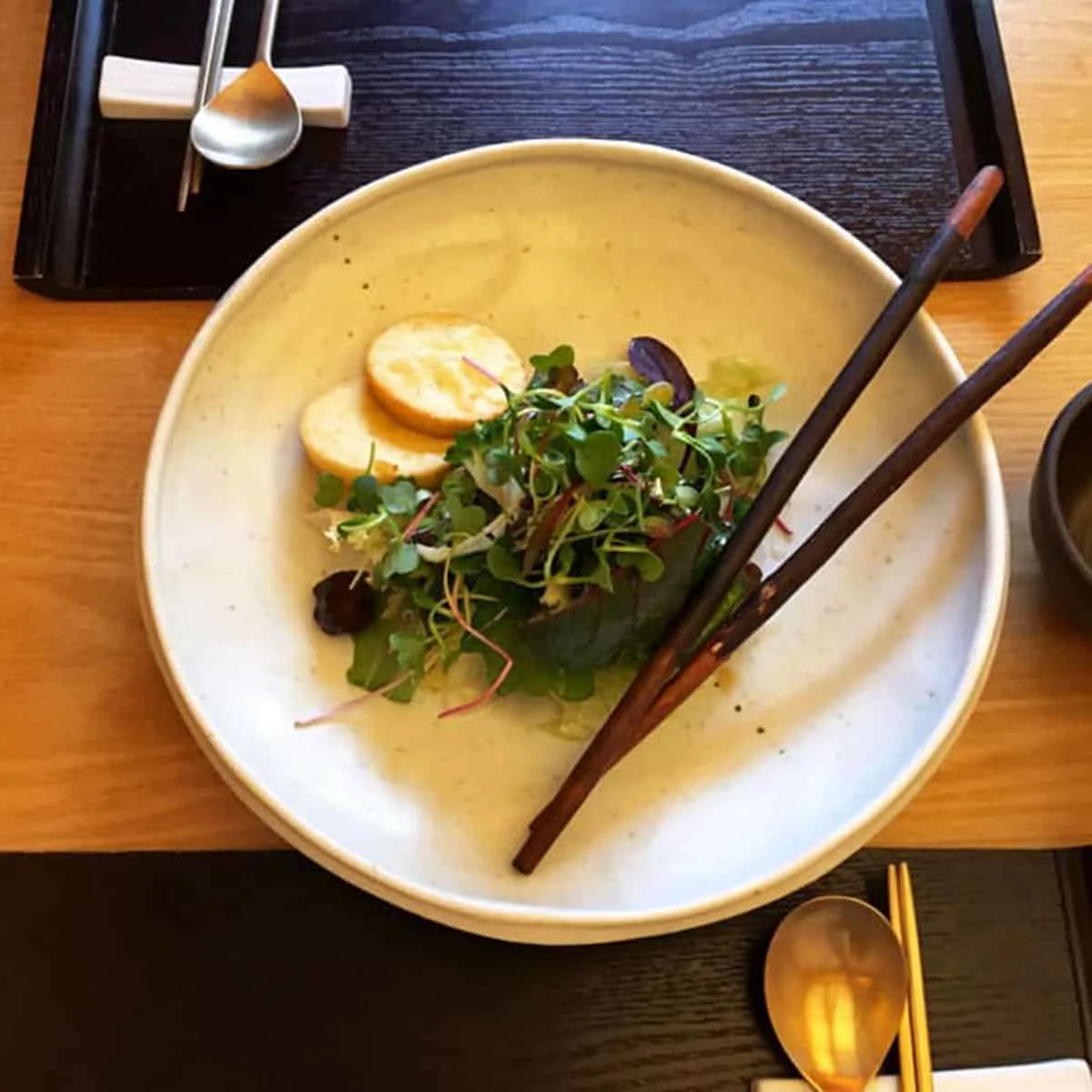 SECOND COURSE: Buckwheat Crepe Wrap with Spring Herbs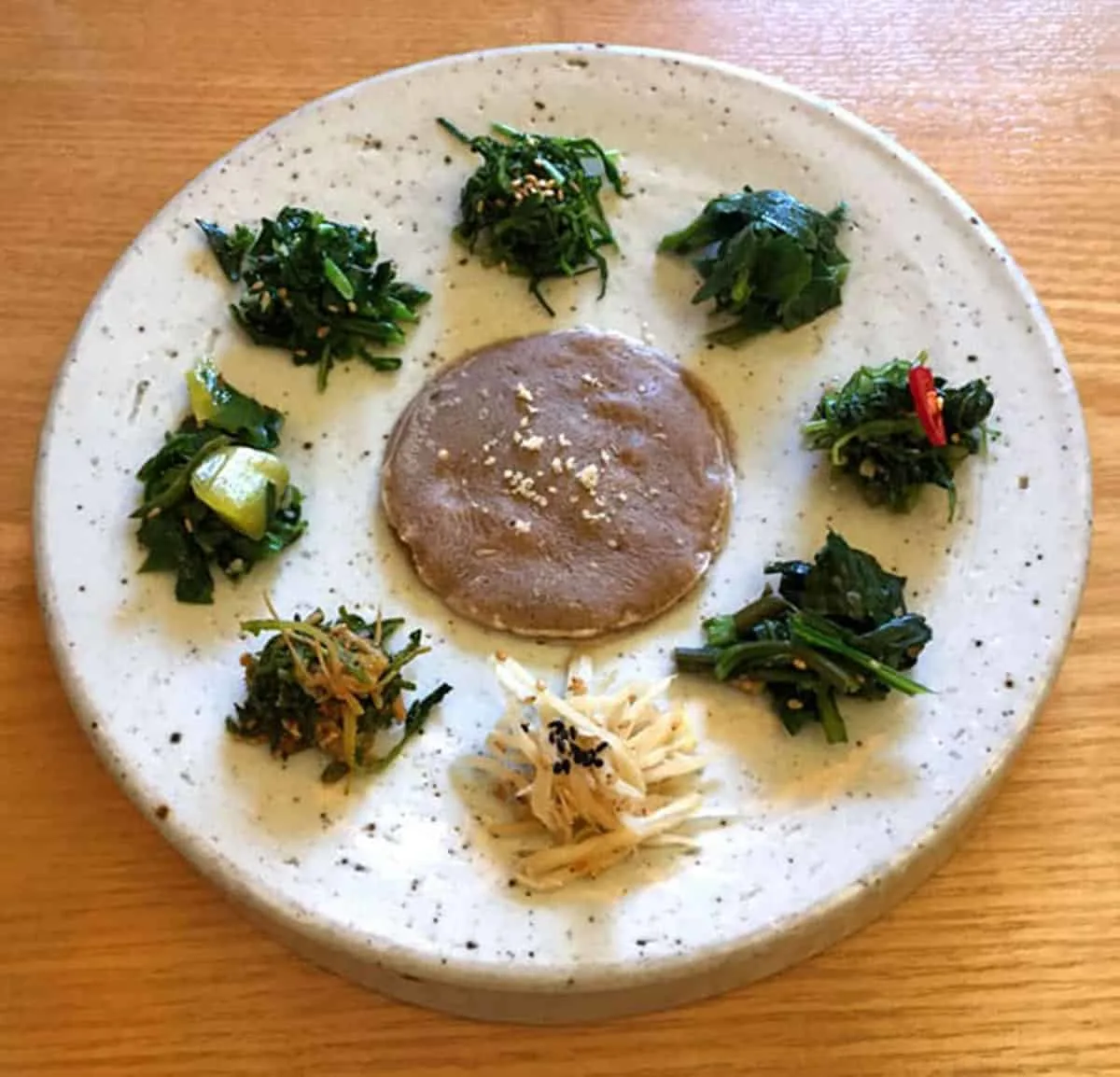 THIRD COURSE: My Mother's Jar of Dongchimi. Dongchimi is a type of kimchi made with daikon, Chinese cabbage, scallions, fermented green chili, ginger, Korean pear, and watery brine.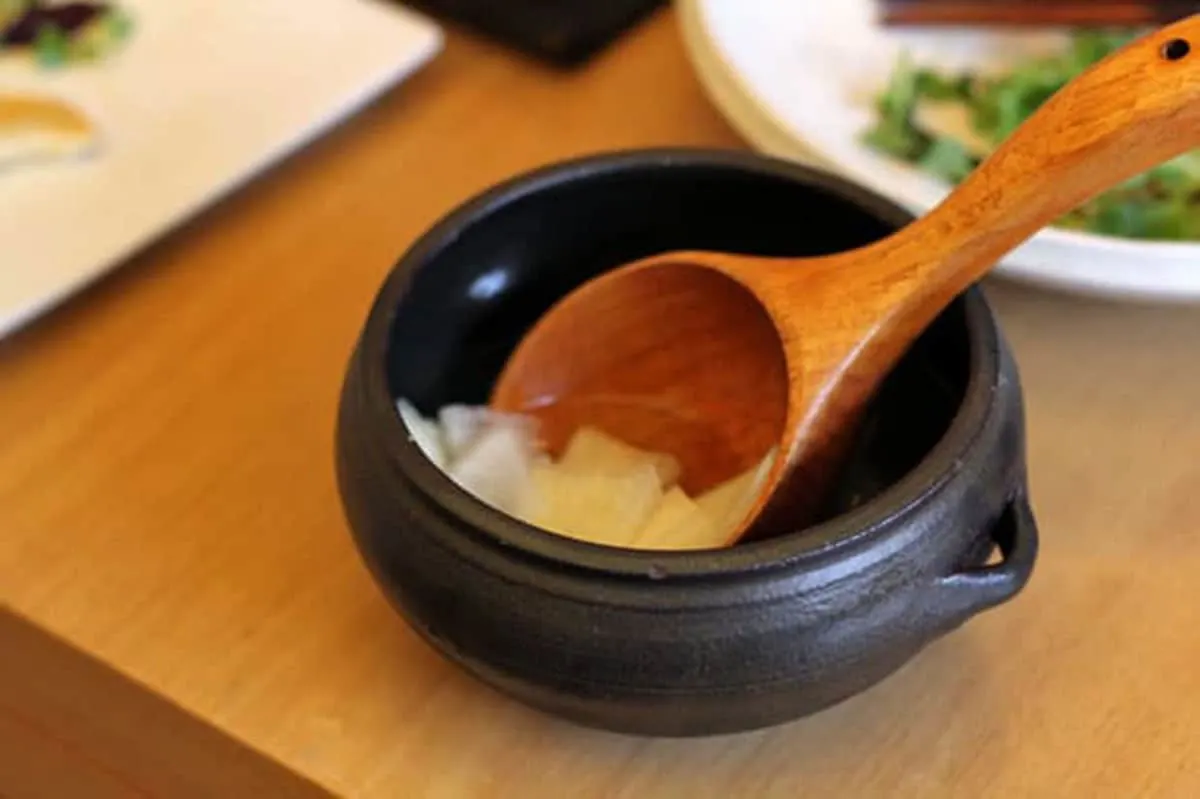 FOURTH COURSE: Korean Lunch Box. Bite-sized bulgogi sandwiches made with seared rice cakes. So cute!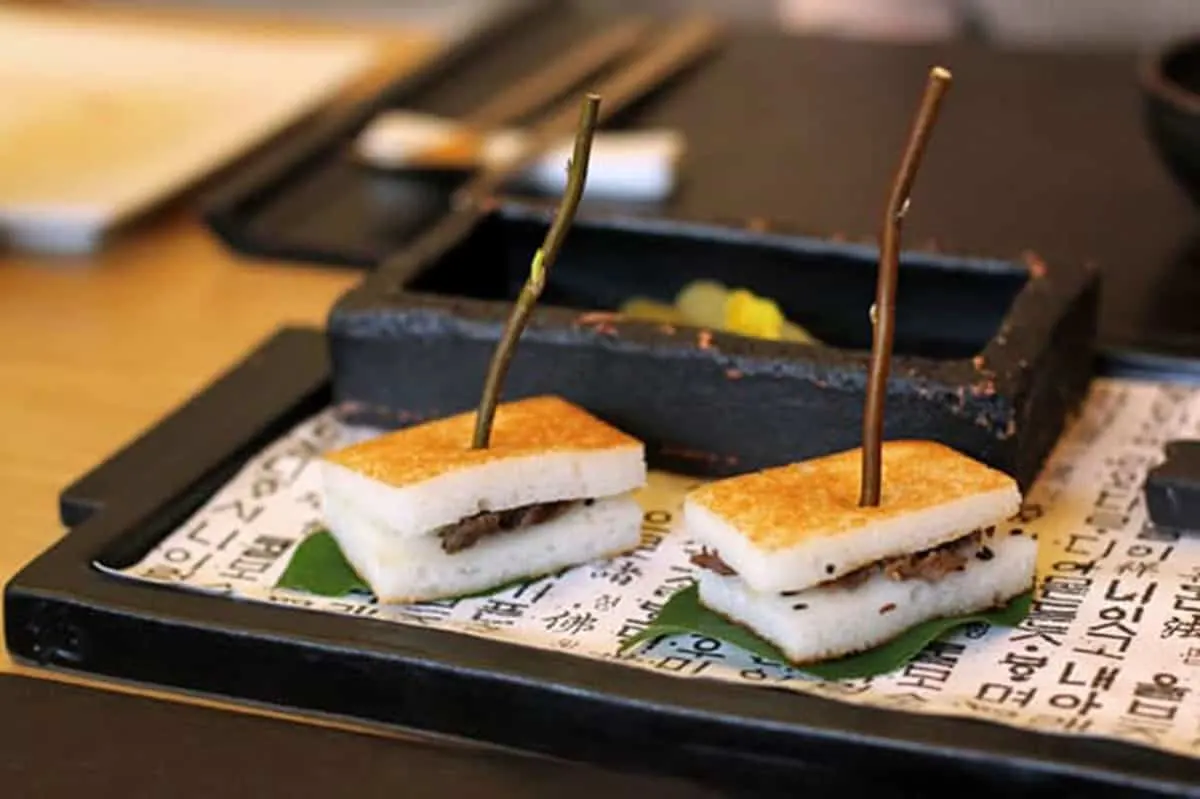 FIFTH COURSE: When Kimchi Meets Pasta. Beautiful and interesting, this was my favorite dish from today. Really tasty.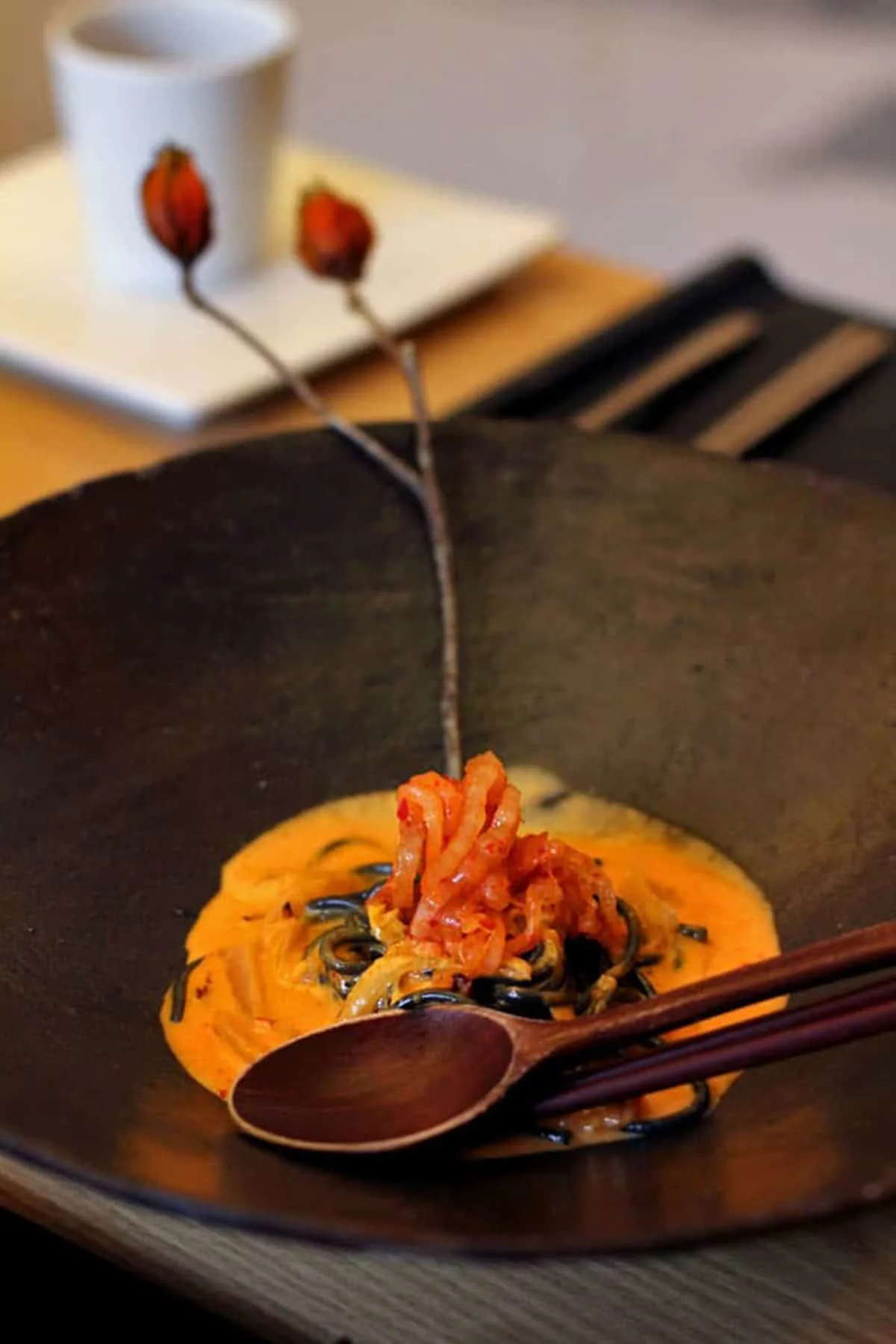 A closer look at the black squid ink pasta. You mix up all the ingredients like bibimbap before eating.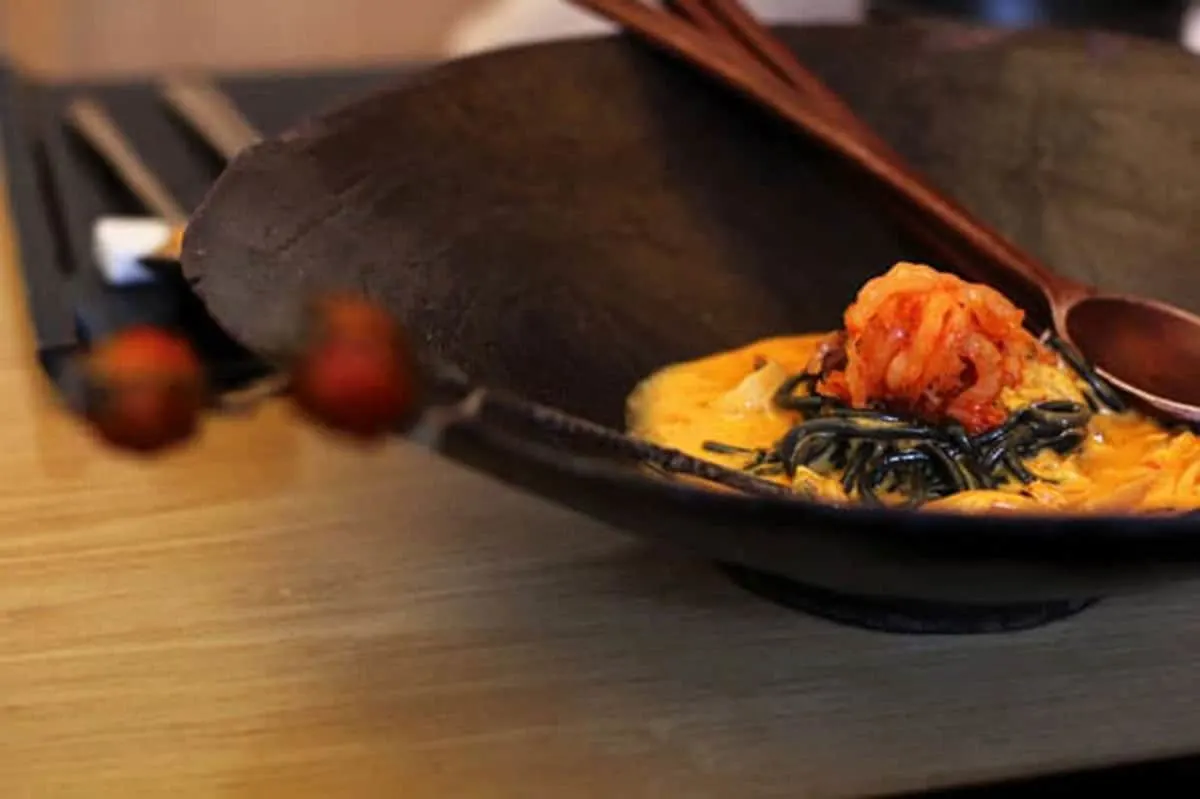 SIXTH COURSE: The Old Days' Wild Field Meal. A beautiful basket of banchan.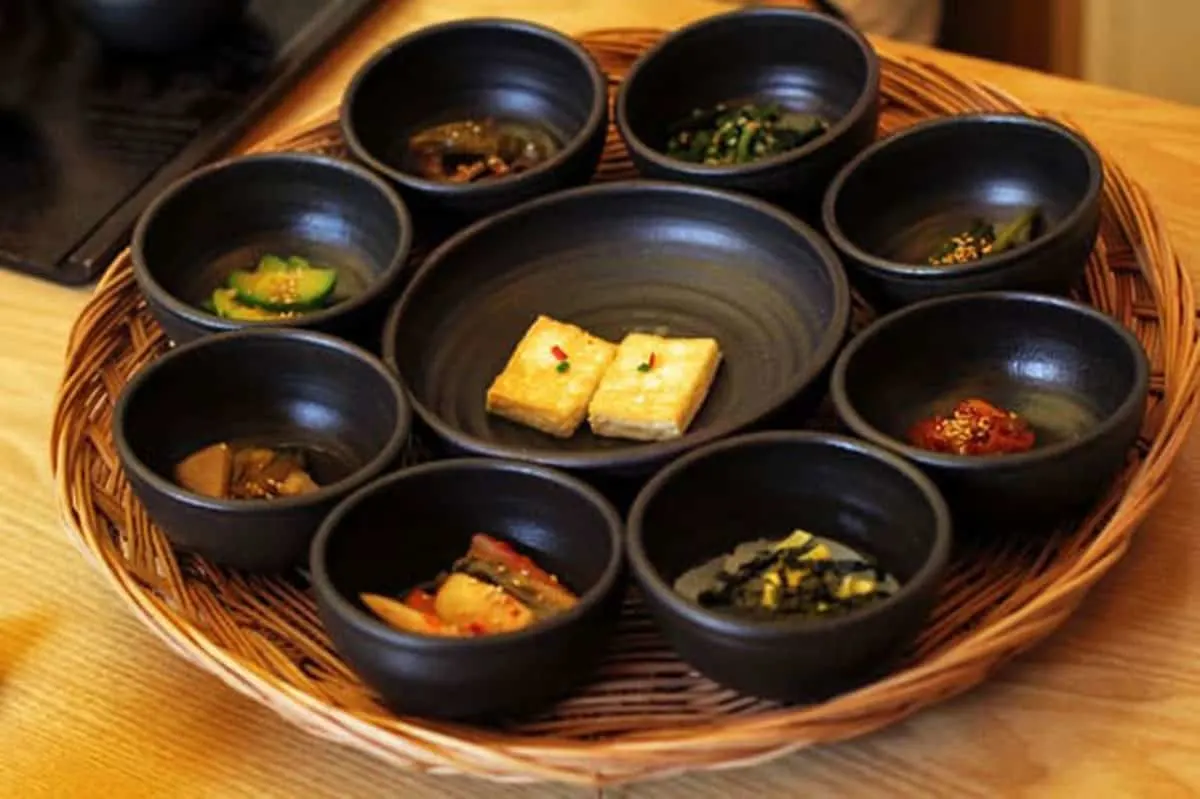 Rice and jjigae (fermented soybean paste stew) to eat with the banchan.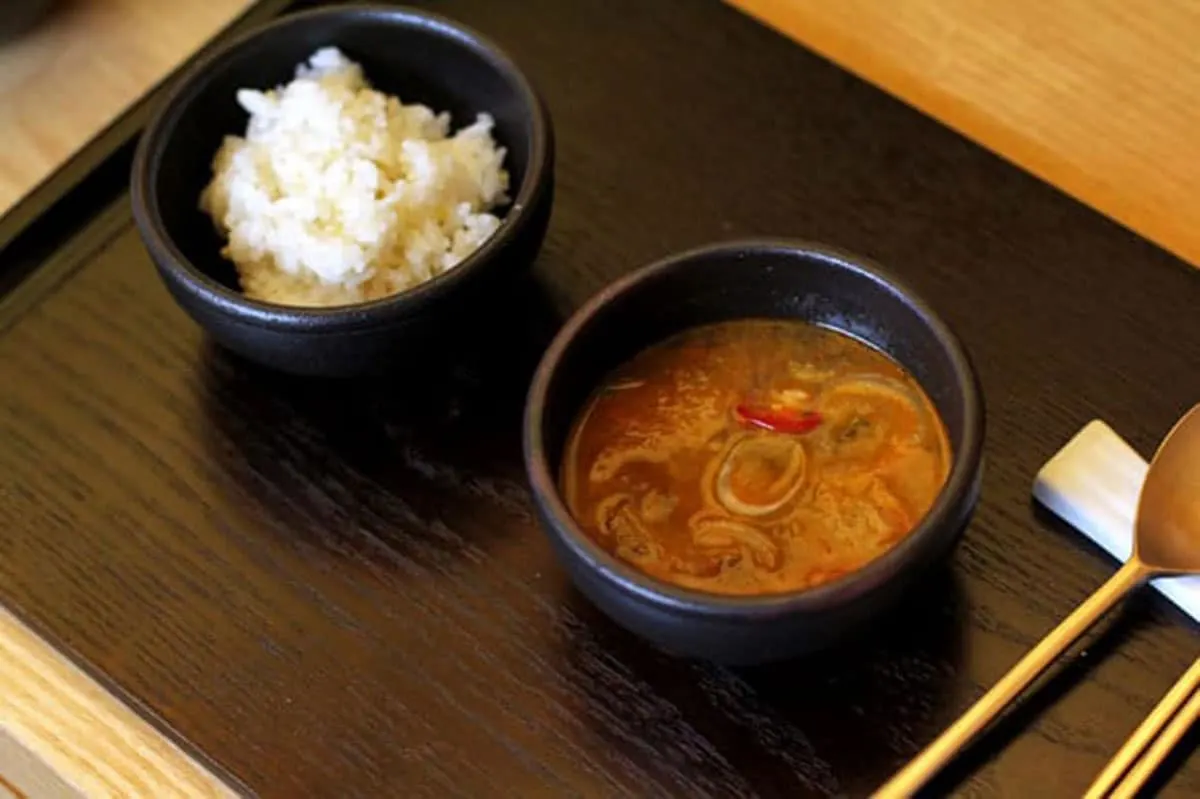 SEVENTH COURSE: A Piece of Spring on the Apricot Branch. Parsley tea with firm, sticky gelatin shaped like cherry blossoms. You pick up the blossoms with those two-pronged twigs on the right. Gorgeous right?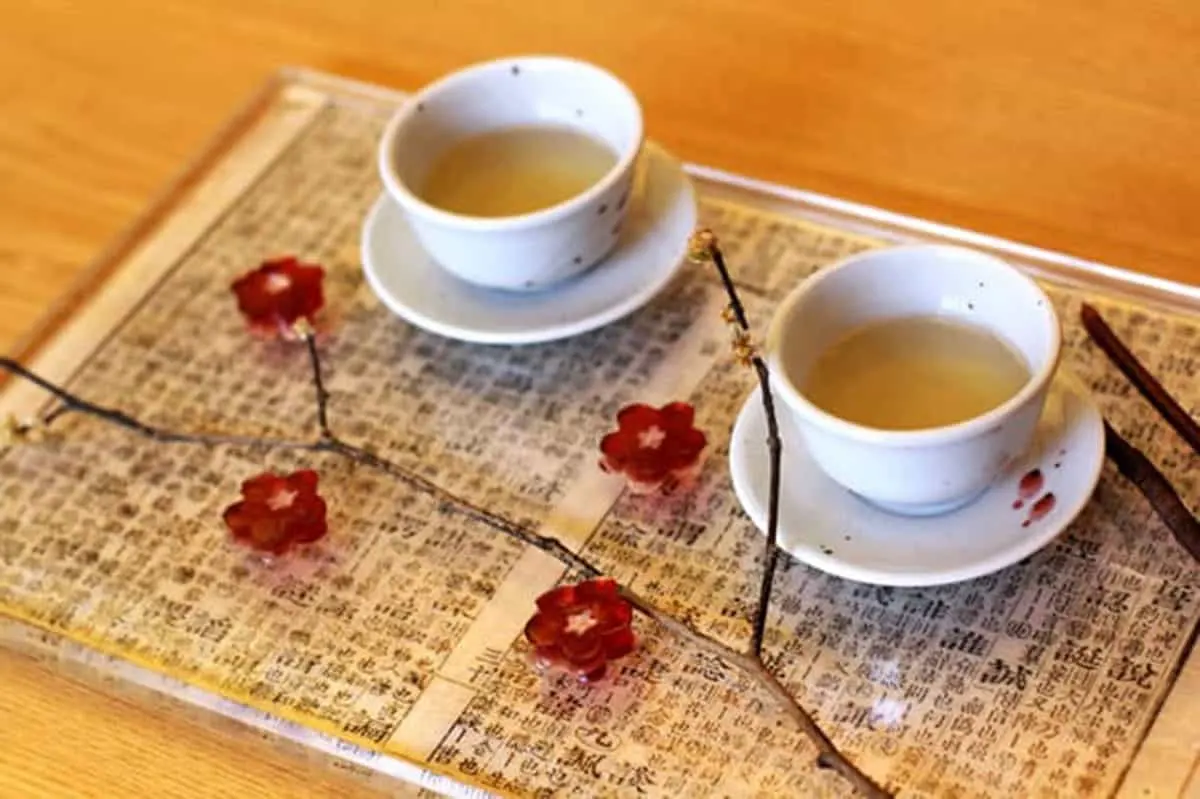 A Piece of Picture
I didn't want to get the same tasting menu as Ren so I chose the next one — A Piece of Picture — for 38,000 KRW. As it turns out, it has the same seven courses as A Line of Poem with the addition of these two.
Lotus Root Porridge that Cured Scholar Yul-gok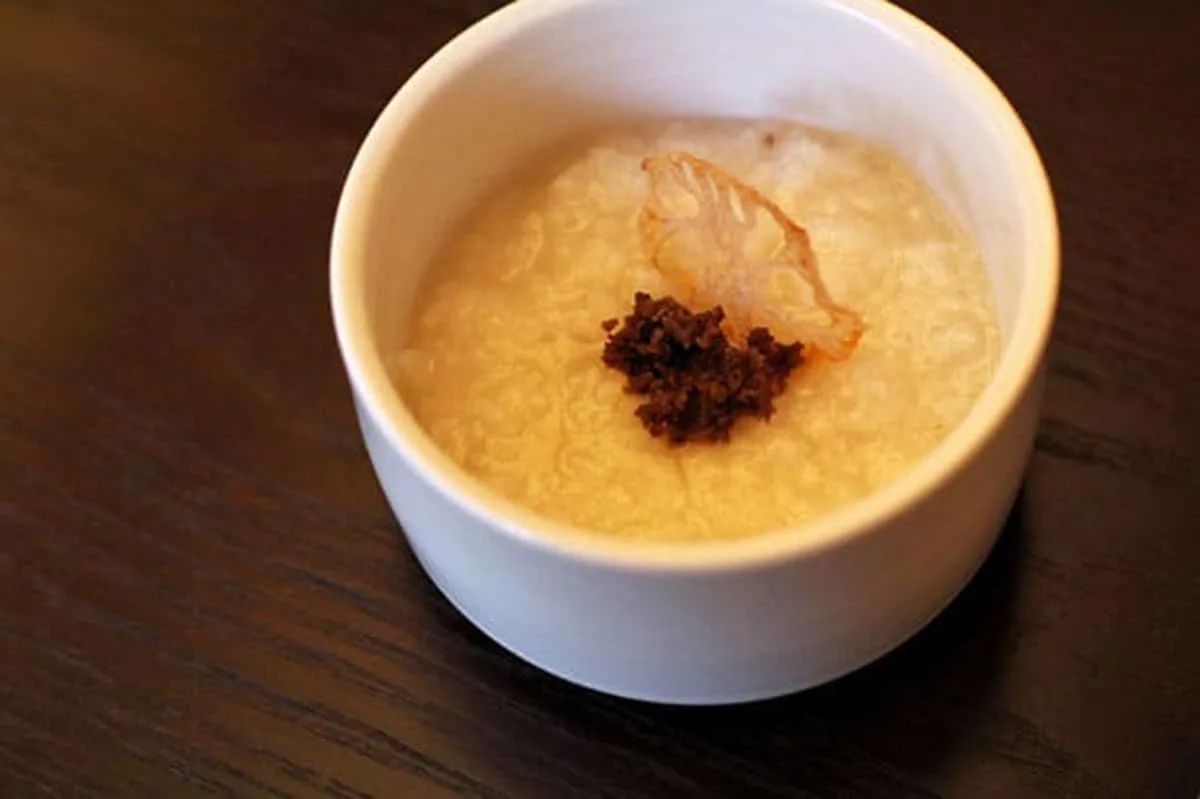 Carrot Flower Wrap and Sesame Leaf Wrap with Pickled Plum. So pretty.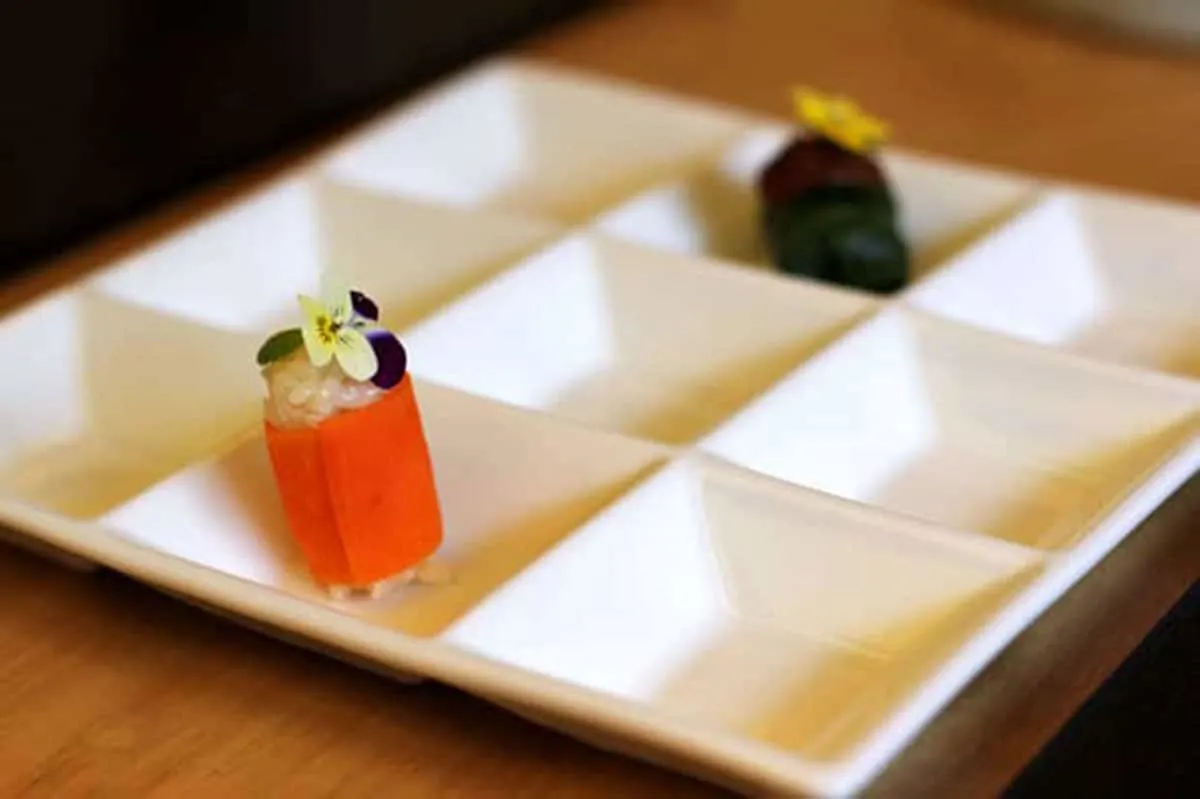 A closer look at the sesame leaf wrap. These extra courses were cute but not worth the additional 10,000 KRW I don't think.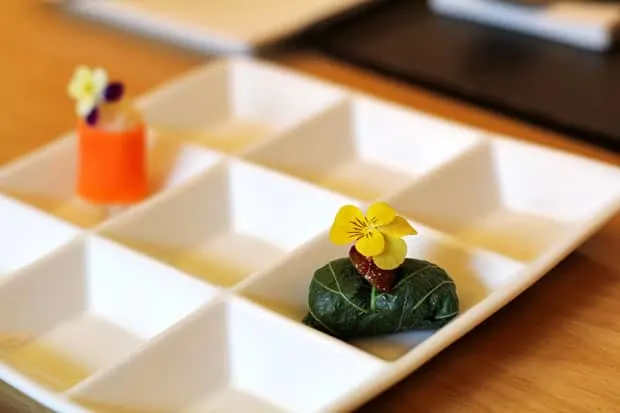 When all was said and done, Ren and I were satisfied with our meals. It was visual, fun, and tasty, plus it gave us a novel experience that we probably can't get too often outside of Korea.
With that said though, I do recognize that this food isn't for everyone. If you're a fan of traditional Korean dishes like bulgogi or galbi, then you may not like Si.Wha.Dam. With the exception of the banchan, the food at times felt a little too artistic, too unfamiliar. As my Korean sister-in-law put it when I showed her the pictures: "This isn't Korean food." By that, I think she meant that the essence of Korean food seemed lost.
Without question, it was interesting to experience a Korean meal like this but it did feel drowned in the intellect at times.
Si.Wha.Dam Insadong, Seoul, South Korea
시화담
13, Insadong-gil, Jongno-gu, Seoul, South Korea
서울 종로구 인사동길 13
Tel: +82 2 738 8855
Fax: +82 2 738 8856
Website: siwhadam.com/insadong_e
Email: [email protected]
Hours of Operation: Mon-Sun, 11:30AM-10PM
Expect to spend: At least 28,000 KRW per person
Reservations: Recommended
HOW TO GET THERE:
By subway, get off at Anguk station (line 3), exit 2. Walk straight for about 100m and make a left into Insadong. If you haven't been there yet, it's a popular commercial area so you can't miss it. Walk for another 250m or so and the Si.Wha.Dam building will be on your right (pictured up top). The restaurant is closer to the far end of Insadong and about a 10-20 minute walk from the station exit.
Look out for this Si.Wha.Dam sign on your right. The restaurant is upstairs.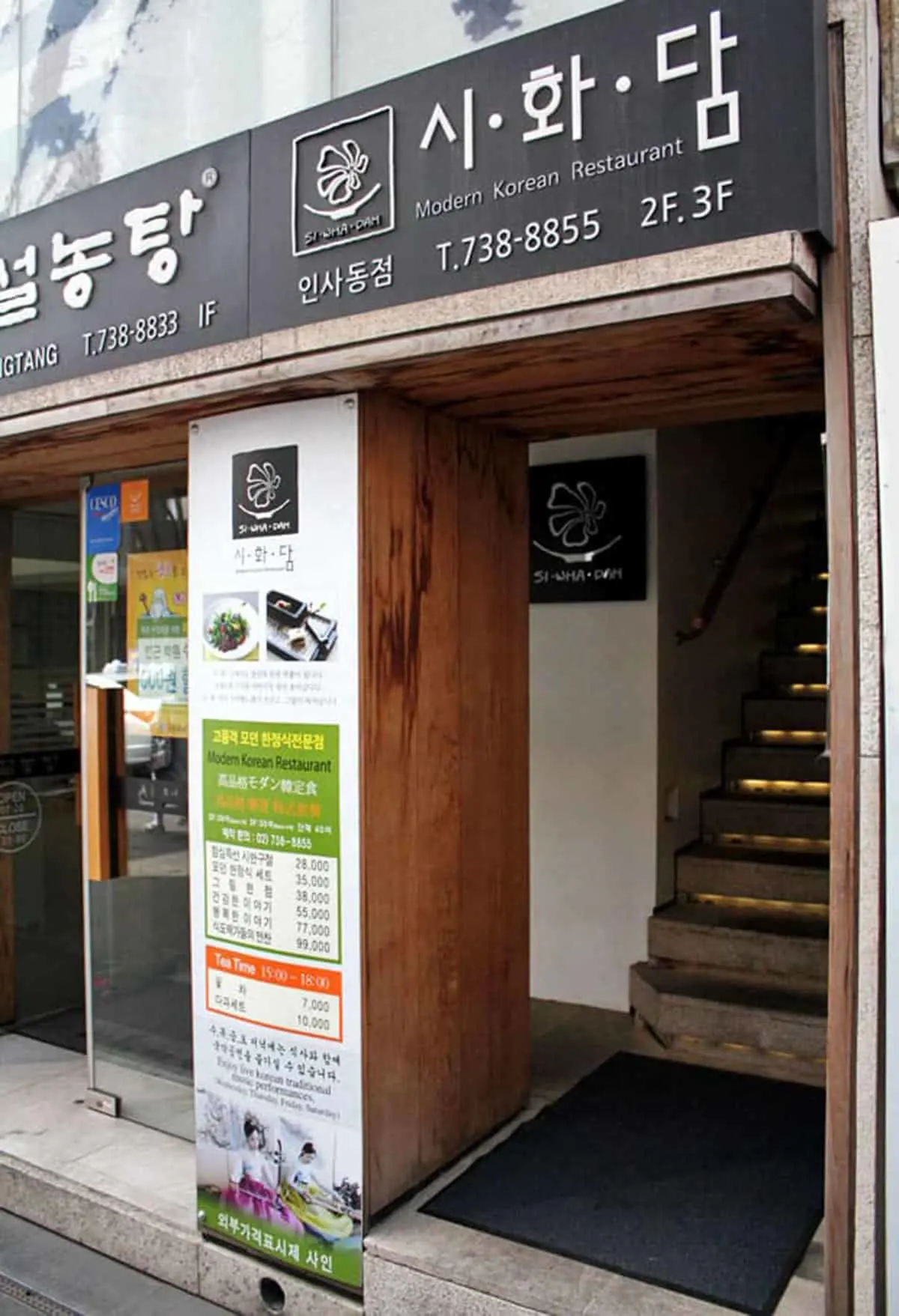 Si.Wha.Dam Itaewon, Seoul, South Korea
시화담
72, Hoenamu-ro, Yongsan-gu, Seoul, South Korea
서울 용산구 회나무로 75
Tel: +82 2 798 3311
Fax: +82 2 798 0051
Website: siwhadam.com/itaewon_e
Email: [email protected]
Hours of Operation: Mon-Sun, 11:30AM-10PM
Expect to spend: At least 110,000 KRW per person
Reservations: Recommended
CLICK HERE for directions and a map to Si.Wha.Dam Itaewon.
For travel tips to Seoul, check out our First-Timer's Travel Guide to Seoul, South Korea