We visited over ten cities and towns during our seventeen days in Spain. One of the stops we were most excited about was San Sebastian, mainly because of its reputation as a culinary city.
Located in the Basque Country, it boasts the highest concentration of Michelin-starred restaurants in the country. It's also known for its pintxos which are snacks similar to tapas, but skewered with toothpicks on bread. They're popular throughout northern Spain, but mention pintxos to any non-Spanish person and the first thing they'll probably think of is San Sebastian.
But as synonymous as pintxos have become with this northern gastronomic destination, we heard that one place makes them even better. According to locals and online reports, the best pintxos can be found not in San Sebastian, but about two hours south, in a city called Logroño.
We had already made plans to rent a car and make our way from San Sebastian to Santiago de Compostela. Why not rent it a day early and do a day trip to Logroño as well?
That's exactly what we did, and it allowed us to have one of our best eating days on this multi-city gastronomic tour through Spain.
Save This on Pinterest!
No time to read this now? Click on the red save button and pin it for later!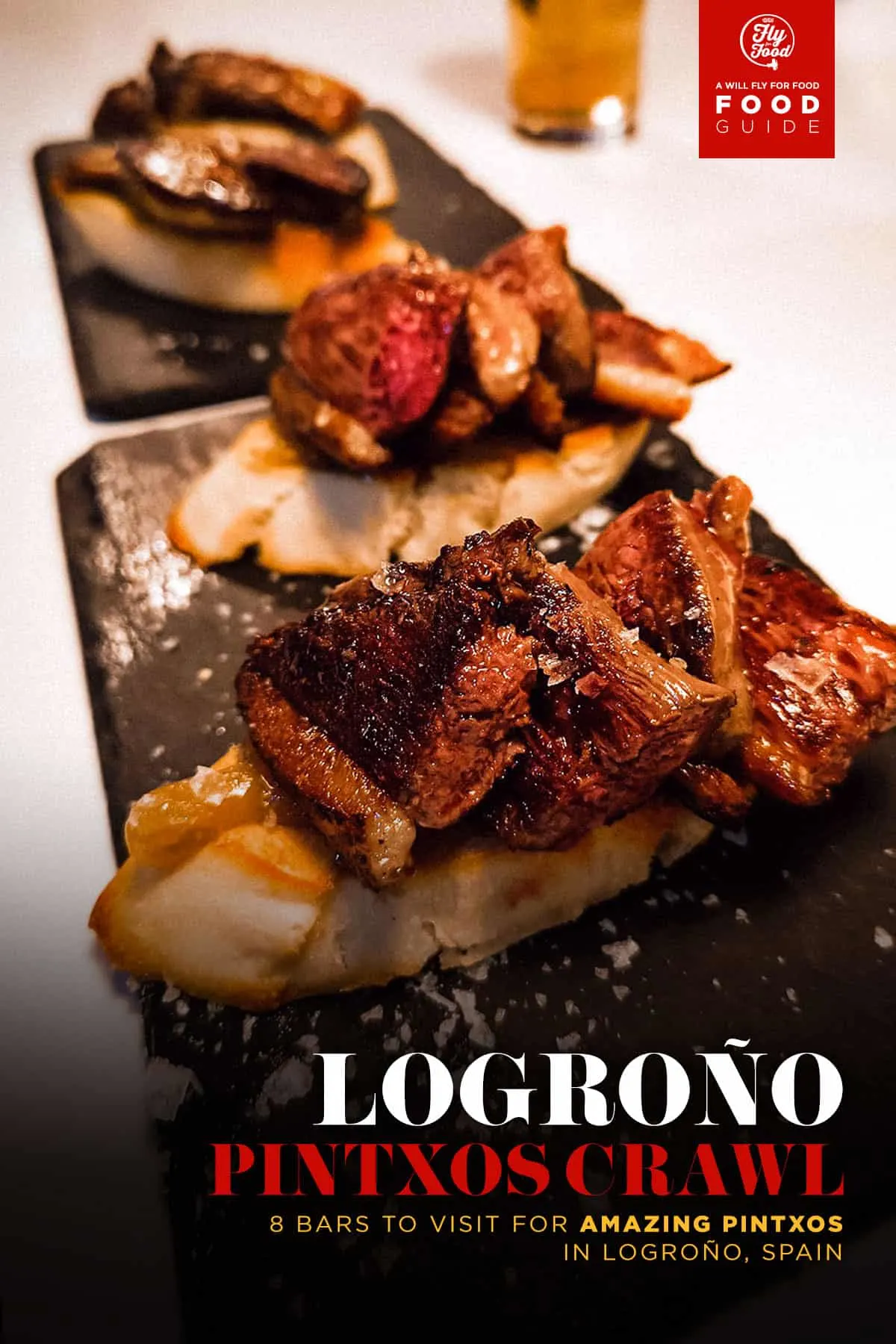 DRIVING FROM SAN SEBASTIAN
We rented a car through easyterra.com. They're a car rental aggregator similar to those third-party flight booking websites. I booked a car with EasyTerra for two reasons. One, they're relatively cheap. And two, they have a solid 8.2 rating on TrustPilot. I reserved our car through their website which was then fulfilled by Europcar.
There may be other ways of getting to Logroño from San Sebastian, but none will give you as much freedom as having your own car. Plus, we were already renting a car anyway so the decision was easy for us.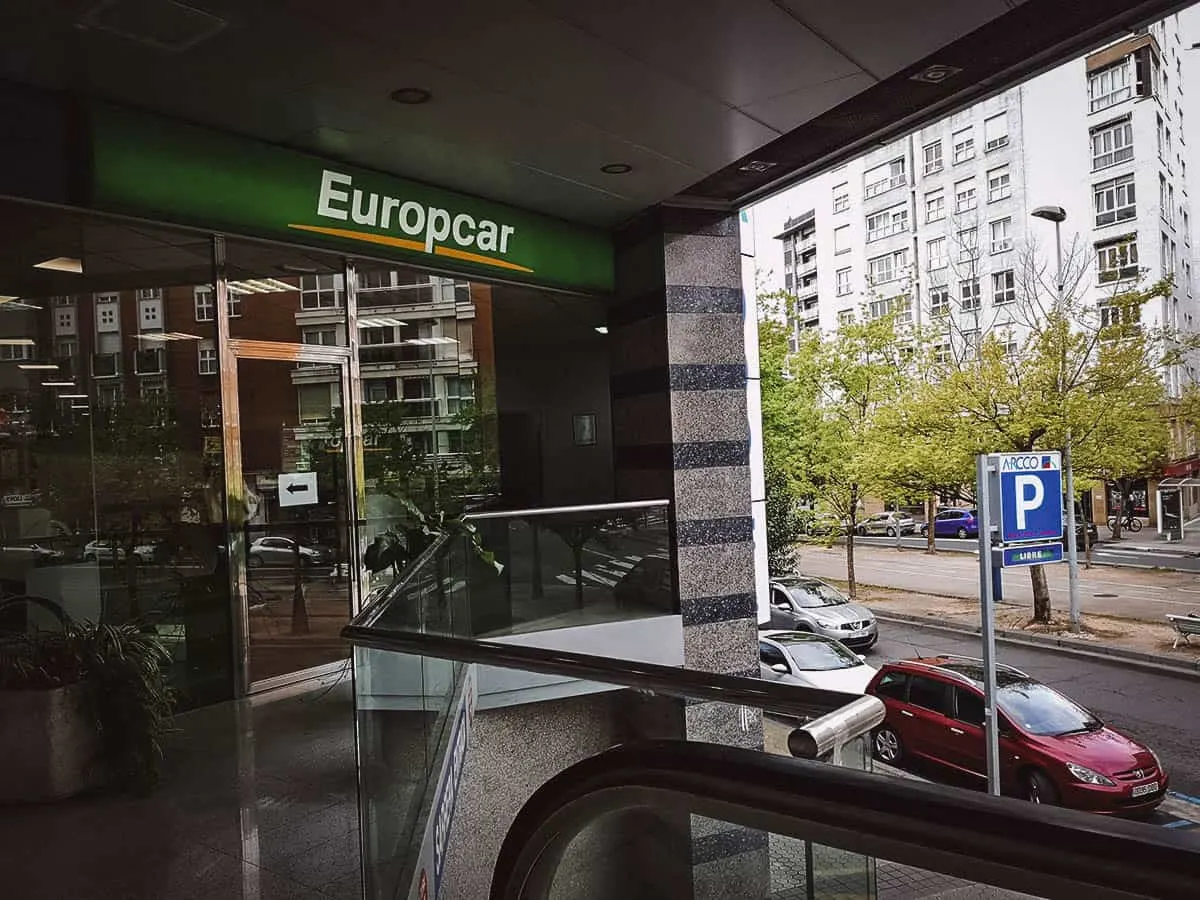 After some paperwork, we went down to the basement to pick up our steed – a trusty Opel station wagon. I'll talk about it more in an upcoming post, but for anyone wondering, we paid a total of EUR 324.55 for the three-day rental. There were five people in our group so that came out to less than EUR 22 per person per day. Not bad at all!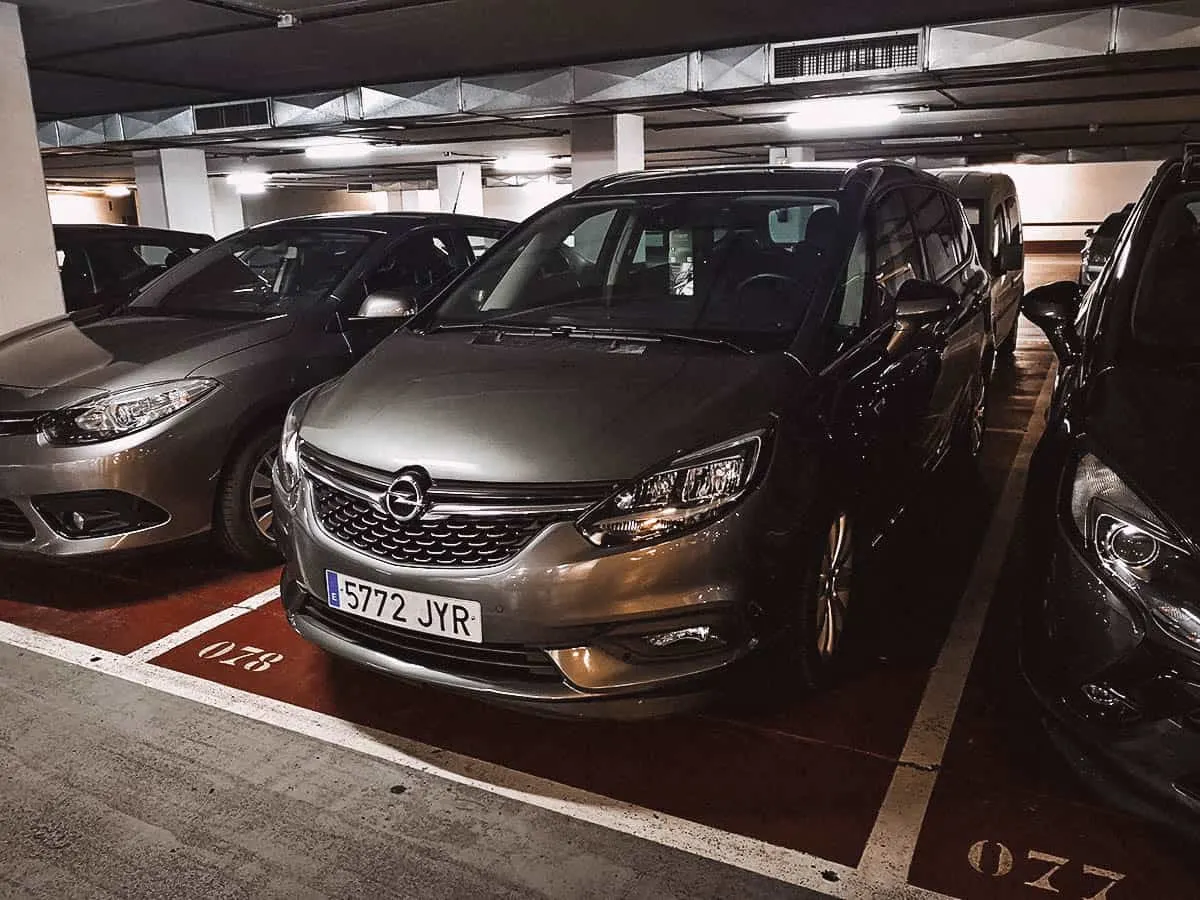 And away we go! We were a bit nervous at first but it was a breeze navigating with the Google Maps app. It's about 165 km to Logroño from San Sebastian so the drive took around 1 hr 45 mins each way.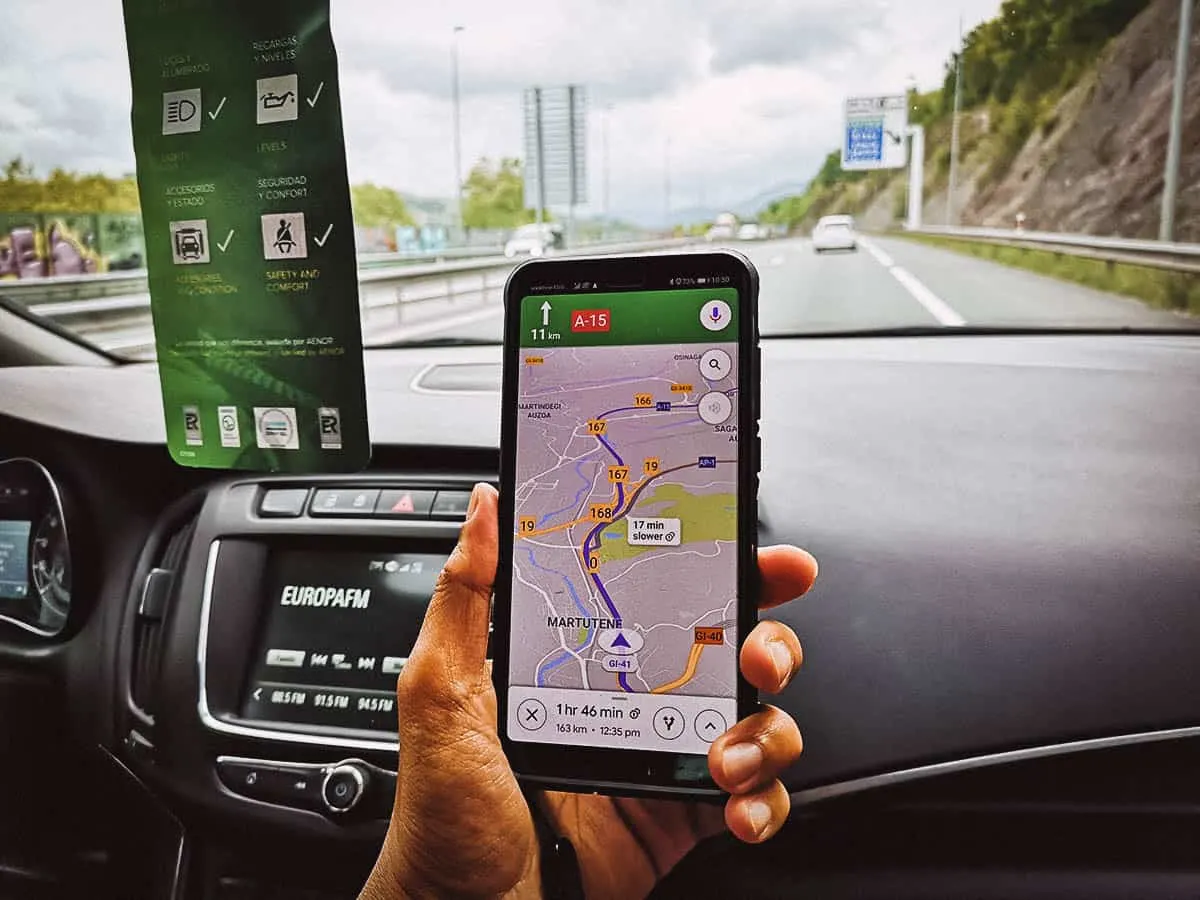 Northern Spain is beautiful. We drove along cliffs and through canyons and open plains. The drive started off a bit drizzly at first but the skies quickly opened up.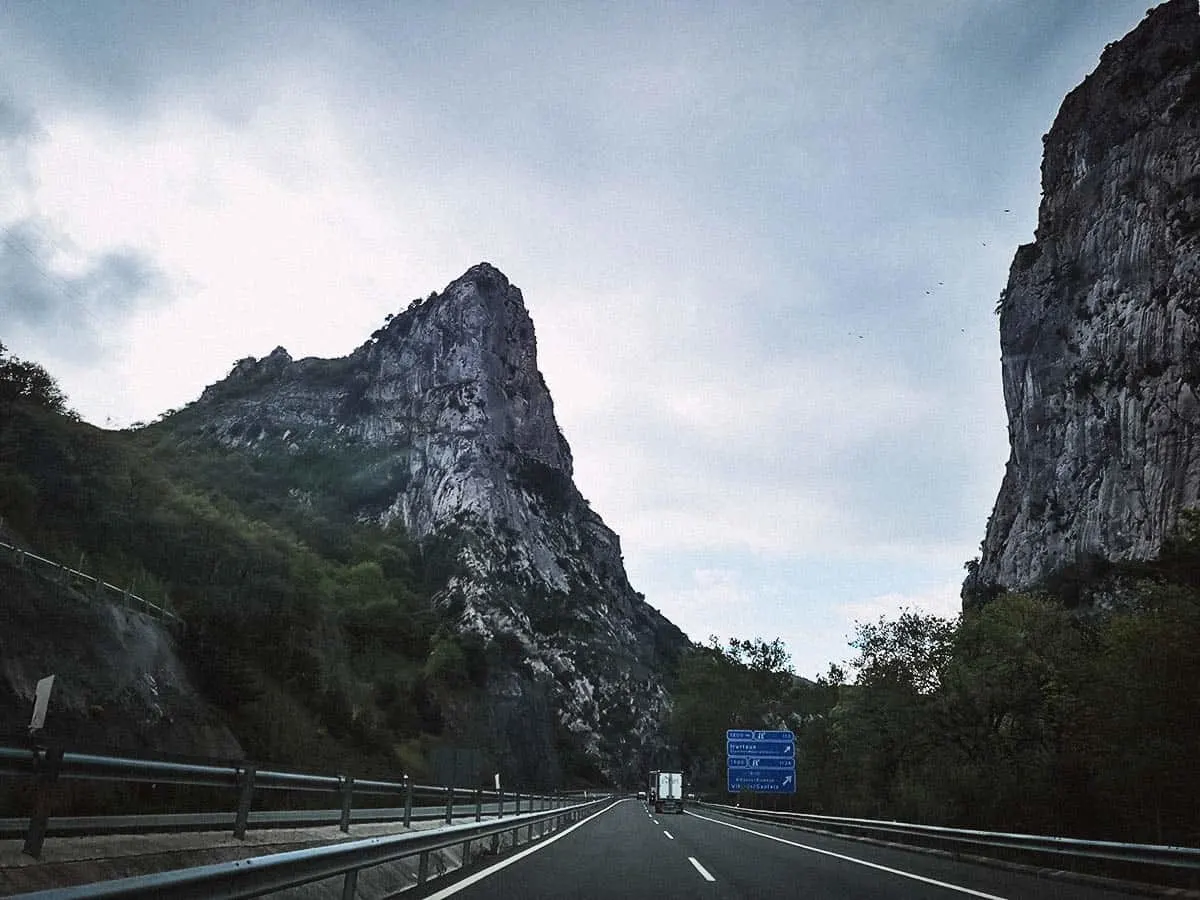 You'll be treated to scenery like this for much of those two hours. If you look closely at this picture, you'll see what looks like a small town or castle sitting on top of that mountain.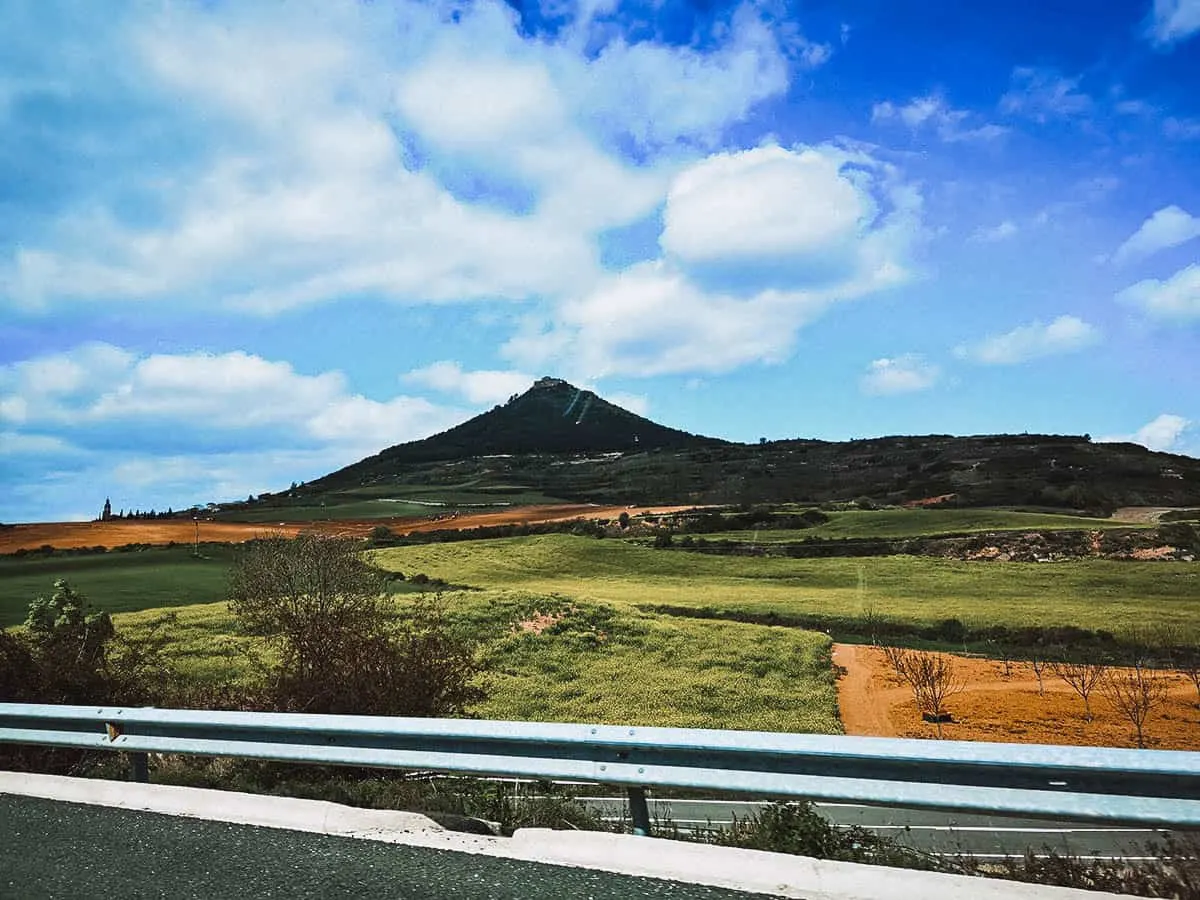 LOGROÑO, LA RIOJA
In less than two hours, we exited the highways and made our way into Logroño. Before writing this article, I assumed Logroño was still in the Basque Country but it's not. It's actually in La Rioja, just south of the Basque Country border. It's the capital of La Rioja province.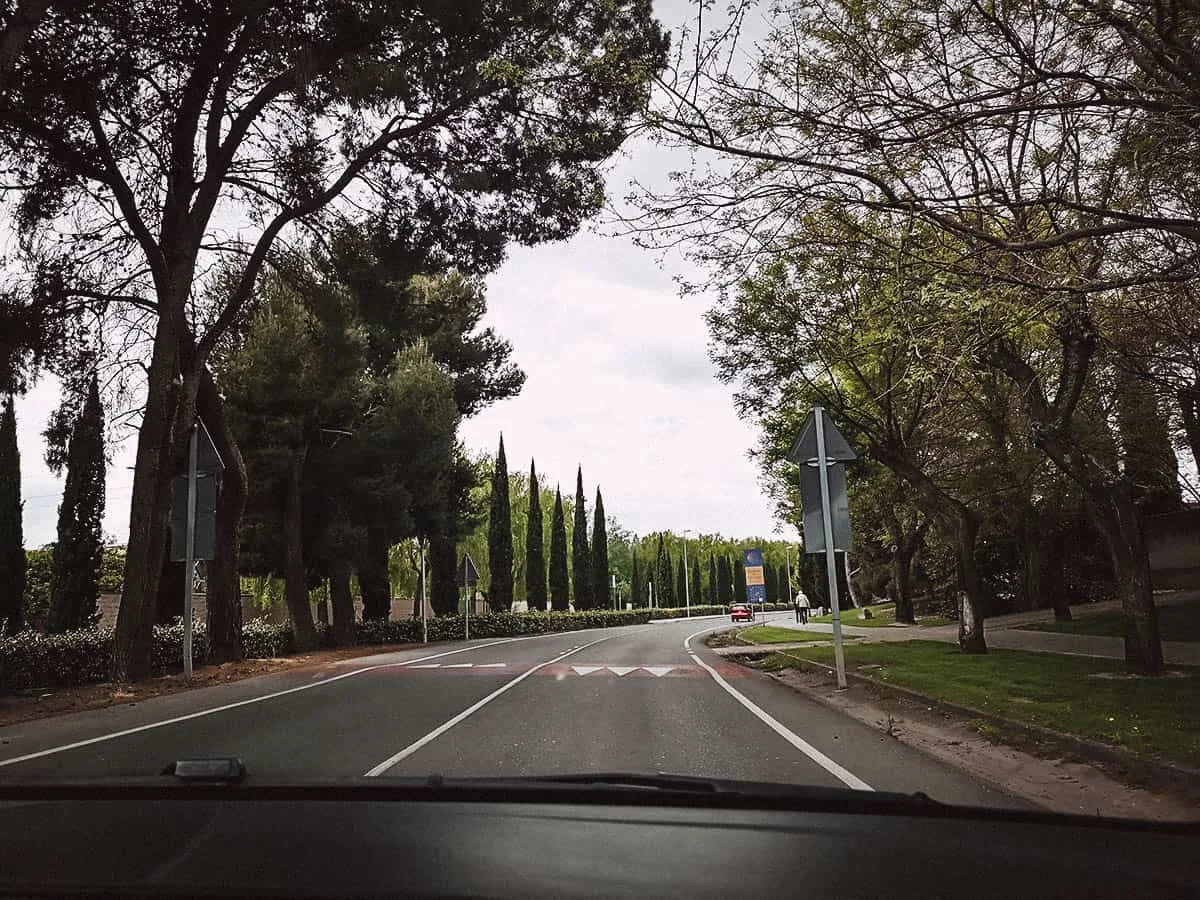 Logroño is a relatively small city with a population hovering around 150,000. It's a center of trade for La Rioja wine. At the city's heart is a four-block area with over fifty tapas bars, many of which specializing in just one type of pintxo.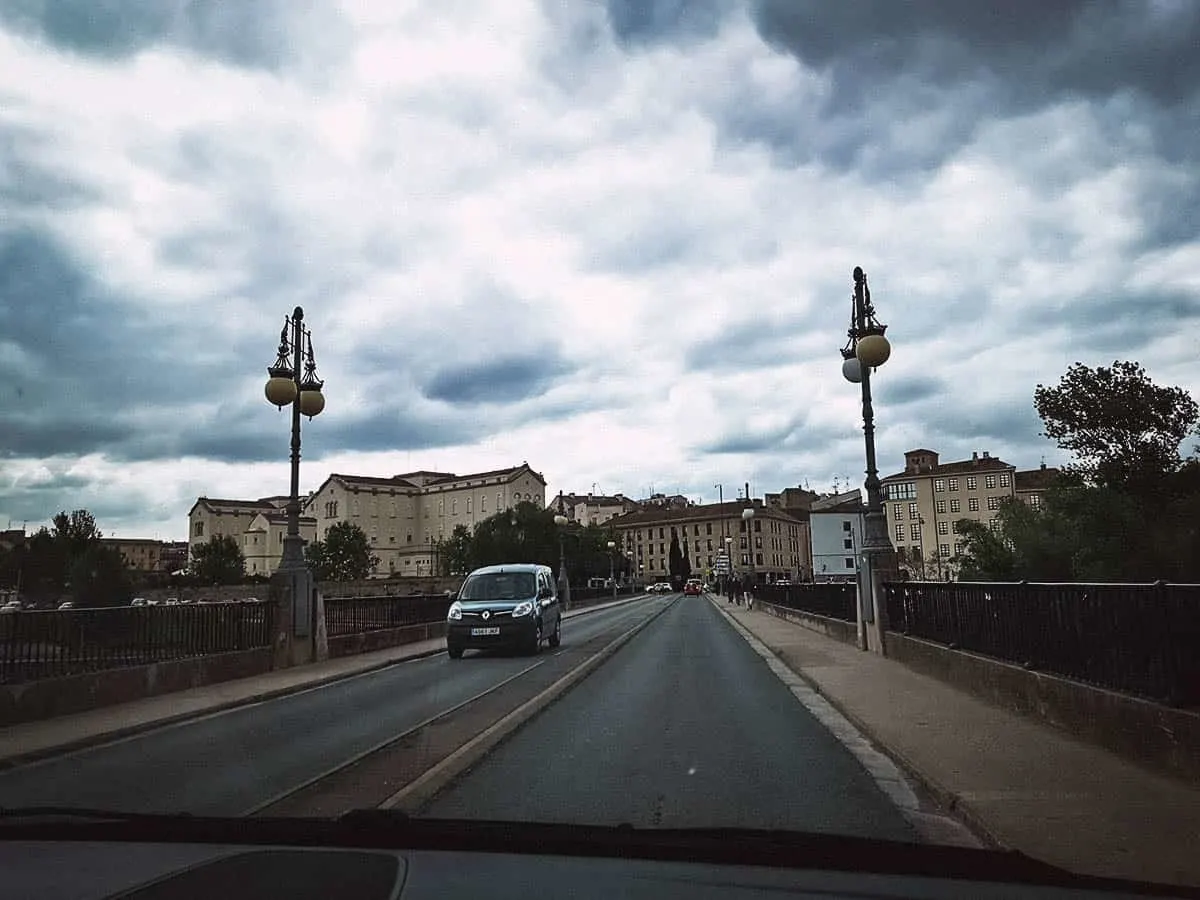 We didn't know this before renting a car, but parking can be a real pain in Spain. Street parking is very difficult to come by. I'm assuming this is the case for many cities in Europe.
Thankfully, it's less of a concern in Logroño for the simple reason that the best tapas bars are located within a small radius, at the center of which is Calle del Laurel. Just park your car in a garage nearby then walk to this area.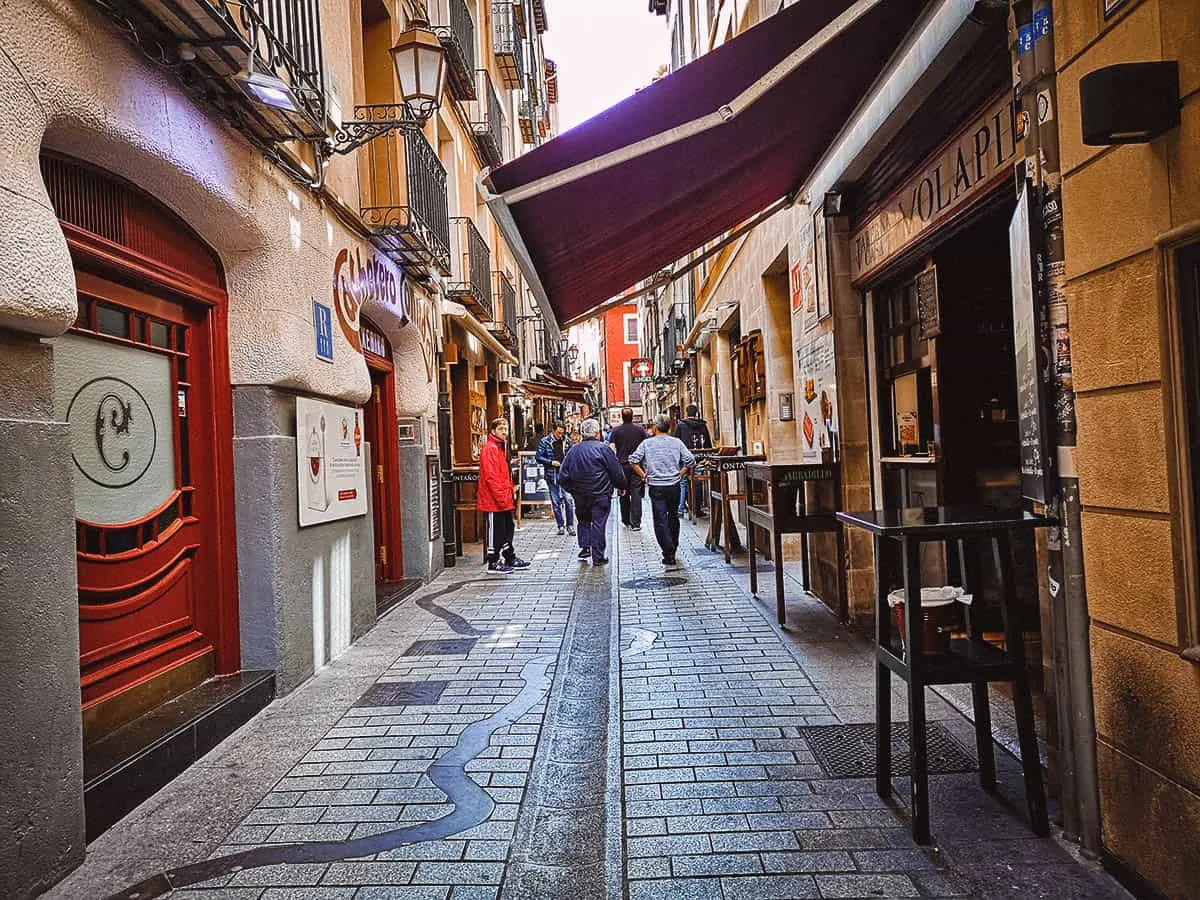 Calle del Laurel is pintxos heaven. It's packed with tiny bars, many of which are standing room only. Just be aware that most of these bars are open only from around noon till 4PM. They close for a few hours for siesta before reopening at night. To maximize your time, I suggest starting the drive from San Sebastian no later than 10AM. That should get you into Logroño before noon.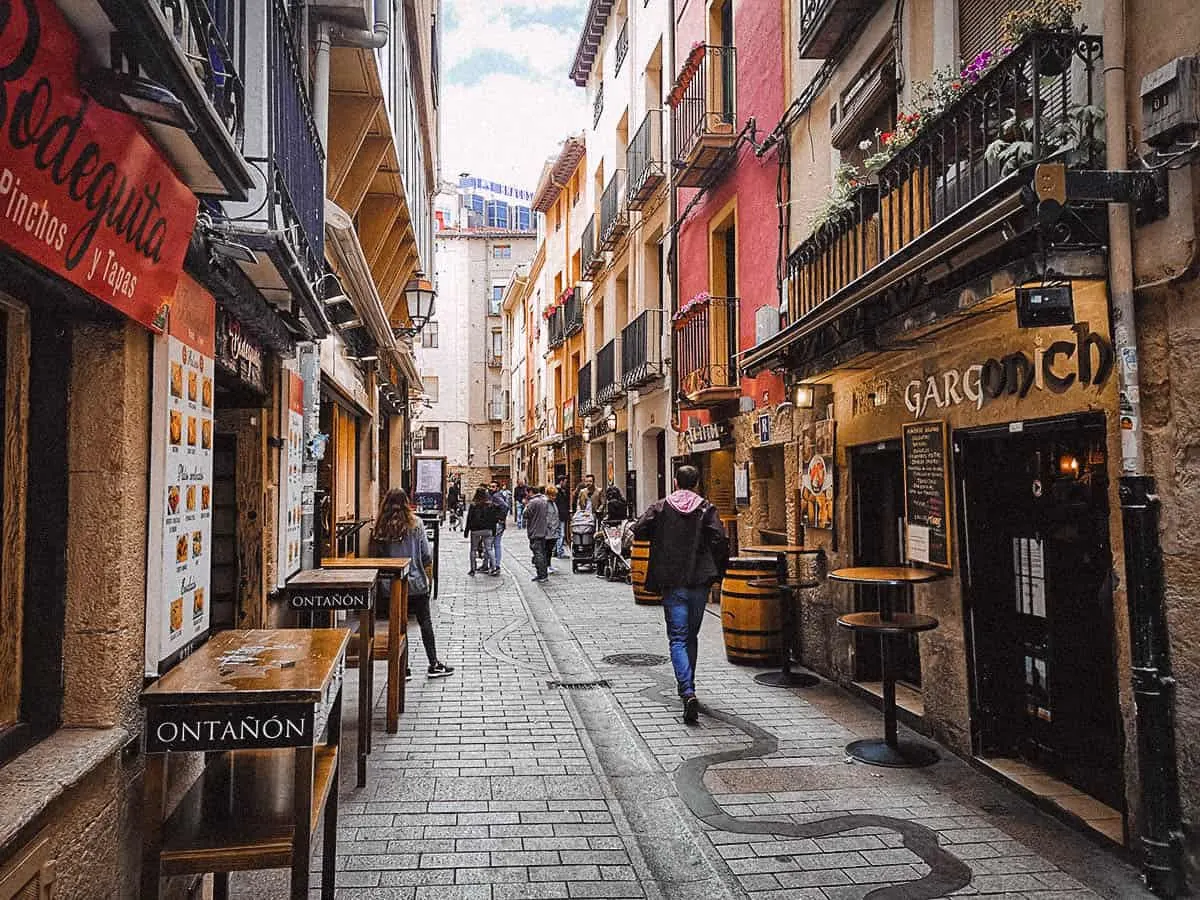 WHAT ARE PINTXOS?
As described, pintxos (or pinchos) are similar to tapas. They're both small snacks, the main difference being that pintxos are usually skewered with a toothpick, often to a piece of bread. This helps hold the ingredients in place. The term pintxo comes from the Spanish word pinchar, meaning "to puncture".
Pintxos are a traditional type of tapas typically eaten at bars in northern Spain. It's particularly popular in the Basque Country, La Rioja, Cantabria, Asturias, and Navarra regions. Often enjoyed with family and friends, pintxos have a strong social component and are considered an important part of local culture.
In San Sebastian, we enjoyed two types of pintxos – cold and hot. Cold pintxos are prepared in advance and put on display at the bar's counter (pictured below). Diners are free to grab whichever pintxos they want. Most cold pintxos will cost you around EUR 2 per piece.
Hot pintxos are made to order and typically cost a little more, around EUR 4 apiece, because they're often made with more premium ingredients like foie gras and steak.
In Logroño, many of the bars we visited specialized in just one type of pintxo. They make them fresh so you get them nice and hot every time.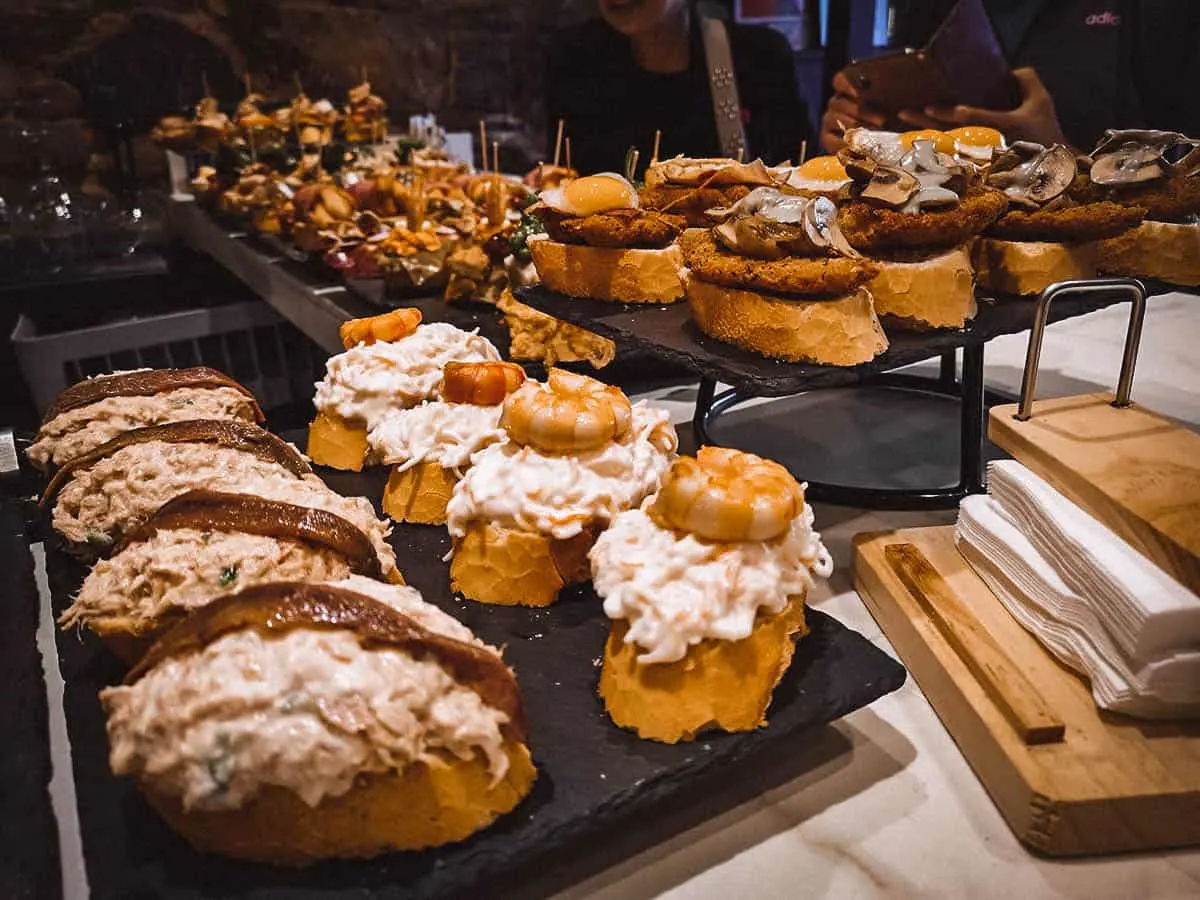 8 BARS WITH GREAT PINTXOS IN LOGROÑO
As described, many of the city's best pintxo bars are clustered around Calle del Laurel. They're open till about 4PM before closing for a few hours for siesta. If you'd rather not drive at night, then it's best to arrive in Logroño by noon. You can eat for a solid four hours then drive back to San Sebastian while there's still plenty of light out.
1. Bar Soriano
This was the first bar we visited on today's pintxos crawl. It was also our unanimous favorite. They serve just one type of pintxo – a mushroom and shrimp pintxo made with loads of butter and garlic.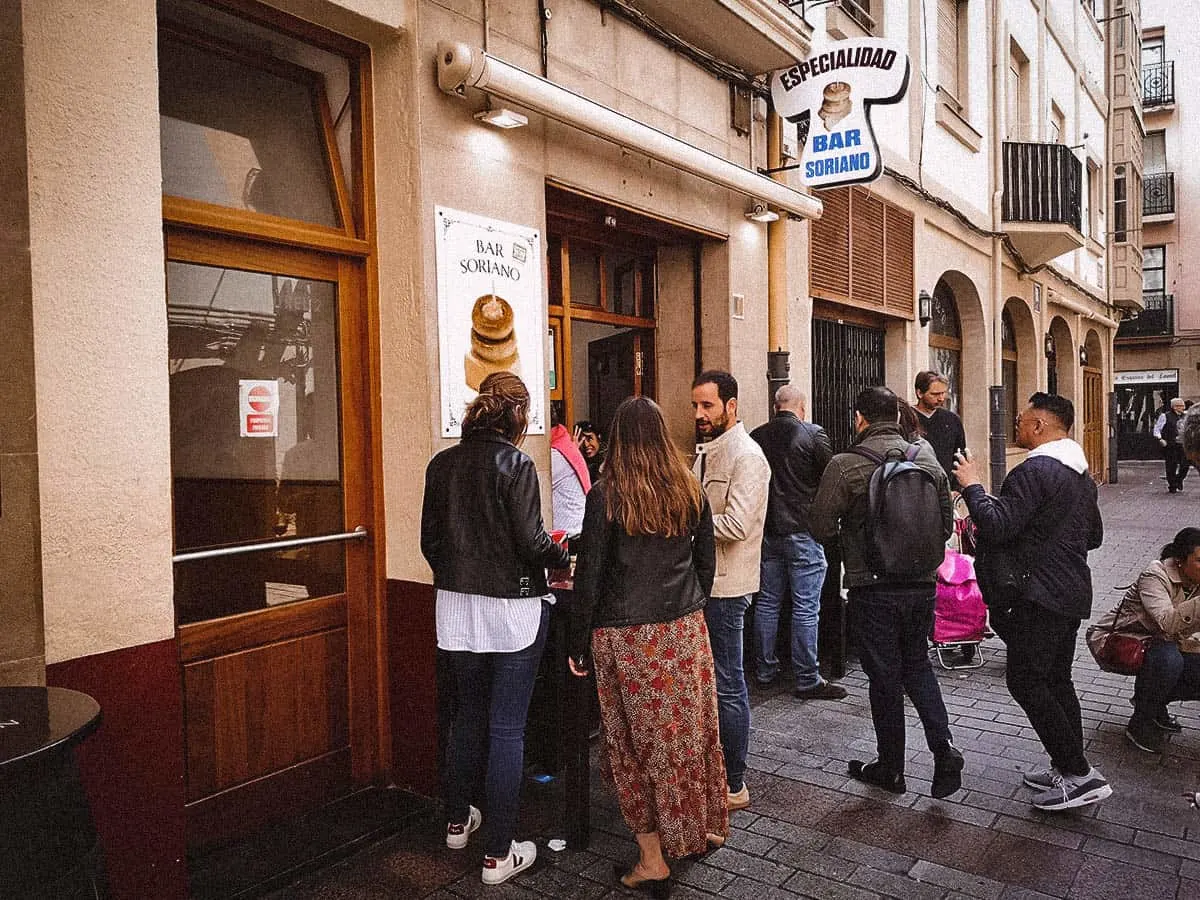 When I was posting pictures of our trip on Instagram, a couple of locals reached out and asked us if we were making a side trip to Logroño. They specifically suggested we try these mushroom pintxos because in their words, "Logroño has really mastered it." They weren't kidding.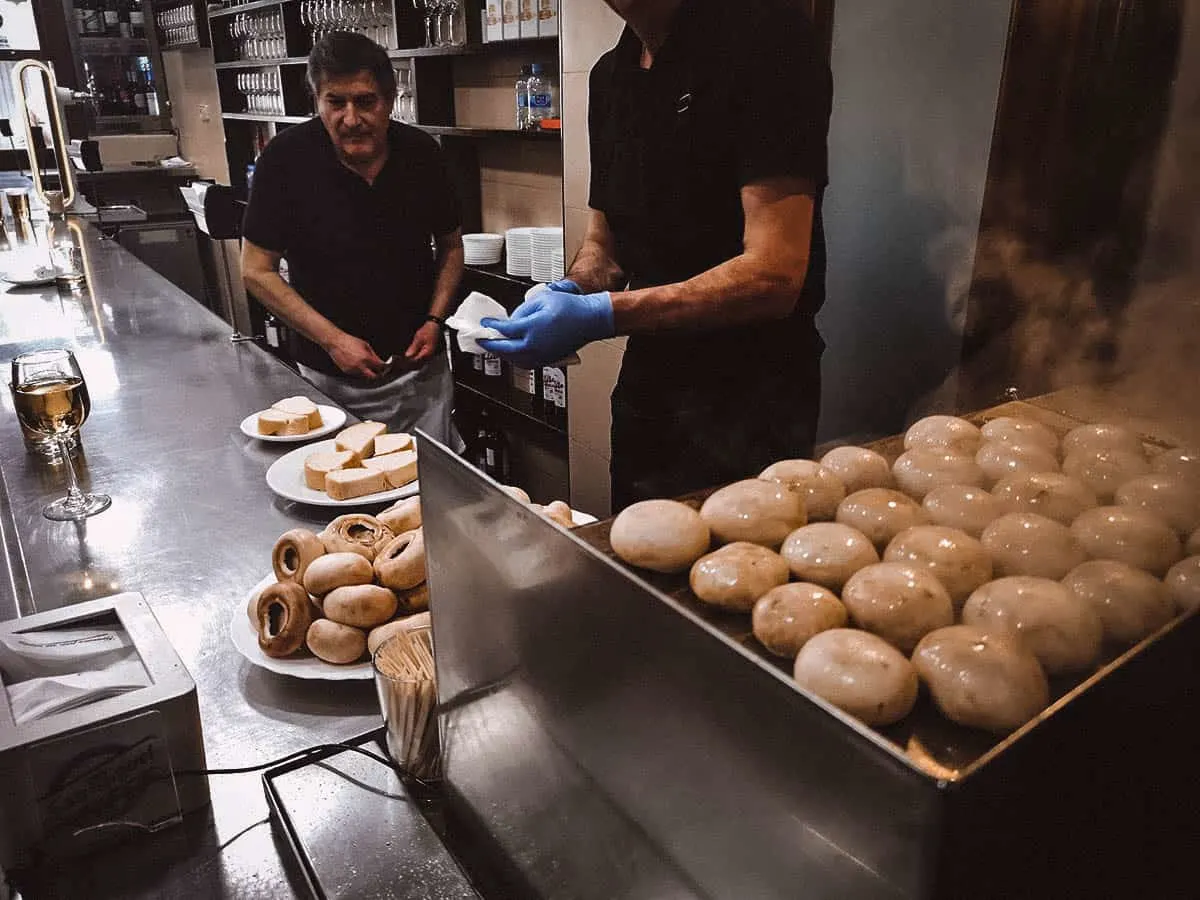 After a short wait, we were served these beautiful cremini mushroom and shrimp pintxos dripping in garlic butter. This was unbelievably delicious and one of the best things we ate on this crawl. The hefty mushrooms caps were buttery and garlicky and firm to the bite.
A few places offer mushroom pintxos in Logroño but Bar Soriano is known for serving some of the best. They're a TripAdvisor Certificate of Excellence awardee with a stellar 4.5 star rating. DO NOT miss this.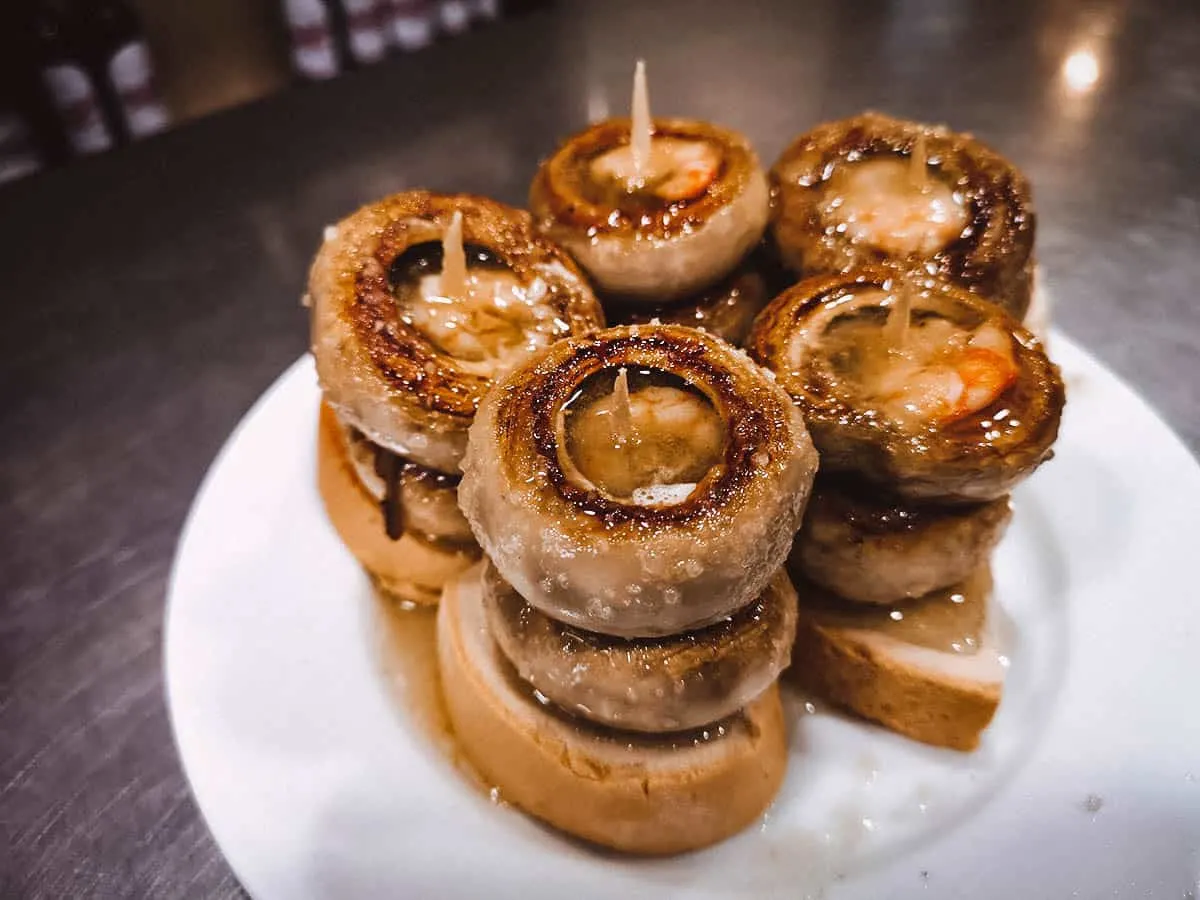 In spain, pintxos or tapas go hand in hand with alcoholic drinks like beer or wine. You can order beers by the bottle but if you're going on a pintxos crawl, then I suggest going with draft beer because you can have them in smaller amounts.
The smallest amount many bars serve is a caña which amounts to a little less than half a pint. If I remember correctly, pictured below are copa servings which is the next size up from a caña. Many bars also offer pinta sizes which contain a full pint of beer.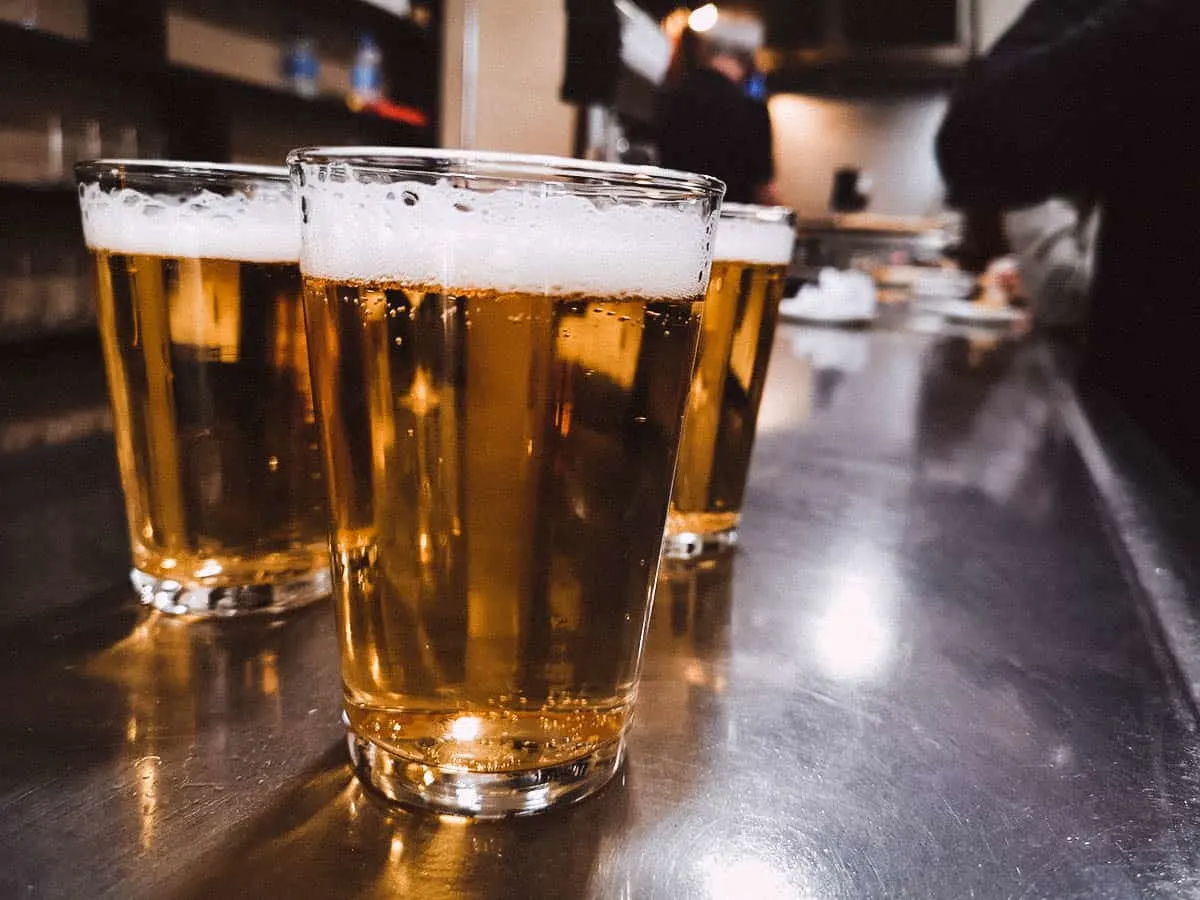 Bar Soriano
Address: Travesía de Laurel, 2, 26001 Logroño, La Rioja, Spain
Operating Hours: 11:30AM-3PM, 7-11PM, daily
What We Paid: EUR 1.20 per mushroom pintxo
2. Torrecilla
Like Bar Soriano, Torrecilla is a TripAdvisor Certificate of Excellence awardee with a superb 4.5 star rating. We came here specifically for two pintxos – one with foie gras and another with duck breast.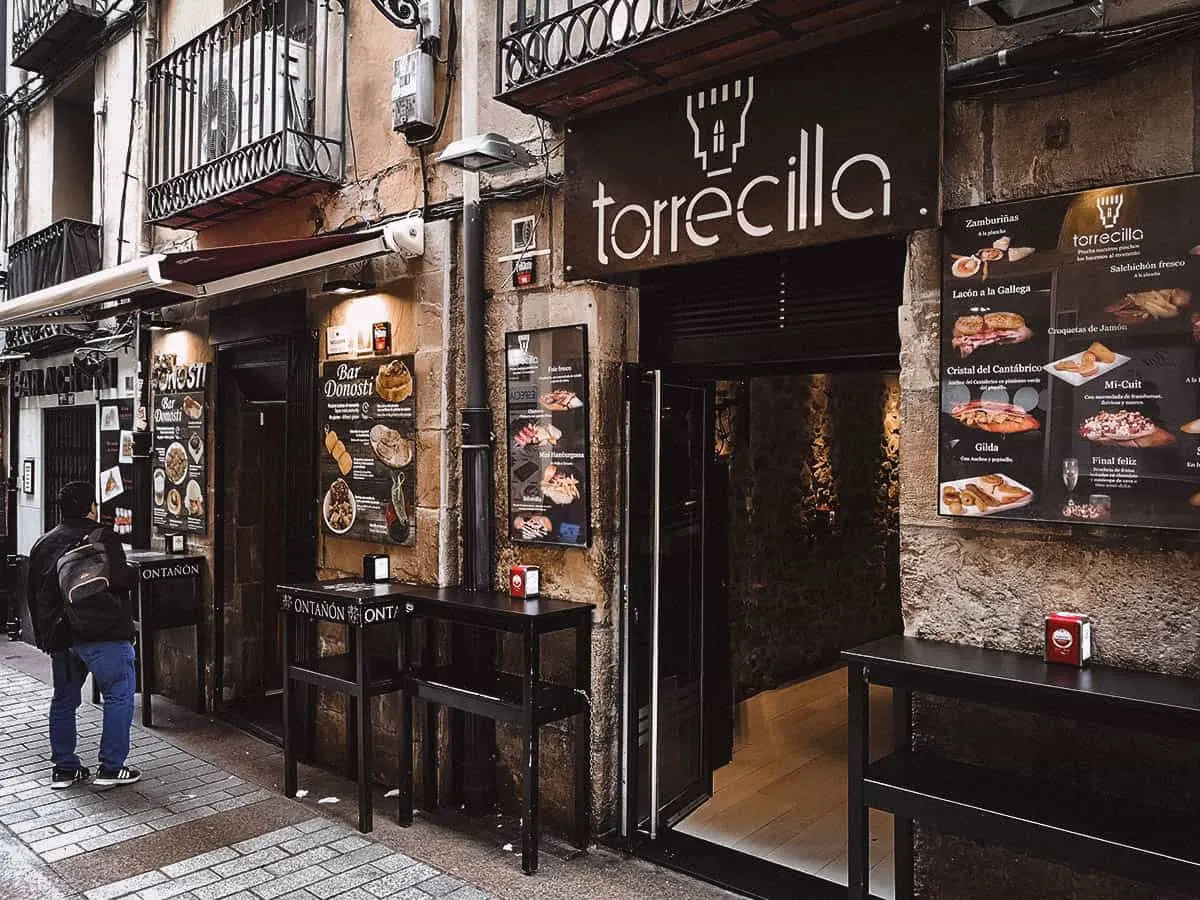 Unlike Bar Soriano, Torrecilla offers several types of pintxos on their menu, but one of the things they're best known for is this grilled foie gras with goat cheese and onion jam. We had foie gras pintxos many times in different bars both in Logroño and in San Sebastian, but this was easily one of the best.
And just look at the size of that foie gras! Every bar we went to served foie gras as big as this.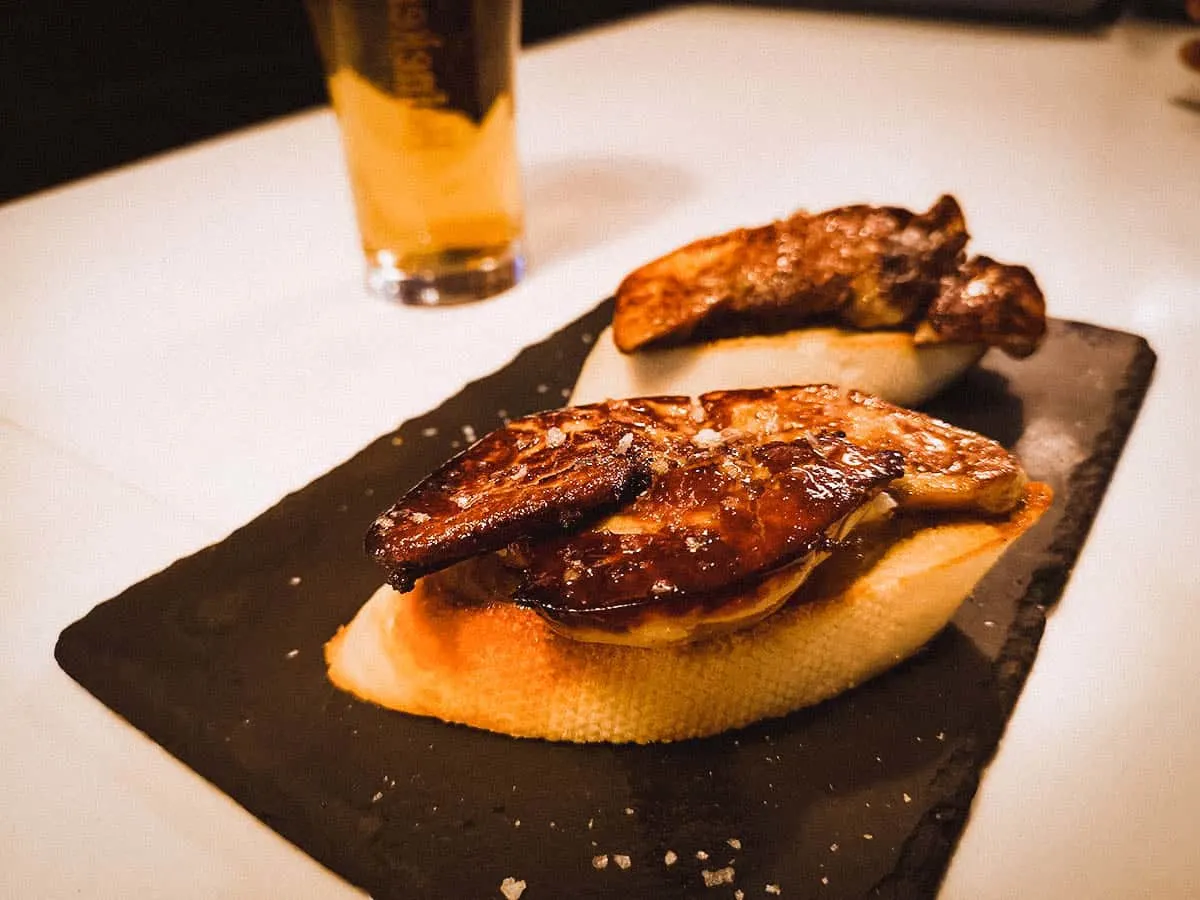 Torrecilla is also known for its grilled duck breast with onion jam. Together with Bar Soriano's mushroom pintxos, this was one of my absolute favorite things to eat in Logroño. It was smokey and juicy and combined for the perfect texture with the crusty bread. So so good.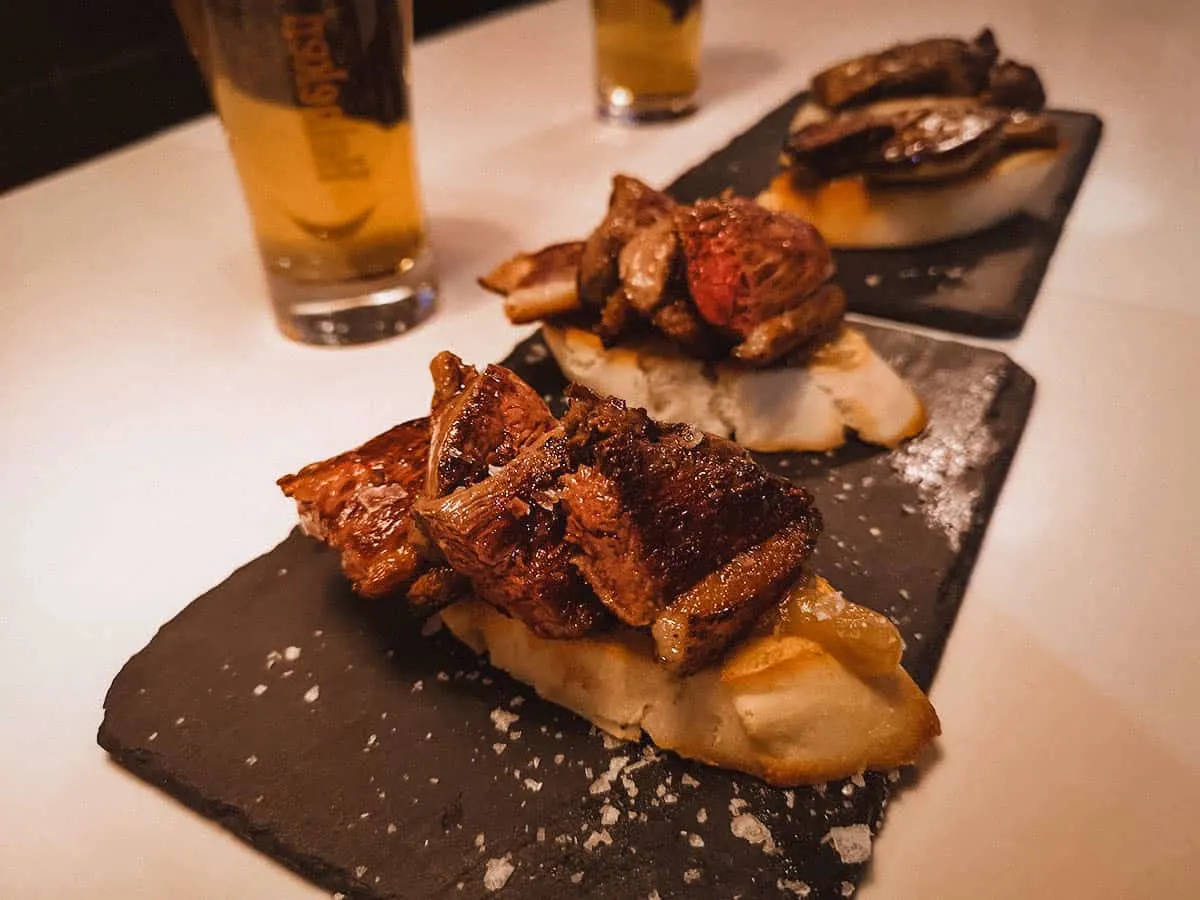 Torrecilla
Address: Calle del Laurel, 15, 26001 Logroño, La Rioja, Spain
Operating Hours: 1-4PM, 8PM-12:30AM, Wed-Sun (closed Mon-Tue)
What We Paid: About EUR 2-4 per pintxo
3. Bar El Perchas
Like the previous two places on this list, Bar El Perchas is a TripAdvisor Certificate of Excellence awardee with a 4.5 star rating. Like Bar Soriano, they only have one thing on their menu – pig ear pintxos.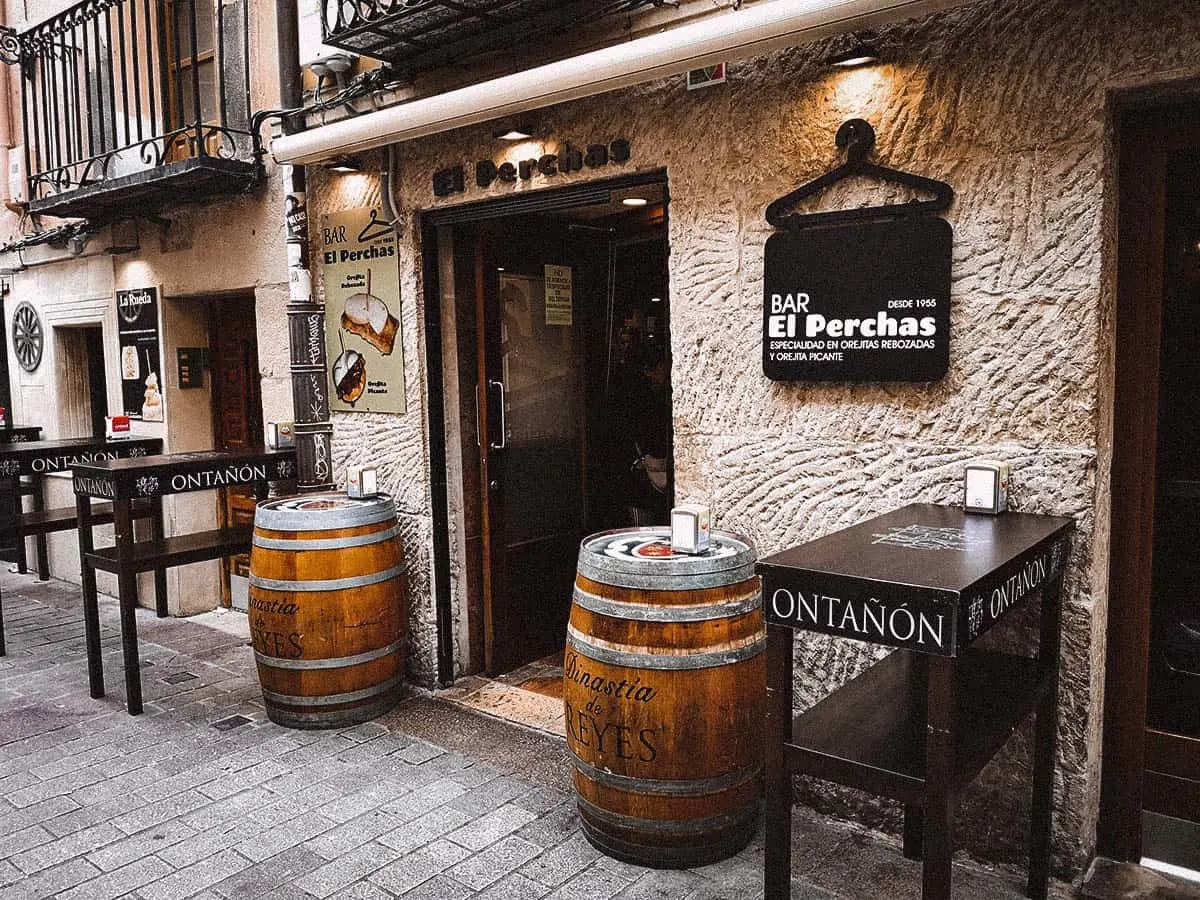 Though they only offer pig ear pintxos, you can have them in one of two ways – regular (left) and spicy (right). Aside from the spice level, they're prepared in different ways too. The regular is served dry between two slices of bread while the spicy is chopped up with a mild sauce and served in a bun. Both types of bread are pillowy soft.
I'm accustomed to eating Chinese-style pig's ears which are snappier in texture because of the cartilage, but these were very soft, even mushy. It was interesting but not one of our favorites.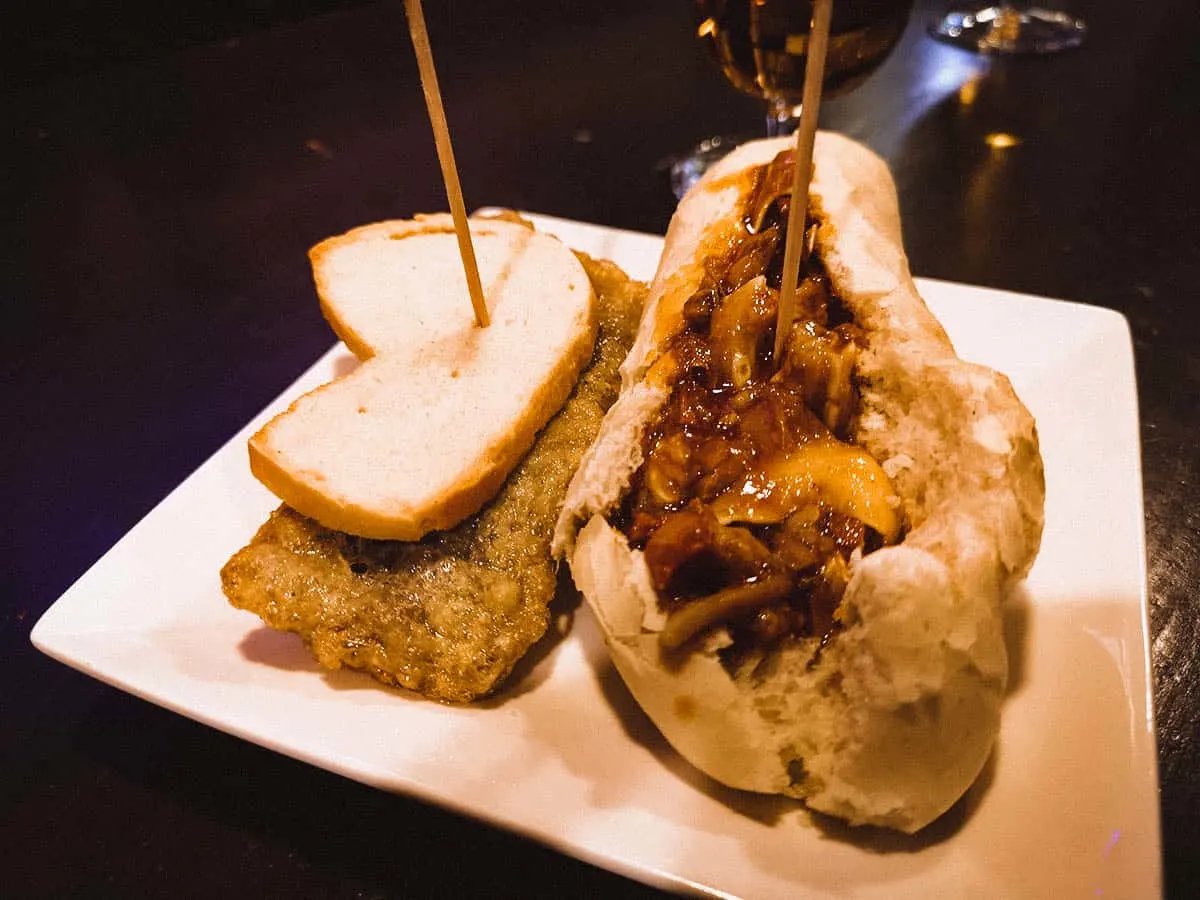 Bar El Perchas
Address: Travesía de Laurel, 3, 26001 Logroño, La Rioja, Spain
Operating Hours: 12NN–4PM, 7PM–12AM, daily
What We Paid: EUR 7.60 for 2 pintxos and 2 beers
4. Bar Lorenzo
Bar Lorenzo is yet another TripAdvisor Certificate of Excellence awardee with an impressive 4.5 star rating. They're known for their pinchos morunos which are Moorish-style kebabs commonly made with chicken or pork.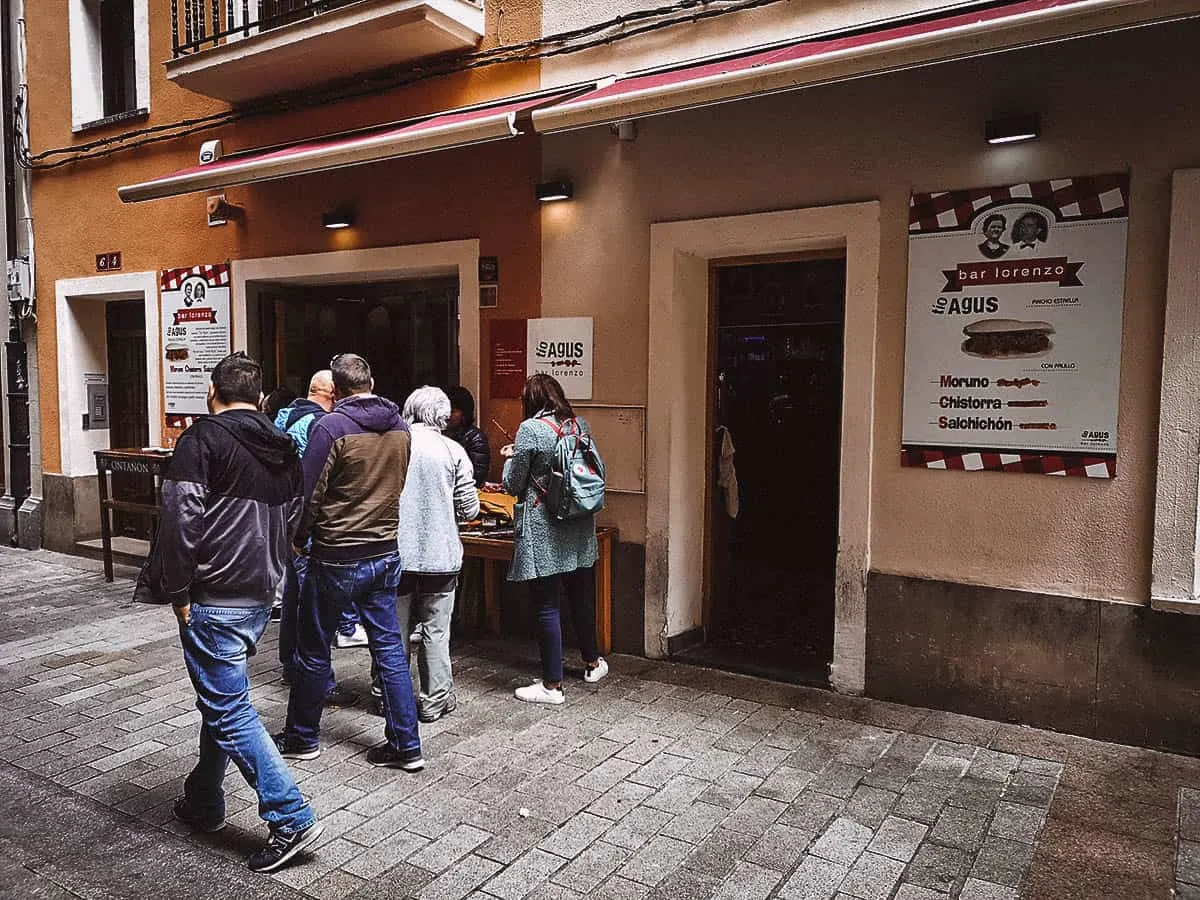 I tried the pinchos morunos but Bar Lorenzo is known for the "tio agus", which is their pinchos morunos served in a soft bun and topped with a secret green sauce.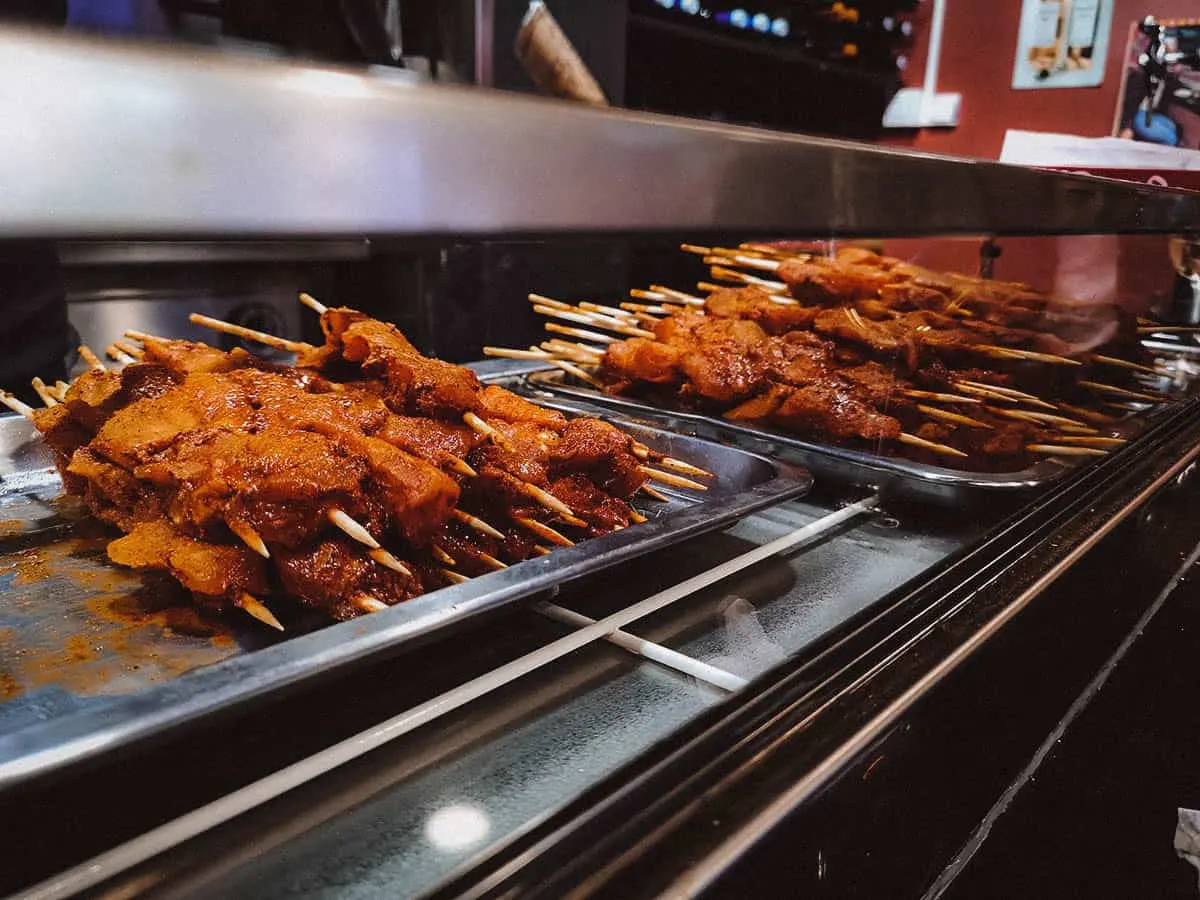 We didn't know this before coming, but every Thursday it seems is PinChato day. Participating bars along Calle del Laurel offer deals on food and drinks. I got two of these tasty skewers of pinchos morunos and a small glass of wine for just EUR 2. PinChato is short for Pincho and Chato, the latter referring to a small tasting of wine.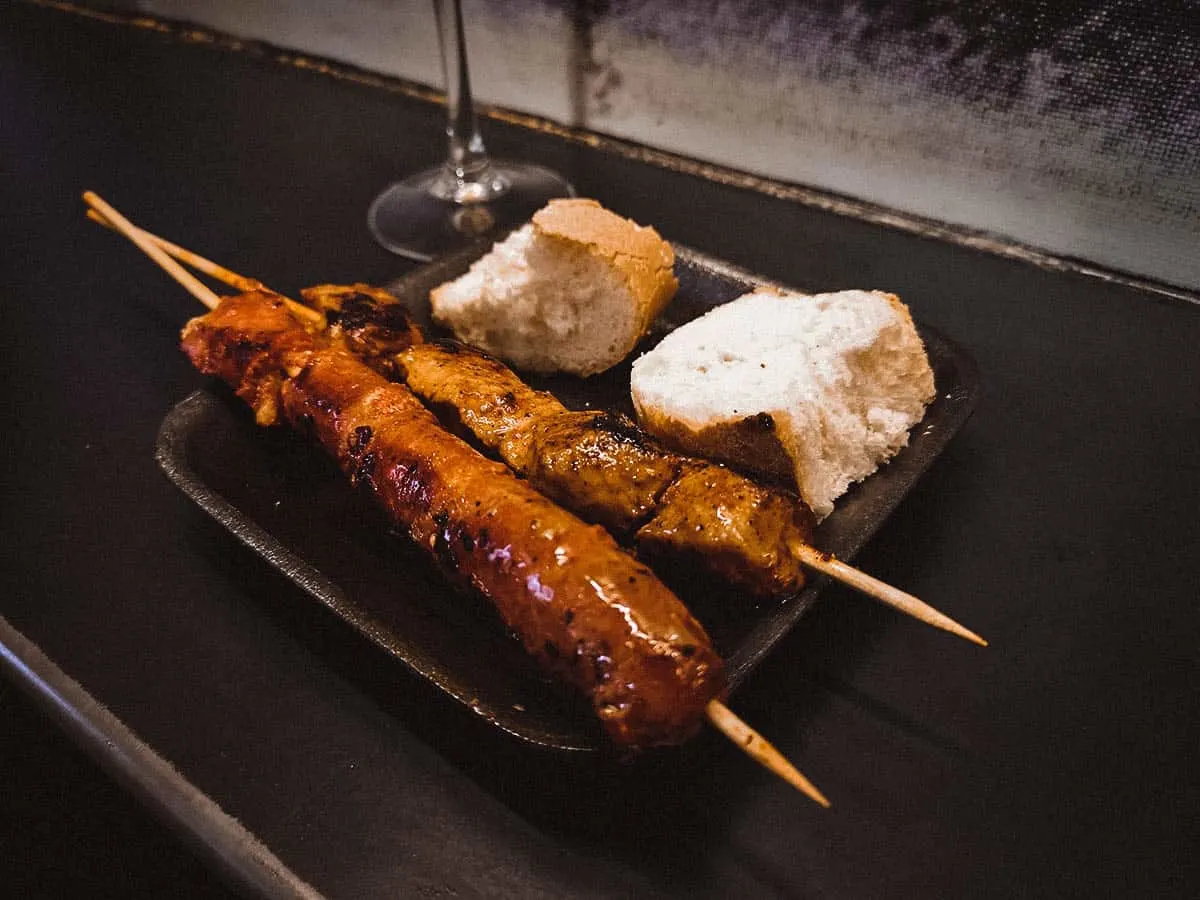 Bar Lorenzo
Address: Travesía de Laurel, 4, 26001 Logroño, La Rioja, Spain
Operating Hours: 11:30AM–3PM, 7–11PM, Mon-Wed / 11:30AM–3PM, 7PM–12:30AM, Thurs-Sat / 12NN–4PM, 7–11:30PM, Sun
What We Paid: About EUR 1-2 per pintxo
5. Pulperia La Universidad
Unlike the previous four places on this list, we didn't plan on eating at Pulperia La Universidad. We decided to walk in and give it a try because they specialized in octopus and had a PinChato special of their own. I'm glad we did because their pulpo Gallego was delicious. Pulperia La Universidad has a solid 4 star rating on TripAdvisor.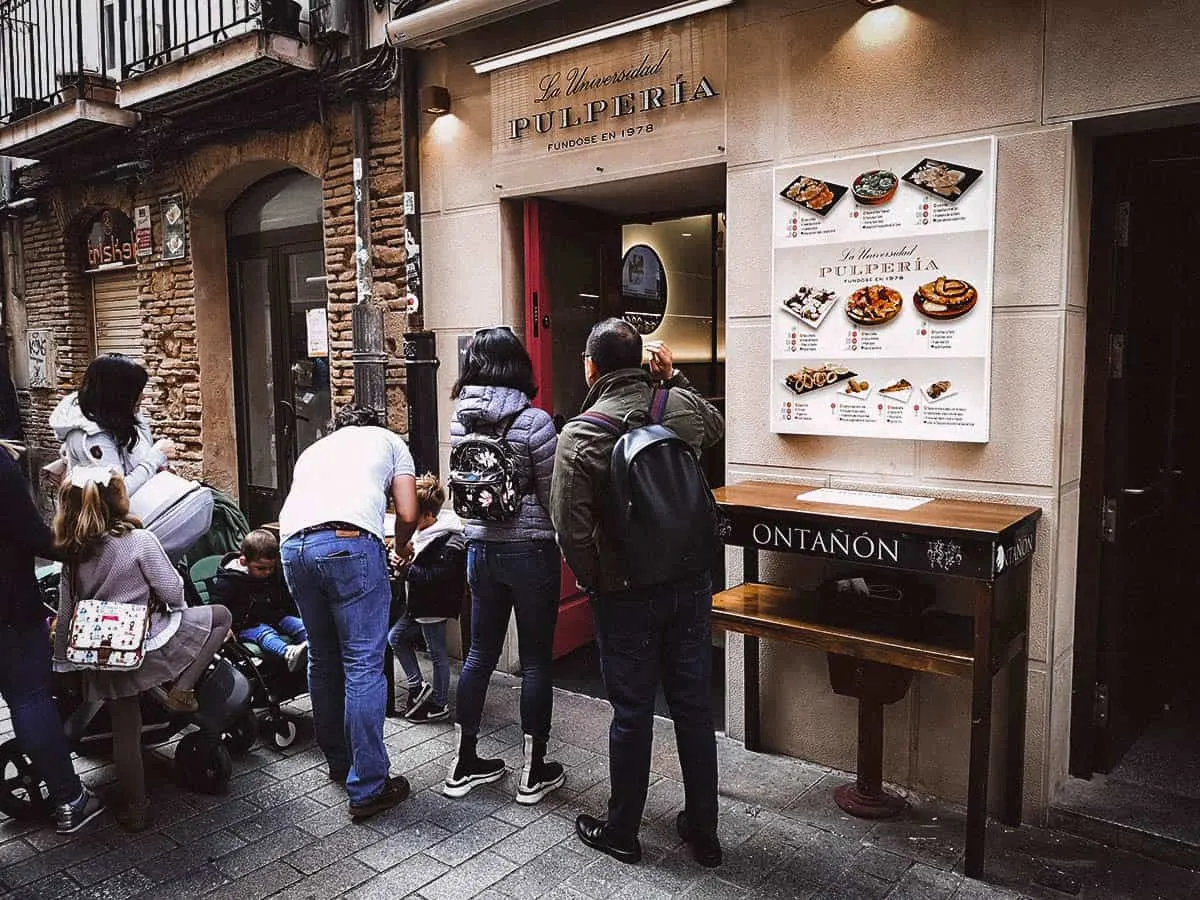 Also known as polbo a feira, pulpo Gallego is Galician-style octopus. It's prepared by boiling octopus to the perfect texture – between firm and overcooked, similar to al dente pasta – then cutting it up into bite-sized pieces. It's sprinkled with coarse salt and both sweet and spicy paprika, before being drizzled with olive oil. We were looking forward to having this in Santiago de Compostela so it was nice getting an early taste of it here.
Because it was PinChato Thursday, each serving of pulpo Gallego and a caña of beer went for just EUR 2. Excelente!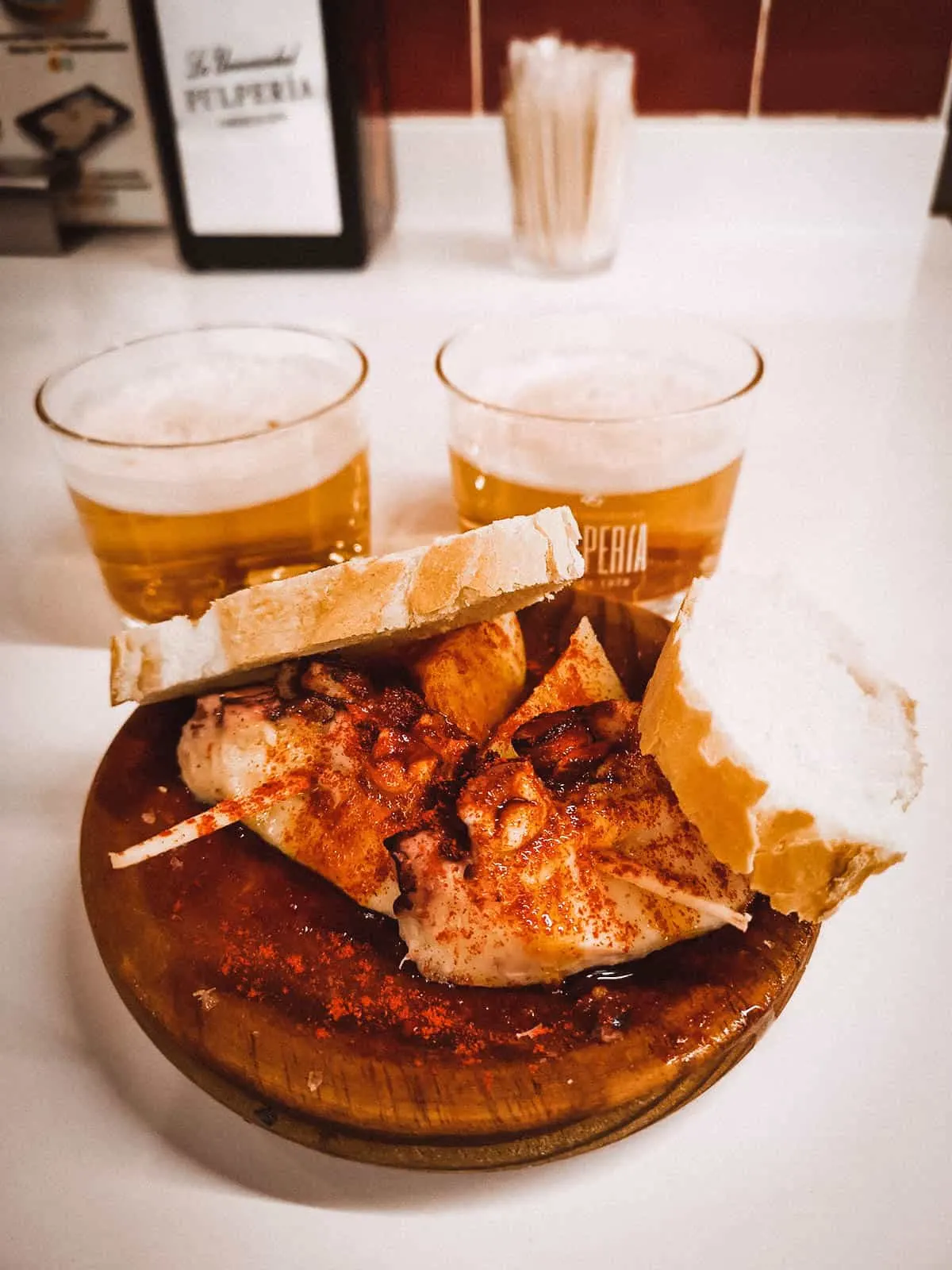 La Universidad Pulperia
Address: Travesía de Laurel, 9, 26001 Logroño, La Rioja, Spain
Operating Hours: 12NN-12MN
What We Paid: About EUR 2-4 per pintxo
6. Letras de Laurel
Had it not been for a winning scratch off card, then we probably would have missed this place.
I'm not sure if they do it only on PinChato Thursdays, but we were given scratch off cards at one bar after our bill reached a certain amount. One of the cards entitled us to a free pintxo here at Letras de Laurel, which turned out to be another TripAdvisor Certificate of Excellence awardee with a 4.5 star rating. Woohoo!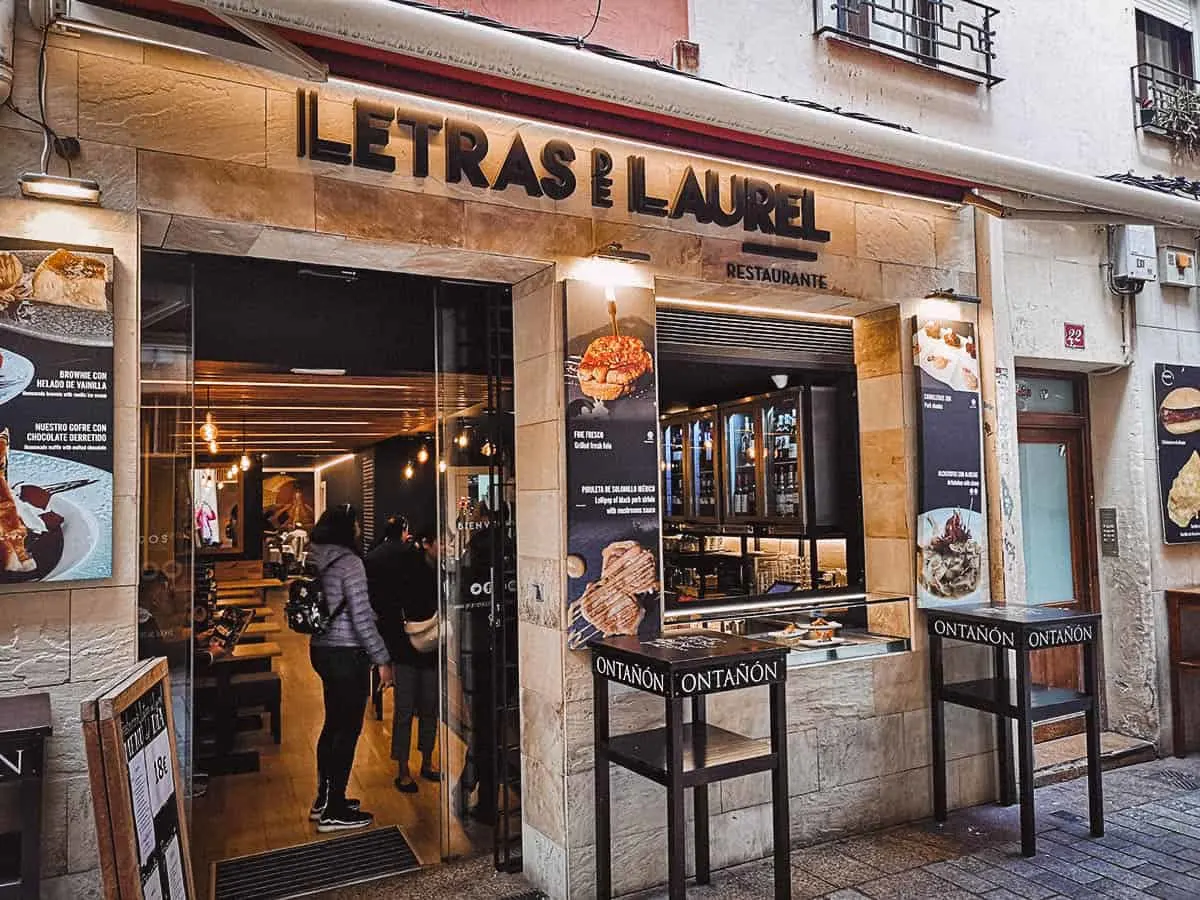 Our winning card entitled us to one of these delicious croquettes with jamon pintxos. Muchas gracias Logroño!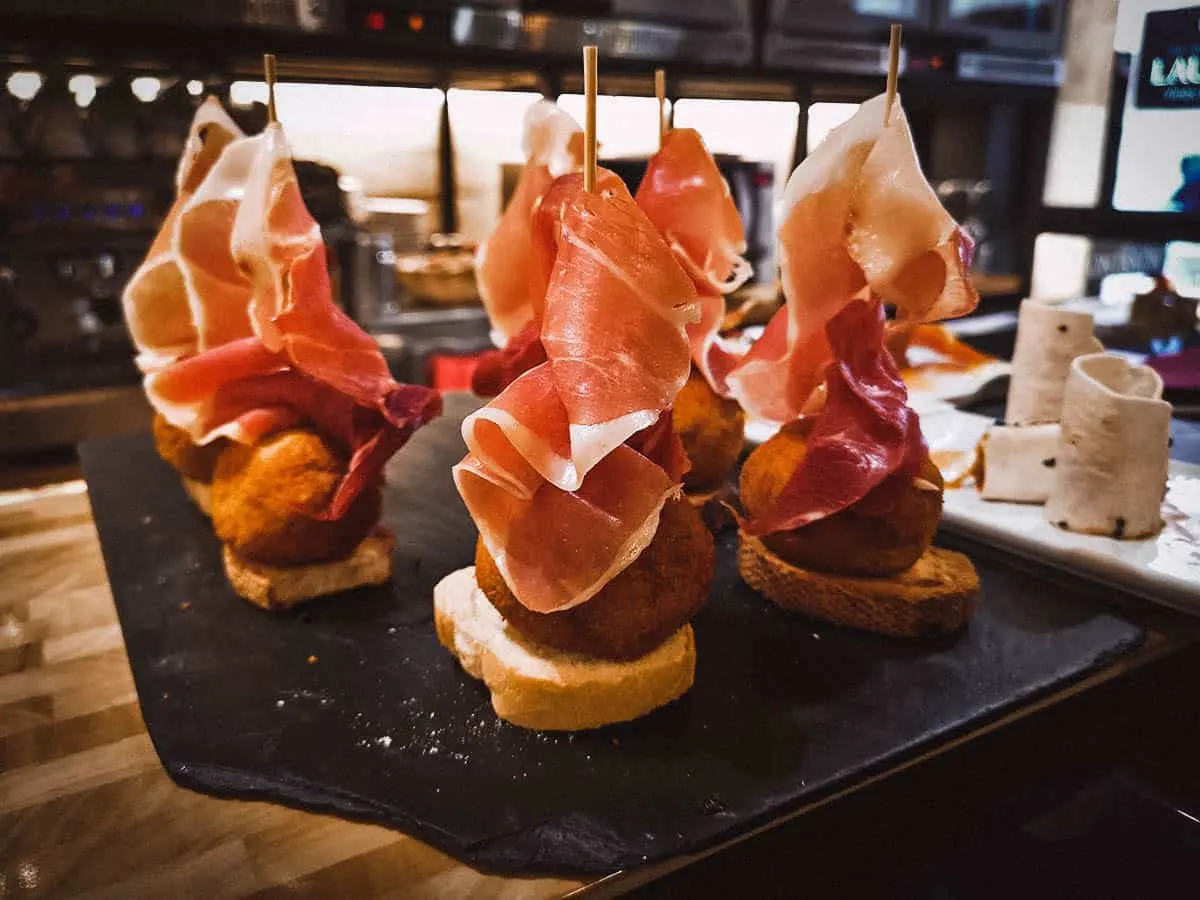 Letras de Laurel
Address: Calle del Laurel, 22, 26001 Logroño, La Rioja, Spain
Operating Hours: 12NN-12MN
What We Paid: About EUR 2-4 per pintxo
7. Meson del Abuelo
Unlike most of the places on this list, Meson del Abuelo felt more like a full service restaurant than a pintxos bar. They have a lukewarm rating of 3.5 stars on TripAdvisor along with some mixed reviews, most of the negative comments seemingly fueled by poor service.
In any case, the few dishes we had were pretty good which is why I'm adding it to this list anyway.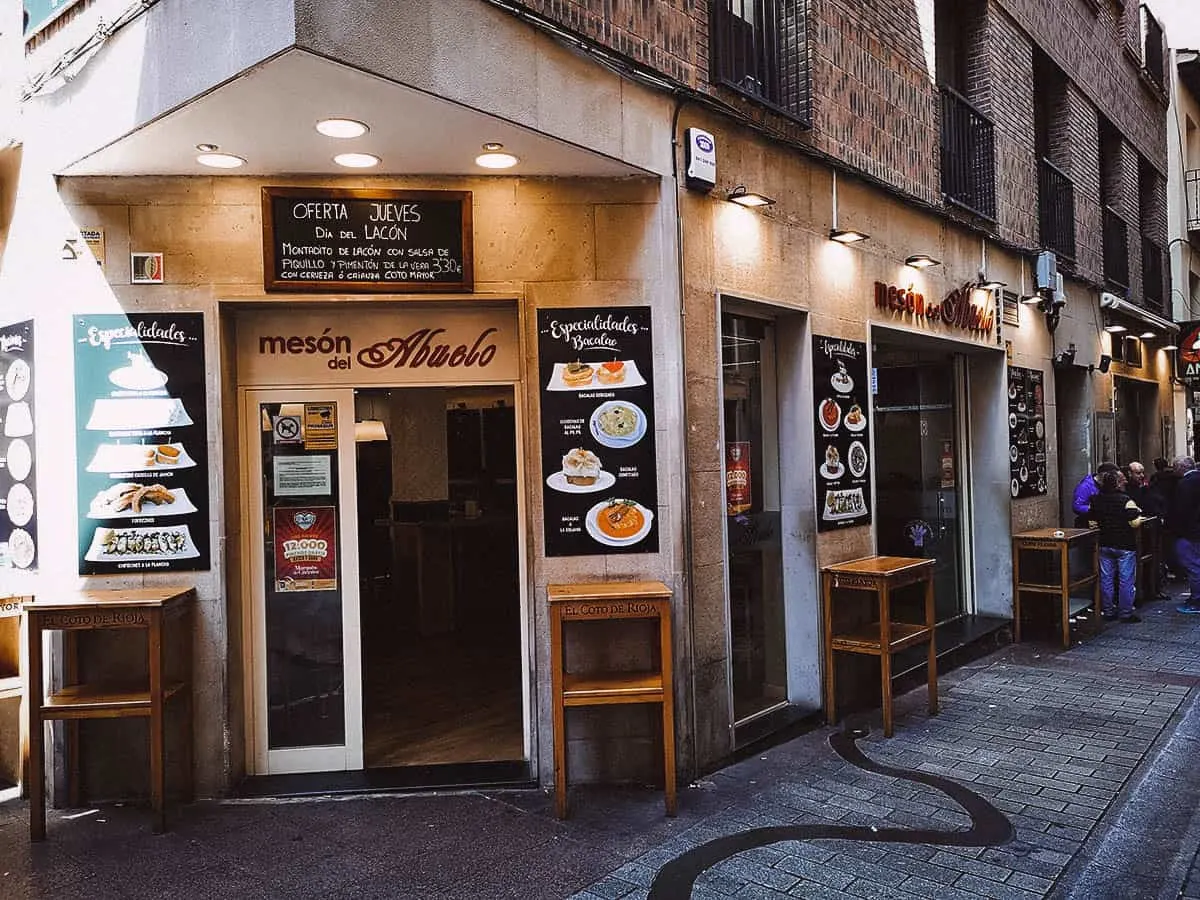 These pintxos with thick chunks of bacalao topped with sauteed onions were delicious. Definitely try these if you decide to eat here.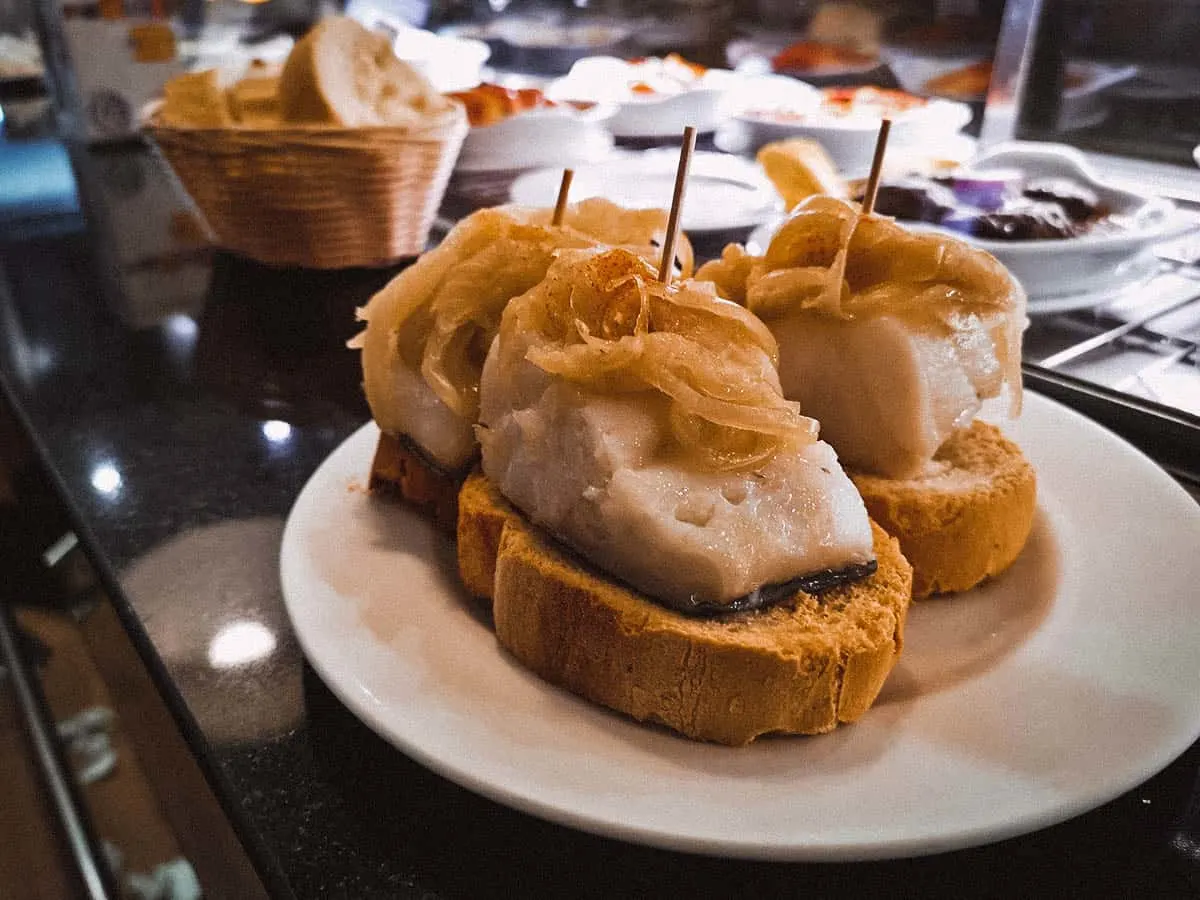 These chicharrones were delicious as well! Not sure why this place doesn't get more love on TripAdvisor because everything we had today was pretty darn tasty.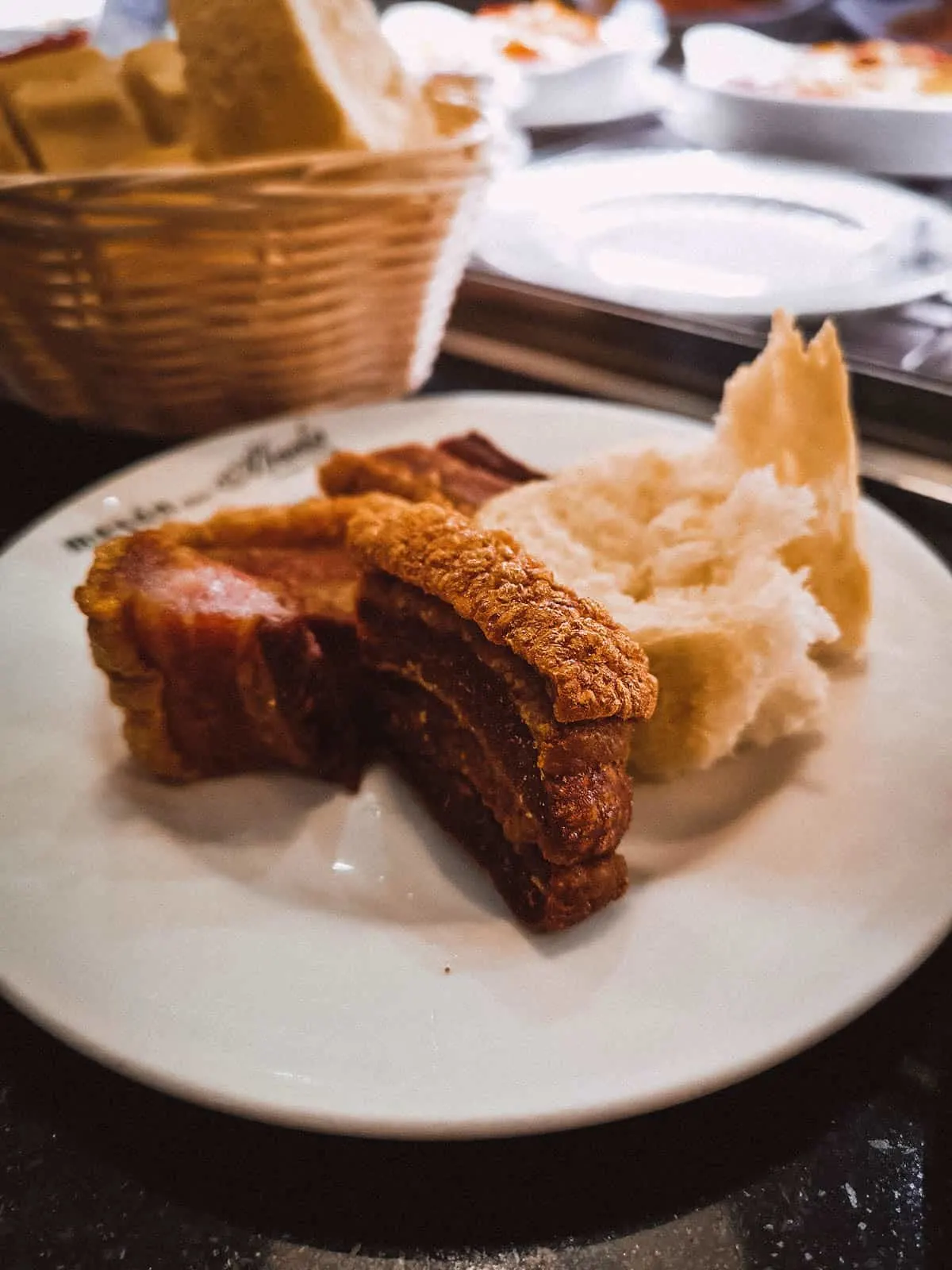 A tasty platter of grilled baby squid. They have a lot of choices at Meson del Abuelo so you may want to eat here if you don't want to hop from bar to bar too often.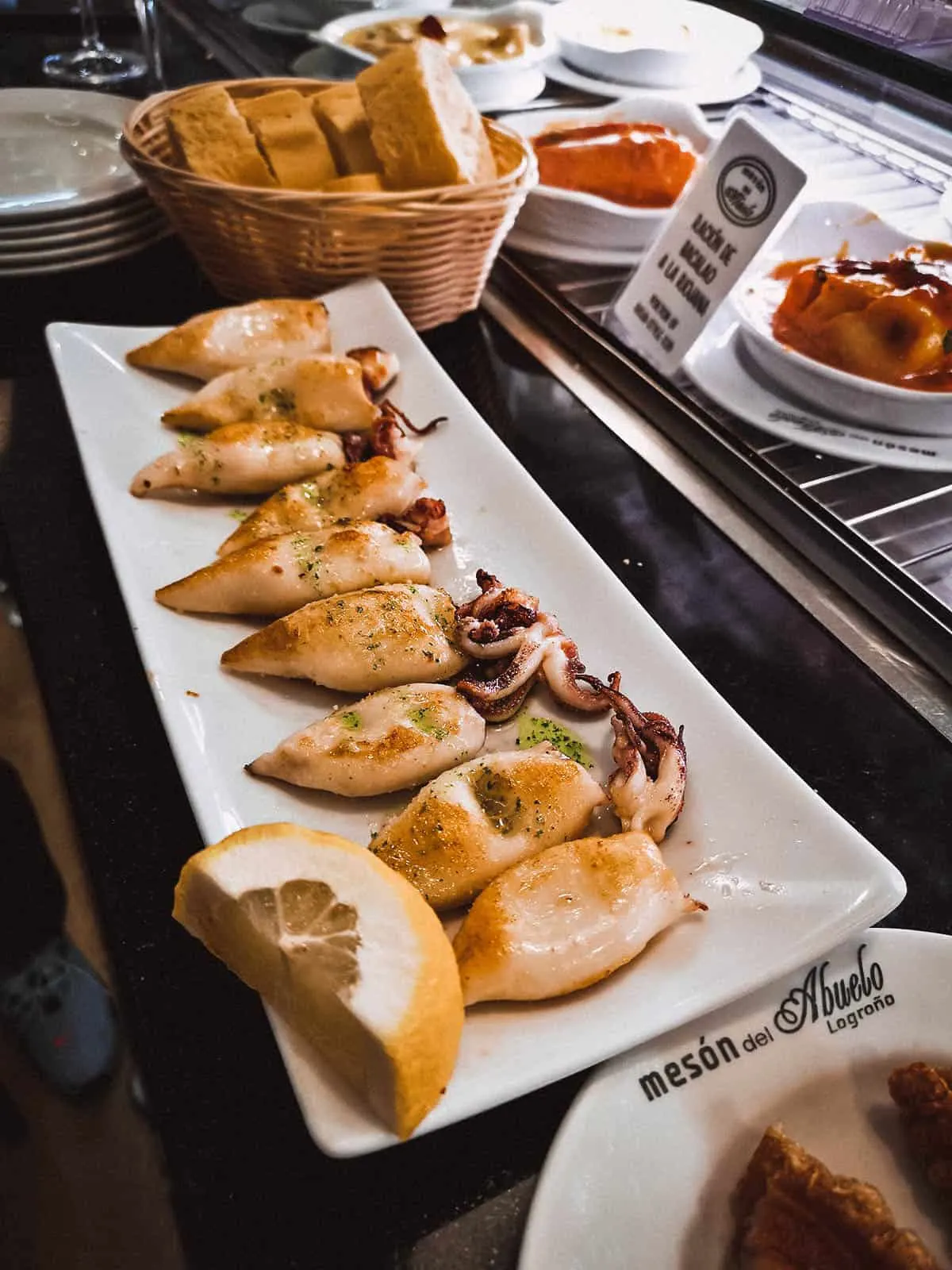 Meson del Abuelo
Address: Calle del Laurel, 12, 26001 Logroño, La Rioja, Spain
Operating Hours: 12NN–4PM, 7:30–11:30PM, daily
What We Paid: About EUR 2-3 per pintxo
8. Bar Gargonich
Bar Gargonich was the last stop on our pintxos crawl. We were pretty stuffed at this point, but we wanted something sweet so we walked in here after spotting a few Spanish desserts on their menu. They seem to be relatively new as they don't yet have a review page on TripAdvisor.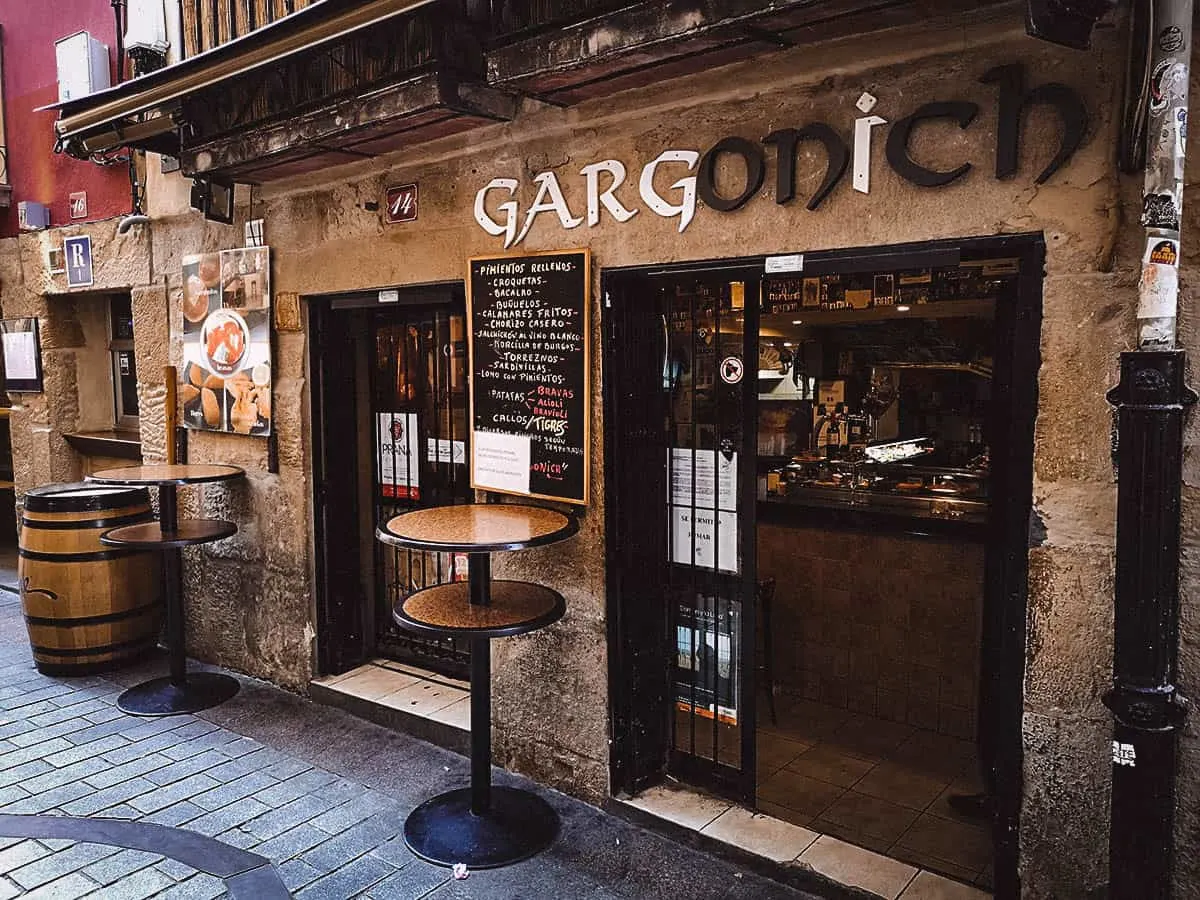 Foie gras qualifies as a dessert, right? This was good but not as memorable as the foie with onion jam and goat cheese at Torrecilla.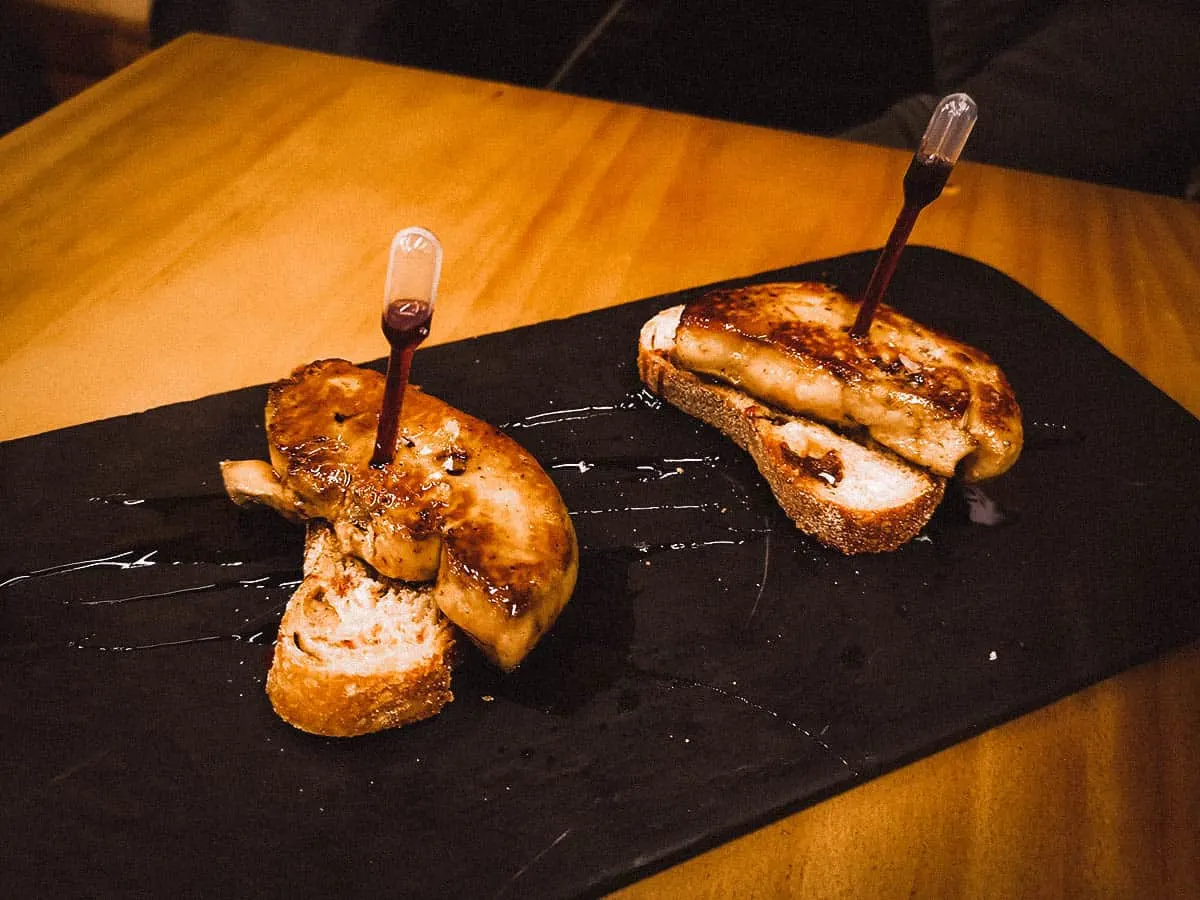 Delicious homemade cheesecake with whipped cream and berries.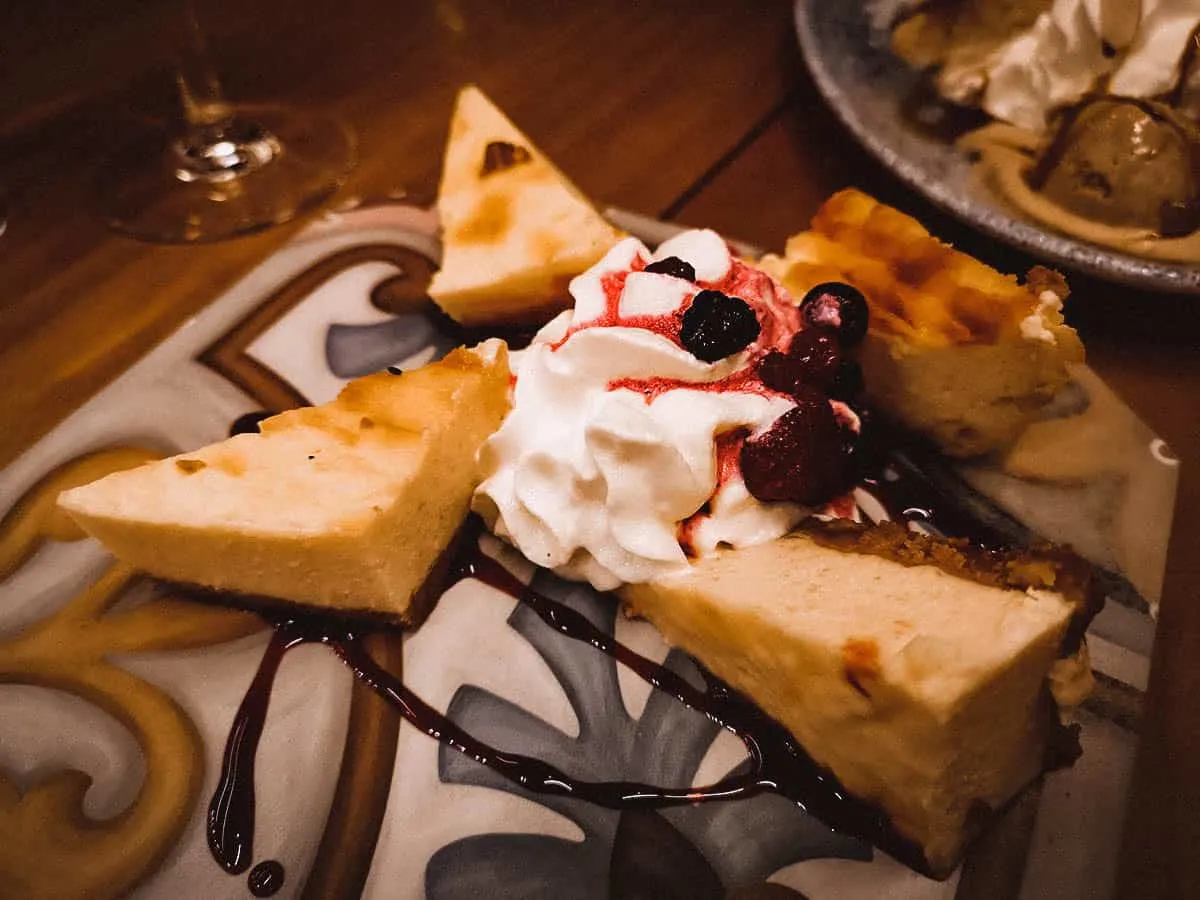 And to top off a terrific Spanish food crawl, a plate of caramelized brioche bread toast with dulce de leche ice cream. Delicioso!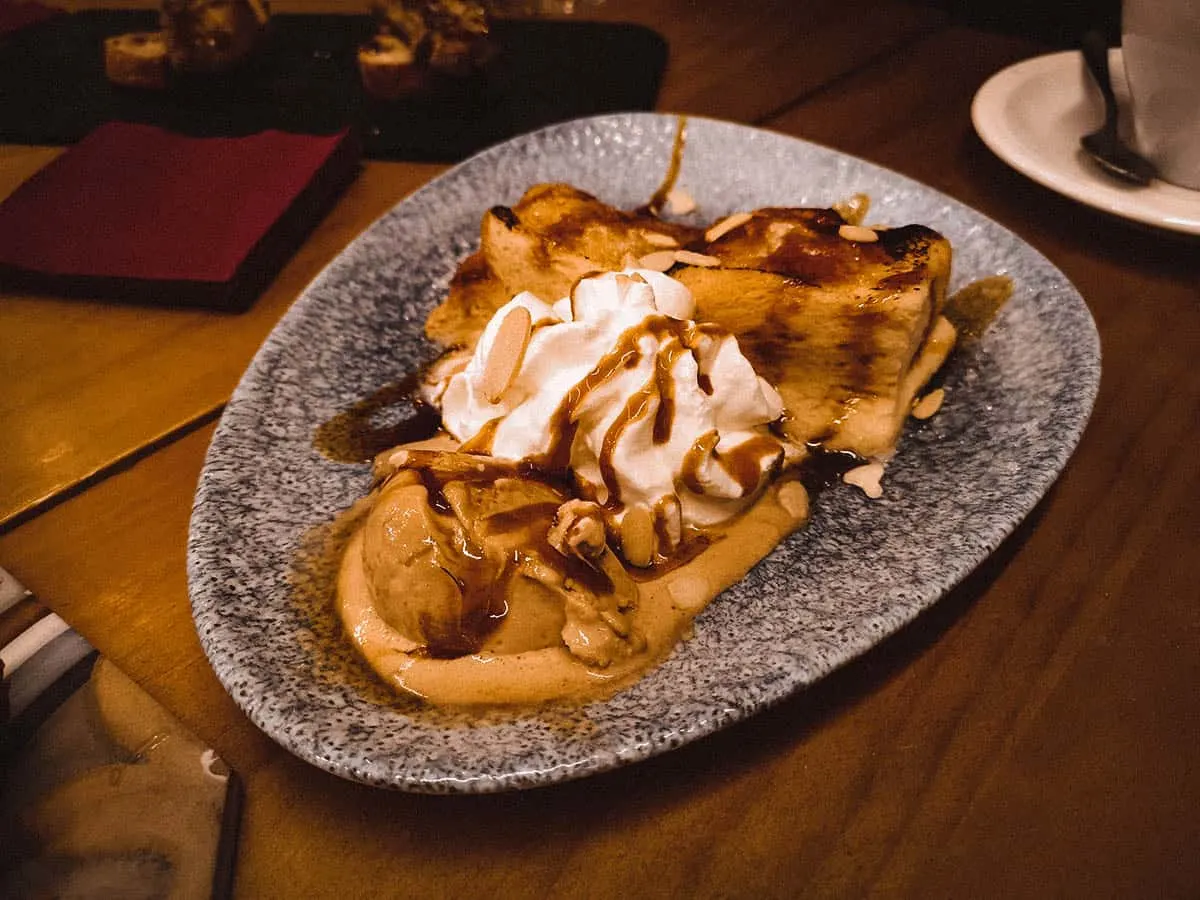 Bar Gargonich
Address: Calle del Laurel, 14, 26001 Logroño, La Rioja, Spain
Operating Hours: 12NN-4PM, 7PM-12MN, daily
What We Paid: About EUR 3-4 per pintxo
CONCLUSION
If you fly for food like we do and are spending enough time in San Sebastian, then I highly recommend doing a day trip to Logroño. You're already in the region so it seems like a wasted opportunity to not make the 2-hr drive.
As described, there may be other ways to get to Logroño but if there are enough people in your group to split the cost and one of you is comfortable driving, then renting a car may be the best and most economical option. It'll give you the most freedom, you won't have to worry about public transit schedules, and it's a beautiful drive.
But if you're traveling alone or with just one other person, then going by bus may be best. I did a quick check and it looks like you can take the La Estellesa bus from San Sebastian to Logroño and back. The bus schedules are favorable and make a day trip possible.
If you don't have the time and/or the stomach space to visit all eight places on this list, then I suggest shooting for the first six whilst prioritizing the top four. I know I said Bar El Perchas wasn't one of our favorites but taste is subjective and they're popular with locals for a reason. I always give priority to the opinions of locals so that alone makes it a must-visit. Plus, we're talking about pig's ears man! How often can you have that?
In any case, I hope you enjoyed this article and it inspires you to do your own food crawl in Logroño. As previously mentioned, it was one of our best eating days in Spain and a day we won't soon forget.
Thanks for reading and happy traveleating!