To be honest, Granada wasn't even on our radar.
We had our sights set on Valencia until a Spanish travel blogger I met in Sri Lanka convinced me otherwise. According to her, there was nothing in Valencia that we couldn't find elsewhere in Spain. She advised that we go to Granada instead, and mainly for one reason – the Alhambra.
I'm happy we took her advice because the Alhambra was indeed spectacular. But there was one other thing about this city that made us fall in love with it even more – the tapas. Specifically, the free tapas.
We visited over ten cities and towns in Spain, but Granada was the only place we went to that served free tapas with every order of a drink. One drink, equals one plate of tapas. And I'm not talking about a plate of bar nuts or pretzels either. I'm talking about real Spanish tapas like albondigas, boquerones, alcachofas, and paella.
For people like us who enjoy a cold glass of beer or vermut as much as food, this city felt very much like home.
FOOD IN GRANADA QUICK LINKS
To help you plan your trip to Granada, Spain, we've compiled links to recommended hotels, tours, and other travel-related activities here.
HOTELS
Highly-rated hotels in the city center, the most convenient area to stay for first-time visitors to Granada.
TOURS
OTHER SERVICES
GRANADA TRAVEL GUIDE
If you're planning a trip to Granada, then be sure to check out our detailed Granada travel guide. It'll have all the information you need – like when to go, what to do, where to stay, etc. – to help you plan your trip.
Save This on Pinterest!
No time now to go through this list of the best tapas in Granada? Click on the save button and pin it for later!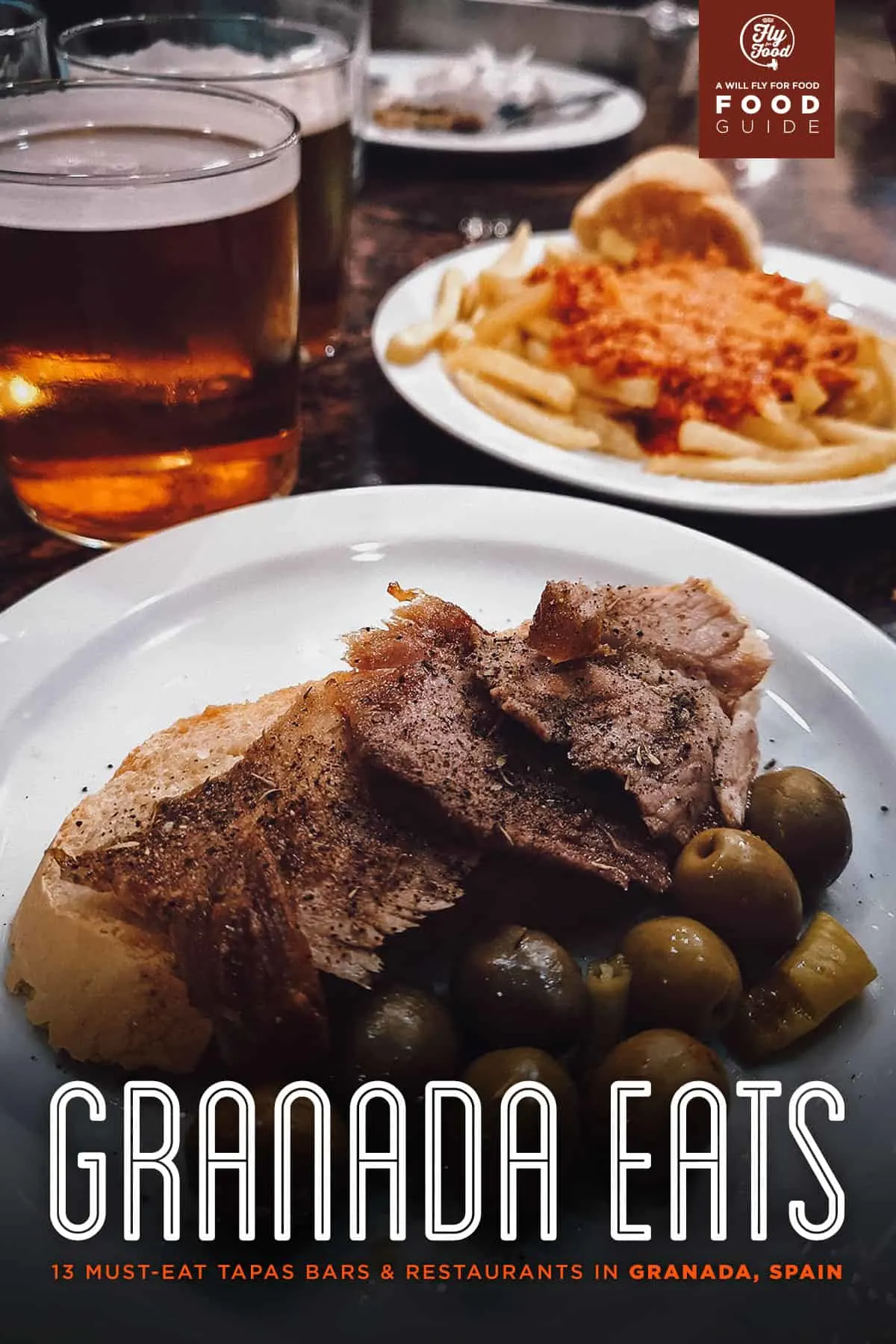 WHAT'S SPECIAL ABOUT THE TAPAS IN GRANADA?
Aside from being delicious, there's really nothing special or unique about the tapas in Granada. What makes it different, is the culture.
Unless you want to, you never have to order tapas in Granada because a small plate of tapas comes free with every drink order. Order a small glass of beer, and you'll get a small plate of tapas. Order a bigger glass and you'll get a bigger plate. Order a second beer at the same bar and you'll be served a different type of tapas.
Theoretically, you can spend several days in Granada without ever having to order food. Like clueless tourists, we made the mistake of ordering tapas a la carte on our first meal and wound up with a bigger bill and way too much food.
We learned and quickly adjusted after that, spending the majority of our stay only ordering drinks and filling ourselves up with plate after plate of free tapas. We were satisfied every time.
In fact, our homestay host told us that ALL authentic local bars serve free tapas with every drink. If a place tries to charge you for it, then they're a tourist trap set up to fool hapless non-locals.
To help you steer clear of any tourist traps, I've compiled this list of thirteen of the best Granada tapas bars and restaurants, all of which were found through research or recommendations and vetted with copa after copa of ice-cold Spanish cerveza.
You can refer to the map at the bottom of this post to help you find them. Salud!
THE BEST TAPAS IN GRANADA
1. Bar Los Diamantes
This is the place I mentioned above, where we had our first meal and made the mistake of over-ordering tapas because we were so excited to be in the city. Everything we ordered was fantastic, but there wasn't any need to do it, because you can get great tapas in Granada for free!
I was here with Ren and her cousin so this delicious free plate of battered and deep-fried fish was meant for three. They were soft and succulent with just the right amount of batter.
Note the size of the caña of beer in the background. Depending on the bar, you can get different sizes of cerveza ranging from a small glass or caña to a bigger pinta (pint) for about EUR 2-3.
We'd always get just one or two cañas of beer at one place before moving to the next. Doing that allowed us to visit two or three bars and try a range of tapas at every meal.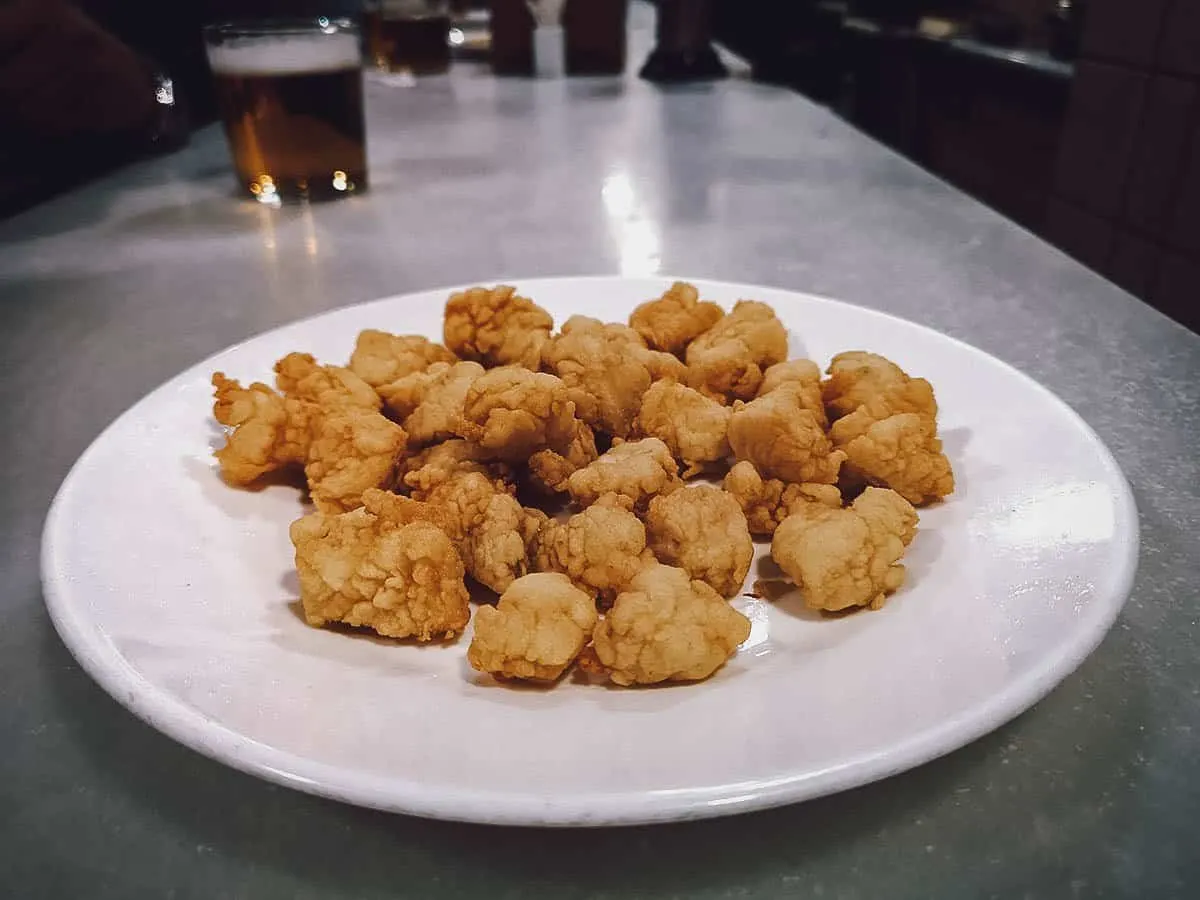 A plate of tasty butter and garlic mushrooms also good for three. Servings match the size of your drink.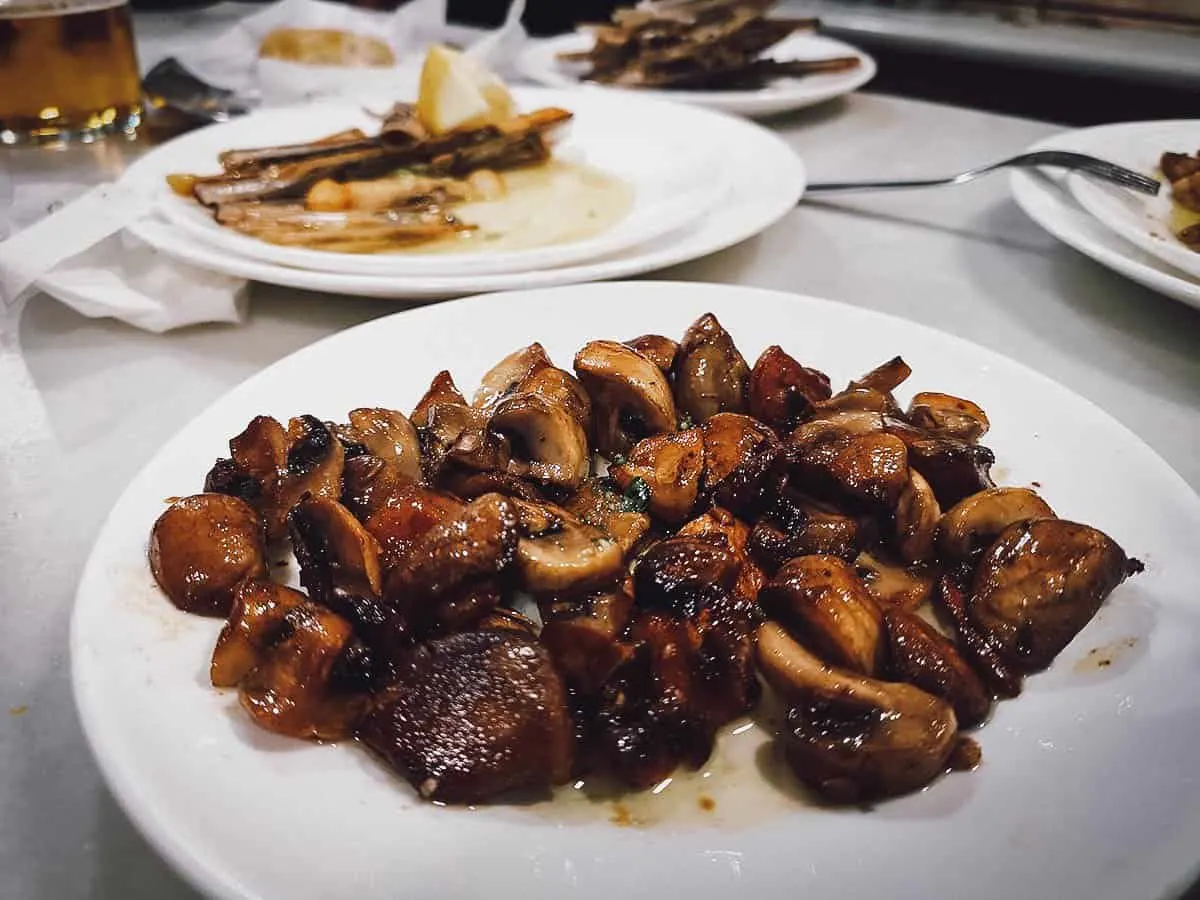 Some freshly cooked paella to enjoy with my third caña of beer. I was the only one among us who had a third beers so this may have been a serving for one.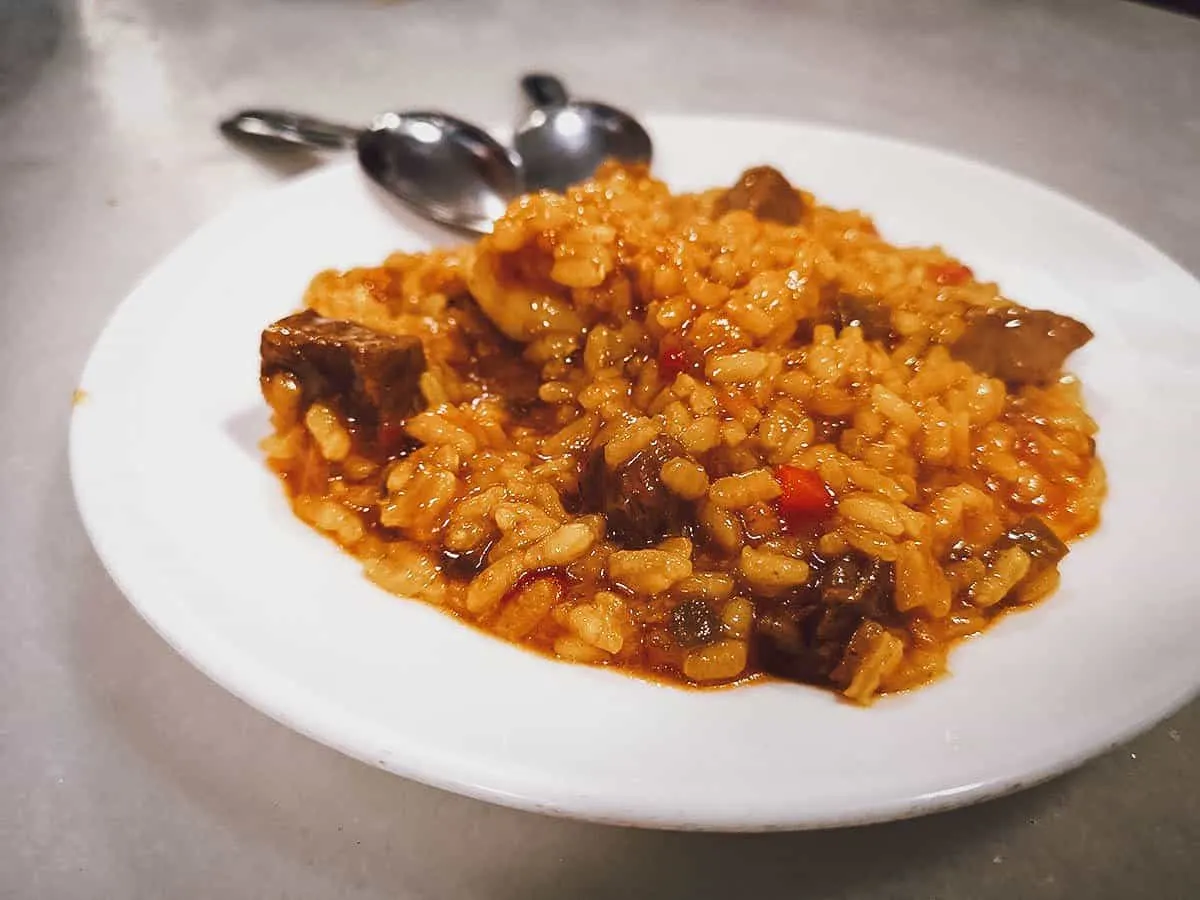 These next four dishes were all the tapas we ordered a la carte. Bar Los Diamantes is known for its seafood so we got this media (1/2) order of chipirones fritos or deep-fried baby squid. Sprinkled with lemon, these were crisp and delicious and perfect with our beer.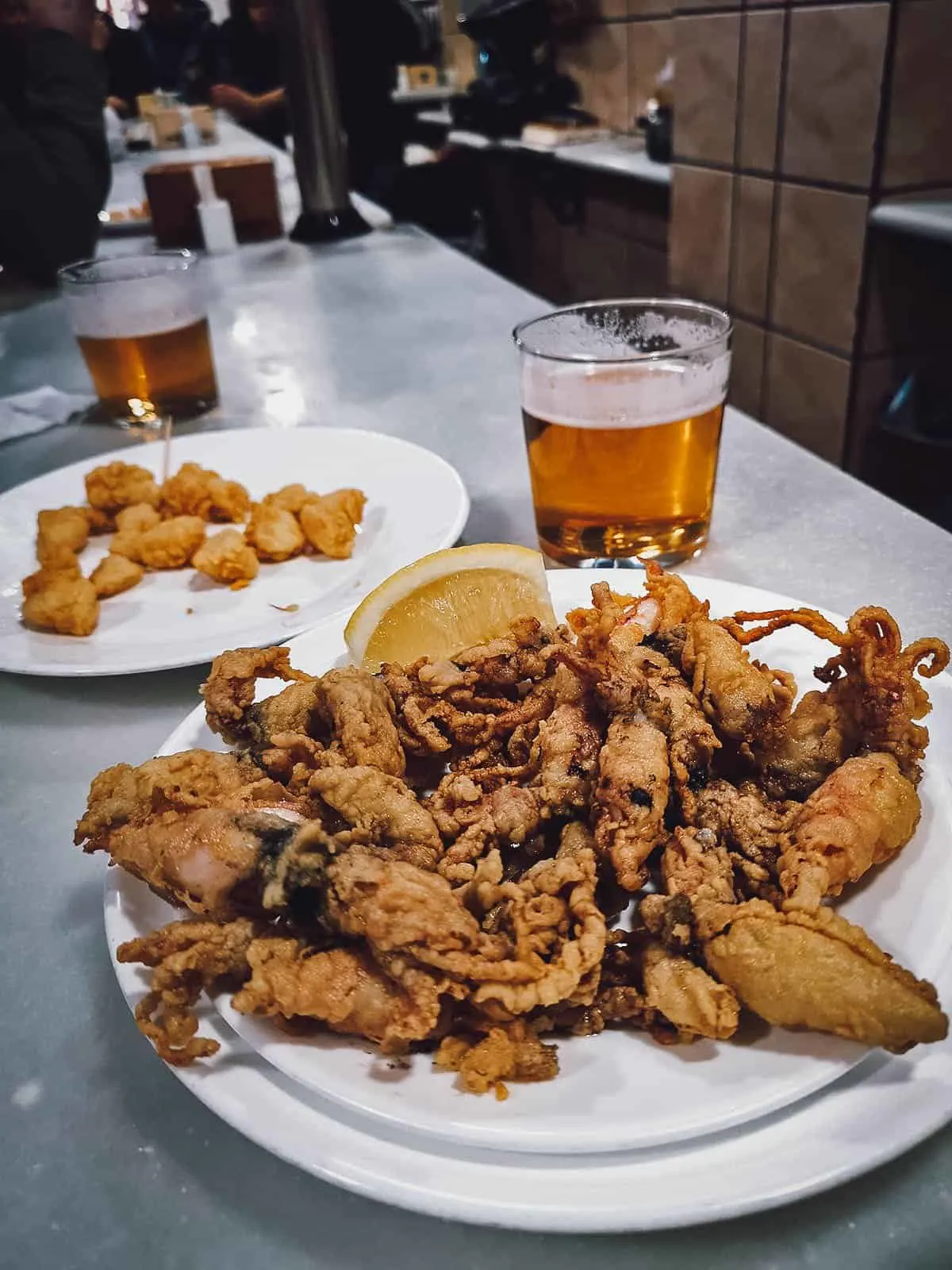 A half-order of my favorite navajas or razor clams cooked in olive oil, garlic, and parsley. Most if not all tapas in Granada and Spain are available in half (media) or whole (racion) orders.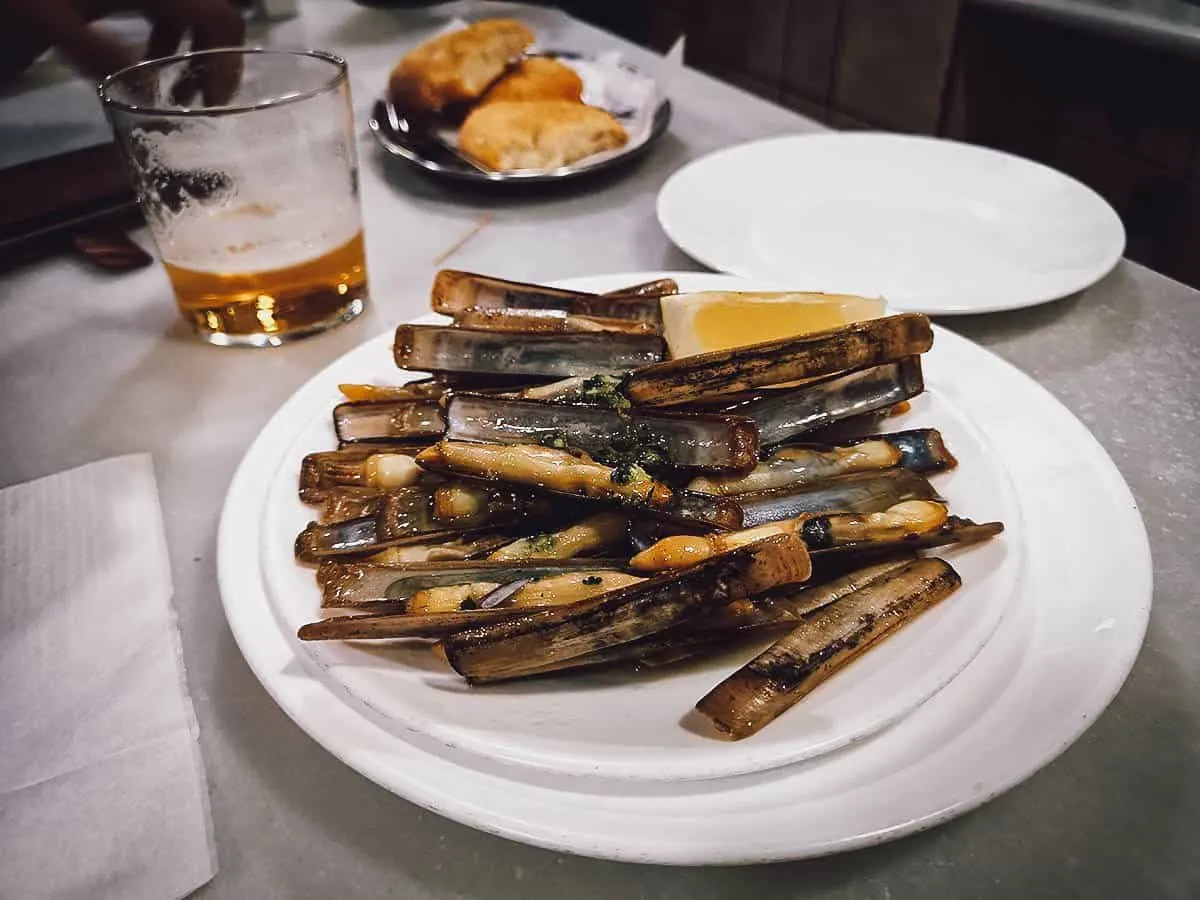 Ren got excited when she saw another table enjoying these so she ordered a plate for us as well. Any idea what they are? They're mollejas (EUR 9) or sweetbreads, which is the culinary term for the thymus gland or pancreas from veal or lamb.
They were delicious, pan-seared with a soft and velvety texture similar to brain. Are you as big a fan of offal as we are?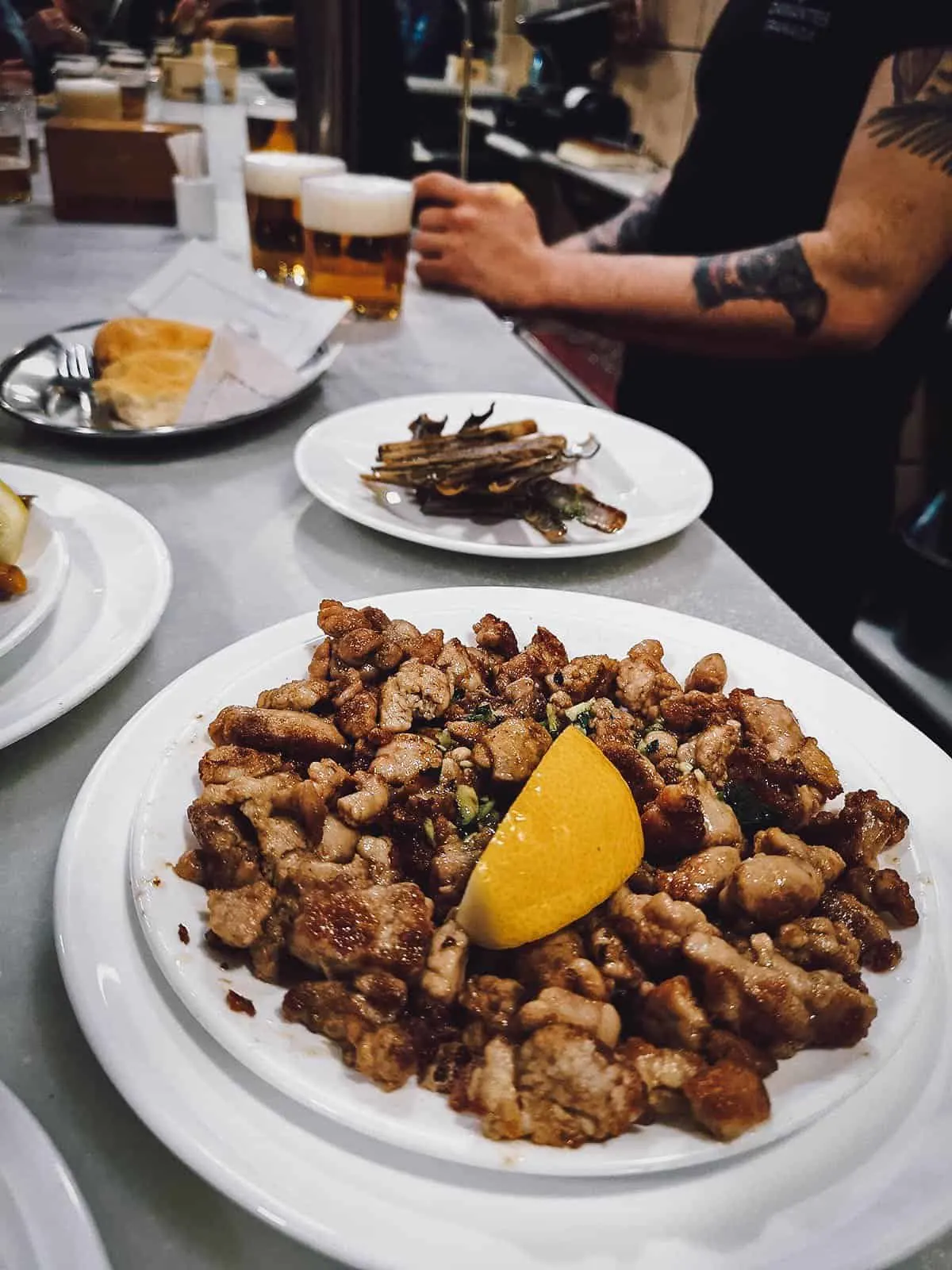 I'm not sure if they provide these to every table, but our bartender gave us these dense discs of garlic onion bread on the house. He probably thought we were starving based on how much we ordered. Ha!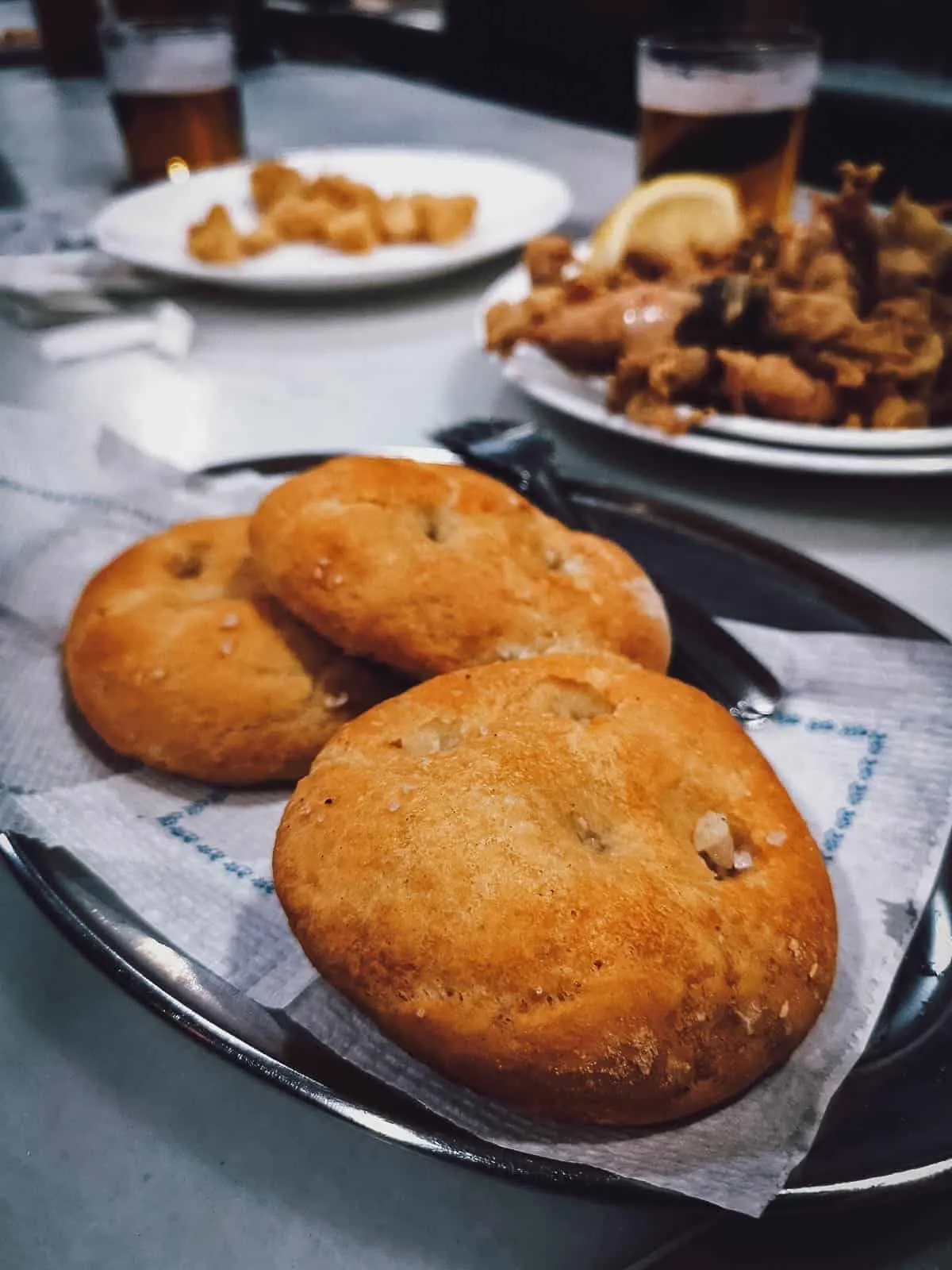 Bar Los Diamantes is small but it's one of the most popular Granada tapas bars so be prepared to stand. It was easily the busiest bar we visited in Granada.
They're a TripAdvisor Certificate of Excellence awardee with a near-perfect 4.5 star rating, predominantly from Spanish reviewers so you know this place is good.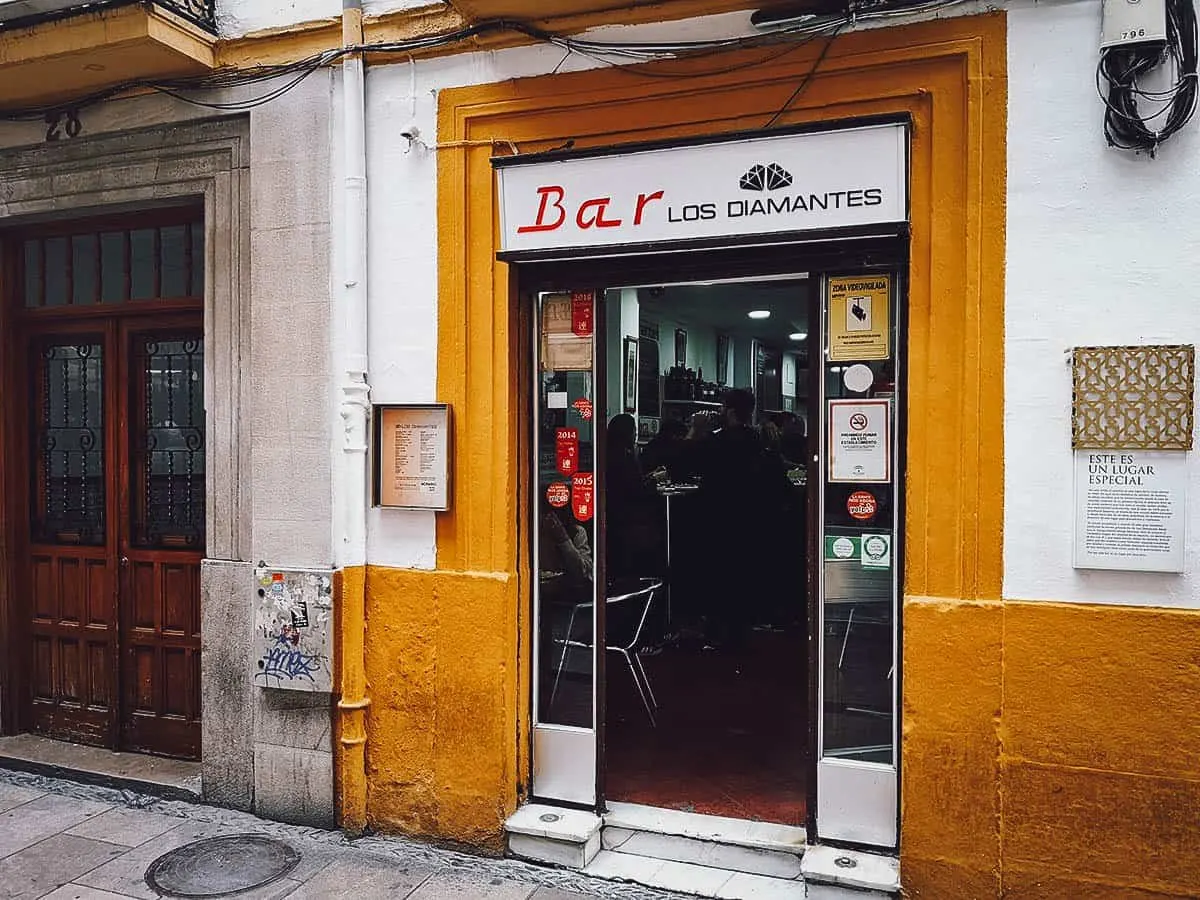 Bar Los Diamantes
Address: Calle Navas 28, 18009 Granada, Spain
Operating Hours: 12:30-4PM, 8:30PM-12MN, Mon-Sat (closed Sundays)
2. Bodegas Castañeda
We learned from our mistake at Bar Los Diamantes and stopped ordering tapas a la carte. Like Bar Los Diamantes, Bodegas Castañeda is also one of the most popular and highly-rated Granada tapas bars.
We had two rounds of drinks, the first coming with these plates of albondigas or Spanish meatballs drenched in a rich tomato sauce. They're much smaller than Italian meatballs and typically made with pork, beef, or veal, or any combination of the three.
Don't let the picture fool you. They look big below but everything was tapas-sized – small plates and forks, cañas of beer and vermút, and delicious albóndigas each about an inch in diameter.
Like tapas, we fell in love with Spanish vermouth as well. It's a fortified and aromatized wine and the most popular aperitif in Spain, typically enjoyed before lunch to prod the appetite.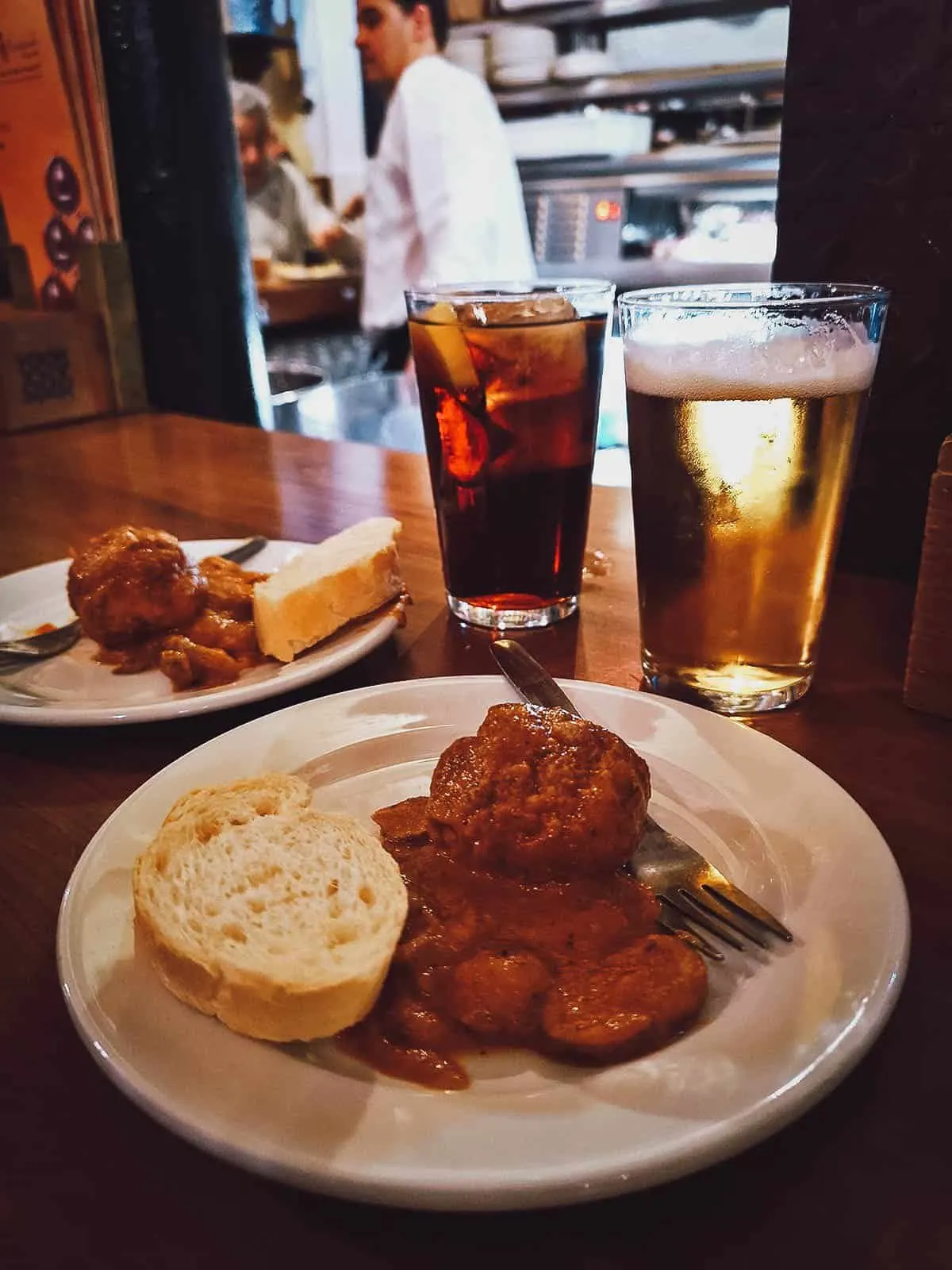 My second caña of beer came with this plate of chicken and bell peppers in tomato sauce. It reminded me of a Filipino dish called chicken afritada which is generally believed to have been introduced by the Spanish. Like the albondigas, it was served with a small piece of soft bread to mop up the sauce.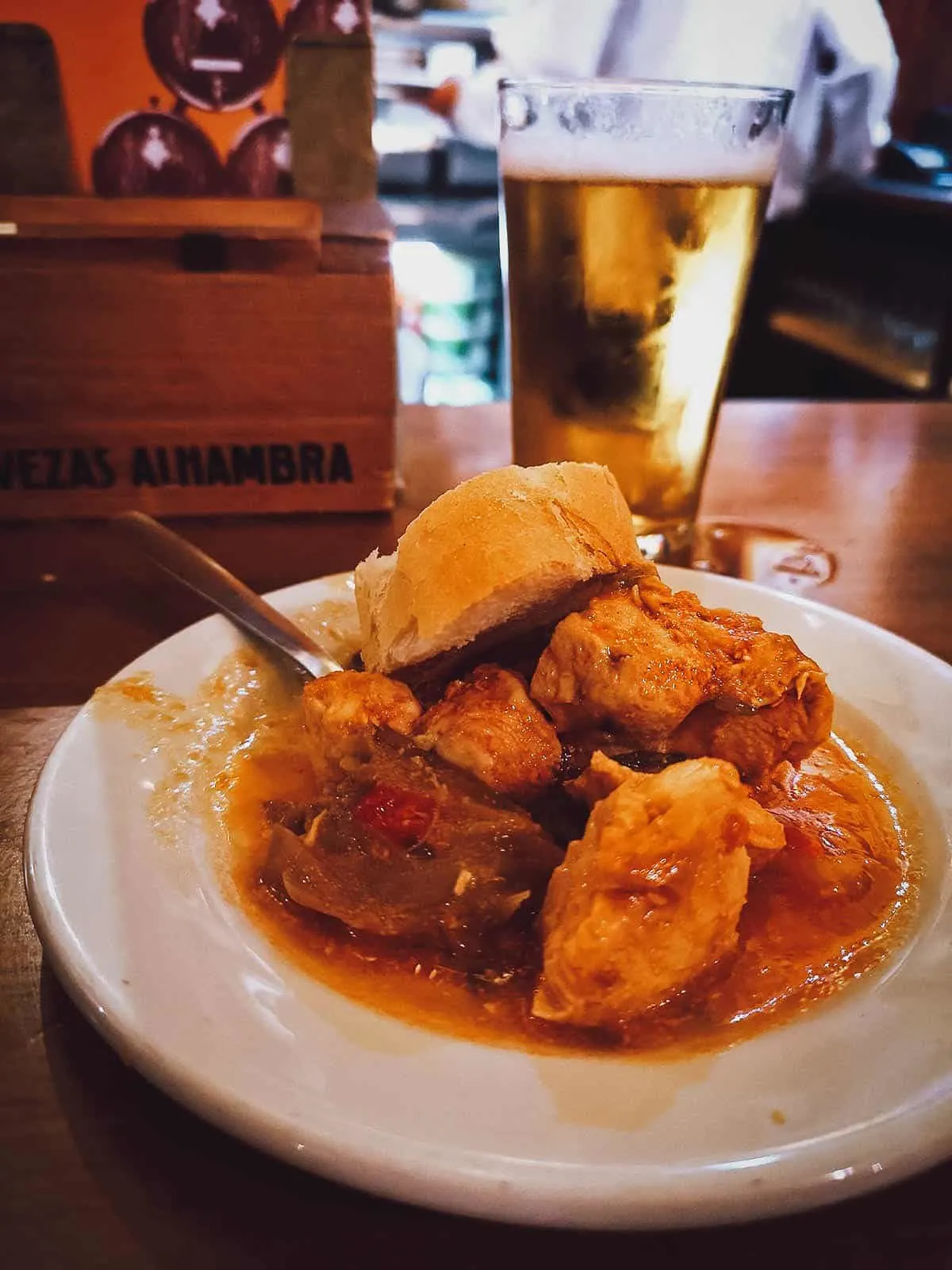 Bodegas Castañeda is located in an alley off Calle Gran Via de Colon. Granada isn't that big so you can hop from one tapas bar to the next on foot.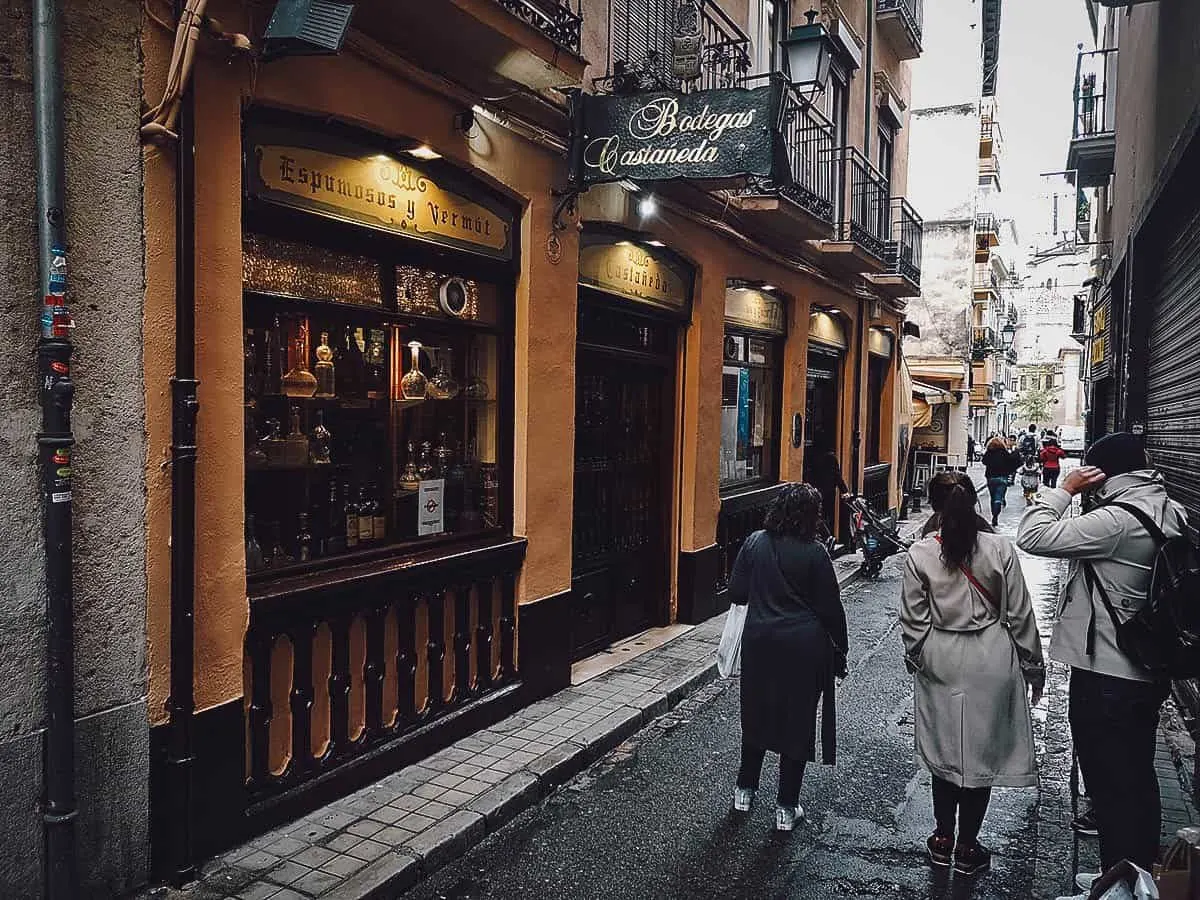 Bodegas Castañeda
Address: Calle Almireceros, 1, 3, 18010 Granada, Spain
Operating Hours: 11:30AM-1AM, daily
3. Bar Casa Julio
Around the corner from Bodegas Castañeda is Bar Casa Julio, a tiny place known for serving some of the best seafood tapas in Granada. We'd have just one round of drinks here, which was served with this plate of battered and deep-fried fish with some type of slaw.
Like the fish nuggets at Bar Los Diamantes, these were delicious as well – soft and succulent and perfect with the crunchy slaw.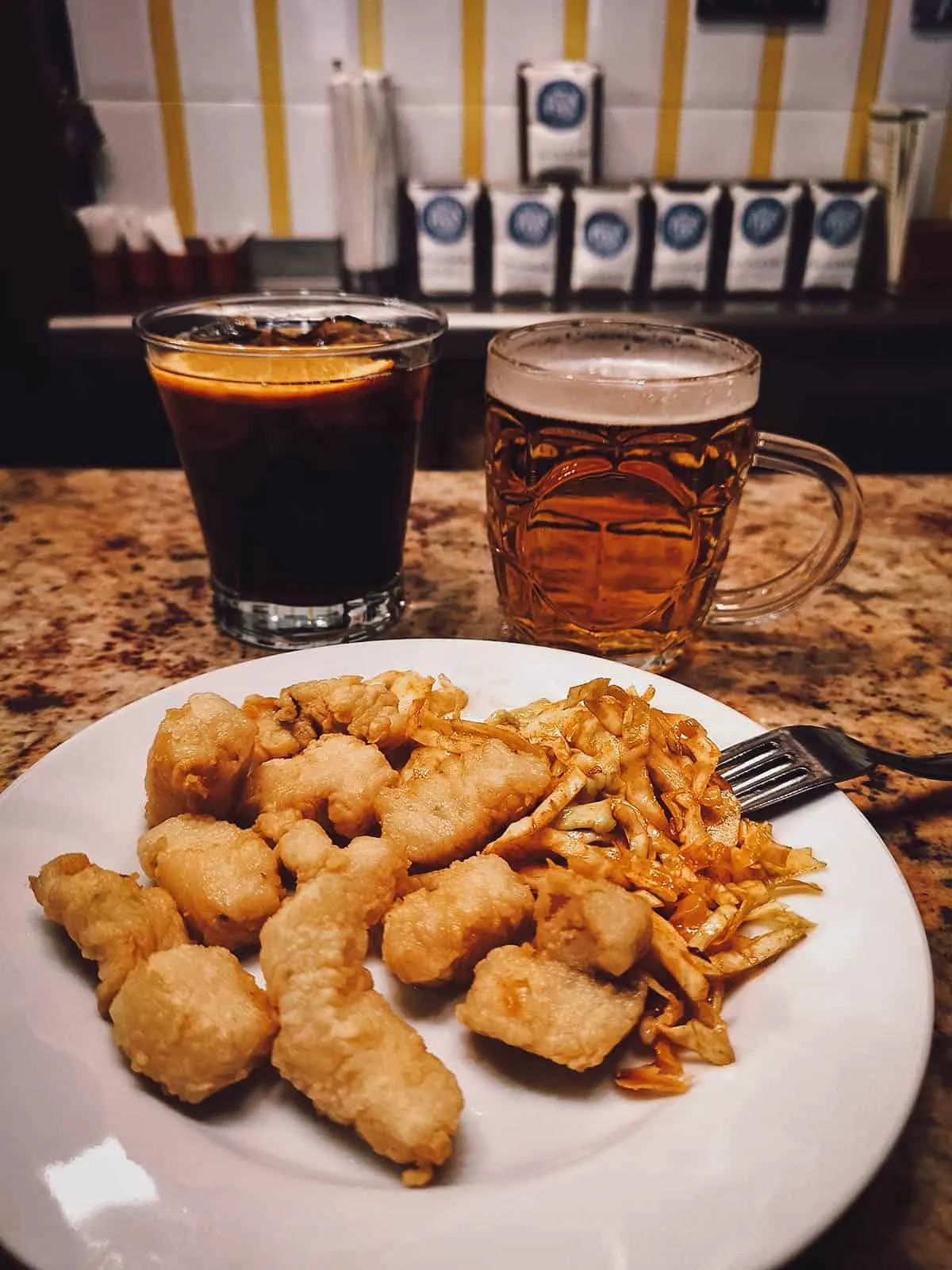 Bar Casa Julio is also a TripAdvisor Certificate of Excellence awardee with a 4.5-star rating. It has very favorable reviews from Spanish reviewers.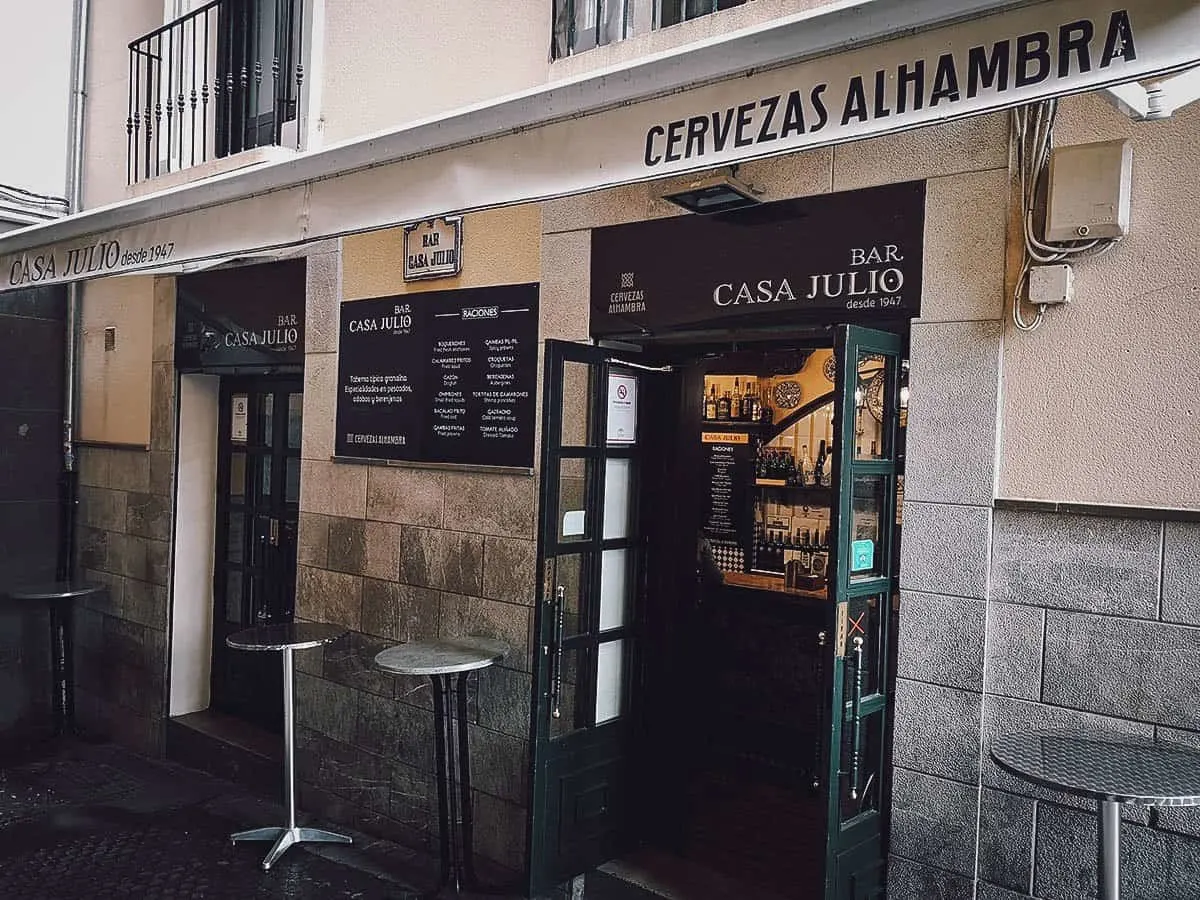 Bar Casa Julio
Address: Calle Hermosa, 5, 18010 Granada, Spain
Operating Hours: 1-4PM, 8:30PM-12MN, Tues-Sat / 1-4PM, Sunday (closed Mondays)
4. La Riviera
This was the third tapas bar we visited for lunch on that day, after Bodegas Castañeda and Bar Casa Julio. Most Granada tapas bars won't allow you to choose which tapas to get with your drink but La Riviera is one of the few we went to that does. The bartender had us choose from their a la carte menu and we picked this croqueta and bocadillo.
A croqueta is a Spanish croquette filled with a thick bechamel sauce. They're a popular tapas dish and can be filled with a variety of ingredients like jamon, chicken, mushroom, or cod. La Riviera's croqueta was served with a side of fries and bread.
A bocadillo is a type of Spanish sandwich made with a baguette. La Riviera offers different types of bocadillo on their menu but I went with this classic jamon serrano y queso.
I love jamon and cheese bocadillos and had them often throughout Spain. The chewiness of the baguette and the saltiness of the cured ham is comforting and delicious, and something you can enjoy on the go.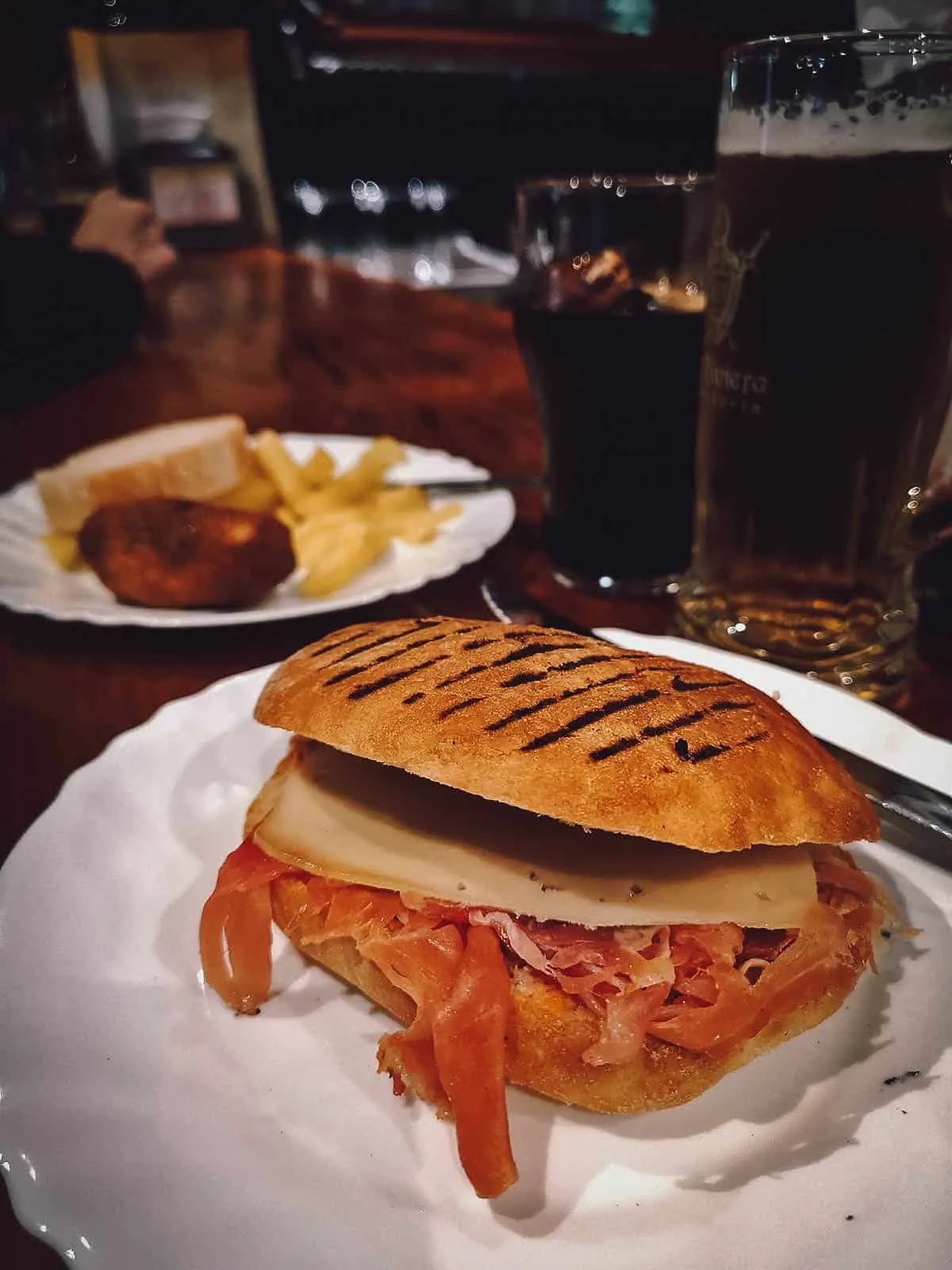 Take a good look at this picture. Can you see where those taps are connected? That suit of armor is the centerpiece of the bar and quite literally the lifeblood of La Riviera.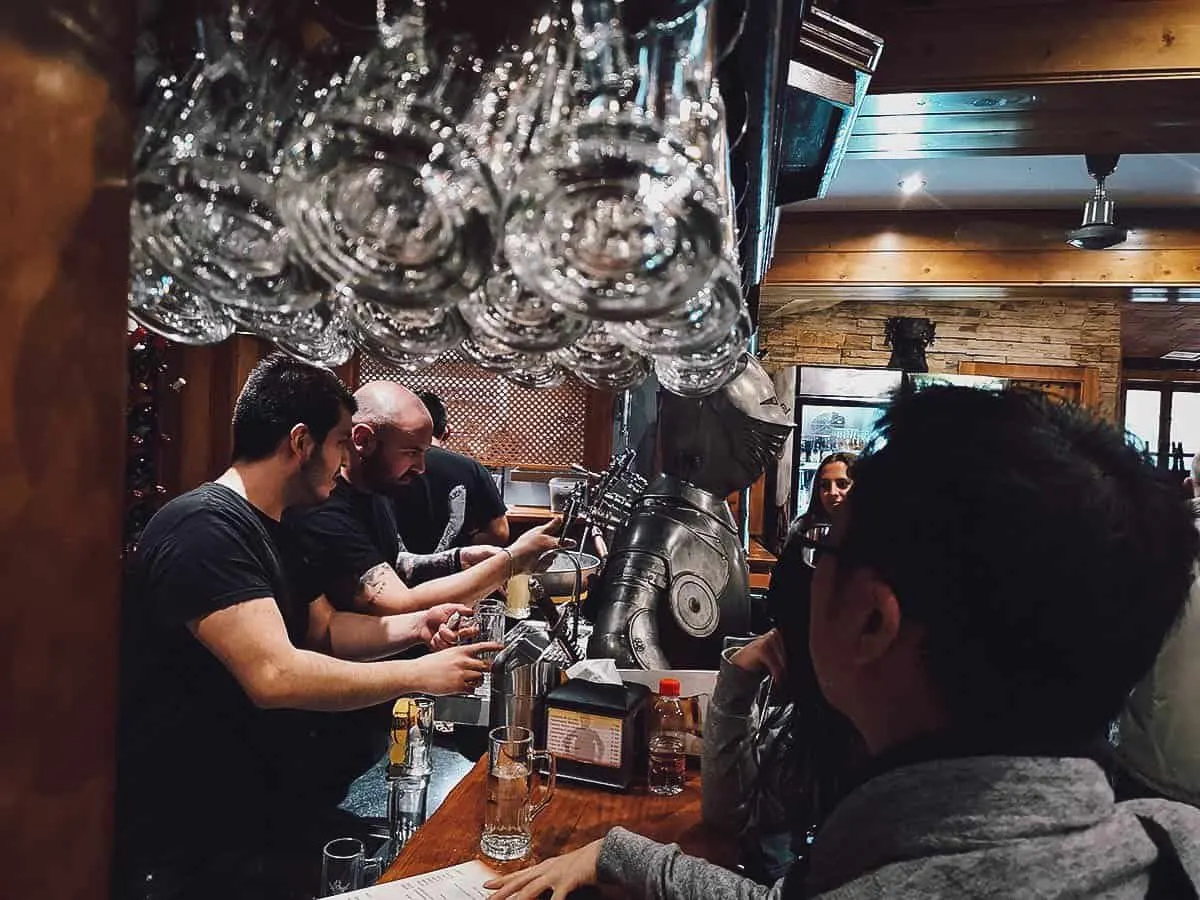 La Riviera is a block away from Bodegas Castañeda. You can easily visit these last three Granada tapas bars within one or two hours to have tapas and throw back a few cañas like we did.
Like many of the places on this list, La Riviera is a TripAdvisor Certificate of Excellence awardee with a stellar 4.5-star rating.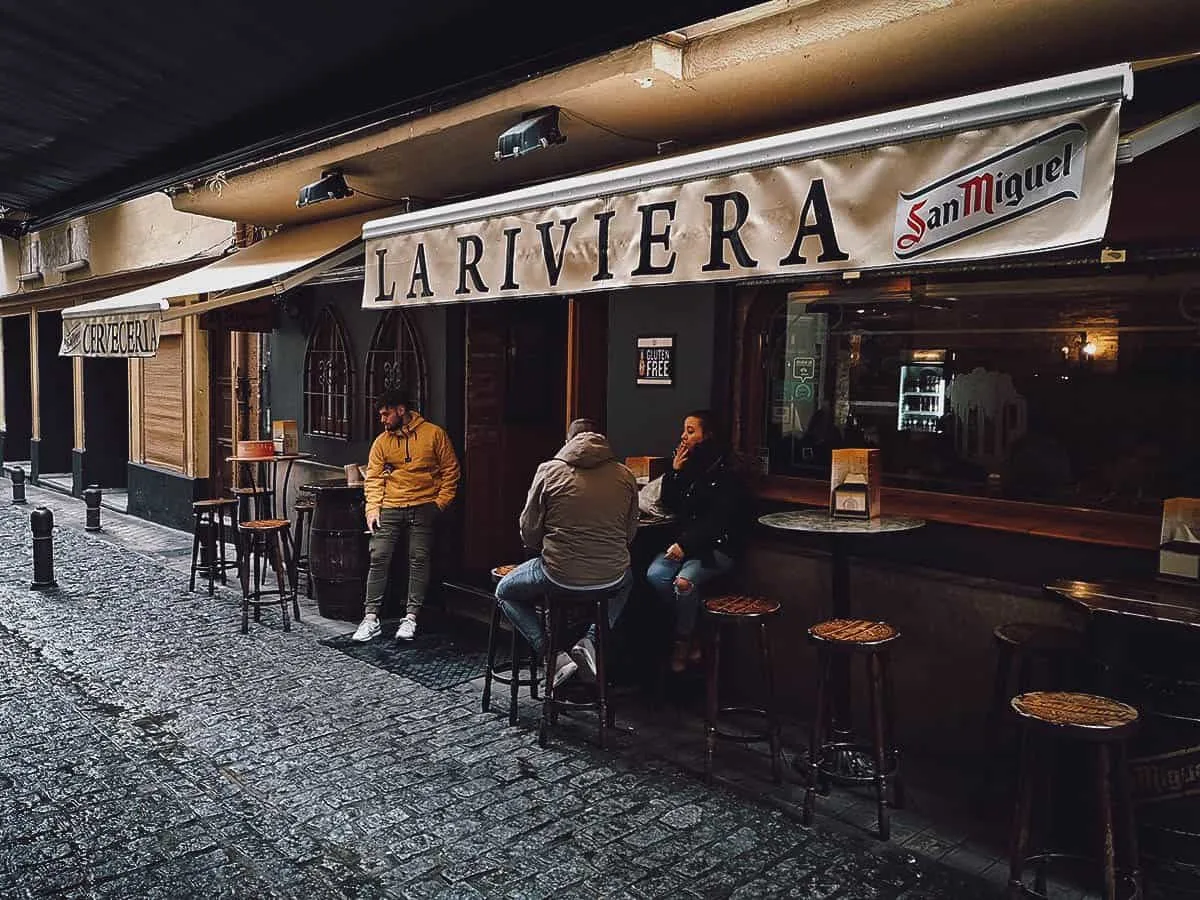 La Riviera
Address: Calle Cetti Meriem, 7, 18010 Granada, Spain
Operating Hours: 12:30PM-12:30AM, daily
5. Los Manueles
Los Manueles is located around the corner from Bar Casa Julio, so you can have more tapas here if you're still hungry after eating at the three previous bars. From all accounts, they're a legend in Granada, open since 1917 and famous for their giant croquetas which many feel are still the best in the city.
The croquetas at Los Manueles are indeed huge, about the size of a potato. It had a nice crumbly exterior and filled with a thick creamy bechamel sauce. I prefer more mashed potato in my croquettes so these bechamel-filled croquetas in Granada were new to me.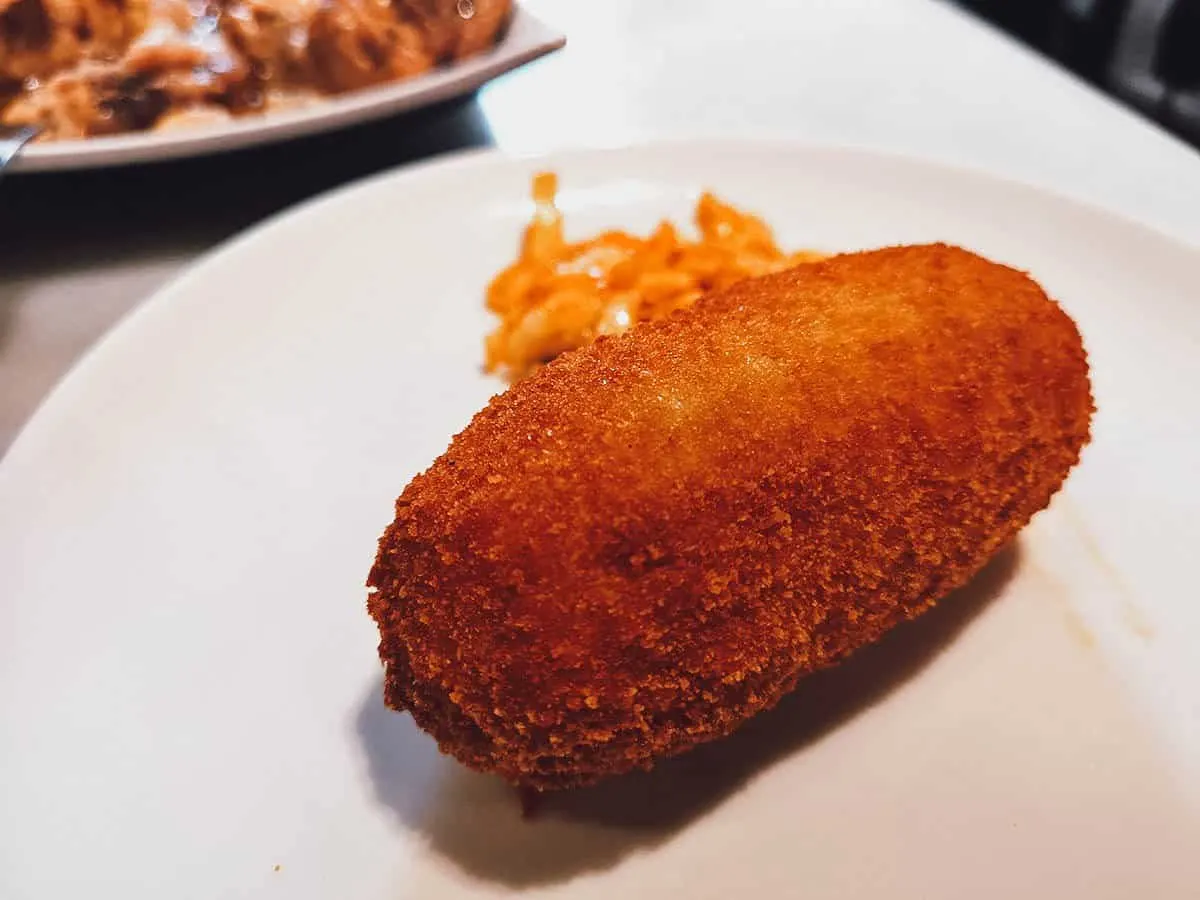 There were five people in our group today so for our free tapas, they gave us this generous platter of rabo de toro or Spanish oxtail stew. It's made with oxtail that's braised for hours until the meat is fall-off-the-bone tender.
We're big fans of oxtail so we enjoyed this dish. We couldn't help but order a basket of bread to sop up all that sauce.
Interestingly, rabo de toro is said to have its roots here in Andalusia where it was prepared after bull fights. The tradition and dish spread to other parts of Spain and has become especially popular in Madrid, where bull fights are apparently still a thing.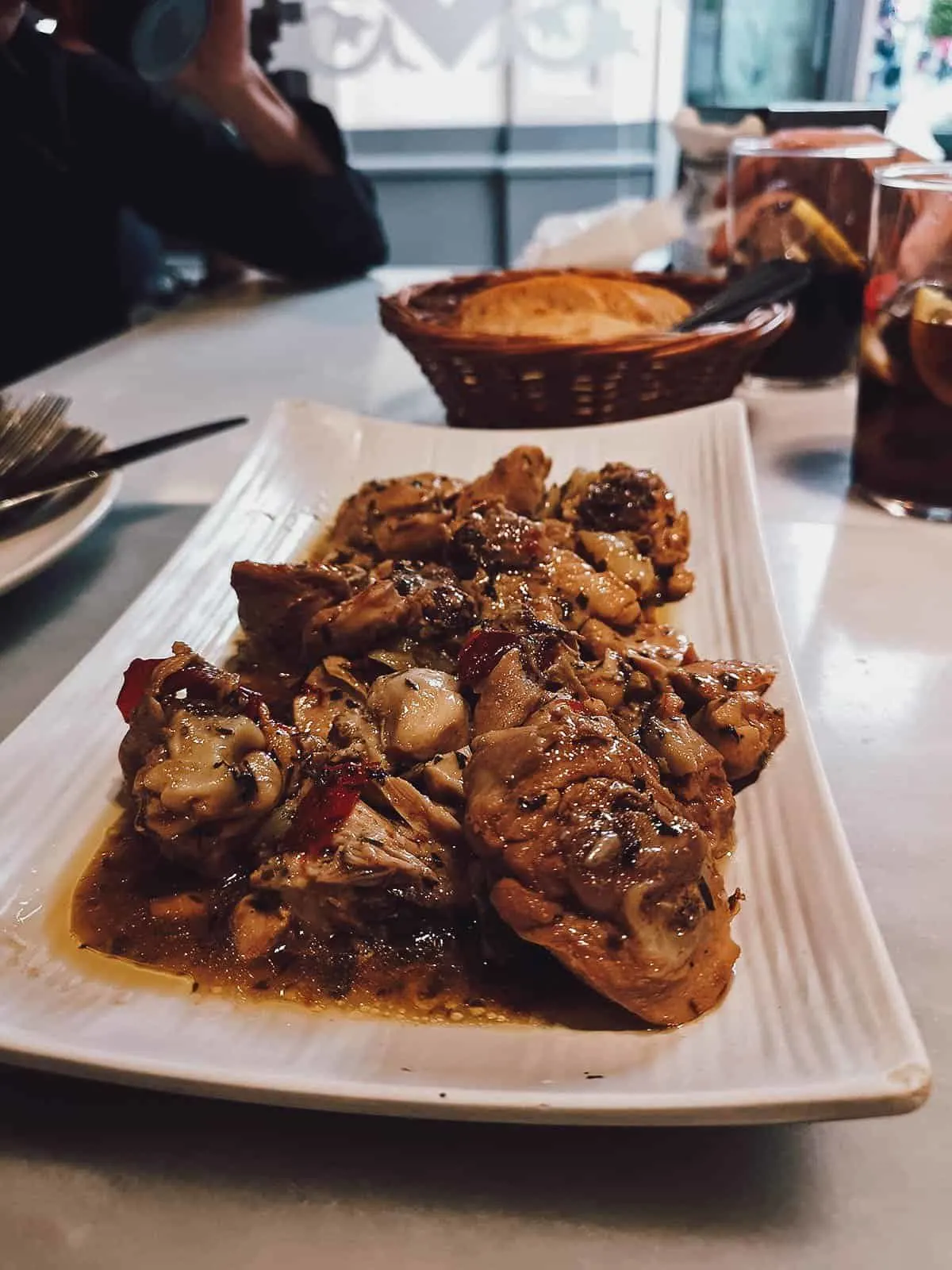 To be honest, we ate at Los Manueles because of their croquetas but we all found it to be underwhelming. We enjoyed the rabo de toro more.
Do give the croquettes a try though since the place is famous for it and many people seem to enjoy them.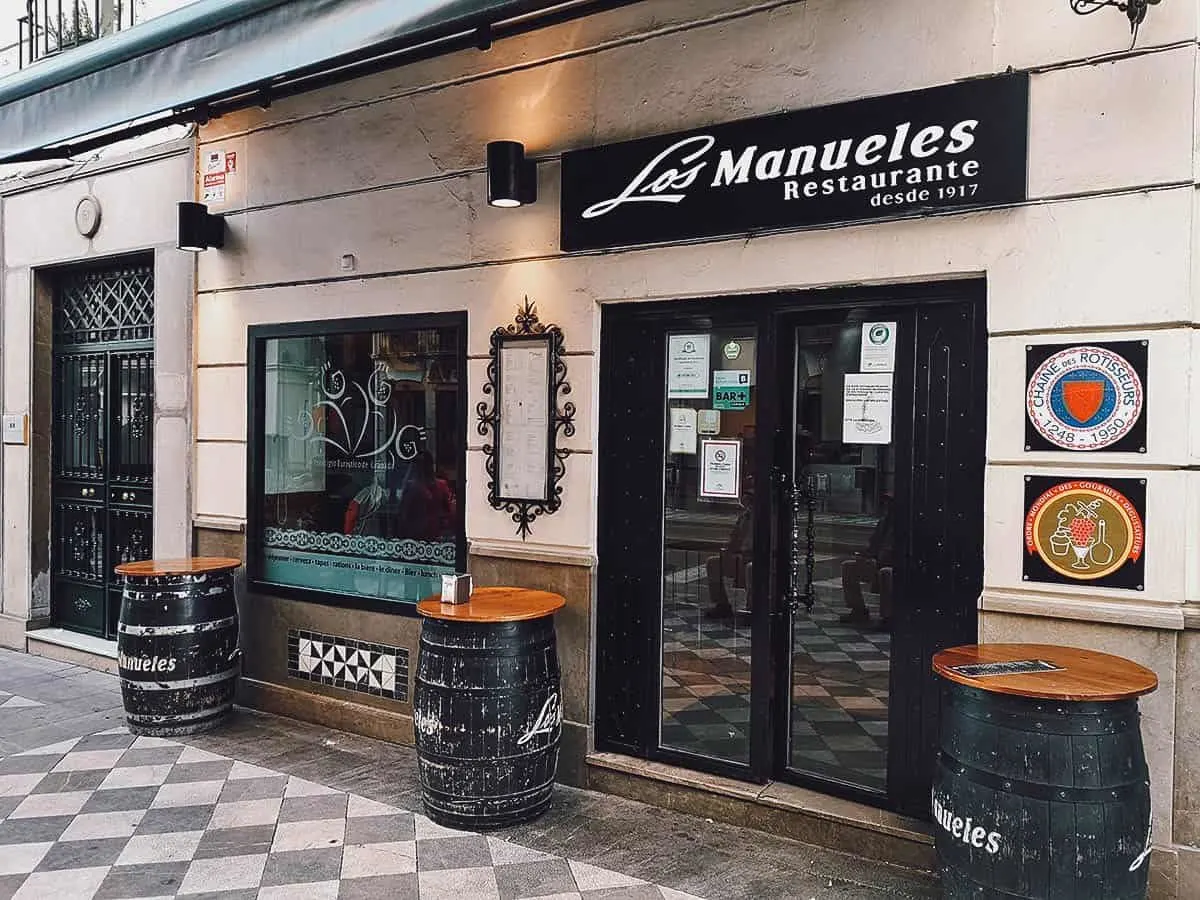 Los Manueles
Address: Calle Reyes Católicos, 61, 18010 Granada, Spain
Operating Hours: 12NN-12MN, daily
6. La Botilleria
La Botilleria is another popular establishment that looks closer to a proper sit-down restaurant than a bar, but they do have a section towards the back reserved for diners who just want to have tapas.
We were still a bit hungry after watching an excellent flamenco show at Zambra María la Canastera, so we stopped here for drinks and a few dishes before calling it a night.
For our free tapas, they gave us these hamburguesas or mini-hamburgers with caramelized onions and a side of fries.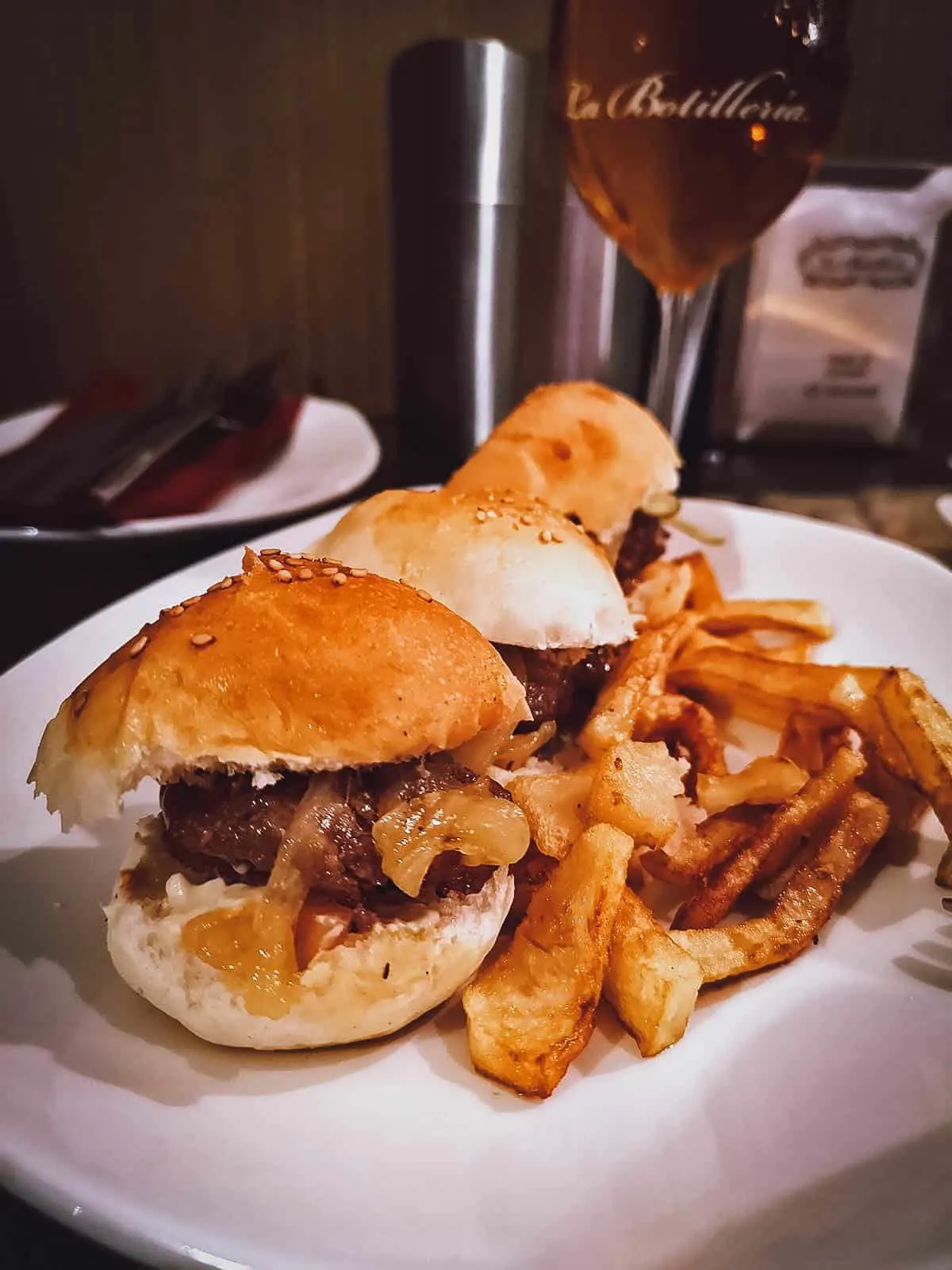 Seeing as how Andalusia is the home of rabo de toro, we couldn't leave Granada without having it again. We ordered rabo de toro a la carte to share between five people.
Served with potatoes, bell peppers, and a side of fries, La Botilleria's version may have been even better than the previous one. It seemed richer and more developed in flavor, like it had been left to braise longer. It was delicious.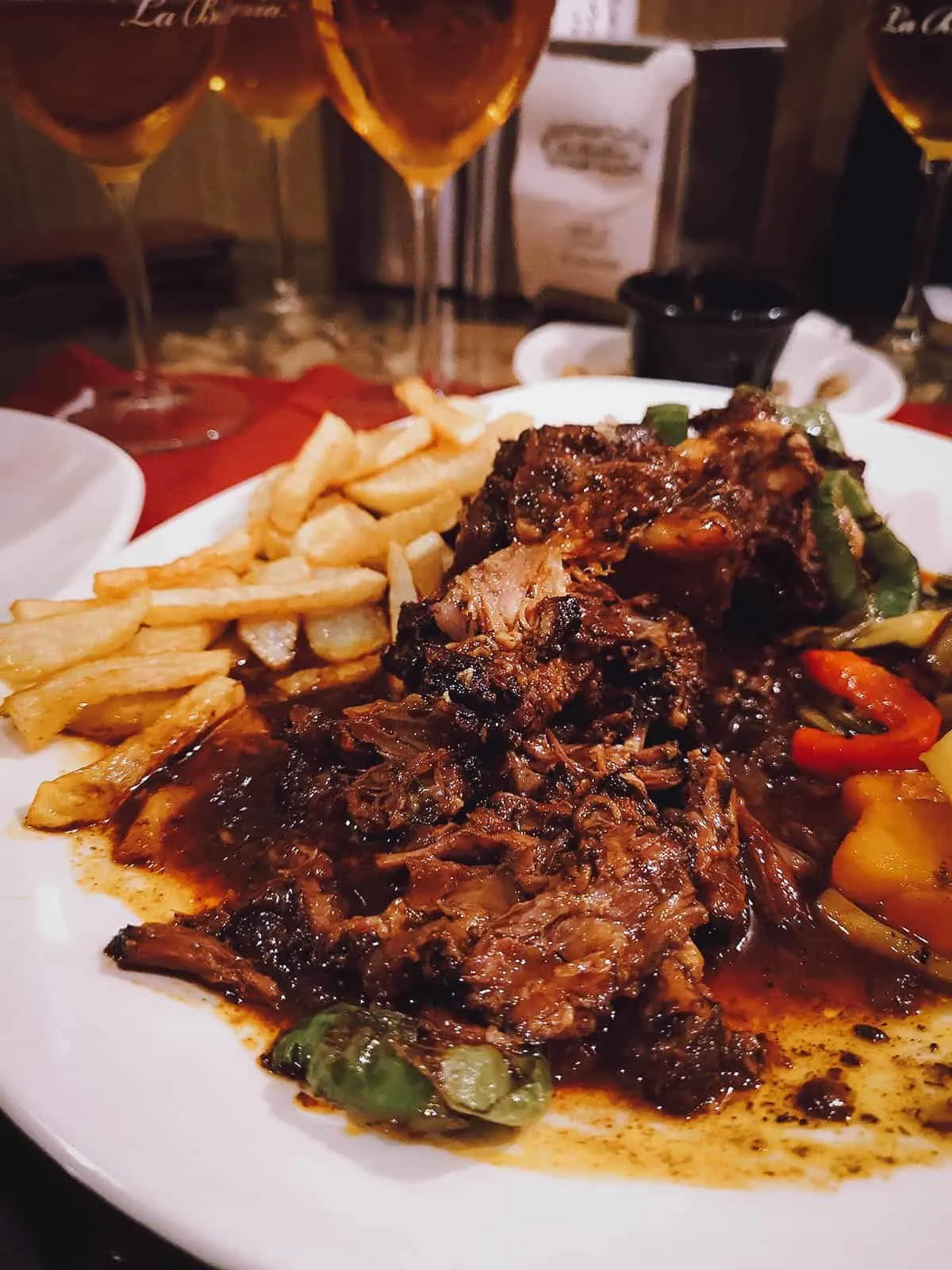 If you want a proper meal, something more substantial than tapas, then La Botilleria seems a good choice. A Certificate of Excellence awardee, they've got great reviews from Spanish diners and boast a superb 4.5-star rating.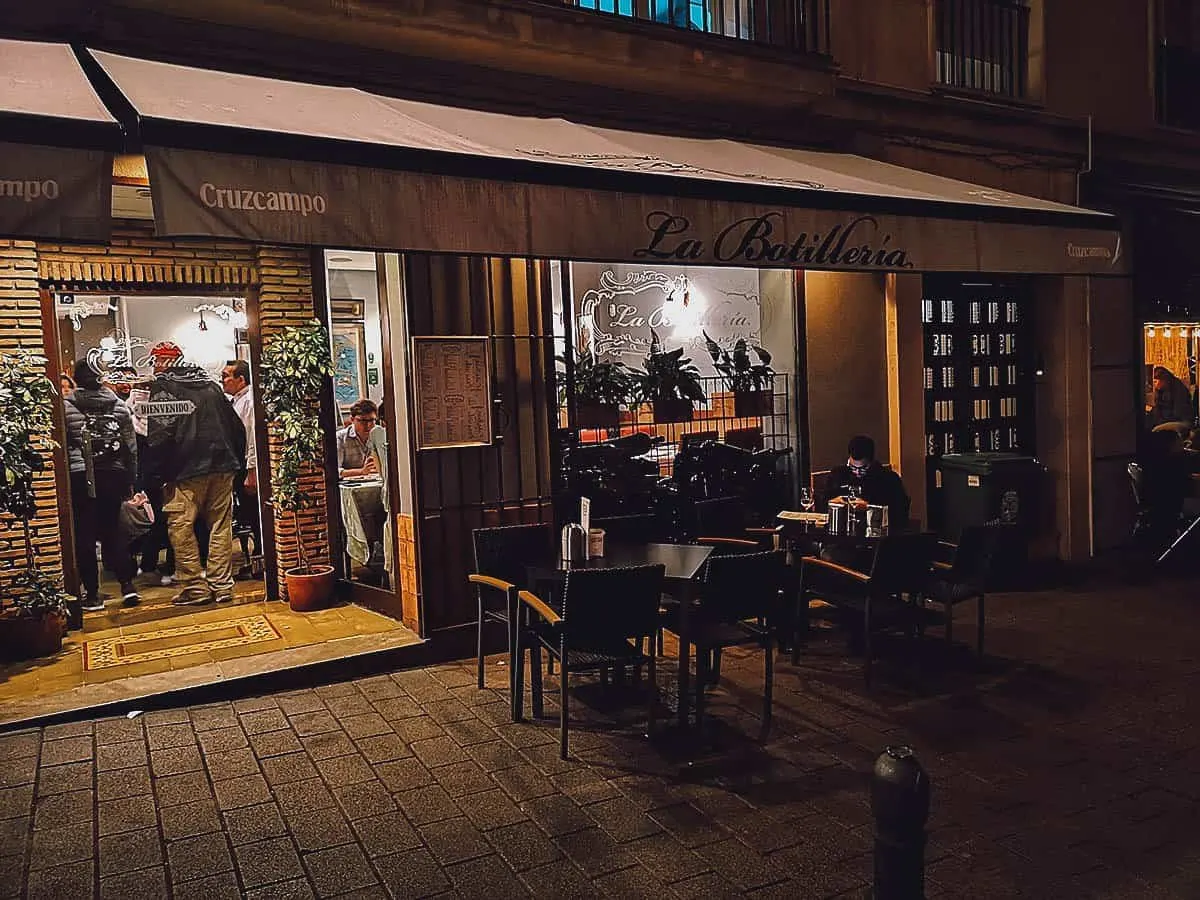 La Botilleria
Address: Calle Varela, 10, 18009 Granada, Spain
Operating Hours: 12:30PM-1AM, daily
7. Taberna La Tana
This was one of the restaurants featured on the Granada episode of Parts Unknown with the late great Anthony Bourdain. It's a small bar which I read gets crowded, so we made sure to have a couple of drinks here as soon as they were open for lunch.
We had two rounds of drinks at La Tana, the first paired with this interesting tapas of morcilla or Spanish black pudding. We've had blood sausage many times before but not blood pudding.
Spread on soft bread and sprinkled with pine nuts, it's mild in flavor, mineral-y, and a little tangy. It's delicious and one of the most memorable Granada tapas experiences we had on this trip.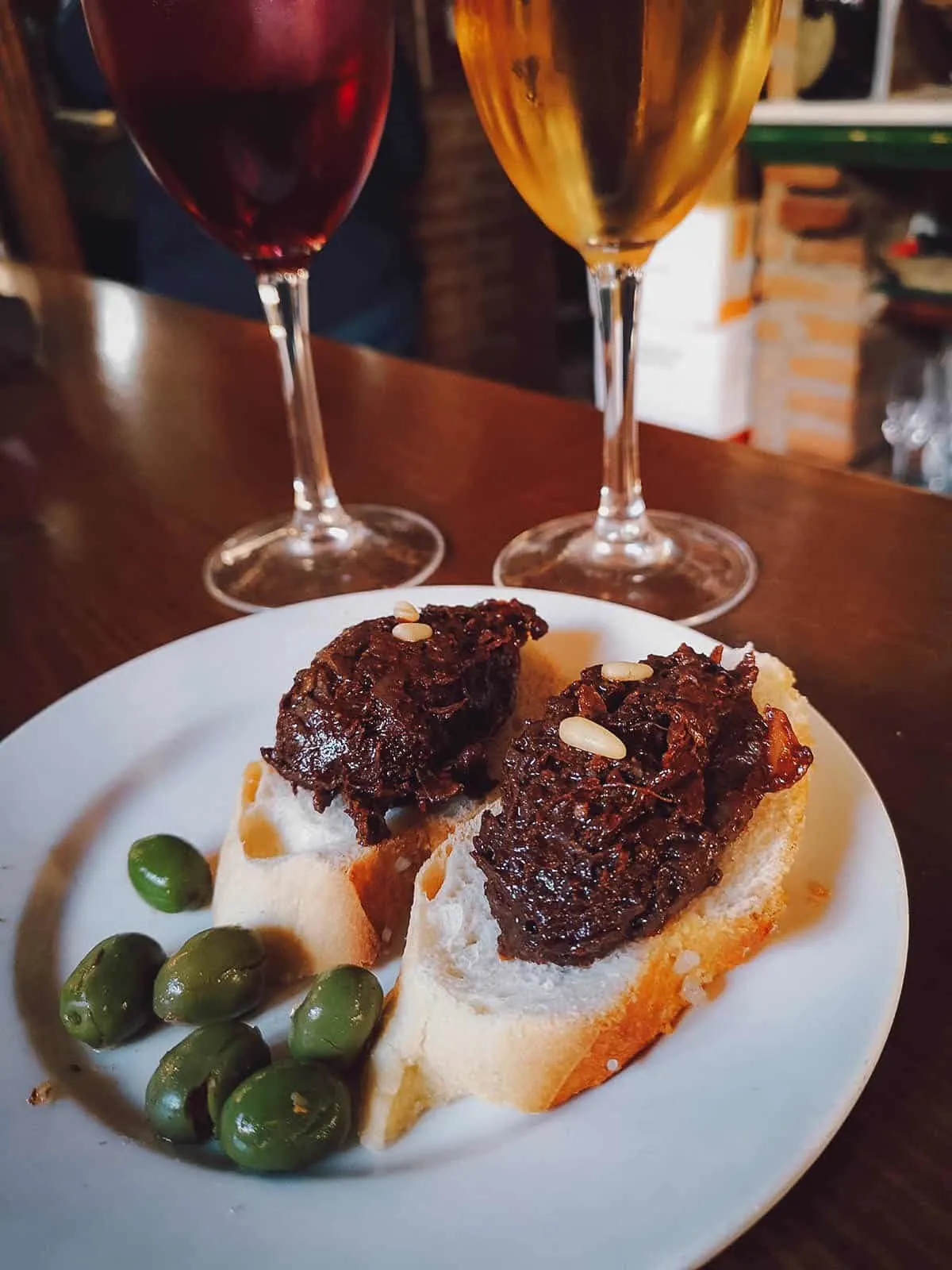 Our second round of drinks was served with slices of salami, olives, and tomato slices on bread. Less exotic but just as enjoyable.
The glasses are cut off in this picture but the one of the left, the darker one, contains tinto de verano which is a popular wine-based drink similar to sangria. It's made with equal parts red table wine and soda.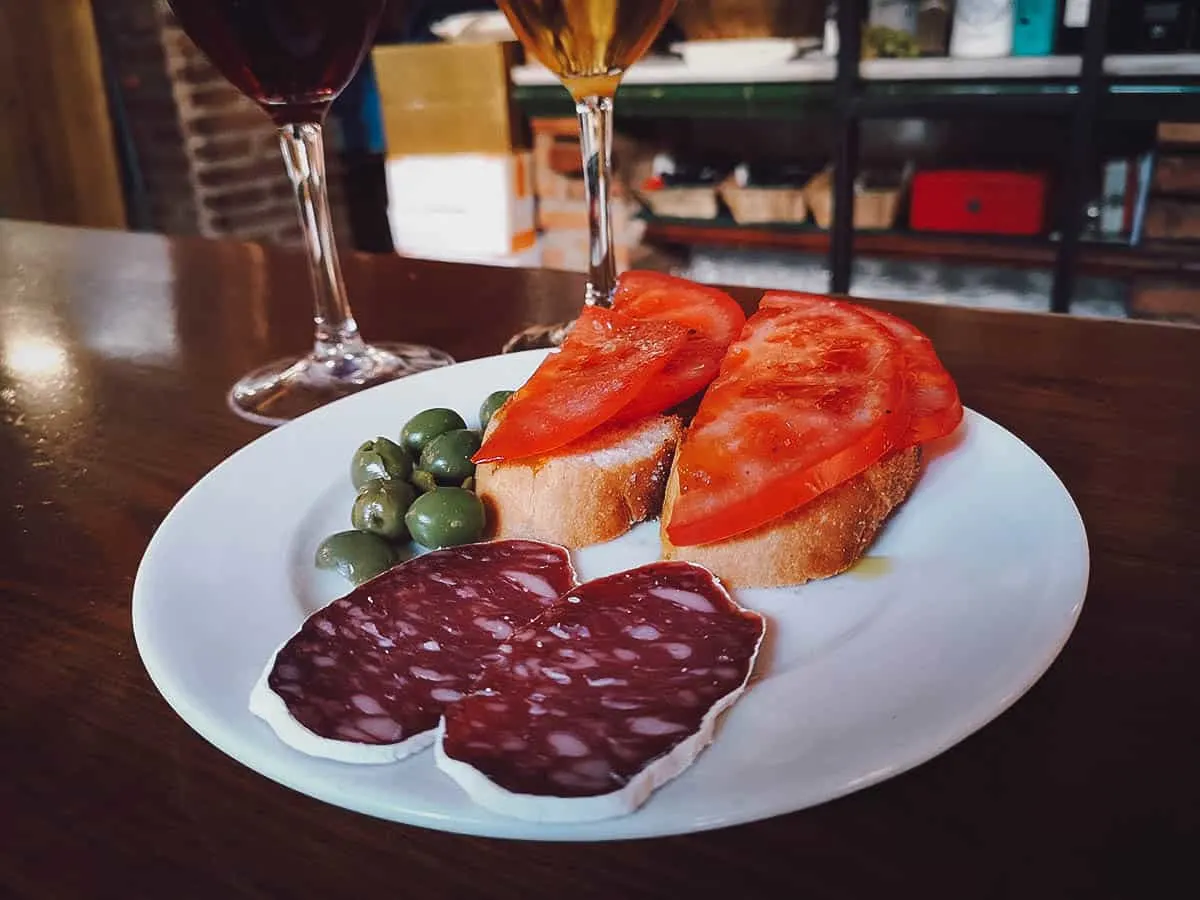 From what I understand, La Tana was popular with locals even before Bourdain featured them on his show. They were already known for serving some of the best tapas in Granada.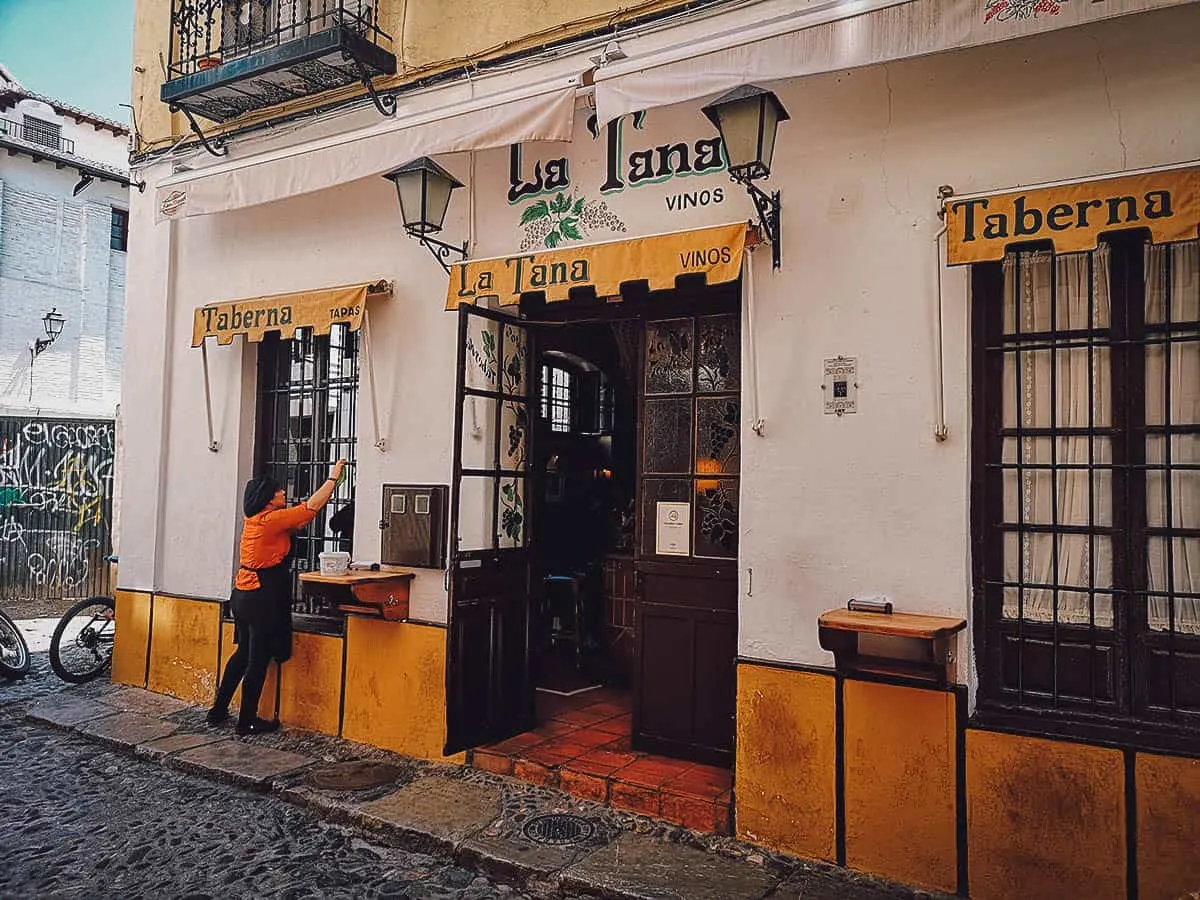 Taberna La Tana
Address: Placeta del Agua, 3, 18009 Granada, Spain
Operating Hours: 12:30-4PM, 8:30PM-12MN, Mon-Fri / 1-4PM, 8:30PM-12MN, Sat-Sun
8. Taberna Malvasia
Around the corner from Taberna La Tana is Taberna Malvasia, which lucky for us was also serving morcillatapas that day. How cool is that? Sandwiched in a roll, it seemed spicier and more pronounced in flavor than the morcilla at La Tana. Both were outstanding.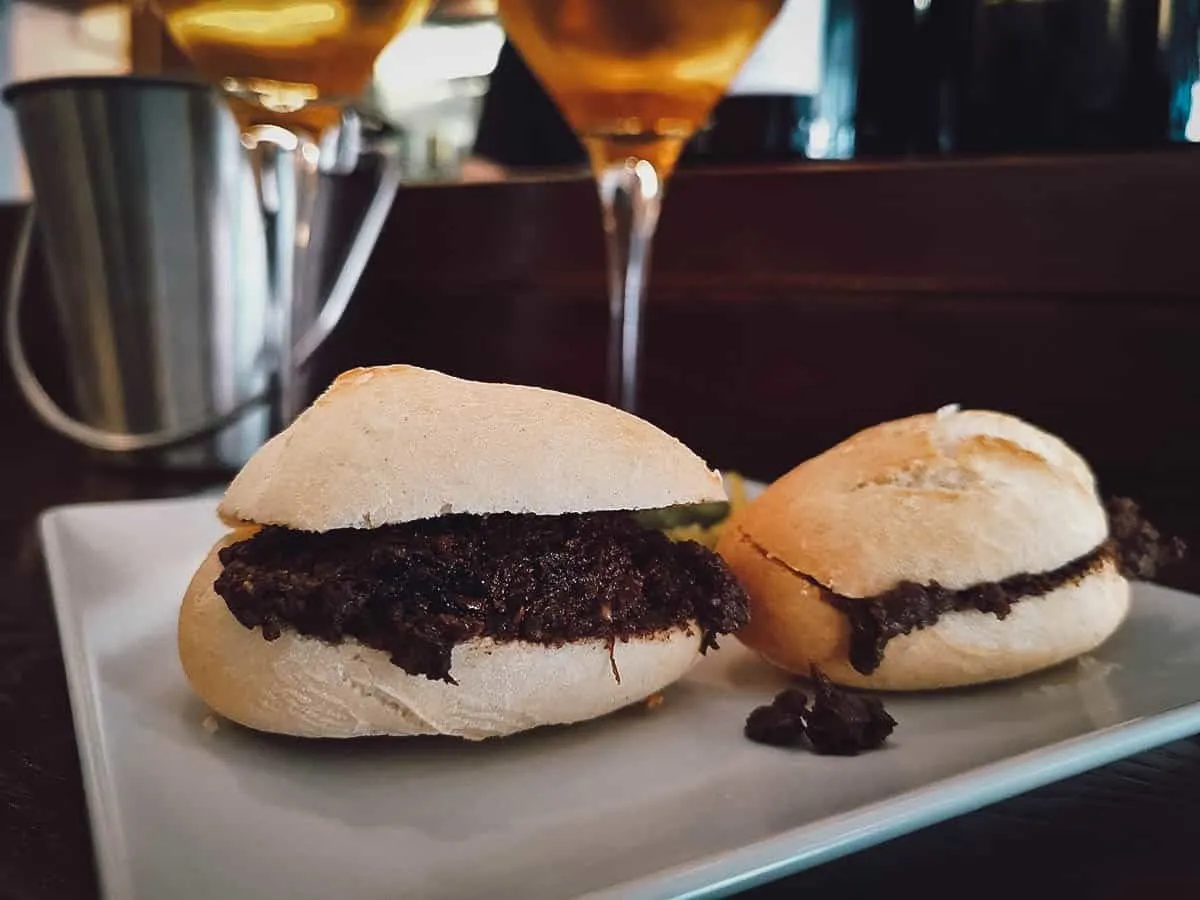 Like most of the places on this list, Malvasia is a TripAdvisor Certificate of Excellence awardee with a stellar 4.5-star rating. Most Spanish reviewers rate them as "Excellent".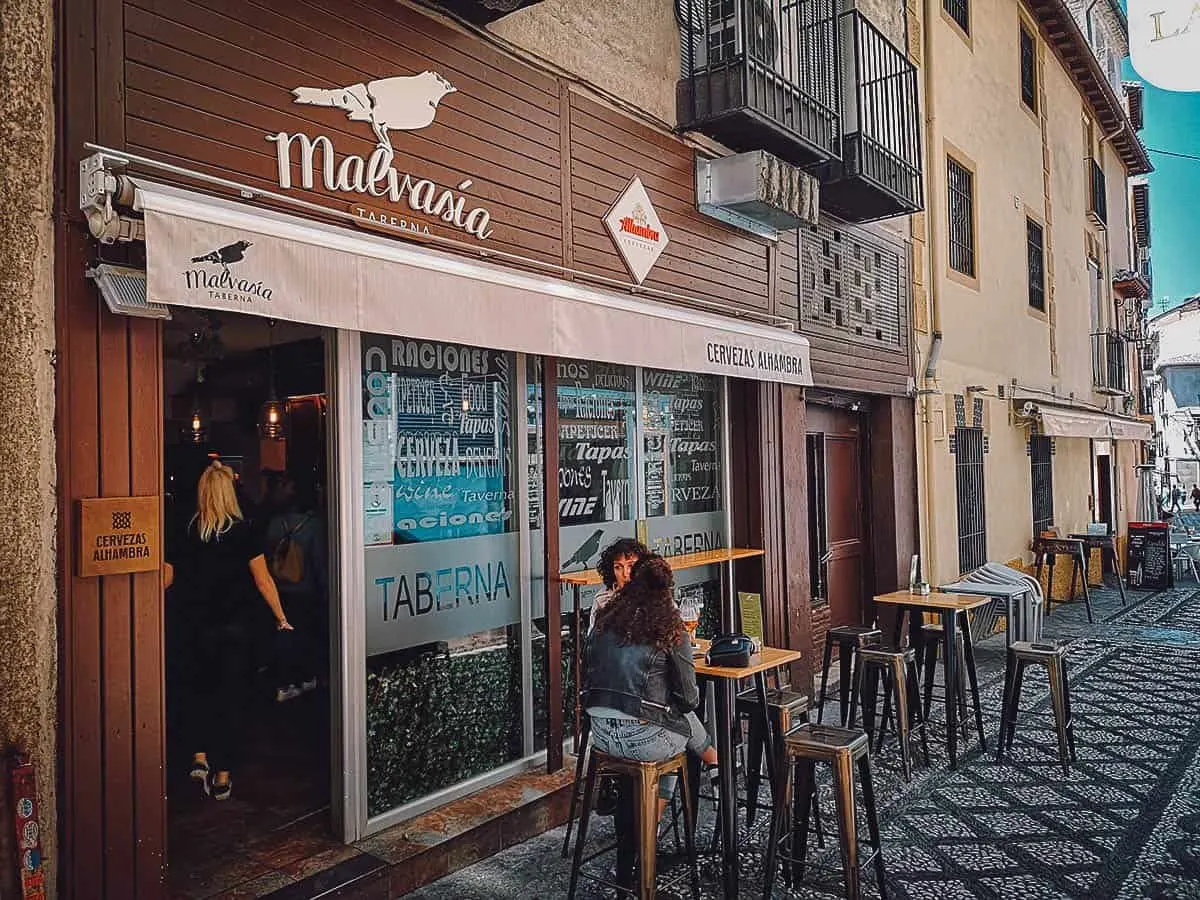 Taberna Malvasia
Address: Calle Virgen del Rosario, 10, 18009 Granada, Spain
9. Pasteleria Lopez-Mezquita
As you can tell from its name, this isn't a tapas bar but a pastry shop, very local and visited by few tourists. We wanted to eat here because I read somewhere that they had very good piononos.
Piononos are small cylindrical pastries topped with toasted cream. We have them in the Philippines so we became excited when we learned they were invented in Santa Fe, a small town close to Granada.
However, it wasn't on this pasteleria's menu. When Ren asked for one, the server gave her a confused look before finally understanding what she wanted.
He then went out through the back and brought back one pionono, which Ren said was pretty good. It was already gone by the time I arrived so I unfortunately wasn't able to take a photo of it.
I don't know what the deal was with the pionono so I ordered churros con chocolate instead.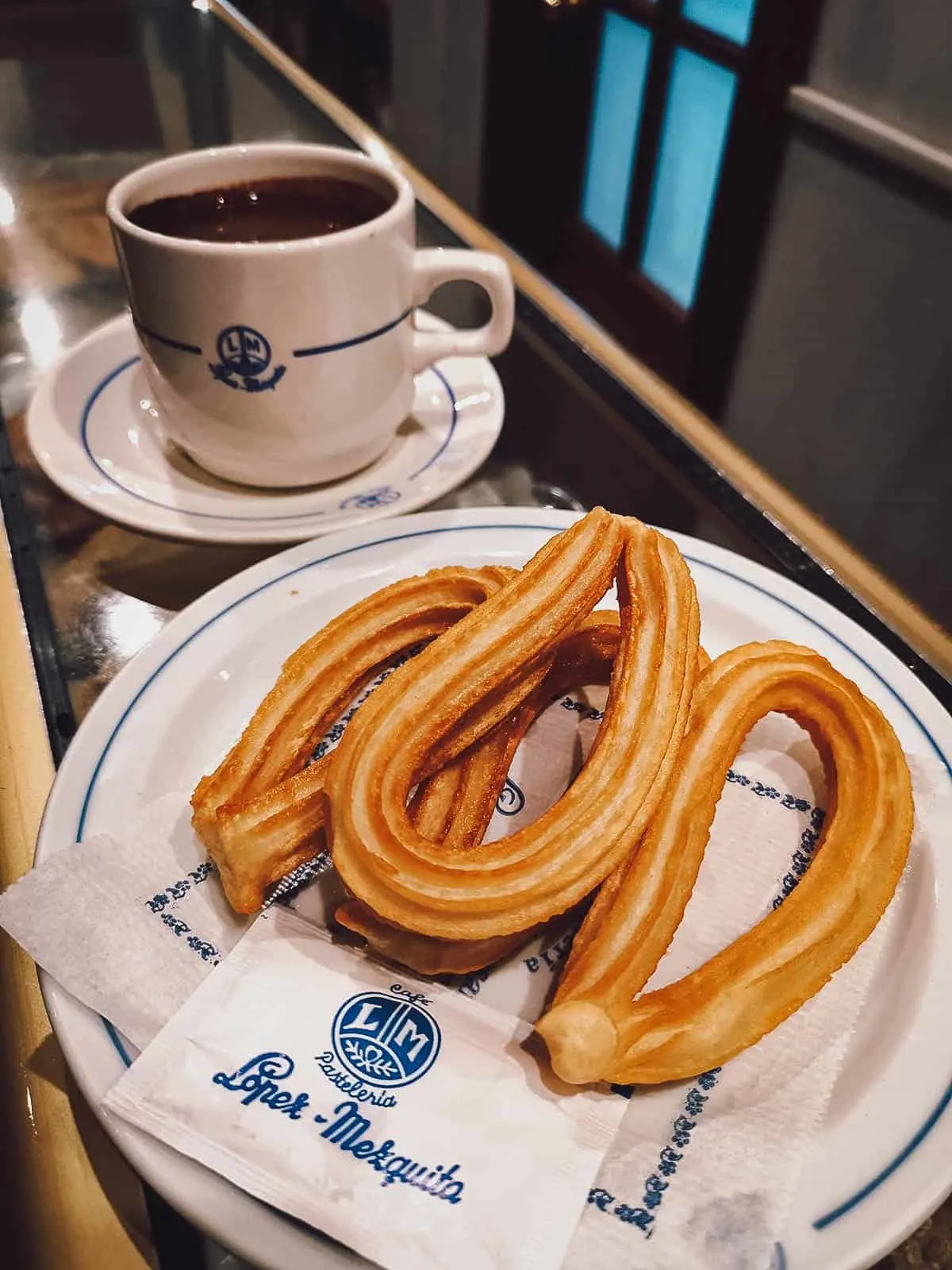 Churros con chocolate, one of the most beloved pastries in all of Spain. Ren wasn't raving about the pionono so I didn't bother looking for it again, but if you're interested, then you'll find them for sale in many shops in Granada.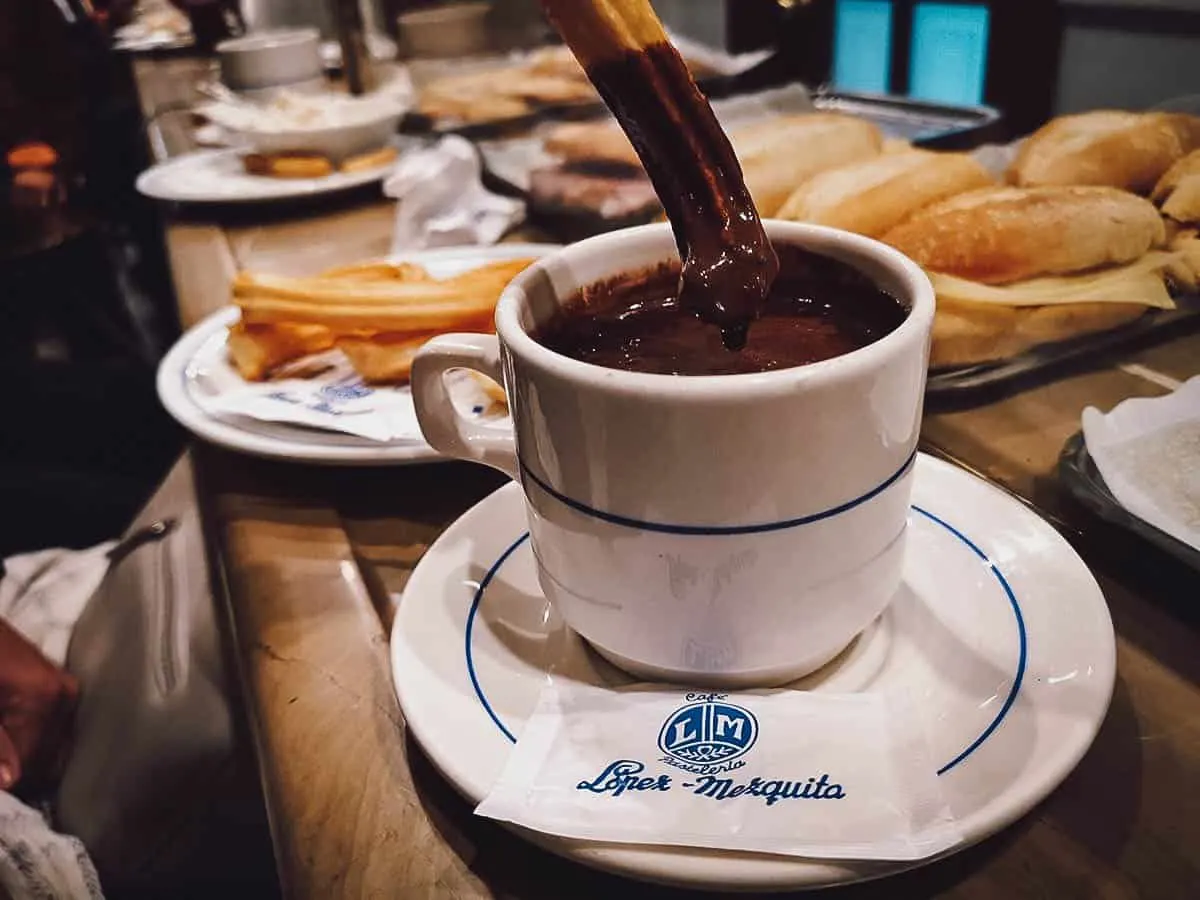 If you like sweets and want to try more Spanish pastries, then you should definitely make a stop at Pasteleria Lopez-Mezquita. They have many different types of pastries and seem to be a very popular place among locals. The flow of customers in the morning to have breakfast was continuous.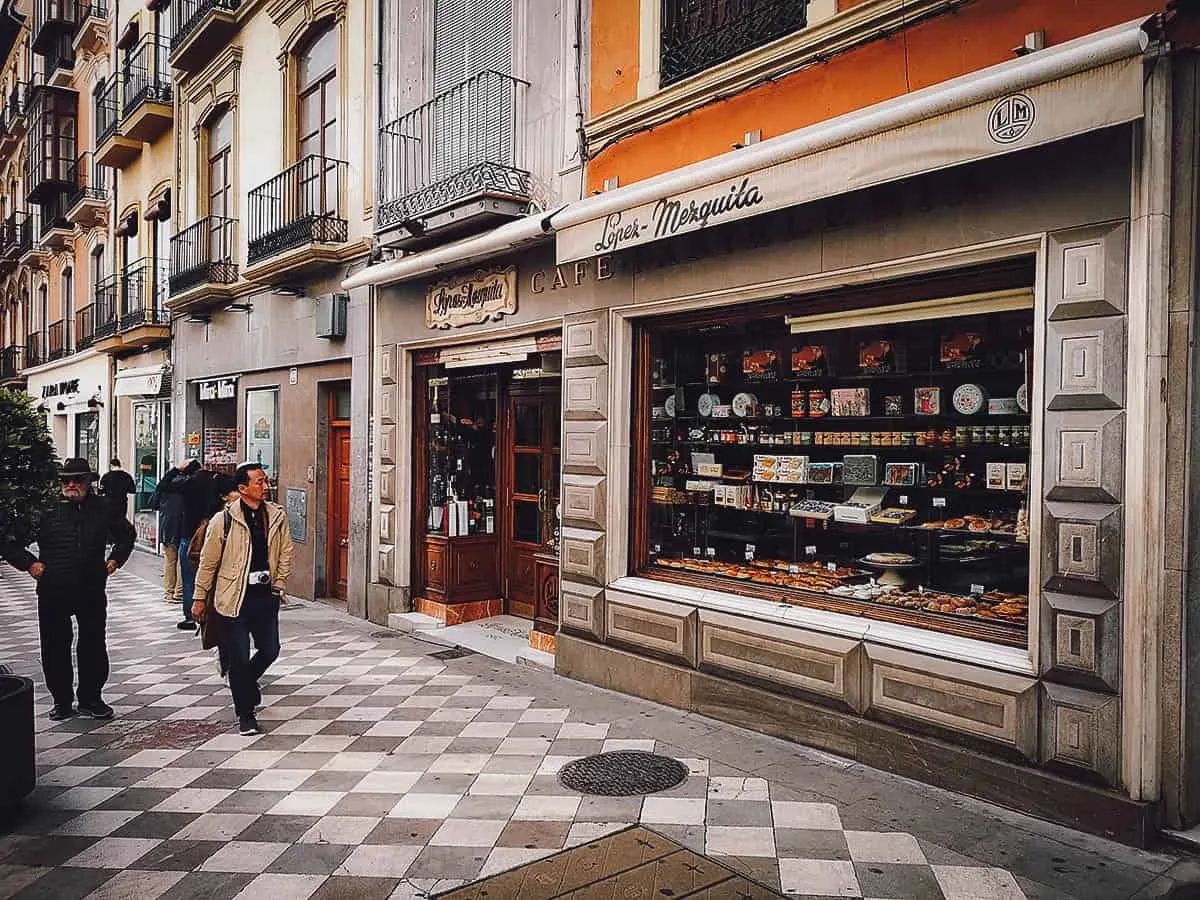 Pasteleria Lopez-Mezquita
Address: Calle Reyes Católicos, 39, 18001 Granada, Spain
Operating Hours: 9AM-2:30PM, 4:30-8:30PM, Tues-Fri / 10AM-2:30PM, 4:30-8:30PM, Mon, Sat / 10AM-2PM, Sun
10. Bar Poë
This was one of the tapas bars I was most excited to visit in Granada. It seemed to have great reviews all around with people praising their tapas for being some of the most unique in town.
It's owned and operated by a British expat and his Angolan wife. Together they've whipped up an interesting menu of internationally-inspired tapas.
Like La Riviera, Bar Poë was one of the few Granada tapas bars we visited where we could choose what tapas we wanted from a menu.
Clockwise from the upper left, we chose Brazilian black bean and pork stew, spicy chicken liver with coriander, and Portuguse-style salted cod. Every dish was very good.
They offer nine dishes on their menu so I wish we could have stayed longer to try the rest, but we had two more stops to make on tonight's Granada tapas crawl.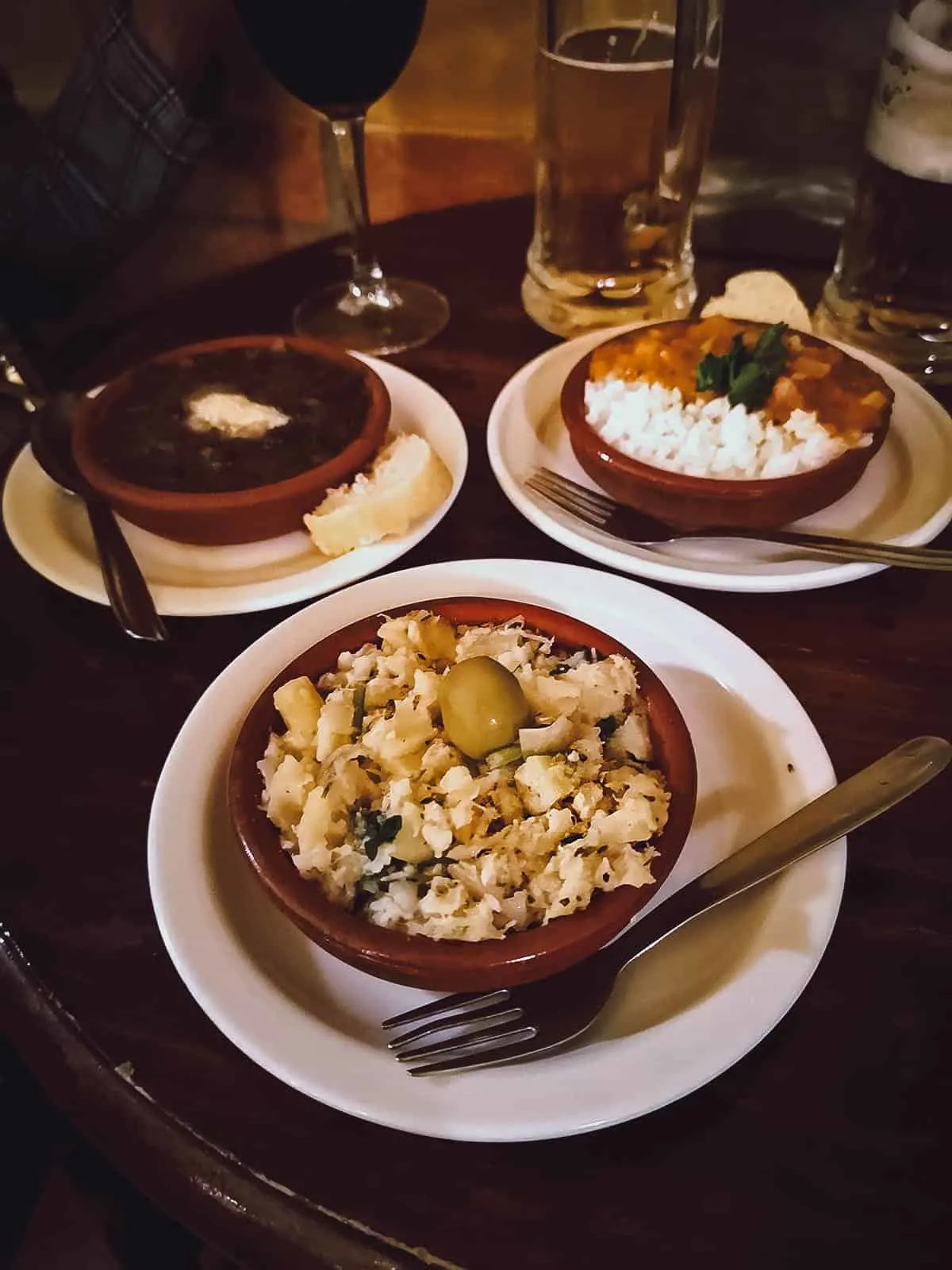 Bar Poë is a small bar with a cool and relaxed vibe towards the western side of Granada. It's in an area away from the main shopping streets so it seems quieter and less busy.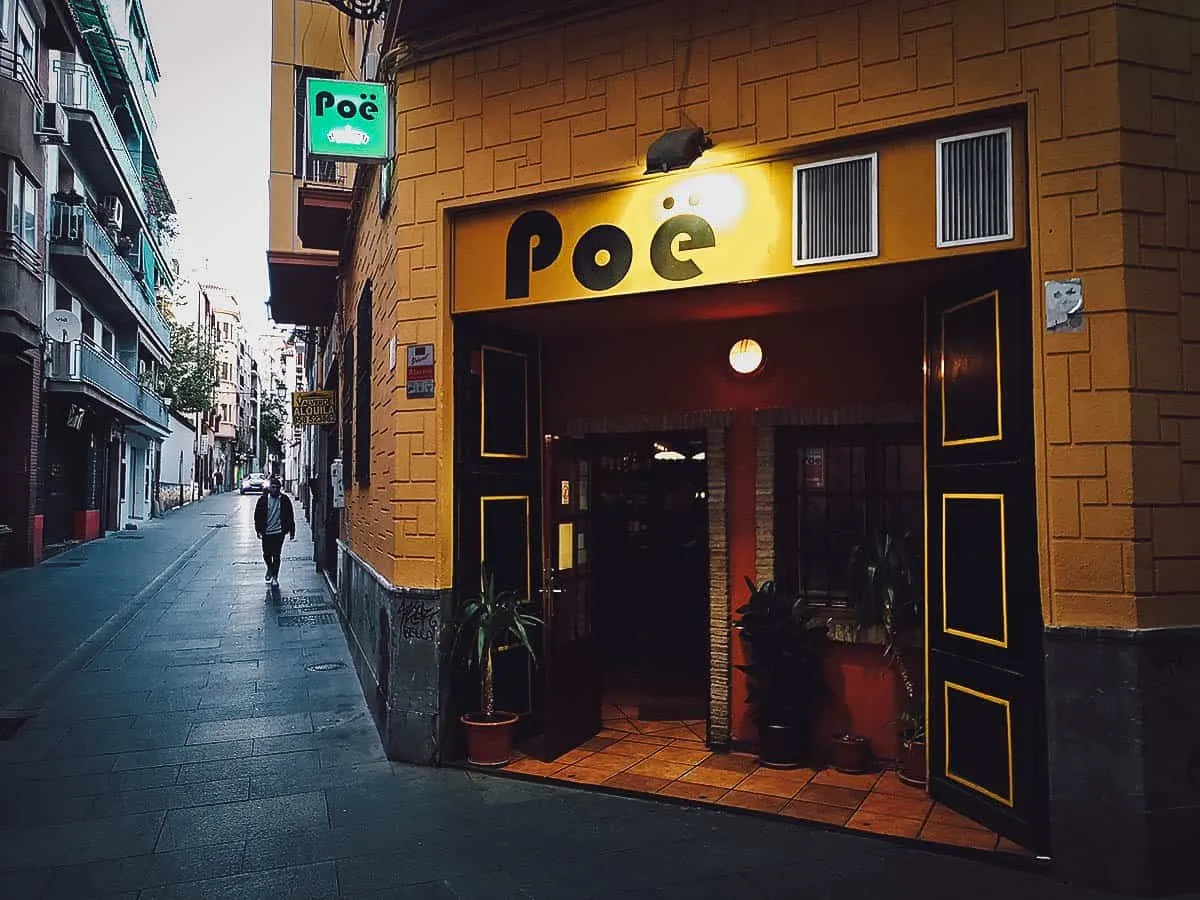 Bar Poë
Address: 18002, Calle Verónica de la Magdalena, 40, 18002 Granada, Spain
Operating Hours: 8PM-2AM, Tue-Thurs, Sun / 8PM-3AM, Fri-Sat (closed Mondays)
11. Oum Kalsum
Located around the corner from Bar Poë, Oum Kalsum is another interesting tapas bar. They serve Moroccan-inspired tapas like couscous, tajine, falafel, and shawarma.
Like Bar Poë, we could choose what tapas we wanted so we picked these tajine de kefta which are seasoned meatballs cooked in a tajine pot. They were earthy and delicious, swimming in a nice zesty tomato sauce.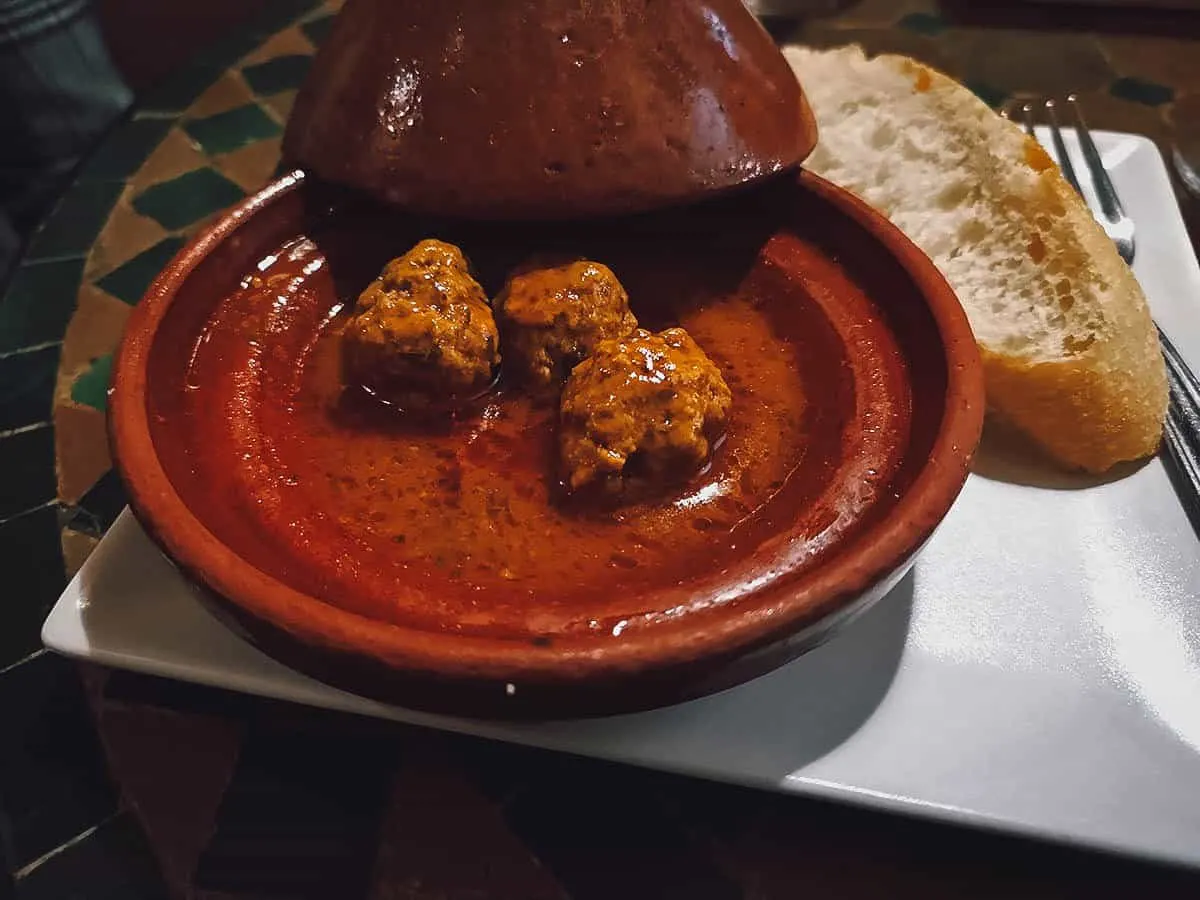 With our second round of drinks, we chose this espinaca con aceitunas which is a dish of spinach with olives. It was served with bread and what looks to be a filo dough roll stuffed with cheese.
I googled it and it may be a cheese briouat, a dish that's more Turkish or Greek in origin. In any case, this plate of tapas was very good as well.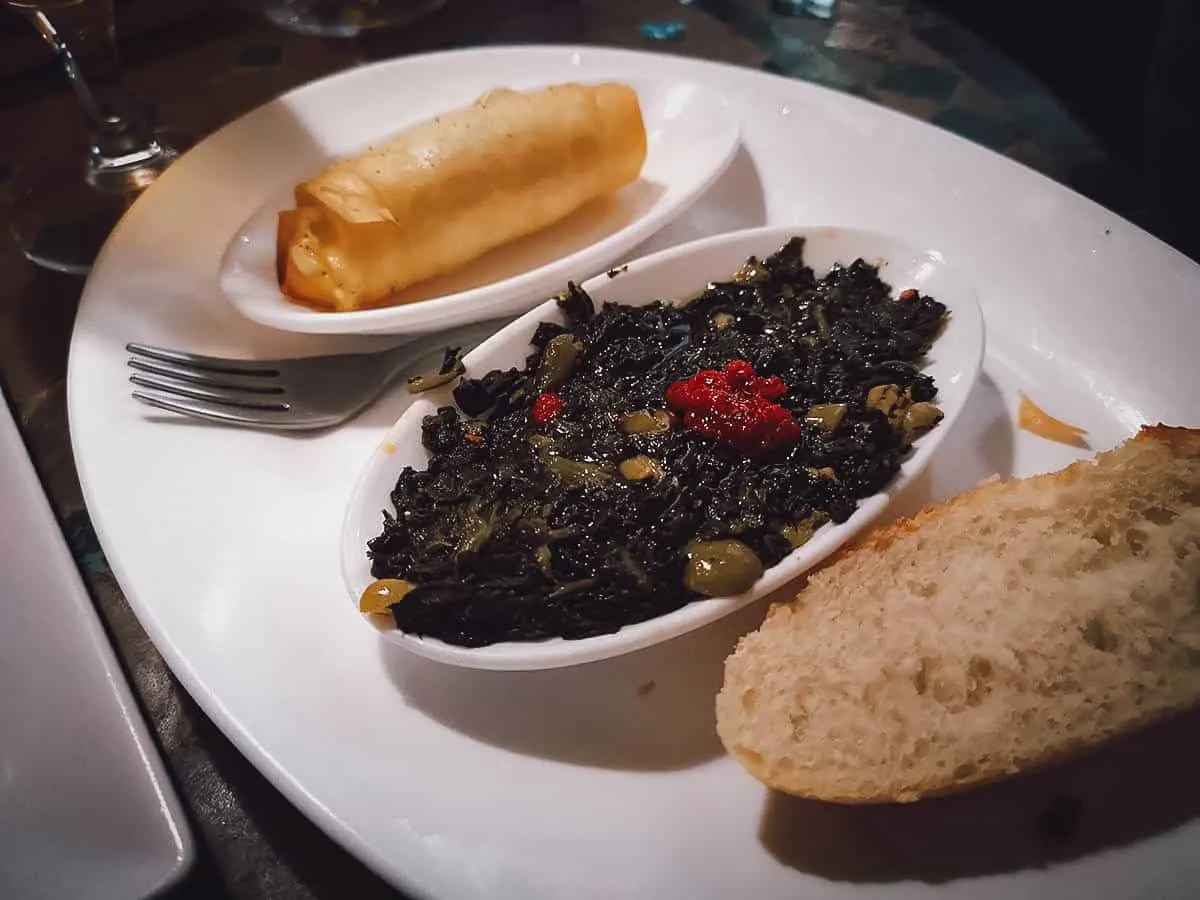 If you want to diversify your Granada tapas experience, then you should definitely visit Oum Kalsum. It's literally a minute away from Bar Poë.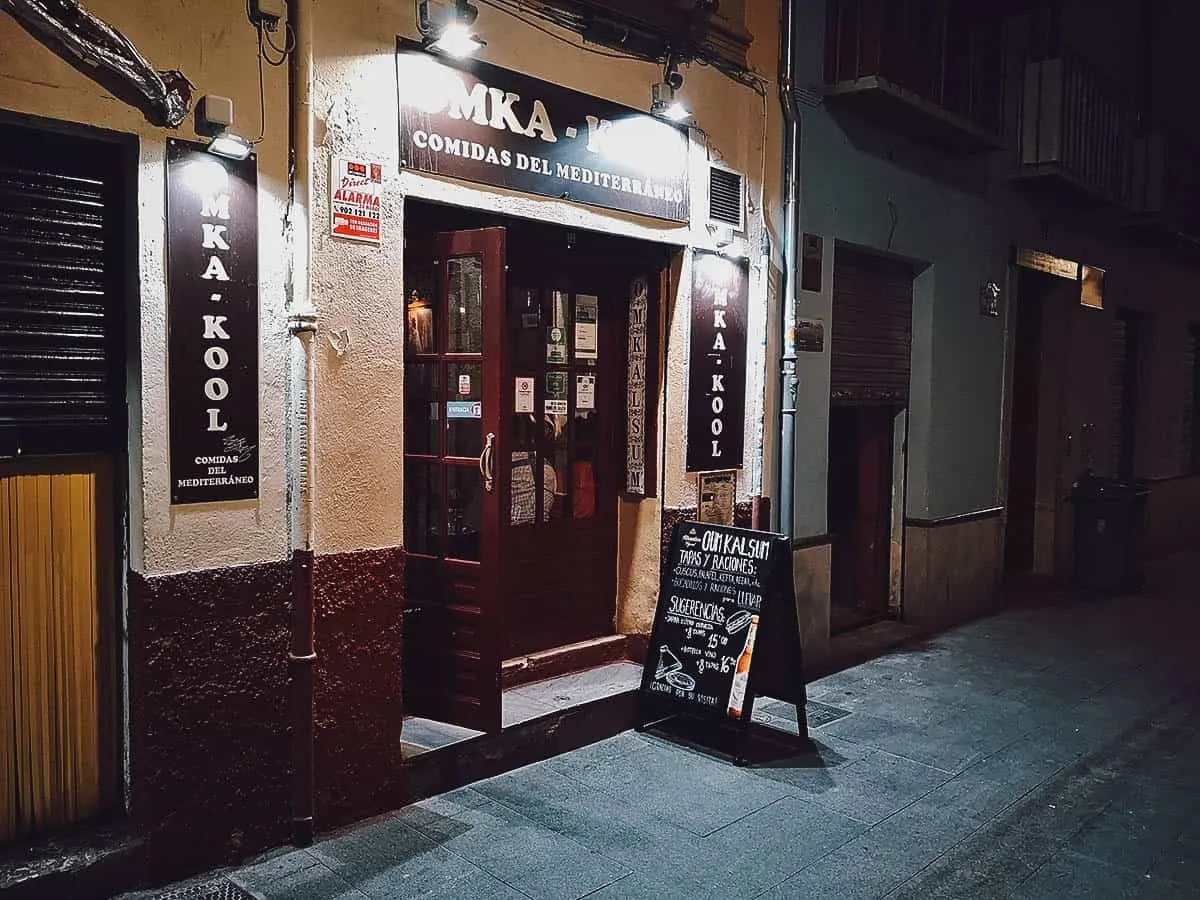 Oum Kalsum
Address: 18002, Calle Jardines, 17, 18002 Granada, Spain
Operating Hours: 1-4:30PM, 8PM-1AM, Tues-Sat / 8PM-1AM, Mon (closed Sundays)
12. La Sitarilla
La Sitarilla was the third and final bar we visited on tonight's tapas crawl, and it may have been the best. It isn't as exotic as the previous two but the one tapas dish we had was absolutely delicious.
They gave us this platter of lomo or pork tenderloin cooked in a rich, flavorful tomato sauce. The cubes of meat were chunky and very tender with just the right amount of fat.
They were served with fries and soft pieces of bread that were great to dunk in the tomato sauce. I could not stop eating this it was so good.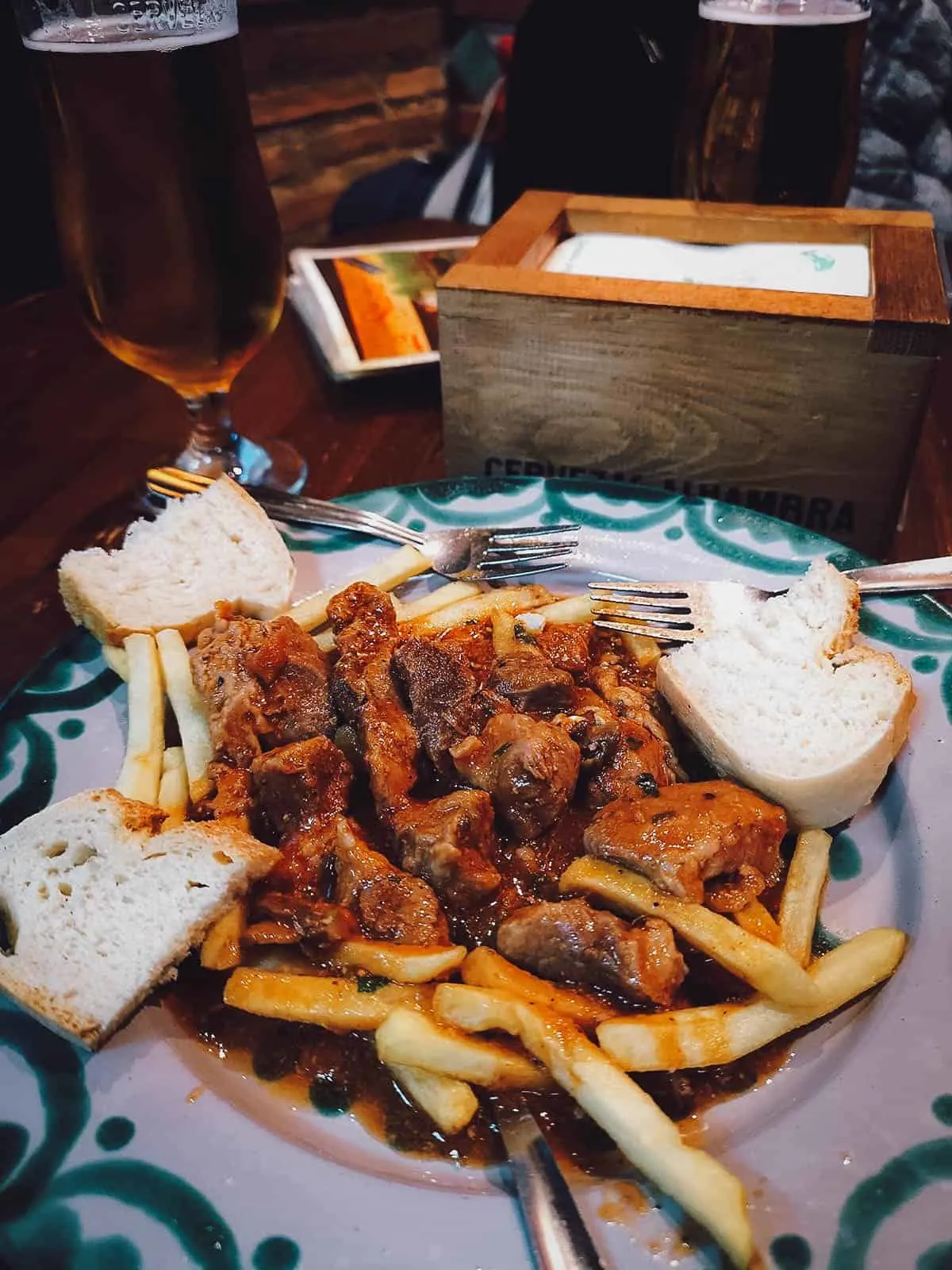 La Sitarilla is more of a family-style restaurant than a bar. It's a big place with several rooms. At the time, every table was occupied with loud and happy locals. It was such a fun environment and one of my favorite bars/restaurants in Granada.
La Sitarilla, Bar Poë, and Oum Kalsum are within a few minutes of each other so you can easily visit all three in one night.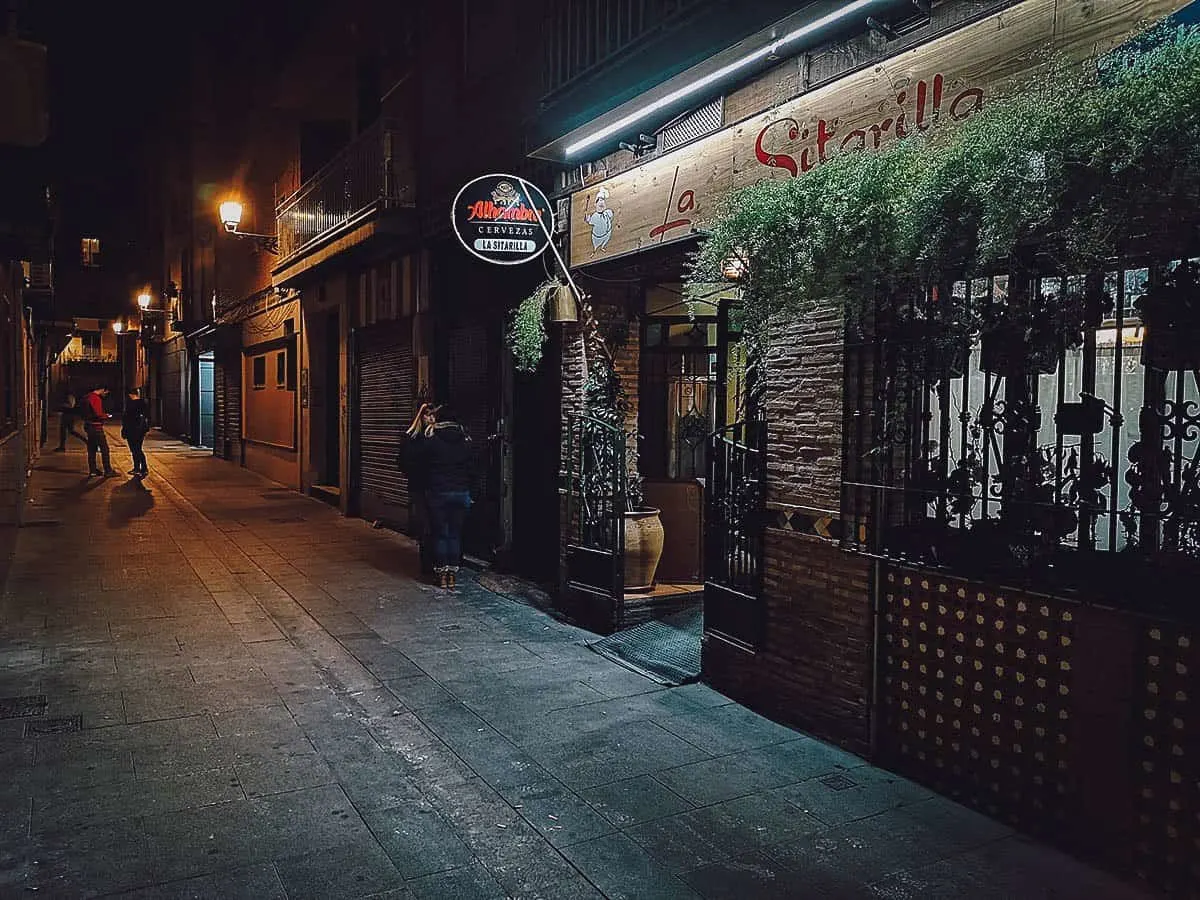 La Sitarilla
Address: Calle San Miguel Alta, 7, 18002 Granada, Spain
Operating Hours: 1-5PM, 8PM-12MN, daily
13. Bar Avila
Bar Avila was our last meal in Granada, and like our first meal at Bar Los Diamantes, we went overboard with the a la carte tapas. I guess it was like our way of saying goodbye and thank you to this magnificent city that surprised us in so many ways.
If I remember correctly, this free tapas dish was a pork casserole in tomato sauce with bell peppers and potatoes, maybe some garbanzo beans. We couldn't help but order a basket of bread to dunk in the sauce. It's automatic with these tasty stewed tomato dishes!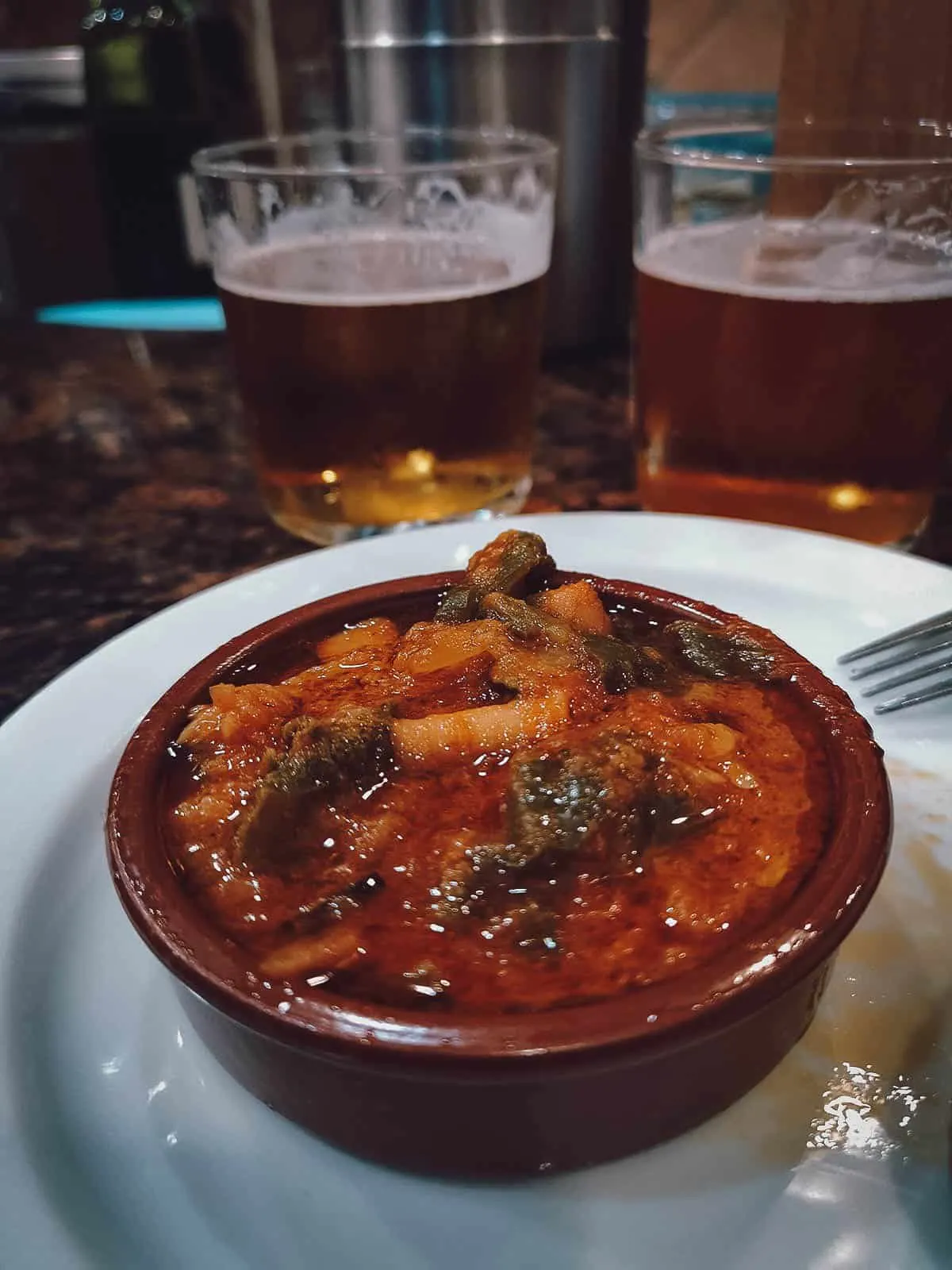 This is the Avila Burger, which is like an open-faced breaded burger served with tomato jelly and aged sheep's milk cheese.
It had a nice balance of sweet, sharp, savory, and salty that's very different from what you'd think of in a typical American hamburger. You can order it a la carte but we got this for free with our drink.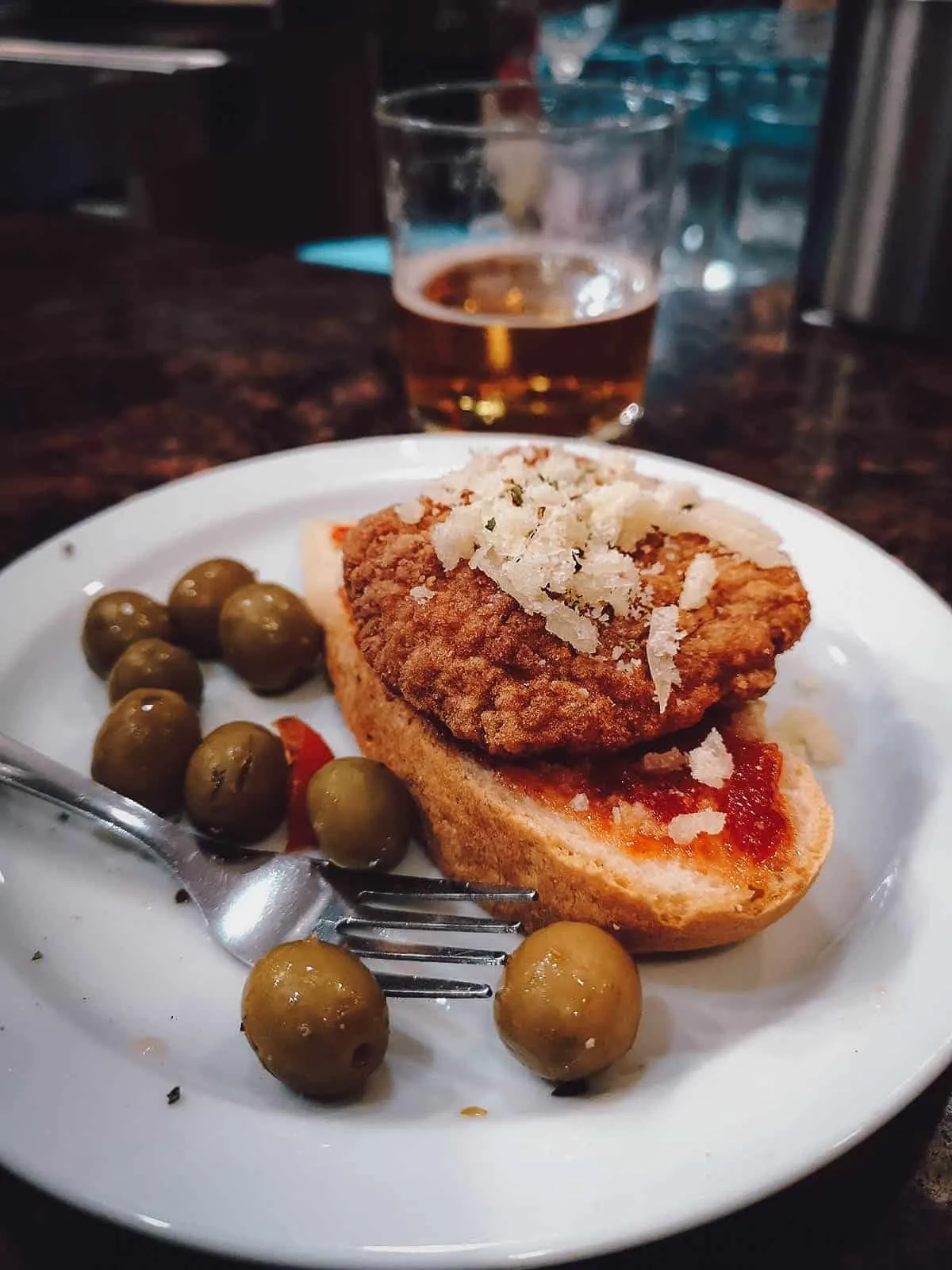 Like the Avila Burger, this seems to be a popular dish at this bar. They call it paparrones, which is basically a dish of fries drowned in bolognese sauce and parmesan cheese. Very tasty!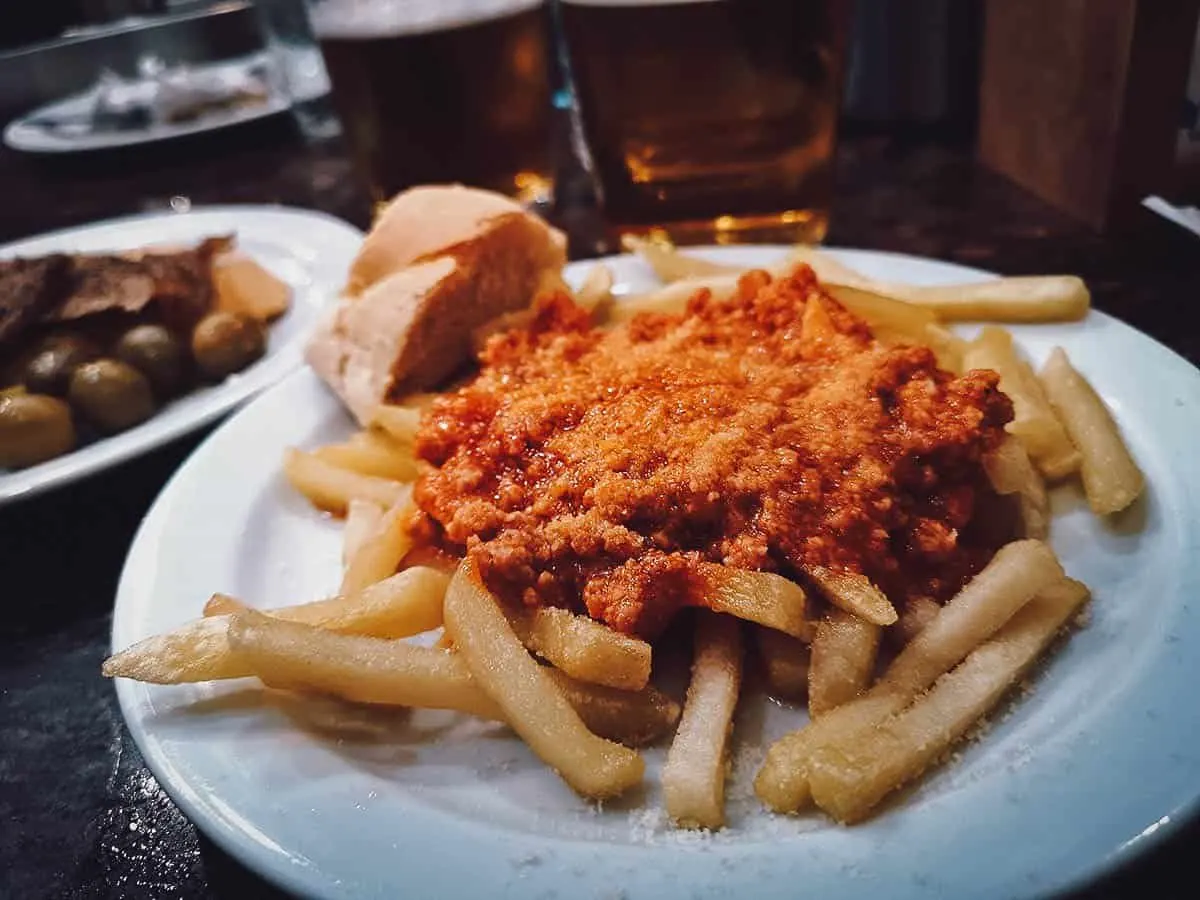 Had I known how good lomo is in Spain, then I would have ordered it more. These slices of roasted pork tenderloin were so incredibly flavorful and juicy. They were soft with just enough caramelization to give them texture. They were awesome with the bread and would have made terrific sandwiches. So damn good.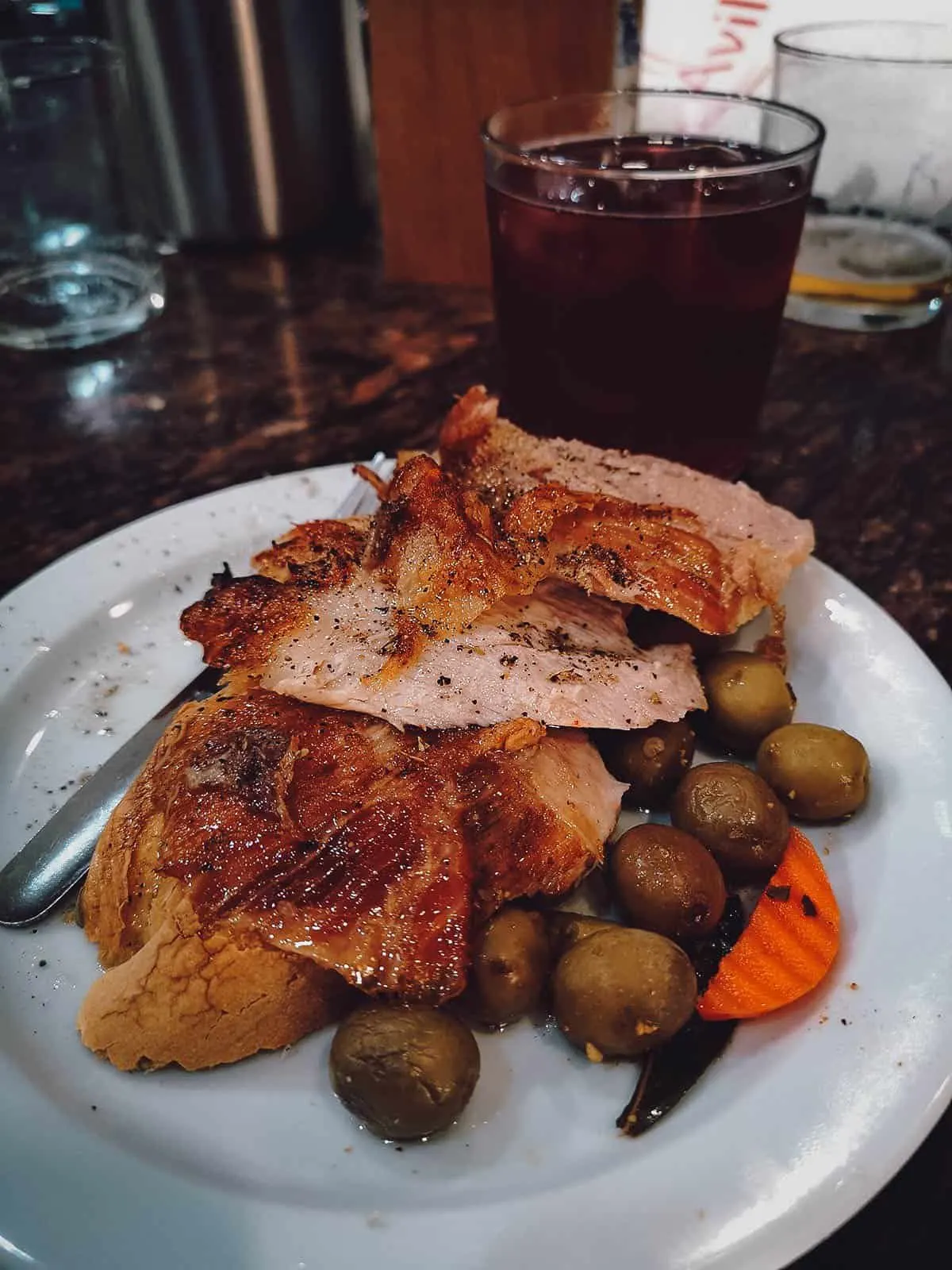 I left Ren and her cousin for a few minutes and I come back to find all these extra dishes! This plate of chipirones fritos or deep-fried baby squid was delicious as always.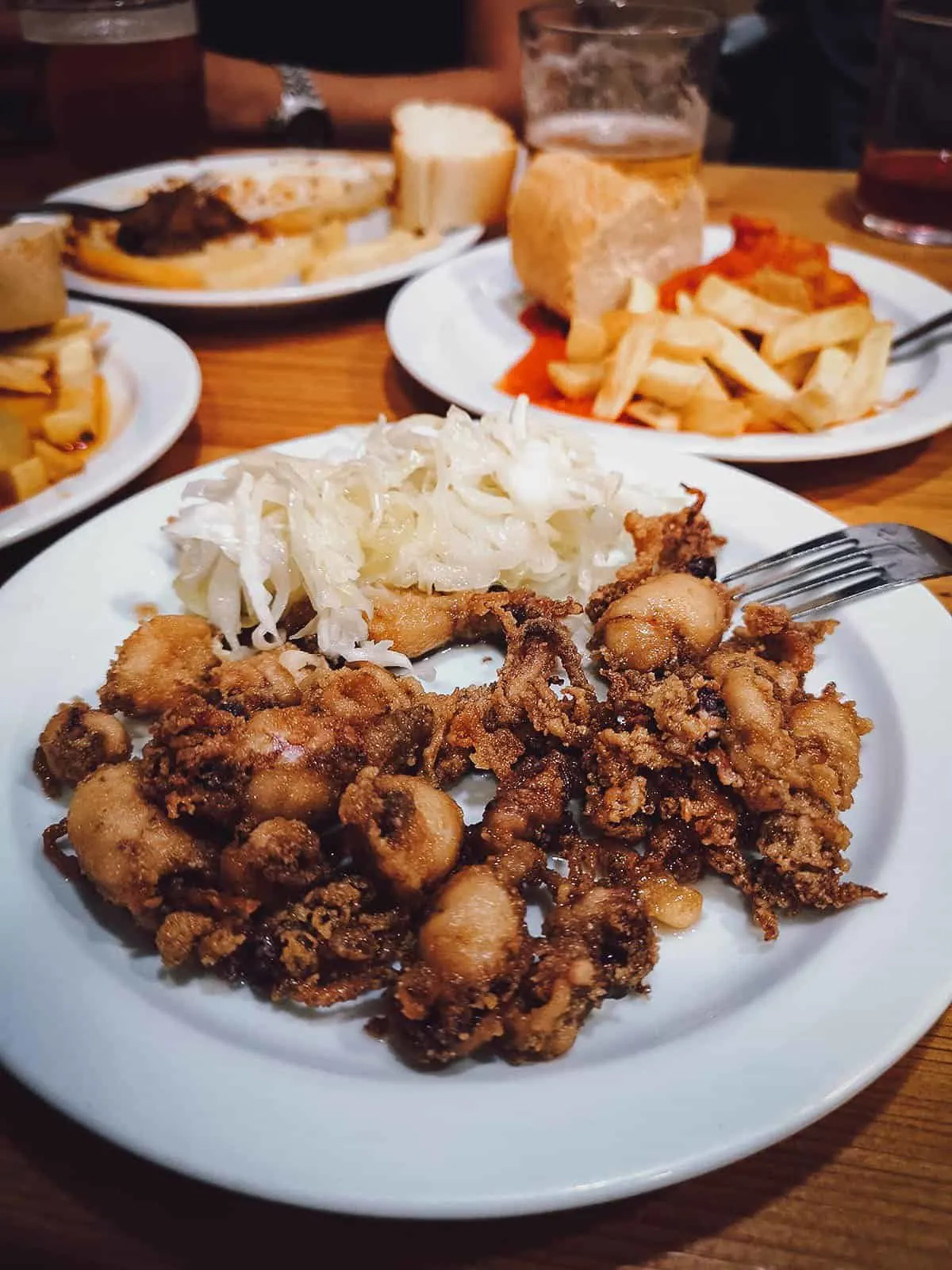 I'm not sure what this was but it may be bacalao con tomate or codfish with tomato sauce. I didn't even get back in time to photograph all the a la carte dishes they ordered.
They also got rabo de toro along with maybe one or two more dishes. They said everything was fantastic, and cheap too!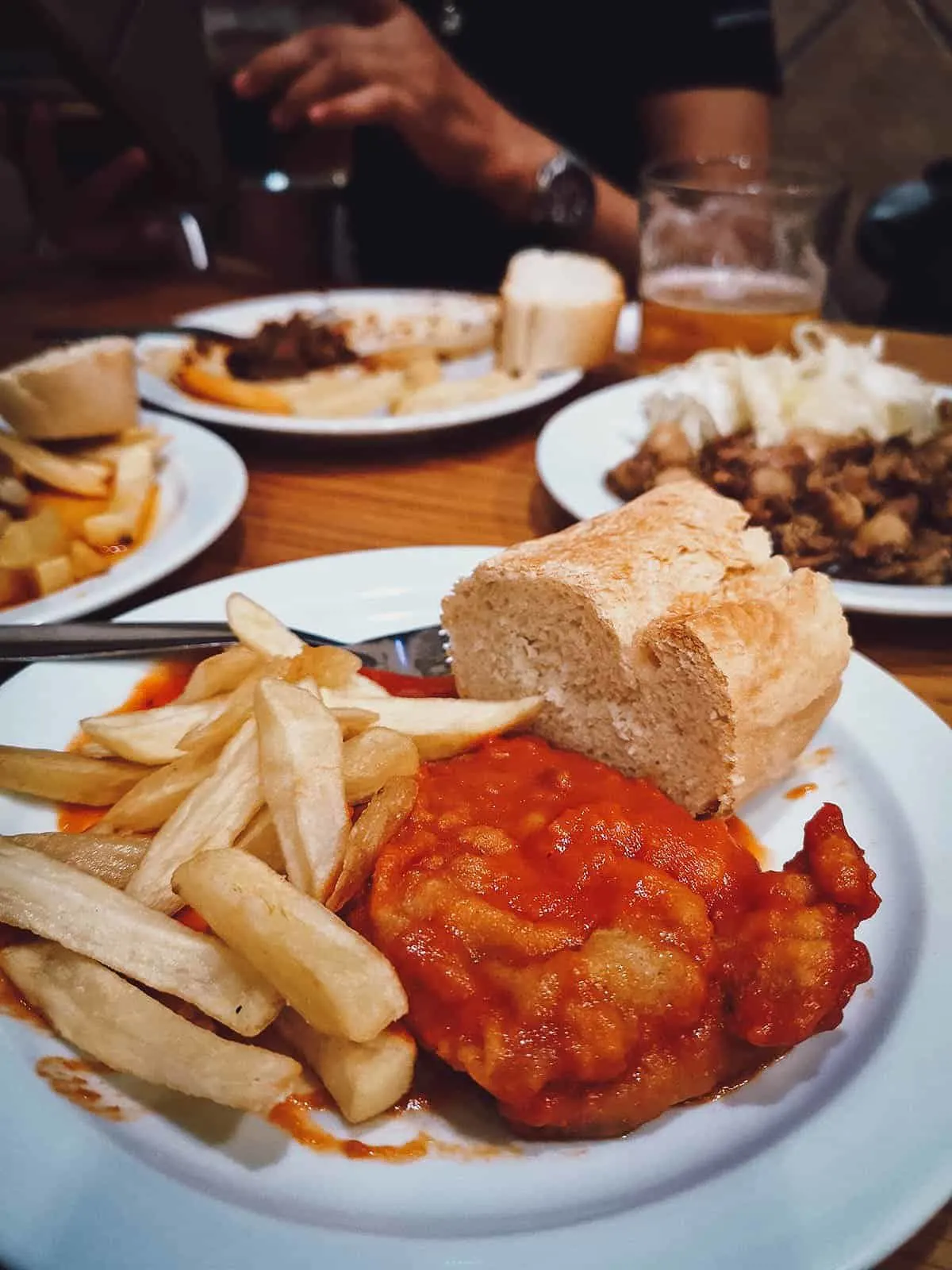 Bar Avila is another local favorite. It's a TripAdvisor Certificate of Excellence awardee with an impressive 4.5-star rating. It's the farthest from the city center but absolutely worth it.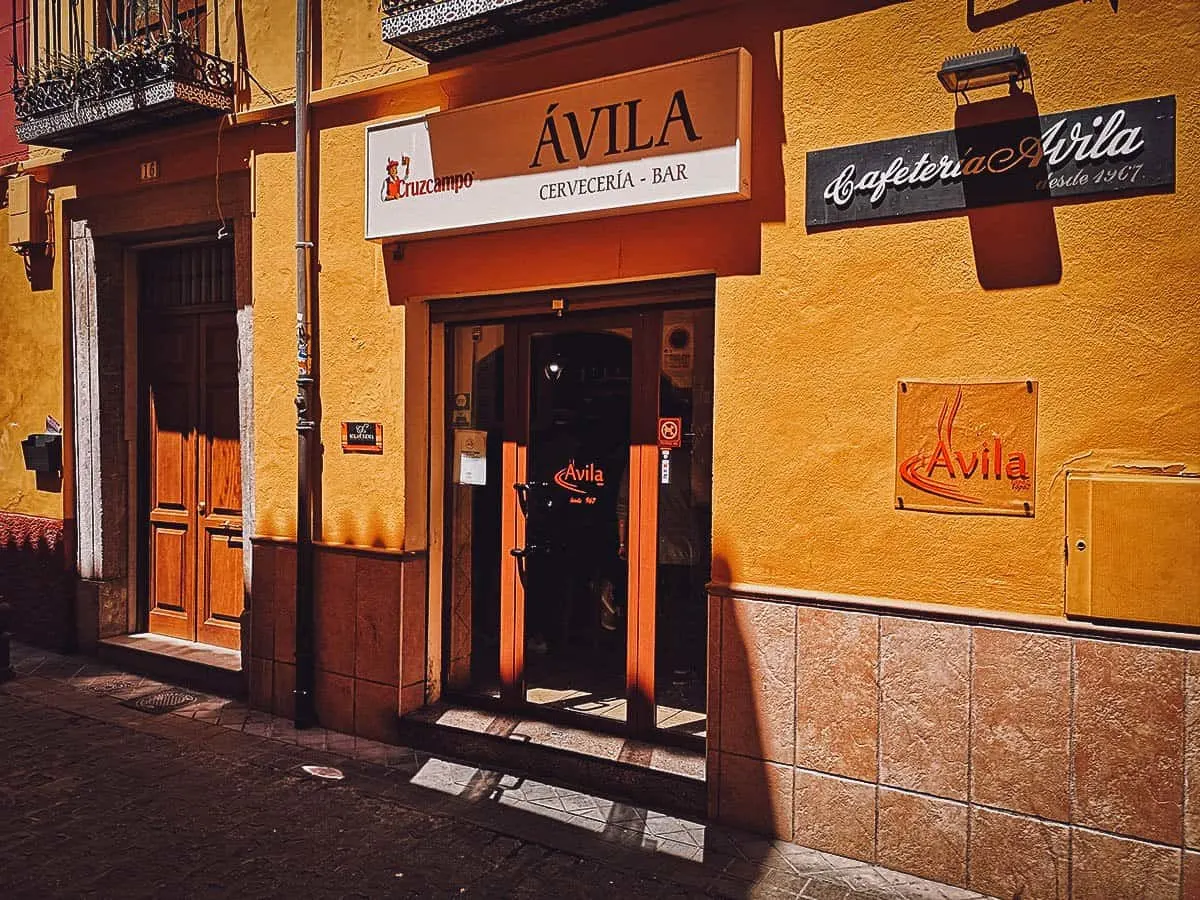 Bar Avila
Address: Calle Verónica de la Virgen, 16, 18005 Granada, Spain
Operating Hours: 9AM-4:45PM, 8PM-12MN, Mon-Fri / 12-5PM, Sat (closed Sundays)
LOCATION MAP
To help you find them, I've pinned all the tapas bars and restaurants on this guide to this map, along with a few others that we couldn't get to. As described, Granada isn't that big so as long as you're staying within the city center, then you shouldn't have any problems getting to them on foot. Click on the link for an interactive version of the map.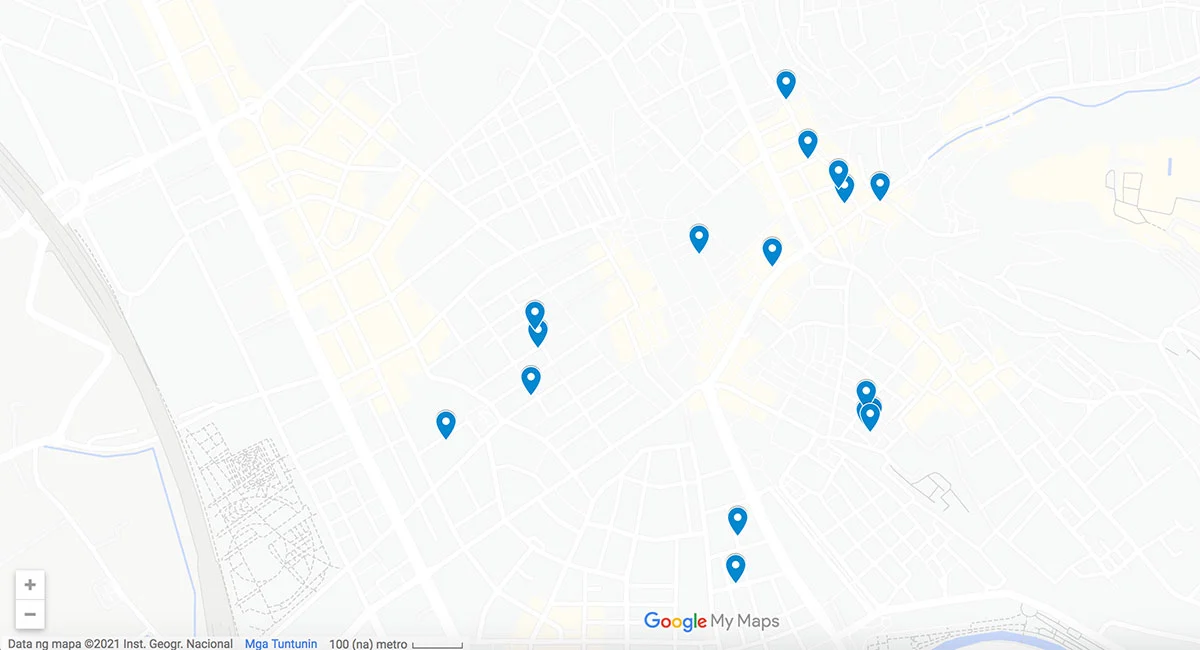 FINAL THOUGHTS ON THE FOOD IN GRANADA
We almost didn't visit Granada but it turned out to be one of our favorite cities in Spain.
Considerably smaller than Barcelona or Madrid, we found its size to be perfect. It's big enough to be interesting but small enough so you could easily get anywhere on foot. I walked everywhere not just because I could, but because I wanted to.
Granada is a beautiful city, exceedingly charming with its snow-capped mountain views and network of meandering alleyways and cobblestone streets. When I close my eyes and think of Europe, Granada is what I see.
But as captivating as it is, the food and unique tapas culture is what really drew us in. We were there for less than a week and already we found all these great bars and restaurants. I can only imagine what we'd discover with more time.
We love Spanish food and think that Spain is one of the world's best countries for food. As much as we enjoyed every city, Granada is perhaps one of two cities in Spain that we could really see ourselves living in, the other being Oviedo.
With some luck, we might just do that.
Disclosure
This Granada food guide contains affiliate links, meaning we'll earn a small commission if you make a purchase or booking at no extra cost to you. We really appreciate your support as it helps us keep this website going. Gracias!