I'm lucky with restaurant reservations. No matter how popular a place is, I always seem to be "gifted" with a reservation. But this was the first time I've ever been gifted with a Michelin star.
When I made reservations at La Tasqueria de Javi Estevez a couple of months before our trip, I saw it as an interesting and unique restaurant that featured offal dishes like tripe, tongue, sweetbreads, and brain on its menu. But sometime between then and the day of our reservation, the 2019 Michelin Guide was released and lo and behold, La Tasqueria was awarded its first Michelin Star. It wasn't just an offal restaurant anymore. It was a Michelin-starred offal restaurant, perhaps the only one of its kind in the world.
Offal isn't as widely accepted as an ingredient, and in some cultures, it's still considered taboo. If you're visiting Madrid and looking for a unique dining experience, then I think you'll find this place very interesting.
Save This on Pinterest!
No time to read this now? Click on the red save button and pin it for later!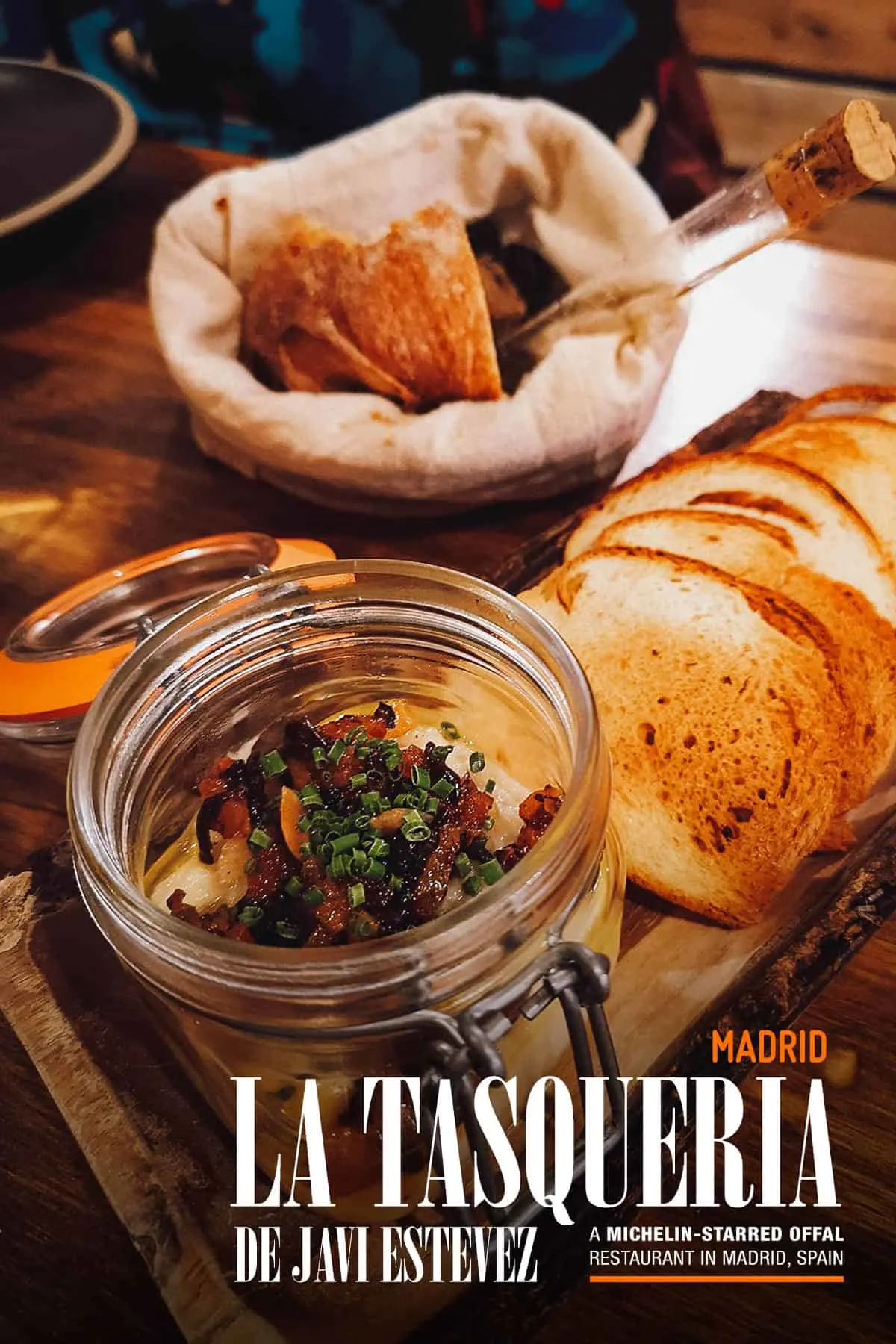 WHAT IS OFFAL?
Offal refers to the internal organs and entrails of a butchered animal. It's considered a taboo ingredient in some cultures but in others, it's a delicacy. Examples of offal ingredients include blood, brains, liver, tongue, intestines, and heart.
Offal is rarely consumed in countries like the US or the UK, but in Spain, it's used in many traditional Spanish dishes like callos (tripe), lengua (tongue), and morcilla (blood sausage). The use of offal was popularized in the 1940s after the Spanish Civil War, but is said to be losing favor with the younger generations of today.
WHO IS JAVI ESTEVEZ?
Javi Estevez is the young chef making waves with offal. At just 35 years of age, he's managed to make a name for himself using ingredients some chefs may deem undesirable.
He studied at the Hospitality and Catering School of Galicia for two years, before working for a slew of Michelin-starred restaurants throughout Spain. But it wasn't until his time at El Mesón de Doña Filo in Madrid did he begin finding his own cooking style. Under the tutelage of Chef Julio Reoyo – whom he calls his "gastronomic father" – Chef Estevez learned offal recipes and began obsessively working with scraps and other less desired types of meat.
In 2013, he shot to fame when he participated in the Spanish edition of Top Chef where he finished fifth. He would open La Tasqueria de Javi Estevez two years later and feature offal as his star ingredient. He hopes to reignite the people's passion for offal by presenting it in an elegant, fun, and more modern way.
La Tasqueria de Javi Estevez would soon become one of Madrid's most unique restaurants, receiving its first Michelin star in 2019.
LA TASQUERIA
La Tasqueria is located along Calle Duque de Sesto in Madrid's upscale Chamberi neighborhood. Details on how to get there by public transportation at the bottom of this post.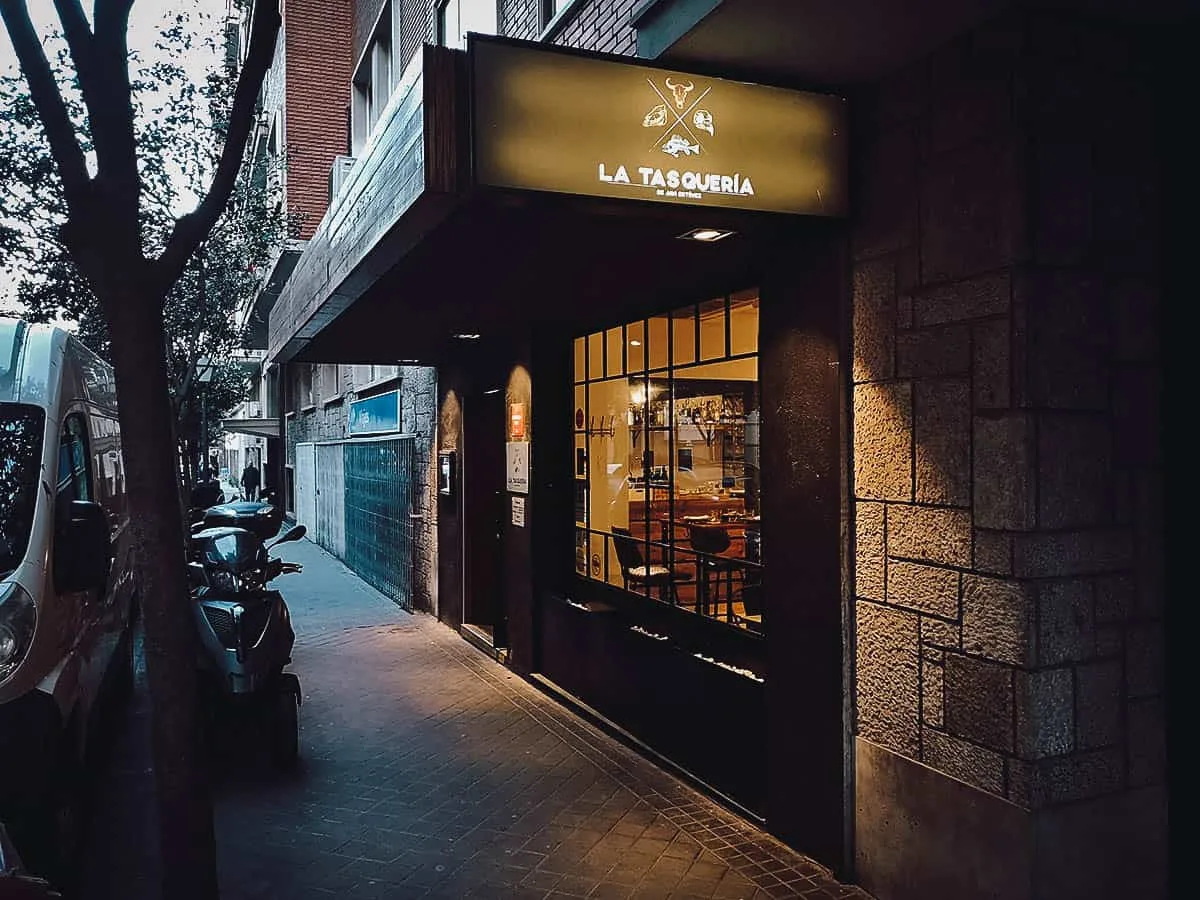 One Michelin star proudly displayed on the restaurant's facade. Congratulations!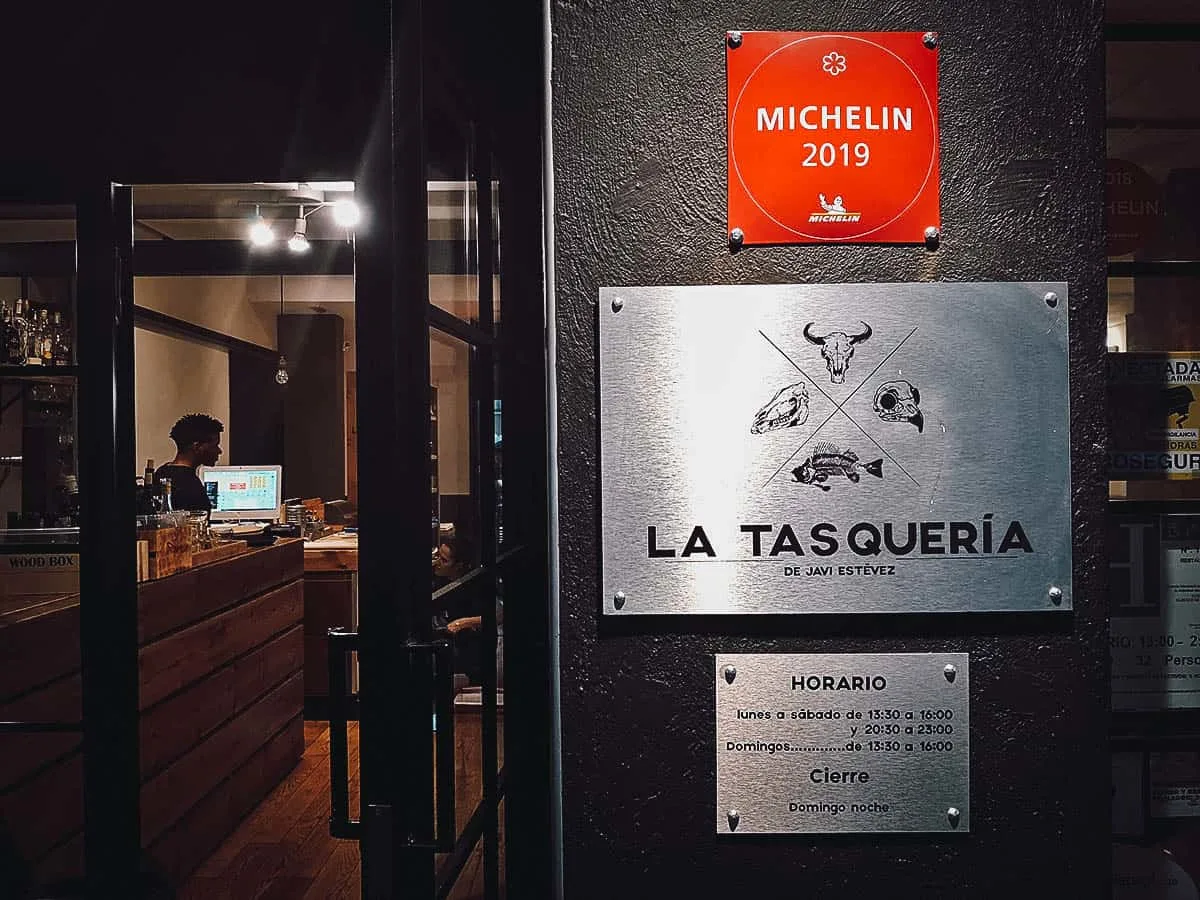 The restaurant's interior is casual and urban in feel. The space isn't that big so reservations are a must.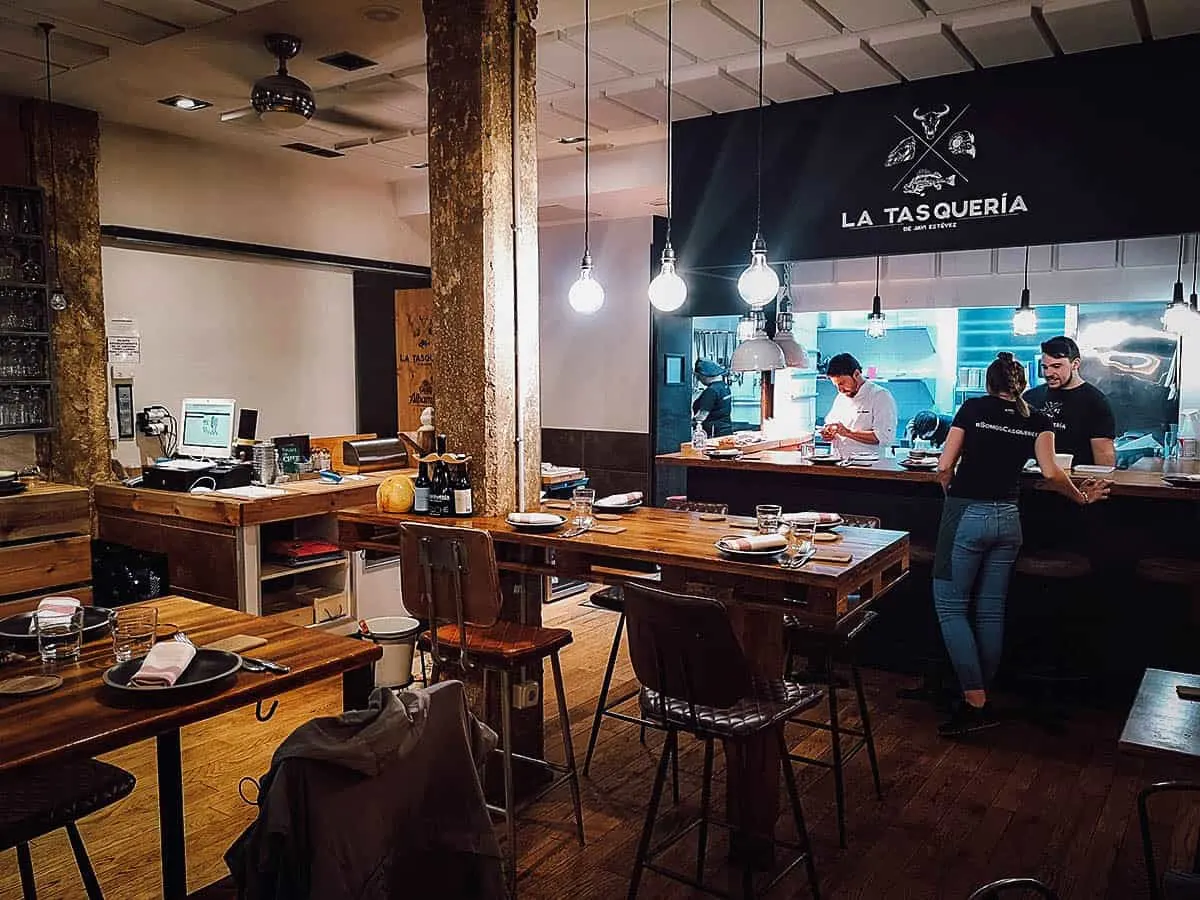 La Tasqueria's ala carte menu is divided into three main protein sections – lamb, beef, and pork offal. Each order comes with just two or three bite-sized pieces so larger tables need to make multiple orders of the same item. They have a few spreads, desserts, and dishes made with other types of protein like fish, chicken, rabbit, and snail. They have an offal tasting menu as well but it's only available for the entire table.
They started us off with a few slices of cured ox tongue, green olives, nuts, and bread with extra virgin olive oil. The ox tongue was sliced thinly and had a taste and texture similar to pastrami.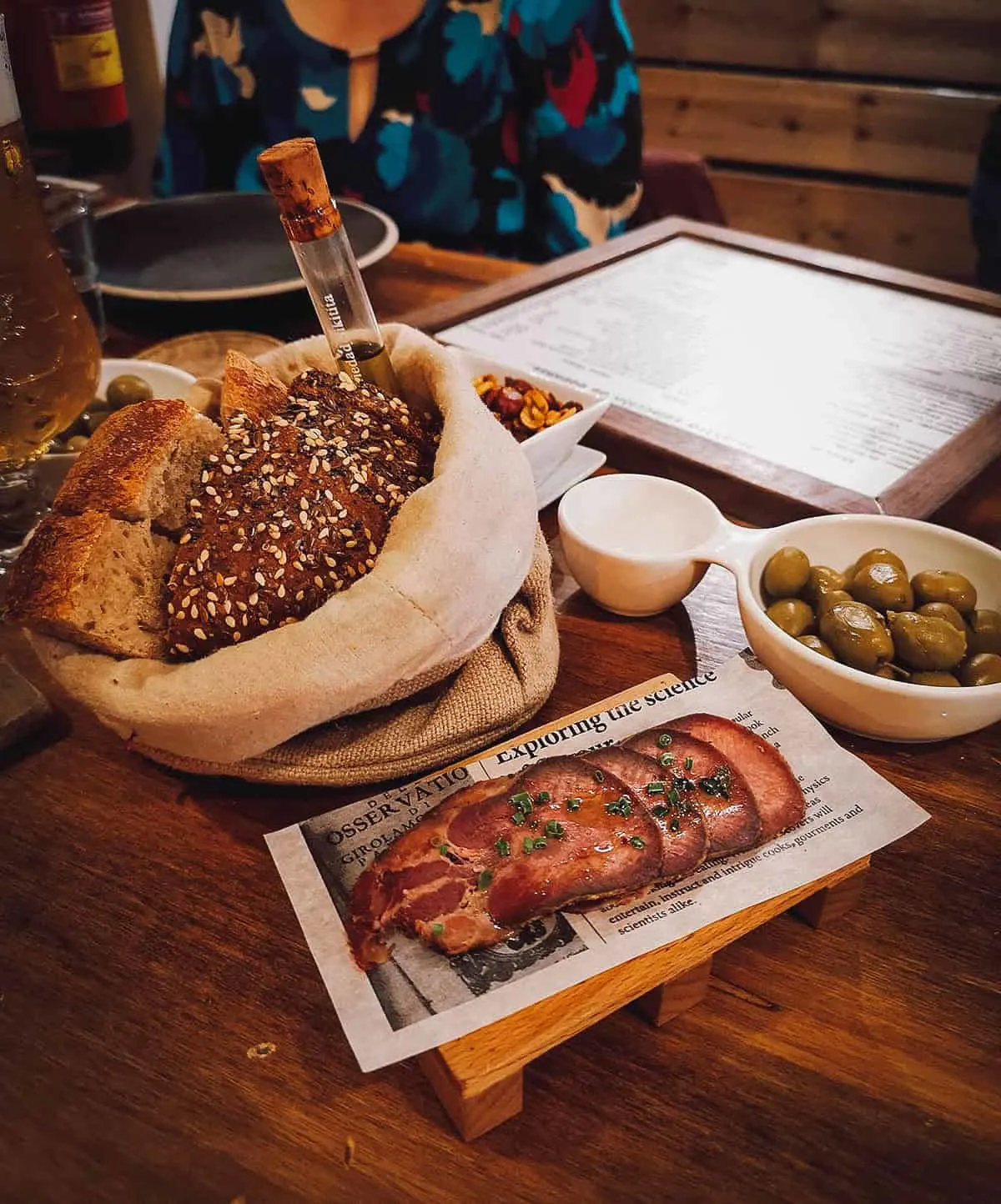 They serve their spreads in glass jars with melba toast. We got the cod, apricot, and black olive spread (EUR 8.50). I thought it was a little mild in flavor and could have used more punch.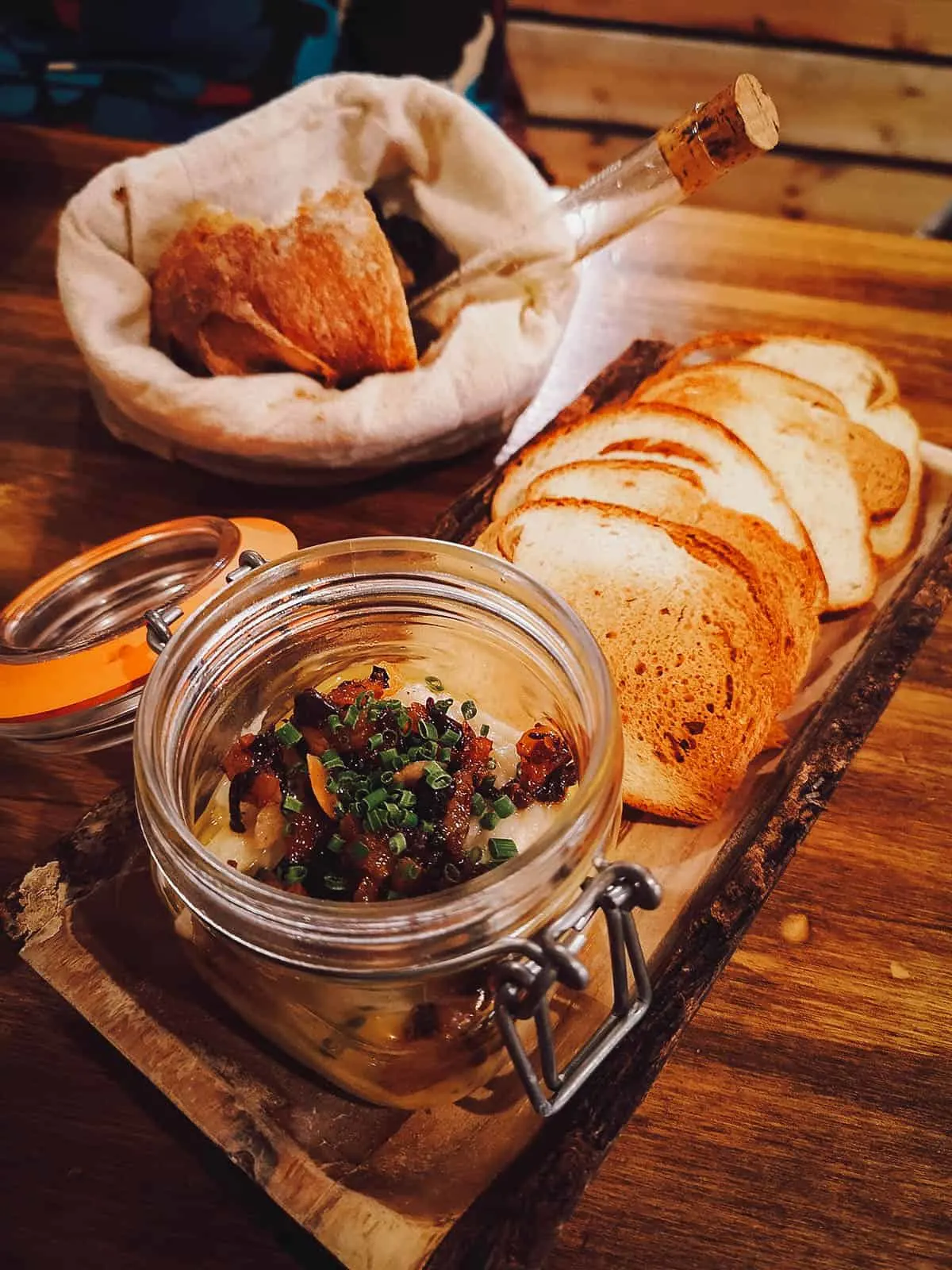 A light and refreshing bowl of beef tongue and lobster salad (EUR 15).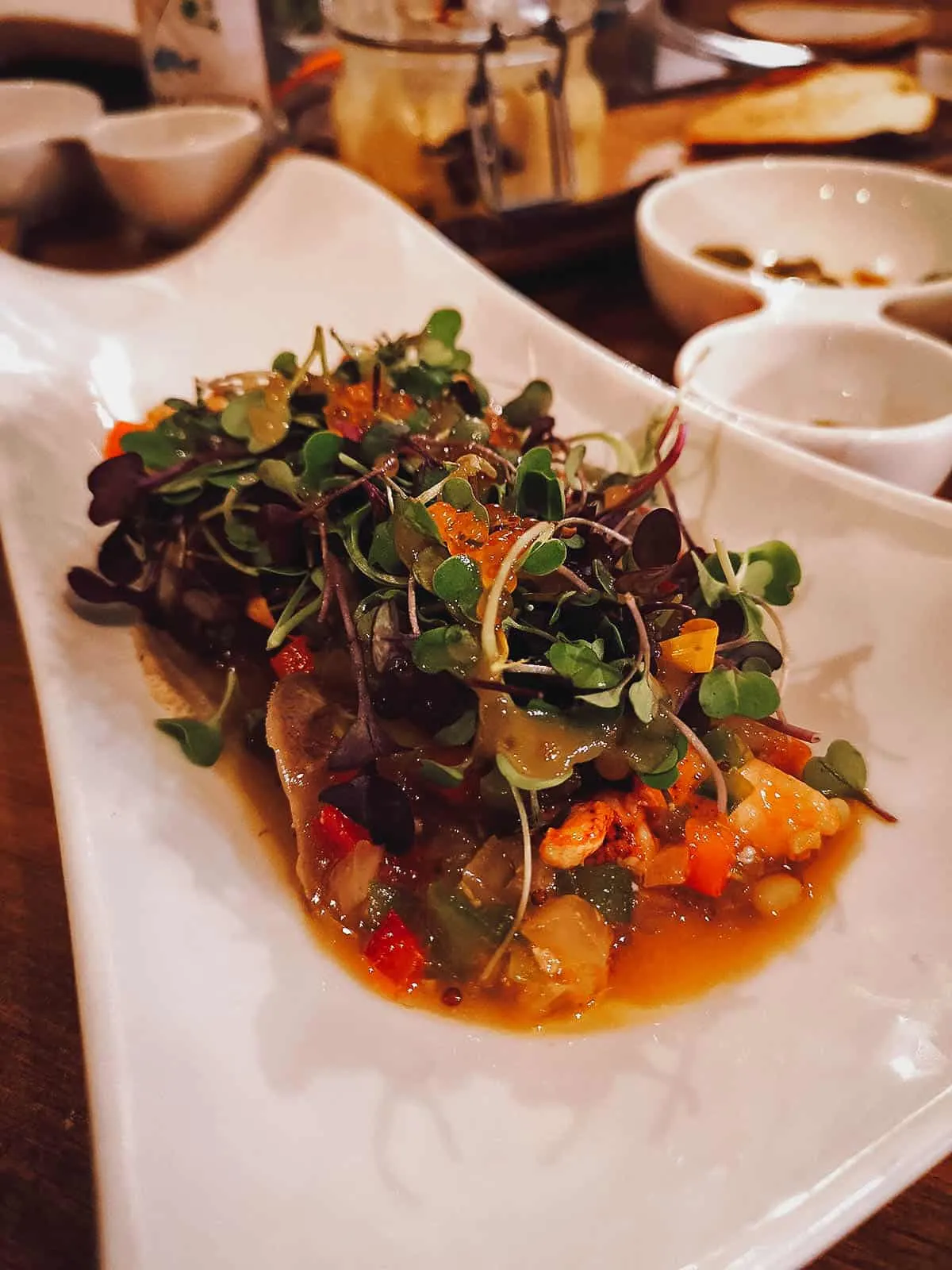 These pork cheek and red prawn tacos (EUR 14.50) were delicious and one of my favorite dishes from tonight. The two proteins paired beautifully together and they serve them with the scarlet prawn heads so you can suck out all the umami. Each order comes with just two pieces so be sure to get enough for your table.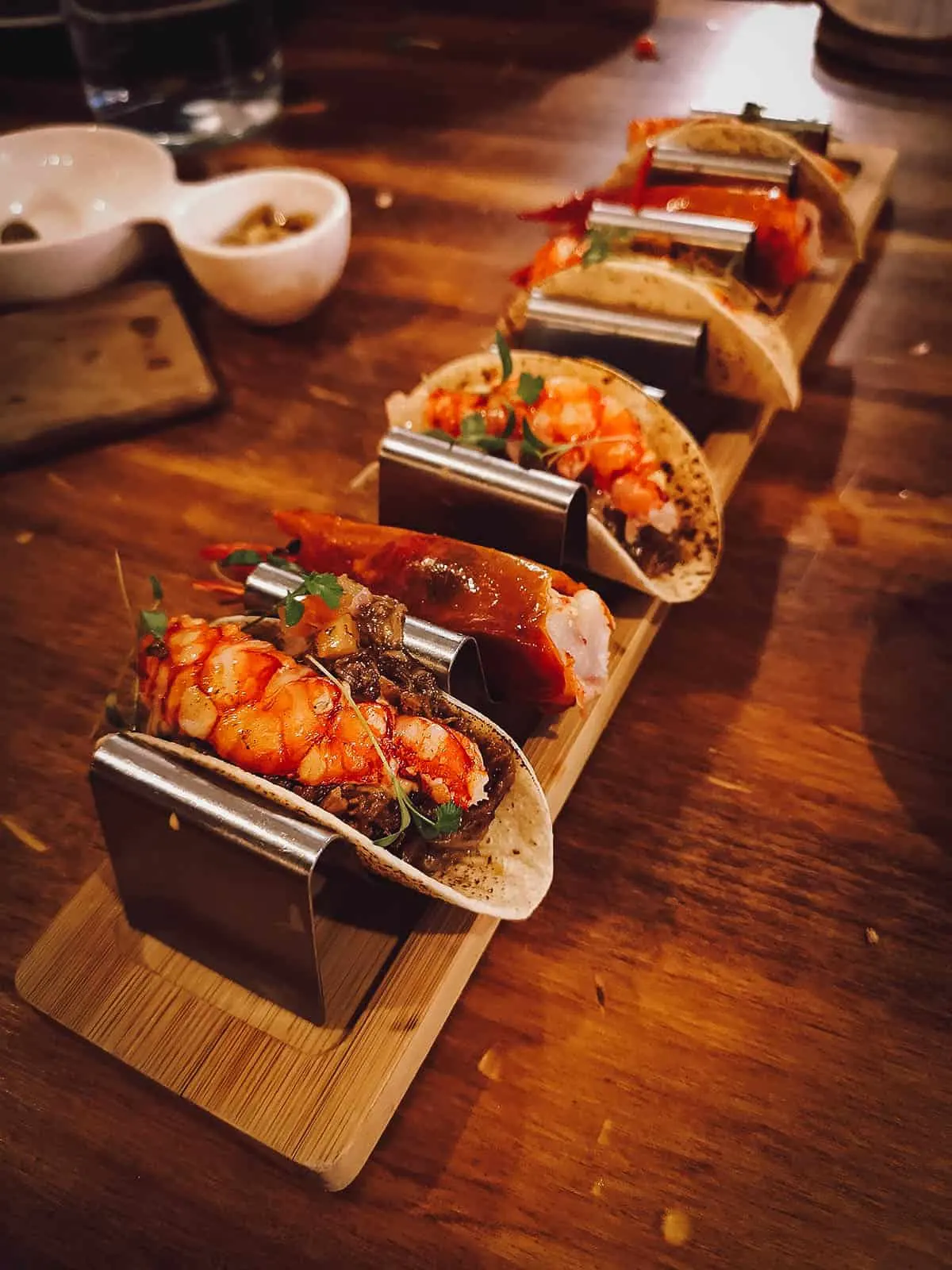 I enjoyed these immensely as well. They're lamb sweetbreads with prawn and garlic on melba toast (EUR 15). I've always wanted to try sweetbreads so I was happy to have them here. They're mild in flavor with a texture similar to chicken, but more tender. Like the pork cheek and prawn tacos, each order comes with just two pieces so be sure to order enough. Trust me, you don't want to share these.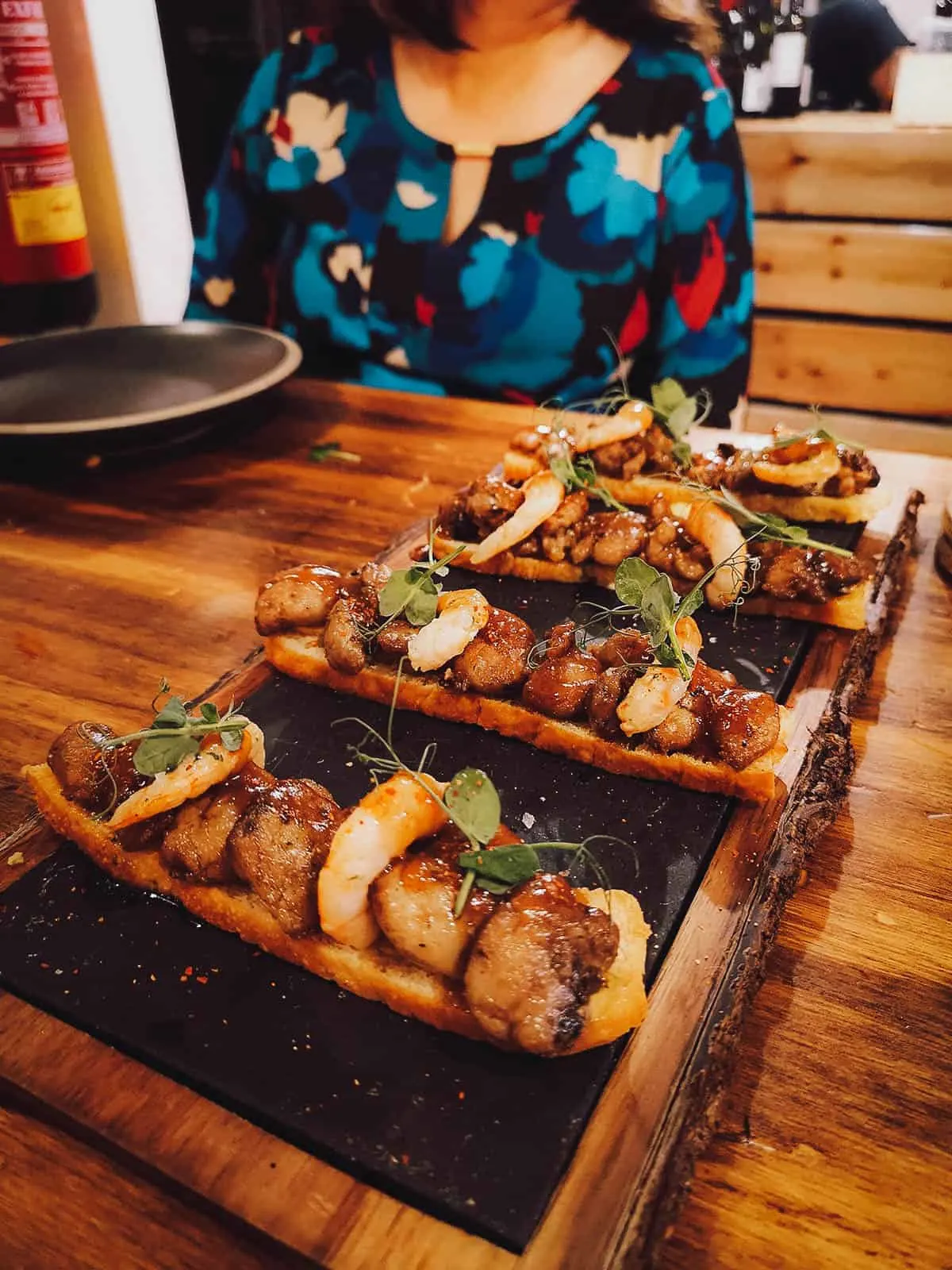 This is Chef Estevez's version of callos made with beef tripe, shank, and snout (EUR 14.50). It was served with two pipettes filled with a spicy sauce. It was hearty and absolutely delicious, especially when eaten with the bread.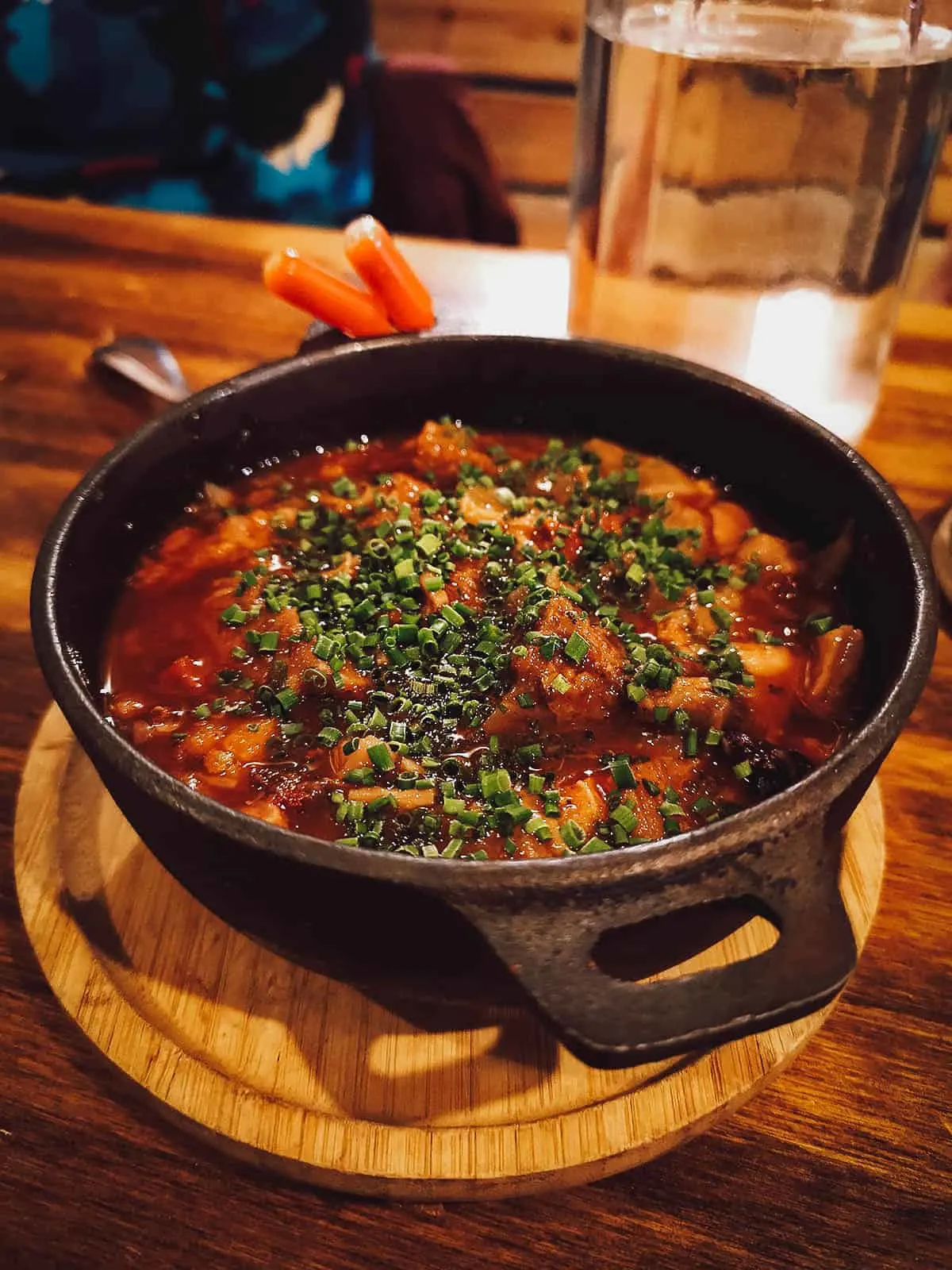 Here's a look at some of the tasty bits of offal waiting for you inside this bowl. Callos is one of my favorite dishes in the world and I loved Chef Estevez's version. I can't get enough of that tripe texture.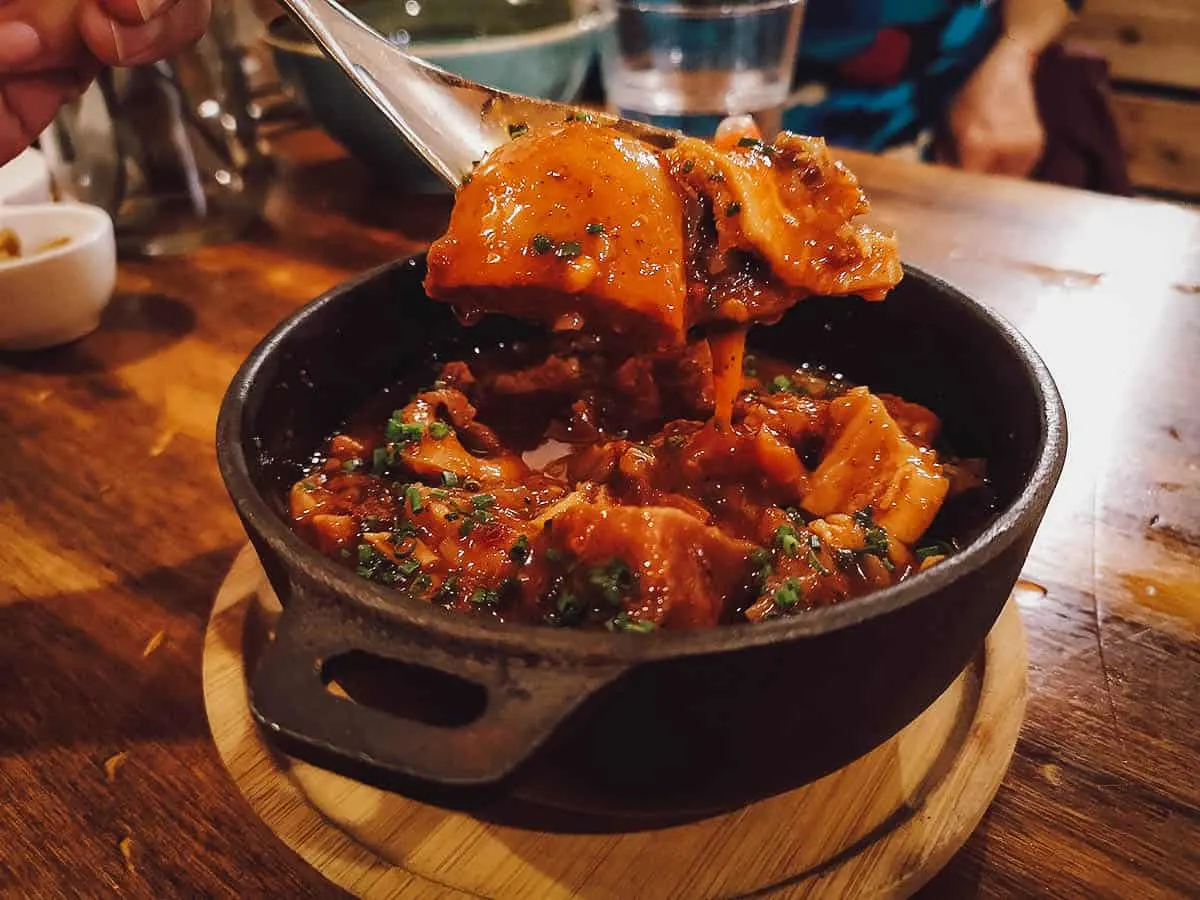 CONCLUSION
If you don't mind having your food stare back at you, then you may want to try the suckling pig head. It's La Tasqueria's signature dish. A young pig's head is poached overnight in olive oil then deep-fried and served whole. We have a similar dish in the Philippines called maskara (meaning mask) which is why we didn't order it here.
Being from the Philippines, we're used to eating offal. It's in many traditional Filipino dishes like dinuguan and kare-kare. We also enjoy it as street food in dishes like isaw, tenga ng baboy, and betamax. Eating offal is nothing new or unusual for us, but what is new is how Chef Estevez presents it.
This is the most elegant and thoughtful way we've ever had offal. He's elevated unwanted bits of meat and turned them into haute cuisine. Before this meal, never did I think I'd have offal presented in this artful manner. Where we're from, offal is typically just skewered and grilled or served in stews with no regard to presentation or form. Chef Estevez's creations were a pleasure to see and eat and I was grateful for the experience.
If you have a curiosity for offal but have been squeamish to try it, then this is the best place to do it. You won't find offal more palatable than this.
La Tasqueria de Javi Estevez
Calle Duque de Sesto, 48, 28009 Madrid, Spain
Tel: +34 914 51 10 00
Operating Hours: 1:30-4PM, 8:30-11PM, Mon-Sat / 1:30-4PM, Sun
Website: latasqueria.com
Facebook: latasqueriadejaviestevez
Instagram: latasqueria
Twitter: LaTasqueria
Expect to Pay: Around EUR 13-15 per dish
HOW TO GET THERE: Take the metro to Goya station. Exit the station and walk south on Calle de Narvaez. Make a left on Calle Duque de Sesto. The restaurant will be on your right.