Walking around Kyoto, I had my DSLR slung around my neck and my pole-mounted GoPro sticking out of my sweatshirt like an antenna. I asked Ren and Tom if I looked stupid and they said: "No, you don't, but you look like a tourist."
It's true. Whenever we travel, I can't help but look like a tourist. Huge camera bag over my shoulder, taking pictures of everything from vending machines to produce, I don't exactly blend in. In fact, people in Shinsaibashi were staring at my GoPro as if it were a second head. 😆 But as goofy as I sometimes look, I don't mind looking like a tourist. What I do mind, is eating like one.
Thanks to my Japanese friend Tom who really went out of his way to find the best restaurants for us without breaking the bank, we didn't eat like tourists on this trip, we ate like locals. This restaurant, nestled in the heart of the Gion entertainment district in Kyoto, is a prime example.
Being from Amagasaki, Tom wasn't too familiar with Kyoto so he asked his friends and co-workers for restaurant suggestions. A long-standing favorite among Kyoto locals, Gion Kappa came highly recommended for two reasons: 1) they serve good, authentic Japanese food; and 2) almost everything on the menu goes for just ¥390. 😯
Authentic AND cheap. What more could you possibly ask for?!
Gion Kappa Izakaya
If I remember correctly, Tom said that they serve a starter dish to every customer. Tonight, it was seared katsuo (bonito).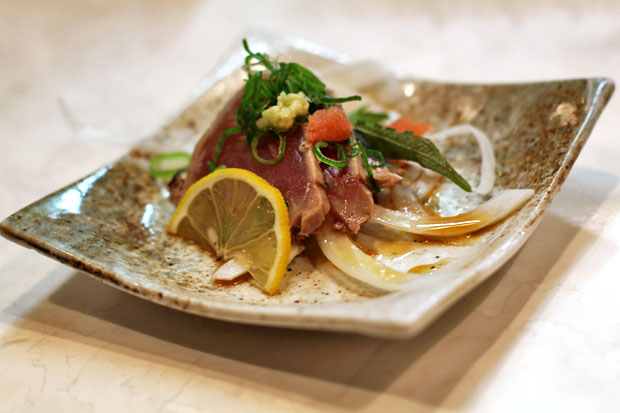 Japanese meatballs

Kushikatsu (deep-fried kebab)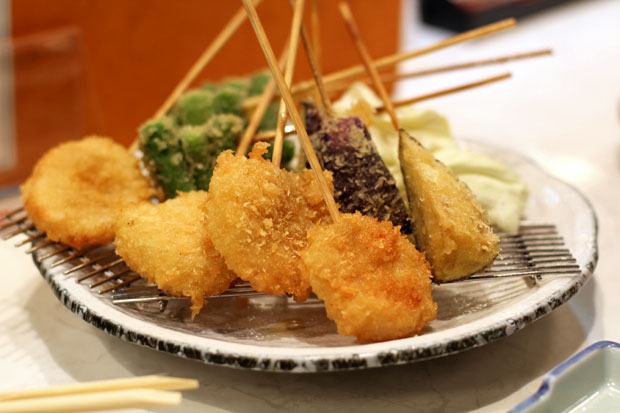 Chicken livers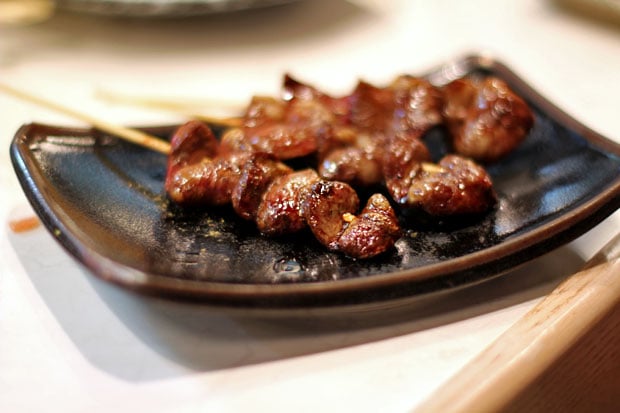 Fried tofu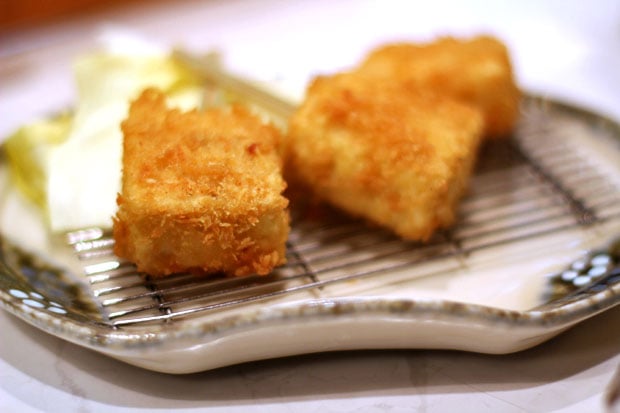 Snails. We enjoyed these so much that we ordered a second helping.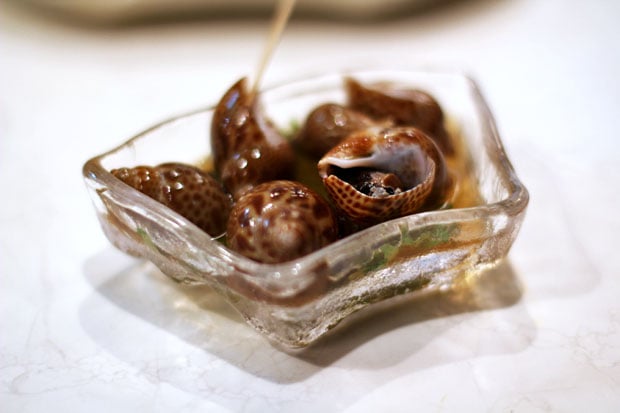 Otoro (fatty tuna), one of the most sublime pieces of sushi that you will ever eat. This practically dissolved in my mouth.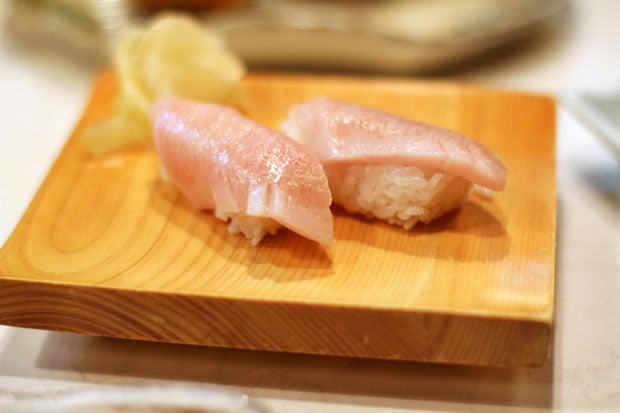 Tom was doing all the ordering so we didn't know what was coming. When the chef brought this out and set it before us, I literally gasped. This could very well have been the most PERFECT platter of sushi that I have ever consumed. From left to right: Otoro, awabi (abalone), uni (sea urchin), anago (sea eel), unagi (freshwater eel).
I'd be hard-pressed to pick a favorite because each of these was the best of its kind that I have ever tasted. For starters, just look at that uni. Have you ever seen such pristine, sunburst orange uni? It looks like it's blooming! And with shiso to boot! Who knew that uni and shiso would go so well together?
And that unagi. Let me just say that I've enjoyed many an unagi in my life, but NEVER like this. This heavenly piece of eel had a robust, smokey-sweet, charbroiled flavor that was simply to die for. Unagi has been one of my favorite foods since I was thirteen years old so I thought I knew it well. Until I tasted this. Unbelievable.
*It's important to note that the sushi was more than ¥390, probably around ¥550 or so for two pieces.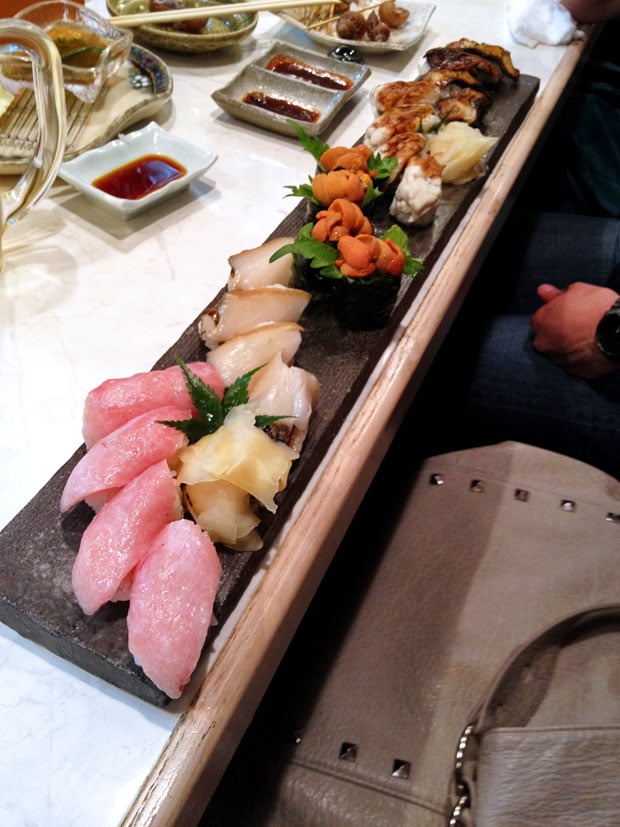 Apart from all the insider info, another great thing about having a Japanese friend show you around is that you never have to worry about ordering the wrong thing. Aside from the two days in Osaka when Tom had to work, he ordered for us every time and we loved it. We got to try many new things that we never would have known about had we been on our own. If it weren't for him, we probably would have been eating McSushi most of the time. 😆 Needless to say, our trip wouldn't have been the same without him, and for that we are incredibly grateful.
If you'll be visiting Kyoto for the first time and want to eat at a good, inexpensive restaurant that isn't so touristy, then I highly recommend Gion Kappa. ¥390 a dish! Need I say more?! 😉
Gion Kappa Restaurant
77 Sueyoshicho, Higashiyama-ku, Kyoto, Kyoto Prefecture 605-0085, Japan
Tel: +81 75-531-1112
Expect to spend: ¥2,500-3,500 per person with drinks
Reservations: Not required, but a good idea because the place tends to fill up quickly.