Being from the Philippines, I grew up eating paella. Or at least a version of it called arroz valenciana.
I always thought that paella was a Spanish dish of rice, saffron, vegetables, meat, and seafood. There are a basic set of ingredients to use but any combination of vegetables, meat, and seafood would still make it a paella.
Apparently, that isn't the case, at least when you ask someone from Valencia where the dish was invented.
I became curious about this Spanish dish with Valencian roots, so I read up on it to learn what exactly constitutes an authentic paella.
If you don't care to read about the history of paella, then you can jump to Ren's deliciously grotesque recipe for paella with octopus and chorizo.
More on why it's "grotesque" below.
Save This on Pinterest!
No time to read this now? Click on the red save button and pin it for later!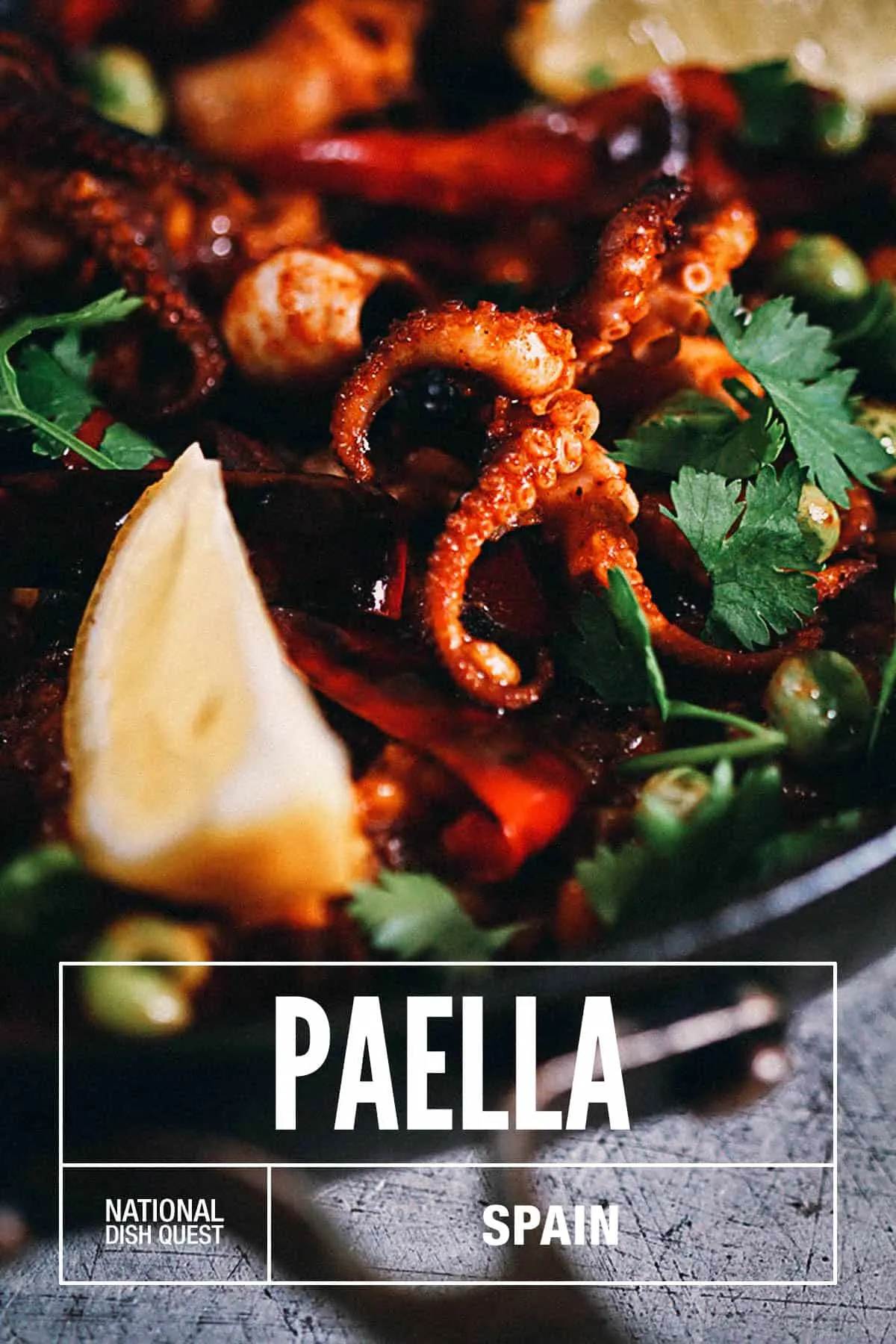 WHAT IS PAELLA?
Paella is one of the most well-known Spanish dishes. It's available throughout Spain where many consider it a national dish, but it's originally from Valencia.
At its core, its a dish made with round grain rice, saffron, olive oil, and meat and/or seafood. It's often made with beans and green vegetables though some versions, like paella de marisco, omit them altogether. The addition and omission of certain ingredients is a point of contention and often a cause for debate. We'll get to that in a bit.
Paella gets its name from the wide shallow pan with two side handles used to cook the dish, traditionally over an open fire. Meaning "frying pan" in Valencian, it's a word they use to describe all pans.
In many regions of Spain and in other Spanish-speaking countries, the word paellera is often used to describe the traditional pan, while the term paella is reserved for the actual dish. Both paella and paellera are correct terms for the pan.
Perfectly cooked paella will have a layer of crispy roasted rice at the bottom of the pan. It's called socarrat and it develops on its own if the paella is cooked over a burner or an open fire.
WHAT IS THE HISTORY OF PAELLA?
Paella was originally a meal enjoyed for lunch by farmers and farm laborers. It was a humble meal made with whatever ingredients they could gather around the rice fields. Tomatoes, onions, and snails were often used.
They would cook paella over an open fire fueled by pine and orange branches and pine cones. This would create an aromatic smell that would infuse itself into the paella. When cooked, they would eat directly from the pan instead of serving it on plates.
Valencian farmers would often cook paella near Lake Albufera so water vole was a common ingredient in early paellas, as were eel and butter bean. I didn't know what a vole was so I googled it. Apparently, it's a type of semi-aquatic rodent related to lemmings and hamsters. (Safe to say vole isn't a common ingredient in modern paellas?)
A rise in Spain's living standards led to a change in paella's ingredients. Rabbit, chicken, and duck became common ingredients while snails were still often used. This original version of paella is what's known as paella valenciana.
Valencians living along the Mediterranean coast used seafood instead of meat and beans to make their paella, giving rise to paella de marisco.
To Valencians, only paella valenciana and paella de marisco are the true versions of paella. Everything else, according to Wikipedia, is inferior, inauthentic, and even (gasp!) grotesque.
WHAT ARE THE TYPES OF PAELLA?
To the Valencian, there are only two types of paella. But to the rest of the world, there are perhaps more versions than that depending on what it's made with.
While doing research for this post, I learned about a version of paella called white paella. It's made with ham and salami and contains no coloring, giving it an un-paella-like whitish appearance. It's said to be popular in eastern Andalusia where it's often served as tapas.
Not counting any lesser known regional varieties, there appears to be five common type of paella.
1. Paella Valenciana
This is the original version of paella and naturally, the most authentic.
But as protective as Valencians are of their paella, they don't seem to be in full agreement of what constitutes an authentic paella valenciana.
In an effort to save paella from bastardization, a group of proud Valencians started the Wikipaella website. They asked chefs from 200 restaurants in Valencia, Castellon, and Alicante to name the ingredients in what for them constituted an authentic paella.
While many ingredients were consistent across all responses, there were plenty of variations as well.
Every chef named rice, saffron, olive oil, rabbit, chicken, lima bean, green bean, tomato, salt, and water as key components in a paella.
Most use pimenton (82%) and snail (62%). About half use rosemary (48%), garlic (48%), and duck (42%); while artichoke (15%), white bean (15%), and pork ribs (7%) were used by only a minority of chefs. Interesting.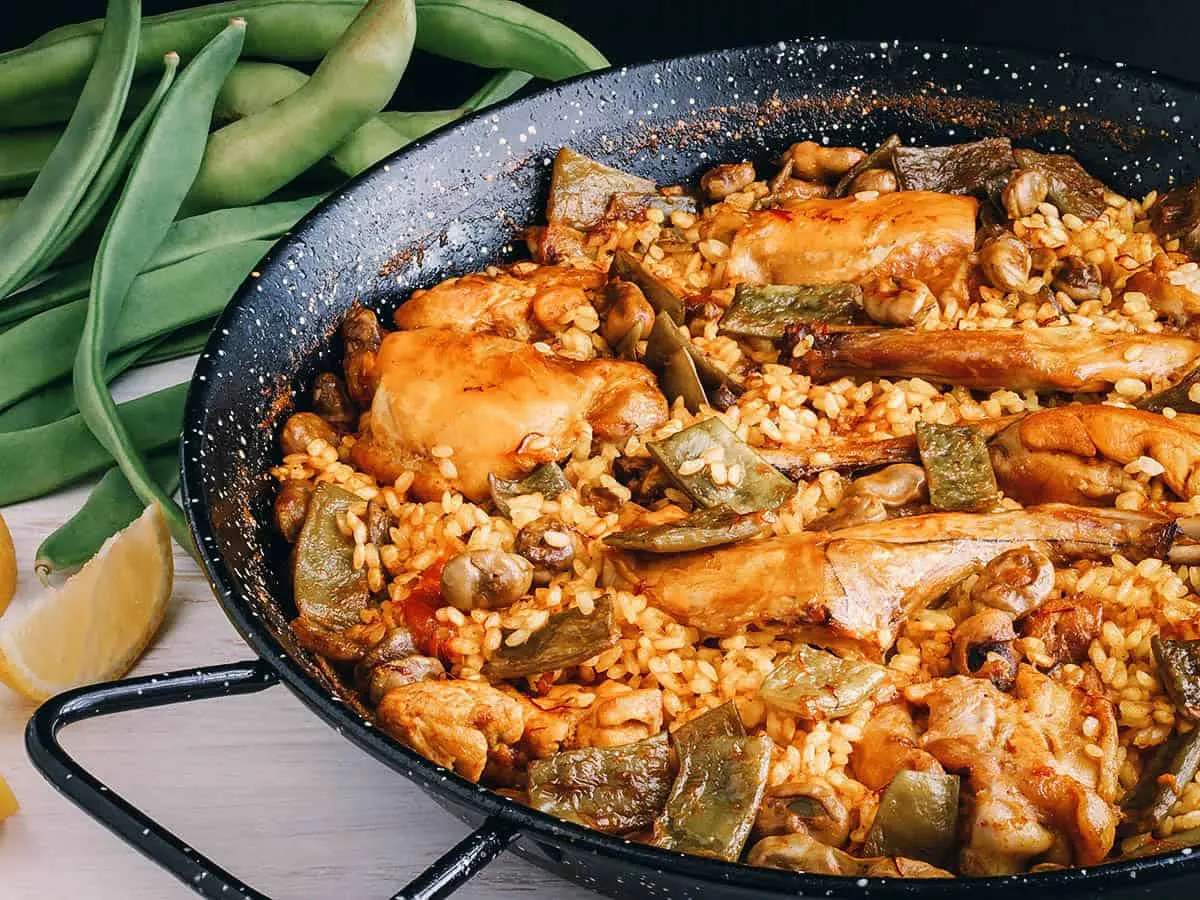 Photo by Siim79 via Shutterstock
2. Paella de Marisco
As described, paella de marisco substitutes meat and beans with seafood. It has a variant called paella del senyoret which uses seafood minus the shells.
Wikipaella asked the same 200 chefs to name the ingredients in a paella de marisco. Only rice, saffron, olive oil, fish stock, tomato, and salt were named by all chefs.
Most use shrimp (77%), cuttlefish (76%), ñora pepper (75%), garlic (74%), and pimenton (70%). Exactly half use monkfish while squid (25%), parsley (15%), and mussel (7%) were the least named common ingredients.
Pictured below is a fantastic paella de marisco from local favorite Bodega Joan in Barcelona.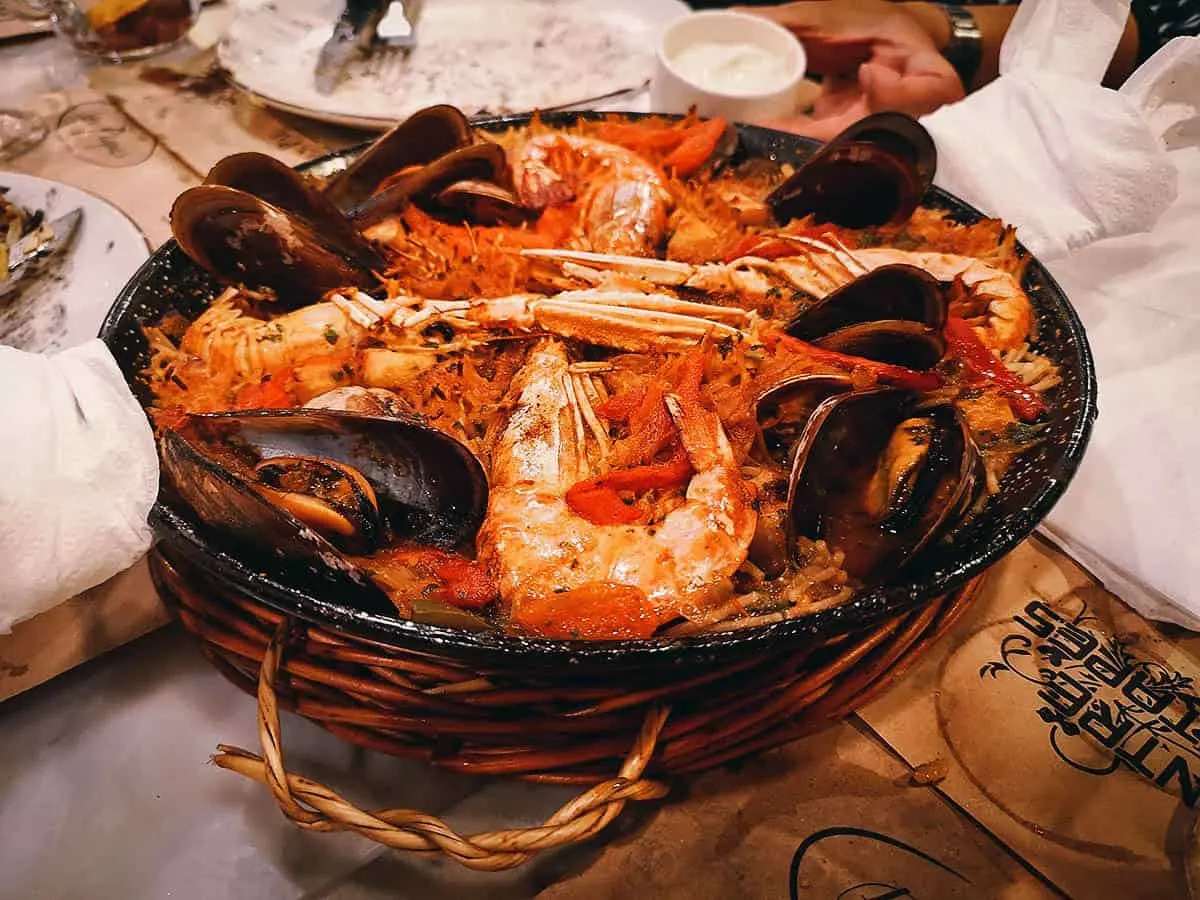 3. Paella Mixta
A rise in paella's popularity in the 20th century saw it become a global dish that extended past Spain's borders. Recipes evolved and paella made with a variety of ingredients like seafood, meat, vegetables, and chorizo became increasingly common.
Today, paella mixta or mixed paella is arguably the most popular type of paella, especially among tourists. It's basically a collab between paella valenciana and paella de marisco.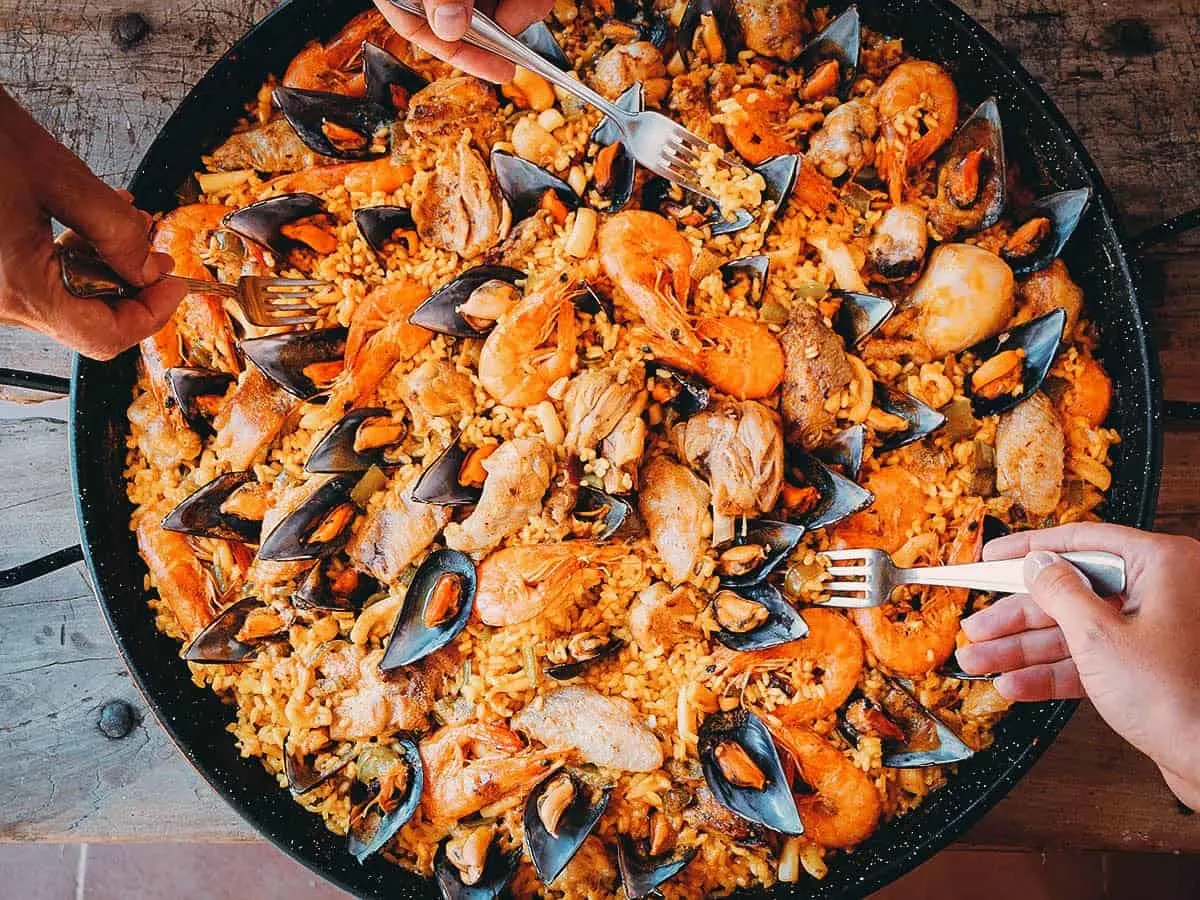 Photo by asife via Shutterstock
4. Paella Vegetariana
As its name suggests, paella vegetariana is a vegetarian version of paella. It's made with a variety of vegetables like green and red pepper, lima bean, green bean, and artichoke.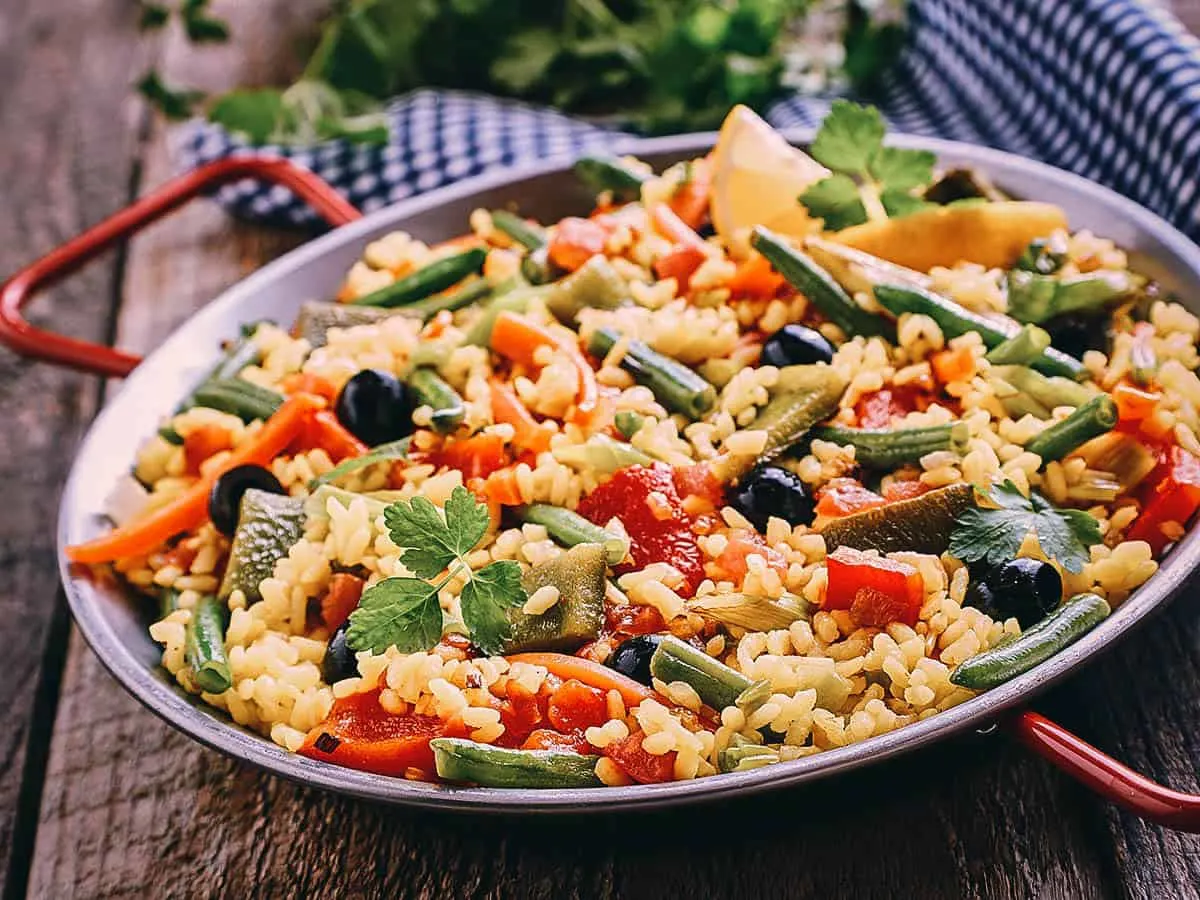 Photo by stockcreations via Shutterstock
5. Paella Negra
This is my favorite type of paella. Paella negra is similar in ingredients to a paella de marisco, except its cooked with squid ink which turns it black in color.
The squid ink makes the rice richer and brinier in flavor. Just be careful when you eat it because it stains your teeth and lips black!
This terrific paella negra was also courtesy of Bodega Joan in Barcelona.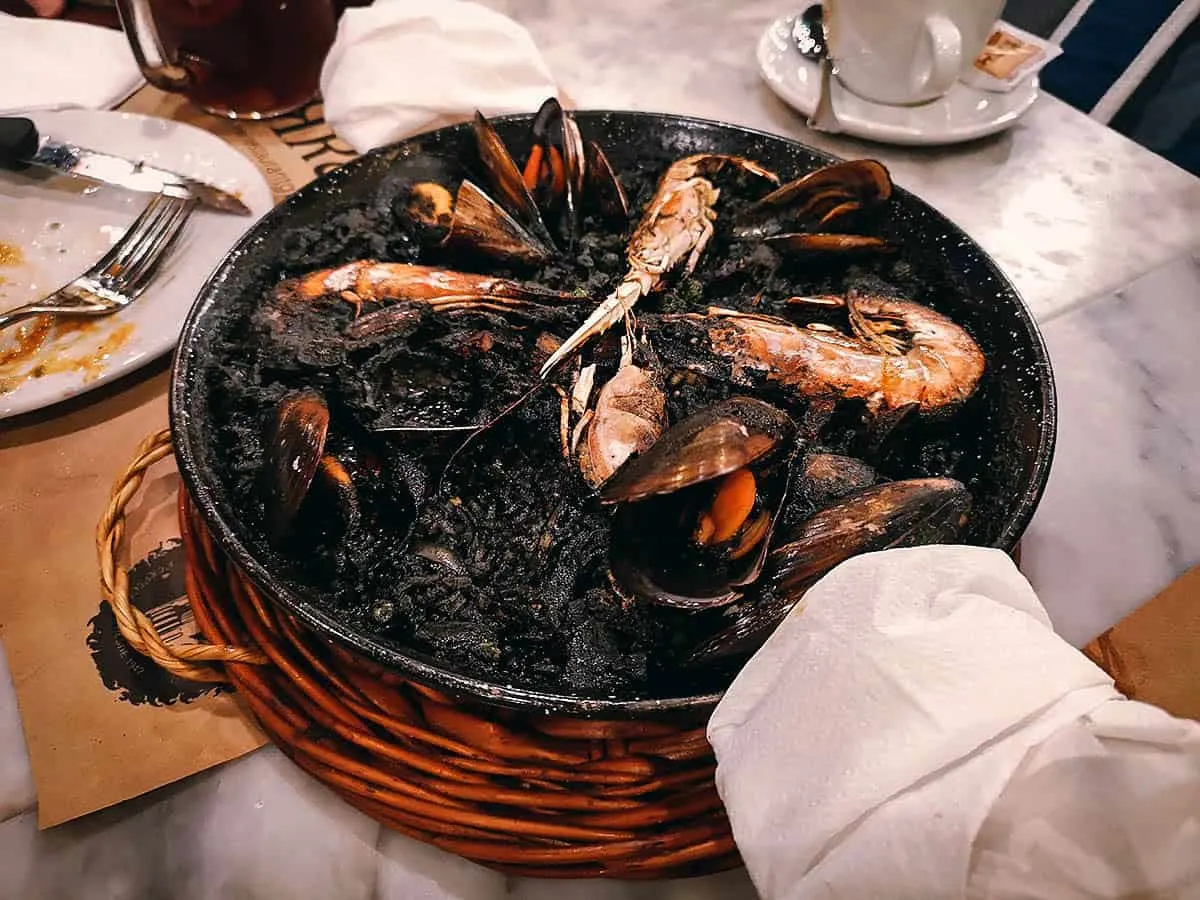 Fideua
This lesser known cousin of the paella is something many tourists have probably never heard of.
Called fideua, it's also from the coast of Valencia and is almost identical to paella de marisco. The main difference? It's made with noodles instead of rice.
Like paella de marisco, it's made with a variety of seafood with or without the shell. Some versions are also made with squid ink. I had this fantasic fideua negra at the popular Tapeo restaurant in Barcelona.
This was my first time trying fideua and at first, I found the concept of noodles in a paella-type dish to be a bit odd. But I was surprised by how much I enjoyed this.
Fideua is made with thin chopped up noodles similar to spaghettini or angel hair pasta. It isn't as filling as paella, which I may have preferred. It's absolutely delicious.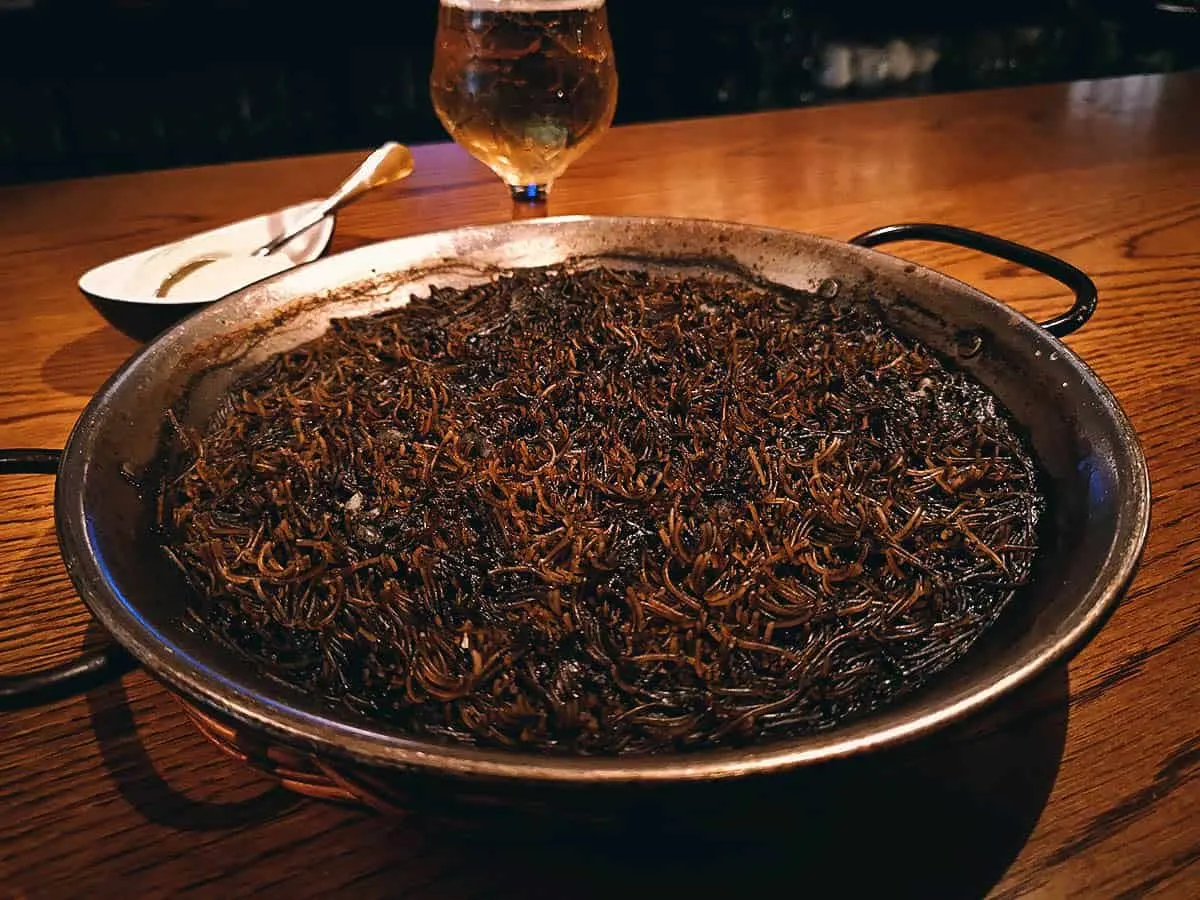 PAELLA CON CHORIZO Y PULPO RECIPE
If you were to ask a Valencian, then they'll probably tell you that Ren's recipe for paella with chorizo and octopus (aka paella mixta) is grotesque.
Why? Because it contains the one ingredient that in their minds has no place in any paella – chorizo. In fact, they have an alternate name for paella made with chorizo and other non-authentic ingredients – arroz con cosas, meaning "rice with things". Ha!
In any case, grotesque as it may be, Ren's paella with octopus and chorizo is delicious. Give it a try and let us know what you think!
INGREDIENTS
500 grams small octopus, cleaned
8 ounces Spanish Chorizo, sliced 1/2 inch thick on the bias
Olive oil
8-9 medium garlic cloves, minced or pressed (should yield 2 heaping Tbsps)
1 red bell pepper, seeded and cut pole to pole in 1/2 inch-wide strips
1 medium onion, finely chopped (should yield about 1 cup)
1 (14-1/2 Oz.) can diced tomatoes, drained, minced, then drained again
2 cups Calasparra rice (may be substituted with Bomba, Valencia or Arborio rice)
3 cups low-sodium chicken broth
1/3 cup dry white wine
1/2 tsp saffron threads, crumbled then steeped in hot water
1 dried bay leaf
1/2 cup frozen peas, thawed
Pimenton, to season octopus
Salt and ground black pepper, to taste
2 Tbsps fresh parsley, chopped (for garnish)
1 lemon, cut into wedges, for serving
DIRECTIONS
Heat oven to 350 degrees F.
In medium bowl, toss octopus, 1/4 tsp salt, 1/4 tsp black pepper, 1 Tbsp oil, 1 tsp garlic, 1 tsp pimenton, and a squeeze of lemon then cover with plastic wrap and set aside in refrigerator.
In paellera, heat 2 tsps oil over medium-high heat until shimmering but not smoking. Add red bell peppers and cook, while stirring occasionally, until skin begins to blister and turn a spotty black (about 3-4 mins). Transfer peppers to plate and set aside.
Reduce heat to medium then add chorizo. Cook, while stirring frequently, until deeply browned and fat begins to render (about 4-5 mins). Transfer chorizo to bowl and set aside.
Add enough oil to fat in paellera to equal 2 Tbsps, then heat over medium heat until shimmering but not smoking. Add onion and cook, while strring frequently, until softened (about 3 mins). Stir in remaining garlic and cook until fragrant (about 1 min). Stir in tomatoes and cook until mixture begins to darken and thicken (about 3 mins).
Stir in rice and cook until grains are well-coated with mixture (about 1-2 mins). Stir in chicken broth, wine, saffron, bay leaf, and 1/2 tsp salt. Add chorizo to paellera, increase heat to medium-high and bring to a boil, uncovered, while stirring occasionally. Scatter octopus.
Cover paellera with aluminum foil and transfer to oven. Cook until rice absorbs almost all liquid (about 25 mins).
Remove paellera from oven. Arrange red bell pepper strips in pinwheel pattern and scatter peas over top. Cover again with foil and return to oven for about 5 mins.
Allow paella to stand, covered, for another 5 minutes. Garnish with parsley and serve with lemon wedges separately.
Tip: If soccarat is desired (toasted, browned portion of rice at bottom of pan), then return paellera to oven for about 5 more minutes once the paella has finished baking.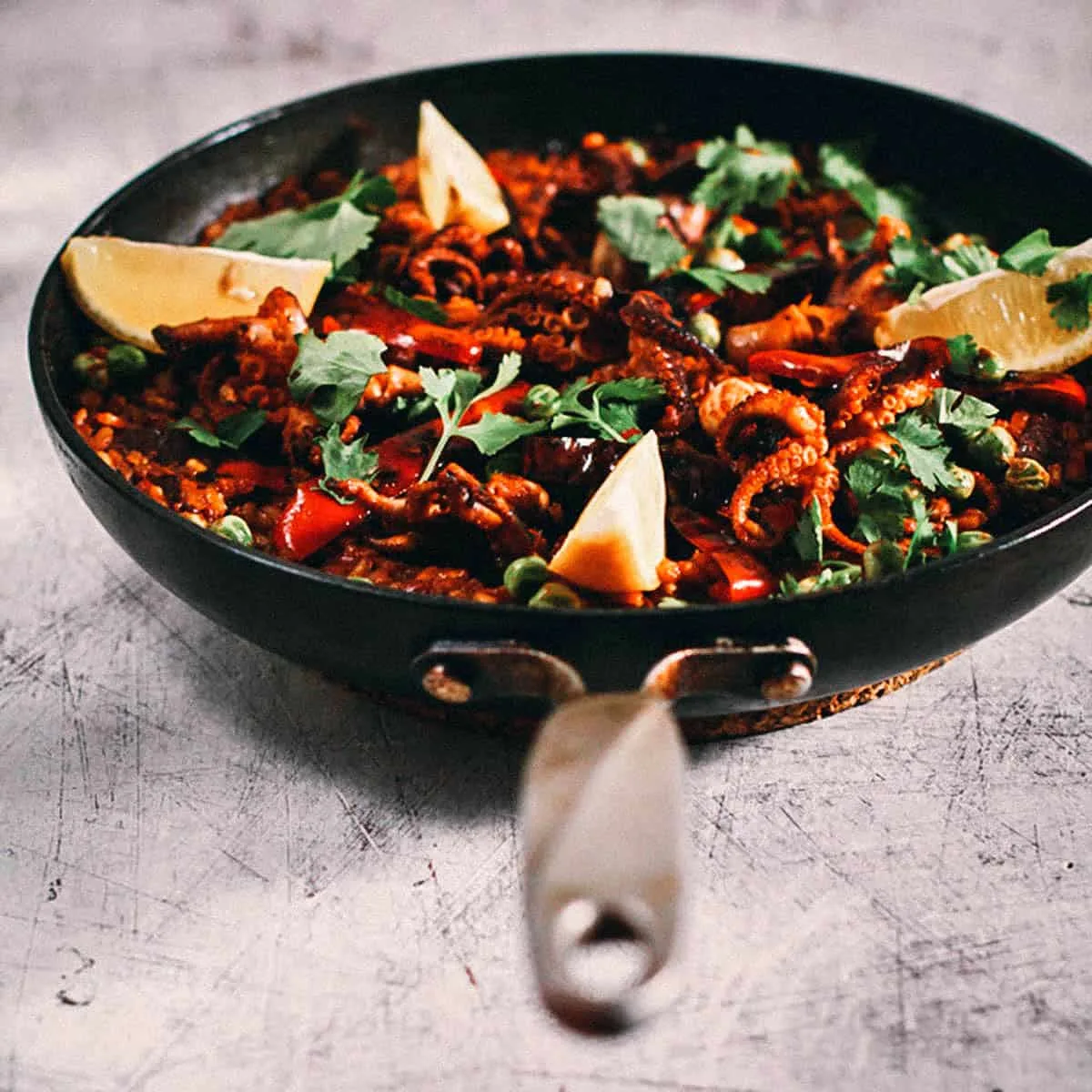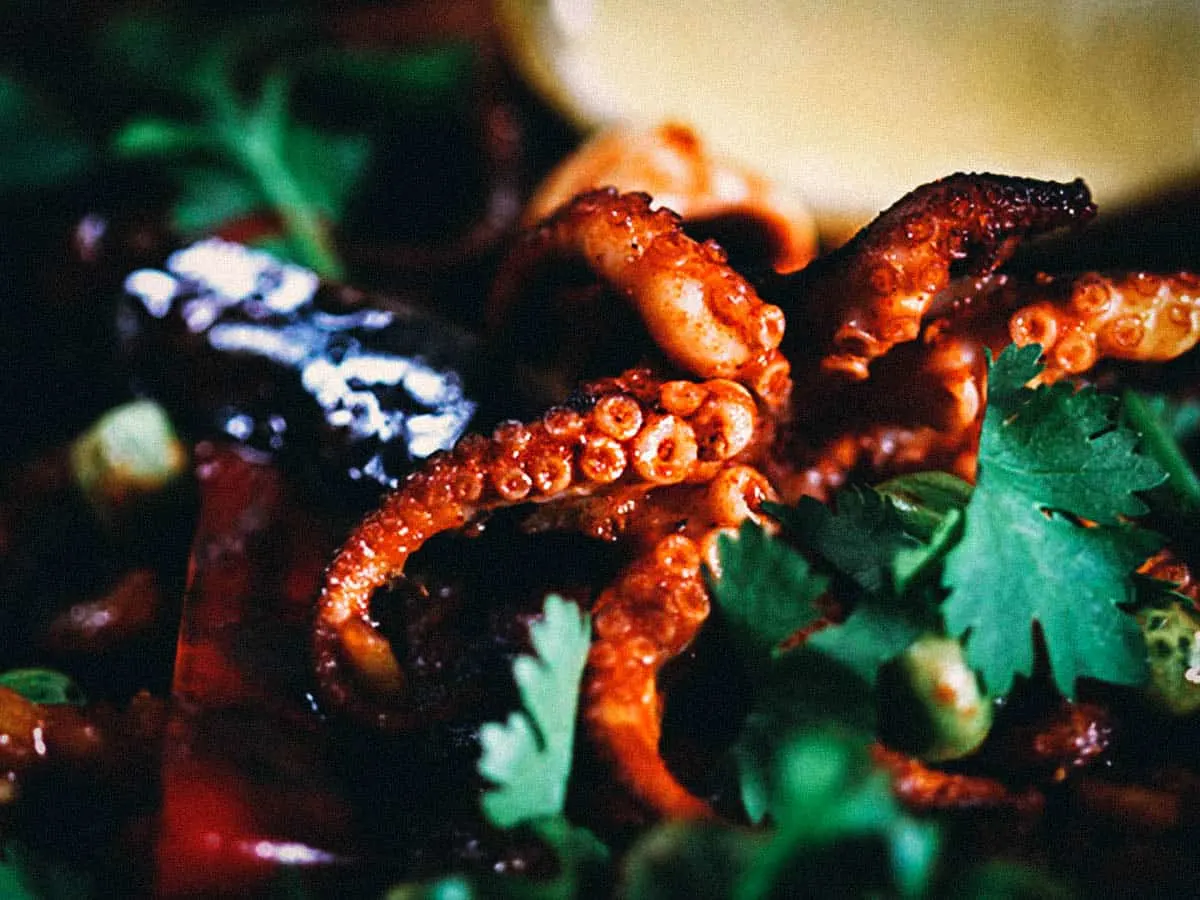 Disclosure
Some of the links in this guide are affiliate links, meaning we'll get a small commission if you make a purchase at NO extra cost to you. We only recommend products and services that we use ourselves and firmly believe in. We really appreciate your support as it helps us keep this website going. Thank you!