Before doing research for this Prague trip, I had never heard of David Cerny, but one look at his outrageous sculptures made me want to see them for myself. Often evocative and always amusing, he creates large public sculptures that demand your attention.
After Czech food, contemporary art was probably the one thing that excited me most about this trip so I did my research and set aside a day so I could visit as many of his artworks as I could. I found nine, all of which you can visit in one day with little more than a 24-hr transport ticket.
Save This on Pinterest!
No time to read this now? Click on the red save button and pin it for later!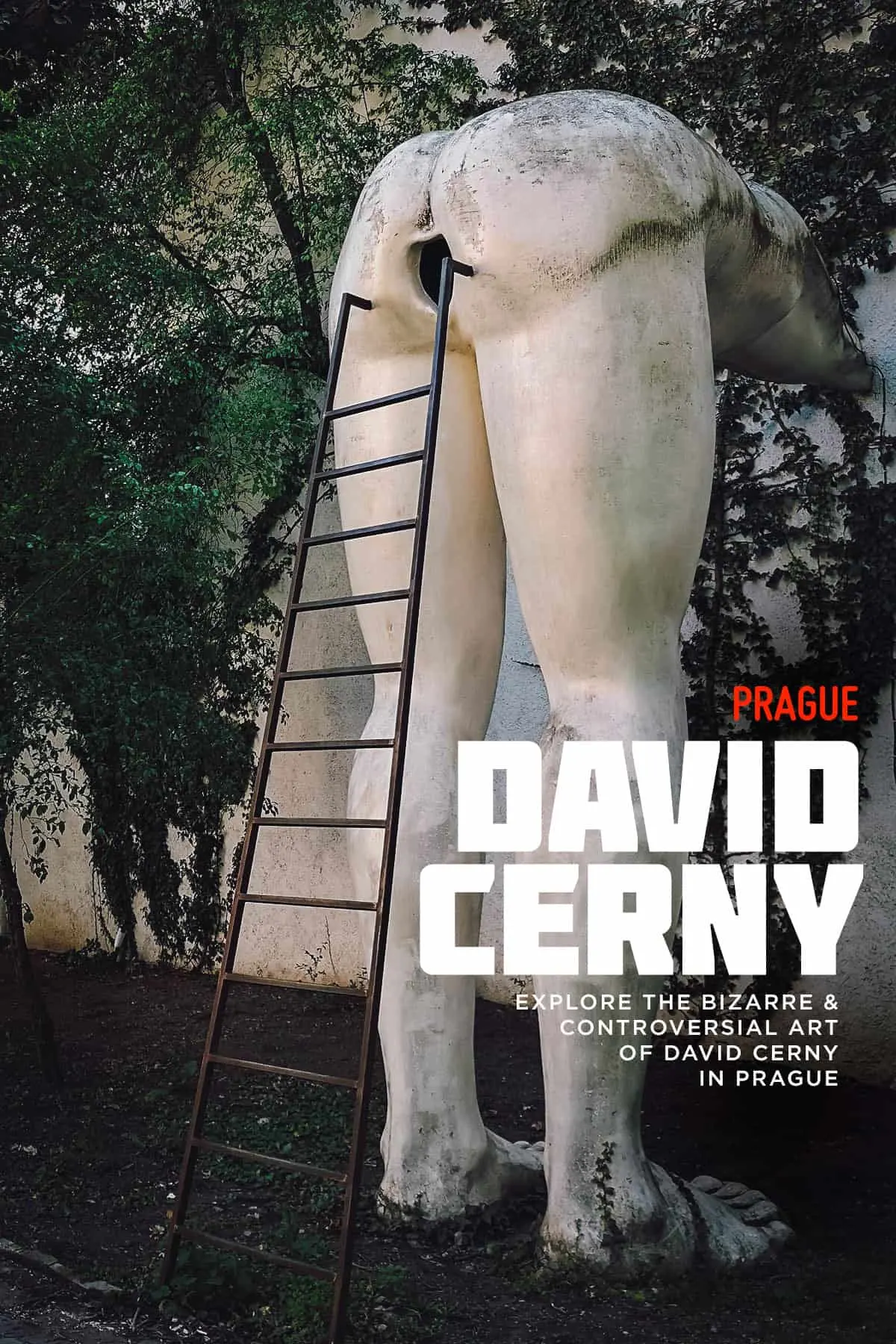 WHO IS DAVID CERNY?
David Cerny is a controversial Czech sculptor known for his provocative creations displayed in public areas around Prague. Honing his trade at the Academy of Arts, Architecture and Design from 1988-1994, he first gained notoriety in 1991 when he painted an important Soviet memorial tank pink and erected a large obscene finger on its turret. This was labeled an act of civil disobedience which resulted in Cerny's brief arrest.
The body of work he'd produce since then would be cast in this same mold, churning out large-scale public sculptures that toed the line between provocative and shocking, offensive even. In fact, some of his proposed works were so risqué that they were never erected. In his words, "I just enjoy pissing people off".
DAVID CERNY SELF-GUIDED TOUR
Making your way to these sculptures takes time so you're free to check out only the pieces that interest you. With that said, it is possible to see the nine listed here but it'll take you the whole day. If you'd like to do that, then I suggest leaving your hotel no later than 9AM to give you enough time.
Listed by creation date below are the nine sculptures with a brief description for each. They're mostly located in public spaces so they're free to visit. Be sure to check out our art tour tips and location map at the end of this post to help you plan your route.
1. Man Hanging Out (1996)
This humorous statue of a man hanging from one hand is probably the Cerny sculpture that most tourists will see. At least the ones that look up. It hangs about 20 meters (65.6 ft) above the often crowded Husova Street in the Old Town.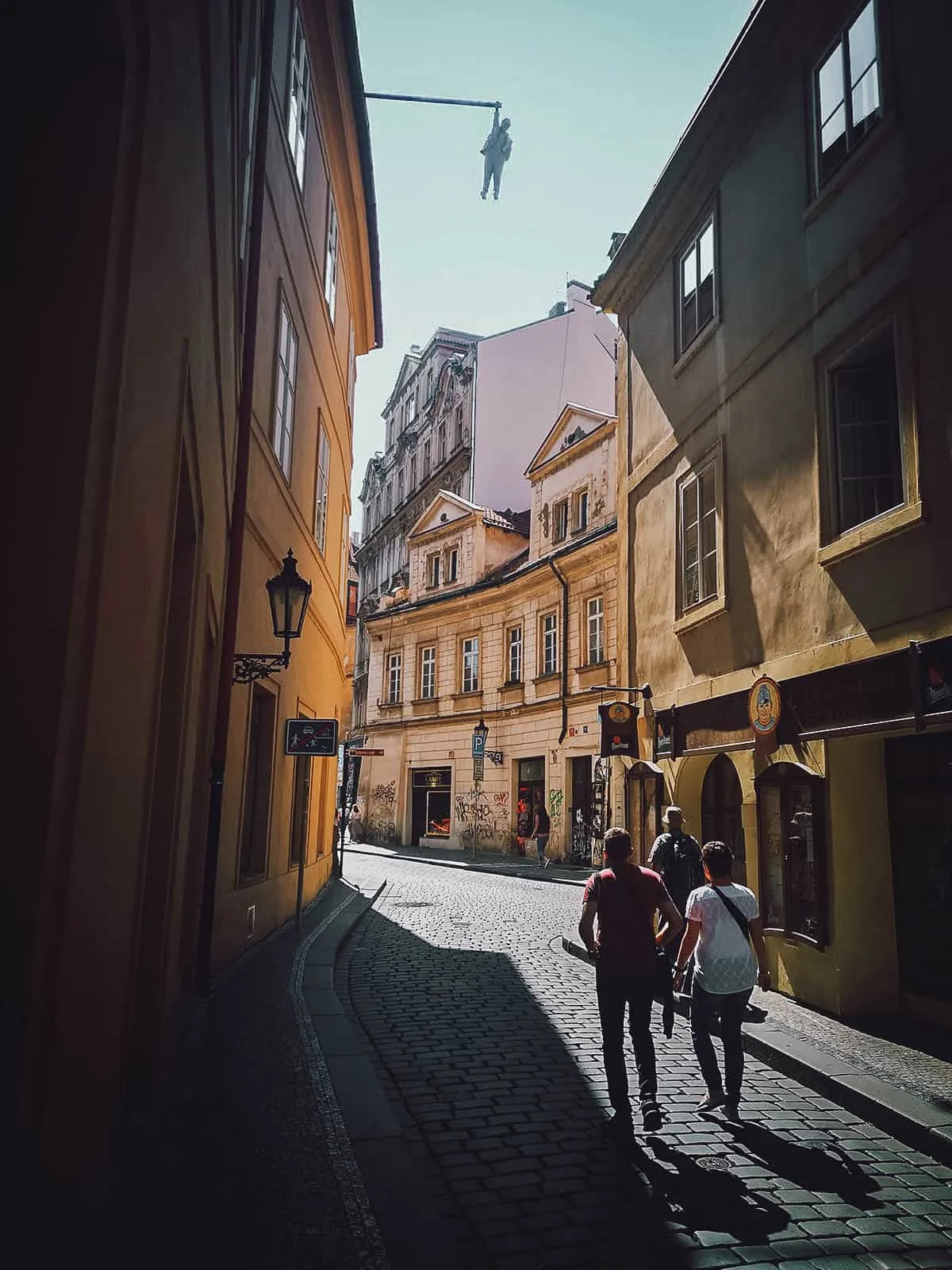 Dangling from a rod jutting out from the building's roof, the sculpture depicts Sigmund Freud, the father of psychoanalysis. Why Freud? No one seems to really know, but he did formulate a theory on the causes of fear, including that of the fear of heights. Perhaps it's related.
Whatever its meaning, this sculpture has been displayed in other parts of the world, from London to Grand Rapids, Michigan where it was mistaken for a suicide. A poetic (and perhaps intended) reaction since Freud himself died by assisted suicide.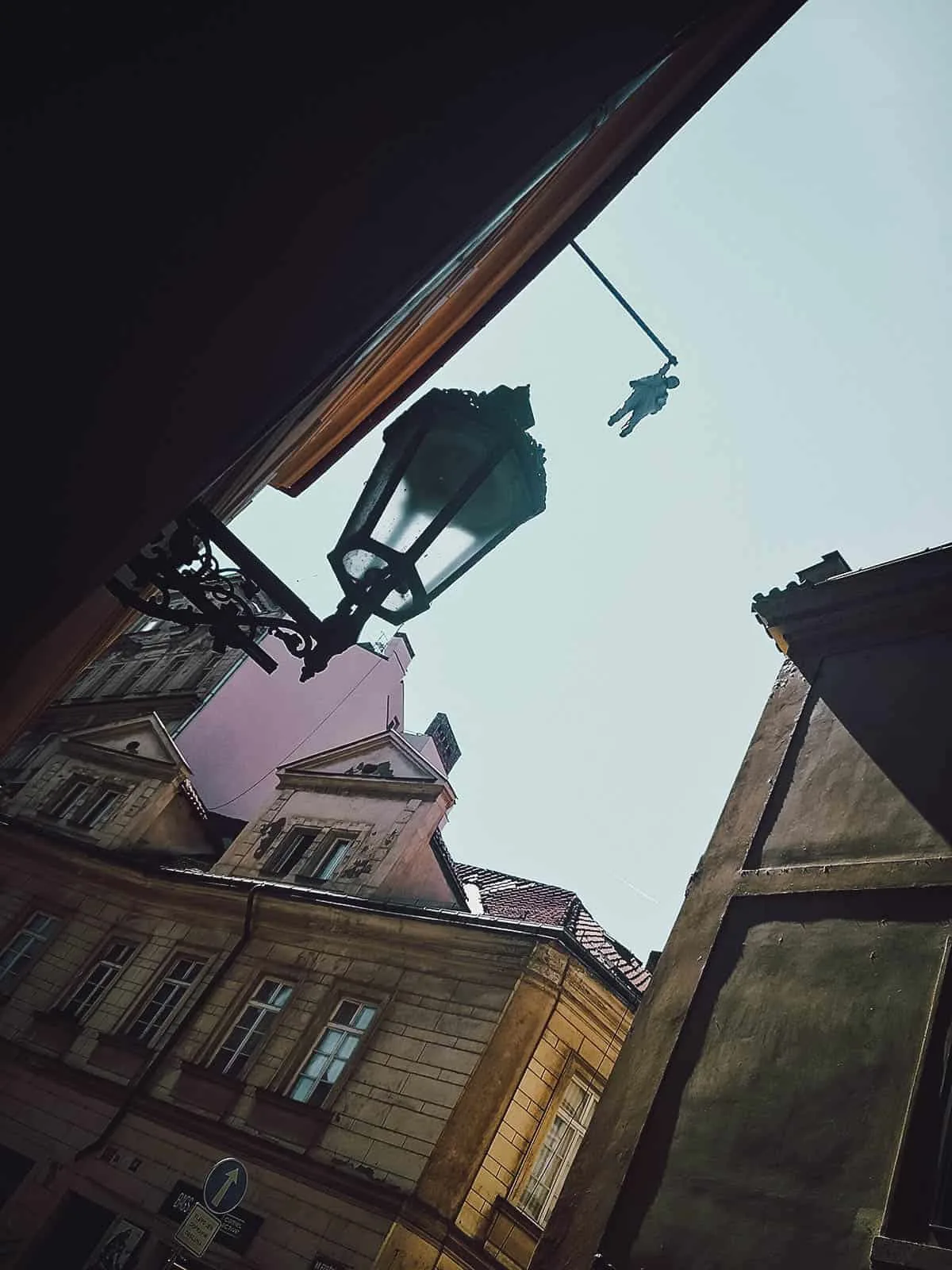 2. Saint Wenceslas (1999)
In Wenceslas Square you'll find a heroic statue of Wenceslaus I mounted on a horse. Here inside Lucerna Palace on the left is Cerny's parody of that statue.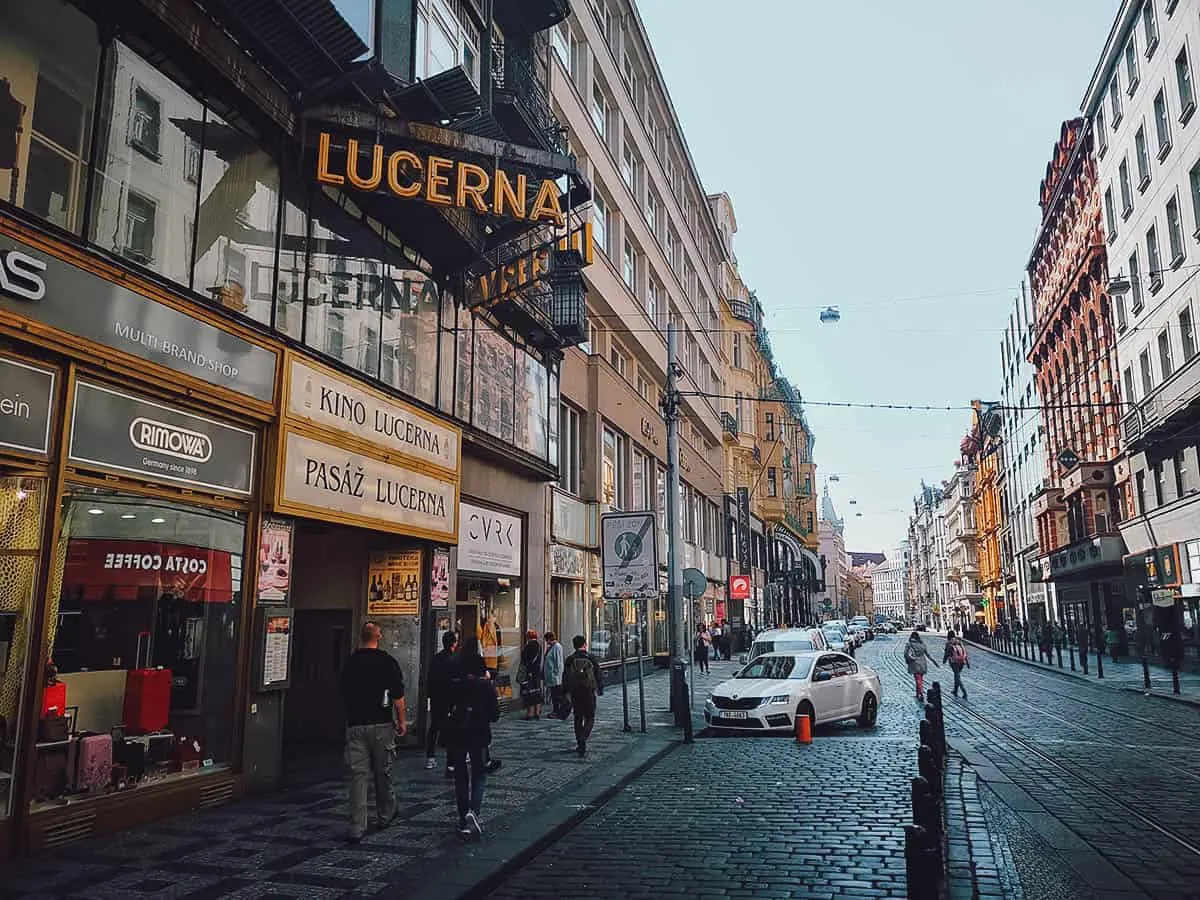 Hanging from a domed ceiling, it depicts the former Duke of Bohemia mounted on an upside down horse with its tongue sticking out. This statue looks silly, but in its absurdity perhaps lies Cerny's message.

I read that Wenceslaus I had a reputation for heroic virtue that resulted in his elevation to sainthood. In fact, he was deemed the patron saint of the Czech state.
Art is always open to interpretation, but it's been suggested that Cerny's version is symbolic of modern Czechs no longer revering their historical past, and their desire to look elsewhere to form their national identity.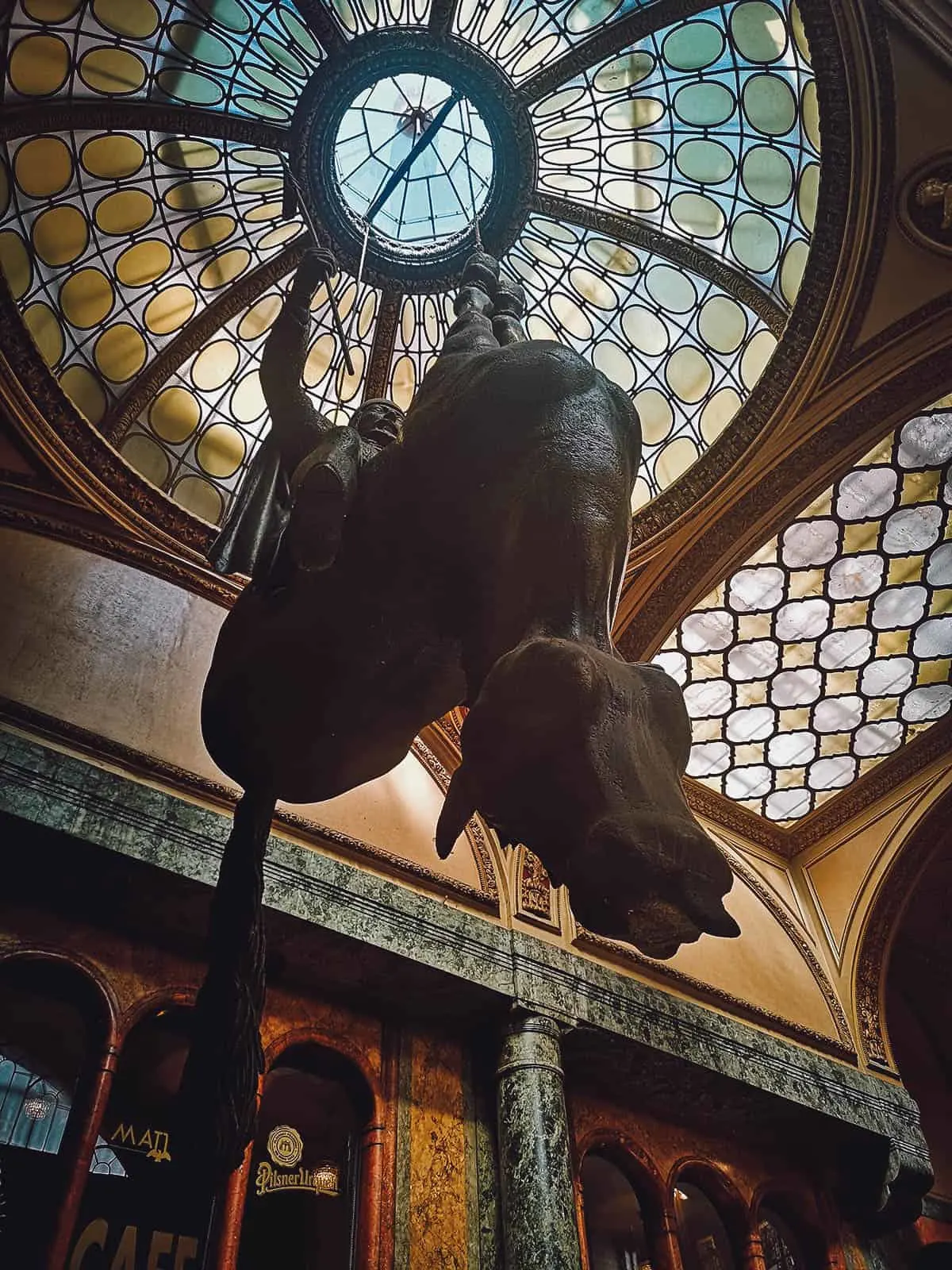 3. Babies, Žižkov Television Tower (2001)
Around the columns of Žižkov Tower are ten gigantic babies inching their way up this odd-looking structure. Standing on top of a hill at 216 meters tall (709 ft), the tower is hard to miss and you can even see it from across the Vltava River. Based on what I've read, it seems to be an unwanted symbol of the communist era that was once voted the second ugliest building in the world.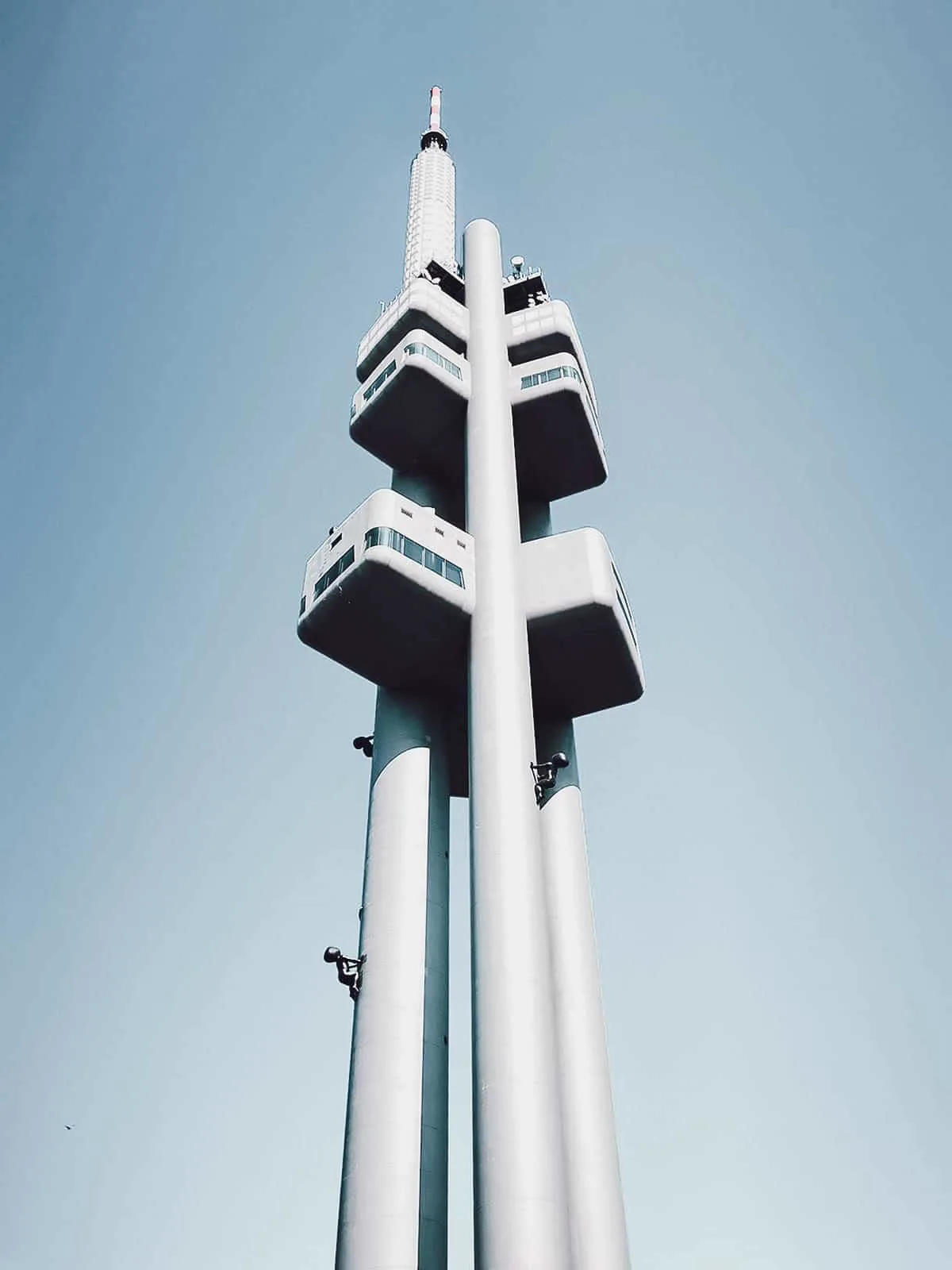 Žižkov Tower is a transmitter tower that was built between 1985 and 1992. An example of high-tech architecture, it's a bizarre sight looming over the classic fairy-tale-like beauty of the old town.
Cerny's babies were initially installed in 2000 as fiberglass sculptures. People liked them so much they were returned in 2001 as a permanent installation. Miminka in Czech means "babies".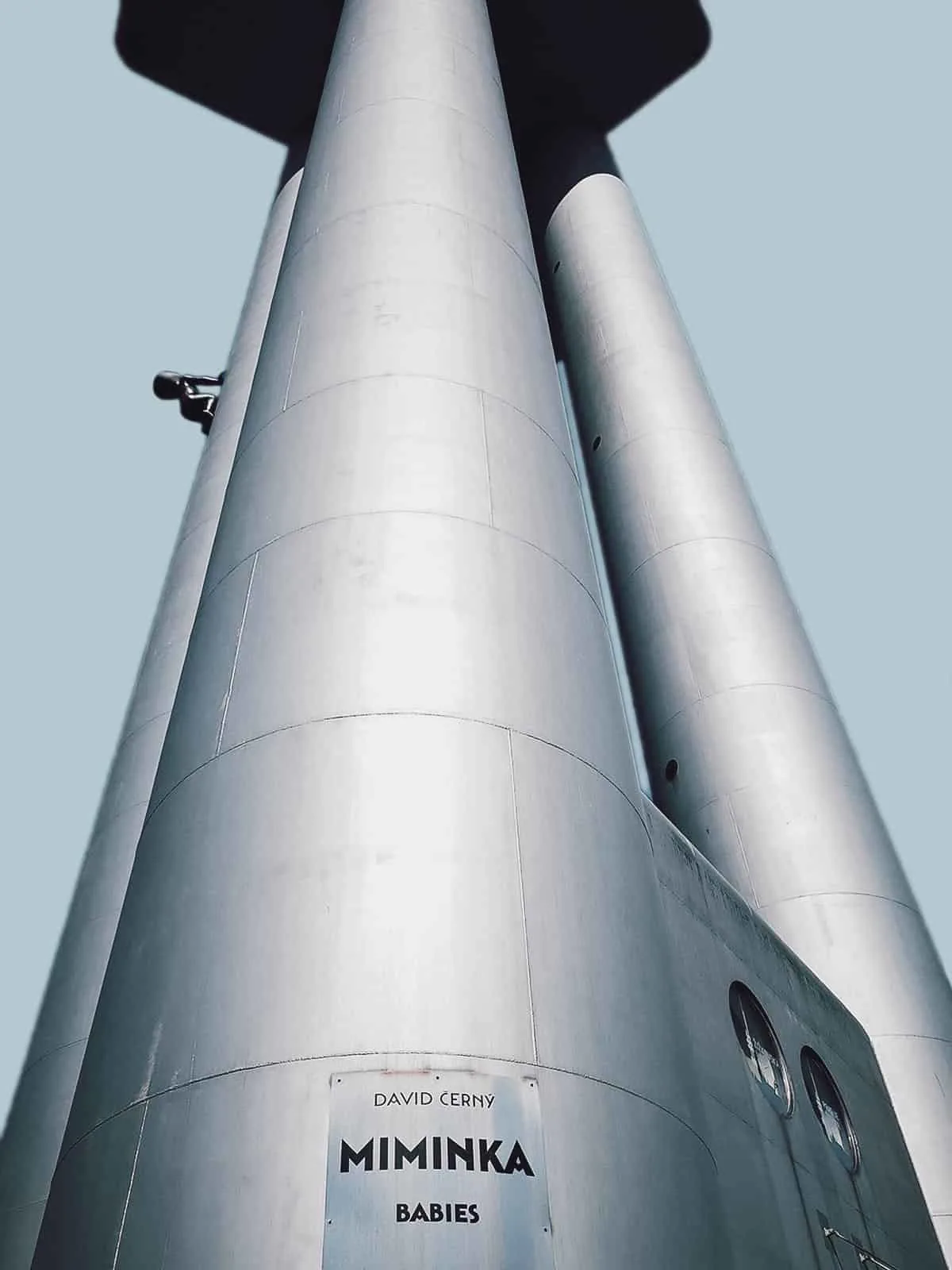 To make things even weirder, inside those pods are restaurants, an observatory, and a 5-star hotel with just one room. Fittingly called Hotel One Room, it's perched 70 meters (230 ft) above the ground and gives you spectacular views of the city and one of the most unique hotel experiences in the world. You can book it on Booking.com or Agoda.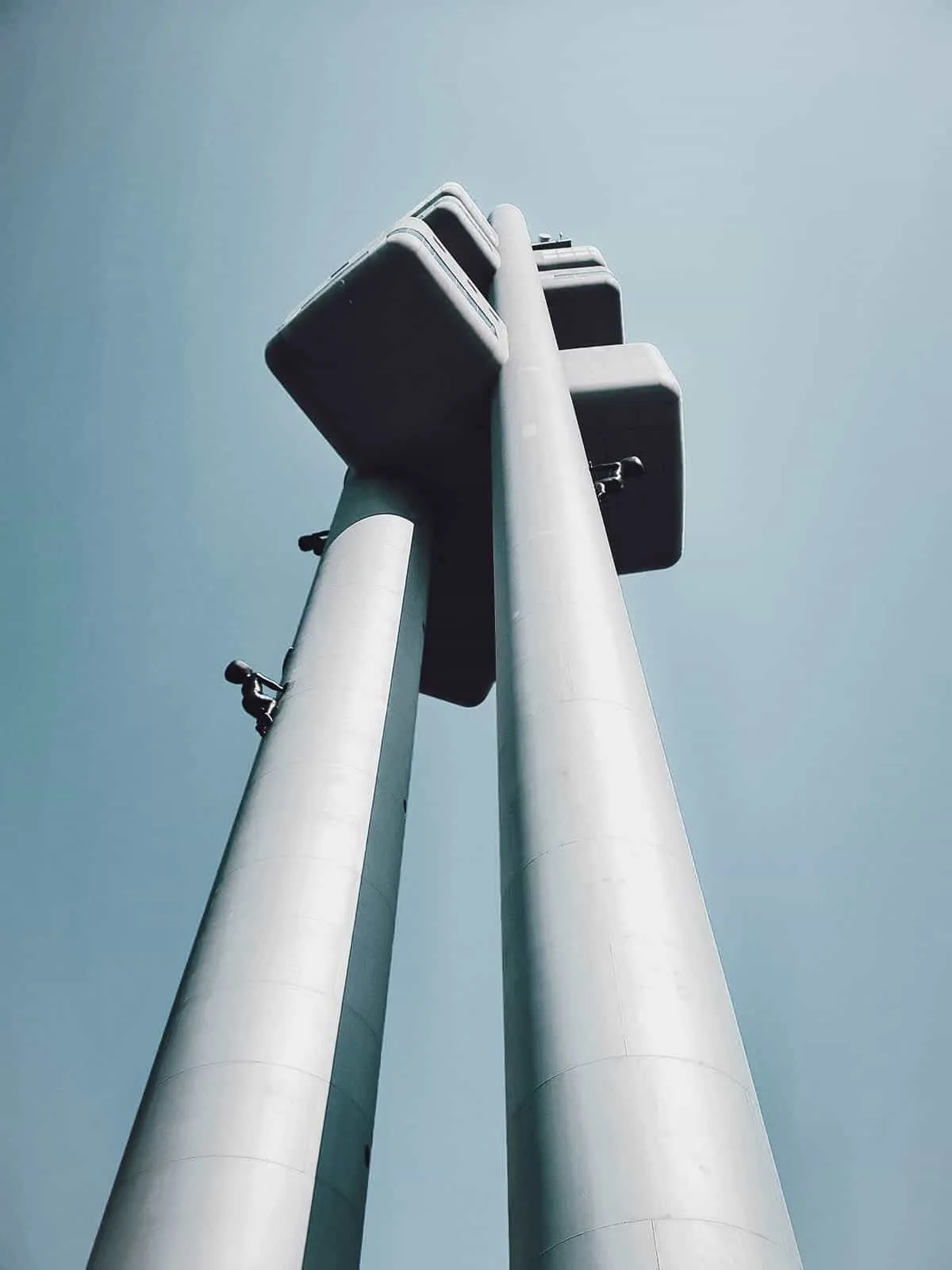 You can't see it from here but the babies don't have faces. Instead of features, they have barcodes or slots jammed into their faces, making them look like the back of an old personal computer. There are three bronze versions of these babies in Kampa Park which you can climb and take pictures with.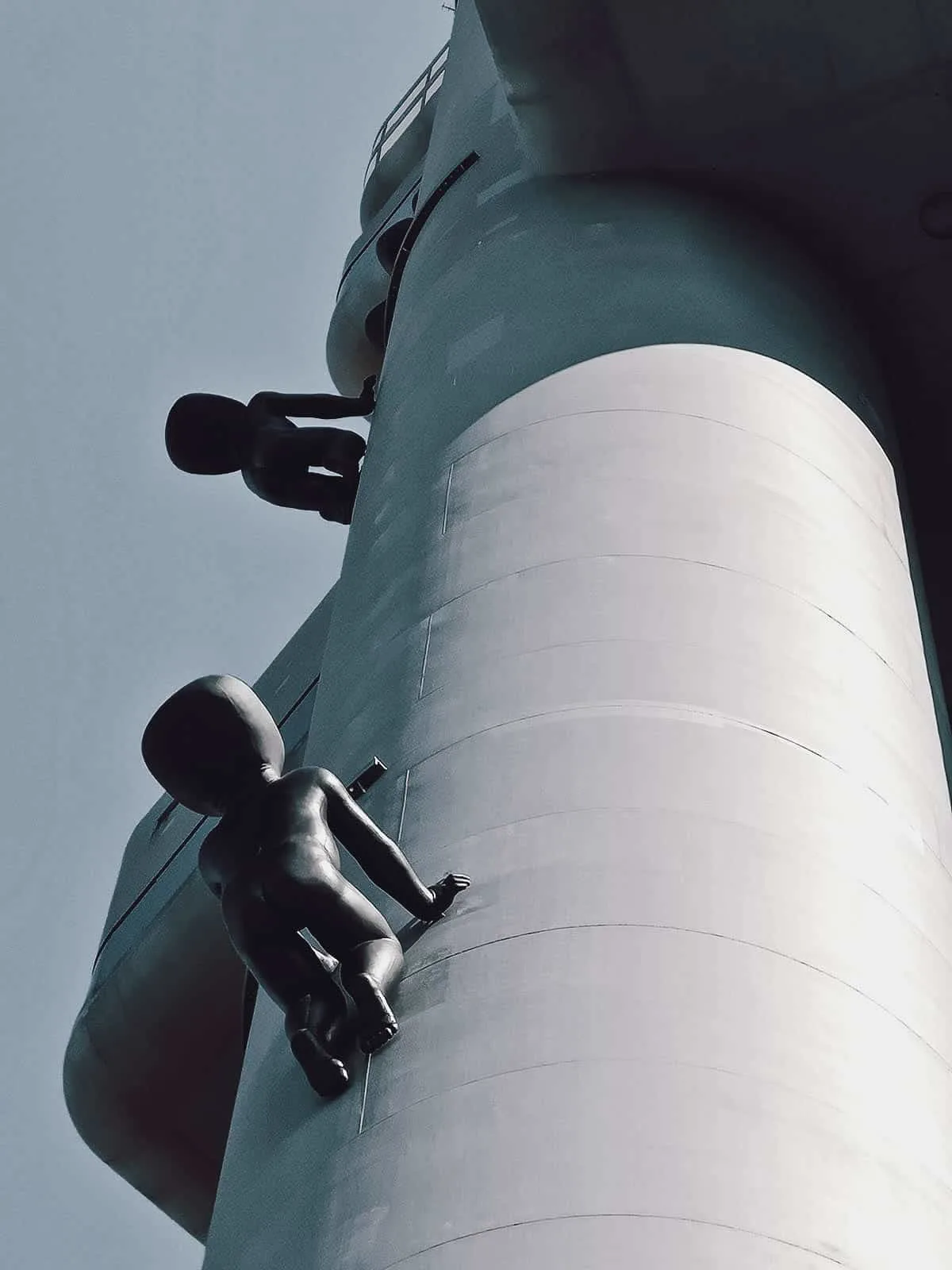 A parting look at the tower and crawling babies. If you didn't know what this building was and spotted it from a distance, you'd be scratching your head wondering what the heck it is. It really is a bizarre sight.

4. Meet Factory (2001?)
The Meet Factory is a non-profit contemporary art center founded by Cerny in 2001. It's housed in an industrial building in Smichov district by the highway and railroad tracks. There you'll find these two iridescent red cars dangling from giant metal spikes.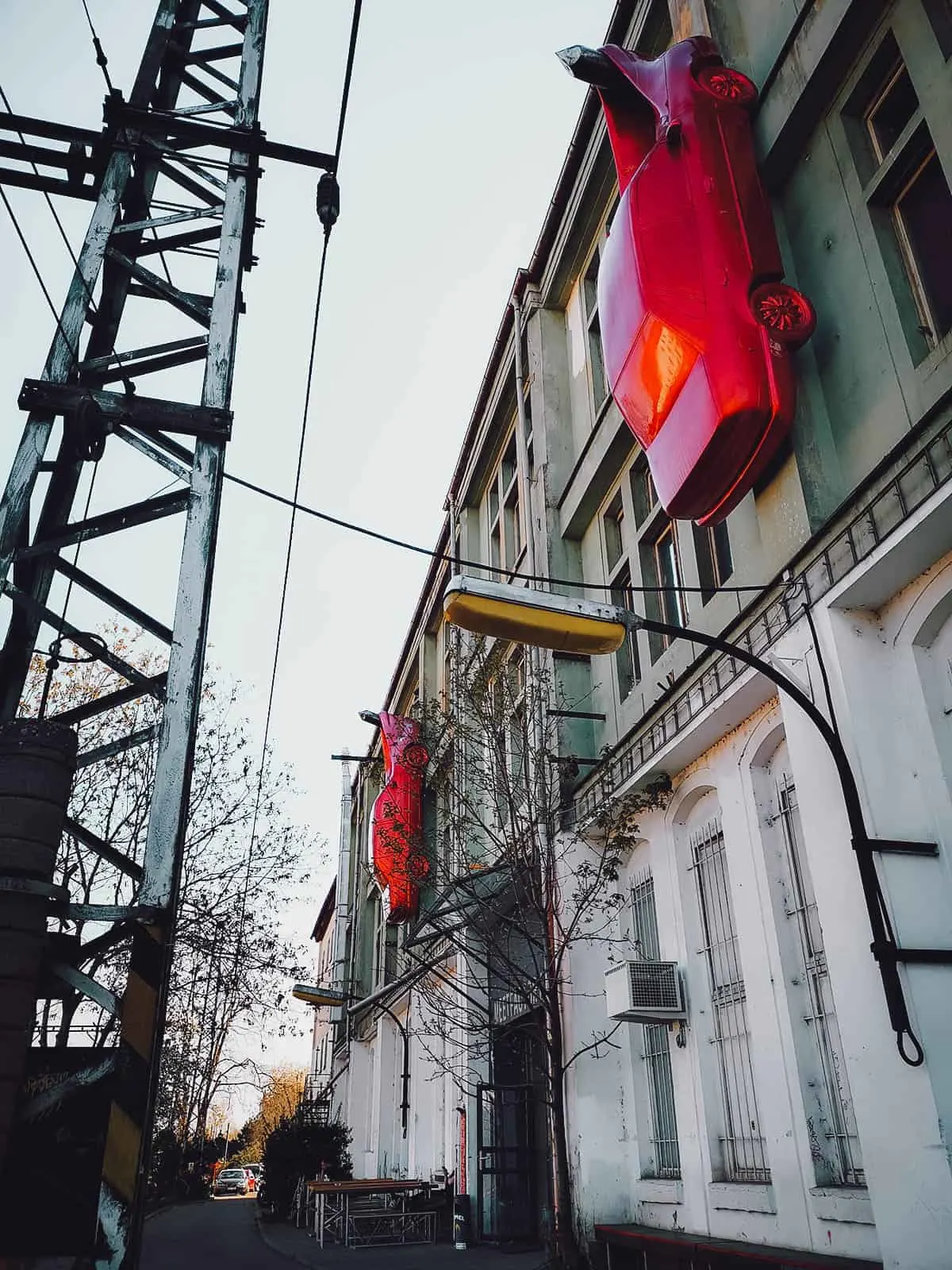 They were between exhibits when I was there but the Meet Factory holds art exhibitions, film screenings, theater, and live music performances.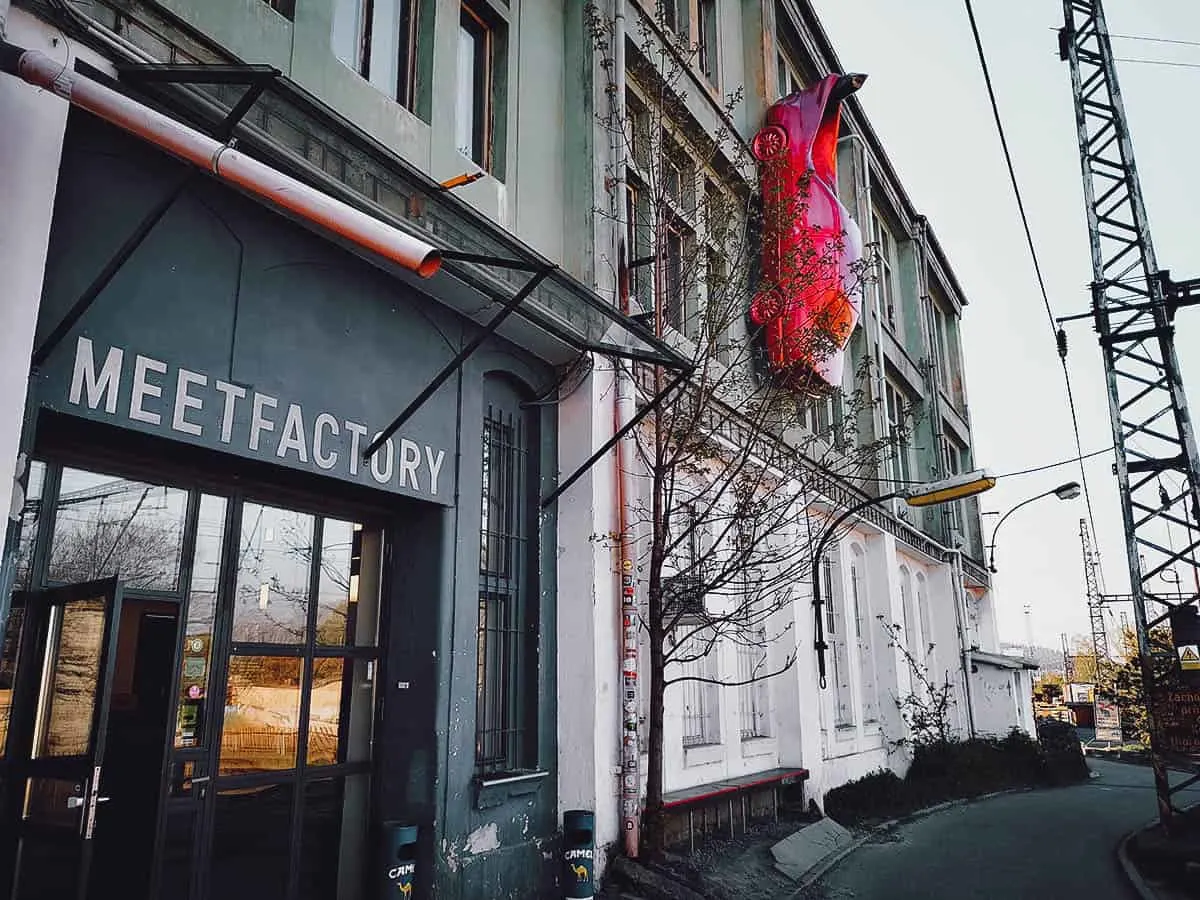 These two life-sized cars look like they're stretching off the spike from which they hang from, almost like rubber. I don't know what these Cerny sculptures are made of but their size makes them feel like they have the weight of actual cars. It was calm when I was there but I read that they creak and sway on windy days.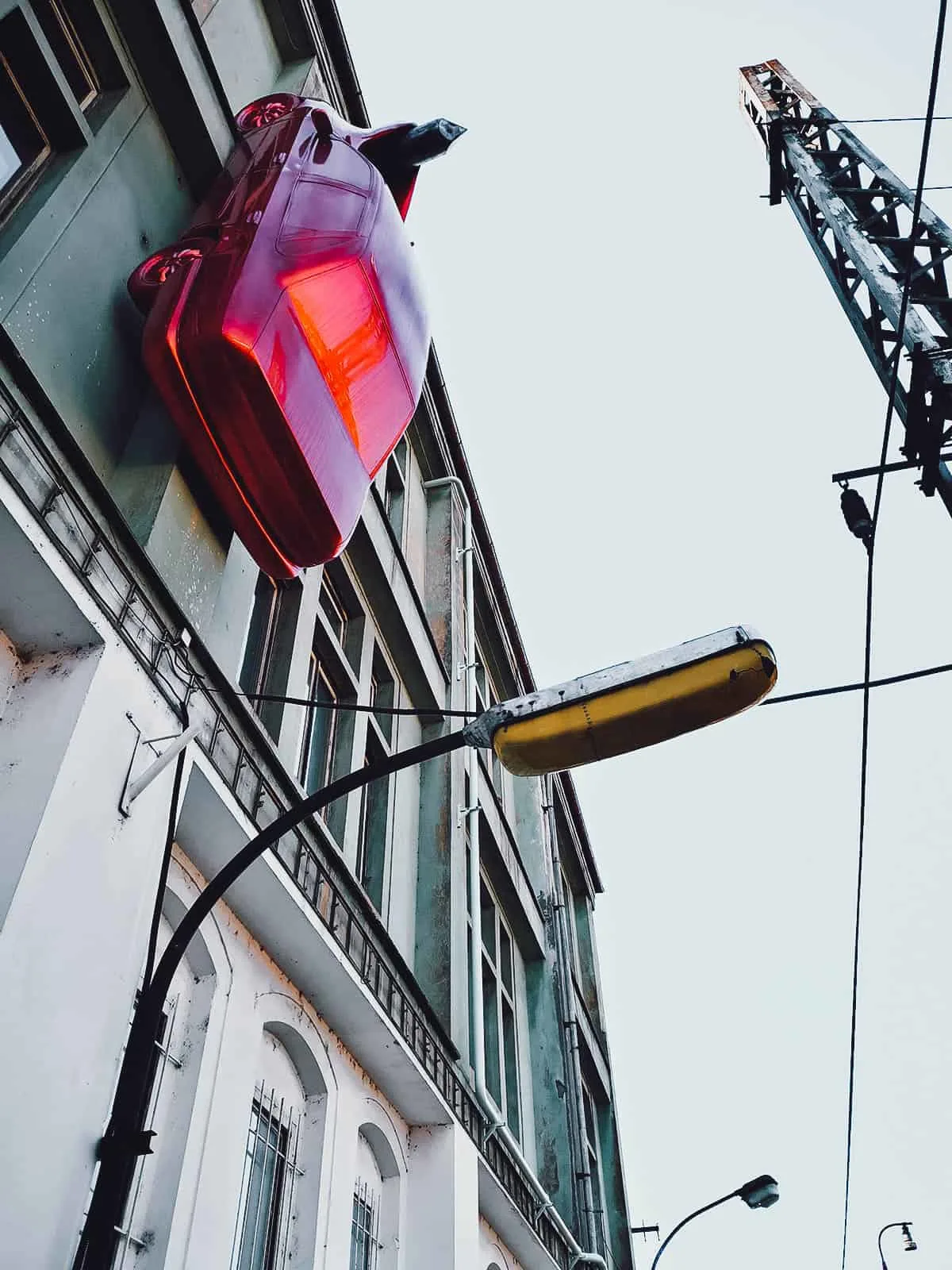 5. Brown-Nosers (2003)
This, for me, was Cerny's most interesting sculpture and the one that inspired me to go on this art hunt. Be sure to take note of its location on the map below because the place is easy to miss!
The Brown-Nosers installation is located inside the Futura Gallery on Holeckova Street. The thing is, there's no door or display that signifies you're at the gallery other than the F banner that hangs high above your head. In fact, I had walked past the entrance and only realized my mistake when Google Maps told me I overshot it. At the entrance with this F banner is a buzzer labeled Futura Gallery. You'll need to ring it to be buzzed into the building.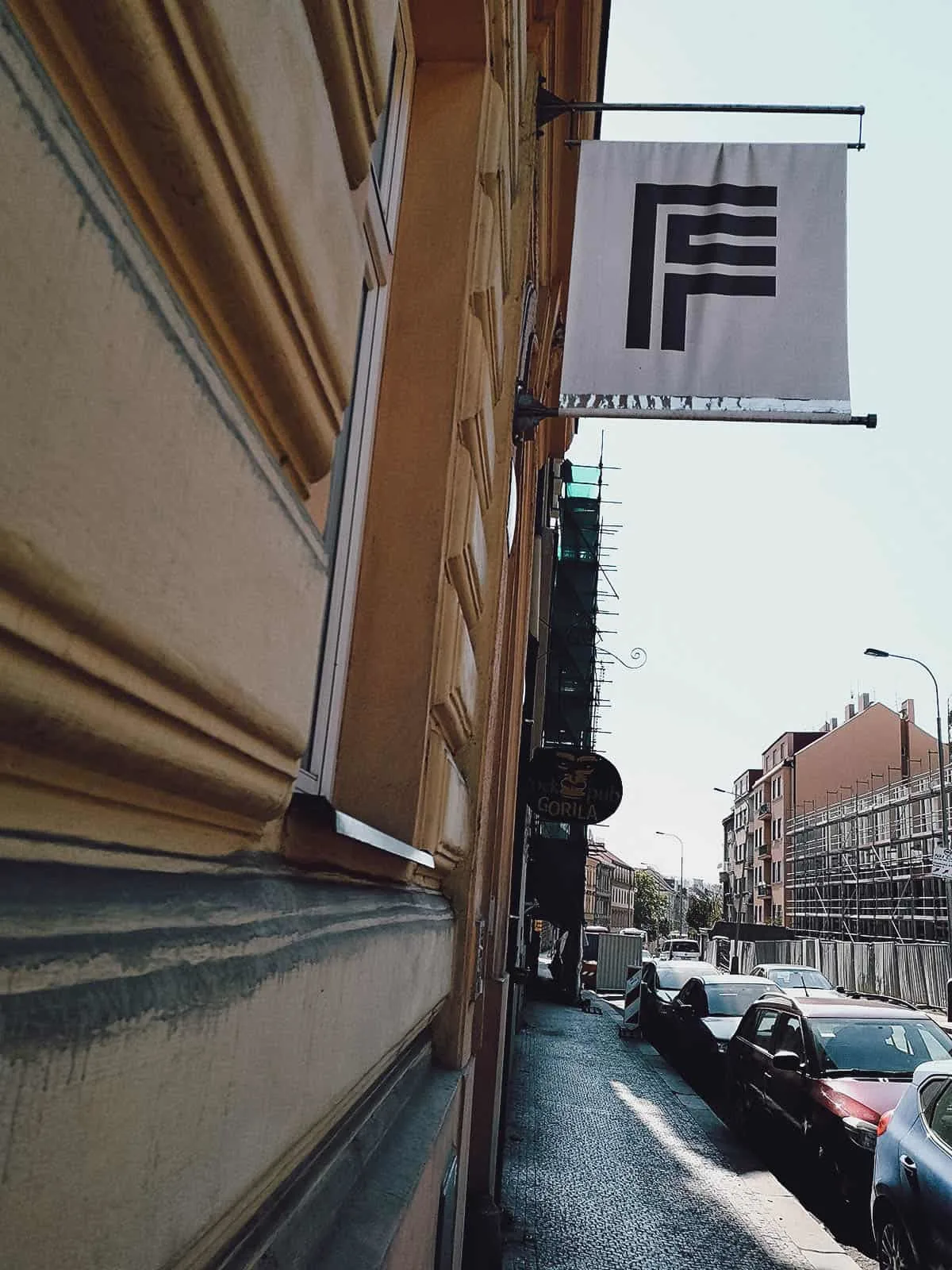 Walking through the corridor of what looks like a residential building takes you into a three-storey art gallery that's one of the strangest I've ever been to. Even the space itself is like a work of art.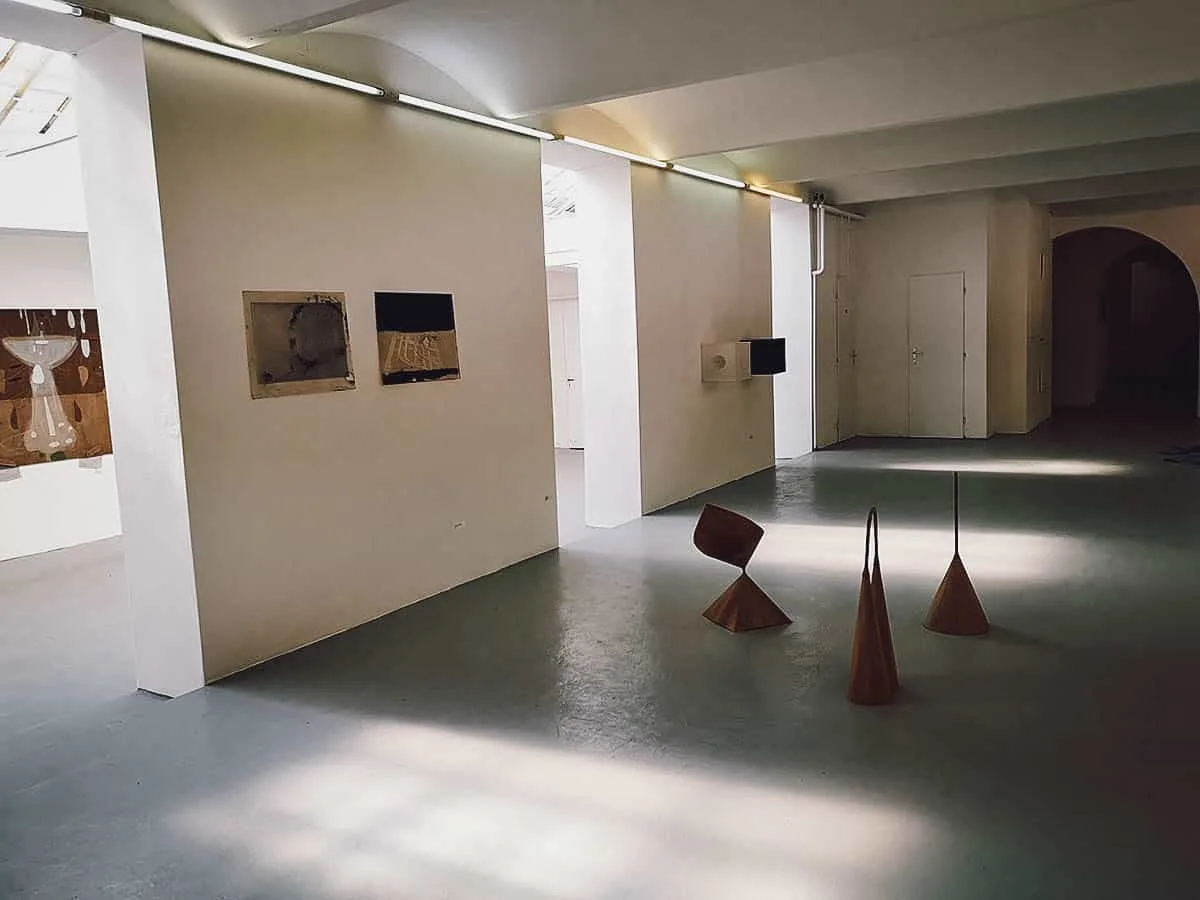 Other than the one person sitting inside the gallery's office, there was no one overseeing any of the works. There's no admission fee either so you're free to explore the space on your own. The ground and upper levels are industrial-looking and bare, but they seem normal enough. It's the basement that gets a little weird. I'll explain more below.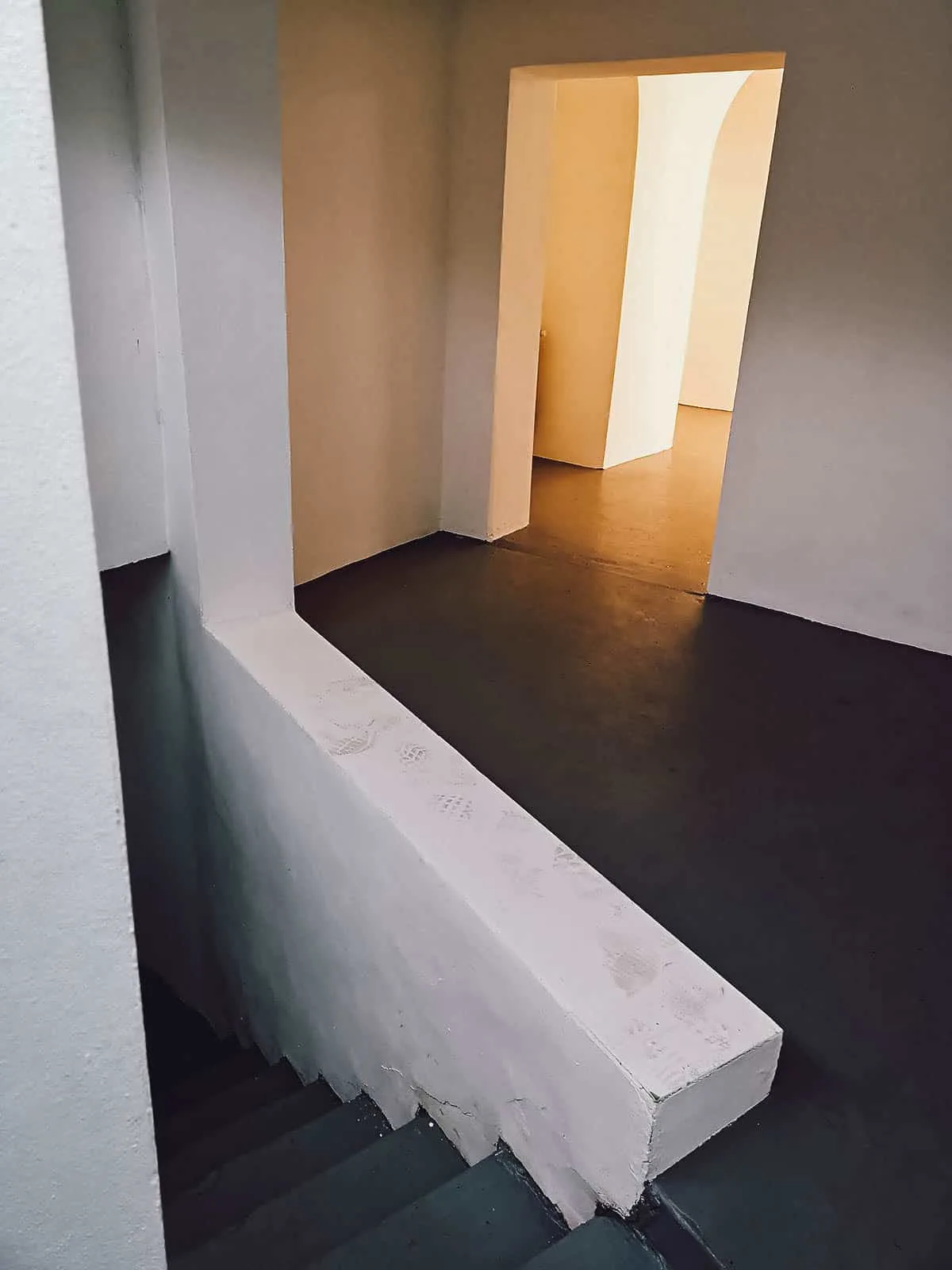 Here's a quick look at the upper level which is comprised of just one big room. At the time of my visit, there was a projector screen playing a video with multi-colored lights flashing behind it.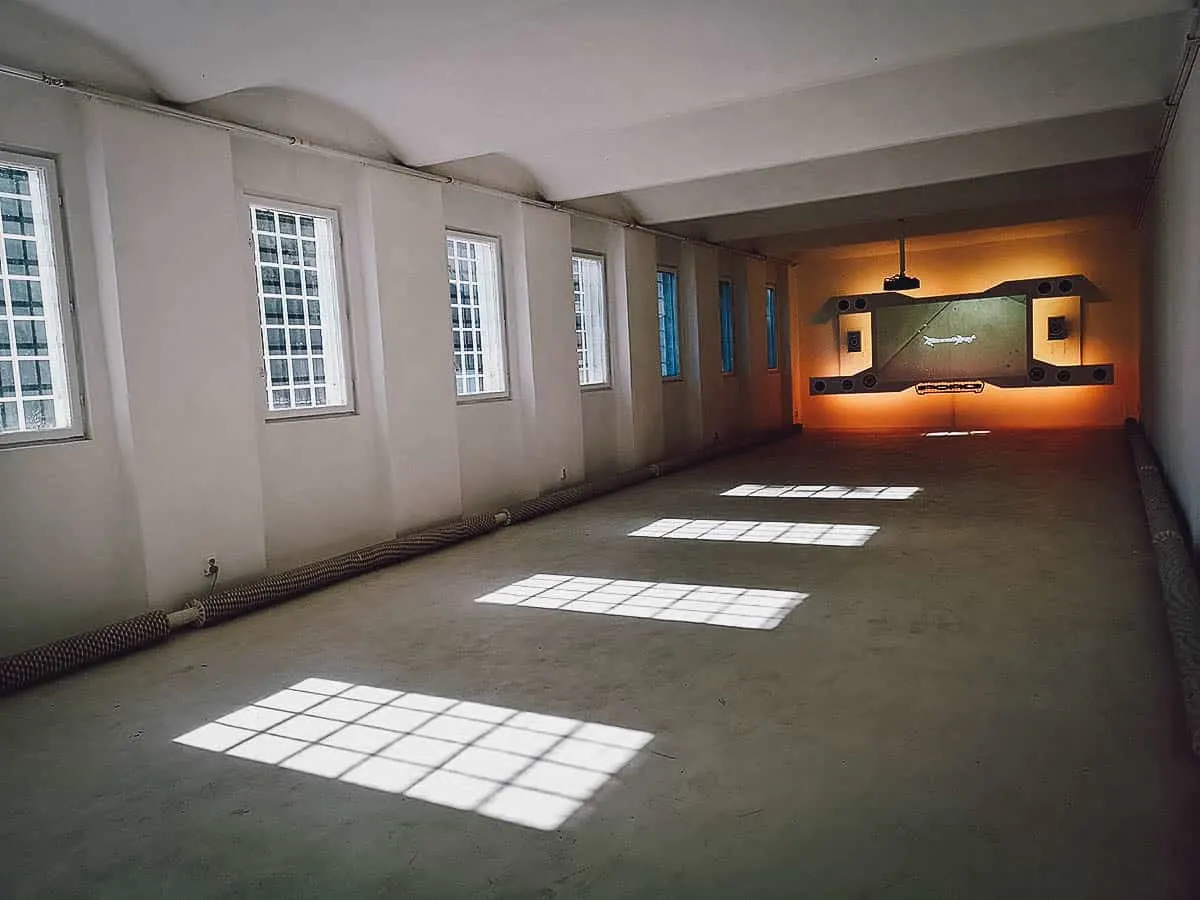 Interesting artwork made with repurposed fabrics. Most of the work on display in the main room was from this artist.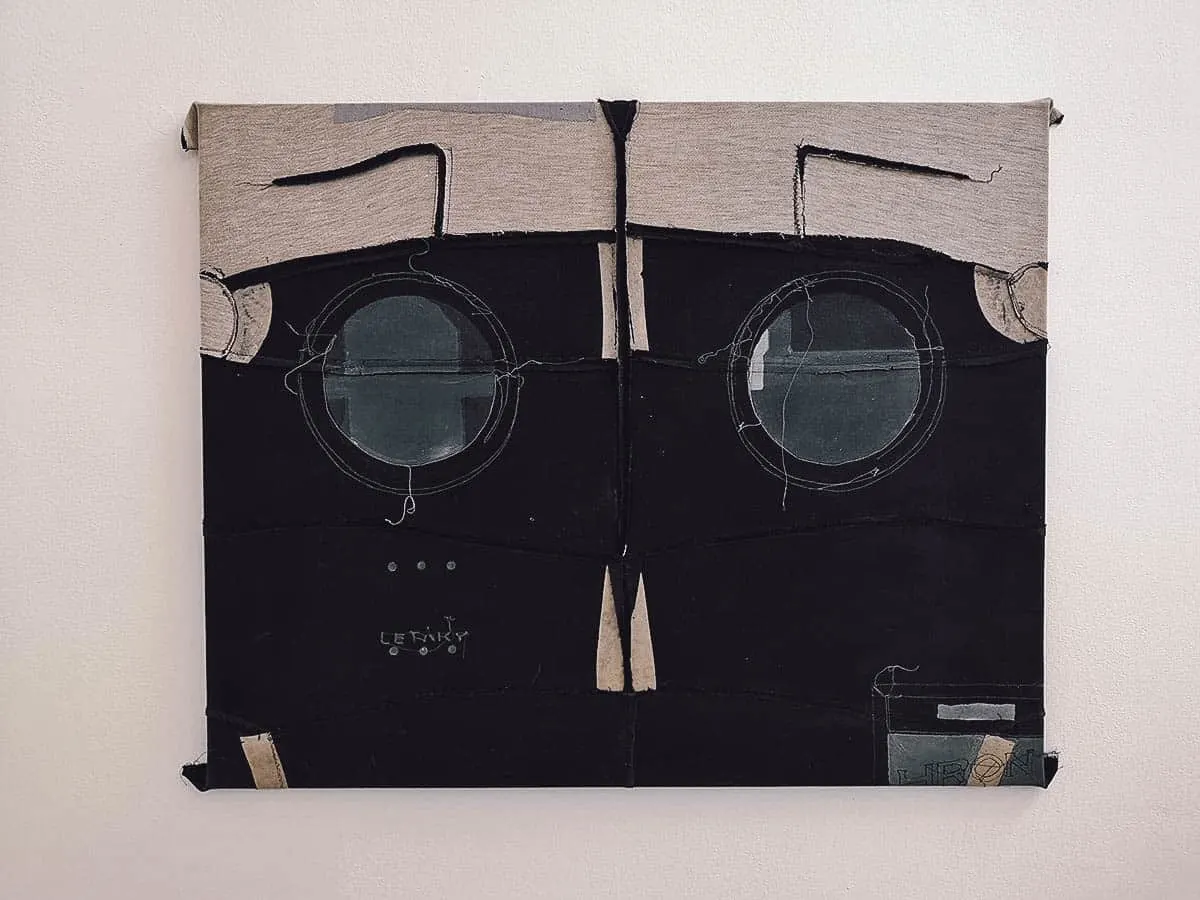 Ok, now this is where it gets bizarre, and a little scary to be honest. To get to the basement, you had to go through these brick corridors that opened up to small rooms with avante-garde installations and art pieces hanging on the walls. There wasn't much explanation, if any. I just remember being confused by the space and a bit apprehensive to continue because there was no one else around. The space had an eerie Silence of the Lambs feel to it. I was scared to turn the corner and find a man telling me to put the lotion in the basket.
What made the experience more nerve-wracking was the sign that warned you to proceed with caution. I'm sure it was referring to the space itself not being 100% safe and accident-proof, but it played tricks on your mind and made you wonder what was waiting for you down there.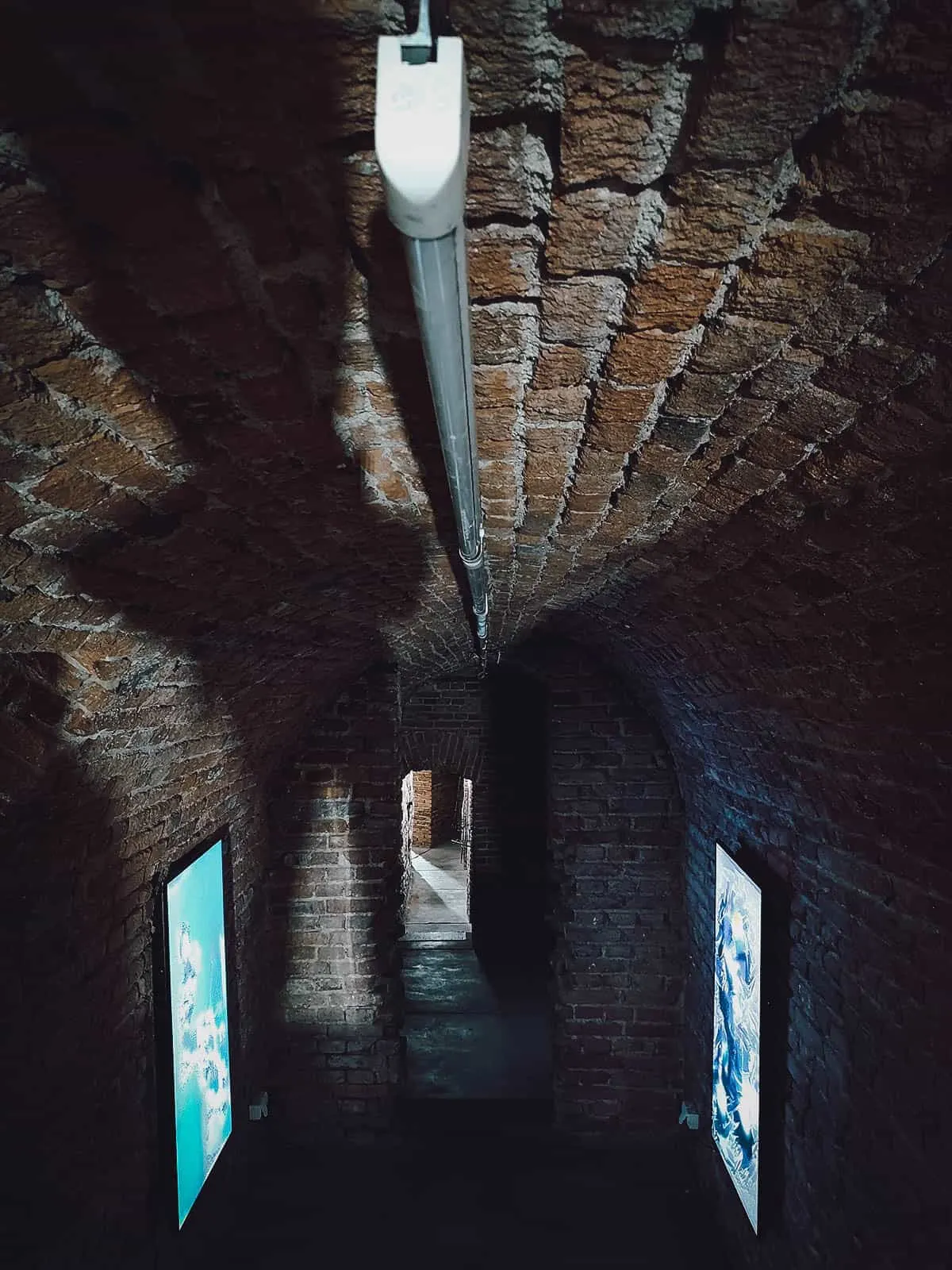 I soldiered on through more of these strange passageways that felt like the bowels of an abandoned subway station, or a secret BDSM club. You see that black installation with cracked glass on the right? That's what I mean by the strange art pieces they had on display down here. Do I need to put my gimp mask on and handcuff myself to those pipes?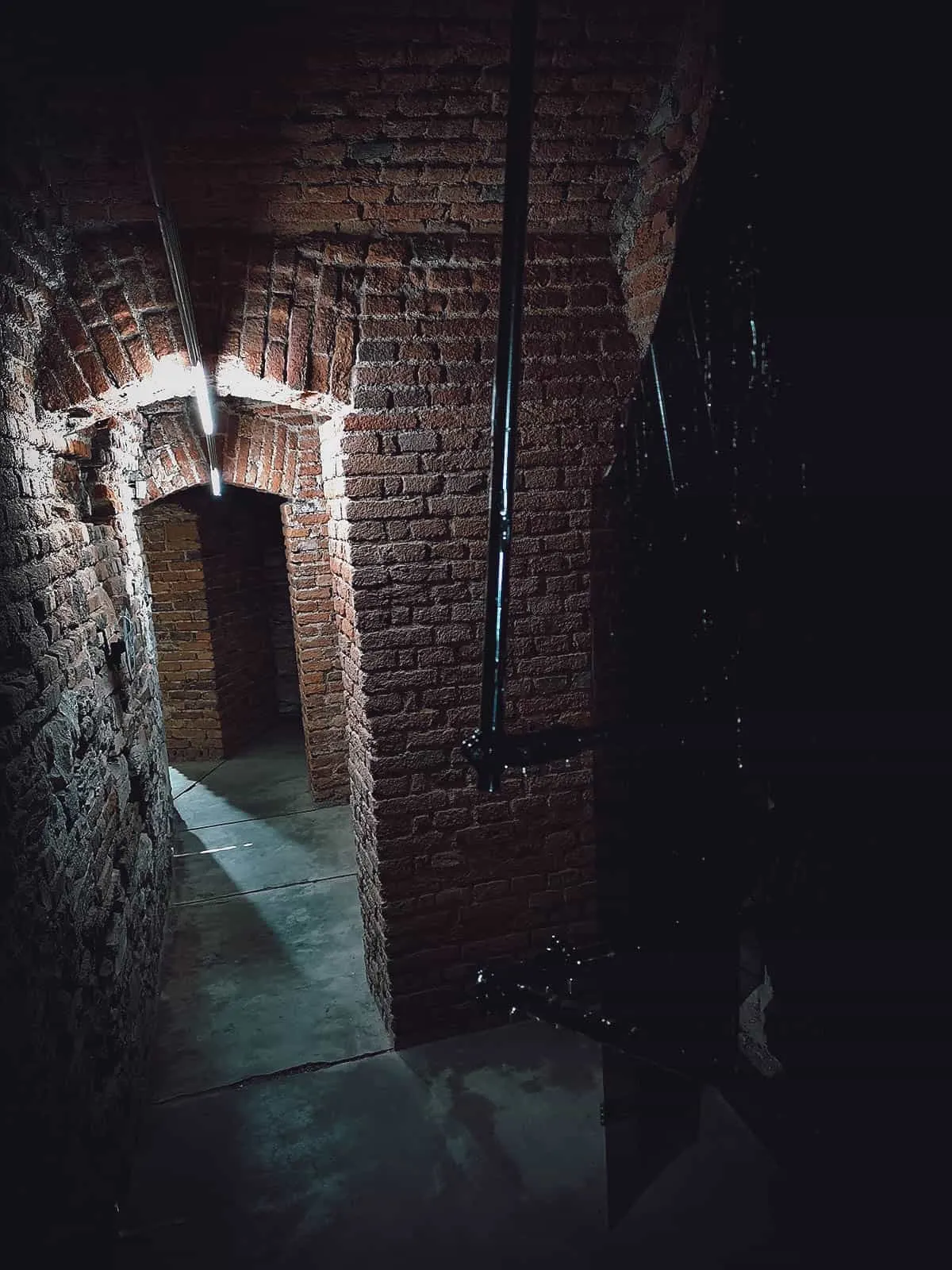 Going through the basement's cold brick corridors will eventually lead you out to this private yard behind the building. That's where you'll find these two large fiberglass sculptures by David Cerny called Brown-Nosers. Viewers are invited to climb the ladder and see what's inside the anus.

The ladders are rickety so be careful climbing up. Each asshole is about 5 meters (16.4 ft) off the ground.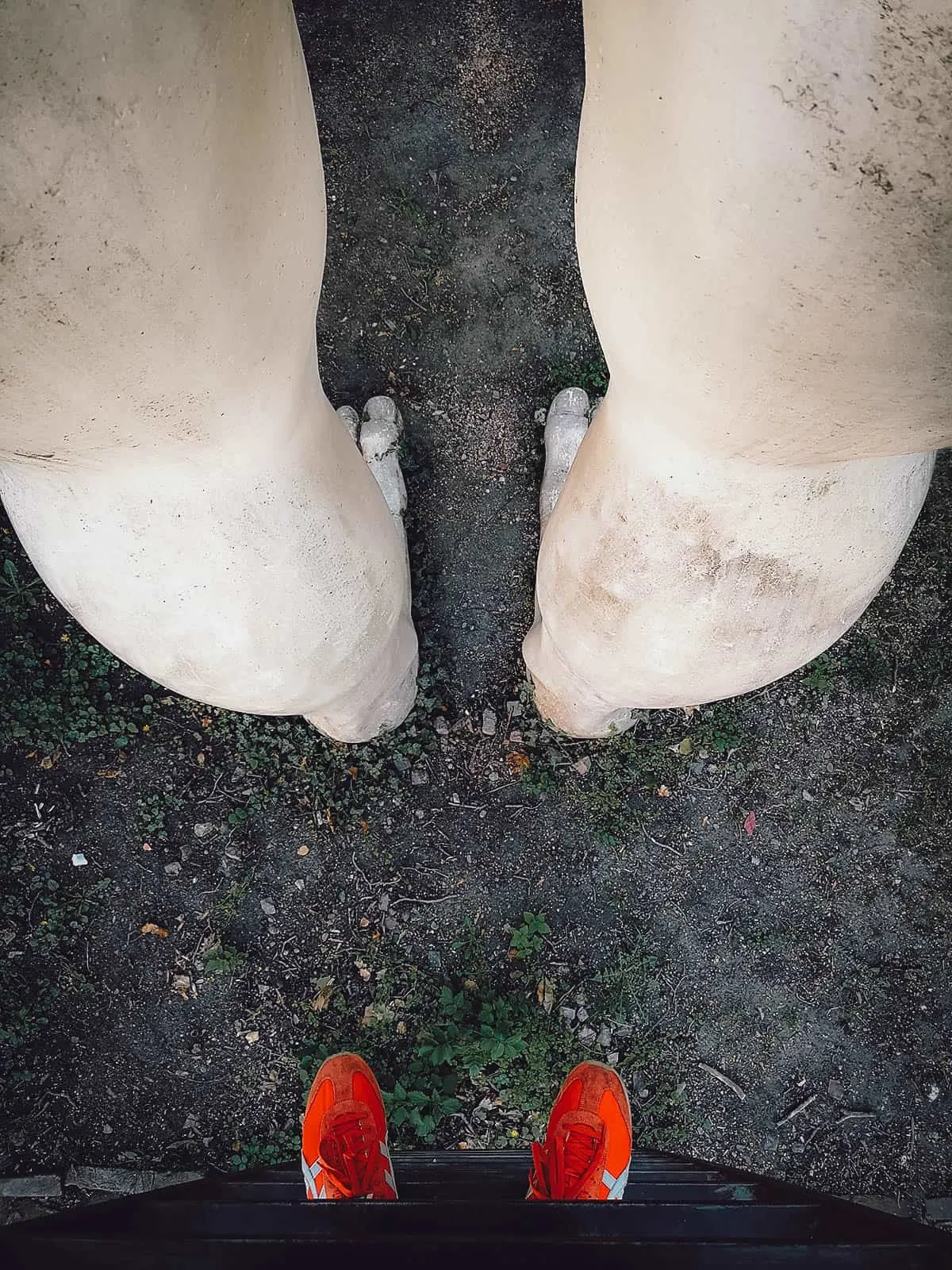 Peering inside the sculpture's rectum, you'll find a video of two old men spoon-feeding each other with gruel to the sounds of Queen's "We Are the Champions." I read they're meant to represent President Václav Klaus and performance artist Milan Knížák. The latter served as the general director of Prague's National Gallery and was accused by Cerny of having no interest in contemporary artistic trends. This was the artist's way of expressing his distaste for both men.

Deeper into the anus. Both asses show the same video so no need to stick your head in both.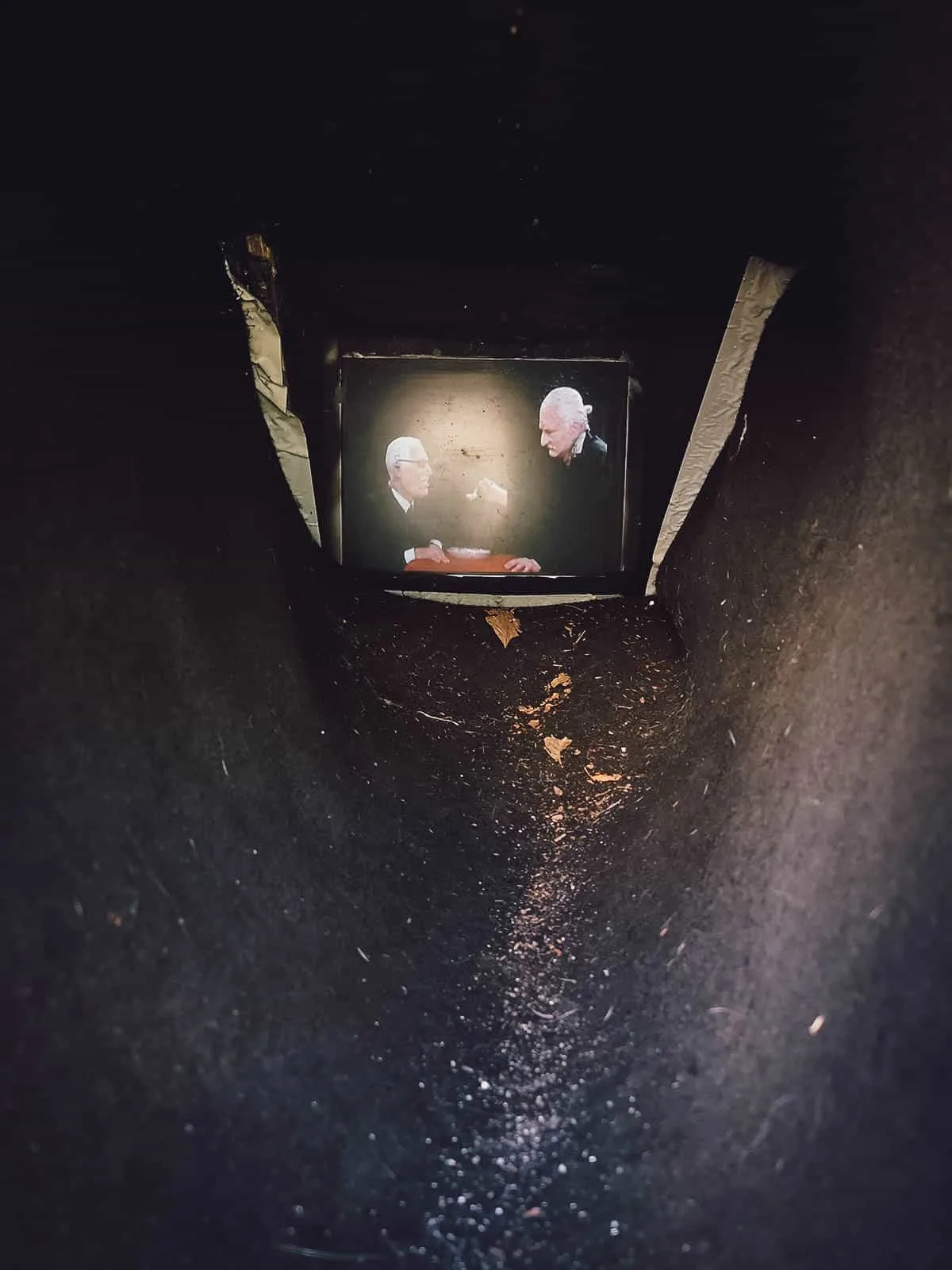 I had the whole backyard and both backsides to myself until a French couple came along. The guy was a good sport, agreeing to stick his head in so I could take this picture. Merci!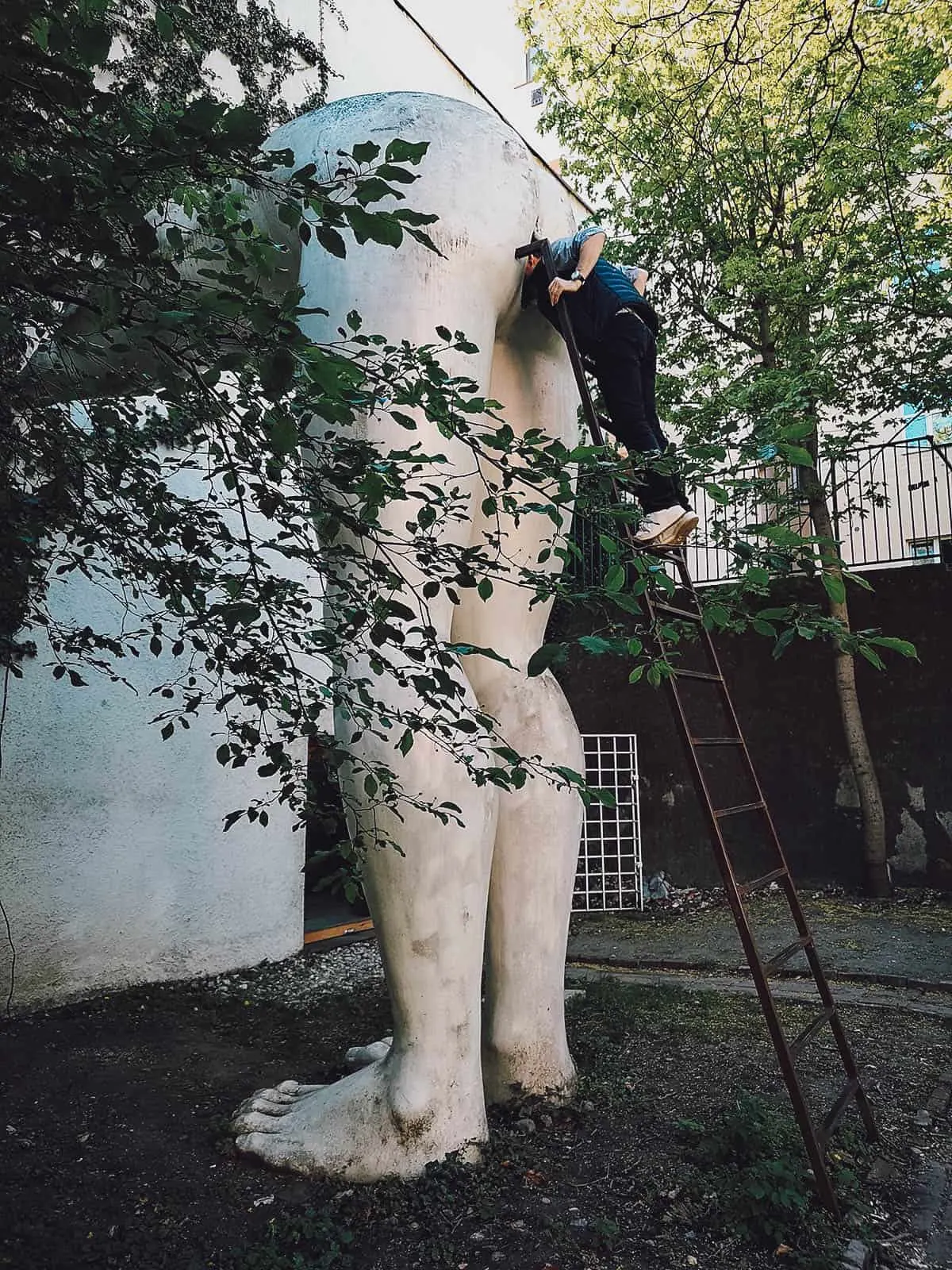 6. Piss (2004)
This kinetic sculpture of two urinating men in front of the Kafka Museum is perhaps Cerny's most photographed work. Cast in bronze with each standing about 2 meters tall (6.5 ft), their pelvises gyrate and their penises bob up and down while releasing a stream of water into a shallow pool shaped like the Czech Republic.
What looks like random peeing is actually the sculptures "writing" Czech literary quotes into the water! If that weren't strange enough, the messages aren't always predetermined. The sculptures will break protocol and write whatever text message you send to the number (+420 724 370 770) displayed on a plaque near the installation. Kooky!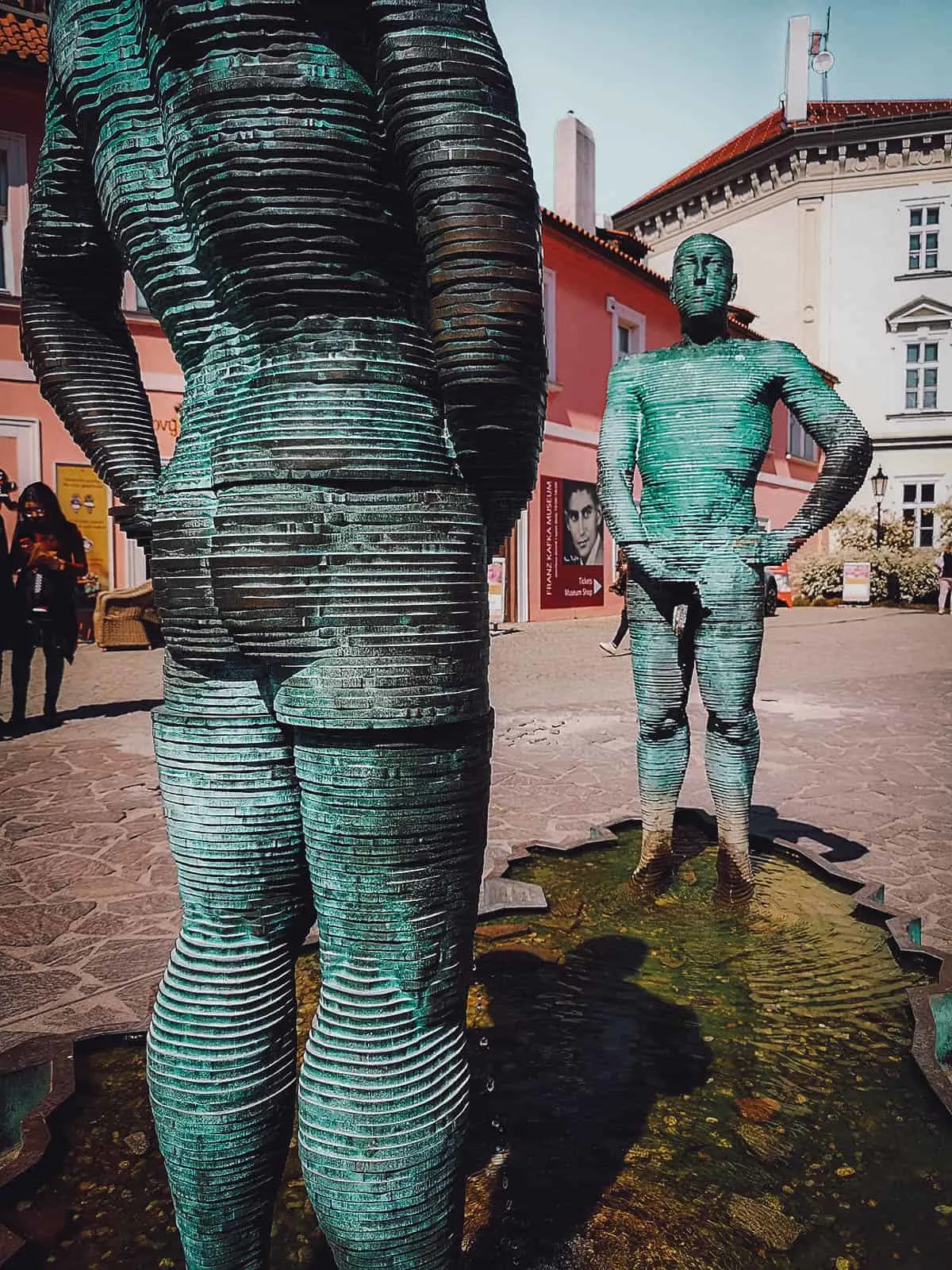 7. Embryo (2008)
This sculpture is easy to miss. It's installed on a drainpipe on the facade of the Divadlo Na Zábradlí Theatre (Theatre on the Balustrade). It was installed on 9 December 2008 to celebrate the theatre's 50th anniversary. At night, an internal light is switched on so you can see the faint outline of a fetus.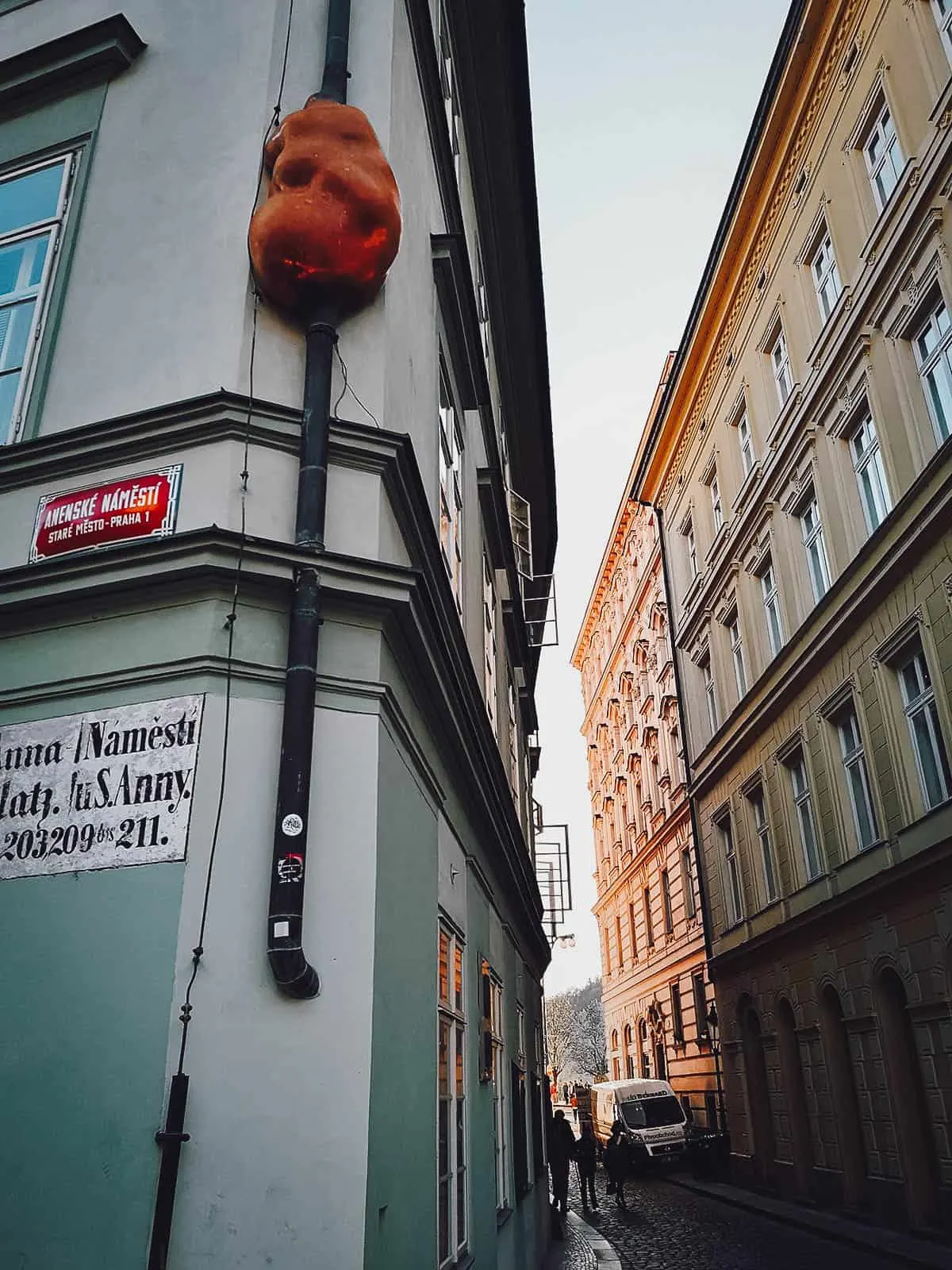 8. Babies, Kampa Park (2008)
These are the same babies inching their way up the Žižkov Television Tower, but cast in bronze. As described, they have what look like barcodes forced into their faces.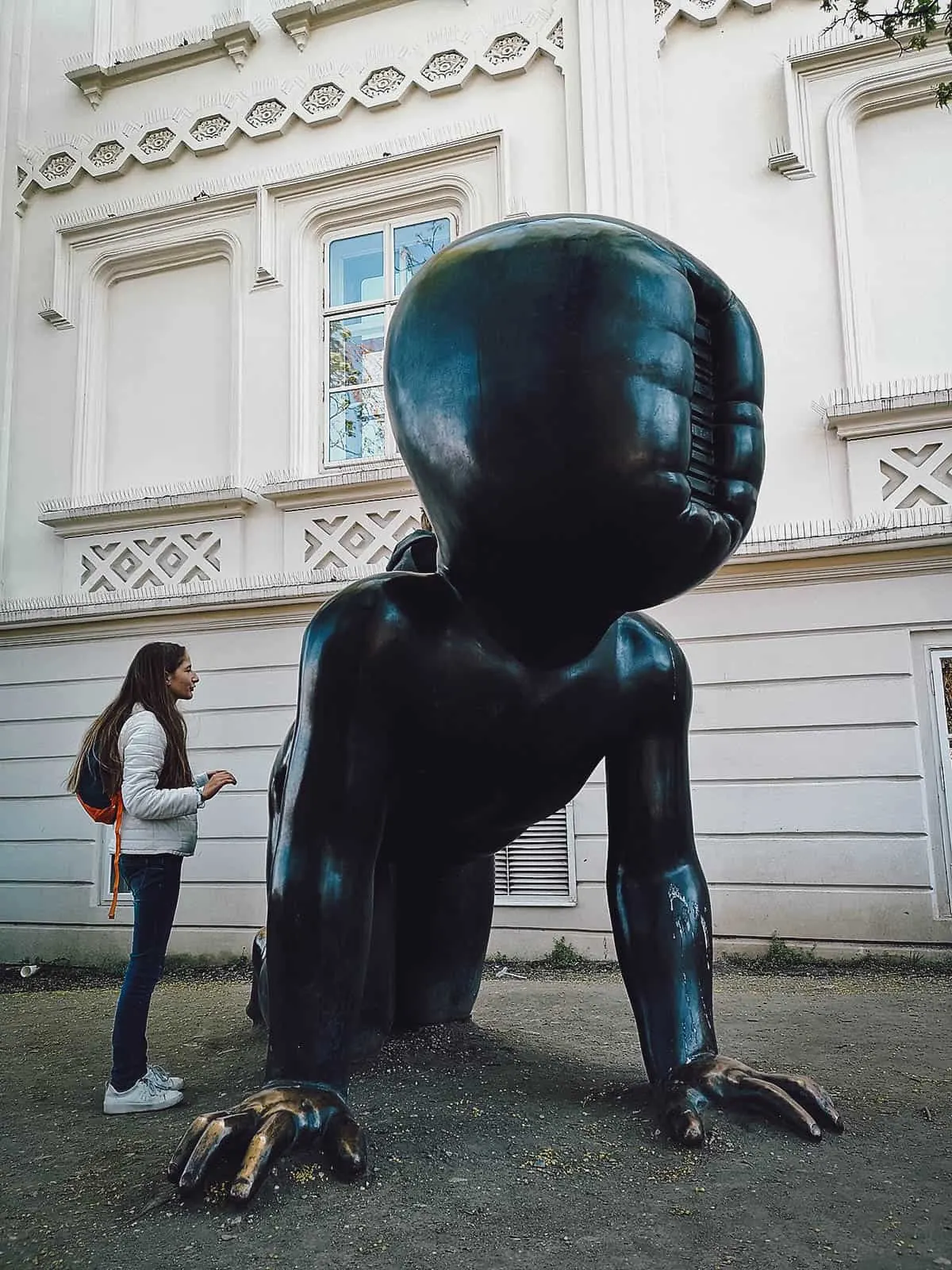 These sculptures are very popular with people constantly climbing on top to play and take pictures.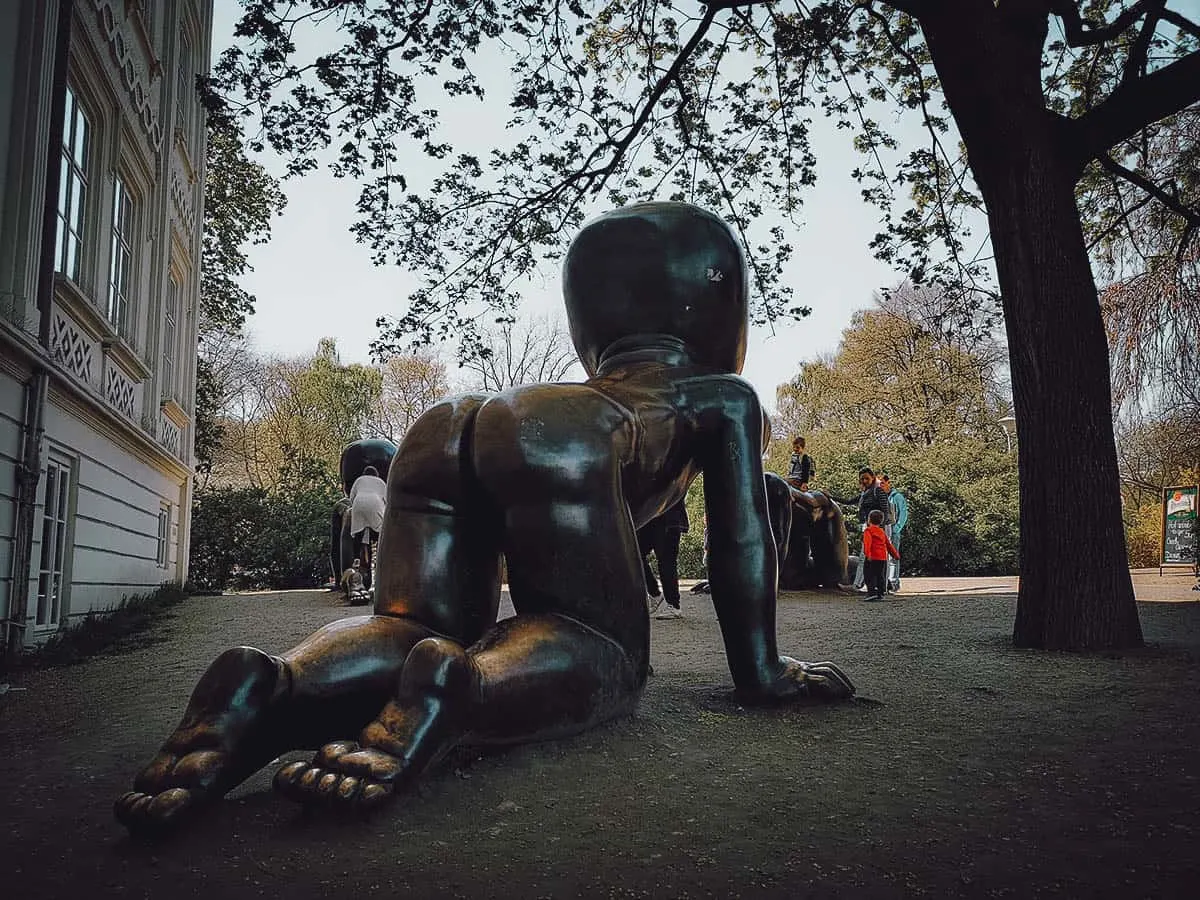 Not sure what the barcode faces are supposed to mean, but it gives the babies a cold impersonal feel. A statement on the dehumanization of totalitarian rule perhaps?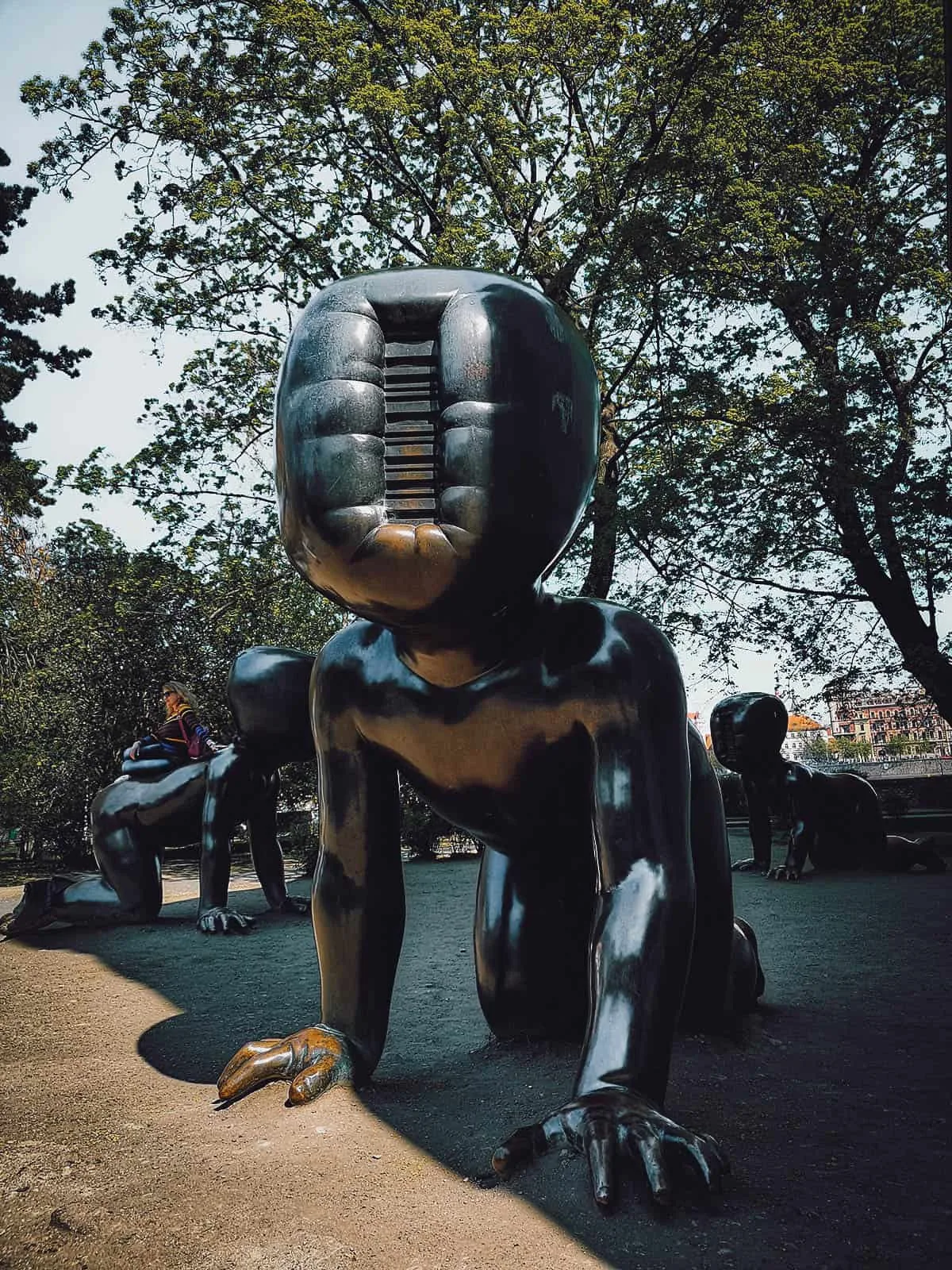 9. Head of Franz Kafka (2014?)
This kinetic bust of Bohemian writer Franz Kafka is one of the more easily accessible sculptures on this list. It stands 11 meters tall (36 ft) and is located outside the Quadrio Shopping Centre in the New Town.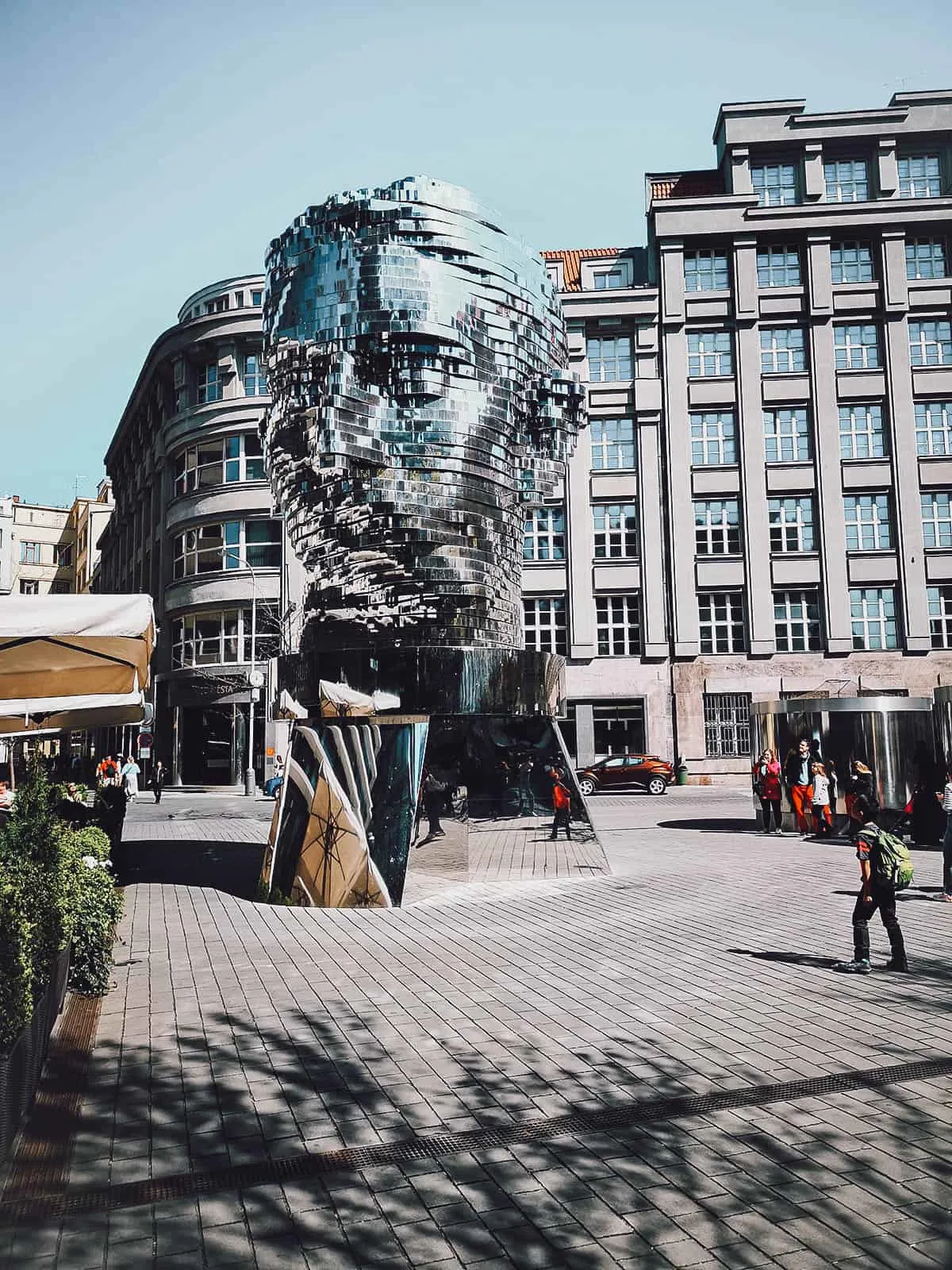 The mirrored sculpture is made up of 42 perpetually rotating panels. The panels move for about 1-2 minutes before pausing to retain the shape of the author's head. Each panel moves independently and can be programmed to randomize the sculpture's movements.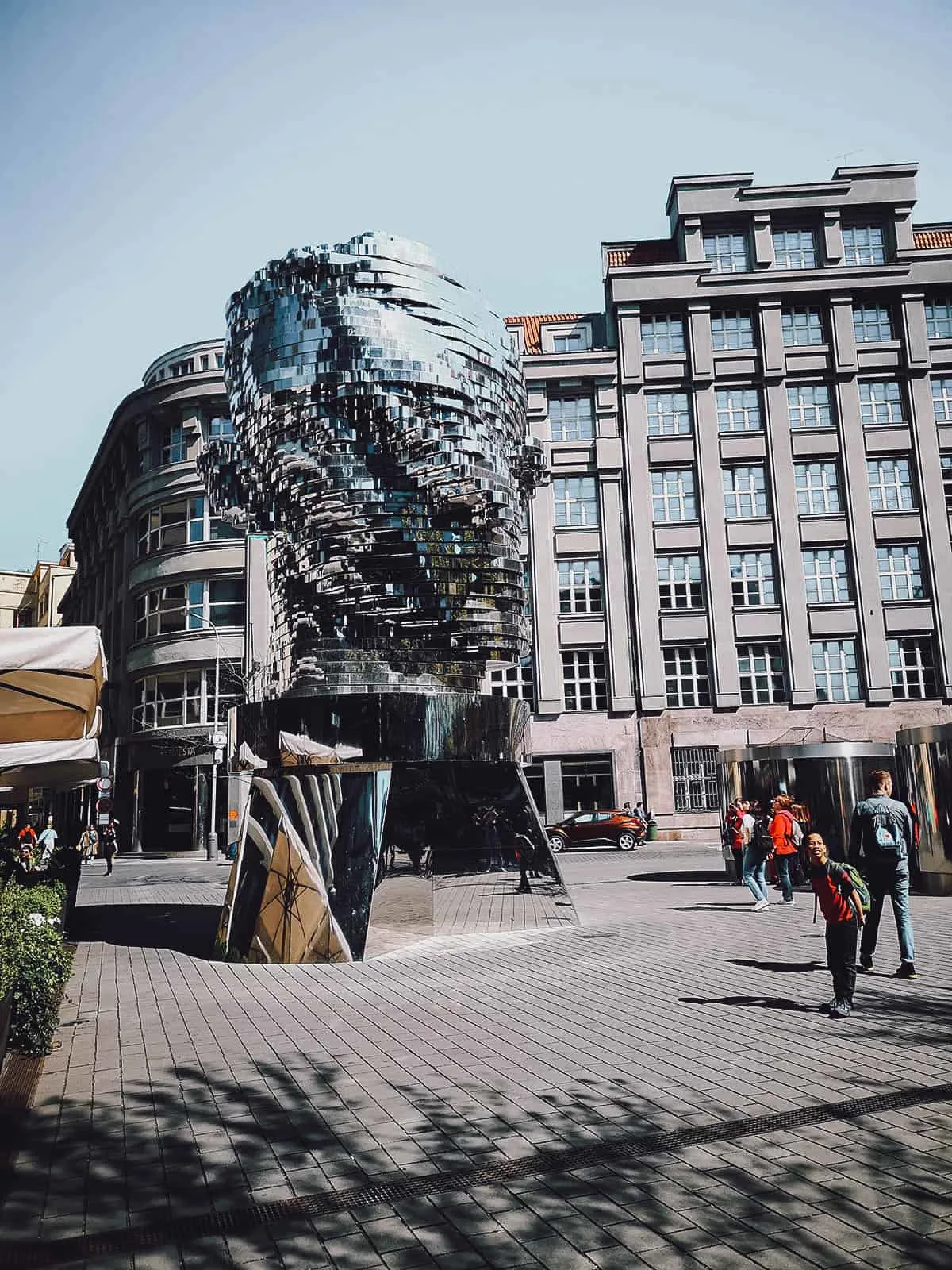 Cerny created a similar piece in 2007 called METALmorphosis. It's located at the Whitehall Corporate Center in Charlotte, North Carolina, where it sits inside a reflecting pool. Smaller than this one, it stands at 7 meters tall (23 ft) and spits water from its mouth into the pool.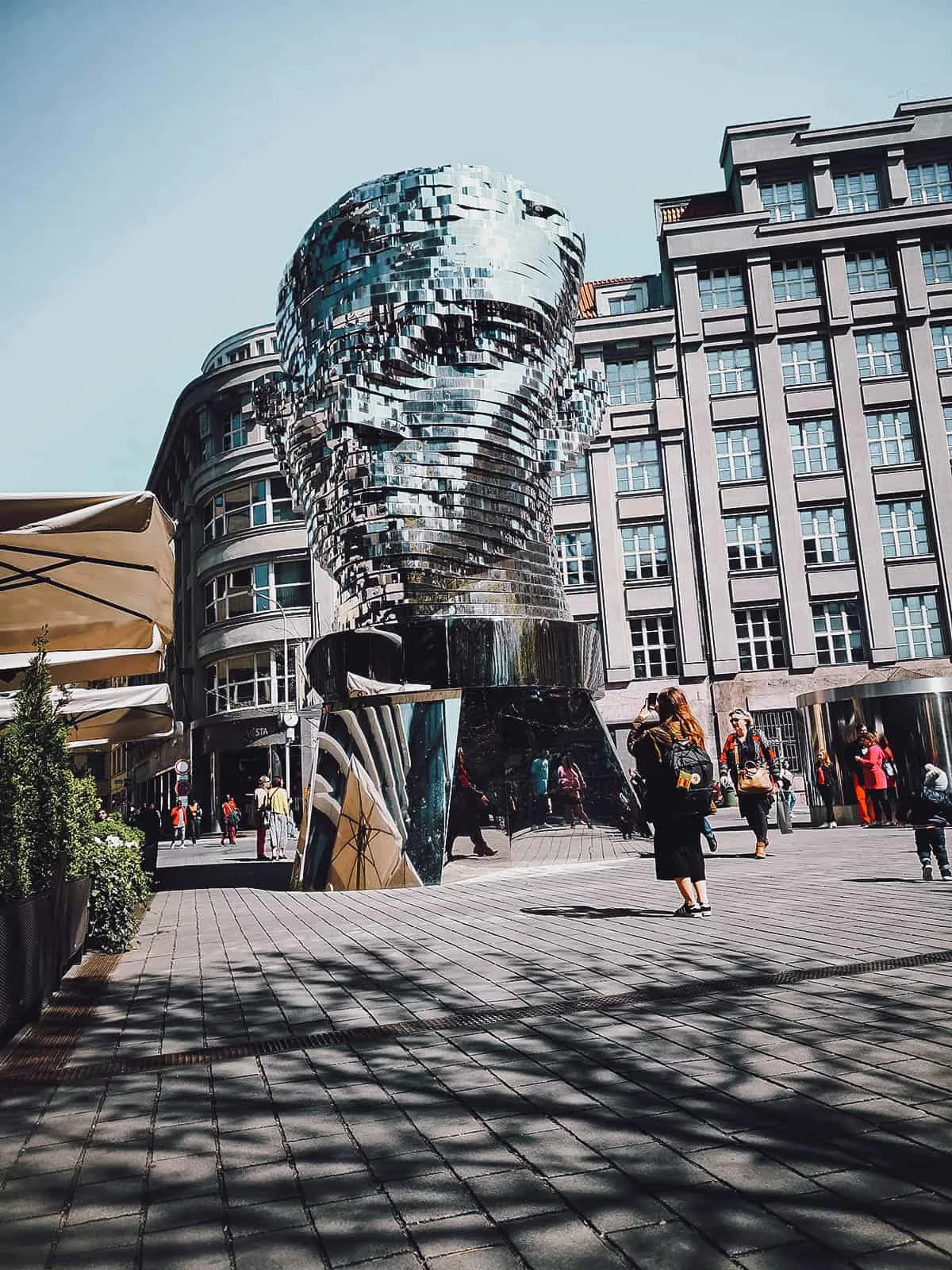 The author Kafka was said to have been plagued by self-doubt and depression all his life. This perpetually rotating sculpture of his head aims to reflect the turmoil of his psyche.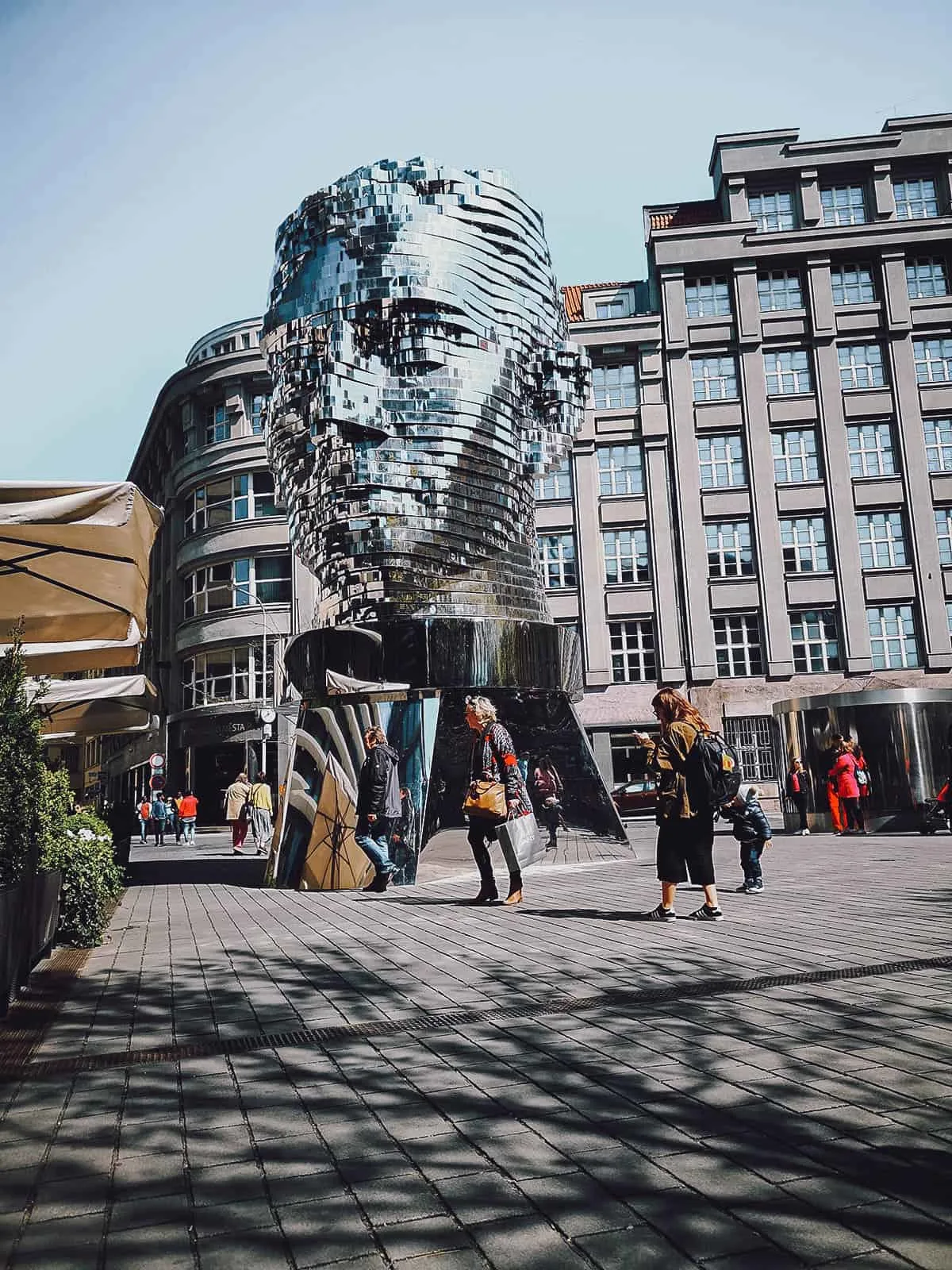 LOCATION MAP
Here's a location map to show you exactly where each of these sculptures is in Prague. Six are located within Prague 1 and can be reached on foot, but the remaining three will require you to take public transportation.
DIY CERNY ART TOUR TIPS
1. Get a 24-hr Public Transportation Ticket
If you plan on checking out all nine sculptures on this list, then getting a 24-hr ticket is a good idea. It costs CZK 110 and will give you unlimited use of buses, trams, and the metro for an entire day. They're available for purchase at any metro station and you don't have to get it on the same day. The 24-hr validity period starts only when you validate your ticket before the first ride.
2. Start in Prague 1
We were staying in Prague 3 so it made sense for me to start with Žižkov Television Tower, but if you're staying in Prague 1, then it's best to start there. As described, six of the sculptures listed above are located in district 1 – Man Hanging Out, Saint Wenceslas, Piss, Embryo, Babies (Kampa Park), and Head of Franz Kafka. Brown-Nosers and Meet Factory are located in Prague 5 while Žižkov Television Tower is in Prague 3.
3. Use Google Maps
The Google Maps app is an invaluable tool for navigating a foreign city's public transportation system. It'll tell you exactly how to get from where you are to where you need to go, giving you exact bus, metro, and tram times. I have a terrible sense of direction but I've been using this app to navigate on every trip and I haven't gotten lost once. I'll never go anywhere now without it.
CONCLUSION
Running around Prague seeking out these Cerny sculptures was fun. It reminded me of our mural hunting adventures in Penang, Malaysia.
Some sculptures were more interesting than others. Of these nine, my favorites were Brown-Nosers, Head of Franz Kafka, and Piss. If you don't have time to visit all, then I suggest starting with those three. They're the most entertaining and make for interesting snaps on your social media feeds.
But if you have the time, then I definitely recommend going for all nine. The challenge of visiting them all in one day makes for an interesting sightseeing adventure. It'll take you to areas of Prague that you otherwise wouldn't see.
Rushing from one place to the next forced me to use public transportation and explore as much of this city as I could. Had it not been for this art hunt, then I probably would have spent most of my time in the Old City.
At the end of the day, I enjoyed that as much as the artworks themselves.
Disclosure
The hotel links in this post are affiliate links, meaning we'll make a small commission if you make a booking at no additional cost to you. We really appreciate your support as this helps us keep this website going. Thank you!