Meat and gravy. You'll find it served at many of the traditional Czech restaurants in Prague.
I don't have much experience with Czech food but one thing seems clear, roasted meat dishes heavy on gravies, starches, and root vegetables figure prominently in traditional Czech cuisine. It's the type of food you'd expect from countries that experience harsh winters.
Navigate to the "traditional Czech" section on a Prague restaurant's menu and you'll find plenty of roasted meat dishes, mostly pork, drenched in a heavy sauce and served with a variety of dumplings and cabbage.
They're hearty and filling meals that keep you warm and happy and go exceptionally well with Prague's beverage of choice – pilsner beer.
If you're visiting Prague and have an interest in Czech cuisine, then I hope this food guide with nine of the best restaurants in Prague leads you to some memorable meals. Na zdravi!
FOOD IN PRAGUE QUICK LINKS
To help you plan your trip to the Czech capital, we've put together links to popular hotels, tours, and other useful travel-related services here.
HOTELS
Recommended hotels in Stare Mesto (Old Town), one of the most convenient areas to stay in Prague.
TOURS
OTHER SERVICES
PRAGUE TRAVEL GUIDE
If you're planning a trip to Prague, then be sure to check out our detailed Prague travel guide. It'll have all the information you need – like which area to stay, what to do, how to get around, etc. – to help you plan your trip.
Save This on Pinterest!
No time now to read this article on the best Prague restaurants? Click on the save button and pin it for later!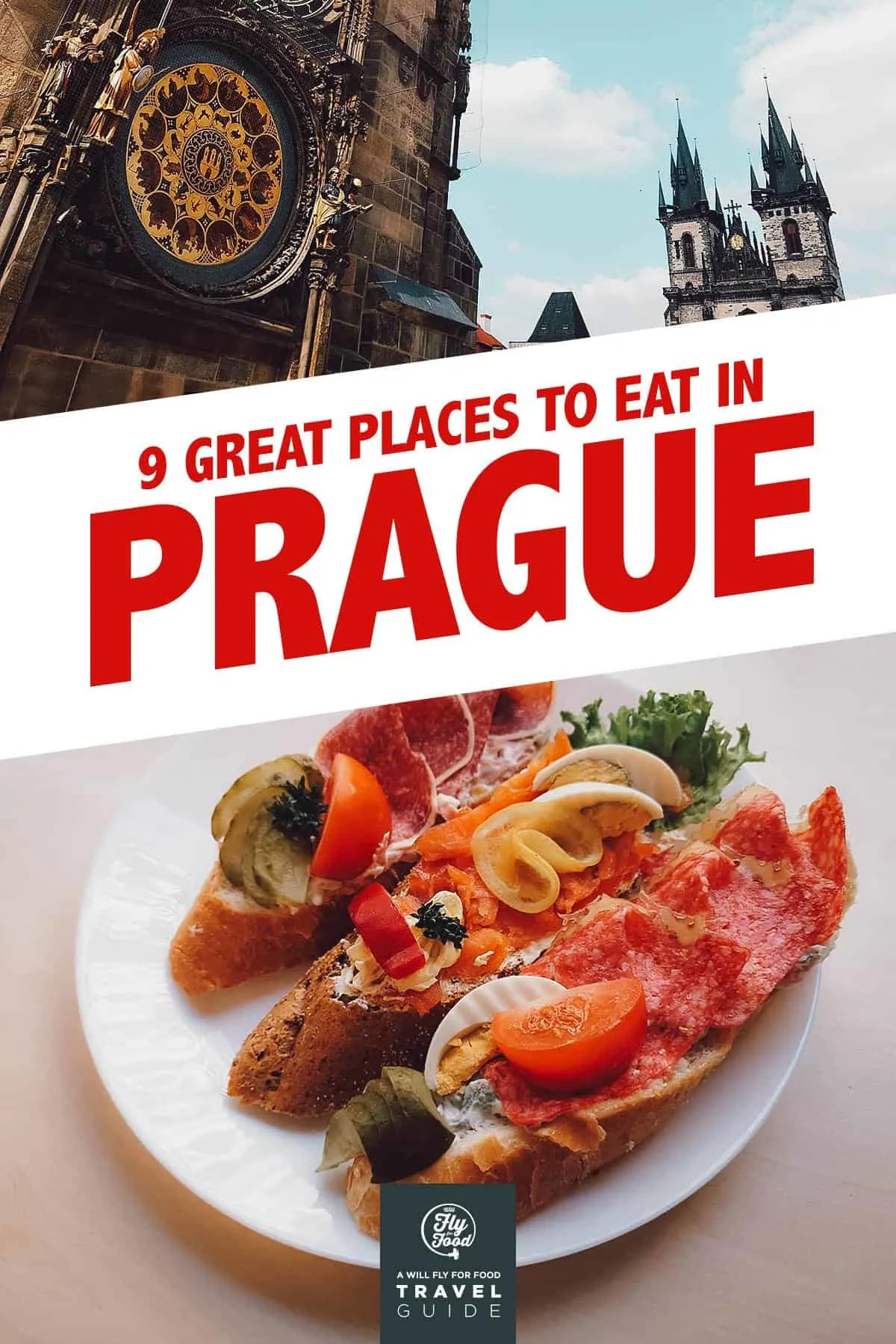 THE BEST RESTAURANTS IN PRAGUE
1. Krcma
Krcma was the very first restaurant in Prague I went to and coincidentally, it was also the most traditional. Located in the dungeon basement of a building in the Old Town, I felt like I was having lunch in King's Landing!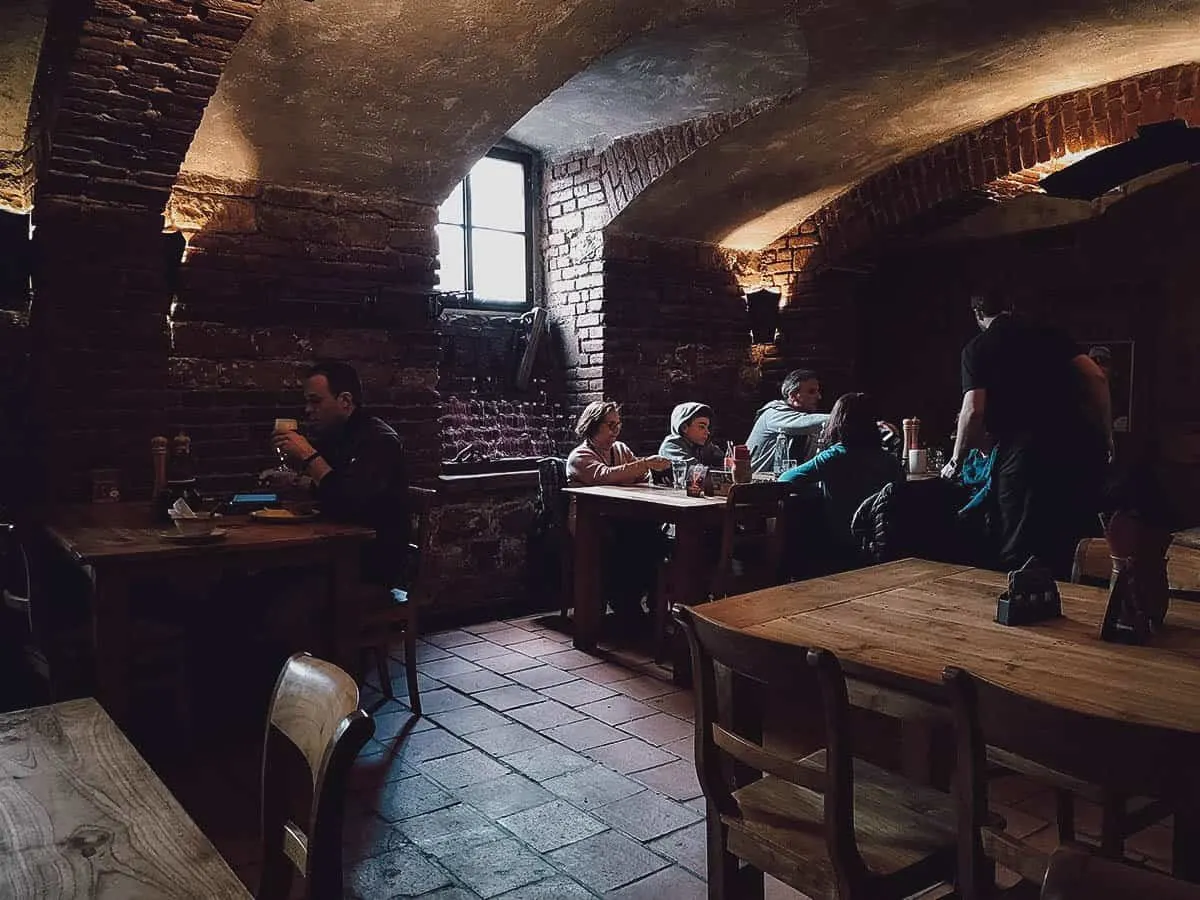 Krcma is one of the best restaurants in Prague Old Town to have meat dishes like grilled rib eye, chicken breast, roasted duck, sausages, and pork. They offer a meat-centric menu consisting mostly of different cuts of roasted pork.
I had read about their roasted pork back knee but their smallest serving is 1.2 kg. I didn't want to be eating pork all afternoon so I asked my server for alternatives and he recommended this more manageable 150 g plate of pork roast with bread dumplings and red cabbage.
The roast pork was good but the most interesting part for me were the knedliky or Czech dumplings. It was my first time to try knedliky, a staple food in Czech cuisine made with bread, potato, or fruit.
It's one of the dishes that best represents Czech cuisine and something you'll probably have often at many restaurants in Prague, even if you don't order it directly.
Bread dumplings are made with slightly stale bread that's formed in a roll before being boiled or steamed, and then sliced. It's often served as a side dish soaked in gravy.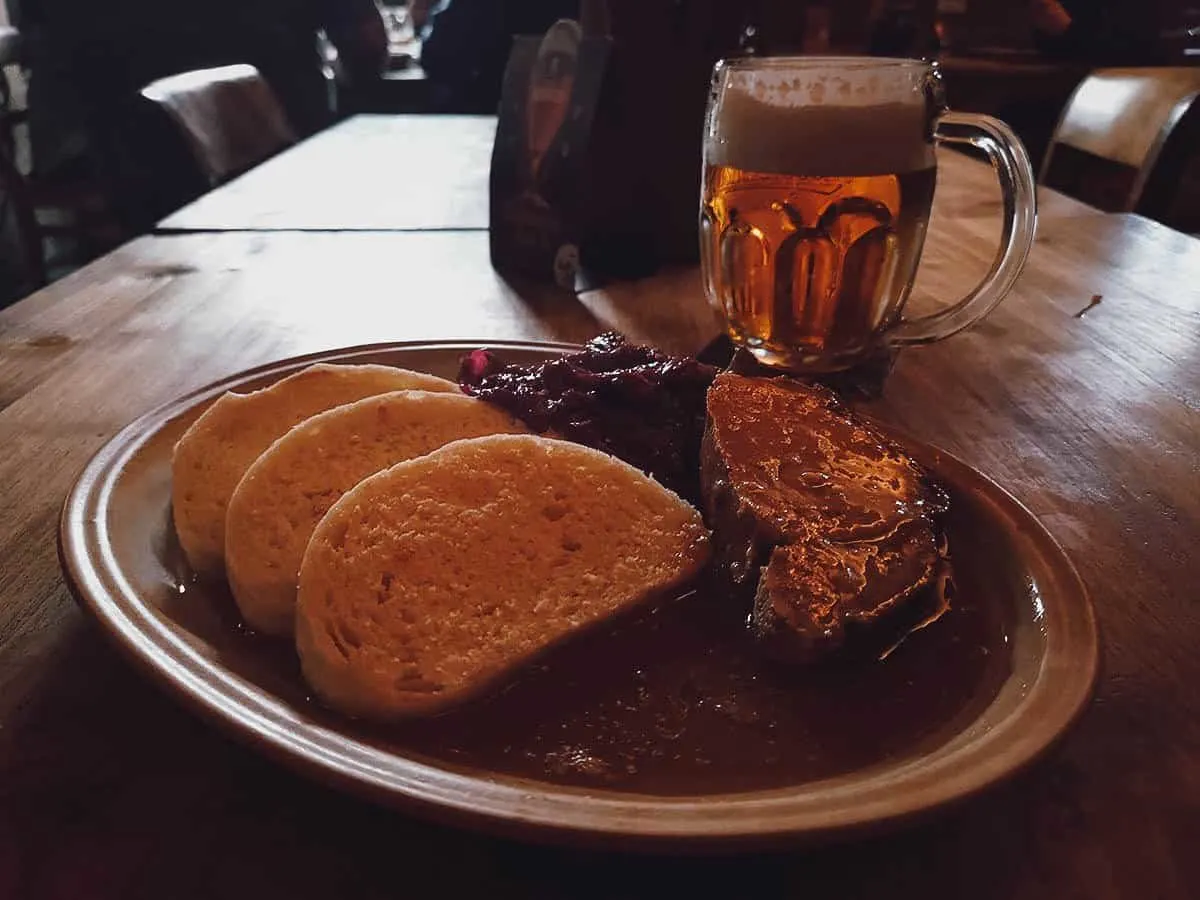 Aside from knedliky, one of the things I was most excited to try in Prague was the beer. A Russian friend of mine told me that Prague has the best beer in the world, and much of it had to do with the city's pipes.
I washed down my pork roast and knedliky with a mug of Pilsner Urquell light lager. It was crisp and clean and definitely one of the best beers I had ever tasted in my life. Man was this good!
The Czechs are the biggest consumers of beer in the world with pilsner light lagers being the most common type.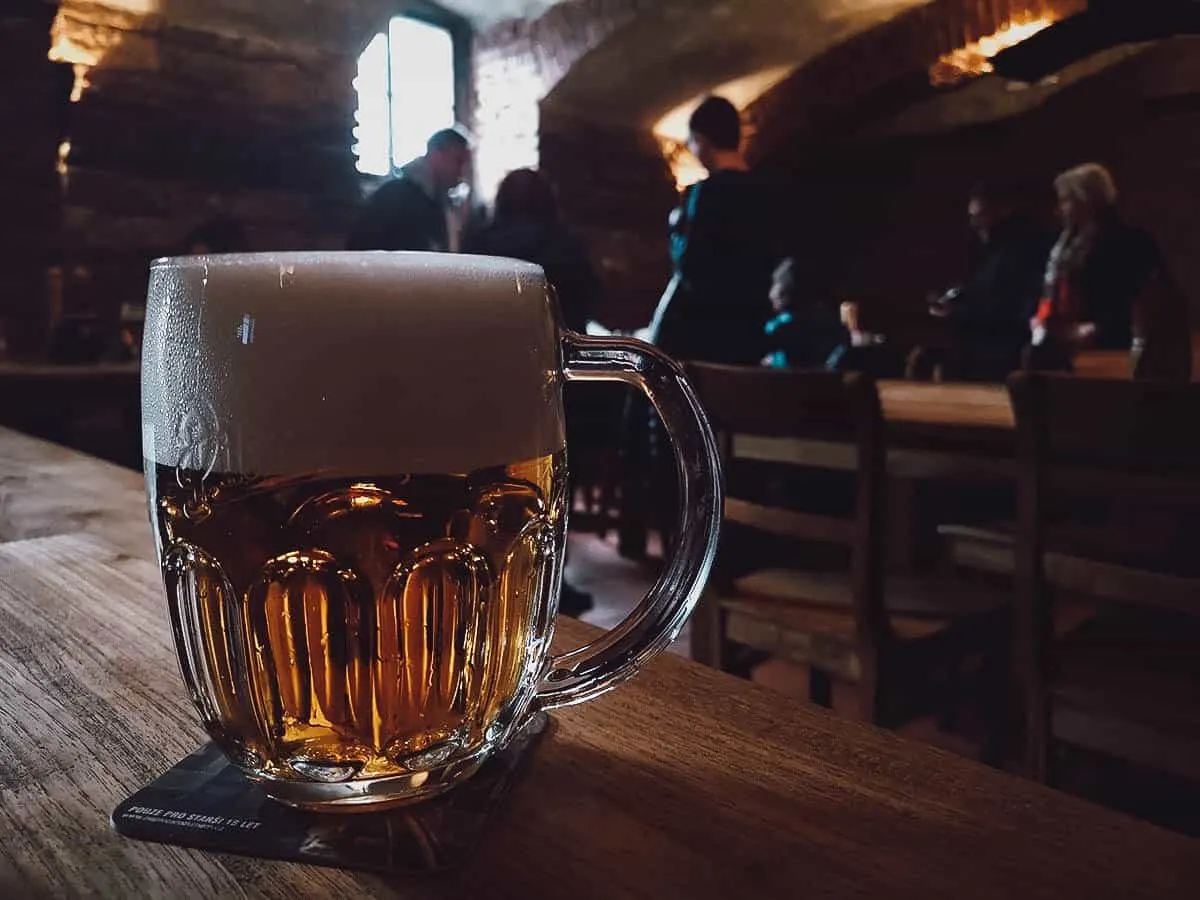 Krcma is located in basement of this building in the Old Town. You can jump to the location map at the bottom of this guide to see exactly where it is.
Krcma is a TripAdvisor Certificate of Excellence awardee with an impressive 4-star rating and almost 2,200 reviews. When it comes to traditional meat dishes, Krcma has to be one of the best restaurants in Prague.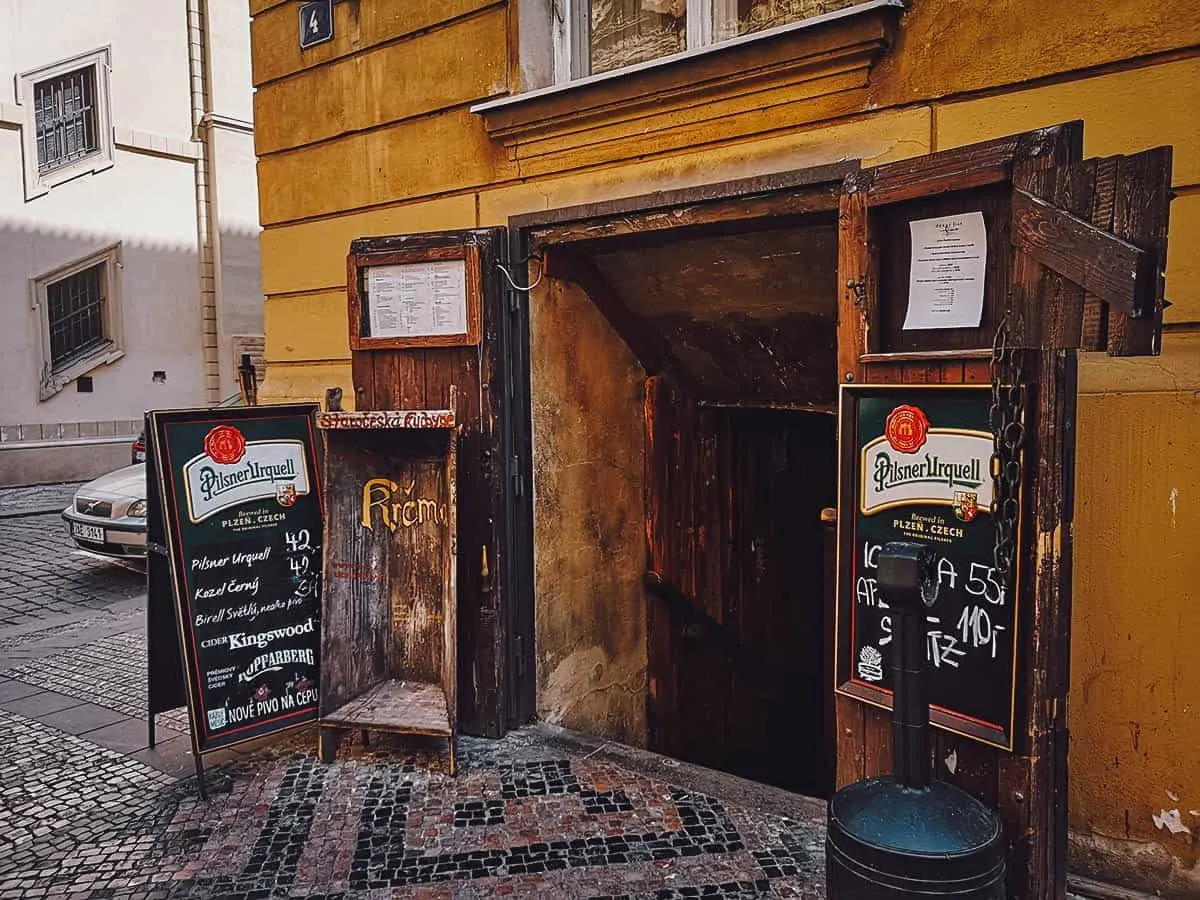 Krcma
Address: 4, Kostečná 925, 110 00 Josefov, Czechia
Operating Hours: 11AM-11PM, Mon-Sat / 12NN-11PM, Sun
What to Order: Roasted pork back knee
Expect to Pay: About CZK 200-250 per person
2. U Parlamentu
U Parlamentu is one of the best restaurants in Prague to go to if you're interested in traditional Czech food. I had this fantastic grilled pork chop served with golden chanterelle sauce and a side of buttery spaetzle.
Moist and juicy, it was a good-sized 250 gram cut of meat that left me feeling full and happy. This was one of my favorite meals in Prague.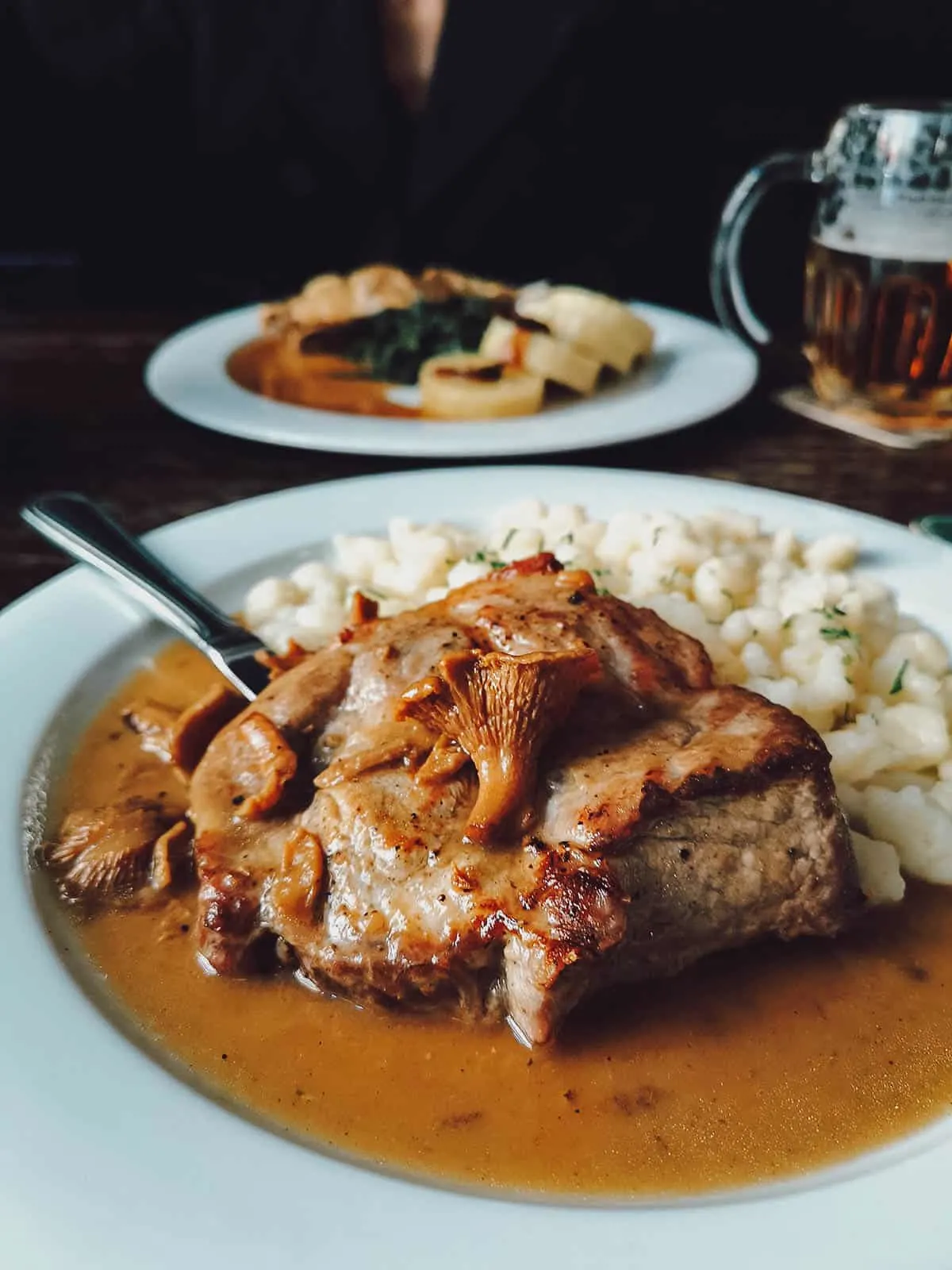 Ren had the rabbit roast in garlic sauce with spinach, potato dumplings, and onion jam. Potato dumplings are prepared in much the same way as bread dumplings, but they come out more dense and moist.
The rabbit was fantastic. It was slide-off-the-bone tender and very tasty.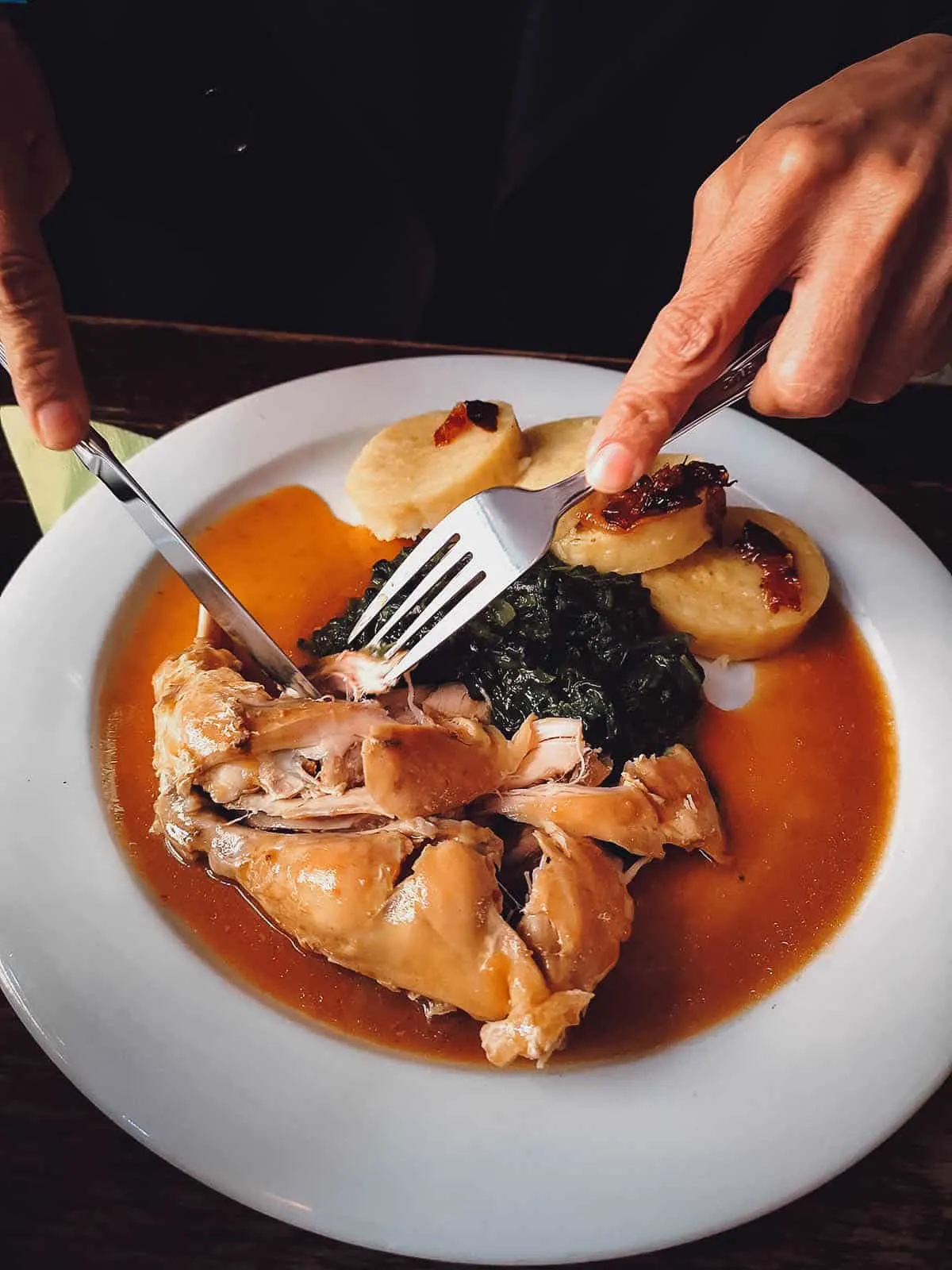 Located in the Old Town, U Parlamentu is known for being one of the best restaurants in Prague so be prepared for a wait. They're a TripAdvisor Certificate of Excellence awardee with a near-perfect 4.5-star rating and almost 2,800 reviews.
U Parlamentu
Address: Valentinská 52, 110 00 Staré Město, Czechia
Operating Hours: 11AM-11PM, daily
What to Order: Grilled pork chop, roast rabbit
Expect to Pay: About CZK 250-350 per person
3. Nase Maso
Nase Maso was the only place we visited more than once in Prague, and with good reason. It's a shop that's part-butcher and part-restaurant that serves some of the best meat in Prague.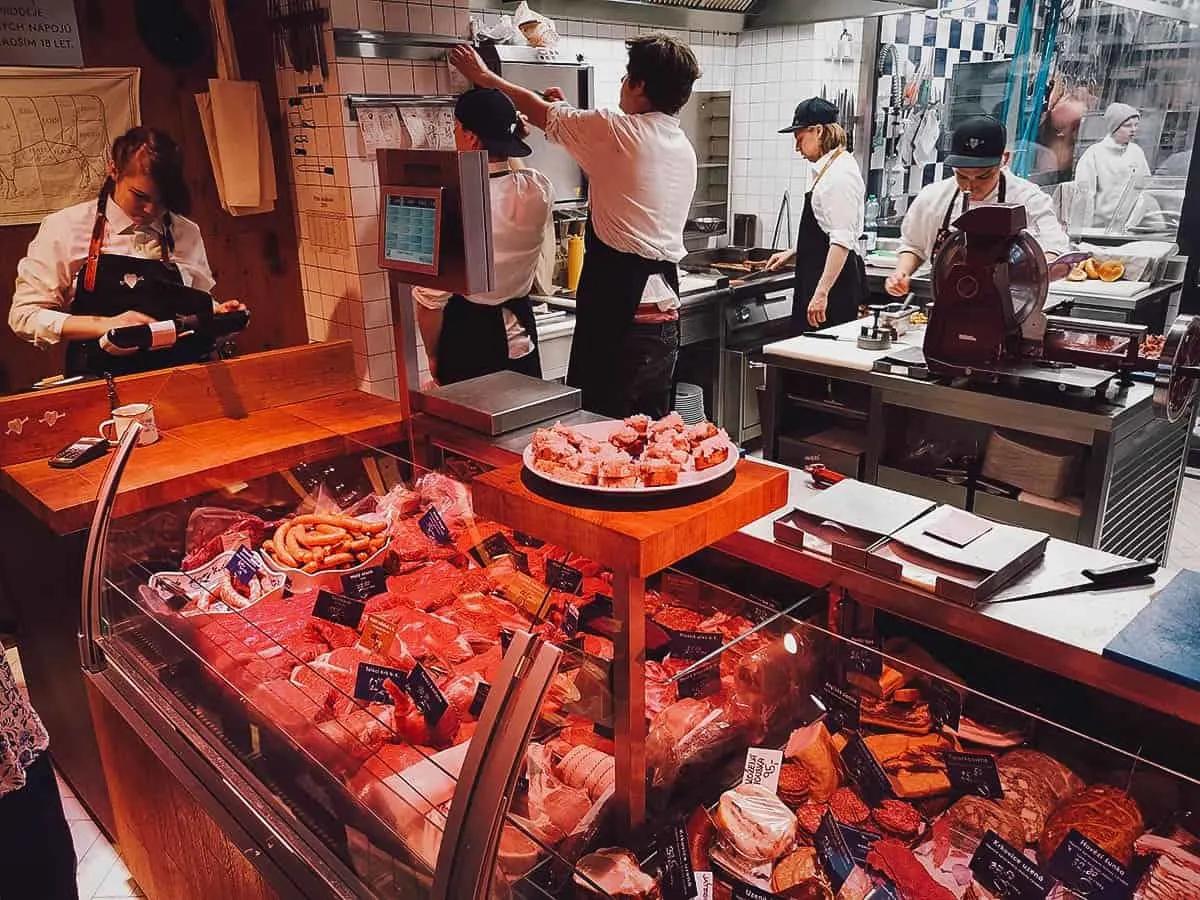 A big reason I was so excited to eat at Nase Maso were these dry-aged burgers I kept reading about in their reviews. Made from dry-aged Czech piebald cattle beef, they serve it rare topped with red onions, mayonnaise, pickles, and grilled cheese.
Juicy and perfectly cooked, it was absolutely delicious and one of the best burgers I've ever tasted. It was so good that we had to go back to Nase Maso a second time to have it again.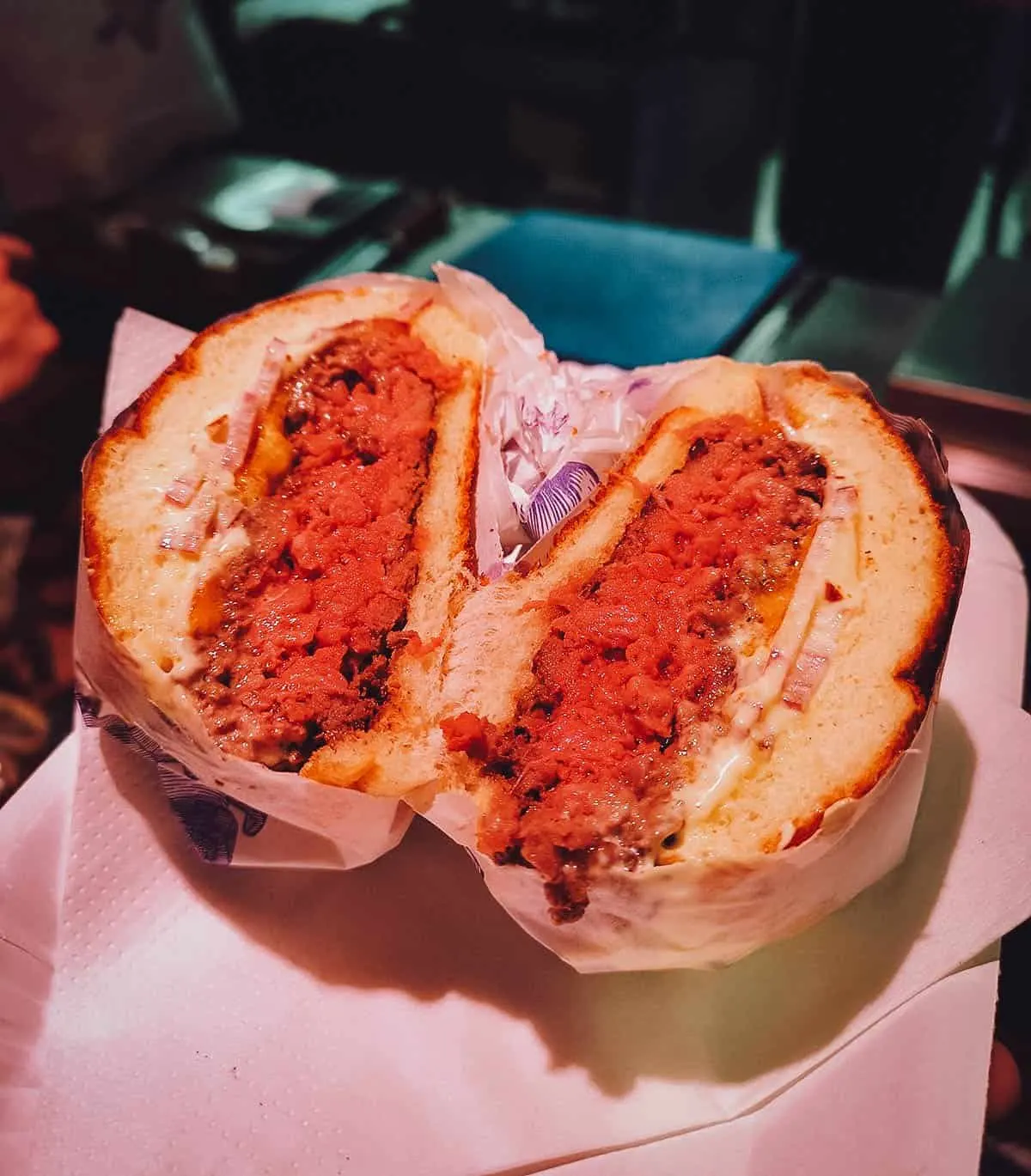 Another dish that's often recommended is this buttery and fatty roasted bone marrow with toasted bread and parsley salad. It doesn't seem to be printed on the menu but you can ask for it. It's unctuous and delicious.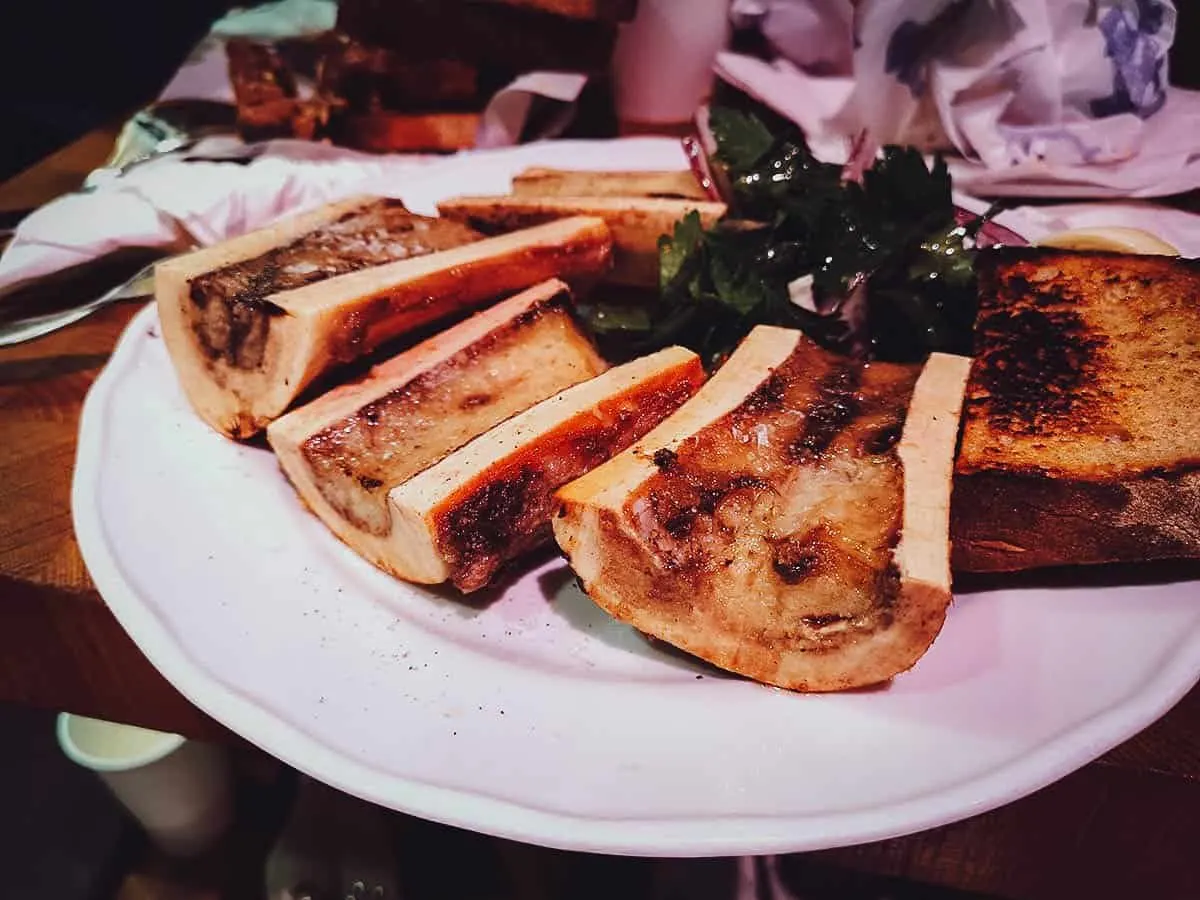 On our second visit, we had this beautiful juicy steak. If I remember correctly, it was a bone-in ribeye recommended to us by one of the butchers.
Nase Maso is a butcher shop so I believe their offerings change on a daily basis. Their printed menu lists just a few dishes so be sure to ask the butchers for suggestions.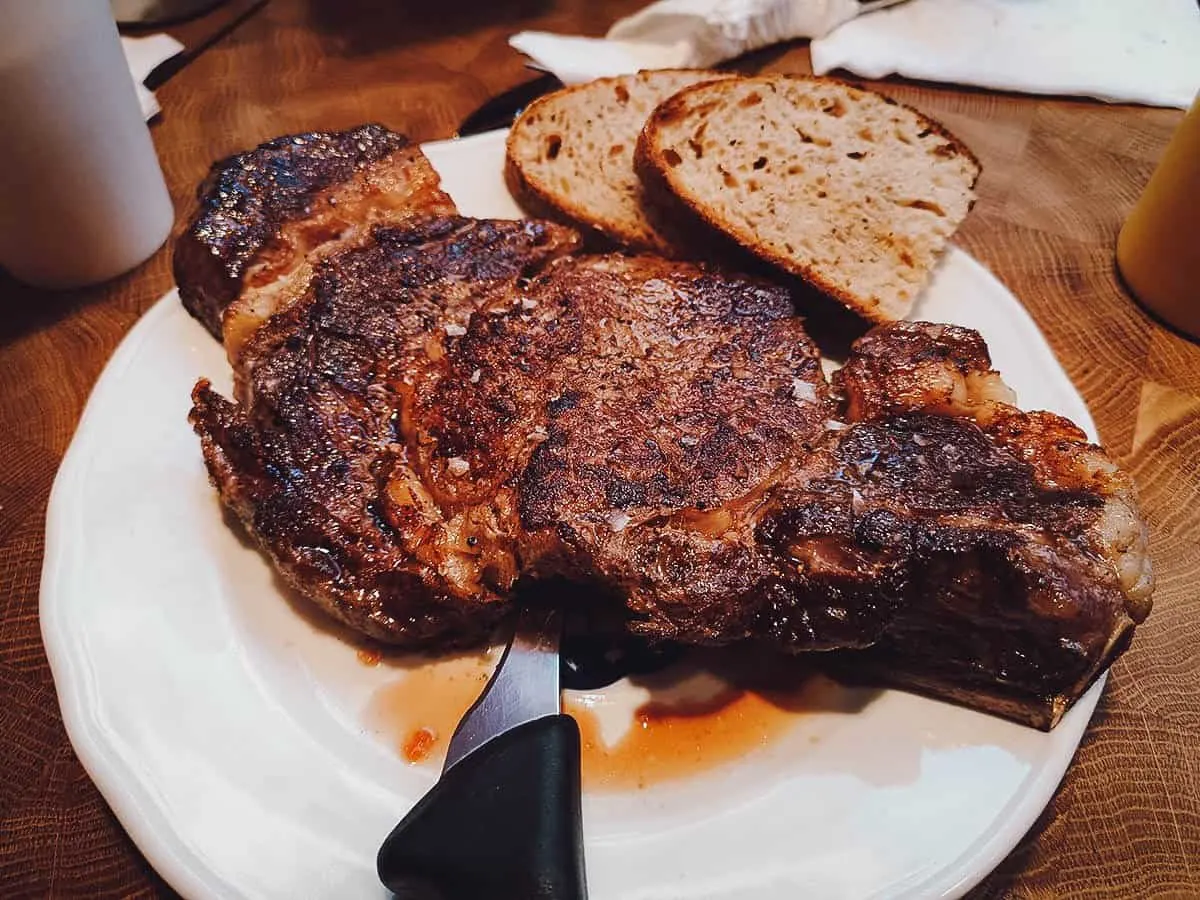 Aside from their terrific selection of meat, Nase Maso serves Albrecht Pale Lager 12° on tap. We had lager at every restaurant in Prague and this craft beer was one of our favorites. It's perfect with the meat.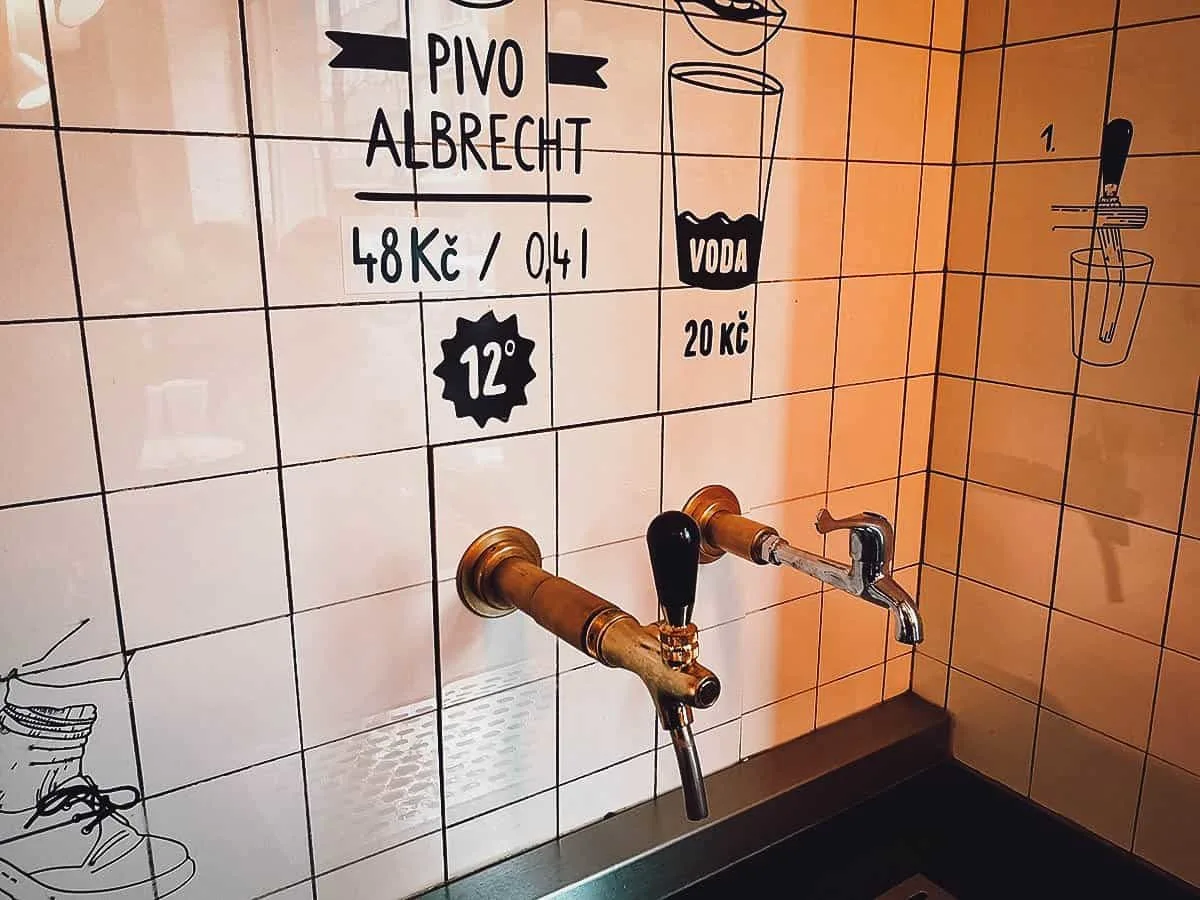 Nase Maso is located in the Old Town, directly opposite another popular restaurant in Prague – Bistro Sisters. Unfortunately, Bistro Sisters was closed for renovations when we were there.
Nase Maso is a small shop with just one sit down table which you have to reserve in advance. Everyone else sits on benches by the walls of the shop and eats their food on small cocktail tables. There's also a counter outside where you can stand and eat.
Nase Maso isn't the most elegant restaurant but it's one of the best restaurants in Prague when it comes to steaks and other meat dishes. It's very popular and considering its limited seating, it may be a good idea to go at a slightly off-hour.
They're a TripAdvisor Certificate of Excellence awardee with an exceptional 4.5-star rating and almost 3,000 reviews.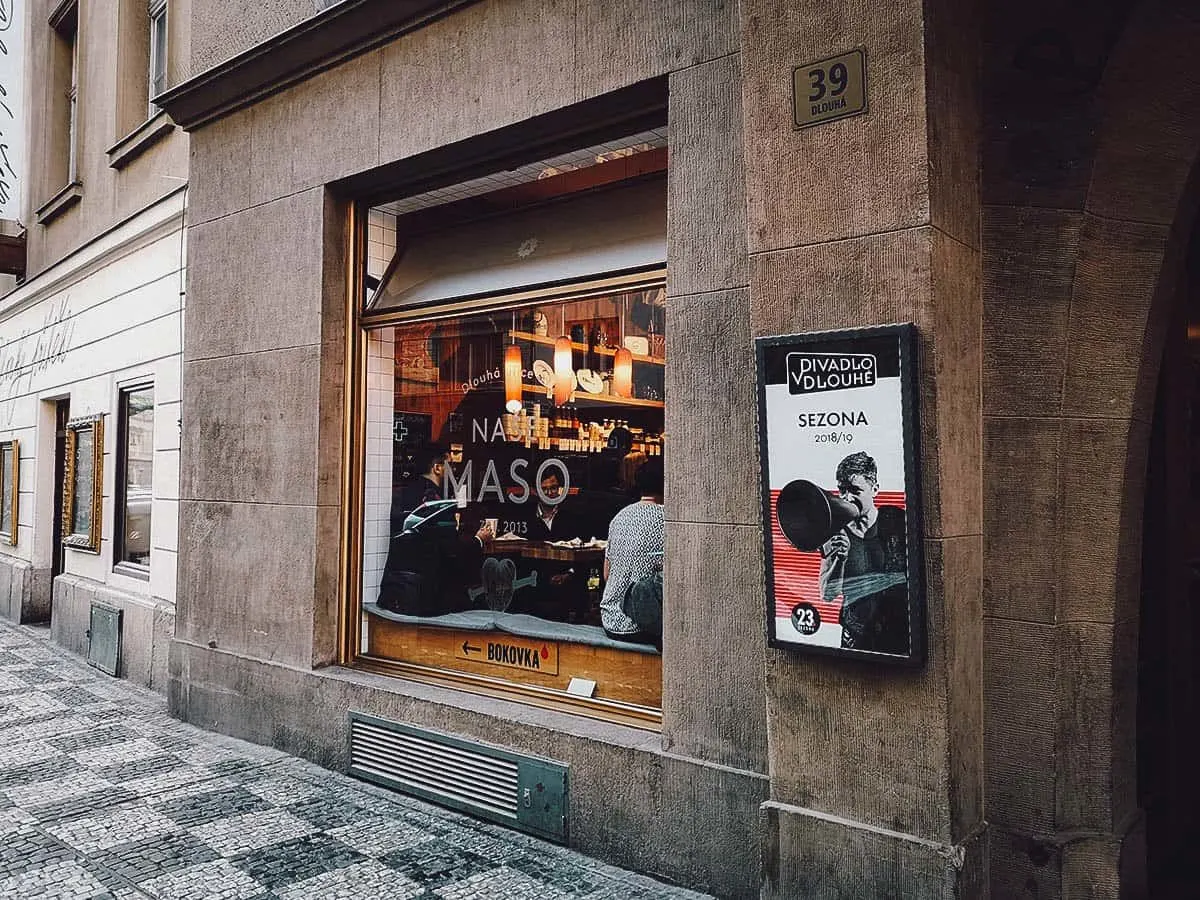 Nase Maso
Address: Dlouhá 727/39, 110 00 Staré Město, Czechia
Operating Hours: 9AM-7PM, Mon-Sat (closed Sundays)
What to Order: Dry-aged cheeseburger, roasted bone marrow, beef tartare, salsiccia
Expect to Pay: About CZK 250-300 per person
4. Lahudky Zlaty Kriz
Bistro Sisters is known for being one of the best restaurants in Prague to try a traditional Czech dish called oblozene chlebicky. But since they were closed, I had to find another shop. Thankfully, I found Lahudky Zlaty Kriz.
Oblozene chlebicky (or chlebicky for short) is a type of open-faced sandwich popular in Czech cuisine. Butter is spread over sliced bread then decoratively topped with any number of ingredients like ham, salami, salmon, hard-boiled egg, cheese, pickles, tomatoes, and cream cheese.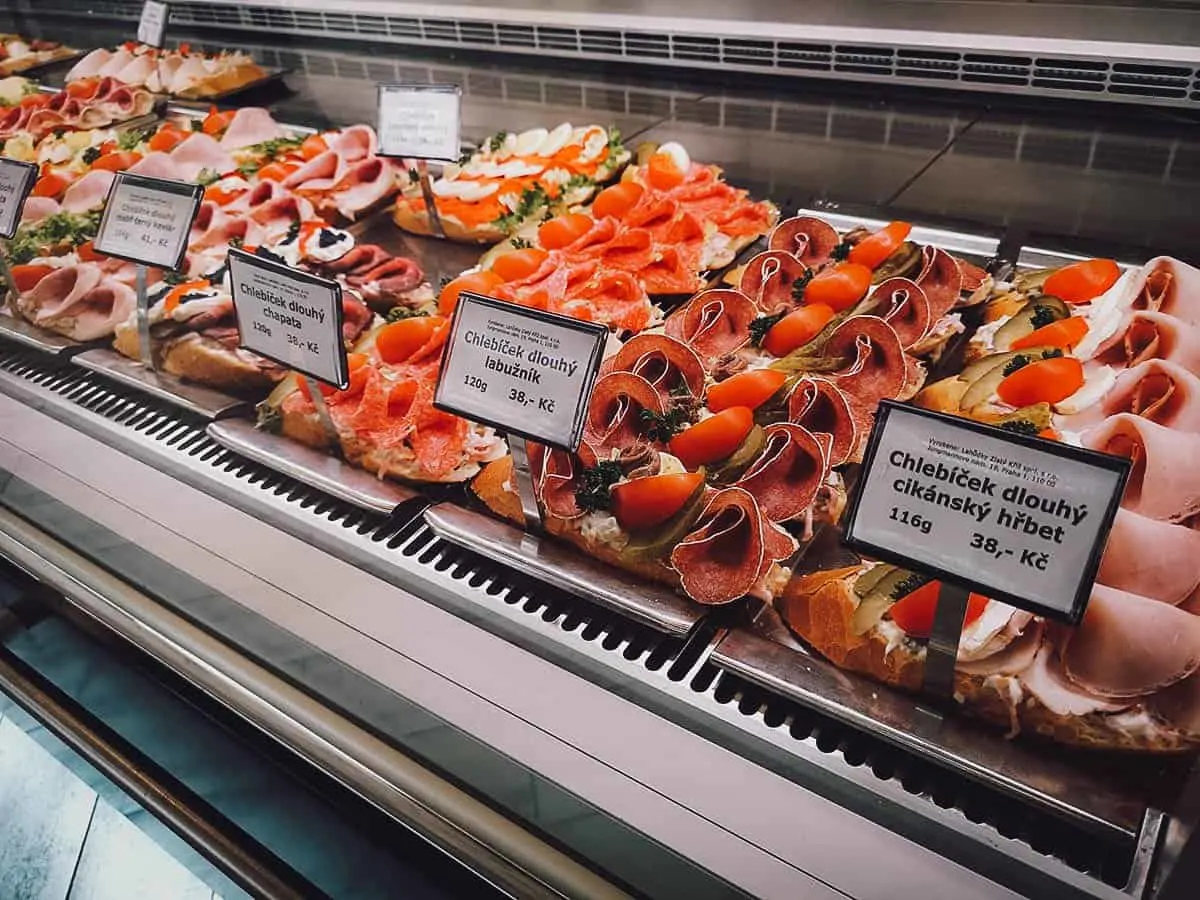 Aren't these pretty? Every chlebicky at Lahudky Zlaty Kriz was so artfully arranged. It was like eating little works of art!
It's funny, I was enjoying my chlebicky when a group of Spanish tourists walked into the shop. They didn't seem to know what chlebicky was so when they saw them on display in the vitrine, they all started saying "Oh pintxos! Pintxos!" then walked out. Ha!
I guess you could say that the chlebicky is like a Czech version of Spanish pintxos. You should definitely try chlebicky in Prague. They're delicious, light, and easy to eat.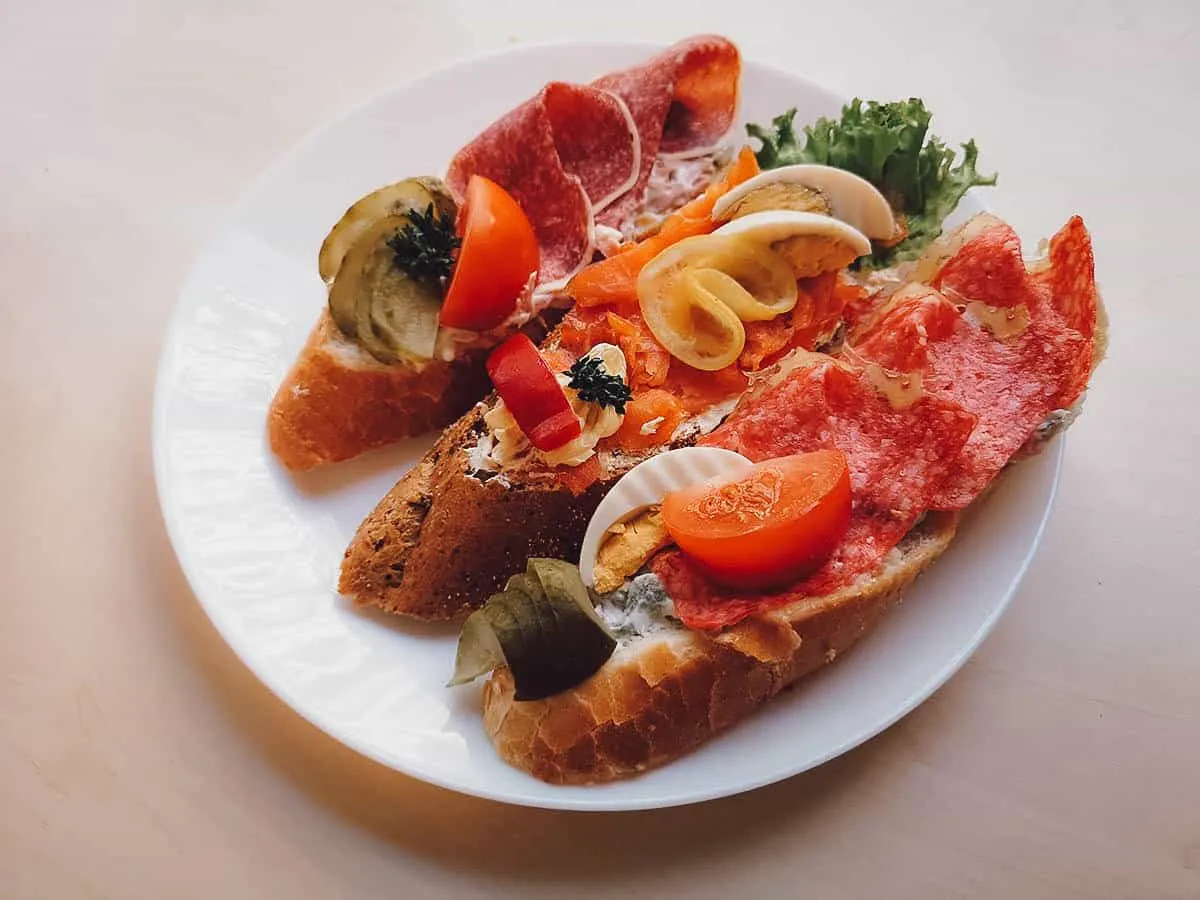 Lahudky Zlaty Kriz is located in the New Town, about a 3-minute walk from Mustek Station.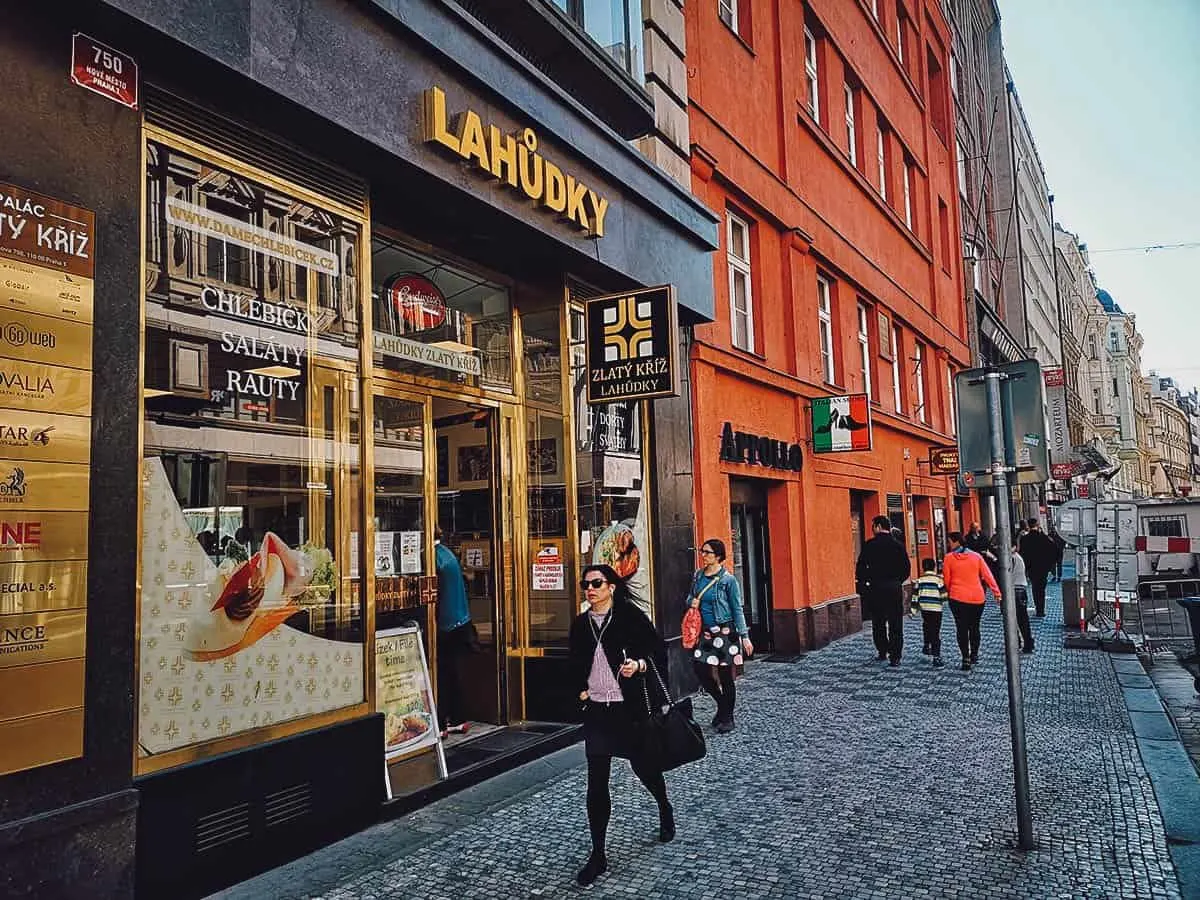 Lahudky Zlaty Kriz
Address: Jungmannova 750, 110 00 Nové Město, Czechia
Operating Hours: 7AM-7PM, Mon-Fri / 9AM-6PM, Sat-Sun
What to Order: Chlebicky
Expect to Pay: About CZK 40 per chlebicky
5. Parek v rohliku – Ladislav Cerveny
Ren loves hot dogs so when I found more than one article describe this stall's hot dogs as the very best in the city, I had to add it to our Prague itinerary.
Parek v rohliku – Ladislav Cerveny's hot dogs are indeed delicious. It has more snap than an American hot dog and is served in a crusty enclosed bun with a hollow middle. You can get it topped with mustard, ketchup, mayonnaise, or chili-ketchup.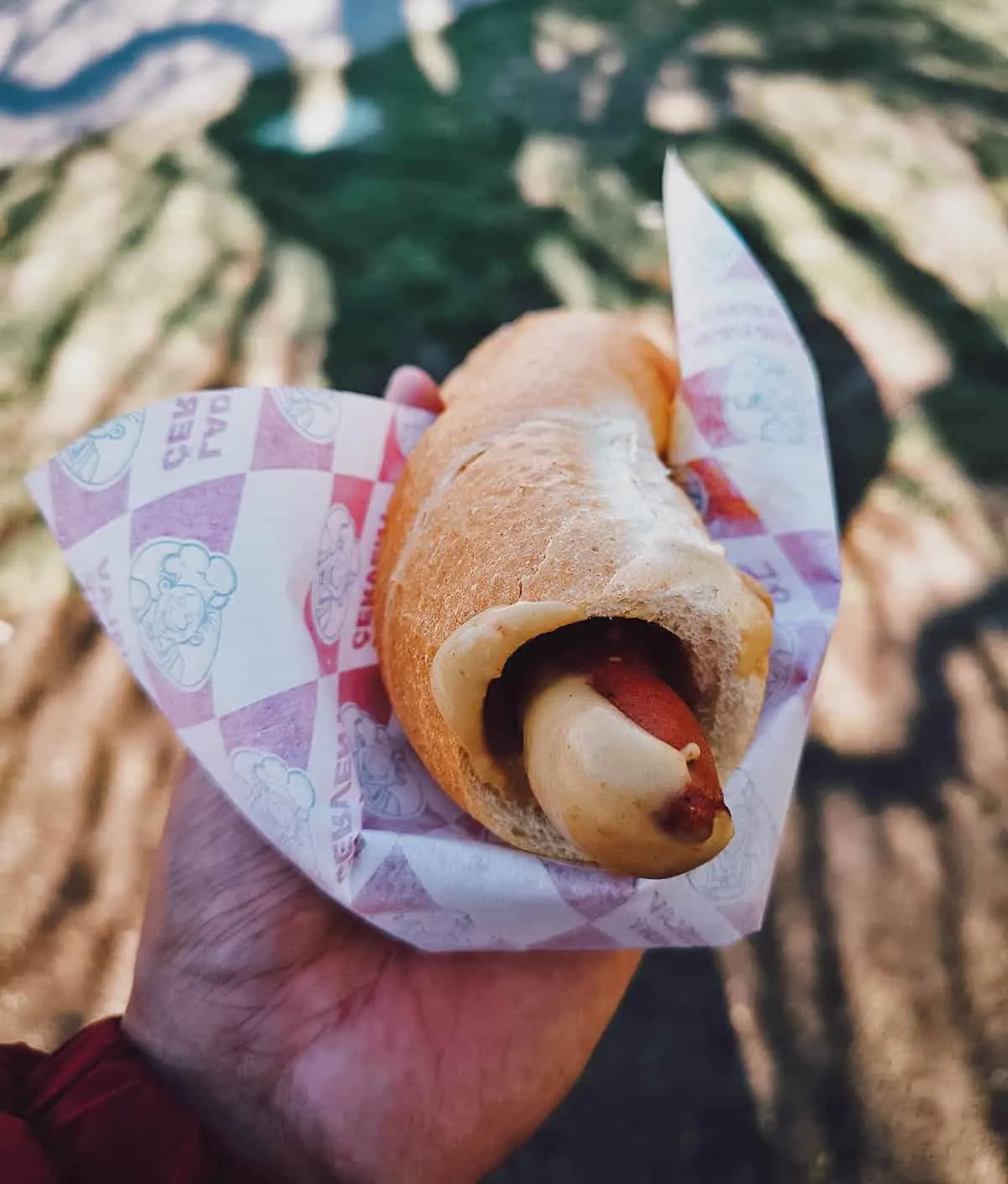 Conveniently, Parek v rohliku – Ladislav Cerveny is located in Namesti Miru Square, where you can catch the scenic Tram 22 to Prague Castle. You can have a quick snack here while waiting for the tram.
Like the reviews said, when it comes to hot dogs, it really is one of the best places to eat in Prague.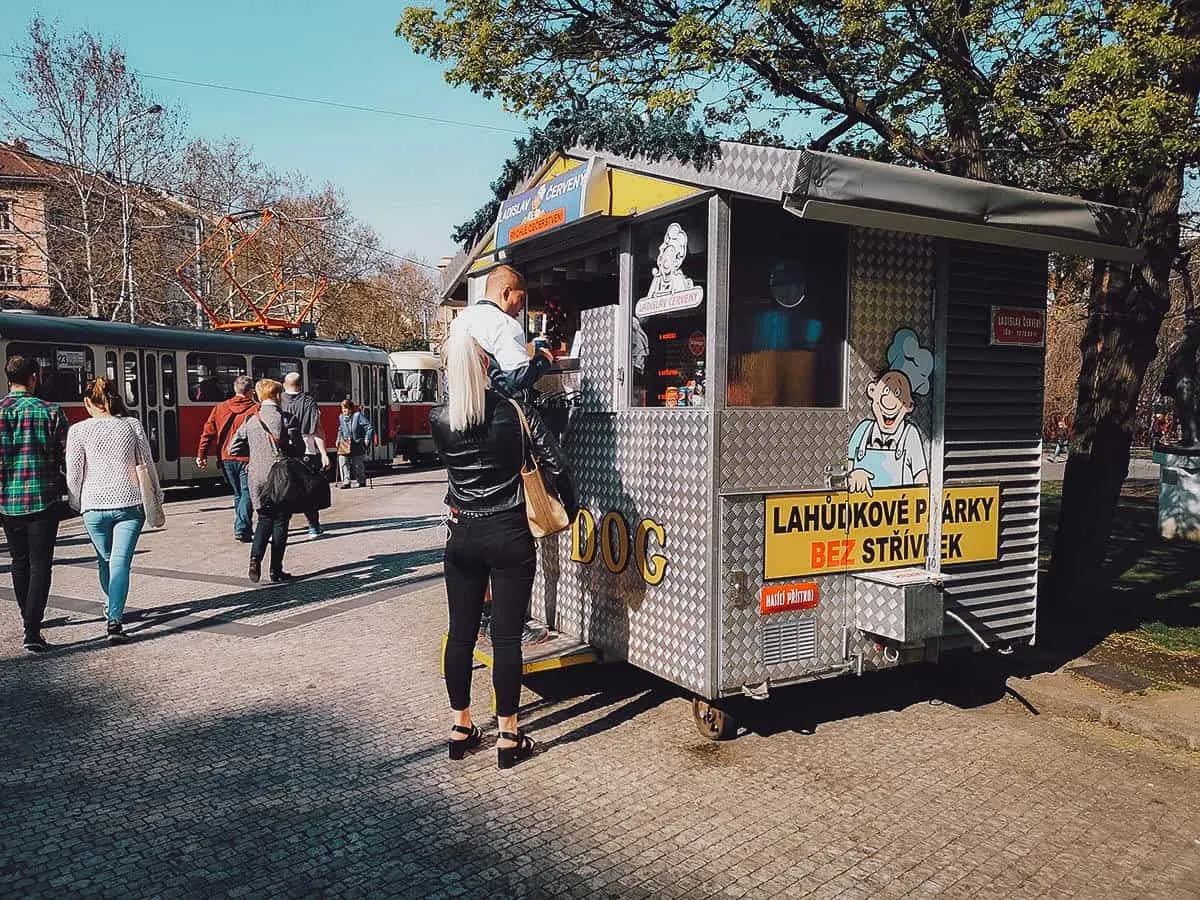 Parek v rohliku – Ladislav Cerveny
Address: Vinohrady, 120 00 Prague 2, Czechia
Operating Hours: 9AM-7PM, Mon-Fri (closed Sat-Sun)
What to Order: Hot dog
Expect to Pay: About CZK 25 per hot dog
6. U Kunstatu
Do you know what's better than beer in Prague? Six beers in Prague.
We were set to have beer flights at the ultra-popular Prague Beer Museum when we found U Kunstatu, a similar gastropub in the city center with well over a hundred craft beers on tap. It's partially hidden location and patio setting drew us in so we went here instead.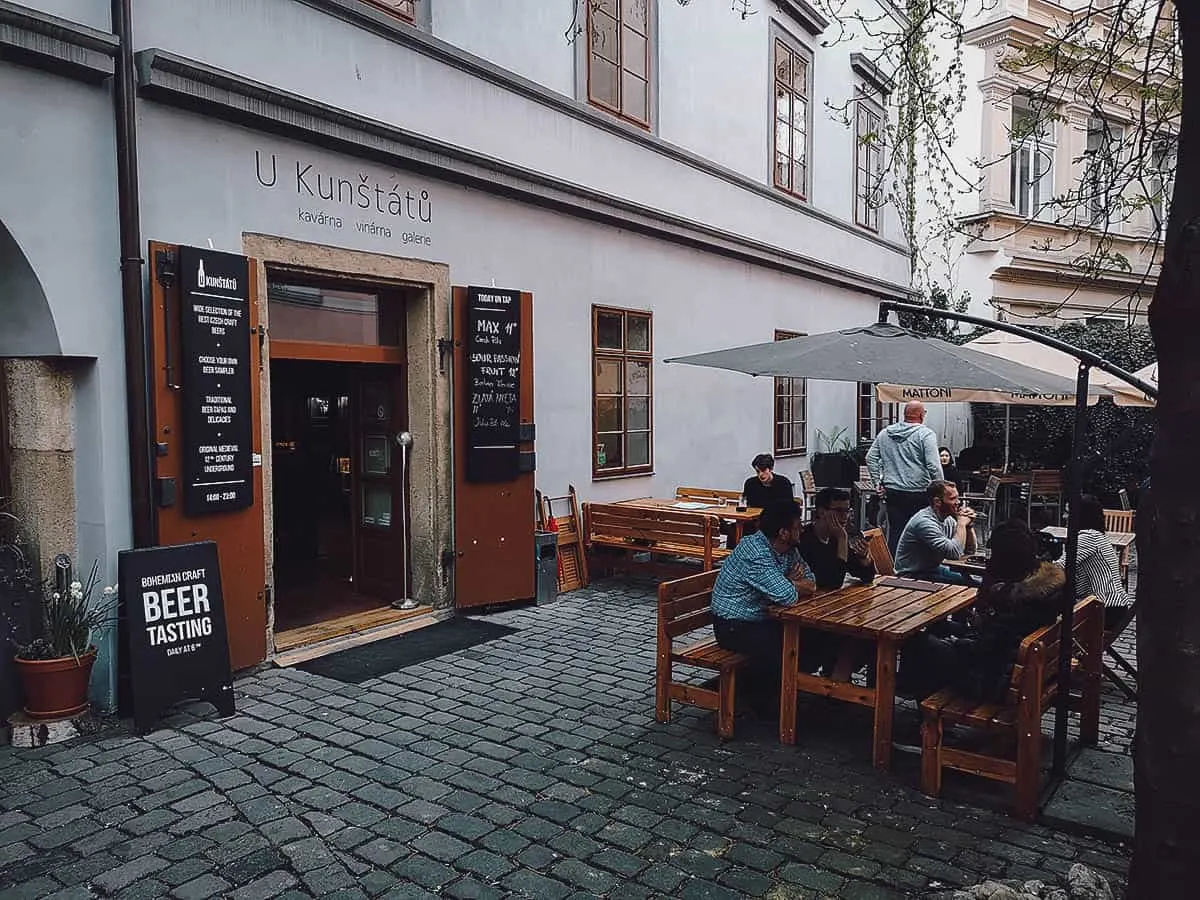 Beer flights are a popular way of enjoying beer in Prague. At least four varieties of beer (typically 4-8) are served in small 3-5 oz glasses arranged in a wooden board called a beer flight paddle.
You can choose any six from the hundreds that U Kunstatu has on tap. They offer several different types of beer like light lager, wheat beer, Belgian ale, stout, porter, and sour beer. You can basically think of it as a tasting menu of beer.
Once you've made your choices, they'll arrange them from light to dark as this is the order in which you're encouraged to drink them.
Beer flights are a great way of sampling as many beers as you can without having to drink a full glass every time.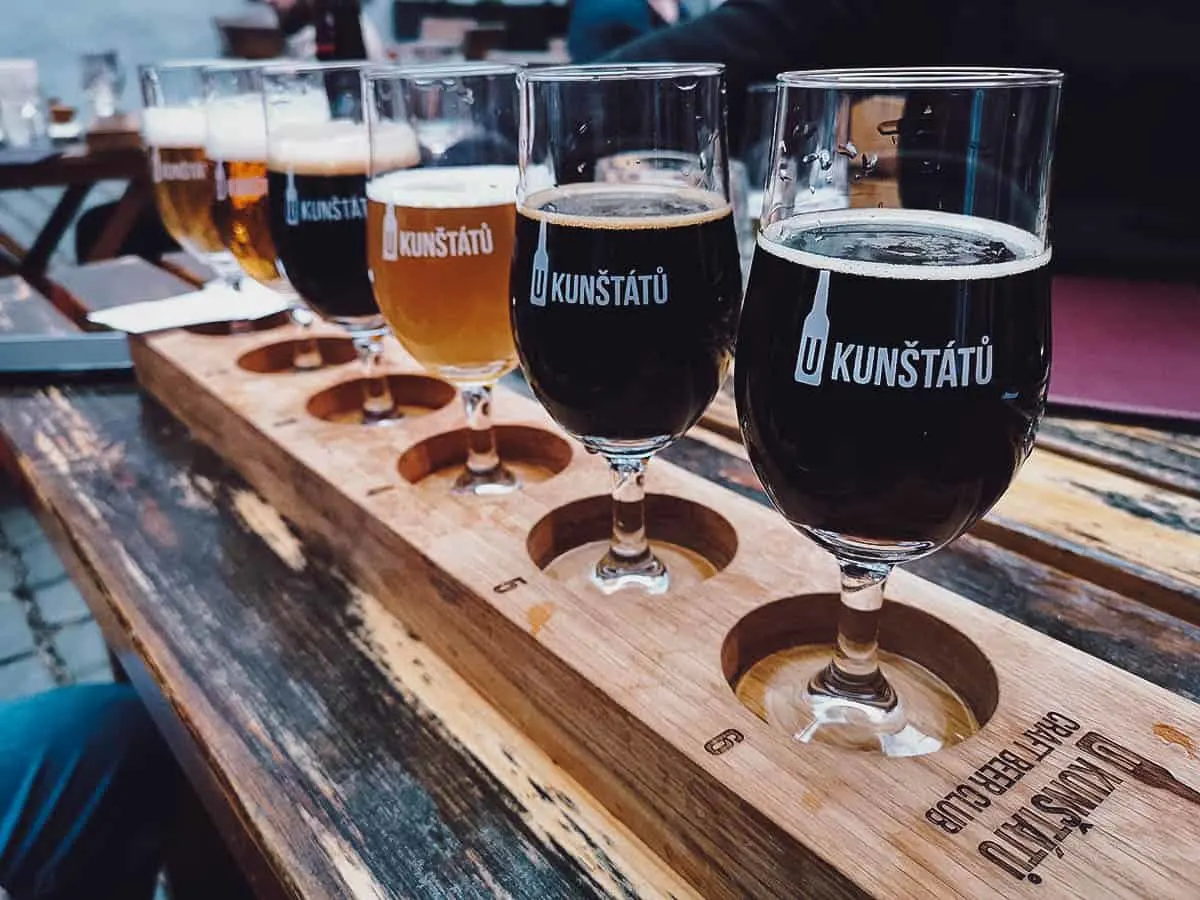 U Kunstatu offers a few dishes on their menu to enjoy with your beer, like this fantastic juniper-spiced deer sausage served with bread, gherkins, pearl onions, horseradish, and mustard. Delicious!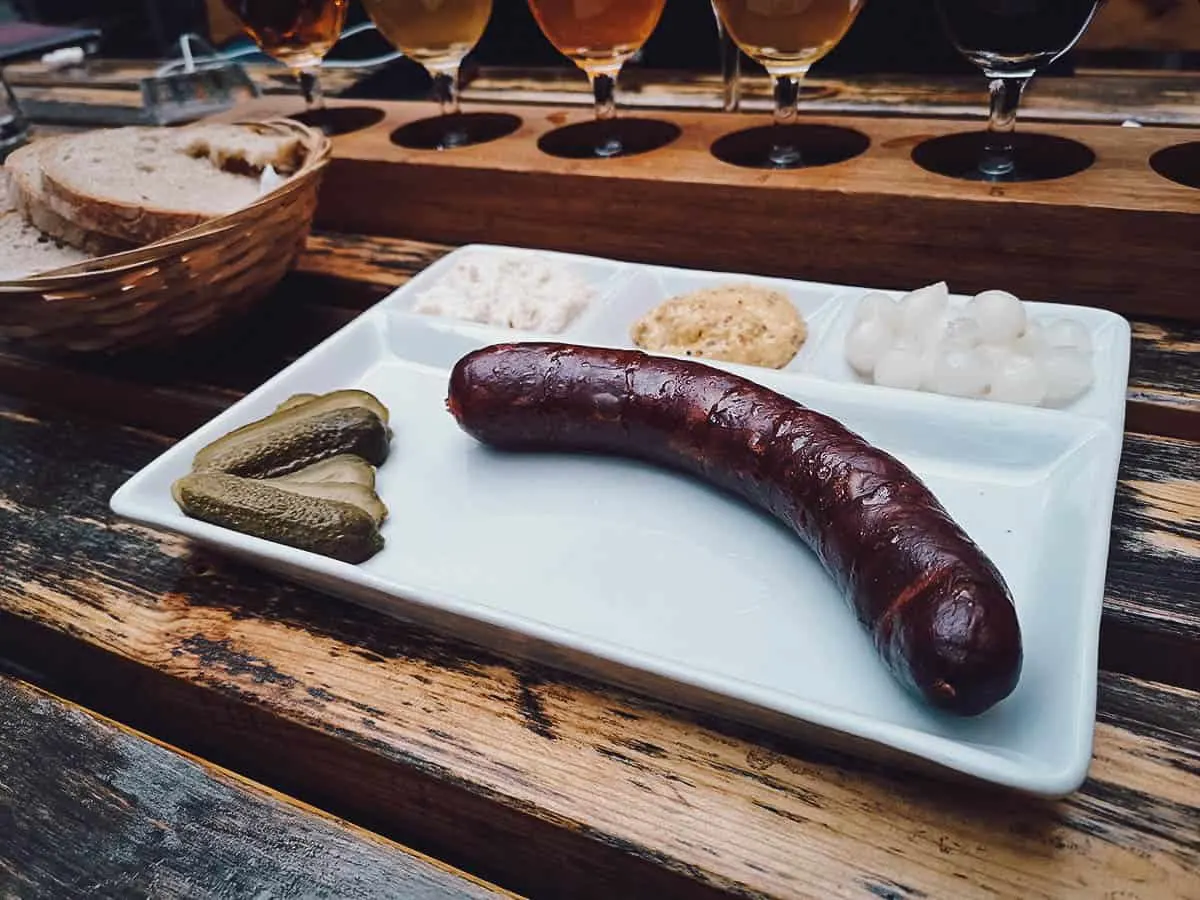 U Kunstatu is located through this archway. You can't really see the seating area from the outside so it's easy to miss. I'm happy we found it.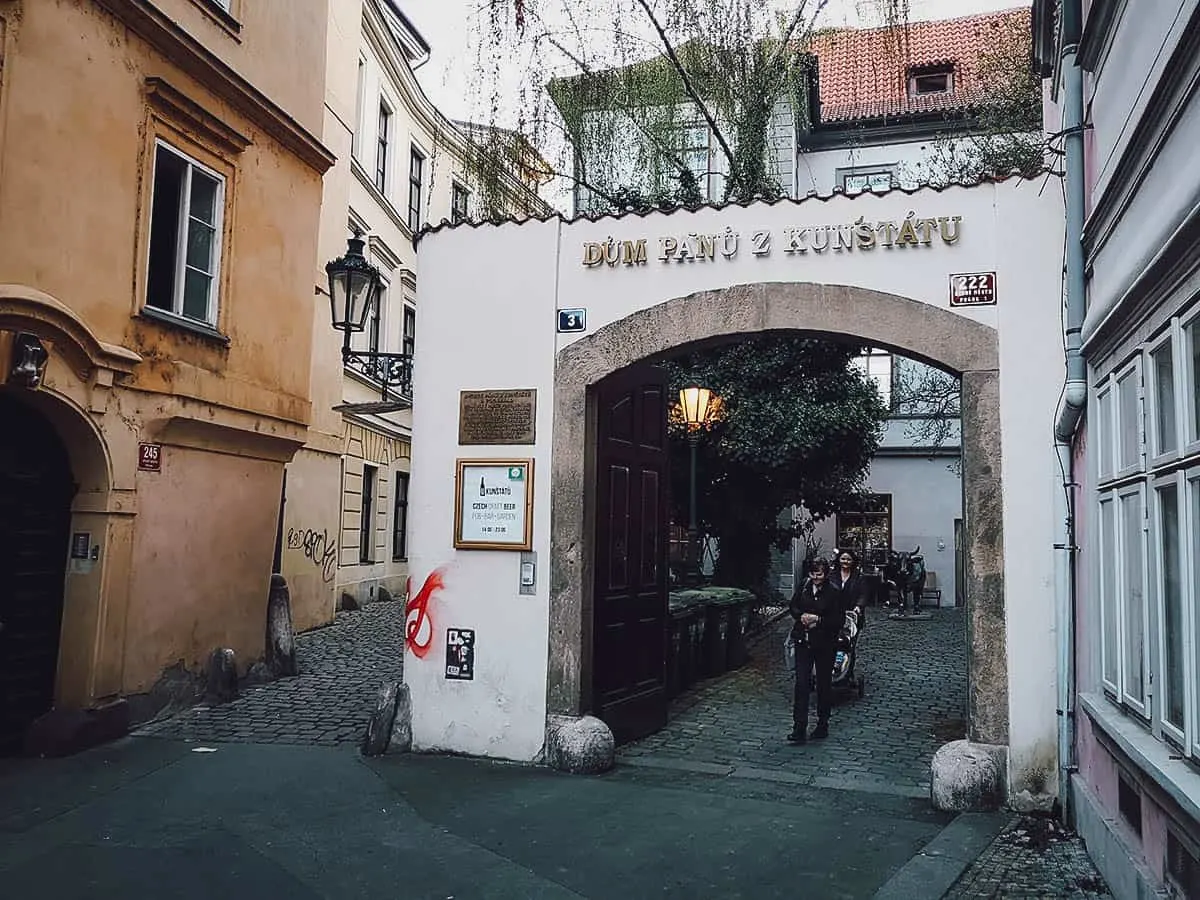 U Kunstatu
Address: Řetězová 222 3, 110 00 Staré Město, Czechia
Operating Hours: 11AM-8PM, daily
What to Order: Beer flights, sausages
Expect to Pay: About CZK 350 for a flight of 6 beers
7. Cafe Savoy
Cafe Savoy is a beautiful neo-renaissance cafe that's been open since the late 19th century. It's often cited as being one of the best restaurants in Prague to have breakfast. However, I was here for their pastries, specifically the vetrnik.
A vetrnik is a type of caramel-glazed chou pastry that's filled with a rich and luscious vanilla and caramel whipped cream. Crunchy on top but light and airy in the middle, you can think of it as the Czech version of a cream puff. It's amazing with coffee.
Many people think that the vetrnik is the best pastry you can have in Prague, with Cafe Savoy's version being one of the best if not the very best.
This article is five years old but Taste of Prague did a taste test of Prague's 14 best vetrnik pastries, and Cafe Savoy was the clear winner for them.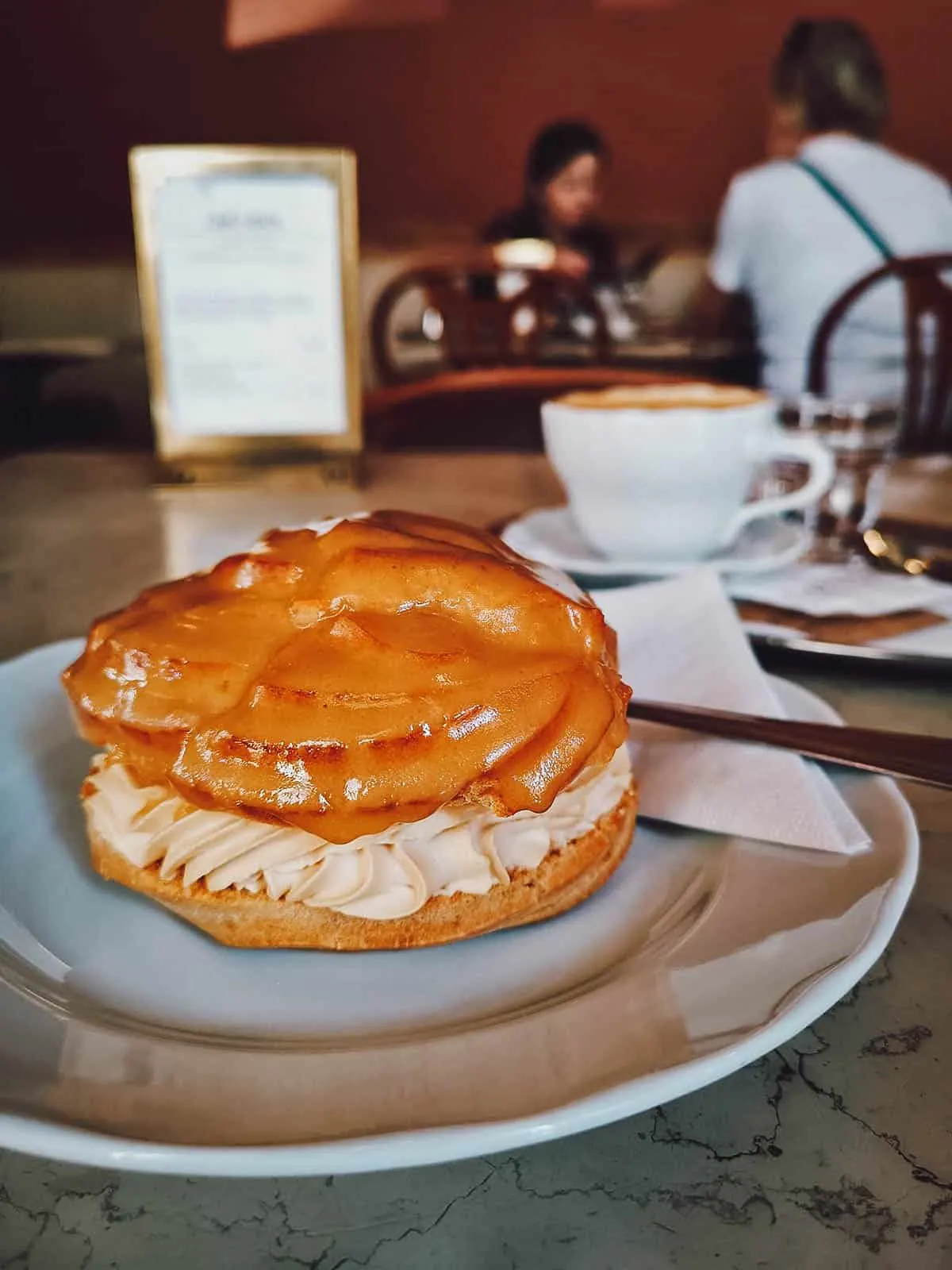 Cafe Savoy is located on the other side of Vltava River, just past the Legion Bridge. It's a lovely cafe and one of the best restaurants in Prague to have coffee and pastries or a full breakfast.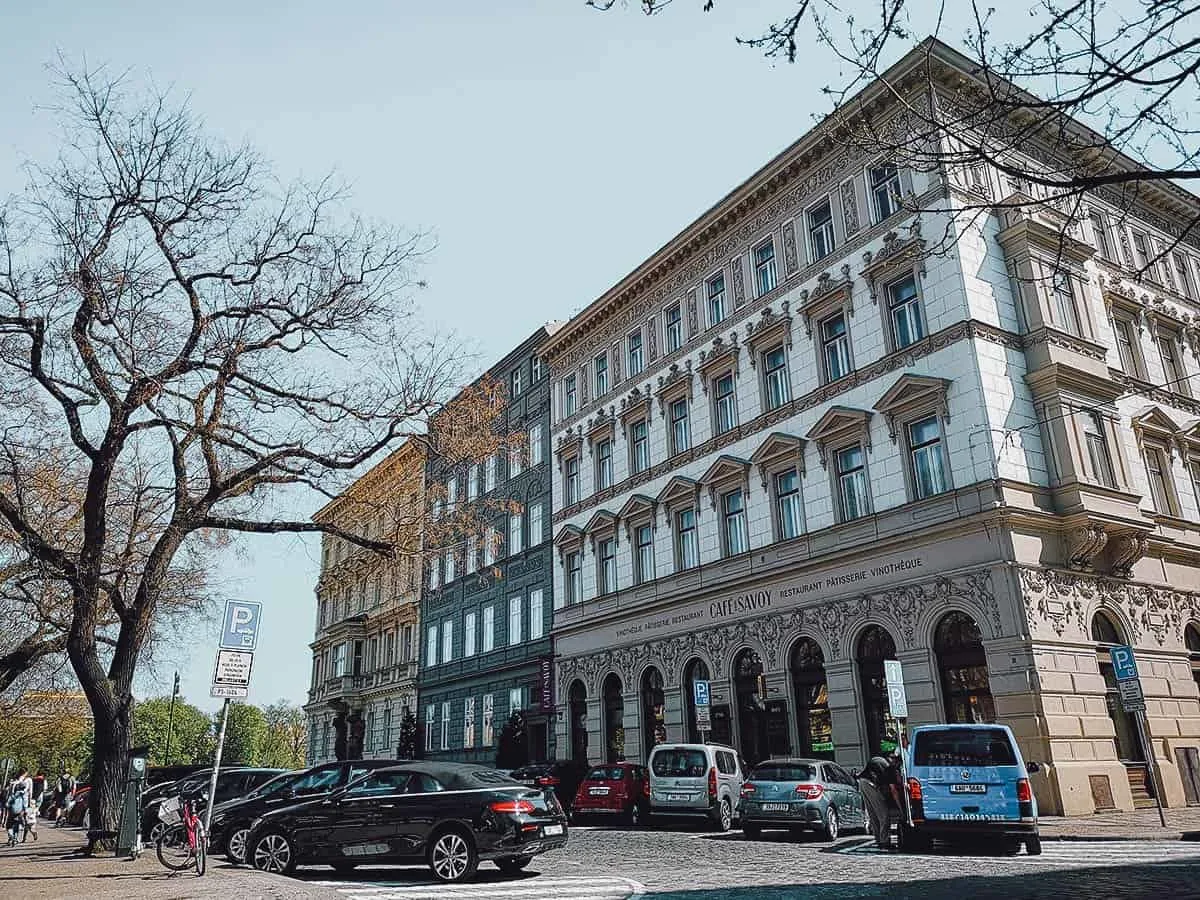 Cafe Savoy
Address: Vítězná 124/5, Vítězná 5, 150 00 Praha, Czechia
Operating Hours: 9AM-7PM, daily
What to Order: Vetrnik, breakfast
Expect to Pay: About CZK 183 for vetrnik and coffee
8. Creme de la Creme
Gelato is one of the best things you can have while on holiday. There are many gelaterias in and around the Old Town square but read the reviews and you'll find many people calling the gelato at Creme de la Creme to be the best in Prague.
I don't remember what flavor we got (coffee maybe?) but I do remember it being delicious. It was rich, creamy, and very gooey. Creme de la Creme offers many interesting flavors, including fruit sorbets and a few vegan options.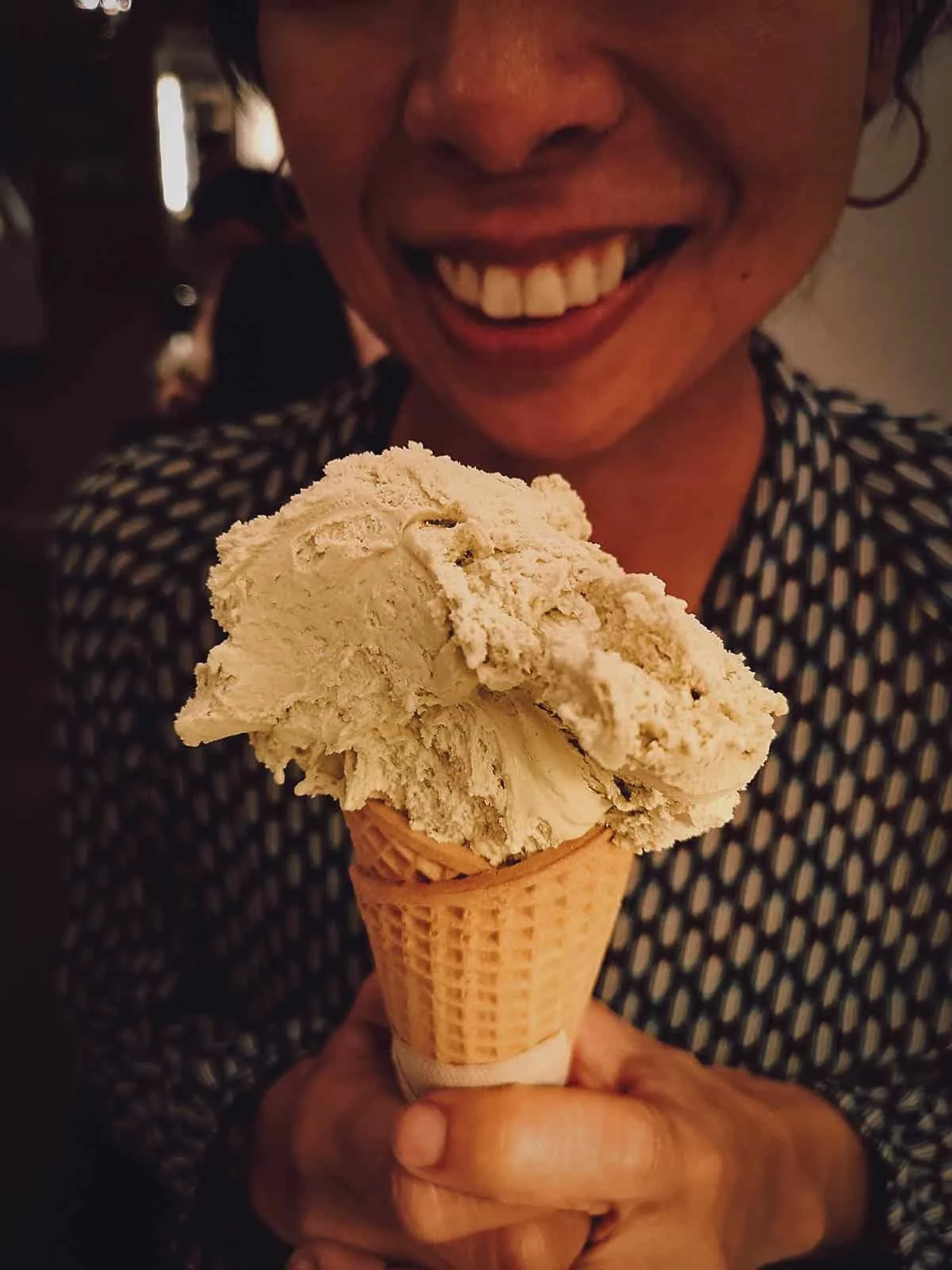 Ren loves cake so we tried a slice of this orechovy dort, which I believe is a type of Czech honey walnut cake. It was good too, though the gelato is clearly the draw here.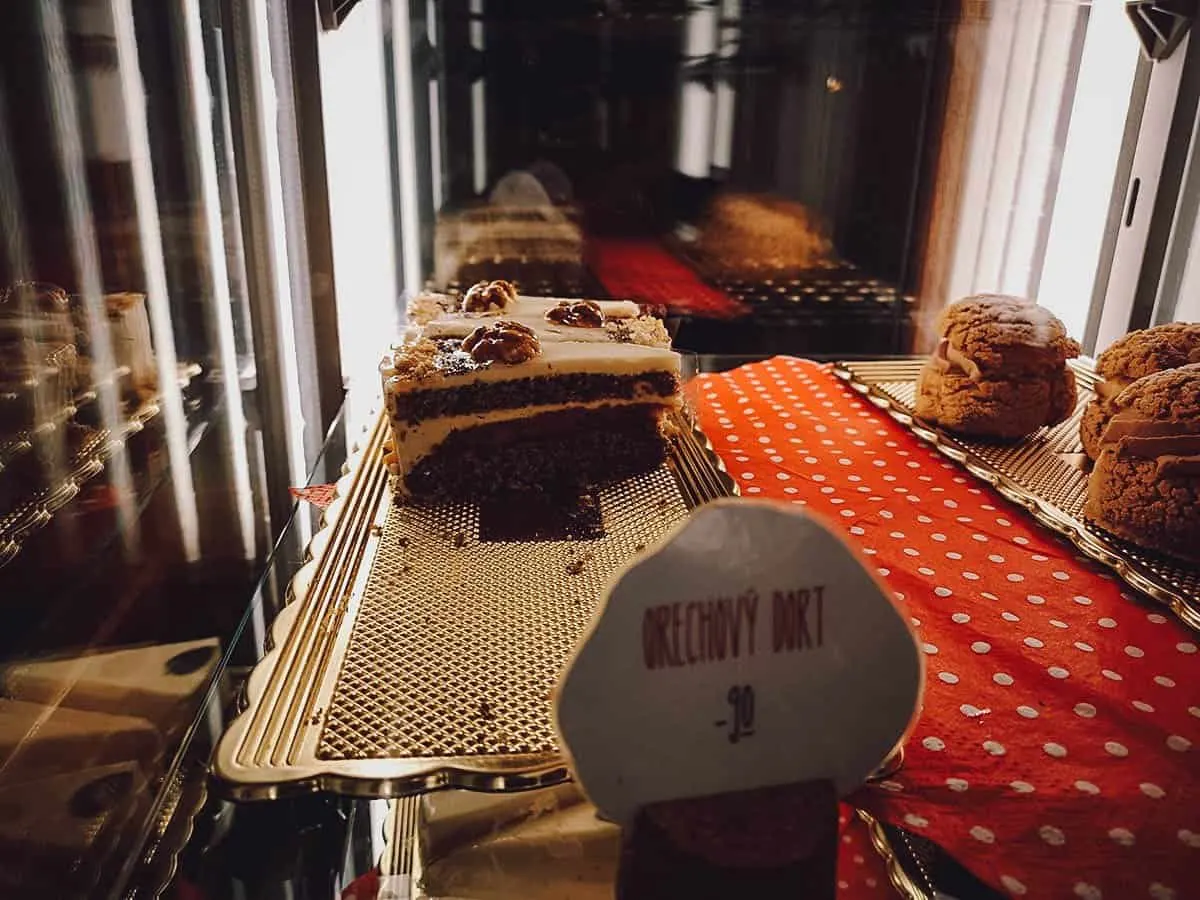 Creme de la Creme is located in the Old Town, not too far from U Kunstatu. It's a popular place so be prepared for a line, though it does move fairly quickly.
Creme de la Creme is a Certificate of Excellence awardee with a stellar 4.5-rating on TripAdvisor.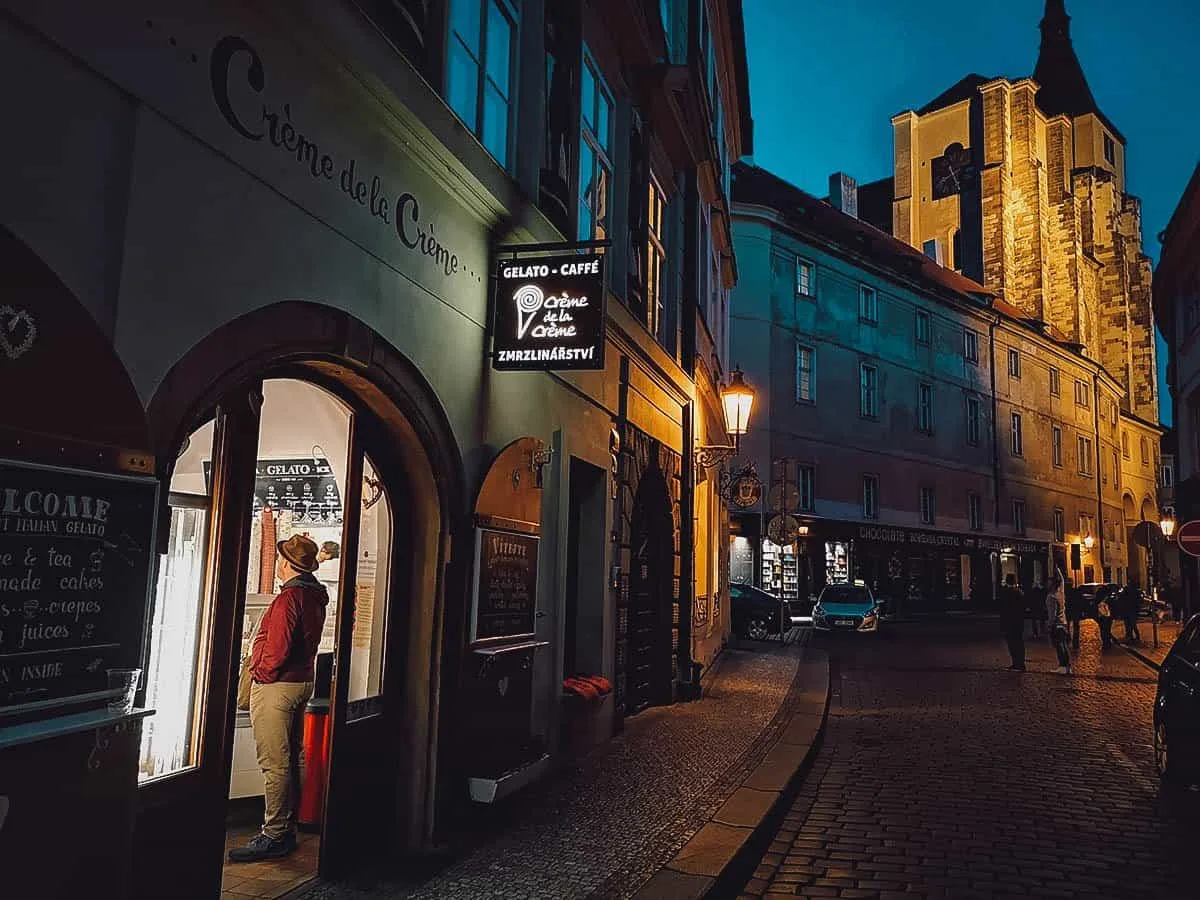 Creme de la Creme
Address: 12, Husova 231, Staré Město, 110 00, Czechia
Operating Hours: 11AM-10PM, Sun-Thurs / 11AM-11PM, Fri-Sat
What to Order: Gelato
Expect to Pay: About CZK 45 per scoop
9. EMA Espresso Bar
In the words of Prague's official tourist webpage, EMA Espresso Bar is "the most popular, the busiest, and definitely one of the best espresso bars in Prague." They've won a number of industry awards and are known not just for their coffee, but also for their homemade baked goods.
If you click through to Taste of Prague's article on the best vetrnik in Prague, you'll see that they conducted their taste test here at EMA Espresso Bar.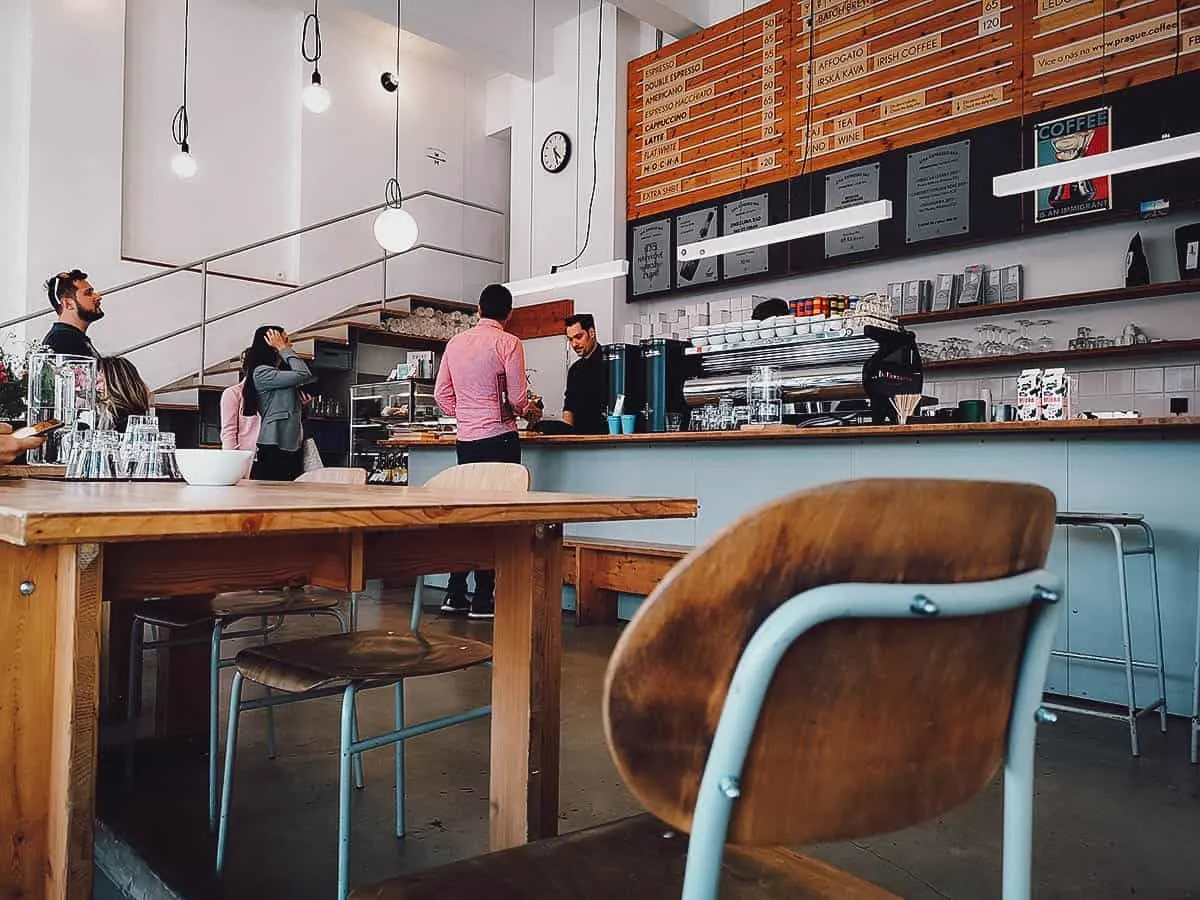 We had espresso, affogato, and a cinnamon roll. Their pastries are laid out on the counter so I believe what's available changes daily. Everything was good.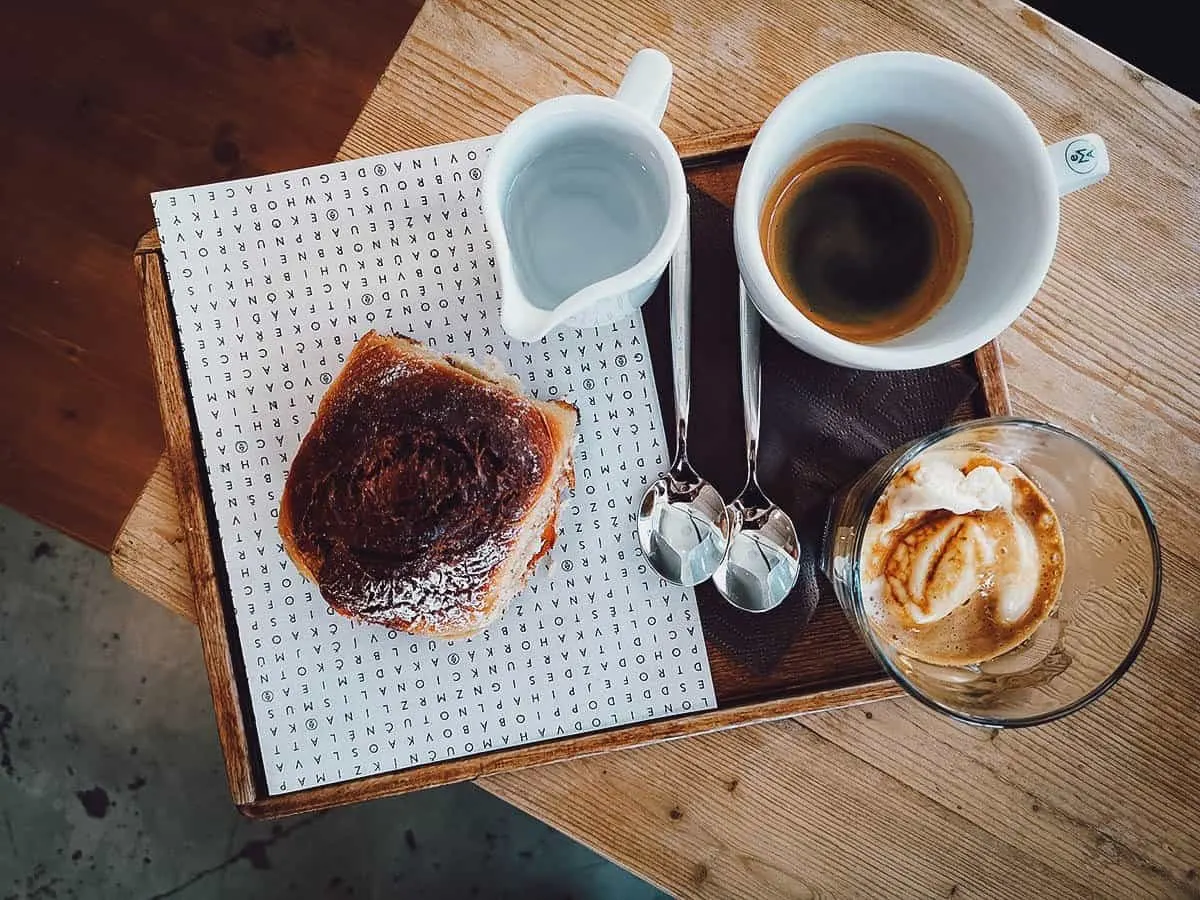 EMA Espresso Bar is located in the New Town. It's a bright space with big tables so if you need to get some work done, then this is a great place to go.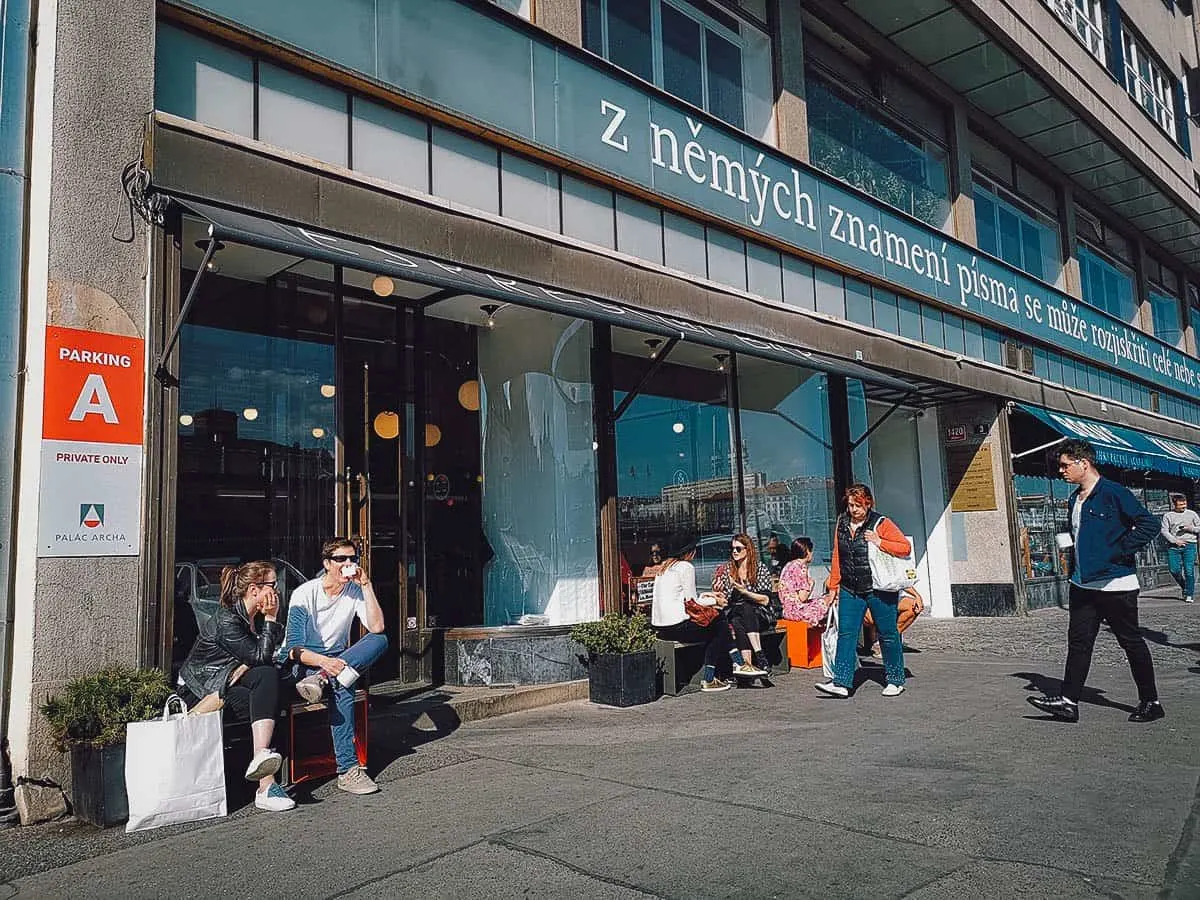 EMA Espresso Bar
Address: Na Florenci 1420/3, 110 00 Nové Město, Czechia
Operating Hours: 8AM-6PM, Mon-Fri / 10AM-6PM, Sat-Sun
What to Order: Coffee, pastries
Expect to Pay: At least CZK 50 for a cup of coffee
PRAGUE FOOD TOURS
No one knows the food in Prague better than a local, so what better way to experience Prague's Czech cuisine than by going on a food tour? A knowledgeable guide will take you to Prague's best restaurants and bars and explain all the dishes and Czech food traditions to you in more detail. Check out Get Your Guide for a list of Prague food and beer drinking tours.
LOCATION MAP
To help you navigate, I've pinned all the Prague restaurants recommended in this guide on an interactive map. It includes a few backup restaurants as well.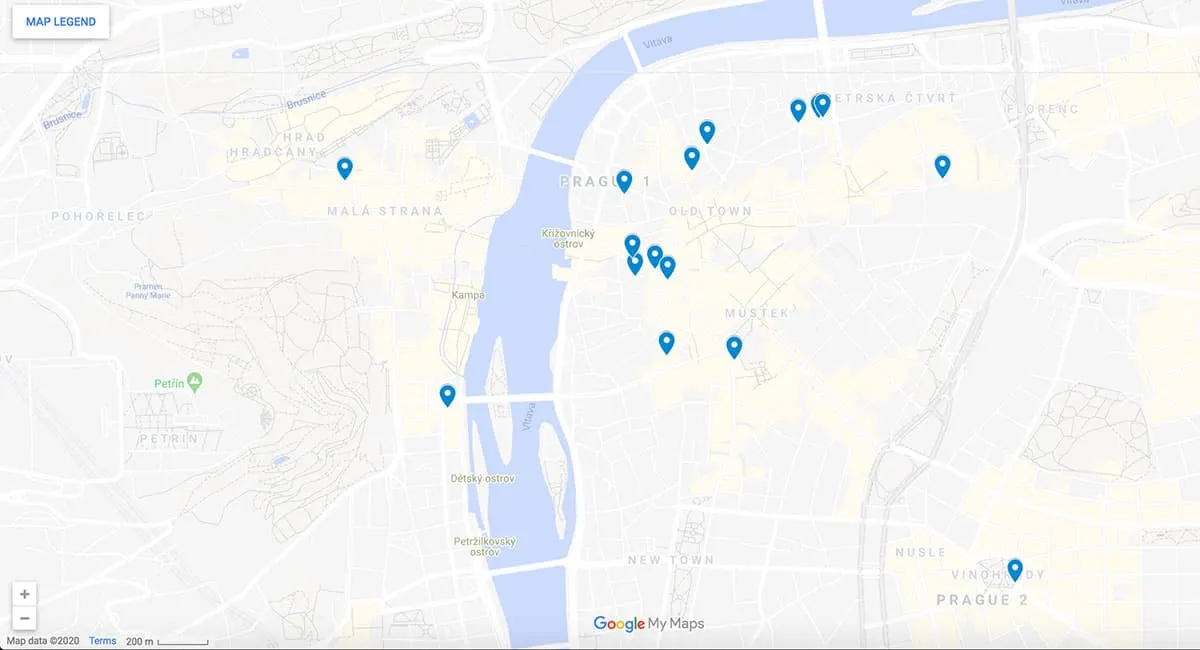 FINAL THOUGHTS ON THE FOOD IN PRAGUE
As beautiful as the Old Town is, it's also very touristy, which is why we did plenty of research to find some of the best restaurants in Prague. We didn't want to wind up at any tourist traps!
We enjoyed a decently well-rounded and satisfying introduction to Prague food, but as always, one visit barely scratches the surface. I'm happy with the food we experienced but we did miss out on a few dishes.
The chlebicky at Bistro Sisters eluded us, as did svickova, the Czech national dish of spiced sirloin steak boiled with double cream. We enjoyed bread and potato dumplings but we missed out on fruit dumplings which is the non-savory version of knedliky. It would have been great to go to a fine dining or Michelin star restaurant as well, one that offers a seasonal tasting menu.
If any of these dishes or experiences sound interesting to you, then you may want to seek them out on your own. We will for sure on our next visit to Prague.
In any case, thanks for reading and I hope this Prague restaurant guide leads you to some exceptional meals in Prague. Na zdravi!
Disclosure
Some of the links in this Prague food guide are affiliate links, meaning we'll get a small commission if you make a purchase at no extra cost to you. We only recommend products and services that we use ourselves and firmly believe in. We really appreciate your support as this helps us make more of these free travel guides. Thank you!