Granada was our favorite city in Spain. We visited over ten cities and towns throughout the country but Granada is the only place we could really see ourselves living in.
In fact, we were planning on going back and staying for at least a month in 2022. If the world rights itself before then, then we may still get to do that.
We loved everything about this city. We loved its size and its narrow meandering streets. It's one of the birthplaces of flamenco and home to the University of Granada. About a third of its population is comprised of students, giving it a relaxed college town vibe that belies its long and complex history.
Granada was the final stronghold of the Spanish Moors. Evidence of Islamic influence is still prevalent throughout the city, from its Arab baths to the Alcaiceria to the Albayzin and the mighty Alhambra.
We loved Granada's atmosphere and architecture but the one thing we enjoyed most was its food. Every city in Spain will have great Spanish food but Granada offers one thing that many Spanish cities do not – free tapas.
Is it any surprise we want to live there?
VISIT GRANADA QUICK LINKS
This travel guide to Granada is long. For your convenience, I've compiled links to hotels, tours, and other services here.
HOTELS
Top-rated hotels in the city center, the most convenient area to stay for first-time visitors to Granada.
TOURS
OTHER SERVICES
Save This on Pinterest!
No time to read this Granada travel guide now? Click on the save button and pin it for later!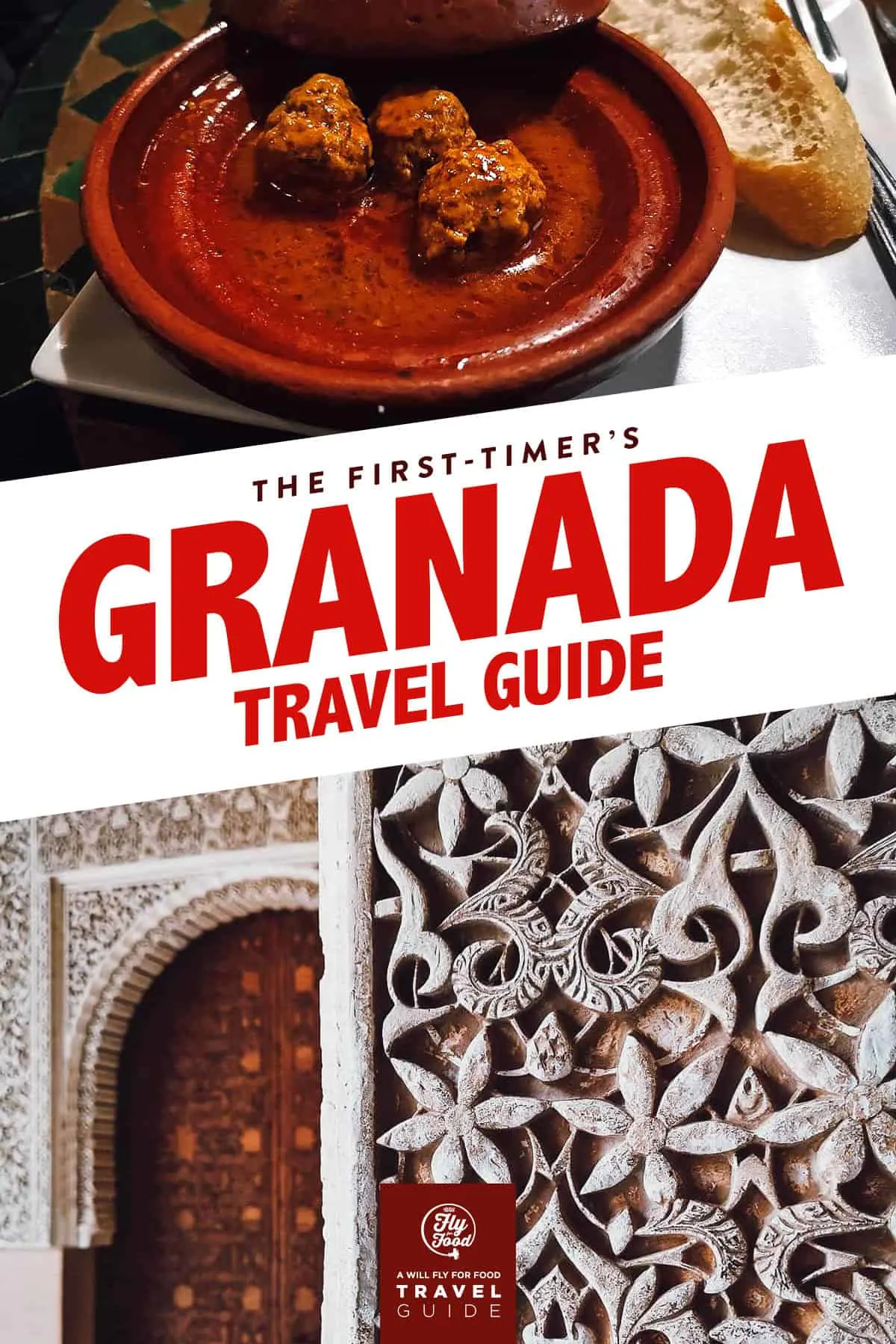 GUIDE TABLE OF CONTENTS
GRANADA TRAVEL RESTRICTIONS
Because of the current global situation, Granada travel guidelines change regularly. Our friends at Booking.com created a website that lists detailed information on travel restrictions around the globe.
Before planning a trip to Granada, be sure to check Booking.com for information on travel restrictions to Spain. If you do decide to visit Granada, then you may want to seriously consider getting travel insurance with COVID coverage.
SPAIN VISA
You may need a visa and other travel documents to visit Spain depending on your passport. Check out iVisa.com to learn about the requirements and to apply for a visa (if necessary).
If you're a Philippine passport holder, then check out our article on how to apply for a Schengen visa through the Embassy of Spain in Manila.
GRANADA AT A GLANCE
Granada is a city in the Andalucia region of southern Spain. It's a university city and home to one of the most famous landmarks in Spain and in Europe – the Alhambra.
Granada has been inhabited by humans for at least 2,500 years. It started as an Ibero-Celtic settlement before becoming a Greek colony. It flourished as an economic center of Roman Hispania before being ruled by the Visigoths and then reconquered by the Byzantine or Eastern Roman Empire.
The Moorish conquest of 711 AD brought Islamic rule to the Iberian peninsula with Granada becoming the center of Muslim Spain. After the Christian Reconquista in 1236, it became the center of the Nasrid Kingdom for the next 250 years before ultimately falling to Christian Spain in 1492. This marked the end of Moorish rule in the Iberian peninsula.
Attempts to hide its Muslim character were made over the following centuries. Much of the city's architectural heritage was destroyed before tourism began ushering in global interest to the city. In a way, I guess you can say that tourism helped save Granada's Islamic heritage.
Today, the Alhambra and Granada are among the most visited destinations in Spain.
BEST TIME TO VISIT GRANADA
As far as the weather goes, Apr-May and Sept-Oct are the best months to visit Granada. They're the mildest times of the year.
We were in Granada in late April and the weather was nice. It would be overcast on some days but it never rained. It wasn't warm yet but we were fine wearing just light jackets.
MAR-MAY: This is one of the best times of the year to be in Granada. The weather is favorable, especially towards late April and May. If you don't mind cooler temperatures, then March may be a good month to visit as well.
JUN-AUG: Summers in southern Spain are hot, so this isn't the best time to go if you aren't a fan of hot weather. Temperatures often exceed 40°C (104°F) in July and August, prompting locals to escape to cooler climates like San Sebastian in the north. Many shops, restaurants, and bars may be closed during this time. In contrast, June is a busy festival month in Granada. It hosts the Feria del Corpus Cristi and the Festival Internacional de Musica y Danza.
SEP-NOV: Weather-wise, fall is similar to spring making it one of the best times to visit Granada.
DEC-FEB: Because of its location in the south of Spain, winters in Granada are relatively mild. If you'd like to go skiing in the nearby Sierra Nevada mountains, then winter is a good time to go.
Climate: Annual Monthly Weather in Granada
For more on Granada's weather, check out these climate graphs from holiday-weather.com. I've also created the average temperature and annual rainfall graphs below with the most ideal months to visit marked in orange.
Average Temperature

Annual Rainfall

TRAVELING TO GRANADA
We flew to Granada from Barcelona but there are several ways to get there depending on where you are.
By Plane
People flying into Granada will arrive at Federico Garcia Lorca Granada-Jaen Airport aka Granada International Airport (GRX). It's located about 18 km (11.2 miles) west of Granada. From the airport, you can take an Alsa bus, taxi, or private transfer to the city.
BUS: The bus takes about 45 minutes and costs just EUR 3. It's the cheapest way to get from the airport to the city. You can pay for it on the spot or in advance through Klook. The bus is cheap and reliable but you'll need to walk or take a taxi to your hotel after it drops you off in the city center. Many of Granada's neighborhoods are hilly with cobblestone streets so you may have some difficulty walking to your hotel.
TAXI: Taxis will get you into the city center in about 20 minutes. It'll cost between EUR 25-30 so if there are enough people in your group, then it may be worth it for the convenience.
PRIVATE TRANSFER: If you'd prefer to have a driver waiting for you at the airport when you land, then you can book a private transfer in advance through Get Your Guide.
By Train
Granada can be reached by high-speed AVE train. The train station is located about 1.5 km (1 mile) north of the city center so you can either walk or take a taxi to your hotel. You can check Trainline for route information and to book tickets.
By Bus
You can also travel to Granada by Alsa buses which are cheaper than trains and just as comfortable. We took a bus to go from Granada to Madrid. The bus station is located farther away, about 3 km (1.9 miles) north of the city center.
You can search for bus routes to Granada on Bookaway. From the station, you can then take a public bus or a taxi to your hotel.
By Car
If you're comfortable driving, then traveling by car is the best way to epxlore Spain and Europe. We drove from San Sebastian to Santiago de Compostela and it turned out to be one of the most enjoyable legs of our trip.
If you're interested in renting a car and driving to Granada, then you can do so on Rentalcars.com.
WHERE TO EXCHANGE CURRENCY
The unit of currency in Spain is the Euro (EUR).
We withdrew EUR from an ATM so we didn't have to change any currency in Granada. This seems to be the de facto option in Spain and in many other European countries these days.
If you plan on using your ATM card in Europe, then I suggest informing your bank beforehand. That way they don't flag any transactions. In my experience, my ATM card works in some machines but not in others. I had no such problems in Spain.
NOTE: Many ATMs in Europe will ask if you'd like to proceed "with or without conversion". Always proceed WITHOUT conversion. Proceeding with conversion authorizes the foreign bank operating the ATM to do the conversion for you, usually at terrible exchange rates.
BEST AREAS TO STAY IN GRANADA
If it's your first time in Granada, then it's best to stay in the historic city center. It's the busiest part of town but it's also the most convenient, putting you close to many of the city's major attractions, tapas bars, shops, and restaurants. Aside from the city center, I think the Albayzin is another great place to stay.
I've created a color-coded map to help you understand where these areas are. Click on the link for a live version of the map. (Please note that marked areas are approximations only)
RED – City Center
BLUE – Albayzin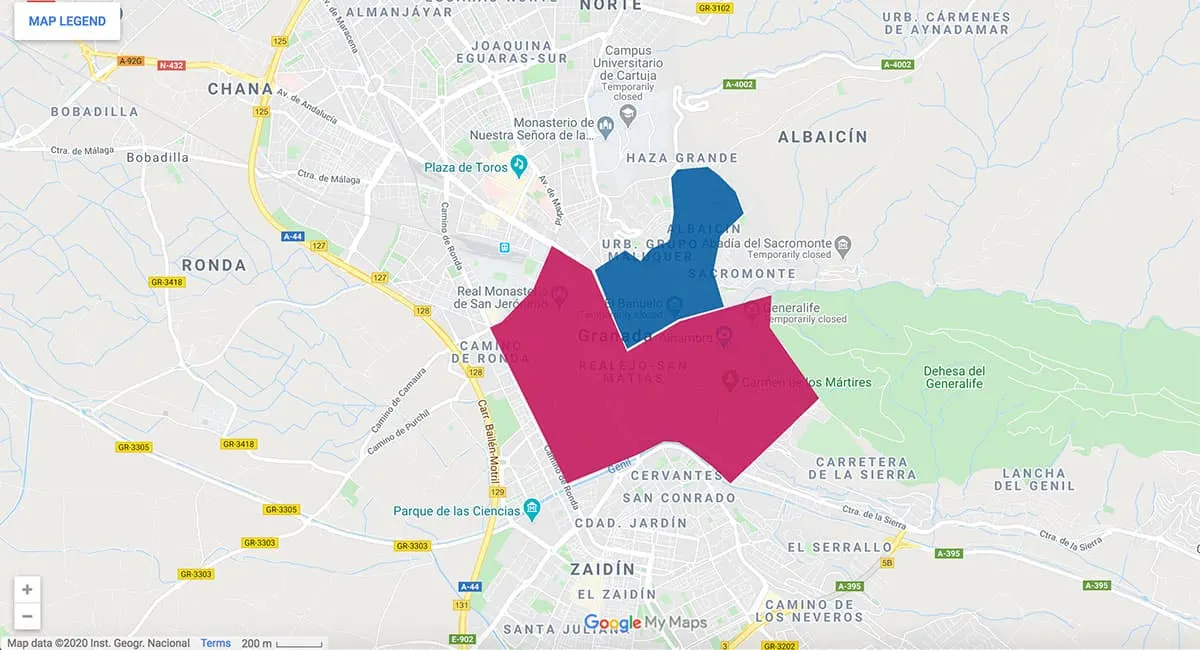 CITY CENTER
Staying in Granada's historic center will put you close to everything. Many of the city's top tourist attractions – including the Alhambra and Generalife Gardens – are located inside or within walking distance of the city center.
It's also home to many of the best tapas bars and restaurants so for us, there really is no better place to stay in Granada, especially if it's your first time in the city.
We stayed at a spacious three-bedroom apartment along Calle Cuartelillo. It's called the tuGuest Molinos Apartment and is one of many apartments in Granada owned and operated by the same vacation rental group. It's in a quiet neighborhood a little over a kilometer away from the Alhambra.
You can book a room at tuGuest Molinos Apartment through Booking.com or Agoda. If it's too big or not the right place for you, then click on the links to search for alternate listings in the city center: Booking.com | Agoda. Check out some of the top-rated hotels in the area:
ALBAYZIN
The Albayzin (or Albaicin) was my favorite area in Granada. It's a medieval Moorish district known for its predominantly white houses built on the side of a hill overlooking the city and the Alhambra. It's a lovely atmospheric neighborhood that's one of three UNESCO World Heritage Sites in Granada.
I loved the Albayzin but it may be a bit far from the city center. It's about half an hour away on foot from central Granada. You'll need to walk through hilly cobblestone streets to go back and forth so it may not be the most convenient place to stay for first-time visitors.
With that said, the Albayzin is definitely where we want to stay on our next trip to Granada. It's quieter than the city center with its own cluster of restaurants, cafes, and tapas bars. You can search for accommodations in the Albayzin on Booking.com or Agoda. Check out these top-rated hotels in the area:
You can also book hotels and homestays in Granada using the handy map below.
PLACES TO VISIT IN GRANADA
1. The Alhambra & Generalife Gardens
The Alhambra is the main reason why many people visit Granada. Built in the 8th century, this magnificent complex was the fortress of the Nasrid Dynasty, the last Islamic kingdom in Western Europe. It occupies about 10.5 hectares (26 acres) of land and is protected by 2 km (1.2 miles) of fortress walls.
A UNESCO World Heritage Site, the Alhambra consists of three main sections – the Alzacaba, the Medina, and the palatial zone. The palatial zone is where you'll find Nasrid Palaces which is the most spectacular part of the fortress complex. As you can see below, nearly every square inch of the palace is covered in intricate detail.
The Alhambra is one of the hottest tickets in Spain so you're strongly advised to purchase your tickets as soon as possible. We bought ours from the official website but if you'd like to go on a guided tour, then you can book one through Get Your Guide.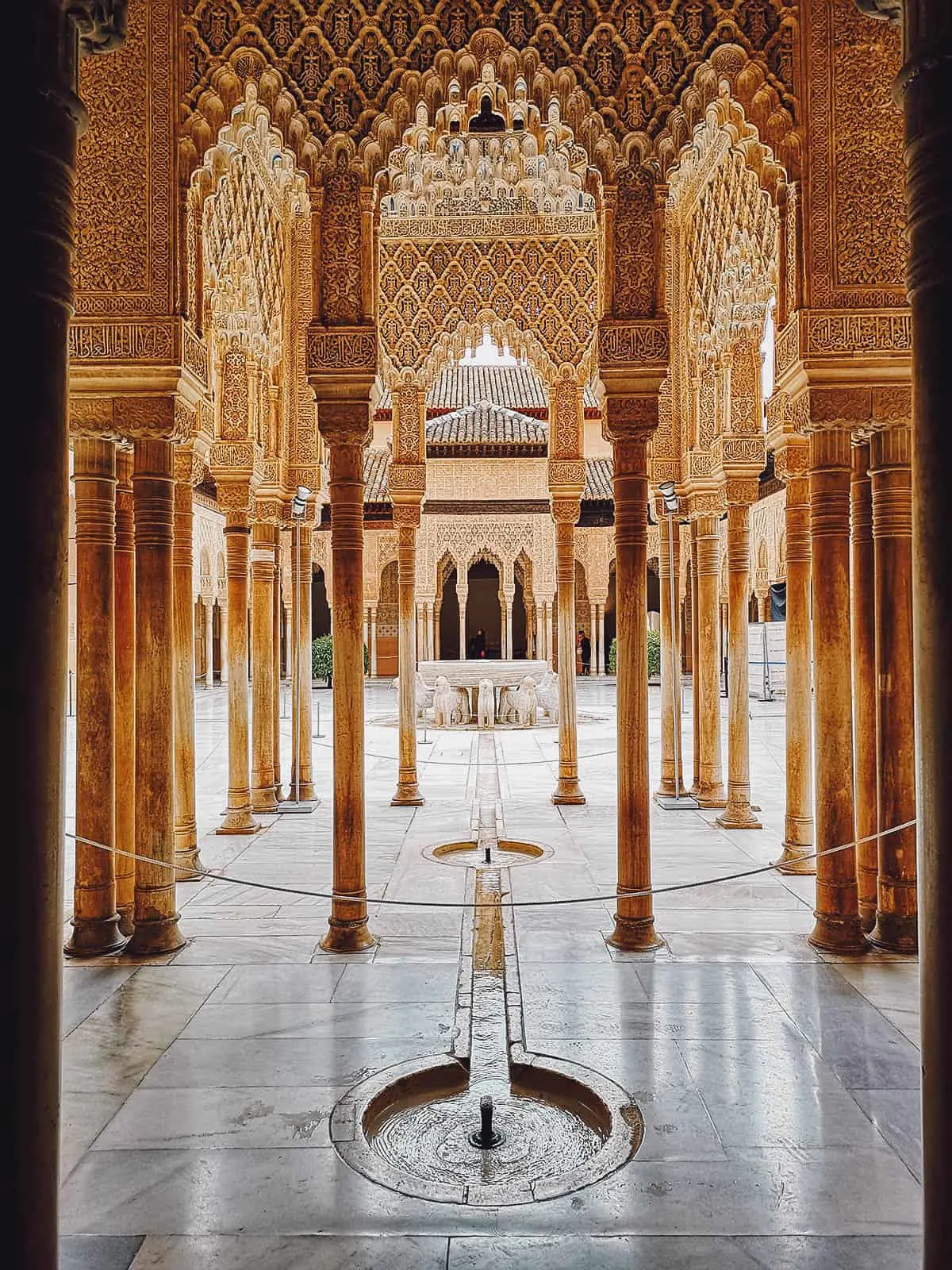 The Generalife was the summer palace of the Nasrid rulers. It features a cluster of buildings and many large gardens that are considered among the most well-preserved Moorish gardens in Spain.
The Alhambra and Generalife feel like they're in the same complex but they're actually separate entities situated right next to each other. They're so massive that it takes about 10-15 minutes to walk from one to the other.
Purchasing a general ticket to the Alhambra will give you access to the Generalife as well.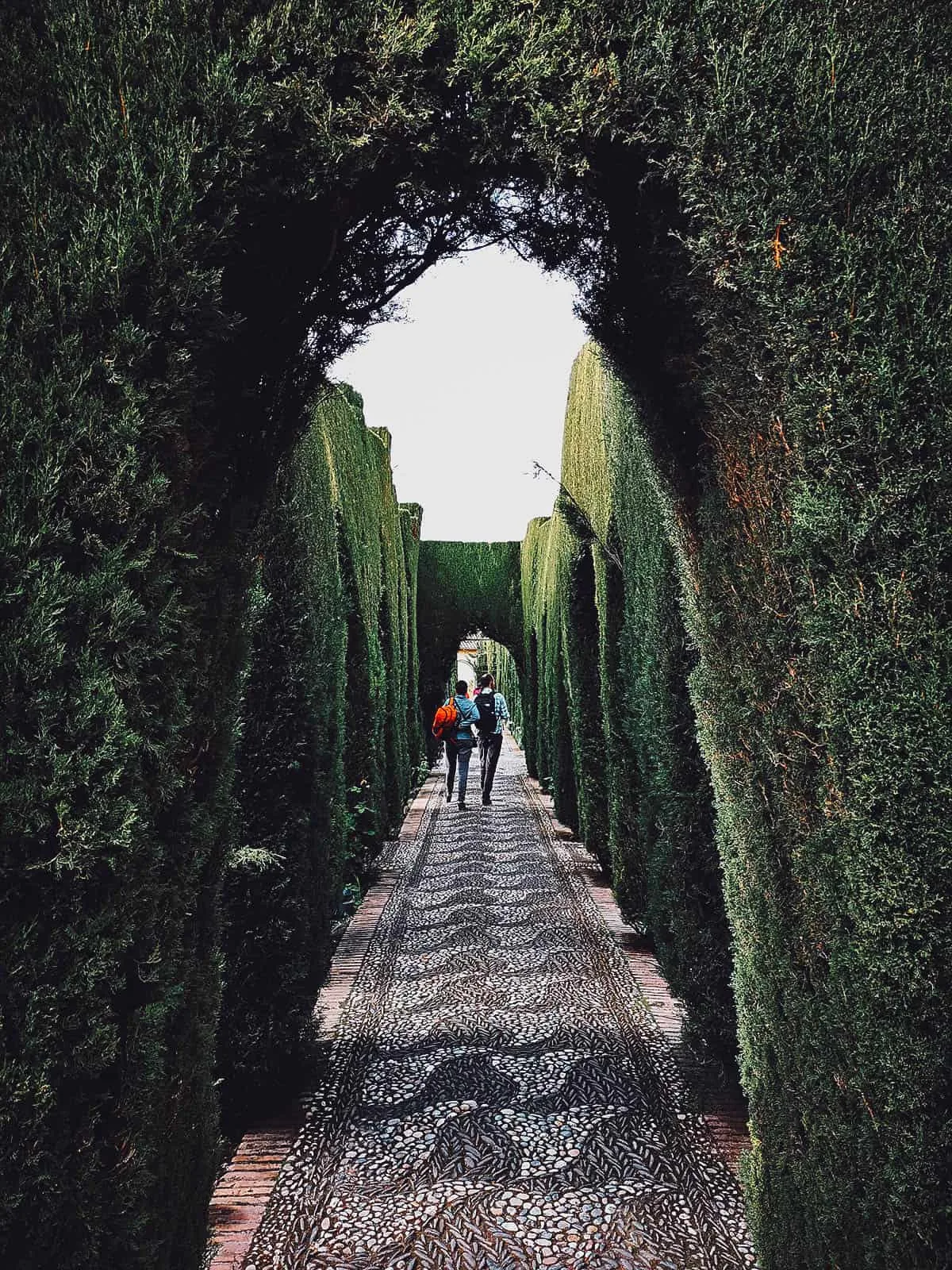 Admission: EUR 19.09
Estimated Time to Spend: About 3-4 hrs
2. Granada Cathedral & Royal Chapel of Granada
There are beautiful churches all throughout Spain. Granada Cathedral is the biggest church in the city and considered a masterpiece of Spanish Renaissance architecture.
Interestingly, it was built over the former site of the Great Mosque, in an effort perhaps to eradicate the city's Moorish character and mark the end of Muslim dominance in Granada.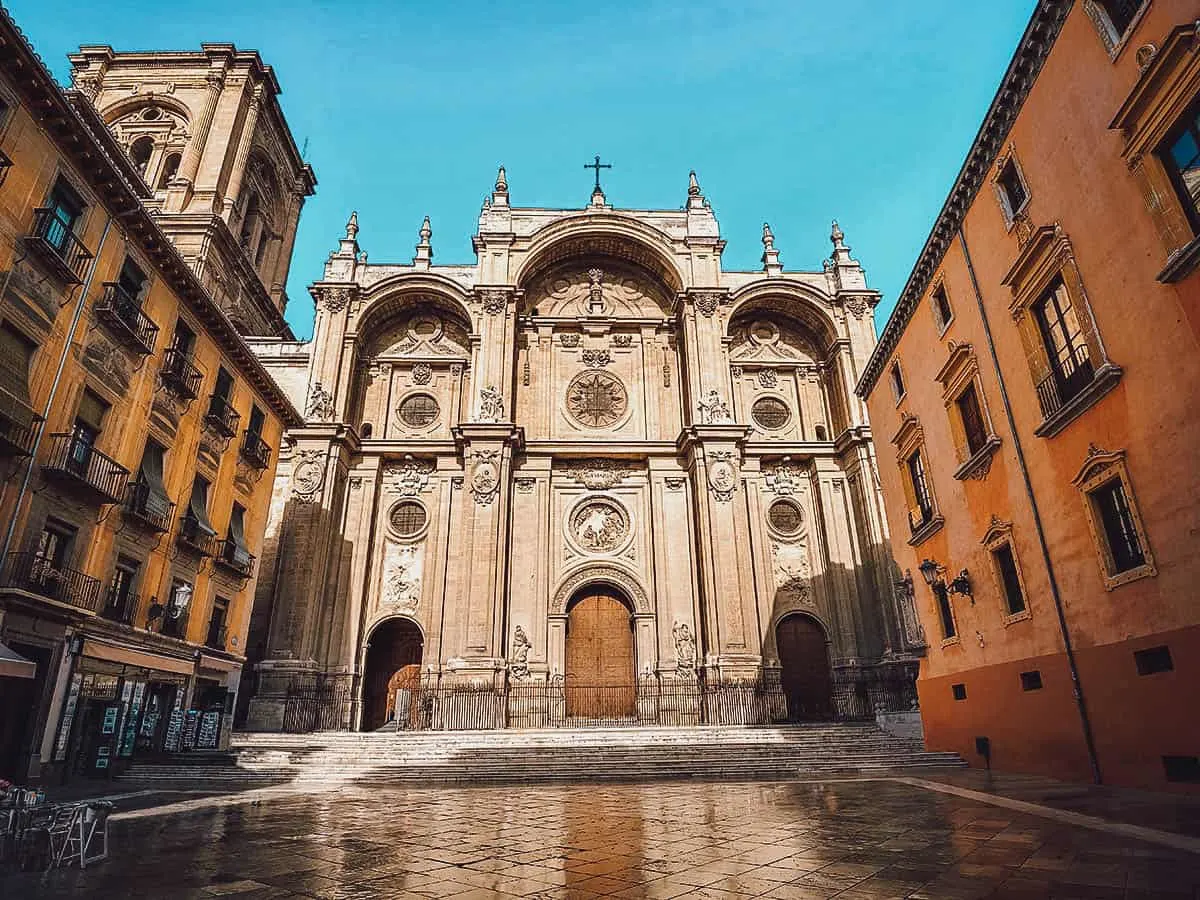 Photo by Valery Bareta via Shutterstock
Admission: EUR 5 (audioguide included)
Estimated Time to Spend: About 30 mins – 1 hr
The Royal Chapel of Granada is located right next to the cathedral. Constructed in 1517, it was built to house the remains of the Catholic Monarchs Queen Isabella I and King Ferdinand.
The Cathedral and Royal Chapel are located in the historic center so you can easily visit them on your own, but if you'd like to have a guide explain everything to you, then you can join a guided tour (Option 1 | Option 2 | Option 3).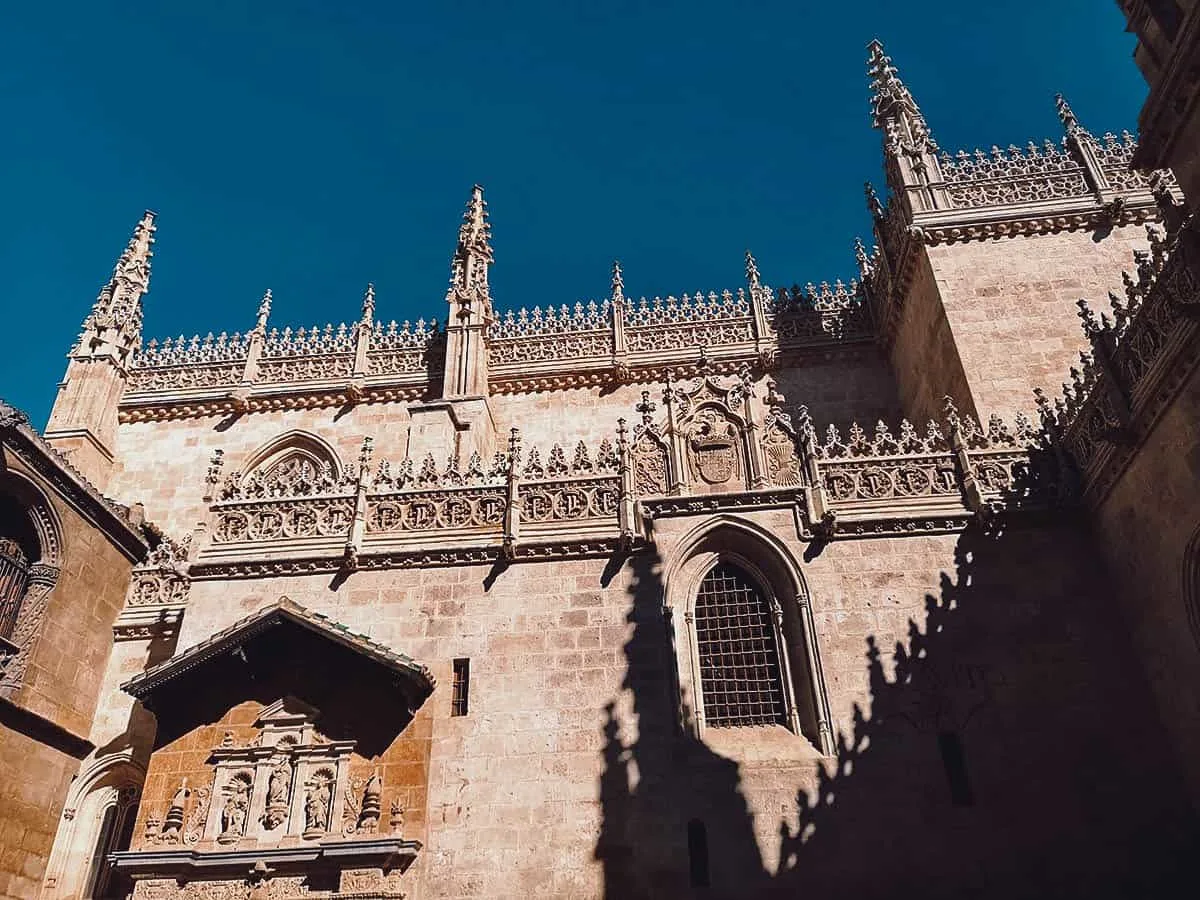 Admission: EUR 5 (audioguide included)
Estimated Time to Spend: About 30 mins – 1 hr
3. Carmen de los Martires Gardens
A Casa Carmen refers to a traditional house in Granada with an enclosed garden. There are many Carmenes in Granada, but one of the most well-known and easily accessible is the Carmen de los Martires. Located just south of the Alhambra, it's the biggest Carmen (by surface area) in Granada.
Many Carmenes are open only for special events but the gardens of Carmen de los Martires are open to the public. The house itself remains closed but tourists are free to explore the Carmen's gardens which are described as among the most beautiful in Granada.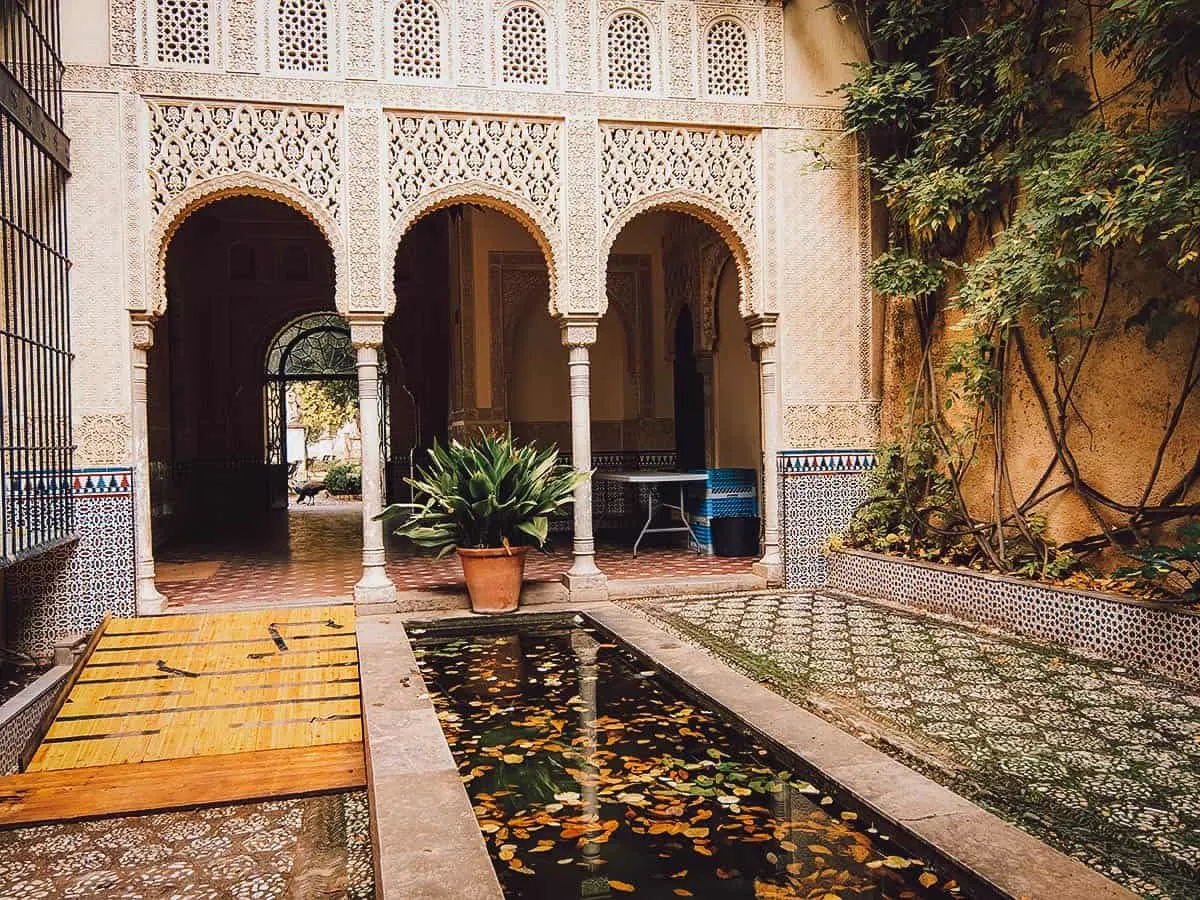 Photo by Jorge Fuentes Quero via Shutterstock
Admission: FREE
Estimated Time to Spend: About 1 hr
4. Monasterio de San Jeronimo
The Royal Monastery of St. Jerome is a Catholic monastery that was the first to be built in Granada after the Christian Reconquista. Built in the Renaissance style, it features a sacristy described as one of the best examples of Spanish Baroque architecture.
Unfortunately, I didn't get to see it because there's a EUR 4 admission fee to go inside. You can however enter the courtyard for free. It's a peaceful space with dozens of orange trees.
You can visit the monastery on your own or on this guided tour that includes visits to the Cathedral and Royal Chapel as well.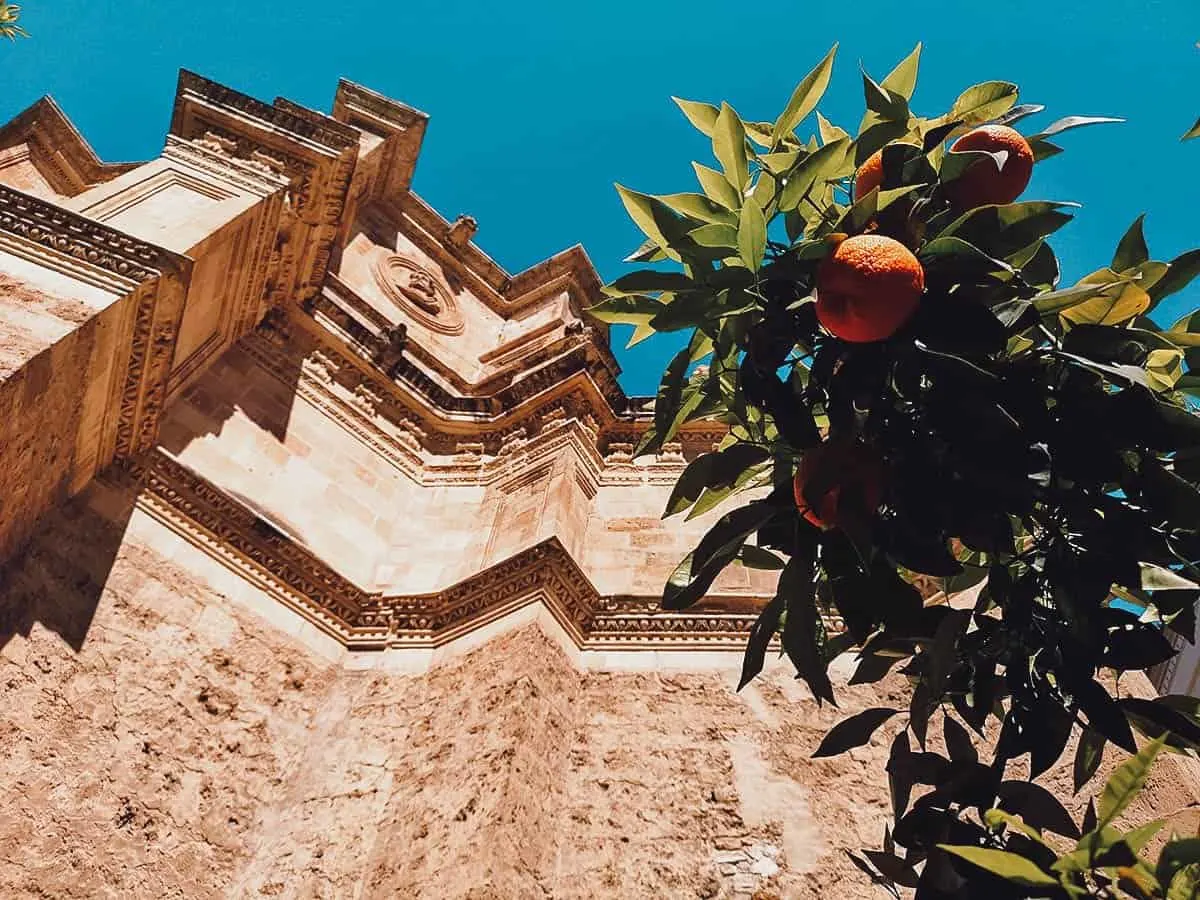 Admission: EUR 4
Estimated Time to Spend: About 30 mins – 1 hr
5. Monasterio de la Cartuja
Founded in 1084, the Carthusians or the Order of St. Bruno are an enclosed religious order of the Roman Catholic Church. It includes both monks and nuns who lead spartan lives.
Members of the Carthusian order fast regularly and observe strict vows of silence, which makes the Monasterio de la Cartuja somewhat ironic because it's known for being one of the most elaborately decorated Carthusian monasteries in Spain.
The monastery's bare exterior belies what's described as a "flamboyant explosion of ornamentation" and one of the finest examples of baroque architecture in Spain.
The monastery is located about 2 km north of the city center. It'a pleasant walk though you'll find yourself going uphill for a good portion of it. I think it's worth it just to see a different side of the city.
Admission: EUR 5 (audioguide included)
Estimated Time to Spend: About 1 hr
6. Monumentos Andalusies
The Monumentos Andalusies (Andalusian Monuments) refers to a set of four Moorish attractions scattered throughout the city – El Bañuelo, Corral del Carbon, Palacio Dar al-Horra, and Casa Horno de Oro. I visited two on my own but a joint ticket will give you access to all four.
Pictured below is the exterior of the Palacio Dar al-Horra, a 15th century Moorish palace that was the former residence of Aixa la-Horra – mother of the last Emir of Granada. I walked by this place on my way back to the city center from the Albayzin.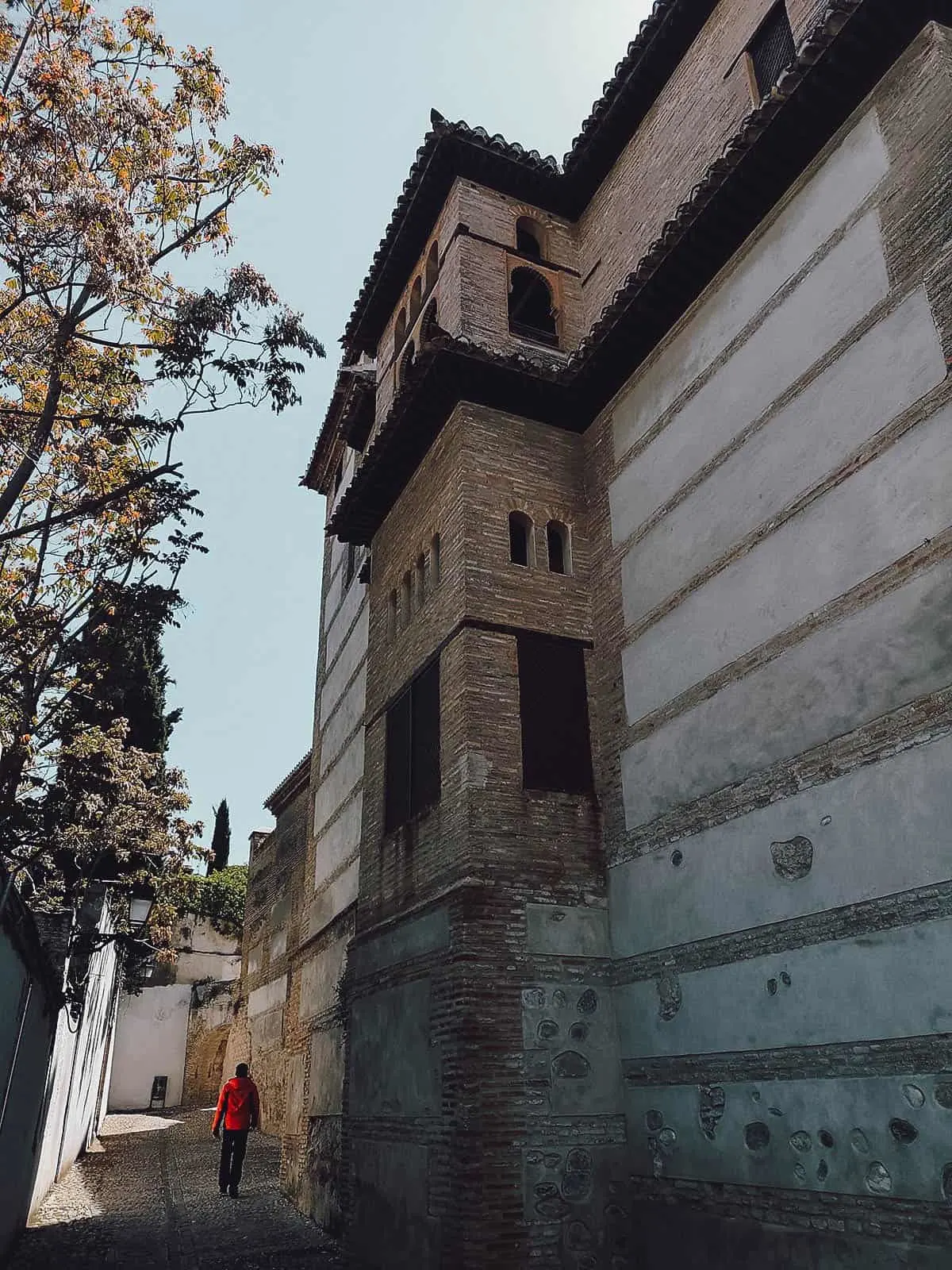 After the Christian Reconquista, Arab baths were banned in Spain. El Bañuelo is one of the few that survived destruction by the Catholic Monarchs. Located along Carrera del Darro, it's believed to be the oldest and most well-preserved Arab bath in Spain.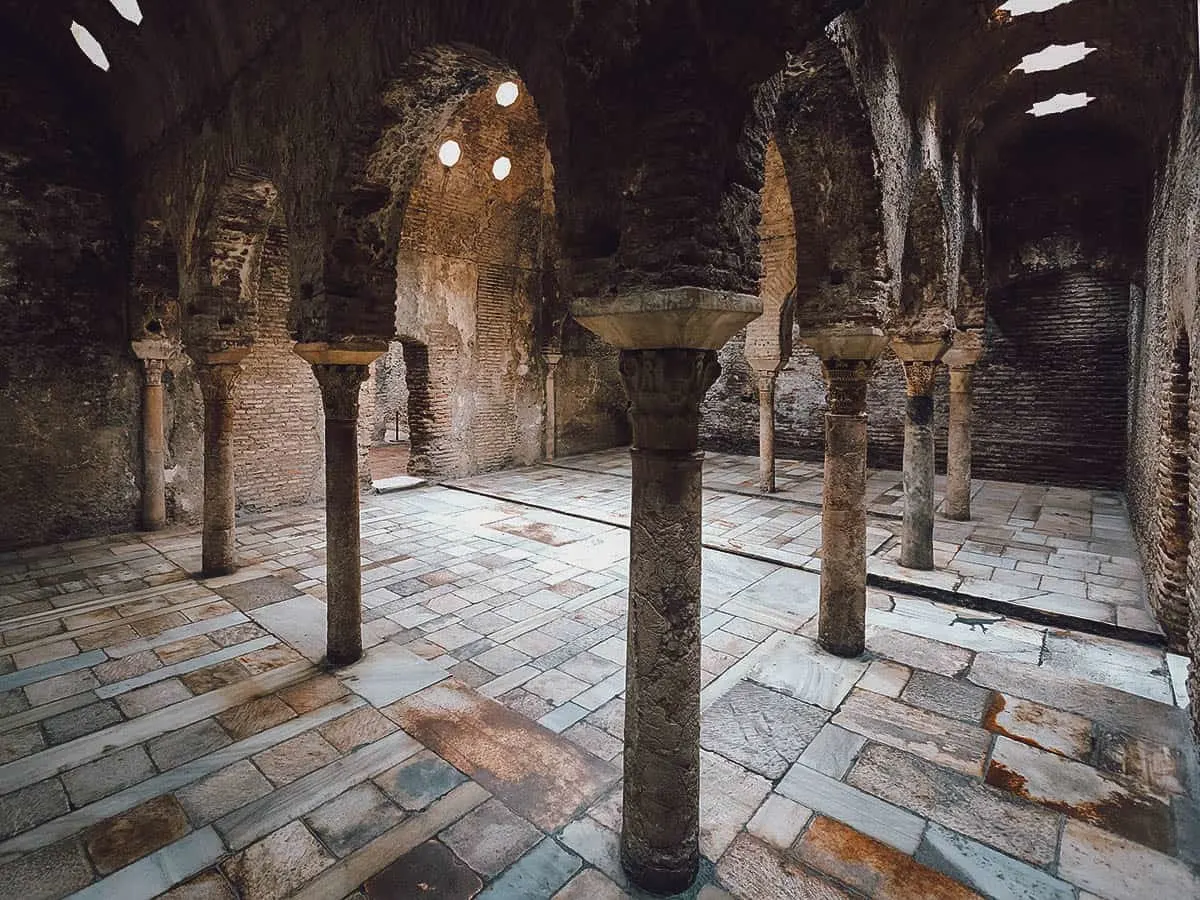 Photo by Iakov Filimonov via Shutterstock
Corral del Carbon dates back to the 14th century and is the only surviving Nasrid alhondiga in Spain. An alhondiga or almudi refers to a public market where grain was bartered and stored.
Admission: EUR 7.42
Estimated Time to Spend: About 30 mins – 1 hr per site
THINGS TO DO IN GRANADA
1. Watch a Flamenco Show Inside a Cave
Watching a flamenco show inside a cave in Sacromonte is one of the best things you can do in Granada. Personally, it was one of my favorite experiences not just in Granada, but in all of Spain.
Flamenco is a Spanish art form consisting of song, dance, and guitar playing. It has its roots in Andalusia and is believed to have originated from nomadic Romani people who migrated to southern Spain.
Some of them settled and built their homes inside caves in Sacromonte, a neighborhood just east of the historic center. Inside these caves is where you can enjoy some of the most authentic and memorable flamenco experiences in Spain.
We went to Zambra Maria la Canastera, a venue often cited for being one of the best places to watch flamenco in Sacromonte. You can also book flamenco shows on Get Your Guide.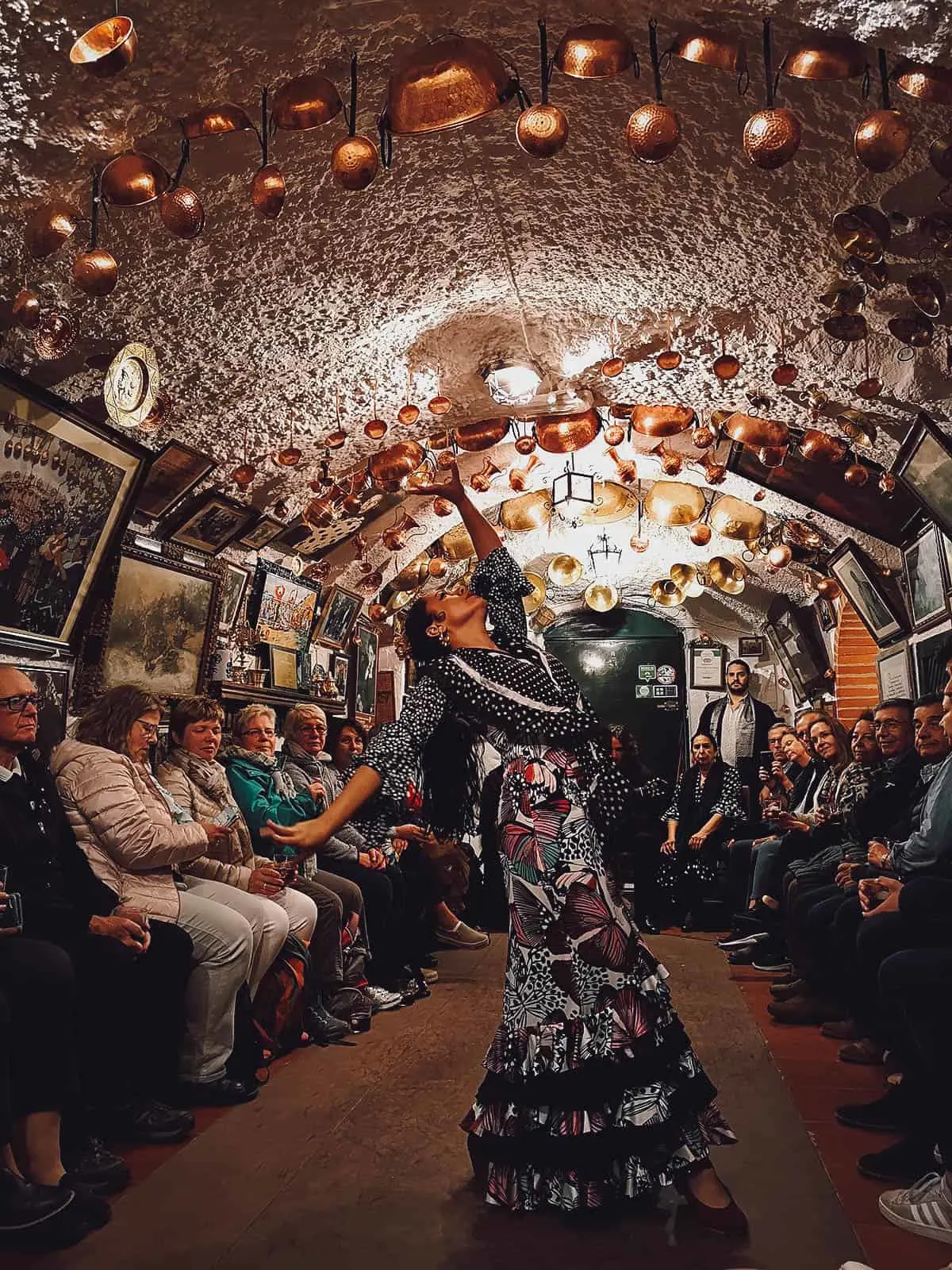 2. Explore the Albayzin
The Albayzin was my favorite neighborhood in Granada. It's an atmospheric Moorish district with mostly white houses and miradores (viewing points) offering spectacular views of the city and the Alhambra.
The Albayzin is located about 1.5 km (1 mile) northeast of the city center so you can easily get there on foot, though much of the walk is uphill. I had a great time exploring its labyrinth of roads and narrow alleyways which is much more peaceful than downtown Granada.
You can easily visit the Albayzin on your own, but if you're prefer to go on a guided tour, then you can book one on Get Your Guide. It's located next to Sacromonte so many tours will take you to both.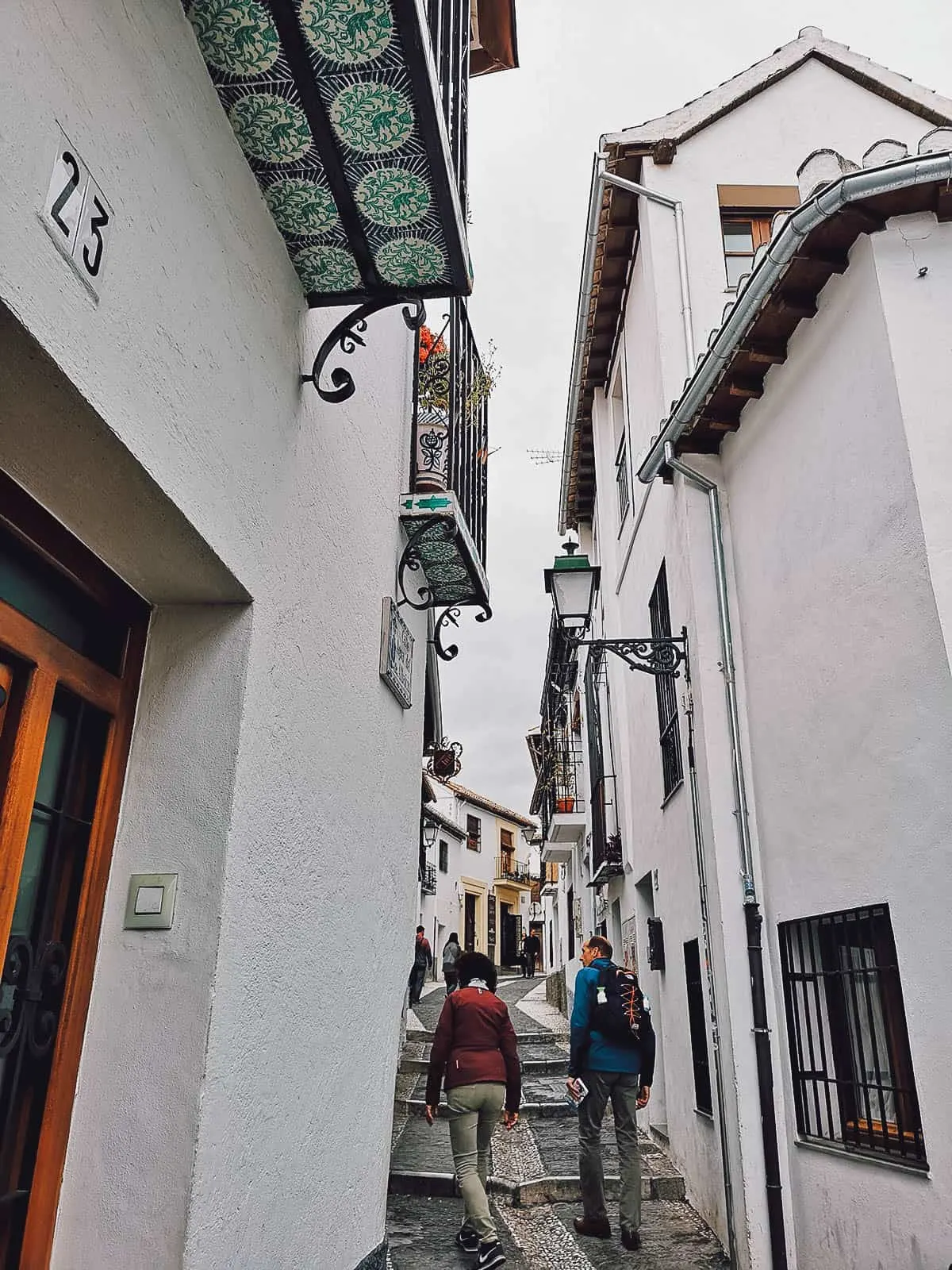 3. Shop at the Alcaiceria
The Alcaiceria was the former site of the Great Bazaar of Granada, a network of streets filled with over 200 shops selling silk, spices, and other precious goods.
Unfortunately, much of the bazaar was destroyed by fire in the 19th century so all that remains today is this colorful strip of shops selling items like Arabic crafts, farolas, and ethnic clothing.
If you're in the market for interesting souvenirs in Granada, then this is a great place to look. Entering the Alcaiceria through Calle Reyes Catolicos will take you out to Granada Cathedral.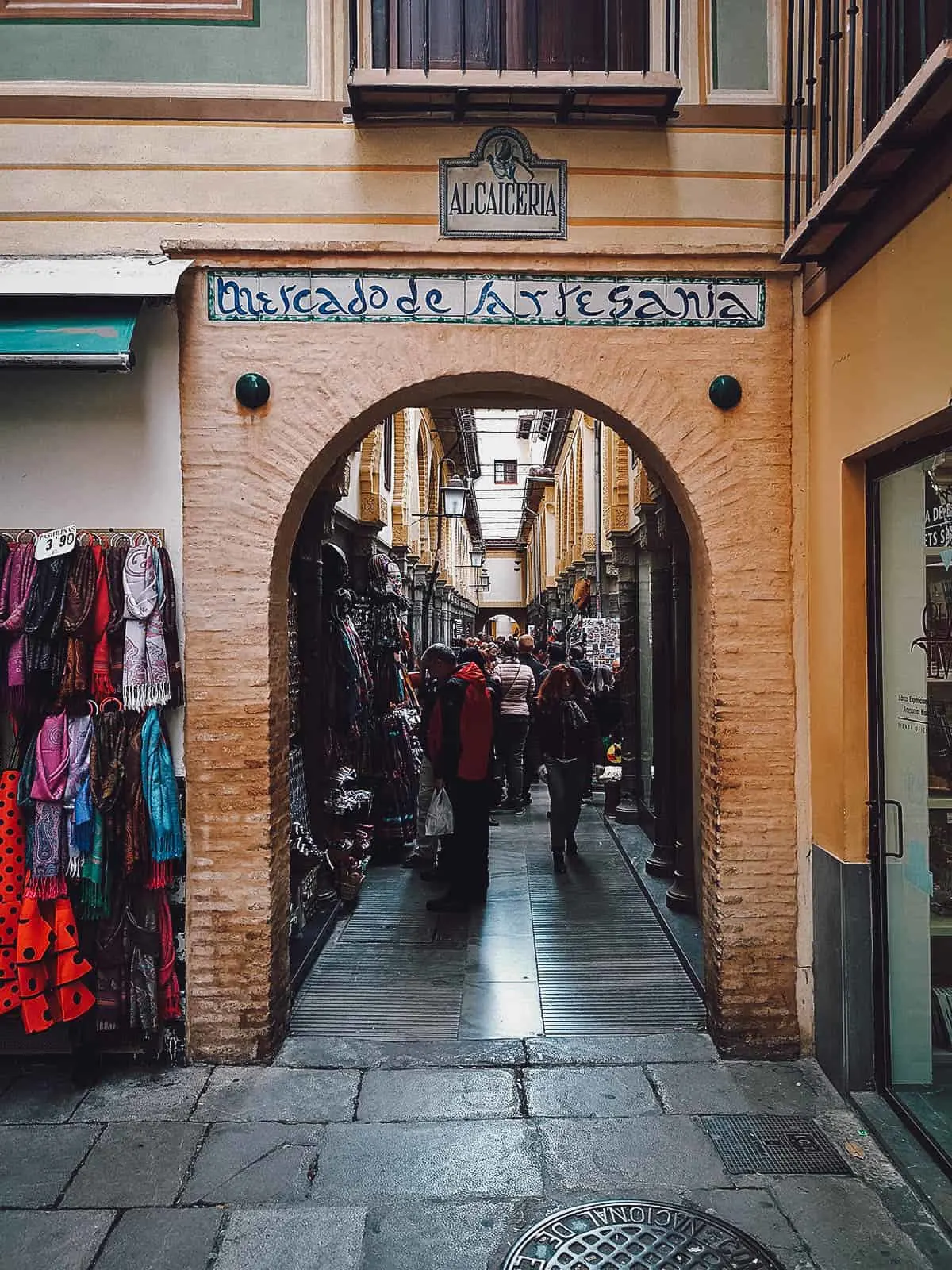 4. Bathe at Hammam Al Andalus
If you enjoy massages and thermal baths, then you'll probably want to spend an hour or two relaxing at Hammam Al Andalus. It's the first Arabic bath to reopen after they were banned in Spain over five centuries ago.
Housed in a 13th century building, Hammam Al Andalus features seven pools with varying temperatures. You probably won't need reservations to soak in the pools but it's recommended to book any treatments in advance. Get Your Guide offers vouchers for a bath session with an optional massage or bundled with a ticket to the Alhambra.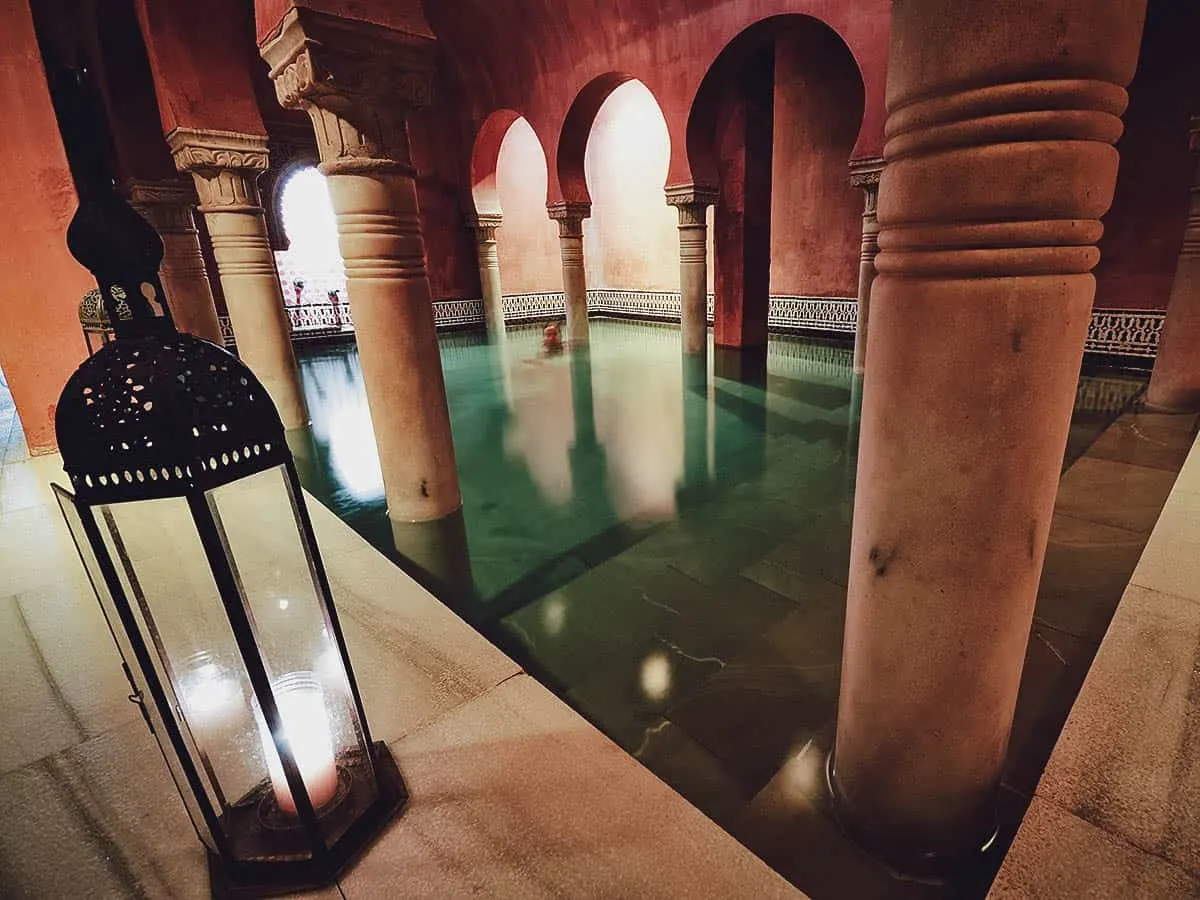 Photo by javi_indy via Shutterstock
5. Go on a E-Bike or Segway Tour
Granada is small enough to easily explore on foot, but if you'd like a more interesting way of navigating the city, then perhaps you'd like to go on an e-bike or Segway tour.
Many of the neighborhoods in Granada are hilly so this may be an attractive option for people with mobility issues. There are many e-bike and Segway tours you can choose from on Get Your Guide.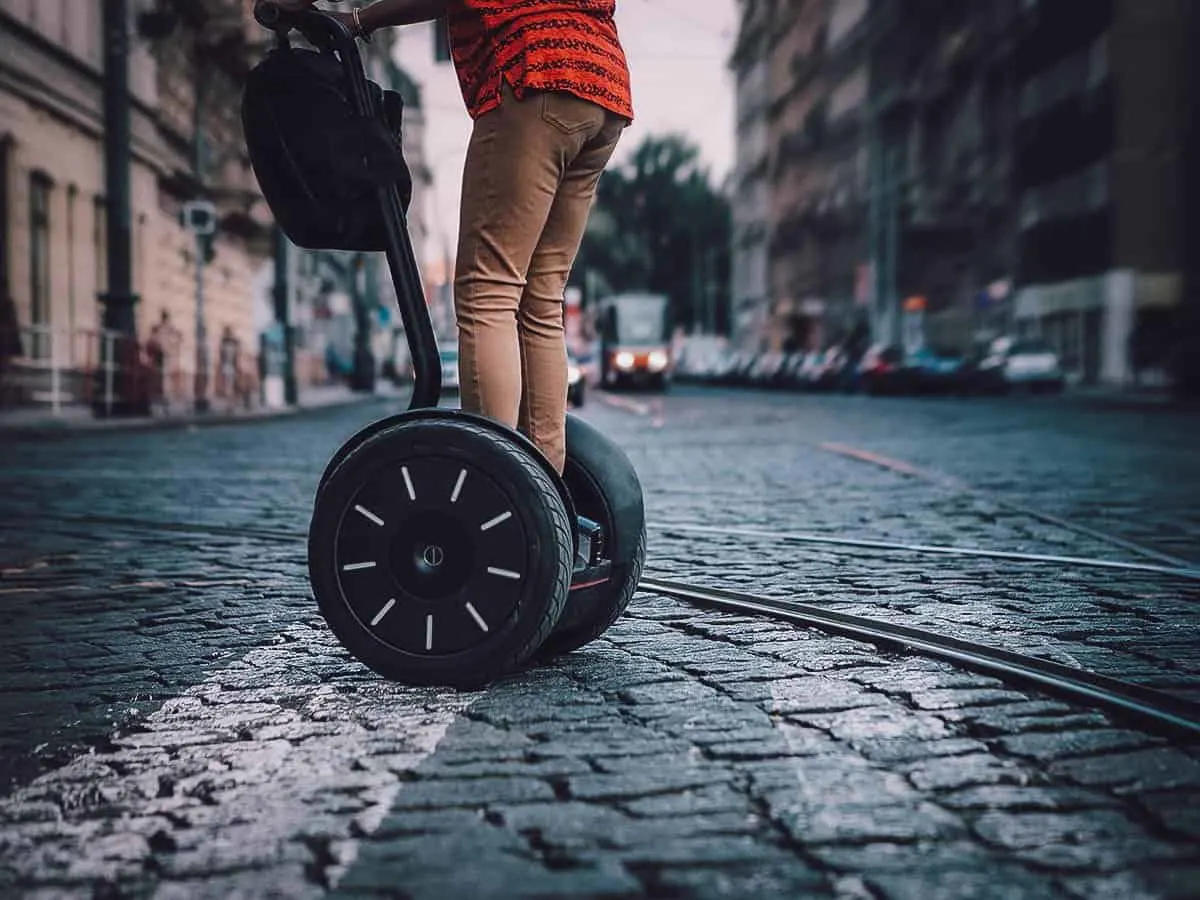 Photo by Soloviova Liudmyla via Shutterstock
DAY TRIPS FROM GRANADA
1. Sierra Nevada
The Sierra Nevada mountain range is a popular tourist destination in Andalusia. It's the third-highest mountain range in Europe and where you'll find Mount Mulhacen, the highest peak in Spain.
It's home to the Sierra Nevada Ski Resort which is the southernmost ski resort in Europe. Its ski season starts around late November and can last until early May. I remember looking up from the Albayzin in late April and marveling at how beautiful its snow-capped mountains were.
Skiing is one of the best reasons to visit Sierra Nevada but it's proximity – about 35 km (21.7 miles) east of Granada – makes it an ideal day trip destination at any time of the year.
Get Your Guide (Option 1 | Option 2 | Option 3) offers tours that take you to Sierra Nevada to go biking, hiking, or to simply enjoy its cool mountain air.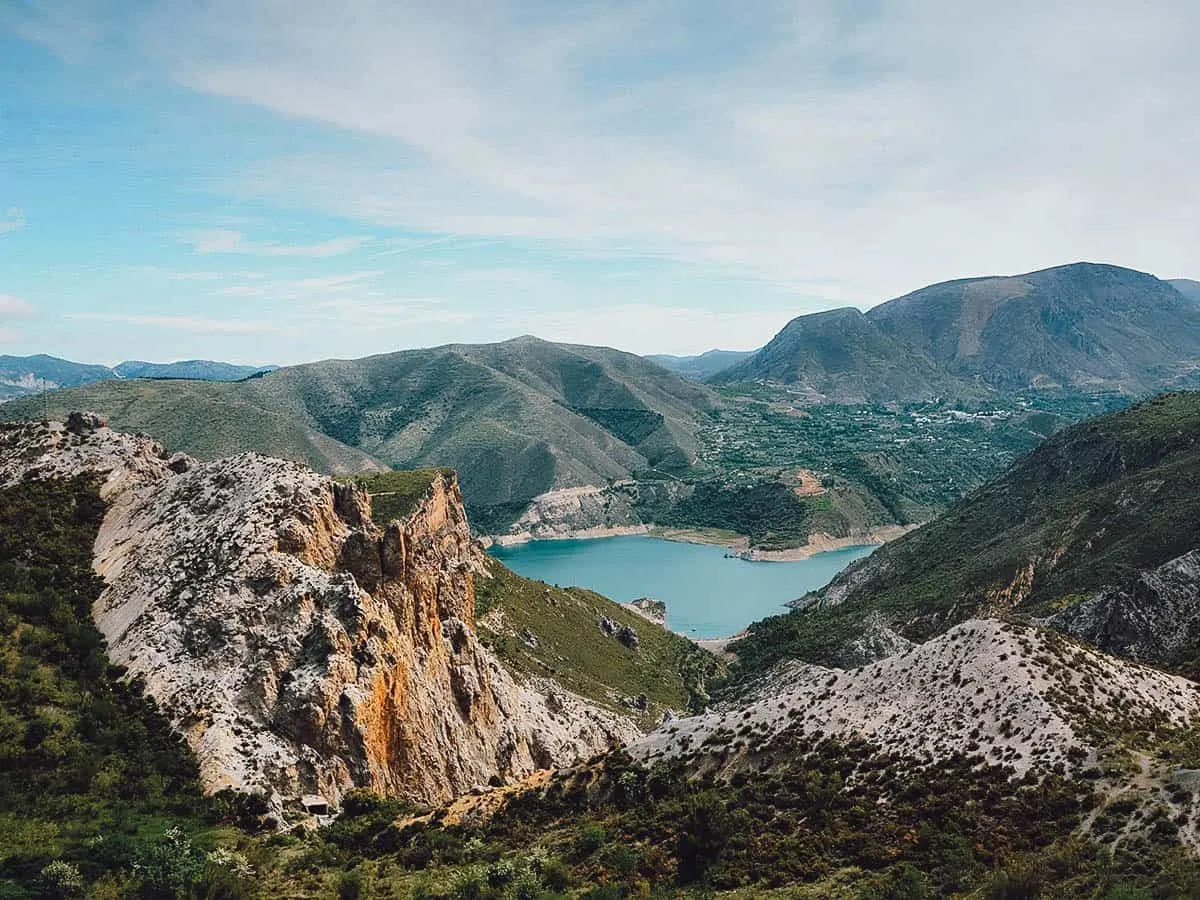 Photo by Oleg_Mit via Shutterstock
2. Alpujarras
The Alpujarras is a region on the southern slopes of the Sierra Nevada mountain range. It features around fifty villages that were originally established by Berbers who inhabited this area after the Moorish invasion of 711 AD.
These villages served as the final stronghold of the Moors. After the Reconquista, the Moors were forced to convert to Christianity. Those who refused fled to these hills and continued to rebel against the Catholic Monarchy until the last Moorish leader was executed in 1571.
The villages of the Alpujarras continue to be inhabited and have become a popular tourist destination from Granada. You can get there on your own by Alsa bus, but for day trips, it's probably easier to go on a guided tour (Option 1 | Option 2).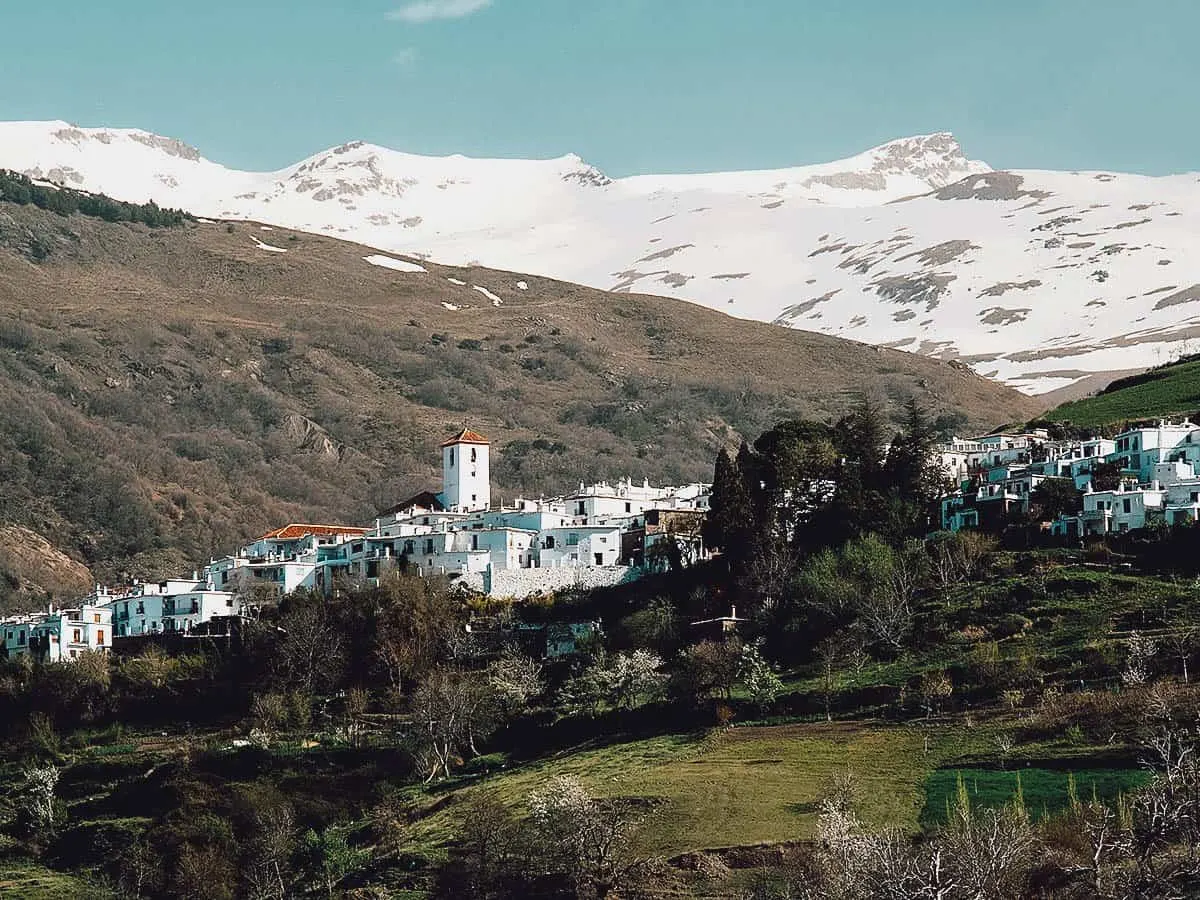 Photo by Philip Reeve via Shutterstock
3. Frigiliana
Frigiliana is a town in Malaga acclaimed as one of the most beautiful in Spain. Located about 8 km (5 miles) from the coast, it's known for its labyrinth of cobblestone streets and rustic whitewashed houses.
The town's picturesque setting and lovely coastal atmosphere have it earned it the title of "prettiest village in Andalusia" by the Spanish tourism authority.
Frigiliana is about 100 km (62.1 miles) south of Granada. You can get there by Alsa bus via Nerja, though considering the distance, it's perhaps best to go on a guided tour (Option 1 | Option 2).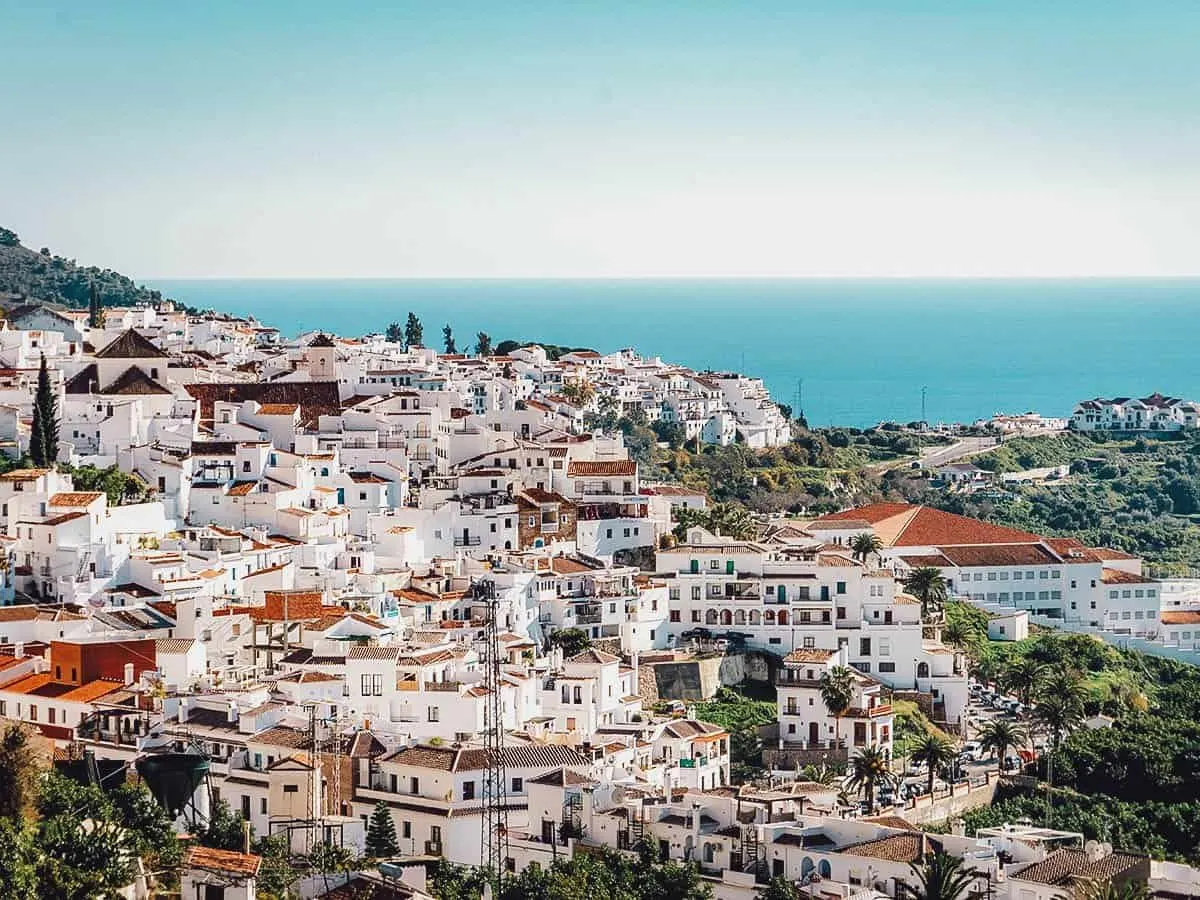 Photo by Thomas Schiller via Shutterstock
SPANISH FOOD GUIDE
For me, Spain is one of the world's best countries for food. It's home to many delicious dishes like paella valenciana, callos a la madrileña, tapas, and churros con chocolate.
If you're wondering what to eat in Granada, then check out our Spanish food guide for a list of 45 of the most delicious dishes in Spain. If you have an obsession with tapas like we do, then you'll probably want to check out our Spanish tapas guide as well.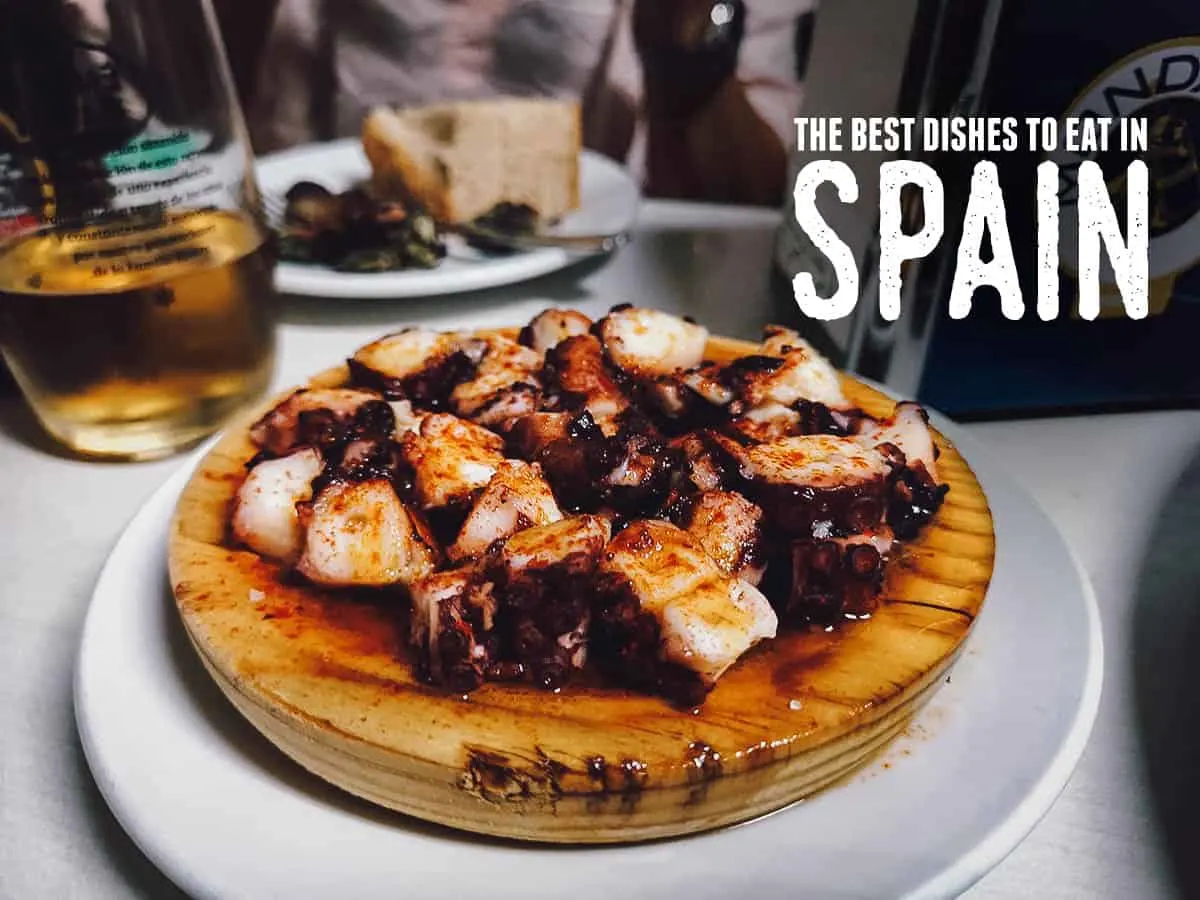 SPANISH DESSERTS
Savory dishes like paella valenciana and callos a la madrileña are delicious but so are Spanish desserts. You've probably heard of churros con chocolate and crema catalana but check out our article on Spanish desserts for more sweet suggestions in Spain.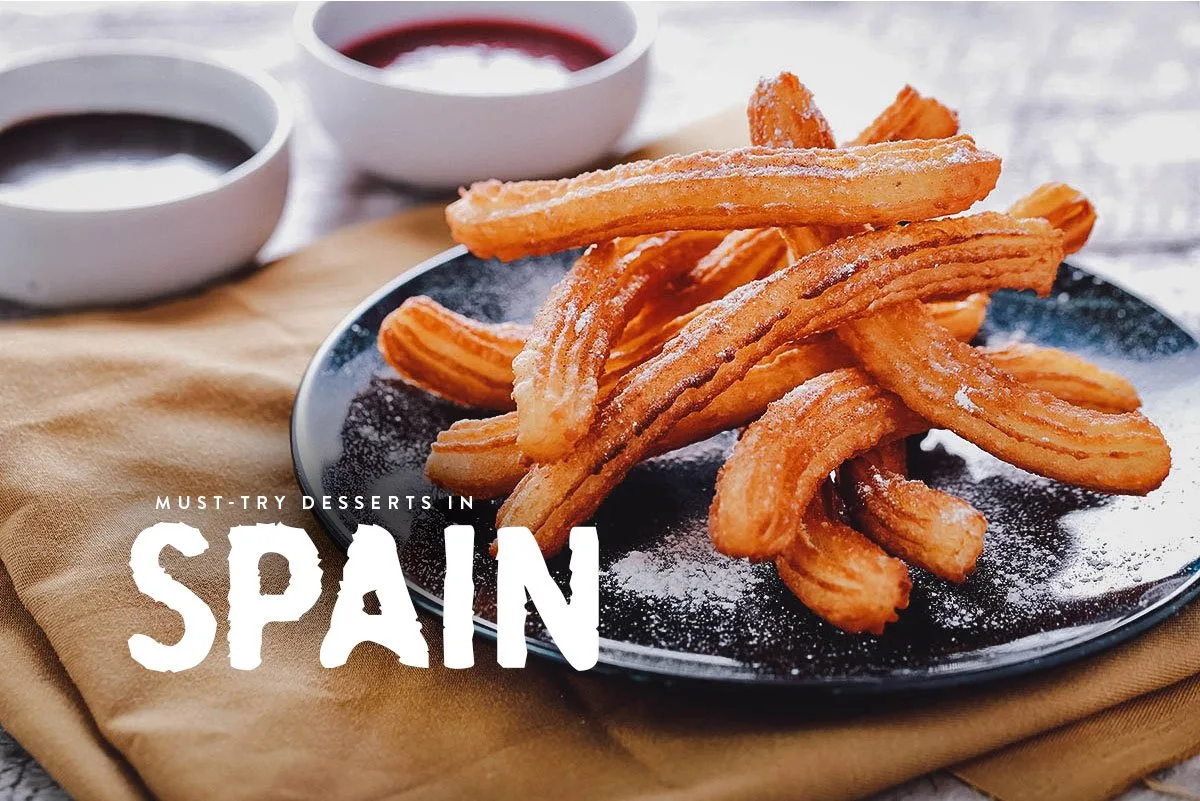 WHERE TO EAT IN GRANADA
There is much to be fascinated with in Granada but the free tapas was definitely a highlight for us. I don't know if it's done in other Spanish cities but Granada was the only place we visited that offered free tapas with drinks.
Every drink you order at a tapas bar entitles you to one free plate of tapas. Order a second and you'll get another plate of a different kind. We never stayed for more than two drinks at any bar because the free tapas made bar hopping so much fun. We wanted to visit as many bars as we could at every meal!
If you're looking for suggestions on which tapas bars and restaurants to visit, then check out our food guide of the best tapas bars in Granada.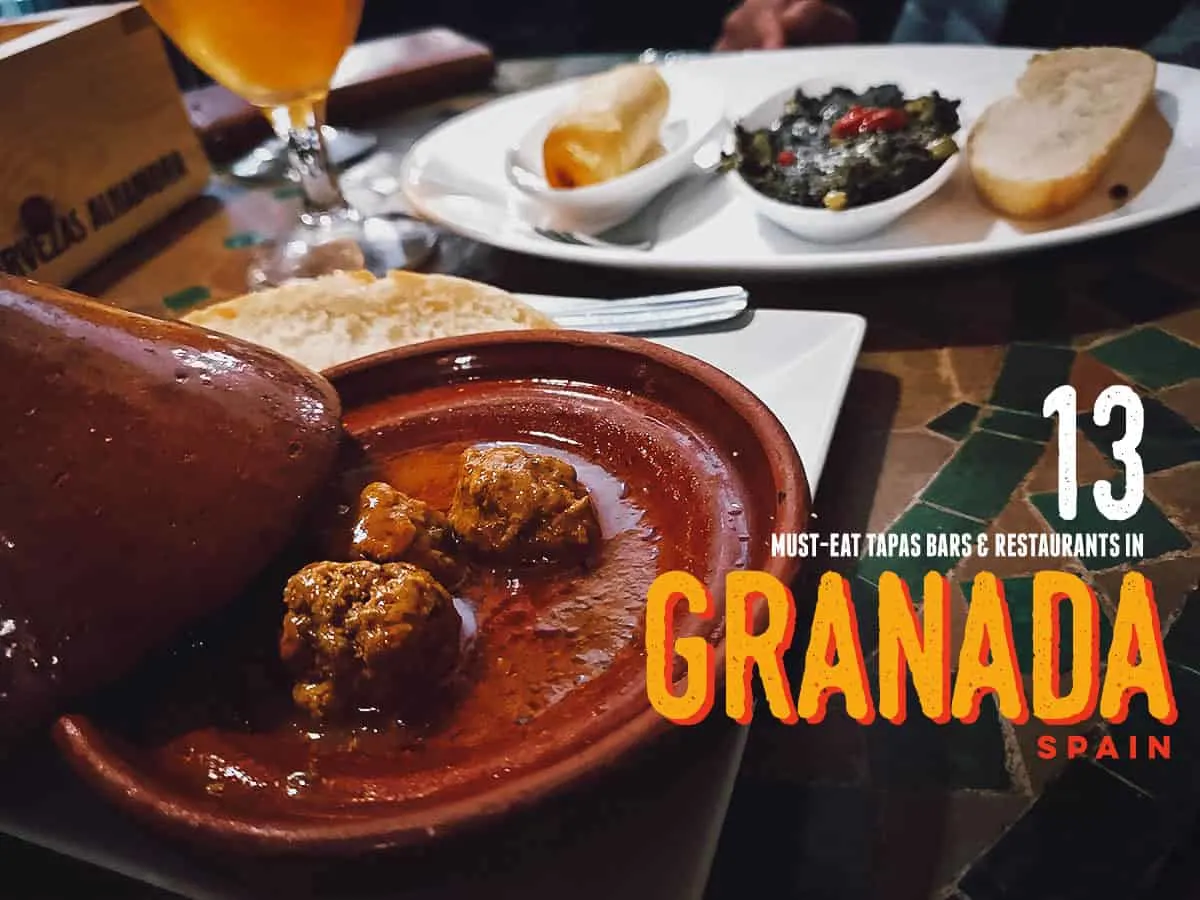 Thirteen may be too many for some people so I've listed five of our favorites below. Be sure to click through to the complete food guide for more pictures and information.
1. Bar Los Diamantes
Bar Los Diamantes is one of the most popular tapas bars in Granada. It's almost always packed with people enjoying plate after plate of tapas. Don't let that turn you away because they offer some of the best seafood tapas in the city.
Just shimmy your way to the bar and enjoy delicious tapas like chipirones fritos (baby squid), navajas (razor clams), and mollejas (sweetbreads).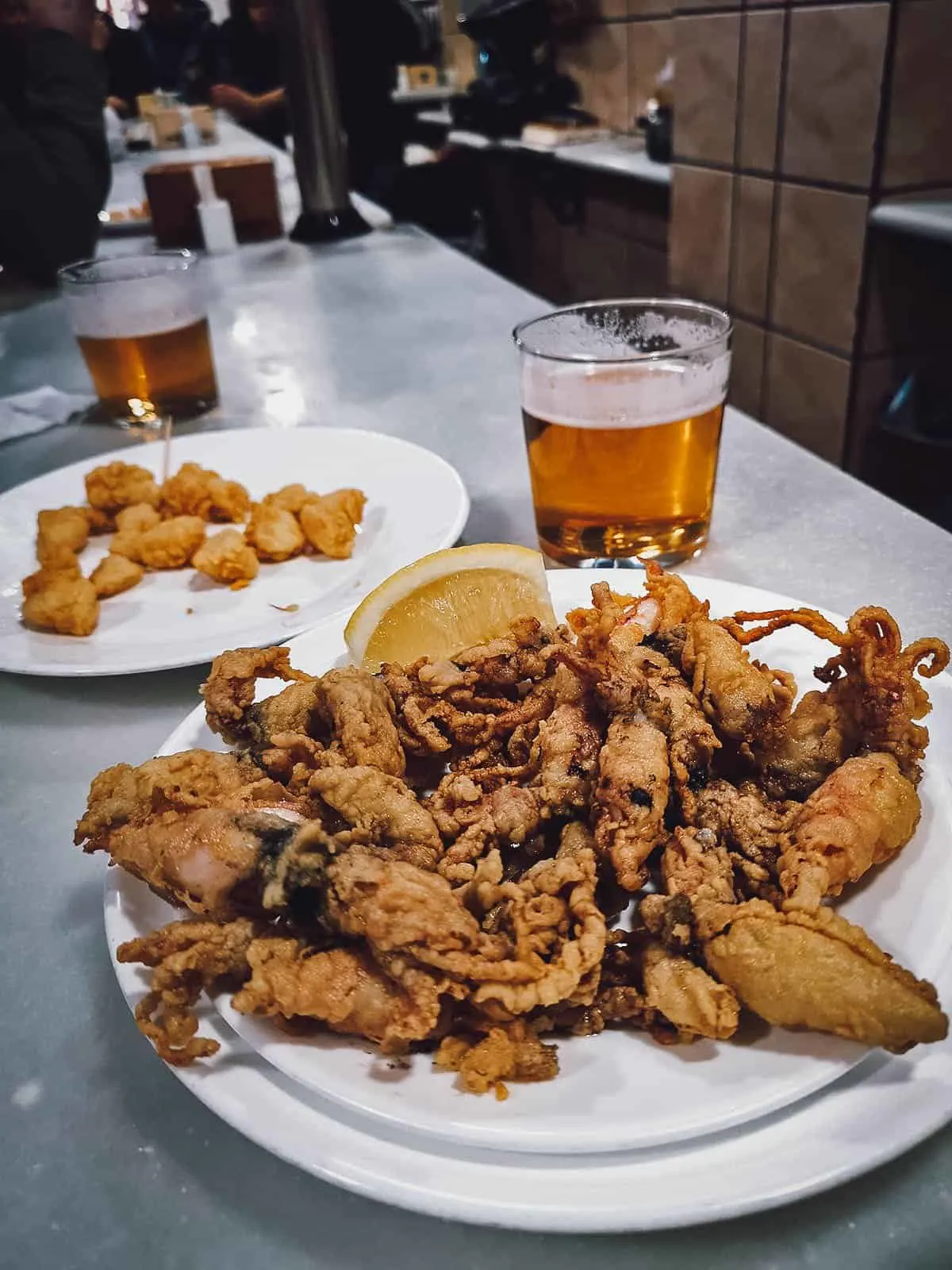 2. Bar Poë
Bar Poë was one of the most interesting tapas bars we went to. It's owned by a British expat and his Angolan wife. He manages the front while she weaves her culinary magic in the back.
This husband and wife duo is known for producing a menu of internationally inspired tapas dishes like Brazilian black bean and pork stew, spicy chicken liver with coriander, and Portuguse-style salted cod.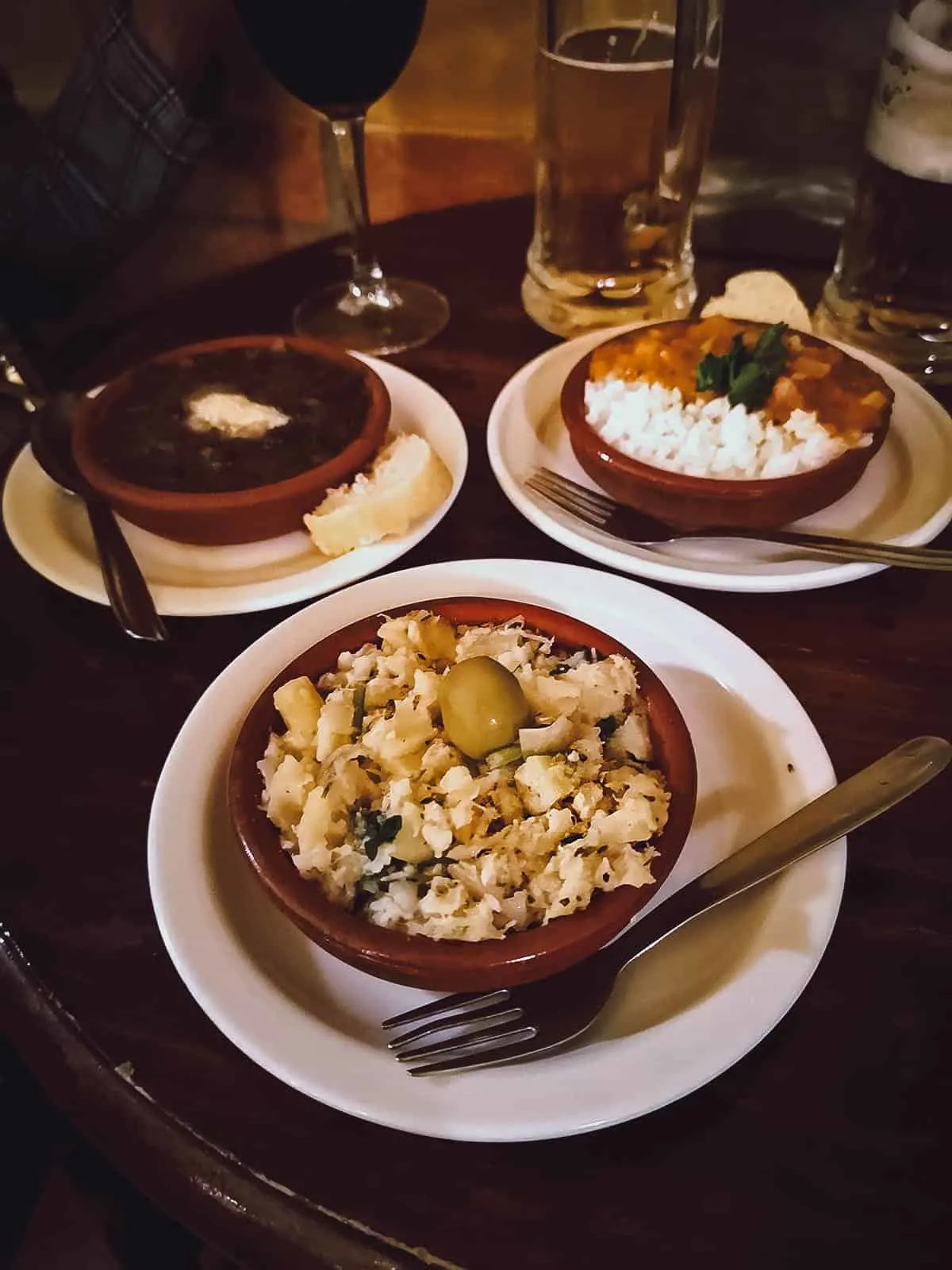 3. Oum Kalsum
Located around the corner from Bar Poë, Oum Kalsum is another interesting bar known for serving Moroccan-inspired tapas dishes like couscous, shawarma, falafel, and tajine.
Pictured below is a delicious dish of tajine de kefta which are seasoned meatballs cooked in a traditional tajine pot.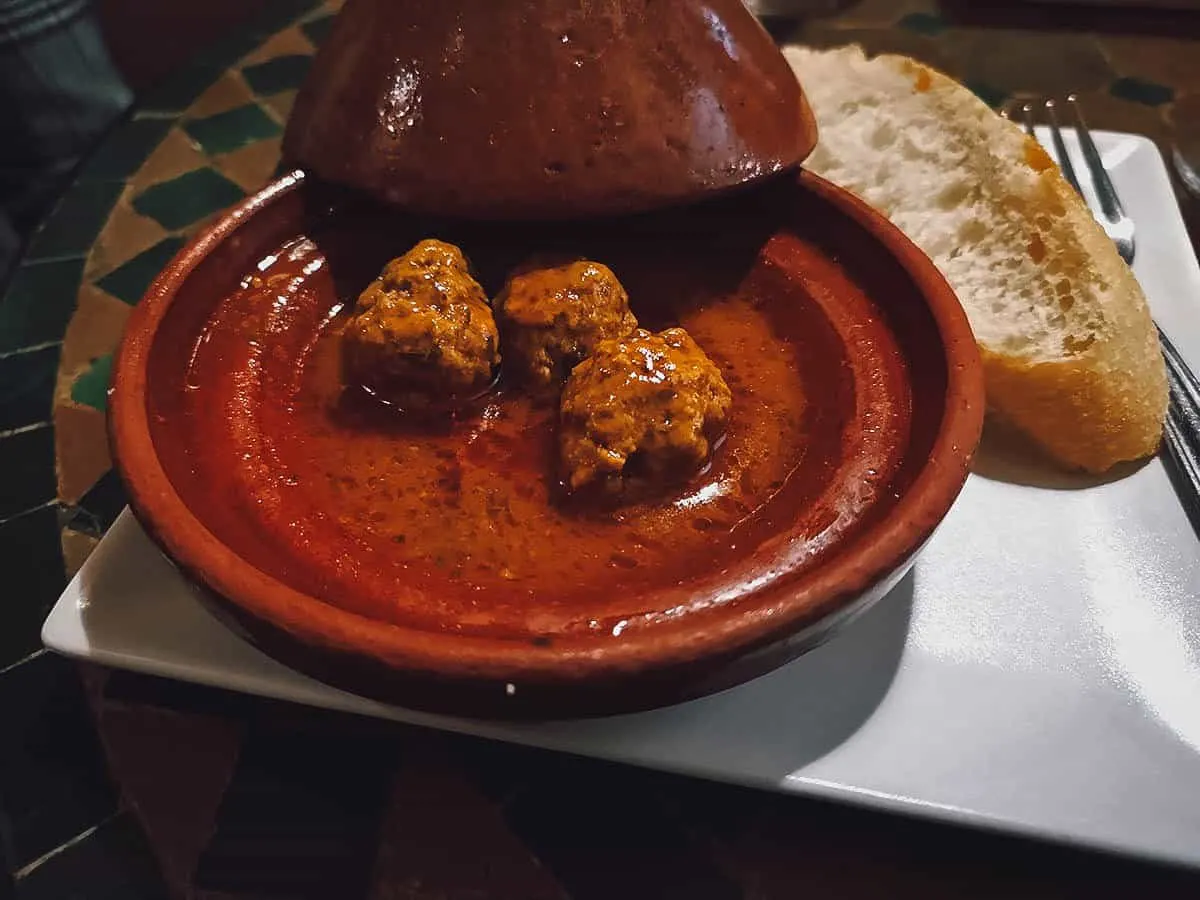 4. La Sitarilla
La Sitarilla is located near Bar Poë and Oum Kalsum. Their tapas aren't as exotic as the previous two but they're every bit as delicious. Pictured below is a supremely tasty plate of lomo or pork tenderloin cooked in tomato sauce and served with chips.
La Sitarilla was one of the biggest and busiest tapas bars we went to. It was filled with Spanish locals being loud and having the grandest time. The energy in this place was infectious!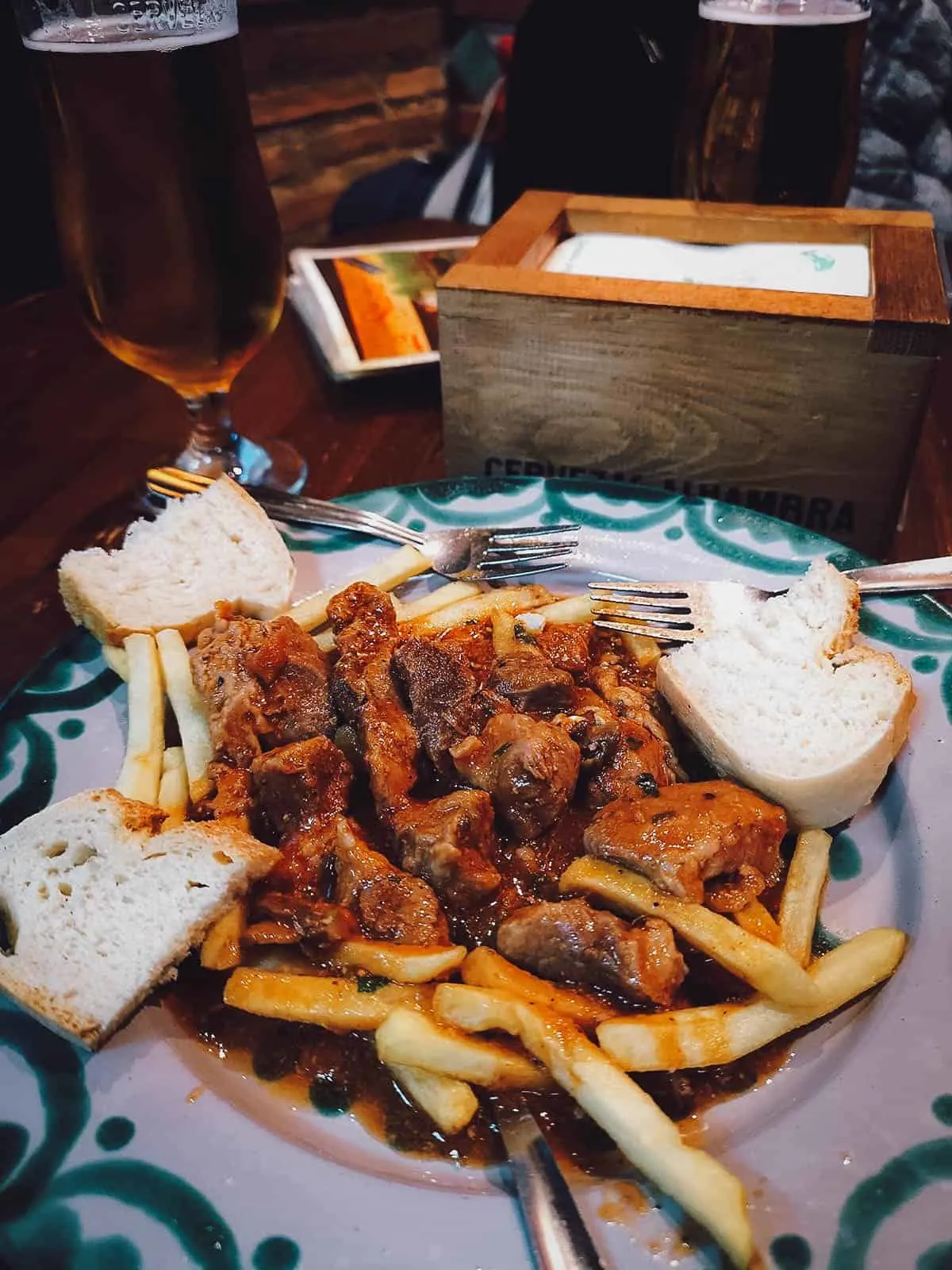 5. Bar Avila
Bar Avila is another local favorite. They don't serve anything unusual but everything we tried was absolutely delicious.
We had many tasty dishes like pork casserole, papparones, and chipirones fritos, but my favorite was this plate of juicy roasted pork tenderloin served over crusty bread. My god was this good!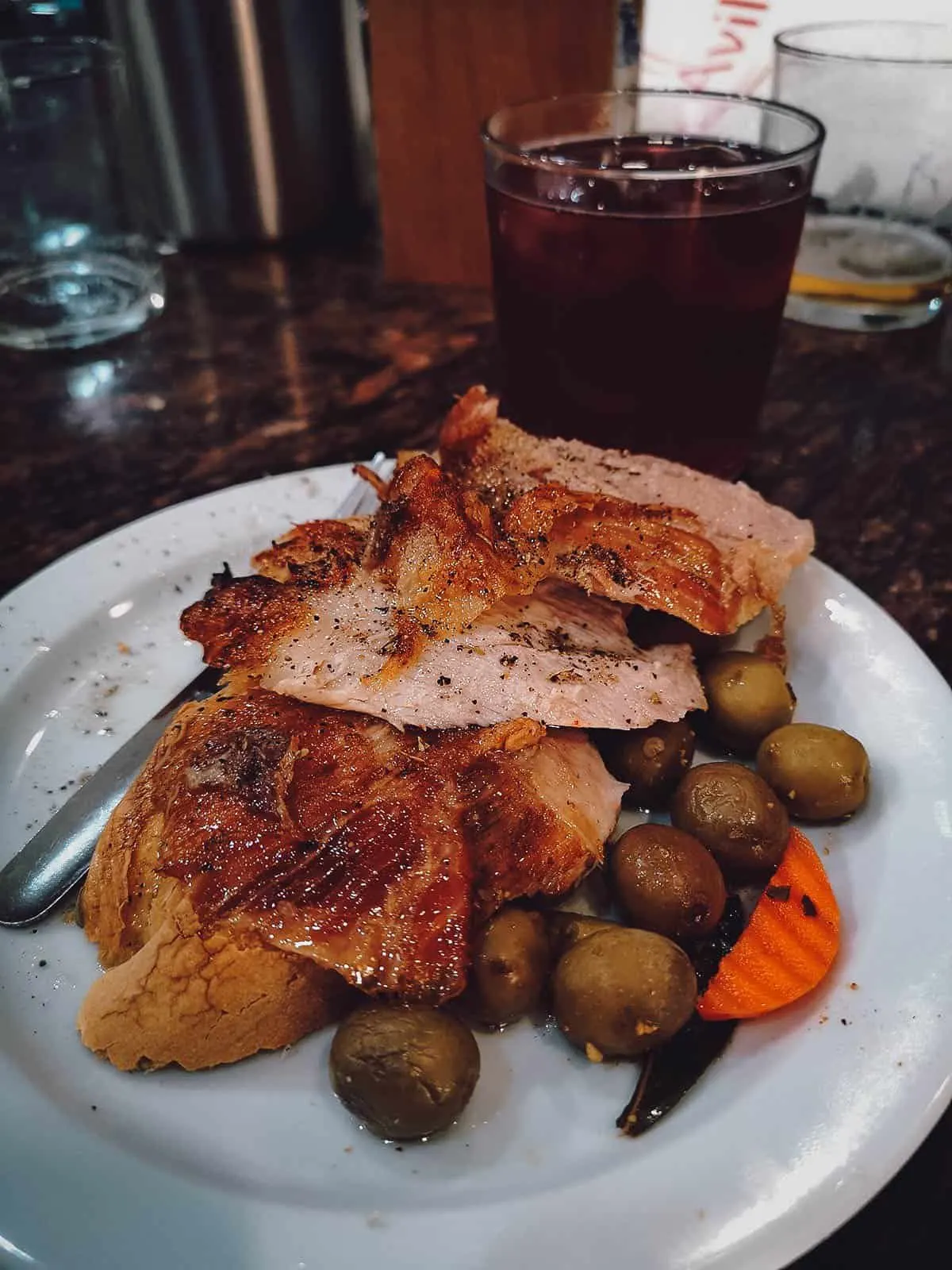 POINTS OF INTEREST IN GRANADA
To help you navigate, I've pinned the places recommended in this guide on a map. Click on the link to open the live map in a new window.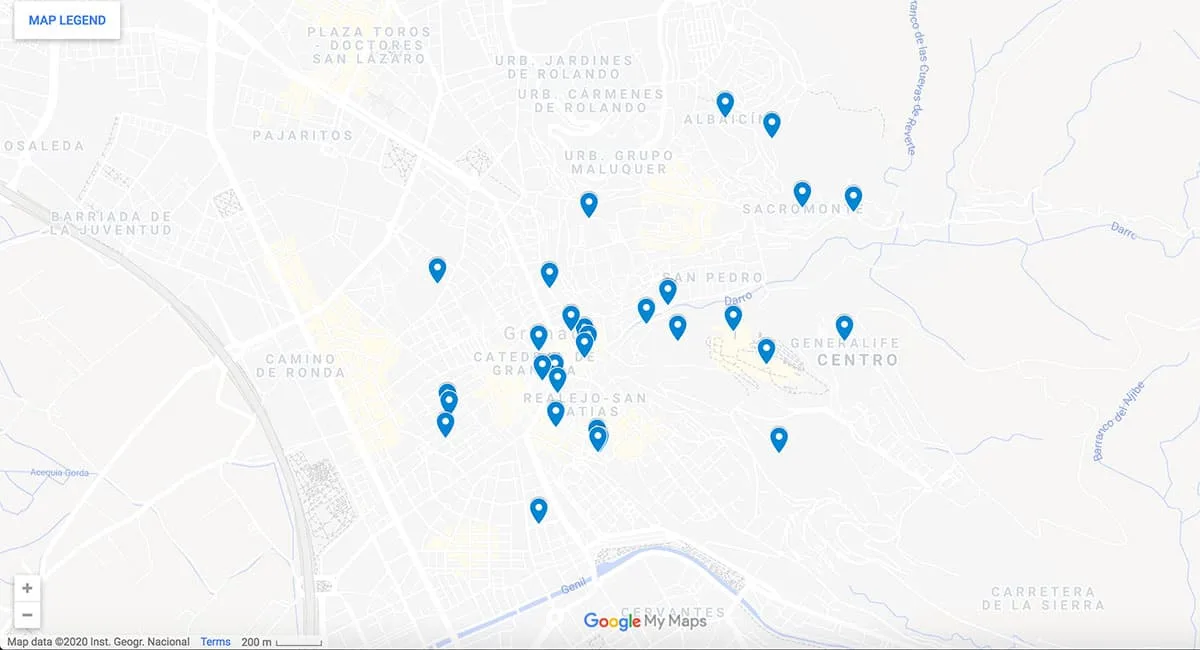 HOW TO GET AROUND IN GRANADA
Granada isn't that big with most of its major attractions located inside or within walking distance of the historic center. If you enjoy walking, then you probably won't need any form of transportation.
If you'd rather not walk, then a great way to get around is by hop-on hop-off train. The Granada City tourist trains are called trains but they don't actually run on rails. They're a series of electric cars that can hold up to 54 passengers at a time.
They ply set routes throughout the city and you're free to get on and off as often as you like for the duration of your pass. You can purchase 1- or 2-day tickets on Get Your Guide.
No matter how you get around, I suggest downloading the Google Maps app (iOS | Android) if you haven't already. It'll tell you all the different ways to get from point A to point B by walking or using any city's public transportation system. It's accurate and reliable and something we can't travel without.
HOW MANY DAYS TO STAY / GRANADA ITINERARY
As described, Granada is relatively compact so it's possible to do almost everything in this guide in two full days. However, it may be an event-filled two days so if you'd rather not rush, then it's best to extend it to three.
Here's a sample 2D/3N Granada itinerary to help you plan your trip.
DAY ONE
• Carmen de los Martires
• Alhambra
• Generalife
• Carrera del Darro
• El Bañuelo
• Hamam Al Andalus
• Flamenco in Sacromonte
DAY TWO
• Alcaiceria
• Granada Cathedral
• Royal Chapel of Granada
• Calle Elvira
• Monasterio de San Jeronimo
• Palacio de Dar al-Horra
• Albayzin
• Mirador de San Miguel
GRANADA TRAVEL TIPS
1. Plan your Trip with Sygic Travel
If you're like me and enjoy planning every detail of your trips, then you'll find the Sygic Travel app useful. I've been using this free trip planning app to create our itineraries for many years now. You can download it for free on iOS or Android.
2. Rent a Pocket Wifi Device
Having a stable wifi connection is a must when traveling. You'll need it to do research, convert currencies, and stay connected on social media. Having access to Google Maps alone justifies the cost.
We brought our own Pokefi devices so we didn't need to rent any mobile routers in Europe. But if you do need a device that works in Spain, then you can rent one through Get Your Guide. You can have it shipped it to your hotel in Barcelona or Madrid.
3. Book Your Alhambra Tickets Early
As described, the Alhrambra is one of the hottest tickets in Europe. We bought ours a few months in advance and a few time slots for the Nasrid Palaces were already fully booked.
One of our travel companions finalized her trip late and Alhambra tickets were completely sold out by then. If I remember correctly, our trip was still a few weeks away so if you can, then you should book your tickets as soon as you finalize the dates of your trip.
They only allow a certain number of people in the Nasrid Palaces at a time so you'll be asked to pick a time slot when buying your tickets. Be sure to arrive a few minutes early because they won't let you in if you miss your time slot!
4. Never Pay for Tapas
When our host was checking us in to our apartment, she told us that every bar in Granada will give you free tapas for each order of a drink. If they try to charge you for it, then you've walked into a tourist trap.
Unless you order ala carte, authentic local bars will never charge you for tapas that should come free with your drink. To avoid any tourist traps, be sure to check out our food guide for some of the best tapas bars in Granada.
5. Check for Granada Travel Deals
You can buy vouchers for tours and other travel-related services from many websites. For a trip to Granada, I suggest checking Get Your Guide and Klook. They're both leading travel ecommerce websites that offer a good selection of deals on tours, transfers, tickets, and more.
6. Rent a Car
Renting a car is one of the best ways to experience Spain. We rented a car to drive from San Sebastian to Santiago de Compostela and it turned out to be one of the most memorable portions of our trip.
If you're considering renting a car in Spain or anywhere else in Europe, then you can do so through Rentalcars.com.
7. Get Travel Insurance
Though we do get it more often now, we don't get travel insurance before every trip. It depends on where we're going and what we'll be doing. If we plan on doing any physical activities, anything that could get us hurt, then we'll definitely pick up a policy.
When we do feel the need for it, we get it from SafetyWing or Heymondo. They're travel insurance providers often used by many digital nomads. You can click on the links to get a free quote from SafetyWing or Heymondo. Get 5% off on Heymondo if you use our link.
8. Bring the Right Power Adapter
Spain has Type C or Type F electrical outlets so be sure to bring the right power adapters for your devices. Electrical voltage is 230V and the standard frequency is 50Hz.
Have Fun!
I'm by no means an expert on Granada but I do hope that you find this guide useful. I'm only sharing some of the things I learned from our trip. If you have any comments or suggestions, then please feel free to leave them in the comment section below. You're welcome to join our Facebook Travel Group as well.
Thanks for reading and have a great time exploring the Alhambra and eating free tapas in Granada!
OUR GEAR
These are some of the things we brought with us to Granada. See what's in our backpack for a complete list of our gear. (NOTE: The following links are Amazon and other affiliate links.)
Disclosure
Some of the links in this Granada travel guide are affiliate links, meaning we'll earn a small commission if we make a sale at no added cost to you. We only recommend products and services that we use ourselves and firmly believe in. We really appreciate your support as this helps us make more of these free travel guides. Thank you!