EDITOR'S NOTE: Traveleater and Swiss food expert Ana Raicic shares with us 15 traditional dishes you need to try on your next trip to Switzerland.
Switzerland is a country that's tucked away in the Alps. It's surrounded by France, Germany, Italy, and Austria, all of which have had a profound influence on its food. Historically, it was primarily an agricultural country, with the most important produce being potatoes, mushrooms, and milk products.
Switzerland and Swiss food are incredibly regional, so much so that most dishes can be traditionally assigned to different cantons.
FOOD IN SWITZERLAND QUICK LINKS
If you're visiting Switzerland and want to learn more about Swiss food, then you may want to go on a food tour.
TOURS
Save This on Pinterest!
No time to read this article on traditional Swiss foods? Click on the save button and pin it for later!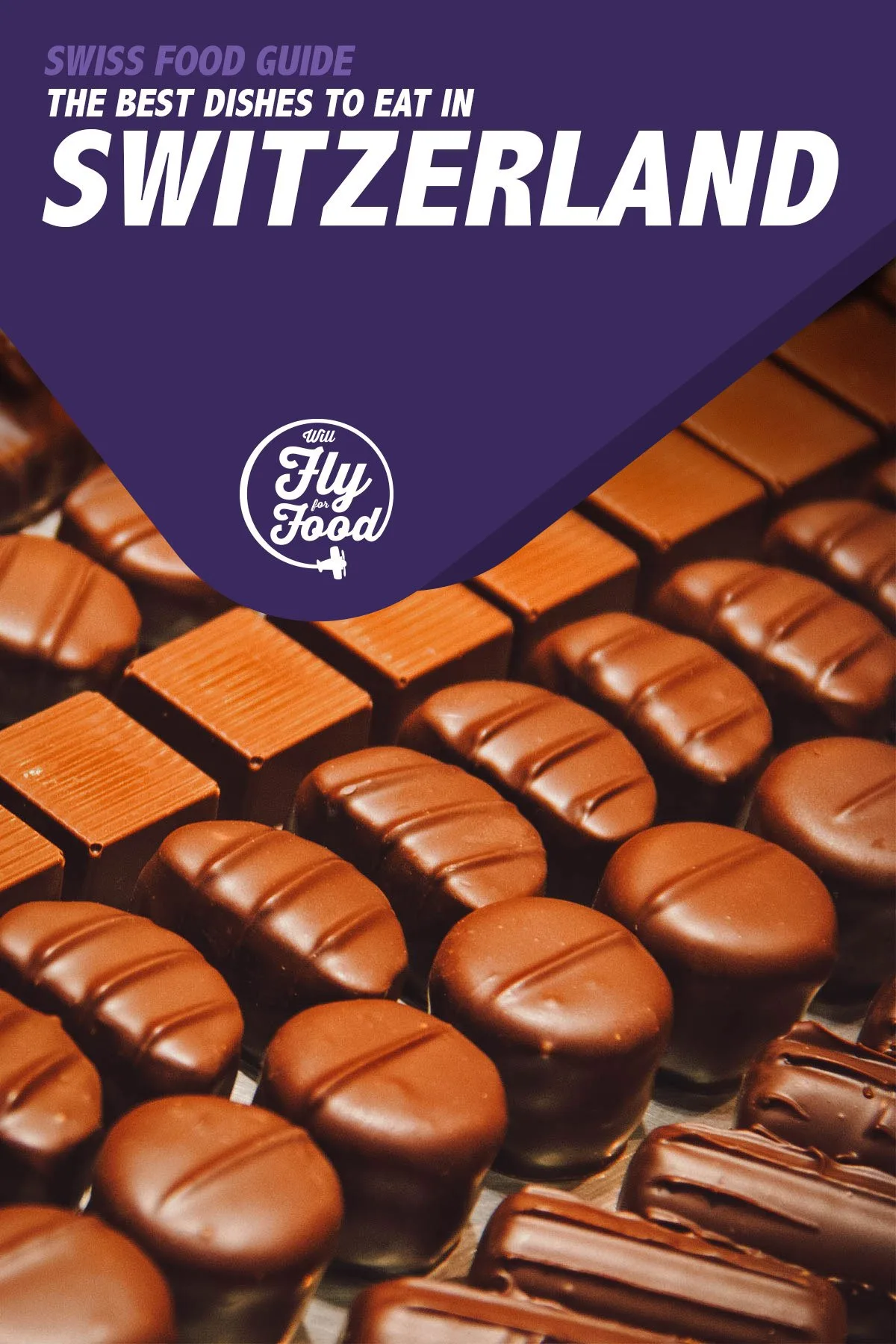 Photo by Fedor Selivanov
WHAT IS TRADITIONAL SWISS CUISINE?
Swiss cuisine differs by region and neighboring countries of influence, but it nevertheless has some common points.
The most basic agricultural product is the potato, which used to be a breakfast staple in the form of rösti. Potatoes are also used in numerous other dishes, for lunch and dinner.
Because Switzerland is an Alpine country with a high number of high-altitude pastures, dairy products are also a staple of the Swiss diet. Milk, cheese, cream, butter, and yogurt all play a prominent role in Swiss cuisine.
Today, cheese is the dairy product that's most often associated with Switzerland. Cheese is eaten in various forms. It can be melted in a fondue or raclette, prepared in cheesy dishes, or eaten as a snack with cured meats, especially in the German-speaking part of Switzerland.
Lunch is traditionally the largest meal of the day and the only one that needs to be cooked. For breakfast and dinner, the Swiss will happily enjoy a variety of bread rolls with butter and jam, or cheese. Another breakfast staple is the Swiss version of overnight oats called birchermüesli.
Dessert staples include nuts and dried fruits like raisins, which are used in many different applications. They're often used for fillings and bases for various cakes and pastries. Other commonly used ingredients in Swiss desserts is chocolate – which is itself a dessert – and honey, which is often used as a sweetener.
If you're visiting the Ticino area, do not miss out on a type of restaurant called the grotto. It's a rustic type of eatery that offers traditional Swiss food. The name comes from the Italian word for "cave", because grottos are set in old wine caves that were repurposed as restaurants.
MUST-TRY SWISS DISHES
1. Bircher Müesli
Invented in the early 1900s by Swiss doctor Maximilian Oskar Bircher-Brenner, bircher müesli refers to a beloved Swiss breakfast of oat flakes soaked in a combination of milk and yogurt and then served with honey, hazelnuts, and apples.
The key to this popular Swiss dish is the long resting time for the oats. You need to give the oats at least two hours to properly rest, though overnight is best for the creamiest result. Soaking the oats overnight is also standard in Switzerland, to give the raw oats time to break down and release their starches. For the most traditional version of bircher müesli, you should also add grated apples before soaking.
Traditional toppings include a variety of nuts (most commonly hazelnuts), raisins, and honey. If you'd like your morning oats creamier, then the Swiss suggest soaking the oats in cream. That will make them extremely rich – but they won't have the signature tang from the yogurt – so you'll have to add that after soaking.
This wonderful Swiss breakfast dish is served all over Switzerland and can often be found at hotel breakfast bars, cafes, and Swiss homes.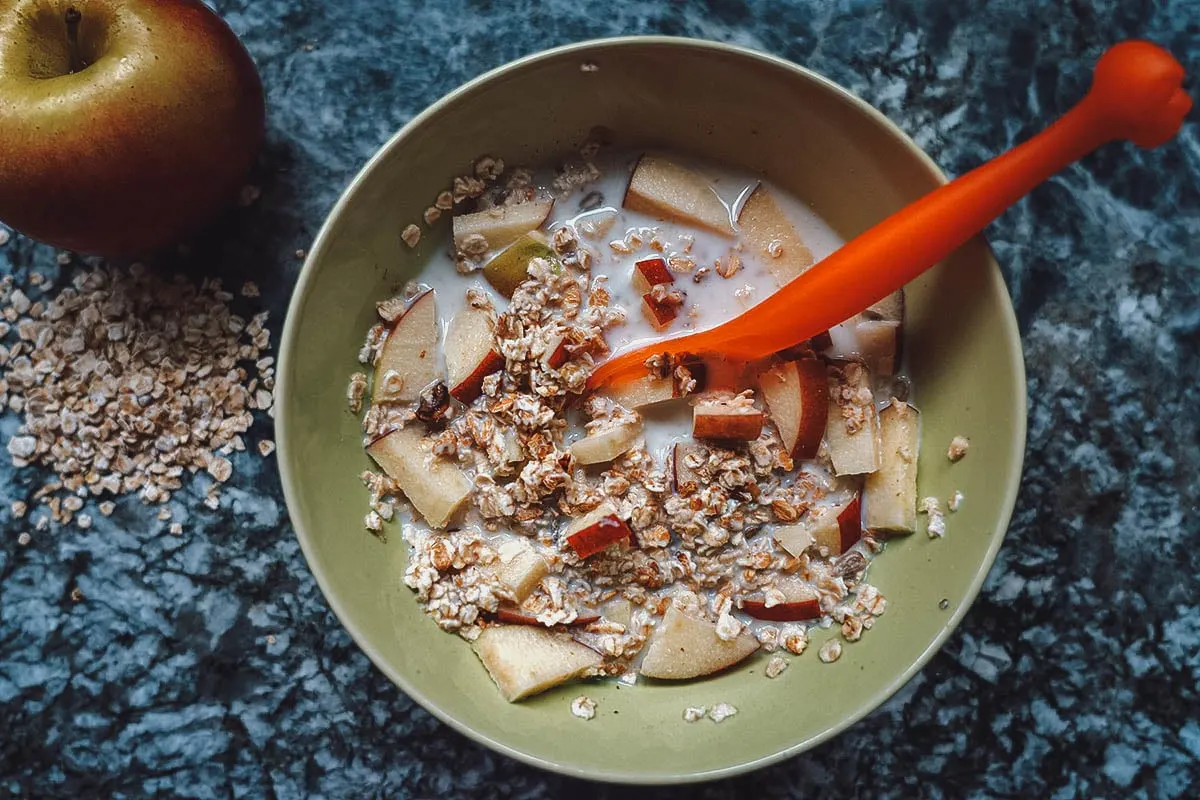 Photo by Claudine Silaho Weber
2. Rösti
Rösti is a Swiss potato pancake that is traditionally part of a big Swiss breakfast that used to be eaten by farmers. The dish originates from the canton of Bern, but has spread throughout the entire country.
Swiss rösti is made by frying coarsely grated potatoes. Sometimes, the potatoes are precooked and fried the day after, but most often, they're prepared raw. The traditional Berner style of preparation entails making one large rösti in a pan, rather than smaller individual potato pancakes like American hash browns.
The best rösti is made by first frying the seasoned potatoes on one side in a covered pan. The pan is then uncovered when it's time to flip the pancake. This is done to achieve the perfect crunchy exterior and ensure that the potatoes are cooked through.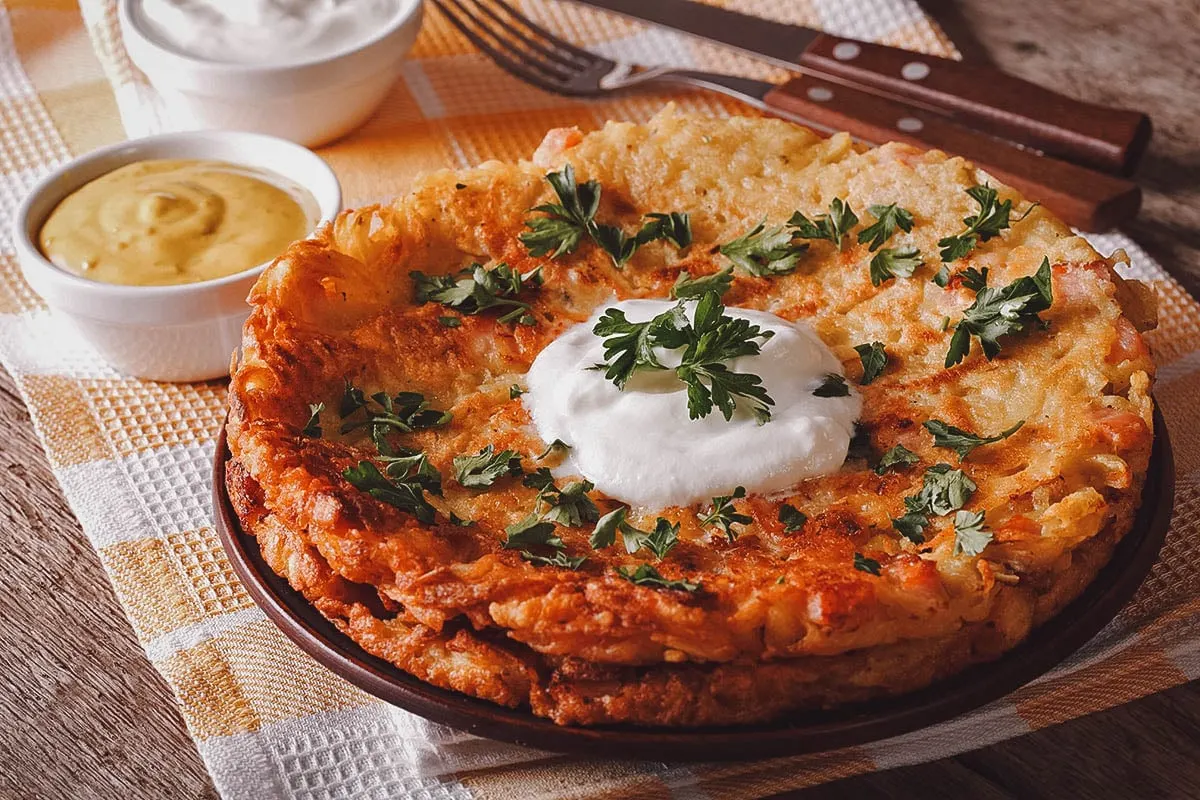 Photo by Sergii Koval
3. Marroni
If you're visiting Switzerland in the fall or winter, then you'll smell the unmistakable aroma of chestnuts roasting over a fire in front of colorful street stalls commonly found in squares and street corners. These are what the Swiss call marroni. Along with raclette and fondue, they're among the most popular winter food traditions in Switzerland.
Chestnuts are a common ingredient in dishes originating from Ticino. The Ticino area is home to expansive chestnut forests where you can forage for your own chestnuts. These can be roasted, cooked, or ground in flour and then used to make both desserts and savory dishes.
Roasted chestnuts are a traditional street snack served in paper cones that you carry in your hand. Winters in Switzerland are cold so they double as a hand warmer. The roasted chestnuts you buy on the street are usually entirely blackened from the fire, but it's really easy to roast them at home as well.
To roast chestnuts at home, you make a cut on the rounded side of the chestnuts and then put them in a thin-bottomed pan (that you don't mind ruining). Often, you'd first roast them while covered to "sweat the chestnuts out" and cook them through before uncovering the pan to crisp up the skin for easier peeling.
After they're done, it's key to wrap your still-hot chestnuts tightly in newspaper for a couple of minutes to sweat them out so they peel easily. After cooling down a bit, you can enjoy them warm with a mug of mulled wine or some other hot winter drink.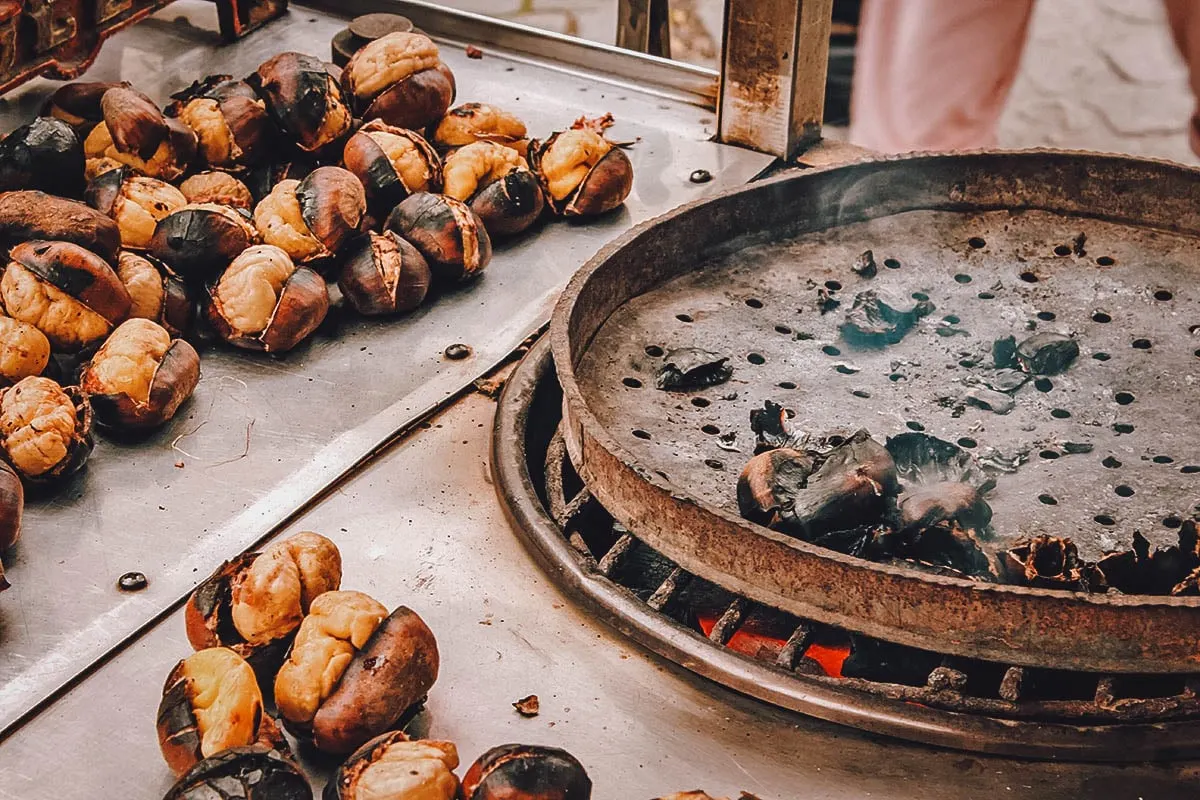 Photo by Iryna Mylinska
4. Landjäger
Landjäger refers to a type of Swiss smoked sausage made from beef. The sausage is around 17 cm (6.7 in) long and square-ish in shape. It's a product of commercial butchers and is typically sold in pairs. Landjäger sausages are produced and consumed all over Switzerland, but they're especially widespread in the German-speaking parts of the country.
Traditionally, landjäger sausages are made from 80% beef and 20% back fat. They're seasoned with nitrite curing salt, red wine, cumin, pepper, coriander, and garlic. Historically, they could also be made with horse meat.
To make landjäger, the butcher presses the meat mixture into casings and then stacks the sausages side by side in a square sausage press to achieve the traditional square shape. The nitrite salt initiates the curing process and gives them their characteristic red color. The pressing process lasts up to five days, after which the sausages are cold-smoked between 20-25°C (68-77°F) for another five days.
There aren't any special recipes connected to landjäger sausages. They can be consumed at any time – as a picnic sausage, a hiking snack, or as a midday snack with a thick piece of bread.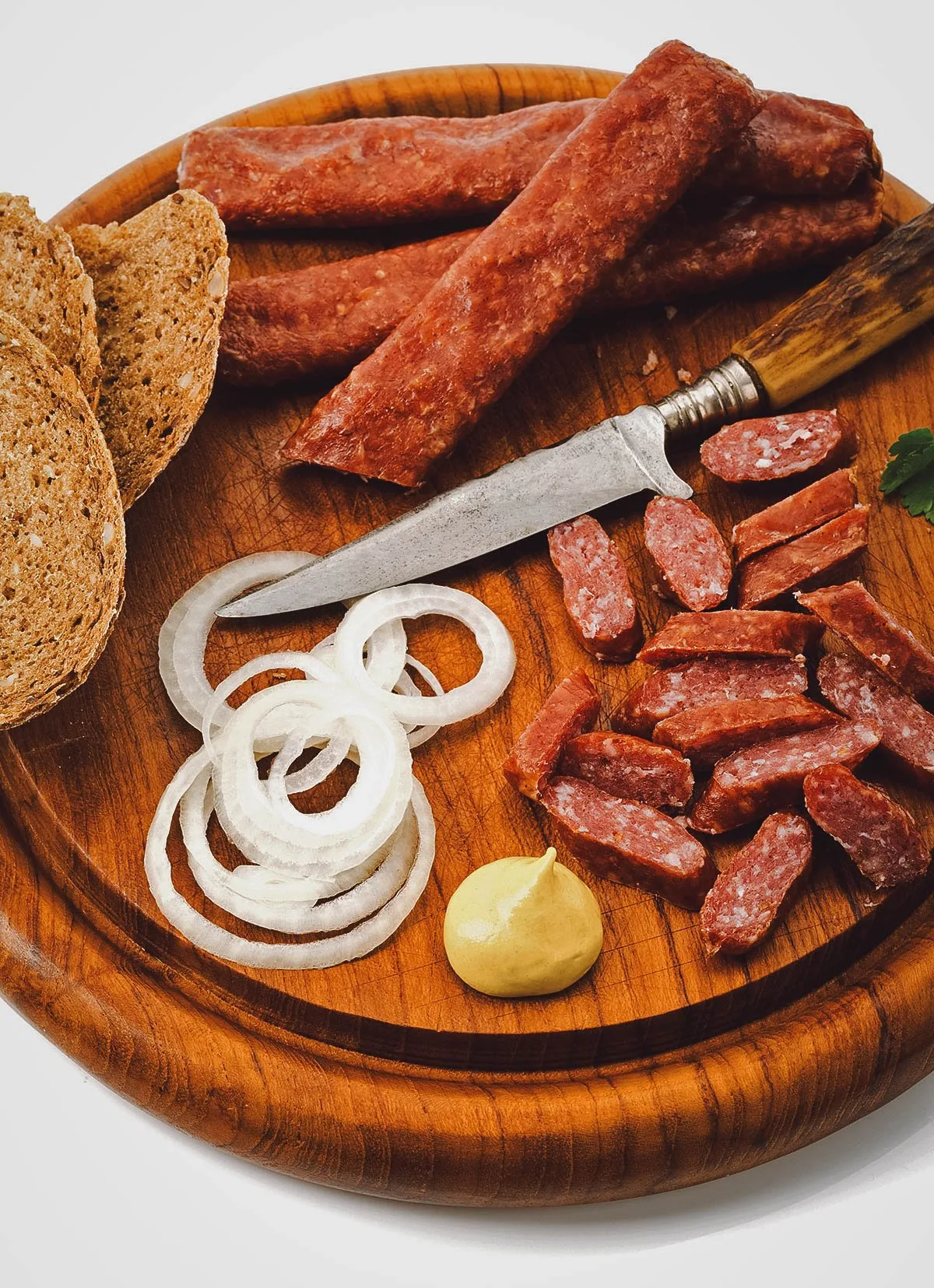 Photo by TunedIn by Westend61
5. Malakoff
Malakoff refers to fried cheese balls commonly found in villages on the shore of Lake Geneva, in the canton of Vaud. The dish is named after the battle for Fort Malakoff, with the dish allegedly being invented by Swiss soldiers during the siege of Sevastopol.
Traditionally, the cheese is coated in pastry and then fried and served either as a main dish or as an hors d'oeuvre. The modern malakoff recipe comes from the late 19th century and was invented by Jules and Ida Larpin. Today, you can find two types of malakoff – a cylindrical version made with sticks of gruyere cheese and a spherical variation made with grated cheese.
Malakoffs are traditionally eaten hot with a side of pickled onions, cornichons, and mustard.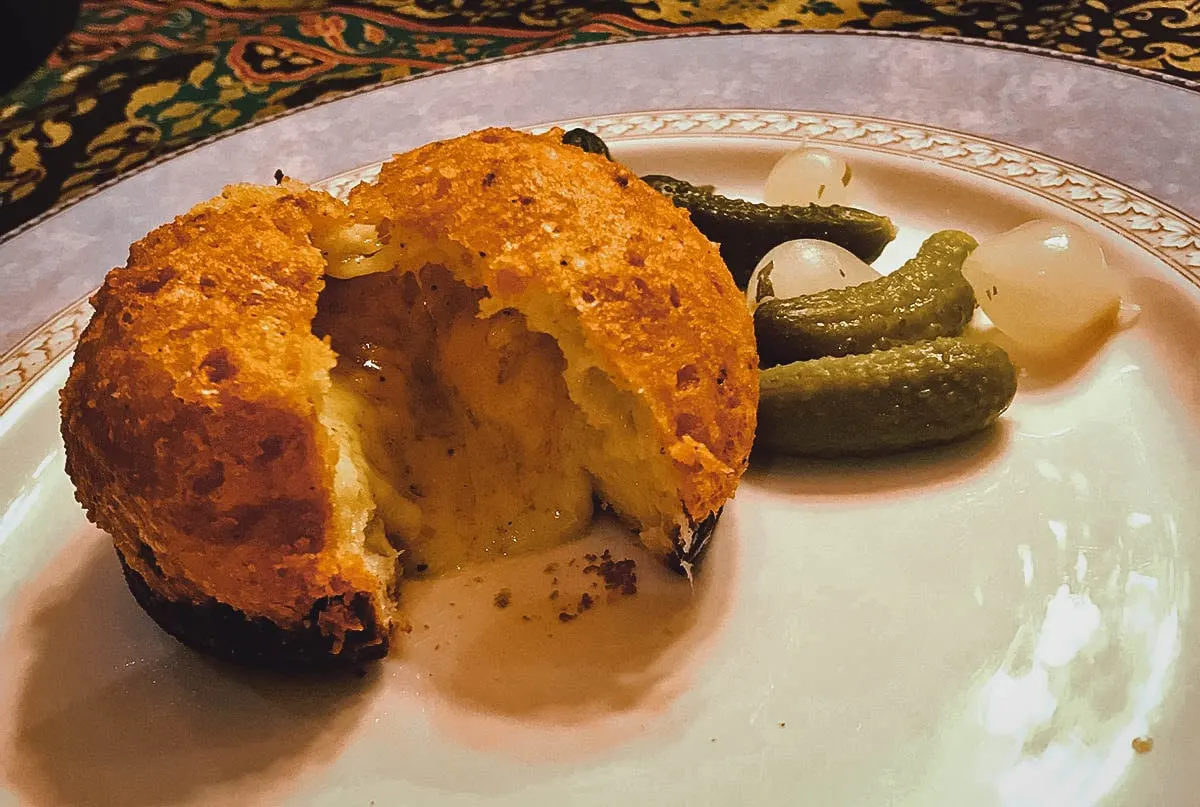 Photo by kwango
6. Swiss Cheese Fondue
Switzerland is known for its hard-to-resist cheese dishes, one of the most irresistible being cheese fondue. The classic Swiss fondue is a pot of melted and spiced Swiss cheese (commonly emmental or gruyere cheese) that you dip bread into. It's a warm hug in a bowl, perfect for sharing with friends on a cold Swiss winter evening!
The simplest fondue is made by mixing white wine, lemon juice, and garlic in a pot over medium heat. When warm, you lower the heat and add the cheese piece by piece while mixing thoroughly so the cheese melts evenly.
When the cheese is melted, the pot is placed on the table over a warmer or candle while friends and family dip in pieces of bread using long forks. It's a wonderful communal meal that brings people together.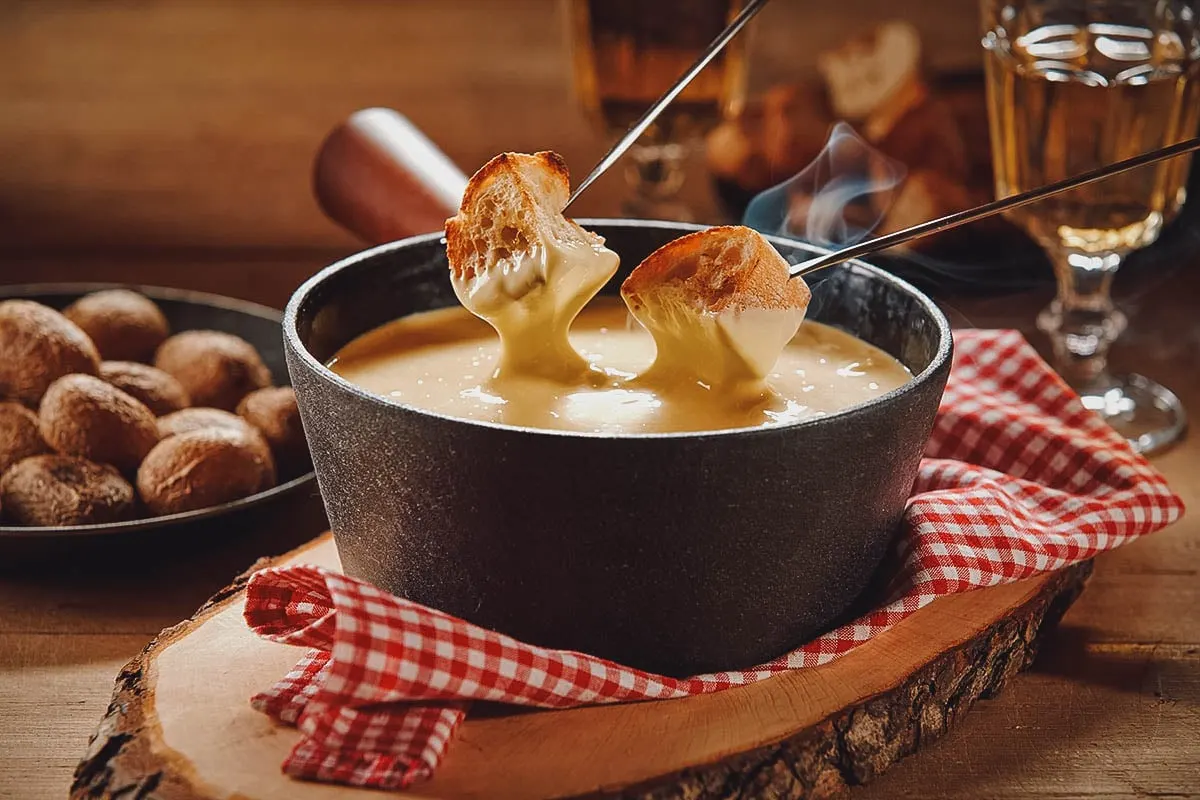 Photo by stockcreations
7. Raclette Cheese
Raclette is another cheese delicacy from Switzerland. It's originally from the canton of Valais but today, it's a traditional food of choice for anyone visiting Geneva.
Raclette is a semi-hard mountain cheese. The traditional way of eating raclette is by propping up a whole cheese wheel, melting the cheese in front of a fire, and then scraping the melted cheese on a plate for eating. The word raclette comes from the French word racler which means "to scrape".
Today, raclette is a staple of many Swiss food markets. It can also be found at many markets in neighboring countries, especially in Germany and northern Italy. It's served on boiled potatoes with cornichons, pickled onions, and vegetables.
The cheese itself is deliciously melty and is the main feature of the dish, which makes for a great snack at any time of the year.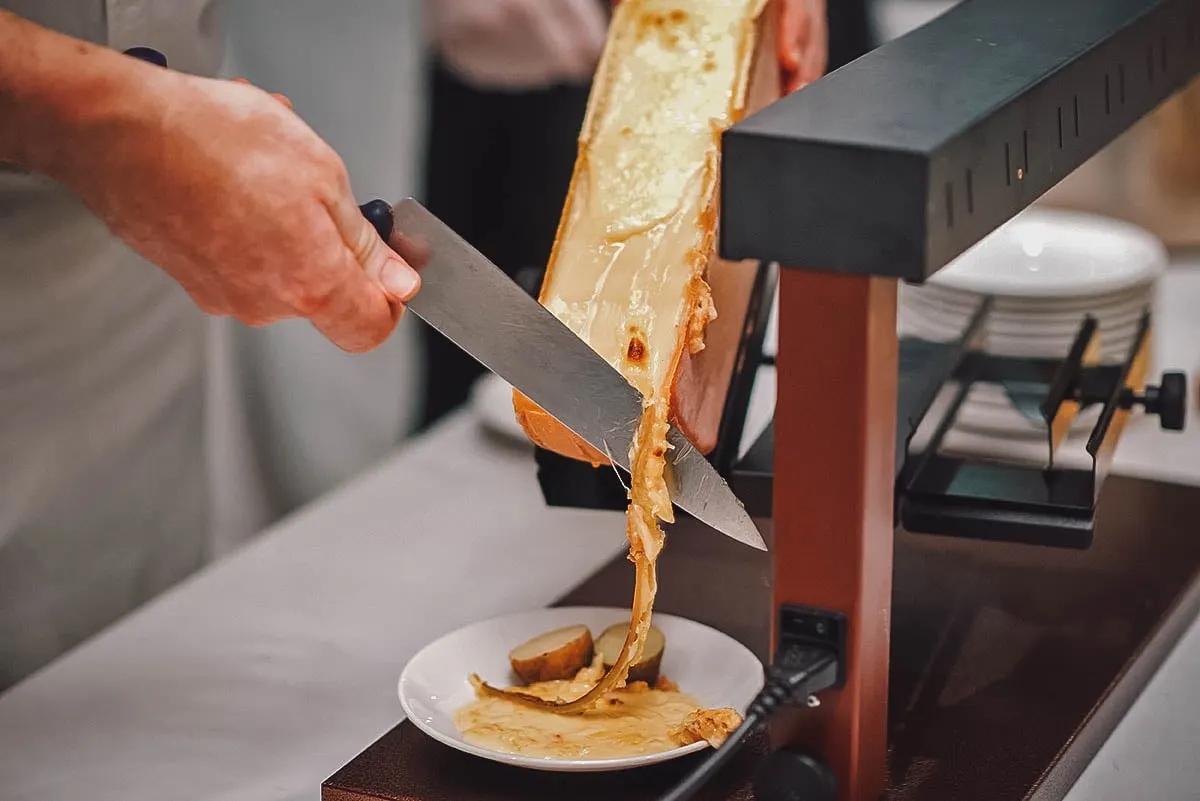 Photo by PhaiApirom
8. Älplermagronen
Älplermagronen or Alpine macaroni is a traditional dish from the Swiss Alps made from macaroni pasta, potatoes, cream, cheese, and onions. The name of the dish consists of two words – Älpler, which are dairy farmers from the Alps – and magronen, which is derived from the Italian word maccheroni, meaning "pasta".
The dish is made from short, tubular shapes of macaroni-like pasta like hörnli, magronen, or even penne. The pasta is cooked together with diced potatoes in just enough liquid for thr pasta to soak up. You then add the cream and coarsely grated cheese to melt. Finally, just before serving, you sprinkle it with roasted onions. The traditional side dish is apple sauce.
Älplermagronen can often be found on the menus of mountain huts and restaurants, as well as at home. It's similar to American macaroni and cheese, but made out of traditional Swiss ingredients.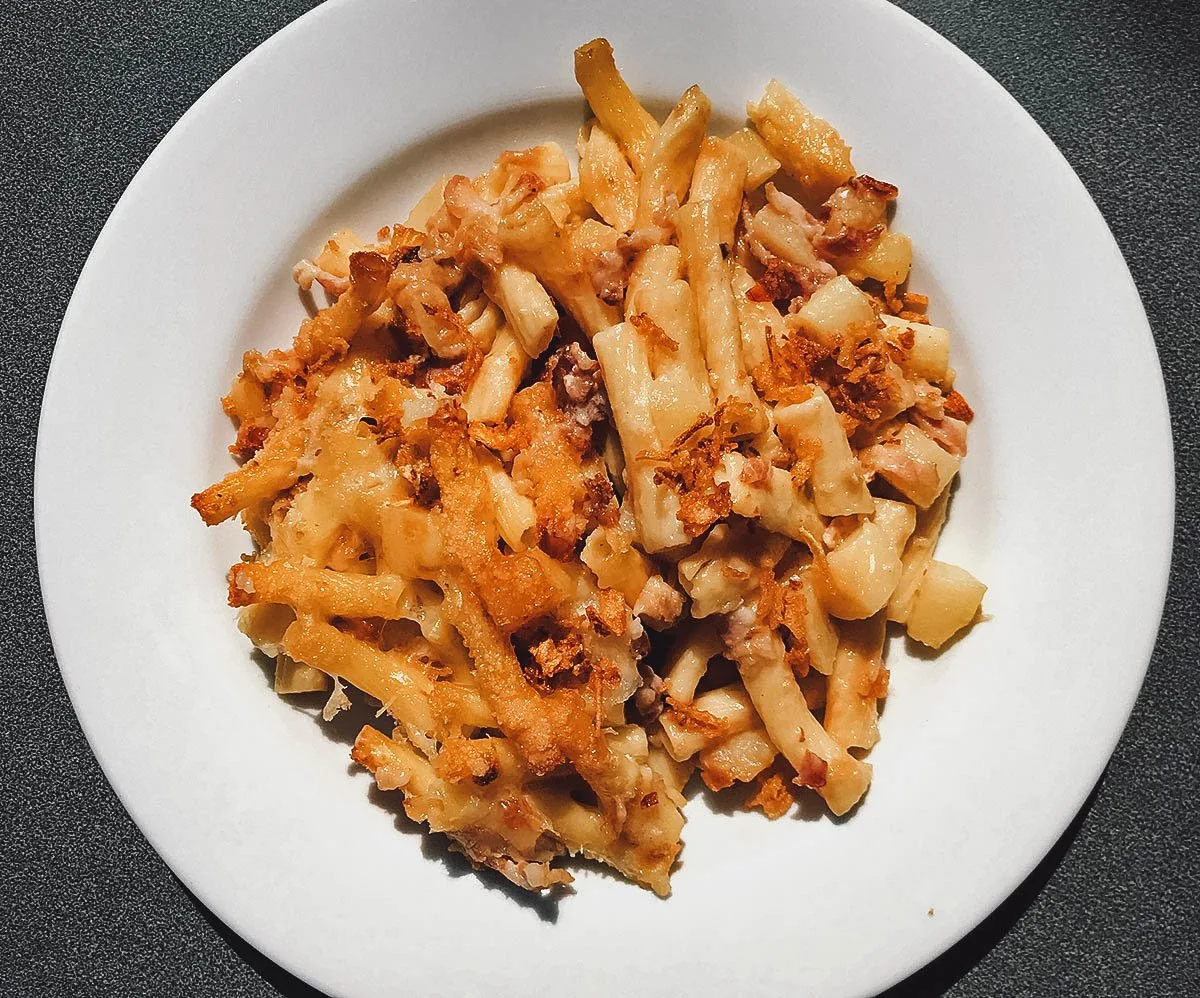 Photo by Luca Muench
9. Saffron Risotto
Saffron risotto is a traditional Swiss dish made with saffron grown in the canton of Valais. Swiss saffron is known to be one of the best in the world and is often referred to as red gold. This dish originates from the cantons of Valais and Ticino.
Apart from the saffron, the dish is made using traditional risotto ingredients like butter, onions, garlic, tomatoes, and stock. It's seasoned with thyme and also includes meat, most commonly veal and bacon. The dish is made with risotto rice that's cooked slowly with onions and garlic browned in olive oil.
To prepare, broth is slowly added to cook the rice. When the rice is just about cooked, you add the saffron. When using meat, you fry it off separately. When the rice is cooked, you fold in the butter, cheese, and bacon to finish the risotto off. The result is a deliciously creamy risotto that's worthy of the best Swiss restaurants.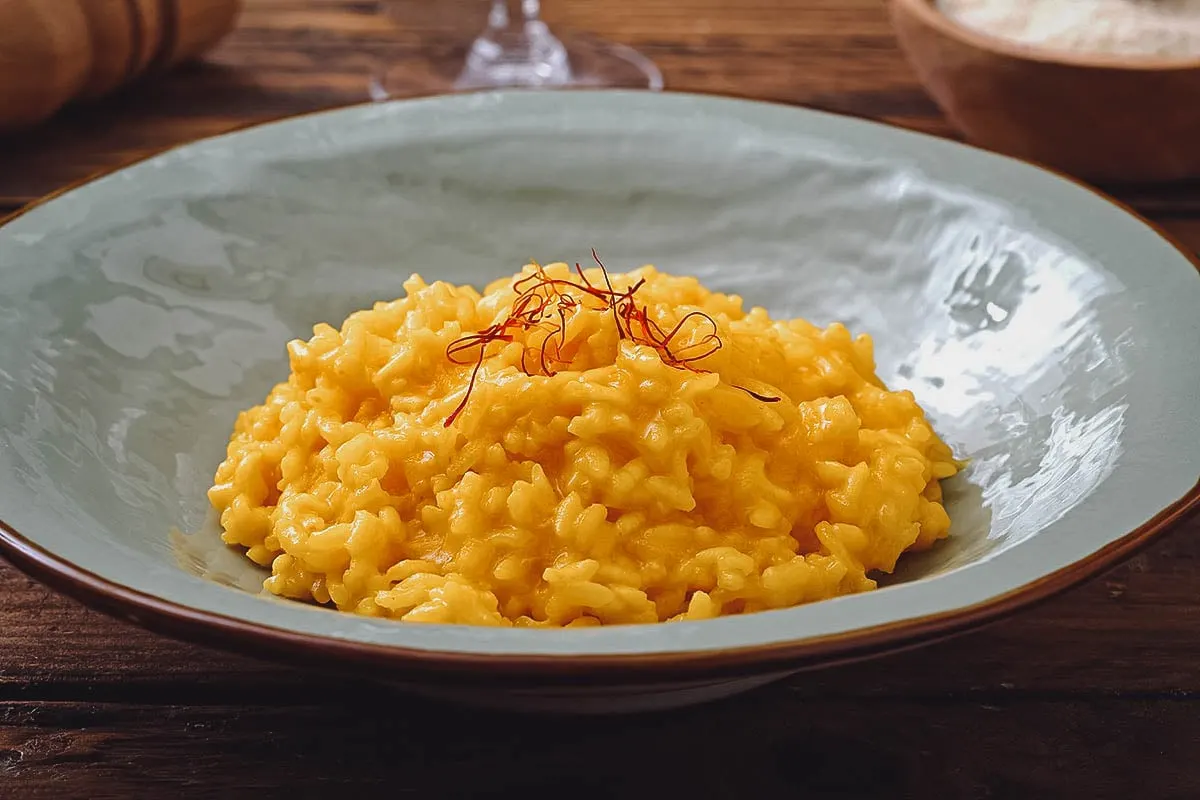 Photo by denio109
10. Zurcher Geschnetzeltes
Zurcher geschnetzeltes refers to a delicious Swiss dish originally from Zurich. It consists of pan-fried veal served with a creamy white wine sauce.
To prepare, veal is thinly sliced and then fried in a pan with butter and chopped onions. The veal and onions are set aside and kept warm while the pan is deglazed with white wine, cream, and veal stock. The veal slices are then placed back in the cream sauce, sometimes with steamed mushrooms.
Typically, zurcher geschnetzeltes is served with a side of rosti, but serving with pasta, rice, and mashed potatoes is also fairly common.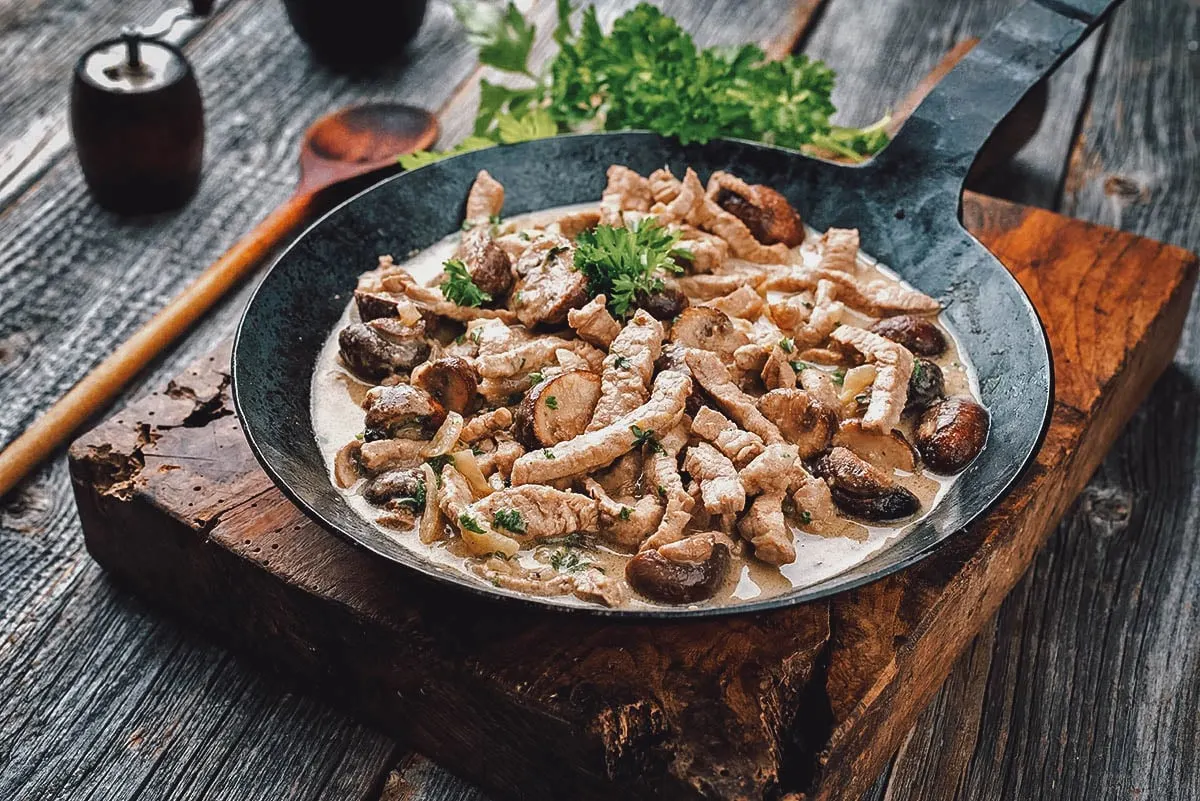 Photo by hlphoto
11. Riz Casimir
Riz casimir is the name of a Swiss curry that's served with rice and fruits like pineapple, bananas, or apples. The traditional recipe includes veal but today, it's also commonly prepared with chicken.
Riz casimir was an attempt by the Swiss to introduce exotic flavors and ingredients to the local palate. It was invented in 1952 by the founder of the Mövenpick restaurants – Ueli Prager. The dish was well-received and has become a beloved part of many Swiss childhoods.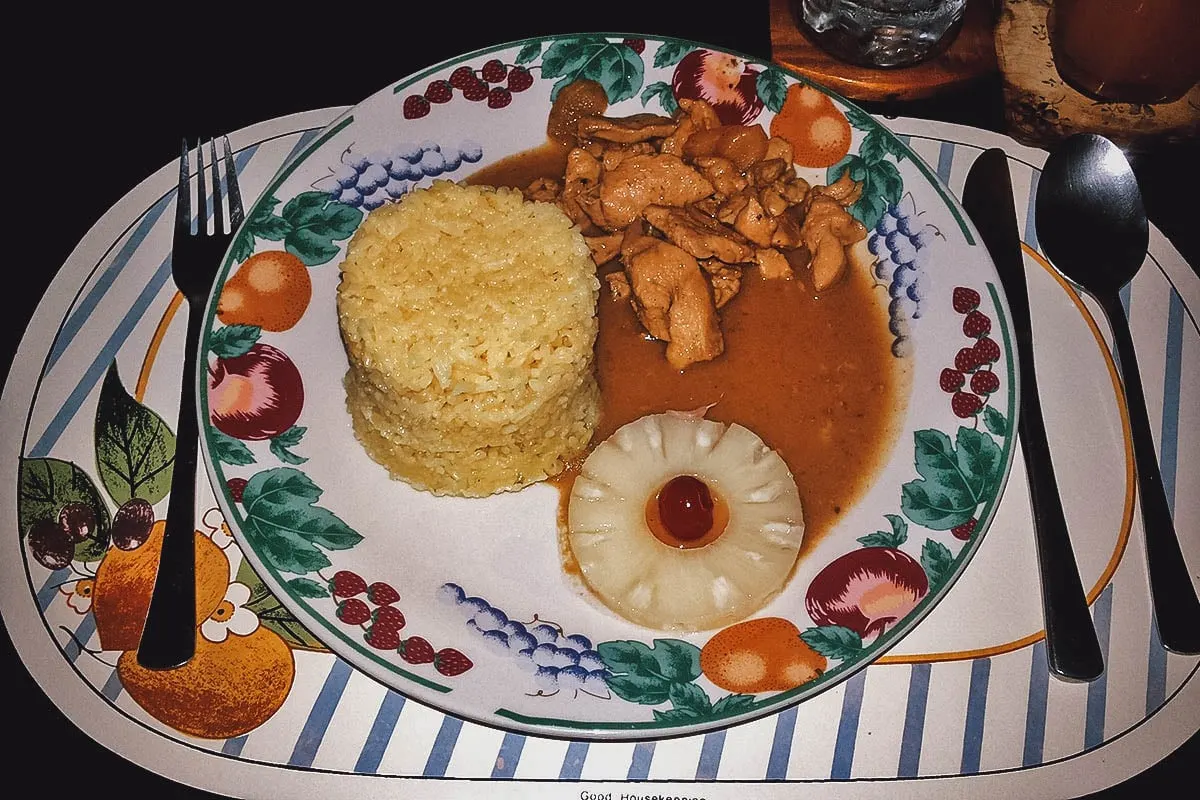 Photo by Endiglo Ed G. Diaz
12. Swiss Chocolate
Swiss chocolate is one of the most well-known Swiss exports. Some of the most famous brands of chocolate have origins or headquarters in Switzerland, including Lindt and Nestlé.
The Swiss are also in large part responsible for the existence of chocolate as we know it today. It was a Swiss man – Daniel Peter – who developed the first solid milk chocolate in 1875. He made it with condensed milk, which was invented by his neighbor in Vevey – Henri Nestlé.
Another important figure in the history of chocolate was Rodolphe Lindt, who invented conching. Conching is a process of distributing cocoa butter in chocolate to even out the texture and improve flavor. This process contributes to the silky smooth chocolate mouthfeel and taste that we all know and love today.
Swiss chocolate is a national symbol and a tourist attraction in its own right. Numerous chocolate factories have become tourist magnets, like the Lindt factory and Maison Cailler. They offer tours and have chocolate museums, not to mention factory shops where you can get your chocolate fix and stock up for the winter.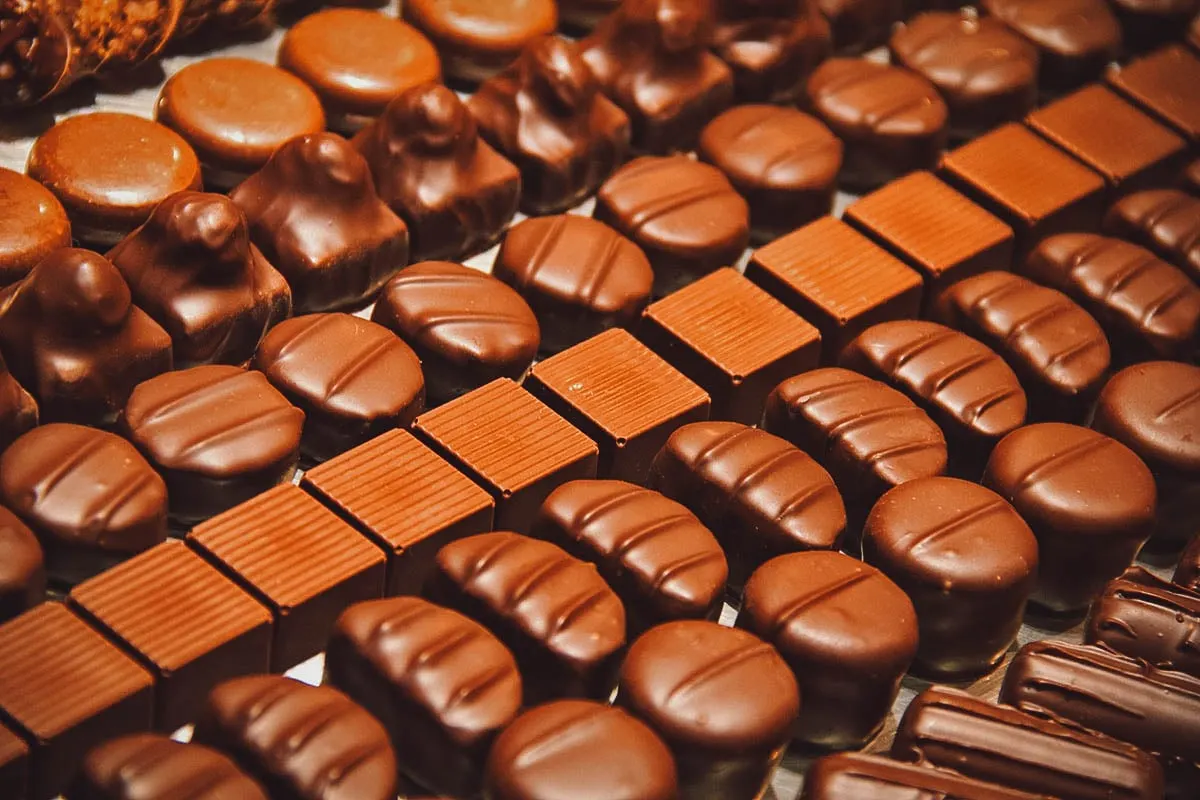 Photo by Fedor Selivanov
13. Zuger Kirschtorte
Zuger kirschtorte is a layered cherry cake from the canton of Zug. It consists of layers of nut meringue (commonly almond or hazelnut), sponge cake, buttercream, and cherry liquor, which is known as kirschwasser. It was invented in 1921 by pastry chef Heinrich Hohn.
To make the cake, you first bake the two layers of nut meringue by whipping egg whites and mixing them with ground nuts. You then bake the meringue so it dries out evenly and slightly caramelizes on the outside, until it's a light brown color. Next, you prepare the sponge cake for the middle layer and flavor the buttercream with cherry liquor. Sometimes, the buttercream is tinted with pink coloring or beet juice.
To assemble, you first spread a layer of buttercream on the bottom layer of meringue, then cover it with the sponge cake. You then soak the sponge cake with a mix of cherry liquor and simple syrup before spreading the buttercream on top for the second layer. You top the cake with the second meringue layer before covering the whole cake in buttercream and decorating it with sliced almonds and a dusting of icing sugar.
The original name of the cake isn't patented, so there are many varieties, but the core ingredients mainly stay the same. The cake can be found in many pastry shops, especially in its native canton of Zug.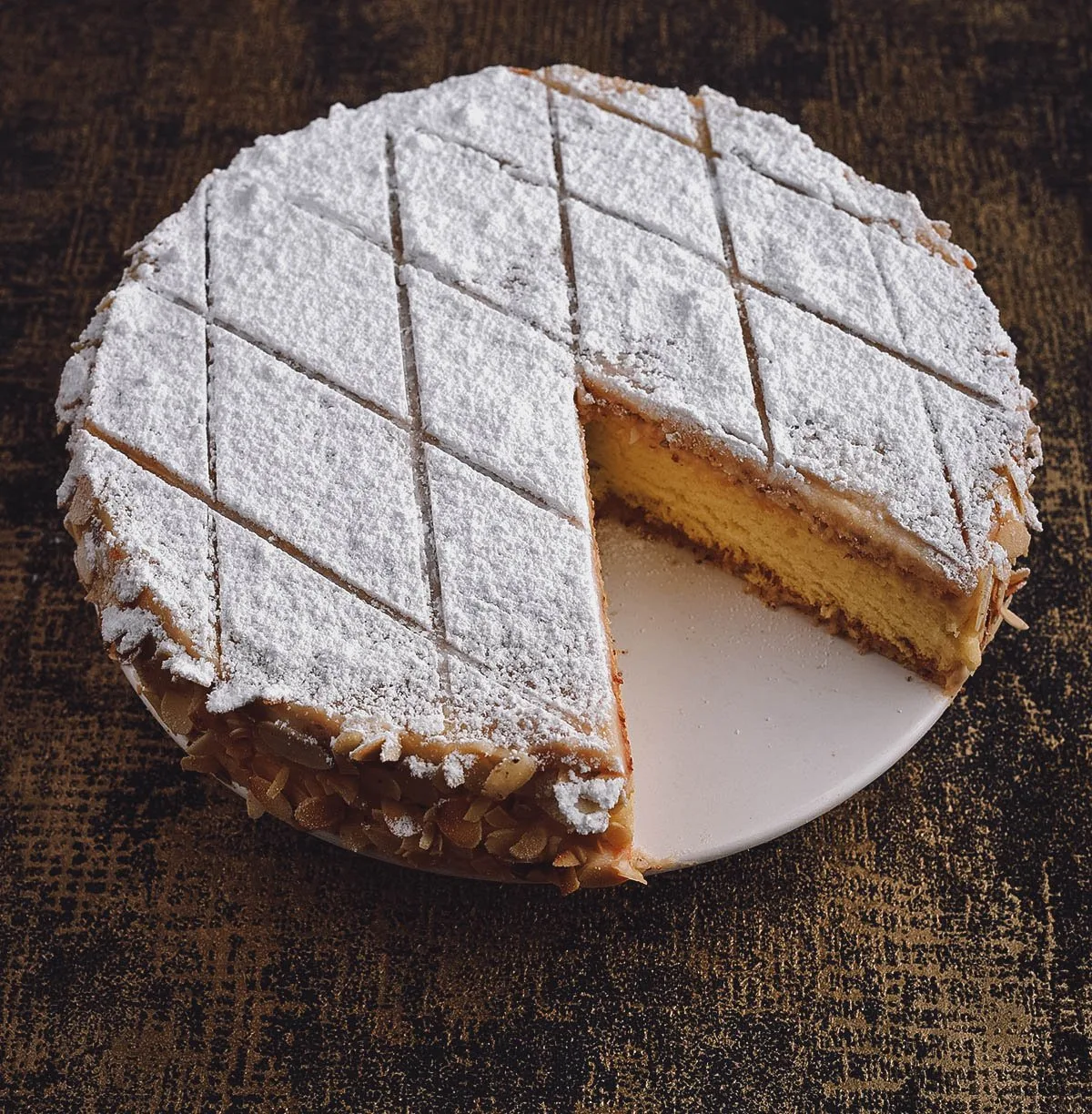 Photo by tonphotos
14. Bündner Nusstorte
Bündner nusstorte is a shortcrust pastry cake filled with a caramelized nut filling. Traditionally, the pastry filling is made out of walnuts. Bündner nusstorte was invented in the 1920s but it didn't become widely available until the 1960s.
This shortcrust pastry cake is the pride and joy of independent bakeries around Graubünden and is one of their largest exports. Because of this, there isn't one true recipe, but more a collection of common traits among various recipes.
The shortcrust pastry is made by combining flour, sugar, butter, egg, and salt. The filling is made from caramelized sugar, heavy cream or milk, and coarsely chopped nuts – most often walnuts – though it can be made with any type of nut. Some recipes also include honey for additional flavor and sweetness.
Bündner nusstorte is popular year-round and makes an excellent companion to coffee or tea. It's quite rich, so it's usually sliced in pieces and eaten for dessert. Today, you'll find it in bakeries around Graubünden and even in some supermarket chains.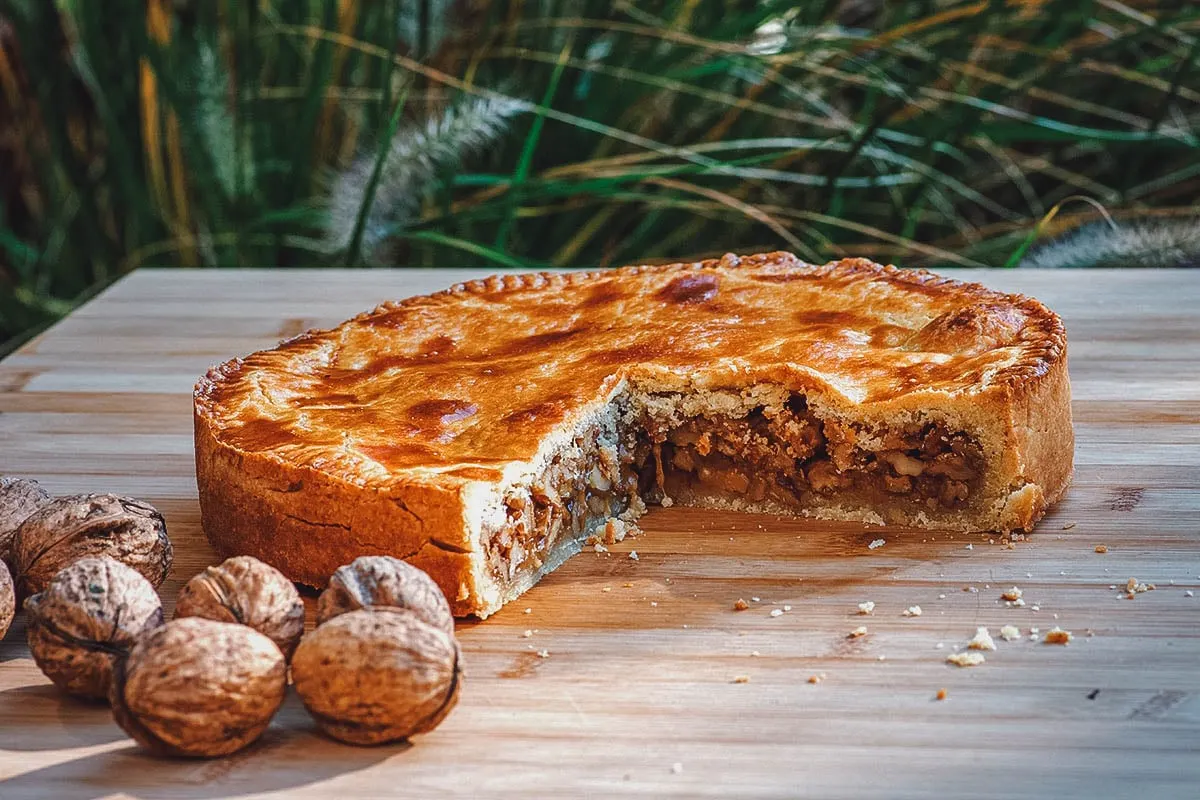 Photo by Elly Mens
15. Meitschibei
Meitschibei is a yeast pastry log made with a nut filling and shaped like a horseshoe. It originated in German-speaking parts of Switzerland. Meitschibei is a German word from Bern that means "girl's legs". The name was supposedly given to the pastry because it resembles legs.
To make the pastry, you first rub the flour and butter together, like for shortcrust pastry, and then knead the dough. For the filling, you mix raisins, ground hazelnuts, cinnamon, sugar, and water. Sometimes, lemon and orange peel is added to the mixture, which is then processed into a spreadable paste.
You then roll out the dough very thinly, to a thickness of about 2 mm (0.08 in). You cut the dough into long rectangles, spread the filling on the dough, roll it up, and then fold it in the middle to create the traditional shape. The pastry is then glazed with egg and baked.
Maitschibei is primarily a spring and autumn pastry, when nuts are in season. But today, it's made and enjoyed throughout the year, especially as a tea biscuit because of its convenient shape.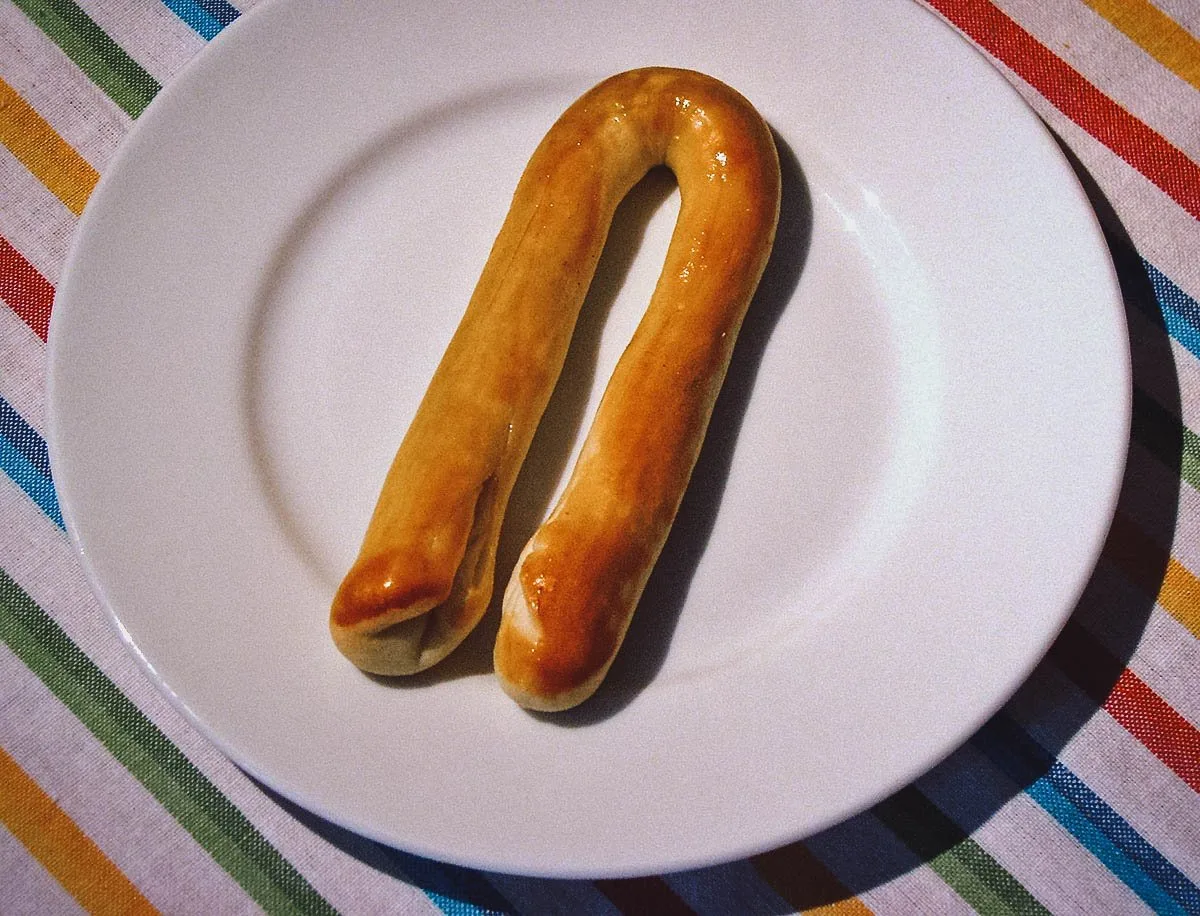 PHOTO: No machine-readable author provided. Baikonur assumed (based on copyright claims)., CC BY-SA 3.0, via Wikimedia Commons / Processed in Photoshop and Lightroom
FINAL THOUGHTS ON TRADITIONAL SWISS FOOD
Swiss food is characterized by local humble ingredients. It's a hearty cuisine consisting of dishes that are designed to warm and fill you up. While Swiss cuisine is quite varied, the basic savory ingredients of pasta, potatoes, meat, cheese, and butter largely stay the same, though the preparations may differ.
If you're visiting Switzerland, then you'll have many traditional restaurants to choose from, so do not hesitate to try as many of these delicious Swiss dishes as you can!
Disclosure
Some of the links in this article on traditional Swiss foods are affiliate links, meaning we'll earn a small commission if you make a booking at no added cost to you. We really appreciate your support as it helps us write more of these free travel and food guides. Thank you!
Cover photo by PhaiApirom. Stock images via Shutterstock.