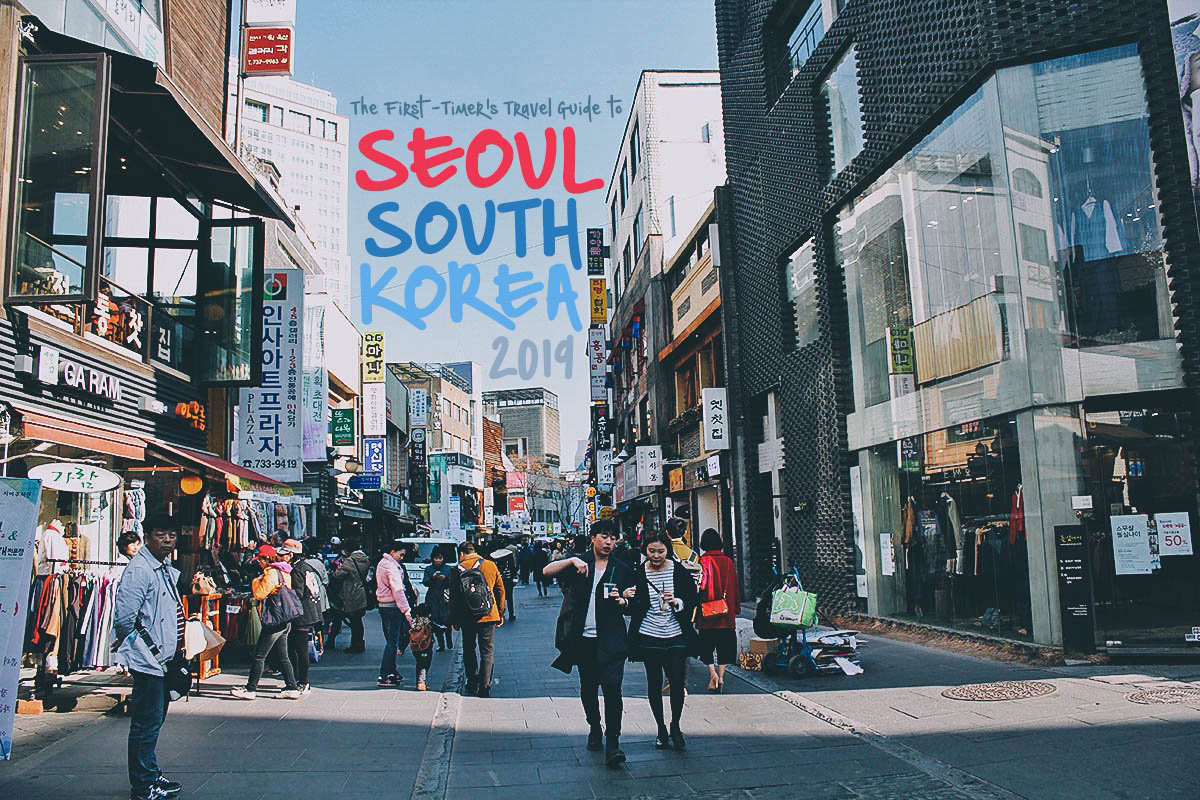 The First-Timer's Travel Guide to Seoul, South Korea (2019)
Korea is fast becoming one of our favorite countries to visit. With each new dish discovered, with every K-drama series that wraps us in its grip, we fall in love with it more and more. Korean pop culture has taken the world by storm and it shows no signs of slowing down.
So enamored are Ren and her girlfriends with all things Korean that they've named their Messenger group "the Koryans". They call each other unni, which means "older sister" in Korean, and exchange tips on the latest shows, gossip, and best skin care products. They'll be taking their first trip to Korea this year, their first as a group and for most of them, their first ever in Korea. They're staying in Myeongdong so it scares me to think how many suitcases full of cosmetics and socks they'll be bringing home.
Ren and I have been to Seoul twice before so I won't be joining them on that trip. I will however link up with her at the tail end of it so we can explore more of this exciting, very in-the-moment country. That won't be happening till later this year but I've decided to update this guide now, to help anyone planning their first trip to Seoul. Fighting!
GUIDE TABLE OF CONTENTS
SEOUL AT A GLANCE
Seoul is the capital of South Korea (Republic of Korea) and its biggest city. The estimated population within its city limits is 10.29 million people, but factor in its surrounding areas and that number jumps to 25.6 million, making it the second largest metropolitan area in the world. With a workforce that large driving its economy, it's no wonder Seoul is now the 4th most economically powerful city, behind only Tokyo, New York City, and Los Angeles (as measured by GDP).
South Korea has been making headlines in recent years in the tech, automotive, and entertainment sectors. Korean brands like Samsung and Hyundai are globally recognized brands. People worldwide watch K-dramas and listen to K-pop. Myeongdong has become a hotbed for cosmetics and nearly everyone I know loves Korean food! Needless to say, South Korea is booming, and at the center of all that excitement, is Seoul.
BEST TIME TO VISIT
Like Japan, South Korea has four distinct seasons — Spring, Summer, Fall, and Winter. The most popular times to visit Seoul are during the Spring (March-May) and Fall (Mid-September – Early November) months when the weather is ideal and the landscape is at its most striking. Both seasons are characterized by a dramatic change in color – Spring for its cherry blossom pinks and whites, and Autumn for its fiery reds, oranges, and yellows. Here's what you can expect during every season.
MAR-MAY: Spring is one of the best times to visit Seoul. The weather is ideal and the city erupts with blooming flowers. If you want to catch the cherry blossoms, then you should plan on being in Seoul around the second week of April (around April 9-10). That will give you the best chance to see the cherry blossoms. With that said, keep in mind that the blossoms are largely dependent on the weather so it's still no guarantee they'll be blooming then, which is why I think it's a good idea to go around that time or a little earlier. If they aren't blooming yet in Seoul, then you'll have the option of taking a day trip to Jinhae, home of Korea's biggest cherry blossom festival. Be sure to bookmark the Visit Korea website for updates on the festival.
JUN-AUG: Summer isn't an ideal time to visit Seoul. It's hot, it's humid, it rains a lot, and prices are at their highest with summertime being the peak of domestic tourism. Avoid these months if you can.
SEPT-NOV: Unless you're chasing after the cherry blossoms, then Fall is arguably the best time to visit Seoul. Like Spring, the weather is ideal and the foliage is at its most striking. Shoot for late October or early November if you can. My niece visited Nami Island in November of 2017 and the Fall colors were absolutely stunning.
DEC-FEB: If you want to go skiing, snowboarding, or just experience snow, then Winter is obviously the time to go. However, Winter in Korea is freezing. We went in early November and we were surprised by how cold it already was. If you can stand the cold, then there are several ski resorts you can visit from Seoul. Just be sure to dress warmly.
Climate: Annual Monthly Weather in Seoul
To help you better understand the weather in Seoul, I've included average temperature and annual rainfall graphs below. Suggested months to visit are indicated in orange.
Average Temperature

Annual Rainfall


TRAVELING TO SEOUL
Almost all international flights land at Incheon International Airport. There are several ways to get to downtown Seoul from Incheon.
BY AIRPORT EXPRESS (AREX): This is the fastest way to get to the city from the airport. It runs like clockwork and will get you into Seoul Station in exactly 43 minutes. The trains are comfortable with free wifi onboard. A one-way ticket costs KRW 9,000 for adults, but you can save on the fare if you purchase AREX tickets in advance through Klook (just KRW 6,500). Follow this link for an AREX timetable.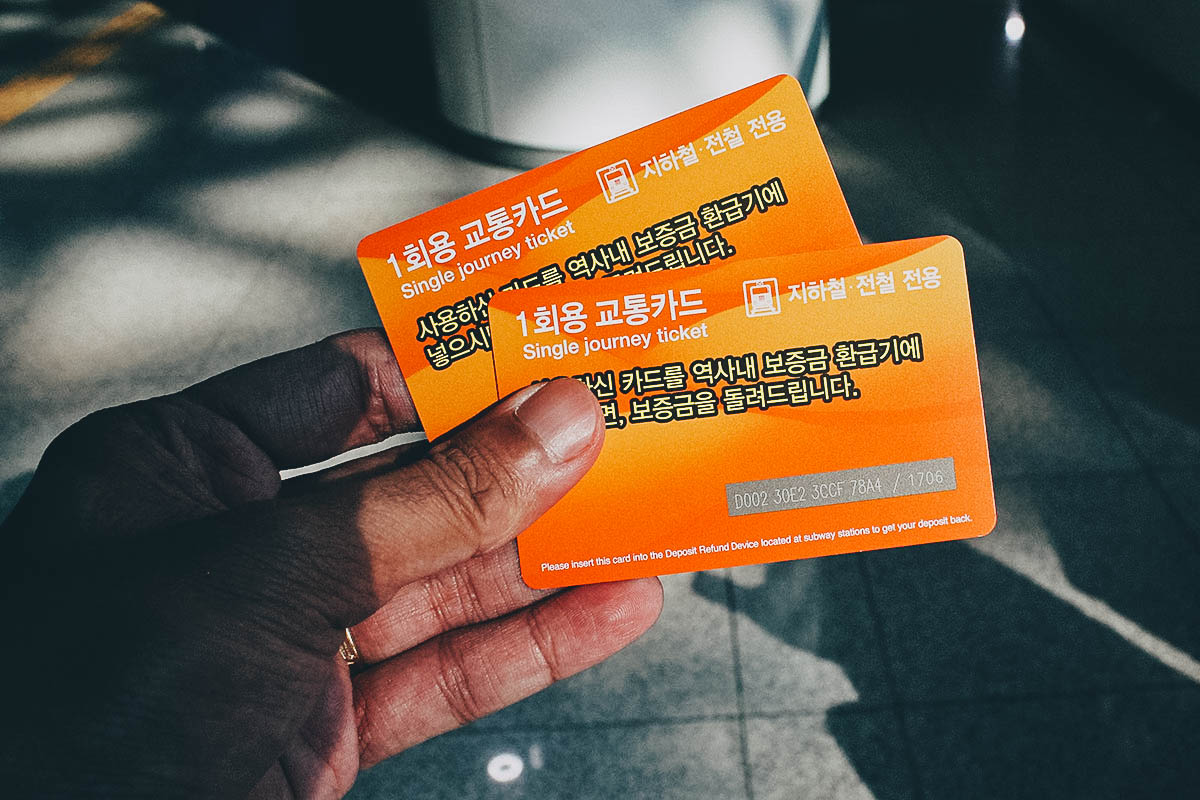 BY ALL-STOP TRAIN: This is the second fastest way to get into Seoul from Incheon. It will get you to Seoul Station in about 58 minutes and costs just KRW 4,150 each way (with a T-money Card). Trains run from 5:23AM till 11:40PM.
BY BUS: A one-way bus ticket costs KRW 9,000 and takes longer than the subway (around 80 minutes), so I suggest taking it only if you're arriving at Incheon during off hours. Late night airport buses to Seoul Station run from 12MN-4:40AM, while buses to Gangnam Express Bus Terminal operate from 11:40PM-4:20AM. Detailed inquiries on bus routes and bus stops can be made at the Airport Information Desk on the 1st floor. You can also check this link for more information on late night airport buses.
BY TAXI: Going by taxi is the most convenient way, but it's also the most expensive. A taxi will get you into the city in about an hour and will cost you around KRW 55,000-75,000.
BY PRIVATE TRANSFER: Klook offers several transfer options from Incheon to Seoul, including private transfers. Follow this link to check out airport transfer options in Seoul on Klook.
You can also check out this link for more information on how to get to Seoul from Incheon.
WHERE TO EXCHANGE CURRENCY
Myeongdong is the best place to exchange your currency. There are plenty of money changers in the area and they're known to give the best rates in the city. The rates at currency exchange offices in other areas were never as good. At the airport for example, the rate I was given was KRW 1,041.10 to the dollar (USD) in December 2017. But in Myeongdong, I exchanged currency at two places and got rates of KRW 1,096 and KRW 1,093. In other areas, they were around KRW 1,085 or even less.
I suggest changing a small amount at the airport, no more than USD 100, just to get you in to the city. You can then change the rest in Myeongdong.
Alternatively, you can also withdraw KRW from an ATM. The rates are competitive. Just be sure to advise your bank you'll be using your ATM card overseas so you don't run into any problems. In my experience, my ATM card works in some machines but not in others. I didn't have any problems using it in Seoul.
BEST AREA TO STAY
Based on our own experiences and what I've read online, Myeongdong, Insadong, Hongdae, and Itaewon are ideal places to stay in Seoul for tourists. It all depends on what you want. Myeongdong is for shopping, Insadong is for culture, Hongdae is hip, and Itaewon is the international district. We've visited all four areas but we've only stayed in Myeongdong and Hongdae. Personally, we prefer Hongdae.
Both times, we booked our rooms through AirBnB, but you can search on Booking.com and Agoda as well. Be sure to go through all three sites to find the best accommodations for you. If you're new to AirBnB, then you can get up to USD 43 free travel credit via THIS LINK.
I've created the color-coded map below to help you visualize where all these recommended areas are: (Please note that marked areas are approximations only)
RED – Myeongdong
ORANGE – Hongdae
PURPLE – Insadong
AQUA – Itaewon
MYEONGDONG
If you're planning on doing a lot of shopping in Seoul, then Myeongdong is definitely where you need to stay. It's a hyper shopping district filled with big name brands and boutique shops, as well as many restaurants, cafes, and street food stalls. If you like Korean cosmetics, then there's a good chance you're never leaving this place. The place we stayed at (i-House) doesn't seem to be available anymore but you can search through AirBnB, Booking.com, and Agoda for listings in Myeongdong. Be sure to check all three sites to find the best deal. As described above, you can get up to USD 43 free travel credit if you're new to AirBnB.
INSADONG
We haven't stayed in Insadong but we've spent many days exploring its wealth of traditional shops, boutiques, restaurants, cafes, and teahouses. It's also walking distance to several key attractions like Gyeongbokgung Palace, Changdeokgung Palace, and Bukchon Hanok Village. You can search through AirBnB, Booking.com, and Agoda for listings in Insadong. Again, you can get up to USD 43 free travel credit if you're new to AirBnB.
HONGDAE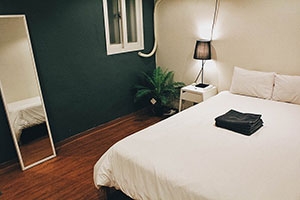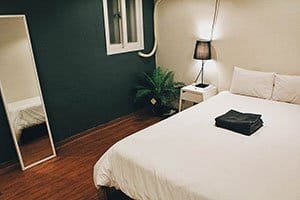 Ren and I aren't into shopping so we preferred staying in Hongdae, which is the area around Hongik University. It's a fun, hip area with a college town vibe. This was our favorite neighborhood in the city so we'll probably stay here on every return trip to Seoul.
Bingo House is a small 5-room guesthouse just a short walk from Exit 6 of Hongik University Station. There's a 7-Eleven and a GS25 convenience store nearby, as well as a few restaurants and cafes. There's a common area with free water and kitchen supplies but no breakfast. We paid USD 44 a night to stay here through AirBnB, but you can book a room here via Agoda as well. If you like Hongdae but don't think Bingo House is the right place for you, then you can check these sites for alternate listings in Hongdae: AirBnB | Booking.com | Agoda. As previously described, you can get USD 43 free travel credit if you're new to AirBnB.
Approximate Room Rate: USD 45 per night (as of Jan 2019)
ITAEWON
Among these four areas, Itaewon is the place we're least familiar with. It's one of the city's most diverse neighborhoods boasting plenty of shops and international restaurants. It has a bustling nightlife as well which is one of the reasons why it's a popular hotspot among expats. You can search through AirBnB, Booking.com, and Agoda for listings in Itaewon. As mentioned, you can get up to USD 43 free travel credit if you're new to AirBnB.
THINGS TO DO IN SEOUL
1. Watch the Changing of the Guard at Changdeokgung and Gyeongbokgung Palaces
Seoul has five Joseon royal palaces and these are the two you shouldn't miss. Each has an argument for being the most beautiful, with Gyeongbokgung being the primary palace and Chandeokgung a UNESCO Heritage Site and home to Huwon, or the "Secret Garden". If you come at the right time, then you can watch the changing of the guard as well. We were lucky to catch it at Gyeongbokgung and it made for some memorable pictures.
Check out my post on Changdeokgung and Gyeongbokgung Palaces in Seoul for more pictures and information. If you plan on visiting multiple palaces, then you may want to invest in an Integrated Palace Ticket.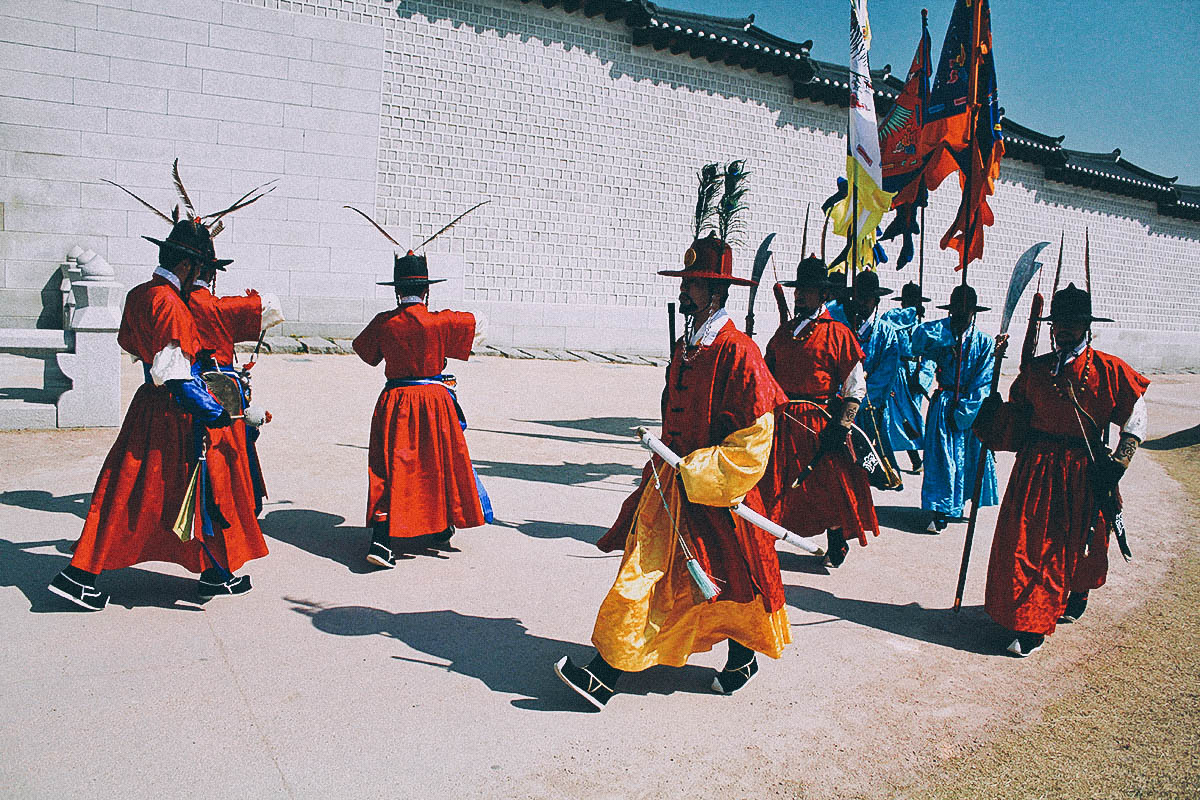 Suggested Length of Visit: 1-3 hrs / Admission: KRW 3,000 per adult (each palace)
2. Get Lost in a Maze of Traditional Houses at Bukchon Hanok Village
As ultramodern as Seoul can be, it was nice to find a place like this right in the heart of the city. Bukchon Hanok Village is a maze of narrow alleyways and traditional Korean houses called hanoks. Exploring its network of streets will take you back in time and introduce you to a 600-year old Seoul. If you want pictures of yourself wearing a hanbok, then this is one of the best places to do it.
Check out my post on Bukchon Hanok Village in Seoul for more pictures and information.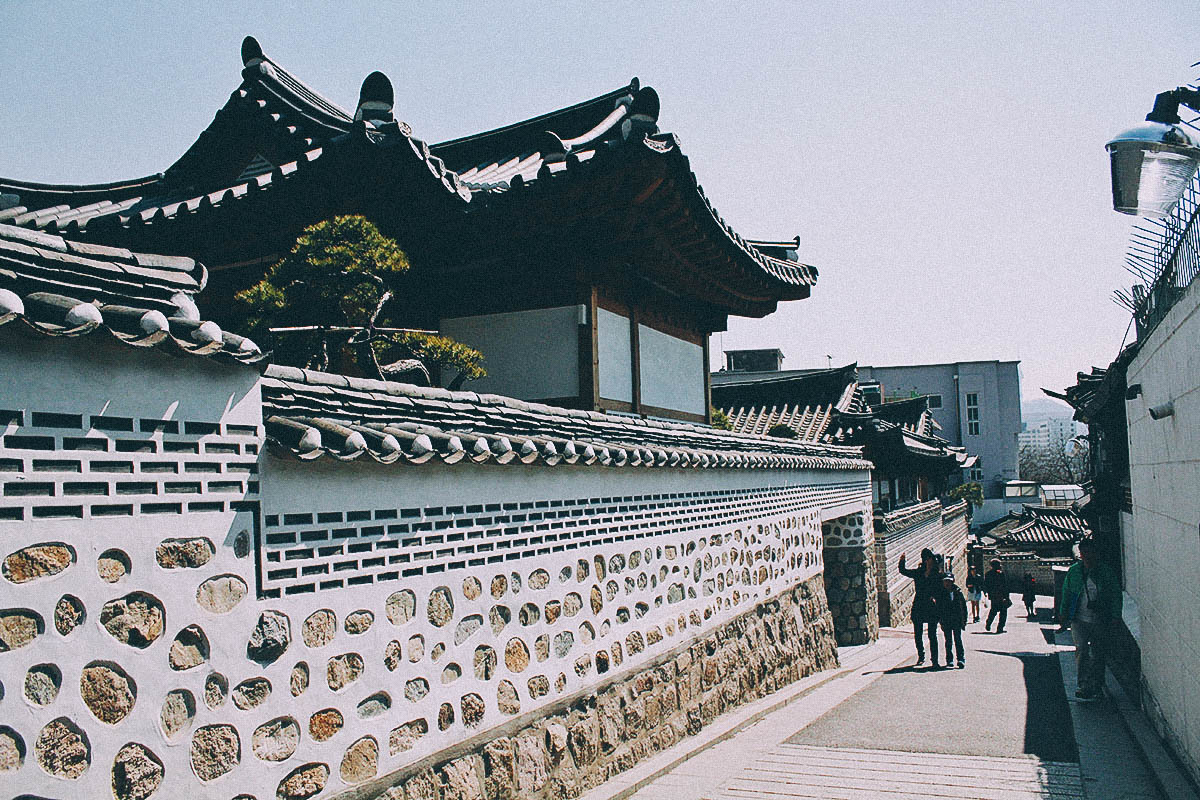 Suggested Length of Visit: 1-2 hrs / Admission: FREE
3. Relive the Joseon Period in a Hanbok
If you're a fan of Korean period dramas or just the culture in general, then you'll probably want a picture of yourself wearing a hanbok. It's the traditional Korean form of dress worn by both men and women during festivals and celebrations. As described above, Bukchon Hanok Village and any of the royal palaces will make for the perfect setting. Pictured below is my niece Gabby tripping over her hanbok at Gyeongbokgung. 😆
There are plenty of hanbok rental shops in Insadong, but you can rent one in advance through Klook. You can pretend to be a princess for 4 hours for KRW 18,000, or the entire day (24 hours) for KRW 28,000. Follow the link to rent a hanbok through Klook. Apart from looking regal, another great thing about wearing a hanbok is that it can give you free or discounted entrance to some attractions.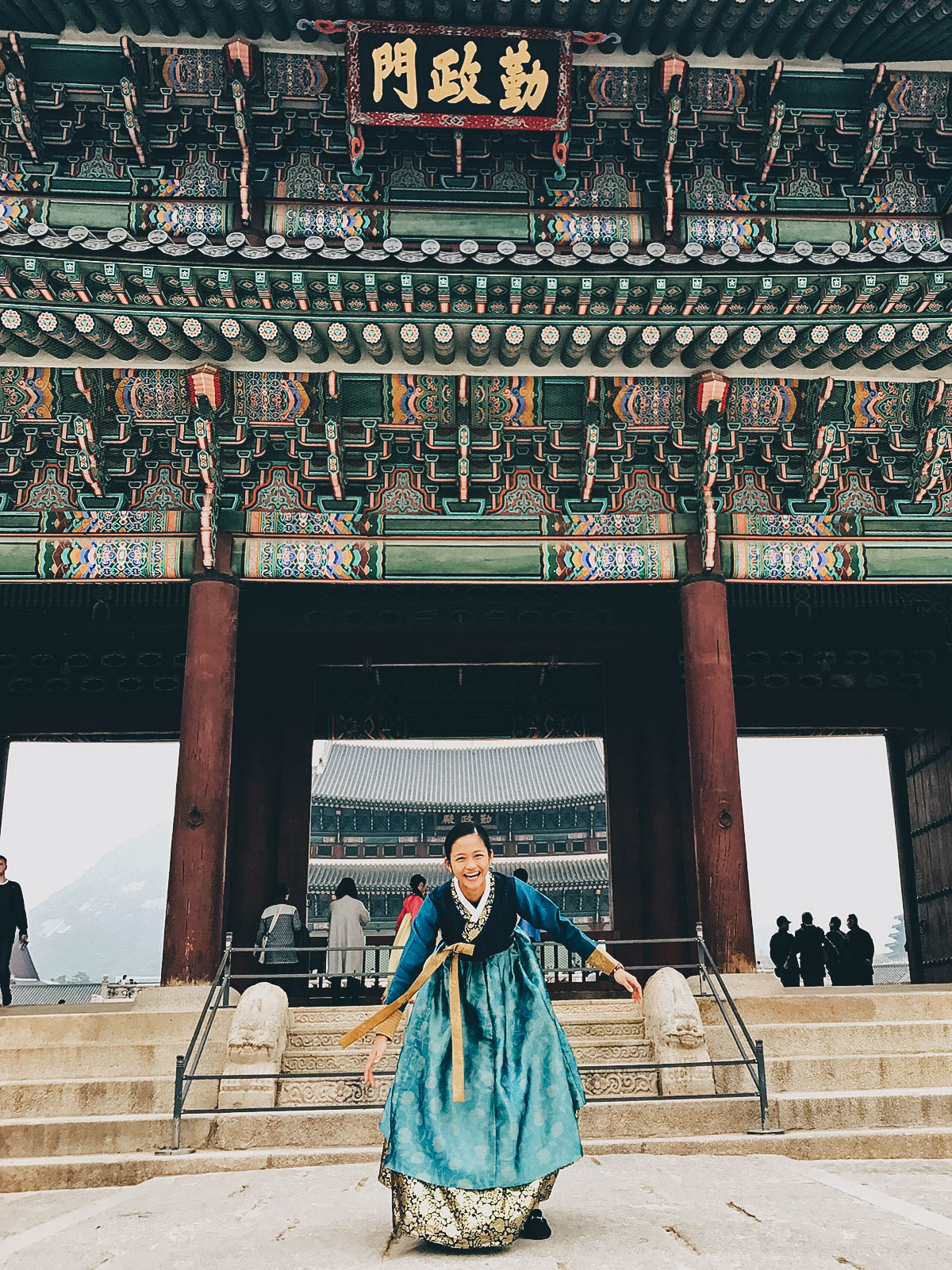 Cost: KRW 18,000 for 4 hours
4. Lock your Love and Climb to the Top of N Seoul Tower
When it comes to great views, this place towers above the competition. Standing 480 meters above sea level, N Seoul Tower is the best place to get bird's eye views of the city. Not only does it give you sweeping aerial views of Seoul, it's where you can "lock your love" for all eternity as well. It's located on Mt. Namsan and something you can easily pair with a trip to Myeongdong.
Follow this link for directions to the Namsan Cable Car station. The cable car costs KRW 9,500 for adults and KRW 6,500 for kids roundtrip. Entrance to the Observatory is an additional KRW 10,000 for adults and KRW 8,000 for kids, but you can get them for KRW 5,600 and KRW 5,100 respectively if you purchase them in advance through Klook. Follow the link to purchase N Seoul Tower Observatory tickets through Klook.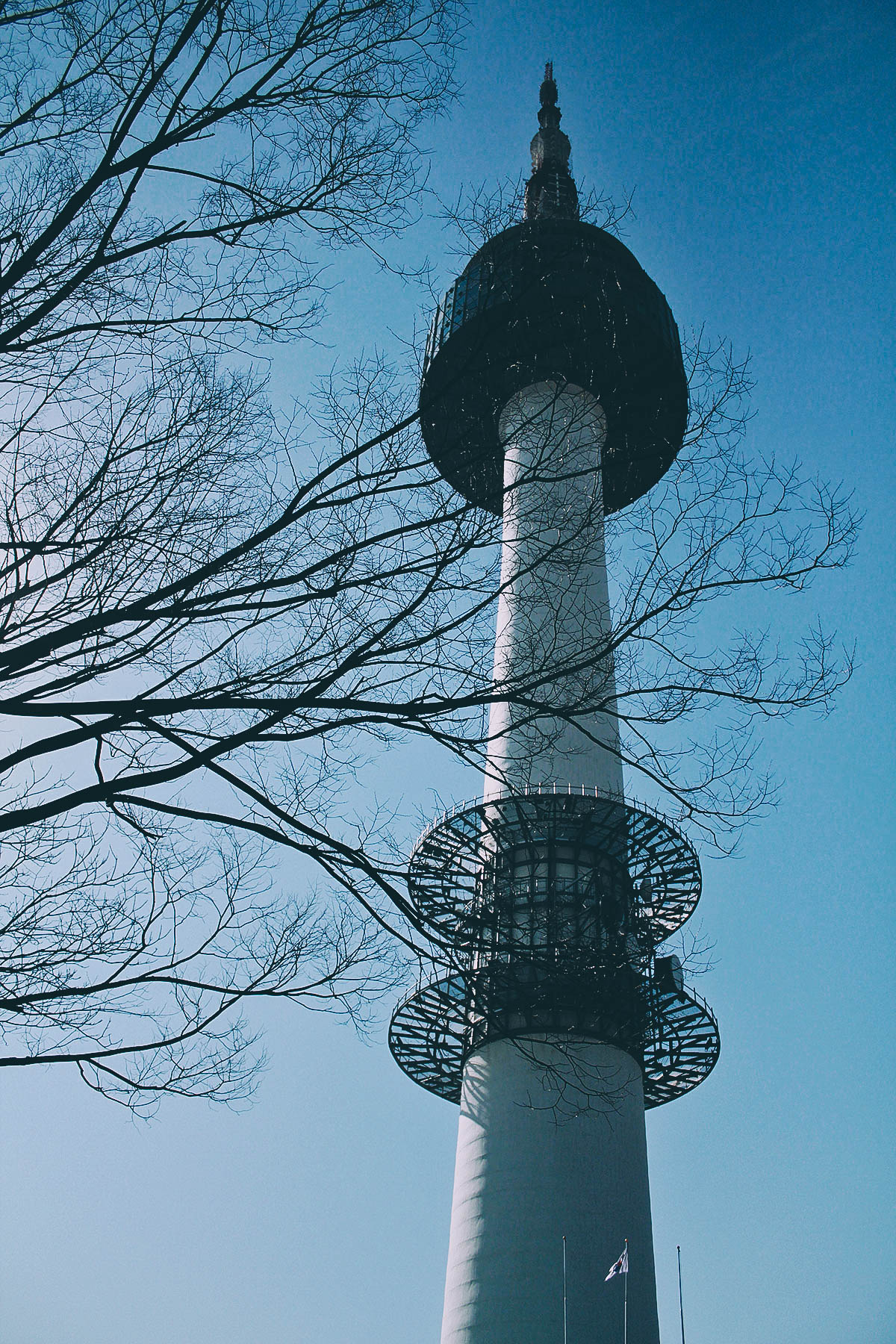 Suggested Length of Visit: 1-2 hrs / Cost: KRW 15,100 per adult including round trip cable car tickets
5. See the Future of Design at Dongdaemun Design Plaza (DDP)
This place is incredible. If you like design, any kind of design, then you need to put Dongdaemun Design Plaza, or DDP for short, in your itinerary. It's like a museum, design supermarket, and space ship all rolled into one. It was designed by the late Zaha Hadid, who also created the 2012 Olympic aquatic centre in London and the Guangzhou Opera House in China. I suggest devoting several hours to this place if you can, and be sure to come back at night when the building really comes to life.
Check out my post on Dongdaemun Design Plaza (DDP) in Seoul for more pictures and information.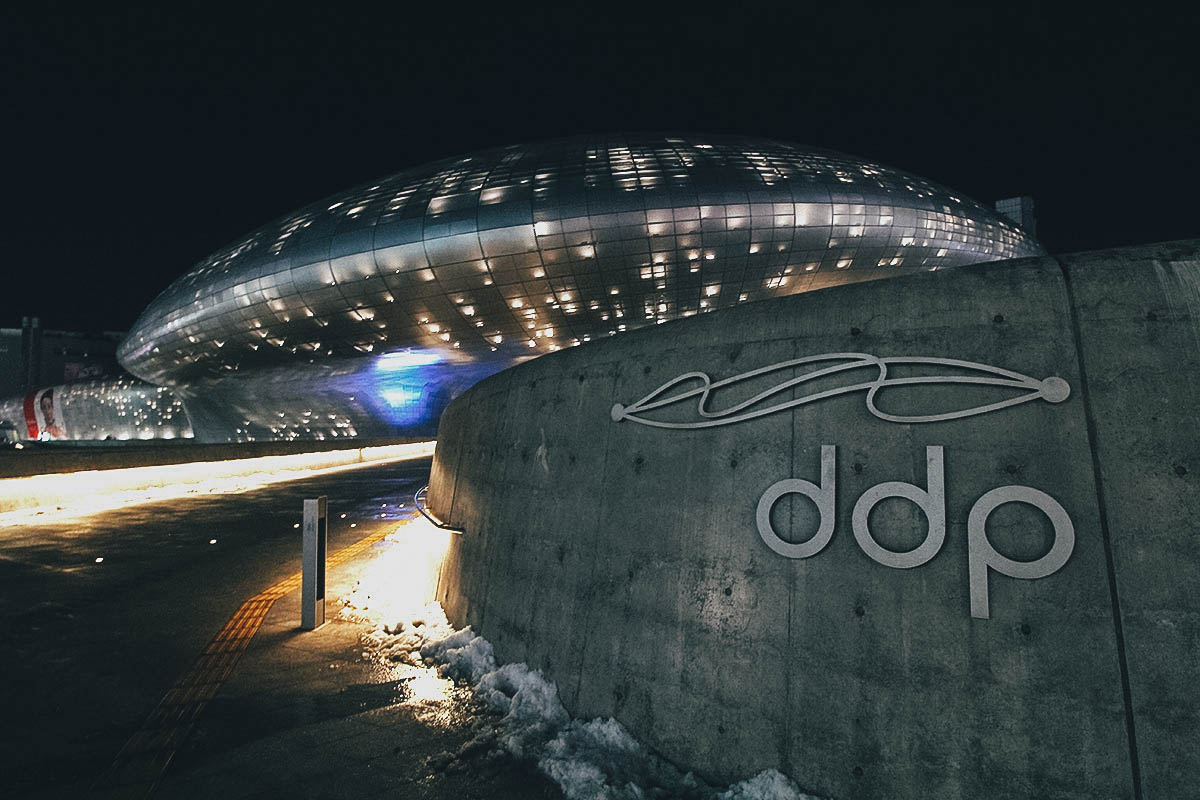 Suggested Length of Visit: 2-3 hrs / Admission: FREE but some exhibits may have an entrance fee
6. Shop and Eat like there's No Tomorrow in Insadong, Myeongdong, and Hongdae
Seoul is a shopaholic's paradise. There are many shopping districts in the city but Insadong, Myeongdong, and Hongdae are three that you can't miss. They each have their own unique personality. Insadong is known for its artsy cultural items, Myeongdong for its brand names and cosmetics, and Hongdae for its hip, college town vibe. All have great food.
Check out my post on Insadong, Myeongdong, and Hongdae in Seoul for more pictures and information.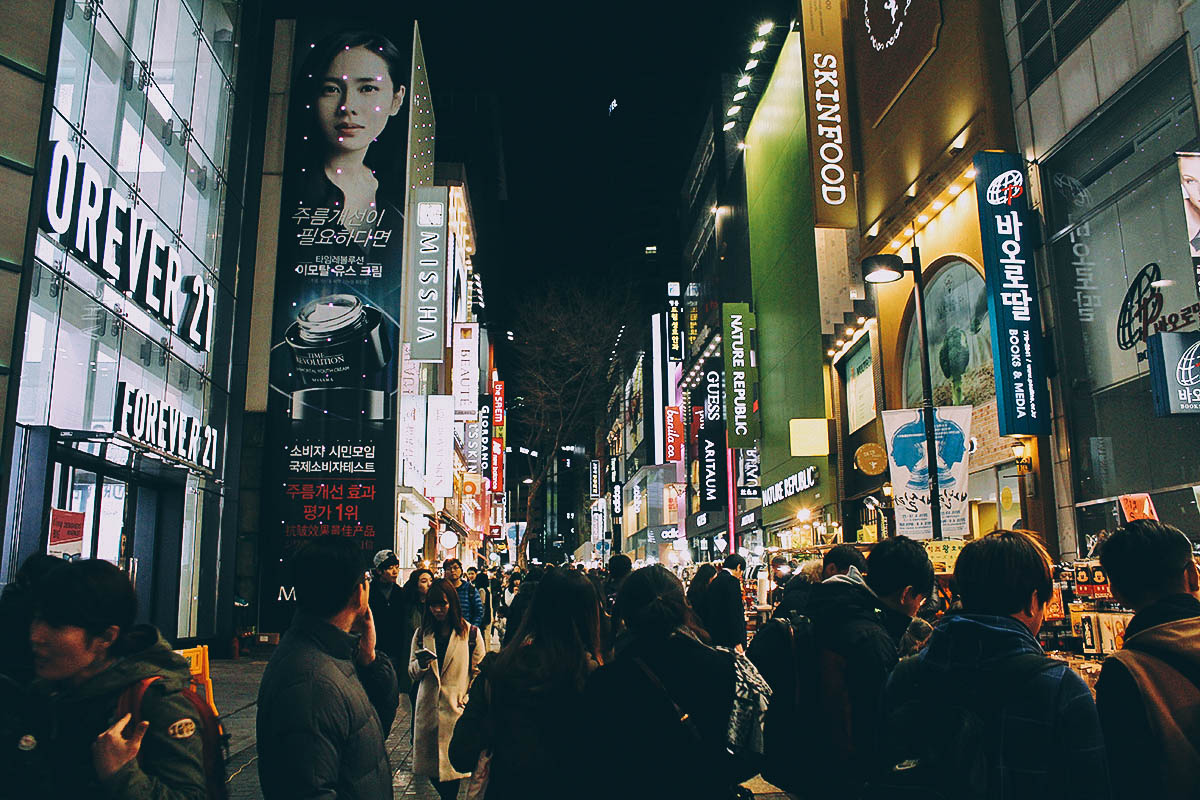 The madness and magic that is Myeongdong
7. Laugh at a Cookin' Nanta Show
If you'd like to watch a show or performance in Seoul, then the Cookin' Nanta Show is one to consider. It's entertaining and funny and reminiscent of a Korean Stomp with food. There are two Nanta theaters – one in Myeongdong and another in Hongdae. Tickets normally cost KRW 39,700 per person, but you can get them at just KRW 26,500 through Klook (Myeongdong and Hongdae theaters). Follow the link to purchase Cookin' Nanta Show tickets through Klook.
Tickets: KRW 26,500 per person
8. Take a Cooking Class
We haven't done this in Korea but taking a cooking class is something we try to do on every trip. It's a fun, hands-on way of getting to know the local cuisine. If you're interested in taking a cooking class in Seoul, then I suggest searching for one on Cookly. Cookly is an online booking platform that offers cooking classes in many cities around the world. For me, there's no better place to look for cooking classes when traveling than on Cookly. Follow the link to search through their list of cooking classes in Seoul.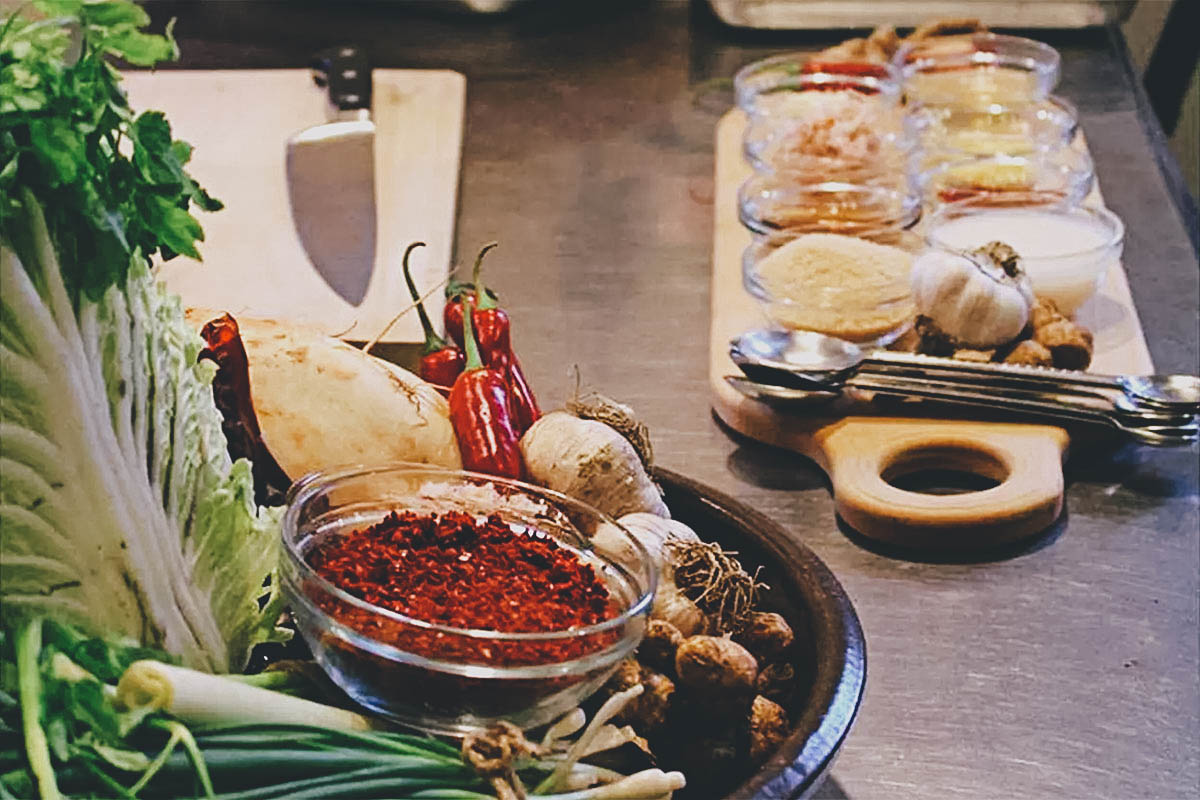 Length of Class: Around 2-3 hrs / Cost: Varies per class
Photo borrowed from cookly.me
DAY TOURS FROM SEOUL
1. Visit Nami Island, Gangchon Rail Park, and Petite France on a Day Tour
We skipped out on Nami Island on our first trip to Korea because we thought it could only be appreciated by fans of Winter Sonata. We were wrong. Nami Island is achingly beautiful and a must-visit for anyone traveling to Seoul. We went in Winter when there was a thin sheet of fresh powder blanketing the island. It was beautiful, though perhaps not as magical as Fall when the leaves are in fiery shades of red, orange, and yellow. Check out my post on Nami Island, Gangchon Rail Park, and Petite France for more pictures and information.
Our tour consisted of a trip to Nami Island followed by visits to Gangchon Rail Park and Petite France. It normally costs KRW 75,000 but you can get it for KRW 61,000 if you book it through Klook. If you don't want to do the Rail Bike, then there's an option for just Nami Island and Petite France for KRW 38,600. Follow the link to book a Nami Island tour with Klook.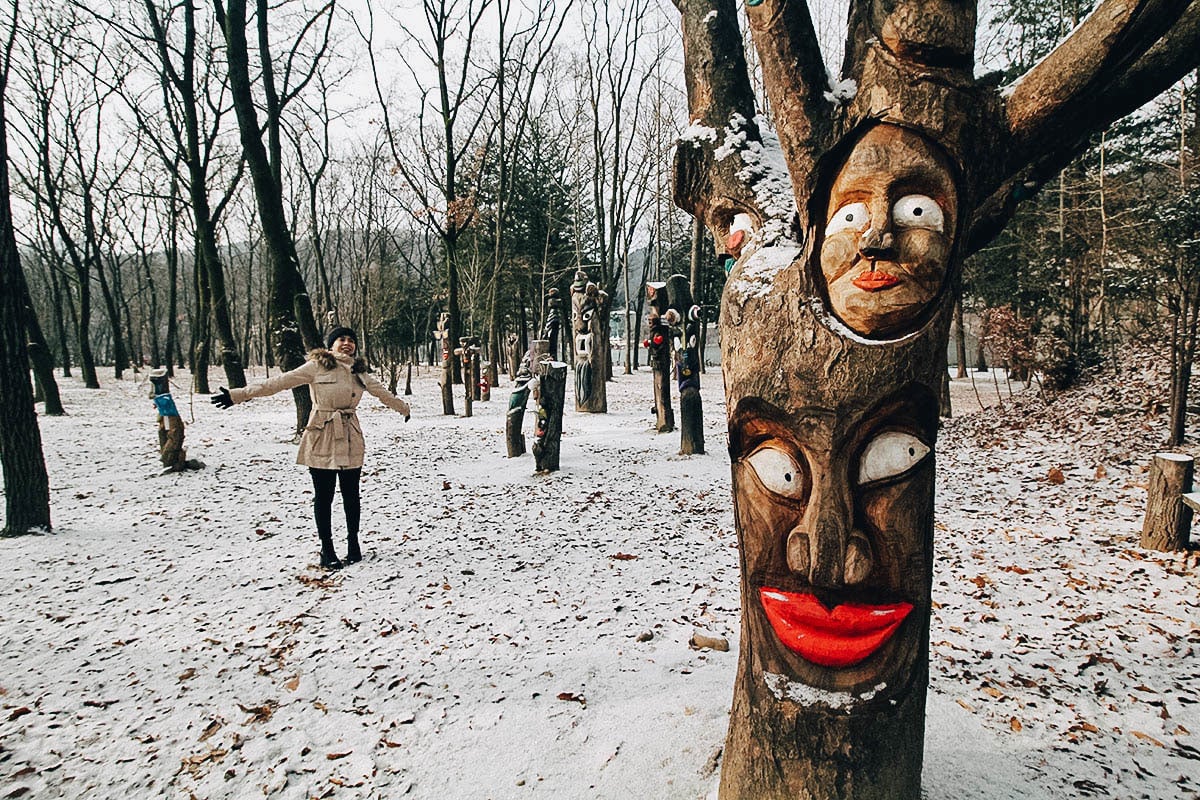 Length of Tour: Whole day / Cost: Starts at KRW 38,600
2. Get a Glimpse of North Korea on the DMZ Tour
This was one of my favorite things to do in our two trips to Korea. DMZ stands for "Demilitarized Zone" and refers to the 4 km wide buffer zone dividing North and South Korea. Within the DMZ is the JSA, or "Joint Security Area". The JSA is the only portion of the DMZ where North and South Korean soldiers stand face to face, which is why it's often referred to as "the most dangerous place in Korea".
Within the JSA are five buildings built directly on top of the border, half in the North and half in the South (pictured below). In these buildings are where negotiations between the two Koreas take place. When you go on the JSA tour, you'll get to physically cross the border and spend a few minutes in North Korea. Check out my post on the JSA and DMZ tour for more pictures and information.
I checked and the JSA tour doesn't seem to be available anymore, perhaps due to the cooling relations between north and south, but you can still book the DMZ tour (KRW 50,000) on Klook. It isn't as intense as the JSA tour but it's still worth doing, especially if you have an interest in Korean history.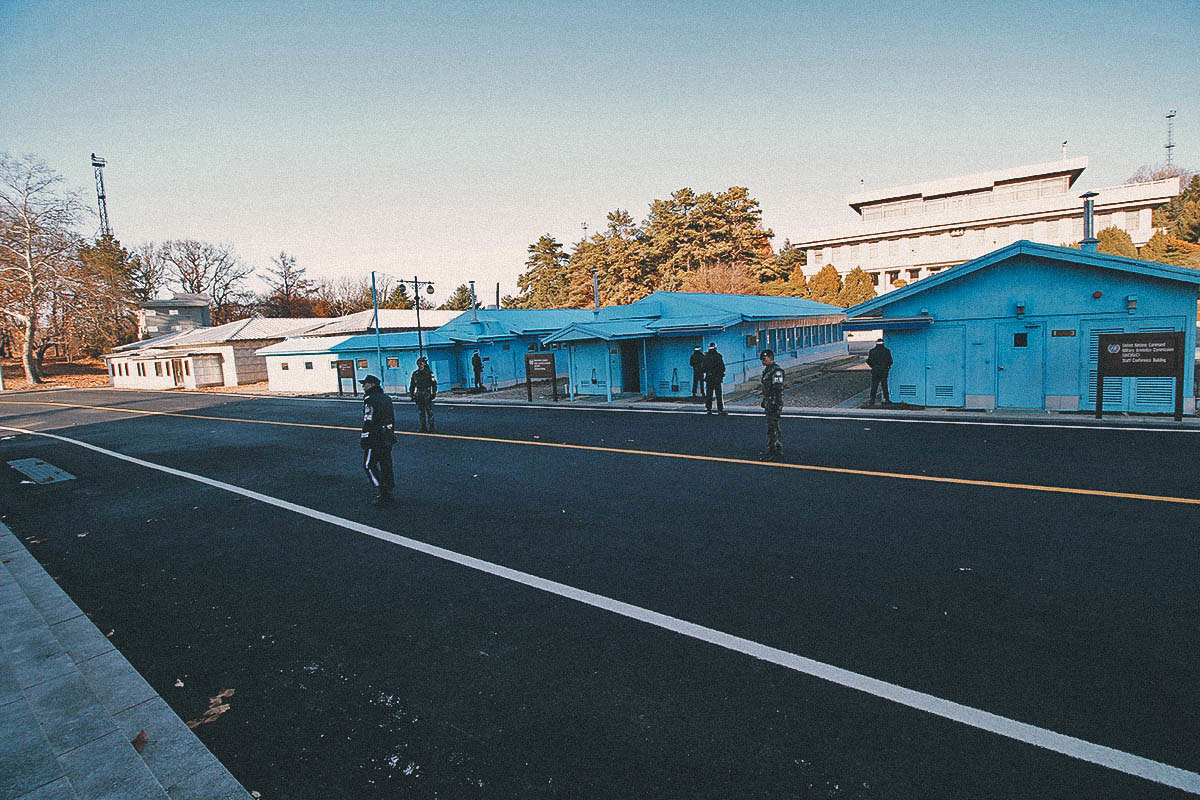 Length of Tour: About 6-7 hrs for the DMZ tour / Cost: KRW 50,000
3. Spend the Day at Everland Resort or Lotte World
Many tourists, especially those traveling with young children, will probably want to visit one or both of South Korea's biggest theme parks – Everland and Lotte World. We visited Everland and it made for a fun day trip from Seoul. Check out my post on Everland Resort for more pictures and information. If you don't have time to visit both and can't decide between the two, then you can refer to this Everland or Lotte World comparison post from Klook to help you decide.
When you figure out which theme park you'd like to visit, you can save on the admission cost by booking through Klook. A one-day ticket to Everland costs KRW 31,000 (normally KRW 54,000) while a one-day pass to Lotte World goes for KRW 32,000 (normally KRW 55,000). If you decide to go to Everland, then I suggest getting the Everland full day trip which includes roundtrip transfers from Seoul. At just KRW 51,800 (normally KRW 65,000), it's the most convenient option.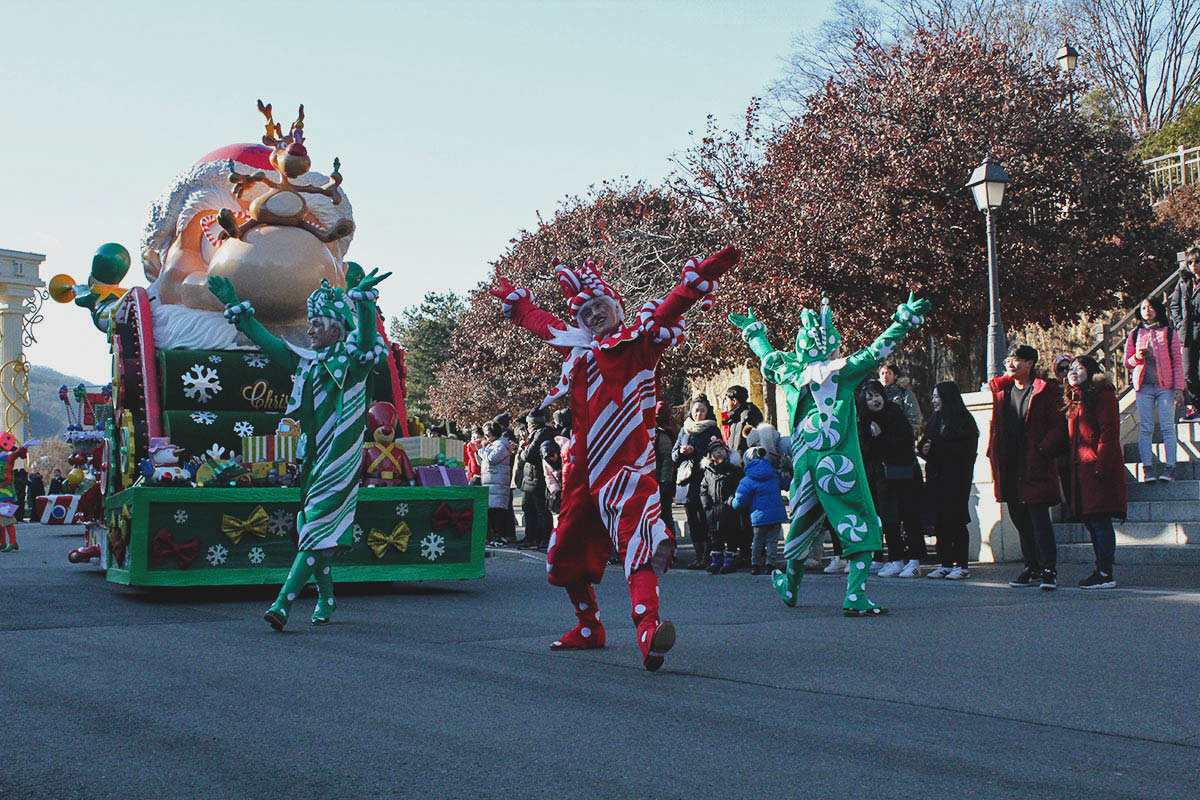 Length of Visit: Whole day / Admission: KRW 31,000 (Everland), KRW 32,000 (Lotte World)
4. Go Sledding, Skiing, or Snowboarding
If you visit Seoul in Winter (Dec-Feb), then you can enjoy the snow by going sledding, skiing, or snowboarding. We went on a day skiing trip to Oak Valley Snow Park which is a small, 9-run ski resort about an hour-and-a-half away from Seoul. You can check out my post on Oak Valley Snow Park for more pictures and information.
We booked through Klook and went on the all-inclusive ski package to Oak Valley Snow Park for KRW 75,000. This included a day lift pass, clothing and equipment rental, and roundtrip transfers from Seoul. You can check that page for other options as well, like sledding or snowboarding. Some packages even come with lessons.
If Oak Valley Snow Park isn't the right resort for you, then you can check out other ski resort options on Klook: Ski Resorts 1 | Ski Resorts 2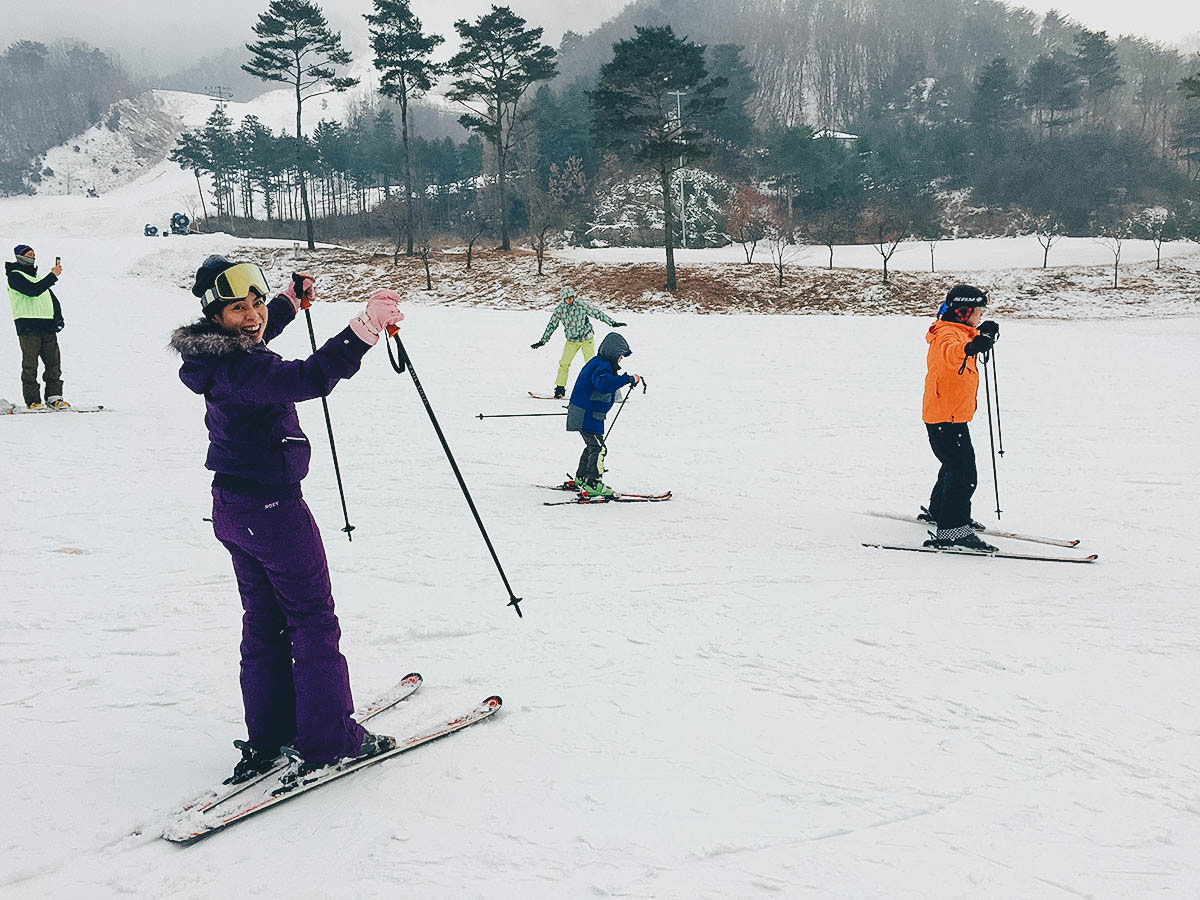 Length of Tour: Whole day / Cost: KRW 75,000 for the all-inclusive ski package
5. Climb Hwaseong Fortress Wall in Suwon
Hwaseong Fortress is a UNESCO World Heritage Site located about an hour south of Seoul by subway. It's name means "Brilliant Castle" and it was built in 1796 by King Jeongjo of the Joseon Dynasty to house and honor the remains of his father, Prince Sado. Offering excellent views of Suwon, it's a great place to do some hiking, perhaps even trying your hand in some traditional Korean archery. Check out my post on Hwaseong Fortress in Suwon for more pictures and information.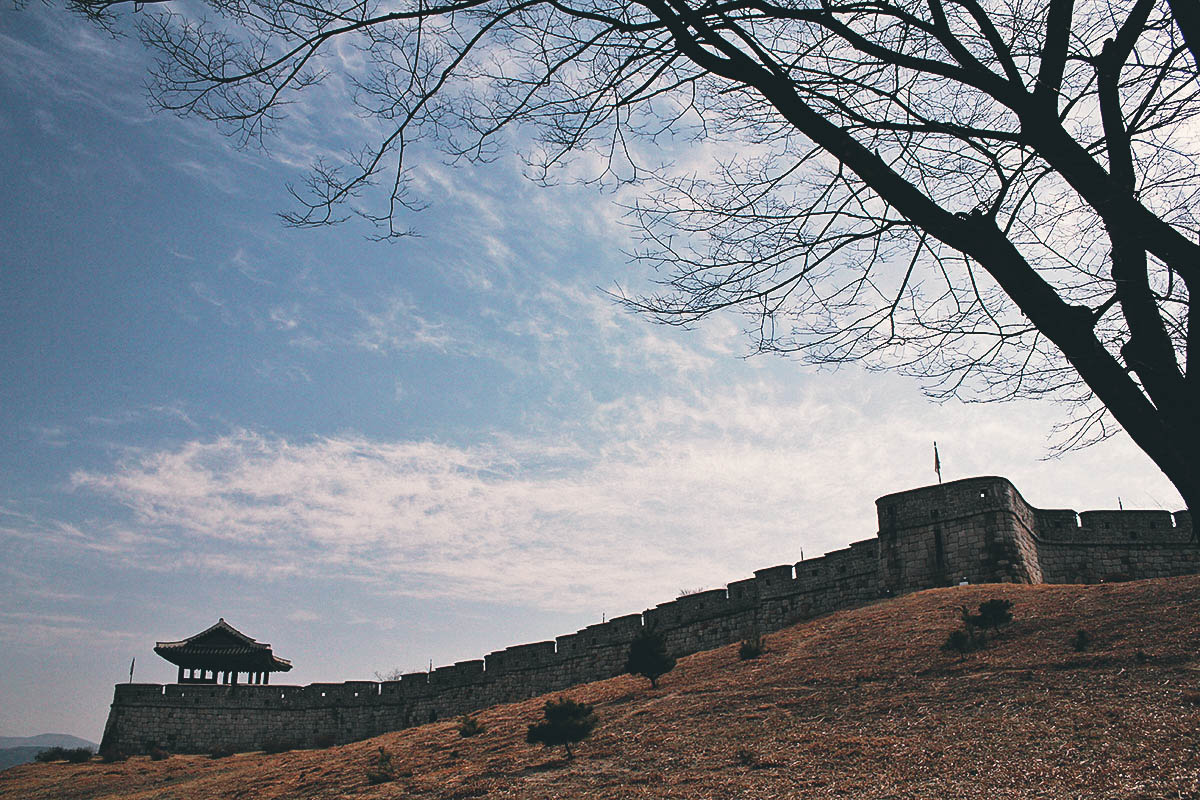 Suggested Length of Visit: 4-5 hrs / Admission: KRW 1,000
6. Catch the Jinhae Cherry Blossom Festival
Many people visit Seoul in Spring to try and catch the cherry blossoms. They bloom for about two weeks and are dependent on the weather, so planning a trip around the cherry blossoms can be difficult. We tried in 2015 but arrived too early. They were only beginning to bud in Seoul so we took a day trip to Jinhae, home of Korea's biggest cherry blossom festival. It's located about four hours south of Seoul so it's a lot of commuting in one day, but worth it. If you arrive too early in Seoul like we did, then you have the option of taking a day trip to Jinhae.
Check out my post on the Jinhae Gunhangje Festival for more pictures and information on how to get there from Seoul. If you want the most hassle-free way of attending the Jinhae Cherry Blossom Festival from Seoul, then you can purchase day trip tickets with roundtrip transportation through Klook.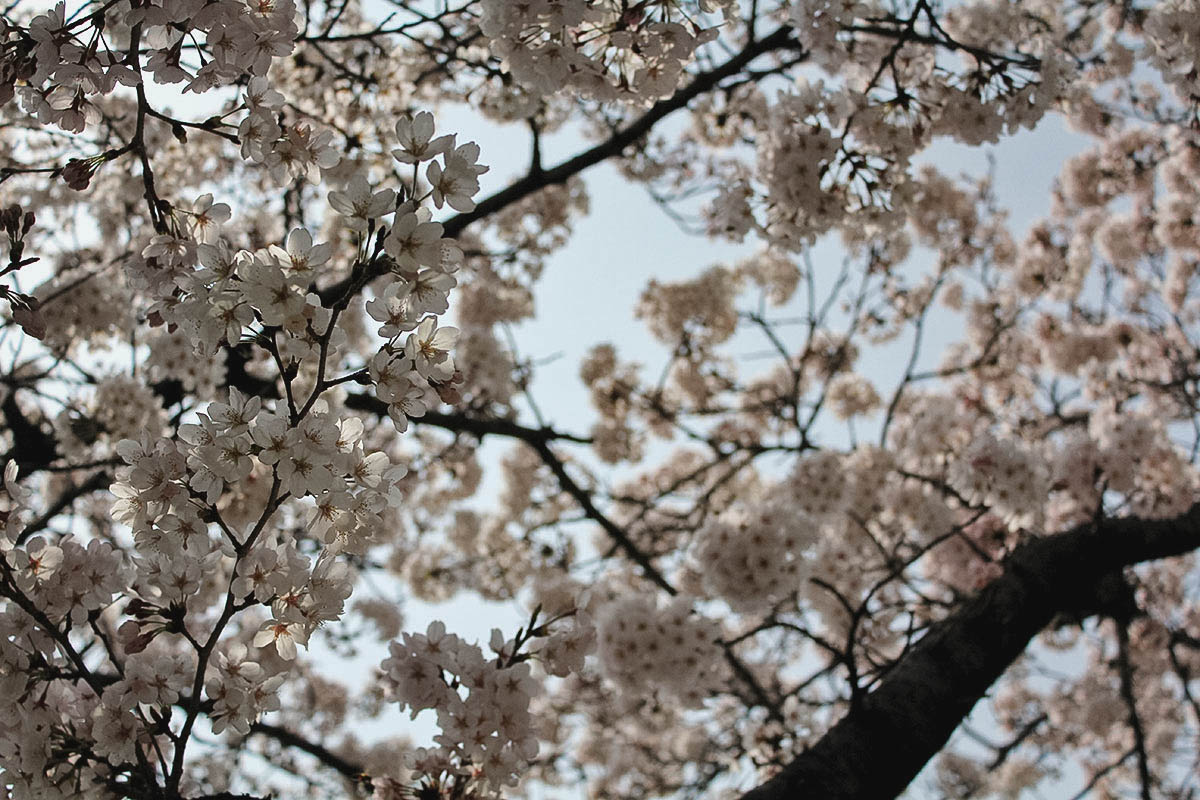 Suggested Length of Visit: Whole day / Cost: KRW 50,000 via Klook
7. Explore Heyri Art Valley
This place is interesting. Located in Paju not too far from the DMZ, Heyri Art Valley is an art community with museums, galleries, exhibition halls, restaurants, and shops. It's a curious place located seemingly in the middle of nowhere. We visited Heyri in 2015 but we didn't know what to make of it since many of the buildings seemed closed at the time. If you enjoy the arts and have time to spare, then Heyri Art Valley may be of interest to you.
To get there, take the subway to Hapjeong Station (Line 2), Exit 2. Exit the subway station and take Bus No. 2200 or 900 to Heyri Bus Stop. The trip takes about 40-50 minutes.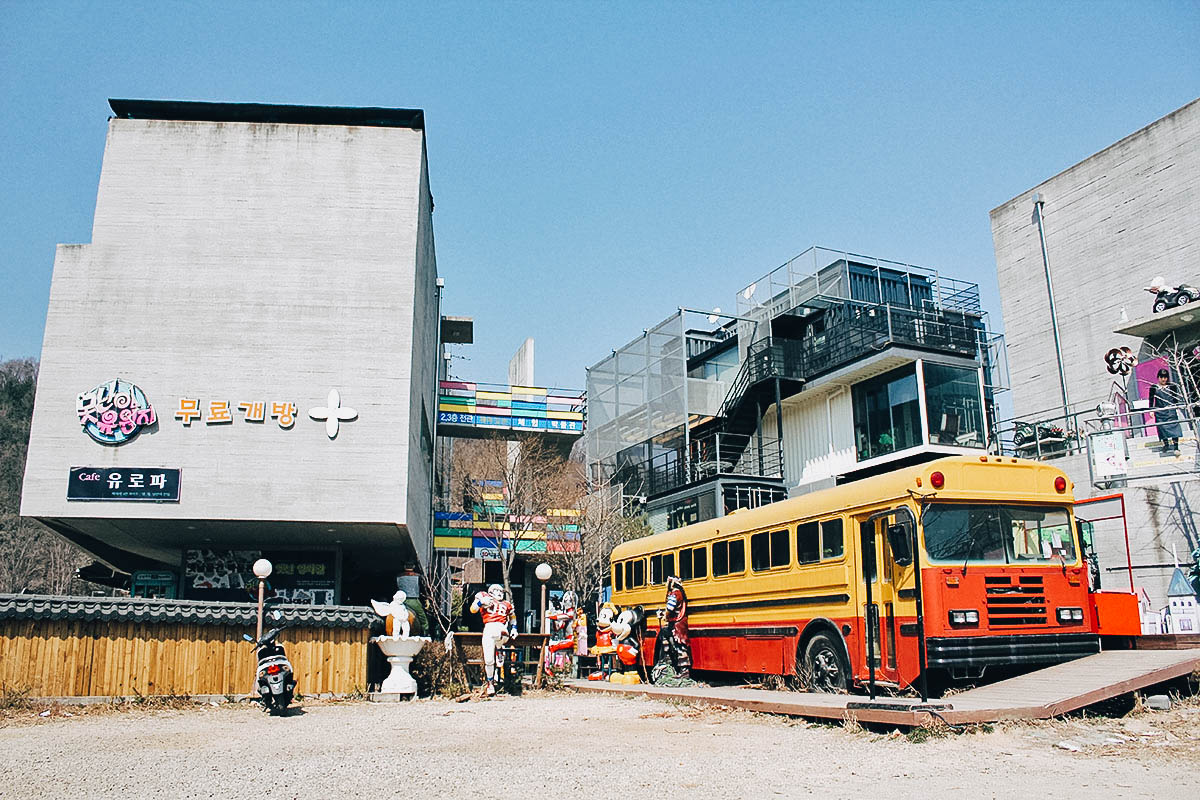 Suggested Length of Visit: Half a day / Admission: FREE, but some exhibits may have entrance fees
To inspire you further to visit Korea, check out our video on 10 of the many reasons to love Seoul.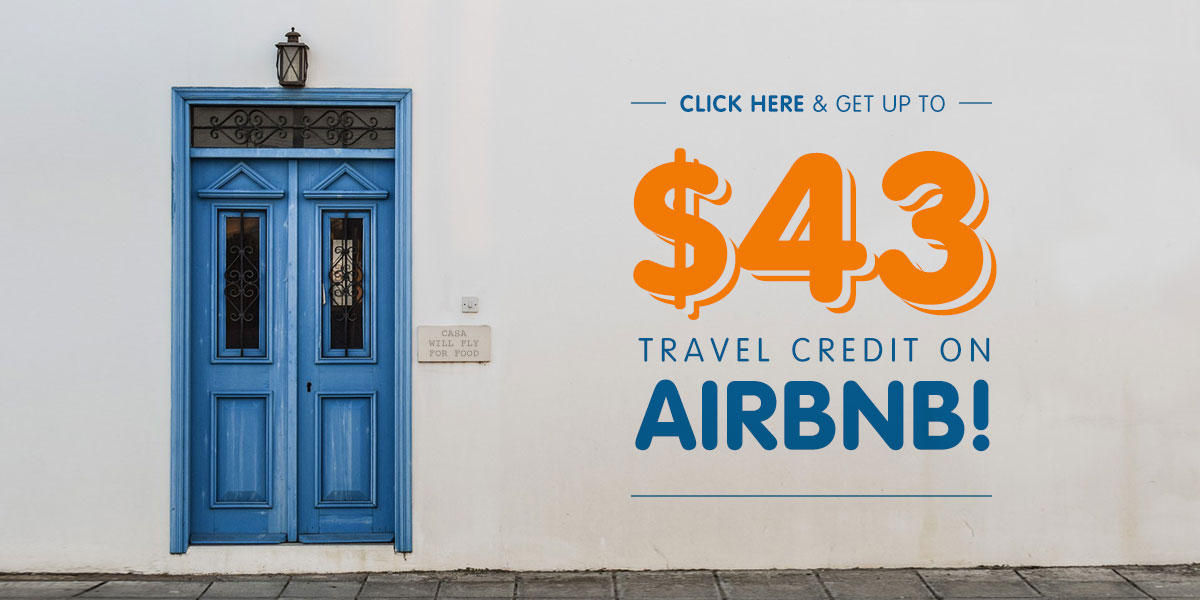 44 THINGS TO EAT IN KOREA
There is so much good food to be had in Seoul. From Korean delicacies like ganjang gejang, galbi, and gomtang to popular street food staples like tteokbokki and gyeranppang, Seoul will have you counting down the minutes to your next meal. If you're wondering what to eat in this food lover's Shangri-La, then check out our post on 44 delicious things to eat in Seoul.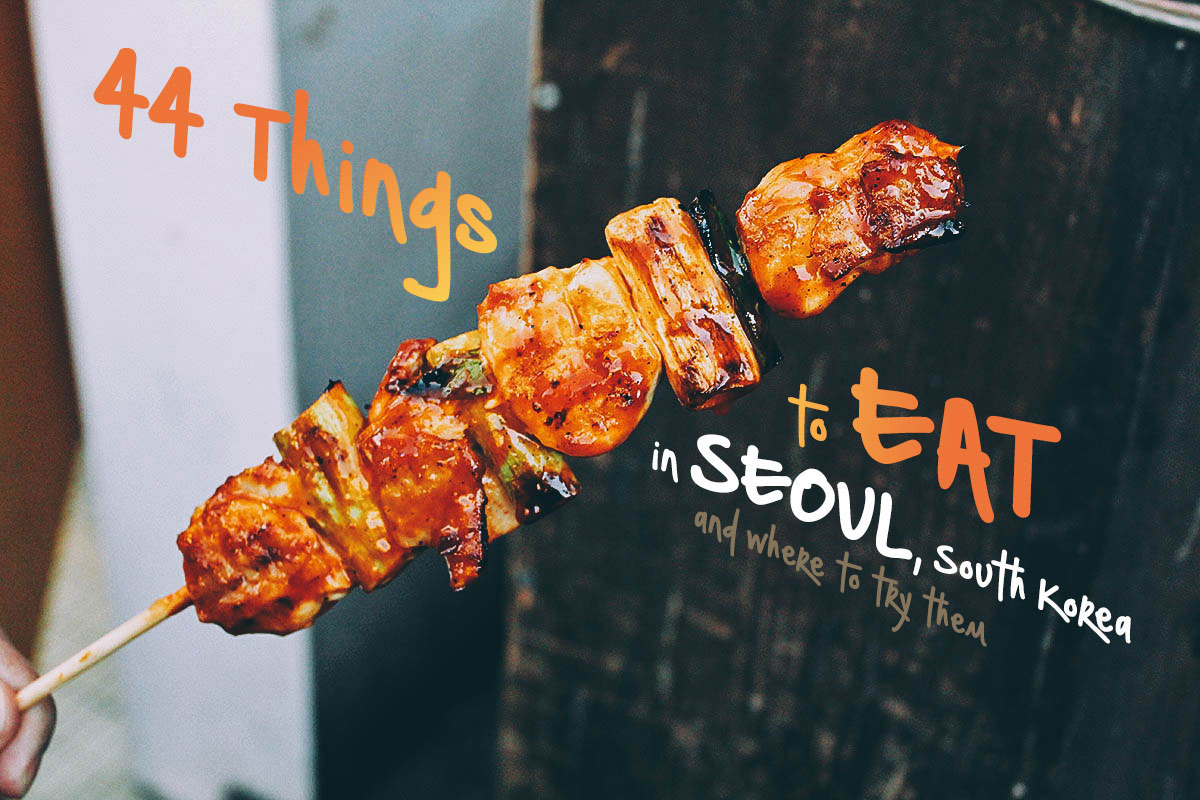 Dakkochi or grilled chicken and scallion skewers
WHERE TO EAT IN SEOUL
1. Yeontabal BBQ Restaurant
Gogigui or Korean BBQ is one of the best things about Korean food. Marinated meats like bulgogi and galbi barbecued over a charcoal grill are absolutely delicious. Like many fans of Korean food, Ren and I have eaten at many gogigui restaurants, but these grilled king beef ribs at Yeontabal are the best we've ever had. Smokey, savory-sweet, and tender, it's to die for, especially when eaten with steamed white rice and kimchi. I vet restaurants carefully before a trip and Yeontabal BBQ Restaurant had a TripAdvisor rating of 4.2 from its Korean reviewers, so I knew it was going to be good.
Check out this post for information on how to get to Yeontabal BBQ Restaurant. Keep in mind that meat is typically expensive in Korea, so expect Korean BBQ to be one of your more expensive meals. These grilled king beef ribs at Yeontabal normally cost KRW 38,000 per person, but you can get them for KRW 36,100 if you purchase a voucher through Klook.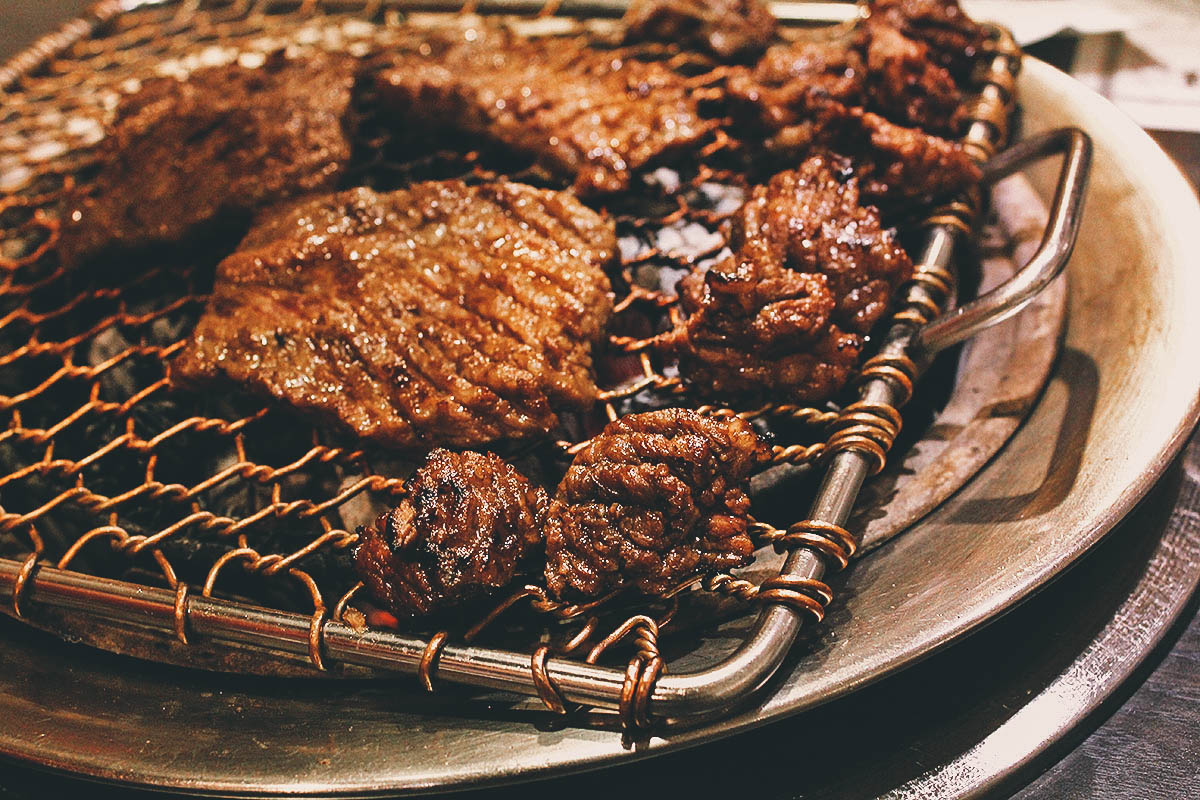 Expect to Spend: Around 36,100 KRW per person
2. Woo Lae Oak
I've been wanting to try naengmyeon, or buckwheat noodles served in cold broth, ever since I saw a documentary about North Korea. It's originally a North Korean delicacy that became popular throughout Korea after the Korean War. I searched for the best places to try naengmyeon and Woo Lae Oak, one of Seoul's oldest restaurants, often came up. They're a Korean BBQ restaurant that's equally famous for their naengmyeon. Check out this post for information on how to get to Woo Lae Oak.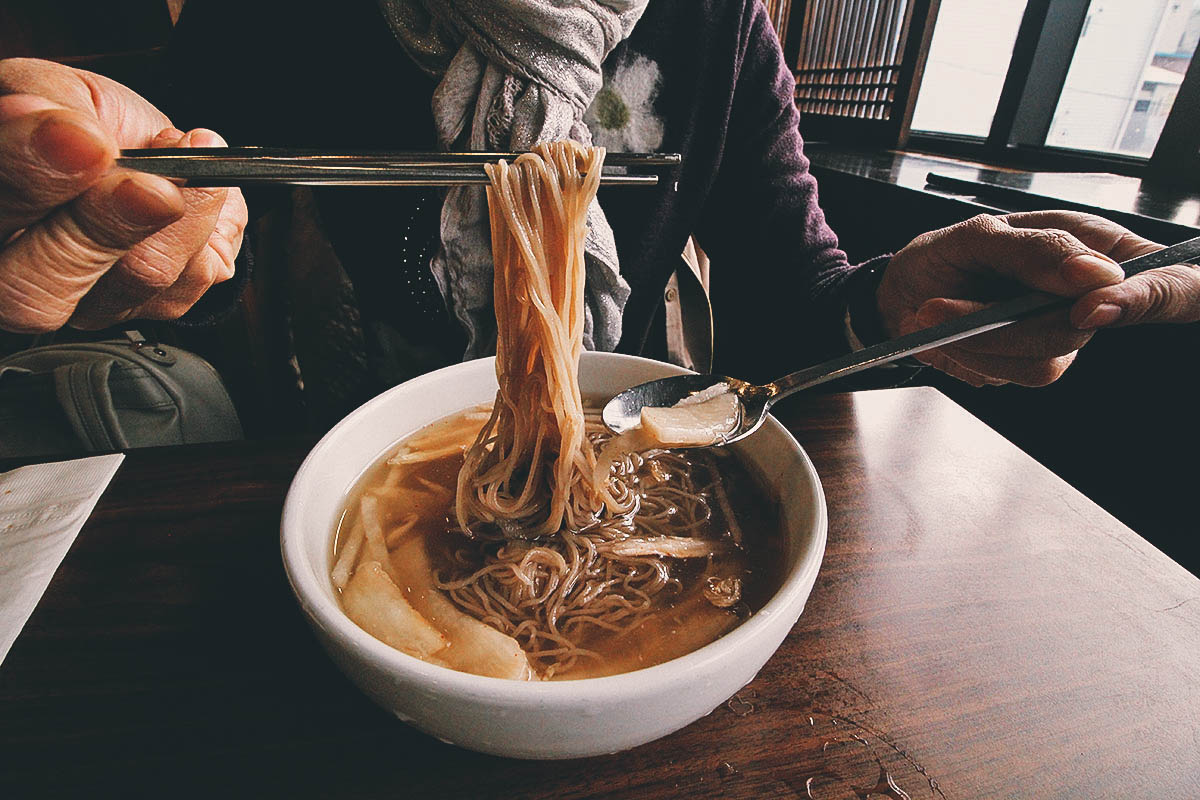 Expect to Spend: 13,000 KRW per bowl
3. Myeongdong Kyoja
Myeongdong Kyoja is widely regarded for having the best kalguksu in the city. Kalguksu is a noodle dish consisting of handmade, knife-cut wheat flour noodles served in a large bowl with broth and other ingredients. In business for over 50 years, Myeongdong Kyoja is located in the heart of Myeongdong so it's a great place to have lunch or dinner when shopping in the area. Check out this post for information on how to get to Myeongdong Kyoja.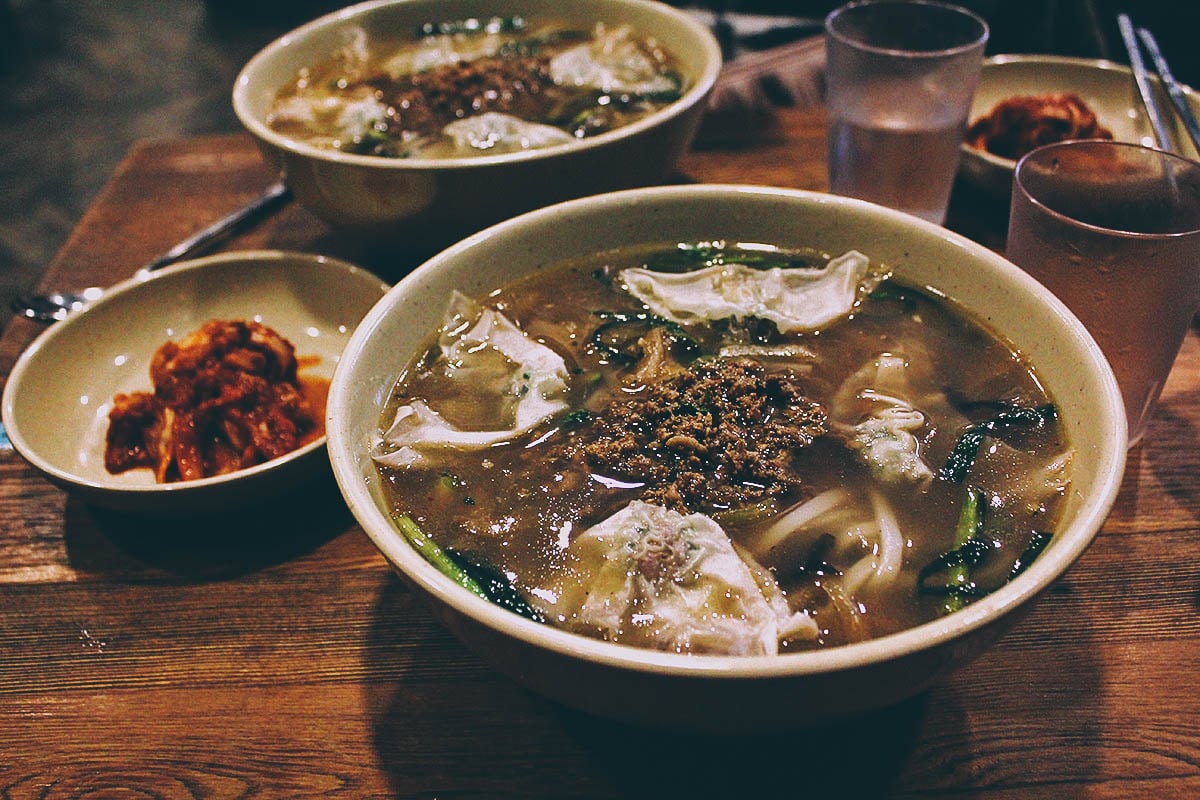 Expect to Spend: 8,000 KRW per bowl
4. Manjok Ohyang Jokbal
I asked my Korean sister-in-law (who's a former chef from Seoul) which dishes we should try, and jokbal was one of the things she recommended. Jokbal is a delicious dish of the most tender pig's trotters (feet) cooked in soy sauce and spices. I did a google search for "best jokbal seoul" and Manjok Ohyang Jokbal was frequently cited. They're a TripAdvisor Certificate of Excellence awardee with an average rating of 4.2 from its Korean reviewers. Serious yum.
Check out this post for information on how to get to Manjok Ohyang Jokbal. We got the medium portion of the spiced pig's trotters bossam set menu from Klook for KRW 36,100 (normally KRW 38,000). It's good for 2-3 people and comes with jokbal, bossam (pork belly boiled in spices), dumpling soup, and a slew of sides.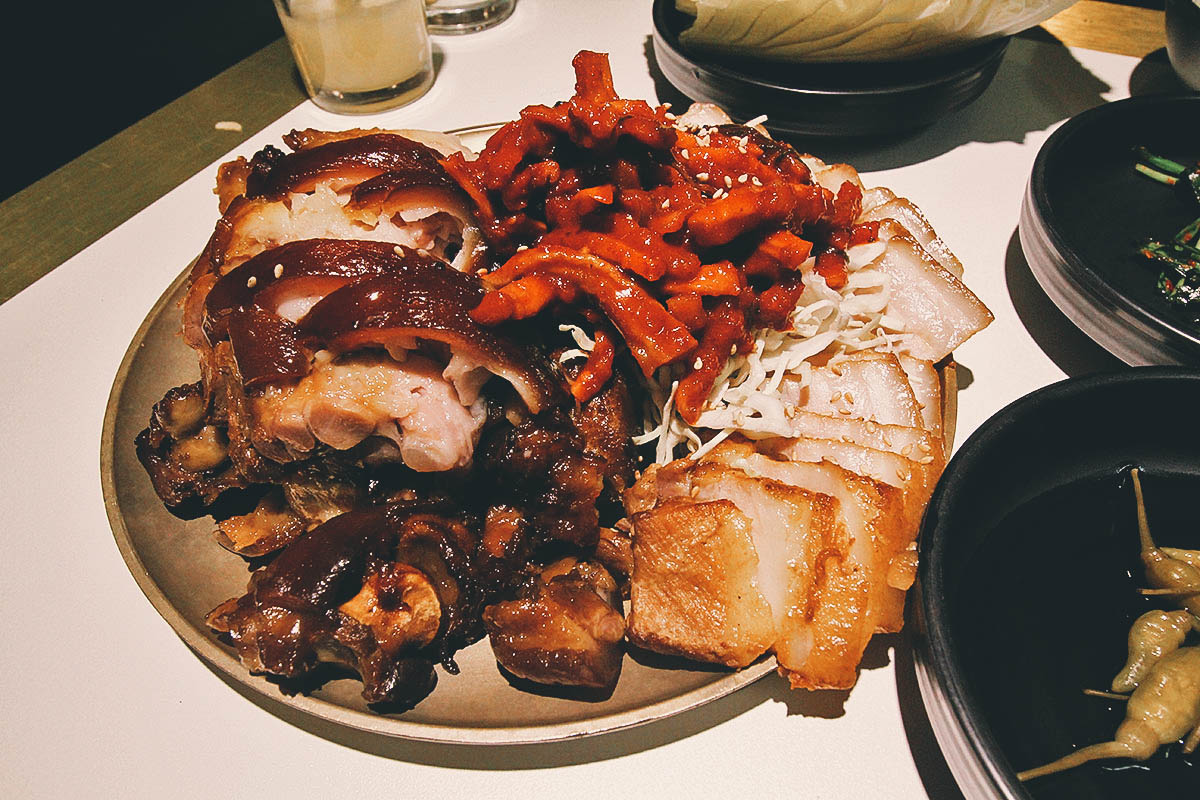 Expect to Spend: KRW 36,100 for 2 people
5. Oksang Dalbit
If you like Korean fried chicken, then you can't visit Seoul without eating at a chimaek restaurant. Chimaek is a compound word for chi-cken and maek-ju, the Korean word for "beer", so it refers to the popular duo of Korean fried chicken and beer. What makes Korean fried chicken so good is that it's double-fried, resulting in crunchier and less greasy skin. There are many recommended chimaek restaurants in Seoul, one of them being Oksang Dalbit in Hongdae. Check out this post for directions on how to get to Oksang Dalbit.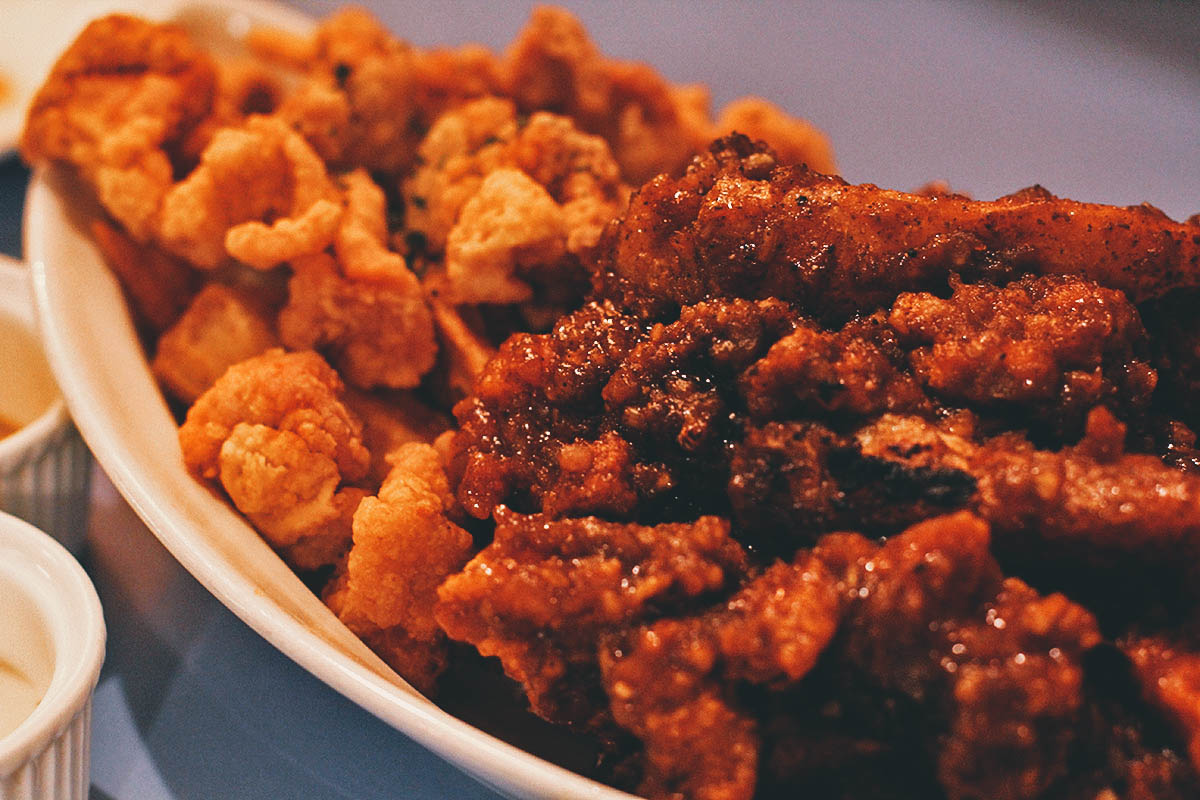 Expect to Spend: Around KRW 17,000 per order (good for 2)
6. Wonjo Masan Halmae Agujjim
We skipped out on ganjang gejang in 2015 so I made sure it was the first thing we had on this return trip to Seoul. Ganjang gejang is raw crab marinated in soy sauce. Considered by many to be the ultimate Korean dish, I waited over two years to try it and the experience blew me away. It is so good and unlike anything we've ever tried. If you like crab, then you have to try this dish. Like Korean bbq, ganjang gejang is expensive so expect to pay at least KRW 30,000 per small crab.
We had it at Wonjo Masan Halmae Agujjim, which is one among a cluster of restaurants in Ganjang Gejang Alley that specializes in this dish. Check out this post for information on how to get to Wonjo Masan Halmae Agujjim.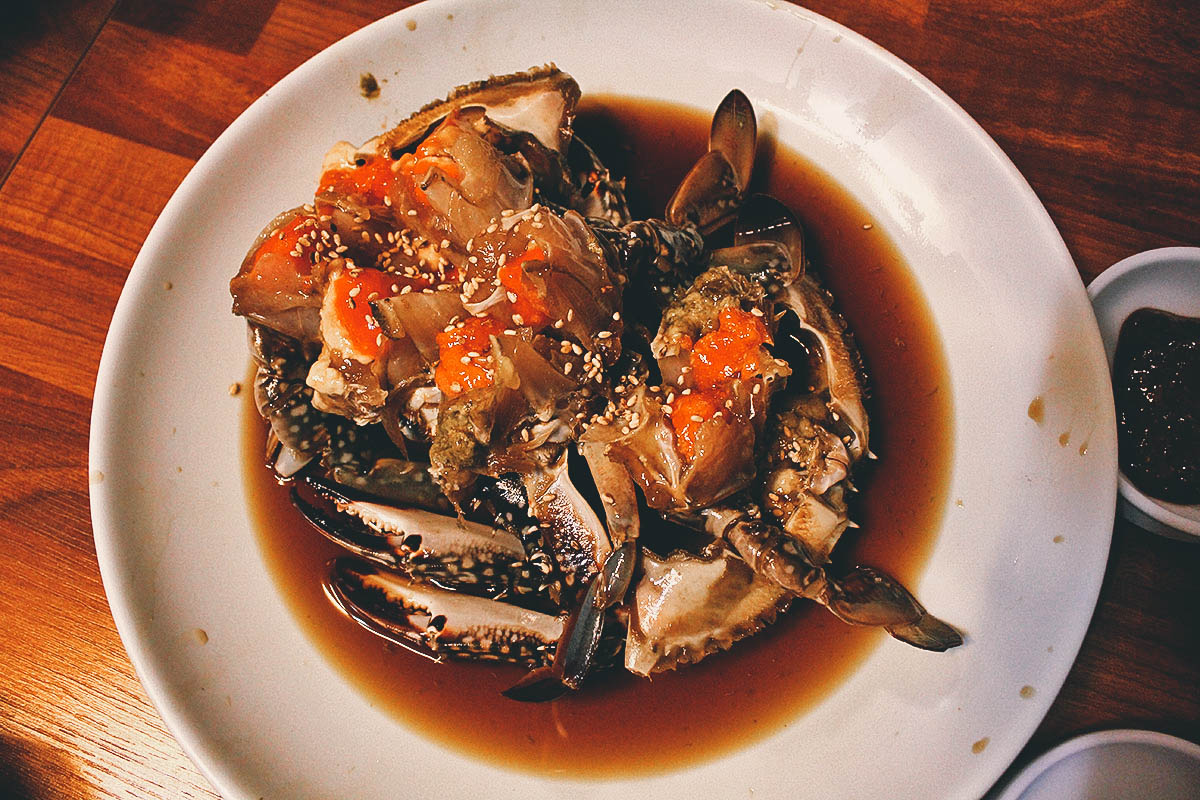 Expect to Spend: KRW 30,000 per small crab
7. Myeongdong Food Street
As much as we love visiting restaurants, there's something uniquely thrilling about eating street food. It's like having a degustation experience right there on the street! No first-time visitor's trip to Seoul will be complete without eating street food in Myeongdong. With mouthwatering delicacies like grilled lobster tails, chicken and scallion skewers, and tteokbokki, Myeongdong is a Korean street food paradise. Check out the street food section of our post on 44 things to eat in Seoul to see what other delicious goodies you can find there.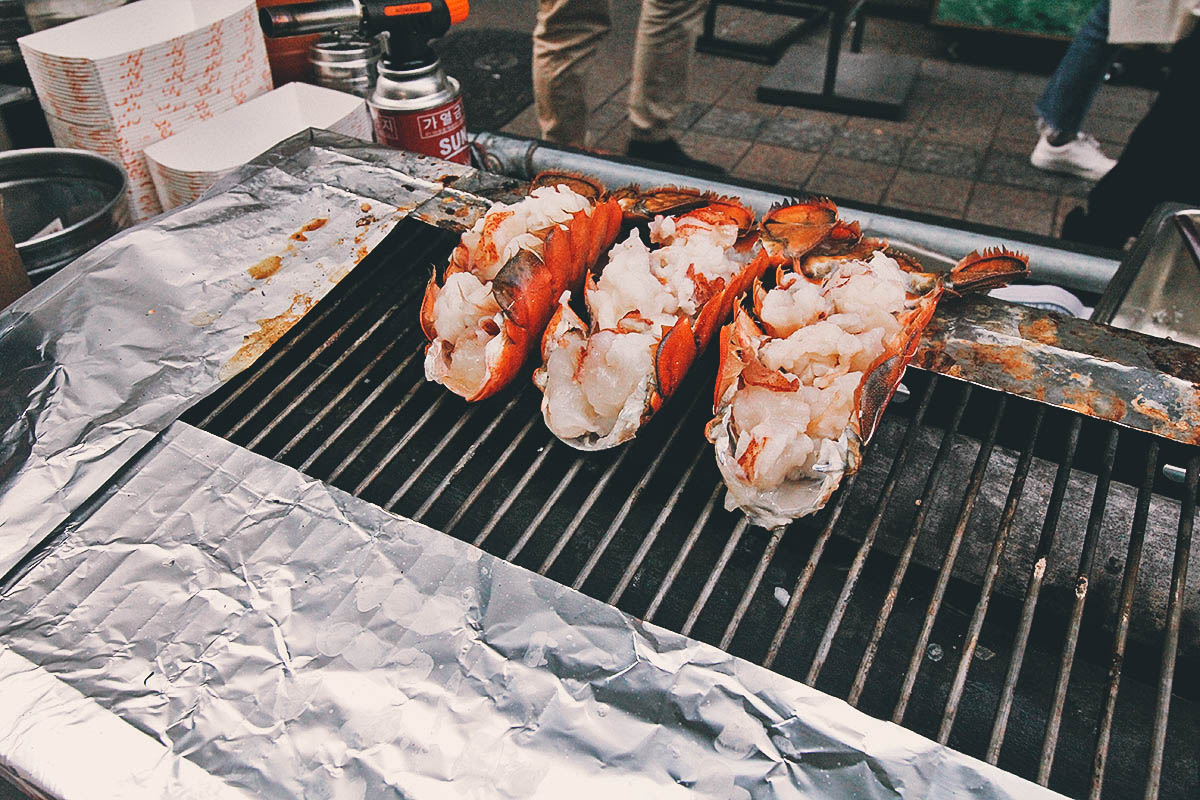 Expect to Spend: Anywhere between KRW 2,000-15,000 per dish
The restaurants above were some of our favorites, but if seven isn't enough to satisfy your appetite, then you can check out our post on 22 must-eat restaurants in Seoul. It includes plenty of other restaurant recommendations like where to find the best gomtang (beef bone soup), the most authentic Jeonju bibimbap, and cheap but delicious Korean BBQ. It'll even tell you where to find Seoul's oldest restaurant, a 113-year old institution specializing in seolnongtang or ox bone soup.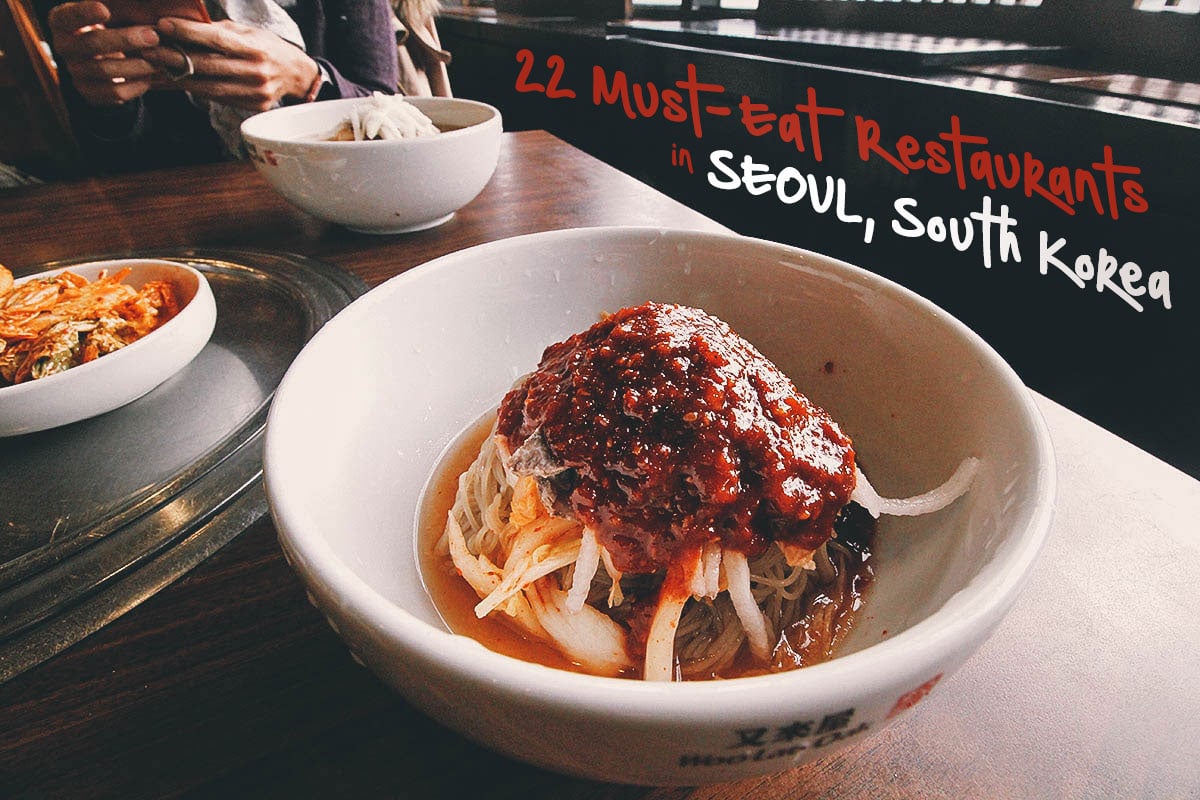 If pictures aren't enough to whet your appetite, then check out this short video I put together which features most of the restaurants recommended above.
POINTS OF INTEREST IN SEOUL
To help you get your bearings, I've created this map so you get a better sense of where everything is. All the places recommended in this guide are pinned on this map.
HOW TO GET AROUND
Seoul's subway system is very efficient, so much so that you probably won't need any other form of transportation when you're there. We never took a taxi and the only times we ever got on a bus was to go to places outside of Seoul like Paju, Suwon, and Jinhae.
It can be a little confusing at first, but as long as you remember your destination's subway stop and the line number that it's on, then you shouldn't have any problems. You sometimes have to walk far to transfer between lines so it's important to know the line number of your stop. Otherwise, you won't know which way to go to transfer lines. Whenever I include directions in our Seoul travel guides, I always include Line and Exit numbers.
It's a good idea to invest in a T-money card. It's a transportation card that eliminates the hassle of buying single journey tokens and saves you KRW 100 per journey. It can be used to transfer between subway lines, buses, or from subway to bus and vice versa (within a transfer time limit) at no extra charge. The card itself costs KRW 2,500 and can be purchased at most convenience stores and subway stations. You can top it up with any amount you want at recharge stations found at every subway stop. If there's any amount left over at the end of your trip, then you can have it refunded at a convenience store or refund station (minus a KRW 500 service charge).
Another option is to get a Korea Tour Card which is a variation of the T-money card. It has the same benefits as the T-money card, plus it gives you small discounts at some tourist spots, shopping centers, restaurants, and theaters. It costs KRW 4,000 per card.


HOW MANY DAYS TO STAY / SAMPLE ITINERARY
Seoul is a massive city with much to see. Ren and I don't like to rush so we stayed 7 nights each on our two trips to Korea. I think staying a week in Seoul is great, but 5 nights will probably be enough for most first-time visitors to the city.
Here's a sample 6D/5N Seoul itinerary I put together to help you plan your trip. This is a basic itinerary that doesn't take into account seasonal attractions like the cherry blossoms or skiing.
DAY ONE

• Namdaemun Market
• N Seoul Tower
• Myeongdong
• Cookin' Nanta Show

DAY TWO

• Nami Island
• Gangchon Rail Park
• Petite France
DAY THREE

• Gwangjang Market
• Insadong
• Bukchon Hanok Village
• Changdeokgung
• Gyeongbokgung
DAY FOUR

• Everland or Lotte World
DAY FIVE

• DMZ
• Dongdaemun Design Plaza
DAY SIX

• Hwaseong Fortress
• Hongdae
BUDGET / SUMMARY OF EXPENSES
I was a bit surprised after our first trip to Seoul in 2015 because the city turned out to be less expensive than I thought. But that was probably because we ate street food most of the time and only visited a handful of restaurants. After this second trip in 2017, I realized that Seoul is more on par with a city like Osaka.
The unit of currency in Seoul is the Korean Won (KRW). Assuming you'll be staying in Seoul for 6 full days and sharing inexpensive accommodations with one other person, then a daily budget of around KRW 65,000-70,000 per person should be good. This takes into account your accommodations, transportation, modest meals, and pocket wifi rental. Here's a quick breakdown of expenses:
ACCOMMODATIONS

This is highly subjective. It depends on several factors like hotel preference and number of travel companions. On our most recent trip, we stayed at a guesthouse in Hongdae for around KRW 60,000 per night. This is the room rate for two people for a room with a private bathroom. Expect to pay less if you're staying at a hostel.
MEALS

Again, this is subjective, but based on our experience, I'd say around KRW 30,000 a day per person. Inexpensive but filling dishes like gomtang or seolnongtang typically cost between KRW 10,000-15,000. Increase your budget if you plan on eating Korean BBQ.
POCKET WIFI RENTAL

If you're sharing the cost with one other person, then you'll each be paying KRW 1,250 per day.
TRANSPORTATION

If you have a T-money card and use the subway, then you'll be paying at least KRW 1,250 per journey. Assuming you'll be taking around three subway journeys per day, expect to spend about KRW 4,000 a day for transportation.
TOTAL



This comes out to around KRW 65,250 a day per person. Keep in mind that this baseline estimate doesn't include tour costs, entrance fees, or shopping. Be sure to add the cost of any tours you want to do to this amount. Ren and I are middle of the road travelers who enjoy good food and drink, so the recommended budget is a good baseline for travelers like us. Adjust accordingly based on your own travel habits.
TRAVEL TIPS
1. Plan your Trip with Sygic Travel (formerly Tripomatic)
I love this app. It makes travel planning so much easier. Sygic Travel allows you to plot points of interest on a map, including your hotel, so you can see exactly how far you need to travel between points. It shows you where each attraction is on a map so you can visit them in the right order and save travel time. With pocket wifi, it turns your mobile phone into a GPS tracking device so people with a poor sense of direction (like me) never get lost again. Pretty sweet right? Check out my post on the Sygic Travel app for more information.
Sygic Travel is what I used to create the location map above. You can view it as a day-to-day itinerary as well. Follow this link to check out our 8-day Seoul itinerary on Sygic Travel. You can also download it in editable Word format by signing up for our FREE newsletter below.
2. Rent a Pocket Wifi Device
A constant wifi connection is a must when traveling these days. You'll need it to do research, convert currencies, use ride-sharing apps, navigate with GPS, etc. We never go anywhere now without renting a pocket wifi device first.
We rented a 4G pocket wifi device from Klook for KRW 2,500 per day. It was fast and we never lost our connection, not even in the subway or in remote areas like highway buses and the mountains. The battery life was excellent too. I'd switch it on at around 8AM and it would last until about 5PM. I suggest bringing a powerbank if you plan on staying out for most of the day. We rent a pocket wifi device whenever we travel and this was one of the best we've used so far.

3. Get an Integrated Palace Ticket
If you want to visit as many palaces as you can in Seoul, then you should definitely get an integrated palace ticket. Entrance to all four major palaces — Changdeokgung (including Huwon), Changgyeonggung, Deoksugung, Gyeongbokgung — and Jongmyo Shrine will normally cost you a total of KRW 17,000 for adults. With the integrated palace ticket, you'll have access to all five for just KRW 10,000. It's valid for 3 months from the date of purchase.
4. Check for Discount Passes
There are many websites that offer discount passes to tours and services. One of my favorites is Klook. I've been a customer and an affiliate for two years and I absolutely love their site. They offer deals in many cities around the world, including Seoul. If you're looking for deals on tours, shows, theme parks, airport transfers, etc, then you may want to search through this list of Seoul attractions on Klook. You'll often find interesting activities that you wouldn't normally think of yourself, so it's definitely worth a look. Here's a list of some of Klook's most popular deals in Seoul: (pictures borrowed from klook.com)
5. Get Travel Insurance
To be honest, it was only recently when we started buying travel insurance. Back when we traveled just once or twice a year, travel insurance felt like an added expense, one we didn't need. But now that we travel more, I understand how important it is to have it. Fact is, you never know what can happen. It's one of those things that you hope you never have to use, but if you do wind up needing it, then you'll be thanking the gods that you had it (or cursing them if you didn't).
Though I do find it more necessary now, it's still up to you if you think you need it. A 3-day trip to Osaka just shopping and eating may not really call for insurance but if you plan on doing more active things like bungee jumping, kayaking, or even going on a city bike tour, then I'd say travel insurance is a must. We went skiing on this trip so we did get travel insurance.
We buy travel insurance from World Nomads because every long-term traveler I know recommends it. From the sound of it, they're the best in the industry by a mile. Not only do they provide a high coverage limit for medical expenses (up to USD 5 million with the Standard package), they also cover things like trip delays, missed flight connections, theft/loss of passport and luggage, etc. Follow the link or use the widget below to learn more and get a free travel insurance quote from World Nomads. It's super quick and easy.
6. Bring the Right Power Adapter
Electrical outlets in South Korea are round so plugs are typically Type C or Type F. Be sure to bring the right power adapters for your devices. Electrical voltage is 220/230V.
7. Wear Comfortable Shoes
You'l be doing a lot of walking in Seoul so be sure to wear comfortable shoes. You'll probably be taking them off a lot too at temples and restaurants, so try to wear shoes that are comfortable but easy enough to slip on and off.
For Filipinos
HOW TO APPLY FOR A VISA
If you're a Philippine passport holder, then you'll need to secure a tourist visa to South Korea. Provided that all your documents are in order, then you shouldn't have any problems. Check out my post on how to apply for a South Korea visa for a step-by-step process.
HOW TO GET CHEAP AIRLINE TICKETS
Ever since I scored my first piso fare from Cebu Pacific, I've been hopelessly addicted to cheap airline tickets. For our trip to Korea in December 2017, our tickets to Incheon with a shared 20 kg baggage allowance came out to just under PHP 8,700 each roundtrip. Not bad considering we booked our tickets late. You can get even cheaper tickets if you buy them early from a seat sale. In 2015, we paid less than PHP 7,250 each for the same tickets.
These seat sale tickets are limited and sell fast, so you have to be quick. To give yourself an advantage, I suggest liking their Facebook page and following them on Twitter to quickly find out about these seat sales. If you check off "Get notifications" on Facebook, then you'll receive instant alerts every time they post something new.
Other airlines that have direct flights from Manila to Incheon are Asiana Airlines, Korean Airlines, Philippine Airlines, AirAsia, and Jeju Air.
Have fun!
I'm not an expert on Seoul but I do hope that you find this post useful. I'm only sharing some of the things that I learned from our trip. If you have any suggestions or simply want to share your own experiences, then please feel free to do so in the comments section below. You're welcome to join our Facebook Travel Group as well. We'd love to hear from you.
Thanks for stopping by and have fun in the land of K-pop and kimchi!
OUR GEAR
These are some of the things we brought with us to Seoul. As you can tell, I document a lot of content for this blog so most of the things I bring are photo and video equipment. 😆 If you'd like to see what other gear we use, then you can check out our "What's in Our Backpack?" post. (NOTE: The following links are Amazon affiliate links.)
Disclosure
We were in Seoul on a partially sponsored trip from Klook. We paid for our airfare, accommodations, and incidental expenses like transportation and food, but we were allowed to go through their website and choose activities and services in exchange for an honest account of the experience. They gave us vouchers to the following attractions and services: AREX tickets, pocket wifi rental, Nami Island tour, DMZ & JSA tour, Oak Valley Snow Park skiing, Everland tickets, Yeontabal BBQ restaurant, Manjok Ohyang Jokbal, and Jalppajin Memil. They didn't ask us to do any of these things. We chose them on our own volition. As always, all words and opinions expressed in this post are mine and mine alone.
Some of the links in this guide are affiliate links, meaning we'll get a small commission if you make a purchase at NO extra cost to you. We only recommend products and services that we use ourselves and firmly believe in. We really appreciate your support as this helps us make more of these free travel guides. Thank you!
JB and Renée are the Traveleaters behind Will Fly for Food, a travel blog for the gastronomically inclined.  They enjoy experiencing food from different cultures so they've made it their mission to try every country's national dish.  Read more about them and their National Dish Quest here.