Get Inspired to Spend A Day in Seoul (Video)
GUEST POST: I attended Scott Herder's session on hyperlapse photography at TBEX Manila and thought his video of Seoul would be the perfect way to inspire people to visit this beautiful city. I invited him to share his inspiration for the video in this guest post.
A lot of people don't know much about South Korea, or even Seoul.
You may have heard of Gangnam made famous by youtube sensation Psy, or even that a common Korean food is Kimchi. But you may not know, that Korea is the size of Georgia yet has 21 national parks. I definitely didn't before I decided to move to Seoul for a year to teach English.
But after just a few weeks I fell in love with the city because every day there was something new to fall in love with. Stunning architecture, intoxicating food, and endless areas to explore.
For Megan and I, Seoul is the beginning of our story. It's where we made our first home together, discovered our passion for big cities, travel, blogging, and photography.
Our favorite thing about Seoul was the historical architecture mixed in with the new. It was this perfect juxtaposition of a rich, beautiful history with a vibrant and energetic modern feel. It was the best of both worlds.
What made it even more magical was how incredibly clean and efficient the public transportation was. I know, It must sound crazy to be reading about someone say how amazing public transportation was but until you experience it first-hand, it's hard to understand how much of an impact it has on your daily life. And if you go on a trip there it will make each leg of your travels so convenient.
We really loved living in Seoul and as we neared the end of our first contract (Spoiler we ended up doing another year in Korea we loved it so much.) I really wanted to have one beautiful photo to hang up in our future home to remember our time in Korea and where our journey began. It was a fun way to challenge myself to learn photography.
So I started reading about photography and revisiting all of our favorite places in Seoul. My photography improved but I ended up wanting more than just one photo. Then I learned about timelapse and hyperlapse photography and was like ok this will be really cool way to propose to Megan but I need to practice. So I decided to try and make a hyperlapse video so we could always revisit our favorite parts of Seoul and secretly practice for the proposal video.
The inspiration for this video was our favorite areas of Seoul. We really love how close everything is and wanted to show off what we would recommend anyone spending a day in Seoul to go do and see.
The video gives you a really fun tour of the city starting off with the subway ride that takes you to Ghwanghwamun Square which is the political heart of the country. From there it's just a 5-minute walk to my favorite place, Gyeongbokgung Palace.
We loved that living in Seoul meant being just 15 minutes away from the Palace. Gyeongbokgung is most beautiful during the fall or winter with a blanket of snow, really this place is just awesome.
From the Palace, it's just a short walk to another iconic spot in Seoul. Bukchon Hanok Village. This is a really charming and historical road full of traditional houses where you get the best of the old and new all in one. Plus there are some amazing food options near this spot!
An area we also fell in love with was Namsan. Home to Korea's version of the space needle, Namsan Tower. The restaurant at the top of the tower offers 360 views of the city and is right next to Myeongdong which is a shopping heaven and tourist hotspot. We wanted to incorporate those fun days spent enjoying epic views of the city and the endless shopping into the video.
Finally, one of my favorite ways to spend an evening sunset was taking pictures of Building 63, the famous golden tower along the Han River. There is something about the gold color of the building and how the light reflects off of it when the sun goes down makes it visually beautiful to look at. This was one of my favorite areas to practice photography as I loved how the light would reflect and change the entire mood and setting here.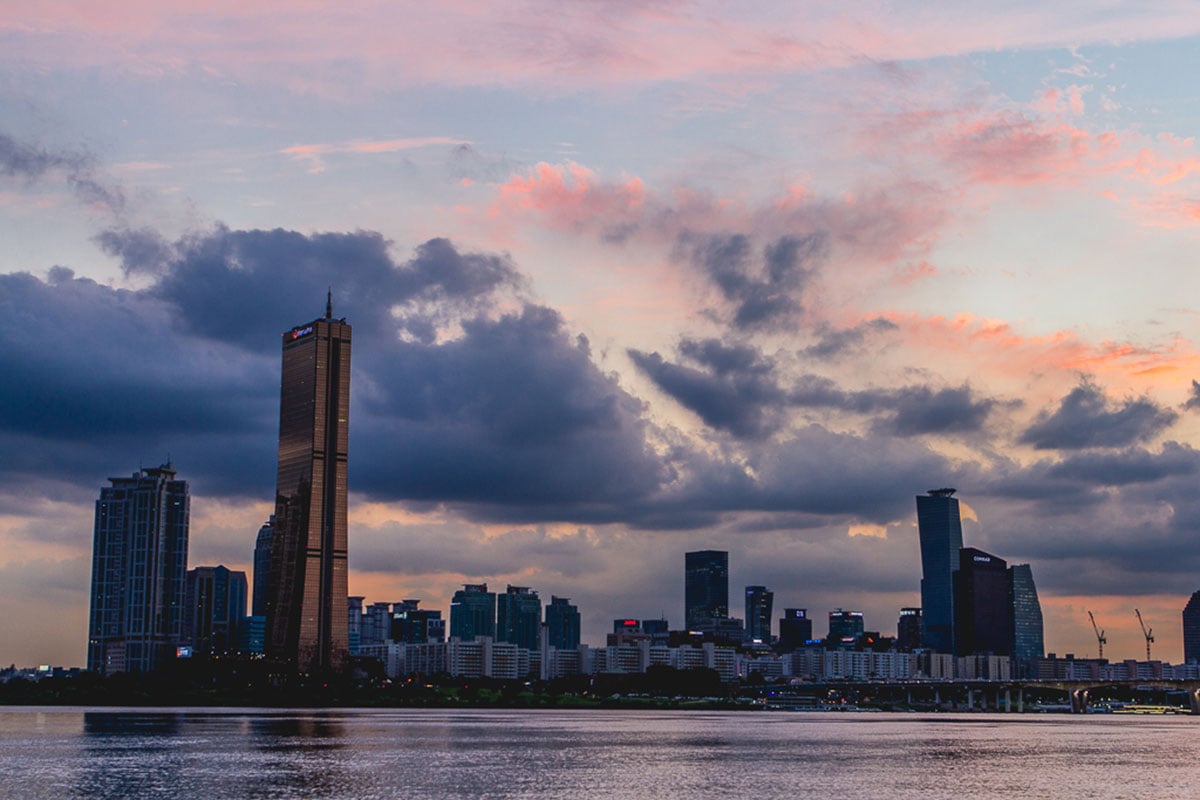 I ended the video in the subway because I like the idea of things beginning and ending the same way. A day in Seoul most likely begins and ends with taking some sort of transportation.
I absolutely loved all of these places and so much more. But if you were to come to Korea and only had one day. This would be the perfect way to see the most Seoul has to offer and wet your appetite for Seoul. It is full of energy, beautiful cityscapes, and some great food.
I hope this video stokes a bit of wanderlust in you to make a visit to Korea. Of course, before you visit Korea you should definitely check out this awesome guide by JB of Will Fly For Food.