iHouse: Where to Stay in Seoul, South Korea
If you read iHouse's reviews on AirBnB, you'll notice that they all pretty much say the same thing: "Good rooms, central location, accommodating manager, shitty walk uphill." After staying here for a full week, I would have to agree.
Located just 10-minutes away from Myeongdong, iHouse is a 13-room guesthouse in the quiet neighborhood of Hoehyeondong. It's about a 3-minute walk to Namsan Cable Car which takes you up to one of Seoul's most popular tourist attractions — N Seoul Tower. The rooms are small but clean and sufficiently amenitized. Guests are welcome to help themselves to daily breakfast in the common kitchen, and the manager Joon and his wife are amicable and helpful.
But that walk though. 😆
L: iHouse is located near the top of a hill about a 10-minute walk from exit 3 of Myeongdong station. You can find walking directions and a map at the bottom of this post.
R: The bathroom didn't have a partitioned shower but it was clean and had hot water. Joon provided us with two sets of towels each along with basic amenities like shampoo, soap, and toothpaste. There was a blow dryer, two pairs of bedroom slippers, and a pair of bathroom sandals as well.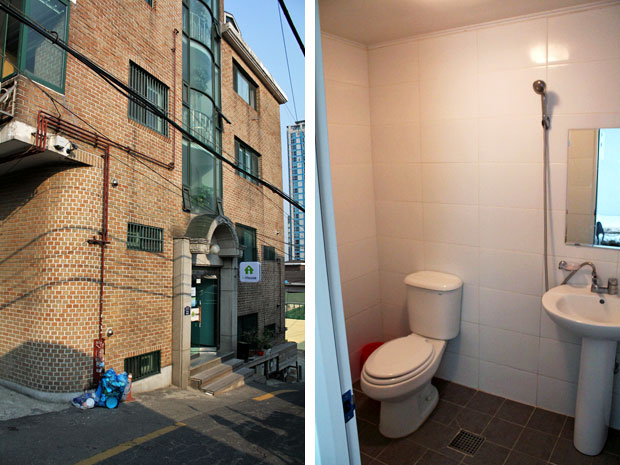 Coat rack with hangers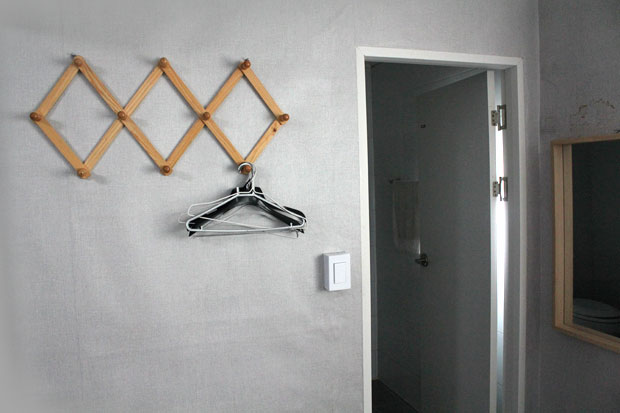 Desk, flatscreen TV, and queen-sized bed. There's free wifi in the entire building and air conditioners in every room. Together with AirBnB fees, we paid just a little over USD 33 a night for this room. Pretty damn good I'd say.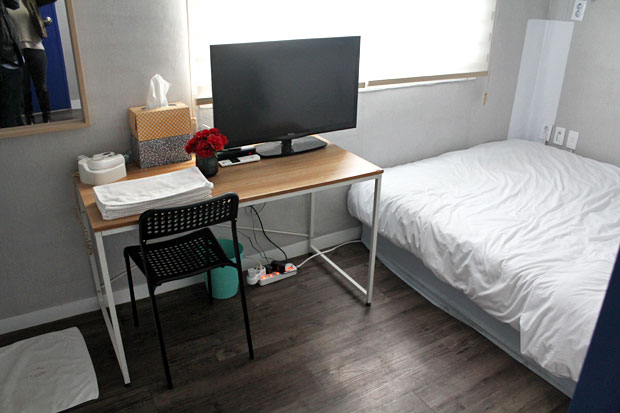 Room rates come with free DIY breakfast. The kitchen is on the fifth floor but the fourth floor has a hot/cold water dispenser, coffe, tea, bread, and a toaster.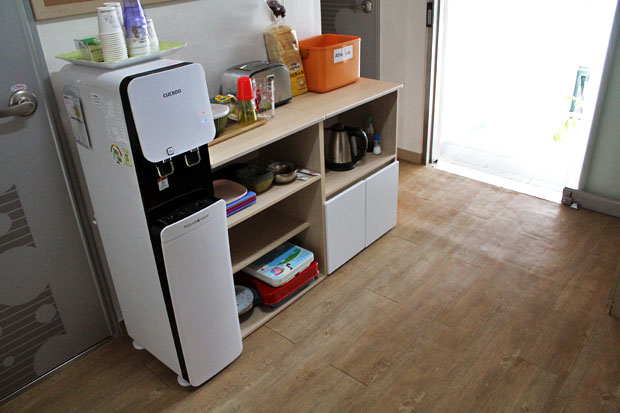 The fifth floor kitchen. It has a sink, refrigerator, microwave, cold/hot water dispenser, toaster, electric stove, coffee, tea, jam, butter, and all the utensils you need. Here's Reneelicious preparing a breakfast of toast and scrambled eggs.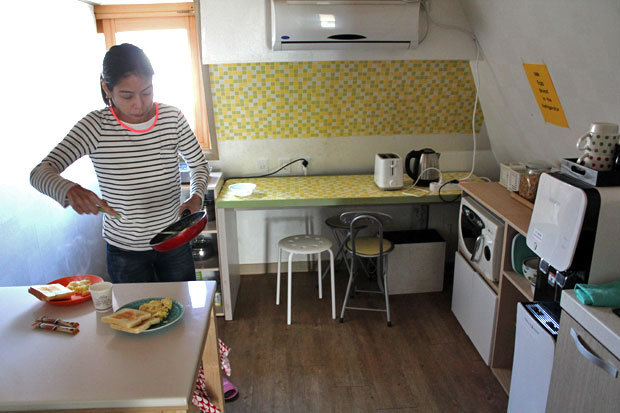 The refrigerator stocked with eggs, milk, and bread. You're welcome to store things in the common refrigerator as well though you should label it so other guests don't touch it. I stuck a "you touch, you die" sign to our beer cans every night. 😆

About that uphill walk, you can check out THIS LINK to get an idea of how steep the hill is. You can look at the 5th to the 7th picture on that webpage. I know it doesn't look that bad, but imagine walking up that hill for ten minutes carrying shopping bags. 😆 We did get used to it by the end of our trip but it was a little challenging at first.
Despite the uphill climb, Ren and I were pleased with our stay at iHouse. For just USD 33 a night, it's terrific value for money. I don't remember the last time I paid just USD 33 for a room, and in a first-world country like South Korea to boot.
As you can see from the pictures above, rooms at iHouse are small and basic but have everything that you need. Well, almost. Since it's a guesthouse and not a full service hotel, daily room cleaning isn't included in the room rate. It costs an extra 10,000 KRW per day to clean your room, free if you stay for more than a week. There's a laundry room on the first floor as well if you need to wash your clothes.
If you're reasonably fit and don't require a full service hotel, then iHouse will do you just fine. People with mobility issues may want to stay on flatter ground though. You can book a room here on AirBnB. If you're new to AirBnB and want to receive USD 22 of free travel credit, then you can sign up via THIS LINK.
iHouse, Seoul, South Korea
48-30 Hoehyeondong 2(i)-ga, Jung-gu, Seoul 100-052, South Korea
Tel: +82 10 4695 1130
Website: 4orangeguesthouse.com
Email: ihousehost@gmail.com
Approximate Room Rate: USD 33 per night (as of March 2015)
Check-in: Starts at 2PM
Check-out: Until 12PM
CLICK HERE to view Joon's profile and listings on airbnb.
HOW TO GET THERE:
By subway, get off at Myeong-dong station (line 4), exit 3. Turn left and walk towards Pacific Hotel. Bear right and walk uphill for about 10 minutes until you see Namsan Cable Car. Make a sharp right and walk downhill for a few meters. iHouse will be on your left. (FYI, no need to print the map below since Joon will send you the same one if you book a room at iHouse. It'll have detailed directions in both English and Korean.)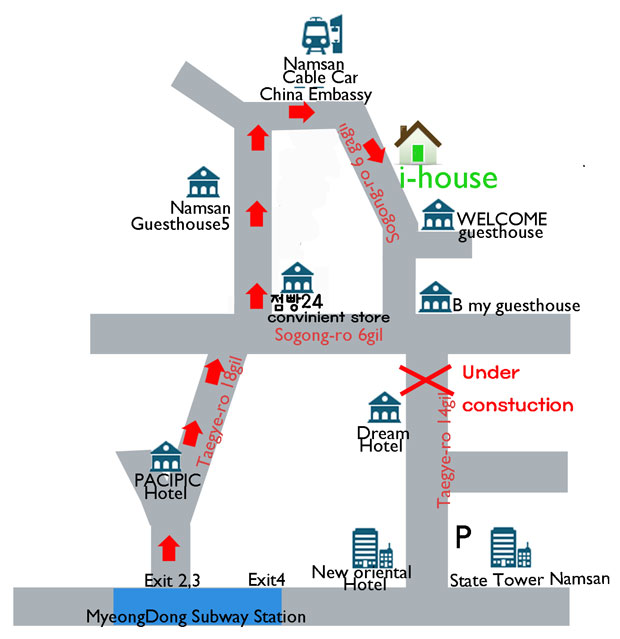 Disclosure
Some of the links in this post are affiliate links, meaning we'll get a small commission if you make a reservation at NO extra cost to you. We really appreciate your support as this helps us keep this website going. Thank you!
JB is one half of Will Fly for Food and its chief itinerary maker.  He's the one to blame for all the crappy photos and verbal diarrhea on this blog.  Don't listen to him.
Latest posts by JB Macatulad (see all)